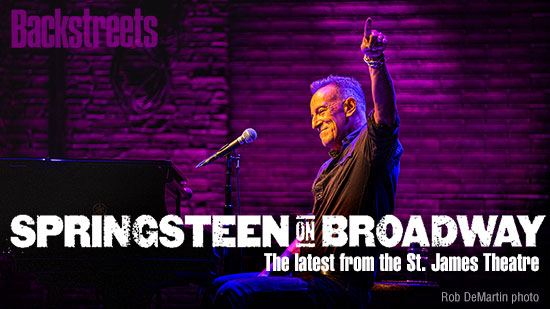 FINAL WEEK!
Tonight, Bruce returns to the St. James stage for his last week of Springsteen on Broadway performances, just five shows left — the 2021 run closes this Saturday, September 4.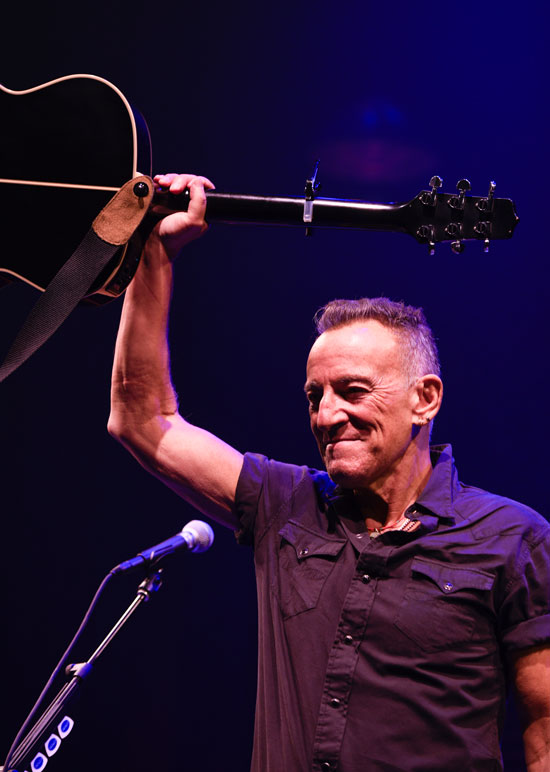 August 25, 2021 - photograph by PJay Plutzer
A particularly special moment last week came on Saturday night, as Springsteen reflected on friends sent off to a foreign land — Bart Haynes and Walter Cichon, who both died in Vietnam. This time, Cichon's two sons were in attendance, on a significant day for their family.
Bryan Cichon wrote about the performance on Facebook, describing the moment when Springsteen quietly "told the crowd that today would have been [Walter Cichon]'s 75th birthday. More gasps. And that his two sons, David and Bryan, are here in the theater tonight. The reaction from the crowd at that was chilling. A whole theater with just a collective gasp, a sigh, a groan expressed their condolences at the loss that they now felt, that Bruce and our family has felt for 53 years. It never gets easier, but to have our Dad live on through Bruce is a sort of redemption, a sort of 'F you!' to the politicians of the time who decided to send so many young men to an early grave and took away so many great futures. As Bruce said last night, 'I just wish I could be standing there to see him perform just one more time.'"
For more Springsteen on Broadway show notes ,
see our Setlists page
- August 31, 2021



"TAKE A GOOD LOOK," SAYS STEVIE...
For one fleeting moment, we're pulling MIAMI STEVE back in! Check it out above, as Stevie Van Zandt resurrects a long-retired E Street persona and signature just for us.
Your eyes do not deceive you: The Artist Currently Known as Little Steven is signing custom MIAMI bookplates as "Miami Steve" for his new memoir —for this occasion only, and exclusively for Backstreets.
Guarantee yours by pre-ordering Unrequited Infatuations: A Memoir now from Backstreet Records!
As Stevie tweeted this afternoon:
- August 25, 2021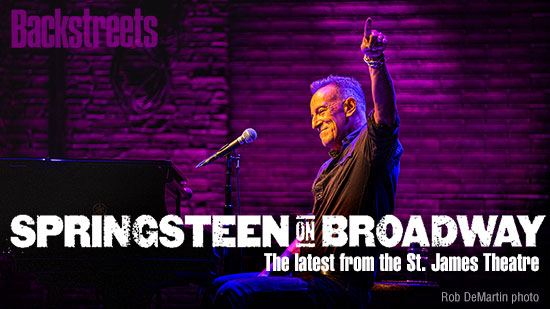 "GOD BLESS CHARLIE WATTS"
Bruce Springsteen's first public comment regarding yesterday's terrible news of the Rolling Stones drummer's death came at the end of the Springsteen on Broadway performance last night: "God bless Charlie Watts," Bruce added to his usual farewell salute to his audience.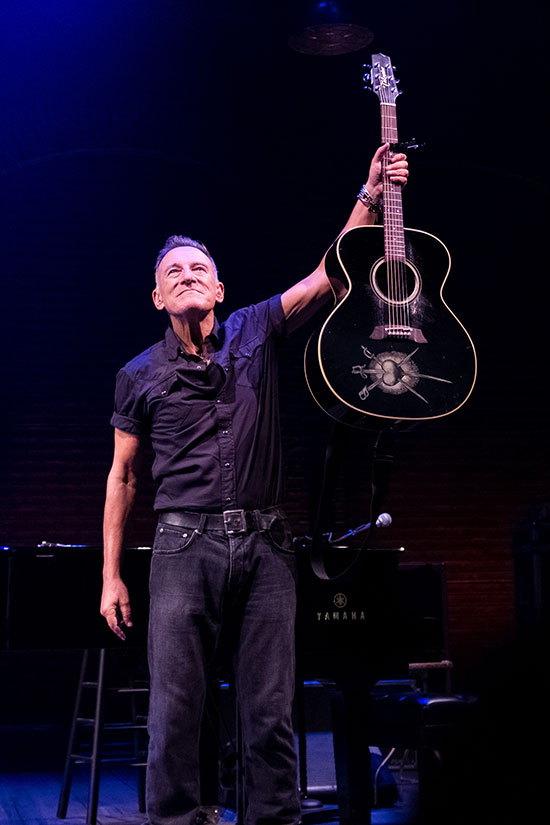 photograph by Michael Zorn
It was a "highly emotional" performance from Springsteen, says photographer Michael Zorn, who attended the show and shares a few shots with us here.
"Bruce was wiping away tears at many moments during the show," Zorn says, naming 'My Father's House,' and 'The Wish,' as well as when Bruce "talked about visiting with Clarence and Danny, and Walter and Ray, every night."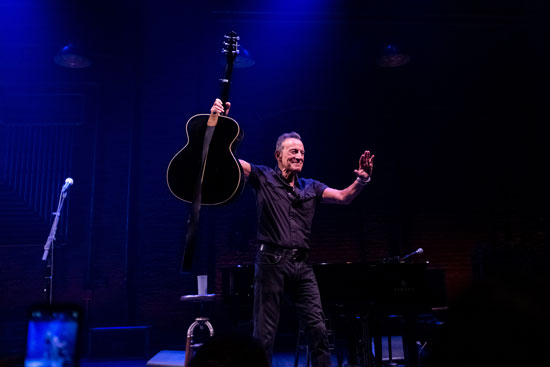 photograph by Michael Zorn
Of course, moments of levity balanced it all out — especially when Bruce talked about getting busted for a shot in the park. "The absolute worst words you can possibly hear: 'The United States of America vs. Bruce Springsteen.' At that point, you know you've fucked up. You have the whole United States pissed at you, thinking, 'Oh, yeah, this fucker did something bad.'
"It was good tequila, though."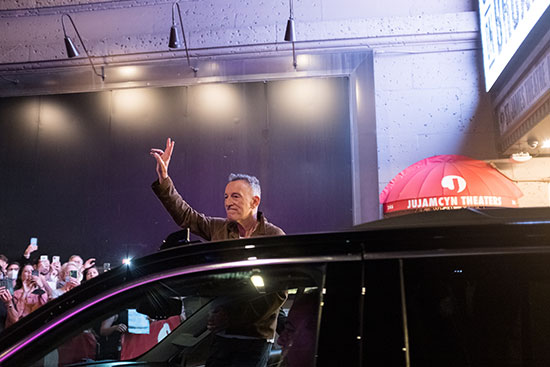 photograph by Michael Zorn
And it's not just National Parks — some words of advice for anyone visiting his hometown: "Freehold police will bust anyone. Don't fuck around, because they don't fuck around — take my word for it."
And because it can't be said enough, God bless Charlie Watts.
For more Springsteen on Broadway show notes ,
see our Setlists page
- August 25, 2021

ROCK SOLID, ROCK STEADY: CHARLIE WATTS, 1941-2021
We salute the great Charlie Watts, whose impeccable style and timing powered everything we love about the Rolling Stones' music, from "Paint It Black" to "Sway" to "Mixed Emotions" to… "Street Fighting Man," which Springsteen added to the E Street Band's set in 1984.
Max Weinberg published his book The Big Beat that summer, a collection of his "Converstions with Rock's Great Drummers" — a cream-of-the-crop selection of 14 players "representative of a certain era of rock history," Max wrote in his introduction. "They aren't just superb drummers; they're historical figures, too. All of us who drum carry a part of their beat and are descended from the tradition they inspired." And if you think Charie Watts wasn't in that elite group, we've got a bridge to Babylon to sell you.
We'll have more with Max Weinberg about the life and legacy of Charlie Watts in the coming days. For now, a take from Bruce Springsteen, from the succinct Foreword he wrote for The Big Beat's second edition, published in 1991.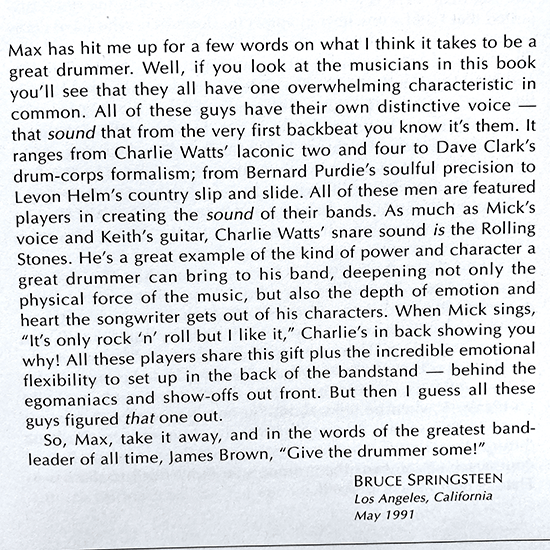 Today's New York Times obituary smartly quotes from this piece of writing, but missing is the sense that Charlie Watts dominated Bruce's thoughts there, despite the other 13 major talents represented in the book. So for us, an extended excerpt is in order:
"As much as Mick's voice and Keith's guitar, Charlie Watts' snare sound is the Rolling Stones. He's a great example of the kind of power a great drummer can bring to his band, deepening not only the physical force of the music, but also the depth of emotion and heart the songwriter gets out of his characters. When Mick sings, 'It's only rock 'n' roll but I like it,' Charlie's in back showing you why! " —Bruce Springsteen, May 1991
- August 24, 2021 - By the Editors

LOST IN THE FLOOD
or, Anne Murray Will Have Her Revenge on Central Park
Hurricane Henri proved too much for last night's We Love NYC: The Homecoming Concert held on the Great Lawn in Central Park. Approximately 90 minutes into the event, in the middle of Barry Manilow's set, the concert was halted on account of nearby lightning strikes. The crowd was asked to head for shelter with hopes of restarting the concert later. While Mayor Bill de Blasio announced intentions of restarting the concert around 10pm without an audience, the remainder of the show would eventually be called off altogether. Assorted musicians and stars called into CNN (the sole broadcast provider); Patti Smith, for one, phoned in and mentioned she had planned to perform three songs: "People Have the Power," "Land," and, yes, "Because the Night" with Bruce Springsteen.
Springsteen wisely stayed away from the chaos on CNN, as entertaining as it may have been. Gayle King live-streamed the Killers singing "Mr. Brightside" from their tent, and Manilow performed "I Made It Through the Rain" via iPhone from his trailer — the song was reportedly on his setlist, but rain stopped the show before he made it that far. No word as of yet if the event will be rescheduled for another date.
- August 22, 2021 - Caryn Rose reporting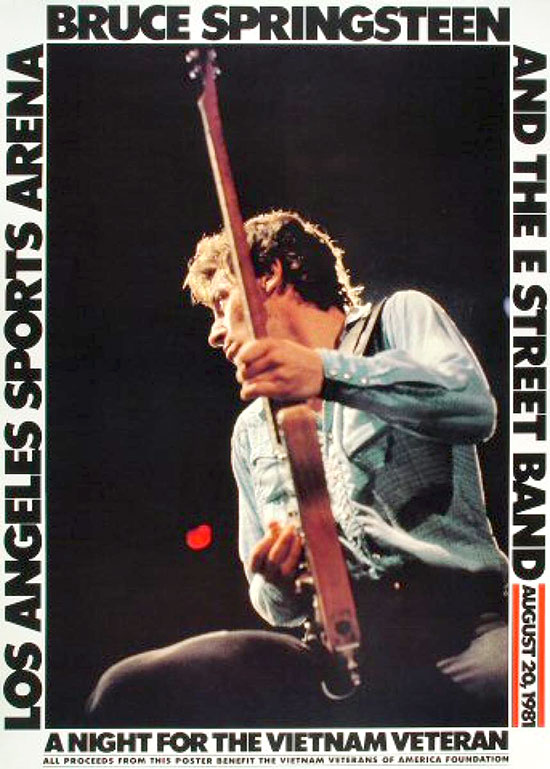 GOOD MEN THROUGH THE AGES
Landmark benefit for Vietnam Veterans happened on this day in 1981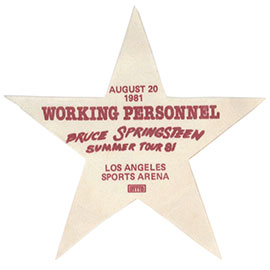 Today marks 40 years since Bruce Springsteen and the E Street Band played one of the greats, a benefit concert in Los Angeles for the Vietnam Veterans of America, a group that had worked since the late '70s to secure acknowledgment and treatment for people who'd been wounded serving in the war.
That night, Springsteen raised money, awareness, and the roof at the Sports Arena. The show served as a gateway to his own style of activism, and it also led to a vital series of songs about veterans coming home.
Backstreets devoted issue #72 of the magazine to a Vets Show retrospective in 2001, anchored by a Q&A with Bob Muller, whose leadership shaped a movement of service and healing for his fellow Vietnam Veterans. Muller traced its roots, challenges, and Bruce's role in aiding the VVA mission.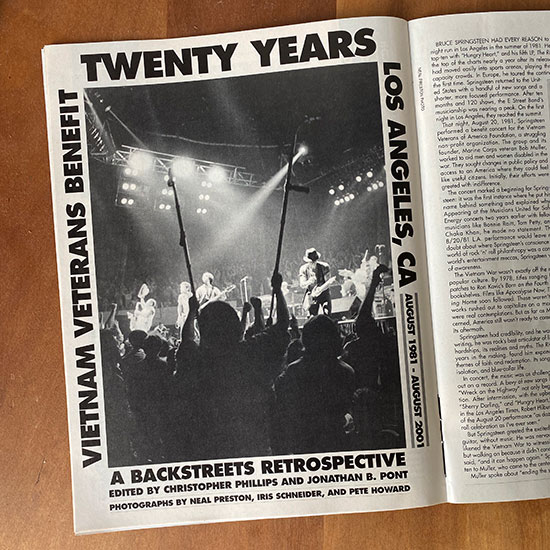 Our 20-year retrospective in Backstreets #72 featured crucial photography from Neal Preston. Like the opening image above, which at first glance may not seem like the most notable concert shot… until you notice the crutches in the air.
Springsteen talked to the crowd before the show about the purpose of the benefit, and he asked Muller to address the audience, too. From his wheelchair, Muller delivered his own moving speech about "ending the silence" about the Vietnam war, with this night as "the first step."
Listen to Springsteen's & Muller's 8/20/81 remarks here
Muller credits Springsteen with saving the organization from going under and allowing a more coherent movement to gain momentum; he went on to share a Nobel Peace Prize for his commitment to banning landmines.
Later, we characterized the August 20 date as "a history lesson, an act of decency, and a demonstration of credibility. Most of all, it was a coming out party, and Springsteen was there to play."
We'd be remiss if we didn't mention the music, which was simply next-level stuff that night. Already working with a somewhat retooled show after his European tour, the 29-song set stands today, as it has since he took his bows with the E Street Band that night, as his most passionate.
In 2020, Backstreets associate editor Jonathan Pont appeared on the None But the Brave podcast to discuss the Vets Show and his interview with Bob Muller; tune in to Season 1, Episode 12 (August 20, 1981: A Night for the Vietnam Veteran with Jon Pont) to listen.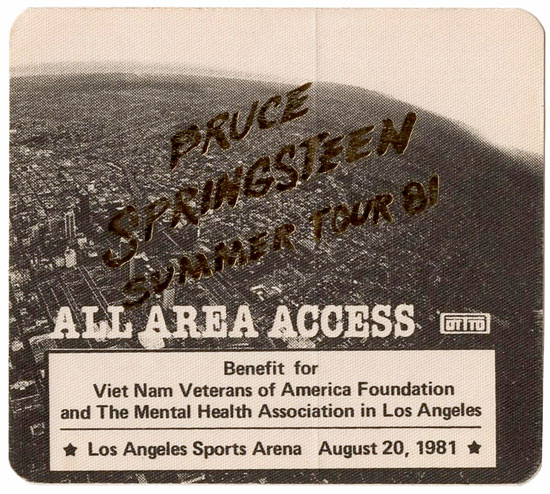 - August 20, 2021 - By the Editors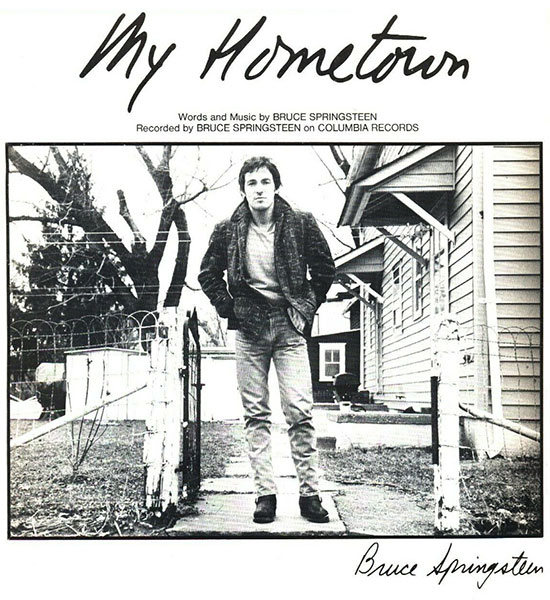 HAD MYSELF A BALL IN A SMALL TOWN
Recap: From My Home to Yours Vol 26, "My Hometown"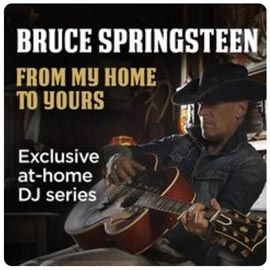 Given the title of Bruce Springsteen's new radio show this week, "My Hometown," of course you knew Bruce had to play his classic... wait, what? "Local Hero"! It's even that magnificent performance from Leeds 2013, complete with horns — love seeing Springsteen dip into his own Live Archive series. And don't worry, he played "My Hometown" too (as part of a closing two-fer with "Glory Days") and "Death to My Hometown" as well. The DJ could have filled the entire hour with his own music ("Freehold," "My City of Ruins," you name it), but as usual we got a mix of genres and artists, all with home and small towns on their minds.
"Now, as I say in my Broadway show, most folks have ambivalent feelings about their hometowns," Springsteen says at the top. "There's love, and hate, and pride, and shame. So during this show we're going to listen to a variety of outstanding artists and their take on where they come from."
He began with Neko Case's ode to her own hometown. You might not know it from the title, "Thrice All American," but from its opening lines — I want to tell you about my hometown / It's a dusty old jewel in the South Puget Sound — her song is a beautiful, clear-eyed love letter to Tacoma, Washington. (Why that title? Tacoma won the National Civic League's All-America City Award in 1956, 1983, and 1998.) Leading with this one feels like it could be Bruce's own olive branch to the city, after his illness there on tour in 1984 was blamed on the "Tacoma Aroma." But maybe it's just that he loves Neko Case's voice:
And what a voice she has! There is something in the very directness of that voice that makes her stand out from her contemporaries, and she is one of my favorite singers.
"No show about your roots would be complete without this one from my buddy John Mellencamp," Springsteen goes on, so from Tacoma we travel to Seymour, Indiana, with "Small Town" (the album track, rather than the killer acoustic B-side; you can't have it all). And from there, straight to Hell! That's where Bob Dylan says his wife's from, in this song from 2009's Together Through Life. "The only man with the balls to sing that one!"
We get a few more geographical specifics, in terms of hometown roots: Detroit, courtesy of Bob Seger, with "that great voice"; and Salford, Lancashire, in the Pogues' "Dirty Old Town" (not Dublin, as one might think), led by the "the immortal Shane MacGowan." But as Bruce's playlist goes along, it's more about hometown as concept rather than a particular spot on the map. Whether its pride of place or a darker view (Daniel Johnston's got vampires living in his!), the unshakeable roots that stick with you for life. After all, Bruce's own life has illustrated that old saw, you can take the boy out of New Jersey but you can't take New Jersey out of the boy. Even if he'd rather not have a rest stop there with his name on it.
Springsteen shows a surprising fondness for contemporary country singers in Volume 26, sifting some gold from not only Chief "Springsteen" singer Eric Church, but also Morgan Wallen, Kane Brown, and Dierks Bentley. Bentley's 2012 track, "Home," takes an even wider scope, as one of those "measuring the distance between the American Dream and American reality" songs Springsteen is fond of. "That voice," he remarked at the end, noting that the "beautiful" song was written by Bentley and Dan Wilson.
Eddie and the Cruisers may have been from a small Jersey town, but in real life John Cafferty and the Beaver Brown Band hail from a shore town a few states away. Cafferty performed with Springsteen a dozen times between 1978 and 1982, after which his Top 10 hit "On the Dark Side" became the greatest Boss pastiche there's ever been (apologies to Bruce Springstone). If you ever wondered whether Springsteen hears it as a rip-off or an homage, kind words in Volume 26 should tip you off:
That was the lovely summer song "Small Town Girl," by my pal John Cafferty. They are out of Narragansett, Rhode Island, I believe. John's career began in the 1970s; he had some major success with the soundtrack for the Eddie and the Cruisers pictures — that album went triple platinum. So congratulations on that, Johnny, and thank you for that beautiful song.
As enjoyable as it is going from town to town, much of the fun of Vol 26 is in the insights Bruce gave into his own work. Setting up "Local Hero":
I wrote this next song after driving by the J.J. Newberry's on Main Street in Freehold and seeing my own self-portrait — bandana included — painted in black velvet. With Bruce Lee to my left and a German Shepherd to my right, in their own individual paintings. And I had to go in and buy one! So I did. And I came home, and I hung it up in my hall, waiting for folks to come in and get the joke, and… nobody did. And so it goes.…

God forgive me, because this is the life I have chosen. And that was the E Street Band live in Leeds, with our auxiliary E Streeters front and center: our great horn section, and our great singers.
After one from "my friend and neighbor, Johnny Bon Jovi, with Jennifer Nettles of Sugarland," Bruce gave some additional background on "My Hometown," and — given that he's been talking in recent months about "vault" releases — perhaps a glimpse of our future:
"My Hometown" [was] written in Los Angeles, California, in 1983 during some sessions in my garage studio in the aftermath of Nebraska and before Born in the U.S.A. This was shortly atfer my 1982 roadtrip west with my road buddy Matt Delia. I spent a good portion of that winter in a Hollywood cottage up towards Laurel Canyon — the previous home of Sidney Toler, star of the Charlie Chan films — and I wrote quite a bit up there, a lot of still-unreleased music, someday to see the light of day, I'm sure.
And before the "Glory Days" finale, a fitting benediction and some hometown pride of his own:
I wanna say, God bless you and your hometown. And until we meet again, I want to congratulate the United States Olympic show jumping team — that's McLain Ward, Laura Kraut, and my lovely daughter, Jessica Springsteen — on their silver medal win at the Tokyo 2020 Olympics. A special shout-out to my great friend and one of the kings of show jumping, Nick Skelton, for his guidance and inspiration. May all of your days forever be glorious.
Playlist:
Neko Case - "Thrice All American"
John Mellencamp - "Small Town"
Bob Dylan - "My Wife's Home Town"
The Pogues - "Dirty Old Town"
Daniel Johnston - "Devil Town"
Bruce Springsteen - "Death to My Hometown"
Eric Church - "Give Me Back My Hometown"
Bob Seger - "Detroit Made"
John Cafferty & The Beaver Brown Band - "Small Town Girl"
Morgan Wallen - "More Than My Hometown"
Dierks Bentley - "Home"
Bruce Springsteen - "Local Hero" (live in Leeds, 7/24/13)
Kane Brown - "Hometown"
Simon & Garfunkel - "My Little Town"
Bon Jovi & Jennifer Nettles - "Who Says You Can't Go Home"
Bruce Springsteen - "My Hometown"
Bruce Springsteen - "Glory Days"
- August 19, 2021 - Christopher Phillips reporting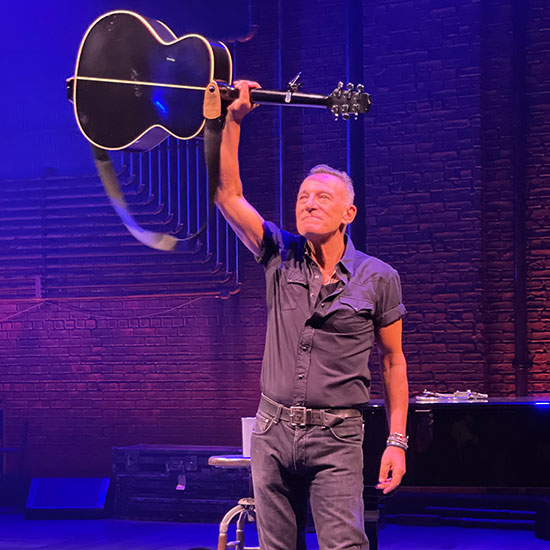 photograph by Eason Jordan
BACK ON THE BOARDS: FINAL STRETCH OF BROADWAY BEGINS
The dog days are over: after a month of summer vacation, Springsteen on Broadway resumed Tuesday night to begin three more weeks of performances at the St. James Theatre (the show will close on September 4).
With new Covid precautionary measures requiring all in the building to wear a mask, Bruce Springsteen wore a black one himself as he took the stage, removing it shortly thereafter to begin the performance. Before "My Hometown," he thanked the audience for remaining masked up.
Despite apparently having a mild case of the sniffles, Springsteen sounded terrific. Unsurprisingly, though he peppered in a few new jokes, there were no significant changes to the show — the 2021-model setlist has remained the same since opening night on June 24.
He did, however, choose one recent news item to react to — a certain lyrical debate that peaked just as Springsteen on Broadway went on break. After singing the first line of "Thunder Road" — "The screen door slams, Mary's dress sways" — Bruce took a dramatic pause before repeating that last word, speaking it loudly and clearly: "Sways." Having weighed in, siding with Jon Landau's "definitive answer" in the New Yorker, Springsteen carried right on with the performance. Just as many unswayed "waves" proponents will carry on trusting the art rather than the artist on this particular subject.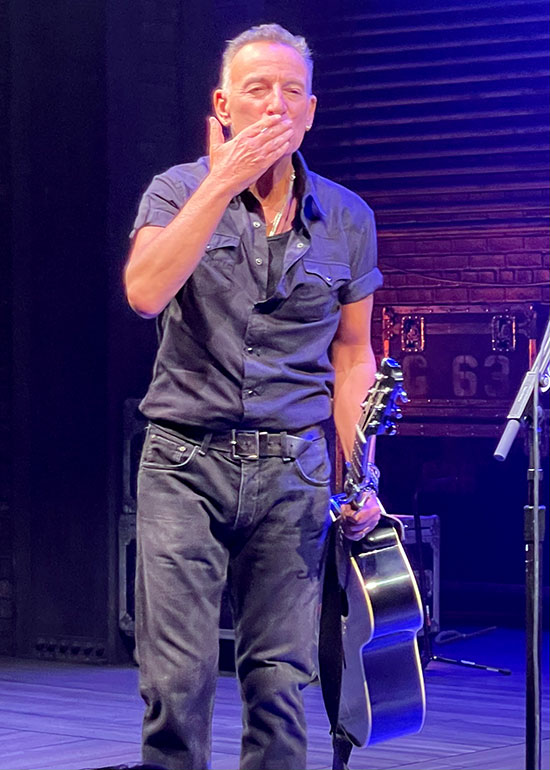 photograph by Eason Jordan
Presumably because of the heightened Covid precautions, Springsteen remained socially distanced from the front row rather than shaking hands as he typically has, but he had more kisses than usual to blow to the audience. And, of course, some waves.
For more Springsteen on Broadway show notes ,
see our Setlists page
- August 18, 2021 - Special thanks to Eason Jordan for both show notes and photographs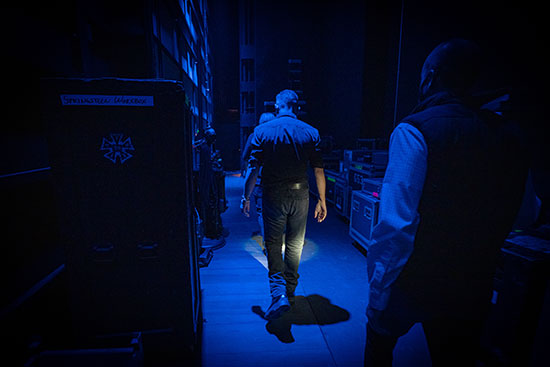 Bruce Springsteen returns to the Broadway stage - photograph by Rob DeMartin
THE WEEK AHEAD IN BOSSNESS
It's often the case that things slow down in August... but here with This Thing of Ours, this week feels as busy as ever. Here's what's on the docket in the coming days: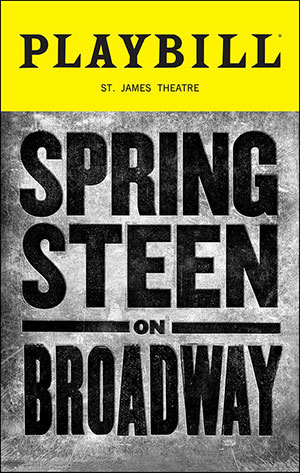 TUESDAY, 8/17
Back on Broadway
Following the July 17 performance, Springsteen on Broadway had a month-long break in the schedule, which coincided with the Tokyo Olympics. Tonight, Springsteen and Scialfa are back on the boards at the St. James Theatre (and with the U.S. Equestrian Team winning silver in the Team Jumping event, they return as proud parents of an Olympic medalist) to begin the second and final stretch of performances in this 2021 Broadway run.
Proof of vaccination had been required since the show's opening; now, with COVID concerns rising again due to the Delta variant, attendees will need to mask up: "Masks are required to be worn properly at all times except while actively eating or drinking when seated." See the Jujamcyn Springsteen on Broadway FAQ for additional information on COVID safety protocols.
Including tonight's return, fourteen shows remain — as producer Jon Landau told us in June, "nobody's thinking" about an extension — with closing night on Saturday, September 4.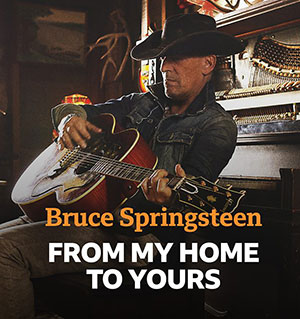 WEDNESDAY, 8/18
A Hometown celebration on From My Home to Yours
Tomorrow brings the first airing of From My Home to Yours Volume 26, an episode titled "My Hometown." The new show will focus on artists singing about "from where it is that they come from," including music by John Mellencamp, Bob Dylan, The Pogues, Eric Church, Bob Seger, Dierks Bentley, and Springsteen himself.
Volume 26 will air at 10am and 6pm ET tomorrow on E Street Radio, with additional broadcasts on Thursday at noon, Friday at 6am and 4pm, Saturday at 2pm, Sun at 10pm, Monday at 7am, and Tuesday at 12am.
FRIDAY, 8/20
40th Anniversary of A Night for the Vietnam Veteran
This may be the most under-the-radar of this week's Springsteen events, but for us it's a big deal, as one of our favorite Springsteen performances of all time. We've marked quite a few 1981 tour anniversaries this year, but the E Street Band's 8/20/81 Los Angeles concert is as landmark as it gets — not only one of the most intense performances of his career, but Springsteen's first time truly standing up and speaking out for a cause important to him, raising crucial money and awareness for the Vietnam Veterans of America Foundation.
It's such an important occasion that we dedicated an entire issue of Backstreets to it 20 years ago, including an extensive interview with VVAF president Bob Muller (who Springsteen brought out on stage that night). Muller told Backstreets of the August 20 concert, "That was the turnaround event, realy, in our history of putting together a coherent Vietnam veterans' movement.... We had no money, we had no support… we were going down. It was our darkest moment, and I say that very honestly.… we were finally about to give up the ghost, and that's when Bruce came in. It literally turned us around."
For more on the historic concert — the full Bob Muller interview, concert and backstage photos, speech transcriptions, performance highlights, and more — we encourage you to check out Backstreets #72.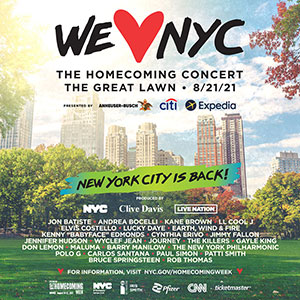 SATURDAY, 8/21
We Love NYC - The Homecoming Concert
It's rare for Springsteen on Broadway to be dark on a Saturday night, but this coming weekend, Bruce has other plans. A tweet from Springsteen has made it clear that his participation will be "for one song only," but Bruce will be making a special appearance during the We Love NYC concert in Central Park, joining Patti Smith to perform their co-written "Because the Night."
Gates open at 3pm, with the concert beginning at 5pm.
For those who can't make it to Central Park on Saturday (or don't want to brave the crowds), the live event will be broadcast globally on CNN. The live broadcast will begin at 5pm ET on CNN, CNN International, and CNN en Español.
- August 17, 2021


REMEMBERING WALTER YETNIKOFF: 1933-2021
From Brooklyn to "Omaha," CBS Records chief helmed mid-'80s heyday

Brash, outspoken, and ultimately humbled, Walter Yetnikoff was a Brooklyn-raised lawyer who became one of Bruce Springsteen's great admirers. His vantage point distinguished him: he served as the head of CBS Records (which included labels Columbia and Epic) during the era of Springsteen's greatest commercial popularity.
In a 2004 memoir, Howling at the Moon, Yetnikoff recounted adventures, triumphs, and professional relationships with everyone from Marvin Gaye to Mick Jagger to Springsteen.
"He was the ultimate artist," Yetnikoff told Backstreets in a 2004 interview. Though they'd met by 1975, their work began in earnest around 1980. When Springsteen was in Los Angeles mixing The River, they sat down to discuss what would be Bruce's fifth album — Yetnikoff could not recall the single-record version, which Springsteen had handed in the year before — and he learned that it would be a two-record set.
"I said, 'Ah, shit! Why?' On a number of occasions, he came up with very good answers, which went something like, 'I can't put everything I have to say creatively on one record, okay? So you're going to have to figure out the rest, like how you sell two records, how you price it and promote it.'
"The example I've used a million times about why at that period of time I regarded him as the ultimate artist was that I said to him, 'You know how much money you're spending on this? You're spending a fortune! You know something? It's your money. We lay it out, but it's an advance against royalties.' And his response was, 'How should I spend my money better than on my art?' You can't argue with that, nor should you."
Another galvanizing moment came when Springsteen presented Columbia with Nebraska, which Yetnikoff liked immediately, listening twice in succession at Jon Landau's office in mid-'82.
"Bruce was outside [the office], walking back and forth. He didn't know how I was going to react," Yetnikoff said. "As I recall, I said, 'This record doesn't have a band, it's not a rock 'n' roll record, and we're not going to sell a zillion copies for that reason. But we are going to sell a respectable amount.'"
Yetnikoff put his own capital behind Nebraska: some colleagues at CBS expected an E Street Band record and were dubious of this one's commercial viability. "This was one time I did impose my will, because there was some resistance to it. People weren't going to argue with me because I was too crazy," he told us. "To a certain extent it fostered Bruce's career. But I wanted to do a good job." Yetnikoff even gave the record a pet name: Omaha.
Though he had the heart and mind to help guide record sales while remaining sensitive to Springsteen's creative needs, Yetnikoff claimed he never had much of an ear — save for Bruce's vocal, always pleading after hearing a mix, "Could I hear some more voice, please?"
By 1984, of course, Yetnikoff got his wish, as Born in the U.S.A., powered by seven Top 10 singles and a world tour, turned Springsteen into one of the biggest acts in popular music.
The pair had a good working relationship, but Yetnikoff knew that Springsteen didn't use drugs, which is one reason they didn't hang out, save for the occasional social visit. In his later years, Yetnikoff was forthcoming about his addiction, treatment, and his undoing after Sony absorbed the label. "The more powerful I became, the greater my rewards, the deeper my lunacy," he wrote in Howling at the Moon.
Even before he left Sony in 1990, Yetnikoff had stepped back from the relationship, in part, he said, because Springsteen, who'd dismissed the E Street Band and sought a new creative direction, no longer required day-to-day attention. But Yetnikoff wasn't pleased when Springsteen joined with Amnesty International for the 1988 Conspiracy of Hope tour, believing the organization was biased against Israel.
"I did pull back in terms of taking their calls. Part of that had to do with my own arrogance, my own ego," Yetnikoff said. But by 2004, he regretted judging Springsteen, as he told Backstreets: "He was doing things I don't like, but hey, his politics are his politics. He has the right to do that. At the time, if I had called Bruce and said, 'Hey let's sit down and work this out,' I'm sure he would've said yes. I owe him an apology."
After leaving Sony in 1990, Yetnikoff founded his own record label and had a hand in film production. His greatest success remains with the Epic and Columbia best-sellers from Thriller to Born in the U.S.A. as well as hits with Marvin Gaye, Labelle, and Billy Joel. In his later years, Yetnikoff remained devoted to helping people discover paths to sobriety.
- August 13, 2021 - Jonathan Pont reporting - portions previously appeared in The Ties That Bind: Bruce Springsteen, A to E to Z, Gary Graff ed.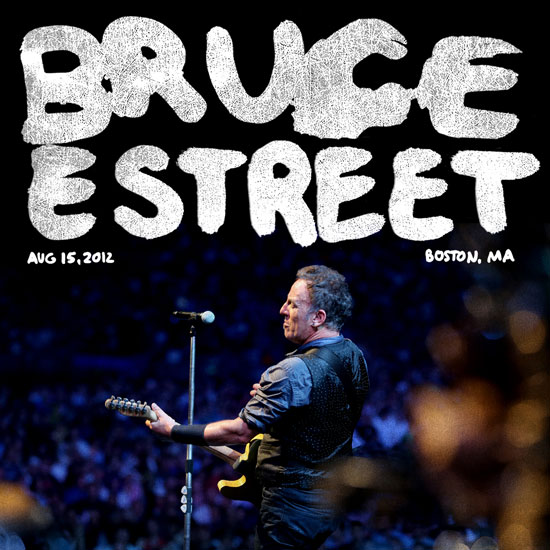 ARCHIVE SERIES HITS IT OUT OF THE PARK WITH 8/15/12
A monster show arrives in the Wrecking Ball tour's Fenway Night 2
A hearty "welcome back" to First Friday in general, and specifically… we've been hoping for this one. Certain shows loom large on many Best of Tour lists. Hartford 2000. St. Louis 2008. Paris 2012. (I play a drinking game during episodes of the stellar None But the Brave podcast: Take a shot every time Hal or Flynn mentions Hartford or Paris.) Also a frequent entry on those Best-of lists: August 15, 2012, Boston, MA. And now that concert — the second night of two at Fenway Park on the Wrecking Ball tour — has its rightful place in Bruce Springsteen's Live Archive series.

Now, every city in Not-New-Jersey thinks it is Bruce's secret favorite place to play (looking at you, Philadelphia.) But most of us know the answer is actually Boston. Just because they roll tape more frequently in the Garden State doesn't mean those shows are better; Fenway 8/15/12 is the third entry in the Archive series for the Hub! In fact, we'd be happy with monthly releases of just classic Boston shows for the rest of the year. September: March 25, 1977 at the Music Hall; October: August 27, 1999 at the Fleet Center; November: Blu-ray video release of October 30, 2005 at T.D. Banknorth Garden; December: Blu-ray video release of September 7, 2003 at Fenway Park. You can now rest easy, Archive Series planners. Hard part's done.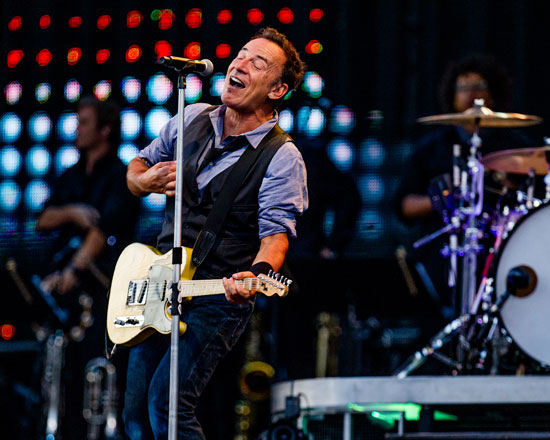 August 15, 2012 - photograph by Michael Zorn
My obvious Beantown pride aside, expectations tend to be high when Bruce hits Boston. On the Wrecking Ball tour, however, the first of the two-show Fenway stand was… not great. I've seen quite a few Springsteen shows, and there is only a handful when I've left thinking, "Okay, maybe it's time to take a break." In 2012, Fenway Night 1 was one of those. Especially after hearing about the legendary double play there on the Rising tour in 2003, the 8/14/12 performance felt perfunctory, the pit was full of VIPs and hangers-on — so many lanyards, so much talking — the show just did not come together.
I think Bruce may have felt the same. Because he casually strolled out on the second night with a completely different vibe. The visual and the tone go a long way to understanding the groove of Night 2, so take a look below (Bruce starts talking about a minute in).
And we open with Bruce and Roy on a stripped-down "Thunder Road" — which you could say was completely out of left field, had we not been standing in that general area. Then: "Let's start with the hits! Let's start with the summertime hits right now!" Into "Hungry Heart," "Sherry Darling," "Summertime Blues," and "Girls in Their Summer Clothes." We were stunned. Where was this coming from?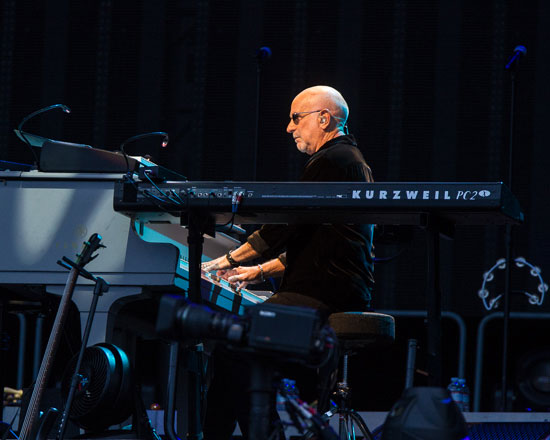 August 15, 2012 - photograph by A.M. Saddler
One of my favorite insights from Bruce's Super Bowl journal was his fear of not being "in the moment" from the very start of the 12-minute halftime show. During a three-hour concert he can call an audible if he feels himself wandering, in order to shake things — and himself — up. No such luxury in 720 seconds of a carefully white-boarded Springsteen Experience.
That feeling of aliveness and being in the moment is what the entire second night in Fenway felt like. A minute-to-minute openness on Bruce's part to the show being something different. As Bruce said before "Girls in Their Summer Clothes," "All right, we're flying by the seat of our pants now!" As a fan, that's what you hope for.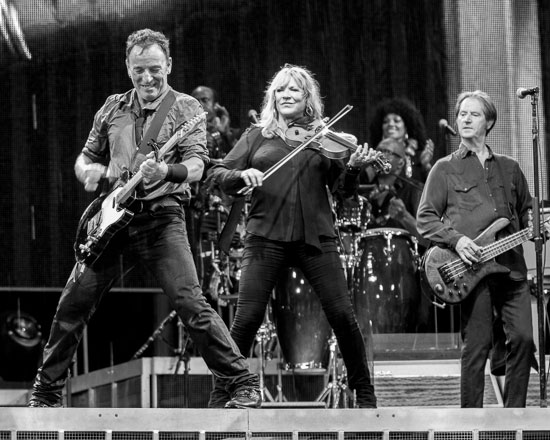 August 15, 2012 - photograph by A.M. Saddler
Okay, so we've got a Great Opening Set. We've got the Vibe. To complete the "Best of" checklist we need 1) Rarities and Covers, 2) Memorable Moments, and 3) A Strong Closing.
1) Rarities and Covers. It's August 2012, so we're comfortably in the sign-request era. Over time, some selections hit me better than others. You soon realize that the best Bruce covers are not songs by the Stones or Van Morrison. If your neighborhood's Dads band would play it at the community pool on a Friday night, it's not going to be a transcendent Springsteen cover. Rather, it's the more obscure frat rock, novelty, and soul songs that tend to lead to E Street magic.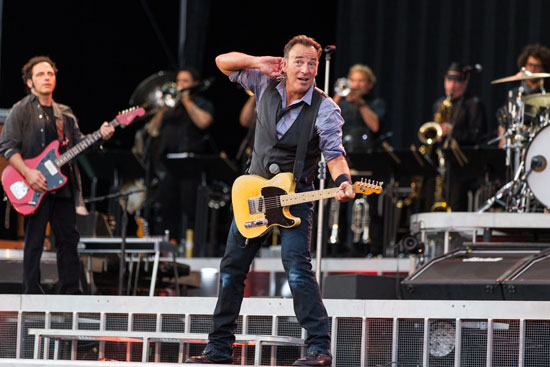 August 15, 2012 - photograph by Michael Zorn
I vividly remember "Hang On Sloopy" from Greensboro in 2009 tearing the roof off the place. If Fenway had a roof, it would have been the same for me for this night's "Knock on Wood." Now, the horns are key in this song, and — whether you believe they had advance notice, they figured out their parts on the fly with some coaching from Eddie Manion, or they're just that good — they NAILED it. Such great fun, with enough rough edges that it still had the heady tension of an impromptu one-off.
Oh, and then the next sign requests granted: "Does This Bus Stop at 82nd Street," "Thundercrack," and, wait for it, "Frankie." And there was more to come.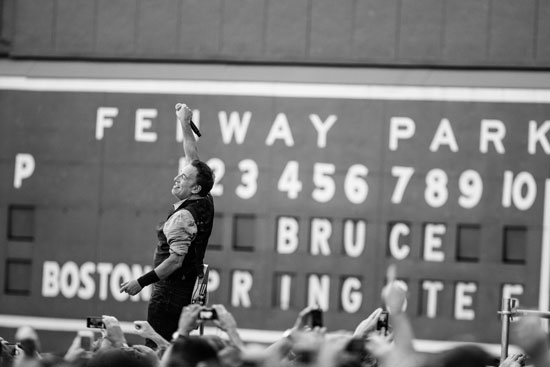 August 15, 2012 - photograph by Michael Zorn
2) Memorable Moments. With those last three requests, themes of summer merged with their natural companion: nostalgia. Which is not Bruce's typical go-to move. The audience may want to relive the '78 intro to "Prove It All Night" (yes, this is foreshadowing), but it's his nature to play a new song instead. He would say — has said — that that's his job, right? But first "Frankie" got a mid-song rap about writing the song in the 1970s and watching the fireflies on the front porch. And, one-by-one, cellphones lit up Fenway. That was a moment.

August 15, 2012 - photograph by Michael Zorn
Next up, "Prove It All Night." Yes, in the 1978 arrangement — for the first time in decades. This was a sign request as well. My memory is hazy, and I can't get a good YouTube visual, but I believe the '78 intro was mentioned on the sign. And the feeling of wondering if the intro was going to happen, and then it starting to happen, and we were back to the Darkness tour, not just a brief nod but going on for a full three minutes… that feeling is what's hard to capture when just listening to an Archive release a decade later. The folks who understandably listen to St. Louis 2008 and wonder what the big deal was — I get it. It's tough to get the feel of the room, and it's easy to lose some wonder and anticipation as you're holding the setlist in your hand. But listen with fresh, attentive ears if you can.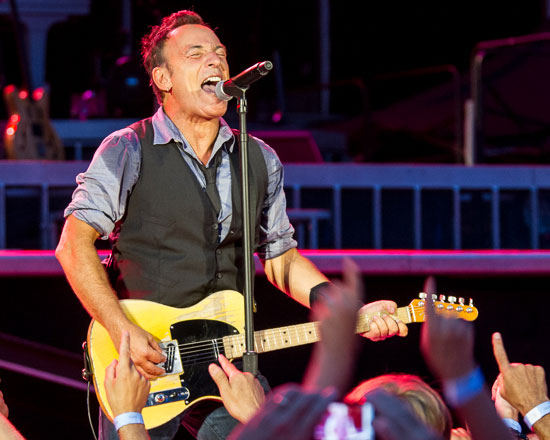 August 15, 2012 - photograph by A.M. Saddler
Imagine a few songs later as "Backstreets" crescendos and then quiets. And you've still got the '78 "Prove It" intro ringing in your ears. Bruce croons "Together until the end" and takes a moment. And a thought breaks across your brain — wait, he's not going to do the "Sad Eyes" interlude, is he? That would be crazy. It's been more than three decades since he did that. And the seconds tick by. And you think there's no way.
But we're in the moment. We are alive. And then nostalgia merges with the modern… and with no precedent, 2005's "Dream Baby Dream" mantra comes instead. You could see the moment when the inspiration hit Bruce to include it. And no one else outside of the people visitingBackstreets.com and reading more than ten paragraphs into a nine-year-old show review would understand the feeling, or care. But I'll consider this a safe space with my fellow travelers: It was amazing.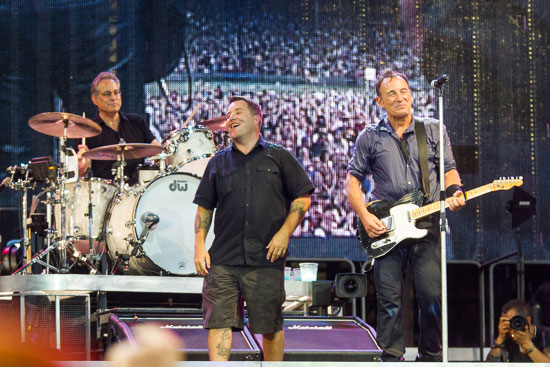 August 15, 2012 - photograph by A.M. Saddler
3) A Strong Closing. We got "Detroit Medley" and "Quarter to Three." A final dash of nostalgia to put smiles on Fenway faces. Is there more to say? About the rain, the Ken Casey appearance? Well, sure — my brother was standing next to me that night, and you can read his rave from the time right here (especially if you want more baseball puns). But maybe you save that for after you've given the show a listen or two. First, go download this magical show.
Also read: Erik Flannigan's latest nugs.net blog entry, "In the Shadow of the Green Monster"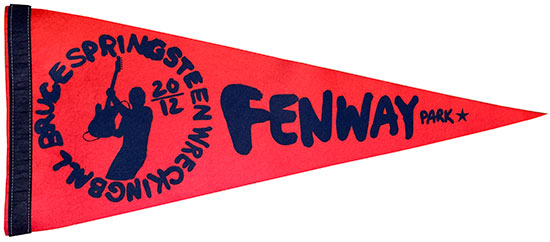 - August 6, 2021 - Jon Phillips reporting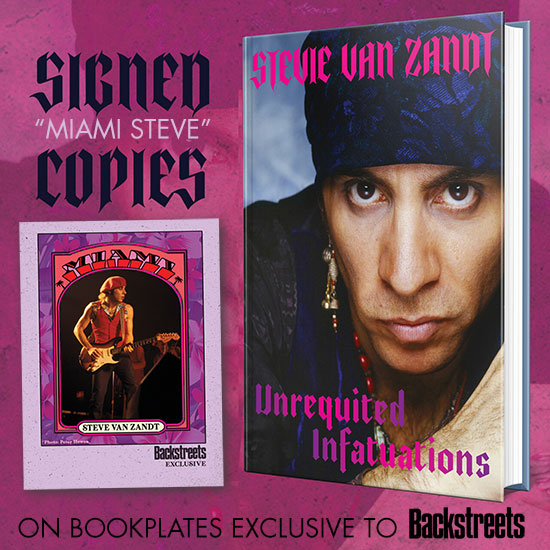 THE RETURN OF MIAMI STEVE: A VERY LIMITED ENGAGEMENT
Pre-ordering is open now for Stevie's memoir — signed exclusively for Backstreets with his beloved, long-retired '70s nickname
We can hardly believe it ourselves. I mean, it'll never be said that the man doesn't have high regard for rock 'n' roll history and rock 'n' roll fandom — not to mention a legit sense of humor. But still, how the hell did we talk him into this?
Not only is Stevie Van Zandt signing bookplates for us to accompany his forthcoming Unrequited Infatuations: A Memoir... he's signing as "Miami Steve." It's a Backstreets exclusive.
Unrequited Infatuations is earning raves in advance of its September 28 publication, including some fever-dream rhapsodizing from Bob Dylan himself, which you can read in full on our catalog page. Bruce Springsteen describes the story of Unrequited Infatuations as "an inimitable rock 'n' roll life told as boldly as it was lived." Looking back at that life — knowing that so many of our readers go way back, too, with a deep appreciation for that E Street history — The Artist Currently Known as Little Steven is resurrecting his '70s nickname just for us, and for this occasion only.
"Never again," we're told.
Van Zandt's hand-signed "Miami Steve" signature will go on superbly designed, custom bookplates featuring Miami-era SVZ in all his flowered shirt splendor -- also a Backstreets exclusive. What a standup guy. Jump on it before he changes his mind.
Guarantee yours by pre-ordering now,
only from Backstreet Records!
- July 28, 2021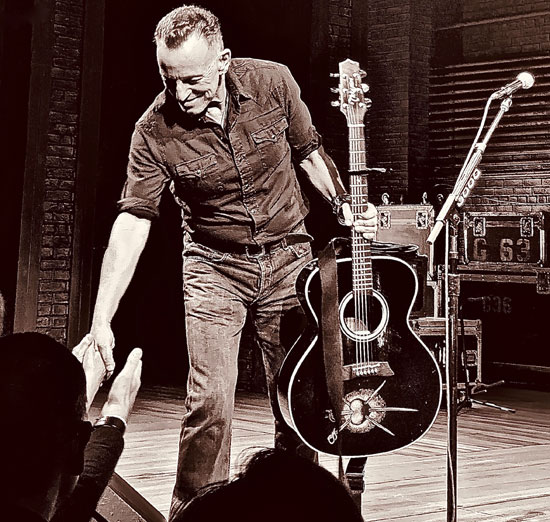 WHAT IS A PROTEST SONG, REALLY?
A Veteran's Wife on Springsteen on Broadway and the Artistry of Dissent
Does Mary's dress sway, or does it wave? Last week, the long-running debate over the correct opening lyrics to Bruce Springsteen's classic "Thunder Road" appeared to be settled at last. The contentious discourse gripped Twitter earlier this month, when, on July 3, New York Times reporter Maggie Haberman shared a photo of the stage at Springsteen on Broadway with the words "A screen door slams, Mary's dress sways." The New Yorker's editor-in-chief David Remnick reached out to Springsteen's longtime manager Jon Landau, who gave the final verdict: It sways.
While I was as emotionally invested in this scuffle as anyone (Team Waves, btw), a more serious Springsteen-related lyrical matter came to dominate my brain share.
At the same time that Waves vs. Sways concluded, former Staind frontman-turned-country singer Aaron Lewis's song "Am I the Only One" entered the Billboard Hot Country Songs charts at #1 (only the ninth song ever to do so), and the Top 100 Singles at #14, without any support from mainstream country radio.
Amplified by airplay on FOX News and SiriusXM's Patriot Radio, the song, already denounced by music industry critic Bob Lefsetz, represents something of a Conservative anthem. Among lyrics decrying the removal of Confederate statues and the gem, If you don't like it (America, presumably), there's the fuckin' door, Lewis—who has no military experience—sings, Am I the only one, willin' to bleed/Or take a bullet for bein' free? As a woman married to a retired career Army officer who has done multiple combat tours, I have thoughts about this.
Lewis also sings:
Am I the only one who quits singin' along
Every time they play a Springsteen song?
Shortly before the song took off like a right-wing rocket, several random knuckleheads tweeted that Americans shouldn't play Springsteen's "Born in the U.S.A."—a song about forgotten Vietnam veterans—on the Fourth of July.
Seems a lot of good old boys have a beef with Bruce. As a veteran's wife, I've got some thoughts about that, too.…
Continue reading:
WHAT IS A PROTEST SONG, REALLY?
A Veteran's Wife on Springsteen on Broadway and the Artistry of Dissent
By Lily Burana
- July 27, 2021 - photograph courtesy of Lily Burana, July 3, 2021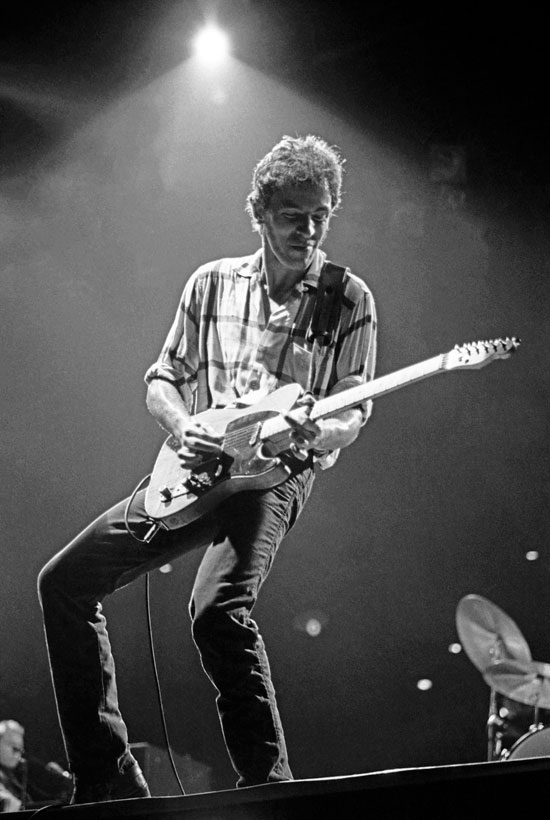 October 1980, Richfield Coliseum - photograph by Janet Macoska from her 2021 book Bruce Springsteen: Live in the Heartland
JANET MACOSKA, LIVE IN THE HEARTLAND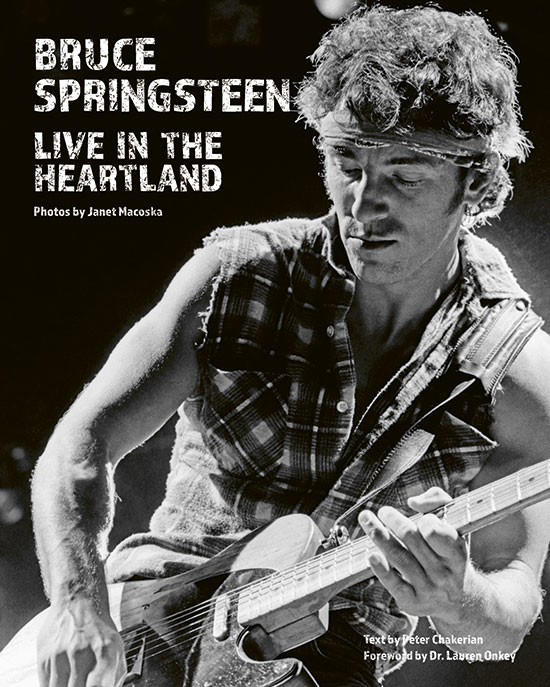 In our new Backstreets interview, Janet Macoska discusses in detail the decades of concert photography contained in her new book, Bruce Springsteen: Live in the Heartland.
With a foreword by Lauren Onkey and year-by-year commentary on Springsteen by Peter Chakerian, Live in the Heartland is fascinating as the vision of a singular photographer covering almost the entirety of Springsteen's touring with the E Street Band, from their 1974 debut in Cleveland (as an opening act) through the 2016 River Tour.
Speaking with Bob Zimmerman for Backstreets, Macoska describes how she discovered photography (and rock 'n' roll), kept pushing til it was understood, and, still a teenager, shot her first assignment for her school paper in 1974: Wishbone Ash, with opening act Bruce Springsteen and the E Street Band.
"I had 12 frames on the roll [of film]," Macoska recalls. "I went to see Wishbone Ash. I liked Wishbone Ash. I had heard their music on the radio. But then this guy comes on stage. He's just a scruffy, little beatnik guy. But he sounds cool. And he's charismatic, and he's got the Big Man with him, and he ended up taking up six or seven of the photos I took on that roll of 12."
Over the ensuing five decades as a professional, Macoska would photograph Springsteen again and again in Ohio — ten tours are covered in the new book — and she takes Zimmerman through her history. Sidetrips include connecting with fellow teen rock journalist Cameron Crowe in '74, shooting The Clash and other punk acts in their prime, being asked by Steve Popovitch to capture Springsteen and Ronnie Spector backstage, and witnessing the famous '78 Agora show without camera in hand.
Read:
HERE IN NORTHEAST OHIO:
JANET MACOSKA, LIVE IN THE HEARTLAND
By Bob Zimmerman, with many more photographs by Janet Macoska
- July 26, 2021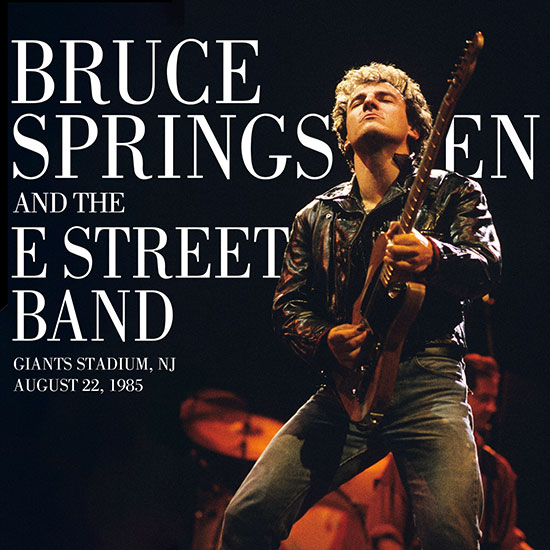 WHERE GIANTS PLAYED THE GAME
Relive the massive Meadowlands homecoming in 8/22/85 Archive set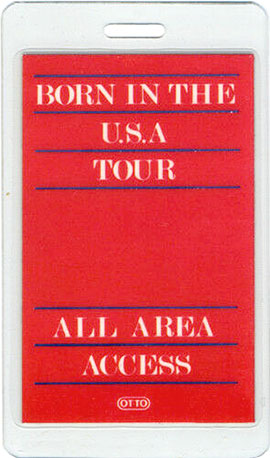 August 1985. It was the closest thing New Jersey had to its own version of Beatlemania. The Born in the U.S.A. album was huge — had been huge for more than a year — and the Top 10 singles kept on coming. There would be seven when it was all over. (And how about those B-sides?) Arenas could no longer handle the crowds ready to see Bruce Springsteen and the E Street Band.
In 1984, New Jersey had already been awarded an outsized share of Springsteen concerts (Archive entries from that Meadowlands arena stand are 8/5, 8/6, and 8/20/84). But the demand was worldwide, and Bruce couldn't just play in one place for several months. (Okay, he could have, and he eventually would, but in 1985 no one contemplated Springsteen on Broadway.) So the Born in the U.S.A World Tour ventured out from the swamps of Jersey for an entire calendar year, as Bruce and the E Street Band covered not only North America but Europe, Australia, and Japan, too.
In 1984, Bruce's ten sold-out shows at the Brendan Byrne Arena could easily have been 20 sold-out shows — or more. Returning to Jersey in 1985? For a series of homecoming concerts after touring the world and becoming a global superstar in the process? Forget it. Over we go to the big football stadium across the road.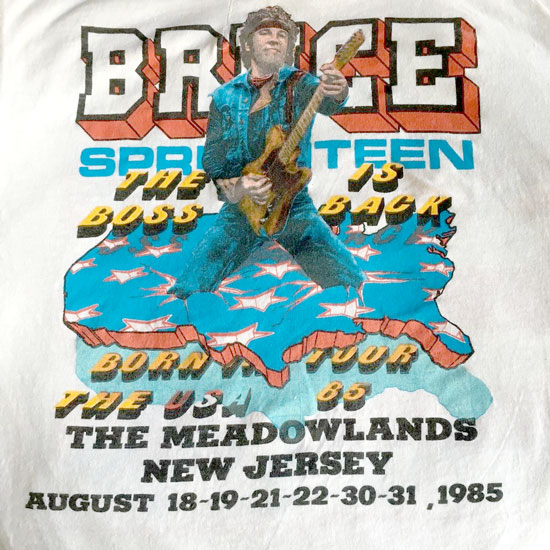 It's worth noting the ticketing debacle associated with this Giants Stadium stand, particularly for the ripple effect that would affect concertgoers for decades to come. When tickets went on sale for four Giants Stadium shows in '85 (August 18, 19, 21 and 22), there were campsites at Ticketron outlets across the metropolitan area. And of course, scalpers were paying people to line up, just to add to the fun. Then something very strange happened: thousands of people who waited as long as 24 hours in line all over town did not get any tickets.
Reports of corruption at Ticketron outlets — and the fact that scalpers had plenty of tickets — were not surprising, given the phenomenon that Bruce had become in the Born in the U.S.A. era. The New Jersey Sports and Exposition Authority, Ticketron, and Springsteen suddenly had a very embarrassing problem. Thousands of hopeful concertgoers in multiple locations slept in the street and came up empty on a ticket sale that should have put more than 200,000 tickets into the hands of the fans.
The solution was the addition of two more Giants Stadium shows wedged into the tour (August 30 & 31), after the band played a pair of shows in Toronto (August 26 & 27). Tickets for those two extra shows would be sold by Ticket World, rather than Ticketron. With the eyes of the media and law enforcement on every ticketing computer, things were somewhat better, though there was an unintended consequence: after Ticketron was forced to loosen its exclusive grip on the venue's ticketing, the sales of the added shows through the upstart Ticket World eventually led to Ticketron's demise and the emergence of the now-ubiquitous… Ticketmaster.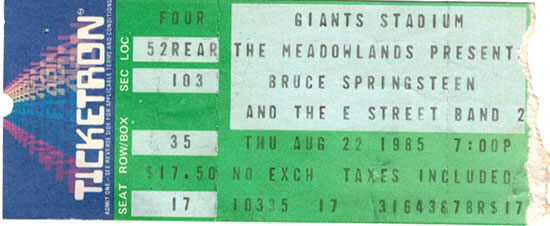 Had a recording of one of those Giants Stadium performances been released in 1985, it would have shot straight to the Top Ten and been certified gold on the spot. For fans who weren't part of the craziness in 1985, hearing the newly released Live Archive series recording of the August 22, 1985, Giants Stadium concert (the fourth of the six shows) may not accurately convey the level of importance this recording would have had if released at what might best be described as the zenith of Bruce Springsteen's popularity.
For many attendees of the Giants Stadium shows, the music was secondary. It was an event one had to attend — a hot ticket whether you liked Bruce or not. Not surprisingly, the shows were heavily focused on the Born in the U.S.A. album. In fact, the August 22 show (along with several others from that summer stadium leg of the tour) includes all seven of the top ten singles from the album.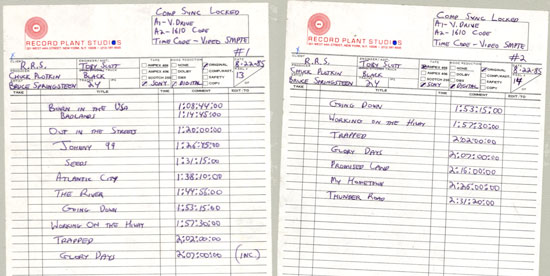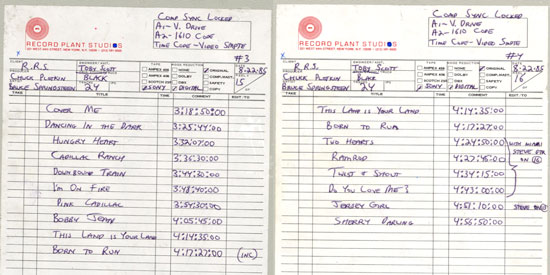 As the band took the stage that Thursday evening, "I'm Goin' Down" was in the midst of a 13-week stay on the Billboard chart. "Glory Days," which had peaked at number five in June, was still enjoying an 18-week run on the Billboard chart. For better or worse, this was a show by a guy with a lot of hits and an enormous audience that wanted to hear them.
Hardcore fans might have groaned back then, but in hindsight, what's wrong with hearing the now seldom-played "I'm Goin' Down" or "Pink Cadillac" rocked by an E Street Band in its prime?


The Born in the U.S.A. World Tour was the first with Nils Lofgren taking Steven Van Zandt's spot on stage. But on this night, Steven joined the homecoming celebration in a guest appearance for a spirited set of encores. He had done so a few times on the tour, including several nights in England as the European leg of the world tour came to a close a month prior. But this was his first North American tour appearance of 1985, and the crowd naturally went wild for a special "Two Hearts." Stevie remained on stage for the rest of the show, to play on "Ramrod," "Twist and Shout"/"Do You Love Me," "Jersey Girl," and "Sherry Darling."
The setlist is very much of the era, including nothing from the first two albums and only two songs each from Born to Run and Darkness on the Edge of Town. The longtime fan may have missed hearing "Backstreets," "Jungleland," and "Rosalita," but as the Springsteen catalog started to fill up with the songs that would become classics, choices were made — and these choices leaned toward the songs that were on the radio all summer. The old favorites would come back in the years to come, but a show that has "Bobby Jean" as the second-set closer represents a snapshot of a time when Bruce Springsteen had reached heights he'd probably never imagined.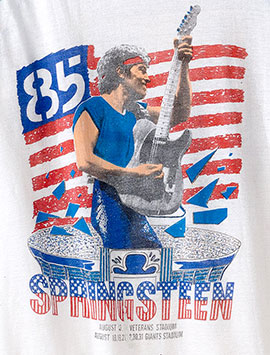 Most fans would agree that a football stadium is not the place to see your favorite band, but the summer stadium tour of 1985 just happened to find the E Street Band in peak form with a multitrack tape machine in the house. Enjoy the Archive release of the Giants Stadium show without the hysteria of 1985 around you, just the sound of Springsteen and the E Street Band taking their best shot.
Looking back as a Springsteen fan entering his seventh decade, I have nothing but fond memories of my younger self being simultaneously frustrated by the stadium experience and exhilarated by the music. And you won't have to think about getting your car out of the parking lot after cranking up August 22, 1985, Giants Stadium in the much smaller venue where you listen to these things.
Also read: Erik Flannigan's latest nugs.net blog entry, "I Got You and You Got Me"
- July 23, 2021 - Robert S. Bader reporting

BRUCE & BARACK RETEAM FOR RENEGADES BOOK, DUE OCT. 26
Dreams, myths, music, and "a couple seekers doing their best" in an illustrated gift book springing from their Spotify podcast
In just the past five years we've seen Bruce Springsteen go from rock icon to bestselling author… to Broadway star… to feature film director… and as long as he's back on Broadway this year, why not circle back to author, too? And surely a bestselling one, once again — that tends to happen when your co-author goes by "Mr. President."
Following Bruce and Barack Obama's early-2021 Renegades: Born in the USA podcast, a book by the same name will revisit those conversations in print this fall.
The 320-page Renegades: Born in the USA hardcover (additionally subtitled "Dreams • Myth • Music") will be published on October 26 by Penguin Random House in association with Higher Ground (Barack and Michelle Obama's production company, which produced the original podcast).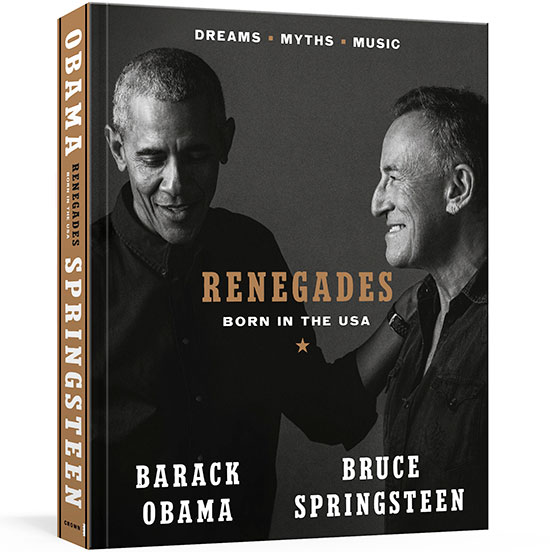 Like the podcast, the Renegades book will chronicle the conversations between Springsteen and President Obama that took place at Stone Hill Studios over several days in 2020 — about life, work, family, music, race, masculinity, and, most urgently, the state of the Nation.
"Over the years, what we've found is that we've got a shared sensibility," writes Barack Obama in the book's early pages. "In our own ways, Bruce and I have been on parallel journeys trying to understand this country that's given us both so much. Trying to chronicle the stories of its people. Looking for a way to connect our own individual searches for meaning and truth and community with the larger story of America."
In addition to new material from the podcast's recording sessions, the book will at least add new material in the form of illustrations: "photographs from the authors' personal collections and never-before-seen archival material."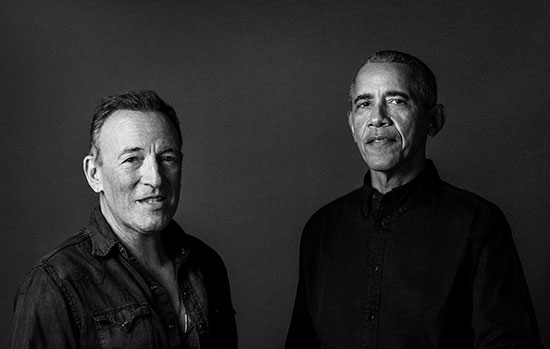 Author photograph by Rob DeMartin, who also shot the book's cover image — as well as additional photos capturing the conversations at Stone Hill Studios (as seen in conjunction with the podcast)
Further details from today's announcement:
Published in an oversized, fully illustrated format, Renegades also features rare and exclusive photographs from the authors' personal collections and never-before-seen archival material, including Springsteen's handwritten lyrics and Obama's annotated speeches, offering a compelling and beautifully illustrated portrait of two outsiders—one Black and one white—who have helped shape the American story.
Original introductions written by President Obama and Bruce Springsteen
Renegades will be published in the United States and Canada by Crown, at 320 pages with more than 350 full-color photographs and illustrations and a suggested list price of $50 US / $65 Canada.
A digital edition will be priced at $17.99 US / $21.99 Canada.
The U.K. edition will be published by Viking.
The Spanish language edition: Renegados.
In all, the book will be published simultaneously in eight languages, also including German, Portuguese Brazil, Portuguese Portugal, French, Italian, and Dutch.
Further information about the book is at renegadesbook.com.
From Springsteen's book introduction:
There were serious conversations about the fate of the country, the fortune of its citizens, and the destructive, ugly, corrupt forces at play that would like to take it all down. This is a time of vigilance when who we are is being seriously tested. Hard conversations about who we are and who we want to become can perhaps serve as a small guiding map for some of our fellow citizens. . . . This is a time for serious consideration of who we want to be and what kind of country we will leave our children. Will we let slip through our hands the best of us or will we turn united to face the fire? Within this book you won't find the answers to those questions, but you will find a couple of seekers doing their best to get us to ask better questions.
- July 22, 2021

UP, UP AND AWAY… WITH MAX'S BEAUTIFUL JUKEBOX
Max Weinberg's Jukebox has a whole slew of performances lined up between now and the end of the year, with dates and ticket links listed at maxweinberg.com. "The shows I've recently played have all been sold out," Max tells Backstreets, "so it seems people are really anxious to get out and see live music if they know about it."
One show you might not know about — it slipped through the cracks and was only listed on his website recently — is this Friday, July 23. So here's a signal boost: on Friday night, Max Weinberg's Jukebox will headline opening night of the weekend's New Jersey Festival of Ballooning, in Readington, NJ.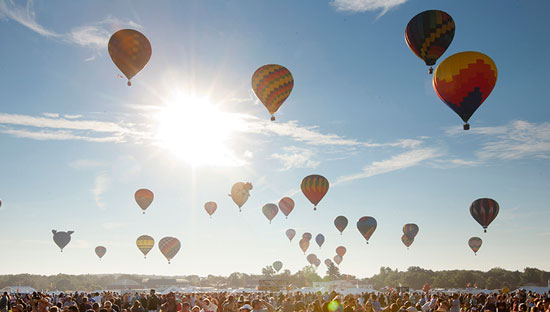 A balloon festival? Yep, the 38th annual! "It's a big deal for worldwide fans of the sport — several hundred thousand people usually attend," says the Mighty One. Following a mass hot air balloon inflation ascension at 6:30pm — and okay, based on the photo above, I can see the appeal — Max Weinberg's Jukebox will perform at 8pm. They're prepared for covers requests of all kinds; Max adds, "The Fifth Dimension's presence will be felt." The concert will be followed by a fireworks display.
Visit balloonfestival.com and mycentraljersey.com for further details, or get your tickets here for reserved seats for the show, which include festival admission.
- July 21, 2021 - Christopher Phillips reporting - photograph courtesy of the New Jersey Festival of Ballooning

RECAP: VOL. 25, FRAT ROCK
"YOU put the Shama Lama… in MY Rama Lama Ding Dong"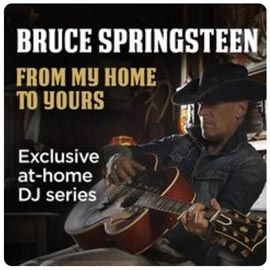 Bah-bah-bah-bah-Bruce Springsteen's 25th From My Home to Yours DJ set is a short but spectacular primer for the genre known as "Frat Rock." Bruce himself has kept many of these party weapons at the ready in the E Street arsenal for decades, and today he gives appropriately enthusiastic background on the bands and songs along the way. (Not one but two F-bombs make it especially clear how much he fucking loves "What I Like About You.") For all his raves over music, Bruce never really bothers talking about what makes Frat Rock Frat Rock... but this probably sums it up as well as anything: "I just want you to drink beer and go apeshit listening to this music." Full report to come.
Playlist:
The Swingin' Medallions - "Double Shot (Of My Baby's Love)"
The Trashmen - "Surfin' Bird"
Question Mark & the Mysterians - "96 Tears"
The Premiers - "Farmer John"
Sam the Sham & The Pharaohs - "Wooly Bully"
Flamin' Groovies - "Money"
Fleshtones - "Ride Your Pony"
The Dovells - "You Can't Sit Down"
Cannibal & The Headhunters - "Land of 1000 Dances"
Righteous Brothers - "Little Latin Lupe Lu"
The Romantics - "What I Like About You"
Scooter Lee - "Shama Lama Ding Dong"
The Kingsmen - "Louie Louie"
- July 21, 2021


NO NUKES, ALL BRUCE — ZIMNY'S CUT IS ON THE WAY
The Legendary 1979 No Nukes Concerts set for 2021 release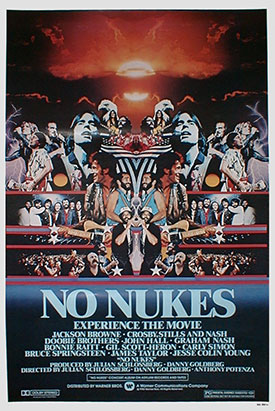 When the No Nukes movie was released 41 years ago this summer, it was a major first: Springsteen fans' first chance to see live footage on the silver screen — even if it was just a few songs. Bruce and the E Street Band played two nights for the MUSE Concerts that were professionally filmed in September 1979 at Madison Square Garden, and three songs from those performances were part of this multi-artist movie: "The River," "Thunder Road," and "Quarter to Three." ("Detroit Medley" made the associated 3LP live album.)
It may be a bit hard to conceive in this era of monthly Live Archive releases and Blu-ray tour documents, but back then, those performances were some of the few things fans had to hold on to in terms of official live documentation. Fans sought out Betamax and LaserDisc copies of No Nukes in order to be able to relive those pro-shot moments.
A holy-grail question has remained: what happened to the rest of that footage?
This morning, an announcement from Sony reveals that it's coming this fall. Thom Zimny has taken the original 16mm footage from Springsteen and the E Street Band's performances on September 21 and 22, 1979, and edited together a full-length Springsteen concert film. No James Taylor, no Doobie Brothers, just Bruce and the E Street Band from their only concert performances between the Darkness and River tours:
Sony Music Entertainment has announced the upcoming release of a new Bruce Springsteen & The E Street Band film, The Legendary 1979 No Nukes Concerts. A composite of two performances shot during the 1979 MUSE benefit concerts, popularly known as the 'No Nukes' concerts, the film will give audiences around the world the chance to witness performances that marked the rise of the future Rock and Roll Hall of Famers. Very little filmed footage of Bruce Springsteen & The E Street Band is available from this era, so The Legendary 1979 No Nukes Concerts is a rare opportunity to see the band give an explosive performance that became an instant classic. As of 1979, it was the highest quality and best recorded Bruce Springsteen show ever filmed. The Legendary 1979 No Nukes Concerts features remixed and remastered audio and was edited from the original 16mm film by longtime Springsteen collaborator Thom Zimny. Sony Music's Premium Content Division is handling global distribution and the film will be released later this year.
Today's announcement precedes a press release coming in September, in which we'll find out more details and when pre-ordering will begin.
- July 20, 2021

JANET MACOSKA'S LIVE IN THE HEARTLAND
New book of career-spanning Springsteen photography is here, with signatures and signed prints exclusively for Backstreets readers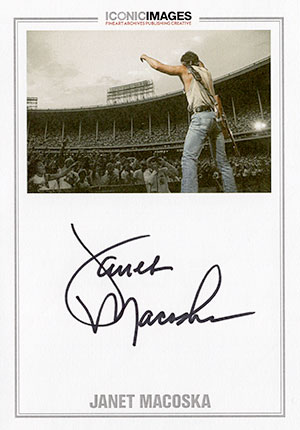 In the Bruce Springsteen story, the Cleveland area was one of the first regions outside of the NJ/NYC/Philly triangle where he developed a major following.
Photographer Janet Macoska has been on the scene there for more than 40 years, chronicling Bruce's visits to Northeast Ohio since the Allen Theatre days, where the E Street Band played in 1974 and 1976.
Right: the hand-signed bookplate that comes with each copy of Live in the Heartland from Backstreet Records
In her new book Bruce Springsteen: Live in the Heartland she gathers her Boss images for the first time, capturing ten different E Street shows starting in 1974 all the way up through the most recent, 2016's River Tour stop at Cleveland's Quicken Loans Arena.
With both color and B&W photography, with text by Peter Chakerian and a foreword by Dr Lauren Onkey, Live in the Heartland presents a beautiful look at Springsteen's performance chronology through one woman's camera in the land of the Buzzard, WMMS.
I first met Janet in 2010, at the Rock and Roll Hall of Fame's Springsteen Weekend, when she appeared on a panel discussing "Bruce in Cleveland" (covered in Backstreets #89). While Janet and other area notables (including Onkey, promoter Jules Belkin, and Agora owner Hank LoConti) discussed local E Street history, her photographs were what drew the eye, on the big screen above them. Some photos I recognized… many were new to me… all were top-notch. She was nothing but cool and kind when we talked afterward, a fan's fan. So it's no surprise that now, with her book out, she's going out of her way to hook up fellow fans with cool stuff.
Like this: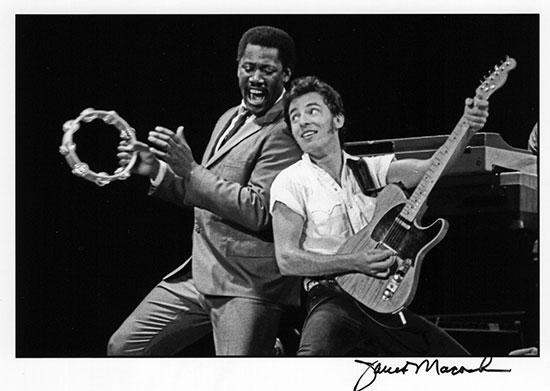 Janet has been signing a whole bunch of custom bookplates (which will be included with every book we ship out) and, even more special, this signed 5x7 print exclusively for Backstreets readers. That's the image from the book we picked, above — Bruce and Clarence at the beginning of the original River Tour (Richfield Coliseum, October 1980) — though it wasn't easy to narrow it down. This is a limited edition print, only available with Package #3 while they last.
Thanks to Janet, we're offering Live in the Heartland in our Backstreet Records shop in three different bundles. At the list price of $45, the book will come with the signed bookplate. At the high end, $99 includes the signed bookplate AND the signed limited edition print. (And if you've collected any photography, you know that's both a rarely offered size and quite a good deal on a signed fine-art print.) In between is a package for those who really prefer to have an author's signature on the book itself.
Take a look at Packages 1-3 below, for more details and links to each. Under each listing in the shop you can also preview more photographs from the book.
And stay tuned for our interview with Janet Macoska, coming next week!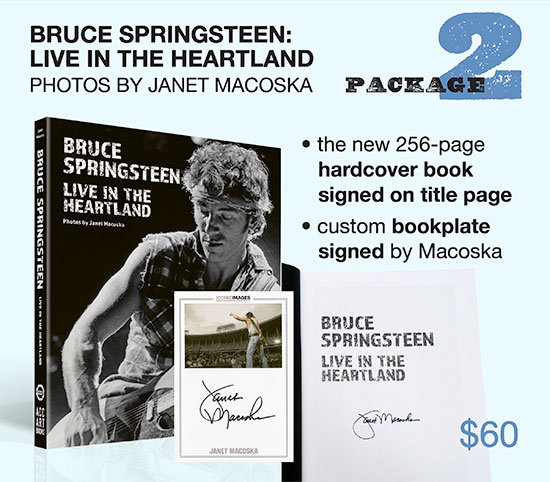 - July 17, 2021 - Christoper Phillips reporting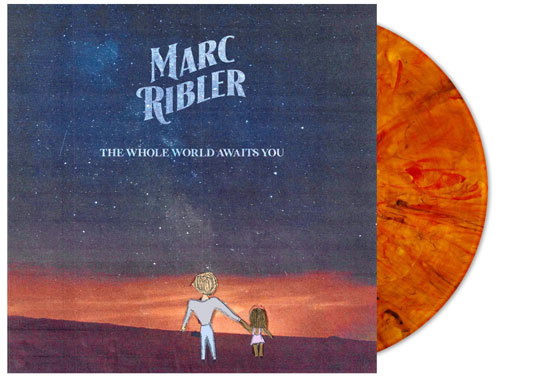 MARC RIBLER: THE WAIT IS OVER FOR NEW ALBUM
Disciples of Soul guitarist's impressive follow-up to Life Is But a Dream and This Life, out today from SVZ's Wicked Cool Records
Veteran Jersey Shore musician, singer, songwriter, and producer Marc Ribler, best known in recent years for being the Musical Director for the Disciples of Soul and Darlene Love, releases his third album, The Whole World Awaits You, on Wicked Cool Records today. The 12 songs were mixed by Ribler, co-produced and arranged with Stevie Van Zandt, and mastered by the legendary Bob Ludwig.
Having completed work on Steven's Soulfire album in December 2016, Ribler had a window of opportunity to work on his new record while Steven was touring Australia and New Zealand with Bruce Springsteen and the E Street Band. The basic tracks were laid down in two days in February 2017 at Shorefire Studios in Long Branch, New Jersey, with fellow Disciples Rich Mercurio (drums), Jack Daley (bass), and Andy Burton (piano, B3 organ).

With no time to complete more than rough mixes, Marc spent the next three years on the road and in the studio with Little Steven. After several tours of North America and Europe, and one of Australia and New Zealand, they played their last show to date in Manhattan on November 6, 2019, which is captured on Summer of Sorcery Live! At the Beacon Theatre, released last week.
During the subsequent pandemic lockdown, Marc turned his attention to his unfinished album. Little Steven asked to hear it and ended up providing invaluable advice and assistance. "I finished all the production and arrangements with Steven from May through July 2020," Marc tells us. "All done Covid-safe, virtually over the phone and Internet."

Marc describes his experience with Little Steven as "a masterclass on how to conduct yourself musically, professionally, and personally in a business that will chew you up and spit you out without thinking twice.…Working with Stevie feels like a gift for all the years of blood, sweat, and tears."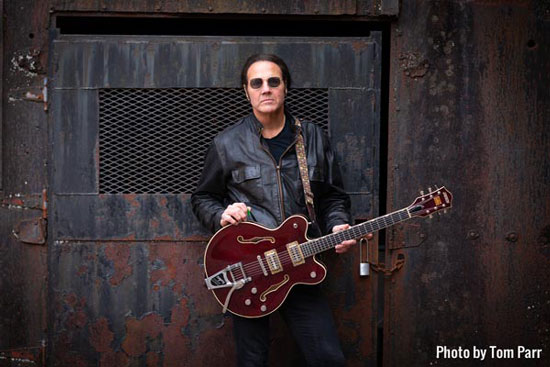 Material from The Whole World Awaits You has been premiered over the last six months in the form of three singles, accompanied by videos directed by Tom Parr. First up was "Shattered," followed by "Who Could Ask For Anything More" and "This Is How the Song Goes" [more on this third single below].
The Latin-flavoured "Manzanillo" was "a true pandemic production," says Marc. "I recorded an acoustic guitar, vocal, and a simple keyboard part. Then I had my musician friends record their parts at their home studios and send them back to me via the World Wide Web. My friend Tom Bowes, lead singer of Tower of Power, added some background harmonies. Safe, healthy, and creatively productive in the heart of a crisis."
The remaining eight tracks are "The Whole World Awaits You," "I'm Comin' Around," "The Only Truth," "War on Peace," "Fly Away," "Torn Apart," "Without You," and "History."
Ribler also recorded "Hand Me Down," which doesn't appear on the record. "It was the 13th song. We could only fit 12 on the vinyl LP. It was a tough decision to make, but the right one," he explained. "We made this special recording — with Jonathan Dinklage masterfully performing the string arrangement on violin and viola, and Dave Anthony's brilliant performance on East Indian percussion — the bonus B-side of 'Shattered.' "
Marc wrote all of the songs, with the exception of "Shattered" (co-written with Christina Aldendifer) and the fourth single, "Fly Away," on which he shares writing credit with Stevie Van Zandt. "It had a California singer/songwriter vibe and was piano-driven when I first played it for Steven. He suggested starting with acoustic 12-string guitar and making that and the slide guitar be the foundation. Steven wrote the anthemic outro at the end of the last chorus, the icing on the cake."
Apart from those already credited, the album also features Rob Clores (piano, B3 organ), Matthew McDonald (trombone), John Martin (trumpet), and fellow Disciple of Soul Jessie Wagner among the background vocalists.
Careful listening to the songs released thus far reveals the enduring influence of '60s psychedelic pop, The Hollies, George Harrison, The Byrds, The Rolling Stones and Tom Petty, among others. As we said earlier this year, "The music pays tribute to the past, has modern-day production values, and deserves a bright, jangly future."
Backstreets will be talking to Marc Ribler and taking an in-depth look at the new album soon.
Signed CD and vinyl copies of The Whole World Awaits You are available now from marcribler.com.
- July 16, 2021 - Mike Saunders reporting - read Mike's recent Disciples of Soul-focused interview with Marc Ribler here.

SPRINGSTEEN TALKS TO U.K. RADIO ABOUT CENTRAL PARK, THE NEXT E STREET BAND TOUR AND MORE
BBC Radio 2's morning DJ gets an exclusive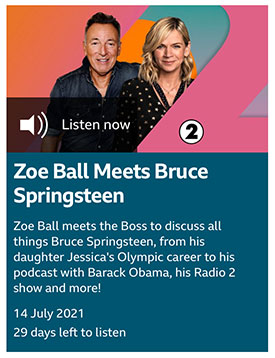 Between approximately 8:30 and 9am Wednesday morning, the UK's BBC Radio 2 aired a recent, pre-recorded exclusive interview with Bruce Springsteen on The Zoe Ball Breakfast Show. Only 11 minutes long and primarily intended to plug a catch-up series of his DJ show From My Home to Yours (which the BBC broadcasts in an edited hour-long format), the interview also covered several other subjects. There were no major revelations, but it was interesting to hear Bruce's thoughts on recent events and the chances of an E Street Band tour next year.

Zoe Ball began by congratulating Springsteen — speaking from his home studio —- on his daughter Jessica's success in being selected for the United States equestrian team for the forthcoming Tokyo Olympics. "It's incredible," Bruce said. "She's worked 25 years, since she was four years old. She's been in the barn from dawn to dusk, taking care of the horses. She just had a natural talent for it, and amazingly has taken herself to the spot where there's only four of them. She's thrilled, and we couldn't be more excited about it."

Speaking about his recent revival of Springsteen on Broadway, Bruce commented, "The audiences have been great. They've been really happy to be together, and it's been amazing to play for an audience once again. I've altered the show a little so it feels fresh. It's just been a great experience."
On the subject of From My Home to Yours, Springsteen said, "It started in the pandemic and the lockdown. I said, 'I want to continue to speak to my fans during this time.' It seemed like a time when people could use a little company, so they don't feel so alone. It takes a little time out of my week, but I love music, I love finding new music, I love turning people onto the old music. It's been another form of communication when other forms were not available.

"I reconstituted my record collection, from the very earliest records I bought to the new music I listen to now," Bruce continued. "I did it over a period of six years. I have this massive collection on my computer — I don't have the vinyl. Everything that meant something to me since I was 13. It's a wonderful world for me to dive into. I'm always on it."

Asked if he remembered the first time he heard his music played on the radio, Bruce had instant recall: "I was in Connecticut, on a street corner. A guy pulled up. He had his window down, and 'Spirit in the Night' was comin' out of his car radio. I wanted to run over and say, 'Hey, that's me!' but I didn't. I just stood there in shock and ecstasy."
Zoe Ball then mentioned Springsteen's recent Renegades: Born in the U.S.A. podcast series with President Obama. "It was his idea initially," he explained. "I thought, 'Wait a minute, you're the President, I'm a New Jersey high school diploma guitar player. Are you sure this is a good idea?' We had become friendly and had had quite a few long conversations about a variety of things, and he said that was the type of show he was interested in doing. Something broad and philosophical and historical, and based on people who've examined their lives in some depth. He came to my farm, and we sat in my studio. Days would go by, and we'd just talk. Part of the President's idea was we might have a chance to not just speak to people our own age, but to younger people about what it took to get ourselves in the place where we were able to have that fullness of life and be able to take responsibility for it."
Attention then turned to Bruce's involvement in the forthcoming mega-concert in Central Park. "Clive Davis, who's shepherding the show, is one of the men who changed my life forever by signing me to Columbia Records in 1972, when I was a kid who came up on the bus one day from Asbury Park, dragging a guitar over his shoulder. Clive is one of those people that I like to say yes to.
"I'm only doing a small guest appearance," Bruce clarified, "with my great friend Patti Smith on 'Because the Night'. That's our plan." [Also see our previous news regarding the Central Park concert, which Springsteen is not headlining despite some reports to the contrary.]
To conclude, Ball asked if there was any new music on the horizon (Springsteen avoided that one) and inquired about his future plans. "I'll be doing a few more radio shows, and we'll be touring next year if everything goes well," he responded. "The E Street Band will be back on the road, depending of course on the virus, what's opening up, and when we can play shows. That's on the scoreboard for right now."

"I would like to take one moment and thank my U.K. fans for the support they've continued to give to my new music," he added. "Letter to You was so well received in the U.K., that it really touched my heart. I deeply appreciate it."
The Zoe Ball Breakfast Show broadcast and an extended 60-minute version of the interview (Zoe Ball Meets Bruce Springsteen) are available on the BBC Sounds website and app for the next 28 days. Click here for information on access.
- July 15, 2021 - Mike Saunders reporting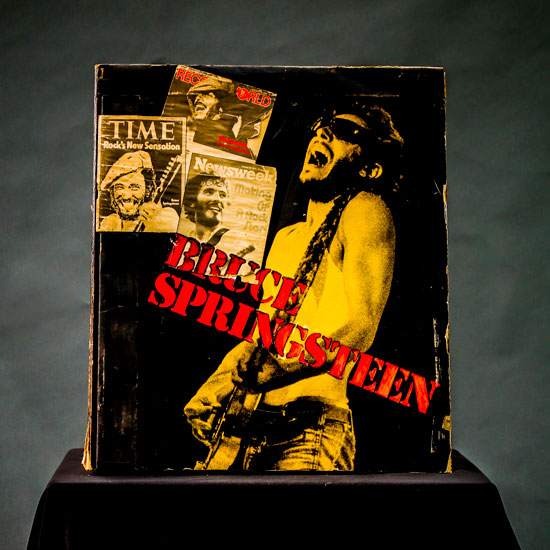 MY LIFE WOULD BE IMMORTALIZED
Three weeks left to visit reopened Springsteen exhibit in Freehold
SPRINGSTEEN: HIS HOMETOWN, the exhibit currently on display at the Monmouth County Historical Society (located in — wait for it — his hometown of Freehold), opened in September 2019 with a splash. Bruce Springsteen himself, newly 70, turned up to help celebrate the launch, performing on site with Joe Grushecky and thanking attendees for supporting the MCHS. [Click here for our 9/30/19 report.] Then came the pandemic. But after being shuttered for more than a year, HIS HOMETOWN — which contextualizes the role and presence of this region of the great state of New Jersey in the life of arguably its most famous son — reopened to the public in late May and remains on display through the end of this month.
If you're a huge Springsteen fan, you might think this is something you can skip; if you're slightly less dedicated, you might think this exhibition would be too inside-baseball for you. In both cases, you'd be doing yourself a disservice by not making the trip to this small but exquisitely curated exhibition that manages to do the impossible: it's highly enjoyable for fans of the Boss, but it also absolutely delivers on its stated purpose for any history buff or the less hardcore. SPRINGSTEEN: HIS HOMETOWN presents a carefully curated and impeccably balanced presentation of the role of Freehold in Bruce's life and work.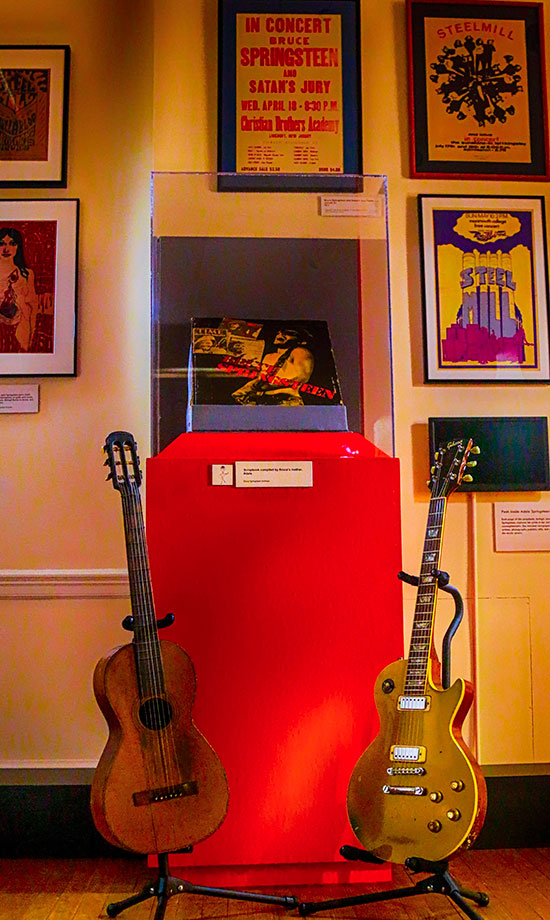 The ground floor room will undoubtedly be the most popular for fans, as it presents a selection of artifacts from Bruce's career — with at least a slight deliberate emphasis on items with a specific connection to New Jersey. There you'll find the four-track Tascam recorder that roadie Mike Batlan bought and Bruce used to capture Nebraska (in Colts Neck, NJ). A collection of hand-drawn psychedelic posters advertise area shows for the Castiles and Steel Mill at the Hullabaloo — spelled in this case "Hullabloo," and featuring the notation "FREE JOHN SINCLAIR AND ALL POLITICAL PRISONERS" along the bottom.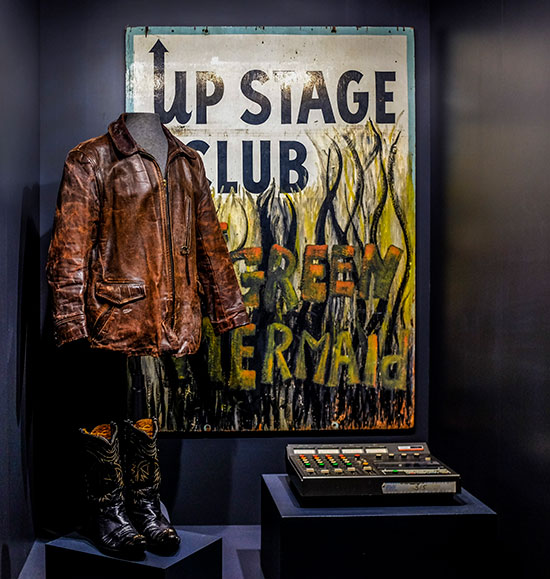 In addition to these and other early posters, there are items of Springsteen's clothing and other personal adornment (like a collection of his jewelry worn during the Human Touch/Lucky Town era), musical instruments (the Gibson ES-369 he played on Tunnel of Love), photographs (one of Tinker West at Woodstock, standing in the back of the truck he and Bruce drove out to California, as retold in Born to Run); song lyrics, and stage props (like the ticket window used on the Tunnel of Love Express Tour). A large vitrine in the corner protects one of Adele Springsteen's massive scrapbooks.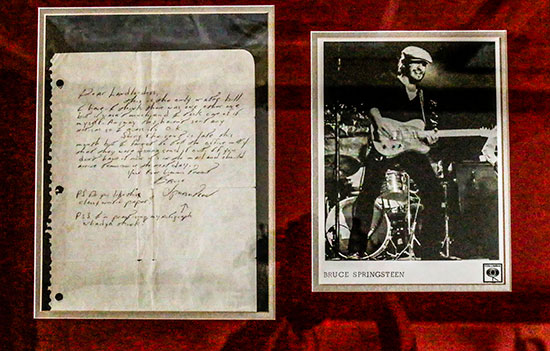 On the way up to the second floor, the staircase landing is purposed as a reflection of the audience and the fanbase, with postcards and a mailbox for you to leave your own thoughts.
Upstairs is where the historians, having enticed you into the exhibit with rock 'n' roll memorabilia, begin to flex their historical placekeeping muscles. Through photographs, vintage signage, archival film, and a replica of a storefront as it might have looked on Freehold's Main Street when Bruce was growing up, they contextualize the Springsteens and the Zerillis within the community. There are yearbook photos, family photos from both sides, employee records from the Karagheusian Rug Mill where Douglas Springsteen worked, and more.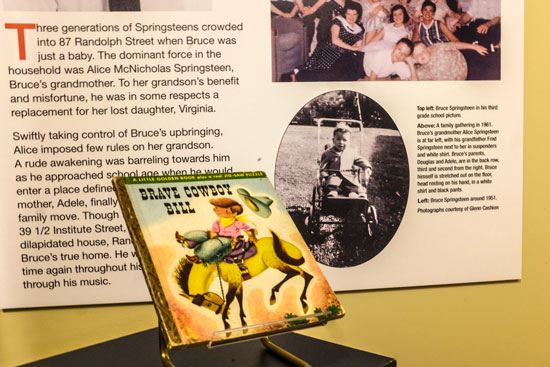 Finally, there's the room that puts the History in Historical Society, the section of the exhibit that documents the arrival of both sides of Bruce's family in the United States. Stories of his ancestors, who were literally part of building America, are revealed through artifacts on display: Civil War documents naming an early Springsteen relative [below]; an 1801 document signed by a John Springsteen, who fought in the Revolutionary War; and finally, a guitar carried by a soldier who served in the same New Jersey regiment as Bruce's great-great-grandfather.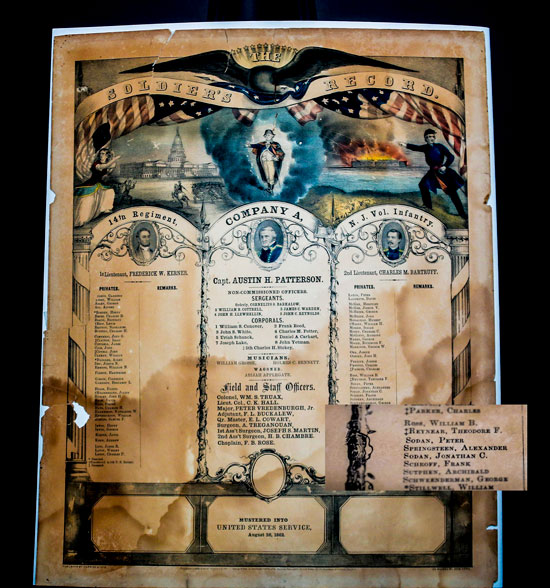 According to Eileen Chapman, Director of the Bruce Springsteen Archives & Center For American Music at Monmouth University who was kind enough to take Backstreets through the exhibit, this was the room Bruce spent the most time in when he came to visit.
Fans have been making pilgrimages to the Jersey Shore for years, hunting locations through a combination of luck, research, and dogged persistence. It's remarkable that so many of the settings and locations from Bruce Springsteen's childhood, later reflected in his songs, are still present and intact. In 2021, you can still go stand in front of the house at 39 ½ Institute Street, or sit in the parking lot of the pizza joint (formerly Ducky Slattery's gas station) next to the South Street house, and think about Doug Springsteen lying on his back under the car in the gravel lot behind the building, trying to get his car started in the morning. Or visit the locations of Bruce's three childhood homes and note their proximity to St. Rose of Lima — and understand why so many of the women in his songs were named "Mary." Or confirm that the textile mills are, indeed, on the other side of the railroad tracks. SPRINGSTEEN: HIS HOMETOWN takes that kind of fan-driven placekeeping and elevates it to the next level.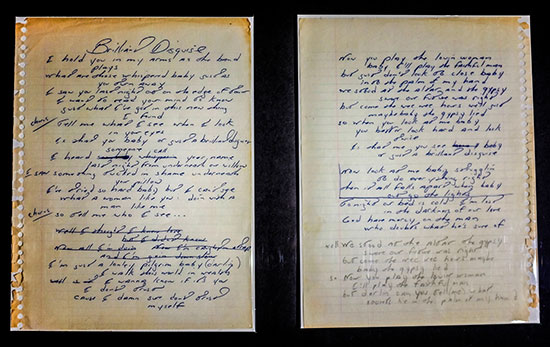 SPRINGSTEEN: HIS HOMETOWN will remain on exhibit until July 31, with tickets available via the Monmouth County Historical Association's website, at
mcha.simpletix.com
.
- July 11, 2021 - Caryn Rose reporting - photographs by Mark Krajnak/JerseyStyle Photography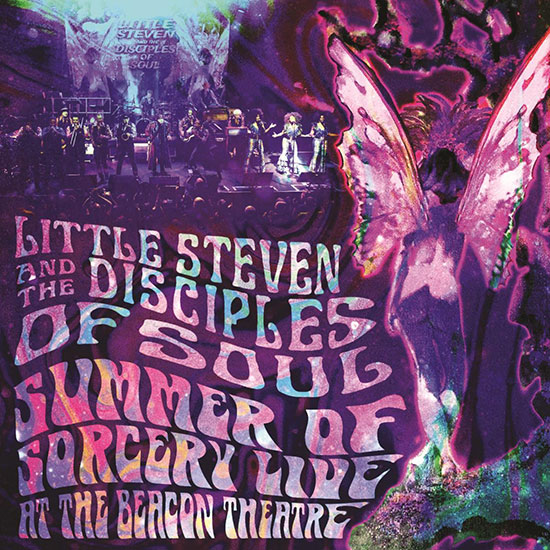 SOULFIRE, SORCERY, AND PSYCHEDELIC SONIC SENSATIONS
To celebrate the release of Summer of Sorcery Live! At the Beacon Theatre, the Disciples of Soul remember three years of good vibes, familial feelings, fast friendships, and magical musical mystery on the road with Little Steven
Often the least-expected events turn out to be the most rewarding. In the fall of 2016, soon after the end of Bruce Springsteen's latter-day River Tour (itself an unanticipated surprise), Little Steven accepted a surprise invitation from musician and broadcaster Leo Green to form a band and play his annual London Bluesfest. Having given no thought to playing with his own group for 30 years, Steven reactivated his early-'80s, horn-driven Disciples of Soul concept; enlisted Musical Director Marc Ribler, Horn Director Eddie Manion, and numerous additional top-drawer musicians and singers; raided his back catalogue for suitable material; and performed a late-night show at the indigo at The O2 venue on October 29.
This might have remained a one-off concert, but it inspired Steven to resume his long-dormant solo career. While Bruce appeared on Broadway in 2017 and 2018, and chose not to tour Western Stars in 2019, Steven and his new Disciples of Soul embarked on a three-year series of international tours. The band travelled several times around North America and Europe, and once to Australia and New Zealand. They also made two studio albums — Soulfire (2017) and Summer of Sorcery (2019) — and released the multi-format, recently-expanded live set, Soulfire Live! (2018). In January this year, Macca to Mecca (a recording of the band's Liverpool Cavern Club gig in 2017) appeared as a standalone set.
Today brings a major new live release: Summer of Sorcery Live! At the Beacon Theatre (Wicked Cool Records/UMe), a document of the entire 25-song, two-and-a-half-hour final concert of the Summer of Sorcery Tour in New York City on November 6, 2019. The show captured here remains the band's most recent live performance to date.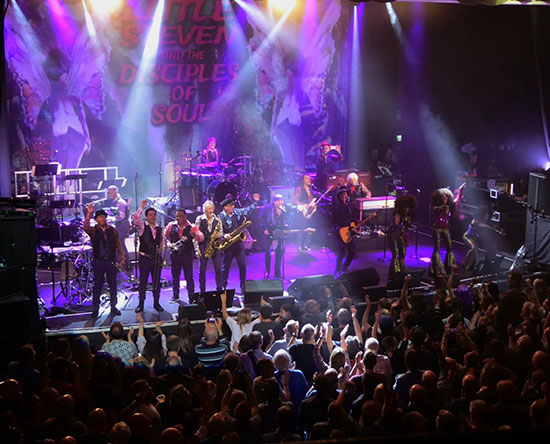 photograph by Mike Saunders
Featuring a dedication to our legendary, much-missed friend (and Steven's former personal assistant) Holly Cara Price, the new release was arranged and produced by Little Steven and Geoff Sanoff, mixed by Bob Clearmountain and mastered by Bob Ludwig. The Beacon Theatre set is available as a Blu-Ray video (premiered last night at a private screening at the IFC Theater in Greenwich Village), a 3CD set, and a limited-edition 5LP box on 180-gram Psychedelic Psorcery Pswirl colour vinyl. Each format includes sleeve notes by Little Steven and comments about the performances, plus additional live material recorded at various locations between 2017 and 2019 that he explains was simply "too good to leave on the shelf."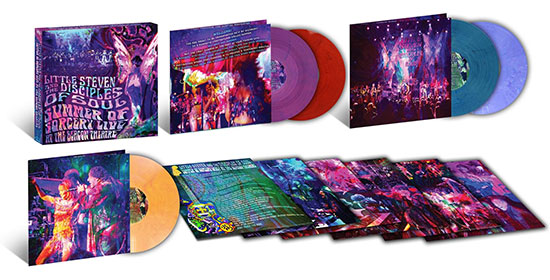 The package includes live versions of every song from the Summer of Sorcery album, material from Little Steven's other records ("Forever" from Men Without Women; "Los Desaparecidos" from Voice of America; "Bitter Fruit" from Freedom No Compromise, and "Camouflage of Righteousness" from Born Again Savage), a trilogy of songs given to Southside Johnny ("Little Girl So Fine," "Trapped Again," and "Love on the Wrong Side of Town"), a cover of Bruce Springsteen's "Tucson Train," and a guest appearance from Peter Wolf on "Freeze Frame" and "Sun City."
The extra songs include covers of "Bristol Stomp" (The Dovells), "Club a Go Go" (The Animals), "Groovin' Is Easy" (The Electric Flag) with Nick Gravenites, "(Ain't Nothin' But a) Houseparty" (The Showstoppers) with Peter Wolf, "Moon Tears" (with its writer Nils Lofgren), and Van Zandt/Jordan's "Ride the Night Away" (with Jimmy Barnes).
There's also a final performance of "Sun City" that edits together international guest appearances by Jimmy Barnes and Peter Garrett; Sam Fender and Courtney Hadwin; Jake Clemons and Garland Jeffreys, and Bruce Springsteen.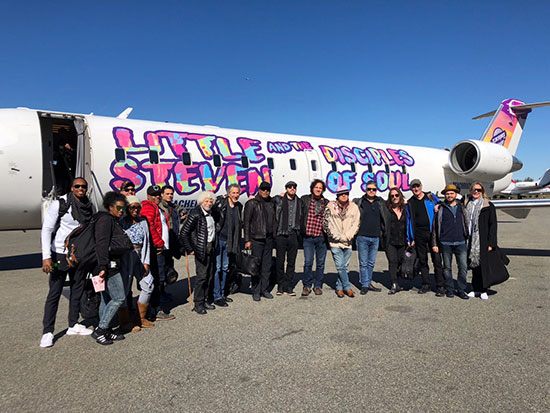 photograph courtesy of the Disciples of Soul
The new Disciples of Soul travelled the world, presenting an intoxicating musical melting pot that blended multiple genres and mixed Van Zandt originals with finely-tuned covers, most of which were only played once. They were a multicolored, visually dynamic, diverse mutual appreciation society, a family of like-minded individuals committed to giving the highest-quality live performances, displaying unwavering loyalty and respect for their celebrated leader and featuring within their ranks a transcendent five-piece horn section that could annihilate all opposition within a 50-mile radius. Reviews were invariably effusive, and the international audience response was equally positive.
Throughout those three years, Little Steven gave countless media interviews, but the 14 members of the Disciples of Soul were rarely approached for comment, letting the music speak eloquently for them. But now, to celebrate the release of Summer of Sorcery Live! At the Beacon Theatre, to acknowledge the 200 shows they played from 2016 to 2019 and to recognize their unique recorded legacy, regular Backstreets contributor Mike Saunders has spoken at length to Musical Director and guitarist Marc Ribler (a sequel to his first interview in 2017) and put together a combined group interview with Horn Director Eddie Manion (baritone sax), Stan Harrison (tenor sax and flute), Clark Gayton (trombone), Anthony Almonte (percussion), Rich Mercurio (drums), Jack Daley (bass), Lowell "Banana" Levinger (piano), and Tania Jones and Jessie Wagner (backing vocals), eliciting their memories, thoughts, and observations about life on the road, in the recording studio, and at the dinner table with Little Steven.
By all accounts, the Beacon Theatre gig was an emotional experience for all of them, being not just the end of the tour, but — whisper it softly — possibly the end of the road. Marc Ribler remembered experiencing "every emotion under the sun: joy, sadness, despair, separation anxiety. An incredibly blessed evening, without a doubt the most emotional night I've ever had onstage, not knowing if it would be our last show of the tour or forever. I recall being brought to tears in several of the songs throughout the evening."
Jessie Wagner described the atmosphere as both "joyful and melancholic," while Rich Mercurio "could write a chapter on how it was a culmination of the blood, sweat, and tears of the past three years, a bittersweet moment." Anthony Almonte recalled "a whirlwind of emotions," and Lowell "Banana" Levinger added that "the show was a blast, and the party afterwards next door was abundant with fond farewells." Tania Jones "felt that final concert was something of a goodbye; it was the end of season. At the same time, it felt like we were coming home. Everyone was really joyous and glad to have been part of this very special experience. I think we wanted to close the tour out with the absolute best performance we could give."
Read the exclusive Backstreets Disciples of Soul interviews here:
Disciples of Soul PART ONE: Marc Ribler
"A new family of friends, loved ones, and people you could count on till the end of time have been etched into our lives."

Disciples of Soul PART TWO
"A loving, caring family of like-minded, hard-working, talented, supportive, simpatico people with no drama or bullshit."

Disciples of Soul PART THREE
"No egos, just great musicians working, travelling and performing together and eating a lot of food late at night."
At the end of the November 2019 Beacon Theatre concert, Little Steven described the new Disciples of Soul as "one of the greatest bands ever assembled," referring to their recent past as "probably the most artistically productive three years of my life."
"I have the band to thank for that," he continued. "Without that kind of solid foundation, you're not gonna achieve anything. I wanna thank them from the bottom of my heart." Then, as he had at the end of every previous gig, he promised, "We'll be back. We always come back."
Later that month, clarifying that he intended to work with the Disciples of Soul again but that his focus was now on the E Street Band, he joined his old comrades in Bruce's home studio. Five days later, the Letter to You album was ready to roll, and they toasted a potential tour in 2020.
Then came the pandemic, and all bets were off. Assuming that unrestricted mass gatherings and major rock tours are normal routine by then, the next E Street outing is likely to commence in 2022, two years later than planned. This would delay potential future Disciples of Soul shows until at least the following year or realistically even later. While there's no lack of enthusiasm for a tour among the musicians, future circumstances and commitments and Little Steven's availability may prevent this band of brothers and sisters from playing together again. But as Rich Mercurio suggests, "If there's a way to make it happen, he'll find it. If anyone can, he can."
"I know Steven craves this and enjoys it as much as anyone in the band," Banana confirms. "Imagine having such a powerful machine at your disposal for whatever creative impulses engage you. Like all Italians, he likes to be reunited with his family."
Whatever the future may hold for Little Steven and the Disciples of Soul, their three-year resurgence is extremely well documented in Soulfire Live!, Macca to Mecca, and today's new Summer of Sorcery Live! At the Beacon Theatre, three prime examples of a band in peak form doing what they love best. Our grateful thanks to Marc, Eddie, and their fellow Disciples for approaching this project with such enthusiasm and for being so generous with their time.

Unavailable for interview but here in spirit and no doubt echoing the sentiments expressed by their bandmates: Ron Tooley (trumpet), Ravi Best (trumpet), Andy Burton (keyboards) and Sara Devine (backing vocals).
- July 9, 2021 - Mike Saunders reporting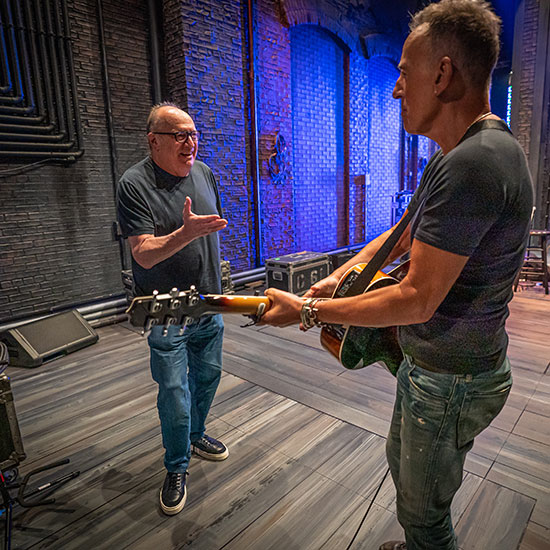 June 2021, St. James Theatre - photograph by Rob DeMartin
JON LANDAU ON BROADWAY, IN NEW BACKSTREETS INTERVIEW
With Bruce Springsteen's new Broadway residency underway last week, manager and Springsteen on Broadway Producer Jon Landau spoke with Backstreets about numerous aspects of remounting the show. In describing how the "surprise" 2021 production has changed from the 2017/18 run, he suggests that the performer is approaching the performance differently this time, for one thing. "The original version had a formality to it," Landau tells Backstreets Editor Chris Phillips, noting a shift in Springsteen's onstage persona detectable from the very beginning of the 2021 show. "I think it's a little more directly just Bruce."
Following the quick decision in late May to revive Springsteen on Broadway, the process of readying the show on short notice in a new theater, the St. James, was far less complicated than one might imagine, as Landau describes it. Of course, it helps to have an artist firing on all cylinders. "The way he sings, the way he speaks, the way he put this together," Landau says of Springsteen's latest effort, "the man is at the top of his game."
Read:
"A TRUE SURPRISE"
The Backstreets Broadway Interview with Producer Jon Landau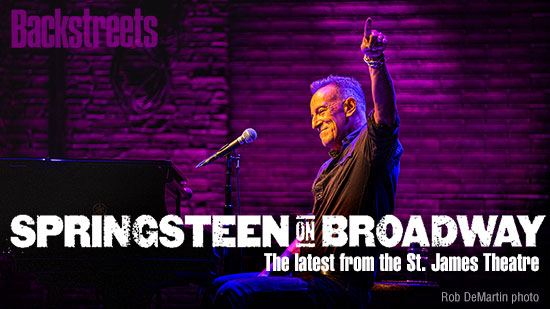 Keep up with the latest Broadway performances on our Setlists page — not that the setlist itself has changed since the June 26 opener, but we're following the revival night by night, with notes and notables for each show. Thanks to those who have sent in their observations so far, and thanks in advance for those from future performances! As usual, it's a community effort.
- July 7, 2021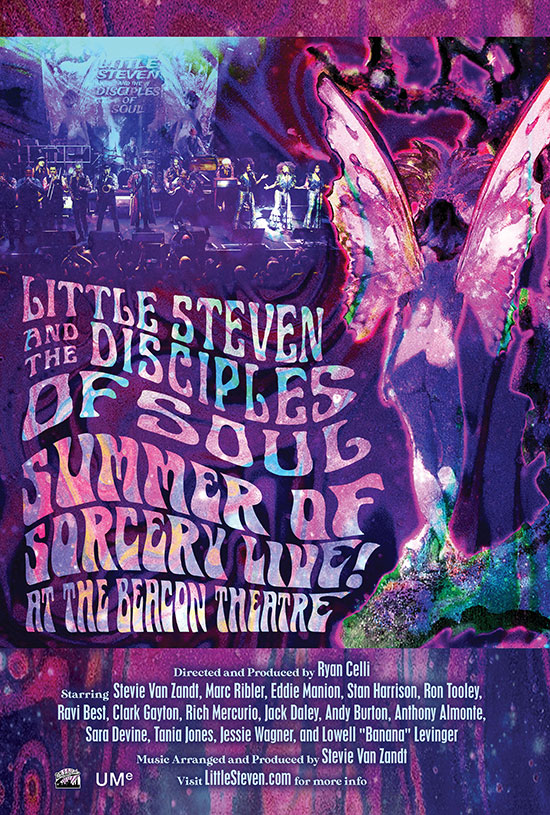 24-HOUR FLASH CONTEST: SEE SVZ IN NYC!
Backstreets is giving away 5 pairs of tickets to Stevie's July 8 private screening of Summer of Sorcery Live! At the Beacon Theatre
Tomorrow night, at a yet-to-be-disclosed Greenwich Village movie theater, Stevie Van Zandt will be in the house for an invite-only screening of his new Little Steven and the Disciples of Soul concert film, Summer of Sorcery Live! At the Beacon Theatre. He'll also be fielding questions in a Q&A once the lights come back up.
The concert movie and soundtrack will be available for home consumption the following day, released July 9 in numerous configurations (including Blu Ray, vinyl, and CD).
But if you're in the NYC area, this is a rare chance to experience the Sorcery on the big screen, and Backstreets is getting ten lucky fans in the door — we have five pairs of tickets that we're giving away.
If you'd like to attend this exclusive event on Thursday night, July 8 at 6pm — and you know you'll be able to go, if you win — please enter our giveaway contest by answering the following question in an email to contest(at)backstreets.com:
What year was the Sun City album released?
To be eligible to win:
First, you must be fully vaccinated. Proof of vaccination required for entry.
Send an email to contest(at)backstreets.com, with
Your answer in the SUBJECT line
Your full name in the BODY of the email
Email must be received by 10am on Thursday, July 8
And again, before entering, please be sure you can attend this NYC event tomorrow night, Thursday July 8 at 6pm, if your name is drawn!
One entry per email address, please. In the likely case of more than five valid entries (the point being to get fans inside, not stump your brain), we'll draw five winners at random from those who answer correctly. Each will receive a plus-one for entry to the film screening + Q&A. Winners will be contacted by noon on Thursday, July 8 and given further details.
Thanks for playing, and thanks to Stevie and his people for the invitation to get our readers in the door!
- July 7, 2021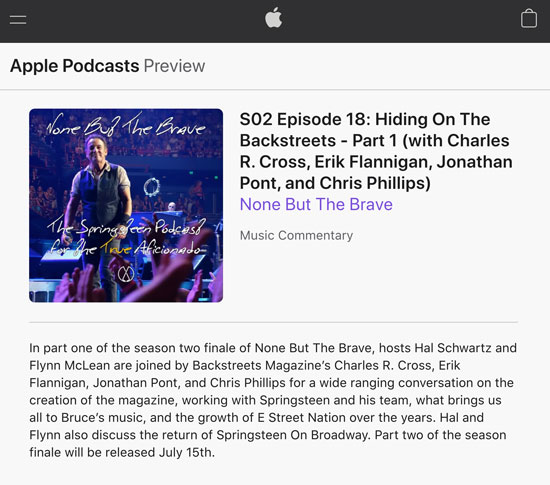 NONE BUT THE BRAVE X BACKSTREETS
40 years of Backstreets Editors guest on podcast's 2-part season-ender
A couple of longtime (and uber-knowledgeable) Bruce Springsteen fans, Hal Schwartz and Flynn McLean began podcasting relatively recently, with the first episode of None But the Brave premiering on Bruce's birthday in 2019.
Fast-forward not even two years (and one pandemic), and None But the Brave has 40 episodes under its belt, currently wrapping up a second season; today brings the news that they've joined the Evergreen Podcasts network.
We're psyched for Flynn and Hal — as contributors and Friends of Backstreets, and as just plain friends — and impressed by what they're accomplishing. As Springsteen fans, we're grateful to be able to add to our regular content consumption such a quality platform for deep Springsteen discussion. None But the Brave's tagline is "The Springsteen Podcast for the True Aficionado," and that's dead on.
As None But the Brave wraps its second season, the hosts invited some other Aficionados to join them on the podcast, and it's… us!
For their Season Two finale, Flynn and Hal brought together every Backstreets Editor from our 40-year history — Charles R. Cross, Erik Flannigan, Jonathan Pont, and Chris Phillips — for a wide-ranging, shared-history conversation about Backstreets and the Boss. From the origins of the magazine in 1980 to the Boss hotline, the smell of record stores, fandom in the internet age, the fans and friends that make the Backstreets world go around. It was an honor to be asked and a blast to record, and whether you've already subscribed or haven't yet listened to None But the Brave, we hope you'll check out today's new episode, S02 Episode 18: "Hiding on the Backstreets - Part 1."
"Hiding on the Backstreets - Part 2" will follow next week. Visit nonebutthebravepodcast.com for details, more episodes, and links to specific podcast platforms where the podcast can be heard, including Apple, Spotify, Google Podcasts, Stitcher, and Tune In.
- July 6, 2021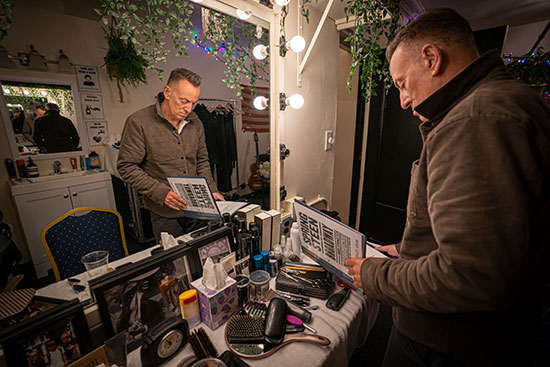 Springsteen on Broadway is his job this summer - photograph by Rob DeMartin
NOT SO FAST, MR. MAYOR
Springsteen not a headliner for proposed Central Park concert
After weeks of buzz about a Central Park "homecoming concert" planned for August, with Clive Davis at the helm, New York City Mayor Bill de Blasio made an announcement yesterday, boosting the proposed event and even naming some of the artists on tap — including Bruce Springsteen.

We don't want to rain on any parades, but we do want to keep expectations in check. Hearing from fellow Springsteen fans already planning to travel some distance for the event, we did some digging to try and confirm the news, since few details are available about the Central Park concert.
So here are three key facts: it has yet to be officially announced by promoters. No date is scheduled. And, despite news reports, there will be no headlining set from Bruce Springsteen.

"Bruce agreed to make an appearance in a guest capacity," a source with knowledge of the concert arrangements tells Backstreets, "but he will not be a headliner for the show."

In the New York Times, Ben Sisario writes that "Springsteen is expected to perform a duet with Patti Smith, according to a person briefed on the plans." We can't confirm specifics, and no one really knows what Bruce is going to do until he does it, but that's likely the level at which he will be involved.

As our source understands it, Springsteen on Broadway is his job this summer — that's what he's committed to, rather than putting together a headlining set.

So how did that idea spread so fast, other than wishful thinking?

At de Blasio's press conference yesterday, he said excitedly, "Marking our rebirth, marking our comeback, it's going to be one of the greatest Central Park concerts in history," and he named Paul Simon and Jennifer Hudson as headliners.
After raving about Springsteen's "amazing" return to Broadway, "starting the Broadway rebirth," de Blasio confirmed that "Bruce Springsteen will also be performing" at the Central Park show. "And headlining," he appeared to ad lib.

While we don't discourage anyone from joining the Central Park celebration, we do want you to know how much Boss Time to expect. Adjust your clocks accordingly.
- July 2, 2021

MARC RIBLER EXPLAINS "THIS IS HOW THE SONG GOES"
Disciples of Soul Music Director premieres video for third single from his forthcoming album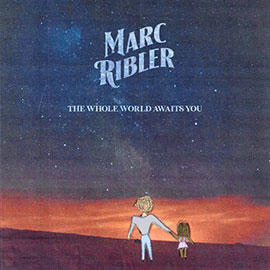 "This is one of those songs that was written very quickly but has evolved immensely over the past ten years," says Marc Ribler of his latest single. "This Is How the Song Goes" is the closing track from his imminent solo album, The Whole World Awaits You, co-produced by Little Steven and due for release on July 16 from Wicked Cool Records.
"I wrote it late one night in the middle of a film scoring project," continues Ribler. The song is his (and Steven's) favorite on the album, which includes previous singles "Shattered" and "Who Could Ask For Anything More."

"For the most part I used the lead vocal and many of the guitar parts from the original demo and then went into the studio with Rich Mercurio, Jack Daley, and Andy Burton seven years later to record drums, bass and keyboards. Shortly after that I wrote the string arrangement and had Jonathan Dinklage play all the parts on violin and viola."
Three years of recording and touring with the Disciples of Soul followed. "Finally, Stevie and I dug into it even deeper last May 2020, at the beginning of the pandemic. The song truly took ten years to record and produce."

Additional musicians include Dave Anthony (percussion), Matthew McDonald (trombone) and Jessie Wagner, Khadijah Mohammed, Sheldon Edmond, Freedom Bremner and Brian Colazzo (background vocals).


Directed by Tom Parr, the video (premiered by Folkrock.com) is a psychedelic, mystical trip. Featuring recurring shots of Ribler intercut with images of passing clouds, it reflects the song's dream-like origins and inspiration.

The album, Ribler's third solo effort, also includes "The Whole World Awaits You", "I'm Comin' Around", "The Only Truth", "War On Peace", "Fly Away", "Manzanillo", "Torn Apart," "Without You" and "History".

Marc will soon be talking to Backstreets about his new record and sharing his memories of three years on the road with Little Steven to coincide with the release of Summer of Sorcery Live! At The Beacon Theatre.
Pre-order The Whole World Awaits You now at marcribler.com.
- July 2, 2021 - Mike Saunders reporting



RADIO'S CRACKLING
New monthly programming on E Street Radio, plus Morello on-demand
This weekend our friends at E Street Radio are introducing two new monthly programs to their channel's lineup. Both shows premiere this afternoon, back-to-back, beginning at 4pm ET:
Legendary E Street Band, hosted by Greg Drew
Last year, Greg Drew officially joined E Street Radio as a member of Live From E Street Nation's on-air team. In addition to being a longtime Springsteen fan, he's been professionally involved with music — as a musician, teacher of professional musicians, producer, and manager — since the mid-1980s. In this new monthly show, Greg will explore the unique musical contributions that each member (including the bandleader) makes to the long-standing, beloved, and yes, legendary, E Street Band. In each hour-long episode, he'll play and discuss selected tracks from throughout the band's decades of concerts and recordings.

Greg tells us that this weekend's debut episode will be an introductory overview on "the band as a whole being greater than the sum of its parts," but in future episodes he's planning to spotlight each individual member's contributions in greater detail. Greg also tells us that he hopes the show will be educational, but in a fun and entertaining way, and that ultimately the goal will be that "even longtime fans, who already are well-aware of how great the E Street band is, will gain at least a few more insights into why the band is so great."

Legendary E Street Band's debut episode will air on SiriusXM channel 20 today, Friday July 2 at 4pm, with re-airings on Saturday July 3 at 10am, Sunday July 4 at 3pm, and Monday July 5 at 6pm (all times ET.) Legendary E Street Band also will be available on-demand via online listening and the SiriusXM app.
Growin' Up, hosted by Jim Rotolo
Jim Rotolo, of course, has been a key on-air and behind-the-scenes presence at E Street Radio since the 24/7 all-Springsteen SiriusXM satellite-radio channel began. In this new monthly show, Jim will interview celebrities who also are major, longtime Springsteen fans. The guest for this month's one-hour debut episode is comedian, actor, writer, and musician Paul Reiser, who recently recorded his interview with Rotolo.

"It was a great conversation!" Jim tells us. "Paul had some funny stories involving his run-ins with Bruce over the years, plus he talked about how important Bruce's music was to him."

Growin' Up's debut episode will air on SiriusXM channel 20 today, Friday July 2 at 5pm, with re-airings on Saturday July 3 at 11am, Sunday July 4 at 2pm, and Monday July 5 at 10am (all times ET.) Growin' Up also will be available on-demand via online listening and the SiriusXM app.
Also still available on-demand via online listening and the SiriusXM app: the "Bruce Springsteen" episode of Tom Morello's Radio Comandante, which first aired on E Street Radio just last week. Morello plays and discusses some of his favorite Springsteen tracks. In the app, just select "Search," type "comandante," and then select the June 21, 2021 episode. Or if you want to listen online via your computer, just click here.
- July 2, 2021 - Shawn Poole reporting


RECAP: VOL. 24, THE NIGHT TIME IS THE RIGHT TIME
"Baby I can feel the night… closing in"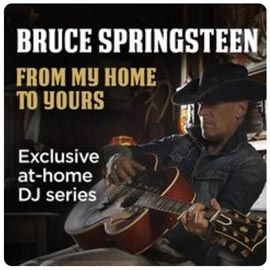 It's long been known publicly that Bruce Springsteen is an avid night owl. In Dave Marsh's original 1979 Born to Run biography, "soaking up the atmosphere at four a.m. on a deserted street" was listed among Bruce's favorite moments. Nearly 40 years later, in Springsteen's own Born to Run autobiography, he revealed in detail how his love of staying up late was instilled in him at a very early age: as a lovingly spoiled grandchild, he regularly "stayed up until three a.m. and slept until three p.m. at five and six years old."
So it's no surprise, that even after Vol. 10: In Dreams — which, last summer, had its first airing at the midnight hour — Bruce's ongoing E Street Radio series would revisit the theme, with another episode devoted entirely to the glories and heartbreaks that can be found in the wee small hours.
"Hello, family, friends, E Street Nation, night-creepers, day-sleepers, fans from coast to coast and around the world!" exults Springsteen at the start of this week's new show, the first to air while the DJ is concurrently starring on Broadway. "Welcome to Volume 24 of From My Home to Yours, titled 'The Night Time IS the Right Time.'"
The first track on his playlist is one of his own: "Night," from Born to Run. Bruce still refers to the song as "The Night," which was its working title during the initial 1974 BTR recording session for the song at Blauvelt, New York's 914 Sound Recording Studios. Surprisingly, it's the only "night" recording of his own here, despite some fine candidates… but he does save a place of honor, at the end of the show, for a song he co-wrote.
Ray Charles' masterfully lascivious version of "(Night Time Is) The Right Time," the track that inspires this episode's title, also features standut contributions from founding Raelettes member Margie Hendrix. Charles is an artist whose music Springsteen has rarely covered, but of course every time Bruce performed his own "The Fever" he was in some way invoking Brother Ray. Fun "(Night Time Is) The Right Time" fact: Just a few months after Charles released his original Ray Charles at Newport version, Chuck Berry incorporated a very similar set of "night and day" backing vocals into one of his masterpieces, "Almost Grown."
Bruce then follows up Ray Charles with a set of night-themed tracks from a very diverse set of artists, in terms of genre, gender, and background: The Pretenders' "Night in My Veins," Roy Acuff's "Night Train to Memphis," James Brown's Live at The Apollo version of "Night Train," the "smooth pop R&B" (quoth Bruce) of the Bee Gees' "Night Fever," John Mellencamp's "Ain't Even Done With the Night," and Patsy Cline's "Walkin' After Midnight."
Unlike Vol. 10's tales of youthful nocturnal escapades, Vol. 24 largely lets the music speak for itself, with little DJ commentary. Exceptions are made for groundbreaking Country Music Hall of Famers Roy Acuff (the first person to be inducted while alive, as Bruce notes) and Patsy Cline (the first female inductee, who gets an extra-special Springsteen shout-out: "We love you, Patsy!")
And then there's James Brown, whom Bruce identifies as "without a doubt, one of the most influential musicians of the 20th century." Brown is also the major influence on Bruce's approach to live performance. In fact, it's very easy to spot the links between this Live at The Apollo "Night Train" and live Springsteen set-pieces — like calling out the tour stops in the "I hear a train" section of "The Detroit Medley" first developed during the 1980-81 tour, and the tour-itinerary version of "Light of Day" worked up during the 1992-93 tour.
Springsteen then plays the first of two great instrumentals in his setlist: "Night of The Drunken Cheerleaders" by The Penetrators (the Alabama-based surf-punk group, not to be confused with the San Diego-based 1980s punk band of the same name.)
From Van Morrison we get double-shot: "Here Comes the Night" by Them, identified by Bruce as "Van The Man's… great, great garage band of the '60s" — Springsteen also correctly guesses the late, great Bert Berns as the songwriter — followed by one of Morrison's early solo-career classics, "Wild Night."
The show draws to its conclusion with tracks by two of Bruce's longtime friends and fellow musicians: "Night Moves" by Bob Seger ("beautiful… Man, I love that voice") and "Because the Night" by Patti Smith Group. For Patti Smith's track, Bruce delivers his longest commentary about any record or artist he's played in the entire show, and of course it's a very personal, moving one:
James "Jimmy" Iovine — engineer, record producer, music mogul and entrepreneur par excellence — took me for a ride in nineteen-seventy-something in his orange Mercedes Benz. Now this is the first Benz anyone had ever seen, much less an orange one. And he drove me out towards Coney Island, somewhere, and he asked if he could send the E Street Band's recording of the unfinished "Because the Night" to Patti Smith, who he was producing at the time.

Now, Jimmy had — has always had, and still has — some very sly ears. Me, I had a nice hook and a melody on a song that I could not finish the lyrics for. So Patti took it and turned it into the hit it became, writing a beautiful love song for her husband, Fred "Sonic" Smith.

It wouldn't have been a hit if I had finished it and released it. It needed a woman's voice; it needed Patti's voice and her vision. She turned it into something that I alone could never have created. And for that, I forever thank my lovely, lovely friend.

And that's our show. Thank you for spending this time with me, and until we meet again, go in peace.
But wait! The evening's not quite over yet! Let's enjoy one more great instrumental (well, mostly instrumental, if you don't count the sing-along emanating from the audience), The Ramsey Lewis Trio's live late-night-jazz take on The Beatles' "A Hard Day's Night." Okay, now go in peace, and get some sleep already.
Playlist:
Bruce Springsteen - "Night"
Ray Charles - "(Night Time Is) The Right Time"
The Pretenders - "Night in My Veins"
Roy Acuff - "Night Train to Memphis"
James Brown - "Night Train - Closing (Live)"
Bee Gees - "Night Fever"
John Mellencamp - "Ain't Even Done With the Night"
Patsy Cline - "Walkin' After Midnight"
The Penetrators - "Night of the Drunken Cheerleaders"
Them - "Here Comes the Night"
Van Morrison - "Wild Night"
Bob Seger - "Night Moves"
Patti Smith Group - "Because the Night"
The Ramsey Lewis Trio - "A Hard Day's Night" (live at The Lighthouse)
- July 1, 2021 - Shawn Poole reporting