THE RETURN OF LEGENDS OF SPRINGSTEEN
This Time, It's Terminal.
A last-minute addition to the European tour: Iceland's Keflavik Airport. On his way from Germany back to the U.S. late Tuesday night, after the Berlin show, Springsteen's plane stopped over in Iceland.... and Bruce apparently had one more encore left in him.
According to the Iceland Review, some late-shift workers at the airport were treated to a six-song set: "The employees commented that Springsteen showed no pretense and was very down-to-earth, chatting away with them. His friend asked the airport employees if they would like to listen to a few tunes. Springsteen then played six songs including 'The River.' After the impromptu concert he asked what typical Icelandic food consisted of -- the fans were quick to answer 'Black Death and Shark.'"
As for those five other songs, your guess is as good as ours... "Iceman"? "This Hard Land"? "Open All Night"? A Bjork cover? Keflavik employees, if you're listening, we gotta know!
- June 30, 2005

BRUCE-SIGNED CLINCH PHOTO FOR BENEFIT AUCTION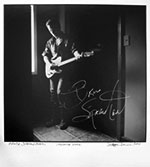 A one-of-a-kind treasure is up for auction on eBay now: an original 2002 Danny Clinch photograph of Bruce at Southern Tracks studio in Atlanta during the recording of The Rising, an 11 x 14 gelatin silver print signed and dated by Clinch, and autographed by Springsteen.
And unlike many autographed items on the internet, with this one the provenance is guaranteed: Danny himself asked Springsteen to sign the photo specifically for this charity auction, with all proceeds to benefit the family of friend Russell Kuri. Kuri, a husband and father of two young children, is currently in a long period of recovery after suffering massive injuries on a construction site.
Danny says: "When Russell was injured I decided to ask Bruce to sign this print to auction off to raise money for him, his wife and two children. It was backstage at the Continental Arena show in New Jersey. I was about to photograph Bruce for the cover of Esquire magazine, and I told him about Russell's situation... without hesitation he signed the print, just as I suspected he would."
See the eBay listing for details - the auction is open now!
- June 30, 2005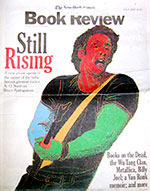 NEW YORK TIMES SERENADE
Pick up the Sunday New York Times this weekend for the July 3 edition of the Book Review, featuring a cover story on Springsteen: "Still Rising - A new phase opens in the career of the baby boom's greatest rocker." Critic A.O. Scott looks at the current spate of Boss books, both fiction (Deliver Me From Nowhere, Meeting Across the River) and non-fiction (Runaway American Dream, 4th of July Asbury Park, and more).
And visit our online shop, where we've got these new books in stock now, and where your purchase supports Backstreets.com!
- June 29, 2005

RATS: GELDOF SAYS NO BRUCE AT LIVE 8
Though Springsteen isn't on the bill for Live 8, the globe-spanning concerts this Saturday, July 2, it's been easy to imagine a surprise appearance up his sleeve. 20 years after his conspicuous absensce from Live Aid, with a concert just down the road apiece in Philly, and with the perfect gap in his tour schedule... it just makes sense, doesn't it? But in today's Philadelphia Inquirer, Dan Deluca spoke with concert organizer Bob Geldof and confirmed a disappointing RSVP: "As for the Philadelphia show... Geldof is sorry he has been unable to convince Bruce Springsteen to play. 'I wish Bruce would do it,' he says. 'He doesn't want to and I don't know why... . He's a lovely man. And we'll miss him.'"
- June 29, 2005

"IT'S ONLY ROCK & ROLL" AUCTION CLOSES TUESDAY
From early concert posters to Springsteen's Tunnel of Love guitar, a whole buncha rare Bruce stuff is up for auction at www.itsonlyrocknroll.com.... bidding ends at 10 p.m. EST on Tuesday, June 28.
- June 27, 2005

TICKET ALERT
More U.S. shows on sale Friday and Saturday
More onsales in the next couple days, after which we'll only be waiting for Michigan and the three Pacific Northwest shows.
On sale Friday, June 24 (Ticketmaster): Pittsburgh, PA; Columbus, OH; Cincinnati, OH.
On sale Saturday, June 25 (Metrotix): St. Louis, MO
Ticket limits vary from show to show, as do will-call policies... be sure to check details for your show in advance. Check our tour/ticket info page for the full itinerary, sale times, and links to each on-sale. Good luck!
- June 23, 2005

VIRTUAL BACKSTAGE PASS: ROTTERDAM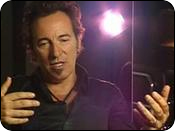 On Father's Day, prior to the Rotterdam performance, Bruce filmed an interview backstage for Dutch TV. An edited version was aired on television -- and a lengthier unedited video of the interview is now viewable online at www.tweevandaag.nl. Talk ranges from song selection to politics. The nearly 25-minute video also features performance clips from "Adam Raised a Cain," "Devils & Dust," and "Long Time Comin'." Watch now!
- June 22, 2005

FOOD BANKS SUPPORTED BY D&D TOUR
For years, Springsteen has been helping World Hunger Year, founded by Harry Chapin and Bill Ayres in 1975; Bruce's April 21 rehearsal show in Asbury Park raised more than $100,000 for the hunger-fighting organization, and his support of their work continues on the road. We've gotten a few requests for information on the food banks that Springsteen selected to benefit from the Devils & Dust tour so far... Check out the summer 2005 edition of Circle! on harrychapin.com for a story on Bruce's work with WHY, including links to each one of those non-profit organizations from the first U.S. leg, from the Capuchin Soup Kitchen of Detroit to the Greater Boston Food Bank.
- June 20, 2005

TICKET ALERT
Sales for 2nd U.S. leg begin Saturday!
Onsales for the North American summer leg start tomorrow, through three different sellers (Ticketmaster, Tickets.com, and CapitalTickets.com), depending on the show. Ticket limits vary from show to show, as do will-call policies... be sure to check details for your show in advance!
On sale Saturday, June 18: Albany, NY; Buffalo, NY; Bridgeport, CT; Atlanta, GA; Charlotte, NC; Greensboro, NC; Milwaukee, MI.
On sale Monday, June 20: Ottawa, ON; Toronto, ON
And more to come later next week. Check our tour/ticket info page for the full itinerary and links to each on-sale. Good luck!
- June 17, 2005

FANTASTICO BRUCE!
While on tour in Italy last week, Springsteen talked with Vittorio Zucconi for Radio Capital before the Milan show. Listen now at the Radio Capital website, where both the audio and text transcript have been translated into Italian; you can also hear the original interview audio as conducted in English.
The subjects range widely in this June 7 interview, Springsteen talking about performing, anti-Americanism, revisiting older material with the creation of Devils & Dust, and even touching on the future of the E Street Band. The Swedish newspaper Aftonbladet recently reported that 2006 would bring a "Farewell Tour" for the E Street Band. While that's not the craziest thing we've ever heard (however upsetting the idea of it may be), it seems way too early to take that one to the bank, let alone worry about it. Especially in the midst of the powerful tour in the here-and-now. In any case, more interesting to hear E Street Plans from the horse's mouth in this interview, as Bruce was asked when the E Street Band would reunite.
"Well, we're permanently reunited now... I have some songs for the band, and at some point in the not-too distant future I'll work on some of those, and we'll have a band record, and come out and play with the band again, I love to do that. I'm not sure if it's the next thing I'll do, but it may be -- the songs are starting to mount up quietly."
Springsteen also makes sure to note the "graciousness and the dedication" of his Italian fans, especially on a tour that demands so much of an audience.
Listen now!
- June 15, 2005

YOU DOWN WITH BBC? YEAH, "BRUCE AND ME"
A documentary called "Bruce and Me" will be broadcast on BBC Radio 2, on Saturday June 25 at 9:30 p.m. The program is the first of two Springsteen-releated BBC Radio documentaries presented by Sarfraz Manzoor. This one explores the relationship between the Boss and his fans, featuring talks with Dave Marsh, Nick Hornby, Stephen King, Stephen Merchant, and more. Visit the BBC Radio 2 website for more info, and to listen to the program during the week following its original airing.
Manzoor's second doc, a portrait of New Jersey through the life and music of Springsteen, will air on July 9.
- June 15, 2005
LAST CALL: D&D READER'S POLL CLOSES TODAY!
Now that you've had plenty of time to digest Devils & Dust, don't forget to take our readers' poll if you haven't already. The poll closes at midnight tonight! We'll compile the results in the summer issue of Backstreets magazine.
- June 15, 2005

AND THE CRADLE WILL ROCK
Springsteen tribute band playing our hometown
Here in the woods of Caroline we've now got two shows in July to look forward to (see below)... and if you're nearby and gotta have a Boss fix before then, you're in luck: the spittin'-image Bruce in the U.S.A. tribute show is coming to the Cat's Cradle in Carrboro, NC tomorrow (Tuesday night, June 14), right here in Backstreets' back yard. Hey, what better way to spend Flag Day? As always, check our concert calendar for more tour dates for tribute bands, related artists, etc.
- June 13, 2005

SUMMERTIME, AND THE TOURING IS EASY
Official dates for the solo tour's return to North America
After a two-week break, Springsteen's Devils & Dust tour will follow up the European leg with an additional month of North American dates in July and August. Canada finally gets a few shows -- this new stretch of dates kicks off one month from today, starting with shows in Ottawa and Toronto, and a month after that it wraps in Vancouver -- with an additional 14 U.S. dates in between. In addition to Canada, the summer leg brings the tour to other areas that had been missed the first time around, including the Southern U.S. (with two shows here in North Carolina) and the Pacific Northwest. Watch for onsale details on our tour/ticket info page as we know 'em.
July 13 - Ottawa, ON - Corel Centre
July 14 - Toronto, ON - Air Canada Centre
July 16 - Albany, NY - Pepsi Arena
July 18 - Buffalo, NY - HSBC Arena
July 20 - Bridgeport, CT - Arena at Harbor Yard
July 23 - Atlanta, GA - Philips Arena
July 24 - Charlotte, NC - Charlotte Coliseum
July 26 - Greensboro, NC - Greensboro Coliseum
July 28 - Pittsburgh, PA - Petersen Events Center
July 31 - Columbus, OH - Schottenstein Center
August 1 - Cincinnati, OH - U.S. Bank Arena
August 3 - Grand Rapids, MI - Van Andel Arena
August 6 - St. Louis, MO - Fox Theatre
August 7 - Milwaukee, WI - Bradley Center
August 10 - Portland, OR - Rosegarden Theatre of the Clouds
August 11 - Seattle, WA - Key Arena
August 13 - Vancouver, BC - Pontiac Theatre at GM Place
And that ain't all, folks: a press release advises to "expect an announcement of some additional solo tour dates later this year."
Meanwhile, after a few extra nights off (with Hamburg and Berlin rescheduled to the end of the June leg), the European tour resumes tonight in Munich.
- June 13, 2005

JAPANESE CD REISSUES COMING THIS SUMMER
In 1999, Sony Music Japan released a first wave of limited edition Springsteen CD reissues, each beautifully packaged in cardboard sleeves, miniature replicas of the original LP sleeves. This limited run consisted of his albums from Greetings through Nebraska (plus Chimes of Freedom). The packaging was recreated in exacting detail -- the fold-out postcard for Greetings, the gatefold sleeve for Born to Run – including the original obi (the title strip present on LP and CD releases in Japan). A second wave, from Born in the U.S.A. onward, was planned but unfortunately never released.
Now, they're trying it again. Late this month, Sony Music Japan will again reissue Greetings through Nebraska in the mini-LP sleeves; in July, they'll do the same for each album from Born in the U.S.A. through MTV Plugged. Be sure to note, this is not the remastering overhaul we've all been waiting for... but of course still highly recommended for collectors. See our online catalog for more details about the discs and to pre-order. Quantities will be limited!
- June 4, 2005

TAKE A TRIP WITH BADLANDS
Fancy a trip to Europe? While we wait for an announcement for the tour's return to the US, there are shows to see right now.... and our friends at Badlands in England make it easy. They're running trips to see the shows in Hamburg, Berlin, and Paris. If you're interested in a jaunt around Europe and a great way to catch some more shows with some fellow fans, check out the concert package details on their website.
- June 4, 2005

U2 KEEPS ON DREAMIN', TOO
Apparently, Suicide's "Dream Baby Dream" has not only been on Bruce's brain, it's been rolling around the heads of the guys in U2 as well. (Wonder if Bruce and Bono talked about it over a pint after the Rock and Roll Hall of Fame ceremony?) If you've been looking to hear that original version of the song, MOJO magazine and U2 have made it easy: a free CD comes with each issue of MOJO, this month's was compiled by U2, and it includes the Suicide song. Check it out as part of their June issue, with U2 on the cover. (Now, the next question: Will Bruce join U2 in playing Live 8 on July 2? We'll see...)
- June 4, 2005

BOSS STUFF ON THE AUCTION BLOCK FOR THE KACF
As part of the Kristen Ann Carr Fund's online auction, items on eBay right now include an autographed Born to Run LP sleeve (signed on the front by Bruce; on the back by Jon Landau, Mike Appel, Garry Tallent, Roy Bittan, Clarence Clemons, Max Weinberg, Steve Van Zandt, Danny Federici, Danny Sancious, Ernest "Boom" Carter, Jimmy Iovine, and Eric Meola!); a signed Little Steven poster, and a framed Danny Clinch shot of Bruce and others from the VFC tour. 100% of the proceeds benefit the KACF, working to improve all aspects of cancer patient life.
- June 4, 2005

"GLORY DAYS" CONFERENCE EXPANDS
Registration open now!
Registration for "Glory Days: A Bruce Springsteen Symposium" is now available at the conference web site. Organized by Penn State and hosted at Monmouth University and the Sheraton Eatontown Center in New Jersey, the conference will feature a dynamic mix of keynote speakers, breakout sessions, special musical events, and tours. Due to an outstanding response from paper presenters, the conference has been expanded from two days to three days and will run from September 9-11, 2005.
The main portion of the symposium will run from the early morning of Friday, September 9 through the middle of the afternoon of Sunday, September 11. In addition, on Thursday, September 8 there will be pre-conference tours of Asbury Park and Freehold and a pre-conference session on Using Springsteen in the Classroom; plus post-conference tours of Asbury Park in the late afternoon of Sunday, September 11.
Notable speakers on the agenda are Dave Marsh, renowned rock music critic; Barbara Hall, creator, Joan of Arcadia; Bobbie Ann Mason, author; Frank Stefanko, photographer, Darkness on the Edge of Town and The River; Joe Grushecky, musician/songwriter; and Robert Santelli, artistic director, Experience Music Project.
The symposium will also feature over 150 paper presentations. Paper presenters comprise over 33 states, the District of Columbia, and eight countries. Abstracts of the accepted proposals will be available within the next couple of weeks at the web site.
Special musical concert events include Joe Grushecky and the Houserockers along with Boccigalupe and the Badboys on Friday, September 9 at the Stone Pony and another special musical event for Saturday, September 10 (details to be announced soon). At the present time, only those people registered for the symposium are eligible to purchase tickets for the musical events.
Early-bird rates are available until July 30, 2005 but to ensure securing tickets to the musical events, it is suggested you register as soon as possible. For additional information, please contact conference organizer Mark Bernhard at mvb8@outreach.psu.edu.
- June 4, 2005


CUDDLE UP! PALACE MUSEUM ONLINE OPENS TODAY
One year after the demolition of the Palace Amusements building -- which began a year ago today -- an online museum celebrates the Palace and all it meant to patrons and fans. The Palace Museum Online is a comprehensive history of the Palace from its rise in 1888 to its fall more than a century later (including the Asbury Rock 'N' Roll Museum along the way). Packed with history, interviews, photographs, multimedia and a guest book to share memories, the website is the result of nine months of research by members of Save Tillie and other Palace fans. Read more in the Save Tillie section of our site, or go straight to www.palaceamusements.com
- May 26, 2005

DREAM EUROPE DREAM: SECOND LEG BEGINS TONIGHT
Fourteen shows and a U.S. leg into the Devils & Dust tour, Bruce Springsteen has managed to put together a fascinating show that highlights the depth and breadth of his many talents. It wasn't too long ago that we were hearing rumors regarding this tour-in-the-works that seemed to focus on its lack of direction and clarity. Would it be just like the Joad tour, but with some new songs? Now, as Springsteen prepares to open the European leg of the tour tonight in Dublin, we have a very good sense that this tour, like the album that sparked it, is something that we haven't heard or seen before. Setlist watching is always fun as a tour progresses and this one is no different, but the real story behind these shows is less what rare nuggets Bruce pulls out and more the stylistic choices he has been making within the performances. Also of note, the number of different instruments Springsteen has employed along the way, with plenty of keyboard -- whether that's piano, Rhodes keyboard, or pump organ -- leading the way. Throw in that weird banjo/guitar hybrid he plays on "I'm on Fire" and a variety of guitars, and it's quite a lineup of different sounds. And that's before we talk about "Reason to Believe." Whether you love or hate the performance of that particular song, you gotta admire the choice of trying something different, something we haven't heard before, something that makes you reconsider that song and the man singing it.
European readers (and/or roadtrippers): Don't forget, we can really use your help with setlists and reports after each show, for the sake of both Backstreets magazine and Backstreets.com. While we sometimes have waited until the day after a U.S. show (rather than dealing with the website bleary-eyed in the wee small hours), we should be able to post a report very soon after each European show, thanks to the time difference... and with your help! If you'd like to contribute, submit show reports to onstage@backstreets.com; and images (photographs, ticket stubs, show posters, ads, setlists, etc.) to images@backstreets.com.
Irish eyes are smiling as we write... stay tuned for tonight's report!
- May 24, 2005

THIS PROGRAM BROUGHT TO YOU BY THE LETTER "E"
Be part of the Pony crowd for LINYC screening on PBS
PBS is bringing the Boss to public television, and they could use just a little help! Remember the second life that Roy Orbison's Black & White Night got when it was aired during pledge drives? In August, PBS will broadcast Springsteen & the E Street Band's Live in New York City concert film from 2000, with cutaways to a crowd gathered at the Stone Pony for this national fundraising drive -- and you can be in the audience. PBS will be taping at the Pony this Thursday, May 26 at 6:00 p.m. If you're interested in attending this Live in New York City screening in Asbury Park, with a shot at getting your mug on national TV, sign up for the Stone Pony newsletter -- that's how the next 100 fans will be chosen to attend this exclusive invitation-only event.
- May 24, 2005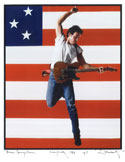 GO AHEAD AND JUMP: LEIBOVITZ AUCTION ENDS FRIDAY
A 16" x 20" artist's proof of this classic 1984 photograph by Annie Leibovitz is up for auction, with bidding running until midnight on Friday, May 27. The print is signed and numbered by the photographer, from a limited edition of 20; proceeds benefit the National Priorities Project. The photograph is valued at $2,500, and bidding started at $750. To bid, or to see a larger image and further auction details, visit the NPP website.
- May 24, 2005

SPEND THE NIGHT WITH STEVEN VAN ZANDT!
Or at least a couple of hours... as the Learning Annex in New York presents a 2-hour event with Steve called "How to Stay a Rebel and Still Manage to Make a Living." Get up close and personal with Little Steven on Wednesday night, May 25, from 7:30 - 9:30 p.m. "Whether you're a musician, producer, songwriter, actor, or fan, this promises to be an incredible evening with a truly amazing artist who defines the term 'renaissance man.'" And they're offering a special deal just for Backstreets readers: follow this link for tickets and use the code BACKST to save a cool 10 bucks!
- May 16, 2005

TIVO/VCR ALERT: CBS SUNDAY MORNING, MAY 22
Look for a Springsteen segment this weekend on the May 22 broadcast of CBS Sunday Morning. In addition to an interview with Springsteen, a CBS film crew was on hand at the Rosemont Theatre a few days ago, capturing Bruce signing and talking with fans; photographer Frank Stefanko is also being interviewed for the program.
- May 16, 2005

SOME BOSS MIX TAPES
What the hell is that song? No, not "Dream Baby Dream"... the song that played over the P.A., like, three songs before Bruce came on stage! If you've been wondering anything like that, check out the extensive list of "Walk In" music on brucespringsteen.net. And burn, baby, burn!
- May 16, 2005

BBC RADIO 2 CONTEST - CORRECTION
As previously reported, BBC Radio 2 is holding a contest for a pair of tickets to the May 28 Royal Albert Hall show -- the contest is still open, with entries taken until May 20. However, a mention on the Radio 2's website that there would be a broadcast of the show was printed in error; no broadcast is currently planned.
- May 16, 2005

FOLLOWING THAT DREAM
While "Dream Baby Dream" would have had serious longshot odds if you were trying to predict a Springsteen cover, Bruce's love of the band goes way back, with Suicide being an influence on Nebraska. In his 12/6/84 interview for Rolling Stone, Kurt Loder had this exchange with Springsteen:

RS: What bands have you been listening to lately?
BS: I listen to a lot of different types of things. I like U2, Divinyls, Van Morrison. I like the band Suicide.
RS: That makes sense: "State Trooper," one of the songs on Nebraska, sounds very much like Suicide.
BS: Yeah. They had that two-piece synthesizer-voice thing. They had one of the most amazing songs I ever heard. It was about a guy that murders...
RS: "Frankie Teardrop"?
BS: Yeah! Oh, my God! That's one of the most amazing records I think I ever heard. I really love that record.
If you're in the mood to be chilled to the bone, listen to "Frankie Teardrop" and "State Trooper" back to back. Might wanna leave the lights on. Also on that first Suicide album, along with "Frankie Teardrop," is "Keep Your Dreams," a precursor to "Dream Baby Dream." Read more about Suicide at Mute.com and Trouserpress.com.
- May 13, 2005

BRUCE: "THERE'S NO END IN SIGHT"
"When I thought where I wanted to be at 55," he tells the Star Tribue, "this is it. I'm lucky."
Prepping for Tuesday night's St. Paul show, the Star Tribune has a new interview with Springsteen, conducted just before the Denver concert. Bruce talked to Jon Break about Devils & Dust going to number one, his audiences on this tour, his piano chops, Starbucks, and what it's like to be Bruce Springsteen: ""I'll have to ask him. I'm not him that much. I'm him when I'm onstage. The minute my foot goes on the first step off the stage, there's a whole other world going on." Read "Springsteen: The Man & His Fans."
- May 9, 2005

DAYS OF HOPE AND DREAMS ARE HERE AGAIN
Stefanko's "Swamps of Jersey" goes coast to coast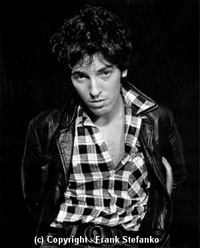 Bruce fans who may have missed photographer Frank Stefanko's "Days of Hope and Dreams" exhibit will have a chance to see many of those photographs of Bruce along with photographs of other New Jerseyans, Patti Smith and Southside Johnny, in a gallery show affectionately called the "Swamps of Jersey."
The show will feature 25 photographs of Bruce originally seen in the "Days of Hope and Dreams" exhibit, plus 5 new additions. There will be 15 photographs of Patti Smith taken by Frank in the seventies, and a few Southside photographs from the Hearts of Stone shoot.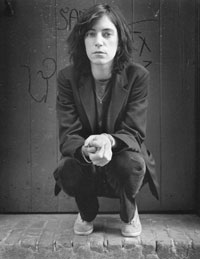 The show will open May 25 at Morrison Hotel Gallery at 124 Prince Street in Soho, New York and run to June 8. Before the May 25 opening, Frank will give a slide show and talk at the Apple Computer Center at 103 Prince Street at 6:30pm and then will appear at the gallery.
After the show closes in New York, it will move to the West Coast and open at the Morrison Hotel Gallery, 1230 Prospect St., La Jolla, California on June 18, and will run to July 24. Frank will be available at the opening in La Jolla as well, to sign his book Days of Hope and Dreams: An Intimate Portrait of Bruce Springsteen.
- May 7, 2005

NUMBER ONE WITH A BULLET MIC
Devils & Dust shoots to the top of the charts in its first week on the Billboard 200, debuting at number one not only in the U.S., but in nine other countries: Austria, Switzerland, Sweden, Denmark, Italy, Germany, the Netherlands, the UK, and Ireland. According to SoundScan, first-week sales totaled 222,324 in the U.S.
For some context, The Rising sold 526,000 copies the week of its debut. But Devils & Dust sold twice as many copies in its first week as The Ghost of Tom Joad (107,000); nearly twice Live in New York City (114,000), and even more copies than Lucky Town (208,000). Also in the SoundScan era: Human Touch sold 246,000; Greatest Hits sold 250,000.
For more context, This week's Top Ten also includes Mariah Carey, Bobby Valentino, Rob Thomas, Amerie, 50 Cent, Jo Dee Messina, Mike Jones, Il Divo, and Gwen Stefani. See Rolling Stone for the full skinny.
- Updated May 7, 2005

STARBUCKS BUMMED OUT BY "RENO"
Springsteen's tune too steamy? Too coarse a grind?
As suggested by headlines like "Not Their Cup of Tea," "Starbucks puts Lid on Springsteen CD," and, our favorite, "Starbucks won't brew Springsteen CD," the coffee chain has given the shaft to plans for carrying Devils & Dust in their shops. According to a Newsweek story, "Starbucks initially wanted a promotional link between the new Springsteen CD and the Starbucks brand. But Columbia Records, apparently without consulting Springsteen, balked out of deference to the artist's longstanding aversion to becoming a pitchman. The sources said Starbucks countered with a proposal to merely sell the CD at its outlets. But after listening to the album, Starbucks executives stopped negotiations after hearing 'Reno.'" Ken Lombard, president of Starbucks Entertainment, told Reuters: "There were a number of factors involved. It (the lyrics) was one of the factors, but not the only reason.... While we agreed the lyrics to 'Reno' did warrant an advisory, our decision to choose another title to showcase was ultimately an issue of scheduling." In any case, t'aint going to happen, and that's the bottom line.
- May 6, 2005