This weekend, starting Friday at 6 p.m. Eastern, the all-Springsteen satellite radio channel E Street Radio (Sirius 10/XM 58) will be playing as many of those covers as it can fit into its "Cover Me Weekend." As previewed by Dave Marsh on last week's Live From the E Street Nation program, the weekend is shaping up to be a fun and fascinating glimpse into the many different directions that Bruce's songs can take when others perform them. In the interest of being "fair and balanced" (and to let listeners at least sometimes hear Bruce Springsteen himself performing on his own radio channel over the weekend), E Street Radio will alsobe mixing in some of the best Springsteen covers of other artists' songs, as performed live and in the studio over the years. [Incidentally, the first officially released Springsteen recording of someone else's music was the 1979 release of "Stay"/"Devil With the Blue Dress Medley" (AKA "Detroit Medley") on the No Nukes album.]
Suggestions for the weekend (along with accompanying mp3s for anything really obscure) can be e-mailed to estreetradio@siriusxm.com.
- April 29, 2010 - Shawn Poole reporting

DEE HOLMES, REST IN PEACE
We're sorry to hear of the passing of Delores "Dee" Holmes, who sang backup with Springsteen in the early '70s as well as the early oughts. Thirty years after her time in the Bruce Springsteen Band, she reconnected with Bruce and backed him on "My City of Ruins" for the 9/21/01 America: A Tribute to Heroes telethon. Backstreets #73 features our interview with Dee about the early days as well as their reunion. Her Asbury Park Presss obituary notes, "She was also an original member of the Holiday Express charity and part of several musical groups. Her smile and humor, nurturing and vivacious spirit, faith and wisdom will be remembered by all of us whose lives she touched." Our sympathies in particular to her daughter Layonne, who sang with Dee and Bruce on several occasions.
- April 28, 2010

FOR OUR CHILDREN
Here at Backstreet Records, we've just restocked all sizes of the in-demand E Street Band shirt for toddlers: sizes 2T, 3T, and 4T of this official children's shirt are all back on our shelves.
Toddler shirts were hard to find for a long time, and it looks we just got the last of these... so if you've got any pint-sized Springsteen fans in your life (or who are going to be in your life), get 'em while they last!

See all of our official shirts here.
- April 27, 2010

ROMEO & JULIET, SAMSON & DELILAH, WILL & APRIL
Last fall, Entertainment Weekly revealed that "there's one artist above all whose music [the Fox series Glee's] brain trust is aching to take on: Bruce Springsteen." The show's co-creators raved about The Boss, Ryan Murphy saying "I think Bruce is our next holy grail" and hardcore fan Brad Falchuk adding, "My musical tastes begin and end with him, basically." Looks like they got their wish: Watch tonight's Glee (episode 16, "Home"), featuring guest Kristen Chenowith, to catch their take on Springsteen's "Fire." Glee airs on Fox at 9/8c. Preview clips are here.
- April 27, 2010

MEETING ACROSS THE RIVER
Springsteen & Stewart to play NYC benefit, 5/22
A couple of Jersey boys are teaming up for a benefit in New York City, at the Nokia Theatre Times Square on Saturday, May 22. The evening, hosted by the DeNiros and the Damons, is to benefit The Gateway Schools for students with learning disabilities; it's billed as "a private benefit concert... featuring a solo acoustic performance by Bruce Springsteen and special comedic performance by Jon Stewart." For additional information, visit the Gateway's Gala Benefit Concert website.
- April 27, 2010


HE SAID YEAH YEAH YEAH YEAH YEAH!
Saturday night's annual benefit for the Kristen Ann Carr Fund was truly, as advertised, "A Night to Remember," go-go girls grooving along as the the Tribeca Grill was transformed into the Underground Garage thanks to the rockin' reunion set from The Rascals. The band's original four members hadn't played together since, as instigator (and the night's honoree) Steve Van Zandt put it, back when "people were no longer mowing their lawns, they were smoking them." But judging by the performance, which included classics "Groovin'," "You Better Run," and "In the Midnight Hour," you'd have had no clue it had been that long. And you had to figure Bruce wouldn't be able to help himself... after watching most of the set in the packed upstairs room, Springsteen got up on stage along with Little Steven to join in on "Good Lovin'."
- Updated April 26, 2010

GOOD LOVIN' ON THE RADIO
Reunion to be broadcast live tonight on Sirius/XM at 9:30 PM EDT
A special live broadcast of tonight's performance by the original line up of The Rascals will be carried live on both The E-Street Radio and Underground Garage channels of Sirius/XM Radio.
This historic event will start at 9:30 PM EDT live from the Tribeca Grill as a part of the Kristen Ann Carr Fund's A Night to Remember benefit in New York.
- April 24, 2010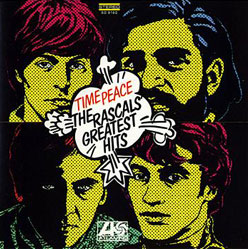 LITTLE STEVEN, YOU RASCAL...
Original line-up of The Rascals to reform and perform tomorrow night
Rock and Roll Hall of Fame members The Rascals will perform with all four original members for the first time in 40 years Saturday night, April 24, at the Kristen Ann Carr Fund's A Night to Remember benefit in New York.
For Stevie Van Zandt, who along with his wife Maureen is being honored at the annual fundraiser, it's a lifelong dream come true and the culmination of thirty years of discussions. "We first met around 1980 to discuss reuniting the band and have tried every five years or so," he said. "Maureen suggested we give it one more shot and sure enough it took Kristen's amazing spirit to finally get it done."
"I speak on behalf of the band when I say all the money offers in the world could not entice the Rascals to reunite," said guitarist Gene Cornish, "but four phone calls from Stevie and without hesitation we enthusiastically and immediately agreed to both support this wonderful cause and honor Stevie and Maureen."
"Rehearsals have been incredible," Stevie added, "and of course my hope is they can stay together and finally show the world why they are one of Rock and Roll history's greatest bands."
"Having Stevie and Maureen as our honorees has been an amazing experience and this ices the cake! Kristen, who loved rock and soul music, would be dancing harder than anyone on the room. Thanks guys!" said Dave Marsh, Kristen's father and fund trustee.
The original Rascals lineup performing is:
Eddie Brigati (vocals)
Felix Cavaliere (keyboard, vocals)
Gene Cornish (guitar)
Dino Danelli (drums)
For more information on the Kristen Ann Carr Fund, visit http://sarcoma.com.
- April 23, 2010

THE McNICHOLS, THE POSALSKIS, THE SMITHS, ZERILLIS TOO
Bruce Springsteen headed to Ellis Island with his mother Adele today, to be honored at the Ellis Island Family Heritage Awards. Each year, the Statue of Liberty-Ellis Island Foundation celebrates the 17 million immigrants who came to the U.S. through the Port of New York and Ellis Island by honoring "a select number of these immigrants or their descendants... and the unique contribution they have made to this 'Nation of Immigrants.'" As noted at ellisisland.org, Springsteen's "maternal grandfather Antonio Zerilli immigrated to America through Ellis Island from Italy in 1900."
Brian Williams serves as Master of Ceremonies, with awards presented by Lee Iacocca. According to crainsnewyork.com, "Mr. Springsteen is not expected to perform, but as one organizer of the event put it, 'We'd be thrilled if he came here with a guitar on his back.'"
Update: No guitar on his back, but Springsteen attended today's ceremony with his mother and his aunts as well, and he gave an acceptance speech: "You can't really know who you are and where you're going unless you know where you came from." Read the Associated Press report.
- Updated April 22, 2010

HALL OF FAME'S SPRINGSTEEN WEEKEND TAKING SHAPE
Toby Scott interview, Bruce in Cleveland panel, and more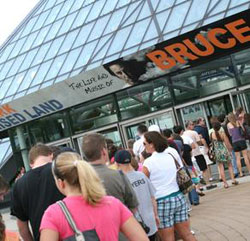 A few weeks ago we posted a Save the Date notice for an upcoming Springsteen Weekend at the Rock and Roll Hall of Fame and Museum, with events running from Friday, June 4 through Sunday, June 6, 2010. Backstreets is partnering with the Rock Hall for this weekend of Bruce events (along with Brucespringsteen.net and SIRIUS XM's E Street Radio), we hope to see you there — and details are starting to come together that may knock off some fence-sitters.
A big highlight of the schedule is an appearance by Springsteen's studio engineer Toby Scott, who was also instrumental in the development of the Rock Hall's exhibit, "From Asbury Park to the Promised Land: The Life and Music of Bruce Springsteen." Curator Jim Henke will conduct a live behind-the-scenes interview with Toby, which will sure to be a Main Event on Saturday afternoon. The schedule also features Gallery Talks from Henke, a panel discussion of "Bruce Springsteen's Cleveland History," special film screenings, and more. Here's how it's shaping up so far:
Friday, June 4

Special Screenings
10 a.m. - 5:30 p.m.: Springsteen's Rock and Roll Hall of Fame Induction Highlights and 25th Anniversary Concert appearances in the Ahmet Ertegun Main Exhibit Hall's Theater 3

Noon - 5:30 p.m.: Blood Brothers documentary, VH1 Storytellers and more in the Foster Theater

Meet the Curator Gallery Talk in "From Asbury Park to the Promised Land" exhibit at 2 p.m., beginning on the 4th floor at the entrance to the exhibit
Saturday, June 5
Member Appreciation Day
8 a.m. - 2 p.m.: Breakfast reception, state of the Museum, and special tours for Rock Hall members

Special Screenings
10 a.m. - 9 p.m.: Springsteen's Rock and Roll Hall of Fame Induction Highlights and 25th Anniversary Concert Appearances in the Ahmet Ertegun Main Exhibit Hall?s Theater 3

Meet the Curator Gallery Talk in "From Asbury Park to the Promised Land" exhibit at 10:15 a.m., beginning on the 4th floor at the entrance to the exhibit

Afternoon Public Programs and Interviews
(Times to be determined)

Behind the Scenes of From Asbury Park to the Promised Land exhibit: Jim Henke and Toby Scott
Bruce Springsteen's Cleveland History with Special Guests including Hank LoConti of the Agora Ballroom; concert promoter Jules Belkin, head of Belkin Productions; radio personality, author and broadcasting consultant, John Gorman; and photographer Janet Macoska.


Performance:
3 p.m. - 4:30 p.m.: Stone Pony Band will perform on the Main Stage

Special Screenings
5 p.m. - 9 p.m.: Blood Brothers, VH1 Storytellers and more in the Foster Theater
Sunday, June 6

Special Screenings
10 a.m. - 5:30 p.m.: Springsteen's Rock and Roll Hall of Fame Induction Highlights and 25th Anniversary Concert Appearances in the Ahmet Ertegun Main Exhibit Hall's Theater 3

10 a.m. - 5 p.m.: Blood Brothers, VH1 Storytellers and more in the Foster Theater
The Rock Hall will also be hosting a canned food collection in coordination with the Cleveland Foodbank. Updates will be posted as June approaches at rockhall.com, and we'll post a final schedule here as well.
Springsteen Weekend savings: Save big by making your travel plans now to attend: Purchase a two-day pass for Saturday, June 5 and Sunday, June 6 for just $25—a savings of $8 (Regular two-day passes are $33). Offer expires Monday, May 24; these tickets are ONLY valid June 5 and 6, 2010. Visit www.ticketmaster.com/promo/u1trwd to order online, or call 1-800-745-3000 and mention code BRUCE.
- April 21, 2010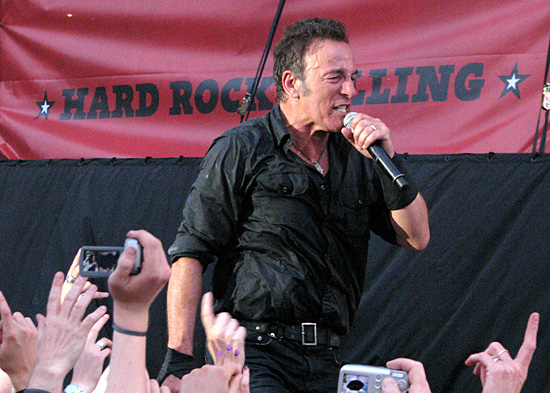 LONDON CALLING DVD SET FOR JUNE 22
Less than a year after the June 28, 2009 "Hard Rock Calling" festival in London, Bruce Springsteen and the E Street Band's performance there will see release as London Calling: Live in Hyde Park. The concert film, which kicks off with the titular Clash song and runs more than two-and-a-half-hours, is set for release from Columbia on June 22, on one Blu-Ray disc and as a two-DVD set.
From this morning's press release:
...the 163-minute film documents 26 tracks of live Springsteen that begin in daylight and progress through a gorgeous sunset into night. London Calling: Live In Hyde Park conveys both the experience of being on-stage and the vast crowd experience of the festival environment. Viewers are able to see Springsteen spontaneously directing the E Street Band and shaping the show as it evolves.

The set list spans from Born to Run era to Working on a Dream and includes rare covers such as The Clash's "London Calling," Jimmy Cliff's "Trapped," The Young Rascals' "Good Lovin'," and Eddie Floyd's "Raise Your Hand." Springsteen also performs fan favorite "Hard Times (Come Again No More)," written by Stephen Foster in 1854. Brian Fallon from The Gaslight Anthem joins the band as a guest vocalist on Springsteen's own "No Surrender."
For more on the show itself, see the report in our Setlists section. As for the DVD's setlist, only "Rosalita" — a performance that was previously broadcast for an abridged TV special — has been dropped. The release adds two bonus clips: "The River" from Glastonbury 2009 (remember all that steam rising off Bruce?) and the "Wrecking Ball" video from Giants Stadium. Producer/editor Thom Zimny and director Chris Hilson oversaw the film, with audio mixed by Bob Clearmountain.
The full track list:
1. London Calling
2. Badlands
3. Night
4. She's the One
5. Outlaw Pete
6. Out in the Street
7. Working on a Dream
8. Seeds
9. Johnny 99
10. Youngstown
11. Good Lovin'
12. Bobby Jean
13. Trapped
14. No Surrender
15. Waiting on a Sunny Day
16. Promised Land
17. Racing in the Street
18. Radio Nowhere
19. Lonesome Day
20. The Rising
21. Born to Run
22. Hard Times (Come Again No More)
23. Jungleland
24. American Land
25. Glory Days
26. Dancing in the Dark
27. Music under end credit sequence: Raise Your Hand
BONUS MATERIAL:
The River: Glastonbury Festival, 6/27/09
Wrecking Ball: Giants Stadium, 2009
Late last year, Springsteen manager Jon Landau told Rolling Stone that there were two releases in the pipeline for 2010: a Darkness on the Edge of Town box, and a DVD from the Working on a Dream tour. One down, one to go!
- April 20, 2010 - Geoff Robinson photo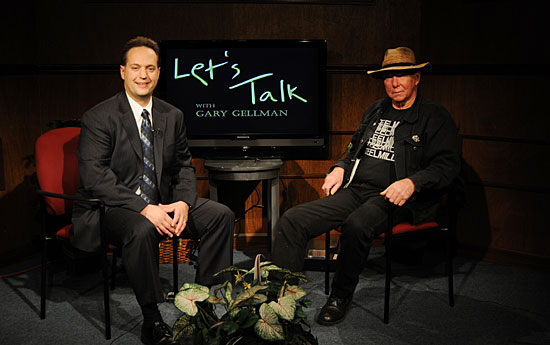 TALKING WITH TINKER
The latest guest on Gary Gellman's Let's Talk program: Steel Mill manager (and Challenger Eastern Surfboards owner) Carl "Tinker" West, who has plenty of insight and yarns to spin about the early days. Gellman tells us, "I told Bruce I was doing I was doing the interview in advance and he thought it was a great idea — he said, 'Tinker has a lot of things to talk about.'" See for yourself. And dig that Steel Mill tee!
- April 19, 2010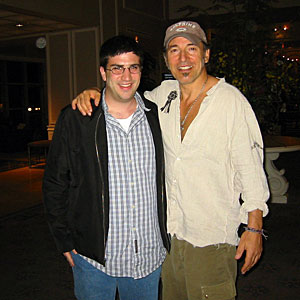 EVERYBODY LOVES BRUCE
Lost writer/executive producer Adam Horowitz writes in: "Just wanted to drop a line saying how much we all appreciate the great response to the ["Everybody Loves Hugo"] episode and the Springsteen reference the other night... I grew up on the Boss and have always wanted to take whatever opportunity I can to show my love. In fact, the first episode of Lost I wrote way back in season one was entitled 'Born to Run.' To give credit where credit is due for this latest homage, I have to give a nod to my writing partner Eddy Kitsis. When we wrote the scene in the restaurant the original name for the place we came up with didn't clear with the legal department. Since I had named the girl Rosalita and Eddy is well aware of my Boss obsession, it was he who suggested Spanish Johnny's as the new name. Now I hope karma pays me back with a full band 'Incident' at my next show...."
- April 19, 2010

A WEEK WITH WOLF
The J. Geils Band, as fronted by Peter Wolf, had a major influence on the development of Bruce Springsteen and the E Street Band's mid-'70s stage show, which of course formed the template for all of Springsteen?s performances with the E Street Band since then. Over the years, Wolf has shared the stage often with Springsteen as an honored guest, and no less an authority than Little Steven Van Zandt once cited the J. Geils Band as "the greatest live act of the 1970s, bar none."
This week, Van Zandt's Underground Garage satellite-radio channel (Sirius 25/XM 59) will be celebrating the release of Wolf's new solo album Midnight Souvenirs with Van Zandt/Wolf interview segments airing each weeknight at 7 p.m. ET. According to the channel's website, the segments will feature "revelations from Peter, who, according to Little Steven, has lived one of the most incredible lives in rock history, and listen as the two discuss the history of rock 'n' roll in the first person, as they have experienced it."
- April 19, 2010 - Shawn Poole reporting

MUSIC FREAK
Author Steve Almond (whose book Candy Freak, incidentally, hipped me to the wonder of the Five Star Bar) has a new book out titled Rock and Roll Will Save Your Life. Yeah, he's one of us: "I've been trying to make the case," he writes, "for Drooling Fanaticism as a spiritual condition, that music is, for certain of us, the chosen path toward what William James called 'a larger, richer, more satisfying life.' James was talking about God, but I'll happily regard that as a term of convenience for That Which We Worship with Irrational and Perhaps Head-Banging Glee." Read a Springsteen-centric excerpt from the book here.
- April 19, 2010

NINTH STREET FREEZE-OUT
More Bruce-in-Durham reportage from the Herald-Sun, including milkshakes (chocolate-vanilla) at Ox and Rabbit Soda and Sundries.
- April 19, 2010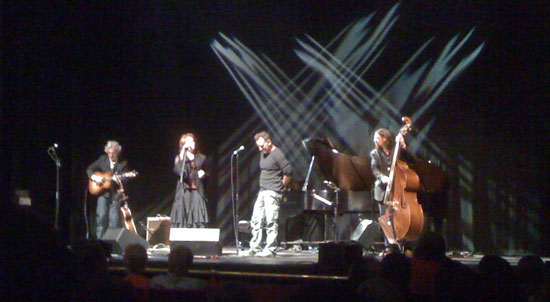 THE BOSS IN DURHAM, NO BULL
Here in North Carolina last night, Rosanne Cash brought her tour to Durham's Page Auditorium, in the shadow of the Duke Chapel on the university's campus, with a surprise guest up her sleeve. The first hint that a Springsteen was in the building came when Cash dedicated her performance of "Girl From the North Country" to Sam, a big Bob Dylan fan. But really, we only figured that one out retroactively. It was still a gobsmacking surprise when, mid-show, Cash introduced "Sea of Heartbreak," a song she said she was honored to sing on The List with "one of the quintessential American voices": "Usually, I'd say that John Leventhal will be playing the part of Bruce Springsteen; tonight, Bruce Springsteen will be played by Bruce Springsteen."
The Boss himself, decked out in cargo pants and apparently in town to look at colleges, emerged from stage left, to a chorus of "Bruce!" from the crowd, for their Grammy-nominated Don Gibson duet. They performed it beautifully, and the crowd responded with a standing ovation; while the audience roared, Cash thanked him for being a "gentleman" and showing up on such short notice.
The rest of her show was top-notch as well, with stand-out guitar work from husband Leventhal, more songs from The List, and backing from Mark O'Connor's trio on two songs from Black Cadillac. Cash expressed hopes that her own "Seven Year Ache" might make her daughter's own list one day. But for the dumbstruck Springsteen fans in the crowd — and there were clearly quite a few — that mid-show moment was the almost-surreal highlight. I mean, this sort of thing may happen every other Tuesday in New Jersey, but south of the Mason Dixon line?
- April 16, 2010 - Chris Phillips photo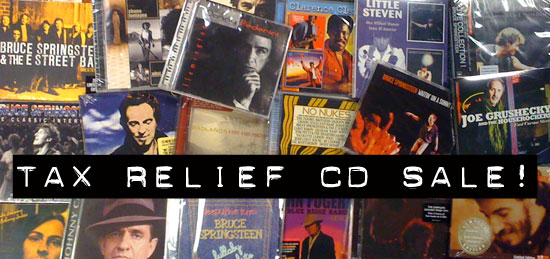 Tax Day is upon us... and if you're looking for relief, we've got some right here. Or maybe you're lucky, and you've got a refund burning a hole in your pocket? We've got just the thing. For the next two days, use the coupon code below to take $10 off when you order $50 or more in CDs!
In our online shop, compact discs are split up into four sections:
Mix and match, and when you've got at least 50 dollars worth, use the coupon code TAXRELIEF at checkout to save 10 bucks!
Offer ends Friday night, April 16; coupon is one use per customer. Thanks for shopping with us!
- April 14, 2010

THE WILD, THE INNOCENT, & THE DHARMA INITIATIVE
For those watching last night's Lost, Hurley's journey toward reuniting with island soulmate Libby took a decidely "Wild & Innocent" turn. Sitting in a restaurant called Spanish Johnny's, Hurley tells Libby that he thought he'd instead be meeting his blind date: a gal named Rosalita. Coincidence? Absolutely not.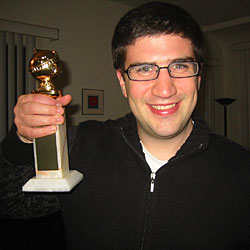 The episode was penned by executive producers and writing partners Eddy Kitsis and Adam Horowitz, with Adam (pictured right) being a longtime Bruce fan. Married with infant twins at home, he makes it to as many shows as possible when Bruce and the band are in L.A. For the past couple of years, he's also been writing the Disney update Tron Legacy, which is set to come out in December. Adam and Eddy also wrote and produced episodes of Felicity, One Tree Hill, and Life as We Know It. When it comes to Lost, you can always know if it's an Adam and Eddy-written episode if it focuses on Hurley. Through the six seasons of Lost, the pair have become the voice of Hurley (Jorge Garcia ) and are very protective of his character.
Want to know what happens at the end of Lost, when it airs its final episode May 23? Good luck with that. Adam's not spilling, no matter how many shows you promise to burn for him.
- April 14, 2010 - Stuart Levine reporting


JUSTIN TOWNES EARLE BLOWS UP THE CHICKEN MAN
"Nebraska is one of my favorite records of all time," says Justin Townes Earle, introducing his performance of "Atlantic City" for the Onion A.V. Club's Undercover series. "I love that opening line about blowing up the Chicken Man in Philly... He has such a way with stark imagery and making you feel like you could possibly be from New Jersey. That's the song that does that the best — next to 'Thunder Road.'"
- April 14, 2010

BRUCE TO APPEAR AT WAMFEST IN MAY
Wes Stace (AKA John Wesley Harding) and Bruce go back a ways, from Wes getting an ultra-rare opening slot on the Joad tour in '95 to a live duet on "Wreck on the Highway." When we saw this picture on Twitter last month, we were itching to know just what was being discussed on that patio... well, here we go: On May 6, the pair will appear together at as part of the 2010 Words and Music Festival, along with poet Robert Pinsky, for an event called "Words for Music, Perhaps II: A Discussion and Performance." The event is free for — and only open to — Fairleigh Dickinson students. "Limited seating," at that. For more information, see www.fdu.edu.
David Daniel writes on the WAMFEST blog, "For 2009 and beyond, Wesley Stace has become the official WAMFEST Artist in Residence and Curator. Celebrated, influential, ground-breaking-while-tradition-carrying, and beloved novelist and songwriter/performer, Wes embodies everything the festival is about, and he does so with uncanny grace and kindness."
FDU students, holler at us with a report if you get in!
- April 13, 2010

Big news in late night tellyvision yesterday: Jay Leno's long time bandleader Kevin Eubanks announced that he's leaving The Tonight Show, while TBS announced that Conan O'Brien has a new home for his late-night show on the cable network. Which brings us to today's big Max Weinberg news: he's 59! Happy birthday to Mighty Max, born April 13, 1951.
- April 13, 2010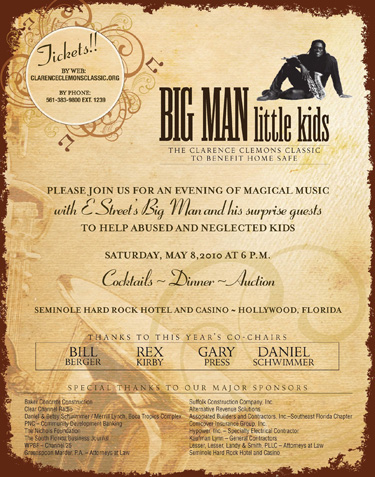 A NIGHT WITH MR. C
Next month brings the Clarence Clemons Classic, the Big Man's annual Home Safe charity event at the Hard Rock Casino in Hollywood, Florida. This is a special charity for Clarence, who has always been a strong mentor for battered kids. Clarence will be stepping down as the profile for Home Safe, to focus on recuperating after extensive knee and back surgeries (mixed in with rigourous touring with the E Street Band). To honor his charitable works, his life-long achievement as legendary saxophonist, actor and now best-selling author, Home Safe, family and friends are creating a Tribute to the Big Man not to be missed. We're told to "expect special surprise guests and the Big Man performing live with his best friend... the saxophone."
The Classic, which also includes dinner and an auction, is set for Saturday, May 8. For more information and to buy tickets, visit clarenceclemonsclassic.org.
- April 12, 2010

THE LIGHT IN DARKNESS... BONUS TRACK!
Late last year, Lawrence Kirsch published The Light in Darkness — a beautiful book of photography and remembrances of Springsteen's 1978 Darkness on the Edge of Town album and tour. [Highly recommended, if you haven't already picked up a copy, and we still have it in stock.]
Now, Kirsch offers an online addendum to the book, filling in more details surrounding the album release and tour, courtesy of '70s Columbia Records product manager Dick Wingate. It's a fascinating look behind the scenes — as with the book, in both words and images. Check it out at thelightindarkness.com.
- April 9, 2010

MAX'S BIG BAND AT THE BASIE: TIX ON SALE FRIDAY
Having lit up Miami Beach in December, the Max Weinberg Big Band — with a repertoire including '60s-era Count Basie, Frank Sinatra, Buddy Rich, Maynard Ferguson, even a new swinging take on The Beatles and Bruce Springsteen — is now preparing to take New Jersey. Their Garden State debut is set for June 11 at the Count Basie Theatre, a benefit show for Joan Dancy and PALS and The Count Basie Theatre Foundation. Tickets go on sale tomorrow, April 9, at 12 noon. For additional information and to order tickets, visit countbasietheatre.org.
- April 8, 2010

IMMIGRANT SONG, SHMIMMIGRANT SONG
Rock's Backpages has dug up a Dave Marsh Creem piece on Bruce from 1975 — that's 35 years ago (just to rub it in), back when it would be perfectly natural for an article on Springsteen to also namecheck Roxy Music, Todd Rundgren, and Blue Oyster Cult. Along with some striking prescience on Marsh's part, it's worth reading for Bruce's then-take on Led Zeppelin alone: "They're like a lot of those groups. Not only aren't they doing anything new, they don't do the old stuff so good, either." Check it out at thequietus.com.
- April 8, 2010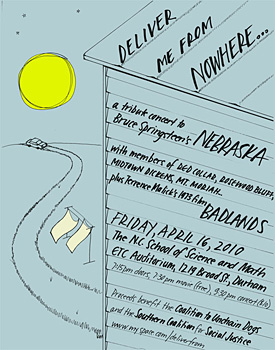 DELIVER ME TO DURHAM
Just down the road from Backstreets HQ, Deliver Me From Nowhere, a tribute concert to Bruce Springsteen's Nebraska, is being held next weekend in Durham, NC. On Friday, April 16, a 7:30 screening of Terrence Malick's 1973 film Badlands — based on the murder spree of Charlie Starkweather and Caril Ann Fugate, which inspired "Nebraska" — will be followed by a 9:30 concert performance, featuring members of Rosewood Bluff, Red Collar, Midtown Dickens, Mt. Moriah, and more.
The event takes place at the NC School of Science and Math ETC Auditorium, with proceeds to benefit the Coalition to Unchain Dogs and the Southern Coalition for Social Justice.
- April 8, 2010

NEW LIFE FOR THE UPSTAGE?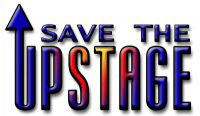 The epicenter of Asbury Park music in the late 1960s and early '70s was The Upstage -- the free-spirited club on the third floor of 702 Cookman Avenue where Bruce Springsteen, Southside Johnny, Steven Van Zandt and a generation of Shore musicians jammed long after "last call" closed the rest of the town. Now, nearly 40 years later, the new owner of building plans to bring back the music -- and has run into a local buzz saw.
Owner Richard Yorkowitz wants to reopen The Upstage, with live music on the second and third floors. That is at odds with an Asbury Park ordinance prohibiting live music above ground level. Yorkowitz has promised to soundproof the building, an expensive offer that so far has failed to sway some of the city's newer business owners, who contend that now is the time for Asbury Park to move beyond its musical past.
"The Upstage holds a unique place in American musical history," says Joe Petillo, who used to play and help manage the club. "It should at least be given a chance to reopen. Once it's gone, it's gone forever." Much of the original day-glo paintings on the walls and the stage area, Petillo said, are still intact.
Both sides get a public airing April 12 before the Asbury Park Planning Commission, which meets at 7 p.m. in City Hall. More information is available on Facebook or by emailing SaveTheUpstage@gmail.com.
- April 8, 2010

A LITTLE "PERSPECTIVE" IN STEVE'S HALL OF FAME SPEECH
Lots of chatter a few weeks ago about Steven Van Zandt's Hall of Fame induction speech for the Hollies being the best of the night — bespite the fact that the majority of it wasn't specifically about the Hollies at all. "The only way to accurately explain how important the Hollies are is to provide a little historical perspective," Steve began. "So I beg your indulgence for a moment for what will seem like a digression but actually isn't.... You know, a lot of us in this room have been doing what we do a long time... And we can't help but feel a little disappointed now that the business is pretty much artistically, financially, and spiritually bankrupt. With a few exceptions. And I say a few exceptions so you can pretend you're one of them." It's classic Steve, start-to-finish, and you can read the whole thing online now.
- April 8, 2010

BRUCE AND ALEJANDRO SHOW A LITTLE "FAITH"
Two years ago, as he released his Real Animal album, Alejandro Escovedo got to play its lead-off track "Always a Friend" at a Springsteen show, backed by Bruce and the E Street Band no less. For Alejandro's new album, Bruce joins him on the recording.
On Street Songs of Love, according to today's press release, "Bruce Springsteen and Alejandro trade lines around a nasty guitar riff on 'Faith,' a tightly woven rocker that bores in and never lets go."
Escovedo describes the forthcoming release as "an album about love, the pursuit of a feeling that is forever elusive, mysterious, and addictive." He also calls it "a band record," recorded with his touring outfit The Sensitive Boys. Street Songs of Love is due June 29 from Fantasy Records/Concord Music Group.
- April 7, 2010

SPRINGTIME FOR SILVIO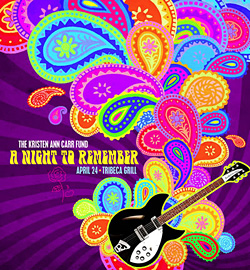 As spring finally warms up the northeastern U.S., Steve Van Zandt will receive well-deserved honors at two wicked cool April events in the area, raising money for some very good causes in the process. On April 24, Steve and his wife Maureen will be the honorees at the 2010 "A Night To Remember," benefiting the Kristen Ann Carr Fund. The fund, named after the late daughter of Bruce Springsteen's co-manager, Barbara Carr, and critic/Springsteen-biographer Dave Marsh, was established by Kristen's family and friends to initiate and support various programs helping teenagers and young adults with cancer and other serious illnesses. Steve and Maureen are among many Springsteen associates who have joined Bruce in supporting the fund since its inception.
Appropriately, this year's event at New York City's Tribeca Grill will feature a psychedelic/"Underground Garage" theme, "'60s attire optional." A limited number of individual tickets are available at $500 each, with various sponsorship packages going up from there. Visit www.sarcoma.com for more details. If the tickets and sponsorship are out of your price range, you can still support the cause by buying raffle tickets for various prizes at only $10 each (5 for $40). (You don't need to attend the event to win a prize in the raffle.) To purchase raffle tickets, phone (212) 625-1025.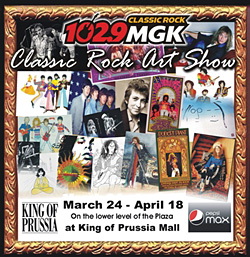 In the Philly area, Steve also serves as the Honorary Chairperson of the 10th Annual WMGK Classic Rock Art Show & Sale, benefiting one of Van Zandt's other pet projects, The Rock and Roll Forever Foundation. The show is open now and runs through April 18. Admission is free, with the opportunity to view and purchase works produced by many well-known artists, photographers and musicians. All works are available for sale at prices ranging from $5 to $10,000, and visitors can register to win a beautiful Mark Weiss photo of Bruce and E Streeters in action at the Spectrum. Click here for details.
- April 6, 2010 - Shawn Poole reporting

SAVE THE DATE!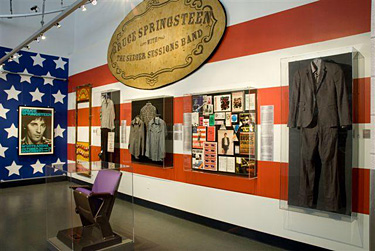 After years of non-stop Bruce tours, if you're like us, you're missing hitting the road right about now... well, here's a good excuse to make some travel plans. As they did last summer, the Rock and Roll Hall of Fame and Museum will host a weekend of events this June surrounding the "From Asbury Park to the Promised Land: The Life and Music of Bruce Springsteen" exhibit.
Backstreets will be on hand as well — join us in Cleveland for a weekend of exhibit tours, rare film footage screenings, special programming and more beginning Friday, June 4 through Sunday, June 6, 2010.
Further details for Springsteen Weekend, as we have them, will be posted here and at rockhall.com.
- April 2, 2010


THE BIG BEATS
Check out Max and Jay Weinberg head-to-head, at the January 8, 2010 Guitar Center Drum-Off Finals.
- April 2, 2010

SO PROUDLY WE HAIL OUR GIVEAWAY WINNERS
Thanks to everyone who took part in our signed book giveaway. We had a total of 1,677 entries, with more than two-thirds of those giving the correct answer (see our 2004 Setlists page): "The Star Spangled Banner." We also accepted "The National Anthem," "The Star Spangled Banner" into "Born in the U.S.A.," "The Star Spangles Banner," and variations thereof... we were pretty loose with it.
Still, you might be surprised to hear that 506 responders missed it. Popular answers were "The Promised Land" and "No Surrender"... "Badlands," too. Some offered R.E.M. titles including "Man on the Moon," "Bad Day," and "Country Feedback." Fogerty songs were represented as well, like "Fortunate Son" and "Rocking All Over the World." Some offered songs that, in 2004, Springsteen had yet to play live or, in some cases, even write: "Devils & Dust," "Radio Nowhere," "Working on a Dream." Those were submitted by multiple entrants; one entry each for "Mary's Place," "Hard Times," "Night," "American Skin," "War," "America the Beautiful," "As Long as I (Can Be With You)," "Wrecking Ball," and "Bright Eyes."
The winners of a free, author-signed copy of David Masciotra's Working on a Dream: The Progressive Political Vision of Bruce Springsteen, drawn at random from the 1,171 correct entries:
Michele Brambilla, Minneapolis, MN
Ken Davis, Coventry, CT
Cathy DeChellis, New Hope, PA
George Skladany, Newtown, PA
Paul van Mieghem, Maarssen, The Netherlands
Books are in the mail, y'all. If your entry wasn't drawn for a freebie, you can still get one of these new books signed by the author in our online shop — Masciotra kindly agreed to sign additional copies especially for Backstreets customers. And if you entered the contest — whether you answered our trivia question correctly or not — we've sent you a Coupon Code for 10% off the signed book. Check your email!
- March 31, 2010

NEW BOOK GIVEAWAY!
Continuum Books, publishers of the excellent 33-1/3 series, have just released Working on a Dream: The Progressive Political Vision of Bruce Springsteen. From the back cover:
"On nearly ever major issue — poverty, racism, urban decay, war, and peace — Springsteen's music has offered a unique vision for moving forward with the agenda of creating 'the country we carry in our hearts' -- as he called it in an op-ed for the New York Times. Filled with provocative analysis of Springsteen's best-known hits and his most obscure songs, comparisons to other important works of American culture — ranging from The Sopranos to Edward Hopper — and a wealth of information about the last fifty years of American politics, culture, and society, Working on a Dream is a powerful and engaging study of this songwriter and performer's art."
Thanks to Continuum and author David Masciotra, we've got five copies of this new book to give away, each one signed for us by the author.
To enter to win a signed book, you just have to answer one question:
What song did Springsteen use to open the E Street Band set at every show on the Vote for Change tour?
Put your answer in the subject line of an email, with your name and address (where you'd like the book sent, if you win) in the body of the email, and send it to minesomeday@backstreets.com by Tuesday, March 30. From the ones with the correct answer in the subject line, we'll draw five entries at random and notify winners by email on Wednesday, March 31.
- March 26, 2010


MORE OSLO STEVE: THE LATEST NEWS FROM NORWAY
Courtesy of Badlandso, here's a highlight reel from Steven Van Zandt's talk in Oslo earlier this week. In talking about what he's got on his plate, Steve gave some insight into the E Street Band's current timeline: "In between tours, we... right now we might have two years off, so we try to get some things done in those two years." Badlandso's Rune Hellerud fills us in a bit more on the evening:
The queue was long outside the club to Gamla in Oslo on Wednesday night, with many making the trip to to see Little Steven at close range. Not only Springsteen fans, but also straight Little Steven fans—fans of his music, and not least of his role as Silvio Dante in the TV series The Sopranos.... During this session, we received many great stories from his time with the E Street Band, from their first visit to Drammenshallen in 1981, to their long bus trips from concert to concert. He talked about The Sopranos and the character of Silvio Dante, about new music projects and about life around Asbury Park in the '60s and '70s. Everything was told in a typical Little Steven manner, with a large dose of humor… he is an incredible storyteller.

After the interview session with Hans-Olav Thyvold came perhaps the evening's greatest highlight, questions from the audience. Steven was asked whether he would make a comeback with his own band in the future — he wasn't sure — and what he thought of playing entire albums at concerts. Here he talked at length about how much time and effort Bruce spent putting together the studio albums, to best fit his songs into a whole, so it was also a special experience to do this live. He was also asked about his thoughts on bootleg recordings, and of particular interest, if he had anything new regarding the release of Darkness on the Edge of Town box. Nothing new for us here, though; he was able to confirm it would be released this year but said that he had no official date. Many more questions came, and Little Steven answered them with his mixture of humor and seriousness… a very entertaining and eventful evening.

Check out more highly entertaining video highlights at the Radio Tango website. (Roar Bakken from event host Blood Brothers (Springsteen.net) tells us, "Little Steven actually 'saved' this local Oslo radio station last year by talking to our Minister of Culture when the station was near losing their licence.")
Lilyhammer! More news out of Norway: Steve is taking the lead role in a new Norwegian Broadcast Corporation (NRK) TV series called Lilyhammer. No joke: according to the NRK's official website, the show is "about a mob boss from New York who must go into hiding in precisely the Olympic city of Lillehammer." Steve tells Aftenposten.no one reason he's doing the show: "because I miss my gangster... It's not exactly the same guy, but it's a gangster, and I'm not ready to give up the gangster role." He'll serve as executive producer as well. Every time he thinks he's out, they pull him back in!
- March 26, 2010 - photo courtesy of www.springsteen.net


WHAT TO DO ON A THURSDAY NIGHT IN ASBURY PARK
If you're Bruce Springsteen, the choice last night would have been simple: head on down to The Saint and catch the not-so-secret "Secret Show" by Josh Ritter and his newly-named The Royal City Band. Announced only ten days ago with minimal fanfare, the concert was a premiere of the songs from Josh's new album So Runs The World Away and a pre-world tour rehearsal show; Ritter also covered Springsteen's "Tomorrow Never Knows." Both Springsteen and the sold-out crowd appeared captivated by Ritter's mix of stylistic songsmithing with and without the band. After the show was over, Bruce said hello to some fans before exiting into the band's dressing room; after half an hour, Bruce and Josh headed outside. With a wave of his hand, Springsteen beckoned Ritter to climb into his car, and they drove off into the New Jersey night.
Visit our Downloads page to hear Ritter's take on "The River."
- March 26, 2010 - A.M. Saddler reporting


STEVEN SPEAKS TONIGHT IN OSLO
Little Steven has been spending time in Oslo, and tonight he'll be appearing at the club Gamla for an interview and Q&A session hosted by the Norwegian fan club Blood Brothers. He'll be talking about... well, click above, and we'll let him fill you in himself. If you're able to attend, we'd love to hear from you afterward with any nuggets you think we should pass along!
- March 24, 2010


MOVE FAST WHEN YOU'RE YOUNG OR YOU'RE NOT LONG AROUND
Greg Mitchell, former Senior Edior of Crawdaddy! magazine, has a new web music series called "An incompleat History of Rock 'n' Roll." Check out Episode Two, titled "The Boss," which spotlights Springsteen's 1972 performance at Sing Sing Prison. See more from the series at Mitchell's YouTube page.

Update: Mitchell also has a new piece in The Nation this week, touching on various flaps over "Born the U.S.A." and recounting Springsteen's "political transformation." He references the song parody sung at the Gridiron Dinner over the weekend, "Not Born in the USA," which lampoons the Birther movement— lyrics are posted at Politico.com.
- Updated March 24, 2010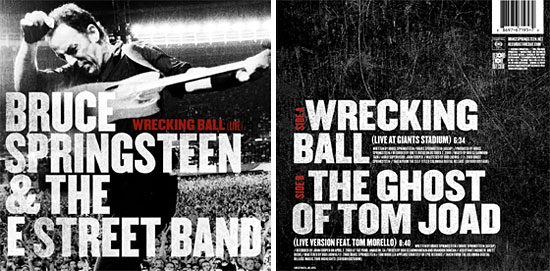 NEW 10-INCH VINYL FOR RECORD STORE DAY, APRIL 17
Last year for Record Store Day, Columbia issued an exclusive Springsteen vinyl single ? a seven-inch featuring "What Love Can Do" backed with "A Night With the Jersey Devil." For this year's Mom & Pop shop celebration, on April 17, they're doing it again — only bigger.
This year's Record Store Day release is a ten-inch, featuring two rare tracks: "Wrecking Ball" live at Giants Stadium (2009), and "The Ghost of Tom Joad" live with Tom Morello (2008). While both tracks have been previously available digitally, this is their first release in physical form. Their length may account for the size of the record: "Wrecking Ball" clocks in at 6:34, and "Joad" at 8:40. And another upgrade from last year, this release boasts a full-on picture sleeve.
Last year's single was difficult to track down, and like that one, the "Wrecking Ball" single will be exclusive and limited; we suggest you contact your local indpendent music store and request that they carry it. Participating stores are listed here, but as recordstoreday.com's disclaimer states:
Those stores are all independent, which means not only are they not owned by a corporation, they aren't run or influenced or told what to do by us here at Record Store Day either. They have complete control over their stock, store policies and which promotions they participate in. Any piece (commercial or promotional) that we tell you about on this site is available at some stores, but other stores have probably chosen not to carry them. Which is totally their prerogative. That's why we tell you to be sure to CHECK WITH YOUR LOCAL STORE.
We're psyched to see Springsteen and Columbia putting in the effort to be part of Record Store Day — "a celebration of the unique culture surrounding over 700 independently owned record stores in the USA, and hundreds of similar stores internationally" — and we encourage you to be part of it, too. Support your local shops!
- March 22, 2010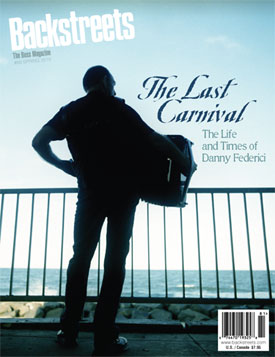 COMING IN APRIL:
BACKSTREETS #88
Good news: we can finally state with certainty that, after a considerable publishing hiatus, the presses will be rolling within the month on the new issue of Backstreets magazine. Backstreets turns 30 this year, marking three decades of the magazine this fall, and we're excited to celebrate the milestone right: with more issues of the Boss magazine that few suspected would make it this far. Thanks for your support, and for waiting for us while we've fallen behind.
Sorry for the radio silence on the matter — if rumors of our death have been greatly exaggerated in the meantime, we've only got ourselves to blame — but we didn't want to make any further promises regarding the magazine until we were confident we could keep them. After some serious planning, regrouping, and noses to the grindstone in recent months, we've got a way forward and can see the light up ahead, with drop-dead printer deadlines that we're now sure we can meet.
Our Spring 2010 issue, #88, will be printing by April 15 — a little remedy for the Tax Day blues. We've got the following issue mapped out as well, with a hard printer deadline of June 18 for our Summer 2010 issue, #89.
For more of the latest on Backstreets magazine, including what you can expect in #88 and in the issues to come, please read the new Editor's Blog.
And if you're a subscriber with a new address, please be sure to let us know so we can change it in our subscriber database: you can send us your new address (along with your prior address, for confirmation) via email to orders@backstreets.com, or call it in to 1-800-326-BOSS, or (919) 968-9466. As always, our business hours are Monday through Friday, 10 a.m. to 5 p.m. Eastern. When the new magazine finally comes out next month, we want to be sure to send it to the right place!
- March 20, 2010

FREE MP3: TRAVIS HOPPER DOES "LEAH"
"Though it's not a well-known or popular Springsteen song, I've always liked 'Leah' off Devils & Dust," Travis Hopper, of the Dallas band Elkhart, tells Backstreets. His home recording features droning and distorted acoustic guitar and piano: "I liked the idea of this simple song pushing through the static and noise — it seemed to serve the lyrics about this guy striving for something simple and better, but still out of reach." Check it out now on our free Downloads page.
- March 19, 2010

BILL CHINNOCK TRIBUTE & RECORD RELEASE PARTY, 3/27 AT THE PONY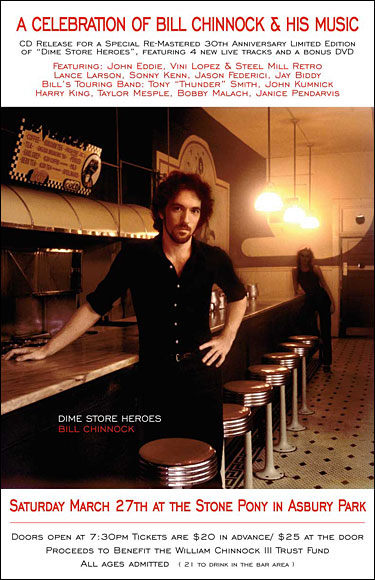 Jersey Shore greats will gather on Saturday, March 27 at the Stone Pony to celebrate the life and music of the late Bill Chinnock. The event — a concert featuring Vini Lopez & Steel Mill Retro, Lance Larson, John Eddie, Sonny Kenn, and more — is also a record release party for Bill's remastered Dime Store Heroes CD.
Chinnock, who died three years ago after a long battle with Lyme Disease, was one of the founders of the Asbury scene, jamming at the Upstage in the late '60s and playing in bands with Danny Federici, Garry Tallent, David Sancious, and Vini Lopez before the formation of the E Street Band. Lopez says, "Bill was truly one of my dearest friends. Bill was the Boss before Bruce."

The Dime Store Heroes reissue, a remaster of the 1980 album with four live bonus tracks recorded at Bill's 2003 Stone Pony concert, will be available at the event — along with a bonus, limited edition DVD. The DVD retropsective looks at Bills career through the eyes of those who knew and worked with him throughout the years, including Tallent, Lopez, Robert Santelli and country music legend Harold Bradley.
Event proceeds will benefit the William Chinnock III trust fund, established to assist for the care and education of Bill's now 11-year-old son. Tickets are $20 in advance and $25 the day of the show. Doors open at 7:30pm. For more information, stoneponyonline.com and billchinnock.com.
- March 18, 2010

WE NEVER TRAVEL FAR WITHOUT A LITTLE BIG STAR
We were shocked and saddened last night to hear of the death of Alex Chilton, of the Box Tops and Big Star, at 59. Racking our brains for some Springsteen connections today, it's all fairly tangential... The Castiles covered "The Letter" back in '67; Bruce and Steve produced Gary U.S. Bonds' cover of another Box Tops hit, "Soul Deep." There's Bruce's noted fandom of Big Star's power pop contemporaries, The Raspberries. And as quoted in the A.P. obit today, the cult legend dropped the Boss's name: "Fame has a lot of baggage to carry around. I wouldn't want to be like Bruce Springsteen. I don't need that much money and wouldn't want to have 20 bodyguards following me." But we really don't need an excuse here to mark and mourn the loss of a music great. R.I.P., Alex Chilton. Read more from the Memphis Commercial Appeal.
- March 18, 2010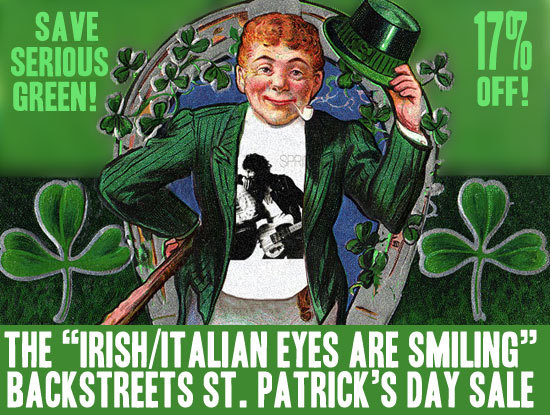 It's not very often that we have a store-wide sale... in fact, the last time Backstreet Records offered an across-the-board discount on every item in stock was back in 2004. But for St. Patrick's Day, and today only, it's on: 17% off all merchandise in our online shop. Use the coupon code below to get that discount on all in-stock merchandise, including:

Simply use the coupon code MRSMCGRATH during Step Two of Checkout and the 17% off will be applied to your entire order. So if you've been eyeing something Boss, today's the day to pick it up! Offer goood through midnight tonight.
Each order will also include a free Backstreets 30th Anniversary sticker, as we head toward the three-decade mark this fall. Happy St. Patrick's Day!
- March 17, 2010

JUST TO BUY YOU SOME SHOES
Here's something to drive all night for: a pair of Nike SB Dunk High "Bruce Springsteens." Nicekicks.com describes the forthcoming limited edition: "Taking cues from Springsteen's Born in the U.S.A. album cover, denim is used for the toe, midfoot and foxing, while navy blue fills in the mid-panel behind a red Swoosh. On the collar, red and white stripes appear as an ode to the American flag that hangs in front of Bruce on the cover."
Not that you'll find actually find the name "Bruce Springsteen" among the sneakers' tender charms. Dave W. tells us: "The Nike SB line never officially titles their shoes after the people or things that inspire them for legal reasons, but the skate/sneaker community usually come up with a pop culture name to identify them by (for instance, ones that had a Yoda-looking colorway were dubbed the 'Jedis,' and a bright red/blue/yellow pair were referred to as the 'Ms. Pacmans'). These are apparently catching on as the 'Springsteens.' When I'd first seen the prototypes a few weeks back, they were being referred to as the '4th of Julys,' which was kind of Brucetastic as well."
Coming to New Jersey later this year. Take a look at nicekicks.com.
- March 16, 2010

LITTLE STEVEN (AND BRUCE) AT THE 2010 ROCK HALL INDUCTIONS
"On the bullshit scale, we're pretty good."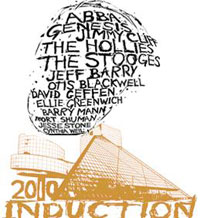 Last night at the Waldorf Atoria Hotel in New York, the Class of 2010 was welcomed into the Rock and Roll Hall of Fame at the 25th Annual Induction Ceremony. No speeches from Bruce, but of course he ain't the only guy from E Street who has a way with words at these things. Steve Van Zandt — whose 1997 speech for the Rascals was remarkable enough to lead directly to the part of Silvio Dante — was back at the mic last night, this time to induct the Hollies.
The L.A. Times called Steve's "the evening's most erudite and impassioned speech... speaking to the transformative power of music, as well as pointed comments about the state of the industry." Vulture reports: "This is why we love Stevie Van Zandt... Calling the Rock Hall ceremony 'our best night,' he described both the Grammys and the American Music Awards as 'nice people, bullshit.' This night, he said, is 'just a little bullshit. On the bullshit scale, we're pretty good.'"

Steve jammed with The Hollies as well; see fuse.tv for a photo gallery. Though he didn't take the stage, Springsteen was in the crowd, along with Patti Scialfa. (Jon Landau, too, was there.) Rollingstone.com has a Kevin Mazur shot of Bruce and Steve backstage with new inductee (and "Trapped" songwriter) Jimmy Cliff; also see twofeetthick.com for some shots of Bruce and Patti with Eddie Vedder (who jumped on stage with the Stooges).
The ceremony was broadcast on Fuse; if you missed it, catch an encore presentation on Sunday, March 21.
- March 16, 2010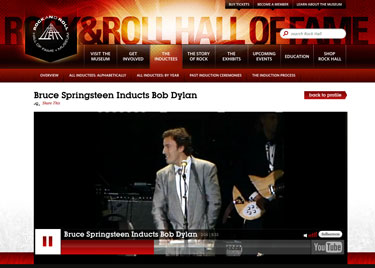 ROCK HALL SITE GETS A TOUCH-UP AND A LITTLE PAINT
The Rock and Roll Hall of Fame has just re-launched their website, which features a complete redesign and far more content on each of the Inductee pages. The Bruce Springsteen page now features a bio, career timeline, photo galleries, video clips (from induction ceremonies, his own and others), speech transcripts, and more. Nice overhaul. More bells and whistles as well for the exhibit page, "From Asbury Park to the Promised Land: The Life and Music of Bruce Springsteen."
- March 12, 2010

BRUCE ALMIGHTY

Heard of a U2charist? You had to figure it was only a matter of time before someone tapped the gospel of Bruce Springsteen.... Held tomorrow evening at Trinity Cathedral in Portland, Oregon, "Sky of Mercy" will be "a Lenten Eucharist set to the music of the Boss." According to the church's website, "The service will feature an assortment of instruments and intergenerational musicians leading the service in Springsteen's songs of struggle, redemption, courage and hope. The offering will go to the Trinity Food Pantry, which served nearly 20,000 people last year...."
The Oregonian spoke with a Trinity priest, the Rev. Nathan LeRud, who says, "It's a chance to bring modern culture into the church and the other way around." Portland reader John C. tells us, "Could be the first time I hit a mass in ages."
- March 12, 2010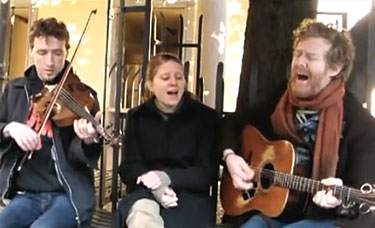 WATCH THIS: SWELL SEASON, TAKE TWO
You might have seen the YouTube clip of "Drive All Night" recently performed by Swell Season at Radio City Music Hall (we linked to it in Out on the Wire in January)... When Swell Season visited Milan last month, they filmed a passionate, intimate performance of the song with just acoustic guitar, violin, and voice. Check it out at Rockol.it.
Italian journalist Gianni Sibilla tells Backstreets, "It is a breathtaking cover, and kind of an exclusive — as you know, they did ["Drive All Night"] in New York with Clarence's nephew Jake Clemons, but it was never recorded and filmed officially... and I was lucky enough to be the one to do it. It's probably one of the best things I've done in my 15-year career working in music journalism."
If you can read Italian, check out the story of the shoot on Sibilla's blog.
- March 4, 2010

BUSTED!
Ticket woes: we've all felt 'em, and more often than not fans find Ticketmaster to blame. But there's plenty of blame to go around, and plenty left over for third-party "ticket brokers" sucking up prime seats. Which makes this week's news of a Department of Justice bust particularly satisfying: a 43-count indictment has been brought by the DOJ against four men who'd been gaming the system in a major way through their company, Wiseguy Tickets, Inc.
Pollstar.com reports: "According to the indictment, the defendants worked with programmers from Bulgaria to develop a nationwide network of computers using automated programs to flood online ticket vendors' computers at the same moment tickets for in-demand shows went on sale. Apparently, the programs... were able to complete the CAPTCHA Challenges faster than mere mortals, resulting more times than not in the men obtaining the best seats in the house for shows by many top artists and bands, including Bruce Springsteen, Barbra Streisand, Bon Jovi and Kenny Chesney."
Reader Pete writes us, "According to the article, in addition to countless concerts, Broadway shows and sporting events, these jerks snatched up tons of Bruce tickets including half the GA floor tickets for a Giants Stadium show. Ticketmaster may have screwed everyone in their own way, but these guys brought a good amount of misery to us concert fans. I hope they get everything that's coming to them."
Reuters reports that after the Giants Stadium score, "Wiseguy employees were ecstatic, and in an internal company report described the purchase as 'straight domination,' having bought the 'best ringsides by far.'"
According to CNET News, "[The four men] are accused of purchasing more than 11,000 tickets to Bruce Springsteen shows alone during three months in 2007."
View the indictment at www.justice.gov.
This news also raises some disturbing questions in light of the recently approved Ticketmaster/Live Nation merger. Read more at our newly updated Fight The Merger! page.
- Updated March 3, 2010