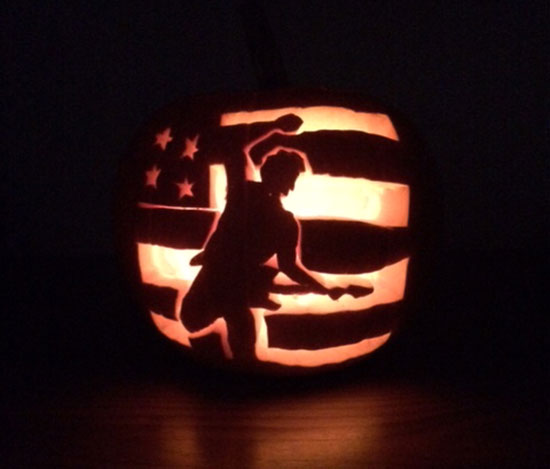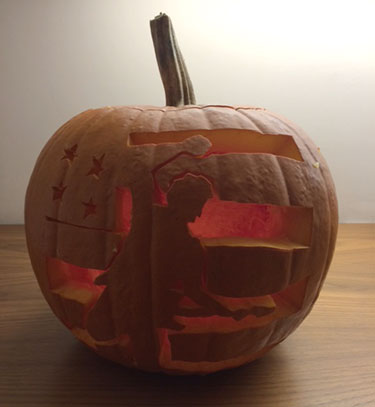 WHEN THE LIGHTS GO OUT: "TAKE A KNIFE" CONTEST RESULTS
Congratulations to Francesca Domenella for her winning entry in the first Backstreets pumpkin-carving contest. Putting both her knife skills and graphic design skills to the test, her Boss jack o'lantern, above and right, goes from spark to fire when lit from within. And of course, it's perfect for this year, the 30th anniversary of the Born in the U.S.A. juggernaut. We'll be sending Francesca the RSD 7-inch of "A Night with the Jersey Devil," the Little Steven's Underground Garage presents HALLOWEEN A GO-GO CD, and a signed copy of Lori Bonfitto's Asbury Dark: Haunting Tales From the Jersey Shore.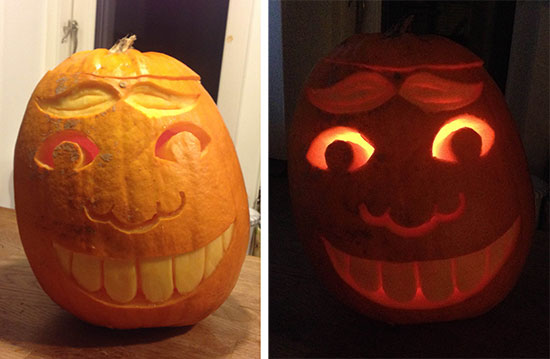 Second place: Francesca's isn't the only entry that truly comes alive when the lights go out. This take on Tillie from the Palace Amusements Building (R.I.P.) in Asbury Park, comes from the talented Søren Juhl. "I'm a wannabe when it comes to pumkpin cutting," he says, "We don't have the same tradition here in Denmark." Coulda fooled us. Highest creep factor of the entries came this close to putting Soren in first.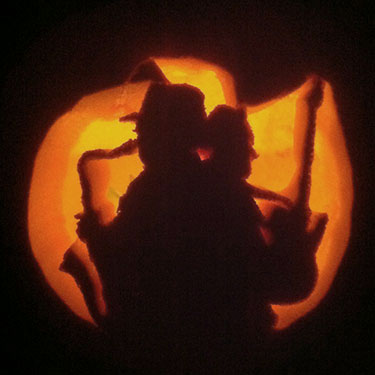 Third place: We received several variations on this theme, a silhouette of Bruce and Clarence, evoking poses from the Born to Run album cover to the Superbowl — honorable mentions go to Dave Montgomery and Neil Landers. But we awarded the third place ribbon to Chris Thinnes for his appealingly chunky carving, a big pumpkin for a big subject.
Søren and Chris will also receive a signed copy of Asbury Dark, with thanks to Lori Bonfitto for hooking us up with something appropriately spooky to give away.
Thanks to everyone who picked up a knife and took part... have a great Halloween, watch out for Jersey Devils and possessed '57 Chevys!
- October 31, 2014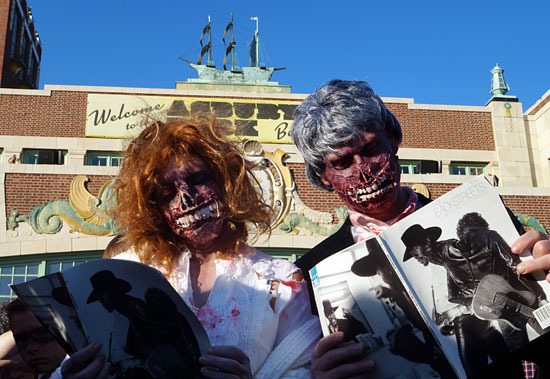 HAPPY HALLOWEEN!
We walked with a zombie: above, Nicola DeSanctis and friend at this year's Asbury Park Zombie Walk, where some shamblers actually prefer Bruuuce over braaains.
Watch this space this afternoon for the winning Boss-o-lanterns in our first ever pumpkin-carving contest... and in the meantime, be sure to check out Stan Goldstein's roundup of "Bruce Springsteen's Greatest Halloween Tricks and Treats" on NJ.com.
Exorcism on E Street
Here's another perfect treat to enjoy on All Hallows Eve, linking Bruce to The Exorcist (ranked by Entertainment Weekly, and many others, as "scariest movie of all time.") The last time that Bruce Springsteen & the E Street Band played Georgetown University, a key setting for The Exorcist, was on October 18, 1976. On that night nearly 40 years ago, the Cosmic Kid met Captain Howdy as the story section of "Growin' Up" became a hilariously horrific tale about Bruce's beloved '57 Chevy getting possessed by an evil spirit — which predated Stephen King's Christine by almost a decade. According to Brucebase, it also marked the only time that Mike Oldfield's "Tubular Bells" has ever been performed onstage by Bruce and the band, the famous instrumental from the film's soundtrack serving as backing music for Bruce's story. Here's the only known recording of that performance, just a partial audience tape.
"...The hood ornament started spinnin' around on that cross! The gas tank flew open and spit gas on my face! The cross was jammed into the radiator! Then, all of a sudden, I said, 'Who are you?! You ain't my '57 Chevy, who are you?!' And it said, 'I AM A NEW TOYOTA!' It jammed itself into first... popped into some wheelies, spinnin' down the street. I commandeered a vehicle, knocked this old lady outta the front seat of this Camaro. I jumped in and started spinnin' after my car, right? I called up my own Keith Richards; my guitar flew out the trunk! I picked it up like this and called on all the guitar players up in Rock 'n' Roll Heaven to help me!"
- October 31, 2014 - Chris Phillips and Shawn Poole reporting - photograph by Shawn Poole



CALL ME BRUCE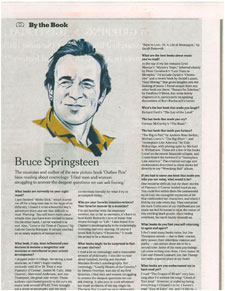 The "By the Book" column in this Sunday's (November 2) New York Times Book Review features an interview with Bruce, in which he discusses his literary tastes. He is quite well read, which should surprise no one. His latest: "I just finished Moby-Dick, which scared me off for a long time due to the hype of its difficulty. I found it to be a beautiful boy's adventure story and not that difficult to read. Warning: You will learn more about whales than you have ever wished to know. On the other hand, I never wanted it to end."
Springsteen also shares his love of reading about cosmology, philosophy, and baseball... and his embarrassment that he's never read East of Eden. (How can that be?!)
An expanded version of the interview is online now at nytimes.com, including his answer to what three writers he'd have over for a literary dinner: "Philip Roth, Keith Richards, Tolstoy — and one extra, Bob Dylan. A lot of life experience there, and the babbling in different tongues would be wonderful."
Read: "Bruce Springsteen: By the Book"
- October 30, 2014 - Tom Fuller reporting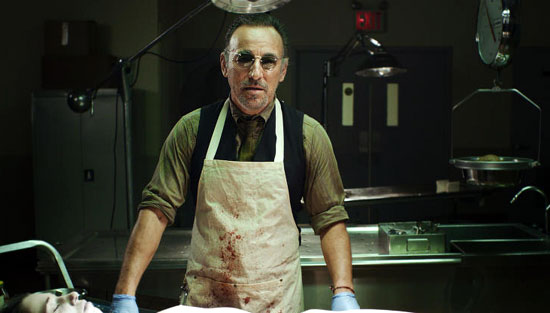 DEAD MAN'S SUIT
Just in time for Halloween, some official shots of Springsteen in character as mortician Giuseppe at the end of Lilyhammer season three. Visit Dagbladet.no for more. The new season launches November 21.
- October 29, 2014


TONIGHT ON CONAN: MAX WEINBERG SAVES THE DAY
"We need a drummer now!" calls a desperate Conan O'Brien... good thing his old bandleader happens to be in the audience — and he even brought his sticks. Tune in tonight on TBS as Coco and the Mighty One reunite.
- October 28, 2014

LISTEN: GABRIEL SULLIVAN TAKES ON "THE GHOST OF TOM JOAD"
Tucson-based musician Gabriel Sullivan, who's toured and recorded as a member of Giant Sand in addition to releasing his own music, will be releasing a new album entitled JVPITER in late November that Backstreets readers will no doubt find intriguing: it includes a cover of Bruce's "The Ghost of Tom Joad" that, while undeniably true to the original, manages to imbue it with a haunting, full-moon-in-the-desert quality. There's also a subtle Latin feel to the tune, reflective of Sullivan's heritage and growing up in a border state.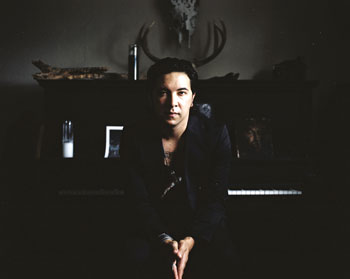 The song premiered earlier this week at Blurt magazine (full disclosure: I'm the editor), and now can you listen to it here at Backstreets. Speaking to Blurt, Sullivan outlined the cover's genesis, which dates back to when he encountered Rage Against The Machine's 1997 version. "[That was] before I ever heard the original," Sullivan noted. "I was a 13-year-old kid with a skateboard and an Ibanez guitar, and I didn't have a bit of knowledge or interest for songwriters that are now my heroes. After playing the song countless times in the car with my parents, my Dad informed me — with a shake of the head — that this was in fact a Bruce Springsteen cover.
"'The Ghost of Tom Joad' was a song that I never thought I deserved to cover, one of them 'untouchable' tunes — you just don't play it. But on a gray afternoon in Denmark last year, with no new songs coming to mind, I started playing 'Tom Joad' for the Giant Sand boys. They had never heard the song and immediately fell into this trancelike groove. Peter Dombernowsky played the drum set with his hands and added a back beat to the song that I think is what makes it its own. We got it down in two takes and that was that. Some sort of tribal, goth, barren landscape take on what is perhaps my favorite song of all time."
More info about Sullivan can be found at
his official website.
- October 28, 2014 - Fred Mills reporting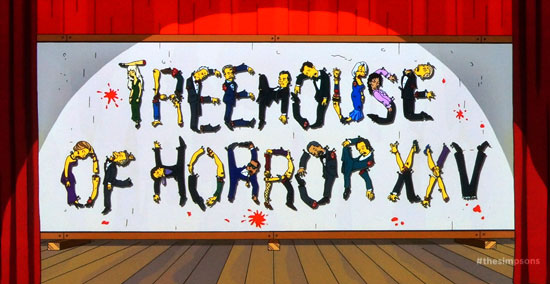 PIECES OF OUR HERO ON THE WALL
Bruce Springsteen finally appears on The Simpsons… sorta.
They've been after him to do it for years... decades, even. And on the 25th annual "Treehouse of Horror" Halloween-themed episode of The Simpsons, it finally happened: Bruce Springsteen appeared on the show in Simpsonized form. Sorta. Here's how it all played out, at the very beginning of this appropriately twisted episode: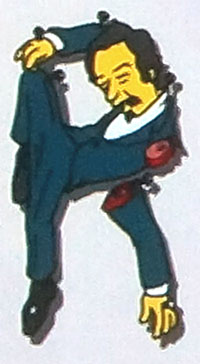 As an array of clips from past "Treehouse of Horror" episodes whiz by an outer-space background of planets and stars, a familiar yet alien voice intones, "Live from Rigel 7, conquerors of Rigels 4 through 6, it's the 25th Annual Treehouse of Horror, with special guests Jennifer Lawrence, Warren Beatty, John Travolta, Clint Eastwood, George Clooney, Prince, Taylor Swift, Sean Penn, Bruce Springsteen, Helen Mirren, Morgan Freeman, James Franco, Kanye West and Leonardo DiCaprio." We cut to a curtained stage, and the curtain opens to reveal a group of dead or dying Simpsonized celebrity bodies/body parts gruesomely nailed to a wall to spell out "Treehouse of Horror XXV." Springsteen's dead body has been transformed into the final "R" of "Horror." There's a quick close-up of John Travolta (voice impersonated) as he looks up and pleads, "Why?!" just before his head is laser-blasted into vapor, followed by the maniacally evil laughter of Kang and Kodos.
Simpsons producer and major Springsteen fan Mike Scully tells Backstreets, "Obviously, we don't handle rejection (no matter how respectful) well, so we killed Bruce in the opening of our Halloween special. Seriously, it was all done in good cartoon fun, and the invitation for Bruce to appear on The Simpsons remains open until the end of the series, which should only be another 40 years."
Fortunately for Simpsons/Springsteen fans (and continuity sticklers), the "Treehouse of Horror" episodes are free-reign, non-canon episodes where anything can happen plot-wise, including multiple deaths of major characters over the years. Therefore, a Simpsonized Bruce easily could show up again in the "real" Springfield — alive and in much better shape, we hope — if he ever decides to accept the standing invite.
The Simpsons "Treehouse of Horror XXV" episode is now available for viewing at home through your on-demand service or online at Fox.com.
- October 27, 2014 - Shawn Poole reporting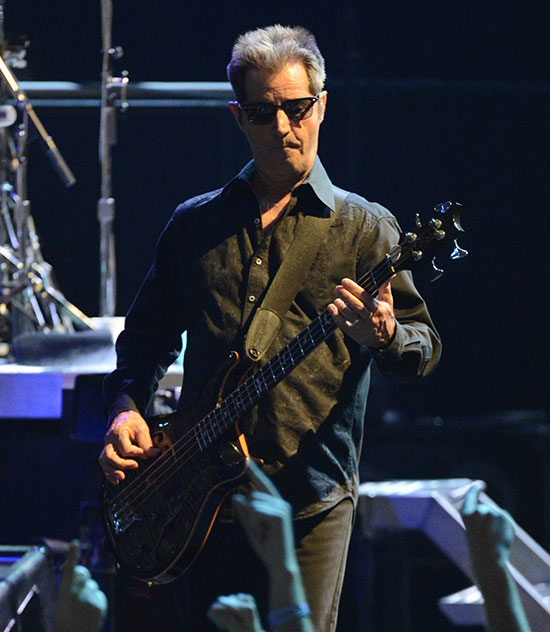 HIS MOTHER WAS A TALLENT, HIS FATHER WAS A TALLENT...
And as of today, he's been a major Tallent for 65 years. Happy birthday, Garry!
- October 27, 2014 - photograph by Alan Chitlik (Houston, 5/6/14)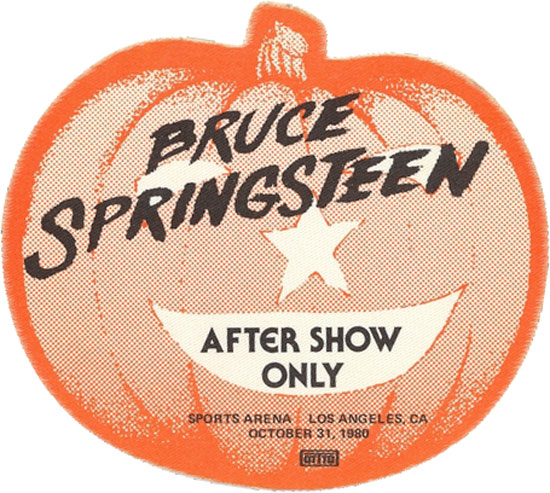 TAKE A KNIFE: THE BACKSTREETS PUMPKIN-CARVING CONTEST
Every year around this time, we get some fans sending us pictures of their Springsteen-themed pumpkins. This year we thought we'd make it official: get your knives out (edgy is good; preferably not dull) and get scooping — you've got a week before Halloween to create your best Boss jack o'lantern to enter in our first pumpkin carving contest. We'll have prizes for the top three: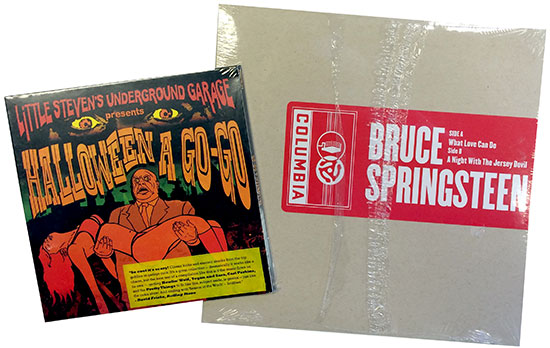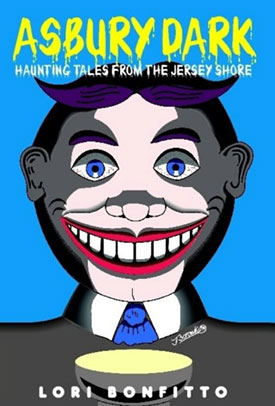 For the Grand Prize package:
a sealed copy of Springsteen's Record Store Day 7-inch featuring "A Night with the Jersey Devil"
the Little Steven's Underground Garage presents HALLOWEEN A GO-GO CD
a signed copy of Lori Bonfitto's Asbury Dark: Haunting Tales From the Jersey Shore.
Bonfitto's new book has seven stories of things that go bump on the boardwalk, from a haunted bed & breakfast to Asbury Park's zombie walk gone bad. Find out more at asburydark.com.
Our second place and third place winners will each receive a copy of Asbury Dark signed by Bonfitto.
You don't have to be Ray Villafane... and whether yours is inspired by an album cover, a song character, an E Street Band member, the Jersey Devil himself or something else, we're leaving it wide open to interpretation and imagination. Just send a photo of your creation to contest@backstreets.com by noon on Thursday, October 30; Backstreets staff will select the winning pumpkins and post them here on Halloween.
- October 24, 2014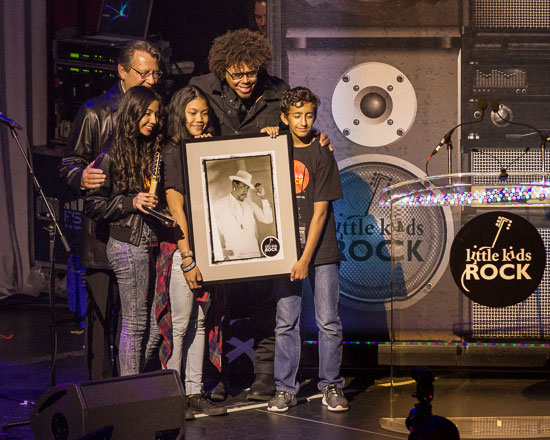 UNITED NATIONS
Bad Reputation Nation and E Street Nation come together in NYC for Little Kids Rock
The spirit of the Big Man was very much alive, smilin' and rockin' in the Big Apple last night. After all, as the description of the Little Kids Rock award established in his name notes, "Clarence Clemons was a big man, with an even bigger heart. He stood up for kids everywhere, regardless of their economic status." Clarence also loved to play with a variety of musicians in a wide range of styles, as evidenced by his off-E Street performances and recordings with a diverse roster of artists including The Grateful Dead, Lady Gaga, Twisted Sister and Luther Vandross.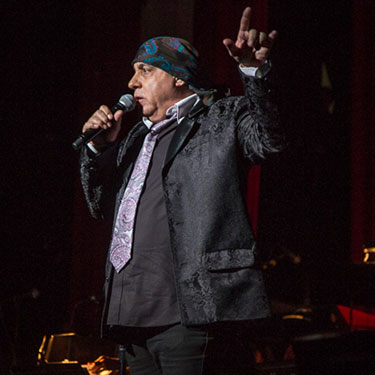 Last night the 6th Annual Little Kids Rock Benefit was held at Hammerstein Ballroom at The Manhattan Center. Clarence was one of the earliest and strongest supporters of this non-profit organization working to restore, maintain and strengthen music-education programs in underfunded U.S. public schools. Even after his passing, the E Street ties to Little Kids Rock have remained strong. Last night's event was co-produced by Maureen Van Zandt and her husband Steve, recipient of Little Kids Rock's 2012 Big Man of the Year award. The award was first presented to Clarence in 2009 and has since been presented each subsequent year to "a musician who embodies the values of generosity and service that reflect Clarence's legacy." Maureen and Steve's co-hosts for the evening were Steve/Silvio's buddy from The Sopranos, Vincent "Big Pussy" Pastore, and New York radio legend Rich Russo.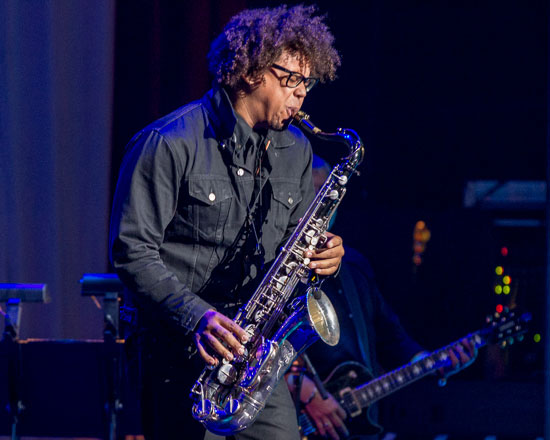 The 2014 Big Man of the Year is Clarence's nephew Jake Clemons. The award was presented to Jake by Don Reo, Clarence Clemons' longtime friend who co-wrote Big Man: Real Life and Tall Tales with Clarence, in a moving ceremony that included a video tribute to the Big Man. In his acceptance speech, Jake thanked everyone in attendance who donated to the cause "for believing in the power of music." He then performed a sweet, slow version of Clarence's solo hit "You're A Friend of Mine" with some of the students who've benefited from Little Kids Rock's programs. Jake also joined two fifth-grade students from Manhattan's PS 98 Shorac Kappok Elementary School in performing their original composition "Valentine Song," with Jake playing a saxophone that his late uncle used to play. One of the students, Ashley Nunez, later said, ""Little Kids Rock gave me the chance to learn to play music, and now they are giving me the chance to play a song that we wrote in school in front of all of these people. This has been such an awesome experience, and a night I'll never forget."
A silent auction followed, offering those with deep enough pockets a chance to bid on items donated and/or signed by many famous folk, including Bruce Springsteen and Mr. & Mrs. Van Zandt. All proceeds from the auction benefited Little Kids Rock.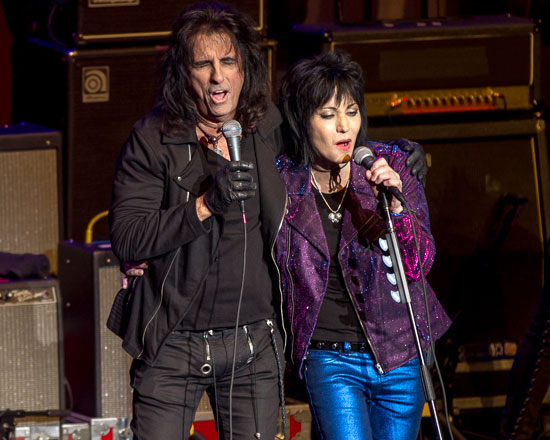 The evening closed with a lengthy musical tribute to the first-ever recipient of Little Kids Rock's new Rocker of the Year award: Joan Jett. Jett was recognized for "the impact that her career, influence and music" have had on Little Kids Rock's programs.
Steve Van Zandt, who organized the tribute, introduced it by noting that Joan Jett ranked with only The Beatles, The Ramones, The Rolling Stones and Bruce Springsteen as artists who've received the most airplay on his Underground Garage satellite-radio channel. He promised a mix of Joan Jett's hits and deeper tracks from her entire recording career, covered in a variety of styles by a diverse lineup of artists, along with a few surprises thrown in for good measure.
And those artists certainly delivered on Stevie's promise. Everyone brought it to the stage and expressed her or his love for Joan Jett and her music with unique style. The excellent house band consisted of Joan Jett's Blackhearts accompanied by a shifting mix of other musicians, featuring players from both the Asbury Jukes and the E Street Horns, including Bobby Bandiera and Eddie "Kingfish" Manion. The complete setlist with notes: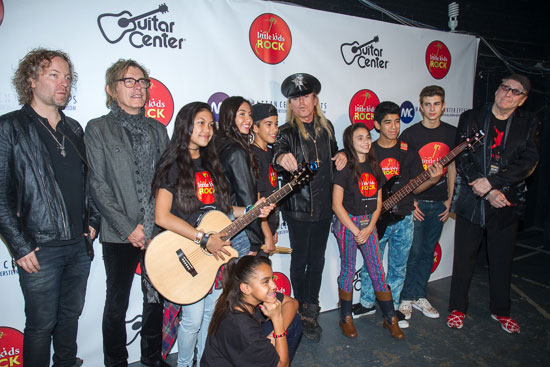 Cheap Trick — opening the tribute with "I Hate Myself For Loving You" — Later in the evening, when Joan Jett thanked Cheap Trick and every other artist/band by name for their individual performances, she fondly recalled her days in The Runaways opening for Cheap Trick, playing in Japan with them and being among the first people to sport the iconic Cheap Trick typewriter-logo t-shirts.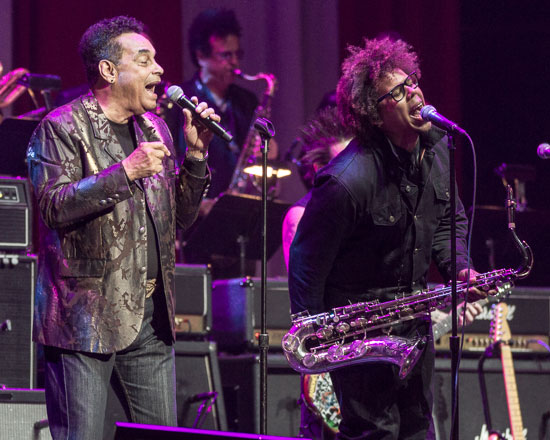 Gary U.S. Bonds and Jake Clemons — "Eye To Eye" — A fantastic cover of one of Jett's lesser-known gems. The first song of the evening to demonstrate how good Jett's material can sound with a horns-driven, R&B-tinged performance. Jett later thanked "Gary U.S. Bonds Anderson" for his years of friendship and for once joining her in the studio to sing on her cover of Bonds' classic "New Orleans."
Brody Dalle — "Victim of Circumstance" — Of all of last night's acts, Dalle's voice bears the most similarity to Jett's own sound, yet Dalle also managed to place her own stamp on this powerful cover.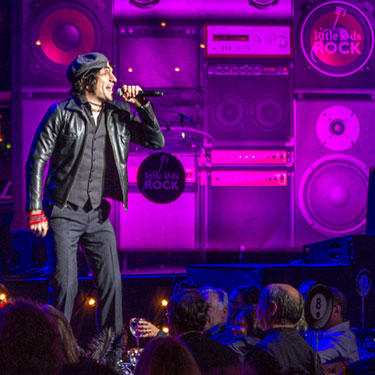 Jesse Malin — "Bad Reputation" — Another amazing, punk-fueled cover a la Brody Dalle, with Malin also summoning some '70s-era Springsteen in his hat, leather jacket, and standing on a large table in the deep-pockets section to finish the song.
Kathleen Hanna with Adam "Ad-Rock" Horovitz — "Fake Friends" — Hanna, formerly of Bikini Kill and credited with co-founding the riot grrrl movement, performed a stripped-down version of Jett's song with her Rock and Roll Hall of Famer husband Horovitz, of The Beastie Boys. Hanna introduced the performance with a moving reflection on what her friendship with Joan Jett has meant over the years.
Mike Ness — "Love Is Pain" — Before delivering his blistering Jett cover, Ness took time to tell the audience that seeing firsthand the impact that Little Kids Rock was having on the children in attendance last night made even a "tough guy" like him feel more than a bit emotional.
Darlene Love — "Little Liar" — Love, who contributed vocals to the title track of Joan Jett's 1986 Good Music album, demonstrated once again why she's in the Rock and Roll Hall of Fame and why so many of us can't wait to hear the album she's working on with Steve Van Zandt.
Joan Jett with Tommy James — "Crimson and Clover" — first-ever duet of James and Jett on James' song, which provided a hit record for each of them. Jett's longtime manager and songwriting partner, Kenny Laguna, once played keyboards for Tommy James and The Shondells and sat in last night for this special moment.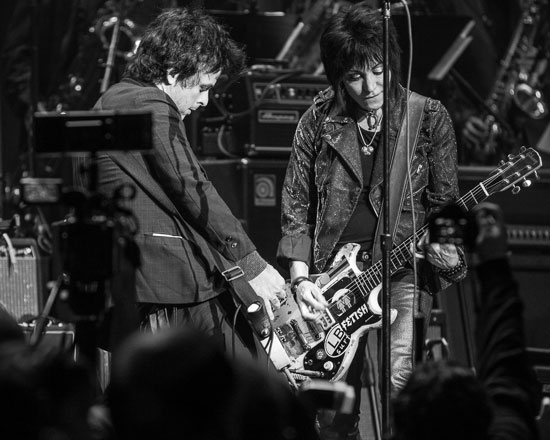 Billie Joe Armstrong and Joan Jett — "Don't Abuse Me" — Earlier in the evening, Little Steven told the audience that we were in the presence of many Rock and Roll Hall of Famers and "future Rock and Roll Hall of Famers." Green Day's Armstrong and Jett, both on the 2015 nominees ballot, proved again why they're contenders on a great performance of the penultimate track from Jett's first solo album.
Alice Cooper and Joan Jett — "Be My Lover" — Jett's cover of this classic Alice Cooper track appeared on her 1994 Flashback album. Jett told the crowd it felt "surreal" to sing it onstage last night with Cooper, one of her earliest influences. The horn section sounded great on this one, too, playing an arrangement similar to the one on Jett's 1994 cover.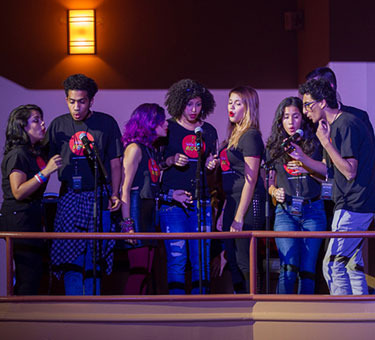 Everyone (including Little Steven on guitar/backing vocals and many students from the Little Kids Rock programs) — "I Love Rock 'n' Roll" — What better way to conclude this stellar celebration of what Jake Clemons called "the power of music" than a massive sing-along to Joan Jett's first big, enduring hit? A budding eighth-grade guitar god from Lower Manhattan Community School even got to trade licks on the song's famous riff with Billie Joe Armstrong.
As Little Steven predicted it would be, this year's event was the most financially successful one yet, raising over $1.5 million for Little Kids Rock's programs. And speakin' of puttin' more dimes in the jukebox, baby, you can click right here to make your own donation to Little Kids Rock.
- October 24, 2014 - Shawn Poole reporting - photographs by A.M. Saddler


WAITIN' FOR THAT SHOUT FROM THE CROWD
Have you dug the Bruce-eye-view centermic shots that crew member Lef Carroll has posted from recent tours? Score a print (city of your choice!), T-shirt, book, and/or more by supporting his Kickstarter project. We've only got until Sunday to help make it happen — pledge here to become a backer.
- October 24, 2014

LISTEN TO THIS, EDDIE
Backstreets marks 34 years of music, journalism and community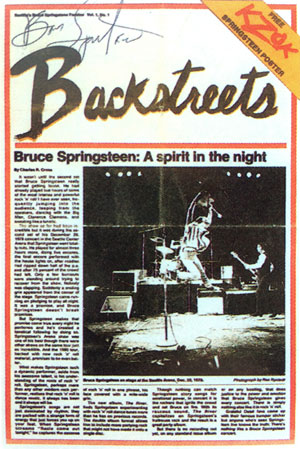 For Bruce Springsteen and the E Street Band, the only remarkable thing about their Seattle, Washington, date on October 24, 1980, may have been the three-day break they'd enjoyed, including at least one of sunshine, just the day before. Readers of Backstreets recall the date for another reason: the first issue appeared, printed as a four-page newspaper and given out free to concert attendees that night. "Some of the crowd took their free Backstreets #1," wrote founder and editor Charles R. Cross once, "but thousands more trashed them, and by the time the concert started, there were piles of Backstreets outside in the rain."
After 34 years, that's quite an image to contemplate, all those newspapers strewn outside Seattle Center Coliseum (last summer, a copy sold for $610 on eBay, which calls for another contemplation entirely). But rain had no lasting effect on Backstreets, apparently: another 90 issues of the magazine have appeared, and even though the print edition laces up the gloves less often, it remains a heavyweight champion in the fanzine world. Electronic publishing has had more disruptive effect than rainy weather ever did, and for the better, too: who remembers AOL message boards and the Backstreets Highway? Now, we post a review right here within hours of a performance's end, and occasionally Tweet the show, as we did when Bruce Springsteen took the stage at the Apollo Theater in 2012. Aside from the music that night? The other wild card was keeping four bars of signal.
That deployment has afforded Backstreets a greater responsibility to fans: sure, we can plan for print features, and Chris Phillips has been a great co-conspirator, encouraging me to write long about the 1981 Night for the Vietnam Veteran on its 20th anniversary, and the Christic Institute Benefit Concert on its tenth. We conducted new interviews, secured unpublished photos from the performances, and took our sweet time to get it right.
Then there are the writing nights when the stakes really go up. Walking out of the first public rehearsal that Bruce Springsteen held with the Seeger Sessions Band — no pressure to get the right tone there, right? A tougher assignment: reviewing the standalone performance of The River at Madison Square Garden in 2009. Post show, I figured I had about four hours to get a review up and running so Chris could edit and post it before boarding a morning flight back to North Carolina. The news page makes us sharper: as writers, as consumers, and certainly as fans. There's simply a time-value-of-everything element driving what we do. Still, only in the last seven years or so did we adapt to the idea that the website required something more than a simple write-up of a given night's show. It had become its own brand, and demanded its own content.
Whatever the medium, keeping the quality high is something baked in to the DNA of Backstreets — something Charley never really had to explain when he hired me to take over for Erik Flannigan in the summer of 1991. And it's certainly one of the things that Chris carried on with beginning in 1993. He brought a sense of design that none of his predecessors could dream of and embraced technology that was still making its way over the Cascades. Today, we still have to get the right mix on the print edition's frequency, and I'm confident the electronic element will remain strong once we do. Wherever a stage goes up, a terrific cast of fellow fans shares observations, opinions, and writing skills, ensuring that the content side never goes wanting. We're luckiest that Bruce Springsteen has consistently aspired to a vitality like few others dare, let alone reach.
Whether buying tickets or music — would you like your Cape Town, Atlanta, or Auckland in FLAC or mp3? — technology has touched most elements of the fan experience, and changed others entirely. That extends to That Old '80 Sound, a full-length, fan-based recording from early on the River tour. One enterprising fan made a point to track down the master tapes of the October 24 concert in Seattle, and the results — thanks then to the magic of audience recording, and today to the ability to manipulate sound with computer software — will capture the attention of fans like few before it have. It had circulated for years among fans with an abundance of flaws, notably too much bass and too much hiss, rendering it a more challenging than pleasing listen. Those flaws have been stripped away, leaving an unusually clear and even recording.
That night 34 years ago was a showcase for Springsteen's new double album, The River; 16 of its songs made the set list. The performance of the title track in particular captures a moment when a bigger audience perhaps sensed best his new range as a songwriter, band leader, and singer; its recording reminds us of the role passionate fans have played in preserving these performances for posterity. A full review will appear in the next issue of Backstreets magazine, issue #92; sources indicate that the file set, via BitTorrent, should appear on the internet sometime around today's anniversary.
Probably no one — even someone prescient enough to grab more than one copy of Backstreets #1 that night — walked out of Seattle Center Coliseum saying, "Gee, I can't wait to hear this played back on satellite radio!" But that's where we are: mostly, we read on screens, play back the sound file, and don't think twice. Other times, we reach for the vinyl copy of the official release, and search out the carefully conserved master tape of the fan-based recording. That makes the exercise of collecting resemble something more like musicology. Thirty-four years on, that's just one more reason to celebrate.
- October 24, 2014 - Jonathan Pont reporting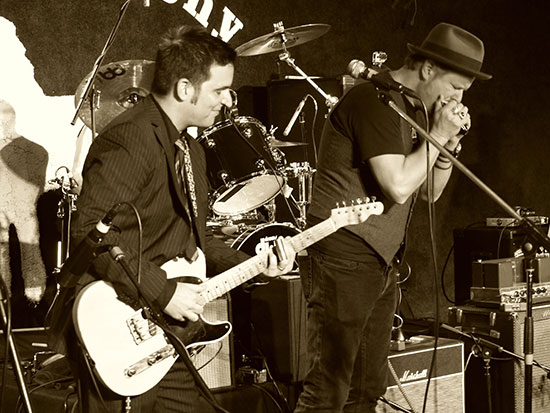 STILL JAMMING: SUNDAY AT THE PONY WITH DANNY CLINCH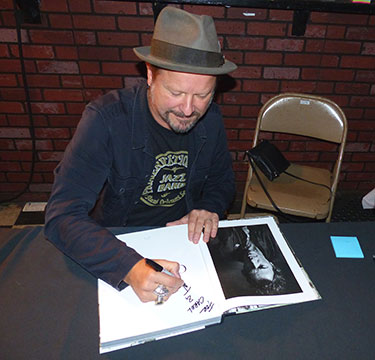 The book release party for Danny Clinch's Still Moving, his massive new collection of photographs with a foreword by Bruce, packed 'em in at the Stone Pony on Sunday. His fellow shutterbug Frank Stefanko was there, too, and was kind enough to pass along some photographic evidence.
Sez Frankie: "It was a mad ball. First of all, it was mobbed: the lines of folks waiting to get their books signed was massive, and people were buying one, two, six books at a time. They actually sold out of books before it was over.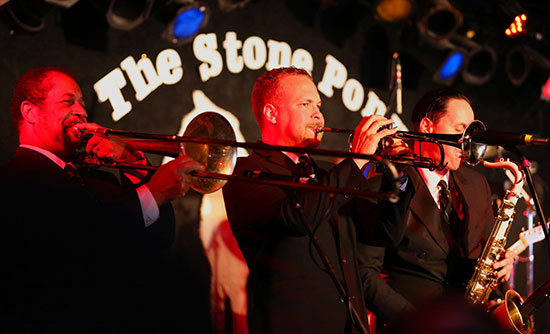 "The signing was followed by a music set by the Preservation Hall Jazz Band from New Orleans, followed by a killer, knocked-out set by Danny and his Tangiers Blues Band, along with some special guests. A wild time was had by all who attended."
- October 21, 2014 - photographs by Frank Stefanko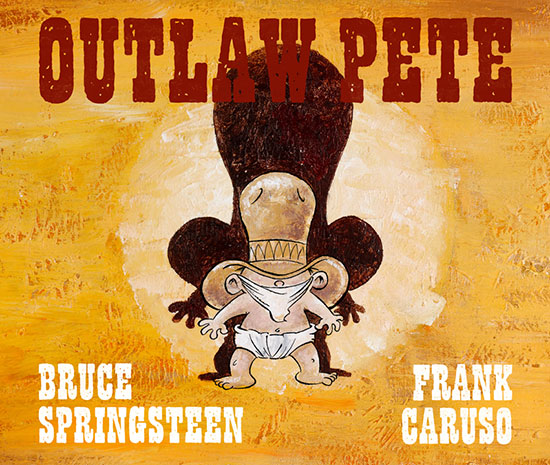 ARTIST SIGNING OUTLAW PETE FOR ALL BACKSTREETS CUSTOMERS
Pre-order now to guarantee yours!
This afternoon we drew five names for our Outlaw Pete Twitter contest, who'll each be receiving a copy of the Outlaw Pete picture book signed by artist Frank Caruso. Frank tells us he'll be adding something special for these five, sketching an original Outlaw Pete in the book along with his signature.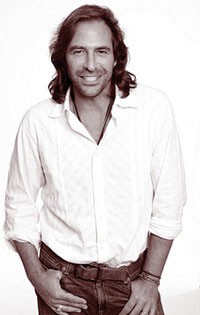 But don't worry if you weren't one of the five lucky retweeters — you can still get your hands on a signed copy thanks to the co-author/illustrator, who has also kindly agreed to sign the forthcoming book for everyone who pre-orders from Backstreets.
Caruso is a cartoonist and Vice President of Creative Services for King Features, where he has upheld the mantle of Popeye, Betty Boop, and other classic comic properties. A member of New York's Society of Illustrators, Caruso has contributed as a writer/cartoonist to various humor magazines (including this Cracked take on Bon Jovi vs. Bruce from more than 25 years ago) and created the graphic novel Heart Transplant with Andrew Vachss covering the topic of bullying. He is also the one who gave a face to Rosalita with the fan-favorite Little Cafe T-shirt, and he designed the official E Street Nation T-shirt too. We thank Frank as well as Simon & Schuster for taking good care of our readers.
Pre-order Outlaw Pete now to have yours signed by Frank Caruso
- October 17, 2014

"THE DANNY & DAVE SHOW": CLINCH LIVE & IN REPLAY THIS WEEKEND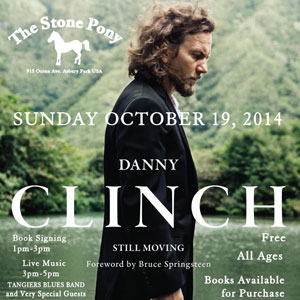 First a reminder that the one and only Danny Clinch — photographer, filmmaker and musician extraordinaire — will host his Still Moving book release party at The Stone Pony this Sunday, October 19, 1-5 pm. The first half will be a book signing (with books available for purchase), and a live performance by Clinch and his Tangiers Blues Band (with special guests) will follow. Admission is free and fans of all ages are welcome. Click here for details.
Whether you can make it to the Pony or not, check out E Street Radio shortly after the party's over. The 24/7 all-Springsteen satellite radio channel will re-broadcast Danny Clinch's visit to Live From E Street Nation with Dave Marsh, first aired this past Wednesday, October 15. Almost all of this two-hour show featured Clinch and Marsh engaged in a fascinating conversation, filled with wonderful stories about Danny's encounters with Bruce Springsteen and many other famous musicians and photographers. (Among the highlights: Bruce's car-ride with Danny's father, and Danny shooting pool with Willie Nelson.) Some very cool music also got played, of course, including an amazing cover by the Tangiers Blues Band. Marsh's co-host/producer Jim Rotolo and one lone caller briefly joined in the fun; for the most part, however, it's just "The Danny & Dave Show," and it's two hours of great radio. Hear (or re-hear) it all on Sirius/XM channel 20 starting at 6 pm ET this Sunday, October 19.
Finally, E Street Radio also will re-broadcast Clinch's recent Guest DJ session for the channel today at 4pm and tomorrow morning at 12 and 8 am (all times ET.) Click here for more information.
- October 17, 2014 - Shawn Poole reporting

CAN YOU RETWEET ME? WIN 1 OF 5 SIGNED OUTLAW PETE BOOKS
We've got a special giveaway going on now: enter our Twitter contest for the chance to win 1 of 5 copies of the Outlaw Pete picture book signed by co-author/illustrator Frank Caruso. Simply follow this link and retweet (once!) to enter.
We'll run this for 48 hours, with retweets accepted through 1pm on Friday, and winners announced shortly thereafter. Thanks to Frank and to Simon & Schuster for making this possible.
- October 15, 2014

BOOK RELEASE PARTY FOR STILL MOVING, SUNDAY AT THE PONY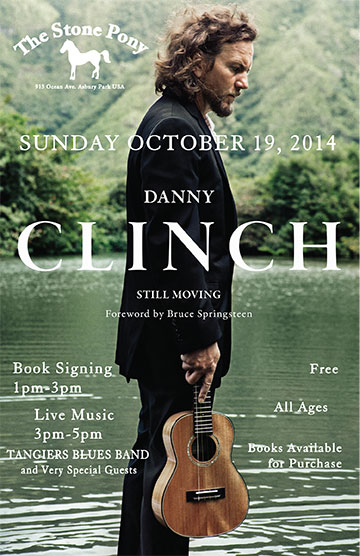 The Jersey Shore tradition of the daytime party, aka "The Sunday Jam," continues at in Asbury Park this weekend for the book signing party for acclaimed music photographer and Jersey Shore native Danny Clinch's book Still Moving this Sunday at the Stone Pony: October 19, from 1pm to 5pm.
Featuring music from The Tangiers Blues Band, Clinch and his long time co-horts will rock the Pony stage with special invited guests from the Jersey Shore and beyond from 3pm to 5pm, with the book signing taking place beforehand from 1pm to 3pm. The event is free, all ages, and books will be available for purchase.
With a forward written by Bruce Springsteen, Still Moving is a landmark document of our era as expressed though likenesses of our greatest showmen and shamen, poets and pop singers, artists and entertainers. In addition to shots of Bruce Springsteen and The E Street Band, Pearl Jam, and countless other musical legends, the book is rich with unexpected pairings that only Clinch — the official GRAMMY® Awards backstage photographer for more than a decade — could bring together.
This party to celebrate "a local boy done good" is brought to you by the legendary Stone Pony, 913 Ocean Ave, Asbury Park, USA, celebrating 40 years of rock 'n' roll tradition.
- October 15, 2014

STEREO EMBERS INTERVIEW WITH RYAN WHITE
Over at Stereo Embers magazine (formerly Caught in the Carousel), Paul Gleason has an interview with Ryan White, author of Springsteen: Album by Album. Gleason calls the new book "essential," and with one of the hallmarks of the book being its balanced attention to all of Springsteen's records ("Probably the best aspect of your book is your discussion of the second half of Springsteen's career," Gleason says) he gets White talking about Bruce's output in the '90s and beyond: "There's a lot to love about these recent releases, and I think the reason they're overlooked is because Bruce has been around for as long as he's been around. People feel the way they feel about those older records and, on a macro level, we're not used to paying attention to new work from our legacy artists. Most people Bruce's age put out new records so they can tour and play old songs."
Read: "Connecting the Dots: An Interview with Ryan White"
- October 14, 2014

EXPOSING "THE BEST KEPT SECRET IN NEW JERSEY"
Bob Wilkinson's photos from Big Man's West now on display in Asbury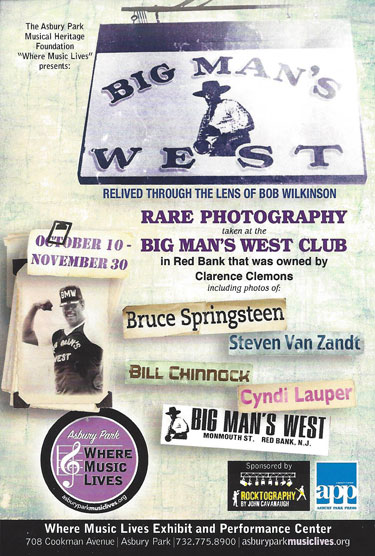 It was a family affair at the Where Music Lives Exhibit & Performance Center in Asbury Park last Thursday evening: staff, club patrons, and artists who once performed at Big Man's West gathered for a party celebrating the opening of an exhibit showcasing video, photographs and memorabilia related to the legendary Red Bank, NJ venue. The photos are the work of Bob Wilkinson, who shot countless memorable shows at Big Man's, a number of them featuring the club's primary owner, Clarence Clemons.
Wilkinson's friendship with the club's other owner gave him unlimited access, and he was there most nights with his camera documenting what was an unforgettable time for Jersey Shore music fans. Big Man's, which was only open for about 18 months, was essentially the E Street Band's clubhouse, and, during that brief, magical period from 1981 to early 1983, Bruce Springsteen was often there several nights a week, jumping onstage with the likes of John Eddie, Beaver Brown, Sonny Kenn and Bill Chinnock. The club also spawned C. C. & the Red Bank Rockers, which featured New Jersey's own soul man J.T. Bowen (and occasionally the Big Man himself) on lead vocals.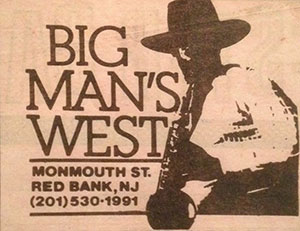 Once advertised as "The Best Kept Secret in New Jersey," Big Man's booked many of the same acts as Asbury Park's FastLane, where a who's who of Shore musicians and national acts like Dave Edmunds, Cyndi Lauper and Gary U.S. Bonds appeared weekly. Wilkinson's photographs showcase those artists as well as the newly solo Steve Van Zandt fronting the Disciples of Soul (clad in a sleeveless Who t-shirt) and a Bruce Springsteen guest appearance with longtime friend Sonny Kenn. Also on display are an autographed Red Bank Rockers T-shirt and flyers featuring the club logo, a mockup of the famous Eric Meola photo of Clemons on the Born to Run album cover.
But the highlight of the exhibit may be a series of reminiscences written by Wilkinson's brother Richard that resurrect the lost history of those halcyon times: a softball game that pitted assorted musicians and club staff against WNEW DJ Richard Neer and friends; a hot show (and a hotter kiss) from Ronnie Spector; a run-in with disgruntled local residents that included a very small fence and some heroics by none other than John Bongiovi; a Bruce/E Street show that didn't happen and a Bonnie Raitt show that did.
The Big Man's exhibit documents a unique time in the history of the Jersey Shore music scene. Bruce and the E Street Band had just come off the road after the lengthy River tour, and the worldwide phenomenon of Born in the U.S.A. was several years off. Most of them still lived in the area, and it wasn't at all unusual to see them out and about at shows, where they were approachable but treated respectfully by other clubgoers. The Jersey Shore, where everyone seemed to know everyone, was a place you only went if you lived in the area, and the insular music scene that had sprung up ten years earlier continued to thrive despite national exposure in Time, Newsweek and Rolling Stone. And if you drove down to Red Bank and walked through the doors of Big Man's West on any given night, for a couple bucks, you might just witness magic.
Big Man's West Relived Through The Lens of Bob Wilkinson runs Friday, October 10 to November 30, 2014 at the Where Music Lives Exhibit & Performance Center, 708 Cookman Ave. in downtown Asbury Park, NJ. Visit asburyparkmusiclives.org for details.
- October 13, 2014 - Lisa Iannucci reporting


VIDEO: BECAUSE YOU CAN'T JUDGE A BOOK BY ITS COVER
Not that the cover's shabby in the least, Mr. Meola. But Ryan White's new book, Springsteen: Album By Album is such a beast from cover to cover, so full of amazing images, we wanted to give you a sense of the interior too.
So here's a rough and tumble flip-through... and one more reminder that Ryan is signing especially for Backstreets customers. We need to let him know quantity shortly, so be sure to pre-order now to guarantee your copy!
- October 10, 2014

GET IT BEFORE IT'S GONE: 2nd ED. OF NASHVILLE SILKSCREEN POSTER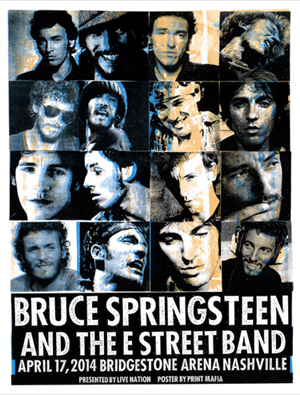 In June, we alerted you to a rare, official E Street Band show poster for Nashville 2014, created by Print Mafia. Following our post, the three-color silkscreen quickly sold out.
The kind folks at the Kentucky-based print shop kept hearing from disappointed fans, though, so they decided to do something about it, creating a second edition of the print. It's the same image as before only smaller (16 x 20) and produced by hand in their studio, hence the "Studio Edition" title. This one is still available, but Print Mafia's Connie Collingsworth tells us there are "just a few left."
Earlier this year she explained the rare second edition: "We got so many requests from fans who did not get one of the other larger version, and they were pretty heartbroken, so we released this one. We aren't trying to gouge anyone, and the price will not rise on this one — it'll be $30 always. We normally wouldn't do this, but I really want to accommodate all the Boss fans that went to the show and just want something from it." Get yours here.
- October 10, 2014

'LITTLE KIDS ROCK' SALUTE JOAN AND JAKE
Van Zandts to produce Little Kids Rock benefit honoring Joan Jett as "Rocker of the Year" and Jake Clemons as 6th Annual "Big Man of the Year"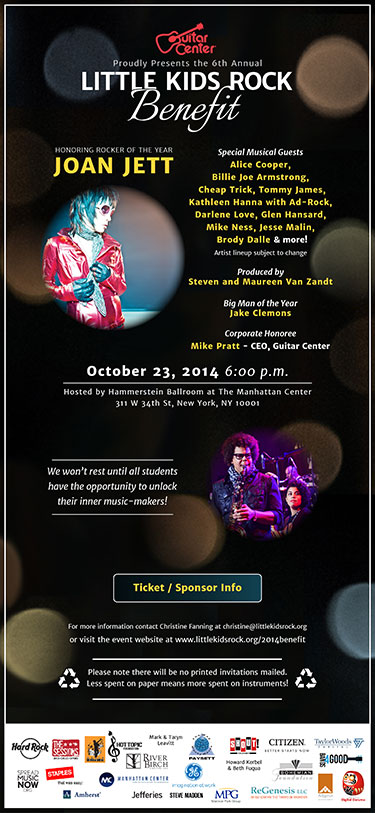 On October 23, Steven and Maureen Van Zandt will produce Little Kids Rock's sixth annual benefit event, honoring legendary musician and leader of the hard-rocking Blackhearts, Joan Jett, as the "Rocker of the Year." Performers paying homage to Jett's music will include Alice Cooper, Billie Joe Armstrong, Cheap Trick, Tommy James, Kathleen Hanna, Ad-Rock, Darlene Love, Glen Hansard, Mike Ness, Jesse Malin, Brody Dalle, and Jake Clemons, who will be honored as the "Big Man of the Year."
Little Kids Rock is the nation's leading provider of donated instruments, teacher training and popular music-based curricula to inner city public schools across the United States. Since 2009, when the not-for-profit organization honored Clarence Clemons with the inaugural "Big Man of the Year" award, millions of dollars have been raised to support their mission of giving kids access to music education.
Each year, Little Kids Rock has carried on Clarence's legacy by honoring an artist or philanthropist whose contributions have helped build a world where kids can live rich, purposeful lives. After Clarence, they honored Bernie Williams, Lady Gaga, Steven Van Zandt, Darlene Love; this year, television producer and co-author of Big Man, Don Reo, will present the award to Clarence's nephew Jake Clemons. Guitar Center CEO, Mike Pratt, will also be honored for his support of the charity.
Tickets to this event are available tody at: www.littlekidsrock.org/2014benefit/reservations
Bid on the chance to play onstage with Joan Jett and the other event performers at charitybuzz.com/littlekidsrock
- October 8, 2014

CATCH NILS LOFGREN LIVE ON E STREET RADIO WEDNESDAY
10/8 Update: show postponed, to be rescheduled. Feel better, Nils!
Wednesday on E Street Radio, Nils Lofgren visits the New York City studios as a special guest on Live from E Street Nation with Dave Marsh. Catch an in-depth discussion about his new box set Face the Music and hear him perform live for you and a live studio audience. Call 877-70-BRUCE to join the conversation.
The two-hour show airs live Wednesday 10/8 at 10am ET, rebroadcasting at 6pm and again Thursday 10/9 at 10pm, Friday 10/10 at 4pm, Saturday 10/11 at 12am and 8am, and Sunday 10/12 at 6pm, on SiriusXM Channel 20.
- Updated October 8, 2014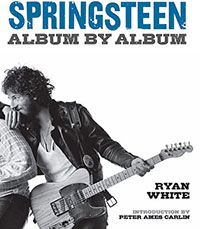 RYAN WHITE ON THE GENESIS OF
SPRINGSTEEN: ALBUM BY ALBUM
Cover photographer Eric Meola calls Springsteen: Album by Album "the best compilation of images and words about someone who has changed my own life. Period. Great writing, and filled with lots of images that have never been seen before. A "must have.'"
Not only is author Ryan White signing copies for Backstreets customers — order now to guarantee your copy — he also took the time to write a piece for us about taking his book from a pipe dream to reality... from laid-off Oregonian music critic ("Losing your job is about as American as it gets these days," Ryan writes) to author of a new book Meola calls "monumental."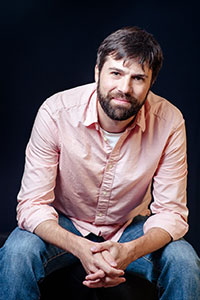 A Moment When the World Seems Right
By Ryan White
The first email, 12 words of blood-chilling corporate understatement, arrived at 9:59 a.m. on June 20, 2013. "Please proceed to Conference Room A for a 10 a.m. ALL STAFF meeting," it said.
I didn't see it. I was on the phone doing my job. I was the Oregonian newspaper's music critic. It was 10:06 when I hung up, looked up and saw my pal the restaurant critic standing over my desk.
"Where is everyone?" he said.
The Oregonian first published in 1850, and if I had to guess, its newsroom has been alive by 10 a.m every day since. It's a good time for journalism. Coffee has kicked in. But it was desolate at that moment. Phones rang unanswered. Twitter feeds rolled unchecked. Participles dangled. Only we were left behind.
"Rapture?" I said, suggesting we should hit the office supplies and stack up on notebooks and pens. Just in case. Then I saw that email.
By the time we reached Conference Room A, it was standing-room-only and bearing the weight of an already desiccated industry. The big bosses — the suits — were unveiling "exciting new plans for the future of our company." Christmas is exciting. Ponies are exciting. The modern convulsions of a historic institution are terrifying. At least from within. Big changes were coming to the paragraph factory, and they shouldn't have been so carefree with the phrase "our company." So yay?
We were released to the newsroom to wait for more email, summons that would carry our individual fates. Many would stay as a new company was formed. Many would not. So we waited. In small groups where we talked about other skills we could apply to new careers. I'd once worked in a deli. Someone else could juggle.
My judgment was handed down just after 2 p.m., delivered awkwardly and responded to with equal clumsiness. My last day would be August 30. I was handed a thin white envelope containing the separation papers — all five pages. For a 16-year career I'd poured my passions into, it seemed light. The significance of the moment was one-sided. I went back to my desk, spiked a barely-touched sandwich into the trash and left.
I was stopped at a light, staring at that white envelope when my phone rang. Peter Ames Carlin, friend, former Oregonian colleague, and author of Bruce wanted to know what was going on.
"Fuck 'em," he said when I told him. "Go write your book."
Two months earlier, the book — Springsteen: Album By Album — arrived like a challenge. Be better than the disposable blog posts, it dared. Like anyone in a newsroom, if asked, I'd say I wanted to write books. Here not only was a book, but a book I'd unknowingly spent my adult life researching.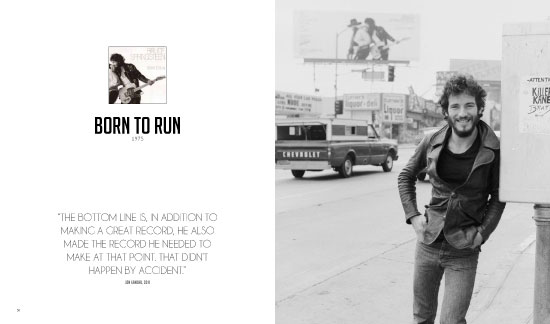 - Reprinted with permission from Springsteen Album by Album © 2014 by Ryan White, Sterling, an imprint of Sterling Publishing Co., Inc. Photography by Getty Images/Terry O'Neill
I'd come late to Bruce. I was 10 in 1984, when he emerged bigger than a rock star, when he became a cultural obelisk, chiseled and true. That same year, Weird Al sang "Eat It," and, well, I was 10. It wasn't until my 20s that I connected with Springsteen's work, but when I did, it played like a perfect overlay of my life.
The romanticism of Born to Run, the emotional complexity of Tunnel of Love, I found them when they fit. When my daughter was born, I'd sit in the living room and play "Living Proof." A few years later, I'd lift her beside me on the couch as Bruce played "Land of Hope and Dreams" the night before the election. My political awakening was mirrored in Magic's quiet fury, and again in Wrecking Ball's howling anger.
I was lucky as hell to have a book to write. I didn't feel lucky as hell. I hung up with Carlin and dialed up E Street Radio, letting the volume erase the world. As I turned onto my street, the gently mourning piano intro to "The Promise" faded in.
Springsteen wrote "The Promise" in 1976 when it felt like everything he'd worked so hard and so long for was being ripped away by a stack of contracts he couldn't blow away with his guitar. Lawyers and managers — suits — were set to work against each other sorting out business when the business should have been following up Born to Run's success.
Springsteen's response was set at the other end of "Thunder Road," where the woman's gone, the car's been sold, and the dream is dead. "When the promise is broken, you go on living," he sings, "but it steals something from down in your soul."
I sat in the car until the song was over and then went inside to inform my wife of her exciting new career as my sugar mama. Then I left to attend a wake for too many good careers. At 2 a.m., I stumbled through my door, slid to the floor, and fell apart.
"Fundamentally, we're repairmen," Springsteen said on E Street Radio earlier this year. "Everybody's broken somewhere. You can't get through life without it."
Losing your job isn't the end of the world. People lose jobs every day. Losing your job is about as American as it gets these days. It's in the updated edition to the citizen's handbook mom and dad used to read to us as kids. Back then the story said that if you worked hard, if you did your job well, you'd succeed.
I'd done that, and what I was feeling felt a lot like failure and defeat. The suits said some jobs would be "eliminated." Fine. Four days later they advertised for my replacement. Which is when you realize you've been tricked and lied to and if that's sounds like "Streets of Fire," I thought so, too.
"When you listen to Bruce's music, you aren't a loser," Jon Stewart said at the 2009 Kennedy Center Honors. "You are a character in an epic poem about losers." There you go, and there I was. I'd nod whenever I heard Candy, like a pat on a child's head, tell that poor naïve romantic he had a lot to learn. I too found the things I loved crushed and dying in the dirt. The fear that woke me up at night was very real, and who wouldn't want control right now?
I was right there in the Darkness on the Edge of Town. I threw myself into its unforgiving landscape; I lived its disappointments; like its slashing guitar solos, I seethed; I was strengthened by its ultimate defiance.
"Tonight I'll be on that hill, 'cause I can't stop. I'll be on that hill with everything I got."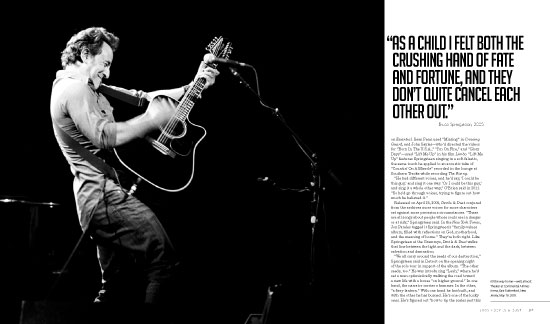 - Reprinted with permission from Springsteen Album by Album © 2014 by Ryan White, Sterling, an imprint of Sterling Publishing Co., Inc. Photography by Getty Images/Danny Clinch
One chapter ends, another begins. As it goes writing a book, so it goes in life. The pages turn until one day you wind up on your hill, and you dig to find the will to give whatever is next your best.
Finishing the book, I kept coming back to a night in 2012, an unusually raucous night in Portland when the Wrecking Ball tour finally came to town. During "Dancing in the Dark," Bruce spied two women as they climbed atop his riser in the middle of the arena's floor. On the bootleg, you can hear him break up laughing in the middle of "worrying about your little world falling apart." Less amused, his security team snapped into action to calm the situation.
"Go on and dance!" Bruce yelled. "Keep going, kids! Don't pay no attention to that guy! Fuck him!"
It was silly, sure — a showman at work. But it was as perfect. It was every nose thumbed at every suit who ever got in the way. Authority comes stalking. Keep dancing. In the long arc of Springsteen's career, it's that stubbornness that cuts a straight line from the beginning to today. It's the essence of what first drew me in, and it was what I needed most when it felt like the world was falling apart.
Last month, almost a year after I walked out the Oregonian's door for the final time, a FedEx truck pulled up in front of the house and delivered a box from Hong Kong. I pulled out the book, and I did a little a dance.
Order your signed copy of Springsteen: Album by Album here
- October 6, 2014 - author photo by Inger Klekacz

FOR YOU RAFFLE ENDS THIS SUNDAY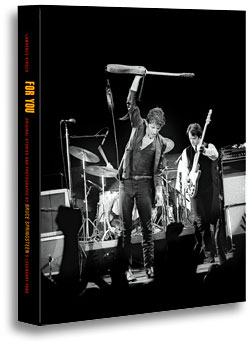 Lawrence Kirsch has published two books of Springsteen photographs and fan stories: the recent The Light in Darkness, which is still available, and For You, which is long out of print. Here's a chance to score a copy of his hard-to-find first book: In support of the Montreal General Hospital's Fall 2014 fundraising campaign, Kirsch is holding a raffle with a chance to win one of two mint-condition, signed copies of For You, which has been sold out since December 2008.
The books will be shipped to the raffle winners free of charge anywhere in the world, so everyone is encouraged to enter. Each $10 ticket you purchase gives you one chance to win, and a $15 ticket gives you three chances to win one book. The contest is open to everyone, and tickets can be bought through this Sunday, October 5. You can donate to enter at theLightinDarkness.com and Foryoubruce.com, where the winners will be announced October 9. All funds collected will be donated to the Internal Medicine Department at MGH in loving memory of Lawrence's mother, Mrs. Aileen Kirsch. Click here for full details and to enter.
- October 3, 2014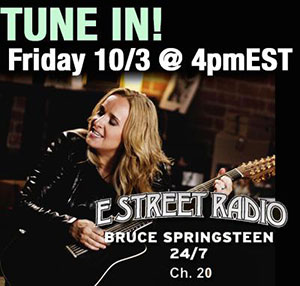 M.E. STREET
Melissa Etheridge takes over E Street Radio
"I started playing guitar when I was about eight years old, and I listened to a lot of music... If anybody could make you dream, it was Bruce Springsteen, right? I'd close my eyes under the big Koss headphones, and I would listen and I would say, 'Oh, man, I want that… I want to sing. I want to scream. I want to stand up. I want to write. I want to tell everybody how I feel.' And I started to do that. He was very influential."
—Melissa Etheridge, Brooklyn Academy of Music, February 15, 1995 [Etheridge also has since said — and sung — a bit more on the subject.]

"The rock world is a funny world, a world where simultaneously there is a tremendous amount of macho posturing and homophobia — a lot of it, in my experience — and yet it has as its basic rule the idea that you are supposed to be who you are. When I first heard about Melissa, I was very happy to see that that was where some of the seeds of what I had done had fallen. I said, 'Wow, a lesbian rock singer who came up through the gay bars! I don't believe it!' [Laughing] I felt really good about it."
—Bruce Springsteen, interview in The Advocate, April 2, 1996
Melissa Etheridge's E Street Radio Guest DJ session (including a live-in-the-studio performance from Etheridge) debuts today at 4 pm EST on Sirius/XM channel 20. The program will be rebroadcast on Saturday 10/4 at 12am ET & 8am ET, Monday 10/6 at 4pm ET, Tuesday 10/7 at 12am ET & 8am ET .Visit E Street Radio's website and MelissaEtheridge.com for more information on the Guest DJ appearance, Etheridge's new album This Is M.E. and her upcoming tour.
- October 3, 2014 - Shawn Poole reporting

BRUCE TO PLAY VETERANS DAY SALUTE, 'THE CONCERT FOR VALOR'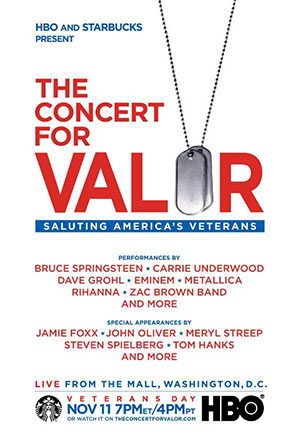 Thirty-three years ago, Bruce Springsteen's A Night For the Vietnam Veteran concert helped support and sustain a veterans' movement that was in danger of going under. Eight years ago, he performed at the inaugural Stand Up For Heroes benefit to support wounded warriors through the Bob Woodruff Foundation, and he's played it every year since — including the upcoming 2014 concert on November 5. Less than a week later, for Veterans Day, Bruce will be on the bill for The Concert For Valor, November 11 on the National Mall in Washington DC.
Co-produced by Tom Hanks, with performers also including Eminem, Dave Grohl, Metallica, John Oliver, Rihanna, Carrie Underwood, and the Zac Brown Band, The Concert For Valor will be broadcast live on HBO. HBO and Starbucks are sponsoring the event; the live broadcast will begin at 7pm Eastern/4pm Pacific on November 11. According to today's press release, "HBO will offer its affiliates the opportunity to open the signal, allowng nonsubscribers to view the special." To stream the event, and for more information, visit theconcertforvalor.com.
- October 2, 2014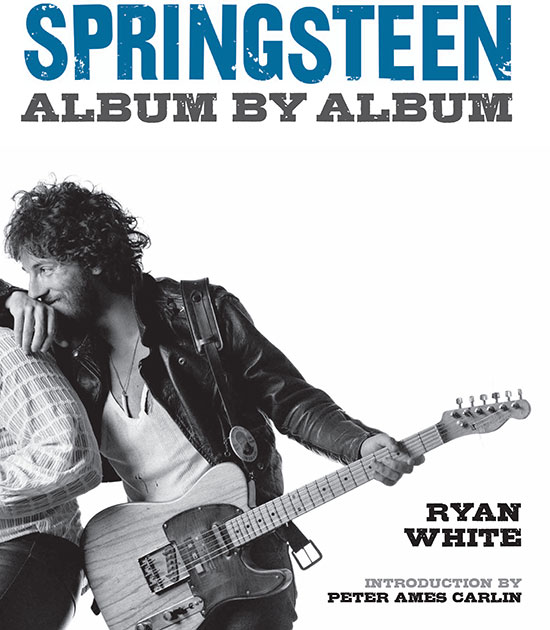 PRE-ORDER SPRINGSTEEN: ALBUM BY ALBUM, SIGNED BY THE AUTHOR
Just as we sell out of autographed copies of Danny Clinch's new book, we've got a another signed-book offer for you: author Ryan White, whose new Springsteen: Album by Album is out this month, will be signing especially for Backstreets customers.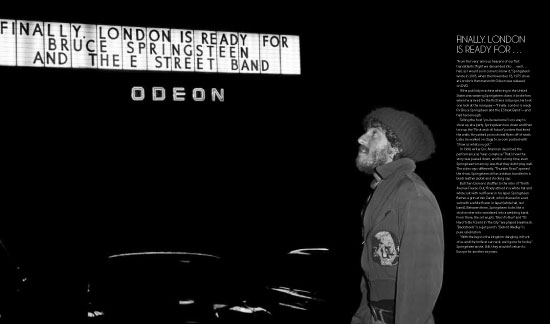 - Reprinted with permission from Springsteen Album by Album © 2014 by Ryan White, Sterling, an imprint of Sterling Publishing Co., Inc. Photography by Getty Images/Chalkie Davies
With an introduction by Peter Ames Carlin and well illustrated with rare photographs, Ryan White's take on Bruce's 17 studio albums from Greetings through High Hopes is one you'll want on your shelf — or to give for the holidays. White, a colleague of Carlin's at the Oregonian, has twice been voted one of America's best writers by the Society for Features Journalism.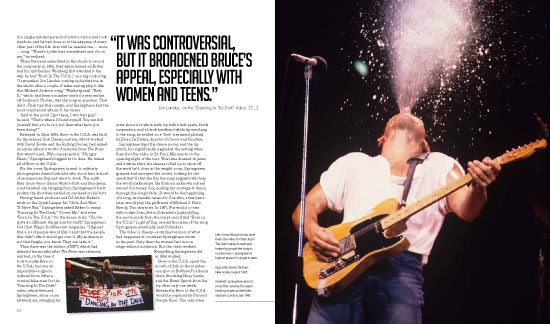 - Reprinted with permission from Springsteen Album by Album © 2014 by Ryan White, Sterling, an imprint of Sterling Publishing Co., Inc. Photography by Neal Preston
Click here for more views of the forthcoming hardcover,
and to guarantee a signed copy by pre-ordering now
- October 2, 2014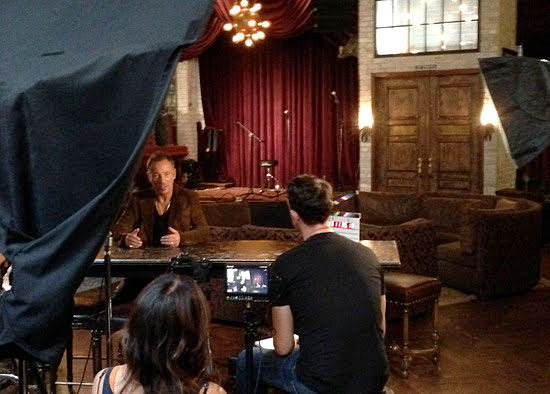 MAKING MOVIES
Colin Hanks, working on his documentary All Things Must Pass: The Rise and Fall of Tower Records, recently had an update for his backers: "Had a great day today. Got an interview with a true music aficionado and exporting a cut of the film that takes us closer to release." Above, Hanks with said aficionado Bruce Springsteen. Read more about the Tower Records doc on Kickstarter and Facebook.
- October 2, 2014