"WRECKING BALL WEEKENDER" TO CLOSE EURO TOUR IN IRELAND 7/27 & 28
While European dates continue to fill in, we now have an endpoint: it's been announced today that the European leg will finish up in Ireland with two shows in Kilkenny — Saturday and Sunday shows, July 27 and 28, taken together as the Wrecking Ball Weekender:
Aiken Promotions announced details of the Wrecking Ball Weekender which will take place in Kilkenny this July. Bruce Springsteen and the E Street Band will perform the last 2 dates of the Wrecking Ball Tour in Nowlan Park Kilkenny on 27th and 28th July 2013

The Wrecking Ball Weekender will kick off when doors open at 12.30pm each day. On Sat 27 July the full day's entertainment will include performances from Glen Hansard and Damien Dempsey. Sun 28 July the full day's entertainment will include performances from Imelda May and LAPD (featuring Liam O'Flynn, Andy Irvine, Paddy Glackin & Dónal Lunny). Bruce Springsteen and the E Street Band will then take to the stage both evenings.
Tickets go on sale Thursday, February 7, through Ticketmaster.ie. For further information — artists, transportation, and more — visit wreckingballweekender.com. See our Tour/Ticket Info page for the current tour schedule with links.
- January 31, 2013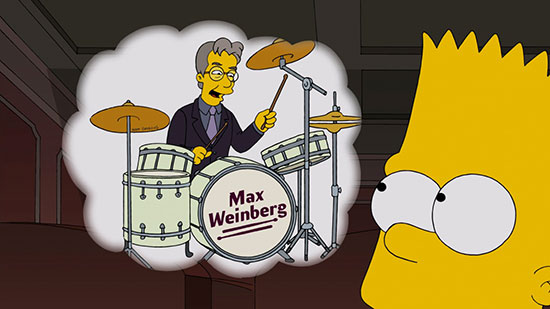 FROM SPRINGSTEEN TO SPRINGFIELD…WITH HAWAII IN BETWEEN
Mighty Max to guest-star on Hawaii Five-0 and The Simpsons, becoming the first-ever fully "Simpsonized" E Streeter
Springsteen fans already know that Max Weinberg is a seasoned TV veteran, with years of "late night tellyvision" bandleading (and occasional comedic acting) for Conan O'Brien already under his belt. The Mighty One is set to break some very new ground, however, undergoing radical transformations in his two upcoming television appearances.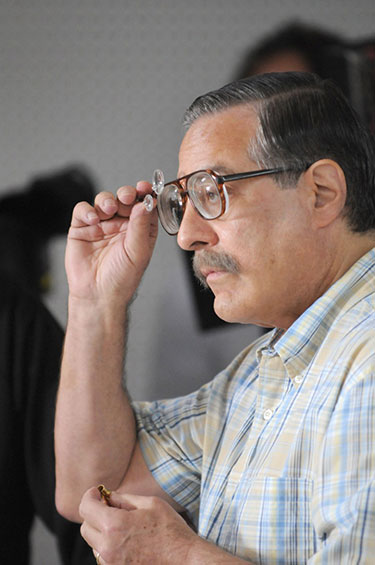 First up is next Monday's episode of Hawaii Five-0, a remake of a 1973 episode of the classic original series entitled "Hookman." Max will play a weapons expert who owns a gun shop. The episode was directed by actor Peter Weller, who guest-stars, as well.
Weinberg also will appear in the following Sunday's episode of The Simpsons, TV's longest-running sitcom and prime-time network scripted show, animated or otherwise. Max becomes the first E Street Band member to appear on the show as himself in fully-animated Simpsonized form. (The late, great Clarence Clemons narrated The Simpsons' hilarious 1999 Christmas episode "Grift of the Magi" but never appeared onscreen, denying the world the glorious spectacle of a fully Simpsonized Big Man.)
Weinberg will guest-star in the Valentine's Day-themed Simpsons episode entitled "Love is a Many-Splintered Thing," along with actors Benedict Cumberbatch and Zooey Deschanel playing fictional characters. Political biographer Robert A. Caro will play himself Simpsonized a la Max, too.
Max Weinberg's historic journey from E Street to Evergreen Terrace also allows The Simpsons' producers to maintain a glimmer of hope for their long-unfulfilled quest to book Bruce Springsteen himself as a guest star. That quest is pretty much as old as the show itself (which will celebrate an astounding quarter-century on the air in less than two years,) and we at Backstreets plan to explore it in detail further on up the road. For now, however, let's just get ready to enjoy Weinberg's solo one-night-stand in lovely nearby Springfield... with a quick trip to the Hawaiian Islands beforehand. Mahalo, Max!
Hawaii Five-0 Season 3 Episode 15, "Hookman" guest-starring Max Weinberg, will air on Monday, February 4 at 10:00 p.m. ET on CBS.
The Simpsons Season 24 Episode 12, "Love is a Many-Splintered Thing" featuring guest voice Max Weinberg, will air on Sunday, February 10 at 8:00 p.m. ET on Fox.
- January 30, 2013 - Shawn Poole reporting

"LIKE SEEING THE SUN SHINE FOR THE FIRST TIME"
Rolling Stone speaks with My Morning Jacket's Jim James, who recently "came to [a] realization." Yeah, a Springsteen show will do that.
You're a big Neil Young fan. Are you into his current work?
The last Neil Young record I really enjoyed was Prairie Wind. I thought that was a fucking beautiful record. I like everything that Neil does. Neil's a big hero of mine, but I really came to this realization: I saw Springsteen in Louisville, and I've never been giant Springsteen fan. I only liked things here or there and I wasn't like a giant fan. I saw him in Louisville and he was fucking phenomenal! It was like seeing the sun shine for the first time or something. It was like he was so positive and it felt like every motherfucker in that place was his best friend. You know he touched everybody. He was crowd surfing. He was fucking running around and shit. When you see Neil [Young] and Bob [Dylan], they're, like, all pissed and you feel like they don't give a fuck if you're there or not. I'm so sick of that, and seeing Bruce I was like, "Fucking-a, man! Thank you! I paid a lot of money to be at this fucking show and you care I'm here." It was just, like, such a revelation.
Read the full Q&A at rollingstone.com.
- January 30, 2013

SCANDINAVIAN SWING CONTINUES TO EXPAND
Springsteen has just added a second show in Denmark to the spring leg: two days after playing Copenhagen, the E Street Band will return to Herning's MHC Messecenter, where they played in 2009, on Thursday, May 16. As reader Tommy Beck Kobberoe writes in, "This will, as far as I remember, be the first time Bruce plays two concerts in two different locations in Denmark on the same tour — amazing!" Tickets go on sale Monday, February 4. See our Tour/Ticket Info page for the latest schedule with links.
- January 29, 2013

TWO TURKUS ARE BETTER THAN ONE
With today's Finland onsale, a second show was added for Turku's HK Areena: Bruce and the band will play two nights running with the addition of a concert on Wednesday, May 8. See our Tour/Ticket Info page for the latest schedule with links.
- January 28, 2013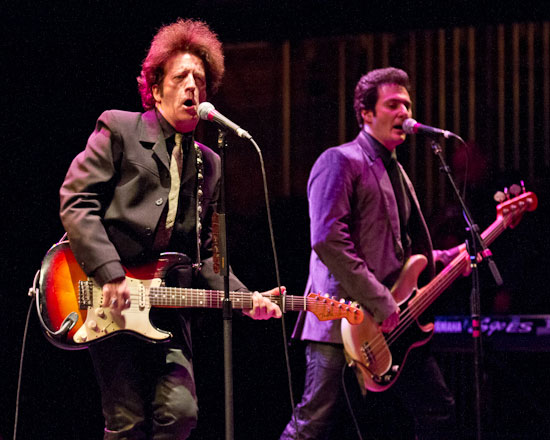 WILLIE NILE READY TO ROCK THIS WEEKEND
If you missed Willie Nile at Light of Day — or if you caught his set, and now you gotta see a full show — tomorrow's a great opportunity, when he'll be playing a full band show in a brand new theater, the Hamilton Stage at Rahway, NJ's Union County Performing Arts Center. "The band is on fire these days and we'll be raising the roof," Willie tells Backstreets. "We have a new album coming out at the end of April called American Ride, and I'm really excited about how it came out — we'll be playing some songs from it on Saturday." The concert is January 26 at 8pm; see ucpac.com for tickets and details.
- January 25, 2013 - photograph by A.M. Saddler [Light of Day, 1/19/13]

BELIEVE IN THE PROMISED LAND
After some recent talk of Springsteen eyeing a concert in Tel Aviv, the Jerusalem Post reports that it wasn't just talk. Not that anything is booked, but according to this week's story, it's only a matter of logistics. Israeli promoter Shuki Weiss tells the Post Magazine in an article published today, "I can say with full confidence that a Springsteen show will take place in Israel.... It's not a financial consideration or any other consideration.... Our communication with his management is excellent, and there have been three times that we were so close to closing a deal."
- January 25, 2013



TOMMY HANKS COULDA BEEN A CONTENDER
One of the better storytellers of our time, Tom "Stop Bendin' the Shafts" Hanks talks about getting "the call" — or "the text" — from Bruce. [Originally aired on 10/24/12; the fun begins at the 2:00 mark in Part 1.] Shouldn't he have gotten first dibs on Australia to make up for it? Maybe? No?
Speaking of Australia, a third show has been added for Sydney: Springsteen and the E Street Band will play March 22 at Allphones Arena, with tickets onsale February 4. See our Tour/Ticket Info page for the latest schedule with links.
- January 23, 2013


LOD 2013: A FINE FINE LIGHT OF DAY

Light of Day 2013 turned out to be a different animal than what people had come to expect. The absence of Bruce Springsteen from the main event at Asbury Park's Paramount Theater on Saturday night could have put a damper on things; instead, the series of shows was filled with great moments from a variety of sources. From the day-long blues jams at the Wonder Bar to the songwriters' circles [including Lisa Lowell, left] at the Dauphin Grille, from punk and indie rock at Asbury Lanes and The Saint to the Asbury Angels celebration at the Stone Pony, Light of Day delivered an abundance of talent that showcased the depth and diversity of the Asbury Park music scene to a global audience.
The festivities kicked off with a trio of shows on Thursday night, the strongest of which was the Rock 'n' Bowl-a-Thon at Asbury Lanes. The recently remodeled venue was bustling with locals and foreign visitors who were entertained not just by the onstage performances but by celebrity guest bowling from the likes of Tony "Boccigalupe" Amato and professional bowler Tony Bilello. The Lanes rocked well into the night, with strong sets from Willie Nile and Jesse Malin [right].
The following night, the Lanes was the scene of a FastLane mini-reunion hosted by DJ Rich Russo. From the X-Men to The Red House and Dramarama, the strong, diverse lineup of indie bands demonstrated that the Jersey Shore music scene has always been about more than the traditional R&B-based music coming out of the Stone Pony.
Over at the Pony, attendees celebrated Asbury's musical past with a show honoring the 2013 Asbury Angels inductees. Former E Streeter Vini Lopez [left] was a constant presence on drums throughout the night, also backing Marc Ribler and J.T. Bowen on the live recording of the Asbury Angels theme song, which featured an audience sing-along. The "Asbury Angels" song, a soul-drenched number featuring Bowen backed by a full horn section, evokes the classic Shore sound and includes references to many local hot spots from Mrs. Jay's to the Sunshine In (release information to follow).
There was something for everyone on the Saturday schedule: a children's event at McLoone's Supper club, blues jams at the Wonder Bar in the afternoon and evening, the Gin Blossoms at the Stone Pony, indie rock from local favorites Chemtrail and The Obvious at Asbury Lanes, and the ever-popular James Maddock and his band at the Dauphin Grille just some of the many choices available to fans.
Springsteen's absence, which had been announced on his website late Friday afternoon, led some to put their Paramount tickets up for sale. Those who did missed another strong lineup of entertainment headlined by Rock and Roll Hall of Famer Darlene Love [above], whose set included such classics as "Fine Fine Boy," "He's a Rebel," and "Da Doo Ron Ron" along with a mid-set tribute to her friend Marvin Gaye. Light of Day stalwarts Jesse Malin and Willie Nile [right] also turned in energetic sets that had the capacity crowd up and dancing; Malin's set included guest turns by Gaslight Anthem's Brian Fallon [below] and photographer Danny Clinch, while Nile dedicated Jim Carroll's "People Who Died" to Big Man Clarence Clemons. The night closed out with Joe Grushecky's traditional set, which included the presentation of a birthday cake to Bob Benjamin and covers of "Light of Day," "The Weight," and, by request from Bruce, a full-band "Thunder Road."
The weekend wound down with another children's show and songwriter roundtables, and as weary music fans parted ways and Light of Day 2013 went into the books, the absence of Bruce Springsteen almost didn't seem noteworthy — almost.
- January 21, 2013 - Lisa Iannucci reporting - photographs by A.M. Saddler

FINLAND SHOW ADDED
We're still waiting for Spanish dates, but a new date added to the European leg fills in the Scandinavian swing with a concert in Finland. Tickets for the May 7 show at Turku's HK Areena will go on sale January 28 at 9am.
For Springsteen's full 2013 itinerary as it stands,
visit our Tour/Ticket Info page
- January 21, 2013

BRUCE AWAY FOR LIGHT OF DAY, SENDS HIS BEST
Three out of four ain't bad: to date, 75% of the annual Light of Day benefits have featured a surprise appearance from Springsteen. This year won't be one of them, though, as the man himself just offered a shout-out and a heads-up:
I want to wish Bob Benjamin, all of the musicians, and all my friends who are attending the Light of Day shows in Asbury Park the very best for a great weekend of concerts. Bob's Light of Day series is not only an important fundraiser but also one of the best weekends of the year for music in Asbury. I always love making my guest spot with Joe, but will be away with family this weekend, and so just wanted to give a shout out to Bob, Joe and all the musicians who make it such a great night.
- Bruce Springsteen
So the Bruce Watch can relax this weekend as Light of Day 2013 proceeds in Asbury Park, the main event at the Paramount Theatre to feature Darlene Love, Joe D'Urso and Stone Caravan, Garland Jeffreys, Willie Nile, Jesse Malin, Joe Grushecky & the Houserockers, and lots more. A full list of events can be found at lightofday.org.
- January 18, 2013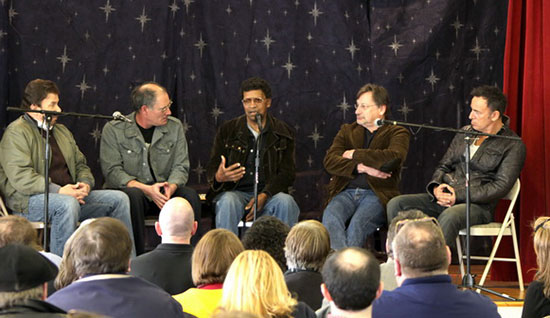 VIDEO DEBUT TOMORROW OF WEST SIDE MUSIC SCENE TALK
In April of 2011, Bruce Springsteen joined a panel of local musicians for a discussion of the West Side sound, the vibrant doo wop scene of the '60s that had a great impact on those who continued to make music in Asbury Park. Moderated by Daniel Wolff, the discussion of race and Asbury music history at the Atonement Lutheran Church also featured Southside Johnny and West Side vocalists Bobby Thomas and Nicky Addeo.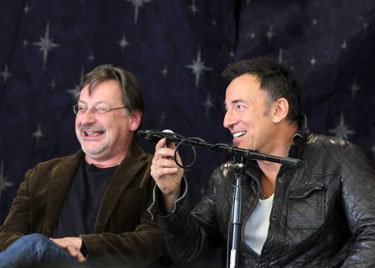 As Light of Day 2013 gets fully underway in Asbury, with a schedule dominated by live performances, don't miss a special pro-shot video presentation of that West Side panel discussion, showing for the first time on Saturday afternoon. It's a fascinating history lesson, and while we've enjoyed watching YouTube clips from the event, this is the debut of professionally shot footage from that day. Bobby Thomas passed away last year, and a special tribute video of him singing "Crying In The Chapel" will precede the panel discussion video.
As part of Light of Day 2013, the video premiere is being hosted by the Asbury Park Historical Society, at the Atonement Lutheran Church where the original event was held. Society president Don Stine says, "This is the first time this video is being presented to the public and I think it will offer viewers a unique perspective into the early history of rock & roll in Asbury Park as seen through the eyes of some of the city's most famous musicians."
The premiere begins at 2pm tomorrow, Saturday, January 19. Admission is free. The church is located at 308 First Avenue (at the corner with Heck Street) and is within easy walking distance from the downtown or boardwalk. For further information, Stan Goldstein recalls that "very special afternoon" at NJ.com.
- January 18, 2013 - photographs by John Cavanaugh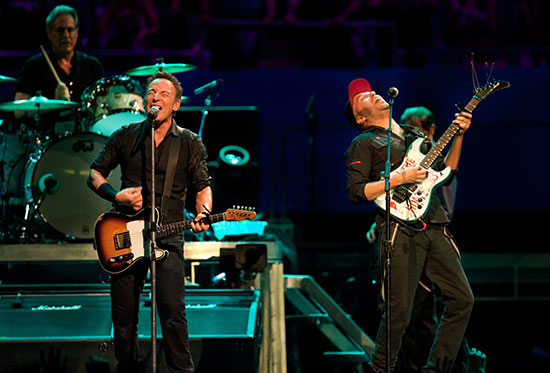 BECAUSE THE NIGHTWATCHMAN
Subbing for Stevie, Tom Morello will join ESB for Australian leg
Stunning news: we've joked about regular guest Tom Morello finally giving in and just joining the E Street Band... well, here we go. The Rage Against the Machine/Audioslave guitar wizard will be playing full shows with Bruce and the band, full-on filling in for Steve Van Zandt, for the band's upcoming dates Down Under (March 14 - March 31). Stevie, who'll be busy filming for season two of Lilyhammer, will return to the fold for business as usual when the European leg kicks off in Norway on April 29. See brucespringsteen.net for the complete announcement.
- January 17, 2013 - photograph by Joseph Quever [Anaheim, 4/27/12]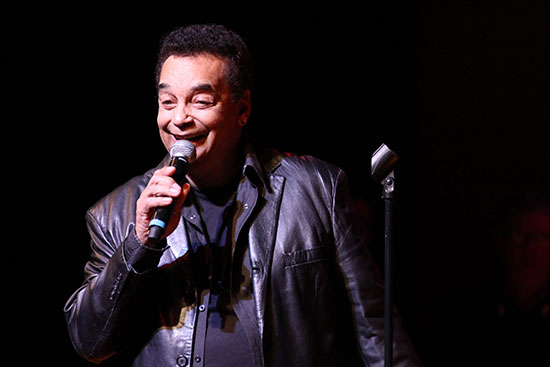 LIGHT OF DAY TO BOOGALOO DOWN BROADWAY
Gary U.S. Bonds will headline tomorrow's first LOD event at Hard Rock Times Square, just before LOD Asbury Park 2013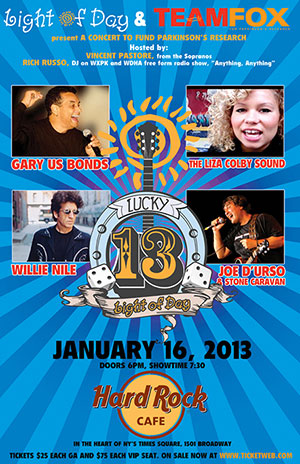 The first musical event in 2013 for Light of Day, the now-international series of annual benefit shows and events funding treatment, patient-support and cure-research for Parkinson's disease and related illnesses, also will be the first-ever LOD event held at the Hard Rock Café New York Times Square. Tomorrow, Wednesday January 16, the great Gary U.S. Bonds and his band, The Roadhouse Rockers, will headline a night of good rockin' at the Hard Rock. Also on the bill: Willie Nile, the Liza Colby Sound and LOD stalwarts Joe D'urso & Stone Caravan. The evening's co-hosts will be Vincent "Big Pussy" Pastore of The Sopranos and NY/NJ-area freeform DJ Rich Russo. (On Sunday, Pastore, a longtime LOD supporter whose late mother suffered from Parkinson's disease, also hosted the first official LOD event of 2013: a traditional Italian dinner "sitdown"/meet-and-greet with Big Pussy himself at Iselin, NJ's Casa Giuseppe, with music for dining provided by Tony "Boccigalupe" Amato & Pat Guadagno.)
The New York show immediately precedes the five-day series of annual LOD concerts and events in Asbury Park, NJ, including the sold-out January 19 Paramount Theatre centerpiece show headlined by Darlene Love. Bruce Springsteen, never a lock and never officially billed, has been an unannounced guest performer at nine of the past 12 LOD centerpiece events in Asbury Park.
Click here for a complete detailed listing of all LOD 2013 events. The listing includes links to purchase available tickets for the Times Square show and/or the Asbury Park events.
- January 15, 2013 - Shawn Poole reporting - photograph by John Cavanaugh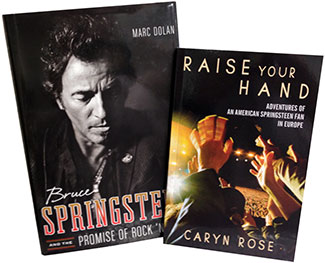 DOLAN & ROSE AT "SPRINGSTEEN NIGHT" NEXT WEEK IN BROOKLYN
A dynamic duo of Springsteen writers is coming to Brooklyn's WORD next week: Marc Dolan, author of Bruce Springsteen and the Promise of Rock and Roll, and Backstreets writer Caryn Rose, author of Raise Your Hand: Adventures of an American Springsteen Fan in Europe, are joining forces for Springsteen Night on Tuesday, January 22. Starting at 7pm at the Greenpoint bookshop, it will be an evening of debate and conversation about Springsteen past, present, and future, along with a Springsteen quiz with Bruce-related prizes. Visit wordbrooklyn.com for further details, and RSVP, if you'd like, on Facebook.
- January 14, 2013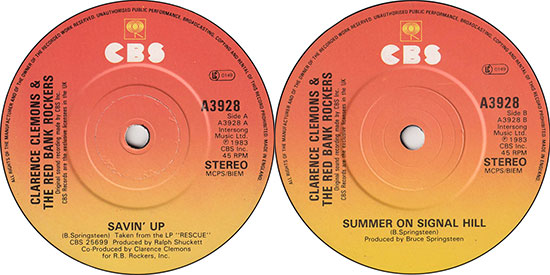 ON THE FLIPSIDE: CLARENCE CLEMONS DAY 2013
It may not be officially official — as NJ.com reports, "the state of New Jersey is in the process of designating Jan. 11, Clemons' birthday, as Clarence Clemons Day" — but we don't have to wait for the governor's signature. Happy Clarence Clemons Day. Nick Clemons and more friends and family will celebrate at the Wonder Bar in Asbury Park tomorrow night.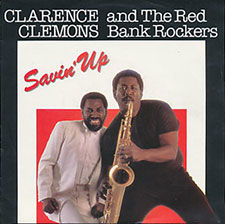 One of the more compelling musical moments of the recent Wrecking Ball shows has been the resurrection of "Savin' Up," with Bruce leading the E Street Band through the song he wrote for Clarence's first album, Rescue.
The flipside of that "Savin' Up" single (in Holland and the U.K.) gave us another Springsteen-penned track from Clarence and the Red Bank Rockers, the glorious instrumental "Summer on Signal Hill." This recording, a non-LP track, was not only written but also produced by Bruce. "That was the first song that Bruce did for me," Clarence told Backstreets in 2003, "I thought it was fantastic." In honor of the Big Man's birthday, let's take a moment to listen to this underplayed 1983 track, sounding more elegaic now than ever:
"Summer on Signal Hill" has such an E Street quality to it that some over the years have been convinced it was actually the E Street Band. Clarence put that notion to rest when we asked him about the song in a Backstreets interview: "That was my band. The song was written by Bruce... It's his signature sound... his songs will sound like him... so you've got that real E Street Band sound in there. But that was my band."
Also to honor Clarence today, one of his best friends, Bob Mitzman, shares this poem:
I miss his small kiss,
Lite as a feather,
Like the warm rain,
I miss his small kiss.

And the sound of the laughter,
Times passes slowly or it seems not at all.

He hugged me on sight,
Like a bear would its brother.
A man hug that changed me forever,
I miss his small kiss.

There's a tear in its place,
Not to be seen but its there just the same.

I miss my dear friend who rocked the whole world, with his heart,
With his horn,
And with his small kiss.
Forever...

—Robert Mitzman
Happy birthday, Big Man. We're all feeling your ghost with us today.
- January 11, 2013



CALLING OUT AROUND THE WORLD
Springsteen & I still seeking submissions from farther afield
Now in the middle stage of production, RSA Films is still accepting personal clips from fans for Springsteen & I, the Ridley Scott documentary about Bruce Springsteen and his fans, and they've decided to keep taking entries into next month. As stated on the website, they "want your most personal insights, abstractions and reflections on how Bruce Springsteen and his music has affected your life. Springsteen & I is an open invitation to people all over the world to share stories that celebrate one of the greatest storytellers of our generation."
So far, RSA reps tell Backstreets, around 1,600 films from fans have been submitted, "which we are very pleased about, most of them from the States.... The deadline has now been extended so that we can give fans from other countries a chance to be featured also. We've had a huge response, but would especially like to hear from more fans in Australia, South America, and mainland Europe: France, Spain, Italy... We'd love people to submit in their native languages also."
Films don't need to be long, and you can keep it casual: "If you don't have access to a professional camera, don't worry, mobile camera phones and home cameras are just fine." For more information, visit springsteenandi.com.
- January 10, 2013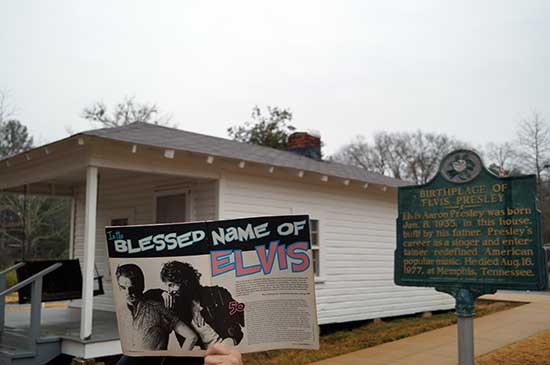 FROM A SHOTGUN SHACK TO A SUPERSTAR: HAPPY BIRTHDAY, ELVIS!
*New DVD w/clips of the Elvis concert Bruce saw the day he signed w/CBS
*Little time left to see Bruce (and Backstreets!) on display at Graceland
*Special E Street Radio Elvis' Birthday tribute airs tomorrow morning
It's fried-peanut-butter-and-banana-birthday-cake-time again. Tomorrow, Tuesday January 8, marks what would have been the 78th birthday of Elvis Presley, the first and enduring major musical influence on Bruce Springsteen. Last March at his SXSW keynote speech, Bruce reiterated just how important Presley remains to him, calling Elvis "the first modern 20th-century man, the precursor of the sexual revolution, of the Civil Rights revolution, drawn from the same Memphis as Martin Luther King, creating fundamental outsider art that would be embraced by a mainstream popular culture."
Several items of note in anticipation of the big day tomorrow: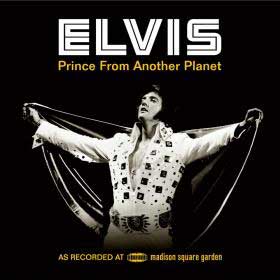 Fans of both Bruce and Elvis will want to check out the recently released Presley box set Prince From Another Planet. It's a comprehensive collection of beautifully remastered and/or unearthed audio and video from Elvis's legendary series of Madison Square Garden concerts in June 1972, the only New York City shows he ever performed. The CD/DVD box set takes its title from the New York Times' ecstatic review of Presley's June 9 show, entitled "Like a Prince From Another Planet." Along with a group that included his then-manager Mike Appel and New Jersey-based musician Pat Karwan, Springsteen attended that show on June 9 just hours after officially signing as a recording artist with Columbia Records. Appel later told Backstreets that after Elvis' first-ever MSG show ended, "Bruce turned to me and said, 'The King.' That was it. That was all that needed to be said. 'The King.'"
The DVD included in Prince From Another Planet features a "mini-documentary" with excerpts from WNBC's footage of that June 9, 1972 MSG debut. Unfortunately, there are no known soundboard-based professional recordings available from that night, so the footage was synced instead with audio from the next afternoon show's. You can click here, however, to see some of what Bruce saw that night in '72: the June 9 footage with decent audience-based sound pulled directly from the WNBC camera-sound system. Jump to the 3:00 mark to skip Elvis' opening acts and get right to the Main Event.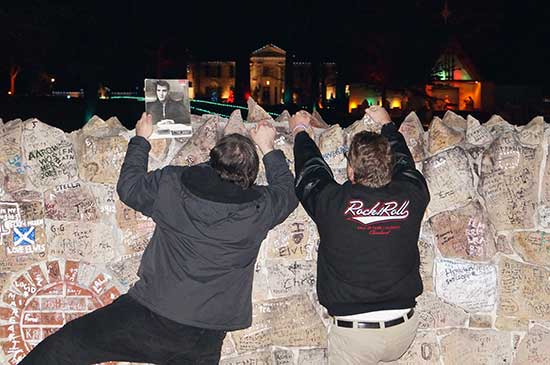 Backstreets contributor Shawn Poole, who spearheaded our massive feature on all things Bruce-and-Elvis-related in issue #80 (now out of print), recently traveled with his friend and fellow Elvis/Bruce fan Ryan Hilligoss to visit Tupelo, MS (where Elvis was born in a $180 shotgun shack built by his father) and Memphis, TN (where Elvis lived and worked for most of his life.) They brought a copy of Backstreets #80 along for the journey, and captured photos of the magazine in various Elvis-related locations, including some shots featuring "Boss Elvis," the issue's amazing back-cover photo of Elvis sitting for a 1960 press conference at his father's desk in Graceland right behind a nameplate that actually read "The Boss." Boss Elvis even helped the boys to attempt climbing Graceland's wall.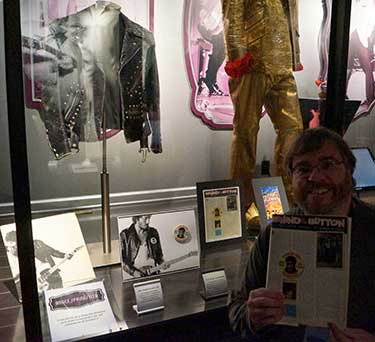 At Graceland, Shawn also got to see an enlarged copy of one of his articles from Backstreets #80 on display. "Behind the Button: Elvis Presley's 'Cameo' on Born to Run" is displayed behind glass along with a copy of the Born to Run LP, one of Bruce's black leather jackets, and an authentic "King's Court Elvis Fan Club of N.Y.C." button just like the one sported by Bruce on the cover of his breakthrough album, courtesy of fellow Elvis/Bruce fan Al Hanson, who designed and printed the buttons. The fan club, incidentally, was formed by Al and other fans who met while waiting in line for tickets to Elvis' Madison Square Garden shows.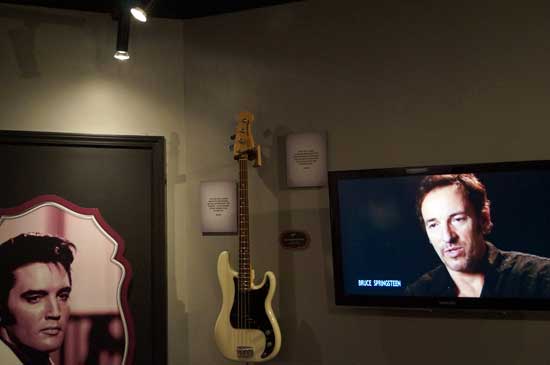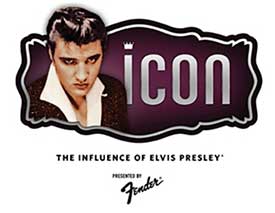 The display is all part of the exhibit ICON: The Influence of Elvis Presley, the first-ever Graceland exhibit to include artifacts from artists other than Elvis, in partnership with Fender Guitars and the Rock & Roll Hall of Fame. Springsteen is featured prominently, along with displayed video and text of comments by E Street Band members Nils Lofgren and Patti Scialfa. Needless to say, Shawn and the rest of us at Backstreets are thrilled and honored to be part of this historic exhibit. If you want to see ICON yourself, book your trip now: the exhibit, on display since last March, will close at the end of February.
Finally, Sirius/XM subscribers can tune in to E Street Radio (Sirius/XM channel 20) tomorrow at 10 am ET for special expanded Elvis'-Birthday edition of "You Be the Boss," the all-Springsteen channel's daily fan-as-programmer segment, that will be co-hosted by Ryan and Shawn. With the date of Elvis' birthday in mind, Hilligoss and Poole have selected eight Elvis/Bruce-related tracks for the 8th of January, and will spend an hour playing and discussing their selections as well as their recent pilgrimage to the places where Elvis and rock 'n' roll were born. (Check out Ryan's great new blog entry about visiting Elvis' birthplace, too.) They promise to play and discuss a lot of off-the-beaten-path stuff, including three Elvis-related tracks by other artists on which Bruce plays a guest-star role.
Happy Birthday, Elvis! Your music and its impact live on and continue to inspire.
- January 7, 2013 - photos and facts contributed by Ryan Hilligoss, Dawn Leinberger and Shawn Poole

2013 ASBURY ANGELS: TERRY MAGOVERN, PHIL PETILLO AND MORE
On Friday January 18, Light of Day 2013 will present the official induction of this year's Asbury Angels honorees at the Stone Pony in Asbury Park. The ceremony will be held during a special concert featuring Bobby Rydell with Boccigalupe & the Bad Boys. Tickets are $25 in advance and can be purchased through Ticketmaster.com or at the Stone Pony box office.
Announced on Saturday night, the list of inductees includes Chris Barry, Big Danny Gallagher, George Iocca, Leo Karp, Kevin Kavanaugh, Terry Magovern, Phil Petillo, Gervis Tillman, Madame Era Tognoli, and Bobby Williams.
Kevin Kavanaugh was a founding member of the Asbury Jukes and a cornerstone of the Shore music scene for many years in bands ranging from Dr. Zoom & the Sonic Boom to the High Voltage Brothers.
Big Danny Gallagher and Bobby Williams were both fixtures at Asbury Park's legendary Upstage Club; Gallagher briefly served as a roadie for Bruce Springsteen before returning to Asbury to rejoin the local music scene he helped create.
Terry Magovern managed the Captain's Garter (now the Headliner) in Neptune, NJ, where he first met Bruce Springsteen. Magovern became a close friend and confidante, and was Bruce's personal assistant until his death in 2007.
Chris Barry was a local music critic and concert promoter who wrote for such publications as Upstage magazine.
Phil Petillo was a master guitar craftsman and inventor who fashioned one-of-a-kind instruments for Bruce Springsteen, Tom Petty, and Keith Richards.
Madame Era Tognoli was the founder of the Metro Lyric Opera Company, which presented performances at various locations in Asbury Park. Productions at the Paramount Theater often included members of the world-renowned Metropolitan Opera .
Gervis Tillman was a songwriter and artist with the Ray Dots (later known as the V-Eights) who also started his own Vibro record label.
George Iocca founded Dynacoustics, Inc., a company providing live sound for both local and national music acts.
Leo Karp owned the Turf Club, a legendary music venue on Asbury Park's West Side that featured a variety of R&B talent including future E Streeter Clarence Clemons.
Concert attendees will participate in the live recording of the Asbury Angels theme song, which will be performed by Marc Ribler and his band.
- January 7, 2013 - Lisa Iannucci reporting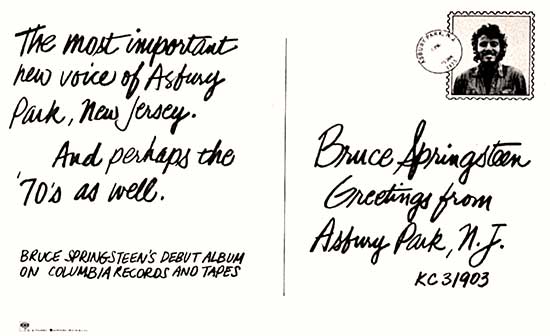 BOULDER ON MY SHOULDER, FEELIN' KINDA OLDER
Greetings From Asbury Park, N.J. turns 40 on Saturday;
special E Street Radio programming throughout the day
Tomorrow, Saturday, January 5, marks the 40th anniversary of Bruce Springsteen's first album, Greetings From Asbury Park, N.J. "This was the miracle," Bruce said at his November 22, 2009 concert in Buffalo, NY where every song from Greetings was played in sequence (and Clarence Clemons played his final full concert with the E Street Band.) That night, Bruce called his 1973 debut "the record that took everything from way below zero to... one."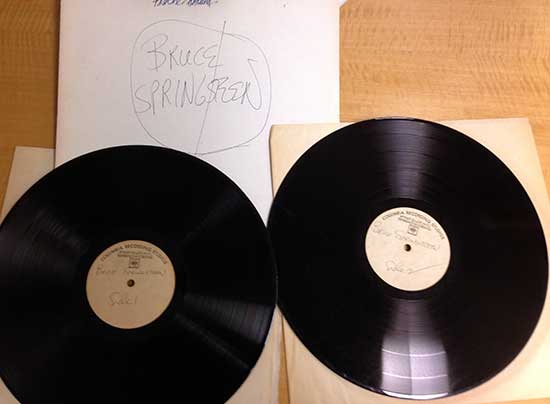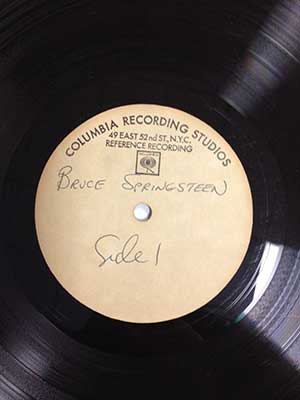 To celebrate this momentous occasion, E Street Radio has pulled out all the stops. Today's edition of Live From E Street Nation with Dave Marsh featured a neat piece of Greetings history, as Marsh brought in his treasured copy of the pre-release acetate of Bruce's first album (pictured here). The acetate was an early-'80s gift to Marsh from the late, great Paul Nelson. This preliminary pressing includes "Visitation at Fort Horn" (a.k.a. "Visitation at Fort Horne" a.k.a "Vision at Fort Horn," a.k.a. "The Visitation," a.k.a. "American Tune," a.k.a "The Captain.") With the intervention of then-Columbia Records head Clive Davis, the track was removed and Bruce added two more potential "hit singles" to the album instead: "Blinded By the Light" and "Spirit in the Night." A digitized version of "Visitation at Fort Horn," pulled directly from Marsh's acetate, was played on today's show as part of a spirited discussion on the artistic issues at play behind the making of the very first Bruce Springsteen record.
An encore of Live From E Street Nation will get a special repeat airing tomorrow from 6-8 pm ET (in addition to its regular Sunday night 8-10pm ET encore), followed by a complete recording of the 11/22/09 Greetings show as part of a special day of E Street Radio programming dedicated to the 40th anniversary. Here's the complete run-down (all times ET airing on Sirius/XM channel 20):
10am - "Be the Boss" (Fan-as-Guest-DJ) - Greetings special, hosted by Kevin Farrell –
noon - Back-to-Back Concerts: 1/31/73 at Max's Kansas City in NYC & 3/2/73 in Berkley, CA
4pm - Cover Me (other artists' versions of Springsteen songs): special Greetings edition
6pm - Replay of Live from E Street Nation
8pm - 11/22/09 at HSBC Arena in Buffalo, NY
- January 4, 2013 - Shawn Poole reporting, acetate photos by Vinny Usuriello of E Street Radio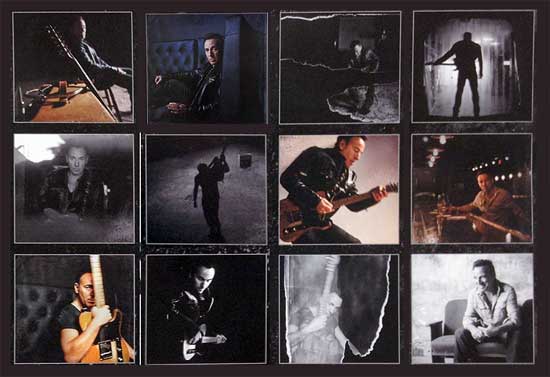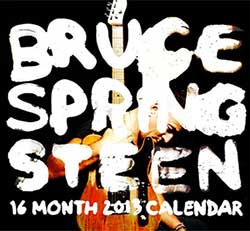 BOSS OF THE MONTH:
2013 CALENDARS NOW ON SALE
Get your Bruce Springsteen calendar for 2013 now for 20% off! List price is $15, we've got 'em now for $12, while they last.
This is the official calendar for the new year from Thrill Hill, with photography by Danny Clinch. Order here, no coupon necessary.
If you're interested in the limited UK E Street Shuffle book/CD package, we recommend ordering that separately from other items (as it's not due in a month or so), to ensure speediest shipping.
- January 3, 2013

MUSICARES LINEUP ANNOUNCED: VEDDER, YOUNG, MORELLO AND MORE
As part of this year's Grammy Week, Bruce Springsteen is being honored in L.A. as MusiCares Person of the Year. As Billboard reports today, paying tribute to Bruce at the February 8 event (two days before the Grammy Awards telecast) will be an A-Z of rock, country, and soul artists — or at least, A to Y: Alabama Shakes, Jackson Browne, Ben Harper, Emmylou Harris, Faith Hill, Jim James, Elton John, Juanes, John Legend, Mumford & Sons, Natalie Maines, Tim McGraw, Tom Morello, Patti Smith, Mavis Staples, Sting, Eddie Vedder and Neil Young. Jon Stewart will host the sold-out gala at the Los Angeles Convention Center.
- January 2, 2013