GREETINGS FROM ASBURY PARK, HALLOWEEN 2012
Down the shore everything's definitely not alright, as Hurricane Sandy left two million New Jerseyans without power and caused extensive property damage from Cape May to Keansburg.
In Asbury Park, the boardwalk is torn asunder and adjacent businesses have suffered heavy losses. The north end beyond Convention Hall was hit especially hard, but the building itself seems in decent shape. Unforunately the same cannot be said of the Casino, which took a pounding from both wind and surf. Interior walls that had been shored up with plywood are torn off, and the concrete platform on the eastern side, where a skating rink once stood, is caved into the sand. Repairs will be costly, and it is not clear what action will be taken to save Asbury Park's historic boardwalk landmarks, as master developer Madison Marquette has been dragging its heels for several years even before the storm. Fortunately, the legendary Stone Pony seems to have survived with minimal damage.
- October 31, 2012 - Lisa Iannucci reporting

BOSS HISTORY, HALLOWEEN EDITION: 20 YEARS AGO TONIGHT
A couple days ago we ran down Springsteen's prior Halloween shows, his last being October 31, 1992 at Minneapolis, MN's Target Center. Kurt Petersen was there:
My first Springsteen show was the Minneapolis Hallloween show in 1992. As I remember it, the show started with a light on Roy, who was playing some spooky organ [as Brucebase notes, Bach's "Toccata and Fugue in D minor"]. The group of background singers came out, and as the stage became more lit up, we could see that there were jack-o-lantern garbage bags tied to various parts of the stage that had been inflated with helium and transformed into huge balloons.

Then came the coffin... then the opening of the coffin... then out stepped Bruce, wearing a suit jacket covered with "dust." As he dusted himself off, he was given a guitar and he, Roy and the background singers performed "Spirit in the Night." It was a slow version, very cool. At the end, Bruce shouted "Happy Halloween!" as the rest of the band came out and they went into their regular set.

I also remember it was a great show — the "other band" was also a great band. I'll never forget the first time I saw 20,000 people singing "Born to Run." I'll remember very intense versions of "Badlands" and "Born in the U.S.A." just a few days before election day; a great, very stretched-out version of "Light of Day"; and the sight of Bruce's shadow, with his arms outstretched, cast over the audience, as he sang the last verse of "My Beautiful Reward."

More importantly, I hope all of your friends up and down the East Coast are safe and sound.
We hope so too. And as we continue to be spooked by images coming out of New York and New Jersey, we have a feeling that, no matter what Bruce and the band play, tonight's show is another one we'll still be remembering 20 years on.
- October 31, 2012


THE NEW BRUCE BIO, SIGNED BY AUTHOR PETER AMES CARLIN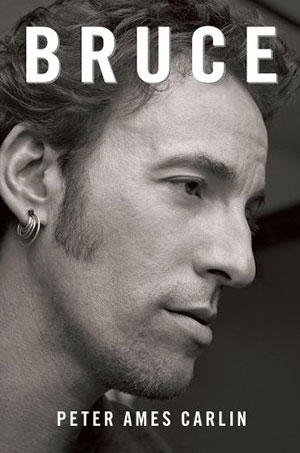 Today is the release day for Peter Ames Carlin's long-awaited and rigorously researched biography of Bruce Springsteen. It's been a quarter-century since Dave Marsh's Glory Days, and it's been that long since a Springsteen bio was written with the cooperation of the man himself. But now there's Bruce, a vivid account of the life of the Gut Bomb King the Boss from an acclaimed music writer with unfettered access to the artist, his family, and band members. (And if you've never heard about the Gut Bomb King, then you'll be learning new stuff as of the prologue.)

Knowing this one would be a must-have for Backstreets readers, we talked with Peter about doing something special, and he's stepping up in a big way — so on the day of the book's release, we're psyched to announce that the author will be signing 1,000 hardbacks specially for us at Backstreet Records. For your own shelf or for a holiday gift, order your signed copy of Bruce now. Peter's wrist willing, we'll have these signed copies here in our office by mid-November, and we'll then begin shipping them out to customers in the order received.

These author-signed copies will be spoken for quickly; guarantee yours with an order now, while they last, for no more than the cover price.

While we won't have the signed copies in stock for a couple weeks, we do have the non-signed hardback available now, and on sale, for immediate shipping.
Check out all the Latest Additions
to our Backstreet Records online shop
Below, Peter provides another preview of the book in an exclusive new clip, this one an anecdote (NSFW) about Janis Joplin crossing paths with young Bruce in Asbury Park. "Where have you been all my life?!"

- October 30, 2012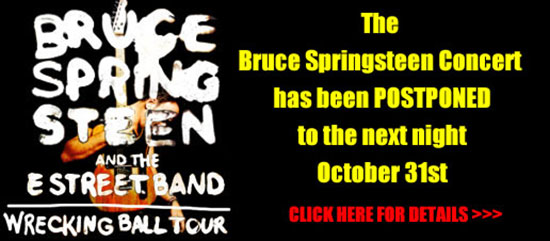 ROCHESTER TO GET BRUCE'S FIRST HALLOWEEN SHOW IN 20 YEARS
With the tri-state area currently getting slammed by Hurricane Sandy, those of us not in the hurricane's path have been unnerved by reports from Asbury Park to 57th Street and elsewhere. If you call the area home, we hope you're safe and dry tonight. Due to the "weather complications," as brucespringsteen.net reports, the E Street Band's Rochester show has been postponed from Tuesday to Wednesday (visit bluecrossarena.com for details).
The concert postponement brings the first Halloween night show for Bruce Springsteen since 1992. History and past performances tell us that this is one of Bruce's favorite holidays. Now that Halloween festivities at his house are no longer an annual event — a victim of "catastrophic success" and too many visitors in his neighborhood, as he wrote on his website a few years ago, here's hoping he'll have something up his sleeve for the fans in Rochester instead, as the show goes on.
Bruce has had four prior special performances for Halloween:
October 31, 1980 – Los Angeles Sports Arena
Bruce is carried on stage in a coffin and starts this River tour show with a cover of "Jumpin'" Gene Simmons' "Haunted House." YouTube (audio) link is here. Lesser known about this night is that Bruce also did a special cover to start the show's second set: the instrumental "Out of Limits" (a takeoff on the Outer Limits television show theme), originally done by the Marketts in 1964.

October 31, 1984 – Los Angeles Sports Arena
The show starts with a skit about "midnight in Dr. Frankenstein's laboratory," and how "they were trying to awaken the monster. They tried all sorts of scientific methods, such as the mystery of electricity... then they tried to awaken his sexual perceptions... and then they performed an attack on his auditorial system [as "Louie Louie" is blasted]... but nothing seemed to work."

"But then they tried Professor Frankenstein's foolproof monster-wake-up, and then out of the darkness came a mystery man" — and Bruce is presented a guitar, leaps out of the coffin, and starts playing "High School Confidential." (A further description of the night's proceedings can be found in Dave Marsh's Glory Days).

October 31, 1992 – Target Center, Minneapolis
A special keyboard introduction by Roy Bittan leads into a rare Spirit in the Night" opener.

October 30, 2007 – Los Angeles Sports Arena
No special song this time, but back at the Sports Arena (this time, the night before Halloween), Bruce is again carried on stage in a coffin. Steve presents him a guitar and he asks, "Is there anybody alive out there?" as he starts the standard "Radio Nowhere" opener. Video of these events was originally shown on Bruce's website and can be found on YouTube here.
Note: there was also a Halloween show during the Born to Run tour in 1975, but there is no known tape and no known details about anything "special" for the holiday.
Special Songs for Rochester?
What might Bruce break out on Wednesday night? There are many possible choices, and not just the ones discussed above:
5. "4th of July, Asbury Park (Sandy)." Yes, it's obvious. But that didn't stop Bruce from playing this rarity in Paris this past July 4, either.
4. "Wages of Sin." This Nebraska-era outtake may only have a tenuous connection to Halloween — one particular lyric about "the devil snapping at my heels" (a line that was also used in "My Father's House") — but the general mood of the song and the verse about the narrator trying to make it home through the woods before darkness falls are plenty spooky on their own. Never before performed live, this song resides on the famous Disc 2 of Tracks, well known to be a favorite of Steve Van Zandt. The past three tours have included the live premieres of "Ricky Wants a Man of Her Own," "Restless Nights," and "Living on the Edge of the World," all from that same Disc 2, so perhaps this one's not totally out of the question.
3. "Monster Mash." Novelty songs have their place, and that the crowd will know it certainly helps its chances. The band (in particular, the backup singers) should have no problem with this. A possibility for the encore, particularly if there's a sign requesting it.
2. "Werewolves of London." Part of what has made Hurricane Sandy so big of a storm is the high tides associated with the full moon. Technically, the full moon is today, but that's close enough for some howling on Wednesday night. Even without the connection to the storm, this classic by Bruce's friend Warren Zevon would perfect for the occasion.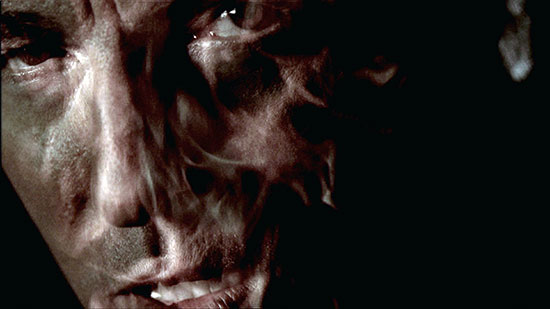 1. "A Night with the Jersey Devil." Notable as the first time Bruce released original material on his website, this composition was made available on Halloween 2008 as an MP3 download with an accompanying Thom Zimny-directed video. Halloween night in Rochester seems as likely a time as any for its live debut, which gave writing credits to "Bruce Springsteen / Robert Jones / Gene Vincent." Check out the official video here and keep your fingers crossed for Wednesday!
- October 29, 2012 - Glenn Radecki reporting [also appears in slightly different form on Glenn's blog, Stay Hard, Stay Hungry, Stay Alive]

BOOK ORDERING DEADLINE COMING UP FOR MEOLA SIGNING
Time is running short for ordering autographed copies of Streets of Fire, Bruce Springsteen in Photographs and Lyrics, 1977-1979, to be signed by acclaimed photographer Eric Meola during his upcoming book discussion and signing at Monmouth University, in West Long Branch, NJ. Books, which can either be picked up at the event or shipped, must be ordered via the Friends of the Bruce Springsteen Special Collection no later than 11pm Eastern on October 31. Meola's presentation, sponsored by The Friends, is scheduled for 8pm November 9 in the auditorium of Wilson Hall, 400 Cedar Avenue, on the Monmouth University campus. Attendance is free.
- October 29, 2012

BREAKING NEWS: ROCHESTER SHOW POSTPONED
Moving from Tuesday, October 30 to Wednesday, October 31, the Rochester Wrecking Ball tour stop is now a Halloween show. "Due to inclement weather in the tri-tate area," as the @springsteen twitter feed reports. Stay safe, everyone.
- October 29, 2012


10/27, PITTSBURGH (EARLY): SONGS FOR SWINGIN' STATES
In concert performances of "My City of Ruins," Bruce Springsteen talks knowingly of the "ghosts that walk among us." Saturday afternoon at Soldiers & Sailors Memorial Hall and Military Museum in Pittsburgh, the ghosts of veterans from every battle since the Civil War joined Obama supporters and Springsteen fans at a get out the vote rally.

An inspiring Beaux Arts-style building dedicated in 1910 was filled to capacity with 2,300, many of whom had waited hours in the first cold rain of the season to hear Springsteen, who took the stage in front of an 80-foot inscription of the Gettsyburg Address. As he had in three previous rallies, Springsteen spoke of the importance of the election as a continuing referendum on the "distance between the American dream and American reality" and urged his audience not to underestimate the importance of voting and its ability to "shape the world."


Striding onto the stage at 3:45 with acoustic guitar and gleaming harmonica around his neck, Springsteen smiled at the crowd and acknowledged the many students from neighboring University of Pittsburgh, saying, "young people in their bones are idealistic. Idealism takes a pretty hard kick in the ass during the election season... but you have to believe the country is open to change, open to petition, open to argument." He underscored the thought with the uncompromising lyrics of "No Surrender."


He spoke of women's health issues and the dangers to Roe v. Wade, the disparity of wealth and the "un-American" efforts at voter suppression in Pennsylvania and elsewhere, the need for patience as the country recovers. He recounted the hope he felt the night Obama was elected: " I sat on my couch and went, wow... this is the country I've been imagining." The perfect lead into "The Promised Land," with Springsteen stepping back from the mic at one point to encourage the crowd to lend their voices to the rally cry of belief that the best is yet to come.

Then a lighter note as he described late-night phone calls from the President requesting a campaign song, complete with a cringe-worthy Obama impression. Those in the crowd unfamiliar with this "song" that has evolved over the course of the rallies were undoubtedly confused by a strange little ditty that now includes debate references including "Vice President Joe Biden brought the drama /Fox News said he was smoking marijuana."


The highlight of the 45-minute performance followed, with a poignant rendition of "Youngstown," both a nod to the highly prized swing state just down the road and a recognition of the hard times experienced by blue collar workers across the country. Local hero Joe Grushecky and his son Johnny then joined Bruce for a rousing "We Take Care of Our Own" complete with an a capella verse. Finally, a solo "Thunder Road" was introduced with the hope that we would all be singing about winning on November 7.
One final exultation to Vote, Vote, Vote, and Springsteen sent the energized crowd forward, out into the streets fired up and ready to go.
For the setlist and this and other recent performances,
visit our Setlists page
- Updated October 29, 2012 - Bethaney Dale reporting - photographs by Guy Aceto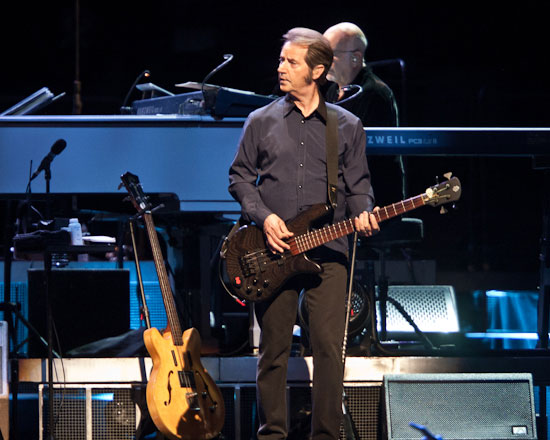 HIS MOTHER WAS A TALLENT, HIS FATHER WAS A TALLENT...
Born 63 years ago today, October 27, 1949, here's the Foundation of the E Street Nation holding down Thursday night's show in Hartford... we wish Garry W. Tallent a funky birthday show tonight in Pittsburgh!
- October 27, 2012 - photograph by A.M. Saddler


FOR YOU, YVONNE... AND YOU, AMANDA, ALLISON, AMBER...
By special request Thursday night in Hartford.
- October 27, 2012 - video by Marci Goldfarb


SPRINGSTEEN FOR OBAMA, THEN AND NOW
Stumping continues: new campaign stop Saturday in Pittsburgh
Above, new Springsteen biographer Peter Ames Carlin describes the moment in 2008, before a key primary in Pennsylvania, when then-Senator Barack Obama got some partcularly good news: "Bruce Springsteen just endorsed me!... Usually these celebrity endorsements don't do anything for me, but I've got this guy's records on my iPod... I mean, I like this guy!"
Carlin's new bio, simply titled Bruce, is just around the corner... and so is a special pre-sale offer from Backstreet Records: we'll be carrying the first edition hardback signed by the author especially for our readers. Stay tuned to our online shop for the pre-sale in the coming days.
And in Pennsylvania four years later, Bruce is endorsing Obama for President once again: news has just come across the wire that, prior to Saturday night's E Street Band concert at Pittsburgh's Consol Energy Center, he'll be making another solo appearance on behalf of the Obama campaign that afternoon at the Soldiers & Sailors Memorial Hall. See the Pittsburgh Post-Gazette for further information.
Update: OFA locations for free tickets, available starting at noon today, now listed at brucespringsteen.net.
- Updated October 26, 2012


10/23, CHARLOTTESVILLE: FIRST STOP, NTELOS WIRELESS PAVILION
If you live in the swing state of Virginia, more than likely you can't wait for this election to be over. The constant barrage of candidate commercials leaves one yearning for the days of Pine Sol, Frosted Flakes, and Maytag repairman TV ads.
But being a swing state does have its advantages. While it seemed that Bruce's campaigning was over last week, the weekend announcement that Bruce would also play an Obama for America Rally in Thomas Jefferson's hometown of Charlottesville before his scheduled E Street Band show led Virginians from all over to rejoice with a "Wahoo - Wa!"
Before the rally started, attendees were treated to walk-in music by Curtis Mayfield, No Doubt, Ray LaMontagne, Raphael Saadiq, and others. But it was when former Virginia Governor and current Democratic Senate candidate Tim Kaine began speaking of being 17 and hearing the Born to Run album for the first time that the crowd truly got fired up and ready to go. Kaine mentioned that when he heard "Thunder Road" for the first time he couldn't believe what a beautiful song it was. He went on to describe Bruce Springsteen as that rare musician, in the mold of Woody Guthrie, who sings the songs of the everyman, his dreams and disappointments. And with that, the former Governor introduced the main attraction.
It was obvious a few folks were seeing Springsteen for the first time. I watched a teen girl's wide-eyed look to her friend as she quietly mouthed, "They're booing him!?" The friend shook her head, whispered in her ear and the girl's head arched back as she laughed at not understanding the "Broooocing."
Bruce took the stage and wasted no time playing a beautiful "No Surrender" followed by a passionate "Promised Land." At the end of the song, Bruce slowly stepped away from the microphone and with the quiet of the crowd you just heard his voice repeating "And I believe in a Promised Land."
The song "Forward," a bit of a wincer the first time I heard it, was actually funnier with Bruce's imitation of President Obama fictionally calling up and requesting a campaign song. Since the last two performances he added a couple of lines, one commenting on the President's rough first debate performance — "Fox News said he had smoked marijuana" — which got a huge laugh from the crowd. It was a nice, light interlude.
Bruce's performance of "The River" had people in looking at each other like, "Can you believe this?" And everything that's been said about the acoustic "We Take Care of Our Own" is true. It comes across less like a criticism and more like a prayer for the next four years.
Bruce concluded by saying he was playing the next one for Tim Kaine. "You were 17 years old, huh?" Bruce said with a laugh. "Then I was ten!" A gorgeous sing-along version of the Born to Run classic followed before Bruce and some of the E Street Band members in the crowd left for soundcheck.
Update: view the entire performance on YouTube.
For the setlist and this and other recent performances,
visit our Setlists page
- October 23, 2012 - report and photographs by Bob Zimmerman

CHARLOTTESVILLE RALLY LIVE STREAM
Estimated start time is 3pm Eastern, use this link.
- October 23, 2012

BUT 'TIL THEN
Sportswriter Joe Posnanski on hearing "Land of Hope and Dreams" over and over... and over... in the MLB post-season:
Anyway, here the thing: I love that song. Still love it. I was worried that hearing it again and again — especially in that cut up version — would make me sick of it... but it hasn't. In a weird way, it has made me love that song even more. The reason? I guess it's the reason I love Bruce Springsteen in the first place...
A must-read: "Baseball and Bruce"
- October 23, 2012


TERRY'S SONG, AND SYDNEY'S TOO
After Bruce performed "Terry's Song" last night in Hamilton by request — in memory of Sydney Wood — we received this letter today:
Hello,

I just wanted to give you some of the back story to the dedication of "Terry's Song" that was performed last night in Hamilton. My 11-year-old daughter Grace was good friends and a basketball teammate of Sydney's, and as you can imagine Sydney's sudden death has been something Grace has tried to understand. She thought about the message in "Terry's Song" that love is a power greater than death, and so she decided that would be her sign. She would ask Bruce to sing "Terry's Song".

This was the fifth concert Grace has been to (what can I say, her Dad and I are fans) and I warned her that he has only played this song once before, but Grace was sure he would see the sign. This was the first time we were going to try to get into the pit; previously we had thought our girls were too little. We made it into the pit by 13 spots — 13 was Sydney's soccer number. The last person in the pit was bracelet number 311 — 11 was Sydney's basketball number. Grace's faith that the Big Man, Terry, and Danny were all working some Magic seemed to be well founded. In the pit it was strangers who held her up and put her on their shoulders to get the sign to Bruce.

The first time Bruce collected signs he passed her by; undaunted, Grace held up her sign again and this time Bruce leaned over and took it. I explained that he might not play the song, but he read the sign, and that may be enough... however something magical happened, and Bruce told a story of friendship, love, and hope, and dedicated that song to Sydney. Grace at that moment was the picture of pure joy; joy that so many people now knew how loved Sydney is by her friends.

Last night as we tucked our excited but exhausted little girl into bed she looked up at us and said, "Sydney is smiling tonight!" Sydney and a whole lot of other people, thanks to Bruce's kindness. If you could pass on a message to him somehow that he has made a little girl's grief at the loss of a friend a little lighter, knowing that love is a power greater than death, we would appreciate that very much.

Thank you,
Mary and Grace Mahler
Our profound pleasure.

- October 22, 2012

STREETS OF FIRE IN JERSEY
Meola signing appearance at Monmouth U, November 9
This year's most soul-piercing collection of historic Springsteen photography comes to us courtesy of Eric Meola, whose latest book, Streets of Fire, focuses on Springsteen's doubts and resilience during the Darkness on the Edge of Town era. And now, just announced, Meola will discuss and sign copies during a November 9 visit to Monmouth University in West Long Branch, NJ.
Sponsored by The Friends of the Bruce Springsteen Special Collection, the 8 p.m. signing in the University's Wilson Hall auditorium is open to the public without charge. A very limited number of books will be available for purchase. Attendees are strongly encourage to pre-order copies here. Autographed copies can also be ordered for shipping via that link. Note: there is an ordering deadline of Oct. 31, 11 p.m. EST.
- October 22, 2012

ANOTHER CAMPAIGN STOP, THIS WEEK IN CHARLOTTESVILLE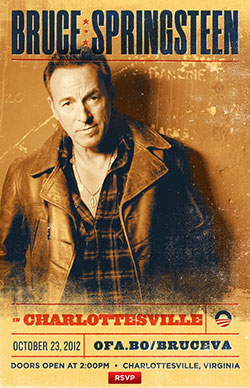 Tuesday afternoon in Charlottesville, VA, before the E Street Band plays the John Paul Jones Arena that night, Springsteen will be back on the stump for a another Obama campaign rally just down the street.
As part of the Obama campaign's effort to turn out voters across the commonwealth, Springsteen will make a special appearance at Charlottesville's nTelos Wireless Pavilion, along with local elected officials. Bruce is expected to pay a few songs solo acoustic, as he did last week in Ohio and Iowa. The event is free and open to the public, with tickets required; free tickets are available at Obama For America offices in the Charlottesville area:
OFA-Charlottesville Office
407 East Main Street
Charlottesville, VA 22902

OFA-Charlottesville/UVA Campus Office
1325 West Main Street A
Charlottesville, VA 22903
Click here for further information. Doors open for the event at 2:00pm on Tuesday, October 23.
Update: With doors at 2:00, fans with GA tickets for that night's E Street Band concert wanting to be in the lottery should have a chance before Bruce does his short piece at the rally to pick up a lottery wristband when they start handing them out at 1:00. There should also be time enough after the rally to make it back to the John Paul Jones Arena in time for the lottery drawing. The distance from the nTelos Wireless Pavilion rally site to the John Paul Jones Arena concert is approximately 3 miles, roughly a 45-minute walk.
- updated October 22, 2012

LIGHT OF DAY 13: TICKETS ON SALE SATURDAY AT NOON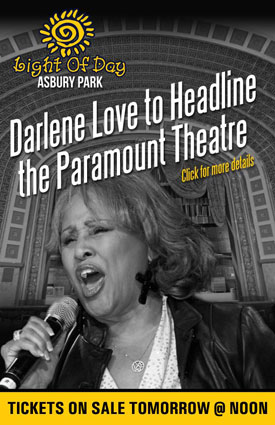 Just seen honoring Steve Van Zandt as "Big Man of the Year" Tuesday night, Rock and Roll Hall of Famer Darlene Love will be among the performers at the big Paramount Theatre show for Light of Day 13.
That January 19, 2013 show will serve as the centerpiece for the 13th annual Light of Day concert series, now expanded to a five-day weekend of activities in Asbury Park, NJ. More than 100 artists will play over 25 events to be held at ten different venues in the city in mid-January, for a Light of Day promising to be bigger and better than ever.
Joining Ms. Love on the Paramount Theatre bill, which will be hosted once again by Vincent "Big Pussy" Pastore, will be long-time Light of Day supporters Joe Grushecky & the Houserockers, Willie Nile, Jesse Malin, Garland Jeffreys, James Maddock, Joe D'Urso and Stone Caravan and Christine Martucci.
Tickets go on sale at noon tomorrow, Saturday, October 20, for the series of shows. Tickets are available through Ticketmaster.com, Ticketmaster charge-by-phone at 1-800-745-3000, and all Ticketmaster outlets. A wide variety of ticket packages, as well as single tickets to each show, will be available. For details, visit www.lightofday.org. An informational PDF is here.
The Light of Day series of concerts, which also includes performances in Canada and several countries in Europe, raises money for the ongoing fight against Parkinson's disease by supporting research into more effective treatments and a cure for people who suffer from Parkinson's and other degenerative neuromuscular disorders including PSP and ALS.
- October 19, 2012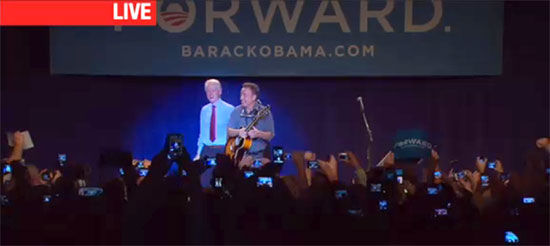 FORWARD, AND AWAY BRUCE GOES
Just before the E Street Band tour resumes tonight after a month off, Bruce was back on the road a day early, for a pair of solo acoustic performances in support of President Obama's reelection. Yesterday in Ohio Springsteen shared a stage with former President Bill Clinton, rallying the crowd in Parma before heading to Ames, Iowa to do it again (without the warm-up act). In Ohio, a seven-song set; in Ames, a six-song set; in both, a heartfelt stump speech. Stripping down "We Take Care of Our Own," debuting a goofy little number for the occasion, paying tribute to Woody Guthrie, treating two different cities to an acoustic "Thunder Road," encouraging everyone to get out and vote ("Voting matters. Elections matter... We get an individual hand in shaping the kind of America we want our kids to grow up in.)... not bad for a day's work.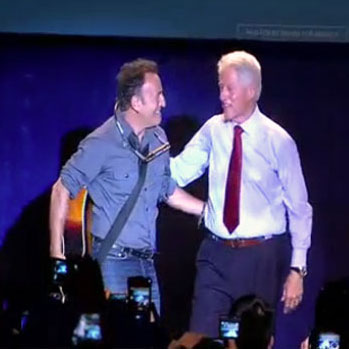 Parma, OH: "I had twenty-something jobs before I got elected President," former President Clinton told a capacity crowd at the Cuyahoga County Community College Western Campus, "but this is the first time in my life I ever got to be the warm-up act for Bruce Springsteen."
Introducing the headliner after his thirty minute speech, Clinton hailed him as "One of the most important forces in American music in the last 50 years... one of the coolest dudes I have ever met... a guy who reflects our real American values... the incomparable Bruce Springsteen!"
Approaching the podium after a hug, Bruce laughed, "I get to speak after President Clinton — that's like going on after Elvis! I was frantically calling the E Street Band backstage saying, 'Quick, I need backup. I need backup!' If he had only brought the saxophone, you would have seen a real jam up here...."
After opening with an uptempo "No Surrender," Springsteen began a speech that ranged from humorous — "I will now be going into President Obama's policies, but in greater depth and detail than President Clinton" — to serious: "Voting matters. Elections matter. Think of the events of the last 12 years and try to convince yourself they don't. We get an individual hand in shaping the kind of America we want our kids to grow up in." The speech concluded with Springsteen drawing a parallel between President Obama and his own "Long Walk Home":
I'm here today because I've lived long enough to know that despite those galvanizing moments in history, the future is rarely a tide rushing in. It's often a slow march, inch by inch, day after long day, and I believe we are in the midst of those long days right now. And I'm here because I believe President Obama feels those days in his bones, for all 100 percent of us. I believe he's got the strength, the commitment, and the vision to live these days with us, and to carry the standard forward toward a country where, as I've written, "nobody crowds you, and nobody goes it alone."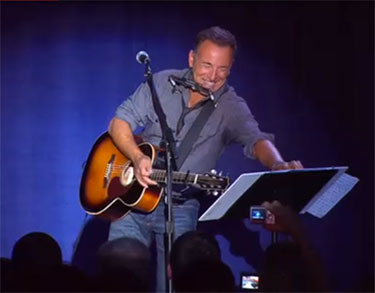 Following "The Promised Land," Springsteen joked that the President had called him to ask for a campaign song, adding that the Obama campaign's slogan, "Forward," was "not a lot to go on, right there. 'Forward.' It's better than 'Backward,' a little better than 'Sideward.' You don't want 'Sideward' on a bumpersticker." The song itself, despite some impressive audience participation, will not likely prove a classic:
I kissed your sister then I kissed your mama [Forward!]
Usually this time of day I'm in my pajamas [Forward!]
Well, let's vote for the man who got Osama [Forward!]
Forward! And away we go.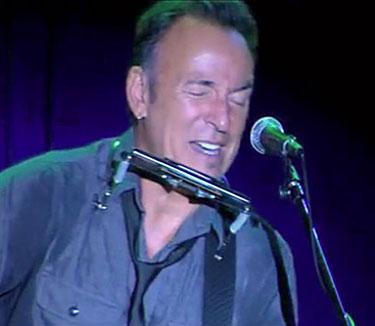 Moving back to more serious subjects, a small lyrical change in "Youngstown" added mentions of Afghanistan and Iraq to Korea and Vietnam, modernizing the 1995 song and tying it to one of the themes of Wrecking Ball, the notion that "This has happened before, it will happen again."
The clear musical highlight of the afternoon was the first ever acoustic "We Take Care of Our Own," a song often used by the Obama campaign in recent months. Springsteen introduced the song by saying "I wrote this song and posed it as a question.... it's about the idea that the nation can only be measured by its compassion for its weakest."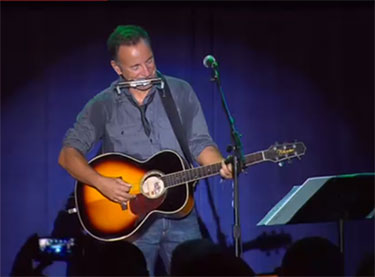 "This Land is Your Land," including the rarely played "private property" verse, was dedicated to the 100th birthday of Woody Guthrie. Springsteen noted that Guthrie "opened so many doors for so many musicians understanding music as a tool to full citizenship. Feel free to join in — he wrote them all to be sung." The crowd did join in, more forcefully as the song continued.
Springsteen implored the crowd to "Vote, vote, vote!" before closing the show with "Thunder Road," saying, "I hope this kind of says it all, my hopes, my wishes, my dreams." It was a clear crowd favorite; during a quiet moment of the song someone loudly yelled, "We love you Bruce!" to which Springsteen replied, "And love back on you."
- Todd Draper
Ames, IA: After standing in a very windy, cold mist for an hour, the anxious crowd was allowed into Hilton Coliseum in Ames, Iowa at 1:10, where Bruce Springsteen would be arriving for his second campaign appearance of the day. President Obama's ground game was out in full force both inside and outside the venue. There were many posters available, including a nice Bruce Springsteen special appearance poster which they quickly ran out of. The media on hand was impressed, as usual, with the passionate Bruce fans and what they go through to see the man — and here in Iowa, those chances are fairly rare.
An Obama video narrated by Tom Hanks began airing on scoreboard screens at 2:15. The film detailed the Obama presidency, focusing on the financial meltdown and the early agenda they enacted. Large applause broke out for the mentions of the Bin Laden raid and the Lilly Ledbetter bill, as well as the college loan protections. The Iowa democratic chairwoman came on stage and gave a brief speech to fire the crowd up, but concluded by informing us that due to windy conditions, Bruce had been delayed. President Clinton was not on this bill as a warm-up, either. Finally, Kevin Buell appeared on stage to do the soundcheck, and it was announced that Bruce was, in fact, in the building.
Springsteen came out just after at 4:30, and it didn't take him long to provide "The Hilton Magic!" — a term this arena has earned as one of the toughest college basketball trips any road team endures. Before he had taken the stage, another video detailed the origin of the "Fired Up, Ready to Go" slogan. Bruce came out chuckling, "'Fired Up'? I'm gonna have to use that." He told the crowd, "Good to be here in Iowa for President Obama," just as they enacted a version of th epre-encore reunion tour "stage rush" before the encores. As in Ohio — and the basic set would be the same — he began with "No Surrender."
"This is usually about when i wake up, now that the kids are out of the house," he quipped, before giving his stump speech and following it with "The Promised Land." Introducing the goofy new "Forward," he joked about the president calling him "twice a week... it even gets a bit annoying sometimes." He said the President's last call was complaining that he didn't have a campaign song — some country singer wrote a song for Romney, so could Bruce come up with something for him? After the song Springsteen laughed, "Top that, Mitt Romney!"
A beautiful version of "The River" was where the setlist diverged from Parma, (played in place of the Ohio special, "Youngstown"). The tremendous acoustic rendering of "We Take Care of Our Own" followed; I think over time this may become the defining version of this song. He then thanked the crowd again, urging them to "vote and drag a friend along to vote also. Let's hope we're celabrating the first week of Novemer!"
The set was one song shorter than Ohio, with no "This Land is Your Land," but "Thunder Road" closed the show in fine fashion. The crowd of thousands sang along as best they could, although at one point were way off the mark, prompting Bruce to chuckle, "That's terrible." But the man himself sounded great today. As good as i've heard his voice. This was a good warmup for us midwestern folks as we look forward to some shows coming to our neck of the woods in November.
- Tom Nettleton
For the full setlist from these and other recent performances,
visit our Setlists page
- October 19, 2012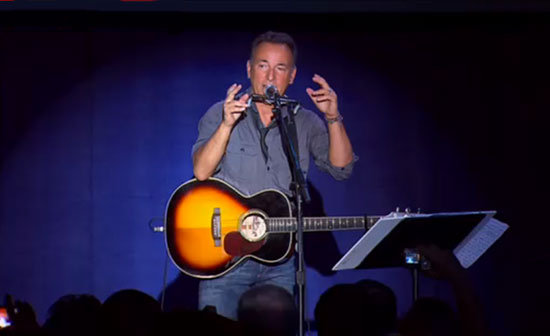 CASING THE PROMISED LAND: BRUCE'S STUMP SPEECH IN PARMA, OH
In a seven-song acoustic set, including a humorous, tossed-off stab at a campaign song called "Forward," Springsteen also spoke from the heart:
I'm here today for Ohio, and for President Obama, and because for 30 years I've been writing about the distance between the American dream and American reality. I've been gauging that distance through a big part of my life. I've seen it from inside and oustide: as a blue-collar kid from a working-class home in New Jersey — where my parents struggled, not always successfully, to make ends meet — to the Ninth Ward in New Orleans after Katrina, to meeting folks from food pantries all around the United States, working daily to help our struggling citizens through the hard times we've been suffering through.

Our vote — our vote is the one principal way we get to determine that distance in that equation. Voting matters. Elections matter. Think of the events of the last 12 years and try to convince yourself they don't. We get an individual hand in shaping the kind of America we want our kids to grow up in.

I'm a dad, I've got three kids, I'm 63... and I've lived through some galvanizing moments in American history: the Civil Rights struggle, the peace movement, times when you could feel the world shifting under your feet. I remember President Obama's election night was an evening when you could feel the locked doors of the past finally being blown open to new possibilities.

But then comes a hard, daily struggle to make those possiblties real in a world that is brutally resistant to change. We've seen that over the past four years; the forces of our opposition have been tireless.

But I came here today because I'm thankful for universal health care, the lack of which was for so long an embarrassment to our country. I'm thankful for a more regulated Wall Street. I'm thankful GM is still making cars. What else would I write about?! I'd have no job without that!

I'm here today because I'm concerned about women's rights. I don't have to tell you about the dangers to Roe v. Wade under our opponent's policies.

I'm also here today because of the continuing disparity in wealth between our best-off citizens and our everday citizens. That's a disparity that I believe our honorable opponents' policies will only increase and that threatens to divide us into two distinct and foreign nations, until many of us are going to end up like a song I wrote in the 1980s, "Jackson Cage": "just the scenery in another man's play." If we marginalize so many of our citizens, their talents, their energies, their voices will go unfound and unheard. We will lose their contributions to this great land of ours; we will impoverish ourselves and set ourselves on the road to decline. So their opportunities must be protected, and I think President Obama understands this.

And I'm here today because I've lived long enough to know that despite those galvanizing moments in history, the future is rarely a tide rushing in. It's often a slow march, inch by inch, day after long day, and I believe we are in the midst of those long days right now. And I'm here because I believe President Obama feels those days in his bones, for all 100 percent of us. I believe he's got the strength, the commitment, and the vision to live these days with us, and to carry the standard forward toward a country where, as I've written, "nobody crowds you, and nobody goes it alone."
Setlist: No Surrender / The Promised Land / Forward / Youngstown / We Take Care of Our Own / This Land is Your Land / Thunder Road. Full report from the event to come.
- October 18, 2012

WATCH SPRINGSTEEN LIVE TODAY
Today's rally in Parma, OH will be live streamed at newsnet5.com. Try this link.
- October 18, 2012

"A MESSAGE FROM BRUCE"
"I've been getting asked a lot about where I stand," Bruce Springsteen writes on his official site, "so for those who are interested, here goes." As he gears up for two Obama/Biden campaign performances today, Springsteen has posted an eloquent explanation as to why he supports the ticket. Based on "A Message From Bruce," New York magazine's Vulture blog calls him "Obama's Secretary of Explaining Stuff Lyrically," an apt appointment based on Bruce's conclusion (which also references his own "Long Walk Home"):
Right now, there is a choice going on in America, and I'm happy that we live in a country where we all participate in that process. For me, President Obama is our best choice because he has a vision of the United States as a place where we are all in this together. We're still living through very hard times but justice, equality and real freedom are not always a tide rushing in. They are more often a slow march, inch by inch, day after long day. I believe President Obama feels these days in his bones and has the strength to live them with us and to lead us to a country "...where no one crowds you and no one goes it alone."

That's why I plan to be in Ohio and Iowa supporting the re-election of President Obama to lead our country for the next four years.
Read Springsteen's message in full at brucespringsteen.net. His appearances today are in Ames, IA and Parma, OH, the latter with President Bill Clinton. We'll have coverage right here.
- October 18, 2012


LITTLE STEVEN, BIG MAN OF THE YEAR
Springsteen presents award and serves as wingman last night in NYC

Last night at the Hammerstein Ballroom in New York City, Steven Van Zandt was honored as "Big Man of the Year" by the nonprofit organization Little Kids Rock during its annual Right to Rock Celebration. Little Kids Rock's mission is "transforming children's lives by restoring and revitalizing music education in public schools." Little Kids Rock prepares teaching methods and materials, and donates instruments and professional development training to school districts throughout the U.S. that have been affected by budget cuts.
As an organization, Little Kids Rock has E Street connections: in 2009, Clarence Clemons was the inaugural "Big Man of the Year" recipient, the award having been created and named in his honor. Maureen Van Zandt is on the New York City Metro Area Board of Directors; Maureen and Max Weinberg co-chaired this year's Right to Rock Celebration.
The program began with three student performances, showing that little kids do indeed rock. First up was a group from IS 129-X (Bronx, NY), who played Santana's "Black Magic Woman" and Stevie Wonder's "I Wish." They were followed by a group from Franklin Williams Middle School (Jersey City, NJ), who played an original song "Daddy's Little Girl," accompanied by Jake Clemons.
Next was an auction. A guitar autographed by Bruce Springsteen and the E Street Band sold for $15,000. Three separate bidders also paid $15,000 each for "The Van Zandt Experience": dinner with Steven and Maureen along with special guest Lorraine Bracco, Steven's Sopranos co-star. Three separate bidders paid $16,000 to play with the band in the musical portion of the evening.
Afterwards, Jake Clemons spoke about his uncle Clarence, and what Little Kids Rock and the "Big Man Of The Year" award meant to him. Jake then introduced Bruce, the evening's eagerly anticipated though unannounced "special guest," to present the award to Steven.
Bruce's ten-minute speech was at turns hilarious and touching. Bruce reminisced about his 47-year friendship with Steven, "one of the longest relationships of my life, and one of the greatest rock and roll friendships." Bruce recalled, "We met at the Middletown Hullabaloo Club around 1966, and Steve was doing, I believe, The Turtles' 'Happy Together.' I knew I'd met somebody who'd drunk the same Kool-Aid that I had, and in the same quantities... It was rock 'n' roll, rock 'n' roll, rock 'n' roll, every day, all the time, and whatever was left of the world after rock 'n' roll, we decided how much could it actually matter? Politics, love, religion, money: mere blips on the screen of significance. Sex, slightly larger, but still only slightly. Fender, Gibson, Voxx — they weren't music companies to us, they were words of magical incantation that summoned the gods. And we have summoned the gods together for a long time. There has been no better bandmate or wingman and friend to me than Steve Van Zandt."
Bruce revealed, however, that the friendship was almost destroyed when the pair decided to live together "in a two-room attic apartment, living room and a kitchen, 6th Avenue in Asbury Park" that was "sort of like a two-man cell at Rahway Prison." Their experience as roommates did not mirror their experience as bandmates. "My recollection, and Steve may contradict me on this if he likes, is that Steve was a slob. A no-clothes-picking-up, no-dishes-doing, leave-the-top-of-the-toothpaste-off, pissed-on-the-toilet-seat slob. He was an Oscar, which forced me, unwillingly, into the Felix role." The living arrangement ended when Bruce, dealing with an "Everest-like calamity" of dirty dishes piled in the sink, left the water running, causing the "the great Asbury Park Flood of 1969," forcing them to move out and saving their friendship.
And the friendship continues to inform Bruce's creative process to this day. "Steve is the part of my brain that always wants it louder, harder, more raucous, more, more please, a little more than that. Steve is my first audience when I write or I create something. I'm always thinking, 'What's Steve gonna think?' I may not always take his advice, but I'm always wondering what his opinion is. And whether Steve was alongside of me in the band or whether he wasn't, that part of our friendship always endured."
Summing up, Bruce called Steven the "last of the true believers in rock's transformation powers, what it might do in the world. And all the tough guy affectations can't mask his true heart. And it's a heart that I've loved for a long time. And that I will love, until some force, some all-knowing entity, decides: Beatles, Stones."
Joined onstage by the student performers, Bruce then gave the award to Steven, who jokingly groused, "Get out of here, Felix."
Bruce responded, "Good time to mention to the guys I will be firing The E Street Band and hiring these kids."
Steven's acceptance speech began, "Thank you Felix. What a liar! He still pisses on the toilet seat." Assessing the stark realities confronting today's young rock 'n' roll musicians, Steven observed, "We haven't left much for the next generation. We took it all. Used up all the resources. We didn't realize it, of course. We were too busy fighting our way down the road to notice it was being rolled up behind us as we went. It might have been a rocky road, but it was a road. And there are no more roads. There are no footholds up the mountain, the maps are lost, the bridges burned. There's no gold at the end of that rainbow anymore, even if you could find one. We have left our progeny no infrastructure, no practical means by which to make a living in music. And no reason to follow in our footsteps whatsoever. And yet, against all reason, they do."
Noting the cuts in government funding for arts education, Steven said, "In spite of irrefutable evidence that music class improves science and math skills, we find ourselves in a world with no government support, no infrastructure left in the private sector, and no standards of quality anywhere in sight. So instead of whining about it, we need to do something about it, because I don't know about you, but I'm not gonna live in a world without great rock 'n' roll."
Ever the rock 'n' roll tactician, Steven laid out his plan: "If the old infrastructure is gone, we build a new one. If we, the few of us left, that grew up surrounded by greatness, don't build a new infrastructure, then those who have no standards will." Steven's point-by-point plan includes establishing a radio format that supports new music and plays "the greatest music ever made" to set higher standards ("we got that done"); reestablishing a performance circuit for live performance of rock and roll (efforts underway "in spite of the occasional non-believer pulling the plug now and then"); providing a curriculum for music education via the Rock and Roll Forever Foundation; and providing musical instruments for the next generation via Little Kids Rock (saving them from becoming "computer nerds and investment bankers"). Steven thanked everyone for supporting Little Kids Rock founder David Wish's "crazy dream" and "endorsing his most sacred belief... that every kid on earth who wants one should have a guitar".
And then it was on to the show, an all-star lineup of performers playing Steven's music.
The core of the house band for the evening was NYC Hit Squad featuring Little Kids Rock board member Liberty DeVitto on drums, Ricky Byrd (guitar), Christine Ohlman (vocals), longtime Asbury Juke Jeff Kazee (keyboards), former Asbury Juke Muddy Shews (bass), and Juke horn players Chris Anderson (trumpet) and Neal Pawley (trombone). That already powerful lineup was augmented by Bobby Bandiera, Tawatha Agee (vocals), and by a strong E Street presence: Charlie Giordano; the E Street Horns' Ed Manion, Curt Ramm, Clark Gayton, Barry Danielian, and Jake Clemons; the E Street Choir's Curtis King, Cindy Mizelle, and Everett Bradley.
In a night full of strong performances of songs drawn from throughout Steven's deep songbook, it's probably unfair to single anyone out, but a few of my personal highlights include:
Darlene Love, singing "Among the Believers." Her powerful voice and stage presence continue to inspire, and to show that her 2011 induction into the Rock and Roll Hall of Fame was long-overdue.
Tom Morello, clearly the evening's most overtly political guest performer, was a perfect choice to perform "Sun City," the evening's most overtly political song. Morello spoke of being inspired by "Sun City," "literally a song that changed the world" in galvanizing opposition to the "melatonin-free pleasure paradise." Morello also sang a line, "Don't ask me, Arizona, 'cause I aint gonna play," showing that the song's message is just as relevant today as when it was written.
Elvis Costello's stirringly soulful interpretation of "This Time Baby's Gone For Good" made the song his own, which will come as no surprise to everyone who saw Elvis perform Bruce's songs on his own television show Spectacle.
And then of course there was Bruce. While nothing needs to be said here about Bruce's prodigious abilities as a performer, one of the great joys of the evening was seeing Bruce as Steven's wingman, with Steven taking center stage. Having earlier testified to Steven's role as his best bandmate and wingman, Bruce clearly relished the opportunity to return the favor. Southside Johnny, the voice of many of Steven's songs, joined them to make it a classic trio. It was truly a fitting cap on the evening, and one that showed that we don't have to live in a world without great rock 'n' roll.
For the full setlist from this and other recent performances,
visit our Setlists page
- October 17, 2012 - Stettin Gamble reporting - photographs by A.M. Saddler

PRINT-AT-HOME TICKETS FOR THURSDAY'S IOWA EVENT
As we reported earlier, you can pick up free tickets for Springsteen's Ames, IA appearance at any Obama campaign office in Iowa. You can... or, you can just print a ticket out at home. Click here to fill out a simple online form and have a ticket emailed to you, hassle-free. Doors open at 11am 1pm, pre-program starts at 3pm.
- Updated October 18, 2012


LITTLE KIDS ROCK, STEVE ROCKS, BRUCE ROCKS...
Last night's Right to Rock Celebration, with Steven Van Zandt honored as "Big Man of the Year" by the charity Little Kids Rock, was a celebration of the man and his music by many of his friends. Some of whom you may know. Full report to come.
- October 17, 2012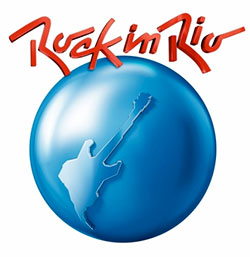 11 MONTHS FROM NOW, BRUCE & BAND WILL STILL BE ROCKING — IN RIO
For a while now, the rumor mill has been churning about potential concerts in South America, as well as the band continuing to tour in 2013. Today, both are confirmed.
Springsteen and the E Street Band's only performances in South America to date were in 1988, on the Human Rights Now! Tour. A quarter-century later, as brucespringsteen.net reports today, they'll return to Brazil for the Rock in Rio festival in Rio de Janeiro. Rock in Rio 2013 runs from September 13 - 22. Also confirmed today on rockinrio.com.br, Metallica and Iron Maiden. We await specific date and ticket info. In the meantime, visit Rock in Rio on Facebook.
- Updated October 16, 2012

EVENT & TICKET DETAILS FOR THURSDAY'S RALLIES
It was announced over the weekend that Bruce Springsteen will be appearing at two Obama campaign events this Thursday, in Ames, IA and Parma, OH. Official site brucespringsteen.net has the details for Ames:
As part of the Obama campaign's #CampusTakeover Week, Bruce will give a special performance at Iowa State University. Tickets will be available at all OFA Iowa area offices and the Iowa State University Free Speech Zone beginning tomorrow, October 16, from 10 am-9 pm CT.

The Iowa State University event with Bruce Springsteen is free and open to the public. Tickets are required and will be available to the public on a first-come, first-served basis at all OFA Iowa offices.

WHEN: 1:00 PM CT – Thursday, October 18
WHERE: Hilton Coliseum at Iowa State University in Ames, IA
Update: the information for Parma, OH is available now as well:
On Thursday, October 18, 2012 President Bill Clinton and Bruce Springsteen will make a special appearance together at a get out the vote event in Parma, Ohio at Cuyahoga Community College, West Campus.

Doors open at 11:00 AM EDT, Thursday, October 18, 2012

The event is free and open to the public, but tickets are required for entrance. One ticket per person will be distributed on a first-come, first-served basis. To pick up your ticket, visit one of the following locations beginning on Tuesday, October 16, 2012 from 10:00 AM EDT to 9:00 PM EDT.
Also on the official site, the General Admission Lottery Procedure for Fall 2012.
- Updated October 16, 2012

DISNEYLAND KICKED HIM OUT, BUT THE FANS PULL HIM BACK IN
Little Steven, on E Street Radio, gets first-ever listen to Bruce's Disneyland Records release, "Chicken Lips and Lizard Hips"; vows to get it played live
Stevie Van Zandt was a surprise visitor to Friday morning's edition of Live from E Street Nation with Dave Marsh on E Street Radio. Steve took calls from fans and discussed some of his many projects, including his "Big Man of the Year" award, the Rock and Roll Forever Foundation and the new David Chase film Not Fade Away, for which Van Zandt has assembled the soundtrack. While on the air, Steve also received the good news that tickets for all three initial performances of his Rascals Reunion project are now officially sold out. (Tickets can still be obtained with a Kickstarter pledge of $5,000 or more, which will substantially help Steve reach the remaining twenty percent of his project's fundraising goal. You also can take your chances in the Rascals Reunion Sweepstakes.)
Near the end of Stevie's visit, a caller, "Theresa in Florida," asked about whether Bruce Springsteen has ever performed a live version of the children's song "Chicken Lips and Lizard Hips." (To date, he hasn't.) Van Zandt confessed to being completely unfamiliar with Springsteen's 1991 recording. (The record's first official appearance was on a benefit compilation released on Disneyland Records. In 1983, Bruce stood by his longtime friend as Stevie was denied admission to Disneyland for violating the amusement park's dress-code.) When Bruce's recording of "Chicken Lips," originally written and recorded by John and Nancy Cassidy, was played for Van Zandt, he hilariously but sincerely pronounced it "amazing," adding, "It sounds like something [Bruce] wrote... that same kind of sense of rhythmic poetry as 'I'm a Rocker.' It could be a B-side of 'Crush on You.' Theresa, I am predicting to you and E Street Nation... this tour will not end without that song being played live. I'm telling you... forget about The Promise; forget about 'Restless Nights.' We got a new priority." Dave Marsh added with a laugh, "It was impossible that Steve Van Zandt could visit this show for a morning and not emerge with a new crusade." Catch the rebroadcast of Little Steven's visit tonight at 8 pm ET on Sirius/XM channel 20.
- October 14, 2012 - Shawn Poole reporting

SOMEWHERE ACROSS THE BORDER
To be more specific: Mexico City, December 10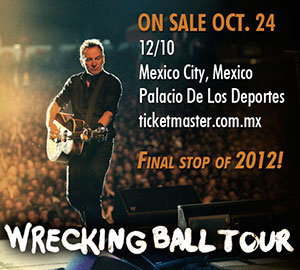 The Glendale, AZ show has looked for some time like the last show on the upcoming leg... but it's just been announced that Bruce and the Band have uno mas. Mexico City, where they'll play Palacio De Los Deportes on December 10, is now billed as "the final stop of the Wrecking Ball Tour 2012." Tickets go on sale October 24 through ticketmaster.com.mx.
Kristina, a reader, writes in: "Bruce comes to Mexico! I've been crying tears of joy! He's sung about it and cared about immigrants, but never yet played here. I'm German, but have been living in Mexico for the last 13 years. This is the happiest day for me in a long long while."
This fall leg — a North American swing now hitting three countries — begins on Friday in Ottawa, Ontario.
- October 13, 2012

SPRINGSTEEN BACK ON THE STUMP
Obama campaign appearances this Thursday in Iowa and Ohio
"My work has always been about judging the distance between American reality and the American dream," Bruce Springsteen said earlier this year, "how far is that at any given moment. If you go back to the work that I did beginning certainly in the late '70s, I'm always measuring that distance: how close are we, how far are we, how close are we? Everything from Darkness on the Edge of Town, The River, to Nebraska, Born in the U.S.A., The Ghost of Tom Joad, those are all records that were always taking the measure of that distance."
For an artist whose work is so concerned with the state of our nation, it's surely no coincidence that election years find Springsteen on tour, every time, without fail. This time, as he did in 2008, Bruce will also be appearing at campaign events in support of President Obama and Vice President Biden.
This Thursday, October 18 — the day before the Wrecking Ball tour resumes after about a month off — Springsteen will appear in both Ames, IA and Parma, OH, for campaign events. Obama will reportedly not be present, but President Bill Clinton will be joining Bruce in Ohio.
Obama/Biden campaign manager Jim Messina says in a statement: "Bruce Springsteen's values echo what the President and Vice President stand for: hard work, fairness, integrity. His appearances will help with our get out the vote effort in these critical swing states and we are thrilled with his ongoing support."
These events will be free and open to the public; further details to come.
- October 13, 2012

ROCK THE VOTE
Some fun reading to check out on our message boards: **VOTE - your BTX ALL TIME Bruce TOP 20 songs** is an active thread that has fans chiming in from all over the world with their favorite Springsteen songs. If you're like us, you love a good list... and here you'll find 45 pages worth and counting.
Bossman66 and jamesy (Mark and Mike), who got the ball rolling, have also been working to bring some fun guests on board, including Tom Cunningham, Tony Pallagrosi, and a nicely annotated Top 20 from Eric Meola just added this week. Mark and Mike are tallying the votes, with nearly 500 lists posted so far, and will post the results at the end of the year. Check out the thread here — you can submit your own Top 20 (be sure to list your nationality and remember that all selections must be written or co-written by Bruce), and stay tuned for more lists from names you'll know.
- October 12, 2012

TO THIS DAY WHEN I HEAR THAT SONG...
Lori McKenna has had her work covered by the likes of country stars Faith Hill, Keith Urban and Sara Evans, and her Americana-themed style comparied to folk rock treasures like Patty Griffin and Shawn Colvin. But make no mistake, there's some Bruce Springsteen going on in there somewhere.
McKenna, a singular talent and respected stalwart of the thriving Boston-area folk rock scene, has always had a gift for mining the small treasures of daily existence and bringing them to life in riveting detail. Indeed, from finding the pride and pain of blue collar work to tracing the sacrifice, struggles and hard-earned joy of marriage and family, much of her captivating music brings to mind a certain New Jersey rock icon.
Sure enough, the lead track on her just-released digital EP, Heart Shaped Bullet Hole, contains a subtle — and sublime — reference to you-know-who. In "All It Takes," written by McKenna and Andrew Dorff, the singer lists some of the lingering memories of love lost:
5 strings on a 6 string
Initials on a gold ring
Anything Bruce Springsteen...
Sometimes — that's all it takes...
To remind me of you
Having interviewed McKenna shortly last fall before a San Francisco tour stop promoting her much-acclaimed Lorraine, the Springsteen reference hardly came as a surprise. Speaking of the process of songwriting with various writing friends and partners, she laughed, "We have this long-running joke we come back to: what would Bruce Springsteen or Tom Petty do?"
Heart Shaped Bullet Hole is available in digital format on iTunes and Amazon.
- October 10, 2012 - Jack Bungart reporting

THE COLLECTION JUST GOT LOUDER
The Friends of the Bruce Springsteen Special Collection today launched a major Collection expansion, with new categories for recorded music in audio and visual formats, as well as posters. Made possible by a grant from the New Jersey Historical Commission, the expansion adds a publicly accessible archive of Springsteen CDs, vinyl recordings, videos, DVDs, and historic posters to the Special Collection, alongside more than 16,000 books, magazines and other Springsteen-related documents already in the Collection on the campus of Monmouth University in West Long Branch, NJ. Click here to learn more.
- October 9, 2012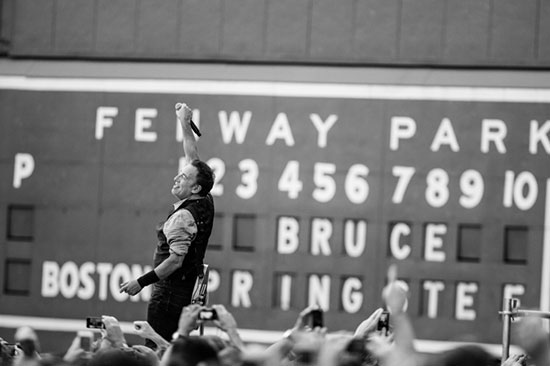 PICTURES OF OUR HERO ON THE WEB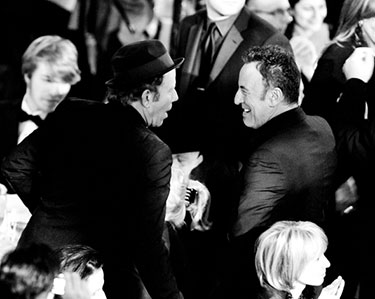 Backstreets photographer Michael Zorn, who's been shooting Springsteen concerts for us for several tours running, has recently revamped his website, zornphotography.com. Zorn is also a "top tier" wedding photographer — so if you're looking for someone to document your special day, there's even more at his bright and shiny new site to peruse... but we'll point Bruce fans specifically to his Live Music portfolio for some stunning photography from recent E Street Band tours, Light of Day concerts, the Rock and Roll Hall of Fame, and other artists to boot. Something to tickle your optic nerve until the next leg starts up, when Zorn and his gear will be back in action, too.
- October 8, 2012 - photographs by Michael Zorn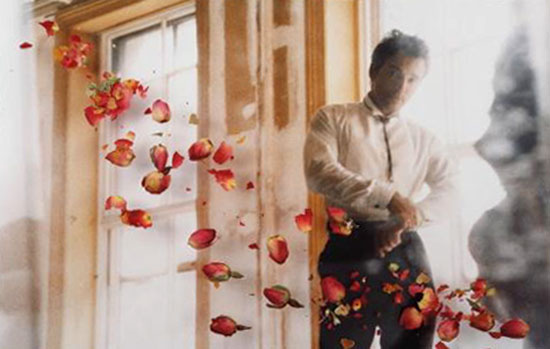 WELL, IT'S SATURDAY NIGHT, YOU'RE ALL DRESSED UP IN SILVER
Tunnel of Love, Bruce's first set of "married songs," turns 25 today
It's been a year filled with significant Springsteen-album anniversaries, as Human Touch & Lucky Town each turned 20 in March, The Rising turned 10 in July, and Nebraska turned 30 just last month. The nod for most appropriate album for which to celebrate a milestone anniversary, however, still has to go to Tunnel of Love — a song-cycle themed entirely around love and marriage — released 25 years ago today.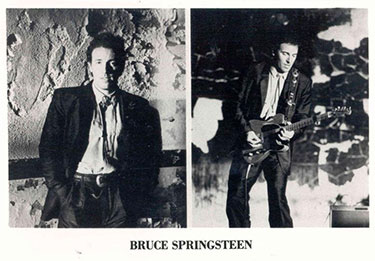 Six months before the album was released, Bill Flanagan interviewed Bruce, then almost two years into his first marriage, for the book Written in My Soul: Conversations with Rock's Great Songwriters. Flanagan reminded Springsteen of a statement he'd made about a decade earlier: "You said you didn't want to get married because you weren't ready to write married songs. You knew this would come back to haunt you," warned Flanagan before asking if Bruce had written any "married songs" yet. "I'm workin' on 'em," Springsteen replied with a laugh. (Bruce also added that on Live/1975-85, referring specifically to "Jersey Girl," "Tom Waits sort of did the job for me.")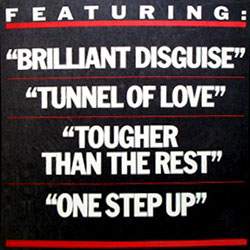 An entire album of Springsteen's "men and women songs" proved to be well worth the wait. Despite Bruce recording mostly solo in his home studio for the basic tracks, the recording of Tunnel was light years away from the low-fi approach that had to be taken with his prior solo-home-recording, Nebraska. This time around, Bruce and his collaborators were able to get professional sound easily using full multi-track digital technology. Bruce's basic recordings were then enhanced by contributions from other musicians (all of whom were E Street Band members except for Jimmie Wood of The Imperial Crowns, credited as "James Wood" and playing harmonica on "Spare Parts"). The result was a great-sounding mix of pop, rock, country and folk styles quite unlike any previous Springsteen release. Lyrically, songs like "Tougher Than the Rest," "All That Heaven Will Allow," "Tunnel of Love," "Two Faces" and "One Step Up" remain among tunesmiths' most mature and beautiful insights into love's glory and fragility. In fact, Bruce later wrote in his book SONGS that he saw Tunnel of Love as an attempt "to reintroduce myself to my fans as a songwriter" after reaching the heights of stardom with Born in the U.S.A.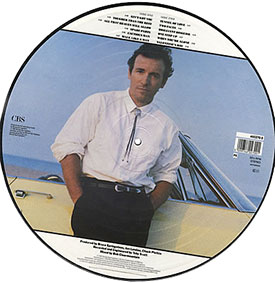 Looking back on this period of Bruce's life and career, Springsteen biographer and critic Dave Marsh has suggested a very interesting way of re-listening to the second half of Tunnel (side 2, as we still think of it). It's easy to do, with some simple re-programming of your CD player or mp3 playlist. "It makes more sense," wrote Marsh in 1990, "to run the [sequence of] songs backward from 'Valentine's Day' to 'Tunnel of Love,' which happens to correspond with their chronology of creation. Certainly, that sequence would more closely conform to what we now know Bruce Springsteen's experience to have been." Coincidentally, Tunnel's actual sequence ended the album with a song in which the singer dreams of his own death, which is also how Springsteen's latest album ends, 25 years later.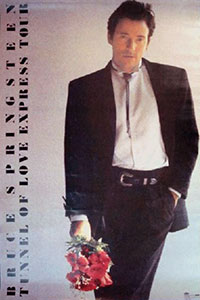 Speaking of Wrecking Ball, Ed Manion of the current tour's E Street Horns was also a member of the Tunnel of Love Express Tour's horn section. Ed joined Mario Cruz, Mark Pender, Richie "La Bamba" Rosenberg and Mike Spengler in The Horns of Love, backing Bruce and the E Street Band on their 1988 tour in support of Tunnel. The Express Tour marked the last time that Bruce would tour with the E Street Band until the 1999-2000 Reunion Tour, more than a decade later.
That '88 tour also produced a somewhat groundbreaking music video for "Tougher Than The Rest," recorded live at the April 27th concert in Los Angeles. While Bruce noted in SONGS that Tunnel of Love marked the first time that he wrote in-depth about "men and women," the "Tougher" music-video made it clear that all of this great music about adult love, commitment, and heartbreak could apply to more than just male-female relationships. Years before the movement for legal recognition of same-sex marriages gained momentum, Bruce's video featured glimpses of same-gender couples among its black-and-white montage of lovers attending the show.
Happy 25th, Tunnel — silver becomes you.
- October 6, 2012 - Shawn Poole reporting

EBOOK OF DREAMS
Congratuations to Caryn Rose, whose European tour chronicle, Raise Your Hand: Adventures of an American Springsteen Fan in Europe, reached #1 in Music books on both Amazon and iTunes. Take that, David Byrne!
Raise Your Hand also charted on iTunes and Amazon in the UK, France, Finland, Australia, Spain, Sweden, Belgium, Canada and Germany.
Some further eBook guidance:
In addition to Amazon, the iBookstore and Barnes & Noble, Caryn's book is now available on Google Books.

No Kindle? You can read Raise Your Hand: Adventures of an American Springsteen Fan with an Amazon app.

Don't like Amazon? You can also read Raise Your Hand: Adventures of an American Springsteen Fan on your computer via Google Play.
If you enjoy Raise Your Hand, be sure to check out the first two chapters of Caryn's novel, B-sides and Broken Hearts, included at the end of the book.
- October 5, 2012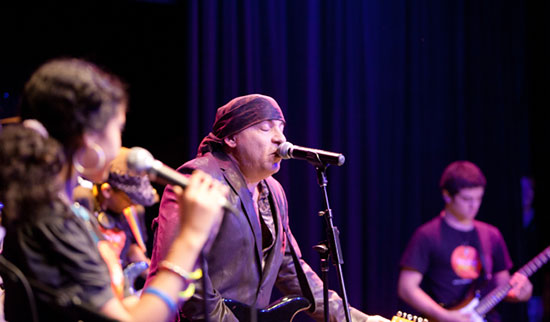 PRIME SEATING FOR "RIGHT TO ROCK CELEBRATION"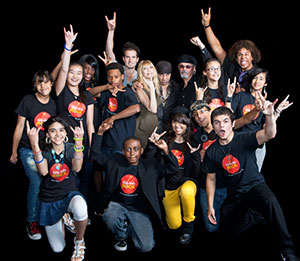 One front row table has just become available to see Little Steven and an all star lineup of musicians who will join him on stage Tuesday, October 16 at Little Kids Rock's 10th anniversary charity benefit in New York City. For a donation of $35,000, which will help Little Kids Rock bring free instruments and music lessons to more than 2,000 underprivileged children, a company or individual can sign on as the final "Headliner" sponsor. To take advantage of this opportunity, call Little Kids Rock at (973) 746-8248 and inquire about becoming a Right to Rock Celebration Headliner sponsor.
This sponsorship package is tailored for a die-hard E Street Band fan. A front row table at the 4th annual Right to Rock Celebration, co-chaired by actress Maureen Van Zandt and E Street Band drummer Max Weinberg, will have the best view to witness a very special, surprise guest present Little Stevie with the "Big Man of the Year" Award, an honor initially bestowed to Clarence Clemons in 2009. The Headliner Sponsorshop includes:
One front row table with 10 VIP seats
Your message/logo in event signage and video displays
Featured name/logo recognition on web promotions
Fender Telecaster signed by Bruce Springsteen and the E Street Band (with Jake Clemons, making it a first-of-its-kind)
One other autographed item of rock memorabilia (chosen by Little Kids Rock)

The charity benefit will also include student performances, a live and silent auction (opening this week online), and an epic performance of Steven Van Zandt's music by a lineup including Elvis Costello, Dion DiMucci, Tom Morello, Darlene Love, Southside Johnny, Kris Allen, Rubén Blades, Gary U.S. Bonds, Michael Des Barres, Michael Johns, Jesse Malin, Jake Clemons, NYC Hit Squad and other surprise guests expected to attend.
For the Headliner sponsorship, please call Little Kids Rock at (973) 746-8248. To purchase balcony seats or other sponsorships, visit littlekidsrock.org/tickets.
- October 3, 2012

SONNY KENN, DANNY CLINCH & MORE TO PLAY SURF SCHOOL IN ASBURY
In celebration of the 20th Anniversary of Surfrider Foundation Jersey Shore, and in support of the Summer Surf Lessons program for Asbury Park youth, this Saturday, October 6 brings SURF SCHOOL to Asbury Lanes (4th and Kingsley) in Asbury Park.
Presented by the Mudhole Surfing Club, Tim Donnelly and Food For Thought, SURF SCHOOL will feature surf movies, surfboard expo featuring local surfboard shapers, giveaways from the top companies in the surf industry, and most of all, music — from all genres that make up the burgeoning Asbury Park music scene. Surf Rock, Indie, Hip Hop, Punk Rock. The initial line-up: Sonny Kenn with Sandy Mack Band, The Killing Legends with Danny Clinch, Seaside Caves, Ba Babes, Los Pocos Locos, Taylor Allen, Solo for Dolo, Shore Shot, DJ SARA M.
The Summer Surf School program was started four years ago by Jersey Shore restaurateur Marilyn Schlossbach's non profit, Food For Thought By The Sea, along with the Boys and Girls Club of Monmouth County, Lightly Salted Surf Shop, and the Jersey Shore Chapter of the Surfrider Foundation. Schlossbach came up with the concept of the surf program when she opened the Langosta Lounge on the Asbury Park Boardwalk four years ago. "We feel that the ocean is for everybody," she says, "especially in Asbury Park. It's getting the kids who live by the beach to the actual beach. Teaching them a healthy respect for the ocean and giving them surf lessons has opened up a new world for them, and that world is right up the street from where they live."
Monies raised at the SURF SCHOOL event will go directly to the purchase of new "soft top" surfboards that are used in the Tuesday morning lessons. "It's been pretty amazing to see the transformation over the year," said SURF SCHOOL producer Tim Donnelly, of Asbury Park. "Seeing how some of the kids went from being apprehensive or having a total aversion to the water to where there are now, it's so great. Now, they don't want to get out of the water at the end of class."
The all-ages event starts at 7pm on Saturday with admission just $10. Donations are being accepted at Lightly Salted Surf Mercado, 2nd Ave. Pavilion on the world famous Asbury Park Boardwalk.
- October 2, 2012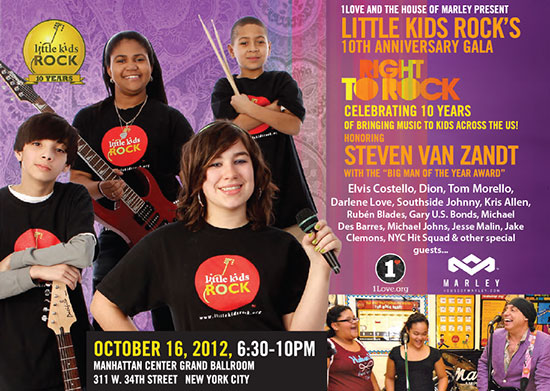 STELLAR ROSTER TO PLAY STEVIE'S MUSIC FOR "LITTLE KIDS ROCK" HONOR
Limited balcony seating on sale tomorrow, October 2
In two weeks, Steven Van Zandt will be honored by Little Kids Rock, the nation's leading nonprofit that restores and revitalizes music education in public schools. Steve will be this year's recipient of their "Big Man of the Year" award. Tomorrow (Tuesday, October 2) at 9 am EST, a limited number of balcony tickets for the event will go on sale at littlekidsrock.org/tickets.
Maureen Van Zandt and Max Weinberg will co-chair this Right to Rock Celebration, featuring performances of Steven's music by an epic lineup including Southside Johnny, Elvis Costello, Gary U.S. Bonds, Dion DiMucci, Tom Morello, Darlene Love, Jake Clemons, Jesse Malin, Kris Allen, Rubén Blades, Michael Des Barres, Michael Johns, NYC Hit Squad and other surprise guests expected to attend. The event is sponsored by the House of Marley and 1Love and will take place on Tuesday, October 16, at New York City's Manhattan Center Grand Ballroom.
Little Kids Rock's annual Right to Rock Celebration raises funds for the nonprofit to transform children's lives by restoring and revitalizing music education in disadvantaged public schools across the country. Each year, the charity presents the "Big Man of the Year" Award, an honor initially bestowed to Clarence Clemons in 2009. Last year's award was presented to Lady Gaga. This year, according to the charity, the award "will be presented to Steven Van Zandt by a very special, unannounced guest."
Tickets going on sale tomorrow are for seating in the balcony and are for the show only. Table sponsorships are still available, as are elite sponsorship packages, like a front row table that includes preferred logo placement and a Fender Telecaster autographed by Bruce Springsteen and the E Street Band, signed at the recent MetLife Stadium concerts.
The Right to Rock Celebration will also feature live and silent auctions (opening online this week and concluding live at the October 16 event). Balcony ticketholders can bid in the auction online and at the show if they download the Bid Pal application on their smart phones.
To purchase tickets or sponsorships, visit: littlekidsrock.org/tickets
- October 1, 2012

B.Y.O.C. (BRING YOUR OWN CAKE)
Tonight, Springsteen's birthday show from last Saturday night (into Sunday morning) has its E Street Radio debut. This storm-delayed MetLife Stadium show featured five tour premieres, guest Gary U.S. Bonds, and Bruce's mom and other family onstage at the end for cake. And you won't have to stay up until 2am! Broadcast begins tonight at 8pm Eastern. But click here a couple hours in advance if you want to set the scene.
- September 29, 2012

FIRST LISTEN: MEOLA REVISITS DARKNESS ROADTRIP ON BTB PODCAST

After a lengthy hiatus, Beyond the Boss is ramping up production again with new episodes to be released throughout the fall and winter. The documentary-style podcast will feature an in-depth interview with Brian Williams, as well as a multi-part series devoted to three eminent Springsteen photographers: Eric Meola, Frank Stefanko, and Danny Clinch.
To help celebrate the release of Meola's Streets of Fire, BTB producer Neil Van Harte offers Backstreets a preview of what's to come, with a first-person account of the now-famous road trip Meola took with Springsteen and Steven Van Zandt during the production of Darkness on the Edge of Town.
Meola recounted his experience in a beautifully written essay we posted a couple of days ago. This new companion piece adds Meola's own voice to the story, taking you along for the ride and providing unique insight to Springsteen's process of songwriting.
Streets of Fire: Bruce Springsteen in Photographs and Lyrics 1977-1979 is available now from Backstreet Records. Check out existing episodes of Beyond the Boss at beyondtheboss.com. We'll alert you to new episodes once they are released.
- September 27, 2012 - photograph by Eric Meola

FAITH REWARDED: THE BATTLES OF BETTYE LAVETTE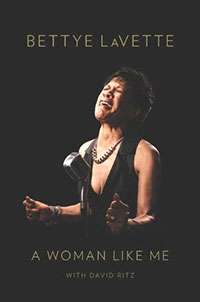 Witnessing an artist like Bruce Springsteen approach his mid-60s while still firing on all cylinders is a joyful and inspiring experience. It's one that should never be taken for granted, either, given popular music's long history of heroes and heroines gone too soon, artistically and/or physically.
Another veteran musician still going strong is singer Bettye LaVette, who's just around the same age as Bruce. Unlike Springsteen, however, LaVette's long career in music never garnered as much attention as it has over just these past few years. After many struggles and near-misses, LaVette's "big breakthrough" moment (at least here in the U.S., since Europe took notice much earlier) was marked by her amazing performance of The Who's "Love, Reign O'er Me" at the 2008 Kennedy Center Honors, featuring Shane Fontayne, of Springsteen's 1992-93 band, on guitar. The broadcast of that performance, which quickly went the viral-video route, confirmed for many what went largely unknown for far too long: Bettye LaVette is one of our greatest interpretative singers. A short time later, LaVette performed (again with Fontayne in the backing band) at the "We Are One" Obama Inaugural Celebration at the Lincoln Memorial, which also featured Springsteen.
One year prior to her triumph at the Kennedy Center Honors, LaVette recorded a heartbreaking version of Springsteen's "Streets of Philadelphia." In her new autobiography, A Woman Like Me, LaVette provides a very moving account of how she approached her recording of "Streets." On the day before the recording session, LaVette happened to be in Philadelphia for the funeral of her ex-husband Donnie Sadler, who was only in his 50s when he died after suffering a long, painful battle with multiple sclerosis. She writes:
His demise had been slow and devastating. He was down to skin and bone. I sat in church and thought about that period in my life when Donnie had represented the hope of a future that never materialized for either of us. Death at an early age, especially for a man as sweet as Donnie, is inconsolably tragic.... ["Streets of Philadelphia"] was written about AIDS... and while I had many dear friends who were struck down by that disease, I was thinking of Donnie's battle with MS when I sang about how he'd been bruised and battered, how his legs felt like stone, and how he was unable to recognize himself in the mirror.
LaVette's book (co-written with David Ritz) is a riveting odyssey through her life and career, featuring candid behind-the-scenes encounters with many legendary music figures. Its publication today is accompanied by a New York book-signing appearance and this week's release of her new album, Thankful N' Thoughtful. Her ongoing concert tour includes shows this weekend in New York and back on the streets of Philadelphia. Visit BettyeLaVette.com for tour details and catch one of her live performances if you can.
- September 27, 2012 - Shawn Poole reporting


HELP KICKSTART STEVEN'S VISION FOR RASCALS REUNION SHOWS
In 1997, Little Steven famously inducted the Rascals into the Rock and Roll Hall of Fame. We say famously because it's these six minutes, above, that inspired Sopranos creator David Chase to cast him as Silvio Dante. But it oughtta be famous for Steve's passion, authority, humor, and delivery, too.
Thirteen years later, Steve and his wife Maureen took their role as KACF's 2010 "A Night to Remember" honorees seriously enough to put together a legendary night of entertainment: a Rascals reunion, featuring the four original members back together for their first show in decades. Steve and Springsteen even joined in at this small, private gig, on the Young Rascals classic "Good Lovin'." At the time, Steve said, "Of course my hope is they can stay together and finally show the world why they are one of Rock and Roll history's greatest bands."
Now, Steven is going "all in" to make it happen. His new Kickstarter project describes a monumental effort in the works to produce a series of Rascals reunion concerts this December at the Capitol Theatre in Port Chester, New York. He's teaming up with Marc Brickman, Springsteen's brilliant lighting designer for many years. "To do justice to the Rascals' importance," Steve says, "I've written a show for them that is just as unique as they are. It's called 'Once Upon a Dream'.... The show will be an uplifting inspiration for you fans that have been waiting all these years, praying for a Rascals comeback, and those of you who are younger will get a real taste of the '60's you missed the first time around. Me and Marc have invested our time, money, and blood these last few years for this idea and now we need you to bring it home."
The Kickstarter video:
In a series of tweets, Stevie writes: "We're trying something that's never been done before. It's the only way to introduce this amazing group to a new generation. The original 4! It will be a combination live concert and mixed media theatrical event [to] tell their story and, through their songs, the story of the '60's. My partner and co-director is the amazing Marc Brickman. Bruce's first lightman and then did Pink Floyd, McCartney, Roger Waters' new Wall. Marc's done the Olympics, Blue Man Group, countless great things. He's the only guy alive who can do visual justice to this legendary band. Three years to find a venue owner who believed in the vision. Peter Shapiro [who restored the Capitol Theare] is the guy. The creator of Brooklyn Bowl is a visionary himself. This means everything to me. I'm all in. Everything I can afford and more. The fans will decide if the show is epic, or monumentally epic!"
Help make it monumental by backing The Rascals "Once Upon A Dream" Reunion Shows on Kickstarter, with some remarkable pledge rewards available.
- September 26, 2012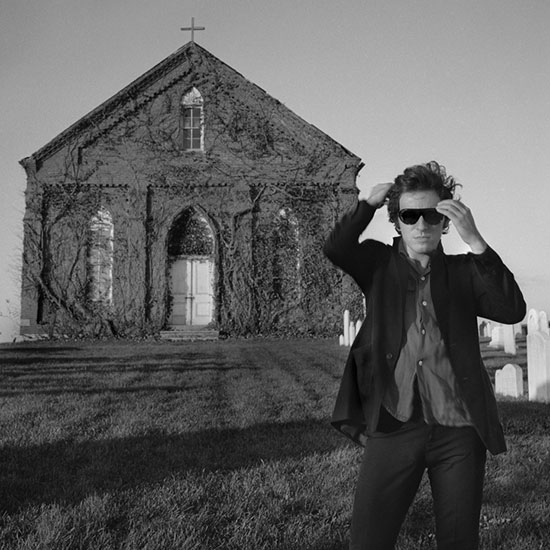 ERIC MEOLA AND BRUCE SPRINGSTEEN GO WEST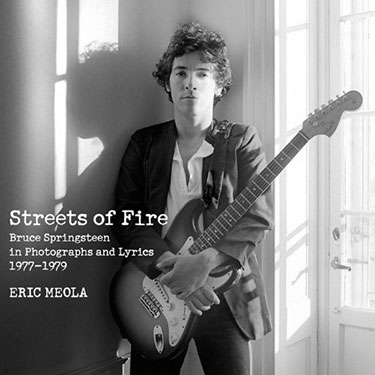 Today is the official release date for Eric Meola's Streets of Fire: Bruce Springsteen in Photographs and Lyrics 1977-1979. A collection of Meola's rarely seen Darkness-era photographs (the follow-up to his now out-of-print Born to Run: The Unseen Photos), Streets of Fire is a must-have for Springsteen fans. The 10" x 10" hardcover is available now in our online shop, and in stock as of today.
To mark the occasion, Meola shares with us a number of his striking photos from the period along with this passage excerpted from his new book — a look back at his 1977 trip west with Springsteen that wound up giving us the cover of The Promise album decades later and sparked the lyrics to "The Promised Land."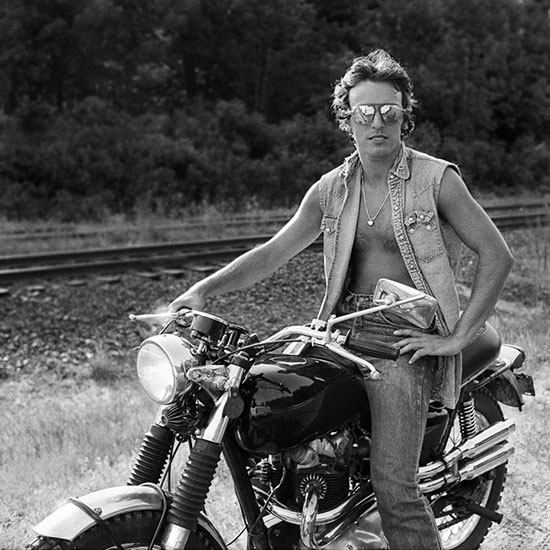 In preparation for a location to make photographs for the new album, I spent days looking at maps, and then settled on a stretch of Route 80 between Salt Lake City, Utah and Reno, Nevada. Finally, in early August the plans came together — we would fly out to Salt Lake City, find an old car, and drive it across the desert to Reno. A week later, the day before we were due to leave, we were unnerved by the news that Elvis Presley died — an event which Bruce would weave into one of the dozens of songs he was working on.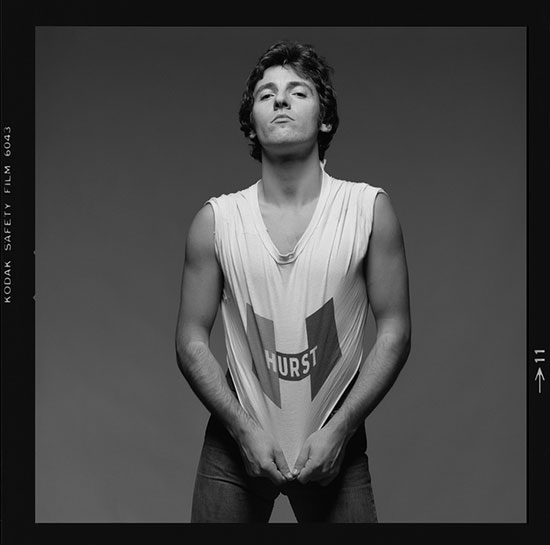 Just before we headed west, Bruce got his first credit card. Prior to Born to Run, he couldn't afford one. After it, there were people on staff who just took care of things. I think Bruce's lawyer had arranged for the card in case we got stranded somewhere. This wasn't the Lewis and Clark expedition—it was Bruce and me. Nonetheless, we didn't want to make it through the Donner Pass only to have our credit run out at Brenda's Café.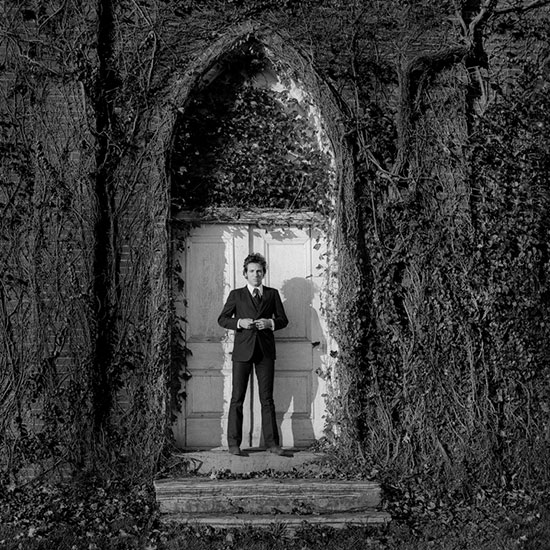 I remember how bemused Bruce was with that thin plastic card, the gold sheen of it gleaming in the sun as he waved it in the air, and sardonically announced that now we had "the 'world of respect,' yes sir, the 'world of respect.' " Bruce polished off the delivery with his trademark double-shot "heh heh," and then he bent over and broke up in a paroxysm of laughter, the tears running down his face.
We flew to Salt Lake City on schedule, and spent an afternoon in used car lots, finally settling on a red convertible — a 1965 Ford Galaxie 500XL with bucket seats. We decided to rent it for a week. Bruce put down $300 as a security deposit and we headed towards the Great Salt Lake and the Wendover flats.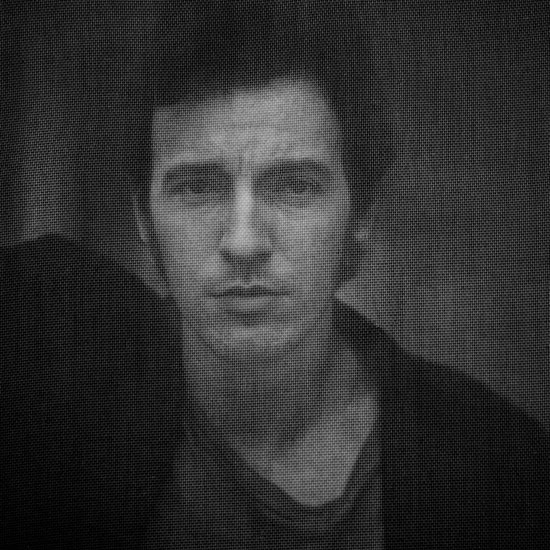 After driving all day and most of the night, we pulled over in Elko, Nevada. Eventually I fell asleep on the hood of the Galaxie, staring up at the stars, while Bruce spread out in the back seat. I remember the eerie, mesmerizing sound of dogs howling all along Main Street, as if something ominous was being foretold in a Cormac McCarthy novel.
The next day, as we continued west I was focused more on the vast desert landscapes and less on Bruce and our journey. That vision of a road trip — of an empty landscape without Springsteen — would have to wait for David Michael Kennedy's stark, chilling photograph through a car windshield that would appear on the cover of Nebraska.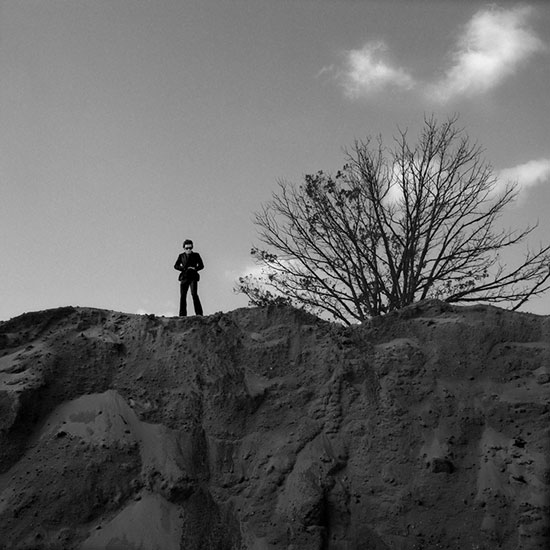 The conversation during our drive across the desert was mainly about the "Memphis Mafia," and Elvis. Then, something happened that was... well, almost biblical. We had come to a place in Nevada marked Unionville on the map, just to the west of Battle Mountain. Nearby, there was an abandoned one-room schoolhouse and a cabin where Mark Twain once lived while writing Roughing It. I took some photographs of the dirt road, and of Bruce driving towards the camera as the sky began to darken. But Bruce was restless, so we left the road at Unionville, and grabbed a bite to eat at a nearby roadside cafe.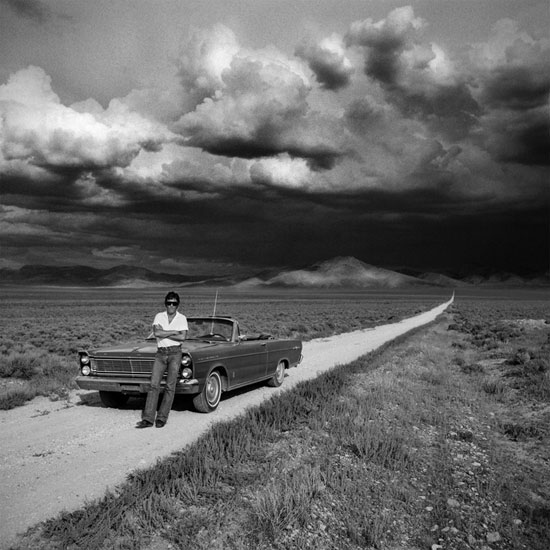 When we got back on the road, the sky had gone black and the wind had come up. I photographed some more, including a shot of Bruce in front of the car, leaning on the hood — a long, thin, dusty dirt road going off in the distance behind him, disappearing over Battle Mountain. It began to rain and flashes of lightning filled the valley floor. It was one of those moments that stay with you to the grave. There was that strong, fresh smell of ozone after lightning has cleared the air, and the feel of moisture mixed with dry desert wind — something I had felt only once before.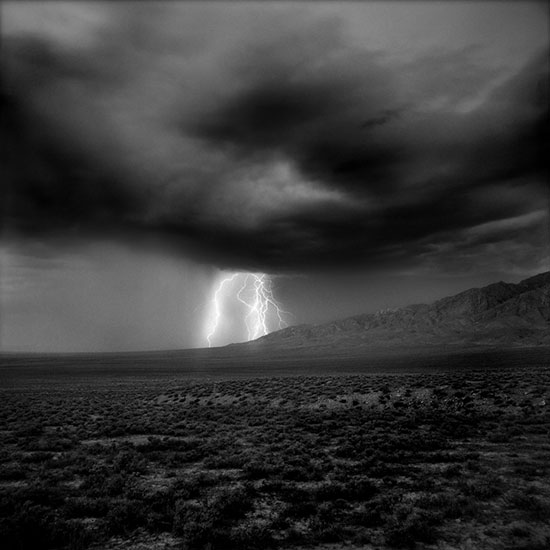 Weeks later, I would be haunted when I heard the lyrics to "The Promised Land":
There's a dark cloud rising from the desert floor
I packed my bags and I'm heading straight into the storm
Gonna be a twister to blow everything down
That ain't got the faith to stand its ground...
The dogs on Main Street howl
'cause they understand...
Order Streets of Fire now from Backstreet Records
Backstreet Records customers who ordered one of our promised stash of 500 signed hardbacks (now sold out): Eric is signing those this week in New York. As soon as the signed books arrive here, we'll turn them right around and get yours right out to you. (Customers who ordered the oversized limited edition package, those are due in November).
- September 25, 2012 - photographs by Eric Meola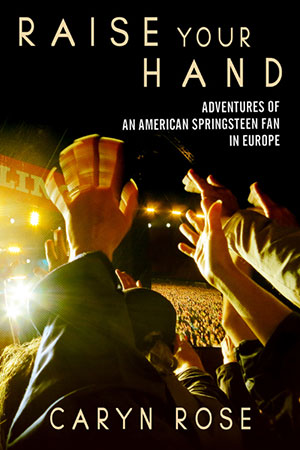 ROCKIN' ALL OVER THE WORLD
Eighteen days, five countries, and seven concerts: this was how long-time Springsteen chronicler and veteran Backstreets contributor Caryn Rose spent her summer vacation, following the Wrecking Ball tour from Paris to Prague to Vienna to London to Dublin. You've read her reports from those shows here on Backstreets.com; if you enjoyed her writing, we highly recommend her new eBook about the experience, Raise Your Hand: Adventures of an American Springsteen Fan in Europe.
Part travelogue and part rock 'n' roll love letter, Raise Your Hand has Rose taking you with her every step of the way: queuing in the rain, sleeping on the sidewalk, and watching Paul McCartney from the front row in London.
Available now: the eBook short is just $2.99 and formatted for pretty much whatever device:
Raise Your Hand also features an excerpt from Rose's debut novel, B-sides and Broken Hearts. Follow her online at jukeboxgraduate.com and Facebook.
- September 25, 2012



COME ON BABY, THE LAUGH'S ON ME
The Stand Up for Heroes benefit has been an annual event for Bruce Springsteen, raising funds for injured service members, veterans, and their families. A tour year is no exception. On November 8, 2012, in between the Louisville and St. Paul stops of the Wrecking Ball tour, he'll be playing the Beacon Theatre in NYC (and likely telling a corny joke or two) to once again support the Bob Woodruff Foundation. The Max Weinberg Big Band will be there too. Visit remind.org for more information and to purchase tickets, available now.
- September 24, 2012


ASBURY ANGELS MEMORIALIZED WITH BOARDWALK OF FAME
In a brief ceremony yesterday afternoon, the first 11 Asbury Angels inductees were honored with plaques comprising a "Boardwalk of Fame" on the Asbury Park boardwalk. Promoter Tony Pallagrosi, founder of the Asbury Angels Foundation, hosted the event, which revealed the public installation of the plaques on benches located along the boardwalk.
The inductees were chosen for their individual contributions to Asbury Park's music community, and include a diverse array of talent, from musicians to promoters and club owners. The mission of the foundation is "To honor and memorialize the lives and significant contributions of members of the Asbury Park musical community who have passed on" through concert events, the memorial plaques and a permanent, interactive web site containing biographical information as well as a history of Asbury Park's music scene.
At the ceremony, Pallagrosi introduced each Angel by reading a brief biography, after which the plaques were revealed. Without the Asbury Angels Project, many of these once-prominent figures would be forgotten, said Pallagrosi, who added, "Asbury Angels was created so that will not happen."
Event attendees included a virtual who's who of Asbury Park music history, including Billy Brown and Ron Coleman of The Broadways, former Steel Mill manager Carl "Tinker" West, bandmates Steve Schraeger and Tony "Bocciagalupe" Amato, and Carrie Potter-Devening, granddaughter of Tom and Margaret Potter of the Upstage Club. At the conclusion of the ceremony, many stuck around to reminisce and view the newly-installed plaques adjacent to the sparkling Atlantic.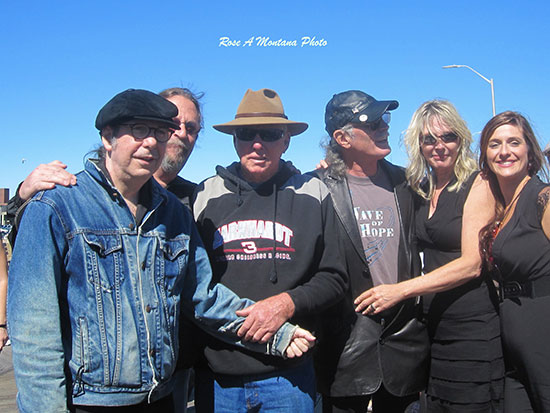 [Above: Billy Hector, Kevin J. Allen, Carl "Tinker" West, Vini "Mad Dog" Lopez, Terry Chinnock, Carrie Potter]
Future inductees will be announced at an annual Asbury Angels concert to be held on Light of Day weekend. Next year's concert is set for Friday, January 18, 2013. Please visit www.asburyangels.com for further information on the foundation, or to contribute your own photos, video or testimonials about individual inductees.
- September 24, 2012 - Lisa Iannucci reporting - video and photograph by Rose A. Montana



9/22: WELL PAST THE MIDNIGHT HOUR, A BIRTHDAY TO REMEMBER
Of all the Bruce Facts I have at my fingertips, Latest-Ending Stadium Show isn't one of them. But I have to think that 1:55 AM has a decent shot at the title. So without trying to rate or rank the three 2012 MetLife Stadium shows, how will Night 3 be known? Certainly by at least one of the following:
1) THE ONE WITH THE RAIN DELAY
With the National Weather Service announcing severe thunderstorms moving in, just the field was cleared in the hour before the show's expected start time. Then, at 8:30pm, the entire "seating bowl" was evacuated, and everyone found a place inside the building. The rain came shortly thereafter, quite heavy at times, and a bolt or two of lightning — the real issue — was spotted.
So an air of boredom, anticipation, and worry set in over the hallways and access ramps. Would the show happen at all? What's the curfew situation? Would the show have to be shortened? Will public transportation and shuttle buses still be running? Will the babysitter stay late? If the show is cancelled, do we need to rearrange our plans for tomorrow? Beer sales seemed to be going through the roof; would the crowd still be standing if the show was given the green light?
If Bruce ever tours for Amnesty International again, please have them look into MetLife stadium's need to have the "Please clear the field" announcement playing incredibly loudly on an endless loop for the entire hour-and-a-half of the evacuation. It bordered on the surreal, and I'd have given up many state secrets to get them to turn that off.
At 10pm, the all-clear was announced, and the crowd reentered the seating bowl. This all happened relatively orderly, though my heart goes out to GA folks who had waited a long time to get a spot down front. That territory was not easily reclaimed. The walk-on music ("In the Midnight Hour"... ha!) kicked in at 10:30pm and the band briskly got to their places. Deciphering their sprint was the first in a series of efforts to try and read the tea leaves: was this going to be a regular show or an Express version? It turned out, of course, that the band played a full show, but no one knew what was coming. Bruce didn't address it one way or the other, and the intensity of the first run of the show put those worries to the side. The eight-song run up to and including "We Take Care of Our Own" was smoking hot, and the first five seemed to be audibles. Tour premiere "Cynthia" was announced as one of Little Steven's favorites. "A little E Street Underground Garage," said Bruce, and if previous live versions had failed to thrill some, this worked nicely. "Cover Me" was part of a wet-weather three-fer (with "Who'll Stop the Rain" and "Downbound Train"), and the time the song has spent on the bench has served it well — Bruce sang the heck out of this one with some extended blistering guitar work. We were off and running. But where to?
2) THE ONE WITH THE BIRTHDAY
When Bruce took the stage for the first time, he came to the lip to check out the rain. Though it was drizzling, he gestured "Eh, no problem." Then he came to his mic to say, "I think I just invited 55,000 people to my birthday party!" And with the late start, it was official that we'd all be together when Bruce turned 63 at midnight. He referenced his birthday several times over the night, but only in Jersey would the audience start spontaneously singing "Happy Birthday" when midnight arrived right as "Janey Don't You Lose Heart" was ending. "Let me hear it!" said Bruce, "Is it midnight?" As the crowd finished, Bruce shouted out the keys to "In the Midnight Hour" and we were off and running with another great tour premier to follow "Janey." (While we're here, "Janey" was a welcome change-up in the show, a bit of mellow beauty with a nice Ed Manion solo and some sweet harmonies from Nils.)
At the end of the night, after "Tenth Avenue," Bruce's family wheeled a Telecaster-decorated cake onstage. His mom, Adele, and sis, Ginny, were there, along with his mother-in-law and brother-in-law, too. A fun, beautiful moment to share, and Bruce seemed surprised enough that he was clearly trying to figure out how to all at once introduce and corral his family, blow out some candles ("Don't light them all, I just winded myself!"), and try to keep the crowd engaged. He handed out a couple pieces of cake to the crowd, including, as Steve said, the "band's first fan," Obie. With everyone onstage, now what? "Twist and Shout," with Adele and others taking the harmony parts. But the band was only allowed to start playing after Bruce stuffed some tissue in his mother's ears: "It's loud over there," said Bruce, "Can a boy deafen his mother on his birthday?"
3) THE ONE WITH JUNGLELAND (AND MEETING ACROSS THE RIVER)
Overall a nice balance in the song selection tonight, including a guest re-appearance by Gary U.S. Bonds. At first they appeared set to do only "Jole Blon," as Bonds headed back down the ramp at the song's close. Uh-oh... another sign of a shortened show? But Bruce called him back up for a repeat of Night 2's Bonds two-fer. At this rate, maybe he'd come back out at 2:45am for "Quarter to Three"? (Sadly, no.)
"Pay Me My Money Down" perhaps wasn't quite what the crowded wanted at the time, but the horns showpiece made up for it. And tour premiere "Into the Fire," dedicated to fallen firefighter Rich Nappi, resonated.
But would he do "Jungleland"? Night 3 in Jersey, he had to, right? And as Curt Ramm came forward to begin the tour premiere of "Meeting Across the River," the crowd realized what was about to happen.
Jake performed The Solo a few times over the summer, but now Jersey got to see it. It was a thing of beauty. All at once you're enjoying the song and the sound... and you're thinking about Clarence, and you're rooting for Jake, and you're maybe a little nervous for him... and you're watching him nail it in front of 55,000 people. Bruce hugged him at the end, and that didn't feel staged. Then the powerful vocal closing with the verse sung (not spoken) and the howling wails. That capped the main set and made a memory.
And so a show with intermittent rain that started two hours later than expected ended after almost three-and-a-half hours. As I scan the upper deck at 1:50 in the morning, it remains packed with people dancing the night away. Bruce is busy running up and down the steps, cutting and serving cake to the crowd and wiping frosting off his guitar strings. Nicely done, band. Nicely done, Jersey. Happy birthday, Bruce.
For the setlist and this and all other Wrecking Ball shows to date,
visit our Setlists page
- Updated September 23, 2012 - Jon Phillips reporting - photographs by A.M. Saddler (1,4-7,9) and Guy Aceto (2,3,8)

30 YEARS AGO TODAY: BRUCE SPRINGSTEEN RELEASES NEBRASKA
A lonesome highway's worth of history, and a brand-new benefit album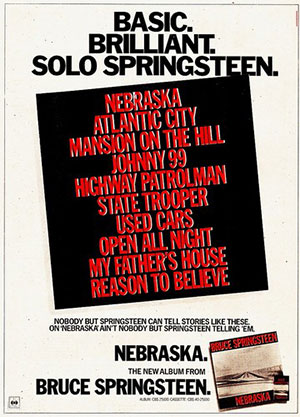 On January 3 of this year, we commemorated the 30th anniversary of the recordings that led to Nebraska, what we labeled then (and still consider now, of course) "one of the most personal and unique albums ever released by Bruce Springsteen or any other popular musician." Today marks the 30th anniversary of the day that ten of Bruce's homemade cassette recordings finally became his sixth officially released album.
Consider this recent statement on Nebraska's continued relevance and importance: "This record lasts. It's a weapon against the forces of that cruel divide. 'Down here it's just winners and losers, and don't get caught on the wrong side of that line.' It's for when you're grasping the bottom rung, and there's a boot on your hand. How do you make a move when you're boxed-in, predestined to lose, and the rules are written against you, and your past is against you, you're in debt with no end in sight, and there's no honest work to be found? This record lasts so you can use it when you're stuck on that losing side because, at least so far, that cruel divide lasts, too."
That's from Nick Panken of Spirit Family Reunion, one of the contributors to Long Distance Salvation: A Tribute to Bruce Springsteen's Nebraska. The new tribute/benefit album, conceived and organized by music writer Scott Pingeton, drops today to celebrate the 30th anniversary. All proceeds from the sale of the album will benefit Project Bread. Stream the whole thing here, and purchase as digital files or limited edition colored vinyl from bandcamp.com.
The release of Nebraska didn't happen without Springsteen and some of his key collaborators first addressing some very unique problems in mastering and marketing this strange but wonderful record. Tascam, the recording-equipment company that once sold the Portastudio system used to create the tracks that became Nebraska, has archived online an interview with Bruce's longtime recording collaborator Toby Scott. Scott details the difficulties involved in mastering Nebraska for LP listening, at a time when LPs still were among the common media for recorded music. Pages 358-361 of Dave Marsh's Two Hearts biography also provide an important supplement to Scott's story by detailing the role of another longtime Springsteen collaborator, Chuck Plotkin, in the process.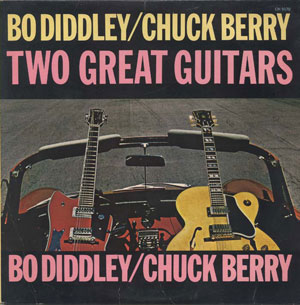 In a 1986 interview with Backstreets (issue #16, now out of print), Nebraska album cover designer Andrea Klein revealed that the album Two Great Guitars, by Chuck Berry and Bo Diddley, was a key reference for the look that Bruce wanted for the Nebraska cover's design and lettering. (Coincidentally, Two Great Guitars featured a version of "When The Saints Go Marching In," which Springsteen would perform later with another folk-influenced project, the Seeger Sessions Band). The Nebraska cover photo selected by Klein and Springsteen was taken by photographer David Michael Kennedy during the mid-1970s. It shares the Berry/Diddley album-cover's perspective of a view from behind the windshield of a car, while simultaneously evoking the much bleaker perspective of the music on Springsteen's album. Kennedy also worked directly with Springsteen on a Nebraska photo shoot that produced some beautiful shots of Bruce, one of which was included on the album-cover's inner sleeve [below].
Last December, Paul "Rap" Rappaport, former Columbia Records Senior VP of radio promotion and marketing (and longtime Springsteen fan,) was a special guest on E Street Radio's Live from the E Street Nation with Dave Marsh. Rappaport related the fascinating story of how he applied leverage needed to ensure that Nebraska would get its fair chance on early-'80s rock radio. While traveling with them in a limousine each day to a series of business meetings at Billy Joel's home, Rappaport played an advance copy of Nebraska over the limo's sound system for four of the nation's top rock-radio consultants:
These guys are like, "Well, y'know, hmmm.... Maybe we'll kinda start this off, like, in a light rotation."... I was like, "No, no, no, no, no. It's Bruce Springsteen. We're gonna start it off in heavy rotation, and we're gonna play it in heavy for, like, three or four weeks, and then if people don't like it as much as some of the other stuff, then we'll back it off... but it's Bruce." And they're lookin' at me. and I'm goin', "Guys... This is what's gonna happen. Otherwise, you're gonna lose my phone number, and my phone number is Bruce Springsteen, the Rolling Stones, Pink Floyd, Santana, Bob Dylan...."

They were like, "You're gonna hold us up?!" And I said, "I would only hold you up for one guy, and it's Bruce. So if you think it's a hold-up, call it what you will. But when this record comes out, it's going into heavy rotation." And it did.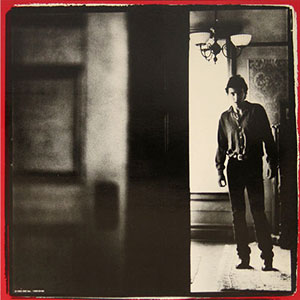 When the record was finally released, while it surprised no one that it didn't achieve the sales of some of Springsteen's previous rock records, it still sold respectfully and, more importantly, was embraced immediately by many critics and fans as one of Bruce's greatest artistic achievements. The strong positive response to Nebraska came despite it being both the first officially released Springsteen album recorded without the E Street Band (or any musicians other than Bruce) and the first Springsteen record not accompanied by a concert tour, in addition to its folk-oriented musical focus on acoustic guitar and harmonica at a time when high-tech electronics dominated the trends in popular music.
In honor of this 30th anniversary, the Friends of the Bruce Springsteen Special Collection's blog has posted a wonderful new round-up of international reviews of Nebraska written shortly after the album's release. Many of the reviews have been translated into English for the first time, offering English-only readers their first chances at some very interesting perspectives on the album.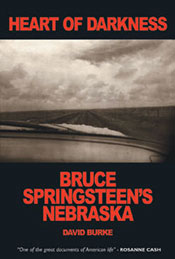 Fans of Nebraska also may want to check out David Burke's Heart of Darkness: Bruce Springsteen's Nebraska. Burke details much of the history behind the album (including its less favorable critical reception in Britain), analyzes other Springsteen albums in relation to Nebraska and shares the perspectives of many musicians greatly influenced by the record, among them Roseanne Cash, Steve Earle, Thea Gilmore and David Gray. The book provides a wealth of Nebraska-related factoids and opinions.
And speaking of artists influenced by Nebraska, E Street Radio's weekly show Cover Me, hosted by Nick Masi, will be playing an hour of Nebraska songs covered by other artists next week. The special Nebraska-themed episode will air on Tuesday, Sept. 25, from 6-7pm on Sirius/XM channel 20. Repeat broadcasts will air Sept. 26 at 12am, Sept. 27 at 3pm, Sept. 29 at 4pm, and Sept. 30 at 10pm (all times ET).
And finally there's this, to help us keep at least a few of those many hosannas for Nebraska over the past 30 years in proper perspective.
- September 20, 2012 - Shawn Poole reporting

HELPING THE HUNGRY AT THE NEW JERSEY SHOWS
With a chance for a pit upgrade, by donating 5 or more non-perishables
Springsteen has a long history of helping local food banks and hunger-fighting organizations at each stop on his tours. As the E Street Band pulls into the Meadowlands tonight, there are two local charities that will benefit from his efforts, and those of fans: Table to Table, and the Community FoodBank of New Jersey.
Tonight, representatives from Table to Table will be on hand to collect donations. Table to Table is a community-based, food rescue program that collects prepared and perishable food that would otherwise be wasted and delivers it to organizations that serve the hungry in Bergen, Hudson, Essex and Passaic counties.
Friday and Saturday, the featured charity will be the Community FoodBank of New Jersey. They'll be collecting food donations at the shows and ticket holders who bring five or more items will have a chance to be upgraded to the pit. Here's how it works:
For every five (5) food items you bring, you will get one (1) raffle ticket for a chance to be upgraded to the pit for you and a guest. (10 items = 2 raffle tickets, 15 items = 3 raffle tickets, etc.) Donations under 5 items are still appreciated but you will not receive a raffle ticket.
Food and cash donations can be dropped off at the Food Bank trucks outside the Stadium near the Verizon Gate (adjacent to the Pedestrian Bridge) and on the roadway to the right of the MetLife Gate beginning at 4:00 p.m. and at collection bins in MetLife Central and on the 100 Concourse beginning at 6:00 p.m.
Please bring non-perishable food items (example: peanut butter, tuna fish, canned meats, soups or pasta). Food cannot be accepted that is in glass containers or wrapped in cellophane.
Before the concert starts, a representative of the Community Food Bank of New Jersey will announce the winning ticket number on stage. The winner and a guest will have access to the pit no matter what type of ticket they have.
Please be generous when donating: a few dollars can significantly help the amount of food that can be distributed to those in need.
- September 19, 2012

HONORING ASBURY PARK'S ANGELS THIS WEEKEND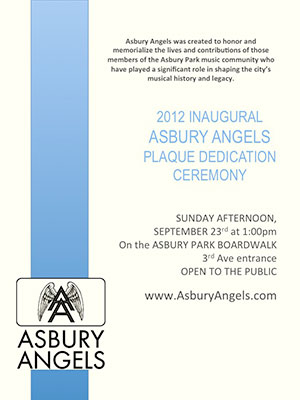 On Sunday September 23 at 1pm, the Asbury Angels Foundation will reveal eleven plaques denoting its first group of inductees — a "Boardwalk of Fame" — on the Asbury Park boardwalk. The foundation, an offshoot of the highly successful Light of Day benefits, will honor each inductee with a plaque featuring brief biographical information and a link to the Asbury Angels website, which contains more detailed information as well as a history of Asbury Park''s music scene.
Inductees for 2012 include: band leader and famed trombonist Arthur Pryor; concert promoter Moe Septee; West Side pioneer Joe Major; Upstage Club owners Tom and Margaret Potter; E Street Band keyboardist Danny Federici; Clarence Clemons, E Street Band saxophone player; Larry "Bozo" Blasco, tour manager and technician; keyboard player Bobby Alfano, a member of many Shore area bands including Bruce Springsteen's first band, The Castiles; singer-songwriter Bill Chinnock; and bass player John Luraschi, an Upstage Club veteran who was a key part of many Shore groups.
Among those on hand will be artist Carrie Potter-Devening, granddaughter of Tom and Margaret Potter, whose 2011 book For Music's Sake explores the history of Asbury Park's legendary Upstage Club through interviews and photographs of rarely seen images and artwork from the venue. Potter will be offering a brief presentation on the book at which she will be displaying some of her artistic creations on Saturday, September 22 at noon in the Asbury Park Arcade on Cookman Avenue.
The original Upstage building was purchased several years ago, and plans remain in place to restore it as an arts venue, but to date there has been little movement in that direction and the building still sits empty. Potter remains hopeful that her book — which will soon feature audio and video features in its e-book format — will keep this vision alive. "Books are powerful things, and they can really drive momentum," she says.
The foundation will induct 10-15 honorees each year at an annual Asbury Angels concert to be held on Light of Day weekend. Next year's concert is set for Friday, January 18, 2013. Eligible for induction are musicians, songwriters, disc jockeys, writers, technical support staff and club and venue owners who have been deceased at least one year.
Ceremonies will be held at the 3rd Avenue entrance to the boardwalk, and are open to the public.
For information on the Asbury Angels project, please visit www.asburyangels.com.
- September 19, 2012 - Lisa Iannucci reporting

ROLL CALL: ROY BITTAN IN THE HOUSE
Gearing up for the E Street Band's MetLife Stadium stand, which begins tomorrow, the Star-Ledger spoke with Roy Bittan — as Tris McCall describes him, "A master of shading and a firm believer in melody... the Merlin on Bruce Springsteen's elbow, one of the undeniable cornerstones of the band and an instrumentalist with an unmistakable signature." Roy (who you won't find in the papers as much as, say Steve or Nils) talks about his style and his career with Springsteen, including the call in 1989. The profile also includes tributes from Jukes pianist Jeff Kazee and former Hold Steady keyboardist Franz Nicloay:"Roy Bittan essentially wrote the modern book on how to be a piano player in a guitar player's world."
Read: "Roy Bittan interview: spotlight on key member of the E Street Band"
- September 18, 2012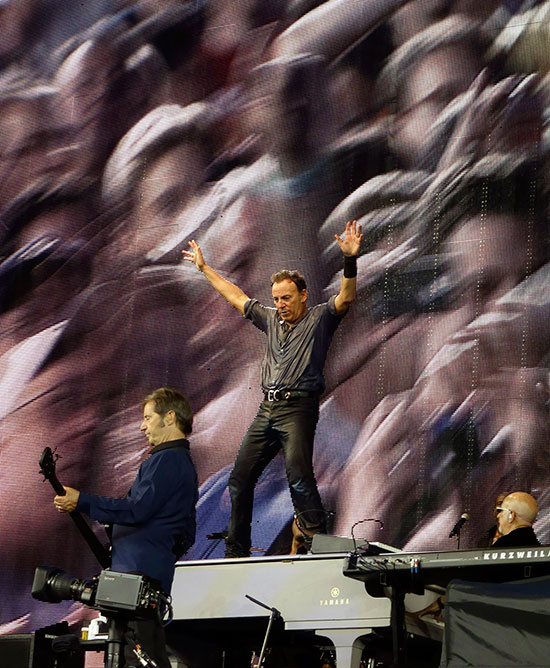 MAN AT THE TOP
At Springsteen's most recent show, in Washington DC, Chief Official White House Photographer (and Bruce fan) Pete Souza was once again in the crowd and shares a few shots with us here.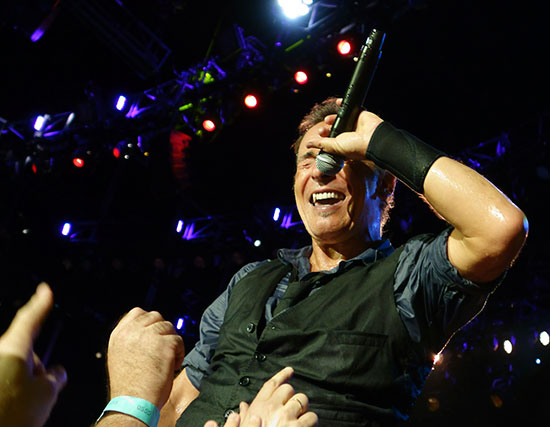 For more about Pete, who also served as Official White House Photographer during Reagan's second term, we highly recommend the National Geographic Special The President's Photographer: 50 Years in the Oval Office on PBS.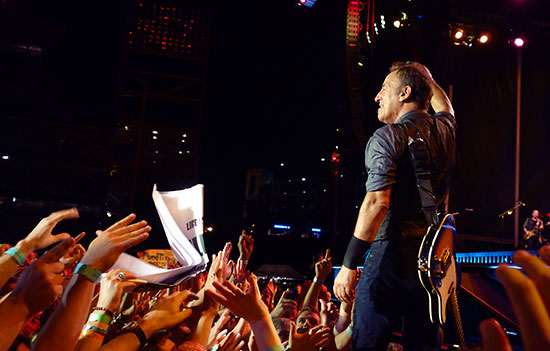 - September 18, 2012 - photographs by Pete Souza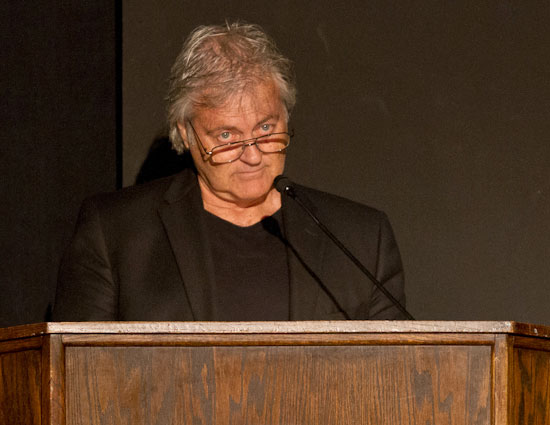 GLORY DAYS WERE HERE AGAIN
Mike Appel and more from the weekend's Springsteen Symposium
The first time Bruce Springsteen auditioned for Mike Appel [above], the man who would go on to manage the Boss was decidedly unimpressed. The two songs Springsteen played were "the most forgettable songs I ever heard in my life," Appel told an audience of Springsteen fans and scholars at the third Glory Days Symposium, an academic conference dedicated to the study of Bruce Springsteen's career. "But the one thing I did glean was the intensity with which he performed them." Appel sent Springsteen away, telling him to write more material.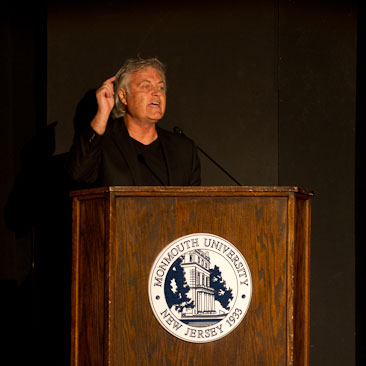 Unphased by Appel's criticism, Bruce returned several months later, this time auditioning with "It's Hard to Be a Saint in the City." The rest is history. Appel recalled his reaction: "Who anointed this guy from the last time I saw him? What's this transformation?" Though Appel's business relationship with Springsteen dissolved in 1976 in an acrimonious lawsuit, the two eventually reconciled and are friends to this day.
Fielding a question from the rapt audience, Appel also admitted that if he'd had his way, Darkness on the Edge of Town would never have existed. Instead of a studio follow-up to Born to Run, Appel advised Bruce to do a live record and give himself more time to come up with new material. Although Appel said he wasn't denigrating Darkness, he had envisioned Bruce's fourth studio album as something more in the romantic, expansive vein of Born to Run. Appel also recounted his version of what he called "the Anne Murray disaster," as well as the story of how he managed to get Springsteen simultaneously onto the covers of Time and Newsweek magazines — anecdotes that will no doubt appear in Bruce Springsteen and the E Street Band: A Rock and Roll Manifesto, a book Appel is almost done writing.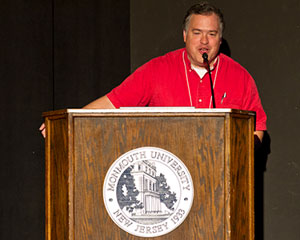 Appel's talk was just one of the highlights of the three-day symposium, held from September 14th through 16th at New Jersey's Monmouth University. The event lured 160 attendees from as far away as Australia. Founder Mark Bernhard [right], an associate provost at the University of Southern Indiana in Evansville, says, "I first ran this conference in 2005, thinking this would be a one-time conference. But due to Bruce's prolific writing, recording, and performing over the last many years, we've had fresh material to discuss at the 2009 and 2012 symposiums."
The third Glory Days symposium also featured a talk by Peter Knobler [above right], editor of Crawdaddy magazine who wrote the first interview and profile of Springsteen, as well as never-before seen photographs of Springsteen shot in 1972 by Ed Gallucci [above left], who joined Knobler at the podium. Knobler's talk was rich with anecdotes about the early years of Bruce and the band. He described the young Springsteen as a kid with a "little scraggly beard," playing an acoustic guitar and singing songs that sounded "as if somebody had opened his head and there was a little universe inside." Knobler accompanied Bruce and the band to their infamous gig inside Sing Sing maximum security prison. He described the sound system as awful and the audience as initially hostile. But when the band launched into a cover of Buddy Miles's "Them Changes," one of the prisoners ran up the aisle, jumped on stage, reached into his orange jumpsuit, pulled out an alto sax, and started wailing along with the band. The crowd went crazy.
Later that night, Knobler went to see Bruce play at Kenny's Castaways, a more conventional venue, albeit one that misspelled his name on the marquee. Knobler says he knew immediately that he was in the presence of greatness. "I'd never seen a band this tight play songs by someone who could write so well."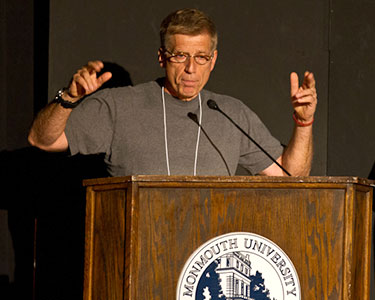 Another general session featured a reading about Bruce's upbringing as a child by Peter Ames Carlin from his forthcoming Simon and Schuster release, Bruce, a volume that also examines more recent E Street Band history, including the death of Clarence Clemons and the opening night of the Wrecking Ball tour. Other speakers included Father Kevin Keelen, a friend of the Springsteen family, who spoke on the Catholic themes and spirituality behind Bruce's music; author/historian Robert Santelli [left], who recounted Bruce's days in his early band Steel Mill; and Jim Henke of the Rock and Roll Hall of Fame, who described the creation of the From Asbury Park to the Promised Land exhibit. "Songwriters by the Sea," an afternoon concert of acoustic music, featured performances by Joe D'Urso [below left], Joe Rapolla, Joe Grushecky, Willie Nile [below right], and James Maddock, all musicians associated with the Asbury Park scene.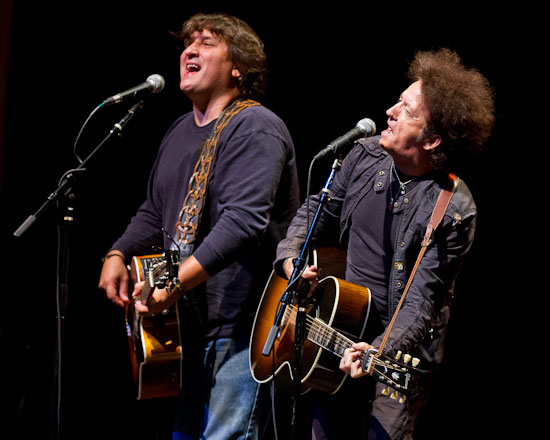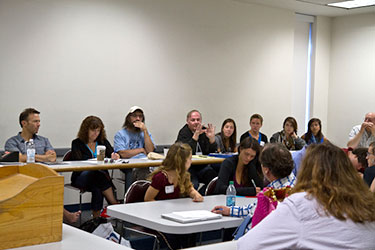 Glory Days also featured smaller breakout sessions, in which scholars from a wide range of academic fields delivered presentations with titles like "The Frontman as CEO: Bruce Springsteen as Business Leader"; "Springsteen's Characters as Case Studies: Teaching Psycho-Social Theory"; and "Jack of All Trades: Springsteen as Retro-Postmodern Artist." Another symposium highlight was the screening of Who Do I Think I Am?: A Portrait of a Journey, the recently released documentary about Clarence Clemons's travels to China from 2005 to 2010, and a question-and-answer session with director Nick Mead.
After the long and intense days of Springsteen scholarship, the symposium's attendees got a chance to let their hair down at nightly concerts at the legendary Stone Pony in Asbury Park. Grushecky and the Houserockers, Willie Nile, J. T. Bowen and the Soul Cruisers, Nick Clemons, Jobonnano and the Godsons of Soul, D'Urso and Stone Caravan, and Swedish rocker Hans Ludvigsson performed to an enthusiastic audience of music lovers. Tours of Asbury Park, Freehold, and Belmar also were available for those who wanted to walk in the footsteps of their musical hero.
- September 17, 2012 - April Lindner reporting - photographs by A.M. Saddler

METLIFE STADIUM CONCERTS THIS WEEK; SHOW INFO NOW ONLINE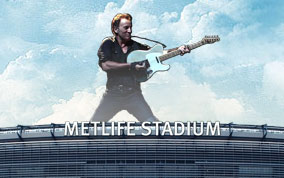 This week we're into the home stretch of Springsteen and the E Street Band's outdoor stadium shows, with just the three-night homecoming stand at the Meadowlands remaining. Bruce and the band play MetLife Stadium for the first time on Wednesday night. Visit metlifestadium.com for full show information: G.A. entry details, transportation, and an extra chance to win access to the pit by donating to the Community Food bank of New Jersey.
- September 17, 2012

TWENTY YEARS OF THE GOSPEL'S REIGN
Cleo Kennedy and the socially conscious gospel links between 1992 & 2012
Two of Bruce Springsteen's more recent Wrecking Ball concerts have featured his 1992 non-E-Street song "Human Touch." On both occasions that it's appeared in the set, right after "Jack of All Trades," it's striking to hear not only how well "Human Touch" is performed by Bruce and the 2012 E Street Band, but also how directly its lyrics speak to the character in "Jack of All Trades."
In fact, much of Springsteen's Wrecking Ball album has a strong connection to the kind of music that Bruce was making back in 1992-93, both on record and on tour. A big part of that connection has to do with gospel music. Many of the best tracks on both Human Touch and Lucky Town audibly display the influence not just of soul music, but also of the gospel singing styles from which soul sprang. On the 1992-93 tour that followed, the gospel influence became even more pronounced, just as it has on the current tour.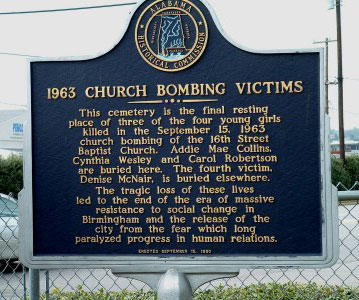 There's another very tangible and moving gospel-related link to be found between Wrecking Ball and Springsteen's 1992-93 tour. The album's closing track, "We Are Alive," is sung in the voices of various people who died while struggling for freedom and a better way of life. Among the voices is one of the four girls killed in the 1963 bombing of the 16th Street Baptist Church in Birmingham, AL, which occurred exactly 49 years ago tomorrow. The bombing was a racist terrorist attempt to cripple the burgeoning Civil Rights Movement, a movement in which the 16th Street Baptist Church played a leading role.
Before her career in pop music, Cleo Kennedy, one of the singers in Springsteen's 1992-93 touring band, frequently sang at the 16th Street Baptist Church, usually just before Dr. Martin Luther King, Jr. would deliver an inspiring speech. This was gospel music in its most politically active form, taking a moral stand for social and economic justice... very similar to the kind of gospel music that can be found on Wrecking Ball. Two of Kennedy's greatest performances from that period, "City Called Heaven" and "Yes We Want Our Freedom," were "field recordings" captured in very much the same manner as the recordings sampled throughout Wrecking Ball.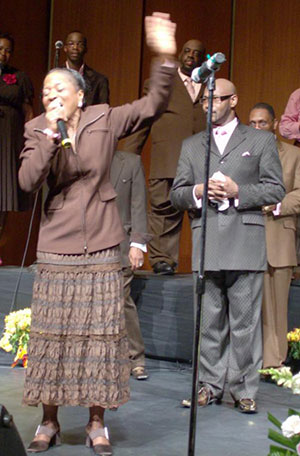 Backstreets recently had the honor of discussing Wrecking Ball with Cleo Kennedy, now in her late 60s, shortly after providing her first listen to Bruce's latest album. "I loved it. I thought it was great," she enthused. Among her favorite tracks are "Easy Money," "Jack of All Trades," "Wrecking Ball," and "Rocky Ground," while the closing track, of course, holds special personal significance. (Fortunately, Kennedy herself was not present at the 16th Street Baptist Church on the Sunday that the 1963 bombing occurred.) "'We Are Alive' really touched my heart," said Kennedy. "We are still alive, after all that we have been through and all of the stuff that happened during that time. We are still alive; we're still here, and it took a lot of faith, a lot of determination, a lot of standing up.... It took a lot for us to make it to this point.... I was involved in the [Civil Rights] Movement and I did the whole nine yards. I went to jail, and I did it all in the course of fighting for freedom, and I don't regret anything that I did because had it not been for people doing what they did up until this point, we wouldn't be where we are now. And I don't feel like we're totally where we should be anyway, but we're much further than where we would have been."
Cleo Kennedy still lives in Birmingham and remains very active in gospel music and ministry through several organizations, including the Birmingham Community Mass Choir. She still sings beautifully, hitting high notes perfectly just last year on the choir's tribute performance of "Lord Do It." Kennedy also was honored in 2008 with the University of Alabama at Birmingham's Gospel Anthology Award. For more on Cleo Kennedy's inspiring career, check out this 2003 profile, part of a larger feature on women whose lives were directly affected by the 1963 bombing. And just in case you didn't know already, Kennedy's high-note "spotlight" moment on an official Springsteen release can be found during the epic, testifyin' live version of "Roll of the Dice" included on the In Concert – MTV Plugged DVD.
- September 14, 2012 - Shawn Poole reporting - 2008 photo of Cleo Kennedy from her myspace page

HEARTS THAT RUN OVER WITH MERCY
Still looking to score a copy of For You, the highly acclaimed and collectible (sold out since '08) book of Springsteen-fan stories and photos? Here's your chance, along with a way to support a good cause, too. Lawrence Kirsch, the book's publisher, is holding a raffle to win a brand new signed copy. All proceeds from raffle ticket sales will benefit the Canada-based Terry Fox Run and National School Run Day, annual fundraising events held to support cancer research. Each $10 raffle ticket purchased gives you a chance to win the book, and a $15 ticket gives you three chances. The raffle runs through September 23. Click here to purchase tickets.
- September 13, 2012

THE OBAMA BUMP: "WE TAKE CARE" WEEKLY SALES QUADRUPLE
A week ago tonight, "We Take Care of Our Own" blasted over the DNC speakers as President Obama wrapped up his acceptance speech. Your eyes may have bugged out a little, hearing "The road of good intentions has gone dry as a bone" in that moment, but the single got a serious post-convention bounce as Billboard reports: "the song surged with a 409% sales gain. In the week ending Sept. 9, it sold 2,000 downloads — its best sales week since March.... 'We Take Care Of Our Own''s parent album, Wrecking Ball, also sees a sales increase. It rises from No. 199 to No. 112 on the Billboard 200 chart with 3,000 sold (a weekly gain of 37%)."
- September 13, 2012


I CAN FEEL THE HEAT COMIN' 'ROUND
If you're an academic type gearing up for this weekend's Glory Days symposium, then surely you'll appreciate "Springsteen in the USA: 40 Years of Touring as a Study in Spatial Diffusion." Though there aren't any course prerequisites required to appreciate a heat map animation like this, tracking Bruce's concert hotspots since 1972. Brian Timoney writes:
As a geographer, 1500+ shows over 40 years is an opportunity to map Springsteen's career as a study in spatial diffusion — how phenomenon such as innovation, fashion, or disease spread geographically. Except in this case the contagion is rock 'n' roll.
The visual information is particularly effective in the interactive map version. Click here for Timoney's full explanation, notes, and observations.
- September 13, 2012



THIS WEEKEND: THE "GLORY DAYS" SPRINGSTEEN SYMPOSIUM
Haven't registered yet? It's not too late!
There is still time to register for the upcoming Glory Days Symposium, the third of its kind, which will draw Springsteen fans and scholars from all over the world. Organized by the University of Southern Indiana with Monmouth University and Penn State Altoona, the 2012 Glory Days will run from September 14-16 with pre-conference and post-conference tours on September 13 and September 17. Events will primarily take place at Monmouth University in West Long Branch, New Jersey.
Over the course of the weekend, there will be 110 paper presentations with presenters representing 28 states and four countries. To view the abstracts and agenda, visit the Glory Days web site now! Also, be sure to check out the great line-up of speakers and performers.
For those of you who are only interested in attending the musical events at The Stone Pony in Asbury Park, tickets can be purchased online at www.stoneponyonline.com.
Symposium highights include:
Mike Appel, former manager and producer of Bruce Springsteen;
Peter Ames Carlin, author of the soon-to-be-published Simon & Schuster release Bruce;
Ed Gallucci, photographer;
Richard Harwood, founder and president of The Harwood Institute for Public Innovation;
Jim Henke, vice president of Exhibitions and curatorial for The Rock and Roll Hall of Fame;
Fr. Kevin Keelen, pastor at St. Aloysius and St. Monica parishes in Jackson, NJ and friends with the Springsteen family;
Peter Knobler, author and former editor-in-chief of Crawdaddy Magazine
Nick Mead, filmmaker and director of Who Do I Think I Am?, a documentary he made with Clarence Clemons; and
Robert Santelli, president of The Grammy Museum
Pre-Conference and Post-Conference Tours: These tours, to occur between noon and 5 p.m. on Thursday, September 13 and Monday, September 17, will include stops in Asbury Park, Belmar, and Freehold.


Just Around The Corner: This film tells the heroic story of Bob Benjamin and his fight to find a cure for Parkinson's Disease. The movie will be shown at 7 p.m. on Thursday, September 13 in Wilson Hall at Monmouth University. Tickets are $10 each with all proceeds benefiting the Light of Day Foundation.

Opening concert with Joe D'Urso and Joe Rapolla: Don't miss these Jersey Shore stalwarts. A fee of $20 gets you into this intimate show that will take place at 9 p.m. on Thursday, September 13 in Wilson Hall at Monmouth University.
Music, Music, and more Music: Confirmed performers include Joe Grushecky and the Houserockers, the Sensational Soul Cruisers featuring J.T. Bowen, Willie Nile, Joe D'Urso and Stone Caravan, the Nick Clemons Band, Jobonanno and the Godsons of Soul, James Maddock, Joe Rapolla, and Hans Ludvigsson.

Songwriters by the Sea: Three Joes (D'Urso, Rapolla, and Grushecky) along with Willie Nile and James Maddock will play at Monmouth University's beautiful Pollak Theatre from 4:15 to 6:15 p.m. on Saturday, September 13. This event is included with symposium registration, or $25 for those not attending the symposium.

Bruce Brunch Live Broadcast with Tom Cunningham on Sunday, September 16.
Visit www.usi.edu/glory-days for more information and to register now.
- September 11, 2012

ANOTHER SHOT AT A SIGNED STREETS OF FIRE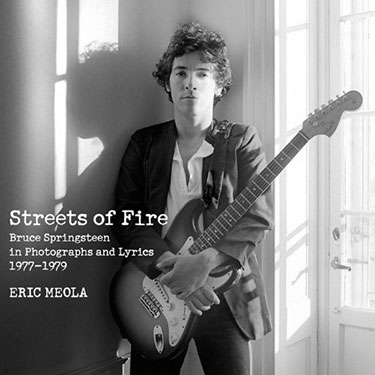 A few weeks ago, we put on sale our allocation of "special edition" copies of Eric Meola's forthcoming Springsteen book, Streets of Fire. We managed to secure one quarter of the entire limited edition... and we still sold out in less than 24 hours.

So we asked Eric if he'd do something special for those who missed out, and he stepped right up. The photographer and author is signing 500 copies of the first edition hardcover especially for Backstreets readers, and we're now taking pre-orders.
Streets of Fire: Bruce Springsteen in Photographs and Lyrics, 1977-1979 is due later this month from HarperCollins. The 10" x 10" hardcover will feature 128 pages with more than 70 striking black-and-white photographs, some never before published, along with personal essays from Meola and music critic Joyce Millman on the Darkness era. Think of it as Darkness on the Edge of Town: The Unseen Photos.
We'll have the First Edition, a 10" x 10" hardcover with dustjacket, hand-signed in silver ink on the title page by Eric Meola especially for Backstreets readers. He has kindly offered to sign 500 copies for us -- guarantee yours now with a pre-order, for no more than the cover price.
Pre-order a SIGNED First Edition of Streets of Fire while they last
Update: This item is now sold out.
- Updated September 10, 2012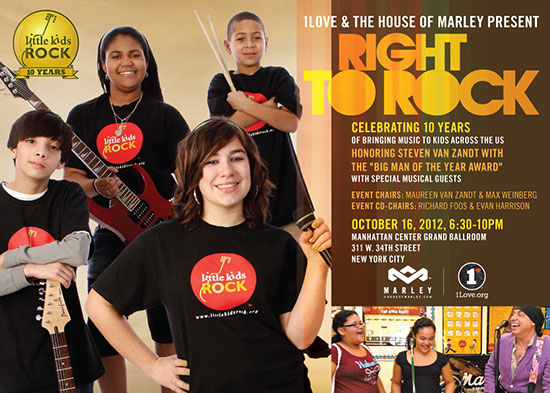 LITTLE STEVEN TO RECEIVE 4th ANNUAL "BIG MAN OF THE YEAR" AWARD
Little Kids Rock benefit chaired by Max Weinberg and Maureen Van Zandt
Fans recently commemorated Clarence Clemons' legacy by donating more than $13,000 to a charity he supported in return for custom leather "Big Man" Bracelets, just like the one Clarence wore himself. Due to this generosity, nearly 800 additional low-income kids will receive free rock music lessons courtesy of Little Kids Rock, a charity near and dear to the Big Man's big heart.
On October 16, Little Kids Rock will honor Clarence once again at the 2012 Right to Rock Celebration where it will present the 4th annual "Big Man of the Year" Award to none other than the E Street Band's Little Steven Van Zandt for his contributions to the field of music education through his Rock and Roll Forever Foundation and delivering instruments with Little Kids Rock.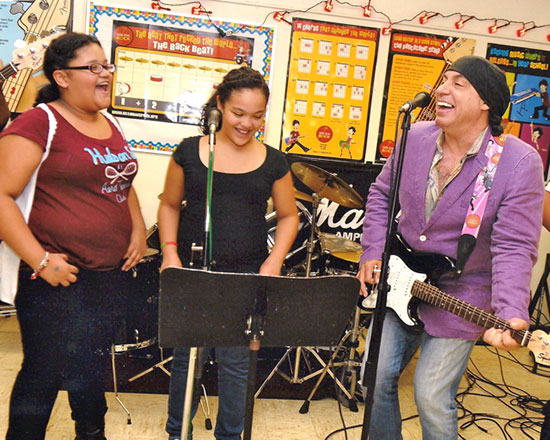 The benefit event, which is being chaired by fellow E Street Bandmate Max Weinberg and Van Zandt's wife Maureen, will feature surprise performances by members of the E Street Band as well as some other special guests and local students at the Manhattan Center's Grand Ballroom in New York City.
You can honor the Big Man and give more children the gift of music by reserving your table at the event or by purchasing a "Big Man" Bracelet while supplies last. Every child deserves the right to rock... let's give it to them.
- September 6, 2012

WRIGLEY UPDATE: MEET ME AT ERNIE'S PLACE
Springsteen and the E Street Band roll into Chicago tomorrow, and the Cubs have issued concert information for Friday and Saturday nights at Wrigley Field, including General Admission procedure: for those who want to participate in the entry lottery, 1,000 wristbands will distributed at the Ernie Banks statue (Clark and Addison Streets) on the afternoon of each show beginning at 1pm; line-up starts at 4:30. For full details, click here.
- September 6, 2012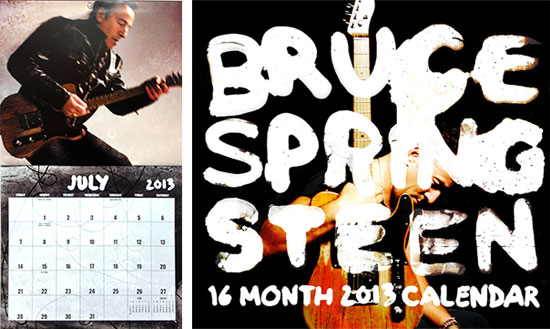 LUCKY '13
Official 2013 Springsteen calendars are here! From Thrill Hill Productions, the wall calendar for the new year is in the Wrecking Ball style, with Boss-of-the-Month shots from Danny Clinch. It's a 16-month calendar, so you can start using it now, and we've got 'em in stock.
See all Latest Additions at Backstreet Records
- September 5, 2012


BRUCE KINDA MAKES A WISH COME TRUE, BUT NOT AT ALL, REALLY
Earlier this year, New Jersey Governor Chris Christie made known his Labor Day weekend wish: for Springsteen to play Atlantic City.
Come Labor Day, Christie got to witness Springsteen play "Atlantic City." In Philadelphia.
Fresh from his 130th Bruce Springsteen concert Monday, never one to let it get him down, Christie appeared on NBC last night to sing it up on the Jimmy Fallon talk show. He tweeted today: "@JimmyFallon and I gave @Springsteen a run for his money last night. Next stop, The Stone Pony."
- September 5, 2012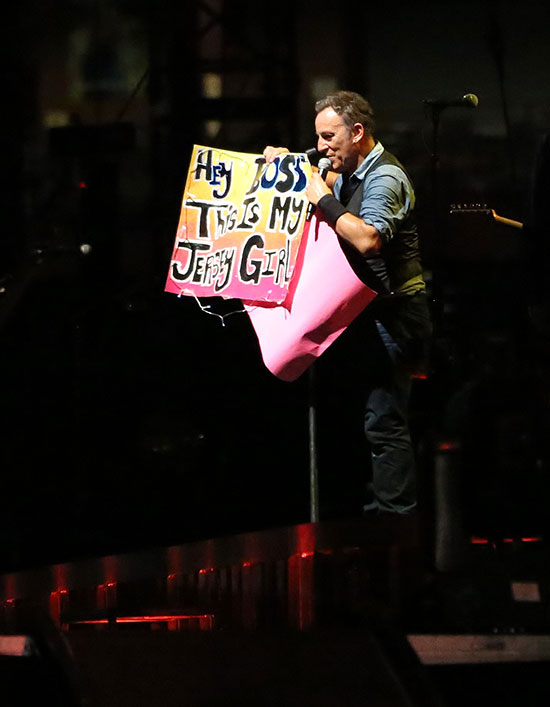 YOU AND YOUR BABY ON A SUNDAY NIGHT
Jersey guy Frank Stefanko was at Citizens Bank Park for the first of the two Philly shows, and he shares a sweet batch of images with us. See our Facebook page for more. Also catch Frank at his slideshow presentation "Days of Hope and Dreams: Photographing Bruce Springsteen" and book signing on October 15 at Camden County College.
- September 4, 2012 - photography by Frank Stefanko

THE KIDS ARE ALRIGHT
Jukebox Graduates back on E Street Radio for Labor Day weekend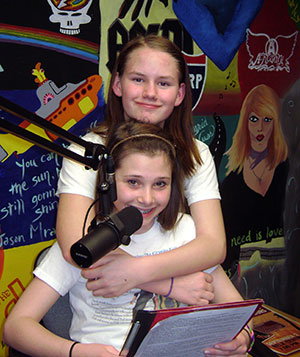 Student members of the Jukebox Graduates: The Granite Falls Bruce Springsteen Club are at it again. Tune in to SiriusXM all Labor Day Weekend as these North Carolina kids share their love of the Boss and introduce their favorite Bruce songs on E Street Radio. Beginning Saturday morning and running through Monday at midnight, club members will be heard two to three times each hour with short introductions for many of their favorite songs.
The Jukebox Graduates club was profiled in Backstreets #90. These students from Granite Falls, North Carolina have been featured on E Street Radio before, and their stories ranged from cute to funny to downright heartfelt, but they always showed their dedication, passion and knowledge of Bruce Springsteen and the E Street Band. Give a listen to this group of kids who have proven once again just how much you can learn from a three-minute record... and have a happy and safe long weekend.
Update: Audio archive of the kids' intros here.

- Updated September 4, 2012 - photograph courtesy of Mike Telesca