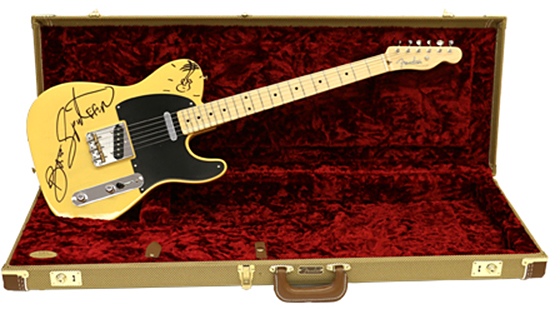 KRISTEN ANN CARR FUND AUCTION: ONE DAY LEFT!
Get while the getting is good at this year's KACF auction, with several Springsteen-related items on the charitybuzz.com auction block until tomorrow. Auction lots of note include a Bruce-signed '52 Resissue Fender Telecaster, "Clarence and Danny" artwork by Tom James, a Patti Smith photograph by Danny Clinch, a Bruce-signed 1981 Springsteen photo by Jim Marchese, a one-week stay at Max Weinberg's villa in Tuscany, and an autographed copy of Bruce's "Chords for Change" essay.
See the entire auction here. Bidding closes on Wednesday, April 30. The Kristen Ann Carr Fund provides grants for cancer research and seeks to improve all aspects of cancer patient life with an emphasis on adolescents and young adults.
- Updated April 29, 2014

WELL, HELLO DOLLY!
Bruce Springsteen was in Nashville last week, and so was Sarfraz Manzoor, author of Greetings from Bury Park, to speak with a true country music legend. "I met Dolly Parton for an interview," Saf tells us. "During that chat I asked her about Bruce, and as far as I know she's not been asked about him before."
The Springsteen bit didn't make the final cut for Manzoor's interview feature, which ran in Event magazine for The Mail on Sunday (Parton plays Glastonbury in June), but he shared the excerpt with us:
In her compassion and connection with the challenges faced by ordinary folk she reminds me of Bruce Springsteen, and I tell her I would love to see them both on stage singing together. "Oh I love him!" she said, suddenly sitting up. "We'd be good together, wouldn't we?" She sounds like she is almost asking herself that question. "You're both working class heroes," I said. "Yeah," she said thoughtfully, "We are, aren't we? That would be a good pairing; that's a good thought, because I have always related to him, always felt a kinship with him."
Coat-of-many-color us very interested.
But wait, didn't they already...

- Updated April 28, 2014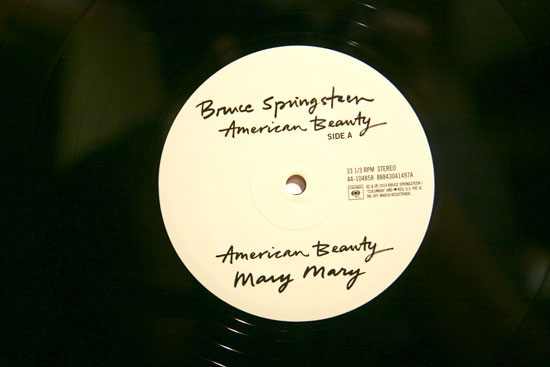 AMERICAN BEAUTY, HEY YOU'RE ALRIGHT...
This year, it's Good Saturday. Yes, we're just around the corner from Record Store Day — this Saturday, April 19 — which means just a couple of sundowns until Bruce Springsteen's American Beauty EP. The four-track vinyl 12-inch comprises four previously unreleased tunes: "American Beauty," "Mary Mary," "Hurry Up Sundown" (streaming now via NPR), and "Hey Blue Eyes." For anyone without a turntable, the four tracks will available for download next week, with an official digital release on Tuesday, 4/22.
The record starts with the title track, classic, mid-tempo rock 'n' roll right out of the box, complete with a nice mid-song modulation. Melodically speaking, the title track bears some resemblance to Backstreets HQ fave "Frankie Fell in Love," though it lopes along at a slower tempo. Bruce handles damn near everything on this one — we've pictured the credits below — including some tasteful, subtle slide guitar flourishes near the end of the track. Bass and some piano are covered by producer Ron Aniello, while drums and timpani are handled by journeyman drummer Josh Freese, who made his first appearance with Bruce on the High Hopes cut "This is Your Sword." The in-demand session drummer has played with Paul Westerberg, Sting (with Springsteen alum Shayne Fontayne), Devo, Nine Inch Nails, and others.
Though "Mary Mary" shares the name of the Michael Nesmith-penned Monkees hit — and contains a refrain, "Mary Mary, where have you gone to," that's remarkably close to Nesmith's "Mary Mary, where you going to" chorus — it's not a cover. The song opens with a strummed acoustic reminiscent of the intro to Tunnel of Love's "Two Faces" before moving into a laid-back, rhythmic groove. The lyrics tell of a lonely lover searching for his missing partner, and Bruce gets extra points for pronouncing "Charleston" as "Charles-town." One of two low-key songs on the 12-inch, "Mary Mary" features a rare instrumental credit for engineer Toby Scott, who provides drum programming that consists of a kick drum and hi-hat pattern.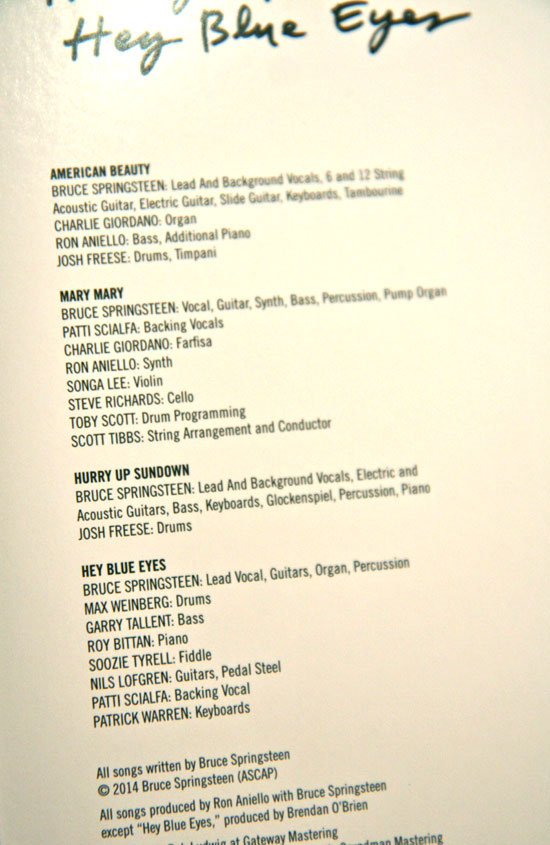 The windows-down power pop-rocker "Hurry Up Sundown" would not have been out of place on Magic. With Bruce handling every instrument except drums (again, ably provided by Josh Freese), the track melds classic Springsteen elements with '60s pop sensibilities, creating a feel not unlike that of "You'll Be Comin' Down." The double-tracked vocals add density, as do the Johnny Thunders-style guitar flourishes during the bridge. Listen for Bruce heading into falsetto territory toward the end.
A quick glance at the list of players on "Hey Blue Eyes" might lead you to believe that it would be the most E Street-sounding number on the record, but you'd be mistaken. "Hey Blue Eyes" is stark and sparse, with Bruce's vocals sounding almost whisper-like at times. Musically, "Hey Blue Eyes" comes off like a not so distant cousin to Devils and Dust's "Reno". The hypnotic track also shares "Reno"'s penchant for NSFW language, though thematically it stakes its claim in what would seem to be Magic territory, with references to treason, committees, and a house that has "abandoned history," where "blood and silence prevail." The recording has a slight country feel to it, with Max using brushes, Nils providing shading via pedal steel guitar, and Patti's nice, Emmylou Harris-esque backing vocals. Just don't play it in the office.
There's a chance we'll have some copies of the vinyl EP in stock next week at Backstreet Records... check back with us then if you don't have any luck this weekend. But we strongly encourage you to visit an independent music store near you on Saturday and grab your copy there if you can, to support the RSD effort and all the local Mom & Pops out there. Happy Record Store Day!
- April 17, 2014 - John Howie Jr. reporting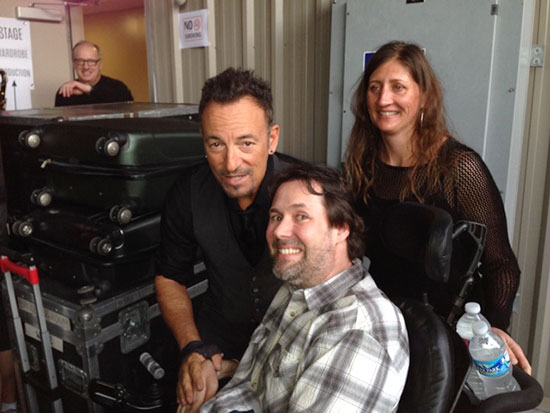 "MY OWN PERSONAL MAKE-A-WISH FOUNDATION"
In February, we reported on a new Matthew Ryan single benefitting John Anderson, a diehard Springsteen fan battling ALS. [That's John above with his wife Amanda, another guy, and some photobomber in the background, too.]
John, in a wheelchair and in the final stages of the disease, had been fully prepared that Saturday's Virginia Beach show might turn out to be his last. What he might not have been prepared for: a backstage tour and visit that night with Bruce, the band and crew, thanks to the kindness of the Springsteen organization and the efforts of a whole lot of people who love the guy. We'll let him tell the story:
Read "But if Dreams Came True, Oh, Wouldn't That Be Nice?"
- April 16, 2014 - photograph by Anna Selden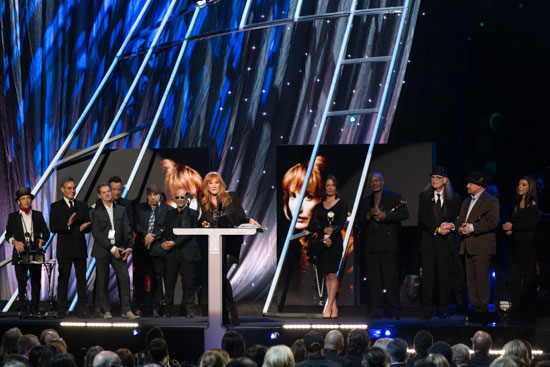 AUDIO/PHOTO GALLERY: ALL TEN E STREET BAND ACCEPTANCE SPEECHES
As Steven Van Zandt said from the podium at Barclays Center, "For those of us whose religion is Rock 'n' Roll, this is the one day a year we get to give thanks." And for those of us who've been waiting for years and years to see the E Street Band get this Rock and Roll Hall of Fame honor, April 10 was the one day period that we were able to hear their thanks. So while some Kiss or Nirvana fans may have been shifting in their seats at nearly an hour of E Street talk... we enjoyed every minute. And we're glad no one stuck to the suggested 30 seconds.
"We were all coming back from Cincinnati," said Patti in her remarks, "And we were talking about all these old-time stories that we knew on the plane, because I hadn't been out on the tour in a while, and we were just going through all these great stories and said, 'Yeah, we all have to get up there and tell these amazing stories that no one knows!' And we're drinking a lot of red wine, and having a good time, and the next day we get an email that said, 'Please cut your speech to 30 seconds, one minute at the most."
Well, we want to hear those stories. No time limit.
In the meantime, here's every inducted E Street Band member (and family members accepting in their stead) and what they had to say. Congratulations once again to the legendary E Street Band.
Listen to the E Street Band members' acceptance speeches
- April 15, 2014 - photograph by Michael Zorn


HAPPY BIRTHDAY MIGHTY MAX!
Max Weinberg, born April 13, 1951, turns 63 today. We were just listening to "Where the Bands Are" this morning, marveling at the perfect drumming — just one of the many ways the Mighty One earned his new status as Rock and Roll Hall of Famer. Enjoy the day, Max.
- April 13, 2014 - photograph by Michael Zorn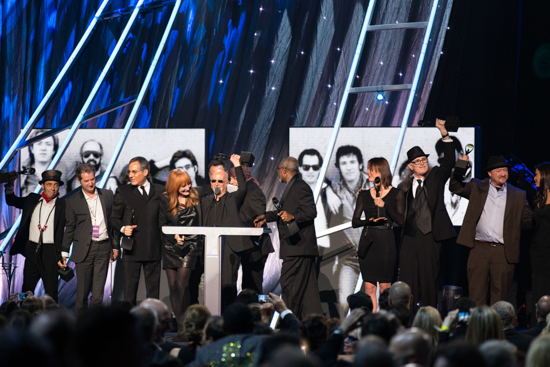 E STREET BAND INDUCTION PHOTO SPECTACULAR #1: THE AWARD
We still have much to share from Thursday's historic Rock and Roll Hall of Fame induction for the E Street Band... let's dig into some Michael Zorn photographs, beginning with Springsteen's speech and the E Street acceptances: View the full gallery here.
- April 12, 2014 - photograph by Michael Zorn


THEIR BEAUTIFUL AWARDS
After their induction and performance Thursday night, seven of the E Street Band's new Rock and Roll Hall of Famers came backstage to the press room to pose with their statues and answer a few questions. Even on this night, "We never pick the setlist," laughs Garry Tallent, "Our fearless leader picks the setlist." Davey Sancious recalls the Big Man: "Clarence would have a lot to say about tonight. He'd be having a real good time... and on his way to having an even better time when all this would be done."
- April 12, 2014 - video by Christopher Phillips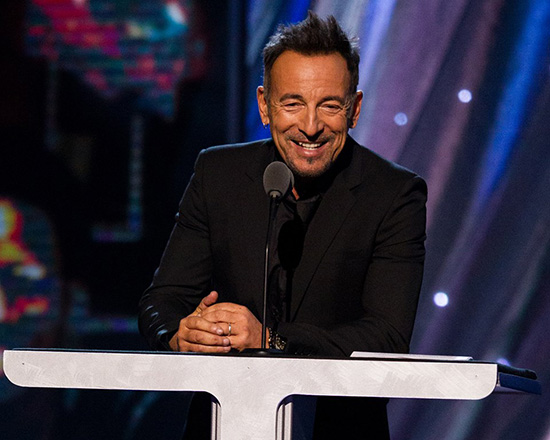 I THANK YOU, MY BEAUTIFUL MEN AND WOMEN OF E STREET
Bruce Springsteen, inducting the E Street Band into the Rock and Roll Hall of Fame at the Barclays Center in Brooklyn on April 10:
"Good evening. In the beginning, there was Mad Dog Vincent Lopez, standing in front of me, fresh out of jail, his head shaved, in the Mermaid Room of the Upstage Club in Asbury Park. He told me that he had a money-making outfit called Speed Limit 25, they were looking for a guitarist, and was I interested? I was broke, so I was. So the genesis point of the E Street Band was actually a group that Vini Lopez asked me to join to make a few extra dollars on the weekend..."
Read Springsteen's entire speech here
- April 11, 2014 - photograph by Michael Zorn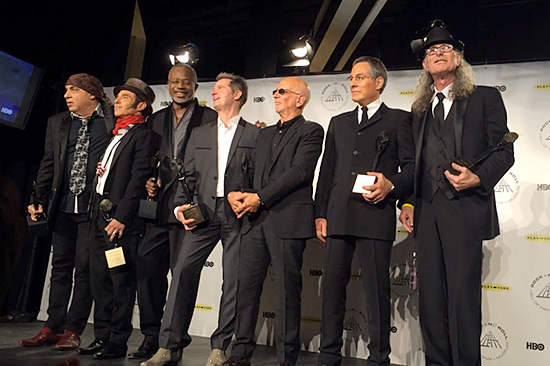 THAT'S THE LEGEND: CONGRATULATIONS TO THE E STREET BAND, ROCK AND ROLL HALL OF FAME INDUCTEES, CLASS OF 2014
Fifteen years ago, Bruce Springsteen was inducted into the Rock and Roll Hall of Fame — without his mighty E Street Band. It was the subject of no small discussion among fans and music-lovers who wanted to see the E Streeters get their due. Of course, Springsteen took the opportunity in his 1999 acceptance speech to praise every one of them, individually and as a gang. In talking about Patti, he noted, "Everybody wants to know how I feel about the band — hell, I married one of 'em!" At the end of that speech, Bruce closed by bringing them all up: "My wife, my great friends, my great collaborators, my great band, your presence tonight honors me, and I wouldn't be standing here tonight without you, and I can't stand up here now without you. Please join me."
But still, the E Street Band and its members did not actually join him as Rock and Roll Hall of Famers. If it were a matter of billing on a recording (the studio albums, in 1973 and since, were filed under Bruce Springsteen alone), then perhaps the 25-years-later eligibility would kick in based on 1977's "Say Goodbye to Hollwood" single, which paired the E Street Band — printed on the sleeve! — with Ronnie Spector? But 2002 came and went without a nomination. Surely 25 years after 1986's Live/1975-85, with the ESB's billing on the cover in the same size type as Springsteen's? Still no nod from the Rock Hall.
Finally, with the Award for Musical Excellence (formerly the Sidemen category), tonight's the night. Bruce Springsteen's stalwart blood brothers and sisters, a band formed in 1972 and rededicated in 1999, are official Rock and Roll Hall of Famers with tonight's induction ceremony at Brooklyn's Barclays Center.
At the start, an enormous ovation as Jann Wenner named the band among the artists in the Class of 2014: "From the shores of NJ, the bar band in the 40th year of their marathon, with the largest repertoire in history, the E Street Band!" Following the inductions of Sir Peter Asher, Peter Gabriel, KISS (with Tom Morello delivering a fiery testimonial), Cat Stevens, and Linda Ronstadt, it was time for the E Street Band.
And I do mean time for the E Street Band. Springsteen gave a 16-minute speech, in which he again extolled the virtues of his bandmates (including an "honorable mention" for Ernie "Boom" Carter), followed by 35 minutes of E Street Band members' acceptances — so we'd already spent the better part of an hour on E Street even before they performed together. As John Oates laughed during the Hall & Oates portion that followed, "Lucky for you, there's only two of us."
"As I've said before in reference to Clarence Clemons," Bruce said in his induction speech, "I told a story with the E Street Band that was and is bigger than I ever could have told on my own.... for that is the hallmark of a rock 'n' roll band: the narrative you tell together is bigger than any one of you could have told on your own."
As for why the E Street Band wasn't honored years ago, Springsteen addressed that topic head-on in an honest and moving conclusion to his remarks:
Tonight I stand here with just one regret. That's that Danny and Clarence can't be with us tonight. Sixteen years ago, a few evenings before my own induction, I stood in my own darkened kitchen along with Steve Van Zandt. Steve was just returning to the band, after a 15-year hiatus, and he was petitioning me to push the Hall of Fame to induct all of us together. And I listened, and the Hall of Fame had its rule, and I was proud of my independence. We hadn't played together in ten years, we were somewhat estranged. We were just taking the first small steps of reforming, and we didn't know what the future would bring. And perhaps a shadow of the some of the old grudges still held some sway. It was a conundrum, because we'd never been quite fish nor fowl. And Steve was quiet, but persistent, and at the end of our conversation he just said, "Yeah, yeah, I understand... but Bruce Springsteen and the E Street Band — that's the legend."
The "beautiful men and women of E Street" taking turns accepting the honor at the podium tonight: David Sancious, Vini Lopez, Jason Federici for his father Danny, Victoria Clemons for her late husband Clarence, Nils Lofgren, Patti Scialfa, Garry Tallent, Roy Bittan, Max Weinberg, and Steven Van Zandt.
Following the speeches, Bruce led a unique configuration of the E Street Band through three songs, taking the old and making it new: dual drums kits helmed by both Vini Lopez and Max Weinberg, playing simultaneously; Roy Bittan on piano while Davey Sancious took over the organ. The current horn section joined in as supporting players on "The E Street Shuffle," followed by "The River" and finally an expansive, jammy "Kitty's Back" that allowed each player a chance to stand out in the mix. Davey Sancious soloing on "Kitty" for the first time in 40 years has to be the ultimate Throwback Thursday. #tbt
Setlist:
The E Street Shuffle
The River
Kitty's Back
Following the inductions of and performances by Hall & Oates and Nirvana, that was it for the night: no all-star jams, for which these ceremonies have been known over the years. Well, maybe the all-star jam had taken place already — it was called "Kitty's Back."
The E Street Band did make an appearance, statues in hand, in the press room, where Steve Van Zandt reflected on that 1999 conversation: "Well, I was rather surprised he brought that up," he laughed, "It was a very personal conversation." But as Stevie tells it, that discussion was "the beginning of this new sort of evolution of the band" in the reunion era: "At that point, my conversation was: from now on, anything that you wanna do, anything you can think of, we can do it with the E Street Band. We're very, very versatile, we're very dedicated to realizing his vision. No matter what that vision is, we can do it."
We'll have more from this historic evening — video, photographs, and speeches — in the hours and days to come. Congratulations to the versatile, dedicated, legendary E Street Band, thank you for 42 years (and counting) of music and spontaneity, for helping your "fearless leader" dream in CinemaScope all these years.
- April 10, 2014 - Christopher Phillips reporting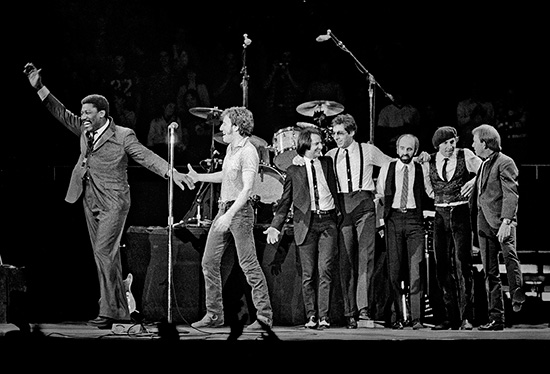 THE E STREET BAND, IN THE MIDNIGHT HOUR
Another previously unseen shot of the classic E Street Band lineup, this one from the River tour in 1981 — barely. James Shive, who shot the New Year's Eve 1980 show at Nassau Coliseum, recently uncovered this image in his archives: Bruce and the E Street Band at the end of one of their longest shows ever.
- April 10, 2014 - photograph courtesy of ShiveArchive.com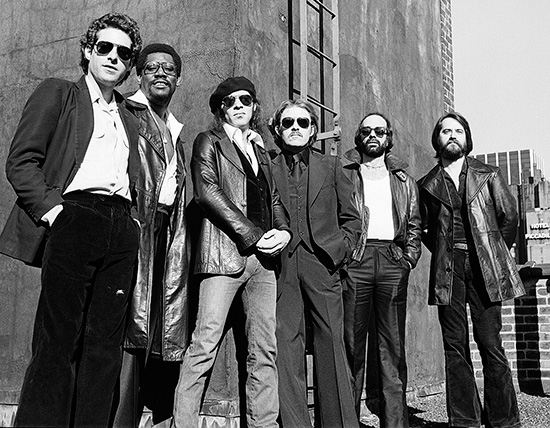 TONIGHT'S THE NIGHT
As all eyes begin toward to look toward Brooklyn... here's a real blast from the past, two very rare glimpses of the E Street Band without their Boss. These previously unseen shots of the Darkness-era band were taken in 1978 by Frank Stefanko, on the rooftop of the Record Plant in Manhattan.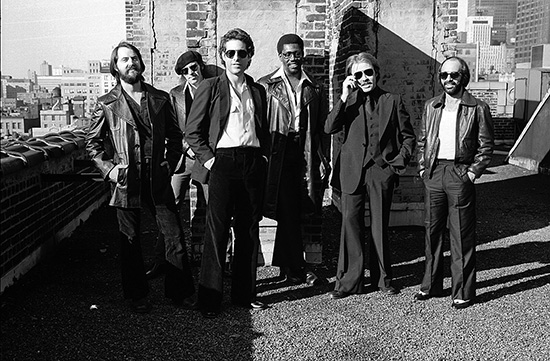 These six complete and utter badasses will be honored with induction into the Rock and Roll Hall of Fame tonight, along with their compatriots Davey Sancious, Vini Lopez, Patti Scialfa, and Nls Lofgren. The ceremony starts at 7pm at Barclays Center in Brooklyn, NY. Follow us on Twitter at @backstreetsmag.
- April 10, 2014 - photographs copyright Frank Stefanko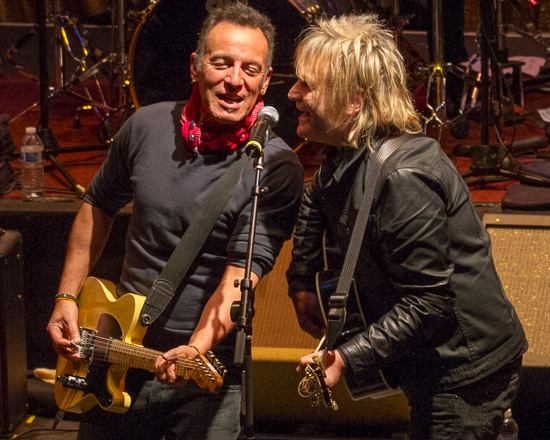 THE BACKSTREETS INTERVIEW WITH MIKE PETERS OF THE ALARM
In January, The Alarm's Mike Peters and Bruce Springsteen teamed up at Light of Day to play "One Guitar" with their mutual friend Willie Nile. Though Peters has been a Springsteen fan for 30 years and their paths have crossed over that time, this is the first time he and Bruce ever played together. Peters recently sat down with Backstreets correspondent Gary Zoldos for an extensive interview, in which he describes how he discovered Springsteen:
I have to admit that when I first heard Bruce's records, I was not that taken with them. I knew the song "Born to Run" from the jukebox in the local pub where I lived, but that was about it. When The Alarm signed to IRS Records, the A&R man Steve Tannett kept saying he'd signed us because he thought we had an element of "Springsteen" in our own music. I spent many hours at Steve's house listening to The River while he did his best to convert me, but apart from "Point Blank," I couldn't quite get it. He even made me a tape to play in the vehicle on our first American tour with U2 in 1983. He thought that if I listened to Bruce in the U.S. it would make the difference. It was the Live in the Promised Land bootleg, and I do remember a version of "Something in the Night" that I thought sounded incredible as I drove through an overnight thunderstorm on our way from San Francisco to Salt Lake City. It was all starting to make sense.

In the summer of 1984, The Alarm played at the Pier in New York. Our manager Ian Wilson had seen Bruce in New Jersey and was raving about the show and took us to Philadelphia to see him. It was the most amazing show I had ever seen. I'd seen the Sex Pistols in 1976, The Clash in 1977 and 1982, those were life changing — but seeing Bruce was something else. There was so much to take in. It was simple and effective, it made you laugh and cry. It was rock 'n' roll on a level like nothing I had seen before, and all totally positive, inspiring, and thought-provoking. I bought every Springsteen album I could get my hands on after that and have loved his music ever since. I think people discover The Alarm a little like I discovered Bruce. You have to see it live, and then it all makes sense.
He also talks about playing onstage with Springsteen, attending Wembley '85 as a guest of Garry Tallent, his history with Willie Nile and with Light of Day, and about his current work with The Alarm and the new 30th Anniversary re-recording of the band's much-loved Declaration album.
Read our full interview, Mike Peters: 30 Years Later, Still Marching On
Mike is touring California this month; visit thealarm.com for dates, ticket links, and more information.
- April 8, 2014 - photograph by A.M. Saddler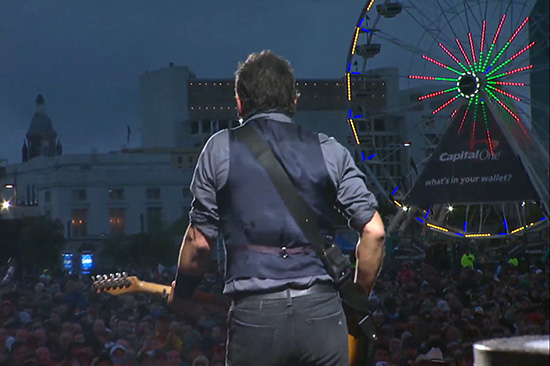 THE GLOBETROTTING E STREET BAND RETURNS HOME
Back in the U.S.A. After almost a year and a half, Bruce Springsteen and the E Street Band played a full show on American soil. Granted, it was a free, corporate, festival show. And granted, it was in Dallas, a city not known for a history of off-the-charts Springsteen shows. And granted, the weather was awful. And granted, the band was dealing with some lineup changes. But so what — Bruce and the band delivered.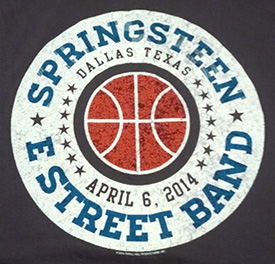 It was the headlining slot of the 2014 NCAA March Madness Music Festival, closing the final night (the Capital One JamFest) of this three-day free music festival held in conjunction with the Final Four Men's Basketball Championship. If you were expecting rarities, or if you were just setlist watching (or even, courtesy of the NCAA, stream watching), you might have just shrugged your shoulders at a 25-song set that was as safe as Bruce can play it. Six songs off Born in the U.S.A. Only the title cut from the latest release. A single Darkness track. Not one song that could be considered a deep track. But, as usual, the box score doesn't tell the whole story.

Festival organizers were expected a crowd of 40,000, with plans in place to advise the public when capacity was reached. But that was never a factor. With the temperature hovering around the 50 degree mark and a steady rain all day, Mother Nature did her best to make sure that only people who really wanted to see Bruce would be there. Openers The Wind and The Wave, Pat Green and fun. each brought a small contingent of fans, but most of the crowd was there to see Bruce. And only the most jaded could have gone home disappointed.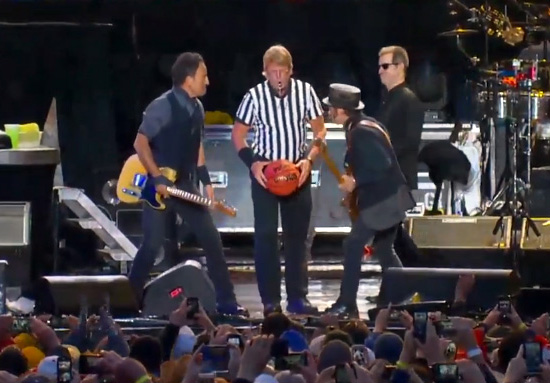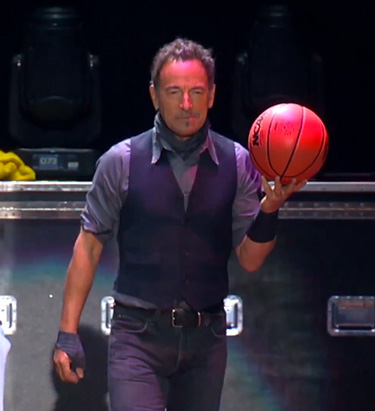 Taking the stage with roundball in hand, Bruce acknowledged that the show "had something to do with basketball." His dribbling technique left much to be desired, but as he'd later tell the crowd, while others were playing basketball, he was "playing basketball gyms."
Kevin Buell tossed up a jump ball between Bruce and Nils, and they swatted the ball into the crowd. And then, continuing the Aussie theme of opening with something topical, the main "wow" moment of the night: a cover of Van Halen's "Jump," a song adopted by basketball arenas across the nation. Tom Morello, in his first U.S. show as a full-fledged member of the band, did a nice job covering Eddie Van Halen's guitar riffs. In fact, Morello handled most of the guitar duties all night, as Bruce's only memorable solo came on "Cover Me."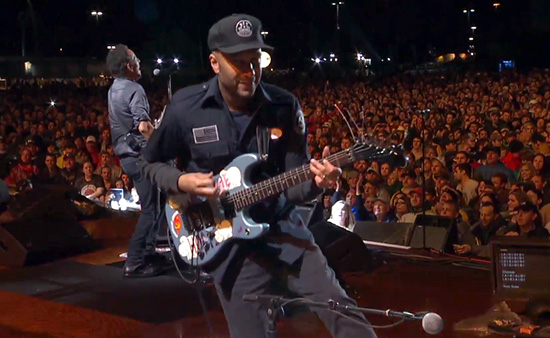 About those lineup changes: Steve is in Norway filming the next season of Lilyhammer, although Bruce never acknowledged his absence. And while it wouldn't be right to say someone took Steve's place, Patti Scialfa made her first appearance in who knows how long, presumably in anticipation of the Rock and Roll Hall of Fame induction ceremony on Thursday. At times, Patti seemed to be finding her way, but one of the nicest moments of the show involved her, and it was something you had to be there for. During the closing acoustic version of "Thunder Road," Patti contributed some vocal color, joining Bruce on a couple of lines, after he asked her to stay as the band was walking off stage. But when she wasn't singing, she seemed to be watching Bruce, and just maybe (maybe it was the rain) getting a little misty-eyed. Clearly, she enjoyed being back, watching Bruce, as much as the crowd enjoyed it.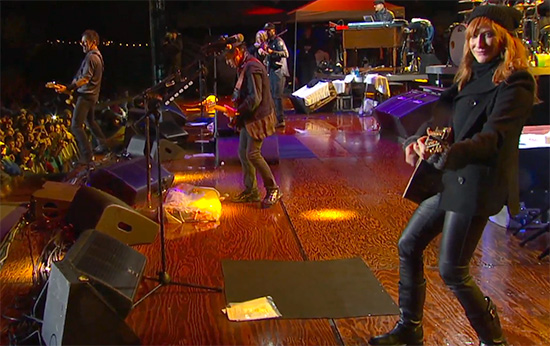 As for the rest of the show, the story isn't the song selection. The story is how perfectly Bruce read the crowd and delivered what was needed on this night. In what Bruce referred to as a "light monsoon," what the largest crowd of the weekend needed was energy, something to make the long wait in the rain worthwhile. And Bruce and the band brought the energy. The rain didn't stop him from venturing into the crowd at all, including the traditional crowd surf on "Hungry Heart" even in the absence of a pit audience that knew it was coming. In fact, the crowd interaction might be the real story of the night.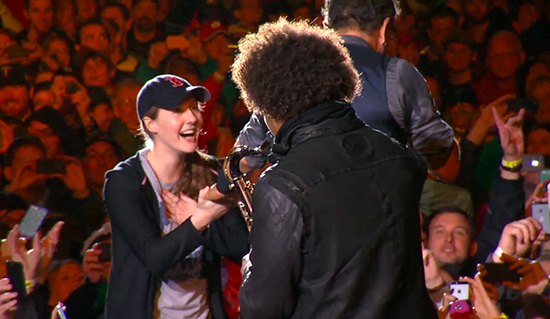 In addition to the expected kid on "Sunny Day," Bruce shared his mic or the stage on a number of other occasions, from a star-struck young lady who couldn't believe her luck on "Spirit," to the boy who was really Steve's replacement at the conclusion of "Glory Days." And, just like the last time Bruce played Dallas, "Dancing in the Dark" turned into a free-for-all that looked something more like a carnival booth, allowing more than a dozen women to take a selfie with Bruce before heading back into the crowd.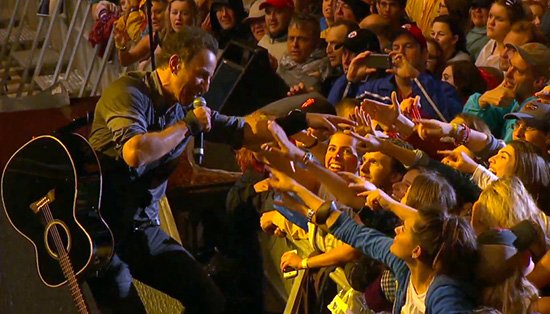 Perhaps the only thing Bruce missed all night was the opportunity presented by "Wrecking Ball." The festival was held on a grass field that was the former site of Reunion Arena, the venue Bruce consistently played in Dallas until the building was replaced by the American Airlines Center. It sure seemed like it was made for some sort of statement by Bruce, about how all the steel and the stories from the old arena were turned into a new concert venue. But again, so what. It was the only note he missed all night.
For the full setlist from this and other recent performances,
see our Setlists page
- Updated April 8, 2014 - Lowell D. Kern reporting

E STREET RADIO'S ROCK HALL WEEK
On Thursday, the E Street Band will join Bruce Springsteen in the Rock and Roll Hall of Fame with the award of Musical Excellence. To celebrate, E Street Radio has planned a week-long special packed with E Street greatness! Hear Guest DJ spots from Little Steven, Nils Lofgren, and Roy Bittan; an archival interview with Garry W. Tallent, a live interview with Nils on Live From E Street Nation with Dave Marsh, and replays of a couple interviews with Springsteen, too.
Rock Hall Week content airs every day at 4pm, with encores at midnight and 8am the next day, on SiriusXM channel 20. View the full week's schedule at siriusxm.com/estreetradio
- April 7, 2014

TUNE IN SUNDAY NIGHT FOR LIVE STREAM FROM DALLAS
This Sunday, Bruce Springsteen and the E Street Band return to the U.S. stage with a free show in Dallas at the Capital One JamFest, closing out the three-day NCAA March Madness Music Festival. It's a prelude to the spring leg of the High Hopes tour, which officially begins on Tuesday in Cincinnati — and according to the festival's official Twitter feed, it'll be streaming live:
Bruce and the E Street Band's set is scheduled from 7:15 to 10:15pm Central Time, Sunday, April 6. Visit ncaa.com/marchmadness/musicfest for the stream.
- April 4, 2014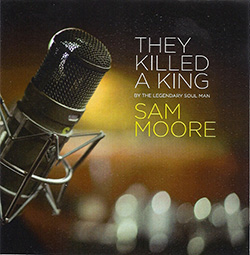 SAM MOORE'S "THEY KILLED A KING" REMEMBERS THE MURDER OF MLK AND ITS LEGACY
Today sees the release of the first new recording in almost eight years from Rock and Roll Hall of Famer Sam Moore, with whom Bruce has recorded and performed, calling him "the original Soul Man and one of the greatest voices of all time." Moore has recorded "They Killed a King," a song originally written in the immediate aftermath of the assassination of Dr. Martin Luther King, Jr., which occurred 46 years ago today. Its release comes on the heels of last June's U.S. Supreme Court decision to strike down part of the Voting Rights Act of 1965, one of the Civil Rights Movement's key legislative achievements. Moore recently stated, "I am troubled that all Martin stood for is suddenly reversing, and I hope that this song might have some impact and remind us what Martin lost his life fighting so that all of us could achieve." The song received its live debut on Tuesday during Moore's performance at New York's City Winery [below.]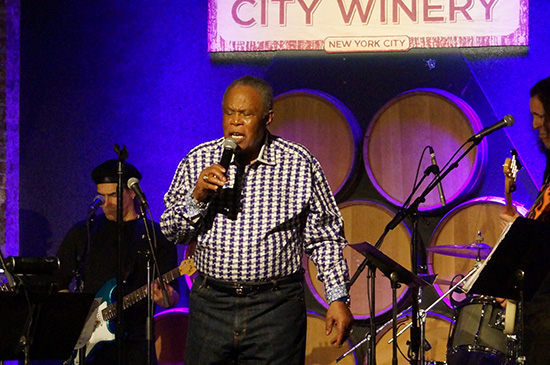 The E Street connections, both musically and historically, run very deep here. During his 2012 SXSW keynote address, Bruce called the music of Sam Moore and other soul legends "the soundtrack of the Civil Rights Movement. And it was here, amongst these great African-American artists, that I learned my craft... These men and women, they were and they remain my masters. By the time I reached my twenties, I'd spent a thousand nights employing their lessons in local clubs and bars, honing my own skills."
Daniel Wolff's book 4th of July, Asbury Park… also revealed that the post-King-assassination environment had a major influence on one of Springsteen's most important musical decisions. In the aftermath of King's death, many racially segregated areas across the U.S. experienced explosive confrontations often labeled as "race riots." Asbury Park, NJ's most famous confrontation occurred during Fourth of July Weekend 1970, just over two years after King was killed. Springsteen, then only 20 years old and leading his all-white hard-rock band Steel Mill, watched his adopted hometown erupt into extreme violence from atop a water tower near the surfboard factory where he lived. Wolff, who spoke with Springsteen during the research for his book, wrote that Bruce "felt as if he were watching his whole city go up in flames." By the end of that year, Springsteen announced his plan to disband Steel Mill and start a new racially integrated band playing a consciously crafted mix of rock, soul, and R&B. That decision, of course, was the first major step towards the eventual formation of the band that Bruce Springsteen will induct into the Rock and Roll Hall of Fame next week.
"They Killed a King" is now available for downloading at iTunes and Amazon. Click here for more information.
- April 4, 2014 - report and photograph by Shawn Poole

FRIDAY ON MY MIND: HBO HIGH HOPES DOC PREMIERES APRIL 4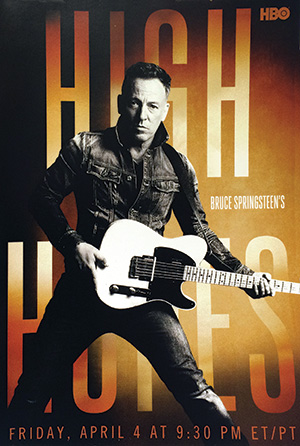 Tomorrow night on HBO, it's the debut of Bruce Springsteen's High Hopes, a 28-minute documentary about the latest record. Reviews in Variety ("essentially a 28-minute infomercial") and the New York Times ("primarily a highly polished piece of promotion") may lower your expectations, and the story will largely be familiar to anyone who's been paying attention. But there are some compelling moments for fans here — as when director Thom Zimny lets us be a fly on the wall with Springsteen and Max Weinberg in the studio, listening back to a take of "Frankie Fell in Love." Bruce wants the drumming to have more of a Faces feel: "the sloppier the better." Max gets it.
Studio and rehearsal footage alone makes this worth tuning in for. There's also a new interview with Tom Morello (who recalls suggesting "Hunter of Invisible Game" and "High Hopes" to Bruce), A/V from Bruce's SiriusXM interview in December, and some vintage shots of Walter Cichone, who inspired "The Wall." In fact, a lovely, lengthy sequence on "The Wall" is a cornerstone of the film. Tune in Friday, April 4, at 9:30pm Eastern/Pacific for the premiere; click here for additional showings.
- April 3, 2014

BRUCE ON BOARD FOR USC SHOAH FOUNDATION BENEFIT IN MAY
Bruce Springsteen will be the featured musical performer at a star-studded benefit gala for the USC Shoah Foundation's 20th Anniversary to be held May 7 in Los Angeles. How star-studded? The night's honoree and guest speaker is President Barack Obama. The event chair honoring the President is Steven Spielberg. Conan O'Brien will host the evening, and Liam Neeson is billed as a special guest.
The USC Shoah Foundation is "dedicated to making audio-visual interviews with survivors and witnesses of the Holocaust and other genocides a compelling voice for education and action." The foundation's website offers this description of the Ambassadors of Humanity 20th Anniversary Gala:
"To help mark this occasion, the Institute will have the great privilege of welcoming President Barack Obama, who will speak to common values and shared responsibilities in building a brighter future. Institute founder and USC trustee Steven Spielberg will recognize President Obama with the Institute's highest honor, the Ambassador for Humanity Award for his global efforts to protect human rights, his commitment to education and expanding educational technology, and his work advancing opportunities for all people."
Packages to attend the event are available, but at the kind of prices you'd expect from a mega Hollywood fundraiser with POTUS. Click here for more information.
- April 3, 2014 - Erik Flannigan reporting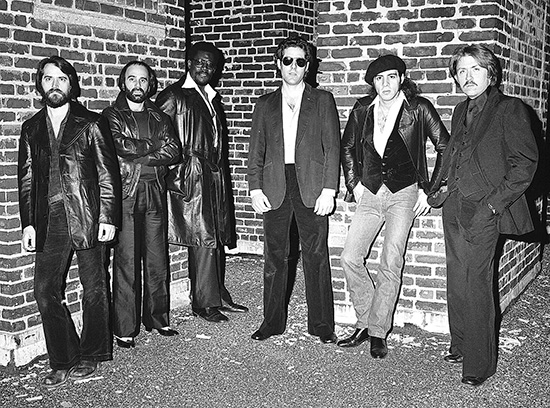 E STREET BAND SET TO PERFORM AT INDUCTION, SPEECH BY BRUCE
A week from tonight, the legendary E Street Band will be inducted into the Rock and Roll Hall of Fame — above, a never-before-seen shot of the classic 1978 lineup on their own, by Darkness photographer Frank Stefanko [L-R: Garry Tallent, Roy Bittan, Clarence Clemons, Max Weinberg, Steven Van Zandt, Danny Federici].

On April 1 (but no foolin') the Rock and Roll Hall of Fame announced some great news regarding the April 10 ceremony: Bruce Springsteen himself will be giving the speech to induct them, and the band is now officially set to perform at the Barclays Center that night. Also on hand, Tom Morello will be inducting KISS.

A broadcast of the 2014 Rock and Roll Hall of Fame Inductions will premiere on HBO on Saturday, May 31 at 9pm ET/PT.
- April 3, 2014 - photograph copyright Frank Stefanko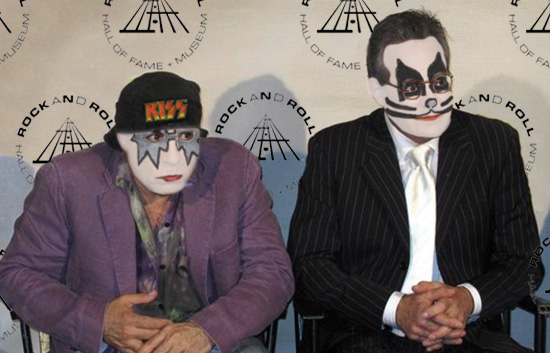 WHAT THE?
Where'd it go?
- April 1, 2014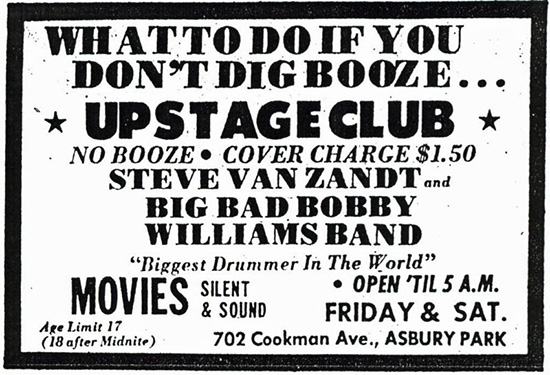 MOVIES, SILENT & SOUND: COME ON UP FOR THE UPSTAGE
Backstreets recently reported that Asbury Park's historic Upstage building is for sale, and that Carrie Potter Devening, granddaughter of Upstage founders Tom and Margaret Potter and author of For Music's Sake, hopes to purchase the property and convert it into a music/arts space. Now, as part of her fundraising campaign, Devening is collecting homemade videos from fans and friends that she plans to edit into a promotional video.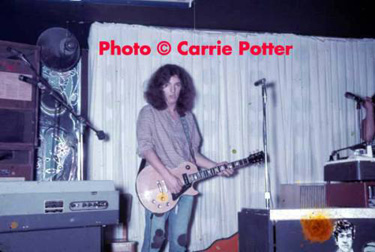 Participants are invited to submit a brief personal statement explaining why they believe the Upstage should be saved, and to be as creative as they wish. "The idea for the YouTube video series is to garner support, as well as increase awareness and attract serious partners," says Potter. Submissions — whether statements, songs, or even just a sign held up to the camera — will be considered for editing into one master promotional clip. The collaborative nature of the project is, as she sees it, a furtherance of the original Upstage mission. The space was always meant to be more than just a music venue, Potter insists. "It was a melting pot and a platform." She has already received submissions from a number of former denizens of the venue, which fostered innumerable personal, business, and artistic connections and launched dozens of careers, musical and otherwise. This project too, she believes, could be the start of something big. Submissions may be emailed to formusicsakebook@yahoo.com.
The Upstage building, located at 700 Cookman Avenue in downtown Asbury Park, is currently listed at $995,000. The two upstairs floors, formerly the home of the Upstage Club, have been vacant since its 1971 demise.
- March 31, 2014 - Lisa Iannucci reporting - photograph courtesy of Carrie Potter Devening


"WAGES OF SIN" LIVE IN FINLAND, MAY 8, 2013
Of all the astounding who'da-ever-thought-he'd-share-this-much developments of recent months, from live downloads and videos to selfies, an official live recording of "Wages of Sin" has to come in near the top. Mixed by Bob Clearmountain, no less. As posted in a Thom Zimny-edited video this morning on brucespringsteen.net, this 2013 rendition spotlighting Curt Ramm is the only live performance ever of what Bruce rightly calls "one of my best and least known songs."
Originally recorded with the E Street Band in 1982, during the early studio sessions for Born in the U.S.A., "Wages of Sin" surfaced 16 years later on Disc Two — Steve's favorite Springsteen "album" — of Tracks. Bruce told the L.A. Times in 1998: "That was a real find. I forgot I wrote it. It may have been one of those songs that cut too close to the bone at the time, so I put it to the side.... very often you have your own personal sensitivities about a particular piece of music or you may be uncomfortable with the way you've sung or what the song is about and you steer away from that a little bit, and I think that's what happened on that one."
- March 28, 2014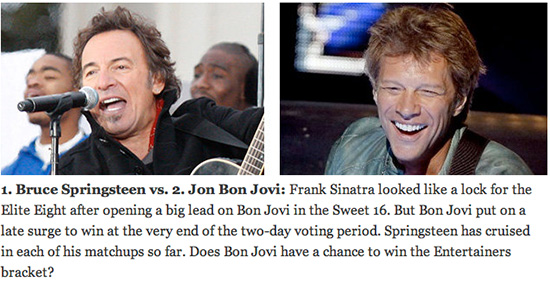 BRUCE VS. BON JOVI A CLOSE CONTEST IN NJ.COM'S MARCH MADNESS
The Backstreets Mailbag is brimming this morning with letters from fans like Joe, "a 25-year-old Springsteen diehard" with a close eye on NJ'com's "True Jersey" March madness bracket. "In an Elite 8 matchup, it is Bruce vs. Jon Bon Jovi. Unfortunately, Bruce is trailing and the polls close Thursday (tonight) at 11pm!"
A Bon Jovi (#2 seed) over Bruce (#1 seed) upset? That would be madness! Vote now at NJ.com to help Bruce pull off the comeback and enter the Final Four.
- March 27, 2014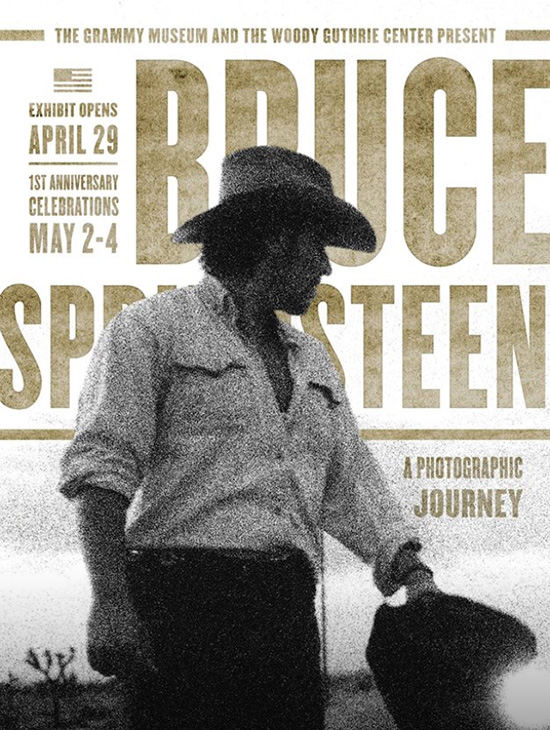 TULSA TIME: NEW BRUCE EXHIBIT TO DEBUT AT WOODY GUTHRIE CENTER
The Woody Guthrie Center in Tulsa, Oklahoma, has announced the debut of a group show called "Bruce Springsteen: A Photographic Journey," opening on April 29. More than 40 prints by Danny Clinch, Barry Schneier, Frank Stefanko, Ed Galucci, Eric Meola and Pam Springsteen will be exhibited along with videotaped interviews with each of them.
The traveling exhibition has been curated by Robert Santelli, GRAMMY Museum executive director (and Backstreets associate editor). All of the photographers will be present at the opening on April 29 — signing books, telling stories, and taking part in a panel Q&A moderated by Santelli.
"Our goal with this exhibition is to define the career of Bruce Springsteen in an entirely new light, as captured by these five incredible photographers,
says Santelli. "Each of these photographers was able to artfully document Bruce's world, at different stages in his career. We are honored to partner with each of them in order to help tell the story of one of the most important figures in American music."
While the majority of the exhibit focuses on Springsteen off-stage, four additional live performance photographs, shot by Schneier, will be showcased. These photos were shot during the now-famous Springsteen concert at Harvard Square Theater that inspired Jon Landau's 1974 article ("I saw rock and roll future and its name is Bruce Springsteen") in The Real Paper.
"Bruce Springsteen: A Photographic Journey" will be at the Guthrie Center for a year, through Spring 2015; visit woodyguthriecenter.org for more details on what is sure to be a grand opening.
- March 26, 2014 - photograph by Pam Springsteen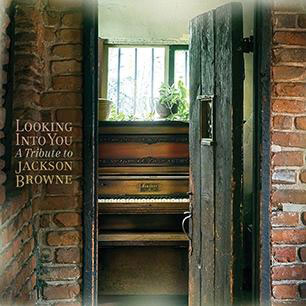 STREAM BRUCE & PATTI'S "LINDA PALOMA" NOW
USA Today offers advance stream of the entire Jackson Browne tribute
Looking into You, the first-ever Jackson Browne tribute album, is due April 1 from Music Road Records. Bruce Springsteen & Patti Scialfa's version of Browne's "Linda Paloma" is now streaming online, along with the rest of the forthcoming two-disc tribute (via USAToday.com). "Linda Paloma" was produced by Ron Aniello & Patti Scialfa and recorded at Stone Hill Studio, Springsteen's new home studio in Colts Neck, NJ. The track was mixed by Bob Clearmountain and mastered by Bob Ludwig. Here's the complete list of the track's performing musicians:
Bruce Springsteen – vocal, acoustic and electric guitar
Patti Scialfa - harmony vocals
Steve Jordan - drums
Pedro Martinez - percussion
Nils Lofgren - nylon string guitar, accordion
Ron Aniello - bass
Marc Ribot- electric guitar
Curt Ramm - trumpet
Soozie Tyrell - fiddle
- March 26, 2014 - Shawn Poole reporting

OVERNIGHT SENSATION: "HUNGRY HEART" TURNS 35
The punky, night-owl origin of Bruce's first top-ten hit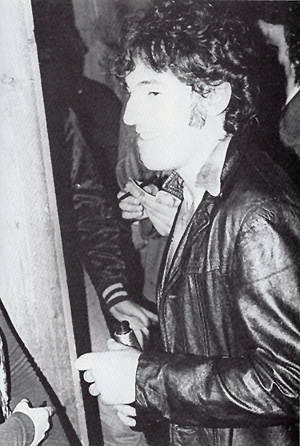 On the night of March 25, 1979, Bruce Springsteen saw The Ramones perform at the FastLane, one of Asbury Park, NJ's legendary (and now-gone) nightclubs. That night — or most likely, early the next morning — "Hungry Heart" was born. Bruce himself related the song's origin in his handwritten liner notes for the 1995 Greatest Hits album:
"I met The Ramones in Asbury Park and Joey asked me to write a song for 'em. I went home that night and wrote ['Hungry Heart']. I played it for Jon Landau and, earning his money, he advised me to keep it."
That was 35 years ago tonight. The following year, in late 1980, "Hungry Heart" became Springsteen's first Top Ten hit single.
It remains intriguing to consider what The Ramones' version of "Hungry Heart" might have sounded like had they ever gotten to record it. One clue as to what Joey, Johnny, Dee Dee and Marky might have done with the song can be found in this version performed by Jimmy Jazz & The Brixton Gang. (Jimmy Jazz is an alter-ego of Lorenzo Semprini, vocalist for the Italian band Miami & The Groovers, who played Light of Day in January.)
- March 25, 2014 - Shawn Poole reporting - photo of Springsteen watching The Ramones perform at the FastLane in Asbury Park on March 25, 1979 from the book Greetings From Asbury Park, NJ: A Look at the Local Scene by the late Chuck Yopp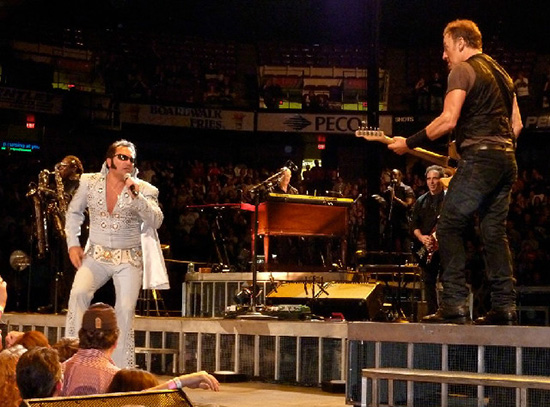 RETURN OF THE KING
Bruce Springsteen & The E Street Band won't be the only act getting Hershey, PA all shook up this spring. Our buddy Nick Ferraro, a.k.a. "The Philly Elvis," whose story was among the highlights of Springsteen & I, tells us that this weekend Philly Elvis will enter the building once more, all for a good cause. Since his viral-video moment with Bruce and the band onstage in Philly back in 2009, Nick has worn a jumpsuit again on just a few special occasions, usually for charity. This coming Saturday night, March 29, he'll be performing at Hershey Italian Lodge with the ten-piece Roof Rockers Dance Band, both as himself and as The Philly Elvis. They'll be playing a mix of music by Bruce, Elvis and other greats. In addition to the Philly Elvis set, the fun will last from 7:30-11:30pm
with two more sets of live music for dancing and a raffle for prizes, including a pair of tickets to Bruce's May 14 concert in Hershey. All proceeds from the evening will benefit the Central Pennsylvania Food Bank, an organization often supported by Springsteen. Only a few tickets remain available, so if you're interested in going, call Nick now at 717-606-4583.
- March 24, 2014 - Shawn Poole reporting - photograph courtesy of Nick Ferraro


20 YEARS AGO TODAY: "STREETS OF PHILLY" WINS THE OSCAR
On this date in 1994, Bruce Springsteen took home the Academy Award for Best Original Song: "Streets of Philadelphia." Bruce's first (and, so far, only) Oscar was presented to him by his fellow musician and New Jersey native, the late Whitney Houston. [Above, video of the complete presentation, including Bruce's acceptance speech.]
Springsteen contributed "Streets of Philadelphia" to the soundtrack music for the 1993 film Philadelphia, among the first mainstream Hollywood features to address the issues of HIV/AIDS and homophobia. Bruce's song was used in the film's opening credits. Philadelphia was directed by Jonathan Demme and starred Tom Hanks (who picked up the first of his two consecutive Best Actor Oscars on the same night that Bruce won his Oscar) and Denzel Washington.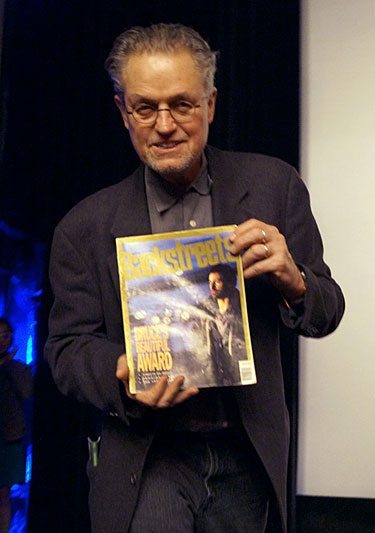 Last fall, Demme [pictured right, with 1994's Backstreets #45] spoke at a special 20th anniversary screening of the film in Philadelphia's Prince Music Theater as part of The Philadelphia Film Festival. He detailed his outreach, first to Neil Young and then to Bruce Springsteen, in an attempt to get a "big guitar anthem" composed for the film's opening.
"We wanted to reach [a mainstream audience] who weren't sensitive to people with AIDS. We wanted to reach homophobes," said Demme. "So I thought we really needed some serious 'big guitar music,' some anthemic kinda stuff." In fact, the rough cut of Philadelphia's opening credit sequence used Neil Young's "Southern Man" to convey what Demme had in mind.
"So then Neil Young sends back [his song "Philadelphia," which also was nominated for the 1993 Best Original Song.]... this exquisitely beautiful, delicate thing. This is perfect for the end of the film, but we still need our anthem to start this off. Who could we go to? So I thought, 'I'm gonna try for Bruce Springsteen.'
"I knew Bruce a little bit because we worked together on Little Steven's Sun City project years earlier [Demme directed the 'Sun City' music video]. "I told him about the Neil Young thing, and that we needed a big anthem.... So Bruce said, 'I'll take a look at it.' We get back 'Streets of Philadelphia.' [My wife] Joanne and I listened to it. It was the most amazing song... but I'm thinking, 'Damn, it's not that guitar anthem!' And Joanne said, 'You know, I think these guys trust your film more than you do.'"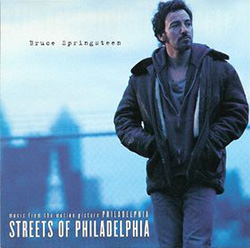 "Streets of Philadelphia" remains Springsteen's most recent Top 10 hit single in the U.S., peaking at number 9 on the Billboard Hot 100 chart. It also was a Top 10 hit in many other countries, reaching number 1 in eight of them: Austria, Belgium, Canada, France, Germany, Ireland, Italy and Norway. Demme directed the official music video for "Streets of Philadelphia" as well, featuring scenes from the film's opening sequence combined with additional scenes of Bruce singing while literally walking the streets of Philadelphia and its surrounding area [click here to see the video, including Demme's Hitchcockian cameo at 1:35]. Bruce's live vocals from the video shoot were mixed with the original recording's instrumental tracks, a la his "Brilliant Disguise" clip. Some deleted scenes for the video were shot with legendary jazz singer Jimmy Scott, who performed background vocals on one version of the song. While Scott's contributions to the video and to the "Streets of Philadelphia" recording eventually were cut, a portion of his background vocals can still be heard during a moving scene of the film.
Almost a year after winning his Oscar (and he'd already won the Golden Globe), Bruce also won four Grammys for "Streets of Philadelphia": Song of the Year, Best Song Written Specifically for a Motion Picture or for Television, Best Rock Song and Best Male Rock Vocal. Bruce accepted his Best Male Rock Vocal Grammy "in memory of Kristen Carr, whose spirit is in this song." Kristen Ann Carr, the daughter of Springsteen's co-manager Barbara Carr and biographer/critic Dave Marsh, was just 21 years old when she died of retroperitoneal sarcoma in early 1993. The Kristen Ann Carr Fund was established in her memory. Marsh later wrote, "Whether ['Streets of Philadelphia' is] a great song about AIDS, I don't know; but having studied the subject more than a little... I know it's one of the greatest rock songs about death and dying. The first time I heard Bruce sing one of its most poignant lines — 'my clothes don't fit me no more' — I knew that Kristen had left her mark on the song."
- March 21, 2014 - reporting and photograph of Jonathan Demme by Shawn Poole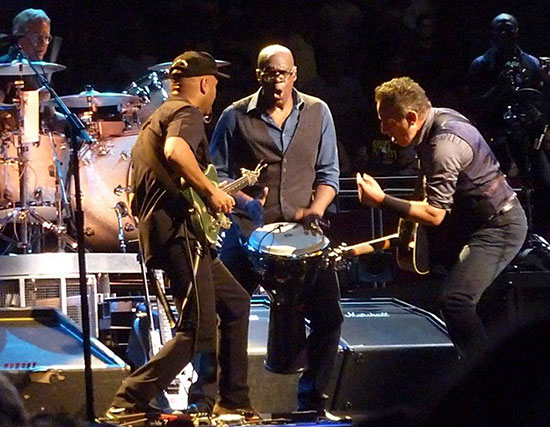 BIRTHADELIC
A very happy birthday to the Reverend Everett Bradley!
- March 16, 2014 - photograph by Bill Donohoe (Sydney 2014)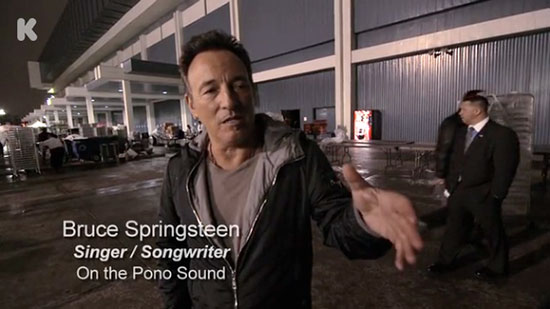 BRUCE CHIMES IN FOR PONO, NEIL YOUNG'S DIGITAL MUSIC SYSTEM
Faster than you can say "but I don't want to have to rebuy all my music again," PonoMusic founder Neil Young's effort to develop a player and delivery system for high resolution digital music is off to an impressive start. Just a day into its Kickstarter fundraising campaign, Pono has raised more than double its inital $800K goal, at $1.75 million and counting, with testimonials from myriad musicians including Eddie Vedder, Tom Petty, Emmylou Harris, Rick Rubin, Sting, Beck, Jack White, Patti Smith, Arcade Fire, and Bruce Springsteen.
Springsteen says, "What he's done is that he's developed something that creates a very warm analog sound that takes even your digital records and gives them a certain sort of bottom, a certain sort of glue, but more than anything else, a closeness — an intimacy that digital recording can lose easily."
Neil describes the effort thusly: "Pono is about the music, it's about the people who make the music, and about the way it sounds to us when we're in the studio making it. It's about you hearing what we hear. And that hasn't happened in a long time. We wanted you to be part of this, and to help us to launch this music system into the world. It's a music ecosystem."
Find out more and watch the testimonial video at Kickstarter.com.
- March 12, 2014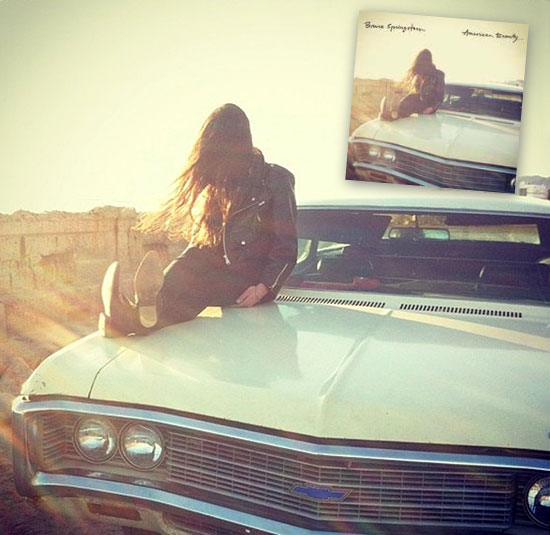 FIRST LOOK: AMERICAN BEAUTY EP
The cover for Springsteen's forthcoming EP, American Beauty, is a rare one in that it doesn't show the man himself — instead, the sleeve's artwork features a girl sittin' on the hood of a Chevy. Springsteen spoke about the four-track record with Sean Sennett down in New Zealand last week:
"It's got some nice things on it. This is material from the past decade. Some were demos that I never cut. I believe 'American Beauty' was a demo I made that I didn't end up cutting with Brendan. I believe "Hurry Up Sundown" was the same thing. The other two songs, one was cut for maybe Magic or Working on a Dream and they're just good music that didn't get onto this record, and was sitting there. I thought it's a nice time to support the record stores, which are dwindling and get some new music out at the same time." Read more of Sennett's interview at rollingstone.com.
American Beauty vinyl will be available from independent shops on Record Store Day, April 19; further info on a digital release as we have it.
- March 11, 2014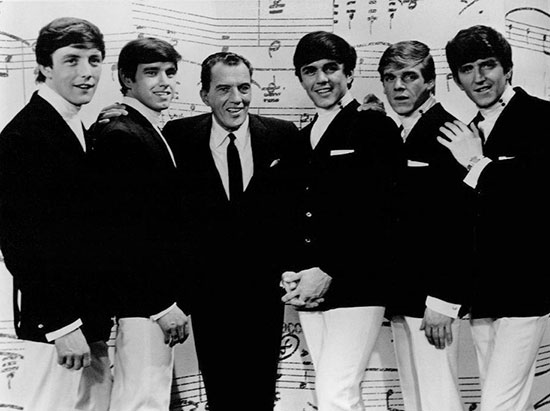 BRUCE AND STEVE ON THE DC5 IN "GLAD ALL OVER"
A new episode of the PBS series Great Performances titled "The Dave Clark Five and Beyond: Glad All Over" will feature newly filmed interviews with both Bruce Springsteen and Steve Van Zandt. The two-hour special includes rare live concert footage, selections from television appearances including The Ed Sullivan Show, and footage from Dave Clark's personal film archives.
Luminaries like Sir Paul McCartney and Dionne Warwick were also interviewed for the broadcast, which showcases performances by The Beatles, The Rolling Stones, Stevie Wonder and Marvin Gaye among others.
The Dave Clark Five, as the first English band to tour America, were at the forefront of the British Invasion of 1964. Springsteen and Van Zandt are both longtime devotees of this seminal band; indeed, a 1981 Rolling Stone piece mentions a River tour wrap party with Bruce's own tapes blasting the DC5 in the background, and the band can often be heard on Little Steven's Underground Garage radio program .
"Glad All Over" will debut on PBS in April. Check local listings.
- March 10, 2014 - Lisa Iannucci reporting


"WE'RE REPAIRMEN: EVERYBODY'S BROKEN SOMEWHERE"
A preview for Thom Zimny's High Hopes doc, premiering next month on HBO.
- March 10, 2014

MUSICARES DVD/BLU-RAY COMING 3/25 - PREORDER NOW!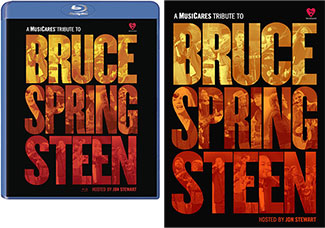 Save 10% when you pre-order A MusiCares Tribute to Bruce Springsteen from Backstreet Records: we're accepting orders now, and we'll carry both the DVD (list price $15, our price $13.50) and the Blu-ray (list price $20, our price $18).
Both formats are due March 25, and as always, we'll ship out to our customers just as soon as humanly possible upon release.
Thanks for supporting Backstreets!
- March 6, 2014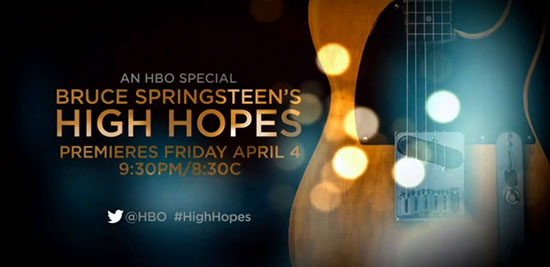 HIGH HOPES HALF-HOUR DOC COMING TO HBO NEXT MONTH
Bruce Springsteen and the E Street Band's U.S. dates — their first since 2012 — begin a month from today. That same week, the E Street Band will be inducted into the Rock and Roll Hall of Fame, and, it was announced today, HBO will premiere a 30-minute documentary that explores the making of Springsteen's latest album.
Bruce Springsteen's High Hopes, directed by Thom Zimny, debuts on HBO on Friday, April 4, at 9:30pm Eastern/Pacific. According to today's press release, "The film features rare behind-the-scenes studio and rehearsal segments, exclusive E Street Band tour footage and revealing interviews with Springsteen and album collaborator Tom Morello.... The two discuss their artistic choices for the project and explain how Morello brought a distinctive twist to Springsteen's material."
We're told that the film includes footage from Springsteen's December interview at E Street Radio, from E Street Band rehearsals at SIR Studios, and from the tour in South Africa.
After its April 4 debut, Bruce Springsteen's High Hopes will air several more times that weekend and the following week, leading up to the E Street Band's April 10 Rock Hall honor. See HBO.com for a list of all showings.
- March 6, 2014

WITH ALL THE MARCH MADNESS IN MY SOUL
E Street Band to play free NCAA March Madness Music Festival in Dallas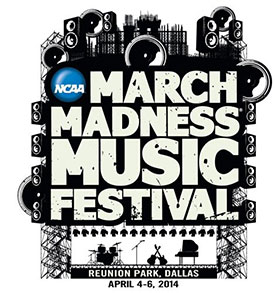 Just announced today: Bruce Springsteen & The E Street Band will be the closing act for the 2014 NCAA March Madness Music Festival on Sunday, April 6 in Dallas, TX. Springsteen's concert will cap off the final Capital One JamFest event of the three-day free music festival, held in conjunction with the NCAA Final Four Men's Basketball Championship.
This free concert, open to the general public, will be their first performance in Dallas since the Magic Tour in 2008. Their performance will close the ending day of the festival's three-day run at Reunion Park. (So far, the only other announced act for Sunday, April 6 is the band Fun., though more acts are expected to be announced soon.) The NCAA March Madness Music Festival is a completely non-ticketed event open to the public on a first-come basis. The Festival's gates are scheduled to open for the Sunday performances at 2 pm and close at 10:30 pm. Click here for a detailed FAQ on attending this event.
For Springsteen's current tour itinerary with links,
see our Tour/Ticket Info page
- March 4, 2014 - Shawn Poole reporting

WEDNESDAY, I'M FEELIN' NEW
E Street Radio's Live From E Street Nation begins new time slot
Fans of Live From E Street Nation, E Street Radio's live weekly call-in show hosted by Dave Marsh, now will have Wednesday on their mind instead of Friday. Beginning this week on March 5, the show moves to a new day-and-time-slot: Wednesdays, 10am-12 pm ET (with a new replay slot, as well, on Sundays, 6-8pm ET.) This Wednesday's show also will be the first since Marsh's return from Australia and New Zealand, so there will be much to discuss. Tune in (and join the discussion yourself at 877-70-BRUCE) on Sirius/XM channel 20.
- March 4, 2014 - Shawn Poole reporting


MARCH 2, AUCKLAND NIGHT 2: THE LONG-AGO NEXT BIG THING
The last of 13 shows on this Australasian leg of Bruce Springsteen and the E Street Band's 2014 world tour began and ended with "Royals": Stripped and raw by a lone Springsteen at 7:30, the original studio version on the PA at 10:45 after Bruce said goodbye with an acoustic "This Hard Land." For the second night Bruce changed Lorde's line "We're bigger than we ever dreamed" to "Long ago I was the next big thing," relating the Kiwi wunderkind's plight of remaining true after a deluge of hype to his own. The final song of this remarkable tour of Australia and New Zealand offered Lorde, and all of us, a hard-won formula for perseverance: "Stay hard, stay hungry, stay alive."
And maybe get yourself a heart-stopping, pants-dropping, house-rocking, earth-quaking, booty-shaking, Viagra-taking, love-making— did I mention Viagra-taking? — legendary band.
The stadium-friendly setlist was anchored by an impeccable Born to Run and revival of the Wrecking Ball-tour version of "My City of Ruins." Bruce & Co. took the stage with at least a half-hour of daylight remaining, prompting several poses that emphasized the packed house of 40,000 on the stage's massive rear screen. Tom Morello's feedback kicked off a roiling "We Take Care of Our Own" before Bruce made sure he had everyone's attention with a feel-good trio of "No Surrender," "Two Hearts" (do Kiwis recognize Steve's Nixonian antics at the song's end?) and "Hungry Heart." Darkness hadn't yet settled in but Bruce pulled off a gritty "The Promised Land" anyway, and Charles Giordano's B3 organ riffs were the spats on a gangster-cool, Nils Lofgren-led "Seeds."
Like the outdoor weekend shows in Melbourne's AAMI Park two weeks ago, the Sunday crowd at Mt. Smart Stadium was noticeably less energetic than Saturday's. That's not a subjective analysis — Bruce and Steve saw it for themselves at the start of "Death to My Hometown" as they stood waiting to hear the song's wordless refrain come roaring at them like it had the night before. Alas, it wasn't that kind of crowd. They performed undeterred, Bruce beating on his guitar as hard as Jake and Everett were pounding their drums, but a chance for magic was lost.
Tom Morello, who was either shredding or grinning all night, lit a Rage Against the Machine-esque fire during "High Hopes" before "Just Like Fire Would" returned from a one-show absence. Perhaps because a slow number was to follow, Bruce unleashed a "Darkness on the Edge of Town" that did everything but bring rain from the sky. From desperate vocals to guitar licks like thunderbolts he proved without a doubt the blood still burns his veins.
Though played several times during the Australian tour of 2013, the version of "My City of Ruins" that was a fixture of the 2012 world tour had gone unheard in New Zealand until tonight. After testifying to the spiritual salvation of soul music, he dedicated the song to "our friends from Christchurch" who were in attendance, many of whom had tragically lost loved ones during the 2010 earthquake. We remembered, we cheered those "in the house" as Bruce introduced band members one by one, and we sang "C'mon rise up!" to the heavens. When spotlights fell on the empty spaces occupied for so long by Danny and Clarence, Bruce stood with eyes closed facing them like he was willing his fallen comrades to re-appear. It was a special performance of a rarely played tour-de-force [YouTube video here].
Shockingly, "rarely played" is not how you'd describe Born to Run in its entirety, at least in Australasia. As in Melbourne two weeks prior, he followed up a Born in the U.S.A. Saturday show with a BTR on Sunday. This performance was tighter and oftentimes practically identical to the album version. "Thunder Road" was transcendent, Jake owned "Night," "Backstreets" rose and fell on Roy's piano before Bruce and Steve met at center mic and carried it home. Come the old Side 2 and "Born to Run" felt good freed of its encore slot, Kansas City Curt Ramm earned his place in the spotlight with Bruce during a suddenly oft-heard "Meeting Across the River"... and then came "Jungleland." Watching Bruce react to Jake's solo is maybe the most emotional thing 've ever witnessed in 30 years of seeing Bruce perform on stage. He's an entertainer, but it's no act.
You'd be hard-pressed to find two songs that complement each other as well as "The Ghost of Tom Joad" and "Badlands"; they brought the main set to a fitting close. "Waitin' on a Sunny Day" and "Glory Days" made the crowd happy (especially those way in the back, whom Bruce instructed "show us your underpants!") but a frantic "Seven Nights to Rock" made Bruce crazy as a cut snake. Racing around the stage to kiss Sister Soozie and Ed Manion, tossing his plastic tray of ice water into the pit, mugging for cameras... he guaranteed himself a restful flight back to the States. "Twist and Shout" closed things out with a gathering on the center thrust that featured Morello jumping up and down like a kid, Cindy and Michelle swaying and smiling, the horn section blowing like a Cuban fire brigade, and Bruce standing atop a monitor like a zombie.
We knew it was time to say goodbye, and at least we got a moment of pure joy to hold onto. Bruce lined everyone up for a final salute to the E Street Band and we soaked it up, unsure of what the future holds but knowing Australia's been the luckiest corner of the Springsteen universe the past 12 months.
Alone with an acoustic guitar and mouth harp he thanked Mahalia Barnes & the Soul Mates and Jimmy Barnes for opening both shows (Stevie joined Jimmy once again) and then asked folks to help out those doing God's work for the Auckland City Mission. He also thanked New Zealand for a "spectacular welcome" and said "the last two nights have been really overwhelming." Encouragingly, he also said, "we'll get back more often — we promise."
My advice to those holding tickets for recently announced shows in the States? Savor every moment. The waiting, the buying, the travelling, the queuing, the awkward conversations with the unconverted. You'll come away with new friends for life, new favorite places, a little more soul in your strut, and a perfectly healthy addiction to joy. But you knew that already, didn't you?
Let's go to the tape: Born to Run was played with such precision and passion that it's hard to imagine a better start-to-finish version. "Seeds" continues to evolve from stadium-friendly rocker to a richer, darker song – I look forward to reliving Giordano's menacing organ. Morello is always technically amazing, but tonight he seemed devilish, and it seeped into his playing. Old stalwarts "Darkness on the Edge of Town" and "Badlands" vibrated with energy, and I'm curious to see if it comes through in the recording. It's not curiosity that makes me wants to relive "Seven Nights to Rock" — it's my ass telling my brain it wants to shake, and my brain knowing exactly how to make my ass regret being so goddamned pushy.
For the full setlist from this and other recent performances,
see our Setlists page
- March 3, 2014 - Joe Wall reporting - photographs by @patricklion (1-4,6,7) and J.W. (5)