This coming weekend marks the 35th anniversary of Bruce Springsteen's famous jump over the wall at Graceland in an unsuccessful attempt to meet his original and enduring musical inspiration, Elvis Presley. Springsteen has related the details of his Memphis misadventure in many concerts and interviews since '76 — sometimes as a humorous anecdote, sometimes a moving reflection on the perils of fame, most often both simultaneously. In 2009, Bruce began adding a previously unstated wrinkle about intending to offer his song "Fire" for Elvis to record, if they actually had met that evening.
During a show in February, Klein took a call from "Tom from Bedford, NY," a fan of both Elvis and Bruce, and chatted a bit on the air about the Graceland wall-jumping incident. "I was wondering," said Tom, "if, before he died, Elvis was aware of Bruce Springsteen on any level." "Sure he was," replied Klein. "He liked Springsteen; he sure did.... [Springsteen] came on the scene real quick and hard and heavy, and Elvis liked [him] 'cause he was a rock 'n' roller." GK also believes that the late Vester Presley, one of Elvis' uncles, was among the Graceland guards involved in stopping and questioning Bruce back in '76 (informing him that Elvis wasn't home before politely escorting him off the property).
There are a few interesting E Street connections to Phoebe Snow, who also spent her formative years in the great state of New Jersey. In 1979, Snow was one of the many artists who joined Bruce Springsteen & The E Street Band in the series of Musicians United for Safe Energy "No Nukes" benefit concerts at New York City's Madison Square Garden, though they performed on different evenings. In 2001, Snow joined Springsteen, Patti Scialfa, Garry Tallent, Max Weinberg and others onstage in New Jersey for two consecutive nights as part of the Alliance of Neighbors benefit concerts following the 9/11 attacks. A short time later, Snow performed at another 9/11-related concert for rescue workers in New York City with the late Delores Holmes, former member of the Bruce Springsteen Band.
Probably the sweetest and most touching connection to Springsteen, however, involves Snow's encounter with Bruce at a 1972 gig that was extremely important to his budding musical career. Check out Chris Jordan's piece "Phoebe Snow Gets Discovered by Bruce Springsteen" for the story. More on Snow's life and career also can be found at her official website, phoebesnow.com.
- April 27, 2011 - Shawn Poole reporting
Covers across the two discs span eras from "It's Hard to Be a Saint in the City" to "Tomorrow Never Knows," with obscure cuts like "Iceman," "Matamoros Banks," and the wildly reimagined blues stomp of "Factory" along the way. The tribute is heavy with artists from Labianca's homeland, Italy of course being a bastion for Springsteen fandom. But a few artists from the American Land and elsewhere turn up on the set, as Labianca explains the philosophy behind Route 61: "What I have in mind is a connection between my country and the United States, which explains why the motto of the label is 'Americana made in Italy'."
The screenings begin Friday night in Washington, DC; Ft. Lauderdale, FL; Key West, FL; St. Pete Beach, FL; Three Rivers, MI; New York, NY; Southampton, NY; and Dallas, TX. Click here to see the full list of theaters and showings. Since we originally posted about the series, cities added include Los Angeles, Brooklyn, Austin, Detroit, Rochester, and Buffalo — we hope you find one near you.
Movie poster giveaway!
Like what you see above? It's the official 27" x 40" movie poster for these benefit screenings, produced by Columbia and Emerging Pictures — and Backstreets has three of them to give away.
Simply pre-order the new title from Backstreet Records in any format — DVD, DVD/T-shirt bundle (exclusive shirt pictured below), or Blu-ray — and you'll be automatically entered into our drawing to bring home one of these beauties. There are three chances to win, as we'll draw three names at random from pre-orders placed by Friday, April 29 at 2 p.m. (and of course, everyone who has pre-ordered already will be included in the drawing). Thanks as always for supporting Backstreets and Backstreet Records!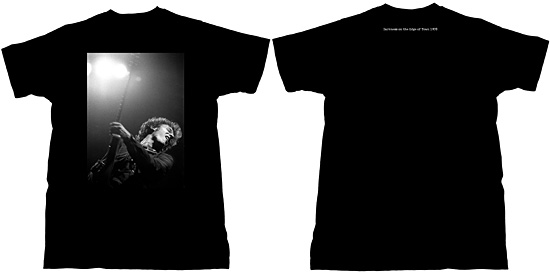 - April 21, 2011

TOMORROW IN NYC: SESSIONS BAND TRIO BACKS COWBOY JACK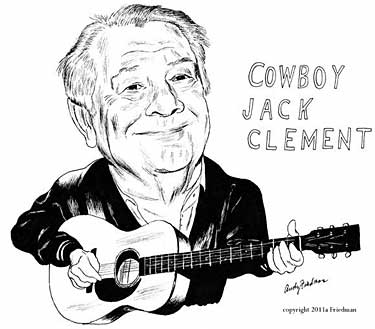 On Friday, April 22, Sessions Band members Charlie Giordano (keyboards), Jeremy Chatzky (upright bass) and Larry Eagle (drums) will be stepping in to back up yet another music legend, albeit one a little older than Bruce Springsteen: "Cowboy" Jack Clement. Venerable New York City listening room Joe's Pub will host the 80-year-old Clement, a true music legend in every sense of the word, who got his start working for Sam Phillips at Sun Studios in the mid-'50s and is widely credited for discovering Jerry Lee Lewis, who he recorded while Phillips was out of town(!). Clement went on to write songs for the Killer ("It'll Be Me") and Johnny Cash ("Guess Things Happen That Way," "Ballad of a Teenage Queen") before leaving Sun for Music City USA in 1959. In Nashville, Clement wrote and produced prolifically throughout the 1960s, working with everyone from Charley Pride and Jim Reeves to Ray Charles and Elvis. As the '60s came to a close, Clement's experimental outlook — and his ability to create hits — made him one of the few old-school producers that appealed to Nashville's new guard, and in 1975 the emerging king of the "outlaw" movement, Waylon Jennings, enlisted Jack to produce his classic Dreaming My Dreams LP, Jennings' first album to go to the top of the charts.
Aside from the obvious Bruce connections tomorrow night's show entails, there are a few others worth noting: Clement was approached by Springsteen pal Bono in 1987 to produce a portion of U2's Rattle and Hum album recorded at his old employment site, Sun Studios. One of the tracks Clement recorded that didn't make it on to the album, Woody Guthrie's "Jesus Christ," eventually wound up on the Folkways Guthrie tribute, A Vision Shared, on which Bruce also appears. Bono later returned the favor, speaking highly of Cowboy Jack in Robert Gordon's highly entertaining 2005 Clement documentary, Shakespeare Was a Big George Jones Fan. Clement also hosts his own show on Sirius/XM Satellite Radio Channel 63 — Little Steven's Outlaw Country — from 2 to 6 p.m. on Saturdays.
This show — a truly rare chance to catch this music legend backed by some of our favorite musicians — happens tomorrow night at Joe's Pub, located at 425 Lafayette Street in New York City.
- April 21, 2011 - John Howie, Jr. reporting

THIS... IS AMERICAN IDOL... BUT WILL BRUCE... APPEAR?

Five years ago, our
lead April Fools bit
had Bruce Springsteen guesting on American Idol — a particularly ridiculous goof because it would never happen, right? Right? Well, probably not. But on Friday, a tweet from the official @AmericanIdol account
suggested otherwise
: "Holy pride of New Jersey... BRUCE SPRINGSTEEN in the studio right now lisening to the idols sing!!!!" In case anyone was still rubbing their eyes in disbelief (though Jimmy Iovine's involvment in the current season makes it seem less far-fetched) a
second tweet
later that day repeated the news.
As outlets including E! Online and MTV.com picked up the story, the rumor has quickly become that Springsteen's visit will actually make it to air Wednesday night — that he's this week's "special guest." And as our inbox fills up with "Is it really true?" and "Say it ain't so!" emails, all we can say is this: after a reading of the Backstreets Magic 8-Ball, "Sources say no." There's been no follow-up from Idol, twittering or otherwise, and no official confirmation from any camp. Should you tune in just in case? That's a decision that only you can make, my friend.
4/21 update: Was the Magic 8-Ball correct? It is decidedly so.
- Updated April 21, 2011


RADIO ON THE INTERNET

The Bruce and Stevie Show trifecta is complete , with Part 3 (another "extended version") streaming now at
UndergroundGarage.com
. Stevie calls it "our first public conversation after 46 years of friendship, but who's counting.... It is basically the conversation we had in the mid 60's, as we discovered one cool band after another, and this weekend we are playing them all for you."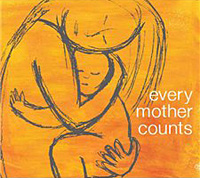 We also want to point you to the online archives for 105.7 The Hawk's "Bruce Brunch" for more radio goodness. Host Tom Cunningham always puts on a good show, and he's been on a roll lately with Clarence Clemons, Steve Van Zandt and Patti Scialfa as guests in recent weeks — all three interviews are streaming now.
Tom talks with Patti about her latest offering "Children's Song," a duet with an unbilled Bruce that appears on the new compilation Every Mother Counts, avaialble exclusively from Starbucks.
- April 20, 2011


CELEBRATING RSD2011 WITH HUGE STORE INFLUX OF VINYL
Not digging for records? Save 10% off everything else, Saturday only!

Ah, one of our favorite days of the year is upon us... and though we aren't yet stocking the Record Store Day 2011 Springsteen 10-inch (that's for brick-and-mortar stores only on April 16), we still want to celebrate at
Backstreet Records
.
Just in time for the big day, we've added a whole slew of records to our online shop -- the fortunes of heaven in black vinyl. So now, in addition to the in-print titles we usually carry (like the Magic and Working on a Dream LPs, and last year's RSD 10-inch), we're loaded up on rare and out-of-print records: Springsteen vinyl from throughout his career and around the world, as well as records by E Streeters and related artists like Southside Johnny. Whether you're a hardcore vinyl collector or somebody who just set their turntable back up, you'll want to check out our new bounty:
Quantities are limited -- for many of the records listed, only one copy is available. So act fast if you see something you want! Also take note, we still have The Promise 3-LP set, which is already out of print and hard to find.

Of course, we know that not everyone is into vinyl. And for Record Store Day we wanted to do something for everybody... so for all non-vinyl purchases, here's a special deal for Saturday only: use coupon code RSD2011 to take 10% OFF everything else in our online store. We've just added a whole bunch of limited and rare CDs and CD singles to our Compact Discs section, too.
Plus: everyone who places an order between now and Saturday, April 16 at midnight Eastern will receive a FREE Backstreets bumpersticker with their package (no coupon necessary).

Happy Record Store Day -- click here to find out more about the official celebration and participating independent shops. Support your locals!
- April 15, 2011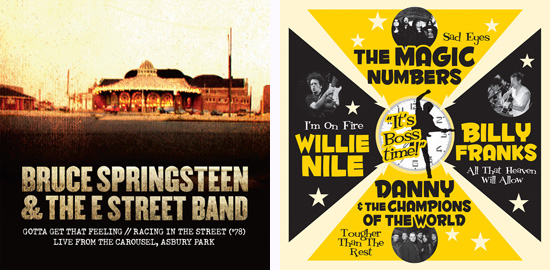 ATTENTION VINYL FANS!
Record Store Day is just two days away... And of course we've got the new Springsteen 10-inch single to look forward to, with live versions of "Gotta Get That Feeling" and "Racing in the Street ('78)." Support your local indie shops and grab a copy on Saturday, April 16, if you can!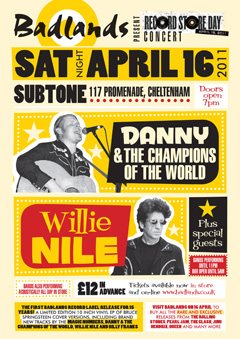 That's not the only new 10-inch on the way: our friends at Badlands in the U.K. are putting out one of their own for Record Store Day, a four-song EP called It's Boss Time! The record has four Springsteen covers: "I'm on Fire" by Willie Nile, a sublime "Sad Eyes" by The Magic Numbers, "Tougher Than the Rest" by Danny & the Champions of the World, and "All That Heaven Will Allow" by Billy Franks. As with all Record Store Day releases, this will be available on Saturday in brick-and-mortar shops only — at Badlands and all RSD stores in the U.K, and in the U.S. exclusively at Jack's Music Shoppe in Red Bank, NJ.
Badlands will be celebrating Record Store Day and their EP release at their shop in Cheltenham with live acts performing instore during the day and a concert in the evening featuring Willie Nile and Danny and the Champs. Click here for tickets and more information.
For those who can't score a copy of It's Boss Time! on Saturday, the record will be available online starting on April 25, exclusively from Backstreet Records in the U.S. and Badlands.co.uk in the U.K.
- April 14, 2011

THE MAX WEINBERG BIG B-DAY
The big beat began 60 years ago today! We're sending out happy birthday wishes to Mighty Max, born April 13, 1951.



MEETING ACROSS THE RIVER
Even if you caught the most recent installment of Little Steven's Underground Garage on the radio, you still may want to stream (Show 471) online. This "Extended Version" of "The Bruce and Stevie Show, Part 2" has over 25 minutes of bonus content.
According to the Coolest Little DJ in the U.S.A., it's "part two of our three-part 9th anniversary show in the Underground Garage, with once again Bruce Springsteen as my co-host. We play the coolest records ever made that influenced us growing up. This week we have the Kinks, the Troggs, Dusty Springfield, the Cream, the Rolling Stones, and all kinds of cool things. Tune in as we reveal all the secrets -- like how to get from New Jersey across that river to the big city..."
Part 3 debuts in a matter of days — find your local affiliate here, or listen online next week.
- April 12, 2011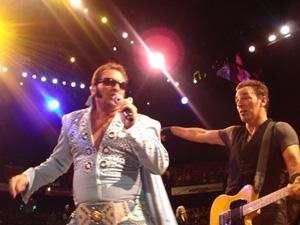 PHILLY ELVIS' "MAN OF THE YEAR" CAMPAIGN WINDS DOWN… AND HEATS UP
Nick Ferraro, who has resurrected "The Philly Elvis" briefly for the Leukemia & Lymphoma Society's Man/Woman of the Year fundraising campaign, is in the home stretch of his race to be "the man at the top." With only two weeks of fundraising left, Nick/"Elvis" has lined up his final series of Pennsylvania-area shows and appearances for the campaign, with every penny going directly to aid the fight against leukemia and other blood cancers. The full itinerary can be found here and here (along with a rare newspaper interview with "The King" himself). E Street Radio also will allow the Philly Elvis to take over the channel tomorrow on "You Be the Boss," airing from 10-10:30 a.m. Eastern on Sirius 10/XM 58, right before "Live From the E Street Nation" with Dave Marsh. Tune in to catch Nick playing some Presley/Springsteen-related tracks and find out how fans in Pennsylvania and everywhere else can support his campaign. Thankyouverymuch.
- April 7, 2011 - Shawn Poole reporting



HEY HO ROCK 'N' ROLL
The three-part "Bruce and Stevie Show" — Springsteen's series of guest appearances on Little Steven's Underground Garage — debuted this past weekend with Part 1 (Show 470), streaming online now. Sez Bruce: "Join me as I co-host Little Steven's Underground Garage with Little Steven himself, in a 3-part celebration of the 9th anniversary of the Underground Garage. We're going to be talking about our roots, the records that we love and that drove us crazy growing up in Jersey, our favorite songs...."
Part 2 is coming right up — find your local affiliate here, or listen online next week.
- April 6, 2011


HOLDING OUT FOR A HERO
Jerseyboy Hero, Chris Vaughn's film about his desperate attempt to get his music heard by local heroes Bruce Springsteen and Jon Bon Jovi, premieres Thursday night April 7 at the Clearview Cinemas in Red Bank (a rough cut was show at last year's Garden State Film Festival). The trailer above tells you what you need to know — including the fact that Springsteen himself makes a cameo. See jerseyboyhero.com for tickets and more information.
- April 6, 2011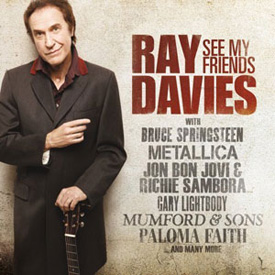 NEW RELEASE TUESDAY
Bruce Springsteen features on two new items just released today and in stock now at Backstreet Records:
Ray Davies' new CD See My Friends, a collection of Davies and friends' new takes on Kinks klassics, leads off with his duet with Springsteen on The Kinks' "Better Things." New release sale: 15% off
Dropkick Murphys' Going Out in Style, with Bruce guesting on "Peg O' My Heart," came out last month on CD... as of today, the album is available on vinyl LP. Check it out: two LPs, white 180 gram vinyl, gatefold sleeve, and the CD is included as well! New release sale: 10% off
- April 5, 2011

SPRINGSTEEN GETS OWNED
According to a tweet from none other than Ms. Winfrey herself, Bruce Springsteen will be an upcoming guest on Oprah Presents: Master Class, which airs on the Oprah Winfrey Network (OWN).
From the website: "Handpicked by Oprah for their unique impact on the world, eight true modern masters sit down to share the untold stories that have shaped their lives and the greatest life lessons they've learned along the way. In an intimate setting, they open up about their successes, failures, triumphs, disappointments and heartbreaks. Master Class offers an unprecedented first-person insight into the brilliant minds of famous people we love, respect and admire. First season masters include Diane Sawyer, Jay-Z, Dr. Maya Angelou, Simon Cowell, Dr. Condoleezza Rice, Lorne Michaels and Oprah herself."

Last night's announcement from @Oprah: "There will be more Master Classes with Bono, Jane Fonda, Bruce Springsteen, Chris Rock, Diana Ross and Barbara Walters #OprahLiveTweet"
- April 4, 2011

"SOMETHING TO BEHOLD"
New video of Saturday night's final three songs, courtesy of Rose A. Montana: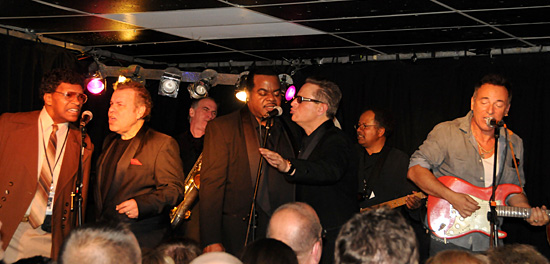 GO WEST: SPRINGSTEEN HELPS CELEBRATE ASBURY MUSIC HISTORY
Bruce made two surprise appearances in Asbury Park on Saturday, first at a panel discussion at the Atonement Lutheran Church and later that same evening at the Wonder Bar, where he participated in a concert hosted by vocalist Nicky Addeo that celebrated the music of Asbury's West Side.
The round table discussion, which also included Addeo, Bobby Thomas (The Vibranaires) and Southside Johnny Lyon, was hosted by author Daniel Wolff (4th of July, Asbury Park: A History of the Promised Land), who led the panel through a discussion of Asbury's West Side music scene and the racial and economic issues that shaped the city's cultural and political history.
Wolff began the proceedings with a brief lesson on Asbury's somewhat checkered past, and after introducing each panel member, he led the guests through a series of questions about their memories of the city's music scene both before and after the 1970 riots, and how their lives and careers had intersected with each other. "Asbury Park was always a place for the misfits," Bruce remarked towards the end of the hour-plus conversation.
[Clips from kja283. For a more complete document of the panel discussion, see stzapper's YouTube channel, starting with West Side Sound AP 1; you'll find performance clips from that evening there, too.]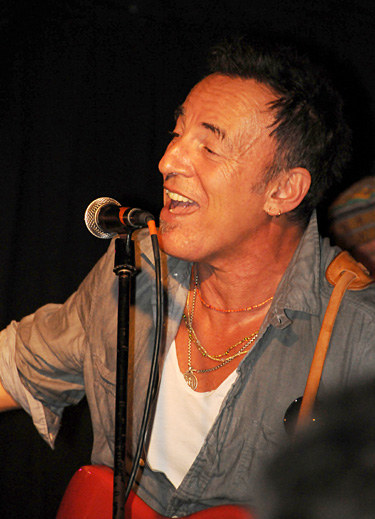 A few hours later, ticket holders for the Wonder Bar event, who were greeted by the surprising sight of Bruce sitting at the bar nursing a cocktail, enjoyed three sets of R&B, doo-wop and rock'n'roll classics performed by a stellar cast of Asbury musicians past and present. The concert, billed as "Nicky Addeo and Friends Celebrate the Music of Asbury Park's West Side," featured a hastily assembled house band (led by Addeo) that included Ed Manion of the Jukes on saxophone, guitar legend (and ex-Red Bank Rocker) Billy Ryan, and former E Streeter Vini Lopez on drums.
Ed Manion guided the band through a couple of instrumental vamps to start the night off, and then Bruce, dressed in jeans, white t-shirt and black leather jacket, walked on and briefly set the scene for the night: "Before there was an E Street Band or an Asbury Jukes, there was the music of the West Side... Tonight we're here to celebrate that history." Then, borrowing a guitar from Ryan, Bruce staked out a position stage left and the rotating lineup of vocalists — which included Nicky Addeo and another local resident named Southside Johnny — performed the doo-wop classics "Gloria" and "Crying in the Chapel." Addeo then called Bruce forward to trade verses on Ben E. King's "Stand by Me."
Perhaps energized by the afternoon's lively, memory-filled discussion, it seemed that Southside Johnny was truly in his element last night — arranging vocals, leading the band, cracking wise, playfully demonstrating his dance moves. Even standing just offstage singing along with the performers, it seemed he could barely contain himself.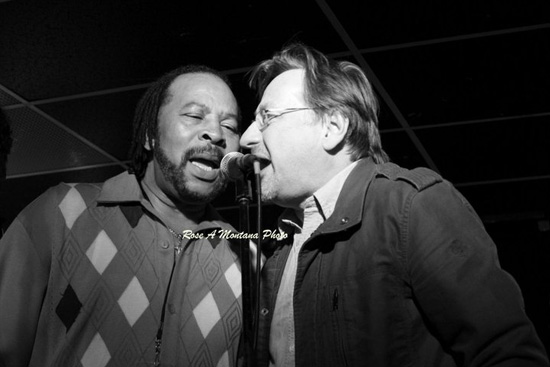 After a second set led by Southside and Nicky, Bruce reappeared to close out the night, contributing guitar and backing vocals on a slow, bluesy version of Chuck Willis' "C.C. Rider" and laying down some doo-wop on Don and Juan's 1962 hit "What's Your Name" [video below, see more on YouTube from rotolo3].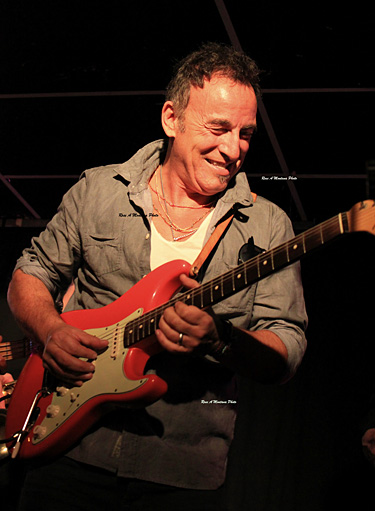 Before starting "What's Your Name," Bruce noted, "We were talking this afternoon. In the early '60s there were two kinds of bands, guys who sang, the vocal groups, and there were the instrumental groups. That was it, they didn't meet. After 1964 and the Beatles, people sang and played. In the meantime, those things crossed over so I would end up opening for Nicky or The Broadways.
"It was an amazing mix of things. But if you were a beat group in those days, you had to know some doo-wop. If you didn't know doo-wop, when it came time for the slow dancing on the floor, you were dead! You had to be able to play the grinding music. So the Castiles did."
Bruce then stepped back and let Lopez take lead vocals on "Johnny B. Goode" before, as they say, exiting stage left, thus concluding a loose, fun-evening filled with laughter and impromptu pleasures, just the kind of thing denizens of the Shore scene have enjoyed time and again over the years.
For the full setlist from this and other recent performances,
see our Setlists page
- April 3, 2011 - Lisa Iannucci reporting - photographs by Terence Camp (1, 2) and Rose A. Montana (3, 4)

BACKSTREET RECORDS NEW ARRIVALS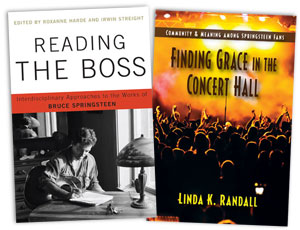 Just in, a pair of new books in the burgeoning field of Springsteen Studies. Linda K. Randall's Finding Grace in the Concert Hall: Community & Meaning Among Springsteen Fans is an ethnography of Springsteen fan culture, while Reading the Boss: Interdisciplinary Approaches to the Works of Bruce Springsteen collects essays on Springsteen's work from 12 established and emerging scholars. Eric Alterman says of Reading the Boss: "It is no longer surprising to see scholars devote themselves to the significance of Bruce Springsteen.... But it is indeed a pleasure to find the quality of such investigations so consistently impressive, probing, and often eloquent. This is a collection worthy of its subject. I know of no higher praise."
Next week, the U.S. release of Ray Davies' See My Friends is April 5, featuring his duet with Springsteen on The Kinks' "Better Days." Pre-order now to save 15%!
- March 31, 2011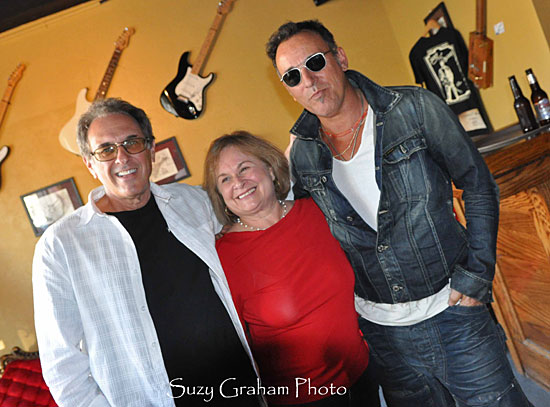 MAN ABOUT TOWN
Springsteen's Asbury Park Press Letter to the Editor and its evident civic pride comes at a time when the Boss has been spotted around town more than usual, supporting local venues and bands, not to mention the local economy. After spending last Thursday visiting the Upstage, which new owner Richard Yorkowitz plans to reopen soon, Springsteen had a big night out in Asbury on Friday. As Blogness on the Edge of Town reports, Springsteen hit the Wonder Bar, and he was also spotted at Asbury Lanes, taking in a set by the Ribeye Brothers of Red Bank.
Photographer Suzy Graham was at the new club Asbury Blues on Sunday when Bruce stopped by: "He came in with two buddies to see the Sonny Kenn Band around 5:00. He was very cool -- he stayed for over an hour, chatted up with Sonny, then as he was leaving he stopped and shook hands and took a few pics." [Asbury Blues owners Howard and Marjorie Bixen with Springsteen, above.]
With New Harmonies in full swing and the Garden State Film Festival happening as well, it's a particularly big weekend coming right up in Asbury Park, with special events featuring Sonny Kenn at the Wonder Bar and much more — see Lisa Iannucci's report below for details.
- Updated March 31, 2011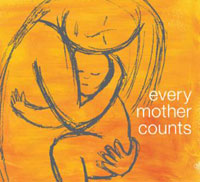 FOR OUR CHILDREN
Patti & Bruce duet on "Children's Song"
As previously reported, the April 12 Every Mother Counts benefit compilation includes a new track from Patti Scialfa, "Children's Song." Turns out it features an uncredited vocal turn from her husband Bruce. She explains to Rolling Stone: "It was supposed to be an album of just mothers... It would probably draw undue attention to the song if his name was on it." When she was asked to contribute a song to the CD, she says her husband "reminded me of ths song I wrote when our kids were really little." Scialfa and Springsteen recorded the duet in their home studio with producer Ron Aniello.
Listen now: "Children's Song" is streaming online at RollingStone.com.
- March 31, 2011

MY HOMETOWN NEWSPAPER
Today's Asbury Park Press includes a Letter to the Editor from Bruce Springsteen, in praise of reporter Michael Symons' recent story, "As poverty rises in NJ, cuts target aid." Springsteen writes: "The article is one of the few that highlights the contradictions between a policy of large tax cuts, on the one hand, and cuts in services to those in the most dire conditions, on the other."
Read: "Story on poverty, aid cuts gives voice to voiceless."
- March 31, 2011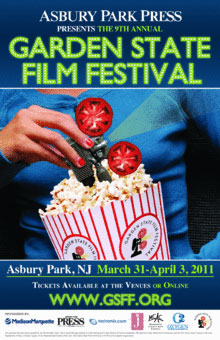 SOMETHING BIG COMING TO ASBURY PARK
Clarence Clemons is Asbury-bound for this weekend's Garden State Film Festival, where he'll attend the premiere of his hour-long documentary Who Do I Think I Am? A Portrait of a Journey along with the film's director, Nick Mead. Clemons and Mead recently spoke with Jay Lustig for the Star-Ledger ("Clarence Clemons documents spiritual journey in new film"), the Big Man talking about "looking for myself" on his travels to China, as well as playing with Lady Gaga, and his plans for the weekend:
Clemons says that since he will be in Jersey this weekend, he will visit the Stone Pony in Asbury Park on Sunday. The club will be hosting a benefit concert that night for Butch Pielka, one of its original owners, who needs help with medical expenses. Clemons doesn't promise that he will play, but does say: "I will be going by there, and I take my horn, of course, wherever I go."
The Who Do I Think I Am? screening event runs from 8:45 to 10:15 on Saturday night, April 2, at the Paramount Theater. Click here for more info.
- March 30, 2011

"MUSIC, MAGIC & MAX WEINBERG"
Max makes beautiful music for those suffering with Alzheimer's
Over the weekend, a special "Music, Magic & Max Weinberg" event had the Mighty One performing with his seven-piece band, leading a drum circle, and discussing his career: performing as a child novelty act with Herb Zane, auditioning for Springsteen and joining the E Street Band in 1974, encountering Conan O'Brien waiting for a light at 54th and 7th in NYC and landing a gig on Late Night, and taking his Big Band on the road. The two-day event, March 26 and 27, benefitted the Seashore Gardens Living Center in Galloway Township, NJ, specifically supporting music-based programs for residents with Alzheimer's disease.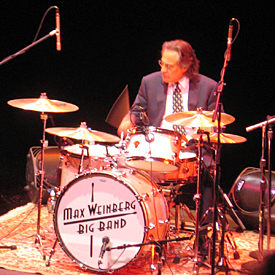 The weekend began with a Max Weinberg Experience concert at Richard Stockton College of New Jersey. Michael Tearson, longtime Philadelphia radio personality and one of the first deejays to play Greetings from Asbury Park in the early 1970s on WMMR, served as emcee for the concert (as well as interviewer for the "Conversation with Max" held on Sunday at the Seashore Gardens). Max assembled a phenomenal band of musicians for this concert including several from the Lincoln Center Jazz Orchestra and Band. They started out swinging with a Quincy Jones arrangement of "Come Fly With Me" and never stopped all night.
Max was witty and charming throughout, bantering with the audience about everything from Moondog Matinee to the Mar-Keys to learning rhythms. The surfer beat: "It was the first beat I learned to play. When you know one beat, you can play with a rock 'n' roll band. When you know two beats, you can play with Bruce Springsteen and the E Street Band!" The crowd roared. Max quipped before he left the stage, rightly, that he managed to keep the audience's attention all evening without having a singer in his band.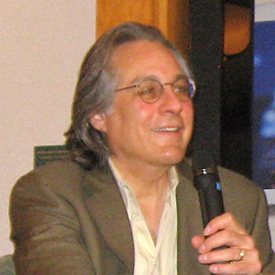 For Sunday's fascinating "Conversation with Max," Tearson's questions led Weinberg down memory lane, starting with his introduction to rock 'n' roll music through Elvis Presley's appearance on The Milton Berle Show in 1956. Max was especially inspired by Elvis's drummer, DJ Fontana whom he later supported for induction into the Rock and Roll Hall of Fame. During and after that broadcast, Max found himself drumming on anything he could find, eventually getting his first drum set at the age of seven.
Later in the conversation, Max described answering that fateful Village Voice ad in the summer of '74, and squeezing in auditions for the E Street Band around his New York gig playing drums for Godspell. He mentioned the teasing he received from Clarence, Garry, and Danny when he showed up for his first audition with just a snare, bass drum, and cymbal. "Boy, he must think he is good, showing up with half a drum set."
Max graciously answered a range of questions from the floor as well. What do Bruce and the band do after a show? "We play for four hours. We're old." Most memorable gigs? "The E Street Band at Boardwalk Hall in Atlantic City. My fathe''s family spent summers in Atlantic City. Atlantic City has a fantastic tradition for entertainment.... Apollo Theater, Manchester, England. It's special playing where the Beatles played. They also played Boardwalk Hall."
The proud father beamed as he spoke about his son Jay filling in with the E Street Band. During rehearsals for the Super Bowl, Bruce handed Max a list of material for Jay to learn — 200 songs. Max described trying to help Jay with them and concluding that "it was much like teaching your teenager to drive." He mentioned Jay's current drumming gig with Against Me! and his upcoming role in the David Chase movie about a rock 'n' roll band in the 1960s in northern New Jersey. "The other members of the band are actors, but they needed to cast a drummer as the band's drummer." Jay is so busy that he has taken a leave of absence from college — apparently the family tradition.
What does Max plan to do next? After joining the E Street Band 37 years ago and after 17 years as the Music Director for O'Brien: "For the first time since I was seven, I am not working all the time. I like not working," he said with a smile. As for the E Street Band, Max says that there are no plans, and that he doesn't know if Bruce is writing for the band. "Nothing is imminent, but anything is possible... Bruce Springsteen and the E Street Band are like Brigadoon. It's an enchanted experience that appears every so often, disappears back into the mist, only to rise again."
- March 30, 2011 - Marianne Murawski reporting

"SHE'S BRINGIN' IT IN AGAIN..."
Bruce Springsteen pays a visit to the Garage
After nine years of broadcasting from his Underground Garage, Little Steven's finally getting a visit down there from his pal Bruce. As the New York Times reports today, Springsteen and Van Zandt have recorded conversations that will air on the next three episodes of the syndicated program, the weekends of April 1, 8, and 15. Dave Itzkoff spoke with Steve for the Times:
The conversations, in which Mr. Springsteen and Mr. Van Zandt talk about their musical influences and whatever else comes to mind, were recorded earlier this month at Mr. Van Zandt's office studio in Greenwich Village....

Mr. Van Zandt said he tried to do as little preparation for Mr. Springsteen's appearance as possible. "By the time we have that lengthy conversation about the show, that's another show," he said. "Let's start with absolute, total spontaneity and just talk. We'll just have a conversation, and then we'll fill in the music later." He added: "I knew it would be a good show, just from us talking. Because we've never really talked to each other, on record, official. Not only on my station, but anywhere."

Though the men have known and performed with each other going back to the early 1970s, Mr. Van Zandt said he learned a few things from Mr. Springsteen during their conversation. For one thing, Mr. Van Zandt said, "I don't think I quite realized how big a fan he was of the Four Seasons."

Mr. Van Zandt said he was also surprised by a segment in which Mr. Springsteen picked up a guitar and demonstrated how his song "Prove It All Night" was more or less lifted from the Animals' "Don't Let Me Be Misunderstood."

Read: "Look Busy for the Boss: Bruce Springsteen Visits 'Little Steven's Underground Garage'"
Find: Radio affiliates that broadcast Little Steven's Underground Garage every week.
MATT CHAMBERLAIN'S THRILL UPON THE HILL
Our corner of the internet is all a-twitter over a pair of tweets from drummer Matt Chamberlain (@Chamberdrums). Chamberlain (not to be confused with Jimmy Chamberlin of Smashing Pumpkins) was Pearl Jam's drummer back in 1991, formed Seattle band Critters Buggin a couple years later, and went on to work at length with Tori Amos. On March 25, Matt tweeted: "When the Boss calls you got to go!" And on March 27: "Today I'm heading out to NJ to record with that guy from there, so excited." So it would seem that some kind of sessions are underway.
Why Chamberlain? What's the Springsteen connection? Well, in addition to his credits above, as an in-demand session player Chamberlain has been a go-to drummer for producer Ron Aniello, who co-produced Patti Scialfa's most recent album, Play It As It Lays, with her. Over the past ten years, Chamberlain has contributed drums/percussion to numerous Aniello produced-albums including Stanley Climbfall by Lifehouse, Beneath These Fireworks by Matt Nathanson, The Now and Not Yet by Jeremy Riddle, and Jukebox Sparrows by Shannon McNally.
It could very well be that Chamberlain is Jersey-bound to work with Patti. But then there was that Ranney benefit at the Stone Pony back in January... Patti wasn't there, but Aniello was, and he even got on stage with Bruce to play guitar on a few songs, which got us thinking. So then the question becomes, is Springsteen not only working with a new drummer, but a new producer too? Just askin'... we won't know 'til we know. But here's hoping Matt keeps the tweets coming.
- March 29, 2011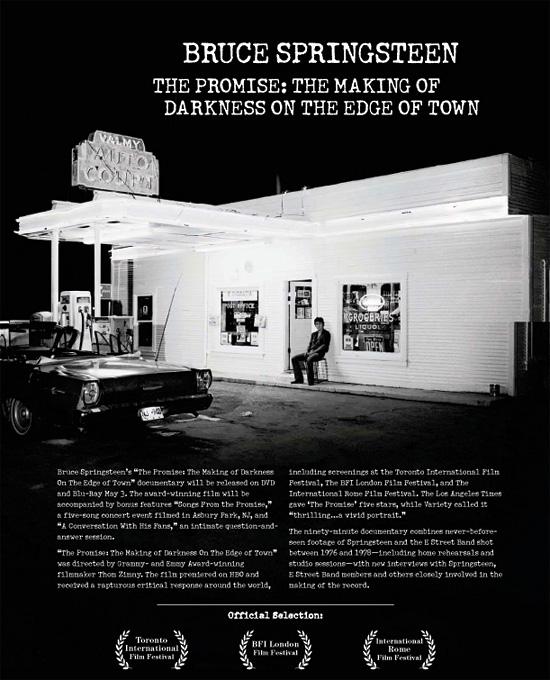 THE PROMISE THEATER SCREENINGS BENEFIT INDEPENDENT CINEMA
Last fall, Thom Zimny's documentary The Promise: The Making on Darkness on the Edge of Town had a handful of silver screenings, at film festivals in Toronto, London, and Rome. In conjunction with its May 3 single-DVD release, the film will have a limited U.S. theatrical run from coast to coast — from Brunswick, ME to San Fancisco, CA; from Bellingham, WA to Miami Beach, FL; and lots in between, including right here in the Carolinas.
Continuing a tradition of support to community-based, independent cinemas, Bruce Springsteen and Columbia Records have once again partnered with Emerging Pictures for this series of charitable screenings. From April 22 to May 3. Emerging Pictures' network of community-based cinemas, performing arts centers and independent art-houses will showing the film as a fundraiser — not-for-profits theatres showcasing the film will keep 100% of funds from ticket sales, while for-profit venues will keep 50%, donating the remaining funds to a charity of their choice. All benefit screenings will also feature Springsteen merchandise giveaways.
Click here to see the full list of theaters and showings.
- March 28, 2011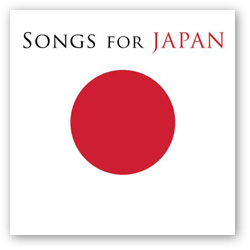 A PRAYER COMIN' THROUGH THE AIR
Released today on iTunes is Songs for Japan, a charity compilation to benefit victims of the devastating earthquake and tsunami. Springsteen's "Human Touch" is here, among tracks from U2 ("Walk On"), Bob Dylan ("Shelter From the Storm") Bon Jovi ("What Do You Got?"), and many more. Thirty-eight tracks for $9.99, with proceeds going to the disaster relief efforts of the Japanese Red Cross Society.
Lawrence Kirsch, author of The Light in Darkness, recently posted this moving e-mail message from a Japanese fan on his website and linked it on the Backstreets Facebook page. Unfortunately, it remains all too relevant, in light of the latest news from Japan:
Hello Lawrence,
I'm Hiroki, big Bruce Springsteen fan for the past 15 years.
I'm temporarily living in South Korea now. So I am safe.
But some of the destroyed nuclear power plants are relatively close to my hometown.
They are still struggling to cool them down. So that's the biggest concern now.

As you can imagine, I have many songs that I can relate to this horrible disaster.
"My City of Ruins," "The Rising" (I was a police officer in Japan), "You're Missing," "Roulette"...
"This Hard Land" is one of them. Especially that last verse now has a complete new meaning to me.
Lots of evacuated people literally sleep in the fields, hungry, just trying to be alive, making a plan to survive everyday...

Being a big Springsteen fan in Japan or in South Korea makes me feel a little bit 'lonely' because it's not so easy to find another fan like me around here.
I have many books on Bruce Springsteen and his music. Your For You and The Light in Darkness are both my favorites 'cause they make me feel less lonely. It's good to know there are many fans out there who have the same passion for his music. It's good to know I'm not alone.
So thanks for your hard work. I really appreciate it.
And thanks for caring for us. Please pray for us.

Hope you keep doing what you've been doing.
Our thoughts continue to be with our fellow fans and readers in Japan, hoping you are safe and stay safe. Concerned fans also may consider supporting the ongoing efforts of Doctors Without Borders, one of the first international groups to have sent medical and logistics assistance teams to affected areas. Doctors Without Borders currently is accepting unrestricted donations online to support their work in Japan and in other areas of need around the world.
- Updated March 25, 2011


DKM / SPRINGSTEEN SOUNDCHECK: "PEG O' MY HEART"
- March 25, 2011

CELEBRATING ALL THE SOUNDS OF ASBURY PARK: APRIL 1-2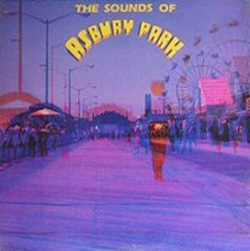 This April, an unprecedented trio of special events will highlight Asbury Park's unique and diverse musical heritage.
On Friday, April 1, the Wonder Bar will host a concert celebrating the 30th anniversary of the release of the Sounds of Asbury Park album. The show will feature a slate of local legends including Sonny Kenn, Boccigalupe & the Bad Boys and Lance Larson. Ken Viola (publisher/editor of the late great Thunder Road fanzine) will host.
The following afternoon (Saturday, April 2) at 2 p.m., author Daniel Wolff (4th of July, Asbury Park) will host a free discussion of the history of race and music in Asbury Park at the Atonement Lutheran Church. The presentation, which will feature Southside Johnny Lyon and guest musicians from Asbury's legendary West Side, will explore what Wolff calls "the under-reported ingredients in the Asbury sound."
And Saturday night these sounds — soul, R&B, funk and doo wop — will come to life, as the Wonder Bar presents a stellar lineup of performers from Asbury's 1960s West Side scene, including Nicky Addeo, Billy Brown (The Moments, The Broadways, Ray, Goodman & Brown) and Bobby Thomas (The Vibranaires, The Orioles).
"Billy Brown and Bobby Thomas will be on the panel I'm leading," Wolff tells Backstreets, "and they'll play that night at the Wonder Bar. The whole thing is a way to bring some long-delayed attention to Asbury's R&B and soul scene. I mean, the lead singer (Billy Brown) from 'Love on a Two-Way Street' out of the West Side of Asbury, not to mention Lenny Welch's 'Since I Fell For You' — some of the music Bruce and Steve and Johnny studied was right there, across the tracks, on Springwood Avenue."
Tickets for both music events are $10 and will be available at the door. Tickets for Saturday's show are also available at www.aphistoricalsociety.org. See www.asburyparkmusic.org for further information.
- March 22, 2011 - Lisa Iannucci reporting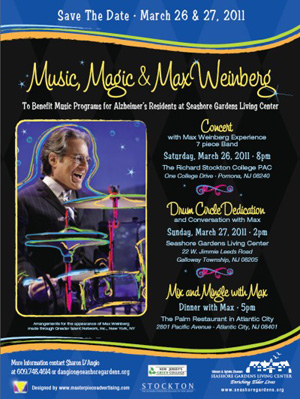 MEET "BURNING MAX"…
AND HIS MOM!
Max Weinberg will be the guest of honor this coming weekend in a special series of "Music, Magic & Max Weinberg" events to benefit the Seashore Gardens Living Center in Galloway Township, NJ. The money raised from all ticket sales will help to support music-based programs for the Living Center's residents with Alzheimer's disease. Featured events will include a meet-and-greet reception and performance with the Max Weinberg Experience seven-piece band on Saturday night, followed on Sunday afternoon by a Burning-Man-style drum circle/conversation with Max and an early-evening "Mix-and-Mingle" with Max at The Palm Restaurant in Atlantic City. Max's scheduled date for the weekend is his "biggest fan": his mother, who's 95 years young.
Tickets remain available for Saturday's concert and Sunday's Mix-and-Mingle event only. Concert tickets ($27/$37 each) are available through the Richard Stockton Performing Arts Center box office in Pomona, NJ (609-652-9000; no online sales). For Mix-and-Mingle tickets only ($500 each), contact Sharon D'Angio at 609-748-4614 or dangios@seashoregardens.org.
- March 23, 2011 – Marianne Murawski and Shawn Poole reporting

ON SHELVES NOW: EVERYONE LOVES YOU WHEN YOU'RE DEAD
Here, a Backstreets exclusive outtake courtesy of author Neil Strauss
Rolling Stone and New York Times rock critic Neil Strauss had more than 3,000 Q&As under his belt when he went to choose the best moments from 20 years of interviewing for his new book, Everyone Loves You When You're Dead: Journeys into Fame and Madness. Bruce Springsteen was one of his many subjects, and on more than one occasion; while the Boss is represented in the book, of course not everything could make the cut. So being the man of style that he is, Neil has kindly provided us with an outtake, which does not appear in Everyone Loves You. The following is an expanded view of Neil's talk with Bruce for his 2006 Rolling Stone piece, "Springsteen Hears Voices."
Springsteen on Raising Teenagers, Marrying for Life, and Growing Old
When compiling the best moments from over a thousand rock interviews for an anthology, Everyone Loves You When You're Dead, I chose to include an afternoon I'd spent interviewing Springsteen for The New York Times in 1999 in a midtown Manhattan bar. However, a later interview I did with him, just before the release of We Shall Overcome: The Seeger Sessions in 2006, has also always stood out to me.

We met at the Paramount Theater in Asbury Park, where he was tirelessly rehearsing his band, continually promising breaks that never came. Instead, he was giving them detailed instructions on performing 2005's "Devils & Dust." "The first note is dark," he told the guitarist. To the backup singers: "Underline 'a dangerous thing' on the lyric sheet."

The band looked exhausted. They'd been going for five hours straight. They were not so much standing as they were sagging.

"It's lunchtime," Patti Scialfa suggested.

"Let's just see what we got," Springsteen pressed.

"Maybe we should do lunch first," she hinted again.

"One more time, then we'll all take a break."

Wearily, horns were put to lips, violin bows to strings, fingers to accordion buttons. When it comes to energy level and focus, Springsteen, even in rehearsal, remained super-human.

When he finally released the band for a much-needed break, we discussed the album and his career. One thing I most vividly recall and have always wanted to share was his attitude toward his children. He was perhaps the only rock star I'd ever interviewed that not only helped his children with their homework, but was also so deeply committed to them that he could even quote their papers. In addition, I was struck by his honesty about and attitude toward his marriage. Though much of this didn't make it into the article, I thought it provided a great glimpse into the way the themes in Springsteen's songs even work themselves into the way he looks at his family.

Is being the parent of teenagers a challenge for you?
I think if you did well those first ten years, when the teenage thing comes around, then it's okay. And it depends on the kid, but, you know, we got two and one on the cusp. I enjoy it, because all of a sudden I find them much easier to engage and they're interested in philosophy and philosophical arguments, and they have distinct opinions about the world and politics and what should be and what shouldn't be. And they're people now. I like that a lot.

I remember walking in my son's room one day, and I looked at him and it was a man sitting there. I said, "Wow." And there was something in the way he looked at me where I said: "Oh yeah, he's going to be okay."

When they need help on their homework, are you able to help them?
My son just wrote an essay on George Orwell and on Ghandi, and whether sainthood is a wise thing to aspire to if you're a human being. I think Orwell's opinion is that it's not. And I agree with him. Not knocking any of the good things that came from people who do that, but my son wrote this very beautiful essay on a very complicated idea. He had this one line where he crossed-out the word wrong and he put natural. And I said, "Yeah, there it is right there: natural."

Not many people in your position can talk about their childrens' homework assignments like that.
I'm enjoying their person-ness, you know. I enjoy having their ideas in the house, and the give and take of that. The other stuff of being a parent is all the same: You're doing a lot of chauffeuring, you're doing a lot of driving around, you're looking a little closer to make sure everybody's okay with this, that, and the other thing. And it's wonderful having them at that place where they have their ideas about all that. It really just graces the house.

Now that your children are older and more independent, does it make your marriage easier?
It's hard. It doesn't get easier. What does get easier is you begin to gain things. And then the whole thing is that whole love, honor, and cherish thing. A lot of people do the loving, but not really the cherishing. That's tricky. That's what you spend your time on. It's simply frought with obstacles and, uh, we work as hard on it now as we did then. But the things that you gain over a long period of time, you weren't expecting them.

What are some of the gains?
It's your sense of place, your sense of family, your sense of connection, and not loss of fear but contextualization of your fear within a whole life. If you love somebody, you're afraid to lose them, you're afraid of death, you're afraid of dying, you're afraid of them dying. And most of the dance people do before they get hooked up, it's a dance with the concept of reckoning with your own mortal self. When you walk down the aisle with someone, there's her and there's time. And the clock starts ticking. And to have a full life with a family and a real relationship, you have to learn to make peace with your mortal self. Because life and death are Siamese twins; they come in the door together.

So once you reckon with the end, how does that change your priorities?
The ride is finite, you know. The only thing I think about is that everything means more. Even though I still feel young, you go, "Well, there's a finite amount of years ahead. And I'd like to spend them making music and hanging with my friends and family." The nice thing is that I'm at a place where I'm not trying to figure out the very basic elements in my life. Those things have been chosen, and I have my band. All the guys in E Street, they're irreplaceable to me.

I notice you've been releasing more material than you have in the past.
My goal has been to try and put more things out, because in my youth I was so spare with my releases. So now, like, the rules are off. By the time you're 56, hell, if you're worrying yourself at that point, then you haven't learned your lesson. And I can say one thing: I have learned my lesson. And the kind of fretting I did as a young man, I don't do anymore. I'm an old guy who can do what he wants, you know.

Right now, I just feel like I'm at the top of my game. And I've never felt freer or like I've had more music in me — or a better idea of what I want to do with it and all the different kinds of music I'd like to make. I'm the freest I've ever been in my life about that right now, and so it's just exhilarating. I've got a chance to work with Patti in this group, which is fun for me. It's nice to bring your relationship to work there when you've kind of sorted out all the things. It's a very lovely and inspirational thing. And so I've never felt better and I've never felt stronger with what I'm doing than right now.
Neil Strauss's new book Everyone Loves You When You're Dead: Journeys Into Fame and Madness is available now from Backstreet Records.
View the trailer:

- March 22, 2011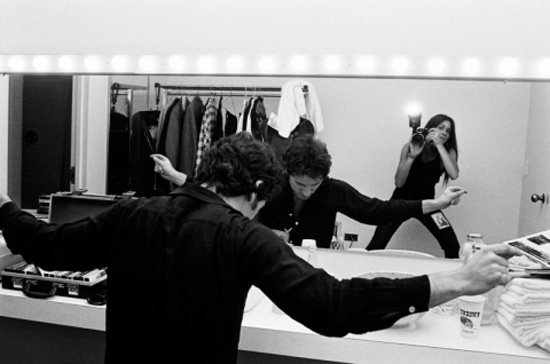 GOLDSMITH EXHIBITION COMING TO MORRISON HOTEL
The Morrison Hotel Gallery in Soho, which hosted the Frank Stefanko/Danny Clinch dual exhibit From Darkness to a Dream last year, will soon be hanging Within a Circle Friends: The Photography of Lynn Goldsmith. Along with Stefanko's album cover sessions, Goldsmith's photographs from the Darkness on the Edge of Town era provide the most striking, prominent imagery we associate with that crucial time in Bruce's career, onstage and off. The new exhibition will will feature a hand-picked selection from her extensive archive of photographs with a special emphasis on five of the most iconic artists in the business: Springsteen, Keith Richards, Bob Dylan, U2 and Bob Marley. The show will open on Thursday, April 7, at 313 Bowery in NYC. Watch MorrisonHotelGallery.com for more details to come.
- March 22, 2011 - photograph by Lynn Goldsmith, courtesy of Morrison Hotel Gallery

HELP KICKSTART JASON FEDERICI'S BAND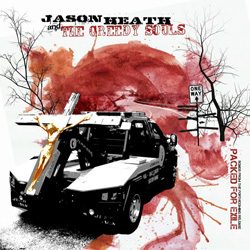 Jason Heath and the Greedy Souls — featuring Danny Federici's son Jason — plays, as they say, "a style of music we like to call Post Modern Acoustalectric, Amerikana, Agit-Pop, Arena Folkountry Rawk." The indie band is working on their second album, Packed for Exile, and they could use just a little help: "We are currently in the studio working on our new album... and I'll be damned if we haven't run out of funds. Jason Heath & The Greedy Souls need your help to finish what we think is one hell of an album, if we do say so ourselves. Unless we get an infusion of dough, it will be a long time before this work sees the light of day and is promoted properly. The money you help us raise will go exclusively toward finishing the record, manufacturing CDs and vinyl, promoting our album (publicity and radio) and gettin' us out on the road and headed toward your town!"
This is a concept that has been working well for artists online, in this case at Kickstarter.com. And thanks to pledges — from backers whose faith will be rewarded with a copy of the finished album or more — the Greedy Souls are about 75 percent of the way toward reaching their goal, with just another $2K to go. In order to fund the project, they have to meet that goal by Saturday, March 26. If you'd like to pitch in, or for more information, visit their Kickstarter.com page.
- March 21, 2011


SO I HAD TO CALL THIS GUY FROM JERSEY!
Bruce ships up to Boston for three songs with the Dropkick Murphys
There was already an E Street presence in the house, with Jay Weinberg on the skins for openers Against Me! and looking up at his pop Max in the side balcony. Headlining the night, the Dropkick Murphys surely could have rocked the place up one side and down the other on their own — St. Patrick's Day weekend in Boston, come on! But when the much-rumored Springsteen appearance came to pass, the House of Blues show went into overdrive. Bruce's guest spot stretched out to ten minutes, ripping through his "Peg O' My Heart" duet with DKM, followed by raucous takes on "Badlands" and "Shipping Up to Boston." Stalwart friend-of-Backstreets Briggite Tersek was there:
It was such a perfect Boston evening! With the sky going from a pink-blue to a bright full moon, a Friday night with the warmest temperatures of the year, Fenway lit up across the street, and a sea of green at the packed House of Blues for St. Patrick's Day weekend. For me what made this so special was all these things coming together — then the excitement and energy of the show, and Bruce on top of all this! Even with the rumor it was just so unexpected. No way would I have imagined when I got up this morning that I would see Bruce tonight!

It still feels so surreal. I have seen so many bands at HOB since it opened but would never have imagined to ever see Bruce there. As the day went on there was definitely a buzz about the possibility of Bruce coming (and some Brooocing when he appeared on the stage), but this was a crowd full of Dropkick Murphys fans singing and dancing and enjoying the night. It was an awesome moment, but nobody would have been disappointed had things turned out otherwise.

He seemed in a great mood and looked great in a gray short-sleeve shirt and dark denim pants. I had a great side spot almost next to the stage (that was almost safe from the mosh pit) and could see Bruce standing backstage on the other side. The band first brought one of the grandmothers out and introduced her, and then said they had somebody even cooler from Jersey. Bruce came up to give her a kiss and then played pretty much center stage for "Peg O' My Heart." The Dropkick Murphys have a similar platform to what the E Street Band used in the pit, and Bruce stepped down on that for a minute during "Badlands" — definitely a punk and not an E Street version. Then one more, "Shipping Up to Boston" — and Bruce was full-force energy for the three songs. The Dropkick Murphys play fast and furious, and he definitely did his best to keep up!
Kudos to Catfish for the full video. The Boston Herald reports here; also See photos at BostonHerald.com and Boston.com, and a video report from WHDH.
- March 19, 2011

TIX ON SALE NOW FOR LOD/PALS BENEFIT CONCERT
On May 4 at the Count Basie Theatre, Alejandro Escovedo and Jesse Malin will team up for a show to benefit the Light of Day Foundation as well as Joan Dancy & PALS. With their respective bands The Sensitive Boys and The St. Marks Social, Alejandro and Jesse should make for quite a night of rock 'n' roll in Red Bank. Tickets are on sale as of today; visit concertseast.com for more info.
- March 18, 2011

MAY THE BOSS RISE TO MEET YOU
After all the "Boss sneaks" over the years, we've all seen how the chances of Bruce showing up plummet when he's expected to show up. That hasn't stopped plenty of buzz building about the Boss in Boston tonight, where the Dropkick Murphys will play a sold-out hometown show at the House of Blues. The Boston Herald reports today:
"No one's talking for the record, but two sources close to the band told Herald music man Jim Sullivan that Springsteen is expected to join the Celtic punk rockers on 'Peg O' My Heart,' the tune they collaborated on for the Dropkicks' new CD, Going Out In Style. They'll also reportedly team up on the Jersey icon's 'Badlands,' which the Dropkicks have covered, and possibly a few more tunes."
Here's hoping Irish/Italian eyes are smiling tonight.
- March 18, 2011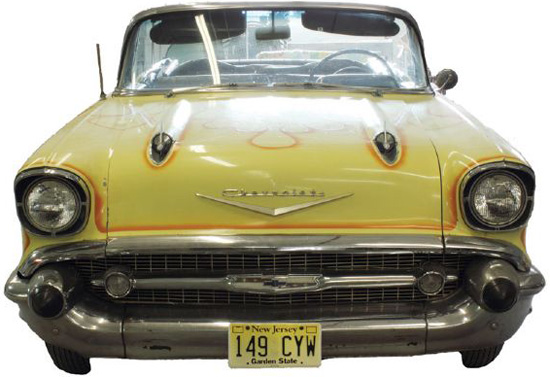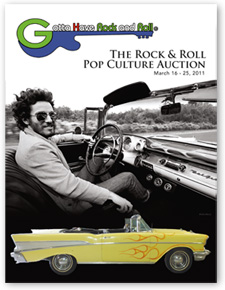 I GOT A '57 CHEVY...
Up on the auction block now at GottaHaveRockAndRoll.com: the first car Springsteen owned, a '57 Chevy Bel Air convertible he bought in 1975, most recently on display at the Rock and Roll Hall of Fame. "The lot includes "vehicle registration, temporary insurance card and Allstate insurance card in Bruce's name and address," and while the owner has overhauled "the mechanical and electrical systems of the car, the body and frame are untouched just the way Springsteen owned it." Bruce paid two grand for his first wheels; these days, bidding starts at $390,000.
Other big-ticket Springsteen items in the auction include a signed Fender, and handwritten notebook sheets for work on "Backstreets" and "Thunder Road." This Rock & Roll Pop Culture Auction ends on March 25.
- March 18, 2011



"MR. BLUEBIRD"... BACK THERE ON THAT TABLE, SWINGIN' HIS JACKET
From RollingStone.com come two video tidbits to whet your appetite for this weekend's broadcast premiere of the 2011 Rock and Roll Hall of Fame Induction Ceremony on Fuse.
A 90-second highlights-reel, featuring a fantastic snippet of Bruce Springsteen and "the guitar" backing Darlene Love (in fine, fine voice) on "Zip-A-Dee-Doo-Dah":

And a post-induction backstage interview, in which a jubilant Ms. Love recalls her first meeting with two of her biggest fans: Messrs. Springsteen and Van Zandt, of course:

Tune in to Fuse for the broadcast on Sunday night, March 20, at 9 p.m. Eastern.
- March 18, 2011 - Shawn Poole reporting

FIRST NEW PATTI TRACK IN FOUR YEARS
The first new music from Patti Scialfa since 2007's Play It As It Lays is coming next month, a song called "Children's Song" she has donated to the Every Mother Counts compilation. To be released by Starbucks on April 12, the album is a companion piece to the documentary No Woman No Cry, and sales for the first month will benefit CARE programs for maternal health. Read more at Billboard.com.
- March 17, 2011

VIVA CLEVELAND: LIGHT OF DAY 25 YEARS LATER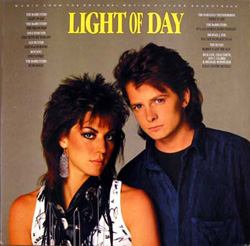 On Friday, the Cleveland Institute of Art Cinematheque will host a 25th anniversary screeing of the Paul Schrader film Light of Day — a film originally titled Born in the U.S.A., before Springsteen famously "stole" the title and eventually wrote a new title track in return. In a fascinating Plain Dealer story, Joanna Connors traces the history of the film, including the revelation that Schrader actually wrote the film for Springsteen to star in, at Paramount Pictures' behest.
Schrader -- who wrote "Taxi Driver" and "Raging Bull" and had just written and directed "American Gigolo" with Richard Gere -- gave Springsteen the script. And waited.

Springsteen later told him he never even read it.

"Jon Landau [his manager] called and said, 'Bruce isn't going to be in the film, because it's giving up too much control,' " Schrader said.

Movies starring Elvis and Sinatra were mentioned. Not in a good way.
Another tidbit of interest: the title Born in the U.S.A. can be traced further back than than the writer/director, to Cleveland band The Generators.
Read: 'Light of Day' was filmed in Cleveland but never made city a star
Schrader will attend the 25th anniversary event tomorrow, Friday, March 18, and answer audience questions after the screening.
- March 17, 2011

STEVE PREDICTS SOLO BRUCE ALBUM BEFORE E STREET RECONVENES
Checking in this morning with WMGK morning host John DeBella, Little Steven was asked about "the latest" with Bruce and with the E Street Band:
You know Bruce -- he's always got an album in his pocket, he's always writing something. I don't know this for a fact, but I expect him to possibly put something out that's more of a solo nature, before we get back together. Only because he's so prolific, still, after all these years... I expect him starting to have a backlog of songs, just in terms of the time that have passed.
Steve was on the program to promote the upcoming Classic Rock Art Show, which benefits his Rock and Roll Forever Foundation. He also talked about working on the upcoming debut film by Sopranos mastermind David Chase: "I'm arranging and producing all the music... I'm gonna have a song or two in there."
Listen here.
- March 16, 2011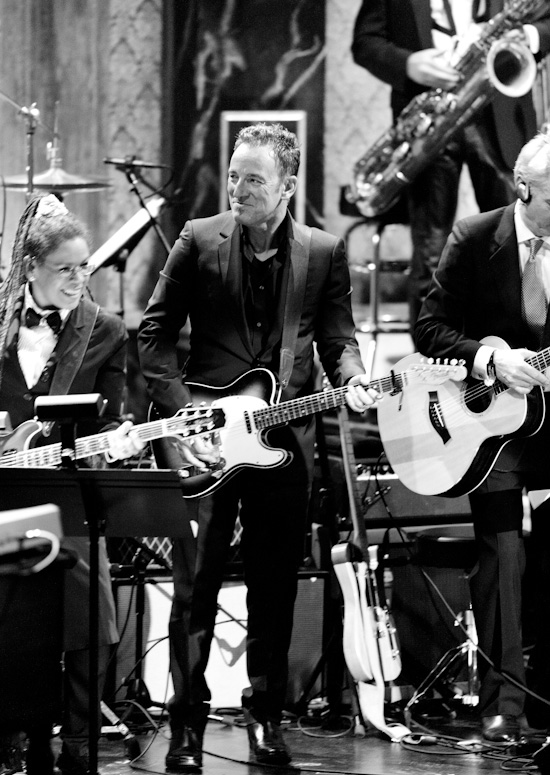 A LOVE SO FINE: BRUCE AT THE 2011 ROCK HALL INDUCTION
Bruce Springsteen and Patti Scialfa attended last night's induction ceremony for the Rock and Roll Hall of Fame, the Class of 2011 featuring such notables as Neil Diamond, Darlene Love and Tom Waits. Springsteen appeared visibly thrilled to welcome in a peer like Waits (their debut albums were released the same year), but it was Love, one of his girl-group inspirations, who brought him to the stage.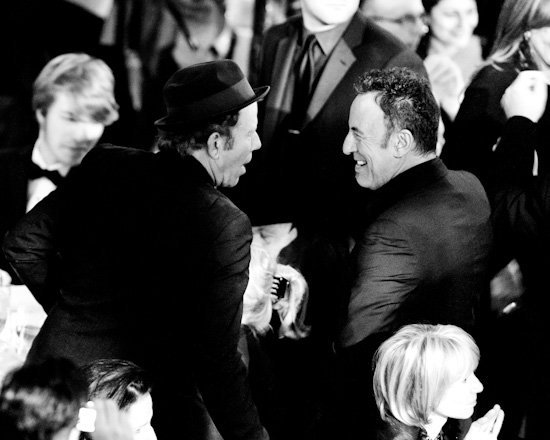 Reprising their pairing at the Rock Hall's 25th Anniversary Concerts, Bruce and Darlene did three songs together: "Zip-a-Dee-Doo-Dah," "(Today I Met) The Boy I'm Gonna Marry," and "He's a Rebel," joined on the last by her inductor Bette Midler. Also on stage with Paul Shaffer's house band, frequent Boss backup singer Curtis King.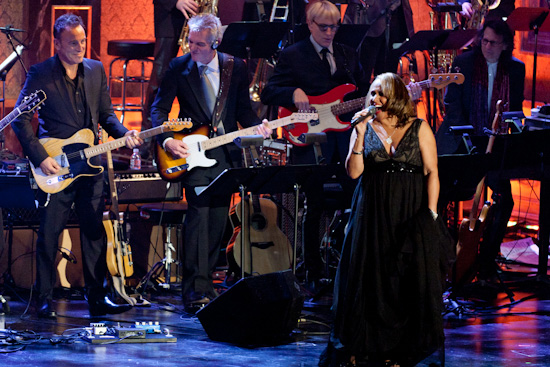 Watch a broadcast of the ceremony this Sunday, March 20 at 9 p.m. on Fuse.
- updated March 15, 2011 - photographs by Michael Zorn


TODAY AND TOMORROW ONLY: SAVE 10 BUCKS!
Get $10 off when you order $60 or more in Boss merchandise from Backstreet Records. Enter coupon code IDESOFMARCH at the prompt during checkout to have the discount applied.
- March 14, 2011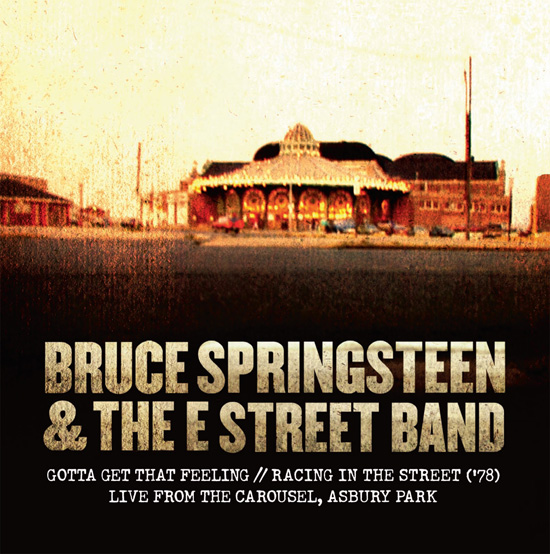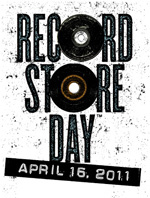 COMING FOR RECORD STORE DAY 2011
Update: Final art above
The single-disc Promise vid isn't the only Springsteen release planned for the spring. For the third year running, Bruce and Columbia are supporting Record Store Day, which celebrates both vinyl records and independent music shops -- two things close to our heart. What that means: another limited Springsteen record is just around the corner.
This year's is a ten-inch featuring two live tracks from the December 2010 carousel performance -- the first and only live performance of these songs to date -- "Gotta Get That Feeling" and "Racing in the Street ('78)." The record will come in a picture sleeve featuring a historical shot from when the carousel itself was up and running in Asbury Park.
We'll try to get our hands on some of these as usual, but we encourage you to feel the spirit of the day and support your local shop. If you're got a brick-and-mortar indie near you, head down on Saturday, April 16 to see if you can score -- and to see what else they have, too. For more on Record Store Day, and a list of participating shops coming soon, visit recordstoreday.com.
- Updated March 14, 2011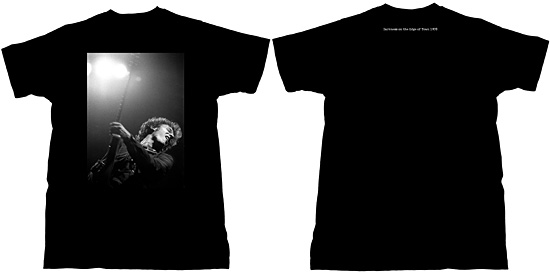 YES, WE'RE OPEN
Update: And we'll be carrying the Darkness T-shirt bundles!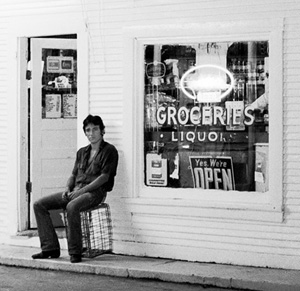 Announced Wednesday, the upcoming The Promise: The Making of Darkness on the Edge of Town DVD/Blu-ray release, due May 3, packages Zimny's documentary with bonus material including the carousel webcast. If you're planning on picking up a copy, we're taking pre-orders now at Backstreet Records.
Pre-order now to get 10% off the list price for the DVD, and 15% off the list price for the Blu-ray.
Plus: A special bundle will pair The Promise documentary DVD with an official Darkness T-shirt, available only in this package. We'd initially thought this was a Sony-only thing, but we'll have it too! Pre-order the DVD/T-shirt bundle now.
Check out all our Latest Additions here, and thanks for supporting Backstreets.
- updated March 11, 2011 - cover detail from The Promise: The Making of Darkness on the Edge of Town, photograph by Eric Meola

E STREET: THERE IS NO SUBSTITUTE
Rollingstone.com polled readers on their favorite live act of all time last week, and the results are in. The winner — "without a close second anywhere in sight" — is Bruce Springsteen and the E Street Band.
"When Springsteen began performing with the E Street Band in 1972, it was a four man-group," RS.com notes, "with Clarence Clemons on the saxophone, Danny Federici on the organ, Vini 'Mad Dog' Lopez on drums and Garry Tallent on bass. When the group last toured in 2009 there were 11 people onstage with Springsteen, and although the sound has grown more elaborate the band hasn't lost any of the passion or the power they originally had. They've been off the road for about a year and a half, but the rumor mill says that a 2012 tour may be in the works."
Bruce and the E Streeters were trailed in the polls — distantly, apparently — by acts including The Rolling Stones (#2), The Who (#3), and U2 (#6).
- March 10, 2011

TIE A ROPE TO THE BACK OF THE BUS OR TRAIN, TRAVELING ALONG...


Fans of Superchunk, based right here in Chapel Hill, NC, won't be surprised to hear that frontman (and Merge Records co-founder) Mac McCaughan is a Springsteen fan, based on the occasional unironic encore of "Born to Run" for starters. Today he appears on WNYC's Soundcheck as part of their Superfans series, this one focusing on Bruce. Mac talks Springsteen throughout the program, along with fellow guest Tramps Like Us author Daniel Cavicchi, and offers up "Bobby Jean" live in the studio.
See our Downloads page for Mac's 2003 recordings of "Bobby Jean" and "Growin' Up" from his Portastatic release Autumn Was a Lark.
- March 9, 2011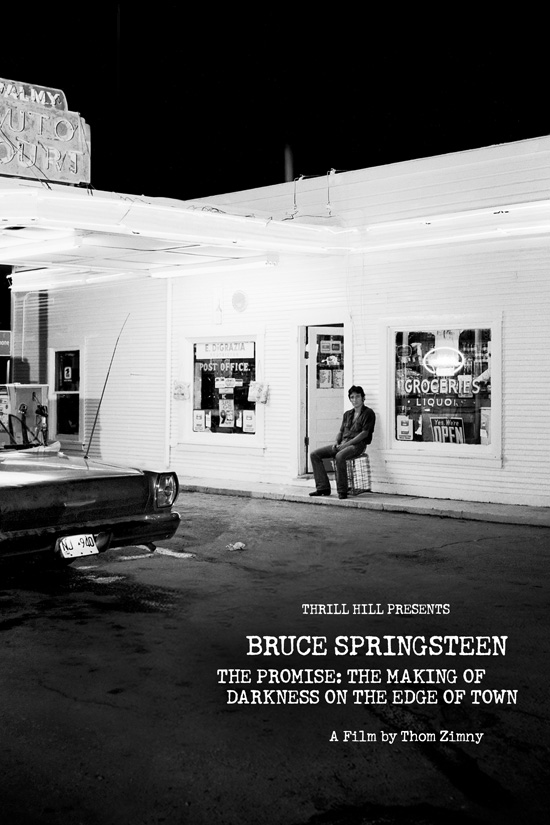 THE CAROUSEL COMES HOME, AND MORE, ON NEW DVD DUE MAY 3
In May, Columbia will issue a new single-disc release for Thom Zimny's documentary film The Promise: The Making of Darkness on the Edge of Town, on both DVD and Blu-Ray. The film premiered on HBO and received a rapturous critical response around the world, including as an official selection, Toronto International Film Festival, The BFI London Film Festival, and The International Rome Film Festival. Previously, the acclaimed doc has only been available as part of the six-disc Darkness box released in November.
For those fans who already picked up the box set as a matter of course, the new release packs a pair of bonus features previously commercially unavailable: "Songs From the Promise," the five-song performance film from the Asbury Park carousel house; and "A Conversation With His Fans," from the Dave Marsh-hosted fan Q&A at Sirius/XM studios.
"Songs From the Promise" was filmed before an audience of approximately 60 fans in December 2010 and was webcast only through the end of that month. For this one-time concert event, Springsteen and members of the Darkness-era E Street Band lineup (Clarence Clemons, Stevie Van Zandt, Max Weinberg, Roy Bittan, and Garry Tallent) were joined by keyboardist Charles Giordano, a full horn section (Ed Manion, Barry Danielian, Curt Ramm, Clark Gayton and Stan Harrison) and special guest David Lindley, who played violin during the original recording sessions. Directed and edited by Zimny and mixed by Emmy-winner Bob Clearmountain, the concert features E Street Band performances of four tracks from The Promise plus "Blue Christmas":
1. "Racing in the Street ('78)
2. "Gotta Get That Feeling"
3. "Ain't Good Enough For You"
4. "The Promise"
5, "Blue Christmas"
Judging by today's press release, no additional footage from the carousel will be included other than what was previously webcast as "Songs From the Promise." Just in case any powers-that-be want to get clever and throw in some easter eggs -- y'know, pull another "The Way" on us -- we'll keep fingers crossed for "One Way Street" or "The Brokenhearted."
"A Conversation With His Fans" aired on VH1 Classic and Palladia earlier this year, a 22-minute program offering footage of the question-and-answer session with a small group of fans in the studios of Sirius XM's E Street Radio channel. Springsteen discusses the writing and recording of Darkness on the Edge of Town and the decision to release the extensive collection of songs that didn't make the record. Questions are intercut with highlights from The Promise box set, including the Paramount Theater performance and rare archival footage from 1978.
The DVD and Blu-Ray will be released on May 3; we'll have pre-order information shortly.
- March 9, 2011

SATURDAY BRINGS "NEW HARMONIES" TO ASBURY
The New York Times spotlights some big things shaking down the shore: "Asbury Park, the first stop in New Jersey for the Smithsonian traveling exhibition 'New Harmonies: Celebrating American Roots Music,' is putting together six weeks of concerts, workshops, lectures and films to commemorate the occasion."
The exhibition opens this Saturday, March 12, and curator Bob Santelli will speak that day at Asbury's Trinity Church. "When you look back on the great rock scene," he tells the Times, "all the bands you could see on the Boardwalk, all the jazz that's happened — it's not just Bruce Springsteen that makes Asbury Park what it is."
Read: "Asbury Park Celebrates Its Musical Legacy."
- March 8, 2011


WHO HERE OWNS A CAR?
A few nights running last week, Delta Spirit's Matt Vasquez sat in with Deer Tick to take lead on a cover of "Racing in the Street." Reader Mark Bagin writes in: "I was at a concert on Wednesday night in Washington, DC at the 9:30 Club to see one of my favorite performers, Matthew Vasquez, play in his new side project called Middle Brother. He is a very gifted performer, and his band Delta Spirit is one of the best live acts around. Before the main set, he came out on stage with Deer Tick and asked, 'Who here owns a car?' The audience obliged and he broke into 'Racing'. It was a truly fantastic cover."
- March 8, 2011


NILS LOFGREN: ROCKLETE
The great Nils Lofgren has just added two new sections to his website. Rocklete spotlights Nils' athletics — he and his guitar have been flipping since 1969 — in a series of videos. And in Rockality, Nils will be sharing stories from his long career. "I have a ton of great road stories," Nils tells Backstreets. "I'll never write a book.... but short stories? I can do that." The first offering, just posted, focuses on the history of his dive roll, an astounding stunt recently resurrected on tour with the E Street Band that had him diving forward hands-free, rolling forward and popping back up, soloing all the while.
"It's a funny story," says Nils. "It's way too long, but hey, part of the reason it's a special band is because of the... obsessive nature of our individual things, and I hope people will enjoy it in the spirit in which it was intended." Read "One Last Dive Roll, For Now..."
Nils is also working on a new record, preparing for a series of U.S. and U.K. acoustic duo dates in May and June, and gearing up for next week's Tucson benefit organized by Jackson Browne. Read more at nilslofgren.com.
- March 4, 2011

"SUMMER" IN MAY: BRUCE SINGS WITH STEWART FRANCKE
Following this week's release of the Springsteen/Dropkick Murphys team-up comes word of another Boss collaboration this spring. Springsteen has recorded a duet with Detroit singer-songwriter Stewart Francke, "Summer Soldier," which will appear on Francke's Heartless World, due May 17. More at stewartfrancke.com and Facebook.
- March 3, 2011

MAD DOG JOINS MAX AND MORE FOR NEW HARMONIES SHOW
Now added to the lineup for the New Harmonies Concert at Asbury Park's Paramount Theatre: Vini Lopez and Steel Mill. With Max Weinberg already on the bill, all we need now is Boom Carter (or hey, Jay!) for an E Street drummer trifecta. Tickets are on sale now through Ticketmaster.
- March 3, 2011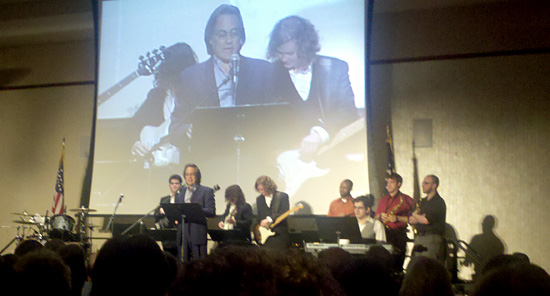 AN EVENING WITH MAX WEINBERG
Max Weinberg was the featured speaker last night at the Kent State Stark Campus University Center, an evening of music and inspiration. Max started the show performing with nine Kent Stark music majors, the setlist including "Ring of Fire," "Respect," and "Only the Good Die Young." Following the 45-minute performance, Max spoke about his entry into the world of music. He recalled being five years old in 1956 and watching Elvis perform for the first time on the Ed Sullivan Show. Young Max was wailing away with DJ Fontana, and his older sisters told him to stop because they couldn't hear Elvis! Max talked about his son's musicianship and how proud he is of Jay (who is now touring with Against Me!), and he spoke to the need for musical programs such as the National Endowment for the Arts (NEA), NPR, and programs in our nation's schools in particular.
After speaking for a bit, Max opened the floor for questions. Asked about the next E Street Band tour, he said, "Sooner rather than later, but probably not this year." He was also asked about some highlights of his career: he said the Amnesty International Tour of 1988 was "life-changing" for him, and he also mentioned two famous E Street Band concerts that took place just up the road in Cleveland, the 1978 Agora show and the 1978 New Year's Eve show at the Richfield Coliseum. It was a great evening all around, and Max was a wonderful speaker — very inspiring and entertaining.
- March 1, 2011 - report and photographs by Mona Wolff


"PEG O' MY HEART" OUT TODAY
Dropkick Murphys' Going Out in Style drops today on CD and mp3, and with it, the band's kick-ass collaboration with Springsteen on "Peg O' My Heart." Hard to beat Amazon's price: $7.99 for the CD, and just $5 for the full mp3 album download.
A vinyl LP release is scheduled for next month, on April 5, and we'll be carrying that in our Backstreet Records online shop: save %10 off the list price when you pre-order now!
- March 1, 2011