HAPPY HALLOWEEN!
Don't forget our Monster T-Shirt Sale... through Tuesday, all shirts in stock (and there's a ton of 'em!) are 15% off when you use the coupon code JERSEYDEVIL at checkout.
- October 31, 2010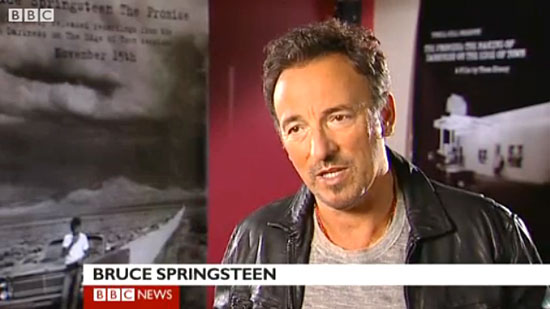 THE BOSS ON THE BBC
While in London this weekend, Springsteen sat down with the BBC to talk Darkness.
Watch: "Springsten's 'hard times' album rel-released 30 years on"
Watch: "Bruce Springsteen talks to the BBC about songwriting"
Listen: "The Boss returns"
- October 31, 2010


Bruce talks about "The Lost Songs from the Darknes on the Edge of Town Session." You may have already seen this preview clip... but we can embed? Let's embed! It certainly bears repeating.
- October 31, 2010

LIGHT OF DAY ONSALE RESCHEDULED FOR NOV. 3
A letter this morning from Light of Day founder Bob Benjamin:
Due to technical issues that we just became fully aware of over the last 12 hours we must change our Light of Day New Jersey 2011 (LODNJ2011) on-sale one last time.

The new LODNJ 2011 on-sale will be Wednesday, November 3, at 12 Noon. Tickets will be available at www.ticketmaster.com , Ticketmaster charge by phone at (800) 745-3000, all Ticketmaster locations including select Walmarts and at the Stone Pony box office.

We are once again so very sorry for the added delay and confusion but this time, as Southside Johnny once said, it's for real.

Coincidently, November 3rd is the tenth anniversary of the first Light of Day concert at the Stone Pony. There is something that feels right about going on sale on that particular day. So sit tight, call a bunch of friends and ask them to make LODNJ2011 the biggest and best ever yet by buying tickets and help us eradicate Parkinson's disease in Light of Day's second decade. Hope to see you all at LODNJ2011. With your support we truly are "just around the corner to the light of day."
- October 30, 2010


MORE FROM LONDON: "EVERYTHING HAD TO GO"
UK journalists taking in the London premiere of The Promise documentary last night got some extra help putting it into perspective, thanks to Bruce's surprise appearance at the event.
On creating Darkness on the Edge of Town:
"Each one of us has a story inside, and that story doesn't let you go. I kept having to answer the call of that story but I couldn't explain that at the time to the other guys. So they thought I was just trying to drive them crazy." [The Guardian]
"I was so full of doubt that the only way I knew to get to something done was to slog away for hours and hours. We did think hard about what we were doing. If we didn't have something I could smell it in the air. We were making a record of the times... We were sniffing out the times." [NME]
On the outtakes that became the The Promise 2-CD set:

"We were interested in making a record that was not just the best songs. Some of the music we recorded had too much modulation going on, too much melody. Too much richness of arrangement. Everything had to go." [The Guardian]
"We made a lot of music... and the music that was left out was truly a separate record.... There's a lot of beautiful music we had a chance to finish over the summer and I hope people get a kick out of it." [NME]

NME also describes Springsteen "jokingly offering to spank volunteers with his microphone stand before leaving the stage to a standing ovation."
- October 30, 2010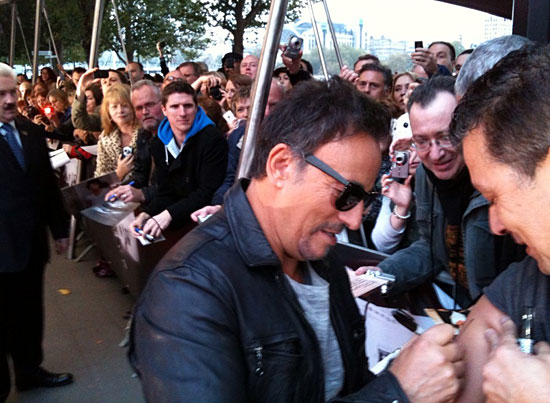 LONDON CALLING... AND ROME, TOO
Turns out that Toronto was just the first stop on what's become an international excursion to show off the The Promise: The Making of Darkness on the Edge of Town. For tonight's U.K. premiere in London, all the Thrill Hill stars were out, including Bruce Springsteen himself. Longtime Backstreets contributor Karl Birthistle was there, too:
I arrived at the National Film Theatre at 2:00 this afternoon, picked up my tickets at will call, and strolling around the venue I came across some quite nervous security folk in animated conversation, planning on how to tackle "ardent" Springsteen fans! Rumors had been running for a day that Bruce would show up, and this was confirmation enough that he was in fact here.

Outside the theatre the red carpet was being cut and laid as we watched. By late afternoon a crowd of about 150 Bruce fans waited on one side of the barriers, intriguing passing tourists (this is central London). Artists, journalists, musicians (Badly Drawn Boy among others) and music industry folk all begin to show up for the private event. Barbara Carr, George Travis, Jon Landau, Thom Zimny, and Dave Marsh all arrive (Travis tells me that he has only missed one "ticketed" Springsteen concert since he started working for Bruce, and that was a Nassau show the day after his own wedding).

And then Bruce stepped out of a black car to.... ehh, pretty much silence — the security folk could relax. There was no applauding or shouting as he approached the first people on the barrier. The crowd was calm, cheerful yet quiet, respectful, waiting patiently as Bruce slowly moved along the line. He was very present, speaking with many of the fans, signing loads of autographs, and even some tattoos (see photo). After he made his way down the line, leaving almost no one out, he did some press interviews, and then went in for the first screening that evening, with the journalists and a Q&A session.

Some hours later we, the public, were ushered in to the same theatre for the public premiere. As hoped, Bruce emerged with a handheld mic to introduce the screening — and here, he was greeted with a standing ovation, hollering, and cheering. He briefly put the film in context (similar to his remarks at TIFF) and mentioned how skinny they all were back in the '70s.

For me, the best part of the evening was later as Bruce came back very quietly into the rear of the theatre. I was in the back row, and Bruce sat down in the row in front of me, pretty well unnoticed, for the last quarter of the show. As I watched him, he seemed really absorbed in it. And then, as the final credits left the screen, he stood up and slipped out as unremarked as when he came in, and was gone. Those minutes of sharing a cinema experience with Bruce were wonderful!
On Monday, Springsteen will attend the Italian premiere at the International Rome Film Festival — or as the festival's website puts it: "One of rock and roll's greatest living myths has accepted to participate in the Rome Film Festival, where the film will be premiered."


Elsewhere around the world: In Australia and New Zealand, the documentary will show on the big screen at various Hoyts theaters on November 13. . . . On November 11, The Promise will screen at Bio Roy in Goteborg, Sweden; see bengans.se for details.
- October 29, 2010

LIGHT OF DAY 11 ANNOUNCED; TIX ON SALE SATURDAY
Austin-based singer-songwriter Alejandro Escovedo will headline the Paramount Theatre show on January 15, 2011, that serves as the centerpiece for the 11th annual Light of Day concert series, now expanded to a full weekend of activities in Asbury Park, NJ. Joining Escovedo on the Paramount Theatre bill, which will be hosted once again by Vincent "Big Pussy" Pastore, will be long-time Light of Day supporters Joe Grushecky & the Houserockers, Jesse Malin, Willie Nile and Joe D'Urso and Stone Caravan.
More than 75 artists will play at nine different events to be held at seven venues in the city on January 13, 14, 15 and 16. The Light of Day series of concerts, which also includes performances in Canada and 11 countries in Europe, raises money for the ongoing fight against Parkinson's disease by supporting research into more effective treatments and a cure for people who suffer from Parkinson's and other degenerative neuromuscular disorders. Light of Day 11 will also serve as the kick-off event for a year-long celebration, Asbury Park Musical Heritage Year.
Tickets go on sale tomorrow, Saturday October 30, at noon, through Ticketmaster and at the Stone Pony box office. A wide variety of combination ticket packages – as well as single tickets to each show – will be available. For more information on ticketing and the various shows, visit lightofday.org.
- October 29, 2010



WHAT ARE YOU DOING "PROMISE" EVE?
The night before The Promise: The Darkness on the Edge of Town Story is released, SiriusXM will broadcast a special, two-hour live show on E Street Radio, featuring none other than Bruce Springsteen in the studio. He'll be answering questions from fans — from a lucky group of fans right there in the studio in the first hour (more on that in a sec), and taking phone calls in the second hour.
E Street Radio's On the Edge of Your Town contest is giving 20 fans the chance to be there in the "intimate studio audience" to ask your question to Bruce face to face:
To qualify, SiriusXM will be asking E Street listeners to submit their most creative, original, insightful and relevant questions about Bruce Springsteen's The Promise: The Darkness on the Edge of Town Story for the opportunity to pose the question in person to Bruce Springsteen directly, at the event on the evening of November 15 in New York City, presented by SiriusXM host Dave Marsh.
In addition to being invited down to the studio for the broadcast, each of the 20 winners will win a copy of the 3CD/DVD box set.
The contest runs through November 5 at noon Eastern. Ready? Set? Get insightful! Just keep it to 1,000 characters, chatterbox. Click here for complete details, rules, and to enter.
- October 28, 2010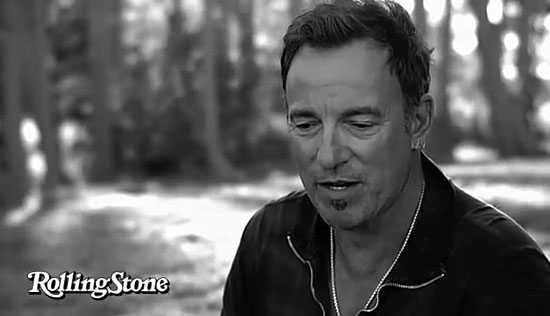 ROLLING STONE'S SNEAK PEAK AT "THE LOST SESSION"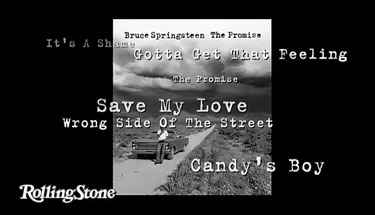 Rollingstone.com has an exclusive trailer posted today for The Promise — not the documentary, but the two-disc collection of previously unreleased Darkness-era material (now referred to with the parenthetical clarifier "The Lost Session: Darkness on the Edge of Town"). In between some tantalizing A/V previews, Springsteen and other E Streeters weigh in on the set. Says Bruce: "The one thing [the material] had in common was that it didn't get on the record, which meant it was probably a little more maybe genre-based soul music, garage rock. Amazingly, when we put it all together, you realize it holds up as a double record pretty well."
According to the website, this is "the first of several exclusive items about the release you'll see on RollingStone.com in the coming weeks," and the next issue of Rolling Stone magazine will feature a new Brian Hiatt Q&A with Springsteen.
- October 27, 2010

LAST CHANCE FOR 30% OFF
Big back issue sale ends today!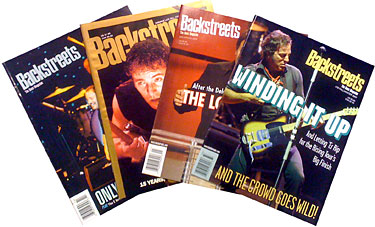 We've never discounted our back issues this much before, and today's the last day of the sale celebrating 30 years of Backstreets Magazine. We hope you'll pick up some of our back pages... right up to our latest issue, which is included in the sale, too. If you've never seen our magazine before, this is an excellent time to check it out.
We've highlighted some favorite features from over the years below, but all issues are 30% off. Simply use the coupon code BACKSTREETS30, and the discount will be applied at checkout. Sale ends at midnight tonight!
- October 27, 2010

HAPPY BIRTHDAY, FUNKY!
The Foundation of the E Street Nation, Mr. Garry W. Tallent, turns 61 today, born October 27, 1949. Visit his new website at www.garrytallent.com.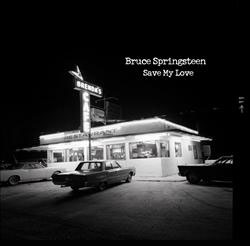 NOVEMBER 26: SAVE THE DATE
FOR "SAVE MY LOVE"
Too bad Record Store Day comes but once a year... But wait! A month from today, we're getting an extra day of limited-edition musical treats, as another round of indie exclusives is coming for Black Friday (the day after Thanksgiving), November 26. And just as Springsteen has supported Record Store Day these past two years, with two exclusive slabs of vinyl (the "What Love Can Do" 7-inch and "Wrecking Ball" 10-inch), he's also contributing a new record for Black Friday 2010. It's a Columbia/Sony 7-inch culled from the upcoming The Promise release, featuring "Save My Love" with "Because the Night" on the flip, in a kick-ass picture sleeve. As with Record Store Day, hit your local independent music shop as early as you can on 11/26 to pick one up!
- October 26, 2010

A HANDY CHEAT SHEET
There's some Bruce stuff coming out on November 16 — maybe you've heard about it? Some Darkness something-or-other... To make sure there's no confusion, here's a new, official one-sheet [click image for the full PDF]: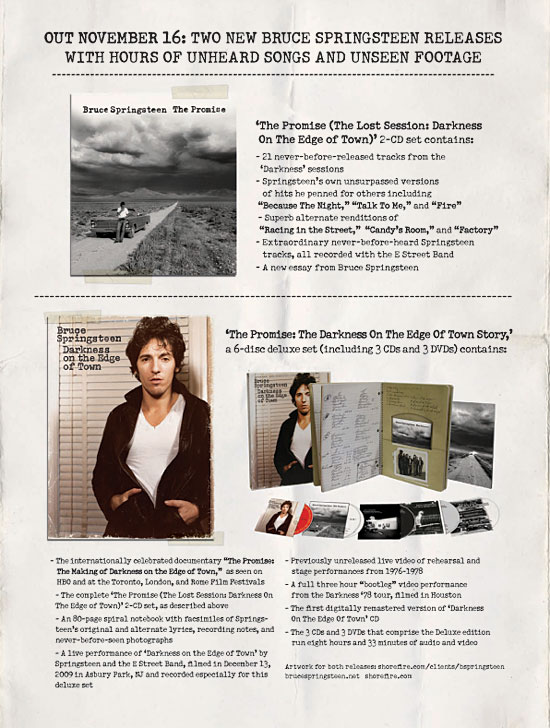 There's also a 3-LP configuration of The Promise (The Lost Session), and a Blu-ray edition of the 6-disc box.
If you've enjoyed following our coverage, we hope you'll consider ordering from us: we're carrying all configurations — the 3CD/3DVD box, the 3CD/3Blu-ray box, the 2CD set and the 3LP set — and we're offering a 10% pre-order discount across the board when you order now. We appreciate your support!
- October 26, 2010

PROMISIN' ALL OVER THE WORLD
Turning our attention to world events... in addition to screenings in Canada and the U.S., The Promise: The Making of Darkness on the Edge of Town will play cinemas in other countries as well, with screenings currently lined up for the U.K., Germany, and Italy.
Finally, London is ready for The Promise: The U.K. big-screen premiere of the Darkness documentary will take place at BFI Southbank this coming Friday, October 29. Click here for details.

Sony Music Germany will screen the documentary in four German cinemas tomorrow night, October 27: Hamburg, Munich, Cologne, and Berlin. More details here.
And at the prestigious International Rome Film Festival, Zimny's film will play twice: November 1 (at 9 pm CET), and November 3 (at 6 pm CET), both screenings at Petrassi Hall. More details here.
If you have information on any additional screenings, please pass it along!
- October 26, 2010

30 YEARS BURNING DOWN THE ROAD
Backstreets Magazine, est. October 24, 1980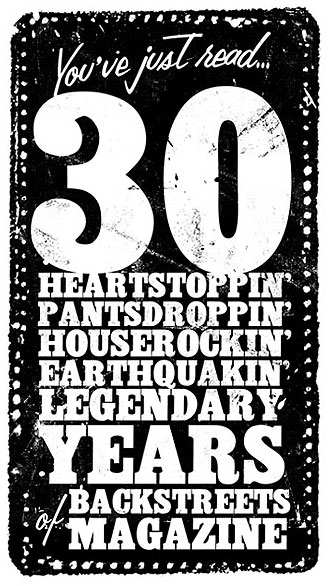 And we thank you. Not on board yet? Subscribe now!
- October 24, 2010

A FEW OF OUR FAVORITE THINGS
At 30, we look at our back pages — and extend the 30% off sale!
With this Sunday marking the 30th anniversary of Backstreets magazine, we're offering a 30% discount on all of our back issues: simply use the coupon code BACKSTREETS30, and the discount will be applied at checkout.
It's a good time to look back, despite what the song says... and below we've selected some of our favorite features from still-available back issues. We love hearing from readers that Backstreets is the only magazine they save, and we ourselves wind up referencing and re-reading our own pages over the years. The articles below are just a few examples of the stuff that holds up.
Act fast if you're interested to guarantee availability— after more than two decades on the shelves, issue #20 just sold out today — but we're also extending the sale by a few days to give you a little more time to clean us out. After all, we've got to make room for the next decade!
"20 Years Burning Down the Road!: The Complete History of Jersey Shore Rock 'n' Roll"
Summer 1987
Besides showing Stevie with hair, this feature told the story of the Asbury scene, from the British Invasion that inspired it, to the Upstage and the rise of Bruce and the E Street Band.
From Backstreets #21
"Boss TV: The Compleat Bruce Springsteen Videography"
Fall 1987
Not a guide to Bruce's MTV videos (that's below), but to the circulating footage of performances and interviews, both broadcast and not. Remains a handy guide to what's out there pre-Tunnel of Love.
From Backstreets #22
"The Bootleg Series Volumes 1-3"
Summer 1991
Seven years before Tracks, and inspired by Bob Dylan's first Bootleg Series installmet, we put together our version of what a similar Bruce box would look like. A number of our picks remain unreleased.
From Backstreets #36
"The Lost Interviews, Part One: Local Boys, Trailer Parks, and the Godfather of Soul"
Winter 1997
Transcribed from reel-to-reel, a "lost" 1975 interview never heard (or read) since it was originally broadcast on Swedish radio.
From Backstreets #57
"The Video Anthology Viewer's Guide"
Spring 2001
Clip by clip, we provide the liner notes that never were for the updated 2-DVD anthology of Springsteen's videos, including dates and locations, behind-the-scenes details, what was left on the cutting room floor, and more.
From Backstreets #70
"A Night for the Vietnam Veteran: A Backstreets Retrospective"
Fall 2001
Celebrating 20 years since this landmark benefit show in Los Angeles, we looked at the concert itself, its highlights and its impact, and interviewed VVAF president Bob Muller.
From Backstreets #72
"Twang & Trust: The Backstreets Interview with Shane Fontayne"
Fall 2003
The Backstreets interview with the '92-93 tour guitarist — a lengthy, candid, and entertaining talk that shed a good deal of light on an oft-overlooked era of Springsteen's career.
From Backstreets #78
"2002-2003 Tour Grand Finale"
Spring 2004
A big puncuation mark on the magazine's extensive Rising tour coverage, this one had a bounty of stats, lists, quotes, interviews with key guests (Soozie Tyrell, Emmylou Harris), and more.
From Backstreets #79
"Hey Mr. Deejay!"
Spring 2005
Our look at the impact of radio and the DJ on Springsteen's rise, including interviews with Ed Sciaky, Richard Neer, Maxanne, Kid Leo, Scott Muni, Cerphe, Vin Scelsa... and of course, the coolest little DJ in the U.S.A., Little Steven Van Zandt.
From Backstreets #82
"The Devil's in the Details"
Winter 2005
Devils & Dust song-by-song, including interpretations, influences, lyric cross-checks, and Springsteen's own comments. Just one component of our biggest issue ever.
From Backstreets #83/84
"Danny Bye Bye"
Spring 2010
Our farewell to Danny Federici ran more than 40 pages, including full eulogies and interviews with Roy Bittan, Max Weinberg, Garry Tallent, Nils Lofgren and Clarence Clemons.
From Backstreets #88
Sale extended: coupon code BACKSTREETS30, which gets you 30% off all in-stock back issues, is now valid through Garry Tallent's birthday: Wednesday, October 27. We've never had a sale like this before... get 'em while they last!
- October 22, 2010

SPANISH JOHNNY... AND SPANISH BRUCIE, STEVIE, ETC.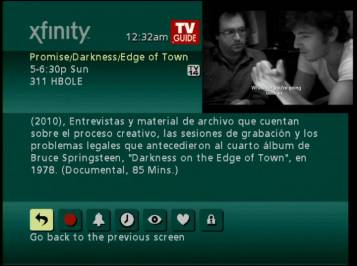 Before HBO ends its broadcast run of The Promise: The Making of Darkness on the Edge of Town, there's a special version of the film that's worth checking out, even if you're not very fluent en español. HBO Latino features a Spanish version of the film — not sub-titled, but dubbed. That means you'll get to hear Spanish-speaking actors expressively voicing each and every "character" in the film, from Bruce to Jon Landau, Miami Steve, The Big Man, Mighty Max, both Pattis (Scialfa and Smith), etc. (All of the songs, of course, are still the original versions sung en ingles with spoken Spanish translations of all onscreen lyrics and captions.)
Unlike the great many Spanish-speaking Springsteen fans all over the globe, we're not in any position to judge the accuracy of the translation (though its sheer repetition will help anyone remember that "vara" is the feminine Spanish noun for "stick"). It's just a plain kick, however, to hear our heroes re-tell their stories and see those familiar scenes re-enacted in a language other than English. Thom Zimny indicated recently on E Street Radio's "Live From the E Street Nation" that the Spanish version of The Promise was an HBO project only, with no direct involvement or approval coming from Springsteen's camp, so it seems unlikely to be included with the DVD releases. It also currently is not available via HBO Latino On Demand. Therefore, interested fans would be well-advised to check out one of the two remaining broadcasts on HBO Latino: Sunday, Oct. 24, 5-6:30 p.m. and Saturday, Oct. 30, 2-3:30 p.m.
- October 22, 2010 - Shawn Poole reporting

CALIFORNIA LOVE
As many West Coast fans are painfully aware, these guys don't go Cali that often... so when they do, we encourage you to get out there and support them!
Clarence Clemons plays two shows in Mill Valley this week, tonight and tomorrow night, with a band of Bay Area musicians he's calling Temple of Soul West. The shows are at The Woods Music Hall — click here for full details.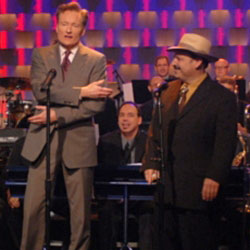 LaBamba's Big Band has its first date since changing coasts, coming up next month on Saturday evening, November 20, at the Canyon Club in Agoura Hills, CA. As their New York/New Jersey fans know, they're an R&B/Rock, 20-piece band, now bringing a bit of the Jukes/Jersey Shore sound to the L.A. area. In addition to bandleaders Richie "LaBamba" Rosenberg, the west coast line-up includes fellow Conan cats Mark Pender, Jerry Vivino, Scott Healy, Mike Merritt and James "the Worm" Wormworth on drums. They then stuff 11 more horn players on the stage... get there if you can! Ticketing and more info here.
- October 21, 2010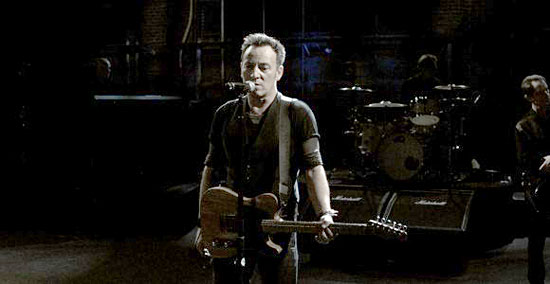 THE PROMISE... AND DARKNESS... WAY UP ON THE SCREEN
As part of DOC NYC, a Big-Apple-based documentary film festival, the Ziegfeld Theatre will present the world premiere of Darkness on the Edge of Town, Thom Zimny's filmed record of Bruce Springsteen and the E Street Band's December 2009 performance of the entire Darkness album (at Asbury Park's Paramount Theatre, with no audience in attendance), also to be included in the upcoming box set. Zimny is expected to attend the premiere, which will take place on Thursday, November 4 at 7 p. m. Tickets are $25 each, with a portion of the proceeds to be donated to the Danny Fund/Melanoma Research Alliance. Click here for more details.
The same week, a bit further south, another big-screen treat awaits: there will be one, and only one, New Jersey presentation of The Promise: The Making of Darkness on the Edge of Town up on the big screen (and we mean the really big screen, as opposed to, say, that new 55-inch LCD set in your Cousin-Frankie-from-Hoboken's living room). The film will screen on Tuesday, November 2, 7 p.m. at the Count Basie Theatre in Red Bank. Tickets are general-admission only and are available now at a cost of $10 each, with a $5 discount offer for "die-hard Springsteen fans." Click here for the details.
- October 21, 2010 - Shawn Poole reporting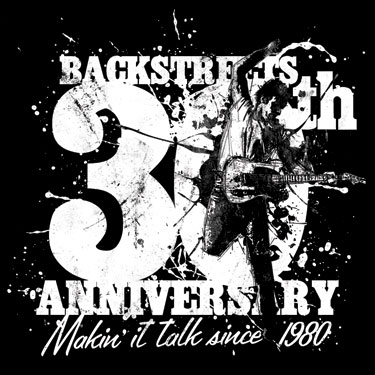 30 PERCENT OFF
30 YEARS OF
BACKSTREETS!
The River isn't the only thing turning 30 this month... It's the 30th anniversary of Backstreets Magazine this weekend, with Sunday officially marking three decades since Backstreets #1 was distributed at the October 24, 1980 Seattle Center Coliseum show.
To celebrate, we're offering 30% off all back issues!
Some have long sold out, of course, but every issue of Backstreets Magazine still in stock is on major sale, while they last, this week only. It's an unprecedented sale: we've never knocked so much off... but then, after 30 years of publishing, we need to make room in here for the issues to come!
Whether you're filling in gaps in your collection or checking us out for the first time, we hope you'll take advantage of our anniversary sale. Back issues are here, with regular prices listed; 30% OFF will be applied at checkout when you use the coupon code: BACKSTREETS30. Sale ends 10/24/10.
Plus: any and all orders placed with Backstreet Records, for back issues or anything else, will ship with a free 30th Anniversary sticker (pictured above). Thanks for your support and for helping us reach the big 3-0!
- October 19, 2010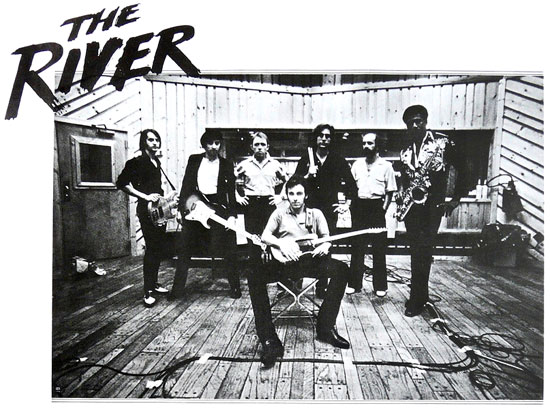 DARKNESS, DARKNESS, DARKNESS, DARKNESS... THE RIVER!
We can't let the spirit of '78 overtake us so much that we neglect this milestone: It was 30 years ago today that Springsteen's now-quintuple-platinum The River was released in the U.S., two weeks into the E Street Band's 1980-'81 tour. The Village Voice called the double album "Springsteen's dictionary, encyclopedia, and bible of rock & roll"; Time cited "a clarity and artistic ease and breadth of passion unequaled by any other rock record this year. Like Francis Coppola's Godfather, another great work of popular art, The River creates a whole world in an instant."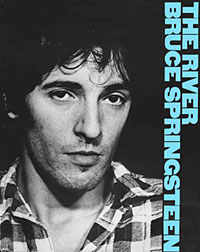 The power and cohesion of the sprawling set wasn't indisputable; reviewing for the New York Times, Robert Palmer opined: "Like most double albums, The River could have benefitted from some careful pruning... especially since several songs return to images and musical ideas already explored on Born to Run and Darkness on the Edge of Town." Steve Pond suggested in the L.A. Times that another few spins might get you there: "On first listening, these two records sound full of throwaway songs sorely lacking the epochal impact of, say 'Thunder Road' or 'Badlands.' At first, this simply sounds like Springsteen's party record, full of nods to Buddy Holly, Duane Eddy and the Byrds, and far happier than the brooding, unsettling Darkness on the Edge of Town.... Later, the remarkable cohesion, consistency and depth emerge."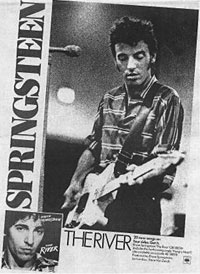 In the Boston Globe, Steve Morse considered the big picture, which — in terms of Springsteen's creative drive and his diverse range — feels just as applicable to his work on stage and on record three decades later: "You keep wondering if Bruce Springsteen is going to waver, to slip out of control, to become jaded. You keep wondering if his creative well is going to run dry, his energy is going to slow down. And, once again, your wondering is needless, because his new double-record set, The River, is nothing less than his foremost career achievement. It is a remarkable distillation of the past 30 years of American pop music — from the dance mania of rockabilly to the soul of R&B; from the pathos of country to the electric stomp of modern rock 'n' roll."
Over at The Bruce Springsteen Special Collection website, you'll find many more contemporaneous reviews as part of a lengthy celebration of The River's anniversary. We encourage you to dive in.
- October 17, 2010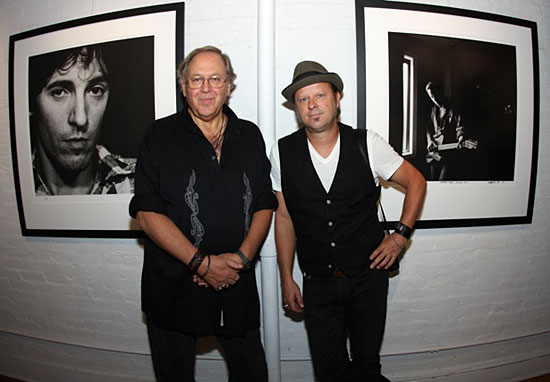 FRANKIE AND DANNY IN THE MORRISON HOTEL
So what if a rare Noreaster downpour hits NYC moments before the doors open? Who cares that it was so packed you couldn't move? What was moving were the pictures of the hero on the wall in "From Darkness to a Dream," the photography exhibit that opened Thursday night.
"You know, I'm looking at our stuff together, and it really works" said veteran photographer Frank Stefanko of his and Danny Clinch's photos of Bruce Springsteen now featured at Morrison Hotel Gallery in this two-man show.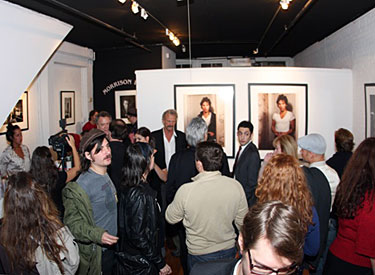 Coming out to support the event were CBS Sunday Morning's Anthony Mason, rocker Jesse Malin, Born to Run photographer Eric Meola, classic New York rock/John Lennon photographer Bob Gruen, and old Stefanko school mate (and Rock and Roll Hall of Fame artist) Patti Smith, as well as fans from all over the East Coast.
Select unframed prints by these acclaimed photographers go for anywhere from $600 up to $25,000 per print. And they were going fast Thursday night.
Any advice for aspiring rock photographers? "Got a joke?" said Clinch. " Bruce always asks me for a joke while I'm shooting him."
- October 15, 2010 - report and photographs by Bob Zimmerman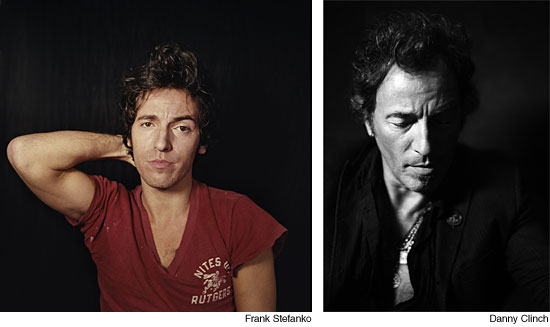 YOU'VE GOT A MONTH TO GET TO SOHO...
"From Darkness to a Dream," the gallery show we previewed last month, is opening tonight at Morrison Hotel Gallery in NYC's Soho. It's a dual exhibition: Frank Stefanko and Danny Clinch, both residents of New Jersey, share a legacy of some of the finest photographs ever shot of fellow Jersey friend Bruce Springsteen. This show features the debut of iconic photographs never available in a gallery show before, including the cover shots for Darkness on the Edge of Town and The River lensed by Stefanko, and We Shall Overcome: The Seeger Sessions from Clinch (who, gearing up for the show, just spoke with the New York Times).
After tonight's opening reception, the two-man show will run until mid-November, in both the street level gallery at 124 Prince Street, and their adjacent second floor loft gallery at 116 Prince Street.
At the Morrison Hotel website, you can view more about Stefanko and Clinch, including many of their images. If you can't make it to New York, run don't walk to check out these works online!
- October 14, 2010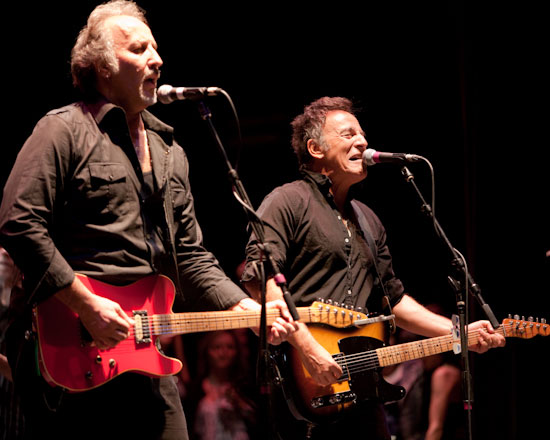 THE RETURN OF THE OCTOBER ASSAULT
Now in November!
Bruce Springsteen and Joe Grushecky (pictured above at January's Light of Day 10) are celebrating the 15th anniverary of Grushecky's Bruce-produced American Babylon. Let's say that again: it's been 15 years since the release of American Babylon and the pair's October Assault tour, which made Bruce an honorary Houserocker for a string of dates in 1995.
To mark the occasion, Bruce and Joe are teaming up again, with two Pittsburgh-area shows scheduled at Soldiers & Sailors Memorial Hall & Museum on November 4 and 5. Billed as "Joe Grushecky & the Houserockers with Special Guest Bruce Springsteen," the concerts include opening acts Jill West & Blues Attack on 11/4, and I Drive (featuring Joe's son Johnny Grushecky) on 11/5.
Tickets, ranging from $45 to $75 with limited $100 gold circle seats, go on sale October 20 at 10 a.m. through Ticketmaster.
- October 13, 2010 - photograph by Michael Zorn

I WON'T DO WHAT YOU TELL ME!!
(Well, except you, you're the Boss)
Every month, E Street Radio seats a different party of Springsteen experts around one table to discuss a Springsteen topic from past, present and future: the Springsteen Community Conference. A new episode debuts today at 4 p.m., and it's one you won't want to miss: a two-hour discussion entitled "The Ties That Bind: Springsteen & The Next Generation," with moderators Ben Lazar and John Franck joined by Tom Morello (Rage Against the Machine, Audioslave, Street Sweeper Social Club, The Nightwatchman), Pete Yorn and Jay Weinberg.
The round-table discussion explores the influence of Springsteen's music and message on a new generation of musicians. Each artist describes, in-depth, their discovery of Bruce's music and how it has impacted their lives and art — and Morello reveals how a part of Rage's "Killing in the Name Of" was lifted from "Born in the U.S.A." Listen today (SIRIUS ch. 10 / XM ch. 58) at 4 p.m. Eastern (and again on 10/14 at 12 a.m. & 8 a.m.; on 10/20 at 4 p.m.; and on 10/21 at 12 a.m. & 8 a.m.).
- October 13, 2010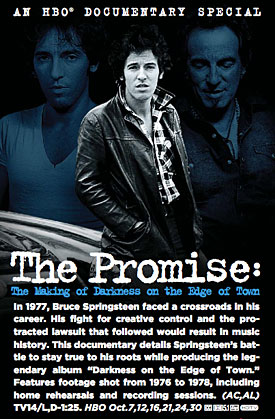 WHEN THE PROMISE
WAS BROADCAST
HBO subscribers: if you missed last week's debut of The Promise, the re-airings begin today: at 3:30 this afternoon and again at 12:30 tonight. Some recent critical reaction:
Mike Hale, New York Times: "What elevates the film are its subjects, both the artist and the album, which established a style and a set of themes that would define Mr. Springsteen's subsequent career. Punk, which was developing at the same time, may get all the credit for revolutionizing popular music, but Mr. Springsteen's determination to move away from the highly engineered and sterile perfectionism of 1970s rock made Darkness just as innovative in its own way."
Robert Lloyd, Los Angeles Times: "For the most part The Promise swaths a difficult time in a warm glow of remembered good times, older selves recalling younger, content in the knowledge that the thing they have together is good. There's a lot of laughter, in the new footage and the old. Even Mike Appel, the manager who kept Springsteen from recording all those years ago, is a friend again — a perfectly appropriate conclusion to the story that Darkness begins."
Ken Tucker, Entertainment Weekly: "The Promise even has a secret hero: engineer Chuck Plotkin, who was brought in to mix the album and provide fresh ears and problem-solving to achieve the atmosphere Springsteen wanted to have hanging over Darkness. Plotkin's descriptions of how the voice should emerge from the guitars, the balance he wanted to create, is enthralling...."
Scott Mervis, Pittsburgh Post-Gazette: "We've heard a lot from The Boss in recent years, whether it's talking about his own music, paying tribute to the pioneers or opening up about politics. This film... is the best document yet of how driven and self-aware he is. Whether or not you like Bruce Springsteen or Darkness, The Promise is an inspiring look at a group of men in a knock-down, drag-out fight with the creative process."
- October 12, 2010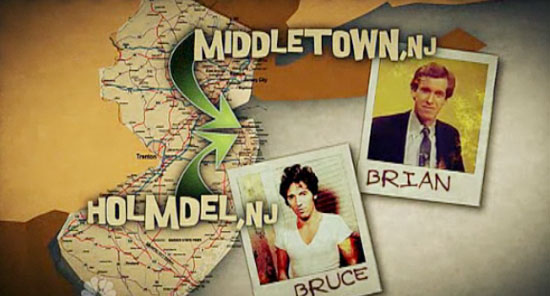 MORE WITH "MIDDLETOWN" WILLIAMS
Another clip inside the Boss's home studio, this one from NBC Nightly News on the eve of the documentary's HBO premiere last week:
- October 12, 2010


SOLOMON BURKE, 1940 - 2010
Solomon Burke — the "King of Rock & Soul," the "Bishop of Soul," and, according to no less an authority than Atlantic Records' Jerry Wexler, the "best soul singer of all time" — died today of natural causes at the age of 70, shortly after arriving to perform a sold-out concert in Amsterdam. Burke was born in the upper room of a Philadelphia church, and his deep roots in gospel music served him well throughout his career as both a singer and spiritual leader of the global church, House of God For All People. A true giant of a man, Burke was responsible for writing, co-writing and/or recording some of the greatest records of the 1960s soul explosion: "Just Out of Reach (Of My Two Empty Arms)," "Cry to Me," and "Everybody Needs Somebody to Love," among others.
Burke's singing style, sense of showmanship, and his lifelong commitment to making music all had and continue to have an enormous influence on Bruce Springsteen's musical career. In 2006, Burke recorded a wonderful country/soul version of Springsteen's "Ain't Got You." At one of his 1993 New Jersey concerts, Bruce called Solomon Burke "my great hero" and incorporated his song "Everybody Needs Somebody to Love" (complete with a version of Burke's spoken-word intro) into his performance of "Roll of the Dice." Interested fans can learn more about Solomon Burke at his official website and at the Rock and Roll Hall of Fame, where Burke
was inducted in 2001.
- October 10, 2010 - Shawn Poole reporting


A LONGER LOOK
The full, 30-minute interview with Brian "Middletown" Williams.
- October 8, 2010


BRIAN WILLIAMS VISITS SPRINGSTEEN'S "TOOLSHED"
After a preview on last night's NBC Nightly News, anchor Brian William's one-on-one with Springsteen aired on the Today show this morning. In addition to more glimpses of The Promise doc, you get to hear what Springsteen thinks when he looks back at that footage: "I had a lot of hair, I had my Italian afro, and I was really skinny!" Plus, peek inside Bruce's new home studio... and, of course, behold the glockenspiel.
- October 7, 2010

WHEN I HOLD KINDLE CLOSE, IT MAKES THESE HIDDEN WORDS MINE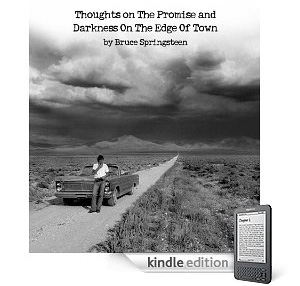 Got a Kindle? Don't got a Kindle? Don't matter. Amazon.com's Kindle site offers fans in the U.S. a sneak peek to help the wait for November 16 go by a bit more easily. Bruce Springsteen's Thoughts on The Promise and Darkness on the Edge of Town is available as a free download for Kindle, Kindle DX and Kindle 1st and 2nd Generations through November 15th.
If you don't own any of these versions of Amazon's e-Book reader, you still can download the free Kindle app for PC, Mac, iPad, iPhone, Android or Blackberry, each of which also can receive the free Springsteen download. The essays consist of Bruce's 1998 piece on Darkness from his book Songs, combined with his new essay on The Promise album, both of which will be included in The Promise: The Darkness On The Edge Of Town Story CD/DVD
packages.
- October 7, 2010 - Shawn Poole reporting

FRIDAYS (AND/OR SUNDAYS) ON MY MIND
E Street Radio listener-alert: Speaking of sneak peeks (or, more accurately, sneak listens), one new track per week from The Promise will be premiered on "Live from the E Street Nation" (hosted by Dave Marsh and airing at Sirius 10/XM 58 every Friday 10:30 a.m.-12:30 p.m. ET with a rebroadcast on the following Sunday, 8-10 p.m. ET). The fun begins tomorrow (with special guest Thom Zimny in to take calls) and continues each week through November 12.
- October 7, 2010 - Shawn Poole reporting

THE PROMISE COMES HOME
Couldn't be in Toronto? Home Box Office showings begin this week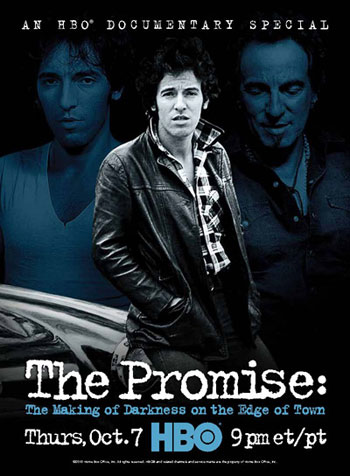 The Promise: The Making of Darkness on the Edge of Town premieres this week on HBO, it's first showing on Thursday night at 9:00 p.m. The doc will re-air multiple times this month and will be available on HBO On Demand from 10/8 through 10/31.
HBO
10/7 (9:00 p.m.)
10/12 (3:30 p.m., 12:30 a.m.)
10/16 (11:30 p.m.)
10/21 (10:30 a.m., 1:55 a.m.)
10/24 (5:00 p.m.)
10/30 (2:00 p.m.)
HBO2:
10/8 (8:00 p.m.)
10/10 (3:30 p.m., 12:20 a.m.)
10/13 (4:55 a.m.)
10/18 (9:30 p.m.)
Springsteen spoke with the Associated Press for another preview of the film today, saying, "Madness has its rewards — if in the end you don't destroy yourself.... I had an idea but a lot of it, looking back now, probably could have been dispensed with and everyone would have been left with a little more of their sanity. But that was how we made those records. I believed at that time that you had to work hard at something. I didn't trust anything that came too easily."
Bruce also spoke about the outtakes that are being collected on two CDs as The Promise, saying that they "really hold together as a body of work because they all came out of the same sessions, the same sounds and tones.... It's an interesting bunch of music that I hope the fans enjoy."
Read "HBO film captures key moments for Springsteen"
For the New York Daily News, David Hinckley spoke with HBO's Nancy Geller, Barry Rebo, Jon Landau, and Thom Zimny, who calls cameraman Rebo "the classic fly on the wall. Says Landau, "Ninety percent of the time, we didn't even know or remember that he was there. We didn't do anything for filming purposes. If we were listening to playback in a dark room, that was the light he had."
Read "HBO's The Promise chronicles the creation of Bruce Springsteen's Darkness on the Edge of Town album"
And for the Los Angeles Times, Patrick Goldstein writes about an advance screening in L.A.: "At the time of Darkness, Springsteen was so young and strikingly handsome (and full of inner turmoil) that it's easy to see why filmmakers such as Martin Scorsese thought he could have been a terrific actor. When he's in the studio, soulfully singing one of his heart-breaking ballads, Springsteen has just as much live-wire charisma as the young DeNiro or Pacino. But Springsteen only wanted to be a rock star, and the biggest joy anyone can get from this film is seeing just how hard he worked to fulfill that promise."
Read "The Promise: Who knew Bruce Springsteen owned so many white T-shirts"
- October 4, 2010

A GLEE-FUL BRUCE?
Last week, EW.com suggested that the music of Bruce Springsteen was in the running for a Very Special Episode of FOX's Glee: "Word on the street is that, in Glee's post-Super Bowl episode, the McKinley High kids will be singing either the songs of Michael Jackson or Bruce Springsteen." Not so far-fetched, considering how well Jimmy Fallon and the Glee kids' "Born to Run" Emmy opener played.
Glee star Jane Lynch has been hearing the buzz, too: "I hear rumours that we may do a Bruce Springsteen episode and I think something like that would be amazing — I'm a big fan!"
Today, ShowbizSpy.com ups the ante, saying that Bruce might even make a cameo appearance: "Insiders say the music legend is in talks to play Finn Hudson's uncle in an episode where the members of the McKinley High School show choir play a bunch of his hits, including 'Born in the U.S.A.,' 'Dancing in the Dark' and 'Born to Run.'
- October 4, 2010

USA TODAY TODAY: THE INTERVIEWS KEEP COMING
With The Promise set to debut on HBO in less than a week, Springsteen's definitely not in Garbo mode... In USA Today, he talks to Elysa Gardner about Darkness on the Edge of Town: "we were trying to make an essential record. So that if you were interested in rock music, interested in what was at stake in the late '70s culturally, then you had to deal with this particular piece of music. That became a blueprint for the way we continued to work, and I think that thoughtfulness has resonated over the long haul. The songs are still a vessel for the topics I want to discuss."
Bruce also talks a bit about what has driven him to revisit his earlier work: "After I got the band back together again in 1998 or 1999, we did a few tours and made some good records, and I realized that there were a lot of kids coming to the shows. I thought it would be nice to put together a record of what we did at that earlier time."
- October 1, 2010

"BETTER THINGS" FIRST LISTEN
BBC Radio2 has given Bruce and Ray Davies' "Better Things" a spin, and you can hear it online now. Via Kindakinks.net, check it out here — just click "Listen now," and advance to the 1:24:35 mark.
- October 1, 2010