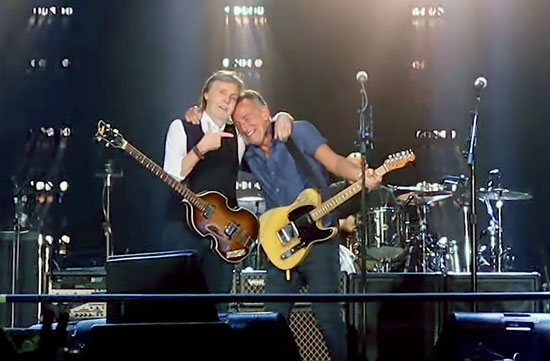 June 16
MetLife Stadium
East Rutherford, NJ
guesting with SIR PAUL McCARTNEY
Setlist:
Glory Days (with Paul McCartney)
I Wanna Be Your Man (with Paul McCartney)
The End (closing jam, with Paul McCartney)
Notes: For the second time in two weeks, Bruce Springsteen turned in a surprise appearance in the swamps of Jersey, back at MetLife Stadium with a living legend this time: Sir Paul McCartney. Introducing his guest as "a friend of mine… a local boy" ("I think you've guessed him!" he added, as the stadium resounded with calls for Broooce), McCartney brought Springsteen on stage to the audible thrill of the crowd.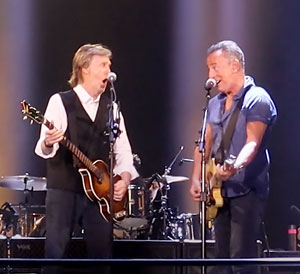 Springsteen wished his host a happy birthday first thing — McCartney will turn 80 on Saturday — and introduced their first song together: "Here's to 80 more years of Glory Days!" Bruce sang lead on all the verses, while McCartney joined in for chorus harmonies and the woo-hoo! call-and-response toward the end.
"Bruce, one more!" McCartney called, adding a Broooce of his own before the next number: Springsteen taking Ringo's lead vocal on "I Wanna Be Your Man." Bruce played some mean lead guitar, too, and continued to appear thrilled to be sharing center stage with a Beatle, their mics tight together, even offering some "We're not worthy" bows at the end of his guest slot.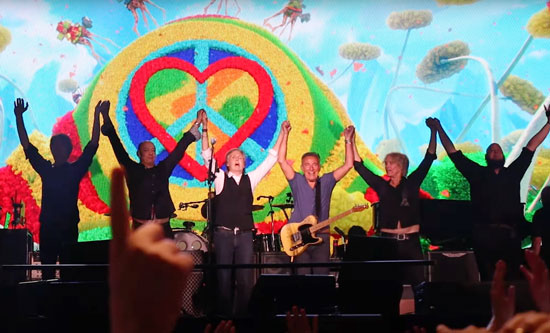 Bruce returned to the stage for the concert's finale, an extended jam on Abbey Road's "The End," and he acquitted himself well in a four-way guitar duel. When the band's final bows came, Springsteen was still there, hands in the air and clasped with Sir Paul's — and beaming. This wasn't his first time (or even second or third), but you have to imagine that playing with a Beatle never gets old. Between the excitement in the crowd and on stage, MetLife might have been able to generate its own electricity (not that it was necessary — the power stayed on all night). And for those with an eye on the future, Springsteen demonstrated once again that he's in fighting shape for his own stadium tour. Here's to more Glory Days! [Watch full video]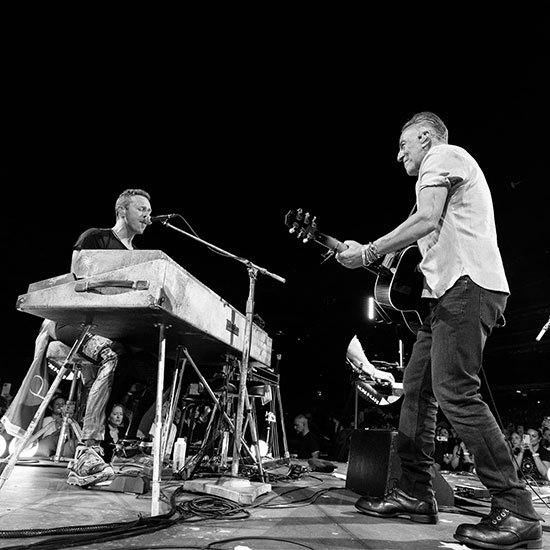 via Twitter/@coldplay
June 5
MetLife Stadium
East Rutherford, NJ
guesting with COLDPLAY
Setlist:
Working on a Dream (acoustic, with Coldplay)
Dancing in the Dark (acoustic, with Chris Martin)
Notes: My boyfriend, Mackenzie, and I went to see Coldplay at MetLife Stadium. Despite it being a Sunday night and the band's second performance at the venue, the energy in the stadium was was high.
From the moment I found my seats in the nosebleeds, there were rumblings of Bruce Springsteen showing up. I scoffed at this, remembering the Taylor Swift concert at the same venue seven years ago where my dad, Phil (a lifelong Bruce fan and Jersey boy), promised me Bruce would show up for a surprise performance. Bruce didn't take the stage that night, leaving my chagrined dad to listen to Taylor Swift and Nick Jonas with no respite.
As my boyfriend and I worked our way to the floor to be closer to the action, the crowd started shouting "Broooce," the telltale sign that The Boss was in the house. I looked around in disbelief, but we moved closer to the C-stage anyway — a smaller stage located in the middle of the floor, separate from their A and B stages — on the off-chance that Bruce had actually showed up.
A few moments later, the chanting reached a fever pitch as Chris Martin actually introduced the night's guest with a grin: "I have a tattoo on my arm, because this person is my hero.… I can't believe we get to say it, but please welcome Mr. Bruce Springsteen!"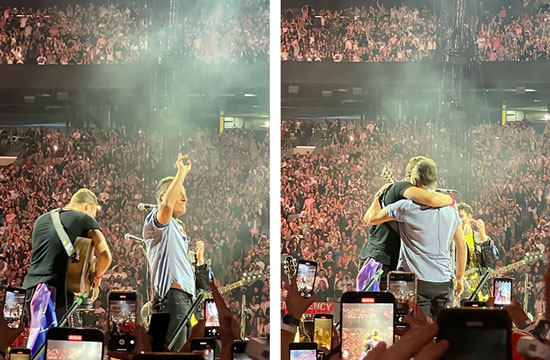 To go and hug the "Yellow" man: Martin and Springsteen, 6/5/22 - photographs by Helen Wajda
As Bruce greeted the crowd ("Hello, New Jersey!"), I screamed, "My dad's going to be so mad he isn't here!" A father standing near me with his kids laughed. "I would be, too," he said.
Bruce remarked on Martin's ink as he introduced their first song together: "Chris has had this song tattooed on his arm for a while, so I guess I gotta sing it!" On acoustic guitar, he launched right into "Working on a Dream," and the rest of the band joined in; in addition to singing on the chorus, Martin took a verse of his own.
After the song, the rest of the band stepped down from the C-stage, leaving just the Coldplayer singer on keyboards and Bruce on guitar for a beautiful, slowed down version of "Dancing in the Dark." After singing the first nearly a cappella, drawing it out and enticing the crowd to join in, Springsteen encouraged Martin as the pair traded verses, yelling "Go ahead, kid! C'mon, Chris!"
Growing up listening to my dad's music constantly, I had an appreciation for Bruce but didn't quite grasp his immense talent. Seeing Bruce perform live for the first time only confirmed that what my dad had been telling me for years was true: Bruce is truly an icon with the ability to engage and unite any crowd. As he left, people around me kept repeating, "Broooce!" and "I can't believe that just happened!" I turned my attention back to the stage, but in my mind I was ten years old again and sitting in the backseat of my dad's car, blaring "Dancing in the Dark" as we drove to the Jersey shore. —Helen Wajda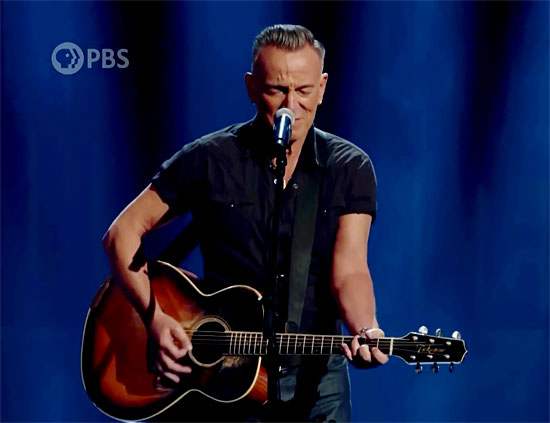 April 24
Kennedy Center
Washington, DC
The 23rd annual MARK TWAIN PRIZE FOR AMERICAN HUMOR
Setlist:
Come Together (with Gary Clark Jr.)
Born to Run (solo acoustic)
Notes: "Whenever I see Bruce Springsteen do anything, he empties the tank… every time." That was Jon Stewart, memorably saluting Bruce Springsteen at the 2009 Kennedy Center Honors. So it was particularly fitting that the Boss would return to pay his own respects, with Stewart the man of the hour at the Kennedy Center last night, the beloved former host of The Daily Show winning the 23rd Mark Twain Prize for American Humor.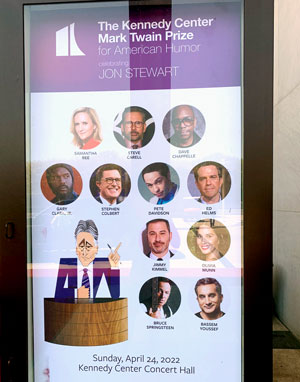 Springsteen made a special trip to Washington DC to be a surprise guest at the 2022 prize ceremony — he wasn't on the advance bill, but his face appeared on the event poster when attendees arrived at the John F. Kennedy Center for the Performing Arts.
As Stewart took the stage at the beginning of the night, it was to the sounds of Springsteen performing with Gary Clark Jr., dueting on the Beatles' "Come Together." The New York Times describes the song selection as "an ode to Mr. Stewart's long-held aspirations for America, despite his career based on biting political satire"; we wouldn't be surprised if Bruce likes it just as much for its line describing his magic trick: "He say, 'one and one and one is three.'"
Later in the evening Springsteen later returned to the stage by himself, playing "Born to Run" on his Takamine acoustic guitar and praising Stewart, the StarTribune reports, "as a patriot determined to speak truth to power."
The ceremony was filmed for broadcast, to premiere on PBS stations nationwide June 21 at 9pm Eastern.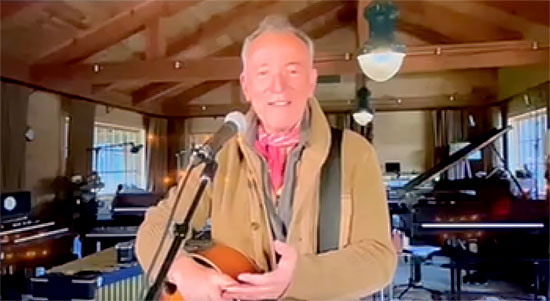 April 6
Stone Hill Farm
Colts Neck, NJ
Setlist:
Blinded By the Light (solo acoustic)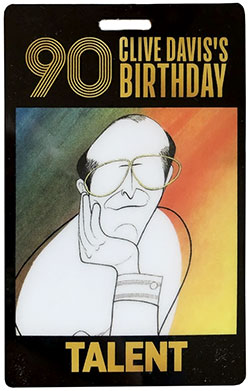 Notes: Unable to attend Clive Davis's 90th birthday party in person, Springsteen sent along a pre-recorded video, including a rendition of "Blinded By the Light," that was played for Davis and other guests in attendance.
As Variety reported:
Bruce Springsteen, appearing from his home studio in a pre-recorded video projected onto the venue's several big screens, apologized for not being present but said he was "quarantined" at home — which sounds alarming but he didn't seem terribly concerned about it; his rep did not respond to requests for comment, but it seems possible that someone on his team had tested positive.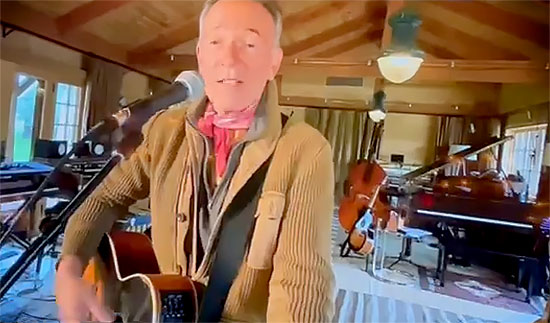 Springsteen remained engaging and entertaing despite not being in the room, appearing healthy and in good spirits as he addressed Davis and the others assembled, guitar in hand. His acoustic performance of "Blinded" was prefaced by a warm, heartfelt tribute to the man of the evening, emphasizing Clive's "all-in" support as well as just how far the two go back:
Fifty years ago! Fifty years ago with just an acoutsic guitar in my hand, and nothing else, and sitting down and playing you a few songs, and you were so kind, and generous, and gentle, and patient with an absolute nobody who came up to New York City on the Lincoln Transit bus with his guitar between his legs. I can't thank you enough for that moment — I'll never forget it as long as I live.

For the crowd there: when Clive is with you, he is with you all the way! One-hundred percent. When our record was released, Greetings From Asbury Park… oh, first, Clive tells me, "It's not good enough." And he gives it back to me. And he says, "There's nothing we can play on the radio." So I go home, and I sit on the beach, and in a day I write "Blinded By the Light" and "Spirit in the Night"… Clive was so correct! [Laughs] As always! Two of my best songs on that record, thank you, Clive.

And then when the record came out, Clive recited the lyrics like they were the Dead Sea Scrolls — like they were Shakespeare's lost sonnets, like they were missing pages of Revelation — filmed himself, and sent that film all across the United States, to every Columbia Recording office in the U.S.A. That was all-in, Clive. And so in your honor, and 'cause I love ya so much, and 'cause you've been so good to me, and you've made such change in my life, I'll never forget it… I'll never forget you. This is for you, Clive!
"Madman drummers bummers," Bruce began to sing, performing "Blinded" in its entirety for the camera. As Jem Aswad writes in the Variety report, "It's not a song he plays often these days, and it was amusing watching his face as he struggled at a couple of points to recall the knotty lyrics, then burst into a 'hey! I got it!' smile as he remembered them after just a millisecond's hesitation."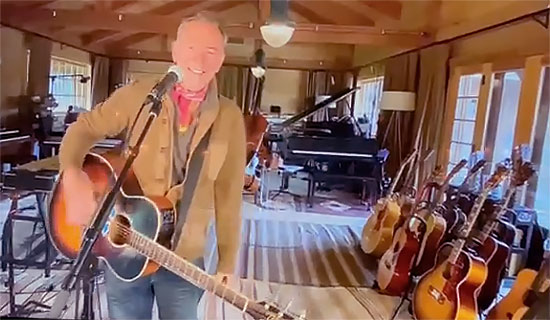 While Springsteen's contribution was filmed in his New Jersey home studio (Nancy Pelosi, diagnosed with Covid-19, sent a video as well), the birthday bash was held at Casa Cipriani in NYC, with performers and attendees including Jon Landau, Little Steven, Patti Smith (who sang "Because the Night"), Jann Wenner, Barry Manilow, Alicia Keys, Lin Manuel Miranda, Narada Michael Walden, Dionne Warwick, Robert De Niro, Busta Rhymes, Gayle King, Lorraine Bracco, Jimmy Iovine, and many more (showbiz411.com has a more exhaustive list).