CITY OF BROTHERLY LOVE READIES FOR SPRINGSTEEN
Labor Day Weekend adds another venue to Bruce's Philly list... but there's more work to be done
Bruce Springsteen and the E Street Band return to Philadelphia to play their first-ever concerts at Citizens Bank Park, home of the Philadelphia Phillies, on Sunday and Monday. On both nights, fans can hang out before and after the shows at the ballpark's in-house bar/restaurant McFadden's (which also graciously hosted last spring's Backstreets.com-sponsored Springsteen Memories Roadshow.) McFadden's "indoor tailgates" will feature live pre-show/post-show music by Springsteen tribute band Gypsy Angel Row.
Monday's Springsteen concert features a live pre-show broadcast from just outside the ballpark by Dave Marsh and Jim Rotolo from E Street Radio. Fans are welcome to visit the E Street Radio tent to watch the broadcast and possibly talk Bruce live on the air with Marsh, Rotolo and anyone else who might stop by.
Monday is also the final day to visit the National Constitution Center's exhibition of From Asbury Park to the Promised Land: The Life and Music of Bruce Springsteen.
A recent post at brucespringsteen.net asserts that Bruce will reach a "Philly landmark" with his September 2 & 3 shows. According to data compiled by Ike Richman of Philly-based sports and entertainment firm Comcast Spectacor, "with those concerts, [Springsteen] will become the first act to perform at every major live music venue in the city." Richman's list of Philly or Philly-area venues played or soon to be played by Bruce include the Phillies' ballpark; Upper Darby, PA's Tower Theater; the Electric Factory; Lincoln Financial Field; Wells Fargo Center; and now-demolished venues Veterans Stadium, JFK Stadium, and the Spectrum arena.
Philly-based Backstreets.com contributor Shawn Poole and his wife Dawn Leinberger, however, respectfully dissent. Shawn and Dawn have compiled an almost equally long list of "major live music venues" within Philadelphia's city limits where Bruce still hasn't played or, in the case of one, never got to play before its demolition:
So let's not check Philly off the list just yet... collect 'em all, Bruce!
Prepping for the Labor Day Weekend visit, Nils Lofgren appeared this morning on Philadelphia's IQ 106.9, talking about flips, audibles, and playing with Sir Paul:
- August 31, 2012

FALL SCHEDULE NEW ADDITION: OCTOBER 30, ROCHESTER
Another date for New York state, announced today after last night's Vernon show: Bruce and the E Street Band will play Rochester's Blue Cross Arena the night before Halloween. Tickets go on sale via Ticketmaster and the arena box office on Saturday, September 8 at 10am.
For the full itinerary as it stands, visit our Tour/Ticket Info page
- August 30, 2012


A GOOD COMPANION FOR THIS PART OF THE RIDE
The baseball post-season's just become more bearable for Springsteen fans: Major League Baseball today announced that "Land of Hope And Dreams" (albeit a highly edited version) will be the unofficial 2012 MLB Postseason theme song.
As with songs by Bon Jovi, Kid Rock, and Tinie Tempah in past years, a commercial spot featuring "Land of Hope and Dreams" will showcase highlights of the 2012 season interspersed with live Springsteen footage (from a variety of sources, new and old). The spot will air on television and will also be featured on in-park video boards in the weeks leading up to the start of the Fall Classic. (Sure beats hearing the Black Eyed Peas one more time.)
- August 29, 2012 - Caryn Rose reporting

TIME CHANGE FOR VERNON DOWNS ENTRY LOTTERY
Wednesday's wristbands (to determine order of entry into the Vernon Downs concert for those jockeying for position) will be distributed earlier than usual: from 12:30 to 3:30.
Be further advised: wristband distribution will take place at Gate D. We're told that the only way to reach Gate D is off via exit 33 off the New York Thruway. Gate D is inaccesslble from all other roads and parking lots.
- August 28, 2012

ANOTHER SEEGER SESSION FROM APPLESEED
New Bruce & Pete duet due September 25
While Bruce Springsteen has obviously had a longstanding relationship with Columbia Records, the label he signed with back in '72, he's also got some interesting history on the side with the Appleseed label. Jim Musselman's Appleseed Recordings, current home to Pete Seeger, first released Springsteen's take on "We Shall Overcome" on Where Have All the Flowers Gone back in 1998, and several more Bruce tracks have appeared exclusively on Appleseed titles since. Now, he guests with Pete Seeger once again on A More Perfect Union, due September 25.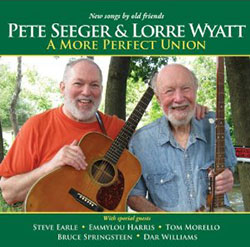 "God's Counting on Me... God's Counting on You," featuring Springsteen on vocals, was written by Seeger and singer/songwriter Lorre Wyatt and is the new album's opening track. Musselman tells Backstreets, "Pete wrote the song two years ago in response to the Gulf oil spill, though only one verse is related to the spill — it's very much along the lines of Wrecking Ball, dealing with economic justice and working together to overcome adversity."
Springsteen sings throughout the song, including lead on two verses: "It's time to turn things around / Trickle up, not trickle down" and "Now don't give up and don't give in / Working together we all can win." "I talked with Pete about the verses that Bruce should sing, Musselman says, "and came up with those for Bruce. He recorded his part of the song last January. This is the third song Bruce has been on with Pete, including [their re-recording of] 'The Ghost of Tom Joad' and 'Hobo's Lullaby,' and the fifth exclusive Springsteen song that Appleseed has released." [Also on that list: "Wreck on the Highway" live with John Wesley Harding.]
Other guests on A More Perfect Union include Steve Earle, Emmylou Harris, Tom Morello, and Dar Williams — as Musselman says, "artists who were in the spirit of Pete." Also coming from Appleseed on September 25 is Pete Remembers Woody, a two-CD set celebrating the centennial birthyear of Pete's friend, quasi-mentor and sometime musical partner, the late Woody Guthrie.
Pre-order A More Perfect Union now from Backstreet Records.
- August 28, 2012


ANY ODDS ON SILVER PALOMINO? MUSTANG SALLY? STAND ON IT?
After their weekend excursion to Canada, Bruce and the E Street Band are back on stage in the States tomorrow night for an unusual outdoor show: not a ballpark or a football stadium, but a horse racing track in Vernon, NY. With the stage set up at one end of the infield, the Vernon Downs show will be all general admission. While specific entry info hasn't been announced, unless we hear otherwise we're presuming that the standard lottery will be in effect, with numbered wristbands distributed in the afternoon (typically between 1:30 and 4:30), followed by a random drawing to determine order of entry. [See above for new lottery details.] According to vernondowns.com, the parking lot opens at noon, and gates open at 5:00.
- August 28, 2012

SPRINGSTEEN ON "SPRINGSTEEN"
Bruce reportedly a fan of the second "Springsteen" country track
Billboard.com scribe (and Backstreets contributor) Gary Graff reports that country singer Eric Church recently received a personal note from Bruce Springsteen written on the back of one of Bruce's recent Fenway Park setlists. The Boss asked his road manager Wayne LeBeaux to hand-deliver the note after learning that LeBeaux would be attending the Chief's August 19 concert. As Church told Graff, Springsteen "wrote me a great note" about Church's platinum hit single "Springsteen." The note "filled up the whole back of the set list talking about how he was a fan of the song, how his family was a fan of the song. He signed it and said 'I hope we cross paths somewhere'..."
Which is more great news for Eric Church, of course, but as Springsteen's "Jack of All Trades" notes, "It's all happened before..." About two years prior to the release of Church's "Springsteen" last summer, another young, up-and-coming country musician co-wrote, recorded and released a track also entitled "Springsteen" that also recalled the joys of singing along with an old flame to various Bruce classics. Texas-based Willie Mack's "Springsteen" shares Church's basic lyrical perspective, but Mack's "Springsteen" is more upbeat and name-checks more Springsteen songs — a total of six ("Bobby Jean," "Born to Run," "Dancing in the Dark," "Glory Days," "Hungry Heart" and "Thunder Road"). Church obviously has scored the bigger commercial success to date, though that hasn't kept Willie Mack's MySpace page from listing Church among his "Top Friends" for over two years now. Willie Mack's "Springsteen," co-written with Jason McCoy and featured on Mack's 2009 album The Journey, remains available for download here.
- August 24, 2012 - Shawn Poole reporting


"THEY CAN'T THROW US OUT OF HERE NOW, CAN THEY?"
Tomorrow on Palladia / VH1 / VH1 Classic.
- August 24, 2012

PHILLY-AREA FANS: BRING ON YOUR "WRECKING" BIDS
Four pairs of tix for Philly shows on auction to fight hunger
Philabundance, the Delaware Valley's largest hunger relief organization and a favorite Bruce Springsteen charity for years, is auctioning off four pairs of Springsteen-donated concert tickets for the Wrecking Ball Tour's Labor Day weekend stand in Philadelphia. All tickets on auction are for seats "in the first tier above the floor within the first five rows, either to the left or right of the stage." Each of the four highest bids submitted by 11:59pm on August 24 will receive a pair of tickets. At Springsteen's request, only fans who live in the PA/NJ counties in and around the City of Brotherly Love are eligible to bid. Visit Philabundance's 2012 Bruce Auction page for details. And even if you aren't bidding or don't win,
consider donating whatever you can at this crucial time of the year. As a recent Philabundance blog post reminds us, "Hunger Doesn't Take a Vacation" in the summer months, hitting nearly 300,000 Philly-area children especially hard.
- August 23, 2012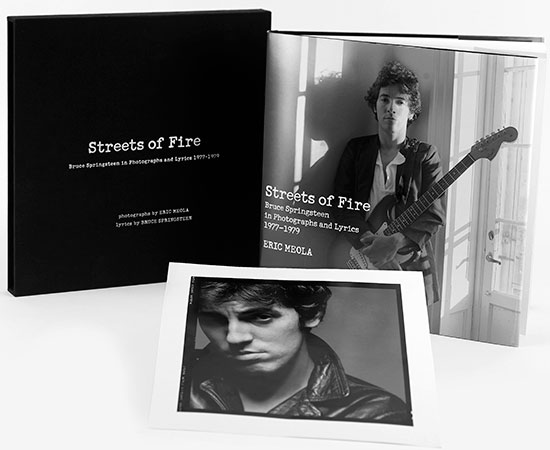 PRE-ORDER NOW: LIMITED EDITION OF ERIC MEOLA'S DARKNESS BOOK
A few years back, photographer Eric Meola released a goldmine of images from a magical day in 1975 as Born to Run: The Unseen Photos. Of course, Meola is probably best known for that iconic gatefold shot of Clarence and Bruce, but he and Springsteen continued to work together as the years went on. Meola's subsequent sessions with Bruce generated covers for the "Badlands" sheet music, the "River" 12-inch, and most recently, The Promise (both the album and the documentary film). Those now-classic shots are only the tip of the iceberg in terms of what Meola shot from 1977-1979, and his forthcoming Streets of Fire book gathers striking, rarely seen images of Springsteen after the mind-boggling success of Born to Run and the resulting struggles. Think of it as Darkness on the Edge of Town: The Unseen Photos.
Streets of Fire: Bruce Springsteen in Photographs and Lyrics, 1977-1979 is due in late September from HarperCollins. The 10" x 10" hardcover will feature 128 pages with more than 70 striking black-and-white photographs, some never before published, along with personal essays from Meola and music critic Joyce Millman on the Darkness era. We'll be taking pre-orders for this standard edition soon. But first...
HarperCollins is also producing a larger version of Streets of Fire in a limited edition: a 12" x 12" hardcover, signed by Meola, housed — along with a photographic print, also signed by Meola — in a foil-stamped box. Limited "collector" editions like this often sell for well into triple-digits; they're keeping this one more reasonable, at $60 (double the price of the standard hardcover).
With only 1,000 of these babies to go around, these won't be easy to find... but we've been working with Meola and the publishers to get as many reserved for Backstreets customers as possible. Pre-order yours from Backstreet Records now, while our allotment lasts!
Update: the quantity available in our online shop will fluctuate as shopping carts expire... keep checking back! Release date for Limited Edition is November 13.
8/22 Update: Our allocation of the Limited Edition is now sold out.
- Updated August 22, 2012

SNEAK PEEK: HYDE PARK HIGHLIGHTS TO AIR NEXT WEEK
A week from Saturday, VH1, VH1 Classic, and Palladia will air Hard Rock Calling 2012, a selection of this year's festival highlights including "Thunder Road," "Shackled and Drawn," "We Are Alive" and "Twist & Shout" — with due respect for Springsteen and Sir Paul:
It was all over the news that during the performance of "Twist & Shout" the speakers were turned off because the show went past the London curfew of 10:30pm. However, we have some great news for all of you diehard fans out there: we kept the cameras rolling, and the audio recording, and we're the only ones who can bring you the entire "Twist & Shout" performance in its entirety. Enjoy!
Previews:
Tune into VH1/VH1 Classic/Palladia for the debut on Saturday, August 25, at 9pm, with encore broadcasts in the following days and weeks on Palladia and VH1 Classic.
- August 17, 2012

35 AUGUSTS AGO: "MAN ON THE RADIO SAYS 'ELVIS PRESLEY DIED.'"
Special salutes online and on E Street Radio; Springsteen & Backstreets items featured in Graceland's ICON exhibit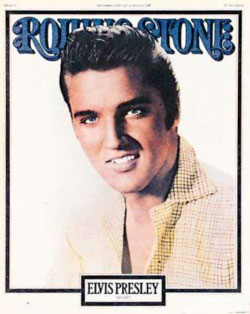 August 16, 1977 is a sad but significant date in the life and career of Bruce Springsteen. On that date, Elvis Presley, the first and enduring influence on Springsteen's own musical aspirations, died tragically and far too young at just 42 years of age. In Rolling Stone's tribute to Presley published shortly after his death, Bruce had this to say to Dave Marsh about Elvis's passing:
I could not imagine that guy dying. He was so incredibly important to me, to go on and do what I want to do. When I heard the news it was like somebody took a piece out of me.

He was not primitive, like people think. He was an artist and he was into being an artist. Of course, he was also into rockin' his ass, but that was part of it. Onstage, he encompassed everything — he was laughing at the world, and he was laughing at himself, but at the same time, he was dead serious.

To me, he was as big as the whole country itself, as big as the whole dream. He just embodied the essence of it, and he was in mortal combat with the thing. It was horrible and, at the same time, it was fantastic.
The news of Presley's death reached Bruce while he was still recording tracks for potential inclusion on Darkness on the Edge of Town. Springsteen was inspired to write and record the song "Come On (Let's Go Tonight)," which wasn't released officially until 2010 on The Promise. The song relates a sad journey to Memphis for Elvis' funeral. In 1981, some elements of "Come On" were used in creating another song about Elvis' death called "Bye Bye Johnny," which eventually led to the home-studio recording entitled "Johnny Bye Bye," released as a B-side in the mid-'80s and later included on Tracks. All known versions of "Bye Bye Johnny"/"Johnny Bye Bye" conclude with the same pointed observation: "You didn't have to die, you didn't have to die."
Earlier this year, Springsteen's keynote address at SXSW centered around critic Lester Bangs's August '77 Village Voice essay "How Long Will We Care?" in which Bangs concluded, "we will never agree on anything as we agreed on Elvis. So I won't bother saying goodbye to his corpse. I will say goodbye to you." Bruce cited Elvis's enduring influence on himself and so many others, calling Presley's 1956 television appearance on The Ed Sullivan Show "the evening I realized a white man could make magic, that you did not have to be constrained by your upbringing, by the way you looked or by the social context that oppressed you. You could call upon your own powers of imagination and you could create a transformative self.... Elvis was the first modern 20th-century man, the precursor of the sexual revolution, of the Civil Rights revolution, drawn from the same Memphis as Martin Luther King, creating fundamental outsider art that would be embraced by a mainstream popular culture."
Presley/Springsteen fan and blogger Ryan Hilligoss has written a detailed essay exploring how the impact of Elvis's death can be heard in much of the music that Bruce made during the Darkness sessions. This Thursday, to mark the official 35th anniversary of Elvis' passing, Hilligoss will appear on E Street Radio with Backstreets contributor Shawn Poole (co-author of our massive feature on Elvis and Bruce in Backstreets issue #80, now an out-of-print collectors' item.) The pair will host a special edition of the fan-DJ program "You Be The Boss," talkin' Elvis and Bruce while playing some of their favorite Presley-influenced Springsteen tracks. Tune in at 10 a.m. ET.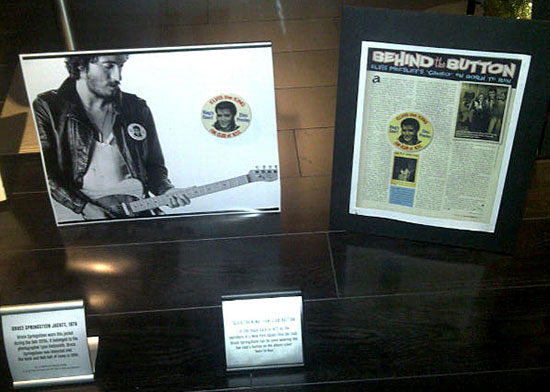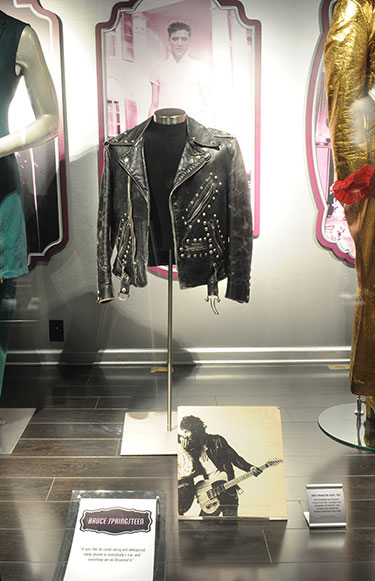 Poole and Backstreets also recently received some exciting news from Graceland, Elvis' home for most of his adult life and now major tourist attraction. Poole's 2004 Backstreets profile of Al Hanson, who designed the Elvis Presley "King's Court" fan-club button sported by Springsteen on the cover of Born to Run, was recently added, along with one of Hanson's buttons, to an ongoing Graceland display featuring one of Bruce's black leather jackets and the Born to Run album cover itself. The display is part of the exhibit ICON: The Influence of Elvis Presley, produced in conjunction with the Rock and Roll Hall of Fame. It explores Elvis Presley's lasting impact on other major music figures, including Springsteen, and marks the first time that an official Graceland exhibit has included items from artists other than Elvis. The exhibit is housed in Graceland's Sincerely Elvis Museum, located directly across the street from Graceland itself, and will remain on display there through February 2013. We, of course, are thrilled and honored to be a part of it.
Graceland's Director of Archives Angie Marchese (a major fan of both Presley and Springsteen) also was able to provide Poole with confirmation of an intriguing Springsteen-related factoid he found buried in the footnotes of Greil Marcus' classic book Mystery Train. Marcus noted that a clipping of Jon Landau's 1971 Rolling Stone review of an Elvis concert in Boston, "In Praise of Elvis Presley" (reprinted in both the Landau anthology It's Too Late to Stop Now... and the September '77 Presley memorial issue of Rolling Stone) was "found among Elvis' effects after his death." Angie tells us that Landau's review was indeed included in the "enormous document collection" maintained by Elvis's father and secretarial staff at Elvis's request. According to Marchese, Presley liked to read all of his reviews, "...good, bad or indifferent... to keep up with what everybody was saying." For the numerous fans of both Elvis and Bruce, the thought of Elvis reading Jon Landau's review of one of his concerts is fascinating, of course, given the later significance of a certain Landau concert review to Springsteen's own career. It also demonstrates yet again that for all that troubled Elvis Presley, what Bruce said about Presley back in '77 remained true to the very end: he was an artist and he was into being an artist. Rest in peace, Elvis; your music and its influence live on.
- August 13, 2012 - exhibit photos courtesy of Elvis Presley Enterprises

NICK CLEMONS PRESENTS THE ASBURY PARK COMEDY FESTIVAL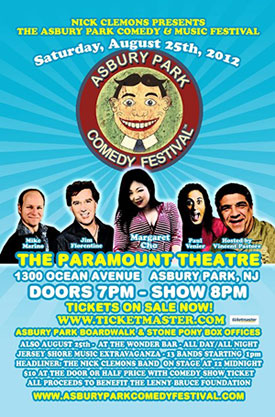 On Saturday, August 25, the Paramount Theatre in Asbury Park will host the first ever Asbury Park Comedy Festival. Scheduled performers are Margaret Cho, Jim Florentine, Mike Marino, and Paul Venie, with the night hosted by New Jersey's own Vinnie "Big Pussy" Pastore. Across the street, in conjunction with the festiva, the Wonder Bar will host an all-day/night line-up of musical acts.
The day's events are being produced by Nick Clemons a.k.a. Clarence Clemons III, the first son of the dear departed Big Man. The Nick Clemons Band will headline the Wonder Bar show at midnight. Nick says, "We are thrilled to bring a major comedy event to Asbury Park. The town has seen such a great revival and we hope this festival will add comedy to the many things that bring people in to town."
Clemons also stressed that this is a "pure" benefit: "My team and I will ensure that every possible dollar gets to the Foundation. This is not a passive, 25% deal to charity." The festival of comedy and music is a benefit for The Lenny Bruce Memorial Foundation, a recognized 501(c)(3) charitable organization. The Foundation principally supports Lenny's House, a women's alcohol and drug rehabilitation facility in Pittston, Pennsylvania. Kitty Bruce, daughter of the late, legendary comedian and free speech advocate Lenny Bruce, heads the Foundation and the facility.
Tickets for the comedy festival are available through Ticketmaster.com and at the Stone Pony and Asbury Park boardwalk box offices. They range from $20 to $60, and only limited seats remain at the $60 level. Wonder Bar admission is $10 at the door but comedy show ticket stubs may be shown at The Wonder Bar for $5 admission.
For more on the comedy festival and the band line-up at The Wonder Bar, visit www.asburyparkcomedyfestival.com and the event page on Facebook.
- August 13, 2012

DAVE AND DANNY GO DEEP ON WRECKING BALL
We often link to other online essays and articles in the "Out on the Wire" section of this page, but this one's too good to take the chance you'll miss it. Rock and Rap Confidential's Dave Marsh and Danny Alexander, who "listen both as long-term Springsteen fans and as activists," have crafted an insight-rich response to Wrecking Ball that traces the album's connections to other Springsteen songs and characters while also making a case for how it stands apart.
Read (and react to) "To Set Our Souls Free: A different view of Bruce Springsteen's Wrecking Ball" at both DaveMarsh.us and Take Em As They Come.
- August 11, 2012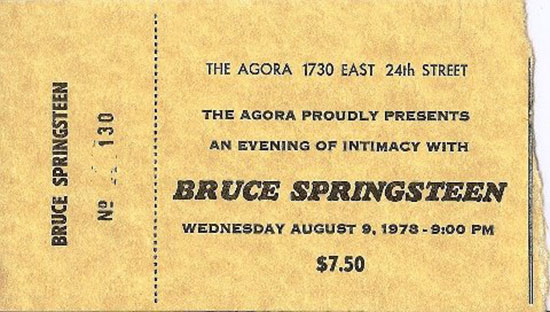 "AN EVENING OF INTIMACY," 34 YEARS AGO AT THE AGORA
Thirty-four years ago tonight, Bruce Springsteen and the E Street Band celebrated the tenth anniversary of Cleveland's WMMS with a now-legendary concert broadcast live from the Agora. As Kid Leo said in his intro, "Round for round, pound for pound, there ain't no finer band around!" Not many finer bootlegs, either.
Read WMMS program director John Gorman's remembrance of 8/9/78 — "I wanted this to be the best radio concert of them all. I needn't have worried" — in Backstreets #89.
- August 9, 2012 - ticket stub courtesy of Dick Wingate

PASSAIC 9/20/78 COMES OUT OF THE VAULT (WOLFGANG'S)
Online music archive Wolfgang's Vault made good on a Christmas-time promise this week and and has posted the first set of Springsteen's 9/20/78 performance as captured in black and white at the Capitol Theatre in Passaic, NJ. This marks the first "legitimate" release — if you can call it that — of one of the most famous Springsteen video bootlegs ever, shot one night after the radio broadcast that became its own famous bootleg, Piece de Resistance.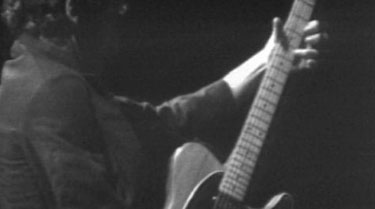 The footage, along with other material, comes from Wolfgang's Vault's 2011 acquisition of audio and video assets from legendary tri-state promotor John Scher, who ran the venue and promoted hundreds of concerts in and around New York City beginning in the early '70s. It was the late promoter Bill Graham's treasure trove of audio, video, and memorabilia that formed the backbone of Wolfgang's Vault when it began, so the acquisition of the Scher archives follows suit.
The Springsteen show was filmed on the Capitol Theatre's in-house video system, which was also used to document other bands including Joan Jett, Jerry Garcia, Grateful Dead, Van Morrison and The Clash. The great news is that the footage of all these artists is some of the only full-concert performances captured of them in the '70s and early '80s. The bad news is that while close to state of the art for their time, the camera system had problems adjusting to concert lighting and, as a result, all the Capitol footage has serious exposure issues and at times can be awash in gray.
When Wolfgang's Vault first announced the acquisition in late 2011, they posted a clip of "Santa Claus is Coming to Town" from the show with the following note: "This video, along with the entire concert from which it came, will be painstakingly restored and digitized to guarantee the best possible quality for online broadcast." This week's post looks better than "Santa Claus," but collectors are already commenting that it seems no better if not inferior to the most recent fan-produced version of the 9/20/78 footage, and the WV version has some issues at the start that the fan edition does not.
Also worth noting is that the posting of the Passaic video marks a change for the Wolfgang's Vault from a free to a paid site, with a monthly subscription allowing access to the audio and video archives for $29.99 a year or $2.99 a month (a free 14-day trial is currently on offer). The Springsteen footage is not available for sale or download and can only be streamed from the site. Still, more unreleased Springsteen material made widely available is always welcome news for fans.
The Passaic first set black and white footage can be seen here with a registered account.
- August 9, 2012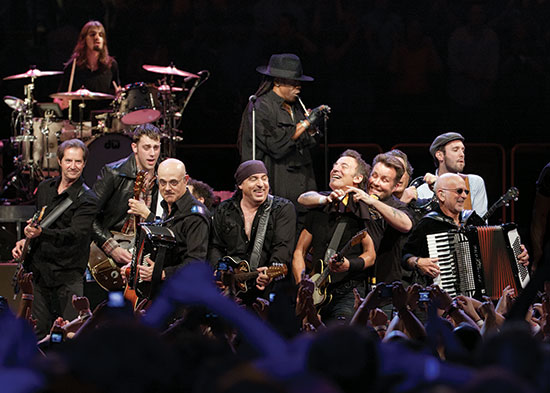 BOSTON CALLING: FENWAY TICKETS + PERKS ON THE AUCTION BLOCK
The Claddagh Fund, established in 2009 by Dropkick Murphys founder Ken Casey, is hosting a pair of online auctions for tickets to see Bruce Springsteen and the E Street Band at Fenway Park next week.
"We are thrilled to be able to offer fans incredible seats to see The Boss at historic Fenway Park, with a few added perks," Casey says. "We encourage people to check out our auction as an alternative to buying tickets through scalpers, since the money will be going to support a great cause!"
The Claddagh Fund — committed to the three attributes symbolized in the Claddagh ring: friendship, love and loyalty — supports non-profits that champion the causes of children, veterans and those suffering from alcohol and drug addiction. The Fund relies on the passion of the Dropkick Murphys' friends, family and fans to raise money for the most underfunded charities that support these vulnerable populations.
Auction 1: A pair of tickets to the August 15 Fenway show, along with a limited edition photograph by A.M. Saddler [pictured above] of Bruce Springsteen on stage at the Boston Garden with the Dropkick Murphys. The framed photograph is autographed by Bruce Springsteen and the Dropkick Murphys, making this a rare piece of memorabilia.

Auction 2: Another pair of tickets to the August 15 Fenway show, along with passes to get backstage at the concert, escorted by Ken Casey.
For more details, visit www.claddaghfund.org/bruce.
- August 8, 2012 - photograph by A.M. Saddler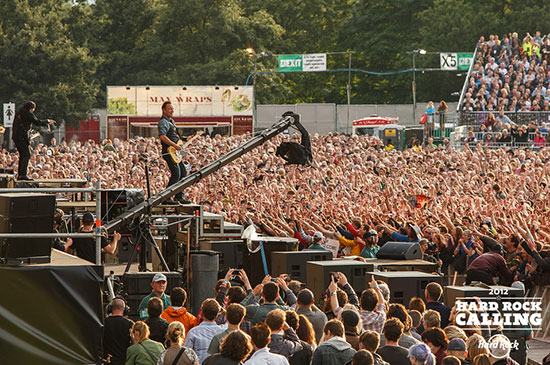 TIVO ALERT: HYDE PARK 2012 COMING TO THE TELLY
Highlights from the 2012 Hard Rock Calling festival — including, of course, Bruce Springsteen and the E Street Band — will air this month in the U.S. on Palladia. Tune in on Saturday, August 25, at 9pm Eastern.
In the U.K., SkyArts 1 will broadcast Hard Rock Calling Festival 2012 - Highlights on Friday, August 17 at 9pm. The program includes "Thunder Road," "Shackled and Drawn," "Because the Night," "We Are Alive," and, with Sir Paul McCartney, "I Saw Here Standing There" and "Twist and Shout." Best of all, you'll get to ----....
- August 8, 2012 - photograph by Giles Smith

TWIN SHOWS FOR THE TWIN CITIES
The fall tour expands. Just announced: a second show at St. Paul's Xcel Energy Center, on Monday, November 12. Tickets go on sale Saturday, August 18, at 10 a.m. More detals here.
- August 6, 2012

"GLORY DAYS" EARLY BIRD REGISTRATION DEADLINE APPROACHING
"Glory Days: A Bruce Springsteen Symposium" will take place at Monmouth University in New Jersey September 14-16, 2012. An early bird registration rate, available through August 15, offers significant savings.
Over 100 presentations on all things Bruce will take place at this event which is being held days before Bruce and the band play MetLife Stadium. Organized by University of Southern Indiana in conjunction with Monmouth University and Penn State Altoona, this year's program features presentations by Mike Appel, former Springsteen manager and producer; Peter Ames Carlin, the author of the forthcoming release Bruce; Nick Mead, director of the Clarence Clemons' documentary, Who Do You Think I Am?, Robert Santelli, Executive Director of The Grammy Museum, and many more! To check out the agenda, go to the conference web site at http://www.usi.edu/glory-days/agenda-events.
Music is also a big part of the symposium, with two nights of music at the legendary Stone Pony featuring Joe Grushecky and the Houserockers, Willie Nile, The Sensational Soul Cruisers featuring J.T. Bowen, The Nick Clemons Band, and JoBonnano and The Godsons of Soul. So come join fellow Springsteen fans from all over the world in New Jersey for this tremendous event. Register before August 15 and save money!
- August 6, 2012


OH WELL OH WELL I FEEL SO GOOD TODAY
Just a reminder of where we are: this week Bruce Springsteen and the E Street Band have wrapped up an astounding three-month European leg — filled with stunners from "Prove It" '78 to Jake's first "Jungleland" — with their longest show ever. They've touched down on an international runway, back in the U.S.A., and after just a two-week break they'll be playing two nights at Fenway Park, with more than a month of outdoor North American dates to follow. And, as of today, tickets are starting to go on sale for fall arena shows that will take us into December.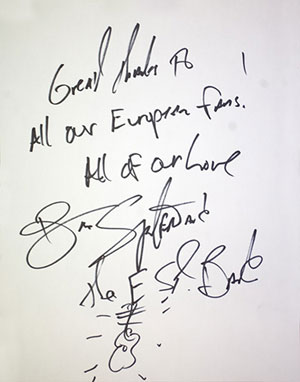 Above, one of many highlights from Tuesday night's Helsinki blowout, and proof positive that Springsteen hasn't completely blocked out the early '90s (is it too much to hope he also remembers Human Touch, Devils & Dust, more of Tunnel of Love and The Promise in the months to come?) Stay tuned after "Leap of Faith" to see him commune with the early arrivals and hardcore fans ("You're all broke and homeless, and it's my fault!"). Springsteen also took a moment to thank all of the European fans on behalf of himself and the curfew-hatin' E Street Band with this note posted on brucespringsteen.net.
It takes a leap of faith — and hundreds of people — to get things goin'
Also on the official site this week, Tour Manager George Travis takes stock: "We are heading home with 51 shows behind us; 11 states, 15 countries, 33 stadium shows and festivals and over 1,650,000 people.... " George provides an insightful look at the mechanics of making these shows happen, a reminder of the enormous scale of this thing and how many people it takes pull it off. "Wrecking Ball Tour By the Numbers" may make the $100 you paid for a ticket feel like an absolute bargain — if the show itself doesn't do that for you already (as the adman says, "Priceless").
Ticket sales: Kansas City today; State College and St. Paul tomorrow. See the full itinerary on our Tour/Ticket Info page.
- August 3, 2012



JULY 31, HELSINKI: LONGEST. SHOW. EVER.
An Olympic feat tonight at Helsinki's Olympic Stadium, as Bruce and the E Street Band make the myth real, finally doing what the legends say they've done for years: play a four-hour show. Four hours and five minutes, actually, Springsteen's longest show to date by a fair margin — and that's not even counting a special acoustic set before the main event. Desiree Koh reports.
When Bruce launched into "Light of Day," a sign request, and "100 miles... 200 miles... 300 miles...," I knew exactly what he meant — I had traveled 5,000 of them from Singapore to Scandinavia to follow him and the band across the region and close Europe out. I knew I was on the right train with that heartfelt show in Oslo, and I could feel the expectations build as we traveled east, particularly after Gothenburg's groundbreaking (if not stadium-breaking) second show. Sure, there was no media blitz, page ones, and special sections as in Norway and Sweden, but as 50,000 of us made our way into Helsinki's Olympic Stadium, the same questions roamed through everyone's minds: will they break four hours? Can what many now considered the best show of the tour so far — or of the decade — be topped?
The answer is yes, and no, which is the beauty of these legendary tours: you never get what you anticipate, and I mean that in a good way. But first, an opening act — a solo troubadour named Bruce Springsteen took the stage at 6:15pm with a guitar (and a harmonica that never worked out and was discarded quickly). The stadium was about one-third full at this point, and Bruce showed why patience (and faith) would be rewarded, playing an acoustic five-song set for "the regulars," which included three tour premieres: "I'll Work For Your Love," "Leap of Faith," and "Blinded By the Light." Throughout, he acknowledged the faces he recognized and the love of his more hard-core fans — "You're all broke and homeless, and it's my fault!" After the 30-minute warm-up — during which he sounded like he was fighting a cold (for the rest of the evening, he coughed, blew his nose and had tissue paper on hand several times) — he spent another ten shaking hands, chatting, and making some ladies very happy with kisses on the cheek. It was tough to doubt that that night's show would be anything but less than phenomenal and stratospherically special when he left the stage.
The full band came out at 7:54pm and powered right into "Rockin' All Over the World," the first of five — count them all! — tour premieres for this last show on the continent. Without skipping a beat for the next eight songs, the band surged from song to song, including an epic "Prove It All Night" with the 1978 intro during which Bruce soloed ferociously with the usual classy support from the Professor's keys.
While songs such as "Because the Night" soared with that Lofgren slashing guitar aria you never tire of, and "Darlington County" was that firecracker of a hootenanny you can't get enough of, "Loose Ends" and "Be True" were refreshing change-ups, and the "My City of Ruins" roll call got a few more touching ruminations than usual: "I'm going to stand right here where time can't get to me."
Springsteen had more fun with sign requests than at the other Nordic shows, joking that Americans knew nothing about public transportation before calling for "Does This Bus Stop at 82nd Street?" and vaguely toying with the idea of "Secret Garden" before going with "Back in Your Arms" instead. The soulful rendition drove straight to that part of the heart where the sun doesn't usually reach, verses interspersed with monologues about hopes, dreams, and that special someone, but ending on that high note that you often get to when Bruce is in the driver's seat.
When the tour premiere of "Detroit Medley" made its grand appearance like a knee slide across the stage after "Born to Run," followed by "Glory Days," you started looking at your watch like soccer fans at a match and, sure as the ticking of the clock on the wall, you did the math and knew the end wasn't near. After "Tenth Avenue Freeze-out," Bruce pointed out emphatically that "The Finns aren't finished!" and happily obliged a sign request for the tour premiere of the Steve-penned "I Don't Want to Go Home," nudging his friend repeatedly to take the lead and mic on a stripped-down, duet rendition. Although there were snags in the audience participation portion of "Higher and Higher," the final tour premiere (Bruce ended up calling for "singers, help me out!" to straighten the parts out), there was no denying that everyone knew what to do during "Twist and Shout." At the three-hour-and-fifty-eight-minute mark, a crew member ran out to tell Bruce what was happening, and he seemed surprised — of course, that only motivated him to take this favorite closer where it's never been before. For one, Jon Landau was helping out on guitar — for nearly 10 minutes, he was living in the future of rock 'n' roll.
I am a marathon runner and half-Ironman finisher, but Bruce's feat of endurance Tuesday night never once flagged in passion, dedication, and undying commitment to send everyone home delirious with rock 'n' roll salvation in their spirits. It was all that Helsinki — no, Heavensinki — would allow.
For the setlist from this and all Wrecking Ball shows to date,
visit our Setlists page
- Updated August 2, 2012 - Desiree Koh reporting - photographs by Riku Olkkonen (1, 5, 6), Rene van Diemen (2, 7), Reinie Grüter (3, 8), and Raul Nieto Casado (4)



ANOTHER VIEW OF GOTHENBURG 2
Before the E Street Band wraps up the whole leg with the Helsinki concert tonight — the Finnish Finish, as Stevie calls it — we've got one more look at the July 28 mind-blower in Gothenburg. Photographer Frank Stefanko, in town to open his "From Darkness to a Dream" exhibition with Danny Clinch at A Gallery, had a unique vantage point Saturday night at Ullevi, and he shares it with us.
A View From Backstage
By Frank Stefanko
This was show number two in Gothenburg. Show number one had been amazing... perfect weather in a town that can be very grey and unforgiving. The show was great, the crowd was in love, and Bruce was moved and grateful.
Night two was one for the books. As many Bruce concerts as I have been to since the '70s, this one blew the top off!
First of all the day started off questionable, with a heavy downpour that was not showing signs of letting up before the show started. Danny Clinch [at left, stunned] and I left a gallery show of our photography to head out for Ullevi Stadium. There were 70,000 people inside and another 20,000 outside who just came to listen.
While waiting backstage for the band to go on, someone said, "Go get Jake, Bruce wants to talk to him." I didn't put it together until later that something very special was in the air.
As the concert started, the rain stopped. There was an ether that covered everything in a magical shroud. The audience, the band, and Bruce were one throughout the show. Then, almost matter of factly, Bruce was in the middle of "Tenth Avenue Freeze-out'; at the part were he sings "The change was made uptown and the Big Man joined the band," he held out the microphone and looked up to the stage were Clarence had always stood, big as life... but he wasn't there. From my vantage point, I could see the pain in Bruce's face. Of course he had done this before, but on this night it was going to lead into something bigger, even more dramatic.
After the Freeze-out: "Jungleland." As Bruce announced, something that hadn't been done since the Big Man's passing. When Jake broke into the wailing sax solo, the whole universe froze. I noticed Steven had turned his back to the audience and bowed his head. I suddenly realized why Bruce spoke to Jake earlier backstage: this was the night that the baton was passed on. This was the night that one of the greatest songs Bruce has written could be reborn. This was the night, this was the place... at a stadium way up north in rare air, full of adoring, loving fans... this was a night for magic.
- July 31, 2012 - all photographs by Frank Stefanko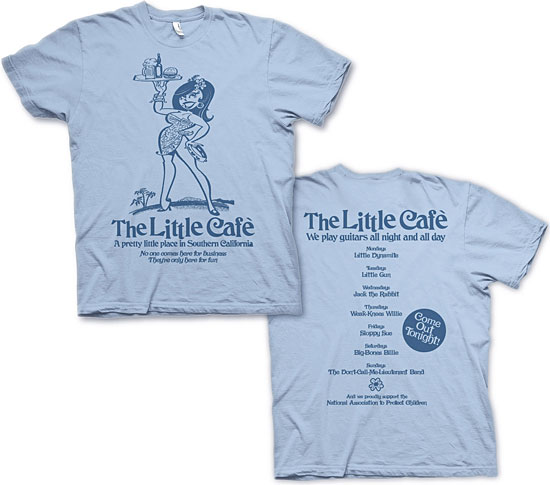 ROSIE, YOU'RE THE ONE!
Coming to lend a hand with new arrivals at Backstreet Records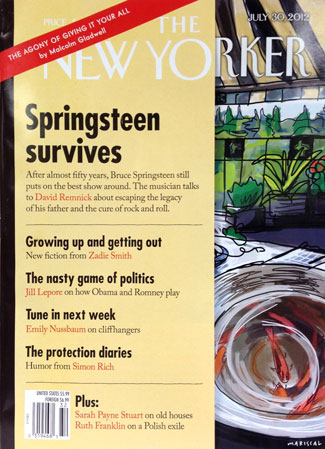 We've always wanted to spread out and spend some time at this place down San Diego way... now we can at least say we've got the T-shirt.

Following up their Greasy Lake and Thunder Road shirts, here's another souvenir from a magical, mythical place courtesy of our friends at Protect, the National Association to Protect Children. Their line of T-shirts from fictional locales benefits the work that they do, and like their previous Boss tees, they're letting us make this one available to our readers through Backstreet Records. The Little Cafe T-shirt, in all sizes from small to XXXL -- while they last!
Also just in: the July 30, 2012 issue of the New Yorker, with its lengthy profile of Bruce Springsteen by editor David Remnick -- the print edition. "We Are Alive: Bruce Springsteen at sixty-two" is given 20 pages in the magazine, a must-read feature for any fan, including interviews with Steve Van Zandt, Jake Clemons, Vini Lopez, Jon Landau, Patti Scialfa, and of course, Bruce himself.
See all of the Latest Additions in our online shop
- July 30, 2012


THE RISING TURNS TEN
E Street Radio Community Conference airs today
A decade ago today, Bruce Springsteen released The Rising, his first full-length collection of studio recordings with the E Street Band since Born in the U.S.A. almost 20 years earlier. The Rising, of course, remains among the greatest artistic statements about 9/11 and its aftermath. At the same time, the album's skillful construction resulted in many of its best songs containing multitudes of meaning, both then and now. Case in point: "My City of Ruins," the album's closing track, is now a regular highlight on Springsteen's current Wrecking Ball Tour, serving beautifully both to mourn the loss of fallen E Street comrades and to honor their memories in our midst.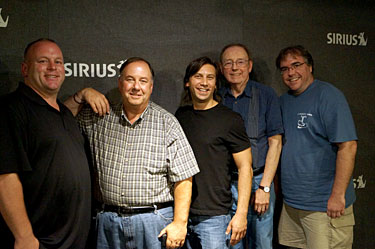 With Brendan O'Brien brought on board to produce, The Rising marked the first major change in Springsteen's production collaborators since the '70s. The album's release also found Bruce pursuing new approaches in record promotion, touring, etc. All of this and more will be discussed in detail in E Street Radio's special Community Conference on The Rising's tenth anniversary, hosted by Jim Rotolo. The panel of noted Springsteen fans consists of [above, L-R] NYPD officer Billy Vanson; Tom Cunningham, host of the Bruce Brunch on 105.7 The Hawk and the syndicated Boss Time Radio program; Rotolo; WhyHunger Executive Director Bill Ayres; and Backstreets' own Shawn Poole. Tune in today at 4 pm ET.
Also, don't miss Stan Goldstein's look back at all the activity down the shore when "Asbury Park was center of Bruce Springsteen universe with release of 'The Rising' 10 years ago."
- July 30, 2012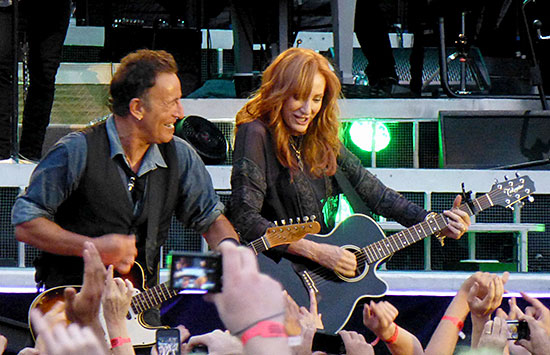 HAPPY BIRTHDAY, PATTI!
Good to see you back on stage.
- July 29, 2012 - photograph by Rene van Diemen [Dublin, July 17, 2012]


LAST NIGHT... IN.. JUN... GLE... LAND
Thanks, Jake. Thanks, Bruce. Thanks, Big Man.
And speaking of Gothenburg video, don't miss the pro-shot clip of "Drive All Night" from Night 1 over at brucespringsteen.net.
- July 29, 2012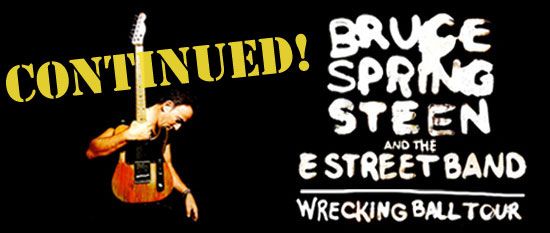 FALL TOUR SCHEDULE ANNOUNCED
October, November, and December dates are here! While there's been chatter about Bruce and the E Street Band eyeing farther-flung locales like Australia, Japan, and South America, the just-released fall 2012 schedule focuses on North American stops missed in the spring.
After al fresco shows in August and September, the Wrecking Ball tour moves back inside for more U.S. and Canada shows from coast to coast, including the long-neglected Pacific Northwest and a raincheck in Kansas City:
October 19 - Ottawa, ON - Scotiabank Place
October 21 - Hamilton, ON - Copps Coliseum
October 23 - Charlottesville, VA - John Paul Jones Arena
October 25 - Hartford, CT - XL Center
October 27 - Pittsburgh, PA - CONSOL Energy Center
November 1 - State College, PA - Bryce Jordan Center
November 3 - Louisville, KY - KFC Yum! Center
November 11 - St. Paul, MN - Xcel Energy Center
November 15 - Omaha, NE - CenturyLink Arena
November 17 - Kansas City, MO - Sprint Center
November 19 - Denver, CO - Pepsi Center
November 26 - Vancouver, BC - Rogers Arena
November 28 - Portland, OR - The Rose Garden
November 30 - Oakland, CA - Oracle Arena
December 4 - Anaheim, CA - Honda Center
December 6 - Glendale, AZ - Jobing.com Arena
For the full itinerary as it stands, including ONSALE info and links,
see our Tour/Ticket Info page
- July 27, 2012

LIFE AFTER SEPTEMBER: WRECKING BALL TO KEEP SWINGING
There's been much rumbling that the E Street Band tour would be continue after their MetLife Stadium stand, and today we've got the first official date: November 1, back indoors at Penn State's Bryce Jordan Center. Tickets will go on sale August 4 at 10 a.m., and according to the website, "detailed ticket information will be released Monday, July 30."
Here's hoping we don't have to wait long for more dates to fill in — stay tuned.
For the current tour itinerary, see our Tour/Ticket Info page
- July 26, 2012


REMNICK COMES TO THE TABLE
Last night on Charlie Rose, New Yorker editor David Remnick talked Bruce. If you haven't yet read Remnick's profile of Springsteen in this week's issue, run don't walk.
You'll find additional Bruce content at newyorker.com:
This week in the the Culture Desk section, Remnick writes daily about some of Bruce's greatest performances. So far: "Springsteen's Golden Age: 1978" - "Early Bruce" - "Fathers and Sons"
Photo Booth blogger Jessie Wender presents "Bruce Springsteen: Stories Behind the Photographs," speaking with Peter Cunningham, Lynn Goldsmith, Frank Stefanko, Laurie Paladino, Neal Preston, Ron Galella, and Danny Clinch, and Julian Broad.
From the archives, "Ellen Willis on Bruce Springsteen" in the 11/4/74 issie of the New Yorker.
- July 26, 2012

THE FIFTH ANNUAL "BRUCECLAWS" NIGHT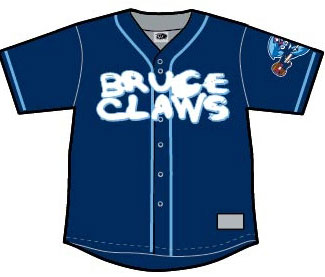 This Saturday night in New Jersey, it's the return of the Lakewood BlueClaws' annual Springsteen Appreciation Night, as the BlueClaws (the Class A affiliate of the Philadelphia Phillies) once again become the BruceClaws.
Celebrating Springsteen and his music for the fifth straight year, the team will be wearing custom BruceClaws jerseys (with a Wrecking Ball-inspired design this time), which will be auctioned off for charity. There'll also be a pre-game performance of Born to Run by local band Blue Highways, Springsteen music played throughout the game, and a chance to win tickets to see Bruce and the E Street Band at Philly's Citizens Bank Park on September 2.
Bruce himself will be doing his best to break Ullevi Stadium in Gothenburg that night... but if you're closer to NJ/PA then you are to Sweden, come on out to FirstEnergy Park. Click here for details and tickets.
- July 25, 2012

A STATE-OF-THE-TOUR Q&A WITH STEVE VAN ZANDT
Near-four-hour shows... Olympian efforts to reach the crowd... gaining new 16-year-old fans at the age of 62... as Stevie tells Rolling Stone's Andy Greene, "Bruce Springsteen is a Living Example of What Happens When You Never Do Drugs."
- July 24, 2012

TICKET ALERT: ADDITIONAL MEADOWLANDS TIX TO DROP TUESDAY A.M.
In less than two months, Springsteen and the E Street Band will play East Rutherford, NJ's MetLife Stadium for the first time ever on September 19, 21 and 22. More tickets are being added for all three shows: the exact dimensions and locations on the field for the stage and production supports have been finalized for the new venue; as a result, sightlines have expanded and additional areas of seating have opened up. Additional tickets will be available starting Tuesday, July 24 at 10:00am Eastern through Ticketmaster.
- July 23, 2012

MONDAY MUST-READ
In this week's issue of The New Yorker, editor-in-chief David Remnick offers a lengthy profile, "We Are Alive: Bruce Springsteen at sixty-two." The magazine's synopsis:
In the July 30, 2012, issue of The New Yorker, in "We Are Alive" (p. 38), David Remnick profiles the "multimillionaire populist rock star" Bruce Springsteen as he embarks on the global tour for his latest album, "Wrecking Ball." Remnick talks to Springsteen's band mates, wife, manager, and others about the musician's early years, his evolution as an artist, and the depression that he struggled with. Springsteen, who had a volatile relationship with his unstable father, was "deeply affected by his father's paralyzing depressions, and worried that he would not escape the thread of mental instability that ran through his family." That fear, Springsteen tells Remnick, is why he never did drugs: "My issues weren't as obvious as drugs," Springsteen says. "Mine were different, they were quieter—just as problematic, but quieter." His parents' struggles, Springsteen tells Remnick, are "the subject of my life. It's the thing that eats at me and always will. My life took a very different course, but my life is an anomaly. Those wounds stay with you, and you turn them into a language and a purpose." Springsteen's friend and biographer Dave Marsh tells Remnick that, at one point in the early eighties, Springsteen was feeling suicidal: "The depression wasn't shocking, per se. He was on a rocket ride, from nothing to something, and now you are getting your ass kissed day and night. You might start to have some inner conflicts about your real self-worth." Springsteen "began questioning why his relationships were a series of drive-bys," Remnick writes. "And he could not let go of the past, either—a sense that he had inherited his father's depressive self-isolation." In 1982, Springsteen began psychotherapy, an endeavor that Patty Scialfa, his wife and a singer in the E-Street Band, credits as the impetus for their marriage: "Bruce is very smart. He wanted a family, he wanted a relationship, and he worked really, really, really hard at it––as hard as he works at his music." Through therapy, and music, she tells Remnick, "he was able to look at himself and battle it out." With all artists, Springsteen tells Remnick, "because of the undertow of history and self-loathing, there is a tremendous push toward self-obliteration that occurs onstage. It's both things: there's a tremendous finding of the self while also an abandonment of the self at the same time." Springsteen tells Remnick that "you cannot underestimate the fine power of self-loathing in all of this. You think, I don't like anything I'm seeing, I don't like anything I'm doing, but I need to change myself, I need to transform myself. I do not know a single artist who does not run on that fuel. If you are extremely pleased with yourself, nobody would be fucking doing it!"

After decades in the business, "what makes Springsteen an economic power at this point is his status as a live performer," Remnick writes. Remnick joins Springsteen as he prepares for the upcoming tour, and notes that "Springsteen rehearses deliberately, working out all the spontaneous-seeming moves and postures: the solemn lowered head and raised fist, the hoisted talismanic Fender, the between-songs patter, the look of exultation in a single spotlight that he will enact in front of an audience." Springsteen tells Remnick that his performances are theatre. "I'm a theatrical performer," he says. "I'm whispering in your ear, and you're dreaming my dreams, and then I'm getting a feeling for yours. I've been doing that for forty years." He explains to Remnick the escapist appeal of his music, and his performances, to fans and concertgoers: "For an adult, the world is constantly trying to clamp down on itself," he tells Remnick. "Routine, responsibility, decay of institutions, corruption: this is all the world closing in. Music, when it's really great, pries that shit back open and lets people back in, it lets light in, and air in, and energy in, and sends people home with that and sends me back to the hotel with it. People carry that with them sometimes for a very long period of time." After the loss of his saxophonist Clarence Clemons in June of 2011, "the most vivid theme on this tour was to be time passing, age, death, and, if Springsteen could manage it, a sense of renewal," Remnick writes. "How do we continue? I think we discussed this more than anything in our history," longtime guitar player Steve Van Zandt tells Remnick of Clemons's death. "The basic concept was, we need to reinvent ourselves here a little bit. You can't just replace the guy." But one thing that has not changed since he began performing is that Springsteen gives his all each night, creating complex set lists and performing with a physicality onstage that belies his age: "That ticket is me promising you that it's gonna be all the way every chance I get," Springsteen tells Remnick. "That's my contract. And ever since I was a young guy I took that seriously."
This 17,000-word feature is in the July 30, 2012 issue.
Read: "We Are Alive" is online now.
Listen: In the new episode of the New Yorker Out Loud podcast, Nicholas Thompson talks Springsteen with Remnick and Kelefa Sanneh.
- July 23, 2012


WE SHALL LIVE IN PEACE: BRUCE & STEVE PLAY OSLO MEMORIAL CONCERT
Musicians, authors, and other notables gathered today to mark the one-year anniversary of the 2011 terrorist attacks in Oslo and Utøya with a memorial concert in Oslo, in the harbor area just outside the Town Hall. Interspersed between performances by major local musicians were short spoken-word segments by authors, survivors of the attack, and a speech by Prime Minister Jens Stoltenberg. The 90-minute performance was broadcast nationwide and free and open to the public. An estimated crowd of 50,000 was in attendance, defying gray and rainy skies.
The Norwegian press had been making much of the coincidence of Springsteen's Norwegian shows taking place around the same time as the troubling anniversary, and over several months, wishful thinking turned to rumors, to counter-rumors, and back to strong rumors that Bruce might make an appearance. Wary of overshadowing the nature of the event, concert arrangers made a point to neither confirm nor firmly deny his involvement, but towards the end of the concert, a couple of highly anticipated international performers were announced.
Springsteen emerged with Little Steven, Bruce with his harmonica and both men carrying acoustic guitars. "Steve and I are honored to be included here tonight, and for all of us who love democracy and tolerance, it was an international tragedy," Bruce told the assembled crowd in Oslo. "I want to send this out as prayer for a peaceful future for Norway, and dedicate it to the families who have lost their loved ones." A touching and powerful "We Shall Overcome" followed, as an appreciative crowd gently waved roses above their heads. It was an excellent, understated selection for an event dedicated to the virtues of peace and tolerance; it was an also appropriate nod to the country that, more than any other, embraced Bruce's We Shall Overcome album. The performance tied nicely in with the show-closing "Barn av regnbuen," a rewritten Norwegian version of Pete Seeger's "My Rainbow Race," performed by prominent Norwegian folk musician and singer-songwriter Lillebjørn Nilsen.
Combined with the Oslo show on the 21st and upcoming shows in Bergen on the 23rd and 24th, this will make for four Norwegian Springsteen performances in as many days.
- July 22, 2012 - Magnus Lauglo reporting

NILS SPEAKS FROM THE ROAD: "IT'S EXHAUSTING AND EXHILARATING"
Andy Greene talked at length with Nils Lofgren for Rolling Stone, the guitarist sharing insight about these marathon shows, the European leg, and even a faint possibility of playing without Steven (Nils is having none of it).
Read: "Nils Lofgren: 'I Don't Know If Americans Can Handle a Three-and-a-Half-Hour Show'"
- July 20, 2012


"THE QUEEN IS NEVER COMING TO NEW JERSEY"
Last night's Daily Show.
- July 18, 2012

STEVIE SEZ: LENGTH OF TOUR "UP IN THE AIR RIGHT NOW"
While the Wrecking Ball tour itinerary currently stops in September, hopes are high that Bruce and the band will continue deeper into the fall and/or 2013. Adding some gasoline to the hope machine: in recent days, North American dates for October and November have popped on Ticketmaster (for Hamilton, ON and University Park, PA) before disappearing again just as suddenly.
Today Rolling Stone publishes Andy Greene's latest chat with Steven Van Zandt, addressing the question of how long the tour might last:
"All that stuff is up in the air right now," says Van Zandt. "Until that gets decided and gets announced we can't really figure out what to do." Does Van Zandt hope the tour will continue in 2013? "Personally, I hope so," he says. "I'd like to see it go forever."
For Steve, the concern as the tour continues is a potential conflict with Lilyhammer filming: "I made commitments before the tour even existed. We're still trying to figure it all out, and we won't know for another couple of months.Bruce and [manager] Jon Landau are very, very understanding about this and very supportive of my TV career. They're gonna try and bend things around as much as they can. And then, if they can't, if I gotta miss a few things, I'll miss a few things. We're gonna try not to, though."
Read: "Steven Van Zandt May Miss Some E Street Band Concerts to Film Lilyhammer"
- July 17, 2012


WE DANCED THROUGH THE NIGHT UNTIL A SMIDGE PAST CURFEW
So, not everyone cares about the '78 intro to "Prove It All Night." But news from Bossworld does break through to the world at large on a fairly regular basis — this year, a wider audience has paid attention to Bruce's SXSW keynote, the release of Wrecking Ball, the addition of Jake Clemons to the band, and, recently, Springsteen dancing onstage with his daughter. Now, Bruce's return to Hyde Park over the weekend in London is making headline news.
Saturday's Hard Rock Calling concert is commanding attention less for how gobsmacking the show itself was — three generations of rock greats on stage, as Bruce and the E Street Band were joined by John Fogerty, Tom Morello, and Paul freaking McCartney — than for what happened three hours in, as authorities halted the show. With headlines ranging from "Night the noise police showed Springsteen who really is the boss" to "Hyde Park Freeze-out", countless news outlets including the BBC, CNN, and The Guardian have picked up the story. (To make things worse, the Wall Street Journal reports "the promoter decided to pull the plug when it became clear that the Boss was gearing up for an extended Beatles medley after winding down 'Twist and Shout.'")
Springsteen's reaction, as our intrepid reporters noted Saturday night [below], was a resigned serenade — non-amplified, of course — of "Goodnight Irene."
Stevie Van Zandt took to Twitter: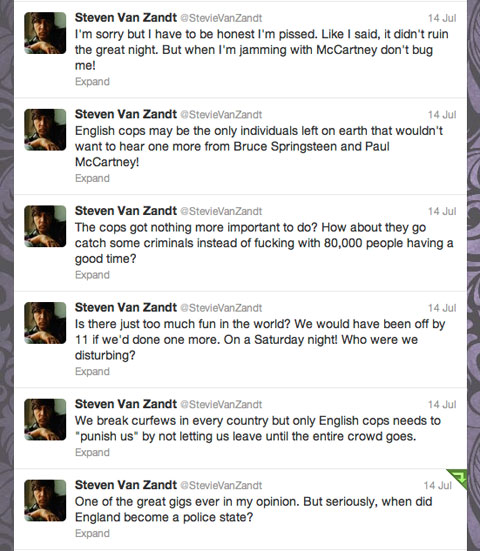 [more]
But as it turns out, it wasn't the cops, or the city, who shut things down. Mayor of London, Boris Johnson, told LBC Radio: "It sounds to me like an excessively officious decision. If they'd have called me, my answer would have been for them to jam in the name of the Lord."
So, what happened?
As the U.K.'s Daily Mail reports, "Westminster Council confirmed it was the concert organiser Live Nation which ended the show. A council spokesman said it did so to comply with its licence, which allowed the event to go on until 10.30pm, adding: 'Licences are granted until certain times to protect residents in the area from noise late at night.'"
A spokesman for Live Nation explained the decision:
Last night everyone had a fantastic time, in the excellent weather conditions, with Bruce Springsteen and the E Street Band giving a record-breaking 76,000 people an incredible performance of 29 songs with special guests John Fogerty, Tom Morello & Paul McCartney joining him onstage.

It was unfortunate that the three hour plus performance by Bruce Springsteen was stopped right at the very end but the curfew is laid down by the authorities in the interest of the public's health and safety.

Road closures around Hard Park are put in place at specific times to make sure everyone can exit the area in safety.
Health and safety? Well, then, you'll be amused by the email Backstreets received today from Karl Turner, spokesperson for England's Health and Safety Executive (HSE):
"You will probably have seen reports about the Springsteen McCartney show being cut short in London.

The promoter, Live Nation, said this was in the interests of 'health and safety.' We are the British government regulator for health and safety, and we disagree.

A lot of Springsteen fans in our organisation were annoyed to see the statement from Live Nation. The view of those who went was he was on top form!"
Karl pointed us to the official HSE response to the Hard Rock Calling curfew:
As a longstanding Bruce Springsteen fan and one of the crowd at Hard Rock Calling, I was doubly disappointed to hear Live Nation give 'health and safety' as the reason for cutting short Saturday's gig.

The fans deserve the truth: there are no health and safety issues involved here. While public events may have licensing conditions dictating when they should end, this is not health and safety and it is disingenuous of Live Nation to say so.

It's ironic that this excuse has been used in relation to Bruce Springsteen, who certainly knows what real health and safety is all about — look at the words of 'Factory' from Darkness on the Edge of Town, referring to the toll that factory work can take on the health of blue collar workers.

People will now only be able to speculate what the final number should have been. Given that he'd already played Wrecking Ball and that Paul McCartney was on stage, how about Don't let me down?

Kevin Myers
Deputy Chief Executive
Health and Safety Executive
For more on the shutdown, read "Who pulled the plug on Bruce Springsteen in Hyde Park?" in the London Evening Standard.
- July 16, 2012
JULY 14, LONDON: THE BOSS AND THE BEATLE
With Bruce Springsteen headlining a bill of artists that included John Fogerty and Tom Morello, it required little imagination to think that there would be some special guests joining the E Street Band on stage in London's Hyde Park. Yet Saturday's show at the Hard Rock Calling Festival managed to contain the biggest surprise appearance with Springsteen since Bob Dylan's in 2003: none other than Paul McCartney came onstage to play "I Saw Her Standing There" and "Twist and Shout" to the delight of the crowd of more than 60,000 people.


After finishing "Dancing in the Dark," the night's big surprise walked on stage playing guitar (rather than his usual bass), and the band kicked into "I Saw Her Standing There," with Bruce and Paul sharing lead vocal duties while Steve and Garry shared a microphone for backing vocals. On the following "Twist and Shout," Bruce coaxed Sir Paul down to the center platform for a verse.
Having a Beatle show up tends to overshadow everything else, but the other guests at this concert were quite special as well. The day's first collaboration came during John Fogerty's set, when Bruce walked on to play with the man he again introduced as "the Hank Williams of our generation" and a "hero" of his. Their collaboration was "Rockin' All Over the World," the first time they had sung the song together. Later, during the E Street set, Fogerty and Bruce reprised their Vote for Change tour duet of "The Promised Land."
Tom Morello performed his acoustic Nightwatchman material earlier in the afternoon but was fully plugged in when he joined the E Street Band for "Death to My Hometown" and "Jack of All Trades." He returned after "The River" for another incendiary "The Ghost of Tom Joad," dedicated to Woody Gurthrie on the occasion of today being his 100th birthday. Morello stayed to play guitar and share Steve's microphone for backup vocals on "The Rising" and "Land of Hope and Dreams."
Although ostensibly a festival, Hard Rock Calling differed from the prior European festival shows the band played this tour (such as Roskilde or Pinkpop) in that tickets had sold out when Springsteen was the only announced artist. Accordingly, Hyde Park was full of Springsteen partisans, allaying fears that they would get a "festival setlist." Allotted three hours and fifteen minutes on the schedule, the show started immediately after the stage had been set following the changeover from the previous artist.
Taking the stage to a clear blue sky with sunshine streaming, Bruce appeared by himself and was joined by Roy at the piano. He greeted the crowd and said he was going to start the show with something special: "this was the first thing we played after our feet touched English soil." So began a quiet but powerful version of "Thunder Road," with Bruce only singing and playing harmonica, which was dedicated as "a little love letter to you tonight."
Bruce would later joke about the good weather ("just wait fifteen minutes") and sure enough, the rain that was present earlier in the afternoon reappeared during "Johnny 99" and remained off and on for the duration of the show. Bruce was not deterred in the slightest, however, and he took extra trips out from the cover of the stage to interact with the audience along the various runways created for him to reach the crowd.
With so many special happenings this night, the strong structure of the set and the bands' performance should not be overlooked, as this would have been considered a remarkable show even if there had been no guest musicians on the stage. The set flowed particularly well between "Spirit" and "Sunny Day," and the band's performance was tight, compact, and powerful.
An emotional moment occurred during "Spirit," when Bruce brought Jake Clemons down front for what has become a regular bit in the song. This time, Bruce reclined flat on his back on the staircase and paused in the verse to recall Clarence, telling Jake, "I don't think you were old enough — you probably weren't even born yet. But me, and your uncle..." before finishing the final verse. "Empty Sky" remained in the show and is still a strange choice given the topical disconnect between it and the Wrecking Ball songs, but sign requests were curtailed in favor of Bruce playing the set he intended. Bruce also appeared more relaxed than in other recent shows, particularly as his introductions during "My City of Ruins" and "Spirit in the Night" were better received in a country where he speaks the language.
The night's sole sign request resulted in the tour premiere of the long-missing "Take 'Em As They Come," last played more than nine years ago. A tip of the hat is due to the unique sign, on which the requestor listed his shows this tour (ending in London) with each prior one (at which the song was not played) crossed off. Bruce had particular fun reviewing the list of cities, noting that the requestor "went to Seville but had no luck there... he went to Paris, saw the Eiffel Tower, but no song!" Although Bruce admitted that some in the crowd would have no idea what this "obscure" rarity was, its performance was excellent, with Steve's harmony vocals featured and Garry nailing the bass part during the instrumental ending of the song.
Tonight's show was the first of the tour to omit "Tenth Avenue Freeze-out," although not for lack of trying. After finishing "Twist and Shout," with Paul McCartney leaving the stage, Bruce and Steve both were signaling for the band to return to their positions so they could play one more song. Bruce tried to count off the song, but his microphone was no longer being amplified over the speakers. Bruce's monitor engineer actually had to come on stage to advise that the PA had been cut off. Unwilling to just walk off without doing something else, Bruce sang a few lines of the folk standard "Goodnight Irene," audible only to those near the stage, before leaving. Beholden to a 10:30pm curfew which had been broken by about eleven minutes at that point, Bruce was unable to continue as the plug was literally pulled on this amazing show.
For the full setlist from this and all other Wrecking Ball shows to date,
visit our Setlists page
- Updated July 15, 2012 - Caryn Rose and Glenn Radecki reporting - photographs by Rene van Diemen (1, 3-12) and Caryn Rose (2)


JUST ANOTHER SATURDAY KNIGHT IN LONDON
- July 14, 2012 - photograph by Geoff Robinson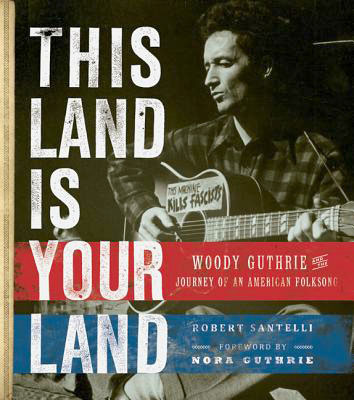 HAPPY 100th BIRTHDAY, WOODY!
Saturday, July 14 marks the 100th birthday of American folk music legend — and major Bruce Springsteen influence — Woody Guthrie. Born a century ago in Okemah, Oklahoma (he died in 1967), Guthrie wrote hundreds of songs that proved music could act as an agent for social, political and economic change in America. Guthrie's influence on Springsteen extends all the way back to his solo album Nebraska (and, on stage, the River tour that preceded it) and is certainly heard on his latest album, Wrecking Ball.
Over the years, Springsteen has also included Guthrie's most famous tune, "This Land is Your Land" into his live set, often calling it one of America's greatest songs. You can learn more about the song and the Springsteen-Guthrie connection by reading the recently published book This Land Is Your Land: Woody Guthrie and the Journey of an American Folk Song (Running Press), penned by longtime Backstreets contributor Robert Santelli.
For more on the Centennial celebration, visit woody100.com.
- July 13, 2012


HOW MANY SIGNS MUST A MAN GATHER UP?
The tour debut of "This Hard Land" last night in Prague, in lieu of a requested "Blowin' in the Wind."
- July 12, 2012

ASBURY ANGELS INAUGURAL EVENT, TOMORROW AT THE STONE PONY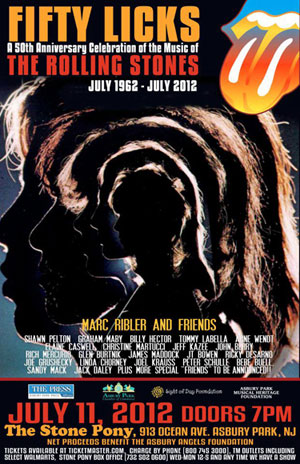 On Wednesday, July 11, the legendary Stone Pony will host "Fifty Licks: A 50th Anniversary Celebration of the Music of the Rolling Stones." The event will benefit the newly-formed Asbury Angels Foundation, whose mission is "to honor and memorialize the lives and significant contributions of members of the Asbury Park musical community who have passed on, including but not limited to, musicians, songwriters, tech support persons, DJs, writers, club owners and promoters." Hosted by singer/songwriter Marc Ribler, tomorrow's show will features a wealth of local and national talent including Glen Burtnik, Christine Martucci, Bebe Buell, J.T. Bowen, Darlene Love, Joe Grushecky, Jeff Kazee, and newly added guests David Bryan and Southside Johnny. It will serve as an initial fundraiser for the foundation.
This year's Asbury Angels inductees, who were selected by a panel of music industry professionals and local historians, were chosen for their significant contributions to and impact upon the Asbury Park music community: Band leader and famed trombonist Arthur Pryor; concert promoter Moe Septee; West Side pioneer Joe Major; Upstage Club owners Tom and Margaret Potter; E Street Band keyboardist Danny Federici; Clarence Clemons, E Street Band saxophone player; Larry "Bozo" Blasco, tour manager and technician; keyboard player Bobby Alfano, a member of many Shore area bands, including Bruce Springsteen's first band, The Castiles; singer-songwriter Bill Chinnock, and bass player John Luraschi, an Upstage Club veteran who was a key part of many Shore groups.
Inductees will be memorialized by means of an Asbury Angels "Boardwalk of Fame" on the Asbury Park boardwalk. Each inductee will be honored with a plaque attached to a bench along the boardwalk, and a permanent website is planned that will contain detailed biographical information as well as a history of Asbury Park's music scene.

The foundation will induct 10-15 honorees each year at an annual Asbury Angels concert to be held on Light of Day weekend. Next year's concert is set for Friday, January 18, 2013. Eligible for induction are musicians, songwriters, disc jockeys, writers, technical support staff and club and venue owners who have been deceased at least one year. The foundation is an offshoot of the highly successful Light of Day Foundation.
Tickets for 50 Licks are $20 and are available through Ticketmaster, the Stone Pony box office or at Experience Asbury Park, Boardwalk at Fifth Avenue. Please visit stoneponyonline.com for complete event lineup.
- July 10, 2012 - Lisa Iannucci reporting


SPARKS FLY AT ROSKILDE WITH THE ROOTS
From brucespringsteen.net: "On July 7th, Bruce and the Band played for nearly 100,000 people at the classic Roskilde Festival, forty minutes outside of Copenhagen. Bruce and E Street took the stage following a stellar performance by The Roots. Naturally, when Bruce was ready to do 'E Street Shuffle,' he called his friends of The Legendary Roots Crew back up on stage to reprise their joint performance of the song from Late Night With Jimmy Fallon this past March. The scintillating performance was captured in this Chris Hilson line cut with John Cooper's board mix. The Roots are Black Thought, Kamal Gray, F. Knuckles, Captain Kirk Douglas, Damon 'Tuba Gooding Jr.' Bryson, James Poyser, Mark Kelley, and ?uestlove who was unfortunately unable to attend the performance."
- July 9, 2012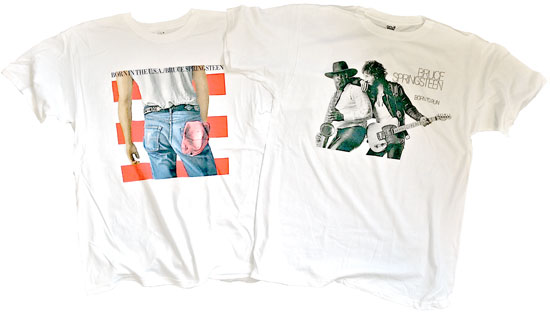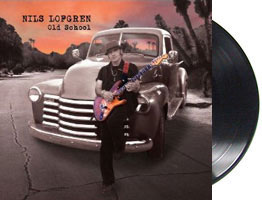 JUST IN AT BACKSTREET RECORDS
After being sold out of most sizes for months, we've just gotten a hold of more official Born to Run shirts (M-XXL) and Born in the U.S.A. shirts (S-XXL), back in stock and available now.
And a brand new item on our shelves: considering the title of Nils Lofgren's new album, a CD-only release just wouldn't make sense... So get it now, Old School on vinyl, a gatefold LP package.
See all the Latest Additions at Backstreet Records
- July 9, 2012

THE "SWAMPS OF JERSEY" RETURN TO THE LAND OF SVENSKA

There's a lot going on the end of this month in Sweden... it will be the epicenter of excitement (notwithstanding another sale at Ikea). Bruce Springsteen and the E Street Band will be performing two shows in Gothenburg that will, no doubt, rock Scandinavia, and at the same time, in the same town, Frank Stefanko and Danny Clinch will be hosting their "From Darkness to a Dream" photographic gallery show. The show is a brilliant blend of Stefanko's classic Darkness-era photographs of Bruce, and Danny's wonderful contemporary photographs of the Boss.
Frank, who has recovered from the illness that prevented him from attending the Stockholm show, is champing at the bit to get to Gothenburg: "Imagine the excitement in that town, with folks coming in from all over Europe and beyond to catch Bruce's shows, and Danny and I will be there showing our Springsteen photographs and having a chance to say hello to our friends and fans at our opening in Gothenburg!"
For anyone who will be making the trip to Gothenburg, you can see Frank and Danny at their gallery opening between the two Ullevi concerts, on Saturday, July 28, from 1:00 to 5:00pm: A Gallery, Sofierogatan 3, 412 51 Gothenburg, Sweden. [Contact David Franzen or Jennifer Pederson: +46 31 775 0550 / david.franzen@agallery.se]
If you can't make the opening, the photographs will be on display at the gallery from July 27 to August 10. "From Darkness to a Dream" is sponsored by Morrison Hotel Gallery, Soho, New York and Pelle Unger Gallery, Sweden.
- July 9, 2012


"THAT'S MY LITTLE GIRL!"
Thursday night, Springsteen brought his daughter Jessica up for "Dancing in the Dark." See more of Geoff's images from Paris Night 2 on our Facebook page.
- July 7, 2012 - photograph by Geoff Robinson


LIKE A SOUNDTRACK TO A JULY SATURDAY NIGHT
When we first reported on it in August of last year, Eric Church's "Springsteen" seemed like a bit of a novelty song, if a nice tip of the hat to the Boss (and young love nostalgia). Now, after a rapturously received performance for Academy of Country Music Awards in the spring, the song reached #1 on the Country charts in June. A mini-movie, Mixtape, premieres tomorrow on CMT and reveals "the emotional backstory to his hit song and video 'Springsteen'..." on Saturday at 10:15 am and again on Sunday, July 8, at 8:15 am. For more info, visit ericchurch.com or CMT.com.
- July 6, 2012


NIGHT ONE IN PARIS "UNEVEN," SURE... BUT THEY GOT THIS
Lest we forget that the July 4 show in Paris had high points of its own... the "Independence Day" solo piano tour debut, just posted on brucespringsteen.net.
- July 6, 2012


INDEPENDENCE DAY, ALL DOWN THE LINE
Above, Bruce Springsteen goes it alone on the piano for "Independence Day" last night in Paris. See more of Geoff's images from Paris Night 1 on our Facebook page.
- July 5, 2012 - photograph by Geoff Robinson


CE SOIR!
- July 4, 2012 - photograph by Caryn Rose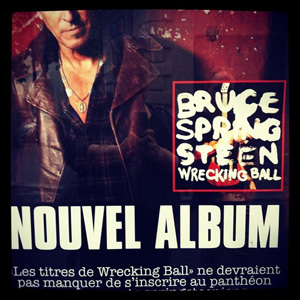 A MAGNIFIQUE FOURTH OF JULY!
As we celebrate the birth of our nation, our eyes naturally turn to... France? Oui, the European leg of the Wrecking Ball tour resumes tomorrow in Paris, with shows at the more reasonably sized Palais Omnisports Paris Bercy on July 4 and 5.
Here in the U.S.A., spend your Independence Day with some fireworks on the radio:
Tonight, E Street Radio broadcasts live from the Stone Pony in Asbury Park, where Southside Johnny and the Asbury Jukes will be havin' a party on the outdoor Summer Stage. Tune in to SiriusXM channel 20 starting at 8pm ET.
Tomorrow, Philadelphia's WXPN will be playing their Best of Bruce Countdown, as voted by listeners and visitors to the Springsteen exhibit at the National Constitution Center. The countdown kicks off at 10am ET on July 4, on terrestrial radio 88.5 FM and streaming online at xpn.org. Meanwhile on E Street Radio, there will be a replay of the above Southside Johnny concert at noon ET.
Tomorrow night, E Street Radio will have a special encore broadcast of Springsteen and the E Street Band's Apollo Theater concert, airing July 4 at 8pm ET. Not a SiriusXM subscriber? Get a free 7-day online trial.
Have a happy and safe 4th!
- Updated July 3, 2012 - photograph by Caryn Rose, on the ground in Paris

BOB BENJAMIN DOC COMING THIS FALL, NYC PREMIERE ON THURSDAY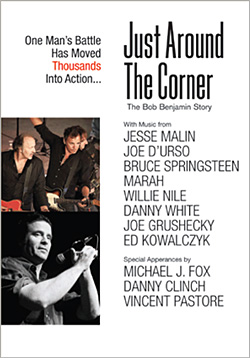 This week's CBGB Festival includes the premiere of Just Around the Corner, a documentary about legendary music talent manager and founder of the Light of Day Foundation, Bob Benjamin. The film features Light of Day concert highlights with inspirational conversations with Benjamin's friends and talented musicians, giving viewers an in-depth look at Benjamin's battle against Parkinson's disease and his inspirational drive to help find a cure. with Performers include Bruce Springsteen and Joe Grushecky (joined by Benjamin and Michael J. Fox. on "Light of Day"), Joe D'Urso, Jesse Malin, Marah, Willie Nile, and more.
Directed by Flat Broke Productions' Jim Justice and Steve Caniff (who also helmed A Good Life: The Joe Grushecky Story), Just Around the Corner has been acquired for North American distribution by Virgil Films, with plans for DVD and VOD in September. (We'll carry the DVD here at Backstreets once it's released).
The CBGB Festival will screen the doc this Thursday, July 5 at 7:30 pm at the Sunshine Cinema, followed by a special Q&A with Bob Benjamin and Virgil Films' Joe Amodei. Click here for more info and to purchase tickets.
- July 3, 2012


THE OLDER ROY BITTAN GETS...
...the younger he looks! Check out that full head of long, flowing hair. Not sure what his secret is, but it's working for him. Here's to Roy, who turns 63 today, born July 2, 1949. Happy birthday, Professor!
- July 2, 2012 - photograph by Gundula Böttger, Front Row Photography [5/27/12, Cologne]