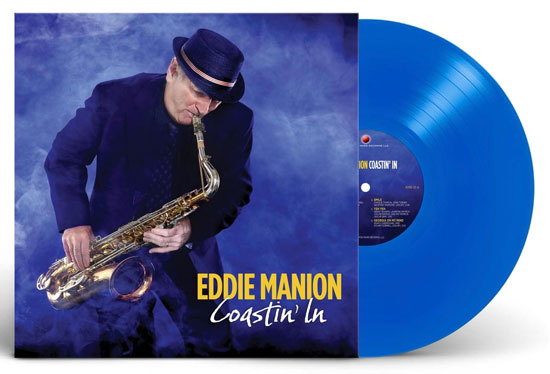 THE KINGFISH AT 70: COASTIN' IN TO A NEW DECADE
Eddie Manion celebrates milestone birthday with third solo record
Although he has toured and recorded with the likes of Diana Ross, Gary U.S. Bonds, Darlene Love, Willy Deville, Dave Edmunds, Robert Cray, Graham Parker and others, saxophonist Eddie Manion has spent the majority of his illustrious career as sideman par excellence and go-to tenor and baritone maestro for three of New Jersey's finest.
Manion first came to prominence in 1976 when he joined Southside Johnny and the Asbury Jukes, soon after the band had completed their debut album I Don't Want to Go Home. Several months later, Bruce Springsteen borrowed the Miami Horns to augment the E Street Band for a six-night stand in Red Bank, NJ. Playing with both groups brought Eddie into close proximity with the force of nature formerly known as Miami Steve Van Zandt. In that bicentennial year, Eddie established close working relationships that determined the path of his career, and the rest was history.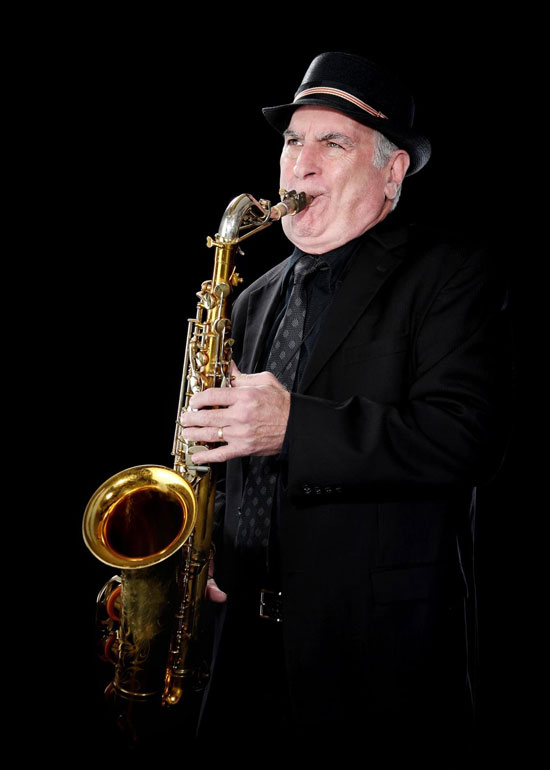 His original tenure with the Asbury Jukes ended in 1982. During that era, Manion appeared on This Time It's for Real, Hearts of Stone, The Jukes, Love Is a Sacrifice and the live double LP Reach Up and Touch the Sky, in addition to making his presence felt on Dedication by Gary U.S. Bonds and Little Steven's debut album Men Without Women.
Eddie worked with Little Steven and the Disciples of Soul until 1983 before hooking up with Bruce Springsteen again in 1988 for the Tunnel of Love Express Tour featuring the E Street Band. After contributing to their Better Days LP in 1991, he began a second, longer stint with the Jukes in the mid-'90s, subsequently playing on Messin' With the Blues, Goin' to Jukesville, Into the Harbour, Pills and Ammo, Hearts of Stone Live, and Men Without Women Live.
Manion's return to the Jukes fold was interrupted in 2006 by his Seeger Sessions experience, and it ended when he signed on for Springsteen's 2012-2014 Wrecking Ball/High Hopes world tour. In between, he played on Grapefruit Moon: The Songs of Tom Waits by Southside Johnny and La Bamba's Big Band.
In 2016, Little Steven unexpectedly reformed the Disciples of Soul, ushering in a new era of recording and touring, with Eddie as Horn Director. He's featured on Soulfire, Soulfire Live!, Summer of Sorcery, Macca to Mecca, and Summer of Sorcery Live! At the Beacon Theatre.
We Shall Overcome: The Seeger Sessions and Live in Dublin feature Manion's most extensive contribution to the Springsteen discography, but he also appears on selected tracks on Live/1975-'85, Tracks, The Rising, The Promise, Wrecking Ball, High Hopes and Western Stars.
Half of the above would be more than sufficient to represent the lifetime career achievements of any self-respecting saxman. But aside from an occasional solo (most famously on "I Played the Fool" and "Forever"), Eddie worked as part of a five-piece horn section. Careful listening was required to separate his individual horn parts. He had a brief dalliance with a solo career in the '80s with Eddie Manion and the Slydes, but it wasn't until 2004 that he released an album under his own name, with his horn (not to mention lead vocals on seven tracks) placed front and centre.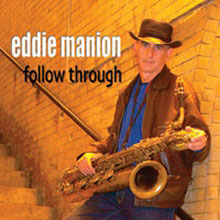 Follow Through was a collection of primarily original material that he'd recorded over the years, some of which was written in the '80s. In the liner notes, Eddie explained that he'd learned a lot from producer/songwriter Little Steven — he'd acquired his attention to detail and become spoiled with state-of-the-art studios. He put the delay in Follow Through's release down to being regularly sidetracked by Bruce, Willy Deville, and Robert Cray. Among the album's musicians were Shore luminaries like Bobby Bandiera, Glen Burtnik, Joe Bellia, Ernest "Boom" Carter, Patti Scialfa, Soozie Tyrell, and Lisa Lowell.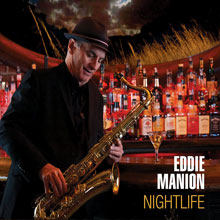 Eddie's follow-up was also a long time coming, for similar reasons. Nightlife, an instrumental covers collection, was released in 2015 and featured a less well-known cast of characters, with the notable exception of Charlie Giordano and Curt Ramm. It blended jazz standards ("Smoke Gets in Your Eyes," "Tenderly," "Stardust") with R&B classics (The Royalettes' "It's Gonna Take a Miracle," Sam Cooke's "A Change Is Gonna Come") and other material such as Gene Pitney's "Town Without Pity," Willie Nelson's "Nightlife," and Roy Orbison's "The Only One." Of interest to Springsteen fans was Eddie's medley of Darkness outtake "City of Night" with King Curtis's "Soul Serenade."
The absence of lead vocals emphasized Manion's saxophone even more, so it's no surprise that he has adopted a similar approach on his third solo album Coastin' In, released today, his 70th birthday.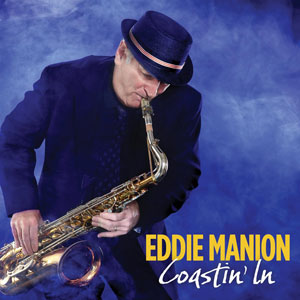 Eight tracks on Coastin' In were recorded at Shorefire Studios in Long Branch, NJ, with a core line-up comprising Eddie's fellow Disciples of Soul Marc Ribler (guitar, background vocal, percussion), Jack Daley (bass), Rich Mercurio (drums), and Andy Burton (keyboards, piano, organ). The remainder were laid down at The Vault Recording Studio in Pittsburgh, PA, with Mark Strickland (guitar), Paul Thompson (bass), Thomas Wendt (drums), Clifford Barnes (B3 organ), and Rick Gallagher (piano).
The new albumwas produced and arranged by Eddie, mixed by Jack Daley and Marc Ribler at Dug Deep Studio in Asbury Park, NJ, and mastered by Wes Garland at Nashville Record Productions. The credits also list several string players (violin, cello, viola, harp) and backing vocalists (including Springsteen and/or Little Steven alumni Cindy Mizelle, Jessie Wagner and Lisa Lowell), plus Disciple of Soul Lowell "Banana" Levinger on mandolin.
A collection of carefully-chosen covers and two original compositions, the album is dedicated to Eddie's late mom Joan Marie Manion, who passed in 2018; it took "two years and a pandemic" to record.
"I started this project at the beginning of the pandemic in March 2020," said Eddie. "When the lockdown began, I was lost as to what to do to keep me focused. I decided the best thing I could do was make a new album, and make it the best I could. I have a lot of experience helping artists realize their musical visions, but this project is about what moves me, about the sounds and emotions in my head and heart. When I listen to it, it sounds like me."
Like its predecessor, Coastin' In comprises a varied collection of material from different musical eras. Standards like Charlie Chaplin's "Smile," "When Sunny Gets Blue" (originally recorded by Johnny Mathis), '30s instrumental "Deep Purple" and Hoagy Carmichael's "Georgia on My Mind" rub shoulders with "If" (David Gates/Bread), "God Only Knows" (Brian Wilson/Beach Boys), "He Ain't Heavy, He's My Brother" (The Hollies), "Spooky" (Classics IV), "Yeh Yeh" (Georgie Fame and the Blue Flames), and Steve Winwood's "Roll With It," which includes a nod in the direction of "(I'm a) Road Runner" by Junior Walker and the All Stars.
Original songs on the album are the instrumental title track and the unlisted bonus composition "The Lights Are on at Old Saint John's." Released as a Christmas single last year with an accompanying video by Ryan Celli, the bonus track features the album's only lead vocal.
The title is a reference to Old Saint John's Church and Cemetery in Lakewood, NJ, which was built by Eddie's great-grandfather Patrick Manion and fellow Irish immigrant workers employed by the Central Railroad of New Jersey. Eddie was born in the house next door, and he grew up physically close to his ancestors. "I feel I know them well," he said recently. "I wanted to bring an awareness to Old Saint John's Church and Cemetery, to possibly make it an historic landmark and do what I can to help with protecting this sacred and special place to me."
Released on Kingfish Mars Records LLC, Coastin' In is a very personal project, applying Eddie's trademark style to this set of evergreen classics (also favorites of his mom) from across the decades, infused with a sense of family connection and tribute paid to past generations. Self-produced and self-financed, it will also be self-distributed. Orders for Coastin' In will be processed within 24 hours and dispatched worldwide by Eddie himself from his home in Mars, PA.
"Playing and recording music is as exciting to me now as it was when my mom bought me my first sax at the age of ten," said Eddie. "I'm so happy to still have the joy of music in my heart after a 50-year career. This album was a joy to record. I didn't want to stop, and I can't wait to start another one."
To that end, Eddie has already recorded two songs with his Disciples of Soul colleagues at Dug Deep Studio in Asbury Park, NJ, with plans to include an arrangement of "The Shadow of Your Smile" from the Coastin' In sessions. He hopes to complete his fourth solo album by late 2022 or mid-2023.
Coastin' In can be obtained immediately in CD format. Pre-orders for a 180-gram translucent blue vinyl version are also being accepted, but these will not be sent out until September 1 (and will not include "The Lights Are on at Old Saint John's"). Signed and unsigned copies of each format will be on offer, as will a signed CD and LP set. For details, Nightlife CDs, and "Have Sax, Will Travel" t-shirts, visit eddiemanion.com/store.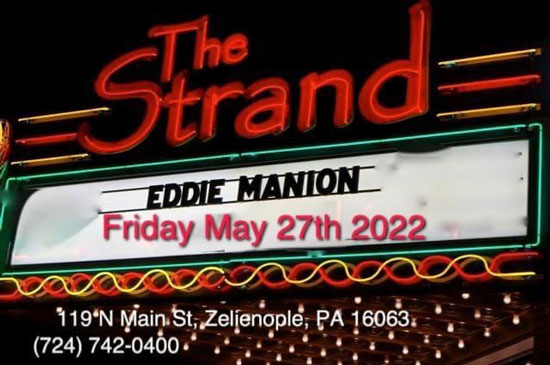 To celebrate the release of Coastin' In, Eddie will be playing a special gig at the Strand Theatre in Zelienople, PA (north of Pittsburgh) on May 27. Tickets are available from ovationtix.com.

Coastin' In is available now, direct from Mars. It's outta this world!
- February 28, 2022 - Mike Saunders reporting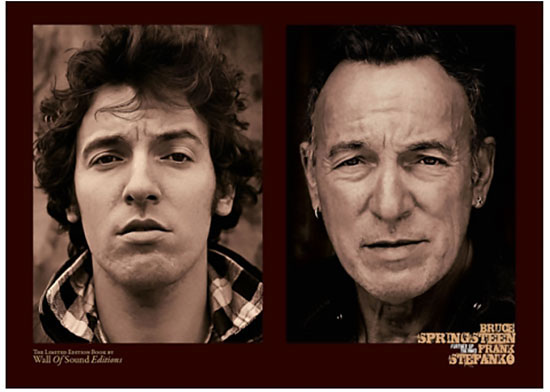 SOMETHING PRETTY YOU CAN HANG ON YOUR WALL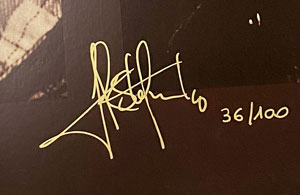 Just in at Backstreet Records: We've gotten our hands on a small batch of these Further Up the Road promo pieces, high-quality poster prints signed and numbered by Darkness and River photographer Frank Stefanko. Printed by Wall of Sound Gallery on 350-gram heavy paper, measuring 19" x 26", each is from a strictly limited edition of 100. Above, Poster #1 titled "Further Up the Road" combines two of Frank's portraits of Springsteen, taken four decades apart. Below is #2, "The Crew," one of Frank's classic shots of the 1978 E Street Band.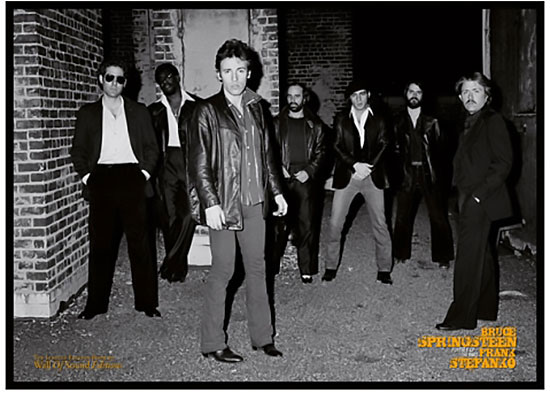 These signed posters are available for purchase individually, or save when you get both together. Check 'em out in our online shop for further details and to order. And don't forget, as we note below, today is the last day for our special offer on Frank's massive book — Further Up the Road ships from Italy, and it will do so for FREE if you order from us by end-of-day, saving you at least 40 bucks! The Collectors Edition is true work of art, signed and slipcased. Shipping will be waived automatically through tonight, no coupon code required.
- February 28, 2022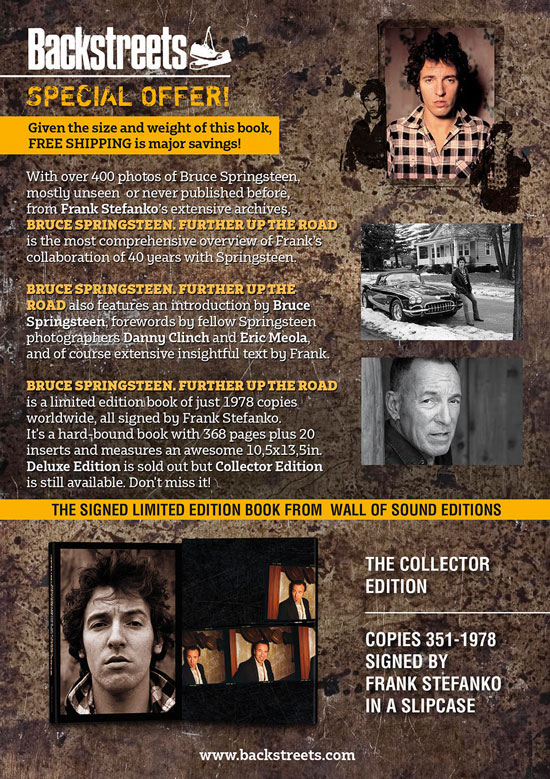 SPECIAL OFFER ON FURTHER UP THE ROAD ENDS MONDAY 2/28
If you've been considering taking the plunge and getting yourself a copy of Bruce Springsteen: Further Up the Road, here's a reminder that Monday, February 28, is the final day of our FREE SHIPPING offer on Frank Stefanko's beautiful monograph — the Collector Edition, slipcased and signed by the photographer. Since this weighty, oversized art book ships from Italy, you'll save at least $40 if you order before the calendar turns to March! For more details about this signed & numbered limited edition, and to order, visit the Backstreet Records online shop.
- February 27, 2022


TIX ONSALE SUNDAY FOR "SEASIDE SERENADE 4," MAY 13-15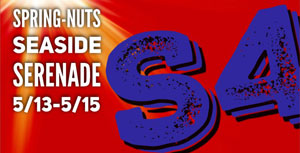 Three years have passed since the Spring-Nuts had a homecoming, since their third "Seaside Serenade" weekend in 2019, but there's finally light at the end of the Covid tunnel in 2022 for this affable and welcoming group of Bruce fans: the Spring-Nuts Seaside Serenade 4 will take place the second weekend in May, in where else but Asbury Park, NJ. From a 5pm meetup on the Asbury Park Boardwalk on Friday, May 13, to the main event at the Stone Pony on Sunday, May 15 — with events at Danny Clinch's Transparent Gallery in between, featuring performances by Joe D'Urso, Jake Thistle, and more — head Spring-Nut Howie Chaz has helped plan a packed weekend for like-minded Springsteen fans. "Julie, Amy and myself are thrilled to see all of our fellow Spring-Nuts back in the promised land known as Asbury Park," Howie tells Backstreets. "It's been way too long! This will be an epic and emotional event, and all for a great cause: we are so proud to be teaming up with WhyHunger and the great Joe D'Urso." All proceeds from the weekend will benefit WhyHunger (D'Urso is on the organization's Board of Directors and is a founding member of Artists Against Hunger and Poverty). Tickets go on sale this Sunday, February 27, at 11am ET. Visit eventbrite for the event schedule, further details, and Sunday's onsale.
- February 25, 2022


FOR YOUR BOSS BOOKSHELF: BRUCE THROUGH THE EYES OF HIS FANS
Last chance to purchase FOR YOU, with exclusive Backstreets discount!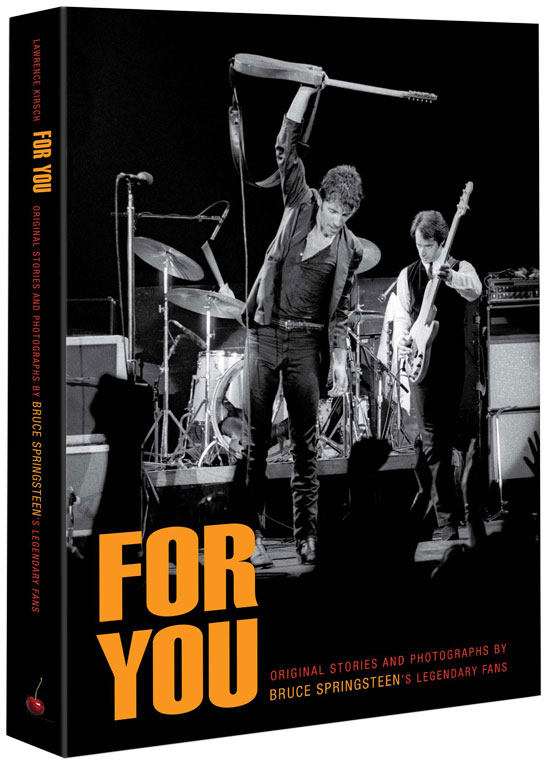 Did you miss out on owning one of the best-loved Bruce Springsteen books of the last 15 years? Backstreets has teamed up with Lawrence Kirsch Communications to give our readers a special exclusive deal on the last remaining copies of FOR YOU: Original Stories and Photographs by Bruce Springsteen's Legendary Fans.
Both a labor of love and a fan community effort, the limited edition FOR YOU hardcover book tells the story of Bruce Springsteen from the '70s to the 2000s in a novel way: through the eyes of fans who discovered and followed him across the years — a big part of why this book resonates with us.
In addition to fan tales and testimonies, FOR YOU is a visual history, packed with photographs on every page, capturing Springsteen onstage and off, in both color and black and white.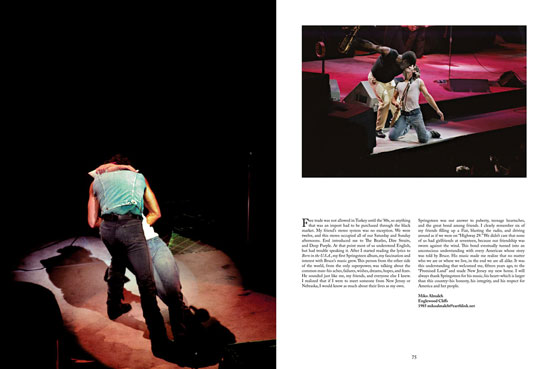 The 400+ photos are particularly remarkable because they've been sourced from fans, rather than common professional shots or stock services, so this is almost an alternate visual history from what you'll see in most Bruce books. Editor/publisher Lawrence Kirsch maintained a high bar for image quality, despite most being taken before the advent of decent, easy-to-sneak cameras.
The first printing of FOR YOU in 2007 sold out quickly; after a second printing years later to meet demand, FOR YOU is almost sold out yet again. We don't anticipate a third printing.
Through the end of March, or while they last, we're helping Kirsch blow out the remaining copies of FOR YOU — fewer than 100 remain — at a special discounted price exclusively for Backstreets readers worldwide.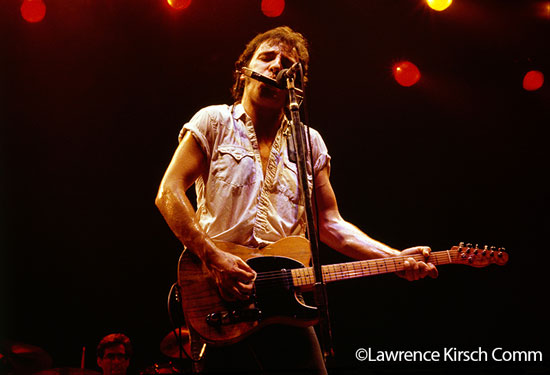 PLUS, everyone who purchases FOR YOU in the next two weeks will be automatically entered into a drawing to win one of five signed 8"x10" prints from Lawrence Kirsch's archive, shown above. Titled "Bruce Springsteen: The River Tour," this spitting-distance shot of Springsteen was taken in 1981 and now printed in an edition of 25. Everyone who orders the book through this offer by Friday, March 11 will get a chance to win one of these five limited-edition prints.
The exclusive discount on FOR YOU runs from now through March 31; following the drawing, shipping will begin from Lawrence Kirsch Communications to all destinations worldwide, with the book and the print sent together to the five lucky winners.
FOR YOU is on sale now: for all ordering details, for special pricing on the book and shipping, and of course to order, which automatically enters you in the drawing, click here.
- February 24, 2022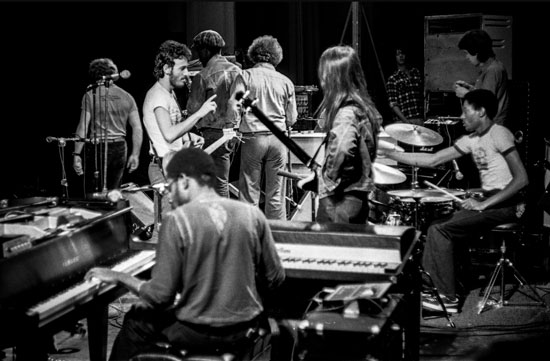 "Sound Check Two" photograph by Barry Schneier, featured in Bruce Springsteen: Rock and Roll Future.
LEGENDARY E STREET BAND: THE BLACK HISTORY MONTH EDITION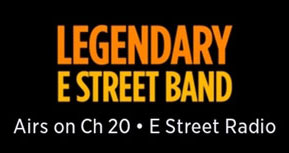 From the earliest days of Bruce Springsteen and the E Street Band and continuing through to their present-day incarnation, African-American musicians have always played a major role.
This week on E Street Radio, as part of SiriusXM's multi-channel celebration of Black History Month, host Greg Drew has prepared a special episode of his ongoing series Legendary E Street Band, exploring the huge contributions of African-Americans in forging, sustaining, and evolving the E Street sound.
Greg even takes some slight detours off E Street proper, including several tracks from Springsteen's 1992-'93 band — which switched up most of the players but maintained and expanded on Springsteen's tradition of leading a union of Black and white musicians in playing a rock and soul mix. As usual, listeners will hear another great playlist accompanied by Drew's insightful commentary as a longtime professional musician, music teacher, and manager.
The Black History Month Edition of Legendary E Street Band debuts this afternoon, Monday February 21 at 3pm, exclusively on E Street Radio (SiriusXM channel 20) with replays scheduled as follows (all times ET):
Monday, February 21: 3pm and 6pm
Tuesday, February 22: 10am
Wednesday, February 23: 12am and 7am
Thursday, February 24: 6pm
Friday, February 25: 2pm
Saturday, February 26: 12am and 4pm
Sunday, February 27: 1pm
- February 21, 2022 - Shawn Poole reporting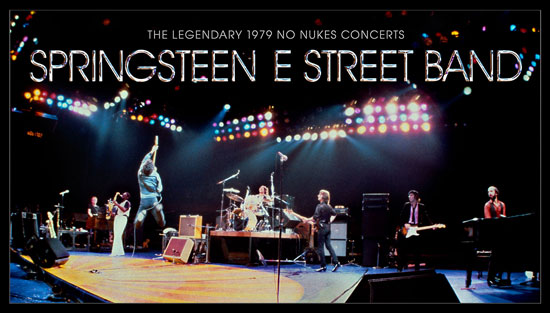 RESUMING OUR NON-NUCLEAR PROGRAM 2
With some unfinished business from 2021, we return to the latest, greatest Bruce Springsteen release, November's The Legendary 1979 No Nukes Concerts, looking at the MUSE shows from a few more angles. For a weekend longread, Steve Wosahla revisits the reason behind the rock 'n' roll on those nights at Madison Square Garden — nowhere near a focus of the new film, but as an inflection point in Springsteen's career, a sign of things to come.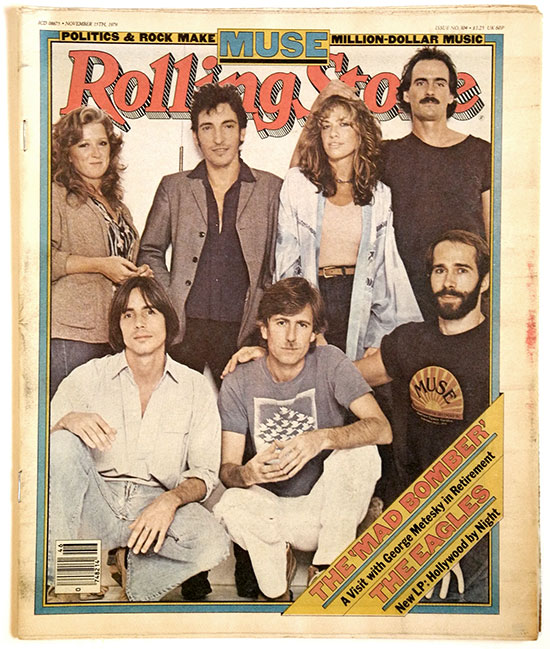 The release of The Legendary 1979 No Nukes Concerts captures Bruce Springsteen at one of the peaks of his stage powers, documenting some of the most exhilarating rock 'n' roll ever put on film. When it comes to the concerts' cause, and the efforts of Musicians United for Safe Energy, Springsteen is usually credited with little more than a "cautious toe-dip" into the waters of social consciousness. He famously chose not to write a statement for the concert program, and November's release did little to connect any activism dots under the surface of the rock 'n' roll show. But it's clear that Springsteen was not unmoved at the time by the dangers of nuclear energy. Events that occurred in 1979, coupled with two nights of playing on a bill with seasoned activists at Madison Square Garden, had a profound effect that we can now see with the vantage of time, shaping the sense of purpose, call to activism, and social responsibility Springsteen has demonstrated in the four decades since. The ramifications have been enormous, judging by his writing, his politics, and the large number of causes he has gone on to support. Looking back to the spring of that year, a glimmer of that future came with the release of another film — one that foreshadowed an imminent catastrophe.
When Columbia Pictures released The China Syndrome in March 1979 starring Michael Douglas, Jane Fonda, and Jack Lemmon, its producers couldn't have known how connected it would become to current events. In an early scene, with the film's television reporters (played by Fonda and Douglas) inside a nuclear reactor control room, the entire reactor starts violently shaking in what we learn is an accident and harbinger of things to come. When someone describes the possibility of a reactor melting down to its core, it is said that such an event could "render an area the size of Pennsylvania uninhabitable."

Only 12 days after The China Syndrome opened, a real-life nuclear accident happened in Pennsylvania, the most significant accident in United States history. The release of radioactive gasses and radioactive iodine from the Three Mile Island nuclear power plant near Middletown, PA, were caused by its partial meltdown on March 28, 1979. President Jimmy Carter, himself trained in nuclear engineering, visited the plant. The film's stars stayed off of television interviews to avoid the appearance of exploitation.

It was only days later when Bruce Springsteen recorded his angry new song "Roulette" in response to the events. It was the first song put down on tape when Springsteen kicked off sessions for his fifth album, the follow-up to Darkness on the Edge of Town. The sonic fury of "Roulette,'' with its kinetic energy and frenetic barreling drums, matched the subject matter and the fallout (no pun intended) on its characters, whose lives are being gambled by the powers that be. It was a song destined for its times — or so one might have thought.…
Continue reading
"I DON'T OFFER THE POWER OF MY BAND CASUALLY":
In No Nukes, the Seeds of Springsteen's Activism
By Steve Wosahla
- February 19, 2022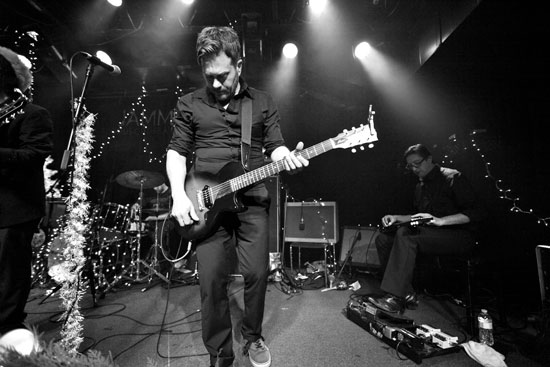 CHEW ON A PIECE OF THUNDER PIE
It's Boss Time in today's edition of Serge Bielanko's Substack
The last time we checked in with Serge Bielanko of the PA (now State College-area) band Marah, he wrote exclusively for Backstreets about the effect Bruce Springsteen's Darkness on the Edge of Town had on him, 40 years after release. Marah has toured since then, but with the advent of Covid, performing has been mostly put on hold. Mostly: in December, Marah played a hugely successful Christmas 2021 show in their former hometown of Philadelphia.
While with Marah, Serge got to experience Bruce Springsteen up-close and personal. Springsteen was a big fan of 2000's Kids in Philly, and after pulling Serge aside to tell him so after a show, he recorded with Marah on 2002's Float Away With the Friday Night Gods, played with the band in 2006 at one of the Light of Day shows, and invited brothers Dave and Serge Bielanko to join him and the E Street Band at Giants Stadium for a 2003 performance of "Raise Your Hand." Serge wrote about that Giants Stadium experience while paying tribute to Terry Magovern after his passing.
Serge has always had a way with words, and though Marah is currently grounded, he continues to write about his life, his wife, his kids, his band, his darkness, and his light with his weekly newsletter "Thunder Pie." This week, fans are treated to an intimate exploration of Springsteen's music and generosity with today's new piece, "The Importance of Loving Springsteen." Serge writes about listening to Born in the U.S.A. as a youngster in Conshohocken, PA, and years later being invited, along with his brother and bandmate Mike Brenner, to dinner at Chez Springsteen — and the generosity extended when they needed it most.
Read "The Importance of Loving Springsteen," and subscribe via Substack to have Bielanko's weekly "Thunder Pie" delivered to your email.
- February 18, 2022 - reporting and photograph by Bob Zimmerman


LOFGREN HONORS MADDEN AT POST-SUPERBOWL MEMORIAL
Longtime Bay Area Backstreets contributor and Bruce fan Steve Bunner alerted us to Nils Lofgren's appearance Monday night at a public memorial service at the Oakland Coliseum for legendary Oakland Raiders coach and NFL commentator John Madden, who passed away in December.
For the memorial, Nils spoke in a video message [below] of his decades-long friendship with Madden (dating back to 1985, when he began composing instrumental backing music for Madden and his all-star teams), and how his wife Amy got Madden to attend a Bruce Springsteen and E Street Band concert. "I'm used to seeing that huge Madden grin," Nils said, "But to see it for three hours straight was a memorable gift. And John did agree: Bruce is definitely 'All-Madden.'"
Nils honored his friend with a lovely, poignant spin on one of his originals — first released as "Miss You Ray" for Ray Charles on 2011's Old School, you've likely heard it as "Miss You C," for Clarence Clemons; here he performed "Miss You John."
- February 17, 2022



- February 14, 2022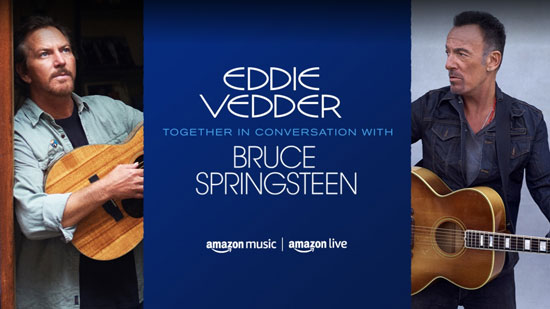 SPRINGSTEEN AND VEDDER, A PICTURE OF LOVE
Two friends and fellow Earthlings on Vedder's new solo album, out today
If Joe Grushecky guests at your Springsteen show, you're probably in Pittsburgh. If Peter Wolf is there, it's bound to be Boston. If Eddie Vedder shows up… well, you could be in Seattle, or anywhere around the world, from Chicago to Australia. Bruce and Ed have been friends and mutual fans for a couple of decades now, and whenever their globetrotting paths cross, sparks tend to fly.
Most recently, they got together on Springsteen's home turf. As Vedder's The Earthlings Tour 2022 hit New Jersey for its third stop last weekend, Eddie not only paid a visit to the Colts Neck farm but sat for an interview conducted by The Boss himself. At Eddie's February 6 Newark show he mentioned it to the crowd, feeling "fucking inspired" after their conversation which he said was filmed for "a little thing that'll come out."
Five days later, after a quick turnaround by filmmaker Thom Zimny, that "little thing" is out today, a 30-minute video streaming on Amazon Music Live today at 2pm ET.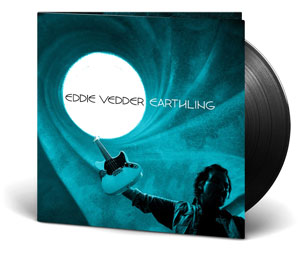 "I am Bruce Springsteen, and I am here with my good friend and fellow soul man Eddie Vedder," Bruce begins, "who has a fabulous record out." Earthling, in fact, is out today. The next half-hour is largely an in-depth conversation between the two, focusing on the new record (including discussion of Earthling's producer/collaborator Andrew Watt and special guests Ringo Starr, Elton John, and Stevie Wonder), with Springsteen engaged, curious, and very complimentary about the work. He has genuine raves for Eddie's songs and says "the production is great on the record, too — the sound is fabulous."
It's no longer unheard of for Springsteen to be on the question-asking side of an interview, considering recent documented conversations with Barack Obama and Stevie Van Zandt. But as Zimny says, "It's not something that happens a lot."
"I've been lucky enough to film a bunch of things at Stone Hill," Zimny tells Backstreets, "with the band, and Bruce, and Patti.… This one was way up there: just getting to watch that wonderful thing that happens when two artists who admire each other's work are also friends. It's a documentary moment that's a dream come true."
Much of the fun is seeing Springsteen's appreciation of another artist's process. Historically leading the E Street Band as very much a non-democracy, Bruce appears almost baffled by a band like Pearl Jam with multiple songwriters contributing to each album: "It's gotta be sticky — how do you decide what goes on the record? Do you vote? How do you reach consensus?"
Eddie, meanwhile, is just as mindboggled by Letter to You having been recorded in just four days. "That's a testament to the band," Bruce says, "and their playing, and just all the years together."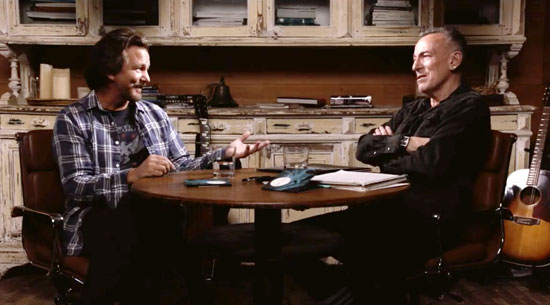 While there's much here to appreciate purely as a Springsteen fan (he talks about the writing of the Born to Run album on piano, for instance), Bruce never veers far away from the subject at hand, digging into Eddie's process on Earthlings, raving over particular songs, and as a songwriter, marveling at "all these twists and turns, all the time, that I don't expect."
Bruce recognizes "the ghost of Tom… Petty" in the new album's "Long Way," and Vedder describes bringing in Benmont Tench to play B3 on the song: "I thinking was the first time he'd pulled the organ out of storage since the last [Heartbreakers] show. And it was very powerful."
There's a fascinating discussion regarding Eddie's father, whose voice appears on the new album — of particular interest considering the subject of Pearl Jam's "Betterman," which Eddie once played with Springsteen and the E Street Band on the 2004 Vote For Change tour.
If you wonder why Vedder sits with Springsteen of all people for this conversation — aside from, you know, "Because he can" — it's revealing when Eddie at one point laughs and says to Bruce, "You're all over this record!" There's even a song inspired by a gift Eddie received from his friend, a photograph that Springsteen had taken.
"['Picture'] was written about a time a few years back," Eddie recalls, "when Jill and I came to visit you and Patti, and we took a walk out the barn — we even rode some horses!" Vedder does a bit of a Bruce Springsteen impression as he remembers being coached on how to ride. "We got back to the barn," Eddie continues, "and you had that cool black-and-white camera, and you took a shot of us. And then for Christmas, you sent two big prints. So, 'picture of love'… that's about one of the pictures you sent!"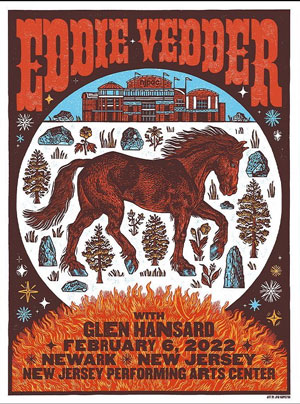 In addition to the conversation, Zimny captured live footage from Vedder's new Earthlings tour, which is interspersed throughout the film; photographer Rob DeMartin captured stills from both events, which you'll see at the end.
"We were able to go in and, with Rob's still photography, too, capture a little bit of the energy of the new band and the live show," Zimny tells Backstreets.
But the real draw was the "opportunity to film this really rare occasion of Bruce sitting down with Eddie and discussing his new work. I leapt at the chance when I got the call. I've worked with [Pearl Jam guitarist] Mike McCready before, and obviously I'm a Pearl Jam fan and enjoy Eddie's solo work — this new album is amazing. And to hear these two friends discussing the work and the creative process, that's a dream project."
Watch: "Eddie Vedder Together in Conversation With Bruce Springsteen"
- February 11, 2022 - Christopher Phillips reporting



FURTHER UP THE LONG PROMISED ROAD
Documentary director Brent Wilson talks Bruce with Backstreets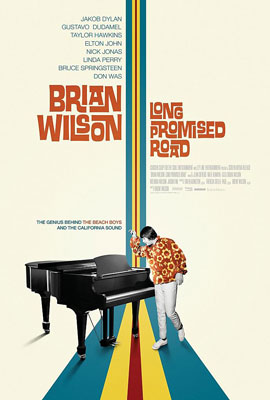 Brian Wilson: Long Promised Road is that rarest of documentaries, one which breathes new life into and sheds new light on an artist who has already been the subject of several films — in this case, California singer/songwriter and former Beach Boy Brian Wilson.
Wilson's story has been told in several previous documentaries and docudramas, a couple of made-for-TV movies, and a feature length film starring Paul Dano and John Cusack. So what could possibly be left to say about the legendary Californian composer after all that?
Plenty, as it turns out. Director Brent Wilson (no relation — and a major Bruce Springsteen fan, but we'll get to that) gets to the heart of the matter by using a great premise: take Brian Wilson, a notoriously reluctant interviewee (understandably so at this stage), pair him with someone with whom he feels comfortable (Rolling Stone editor-in-chief Jason Fine), and let the camera roll. Clearly relaxed in his conversation with Fine, Brian Wilson shows a side of himself heretofore unseen on screen.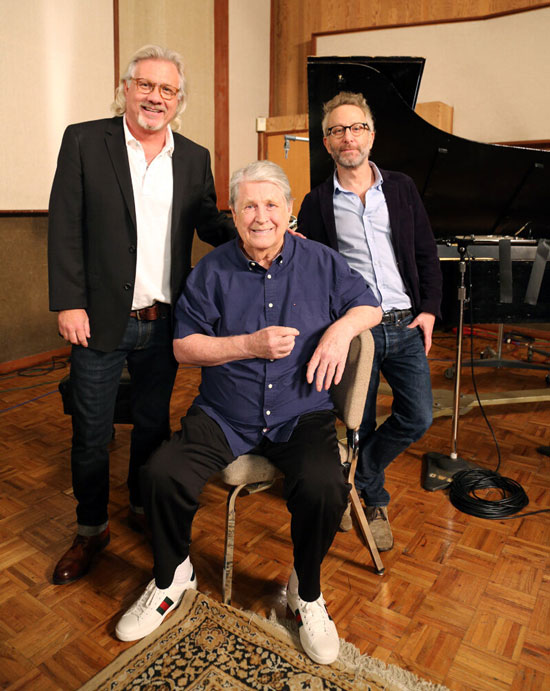 Long Promised Road director Brent Wilson, left, with Brian Wilson and Jason Fine - photograph via brianwilson.com
Riding around in Fine's car, Brian picks the tunes from his catalog and leads the discussion, with Fine respectfully nudging him along. I emphasize "respectfully" because in the wrong hands, this tactic could have seemed patronizing or insincere, but that it never does is a credit to everyone involved with the film. These interview segments create a compelling narrative of Brian's life, opening the door for all kinds of cool footage and informative nuggets. I consider myself a fairly knowledgeable Beach Boys fan, and I came away from the film having learned a few new tidbits myself.
Along with the Fine/Wilson dialogue we get insight from famous fans and friends, among them Elton John, Don Was, Linda Perry, and Bruce Springsteen.
Springsteen has some great moments in the film — it's always exciting to see Bruce thoughtfully discussing other musicians, and his take on Wilson's well-publicized emotional and mental health issues is particularly compassionate and insightful.
Talking with Backstreets, Brent Wilson says that Bruce's candid revelations about his own mental health struggles are what prompted the director to bring up Brian's mental health issues in conversation with Springsteen.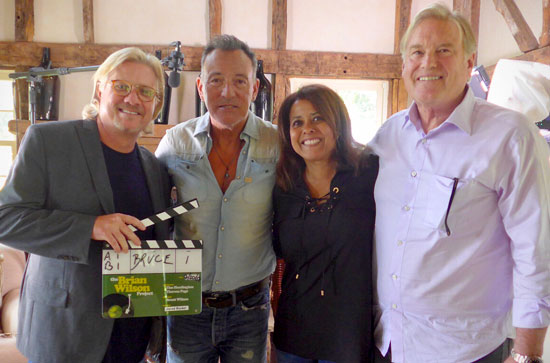 Left to right: Director Brent Wilson with Bruce Springsteen and two of Wilson's fellow producers on the film, Theresa Page Steele and Tim Headington - photograph via brianwilson.com
Brent, himself a massive Springsteen fan since he heard Bruce at the age of 14 in 1984 ("there's not a track I don't own"), initially made the Springsteen/Wilson connection through hearing Springsteen's live version of the Beach Boys' "When I Grow Up to Be a Man," performed at Ireland's Slane Castle on June 6, 1985. "I've always been kinda singular in my music choices, and Bruce and the Beach Boys have always been one and two," he says.
From there, Brent connected the dots: "I saw a lot of parallels between Bruce and Brian," Wilson told us. "One's born on the West Coast, one's born on the East Coast; both grew up with strained relationships with their fathers; and both of them kind of defined a sound for a state. You think New Jersey music, you're gonna think Bruce Springsteen. You think California, you're gonna think Brian Wilson."
Brent also notes that Springsteen mentioned the Beach Boys in interviews around the time of the release of Magic. "He referenced Brian and the Beach Boys during his press tour," Wilson says, and it led to Bruce's participation in Long Promised Road. "He talked about how he wanted to get back to a more melodic sound, a sound that he really loved in the Beach Boys. So we reached out to him, through his folks, and they said 'Yes,' right away."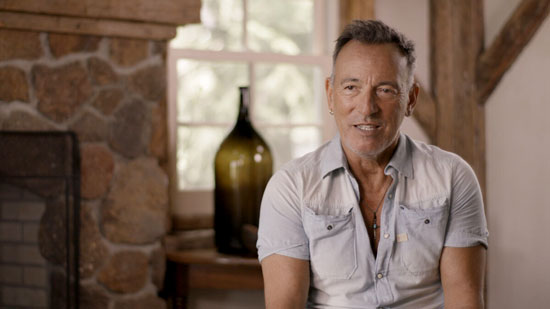 Long Promised Road still via brianwilson.com
Springsteen and Brian Wilson also share a creative connection: the car song. Brent and Bruce agreed that Brian Wilson and Chuck Berry co-created the car song. "Of course, Bruce tapped into that and perfected it," Brent adds, before letting us in on one of the moments that unfortunately didn't make the final cut of the film.
"I literally wanted to open the film with this," he says. "We talked about the image of the car as freedom: 'I Get Around' is not about a car, it's about freedom. And Bruce said, 'My characters in "Racing in the Street" are the exact same two characters in (the Beach Boys classic) "Don't Worry Baby," just ten years later. They've been through the Vietnam War, they've been through Nixon, and they've been through the sixties, but it's the exact same guy and girl.' I get cold chills just thinking about it now. Unfortunately I couldn't make it work in the edit. Trust me, I tried like hell to make that work!"
Another great moment that ended up on the cutting room floor came when Brent asked Bruce about seeing Brian Wilson live in concert these days. "Just to hear him speak so passionately about Brian… he's been to see him several times. He goes to the shows, whenever Brian plays (near him) in New Jersey," Wilson recalls. "And he said, 'I got a seat in the front row, and I just let that music bathe over me.' "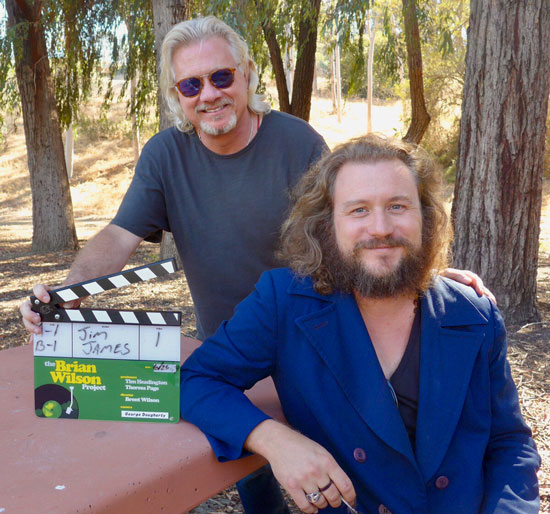 Brent with My Morning Jacket's Jim James, who collaborated with Brian Wilson on a new original song for the film, "Right Where I Belong." Photograph via brianwilson.com
Of the 55 minutes the director spent interviewing Springsteen, Brent says, "I could literally have used everything he said in the film. He knew we weren't gonna just do easy softball questions, we were gonna talk music — he was ready for that." One can only hope that these cut segments make it onto bonus features on a future release.
For the time being, Long Promised Road is how a documentary should be made, and it's a great watch — for Brian Wilson fans, for Springsteen fans, or for anyone interested in music, survival, and the creative process.
Brian Wilson: Long Promised Road is available now on Blu-ray and DVD from Backstreet Records as well as via streaming platforms.
- February 10, 2022 - John Howie, Jr. reporting

STEVIE CELEBRATES AND GETS CELEBRATED
Lilyhammer turns 10, Ronnie Spector lives forever, Vedder covers Van Zandt (and gets interviewed by The Boss, too)
Sunday marked the tenth anniversary of Lilyhammer's debut as the first original series from Netflix. Series star and co-creator/producer Stevie Van Zandt tweeted, "We are very proud to have been Netflix's first. And with Netflix, introduce the concept of international content. It seems inevitable now, but it took the great courage of [Netflix co-CEOs] Ted Sarandos and Reed Hastings to have faith in their own instincts to trust me and a crazy Norwegian idea."
For the anniversary, Netflix shared a special online conversation between Sarandos and Van Zandt, who reminisced in detail about the confluence of circumstances that led to their groundbreaking collaboration. It's well worth watching:
Deadline.com's "Ted Sarandos Marks Decade of Netflix Original Series on Anniversary of 'Lilyhammer' Premiere" is a great accompanying read.
Little Steven's Underground Garage has archived online its excellent special program The Ronnie Spector Celebration, first broadcast in the wake of last month's passing of the Rock and Roll Hall of Famer and major E Street influence. Co-hosted by Underground Garage DJs Palmyra Delran and the legendary Genya Ravan, the program celebrated Spector's enduring legacy with remembrances from Joan Jett, Darlene Love, Jeff Barry, Jackie DeShannon, and Stevie Van Zandt, who noted, "We have to turn this into a celebration, because she will live forever in The Underground Garage." It's moving, funny, fascinating, life-affirming, and has one hell of a playlist. Click here to listen.
Finally, Eddie Vedder celebrated Stevie Van Zandt (as well as Bruce Springsteen and Patti Scialfa) during the encores of his performance with his band The Earthlings at Newark's New Jersey Performing Arts Center (NJPAC) on Sunday.
"I spent some real quality time yesterday with one of my best pals from Jersey," Vedder told his audience, "and he interviewed me for a little thing that'll come out. He liked the record [Vedder's solo effort Earthling will be released this Friday], and we got to hang out together, and I came in today feeling pretty fucking inspired because I got to spend a little time with The Boss and Patti…. She's 'The Boss,' too. Love you, Patti!"
"And I spent a lot of time last summer with the words of Mr. Steven Van Zandt. Little Steven, I love you… I love the tea… and I love this song! We're gonna play it tonight, as fast as fucking possible." Vedder and The Earthlings then delivered an awesome punk-tempo version of Stevie's classic "I Am a Patriot" — watch below.
- February 9, 2022 - Shawn Poole reporting - special thanks to Joe Amodei and Sammy Steinlight

LISA BOUCHELLE JUMPS IN TO SPRINGSTEEN ON SUNDAY
Listen to her solo acoustic, live-on-air "Spirit in the Night"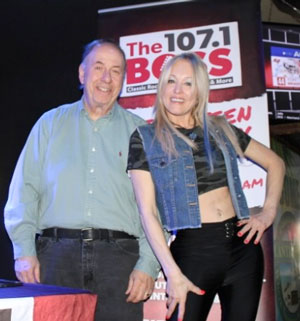 Singer/songwriter Lisa Bouchelle, a regular performer at Light of Day (where she has had the repeated thrill of singing backup for Bruce Springsteen), has been gaining more attention with her latest album Jump In! recently landing on Billboard's Adult Contemporary Indicator chart.
Bouchelle also appeared on Springsteen on Sunday in January, in conversation with host Tom Cunningham [pictured together at right] and performing a couple of solo acoustic tunes. In addition to her own new title track, Lisa covered Springsteen's "Spirit in the Night" on air during the show, broadcast live on location from Bar A in Lake Como, NJ — listen below (performance starts at 3:10):
Previously, on her first album, 2007's Paint Your Dreams, Lisa released her take on "Spirit" with guests Southside Johnny, Bobby Bandiera, and Gary U.S. Bonds. She discusses that studio recording with TC, as well as her Light of Day schedule next month: Bouchelle will be performing at Light of Day: Women of Song on March 12 at The Saint, and Light of Day: Songwriters By the Sea on March 13 at Langosta Lounge.
For further dates and more, visit lisabouchelle.com.
Tom Cunningham's Springsteen on Sunday airs every Sunday on 107.1 The Boss, from 9am to 11am, heard at the Jersey Shore on 107.1 FM and streaming live online at 1071theboss.com.
- February 9, 2022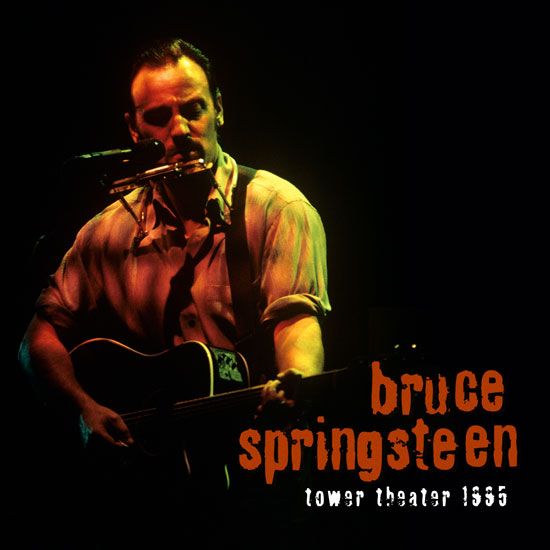 "A QUIET SHOW, WITH A LOT OF FOCUS… IT'S A DEPARTURE"
Live Archive series returns to the Tower Theater for Joad's first run
February's First Friday release from Bruce Springsteen's official Live Archive series is another gem of a show from a Philadelphia-area and Springsteen-history landmark: Upper Darby, PA's legendary Tower Theater, home of the previously released New Year's Eve 1975 show. Capturing a radically different performance from 20 years hence — not an E Street Band-fueled holiday blow-out, but a stark, one-man acoustic show — today's Tower Theater 1995 marks the first Archive release from the initial leg of Springsteen's solo tour for The Ghost of Tom Joad. Just two weeks into his new acoustic outing, which would run through 1997, Bruce played a two-night stand at the Tower; today's release captures the second night, December 9, 1995.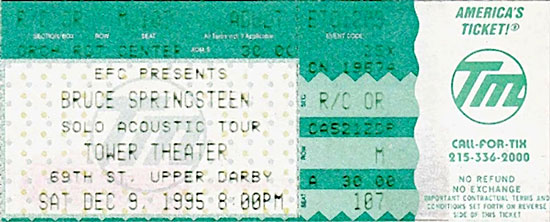 Speaking with Bob Costas for The Columbia Records Radio Hour, which aired shortly before the Joad tour began, Bruce made it clear that what he was doing onstage in late 1995 was a deliberate and enthusiastic choice to deliver a performance unlike anything the majority of his fans had experienced before.
"It's not [MTV] Unplugged," Springsteen explained. "It's a folk show, in the sense that… I'm not doing 'the hits' or whatever you call them. I'm concentrating very specifically on this particular record [The Ghost of Tom Joad] and the material that feels like it complements it. And it's a quiet show, with a lot of focus in it. So it's pretty different… It's a departure. I haven't done this before.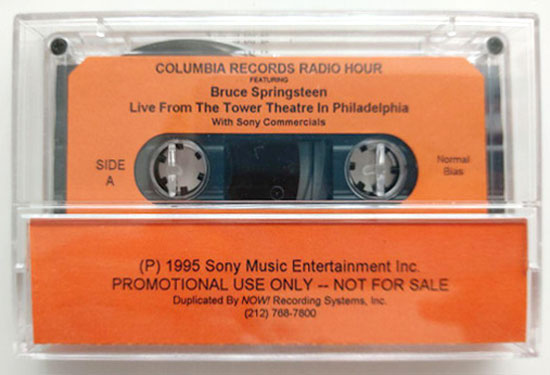 "I've played a few isolated shows," Bruce qualified. "I've played Neil Young's Bridge Benefit a few times acoustically, and I've played the benefit for the Christic Institute acoustically with Jackson Browne… When I got signed, I was playing in Max's Kansas City by myself with an acoustic guitar. So in a funny way, it's a throwback to what that was. But it's something I haven't really done before, and it's something I've wanted to do for a long time. It really pares everything away and makes what you're about and what you're doing real clear — and that's what I'm interested in communicating right now. I'm real excited about it; I think the fans are going to enjoy it."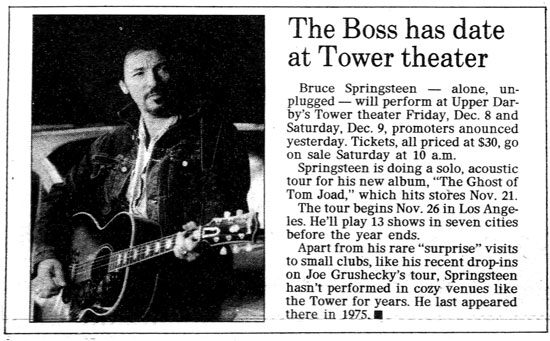 From the Philadelphia Daily News, 11/16/95
Many fans, myself included, enjoyed and appreciated what these special, stripped-down shows had to offer; sadly there were often some in the audience — particularly this early in the tour — who came expecting a Springsteen concert like those they'd seen before. Worse, they had no problem openly expressing those expectations, even in the midst of what was meant to be "a quiet show." As reported in Backstreets Magazine, at one point during the December 9 show a fight actually broke out in the crowd.
One of the many great things about this new Archive release, freshly mixed as usual by Jon Altschiller, is that such ridiculous distractions are now all but muted. Finally everything that Bruce sang, played, and said onstage that evening is given its proper place, fully front and center in the sonic landscape.
In no way, however, were concertgoers with clearer heads prevented from realizing what a great performance we were being treated to. Addicted to Noise reporter Chris Nelson was there and got to ask Jon Landau about the possibility of releasing a live recording from the Joad tour. "If such an album were planned for release," Nelson wrote shortly thereafter, "I'd like to offer that [December 9] may in fact be the perfect show for the record. Of course there are more dates to come, and you never know what Springsteen has up his sleeve. As someone who has been fortunate enough to see two other shows on this mini-tour, however, I can say that [the December 9] performance was simply stunning, and the best of the three I've witnessed."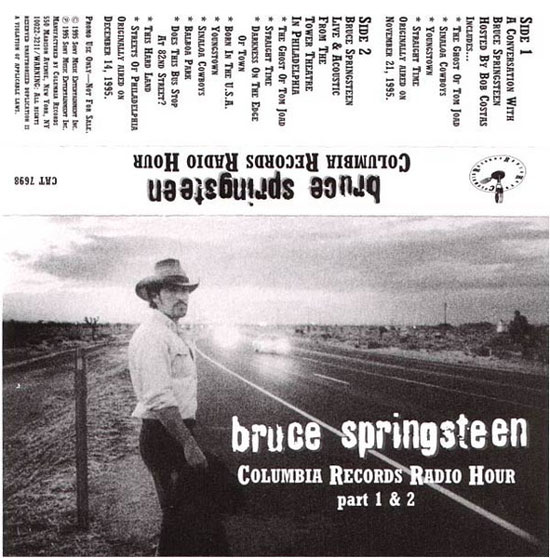 What Nelson may not have known at that time is that both Tower Theater shows were professionally recorded and mixed quickly in preparation for another Springsteen-centered edition of The Columbia Records Radio Hour, a selection of live performances to air less than a week later. Eight out of the ten musical performances broadcast came from this December 9 concert: "The Ghost of Tom Joad," "Straight Time," "Darkness on the Edge of Town," the spoken intro to "Born in the U.S.A." (combined with the December 8 performance of the song), "Youngstown," "Sinaloa Cowboys," "Balboa Park," "This Hard Land," and "Streets of Philadelphia."
This material appeared on promo-only cassette and reel-to-reel versions of The Columbia Records Radio Hour; commercially, the December 9 versions of "Darkness," "Sinaloa Cowboys," "Straight Time," and "This Hard Land" became more widely available as the bonus tracks/B-sides of various Springsteen singles released around the world in 1995-96.


CD singles with tracks from December 9: "This Hard Land" a live B-side for "Dead Man Walkin"; "Straight Time," "Sinaloa Cowboys," and "Darkness" live B-sides for "The Ghost of Tom Joad"
The December 9 show also featured a rarity in the tour debut of "Blinded By the Light," a great solo-acoustic version that replaced Bruce's usual performance of "Does This Bus Stop At 82nd Street?" on the setlist and was performed only seven more times over the remainder of the Joad tour. Here at the Tower, "Blinded" was punctuated by a few hilarious seconds of Springsteen impersonating Bob Dylan, which more than made up for the minor (and also very funny) flubs at the tail-end.
The Tower Theater concerts marked the first live performances of "Streets of Philadelphia" (his most recent top-ten hit) in any Philly-area venue. While the song regularly appeared in Joad tour setlists, it had an extra layer of meaning for many of us Philly-based fans who saw this stand — even a lucky fan like me who had already gotten to witness him singing "Streets of Philadelphia" for the first time anywhere around the City of Brotherly Love: during the December 1993 filming of the "Streets of Philadelphia" music video, when Bruce sang live at each filming location on the actual streets of Philadelphia (and Camden, NJ).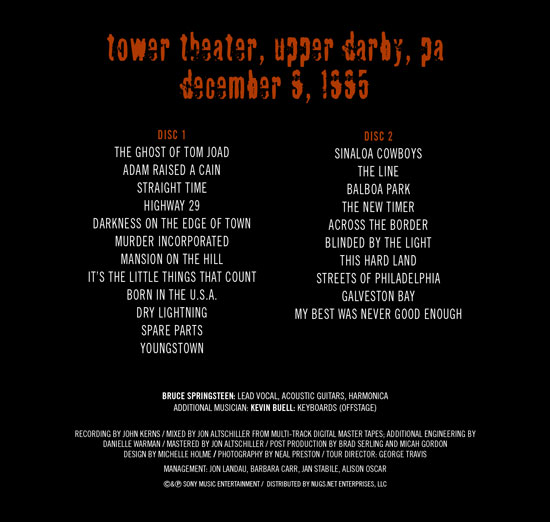 The December 9, 1995 performance included all 12 songs from The Ghost of Tom Joad, a first for the Live Archive series
But the biggest draw for today's release is its documentation of the original incarnation of the Tom Joad tour, Bruce's initial vision before the set evolved over the 18 months to come. The December 9 show occurred in a brief period during which Springsteen played every single song from The Ghost of Tom Joad every night. As a result, Tower Theater 1995 is the first Live Archive release to feature live recordings of "The New Timer" and the song that closed both the Joad album and every concert on the '95 leg: "My Best Was Never Good Enough."
A fine, fitting set-closer it was, too, even if its significance might have struck some in the audience as fleeting at best. For many if not most Springsteen fans, "My Best Was Never Good Enough" is probably a song that (if they listen to or think much about it at all) comes across as not much more than some musical sour grapes. On its surface, it's a sardonic little Dylan-esque "fuck you" ditty, directed towards anybody who's ever had any cliché-ridden complaints about any out-of-the-box move that the singer has made (especially on a detour off E Street like this one). But when heard at the end of either the Joad album or a stellar night like December 9, 1995, it becomes clear that this song has other, more important issues to address, as well. What are the bars we'll set for how we judge and treat ourselves and others? Will they be anywhere near equitable, across the board? What are the standards we'll set for our society to be deemed "great?" What is great art, and where can our great artists be found? Conversely, what even is "good enough?" How low will we allow ourselves and our communities to sink in the name of "just getting by?" Almost 30 years later these pressing questions, as raised in "My Best Was Never Good Enough" and throughout Tower Theater 1995, remain all too relevant.
Also read: Erik Flannigan's latest nugs.net blog entry, "The Music Tonight Was Composed With A Lot Of Silence"
- February 4, 2022 - Shawn Poole reporting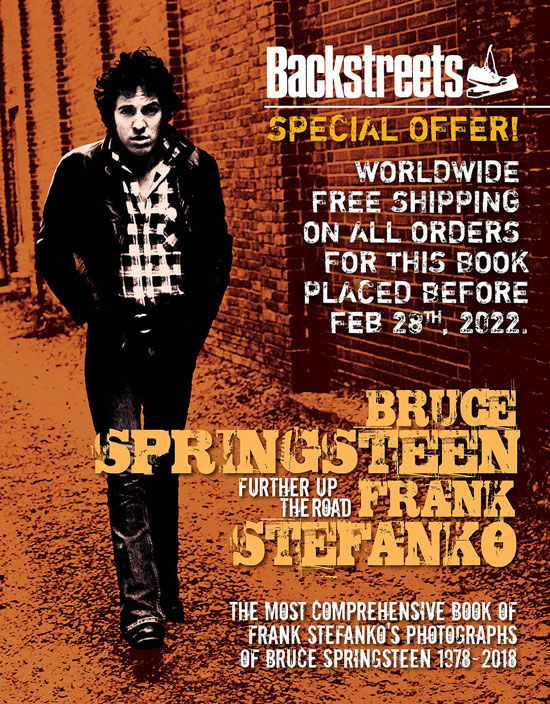 FOR FRANK STEFANKO'S BIRTHDAY, A GIFT FOR YOU!
Oustide of Italy, save at least $40 on Stefanko's magnum opus
While most everybody else is thinking about Punxsutawney Phil, we're usually thinking about Frank Stefanko on February 2, wishing a happy birthday to the photographer who captured so many images Springsteen fans know and love — the covers of The River and Darkness on the Edge of Town, for starters, as well as the "Corvette Winter" shot used on the cover of Bruce's Born to Run memoir.
Just a few years ago, Frank worked with publisher Walls of Fame to put together one of the most beautiful books you'll see — Bruce Springsteen: Further Up the Road is a definitive collection of the photographer's work with Springsteen that spans 40 years, an oversized, beautifully designed and printed treasure trove of Frank's photography. It's a work of art in and of itself. As such, it doesn't come cheap... but we highly recommend Further Up the Road, and we'd love help get it into as many fans' homes as possible.
So to celebrate Frank's birthday month, we've arranged for a special discount from the publisher, Italy's Walls of Sound, which ships the book directly to our customers. Through February 28, they're waiving the shipping cost for us. Considering how hefty this package is, that's some serious savings — instead of the usual $40 to Europe, $44 to the U.S., and $55 elsewhere in the world, Further Up the Road ships FREE this month.
This limited hardcover Collectors Edition is signed by Frank Stefanko, featuring an introduction by Bruce Springsteen, with more than 400 photographs on various paper stocks and inserts, all housed in a slipcase.
Purchase Further Up the Road from Backstreet Records,
shipping FREE this month only
- February 2, 2022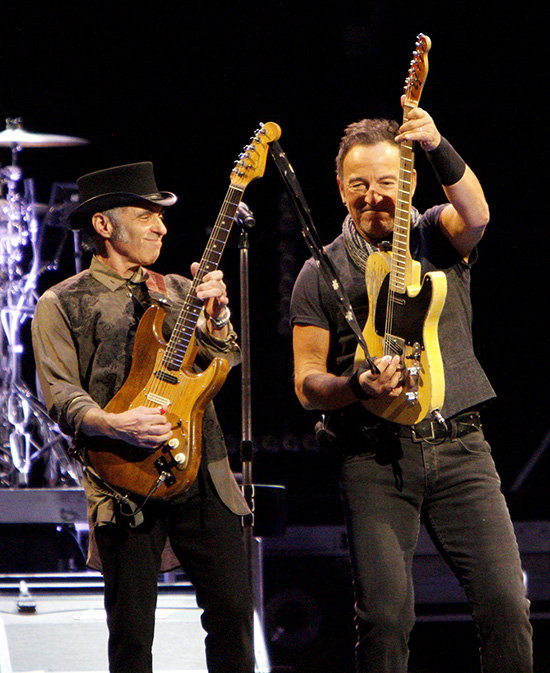 Nils Lofgren with Bruce Springsteen in Milwaukee, 2016 - photograph by Suzanne Tennant
NILS LOFGREN PULLS MUSIC FROM SPOTIFY
E Street Band, Crazy Horse guitarist stands with Neil Young, against "lies" and "misinformation"
After a stop in Laurel Canyon, the protest against Spotify now reaches from Sugar Mountain to E Street, as guitarist Nils Lofgren announced on Saturday that he has joined Neil Young and Joni Mitchell in asking the streaming service to remove his music from the platform.
Lofgren, who tweeted "I stand with Neil Young" on January 24 and apparently made the request as early as January 25, confirmed it in a statement posted Saturday on the Neil Young Archives site (co-signed by his wife, Amy). He cited Young's "standing with hundreds of health care professionals, scientists, doctors and nurses" against Spotify for hosting pandemic-related content — namely, recent controversial statements on The Joe Rogan Experience, the service's most popular podcast — that is "hurting and killing people." In solidarity with Young, Lofgren encouraged "all musicians, artists and music lovers everywhere, to stand with us all, and cut ties with Spotify."
Though Lofgren stated that he's succeeded in getting music from the last 27 years taken down, Spotify continues to stream earlier recordings; Lofgren has reached out to the labels that now own LPs like Wonderland (1983) and Crooked Line (1992) to have those works removed, too.
Over the weekend, Lofgren appeared in the Wall Street Journal's lead story and was pictured on the homepage of the Washington Post. A Post report ("More musicians join Neil Young in demanding Spotify remove their content over covid misinformation") indicated that Young, Mitchell, and Lofgren may represent a first wave. A follow-up ("Spotify responds after Joni Mitchell and others join Neil Young and demand the platform remove their content") adds a wrinkle apropos of this moment:
Folk rocker David Crosby, a former bandmate of Young's, tweeted that he would remove his music from the service, but "I no longer control it or I would in support of Neil." That's true for many rock stars lately, who could deal a blow to the streaming service if they hadn't sold their entire catalogs already for large sums.
On Sunday, Spotify co-founder and CEO Daniel Ek posted a note, stating that the service would add a "content advisory" to podcast episodes that discuss COVID-19 and work with creators to "raise awareness around what's acceptable" in content. Spotify also published its Platform Rules.
Ek did not address the campaign Neil Young, Joni Mitchell, and Nils Lofgren are leading, but did state that "it is important to me that we don't take on the position of being content censor while also making sure that there are rules in place and consequences for those who violate them."
While we'd prefer to see Nils Lofgren in the limelight for his extraordinary musical talent, we salute his activism and his stance. Read the January 29 "A Message From Nils Lofgren" reprinted on nilslofgren.com.
UPDATE: Spotify podcast host Joe Rogan has addressed the controversy and pledged to make changes to his program.
Joe Rogan responds to protests over his Spotify podcast [NPR]
- By the Editors - January 31, 2022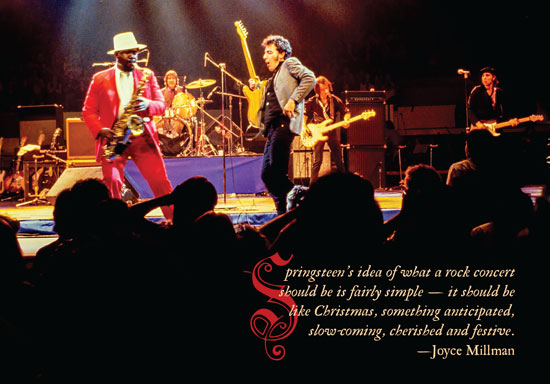 Above: the latest Backstreets holiday card features a No Nukes shot from photographer Lawrence Kirsch and a 1984 quote from Joyce Millman that expresses our hopes for the New Year. The card is currently included FREE with any and all orders from Backstreet Records. Millman wrote about the new release for us in November: "Kings of the Known World: The Backstreets Review of The Legendary 1979 No Nukes Concerts"
RESUMING OUR NON-NUCLEAR PROGRAM
With some unfinished business from 2021, we return to the latest, greatest Bruce Springsteen release, November's The Legendary 1979 No Nukes Concerts, looking at the MUSE shows from a few more angles. First up, Bob Zimmerman talks with NJ photographer Bob Leafe, whose image of Springsteen graced the cover of the original No Nukes home video.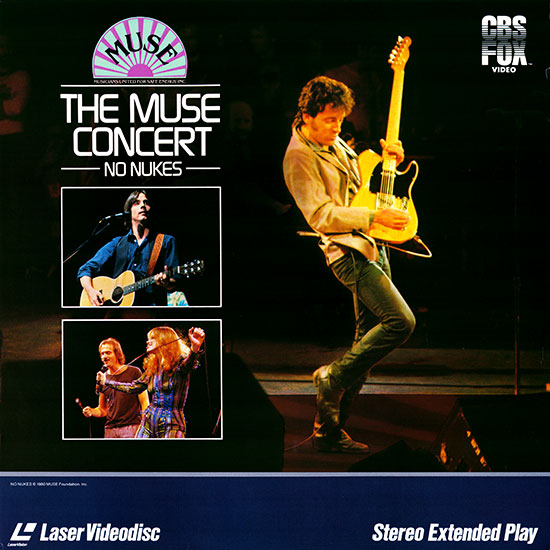 For some of us, The Legendary 1979 No Nukes Concerts is the second go-round with home viewing of a few of these performances. The original No Nukes: The MUSE Concert film, which was the first to include live footage of Springsteen and the E Street Band, captured "Thunder Road," "The River," and a portion of "Quarter to Three"; soon after playing in major-city art house theaters (July 1980 in the U.S., March 1981 in the U.K.), the documentary/concert film became available from CBS Home Video. After initial VHS and Betamax releases, a Laserdisc followed from the U.S. and U.K. in 1983, and from Japan in 1990 (while the Laserdisc format debuted in Japan in 1978, it didn't gain cult/collector status until the mid-'80s).
The photographer responsible for the home video's cover, of an intense Springsteen hoisting his guitar mid-song, wasn't accredited for the MUSE Concerts; he took photos from his seat. Nonetheless, Bob Leafe was a very well-known New Jersey photographer, active from the 1970s through the '90s, who shot hundreds of concerts and thousands of performers during his time. Backstreets recently caught up with Leafe to find out more about his career and history photographing rock 'n' roll's elite, seeing and shooting Bruce and the E Street Band (and Ronnie Spector), sharing his camera with Yoko Ono for John Lennon's last public performance, and some other amazing stories behind the lens.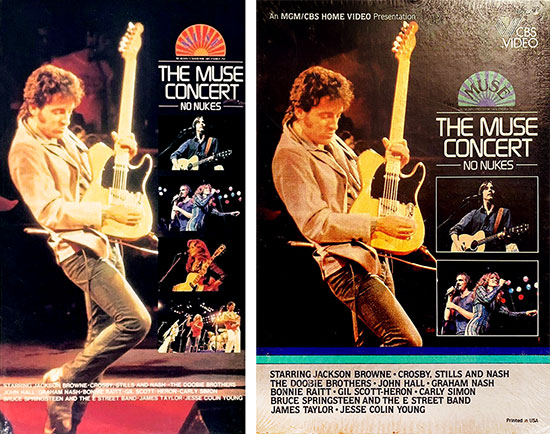 Bob Leafe's cover shot on the Japanese VHS (left) and U.S. Betamax
Born and raised in Teaneck, NJ (home of the Isley Brothers), Leafe originally had no strong interest in photography. Good fortune and the acquisition of great tickets to a once-in-a-lifetime show, led Leafe to his first experience with an SLR camera.
"I had gotten, through luck of the draw, fourth-row, dead-center tickets to Led Zeppelin's [1973] Song Remains the Same show — the one that they filmed for the [1976] movie," Leafe tells Backstreets. "I'd never been that close before, figured I'd never get that close again. I wanted something to remember it. And I didn't even own a camera, so I borrowed a friend's. He gave me two minutes of instructions — 'Do this, turn that…' — and everything came out well. Just as a fan; no thought of this as a career. I had a whole other career — I have a degree in chemistry, and I was a faculty member at a college at the time. As a fan, I was buying up front row seats for myself and just taking pictures."
Soon enough, he realized his pictures were impressive: "I liked some of the things more than what I saw in some of the magazines. I started getting critical of some of these photographers with great access and crummy pictures. I'm thinking, 'I can do better than that!'"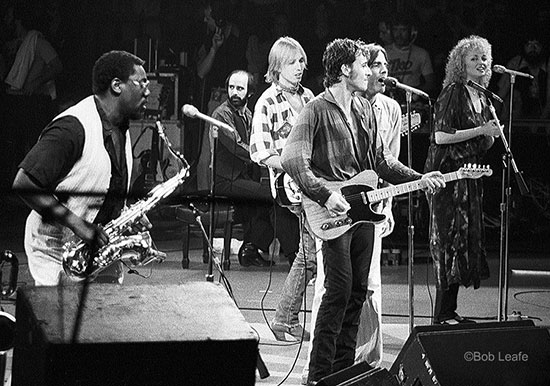 Another of Leafe's No Nukes images, shot from his seat, when Springsteen and the E Street Band were joined by Tom Petty, Jackson Browne, and Rosemary Butler, September 22, 1979
It was being in the right place at the right time, and knowing who to talk to, that led Leafe to making photography a career. "One day a local publication couldn't get into The Who at the [Madison Square] Garden. I was in the first couple rows and shot it, and they ended up using some of my pictures and started giving me assignments. That publication was The Aquarian. The pay was really cheap, but I got into a lot of shows and events."
One such show was Elton John playing Madison Square Garden in 1974. Bob Leafe sat in the 11th row with his zoom lens, right next to none other than Yoko Ono. She was there to see John Lennon perform for the first time in two years (and the last time publicly). When Bob saw Yoko standing on her chair to watch Lennon's performance for an out-of-control New York City audience, he offered his camera and zoom lens so she could get a better view. He asked her to snap a couple photos. Lennon and Ono had famously split for 18 months; after the show, they were reunited.
Bob's first time shooting Springsteen was at The Bottom Line with the E Street Band in 1975, but prior to that his good friend Frank O'Toole, who had a show on WFMU for over 40 years, had been begging Leafe to go see Springsteen with him. Leafe wasn't a big fan of Bruce's first two albums, but since 1973 he'd been told incessantly by O'Toole that familiar refrain, "You have to see him live!"
Leafe finally did on August 16, 1975, not once but twice at The Bottom Line, both the 8pm and 11:30pm shows. Leafe was friendly with the head waitress, so rather than clearing out after the early show, she let him, O'Toole, and their dates grab a table at the front for the 11:30pm performance. From then on, Leafe got it.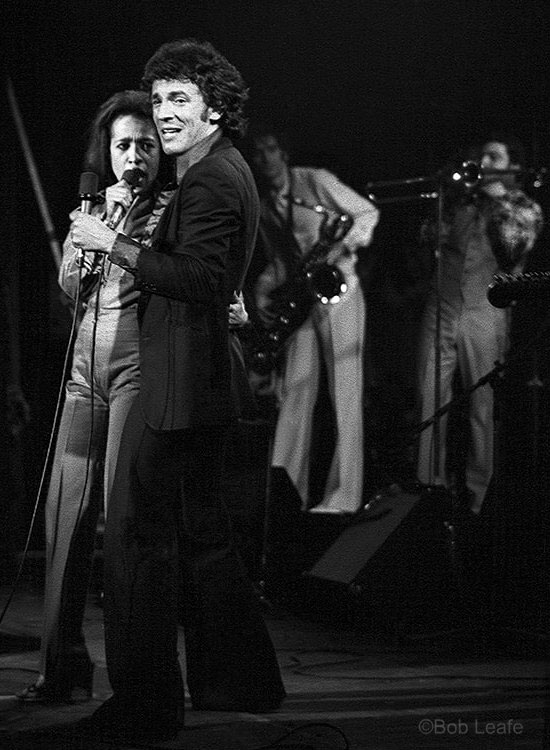 Filling in for a sick Southside Johnny, "The Asbury Park All-Star Revue" included Bruce Springsteen, Ronnie Spector, and the Jukes - Monmouth Arts Center, May 13, 1977
Later that year, he was in a long general admission line — "freezing my ass off," as he recalls — to see Springsteen and the E Street Band at CW Post College in Brookville NY. A full concert recording was just released last month in the Live Archive series. "We got 'Santa Claus' that night," and it was such a big deal at the time," Leafe remembers. "I was with Frank O'Toole again, and he knew the guy [Thom Panunzio] who was recording the show… we got to go inside and get a tour of the [Record Plant] mobile unit before the show, which was pretty cool."
A couple years later, more cool stuff would go down. "I went to see Southside [Johnny] when he was supposed to play in Red Bank, with Ronnie Spector opening up for him [May 13, 1977] because they had that single at the time, 'You Mean So Much to Me.' I get down there, and they make the announcement that Southside's sick… and Bruce is standing in for him! So I thought, 'That's not bad!' After the show I went backstage and I met Bruce. I happened to have a picture I had taken of him, a small [picture], of him performing at The Bottom Line. I had no idea I was going to meet him that night or that he would even be there." Springsteen signed it for him.

Detail of Leafe's Bottom Line '75 photo that Springsteen signed in '77
While talking to Bruce backstage in Red Bank, the subject turned to a band called Pegasus. Springsteen had recently played with them, at The Jail in Hillsdale, NJ; the lead singer was Bob's roommate, and he'd practice his photography skills on the band. Bob mentioned that the next night's show would be the drummer's last and suggested that Bruce catch the gig. Around this time, Pegasus got a new manager: the owner of a local motorcycle shop in Westwood, NJ — and Bruce's longtime friend — Matt Delia. On the night of the show, May 14 again at The Jail, Springsteen actually showed up — he didn't perform this time, but he was backstage, talking to the band. Leafe got word, but local security wouldn't allow him back to shoot pictures of Bruce and the band together.
"But I'm the guy who invited Bruce to the show tonight!" Leafe told the bouncers. "Sure you are," they responded. He never got shots from that night.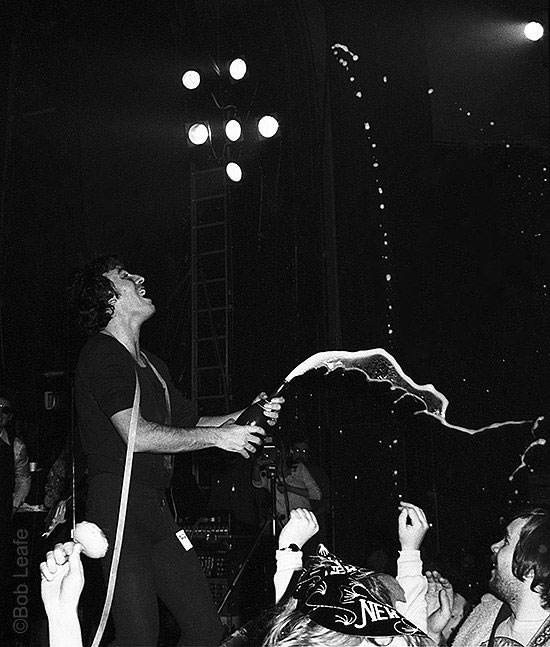 Springsteen, guesting with Southside Johnny & the Asbury Jukes, pops a cork at the Capitol Theatre to celebrate the dawn of 1978
By 1978, Bob Leafe had truly come into his own. In addition to shooting for WNEW-FM radio and becoming the staff photographer for The Uncle Floyd Show, he was the house photographer for the Capitol Theatre in Passaic NJ. (Meanwhile, during this same period, he was a faculty member at Bergen Community College, in the Chemistry department — talk about a busy schedule — until 1979.)
His tenure shooting concerts at the Capitol Theatre included Southside Johnny's 1977-'78 New Year's Eve show, which featured special guest Bruce Springsteen; nine months later would find Bob shooting three of the most intense shows on the Darkness on the Edge of Town tour, in late September 1978. See more of his images from that famous stand here.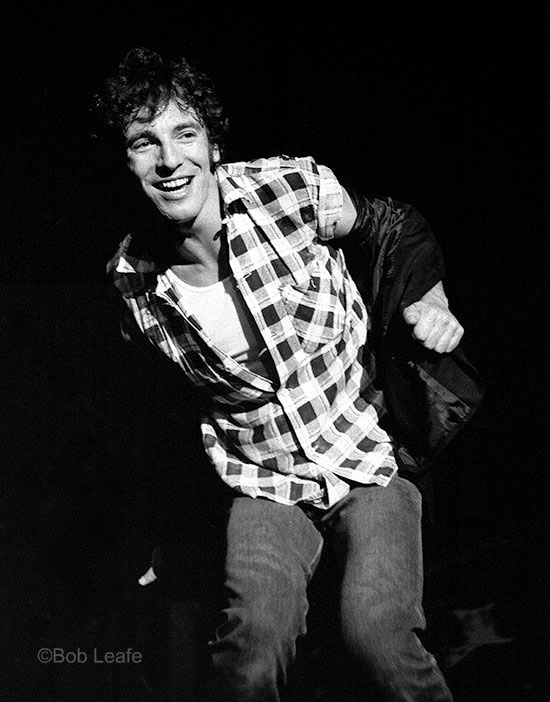 Leafe was house photographer at Passaic's Capitol Theatre when the Darkness tour famously stopped there for three shows in September 1978
It was one year later that Leafe was back at Madison Square Garden, shooting Springsteen again at the now-"legendary" MUSE Concerts.
"Most of my pictures were from the second night [September 22, 1979], Bob tells Backstreets. "I didn't have a photo pass — I received comp tickets from the record company.… Columbia Records." But no problems bringing in your cameras? "Oh, no. This was long before all the stupid restrictions." In total, Bob Leafe shot two rolls of black & white film and one roll of color slides.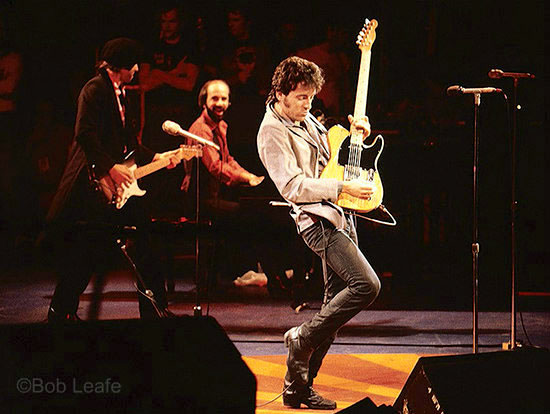 Leafe's original, uncropped shot that became the cover of No Nukes: The MUSE Concert, showing Stevie Van Zandt and Roy Bittan also in the frame
One of those Springsteen photos was selected as the main cover image for the No Nukes home video, despite Bob not being officially "on duty" that night — as several others were, including not only chief photographer Lynn Goldsmith, but also Joel Bernstein, Richard E. Aaron, David Gahr, and Peter Simon. And again, bearing in mind that Leafe was photographing from his seat, the cover selection was an unusual development. Exactly how it came about, the photographer can't recall. "My best guess is that I submitted it to someone at Columbia in the publicity department," Leafe says, speculating "whoever gave me the tickets, for the seats I shot from, could have passed it on to CBS/Fox."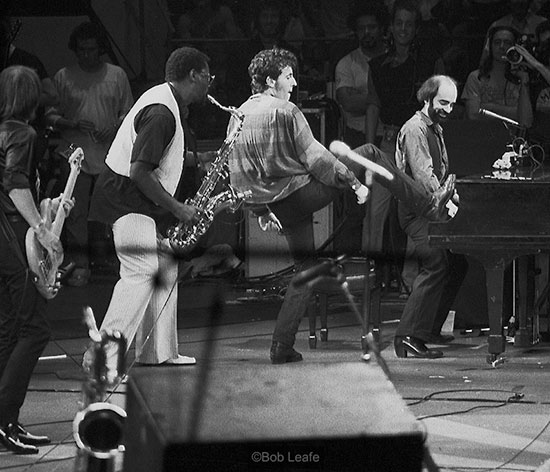 Another No Nukes shot, with Springsteen helping Roy out on piano, September 22, 1979
"I wish I could say there was a moment like Big Papi getting the 'Welcome to the Baseball Hall of Fame' call the other day, yelling and jumping for joy, but... nada." Lost to the sands of time.
"The only thing I'm not drawing a blank on," Bob adds, "is that my agency couldn't have submitted it — because I didn't yet have agency representation." Rather, it was the No Nukes cover that drew agencies' attention to Leafe, who then received numerous offers to sign. Star File, his choice, "ultimately got me in magazines like Time and Newsweek and others all over the world."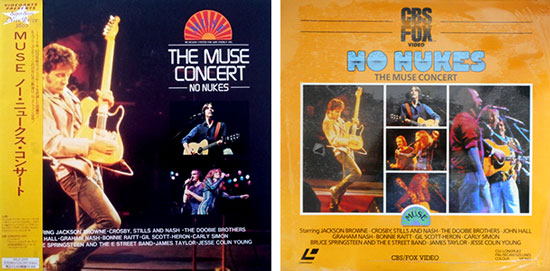 Laserdisc releases from Japan (left) and the U.K.
While the original No Nukes film has become harder to see (never released on DVD or Blu-ray), its initial release covered the wide swath of video formats at the time, beyond just VHS, Laserdisc, even Betamax and, later, the short-lived CD-Video (CDV).
"Are you familiar with CEDs? CEDs stand for Capacitance Electronic Disc," Leafe tells me. Looking into it, CED was an early home video format similar to Laserdisc, but analog: instead of the disc being played by a laser, it was played with a stylus like a phonograph record. One of the few titles released on the long-defunct format was No Nukes: The MUSE Concert, with Leafe's iconic photo of Springsteen on the cover yet again.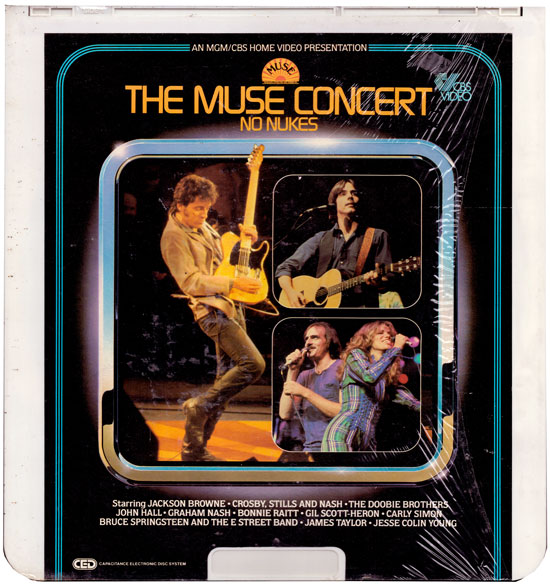 The short-lived Capacitance Electronic Disc (CED), AKA "videodisc"
Leafe went on to photograph Springsteen several more times in the years that followed: a club appearance with Robert Gordon, as well as dates on the Born in the U.S.A. tour, the Tunnel of Love tour, and finally on the Human Touch/Lucky Town tour. Over that time, however, musicians' publicists and managers were placing so many new restrictions on concert photographers, Leafe felt his ability to do his job as had always done it becoming severely diminished.
"It hurts the bands," Leafe says of the restrictions that grew and cemented over that period (like "three songs and out," now largely standard). "It hurts the quality of the photography. In three songs, you need to shoot enough to service all of these magazines that you could have done with a whole show. You have to get everybody separately and together, the whole band… and it's hard to get the drummer all the time. Sometimes special guests show up, and I'll get a call the next day from the record company publicist asking, 'Hey, did you get so-and-so playing with that great guest?' and I respond, 'No, you asshole, you kicked me out after three songs! There's a lot of history being lost because of these rules."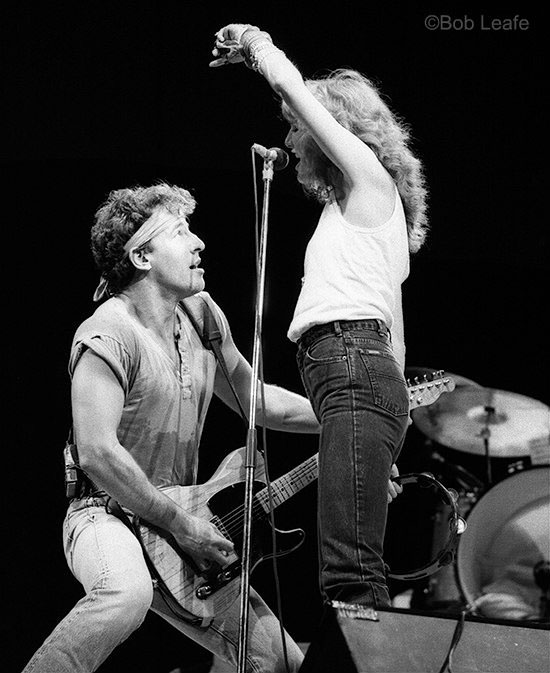 Springsteen and Patti Scialfa on the Born in the USA tour in 1985
One final question for Leafe: When you photograph a concert, can you really hear the music and shoot the show at the same time?
"The best way for me to answer that is, when I'm talking to someone about a show I shot, they'll ask, 'Did he play such-and-such song?' And my response is, 'Fuck if I know!'
"The reason I got into all of this was for my great love of rock music. And the thing is, when you're shooting, you have to concentrate so hard to get something exactly right… on a beat… that you can't devote as much attention as you would like to every little detail. Which is a shame, because that's what you got in there for!"

To see more images from Bob Leafe's entire career, and to purchase prints, visit bobleafe.com
To read more about Bob's photographic experiences, both in and out of music, read his blog at iaintjustmusic.bobleafe.com
To view more of Leafe's shots from Springsteen's celebrated September 19-21, 1978 concerts, taken as the Capitol Theater's house photographer, visit bobleafe.com/darkness/enter.html
- January 28, 2022 - Bob Zimmerman reporting, with thanks to Bob Leafe for sharing his story and his images

- January 26, 2022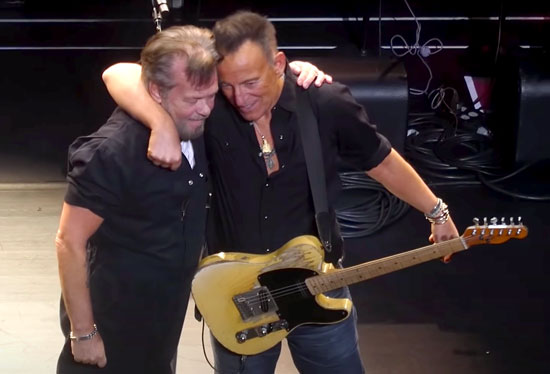 December 9, 2019, Beacon Theatre, New York, NY
THE HEARTLAND MEETS THE BOARDWALK
Ryan Hilligoss talks Mellencamp x Springsteen, on E Street Radio and on his blog
John Mellencamp's 25th studio album, Strictly a One-Eyed Jack, is out today, featuring three little ditties with Bruce Springsteen. Though they're often thought of in the same breath when it comes to a particular vein of American rock 'n' roll, this is the first time the two Rock and Roll Hall of Famers have collaborated in the studio — at Mellencamp's Belmont Mall Studio, to be specific, outside Bloomington, IN.
On today's release, the advance single "Wasted Days" is joined by upbeat rocker "Did You say Such a Thing," with Springsteen adding background vocals and guitar, and "A Life Full of Rain" with Bruce back on guitar to help close out the album.
"For those who grew up in the Midwest during the '70s and '80s," writes Backstreets contributor Ryan Hilligoss, "Mellencamp's music was to us what Springsteen's was to the East Coast: an integral part of our lives sung in a voice, vernacular, and style we could relate to and understand. Being a hardcore fan of both artists, I longed for them to join forces for years."
Ryan got his wish — "Finally, The Boss and the self-titled 'Little Bastard' blending their talents and voices on the same stage!" — in 2019, when Mellencamp and Springsteen teamed up at the Beacon Theatre in New York for Sting's Rainforest Foundation benefit. The two performed "Pink Houses" and "Glory Days" together on December 9, 2019.
Now, to celebrate the release of the studio album, Hilligoss — who blogs at unionavenue706.com — has shared with us his lengthy look at the history, influences, similarities, and crossed paths that Mellencamp and Springsteen have shared over their long, storied careers. The piece includes segments of an interview Mellencamp did with E Street Radio in September 2021 [watch excerpted clips here and here], as well as analysis of both artists' arguably most misunderstood songs, "Born in the U.S.A." and "Pink Houses." Summing up their affinities, he writes:
Mellencamp and Springsteen are hardcore troubadours, observing the world around them, catching snippets of conversation from passersby, watching the news, turning their observations into character studies, anthems, and ballads that speak to the universal truths of the human condition. They see those around them striving for a place to fit into, a community, a family, love and kindness. They are both adult artists who realize that train is coming down the tracks, bearing down on them, and there are only so many years and days left. As Springsteen has said, "That light coming down the tracks helps focus the mind." They both have been making some of the best music of their careers in the last twenty years, improving their craft as they move along while grappling with aging and everything that comes with it like the loss of friends and family. They are honest about themselves, their strengths, and weaknesses. They give us a blueprint on how to age with grace, humility, and honesty. They show us how to walk tall.
Read: "From the Heartland to the Boardwalk: Mellencamp and Springsteen" by Ryan Hilligoss
Ryan is also hosting a special "Be The Boss" segment on E Street Radio (SiriusXM Channel 20) in which he examines the relationship between the two artists and their musical history. Tune in Saturday, January 22 at 6pm Eastern, and again Sunday 1/23 at 3pm, Tuesday 1/25 at 4pm, and Wednesday 1/26 at noon.
The Strictly a One-Eyed Jack CD is in stock now at Backstreet Records, with a vinyl release due in May.
- January 21, 2022

- January 21, 2022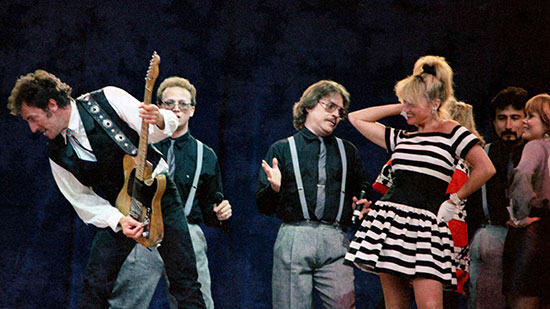 Mike Spengler (center) with the Horns of Love on 1988's Tunnel of Love Express Tour - photograph by Rene Van Diemen
REMEMBERING MIKE SPENGLER
Backstreets celebrates the eventful life of the New Jersey-born trumpet player who left us on New Year's Eve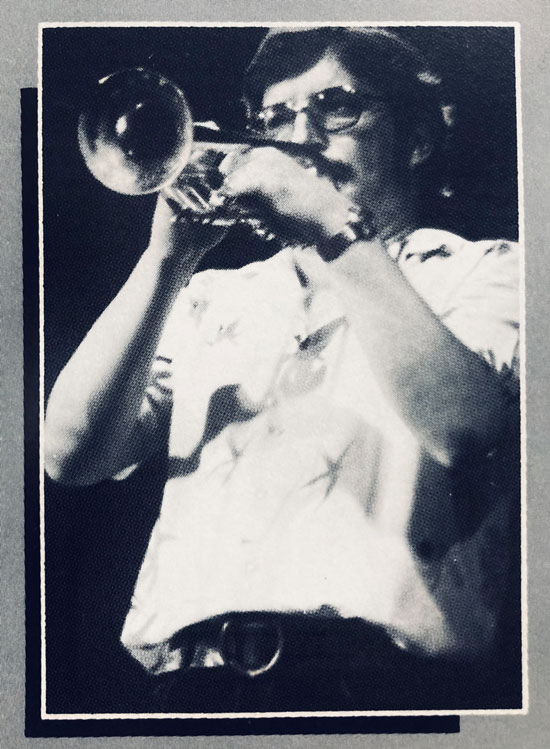 Although his professional career accomplishments were many and varied, Bruce Springsteen aficionados probably knew trumpet player Mike Spengler best as a member of the five-piece Horns of Love on Springsteen's Tunnel of Love Express Tour featuring the E Street Band. But Spengler was also a member of Southside Johnny and the Asbury Jukes/Miami Horns, Little Steven and the Disciples of Soul, La Bamba and the Hubcaps, and La Bamba's Big Band, and he worked with Diana Ross, Ben E King, The Isley Brothers, Michael Bolton, and many others.
Right: From his time as an Asbury Juke, Spengler on the sleeve of Reach Up and Touch the Sky
With the Asbury Jukes, Spengler is featured on the live album Reach Up and Touch the Sky and Missing Pieces, a collection of 1982 demos released two decades later. He played on Little Steven's first solo album Men Without Women, Dedication by Gary U.S. Bonds, and Grapefruit Moon: The Songs of Tom Waits by Southside Johnny and La Bamba's Big Band. With Springsteen, he's featured on Tracks ("Hearts of Stone" and "Lion's Den"), The Rising ("Mary's Place"), the Chimes of Freedom EP, and the five Live Archive sets from the Tunnel tour.…
Continue reading "Remembering Mike Spengler" with tributes
from LaBamba, Eddie Manion, Stan Harrison, and Mark Pender
- January 20, 2022 - Mike Saunders reporting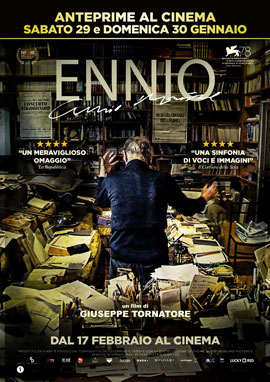 "DEEP, DEEP, DEEP EMOTION"
Springsteen on Morricone in new documentary film
One of the greatest things about the classic Italian film Cinema Paradiso is of course the musical score, composed by the legendary maestro Ennio Morricone. We lost Morricone in 2020, but his life and spirit lives on in the new documentary The Glance of Music.
What makes this upcoming feature film so special is that it is directed by none other than Giuseppe Tornatore, the man behind Cinema Paradiso. In the vein of Spielberg and Williams and a host of other famous film collaborations, Tornatore enlisted Morricone to score all of his feature films from Paradiso on, including such work as Malena, The Legend of 1900, Baaria, The Star Maker, Everybody's Fine, and The Unknown Woman. Tornatore is the perfect filmmaker to create this tribute. Along for the ride are folks like Clint Eastwood, Quentin Tarantino, Joan Baez, Oliver Stone, and a host of other famous Hollywood and Italian celebs.
We are all familiar with Bruce Springsteen's love of Morricone. So much that he used the theme to Sergio Leone's "Once Upon a Time in the West" to open various shows throughout the years and offered an amazing cut of that very song for a tribute album to the conductor titled We All Love Ennio Morricone. And as you'll see in the new trailer at top and clip above (via Cineuropa), Bruce shares his appreciation in the new film as well. No news on when The Glance of Music (AKA Ennio: The Maestro) will hit our shores yet, but this is one to look forward to.
- January 20, 2022 - Joe Amodei reporting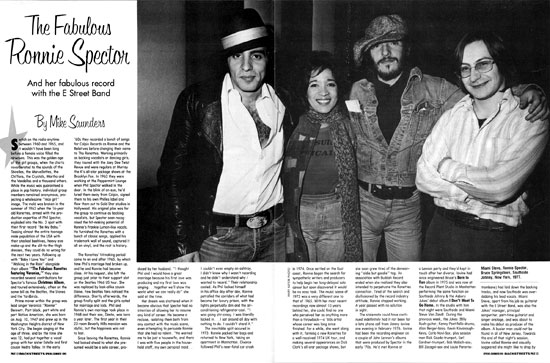 REVISITING "THE FABULOUS RONNIE SPECTOR"
After the world lost Ronnie Spector last week, we posted a remembrance by Caryn Rose with photographs by Janet Macoska, focusing on Ronnie's mid-'70s work with the E Street Band and Southside Johnny as we said goodbye to one of the greats.
We also dug back through our magazine archives, remembering that, 30 years ago, Backstreets published a feature by Mike Saunders that provided additional details from Ronnie's time on E Street, along with photographs by Mary Alfieri. "The Fabulous Ronnie Spector" appeared in our spring/summer '91 issue — and given that Backstreets #36 has been sold out for most of those 30 years in between, today we're making the article available as a FREE downloadable PDF from our archives.
- January 19, 2022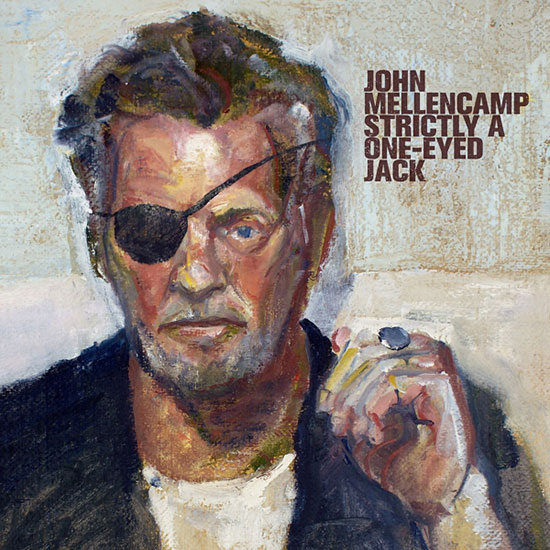 NEW MELLENCAMP OUT THIS FRIDAY
Strictly a One-Eyed Jack features Springsteen on three tracks
Eyes bugged last spring when evidence appeared of Bruce Springsteen hanging out with John Mellencamp in Bloomington, Indiana… and sure enough, before the end of 2021 we had proof positive of their collaboration for Mellencap's new album, with the duet "Wasted Days" released as an advance single.
Turns out "Wasted Days" is one of three songs on the album to feature Springsteen: he also appears on "Did You Say Such a Thing" and the album's closer, "A Life Full of Rain."
With 12 tracks in all, Strictly a One-Eyed Jack comes out this Friday, January 21, on CD and via digital services. A vinyl edition is scheduled for March.
Pre-order the Strictly a One-Eyed Jack CD
from Backstreet Records
In yesterday's in-depth "Sunday Conversation" article for Forbes, Steve Baltin raves about Strictly a One-Eyed Jack, calling it "one of the defining works" of Mellencamp's career and stating, "for those willing to go on the dark journey with Mellencamp the album is a masterpiece."
The article has high praise for Springsteen's contributions as well: "The middle three song combo of 'Did You Say Such a Thing,' 'Gone So Soon' and "Wasted Days" (the first and third of that trio feature Bruce Springsteen), is especially powerful, with the jazzy elegy of the mournful 'Gone So Soon' hitting as hard emotionally as anything Mellencamp has done previously."
In discussing Strictly a One-Eyed Jack with Baltin, Mellencamp traces how his relationship with Springsteen developed:
For my entire career I was always like the poor man's Bruce Springsteen. And Bruce and I have known each other for years. We met each other years ago, but we just knew each other enough to say hi. But we did a rainforest thing for Sting and we played together. And all of a sudden he was like my big brother, and he treated me like I was his sibling, and I treated him with respect. And then we became really good friends, and it just kind of happened. He came to Indiana, he stayed at the house. It was great. And I talk to Bruce all the time now. I know what he's doing right now. He knows where I'm at. So it's good. It's been a good thing.
Read: "Sunday Conversation: John Mellencamp On Songwriting, Springsteen And Why He Is 'The Luckiest Man"
- January 17, 2022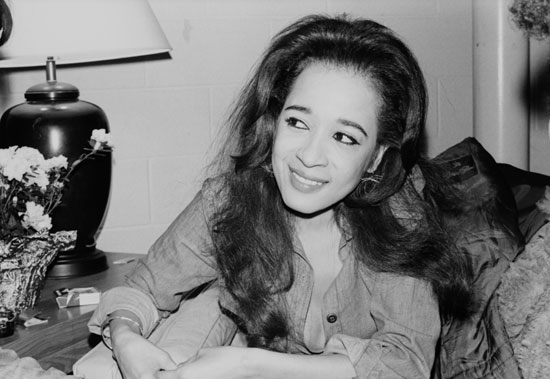 Ronnie Spector, Cleveland, 1977 - photograph by Janet Macoska
RONNIE SPECTOR, WE WILL ADORE YOU 'TIL ETERNITY
Remebering Ronnie's mid-'70s ride down E Street
On Wednesday, January 12, the music world lost Ronnie Spector, the tremendous voice who, as part of the Ronettes, gave us songs like "Be My Baby" and "Walking in the Rain" and "Baby, I Love You" that became integral to the sound of the 1960s. Although all of those songs' elements were essential, from lyrics to arrangement to production, none of us would have heard or remembered them without the astonishing power of Ronnie Spector's voice. She possessed a remarkable, distinctive style not just limited to her trademark vibrato whoa-oh-oh-oh's, but also her ability to convey a million types of emotions through her voice and we believed and felt every word of it. Ronnie Spector's voice was summer playgrounds, afternoon haze, open fire hydrants, driving with the windows down and the radio all the way up.
She and the Ronettes, inducted together into the Rock and Roll Hall of Fame in 2007, had a tremendous impact on the people who listened to her music, some of whom went on to make their own records. Given the fact that everyone in popular music seemed to love the Ronettes — Keith Richards, John Lennon, and Brian Wilson were among some of her biggest fans — it wasn't surprising (but was certainly delightful) that she ended up spending some time on E Street in the '70s.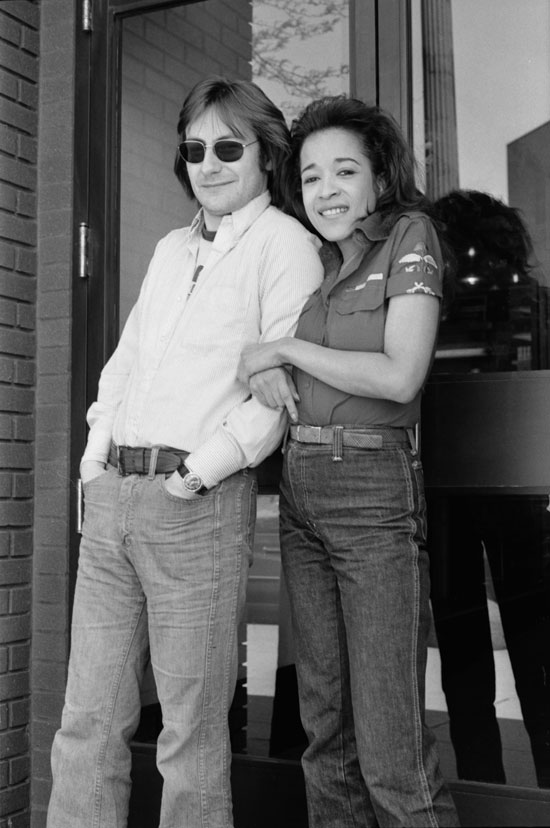 "Southside who?" Ronnie and Johnny outside Swingos Celebrity Inn, Cleveland, 1977 - photograph by Janet Macoska
It began with Jimmy Iovine (introduced to Ronnie thanks to none other than John Lennon) inviting her down to the Record Plant one night to hang out during a session he was engineering for the Asbury Jukes. "Southside who?" she asked. Iovine urged her just to come down for fun, so she did, not knowing it was a setup. This resulted in her duet on the first Jukes album, 1976's I Don't Want to Go Home. The song: "You Mean So Much to Me," written by Bruce Springsteen.
"Bruce wrote it for Johnny," Van Zandt told her, "But I want him to rework it as a duet for a guy and a girl." Ronnie loved Southside's voice, and she agreed, so Stevie called Bruce to come down to the studio.
"'Hi Ronnie,' he said. 'Nice to see ya, too.' Then he went off in a corner and rewrote 'You Mean So Much To Me' in about fifteen minutes. Stevie grabbed the new lyrics and ran right into the recording studio."
— From Be My Baby: How I Survived Mascara, Miniskirts, and Madness, or My Life as a Fabulous Ronette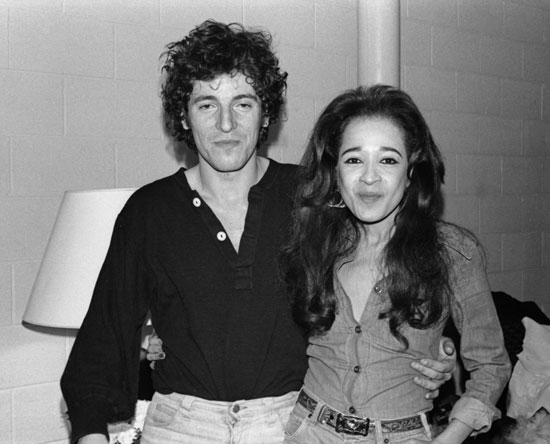 Ronnie and Bruce, Cleveland, 1977 - photograph by Janet Macoska
Epic liked the duet a lot and agreed to pay her to tour with Southside and the Jukes for about a year and a half. And during this time period she also popped up at a few Springsteen shows, beginning with a surprise appearance at the end of a six-night stand at New York City's Palladium, on November 4, 1976. With the E Street Band backing her on a three-song set of some of her biggest hits — "Baby, I Love You," "Walking in the Rain," and "Be My Baby" — it was a highlight of an already tremendous show.
She followed this up a few months later, in February '77 in Cleveland, by joining Bruce and the band to once again perform her biggest hits along with something new: "Say Goodbye to Hollywood."
The magical studio version of "Say Goodbye to Hollywood," featuring Ronnie Spector and the E Street Band (ostensibly without Bruce, because of legal issues, wink wink), had been recorded a few months earlier, thanks to the machinations of both Miami Steve Van Zandt and Epic Records' Steve Popovich, who would release the single as the first record on his new Cleveland International Records label.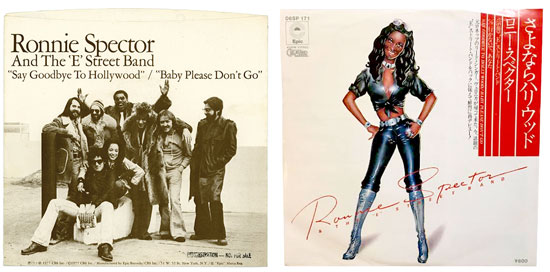 Single sleeves for "Say Goodbye to Hollywood" from the U.S. (left) and Japan (right, courtesy of Tadd Igarishi)
This single was important to the E Street Band because it provided them with something they desperately needed — money! — while their Boss was entangled in his lawsuit with his former manager. And it returned to Ronnie Spector the kind of respect and attention she certainly deserved but had been lacking following her divorce, due to both her lack of confidence and a general, industry-wide fear of Phil Spector. (I don't know if the E Street Band weren't afraid of him, but I'd back them — at least, say, Danny and Clarence — against him in a fight any day.)
Everything about this particular version of "Say Goodbye To Hollywood" is spectacular. You wouldn't know Ronnie Spector hadn't been at the top of the charts for years because she delivers the vocals with power and verve. As she puts it in her memoir, she wanted this to be the best song she'd ever recorded "because I knew if it hit, I really would be able to say goodbye to Hollywood — and Phil Spector — forever."
It feels idiotic to say something like "the production and arrangement were particularly complimentary to her voice," because that is a fact that will surprise no one who is familiar with Steve Van Zandt's particular abilities on that front; it's important, though, because this is not the kind of material and production Ronnie Spector encountered on a regular basis in the 1970s. Mr. "I'm going to sing horn arrangements to the Brecker Brothers" had the chops and possessed the good sense not to try to make her sound like anyone else except herself.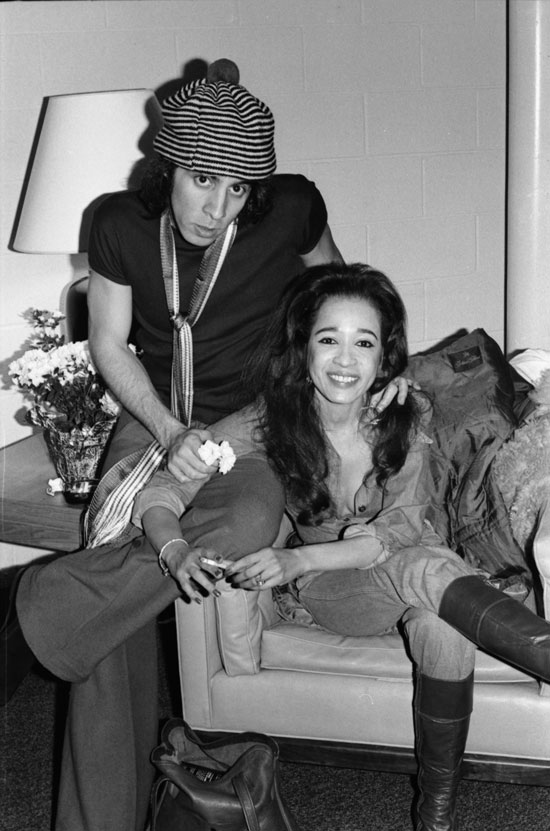 Ronnie with Miami Steve Van Zandt, Cleveland, 1977 - photograph by Janet Macoska
I've also been particularly struck by the excitement and energy coming from the band's performance. It's a labor of love for them to be playing with someone whose music they adored — you can hear it in the grooves, and you can also hear it in the live performance from Richfield Coliseum. "Say Goodbye to Hollywood" sounded equally fantastic on the radio, but it did not sell — the single was what Steve Popovich called a "turntable hit," which meant that while DJ's played it consistently, that didn't translate to sales. It did, however, boost Ronnie Spector out of the lull she found herself in following her divorce from her violent and abusive husband, and her association with the larger Jersey Shore musical family gave her the start of a whole new career.
One of the rewards of success (or even just persistence) in rock 'n' roll is that you have the chance to meet your heroes. Some even get the occasional live collaboration. But one thing that Bruce Springsteen and Steve Van Zandt have consistently done is set their heroes up to work again, in front of an audience already inclined to appreciate them by their demonstrated allegiance to a music those veterans inspired. Whether it's SVZ hiring a wide range of former doo-wop singers to appear on Jukes records, their joint work with Gary U.S. Bonds, Springsteen's glorious 2003 Christmas show with Sam Moore, or the unified front presented to get Darlene Love into the Rock and Roll Hall of Fame, it's an ethos of "walk it, talk it in your heart" made real. Go spin a loop of Ronettes and "Say Goodbye to Hollywood" in her honor. Ronnie Spector was one of a kind, a true legend, and our guys lifted her up when she was down. We would expect nothing less.
Read more from Caryn Rose today on Vulture.com: "Everyone Wanted to Be Like Ronnie Spector"
- January 14, 2022 - Caryn Rose reporting - Janet Macoska's E Street photographs from the Cleveland region have been collected in a decades-spanning book, 2021's Bruce Springsteen: Live in the Heartland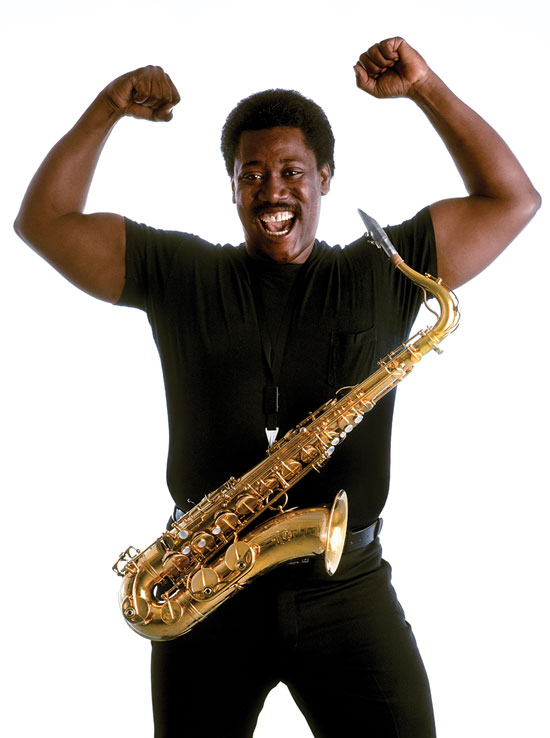 GIMME THAT C!
As Bruce Springsteen once described the momentous occasion on stage, 80 years ago today "the sky opened up and the earth began to rumble…" Yep, today is the 80th birthday of Clarence Clemons — or the Master of the Universe, as Eric Meola titled his photograph above (1982, NYC). And we say is his 80th birthday, because of course the man's just too big to die. To celebrate Clarence Clemons Day, some ear candy — just two of countless moments of C fulfilling his mission, spreading joy to the world.
First up, a rare lead vocal turn from Clarence on the E Street stage — 25 years before he'd regularly take a verse on "If I Should Fall Behind" (also well before there were guitar techs immediately at hand) Clarence and the band were prepared to entertain the audience when Springsteen had to pause and change a string. From the December 7, 1974 show in Geneva, NY, here's the Big Man's vamp on the great Jon Hendricks' "Gimme That Wine":
If what you really want to hear today is that sweet saxophone, we've tapped an unreleased performance of "Jungleland" from the Born in the U.S.A. Tour on which Clarence's trademark solo is simply impeccable — even at a mile high — played with all the power, heart, and soul that made the Big Man so beloved. From November 11, 1984 in Denver, CO:
Remember: "Don't cry because it's over, smile because it happened." Happy birthday, Big Man — we all miss you.
- January 11, 2022 - photographs by Eric Meola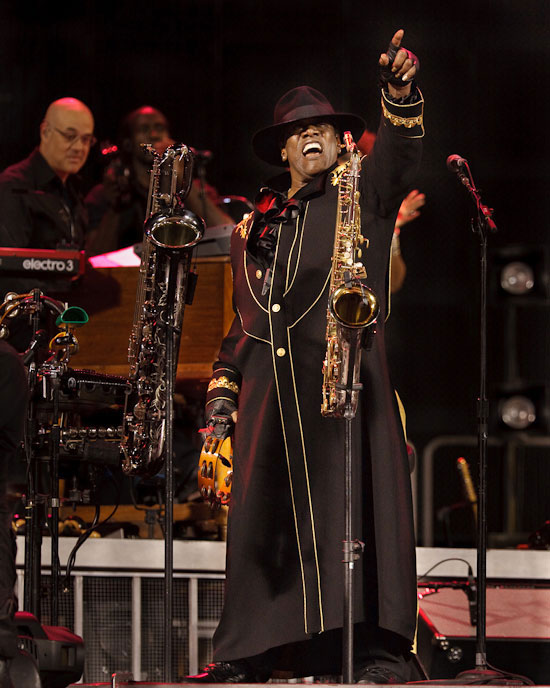 Photograph by A.M. Saddler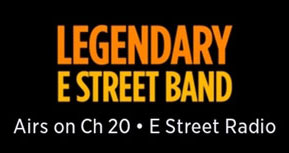 ON E STREET RADIO: A BIG BROADCAST FOR THE BIG MAN'S 80th
This week, E Street Radio's Greg Drew drops another edition of his ongoing Legendary E Street Band series, exploring in-depth the musical contributions and greatness of individual band members, on and off E Street.
This time around, fittingly, the spotlight's on the Big Man, in an extra-long show debuting tomorrow, Clarence Clemons Day 2022, which would have been Clarence's 80th birthday.
Clocking in at just under an hour and 45 minutes, Greg's tribute to Clarence is jam-packed with great tracks, mixed with the host's usual stellar insights stemming from his own extensive professional experience and expertise as a longtime musician, music teacher, consultant, broadcaster, and manager. Greg explores Clarence's musical greatness not just as a saxophonist, but also as a featured vocalist and occasional percussionist within and without the E Street Band.
Legendary E Street Band – the Clarence Clemons Edition debuts tomorrow, Tuesday, January 11 at 10am Eastern, exclusively on E Street Radio (SiriusXM channel 20) with replays scheduled as follows (all times ET):
Wednesday, January 12: 12am and 7am
Thursday, January 13: 6pm
Friday, January 14: 2pm
Saturday, January 15: 12am and 4pm
Sunday, January 16: 1pm
Monday, January 17: 3pm and 6pm
- January 10, 2022 - Shawn Poole reporting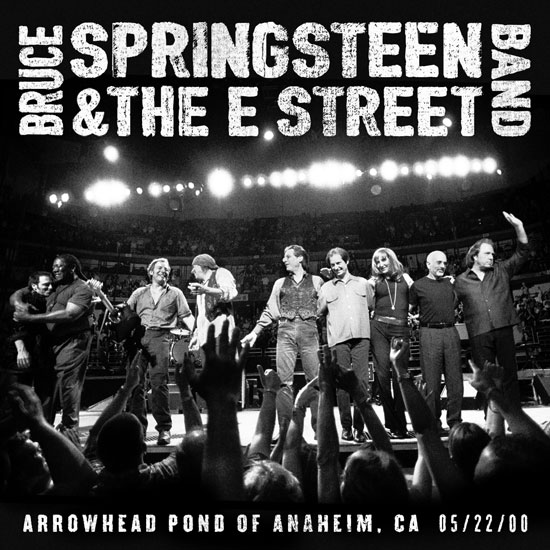 LET'S GET IT ON, ANAHEIM!
Live Archive series kicks off 2022 with a hot night from the Reunion
As the 1999 Reunion tour headed into 2000, Bruce Springsteen and the E Street Band were building on the substantial momentum they'd generated over the previous year. Starting back up in February in State College, Pennsylvania, Bruce and the band quickly sent notice that, one year into their rededication, they were on the top of their game.
March and April featured high-quality shows in the Midwest and Pacific Northwest, and as May dawned, with a monumental ten-night stand at Madison Square Garden in sight, the band was truly firing on all cylinders. Having seen numerous dates on this leg, as I write this today I still consider this two-month stretch of shows the best I saw the E Street Band play in the Reunion era.
After a stop in Toronto, May found the band back in New England, near the heart of Springsteen country. Fans still rank May 8, 2000, in Hartford, to be one of the very best shows of the past 22 years. That concert was not captured on multi-track, but others were — like today's Live Archive release from two weeks hence, May 22, 2000 in Anaheim, California. This 24-song set from Arrowhead Pond is a scorcher.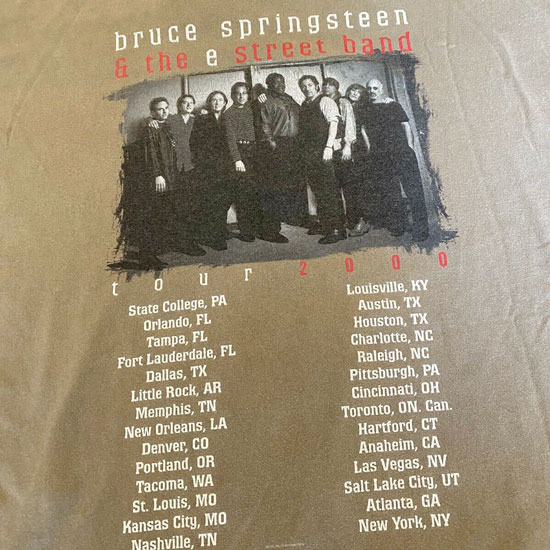 The two nights in Anaheim were the first following a two-week break. Night one's setlist was fairly standard for the Reunion tour, but with the band playing at such a high level, pen-on-paper hardly tells the full story. And as we know, there are nights where the setlist can make a difference, and when you combine that with their performance level at that time, you get a show to remember. We arrived back at the Pond for night two, and that's exactly what went down.
For fans, a prime goal of the Live Archive series is to provide an overview of each tour and its evolution. Anaheim does a great job coloring in space between earlier installments from Philadelphia and Chicago — shows just days apart in September, 1999 — and late-tour releases from the Garden.
Seven songs from Anaheim are new to the Archive series playlist for the Reunion tour, including "No Surrender," "Rendezvous," "Stand on It," "Darlington County," and a majestic "Racing in the Street," which alternated in the pre- "Light of Day" slot with more frequently called-on numbers "Backstreets" and "Jungleland." The remaining two are E Street Band debuts: "Roll of the Dice" (from Human Touch), and a complete version of "Gloria," never before played at a ticketed show (save for occasional tags leading into "She's the One" on the Darkness tour).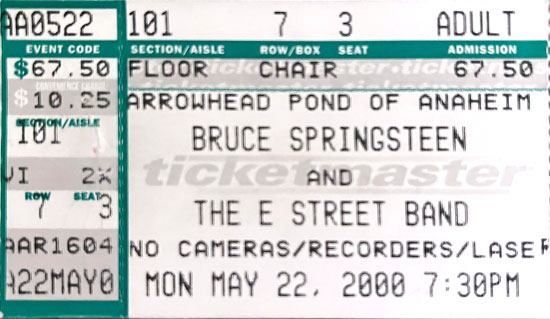 Ticket stub courtesy of Hal Schwartz
May 22 begins with The River outtake "Take 'Em as They Come," which was something of a Reunion rarity, played only eight times on the tour (now represented three times in Live Archive titles). Dynamic takes of tour staples "The Promised Land," "Two Hearts," and "Darlington County" feature nicely, the last of these crashing into a great version of "Rendezvous," after which a fired-up Bruce hollers to the crowd, "Let's get it on!" The remainder of the front half of the show follows the Reunion tour structure, with the standard five-song run (the "5-pack" to aficionados) closing with "Tenth Avenue Freeze-out."
Then, the set list veers into unusual territory, with the post- "Tenth" wild-card slot filled by the E Street Band's first live take on "Roll of the Dice." A highly energetic version (clearly being road tested for their upcoming Las Vegas date), it features an extended Clarence Clemons sax break, putting a big E Street stamp on the 1992 song. A country arrangement of "No Surrender" follows, one of only seven plays on the tour (its more familiar LP arrangement was performed twice). Nils Lofgren's lap steel guitar stands out here.
Most of the crowd took a seat for "Racing in the Street" (reserved seating was the rule on that tour), but as the band reached the coda, people rose to applaud. The Pond is not known for boisterous audiences, but on this night it was spine-tingling as everyone stood to salute what we heard and saw.
After the customary "Light of Day" ends the main set, more unique choices await in the encores, starting with the rarely played "Stand on It." Bruce proceeds to storm through the encore staples, including the always-stunning "If I Should Fall Behind" in its full E Street arrangement and the by-then fan favorite, "Land of Hope and Dreams."
With Bruce egging us on, the crowd saluted the band again. He responded by picking his guitar back up and motioning to Max Weinberg, and from there, seemingly out of nowhere, a rampaging version of Them's "Gloria." G-L-O-R-I-A — that was some kind of fun! A rollicking "Ramrod" concluded the night.
Listening back now, the show stands as a testament to how great these months of touring were for Bruce and the band. Much like the Chicago '99 date (released as a Live Archive pick in 2018), May 22 hadn't been much discussed largely because of the epic shows it fell between. Now, let the record show what a fantastic night this was, and what Bruce and the E Street Band were capable of on any given night in the spring of 2000.
And they weren't done. After Anaheim, the tour hit Vegas for a highly entertaining night, where "Roll of the Dice" returned and "Viva Las Vegas" opened and closed the show. In Atlanta, Springsteen debuted "Further On (Up the Road)" and "American Skin (41 Shots)." The latter song set off a sequence of events that would redouble the focus on the ten nights in New York City, a run which stands today as a high point in Springsteen's career (and is represented by two amazing Live Archive entries so far, June 27 and July 1, as well as the Columbia Records release of Live in New York City). When the Reunion tour ended, we all hoped that it really was the start of a long-running "rebirth and rededication" of our favorite band. Very happily, that was a promise they kept.
Also read: Erik Flannigan's latest nugs.net blog entry, "Tonight I'm Gonna Be Playing for All of the Stakes"
- January 7, 2022 - Hal Schwartz reporting - Hal co-hosts the podcast None But the Brave, which streams everywhere podcasts are available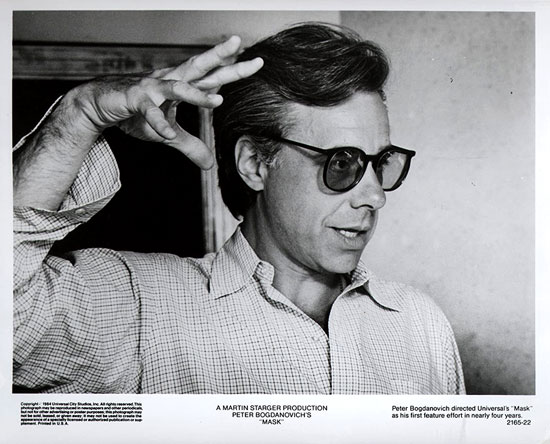 RIP PETER BOGDANOVICH
Remembering the director's fight to keep Bruce's "brilliance" in Mask
Oscar-nominated director, film critic, actor, and writer Peter Bogdanovich died of natural causes at the age of 82 in his Los Angeles home today, according to his daughter Antonia Bogdanovich.
A lifelong cinephile, the New Hollywood trailblazer helmed a wide range of classics, from the eerie post-Vietnam thriller Targets (1968) to the melancholic coming-of-age drama The Last Picture Show (1971), the zany farce What's Up Doc? (1972), and the nostalgic father-daughter comedy Paper Moon (1973). In more recent years, as an actor, Bogdanovich appeared on The Sopranos as the concerned Dr. Elliot Kupferberg, the therapist of Tony Soprano's psychologist, Dr. Melfi.
Another of the director's critically acclaimed films was Mask (1985), famous partly for not including Bruce Springsteen's music… until it did.
Bogdanovich's work happened to intersect with Springsteen's at the peak of the Boss's Born in the U.S.A. popularity, when requests to use his music went through the roof and were granted sparingly. For many years, Bogdanovich renounced the theatrical version of Mask because Universal Studios replaced the original Bruce Springsteen music — a prominent part of the film — with Bob Seger, mainly because they could not afford the rights.
After attending a private screening of the original cut that included his songs, Springsteen reportedly had an emotional reaction and offered to donate his share — half to Rocky's real-life mother and the other half to her favorite charity — but in the end, the contractual issues were too much for Universal Studios. Just before the film's release, the studio chose to go with Seger's music for the theatrical print, even though Bogdanovich had final edit rights. The filmmaker responded with a lawsuit, claiming Universal's actions were a clear violation of his "artistic and expressive intentions."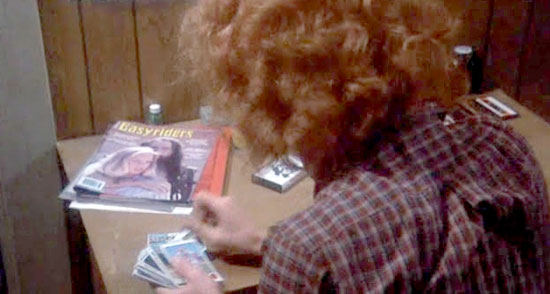 Even with his music gone, Springsteen is still in the picture: that's the Born to Run cassette on Rocky's desk
Bogdanovich refused to consider alternatives for the soundtrack because Springsteen's music was integral to his directorial vision — and its removal, as he later recalled in the DVD commentary, would be "like cutting an arm off, as far as I was concerned."
For Bogdanovich, there was no Mask without Bruce Springsteen; the effect of his music on the film was "incalculable," the director said, "because of his brilliance as a songwriter. That's why I wanted him in the first place."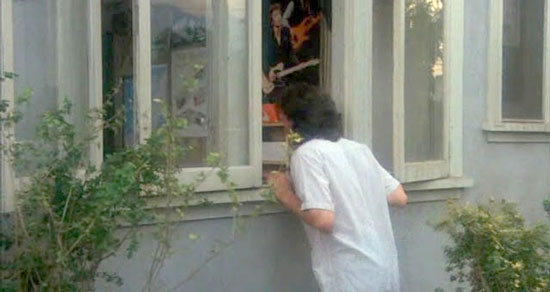 A picture of his hero's on the wall
Starring Eric Stoltz and Cher, Mask is based on the true story of Rocky Dennis, a teenage boy with severe facial differences caused by craniodiaphyseal disease, and Rusty, the wild, loving mother who raised him. Not only was Bogdanovich a fan of Springsteen, more importantly, so was Rocky Dennis — the music was truest to the film's real-life subject.
Eventually, Bogdanovich dropped the case against Universal, but he was bitter about it for decades — until a DVD Director's Cut version of the film became available in 2004, with Springsteen's songs restored as originally intended.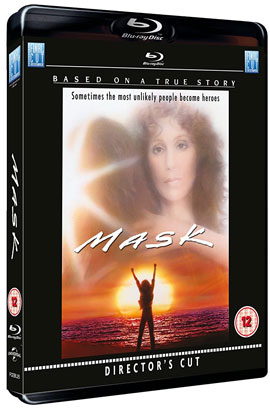 Rocky was just one of the many teenagers who loved Springsteen during the 1980s: in the Director's Cut he listens to Bruce, dresses like him, and hangs posters of him on his walls (30-plus years before Gurinder Chadha's Blinded By the Light). Springsteen's music vocalizes Rocky's feelings of isolation, wanderlust, yearning, and heartbreak. Songs such as "Badlands," "The Promised Land," "Thunder Road," and "Racing in the Street," along with snippets of "Born in the U.S.A." and "The River," all play during key moments in Rocky's life. These songs articulate the driving force behind Bogdanovich's narrative: hope that there can be triumph over the greatest of difficulties.
Despite being scrutinized and ridiculed on a daily basis, Rocky never yields to cynicism or despair; he never lets his disease define or limit him. As he spits in the face of his personal badlands, the perfect introductory song from Springsteen serves as the soundtrack. For the finale, Bogdanovich wanted to leave the audience with something hopeful, and the uplifting "The Promised Land" was, as he said on the DVD commentary, the "absolutely perfect song to express Rocky's indomitable spirit."
Bogdanovich fought hard to keep Springsteen's music, and it's easy to see why it was such an important part of his vision. The songs are powerful, heartfelt expressions of Rocky's inspiring qualities and they allow the audience to emotionally connect with his story. Like all of Bogdanovich's films, Mask is a cinematic treasure; the auteur's own "indomitable spirit" has left an indelible mark on Hollywood.
- January 6, 2022 - Caroline Madden reporting - Her book Springsteen as Soundtrack: The Sound of the Boss in Film and Television (McFarland, 2020) features an entire chapter about Mask, including a closer reading of how Bruce's songs are used in Bogdanovich's film.

- January 6, 2022

LIGHT OF DAY WINTERFEST RESCHEDULED TO MARCH
Still just around the corner, but a two-month delay due to Covid concerns
This just in from the Light of Day Foundation:
With health and safety remaining our top priority, the Light of Day Foundation has postponed WinterFest 2022 shows and events scheduled for January 7-17. Bob's Birthday Bash ("The Main Event"), scheduled for January 14 at the Count Basie Center in Red Bank, NJ, will now take place on Saturday, March 12, 2022.

Light of Day is currently working on rescheduling other WinterFest 2022 events to coincide with the March 12 "Main Event" at the Basie, with further updates coming very soon.

All tickets for Bob's Birthday Bash will be honored on March 12. If patrons are unable to make this new performance, they may return tickets to their original point of purchase by Friday, February 4 for a full refund. For any further questions, patrons should reach out to boxoffice@thebasie.org and include name/order number.
Prior to the postponement, Joe Grushecky and the Houserockers, Willie Nile, and Jesse Malin had been named as part of the official line-up for Bob's Birthday Bash, with "more to be announced."
Keep up with the latest at lightofday.org, and follow Light of Day on Twitter, Instagram, and Facebook.
- January 5, 2022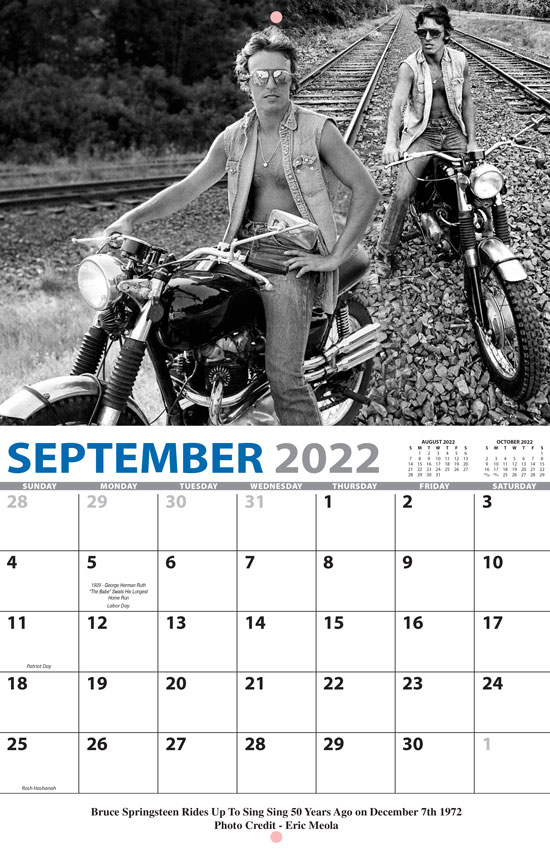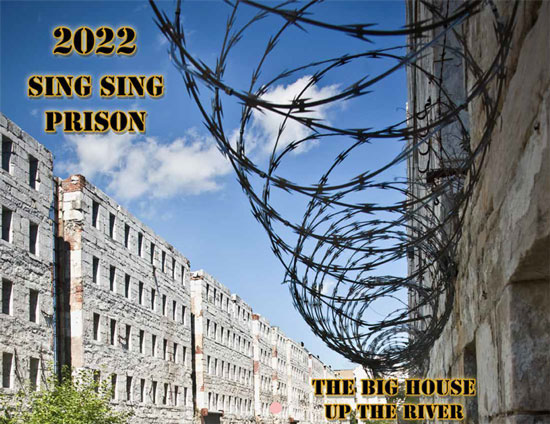 JAILHOUSE ROCK: LAST CALL FOR 2022 SING SING CALENDARS
Backstreet Records, your source for... prison calendars? Who knew?! But as 2022 marks 50 years since Bruce Springsteen and his band played inside Sing Sing Prison, and their official calendar marks the anniversary (with a unique Eric Meola photo composite, above), we just had to score some for all of our readers who would dig such a thing.
By the end of this week, we'll finalize the quantity we're getting from "The Big House Up the River," to take care of all those who pre-order from us. To read more about it, or to guarantee your own copy with a pre-order before Friday 1/7, see the 2022 Official Sing Sing Prison Calendar in our online shop.
- January 4, 2022