'CAUSE BABY I GOT PLENTY OF THAT...
Billboard revealed their 2010 Top 40 Money Makers list today, an annual ranking of music's highest earners. U2 far and away leads the pack, but Bruce is right there at #2, generating more than $57 million last year, ahead of Madonna, AC/DC, and Britney Spears in the top five (the figures include tour revenue, proceeds from CD and digital sales, and publishing royalties). Billboard reports: "With a new studio album, a Walmart-exclusive hits compilation and a relentless touring schedule, Bruce Springsteen was at the top of his revenue-generating game in 2009... Remarkably, Springsteen Inc. is peaking more than 35 years after his debut album." Read it all at Billboard.com.
- February 26, 2010

KOOL KOLLABORATION: BRUCE RECORDS WITH RAY DAVIES
Back in the fall, The Kinks' Ray Davies had an album of collaborations in mind, and he took the opportunity at the Rock and Roll Hall of Fame 25th Anniversary Concerts to reach out to a few potential participants. He told the Republican, "I chatted with Bruce Springsteen at the thing, and he's up for trying it." Flash forward just a few months, and it's already happened.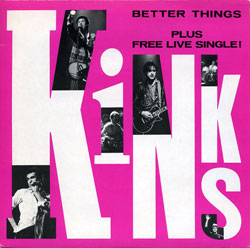 The Star-Ledger confirms that Davies "is in the process of putting together an album of duets that revisits Kinks classics with notable guests. Very notable. Bruce Springsteen and Jon Bon Jovi joined Davies in the studio to record two separate tracks last month." The collaboration with Springsteen is "Better Things," from The Kinks' 1981 album Give the People What They Want.
In an interview with the Star-Ledger's Lisa Rose, Davies says, "In early January, I came to New York and did it... Bruce took about two or three hours and Jon about the same, but they were well-prepped and I was very impressed. I'm thrilled to have done the tracks with those two guys."
Previously, Davies told the Republican, "I want [the duets project] to be diverse and interesting, not the obvious things, and hopefully stretch the artists and get them to do things that either that they wouldn't have thought of or in some case that I wouldn't have thought of. I'd like it to be truly collaborative."
- February 24, 2010

UP NEXT ON E STREET RADIO: THE BORN IN THE U.S.A. TOUR's 25th
Tune in to Sirius/XM's E Street Radio channel tomorrow for the latest installment of the "Bruce Springsteen Community Conference": this month's is a roundtable discussion touching on the 25th anniversary of Springsteen's monumental Born in the U.S.A. Tour. The panel features includes co-moderators Ben Lazar and John Franck, with participation from Lewis Largent, Jovan Mrvos, Backstreets columnist Flynn McClean, and Stu Wexelbaum. The conversation will touch on every facet of the tour, album and the political hysteria that became part of its fabric and history — plus, of course, riveting live material from 1984 and '85.
The program premieres on Wednesday, 2/24 at 4:00 pm Eastern, with re-broadcasts Thursday, 2/25 at 12:00 a.m. and 8:00 a.m.
- February 23, 2010

"THIS LAND IS YOUR LAND" TURNS 70 TODAY
New Springsteen version available on The People Speak DVD
The original version of "This Land is Your Land," which has been very influential on and performed often by Bruce Springsteen, was composed by Woody Guthrie on February 23, 1940. (Visit Guthrie's official website for an image of the original lyric sheet and the song's full lyrics.) Springsteen's December 28, 1980 performance of the song was included on Bruce Springsteen & The E Street Band Live/1975-85. Introducing that performance, Bruce noted that Woody's song was written originally as "an angry song, an answer to Irving Berlin, who just wrote 'God Bless America'." Like Springsteen's own "Born in the U.S.A.," Woody's song has been misinterpreted and misappropriated by many over the years in ways far removed from the spirit in which it was written. On the final stop of the Born in the U.S.A. tour in Los Angeles, Springsteen introduced his performance of "This Land" by calling it:
...the greatest song ever written about America.... and what's so great about it is it gets right to the heart of the promise of what our country was supposed to be about. And I guess... I don't know, if you talk to some of the unemployed steelworkers from East L.A. or Pittsburgh or Gary, there are a lot of people out there whose jobs are disappearing. I don't know if they'd feel if this song is true anymore.... I'm not sure that it is, but I know that it ought to be. So, I'd like to do this for you reminding you that with countries, just like with people, it's easy to let the best of yourself slip away.
Although he has performed "This Land is Your Land" many times over the years, Springsteen has yet to perform a complete version of the song in concert. Last year, however, he came the closest he's ever come... twice. Both times he sang with Pete Seeger and others, each time performing five of the song's seven verses, including the two most frequently omitted ones about "the Relief office" and the "Private-Property/No Trespassing" sign. The first time was on the steps of the Lincoln Memorial at the "We Are One" Obama Inaugural Celebration Concert. An official DVD of that concert will be released in mid-April. The second time, recorded a few months after the Inaugural Celebration but already available on DVD, was at Pete Seeger's 90th Birthday Celebration, also featuring Bruce relating the story of Seeger's insistence on singing the (almost) complete "This Land" at the Inaugural Celebration.
On DVD now as well is The People Speak, the new documentary based on Howard Zinn's U.S. history books, which also features Bruce performing "This Land is Your Land": a recent non-concert recording of a beautiful solo acoustic version at his New Jersey home, in which Bruce sings six of the seven verses.
- February 23, 2010 - Shawn Poole reporting

OSLO STEVE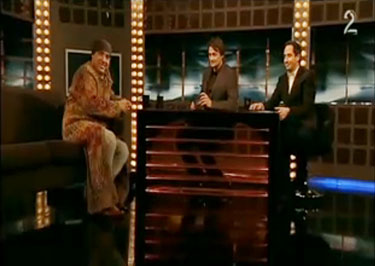 On Friday, Little Steven guested on the Norwegian talk show Senkveld for an entertaining conversation about Springsteen ("The main thing people may not know is: I write all the songs"), The Sopranos, and his recent work with the Oslo band Cocktail Slippers. Steve signed them to his label, Wicked Cool, and he just finished producing their new album, recording in Oslo and mixing in Bergen. "It's a great band, a great record," he says. "I haven't done much producing the last ten years, so it's a like a vacation for me. It turned out to be one of my favorite things — honestly, it's one of the best things I think I've ever done. And I've done a few things!" Watch on YouTube.
- February 22, 2010

SAM ON SUNDAY
Congratulations to Suzanne Peysson, who won the pair of VIP tickets to see Sam Moore in our Valentines giveaway. And to say "I thank you" for taking part, we've actually got something for everyone who enetered: a code to receive 50% off the general admission price, if you're still interested in hitting Sam's NYC show on Sunday night. We sent that code today to all entrants — check your email!
- February 19, 2010

TICKETMASTER SETTLES BAIT-AND-SWITCH COMPLAINT
FTC announces refunds for Bruce fans suckered by TicketsNow
In a press release today, the Federal Trade Commision announced it has
settled charges that Ticketmaster and its affiliates used deceptive bait-and-switch tactics to sell event tickets to consumers. Ticketmaster has agreed to pay refunds to consumers who bought tickets for 14 Bruce Springsteen concerts in 2009 through its ticket resale Web site TicketsNow, and to be clear about the costs and risks of buying through its reseller sites..
Refunds will be the difference between face value and the marked-up TicketsNow price:
Under the FTC settlement, eligible consumers who have not previously received a refund will get back the extra money they paid to buy the higher-priced tickets from TicketsNow. For example, if a consumer paid $400 for two tickets from TicketsNow, and those same two tickets would have cost $200 from Ticketmaster, the customer would get a $200 refund. Refunds will be determined by the FTC's redress administrator based on purchase information in TicketsNow's database and available in approximately six months.
It's little more than a slap on the wrist for Ticketmaster, who'll wind up paying out "a sum that could reach several hundred thousand dollars," as estimated by the Associated Press.
- Updated February 18, 2010

LITTLE BASTARD DOES THE BOSS PROUD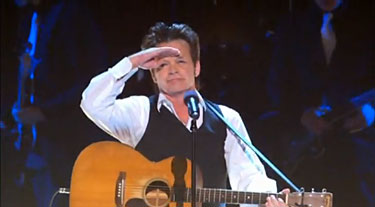 "I was very proud and humbled to have been able to play 'Born in the U.S.A.' in a different fashion — that I think was true to the feelings that Bruce had when he wrote it," says John Mellencamp of his performance at the December Kennedy Center Honors. "As just some kid in New Jersey making records, I bet he never imagined in his wildest dreams that he'd someday be honored in this fashion. I'm glad to have been there to acknowledge the influence he's had on all of us." A video clip of Mellencamp's full performance is online now at mellencamp.com.
Update: This clip does not include the story John told about buying his copy of The Wild, the Innocent & the E Street Shuffle, nor his dedication of the performance to the soldiers in Iraq and Afghanistan. Those portions have yet to see the light of day anywhere, on audio or video. Bootleggers, get to work!
- Updated February 16, 2010

COME ON, STEVE!
Keeping up with the Van Zandtses
Last night in New York, Steve Van Zandt appeared at the 92nd St. Y for an evening of discussion with NY1 anchor Budd Mishkin. Scott Black reports back:
It was a very informative hour and a half. Steve is devoting a lot of time to a number of projects, including the Rock and Roll Forever Foundation, which is developing a History of Rock and Roll curriculum for all grades in all schools, scheduled to pilot in 2011. Some treasure nuggets from the talk included Steve saying that the E Street Band was going to take a "two-year break" from touring, and that Bruce is "in the greatest (physical) shape of his life." Steve also spoke a lot about the Born to Run recording sessions. He told a lot of funny anecdotes about how his relaxed, indifferent commentary on the progress of the recording compared with the super-tense atmosphere among the record executives and band members, given the significance of the record to prolonging Bruce's career. As you know, Steve was not in the band at the time, and he was playing in bars down by the Shore; he said he was making more money than Bruce, and would repeatedly taunt him to give up trying to make records and join him at his gigs so that he could actually earn a living. One particularly interesting story is that when Bruce played Steve the "Born to Run" riff, Bruce claimed he was bending the last note, but Steve heard it as a minor chord. When Steve complimented it, Bruce insisted there was no minor chord, and that he was bending the note. Steve retorted that Bruce wasn't, and slowly everyone else in the studio came to hear it the way Steve heard it — which is how Bruce ultimately recorded the song.
Today, Steve has an editorial on The Huffington Post entitled "We Need an Emergency Boss" — not someone to fill in for Bruce in the off season, but someone to provide leadership for relief efforts for Haiti and beyond:
What the world needs is an Emergency Boss. An Emergency Czar. An Emergency Commander. A true Master Of Disaster. One person completely responsible for the anticipation, immediate reconnaissance, and urgent execution of rescue and relief efforts around the world. And then remain in charge of the oversight of the plan for rebuilding, and make sure it gets done.
Last but not least... okay, maybe least, but still... Steve's acting career continues with a guest spot on the Norwegian soap opera Hotel Caesar. Producer Tom Sterri tells Dagbladet.no that they liked his work on The Sopranos, so when Steve happened to be in Oslo on other business, they convinced him to do a guest spot for a "small and mostly improvised" role. "So far, no plans to make him a recurring character." And no word yet on whether he wears a hairpiece for the part.
- February 12, 2010

THE SOUL MAN COMETH
Our Valentines giveaway: VIP tix to see Sam Moore in NYC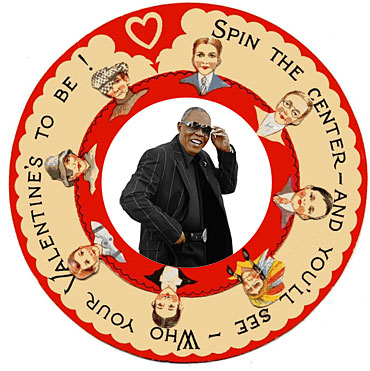 Last fall, Springsteen brought Sam Moore up on stage with the E Street Band at Madison Square Garden to celebrate the 25th anniversary of the Rock and Roll Hall of Fame. Now, "The Original Soul Man" is returning to New York. Sam Moore plays the Highline Ballroom (431 W. 16th St.) next Sunday night, February 21. Catch the guy Bruce admittedly stole many a move from... tickets are available online now.
And thanks to the Highline Ballroom, we've got a pair of VIP tickets to give away — much of the venue is general admission, but these are prime seats at a reserved table — for Sam's performance.
To throw your hat in the ring (only if you'll be able to attend the show in NYC, of course), just send us an email to holdon@backstreets.com. In the subject line, give us the name of the song that Bruce and Sam sang together on Sam's 2006 album Overnight Sensational; in the body of the email, type your name as you'd like it on the guest list (+1). Please send us your entry by Wednesday, February 17. On Thursday we'll do a random drawing from the emails received and notify the winner.
- February 11, 2010

LITTLE STEVEN: "HAITI NEEDS TO BE REIMAGINED"
Two weeks ago, Bruce Springsteen sang "We Shall Overcome" for the Haiti relief effort. Little Steven, no stranger himself to political activism or human rights efforts, has contributed an editorial on Haiti's future to Politico.com:
As I watched Meet the Press host David Gregory recently ask former Presidents Bill Clinton and George W. Bush what it's going to take to restore Haiti to how it was, my heart started paying attention.

Gregory was asking the normal questions, and Clinton and Bush gave the appropriate answers. But it occurred to me that, my God, unless something radical is done, that's exactly what's going to happen. Haiti will be restored to what it was. And that's the last thing Haiti needs....

Read "Don't Rebuild Haiti; Reimagine It."
- February 8, 2010


"SAVE TILLIE" UPDATE
More than 125 artifacts which had been saved from Palace Amusements have recently been destroyed while under the protection of the City of Asbury Park and the community's Historical Society.... Read more
- February 8, 2010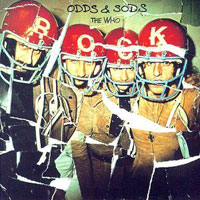 MEATY BEATY BIG AND BOSSY
The Who shortly becomes the first act to perform at the Super Bowl Bridgestone Halftime Show after Bruce and the E Street Band's stellar performance last year. (Super Bowl XLIV will be broadcast live on CBS this Sunday beginning at 6 p.m. ET.) When I think about Springsteen/The Who connections, I think of Pete Townshend's famous quote about Bruce, specifically regarding Darkness on the Edge of Town: "When Bruce Springsteen sings on his new album, that's not about 'fun' — that's fucking triumph, man." Leave it to Shawn Poole, who emailed today, to go deep.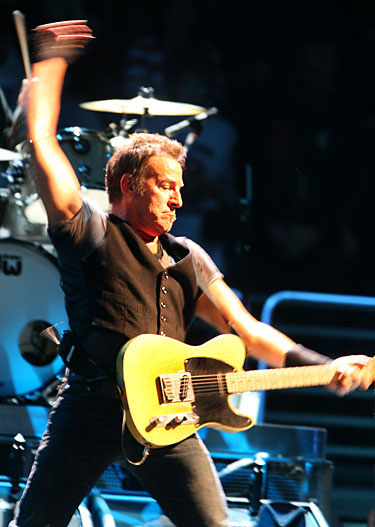 Shawn writes: "The connection starts early on in E Street pre-history, back when 'My Generation' was one of the only songs that young axe-wielder Bruce Springsteen sang onstage with The Castiles. It also remains as current as Working on a Dream's epic opening track, 'Outlaw Pete,' in which Springsteen directly echoed The Who's own epic Tommy, with each saga's main character repeatedly being asked, 'Can you hear me?' On the Working on a Dream tour, Bruce often performed 'Outlaw Pete' with classic 'windmill' guitar moves a la Pete Townshend.
"And now, at least for the next few days, Springsteen and The Who both will be bouncing off a satellite on their own separate Sirius/XM Satellite Radio channels. E Street Radio (Sirius 10/XM 58) continues its successful format of 24/7 Springsteen and just a few knob-twiddles away, The Who Channel (Sirius 16/XM 40) briefly joins the fun, celebrating their Super Bowl appearance by airing all-Who-all-the-time (including a live feed of Sunday's halftime show) through February 8. Beginning today at 2 p.m., the channel also airs an exclusive interview with Townshend and Roger Daltrey conducted by E Street Radio's Dave Marsh, author of both Born to Run: The Bruce Springsteen Story and Before I Get Old: The Story of The Who.
"Bruce Springsteen and the E Street Band may have entered the Super Bowl Halftime performers' club first, but on the other hand, Townshend and Daltrey got their Kennedy Center 'rainbow ribbons with dreamcatchers at the end of them' before Bruce got his. Here's another great way to celebrate the passing of the batons in both directions: Check out Daltrey's unique take on 'Born to Run.'"
- February 5, 2010 - photograph by Guy Aceto


NEW MUSIC FROM NILS: FIVE ALIVE EP
Nils Lofgren has a new digital EP available exclusively on his website called Five Alive — it's five songs for five bucks. Says Nils: "Here's 5 old demos of songs that have remained meaningful and 'alive' in musical spirit to me... Hope they may have some meaning and connection for you." The package's five tracks are: "You in My Arms," "Here for You," "Hide My Heart," "Love Is...," and "So What!?" Visit www.nilslofgren.com to purchase; you'll find free mp3s on that Downloads page as well.
- February 5, 2010

HANDSOME AND HOT
The burning question of the day from Billboard: Who is the Sexiest Man in Music? Is Bruce Springsteen hotter than Adam Lambert? Than Ne-Yo? Than Nick Jonas? Only this poll will tell us for sure. Help bring sexy back with Billboard.com's online poll, results to be revealed by Valentine's Day.
- February 5, 2010

IT AIN'T ME, BABE
A New York Daily News story today names Bruce as the plaintiff in an ASCAP copyright infringement lawsuit against a New York City bar. According to a Shore Fire Media statement, however, it's all ASCAP:
In regards to the ASCAP lawsuit against Connolly's Pub and Restaurant, ASCAP was solely responsible for naming Bruce Springsteen as a plaintiff in the lawsuit. Bruce Springsteen had no knowledge of this lawsuit, was not asked if he would participate as a named plaintiff, and would not have agreed to do so if he had been asked. Upon learning of this lawsuit this morning, Bruce Springsteen's representatives demanded the immediate removal of his name from the lawsuit.
- February 4, 2010

I HAD TOO MUCH TO DREAM LAST NIGHT
Congratulations to Bruce, a winner at the 52nd Annual Grammy Awards last night in Los Angeles. He was awarded the statue for Best Solo Rock Vocal Performance for "Working on a Dream," up against Bob Dylan, John Fogerty, Prince, and Neil Young. Congrats as well to Brendan O'Brien, who took home the Producer of the Year Grammy in part for his work with Bruce (as well as with AC/DC, Pearl Jam, and more). See the full list of Grammy nominees and winners here.
- February 1, 2010

SEEING STARS
Caryn Rose, who recently reported on the "From Asbury Park to the Promised Land" exhibit extension for us, also guests this week on the Rock and Roll Hall of Fame's blog about her visit.
At 11 a.m. on a Saturday morning, I am reading the original lyrics to "It's So Hard to Be a Saint in the City" -- noting the 'silver star studs on my duds like a Harley in heat' and then, a few steps later, seeing the aforementioned Born to Run biker jacket hanging on the wall. The jacket is smaller than I thought it would be. It's weathered, it's worn, it's wrinkled. Someone has undoubtedly slept in it, sweat in it, sat in the back of a van in it while it was still wet.

I step closer.

There are silver star studs on the shoulders.
Read the full entry at www.rockhall.com/blog.
- January 29, 2010

HOWARD ZINN, REST IN PEACE
Author and historian Howard Zinn died yesterday of a heart attack at 87. Zinn's landmark A People's History of the United States was published in 1980, greatly influencing Bruce Springsteen's work and most recently inspiring the documentary The People Speak. Read more at NYTimes.com.
Springsteen contributed an intimate, at-home performance of "The Ghost of Tom Joad" to The People Speak; watch it now at Brucespringsteen.net.



THINGS WILL GET WORSE, THEY GOT TO GET BETTER…
Talk about your Blue Mondays. On January 25, the U.S. Justice Department's Anti-Trust Division officially approved a "watered-down" version of the merger between ticket-sales agency Ticketmaster and concert-promoter/venue-owner Live Nation, creating a new company called Live Nation Entertainment. (One of the better initial reports/analyses of the deal can be found here.) In reality, there's very little "watered down" from the original proposal first made a year ago, which essentially will solidify and strengthen what many considered to be a live-entertainment monopoly already since Pearl Jam et. al. unsuccessfully sought restrictions on Ticketmaster from the Anti-Trust Division back in the '90s, during the Clinton presidency. Springsteen fans in particular should be appalled that not a single item in the "significant changes" ordered by the Justice Department even pretends to address the blatant conflict of interest that is Ticketmaster's wholly-owned "secondary ticket market" (legal scalping) subsidiary TicketsNow, the source of so many problems for fans who attempted to buy tickets during the Working on a Dream tour last year.
Speaking of conflicts of interest, one of the other "concessions" that the new company surprisingly did not have to make allows it to keep its artist-management wing, headed by Irving Azoff, to boot. To understand just how anti-artist and anti-fan this move is, just remember that when Springsteen was forced to mount his famous lawsuit against former manager Mike Appel, Bruce's major source of revenue to sustain him and his band through that period came from their live performances. Any artist managed by Ticketmaster could be restrained from repeating such a strategy now, with the new company's increased power to control access to venues, ticket sales, etc. Even if you're an artist who's not directly managed by Azoff, if you don't like any aspect of how you or your audience get treated by Live Nation Entertainment, it now will be even more difficult, if not impossible, to oppose the company's policies and continue to make a living as a professional musician.
This latest action (or, more accurately, inaction) from the Anti-Trust Division comes in spite of the public opposition of many, including Bruce Springsteen, his management and touring organizations, and many of his fans who wrote letters, sent e-mails and/or made phone calls urging the Anti-Trust Division to stop this merger. As Springsteen's official website previously noted, "[T]he one thing that would make the current ticket situation even worse for the fan than it is now would be Ticketmaster and Live Nation coming up with a single system, thereby returning us to a near monopoly situation in music ticketing." Barring any significant actions from Congress or the President (who still could actively oppose the Anti-Trust Division's ruling if they chose to do so), it looks pretty certain now that we're headed further down that road.
Despite the discouraging news, however, the battle isn't over just yet. Click here for more information.
- January 27, 2010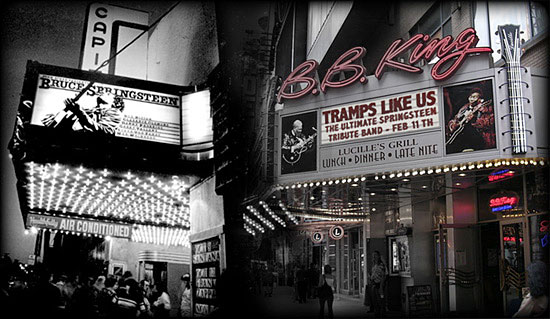 BACK TO THE FUTURE
Tramps Like Us to recreate historic 1978 Springsteen concert
With a Darkness on the Edge of Town 30th anniversary box set expected this year, popular Bruce Springsteen tribute band Tramps Like Us is set to re-create what is considered one of the single greatest live performances of his career: the September 19, 1978 Capitol Theatre concert in Passaic, NJ from the Darkness tour.
This blast to the past is set to take place just across the river from its origins, at BB King's in Times Square on Thursday February 11. The 1978 concert was originally broadcast on WNEW and bootlegged in stellar sound as the aptly named Piece De Resistance, so it should be well-known to (and in fact helped create) many Springsteen fans; among the set's highlights are "Prove It All Night" with its legendary extended piano and guitar solo intro, "She's the One" with the equally definitive prelude of Buddy Holly's "Not Fade Away," and the extended "Backstreets" with its rare "Sad Eyes" interlude. With the original songs and versions performed in order, as on that historic night, this will be the first time we know of that an entire Springsteen concert has been recreated.
In addition, Lawrence Kirsch, publisher of the new book about Bruce Springsteen's 1978 tour The Light in the Darkness, will be selling and signing copies of his book at the venue.
E Street Radio on Sirius XM has also set up a special roundtable discussion to coincide with the Tramps Like Us performance, to chat about the historic concert and its re-creation. The broadcast will include some notable guests who know whereof they speak:
Richard Neer: DJ who anchored the original 1978 live broadcast from backstage at the Capitol Theater on New York's WNEW 102.7
Kid Leo: Longtime DJ from WMMS in Cleveland and, like Neer, an early Springsteen supporter; currently a DJ on Little Steven's Underground Garage
Stan Goldstein: Springsteen historian, tour guide, and co-author of Rock & Roll Tour of the Jersey Shore
Mike Grenier: Sportswriter at the Salem News since the 1970s who has seen 186 Springsteen concerts since 1977
Mark Salore: Founder and frontman of Tramps Like Us
Broadcast dates are Wednesday, January 27 at 4 p.m.; Thursday, January 28 at 12 a.m. and 8 a.m.; and Wednesday, February 3 at 4 p.m. (all times Eastern).
- January 27, 2010

ROCK HALL'S SPRINGSTEEN EXHIBIT EXPANDED, EXTENDED!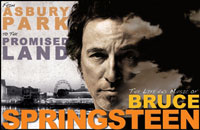 Adding to an already impressive collection of previously unseen Bruce Springsteen artifacts, including numerous notebooks and many pieces of stage clothing, the Rock and Roll Hall of Fame and Museums' exhibition "From Asbury Park to the Promised Land" has recently added several additional pieces to the exhibition, some from private collectors and others from Bruce's personal archive. The Hall will also be announcing that the exhibition has now been extended and will remain until the end of 2010.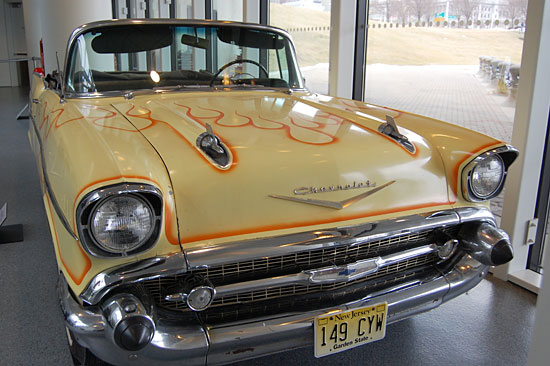 Joining the 1960 Corvette Bruce bought with his Born to Run proceeds, the first car he ever owned — a 1957 Chevrolet Bel Air convertible, which he customized by painting yellow and adding flames on the sides and dashboard — has also been acquired for display.
Two new instruments used in '80s recording sessions have also been added. The Linn drum machine that Bruce used in his Hollywood Hills studio in early 1983 is now on view. This machine can be heard on "County Fair" and was used on demos of numerous other songs, including "My Hometown." The keyboard on which Tunnel of Love songs "Walk Like a Man" and "Valentine's Day" were recorded is also new to the exhibition.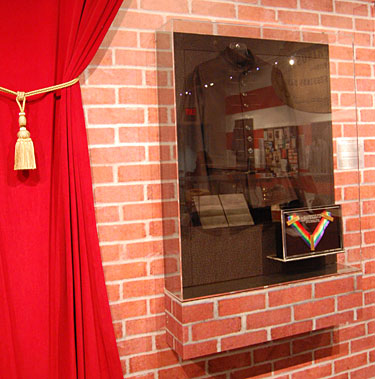 Rounding out the additions are more current objects: Bruce's 2002 Grammy Award for The Rising (in the Best Rock Album category), his 2007 Grammy Award for "Radio Nowhere" (in the Best rock song category), his 2009 Golden Globe Award for "The Wrestler," and Bruce's most recent award, the 2009 Kennedy Center Honor that he received only six weeks ago in ceremonies in Washington, D.C. Springsteen has also loaned the jacket he wore while performing on the steps of the Lincoln Memorial on January 18, 2009 in the ceremonies leading up to the inauguration of President Obama.
Other items currently featured in "From Asbury Park to The Promised Land" include several dozen original handwritten lyric sheets, from very early years up until The Rising, a large quantity of iconic clothing items (including the leather jacket from the Born to Run cover, the flannel shirt on the cover of The River and the entire outfit from the cover of Born in the U.S.A.), posters, tickets, furniture, passes, a large collection of vintage hotel room keys, and much more. The breadth of previously unseen items in the exhibit is stunning. It cannot be recommended highly enough for serious Springsteen fans.
- January 26, 2010 - Glenn Radecki and Caryn Rose reporting

VEDDER'S "MY CITY OF RUINS" BENEFITS HAITI RELIEF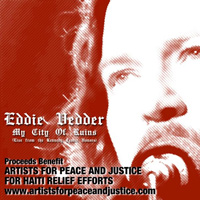 Here's something to add to your playlist along with Bruce's new "We Shall Overcome," as Pearljam.com reports: "Eddie Vedder's full audio performance of Bruce Springsteen's 'My City Of Ruins' from the recent Kennedy Center Honors is now available for purchase through Ten Club and iTunes for $.99. Proceeds from the sale of the track benefit Artists for Peace and Justice Haiti Relief." Vedder's December 6 live performance had him backed by the Joyce Garrtt Singers. Visit artistsforpeaceandjustice.com to learn more about their Haitian relief efforts.
- January 26, 2010

ACT GLOBALLY, ACT LOCALLY
After reaching millions on Friday night, helping to raise more than 58 million dollars for Haiti relief, Springsteen lent a lower-profile hand in his own back yard on Saturday. The place: The Stone Pony; the occasion: another private benefit for the Ranney School, Springsteen again backed by Bobby Bandiera's band and joined by Patti Scialfa and Southside Johnny for a far more festive performance than the previous night.
The Saturday night show ran 2:43, chock full of the usual classic covers and uptempo originals. The now-traditional "634-5789" opener kicked things off, with the more recently uncovered "Higher and Higher" worked in toward the end. Brian Williams and his wife Jane joined in to sing on the Jackie Wilson tune, after watching the show from sidestage as the Springsteens' guests for the evening.

For the full setlist from this and other recent shows,
see our Setlists page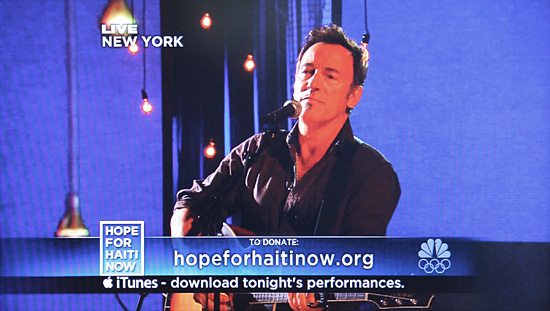 "WE SHALL OVERCOME" FOR HAITI RELIEF
For Friday night's "Hope For Haiti Now" telethon, Bruce Springsteen gathered the most recent additions to the E Street stage — all of whom were also a part of the Sessions Band tour — for a performance of "We Shall Overcome." Springsteen played acoustic guitar, accompanied by Charlie Giordano on accordion, Curt Ramm on trumpet, and on backing vocals, Patti Sciafa, Soozie Tyrell, Curtis King, and Cindy Mizelle. The telethon also featured "Hard Times Come Again No More," recently revived by the E Street Band, here performed by Mary J. Blige with the Roots.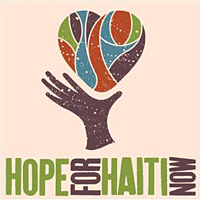 The Hope For Haiti Now performances can be purchased digitally on iTunes or on Amazon.com, $7.99 for a full "album" of the night's music, or 99 cents for individual tunes. All proceeds, of course, further benefit the cause.
According to MTV: "As donations continue to pour in from around the world, "Hope for Haiti Now: A Global Benefit for Earthquake Relief" announced on Saturday (January 23) that it has raised more than $58 million to date — a new record for donations made by the general public through a disaster-relief telethon. The preliminary figure includes donations made via phone, online and mobile, and does does not include donations by corporations and large private donors, or iTunes sales figures, all of which are still being calculated."
Donations are still being accepted — and will be for the next six months — at www.hopeforhaitinow.org.
- January 24, 2010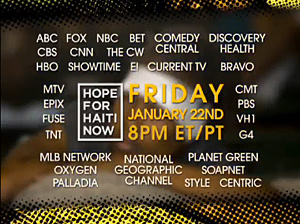 TONIGHT: HAITI TELETHON TO STREAM LIVE ONLINE
If you're not near a TV tonight, "Hope for Haiti Now" will also be streaming live at a number of websites, including YouTube, Hulu, MySpace, Fancast, AOL, MSN, Yahoo!, Bing.com, BET.com, MTV.com, CNN.com, VH1.com and Rhapsody.
The live telethon, featuring Bruce Springsteen performing in New York, begins at 8:00 p.m.
- January 22, 2010

SO MUCH FOR GOIN' CALI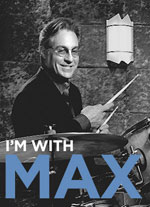 With the deal finally inked late last night, it was announced this morning: Conan O'Brien is officially exiting The Tonight Show — and with him, Max Weinberg and the Tonight Show Band (including, of course, longtime Springsteen horn guys Richie "LaBamba" Rosenberg and Mark "Love Man" Pender). According to today's story in Variety, "Everyone, from the show's writers and all the way down to the janitorial team, will receive a severance package described as more generous than the company's standard exit agreements." Soak 'em, boys!
Nice to see an example of Max's farsightedness today, courtesy of thesmokinggun.com:
As it kicks Conan O'Brien to the curb with a $32 million golden parachute, NBC is reportedly seeking to maintain control of material developed over the years by the late night host and his writers. This intellectual property, as it were, would apparently include bits like "In the Year 3000" and characters such as "Pimpbot 5000." But while the "Masturbating Bear" may be headed for permanent hibernation, fans will be happy to know that the risque character's theme music (and that of the Pimpbot) is beyond NBC's grasp, thanks to the foresight of drummer Max Weinberg and guitarist Jimmy Vivino. The musicians copyrighted those compositions in 2004, according to the below United States Copyright Office records. Weinberg and Vivino registered "Masturbating bear music" and "Masturbating bear theme," as well as themes for both Pimpbot 5000 and Pimpbot 2000. Sadly, it is unclear whether these stirring instrumentals will ever again be performed.
Two episodes of The Tonight Show with Conan O'Brien remain, airing tonight and tomorrow night.
- January 21, 2010



SHOWTIME!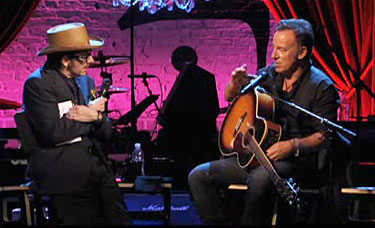 In late September, Bruce Springsteen shared the Apollo Theater stage with Elvis Costello for the better part of four hours; four months later, the wait is over to see the results. Or at least to see half of them. Springsteen's appearance on Spectacle is the first to be split into two episodes, with Part 1 debuting tonight at 10 p.m., to be followed by Part 2 next Wednesday, January 27. See sundancechannel.com for the full schedule, including repeat showings, and for sneak peek video clips, too.
- January 20, 2010

TELEPROMPTER? HE DON'T NEED NO STINKIN' TELEPROMPTER
The B Street Band provided the entertainment at last night's Inaugural Evening Celebration for New Jersey Governor Chris Christie — as did the new governor himself. Christie joined the B Streeters on stage to sing along, and while we figured he'd know all the words (he's been to 125 shows, after all), the man can carry a tune, too. Visit NJ.com, where the Star-Ledger has videos of the Christie-supplemented "Born to Run" and "Badlands."
- January 20, 2010

HOPE FOR HAITI TELETHON UPDATE: SPRINGSTEEN CONFIRMED
Back in 2001, George Clooney organized the post-9/11 America: A Tribute to Heroes broadcast, which memorably opened with Bruce performing "My City of Ruins." This Friday night, January 22, George Clooney's Hope for Haiti telethon will air on multiple networks to raise funds for earthquake relief; MTV has now confirmed that Springsteen will again be taking part.
In the U.S., MTV Networks' Hope for Haiti Now: A Global Benefit for Earthquake Relief is set to air commercial-free across channels including ABC, CBS, NBC, FOX, CNN, BET, the CW, HBO, MTV, VH1 and CMT on Friday at 8 p.m. It will also air internationally on BET International, CNN International, National Geographic and MTV Networks International.
The telethon will be hosted by Clooney in Los Angeles, Wyclef Jean in New York, and CNN's Anderson Cooper in Haiti. Springsteen will join Jean in New York, along with Jennifer Hudson, Mary J. Blige, Shakira and Sting. Other performers slated for the teleton include Jay-Z, Bono and the Edge, Stevie Wonder, Justin Timberlake, Christina Aguilera, Alicia Keys, John Legend... more than 100 artists have signed on.
All performances will available for download on iTunes for 99 cents the next day. Funds raised will benefit the Red Cross, UNICEF, Oxfam America, Partners in Health and Jean's Yele Haiti Foundation.
- Updated January 19, 2010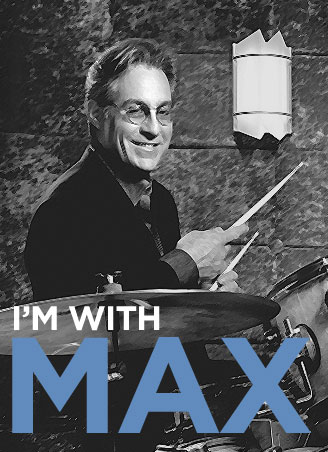 WE'RE WITH MAX!
At this very moment, a rally is underway outside Chicago's NBC-5 to try and keep Conan O'Brien's The Tonight Show on the air. Outside 30 Rock, too, in New York. A third "Rally for CoCo!" takes place in downtown Seattle tonight. The main event, of course, is outside of Universal Studios in Los Angeles, where Conan — along with a swingin' combo known as Max Weinberg and the Tonight Show Band — tapes the show.
Illustrator Mike Mitchell's "I'm with CoCo" image helped galvanize the movement. And with a tip of the hat to Mike, we'll proudly make our own allegience known.
Check out "I'm with CoCo" on Facebook; proceeds from sales of the T-shirt will benefit Haiti relief.
Below, for our fellow Team Max members, two shots of the Mighty One and his new Big Band's debut late last month in Miami [photographs by John Eaton].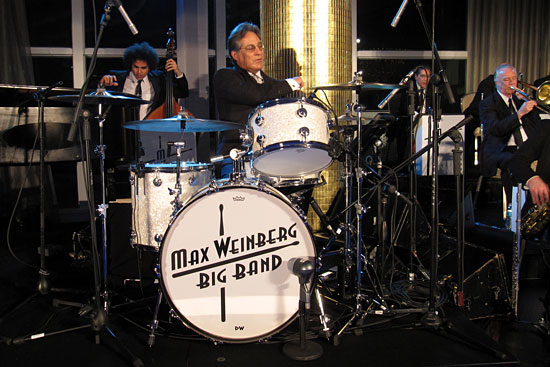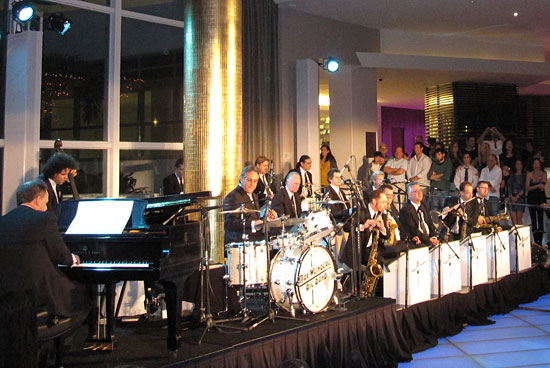 - January 18, 2010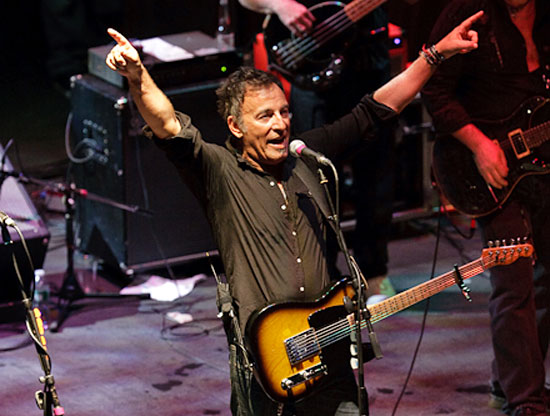 SPRINGSTEEN SEES THE LIGHT
Saturday night's LOD concert brings three guest turns from the Boss
Light of Day celebrated its tenth anniversary last night with a customary program of solid performances: by newcomers Outside the Box, shore favorites like Danny White and Bruce Tunkel, and longtime participants/supporters like Willie Nile, Joe D'Urso and Joe Grushecky & the Houserockers. The marathon event, which had Asbury Park's Paramount Theater rocking past one in the moirning, did not disappoint the full house, some of whom had traveled from as far away as Italy to be a part of the festivities.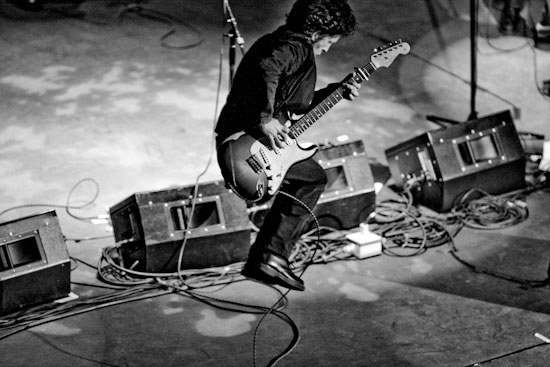 Rumors had been swirling since the previous evening's entertainment at the Stone Pony, but just about everyone was surprised when Bruce Springsteen walked onstage late in Willie Nile's set to contribute vocals on "Heaven Help the Lonely." Dressed in his by now standard garb — dark jeans, black shirt — and sporting a brand new tan and a broad smile, Bruce was halfway into the song before most of the audience even noticed he was there. Which was, of course, the plan all along.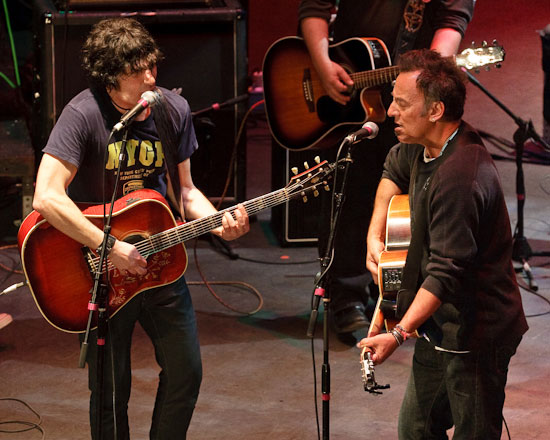 But that wasn't it. Springsteen aficionados and fans of Jesse Malin alike have been waiting for a live performance of their duet on the Malin tune "Broken Radio" since its release several years back, and last night they finally got it. Jesse, who has been laying low most of last year working on a new record, was partway into his usual energetic set (his hot new band features his old friend and bandmate Danny Sage on guitar) when he called his friend Bruce out to join him. They got in a solid, well-received performance of Jesse's heartfelt ballad before Springsteen once again disappeared backstage.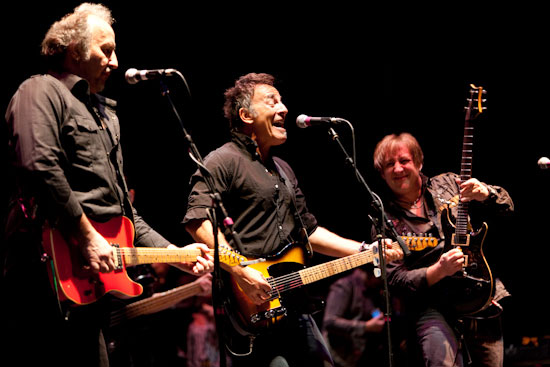 Light of Day newcomer and Pennsylvania native Ed Kowalczyk subsequently turned in a strong acoustic set comprised mostly of material made famous by his band Live; the stage was then set for a return engagement from Everyone's Favorite Freehold Native, and he didn't disappoint. Bruce returned midway through Joe Grushecky's closing slot for a powerful performance of the classic Bruce/Houserockers set, the highlight of which had to be the long-lost gem "Pink Cadillac."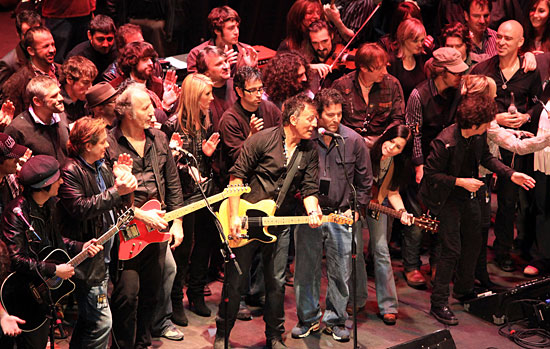 The night ended with a now obligatory turn on "Light of Day" followed by an all-star jam on the Isley Brothers classic "Twist and Shout." The stage was packed with artists from all three days of Light of Day performances, and as the house lights came up, everyone — local artists, organizers, first-time participants and veterans — seemed to be in agreement that on its tenth anniversary, Light of Day was stronger than ever.

For the full setlist from this and other recent shows,
see our Setlists page
- Updated January 17, 2010 - Lisa Iannucci reporting
- photographs by A.M. Saddler (1, 3), Michael Zorn (2, 4) and Mike Black (5)

CLARENCE'S BACK!
On Monday, the day he turned 68, the Big Man tweeted: "Spending my birthday week in hospital thinking about all my fans! This one's for u!... So when I come back, we can dance again!"
Clarence underwent back surgery this week, which took place in New York on Wednesday, and which we now know was a success. In a statement to the Associated Press, Clarence says today that he's "in great spirits" and "looking forward to a brighter future and playing more music!" Looking forward to it, C — congratulations, and we hope you're dancing soon.
- January 15, 2010


JUST AROUND THE CORNER TO LIGHT OF DAY NEW JERSEY
This weekend, Light of Day celebrates 10 years of concerts with a jam-packed series of New Jersey shows: nearly 70 acts will take the stage at various Asbury Park venues to rock against Parkinson's Disease.
Events include a Friday night show at the Stone Pony; three special editions of "Songwriters by the Sea" on boardwalk venues on Sunday; and in between, the main event at the Paramount Theatre on Saturday night, January 16. Main stage acts at the Paramount are Ed Kowalczyk, Jesse Malin, Joe D'Urso & Stone Caravan, Joe Grushecky & The Houserockers. Outside the Box, and Willie Nile. Saturday afternoon, a warm-up matinee show at the Wonderbar will be hosted by WRXP 101.9's Rich Russo.
The full scehdule for the 10th Anniversary Light of Day shows in Asbury Park:

| | | | |
| --- | --- | --- | --- |
| Jan 15 | Stone Pony | Asbury Park, NJ | 5 p.m. doors |
| Jan 16 | Wonder Bar | Asbury Park, NJ | Noon doors |
| Jan 16 | Paramount Theater | Asbury Park, NJ | 6 p.m. doors |
| Jan 17 | McLoone's Watermark Cafe | Asbury Park, NJ | Noon doors |
| Jan 17 | Langosta Lounge | Asbury Park, NJ | 3 p.m. doors |
| Jan 17 | McLoone's Supper Club | Asbury Park, NJ | 6 p.m. doors |
Visit www.lightofday.org for the full line-ups and ticket links for each event.
1/14 Update: Light of Day has made a limited number of "Platinum" and "Gold" 3-day ticket packages, as well as Platinum and Gold tickets for Saturday's show at the Paramount Theatre, available through livenation.com until 2 PM Friday.
The Gold 3-day combo package costs $135 and includes a $100 "great" lower orchestra seat to the Paramount show, a Light of Day 10th anniversary VIP laminate, and admission to all other shows.
The Platinum 3-day combo package is priced at $200 and includes a $150, VIP "very best" upfront pit or center orchestra seat to the Paramount show, a $15 Light of Day 10th anniversary t-shirt, a VIP event laminate, a gift bag worth more than $150, and admission to all other shows.
Gold tickets to the Paramount show are $100, a "great" lower orchestra seat.
Platinum tickets to the Paramount show are $150, a "very best" upfront pit or center orchestra seat.
- Updated January 14, 2010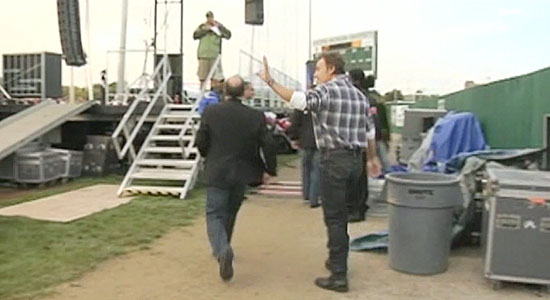 FROM CALIFORNIA TO THE NEW YORK ISLAND...
...and from Ypsilanti to the Gulf Coast
New and exclusive to the iTunes Store this week: By the People, For the People, a soundtrack inspired by the HBO documentary By the People: The Election of Barack Obama. The digital-only compilation has 13 audio tracks, from Dashboard Confessional to Sharon Jones & the Dap Kings, plus a bonus video of Springsteen performing "This Land is Your Land" live in Ypsilanti, MI, October 6, 2008. All proceeds, including artist and publishing royalties, benefit the United Way to support Gulf Coast rebuilding efforts.
- January 12, 2010

WE'RE NOT THE ONLY ONES WAITING FOR A NEW ALBUM
The latest leading economic indicator from the White House, courtesy of The Onion.
- January 12, 2010

BIGGER THAN SHAKESPEARE! AND YOUNGER!
Bestelling author Clarence Clemons came into the world 68 years ago today, January 11, 1942. Happy Birthday, Big Man!



AND GIANTS PLAYED THE GAME
From the final home game at Giants Stadium, shown at halftime, a stadium tribute video set to "Wrecking Ball" now online at Giants.com.
- January 8, 2010

HAPPY 75th, ELVIS!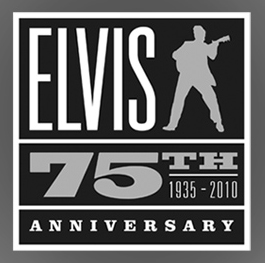 Today marks the 75th anniversary of the birth of Elvis Presley, born on January 8, 1935. With events marking the occasion at Graceland and around the world, we thought we'd join in the fun. A few years back, Backstreets Magazine celebrated the 50th anniversary of Elvis' first record with a massive 14-page, multi-author feature on Presley's enormous and enduring influence on Bruce Springsteen's career. Shortly thereafter, one of our readers, Henry Klingeman, wrote to suggest a future exploration of what kind of album Bruce and Elvis might have made together if they had ever gotten the chance.
Shawn Poole, the main architect of our 2004 Elvis/Bruce feature, eventually took Henry's suggestion and ran with it. The result is a fun piece of speculative fiction that nevertheless concocts a very plausible scenario in which "The King" and "The Boss" cross paths and actually record together. On his weekly radio show "Live From The E Street Nation," Dave Marsh noted, "Shawn did a great job on this story. It'll make you laugh and it'll make you think. That's about as good as you can get." Shawn's piece, "Didn't Have to Die: How an Encounter That Never Happened Might Have Helped to Change History if It Had" recently ran in Spain's The Stone Pony magazine; to mark the King's 75th birthday, we present the complete English version a free PDF on our Downloads page.
And here's some "bonus Elvis/Bruce info" from Shawn for interested readers, too: "At the time of Backstreets' 2004 feature on Elvis and Bruce, we were able to determine through archival interviews with both Mike Appel and Bruce Springsteen that Bruce and Mike saw one of Elvis' 'great' (quoth Bruce) 1972 Madison Square Garden concerts (the only New York City shows that Presley ever performed), but it remained unclear exactly which show they saw. Some recent communication, however, with Appel and NJ-based musician Pat Karwan, who also attended the concert with Bruce and Mike, confirmed that the show they saw together took place on the night of Friday, June 9, 1972, the same date that Bruce began his professional recording career by signing with Columbia Records. Super-cool way to celebrate the record deal, eh?"
Appel is now developing a musical called In the Shadows of the King. According to Mike, "It's about how all of us young rockers all wanted to emulate Elvis whether it's The Beatles, The Stones, Bruce Springsteen etc., all wanted to be Elvis." You can learn more about In the Shadows of the King at mikeappel.net.
Merry Elvismas!
- January 8, 2010

IT OUGHT TO BE EASY, OUGHT TO BE SIMPLE ENOUGH...
...and now it is, thanks to CalPIRG (California Public Interest Research Group). If you haven't yet contacted the U.S. Department of Justice to express your opposition to the proposed Ticketmaster/Live Nation merger (and even if you have done so already), you may want to take advantage of the new online form designed and posted by CalPIRG, which just joined the opposition. You don't have to live in California to use it, and it makes it extremely easy to add your voice to those of us who oppose this proposed merger. If you don't wish to share your contact information with CalPIRG and/or its network, there's still the "old-fashioned approach," too, outlined in Backstreets' December 3, 2009 news posting, in which we also detailed Bruce Springsteen's and our positions on this important issue.
No matter how you do it, we urge all Springsteen fans again to write, call, e-mail etc. right now, since a decision from the U.S. Department of Justice on the merger proposal is expected to be announced very soon. To get the latest updates on the merger decision, click here.
- January 8, 2010

I WANNA GO OUT TONIGHT
Live music tonight in NYC: the Sessions Band's Lisa Lowell headlines a show at Banjo Jim's in the East Village, where she'll be performing songs from her upcoming CD Beautiful Behavior. 10 to midnight, January 7, at 9th Street and Avenue C.
For more shows from related Jersey Shore artists and other "Friends of Bruce," see our Concert Calendar.
- January 7, 2010

NEW YEAR, NEW SHIRT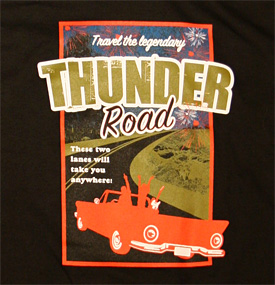 If you thought Mary was a vision dancing on the porch in her dress, wait'll you check her out in her Thunder Road T-shirt. Following up their Greasy Lake tee, here's another souvenir from a mythical place courtesy of our friends at Protect, the National Association to Protect Children. Their line of T-shirts from fictional locales benefits the work that they do, and like the Greasy Lake shirt, they're letting us make this one available to our readers through Backstreet Records. This shirt invites you to "Travel the legendary Thunder Road… these two lanes will take you anywhere!" In stock now, in adult sizes small through XXXL.
We also still have the official 2010 Springsteen calendar in stock, in case you didn't get one for the holidays...
- January 5, 2010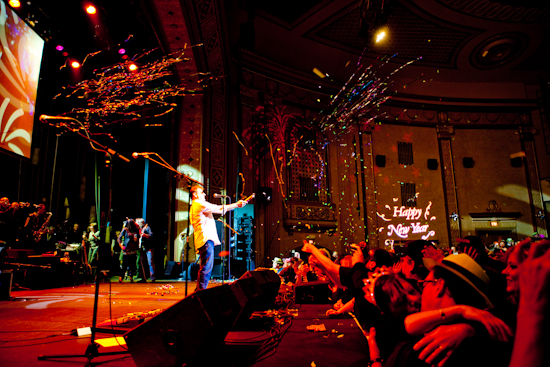 IN THE MIDNIGHT HOUR
Southside Johnny and the Asbury Jukes ringing in the new year at the Count Basie Theatre in Red Bank, NJ.
- January 4, 2010 - photograph by Michael Zorn

LAY DOWN YOUR MONEY AND YOU PLAY YOUR PART
Pollstar has relesed its year-end tally of the highest grossing North American tours, with Bruce Springsteen and the E Street Band placing at number two for 2009, behind only U2. According to The Pollstar Top 50, the Working on a Dream tour pulled in a total gross of 94.5 million in North America, with a total of 1,074,407 tickets sold.
On their list of the top touring acts of the decade, Springsteen comes in fourth — behind the Dave Matthews Band, Celine Dion, and Kenny Chesney, and ahead of the Rolling Stones and U2. According to Pollstar's calculations, Springsteen sold 5.7 million North American tickets in the oughts, grossing 444.3 mil.
- January 2, 2010