SCENES FROM AN ITALIAN RESTAURANT
In the Irish Times, Shane Hegarty writes of lunching out with Springsteen in Toronto:
"For the journalists in the group it is a strange set-up: not an interview but not off the record. Throwing a Dictaphone on the table would change the dynamic. He talks about survival, success, his memories of whichever country someone wants him to talk about. He talks about the way modern culture expects you to be ubiquitous. 'They think I'm a recluse, that I never do any interviews,' he says. 'I do interviews all the time. I think I'm pretty accessible. But if you're not always out there, they think you're Garbo.'"
There's also this nugget, which somehow escaped us during the TIFF festivities:
When recording the Darkness live set he demanded that the decades be on stark display. He found a way in an unlikely source. "I saw this Jean-Claude Van Damme movie. I don't know if you've seen it: it's called JCVD, and he plays himself in it and gets caught up in a bank robbery. But it's filmed in this washed-out way, very grey, and it really shows his age. And I said to Thom, that's what I want for this recording."
Read "Springsteen steps out of the Darkness"
- September 29, 2010

INSIDE THE DARKNESS BOX: ANOTHER LOOK
The notebook: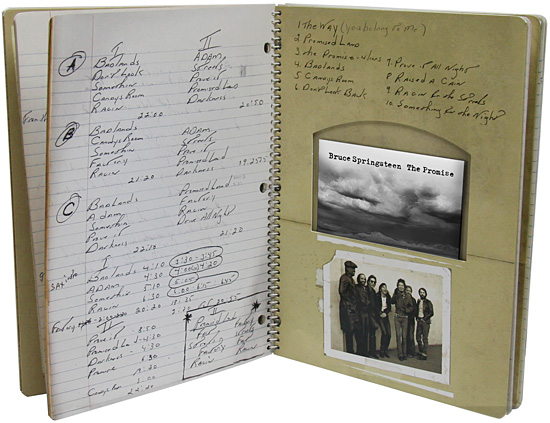 The DVDs: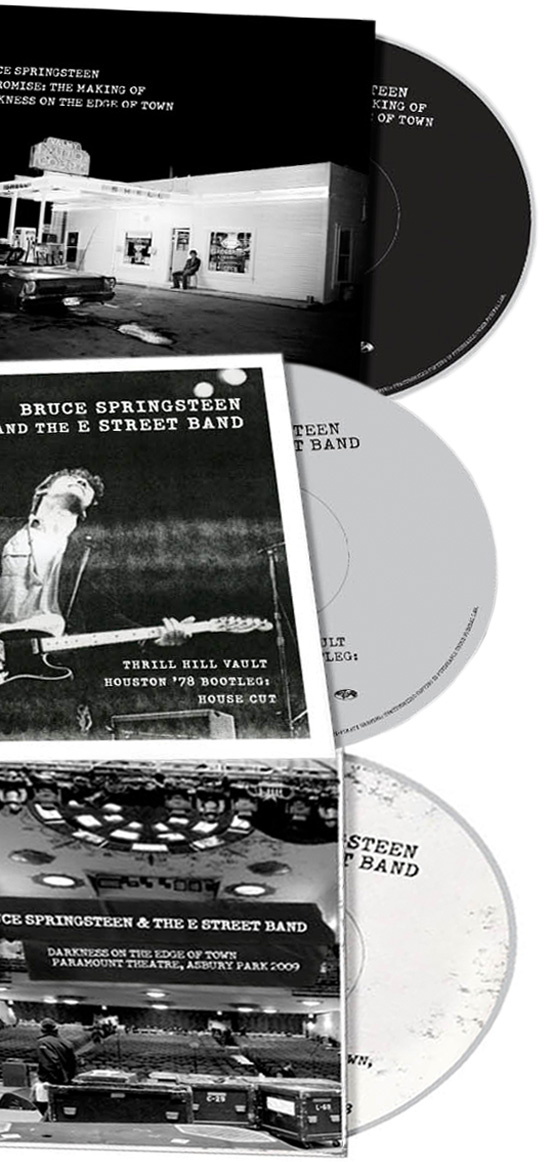 - September 29, 2010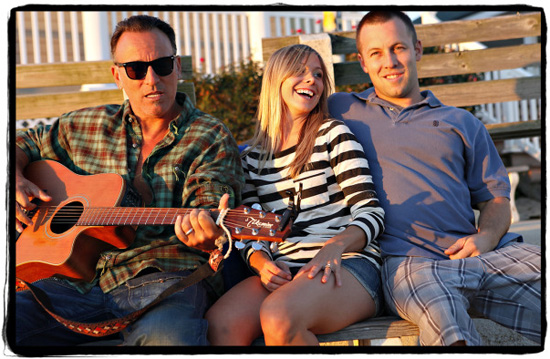 LEGENDS OF SPRINGSTEEN: ENGAGEMENT PHOTO EDITION
We've had this as an "Out on the Wire" entry, but considering how many emails have come in asking if we saw this great story (which seems straight out of The Ben Stiller Show), we gotta shoot it up to the majors.
We first saw the news on BTX, but the boardwalk photobomb blew up big pretty quickly (as photographer Kella MacPhee blogs).
The Asbury Park Press writes: "Years from now, when Ed Dwyer and Jennifer Smith look at the photos in their wedding album, their glory days might take on added meaning. The album likely will include engagement photos recently shot on the beach in Manasquan of the Brick couple, and an unexpected guest: Bruce Springsteen." Read "Bruce Springsteen joins in on Brick couple's engagement photo shoot."
MacPhee told a bit more of the story to Blogness on the Edge of Town: "The couple are friends of mine and are getting married next month. We wanted to get some romantic beach shots with Ed (the groom — a musician) serenading his bride-to-be Jen with his acoustic guitar, and it turned into a brief but amazing encounter with Mr. Bruce Springsteen!... He sang a little ditty about how they were getting married in a month and improvised with the small amount of info we had given him when we approached... it was awesome!"
- September 29, 2010 - photograph by Kella MacPhee (kellamacphee.com)

GUARDIAN INTERVIEWS BRUCE AND MAX ON THE PROMISE
"I was never a visionary like Dylan," Springsteen tells Keith Cameron for guardian.co.uk, "I wasn't a revolutionary, but I had the idea of a long arc: where you could take the job that I did and create this long emotional arc that found its own kind of richness. Thirty-five years staying connected to that idea. That's why I think the band continues to improve. You can't be afraid of getting old. Old is good, if you're gathering in life. Our band is good at understanding that equation."
Cameron spoke with both Springsteen and Max Weinberg about creating Darkness on the Edge of Town more than 30 years ago, and about Thom Zimny's new film, The Promise, that documents that creation:
The format repeats the success of Wings for Wheels, Zimny's equivalent making-of documentary which accompanied the 30th anniversary reissue of Born to Run, but The Promise goes deeper, probing both the subtext of Darkness on the Edge of Town and the protagonists' personal chemistry. In particular, the bonds between Springsteen and Van Zandt, his musical consigliere, are illustrated time and again.... For Zimny's film to have actually intensified the mythic qualities of one of rock's most celebrated buddy acts is testimony to its cutting edge.
Cameron describes Barry Rebo's in-studio footage as an "achievement": "The lack of premeditation is remarkable: not once do any of the protagonists look at the camera." Springsteen responds: "We were like, 'Nobody's ever gonna see this crap.' Nobody was self-conscious. It was like he wasn't there. He was a pal, the only guy in the neighbourhood that we knew with a camera."
Read "Bruce Springsteen: 'People thought we were gone. Finished.'"
- September 29, 2010


A FINGERPRINT ON YOUR IMAGINATION
Pro-shot highlights from Springsteen's TIFF Mavericks session with Ed Norton.
- September 29, 2010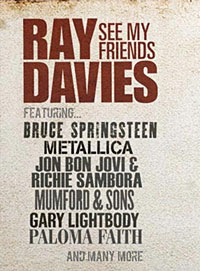 SPRINGSTEEN & DAVIES GIVE THE PEOPLE WHAT THEY WANT
Well, us, at least...
Earlier this year, we reported a Ray Davies/Bruce Springsteen recording in the works... now, their duet on The Kinks' "Better Things" is set for a November release on Davies' See My Friends. The album features Davies revisiting classic Kinks songs with a different collaborator on each, from the Bruce cut which opens the album to Metallica, Jon Bon Jovi, Lucinda Williams, Jackson Browne, Black Francis, Spoon, Alex Chilton, and more.
The album will be released November 1 in the U.K.; for more info, visit seemyfriends.co.uk or Davies' official website at www.raydavies.info.
- September 28, 2010


NEW ENTRY IN "I'M GOIN' DOWN" COVERFEST 2010
If the Vampire Weekend version wasn't your thing, here are Free Energy with tour mates Titus Andronicus to the rescue, rockin' it out. As pitchfork.com reports, the two bands released a tour-only split single with Free Energy's recording of the song.
- September 28, 2010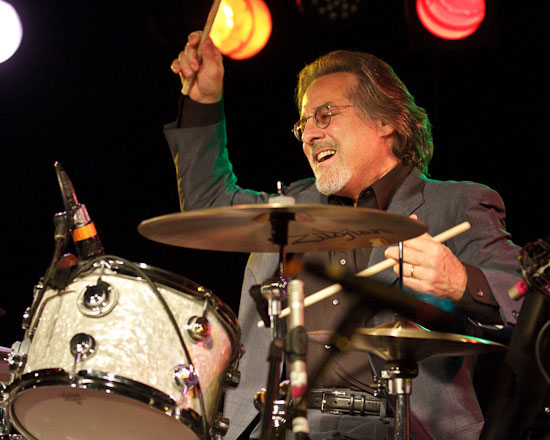 MAX'S DEPARTURE FROM CONAN OFFICIAL AND "MUTUAL"
After a summer's worth of speculation, an official announcement came today that Mighty Max Weinberg — after leading Conan O'Brien's band since they first hit the late night airwaves in 1993 — will be going his own way. Today's press release:
CONAN ON MAX

New York, NY (September 27, 2010) - By mutual agreement, Conan O'Brien's longtime bandleader, Max Weinberg will not be returning to lead the late night band he created in 1993 as Conan moves to his new home at TBS on November 8th.

Beginning on September 13th of 1993 "The Max Weinberg 7" and later "Max Weinberg and The Tonight Show Band" were favorites among both fans and critics. With an uncanny ability to combine high quality music and unmatched comedic timing Max played a pivotal role in Conan O'Brien's nightly shows.

Conan O'Brien stated, "Max has been a huge part of my life for the past 17 years and he is an incredible band leader and musician. I hope he can find time to stop by the new show, sit in with the band, and pretend to find my monologue funny."

Added Weinberg, "17 years — a lifetime on TV. Conan and I met on a New York City street corner in the Spring of 1993 and my association with Conan, his staff, and crew has been a deeply rewarding experience for me. And, making music with Jimmy Vivino, Mark Pender, La Bamba, Jerry Vivino, Scott Healey, Mike Merritt, and percussionist James Wormsworth enabled me to become a better musician and bandleader. I thank them for their first rate work on the bandstand. I wish Conan and his show the best and I do look forward to dropping by."
So as Conan gears up for the November premiere, Max will be on the road with his Big Band (see maxweinberg.com for the Oct/Nov itinerary), and of course, will be free for any and all E Street action to come.
- September 27, 2010 - photograph by A.M. Saddler (9/10/10, Asbury Park, NJ)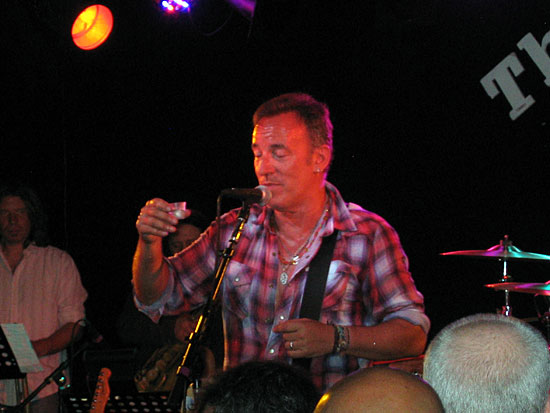 WE'LL RAISE A GLASS OR TWO
And some people have trouble believing the man is 60? Well, he's not, not anymore — he's heading down Highway 61. Happy Birthday, Bruce!
- September 23, 2010 (photograph 9/11/10, The Stone Pony, Asbury Park, NJ)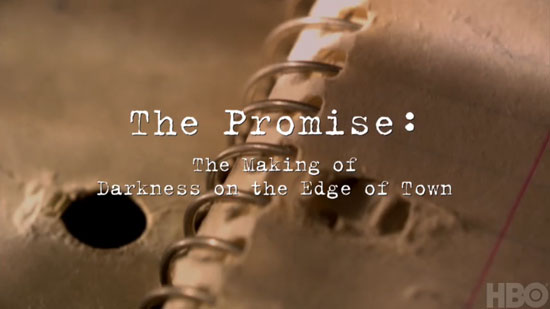 FOUR QUICK SHOTS
HBO.com has just added trailer/promo material (which has begun to air on the network's various channels, as well) for its upcoming broadcasts of The Promise: The Making of Darkness on the Edge of Town, beginning on Thursday, October 7. In the Documentary section, check out the full trailer, the "Piano Tease," the "Factory Tease" and the "Photo Tease." All but the "Piano Tease" (Steven and Bruce doing "Sherry Darling") feature documentary footage that most fans haven't seen yet, and all but the "Photo Tease" end with Dave Marsh's voice-over, in which he offers his own unique take on the late, great Don LaFontaine's legacy.
- September 23, 2010 - Shawn Poole reporting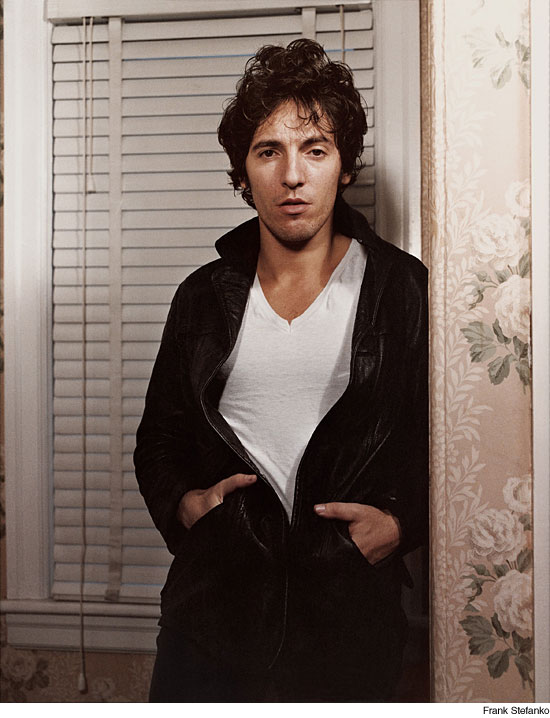 STEFANKO & CLINCH IN SOHO
"From Darkness to a Dream" shows Springsteen then and now,
opening October 14 at Morrison Hotel Gallery
Surely you know by now that HBO will be airing the Thom Zimny's Springsteen documentary, The Promise: The Making of Darkness on the Edge of Town, on October 7. You may also be aware of a certain little record release coming on November 16. What you may not know is what's happening in between these two momentous events, beginning October 14 in Soho, NYC.
Clearly, the planets have aligned to create a rare sequence of events.
For the first time ever, photographers Frank Stefanko and Danny Clinch will mount a two-man showing of some of their best Bruce Springsteen photographs at Morrison Hotel Gallery. Their show is titled "From Darkness to a Dream" and reflects a "then and now" look into the life of this amazing artist over a span of 30 years.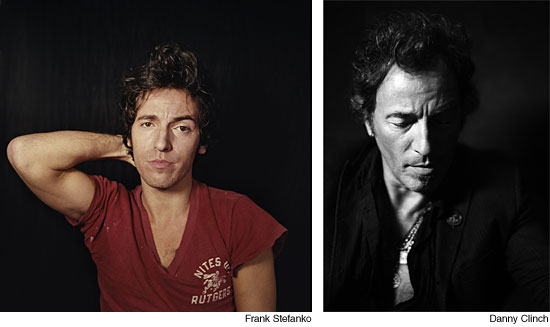 For the first time ever, Frank Stefanko will be showing his album cover photographs from both Darkness on the Edge of Town and The River. These images, photographed over 30 years ago, have never before been presented (look Ma, no type!), let alone available for sale. Frank will be showing additional images, some never seen before, from his Darkness on the Edge of Town sessions.
For the first time ever, Danny Clinch will be showing many new, exquisite, contemporary photographs of Springsteen, including images from his Working on a Dream and Devils & Dust sessions.
The collaboration between these two Jersey boys, Stefanko and Clinch, is particularly incredible because although their photographs were taken decades apart, they work beautifully together, each emitting an essence of mood and soul.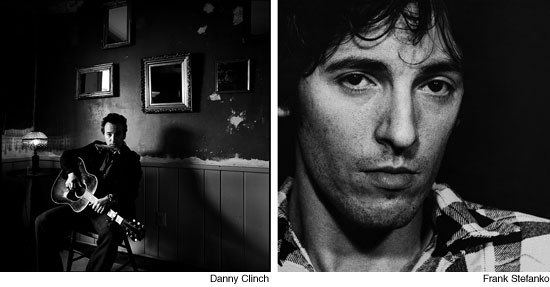 Since these two artists are showing twenty images each, and in sizes up to 30 x 40 inches, Morrison Hotel Gallery (phone: 212-941-8770) will be presenting this show both in their street level gallery at 124 Prince Street, and at their adjacent second floor loft gallery at 116 Prince Street.
Morrison Hotel Gallery
124 Prince Street
New York, NY

Morrison Hotel Gallery Loft
116 Prince Street
New York, NY
"From Darkness to a Dream" opens on Thursday, October 14, one week to the day, after the HBO premiere of The Promise, and will run until mid-November. Truly a must see!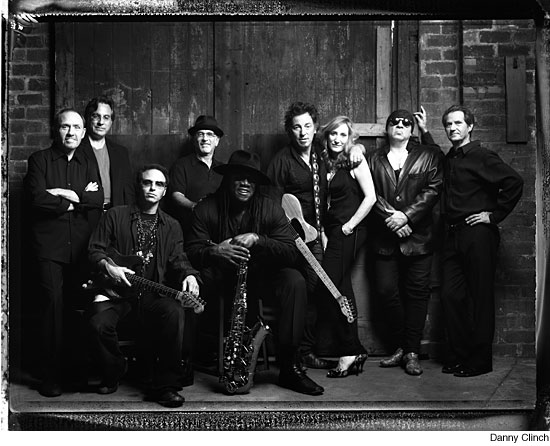 - September 17, 2010

"BEYOND THE BOSS" PREMIERES EPISODE 2 OF THE BACKSTREETS STORY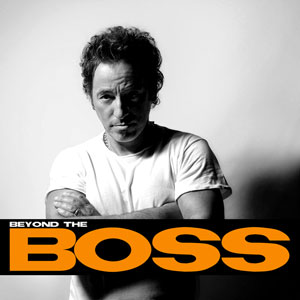 After its initial launch in the spring, the new Springsteen podcast "Beyond the Boss" is now offering its second installment in a series about... us!
For those who missed the premiere, "Beyond the Boss" is a documentary-style podcast that will share new stories and perspectives about people who have been impacted by Bruce and his music. Episode 1 examined the genesis of Backstreets, chronicling the early days of the magazine with original founder and publisher Charles R. Cross. The new Episode 2 is the second half of the story, examining the impact of the internet on Backstreets, Springsteen's relationship with the magazine, the fan community and more with current publisher Christopher Phillips.
Although it's been a while since the launch, producer Neil Van Harte assures us that more new episodes will be arriving in the near future. We're told that Episode 3 (an in-depth look at the Darkness tour and album) is already in production. This is welcome news indeed, as his podcast is a unique endeavor in the Springsteen community and we're looking forward to where Neil takes it from here.
Listen to both episodes and stay tuned for more at beyondtheboss.com.
- September 17, 2010

ROLLING STONE TALKS WITH ZIMNY, LANDAU
As TIFF further whetted our appetites for the Darkness box set this week, RollingStone.com provides more details about what's in store. Andy Greene spoke with director Thom Zimny and producer Jon Landau for more insight regarding the documentary ("The footage is so great because the cameraman is being completely ignored," says Zimny) and the rest of the content.
Landau talks about the Houston '78 DVD: "The footage comes from the in-house screens at the arena. It is a true bootleg in that sense. We had a variety of shows that we were considering releasing from the Darkness tour. Some had good sound, but the picture wasn't so good. Some the picture was good and the sound was primitive. Considering the various options, the Houston show worked on the most levels. The sound is raw, but good in deliverance. The picture has been enhanced as much as modern technology allows. It's an extremely powerful show. It has an incredible 'Streets of Fire' and an a great 'Backstreets.'"
And for those of us who are already thinking ahead, Greene writes:
After spending over three years on this project, Landau is unsure whether or not other Springsteen albums will get the same treatment. "If we do decide to do that, frankly, we don't have the equivalent of Barry's footage," he says. "We don't have it on The River, and we have nothing on Nebraska. We just couldn't do this type of documentary. It would have to be a different approach. I'm sure will be on the table, but this was an enormous amount of work and it's too soon to be worried about what comes next."
Landau also speaks in brief about the two discs of outtakes (including the recent work Bruce did to finish them up), and the Paramount Theater performance from December '09.
Read "Inside Springsteen's Darkness Documentary, Box Set."
- September 16, 2010



TORONTO ROUND-UP
Springsteen and The Promise were big hits at the Toronto International Film Festival this week, and you can see our reports further below from all three main events: the Mavericks session, the documentary screening, and the box set preview. If you still just can't get enough, we've gathered some additional coverage from around the web, starting with Bruce's opening remarks in the video above.
Sarah Boesveld plays "Spot the Boss" for The Globe and Mail.
Macleans checks in from the Mavericks interview as Bruce drops film references: "1960s small-town America was very Lynchian... Everything was rumbling. Dylan took all the dark stuff that was rumbling underneath and brought it too the surface." USA Today, the Toronto Sun, the Star-Ledger, Spinner.com, Reuters, and the Associated Press were there, too.
TheWrap.com offers a lengthy run-down of Springsteen's "Toronto Domination Tour," including this Mavericks exchange:
"Martin Scorsese once said that the artist's job is to get the audience to care about your obsessions," said Springsteen, who pointed out that the artists who succeed are often the ones who go to extremes, "who care enough to get crazy about it."

He nodded toward Norton, a friend for more than a decade. "It's the way you work," Springsteen told the notoriously difficult actor. "You get nuts."

Norton laughed. "There are many who will attest to that," he conceded.
Of the The Promise: The Making of Darkness on the Edge of Town, The Wrap writes: "The film gives a sense of the ways in which creativity can be tested and challenged, and the ways in which a strong artist can persevere — and by the time it comes to a close with a montage of faces set to the final section of 'Racing in the Street,' the finest instrumental coda in Springsteen's repertoire, it's hard to imagine that any fan won't be moved."
More reviews of the doc:
EyeWeekly: "...takes us right inside the studio with the intimate footage from the actual sessions for the best sort of Behind the Music episode." (four stars out of five)

The Hollywood Reporter: "This is a real inside-baseball movie.... one of the best docs about creativity in a long while.... If you really want to hear the music, get out your old LP. If you want to understand the blood and sweat that went into it, this is your movie."
- September 16, 2010




BRUCE RETURNS TO "STAND UP FOR HEROES," NOVEMBER 3
Once again, Bruce Springsteen will be playing the annual Stand Up For Heroes benefit, held this year at the Beacon Theatre on November 3. Part of the New York Comedy Festival, Stand Up for Heroes benefits the Bob Woodruff Foundation to help heal the physical and psychological wounds of war. Hosted by Jon Stewart, this year's benefit will also feature performances by Jerry Seinfeld, Tony Bennett, and more. Watch this video, shown at last year's event, to see what the night's all about.
The general on-sale starts tomorrow, Friday, 9/17 at 10 a.m.; an American Express Carmember Pre-sale is on now, through 10 p.m. tonight.
- September 16, 2010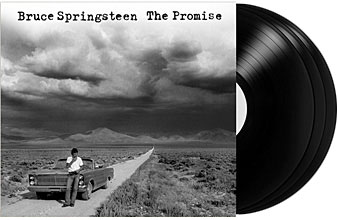 PRICE DROP: VINYL VERSION OF THE PROMISE SLASHED IN HALF
Didn't three figures seem like a steep price to pay for a four-LP set? Yeah, we thought so too — and it looks like we weren't the only ones. Sony has taken a second look and reconfigured their vinyl release of The Promise as a three-LP set (still on heavy, 180-gram vinyl) with a much more reeeeasonable list price of $55. With our 10% off pre-sale price, that brings your bill down to $49.50.
And don't worry: anyone who already pre-ordered the vinyl from us will only be charged the new $49.50 price, once we get ready to ship in November.
- September 16, 2010


BRUCE SPRINGSTEEN: MAVERICK
In conversation with Ed Norton at TIFF
The Bruce Springsteen record that became Darkness on the Edge of Town arrived out of a "search for a purposeful work life," as Springsteen told Edward Norton in the interview the actor conducted with him as part of the Toronto International Film Festival's Maverick series on Tuesday evening.
The interview lasted about 70 minutes, and both stars wore almost identical outfits. There was a wide range of topics, including the influence of film on Springsteen's work, the realization that you have a platform to express important issues to a fan base, the origins and influences of the new direction Springsteen's music would take, and the growing connection to political reality contained within Springsteen's songwriting.
Norton began by referencing the changing tone of Bruce's work that Darkness is known for. He noted that Bruce was one of the first people to "look at the darkness in the country and get your audience to come there with you," and he asked Bruce how he gained the confidence to think his audience would follow him to such a difference place. "Blues did it first," Springsteen answered. "And Dylan went there with 'Highway 61,' which gave me the first portrait of how the country felt."
When Norton asked about current artists that Springsteen enjoys, he quickly named Pete Molinari and The Gaslight Anthem, and he also talked about how his son has gotten him into some punk bands like Against Me!, Bad Religion, and The Dropkick Murphys. "That's the gunslinging life," Bruce said. "You're always looking over your shoulder."
Through much of the evening, it seemed Norton had a bit of difficulty in focusing his questions coherently (it was useful to remember that, at the end of the day, Norton is still a fan getting the chance to interview one of his heroes — being nervous is understandable). Often it was Bruce who kept things focused when it appeared that his interviewer was struggling. But Norton held up his end by taking the discussion to some interesting places: one of my favorite questions was, if given the chance to see a documentary like the one they just completed on Darkness, but about an album by another artist, which album would it be? After a moment's thought, Bruce responded with Pet Sounds, or maybe Highway 61.
Norton asked specifically about "The Promise" getting cut off the album, and Bruce called the song "too self-referential," and that they tried to get "the ten toughest songs."
The best quote of the evening might have been when Bruce said he once heard Martin Scorsese say that the goal of an artist is to "get an audience to care about your obsessions," and that Darkness was the album where he started to do that. Bruce also mentioned the importance of Scorsese on his own work; Taxi Driver had just recently been in theaters, and when the Born to Run tour hit Los Angeles the guys met Scorsese and Robert DeNiro, who screened Mean Streets for them.
For anyone that believes Bruce sometimes has trouble remembering his own lyrics, one of the biggest surprises of the night came when he corrected Norton on that front. Norton was asking about the Kingsley Street reference in "Racing in the Street," when Bruce quickly jumped in and said "that's 'Something in the Night.'"
As the evening wound down, Bruce tried to put the album in perspective. "It was not a modest undertaking; we set our sights big," he said, going on to state that, in many ways, "the first three records were prequels to this one, and Darkness was the beginning of a long conversation I've had with my audience." It's a conversation we've all been lucky to be a part of.
- September 15, 2010 - Daniel Joyaux reporting. Read more by Joyaux (from TIFF and beyond) on his blog, Third Man Movies & Culture.



THE RED CARPET EVENT
Toronto International Film Festival's Gala premiere of The Promise
On Tuesday night, following the Mavericks event, Bruce Springsteen and Patti Scialfa were at Roy Thomson Hall — along with Jon Landau, Barbara Carr, Dave Marsh, Thom Zimny, and a sold-out crowd of TIFF filmgoers — for the official world premiere of the Zimny-directed The Promise: The Making of Darkness on the Edge of Town. Daniel Joyaux reports from Toronto for Backstreets.

The film Wings for Wheels: The Making of Born to Run (released in 2005 with the box set version of that album, and also directed by Thom Zimny) captures the central problem of the recording of Bruce Springsteen's 1975 breakthrough album — he had a sound in his head, remarkable in its specificity, that he was trying to capture on record. The Promise: The Making of Darkness on the Edge of Town makes clear that Bruce's fourth album (and the first one made under the pressure of success) had an altogether different problem: Bruce had so many sounds in his head, he simply didn't know which one to even try for.
Instead, he sort of tried to capture them all, but kept abandoning different styles before they had been fully explored. The documentary opens with an in-studio take of "The Promised Land," which might be the most lyrically appropriate song to embody the album, and the beginning of the film sets up what kind of record they were trying to make. Bruce says he wanted the music to be "unglamorized" and to evoke loneliness, while Jimmy Iovine mentions that as many as 70 songs were recorded for the sessions.
In the first interview with present-day Bruce, he calls Darkness "an honest record, and that's what I was trying to make." We then cut back to the studio, where — speaking of honesty — we see rare and amazing footage of Bruce with an afro and Steve Van Zandt with nothing on his head except his hair; in both cases, it's easy to understand why we haven't seen these images before.
Much of the documentary focuses on the E Street Band at work in the studio. Bruce mentions that "Badlands" started with just the name, and then he reveals that the final take originally had no sax solo (sacrilege!). Iovine talks about how they spent weeks just trying to get the drum sound right, and how Bruce became obsessed with eliminating the sound of the drumstick hitting the snare. "Stick!" Bruce kept shouting out, take after take. "Stick!"
Frustration was all over the sessions, it seemed. At one point we see Jon Landau admonishing Bruce to put down his notebook, because every time he picks that thing up, it just "creates more work. With no more words, there's no more work!" We also see Bruce, jokingly yet with an undeniable sternness, tell everyone in the studio to just "shut the fuck up" and let him think. In one of the funniest moments, band members bet on how long Bruce will want the takes to be. "I got 4:45!" we hear Steve shout, as he lays money down. Steve reveals that the only reason they had the endurance to go through it is because none of them had wives or girlfriends — or at least not ones "that mattered all that much."
There's a lot of commentary — from Jon, Steve, Jimmy, and, of course, Bruce — about the process of song selection. Steve notes that Bruce had the "discipline and willpower" to not use some of his best songs, and that he could have been remembered as one of the great pop songwriters, but it wasn't what he wanted. Landau gets more specific: he reveals that if Bruce "thought a song could be a hit, but he didn't want to be represented by that hit, then it wouldn't make the album," no questions asked.
Bruce admits that within all the songs thrown to the side, there could have been "a great Brill Building album in there." This point is supported by two of the greatest moments in the documentary: Bruce & Steve, alone in the studio and appearing like they just got their second wind (though maybe they're actually a sheet or two to the wind?), gifting us with impromptu performances of "Sherry Darling" and "Talk to Me." These are rare moments in the film where it looks like anyone's having genuine fun, and it makes a great impression.
When it comes to style, Bruce talked about the dichotomy between the approaches of the three guiding forces — "Jon comes from a very gospel background" and enjoys a lot of R&B, while Steve just likes things to be "trashy and noisy. I was somewhere in the middle."
All of the E Street Band members are seen in new interview footage for the film, including Danny Federici (which should tell you how long they've been working on this). Max Weinberg came up with one of the most telling ways to describe Bruce's new approach as a songwriter during this period. Speaking to Zimny in one of the film's many current interviews, he describes Born to Run as an album all about how "we're gonna get out." But with this record, he realized "you can't just run away." Bruce puts it more simply, though — this is the record where "I tried to learn how to write well," he said.
The two most famous songs cut from the album, "Because the Night" and "The Promise," each earn a bit of discussion. Bruce reveals he cut "Because the Night" due to not feeling like he deserved to write a love song like that, and Patti Smith is interviewed about how she received it. The day she was given the song, she was waiting to hear from her then-lover (and future husband) Fred "Sonic" Smith, of the MC5. The longing she felt inspired her to write her share of the lyrics of what became her only hit single. With "The Promise," a song that they apparently spent three months on, Bruce cut it because it's a song "about fighting and not winning," he said. "I felt too close to it."
As the long and grueling sessions began to draw to a close, Landau put things into perspective. They "wouldn't be done," he said, "until Bruce had advanced his vision." And whenever Bruce was in doubt about the sequencing and running order, it was Landau who kept his focus on the big picture. "The work of art is the album," he would tell Bruce.
You were right, Jon. You were absolutely right.
- September 15, 2010




UNDER THE RADAR IN TORONTO: DARKNESS BOX SNEAK PEAK
Last night's gala premiere of The Promise had red carpets, flashing cameras, and Springsteen himself as a Toronto International Film Festival main attraction. We'll have more on that in short order. But first, we report from a lower-profile event this afternoon that was no less astounding for any Bruce fan: a further lift of the lid of the forthcoming box, for an extended preview of The Promise: The Darkness on the Edge of Town Story. Daniel Joyaux reports for Backstreets.
Jon Landau gave a nice introduction to a theater of about 50 people assembled to hear snippets of the Darkness box set for the first time. Many of the press in attendance were international, and Landau made sure to stress how important the overseas market is to the Springsteen team. He specifically cited Barcelona, Milan, and Berlin as cities that they love playing and that often muster some of E Street's greatest performances. Landau said there is no current plan for another tour, but that it's "inevitable." (That was the quote, so I'm inclined to believe him. It appears that, despite some major theories to the contrary, we have not seen the last of the E Street Band on tour.) Landau also specifically called out to Australia and Japan: "We know you're out there, and we'll be back!"
For the preview, we were given eight full songs from the audio portion of the box set, and five songs from the video portion. Landau stressed that the two-CD collection of unreleased audio "really is the great lost Springsteen album. It's the album that would have come out between Born to Run and Darkness."

"Racing in the Street" (rock version) This cut has mostly the same lyrics (although the car was a '32 Ford instead of a '69 Chevy), but the music is radically different. The piano is much more up-tempo, it's flooded with harmonica, and sonically it has a similar feel to "The Promised Land." Danny's great organ melody remains intact, but here it's smothered with a guitar solo.
"Gotta Get that Feeling" Perhaps the most girl group-esque of any song in Bruce's catalogue, this features some great backing vocals (I think it must have been Stevie), and the whole vibe of the song evokes the Ronnettes. Considering how often Ronnie Spector and Bruce crossed paths in '76 and '77, I wondered if this song might have been inspired by Bruce's introduction to her.
"Outside Looking In" Seems obviously inspired by Buddy Holly, with a tempo that evokes "Peggy Sue." A fun song that provides a lot of insight into the range of what the Darkness sessions had to offer.
"Someday (We'll Be Together)" At one point in the documentary, Bruce noted that Landau was a big gospel fan, and this song might have been written with him in mind. Churchy backing vocals by what sounds like a trio of ladies, and a drum sound that reminds me of the one Jimmy Iovine created with Tom Petty on songs like "Refugee." Also, there's a great guitar solo that sounds like it walked right out of a Sergio Leone spaghetti western.
"Because the Night" In the intro, Landau mentioned that Bruce threw a lot of these songs out when they were still works in progress, so a handful of them needed touching up, and even some finished lyrics (similar to what the Stones just did with the Exile on Main Street bonus cuts they issued earlier this year). I wonder if this is one of those songs, because while listening, I really felt like the chorus sounded distinctly like current Bruce instead of '78 Bruce. Is it possible this song was handed off to Patti Smith when it didn't even have a chorus?
"Ain't Good Enough For You" My favorite of the songs previewed. For anyone that's always believed the E Street Band is the greatest bar band ever, this song is for you. Featuring a handclap chorus and plenty of whoa-oohhs in the backing vocals, this is Bruce at his most fun. A good R&B feel, and similar to the work Southside Johnny was doing at the time, this also features one of the most unusual lyric pieces I've ever heard from Bruce, name-dropping his then-engineer: "cool like Jimmy Iovine." Considering how famous Bruce is for creating characters within his songs, he's rarely referenced a real person, let alone a friend.
"Talk to Me" Extremely similar to the well-known version by Southside Johnny, this is, nonetheless, a delight to hear in its original E Street version (though I liked the impromptu Bruce & Stevie version in the documentary even better).
"The Promise" Every bit as good as its legend. While listening to this song, you really gain understanding that it's the missing link. It's the transitory song where the characters from Born to Run became the characters on Darkness. In many ways, this is the moment where young, romantic Bruce became Bruce Springsteen: the man. For those of you who have only heard the re-recorded version from '98, you're in for a revelation.
"Badlands" & "Streets of Fire" These performances were both taken from a complete performance of the Darkness album the band did in December of '09 in Asbury Park especially for director Thom Zimny to use for this box set. No Patti, Soozie, or Nils on these songs, just the guys that originally recorded the album (and, of course, Charlie filling in for Danny). The band nailed them both, particularly "Streets of Fire," a song I'd never seen in concert. Bruce told a funny story when he addressed the crowd after the sneak peak. Following almost two full years of touring, he and the band went to go record this live version of the Darkness album — but Patti told him he had to be home for dinner by 7. So when he got to Asbury Park for the filming, he told Zimny that he only had time to do two run-throughs; luckily, one of them was more than good enough.
"Candy's Room" Live in the studio from the original sessions, with Bruce shirtless and sporting an amazing afro (looking very much like Brad Delp, lead singer of Boston — it's clear Bruce has been hiding photos of this era from public display). It's unclear what band members are on the session, but Stevie's on percussion ("Miami, lookin' good!" Bruce shouted right before they began). The song is much slower than what we're used to, and I enjoyed thinking of an alternate reality Darkness on the Edge of Town where "Candy's Room" was the slowest song on the album and "Racing in the Street" was one of its best rockers. The song is good, but it's so radically different that I found it disorienting. It'll take a few more listens to really decide what I think.
"The Promised Land" & "Prove it All Night" – Two live performances from '78 (different shows, though), that make clear how good the tour was. "Promised Land" was great, but the real treat here is "Prove It." For anyone that has never heard this song live from '78, it might be the best part of the whole box set for you. The version of "Prove It" I've had on a '78 bootleg from Jersey has, over the years, become my go-to song to play for anyone wondering about the E Street Band in concert. With the long piano/guitar intro that builds the momentum, the song was stretched out to a ten-minute-plus epic that rivaled "Rosalita" in show-stopping intensity. It also showcases, to great effect, the guitar hero side of Bruce that always seems to take the back seat to Bruce the singer and Bruce the songwriter.
And with that pulse-pounding conclusion, which drew an enthusiastic applause from the small audience of press figures, Jon Landau thanked everyone for taking part in the 64-minute preview of the box set. It was a preview that ensured I'll have a long wait until November 16, but I'm ecstatic I got to take part.
Tune in to E Street Radio on Friday morning, when Daniel will be taking about the preview session with Dave Marsh on "Live From E Street Nation."
- September 15, 2010


LISA LOWELL'S BEAUTIFUL NEW RECORD
It's great to see Lisa Lowell — longtime Springsteen backup vocalist and full-fledged member of the Sessions Band — stepping out with a record of her own. Beautiful Behavior is out now, and well worth checking out. Over six tracks, you'll hear similar touchstones as in the music of her old friend Patti Scialfa (think singer/songwriters like Laura Nyro and Phoebe Snow) but even more rooted in '70s soul and R&B (think Willie Mitchell and Hi Records). Her band features guitarist Hugh McCracken, with guests including Larry Campbell on mandolin, Scialfa and Soozie Tyrell on vocals on "The Big Odd" and "Until You Come Undone," and Springsteen himself on electric guitar on "Moulin Rouge."
Visit Lisa's website for more on the CD, including mp3 samples, and to buy now!
Catch Lisa guest DJ-ing on E Street Radio next week, as she plays songs by pals Soozie Tyrell & Patti Scialfa and debuts tracks from Beautiful Behavior. Her guest DJ session premieres on Monday, September 20 at 4 p.m., repeating on September 21 at 12 a.m. and 8 a.m.
Also: Lisa's fellow Seesions Band member Frank Bruno guest DJs on E Street Radio this Friday, playing and performing some of his favorite Springsteen songs. Frank is joined by his co-writer and musical partner Hank Weddington, and they perform some of their haunting original songs live in the SIRIUSXM studios, as well as some Bruce covers including "Meeting Across the River." Listen to Frank talk about recording with Bruce on We Shall Overcome: The Seeger Sessions and what it was like to tour with Bruce and the Sessions Band. Frank's DJ session debuts September 17 at 4 p.m., repating on September 18 at 12 a.m. and 8 a.m.
- September 14, 2010


TORONTO WATCH: NORTON ON SPRINGSTEEN
In a matter of hours, Bruce Springsteen will be on stage with Edward Norton as part of TIFF's Mavericks series, to "discuss the film as well as the relationship between his music and American filmmaking." The actor "became friends with the rocker after they met at a concert about 10 years ago," according to an Associated Press article today, in which Norton talks Darkness and more in advance of the big event:
"That record, there's no way to overstate how much that record was a part of my life. I've seen the film, and it's amazing to see him at that age going through the creative process on it. Any artist, I think, will appreciate the chance to see someone who is as great as he is at that age struggling and struggling and struggling to get things to where he hears them in his head.... One of the things that's amazing to me is he's considered this quintessential American working-class artist, yet so much of his work has challenged the idea that America lives up to its ideals in some ways. He shows people and artists that you can live in a culture and place and love it and still question it, still challenge it."
- September 14, 2010


TORONTO WATCH: MAD, BAD, AND DANGEROUS TO KNOW
In the Toronto Star, in anticipation of tonight's Gala screening, film critic Peter Howell calls The Promise "a gift for Springsteen fans and a genuine fascination for anyone interested in the often messy process of creating art. The film's only drawback might be the unabashed loyalty of Springsteen's crew, who are reluctant to say anything negative about him, other than to make plain why it was that they started calling him 'The Boss.'" The film "provides a fascinating study of a man of opposites and obsessions," writes Howell, noting that "As Springsteen admits in one of many confessions he makes to Zimny's lens, the Darkness sessions took his control-freak tendencies to extremes: "I was a dangerous man to be around."
Update: Our pals over at Blogness on the Edge of Town are keeping up with all the Springsteen press out of Toronto -- head there for a linkfest!
- September 14, 2010


TORONTO WATCH: TODAY'S SNEAK PEAK AT THE PROMISE
While Thom Zimny's documentary film The Promise will have its official premiere Tuesday night at the Toronto Film Festival's Gala event, an advance screening was held for press and industry this afternoon. Stephen Whitty was there for the Star-Ledger and reports, "even casual fans are in for a treat. Serious fans are in for a revelation."
It's not just the charm of seeing old Springsteen family home-movies (or rehearsal footage that shows a pin-up ready Boss, guitar strapped to his bare chest, leading the band in at-home jams).

Nor is it just the occasional what-if wonders and bits of trivia (Springsteen originally had "Badlands" mixed without the sax solo; he gave a half-done "Because the Night" to Patti Smith only because he was "too cowardly" at the time to write a straightforward love song).

No, what thrills here are the real insights – some glimpsed in footage from the time, but most provided by Springsteen and the band more than 30 years later.
Read more at NJ.com, and watch on Wednesday for Backstreets' own coverage from Toronto following Tuesday's double-shot: Springsteen will appear in conversation with Ed Norton tomorrow evening at 6 p.m., followed by the Gala screening at 9:30.
- September 13, 2010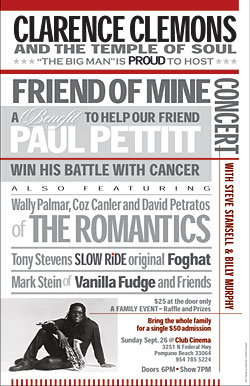 CLARENCE TO PLAY "FRIEND OF MINE" BENEFIT CONCERT, 9/26
Clarence Clemons has had a year filled with obstacles and triumphs, firstly undergoing intense back surgery on his birthday in January this year, to correct disc degeneration. While the Big Man was undergoing intense physical rehabilitation, the University of Maryland presented his Honorary Doctorate to him in May, a proud moment for him — and as he stated, a very proud moment for his mother, a teacher.
Now, following recent performances with Steve Smith and the Nakeds in August, the newly appointed Doctor Clemons is helping out his good friend and band member Paul Pettitt, who was diagnosed with cancer and is battling all odds to win. The upcoming Friend of Mine Concert reunites Clarence with his old band mates of the Temple of Soul for a benefit show on September 26 in Pompano Beach, FL. The night will include a raffle and silent auction, with items including signed guitars, photographic prints from Jo Lopez, and of course, a signed copy of the Big Man's own book. Or is that Doctor Big Man?
Visit doglegmusic.com/friendofmine for more information and to purchase show tickets, .
- September 13, 2010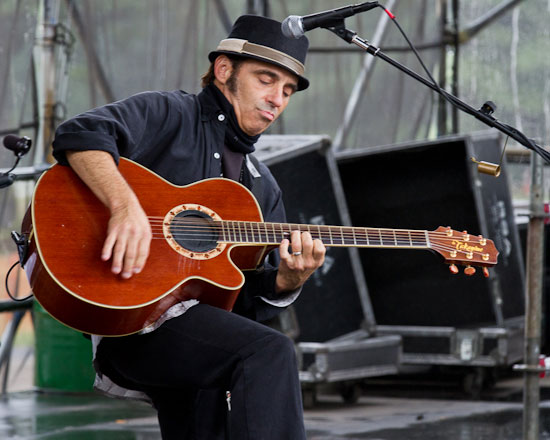 HE CAME TO (TAP?) DANCE
Nils Lofgren Duo, Union County Musicfest, September 12, 2010
Despite the weather conspiring to thwart the scheduled Nils Lofgren Duo show at the 2010 Union County Musicfest on Sunday, after a few passes of the squeegee on the stage, moving some equipment out of the rain zone and switching to an acoustic-based setlist, the show went on. A few hundred people had their bodies but not their spirits dampened with a set highlighting Lofgren's deep songbook. New songs and songs you've heard before all were crafted into an enthralling midday performance.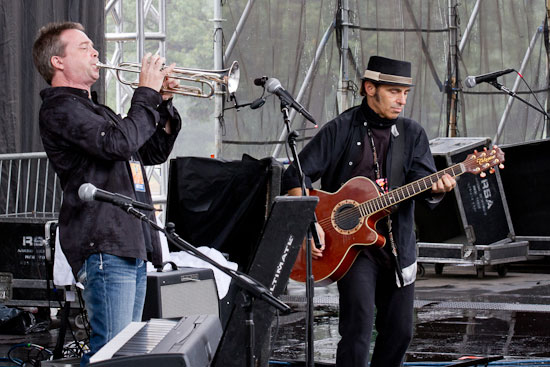 An early selection had Nils laying down guitar parts to be looped so that he could play his own rhythm to his own lead for a mesmerizing effect. Nils told a nice story about writing "Keith Don't Go (Ode to the Glimmer Twin)" from his eponymous 1975 album, Nils Lofgren, before playing an acoustic version of a song that was definitely a non-acoustic hit, and a home run hit here in Clark, NJ's Oak Ridge Park.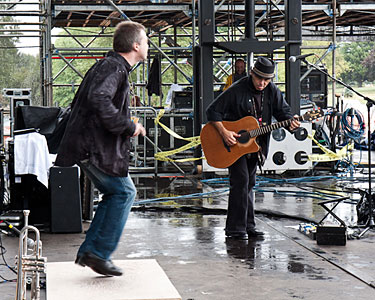 Rounding out the duo is Greg Varlotta on keyboards, trumpet, vocals and tap shoes. Yes, tap shoes. Sometimes a song needs percussion, and since there is no drummer on this tour, tapping out the beat comes in handy. It was amazing how big of a sound came out of this pair. With the concert finale, "I Came to Dance," Nils donned his own tap shoes to join Greg for a dance-off, while simultaneously playing guitar. Nils Lofgren did both without missing a beat.
- September 13, 2010 - report and photographs by A.M. Saddler



AS LONG AS WE'RE POSTING COVER CLIPS...
And before attention turns in full to Toronto... here's Vampire Weekend taking on "I'm Goin' Down." Raving about Born in the U.S.A. to Pitchfork, frontman Ezra Koenig says, "For a while, 'I'm Goin' Down' was my favorite, and I listened to that constantly. Partially, it may have been the headspace that I was in at the time. It had this happy feel, but somewhat depressing lyrics about going down. There's this weird mix of bummed out and cheerful about going down. That one really stood out for me."
- September 13, 2010


BACK TO SCHOOL
Bruce's annual private fundraising show for his son's school was Saturday night at the Stone Pony in Asbury Park, a two-hour-forty-minute performance in which Bruce was backed by a band led by Bobby Bandiera and including Max Weinberg on drums (fresh from his own band's performance at the Pony the night before).
These shows, once legendary for otherwise-unheard covers, have featured more of Bruce's own songs in recent years, although a horn-laden 634-5789 was a highlight, along with Bruce and Southside Johnny trading vocals on "In the Midnight Hour." Performances were loose but spirited, fitting for the event's setting.
From Bruce's own songbook, selections included his standard bar-band fare, but also two songs from his most recent album, a fun opening in "Working on the Highway," and several surprise highlights from his early albums, including "Growin' Up," "Rosalita," and a poignant take on "Sandy."
For the full setlist from this and other recent shows,
see our Setlists page
- September 12, 2010



BIG BAND BY THE BOARDWALK
Max Weinberg Big Band, The Stone Pony, September 10, 2010
Last night, on a cool late-summer night in Asbury Park, New Jersey, the Max Weinberg Big Band opened its two-hour show at The Stone Pony with the very first Tonight Show theme, penned by Steve Allen: "This Could Be the Start of Something Big." And indeed it was — the joint was jumping all night long.
If the opener was a nod to Max's too-brief stint on the Tonight Show, the two closing songs were a nod to his more than three decades with the E Street Band. "Kitty's Back," the closer, was not so surprising a choice, given that it is pure jazz-rock fusion, and the high-energy arrangement by MWBB trumpeter, Brian Pareschi, sounded sublime. But the penultimate song, "Born to Run," was a pleasant surprise with thw big band treatment, transcending the full-on, balls-to-the-wall rock anthem in a way that made it something new and fresh. It was like bossa nova meets the Boss.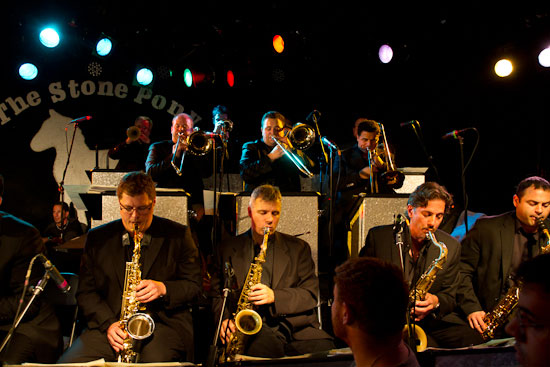 In between, playing to a crowded house, the talented 15-piece band was brassy and jazzy and swinging: three hot trombones and four trumpets, sometimes cupped and moody; a complement of five saxophones (two alto saxes, two tenors, and a baritone); a be-bopping stand-up bass; a tinkling piano; and, of course, the bandleader pounding on the skins. During his brief repartees between songs, Max — sporting longer hair and a beard, looking quite professorial — mentioned that the E Street Band debuted the Born in the U.S.A. album on the stage of the Stone Pony in 1984. He also reminisced that when he saw the ad seeking a drummer and a piano player for the E Street Band back in 1970s, the ad said that the musicians also had to sing. When he went to audition and displayed his vocal talents, Bruce responded, "You can just drum."
And drum he does, so well, for both the E Street Band and for the MWBB, with such expertise that it seemed on this night, amazingly, both loose and precise, particularly during a smoking drum solo that was an homage to the late Buddy Rich. "I never did a drum solo. It's my band, so I'm gonna do one," he said before slicing into Rich's "Bugle Call Rag." The statement may have been a good-natured and playful dig at the Boss, who, in the aforementioned Village Voice ad Max answered, requested "no junior Ginger Bakers," in reference to Baker's reputation for long drum solos.
It was a night of homages by Newark-born Max: another to Rich ("Parthenia"), and especially to some other musical Jersey Boys: in addition to Freehold's Bruce Springsteen, there was Hoboken's Frank Sinatra ("Come Fly With Me" and "Only the Lonely," songs which Ol' Blue Eyes made popular) and, especially, Red Bank's Count Basie ("The Kid from Red Bank," "Walk, Don't Run," "The M Squad Theme," and the Count Basie Orchestra's arrangements of the Beatles' "Help," "Do You Want to Know a Secret," and "Kansas City," which was itself a cover of the 1952 Jerry Lieber and Mike Stoller R&B classic). Another highlight was the particularly torrid dueling saxes of Brandon Wright and Joey Berkley during Quincy Jones's "Rat Race."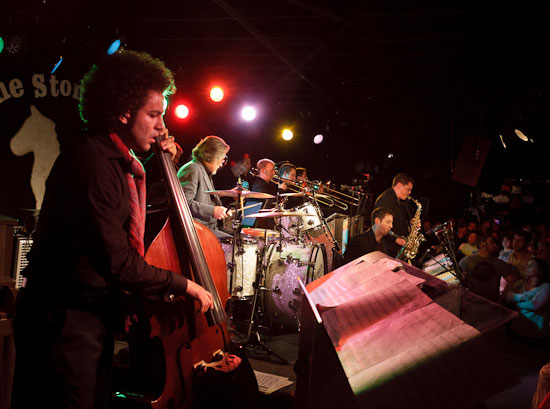 "We're trying to keep this music alive, the swing music," Max told the audience early in the show. As a child in the '50s and '60s, I grew up with my father's big band records playing on Saturday and Sunday mornings: Glenn Miller, Artie Shaw, Basie, Goodman, Dorsey, Ellington. And indeed, last night, I saw the ghosts of my music past come to life, vital and vibrant. And at the end of the night, the hot and grinning bandleader said: "I'm Max Weinberg, and this is my new big swinging band. Come back and see us, because we'll be seeing you." I know I'll be back.
- September 11, 2010 - Barbara Schweiger reporting - photographs by A.M. Saddler



MISPLACED INSIDE A JAIL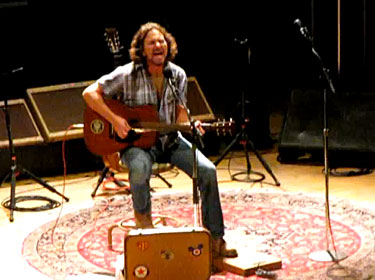 Check out Eddie Vedder's excellent cover of "Open All Night" here (at 6 minutes, 49 seconds in), performed at the recent Voices For Justice rally/concert supporting the effort to free the West Memphis 3 (Jason Baldwin, Damien Echols and Jessie Miskelley). It opens with his hilarious intro about sounding like Bruce Springsteen, and then comes the performance of the song itself. Demonstrating just how important context can be by singing "in the voice of Damien Echols… on his way home," Vedder turns Nebraska's most lighthearted track into something even more moving and haunting. For more information on Damien Echols and the West Memphis 3, visit www.freewestmemphis3.org.
- September 11, 2010 - Shawn Poole reporting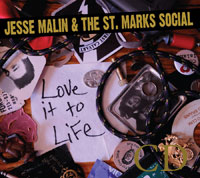 FREE JESSE MALIN DOWNLOAD:
"BURNING THE BOWERY"
FOB (Friend of Bruce) Jesse Malin has a new album out, and it's all killer, no filler. We've been spinning the bejeezus out of Malin & The St. Marks Social's Love It to Life here at the Backstreets Towers, so when the label got in touch with us about offering up an mp3 to our readers, the only question was, which song to choose? Because, really, any of 'em would cut the mustard. We're running with the album's lead-off track, "Burning the Bowery," available now for FREE on our Downloads page, this month only. If you like what you hear, pick up the whole thing — for cheap! — right here.
Update: And another track to check out, "Black Boombox" — video directed by Backstreets contributing photographer Joseph Quever.
- Updated September 10, 2010


SOFTCOVER RUNAWAY DREAM OUT NOW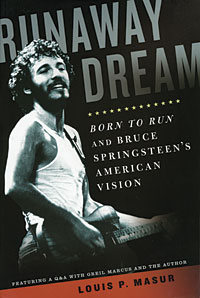 Louis Masur's book Runaway Dream: Born to Run and Bruce Springsteen's American Vision was described by the Hartford Courant as "an exceedingly detailed analysis of the singer's breakthrough album: how it was created, its cultural context and what it means today." The book has just been published in paperback, an edition that includes a new Q&A between the author and critic Greil Marcus. In his new appendix Masur writes:
...Springsteen fans know [Marcus] as the reviewer of Born to Run in Rolling Stone in October 1975 who proclaimed that "it is a magnificent album that pays off on every bet ever placed on him." I began by asking him whether, more than thirty-five years later, the album holds up. His answer surprised me:

GM: What's interesting is I was so completely knocked out by "Born to Run" itself I had trouble at first playing the whole album. I kept playing that song over and over again. But that song has not worn all that well for me. There are other songs on that album that really grew over time, most of all "Jungleland." That's a real knockout. I remember Jon Landau telling me that when they were working on the album he kept telling Bruce "less is more, less is more." They had done rehearsal versions of that song, and then Bruce comes into the studio with a much, much cut-down version, like a two-and-a-half minute version, and Jon says "where's the rest of it?" The whole point of the song is that it goes on and on, and it builds and Bruce said "you said less is more." And Landau responded, "well, not always."

LM: What you say about "Jungleland" is also true for me about "Backstreets," and in both cases part of the lasting power of those songs is Bruce's voice and its effectiveness.

GM: People are used to Bruce getting desperate and turning himself into a sort of a body of pure emotion. That's what happens at the end of "Backstreets" and that's one of the reasons why it is so striking. I tend to think of Bruce as somebody who really can do so much more with less, with something like "Stolen Car" which is a really small song with enormous power. It's quite a black hole. The mask gets smaller and smaller and the energy gets greater and greater. A couple of lines in that song and the way that they are sung can momentarily replace his whole career, just the way the end of "Backstreets" can....
Marcus and Masur go on to talk about Darkness on the Edge of Town, Bruce attending Marcus's class at Princeton, and more. The book is in stock now at Backstreet Records.
Also just added to our online shop: the "Wrecking Ball" 10-inch vinyl, produced by Columbia exclusively for Record Store Day 2010. These are limited, rare, and sealed!
We've also restocked our supply of The Light in Darkness — demand for the book has risen again with the official announcement of the box set, and if you're interested in a copy we recommend grabbing one soon (the book's predecessor, For You, is out of print and long gone).
- September 8, 2010


NILS & MAX HIT THE ROAD THIS WEEKEND
This Labor Day weekend brings Nils Lofgren's return to the road, kicking off an acoustic tour with a three-night stand at the Birchmere in Alexandria, VA, tonight, tomorrow, and Sunday. He writes at nilslofgren.com that he's "enjoying the challenge and journey to fire up my own show again. It'll be great to play with the Lofgren brothers again, in Virginia at the Birchmere. Greg Varlotta will be with me at all the gigs. Mary Ann Redmond will be singing at Birchmere with us the first two nights. (Friday and Saturday) Should be fun." Lofgren's tour will hit NYC next week, with a lengthy UK run in October. For more with Nils, including interviews and exclusive performance footage, visit wtopnews.com and dc50tv.com.
Heading back out this weekend as well is the Max Weinberg Big Band, also beginning a series of Fall 2010 dates in Virginia this Sunday night at the American Music Fest, followed by a stop at the Stone Pony in Asbury Park next Friday. Read Katherine Byrd's recent interview with Max at portfolioweekly.com.
For Nils and Max's full schedules — as well as Labor Day weekend dates from John Eddie, Jobonanno & the Godsons of Soul, Willie Nile, Southside Johnny, the B Street Band, Bruce in the U.S.A, Tramps Like Us, and more — see our Concert Calendar. And enjoy the long weekend!
- September 3, 2010



EMMY, LET ME IN, I WANNA BE YOUR FRIEND...
For your viewing pleasure: the full-length, official Emmys opening clip from NBC.com.
- September 3, 2010


PRE-ORDER NOW!
Here at Backstreet Records, we'll be stocking all four of the configurations due on November 16, and we're taking pre-orders for each of them now. We're offering a 10 percent discount across the board for these pre-sales, and we'll be fulfilling them in the order received, immediately upon release. We appreciate you supporting Backstreets!

The Promise: The Darkness on the Edge of Town Story
(6-disc CD/DVD edition)
10% OFF
List price: $120
Our price: $108

The Promise: The Darkness on the Edge of Town Story


(6-disc CD/Blu Ray edition)

10% OFF


List price: $140

Our price: $126


The Promise (3-LP vinyl edition)
10% OFF
List price: $55
Our price: $49.50


The Promise (2-CD edition)
10% OFF
List price: $19
Our price: $17
Each configuration is also available directly from Sonymusicdigital.com, along with an exclusive T-shirt and poster.