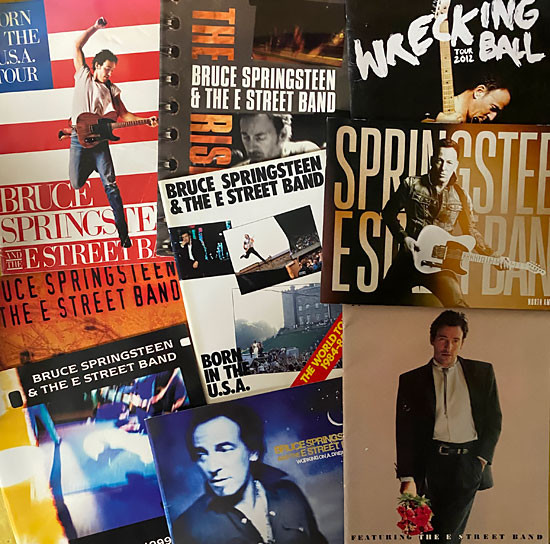 On Opening Night 2023, we wish Bruce Springsteen and the legendary E Street Band, as well as all the crew, yet another heart-stopping, hard-rocking, earth-shaking, history-making, virus-avoiding world tour. And for every ticket-holder, good rockin' tonight and every night.
- February 1, 2023 - band photograph by Danny Clinch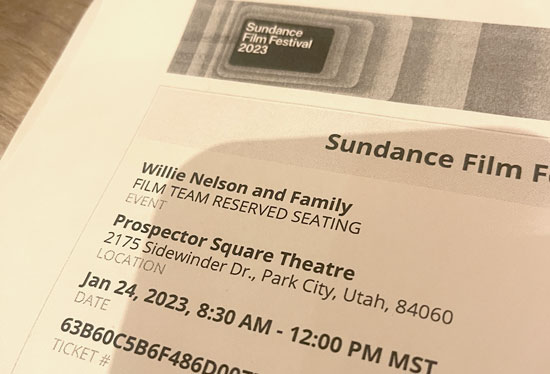 THOM ZIMNY & OREN MOVERMAN TAKE US TO "WILLIE WORLD"
New documentary series explores the phases and stages of another great American songwriter, performer, and bandana aficionado
Willie Nelson turns 90 at the end of April, but the birthday celebration kicked off this past week in the mountains of Utah when an epic five-episode, 260-minute documentary series about the life, career, influence, and ethos of the American music legend premiered at the Sundance Film Festival, co-directed by Brucedom's very own Thom Zimny.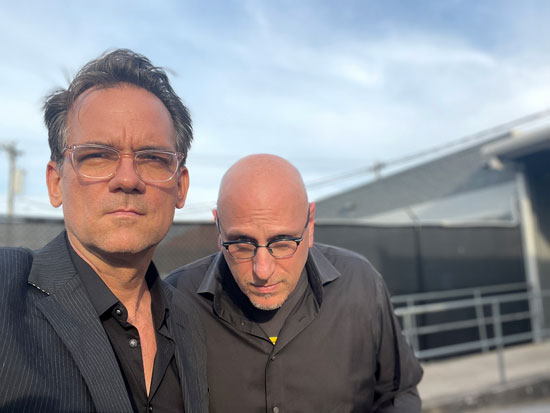 Willie Nelson & Family teamed Zimny [above left] up with acclaimed writer/director Oren Moverman [above right], who earned an Oscar nomination for writing the 2009 film The Messenger. Moverman may perhaps be best known and appreciated around these parts for writing the screenplays to two revered music biopics: 2007's exploration into Dylan mythology, I'm Not There, and 2015's Brian Wilson film, Love & Mercy. Zimny and Moverman first met at a dinner party more than a decade ago; they hit it off talking about life, movies, and music, and they've been wanting to work together ever since.
Now they have, and those many years of conversations between the two filmmakers and music historians has resulted in one of the longest music documentaries on a single artist ever created. If anyone merits that treatment, it's someone like Willie Nelson, who not only has a legendary seven-decade career under his belt, but is just as revered for his personality, activism, and ethos as he is for his music. And despite a length that may initially seem prohibitive, Willie Nelson & Family is ultimately a hangout movie.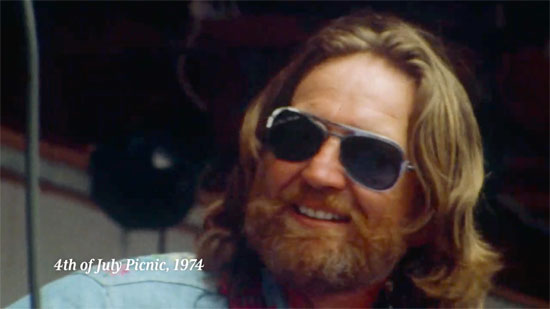 Still from Willie Nelson & Family
Willie Nelson & Family is presented by Blackbird Presents and Sight Unseen Pictures. The episodes follow their own internal logic, moving mostly chronologically but also operating much like a conversation with Willie himself, where any and all phases and stages of his life and career may be dipped into at any time. I spoke with Zimny and Moverman for MovieMaker Magazine, and they emphasized wanting the series to feel like you could begin watching at any time, or go back and restart wherever you wanted.
According to Wikipedia (and I did not feel the need to further fact-check this), Willie Nelson has released 98 studio albums. So as you might imagine, even a four-and-a-half-hour documentary can only cover a small percentage of them. But many of the highlights are amply detailed, including the beginning of his "Outlaw" phase (Shotgun Willie), his commercial breakthrough (Red Headed Stranger), his biggest hit (Stardust), his '90s comeback (Across the Borderline), and his collaborations with the likes of Waylon Jennings, Merle Haggard, Daniel Lanois, Wynton Marsalis, and The Highwaymen.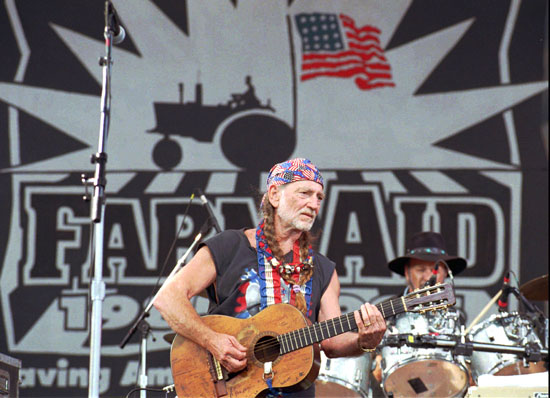 Also detailed are several other major stories of Willie's life, including the creation of Farm Aid, his rebellion from Nashville, his familial relationships, and his prolonged fight with the IRS. It's the last of these that earns my one major complaint with the series. The sequence detailing Willie's battle with the IRS in the late-'80s and early-'90s involves several of Willie's friends and confidants openly scoffing at the IRS as (more or less) some government nuisance that was just needlessly coming after him. My issue is that it feels highly tone-deaf given our current national moment, when IRS agents are being widely demonized by right-wing media and Republican politicians are trying to defund the entire agency just to protect their dark money donors.
And Willie's problems with the IRS weren't a minor nuisance. He owed $16 million in back taxes, he lost his house and most of his belongings, he had to smuggle his guitar (Trigger) out with friends so it couldn't be repossessed, and he recorded an album (1991's The IRS Tapes: Who'll Buy My Memories) just to help settle his debts. So obviously this is a major part of his life story that needs to be covered, and I understand that these things happened in a very different era and weren't really Willie's fault (his money was being badly mismanaged by his accountants, Price Waterhouse). But the way it comes across in the interviews and in the edit feels one-sided and dismissive of a major issue currently facing the country.
To be fair, I mentioned this concern to Zimny and Moverman, and without missing a beat Moverman countered that the IRS agents who went after Willie were working for a Republican president.
That lone complaint aside, Willie Nelson & Family is a wonderful ride. It is a bit slow at times (particularly in the second episode, before we get to Willie's classic period), and the sheer length is a bit overwhelming. But part of that is undoubtedly due to the festival setting in which I saw the opus; if you watch it over a slightly longer period of time, those issues may not be present at all.

At the film's January 24 Sundance premiere in Park City, Utah
Bruce fans will also enjoy original music for the series written by none other than Ron Aniello (who has produced several Springsteen albums, including Wrecking Ball and Western Stars), and a treasure trove of interview subjects for the series. Interviewees were all captured in what Zimny and Moverman described as a confessional booth setting: surrounded in black and confessing their thoughts about Willie to the camera. Numerous music legends enter the booth and join the conversation, including Dolly Parton, Booker T. Jones, Don Was, Emmylou Harris, Rodney Crowell, and Roseanne Cash.
For this viewer, what really came through in the series wasn't necessarily the music, or the participants, or the stories, but the relaxing and contagious vibe of Willie himself. When I talked to Zimny and Moverman, they kept mentioning being in "Willie World." I eventually realized the term wasn't as much a reference to the project they were working on than a state of mind they were happily immersed in — and maybe they still are.
Hanging in Willie's kitchen is a sign that the series spotlights several times, which reads, "Don't be an asshole. Don't be an asshole. Don't be a goddamn asshole." That's Willie's guiding light. It sounds simple, but to Willie it's the daily code he operates by. And if there's one thing the series unmistakably drives home, it's that Willie Nelson is no goddamn asshole. There are few musicians or artists that would be more relaxing and rewarding to spend four-and-a-half hours with, and if my recent Spotify history is any indication, four-and-a-half hours wasn't nearly enough.
- January 28, 2023 - Daniel Joyaux reporting - If you'd like to see more of Joyaux's coverage of the Sundance Film Festival, you can follow him on Twitter @thirdmanmovies and on Letterboxd at Djoyaux; you can also check out his festival preview for Rotten Tomatoes and his festival recap for The Ringer (coming Monday).


BACKSTREET RECORDS: RECONSTRUCTION COMPLETE!
And there's still time to pre-order Springsteen: Liberty Hall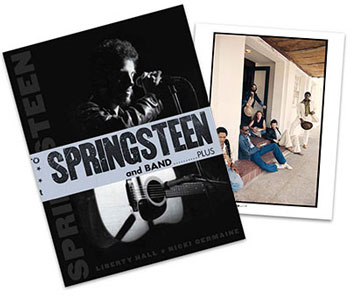 Good news for anyone who recently met with technical difficulties in our Backstreet Records online shop — after a couple days of troubleshooting, we've solved the problem, and "ADD TO BASKET" is working again!
If you encountered that error, we apologize for any incovenience and frustration, and we hope you'll come back and try again.
Particularly if you're interested in Nicki Germaine's SPRINGSTEEN: LIBERTY HALL book, with time being of the essence to guarantee your copy with a pre-order, we hope you'll give it another shot. You can pre-order just the book, or the book plus a signed, color 8x10 print.
Thanks again for your understanding and support!
- January 24, 2023


BACKSTREET RECORDS: UNDER CONSTRUCTION
We're aware of a new issue in our Backstreet Records online shop that, in most browsers, prevents customers from adding any item to their basket. Kinda hard to place an order that way... so we're working right now to get the problem solved as soon as possible, and we apologize for the inconveniece!
If you'd like to place an order in the meantime, you can do so by phone: call (919) 968-9466 or toll-free in the U.S. 1-800-326-BOSS to order from Backstreet Records, between 9am and 3:30pm Eastern.
We'll make another announcement as soon as the online shop is sorted and running like it should — thanks for your understanding.
- January 23, 2023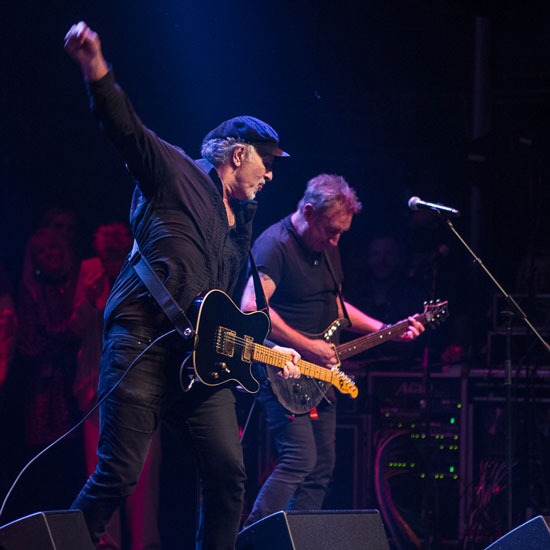 LIGHT OF DAY '23 TURNS OUT GOOD
A near-capacity crowd filled Red Bank's Basie Center on Saturday night, January 14, for the 23rd annual Light of Day Winterfest's centerpiece event, Bob's Birthday Bash. The nearly six-hour event was, despite its length, a fast-paced smorgasbord that ran the gamut from hip-hop and power pop to roots rock and acoustic soul.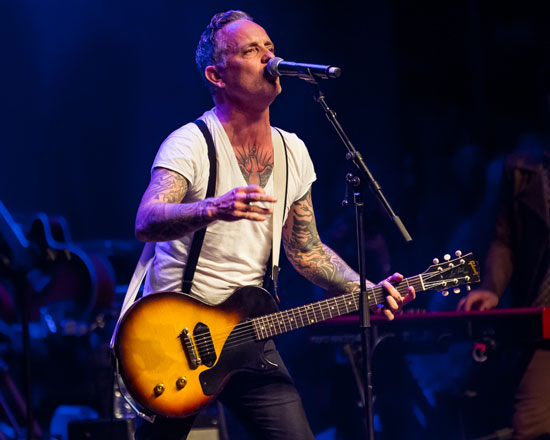 Highlights included country punk newcomers Dave Hause & the Mermaid [above], the effervescent Weeklings (who always seem to have the latest Underground Garage "Coolest Song of the Week" in their set) and Jesse Malin, who always gets audiences going with his forays into the crowd. Willie Nile brought attendees to their feet, closing out his set with "One Guitar."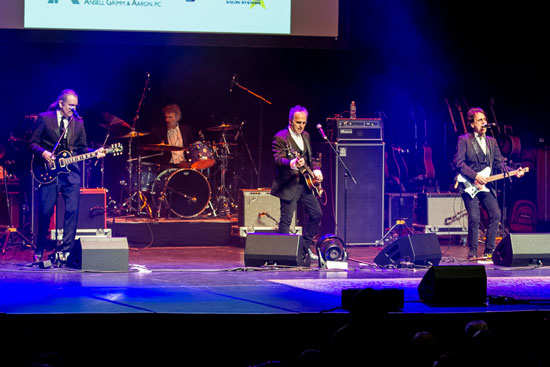 The Weeklings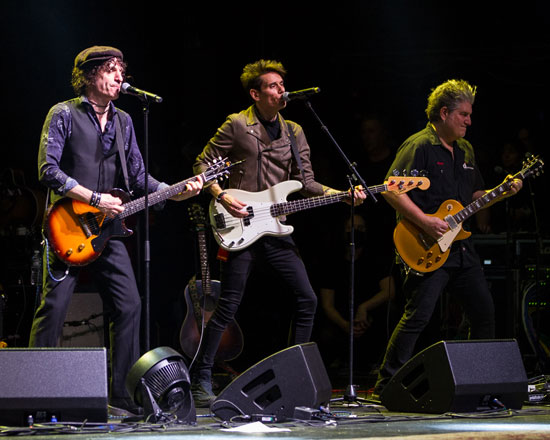 Jesse Malin (far left)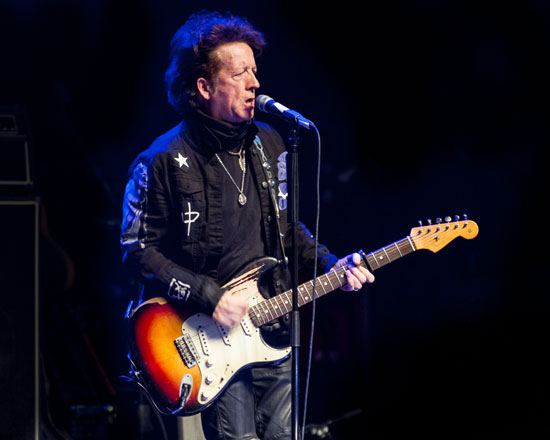 Willie Nile
Founding artists Joe Grushecky & the Houserockers [top] turned in their usual crowd-pleasing set of blues-based rock 'n' roll, punctuated by an appearance from musician/photographer Danny Clinch on harp for "Pumping Iron."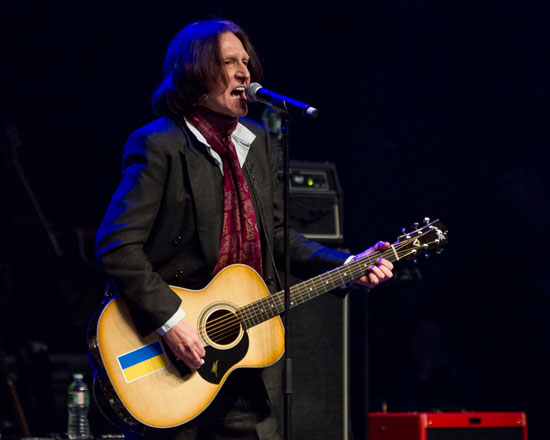 John Waite [above], another Light of Day newcomer, was in fine voice as he led his band through a headlining set that interspersed solo material ("Missing You," "Change") with his early work with The Babys ("Every Time I Think of You") and Bad English ("When I See You Smile").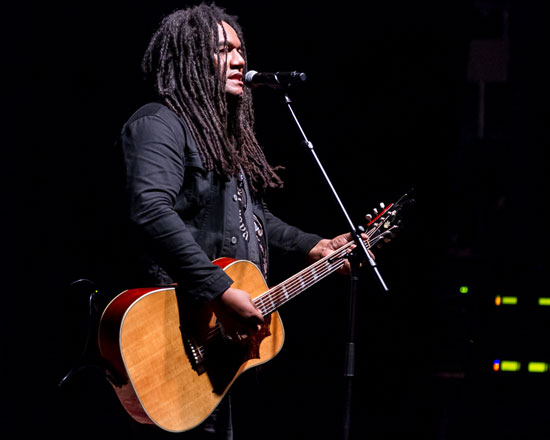 The acoustic acts were also solid, with Jeffrey Gaines [above] and Adam Ezra [below] turning in lively solo sets that kept folks engaged during breaks between the bands.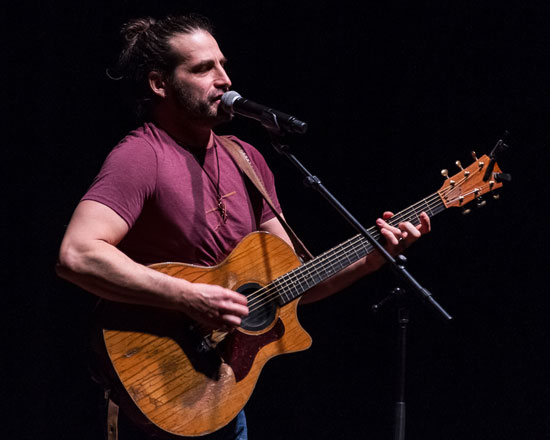 But the true stunner of the night was Remember Jones' take on David Bowie's classic "Life on Mars?" [below]. Dressed in a pink lamé suit jacket and accompanied on electric piano by Jeremy Kaplan of Dogs in a Pile, he shook the rafters with soaring, soul-inflected vocals.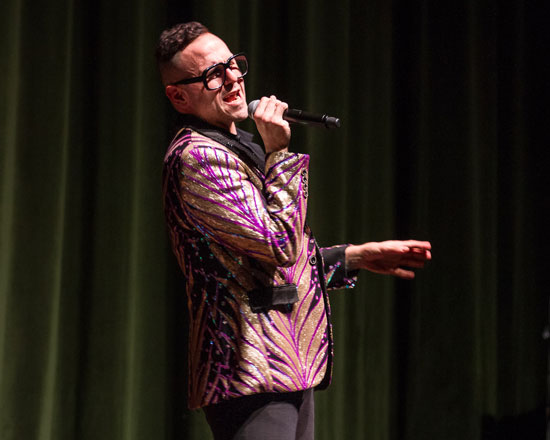 As is tradition, the show wrapped with all hands on deck, including Light of Day founder Bob Benjamin, for the Springsteen song that gave the organization its name.
As audiences look ahead to an E Street Band tour, in a time when the future of live music continues to be uncertain, Light of Day 2023 proved that at its best, a great rock 'n' roll show can still be truly life-affirming.
- January 19, 2023 - Lisa Iannucci reporting - all photographs by A.M. Saddler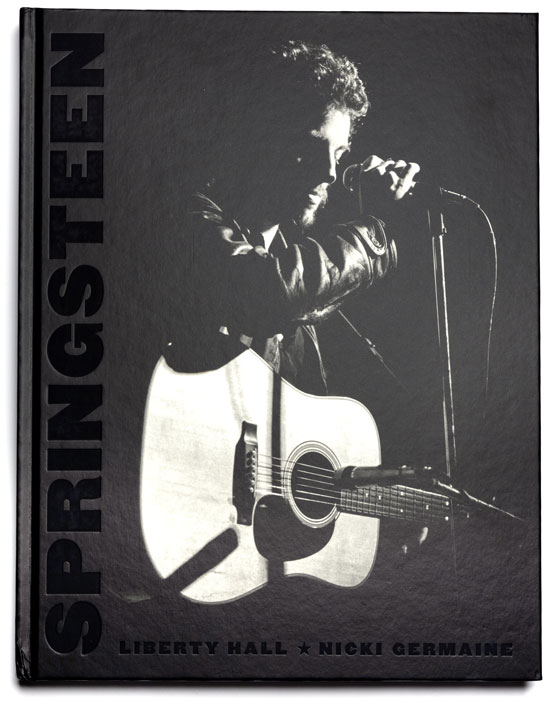 PRE-ORDER NICKI GERMAINE'S LIBERTY HALL NOW!
Book available individually, or as a package with a signed 8x10 print
In March of 1974, Bruce Springsteen and the E Street Band were on the verge of stardom when they arrived in Texas, to play a stand at Houston's Liberty Hall. Photographer Nicki Germaine was there, capturing not just what happened onstage, but also backstage and behind the scenes -- "in all our wide-eyed glory," as Springsteen writes.
Her historic photographs have gone unseen for nearly 50 years... now, 100 of these Springsteen & the E Street Band images from '74 unveil a brand new rock 'n' roll story in Springsteen: Liberty Hall.
After previewing her book and its photographs at last weekends Greetings symposium, Nicki is ready to ship books to us to make available through Backstreet Records — we're taking pre-orders now.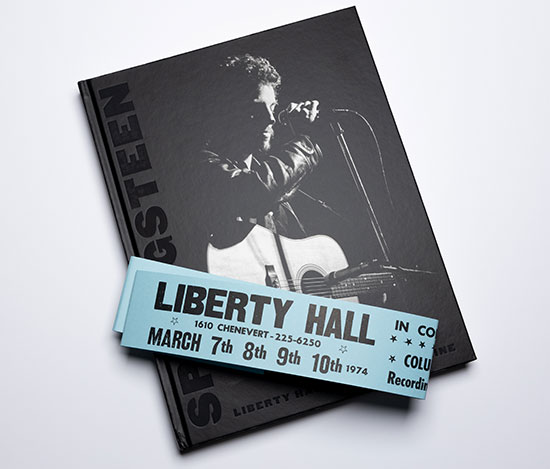 You can pre-order the book alone for $65, OR with this 8x10 color print [below], a special Backstreets add-on.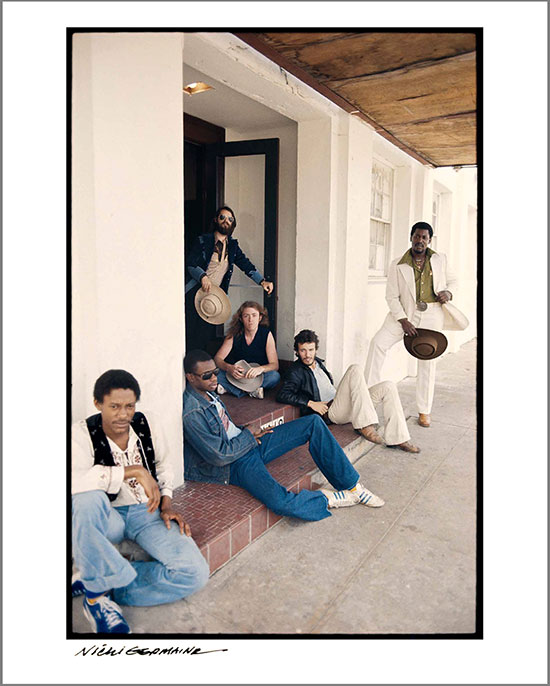 The archival pigment print on cotton rag paper, signed by the photographer, captures the entire '74 E Street Band under the Liberty Hall marquee. We appreciate Nicki offering this print for Backstreets readers, at a special price: book + print for $150.
Springsteen: Liberty Hall has been a labor of love for Nicki, who self-published this beautiful new book in order to get it right, maintaining very high standards of print quality. The resulting oversized hardcover (with obi strip) is an astounding archive of portraits, candids, and concert photography, in both color and B&W.
The images are given further context by a Foreword from Bruce Springsteen himself, personal recollections from Germaine and Garry Tallent, and a 4,000-word essay by Bob Santelli.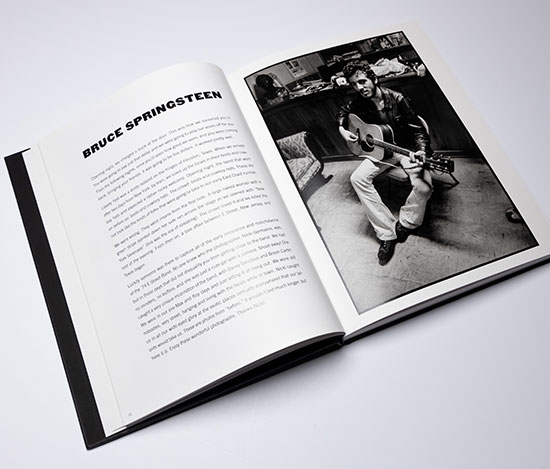 Pre-order just the Springsteen: Liberty Hall book
Pre-order the Liberty Hall book + signed 8x10
Books and signed prints are expected to arrive at Backstreet Records by the end of January, at which point we'll ship immediately to you. Pre-orders will determine the quantity we have on hand, so guarantee yours by placing your order now!
- January 15, 2023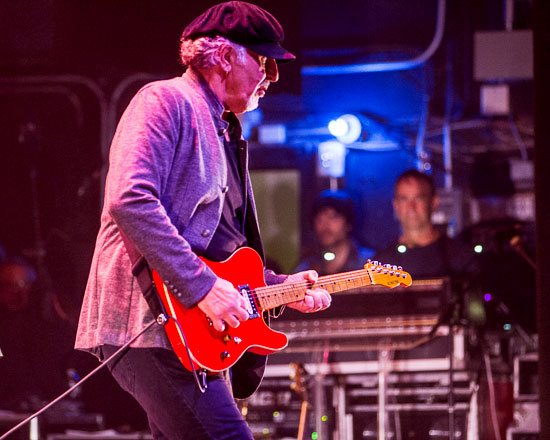 Joe Grushecky headlining last year's Light of Day, 3/12/22
"ADOPTED SON" JOE GRUSHECKY TALKS ASBURY PARK AND LOD
As Light of Day's WinterFest kicks off tonight, with a Clarence Clemons Birthday Tribute in NYC, Joe Grushecky and his band The Houserockers prepare for their annual home-away-from-home visit to the Jersey Shore. Whether in Asbury Park (where Light of Day began, at the Stone Pony in 2000), Sea Bright (2001-2002), or the new home of the big LOD show in Red Bank, Grushecky and the Houserockers have held down Bob's Birthday Bash each and every year of the Parkinson's fundraiser. In advance of the 2022 Light of Day "Main Event," coming up this Saturday, January 14, Lisa Iannucci caught up with Joe to talk about just how long he's been making that trip from Pittsburgh, the American Babylon years with Bruce Springsteen, LOD founder Bob Benjamin, and more.
Backstreets: It's been around 40 years that you've been coming to Asbury Park, beginning with the Fast Lane. What do you remember about those early shows?
Grushecky: It was just a classic old Shore town. I had spent some time there already — we had played Convention Hall on a bill with Ian Hunter. So we just started playing the Fast Lane because that's where they would book bands that had albums out. The Pony was still mostly local guys. But we became really good friends with the people who owned the Fast Lane, so it was just a win-win for us.
Asbury was a town that historically speaking was really welcoming to out-of-town artists who made it a second home. Garland Jeffreys, Norman Nardini, John Cafferty: all of you became regulars. Why do you think that was?
Well, Asbury, there's a rich musical history there. They had a lot of roots-driven artists, that was the popular thing there — you know, nothing New Wave — so there was a connection to our music, and it just seemed very accepting. It just seemed like a natural fit. I'm sure if you talked to those other guys, they'd say the same thing. Plus it was just a great place to play — there's no ocean in Pittsburgh!
And the Iron City Houserockers, when we first started playing, we were more bluesy: Chicago blues, Muddy Waters and all that stuff. Little Walter. That was our preferred style. We were into J. Geils and the Stones, and of course Bruce and Southside. So one of the great thrills about playing Asbury was getting to meet a lot of folks from my record collection! Southside, John Cafferty, Garland, Bruce, Steven, the horns — you know, the guys from the Jukes. It was just a thrill for us to come up and play there.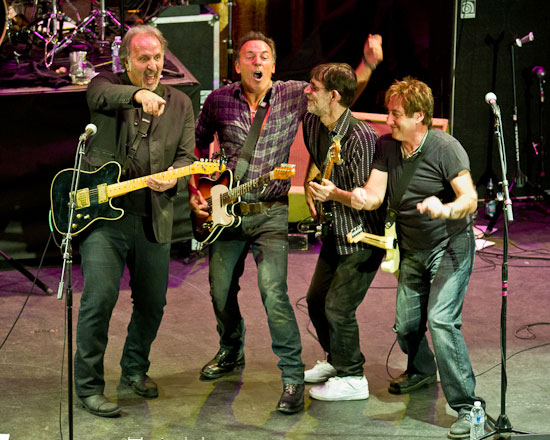 The Houserockers with old friend Bruce Springsteen at Light of Day 2012
I first saw you at the old Decade, in 1986 or so, when John Eddie was promoting his first record.
That would have been a whole different band than the Iron City Houserockers. For a couple years there in the '80s, I struggled to get a group of musicians together that had that same magic that the Iron City Houserockers did. I've finally achieved it — I think that the band I'm in now is better than any of those bands.
It's been almost 30 years now since that 1995-96 tour supporting American Babylon, and Cleveland International released an expanded 25th anniversary edition of the album last year. That went by fast! Does anything stand out for you as a highlight from that era?
Well, everything was a highlight! I mean, nothing but fond memories of it. Bruce and I, we're friends, and I think he would say the same thing — we had a really good time making that record. And then him coming out and playing with us was icing on the cake.
That was a time when I had been really contemplating my career decisions, and my wife said, "Why don't you call Bruce? You guys have been pretty good friends over the years, maybe he'll play on a song." And it went from just a single phone call, and Jon Landau's office and maybe doing one song, to us establishing a rapport and a partnership that we still have to this day. It was life changing — those were a couple of life changing records for us, and it was great to get out and play them live.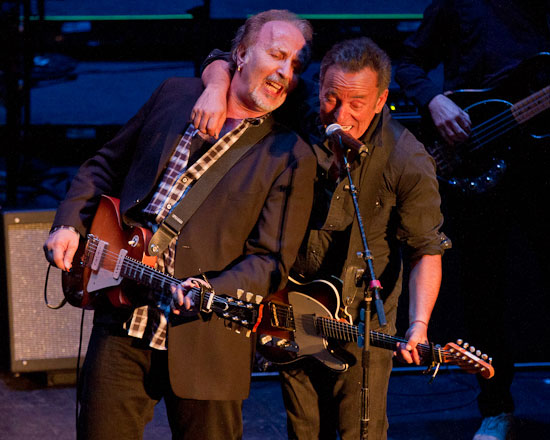 Light of Day 2015 - photograph by A.M. Saddler
We were "down and out in Beverly Hills" when that record hit, and it breathed a huge shot of life into us that we've been able to maintain 'til this day. I don't know what would have happened without American Babylon. I probably would have been still making music, but that record put us back on the musical map.
I want to talk a bit about [LOD founder] Bob Benjamin, because people get so focused on Bruce with Light of Day, and I don't want them to forget that it's about Bob. You guys have been central to Light of Day since its inception because Bob Benjamin had managed you. How did you first meet Bob?
Well, I didn't have a manager — I had nobody when American Babylon was being recorded. Bob came into town while we were recording [1992's] End of the Century, and he was in the business, and he was just so energetic. He seemed like a go-getter type of guy, and he was helping us out with that record. He was part of the extended Jersey Shore family, good friends with Terry Magovern. When American Bablyon was nearing completion, I said to Jon Landau, "I have no business people." You know, Pittsburgh's a pretty isolated spot as far as the music business goes; there wasn't really any music infrastructure. A manager, that's a really close, intimate working relationship, and I had nobody. So Jon Landau recommended that I give Bob a shot, and we've been together all these years just on a handshake.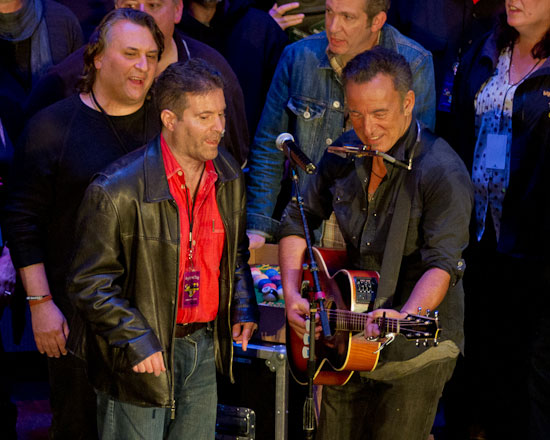 Bob Benjamin and Bruce — and another LOD stalwart, Joe D'urso [back left] at LOD 2015
Bob is a special individual in many ways.
Yeah, he is. It just breaks your heart. Because he was so sturdy, so tough. Not just physically tough — you could see the determination he had. Just to see him go downhill all these years [due to Parkinson's Disease] has been heartbreaking in some ways. In other ways, it's also very inspirational, because you see that he's not going down without a fight, and he's helped so many other people.
The whole Light of Day thing became so much bigger than anybody ever expected. It was just a bunch of guys saying, "Let's have a show, we'll make some money," and now — what is this, 23 years later? — it's a pretty big deal. I've met probably my closest friends in the music community all through Light of Day. It's such a good bunch of people. You know, Willie [Nile], Garland, [Jeffreys], Jesse Malin, James Maddock — just the whole group of people. Everybody's been terrific.
It's been fun seeing a new generation of musicians at Light of Day, with your son Johnny, Jake Clemons, and Asbury Park locals like Bobby Mahoney and Remember Jones. It's been fun seeing people take on that mantle. But sooner or later, folks aren't going to be able to play any more. How do you think that legacy gets maintained?
Yeah, Johnny has been really passionate about bringing in some new blood for years. And of course, he's been wanting to play with me since he was born. It's been really tough with COVID, but I hope somebody picks up the mantle.
It's hard, because you don't hear rock 'n' roll on the radio. We need more rock stations on the radio. We need something like what [Warner Music Chairman/CEO] John Esposito did — you can see how they built their audience for country music via country radio. And country radio is still huge. But the lack of rock 'n' roll radio has been a significant factor in the decline of young musicians. If there's a revival of rock, it's going to come through radio. Because now, most of the old bands out there playing, you're lucky if you get two or three of the original members.
But my son has turned me on to some good music. When he was 12 or 13, we used to go out and see a couple shows a week sometimes, we'd come down here and see the Warped Tour.
How does Johnny find music?
He puts his ear to the ground, he knows a lot of the young guys, and that's how I'd find out about new bands. Not so much anymore, because he's not home with me, he's out on his own. We were really into Taking Back Sunday for a while, and the former frontman of Something Corporate [Andy McMahon], his band Jack's Mannequin.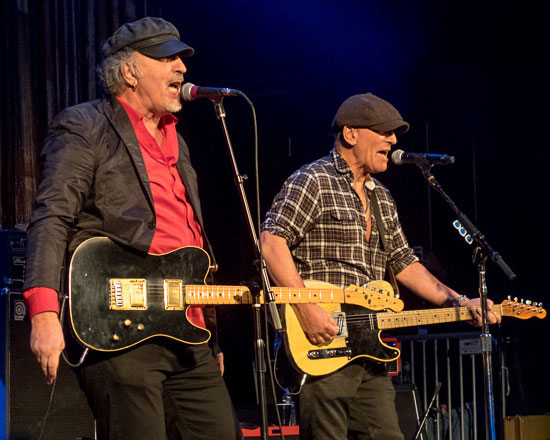 Light of Day 2015 - photograph by A.M. Saddler
What's your opinion of the changes we've seen in Asbury over the last 10 to 15 years or so?
Part of me says God bless 'em, it's nice to see prosperity there. I can remember when we first started Light of Day — it was in November, Asbury Park, and you could have driven a tank down the middle of the street. It's nice to see it revived; I just hope it just doesn't become too generic and unrecognizable.
I say that as an adopted son — you know, we've been coming to Asbury Park faithfully since '93, that was our family vacation, so it's part of my legacy even though I'm not a Jersey guy. I have a strong affinity to Asbury Park and the musical family there.
But artists and musicians have been pushed farther and farther out — it's too expensive for them.
Yeah. It's like that everywhere. But it's a cycle. It's happened in Pittsburgh, too: the artists move, they find an out-of-the-way part of the city that's on its last legs, and they start building it up. Then everybody comes in, and the cycle starts again.
- January 11, 2023 - interview by Lisa Iannucci - all photographs by A.M. Saddler



THE SPIRIT OF '73: ARCHIVES SYMPOSIUM CELEBRATES GREETINGS
Mike Appel, Garry Tallent, David Sancious, Vini Lopez [above, L-R] and many more on hand for the debut album's milestone 50th anniversary
Greetings from Long Branch, N.J., four miles north of Asbury Park and 50 years on from the day that Bruce Springsteen put it on the map.
On Saturday, January 7, approximately 600 fans from around the world gathered at Monmouth University to celebrate the golden anniversary of Greetings From Asbury Park, N.J., Springsteen's debut studio album.
Sponsored by the Bruce Springsteen Archives and Center for American Music, the eight-hour 50th anniversary symposium featured a stellar array of key actors, contemporary players, archivists, and academicians dedicated to the work of not just preserving Bruce's legacy but also contextualizing it for those of us too young to have our own "I was there" stories.
Like the album itself, the symposium was a freshman outing for the Springsteen Archives, the first of a series of events aiming to educate and celebrate the import and impact of each of Springsteen's album as they reach the half-century mark. As Executive Director Bob Santelli put it, "We're now in the 50th anniversary business."
Santelli followed his welcoming remarks with a sneak preview of a ten-minute documentary film premiering "soon," featuring Bruce's own recollections of the making of the Greetings album, recorded so quickly and on such a tight budget that the band slept in tents in the studio's backyard rather than a hotel.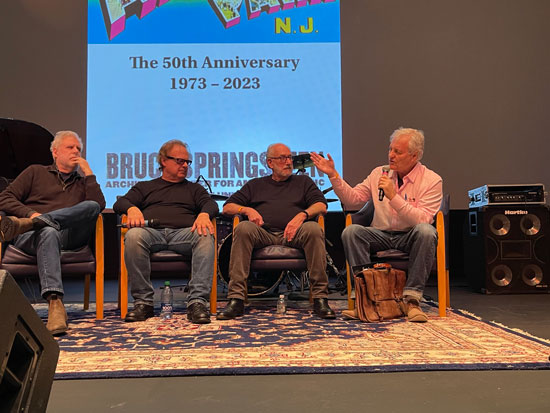 David Dye, Tony Pallagrosi, Peter Knobler, and Mike Appel "Setting the Scene"
The symposium kicked off properly with "Setting the Scene," the first of several panel sessions on the day's schedule. Moderated by Tom Cunningham, the panel included Peter Knobler, Crawdaddy critic and early Springsteen champion, sharing his recollection of his memorable ride-along with Bruce and the band for their December 1972 gig at Sing Sing Prison; David Dye, Philadelphia radio royalty, describing his discovery of and delight in Greetings when it debuted, and how the WMMR staff cohered in their early enthusiasm and advocacy for Bruce and his music; Tony Pallagrosi, Light of Day Executive Director (and former Asbury Juke and Miami Horn) sharing his early impressions of Springsteen dating back to his Steel Mill and pre-Greetings days; and Mike Appel, Springsteen's Greetings-era manager, whose fondness for Bruce and passion for his music was evident even today as he shared his memories, amazed at times at his own role in the story.
Appel's recollections in particular were vivid and moving. He admitted to being unimpressed when Springsteen first approached him with a pair of unremarkable songs, only to be floored when Bruce came back a few months later with a batch of songs that would ultimately land him an audition with Columbia Records. "What divinity anointed him between those two dogs and those six songs from heaven?" Mike marveled, although he later admitted that bootlegs of songs like "Cowboys of the Sea" made him realize Bruce's talent was probably there all along.
Appel also shared (with some discretion) Bruce's first encounter with Phil Spector ("I never want to see that man again," Bruce told him), a moving account of the night Bruce dedicated his one-and-only performance of the entire Greetings album to him in 2009, and impassioned readings of his favorite unreleased Springsteen lyrics.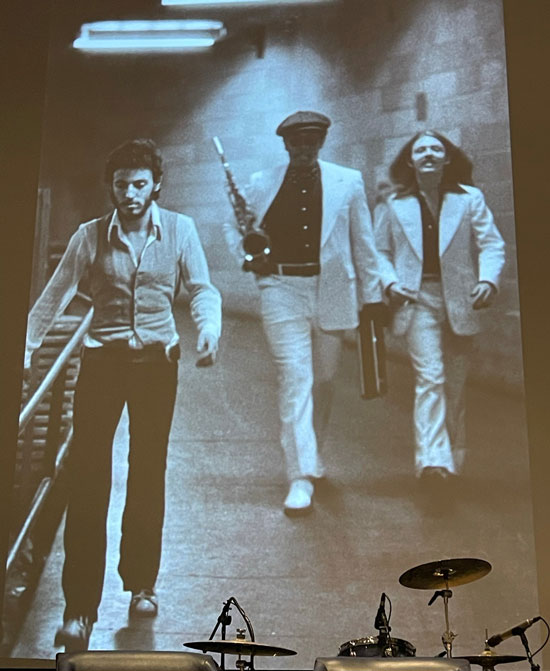 A Peter Cunningham shot of Bruce, Clarence, and Danny on the big screen
The next two sessions let images do most of the talking.
"The Story Behind the Photographs" focused on photographer Peter Cunningham and his work, facilitated by Greg Linn (Legacy Records/Sony Music). Cunningham was behind the camera for Bruce's first professional publicity shoot, and he also captured images from several memorable early gigs, including the band's legendary stand at the Bottom Line. Captured in action on stage and in surf (Cunningham joined the band for a day at the beach), his photos reveal at times a wide-eyed innocence we're not used to seeing in Bruce and the boys. Even so, Cunningham found Bruce to be a photographer's dream subject — aware of and passionate about the power of the still image while "noticeably good at just being himself."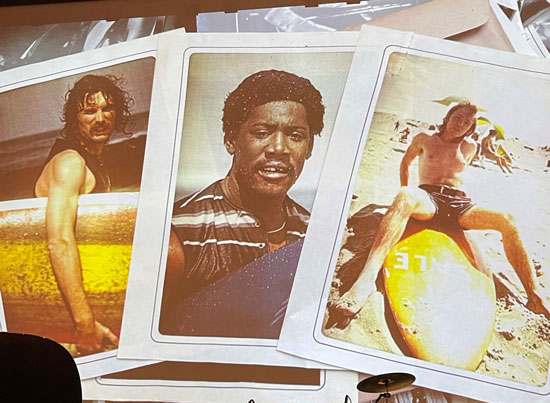 Images from Peter Cunningham's day at the beach, projected for the symposium audience
Of additional note: Cunningham recalls being the one to call WMMR DJ Ed Sciaky and cajole him into attending Bruce's January 1973 shows at the Main Point — a phone call that resulted in the station's full-throated E Street embrace and their Philadelphia radio debut. One wonders how the story would have been played out had he not made that call.
"A Conversation with Nicki Germaine" was moderated by Rich Russo. As a freelance photographer in 1974, Germaine had the opportunity to capture Bruce and the band that year at Houston's Liberty Hall, both on- and off-stage. Nearly 50 years later, she has just published a book presenting the results of that extended photo shoot, and she previewed some of those unseen photographs for the symposium audience. Although completely unfamiliar with Bruce and the band at the time, her memories of her up-close-and-personal introduction are still vivid. She recalled Danny as flirtatious, Clarence as sweet and smart, and Bruce as aloof and pre-occupied (quite possibly from record label pressure after two under-performing albums) — and sure enough, those qualities come through in her images. (Germaine's book will be available for pre-ordering this week through Backstreet Records.)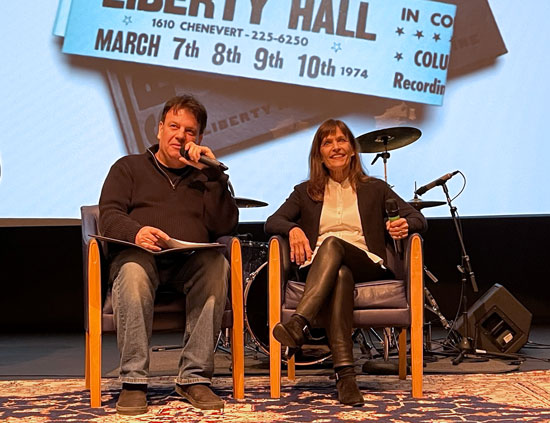 Photographer Nicki Germaine in conversation with Rich Russo, discussing her Liberty Hall book
After a break for lunch, the afternoon session began with an audio/video presentation by Springsteen Archives assistant curator Connor Rupp, who treated attendees to early live performance clips of "Growin' Up," "Spirit in the Night," and "Thundercrack," along with an early solo piano performance of "If I Was the Priest" and a "Growin' Up" sound-alike outtake called "Eloise."
If forced to choose a highlight from a day comprised solely of them, most attendees would almost certainly agree it was the next event, the headline "Making of the Album" panel featuring the album's supporting cast. Original E Street Band members (and Greetings studio musicians) Vini Lopez, David Sancious, and Garry Tallent shared the stage with Mike Appel, as Santelli skillfully led them back in time to 1972.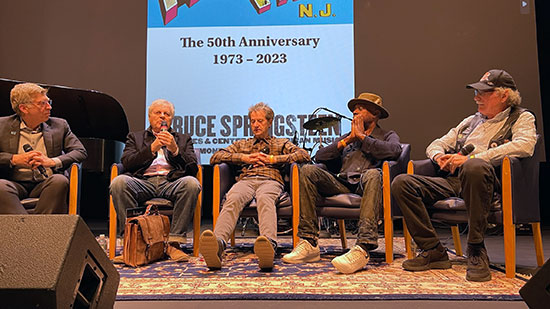 Bob Santelli, far left, with Appel, Tallent, Sancious, and Lopez for "The Making of the Album"
The Bruce Springsteen Band had scattered across the eastern seaboard by the time Bruce signed his record deal, but all three of them jumped at the chance to join him in the studio. Only Tallent and Sancious had had any studio experience at that point — they laughingly recalled that they'd done a session for a "somebody" neither of them could remember.
Memories of hasty rehearsals and only a few days of recording quickly ceded to fond recollections of pre-Greetings jam sessions and early tour gigs. David remembered walking eight miles to the Upstage the night he first met and jammed with Bruce; he recalled a sly improv blues number Bruce called "Heavy Louise" (almost certainly this is the song fans may know from circulating bootlegs as "Mary Louise Watson.")
All of the players remembered the "flight to doom" that turned them off of flying for years and instead set them on a path for misadventure by rail, during which Clarence clocked a drunk passenger harassing a young mother.
What was most evident during this session was the shared affection and bond between the men on stage, all of whom were extremely complimentary to each other — most notably Appel, whose genuine praise for the E Streeters made it easy to understand why he was such an effective advocate in those days. At times, they seemed lost in each other's camaraderie and oblivious to the audience of 600, leading to some remarkably candid moments.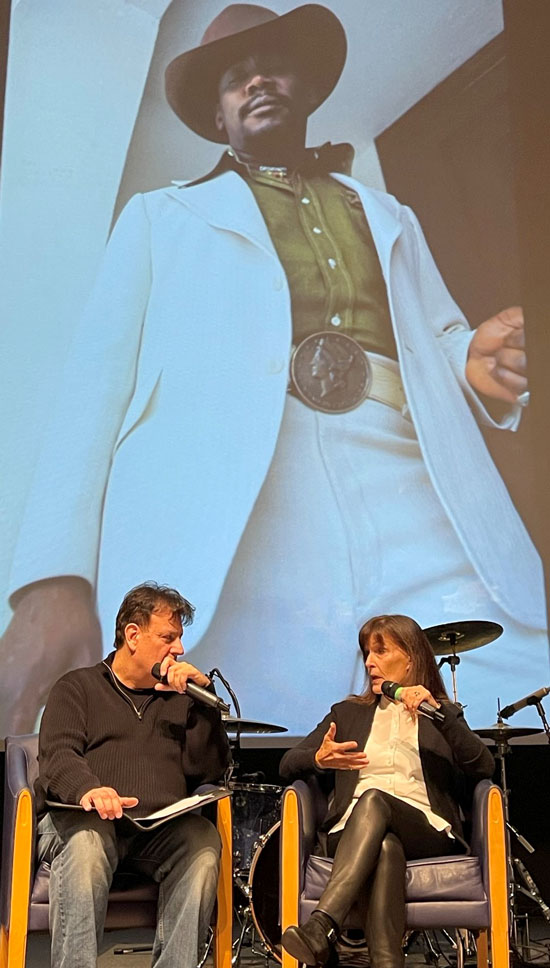 A very big man: Germaine shows her 1974 portrait of Clarence Clemons
At one point, Appel recalled that Clarence's first recording session was not a smooth one: he squeaked and squealed (or as Vini put it, "fweeted") from nerves when being recorded solo, even though he was fine when playing with the band. Appel settled the Big Man down by having the whole band play instead, without telling Clarence that he was the only one actually being recorded. The squeaks disappeared.
After the laughter in the room subsided, Vini told Mike that the squeals actually persisted, and that it was only engineer Louis Lahav's surgical splicing skill that managed to successfully remove them. Appel's mouth hung open in amazement — he hadn't known until that moment.
They all remembered the day they first heard the finished album, particularly Garry, who recalls them signing it "like a yearbook" with his tuba beside him the day they were working out "Wild Billy's Circus Story" for their next album.
Following panels analyzing the songs and historical context of Greetings, the E Streeters returned to the stage, this time to perform, as the day closed with fresh and vibrant interpretations of the album's nine tracks. Joining in were local musical greats like Jake Thistle, Williams Honor, Jackson Pines, Anthony D'Amato, Pat Guadagno, Richie Blackwell (who will no doubt feature in the next 50th anniversary event), Pat Roddy, and Monmouth U students Max & Janae.
The album concert was presented slightly out of sequence, to allow the original players to perform two fan-favorite tracks as the day's finale. Watching David, Vini, and Garry (fronted by Pat Roddy playing the role of Bruce Springsteen) perform "Does This Bus Stop at 82nd Street?" (which they laughingly admitted they hadn't realized was the song's title until after the album came out — they'd always called it "Hey Bus Driver") and "It's Hard to Be a Saint in the City" in such an intimate setting more than 50 years after they'd first recorded it was a thrilling moment that transported everyone back in time.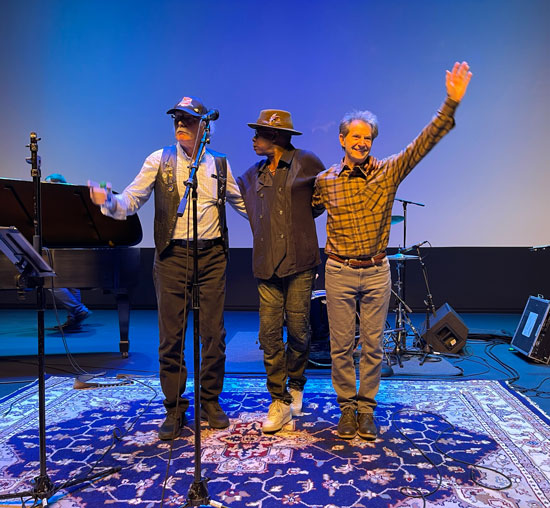 A final salute for the Greetings musicians and original E Streeters
The eight-hour event — organized, managed, and at times moderated by Archives Director Eileen Chapman — was an unqualified success by any measure. Even the most tenured and knowledgeable fans walked away with new nuggets, anecdotes, images and revelations to deepen their appreciation of Greetings From Asbury Park, N.J. The event was filmed, to be made available online to fans in the near future, and if you missed this event, you'll soon have another: The Wild, The Innocent, & the E Street Shuffle celebrates its 50th anniversary this fall.
- January 8, 2023 - reporting and photographs by Ken Rosen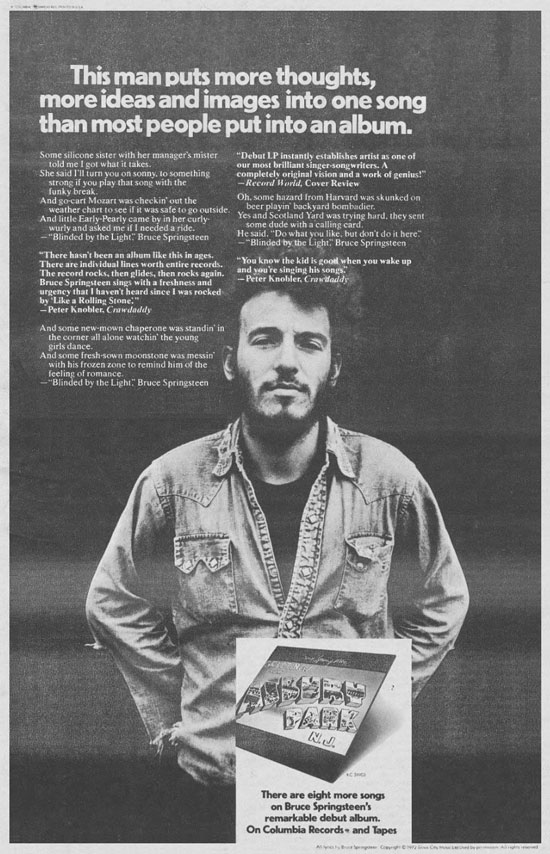 THE GOLDEN ANNIVERSARY OF GREETINGS
Today is the official half-century mark for Bruce Springsteen as a Columbia Records recording artist, with Greetings From Asbury Park, N.J. released on January 5, 1973. A new official video clip marks the milestone and tells the story of the debut: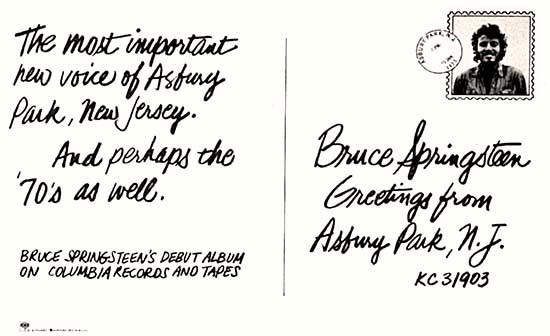 - January 5, 2023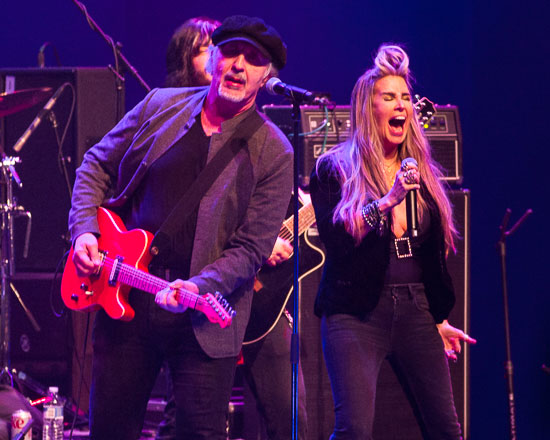 Light of Day founding artist Joe Grushecky at last year's WinterFest - photograph by A.M. Saddler
GREETINGS FROM ASBURY PARK: LOD 2023 PREVIEW
The wind is whipping down the boardwalk here at the Jersey Shore, and with the new year upon us that means it's almost time for Light of Day (LOD). This month's WinterFest will include the usual mix of core artists and newcomers, with additions John Waite and Philadelphia artists Dave Hause & the Mermaid rounding out the Main Event lineup.
John Waite, formerly lead vocalist for The Babys and Bad English, has released 10 studio albums as a solo artist and is the subject of a new documentary titled John Waite - The Hard Way, a retrospective of his five-decade career. His 1984 single "Missing You" was a #1 single in the U.S.
Dave Hause began his music career in the Philly hardcore scene of the mid-'90s, later forging a solo career that drew upon his punk roots and his affection for Americana. Along with Tim Barry, Hause was a part of Chuck Ragan's Revival tour in 2009 and was later featured in The Gaslight Anthem's music video for "Bring It On." Hause's third solo album, Bury Me in Philly (produced by Eric Bazilian of The Hooters), was released in early 2017; he formed The Mermaid to tour with that record.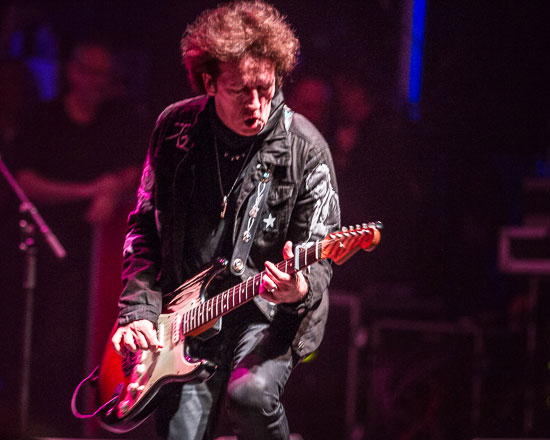 Willie Nile at LOD 2022 - photograph by A.M. Saddler
Returning LOD artists include stalwarts Willie Nile, Jesse Malin, and James Maddock; newer additions like Jill Hennessy, The Weeklings, and award-winning blues artist Guy Davis; and founding artists Joe D'Urso and Joe Grushecky & the Houserockers.
LOD originated with a 1998 birthday party for Grushecky/Houserockers manager Bob Benjamin at the Downtown Cafe in Red Bank, NJ. However, it was a 2000 guest shot by Bruce Springsteen at the Stone Pony that really put the event on the map.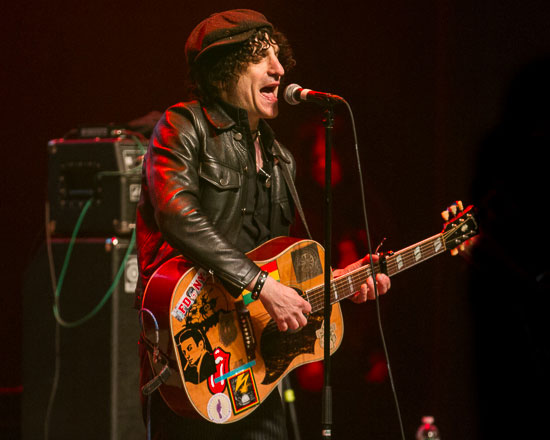 Jesse Malin at LOD 2022 - photograph by A.M. Saddler
While WinterFest's Main Event, Bob's Birthday Bash, isn't until the middle of the month (January 14 at the Count Basie Theatre), LOD23 events begin as soon as this Saturday, with kickoff performances in Philly, Asbury, and NYC, where the Clarence Clemons Birthday Tribute will be held on January 11. See the LOD23 Events page for the full schedule.
All LOD performances raise money and awareness for Parkinson's and its related illnesses ALS (Amyotrophic Lateral Sclerosis) and PSP (Progressive Supranuclear Palsy). In 23 years, LOD has raised more than $6 million and has grown from a single evening to both a multi-night regional event in the Northeast and an international tour. Visit lightofday.org for complete ticket and event information.
- January 3, 2023 - Lisa Iannucci reporting