ROCK HALL INVITES BRUCE FANS TO "FANFEST," JUNE 12 - 14
Thom Zimny will screen rare footage, and much more in Cleveland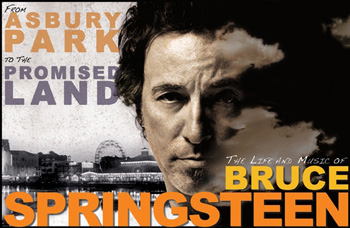 The Rock and Roll Hall of Fame and Museum welcomes fans from across the region and country for a weekend of events celebrating Hall of Famer Bruce Springsteen, beginning Friday, June 12 through Sunday, June 14. If you've been wanting to check out the new exhibit, "From Asbury Park to the Promised Land: The Life and Music of Bruce Springsteen," this is a great time to make the trip to Cleveland, with Springsteen-related programs and film screenings to fill the weekend.
Special event partners for "Bruce Springsteen FanFest at the Rock and Roll Hall of Fame and Museum" include Brucespringsteen.net, Backstreets.com, and media partner SIRIUS XM's E Street Radio. In less than two weeks, music scholars, industry experts, Springsteen fans, musicians and bands from around the country will travel to Cleveland for a weekend devoted to telling the story of Springsteen's career.

To launch the event, music critic and SIRIUS XM radio host Dave Marsh will be the Rock Hall's guest for "From Songwriters to Soundmen: The People Behind the Hits" on Wednesday, June 3 at 7 p.m. in the Museum's 4th Floor Theater. Marsh will be interviewed by Dr. Lauren Onkey, vice president of Educational Programs. For the FanFest weekend, Onkey will also spotlight the Born in the U.S.A. album, and interview Backstreets editor Chris Phillips.
Additional FanFest programs include exhibit curator Jim Henke talking about "From Asbury Park to the Promised Land"; Emmy and Grammy-award winning producer Thom Zimny showing rare Springsteen film footage. More big-screen showings will include Blood Brothers, VH1 Storytellers, Hammersmith Odeon London '75, Live in New York City, and Rock Hall induction ceremony highlights (Springsteen inducted Bob Dylan, U2, and Creedence Clearwater Revival, and following his own induction, performed with the E Street Band and Wilson Pickett).

Full schedule coming soon, both here and at rockhall.com; hope to see you in Cleveland!
- May 31, 2009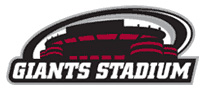 TICKET ALERT
Don't forget, tickets for the three Giants Stadium shows go on sale Monday morning at 10 a.m. Eastern. Prices range from $33 to $98. Be sure to note: unlike previous Giants Stadium shows, the entire field is now general admission, no seats. GA and reserved seats must be pucrhased in separate transactions, with an eight-ticket limit per person altogether. See Ticketmaster.com for full details.
- May 31, 2009
ANYONE NEED A PAIR? SECTION 603ZK, ROW 92-AND-A-HALF!
In yesterday's Star Ledger, "Springsteen's Giants Stadium tickets are already offered by online brokers" addresses the fact that, once again, secondary sellers are jumping the gun with tickets at inflated prices. According to the story, "A spokesman for the New Jersey Sports & Exposition Authority, the state agency that runs the Meadowlands, says no tickets have been sold and any re-sale offers are 'all speculation at this point.' He said none of the websites in question have any tickets and won't until after the official sale." The Star Ledger article, however, goes on to provide theories that contradict the NJSEA rep.
Today, Backstreets corresponded with NJSEA VP of Event Marketing Helen Strus, who defended the Sports Authority's statement and took issue with the article. For one thing, Strus says, "The story mentions the tickets may come from fan clubs or presales. Everyone on Backstreets knows there is no official Bruce Springsteen fan club and there are no presales for a Springsteen concert."
But more pertinently, she says, "the majority of tickets listed [by resellers] do not exist nor can they ever exist."
"A pair in section 125, row 42 for Oct. 3 are going for $2,200," states the article. Strus counters, "Those tickets can't be in hand—and never will be—because there are only 37 rows in that section." She continues:
For Giants Stadium, the lower tier (100 level) sections range from 37-41 rows. The mezzanine (200 level) has 11 rows in every section. The upper tier (300 level) has 31 rows in every section.

Let's look at the article's main source:

Molly Martinez, marketing director for the Connecticut-based TicketNetwork, one of the nation's leading ticket exchange sites... said brokers can't offer tickets they don't yet have.

"That is part of the ticket network policy," she said....

"I have a certain degree of skepticism," she said about the sports authority's claim that no tickets have been distributed.


Martinez's quote about skepticism discredits the NJSEA, and she has no leg to stand on. Her site is posting multiple locations that do not exist. The same locations are also listed for all three shows. Ticket Network lists the following for the 9/30 show and none of these rows exist in Giants Stadium—so how can Molly say her site does not allow brokers to post tickets they do not have?

Sample of tickets listed on Ticket Network:

Section 119, row 42 (37 rows in that section)
Section 214, row 30 (11 rows)
Section 217, row 30 (11 rows)
Section 223, row 30, (11 rows)
Section 130, row 45 has the priciest tickets at $1131 each. There are 41 rows in this section.

As of 3 p.m. today, our box office is still creating the event on the Ticketmaster ticketing system for the Monday, June 1 onsale. It is impossible for anyone to have a ticket to one of these concerts at this time.
The bogus seat locations Strus points out serve to further confirm what was suggested by the recent TicketsNow snafu for the "oversold" show in DC—resellers listing tickets in advance of an on sale, particularly for a Springsteen show, don't necessarily have those tickets.
Today, TicketNetwork, Inc. was one of three ticket sellers (along with Select-A-Ticket and Orbitz Worldwide) named in a suit by NJ Attorney General Anne Milgram, "for allegedly violating the state's Consumer Fraud Act and Advertising Regulations by advertising and selling tickets to three upcoming Bruce Springsteen concerts at Giants Stadium before the tickets are available for sale." The lawsuit also charges that "Some tickets offered by Orbitz Worldwide and TicketNetwork are for seats which do not physically exist within Giants Stadium." Read the full press release from the Division of Consumer Affairs here.
- May 27, 2009
LITTLE STEVEN'S STATE OF THE TOUR
While the E Street Band starts a two-month European tour this weekend, don't forget that U.S. fans will be getting another taste in a matter of weeks: the band's performance at the Bonnaroo festival, which will bring Bruce and the band briefly back Stateside, is coming right up on June 13.
In a recent teleconference, Steve Van Zandt spoke with a group of journalists looking ahead to the festival in Tennessee—"Bonnaroo's right around the corner!" Here we present the higlights:
On tailoring the set for a festival crowd
I don't think you can change things too much. You are who you are—in our case, I think we change things a lot normally. I mean, every night is different, every tour is different. There is a very wide range of songs that we've done over the years that Bruce has written over the course of whatever it is, 30, 35 years—there is a lot of stuff to pick from.

Every time he writes a new album, he is basically writing a new show. He is saying something with that particular album, and then we build the show around that, with the other songs from the past, and then see what connects to it, what amplifies that idea, what complements that idea. So, we don't particularly change things according to who the audience is. We kind of do what we do, and then you just hope people dig it.

And then on top of that, we build in a certain amount of spontaneity right into the show. These last couple tours, in particular, we've been taking requests from the audience and really turning arenas and stadiums into clubs. Last tour, people would come with signs for a lot of obscure Bruce songs. And this tour, there's been any kind of songs. We've played The Ramones, The Clash, and Tommy James... "Wild Thing"... all kinds of fun, sort of bar band type of songs. It just loosens everybody up and keeps the thing fresh—and there's nothing like playing a song you've never played before and never rehearsed before in front of 20,000 people. It's just an immediate sort of electric jolt that keeps everybody very awake.

So, we won't change a thing. We are who we are. I love the fact that we're playing to, I don't know, probably half of the audience who maybe never even heard of us. And that's nothing but fun, and nothing but exciting.

On the mechanics of covers
Believe it or not, we do a sort of 20-second talk-through right there on stage, you can actually hear us rehearsing in our heads. We try and run through the song in our minds—it's usually something we've never played, and something we may remember from when we were a kid. We'll say, "Are there any tricky moments in this thing?" or "What's sort of happening in the bridge?"... you know, is there a bridge, where the solo comes? We do a 20- or 30-second, maybe as much as a minute sometimes standing there.


Most of our show [is like a] hurricane. We only do a couple slow songs out of the 25 songs or so we do. So it's a funny moment, because everything sort of halts for a minute, and we discuss it... and then we just jump in. Like last night, we did "Mony Mony" by Tommy James, and we're like going through this thing in our heads. And Bruce says, "Isn't there like a funny riff in the middle or something?" And we're asking around, "anybody remember that riff?" "Nah." So alright, we'll figure it out when we get there. We just jump in, and we get to the middle of the song, and if nobody remembers the riff, we skip to the next part. You just got to do the best you can with it. But its fun—it's really just true spontaneity in the truest sense of the word.

On the paucity of Working on a Dream songs in the set:
I think what happened at rehearsal this time... we learned all the new songs, and we will be playing them. But the theme of the show—which is having to do with what's going on out there with the economy and everything—conjured up other sorts of songs that we hadn't played before or played rarely. And all of a sudden we're going through "Seeds" and "Johnny 99," and brought back "Land of Hope and Dreams," and you found the song "Hard Times" by Stephen Foster and brought back this "American Land" song that Bruce had done.


And before you know it, an interesting sort of show just coalesced using some of these more obscure songs of his and others. And I think part of the reason is that the new songs have [a] bigger size to them. I mean, "Outlaw Pete" plays a big role in the show, as does "Kingdom of Days," "The Wrestler." We were doing "Lucky Day." We'll probably do that again, that's going to come and go, and "This Life."

There are a few coming and going, but the ones we are doing—"Working on a Dream," Kingdom of Days," "Outlaw Pete"—are just gigantic. You know, they're big. They have quite a lot of size to them. So maybe, in a way, that sort of does the job and expresses the idea in fewer songs.

On the best crowd so far:
Well, I say this every year: the loudest crowd... I mean, we have the best crowd in the world, it's very consistent. But the loudest, rowdiest crowd is always in the Carolinas. I don't know why, nobody knows why, but every year it's true. South Carolina, North Carolina—there is something about that area that's just extremely vocal, extremely enthusiastic and [they] participate at the show in a level that's a little bit higher than everybody else.

But, truthfully, everywhere we go, it's just the best audience I think, ever in history, for any artist. We have a very, very consistent audience who is very, very understanding about the fact that we did some things and do new things. I looked at the setlist of the day, and two-thirds of the setlist was from the last ten years and only about a third from the first 25 years. That's very unusual I think. And it's a tribute to our audience that they encourage it and support the new ideas, the new songs. And they're not expecting a nostalgia type of act, which we're just not. We're an ongoing concern here, still creating things. Bruce is still writing just fantastic things and vital things and is very, very much inspired and motivated to continue doing things as we have all along.

We don't go on stage with a different attitude than we... you know, we're the same as we were when we were 25. So, it's great. It's a tribute to our audience that they really support that.

On songs he'd like to play:
Well, some of my favorites we very rarely play. And one of my very favorites is "Restless Nights"—we've never played it live. So I'm hoping at some point here, one of these tours, we actually do. That's probably my favorite issued band album, the album that never came out, which ended up on Tracks, the second disc of Tracks which was a collection of outtakes.

Most of the pop/rock stuff that Bruce was writing in that late '70s, early '80s period is my favorite stuff. That's my favorite genre, obviously. You could tell from my radio format, the Underground Garage, that's my favorite genre. And a lot of those songs... just didn't really get released, tragically. And so, I'm hoping someday we do "Restless Nights" and some of those songs on that record. It's great.

On playing festivals:
There is an interesting phenomenon going on right now that really wasn't going on ten years ago. And it's not as evident here in the states. I think Bonnaroo is certainly a great one, and Coachella. You've got maybe a handful of great festivals here. In Europe, it's a festival every week in almost every country. It's an incredible phenomenon right now.

But I think what they have in common is that young people are starting to use these festivals as a way of balancing out what has been a kind of isolated generation or two between computers and video games and that sort of thing. There's been a lot of young kids coming home instead of hanging out in the park or something like we used to do, or even hanging out at the mall like the previous generation. It's sort of: come home, go in your room, turn your computer on, or text on your cell phone. It's been a very isolated sort of way of socializing in a funny kind of way. Now all of a sudden I think that's being balanced out... where they are coming out and being with other young people and it's a very, very healthy thing.

This is just my own observation; I haven't seen anybody talking about this. But that's what I'm seeing lately. It's just a very, very healthy and cool thing. Like I say, in Europe, it's exploding. I mean, Norway, Spain... literally, they overlap. They can't even do one a week, it's more than one a week. So I'm hoping we do a whole lot more of these, and I think what I'm expecting at Bonnaroo is just—I hope a lot of young people see us that have never seen us before, and it's going to be fun.
On the call: Adam Gold (Village Voice), Gary Graff (Billboard), Rachel Stein (Fuse), Ryan Snyder (Yes! Weekly), Rob Turbovsky (Boston Phoenix), and Byron Hensley (Saturday Independent).
More on Steven at Knoxville.com, and CNN.com.
- May 27, 2009
SUNDAY WE'LL LOOK BACK ON THIS...
Updating our Sirius XM update: Fans of "Live From E Street Nation," the weekly live call-in show for Springsteen fans hosted by Dave Marsh on E Street Radio, now have another chance to catch the show. It continues airing live every Friday from 10:30 a.m. -12:30 p.m. ET (at which time fans who want to talk about anything Bruce-related can call 1-877-70-BRUCE to join the discussion), with a repeat of each Friday's show now airing on the following Sunday night from 8-10 p.m. ET. Whether you've already got Friday, or Sunday, on your mind, you can tune in at Sirius channel 10 or XM channel 58.
- May 27, 2009 - Shawn Poole reporting


GREAT NEWS FOR HARD TIMES: FANS DONATE BIG TO THE NJ FOODBANK
Saturday brought to a close not only Springsteen and the E Street Band's North American spring tour, but also our "Photographers Agains Hunger" campaign to benefit the Community FoodBank of New Jersey. Thanks to everyone who particpated, together we raised more than $135,000 to fight hunger in New Jersey.
That's through individual fan donations of $25 each—as the man said, "From small things, big things one day come"!
Here's what FoodBank President & CEO Kathleen DiChiara said via e-mail:
Just amazing, and what a team effort by the fans!

We are all energized and inspired by the goodness this represents. This is what you all have made possible: for every dollar of our operating budget we are able to provide about $7.00 in food to those in need. This wonderful project will enable us to provide just about $1 million in food to the poor and hungry in NJ.

Way to go, fans!!
Saturday afternoon, names were drawn and matched to the prints, using the photographers' names, in alphabetical order. Though the winners came from places as diverse as the birthplace of the Beatles to the swamps of New Jersey, from Florida to Washington state, perhaps the most poignant match was that of Andrea Tyrrell from Tulsa, Oklahoma. Defying odds, mathematics and the gods of chance, she was miraculously paired with fellow Okie Barbara Pyle's shot of the E Street Band, titled "My Hometown" made 34 years ago just a few hundred miles away in the small town of Pauls Valley, Oklahoma.
Here are the winners:
| | | |
| --- | --- | --- |
| Name | City, State/Country | Photo |
| Anthony Woodley | Plymouth, UK | Mary Alfieri |
| Kimberly Doan | Lake Hamilton, FL | Danny Clinch |
| Joanna Arlow | Olympia, WA | Anton Corbijn |
| Shirley de Knegt-Kuzik | Sparta, NJ | Lynn Goldsmith |
| Tony Rea | Cave Creek, AZ | David Michael Kennedy |
| Lynn Hilditch | Liverpool, UK | Annie Leibovitz |
| Susanne Yurasits | Frankoin Lakes, NJ | Eric Meola |
| Kerry Flynn | Nantucket, MA | Neal Preston |
| Erik Carlson | South Orange, NJ | Barbara Pyle |
| Lance Tibbetts | Stamford, CT | David Rose |
| Dominic Tolli | Wayne, NJ | Pam Springsteen |
| Cynthia Wolfe | Saint Clair Shores, MI | Frank Stefanko |
| Frank Orlich | Mahwah, NJ | Albert Watson |
| Jeffrey Grubbs | Boca Raton, FL | Timothy White |
| Bonus Prints | | |
| Rosemarie Korbelak | Red Bank, NJ | Danny Clinch - Bonus |
| Kerry Nolan | Atlantic Highlands, NJ | Eric Meola - Bonus |
| Lloyd Scholss | White Plains, NY | Neal Preston - Bonus |
| Andrea Tyrrell | Tulsa, OK | Barbara Pyle - Bonus |
Thanks again to all who chose to be part of this—the generosity during hard times has been astounding and heartwarming, from the photogaphers themselves jumping at the chance to make a difference, to the support and number of donations this project received from fans around the world.
- May 25, 2009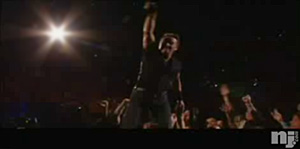 SATURDAY NIGHT VIDEOS
Courtesy of the Star Ledger and NJ.com, three video clips from the May 23 Meadowlands leg-closer:
- May 25, 2009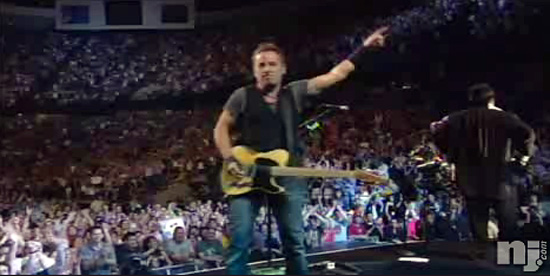 LIVE FROM THE SWAMPS OF JERSEY
Courtesy of the Star Ledger and NJ.com, four video clips from last night's Meadowlands opener:
- May 22, 2009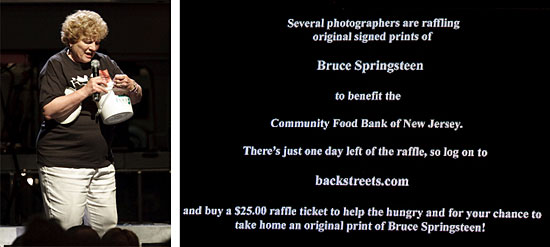 HELPING HUNGRY HEARTS IN THE GARDEN STATE
As usual, Springsteen has been supporting hunger-fighting orignizations across the country on this tour. With these final shows of the leg in New Jersey, of course, it's his own local food bank that gets a boost: the Community FoodBank of New Jersey, to which Bruce also lent his image for their "We Can't Let This Bank Fail!" campaign.

Above left: a representative from the FoodBank selects a raffle ticket to upgrade a lucky fan plus a guest to the pit at the Izod Center. All a raffle ticket costs you is a donation of five non-perishable food items, and they'll be doing it again on Saturday night. Click here for details.
Above right: As shown on the video screens before last night's show started, there's just one day left in our Photographers Against Hunger campaign—less than 24 hours now. Make your $25 donation by noon on Saturday to be entered into the drawing (and support the NJ FoodBank too, of course). This is an extremely rare chance to own a stunning work of art by a renowned photographer, for a small fraction of its value. Each $25 donation you make gives you another chance at one of 18 original, gallery-quality prints of Springsteen, or Springsteen and the E Street Band.
- May 22, 2009 - photographs by A.M. Saddler
A SORT OF HOMECOMING
Bruce and the Band bring it home to Jersey before heading overseas
Gearing up for the last two shows of the first North American leg tonight and Saturday, May 21 and 23, at the Izod Arena at the Meadowlands... lots to report:
Help support the Community FoodBank of New Jersey by bringing five items of non-perishable food, and you'll be entered to win pit passes! For the first time at a Bruce Springsteen and the E Street Band concert at the Meadowlands, the Community FoodBank of New Jersey is collecting food, and patrons who bring five or more items will have the chance to be upgraded to the pit. There will be a winner each night.
Here's how it works: For every five (5) food items you bring, you will get one (1) raffle ticket for a chance to be upgraded to the pit for you and a guest. (10 items = 2 raffle tickets, 15 items = 3 raffle tickets, etc). For full details, check out the following PDFs.

Food drive details


Food drive details PLUS info about GA admission, transit, and more
You can also help the FoodBank through monetary donations at the venue, and through our "Photographers Against Hunger" campaign, less than 48 hours left!
SIRIUS XM's E Street Radio channel will be on location, with special Memorial Day weekend coverage. Dave Marsh will broadcast live from the parking lot (near Gate A) for a tailgate special tonight, starting at 6 p.m. Friday morning at 10 a.m., Marsh will host a special edition of his "Live From E Street Nation" program (listeners are invited to call Dave at 877-70-BRUCE to join the show). And all weekend, E Street Radio will be broadcasting a series of archival concerts recorded at the Meadowands, from 1984-'85 Born in the U.S.A. shows to Rising and Magic concerts at Giants Stadium. The series begins in the wee hours tonight, at 12:30 a.m., with the August 5, 1984 concert at what was then the Brendan Byrne Arena. See the E Street Radio page for the full schedule.
Speaking of Giants Stadium, lots of buzz going around about E Street Band shows there in the fall. Back in April, the NFL's Rich Eisen explained (at the 4:10 mark) why the new York Giants have three straight away games scheduled: "Three straight on the road, a scheduling anomaly they can thank in part Bruce Springsteen [for, who] in week number four is going to be taking over Giants Stadium...."
Word now has it that Bruce and the E Streeters will play the final concerts at the soon-to-be-closed venue, over three nights in late September and early October. There's talk of tickets going on sale on Monday, June 1. And if you don't believe your eyes, how about your ears?
Despite the authority in that voice, this is not yet official. We'll let you know when there's an announcement.
The Star Ledger analyzes the ticket sales for these Meadowlands shows, based on "documents submitted by Ticketmaster as part of the Attorney General's investigation into its business practices. The documents provide a rare glimpse into the ticket industry and prove what concert-goers have long suspected and more. For a hot show, the odds are long, the seats are few and the sale window slams shut in minutes." Read Peggy McGlone's "Getting into a NJ Bruce Springsteen concert is harder than imagined."
Also note that the New Jersey Sports & Exposition Authority counters the report with their own figures.
We'll be back with a post-show report tonight!
- May 21, 2009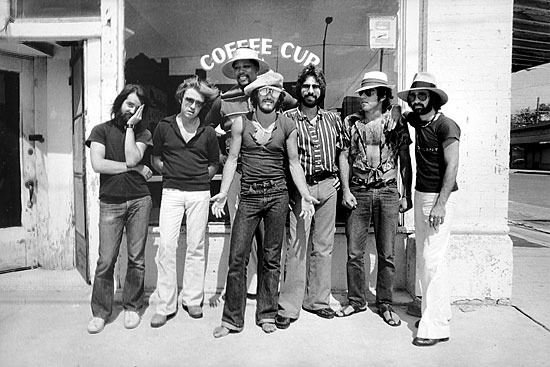 "PHOTOGRAPHERS AGAINST HUNGER" CAMPAIGN ENDS SATURDAY
With four bonus prints in the pot, last chance to be one of 18 winners!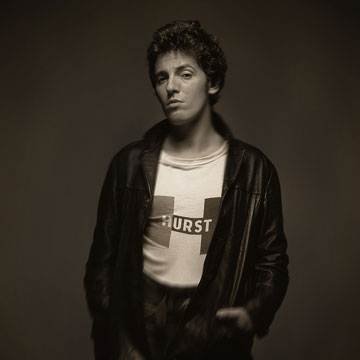 Our month-long Photographers Against Hunger campaign comes to a close this Saturday, May 23, when we'll stop accepting donations at noon. This is an extremely rare chance to win a large, original print from 14 renowned photographers who have all created notable images of Bruce Springsteen.
Two of them, Barbara Pyle and Eric Meola, have just contributed two more bonus prints (above and right, respectively), bringing the total number of signed, original prints—and the number of winners in Saturday's drawing—to 18. For each $25 donation you make to the Community FoodBank of New Jersey, you'll get a chance to have one of these on your wall. We'll announce the winners right here on Monday.
We hope you'll join us, and the photographers assembled for the cause, in helping to fight hunger. But even if you're unable to donate, we encourage you to visit the Photographers Against Hunger page, where this gallery of 18 photographs is something to see in and of itself, including great stories behind the images from Pyle, Meola, Neal Preston, Pam Springsteen, and more. Click here for full details and to see all the images!
- May 20, 2009
LAST WEEK OF U.S. TOUR BRINGS LOTS OF E STREET CHAT
We're rounding the final corner of the Working on a Dream tour's first leg, with just one more week of shows left: DC tonight, Pittsburgh tomorrow, and the two Meadowlands shows at the end of the week. A media roundup as we enter the home stretch:
And remember, of course, the Jersey shows on Thursday and Saturday aren't the last U.S. stops on the current schedule; in the midst of the European leg, Bruce and the E Street Band will return to the states for the Bonnaroo festival, where they're scheduled to play Saturday, June 13 on the What Stage.
- May 18, 2009
I GOT THE RADIO ON AND I'M JUST CHANGIN' TIMES....
Sirius/XM Satellite Radio's "Live From E Street Nation", the weekly call-in show for Springsteen fans hosted by Dave Marsh on E Street Radio (Sirius channel 10; XM channel 58), has undergone a slight time shift. It now airs one half-hour later on Fridays from 10:30 a.m.-12:30 p.m. ET. The shift is a twofold improvement: it allows many listeners in the Mountain and Pacific time zones to enjoy more of the show during the traditional morning "drive-time," and it allows "You Be The Boss," the daily segment where Bruce's fans turn into "guest DJs" for 30 minutes, to return to airing every day—weekends included—from 10 a.m.-10:30 a.m. ET. Fans are encouraged to call "Live From E Street Nation" at 1-877-70-BRUCE while the show airs to discuss all things Springsteen. Marsh also continues to build an interesting lineup of co-hosts. This week, he is scheduled to be joined by Craig Werner, author of A Change Is Gonna Come: Music, Race & The Soul of America, one of the best books ever written about U.S. popular music and its role in social and political change. Naturally, it includes more than a few pages on Bruce Springsteen.
Fans of Marsh's other show about music and politics, "Kick Out The Jams with Dave Marsh," which continues to air live on Sundays from 10 a.m.-12 p.m. ET on "The Loft" channel (Sirius 29/XM 50), can now catch a repeat airing of each week's show as well, on Wednesday nights (or more accurately, Thursday mornings) from 12 a.m.-2 a.m. ET. Rockers who are nite-owls and/or prefer to sleep in late on Sundays, no matter in which time zone you live, set your 007 watches now!
- May 14, 2009 - Shawn Poole reporting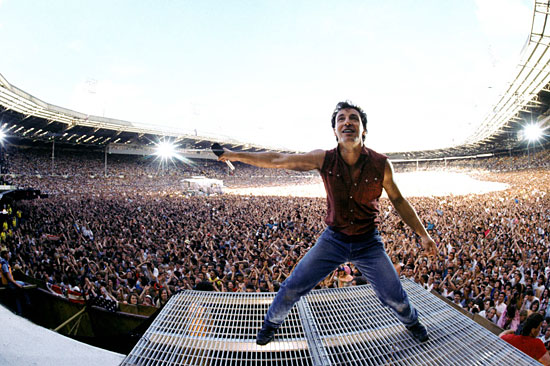 ANOTHER BONUS PRINT FOR "PHOTOGRAPHERS AGAINST HUNGER"
And if you thnk it looks good here, imagine it at 30" x 40"
In our Photographers Against Hunger campaign, you've got the rare chance to win a large, original print from 14 renowned photographers who have all created notable images of Bruce Springsteen. Last week, we added a bonus print from Danny Clinch, to increase the number of winners in the May 23 random drawing, and to significantly increase your odds.
The response was so good, and the photographers' dedication to the cause so great, that we're adding another one to the pot today. Neal Preston has offered up a second image for the drawing, this Fourth of July shot, above, from Wembley Stadium in 1985. (Read his notes in the gallery to find out how he pulled this one off.) While all of the prints donated to the drawing are large format, averaging 16" x 20", Preston's new addition is stunning at 30" x 40".
So instead of 14 photographs, we now have 16 signed, original prints to give away to 16 lucky fans as part of our campaign to fight hunger. Through your donation to the Community FoodBank of New Jersey, you'll get the chance to have one of these on your wall.
Just ten days left until the drawing; click here for full details and to see all the images!
- May 13, 2009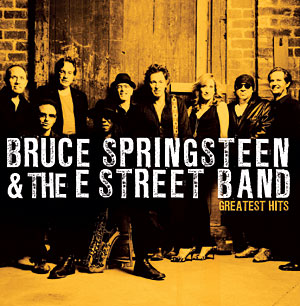 THE HITS KEEP COMING!
In 1995, after more than two decades of recording, a Bruce Springsteen Greatest Hits package offered a first official "Best of." Not to be confused with Bruce Springsteen & the E Street Band's Greatest Hits, released earlier this year as a Wal-Mart exclusive. Which, in turn, is not to be confused with Bruce Springsteen & the E Street Band's Greatest Hits, due next month. Or maybe it is. Let's clarify.
On June 1, a new Greatest Hits package will be released in Europe, mirroring the U.S.-only GH release from January, and again focusing on E Street material. The new collection, a "Europe-only Limited Tour Edition CD," will hit shelves just as Springsteen and the E Streeters play the Pinkpop festival, as well as Glastonbury and Hard Rock Calling later in the month, and is clearly appealing to a new audience, much like the Wal-Mart title for the Superbowl. While expanding on the Wal-Mart release, with 18 tracks instead of 12, the new comp still doesn't include any rare material (though the addition of live versions of "Because the Night" and "Fire," charting singles from the Live/1975-'85 box, is a nice touch for newbies). So we won't need to pay this one much mind. But as long as we're on the topic... here's how the Hits hit the fans:
| | | | |
| --- | --- | --- | --- |
| | | | |
| 1. Blinded By the Light | x | | |
| 2. Rosalita (Come Out Tonight) | x | x | |
| 3. Born to Run | x | x | x |
| 4. Thunder Road | x | x | x |
| 5. Badlands | x | x | x |
| 6. Darkness on the Edge of Town | x | x | |
| 7. Hungry Heart | x | x | x |
| 8. The River | x | | x |
| 9. Born in the U.S.A. | x | x | x |
| 10. I'm on Fire | x | | |
| 11. Glory Days | x | x | x |
| 12. Dancing in the Dark | x | x | x |
| 13. The Rising | x | x | |
| 14. Lonesome Day | x | x | |
| 15. Radio Nowhere | x | x | |
| 16. Long Walk Home | x | | |
| 17. Because the Night (Live) | x | | |
| 18. Fire (Live) | x | | |
| Atlantic City | | | x |
| My Hometown | | | x |
| Brilliant Disguise | | | x |
| Human Touch | | | x |
| Better Days | | | x |
| Streets of Philadelphia | | | x |
| Secret Garden | | | x |
| Murder Incorporated | | | x |
| Blood Brothers | | | x |
| This Hard Land | | | x |
- May 13, 2009
JUST WHEN YOU THOUGHT IT COULDN'T GET SCREWIER
Washington DC Springsteen concert oversold by TicketsNow
First, an item from our mailbag this morning. A fan writes:
The Ticketmaster/TicketsNow saga continues. In February, I was one of many who tried to buy tickets via Ticketmaster to the Bruce Springsteen concert in Washington DC scheduled for May 18. I was led to TicketsNow, where I inadvertently bought two $98 tickets at $305 each. When Ticketmaster offered to reimburse those of us who inadvertently overpaid, it took two months to get a $400 refund. TicketsNow said they would still provide tickets, but at face value. TicketsNow called yesterday to say that they would not be able to provide tickets to the Washington concert as promised.
Now, an Associated Press story reveals: "Thousands of Bruce Springsteen fans who bought premium seats to his concert at the Verizon Center next week are being told they don't actually have tickets. TicketsNow.com, a resale company owned by Ticketmaster, says it sold too many tickets.... Customers are getting refunds, along with free seats much further from the stage than the ones they had paid for."
So as to that recurring question, "How can resellers have these tickets when the show hasn't even gone on sale yet?" Answer: they don't.
In the "with us" column, Minnesota Governor Tim Pawlenty signed "the Bruce Springsteen bill" into law on the day of the St. Paul show, as the Star Tribune reports, prohibiting "online ticket sellers from pushing buyers to resale sites that offer tickets far above face value."
- May 13, 2009
MORE PHOTOGRAPHERS COMING UP ON THE BRUCE BRUNCH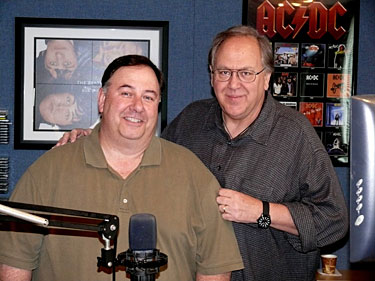 Last week on the Bruce Brunch, host Tom Cunningham had photographers Eric Meola and Frank Stefanko on the air to talk about Photographers Against Hunger. (That's Tom and Frank, L-R, in the studio.) As the campaign continues for just a couple more weeks, Tom is keeping it up: tune in tomorrow, Mother's Day, to hear Lynn Goldsmith on the program at 10:30 a.m., and next week, Sunday June 17, Danny Clinch will be on at the same time.
The Bruce Brunch is on 105-7 The Hawk Sunday mornings from 9 to 11. Listen live anywhere at www.1057thehawk.com.
- May 9, 2009
MEET-AND-GREET AUCTIONS UPDATE
As previously reported, Springsteen has been donating "meet and greet" packages for foodbanks to auction that include tickets to the local show, E Street Lounge passes, and a face-to-face meeting with the man himself for winning bids over $10,000. Plus, Bruce is matching the winning bids -- up to $50,000 -- in each city. Here are the ongoing auctions we know of:
If you're involved in or have information on similar fundraisers in other cities, please email us the details, and we'll list it here.
- May 7, 2009
THE WRESTLER VS. HANNAH MONTANA
Wanna help Bruce bring home the golden popcorn? "The Wrestler" has been nominated for "Best Song From a Movie" in the MTV movie awards. It's up against tunes from Slumdog Millionaire, Hannah Montana: The Movie, and Twilight—vote here. The award show airs live on Sunday, May 31.
- May 7, 2009


SEEGER ON SCREEN: CLIPS ON BILLBOARD.COM, CONCERT COMING TO PBS
More from Pete Seeger's 90th courtesy of Billboard.com, with video clips including "The Ghost of Tom Joad" and "This Land is Your Land." Alexander P. Sherman's revew of the concert also notes that the night was filmed for a documentary; according to musicnewsnet.com, the concert will air in HD "in late summer on PBS" as part of the Great Performances series.
- May 7, 2009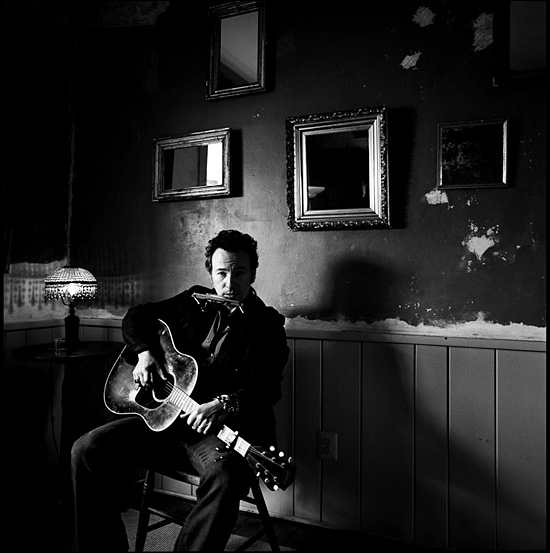 BONUS PRINT ADDED TO "PHOTOGRAPHERS AGAINST HUNGER"
In our Photographers Against Hunger campaign, you've got the rare chance to win a large, original print from 14 renowned photographers who have all created notable images of Bruce Springsteen. We've capped the number of entries at 14,000—with 14 photographs to give away in a random drawing, that made the odds nice and easy: a one-in-a-thousand shot.
Well, now we've added a 15th print to the pot, so the math goes all to hell. But to your advantage. Odds are now better than one-in-a-thousand that, through your donation to the Community FoodBank of New Jersey, you'll get the chance to have one of these on your wall.
The photograph above—courtesy of Danny Clinch, a Photographer Against Hunger who has now donated two prints to the cause—was taken in Springsteen's New Jersey farmhouse in 2005, when Clinch was on location to shoot the Devils & Dust film. And now it's one of 15 signed, original prints that will be given away to 15 lucky fans when we do a random drawing on May 23, or when we reach 14,000 donations, whichever comes first.
If you've been putting it off, we hope you'll join the effort now; click here for full details and to see all the images!
- May 6, 2009