MICHAEL JACKSON, 1958-2009
It's become increasingly difficult yet still important to remember that, before he became the butt of numerous jokes, center of scandalous trials and just plain freak-show fodder for the tabloids, Michael Jackson was one of popular music's most revolutionary and influential figures. Fame came early to Jackson as the truly amazing prepubescent lead singer of the Jackson Five, cutting some of Motown's most exciting and enduring tracks. Later, as an adult solo artist, Jackson made music on his classic albums Off the Wall and Thriller that significantly challenged the racial barriers of early-'80s radio and (thanks to his groundbreaking music videos) MTV.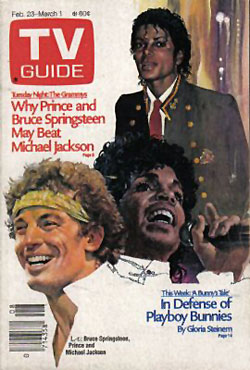 Jackson's breakthroughs also paved the way for a series of mid-'80s blockbuster albums by U.S. artists, each of which contained multiple hit singles and accompanying music videos, and each of which sold millions of copies. The list includes Cyndi Lauper's She's So Unusual, Madonna's Like a Virgin, Prince's Purple Rain and, of course, Bruce Springsteen's Born in the U.S.A., its sales among this group second only to Jackson's record-setting Thriller. In his second Springsteen biography, Glory Days, critic Dave Marsh later noted, "The result was both the greatest degree of hegemony in popular music history and also the most exciting Top Forty radio in more than a decade."
During the Born in the U.S.A. tour, Springsteen got the chance to see The Jacksons in concert in Philadelphia and meet Michael after the show. In a 1984 Rolling Stone interview with Kurt Loder, Bruce raved about the experience: "I thought it was a really great show. Real different from what I do, but the night I saw 'em, I thought they were really, really good. Michael was unbelievable—I mean unbelievable. He's a real gentleman, and he's real communicative... and he's tall, which I don't know if most people realize."
Springsteen also discussed Jackson's fame: "The type of fame that Elvis had, and that I think Michael Jackson has, the pressure of it, and the isolation that it seems to require, has gotta be really painful. I wasn't gonna let that happen to me. I wasn't gonna get to a place where I said, 'I can't go in here. I can't go to this bar. I can't go outside.'... I believe that the life of a rock 'n' roll band will last as long as you look down into the audience and can see yourself, and your audience looks up at you and can see themselves—and as long as those reflections are human, realistic ones. The biggest gift that your fans can give you is just treatin' you like a human being, because anything else dehumanizes you. And that's one of the things that has shortened the life spans, both physically and creatively, of some of the best rock 'n' roll musicians—that cruel isolation. If the price of fame is that you have to be isolated from the people you write for, then that's too fuckin' high a price to pay."
Rest in peace, Michael.
- June 26, 2009 - Shawn Poole reporting



GEARING UP FOR GLASTONBURY
Saturday night, Bruce and the E Street Band play their first-ever U.K. festival, on the Pyramid Stage at Glastonbury. Part of what gets us psyched is the broadcast potential—many Glastonbury sets go out on the airwaves, so keep your eye on BBC (both TV and BBC Radio 6Music) for some E Street action.
6Music will have a new interview with Springsteen from Bergen airing on Saturday—listen to Steve Lamacq's show and watch for video on www.bbc.co.uk to hear how Bruce skipped Woodstock to play the Student Prince, what he did in a tent with an 18-year-old-girl and a grizzly bear, how he feels about turning 60, and more.
Q Magazine celebrates Springsteen's headliner set on the cover of their July issue, and you'll find interview outakes online that didn't fit into the magazine.
And finally, don't miss our favorite Glastonbury news story, courtesy of Mark Hagen an the Guardian: how Joe Strummer helped get Bruce booked.

REGISTRATION NOW OPEN FOR GLORY DAYS SYMPOSIUM
Registration for "Glory Days: A Bruce Springsteen Symposium," organized by Virginia Tech and Penn State Altoona, is now open! The symposium, set to run from September 25-27, 2009 in New Jersey, will feature presentations by Grammy Museum President (and longtime Backstreets Associate Editor) Robert Santelli; Rock and Roll Hall of Fame Vice President for Education and Outreach Lauren Onkey; original E Street Band drummer Vini Lopez; Jim Musselman, founder of Appleseed Recordings; Eric Alterman, author of It Ain't No Sin To Be Glad You're Alive; and many more sessions including over 130 presentations by people representing 30 states and eight countries. Singer-songwriter sessions will also be featured at the symposium with performances by Joe Grushecky, Joe D'Urso, Jen Chapin and Joe Rapolla confirmed. See here for a draft agenda.
The symposium will take place on the beautiful campus of Monmouth University, the Sheraton Eatontown Center, and at The Stone Pony. The Stone Pony will feature musical performances on September 24, 25 and 26 with artists including Joe Grushecky and the Houserockers, Willie Nile, Stewart Francke, Boccigalupe and the Badboys, Jon Caspi and Hans Ludvigsson. Additional performers will be announced shortly.
For more information, please see www.cpe.vt.edu/glorydays or email symposium organizer Mark Bernhard at mcb7@vt.edu.
- June 24, 2009

LANDAU ADDRESSES TICKETING ACCUSATIONS
After critical articles in the Newark Star Ledger and the New York Post regarding ticketing issues for Springsteen concerts, Jon Landau has responded at length on Brucespringsteen.net. Within a couple hours, a Billboard headline read "Springsteen Escalates Ticketmaster War," though Landau notes, "We have no interest in having an ongoing conflict with Ticketmaster/TicketsNow or anyone else. That has not been part of our history. And it is generally not our purpose to spend time on this site on matters of this kind. But we do get upset when we see fans being taken advantage of, as they were on February 6th."
Folllowing is Landau/Thrill Hill's take on ticket holds, the TicketsNow "bait and switch," and more.
An Update on Ticketing Issues from Jon Landau
Somehow, a new flurry of interest has been created around Thrill Hill's ticket holds for the recent Izod Center shows. These are the same shows that became such a subject of controversy when they went on sale on February 6th. The new theory is that Bruce's holds were the problem on February 6th, and not Ticketmaster's already acknowledged failures on that day. But the truth is that Bruce's holds had nothing to do at all with the breakdown of Ticketmaster's system.

These are the undisputed facts about February 6th. On that morning, when our fans went to buy their Bruce and Band tickets for the face value of $95, they were in many cases immediately linked to Ticketmaster's wholly owned ticket reselling company TicketsNow, where prices were many times higher than $95. We call this "bait and switch." As a result, an undetermined but large amount of money flowed into TicketsNow (and eventually Ticketmaster) even though there were still tickets at normal prices yet to be made available on Ticketmaster. We perceived this to have been a major abuse of
our fans, complained about it mightily, and added that because of behavior like this, the pending merger of the number one ticketing company and number one management company (both owned by Ticketmaster) with the number one venue owner and operator (Live Nation) might not be such a hot idea.


How do we know that all this is true?


1. On February 6th, when the ticket fiasco occurred, Ticketmaster's CEO wrote to Bruce, myself, and our fans to generously apologize, which apology we promptly and graciously posted on our site. The letter stated that the problem was the product of an inexplicable "glitch."


2. The volume of complaints received by New Jersey Attorney General Anne Milgram exceeded anything ever experienced before and she ultimately secured a consent degree from Ticketmaster, in which they promised that some of their practices ("glitches") with regard to its sister company TicketsNow will never be repeated.


3. The CEO of Ticketmaster openly testified as to their responsibility for these "glitches" in front of Committees of Congress.


Based on all of the above, we can safely conclude that on February 6th, Ticketmaster transferred legitimate requests for tickets at face value over to their TicketsNow site, where they could charge people hundreds and hundreds more dollars for the same ticket. The amount of additional profit generated by scalper type prices through this now famous "glitch" remains unknown. Whether this was merely an extremely profitable "glitch" for Ticketmaster/TicketsNow or something else, we have no way of knowing.


Last Sunday, June 14, the Newark Star Ledger ran an article entitled "Springsteen withheld best tickets from the public at NJ concert, records show." This is the same article that the Star Ledger runs whenever we do a few indoor shows in New Jersey. It suggested that we were in someway responsible for the Ticketmaster/TicketsNow problem. On Thursday, June 18, Hits Magazine ran a summary of this article, On Friday, June 19, Ticketmaster's Chairman attacked Bruce personally in the New York Post, in an article called "Ticket Blitzkrieg." In this article, Ticketmaster's Chairman deploys by implication Ticketmaster's new line: despite their apology, despite the consent decree with Attorney General Milgram, and despite their testimony in Congress, the ticket catastrophe was actually Bruce's fault.


Of course, the only thing wrong with the Chairman's spin is that it's flatly untrue. He is merely using the time honored tradition of blowing smoke to distract attention away from Ticketmaster's already acknowledged responsibility for their "glitches" on February 6th, the on-sale date of the two Izod Center shows.


Now lets talk a little about Thrill Hill's ticket practices. Perhaps the first thing to be said is that when we play New Jersey, our fans know that we are usually going to do more than two indoor shows in order to ensure, among other things, that during the course of a tour, Springsteen tickets will be plentiful so as many fans as possible will have a chance to get great seats (hence the five upcoming shows at Giants Stadium.) As our fans also know, we have kept all of our tickets under $100 and do all that we can to ensure that as many as possible are sold at face value.


Yes, we do hold significant numbers of tickets when we play New Jersey, New York and Los Angeles, as does every arena headliner. These holds are used by Bruce, his band members, and longtime members of his extended organization, their families and close relations; by the record label for its staff, for reviewers, and for radio stations; by charities who are provided with tickets for fund raising purposes, such as special auctions; for service people who help us on a year-round basis; and for other similar purposes. Unlike some Ticketmaster managed artists, no tickets are held for high dollar resale on TicketsNow, or through any other means.


Where are the Bruce holds? The 2,000 to 3,500 tickets closest to the stage are on the floor and more than 95% of them go to the public, making the basic premise of the Star Ledger headline inaccurate. Secondly, with regard to seats held in the best sections on either side, we always blend guest seats with fan seats so that there are never any sections consisting entirely of guest seats.


In addition, it is well known that we sometimes release a significant number of excellent tickets on the day of the show at the box office, which can only be bought with direct entrance to the venue. It's known as the "drop." Many think that is done on purpose to help combat the scalpers who prey on fans at the last minute. That is a good thought.


(Also, in connection with the Izod Center shows in particular, we released some of our holds to Attorney General Milgram to go into the lottery she created to help deal with people who were penalized by the Ticketmaster/TicketsNow "glitch" on February 6th.)


Those are our ticket practices, as they have evolved over more than 30 years of experience. Does anyone seriously imagine that any element of these practices caused Ticketmaster to redirect ticket requests to TicketsNow for the Izod Center shows? What would our incentive have been? It's not we who earned vastly larger sums when fans paid way over the face value of the tickets. It was Ticketmaster/TicketsNow.


Final thoughts: We have no interest in having an ongoing conflict with Ticketmaster/TicketsNow or anyone else. That has not been part of our history. And it is generally not our purpose to spend time on this site on matters of this kind. But we do get upset when we see fans being taken advantage of, as they were on February 6th. So, when that stuff stops happening (and the Ticketmaster/TicketsNow problems surrounding our recent show in Washington D.C. shows that these issues are far from resolved) we will stop complaining. And when the facts cease to be misrepresented, we will stop explaining.

6/24 update: The Newark Star Ledger, in a story posted on its website last night, corrected its earlier statement on Springsteen ticket holds.
- Updated June 24, 2009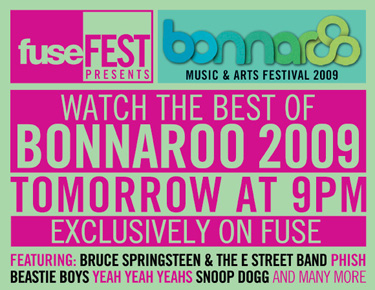 BONNAROO SPECIAL DEBUTS TOMORROW
Don't forget, "The Best of Bonnaroo 2009" airs Saturday night at 9:00 on Fuse—Springsteen and the E Street Band headline the hour-long special, and we're told two of their songs will be part of the mix.
Billboard.com has more on the Springsteen/Phish performance on the final night at Bonnaroo. Trey Anastasio: "I got to play with Bruce. That's my hero." Bassist Mike Gordon: "It's great to know that it's not all hype or anything, there's such a solid musician and songsmith standing there... When he walked in, his guitar playing and his singing and his presence, it became clear to me why he became a megastar."
- June 19, 2009

BIG MAN: "THERE'S NO TIME FOR PAIN"
Clarence Clemons talks with Arthritis Today about having dual knee replacement surgery last fall: "There's no shame in having arthritis or undergoing surgeries... It takes courage to live life to the best of one's ability. And if that means having surgery, then so be it." An Editor's Note adds: "Clarence plans to have surgery on his lower spine to correct joint damage from his osteoarthritis once the current world tour ends in late summer and he can devote 12 months to his recovery."
- June 19, 2009

WOOT A BARGAIN
Surely you have these already... but if you need to indoctrinate a friend, it's hard to beat $49.95 for Tracks, Live/1975-85, and the Video Anthology DVD. As with all daily deals on Woot, offer ends at 11:59 tonight.
- June 19, 2009

ALEJANDRO ESCOVEDO: ALWAYS A FRIEND
Last year, Alejandro Escovedo joined Bruce and the E Street Band onstage in Houston to perform one of his own songs, "Always a Friend." He has since talked about that night as a high point in his life, recently saying he was "blown away by the whole event."
Alejandro is a brilliant live performer in his own right, of course, and this weekend, you can catch him playing two benefit concerts. Saturday brings him to the Clearwater Festival, celebrating Pete Seeger's 90th birthday and raising funds for the Hudson River Sloop Clearwater non-profit.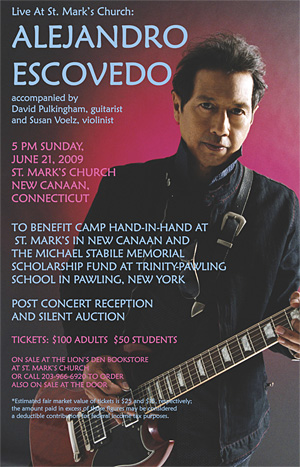 On Sunday, June 21, Alejandro will play a charity concert in New Canaan, CT, where he'll be joined David Pulkingham on guitar and Susan Voelz on violin for a special 5:00 p.m. performance at St. Mark's Church. His manager, Jon Landau Management's Jan Stabile, tells us, "The concert is to benefit my son Michael's Scholarship Fund (he passed away six years ago) and also a local camp, Hand-in-Hand."
The Michael B. Stabile Memorial Scholarship Fund and Camp Hand-in-Hand will benefit not only from the concert proceeds (tickets are $100 for adults, $50 for students), but also by a silent auction that will follow the performance. "That will include two Bruce Springsteen tickets for Giants Stadium, a choice of one of the fall dates," says Stabile, "plus two E Street Lounge passes with a Stevie Van Zandt meet-and-greet, as well as a copy of the book Bruce Springsteen: On Tour signed by Dave Marsh."

To reserve tickets for the event, call (203) 966-6920. See this press release and www.alejandroescovedo.com for additional information.
- June 16, 2009

E STREET RADIO: LONG MAY YOU RUN
Good news for SIRIUS XM subscribers: E Street Radio has just gotten another extension. According to a press release, "This is the third time the popular music channel's limited run has been extended by SIRIUS XM due to overwhelming subscriber demand."
- June 16, 2009


CLEVELAND ROCKS
Just back from a weekend at the Rock Hall, where I had my mind sufficiently blown by the "From Asbury Park to the Promised Land" exhibit. Some of the knockouts I was expecting, like getting to see the legendary Esquire up close and personal, and taking in the plethora of handwritten pages from Springsteen's notebooks. Others I didn't even know would be there, like Bruce's black leather jacket from the cover of Born to Run (a late addition to the exhibit), and Marion Vineyard's scrapbook from the Castiles days. Over the course of the FanFest weekend, I asked curator Jim Henke if there was anything he had hoped to get for the exhibit but couldn't... his answer in a nutshell: Nope. Which is completely believable. It's a comprehensive collection, thanks in no small part to Springsteen's own involvement, and well worth the trip. You've got until spring 2010...
Check out yesterday's Inquirer article on the Conservation Center for Art and Historic Artifacts, tasked with the preservation and restoration of these documents, for more about the ephemera on display at the Rock Hall.
Yesterday brought Thom Zimny's FanFest presentation, which promised "rare footage" and delivered. In addition to his "Wrestler" and "Night With the Jersey Devil" clips, and some historical footage from 1975 (a Born to Run television commercial, "Jungleland" in the studio), Thom pulled a bunch of live stuff out of his magic bag, including:
"Sandy" and "New York City Serenade," Nassau Colllege, 1973
"E Street Shuffle," Lenox, MA, 1975
"Thunder Road" and "Every Time You Walk in the Room," Bottom Line, NYC, 1975
"Tenth Avenue Freeze-out" with Miami Horns, Carlton Theatre, Red Bank, NJ, 1976
"Born to Run," Tower Theater, Philly, New Year's Eve 1975
"Prove It All Night" live, 1978
"Sherry Darling," River tour rehearsals, 1980
Thanks to Jim Henke, Lauren Onkey, Margaret Thresher, and everyone at the Rock Hall who made it such a memorable weekend—and to everyone who attended my talk, it was great to see so many friendly faces there.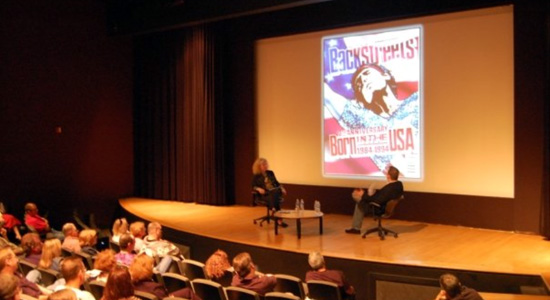 For more photos from FanFest, visit the Rock Hall's Flickr page.
- June 15, 2009

BRUCE GOES PHISHING TO HELP WRAP BONNAROO SUNDAY NIGHT
The Saturday night show not "jammy" enough for ya? Well, Springsteen stuck around Bonnaroo for another day, and really got into the spirit of things with Phish for the festival finale. Springsteen joined the band for three songs at the end of their first set late Sunday night, after guitarist Trey Anastasio gave a lengthy introduction about Bruce and the E Street Band being the first concert he'd ever seen. The Boss traded solos with Trey on a ten-minute "Mustang Sally," and led Phish through his own "Bobby Jean" and "Glory Days." Read more from Jon Pareles in the New York Times.
One thing we like about Phish: they offer high quality, unedited soundboard recordings for many shows online. Preview and download individual tracks—21 minutes of Bruce and Phish, all told—at livephish.com.
More on Bonnaroo from CNN.com's The Marquee Blog, the Associated Press, and SPIN.com.
For the full setlist from this and other recent shows,
visit our Setlists page
- Updated June 16, 2009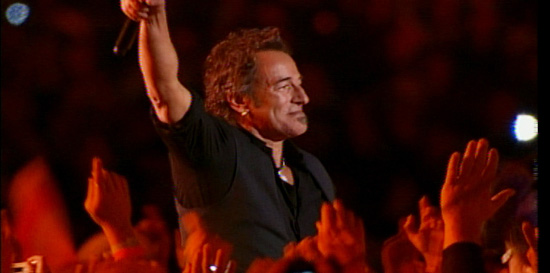 SPRINGSTEEN'S SUPER BOWL JOURNAL COMES TO LIFE
For this year's Super Bowl, much was made of the fact that Springsteen and the E Street Band had just 12 minutes to rock: "Fundamentally, it's a 12-minute party," Bruce told the New York Times, "It was very challenging to try and get that exact 12 minutes." So considering that a new TV special about the halftime show runs more than 45 minutes, you'll be guaranteed to see a lot you haven't seen before.
Working on a Dream: A Super Bowl Journal is a new behind-the-scenes documentary directed and edited by Thom Zimny. Remember the Super Bowl Journal Bruce published online? Springsteen himself narrates the film, sharing both his fears and his excitement as footage takes us from the first rehearsal in Jersey to a Tampa rehearsal in the pouring rain, from working with the gospel choir to working out the knee-slide with the cameraman, and onward. Zimny combines never-before-seen footage from the press conference, the rehearsals, the game, band meetings, in Bruce's trailer backstage, and on the field with the E Street Band for the main event.
Zimny co-produced the film along with Jon Landau and George Travis. No U.S. broadcast is scheduled at the moment, but Europeans can look for showings to coincide with upcoming tour stops as the summer goes along. Watch your local schedules:
Austria: ZIB 1; Winterzeit; Cafe Plus
Denmark: (to be confirmed)
Finland: MTV Max
France: Canal+
Germany: ZDF
Holland: NPS/VPRO/VARA
Ireland: City Channel
Italy: (to be confirmed)
Norway: NRK
Spain: Spanish National Television
Sweden: TV4
Switzerland: Swiss National TV
UK: Channel 4
- June 11, 2009

AH, THE ENERGY OF AN 18-YEAR-OLD...
New contender for the Hardest Working Man in Show Business: Jay Weinberg. If you've seen Jay behind the kit with the E Street Band, you know he's got the power, hour after hour, and all the rest of that like-father-like-son stuff. On June 11, Jay tells Backstreets: "Just got home from Europe, and I'm gearing up to go back on the road tomorrow..." Yep, for the next two weeks, while the E Street Band takes a break from the European tour, Jay will be touring and playing nearly every night with his own band, The Reveling. Catch them live:
| | | | |
| --- | --- | --- | --- |
| Date | Time | Venue | City |
| June 12 | 7:00 p.m. | Valentines | Albany, NY |
| June 14 | 9:00 p.m. | Now That's Class | Cleveland, OH |
| June 15 | 7:00 p.m. | Beat Kitchen | Chicago, IL |
| June 16 | 8:00 p.m. | Louie's Trophy House Grille | Kalamazoo, MI |
| June 17 | 6:00 p.m. | Ohio University | Athens, OH |
| June 18 | 8:00 p.m. | Legion of Doom | Columbus, OH |
| June 19 | 8:00 p.m. | Mill Hill Saloon | Trenton, NJ |
| June 20 | 2:15 p.m. | Wave Gathering | Asbury Park, NJ |
| June 21 | 2:00 p.m. | Retox | Brooklyn, NY |
- Updated June 15, 2009

ROCK HALL'S "SPRINGSTEEN FAN FEST" KICKS OFF TOMORROW
With their exhibit "From Asbury Park to the Promised Land: The Life and Music of Bruce Springsteen" in full swing on two floors, the Rock and Roll Hall of Fame and Mueseum is inviting Bruce fans to Cleveland for a special weekend, June 12-14. Each day, big-screen showings of Springsteen performances will be running in the 4th Floor Theater, with additional events throughout the weekend.
Friday: Just after lunch, catch the first showing of a collection of Bruce footage from Rock Hall induction ceremonies, including Bob Dylan, CCR, U2, and Springsteen's own. This program, which runs more than an hour and a half, will repeat several times over the weekend.
Saturday: Programs include a talk from exhibit curator Jim Henke; a performance by Colin Gawel of Watershed; VP of Education Lauren Onkey offering a multimedia class on the making of Born in the U.S.A.; and whattaya know, an interview with me! Better make sure I know my stuff. It's Springsteen, not Springstein, right?
Sunday: Thom Zimny, Bruce's go-to filmmaker, editor, and archivist, will be on hand to present rare, never-before-seen Springsteen footage. Don't miss this if you can help it. And he'll be fresh in from Bonnaroo, so somebody bring that man a Red Bull.
Click here for the full schedule—hope to see you there!
- June 11, 2009

E STREET MEETS AVENUE Q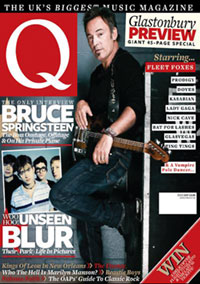 On June 27 in the U.K., Bruce Springsteen and the E Street Band will take the Pyramid Stage, playing the Glastonbury Festival for the first time. Q Magazine whets the appetite with Springsteen on the cover of their July 2009 issue, and a U.K. exclsuive interview inside. The ten-page feature finds Paul Rees talking with Bruce in his dressing room as well as up in the sky, mid-flight, with backstage and onstage photos by John Wright.
Elsewhere in the magazine, Q teases "a forthcoming Bruce Springsteen boxset containing alternate takes and unreleased tracks drawn from the recording sessions for 1975's Born to Run and '78's Darkness on the Edge of Town albums." We assume they're referring to a long-gestating Darkness box, in the vein of the Born to Run 30th Anniversary set, originally expected in 2008. There's yet to be any official word about the Darkness reissue package seeing the light of day, but just because the album's actual 30th anniversary came and went without the anticipated release doesn't mean we're out of luck. Gibing with the Q report, sources say work on a deluxe box has continued, with potential for release this year. More here as we know it.
- June 10, 2009

I'M JUST A BOY WITH A NEW HAIRCUT
"I have this sort of dual-sided musical personality, and an ability to just go where the music takes me," said Max Weinberg shortly before kicking off his new role as The Tonight Show bandleader this week. "When I play with Bruce, I grow my hair long. And as soon as I am back on TV, I cut it off." The New York Times' Jaques Steinberg talked to Max and members of his Tonight Show Band in "For TV Band, Jet Lag is Part of the Job."
- June 9, 2009

SPRINGSTEEN RIDES WITH THE BLUE RIDGE RANGERS
John Fogerty is following up his 1973 Blue Ridge Rangers solo album this year, 36 years later, with another collection of covers, The Blue Ridge Rangers Rides Again. "I'd long thought I'd do another Blue Ridge Rangers album," says Fogerty, "and not make the mistake of playing all the instruments." Among the addditional players: Bruce Springsteen, dueting with his Vote for Change tourmate on "When Will I Be Loved." From a press release:
"That was Julie's idea," Fogerty says of his wife's concept to have the legends work out a duet on the Everly Brothers' 1960 classic. "I'd hoped we be able to work together some day; I'm a fan of his and he's a fan of mine and we're friends," said Fogerty. Springsteen and Julie discussed the idea and "The Boss" immediately agreed to the idea.

Later, during a very busy time for him—Super Bowl half-time performance, appearance at the Obama Inaugural celebration at the Lincoln Memorial, ongoing preparations for a national tour—the collaboration came to pass. The track was cut at Berkeley Street [Studios in Santa Monica, CA], and the Fogertys flew to New Jersey where the vocals were completed.
The album is due for release in late summer/early fall.
- June 9, 2009



B'ROO B'CAST
This weekend, Bruce and the E Street Band come back to these shores to play Bonnaroo on Saturday night, June 13. Fuse is the festival's "exclusive television partner," gearing up for the main event with a three-hour "Best of the Boss" on Thursday night: Live in New York City from 8 to 10 p.m. Eastern, followed by Bruce Springsteen: Making of Working on a Dream and Loaded: Bruce Springsteen to take it to 11:00.
But if you wanna see something you ain't never seen before... a week after the E Street Band's B'roo performance, the network will air Fuse Fest: Bonnaroo 2009, which a press release describes as "a concert special highlighting the best performances from this year's festival including Bruce Springsteen & the E Street Band, Phish, Beastie Boys, Snoop Dogg and more." Tune in Saturday, June 20, at 9 p.m. Eastern.
- June 9, 2009

MORE SHOWS FOR THE DOG DAYS OF SUMMER
August continues to fill in with outdoor U.S. dates. There are now two more on the E Street schedule: August 19 in Hartford, CT (tickets on sale this Friday at 9 a.m.), and August 25 in Saratoga, NY (tickets on sale this Thursday at 10 a.m.).
- June 9, 2009

TICKET ALERT: GIANTS STADIUM 4 AND 5 ON SALE AT NOON
Don't forget, the final two Giants Stadium concerts (Thursday, October 8 and Friday, October 9) go on sale today, Monday, June 8, at noon Eastern via Ticketmaster. See our Tour/Ticket Info page for links and the complete itinerary as it stands.
- June 8, 2009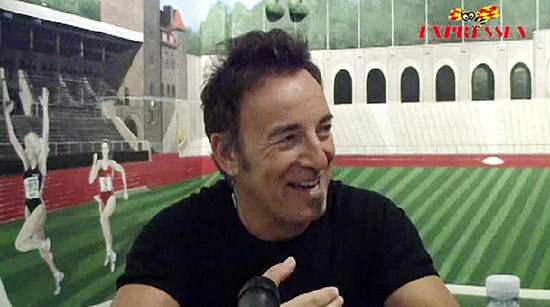 WORKING ON A STREAM: STOCKHOLM VIDEO
Bruce on Stockholm: "This is one of our most dependable and excitable audiences in the world, so it's always a pleasure." Watch a ten-minute interview at expressen.tv. Look for Stockholm 1 performance clips there, too, including "Who'll Stop the Rain" with Nils' accordion intro.
- June 5, 2009

MR. MARSH GOES TO CLEVELAND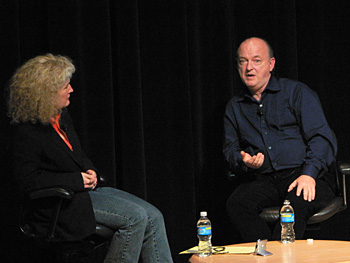 Dave Marsh appeared last night at the Rock and Roll Hall of Fame and Museum as part of its "From Songwriters to Soundmen: The People Behind the Hits" series. Interviewed by Dr. Lauren Onkey, the Vice President of Education at the Rock Hall, the music critic, historian, anti-censorship activist, and Sirius XM host raved about the current Springsteen exhibit, "From Asbury Park to the Promised Land."
He also spoke of Springsteen's public move towards humanitarian efforts following his popularity with the Born in the U.S.A. album and the title track's misinterpretation as a patriotic anthem. A statement at a Pittsburgh concert eventually led to the now familiar collections for local food banks. Afterwards, Marsh signed copies of his numerous books including his recent work on Springsteen, "On Tour."
Tomorrow morning, Marsh will host his Friday Sirius XM program "Live From E Street Nation" from the Rock Hall's Alan Freed radio studio. He plans on discussing the Springsteen exhibit with curator Jim Henke, as well as with visitors who have just walked through its life-spanning two floors of memorabilia, instruments, interviews and personal items.
Marsh's Cleveland visit launches the Rock Hall's Bruce Springsteen FanFest, which takes place June 12-14. Event schedule posted now!
- June 4, 2009 - report and photograph by John Patrick Gatta

ONLINE, A NEW HOME FOR THE SPECIAL COLLECTION
Ladies and gentlemen, change your bookmarks! There's a new online home for the Bruce Springsteen Special Collection and you'll find it at www.brucespringsteenspecialcollection.net. The site contains the most up-to-date listing of the more than 11,100 documents in the Collection, including the results of the microfilming project made possible by a grant from the New Jersey Historical Commission to The Friends of the Bruce Springsteen Special Collection. The new site is the first step in a long-anticipated reorganization of the Collection that will eventually allow The Friends to begin accepting historic Bruce items in formats other than books, magazines, fanzines and other printed documents.
- June 4, 2009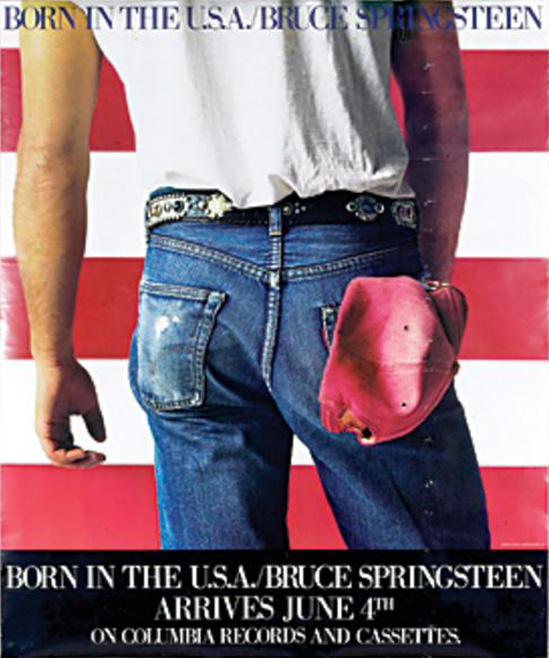 25 YEARS BURNIN' DOWN THE ROAD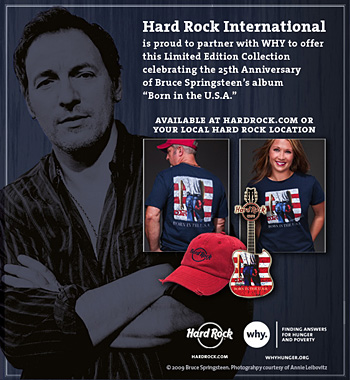 Hey Born in the U.S.A. "bandwagoners": happy silver anniversary! The album that elevated Springsteen to intergalactic superstar was released 25 years ago today, on June 4, 1984. It spent a total of seven weeks at number one. By 1985, the album spawned seven Top Ten hits and had gone 10 x platinum (that's ten million copies, now called "Diamond" status by the RIAA); to date, more than 15 million Born in the U.S.A. albums have been sold in the U.S. alone.
World Hunger Year and Hard Rock International are celebrating the anniversary with some exclusive new merch, sales of which will benefit WHY's Artists Against Hunger & Poverty program. Men's and women's T-shirts feature the album cover image with a "25th Anniversary" logo; a weathered red cap is perfect for your back pocket. Check 'em out at the Hard Rock shop online.
- June 4, 2009

SHIPPING UP TO BOSTON
More U.S. dates for the second half of '09!
Earlier today, two more Giants Stadium dates were added to the schedule. Now we're looking at more post-Europe, but not necessarily in gargantuan venues. Bruce and the E Street Band will play the Comcast Center in Mansfield, MA—a 19,000-capacity amphitheater—on Saturday, August 22 and Sunday, August 23. Tickets will go on sale Tuesday, June 9, at 10 a.m. See our Tour/Ticket Info page for links and the complete itinerary as it stands.
- June 2, 2009

THE BIG MAN AND THE BOOK EXPO
Last week, before resuming the E Street Band tour in Europe, Clarence Clemons appeared at BookExpo America to talk about his upcoming book, Big Man: Real Life & Tall Tales. Chatting with Publishers Weekly, Clarence suggested he'll be doing a book tour to promote the memoir, due in October from Grand Central Publishing: "he's looking forward to going to bookstores on a still-to-be-scheduled national tour to 'meet people,' talk about his life and play a little music."
As Publishers Weekly reports, Clemons was interviewed by Chuck Klosterman on stage at BEA: "Clemons opened up about his life and times with 'The Boss,' saying Springsteen offstage really is like the public persona he's created on stage. 'For his music to be real, he has to live that life. He's the boss of his own world,' Clemons said, disclosing that he and the rest of the band really do call Springsteen 'The Boss' offstage, while Springsteen in turn refers to Clemons as 'The Big Man.'
"'Because I am,' Clemons insisted, before taking out his sax and playing 'Jungleland' riffs for the appreciative crowd, while explaining the evolution of the song during a marathon jam session, when Springsteen sought to find words for the feeling evoked by Clemons's sax playing...."
More on the event in the L.A. Times.
- June 2, 2009

GIANTS STADIUM STAND EXPANDS TO FIVE SHOWS
After yesterday's quick sellouts for three shows at Giants Stadium, two additional nights have just been added: Thursday, October 8 and Friday, October 9. The latter date will be the final concert at Giants Stadium. Tickets for these dates go on sale Monday, June 8 at noon Eastern via Ticketmaster. See our Tour/Ticket Info page for links and the complete itinerary as it stands.
- June 2, 2009