BRUCE GETS FOLKED UP
New album & tour on the horizon, as Springsteen readies collection of Pete Seeger covers
As of early 2005 and throughout the year, Springsteen's plan (according to Conventional Wisdom, inside sources, little birdies and the like) seemed to be this: the solo album and tour that was Devils & Dust, to be followed by an E Street album and tour in 2006. As all of us Springsteen followers know, his plans have a way of changing. Now, it appears that E Street activity (at one time, they were scheduled to be in the studio this very minute) has been put on hold, as Springsteen prepares another solo album for release this spring. Tentatively titled The Seeger Sessions, this new collection of folk covers has yet to be officially announced or confirmed. But with a due-date locking in for roughly one year after the April 26, 2005 release of Devils & Dust, we expect an announcement to be imminent.

That's Seeger as in Pete, not Seger as in Bob; much as we'd love to see Bruce's take on "Ramblin' Gamblin' Man" committed to tape, we're looking at a collection of songs either written by, associated with, or popularized by the folk legend. It's in the tradition of albums like Merle Haggard's A Tribute to the Best Damn Fiddle Player in the World: Or, My Salute to Bob Wills, or heck, even 1968's Pete Seeger Sings Woody Guthrie. Though never in full-album form, Springsteen has recorded salutes to his folk forefathers before, his takes on Guthrie songs appearing on Folkways: A Vision Shared ("Vigilante Man"), 'Til We Outnumber 'Em ("Plane Wreck at Los Gatos (Deportee)," "Riding in My Car," ) and his own Live/1975-'85 ("This Land is Your Land"). He's released one Pete Seeger tribute already, as well: "We Shall Overcome" was recorded for the 1998 collection Where Have All the Flowers Gone: The Songs of Pete Seeger (see Backstreets #58, page 9) and received renewed interest in the days after September 11, 2001. Though the seeds of Springsteen's forthcoming album can probably be traced back to that '98 release, sources tell Backstreets that sessions with NY/NJ-based musicians have occurred much more recently; Rolling Stone reports today that "Springsteen is likely to hit the studio once more" before the record is done.
And while we'll point out once again that none of this is set in stone, at the moment a two-month, small-market tour is in the planning stages for the late spring, with Springsteen to be accompanied by a group of musicians from the record. Watch here for more as we know it.
-February 23, 2006

WILLIE NILE'S STREETS OF NEW YORK OUT TODAY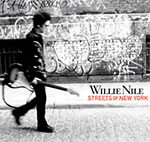 Singer/songriter Willie Nile has been at it for more than a quarter-century now, and his first new album in six years hits today. Streets of New York is well worth picking up, even if you're just familiar with Willie from his guest appearances with Springsteen (including the final night of the Rising tour). Guys like Bono and Lou Reed are calling this one a "great album"; Uncut magazine calls it "a platter for the ages" in a four-star review: "Streets of New York, against all odds, returns Nile to his strengths: dazzling Dylan-meets-Patti Smith anthemics infused with breathless, beatific lyrics and crisp Buddy Holly rhythms." Quite a review on allmusic.com, too. Visit our concert calendar for Willie's upcoming dates, and check out willienile.com or his new label's website, 2minutes59.com, for further details.
-Updated February 22, 2006

BOB BENJAMIN, BACK ON HIS FEET
An update on our friend Bob Benjamin, organizer of the annual Light of Day benefits to fight Parkinson's, who recently came home from the hospital after a four-week stay. As Billboard recently reported, "Benjamin, who was diagnosed with Parkinson's Disease in 1996, has been hospitalized since Jan. 17 after falling and becoming immobile in his home for four nights without food, water or medicine... and is undergoing physical therapy to regain his stamina and the use of his muscles." Sounds like a rough way to start the new year -- though you wouldn't know it from talking to him. I spoke with Bob today, typically upbeat and in great spirits, reporting that he's mending nicely and glad to be able to get back to work (he's the manager and promoter for a roster of artists including Joe Grushecky and the House Rockers, Joe D'Urso and Stone Caravan, and Boccigalupe and the Bad Boys).
Bob had this to pass along: "Thanks for your prayers and thoughts... see you at the Pony next weekend!" Grushecky and the Houserockers play the Stone Pony on Saturday, February 25.
Bob Benjamin will also be participating in the Parkinson's Unity Walk fundraiser in Central Park on April 29, with 100% of all donations going directly to research. At this year's event, he'll be honored with the Alan Bonander Humanitarian Award, presented annually to "an individual deemed to make an exemplary contribution to Parkinson's education and advocacy." And we're glad he's back at it.
-February 16, 2006

THE BIG BAD WOLFGANG'S VAULT
Classic Bill Graham Presents performances online


If you've been feeling the loss of E Street Radio, be sure to check out Wolfgang's Vault, streaming online now, for free. It's not all Bruce, but you'll hear some classic early E Street Band performances interspersed with other recordings from the late promoter Bill Graham. Wolfgang was Graham's given name, and the "Vault" refers to his vast archive of memorabila and recordings that was obtained in 2003 by entrepreneur Bill Sagan (Clear Channel sold him the stash for around $5 million). Bill Graham Presents produced more than 35,000 concerts all over the world, thousands of which were taped -- these concert recordings are now being aired online. At the wolfgangsvault.com website, you'll find Vault Radio, streaming selected songs in FM quality. Three Springsteen tracks are currently in rotation -- "Thunder Road" from Winterland 12/15/78, "Blinded By the Light" and "Thundercrack" from Berkeley Community Theatre 3/2/73 -- along with live treasures from Hendrix, Van Morrison, Dylan & the Band, CCR, Zeppelin, Stevie Wonder, and many more. According to the Vault Radio FAQ, "The playlist will change in its entirety every Tuesday morning at 8:00 EST, beginning on February 21st. Each playlist will have from 80 to 100 new songs and last for between 7 and 8 hours. When the playlist ends it will start over - so each song will be played, approximately, 3 times in a 24 hour period."
Vault Radio is only the beginning of Sagan's plans for this material. According to the site, Wolfgang's Vault hopes to begin making CDs, downloads and podcasts of some of this material available in late summer/early fall.
For more about Sagan's cache, check out this MarketWatch piece, in which David Callaway writes: "During an interview with Sagan last week, he played me a clip of Bruce Springsteen singing 'Blinded by the Light' at the Berkeley Community Theater in 1973, while The Boss was playing as a warm-up act for Blood, Sweat & Tears. As the voice of a 22- or 23-year-old Springsteen belted out the famous lyrics, Sagan laughed as he told how Springsteen was only allowed to play six songs that night, and as the announcer said 'I think he's from New Jersey' as he was introduced to the audience."
-February 16, 2006

BRUCE AT GRAMMYS: "BRING 'EM HOME"
Last night at the 48th Annual Grammy Awards, Springsteen performed "Devils & Dust," a song nominated in three categories: "Best Rock Song," "Best Solo Rock Vocal Performance," and "Song of the Year." As opposed to many of the splashy collaborations of the night, Bruce played this one alone, just as he did on tour, on acoustic guitar and harp; in one of the only social commentaries of the night, he finished the soldier's-eye-view tune with a call to "Bring 'em home!" In the case of Grammy statues, make that "Bring it home": The Academy honored Bruce with one out of the five awards for which he was nominated. That award -- "Best Solo Rock Vocal Performance" for "Devils & Dust" -- was given off-stage prior to the show, as were the vast majority of this year's Grammys. It's the same award Bruce won last year, for "Code of Silence," and in 2003 for "The Rising" -- seemingly the Academy's preferred method of throwing the Boss a bone. In the other four categories, U2's "Sometimes You Can't Make It on Your Own" got "Song of the Year" and their "City of Blinding Lights" got "Best Rock Song"; John Prine's Fair & Square got "Best Contemporary Folk Album"; and the Scorsese-directed Dylan doc No Direction Home got "Best Long Form Music Video." Bruce was back on stage at the end of the night for the combo tribute to New Orleans and Wilson Pickett that closed the show. Back together for the first time since the 2003 holiday shows, Bruce and Sam Moore joined the assembled throng of Elvis Costello, The Edge, Bonnie Raitt , Dr. John and others for "In the Midnight Hour"; Bruce and Irma Thomas shared the mic with the Soul Man. While you could feel producers' eyes on the clock -- the whole finale felt compressed and rushed to bring the broadcast to its 11:30 close -- Springsteen managed to find a spot mid-song to shout out why they were doing this in the first place: "This is for the 'Wicked Pickett!'" (And for those Disciples of Soul fans out there, who else noticed that Sly Stone was rocking the Jean Beauvoir look?) See the full list of Grammy winners here.
-February 9, 2006

SPRINGSTEEN SALUTES JT AS GRAMMY WEEK BEGINS
The Boss plays "Millworker"
Grammy Week kicked off Monday night with the annual MusiCares benefit, honoring their Person of the Year James Taylor. Springsteen took the Los Angeles Convention Center stage around 10:45, speaking of JT (a Chapel Hill, NC native) as "an authentic Southern voice" before going into "Millworker" on acoustic guitar and harmonica. Taylor wrote "Millworker" for the Broadway musical Working, releasing his own version on his Flag album in 1979, the same year that he and Bruce would play the MUSE/No Nukes concerts together. 27 years later -- honored by other artists including Sting ("Close Your Eyes"), Alison Krauss ("Carolina in My Mind"), and Bonnie Raitt ("Rainy Day Man") -- Taylor told the crowd, "It's strange to be at an event like this and still be alive. It's very moving, very terrifying and very wonderful to hear these songs done live." Read the Associated Press story.

Springsteen will stay in L.A., as Grammy rehearsals proceed on Tuesday and the main event is Wednesday night. In addition to doing his own thing, Billboard.com reports that Bruce will be part of a big tribute to New Orleans, along with Elvis Costello (with whom he saluted Joe Strummer at the 2003 Grammys), Sam Moore, Raitt, The Edge, and Crescent City legends Allen Toussaint, Dr. John, and Irma Thomas.
2/8 Update: According to the Hollywood Reporter, Springsteen and Moore will actually be performing a tribute to the late, great Wilson Pickett tonight. USA Today reports Springsteen will be performing "with a surprise guest." Tune in to find out how it all pans out... The 48th Annual Grammy Awards, with Bruce up for five of 'em, airs tonight at 8 p.m. ET/PT on CBS.
-Updated February 8, 2006

YOUR IPOD IS READY FOR BRUCE SPRINGSTEEN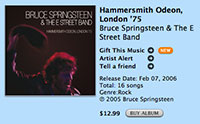 As of today, the live audio from Springsteen and the E Street Band's November 18, 1975 show is available for download from the iTunes store. At the end of this month, these 16 tracks will be officially released on a two-CD set as Hammersmith Odeon, London '75. We're taking advance orders for the CD release, at a special pre-order sale price, in our on-line store now; however you do it, we urge all fans to purchase this set, regardless of how many other versions you may have, to send the message that we'll buy whatever they officially release in this kind of quality. This is a trend to encourage.
-February 7, 2006

THIS B. GOODE: HAIL! HAIL! COMING TO DVD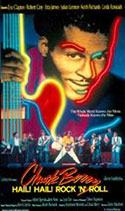 Twenty years back, Keith Richards masterminded a 60th birthday celebration for Chuck Berry, a concert that became the basis for the 1987 documentary film Hail! Hail! Rock 'n' Roll by Taylor Hackford (Ray). In addition to the live footage, this tribute to Berry included lots of interviews with folks like Bruce Springsteen, Little Richard, Jerry Lee Lewis, Roy Orbison and more. The VHS has been out of print for years, but Image Entertainment will be reissuing the film on DVD in June 27. According to Billboard.com, there will be a two-disc and a four-disc edition, the latter with more than seven hours of new material. Check out a trailer for the original release (including Bruce on what he'll tell his grandkids when he's 65 or 70) at videodetective.com.
-February 5, 2006

PREPARE FOR SOME SIRIUS WITHDRAWAL...
But first, a word from the Boss!
Today is the last day of E Street Radio, no ifs ands or buts about it -- despite a rabid following of fans and quite a write-in campaign to keep it going, they stuck with the three-month run they originally announced. But it ain't over yet, and if you were listening late this afternoon, you might have caught a visit from Dave Marsh, wrapping it up the same way he kicked it off -- with Bruce! Not nearly the length of their last interview, but a nice, timely chat and a thanks to E Street Radio listeners, with a note of promise: "Maybe we'll do it again." If you missed it, Sirius tells us they'll be airing that again around 9:30 this evening. Keep listening in the channel's final hours for a Live Thunder marathon that'll wrap things up the same way the Devils & Dust tour wrapped in November: Dream Baby Dream... And we'll hear it as hope for the eventual return of E Street Radio. You gotta keep the fire burnin'!
-January 31, 2006

ALL GOOD THINGS MUST COME TO AN END
Yes, we're in the final days of the E Street Radio channel. Despite popular demand (well, at least the clamoring we've heard), the channel will revert back to The Bridge after Tuesday night, January 31, as originally planned. The final Live Thunder chosen by our readers airs tonight, with the 1/31/73 Max's Kansas City show this week's Backstreets poll winner; Live Thunder continues to air the next few nights at 9 p.m., including the 11/17/90 Christic Institute Benefit on Monday -- not a bad way to go out. Three months of nightly Boss boots on the air -- who'da thunk? If you've got Sirius, do not go gentle into this good night -- be sure to tune in and crank it up while it's still around. Also, listen to Sirius Stars (Channel 103) on Sunday morning at 10, as Dave Marsh chats with Backstreets editor Chris Phillips on his weekly "Kick Out the Jams" show, to bid a fond farewell to E Street Radio.
-January 27, 2006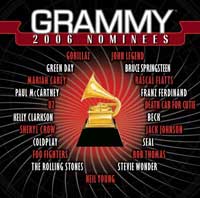 PLAY IT AGAIN, BOSS: BRUCE COMES BACK TO THE GRAMMYS
Just announced this morning, Springsteen has been confirmed as a performer at this year's 48th Annual Grammy Awards. Other confirmed performers are Coldplay, Kanye West, U2 and Mary J. Blige; buddy Tom Hanks is among the presenters. Bruce is up for five Grammys at the February 8 ceremony, just two days after he pays tribute to James Taylor at this year's MusiCares benefit (see below). No word for certain on what Springsteen will be performing, exactly, but three of his Grammy nods are for the song "Devils & Dust" (which has been since released on the 2006 Grammy Nominees compilation album, above). Watch the telecast on February 8, broadcast from the Staples Center in L.A. on CBS.
-January 26, 2006

ANYTOWN'S NEW YORK PREMIERE THIS WEEK
With a ticket discount for Backstreets readers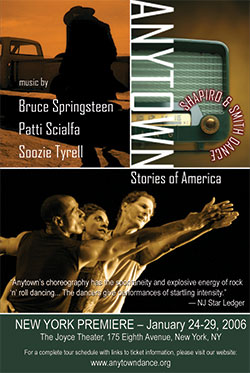 Anytown: Stories of America -- the Shapiro & Smith Dance performance set to the music of Bruce Springsteen, Patti Scialfa, and Soozie Tyrell -- had its NYC opening last night. See previews in the New York Times and New York Newsday (featuring an interview with Patti), as well as a Times review.
Anytown is running through Sunday at the Joyce Theatre, with eight performances from Jan 24 - 29. The choreography is set to 14 songs, including "Human Touch," "Youngstown," "Ain't Got You," Scialfa's "City Boys," and Tyrell's "Ste. Genevieve." In Backstreets #82, Colleen Sheehy called the performance, "a beautifully moving and satisfying work of art, using the trio's songs like chapters in a dreamlike story."
Visit www.anytowndance.org for more information, and see our concert calendar for a schedule of additional performances elsewhere in the U.S. throughout the spring.
A special discount for our readers: ask for the BTX rate when ordering tickets at the box office (212-242-0800), to get a price of just $30 each (2 pair limit).
-Updated January 25, 2006

HAVE A PHANTASTIC BIRTHDAY!
Danny Federici celebrates another one today, born January 23, 1950, and lookin' great at 56 -- check out new photos and our interview with Phantom Dan in the new issue of Backstreets.


HAMMERSMITH: IT'S NOT JUST FOR VIDEO ANYMORE
1975 London concert to get 2CD release on February 28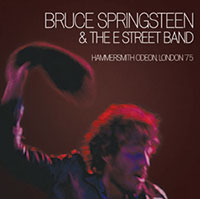 What would, until very recently, have been a shout-it-from-the-hilltops event -- a new live album from Springsteen and the E Street Band, consisting of a complete show from 1975 -- will likely be rolled out with little fanfare by Columbia and perhaps even met with a shrug from some fans. But the fact that this Hammersmith concert has already been released on video form on DVD (as part of the Born to Run 30th anniversary box) makes this no less momentous: a fine addition to Springsteen's album canon, with the young-and-hungry E Street Band woefully under-represented in live album form; a boon to fans who'd like to take this show on the road in cars or iPods; and yet another step toward a why-don't-they-just-do-it? series of releases from the archives. Hammersmith Odeon, London '75 will be issued as a two-CD set on February 28 and available through iTunes even sooner, on February 7.
-January 22, 2006

MUSICARES -- AND BRUCE -- TO SHOWER JAMES TAYLOR WITH LOVE
As reported in a UPI story, Springsteen will be part of the bill at the 2006 MusiCares Person of the Year gala, paying tribute to James Taylor. The Recording Academy's annual black tie benefit, held during Grammy week each year, will be February 6 at the Los Angeles Convention Center. Check out the official announcement of performers for the event, which lists Springsteen along with his Christic cohorts Bonnie Raitt and Jackson Browne, plus others such as Paul Simon, Randy Newman, the Dixie Chicks, and Taylor himself.
-Updated January 23, 2006

AND NOW IT'S HERE!
New issue of Backstreets ready for your reading pleasure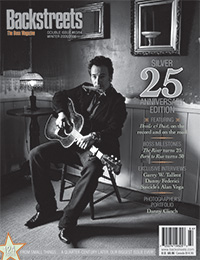 What's Big and Silver and "Read" all over? That would be the new issue...um, issues...of Backstreets Magazine! Perhaps you've heard, it's our largest issue ever. 124 pages packed solid with Devils & Dust tour reports, album reviews, interviews with Garry Tallent and Danny Federici, a photo essay by Danny Clinch, and so much more. And the "Silver?" Well, that's to recognize the fact that it's our 25th Anniversary issue -- hard to believe, we know -- and we wanted to dress it up nice, you know, put its makeup on and fix its hair up pretty for the big unveiling. We're calling it our "Winter 2005/2006" issue, but that's issue #83/84 to all you subscribers out there. Remember, each year of subscription that you pay for gets you four issues (2 years = 8 issues, 3 years = 12 issues.) This one counts as two issues, but at over twice our normal size we hope you'll think it's worth it. We've always called this a labor of love, and the labor on this one... well, let's just say it was intense. But more than ever, we hope the love shines through on every page. So, if you are a current subscriber and have not received the issue yet please remain calm, your patience is appreciated, it's on the way now! If you think you might need to renew, now would be a great time to do that, too. (Check that mailing label -- if it says X83 or X84, then this is the last issue of your current sub.) And as always, if you are not a subscriber to the magazine, we encourage you to sign up for at least 4 issues and see all the great stuff that you're missing. Subscribing to the magazine is the best way to show your support for all that goes on at Backstreets, Backstreet Records (where you can buy single copies of the magazine), Backstreets.com, and BTX. It's never too late to climb aboard -- and what a way to start out! Our overstuffed, busting at the seams (well, it is perfect-bound for the first time ever), 25th Anniversary, and by-a-longshot largest issue ever is waiting for you now.
-January 19, 2006

WILSON "WICKED" PICKETT, R.I.P.
One of the all-time great soul singers, Wilson Pickett, passed away today of a heart attack. Known internationally for his monster hits "In the Midnight Hour" and "Mustang Sally" -- Springsteen has covered each of those countless times -- Pickett was a true pioneer. "Wicked" Pickett and The Boss performed together at the 1999 Rock and Roll Hall of Fame ceremony at which Springsteen was inducted (see an AP photo); Pickett himself became a Hall of Famer in 1991.
-January 19, 2006

JOINING IN AT NY GUITAR FEST,
BRUCE HONORED "FROM MY ASS TO MY HEELS"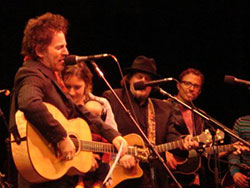 As the the New York Guitar Festival began with "The Nebraska Project" on Saturday night, who should show up to wrap up the night but the architect of the original Nebraska project, Bruce Springsteen himself. After artists like Mark Eitzel, Michelle Shocked, Jen Chapin, and Chocolate Genius took turns covering the album song-by-song, Springsteen joined the ensemble for an encore of Woody & Jack Guthrie's "Oklahoma Hills." John Oudens tells Backstreets:
This was in the World Financial Center Winter Garden, which is to say a huge covered atrium with a bunch of palm trees, so there was no curtain, no dimming of lights. As the musicians (about two dozen) gathered onstage for the encore, there were a few murmurs in the VIP seats up front, then a shout or two, and then a genuine roar when the audience recognized Bruce right there in the middle of the group, tuning an acoustic guitar. He looked giddy, smiling and laughing and thanking the musicians one by one.

The encore was one song, a strong extended version of "Oklahoma Hills," a Woody Guthrie song that some might think of as "Way Down Yonder," the first three words of the chorus. Bruce took over on lead vocal late in the song (in typical man-of-the-hour fashion), and then led the singing of the final refrain four or five times. His style was more growl than twang, amazingly.

When the song ended, the host, John Platt, of WFUV-FM, tried to engage Bruce in a little serious conversation (as he had earnestly, and at times awkwardly, throughout the show), asking Bruce whether the musicians' opinions and interpretations had been on the mark. I have to paraphrase somewhat here: Bruce replied that most of the exegeses were wrong, and that he'd written all the songs "to get women to pull their pants down." Most folks present probably hadn't heard this line yet. Then Bruce said, "I'd just like to say I'm honored from my ass to my heels," or something very close to that, and pretty much blew off a question of why he thought the album "resonated" so much after all these years. Then he returned to thanking the cast, shaking hands and engaging in hugs and so forth.

Not bad for a free show.
Bruce last played "Oklahoma Hills" on April 28, 2005, a one-off Devils & Dust tour performance with Jimmy LaFave in Dallas. For more on Saturday night's show, read Jay Lustig's piece in the Star-Ledger.
-January 16, 2006 - Anthony Comitini photo

"NEBRASKA PROJECT" OPENS GUITAR FEST TOMORROW
Don't forget, this year's New York Guitar Festival kicks off this weekend with a free concert on Saturday night at the World Financial Center Winter Garden called "The Nebraska Project," a tribute to Springsteen's 1982 album. Today's New York Times and Asbury Park Press have previews; for more details see below and the Festival's website.
-January 13, 2006

ALITO V. THE CRUSHING HAND OF FATE
As reported below, Supreme Court nominee Samuel Alito can be counted as a Springsteen fan. The subject of the Boss actually came up in this week's confirmation hearings, in this exchange with Senator Dick Durbin from Illinois on January 11:
DURBIN: Let me ask you, if I might, to reflect on a couple other things. You're a Bruce Springsteen fan?
ALITO: I am to some degree, yes.
DURBIN: I guess most people in New Jersey would be. They should be.
ALITO: There was a movement some time ago -- we don't have an official state song and there was a movement to make "Born to Run" our official state song. But it didn't quite make it.
DURBIN: We'll stick with Lincoln in Illinois, but I can understand your commitment to Bruce Springsteen. They once asked him: How do you come up with the songs that you write and the characters that are in them? And he said, I have a familiarity with the crushing hand of fate. It's a great line. I want to ask you about the crushing hand of fate in several of your decisions....
Read the full transcript here.
-January 13, 2006

E STREET RADIO: THE END IS IN SIGHT... OR IS IT?
Launched in November, the all-Springsteen channel on Sirius Satellite Radio was conceived and announced as having just a three-month run. With plug-pulling time coming up fast -- at the end of January -- a lot of E Street Radioheads are looking for a reprieve. And indeed, there's hope: popular demand very well could keep the channel alive. If you've been wondering where to make your wail of protest heard (or, even better, to give your kudos and your encouragement to keep the whole thing rockin'), here's the e-mail address for feedback: customercare@sirius-radio.com
-January 12, 2006

THE BRITS ARE COMING!
Springsteen has been nominated for a 2006 BRIT Award in the International Male Solo Artist category, along with Beck, Jack Johnson, John Legend, and Kanye West. The shortlists were announced January 10, with the awards show to be held on February 15 (and televised in the UK on the 16th).
-January 12, 2006

AND THE ENVELOPE PLEASE...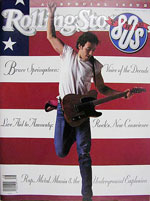 The November 15, 1990 "Voice of the Decade" cover of Rolling Stone, featuring the classic image of Bruce Springsteen leaping against the backdrop of a gigantic American flag, won top fan honors in balloting for the 25 all-time favorite Springsteen magazine covers. Shot in-studio by Annie Leibovitz, the photo captures Springsteen's everyman qualities, rock super-stardom and the pulsating excitement of E Street rock 'n' roll. Immediate runners-up in the month-long election: Newsweek's historic "Making of a Rock Star" cover from October 27, 1975, and Time's somber post 9-11 portrait of Springsteen from August 5, 2002. To read more about the election, sponsored by the Friends of the Bruce Springsteen Special Collection at the Asbury Park Public Library, click here.
-January 12, 2006

WHEN HE'S SIXTY-FOUR
When we get older, losing our hair
Not many years from now
We will still be wishing the Big Man joy and bliss,
Birthday greetings, and a big soul kiss.
If he's been out playing "Quarter to Three"
We won't lock the door.
Yes, we still need him
Roasted chicken will feed him
When he's sixty-four!
Happy Birthday, Clarence! Born 1/11/42

HEY, E STREET BAND... YOU'RE OFF THE LIST!
Little Steven on fake news spinoff "Colbert Report"
Fake news pundit Stephen Colbert keeps a list for all to see on his very funny, very grippy television show The Colbert Report (on Comedy Central and pronounced "Kohl-bear Ruh-pour"). Anyone who really irks Colbert goes on that list, and usually for ridiculously humorous reasons. Even though Backstreets is a big fan of the show, we can't quite remember why the band was put "on notice" in the first place a few months ago. But after filling the list to capacity this week, someone had to be removed. "E Street Band, it's your lucky day, come on down!" As it happens they managed to have Little Steven at the ready, live via fake satellite (from Sun City, no less!) to comment on this momentous occasion. A very funny bit that you can see for yourself tonight, as it repeats at 8:30pm EST on Comedy Central. Check your local listings. It's chock full of "truthiness!" -January 11, 2006

WENNER AND MORSE GET A TIP OF THE HAT FROM BRUCE
Rolling Stone Editor and Publisher (and Rock and Roll Hall of Fame Lifetime Achiever) Jann Wenner celebrated his 60th birthday with a bash at Le Benardin in New York on Sunday, January 8. The night's entertainment wasn't too shabby, as the Boston Globe reports: "The party, emceed by Boston's own Peter Wolf, featured performances by Bette Midler, John Mellencamp, David Bowie, and Bruce Springsteen, who, we're told, wrote a special tune for the occasion." A new tune? Was it "I'm Turning Into Jann Wenner (And There's Nothin' I Can Do)"? If anybody knows for sure (or has an mp3), drop us a line...
Also from the Globe: their longtime rock writer Steve Morse (we're not worthy!) has just hung up his critic cap after 31 years with the paper (and many a fine Springsteen review/interview). Sounds like quite a retirement party was held on Monday night, January 9, as reported in the Globe: "Dubbed 'The Steve Morse Review,' the invite-only affair at the Paradise included testimonials -- some spoken, some videotaped, some e-mailed -- from such luminaries as Bruce Springsteen, Peter Wolf, Jimmy Buffett, Aerosmith, Billy Joel, and James Taylor. (Wolf was in the house.)"
-January 11, 2006

WHAT YOU GOT IN YOUR DEFENSE, SON?
As Supreme Court nominee Samuel Alito makes his case before the Senate and America this week, an Associated Press article looks at the lighter side and reveals him to be a Springsteen fan. Well, he is a Jersey-born-and-bred Italian-American. What Trenton makes the Supreme Court takes? We'll see...
-January 11, 2006

PICK THE ALL-TIME FAVE BRUCE MAGAZINE COVERS
Don't forget, voting ends Saturday night!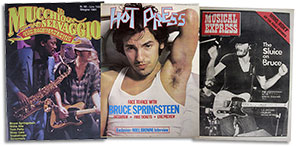 Since Bruce Springsteen first appeared on the cover of Cleveland's music magazine Scene on Jan. 24, 1974, commercial magazines from New Jersey to Sydney, Australia have put Bruce out front more than 750 times (and that's not even counting the "fanzines" like Backstreets). Now, the Friends of the Bruce Springsteen Special Collection are looking for the fan-favorites. After their painstaking worknarrowing it down to 50 finalists, an international list of great covers from the Collection is up for election -- and you're invited to help select the 25 all-time faves. The choices are tough, but to ease the pain, you can vote for as many as ten. Voting is now underway (you'll find a link to the election on the Friends' website) and runs through 11:59 p.m. Eastern, Jan. 7, 2006.
-Updated January 5, 2006