`
News Archive January - April, 2005



It's been a long time comin', now it's here... and to mark today's Devils & Dust release, we've got an "assignment" for ya. (Well, after you enter the trip-to-Paris contest.) After you've spent some time with the record, come on back and take our readers' poll. Feel free to take your time (we are), feel no rush... give it a few spins, then spin it again. Just be sure to let us know what you think before the poll closes on June 15! We'll compile the results in the summer issue of Backstreets magazine.
- April 26, 2005

BACKSTREETS #82, COMING SOON!
We're putting the finishing touches on the spring issue of Backstreets Magazine, which is going to press in a matter of days. So this is a last call for classified ads, address changes, and subscriptions... If you dig Backstreets.com, we hope you'll support Backstreets and get our in-depth Boss magazine at the same time: subscribe now to guarantee yourself a copy of the new issue and the ones to come!
Already a subscriber? If you've been meaning to renew or change your address, now's the time. If you've moved, it's important to change your address with us -- the post office isn't required to forward Periodicals mail, so don't miss an issue: use our handy online change-of-address form before you forget!
- April 23, 2005


WARM IT UP, BRUCE!
Prepping for the Detroit tour opener, Springsteen welcomes an audience on the Asbury Park boardwalk
April 21: The first of two warm-up shows at the Paramount Theatre, and fans' first real taste of the new tour -- unless you count Storytellers, which does seem to be a real bellwether for the Devils & Dust show. Yeah, Springsteen the storyteller is back: setting the scene, providing context, making with the funny, and generally illuminating the songs and the setlist throughout this acoustic performance. The talk started right after the "Devils & Dust" opener, when he told the crowd that "Tom Joad rules are in effect." (A very quiet crowd complied, other than some sing-along at the end of "Further On" and "This Hard Land," without being otherwise told to STFU.) Some in the crowd might have been flashing back to 1996... but surprisingly, only two songs from The Ghost of Tom Joad made the set. And would you believe that one of them was "My Best Was Never Good Enough"? Other big surprises: Tunnel tour staple "Part Man, Part Monkey," and Joad tour ultra-rarity "Used Cars" (one of two songs from Nebraska). And you knew it wasn't the Joad tour with that piano onstage. Nearly 15 years after the legendary Christic shows, fans finally get the payoff of a solo tour with piano. Bruce tickled the ivories for five songs: "For You," "Tougher Than the Rest," "My Hometown," "Lost in the Flood," and "Jesus Was an Only Son." The stool came out for the two main-set closers, "The Hitter" and "Matamoros Banks," two of nine songs played from the new record tonight. Five of 'em being live premieres. Plus acoustic takes on "Lonesome Day" and "The Rising," and "The Promised Land" to close. And this tour ain't even started yet!
April 22: The second rehearsal show was a Friday afternoon matinee, and hot damn, who cares if this is a run-on sentence, we can't finish it without mentioning "Real World" right up front. For the very first time since its 1990 debut at the pair of Christic benefits, Springsteen sat down at the keys for the much-pined-for, fan-favorite, solo-piano version of "Real World." It brought audible gasps from the audience, and a standing ovation at the end. At last, at last. Yeah, there was a rest-of-a-show, too. A radical reworking of "Reason to Believe" started things off, sung into his electric-harmonica mic -- boot-stompin', distorted delta-blues. After "Part Man, Part Monkey" was the live premiere of "Reno," followed immediately by "Racing in the Street" on piano. Another standing o. (Turns out that whole piano thing was a good idea, huh?) In the encores, "Waitin' on a Sunny Day" and "Bobby Jean" subbed for "This Hard Land" and "My Best." Otherwise a similar set as 4/21, though Bruce tinkered with the order of things a bit, with lots of talk once again; and even though his voice started to give out toward the end, this was an even stronger show. And that's the direction we like to see things going. That's it for the warm-up; next stop is the "real thing" in Detroit on Monday night. Which reminds me, did we mention he played "Real World"?


WONDERFUL RADIO, MARVELOUS RADIO
In addition to the teevee blitz for Devils & Dust (see below for full schedule), Bruce will riding the radio waves as well:
Stations around the country (like Chicago's WXRT) will be airing Bruce Springsteen: Inside Devils & Dust in the coming days, a sneak preview of the DualDisc. The one-hour radio special combines album tracks with elements from the DVD side of Bruce's commentary and acoustic performances.
On April 26 and 27, Springsteen will be featured on NPR's Morning Edition program, in a two-part interview with host Renee Montagne, with performances of "Devils & Dust" and "Jesus Was an Only Son." Listen here.
- Updated April 25, 2005

I HAVE SEEN THE FUTURE OF COMEDY...
and its name is Garry Tallent!
Bruce may be about to head out on his own for the Devils & Dust tour, but don't think for a minute that the Foundation of the E Street Nation, Garry W. Tallent, is sitting idly by at home in Tennessee reminiscing about the good old days. No sirree! Garry will be appearing in Chicago on Saturday, April 23, at the Chicago Improv Festival, where he will be performing with Baby Wants Candy, an award-winning, Chicago-based improv group. When not hobnobbing with E Streeters, Baby Wants Candy stages an improvised rock opera at the Improv Olympic every weekend. Saturday's event will be held at the Chicago Athenaeum, N. Southport 2936. Tickets are $20 and are available through Ticketmaster.com. More info at: www.cif.com and www.babywantscandy.com.
- April 21, 2005

TV MOVIES: STORYTELLERS EXPANDED, AND MORE
All sorts of small-screen news to pass along...
Watch an online preview of the Devils & Dust DVD content from Aftonbladet.
And the full "All I'm Thinkin' About" performance video, from the DVD side, at yahoo.com.
VH1 Storytellers starts airing this weekend, premiering as a one-hour show on Saturday which will feature "Blinded By the Light," "Brilliant Disguise," "The Rising," "Thunder Road," "Devils & Dust" and "Jesus Was an Only Son." The one-hour Storytellers debuts at 4/23 at 10 p.m. Eastern and repeating at midnight (4/24, 12 a.m.), on 4/25 at 3 p.m., and on 4/27 at 1 a.m. Watch rockontv.com for changes or additions to the schedule.
For anyone wondering how they're going to compress the Storytellers performance into an hour, great news: on April 26 at 8 p.m., VH1 Classic will air a special extended version of Storytellers. Commercial-free, even!
You'll also find a few Storytellers outtake clips online, courtesy of VH1.
The extended Storytellers is part of a full "Bruce Springsteen Day" on VH1 Classic to celebrate the release date of Devils & Dust -- all day they'll be featuring Springsteen videos, excerpts from his official concert films, and "new interview moments with Springsteen himself exclusive to the channel." The day before, Monday April 25, VH1 Classic will play the new "Devils & Dust" video every hour at the top of the hour.
And this Friday, 4/22, on Dateline NBC, the Today Show's Matt Lauer sits down with Springsteen to discuss the new album and tour. Springsteen will also be featured on Today, a two-parter airing on Monday and Tuesday 4/25 and 4/26, featuring performances of "Devils & Dust" and "All I'm Thinkin' About." NBC did some filming yesterday, as Lauer paid a visit to Asbury Park for a stroll on the boardwalk.
- Updated April 21, 2005

DUST IN THE WIND V: SEVEN DAYS OUT!
Yes, Devils & Dust is now only a week away... and the tour begins even sooner than that, with the warm-up shows on Thursday and Friday, and the official tour kick-off in Detroit on Monday night. Don't forget, we count on our readers around the world to help with our complete coverage of each show for the magazine and website. If you'd like to contribute please note our new email addresses: submit show reports to onstage@backstreets.com; and images (photographs, ticket stubs, show posters, ads, setlists, etc.) to images@backstreets.com. Thanks in advance, we can't do it without you!
Tickets to ride: Besides yesterday's rehearsal onsale, this week is all about European ticket sales. We've been keeping up with Euro sale dates (as much as language barriers allow) on our Tour/Ticket Info page. One major piece of info that still needs to be filled in is the London onsale date (likely April 22), but we're told to expect an official announcement about that on April 20. Tickets have been selling fast and furious: Rotterdam sold out in 6 minutes, and Springsteen even beat U2's record in Ireland, if you can believe that, selling out Dublin in 40 seconds.
With all that demand, fans wanting to attend the Dublin concert are being warned that forged tickets are being offered on eBay (for scalpers' prices, no less), so buyer beware.
Though as Pollstar points out, scalpers are having a rougher go of it in general, due to the will call/wristband/ID policy in force for many (though not all) of the seats: "so if a buyer wants to scalp one, he/she will have to sit next to the fan who got gouged.... At press time, the method seemed to be working. Among the more than 1,000 listings for Springsteen tickets on eBay, only a handful offered tickets for the will-call-only shows. Most sellers offered to meet buyers at or near the venue the day of the concert."
If you've been shut out elsewhere, rather than paying scalper's prices you might consider a trip to lovely Phoenix, where tickets are still available as of this writing.
Or support a good cause:
Musicians on Call and the Kristen Ann Carr Fund have a pair of tickets in the first five rows for each show on the U.S. and European tour, which they'll be putting up for auction. (All winning bids will be tax-deductible above the face value of the tickets.) For details and to bid, go to musiciansoncall.org.
The NJ Community FoodBank has a pair of "choice house seats" to raffle off for the May 19 CAA concert, to raise some much-needed funds. Raffle tickets will be available for $30, with details posted on their website soon.
Another raffle to support the Community FoodBank offers a chance to win "Asbury's Park," an original work of art by Kelly Sullivan, including the signatures of Bruce Springsteen and many of his fans as part of the piece. See below for more details, or go straight to njfoodbank.org to enter. The winning ticket will be drawn soon, April 21 at 7 p.m., so act fast!

TICKET ALERT: DRESS REHEARSAL TIME IN ASBURY
Off and on in recent weeks, Springsteen has been rehearsing for his new tour behind closed doors at the Paramount Theater on the Asbury Park boardwalk. In less than a week, those doors will open: as just announced today, Bruce continues his tradition of playing warm-up concerts in New Jersey (as he did for the Rising, Reunion, and Tom Joad tours). Tickets go on sale this coming Monday, April 18 at noon, for two rehearsal shows at the Paramount in advance of the official tour kick-off in Detroit.
Showtimes are Thursday, April 21 at 7:30 p.m., and Friday, April 22 at 2:00 p.m. The Paramount only seats 1,600, so this will be another tough ticket... available through Ticketmaster charge-by-phone only. See our Tour/Ticket Info page and www.concertseast.com for phone numbers, additional details and rules.
- April 15, 2005

TICKET ALERT: EUROPEAN EDITION
Ticket sales for the European leg begin tomorrow, April 14, with the majority of the onsales happening next week. See our Tour/Ticket Info page for sale dates & times as we know them -- though it's more difficult for us to stay on top of these than the U.S. shows; sorry for any inaccuracies as we go along, and thanks to everyone who has been keeping us informed.
As always, we encourage you to do your own research for additional details in advance of the onsale, in terms of ticket limits, rules, phone/internet/outlet sales, etc., for each show. Current anti-scalping measures are making this one more complicated, so be sure to know what you're getting into before you buy tickets!
- Updated April 14, 2005

GIVE THE DRUMMER SOME
Happy birthday to Max Weinberg, who turns 54 on April 13.


TALKIN' TICKET SALE BLUES...
Frustrated by the recent ticket sales? You've got plenty of company. Check out stories in the Newark Star-Ledger and The Raw Story.
But in terms of looking for a "miracle," if we learned any ticket lessons from recent tours, it's this: even if Ticketmaster has nothing for you today, it doesn't mean they won't have something for you tomorrow. So don't give up.
- April 12, 2005

THE GHOST OF CHRISTMAS PAST AT 4th ANNUAL RCDS BENEFIT
One hell of a PTA meeting, April 10 at the Stone Pony
For the fourth April running, Springsteen played a small, private benefit show on Sunday night for an audience of Rumson Country Day School parents and teachers. He was backed once again by Bobby Bandiera and his band (a very similar line-up to the 2004 holiday jams), who gave the crowd a taste of "Wipeout" and "The Wanderer" before Bruce took the stage for Wilson Pickett's "634-5789." Despite that start, the 2005 Annual Bar Bash wasn't nearly the cover-fest of previous years. While Springsteen did pull out a few golden oldies, he concentrated far more on his own catalog, and the setlist shared many songs with those December 2004 Harry's Roadhouse shows ("Two Hearts," "Spirit in the Night," "Rendezvous," "All That Heaven Will Allow," et al). Southside Johnny played a bigger part than last year, joining in for such Bruce-penned numbers as "Talk to Me" and "The Fever." Still sound like the Harry's concerts, you say? It's true -- for the first time, some fans can actually say they saw a similar show. But the Pony crowd still got the kind of covers the RCDS benefits have been known for: "Seven Nights to Rock," "Bad Moon Rising," "Shake," Patti Scialfa singing "Son of a Preacher Man"... and for the "Twist and Shout" finale, Springsteen brought school staffers on stage to sing along. If only all teachers were this well compensated.

WHOLE WORLD'S OUT THERE, TRYIN' TO SCORE...
Whew! Two days of onsales down, and it's tough out there. Cleveland took a whole seven minutes to sell out yesterday, and others were even more quick-draw (looks like Jersey sold out in about .7 seconds). We'll hope Philly will be easier on Monday... and if you believe there's a chance of that, we've got a copy of Electric Nebraska to sell you. Ticket sales haven't been the only things going on in recent days; a week of Devils & Dust listening parties wrapped up last night in Boston and New York. If you didn't get a chance to attend, look for fan reaction on BTX's Loose Ends forum and other online Bruce boards; for a review from some pros, check out Twin Cities critics' he-said/he-said in the City Pages.
- April 9, 2005

TICKET ALERT!
Beginning Friday morning, onsales begin for Springsteen's solo tour; between Friday April 8 and Monday April 11, all U.S. shows will be going on sale through Ticketmaster. Here's how it breaks down:
Friday 4/8: Fairfax, Cleveland, Boston
Saturday 4/9: Detroit, Dallas, Phoenix, L.A., Denver, St. Paul, Chicago, East Rutherford
Monday 4/11: Oakland, Philadelphia
See our Tour/Ticket Info page for the entire two-month itinerary and sale dates & times, as well as for individual Ticketmaster links and venue links. For most (if not all) concerts, there will be a 2-ticket limit, with prices ranging from $75 to $90. As always, we encourage you to do your own research for additional details in advance of the onsale, in terms of ticket limits, rules, phone/internet/outlet sales, etc., for each show. Be prepared! And good luck...
Update: Achtung! To our surprise, tickets for the Germany shows suddenly went on sale today too.
- Updated April 8, 2005

BRUCE TO RS: D&D TOUR AIN'T NO HIT PARADE
Don't miss a new Rolling Stone interview with Springsteen, in their new issue and online now, as he prepares for the Devils & Dust tour. Bruce talked to RS's Brian Hiatt about the new record, rock songs already in the works with the E Street Band in mind, and of course, his plans for this two-month swing. Springsteen warns: "It's not about acoustic versions of my hits -- that's what's not going to happen. I want to forewarn potential ticket buyers: I'm not going to be playing an acoustic version of 'Thunder Road.'" Caveat emptor.... Read Hiatt's article at Rollingstone.com.
- April 7, 2005

GETTING THE SHOW ON THE ROAD
We have dates! Springsteen's solo tour in support of Devils & Dust is now officially slated to swing through the United States and Europe for two months this spring. The tour will be entirely solo, and Springsteen will perform in theaters and in arenas scaled down to theater format. Opening the tour on April 25 in Detroit, Springsteen will play for a month in the U.S. and a month in Europe; a press release says to "expect an announcement of additional U.S. tour dates later this year."
Speaking to Billboard, Jon Landau expanded on the idea of coming back Stateside: "Our hope is that sometime by the fall we will come back to the U.S. and make some additional appearances in our biggest Bruce markets." He continued, "Bruce is rehearsing the show right now, creating a very specific perspective for it. As is always the case with Bruce, the set will evolve right up until the last show." Landau also confirmed one of our fondest hopes for this solo swing: piano! (Read the full article for a teaser about the next E Street Band tour, as well.)
Onsale information has begun to be announced, with ticket sales beginning as early as this Friday, April 8, for the Cleveland show. Watch our Tour/Ticket Info page for onsale details and links as we know them.
- Updated April 6, 2005

SOMERVILLE REVISITED
Missed the storytelling on recent tours? Has VH1 got a show for you.
Two years ago, Bruce Springsteen held a pair of "Master Class"-style shows in Somerville, MA, offering glimpses into his songwriting craft, explicating songs line-by-line, and even taking questions from the audience. While a stunning change of pace from the recent E Street Band shows, very few fans actually got to witness those performances (and only after paying big bucks) -- and by the time the Q&A session bit the dust on the second night, one kinda had the feeling that it'd never happen again.
Last night at the new Two River Theatre in Red Bank, NJ, Bruce took another swing -- and knocked it out of the park. No steroids necessary. And the best part is, while the tiny venue only held about 300, this one's getting shared with the world when it comes to tellyvision screens in a matter of weeks, on VH1 Storytellers. For the sake of the (rightfully) spoiler-phobic, we'll try to give you broad strokes here; surely you'd rather hear Springsteen's hilarious and poignant musings-on-identity-by-way-of-strip-club-anecdote-as-intro-to-"Brilliant Disguise" for yourself rather than our mind-blown recollection of it. And his imitation of Smokey Robinson singing "Waitin' on a Sunny Day" is something we can't even try to recreate here.
But an overview: for well over two hours, Springsteen regaled the awe-struck shoebox-sized room with performances and discussions of songs from Devils & Dust, The Rising, Nebraska, Greetings, Tunnel, and Born to Run; the setlist selection, he later revealed, was driven by a desire to showcase the different types, styles, and moods of his songs from each stage of his career. He gave premiere performances of two new tracks from the forthcoming Devils & Dust -- the title track on acoustic guitar, and "Jesus Was an Only Son" at the piano. (Oh yes, a grand piano on stage -- along with about 60 fans on risers.) A devastatingly beautiful acoustic arrangement of "The Rising" brought a standing ovation both times it was performed (a second time through was required due to technical difficulties; other songs Bruce tried a second take of "because they told me I could"). Patti joined him for a "Brilliant Disguise" duet, nailed in one take. Springsteen's vision of the evening was beyond the usual scope of Storytellers, stretching out the night with not only candid stories but also Somerville-like line-by-line readings of his songs, stopping to explain his intent along the way. These ranged from enlightening to gut-busting to ambiguous; at times his explanations were more beguiling than the lyrics themselves. Even so, it felt as rare and entrancing as a magician slowing down his act to show you how a trick works -- and you still can't figure out how the hell he did it.
"Waiting on a Sunny Day" had originally been planned as the set-closer, but Springsteen smartly moved it to the middle and instead ended the musical portion with true magic in the night: "Thunder Road." At the piano. Twice. And a third time through to try and show how the rabbit came out of the hat. There was no topping that.
Before calling it a night, however, Springsteen came downstage for a little back-and-forth. One after another, ten fans in the audience had a chance to ask Bruce their "one question," selected by VH1 from among the Backstreets contest winners. This was where Somerville 2 spiraled downward into inanity; not tonight. Springsteen did offer to come out and smack one guy around... but only because he was asking if Bruce ever wanted to "get all Johnny Rotten" on somebody to shake up his nice-guy image. If there was a downside, it was that Springsteen's set had been so long and heavy on the revealing banter, a fair amount of the Q&A wound up treading on recently familiar ground. But if Bruce wanted an audience to be "in concert" with him, it'd be hard to think of a better example. Finally, he raised his guitar, gave a benediction, and left the stage. Persistent cheering and foot-stomping couldn't bring him back; eventually, VH1's Bill Flanagan came out to tell us that was it, Bruce was "on a respirator." Out in the crowd, after a check of the watch and the gradual sinking-in of what we'd just witnessed, it became pretty clear that he'd earned some breathing room.
Storytellers debuts on VH1 on April 23 in the U.S.; international airings to be announced.
- April 5, 2005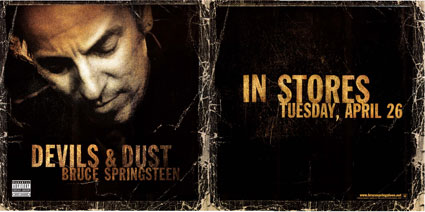 Like you didn't already know. Still, looks cool.
- April 3, 2005


VH1 STORYTELLERS TAPING CONFIRMED FOR APRIL 4
And a Backstreets contest will get some lucky fans in the door!
On April 4, at a small theater Somewhere in New Jersey, Bruce Springsteen will be performing one of his most intimate concerts, for broadcast later in the month on VH1 Storytellers. You might think that sounds like an industry-only event... but no sir, not this one. The folks at VH1 and Columbia Records have asked Backstreets to help distribute well over 100 tickets for the show to fans. We spent most of the day trying to come up with the best and most fair way to make that happen -- no easy task. Here's what we came up with: since the format of the show will involve Springsteen taking questions from the audience, we're asking thoughtful Bruce fans to propose the one question they'd like to ask him if given the chance. We'll have a panel pick the Top 40 most interesting questions, and each of those people will win a ticket to the show. Another 100 tickets to the taping will be drawn randomly from the remaining entries, for a total of 140 contest winners. We wish everyone could be there... but at least everybody's got a shot. To enter, fill out our Storytellers contest form. You've got 24 hours -- the contest ends on Thursday, March 31, at 6:00 p.m. Eastern. So shoot your shot... and we hope you get lucky!
This contest is now closed: entry deadline was Thursday, March 31, 6:00 p.m. Eastern. We'll be drawing contest winners as soon as we can, in order to try and provide as much advance notice as possible before the April 4 show. Those lucky winners will receive an email from Backstreets by Saturday, April 2 at the latest; that email will confirm a spot on the list and provide all pertinent details about the show. Thanks for rolling the dice, we wish you luck!
Update: Okay, we've had our fun... but this ain't no April Foolin' around. We've spent many of the last 18 hours looking at contest entries, and we're still at it. Yeah, we're buried in great, smart questions... and okay, a few dopey ones... it looks like it'll be Saturday for sure before we're done. We'll notify the lucky ones as soon as possible by email, then post a message here to that effect so that no one is left hanging longer than necessary. So if you've been checking your mail every five minutes... go have a Friday night already!
Winners have been notified by e-mail as of 7:30 p.m., April 2. Thanks to everyone who entered, for the thought that went into the questions, and for your patience as we slogged through it all...
For those curious (or fond of long-winded babble), read the Storytellers FAQ on BTX
- Updated April 3, 2005

LISTENING PARTIES LINED UP FOR NEXT WEEK
So by now you've surely heard "Devils & Dust"-- in addition to AOL First Listen and iTunes, radio has picked up the new single this week. In a matter of days, 12 cities across the U.S. will get a bigger preview of Devils & Dust, much like the one that went down in Austin during SXSW: 6 songs from the new record, plus a video clip. Listening parties begin on April 4 in Detroit and San Francisco, with similar events in other cities each night of the week (including the Stone Pony in Asbury Park) through April 8. For details and a chance to win a pass, head to brucespringsteen.net starting tonight.
- March 30, 2005

SPRINGSTEEN "A TO E TO Z" IS HERE!
Available now only through Backstreet Records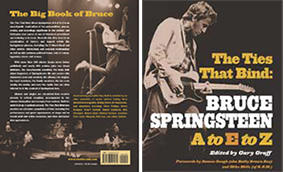 Thanks to publisher Visible Ink Press, we've got an exclusive early supply of their new Springsteen encyclopedia, hot off the presses -- it's in stock and shipping out now! Not available until April from other stores, The Ties That Bind: Bruce Springsteen A to E to Z is a monster resource, weighing in at nearly 3 pounds and more than 550 pages. If you placed a pre-order with us, your copy is winging its way to you as we speak, and thanks for your support; if not, you can order the encyclopedia now!
We've also added other new items to our online shop, including T-shirts from Flood Aid and the Springsteen museum exhibit, new Boss books, and more. Check out our latest additions, lots added today!
We're also taking pre-orders now for the upcoming Devils & Dust 2LP vinyl set; but please note that we recommend ordering that item separately from other items, for fastest and most efficient delivery. (Orders for the 2LP set won't be able to ship until the album release, currently scheduled for April 26).
And finally: if you haven't yet subscribed to Backstreets Magazine, it's easy to add a subscription to your order from our online shop. Be sure to have the Boss Magazine coming to your mailbox for our in-depth coverage of all that's ahead.
- March 25, 2005

DIGITAL DEVILS
Internet to deliver the first single, starting next week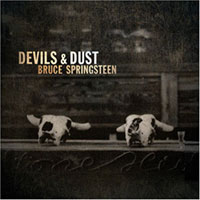 "Devils & Dust," the lead single from the new album, hits the (cyber)airwaves in a matter of days. Hear it first as part of AOL Music's First Listen program, beginning just after midnight Sunday night for an exclusive 24-hour listen (Monday, March 28) at www.aolmusic.com.
The next day, the title track will be available for download from iTunes for a week (March 29 - April 4) before being added to other Digital Service Providers on April 5.
- March 25, 2005

DUST IN THE WIND IV
Get out your calendars...
With Devils & Dust now just about a month away, Sony is gearing up to get the word out. While we doubt the push will be as big as for The Rising (The Today Show isn't pulling up their stakes to go to Asbury), VH1 Classic declaring "Bruce Springsteen Day" isn't exactly under the radar. Here's how the roll-out is shaping up so far:
March 28: AOL First Listen for "Devils & Dust"
March 29: "Devils & Dust" digital single released on iTunes
April 1: Listening parties begin, to hit 12 cities (more details as we know them)
April 4: VH1 Storytellers taping (unconfirmed); radio play for "Devils & Dust" begins
April 5: "Devils & Dust" digital single available from other Digital Service Providers
April 23: VH1 Storytellers program premieres
April 24: Look for Devils & Dust featured in Sunday circulars
April 26: Devils & Dust released; "Bruce Springsteen Day" on VH1 Classic; a radio special is planned for this week to include interview clips and acoustic tracks as well as album cuts.
Still in the works are TV programs (The Today Show, CBS Sunday Morning) and public radio (NPR's All Things Considered).
- March 25, 2005

DUST IN THE WIND III
Looking for an early fix? It's on the way.
If you couldn't be in Austin last weekend for the first taste of Devils & Dust (and you are not alone): Sony tells Backstreets that they are planning additional listening parties in advance of the album release, as the label did for The Rising. Events are being planned for roughly a dozen cities, where more fans will be able to hear a sample of the new record (likely six tracks plus a bit of the DVD content). Watch this space for details, how to get passes, etc.
In addition to listening parties, you'll have a chance to get your hands on the title track early; for one thing, plans are in the works for advance online distribution (iTunes, et al) of "Devils and Dust." A limited edition CD single is also being pressed of "Devils & Dust," a one-track CD in a cardboard picture sleeve featuring another Anton Corbijn photo (skulls, we're told) as well as lyrics. If you pre-order the album from Sony, you'll not only get a 26% discount off the list price, they'll send you that CD single early (the first week in April) at no extra charge. Normally we might encourage you to order the album from Backstreet Records, but it's hard to compete with that -- fan to fan, we'd say the label has an offer you can't refuse. To get the bonus CD single and the discount, pre-order from the Sony Music Store. Now, if you want to throw some support our way too, the next item is where we come in...
Spin the black circle!
Vinyl collectors rejoice: once again, Sony will be making Springsteen's new album available as a 2-record set, as they did with The Rising. Three songs per side. Expected street date for the Devils & Dust 2LP is the same as the CD; it'll be hard to find, but you can count on Backstreet Records for this one, and we're taking vinyl pre-orders now!
Two discs are the same as one.
While the CD/DVD content will be pressed onto one disc here in the states, the DualDisc format is not being utilized overseas. But all the content will still be there -- the UK/European version will include a "bonus" DVD along with the regular CD, with exactly the same content as the DVD side of the US DualDisc. (Read recent articles on DualDiscs, with Springsteen content, in the New York Times, Wall Street Journal, and a less-than-glowing report from MSNBC.)
Walkin' you, baby, all the way home.
Turns out "All the Way Home" is the same song that Springsteen contributed to Southside Johnny's Better Days back in 1991 -- at least in part. Springsteen has rewritten some of the lyrics, and recast the song (originally a ballad) as a mid-tempo rocker.
What's up with that Parental Advisory sticker?
One word for ya: "Reno."
When you're alone, you're alone...
And finally, let's talk tour. The format of the show has reportedly been in flux in recent weeks, but don't give too much weight to Springsteen's recent experimentation with additional players; the sense we have right now is that we're very likely looking at a solo (or mighty close to it) acoustic tour.
Of course, everybody's waiting for tour dates in order to be able to plan their summer... we're on pins and needles too, and looking for dates to be finalized and announced in the next 10 days or so. Nothing is solid yet. Lots of folks are asking about the two concerts in London advertised by several ticket brokers, May 27 and 28 at Royal Albert Hall. The RAH website makes no mention, and we won't believe it until we see it from an official source. But roughly speaking, that timing would at least fit in with our impression of how the tour is shaping up: likely an initial series of U.S. cities in the first month of the tour, followed by a swing through Europe, and then back to the U.S. for the majority of the summer. Do we even need to say "not set in stone, subject to change" here? No? Cool.
- March 23, 2005

DUST IN THE WIND II
Story time! Springsteen Storytellers to air in April
Tuning into VH1 last night for the Rock Hall festivities, we got a bonus during the commercials, confirming some recent chatter: in April, Springsteen will (at last) be featured on VH1's Storytellers. That's great news for anyone who liked the sound of his 2003 Somerville shows, or who has simply missed Bruce's concert raps... let's just hope they don't cross out the "Story" part. On Storytellers, "the greatest singers and songwriters play their music and tell the stories behind their greatest songs"; featured artists since the program's debut in 1996 have included Elvis Costello, Pete Townshend, Tom Waits, Bonnie Raitt, and Billy Joel. Bruce will likely be taping his performance for Storytellers in early April, with an air date closer to the album's release later in the month. More details here as we know 'em.
Meadowlands sets up for the Boss?
A new clue about the upcoming tour comes from a Salt Lake Tribune story on the Utah Jazz, of all places. On Friday at the Continental Airlines Arena, the NBA team was delayed from taking to the court for a morning practice because the arena "was draped off in its concert setup" so that "Springsteen could approve the alignment for his upcoming concerts." Hmm. Would that be the standard set-up? Or half-house? Hey Carlos Boozer: if you caught a glimpse, drop us a line...
Waterloo, couldn't escape if we wanted to
The first listening party for Devils & Dust was held during the SXSW festival last night in Austin, with fans at Waterloo Records getting a first listen to six tracks. Backstreets subscriber Jeff Calaway gave us a report: "I really liked it a lot. [Drummer] Steve Jordan adds so much. In some ways, it was different than anything I've heard from Bruce." Uptempo cuts: "All the Way Home," "Maria's Bed," and "All I'm Thinkin' About"; also played were "Devils & Dust" ("Blood Brothers"-esque), "Jesus Was an Only Son" ("Organ is the driving sound... Bruce sings with slight falsetto"), and "The Hitter" (sounding much like it did on the Joad tour). Calaway continues: "It feels like he's taking more chances musically.... Overall, it has many more instruments than Tom Joad or Nebraska, but definitely in that tradition.... It clearly has a country flavor, but it's not a country album by any means." Folks at Waterloo also got a clip from the DVD content, with Springsteen performing an acoustic "Devils & Dust" after talking about it in some fashion.
- March 20, 2005

HOOPS NOT YOUR THING?
Springsteen is on the air this weekend, too
Don't forget, Saturday night is the premiere broadcast of the 2005 Rock and Roll Hall of Fame ceremony on VH1-- catch Bruce inducting U2 and joining them on "I Still Haven't Found What I'm Looking For." The program debuts Saturday 3/19 at 9 p.m. Eastern, with additional airings listed here.
And if you're within reach of the Philly airwaves, tune in to WMGK for some Boss Madness. They'll be playing blocks of Springsteen all weekend, culminating in a special tribute to the late DJ Ed Sciaky on Sunday night March 20. "Ed Sciaky Remembered - One Year Later" airs at 8 p.m. Sunday, followed by an encore presentation of a classic Sciaky-hosted "Sundays with Springsteen" at 9 p.m. And visit the JDRF/Ed Sciaky Fund, established in his honor to help fight diabetes.
- March 18, 2005

REST IN PEACE, JOSEPH SCIALFA (1923-2005)
Joseph Scialfa, Patti's father, died on March 12, with private services held this past week. Memorial Donations in his memory may be made to The Alzheimers Association Greater NJ Chapter, 400 Morris Ave., Suite 251, Denville, NJ 07834.


"THROUGH THE DOOR WITH FISTS AND HEARTS FIRST"
Springsteen's induction speech of U2 (3/14/05):
Uno, dos, tres, catorce. That translates as one, two, three, fourteen. That is the correct math for a rock and roll band. For in art and love and rock and roll, the whole had better equal much more than the sum of its parts, or else you're just rubbing two sticks together searching for fire. A great rock band searches for the same kind of combustible force that fueled the expansion of the universe after the big bang. You want the earth to shake and spit fire, you want the sky to split apart and for God to pour out. It's embarrassing to want so much and to expect so much from music, except sometimes it happens: the Sun Sessions, Highway 61, Sgt. Peppers, the Band, Robert Johnson, Exile on Main Street, Born to Run... whoops, I meant to leave that one out... uh... the Sex Pistols, Aretha Franklin, the Clash, James Brown, the power of Public Enemy's It Takes a Nation of Millions to Hold Us Back. This is music meant to take on not only the powers that be but on a good day, the universe and God himself, if he was listening. It's man's accountability, and U2 belongs on this list.
It was the early '80s. I went with Pete Townshend, who always wanted to catch the first whiff of those about to unseat us, to a club in London. There they were: a young Bono (single-handedly pioneering the Irish mullet), the Edge (what kind of name was that?), Adam and Larry -- I was listening to the last band of whom I would be able to name all of its members. They had an exciting show and a big, beautiful sound. They lifted the roof. We met afterwards and they were nice young men. They were Irish. Irish. Now, this would play an enormous part in their success in the States. For what the English occasionally have the refined sensibilities to overcome, we Irish and Italians have no such problem. We come through the door fists and hearts first. U2, with the dark, chiming sound of heaven at their command which, of course, is the sound of unrequited love and longing -- their greatest theme. Their search for God intact, this was a band that wanted to lay claim to not only this world but had their eyes on the next one, too. Now, they're a real band; each member plays a vital part. I believe they actually practice some form of democracy -- toxic poison in a bands head. In Iraq, maybe. In rock, no. Yet, they survive. They have harnessed the time bomb that exists in the heart of every great rock and roll band that usually explodes, as we see regularly from this stage. But they seemed to have innately understood the primary rule of rock band job security: "Hey, asshole, the other guy is more important than you think he is!" They are both a step forward and direct descendants of the great bands who believed rock music could shake things up in the world, dared to have faith in their audience, who believed if they played their best it would bring out the best in you. They believed in pop stardom and the big time. Now this requires foolishness and a calculating mind. It also requires a deeply held faith in the work you're doing and in its powers to transform. U2 hungered for it all and built a sound, and they wrote the songs that demanded it. They're keepers of some of the most beautiful sonic architecture in rock and roll.
The Edge, the Edge, the Edge, the Edge. He is a rare and true guitar original and one of the subtlest guitar heroes of all time. He's dedicated to ensemble playing and he subsumes his guitar ego in the group. But do not be fooled. Take Jimi Hendrix, Chuck Berry, Neil Young, Pete Townshend -- guitarists who defined the sound of their band and their times. If you play like them, you sound like them. If you are playing those rhythmic two-note sustained fourths, drenched in echo, you are going to sound like the Edge, my son. Go back to the drawing board and chances are you won't have much luck. There are only a handful of guitar stylists who can create a world with their instruments, and he's one of them. The Edge's guitar playing creates enormous space and vast landscapes. It is a thrilling and a heartbreaking sound that hangs over you like the unsettled sky. In the turf it stakes out, it is inherently spiritual, it is grace and it is a gift.
Now, all of this has to be held down by something. The deep sureness of Adam Clayton's bass and the rhythms of Larry Mullen's elegant drumming hold the band down while propelling it forward. It's in U2's great rhythm section that the band finds its sexuality and its dangerousness. Listen to "Desire," she moves in "Mysterious Ways," the pulse of "With or Without You." Together Larry and Adam create the element that suggests the ecstatic possibilities of that other kingdom -- the one below the earth and below the belt -- that no great rock band can lay claim to the title without. Now, Adam always strikes me as the professorial one, the sophisticated member. He creates not only the musical but physical stability on his side of the stage. The tone and depth of his bass playing has allowed the band to move from rock to dance music and beyond. One of the first things I noticed about U2 was that underneath the guitar and the bass, they have these very modern rhythms going on. Rather than a straight 2 and 4, Larry often plays with a lot of syncopation, and that connects the band to modern dance textures. The drums often sounded high and tight and he was swinging down there, and this gave the band a unique profile and allowed their rock textures to soar above on a bed of his rhythm. Now Larry, of course, besides being an incredible drummer, bears the burden of being the band's requisite "good-looking member," something we somehow overlooked in the E Street Band. We have to settle for "charismatic." Girls love on Larry Mullen. I have a female assistant that would like to sit on Larry's drum stool. A male one, too. We all have our crosses to bear.
Bono, where do I begin? Jeans designer, soon-to-be World Bank operator, just plain operator, seller of the Brooklyn Bridge -- oh hold up, he played under the Brooklyn Bridge, that's right. Soon-to-be mastermind operator of the Bono Burger franchise, where more than one million stories will be told by a crazy Irishman. Now I realize that it's a dirty job and somebody has to do it. But don't quit your day job yet, my friend, you're pretty good at it. And a sound this big needs somebody to ride herd over it, and ride herd over it he does. His voice, big-hearted and open, thoroughly decent no matter how hard he tries. Now he's a great frontman. Against the odds, he is not your mom's standard skinny, ex-junkie archetype. He has the physique of a rugby player... well, an ex-rugby player. Shamen, shyster, one of the greatest and most endearingly naked messianic complexes in rock and roll. God bless you, man! It takes one to know one, of course. You see, every good Irish and Italian-Irish front-man knows that before James Brown there was Jesus. So hold the McDonald arches on the stage set, boys, we are not ironists. We are creations of the heart and of the earth and of the stations of the cross. There's no getting out of it. He is gifted with an operatic voice and a beautiful falsetto rare among strong rock singers. But most important, his is a voice shot through with self-doubt. That's what makes that big sound work. It is this element of Bono's talent, along with his beautiful lyric writing, that gives the often-celestial music of U2 its fragility and its realness. It is the questioning, the constant questioning in Bono's voice, where the band stakes its claim to its humanity and declares its commonality with us. Now Bono's voice often sounds like it's shouting not over top of the band but from deep within it: "Here we are, Lord, this mess, in your image." He delivers all of this with great drama and an occasional smirk that says, "Kiss me, I'm Irish." He's one of the great front-men of the past 20 years. He is also one of the only musicians to devote his personal faith and the ideals of his band into the real world in a way that remains true to rock's earliest implications of freedom and connection and the possibility of something better.
Now the band's beautiful songwriting -- "Pride (In The Name of Love)," "Sunday Bloody Sunday," "I Still Haven't Found What I'm Looking For," "One," "Where the Streets Have No Name," "Beautiful Day" -- reminds us of the stakes that the band always plays for. It's an incredible songbook. In their music, you hear the spirituality as home and as quest. How do you find God unless he's in your heart, in your desire, in your feet? I believe this is a big part of what's kept their band together all of these years. See, bands get formed by accident, but they don't survive by accident. It takes will, intent, a sense of shared purpose and a tolerance for your friends' fallibilities and they of yours. And that only evens the odds. U2 has not only evened the odds but they've beaten them by continuing to do their finest work and remaining at the top of their game and the charts for 25 years. I feel a great affinity for these guys as people as well as musicians.
Well, there I was sitting down on the couch in my pajamas with my eldest son. He was watching TV. I was doing one of my favorite things: I was tallying up all the money I passed up in endorsements over the years and thinking of all the fun I could have had with it. Suddenly I hear "Uno, dos, tres, catorce!" I look up. But instead of the silhouettes of the hippie-wannabes bouncing around in the iPod commercial, I see my boys! Oh my God! They sold out! Now, what I know about the iPod is this: it is a device that plays music. Of course, their new song sounded great, my guys are doing great, but methinks I hear the footsteps of my old tape operator of Jimmy Iovine somewhere. Wily, smart. Now, personally, I live an insanely expensive lifestyle that my wife barely tolerates. I burn money, and that calls for huge amounts of cash flow. But, I also have a ludicrous image of myself that keeps me from truly cashing in. You can see my problem. Woe is me. So the next morning, I call up Jon Landau (or as I refer to him, "the American Paul McGuinness"), and I say, "Did you see that iPod thing?" and he says, "Yes." And he says, "And I hear they didn't take any money." And I said, "They didn't take any money?" and he says, "No." I said, "Smart, wily Irish guys. Anybody – anybody – can do an ad and take the money. But to do the ad and not take the money... that's smart. That's wily." I say, "Jon, I want you to call up Bill Gates or whoever is behind this thing and float this: a red, white and blue iPod signed by Bruce 'The Boss' Springsteen. Now remember, no matter how much money he offers, don't take it!" At any rate, after that evening for the next month or so, I hear emanating from my lovely 14-year-old son's room, day after day, down the hall calling out in a voice that has recently dropped very low: uno, dos, tres, catorce. The correct math for rock and roll. Thank you, boys.
This band has carried their faith in the great inspirational and resurrective of power of rock and roll. It never faltered -- only a little bit. They believed in themselves but more importantly, they believed in you, too. Thank you Bono, Edge, Adam and Larry. Please welcome U2 to the Rock and Roll Hall of Fame.
- Thanks to our good friends at U2log.com for the transcription.
- Updated March 20, 2005

DUST IN THE WIND...
Want an early taste of Devils & Dust? Head south: As part of the SXSW festival this week in Austin, Waterloo Records will be hosting a listening party, playing tracks off the album Saturday March 19 at 7 p.m. This is the first public listening party we've heard of for D&D, we'll keep you posted if/when more are scheduled.
Limited edition package becomes even more limited: as in, nonexistent. The special accordion-style package, officially announced last week, has been canceled. According to a Springsteen source, "the additional graphics for the deluxe version were not approved." The standard release of Devils & Dust, now the only one planned, will still be a DualDisc, with all the CD/DVD content included (see below); it sounds like the only "extras" we won't be getting are artwork-related.
- March 15, 2005

IN THE NAME OF U2
They've climbed the highest mountain... Bruce helps plant the flag
"His hair was perfect," Springsteen said of Jackson Browne last year, inducting him into the Rock and Roll Hall of Fame. This year's coiffure quip: Bono "single-handedly pioneered the Irish mullet." Last night at the Waldorf Astoria in New York, Springsteen did the honors for U2, welcoming them into the Rock Hall with another entertaining and insightful speech (which are coming to rival Bono's own patented productions). After his induction of the band, Springsteen joined them onstage for "I Still Haven't Found What I'm Looking For" during U2's four-song set. Bono also added lines from "The Promised Land" to the band's performance of "Pride (In the Name of Love)."
Throwing a little Vertigo into his speech, Bruce counted off, "Uno, dos, tres, catorce: The translation is one, two, three, fourteen. That is the correct math for rock 'n' roll. The whole had better equal a lot more than the sum of its parts -- or else you're just rubbing two sticks together." Springsteen noted that U2 was the only band of the last 20 years for which he could name all the members, and he had something to say for each man in this "democracy"; together, they are "the keepers of some of the most beautiful sonic architecture in the rock-and-roll world." As for that guy with the mullet: "One of the best and most endearingly naked messianic complexes in rock 'n' roll," said Bruce, before continuing, "It takes one to know one." Bono replied: "Born in the USA, my ass. That man was born on the north side of Dublin."
Other highlights from the ceremony: Neil Young joining The Pretenders for "My City Was Gone," and Little Steven -- as Silvio Dante -- inducting superagent Frank Barsalona ("the Godfather of Rock and Roll"). Check out Cleveland.com for a blow-by-blow, and BBC News for some photos and video. Highlights from the ceremony will be broadcast this Saturday, March 19, on VH1.
- March 15, 2005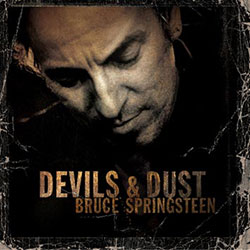 DEVILS & DUST COVER ART REVEALED
Posted today on brucespringsteen.net is what looks to be the final album cover for Devils & Dust. A preliminary sans-Bruce image was used in Columbia's initial marketing material (see below), with some fans trying to find hidden images between cracks in the pavement. This final cover uses a moody portrait by photographer/videographer Anton Corbijn. Corbijn, whose work has graced album covers from Adam Ant to Zucchero, is perhaps best known for his work U2 -- who are being inducted into the Rock and Roll Hall of Fame tonight by none other than Springsteen.
- March 14, 2005

COWBOYS OF THE SEA: D&D DOWN ON THE BOARDWALK
Bruce Springsteen spent a good part of this week rehearsing in Asbury Park -- and he wasn't alone. Holed up at the Paramount Theatre on the boardwalk, he ran through songs both new and old with some fellow musicians, presumably in preparation for his upcoming tour. A few passers-by listened in; see today's Asbury Park Press for one close encounter. We'd give a spoiler alert here... except that it remains to be seen how much these rehearsals reveal about the tour itself. While it's pretty clear we're looking at a stripped-down, acoustic-oriented sound, Bruce has yet to announce whether the tour will be solo or with additional players; for all we know he's still experimenting and figuring that out.
On Thursday afternoon, with acoustic guitar and harmonica, Springsteen focused on material from Devils and Dust and Tom Joad, including "Black Cowboys," "The Ghost of Tom Joad," and "Long Time Comin'." Nils Lofgren was on hand to add pedal steel to such songs as "Dry Lightning," "Maria's Bed," and "Youngstown" -- complete with a steel guitar solo where the electric used to be. On Wednesday, there were more instruments in the mix, including drums, fiddle, organ, and piano. Unclear exactly who the players were, but we've all probably got a few good guesses (Soozie! ...Gesundheit). In addition to more D&D/Joad material including "Jesus Was an Only Son," they also reached back for "Atlantic City" and "This Hard Land." Tour date rumors are flying, with nothing official yet... but the time's almost at hand to cowboy up!
- March 11, 2005

SIGN YOUR NAME ACROSS MY SHIRT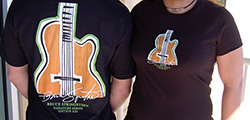 Bruce Springsteen is the latest artist to partner with the Hard Rock Cafe for a Signature Series T-shirt, which sports his John Hancock silkscreened below a guitar illustration. This series of shirts has raised millions of dollars for charitable causes around the globe; sales of the Springsteen shirt go to benefit World Hunger Year. Available in men's sizes as well as a ladies' "junior baby-doll" style, the shirt is available now at Hard Rock Cafes worldwide, and added today to their online shop. Click here for more details.
- March 10, 2005

DEVILS & DUST... DUAL DISC? DEFINITELY!
Album release to include film footage, surround sound
When Bruce's new album is released on April 26, it will be his first in the two-sided Dual Disc format, which combines both CD and DVD content on the same disc. One side will be standard audio -- a CD of the full album (for track listing, see below). On the flipside will be DVD content, including both audio and video. How's this for a B-side: the DVD portion will include the entire album in 5.1 channel surround sound and in 2-channel stereo, as well as a special Devils & Dust film by Danny Clinch, capturing Springsteen at work. Clinch, whose work with Bruce has included The Rising album cover as well as the "Countin' on a Miracle" video, filmed acoustic performances of five songs to be included here: "Devils & Dust," "Long Time Comin'," "Reno," "All I'm Thinkin' About," and "Matamoras Banks."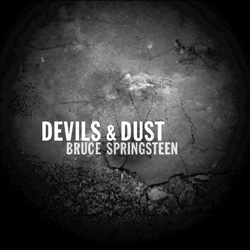 According to Columbia promotional material, there will be two different packages for Devils & Dust, similar to the release of The Rising: a standard edition (#CN93900, $18.98 list), and a special edition (#CN94253, $24.98 list). Both will contain the Dual Disc; the packaging looks to be the only difference. The special edition is described as "a deluxe accordion-style package with bonus photographs and unique, song-specific elements for each of the CD's 12 tracks."

We can also now confirm that both packages will feature the "Parental Advisory: Explicit Content" label, a first for Bruce. (The advisory sticker is apparently unrelated to previous rumours of a controversial "missing" 13th track. According to one source close to the project, "There was never any discussion with the record label about Bruce changing anything on the new CD. As always, the CD that he handed in is the one that's coming out.")
The preliminary artwork pictured above comes from an official Columbia buyway for the album, with the note that "Cover art is not final." Whether or not this is the actual album cover, it's our first glimpse at the design direction for D&D, with a typeface very familiar from a little album we like to call Nebraska. Bless you, Franklin Gothic Extra Condensed, it's been a long time...
- March 2, 2005

ENCYCLOPEDIA SPRINGSTEENIA
An early exclusive from Backstreet Records!
The first Bruce Springsteen encyclopedia is being published this Spring, and Backstreet Records will have it first! Thanks to a special arrangement with Visible Ink Press, their new book The Ties That Bind: Bruce Springsteen A to E to Z will be available exclusively to our customers weeks in advance of anyone else. It's a hefty book, nearly 600 pages examining all aspects of the Springsteen universe. Pre-order now from Backstreet Records, and not only will you be sent the book hot off the presses (around late March, weeks in advance of the official April release), you'll be supporting Backstreets.com and you'll be taking advantage of our pre-order sale of 15% off the cover price! Visit our online shop for more details.

ROLLING STONE PREVIEWS DEVILS & DUST
On the cover of the Rolling Stone... you'll find Springsteen's name there this month (RS 969), as part of their "New CD Preview." Brian Hiatt writes that Devils & Dust is "raw" and "rootsy," quoting a source close to the artist: "This is not exactly like any prior Bruce release... It's neither an E Street Band album nor an acoustic album. A good half of it really rocks." The source goes on to describe the title track as "an overview song, in the tradition of 'Badlands' and 'Born in the U.S.A.'" Hiatt also notes that, in addition to the trio of Springsteen, Brendan O'Brien, and Steve Jordan, musicians include Soozie Tyrell (violin) and a full string section.
- March 2, 2005

BRUCE WILL FOLLOW
Six years after U2 frontman Bono inducted Bruce Springsteen into the Rock and Roll Hall of Fame, turnabout is fair play: Bruce will do the honors when U2 joins the Rock Hall in March. Back in '99, Bruce thanked Bono for the intro, saying, "remember: you always want an Irishman to give your induction speech." How about "an Irish-Italian with a Jewish-sounding name"? Close enough. The ceremony will be held March 14 at the Waldorf Astoria in New York, with VH1 broadcasting highlights on March 19.
- February 25, 2005

BACKSTREETS IS HIRING!
Laid off at the lumber yard? Out of work on the Kokomo? Or just need some Loose Change?
As we gear up for a busy year, we could use just a little help here at the Backstreets HQ. Office assistant position includes packing and shipping orders, customer service, and generally helping folks meet their Boss needs. If you or a friend are looking for work in the Durham/Chapel Hill/Carrboro, NC area (telecommuting won't work, this is definitely an in-person gig) we're hoping to fill this opening ASAP. Flexible hours, part-time to full-time possibilities; laid-back environment. Previous record store or mailroom/shipping experience a plus. Send resume and cover letter to: Backstreets Employment Services, 1818 Airport Road #300, Chapel Hill, NC 27514; or fax to (919) 968-9622; or email to editor@backstreets.com. (No phone calls, please.)
- February 24, 2005


CONCERT CALENDAR: THE PONY'S BIRTHDAY BASH
The Stone Pony is having their 31st Anniversary festivities this weekend, with Vini Lopez & Steel Mill Retro headlining tonight, and a big bill for Saturday including Joe Grushecky & the Houserockers, Soozie Tyrell, and Boccigalupe & the Bad Boys. (The Saturday show is sold out.) For more info, visit www.stoneponyonline.com, and as always, you'll find shows like these listed on our Concert Calendar.
- February 18, 2005

IT'S OFFICIAL! (Last updated: 2/17)
Devils & Dust due on April 26
Well, as he said during the Blood Brothers documentary, it's the part Bruce hates, because now things are official. But it's the part we love. Springsteen's 19th album, Devils & Dust will be released on April 26. Not an E Street Band project, the album features the primary trio of Springsteen, Steve Jordan (drums), and Brendan O'Brien (bass). Produced (as The Rising was) by O'Brien, the new album was recorded at Thrill Hill Recording Studios in Los Angeles and New Jersey with additional engineering at Southern Tracks in Atlanta.
The track listing is:
1. Devils & Dust
2. All the Way Home
3. Reno
4. Long Time Comin'
5. Black Cowboys
6. Maria's Bed
7. Silver Palomino
8. Jesus Was an Only Son
9. Leah
10. The Hitter
11. All I'm Thinkin' About
12. Matamoros Banks

Speaking to Larry McShane of the Associated Press this week about the forthcoming album, Springsteen said, "A lot of it is set in the west, in what feels like a rural setting." In that sense, and judging by the song titles, it would seem to share much with 1995's The Ghost of Tom Joad. But while we're anticipating a return to that storytelling vein, don't look for Tom Joad II; our impression is that this record will go in more different directions (including a fair share of rockage), with a fuller sound as opposed to the more uniform folk fare of Tom Joad. Still, according to McShane, the album is a "quieter, more acoustic affair than The Rising... pedal steel guitar, harmonica and violin fill in the sparse, rootsy arrangements."
As for the songs: "Long Time Comin'" and "The Hitter" will be familiar to those who followed the Tom Joad solo acoustic tour a decade ago, as songs that Bruce performed live but never released. He told McShane, "I was so excited after playing on that tour, I'd get off the stage and go write. Then I put those songs on the shelf for a while, until I had a chance to revisit them." That older material is mixed with newer songs, such as the title track, written as the war in Iraq began. "All the Way Home" isn't as old as some have suspected; although the song shares a title with one Springsteen wrote on Southside Johnny's 1991 Better Days album, Rolling Stone is reporting that this is "an entirely different song." Thematically, Springsteen described Devils & Dust to McShane as "the individual stories of people wrestling with their demons... It's about people working through their confusions, sometimes well and sometimes tragically." Read the full Associated Press story.
The tour: The official press release from Shore Fire Media also says that Springsteen is planning to tour to accompany the release of the album, and that "details will be announced shortly." For now, it's looking like anyone who missed the intimate acoustic tour that started ten years ago this fall will get another chance to witness Bruce in that kind of setting. According to the AP, Springsteen isn't yet sure whether he'll be playing solo or with a small band, but in either case the tour will be "an acoustic affair... targeting theaters and smaller venues." Dates are being planned in Europe as well as the U.S.
- Updated February 17, 2005


GRAMMY TO BRUCE: I LUV U!
Just in time for Valentine's Day, Springsteen gets a little Grammy love. It was a blink-and-you'd-miss-it moment, acknowledged only in a flash of text at the bottom of the screen (Springsteen himself wasn't present for the 2/13 awards), but before the broadcast he did win the Solo Rock Vocal Performance Grammy for "Code of Silence" (co-written with Joe Grushecky) from The Essential Bruce Springsteen. And, giving us unsettling flashbacks, there was Norah Jones at the end of the night once again, taking home "Record of the Year"... Click here for the full list of Grammy winners.
- February 14, 2005
BACKSTREETS #81, COMING SOON!
We're putting the finishing touches on the latest issue of Backstreets Magazine, which is going to press in a matter of days. Issue #81 features our blow-by-blow coverage of the Vote for Change tour, packed with photos, plus exclusive Backstreets interviews with some key players from Springsteen's stage: Eddie Vedder, R.E.M.'s Peter Buck and Mike Mills, and Bright Eyes' Conor Oberst. Plus: all of Springsteen's late-2004 benefits, from Light of Day 5 to Flood Aid to the Holiday Jams at Harry's Roadhouse.
If you dig Backstreets.com, we hope you'll support Backstreets and get a Boss magazine at the same time. Don't miss this one: Subscribe now to guarantee yourself a copy of the new issue and the ones to come!
Already a subscriber? If you've been meaning to renew or change your address, now's the time. If you've moved, it's important to change your address with us -- the post office isn't required to forward Periodicals mail, so don't miss an issue: use our handy online change-of-address form before you forget!
- January 10, 2005

STILL GOOFIN' ON ELVIS
It's been a Good Daaaaay for Michael Stipe, born January 4, 1960. And speaking of Elvis, the King was born 70 years ago this Saturday, January 8. We raise a fried peanut butter and organic banana sandwich to them both.


Main News


News Archives
- May - Sep 20033
- Oct 2003
- Nov - Dec 2003
- Jan - Mar 2004
- Apr - Jul 2004
- Aug - Dec 2004
- Jan - Apr 2005
- May - Jun 2005
- Jul - Aug 2005
- Sep - Dec 2005
- Jan - Feb 2006
- Mar - May 2006
- Jun - Jul 2006
- Aug - Oct 2006
- Dec - Nov 2006
- Jan - Mar 2007
- Apr - May 2007
- Jun - Jul 2007
- Aug 2007
- Sep - Oct 2007
- Nov - Dec 2007
- Jan - Feb 2008
- Mar - Apr 2008
- May - Jun 2008
- Jul - Aug 2008
- Sep - Oct 2008
- Nov - Dec 2008
- Jan 2009
- Feb - Mar 2009
- Apr - May 2009
- June 2009
- Jul - Aug 2009
- Sep - Oct 2009
- Nov - Dec 2009
- Jan - Feb 2010
- Mar - Apr 2010
- May - Jun 2010
- Jul - Aug 2010
- Sep 2010
- Oct 2010
- Nov 2010
- Dec 2010
- Jan - Feb 2011
- Mar - Apr 2011
- May 2011
- June 2011
- July 2011
- Aug - Oct 2011
- Nov - Dec 2011
- Jan 2012
- Feb 2012
- Mar 2012
- Apr 2012
- May - Jun 2012
- Jul - Aug 2012
- Sep - Oct 2012
- Nov - Dec 2012
- Jan 2013
- Feb - Apr 2013
- May - Jun 2013
- Jul - Aug 2013
- Sep 2013
- Oct 2013
- Nov 2013
- Dec 2013
- Jan 2014
- Feb 2014
- Mar - Apr 2014
- May 2014
- Jun 2014
- Jul - Sep 2014
- Jul - Sep 2014
- Oct 2014
- Nov - Dec 2014
- Jan - Feb 2015
- Apr - May 2015
- May - Jun 2015
- Jul - Aug 2015
- Sep - Oct 2015
- Nov - Dec 2015
- Jan - Feb 2016
- Mar - Apr 2016
- May - Jun 2016
- Jul - Aug 2016
- Sep 2016
- Oct 2016
- Nov - Dec 2016
- Jan - Feb 2017
- Mar - Apr 2017
- May - Jun 2017
- Jul - Aug 2017
- Sep - Oct 2017
- Nov - Dec 2017
- Jan - Feb 2018
- Mar - Apr 2018
- May - Jun 2018
- Jul - Aug 2018
- Sep - Oct 2018
- Nov - Dec 2018
- Jan - Feb 2019
- Mar - Apr 2019
- May - Jun 2019
- Jul - Aug 2019
- Sep - Oct 2019
- Nov - Dec 2019
- Jan - Feb 2020
- Mar - Apr 2020
- May - Jun 2020
- Jul - Aug 2020
- Sep - Oct 2020
- Nov - Dec 2020
- Jan - Feb 2021
- Mar - Apr 2021
- May - Jun 2021
- Jul - Aug 2021
- Sep - Oct 2021
- Nov - Dec 2021
- Jan - Feb 2022
- Mar - Apr 2022
- May - Jun 2022
- Jul - Aug 2022
- Sep - Oct 2022
- Nov - Dec 2022
- Jan - Feb 2023


Tour/Ticket Info
Setlists
Concert Calendar
Save Tillie
Library Project
Downloads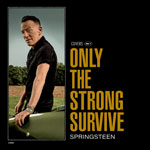 ONLY THE STRONG SURVIVE
The Backstreets Liner Notes, our own song-by-song printed booklet, comes exclusive and FREE with each CD & LP!
ORDER NOW
Backstreet Records is the mailorder division of Backstreets, delivering Springsteen merchandise to fans for more than 25 years. We carry numerous collectibles, tour shirts, books, magazines, and imported CDs and records.
The world's best selection of Springsteen collectibles, all available by mail.
See all the new arrivals in our online shop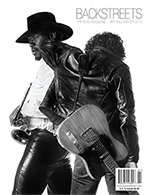 BACKSTREETS #91
Our most recent issue honors a very Big Man. More than half of the 116-page, perfect bound Backstreets #91 is a tribute to the life and music of... do we have to say his name?

Full contents list


Order a single copy


Back issues
---


Exclusive Storytellers outtakes at VH1.com.


Storytellers reviewed at CNN.com


Bruce's Hall of Fame induction of U2, watchable at U2.com.


Some Boss wisdom in Funky Winkerbean.


Little Steven: DJ, rocker, businessman; in the NYT Business section.


Are you ready for the summer? Catch Nils Lofgren on VH1's 2005 Rock and Roll Fantasy Camp.


Springsteen vs. Dylan: on 3/22 in "March Bandness" on Detroit's WCSX, and April 4-8 on WFUV.


Saints in the City: dig a 1974 photo of Bruce and Bowie in the studio (taken by Ed Sciaky) at davidbowie.com.


Check out a new CNN.com profile of Joe Grushecky: "Rock's best kept secret."


Little Steven masterminds Outlaw Country radio.


On March 22, Little Steven will host a screening of "Rock is Fifty!" and moderate a panel discussion with original members of Bill Haley's Comets, at NYC's Museum of Television & Radio.


According to Billboard, long awaited Boss/Killer duet to be released in May or June.


Bruce's 11/20/98 appearance on Charlie Rose available now at audible.com and in the iTunes Music Store.


The latest exhibit at DC's Govinda Gallery: Ken Regan's photos of Dylan's Rolling Thunder Revue, including one of Bruce and Bob backstage in '75.
---


We also post all known concert dates for some of our favorite Jersey Shore (and Shore-adopted) musicians:


Bobby Bandiera


Southside Johnny


John Eddie


JoBonanno


Steel Mill Retro


Joe D'Urso... and more.
For more information on upcoming shows such as these, check out our Concert Calendar.

---


SAVE TILLIE
Many from the Springsteen community banded together to preserve this Asbury Park landmark.... and Tillie has now been saved!
Check our Save Tillie page for the latest developments.

---
THE SPRINGSTEEN SPECIAL COLLECTION
Organized by Backstreets in 2001, this storehouse of Boss books and magazines is the largest such collection outside of Bruce's mother's basement. Thanks to the generosity of fans around the world, total holdings are now well over 11,000. But the collection is by no means complete.
Check out the Springsteen Special Collection page for more info.