News Archive
November - December 2006


WE'RE SO GLAD IT'S CHRISTMAS VACATION
The Backstreets office will be closed for the holidays, through January 2. Our online store will be open for ordering 24/7 as usual (in case Santa doesn't bring you everything you wanted), but the non-automated manpower will be taking a rest. We'll reopen for business as usual on January 3, with an eager eye on what 2007 holds for Boss fans. In the meantime, thanks for your support in 2006 -- and before we go: a look back at a 2006 highlight.
Merry Christmas, Happy Hannukah, and have a safe and Happy New Year, brothers and sisters!
-December 22, 2006

LOOKING FOR THE ULTIMATE SPRINGSTEEN CHECKLIST? HELP BUILD IT!


There are a number of great fan sites on the Web that have compiled lists of everything Springsteen, from setlists to CD collectibles to bootlegs. To date, though, we haven't seen any resource that's comprehensive across all those categories or that lets everyone in the Bruce community readily contribute what they know. So for the past year, we've been advising the folks at Stashmatic.com to help them create a site where collectors and fanatics can share their knowledge and track what they've got. Think of it as a kind of "wikipedia for collectors."
If you've met me at a Springsteen show, there's a good chance you've seen my brother, Jon, with me. He's helping to head up the Stashmatic effort and is a big Springsteen collector. Jon and his team have been entering a whole bunch of Bruce into their database, but there's a lot more to go. They're not limited to Springsteen, or to music -- but what better place to start? So today they're unveiling Stashmatic.com for the first time and inviting Backstreets.com readers to be the very first people to give it a try. Head over there and let 'em know what you think!
-December 22, 2006

UNRELEASED BRIDGE TRACKS NOW ON ITUNES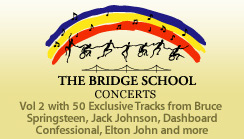 20 years after Springsteen first played Neil Young's annual Bridge School benefit, the 10/13/86 show that brought us the "Fire" video, two more of his performances from that night are officially available. "Helpless" (with Neil Young) and "Born in the U.S.A.," part of the Bridge School Collection Vol. 2, can be yours for 99 cents each, exclusively through the iTunes store. A portion of the proceeds benefit the Bridge School.
-December 21, 2006

WHAT DO BRUCE, YOGI BERRA, BUZZ ALDRIN, ALBERT EINSTEN AND HARRIET TUBMAN HAVE IN COMMON?
The New Jersey Hall of Fame is gearing up for their inaugural induction ceremony, and your vote could put Bruce in the Class of 2007. Springsteen is one of 25 nominees, which will be narrowed down to 15 for next year's induction. Voting is open until February 28. Check out www.njhalloffame.com for more information and to cast your ballot.
-December 21, 2006

COFFEE TALK
Tune in to Good Morning America on Thursday for their Best Coffee Table Books of 2006 -- all three of this year's Bruce biggies are in the mix: Santelli's Greetings from E Street, Meola's Born to Run: The Unseen Photos, and Marsh's On Tour. The segment will air between 8:30 and 9:00 a.m., on ABC.
-December 20, 2006

WHEN THEY SAID "ALL-STAR," THEY MEANT IT
The Boss man joins the band for Bobby B's holiday jam
On Tuesday night, "The Bobby Bandiera All-Star Holiday Concert" lived up to its billing, as Bobby wrangled a whole host of New Jersey greats for a full night of holiday cheer. The show was a benefit for the PALS Support Group, a charity started by Terry Magovern in memory of Joan Dancy. After a few words from Dave Marsh about the good cause, it was right into nearly four hours of music: Tim McLoone and his Holiday Express kicked things off, followed by sets from the balcony-storming Mark Pender and LaBamba, Bandiera's smokin' Rock and Soul Revue, Southside Johnny, and Gary U.S. Bonds. The night's penultimate artist was Bon Jovi, who turned in a charming set of yuletide R&B, like "Please Come Home for Christmas," "Blue Christmas," and "Run Run Rudolph." Dave Gaetano tells us, "It was a fantastic evening of music. The night kept building and building. Everyone knows the vibe that is present when Bruce is going to be making an appearance, and that electricity was in the air from the pre-show reception right on through the last notes of the evening."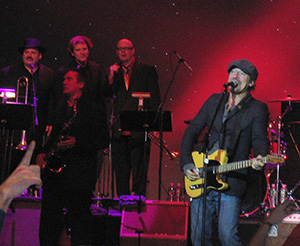 Yes, then there was Bruce, closing the show with a 35-minute set. Backed by Bandiera's Rock and Soul Revue, plus a big swath of Jukes making for an immense horn section, Springsteen brought the heat.
Flynn McLean writes: "Bruce was on fire from the minute he sauntered on stage last night, casually picked up an electric guitar, and launched right into the opening chords of 'Darlington County.' In a setting where he could have played it cool, he took it up a notch and had the entire theatre eating out of his hand. While many fans were just happy to see him strap on an electric guitar, Bruce showed that he could still make it talk -- the intensity of his playing, especially on 'Spirit in the Night,' not usually a guitar-driven song, blew everyone away. Bruce let the audience take over a couple of lines during 'Spirit,' much to its delight. The horns added a lot to 'Darlington' and 'Seaside Bar Song,' and, of course, 'Tenth Avenue Freeze-out,' which included Jon Bon Jovi. A fun 'Waitin' on a Sunny Day,' which Bruce dedicated to Terry, could have been better than in 2003.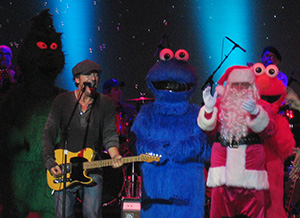 "The finale of Santa Claus brought the surreal images of Bruce sharing the stage with the Grinch (not Southside Johnny, but a person in an actual Grinch suit) and a couple of Sesame Street characters. [It was a 'Flaming Lips-like scene,' says Gaetano.] Jon asked Bruce if he had been good this year, and Bruce responded by playing some hot licks on the guitar while Santa Claus bore witness. It was just a great night, even if the show lagged a bit at points over the course of the night before Bruce took the stage. And wWhile we certainly enjoyed the artistry of Devils & Dust and the enthusiasm of the Seeger Sessions, last night reminded us of what Bruce does best: rock the house."
-December 13, 2006 - photos by Kevin O'Keefe
GREETINGS -- AND SALUTATIONS -- FROM ASBURY PARK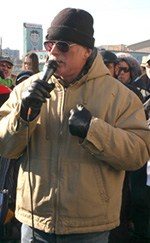 On Saturday, December 9, the musical pioneers of the Asbury Park sound -- or officially, the Sound of Asbury Park (S.O.A.P.) -- got quite a day in the sun. In the afternoon, more than 100 people gathered on the boardwalk to witness the dedication of a permanent monument listing "The Creators of S.O.A.P." by name. Those onhand to speak at the plaque's unveiling included Vini Lopez (right), Garry Tallent, Doc Holiday, and co-organizer Kevin O'Keefe. That night, many of the other "monumental" names joined Tallent, Lopez, and Holiday for a benefit concert across the street at the Stone Pony. Proceeds went to benefit two local charities, The Mercy Center and Interfaith Neighbors. Read more in the Asbury Park Press and Upstage Magazine.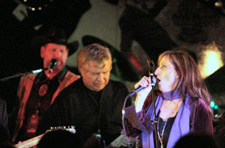 Notably absent from the Pony stage was Southside Johnny Lyon -- whose name was misspelled as "Johny" on the plaque. Typo? Or practical joke to get the Grinch's goat? In any case, we're told the error will be rectified. Another spirit in the night who never manifested: Bruce Springsteen. Though there was plenty of Bruce buzz, the only Springsteen sighting on Saturday was of his name in bronze. But that left plenty of spotlight for meritorious musicians like David Sancious, Billy Ryan, Nicky Addeo, Norman Seldin, Kenny "Popeye" Pentifallo, Lance Larson, and Lisa Lowell (right).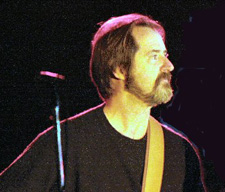 Lisa Iannucci writes: "It was a great night of music. It was disorganized and shambolic and raw -- just like a late night jam at Asbury's famed Upstage. And I saw three original members of the E Street Band on the stage: Vini Lopez, who has clawed his way back to re-establish his music career on the Shore scene; Garry Tallent (left), the ageless wonder standing stage right all night with a smile that lit the room; and David Sancious, still looking suave and sophisticated, his grey hair reflecting the stage lights. But the best part of the night for me was watching those original Asbury guys onstage together, enjoying each other's company and musicianship, and finally getting some long overdue respect and acclaim."
Click here to read Iannucci's full Op-Ed about the show.
-December 12, 2006 - photos by John Cavanaugh (top) and Tony Saddler (middle, bottom)

S.O.A.P.: TONIGHT WE'RE GONNA PARTY LIKE IT'S 1969
Brush up on your history, with this nice background piece on tonight's "Sounds of Asbury Park" concert at the Stone Pony, courtesy of Kelly-Jane Cotter in the Asbury Park Press.
-December 9, 2006

BACK ATCHA, JAY-Z! LITTLE STEVEN, LABEL HONCHO
Evolving out of Little Steven's Underground Garage is yet another new Van Zandt project: Wicked Cool Records. The first batch of albums on Steven's label includes a pair of compilations (CBGB Forever, and Little Steven's Underground Garage presents The Coolest Songs in the World Vol. 1), and discs by the Chesterfield Kings, the Cocktail Slippers, The Charms, and Davie Allan & the Arrows. He's teaming up with Best Buy (which has established a Little Steven's Underground Garage section in their stores) to get the word, and the music, out. The Associated Press has an interview with the man -- in which he also, not so incidentally, addresses the future of E Street:
Van Zandt laughs when asked about comments by Springsteen earlier this year that he's already written half of a new album for the E Street Band.
"He's lying," Van Zandt says of his longtime friend. "He always has two albums in his pocket, OK? Always. If he's got a jacket on, he's got three albums. ... I wouldn't be surprised if we get that phone call soon. I don't know if it will be '07, but we will certainly make a record."
Read the Shore Fire press release for more Wicked Cool details.
-December 9, 2006

AND IF YOU PUT OUT THREE ALBUMS NEXT YEAR, YOUR CHANCES WILL BE EVEN BETTER!
Nominations for the 49th annual Grammy Awards were announced today, with Bruce getting two nods this year -- for two different album releases. First is the Best Traditional Folk Album category where We Shall Overcome: The Seeger Sessions is up against albums by Ramblin' Jack Elliott, Odetta, Linda Ronstadt & Ann Savoy, and Ralph Stanley. (Over in his old Best Contemporary Folk Album category, nominees are Jackson Browne, Rosanne Cash, Guy Clark, Bob Dylan, and Mark Knopfler & Emmylou Harris.) Bruce is also up for the Best Long Form Music Video -- along with director/producer Thom Zimny -- for Wings for Wheels: The Making of Born to Run (part of the Born to Run 30th Anniversary box set). Competition includes videos from Terence Blanchard, Death Cab for Cutie, Gorillaz, and Madonna. See the full list of Grammy nominees here. The award ceremony, held at the Staples Center in L.A. on February 11, will be broadcast live on CBS.
-December 7, 2006

DOWN ON THE BOARDWALK THEY'RE GETTIN' READY...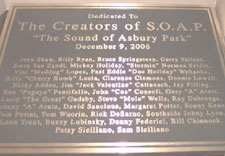 This Saturday, December 9, the afternoon of the S.O.A.P. benefit concert, a dedication ceremony on the Asbury boardwalk will honor the creators of "The Sound of Asbury Park." A permanent monument will be installed next to Convention Hall, with a bronze plaque naming the musicians that provided the foundation for the Jersey Shore music we've come to know and love. That night, many of them will take it to the stage for "The Creators of S.O.A.P. In Concert," across the street at the Stone Pony. All are invited to attend the ceremony on the boardwalk at noon; the Pony show is currently sold out. Click here for more information.
-December 5, 2006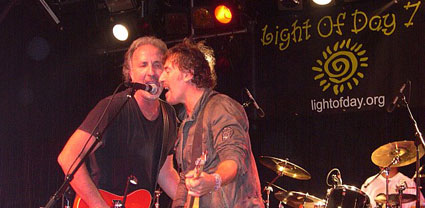 7th HEAVEN: SANTA COMES OUT FOR LIGHT OF DAY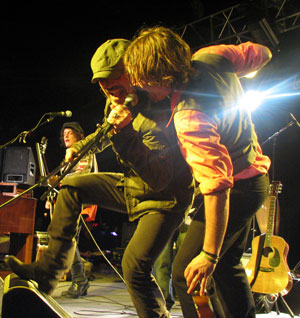 The Seventh Annual Light of Day show was blessed with a suprise guest last night, as Bruce Springsteen, old friend of founder Bob Benjamin and longtime LOD supporter, showed up for a few songs to help the cause. "I think we've got a friend here," announced Marah's Dave Bielanko late in the band's set, and with that, on came Bruce, wearing a newsboy cap, denim and black work boots. He took guitar and lead vocals on the Eddie Floyd classic "Raise Your Hand" and traded licks with Dave's brother Serge on the Marah original "Reservation Girl."
Brought onstage to an oldschool R&B instrumental vamp, Springsteen reappeared a few songs into Joe Grushecky's set,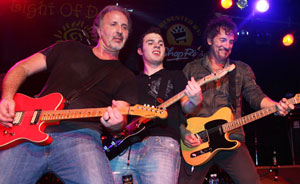 performing a mix of Joe's tunes and his own material, highlighted by an extended "Atlantic City," "Darkness on the Edge of Town," and a rousing version of "Code of Silence" with Grushecky, that song's co-writer. The night ended with all the night's performers crowding onstage for the usual all-star jam, Bruce leading them in a singalong on "Santa Claus is Comin' to Town" before thanking everyone for coming and driving off into the night.
-December 3, 2006 - Report by Lisa Iannucci; photos by Jose Rovalino (top), Ruth Barohn (middle), Mark R. Sullivan (bottom)

"LIGHT OF DAY" WEEKEND: TICKETS STILL AVAIALBLE!
A month later than usual, Light of Day 7 kicks off tonight with "Writers in the Raw" at the Starland Ballroom in Sayreville, NJ. At 8:30, it's Frankie & Kelly McGrath (Maybe Pete), Jody Joseph, Frank Bruno, Jr. (Seeger Sessions Band), Dawne Allynne, and Rick Barry. At 10:15: Willie Nile, Joe D'Urso, Joe Grushecky, Pat DiNizio (The Smithereens), and John Easdale (Dramarama).
Saturday night, December 2, is "the big show." Here's the band stage schedule:
6:10 - Maybe Pete
6:50 - Exit 105
7:30 - Jennifer Glass
8:10 - JoBonanno & the Godsons of Soul
8:50 - Boccigalupe & the Bad Boys
9:30 - Joe D'Urso & Stone Caravan
10:10 - Jeffrey Gaines
10:55 - The Soozie Tyrell Band
11:40 - Marah
12:25 - Joe Grushecky & the Houserockers
1:50 - Finale
There will also be an acoustic stage on Saturday night, including Bruce Tunkel, Mike Rocket, Johnny Grushecky, and more. And another show on Sunday, headlined by Streetlight Manifesto. Tickets for all three nights are still available.
Update Friday afternoon, 4 p.m.: Springsteen associates Terry Magovern and Kevin Buell are currently at the venue, checking out the stage...
-December 1, 2006

PBS WON'T LET YOU BE LONELY TONIGHT
The MusiCares "Person of the Year" Tribute to James Taylor, which Springsteen played in February (and which was recently issued on DVD), will be airing on tellyvision, gratis, beginning tonight on PBS. "Bruce's version of 'Millworker' was a completely new and different take," Taylor recently said, "much more intense, pointing out the aspect that had to do with workers' conditions." The broadcast of A Tribute to James Taylor is part of PBS's Great Performances series; check local listings for when you can catch it.
-November 29, 2006

WHAT'S IN-STORE: UPCOMING AUTHOR EVENTS
This Thursday, November 30, Eric Meola will be signing copies of Born to Run: The Unseen Photos at the Rizzoli Bookstore in New York, a multi-author cocktail reception and signing event that runs from 5:30 - 7:00 p.m.
And on December 9 in Wilton, CT, Dave Marsh will be doing an in-store at Borders, a discussion and signing of his new book, Bruce Springsteen On Tour. That's a Saturday afternoon, at 2 p.m.
-November 29, 2006

O MARY, TIME FOR HOLIDAY SHOPPING ALREADY??
Don't you weep, we've gotcha covered.


Yes, the season is upon us. And if you're gearing up to shop for your favorite Boss fan, our online catalog is packed with a wide variety of Springsteen stuff -- hundreds of Bruce items in stock, just waiting for a stocking near you. We've just added a ton of of new goodies -- a great E Street Band hooded sweatshirt, Devils & Dust T-shirts, and many more items new to our shelves. Plus, seasonal items are back, like Gary Tallent's Christmas compilation CD (To:Kate). Check our latest arrivals page for lots more.
And then there's our regular stock, with more official CDs, videos, books, vinyl, and concert shirts than you can shake a stick at. Two of our books, Dave Marsh's On Tour and Robert Santelli's Greetings From E Street, come with free posters, exclusive to Backstreets -- you'll find these nowhere else.
The gift that keeps on giving, of course, is a subscription to Backstreets Magazine. Using our online gift subscription form, you can type in a message to go on the gift card that will accompany your lucky giftee's first issue. Back issues of Backstreets make a fine stocking stuffer, too.
Whether you're looking to spend a little ("Santa Claus is Comin' to Town" on CD-single) or a lot (the Limited Edition package of Eric Meola's new Born to Run book is a beauty!), we've surely got something that'll fit the bill.
The Big Payback: When you order from Backstreet Records, your hard-earned money directly supports Backstreets.com, BTX, and Backstreets Magazine -- and since we've kept advertising minimal, magazine subscription prices low, and all this online muckety-muck free of charge, that support really makes a difference.
Run, Run, Rudolph!: For orders placed by December 10, we can guarantee standard delivery to any U.S. address will arrive in time for Christmas. If you order after that date, or simply need something faster, we offer 2-day and Overnight service at a reeeeasonable price. Of course, we ship all over the world, and while we can't guarantee the timing of an international shipment (if you're having something sent outside of the U.S., we recommend ordering as early as possible if you're hoping for delivery before Christmas), we'll be working hard this holiday season to fulfill orders as quickly as possible. Check out our online catalog, thanks as always for your support, and have a Happy Thanksgiving!
- November 22, 2006

BIRTHDAY-A-GO-GO
Down in the Underground Garage, Little Steven celebrates another year on the planet. Happy birthday, baby!
-November 22, 2006


11/21, BELFAST: MRS. MCGRATH HAS LEFT THE BUILDING
Like the Devils & Dust tour-closer almost exactly one year ago, this final show of the 2006 tour was a family affair. Evan and Sam Springsteen took the stage to announce, "Ladies and gentlemen, Bruce Springsteen and the Seeger Sessions Band!" They were back to close the main set -- along with sister Jessie, a friend apiece, and a nanny -- to help out with vocals on "Pay Me My Money Down." Patti Scialfa got a special shout-out, before "If I Should Fall Behind." After explaining to the crowd that they had to bring the kids with them because they "can't trust them" at home, Bruce kept up the silly and dedicated the song "to my lovely love. My lovely love! I just made that up -- off the top of my head! Isn't that romantic?" Bruce had warm words of thanks, too, for his extended family for much of the year, the Seeger Sessions Band. "This is sort of a finale for a little while," he told the crowd during the encore, adding, "This has been one of the nicest musical experiences of my life." And considering his life, that's saying something. But it wasn't a bittersweet night (despite Soozie appearing to tear up as the encore began), just a kick-ass finale that cleared the bar set at the last Dublin show, with a crowd to match. As opposed to the traveling-fan crowd in Dublin, this was an audience made up largely of locals, and it brought a different kind of energy to the room. When Bruce dedicated "When the Saints Go Marching In" to the city of Belfast, the cheers suggested it was met by people with a stake in the game. Set highlights included the tour premiere of "Mansion on the Hill," in a familiar arrangement, and an audibled "For You." "This is a song from my first album in 1972," Bruce said to intro the latter. "I was a wee lad of ten years old. I was very precocious -- a natural genius sort of thing." Only its second tour appearance, it was one of the most "rocking" performances this band has tackled. "For You" demonstrated their capacity to explore other musical dimensions, should Bruce tap them again -- and his comments over these last few nights suggest that he intends to. For now, they closed the show, and the tour, with the song that started it all, "We Shall Overcome," and a few final words, "Thank you. We'll be seeing you!"
TICKET ALERT: BOBBY B'S ALL STAR HOLIDAY CONCERT
Tickets on sale Tuesday at noon
On December 12, The Bobby Bandiera All Star Holiday Concert is coming to the Count Basie Theatre in Red Bank, NJ. Tickets go on sale Tuesday, November 21, at noon through the Count Basie Theatre box office or by telephone at (732) 842-9000. Tickets are priced at $250, $100 and $50, There will be a limit of 4 tickets per person, will call only night of the show only (buyers will need to present ID when picking up their tickets). Showtime is 8 p.m.
The Bobby Bandiera All Star Holiday Concert is presented by Concerts East and the Joan Dancy & PALS (People with ALS) Support Group, with all proceeds to benefit the latter. Organized by Terry Magovern, the charity is named for the late Joan Dancy, who died from ALS (amyotrophic lateral sclerosis) in 2005. PALS is a grassroots organization that helps and provides assistance, services and programs that support ALS patients and their families. PALS also aims to aid patients by loans of equipment, to award direct monetary grants to ALS patients and / or their families, to enlarge the body of ALS knowledge, to educate the general public on the disease and to encourage scientific research for the prevention, alleviation, care, treatment and cure of ALS patients.
For additional information, visit Concertseast.com.
-November 19, 2006

"BRUCE BRUNCH" TO HELP THE HUNGRY WITH ALL-REQUEST SHOW
Every Sunday morning, our friend Tom Cunningham hosts the Bruce Brunch: 9 to 11 a.m., on Jersey's Home of Classic Rock, 105.7 The Hawk. Always a good time, and if (like us) you're not in broadcast range, you can listen online. The first ever all-request Bruce Brunch will air on Sunday, November 26th. Requests will be taken in advance, so during the show this Sunday morning, November 19, be ready to call the FoodBank of Monmouth & Ocean Counties at (732) 918-2600 to make your request. For a $25 donation to the FoodBank, Tom will play any request/dedication that you can come up with (although, not even $250 will get you to Reno). On average, there are 20 or 21 songs played on the Bruce Brunch every week, so there are a limited number of requests available. All money raised will stay local and will help folks in need have a happier Thanksgiving.
Reader Jim Mitchell adds: "Just a reminder to your readers outside of the New Jersey area that many of their local radio stations will also be having similar fundraisers over the next few weeks leading into the holidays. New Jersey charities are certainly worthwhile, but readers' local foodbanks and social services who don't benefit from their proximity to our favorite rock star could use the help too."
- Updated November 18, 2006

ATTENTION BACKSTREETS SHOPPERS...
We'd like to send a big thank you to all our recent online customers. The past six weeks have been kinda crazy around here at our humble digs in Chapel Hill, North Carolina as we've tried to keep up with the volume of orders you've placed for the new books, Born to Run posters, and everything else we offer in our online store. As we approach Thanksgiving week, one word comes to mind as it applies to the current world of Boss merchandise: bountiful. The Backstreets staff has become quite nimble just navigating our way past the stacks of boxes and packing materials! Since all these new books practically hit at once, it's the busiest we've been, and our lag time for fulfillment is probably the longest it's been. As we continue to get caught up around here, we sure do appreciate the patience you've shown -- we know how hard it can be watching the mailbox when goodies are on their way. But we're real close to clearing out the Backstreets "In Box" while our mail carriers watch the Backstreets "Out Box" grow larger everyday. If you haven't received your order yet please know that it will be arriving soon. And then we'll have a short break before beginning the mad dash to Christmas and the holiday season. Like every year, we'll be offering a guaranteed delivery date -- as long as you place your order by that date, we'll make sure all your holiday gifts get delivered by December 24. And we'll always have expedited shipping options available for last-minute shoppers. Check back here next week for more specific information regarding holiday ordering, and between now and then we'll be adding more new Boss items to the shop, too. What, there's more? Yep -- plenty more stocking stuffers await. Stay tuned, and thanks for supporting Backstreets!
-November 17, 2006

E STREETERS HONORED AT ASBURY MUSIC AWARDS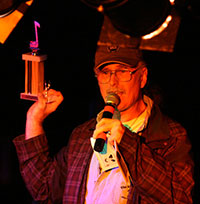 Two members of the E Street Band were honored at the Stone Pony during the 14th annual Asbury Music Awards, held Saturday November 11. Vini Lopez (pictured right) received the James MacDonald Lifetime Achievement Award, and Max Weinberg was honored with the Asbury Music Awards 2006 Living Legend. Max could not attend but sent a letter thanking everyone in the Asbury Park music community. Another fixture in the history of Asbury Park music, Sonny Kenn was onstage playing with StringBean and the Stalkers, nominated for Top Blues band for the 2006 Awards. For a full list of 2006 Asbury Music Awards Winners and Nominees, visit thesaintnj.com.
-November 13, 2006 - report/photo by Mike Black


11/12: WEMBLEY GETS ROCKED WITH THE GREATEST OF EASE
Night two of two in London, maybe even better than night one. Less political commentary, but another incredibly strong performance, with a less reserved crowd and an extremely energized Bruce and band taking the whole thing higher and higher. Numerous setlist changes from Saturday night, of course -- "John Henry" returns, "Dan Tucker" steps out -- most remarkable being the number of Bruce originals. Four of the first five songs came from the Springsteen songbook, including the tour debut of "Does This Bus Stop at 82nd Street?" with a Seeger Sessions spin; in all, there were 11 Bruce songs in the mix. Once again they followed the standard show closer "American Land" with a bonus track, tonight's being the rarity "Man on the Flying Trapeze." Springsteen intro'd the song with a bit of the song's history he gleaned from Google, including the origin of the leotard... and told the crowd, "An epic story, and tragic, too. Feel free to bust out and sing along -- that's what folk music is all about!"

Now that the tour has come back to English-speaking territory, we're getting a better sense of just how impressive the performances are on this leg. (Europeans, please don't let the language barrier stop you -- if you caught a show on this leg and you'd like to tell us about it for the magazine, by all means send us an e-mail so we can be sure to have yours covered well. We try not to be "ugly Americans," but if you can read this, your English is certainly better than our Italian, Spanish, etc.!) We're gathering that it's a very different show than what we saw Stateside over the summer and, as always, one that can't be judged by setlists alone. The band is mind-blowingly tight, the arrangements continue to evolve, and there are plenty of new "bits," like the horn players taking over the Andrews Sisters scat portion of "Open All Night," or the spotlight on Lisa Lowell for a soulful, yearning verse on "Saints." The Devils & Dust material plays very well, especially "Long Time Comin'," which has become a favorite focal point of the show. With any luck, we'll all get to bear witness to what this show has become -- we're told that all three nights in Dublin are going to be filmed. Fingers crossed for a DVD from this music's motherland... time will tell. In the meantime, for the real live experience, there are just five shows left -- get there if you can!

Next: The last show in England, Tuesday in Sheffield.
For the full setlist from these and other recent shows,
head to our Setlists page

2 KOOL 2 BE 4-GOTTEN: WITH LUCINDA IN LONDON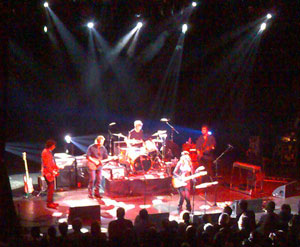 For those at Lucinda Williams' London gig on Friday night, it was a Sweet Old World indeed, as her "special friend" Bruce Springsteen made an impromptu appearance. Some showgoers at Shepherd's Bush Empire might have suspected something was in the air, on this "night off" between Springsteen shows -- Nick Corr tells us of spotting Seeger Sessions players Frank Bruno, Charlie Giordano, and Curtis King in the bar before the show. But the crowd as a whole was clearly surprised -- and wildly excited -- as Springsteen came out with an orange/red Gibson for the final two songs of the main set, "Disgusted" and a stretched-out "Joy." Robert Baldock reports: "Bruce stayed mostly at the back of the stage, but stepped up for some typically coruscating guitar solos. He didn't take the microphone at any stage, but he looked like he was having a ball trading licks with Lucinda's guitarist Doug Pettibone. By way of introduction, Lucinda said that this was 'the best night of my life!' The audience seemed fairly chuffed too. He finished with a flourishing bow to Ms. Williams as he exited." Bruce and his band are in London for two shows, tonight and tomorrow night at Wembley Arena.
-November 11, 2006 - Richard Byatt Photo

HAPPY VETERANS DAY!
Today we remember and honor all those who have served this country. And elsewhere, across the pond, today is the opening of Eric Meola's Born to Run gallery show in the UK (see below). To coincide with the exhibition opening and Bruce's arrival in England, Telegraph.co.uk has some fun reading online now.
November 11, 2006


UNCLE SAM WANTS YOU: VOTE!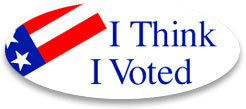 Don't forget, today is election day. Worried about touchscreens? Concerned by the lack of paper trails? Yeah, we are too -- six years after hanging chads, what makes us nervous is no chads at all. But we've still got to participate in our democracy and try to have our voices be heard. After all, you can't bitch unless you participate. Bruce Springsteen, who was onstage last night in Germany (see below) and performs again tonight in Belgium, must be voting absentee. But he got an election day message out on his website, with reading material included -- visit brucespringsteen.net.
-November 7, 2006


Main News


News Archives
- May - Sep 20033
- Oct 2003
- Nov - Dec 2003
- Jan - Mar 2004
- Apr - Jul 2004
- Aug - Dec 2004
- Jan - Apr 2005
- May - Jun 2005
- Jul - Aug 2005
- Sep - Dec 2005
- Jan - Feb 2006
- Mar - May 2006
- Jun - Jul 2006
- Aug - Oct 2006
- Nov - Dec 2006
- Jan - Mar 2007
- Apr - May 2007
- Jun - Jul 2007
- Aug 2007
- Sep - Oct 2007
- Nov - Dec 2007
- Jan - Feb 2008
- Mar - Apr 2008
- May - Jun 2008
- Jul - Aug 2008
- Sep - Oct 2008
- Nov - Dec 2008
- Jan 2009
- Feb - Mar 2009
- Apr - May 2009
- June 2009
- Jul - Aug 2009
- Sep - Oct 2009
- Nov - Dec 2009
- Jan - Feb 2010
- Mar - Apr 2010
- May - Jun 2010
- Jul - Aug 2010
- Sep 2010
- Oct 2010
- Nov 2010
- Dec 2010
- Jan - Feb 2011
- Mar - Apr 2011
- May 2011
- June 2011
- July 2011
- Aug - Oct 2011
- Nov - Dec 2011
- Jan 2012
- Feb 2012
- Mar 2012
- Apr 2012
- May - Jun 2012
- Jul - Aug 2012
- Sep - Oct 2012
- Nov - Dec 2012
- Jan 2013
- Feb - Apr 2013
- May - Jun 2013
- Jul - Aug 2013
- Sep 2013
- Oct 2013
- Nov 2013
- Dec 2013
- Jan 2014
- Feb 2014
- Mar - Apr 2014
- May 2014
- Jun 2014
- Jul - Sep 2014
- Oct 2014
- Nov - Dec 2014
- Jan - Feb 2015
- Mar - Apr 2015
- May - Jun 2015
- Jul - Aug 2015
- Sep - Oct 2015
- Nov - Dec 2015
- Jan - Feb 2016
- Mar - Apr 2016
- May - Jun 2016
- Jul - Aug 2016
- Sep 2016
- Oct 2016
- Nov - Dec 2016
- Jan - Feb 2017
- Mar - Apr 2017
- May - Jun 2017
- Jul - Aug 2017
- Sep - Oct 2017
- Nov - Dec 2017
- Jan - Feb 2018
- Mar - Apr 2018
- May - Jun 2018
- Jul - Aug 2018
- Sep - Oct 2018
- Nov - Dec 2018
- Jan - Feb 2019
- Mar - Apr 2019
- May - Jun 2019
- Jul - Aug 2019
- Sep - Oct 2019
- Nov - Dec 2019
- Jan - Feb 2020
- Mar - Apr 2020
- May - Jun 2020
- Jul - Aug 2020
- Sep - Oct 2020
- Nov - Dec 2020
- Jan - Feb 2021
- Mar - Apr 2021
- May - Jun 2021
- Jul - Aug 2021
- Sep - Oct 2021
- Nov - Dec 2021
- Jan - Feb 2022
- Mar - Apr 2022
- May - Jun 2022
- Jul - Aug 2022
- Sep - Oct 2022
- Nov - Dec 2022
- Jan - Feb 2023


Tour/Ticket Info
Setlists
Concert Calendar
Save Tillie
Library Project
Downloads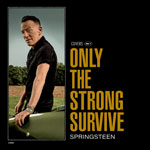 ONLY THE STRONG SURVIVE
The Backstreets Liner Notes, our own song-by-song printed booklet, comes exclusive and FREE with each CD & LP!
ORDER NOW
Backstreet Records is the mailorder division of Backstreets, delivering Springsteen merchandise to fans for more than 25 years. We carry numerous collectibles, tour shirts, books, magazines, and imported CDs and records.
The world's best selection of Springsteen collectibles, all available by mail.
See all the new arrivals in our online shop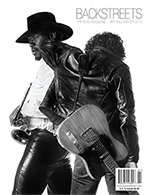 BACKSTREETS #91
Our most recent issue honors a very Big Man. More than half of the 116-page, perfect bound Backstreets #91 is a tribute to the life and music of... do we have to say his name?

Full contents list


Order a single copy


Back issues
---


Greece is the word: Steve and Clarence rap with Rockpages.gr


Go Inside the Stone Pony, on YouTube


Bruce digs new book on John Henry


Listen to an interview with Robert Santelli on New Zealand's RadioLIVE


Bruce Springsteen as business model, in the Pittsburgh Quarterly.


Look for Bruce on the cover of the new Record Collector magazine.


Bears: the #1 threat to America? Let the Seeger Sessions protect you.


PopPhoto.com has an interview with photographer Eric Meola.


Gambit, the New Orleans weekly, has just published their 2006 Best of New Orleans, with Bruce's Jazz Fest performance taking top honors in two categories.


Another 9/11 anniversary look at The Rising, from CBC, and more in the Washington Post.


FIve years after 9/11, the Philly Inquirer finds The Rising "most impressive" pop music response "by far."


Listen online to a BBC Radio 2 documentary on Bob Clearmountain, longtime mixer for Springsteen.


Check out a lengthy 2004 interview with Pete Seeger at Democracynow.org.


A Bruce sighting on NJ.com, with photographic evidence, even.


The Associated Press reports on the creation of The New Jersey Hall of Fame... check out the official website.


Strap your hands cross these engines: The Sept. 30 "Ride for Hunger" benefits the NJ FoodBank.


---


We also post all known concert dates for some of our favorite Jersey Shore (and Shore-adopted) musicians:

Willie Nile


Bobby Bandiera


Southside Johnny


John Eddie


JoBonanno


Joe D'Urso... and more.
For more information on upcoming shows such as these, check out our Concert Calendar.
Updated Aug 30, 2006
---


SAVE TILLIE
Many from the Springsteen community banded together to preserve this Asbury Park landmark.... and Tillie has now been saved!
Check our Save Tillie page for the latest developments.
Updated June 9, 2006
---
THE SPRINGSTEEN SPECIAL COLLECTION
Organized by Backstreets in 2001, this storehouse of Boss books and magazines is the largest such collection outside of Bruce's mother's basement. Thanks to the generosity of fans around the world, total holdings are now well over 11,000. But the collection is by no means complete.
Check out the Springsteen Special Collection page for more info.
Updated Apr. 21, 2006