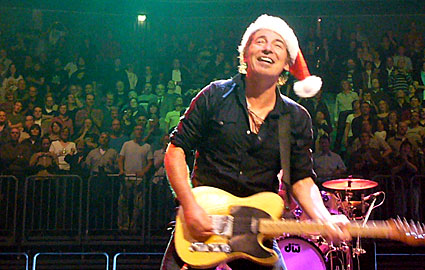 RING OUT THE OLD, RING IN THE NEW!
What a year it's been -- from the release of the Live in Dublin album and DVD with the Sessions Band, to Magic and a major tour with a reunited E Street Band. And still, it's just beginning. With 37 shows behind them on the Magic tour, Bruce and the E Streeters have another 54 more currently on the slate for 2008. That's a happy new year already! Here's hoping you've got some tickets in your stocking, if not in your pocket.
The Backstreets office will be closed for the holidays through January 6. Our online store will be open for ordering 24/7 as usual (in case Santa doesn't bring you everything you wanted), but the non-automated manpower will be taking a rest. We'll reopen for business as usual on January 7, with issue #87 of Backstreets ready to roll shortly thereafter, and our tour wheels ready to roll, too. In the meantime, thanks for your support in 2007 -- we wish you happy holidays, a Merry Christmas, and a safe and Happy New Year!
-photograph by Knut Bottger, Cologne, Germany, 12/13/07

JERSEY SHORE MUSICIANS ROCK THE BASIE
Friday night's Hope Concert III raises a cool half-mil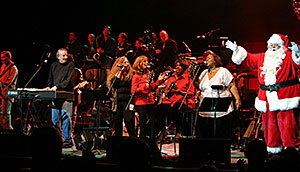 Bruce Springsteen was not in the house for Bobby Bandiera's third Hope Concert at Red Bank's Count Basie Theatre last night, but as headliner Jon Bon Jovi said, it was a "mish-mosh of old and new friends."
The concert's mission was to raise money for The Valerie Fund, which provides support for children with cancer and blood disorders. The show raised more than $500,000 for the non-profit organization, exemplifying the spirit of generosity that defines the Jersey Shore music community.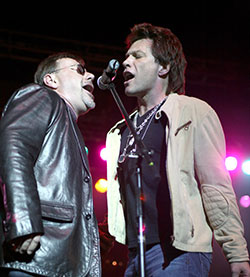 Musical highlights included Jon Bon Jovi (who definitely brought his "A" game) performing a moving cover of Leonard Cohen's "Hallelujah," Southside Johnny and Bon Jovi duetting on "Broke Down Piece of Man," and Southside's smoking solo turn on Marvin Gaye's "Can I Get a Witness," complete with euphoric backing vocals by Bobby Bandiera's Jersey Shore Rock-N-Soul Review (featuring Lisa Lowell).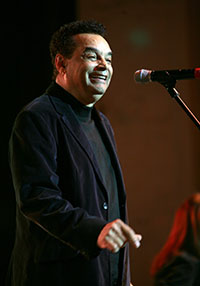 Gary U.S. Bonds turned in a heartfelt cover of Otis Redding's "Dreams To Remember," while restaurateur Tim McLoone (whose son suffers from a blood disorder) dedicated Warren Zevon's "Keep Me in Your Heart for Awhile" to the late Terry Magovern.
The show closed with an ensemble version of Lennon & McCartney's "A Little Help From My Friends," summing up the spirit of the evening.
- Report by Craig Scupp, photographs by John Cavanaugh
- December 22, 2007

SIGNED GOODIES FOR AUCTION TODAY -- ACT FAST!
Burlington, Vermont's 104.7 The Point has an annual holiday charity auction, and today's lot is one to pay attention to. Up on the block for just a couple more hours is an impressive Springsteeen package consisting of a Magic LP, a Magic songbook signed by Bruce, and a Squier Bullet guitar to be signed to the winner by Steven Van Zandt. Bidding -- currently at $800 -- is open until 6 p.m., and you don't have to be in broadcast range; just call 1-877-367-6468.
-December 20, 2007


12/19, LONDON: LAST ORDERS FOR THE 2007 TOUR
"This is a really big building," Springsteen said of the new O2 complex, its luxury-boxed arena surrounded by shops and restaurants, all underneath an enormous fabric dome. "That's okay -- we're the big building killers." He added, "Also known as dead ass killers, for those of you still in your seats!" And if killing is their business, then business was good -- especially with the "Because the Night" sandwich in the main set, that song featuring amazing guitar work from Nils once again. "Waitin' on a Sunny Day," loved by the crowd, also helped enliven some asses and bring the arena down to size.
Nearly the same setlist as Paris, only with "The River" replaced by two songs back-to-back, "Working on the Highway" and "Racing in the Street." This was only the second "Racing" of the tour, after its debut in Oakland nearly two months ago, and it was an audible, played by request: "You've been following us around for two months with that one sign," Bruce nodded to a guy in the crowd, "So we're gonna get that one for you." The rarity was an especially welcome moment for those who have been seeing these shows night after night, too. Here at this last E Street Band show of the leg and of 2007, Bruce sent them a special shout-out in the encore, "I'd like to thank all the fans that followed us across Europe."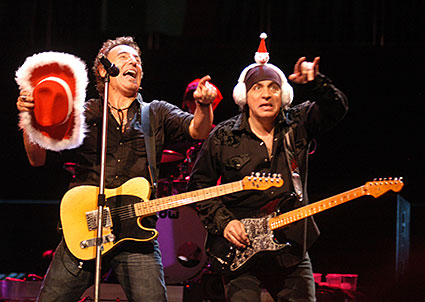 In the encore, Clarence -- introduced tonight as "the next King of England!" -- did a royally good job on "Jungleland." (Last time "Racing" and "Jungleland" were played in the same show was 23 years ago, 12/13/84 in Memphis.) For the 25th and final song, Bruce asked, "Do you believe in Santy Claus?" He encouraged the lobbing of hats onstage, and as the band was haberdashed for the last time this year, a little girl had some special headgear just for Steve: bobblehead Santa earmuffs. Steve hemmed and hawed, but he couldn't say no. "Happy holidays from the E Street Band," Bruce called, wrapping up the 2007 Magic tour, and "We'll see you in the summer!"
Which brings us to a TICKET ALERT: A second 2008 London show at Emirates Stadium, just announced for May 31, goes on sale tomorrow morning, December 20, at 10 a.m.!
For the full song list, and reports from other recent performances, see our Setlists page.
-December 19, 2007 - photograph by Harry Scott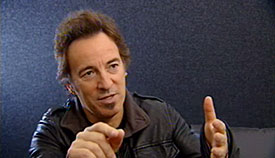 IT'S JUST TALK, TALK, TALK, TALK...
As Springsteen works his way toward wrapping up the 2007 European leg, he's been doing more and more interviews. In addition to the Danish interview below, here are some additional video interviews online now:
And tomorrow night, listen for "Bruce Springsteen in Conversation," a new interview with Johnnie Walker, on BBC Radio 2. The program airs at 10: 30 p.m. in the UK, and it streams online for those elsewhere.
-December 17, 2007

A GAIN IN SPAIN CREATES A CONCERT CHAIN
Springsteen has added a fourth Spanish date for next July -- in addition to the Madrid and Barcelona shows already set for July 17, 19 and 20, Donostia (San Sebastian) is now on the schedule for July 15. Tickets go on sale this Friday at 10 a.m.
-December 17, 2007

TICKET ALERT
Omaha and East Rutherford on sale Saturday, 12/15
In addition to Omaha at 9 a.m., the first U.S. summer stadium shows go on sale tomorrow -- three nights at Giants Stadium, on sale at noon.
For anyone wondering about the stadium floor configuration, look for a different setup than the all-GA arena floors. A spokesperson for the Meadowlands tells us: "The floor arrangement will be both GA and reserved seating. We are constructing a specific seating chart for this event and hope to have it live on Ticketmaster.com and our website at some point today."
Keep an eye on Meadowlands.com for further info.
-December 14, 2007

PUT HIS PICTURE IN A PICTURE SHOW
As we reported earlier, Live in Barcelona will soon be premiering on the big screen, in HD no less, thanks to Barry Rebo's Emerging Pictures. In addition to the New Years' party at Cape May's Beach Theatre reported below, additional showings are being added across the country, in support of America's historic theaters. Venues are still being added, but here's how it's shaping up so far:
| | | |
| --- | --- | --- |
| Dec 18 | Frontier Cinema & Gallery | Brunswick, ME |
| Dec 31 | Beach Theatre | Cape May, NJ |
| | Marion Theatre | Ocala, FL |
| | Mountain Cinema | Hunter, NY |
| Jan 4 | Beach Theatre | Cape May, NJ |
| Jan 5 | Beach Theatre | Cape May, NJ |
| Jan 6 | Beach Theatre | Cape May, NJ |
| Jan 10 | Fox Tucson Theatre | Tucson, AZ |
| | Memphis Brooks Museum of Art | Memphis, TN |
| Jan 12 | Oklahoma City Museum of Art | Oklahoma City, OK |
| | Lake Worth Playhouse | Lake Worth, FL |
| Feb 15 | Jane Pickens Theatre | Newport, RI |
| Mar 7 | Symphony Space | New York, NY |
| TBA | Cedar Lee Theatre | Cleveland Hts, OH |
For showtimes, venue links, and additional showings as they're announced, see the Participating Venues page at emergingpictures.com.
-December 11, 2007

HEY STEVE -- WHAT TIME IS IT?
Okay, we know the answer to that one. But if you've got another question for Steve Van Zandt, you just might get an answer. The E Street Band guitarist and Sopranos star is all set to be interviewed for a future "An Audience With..." feature in the UK music magazine, UNCUT, and they're after your questions. If there's anything you've always wanted to ask him, send yours to uncutaudiencewith@ipcmedia.com by Tuesday, December 18.
-December 11, 2007

"I AM AT THE HEAD OF A WRECKING MACHINE."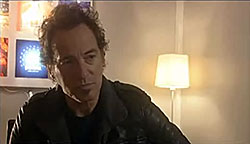 Check out video of a Danish interview Bruce did just before the Copenhagen show on Saturday night, a full 18 minutes streaming online.
Among numerous other subjects, Springsteen describes the pace of the show -- "It's like a freight train... it's designed for a lot of excitement" -- as well as the power of the band: "We are the hardest rockin', best E Street Band we've ever been right now. You may have other favorites -- you may have liked it when we played this tour, or when we were this or that... but our band is at the peak of its powers right now. We come out and roar."
-December 10, 2007



NEED YOUR ORDER BY CHRISTMAS GUARANTEED?
Now's the time to come shopping with us!
December 10 is our "standard shipping" deadline: simply place your order before midnight Monday night (11:59 Eastern, December 10) and Backstreet Records guarantees delivery to any U.S. address by December 24 at the latest.
For orders placed after December 10, we can still guarantee pre-Christmas arrival within the U.S., but only if you specify expedited shipping (choose overnight or 2-Day). We'll be working until Friday, December 21 to make that happen.
(For customers outside of the U.S., we regret that we can't guarantee pre-Christmas delivery, but we'll do our best to ship packages as quickly as possible.)
Backstreet Records is your one-stop Boss shop!


You'll find tons of Springsteen-related stuff in our online store for any Boss fan on your list. There's a healthy selection of Bruce's official concert shirts, from the Magic tour on back, with some unavailable elsewhere -- including E Street Band hoodies. Looking for stocking stuffers? Check out our pins, postcards, baseball caps & stickers. We have a very well-stocked Boss bookshelf, incuding the brand new Magic songbooks. Bruce's last three albums on vinyl LPs, and other new additions.... plus DVDs, CDs, back issues of Backstreets Magazine, and much more in our online catalog.


BRUCE ON 1968 WITH TOM BROKAW

On October 22, backstage at the United Center in Chicago, Springsteen talked with Tom Brokaw for a History Channel special. (During that night's show, Bruce dedicated "Devil's Arcade" to the veteran newsman.)
Footage from that interview premieres this week in 1968 with Tom Brokaw. "Explore the significance of that turbulent year and the way it continues to affect the American landscape. Tom Brokaw offers his perspective on the era and shares the rich personal odysseys of some of the people who lived through that chaotic time, along with the stories of younger people now experiencing its aftershocks." Springsteen himself was of draft age in '68, turning 19 that September, and playing with his bands The Castiles and Earth.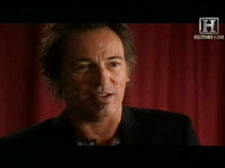 The two-hour program premiered last night, airing again on Wednesday at 9 p.m., Thursday at 1 a.m., and Saturday, 12/15 at 6 p.m.
Update: Watch a Bruce clip at Huffingtonpost.com. "I've met Bob Dylan a few times," Bruce says. "He said, 'Hey, man, let me know if there's anything I can ever do for you.' Anything you can ever do for me? It's been done."
-Updated December 10, 2007

GARRY TALLENT CHECKS IN FROM THE ROAD
The E Street bassist on his Christmas benefit album, the Magic tour, and the songs he'd like to play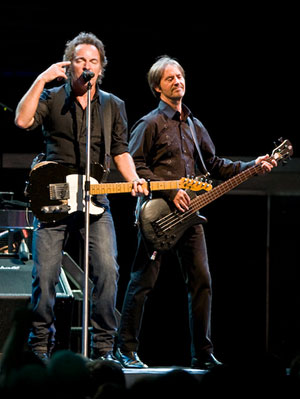 Two years ago, Garry Tallent put together a remarkable Christmas album, called To:Kate. Featuring a who's-who of alt-country music (including Steve Earle, Allison Moorer, Joe Ely, John Prine, Jim Lauderdale, BR549, Buddy & Julie Miller and more), Garry's album benefitted "For Kate's Sake." The charity works to fight Niemann-Pick Disease, and specifically to support the Kirk family of Nashville -- close friends of the Tallents -- whose two young girls, Caroline and Kate, were both afflicted with the rare genetic disease.
I spoke with Garry at length for a Backstreets Magazine interview upon his Christmas album's release in 2005 [see Backstreets #83/84]. Now, with the holidays upon us and the To:Kate CD available again -- and with the Kirk family still in need of support -- I thought I'd check back in with the bass man, who was kind enough to chat via email in between European tour stops.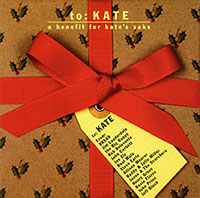 What has happened with the Kirks in the last two years?
Unfortunately there's not a happy story to tell, as we recently lost Kate's older sister, Caroline. With her passing, the realization of the severity of this disease is in everyone's heart. The cord blood transplant that Kate received was successful in that her body is now producing the enzyme it was lacking. This is but one aspect of the disease. Neimann-Pick is a very rare disease and not a lot is known. Kate is attending her special needs school and is developing in some areas, but much more needs to be known. The tests, drugs and special care continue to be a financial drain on top of the emotional one. But there is always hope for more knowledge in order to turn the deterioration around.
Have you seen For Kate's Sake make a big difference in their lives? How was the response to your To:Kate album?
The CD project was met with great enthusiasm, and it really helped to raise awareness along with some financial help. Kate continues to get the best help available. We knew this would be an ongoing thing for years to come, and there has been continuing help and concern. And lot have people have expressed their happiness in the CD project simply on a musical level -- having some new Christmas music to enjoy.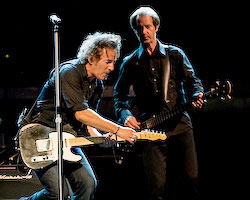 How's the Magic tour going so far? Have you managed to avoid that bug that's apparently going around?
The tour is going great, and the European audiences have been fantastic. The response to the new CD has been fantastic, too, and it has built during our tour. We will be continuing to tour into the summer, returning to the States and to Europe. Many of the stadium shows in Europe have sold out in record times. It's an exciting time that reminds me of the Born in the U.S.A. days more than 20 years ago.
The band, I feel, is as good or better than ever, and Bruce's dedication to the cause of the music amazes me nightly. Not to mention the sheer stamina. Even with a stomach virus going around, only one show had to be postponed for one day. Luckily I have avoided the stomach bug and must only endure the jet lag that always takes me over on this trip.
What's it been like having Charlie Giordano on the road with you, and breaking in a new player after so many years? Still getting him up to speed?
Charlie is doing a great job filling some very large shoes. He has worked tirelessly to cover Danny's parts -- and with great calm and humor when he is caught off-guard with the occasional audible that emerges. Everyone looks forward to Danny's healthful return, but we're thankful to Charlie for his grace and capability in the hot seat. The band has helped him jump some hurdles and coached him along, but he has put in a lot of hard work on his own.
Any song you're itching to play that hasn't been on the setlist yet?
I always enjoy the unexpected moments and the requests out of nowhere. They haven't completely stopped, either. We have lost track of the number of songs that are available to pull out at any time. I personally would like to be able to hold up a sign saying "Point Blank" or "From Small Things," but we can't play 'em all (or can we?).
We've spotted you actually stepping up to sing background vocals -- what the hell?! It's great to see, of course -- what's inspired you?
The audiences have taken to singing along with every word, which is infectious. I have to join in.
I also want just to thank all of the fans, new, old and in-between, for all their support and wish all a terrific holiday season.
Merry Christmas one and all,
Garry
Order the To:Kate CD from Backstreet Records now!
We're donating all proceeds from the sales of Garry's Christmas album to For Kate's Sake and the Kirk Family.
Holiday special: To make sure you'll have time to enjoy the music this season, we're shipping all To:Kate orders the same day they're received!
-December 7, 2007 - Q&A by Chris Phillips, photos by A.M. Saddler


YES, VIRGINIA, THERE IS A U.S. STADIUM LEG!
Bruce & the Band to play Giants Stadium in July
Just a week after wrapping up the 2008 European leg next summer, Springsteen and the E Street Band will begin an outdoor U.S. leg, starting at the Meadowlands. Just announced today: three nights at Giants Stadium, July 27, 28 and 31. Tickets go on sale December 15 at noon.
-December 7, 2007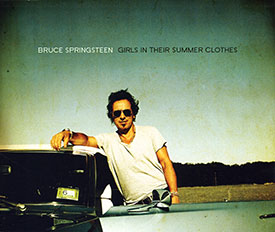 GIRLS, GIRLS, GIRLS
"Girls in Their Summer Clothes" is slated to be the next single from Magic, with a video filmed in late November on the Jersey Shore.
Watch the iTunes store later this month for an exclusive bundle of "Girls," featuring that new video, directed by Mark Pellington; Brendan O'Brien's new "Winter Mix" of the song; plus a recent audio concert performance.
-December 7, 2007

ROCK THE VOTE
Wanna give Springsteen's latest record the honor that the Grammys didn't? Vote for Magic in Billboard's "Top Albums of 2007" Readers' Poll.
-December 7, 2007

TICKET ALERT
With onsale date change for Omaha
Get those dialing/clicking fingers loosened up, it's a big couple of days ahead for 2008 onsales...
Friday, 12/7: Charlotte, Greensboro, Charlottesville
Saturday, 12/8: Indianapolis, Portland, Seattle, Houston, Amsterdam, Brussels
Note: The Omaha onsale, originally scheduled for 12/8, has been delayed a week, now set for 12/15 at 9 a.m.
For links and further details, see our Tour/Ticket Info page.
-Updated December 6, 2007

SPECIAL SIRIUS HOLIDAY OFFERS
With E Street Radio v2.0 now entering its third month on SIRIUS Satellite Radio, it's a whole lot of Bruce for your earhole -- 24/7, in fact. That includes live recordings, studio outtakes, and guest DJs (plus yours truly providing daily on-air news updates).

If you don't have SIRIUS, now's a good time to give it a try, as they have a special offer for Bruce fans. Get a free radio when you buy a $49.99 pre-paid subscription card, or a new, primary 3-month subscription.
To see all the special E Street Radio holiday offers from SIRIUS, visit www.sirius.com/bruceoffer. Offers end 12/31/07.
-December 6, 2007

IN ANSWER TO YESTERDAY'S QUESTION...
Apparently not.
Yes, we've been constantly reminded over the years that the Grammy finger is anywhere but on our pulse. The Rising losing Album of the Year in '03 wasn't the first moment of incredulity... who else remembers Lionel Richie in '85? Yet try as I might to stop paying attention, I still can't seem to look away. And in fact, I'm still rubbing my eyes and looking again at the newly announced five nominees for the "Album of the Year" Grammy:
Foo Fighters - Silence, Echoes, Patience & Grace
Vince Gill - These Days
Herbie Hancock - River: The Joni Letters
Kanye West - Graduation
Amy Winehouse - Back to Black
Wow. Wow. Not even nominated? Well, if they're not going to give Magic Album of the Year, at least they ripped off the band-aid fast this time. And speaking of the Grammy finger, I guess that makes it clear exactly which finger we're talking about.
Springsteen does get nods in four categories:
Best Solo Rock Vocal Performance - "Radio Nowhere"
Best Rock Instrumental Performance - "Once Upon a Time in the West"
Best Rock Song - "Radio Nowhere"
Best Rock Album - Magic
So it's not a total snub. But I've got a dollar in my pocket sez they'll all be awarded off-screen.
See the full 50th Annual Grammy Awards Nominations here.
-December 6, 2007

MAGIC'S MOMENT?
Stay tuned for Grammy nominations, to be announced Thursday, with Magic as a serious contendah. (It surely would be even if it weren't an all-around crappy year for popular music.) "Springsteen likely to score," predicts USA Today, citing Amy Winehouse and Kanye West as other likley multiple nominees. All kinda fun to follow, as long as you're mentally prepared for somebody like Daughtry to take home Album of the Year.
-December 5, 2007

UPCOMING BENEFIT TICKET AUCTIONS
A special package for the March 28 Rose Garden show will be up for bids Thursday night December 6 at the UNWRAPPED holiday auction in Portland, OR. Benefitting PICA, the Portland Institute for Contemporary Art, the lot for Bruce's Portland show consists of "16 tickets & 4 parking passes, full menu catering options, wet bar with refrigerator & ice maker, fully furnished lounge area, multiple LCD televisions, attentive service and concierge staff."
On eBay, two pairs of VIP tickets to the December 19 London show are up for bids, donated by Springsteen to benefit Crisis, a UK organization that fights homelessness. The auctions are here and here. Winners will be able to choose either first tier loge seats or pit tickets, and will also receive passes to the E Street Lounge. Bidding ends December 13. Crisis volunteers will also be taking donations at the concert.
-December 5, 2007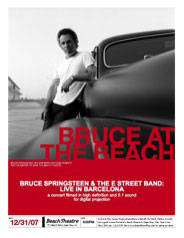 WHAT ARE YOU DOING NEW YEARS' EVE?
Live in Barcelona debuts on the silver screen
In Cape May, NJ, they'll be ringing in the New Year with a special event: Springsteen has given the Beach Theatre his Live in Barcelona E Street Band concert film, which has never been shown theatrically, for a special benefit event to help save this historic theater. The film -- all two hours and 42 minutes of it -- will be shown for the first time in full HD digital projection and 5.1 surround sound at this New Year's Eve party, with all proceeds going to the Beach Theatre Foundation. And if you can't make it for New Year's, they'll also be screening the movie on January 4, 5 and 6. For tickets and more information, go to beachboxoffice.com.
The Courier Post reports that this will be "the first of many historic theaters to screen the New Jersey band's concert film," and provides more background:

The alliance with the [Beach Theatre Foundation] comes courtesy of Emerging Pictures, which has partnered with Springsteen in making films and other special events available through its state-of-the art digital cinema system.

Company chairman Barry Rebo shot some of Springsteen's earliest performances so the two have a long relationship, said Giovanni Cozzi, president of Emerging Pictures.

"Springsteen has reached out to help support classic theaters, many of them places he first played. These foundations share the same values he expresses," Cozzi said.
-December 5, 2007

REMEMBER THAT TEXTILE MILL ACROSS THE RAILROAD TRACKS?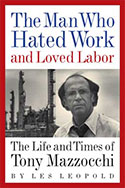 The Man Who Hated Work and Loved Labor: The Life and Times of Tony Mazzocchi is a new book on the noted labor leader by Les Leopold -- with an endorsement from Springsteen. Leopold tells Backstreets: "Mazzocchi's work and Bruce connected when the 3M facility (which was represented by Mazzocchi's union) shut down in Freehold, NJ. A major battle erupted and Bruce came in to support the workers in a campaign designed in large part by Mazzocchi -- some of that campaign is covered in the book. Based on that connection, Bruce wrote a blurb for the book jacket."
Bruce writes: "When a company comes and exploits natural resources, there are laws that say they have to replenish those resources. Yet when a company comes into a town and exploits our greatest natural resource, our workers, there are few laws that protect the people. Tony Mazzocchi spent his life fighting to protect workers like those who lost their jobs in my hometown and all over the country. We still don't have those laws. But maybe this book can inspire us to move a few steps closer."
For more information, see booknoise.net.
-December 5, 2007

BIG IN NORWAY
With the 2008 stadium onsale hot on the heels of last night's arena show, it's been a Boss couple of days in Norway (local press and links here). After the first Oslo '08 show sold out this morning in just 90 minutes, a second show at Valle Hovin Stadion was added for the following night, July 8.
-December 5, 2007

STEFANKO SIGNING IN DC THIS WEEKEND
Springsteen photographer-extraordinaire Frank Stefanko will be hosting a book signing this Saturday, December 8 in Washington, DC, from noon until 5 pm at the Ralph Lauren store in Georgetown (1069 Wisconsin Ave. NW). In addition to his Days of Hope and Dreams book, a selection of Frank's limited edition photographs of Bruce Springsteen will be on exhibit and for sale through December 31.
-December 4, 2007

HEATING UP IN SCANDINAVIA
In Sweden: after the Fourth of July show sold out in 30 minutes today, a second show was added (and also sold out) for Goteborg's Ullevi Stadium, July 5.
In Norway, as Lars Flugsrud tells us: "The Oslo 2008 ticket sale is tomorrow, and with the show this evening at the Oslo Spektrum, it will mean queuing up to get into the pit, seeing the show, and then spending the night out for 2008 tickets to be released tomorrow. At least the weather forecast is good -- only -5 degrees forecasted for tonight!"
Click here to see Nils and Steve meeting fans in Oslo, the first of the band's three-city '07 Scandinavian swing.
-December 4, 2007

FOR YOU BOOKS SHIPPING OUT NOW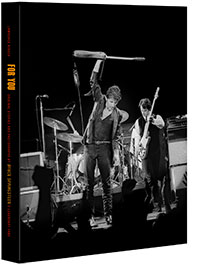 If you've ordered the new For You book from Backstreet Records, your copy will be winging its way to you shortly, if not already. Though we started taking pre-orders for this hardcover in October, the book wasn't actually finished until November, so we're in the midst of packing and shipping orders now, with the fulfillment machine cranked up in high gear.
Thanks for your patience as we get yours to you!
The five lucky winners of our pre-sale drawing for a limited edition print of the cover photograph are:
Ian Henry (London, UK)
Lance Green (Southbridge, MA)
Michelle Maiatco (New Market, MD)
Kipp Sandvig (Sierra Madre, CA)
Anna Marie Wilson (Mooresville, NC)
And thanks to everyone who ordered from us.
-December 3, 2007

2008 TOURWATCH
U.K. dates announced today, many onsales impending
Be sure to keep an eye on our Tour/Ticket Info page these days, as the 2008 European leg is filling in on a daily basis, and onsale info is being updated regularly, too.
On the European front, three UK dates for '08 were added to the schedule today: Manchester (May 28); London (May 30 at Emirates Stadium, home to the Arsenal Football Club); and Cardiff (June 14). All three go on sale Wednesday, along with Oslo and Milan. Other recently added stops are Helsinki, Gothenberg, and a second Barcelona date -- those three are on sale tomorrow, December 4.
The next U.S. onsales happen on Friday, when tickets for 2008 shows in our neck of the woods become available (Charlotte, Greensboro, and Charlottesville), followed by a whole bunch more on Saturday.
-December 3, 2007

ROCK AND ROLL HIGH SCHOOL
Tune in tomorrow to catch Little Steven on This Week with George Stephanopoulos. Steve will be on the "Voices" segment, talking about his education initiative, the Rock and Roll Forever Foundation. This Week airs Sunday mornings on ABC, check your local listings.
-December 1, 2007

IS THERE ANYBODY ALIVE OUT THERE? NO?
The arena was virtually empty, but thanks to VGTV cameras we get look at soundcheck from the European opener in Madrid.
-November 30, 2007

NETHERLANDS CONCERT POSTPONED
Due to illness, tonight's show moved to tomorrow
The official word: "Tonight's Bruce Springsteen & The E Street band concert in the Gelredome in Arnhem will be postponed until tomorrow, Saturday, December 1st. Bruce Springsteen won't be able to perform tonight, due to a severe cold. He states he is very sorry to have to postpone tonight, but does want to give the fans the show they deserve. And at this point, he feels he won't be able to do so. However, he is convinced his health will be recovered sufficiently tomorrow night, to perform 100% up to standards."
For more information, see www.mojo.nl. Feel better, Bruce!
-November 30, 2007

THINKING OF DANNY, AS THE BAND SOLDIERS ON...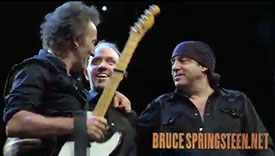 Don't miss the video on springsteen.net now of "Danny's Night in Boston, November 19, 2007," capturing that special moment in Danny Federici's honor at the end of the U.S. leg.
We've also been hearing from a lot of fans wondering how they can reach Danny with a card, letter, e-mail, or other gesture of support. We don't have an address for him, but we can suggest that if you're so moved, you can make a donation in his honor to the organization Danny has been supporting, the Melanoma Research Foundation, at melanoma.org.
-November 29, 2007

DUBLIN TICKETS SELL IN RECORD TIME
After two additional 2008 shows at RDS Arena added to the Dublin ticket frenzy yesterday, local Brian Jordan wrote us to stress "the enormity of Bruce's popularity in Ireland at present.... His three open air shows in Dublin sold within minutes, having led to near riots from fans camped out overnight to get a ticket. I can easily say that if Bruce announced a further three shows in Ireland they'd also sell out. The man has never been as big here." Read more on the record-time Dublin sale in the Irish Independent.
-November 29, 2007

TICKET ALERTS
E Street Band goes open-air in Europe for 2008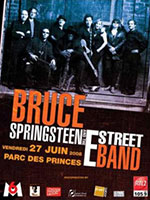 Be sure to keep an eye on our Tour/Ticket Info page, as 2008 European dates are starting to fill in. First up is the Dublin opener on May 22: tickets go on sale tomorrow (Wednesday) at 0900, with the possibility of two more Dublin dates to be added. Also now on the schedule: two dates in Germany, Dusseldorf (6/16) and Hamburg (6/21 -- tickets available now!); San Siro stadium in Milan (6/25); Paris (June 27); and the likely leg-closer at Camp Nou in Barcelona (7/19).
Update: During the onsale this morning, two additional Dublin shows were added for the RDS Arena: May 23 and May 25.
-Updated November 28, 2007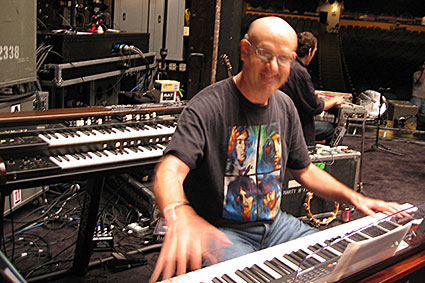 BREAK A LEG, CHARLIE!
As Bruce and the gang kick off the first European leg of the Magic tour tonight in Madrid, it's Charles Giordano's first show playing with the E Street Band.
And don't forget: European concertgoers, we're counting on you for setlists and show reports. For both the website and the magazine, we hope you'll tell us about what you see. Please send your reports to onstage@backstreets.com (and scans of ticket stubs, ads, photos, etc. to images@backstreets.com). Thanks as always for the help!
-November 25, 2007
THANKSGIVINGTIME IS HUNGERTHON TIME
And thanks to W.H.Y., you get when you give!
World Hunger Year, a favorite charity of Springsteen's (and the organization that helps him connect with the food banks he supports), has been fighting hunger and poverty since 1975. Each Thanksgiving season, W.H.Y. has their annual Hungerthon, to help that fight. This year, your Hungerthon donation can garner you some cool Springsteen stuff, including a limited edition Springsteen T-shirt, sweatshirt, a new CD with a rare Bruce track... or all three, depending on the level at which you donate. Check the donation form here for details.
The CD is SERVE2, only available from W.H.Y. and Hard Rock International (at all Hard Rock properties and online). Kicking off this collection of rare and unreleased material is Springsteen doing "The Ghost of Tom Joad" live in Dublin with his Sessions Band, a track previously only available on the Live in Dublin PBS Exclusive EP. SERVE2 also includes Springsteen aficionados The Hold Steady doing their "Arms and Hearts," Bob Dylan's "The Ballad of Hollis Brown" live from Carnegie Hall in 1963, Jackson Browne live from Australia, and more. All net proceeds from will be donated directly towards Artists Against Hunger & Poverty (AAHP), a special artist-directed program of WHY.
Also supporting Hungerthon this year, as usual, is Joe D'Urso -- his annual W.H.Y. Hungerthon Benefit Concert is Saturday night, 11/24, in Nyack, NY. [See our concert calendar, just updated, for other non-Springsteen dates of interest, including Bobby Bandiera's holiday benefit at the Basie, Southside Johnny's New Year's Eve concert, and more.]
-November 23, 2007

DANNY FEDERICI TAKING LEAVE OF ABSENCE
Giordano to fill in as Danny fights melanoma
The moving Magic performance in Boston on Monday night [see review here] was clearly in Danny Federici's honor, though much went unspoken. We now have an official statement, addressing his health as well as the next leg of the Magic tour:
Danny Federici, an original member of the E Street Band, is taking a leave of absence from the current Bruce Springsteen and the E Street Band tour to pursue treatment for melanoma. Charles Giordano, who played with Bruce as a member of the Sessions Band, will temporarily fill in for Danny until he is able to return. Federici has been playing keyboards with Springsteen since the late Sixties. Said Springsteen, "Danny is one of the pillars of our sound and has played beside me as a great friend for more than 40 years. We all eagerly await his healthy and speedy return."

Federici has been actively supporting the Melanoma Research Foundation and its Wings of Hope Gala, honoring Dr. Paul Chapman.
Our thoughts are with Danny, with prayers and high hopes for successful treatment. Our thoughts are with Charlie, too, as he prepares to step into some big shoes as the Magic tour rolls on. From what we saw on the Sessions tour, if anyone can do it, he can.
-November 21, 2007

HAPPY NEW YEAR!
Full North American leg for March/April now official
North Carolina! Florida! Texas! The Pacific Northwest! Omaha, Nebraska! Did we mention North Carolina? The full E Street Band itinerary for the first North American leg of 2008 was announced today, filling in a whole mess of dates around the Hartford, Anaheims, Atlanta, etc., that we already knew. And according to today's Shore Fire press release, this is only the "first series of tour dates for 2008." Next to go on sale are Hamilton, Ontario on Friday, and Montreal on Saturday. Check out all the new dates on our Tour/Ticket Info page.
-November 20, 2007

HELP "BRUCE BRUNCH" FEED THE HUNGRY
With Thanksgiving just around the corner, it's time for the Second Annual All-Request Bruce Brunch to benefit the FoodBank Of Monmouth & Ocean Counties. The Bruce Brunch is the weekly two-hour all-Springsteen radio show on Jersey's Home Of Classic Rock, 105-7 The Hawk, Sunday mornings from 9 to 11, hosted by our pal Tom Cunningham. (It streams online, for anyone outside of broadcast range.) Requests will be taken this Sunday morning (11/18) and played back the following week (Sunday 11/25). For a $25 donation to the FoodBank, Tom will play any Bruce song that you'd like to hear (well, almost any song: "Reno"? Priceless, and not happening). Only 20 requests will be taken, so you'll want to make sure that you get your request/dedication in early. The number to call at the FoodBank is 732-918-2600 ext 224. All the money raised will stay local and go a long way to help folks who otherwise wouldn't have a nicer Thanksgiving.
-November 17, 2007

SCHLEMEEL! SCHLEMAZEL!
Just added to the Tour/Ticket Info page: a 2008 show in Milwaukee, March 17 at the Bradley Center. Tickets go on sale the Monday after Thanksgiving, November 26 at 10 a.m.
And don't forget the even-more-impending onsales, three tomorrow and two more on Monday!
-November 16, 2007

BOSTON CONCERT INFO
Beantown's the last stop before Europe, the final two shows of this North American leg. For general admission lottery info and other details for Sunday and Monday nights, check tdbanknorthgarden.com.
-November 16, 2007

PITTSBURGH CONCERT INFO
Pittsburgh General Admission ticketholders, visit mellonarena.com for entry policy and details for the Wednesday night show.
-November 13, 2007

TICKET ALERT: FIVE MORE 2008 DATES ON SALE SHORTLY
St. Paul is no longer the only city on the 2008 itinerary: a total of six U.S. shows are now official for next year, scheduled between late February and late April. That includes Bruce and the E Street Band's return to Hartford, two stops in upstate New York, another one in Southern California, and the first Magic show south of DC, in Atlanta. So we're looking at five onsales in the coming week:
On sale Saturday, November 17: Rochester (3/6), Anaheim (4/7), and Atlanta (4/25)
On sale Monday, November 19: Hartford (2/28), and Buffalo (3/7)
See our Tour/Ticket Info page for venues, links, and additional onsale info.
-Updated November 13, 2007

I HAD A FRIEND, WAS A BIG BASEBALL MANAGER...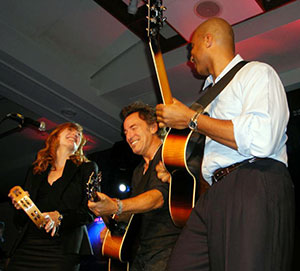 Last night's fifth annual Joe Torre Safe at Home Foundation benefit featured Bob Costas as Master of Ceremonies, a whole host of Yankees in the crowd, Billy Crystal cracking wise, and Bruce Springsteen batting clean-up with a rollicking half-hour acoustic set. Saying that he had been a Yankee fan since he was a kid, Bruce offered a riff on the Beverly Hillbillies theme about Torre heading for Beverly (Hills, that is...) which went right into a hard-strummed take on the Rivieras' "California Sun," with modified lyrics also in honor of Torre: "I'm goin' to where the palm trees are swayin'/Nobody gonna second-guess just who I'm playin'!" [Watch video here.] After "Working on the Highway" it was a new original, written for the occasion in the spirit of "I'm Turning Into Elvis" and "Freehold," call this one "Yankees Win." Bruce joked it would be the first cut on his next album, and the song got a little ribald as he described Patti in a Yankee hat and pinstripes... Everyone got a chuckle. Solo takes on "Thunder Road," "Bobby Jean" (with Bruce struggling to find the melody) and "Dancing in the Dark" followed. Finally, he asked Patti and Bernie Williams to join him. Patti grabbed a tambourine, Bernie a guitar (and he knows his way around it, for sure). Bruce made a joke about Bernie getting too old for baseball -- but he's just a baby if he goes into the music business at this point. They let it go with a great rendition of "Glory Days," the song about not crying over what you had and what you lost. Bernie did a wonderful jazz interlude during the middle of the song. Patti and Bruce sang together, Bernie and Bruce sang together, and everyone just had grins on their faces. Looking around the room, there were Bob Costas and Joe Torre were singing along, Bernie's kids excited that he's up on stage doing a song with Bruce Springsteen, and just a lot of people happy to get this close to Bruce in such an intimate environment and watch him enjoy himself. This was not a job tonight. This was a favor for a good friend, for a good cause, and it was all wrapped up in Yankee pinstripes. I doubt if next year's benefit will have this same flavor, but these last licks were good.
-Photograph and reporting by Pam Farquhar

For the full song list, and reports from other recent performances, see our Setlists page.
-November 10, 2007

TICKET ALERT: ST. PAUL '08 ON SALE SATURDAY
As announced last week at the concert there, Springsteen and the E Street Band are returning to St. Paul next year: March 16, back at the Xcel Energy Center. Tickets go on sale tomorrow (Saturday, November 10) at 10 a.m. Central, through Ticketmaster. So far it's the only 2008 date on the schedule... but it bodes well, don't it?
-November 9, 2007

DC CONCERT INFO
Next up on the Magic tour: Sunday and Monday nights in Washington DC. Visit verizoncenter.com for General Admission entry policy and details.
-November 9, 2007

A ROCK STAR AND FOUR COMEDIANS WALK INTO A BAR...


In the midst of the E Street Band tour, Springsteen went it alone tonight for the Stand Up for Heroes benefit at New York's Town Hall, playing three songs on acoustic guitar and harmonica. On a bill that also included Robin Williams, Lewis Black, and Brian Regan -- this was a New York Comedy Festival event -- Bruce deferred to the funnymen and went on first. Which was a surprise to many in the crowd -- when's the last time Springsteen was an opening act? Emcee Conan O'Brien introduced him as "the man who stole my drummer," and Bruce corrected him, "No, Conan, I believe you stole my drummer." In keeping with the Comedy Festival setting, Bruce kept it pretty light and offered a corny joke to intro to each song, including the classic "Interrupting Cow" knock-knock joke. But in keeping with the beneficiary of the event (the Bob Woodruff Family Fund, which assists returning vets injured in combat, particularly those suffering from brain trauma) and playing to a good number of soldiers in the front rows, Springsteen dedicated a very apropos "Devil's Arcade" to the veterans and their families. This was the first acoustic version of the song, Bruce adding some "Promised Land"-style percussive effects on the guitar where Max would normally be doing his thing. On either side, he opened with "This Hard Land," and closed with "Thunder Road." No "Fire" duet with Robin Williams, unfortunately. But Bruce wasn't quite done yet -- after his performance, he rolled onstage on his '91 Harley, which was auctioned off and raised north of $80,000 for the cause.
-November 7, 2007

CLEVELAND CONCERT INFO
See theqarena.com for General Admission entry policy and details for Sunday night's show.
-November 3, 2007

POLISH UP THIS CHROME, BABY!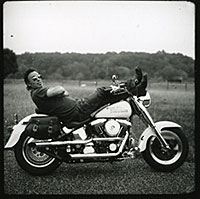 As we've mentioned before, Springsteen is doing quite a lot to support the Bob Woodruff Family Fund, offering a meet-and-greet concert package that's currently up for auction, as well as playing the Stand Up for Heroes benefit next week at New York's Town Hall. Now, he's even donated his motorcycle.
Bruce's 1991 Harley Davidson Fat Boy, which he put 9,198 miles on, is on the auction block now at charityfolks.com -- it'll be part of the live auction at the November 7 Stand Up for Heroes event, with proxy bids placed on behalf of the online auction's winner. Along with the Harley, the high bidder will also receive a print of the photgraph pictured here, signed by Springsteen. Of course, not every gypsy biker can likely afford this one... but it's quite a piece of memorabilia. Online bidding ends 11/7 at 6 p.m. Eastern.
In addition: Charityfolks.com also has one last pair of tickets to Wednesday's Stand Up for Heroes show up for bids. This auction ends on Monday 11/5 at 6 p.m. Eastern.
-Updated November 2, 2007

RADIO NOWHERE
Sometimes the headlines just write themselves
Earlier this week, Roger Friedman reported on foxnews.com that, even though Springsteen's new album just spent two weeks at number one, "Alas, there's a hitch: Radio will not play Magic. In fact, sources tell me that Clear Channel has sent an edict to its classic rock stations not to play tracks from Magic." The Down With Tyranny! blog followed up with an eye on the political forces at work.
What does Clear Channel have to say? Well, enter their Know the Facts no-spin zone, and you'll see this addressed at the very top.
MYTH: Clear Channel Radio directed its stations not to play music from Bruce Springsteen's "Magic" CD.
FACT: Although Clear Channel owns only 8% of the radio stations in the U.S., in the first days after the CD's release, airplay of music from the disc on Clear Channel Radio stations represented a full 21% of the total radio airplay in the U.S., including airplay from satellite radio. That's according to airplay stats from Mediabse. Further, Clear Channel Radio stations played music from the CD more than twice as much as the nearest radio broadcaster, which came in at less than 10% of total U.S. airplay.
Which is not exactly mythbusting -- there's no denial of the charge here, just figures from "the first days after the CD's release." And in the weeks since?
-November 2, 2007

ST. PAUL CONCERT INFO
See xcelenergycenter.com for General Admission entry policy and details for Friday night's show.
-November 1, 2007