HAPPY HALLOWEEN 2019!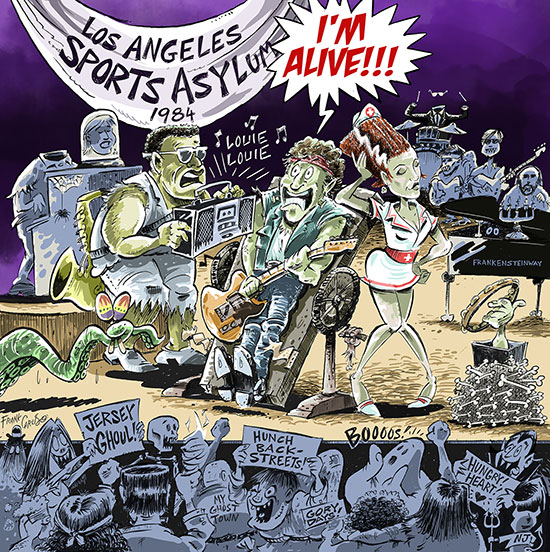 Thirty-five years later, Dr. Frankensteen's Monster Returns for Halloween
Halloween night 1984, 35 years ago tonight, Bruce Springsteen and the E Street Band were on stage in the middle of a seven-night Los Angeles stand on on the Born in the U.S.A tour. Just for us, artist Frank Caruso has imagined what that night's special trick-and-treat opener looked like at the L.A. Sports Asylum — er, Arena.
Dave Marsh set the scene in his second Springsteen biography, Glory Days: Bruce Springsteen in the 1980s: "The final night of the Los Angeles run was Halloween, and Bruce entered like Screamin' Jay Hawkins, lying upon a black coffin-like box amidst billows of dry-ice smoke and spooky music."
A well-preserved audience recording captured the aural portion of the evening for posterity:
"Midnight in Dr. Frankenstein's laboratory..." intoned Springsteen [while still lying flat on his back, by Marsh's account].

"They tried to awaken the monster. They tried all sorts of scientific methods, such as the mystery of electricity." [Cue the electrical lighting and sound effects.]

"Then they tried to awaken his sexual perceptions." [Patti Scialfa, "outfitted in a nurse's uniform, bent close."]

"Then they performed an attack on his auditorial system!" [Clarence Clemons "held a boom box playing 'Louie Louie' to his ear."]

"But nothing seemed to work! And they tried Professor Frankenstein's Foolproof Monster Wake-Up! Then out of the darkness came... The Mystery Man." [Cue a bit of Ennio Morricone's classic theme to The Good, The Bad & The Ugly.]

Again according to Marsh, Jim McDuffie, who was Springsteen's personal assistant at the time, "came out and presented him with a guitar, and Bruce leaped off the box and cranked into Jerry Lee Lewis's 'High School Confidential.'"

On the audience recording, at the end of the performance, of course you can hear Springsteen — aka Dr. Frankensteen's Monster — exclaim, "I'M ALIVE!"
For the 35th anniversary of that Halloween show — and with little visual record of the special opening number unearthed to date — we asked artist Caruso, who collaborated with Springsteen on the Outlaw Pete picture book, to give us his own unique take on what was conjured onstage on October 31, 1984. As you can see for yourself, he knocked it out of the park.
Click here to view a larger version of Frank Caruso's illustration
Not only has Frank transformed Bruce, Clarence and Patti into hilarious cartoon versions of the roles they played that night, but he's also "Halloweenified" every other '84-period E Street Band member, along with the audience and even the late, great Sports Arena itself. Enjoy an extended period of happy Halloween hunting as you take it all in.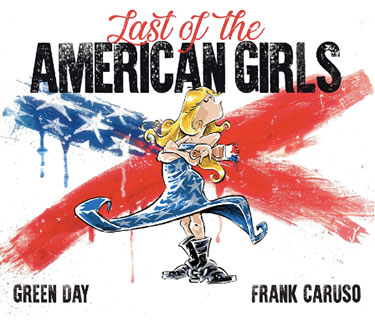 Caruso also told us that he has another treat still bubbling in the cauldron for a bit longer, and it's another illustrated-book song adaptation à la Outlaw Pete. This time around he'll be collaborating with Green Day on an adaptation of their song "Last of the American Girls." The book will be published in 2020 by HarperCollins, in conjunction with Green Day's next album and tour. Look for more details here at Backstreets.com as they become available.
Happy Halloween, everybody! May the mystery of electricity never blow your jukebox's fuse, and may you keep hoppin' and boppin' through the dark. Because that's where the next morning is… as long as you can make it through All Hallows' Eve.
- October 31, 2019 - illustration by Frank Caruso - Shawn Poole reporting - special thanks to Flynn McLean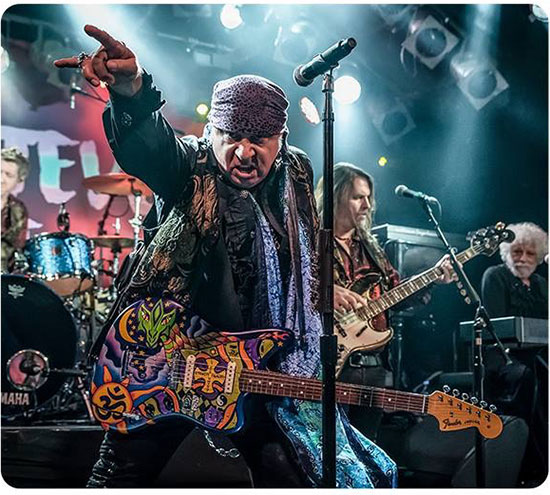 HAVING A PARTY... IN STEVIE'S HONOR!
Catch Steven Van Zandt, Southside and the Jukes, together on November 23
This weekend, Little Steven returns to the stage for what turns out to be a rare appearance this fall, with Saturday night's Boston-area show one of only two Disciples of Soul stops that didn't have to be cancelled for health reasons. One last chance to catch the tour will be next Wednesday, November 6 in NYC, which is being filmed for release.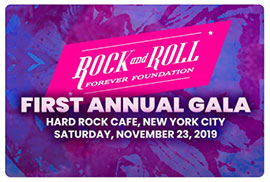 But that's not your last chance to see Stevie in person this year. The Rock and Roll Forever Foundation's First Annual Gala will honor their founder on November 23 at the Hard Rock Cafe in Times Square. Freshly annointed New Jersey Hall of Famer Southside Johnny will perform with the Asbury Jukes, Drew Carey will host, and New Jersey governor Phil Murphy will also be on hand for the award presentation, honoring Stevie for his dedication to education.
Individual tickets are available now via ticketweb.com. If you'd like to further help the cause, sponsorships and VIP packages are also available, with more info at that link and at TeachRock.org. All proceeds benefit Steven's TeachRock national K-12 curriculum initiative. If you're among the believers, get there if you can!
- October 29, 2019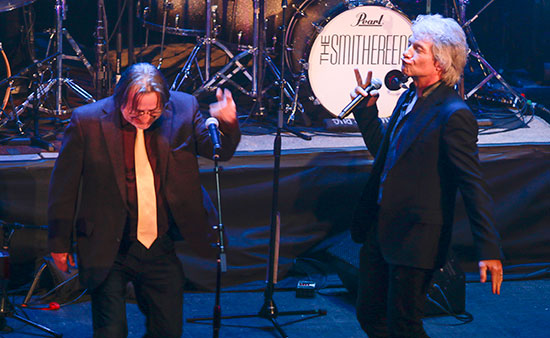 IT'S BEEN A LONG TIME
Garry Tallent inducts the Smithereens, Jon Bon Jovi does the honors for Southside, last night at the NJ Hall of Fame Induction in Asbury Park
The New Jersey Hall of Fame Red Carpet Induction Ceremony will be leaving Asbury Park's Convention Hall after this year — the Hall of Fame Museum, formerly a traveling pop-up exhibit, now has a permanent home at the American Dream mall in the Meadowlands — and the Paramount bid adieu to the event in style at last night's Class of 2018 extravaganza.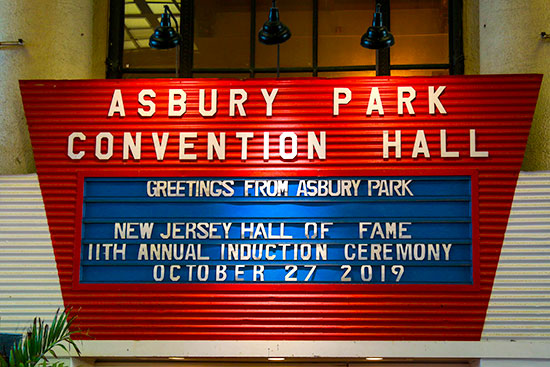 The latest group of Hall of Fame inductees includes everyone from literary figures Peter Benchley and George R. R. Martin, to stage and screen powerhouses like Jason Alexander, to gridiron legends Bart Oates and Harry Carson of the New York Giants. But it was clear from the beginning that one of the most vocal presences in the audience was there to support the musician inductees on the bill: The Smithereens and Southside Johnny Lyon.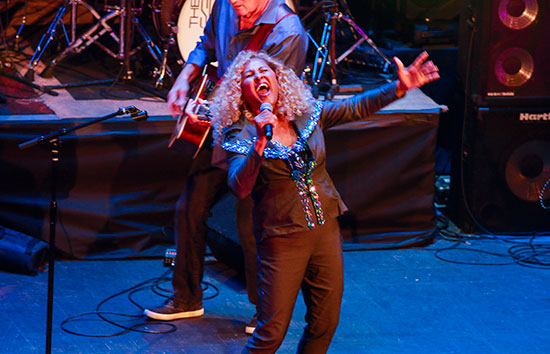 Fortunately, the house band — Jon Bon Jovi's "other" band, the Kings of Suburbia — were more than up for the challenge, interjecting appropriate walk-on music throughout the ceremony and ably backing not only Southside and the Smithereens, but the one and only Darlene Love [above]. In the house to induct her friend, philanthropist/restaurateur Tim McLoone, Ms. Love opened the evening with performances of Steven Van Zandt's "Among the Believers" and "River Deep, Mountain High."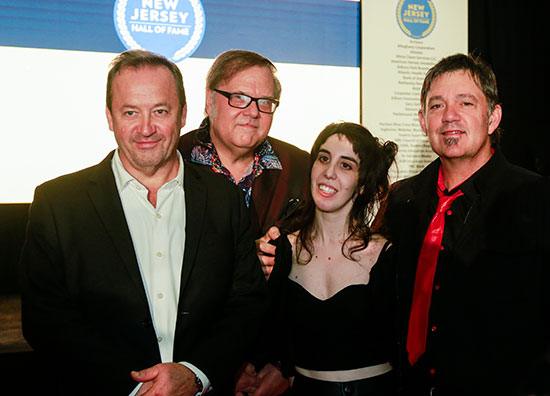 The Smithereens were the first musician inductees on the bill, and original members Jim Babjak, Mike Mesaros, and Dennis Diken accompanied the late Pat DiNizio's daughter Liza [together above] onstage to accept the accolade. Inducting the band was none other than E Street bassist extraordinaire Garry W. Tallent [VIDEO], who had reconnected with the band during rehearsals for his post-9/11 Alliance of Neighbors show at Red Bank's Count Basie Theatre back in 2001.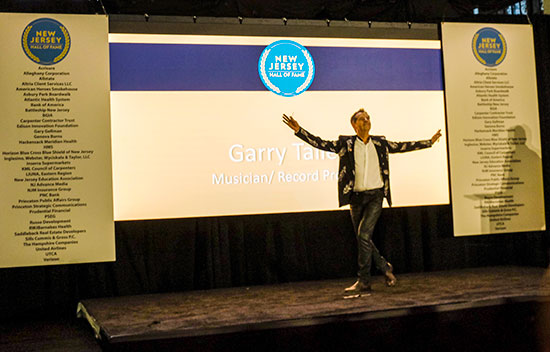 According to Tallent, the band's appeal is nothing overly complicated — they're a basic four-piece band who modeled themselves after The Beatles, are "in it for all the right reasons," play "fresh, current pop music," and do it well. Prior to the show, Tallent, who normally assumes a fairly low profile in public appearances, was given a local hero's welcome on the red carpet, beaming as he basked in the unusual glow of an onslaught of microphones and photographers.
Speaking of the red carpet, there was much pre-show buzz regarding Southside Johnny — rumor had it that Lyon would neither walk the carpet nor perform. Jon Bon Jovi would be inducting his longtime friend and mentor [VIDEO]; how would bandleader Carl Gentry and the Kings of Suburbia do justice to the Jersey Shore legend? Well, perhaps some backstage arm-twisting had occurred, because the notoriously curmudgeonly Southside, after accepting his award with usual aplomb, did not bolt for the exit, but instead, to the delight of the audience, walked out to stage right and grabbed a mic.
As Lyon has never been one for awards, accolades, or ceremonies of any kind, it was kind of a minor miracle that the Ocean Grove native was even in the building. That being the case, any performance at all would have been the proverbial icing on the cake. So while the selection of Jukes' signature "I Don't Wanna Go Home" was no great surprise to anyone, it was nonetheless heartwarming to see Lyon trade lead vocals with his friend and sometime unofficial bandmate.
Jon Bon Jovi, the obvious impetus behind Southside's presence and participation in the affair, was clearly moved.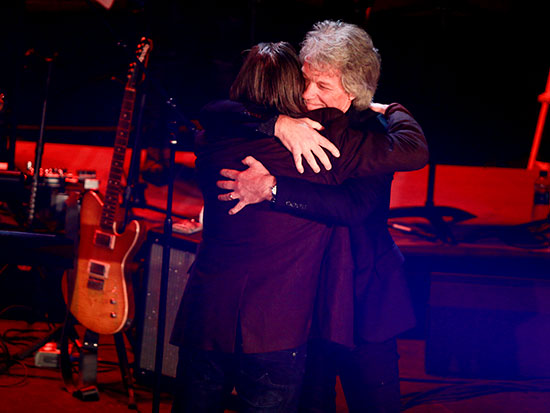 "Without Southside Johnny, there never would have been a Jon Bon Jovi," he said at the outset. Indeed, in addition to moral support early on, Lyon and the Jukes had occasionally also offered opening slots to a struggling Bon Jovi and a couple of his early bands over the years, and in 1990 added him as an honorary band member for a string of shows promoting their collaboration on Better Days. Jon had worked hard and persisted because he "always wanted to be the in Asbury Jukes." For him, "coming to Asbury Park was like going to church," and he was learning from the master.
For his part, Southside was fairly brief in his comments. "It's been 50 years since I started. Who woulda thought?" he cracked.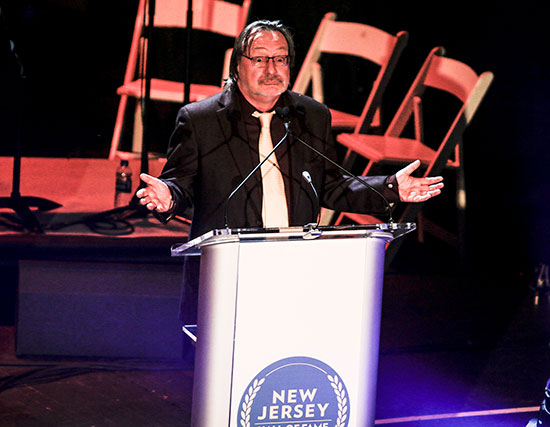 "I'd like to thank two people," Lyon continued. "No, make that three. I'd like to thank the fans, and my mom and dad." Indeed, it has always been Jersey Shore music fans that kept the scene — and Asbury Park itself — going during its most difficult days, so for Southside Johnny, this was just repaying the favor.
And so, the last of Asbury Park's unofficial Holy Trinity joined his old friends Steven Van Zandt and Bruce Springsteen in the New Jersey Hall of Fame, an honor he had long deserved but never dreamed of long ago on the streets of Ocean Grove.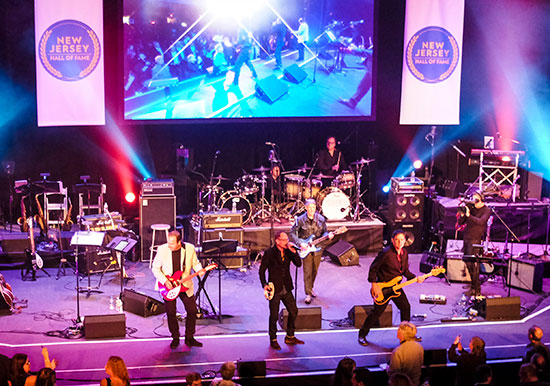 The lengthy evening was finally put to rest with a hard-rocking Smithereens mini-set (with Marshall Crenshaw and Robin Wilson of the Gin Blossoms on lead vocals) consisting of "Blood and Rose," "A Girl Like You," and The Beatles' "I Saw Her Standing There."
Further reading: Marking the occasion, Backstreets interviews with Southside Johnny Lyon and The Smithereens
- October 28, 2019 - Lisa Iannucci reporting - photographs by Mark Krajnak/JerseyStyle Photography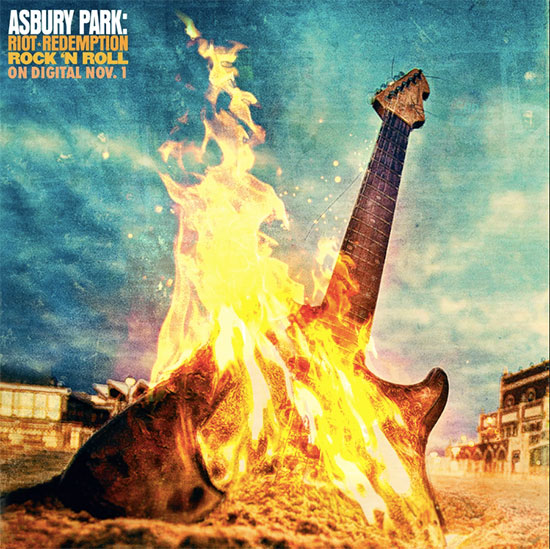 ASBURY PARK DOC COMING TO DIGITAL — SALE TODAY!
Plus, an exclusive clip of Southside at the Upstage, an outtake from the film
After a brief window to experience the documentary in theaters earlier this year, Asbury Park: Riot, Redemption, Rock 'n' Roll is coming to digital on November 1.
Today only (Sunday, Oct 27), Backstreets readers in the U.S. and Canada can celebrate Southside Johnny's induction into the New Jersey Hall of Fame with a special pre-order of Asbury Park: Riot, Redemption, Rock 'n' Roll for only $9.99 — available exclusively on AppleTV/iTunes in North America.
To order this film at this special price, follow these links:
U.S. Link: https://itunes.apple.com/us/movie/asbury-park-riot-redemption-rock-n-roll/id1480509929

Canada Link: https://itunes.apple.com/ca/movie/asbury-park-riot-redemption-rock-n-roll/id1480509929
The documentary features never-before-seen interviews with icons Southside Johnny Lyon, David Sancious, Bruce Springsteen and Steven Van Zandt, and here's some bonus content especially for us: in advance of his induction into the NJ Hall of Fame later today, a never-before-scene clip of the legendary Southside Johnny from the iconic Upstage Club.
Also see our new interview with Southside Johnny here.
Directed by Tom Jones, Asbury Park: Riot, Redemption, Rock 'n' Roll tells the story of the long troubled town of Asbury Park, and how the power of music can unite a divided community. A once storied seaside resort, Asbury Park erupted in flames during a summer of civil unrest, crippling the town for the next 45 years and reducing it to a state of urban blight. A town literally divided by a set of railroad tracks, the riot destroyed the fabled Westside jazz and blues scene, but from the flames of the burning city emerged the iconic Jersey sound.
Asbury Park returns Asbury sons Steven Van Zandt, Southside Johnny Lyon and Bruce Springsteen to the legendary Upstage, the psychedelic after hours club where they got their start, featuring never before seen interviews and performances. Shuttered for four and a half decades, the Upstage remains a perfect time capsule of the Club, which united both sides of the tracks in Asbury and acted as a crucible for young talent. Now, as Asbury Park enjoys its long awaited renaissance, it is music, which has brought it back from the dead.

The film is supported in association with Jersey Mike's, which allows all profits worldwide to be dedicated to promoting and creating music education programs for wide distribution.
- October 27, 2019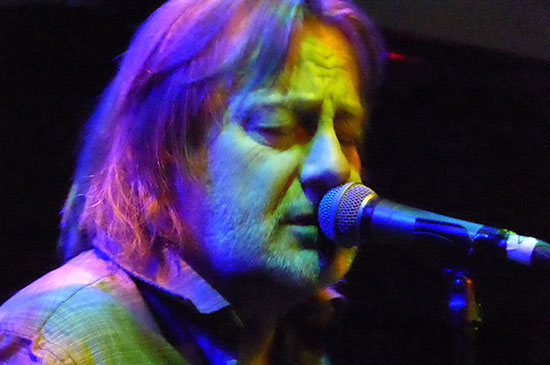 BEFORE THE "ELEPHANT'S GRAVEYARD," A SIT-DOWN WITH SOUTHSIDE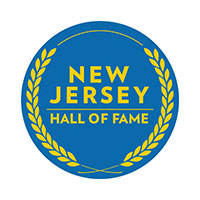 Southside Johnny Lyon and The Smithereens will be among those honored with induction into the New Jersey Hall of Fame over the weekend, part of this year's class for the 11th annual ceremony on Sunday, October 27. The red carpet induction ceremony will be streaming live, beginning at 5:45pm Eastern.
Last December, Southside Johnny Lyon became the first member of the New Jersey triumvirate to reach the end of his seventh decade. Since becoming leader of the band that bears his name more than four decades ago, he's watched numerous musicians pass through their ranks, witnessed the rise and fall of political leaders on both sides of the Atlantic, experienced the analog-to-digital revolution, and returned to New Jersey after spending time living in Connecticut, California, Tennessee, and Delaware. But while the winds of change blew around him, his passion for singing and his sense of humor remained undimmed.
"I'm going to be interred in the elephant's graveyard in Newark.
They were going to put me in the dinosaur museum,
but they were afraid my skeleton would be
too terrifying for the kids."
In advance of his long-overdue induction into the New Jersey Hall of Fame, the road warrior talks to Mike Saunders about the advantages of being an independent artist, the gentrification of Asbury Park, Bob Dylan's radio shows, singing with Tom Waits, ferocious Christians, assorted presidents and prime ministers, Brexit, the decline of Western civilization... and King Richard II.
Read:
SOUTHSIDE JOHNNY'S STATE OF THE UNION ADDRESS
- October 25, 2019 - photograph by Mike Saunders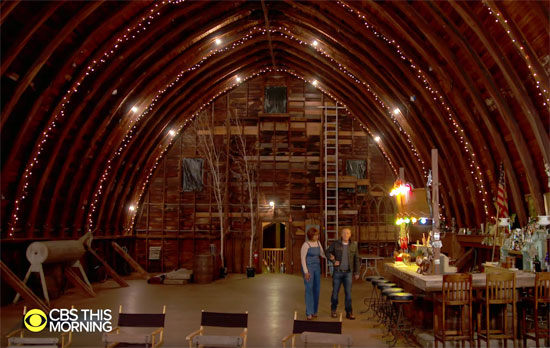 MORE BARN: CBS THIS MORNING, THIS EVENING
"Welcome to Stone Hill Studio, Mr. Springsteen!" So begins the second segment of Gayle King's two-part Springsteen interview, as she welcomes the artist in to their conversation space for CBS This Morning — Bruce's home studio, of course, where the bulk of Western Stars was recorded. In Part 2 they discuss his father, his own parenthood, and his voice — "I never cared for my own voice. I still don't. Listen to it!"
King also asks Springsteen to respond to 45's recent disparaging comments about him: "Are you surprised that he's trash talking you after all this time?"
"Not really. Anything's possible," Bruce laughs. But he goes on to more directly and seriously address the direction of the country:
It's just frightening. We're living in a frightening time. The stewardship of the nation has been thrown away, to somebody who doesn't have a clue as to what that means. I mean, the United States of America is in your care. Do you know what the stakes are? Do you know what that means? And unfortunately we have somebody who I feel doesn't have a grasp of the deep meaning of what it means to be an American.
Back on the morning show, King says, "Listen, Bruce Springsteen rarely gives interviews, as you know, but he's very proud of this movie.... I can't stress enough how good this movie is — it hits theaters today. Yesterday Oprah called me and said, 'It's clear you like Bruce's movie, okay, we got it!'... I really do, you've got to see it on a big screen!"
Watch Part 2 below (and yesterday's Part 1 is here).
On Facebook, CBS This Morning has shared a a behind-the-scenes clip of King's visit with Springsteen — watch it here. There are additional glimpses of Stone Hill Studio, the barn upstairs and down.... and pigs!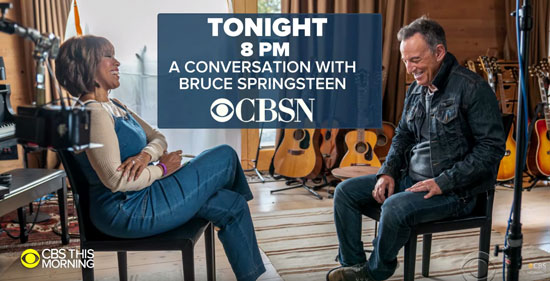 Streaming network CBSN will air Gayle King's full interview in a special called A Conversation With Bruce Springsteen" tonight, Friday October 25, at 8pm Eastern.
- October 25, 2019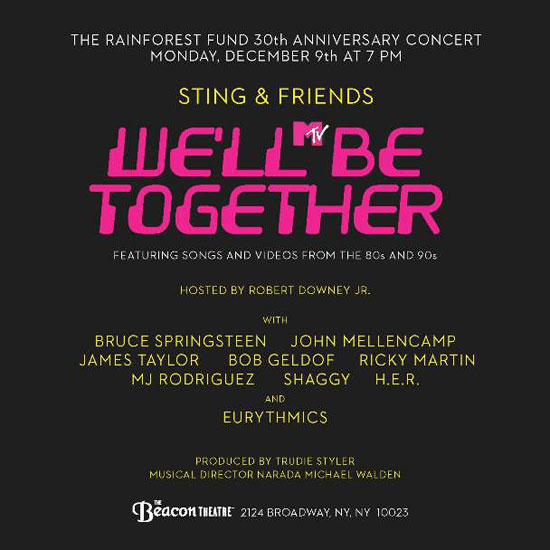 SWEET DREAMS OF SPRINGSTEEN IN CONCERT
Bruce returns to the Rainforest Fund Benefit, December 9
While there's no tour for Western Stars, we've sure been seeing a lot of Bruce Springsteen lately, from TV screens to movie screens, from hometown surprises to international red carpet events. To catch the man in his natural element — performing on stage — here's a reminder that you don't have to completely rely on luck: Bruce actually has a couple gigs on the schedule this fall in NYC.
Springsteen's next scheduled performance is in two weeks or so, when he'll return to play the Stand Up For Heroes annual benefit on November 4. Just announced today, another benefit is on the books for December: Trudie Styler and Sting's "We'll Be Together" concert, the 30th Anniversary Concert for the Rainforest Fund, December 9 at the Beacon Theatre.
Styler, the event's producer, started the Rainforest Fund in 1989, and 17 benefit concerts have been held in the years since. Springsteen has played three times to date: in 1995, for a tribute to Elvis Presley (when he sang with the late, great Jessye Norman); in 2010, when he covered Bryan Adams' "Cuts Like a Knife" and shared the stage with Lady Gaga; and again in 2016, bringing holiday cheer and a "Tenth Avenue" duet with Lisa Fischer.
No telling what unusual pairings this year might bring... but we do know Bruce will be sharing the "Sting & Friends" bill with John Mellencamp, James Taylor, Bob Geldof, Ricky Martin, MJ Rodriguez, Shaggy, H.E.R., and a reuinted The Eurythmics. Robert Downey Jr, will host the evening "featuring songs and videos from the '80s and '90s," with musical director Narada Michael Walden (seen recenly in Clarence Clemons: Who Do I Think I Am?).
Tickets go on sale to the general public via Ticketmaster on November 1; donor packages and "benefit-level" $1,000 tickets are available now (email rainforest@eventassociatesinc.com).
- October 24, 2019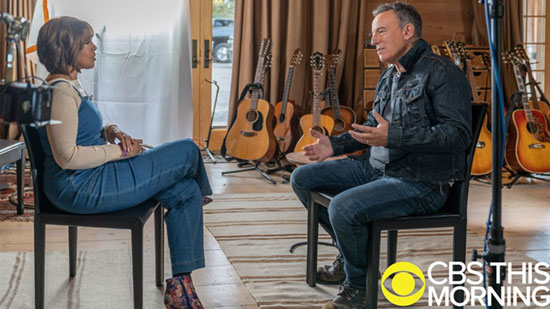 CBS THIS MORNING VISITS BRUCE'S BARN
For CBS This Morning, Gayle King visited Bruce Springsteen in New Jersey to talk Western Stars for a two-parter. Entering the barn where the performance was filmed, arm in arm with Springsteen, King beams: "Oooh! It looks like the movie!" Sitting down for their interview, she describes the new music as a "Bruce Springsteen we've never heard before. It's like it's country... but it's still you."
"The audience wants you to do two things," Bruce responds. "They want you to surprise them, and make them feel at home — simultaneously. The better you can do those things at the same time, the further on down the road you get to go on your journey with your listeners."
The pair also sit down at the bar in the barn and talk about why he's called The Boss, and King rightfully urges everybody to see the movie on the big screen.
Part 1 aired this morning — watch it below — with Part 2 to follow on Friday.
- October 24, 2019

FROM JERSEY IT CAME!
Welcoming The Smithereens into the NJ Hall of Fame
This weekend, The Smithereens and Southside Johnny Lyon will be among those honored with induction into the New Jersey Hall of Fame, part of this year's class for the 11th annual ceremony on Sunday, October 27. The red carpet induction ceremony will be streaming live, beginning at 5:45pm Eastern. Here, longtime Backstreets contributor Bob Zimmerman speaks with and salutes The Smithereens.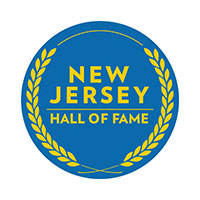 Late fall of 1986 and the music on the radio is as miserable as the weather outside. The mainstream pop charts are devoid of the breakthrough sounds from just a couple years prior. Prince, Cyndi, Michael, Madonna, and Bruce are mostly nowhere to be found. Billboard's top hits are lightweight, adult contemporary fare: "That's What Friends Are For," "Say You, Say Me," "I Miss You," "On My Own." No thanks.
Looking for something new and the "alternative" scene is British heavy with The Smiths, Love & Rockets, Depeche Mode, New Order, XTC and others soaking up airtime on stations left of the dial. R.E.M. is getting through, but Sonic Youth and Hüsker Dü are still too "heavy" to get played. While waiting for Springsteen's Live/1975-'85 to be released, a steady diet of BoDeans' Love & Hope & Sex & Dreams, Elvis Costello's Blood & Chocolate, and Chris Isaak's self-titled debut are in heavy rotation.
Then, out of nowhere, a thick, melodic bass line jumps out of a car's speakers, slicing through the nonsense and confusion. A baritone voice that must have smoked a million cigarettes follows with some arresting observations:
It was long ago
It seems like yesterday
Saw you standing in the rain
Then I heard you say
I want to love, but it comes out wrong
I want to live, but I don't belong
I close my eyes and I see blood and roses
"We were the alternative to the alternative scene," laughs bass player Mike Mesaros. It's October 2019 and he and his fellow remaining bandmates are taking the time to ruminate on the unlikely career of New Jersey's The Smithereens. The occasion? The band's nomination and induction into the New Jersey Hall of Fame, which takes place this Sunday, October 27, at the Paramount Theatre in Asbury Park, NJ.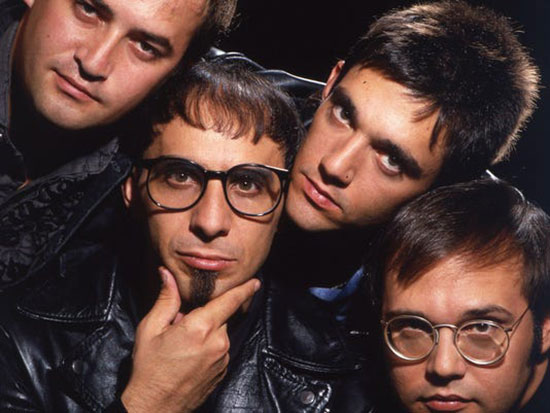 A late-'80s publicity shot (L to R: Jim Babjak Pat Dinizio, Mike Mesaros, Dennis Diken)
The New Jersey Hall of Fame will induct the four original members of The Smithereens: Carteret, NJ, native sons Dennis Diken, Mike Mesaros, and Jim Babjak, and Scotch Plains, NJ's Pat DiNizio, who passed away in 2017. Also being inducted into the class of 2019: Southside Johnny Lyon.
"It's a total irony and so wonderful that we're being inducted with (Southside) Johnny," says Mesaros. "Because Johnny was really, really good to us early in our career, when we got out on the road and played a lot of college gigs with those guys. I had the same feeling about Johnny that I had about Steven (Van Zandt). I don't mean to make those guys feel old, and it's corny... but they're a generation older, so they're like our older cousins. So to feel this sense of inclusion when we were really young meant everything to us. Plus, we all really like Sam Cooke!"
Prior to Sunday's induction there are a few more ways to celebrate with the band. On Thursday, October 24, at the Grammy Museum in Newark, NJ, there will be a conversation with The Smithereens and the unveiling of their inclusion in the New Jersey Legends exhibit.
On Saturday night, October 26, The Smithereens play what could be one of their biggest, most celebratory and also bittersweet shows at The Stone Pony in Asbury Park, a venue the band has both attended (Diken: "In 1976 after Southside's first album it was pretty easy to get shut out on a Saturday night, so I remember listening through the door!") and played since very early in their career.
Babjak remembers playing the Pony back in the 80's. "We had played the WNEW concert series on the beach at Asbury Park, and there were like 30,000 people there. Then later that night we played The Stone Pony, and it was oversold and unbelievably packed. I mean, you couldn't breathe!"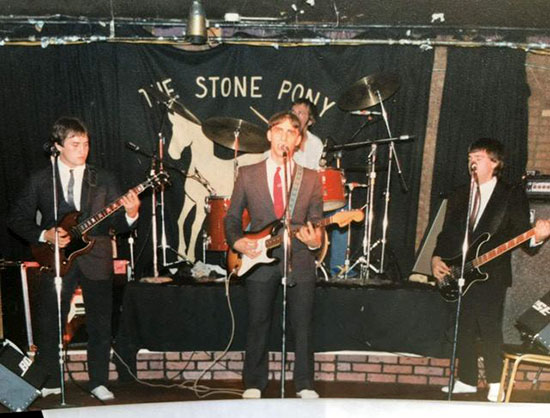 The Smithereens live at the Stone Pony in 1980 - photgraph courtesy of The Smithereens
With all the activity this week, The Smithereens are celebrating their induction into the New Jersey Hall of Fame.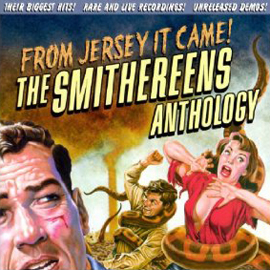 "Whatever I say might sound trite, but it's such an honor!" says drummer Dennis Diken. "We grew up in New Jersey listening to the AM radio, loving music, and being smitten with rock 'n' roll. And we knew this is what we wanted to do. Being recognized by our peers and the state of New Jersey is very meaningful. I grew up listening to the Four Seasons and The Rascals, and the Four Seasons were from Newark — that's where I was born. And I thought, maybe if these guys from New Jersey can do it, we can do it!"
Guitarist Babjak concurs, but also offers a slightly different outlook: "We're honored. On the one hand, I thought when they started this [NJ Hall of Fame] it'd be a no-brainer that we would be in. And now, how many years has it been? (Laughs) And then I kind of gave up on it. And now with Facebook and everything, the fans voted us in, which is an incredible testament to our band."
But the induction will be reflective for the band and their fans as well. Mike Mesaros explains, "Well, this Hall of Fame starts with Frank Sinatra. And then it goes to Bruce. Frank to Bruce and everyone in between. But my heart breaks because Pat [DiNizio] isn't here. And it would have meant the world to him. It really would have."...
Continue reading:
FROM JERSEY IT CAME!
The Smithereens on the New Jersey Hall of Fame, Achieving Nirvana, Turning 40, and the Sound of Asbury Park
- October 23, 2019 - Bob Zimmerman reporting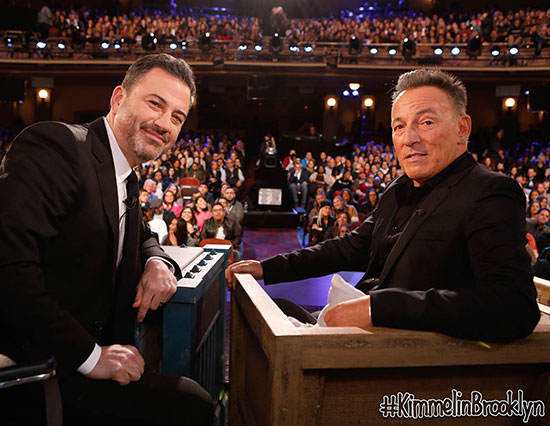 BROOOOCE IN BROOKLYN
Virgil Films CEO Joe Amodei hits BAM for Kimmel
I was one of the fortunate few that had the chance to attend last night's Jimmy Kimmel Live! broadcast from the Brooklyn Academy of Music in downtown Brooklyn (my ticket came courtesy of good pal Morgan Spurlock). Being in the audience of a Kimmel show is always a treat, but last night you could really sense something special in the air. It could have been the crisp fall evening in New York, or the fact that the late-night host rarely visits his hometown. But then again, we all knew what it really was. Bruce Springsteen was in the building.
Even during the warm-up act before the show began, there was a rapturous reply of Brooooce! every time there was a mere mention of his name. That call-out proved to be significant when, during the show, Bruce discussed the first time he'd ever heard his name called in that way. It proved to be a very poignant part of the interview.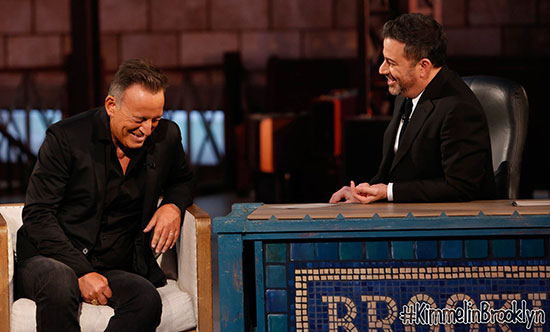 After the obligatory opening segment — which in the case of Kimmel is always funny and entertaining — came the commercial break, and we knew what would follow. When Springsteen was introduced you thought the roof might blow off. It was loud. Very loud. What followed was a thoughtful and sometimes humorous talk about the making of Western Stars, the reasons he made the film, shout-outs to Thom Zimny, and a lot of talk about his children. Oh, and opening for Cheech & Chong. Watch the complete interview below.
For me it was a rare treat to see Bruce having a conversation like this, appearing to enjoy every minute of it. Between segments, when the camera was off, he and Kimmel were laughing with each other, suggesting there's a connection there that goes beyond just a guest and host. It was a great night and a good way to launch this week's opening of the film.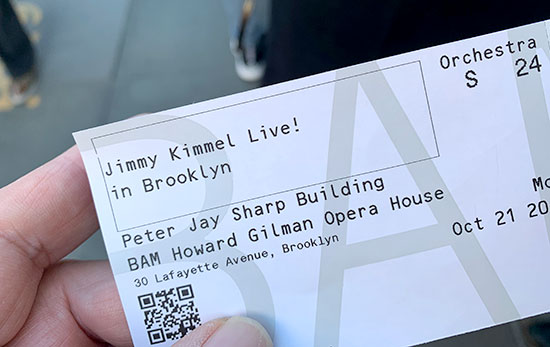 Speaking of the Western Stars film: I wasn't sure what to expect when I sat in the theater Saturday night, when the lights went down at the first Fathom Events screening. But I soon realized I was seeing something different. Something raw and something deeply personal. What took over the screen for the next 80 minutes was a spiritually moving meditation on love, life, getting older. On how one deals with the changes that come both from outside forces and, more importantly, from inside. And all to the beautiful, luscious soundtrack of Western Stars.
The footage of the band performing the album in Springsteen's barn is fantastic, almost more than you could have asked for. But the imagery captured through the lens of Thom Zimny and DP Joe DeSalvo as Bruce travels in and around Joshua Tree is as haunting and lyrical as anything I have seen him do. Thom had old family films to go through, and he found the best of them. Interspersed with new film, the vintage footage is like a character in itself, representing the family that Bruce speaks about so much these days. Matched by Springsteen's narration, spoken like a man who has actually lived this life, this is a masterpiece in storytelling that continues what Springsteen began in the book, continued on Broadway and now brings to life on film. Quite simply, I cannot wait to see it again. Kudos to Zimny and Springsteen.
- October 22, 2019 - Joe Amodei reporting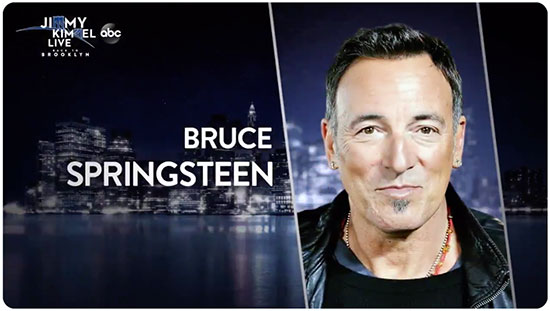 NO SLEEP TIL... WAIT, IT'S TONIGHT ANYWAY!
As Jimmy Kimmel Live! begins Brooklyn Week, one of his first guests will be Bruce Springsteen, on the show tonight to talk Western Stars. Tune in tonight, Monday, October 21, at 11:35pm on ABC.
- October 21, 2019

BRUCE TALKS WESTERN STARS ALBUM & FILM IN TODAY'S APP
Looking ahead to Friday's opening of the Western Stars film, Bruce Springsteen sat down with Chris Jordan for the Asbury Park Press/USA Today Network in late September. Bruce talks about the film as the third part of a trilogy, with his Born to Run memoir and Springsteen on Broadway: "I'm very proud of all those three things. I think they're three of the best things I've ever done."
Along the way, Springsteen talks about his family's and his own "westward" trips to California, the geography of his writing, and struggles with mental health, as well as individuals important to the Western Stars story: Patti Scialfa, Thom Zimny, and John Wayne.
Read: Springsteen on Western Stars: Dark days, mental health and one of his most personal works yet
The full transcript of the 45-minute interview is also online, a Q&A that expands further on all the topics covered in Jordan's article and delves into the Western Stars studio recordings as well.
Spurred by Little Steven's live performance of "Tucson Train," Jordan asks if we might hear any of these songs on the E Street Band stage; Springsteen answers, "I don't know, something might come out. But I don't have any plans of featuring it in our next E Street Band tour. It's really an experience of its own, like a lot of my other records tend to be sometimes. I won't know 'til I get there."
As for the the much-talked-about possiblity of an upcoming E Street tour:
The way that works is pretty basic. I have some music, which I hope is good. But I don't know 'til I hear it back (laughs). So I got to get the band together in the studio, which hopefully we'll do before the year is out, and you start to make some music and we see what we have, and when we have something we look for places to play that music, and that's how an E Street Band tour is put together (laughs).
Read: Springsteen talks mental health, therapy, John Wayne and Western Stars: The full transcript
- October 21, 2019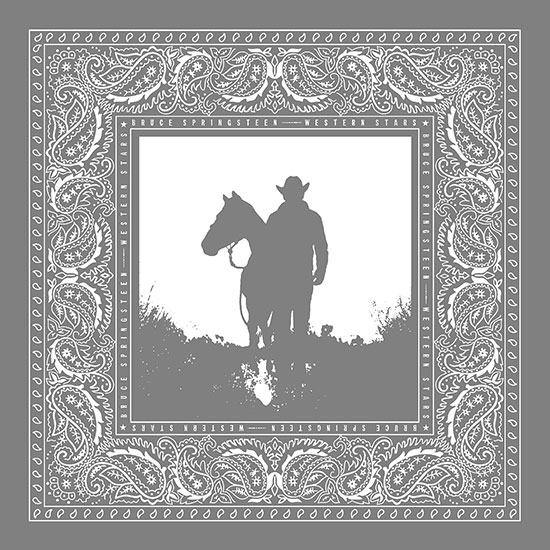 NEW EXCLUSIVE BANDANA FREE WITH SOUNDTRACK PRE-ORDERS
You know what they say... two bandanas are better than one. And with Western Stars: Songs From the Film following so soon after Western Stars, we're getting the job done with a second Springsteen bandana to go along with the one we gave away over the summer.
The new Western Stars: Songs From the Film bandana features a silhouette of Springsteen (and his ride) on a charcoal background. Once again designed by Michelle Holme and approved by Springsteen, this is an official promotional item exclusive to Backstreet Records, and we're giving them away FREE with every pre-ordered copy of Western Stars: Songs From the Film on either compact disc or 2LP vinyl.
Pre-order the soundtrack CD
Official release date is October 25, will ship as soon as both the CD and bandana (currently in production) are in stock
Pre-order the soundtrack 2LP vinyl
Release is scheduled for December, will ship with bandana immediately upon release
- October 21, 2019


IN THE MOVIE-PREVIEWING, BRUCE-INTRODUCING TOWN OF FREEHOLD
Last night, three weeks after performing at the Springsteen: His Hometown exhibit opening, Bruce Springsteen made another surprise appearance in the heart-stopping, pants-dropping, soul shaking, love-and-fear making, heartbreaking, movie-previewing town of Freehold, New Jersey.
Theater-goers at the AMC Loews Freehold Metroplex Cinema on Saturday, for first of two Fathom Events early screenings for Western Stars, got an additional bonus feature as Bruce himself stood in front of the silver screen to introduce his directorial debut. Springsteen was joined by co-director Thom Zimny for this hometown event.
"We hope you enjoy our film," Bruce told the audience. "As I've said, this is a film where we knew we weren't going to tour, so I tried to figure out a way to get the music to you as evocatively as I could. And so we ended up shooting the musical sections in the barn and the rest of our footage in Joshua Tree National Park — I just hope you enjoy it."
Reiterating a request posted online earlier in the day, he added: "If you have applause... I would save it for the end of the film, because the editing and the pacing of the film has its own message. So, thanks for coming out, thanks for supporting me all these years, and enjoy Western Stars. Good to see you!"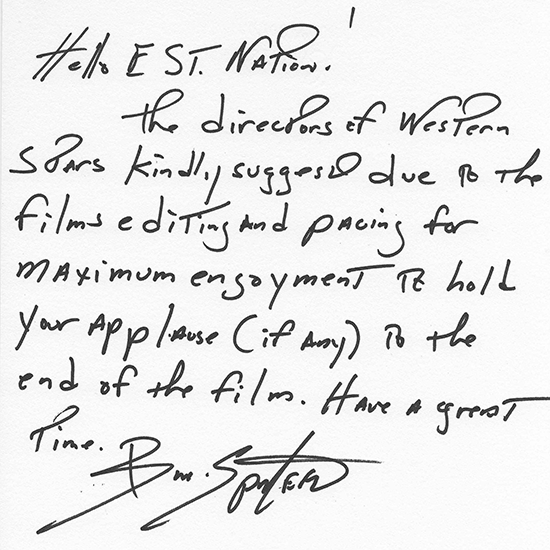 For anyone unable to make it out last night, a second nationwide preview screening (including a bonus behind-the-scenes short film, exclusive to these Fathom Events), is still to come on Wednesday night, October 23. Personal appearance by Bruce Springsteen not guaranteed... but hell, you just never know!
- October 20, 2019 - thanks to Sammy Steinlight for the clip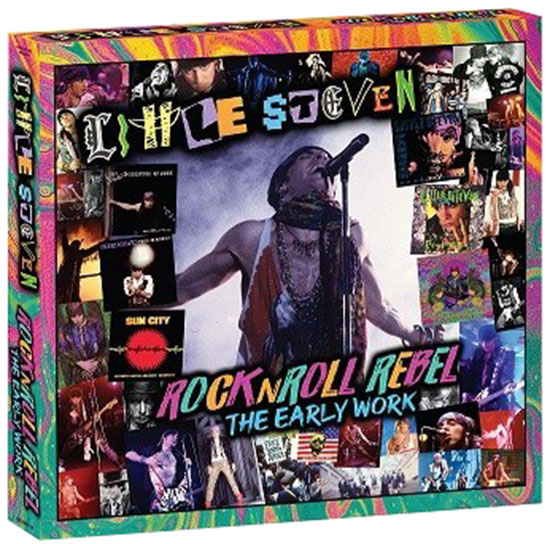 AUTUMN OF AWESOMENESS
Massive Little Steven retrospective box set arrives December 6
The elements of Stevie Van Zandt's career — guitar player, bandleader, arranger, activist, actor, disc jockey — are many. And with two new LPs over the past couple years, he's reminded us that he writes great songs and makes great records. Now, it's time to look back, and Van Zandt will close out 2019 with Rock N Roll Rebel - The Early Work Box, a reissue from Wicked Cool/UMe that captures Stevie's solo work from 1973 to 1999, including remasters of out-of-print solo albums and a raft of B-sides, outtakes, demos, live tracks, and even the odd radio commercial.
Early Work presents Van Zandt's primary records, beginning with his landmark 1982 solo debut Men Without Women and concluding with Born Again Savage (originally released in 1999, and available in this set on vinyl for the first time). In between, Voice of America, Freedom - No Compromise, and Revolution (here in its U.S. vinyl debut) found Van Zandt exploring a range of styles and themes, from guitar-based rock to dance music.
Sun City is included, too. Though not a Little Steven record per se (credited to Artists United Against Apartheid, the title track features everyone from Darlene Love to David Ruffin and Eddie Kendricks), it was Van Zandt's song and idea — not to mention his place in the movement to end apartheid in South Africa — and deserves the reissue treatment it gets here.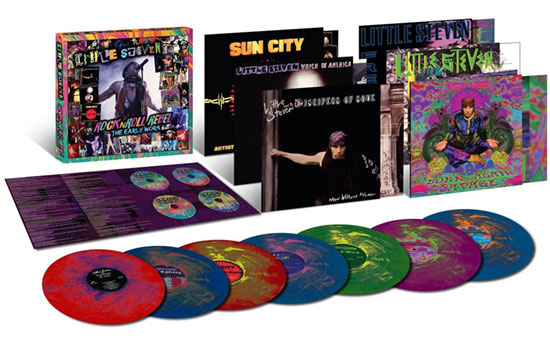 Bonus material makes up just under half of Early Work. It runs the gamut, from new takes on the familiar — two previously unreleased mixes of the 1984 B-side "Vote! (That Mutha Out)" — to mid-'70s rehearsal songs recorded live with the Asbury Jukes. And if you wonder how 1973 figures into this, a previously unreleased song from that year, billed to Southside Johnny and the Kid, appears as one of the 51 bonus tracks.
"It's been a blast going through the archives and finding all these hidden gems," states Van Zandt in today's press release. "In addition to demos in various stages of completion, there are entire songs I'd completely forgotten about, and we found some really early things pre-Jukes like Southside Johnny and the Kid (the kid being me!). I'm excited to have my stuff back on vinyl for the first time in decades!"
The box set, with a December 6 street date, is limited to 1,000 copies: the six albums will appear on colored vinyl (over seven individual records), with the bonus tracks spread out over four CDs. Click here for further details, and here for pre-ordering, happening now.
- October 18, 2019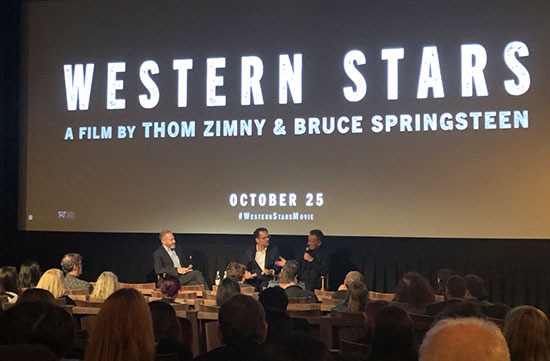 BRINGING IT ALL BACK HOME
Western Stars are shining on the U.S., as Springsteen premieres his new film in NYC, speaks to WaPo, and plans a late-night tellyvision appearance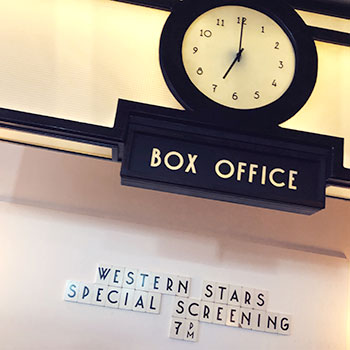 After Springsteen traveled north of the border for the Toronto world premiere of Western Stars, and to London for another festival and press barrage last weekend, he's now back in the U.S.A. to shine a light on his new film here at home.
Last night in New York, a special screening of Western Stars played for an audience filled with friends and family at the Metrograph on the Lower East Side, giving Stateside press their first look at the film as well.
Springsteen attended with his family (including the film's featured performer Patti Scialfa) and was joined by his co-director Thom Zimny for a post-show Q&A led by Warner Bros. Chair Toby Emmerich (reprising his moderator role from TIFF). Also at the Metrograph for the event: Barbara Carr, Jon Landau, George Travis, Ron Aniello, Steven Van Zandt, Kevin Buell, and many others whose names also appear in the film's credits.
One attendee clearly took Springsteen by surprise: Clive Davis, President of Columbia Records when Bruce was signed in 1972. Standing up to introduce the film, Springsteen first thanked Emmerich and Warner Bros. "for giving our picture a home... it meant a great deal to me that you took us in and have shown us such a good time." The very next thing on his mind was that unexpected guest:
Clive! Clive is here tonight! Clive! I gotta mention Clive, because I went in and saw John Hammond, John Hammond told me, "You've gotta be on Columbia Records, but I can't sign you — Clive has to see you." And so a week or two later I went in, and I played a song or two for Clive, and he was as sweet and as gracious as you could be and started me on the rest of my life. So, Clive... what can I tell you. I can't believe you're here.

There's a lot — Jimmy! You know, Iovine's here... Friends, family from New Jersey are here... and the person who is at the center of this picture, my lovely wife. Enjoy Western Stars!
At a previous screening Springsteen had asked the audience to hold their applause until the end of the film, rather than clapping between song performances — the idea being to preserve the immersive mood Western Stars creates as a "tone poem." There were no such instructions last night. And when you can hear the gathered audience in the barn cheering these glorious performances, it's hard not to join in — many at the Metrograph did.
Which points to one way this film will function, for Springsteen's fans: as the closest thing we'll get to a Western Stars tour, it does a remarkable job of serving the same purpose, providing a similar opportunity. Not just to experience the songs in performance, but really, to more fully experience them. For the vast majority of Springsteen's records, the tours that followed served as the second part of a one-two punch. In concert we get the chance to more fully digest the new material, to hear Bruce talk about the songs, watch him inhabit them, and even, for a while, live inside their re-creation. Any Springsteen record can stand on its own, Western Stars included, but the film gives me something I hadn't quite realized I was missing: the chance to have Springsteen lead us, once again, through a soul-satisfying consideration of his latest work.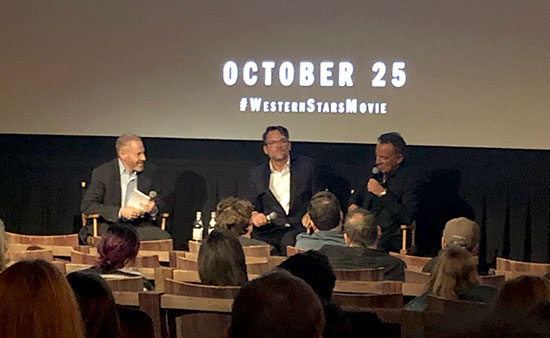 Emmerich covered a number of topics with the filmmakers, including Patti's role at the heart of the film, the myth that great pain is required for great art, Springsteen's score for the film (Toby encouraged Bruce to make himself available as a film composer), and The Searchers — "My favorite picture, of course," said Bruce.
We'll have more on their discussion in the coming days. But first, let's get to some additional publicity underway here in the U.S., as last night's screening coincided with an opening of the floodgates.
Next week, as ABC News Radio reports, Springsteen will guest on the ABC late-night show Jimmy Kimmel Live!, which is spending a week taping in Brooklyn: "There's no word yet on when Springsteen... will appear on the program, but it'll be recorded in front of a studio audience at the Brooklyn Academy of Music's Howard Gilman Opera House, and air nightly from Monday, October 21, through Friday, October 25."
Today, Springsteen's first U.S. print interview for Western Stars appears in the Washington Post. Ann Hornaday spoke with Springsteen about the film, as well as his life-long love affair with the movies and the cinematic aspect of his recordings. Hornaday spoke with Landau and Zimny as well. Added attraction: photographs by Michael S. Williamson, who collaborated with Dale Maharidge on several books over the years that are Springsteen touchstones.
Read: "The Boss as auteur: Springsteen conquered music and Broadway. Now he's making movies."
- October 17, 2019 - Christopher Phillips reporting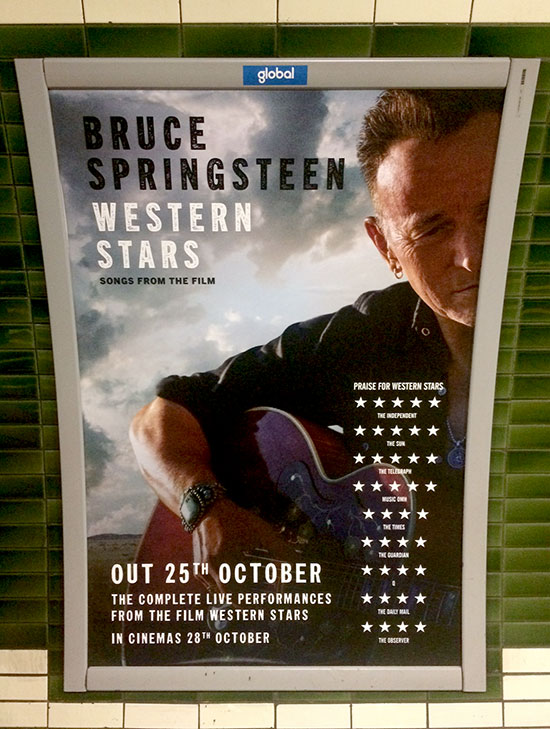 LONDON WAS READY FOR BRUCE SPRINGSTEEN
Promoting Western Stars in the West End, chatting with Graham Norton, dining with De Niro, revealing future E Street touring plans
The last few days have been memorable ones for Springsteen aficionados in London, particularly those who got lucky in the ticket lottery for his debut U.K. chat show appearance on BBC1's The Graham Norton Show or scored tickets for the European premiere of his Western Stars movie during the annual British Film Institute (BFI) London Film Festival.
Having spent some time in Italy, Springsteen flew in for four days of press and promotion work at a variety of locations in the capital. For those who attended either of the above events, it was a rare opportunity to see him in person in comparatively intimate surroundings, talking in detail about his forthcoming new film project.
Springsteen's first port of call was at Television Centre in White City, West London on Thursday, October 10, for the TV recording, which was subsequently edited and broadcast at 10:35pm the following night. It was then repeated at 11:55pm on Monday, October 14, and made available for one month on the BBC's iPlayer in the U.K.
A Friday night fixture for many years, The Graham Norton Show is the U.K.'s premier chat show. Unapologetically located at the lighter end of the entertainment spectrum, with occasional risqué overtones, the show crams as many celebrities as possible into its weekly slot. Around 600 free tickets are available online for each recording, which are randomly allocated. However, last Thursday evening, due to the high number of VIP guests, only half of that number was given to the general public. Many people were turned away while Norton's guests arrived in a fleet of cars with tinted windows.
Norton's modus operandi requires all of his guests to occupy his famous red sofa at the same time, but others will occasionally join the conversation later on — this was the case with Springsteen's appearance. Once Norton had spoken to Robert De Niro about The Irishman, Sienna Miller about American Woman, and Paul Rudd about Living With Myself, Springsteen didn't make his entrance until 28 minutes into the 50-minute broadcast version of the show.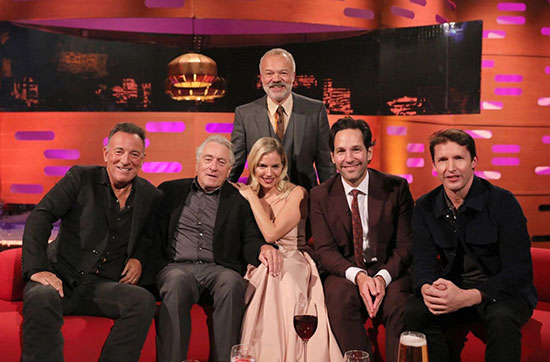 Dressed all in black, he appeared relaxed and comfortable in what were unfamiliar surroundings for him. Sitting next to De Niro, Bruce recalled that they first met in 1975. "I love Bobby," he said as they hugged. It was later noted that they'd received the Presidential Medal of Freedom and attended the Kennedy Center Honors together.
Norton began by asking Springsteen about Western Stars, which its co-director described as "a meditation on men and women and love." Knowing that he wasn't going to tour the album, he explained that the next best thing was to release a concert film, which he augmented with additional material to help explain the new songs to his audience.
Springsteen said that he wrote his voiceovers in a two-hour session in front of the TV one night and later composed a musical score to accompany them. Having shown a trailer, Norton declared, "You're brilliant at this."
Some grainy honeymoon clips are featured, which Springsteen apparently "stumbled across" in the search for appropriate archive footage. He and Patti put a camera on the hood of their car "and did our little shtick."
When asked the location of the barn where the live performance takes place, Bruce replied that "it's on my property in the great state of New Jersey," which elicited a loud cheer from the lively audience. "You've never been there, I assume," he laughed. Springsteen concluded by suggesting that Western Stars defies categorization. "It's not like any other picture. There's not a genre for it."
From there, the subject matter predictably moved into familiar territory, including the regular habit of Springsteen's audiences to chant his name and sound like they're booing him. "You can tell the difference," he replied. Next up was the topic of his marathon concerts, with Norton stating that "four hours is not uncommon." "I do it, but I don't like to," Springsteen admitted. "I shoot for three, and we sometimes go a little bit longer. Those are the only four hours that I actually get to be Boss."
Norton addressed Springsteen's working-man image and attire. "I always wanted the gold lame suit, but it never worked for me," he revealed. "I look ridiculous when I get really dressed up." Asked if he practiced his stage moves, he said, "Any frontman worth his salt stood in front of a mirror at some point with a broom or a tennis racket moving to 45s. That was a big part of my studies."
Springsteen's failed attempt to meet Elvis Presley by climbing over the wall at Graceland in 1976 was next on the agenda. "I don't like to do this," he admitted, but he asked the security guard to tell Elvis that "Bruce Springsteen was here and I was on the covers of Time and Newsweek. For you young folks, they were magazines! That's as close as I ever got to Elvis Presley."
Regarding his difficult relationship with his father and whether he ever understood the significance of his son's success, he replied, "Once the money's comin' in, it breeds respect — and it bred some respect from him."
The show ended with a live performance by James Blunt, who joined the others on the sofa and talked about his disastrous attempts at crowdsurfing. "The trick is, they're supposed to catch you," said Springsteen, a master of the art.
After the recording, the guests posed for group photos while the audience was still present. Springsteen, De Niro and Miller were later spotted having dinner at J Sheekey, an exclusive seafood restaurant in Covent Garden (over the weekend, Springsteen also reportedly dined with De Niro, Al Pacino, and Martin Scorsese, and was due to attend the premiere of The Irishman and the BFI Film Festival closing party).
While it was fascinating to see Springsteen on the show, attendees have estimated that "approximately half" of his interview ended up on the cutting room floor. The missing material includes stories about the hype surrounding his Hammersmith Odeon gigs in 1975, crashing gears while driving to California before he had a licence, performing cover versions onstage by audience request, and how they preferred his ass to his face on the Born in the U.S.A. album cover.
Springsteen also plugged his wife Patti Scialfa's three solo albums and recalled her answering his advert in the Asbury Park Press for a singer, at the age of 17 in the early '70s. He advised her to go back to school and finish her studies. Many years later, before their relationship became public, he revealed that they used to meet on a bench in Manhattan to talk, drink bottles of beer in brown paper bags, and carve their initials in the wood. He proposed to Patti on the bench, and they later took their son Evan there. Springsteen eventually tried to buy it as an anniversary gift, but the bench had been removed.
Finally, for anyone thirsting for news of his future plans, Springsteen confirmed that he would be recording with the E Street Band next month and that there would be shows next year. At which point someone in the audience cheered, and Bruce said, "That's one ticket sold!"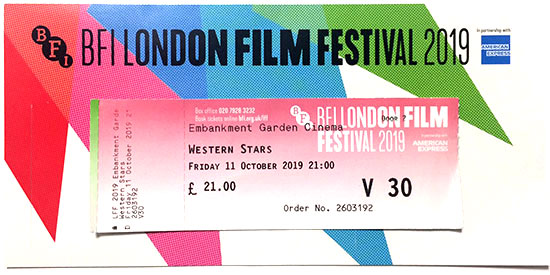 The Western Stars movie premiere took place at 9pm on Friday, October 11, at the 800-seat Embankment Garden Cinema. The theatre is a temporary, state-of-the-art facility in Embankment Gardens, beside the River Thames at Charing Cross, that only exists for the duration of the two-week annual festival. Tickets to this sold-out event were initially made available online to BFI members only, and then to the general public on September 12. A batch of industry returns were snapped up on September 26, and a handful more were sold on the night.
Springsteen, Thom Zimny, George Travis, Jon Landau, and Barbara Carr arrived around 45 minutes before the start, shortly after a heavy downpour had tested the resilience of the comparatively small fan contingent (almost outnumbered by press photographers) who'd been patiently waiting outside, huddled under their umbrellas. Before heading for the warmth and comfort of the cinema, Springsteen (again wearing black, with a white shirt) spent several minutes working his way down the red carpet, signing whatever was thrust in front of him, while cellphones and cameras captured his every move.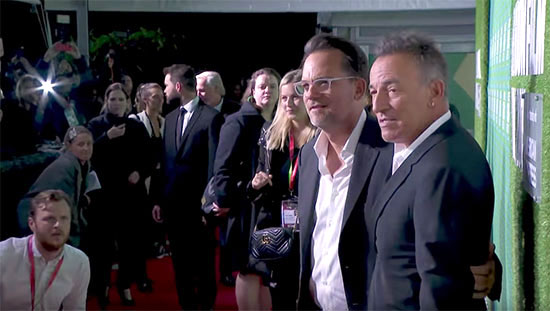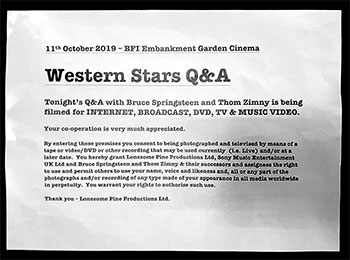 As ticketholders and guests (including Gurinder Chadha, director of Blinded By the Light) made their way to their seats, they passed a sign informing them that the film would be followed by a Q&A session with Springsteen and Zimny, and that this was being filmed for "Internet, broadcast, DVD, TV and music video."
Kicking off proceedings, the evening's MC spoke excitedly about the film before bringing Springsteen onstage to introduce it. "Welcome to Western Stars, I hope you enjoy our film," he began. After reminding the audience to stay in their seats after the credits had rolled, he added, "Should you be moved to applaud any individual performance, please don't do that. The film works as a meditation and a tone poem. If you like it, give it a shout at the end, thanks a lot."
Immediately after the film had ended, the MC brought Springsteen and Zimny onstage to a standing ovation from the crowd and began a 20-minute, in-depth conversation about Western Stars, which was a refreshing contrast to Graham Norton's more frivolous interview the previous night. However, he did reveal a surprising lack of research when he asked how difficult it was finding the right location for the concert. "It's just my barn," said Springsteen, to much laughter from the audience. "It's a rock star barn." He revealed that he'd considered filming the concert in a theatre but had opted for the barn's unique atmosphere.
Springsteen gave credit to musical director Rob Mathes for pulling the band and orchestra together. "Everything you see happened in four days," he revealed. This included rehearsals at SIR Studios in New York and two days of filming at the barn. George Travis and his production crew were also acknowledged for "gettin' all that shit up there" with the use of a crane. As for his credit as co-director, Springsteen explained that was down to "the graciousness of Thom Zimny," and that he just provided some ideas.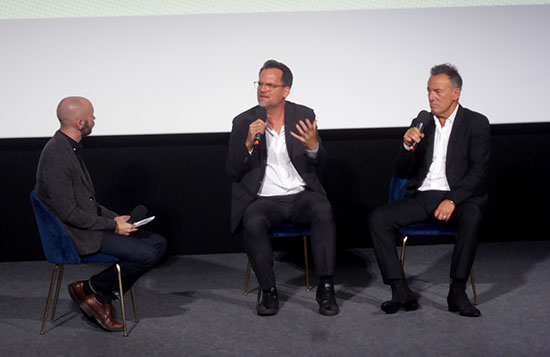 Photograph by Mike Saunders, October 11, 2019
Among the other subjects discussed were how the two men first came to work together, their collaborative process, the challenges they faced, the filming of the concert and the interstitial material, how they discovered the archive footage, the editing process, and the influence of Western geography on Springsteen's work.
When discussing his points of reference, Bruce cited John Ford's The Searchers as a touchstone. Describing John Wayne walking into the sunset alone, he'd wondered how it was possible to make the "human journey" from there to "love and family and faith and hope. The film is a meditation on those ideas. They were all contained on the record, but we got to make them explicit through the scriptwriting and the scoring. The film enhances the record to a great degree for my fans."
During the session, Springsteen revealed that he'd written in the region of 40 songs for the Western Stars album and gradually whittled them down to the final 13. He joked that they played "Rhinestone Cowboy" at the end because "this shit is too depressing," and they needed a more upbeat number. "It felt right at the end of the picture," he said. "It's a song I've always loved. I didn't think about it too much."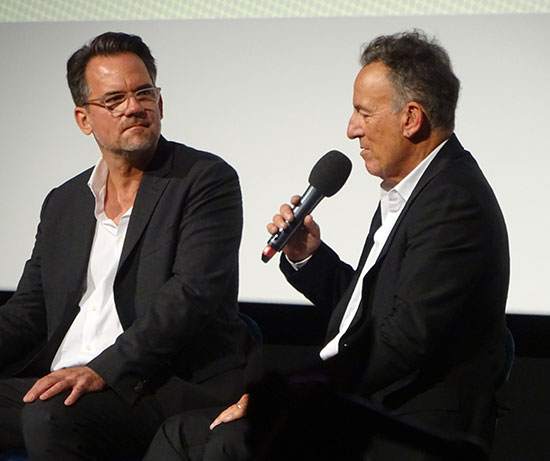 Photograph by Carole O'Callaghan, October 11, 2019
Zimny remembered that the "game changed" when he watched Springsteen record his voiceovers and between-song score, and the project developed from a straight concert film into something else entirely. When asked what they'd like audiences to take away from the movie, Zimny replied that he hoped they would enjoy "the journey that Bruce takes us on," while Springsteen added, "It's one of those pictures where people come in, they're sittin' at the end of the night, film's gettin' to its close, they're holdin' hands."
When asked if he saw himself returning to the director's chair, Springsteen replied, "I don't think so. All these things I've been doing recently are one of a kind. I don't plan to be writing any more books; I don't know if I'll be doing any more plays or making any more movies. I will, however, be touring with the E Street Band. I can always depend on that." Having been cut from the Norton show, this was Springsteen's first public announcement of this information on his London visit, and it was met with a loud roar of approval.
Soon afterwards, the audience rose to their feet for a second time as Springsteen and Zimny left the stage. Western Stars was subsequently screened at the 800-seat Odeon Luxe cinema in Leicester Square (home of major film premieres throughout the year) on Saturday, October 12, and at the 450-seat Screen One at the nearby Empire Haymarket on Sunday, October 13. Both showings were virtually sold out, although some tickets were still available on the day.
Western Stars will go on general release in Odeon, Vue, and Cinemax cinemas around the U.K. on October 28 for one day only, and will be accompanied by a filmed Q&A with Springsteen and Zimny, although it's unclear at this stage whether this is from Toronto or London.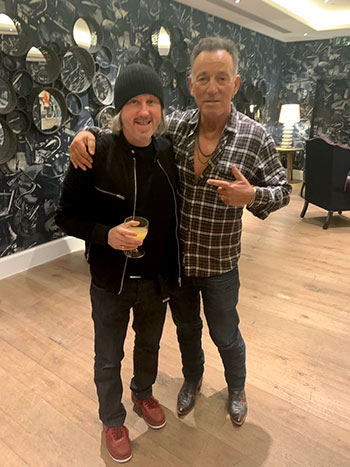 Springsteen spent Saturday and Sunday undertaking Western Stars promotion work at the Ham Yard Hotel in Soho, where he met several fans, including Badly Drawn Boy [right, via Twitter]. This included a media screening and subsequent Q&A with Edith Bowman, plus interviews with Mark Radcliffe for BBC 6 Music (due to air on October 19) and Dermot O'Leary for BBC Radio 2 (going out on October 26).
Springsteen also recorded a podcast for Empire film magazine (due October 25), spoke to Sarina Bellissimo for The Bellissimo Files (see above), and filmed an interview with Steve Hargrave for future broadcast on Channel 7's Sunrise morning TV programme in Australia.
Ireland's Hot Press saw the film as a love letter to Patti Scialfa. "We've been together for a long time, so that's a lot of experience around the one little microphone. We bring all of that the minute we lean in. Oh my Lord, there's the whole 30 years of emotional life together between us. She's wonderful. If you dig deep down into the center of the film, she's there."
RTE published the following quote: "You're getting to that age where you're summing up a lot of what you've learned and what your life has been. Writing a book was the first chapter, then the Broadway play came out of the book, and in a funny way this film came out of the play. I've had a really good run over the past five years as far as feeling really inspired and being really creative. I've done things I've never done before. I'm a man of many talents. I'm going to be an astronaut next. I'll let you know how that goes."
- October 15, 2019 - Mike Saunders reporting - additional thanks to Dan French, Carole O'Callaghan, Linda Gilder, Jeremy Benson, Matt Allan, Helen Jones, Caz Messenger, and Magda McHugh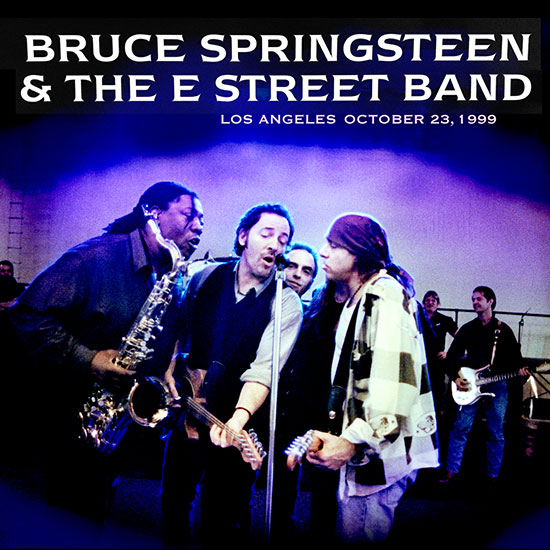 CALIFORNIA SUN, STAPLES, AND RARITIES
October's Archive release taps 10/23/99, a big night in Los Angeles
By the fall of 1999, Bruce Springsteen and the E Street Band's Reunion tour was in full swing. To start its third leg, the band regrouped for a concert in Phoenix before rolling into Los Angeles for four shows. That run served as the inaugural event at L.A.'s brand-new arena, Staples Center. Today's archive release features October 23, 1999, the stand's fourth and final night. It marks the last time to date that Springsteen played a show at Staples Center. More on that shortly.
The stand got off to a strong start, with standards ("The River") one night, alternates ("Point Blank") the next. The third show was seasoned with numbers from the Darkness on the Edge of Town era: outtake "Don't Look Back" and "Adam Raised a Cain" in the opening slots, and a stunning version of "Racing in the Street" later. Also notable: no songs from Born in the U.S.A. appeared. The show was a monster, so expectations were high for the final night.
Being Los Angeles, famous faces dotted the audience. Legend has it that actor Ed Norton, a well-known fan, had lobbied Bruce that summer to open with "Backstreets" (which he did for the first time, in New Jersey). On this night, according to a member of his party, he had seen Bruce backstage and made three song requests: "Incident on 57th Street," "For You," and "The Promise" — Bruce would grant them all.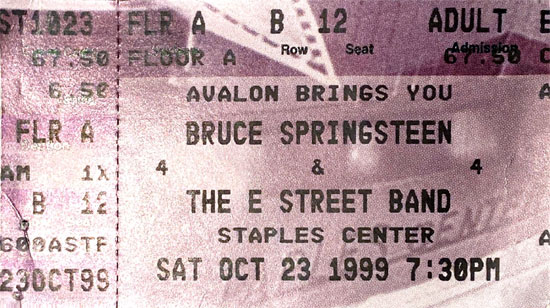 From the first note, the October 23 show was a barn burner, opening revival-style with the "Meeting in the Town Tonight" intro into the rare River outtake "Take 'Em as They Come." Two more River songs followed, "The Ties That Bind" and "Two Hearts," before a powerful quartet of songs from Darkness on the Edge of Town.
Springsteen continued a thread he'd been on all week: how much he disliked the arena. On the first night, he singled out its multi-level sky-boxes ("too many of 'em, and they're too low," he said) and their bifurcating effect ("the idea is, you have to come out of your room to see a rock show"). Springsteen didn't like the water pressure in his dressing room, either, saying that if you were going to spend that much on an arena, you should at least be able to take a decent shower.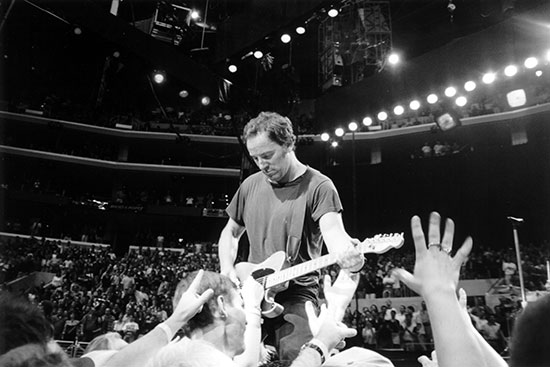 Down beneath the skyboxes, 10/23/99 - photograph by Marc Shapiro
And then there was the building's corporate name. "I've been searching for Mr. Staples," Springsteen said, looking in vain in history books for a Governor or Mayor Staples. "Finally somebody said, 'No… it's just a company... continuing in the trend of the corporate naming of public space… something you've got to get used to.'" Springsteen joked that the town could become Los Hooters. It's still called Los Angeles, but to this day, Springsteen has never booked another Staples show, choosing other venues on every subsequent visit.
But for his final night at Staples, what a performance: the band was on fire, and the show, already on track to be the best of the week, played out as one of the better ones of the entire Reunion tour. Following "Tenth Avenue Freeze-out," he launched into a gorgeous version of "Incident on 57th Street," only its second performance since 1980. Springsteen's solo at the end was sublime: Los Angeles crowds have a laid-back reputation, but the roar at the song's conclusion was anything but. People knew they had just witnessed something special.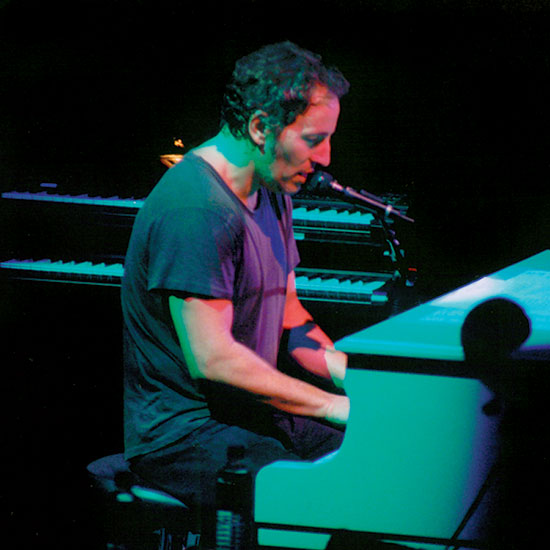 It's been a long time: Springsteen at the piano for a solo "The Promise," 10/23/99 - photograph by Marc Shapiro
Another shock (for those who hadn't made the request) came when Bruce sat down at the piano and said he was "going to try something [he] hadn't done in a long time" — "The Promise." Played at an Asbury Park rehearsal show in March, here the song filled a cavernous arena for the first time that year. It worked perfectly, and the tape captures the emotion of the moment. "Backstreets" and "Light of Day" concluded the main set, the latter including a couple verses of The Rivieras' surf classic "California Sun."
And it wasn't over. A storming version of "Ramrod" kicked off an encore that went through the Reunion tour staples before closing with "one more for L.A.," a rollicking "Blinded By the Light" Only its second outing with the E Street Band since 1976, "Blinded" put a cap on a truly unique setlist. And for the second straight night, no song from Born in the U.S.A. appeared, making these the only back-to-back shows since before 1984 with no songs off that record.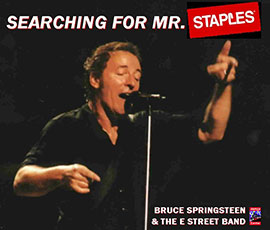 Collectors know this show through several iterations. These include Crystal Cat's Los Angeles Night (an audience recording); a wireless recording (which featured some instruments, but lacked others); and the matrix versions that combined the better elements of both (which circulated as Searching for Mr. Staples and Prodigal Son in the City of Angels). These have long been considered to be amongst the best such documents of the era.
However, even the best wireless/audience mixes will never compare to releases sourced from multi-track tapes and mixed by a professional. This release is Exhibit A in that argument: every instrument is where it needs to be, whether Clarence's sax blasting out of one channel or Little Steven's guitar from the other, or just the right amount of Mr. Tallent's bass all around. As usual, Jon Altschiller's mix jumps right out of the speakers.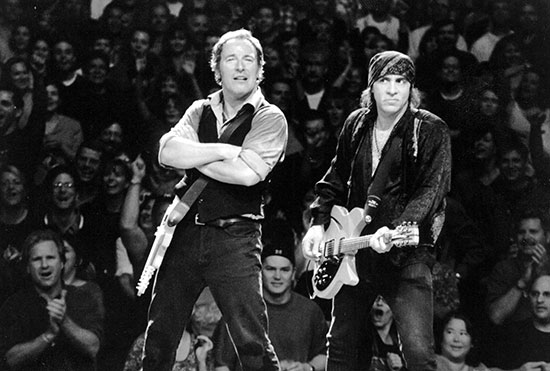 Yeah, we've got that. 10/23/99 - photograph by Marc Shapiro
Nearly a third of the show's setlist wasn't included in previous Reunion tour releases: New York City (July 1, 2000) and Chicago (September 30, 1999). Four songs were significant rarities: "Incident" and "The Promise" (both performed just four times on the tour); "Blinded" (five times); and "For You" (six). "Take 'Em as They Come" was actually performed more frequently in the Reunion era (eight times), and it gets a second archive nod here (the outtake led the Chicago recording, too).
That's a lot of infrequently-played songs for one night, but all that said, the joy of this show isn't in the statistics, but in the performance. Wait 'til you hear it. If Springsteen couldn't find a Mr. Staples, at least this show lived up to the company's slogan at the time: "Yeah, we've got that." And then some.
Also read: Erik Flannigan's latest nugs.net blog entry, "A Meeting in the Town Tonight"
- October 11, 2019 - Hal Schwartz and Flynn McLean reporting - Episode 2 of their podcast ("for the true Springsteen aficionado"), taking a close look at the Springsteen Archive Series, is out now at NoneButTheBravePodcast.com.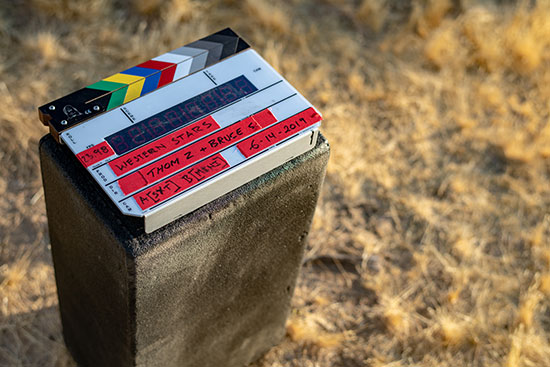 PULLING BACK THE CURTAIN ON WESTERN STARS
Director Thom Zimny talks to Backstreets about the Fathom bonus film
Between upcoming film festivals, special preview events, and the film's wide opening on October 25, Springsteen fans will have plenty of opportunities in the coming weeks to see Western Stars. Only two nights, however, will include extra material — a ten-minute bonus feature that Thom Zimny, who co-directed Western Stars with Springsteen, has put together for the Fathom Events screenings on October 19 and 23.
Speaking with Backstreets, Zimny calls the bonus feature a "fan piece," aimed squarely at the kind of Springsteen fan who reads Backstreets and wants to go deeper. Airing before the feature presentation at the Fathom screenings, the featurette goes behind the scenes, incorpoating outtakes from the film shoots, archival footage, new interviews, even an instrumental track from Springsteen's original score than wasn't used in the film itself.
"It was a great chance for us to expand on the narrative of the story," Zimny says, "and share something special for fans that will only be shown these two times."
Backstreets: Can you give us an overall sense of what we can expect to see?
Thom Zimny: Bruce and I wanted to share some of the things that we left behind from the film. So there are behind-the-scenes moments from the barn, and from the desert shoot as well. Moments of Bruce with the crew, showing you what the making of the film was like. There's a great series of interviews with Bruce and the band — Ron [Aniello], Rob [Mathes], Patti [Scialfa], Charlie [Giordano].... And there's also some archive footage that hasn't been seen: I was able to go into the vault and pull out a few things that I knew hadn't been used before — like some Darkness sessions footage I didn't use for the documentary on Darkness.
How do you incorporate the archival footage? When you're going back to other sessions, are you looking specifically for things that fit the Western Stars theme?
I went back into the vault to find some things that demonstrate the ideas that Bruce was discussing in the interview. He talked about his creative process of working with the strings, so I went in and found a clip of of him playing in Rome with an orchestra, and shots of him in the studio during Born to Run. I really tried to keep it to things that were not used before in the other docs, like The Promise or Wings for Wheels.
This is sort of a documentary about a documentary. How did you think about it differently — in other words, why would something have appeared here that didn't appear in the film?
Well, the short film is telling a different story — it's much more the background of the making of Western Stars, the process that Bruce had in the studio. Whereas the film itself is much more of the point of view of Bruce, his writing, and the themes that he discusses in each song. As a behind-the-scenes piece, the short film is more about giving you an understanding of the process that Bruce took in recording both the live concert as well the album itself.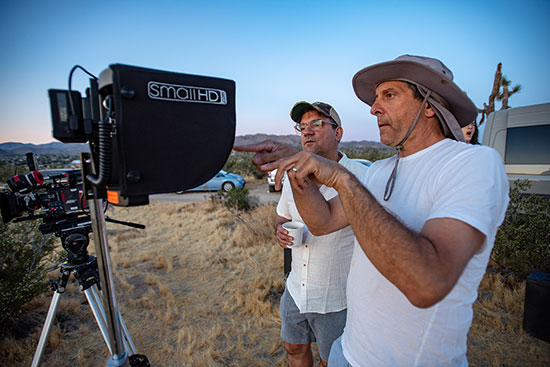 Zimny, left, with regular collaborator Joe DeSalvo, Director of Photography on Western Stars as well as Springsteen on Broadway and Hunter of Invisible Game
I was assuming this was going to be mainly about the making of the Western Stars film, rather than the album, but you're saying it's both.
It's about the film and the album, right, the making of both. And what's great about it is that you hear Bruce talking about the recording of the album in a way that has not been covered — because he didn't do any press around the release of the Western Stars album.
He digs in deep and explains his connections to some of the imagery, the influences of the West, and his writing style. But also he talks about his collaboration with Ron and Rob — how he would bring something into the studio and how he would sketch it out — that process of recording this album is discussed in the film. And again, since Bruce did no press for this album, this is the first time, really, that he breaks down his creative process for Western Stars.
Bruce talking about the recording, that's essentially in interview with you for the camera?
Right, I interviewed him and the band on set while making the film. We did it all the setting of the barn. I mentioned Charlie, Rob Mathes, Ron... Marc Muller, too. And by having the band participate, along with the "making of" shots, it really gives fans a chance to see something that is not revealed in the feature film. What you end up getting with the bonus film is a different understanding: how Bruce worked with Rob Mathes [in addition to conducting and arranging strings for the album, Mathes plays keyboards in the barn performance], how the players responded to performing this music live, and what it was like to do it in the barn.
So you've got footage from the barn, from the desert, archival studio material... what else is in there?
There's TIFF film too, from when we premiered the film in Toronto. The great thing about the TIFF footage is that it shows the excitement of the event itself, the fans, and Bruce arriving on the red carpet. There was a great energy there — something I'll never forget. Premiering the film at that festival was a high point for us, and it's great to have it captured in this short film. Having that be part of the structure of the film also helps tell a story, of bringing Western Stars to the screen. It also gave me a chance to incorporate some of the Q&A that we did in Toronto.
I saw the pro-shot footage of the Q&A with [Warner chairman] Toby Emmerich online; our reporter in Toronto had been raving about the other TIFF Q&A — any chance we'll see any of that?
Yes — the Q&A that hasn't been posted, with [TIFF documentary programmer] Thom Powers, we were able to use some of that here. So in addition to a sense of the excitement of Toronto, you also get a whole series of other questions that weren't covered in the Q&A with Toby Emmerich.
One thing I really like about the short film is the opportunity to spend some time with Bruce talking about his cinematic influences, and how they influence not only the music and the sonic landscape of the movie, but also the visuals. That's something he talked about onstage in Toronto, but seeing it here with visual references is a completely different thing.
Ten minutes doesn't sound like a long time, but this packs in a lot.
Yeah, Bruce and I were just really excited about the opportunity to dig back into the vault and find some things that haven't been seen in the past. And more importantly to show some of the scenes of us making this film — this rare opportunity to see Bruce in the desert working out the scenes, directing with me, and also the sense of the atmosphere of what it was like shooting in the barn. And that's fun to see, because it really does pull back the curtain on the Western Stars movie and give you a sense of what was it like to be there.
Get tickets now for the October 19 and 23 Fathom Events screenings of Western Stars, the only opportunity to see Zimny's bonus film.
- October 10, 2019 - Christopher Phillips reporting - photographs courtesy of Thom Zimny



SADDLE UP FOR MORE WESTERN STARS
Springsteen rides to London this week for Graham Norton Show and BFI London Film Festival, speaks with The Telegraph in advance
Following last month's Toronto premiere of Western Stars and prior to the Fathom Events preview screenings, Bruce Springsteen and Thom Zimny's new film will make a few more stops on the festival circuit.
Next week, Western Stars will have its U.S. Premiere at the Hamptons International Film Festival. The documentary will play there on Sunday evening, October 13, and again on Monday, October 14.
This week, those stars are shining on London. Western Stars will make its U.K. Premiere at the BFI London Film Festival, opening on Friday, October 11, at Embarkment Garden Cinema and playing again on Saturday, October 12 (Odeon Luxe Leicester Square) and Sunday, October 13 (Empire Haymarket). According to the festival website, both Springsteen and Zimny are expected to attend.
While in town, Springsteen will appear on The Graham Norton Show. The episode tapes Thursday night and will air Friday night, October 11 (10:35pm, BBC One), Springsteen sharing the sofa with Robert De Niro and Paul Rudd.
In advance of these U.K. appearances, Springsteen has given his first print interview of the Western Stars era to the The Telegraph, speaking to Neil McCormick. In the interview, Springsteen speaks of the Western Stars film as a third act, following the Born to Run memoir and Springsteen on Broadway: "The film is sort of the completion of that little trilogy, the tying up of philosophical threads that I've been working on my whole life, since I was a kid. Making the film allowed me to tell a story that I hadn't directly told before, in a way I've never told it."
Read: "Bruce Springsteen interview: 'I've spent 35 years trying to let go of my destructive side'"
- October 7, 2019


A/V: "SUNDOWN" LIVE FROM WESTERN STARS FILM
Following the midnight release of "Sundown" audio from Western Stars: Music From the Film, we now have the accompanying clip from the movie, the complete live performance of the song with band, orchestra, and those lovely backing vocals.
To see the film in advance of its October 25 wide release, with bonus material Thom Zimny is adding for the occasion, be sure to check out the Fathom Events screenings, coming to 330 locations nationwide on October 19 and 23.
- October 4, 2019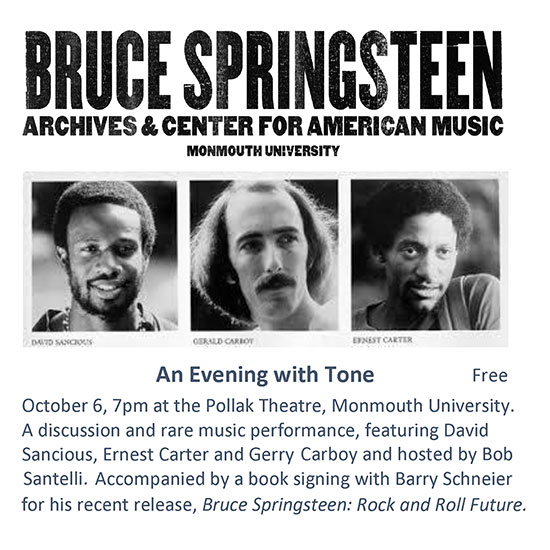 MONMOUTH HOSTS SANCIOUS, CARTER & SCHNEIER ON SUNDAY
Tone reunites for Oct 6 event, followed by Sarfraz Manzoor Oct 8
Barry Schneier's Bruce Springsteen: Rock and Roll Future, published earlier this year by Backstreets, captures a beloved though short-lived version of the E Street Band, when pianist David Sancious and drummer Ernest Carter were still in the fold. The two musicians left together in August 1974 to form the jazz trio Tone.
For Eileen Chapman, director of the Bruce Springsteen Archives at Monmouth University — who also wrote the Introduction for Rock and Roll Future — the book and its photographs also sparked an idea for a special event. This weekend, it's happening: Tone members Sancious, Carter, and bassist Gerald Carboy will reunite on stage at Monmouth U's Pollak Theatre for An Evening With Tone.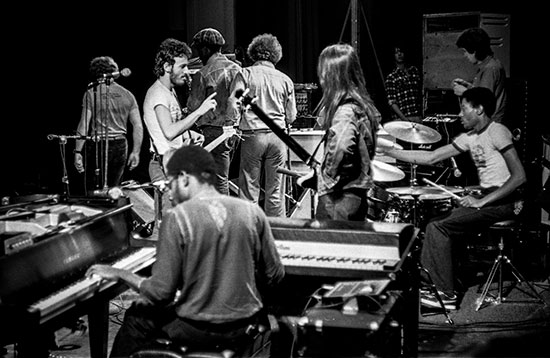 Springsteen and the E Street Band in soundcheck on May 9, 1974, featuring Sancious (foreground) and Carter (far right) - photograph by Barry Schneier, from the book Bruce Springsteen: Rock and Roll Future
In addition to Tone's performance — certainly of interest to jazzheads as well as E Street Band fans — a conversation with the band and author/photographer Schneier will cover those early E Street Band days and beyond, moderated by the evening's host, Grammy Museum executive director Bob Santelli. Copies of Rock and Roll Future will be available for signing afterward.
The event is free and open to the public, this Sunday, October 6, at 7pm. A couple days later, the Springsteen Archives at Monmouth University will also host "An Evening With Sarfraz Manzoor," author and screenwriter of Blinded By the Light, on October 8. For further information on both events, visit Monmouth.edu.
- October 3, 2019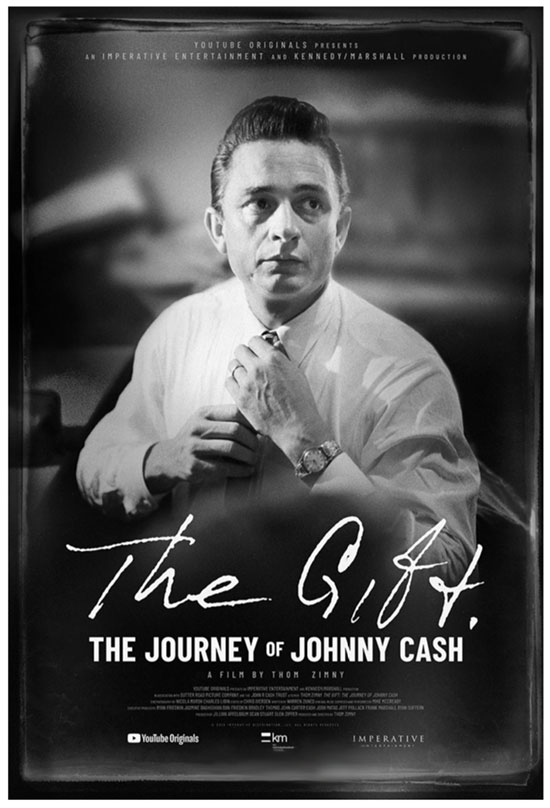 THOM ZIMNY TRACES THE JOURNEY OF JOHNNY CASH
The Gift, featuring Bruce Springsteen, arrives on YouTube Nov. 11
It's been a busy year for filmmaker Thom Zimny — and we're not just gazing at Western Stars. In between Netflix's Springsteen on Broadway and the new film he co-directed with Bruce, coming to theaters later this month, Zimny put the finishing touches on a Johnny Cash documentary, in a way his follow-up to Elvis Presley: The Searcher. This fall brings us not just one but two new Zimny joints.
The Gift: The Journey of Johnny Cash, directed by Zimny with support from the Estate of Johnny Cash, will premiere on Cash's official YouTube channel on Veterans Day, Monday, November 11. Taking the remarkable Folsom Prison recording as a central motif and featuring interviews with family and celebrated collaborators, the 90-minute documentary explores the artistic victories, the personal tragedies, the struggles with addiction, and the spiritual pursuits that colored Johnny Cash's life.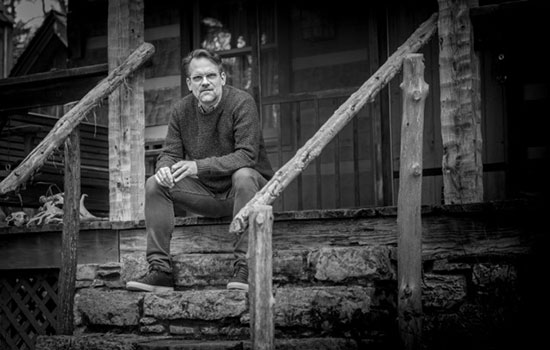 Thom Zimny at Cash Cabin - photograph by Rob DeMartin
Zimny tells Backstreets, "It was such a joy collaborating with the Cash Estate on this film. We were handed a trove of rare and never-before-seen material that made the process of making this film that much more captivating and satisfying."
As the filmmaker branches out in terms of his subjects, he doesn't hide his affinity for Bruce Springsteen, who turns up again here as he did in The Searcher. Cash's rendition of "Further On Up the Road" features prominently in The Gift, as does commentary from Springsteen, interviewed for the new doc among others including Jackson Browne and Emmylou Harris. For these modern-day interview segments, Zimny utilizes the same "heard-but-not-seen" technique he first employed in Elvis Presley: The Searcher. Zimny also reunites with Pearl Jam's Mike McCready, who composed and performed The Gift's original score, as he also did for The Searcher.
Watch the new trailer above, and you can also view a teaser clip focusing on Folsom Prison, both featuring comments from Bruce Springsteen.
- October 3, 2019 - Christopher Phillips and Shawn Poole reporting

THE SOPRANO
R.I.P. Jessye Norman (1945 - 2019)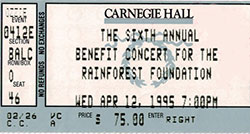 Attending an unusually large number of Bruce Springsteen performances, I've seen the occasional guest singer. But the duet I witnessed on April 12, 1995 at Carnegie Hall stands alone as the most unusual and unexpected.
That benefit show for the Rainforest Foundation was billed as a tribute to Elvis Presley. In a set that included "Viva Las Vegas," "Guitar Man," and "Jailhouse Rock," Springsteen played and sang with the evening's other headliners: Sting, Elton John, Billy Joel, James Taylor, and Jessye Norman.
Wait. Jessye Norman? The opera singer? Yes, that Jessye Norman. The unforgettable highlight of the evening was a version of "O Sole Mio" that morphed into "It's Now or Never." Opera and Elvis. Jessye and Bruce. It should have been weird, but it worked beautifully — and they both clearly enjoyed it as much as the audience.
Around a dozen years later, I boarded a New York to Los Angeles flight and found myself sitting next to Jessye Norman. My usual policy is to ignore a celebrity, but within a few minutes she started talking to me and asked what I did for a living. I was working for a well-known rock singer at the time and told her. She knew his work and mentioned that she, too, was a singer. I told her I knew, and that I had seen her perform.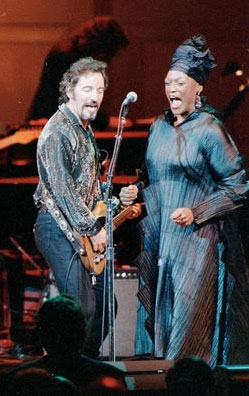 She asked if I was an opera fan, or perhaps I had seen her on television at the opening of the 1996 Olympics? I told her that I saw her sing with Bruce Springsteen.
She erupted in laughter, flashing a broad smile. "Wasn't that fun?" she asked, as if it had happened the day before. She let me know that Bruce was very sweet. We chatted a bit more and spent most of the flight with our books and iPods. On the ground in Los Angeles she made a point of thanking me for making her day before saying goodbye and telling me to listen to some opera.
I was saddened when I read in the press that Jessye Norman had passed away on September 30. I can't say I knew her, but the two encounters I had with her — one from the audience at Carnegie Hall, and one seated next to her on a plane — were extraordinary.
Jessye Norman was celebrated in the opera world and known as one of its greatest voices; her one evening on stage with Bruce Springsteen is just a footnote in an amazing career. But if you happened to be there you saw something very special. And the bonus for me came in that chance encounter, when I learned first-hand that she was a funny and charming woman. I'm glad we had that six-hour friendship.
- October 3, 2019 - Robert S. Bader reporting - special thanks to Flynn McLean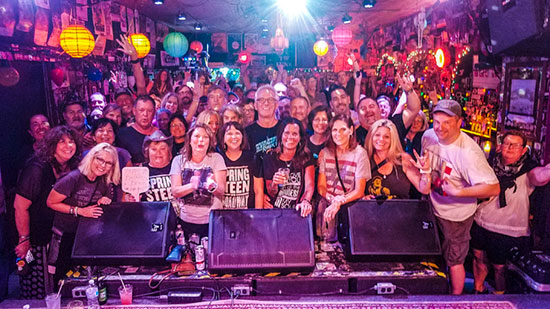 THANKS FOR RIDING WITH THE PINK CADILLAC
A quick note to thank everyone in DC, Philadelphia, and Asbury Park who came out to celebrate the 70th Birthday of Bruce Springsteen at The Pink Cadillac Club. The attendance in DC and Philadelphia weren't quite what was hoped for, but what we didn't have in numbers, we made up in passion and enthusiasm. Thirty-five years ago it was a lot easier to go out on a work/school night and get up early the next day. Several people remarked that at this point in their life, they're in bed by 10pm. I feel you.
Asbury Park at The Saint on Monday night, September 23, was a whole different ball game. There were Spring-Nuts, BTXers, and members of secret Facebook groups in attendance. There were solo attendees in search of a connection. We had fans in from Italy, British Columbia, England, Alaska, Ohio, Maine… we even had some folks from New Jersey in attendance! While Danny Clinch and Tim Donnelly's Sea.Hear.Now festival certainly helped, it was never more evident that Asbury Park continues to grow and evolve, as more and more people visit based on the legacy of the area as a music touchstone.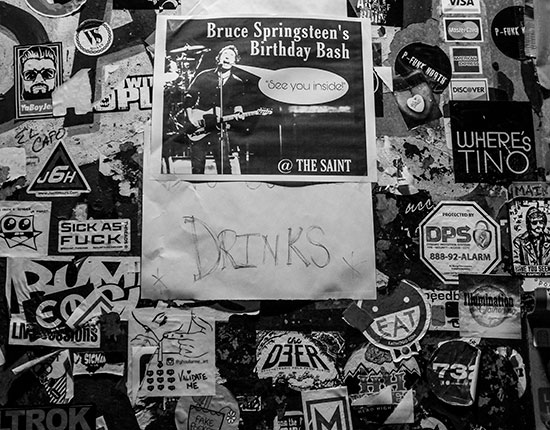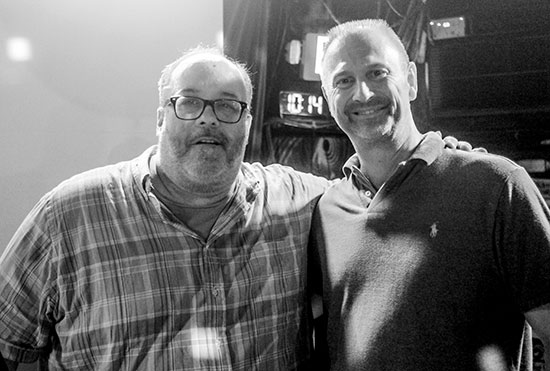 Pink Cadillac Club driver Bob Zimmerman, left, with Glenn Smith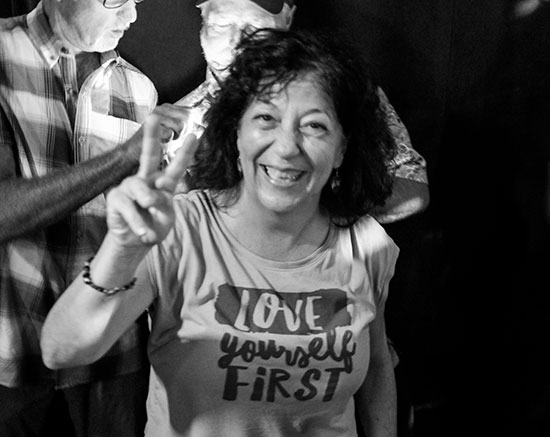 Camille Conte, host of The Camille Conte Show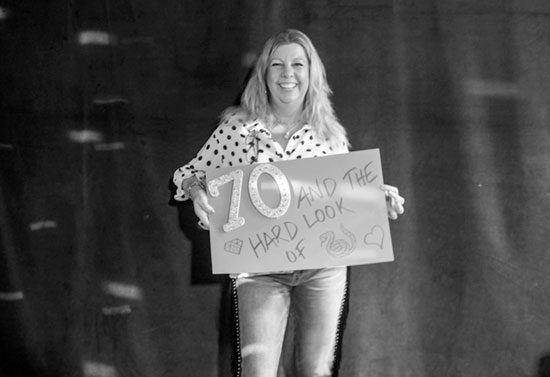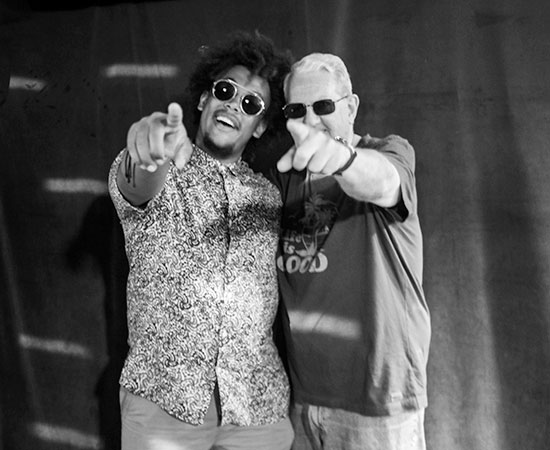 Jarod Clemons and Lee Silverstone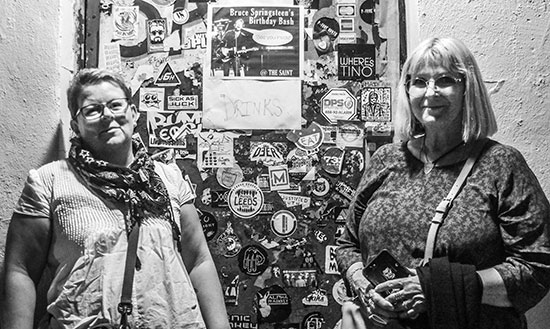 Annette came all the way from Sweden...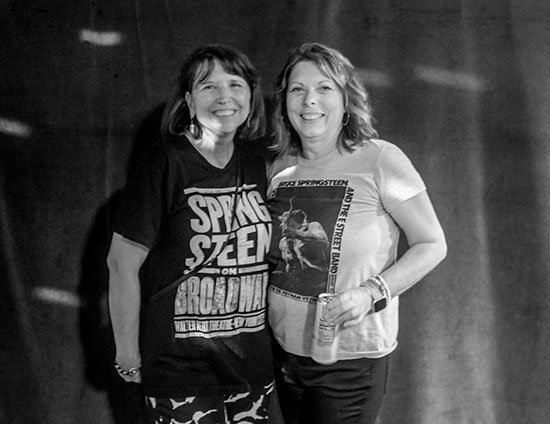 From Kentucky...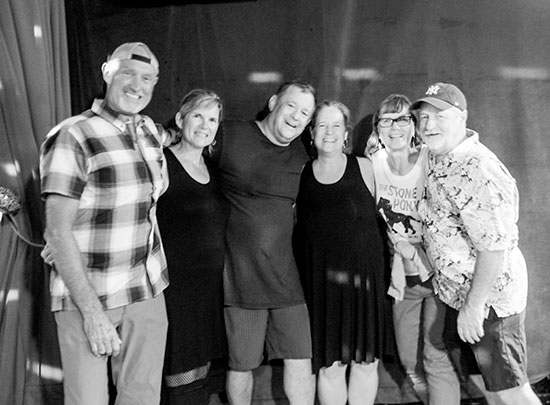 From British Columbia — "The only folks to request something from The Seeger Sessions," says Zimmermen, "they got The Saint dancing to 'Oh Mary, Don't You Weep'"
Having Bruce's 70th party at The Saint was special. As we expressed that night, the allure of The Saint as a music venue is how it still has one foot in Asbury Park's past and the other in its musical future. Not a dive bar nor a homogenized retro rock facade, The Saint felt real from its roadhouse rock 'n' roll interior to the personal feel from the entire staff all night long. Thanks to Scott and his amazing staff for treating us so well.
As great as The Saint was as a venue, the folks who filled it up on the 23rd were even better. All night long, people talked to me and my new best friend, college alumni buddy/photographer extraordinaire Mark Krajnak, about their Bruce insights — amazing shows they saw and who they saw them with, what Bruce's music has meant and continues to mean in their life, and the joy in someone they admire turning out some of the most meaningful music this far in the game.
As I told one attendee, I knew in 1979 that Bruce would probably be the soundtrack to my high school and college years. What I didn't expect, and what I value so much, is his music would go on to be part of dating, marriage (all that goes with it), raising a family, navigating different careers, watching family members age and pass away, as well as lending value and insight to some of the most heroic and tragic events to happen in our country's history and cultural shifts. Yeah, it's a whole lot more than "only rock 'n' roll," and goddamnit, I like it.
- October 2, 2019 - Bob Zimmerman reporting - photographs by Mark Krajnak


JUST WHEN I THOUGHT I WAS OUT...
Stevie returns to the underworld in Scorsese's latest mob epic
Steven Van Zandt will appear briefly in The Irishman, playing the late singer Jerry Vale in Martin Scorsese's latest Mafia epic, which is based on Charles Brandt's non-fiction book I Heard You Paint Houses: Frank "The Irishman" Sheeran and Closing the Case on Jimmy Hoffa. Van Zandt has gone on record deeming I Heard You Paint Houses as "the best Mafia book I ever read, and believe me, I read them all. It's so authentic."
Stevie becomes the second E Street Band member to appear in a Scorsese film, following Clarence Clemons' small role in the 1977 musical drama New York, New York, starring Robert De Niro and Liza Minnelli. Since the storyline of The Irishman, which also stars De Niro, deals much with Philadelphia-based organized crime in the 1970s, there's yet another Bruce Springsteen connection to be found in the film: the appearance of the late Philly mafioso Phil "The Chicken Man" Testa, who's played by actor Larry Romano and previously was immortalized in the opening line of Springsteen's "Atlantic City."
The Irishman will launch a limited theatrical run on November 1 and then become available for streaming on Netflix beginning November 27.
- October 1, 2019 - Shawn Poole reporting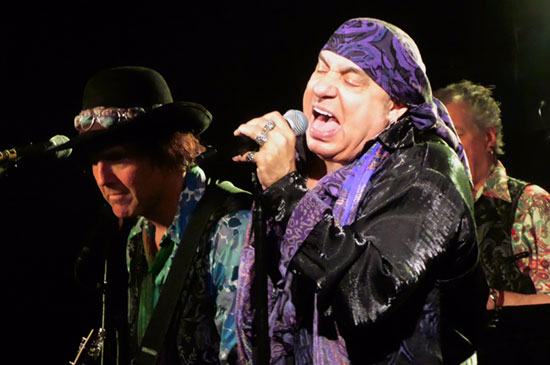 LITTLE STEVEN CANCELS U.S. DATES DUE TO ILLNESS, PLANS NEW LIVE ALBUM
Last week, only six shows into a two-month U.S. leg of his Summer of Sorcery Tour with the Disciples of Soul, Little Steven was forced to cancel the majority of his remaining dates under doctor's orders because he was suffering from sinusitis. Concerts planned for November 2 and 6 are still on; refunds for the rest will be issued at point of sale.
Following seven shows in Australia and New Zealand in April to conclude the Soulfire world tour, his extensive six-month Summer of Sorcery tour began in early May to coincide with the release of the new album. It has been rolling back and forth across the Atlantic virtually non-stop ever since, with concerts taking place, on average, every two days and only very short breaks between the American and European legs.
Of the 56 shows the Disciples of Soul had played prior to the cancellation, five took place in Canada, ten in the UK (England, Scotland and Wales), 17 in the U.S., and 24 in Europe (Austria, Belgium, Denmark, France, Germany, Hungary, Ireland, Italy, The Netherlands, Norway, Monaco, Poland, Serbia, Spain, Sweden and Switzerland).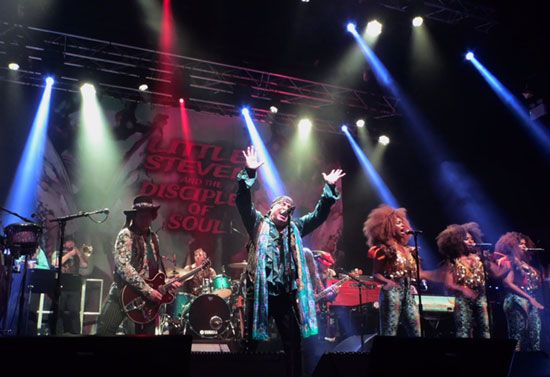 The latest 28-date US leg began on September 7 at the Big Blues Bender at the Hard Rock Hotel and Casino in Las Vegas. It continued with three Californian gigs: Ventura, Berkeley (where the band were introduced by Wavy Gravy), and the Kaaboo Del Mar festival near San Diego. From there, they moved on in mid-September to Tucson, AZ and Englewood, CO — a cover of Bruce Springsteen's "Tucson Train" was played both nights [VIDEO]. By then, Little Steven had become unwell, and the four remaining September concerts were cancelled:
Wichita, KS – Wichita Orpheum (September 20)
Louisville, KY – Bourbon and Beyond festival (22)
Arlington, TX – Arlington Music Hall 25)
Austin, TX – Emo's Austin (29)
Unfortunately, with no discernible improvement in his condition, the decision was then made to cancel all scheduled shows in October and one in November:
New Orleans, LA – House of Blues (October 1)
Birmingham, AL – Iron City (3)
Memphis, TN – Soundstage at Elvis Presley's Graceland (5)
Atlanta, GA – Center Stage Theater (7)
Athens, GA – Georgia Theatre (9)
Norfolk, VA – The NorVa (11)
Detroit, MI – St Andrew's Hall (13)
Grand Rapids, MI – 20 Monroe Live (15)
Burnsville, MN – Ames Center (17)
Milwaukee, WI – Pabst Theater (19)
Winnipeg, CAN – Burton Cummings Theatre (21)
Chicago, IL – House of Blues (23)
Cleveland, OH – Masonic Auditorium (26)
Des Moines, IA – Hoyt Sherman Place (28)
Columbus, OH – Newport Music Hall (30)
Munhall, PA – Carnegie Library Music Hall (November 4)
Little Steven issued the following statement:
I thought I could shake this sinusitis, but it doesn't seem to be going away. I've never cancelled shows before. I feel terrible about this, but my doctors are telling me there's just no way to continue right now. We were really looking forward to continuing this tour around the world. We want to thank the fans for all of their support. I really hope we can make up these dates someday, somehow.
The only two shows to survive the purge were:
Medford, MA (Boston) – Chevalier Theatre (November 2)
New York, NY – with Peter Wolf and the Midnight Travellers – Beacon Theatre (November 6)
The New York concert will be filmed and recorded for a future live album and DVD release, with details to follow.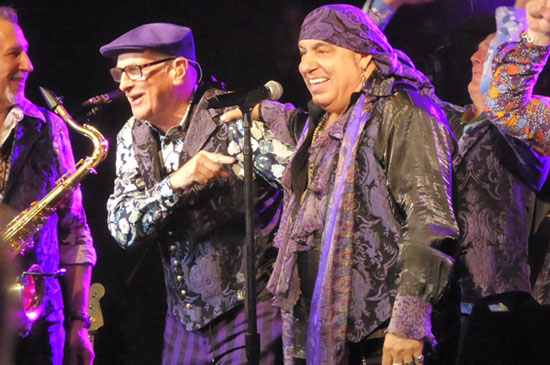 The boxed set of Little Steven's back catalogue (with additional outtakes, remixes, interviews and live DVDs) is presumably still due for release at the end of the year, although there has been no official word for a while.
If E Street recording sessions materialize later this year and an E Street Band tour follows next year (Springsteen himself has discussed both publicly, though there has been no official announcement), it may be a long time before Little Steven is able to get the Disciples of Soul back together and reschedule those 20 lost shows. The cancellation news comes as a disappointment for fans that have held tickets for a while, but obviously his health comes first.
Sinusitis is a condition where the lining of the sinuses becomes inflamed and swollen and can be extremely painful. Symptoms can include a feeling of pressure in the face, sore throat, cough and fever. Acute sinusitis can take up to 12 weeks to subside, and chronic sinusitis may take even longer. Such a condition is particularly debilitating for a singer, especially one who is subject to cabin depressurization while flying between shows.
Backstreets wishes Little Steven a swift recovery and looks forward to seeing him back onstage in November.
- September 30, 2019 - report and photographs by Mike Saunders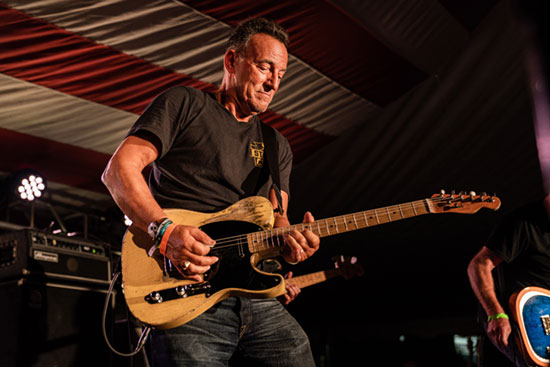 Photograph by Michael Kravetsky for MCHA
A HOT-WIRED OPENING FOR "HIS HOMETOWN" EXHIBIT
I've seen the past of Rock and Roll Future, but for at least a few minutes on Saturday night, it couldn't compete with Rock and Roll Present.
During an evening full of discoveries and surprises, Bruce Springsteen made a surprise guest appearance at the "Dancing the Dark" preview party that officially opened the new Monmouth County Historical Association exhibit, Springsteen: His Hometown. It was Bruce's first performance in his hometown since his 1996 acoustic show at his grammar school, St. Rose of Lima.
And it was indeed a surprise: any secret hopes that attendees might have had were seemingly dashed earlier in the day when Patti Scialfa's Instagram showed the couple together on Governor's Island in New York to support their daughter Jessica at an equestrian competition.
But Bruce must have been determined to thank his hometown, because he made a brief appearance, sneaking in unceremoniously around 7pm to tour the exhibit and joining Joe Grushecky on stage for a blistering "Light of Day" before leaving by 8:30 to rejoin his family.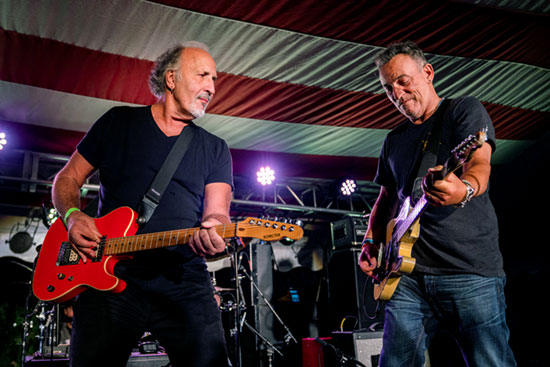 Photograph by Michael Kravetsky for MCHA
"I can't stay long, I've got my family in the city. But I wanted to just come down and thank everybody for supporting the Historical Association. It's nice to be honored in your hometown. "
And while it was only one song, it's clear that Bruce is still in peak rock 'n' roll condition. For a night that was retrospective in nature, Bruce seemed determined to convey that his story is far, far from over.
As for his on-stage accompaniment, it's been more than three years since Bruce and Joe last shared a stage together, but their on-stage chemistry is as strong as ever, and the Houserockers continue to prove themselves as more than capable E Street stand-ins.
But while that "Light of Day" performance might have been the apex of the evening's excitement, it was far from the only attraction.
Besides the scorching opening set by Bobby Bandiera and his band and the Houserockers house party that followed, there was a museum to explore, a silent auction to compete in (or envy), and a park full of surprises.
Remember Bruce's story from Springsteen on Broadway or Born to Run of learning to drive while crossing the country with Tinker West in Tinker's truck? Well, Tinker's truck was on the premises (along with Tinker himself), and for a $25 donation to the Monmouth County Historical Association, you could pose for a photo in it and imagine you and Bruce climbing over each other to switch seats, hoping the truck stayed on the road in the process.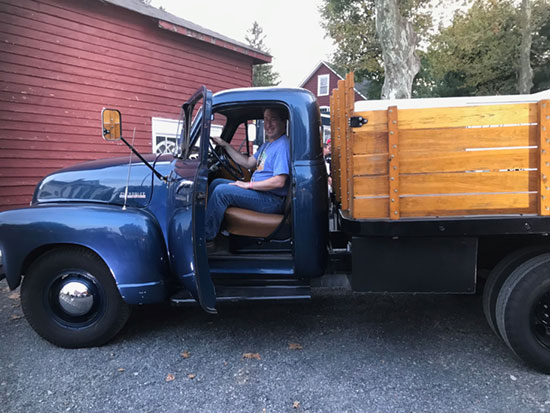 Photograph courtesy of Ken Rosen
The "Born to Run" fire truck that Bruce donated to the local fire department in 1991? That was there, too.
Under the big tent were the silent auction items, including signed, famed photos by Frank Stefanko and Danny Clinch (Danny's photo of Bruce is in his Broadway dressing room had reached $5,000 by the time I left around 10:30pm), Freehold getaway packages (including a private, after-hours museum tour), Bruce's mysterious "Nites of Rutgers" tee shirt (sadly, only a reproduction), and even a Big Man's Brew tap handle. All proceeds benefited the Historical Association, and well before the evening ended it was clear that the Association would have a lucrative evening.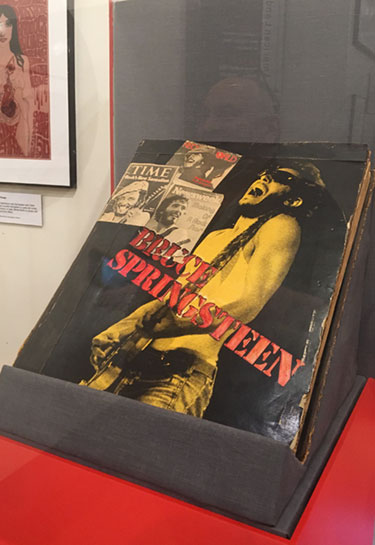 The exhibit itself held even greater treasures — whether you're interested in tour and album cover props, song lyrics, old newspaper clippings, or the Springsteen family tree, there's more to learn than one can reasonably take in during a single visit, especially for partygoers who were admitted through the evening in sequential 45-minute windows. I now know about the accomplishments and life events of Springsteens dating back to the American Revolution (which threatens to widen the scope of my "Kingdom of Days" blog posts to a frightening degree).
Photograph by Lisa Iannucci
Between the auction, the vehicles, the on-stage entertainment, and the museum exhibit itself (see our coverage here), it was easy to get overwhelmed at times. If you didn't know where to look next, however, you could always socialize with fellow party-goers. It was the kind of night where fans mixed and mingled with notables like Vini Lopez, Danny Clinch, Kevin Buell, and Tinker West. (However, Brian Williams, who had been announced as the host for the evening, did not appear to be present.)
By any criteria imaginable (except perhaps the weather—it was a hot, muggy New Jersey night), the event was a smashing success, and a terrific kick-off for an exhibit that every Springsteen fan should try to see.
- September 30, 2019 - Ken Rosen from E Street Shuffle reporting


IN FREEHOLD
Last night, Bruce Springsteen made a surprise appearance to perform "Light of Day" with Joe Grushecky & the Houserockers, at the opening event for the Springsteen: His Hometown exhibit.
"I can't stay long, I've got my family in the city," Bruce told the crowd, "but I just wanted to come down and thank everybody for supporting the [Monmouth County] Historical Association and for coming out tonight. I want to thank the kind folks who put the exhibit together — it's nice to be honored in your hometown. I hope you guys have a great night… enjoy yourselves!"
As you can probably tell from the video above, they did. Full report from the event to come.
- September 29, 2019 - thanks to Sammy Steinlight for the clip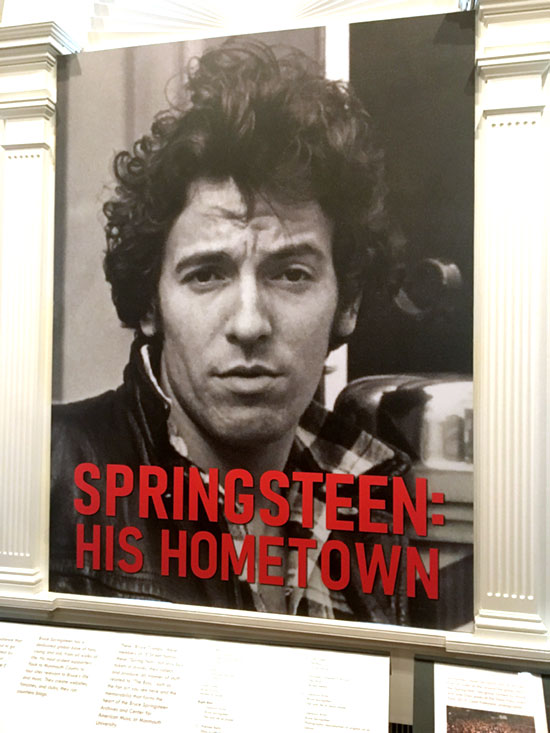 THIS IS HIS HOMETOWN
A sneak peak at the Springsteen exhibit opening in Freehold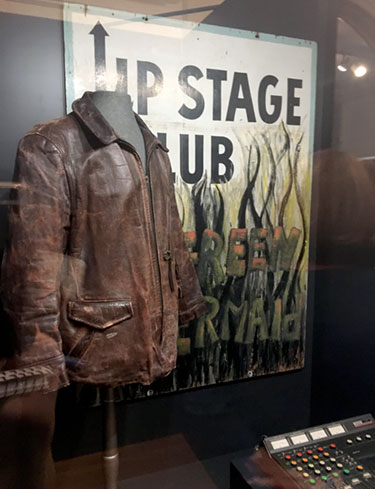 Excitement has been building since the mid-June announcement of "Springsteen: His Hometown," the Monmouth County Historical Association (MCHA) exhibit set to open Sunday, September 29.
Timed to coincide with Bruce Springsteen's 70th birthday, the exhibit is not meant to be a comprehensive portrait of the Freehold native, but rather to contextualize him within his hometown and its history — which is a good thing, because between his recent autobiography and long run on Broadway, there is no longer as much mystery surrounding Bruce's life and career.
That being said, there are interesting and noteworthy items included that make the museum well worth a visit, among them the "Ticket Booth" stage set from the 1987-88 Tunnel of Love tour, a handwritten grade school term paper, a humorous note from Bruce to his Long Branch landlady, a hand-colored Castiles poster, and the TEAC machine on which he recorded the Nebraska album. The items, pulled from the Bruce Springsteen Archives & Center for American Music at Monmouth University, from the MCHA, and from Springsteen's personal collection, are just a snapshot of the materials available to researchers now and in the future.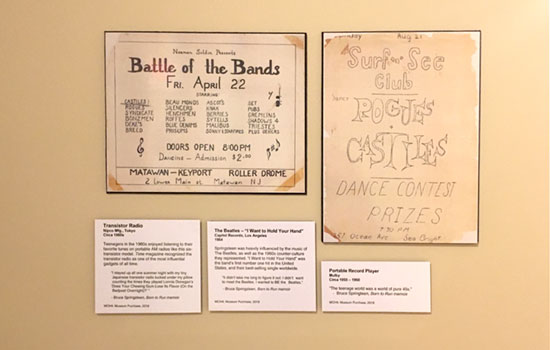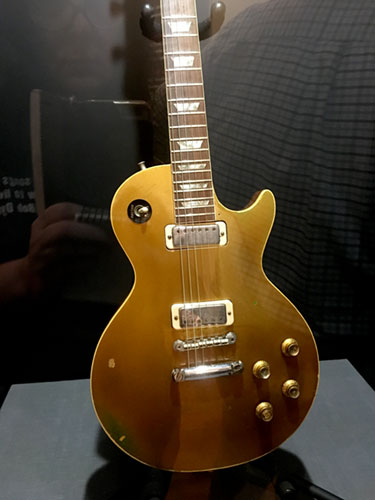 There are two distinct segments of this exhibit: the first floor is a fairly standard setup featuring a timeline of Bruce's life and key artifacts, like alternate album covers, promo posters, and guitars; the upstairs provides a brief overview of Freehold's history and details the lives of selected local relatives.
One room contains artifacts and biographical histories of his parents Douglas and Adele, as well as historical photographs of the town of Freehold. Another contains paintings, photographs, and papers documenting the history of a number of Dutch and Irish relatives and their participation in both the Revolutionary and Civil War. There's also a mock 1950s-era store front that Adele might have passed on her way to work each day.
Also included in the exhibit are: a short documentary film by local artist Adam Worth that includes 1931 footage of Freehold as well as home video footage and a poignant interview with Bruce's cousin Glenn Cashion; a small selection of fan art; even a "Fan Mail" box where visitors can leave their personal messages to Springsteen. What's not in this exhibit is audio —aside from the aforementioned film, you won't hear music or interviews/commentary that now seem de rigueur in contemporary music/cultural museums. This is a quiet exhibit.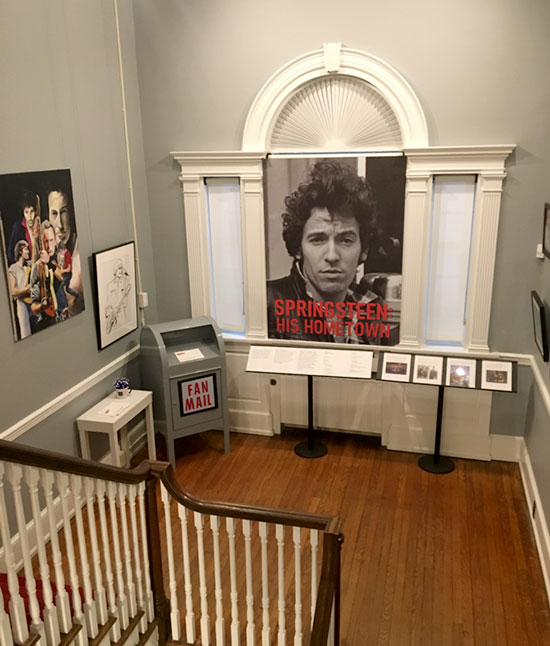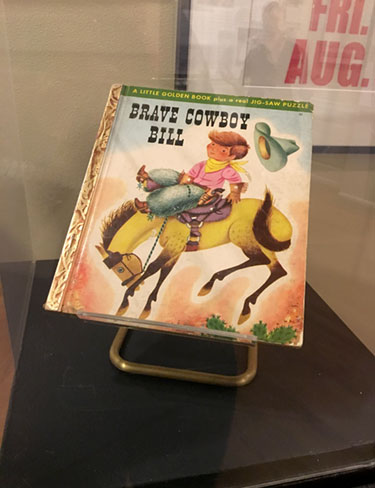 There is much to enjoy in this presentation, like the visually arresting blowup of a classic Frank Stefanko portrait hung on the stairway that greets you as you enter. But what lingers afterward is a feeling of loss, not so much for a time or a place but of a way of life.
Powerful family and community ties once made life in Freehold tolerable for the hard luck Springsteen family, as they did for much of America's working class. Despite devastating loss and paralyzing despair, people were able to keep on going because they had these human resources to lean on. Life moved more slowly then, and adults and children seemed to exist in different orbits. As a child, you were often left to your own devices and your own imagination to while away the hours. But you had much to anchor you, much to look forward to — the Sunday dinners, the picnics and birthdays, christenings and funerals, and of course, the obligatory family photos that were commonplace in everyday life. And this was all preserved not just in people's memories, but in archival images and documents and artifacts like those that comprise this exhibit.
But those days are long gone; people are busy with their electronics and often seem disconnected from each other and from the world at large. What was once documented on paper and in photographs now exists as an array of ones and zeros in a stream of data, and archivists and historians of the future will no longer sift through papers and images to uncover history, to discover and document the events of a life. Visitors of a certain age will recognize themselves in the images and artifacts of "Bruce Springsteen: His Hometown." But how will the next generations remember?
* * *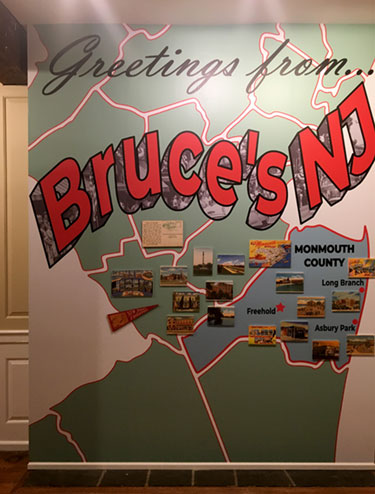 The MCHA has been posting teasers of the upcoming exhibit on social media, and has even set up a "pop-up" installation of a pair of Springsteen's guitars in the lobby of the Count Basie Theatre in Red Bank. There have been also contests for free exhibit tickets and solicitations for volunteer museum docents.
The MCHA will host a preview party this Saturday, September 28, featuring performances by Bobby Bandiera and Joe Grushecky and the Houserockers, and hosted by honorary chairman Brian Williams. The sold-out event benefits the Monmouth County Historical Association.
The "His Hometown" exhibit is co-curated by MCHA's Bernadette Rogoff and Melissa Ziobro, Monmouth University's Specialist Professor of Public History. It officially opens September 29, 2019, and runs through October 2020. Eileen Chapman, director of the Springsteen Archives, and Robert Santelli, founding director of the Grammy Museum in Los Angeles, are exhibit advisers.

Exhibit hours are: Wednesday, Friday, Saturday, and Sunday 11 to 5; Thursday 11 to 8. Timed entry tickets (available here or on site) are $15 for adults, $12 for seniors/students with ID; free admission for Freehold residents and children 6 and under. Photography is permitted.
- September 27, 2019 - report and photographs by Lisa Iannucci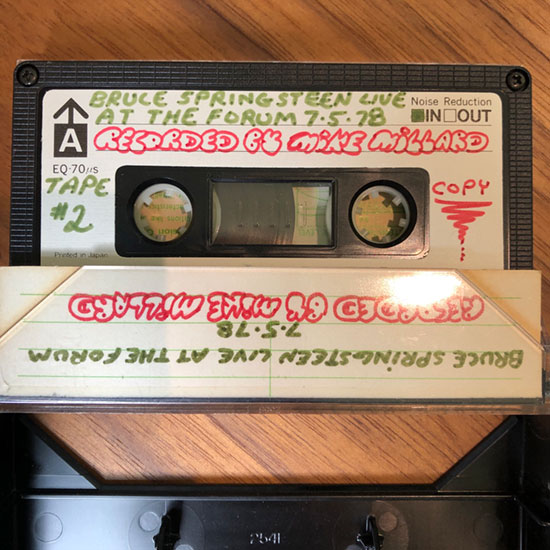 SONIC MAGIC IN THE NIGHT
Backstreets associate editor conjures live recording for The National
It ain't no secret that Backstreets has long had a major interest in live recordings — released and unreleased, broadcasts, bootlegs, taping, and tape trading. Readers may remember Lynn Elder, who rated and reviewed unofficial recordings for us (including Elder's You Better Not Touch series of bootleg reviews), and other Backstreets contributors like Fred Mills and Flynn McLean have also tracked such things for us over the years.
Then there's Erik Flannigan, longtime Backstreets associate editor. He and Lynn Elder go way back — they even dated for a stretch — and among Erik's particular set of skills is deep knowledge of taping history and live concert recording. You can read Flannigan's insights monthly at the nugs.net blog, where he provides context for each new release in Springsteen's live series.

Though it's not a Springsteen release, we think many Backstreets readers will be interested in Erik's latest project, a live release by The National with an intriguing twist, as well as an accompanying documentary that will fascinate anyone with an interest in taping culture. It's called Juicy Sonic Magic.
Erik writes:
Today, almost everyone attending a concert takes out their smartphone and records part of the show on video. Millions of such live clips can be found on YouTube. But in the '70s and '80s, few were brave enough to sneak in a recorder, cunning enough to elude security, and skilled enough to preserve live performances on audio tape in high quality. The late Mike "The Mike" Millard did all three with aplomb. He is responsible for some of the most beloved audience recordings of artists like Led Zeppelin, the Rolling Stones, Bob Dylan, Linda Ronstadt, Jethro Tull and Bruce Springsteen.

Millard is a legend among collectors of those artists on the Internet, but surprisingly little is known about him beyond a few basic facts. The rest is pure speculation. There isn't even a confirmed photograph of him found on the Web. I have tried to learn more about Mike for many years, and recently, after connecting with some of his close friends and family, I was finally able crack the code. His real story is fascinating and deserves to be told. I also wanted to understand how Mike made such great recordings on 1970s equipment.

Last year, I got the idea to track down the same vintage gear Millard used and recreate his taping set up. All I needed was a concert where I could lug in a 15-pound Nakamichi cassette recorder and full-size AKG microphones.

Happily, the Millard story piqued the interest of my friend Matt Berninger from The National, and the band agreed to allow me and my filmmaker friend David DuBois to record two concerts in Berkeley last September. I'm happy to say those recordings will now be released as a three-cassette box set for Record Store Day on Black Friday, November 29. In the process, David and I produced an accompanying mini documentary about Mike the Mike and our attempt to record The National using what we now call The Millard Method. The trailer for Juicy Sonic Magic has just dropped, and I'm thrilled to share a glimpse of Mike's story and the adventure we had paying homage to his work.
Watch the Juicy Sonic Magic trailer here, and read more about the project at relix.com.
- September 26, 2019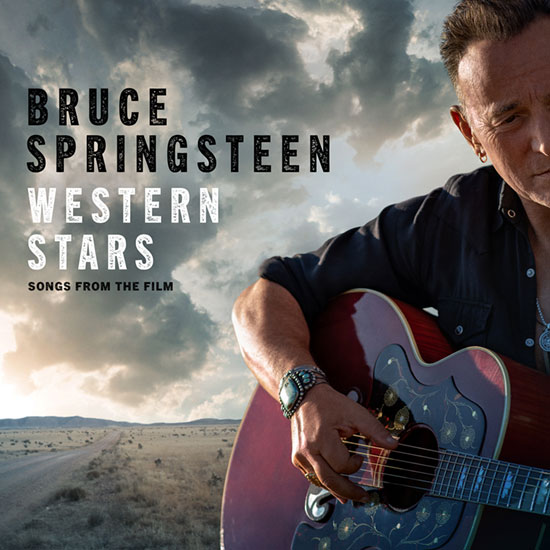 HELLO WESTERN STARS SOUNDTRACK
There may be no Western Stars tour, but we still get a Western Stars live album: the soundtrack to the concert film is coming from Columbia Records on October 25, the same day the movie opens wide in theaters.
Western Stars: Songs From the Film captures the performances straight from the movie, as performed live for the cameras at Stone Hill Farm in Colts Neck, NJ, with Springsteen backed by a band and full orchestra. The 14-song track listing includes the album in sequence, followed by a performance of "Rhinestone Cowboy." Produced by Springsteen and Ron Aniello, the audio has been mixed by Bob Clearmountain and mastered by Bob Ludwig.
Thanks to today's album announcement, we also have the full credits of musicians who performed in the film, including several familiar from the E Street Stage:
Bruce Springsteen: Vocals, Acoustic Guitar
Patti Scialfa: Acoustic Guitar, Vocals, Vocal Arrangements
Rob Mathes: Keyboards, Piano
Charlie Giordano: Piano, Organ, Accordion
Marc Muller: Pedal Steel, Electric Guitar, Banjo, Acoustic Guitar
Gunnar Olsen: Drums
Ben Butler: Electric Guitar, Banjo
Kaveh Rastegar: Bass Guitar
Henry Hey: Keyboards

Violins: Joanna Maurer (Concertmaster), Monica Davis, Maggie Gould, Joyce Hamman, Elizabeth Lim-Dutton, Laura Lutze, Annaliesa Place, Emma Sutton, and Robin Zeh
Violas: Maurycy Banaszek, Will Frampton, and Celia Hatton
Cellos: Andrew Janss, Maureen McDermott, and Alan Stepansky
French Horns: Rachel Drehmann and Zohar Schondorf
Trumpets: Barry Danielian and Curt Ramm
Background Vocals: Patti Scialfa, Soozie Tyrell, Lisa Lowell, Vaneese Thomas, and Surrenity XYZ
More details regarding formats and pre-ordering coming soon; watch this space.
- September 26, 2019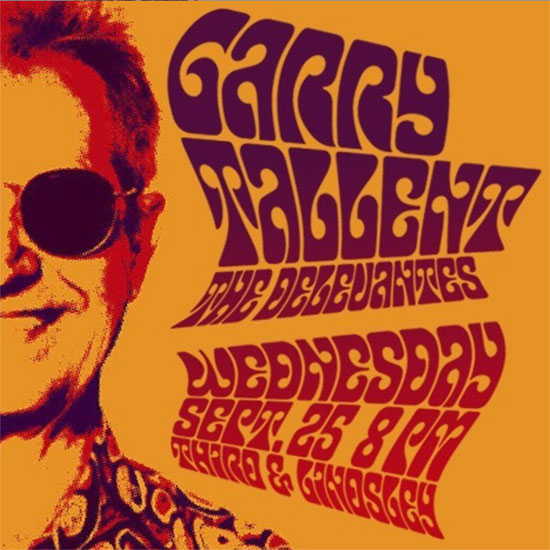 SITARS, CADILLACS, ETC.
With a gig tonight in Nashville, GWT talks More Like Me with Backstreets
When crafting one's story, one often looks back to the influences that make us who we are. For Garry W. Tallent, it's not just about looking back but bringing it forward. In 2016, Garry released his debut album, Break Time, his tribute to the rockabilly sound of the late '50s, a genre Garry acknowledges is closest to his heart. For his follow-up, he takes us on adventure into the next decade with More Like Me — "a salute," Garry says, "to the psychedelic, garage band, and pure pop sound" of the 1960s.
When Garry moved to New Jersey in 1964 he didn't know anyone at his new high school. He tells Backstreets, "I felt the only way to fit in was through music. So, I formed a band and we played the hits of the day."
In 1966 it seemed that every street in every town had a band rehearsing in a basement or garage, each with its own sound. Being in a band was cool, music was a universal language and source of connection. What wasn't so universal? Bass playing.

"No one really knew what a bass did," Garry laughs. "The English bands had a bass all of sudden, but we had bands that didn't have a bass because we didn't know what they did. I started playing bass, but I would also switch back and forth with guitar and even drums and organ — basically, trying to play wherever I could with better musicians than myself so I could learn. That was my path."
Garry sought the music that excited him the most. Songs that were unique, inventive and pushing boundaries. "In rock 'n' roll you're always trying something new, playing with it," he says, "That's what makes it fun. Certain songs would come on the radio that would catch my attention because they were new and different. Songs like '96 Tears' by Question Mark and the Mysterians, or the Beatles' album Revolver."
"Pushing limits," Garry continues, "is what rock 'n' roll is all about. Going out on a limb then getting back on track. Doing something that can't be anticipated. And sometimes you screw up. That's where the fun is, and that challenges me to be better musician."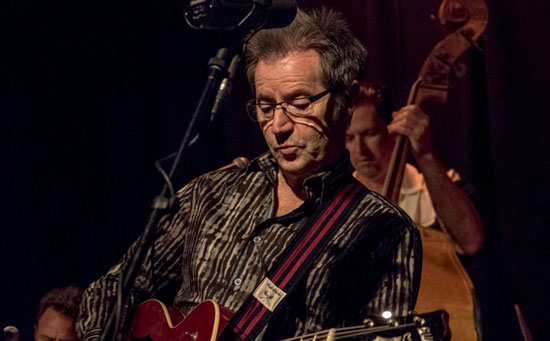 That sense of fun, challenge, and adventure pervades Garry's solo albums, on which he steps up to sing lead, trades his bass in for guitar, and on the new one — speaking of Revolver — even picks up the sitar. More Like Me takes a classic sound and pushes it. A twist here and a new approach here, and those '60s sounds are more than just recreated but refreshed.
"I approached More Like Me as an homage to the mid 1960s — I was aiming for 1966," Garry specifies. That era when there was a band on every street corner, in every garage. When the sounds were very diverse — you had the psychedelic influence, the pure pop sound, electric organ and distorted guitar."
The album's opening track, "Above the Rain," takes you there with its gritty, pulsing, feel-good 60s sound. Other highlights are "To Tell the Truth," evoking the sweet harmonies heard in the British pop hits of that time, and "No Sign of Love" with its haunting groove and sitar, which Garry says "You gotta have" — no record paying tribute to the era would be complete without that flourish. "Dirty Rotten Shame," which also features Bruce Springsteen sharing vocals, mixes in some of Garry's beloved rockabilly. The title track, "More Like Me," is a solid finish, a message of determination grounded in the sweet sound of the classic Vox organ. Co-produced by Garry and Tim Coats, it's an album full of great music, cleverly written and tightly produced.
Writing is not new for Garry, but singing is, and he wants to continue to improve. He didn't grow up singing like many of his contemporaries; in choir, he recalls that he was told not to sing, but to just move his mouth. Despite not being a natural, he eventually decided he could learn.
"I thought that I couldn't sing, so I accepted that. Some people are just born naturally with the ability to sing. I wasn't one of them. So, I'm going to learn. People can learn to do anything — it just takes practice."
He's been writing music much longer. "Writing the music comes easy," he explains, "but not the words. So I'll collaborate with another writer." With the exception of "Dirty Rotten Shame," all the songs on More Like Me are co-writes.
"I'm a guy who writes songs, versus a songwriter," he continues. "I admire those who study poetry, read voraciously, and draw from their literary experience to write… but I just kind of wrote what feels good. The very thing that kept me from doing this earlier is I knew that anything I did would be compared to Bruce. And he's a lyrical genius."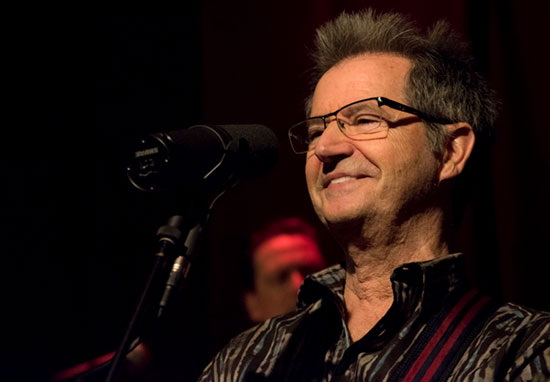 Next up for Garry is working with his Nashville compatriots The Delevantes on new recordings, 25 years since they did their last album together (Garry produced 1995's Long About That Time and 1997's Postcards From Along the Way). Looking back on their work together he says, "I'm proud of the records we made. We were aiming for country radio. I think we were a bit ahead of our time."
As always, Garry's about trying new things through finding interesting and unique music. It's been his mission since he first learned to play. He knew that this was what he wanted to do — as he puts it, "I just wanted to play music, so I didn't have to work a real job." And while you might imagine a third solo album would take us into the 1970s, Garry's still exploring and has recently been listening to the pop music of the 1940s, songs that echo the great collaborations that came from Tin Pan Alley.
As long as Garry keeps exploring and never, ever has to get that real job, we'll all be the better for it. Regarding another album, Garry says, "It's liable to be anything. We'll see." But this you can count on: "There's going to be a little bit of rockabilly in everything I do. That's just what I do."
Though Garry has no current plans to tour in support of More Like Me, he will be playing upcoming dates in Nashville with the Delevantes. Follow Garry on Instagram for updates on shows and appearances: @garrytallentofficial
Garry Tallent and the Delevantes will be performing tonight, September 25, at Third and Lindsley in Nashville.
Signed copies of More Like Me are available from Backstreet Records, on vinyl LP and compact disc.
- September 25, 2019 - interview and photographs by Barry Schneier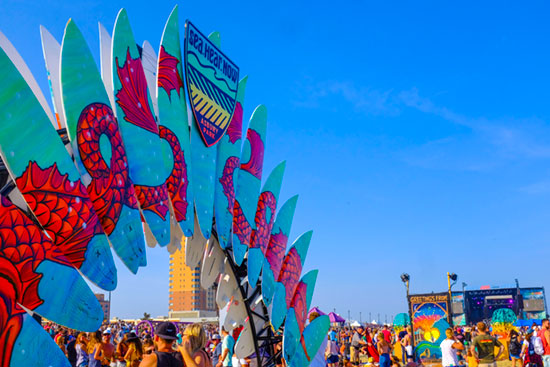 GREETINGS FROM SEA.HERE.NOW
As wonderful as the Jersey Shore is between Memorial Day and Labor Day, many say September is even better. "Locals Summer," as it is called, is loved by many because the tourists and day-trippers aren't as plentiful, but the Atlantic Ocean is warm, and the weather is usually nice. This past weekend in Asbury Park, the weather was indeed nice — hot, even, for the last weekend in summer.
But it was plenty crowded as well. And I emphasize plenty.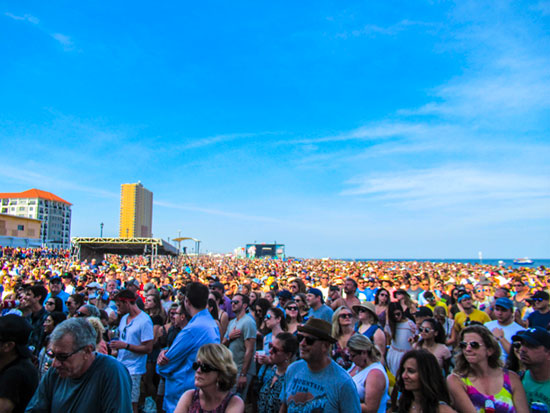 Roughly 35,000 people took in the Sea.Hear.Now music and arts festival, now in its second year. The sun was shining, and temperatures were in the mid-80s. That, combined with fantastic performances by local and national artists, made this weekend in Little Eden one to remember.
Sea Hear Now is the brainchild of Tim Donnelly and photographer (and Toms River native) Danny Clinch. Having worked many festivals, like Bonnaroo, together, they knew what needs to happen to put on a successful event.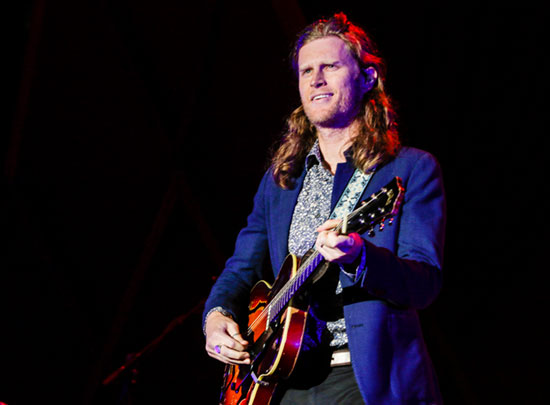 The first thing, of course, is bringing in great bands. This year the headliners included the Lumineers, who closed out Day 1 [above, head Lumineer Wesley Schultz], and the Dave Matthews Band [below], who capped the weekend festivities with a jingle-jangling 90-minute set on Sunday night.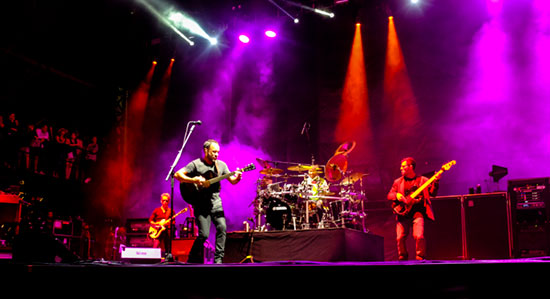 In between, though, were local bands like Lowlight (Asbury Park), Sharon Van Ettan (Hunterdon County), Low Cut Connie and Dave Hause & The Mermaid (both with South Jersey/Philadelphia roots), as well as other big names such as Blind Melon, Dropkick Murphys, Joan Jett & the Blackhearts, the B-52s, Bad Religion, and The Struts [Struts frontman Luke Spiller below] taking over either the Surf Stage or the Sand Stage.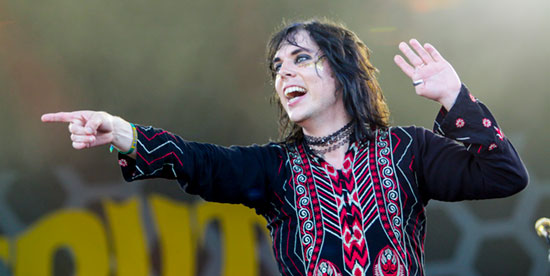 Technically the Lumineers can be considered a New Jersey band, too, as they got their start in Ramsey, NJ. And let's not forget, while the B-52s are considered an Athens, Georgia, band, lead singer Fred Schneider lived in Long Branch, NJ, and attended Shore Regional High School. This was a sort of homecoming for him as well.
All the while Danny Clinch could be seen on stage, either snapping photos with his Leica or adding his harp to some of the songs — this, in between acting as event promoter, host, and organizer of some late-night jam sessions with the artists.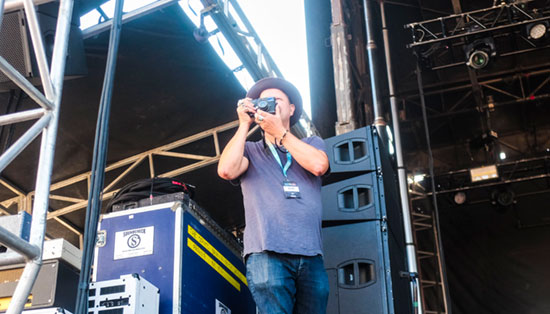 There were no Boss sightings — unlike last year, when Bruce Springsteen showed up to play with headliner Social Distortion — but still plenty of the Springsteen vibe to be found. E Street saxophonist Jake Clemons kept busy, guesting with Donavon Frankenreiter, the Marcus King Band, and Dave Hause & The Mermaid, as well as with Pearl Jam's Mike McCready and other artists at a Stone Pony jam on Saturday night. A number of artists did their version of Springsteen songs during their sets. Click here to watch all the covers — Springsteen and otherwise — performed over the weekend festival. A good number of festival goers sported E Street Band T-shirts from concerts through the years, as well.
What really makes Sea Hear Now unique, though, is its proximity to the ocean. While bands are jamming on the stages, festival-goers can also be watching world-class surfers doing their thing during "expressions sessions" on the water.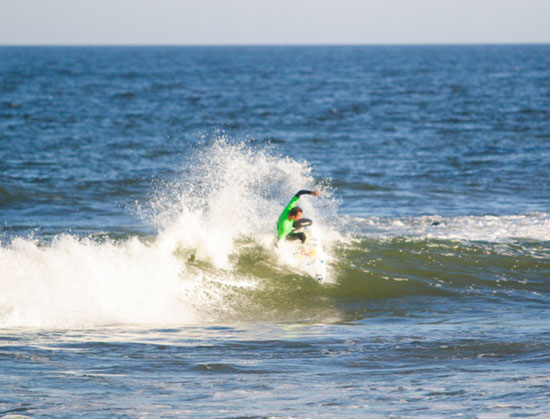 And, in the Transparent Clinch Gallery tent that was in Bradley Park, not far from the Park stage, artists from the bands had a chance to display their other creative outlets.
This was quite a summer in Asbury Park, which saw a good deal of Springsteen action. In May, he did a guest turn with his consiglieri, Little Steven, when the Disciples of Soul kicked off their tour in Convention Hall. In July, he returned to help out his pal Gary Tallent on a couple of songs on the Stone Pony Summer Stage; Bruce played eight songs with Southside Johnny later that same night. Then, in August, he and Patti walked the red carpet for the premier of Blinded by the Light.
Overall, the Sea Hear Now festival was an incredible way to goodbye to Summer 2019. Some festivals, like Bonnaroo and Lollapalooza, may be bigger in name and scope, but give it a few years, and SHN may well join their ranks.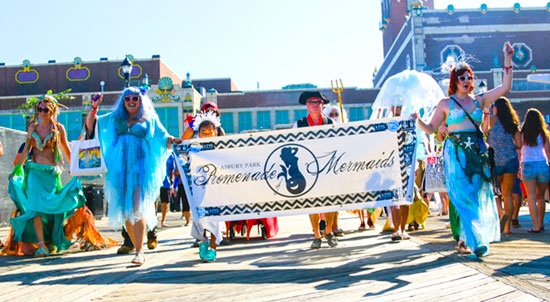 Anyway, where else can you see mermaids, mermen, and pirates parading down the boardwalk on their way to a Joan Jett concert?
Only in Asbury Park, New Jersey.
- September 24, 2019 - report and photographs by Mark Krajnak - follow him on Instagram @jerseystyle_photography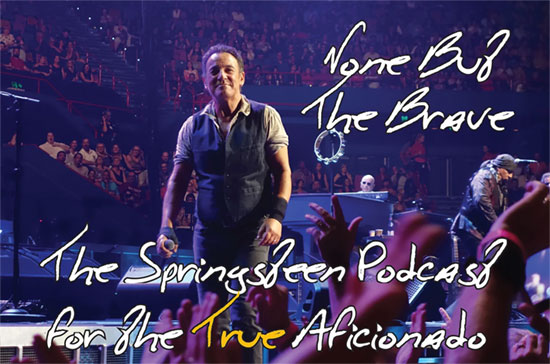 ALL WE KEPT TALKIN' ABOUT
New podcast None But the Brave launches for Springsteen's 70th
You may recognize their names from this space, and now you can listen to their new podcast: Backstreets contributor Flynn McLean and Hal Schwartz, whose reviews and photos appear here, too, have launched None But the Brave: The Springsteen Podcast for the True Aficionado.
Each episode will take a comprehensive look at an element of Springsteen's music and career. The first one isn't about a 1972 audition in midtown Manhattan or covers of news magazines in 1975; it's about Bruce's latest work, Western Stars. That makes sense for a variety of reasons, especially because both hosts really like the record.
"It seems like an unexpected place to go for an artist at this stage of Bruce's career," McLean says. "Images and subjects on Western Stars are familiar, whether cars, relationships, highways, or bars. But they tell a different story, and that's part of what makes this album unique."
New episodes will appear every two weeks, and the second one will concentrate on Springsteen's Live Archive series. No shortage of material there, of course, as the official series itself has been a monthly affair for over two years now.
None But the Brave had been on Schwartz's mind for a while. "Creating a podcast is a lot more difficult than I thought," he says. "We spent a quite a bit of time figuring out how we wanted to approach it: bouncing episode ideas around, doing research for potential topics. It took a while to come together."
And then there's the low barrier to entry, which is a benefit and potential hazard for any venture like this: though their expertise is tops, neither is a professional broadcaster. "No matter how much we talk about Bruce, doing it for public consumption is a lot different," Schwartz says. "Full disclosure: the episode you're hearing today is not our first attempt. We think we have it down now, and hope people will like it."
None But the Brave lives at nonebutthebravepodcast.com and there you will find links to subscribe to the show on all major podcast platforms. You can listen to Episode 1 now.
- September 24, 2019


POWER AND PASSION AT 70
"I'm a lifetime musician," Springsteen said in 1992, at the age of 42. "I'm going to be playing music forever. I don't foresee a time when I would not be onstage somewhere, playing a guitar and playing it loud, with power and passion. I look forward to being 60 or 65 and doing that." As we wish Bruce Springsteen a very happy 70th birthday, we also celebrate the fact that he was exactly right. Keep on keeping on, Bruce. As a wise man also once said, "The older you get, the more it means."
And to celebrate the big day, Backstreets presents...
THE BOSS INDEX
For his 70th birthday, Bruce Springsteen by the numbers
- September 23, 2019 - photograph by Danny Clinch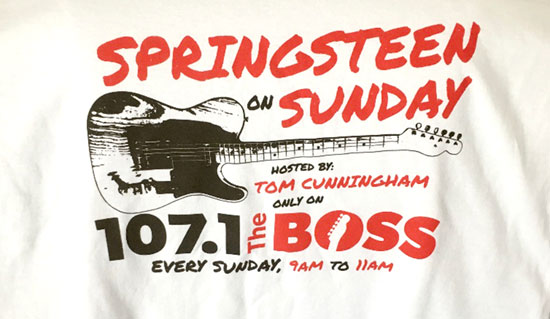 SPRINGSTEEN ON SUNDAY CELEBRATES 7-0 WITH ALL THE FIXINS
With birthday festivities in mind, DJ Tom Cunningham is taking his show on the road this weekend, emerging from the studio confines for a special edition of Springsteen on Sunday broadcasting live from Windmill Hot Dogs! Sunday morning's show will originate at the Jersey Shore chain's newest location, Ursula Plaza/ North Long Branch — and if you're in the area, you're invited to the party.
As usual, Tom's all-Springsteen radio show will air live from 9am to 11am — but this Sunday doors open at 8am, and it's first-come, first-served. Windmill will have some complimentary light breakfast fare on hand, and the grill will be open as well — so if you want hot dogs for breakfast, just bring some cash! You might go home with something new in your pocket, too. Tom will be giving away birthday presents, with chances to win:
Limited edition Springsteen on Sunday T-shirts (pictured above)
Tickets to see Southside Johnny & The Asbury Jukes at the Hard Rock Hotel & Casino in Atlantic City, on Friday 11/22
Tickets to the upcoming Springsteen: My Hometown exhibit, opening on 9/29 in Freehold
A package from photographer Frank Stefanko, which includes one of his Springsteen prints and a T-shirt that goes along with it.
Tom will joined by special guests for the program: the co-curator of Springsteen: His Hometown, Bernadette Rogoff, will be there for all the scoop on the upcoming Monmouth County Historical Association exhibition, and Stefanko will be there to talk about his role in it, too.
If you can't make the party in person, you can stream online or tune in to 107.1 The Boss.
- September 20, 2019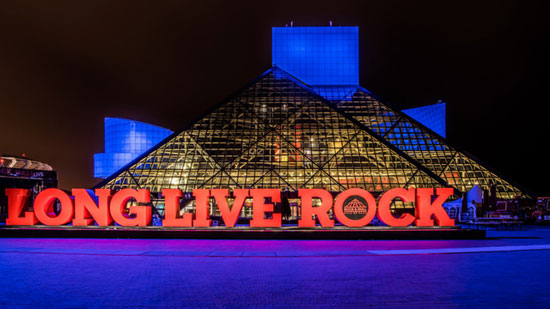 HELLO CLEVELAND!
Coinciding with Bruce Springsteen's 70th birthday, we are excited to announce that Barry Schneier will be giving a presentation about his book Bruce Springsteen: Rock and Roll Future at the Rock and Roll Hall of Fame next week: Friday, September 27 at 2pm in their Foster Theatre.
"This is a true honor, and a chance to for me to meet more of the fans who backed the book," Barry tells Backstreets, "as well as many new people. I really enjoy sharing my stories and taking questions." Barry's been doing quite a few speaking engagements since the book's launch, but he says the Cleveland stop will clearly be a highlight. Bruce Springsteen was inducted into the Rock Hall in 1999 and the E Street Band followed in 2014.
Barry's relationship with the Rock Hall goes back more than a decade to 2009, when his work with artists such as Van Morrison, Bonnie Raitt, Jackson Browne, and Patti Smith as well as Bruce Springsteen became part of the Rock Hall's permanent collection. His images were featured in the Rock and Roll Hall of Fame + Museum's 2009 exhibit "From Asbury Park to the Promised Land: The Life and Music of Bruce Springsteen."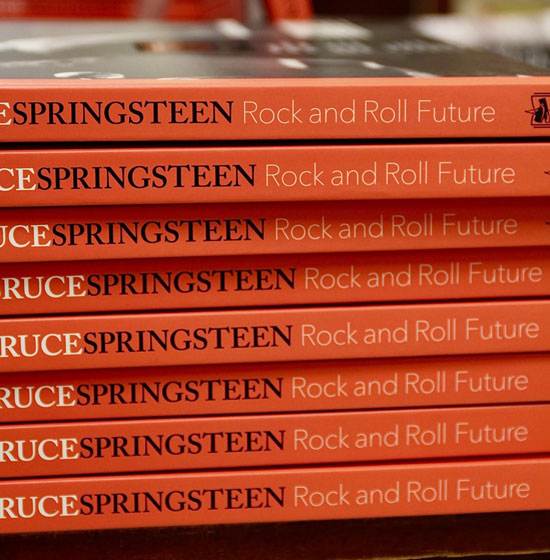 Barry's presentation goes deeper into the stories found in Rock and Roll Future, discussing the early '70s era that is the book's focus and his own involvement with the music scene at the time. In addition to expanding on the '74 E Street Band photos in the book, Barry will share his more recent images of Bruce and the band, as well as other photos of E Streeters on the road with their own projects. Following the presentation there will Q&A and an opportunity to purchase signed books (or to have yours signed if you already have a copy).
More signings and speaking events around the country are in the works now; we'll be the first to tell you as these dates and locations are formalized.
Learn more about the Rock Hall event here
Purchase your copy of Bruce Springsteen: Rock and Roll Future here
- September 18, 2019 - photographs courtesy of the Rock and Roll Hall of Fame (top) and Cary Mulcahy

MORE 70th BIRTHDAY SONGS, SATURDAY AND SUNDAY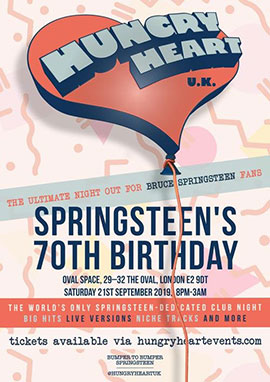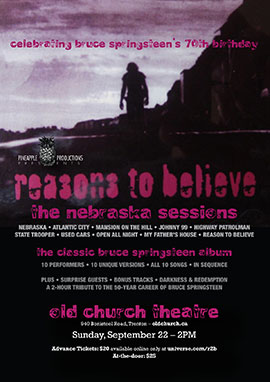 - September 18, 2019

CALLING ALL MONTREAL-AREA FANS
Boss birthday bash in Canada does its part for hungry hearts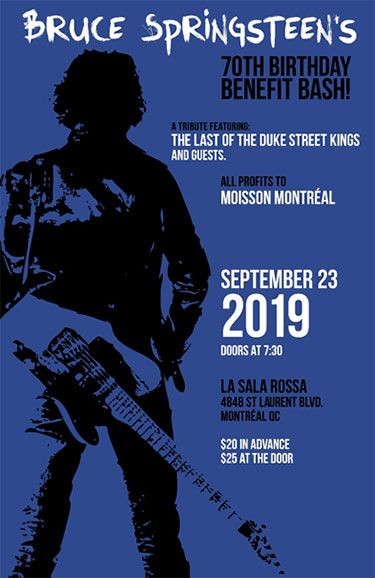 Here at Backstreets, we often think of September 23 as a national holiday. This year, as Bruce Springsteen approaches 70, that doesn't feel so out of touch with reality. While we've written about the Pink Cadillac Club parties getting underway tonight, they're not nearly the only birthday celebrations planned — and, of course, the holiday is international.
North of the border, a tribute concert to commemorate Springsteen's 70th birthday will raise funds for Moisson Montreal, the city's — and Canada's — largest food bank.
The Last of the Duke Street Kings, Montreal's own world-class Bruce tribute band, will provide a rocking evening of great Boss music Monday night at La Sala Rossa, one of the city's best established clubs. Last of the Duke Street Kings are known not only for doing a masterful job of playing Springsteen songs, but for capturing the spirit of an E Street Band performance with their joy and energy.
Other performers include an all-star band led by Montrealer Howard Bilerman, Grammy-nominated musician, producer and engineer. Howard's long list of credits include drumming for Arcade Fire as well as working on award-winning recordings for Leonard Cohen, Godspeed You! Black Emperor, and literally hundreds of others. Sharing the stage with Howard will be Campbell Woods, Chris Velan, Josh Toal, Mike O'Brien, Simon Nakonechny and Steve Herskovitz.
If you're in the area, celebrate Bruce's music with a fun night for a terrific cause, September 23 at Sala Rossa, doors open at 7:30. Tickets are $25 at the door, or $20 in advance via eventbrite.ca or thepointofsale.com.
- September 17, 2019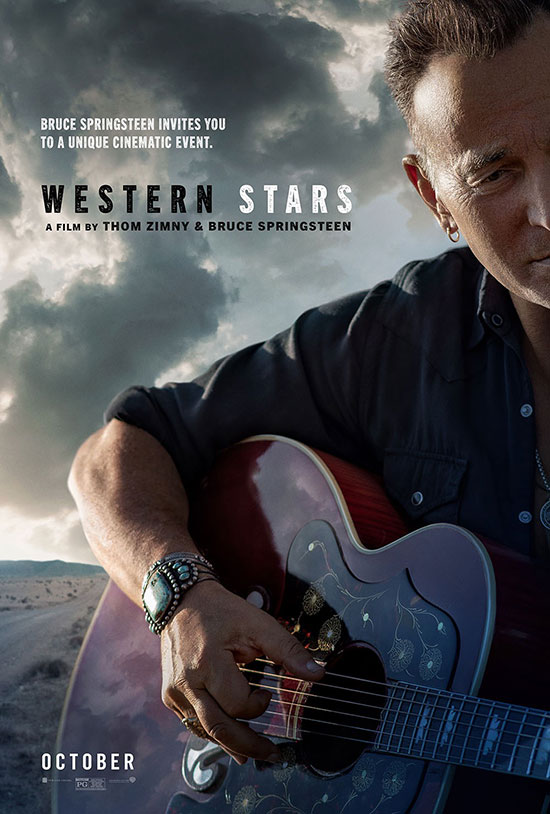 ZIMNY TAKES FANS BEHIND THE SCENES FOR WESTERN STARS PREVIEWS
After last week's rapturously received world premiere of Western Stars, which Thom Zimny co-directed with Bruce Springsteen, followed by Zimny's Emmy win over the weekend for Springsteen on Broadway, you might think a guy could rest on his laurels. For at least a little while. But no, the filmmaker is getting right back into the editing bay, working on what he calls an "ultimate fan piece" for the Fathom Events premieres of Western Stars.
As the Fathom press release notes, these early screenings will add "an exclusive look behind the scenes with Springsteen, including never-before-seen archival footage and previously unreleased music from the Springsteen vault."
Zimny tells Backstreets, "This is not a throwaway." He describes the bonus feature as combining "outtakes from the shoot, as well as some video clips from the vault — some moments I've found that apply to the story of Western Stars that no one has seen." As for the "behind the scenes" footage, Zimny says it will include "conversations with Springsteen, talking about the filiming experience," as well as "interviews with Patti [Scialfa], the band, and the production team."
To see this extra material along with the feature film, find a theater near you and purchase tickets for the Fathom screenings here, taking place on October 19 (7pm) and October 23 (4pm and 7pm).
Fresh from Toronto, Zimny describes the TIFF premiere as "magical — such a fantastic audience, I couldn't dream of a better way to share this with people for the first time." (See the Toronto Sun's report from the red carpet here.) "It was a packed house, just a perfect way to end this chapter and present it to the world. To see Bruce and the band projected that way... sonically and visually, it was one of the best experiences for me as a filmmaker."
"The Q&As afterward were really insightful too," Thom adds, "with [TIFF documentary programmer] Thom Powers and [Warner Brothers chairman] Toby Emmerich. They both got Bruce talking about his process, with an audience that had just seen the film — and Bruce went deep."
Update: watch official TIFF Talk video below:
Zimny is one who likes to play it loud, and he stresses that any fans who can should make sure to catch this one one in theaters, with the big screen and big sound you get as part of the cinema experience. If you're unable to attend the Fathom Events previews, certainly don't miss it when Western Stars officially opens on October 25.
- September 16, 2019 - Christopher Phillips reporting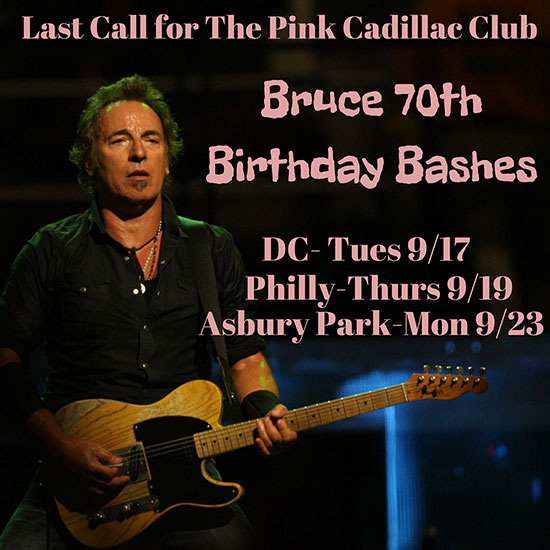 SEVEN NIGHTS TO ROCK, AS 70th BIRTHDAY WEEK BEGINS
And the Pink Cadillac Club is singing our birthday song
A reminder that the East Coast's only all-Springsteen 70th birthday parties are occurring over the next seven days in Washington, DC; Philadelphia suburb Wayne, PA; and Asbury Park, NJ.
Tickets are still available for the Pink Cadillac Club events in DC (tomorrow night, Tuesday 9/17) and PA (Thursday 9/19). The NJ party on Monday September 23 had less than ten tickets available as of last night.
In addition to a night full of Springsteen music (cool, rare, and rockin') and meeting and dancing with fellow tramps, the Pink Cadillac Club has partnered with Fathom Events to give away two pairs of movie passes, at each party, to the advance Fathom Events screenings of the highly acclaimed new Western Stars film.
At the DC and PA parties, attendees will be able to film short birthday greetings for Springsteem, which Fathom will edit together and post online on September 23.
In addition to the ticket giveaway, the Pink Cadillac Club will be giving away three 11x14 prints of Springsteen at each party that have been published on backstreets.com and/or brucespringsteen.net and are suitable for framing. These Springsteen prints will be given away at 7pm, 9pm, and 11pm each night.
All parties start at 6pm — think of it as a Happy (Birthday) Hour. The DC event is ALL AGES. In PA, minors under 21 can attend with parent or legal guardian. In Asbury Park, all attendees must be 18 or over.
Visit the following links for advance tickets:
Read more about the history of the Pink Cadillac Club here. Follow on Facebook, Instagram, and Twitter.
- September 16, 2019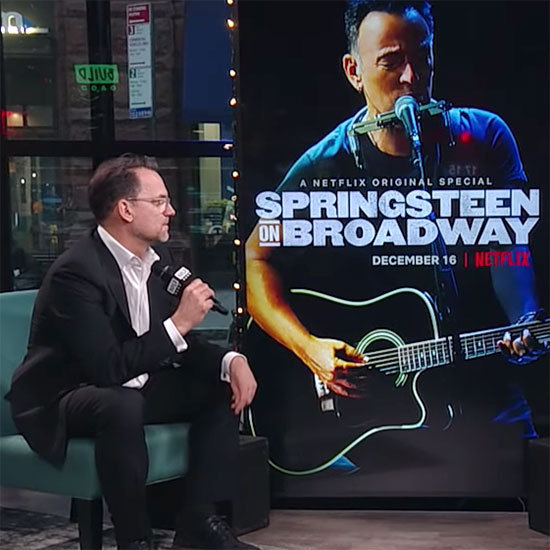 DIRECTOR THOM ZIMNY WINS THE EMMY FOR BROADWAY
While the 71st annual Prime-time Emmy Awards are still a week away, the honors began this weekend with the presentation of the Creative Arts Emmy Awards — which is where we look for Netflix's Springsteen on Broadway. While Carpool Karaoke: When Corden Met McCartney beat the Netflix film for Outstanding Variety Special (thus tabling any EGOT dreams for now), Springsteen on Broadway garnerned a tropy in its other category last night: Thom Zimny won the Emmy Award for Outstanding Directing for a Variety Special. Congratulations, Thom! View the full list of awards at hollywoodreporter.com.
- September 15, 2019

VOTE FOR BRUCE'S BEST, AS E STREET RADIO CELEBRATES 9/23
It may be an impossible task to keep track of all the 70th birthday celebrations coming up for our main man, but we'll keep trying! Over at SiriusXM, E Street Radio (Ch. 20) is polling fans for their favorite 20 Bruce Springsteen songs, as a basis for a new Top 100 countdown. Throw your 20 hats in the ring at Siriusxm.com/BruceTop100 — but be forewarned, you're about to encounter a whole lot of option paralysis, as you scroll and scroll and the hits keep comin'. The fan-generated Top 100 will kick off Bruce's birthday on the station, premiering Monday, September 23, at 8am Eastern.
- September 13, 2019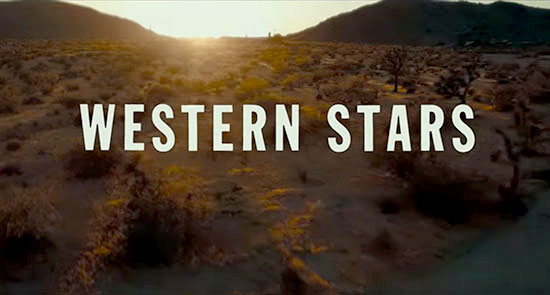 A STAR-SPANGLED RODEO IN TORONTO
The world premiere of Western Stars brings Springsteen & Zimny to TIFF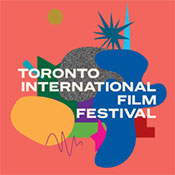 Appropriately for a film called Western Stars, the first shot is of wild horses, running free in an unnamed western desert landscape. There's no rattlesnake speedway in sight, and we would later find out these scenes weren't shot in the Utah desert but in California, near Joshua Tree. Even still, the scene is firmly set. Bruce Springsteen is about to take us to the Promised Land.
The voiceover starts, and Bruce says Western Stars is made up of stories about "individual freedom versus communal life, and how they rub up against each other every day in American life." Then we cut to the hay loft in an 18th-century barn on Bruce's property. It was chosen as the location to perform the album because they needed a place that could fit a 30-person orchestra. Once the musicians are ready, Bruce and Patti Scialfa clank two shot glasses, down the booze, and we're off.
When Toronto International Film Festival documentary programmer Thom Powers introduced the private screening of Western Stars held for journalists on Thursday morning, he said that some Bruce albums demand to be heard on car speakers, but Western Stars demands to be heard from a great movie theater sound system. Truer words, as they say.
The performance sounds phenomenal. In addition to the 30-person orchestra and the usual guitar/bass/drums/piano, Bruce and Patti also employ a horn section and several backup singers. I remember when I saw Bruce live in 2006 with the Sessions Band, I described it to friends by saying that there's something special about the kind of noise a dozen people can make on stage together. Well, this Western Stars performance used more than 40 people, and it was a special kind of noise indeed.
The joy and ethereal beauty of this music deserves to be discovered without too much given away, so I'll only reveal some of the shockingly incomprehensible scribbles that filled three pages of my notebook by the end of the film. I was particularly moved by the sound of Charlie Giordano's piano in the mix. As an avid Roy Bittan devotee, I admit that it's confusing to me when Bruce ever wants to play with another pianist. But Charlie won me over here, particularly on "The Wayfarer." Stylistically it's a different sound than Roy, but it's lovely all the same. And definitely watch out for the horn section on "Sleepy Joe's Café."
For the first time in his career, Bruce used a music director to assemble the musicians and hold rehearsals. The live music was recorded over the course of four days, but there's a lot more to the Western Stars film than just the live show. We go back to the California desert for an interlude between each track, and Bruce — still in story mode after several years of playing Broadway and writing his autobiography — tells us about the sonic, narrative, and philosophical ideas behind the songs. In one of the great surprises of the documentary, these interludes are accompanied by instrumental music that Bruce wrote and recorded. It was Bruce's first foray into film scoring, which he says he enjoyed because it played like a "tone poem."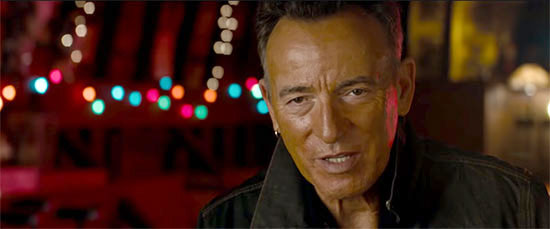 It wasn't always going to be that way. As Springsteen said in today's Q&A, which also included co-director Thom Zimny, the original plan was to do a typical music film where, as Bruce put it, "people talk about how great I am to work with, and the usual shit." But that didn't work, and then one night in front of the TV he wrote all of the voiceover script in just a few hours.
Bruce informed the Toronto audience that he views the film as part of a trilogy, along with his book and Broadway show, and it's obvious why when you hear his words in the documentary. It's not just that he's still in story mode, but that he's in revealing mode. Several quotes stuck with me, such as "The older you get, the heavier the baggage that you haven't sorted through." As someone who's really starting to feel like he ain't that young anymore, that line cut into me.
Bruce also talks about how he's spent the Gladwellian 10,000 hours on his craft, but that he's spent even more time trying to let go of the destructive parts of his character, and his tendency to hurt those he cares the most about. This is partially why, as he says, "being lost is something [he has] always been good at writing about."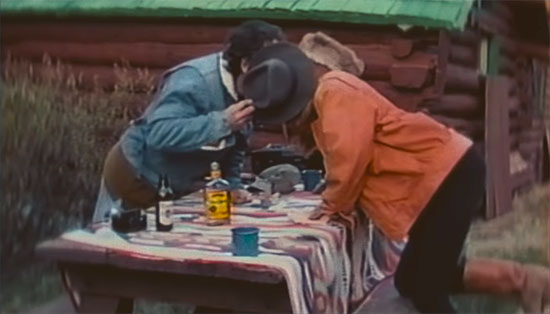 In perhaps the most personal reveal, one of the interludes is punctuated with footage from Bruce and Patti's honeymoon. They're playing cards on a picnic table in Yosemite, Patti pregnant with their second child, Bruce within arm's reach of a bottle of whiskey on the table. Bruce mugs for the camera, and Patti dances in the doorway. It's a lovely moment.
The interludes are also revealing about the songs themselves. As the film opens with "Hitch Hikin'," Bruce says that it's his 19th album and he's still writing about cars as a metaphor for movement. He asks, "Are we moving forward?" In other interludes he refers to "Western Stars" as the reference point for the record, calls "Sundown" a tribute to Jimmy Webb songs, and describes the stuntman in "Drive Fast" as a metaphor for risk and the idea that "we all have something broken."
With "Moonlight Motel," the record ends on what Bruce called a contemplative note, which is why the film gives us an extra surprise, a fun note to end on as the closing credits begin to appear. In a move that evokes the 2009 tour, when the band would test their chops by playing nearly any classic song they could find written on a sign, Bruce leads the musicians through a rousing version of "Rhinestone Cowboy," the kitsch classic made famous by Glen Campbell.
The song works. Sonically, it has the sheen of the record and the celebratory feeling of the concert film, which shows audience members enjoying the music while sitting at a bar on the side of the barn. And thematically, it hits a note of autobiography that again reminds us that the film is meant as a trilogy bookend. Bruce says he grew up with the TV westerns of the 1950s, and he always wanted his music to encompass the whole country. In a film that alternates several times between a barn in Jersey and the California desert, that span feels sufficiently, beautifully accounted for.
- September 12, 2019 - Daniel Joyaux reporting - Follow Joyaux on Twitter at @thirdmanmovies, and read his further Toronto coverage for Filmotomy: TIFF Diary #1 and TIFF Diary #2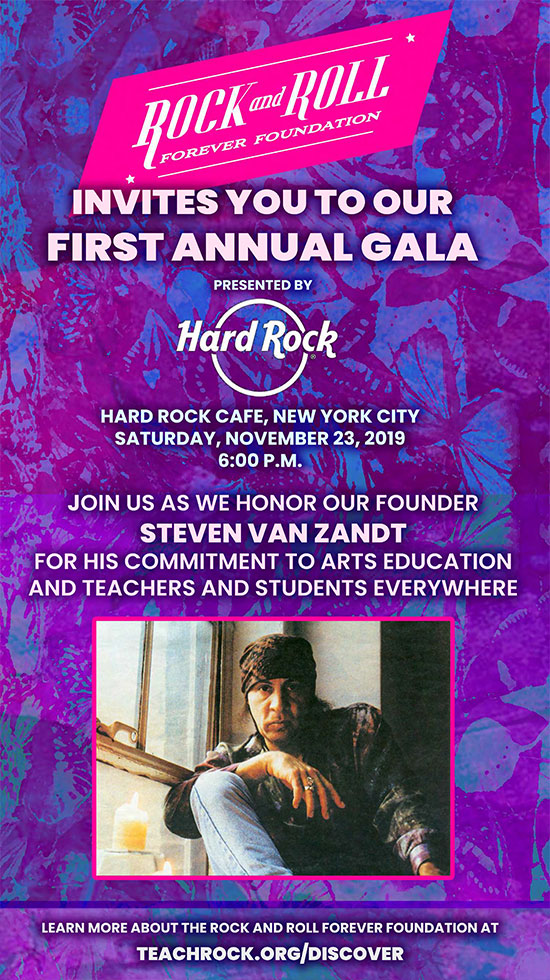 A SUPERFLY SOIREE, WITH STEVEN & SOUTHSIDE
This fall, after the Summer of Sorcery Tour wraps in early November, Little Steven has another date on the books: the Rock and Roll Forever Foundation will honor their founder at the organization's first annual gala, November 23 at the Hard Rock Cafe in Times Square. Drew Carey will host the event, which includes dinner and open bar, followed by musical entertainment provided by none other than New Jersey Hall of Famer Southside Johnny and the Asbury Jukes (with "surprise special guests," of course). New Jersey governor Phil Murphy will also be on hand for the award presentation, honoring Stevie for his dedication to education.
Individual tickets are available now via ticketweb.com. If you'd like to further help the cause, sponsorships and VIP packages are also available, with more info at that link.
The Rock and Roll Forever Foundation is a 501(c)(3) established by Steven Van Zandt. TeachRock is the Foundation's national K-12 curriculum initiative. Created to address the challenges of an environment in which schools face cuts to arts funding, TeachRock includes interdisciplinary, arts-driven materials designed to keep students engaged and in school — a groundbreaking curriculum available at no cost to educators. For more information, visit TeachRock.org.
- September 12, 2019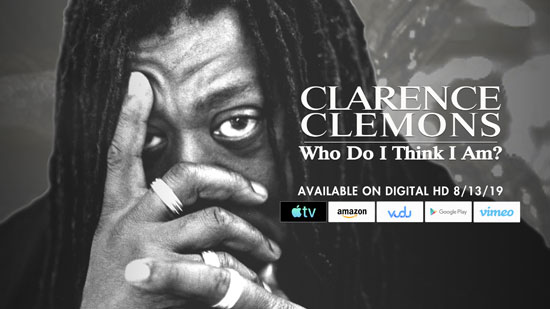 PORTOBELLO A NEW MARKET FOR NICK MEAD & HIS BIG MAN DOC
While Clarence Clemons: Who Do I Think I Am? is at last available via streaming and home video, the documentary still has a life on the festival circuit as well. Director Nick Mead recently won the Best Director award at the recent Silver State Film Festival, and he's bringing his doc to West London on Friday, where it will screen as part of the Portobello Film Festival.
Clarence Clemons: Who Do I Think I Am? plays this Friday, September 13 at 7:30pm, part of Music Night at The Muse Art Gallery on the Portobello Road. Mead will be in attendance for the free screening and will be doing a Q&A afterwards.
Created in 1996, the Portobello Film Festival has been called "the biggest celebration of independent film in Europe" (The Independent), where festival-goers take in new works in a wide variety of venues. As stated on the festival's website: "At the start Portobello lacked a cinema… and anyway we have never charged admission, which makes screening in commercial cinemas problematic — so through virtue out of necessity, the Festival has screened films in diverse venues like parks, theatres, clubs and bars."
"I love that the films aren't screening in just cinemas," Mead tells Backstreets. "I always got more of a kick out of my films being shown in out-of-the-way places, like across a vineyard in wine county, or at a real music festival like Glastonbury. A film of mine closed that festival in 2014. So, tenuously — very, very tenuously — you could say I've headlined at Glastonbury. Though I'd deserve a smack in the mouth for suggesting that."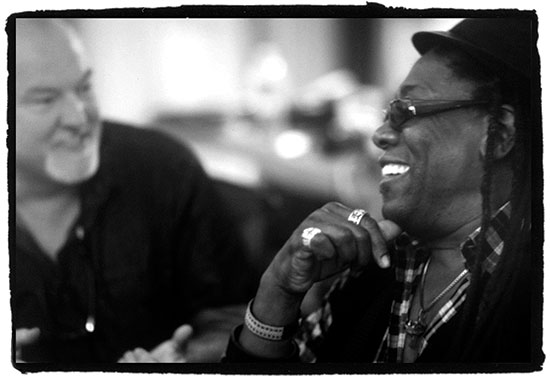 Nick Mead and Clarence Clemons - photograph by Jo Lopez
A showing at the Muse Art Gallery gives Mead a kick for more than just one reason. As a young filmmaker Mead made his first music video for Motorhead, the legendary British heavy metal band, and his credits include the Black Leather Jacket documentary; Portobello brings him back to familiar ground.
"The Portobello Film Festival was and remains the Holy Grail for me," Nick tells Backstreets. "It's around the corner from the Great Western Road, where I worked with Motorhead for years on their film stuff. That was how I got into all this. Motorhead was my film school."
Mead's musical friendships go beyond late greats like Clarence Clemons and Lemmy Kilmister; he also tells Backstreets of Friday's event, "I'm talking to some West London Punk legends who've suggested they may well cover a few Bruce songs after the screening… but we'll see."
In any case, if you're in West London on Friday, it won't cost a dime to check it out. "The cost of admission are the words 'Chris from Backstreets sent me,'" Nick jokes (but tell him hi for us anyway). "It's the first London outing for Who Do I Think I Am?, so I'm thrilled that it's that part of London, and thrilled, being the old lefty that I am, that all the events are free."
For further details, visit portobellofilmfestival.com.
- September 11, 2019 Christopher Phillips reporting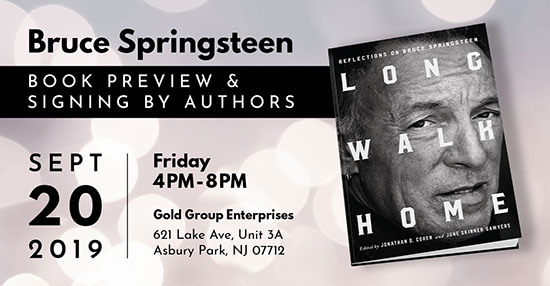 ASBURY EVENT FOR LONG WALK HOME, SEPTEMBER 20
We've previously reported that on the big day, September 23, the new book Long Walk Home: Reflections on Bruce Springsteen will have a launch party at Strand Books in NYC. A few days prior, an event in Asbury Park will also celebrate the publication. Gold Group Enterprises, at 621 Lake Avenue, will be hosting a book preview and signing on Friday, September 20. Three of the book's authors — Jonathan D. Cohen, Daniel Wolff, and Kenneth Womack — will be there for brief remarks and with pens in hand, and you'll find cocktails and light refreshments, too. For more information, visit gold-group.com/springsteen.
- September 10, 2019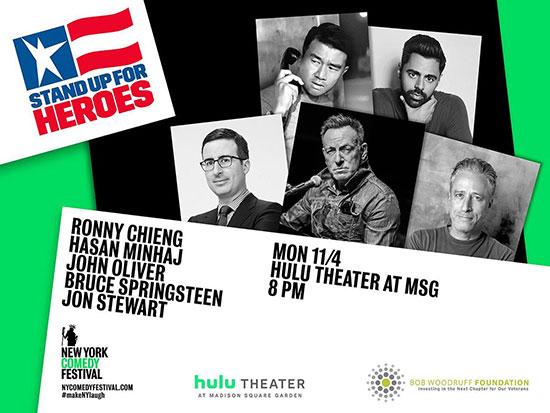 TICKET ALERT: STAND UP FOR HEROES
The Stand Up For Heroes tradition continues: Bruce Springsteen will return November 4 for his 12th performance at the annual Bob Woodruff Foundation fundraiser. Part of the New York Comedy Festival, the benefit concert usually finds Springsteen interspersing some dirty jokes with his acoustic tunes, on a bill with joke-tellers who do it for a living — this year it's Ronnie Chieng, Hassan Minhaj, John Oliver, and John Stewart. The event (including an on-site auction) benefits and is a tribute to wounded, ill, and injured veterans and their loved ones (you can read more about it here).
Select tickets ($500 and above) are available now, with the rest going on sale tomorrow, Tuesday, September 10, at noon Eastern via Ticketmaster.
- September 9, 2019

WESTERN STARS SHINING EARLY VIA FATHOM EVENTS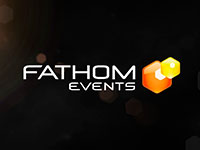 This week's TIFF world premiere won't be the only early look at Bruce Springsteen's Western Stars film. Fathom Events and Warner Bros. Entertainment are bringing preview screenings of Western Stars to selected theaters, ahead of the film's October 25 general release.
The preview events are scheduled for October 19 and October 23. Tickets will go on sale to the general public beginning this Friday, September 13. No details have been made available yet regarding which specific theaters will host the preview events, but you can click here for all currently available information, sign up for e-mail notification of any updates, and order your tickets when they become available.
- September 9, 2019 - Shawn Poole reporting


PIÈCE DE RÉSISTANCE
Springsteen's live archive series serves up a true classic: Passaic 9/19/78
Oh, to be 17 and driving my first car up and down the East Coast following the Darkness on the Edge of Town tour. I was a bit too young to properly experience the Summer of Love, but in 1978 I had the Summer of Bruce. My traveling companions customized a song from the new album for me: "I got a '75 Chevy and it always breaks down…." In between car repairs we saw Bruce Springsteen and the E Street Band in their prime and at the absolute top of their game, night after night.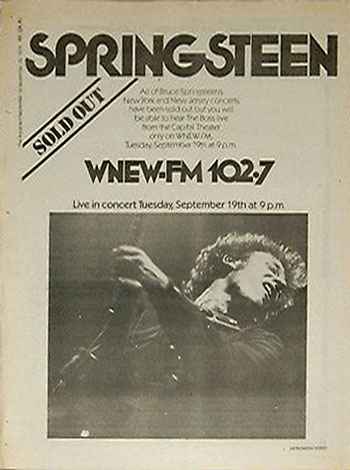 A few days before that magical summer officially ended, New York-area Springsteen fans were given a special gift. The September 19 show at the Capitol Theatre in Passaic, New Jersey, was broadcast over WNEW-FM. There had been other broadcasts earlier in the tour: we had cassettes of the Los Angeles and Cleveland shows blasting in the car on those road trips. The subsequent Atlanta and San Francisco broadcasts from that tour maintain their own legendary status, but the Passaic show would eclipse them all. After countless bootlegs, that legendary performance is out today, officially released for the first time as the latest entry in Bruce Springsteen's live archive, where it joins the Passaic show from the following night in the series.

Had the Capitol Theatre broadcast been Bruce Springsteen's fifth album, it would have found a well-deserved place alongside albums like the Rolling Stones' Get Yer Ya-Ya's Out, The Allman Brothers Band At Fillmore East, James Brown's Live at the Apollo, and The Who's Live at Leeds as one of rock's greatest live albums. And it sort of has, in spite of never being officially released (until now). Between numerous bootlegs — most notably Pièce de Résistance, a three-LP set that appeared shortly after the broadcast — and the incalculable number of copies traded around the world, the Passaic broadcast is probably in more collections than some commercially released albums.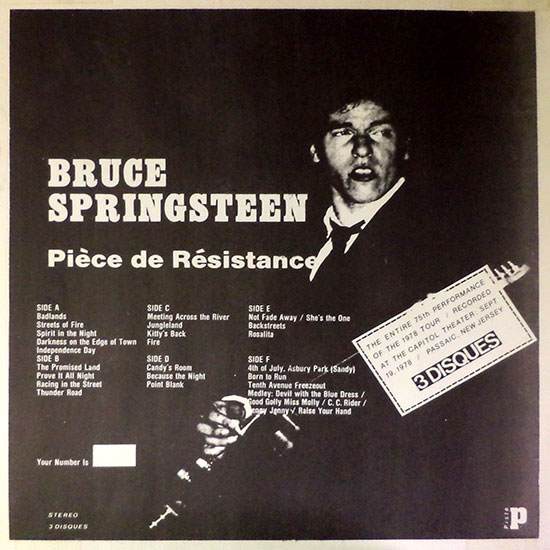 As bootleg albums go, Pièce de Résistance was unusual. Not only did the sound quality far exceed that of mere mortal bootlegs, but also the performance was stunning. It would not be hyperbole to opine that every song performed that night was captured on the recording in a definitive version. In some cases there is no doubt. ("Prove It All Night," "Racing in the Street." "Thunder Road," and "Because the Night" leap to mind.) The band is flawless throughout.
It was hard to get a ticket before the world heard the September 19 broadcast; now it would be nearly impossible. This was the best advertisement for seeing a Bruce Springsteen and the E Street Band concert that there could be. And that was probably the main reason for five shows being broadcast during the tour.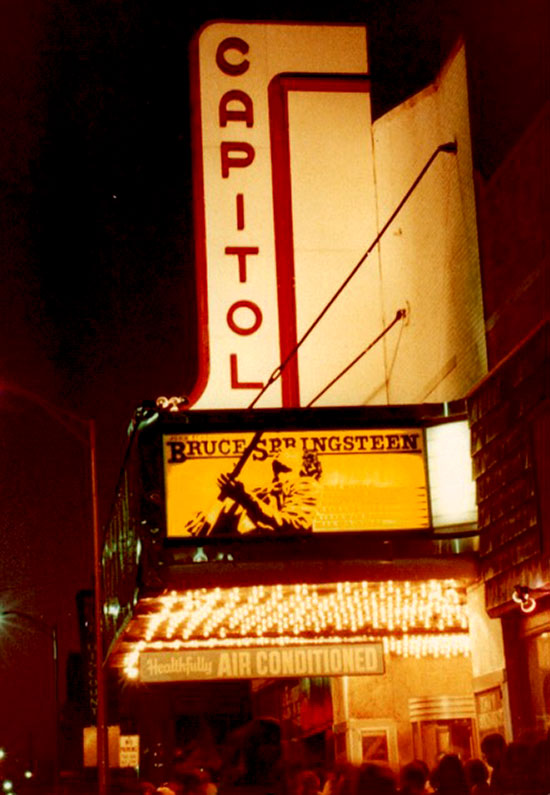 photograph by Robert S. Bader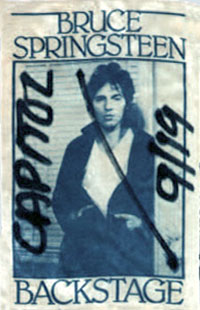 The Darkness tour was a game changer for Bruce and the band. Rather than drop old favorites to make room for new songs, the show expanded to a two-set, three-hour affair. The tour had several New York dates — Nassau Coliseum in June, three at Madison Square Garden in August, and three at the Palladium in September — but the three-night stand at the Capitol Theatre that started on September 19 marked the first New Jersey dates. (Apart from a show at Princeton University in November, they would be the only New Jersey Darkness tour dates, in this era before the construction of the periodically renamed arena in the Meadowlands.) It was a homecoming for Bruce and the band, and his 29th birthday was imminent. Fans showered Bruce with gifts each night. (For new listeners, Bruce's remark about "socks and underwear" refers to some of the many projectile birthday gifts that landed on the stage.)

The Darkness tour shifted between arenas and theatres, and the smaller venues — like the Capitol Theatre — added the extra dimension of intimacy. Not just in terms of crowd size, but also the size of the stage. In extant in-house video of the show, the surprising visual aspect is the E Street Band practically bumping into each other on the crowded stage. A front orchestra seat provided a very different mix of the sound. The guitars were extraordinarily loud because the amps — which had microphones in front of them for the house mix — were so close to the seats that they could be heard directly and in the full mix from the P.A. system. The stage at the Capitol was also pretty low, so this added to the effect.


One of the great joys of the Darkness tour (and several subsequent tours, for that matter) was that any song could randomly turn up in the set list. And being broadcast live on the radio didn't make this any less likely. The rarely played "Meeting Across the River" was dedicated "to the New York City folks that treated us so good at the Garden." Four days earlier at the Palladium, "Kitty's Back" had been played for the first time since 1976; the song's appearance for the Passaic broadcast gave fans a pristine recording of a wild, extended version of an infrequently played fan favorite. The fact that it was played the following night — Nugs released the September 20 concert as an archive series installment in 2017 — in no way minimizes the joy of blasting the September 19 version throughout the decades. Having both recordings makes as much sense as attending both shows — you do it if you can. (Concertgoers on September 20 did not complain when they heard "It's My Life" and "Incident on 57th Street" along with three other songs not played the night of the broadcast.)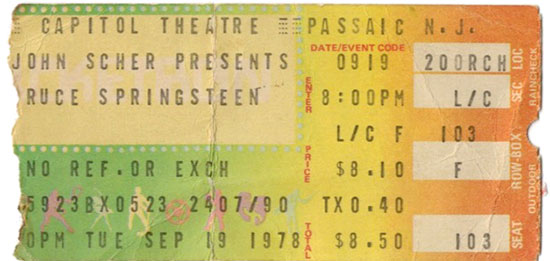 courtesy of Robert S. Bader

For a fan lucky enough to score a ticket to the Passaic show, there was little risk of being unable to get a copy of the broadcast. Tapes were rolling everywhere. But taking no chances, I bought a second auto-reverse cassette deck a few days before the show and trained my mother to record the broadcast. With two staggered machines going, there would be no danger of missing anything for a side change. We ran a few drills, and my mom was a natural bootlegger. I wore those tapes out. It didn't take long for the bootleg records to appear, and they would eventually be followed by bootleg CDs. My cassettes have long been retired, but they remain in my personal Rock and Roll Hall of Fame. Thanks, Mom.
But even the best recording of the radio broadcast will pale in comparison to the new official version. The multitrack master tapes have been transferred using the acclaimed Plangent Process and have been remixed to perfection. The September 19, 1978 Capitol Theatre show has now been given the respect it deserves — and sounds like it might have, had it actually been Bruce Springsteen's fifth album all those years ago.

Best Bruce Springsteen show ever? Who can really say? But you would not be ridiculed for giving the honor to that special Tuesday night in Passaic back in 1978. Play it loud. Play it often. It'll feel really good. It always does.
For more on Springsteen at the Capitol Theatre read our 2015 interview with promoter John Scher by Jay Lustig
Also read Erik Flannigan's latest nugs.net blog entry, "The Boss Comes Home"
- September 6, 2019 - Robert S. Bader reporting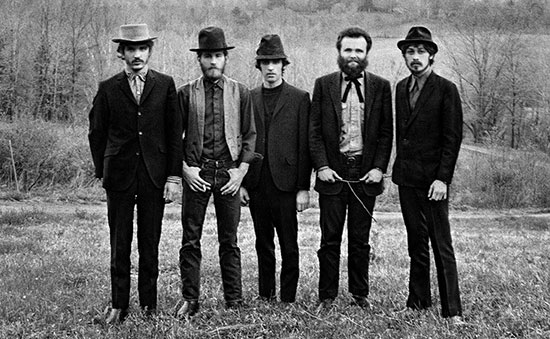 TIFF TESTIMONY: ONCE WERE BROTHERS A "HOME RUN"
Springsteen features in The Band documentary, premiering today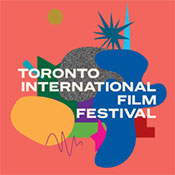 The Toronto International Film Festival is officially underway today, and while Western Stars won't have its premiere for another week, Bruce Springsteen has already appeared on the silver screen as part of the festival. Once Were Brothers: Robbie Roberston and The Band is TIFF's Opening Night Gala Presentation, and our pal Joe Amodei (of Virgil Films, producer of Who Do I Think I Am?) was there for an industry screening earlier today.
I just saw Once Were Brothers: Robbie Robertson and The Band here at TIFF, and I have to say it's one of the best documentaries I've seen all year. Featuring multiple interviews with Bruce Springsteen along with Van Morrison, Taj Mahal, Martin Scorsese, and Bob Dylan, this look at the formation of the legendary rock 'n' roll group extends all the way through to their breakup and final performance documented by Scorsese in the legendary film The Last Waltz.
Robertson narrates, and what's amazing about the new film is that it holds back nothing when it comes to the ups and downs The Band went through, including how excessive drug and alcohol use just about destroyed everything they had built.
Poignant, funny, tearful, and honest, this doc is one to look forward to when it hits the cinema sometime in the future. This is one of the first releases out of the new documentary division of Ron Howard's Imagine Films, and it is a home run.
- September 5, 2019 - Joe Amodei reporting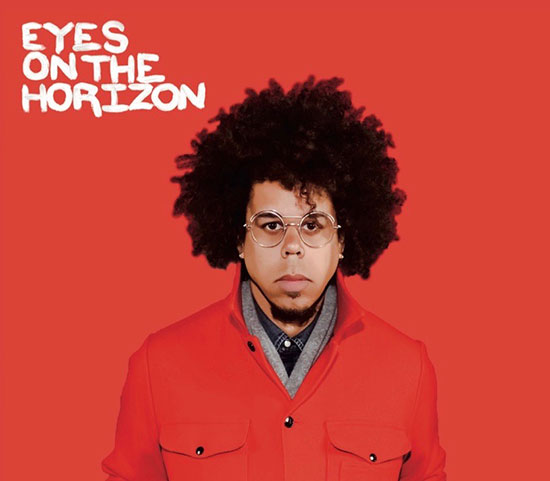 FIGHT FOR YOUR RIGHT
Jake Clemons returns September 6 with Eyes on the Horizon
Jake Clemons' Eyes on the Horizon, out tomorrow, is follow-up to his 2017 release Fear and Love. That debut album was an introspective one, with a clear Side A and Side B. As Jake told Backstreets back in 2018, Fear and Love is an intensely internal record that goes to the depths of the psyche. Eyes on the Horizon is a more outward-looking album. Jake still delves into personal relationships, but he takes matters a step further and explores themes on a more global level.
Produced by Clemons and Jake Hull, the album features 10 tracks: nine penned by multi-instrumentalist Clemons, and one cover, of Leonard Cohen's 1992 song "Democracy." Each song is like a chapter in a well-crafted novel: strong enough to stand on its own, yet that much more meaningful when taken together as a whole. What we are given is a cohesive record where the message is found not only in each song's lyrics but in the thoughtful track sequencing.
Much like Fear and Love, Eyes on the Horizon is sonically rich. Jake sings lead on all tracks, his vocal range growing ever more impressive with each release. He plays guitar, keyboards, and of course, saxophone. Add in a full band and some wall-of-sound background vocals, and you have an album that hits all of the notes.
The album opens with "Swan Song," with a swirling tide that builds up to and underlies nearly two verses that set the tone for the entire record. It's a question, a plea, and an explanation. The singer is compelled to move on, to search for a better place. With this song and the record as a whole, Jake sounds like he's crawling out of his own psyche. He's singing about the challenges we are confronted with in the world today. Take notice. It might not be good now, but if we work together, it can be.
The first two singles, "Democracy" and "Consumption Town"" (featuring Tom Morello) were released after social media teasers. Both have accompanying lyric videos created by Billie de Buitléar of Hairpin Productions. "Democracy" is an ultimately hopeful song that is perhaps more relevant now than when it was written. "Consumption Town," featuring images hand drawn on an iPad, is a wake-up call. It sounds the alarm: beware the trappings of our modern, and at times wasteful, click-and-ye-shall receive society. The message is clear — we need to guide the ship.
"Mom Deserves Better" is perhaps the next chapter of Fear and Love's "Janine," Jake's call encouraging us to, in his words, "actively pursue a better, safer environment for us all to live in." (To that end, Jake created The Janine Project in 2017, an online resource for women battling domestic abuse.) The haunting lyric "It was bad when you left her / But worse when you pretended you were still there" has to resonate with anyone who grew up in a household dominated by a strained relationship.
Tracking "Mom Deserves Better" after "Consumption Town" is brilliant. "Consumption Town" is universal — look what all of us are doing to the planet. Everybody's upside down. "Mom Deserves Better" speaks on a more individualized level. Substitute a cheating husband for all of us and a torn family for the planet, and everybody's upside down.
Some tracks are outright full-band rockers, like "¡Ayuda! (When the Sun Goes Down)," which will no doubt be a barnburner when played live. The song opens with Jake shouting "¡Ayuda!" and by the time the band kicks in a few seconds later, you're hooked and ready to ride the wave. Don't let this rocker fool you, the album's theme is still there. The world is screwed up. As Jake sings, "The burden's on me, but the blame's on you!" But I'm going to fix it. You are. We are.
"Nothing Left "is perhaps the least hope-filled song on the record, yet it's still ultimately relatable. Paired with "Regression," which eases in with a soulful sax that underlies the entire narrative, both explore a failed relationship. Sometimes it's completely shattered and gone, other times you are looking for a spark to make you feel something.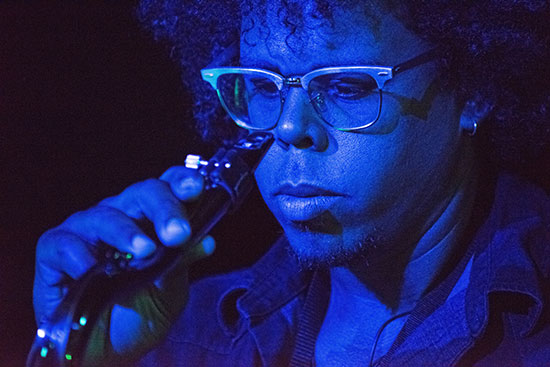 photograph by Barry Schneier
What makes this record so critical in these times is that Jake does more than simply tell stories with universal themes. He's punctuated these stories with questions that stay with the listener well after the album is over. To take a spin on a well-known line, music should comfort the disturbed and disturb the comfortable.
As Jake sings in "We, The People": "And who among you is the last to confess / if one of us ain't free, then we're all oppressed?" The second line, as merely a statement, could easily have a home on a sign at a political rally. When taken in tandem with the first line and posed as a question, it takes on a different meaning, requiring self-reflection. This is music that's not telling you what to think but compelling you to think.
In the official press release for the record, Jake singles out the title track "Eyes on the Horizon" as a statement about the need to reach towards something better. "We always have to carry that hope with us. Tomorrow can be a better place for all of us, if we're willing to do the work to get there."
The album closer "Goodnight" features Jake, a piano, and the gut-punch of a last line: "Goodbye is just goodnight this time / so goodnight for the last time / goodnight / goodnight for the last time / goodnight." The listener is left with the haunting finality of the song. And, like all great art, it stays with you long after the record is done.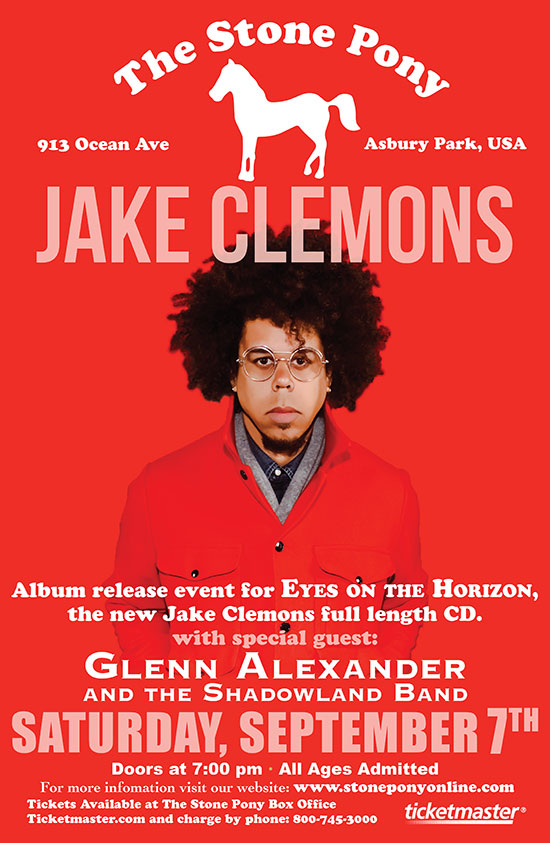 Clemons will celebrate Friday's release of Eyes on the Horizon with a Saturday night show at the Stone Pony in Asbury Park, NJ, September 7. Visit stoneponyonline.com for tickets and details. Visit jakeclemons.com for many more upcoming tour dates in support of the new album.
- September 5, 2019 - Anna Selden reporting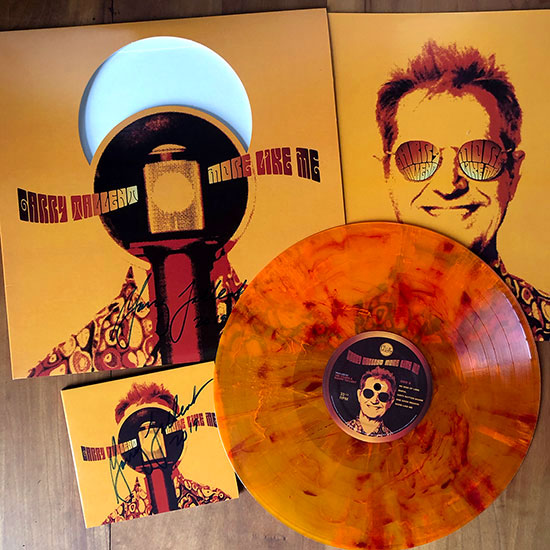 MORE LIKE ME: SIGNED COPIES IN STOCK NOW
Garry Tallent's second solo album, his follow-up to 2016's Break Time, is in stock now at Backstreet Records — and thanks to GWT himself, we've got autographed copies of More Like Me on both compact disc and vinyl.
Just as Break Time was Garry's tribute to the music he loves from the '50s, his new one is all about the garage sounds of the '60s. As a record collector himself, Garry released a particularly handsome package for the LP, with swirled colored vinyl and a die-cut cover revealing a portion of the inner sleeve (designed by his pals The Delevantes). Both the vinyl and the CD have been signed on the cover for Backstreets customers, come and get 'em!
- September 4, 2019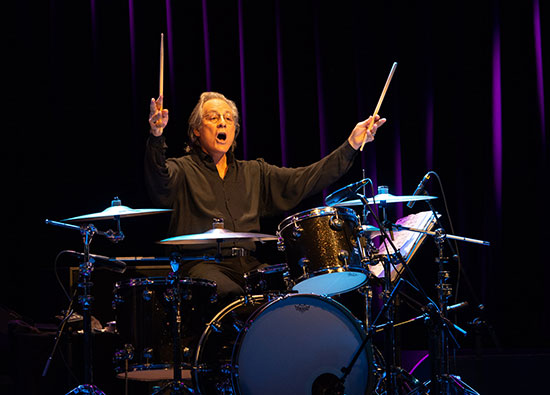 MAX WEINBERG'S JUKEBOX SETS SEATTLE ON "FIRE."
The Triple Door, Seattle, WA
August 20, 2019
It was a sleepy Tuesday night in Seattle in August, but "fire" broke out twice at the Triple Door club. That's because Max Weinberg's Jukebox came to town, and played not just one, but two songs titled "Fire." The Seattle date was part of the extensive Max Weinberg Jukebox tour (details at maxweinberg.com).
The first of the "Fire" songs was a cover of the Jimi Hendrix classic (for "a hometown guy," Max said). A little later they went into "Fire" by... well, you know the other "hometown" guy, the one Max plays with in his day job. This is an all-request tour, and Max and his band perform in front of a menu listing 300 rock classics by the Beatles, Stones, Kinks, and others. Some requests are shouted out, and for others Weinberg goes out into the audience between songs — though he joked that he could only remember three requests at a time, "because, you know, I am 68."

Max is indeed 68, but his steady muscular playing style might convince you otherwise. On Hendrix's "Fire," for example, he was so spot-on you could close your eyes and think that the young Mitch Mitchell, from Jimi's band in 1966, had come onstage. That song displayed a flashier style than Max often uses in the E Street Band. After playing a Cream song, he recalled the "no junior Ginger Bakers" classified ad that led to his E Street Band audition, but little did everyone know that Max had plenty of Ginger Baker in him, too, if he wanted it.
Weinberg's style, though, has always emphasized the song and melody over drumming flashiness, which served him well in Seattle playing British and American '60s classics. Almost all the selections were from an era of music that Max said shaped him (and, of course, an era that shaped Bruce, and shaped many in the crowd at this show). The musicianship was impressive, as Max and his crack band had the ability to tackle a classic with only a moment's notice. That meant playing "Whiter Shade of Pale" five seconds after someone yelled the title, or pulling off an impromptu "I Wanna Be Sedated."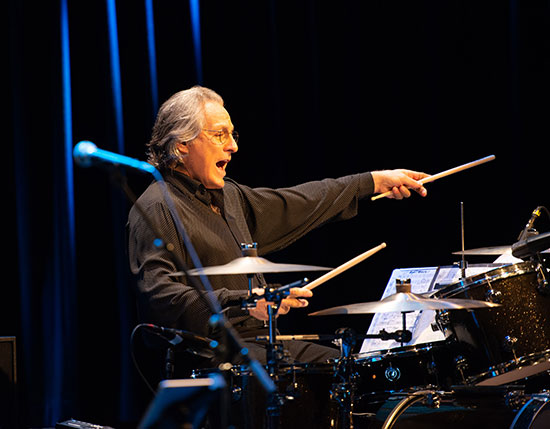 But it was the stories Max told before and after songs that truly made the night special. In a way he was giving context for where the music fit into his life (and sometimes where it fit into the Bruce canon), but mostly describing why these songs matter in the first place.
After playing "Glad All Over" by the Dave Clark Five, Max talked about seeing that band in Newark as a kid, recalling that at one time they had as many hits as the Beatles at on the pop charts. Clark's name appeared on his drum set — "which made him the boss," Max joked. So when Max led his own band on the Conan O'Brien television show for many years, his own name was on the kit. "If there was ever any debate about a decision," Max laughed, "I'd just point to the name on the drum."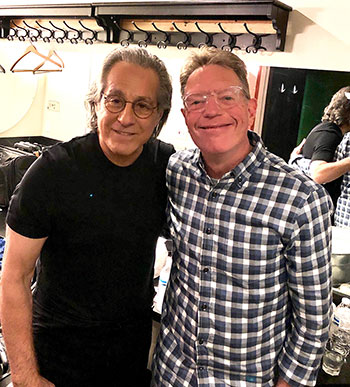 Backstage after the show, Max talked about his health (great these days), the E Street Band, Bruce, what it was like to play in Seattle again ("the center of it all," he laughed, "where Backstreets began!"), but also how challenging it was to appear on a nightly television show for so many years. "This was a demanding show business job, but it's what I've been doing my whole life."
[Right: Max Weinberg and Charles R. Cross backstage in Seattle]
Max had told the audience earlier how he'd been in the E Street Band for 45 years, but backstage there was much more emotion to what that tenure meant. He talked poignantly about what the men missing from the E Street stage meant to him.
"I miss Clarence and Danny every single day," he said. "I don't ever play and not think about them. They were such a part of our band — and they remain such a part of our band — and they remain such a part of my life."
Max also proudly talked about his son Jay Weinberg, of Slipknot. The week Max was in Seattle, Slipknot had just debuted an album at the top of the Billboard rock charts. "Almost no rock bands do that anymore," Max noted. "It's darn hard to sell rock records these days."
His son was a natural, Max said, without a helicopter dad forcing him into music. "I really didn't push Jay. Because of his age (Jay is 28), he didn't see the E Street Band until he was nine, and he didn't pick up drums until a bit later. I was not one of those dads making him practice. But he's incredible, and it's so great to see him at the top of drum magazine polls."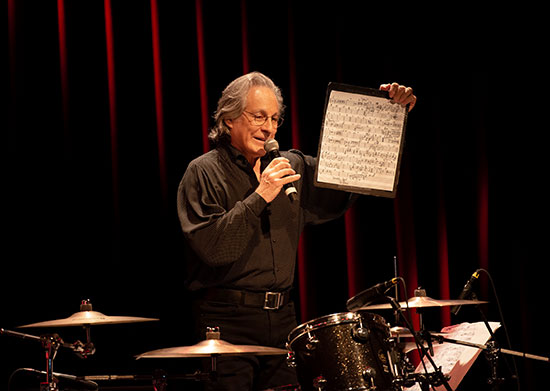 Earlier, during the show, Max had discussed a few of the Bruce songs his band played, but backstage he filled in more of the color of what it felt like simply to be in the studio and to be part of the creation of so many classic songs. "It seemed as if Bruce could go over in the corner of the studio and come back with something incredible an hour later," Max said. On "Dancing in the Dark," the biggest Bruce song in the "Jukebox" show, Weinberg talked about what it felt like to watch Bruce on deadline, trying to come up with a hit at the last minute, and achieving it.
The same was sort of true of "Fire," Bruce's version, which had been one of the highlights of the "Jukebox" show onstage. "Bruce wrote that for Elvis," Max said. "I'm absolutely sure that if Elvis had recorded it, it would have been one of Elvis' biggest hits. It was a perfect Elvis song."
It was, and it became, a perfect E Street Band song (and a near-perfect Pointer Sisters and Robert Gordon song, as well). That word also applies to Max Weinberg's Jukebox, which is a perfect way of attending a "master class." It was a night where you watch and listen to a legend of drums play some of the greatest songs in history, while dishing out backstory on how the work was created.
- September 3, 2019 - Charles R. Cross reporting - live photographs by Rene van Diemen (7/18/19)