News Archive
August - October 2006


FOR NOVEMBER: BE A PAL, BUY A PRINT
Eric Meola's exhibition of Born to Run photographs opens at Snap Galleries in the UK shortly, and Eric's still got his eye on good causes. In October, he donated 25% of his earnings on all print sales to the Community FoodBank of New Jersey. In November, Meola's beneficiary will be a non-profit group started by Terry Magovern to support poeple with ALS. The Joan Dancy and PALS (People with ALS) Support Group will receive 25% of all of Meola's earnings from the sale of his limited edition prints throughout the month. Prints are available for sale now; the exhibition runs from November 11 through January 20. Meet Eric in person at the opening, November 11 from noon to 3 p.m. Visit the Snap Galleries website for more details.
-October 31, 2006

UP CLOSE AND PERSONAL IN OSLO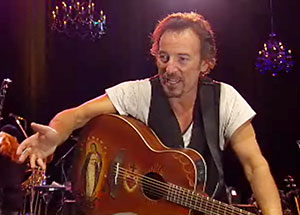 During yesterday's soundcheck in Oslo, Springsteen talked with reporters about the Seeger Sessions album and tour, now more than halfway through its final European leg. "You're a always in shock at how something you, say, started in your little bedroom... or we started in the living room of my farmhouse... how it plays out, thousands of miles from home." Watch the interview online now. And dig that guitar!
-October 30, 2006

MARIJOHN WILKIN, R.I.P.
Wilkin, who wrote "Long Black Veil" -- regularly performed by Springsteen and the Seeger Sessions Band -- died in her Nashville home Saturday at the age of 86. (Read more from Reuters.)



LIGHT OF DAY 7 LINEUP ANNOUNCED
Tickets on sale Saturday, October 28
It'll be a month later than usual -- so, a belated birthday party for organizer Bob Benjamin -- but Light of Day is retunring for its seventh year straight of fundraising concerts. On December 1, 2, and 3 at the Starland Ballroom in Sayreville, New Jersey, a whole host of LOD artists will play to benefit the fights against ALS and Parkinson's disease. The bill as it stands:
Friday, December 1 (Writers in the Raw): Joe Grushecky, Joe D'Urso, Willie Nile, Pat Guadagno, Pat DiNizio of the Smithereens, John Easdale of Dramarama
Saturday, December 2 (electric stage): Boccigalupe & the Bad Boys, Exit 105, Jennifer Glass, Jesse Malin, Jobonanno & the Godsons of Soul, Joe D'Urso & Stone Caravan, Joe Grushecky & the Houserockers, Marah, Maybe Pete, Soozie Tyrell, Jeffrey Gaines
Saturday, December 2 (acoustic stage): April Smith, Bobby Strange, Bruce Tunkel, Danny White, Dawn Allyne, Joe Rapolla, Joy Bodnar, Mike Rocket, Pat Guadagno, Rob Dye, Jon Caspi, Nicole Atkins, Johnny Grushecky
Sunday December 3: Streetlight Manifesto
Tickets go on sale Saturday at noon through Ticketmaster.com, Ticketmaster outlets and charge-by-phone, as well as at Starlandballroom.com and the Starland Ballroom box office. See www.concertseast.com for more information.
- Updated November 20, 2006

MAN, THE DOPE'S THAT THERE'S STILL S.O.A.P.
"Sounds of Asbury Park" benefit concert set for 12/9
On December 9, the city of Asbury Park will honor and celebrate its musical past. The celebration kicks off at noon, with the dedication of a monument on the boardwalk next to the Convention Hall, memorializing the names of the musicians who helped formulate the Sounds Of Asbury Park (S.O.A.P). These founding fathers of S.O.A.P. are Johnny Shaw, Billy Ryan, Bruce Springsteen, Garry Tallent, Steve Van Zandt, Mickey Holiday, "Stormin'" Norman Seldin, Vini "Mad Dog" Lopez, Fast Eddie "Doc Holiday" Wohanka, Billy "Cherry Bomb" Lucia, Clarence Clemons, Nicky Addeo, Donnie Lowell, Jim "Jack Valentine" Cattanach, Ken "Popeye" Pentifallo, Jay Pilling, Jon "Cos" Consoli, Gary "A" Arntz, Larry "The Great" Gadsby, Steve "Mole" Wells, Ray Dahrouge, Johnny "A" Arntz, David Sancious, Margaret Potter, Tom Potter, Sonny Kenn, Tom Wuorio, Rick DeSarno, Southside Johnny Lyon, Leon Trent, Buzzy Lubinsky, Danny Federici, Bill Chinnock, Patsy Siciliano and Sam Siciliano.
That evening, a once-in-a-lifetime event will be held at the Stone Pony called "The Creators Of S.O.A.P. In Concert." The idea for this concert grew out of discussions between Garry Tallent and Fast Eddie "Doc Holiday" about the many originators of the Asbury Park sound that had been forgotten over the years -- and the realization that time to honor these living legends was quickly running out. After the initial discussions of a charity event were met with enthusiasm by the management of the Stone Pony, concert plans started to come together.
Currently scheduled to appear at the Stone Pony on the evening of December 9 are "The Thunder of the E Street Band" Garry Tallent, Vini "Mad Dog" Lopez, Ken "Popeye" Pentifallo, Donnie Lowell, Billy Ryan & the Bluescasters, Steel Mill Retro, "Stormin'" Norman Seldin, Billy "Cherry Bomb" Lucia, John "Cos" Consoli, Gary "A" Arntz, Jim "Jack Valentine" Cattanach, Fast Eddie "Doc Holiday" Nicky Addeo, Rick DeSarno, Jay Pilling, Bill Chinnock, Lance Larson, Mickey Holiday, Lisa Lowell of the Seeger Sessions Band, Patsy Siciliano, Sam Siciliano, Anthony Mirabile, Craig Krampt, and others. Tickets are $15.00 each and available on Ticketmaster.com and at the Stone Pony Box Office, with all proceeds going to local charities.
-October 23, 2006

GET TO THE POINT!
Enter a Columbia Records contest now for the chance to win two tickets to Springsteen's November 18 show at The Point in Dublin -- oh, plus two round-trip tickets and accommodations for a 4-day/3-night Dublin vacation. Not a bad little package! Enter the contest here, before October 22.
-October 19, 2006

GIVE MY LOVE TO ROSE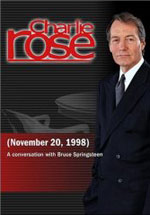 As an Amazon.com exclusive, DVDs of the Charlie Rose show are available now for purchase -- including Bruce Springsteen's late-1998 appearance on the program. From Amazon's product description:
Bruce Springsteen discusses his new retrospective CD, Tracks, the political context of his songs, his liberal activism and message, his songwriting process, the E Street Band and how his background and life events have shaped his art and songs. He sings "Born in the U.S.A." at the close of the show.
A word of warning: The program has been repeated over the years, so multiple DVDs of this same content (with different airdates) are available; if you're interested in Bruce's appearance on the show, don't be fooled, this is the only one you need.
-October 19, 2006

HEY EUROPEAN SHOWGOERS!
Wish we were there... but especially because we're not, don't forget, we'd love to hear your reports after each concert, for both the website and the magazine. As always, we're counting on you to fill us in on what goes down! If you'd like to help out, please send show reports to onstage@backstreets.com. Many thanks!

"ANYTOWN" CHOREOGRAPHER DIES AT 48
Dancer and choreographer Danial Shapiro of the Shapiro and Smith Dance Company died of prostate cancer at the age of 48 on Tuesday October 3, after a long, brave fight with the disease. Shapiro was diagnosed four years ago at an unprecedentedly young age for this form of cancer.
Danny's sister-in-law Soozie Tyrell, who contributed music to the Shapiro and Smith production "Anytown: Stories of America" along with Bruce Springsteen and Patti Scialfa, made this statement:
Whoever met Dan will remember him. Whoever saw Dan dance will remember him. Whoever played computer games till 4:00 am with Dan will remember him. If you were on roller blades, cruising around Lake Calhoun on a sunny day and almost tripped over his dog Bessie and he caught you mid-air and righted you before you wiped out, and you rolled away cursing . . . you'd remember him. A move that I must say was not only athletic but naturally graceful. Danny threaded grace with strength. His vast eclectic knowledge was spiced with wickedly great humor. His curiosity never ended. He loved deeply and those who were fortunate to be close to him . . . we are the lucky ones. He is forever embedded in our hearts.
Soozie's right -- our interactions with Danial were brief, but he was always exceedingly kind, generous, and enthusiastic, and we'll remember him fondly; our condolences to his family and friends. See Backstreets #82 for a review of Anytown, for which Colleen Sheehy spoke with the late choreographer.
-October 13, 2006

WEARIN' THE CROSS OF THEIR CALLING...
Tonight (Friday, Oct. 13) on the History Channel, the film Into the Fire will be broadcast at 8 p.m./7 central time and repeated October 22 at 4 p.m./3 central time. Into the Fire, which takes its name from the Bruce Springsteen song, is an emotionally charged documentary presented by Fireman's Fund and directed by Academy Award-winning filmmaker Bill Couturié. Couturié interviews firefighters from big-city engine companies to small-town volunteer fire departments, asking them why firefighters risk their lives to save others. The result is a collection of the firefighters' stories -- and a powerful and moving portrait of the modern fire service.
Funds generated through Into the Fire will be donated to fire departments and nonprofit fire service organizations for needed equipment such as thermal imaging cameras.
Musical artists such as Springsteen, Bob Dylan, and others have demonstrated support for this film by giving permission to use their music on the documentary soundtrack.
-October 13, 2006


IN ITALY... AND... BEYOND!
10/10, Rome: Seven nights have been rocked: Rome is the last show of an Italian septet that began on October 1. Emiliano Stella reports in: "Great setlist, great great performance and great audience. The sound wasn't at its best, but it improved during the show. It seems Bruce keeps on increasing the number of his songs in the set. 'All the Way Home' (soundchecked in Perugia) made its debut in a stunning version. 'Growin' Up' was for a seven-year-old boy with a 'Growin' Up with Bruce' sign. 'Long Black Veil' and 'Ramrod' are welcome back in the set, too. Bruce called Rome "la più bella città del mondo" -- the most beautiful city in the world."
10/12, Hamburg: The tour leaves the boot, but Bruce and the Seeger Sessions Band bring a little bit of Verona to Germany, with the second tour performance of "Fire."
Next: Friday night in Rotterdam.
For the full setlist from these and other recent shows,
head to our Setlists page

AMERICAN LAND, A LA CARTE
Beginning today, We Shall Overcome: The Seeger Sessions - American Land Edition is available on iTunes. Which means, if you didn't feel like laying out the dough for the new CD/DVD package, you can pick up those bonus tracks individually for 99 cents a piece. The bonus videos -- "Poor Man," "Bring 'Em Home," "American Land," and "Pay Me" -- are available on iTunes separately as well, for $1.99 each.
-October 10, 2006

FANTASTICO BRUCE III: RETURN OF THE REDHEAD
Check out a Springsteen news clip from TG1 on YouTube, for snippets of "This Little Light of Mine," "John Henry," and "Old Dan Tucker," as well as a brief interview -- underneath the translation, you can hear Bruce say, "Patti's only going to be here the first four shows, then she's going to be home with the kids...." So, enjoy "If I Should Fall Behind" while you can!
-October 4, 2006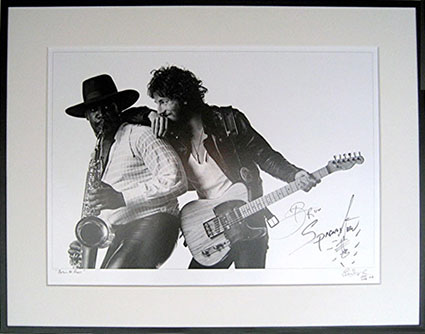 PICTURES OF YOUR HERO ON THE WALL
This fall, 35 large format prints from Eric Meola's new book Born to Run: The Unseen Photos, will be on display (and for sale) in Birmingham, England. Meola's first-ever gallery exhibition of his Springsteen photographs will coincide with the Seeger Sessions Band's return to the UK. The exhibition begins on Saturday, November 11, but sales have already begun -- and Eric is donating 25 percent of his earnings on any sales made during the month of October to the Community FoodBank of New Jersey. Visit the Snap Galleries website for more details.
If your pockets aren't that deep, you can still help the cause and get a shot at an original Meola print, thanks to a raffle held in October. Eric has donated one of his "Born to Run" prints to the FoodBank, and this one is signed not only by the photographer but by Springsteen himself! Pictured above, this framed photographic print will go to one lucky raffle winner. Tickets are available now: raffle tickets are $25 each, all to support the FoodBank, and the drawing will be held at their Blue Jean Ball on October 21. Winner need not be present to win. See more info at the FoodBank's website, or contact raffle@njfoodbank.org
-September 30, 2006

FANTASTICO BRUCE II: THE WRATH OF THE MINISTER
Eyes on Italy, as Springsteen and the Seeger Sessons band get ready to kick off the fall tour in Bologna on Sunday night.... We've got a venue change for October 8, the sixth of seven Italian concerts. Instead of being held at the Giardini della Reggia -- the Minister of Cultural Assets "has expressed negative opinion on the use of the historical center for the concert" -- the Caserta show has been moved to PalaMaggio', a small arena. For more information, see www.barleyarts.com. For the full itinerary, see our Tour/Ticket Info page.
-September 29, 2006

BOOKS (UPON BOOKS) OF DREAMS
The latest from Dave Marsh covers the Boss On Tour
Get a free poster when you order, only from Backstreets!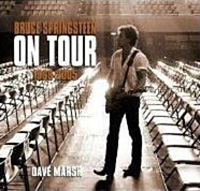 If you've been paying attention lately, you've surely noticed a plethora of literary output due this fall regarding Bruce Springsteen. It's an embarrasment of riches, with both Eric Meola's Born to Run: The Unseen Photos and Robert Santelli's Greetings From E Street imminent and highly recommended. Meola's book focuses on iconic off-stage imagery from 1975; Santelli's tells the story of the E Street Band. And now, here comes the third in a trifecta of new and essential Boss books -- Dave Marsh's Bruce Springsteen On Tour: 1968-2005 -- which goes for capturing the Live Experience.
Authorized by Springsteen and written by his longtime biographer, Bruce Springsteen On Tour is full-color coffee-table tribute that incorporates 350 color and B&W photos, many never before published, plus tour artifacts and memorabilia. But it's not all eye candy -- the text is a detailed retrospective following Bruce's live career from his first days on stage right through the 2005 Devils & Dust tour, as Marsh succeeds in revisiting familiar territory without repeating himself. In Backstreets #83/84, he spoke with us about the writing of this book:
"What in the world made me think I had something else to say? It was right about the time that Devils & Dust came out... I said to myself, 'Dave, you let the Proper Intellectuals interpret this stuff, you're going to live out your old age in a world where people think it all had more to do with Philip Roth and Raymond Carver than Peter Wolf and Sam Moore, and that is not acceptable. If you wrote something about Bruce live, you could push the songwriting aside, in order to get things in proportion, and you could bring forth that he does it with a guitar and a microphone and kneepads (we can't figure he does those slides across the front of the stage with nothing more to protect him than denim, can we?), not a bloody word processor.'... And the glory of it is, that's a great way to celebrate what Bruce has done, which is what photo books of this kind are best at, I think."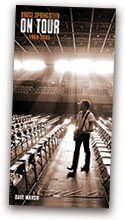 Bruce Springsteen On Tour: 1968-2005 is due in early October from Bloomsbury Publishing. See the book in our online shop, where we're offering a pre-order sale now!
Exclusive Backstreets giveaway! Order Bruce Springsteen On Tour from us now to receive an exclusive Springsteen poster, FREE. The first 500 people to order the book from us will receive this limited edition poster, pictured right, an expanded view of the shot from the book's cover.
-September 27, 2006

FANTASTICO BRUCE!
It's only a matter of days before Springsteen and the Seeger Sessions Band are back on the road for their fall European tour; a string of shows in seven Italian cities begins on Sunday night. As reported by our friends at Point Blank, one of those Italian shows will be taped for broadcast and aired on Italy's Radio 1 on Friday, October 13. Also, a contest is being held for fans to have a chance to attend soundcheck and meet Springsteen at each of those Italian dates. The deadline is tonight, September 27, at midnight (CET); see the Point Blank website for nicely spelled-out details on how to enter.
-September 27, 2006

ROCKTOBER WITH STEFANKO AND CLINCH
Gallery exhibitions for two noted Bruce album cover photographers, in DC and NYC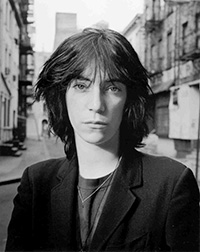 If you're in the Washington DC area in the coming month, be sure to visit the Govinda Gallery in Georgetown, where the striking images of Frank Stefanko (Darkness on the Edge of Town, The River) will once again be on the walls. Back where he debuted his Springsteen photographs from Days of Hope and Dreams, Frank will be unveiling another show of striking portraits of a single artist, this time of his old friend Patti Smith. The exhibition, "Patti Smith: American Artist," will be on display from September 29 through October 28, with an opening reception at the gallery this Friday, September 29, from 6 to 9 p.m. The Govinda show coincides with the publication of Stefanko's new book, also called Patti Smith: American Artist, which is due late October and available for pre-order now from Backstreet Records.
Up in NYC, the work of another our favorite photographers, Danny Clinch (The Rising, We Shall Overcome: The Seeger Sessions), is on display now at the Morrison Hotel Gallery in Soho. The exhibition runs through October 15 -- see the Morrison Hotel website for more details.
-September 26, 2006

HAPPY BIRTHDAY, BRUCE!
Springsteen turns 57 today -- that's a year per channel.
Writer Adam Hurtubise celebrates September 23 as a National Holiday each year -- this year he invited us over for the festivities on his Random Thoughts blog. Put on yer party hats and check it out.

MEOLA & MARSH MAX OUT AT THE ASBURY LIBRARY
Talk about a hot ticket! The October 14 discussion and signings by Born to Run photographer Eric Meola and author Dave Marsh at the Asbury Park Public Library is completely reserved, and attendance at the 1 p.m. event will be restricted to those with reservations already accepted by The Friends of the Bruce Springsteen Special Collection. According to the Friends, a few reservations remain for the discussion and signing by Greetings From E Street author Robert Santelli at 2 p.m. on October 1, but those too are going fast. Anyone planning to attend would be well advised to make a reservation soon by emailing springsteencoll@yahoo.com.
-September 20, 2006

THE GLITTER TWINS
More Celebrity Duets, Boss-style
Yet another Boss guest appearance is in the can: Jesse Malin recently paid a visit to Bruce's Colts Neck, NJ studio, where the two collaborated on a track for Malin's upcoming Adeline Records debut, Glitter in the Gutter. The ballad, tentatively titled "On the Radio," is a virtual duet, as Bruce backs Malin on vocals throughout and takes the middle verse. Other guests on the record include Ryan Adams, Chris Shifflett of the Foo Fighters and Josh Homme of Queens of the Stone Age. The record is Malin's third solo offering and is set for late January 2007 release.
-September 19, 2006

BACK TO SCHOOL
Springsteen, Bandiera & Co. rock the Pony again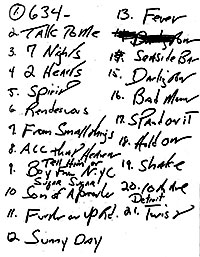 Springsteen may have played his last Rumson Country Day School benefit, but the spirit -- and heck, the setlist -- lives on. Last night at the Stone Pony, Bruce reteamed with Bobby Bandiera and his band for a similar affair, once again a private show for parents and teachers, this time for the Ranney School. It was a night of rock, as we've come to expect from this kind of show, featuring classic covers like "Seven Nights to Rock" and a full "Detroit Medley"; the only echo of the ongoing Seeger Sessions tour was the sight of Ed Manion and Patti Scialfa on stage. Patti got much of the spotlight, stepping up for "Tell Him," "Boy from NYC, and "Sugar Sugar" (all listed on the setlist as possibilties for song #9 -- they wound up doing them all), and later in the set, "Son of a Preacher Man." In another setlist change, Southside Johnny joined in for an audible of "I Don't Wanna Go Home." As the set stretched out, something had to give (it was a school night, after all), and songs 16-19 on the handwritten setlist were dropped. Surely no complaints, as Bruce went from "Darlington County" into a high-energy "Tenth Avenue Freeze-out," and had the headmaster onstage for a show-closing "Twist and Shout."
For the full setlis from this and other recent shows,
see our Setlists page
-September 18, 2006

MARSH ADDED TO LIBRARY LINE-UP
It's gonna be a real Rocktober at the Asbury Park Library, and it keeps getting better. As reported earlier, Robert Santelli and Eric Meola will be making special trips to Asbury next month to discuss and sign their new Bruce books. But hold the phone -- The Friends of the Bruce Springsteen Special Collection have added one more author to their fall series: Dave Marsh, whose forthcoming Bruce Springsteen on Tour: 1968-2005 is a beautiful coffee-table book celebrating the live experience. After Santelli kicks off the series on October 1, Marsh will share the October 14 program at the library with Meola and Daniel Wolff (acclaimed author of 4th of July, Asbury Park, who wrote the introduction for Meola's book). For more details on the authors series -- including information on how to make reservations (strongly advised) -- see below.
-September 15, 2006


Less than three weeks now until the Seeger Sessions tour resumes... If you fancy seeing Bruce this fall with those fabulous European audiences, why not join our long time friends from Badlands who run trips to shows all around the globe. They take care of the ticket and hotel, and they have a great autumn itinerary planned for the Seeger Sessions tour, including Bologna, Rotterdam, Madrid, Valencia, Barcelona, Dublin, and all the U.K. shows. Click here for details.
-September 14, 2006

FROM JT TO JERRY LEE...
It's a Bruce-and-friends kind of fall
The "American Land" Edition of the Seeger Sessions album is coming soon, due October 3 -- but that's not all the new Bruce music we're getting this fall, as he's been turning in guest spots left and right.

In just a couple weeks, on September 26, Jerry Lee Lewis' Last Man Standing drops, with the Killer and the Boss teaming up on "Pink Cadillac." Every track on the record features a different guest, and a whole lotta superstars came out to shake it with Jerry Lee. Besides Springsteen, there's Page, Young, Fogerty, Clapton, Jagger, Richards, and on and on. Listen to a streaming "Pink Cadillac" (WMA - Real) now, or a 15-minute sampler of the whole album (WMA - Real); visit our online shop to see the full track lisiting and for a pre-order sale on the CD.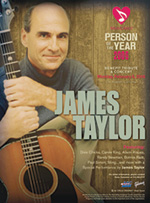 After that, we'll have a chance to see Springsteen's peformance of James Taylor's "Millworker" from earlier this year. As reported on James-Taylor.com, the February 6, 2006 MusiCares Person of the Year tribute concert (at which Bruce, Sting, Bonnie Raitt, Alison Krauss and others honored JT) will air on PBS on November 29. The concert will be released on DVD even sooner, on October 3, the same day as the "American Land" reissue. See our online shop for more details and to pre-order the DVD now, also on sale!
Just released and in stock now: Sam Moore's Overnight Sensational CD featuring Springsteen dueting on "Better to Have and Not Need"; and Joe Grushecky's A Good Life CD featuring Springsteen on three tracks including their "Code of Silence" duet.
-September 13, 2006

BOCEPHUS AND THE BIG MAN BUST ESPN IN HALF...
Are you ready for some E Street? Tonight's Monday Night Football regular season opener on ESPN will feature some "friends of ours," as Little Steven and Clarence Clemons join Hank Williams Jr.'s all-star band for the new theme, "All My Rowdy Friends Are Coming Over Monday Night." Look for the video debut before kick-off at tonight's double-header (7 p.m. Eastern).
-September 11, 2006

SANTELLI & MEOLA HEAD FOR THE PARK
"Friends" present two author events in October
The books are chock full of unpublished photographs, untold stories, and removable souvenirs, and now comes word that Greetings From E Street author Robert Santelli and Born to Run: The Unseen Photos photographer Eric Meola will discuss and sign their new Bruce books this fall at the Asbury Park Public Library.
As part of the first-ever authors series sponsored by The Friends of the Bruce Springsteen Special Collection, Santelli will discuss and sign Greetings From E Street at 2 p.m. Sunday Oct. 1, while Meola will discuss and sign Born to Run: The Unseen Photos at 1 p.m. Saturday Oct. 14. Joining Meola at the Library will be author and historian Daniel Wolff, who wrote the book's introduction.
Both events are open to the public. Seating is limited; reservations are strongly advised and can be made by e-mailing springsteencoll@yahoo.com. Copies of Greetings From E Street and the standard edition of Born to Run: The Unseen Photos will be available for purchase at the Library on the day of the author's appearance. The Asbury Park Public Library is at 500 First Avenue in Asbury Park. For more on getting involved with the Springsteen Special Collection, go to friendsofthespringsteencollection.org.
-September 6, 2006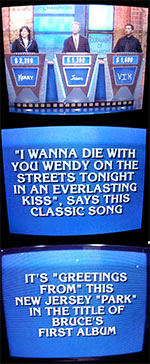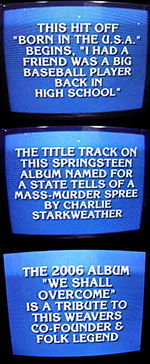 I'LL TAKE "MY WHOLE LIFE HAS BEEN LEADING TO THIS MOMENT" FOR $400, ALEX.

Who says all this Boss knowledge in your brain will never pay off? Last night's Jeopardy "Tournament of Champions" featured a whole category dedicated to Springsteen.
If you're keeping score at home, these questions (reading top to bottom, left then right) were worth $200, $400, $600, $800, and $1,000.
Don't forget to phrase your answer in the form of a question. Easiest three grand you never made, huh?
-August 31, 2006

LOOKING TOWARDS LABOR DAY
We're not yet processing the idea that summer's almost over. In fact, forget we said anything. But if you want to make some Labor Day weekend plans to take your mind off it, check out Soozie Tyrell, taking advantage of this Seeger Sessions tour break to play with her own band at the Stone Pony -- that's this Saturday night, September 2. The next night, Sunday Sept. 3, Willie Nile (featured in the latest issue of Backstreets magazine) is playing a Mini Takes the States show in Jersey City. The following weekend, Soozie and Willie are playing a show together, Joy DiVeRsion at Joe's Pub in New York. For more upcoming shows of interest, check our Concert Calendar.
-August 31, 2006

A DIFFERENT KIND OF BOX SET
E Street Band bio is a treasure chest of memorabilia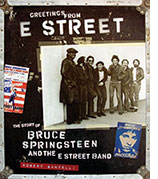 It's gonna be quite an autumn for Boss books -- no less than three must-haves for Springsteen fans are coming out in the next couple months. There's Eric Meola's Born to Run: The Unseen Photos, Dave Marsh's Bruce Springsteen On Tour 1968-2005 (check back soon for more info on that one), and then this treasure chest of a book: Greetings from E Street: The Story of Bruce Springsteen and the E Street Band. The text alone would be something to get excited about: a history of the E Street Band, written with their cooperation, by Robert Santelli, the longtime Backstreets Associate Editor who also worked with Max Weinberg on The Big Beat and Springsteen himself on Songs.
But the full package goes above and beyond what we'd have a right to expect from a book like this, as the text is "well illustrated" to say the least. Housed in a sturdy slipcase made to look like a road case, the book itself holds dozens of pull-out pieces of memorabilia. You'll find pockets and mylar envelopes spread throughout, holding removable replicas of backstage passes, newspaper clippings, posters, napkins (!), tour itineraries, and more. Plus, graphic-rich pages with more artifacts from E Street history and 200 rare photos of Bruce and the band. We just got our hands on an advance copy, and our gasts are flabbered.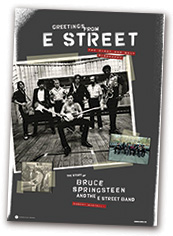 Greetings From E Street is due in late September from Chronicle Books. See more of the book in our online shop, where we're taking pre-orders now.
Exclusive Backstreets giveaway! Pre-order Greeetings from E Street now to receive an exclusive E Street Band poster, FREE. The first 500 people to order the book from us will receive this limited edition poster, pictured right -- and the first 100 orders will have their posters autographed by author Robert Santelli.
-August 29, 2006

O DEADWOOD FANS DON'T YOU WEEP
Springsteen fans who also enjoy HBO's Deadwood series were treated to a nice little surprise (though bittersweet) during the closing credits of the season finale, which debuted on Sunday night. The episode, which concludes the series' final full season, ended to the strains of Bruce's "O Mary Don't You Weep." Deadwood, which has often mixed fact and fiction about the Old West as successfully as the Seeger Sessions' "Jesse James," has won much critical praise and numerous awards during its three-season run. Plans are afoot to wrap up various loose ends with two special two-hour episodes yet to be filmed.
-August 29, 2006

STATE(MENT) OF THE UNION
On his Sony BMG website, Springsteen addresses recent "distractions."
-August 28, 2006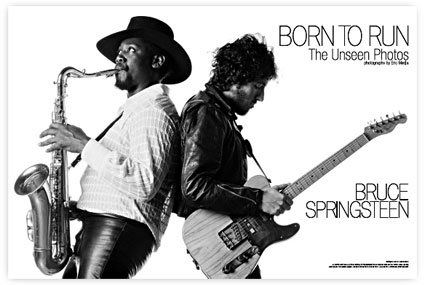 HEROES ON THE WALL
Available now: new BTR poster benefits NJ FoodBank
Here at Backstreet Records, one of the items we get the most requests for is a Born to Run poster. Guess what -- your wish is our command! Actually, it's thanks to the generosity of BTR photographer Eric Meola that what you see above can be coming to a wall near you. Not only is Meola donating his proceeds from his upcoming book, Born to Run: The Unseen Photos, to the Community FoodBank of New Jersey, he has also created this spectacular poster to benefit them as well. As pictured, the image is an alternate shot of Bruce and Clarence from the cover session, beautifully reproduced as a 20" x 30" poster on 100 lb. glossy stock. This poster is a Backstreets exclusive, available here and only here, with all proceeds going to the FoodBank. Order yours now!
You can also pre-order Born to Run: The Unseen Photos now in our online shop: the standard edition (due Oct. 10) or the limited edition (due Nov. 14). We expect demand for latter to be high, with a numbered edition of only 1,350. Guarantee a copy by ordering now!
This fall, many of the "Unseen Photos" will be on display in Birmingham, England. Meola's first-ever gallery exhibition of his Bruce Springsteen photographs will feature 35 large black & white prints. Coiniciding with the Seeger Sessions Band's return to the UK, the exhibition begins on Saturday, November 11. Visit the Snap Galleries website for more details.
-August 24, 2006

WERE YOU THERE?
We're working now to nail down our show-by-show tour coverage for the next issue of Backstreets Magazine, #86, and it looks like we still need reader reports from four Seeger Sessions shows: Milwaukee, Cleveland, Detroit, and Saratoga. If you were there and want to contribute, send your report to onstage@backstreets.com, and thanks for helping out!
Whaa? There's a magazine?: Yep! A full-color glossy just for Springsteen fans, packed with exclusive photos and much more in-depth reportage than we're able to publish here on the website. Backstreets #85 is hot off the presses and available now from our online shop... or SUBSCRIBE NOW to start with #85 and be on board for the issues to come!


MAKING OUR WAY TO THE AMERICAN LAND
With the American Land edition of the Seeger Sessions album just about a month-and-a-half away, we're starting to see some promotional action:
-August 23, 2006

A SEEGER SESSION OF ANOTHER STRIPE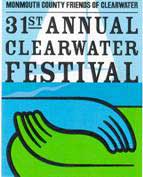 This weekend in Asbury Park, it's the 31st annual Clearwater Festival, a music and arts fest held by the Monmouth County Friends of Clearwater. The environmental group has been working to fight water pollution since 1975, inspired by... you guessed it, Pete Seeger, and his Hudson River Clearwater group. According to the Asbury Park Press, "Although the 87-year-old Seeger is still performing, it's unlikely he will attend this year's event." But there's plenty on the schedule for Shore music fans, including the Upstage Jam Band, Steel Mill Retro, Joe D'Urso & Stone Caravan, Maybe Pete, The Smithereens, Exit 105, and Boccigalupe & the Bad Boys. The festival is held in Asbury's Sunset Park, Saturday and Sunday August 19 and 20. For more details, read today's APP story, or visit the Clearwater Festival website.
-August 18, 2006

SAM & BRUCE: TRACK ONLINE NOW, IN STORES 8/29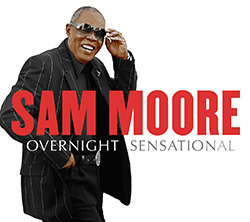 Brother man! Brother man! Nearly 15 years after they teamed up on Human Touch, Bruce Springsteen returns the favor with a guest spot on Sam Moore's new album. Due out at the end of this month, Moore's Overnight Sensational includes a soul workout with Springsteen on "Better to Have and Not Need." And you can hear it online now: check out the "Listening Party" at Rhino.com, where you'll find the whole album streaming now. The Randy Jackson-produced Overnight Sensational, which also includes the final recording from Billy Preston, hits on August 29.
-August 17, 2006

GLASTONBURY RUMOR SQUASHED
Not that today has you wanting to book a UK flight anyway...
A couple days ago, NME reported that Bruce Springsteen was being lined up to headline a night of the 2007 Glastonbury Festival. But talking with the BBC News, Glastonbury organizer Michael Eavis denied the report in no uncertain terms, calling it "absolute rubbish." According to the BBC, Eavis "was 'surprised' to see newspaper claims that Springsteen was in line to play at the event. But he was 'really reassured' by the erroneous reporting because it meant nobody had worked out who the real headliners would be." (In case you're holding out hope that this is just a big smokescreen, the Glastonbury Festival is scheduled for June 22-24, 2007.)
-August 10, 2006

FEELING LUCKY?
Springsteen's "Lucky Town" rumbles through the trailer for Lucky You, the new Curtis Hanson movie set in Vegas. The movie stars Robert Duvall, Drew Barrymore and Eric Bana; you can view the trailer now at the official Lucky You website. The soundtrack album will feature two Bruce songs, "Lucky Town" and "The Fever" (the 18 Tracks version? remains to be seen), plus two each from Bob Dylan and George Jones, and more from Ryan Adams, Kris Kristofferson, Bonnie Raitt, Johnny Rivers, Shawn Colvin, and Barrymore herself. The movie opens October 27, with the soundtrack due on October 17.
-August 10, 2006

THE BIONIC SEEGER SESSIONS: "ENHANCED" CD/DVD
"We can rebuild it. We can make it better than it was... Better. Stronger. Faster."
Yes, they have the technology... and on October 3, Columbia will release an expanded set with an expanded title: We Shall Overcome: The Seeger Sessions - American Land Edition. The fall release takes its name from the new song that Springsteen unveiled for the last three shows of his recent U.S. tour, which is included here as one of several bonus tracks. According to a press release, "American Land" was written by Springsteen, "inspired by" a poem set to Pete Seeger's music called "He Lies in the American Land."
Rather than a DualDisc, the American Land edition will split the CD and DVD components onto two separate discs, with bonus material on each. What's new:
CD: Five additional tracks for the album itself. Two of them, "Buffalo Gals" and "How Can I Keep From Singing?," were audio bonus tracks on the DVD side of the original DualDisc. The remaining three are previously unreleased: "How Can a Poor Man Stand Such Times and Live," "Bring 'Em Home," and "American Land."
DVD: The extended version of the behind-the-scenes film, a 40-minute cut that aired on CMT shortly after the original album release, with additional footage of "Jacob's Ladder" and "Erie Canal." Plus: Thom Zimny-directed music videos of "American Land" and "Pay Me My Money Down," and concert clips of "Poor Man" (L.A., 6/5/06) and "Bring 'Em Home" (Concord, CA, 6/6/06).
Packaging: An expanded booklet, featuring additional photos by Danny Clinch, lyrics to the new songs, and the in-depth liner notes by Dave Marsh that were previously online only at www.brucespringsteen.net.
It won't cost six million dollars. But if the idea of repurchasing an album so soon gets your hackles up, the press release states that the new edition "will be available on a track-by-track basis from iTunes, allowing fans that have already purchased We Shall Overcome: The Seeger Sessions DualDisc to download the additional tracks." Read the full press release here.
-August 8, 2006

HAVIN' SOME FUN WITH FOGERTY
The John Fogerty/Willie Nelson show Saturday night at the PNC Bank Arts Center in Holmdel brought a third music legend to the stage for a quick guest spot. Fogerty told the crowd that he ran into a kid with a guitar backstage, figured he'd bring him out to play... and, "Oh yeah -- his name is Bruce." You can imagine the Jersey crowd liked the sound of that. Wearing a Yankees cap and armed with a shiny red and white telecaster, Bruce showed he still remembers how to play a mean electric guitar as the two VFC touring partners teamed up for "Long Tall Sally." Get a taste with a, um, "fan based recording" on YouTube.
-August 7, 2006

TICKET ALERT
Tickets for the recently added UK shows -- Birmingham, London, and Sheffield, go on sale tomorrow, Friday August 4! (And if you're going for Birmingham tickets, you may want to check in advance -- some tickets have already been sold.)
8/4 Update: A second London show was added during the onsale today, for November 12.
For the full current schedule, with links and other details, visit our Tour/Ticket Info page.

Main News


News Archives
- May - Sep 20033
- Oct 2003
- Nov - Dec 2003
- Jan - Mar 2004
- Apr - Jul 2004
- Aug - Dec 2004
- Jan - Apr 2005
- May - Jun 2005
- Jul - Aug 2005
- Sep - Dec 2005
- Jan - Feb 2006
- Mar - May 2006
- Jun - Jul 2006
- Aug - Oct 2006
- Dec - Nov 2006
- Jan - Mar 2007
- Apr - May 2007
- Jun - Jul 2007
- Aug 2007
- Sep - Oct 2007
- Nov - Dec 2007
- Jan - Feb 2008
- Mar - Apr 2008
- May - Jun 2008
- Jul - Aug 2008
- Sep - Oct 2008
- Nov - Dec 2008
- Jan 2009
- Feb - Mar 2009
- Apr - May 2009
- June 2009
- Jul - Aug 2009
- Sep - Oct 2009
- Nov - Dec 2009
- Jan - Feb 2010
- Mar - Apr 2010
- May - Jun 2010
- Jul - Aug 2010
- Sep 2010
- Oct 2010
- Nov 2010
- Dec 2010
- Jan - Feb 2011
- Mar - Apr 2011
- May 2011
- June 2011
- July 2011
- Aug - Oct 2011
- Nov - Dec 2011
- Jan 2012
- Feb 2012
- Mar 2012
- Apr 2012
- May - Jun 2012
- Jul - Aug 2012
- Sep - Oct 2012
- Nov - Dec 2012
- Jan 2013
- Feb - Apr 2013
- May - Jun 2013
- Jul - Aug 2013
- Sep 2013
- Oct 2013
- Nov 2013
- Dec 2013
- Jan 2014
- Feb 2014
- Mar - Apr 2014
- May 2014
- Jun 2014
- Jul - Sep 2014
- Oct 2014
- Nov - Dec 2014
- Jan - Feb 2015
- Mar - Apr 2015
- May - Jun 2015
- Jul - Aug 2015
- Sep - Oct 2015
- Nov - Dec 2015
- Jan - Feb 2016
- Mar - Apr 2016
- May - Jun 2016
- Jul - Aug 2016
- Sep 2016
- Oct 2016
- Nov - Dec 2016
- Jan - Feb 2017
- Mar - Apr 2017
- May - Jun 2017
- Jul - Aug 2017
- Sep - Oct 2017
- Nov - Dec 2017
- Jan - Feb 2018
- Mar - Apr 2018
- May - Jun 2018
- Jul - Aug 2018
- Sep - Oct 2018
- Nov - Dec 2018
- Jan - Feb 2019
- Mar - Apr 2019
- May - Jun 2019
- Jul - Aug 2019
- Sep - Oct 2019
- Nov - Dec 2019
- Jan - Feb 2020
- Mar - Apr 2020
- May - Jun 2020
- Jul - Aug 2020
- Sep - Oct 2020
- Nov - Dec 2020
- Jan - Feb 2021
- Mar - Apr 2021
- May - Jun 2021
- Jul - Aug 2021
- Sep - Oct 2021
- Nov - Dec 2021
- Jan - Feb 2022
- Mar - Apr 2022
- May - Jun 2022
- Jul - Aug 2022
- Sep - Oct 2022
- Nov - Dec 2022
- Jan - Feb 2023


Tour/Ticket Info
Setlists
Concert Calendar
Save Tillie
Library Project
Downloads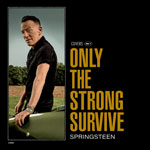 ONLY THE STRONG SURVIVE
The Backstreets Liner Notes, our own song-by-song printed booklet, comes exclusive and FREE with each CD & LP!
ORDER NOW
Backstreet Records is the mailorder division of Backstreets, delivering Springsteen merchandise to fans for more than 25 years. We carry numerous collectibles, tour shirts, books, magazines, and imported CDs and records.
The world's best selection of Springsteen collectibles, all available by mail.
See all the new arrivals in our online shop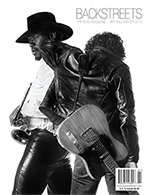 BACKSTREETS #91
Our most recent issue honors a very Big Man. More than half of the 116-page, perfect bound Backstreets #91 is a tribute to the life and music of... do we have to say his name?

Full contents list


Order a single copy


Back issues
---


Greece is the word: Steve and Clarence rap with Rockpages.gr


Go Inside the Stone Pony, on YouTube


Bruce digs new book on John Henry


Listen to an interview with Robert Santelli on New Zealand's RadioLIVE


Bruce Springsteen as business model, in the Pittsburgh Quarterly.


Look for Bruce on the cover of the new Record Collector magazine.


Bears: the #1 threat to America? Let the Seeger Sessions protect you.


PopPhoto.com has an interview with photographer Eric Meola.


Gambit, the New Orleans weekly, has just published their 2006 Best of New Orleans, with Bruce's Jazz Fest performance taking top honors in two categories.


Another 9/11 anniversary look at The Rising, from CBC, and more in the Washington Post.


FIve years after 9/11, the Philly Inquirer finds The Rising "most impressive" pop music response "by far."


Listen online to a BBC Radio 2 documentary on Bob Clearmountain, longtime mixer for Springsteen.


Check out a lengthy 2004 interview with Pete Seeger at Democracynow.org.


A Bruce sighting on NJ.com, with photographic evidence, even.


The Associated Press reports on the creation of The New Jersey Hall of Fame... check out the official website.


Strap your hands cross these engines: The Sept. 30 "Ride for Hunger" benefits the NJ FoodBank.


---


We also post all known concert dates for some of our favorite Jersey Shore (and Shore-adopted) musicians:

Willie Nile


Bobby Bandiera


Southside Johnny


John Eddie


JoBonanno


Joe D'Urso... and more.
For more information on upcoming shows such as these, check out our Concert Calendar.
Updated Aug 30, 2006
---


SAVE TILLIE
Many from the Springsteen community banded together to preserve this Asbury Park landmark.... and Tillie has now been saved!
Check our Save Tillie page for the latest developments.
Updated June 9, 2006
---
THE SPRINGSTEEN SPECIAL COLLECTION
Organized by Backstreets in 2001, this storehouse of Boss books and magazines is the largest such collection outside of Bruce's mother's basement. Thanks to the generosity of fans around the world, total holdings are now well over 11,000. But the collection is by no means complete.
Check out the Springsteen Special Collection page for more info.
Updated Apr. 21, 2006