FROM THE "TAKE IT WITH A GRAIN OF SALT" DEPARTMENT...
Boston's WBOS 92.9 is reporting studio plans for Bruce and the Band: "A spokesperson for Bruce Springsteen has confirmed rumors that he and the E Street Band will head back into the studio after the holidays. Springsteen has reportedly written 25 songs for the project so far." That, under a header that reads, "New CD Info." As good as that sounds, don't get too excited about a new album just yet; when asked by Backstreets today to confirm the report, a Springsteen spokesperson denied having any information whatsoever about studio plans. It wouldn't be surprising at all if Bruce is indeed looking to record — Little Steven has characterized the E Street Band as in the album-tour-album cycle, and Springsteen spent time in the studio in October working on Essential, which could certainly whet his appetite. Even so, there's a big difference in the world of the Boss between entering the studio and putting out a record — as the first post-Reunion tour sessions, in the spring of 2001, recently demonstrated.
- October 31, 2003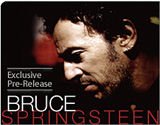 BRUCE FOR A BUCK: "THE BIG PAYBACK" NOW IN APPLE'S iTUNES STORE
Get an advance taste of Essential Disc Three, with a pre-release download: "The Big Payback" is now available for download from the Apple itunes store. And at 99 cents, the "Payback" isn't so big after all. The track is available to both Mac and Windows users; get to the store through Apple's free iTunes application.
- October 29, 2003

LOOKING FOR A SIGN: PETITION ASKS BRUCE FOR OFFICIAL BOOTS
The official Bruce Springsteen bootleg series: just a fantasy? Right now, yeah — even though other notables like Pearl Jam and Bob Dylan have been doing it, and doing it, and doing it well. But an online petition is looking to help make fantasy a reality, collecting signatures to encourage Springsteen to begin releasing complete concerts. If you want to be part of the booty call, sign the petition now at petitiononline.com.
- October 28, 2003

THE TENNESSEE TERROR TURNS 54
Happy Birthday to Garry Tallent, born October 27, 1949

BOTTOM LINE: BRUCE "PUTS HIS MONEY WHERE HIS MOUTH IS"
At an October 23 court hearing, Greenwich Village club The Bottom Line was granted another reprieve of up to 30 days to work out their rent dispute with NYU. With help on the way from The Boss and others, it's not necessarily just a matter of delaying the inevitable. An Associated Press story reports: "Rocker Bruce Springsteen and Viacom President Mel Karmazin pledged several hundred thousand dollars for the preservation and renovation of the club." Of Bruce, co-owner Allan Pepper told the New York Daily News, "I'm tremendously grateful. He put his money where his mouth is." Springsteen had previously issued a statement of support, posted at www.savethebottomline.com (also see "Springsteen Speaks in Support of the Bottom Line," below).
- October 24, 2003

PATTI AND BRUCE'S "LOVE'S GLORY" REVISITED
If you've been waiting (for a decade and counting) for Patti Scialfa's second album, here's something to tide you over — with a Springsteen performance as well. Patti and Bruce have re-recorded "Love's Glory" together, a song originally on her 1993 Rumble Doll album, for the October 24 episode of "Joan of Arcadia" (CBS). According to Billboard, Patti is an old friend of the show's executive producer, and the new recording was "re-tracked in the couple's home studio with her singing and Springsteen playing guitar." As for her Rumble Doll follow-up, Sony Music Austria has the as-yet-untitled project on their schedule for February 2, 2004.
- Updated October 24, 2003

FUNDRAISING AND ROOFRAISING ON BTX
If you haven't been hanging out on the Backstreets Ticket Exchange lately, we thought we'd point out a few things from the "Loose Ends" board. Not a lot of tickets to exchange lately, of course, but the BTX community has come together for a couple of events centered around the Light of Day weekend (November 1 and 2) in Asbury Park, helping a pair of good causes and putting on a show.
The "Bruce Sent Me" Auction/Raffle is raising money for World Hunger Year and FoodbankNYC, while offering the chance to win tickets to the sold-out Light of Day shows. (For more on the ongoing "Bruce Sent Me" donation drive, check out the original BTX thread. In just the first 3 weeks, BTXers generated enough for over 25,000 meals through the FoodbankNYC, and over $2000 for World Hunger Year.)

And some ambitious BTX folk have also organized a

Light of Day pre-party

for the afternoon of November 2, especially for those who've been shut out of the evening concerts themselves. To be held at Harry's Roadhouse in Asbury Park, the shindig will include a BBQ buffet, entertainment from the Disco Rejects (including original E Street drummer Vini "Mad Dog" Lopez) and several other bands, plus a presentation by official Stone Pony photographer John Cavanaugh.
- Updated October 23, 2003

SONY CONFIRMS 12 SONGS ON ESSENTIAL DISC 3; 42 TRACKS IN ALL

The Essential Bruce Springsteen (C2K 90773), a three-disc set scheduled for November 11, will present a two-disc career retrospective, plus a limited-edition bonus CD that gathers rarities along with previously unreleased tracks. The line-up for Disc Three has now been confirmed by Sony:
From Small Things (Big Things One Day Come) - Unreleased, previously recorded by Dave Edmunds
The Big Payback - B-side to "Open All Night"
Held Up Without a Gun (Live) - Previously unreleased live version of the "Hungry Heart" B-side, from 12/31/80 (leaving the original studio version still unavailable on CD)
Trapped (Live) - Bruce's classic Jimmy Cliff cover, live with the E Street Band on 8/6/84, previously available on U.S.A. for Africa's We Are the World.
None But the Brave - Previously unreleased Born in the U.S.A. outtake
Missing - 1995 song from the film The Crossing Guard
Lift Me Up - 1999 song from the film Limbo
Viva Las Vegas - A post-E Street studio recording from The Last Temptation of Elvis benefit album
County Fair - Previously unreleased early-'80s outtake
Code of Silence (Live) - Previously unreleased, co-written with Joe Grushecky, a live version from 2000 at Madison Square Garden
Dead Man Walkin' - 1995 song from the film Dead Man Walking
Countin' on a Miracle (Acoustic) - Previously unreleased, though a Danny Clinch film of this country blues version played on the screens after many a Rising show
Filling in B-sides left off Tracks... but no "30 Days Out"? Airing more classic outtakes... but no "The Way," "Protection," or (your favorite lost song here)? "Code of Silence" but no "Another Thin Line"? Live cuts but no "Prove It '78"? Always leave 'em wanting more, we guess... and "None But the Brave" alone makes us happy. But if this is "essentially" Tracks Disc Five and you've already started compiling Tracks Disc Six in your head... well, you're not alone.
With the 12 cuts above, that makes a total of 42 songs on the three-disc Essential set. Discs One and Two, with 15 songs each, present a career-spanning selection of album tracks:
| | |
| --- | --- |
| Disc One | Disc Two |
| Blinded By the Light | Born in the U.S.A. |
| For You | Glory Days |
| Spirit in the Night | Dancing in the Dark |
| 4th of July, Asbury Park (Sandy) | Tunnel of Love |
| Rosalita (Come Out Tonight) | Brilliant Disguise |
| Thunder Road | Human Touch |
| Born to Run | Living Proof |
| Jungleland | Lucky Town |
| Badlands | Streets of Philadelphia |
| Darkness on the Edge of Town | The Ghost of Tom Joad |
| The Promised Land | The Rising |
| The River | Mary's Place |
| Hungry Heart | Lonesome Day |
| Nebraska | American Skin (41 Shots) (live) |
| Atlantic City | Land of Hope and Dreams (live) |
Twelve of these 30 songs previously appeared on Greatest Hits. Of the remaining 18: the first five songs rectify Greatest Hits' lack of pre-1975 material; the last six songs were released after GH; in between are seven songs that didn't make the cut for GH, including "Jungleland " and "Living Proof." (On GH but not on Essential: "My Hometown," "Better Days," and GH's four "new" songs, "Secret Garden," "Murder Inc.," "Blood Brothers," and "This Hard Land.") Also note: appearing here are the title tracks from every studio album from 1975 to the present.
The set will be "supported by an extensive TV campaign." Columbia also specifies that this sequence is not final (surprise, surprise)... and with Springsteen, things tend to change at the eleventh hour. If there are any last-minute tweaks, we'll post 'em here.
- Updated October 23, 2003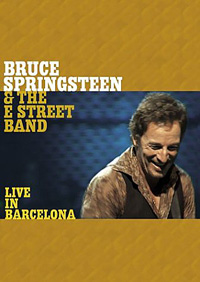 BARCELONA DVD TO CONTAIN COMPLETE SHOW ON 2 DISCS
Just as the reunion tour brought us Live in New York City, we'll be getting a digital memento from the Rising tour, Live in Barcelona. Sony will release the two-DVD set on November 18, which will contain the full 10/16/02 show from Palau Sant Jordi, in Barcelona. Of course we've already seen some of this performance, on MTV/VH1 and CBS broadcasts; the DVD set will contain much that was unaired, including "Spirit in the Night," "Incident on 57th Street," "Night," "Ramrod," "Born in the U.S.A.," and more (see the full tracklisting). More to the point: this is the first time ever, in Springsteen's 30-plus-year career, that an entire show, from start to finish, has been officially released, whether audio or video. It's about time.
In addition to the Barcelona show, the two-disc set will also include a bonus featurette titled "Drop the Needle and Pray: The Rising on Tour," with never before seen material including new interviews, footage from this summer's US stadium tour at Fenway Park and Giants Stadium, and a photo montage chronicling the Rising tour.
Between the Barcelona show and "Drop the Needle," the 2-DVD set contains almost three hours of footage, with Dolby Digital 5.1 Surround Sound audio recorded and mixed by Rising producer Brendan O'Brien. The DVDs were produced by George Travis, directed by Chris Hilson, and edited by Thom Zimny, who won an Emmy for his editing on the 2001 HBO concert special "Bruce Springsteen and the E Street Band."
- Updated October 22, 2003

SPRINGSTEEN INVITED TO PLAY JOHNNY CASH BENEFIT
The Nashville City Paper reports that a tribute to the late, great Johnny Cash is planned for November 10 at the Ryman Auditorium, with Bruce Springsteen among those invited to perform. Longtime Cash manager Lou Robin told the paper, ""[The family] just wanted to … give the public … closure to their feelings about John's death. They thought maybe this would be an opportunity for a lot of different entertainers to come and voice their feelings and perform and entertain." Currently on the bill: Rosanne Cash, Willie Nelson, Kris Kristofferson, Sheryl Crow, Hank Williams Jr., Jack Clement, Steve Earle and Larry Gatlin. Springsteen, along with Bono and Bob Dylan, is not yet confirmed. Bruce previously played the Ryman on the Tom Joad tour.
UPDATE: Admission will be free, with tickets distributed by lottery. To take your shot at a pair of tickets, send a postcard with your name, address, and phone number to: Johnny Cash Memorial Tribute, PO Box 20003, Nashville, TN 37202. The deadline is October 26 at 11:59 p.m. Eastern. One entry per person. Winners will be drawn at random on October 27 and notified by phone.
- Update October 21, 2003

SPRINGSTEEN SPEAKS IN SUPPORT OF THE BOTTOM LINE
The Bottom Line — the famed Greenwich Village club where Springsteen played a legendary run in 1975, and where he debuted with the core 1992-93 band — is in trouble. The club's owners write: "Our business, along with so many other small businesses, has not been able to recover since the tragedy of September 11th. Attendance to shows has declined. In addition, our customers are feeling economic stress, our bills have been multiplying, and we have found ourselves substantially behind in our rent. Our landlord, New York University, has started eviction proceedings." A Reuters follow-up story, "New York's Bottom Line Gets Last-Minute Reprieve," reported that the club was granted an extra 30 days, but time is still running out. The owners of the Bottom Line are due back in court on October 23, at which time NYU appears ready to resume their plans to evict.
UPDATES: Visit the www.savethebottomline.com to sign a petition and for more information on what you can do to help; there's also a petition specifically for NYU Alumni. Also at www.savethebottomline.com is a new message from Springsteen himself:
"Over the last 20 years, the Bottom Line has made itself a central part of New York City culture. When I think of the most memorable nights in my own career, few match the week of shows we did there in 1975. As a musician, as a citizen, and as one who loves New York City, I truly hope that a solution can be found that allows the Bottom Line and Allan and Stanley to continue their important, valuable work for many years to
come." —Bruce Springsteen, 10/20/03
For more on Springtseen at the Bottom Line, see Backstreets #50/51.
- Updated October 21, 2003

FURTHER ON UP THE ROAD... (Deb Carvalho photo, October 4, 2003)
After 120 shows — that's 84 in North America, 31 in Europe, and 5 "Down Under" — Bruce Springsteen and the E Street Band's Rising tour twisted and shouted to a close on October 4 in New York. We want to thank everyone who checked in with us over the last 14 months and helped with our coverage, and everyone who followed along here on Backstreets.com. But, as Steve Earle sings, we ain't even close to through with you.
We've already got more Bruce juice to keep our eye on, with the Barcelona DVD (see below) now scheduled for November 18, and the Essential 3-CD set planned for November 11 (see below for the album cover and track listing for the first two discs). Whatever Springsteen does now — whether he enters the studio soon, turns up at the Light of Day benefit for the fourth year running, announces hoped-for Holiday shows, all of the above or something else altogther — we'll be following it all as we have for nearly a quarter-century. So stick around.
If you enjoyed following the tour with us, we hope you'll subscribe to Backstreets Magazine. In our next issue, which we're hard at work on now, we'll have full coverage of the complete Summer Tour 2003, with in-depth reports, beautiful color photos, and much more. We're also planning a major tour wrap-up (with loads of facts and figures, trivial and non-), as we did after the Reunion tour. Backstreets has been publishing quarterly since 1980, and each issue is packed to the gills for Bruce fans, by Bruce fans. Subscribing to Backstreets directly supports Backstreets.com and BTX and enables us to keep all this going, while getting you a Boss Magazine at a savings off the newsstand price. Read more about Backstreets Magazine here.
Another way to support Backstreets is to do your Springsteen shopping in our online store, where we carry all things Bruce: souvenirs, CDs, records, books, posters, T-shirts, you name it. We've just added the new paperback edition of Springsteen's Songs, which updates the great 1998 book with new Bruce-penned intros, lyrics, and photos for Live in New York City and The Rising. In the weeks to come, we'll be adding more new books, 2004 calendars, and tour items, so we hope you'll keep checking in. And with the holidays coming up fast, Backstreet Records can be a great place for one-stop shopping for your favorite Springsteen fan. This train keeps rolling, and thanks for helping us keep it that way.


SPRINGSTEEN HONORED WITH LES PAUL AWARD
At the 19th Annual Technical Excellence & Creativity (TEC) Awards, held in New York on October 11, the Les Paul Award was given to Bruce
Springsteen. Named for the creator of the electric guitar, the Les Paul Award was created in 1991 to honor individuals or institutions that have set the highest standards in excellence in the creative application of recording technology, according to the organization. The presenters of the award were mastering veteran Bob Ludwig and Les Paul himself. After a video presentation summarizing Springsteen's career, Ludwig beamed, saying, "I'm one of his biggest fans. Bruce is first and foremost a poet and it's a pleasure to work for him." Although Springsteen was not in attendance to accept the honor, he did send a letter to be read, thanking the production team he has worked with for years, including Ludwig, mixer Bob Clearmountain and engineer Toby Scott. The letter concluded with a special message of gratitude to Les Paul, thanking him for the electric guitar, stating, "It's just what I needed." (Report by Ruth Barohn)
- October 12, 2003

ONE MORE TIME!... OKAY, 38 MORE TIMES!

Check out the October 2003 issue of Mix magazine for an article on the recording of The River by Maureen Droney. In looking back at the 16-month album sessions at the Power Station, she talks with River engineer Neil Dorfsman and mixer Toby Scott, getting into the nitty-gritty technical details. A great article for gearheads in particular, but also for anyone interested in a peek behind the scenes of Bruce's recording sessions. Dorfsman recalls, ""We were doing multiple takes of every song 20, 30, sometimes 40 times... Bruce cut something like 50 songs, with multiple — at least 15 — takes of each tune. We had over 400 reels of tape." Scott describes just as intensive a process for the mixes: "We did hundreds of variations: with backgrounds and without; lead up, lead down; more echo; more slap. Once we started taking mixes, I think we averaged 75 variations per song." Read "Classic Tracks: Bruce Springsteen's The River" online now.
- October 10, 2003

TICKET ALERT: SECOND "LIGHT OF DAY" CONCERT ADDED
Tickets for Sunday show on sale October 11 at noon.
The Fourth Annual Light of Day benefit will now take place over two nights at the Stone Pony. The November 1 show sold out in less than a day, so a second show has been added for November 2, also at the Stone Pony in Asbury Park. Night Two goes on sale Saturday, October 11, at noon. Tickets ($45 for general admission tickets or $100 for reserved VIP seats) will be available at Ticketmaster outlets, Ticketmaster charge by phone, www.ticketmaster.com, Vintage Vinyl in Fords, NJ, and at the Stone Pony box office. Currently on the bill for Night Two: Boccigalupe & The Bad Boys, Gary U.S. Bonds, John Eddie, Dan Bern, Highway 9, Jesse Malin, Garland Jeffreys, Marah, and Soozie Tyrell, with others to be announced.
On the bill for Night One: Boccigalupe & The Bad Boys, Joe Bonanno & The Godsons of Soul, Joe D'Urso & Stone Caravan, Exit 105, Joe Grushecky & the Houserockers, Garland Jeffreys & the Coney Island Playboys, the Danny White Band, and others to be announced. There will also be a separate acoustic stage featuring Mimi Cross, Rob Dye, Charlie McIntosh, Jason Shain, Bobby Strange, Bruce Tunkel, and Mike "Rocket" Wurtele.
See Concerts East for more info. As always, the concert benefits the Parkinson's Disease Foundation. The first three Light of Day concerts culminated with appearances by Bruce Springsteen, who sat in with Joe Grushecky and his band at all three shows. Last year, Springsteen also jammed with Gary U.S. Bonds. The events raised over $100,000 for Parkinson's and ALS research.
Concert organizer Bob Benjamin also co-produced a new 2CD set of covers with the same title, out this month, also to benefit PDF. Light Of Day: A Tribute to Bruce Springsteen is available now through Backstreet Records.
- Updated October 9, 2003

BY POPULAR DEMAND: MORE DAYS OF HOPES AND DREAMS!
Photographer Frank Stefanko's all-Springsteen gallery show, up now at Govinda Gallery in Washington D.C. (1227 34th Street NW), will be on the walls for an extra week. Originally planned to close on October 18, the show has been extended to October 25 due to its popularity. And for good reason — it's beautiful stuff. So you've got an extra week, catch it if you can! See below for more on Stefanko, and his new book that the Govinda show celebrates, Days of Hope and Dreams: An Intimate Portrait of Bruce Springsteen.
- October 9, 2003

NEW "AMERICAN SKIN" CONTROVERSY: HAVEN'T WE BEEN HERE BEFORE?...
When "American Skin (41 Shots)" first stirred up a ruckus back in 2000, its harshest critics responded before they'd even heard the song. Unfortunately, that misinterpretation — assuming one can interpret something they haven't heard — has stuck, and there has been resistance to "American Skin" from day one. To paraphrase what Springsteen said years ago about "Born in the U.S.A.," when someone doesn't understand your song, you just keep singing it.
And Springsteen kept singing "American Skin," even at the opening of the New York City stand. After which, according to the New York Daily News story "Cop-out on Bruce," NYPD Chief of Department Joseph Esposito "ordered the escort cut for Springsteen's next show." The Daily News and New York Newsday and other major news sources have since followed up, reporting criticisms of the police reaction from both Mayor Bloomberg's office and the New York Civil Liberties Union.
Springsteen writes explicity about "American Skin" in the brand new edition of Songs, his longest statement by far about the controversy and the song itself. Bruce writes, "Though the song was critical, it was not 'anti-police' as some thought." As he also points out, the first verse is from the point of view of a police officer, "kneeling over his body in the vestibule, praying for his life." Rather than being an indictment of police, if the song points a finger at anyone, Springsteen suggests that it points at all of us in this country, the singer included. "The idea was here," he writes: "Here is what systemic racial injustice, fear, and paranoia do to our children, our loved ones, ourselves. Here is the price in blood."
We highly recommend reading Springsteen's "American Skin" intro in its entirety. But the song itself really says it all. So if you can shut out all the raised voices, we also recommend some deep breaths, some fresh ears, and another listen to a song that, much like Neil Young's "Ohio," says more about ourselves and the world in which we live than it does about anyone in uniform.
- October 9, 2003


NEW YORK CITY SERENADES AND A LEGENDARY RENDEZVOUS AS BRUCE AND HIS BLOOD BROTHERS BRING IT ALL BACK HOME.
10/3: For the penultimate concert of the tour, Springsteen pulls out some big guns: a mighty "Roulette" to open, and a beautiful "New York City Serenade," with Garry on stand-up bass, to warm up a chilly night at Shea. Both were tour premieres, as were "Rendezvous" and "Another Thin Line" (an unreleased song co-written with Joe Grushecky, debuted at the end of the Reunion tour, and a strong contender for Essential disc 3). "Souls of the Departed" again included the "57 Channels"-style "mass destruction" sound-bite intro, and while Night 2 was less overtly political than Night 1, the show did include a quick guest spot from Al Franken during the band intros, as an alternate "Big Man." A wild setlist and powerful performance all around, though those hoping for songs written after 1979 might not have been as thrilled with "That '70s Show" (as one fan called it) until the encores, when a rollicking "Pink Cadillac" followed "Janey Don't You Lose Heart." Introducing "My City of Ruins," Springsteen thanked fans for their support, and called it the "best year we've ever had, really." Guests galore joined in during the second encore, including Mets pitcher (and big Bruce fan) Al Leiter on tambourine for "Rosalita"; Jon Landau and Willie Nile, both on guitar, for "Dancing in the Dark"; and a full stage with the addition of Gary U.S. Bonds for a bonus show-closing "Twist and Shout."
10/4:For "the last dance," even the elements were on our side. The all-day drizzle stopped just in time for the show, and while Bruce later knocked on the wood of his acoustic, hoping the skies would hold, we'd already stopped the rain. "Code of Silence" opened the show, another Grushecky co-write last played in Pittsburgh. "Roulette," "Johnny 99," "Tunnel," and "Another Thin Line" came back; a stunning "I Wish I Were Blind" had its E Street Band debut, a beautiful full-band electric performance that we wish had appeared before the final show... other tour premieres were "Back in Your Arms" and, opening the encores, the return of the Reunion tour staple, "Light of Day." A 30-song blowout (previously, the longest Rising show had been 27 songs) that lasted nearly 3 hours and 20 minutes, this final show was one that may have had emotions running high, but Bruce seemed committed to keeping things loose and fun. "Welcome to the Last Dance," he said before "Waitin' on a Sunny Day." "I'm getting a little misty here right about now... Steve, cheer me up!" And he was chattier than usual, leading into "Back in Your Arms" with some audience banter: "Ladies, have you ever felt taken for granted?" But Bruce saved his speechifiyin' for the biggest surprise of the night, as a fellow legend came out to share the stage for "Highway 61." Bruce told the crowd, "We have my great friend and inspiration with us tonight, Mr. Bob Dylan... we wouldn't be here tonight without him." The resulting performance was rough and ramshackle, best in theory, but it was clearly a meaningful moment for Springsteen. Introducing "Land of Hope and Dreams" a couple of songs later, he continued talking about Dylan as an artist "who was willing to stand in the fire... he made me think big thoughts... got me thinking about the world outside my little town. I don't know if great men make history or if history makes great men, but I know Bob's one of the greatest. Now and forever. I dedicate this one to him tonight, and thank him for gracing my stage... when I wrote this one I was doing my best to follow in his footsteps." And after his call for vigilance, and stressing the notion that the search for the truth is "the American Way": "And I learned that from Bob Dylan. This is 'Land of Hope and Dreams.'" After the historical summit, the show became about celebration. "Rosie, I'm home!" Willie Nile and Jon Landau returned for "Dancing," Bonds returned this time with Garland Jeffreys for the tour debut of the chestnut "Quarter to Three" along with "Twist and Shout." And that takes us to song 29. Song 30, the last song of the night? History repeats itself, with the first performance of "Blood Brothers" since Bruce and the E Streeters closed the Reunion tour with the same. All guests left the stage before this one, leaving just the E Street Band that has brought us the power, hour after hour, night after night, over the last 14 months. Springsteen seemed to be holding it together, but there were tears streaming down Clarence's face. Once again, Bruce brought bandmembers front and center to hold hands for the extra verse. It's a good night for a ride, and with that, the Rising tour rides off into the sunset. "The past four or five years have been some of the most fun and exciting of my life," Bruce told the crowd, "Thanks for sharing them with us."
For the full setlists from these final Rising shows, as well as setlists from Springsteen's previous performances, go to our setlists page.


BACKSTREETS.COM SERVER UPGRADE TODAY
We can make it stronger, faster, better
You may have noticed Backstreets.com moving a little slow over the past few days — or in the case of BTX, sometimes not at all, as our message boards have been overloaded by traffic. Obviously, end-of-tour excitement accounts for the extra action right now, but just because this is a rare occasion doesn't mean we shouldn't try to make it better. We're in this for the long haul, after all. So there's no time like the present, and this afternoon we'll be upgrading our server hardware. It means that Backstreets.com will be down for a short time later today, likely for an hour or so, while we make the switch. But it also means that you'll notcice increased speed and reliability here, on BTX, and in our online shop, in time for Shea reports as well as further on down the road. Thanks for your patience while we make it happen.
UPDATE: Upgrade completed at 6:30 p.m. Eastern
- October 1, 2003

NEW RELEASE NOTES FROM FAR AND WIDE
Though the Rising tour is about to end, we're anticipating some happy holidays this year. A few weeks back, we reported that an "Essential Springsteen" collection is in the works (two CDs, with a bonus third disc planned for the first pressing), and there have also been plenty of rumors lately about a DVD release planned from the Rising tour. Still no official confirmations of either project in the U.S., but here are a few links to check out that hold promise:
HMV Japan lists "Essential" as due for release there on November 19, and while there's no mention of a third disc, you'll find a 30-song track listing, 15 songs per CD. From "Blinded" through "Rosalita" and "The Promised Land" to "Tunnel of Love" (and beyond), this line-up fills in plenty of gaps that the one-disc Greatest Hits couldn't cover. Sony Music Norway and Sony Music Austria both list "Essential" on their schedule of upcoming releases, due on November 3 (with Sony Austria listing a seperate Limited Edition version as well). We'll keep you posted on all the Essential details as they come in.
And get this: Sony Austria also has Patti Scialfa's long-awaited second album on the schedule for February 2, title to be announced. Will her Rumble Doll follow-up finally see the light of day?
As for a DVD, Sony Music Norway has a DVD titled "Bruce Springsteen: Live in Barcelona" on their schedule, with a due date "To Be Announced." HMV Japan lists "Live From Barcelona" as a 2-DVD set due November 19. Things clearly aren't yet set in stone, but it's looking good — keep those fingers crossed.
- Updated October 1, 2003