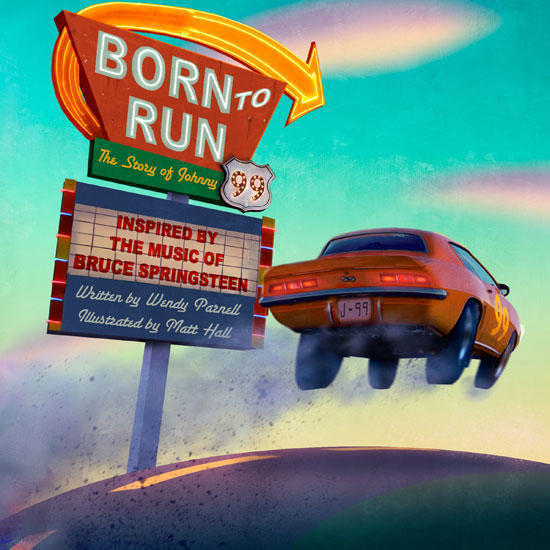 KID, YOU BETTER GET THE PICTURE BOOK
Author Wendy Parnell's new Born to Run — signed copies now in stock
Is Outlaw Pete a little lonely on the shelf? Here's another picture book for Springsteen fans — more geared to little ones than the knife-wielding Pete, but it'll appeal to fans of all ages, too. Longtime fan (and Backstreets reader) Wendy Parnell, who has previously authored picture books based on the music of her fellow Texans Joe Ely and Marcia Ball, this week releases Born to Run: The Story of Johnny 99.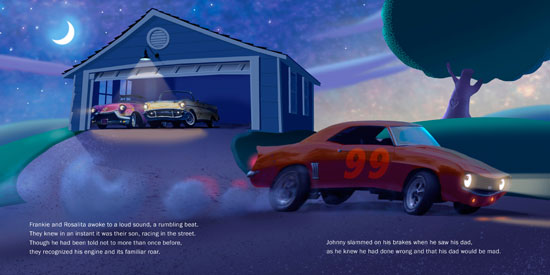 It's not the story of the Johnny 99 you already know — no gun-wavers here — but of an anthropomorphized car by that name, who lives in a three-car garage on Flamingo Lane with hs mom (Rosalita, a pink Cadillac) and dad (Frankie, a '57 Chevy). You don't have to be familiar with Springsteen's work to appreciate the sweet story and Johnny's road trip... but for those of us who are, you can play Spot the References and see if you get all 99. Wendy's story is beautifully illustrated by Matt Hall.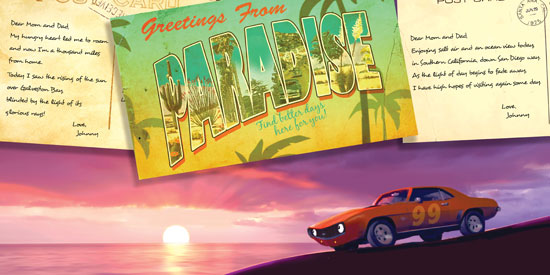 Order from Backstreet Records now for a copy signed by the author. "I remember my excitement when I first came across Backstreets magazine in the early 80s," Wendy tells us, and it's the reason this "fiercely independent" author is signing books for us and offering it through Backstreets and her own website, but not anywhere else.
Click here to order and to see more inside the book
- August 28, 2015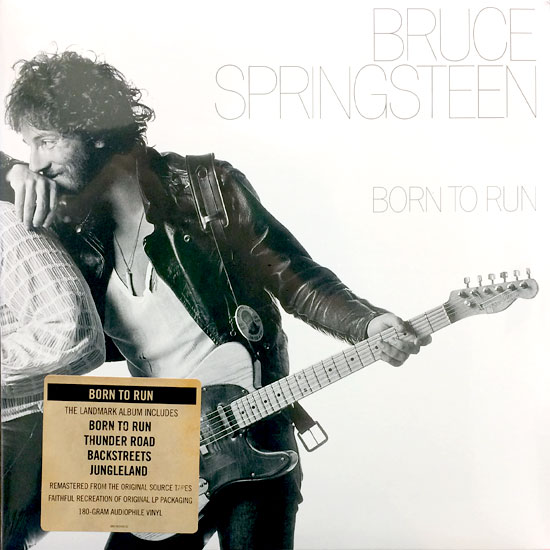 BORN TO RUN AND OTHER PLANGENT REMASTER LPS, À LA CARTE
For Record Store Day this year, Columbia made Springsteen's remastered LPs available individually for the first time, after initally collecting them as a box set only. We stocked as many of these RSD releases as we could, but we quickly sold out of a few titles, including Born to Run. But the RSD exclusivity is over, and all seven of those remastered records are commercially available. We've just restocked the titles that sold out, including Born to Run, Wild & Innocent, and Born in the U.S.A. (The only difference between these and the RSD releases is the sticker on the sleeve; we still have RSD copies of Greetings, Darkness, Nebraska, and The River).
So, if you've been moved to break out Born to Run this week and feel the need to upgrade, we've got you covered.
And whether or not you're spinning vinyl these days, you do have the Born to Run 30th Anniversary edition, with the Hammersmith Odeon, London '75 DVD and the Wings For Wheels documentary, right? Okay, thought so — just checking.
- August 27, 2015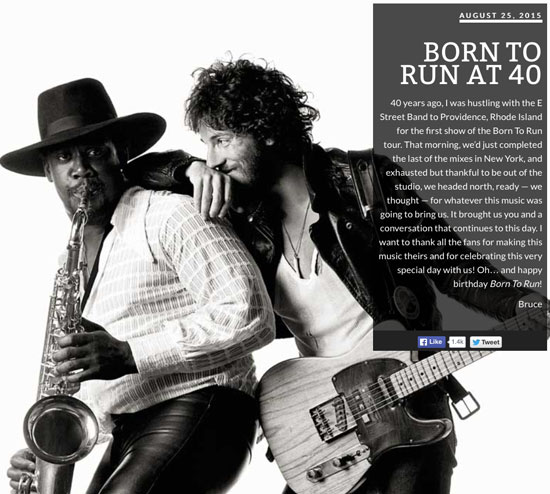 THE HIGHWAY'S JAMMED WITH BTR40 LINKS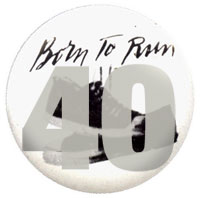 The official birthday of Born to Run has always been a bit fuzzy, as suggested by the lede of John Rockwell's August 29, 1975 New York Times review: "Bruce Springsteen's third album, Born to Run, should be in the record stores about now, and it should be all he needs to push him over the top." Forty years ago, records just didn't hit every shop at the same time. For a long time, we considered September 1 as the official commercial release date, with August 25 and 26 also in the running for "the big day." Script covers were sent out promotionally the second week of August. Of course here at Backstreets we see no need to confine our celebration of Born to Run's genius to a single day, or week, or month... But one thing yesterday showed is that the world has come to a consensus on the date, as outlets from Hollywood Life to the National Review celebrated the 40th anniversary on the 25th. Entertainment Weekly offered a 40th anniversary quiz. Even Bruce himself wished his album a happy birthday on yesterday, so we'll consider that official.
In case your clicking finger got tired yesterday, we've done some sifting for you.
Goodreads
Multimedia
Tweeting Republican governors (that's a category?)
Charlie Baker of Massachussets tweeted twice, calling it "the greatest album of all time" and praising "Thunder Road"
New Jersey's Chris Christie skirted the Twitter character limit by posting his essay on the album as a png file; and despite recent fears that his allegience has recently shifted to Bon Jovi, the governor calls Born to Run "my desert island disc. It is the most powerful rock album of my lifetime."
Plus:
A talk with Minnesota Twins manager, Baseball Hall of Famer, and longtime fan Paul Molitor [twincities.com]. . . 40 Born to Run Album Facts [VH1.com] . . . "Born to Run, and to Give" [insidephilanthropy.com]. . . .
- August 26, 2015


FROM THE "LEGENDS OF SPRINGSTEEN" FILES
Wishing Sophie Satanovsky of St. Louis a very happy 90th birthday today!
- August 26, 2015


DOWN THE SHORE WITH DARLENE AND FRIENDS
Shot on location on the beach in Asbury Park, the new video for "Forbidden Nights," from the Stevie Van Zandt-produced Introducing Darlene Love, features cameos galore (including the song's writer, Elvis Costello). Beware the Asbury Stranglers!
- August 26, 2015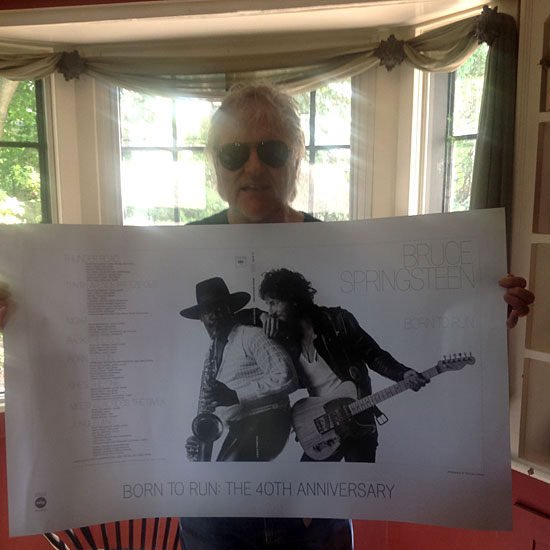 FACES OF BTR40: CO-PRODUCER MIKE APPEL
What better way to spend the big 40th anniversary than by hearing stories from Springsteen's Born to Run-era manager and producer? Mike Appel kindly gave us a call this morning at Backstreets HQ, and over the course of an hour and a half we delved into all things Born to Run, from the record to the tour, from the astonishing lead single he and Bruce produced at 914 Sound Studios, to the work on the rest of the album with Jon Landau at the Record Plant. We'll share more of this conversation as the BTR40 celebration continues (and as we keep transcribing); today let's start with the album cover, working from the outside in, as Appel recalls how the design came together and his first look at the now-iconic image.
I told Bruce and Clarence they had to go meet with Eric [Meola], and so they did. Eric was a guy we trusted. We allowed him to be in the studio and the control room with us, and he was like an omniscient observer — like a fly on the wall, never bothered anybody, would never ruffle your feathers. He and Barbara Pyle, we'd allow them to be around, they were two of our favorite photographers. They were around, and they were always great. Everybody loved them, they got along with Bruce great, and I think Bruce felt comfortable and warm in their presence. And he opened up to them — obviously — and that's why you have all those great shots. So when it came time to do the thing at CBS, to relax and do the photoshoot, it wasn't any problem. "Oh, this is Eric. Oh, yeah, sure."

So Bruce and Clarence go over there. Then, a few days later, [Columbia art director] John Berg calls me up, and Bruce is in my office. He says "Mike, you gotta come over here — I got the cover, you gotta come over here and see this!" I tell Bruce, "I gotta go see John Berg, I'll be right back."

So I go over, and John says "Mike, look at this." Right as I walk in, I'm still standing. I look, and I see the cover; I see Bruce Springsteen. Then he unfolds it, and I see that Bruce is leaning on Clarence. And I say [awed], "Ohhhh... is that gonna be, like, an open-up..." And he says, "That's right, that's exactly what it's gonna be." That was the first time I saw that shot, that was my first dose, and it was just such a great idea. And I say, "Oh, maaan! Oh!" I told him, "You're a freakin' genius! This is the greatest thing! Wait til I tell Bruce!"

When I saw the cover that first time it just, boom, punched me right in the nose. What could be greater than that black and white picture, Bruce in that rock 'n' roll leather jacket — of mine, from when I was a kid — that jacket says, "I'm coming from somewhere. I pay attention to the roots of rock 'n' roll, I'm coming from somwhere, I didn't just drop out of the sky." And here he is wearing it with a pin of Elvis, who we all loved and adored, and he's leaning on Clarence, his big giant onstage personality... it's just perfect.

I ask John for a copy and he gets me a copy; I run back to my office and show it to Bruce, and Bruce says, "Oh, man — that's it!"

But then he says, "What are we going to call it?" And I say, "What do you mean, what are we gonna call it? Born to Run!" He says, "Well, we could call it Jungleland," and then he starts... that's what happens when one artist talks to another artist, they start to drift. Jungleland could be the title. Thunder Road could be the title. I said "Yes, they all could be the title. For sure. However, 'Born to Run' is what all of this in motion. And it is born to run. And you, baby, are born to run. That's what it is: it's talking about you, too. You're not Jungleland. You're not Thunder Road. You're born to run, Bruce. Out of this neighborhood, to bigger and better things. The American Dream." And that was it.
The Born to Run album cover is currently availabe in poster form exclusively through Backstreets, as held up by Mike Appel above. In honor of this 40th anniversary, net proceeds from the sale of these posters go to WhyHunger, also celebrating 40 years in 2015.
- August 25, 2015 - as told to Christopher Phillips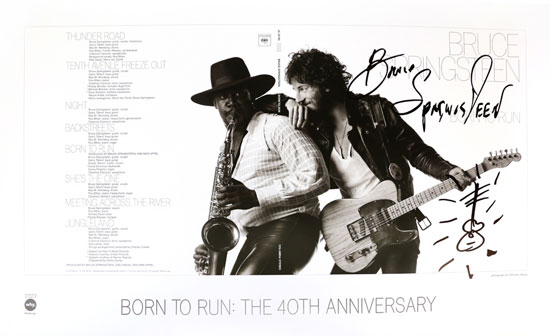 GET 'EM WHILE THEY'RE HOT
Limited run BTR40 posters available in our shop; one Springsteen-signed copy now up for auction
Celebrations of Born to Run's 40th anniversary seem like they're everywhere today (and we'll round up the best of the bunch as the dust settles). But the official poster is only available here, exclusively through Backstreet Records.

Well, that is, unless you want a copy that Bruce Springsteen has autographed. For that... pictured above... we point you to Charitybuzz, where an auction underway today will help generate even more funds for WhyHunger, which is also celebrating 40 years in 2015.

The 24" x 40" poster, overseen by photographer Eric Meola and current Columbia art director Dave Bett, reproduces the classic album cover in crisp detail, upsized 150% — even at the age of 40, it's never looked so good! All net proceeds benefit WhyHunger and their efforts to fight hunger and poverty.
- August 25, 2015

"SO WHAT IF BRUCE WANTED THE PORTRAIT?"
John Berg on designing Born to Run's legendary cover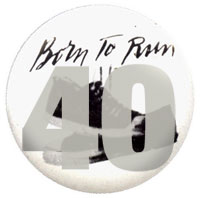 Among his many accomplishments, Columbia Records art director John Berg designed the original album package for Born to Run. Below is Berg's transcribed contribution to E Street Radio's special BTR-themed edition of Be the Boss, debuting today at 4 pm ET on Sirius/XM channel 20. (Click here for other airdates/times.)
Berg, now 83 and battling Parkinson's disease, was unable to read his contribution on the air. It was transcribed for him by his wife, illustrator and photographer Durell Godfrey, and will be read by today's special Be the Boss host/co-producer, Kevin Farrell of Friends of the Bruce Springsteen Special Collection. We're pleased to share John Berg's thoughts on BTR40 with our readers as well:
In those days, working at a major record label was the coolest job you could have. The best of the best were in my art department at Columbia. We did great work and won lots of awards. As the art director I had a huge amount of clout regarding what photographers, illustrators, hand-letterers and type-designers were used for album covers. We were the best, and we worked with the best people available.

One day I got a call from a photographer named Eric Meola (whom I did not know.) He was phoning to say that he had done a photo session with Bruce Springsteen, and that Bruce wanted me to look at the pictures for his next album cover. I had done previous Springsteen covers, and while [Greetings From Asbury Park, NJ] used a big postcard, Bruce generally favored serious-looking headshots — like author portraits on books. That is what I expected to see when they came to my office a few days later.

Eric had done the serious portrait work that Bruce wanted, but he had also photographed Bruce another way, with Clarence and Bruce fooling around on the set. It was those pictures that really caught my eye. Looking at the contact sheets I saw that one particular image and knew I had my cover!


Berg with Born to Run cover photographer Eric Meola in 2006

So what if Bruce wanted the portrait? This was a spectacular image, dynamic and energetic, capturing the moment perfectly. Look at the picture. There is great charm and humanity in it. The cliché is that it is magical, but it really is.

Meola's 35mm film format meant that I had to crop the photograph and add extra background to each side to create the long rectangular image that I wanted to fold and wrap around the cover... Bruce on one side, Clarence on the other side, opening to a spread. That was my plan.

Columbia management had to be sold on a wrap-around cover with only one record in it. (Traditionally a folded cover would hold two LPs). To get the go-ahead for the extra money for this bigger package, I ordered full size mock-ups for the budget presentation. The visual impact of the image, even without type in place, sold the executives on the concept and we had our money.

The final cover was printed in four-color black and white, meaning that all the colors are in that black, making it a very rich picture with tons of detail and nuance. For the record, the typeface I used was Lightline Gothic. I wanted a typeface I could use large but which would not impose itself on the photo.


Berg in the summer of 2015, with the official 40th anniversary poster featuring his celebrated design. Photograph by Eric Meola. The poster benefits WhyHunger and is available here.

It's wonderful to be associated with a rock 'n' roll legend, an iconic image and a brilliant photographer. Forty years later, the record still has impact. What a nice legacy, though I still think it's amazing that the cover never won an award. I do consider Born to Run to be one of the all-time classic albums. My favorite cut on Born to Run is actually "Born to Run."

It's nice to know that the album cover has its own identity. The world knows who made the music, of course, but what the album looks like — well, the whole world knows that visual reference, as well. How many album covers can boast that kind of universal impact? It has been my pleasure to be a part of this remarkable phenomenon, which is Born to Run.
- August 25, 2015 - John Berg's transcribed comments courtesy of E Street Radio


LISTEN NOW: BRUCE BRUNCH SPOTLIGHTS BORN TO RUN AT 40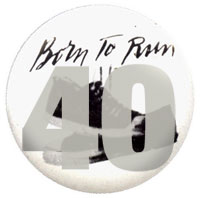 Here's the full Bruce Brunch from yesterday, the program's Born to Run 40th Anniversary special broadcast live on the Jersey Shore's 107.5 The Hawk. Host Tom Cunningham spoke on the show with the album's co-producer, Mike Appel (though Max Weinberg, unfortunately, was unable to make it as scheduled). Tom also broke out some of his archival interviews, talking BTR with Steve Van Zandt, Clarence Clemons, Eric Meola, and Garry Tallent. A memorable clip has Stevie waxing fond about "Meeting Across the River," praising the "small" slice of life as "Mean Streets, not The Godfather... That's still my favorite song [from Born to Run], and what a wonderful moment to witness in the studio." You get "Meeting" and every song from the classic album over the course of these two hours, and outtakes as well — bonus points for spinning "So Young and in Love" and "A Love So Fine" back to back. Thanks to TC and to Gary Titus for the recording.
- August 24, 2015

AS THE RADIO PLAYS: BTR40 ALL WEEK ON E STREET RADIO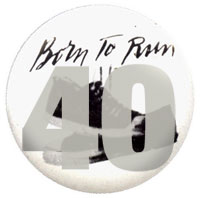 This Tuesday, August 25, marks the officially recognized 40th anniversary of the release of Bruce Springsteen's breakthrough album Born to Run. E Street Radio will be celebrating the anniversary with an entire week of special programming, beginning tomorrow, Monday August 24. Highlights will include daily airings of BTR-era concert recordings, replays of Dave Marsh's 2005 E Street Radio interview with Springsteen centered around the release of the Born to Run 30th-anniversary box-set, a BTR­themed edition of the Springsteen-covers show Cover Me, and an exclusive audio-only version of Thom Zimny's documentary Wings For Wheels: The Making of Born to Run.
On the anniversary date itself, E Street Radio will air a special Born to Run-centered edition of its fans-program-the-station show Be the Boss, running over two hours. Produced by Friends of the Bruce Springsteen Special Collection board member Kevin Farrell (who also will host) and E Street Radio's Vinny Usuriello, the program will offer specially selected live versions of every track from Born to Run, as well as some of the album's outtakes. Interspersed throughout the show will be reflections and reminiscences from a variety of contributors, including Backstreets' own Chris Phillips and Shawn Poole. The lineup reads more like a "Super Guest DJ" session than an episode of Be the Boss — in fact, several of the more famous names here are actually listed in the Born to Run album credits. The full roster: Mike Appel, Brooks Arthur, John Berg, Randy Brecker, Peter Ames Carlin, Tom Cunningham, Marc Dolan, Eric Meola, Melanie Paggioli, Chris Phillips, Shawn Poole, Rich Russo, Barry Schneier and Thom Zimny.
As the celebration week draws to its close, fans will be able to share their own BTR-centered thoughts and memories by calling in (877-70-BRUCE) to the all-request show The Wild and the Innocent with Jim Rotolo, airing live beginning at 6 pm ET on Friday August 28.
Click here for detailed rundown of all of E Street Radio's BTR@40 special programming, with all scheduled airdates and times (including repeat airings.)
- August 23, 2015

TOMORROW'S BRUCE BRUNCH CELEBRATES BTR40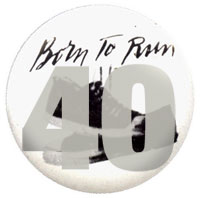 DJ Tom Cunningham is gearing up for a big show tomorrow morning on his Bruce Brunch, celebrating a certain 40-year milestone you may have heard about. "This week's Bruce Brunch will be all about Born to Run," he tells us. "Max Weinberg will be calling in live, plus I have reflections about the album from Stevie Van Zandt, Garry Tallent and the late Clarence Clemons."
Tune in to the two-hour program Sunday mornings at 9am on 105.7 The Hawk at the Jersey Shore, or stream it online at 1057thehawk.com. Also on the website you'll find a new essay from Tom on Born to Run: "my favorite Bruce Springsteen album since I listened to it all the way through for the first time in August 1975. And since it's my favorite Bruce Springsteen album, that means that it's my very favorite album of all time."
- August 22, 2015

DARLENE LOVE: "OH MY GOD! WE'LL HAVE A SONG FROM BRUCE!"
We're not the only ones excited about two new Bruce Springsteen compositions on Darlene Love's forthcoming Stevie Van Zandt-produced album — there's also Ms. Love herself. She spoke with Andy Greene for a piece on rollingstone.com today:
Springsteen sent complete demos for "Night Closing In" and "Just Another Lonely Mile," two anthemic tunes that would have sounded right in place on The River. "When I first heard he was writing for me, I was like, 'Oh, my God! We'll have a song from Bruce! I can't wait! I can't wait!'" Love says. "When they came in, I just loved them. I listened to them, put them into my mind and made them Darlene Love songs."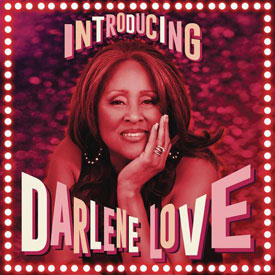 Van Zandt also tapped other songwriters including Elvis Costello, Jimmy Webb, Barry Mann and Cynthia Weil. "I said to them, 'I want big,'" he tells Greene. "I want horns and strings. Her voice wants that. And I told them we weren't waiting, so I gave them a month or two."
Read: "Darlene Love on New Solo LP and Working with Springsteen, Steve Van Zandt"
Introducing Darlene Love is due next month, on September 18. While Stevie himself also wrote for the new album, it kicks off with a revisitation of "Among the Believers," a song from his 1984 album Voice of America. The full track listing:
1. Among the Believers (Stevie Van Zandt)
2. Forbidden Nights (Elvis Costello)
3. Love Kept Us Foolin' Around (Linda Perry)
4. Little Liar (Desmond Child/Joan Jett)
5. Still Too Soon to Know (Elvis Costello)
6. Who Under Heaven (Jimmy Webb)
7. Night Closing In (Bruce Springsteen)
8. Painkiller (Michael Des Barres/Paul Ill)
9. Just Another Lonely Mile (Bruce Springsteen)
10. Last Time (Stevie Van Zandt)
11. River Deep, Mountain High (Phil Spector/Jeff Barry/Ellie Greenwich)
12. Sweet Freedom (Barry Mann/Cynthia Weil)
13. Marvelous (Walter Hawkins)
14. Jesus is The Rock (That Keeps Me Rollin') (Stevie Van Zandt)
- August 21, 2015


SWEDE SOUL MUSIC
Thanks to Jay Lustig for turning us on to an intriguing new album of Springsteen covers by Sweden's Moa Holmsten, Bruised Arms & Broken Rhythm, just out this month. The album doesn't just skim the catalog surface; the avant garde singer puts her spin on deeper cuts like "Sad Eyes" (above), "State Trooper," and "Incident" in addition to "Dancing in the Dark," "Badlands," and "Born to Run." We definitey recommend a listen. Holmsten is performing in the States this week — after her stop in Asbury Park at The Saint, she plays The Living Room in Brooklyn tonight. Read and listen more at Jay's NJArts.net and meetmoa.com.
- August 21, 2015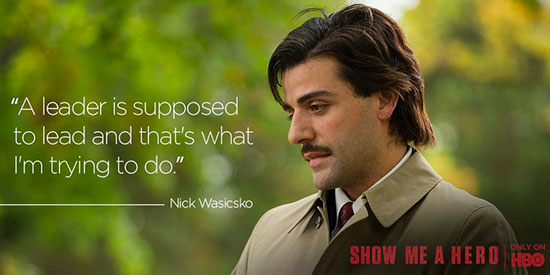 EVERYBODY NEEDS A PLACE TO REST, EVERYBODY WANTS TO HAVE A HOME
HBO housing-deseg miniseries full of Springsteen music
HBO's powerful new miniseries Show Me a Hero chronicles the late-1980s/early-1990s struggle to desegregate housing in Yonkers, NY. Based on Lisa Belkin's non-fiction book of the same name, its central character is troubled Yonkers mayor Nick Wasicsko (played by Oscar Isaac,) who reluctantly became a proponent of integrated housing in the face of violent opposition.
While Wasicsko's not specifically identified as a Springsteen fan in Belkin's book, the miniseries portrays him frequently listening to Bruce as his music of choice. In just the first hour-long episode, Wasicsko selects "Hungry Heart" on a diner's jukebox (prompting one of his dining companions to complain, "Springsteen... again?!") and later blasts "Ramrod" on his car-stereo. "Gave It A Name" also serves as episode one's opening theme music. In episode two, "All That Heaven Will Allow" is heard playing on Nick's home stereo. Viewers can expect to hear eight more Springsteen tracks during the course of the miniseries' six-episode run.
It's not surprising that Bruce's music works so effectively in a docu-drama addressing issues of community, race, class, personal responsibility, law-enforcement and the distance between the American dream and America's realities. It's even less surprising after spotting Springsteen's longtime video/film archivist and collaborator, Thom Zimny, listed in the miniseries' credits as a music consultant. (Zimny previously worked with Show Me A Hero's co-writers David Simon and William F. Zorzi, editing the first three seasons of their HBO series The Wire.)
Episodes one and two of Show Me a Hero are now available for viewing on HBO, HBO On Demand and streaming online via HBO NOW and HBO GO. Episodes three and four will premiere on HBO this coming Sunday, August 23 at 8 pm ET. Click here for more information.
- August 19, 2015 - Shawn Poole reporting

EDDIE MANION'S OWN OCTOBER ASSAULT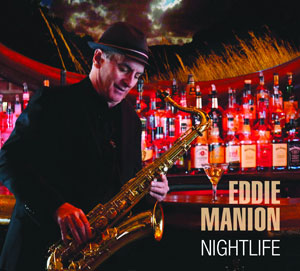 It's a busy Rocktober for the Kingfish. In addition to playing with Joe Grushecky and the Houserockers for American Babylon 20, Eddie Manion will release his second solo album, Nightlife. The follow-up to 2004's Follow Through, Nightlife will debut with a series of listening parties in Asbury Park the fourth weekend in October, the same weekend that the saxophonist will be on the Stone Pony stage with the Houserockers.
The very First Listen will be Friday, October 23, from noon to 3pm. "Nightlife in the Afternoon" will repeated at the same time on Saturday, with the final session on Sunday evening, October 25, from 7 to 10pm. These events at the Where Music Lives Exhibit and Performance Center (708 Cookman Ave) will include a meet-and-greet with Eddie, who will also perform a few tracks from the new album live and sign copies of the CD for everyone who attends. Also on tap: a special exhibit with John Cavanaugh's concert photography of Manion's touring career 1976-2015 with Bruce Springsteen, Little Steven and Southside Johnny.
If you're already in town for the American Babylon festivities, this is a no-brainer. Tickets go on sale tomorrow, Tuesday August 17 at noon.
- August 17, 2015

TICKET ALERT: A DOUBLE SHOT OF AMERICAN BABYLON
A second show has been added for Joe Grushecky & the Houserockers' 20th anniversary celebration of American Babylon, with tickets on sale to the general public tomorrow, Saturday August 15, at noon. The newly added show will be Friday, October 23, with the general onsale tickets available through Ticketmaster.com, Ticketmaster outlets, and by phone (800-745-3000).
The originally announced show (Saturday, October 24) was a brisk sell-out; UMT Presents set up two pre-sales this time — a coded pre-sale today, and another in person only tomorrow at the Stone Pony box office from 10am to noon — hoping to "give fans who were shut out of the first show an opportunity to purchase tickets.
Eddie Manion will be joining Joe and the band for these two nights at the Stone Pony, October 23 and 24, where, according to UMT Presents, they "will also be recording both nights for a future 'Joe Grushecky and the Houserockers Live at the Stone Pony' album and of course they'll be playing American Babylon in its entirety on both nights as well as all your faves!"
- August 14, 2015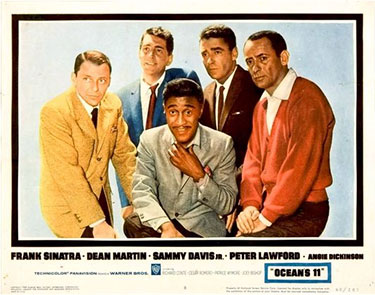 THE MAGIC RAT PACK
Fifty-five years ago today, Ocean's 11, the very first "Rat Pack" film, opened nationwide. A few weeks ago, as Lady Luck would have it, Steve Van Zandt declared on Twitter that Bruce Springsteen and the E Street Band were "the rock and roll Rat Pack. I was Dean, Bruce was Frank, Clarence was Sammy on steroids." When asked which E Streeter was Joey Bishop, Stevie replied, "Max." The E Street version of Peter Lawford currently remains unknown.
Recommended reading for today's anniversary: "The Legend of the Big Man Meeting the Chairman, Miami Beach, Florida, 1979" from Big Man: Real Life & Tall Tales, pages 106-111.
- August 10, 2015 - Shawn Poole reporting

FRANK CARUSO, GOIN' CALI
"I'm heading out west and will be doing a Bruce radio show," Frank Caruso tells us, and you can hear it this evening. The Outlaw Pete co-author/illustrator will be guesting on Glory Days Radio, live today at 5pm PST (8pm Eastern) on Kbeach Radio from California. In addition to talking about the book and taking calls, they'll be giving away a signed copy of Outlaw Pete. Listen live to Glory Days Radio today and every Monday at kbeach.org.
- August 10, 2015

RICKY AND THE… BIG MAN?!
Rick "Please don't call me Bruce" Springfield's role in Ricki and the Flash provides the latest Springfield/Springsteen link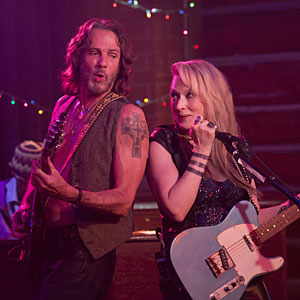 Perhaps the confusion was inevitable from the cradle. After all, Richard Lewis Springthorpe, aka Rick Springfield, was born on August 23, 1949, exactly one month before Bruce Frederick Springsteen. Yet aside from some similarities in last name, birthdate, and occupation, these two men actually have little else of significance in common. They were born on different continents, look and sound very different, and have made very different career moves over the years.
By the mid-1970s, Springfield already had achieved some success as a professional rock musician in his native Australia and even some teen-idol status here in the States. While Springsteen was busy releasing Born to Run and hitting the covers of Newsweek and Time simultaneously, Springfield was in the midst of developing his acting career. "I remember I went out for some acting thing," Springfield recalled recently, "and this girl saw me from an acting class. As I walked out, she said, 'Bruce!'"
"At first being mistaken for Springsteen bugged me but then I thought it was hilarious." Springfield was inspired to write and record the humorous, self-deprecating song "Bruce." The mid-1970s album project for which it was recorded ended up being abandoned, and "Bruce" remained pretty much a half-remembered private joke until the 1980s, when both Springfield and Springsteen experienced major commercial successes. When Springfield released his breakthrough 1981 album Working Class Dog, containing his number-one hit "Jessie's Girl," his then-manager (who still owns Springfield's mid-1970s recordings) arranged to add "Bruce" to the Australian edition of the album without Springfield's permission.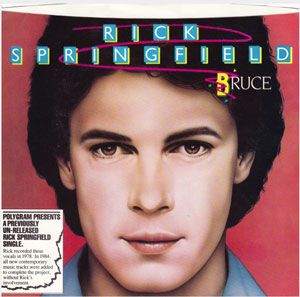 A few years later here in the U.S., in the wake of Born in the U.S.A. and Bossmania, Springfield's now-former manager re-released "Bruce" on a non-Springfield-authorized collection entitled Beautiful Feelings. (Click here to hear/download Springfield's original mid-1970s version of "Bruce," recorded at the legendary Sound City Studios, with none of the 1980s-era overdubs, synthesizers, etc. that were added without Springfield's involvement.)
To date, Springfield and Springsteen have never met. Nevertheless, besides "Bruce," there have been several other notable intersections of the Springfield and Springsteen universes. The latest, of course, is Springfield's major role in Ricki and the Flash where he and the rest of The Flash perform Bruce's song "My Love Will Not Let You Down." Twenty-five years earlier, highly respected session-guitarist Tim Pierce, a longtime recording/touring collaborator of Springfield's, played on Springsteen's "Soul Driver" and "Roll Of The Dice" from Human Touch. (Speakin' of Human Touch, almost a decade before Springsteen wrote that album's title track, Rick Springfield released his own "Human Touch," albeit with a melody, lyric and music video very different from Bruce's "Human Touch.")
The funniest and strangest Springfield/Springsteen intersection, however, has to be the unaired 1990 one-hour pilot episode for ABC's The Human Target, starring Springfield in the title role based on DC Comics' character. The Human Target's pilot/sidekick was played by none other than Clarence Clemons, who later was replaced in the role by actor Sami Chester for the aired 1992 pilot and the subsequent, short-lived series. Here, view the full 1990 pilot, in all of its cheesy Big-Man-blessed glory.
More recently, Springfield even has returned to singing humorously about his being mistaken for Bruce. Click here and here for two distinct versions of his clever 2015 song "If Wishes Were Fishes."
To his credit, Rick Springfield has dealt with being called "Bruce" or "Rick Springsteen" with much patience and good humor throughout his career. More importantly, he continues to earn respect for his own achievements on his own terms. Acting accolades have been rolling in for his recent roles in both Ricki and The Flash and Season 2 of HBO's True Detective. And just a few days ago no less an expert than Little Steven recognized Springfield as "a great guitar player! Who knew?!?"
- August 10, 2015 - Shawn Poole reporting

RICKI'S GOT A BAND OF HER OWN
New Demme/Streep film spotlights Springsteen cover
Jonathan Demme's new film Ricki and The Flash opens nationwide today. Meryl Streep plays Linda Brummell, a.k.a. Ricki Rendazzo, leader of bar band extraordinaire Ricki and The Flash. Diablo Cody's screenplay was inspired by her mother-in-law Terry Cieri, lead singer of the New Jersey-based classic-rock covers band Silk & Steel, though as Cody recently told The Asbury Park Press, "unlike the character of Ricki — who is a bit of a mess in her personal life — Terry is an amazing mom, wife and grandma."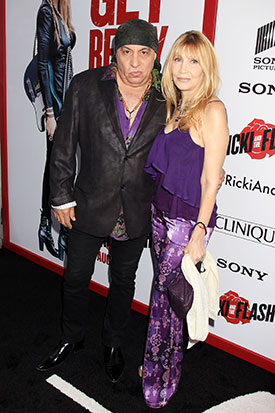 All of Ricki and The Flash's onscreen performances were filmed live by Demme, with no overdubs allowed. Streep performed right alongside the four famous professional musicians playing her band: the late Rick Rosas (to whom the film is dedicated) on bass, Rick Springfield (in a key role as Ricki's significant other) on lead guitar, Joe Vitale on drums, and Rock and Roll Hall of Famer Bernie Worrell on keyboards. Streep, who's previously sung onscreen, spent months learning to play acoustic and electric guitars for her role.
Jersey girl Streep also recommended to Demme that Ricki and The Flash perform Bruce Springsteen's "My Love Will Not Let You Down" in a crucial scene. "Meryl was coming out of her driveway to come to work one day and that song came on the radio," says Demme. "She called me up and said, 'My God, I found the song.' It just works so good."
Steve Van Zandt, above with wife Maureen at Ricki's world premiere in NYC, enthusiastically tweeted twice about the film. Judge for yourself by seeing Ricki and The Flash and/or listening to "My Love Will Not Let You Down," now available online at iTunes, Amazon, etc.
- August 7, 2015 - Shawn Poole reporting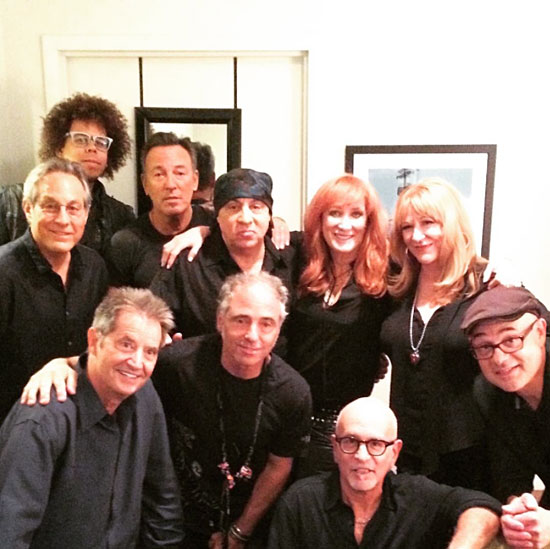 A GOOD COMPANION FOR THIS PART OF THE RIDE
Springsteen & the E Street Band close Jon Stewart's Daily Show run
Earlier this year, all Bosswatch eyes were on David Letterman's final show, in case of a repeat of Springsteen's "Glory Days" farewell from NBC in 1993. That one may not have panned out, but it didn't mean Springsteen's late night tellyvision finales were behind him. All eyes this way instead: tonight, Springsteen was on hand — with the entire E Street Band — for a final farewell to his buddy and New Jersey compatriot Jon Stewart's Daily Show. Broadcast on Comedy Central, this was the first full reconvening of the E Street Band since the High Hopes tour's last dance more than a year ago.
After a moving showing from a Who's Who of the show's correspondents from the last 16 years, Stewart dedicated his last moments addressing Camera Three to a rallying cry against bullshit. "The best defense against bullshit is vigilance," he declared. "So I say to you tonight, my friends: If you smell something, say something." It was significant, then, that the folliowng and final segment was Bruce Springsteen and the E Street Band. Longtime heroes for Stewart, of course... but also, in this context, clearly offered as an antidote, a bastion of hope in a world of bullshit.
"An artist I really admire once said that he thinks of his career as a long conversation with the audience — a dialogue," Jon said after the last commercial break [video here]. Springsteen fans at the afternoon taping afternoon had already spied a saxophone and a familiar drum kit as signs of what was to come, but this was the first real indication for viewers at home. "And I really like that metaphor," Stewart coninued, "for many different reasons, but the main one is, because it takes away the idea of finality. It's a conversation: this show isn't ending; we're merely taking a small pause in the conversation.... I thought that was a remarkable way of getting to the idea that nothing ends. It's just a continuation; it's a pause in the conversation. So rather than saying goodbye or goodnight, I'm just gonna say... I'm gonna go get a drink. And I'm sure I'll see you guys before I leave.
"So, that's our show. I thank you so much for the privilege of being able to perform it for you, for the privilege of being able to do it, and so here it is... my moment of Zen."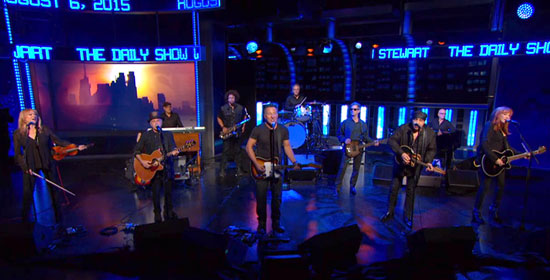 Jon's moment of Zen: the E Street Band, dressed in black to a person, singing "This train" as Bruce Springsteen called out, "This is by request from the man himself! Thanks for everything, Jon, we wish you happy and safe travels." The core modern-era E Street Band was present and accounted for: Jake Clemons; Charlie Giordano; Soozie Tyrell; 30-year vets Nils Lofgren and Patti Scialfa; 40-year vets Max Weinberg, Roy Bittan and Steve Van Zandt; and original E Streeter Garry W. Tallent. (Even without the full E Street Orchestra of recent tours, it was still a big enough ensemble that the stage had to be reconfigured during a break in taping to accommodate them). From the end of the rousing "Land and Hope and Dreams," Bruce and the band segued right into the "Born to Run" breakdown, the rest of that song serving as a celebratory coda as the Daily Show correspondents and staff stormed the stage for a last dance, a last chance power drive, hugs and pogos all around.
After hugging and grasping hands with Bruce and each member of the E Street Band, a visibly and audibly choked up Stewart, holding the drumsticks Max Weinberg just handed him, offered one last, "Thank you, good night." Bon voyage, Jon. See you when we get to that place we really want to go and we'll walk in the sun — or, y'know, just after that drink. Cheers, and thanks.
- August 6, 2015 - photograph via officialrumbledoll/Instagram

IN STOCK NOW AT BACKSTREET RECORDS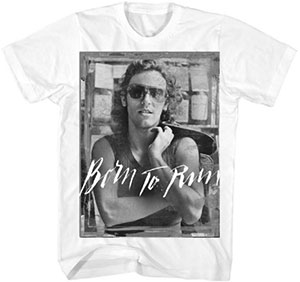 The BTR40 Anniversary celebrations continue
After being sold out for a while, this official Born to Run shirt is back on our shelves, with the script-cover type overlaying a portrait of young Bruce. Available now in all sizes from Small to XXL.
And don't forget the crown jewel this summer, the official Born to Run 40th Anniversary poster available exclusively through Backstreets. This large, 24" x 40" poster blows up the iconic album cover bigger, clearer and sharper than you've ever seen it, in all its glory and then some: the full gatefold cover is reproduced here at 150% its usual size. All net proceeds benefit WhyHunger, also celebrating their 40th anniversary this year.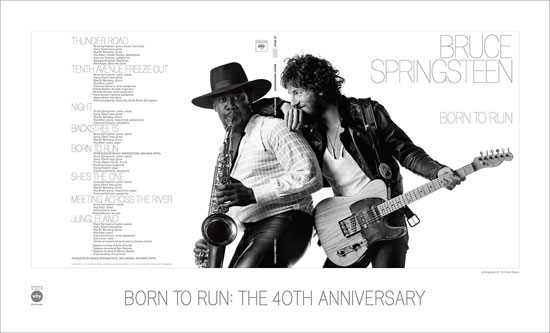 Order now
See all Posters
See all Latest Additions
- August 6, 2015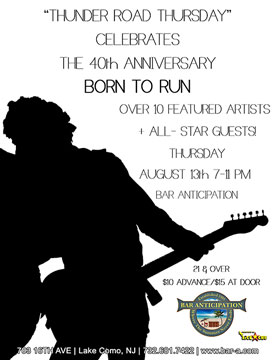 BORN TO RUN 40th ANNIVERSARY CELEBRATION AT BAR ANTICIPATION
On Thursday, August 13, 2015, Bar Anticipation in Lake Como, NJ will commemorate the 40th Anniversary of Born to Run with a special show featuring a house band of all-star Jersey Shore musicians including Vini Lopez, JoBonanno, Eddie Testa, Joey Stann and special guest Max Weinberg. The evening's entertainment will include all original Born to Run album material as well as several tour era originals and covers.
The event, produced by Jesse Warren and Terry Camp (producers of the annual Clarence Clemons Birthday Bash) is being presented in partnership with CFC Loud n Clear Foundation, a Monmouth County, NJ-based organization that supports individuals and families in addiction recovery. The Born to Run event will also help raise awareness of the heroin epidemic plaguing the Shore region.
Tickets are available at the Facebook Event page, $10 in advance and $15 day of show.
- August 5, 2015 - Lisa Iannucci reporting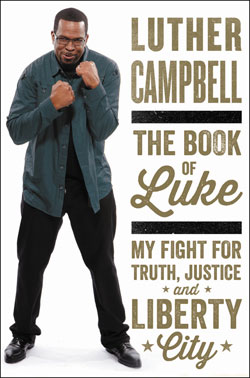 CHIMES OF FREEDOM FLASHING
Luther "Luke" Campbell recalls how Springsteen supported his free-speech struggles when almost no one else would
Today hip-hop pioneer Luther "Luke Skyywalker" Campbell, founder of 2 Live Crew and successful defender of First Amendment rights, releases his memoir The Book of Luke: My Fight For Truth, Justice and Liberty City. An excerpt from the book recently appeared in Miami New Times, where Campbell is now a columnist.
Part of the excerpt includes Campbell's thoughts on the 2 Live Crew single "Banned in the U.S.A." Released 25 summers ago, "Banned in the U.S.A." told the story of 2 Live Crew's battles against censorship and became one of the group's most successful records, using the melody and rewriting the lyrics of "Born in the U.S.A." with the explicit permission of Bruce Springsteen. "Bruce is completely aware of the fact that Luther has been the victim of selective prosecution," Jon Landau told The Los Angeles Times back in 1990. "If the consequence of his granting permission proves to be helpful in supporting the right of free expression, Bruce is very happy to have played a part."
In Miami New Times' excerpt from The Book of Luke, Campbell writes, "I was listening to a rock 'n' roll station that summer, and Springsteen's 'Born in the U.S.A.' came on. Given the situation I was in at the time, in my mind I heard it as 'Banned in the U.S.A.' It was obvious. I needed to get the song cleared. At that period of time, everybody was getting sued. Hip-hop had built itself on sampling other records, which was fine at a block party, but then people went out and started making commercial recordings with it before standards were ever set for fair use. I had to be careful. I didn't need any more legal problems. I called up Springsteen's manager, who called up Springsteen and got him on the phone. I talked to him for maybe five minutes. He said, 'It's no problem, man. I understand the struggle. You can use the song.'"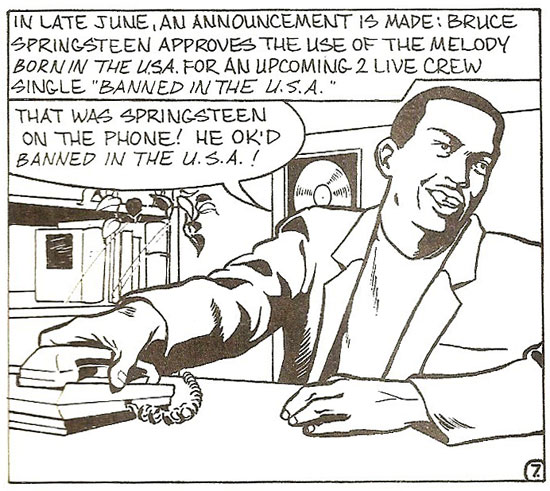 "Basically, I used it with his blessing for free. After getting so much opposition from all sides, including from my fellow rappers, it felt good to get sympathy and support from a fellow artist, especially somebody as big as Springsteen. We wrote the song, quickly cut it in my studio in Liberty City, shot a video in a fake courtroom, and rush-released it for the Fourth of July. It was a challenge getting it to the radio stations on time, and we wanted every radio station to play it at the same time on the Fourth. 'Banned in the U.S.A.' was actually the first single ever digitally distributed to radio stations."
Click here for more from Campbell in Miami New Times on The Book of Luke, which is now available wherever books are sold, including harpercollins.com, Amazon, and Barnes & Noble.
- August 4, 2015 - Shawn Poole reporting – comic panel from Rock 'N Roll Comics issue 19, April 1991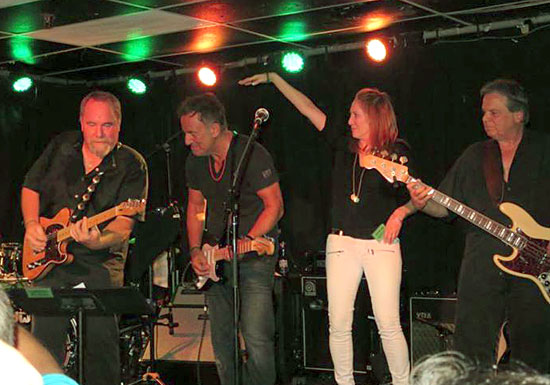 BRUCE AND HIS BABY ON A SATURDAY NIGHT
Back 'cross the river to the Jersey side, from U2 to Timepiece
All eyes were on Madison Square Garden on Friday night, for the one-last-chance-to-make-it-real appearance of Bruce Springsteen at the end of U2's NYC stand. Fewer eyes were on the Wonder Bar the very next night, as Bruce scaled things right down to jam with his brother-in-law's band at the small Asbury Park club just off the boardwalk. Bruce has played with Timepiece before, notably in 2010 on "Mustang Sally"; this time his appearance stretched out for a true coverfest. Patti Scialfa, whose brother Michael plays keyboards in Timepiece, was also part of the party, singing lead on "You Really Got a Hold on Me" and sharing a mic with her longtime friend Lisa Lowell. Watch below, along with Bruce soloing on "634-5789."
According to reports, Springsteen also stepped to the mic himself to sing lead on classics including "Pretty Woman" and "Born on the Bayou." Saturday's show was Bruce's second performance at the Wonder Bar this summer, having joined Joe Grushecky and the Houserockers there on July 18.
- August 3, 2015 - photograph via Timepiece/Facebook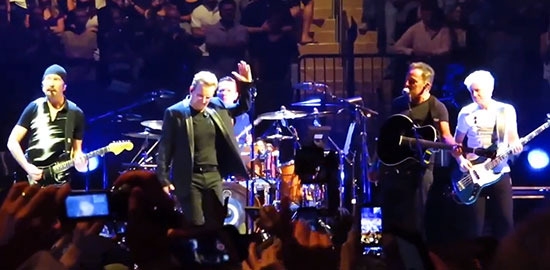 THE KID'S A STAR!
Springsteen joins U2 at their 8th of 8 in NYC
It was the end of what had already been a blistering night, the finale of U2's eight-show run at Madison Square Garden, a run where "Bruce is gonna be here!!" rumors had run rampant each and every night. But tonight, Jessica Springsteen had declared her presence on social media, and Bono had further piqued the crowd's interest by singing a line or two of "Hungry Heart" at the end of "Beautiful Day." Of course, there have been NYC-area U2 shows where Bruce was in attendance and acknowledged from the stage in some fashion but didn't appear on it.
Tonight, however, would not be one of those nights.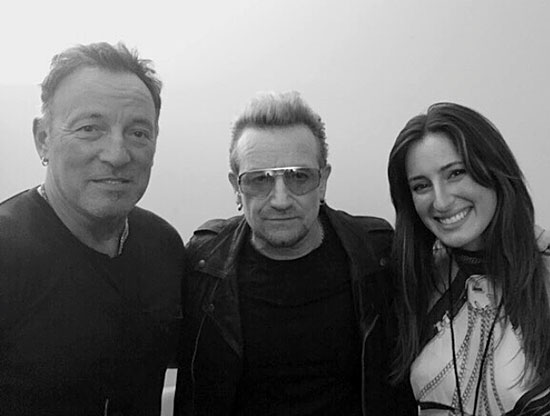 - posted by Patti Scialfa today on her officialrumbledoll Instragram account
At the conclusion of "Where The Streets Have No Name," Bono stepped to the mic and said that he wanted to thank "someone who gave us a reason to be a band, gave us a reason to continue to be a band, and gave us a level that we could never reach, but always aspire to — Bruce Springsteen, we know you're in the house; we'll play this one for you." As the house erupted in BRUUUUUUUCES, techs sprang onstage with microphones and a monitor, and Mr. Springsteen himself strolled in from stage right, relaxed and smiling, carrying an acoustic guitar. He was greeted by hugs and waves from the Edge and Larry Mullen Jr. and of course Bono, who escorted Bruce to his position onstage.
"Earlier when I busted myself up here in the city, and we had a gig in Times Square for (Red), this man showed up, and delivered," Bono declared, as the Edge began the introduction to "I Still Haven't Found What I'm Looking For." "You can sing this," the frontman continued, exhorting the audience to sing the first verse, as both he and Bruce stepped back with satisfied smiles on their faces. When the crowd reached the first chorus, Bruce stepped to the mic and took over, that familiar and trademark baritone soaring to the rafters, before joining along with Bono into the next chorus as the song continued. The two traded lines, Bruce in excellent voice, increasing in intensity as the song built, Bono directing at first, before the two settled into a rhythm that made it seem like this was something that happened all the time.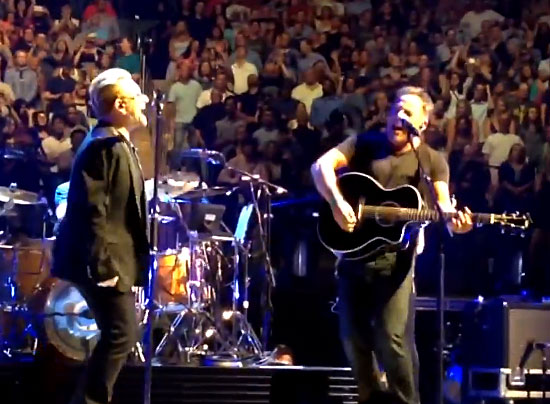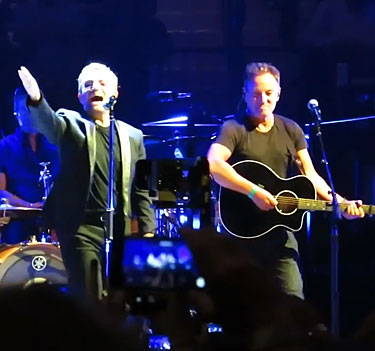 But the best moment of this surprise appearance was yet to come, and completely unscripted. At the last chorus, as the crowd took over, Bono walked over to the Edge and whispered in his ear before heading to Bruce and doing likewise. And then Bono came back to center stage and began to sing the opening lines to "Stand By Me." This was not on the setlist; it was, indeed, a true audible called at Madison Square Garden with Bruce Springsteen onstage. The crowd sang its heart out along with Bono, who was doing likewise, standing sideways, facing Bruce. He gestured to the Edge to take the volume down a bit, before cueing Bruce to take a verse, which he executed with aplomb — you don't need to worry about Bruce Springsteen knowing the words to "Stand By Me" and absolutely nailing it — before the band, and the audience, brought the number to a loud, raucous, triumphant end.
As the crowd cheered its lungs out, Bruce hugged and exchanged handshakes with the band as he left the stage. Bono declared, "The kid's a star... and he gets to keep the guitar!" referencing moments earlier in the week when fans had been brought onstage with the band and then left in possession of one of U2's guitars — moments of surprise, and love, and magic, but none greater than the one we just witnessed.
Numerous videos can be found on YouTube; click here for a complete full-stage view, and here for a periscope view from the front row.
- August 1, 2015 - Caryn Rose reporting - h/t to Brian Lattman for calling it perfectly


TONIGHT WE'RE LUCKY ENOUGH TO HAVE...
Bruce Springsteen and the E Street Band, 5/9/74, for your wall
Another look at these recently uncovered, historic photographs from the Harvard Square Theatre, the night that inspired Jon Landau's famous Real Paper article. Photographer Barry Schneier was there to capture the Sancious/Carter-era band that night, and he's now offering six of his images in signed, archival ink jet editions for collectors and fans.
A large, framed print of "For You," signed by both Barry and Bruce, recently sold in a Kristen Ann Carr Fund action for more than $12,000 — but these high-quality art prints are far more affordable, starting at $160.
Whether planning ahead for gift-giving or thinking of your own wall, grab 'em now while they're at these special prices for Backstreets readers.
See all six and order from Barry Schneier Photography
Read more about this offering and the printing technique below.
- July 29, 2015


A LIGHT THROUGH DARKNESS SHINES
Celebrating the E Street Band's First Lady of Love today, sending out warm wishes to Patti Scialfa on her birthday. Above, a favorite live performance, from the 23rd Street Lullaby era, of one of her great songs (with some other very familiar faces backing her on stage, too). Happy birthday, Red!
- July 29, 2015

- July 27, 2015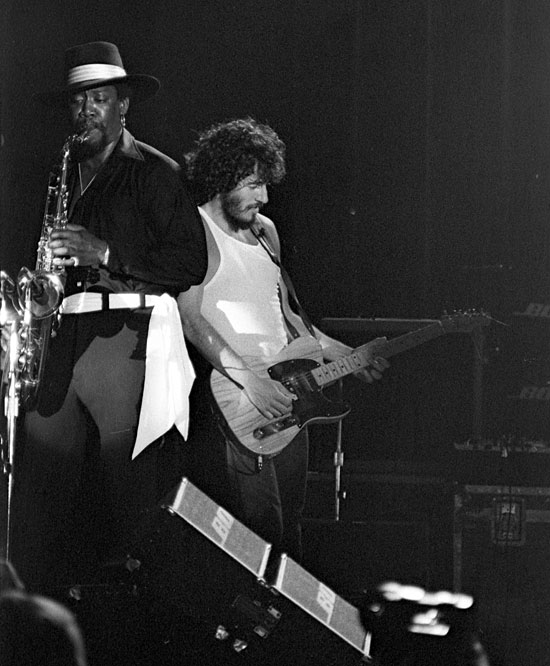 KUTZTOWN '75
Forty years ago, Bruce Springsteen and the E Street Band were one week into their Born to Run tour (still in advance of the release of the album), fresh off two shows in Kutztown, PA. Paul Johnson was there with his camera for the second of those, at Kutztown State College's Keystone Hall on July 26, 1975 — $5.50 in advance, $6.50 at the door — and he shares these images with us.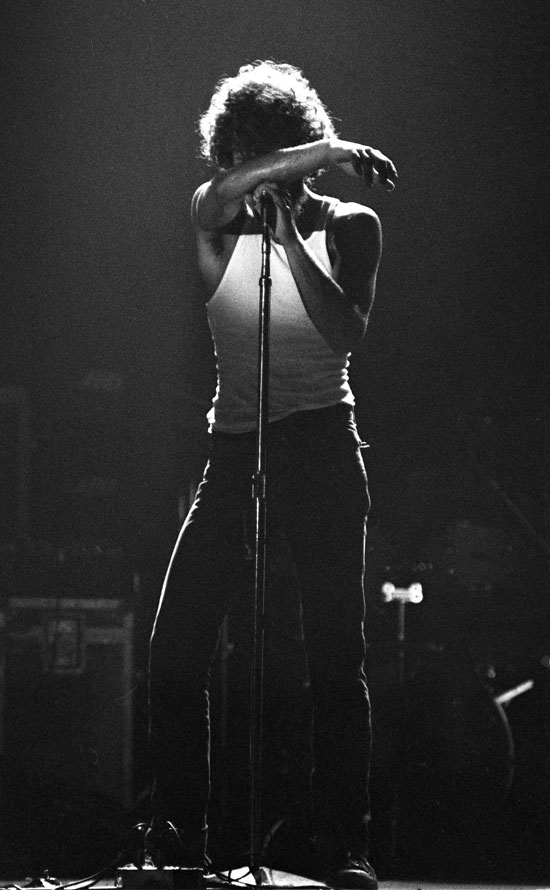 You might recognize the shot above — Paul sent it to Crawdaddy, and it was featured in their October '78 cover story by Peter Knobler, and then again on thier Letters page. Here's the story as Paul tells it:
"In 1978, I was outside the Capital Centre [Largo, MD, 11/2/78]. I just had this photo of Bruce published in Crawdaddy — first in a Darkness article, then on the Letters page next issue. There was no credit in the original article because I was too green to put info on the back of the photo; I just sent a letter with it. After sending a contact sheet they reprinted it on the letters page with the credit.
"After the concert I went to my car to get the mag with the Letters page for an autograph. When I got back, Bruce was mobbed, but a buddy was up close. Bruce yelled for the mag. He handed it to Bruce, told him a friend had shot the photo. Bruce asked if I was there, and he signed the page. He reached over the crowd to hand me the mag back, and as I reached out he grabbed my hand, shook it and said how much he liked the photo. I was so concerned that someone would grab or tear the mag, I just said something like, 'Yeah, yeah, thanks.' Think George Costanza not accepting the invite upstairs because 'coffee keeps me up' — my one really personal moment, and I blew it!"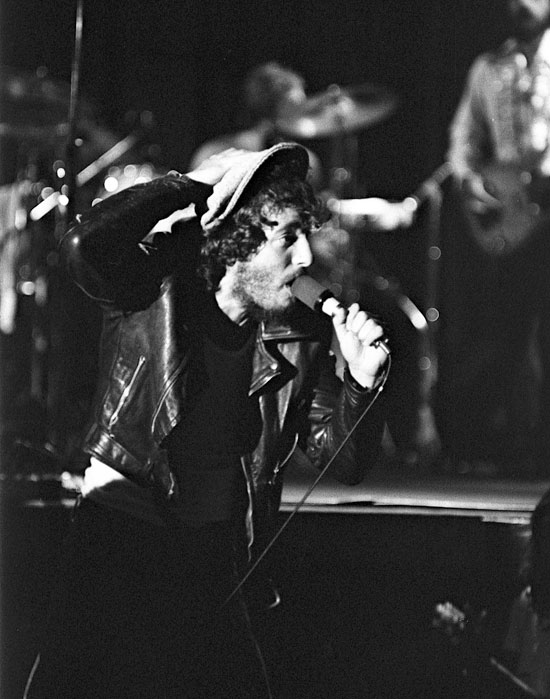 "Later that night," Johnson adds, "two other friends were on 95 heading home, and they had a bumper sticker: HONK IF YOU'RE BRUCE SPRINGSTEEN. The tour bus pulled up next to them, lights on in the cab, with Bruce leaning on the horn. Very cool guy!"
- July 27, 2015 - photographs by Paul Johnson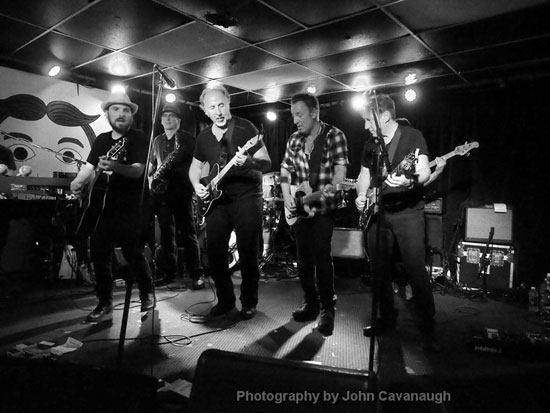 TICKET ALERT: AMERICAN BABYLON 20 TIX ON SALE SATURDAY
Grushecky and the Houserockers to mark the anniversary in Asbury
Twenty years ago, Bruce Springsteen and Joe Grushecky teamed up for American Babylon, co-writing songs for the 1995 Houserockers album that Springsteen produced. In 2010, Grushecky and his band marked the 15th anniversary of that album and its October Assault tour with a pair of shows in Pittsburgh; this year, they'll be celebrating the two-decade milestone in Asbury Park (current home of the new exhibit, Joe Grushecky & the Houserockers: The Asbury Connection).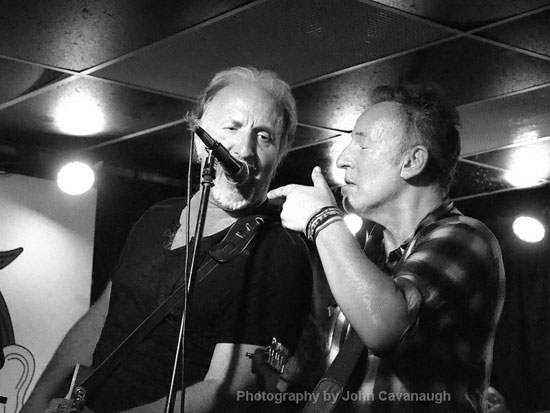 As UMT Presents announced today, the American Babylon 20th Anniversary concert will be Saturday, October 24, 2015 at the Stone Pony, where the original October Assault began. Tickets go on sale this Saturday, July 25, at noon through Ticketmaster and at the Stone Pony box office.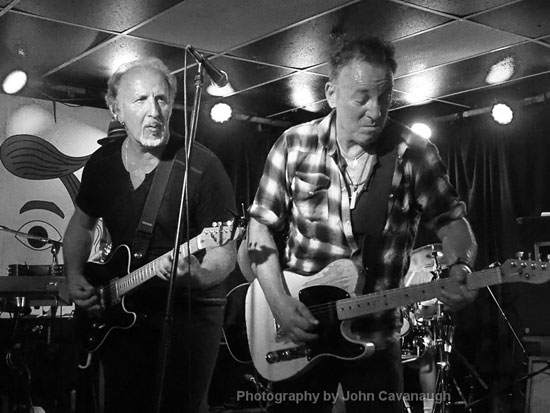 Saxophonist Eddie "Kingfish" Manion will join Joe and the Houserockers for the Stone Pony concert, which will feature a performance of the entire American Babylon album start-to-finish; other "special guests to be announced." Of course, while there are no Boss guarantees, it's worth noting that Springsteen, who was an "honorary Houserocker" for that 1995 October Assault tour, also played both 15th anniversary concerts in 2010.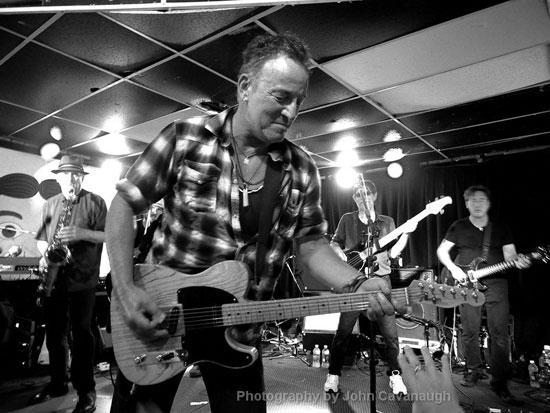 It was 20 years ago this very night that these old friends kicked off their ongoing collaboration, at the Tradewinds in Sea Bright, NJ; see Jean Mikle's remembrance of July 22, 1995 at APP.com. And of course they teamed up as recently as four nights ago, for a surprise 15-song set together (with Manion as well) on July 18 at the Wonder Bar [see below]. Additional views of Saturday night's gig here courtesy of photographer John Cavanaugh.
- July 22, 2015 - photographs by John Cavanaugh

THIS DAY IN BOSS HISTORY
Forty years ago, on July 20, 1975, Bruce Springsteen and the E Street Band jumped out of the frying pan and into the fire: they finished the Born to Run album at the Record Plant in New York that morning, and they started the Born to Run tour in Providence that night. Below, one of our favorite photos — and one that clearly made an impression on Springsteen too — by Barbara Pyle, perfectly capturing the mood at dawn four decades ago. Taken from the book Talk About a Dream: The Essential Interviews of Bruce Springsteen (Bloomsbury Press).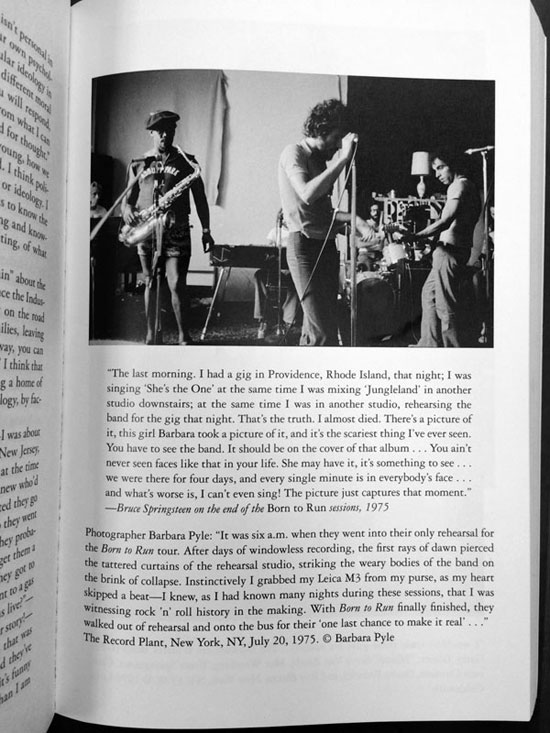 Pyle's photographs of Bruce and the band in the Born to Run era, many of them unseen, will be collected in the forthcoming Bruce Springsteen & the E Street Band: 1975, coming this fall from Reel Art Press. The book is shaping up to be a stunner; we'll have more details and ordering information in the coming weeks.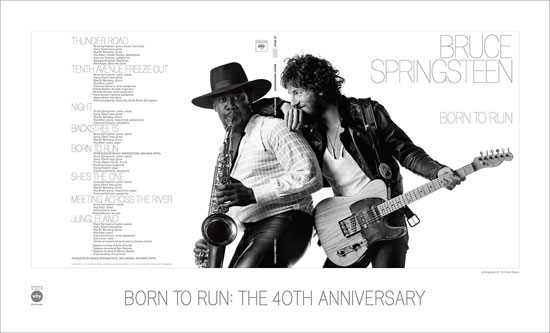 An official poster celebrating the 40th Anniversary of Born to Run, featuring a stunning enlargement of the gatefold album cover and benefitting WhyHunger, is available now.
- July 20, 2015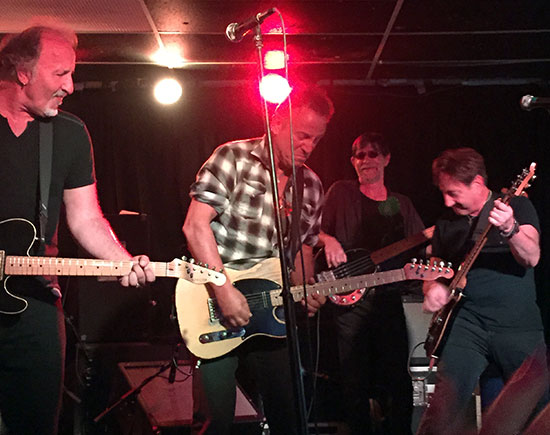 SPRINGSTEEN AND GRUSHECKY: THE CONNECTION CONTINUES
On opening of weekend of the Joe Grushecky & the Houserockers: The Asbury Connection exhibit, they go and add yet another to their long tally of magical Asbury nights. Performing at the Wonder Bar Saturday night, Joe and the Houserockers were joined by Bruce Springsteen for the vast majority of their set: nearly two hours and 15 songs together, including "Racing in the Street '78," "Darkness on the Edge of Town" [below], co-write "Code of Silence," and "Frankie Fell in Love." Also on hand was mutual buddy and Joe's recent partner in crime, Eddie Manion on sax.
Other highlights included "Atlantic City" ("maybe Asbury Park's coming back" Bruce interjected towards the end), a set-closing "Light of Day" dedicated by Springsteen to "the people out in the street" (whom he pointed to through the large picture windows of the sweaty venue), and "Because the Night," which featured a smoking sax solo by Manion. Bruce seemed loose and in full bandleader mode throughout the night, bantering with the crowd and turning an already celebratory night up a notch. Full setlist here.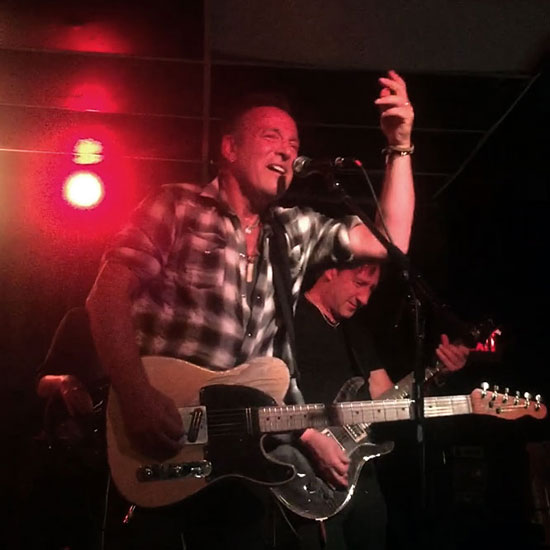 The Wonder Party show also served as an unforgettable birthday party for Asbury Park music supporter Rose Montana. The announcement of her 70th birthday during an opening set by Chris Daniels and the Proof was met by cheers from the packed venue. Daniels, whose band had lined up the gig with help from Montana, announced the occasion and then led the crowd in singing "Happy Birthday" while his wife brought out a candle-topped cake. Mentioning that "Rosie had come out tonight," the band broke into a rousing "Rosalita." The Billy Walton Band continued the birthday theme, wishing Montana a happy birthday from the stage, as did Tom Cunningham introducing headliner Joe Grushecky and the Houserockers. Three songs later came the cherry on top, as Bruce came out for nearly two hours of music. Said Montana, "I love my friends — it was the rock 'n' roll birthday party of a lifetime!"
As noted elsewhere, this was only the third time Springsteen has played the Wonder Bar despite its significant role in the formation of the E Street Band. As the story goes, Clarence Clemons first met Bruce after playing a gig with Norman Seldin and the Joyful Noize at the Wonder Bar. The Big Man left the venue after his set and walked the couple blocks over to the Student Prince on nearby Kingsley Avenue, where he hoped to catch Bruce in action. Indeed, Springsteen was onstage for his own gig when Clarence arrived, and as he entered the building, the door blew off, and a legend — and tall tale — was born. Bruce last appeared at the Wonder Bar at a July 2011 tribute to Clemons headlined by the Sensational Soul Cruisers.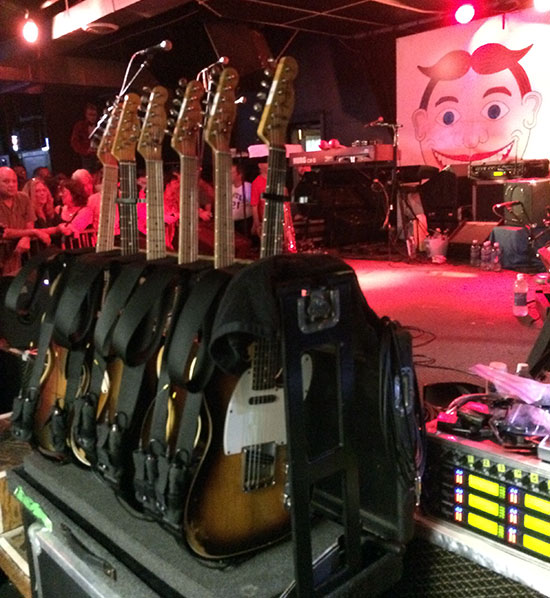 2015 marks 20 years since the release of the American Babylon album, the first collaboration between Grushecky and Springsteen, with Springsteen producing the Houserockers album and co-writing several of its songs. The album (and their 1995 "October Assault" tour together) will be commemorated this fall when Grushecky returns to Asbury Park for a night at the Pony, as UMT Presents' Tony Pallagrossi noted today: "We'll be announcing the October date for Joe's AMERICAN BABYLON 20th Anniversary show at The Stone Pony on Wednesday at 10am!"
- Updated July 20, 2015 - thanks to Lisa Iannucci - photograph of Bruce with Joe & the Houserockers by Lori Bookbinder - photograph of Springsteen's guitars at the ready by Tom Cunningham


FOR YOU
In conjunction with Backstreets, Barry Schneier offers images from 5/9/74 in signed, archival ink jet editions for fans and collectors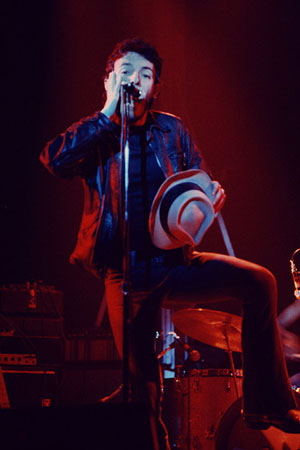 Photographer Barry Schneier, who was on hand with his camera for the legendary May 9, 1974 Harvard Square Theatre show, has quickly become well-known among Springsteen fans after discovering those images in his archives just a few years ago. We've enjoyed a friendship and collaboration with Barry since then, getting in touch as soon as we saw that now-iconic shot of Bruce at the piano playing "For You."
We were astounded to see such dynamic images from the very night that inspired Jon Landau's "Growing Young with Rock and Roll," and to behold these unearthed 40-year-old photographs that no one had ever seen. "When that shot first became known to a few," Barry says, "Backstreets really brought recognition of the image to a wider audience of Springsteen fans." And as his work has become increasing more visible to the public through exhibitions and publications, Barry has kindly let us showcase some of the lesser-known but equally compelling and historical photos from that night. "I've really enjoyed this bond with you guys and your readership over the years," he says.
As a result, Backstreets and Barry Schneier Photography have launched an exclusive initiative to allow fans and collectors alike to acquire affordable prints of some of these images from this historic evening through a special archival ink jet print open edition now available.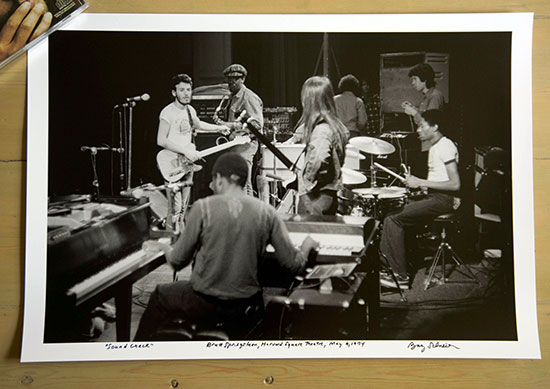 The medium
Collectors of fine art photography know that archival silver gelatin fiber prints possess the highest value. Printed on fiber stock, this traditional darkroom process creates a museum quality print that will hold its value and quality for generations to come. Typically offered in limited edition lots, this quality of print combined with the rising popularity of fine art photography print collecting has seen interest and value escalate in recent years.
With the advent of digital photography in the last few decades (and in a sense giving birth to the launch of a new photographic medium), the production of archival ink jet prints from digital images has now taken its rightful place in the world of fine art photographs. Utilizing premium archival inks and printing on high-end fine art paper stock, the new generation of archival ink jet prints produces a print with a lifetime of more than 100 years when properly cared for. For many photographers and galleries this technique can create an affordable collectible without sacrificing image quality. And we like that it puts these photos within reach of more fans.
Whereas until now Barry's images have been offered as silver gelatin museum-quality prints in limited editions, this new ink jet print series will be offered in open editions only, each one signed by the artist. Each original negative has been electronically scanned using state-of-the-art technology then artfully prepared for printing on high-grade fine art paper stock under the watchful eye of Barry himself.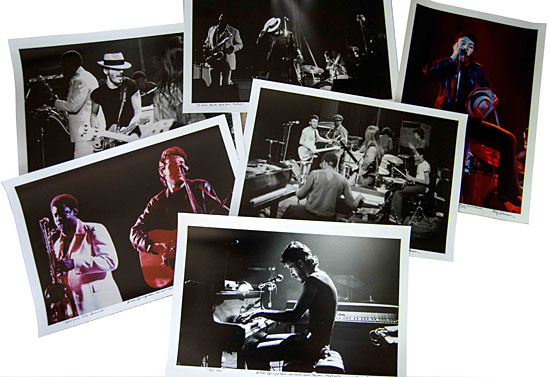 Six signed editions
These special editions are being offered as the popularity of these images have grown over the years, not only through exposure through Backstreets but via past and upcoming exhibits such as The Rock and Roll Hall of Fame + Museum's "From Asbury Park to the Promised Land: The Life and Music of Bruce Springsteen" and The Grammy Museum's "Bruce Springsteen: A Photographic Journey." (The latter, a traveling exhibition, will come to New Jersey in the fall, opening at Monmouth University in September.) Additionally, Barry's work has appeared in multiple music releases including the recent Bruce Springsteen box set The Album Collection Vol. 1.
Six different prints are being offered now, four in B&W and two in color, on sale at just $160 for 11" x 17" or $240 for 13" x 19". These images have quickly become fan favorites, due in no small part to the significance of the night of May 9, 1974 when Jon Landau proclaimed "I have seen rock and roll future and its name is Bruce Springsteen," as well as the rare capturing of the David Sancious/Boom Carter-era E Street Band. These special edition photographs are the only photographic record of what was witnessed that night at the Harvard Square Theatre, and they now can be yours at this special offering.
View and order now from Barry Schneier Photography
- July 17, 2015

COVER ME, NORTH CAROLINA STYLE
Tomorrow night, there'll be some extra Boss spirit runnin' through the woods of Caroline. The Vagabond Saints Society is a loose collective of seasoned North Carolina musicians who gather semi-regularly to perform live musical tributes. They've performed Abbey Road and Rubber Soul beginning to end, and they've drawn big crowds covering Fleetwood Mac, Nick Cave, Spinal Tap, Tom Petty, R.E.M., John Lennon, Van Morrison, Creedence, and others.
Finally, it's Boss Time, starting this Friday at The Garage in Winston-Salem.
In the words of founder Doug Davis: "In order to pay respect to both Bruce's music and his legacy as a powerhouse live performer, we hand-picked six of our best guest vocalists. They are not only big fans but also can bring charisma and power to their performances. We've given each several songs, in order to settle into their roles."
Backed by guitarists Jerry Chapman and Aaron Burkey, keyboardist Davis, bassist Randall Johnson, drummers Neal Goode and Bob Stitcher, saxophonist Steve Blake, and multi-instrumentalist Susan Terry, VSS will plow through 26 songs. Says Davis: "Narrowing that list down was incredibly difficult — I had nearly 50 songs on my 'short' list. We're going to start with eight solo acoustic performances to get things underway."
VSS will be playing the show in NC four times: July 17 at the Garage in Winston-Salem; August 1 at RayLen Vineyard's Full Moon Festival in Mocksville; August 22 at Summer on Trade in Winston-Salem; and August 29-30 at the Carolina Sky Festival in Mt. Airy.
- July 16, 2015 - Don Freedman reporting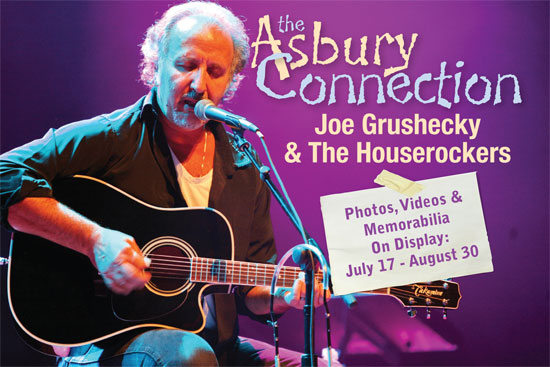 GREETINGS FROM ASBURY PARK: SWEATING STEEL BY THE SEA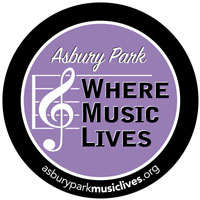 Pittsburgh native Joe Grushecky has long treated Asbury Park as a second home, and over the years he and the Houserockers have played just about every major venue in the area. This Friday, July 17, an exhibit celebrating that longstanding partnership will open at the city's Where Music Lives gallery and performance center on Cookman Avenue. Titled "Joe Grushecky & the Houserockers: the Asbury Connection," the exhibit gathers photographs, video and memorabilia documenting the band's long history on the Jersey Shore and elsewhere. The exhibit runs July 17 through August 30.
In other local exhibit news, music historians Charles and Pamela Horner will host a gallery talk augmenting their acclaimed "Spirituals to Soul" exhibit on the history of African American music in Monmouth County, New Jersey, currently on display at the Monmouth County Historical Association (MCHA) in Freehold. The presentation, which will highlight selections from exhibit's collection of rare photographs and audio recordings, will take place at the MCHA on July 22 at 6 p.m. The event is free and open to the public. "Spirituals to Soul" will run through November 7.
- July 15, 2015 - Lisa Iannucci reporting

HERE'S WHERE THE STRINGS COME IN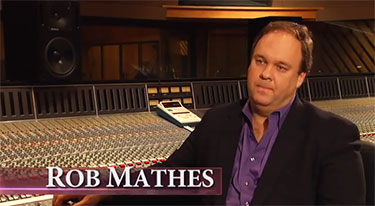 Another flash of Springsteen's working life from social media: after recent confirmation via Twitter that producer Ron Aniello's work continues with Springsteen, yesterday's Facebook post from composer/arranger Rob Mathes suggests that he's back in the mix, too. Previously, Mathes worked with Aniello and Springsteen on Wrecking Ball and High Hopes, arranging and conducting strings for songs on both of those LPs. In the post describing his 2015 activities so far, Mathes reports that he got the call in the spring to do some arranging for Bruce once again:
I then did a number of charts for an upcoming Bruce Springsteen project. Bruce is indefatigable and is always writing and working. As any fan of the Boss knows, only he knows what material will be released when. There is an endless treasure trove of material in the archive where Bruce is concerned. I am just happy to be called as regularly as I am by such a giant. I do NOT take it for granted.
As Mathes suggests, there's still no official word on whether or when we might see any of this new material; but it's always heartening to hear that those indefatigable gears keep turning.
Earlier this year, Mathes was nominated for a "Best Orchestrations" Tony Award for Sting's The Last Ship.
- July 14, 2015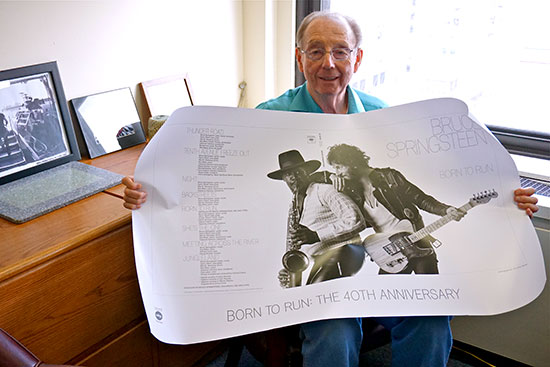 FACES OF BTR40: WHYHUNGER'S BILL AYRES
In 1975, Bruce Springsteen completed and released Born to Run. The same year, singer/songwriter Harry Chapin and Catholic priest/DJ Bill Ayres came together to co-found World Hunger Year, a grassroots organization to fight hunger and poverty. In the 40 years since, of course Born to Run has stood as a rock 'n' roll masterpiece, and Springsteen — with encouragement from Ayres and the late Chapin — has repeatedly joined forces with World Hunger Year, now WhyHunger, to help in their fight.
Bill Ayres has been the executive director of WhyHunger for decades, recently passing the torch to Noreen Springstead and taking on the role of Ambassador for the charity. Thrilled with the new official Born to Run 40th Anniversary poster (all net proceeds benefit WhyHunger), Ayres spoke with us about his connection with Springsteen over the years, how the artist has helped WhyHunger and in turn how the charity organization has assisted his efforts to fight hunger at the local level.
When was the first time you had Bruce Springsteen on your radio show? What did the two of you discuss on the air?
In the fall of 1974, I interviewed Bruce on an ABC Network Radio Show. I was the first person to interview Bruce Springsteen on broadcast radio. John Hammond, who had discovered Bruce, was a good friend of mine. He introduced the two of us that year. At this point, Springsteen had released two albums. Born to Run [was being] recorded, but was not yet released.
During the show, Springsteen told me and my listeners about the time he and his band opened for Chicago. The crowd had booed them throughout their performance. He said everyone there just wanted to see the headliner and couldn't wait for Springsteen to get off the stage. I'll never forget that story.
What inspired Springsteen to get on board as a WhyHunger partner?
Bruce's relationship with WhyHunger really started because of Harry Chapin cajoling Bruce back in the late 70's in California. From his hotel window, Harry spotted Bruce below in a courtyard and called out to him, asking "What are you going to do about hunger, Bruce?"
Then, after Harry died in 1981, I asked Bruce to help out WhyHunger. I spoke directly to Bruce's manager, Barbara Carr, who is a good friend of mine. She said that Springsteen would help WhyHunger from the road. When Barbara spoke to Bruce, he recalled Harry's words about philanthropy and thought he could aid us in the fight against hunger by utilizing the power of his music.
Barbara's husband and Springsteen's biographer, Dave Marsh, was one of the people I asked about the name "Artists Against Hunger & Poverty" when that program was created. He said, "That's what it is, right? They're artists working against hunger and poverty? Then I think that's the perfect name." Springsteen soon became our first artist partner and founder of the program, which is still thriving today.
In the early '80s, when I came up with the idea for a program called Reinvesting in America, I immediately sought out Bruce's support. Barbara set up a meeting between the two of us, and Bruce wrote me a check right then and there. He has always been so willing to help.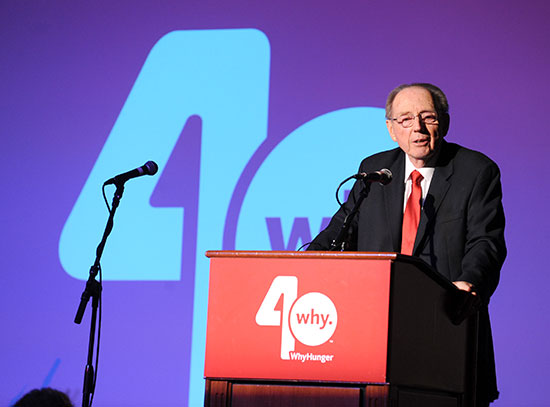 Ayres honored on June 23 at the WhyHunger Chapin Awards for his 40 years of service, with the WhyHunger Lifetime Achievement Award - photograph by Diane Bondareff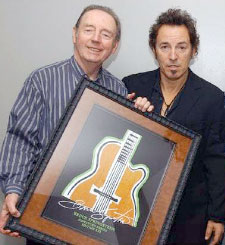 How has the WhyHunger and Bruce Springsteen partnership developed over the years?
Bruce has been supporting us for decades and has only become more devoted as the years have gone on. He held a concert at the Meadowlands in June 1993 from which he gave 100% of the proceeds to WhyHunger, Community Food Bank of NJ, and the NYC Food and Hunger Hotline. I think the impact of that night really sparked Bruce's further involvement on every single tour since, both as a solo artist and with the E Street band.
In the late 1990s, Bruce held two meet-and-greets for fans — one at the Meadowlands and one at Madison Square Garden — to support WhyHunger. I told Bruce how much was raised to support our work just by his spending 20 minutes with fans, and he told me to arrange more of these meet & greets because he was more than happy to do them.
Now, every place Bruce goes to perform, we connect him with one or two local community-based organizations. Bruce donates money to their cause, awards the organizations tickets to his concerts that they can auction off, and often mentions them onstage to the crowd. Bruce has been and is an incredible force for good, raising funds, awareness and support for the movement to end hunger.
What is your reaction to the 40th anniversary poster? What does it mean to you?
Eric Meola, the photographer for this album cover, had a book of photographs he had taken and gotten autographed over the years. He offered to donate one for WhyHunger to auction off during our annual Hungerthon to raise funds. It was signed by both Bruce Springsteen and Clarence Clemons and raised $10,000 to support our work.
I called Eric after the picture sold to thank him. It was then that he came up with the idea for the Born to Run cover to be printed and sold to celebrate the 40th anniversaries of both the Springsteen album and WhyHunger. He pledged to donate all of the proceeds to WhyHunger. I'm so grateful to Eric and everyone else involved with the poster production for their generosity. Thank you to Eric Meola, Barbara Carr, Jon Landau, Ali Oscar, Chris Phillips, and Dave Bett for making this all possible.
Order the poster here,
exclusively available from Backstreet Records
- July 11, 2015 - with thanks also to Debbie Grunbaum, Calondra McArthur, Noreen Springstead, and Hillary Zuckerberg at WhyHunger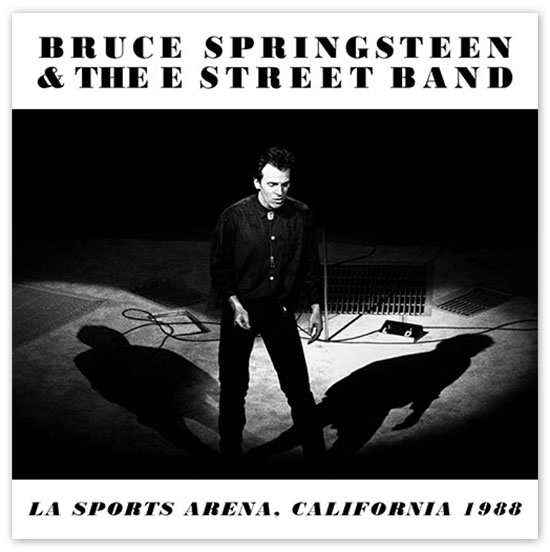 RIDE DOWN, BABY
Download #6 taps 1988 Los Angeles performance
Now a half-dozen releases strong, the Bruce Springsteen archive series takes another step with today's release of the April 23 concert from the Tunnel of Love Express Tour. The 31-song set, now available in formats ranging from mp3 to high-resolution audio (and on CD for delivery beginning August 4) at live.brucespringsteen.net, marks the first official release of a full-length concert from Springsteen's 1988 tour that featured the E Street Band.
The U.S. leg of the tour, beginning in Worcester, Massachusetts on February 25, and ending on May 23 in New York, consisted of far fewer shows than previous ones (hence its "express" tag). The compact itinerary wasn't the only change: Springsteen moved musicians from their customary places on stage and set aside songs that had long anchored his concerts. A horn section joined the trek. Patti Scialfa took on more prominence on stage; Clarence Clemons took on less.
The Tunnel of Love album was a transitional work of deep introspection, where Springsteen's chief desire was to reintroduce himself as a songwriter. In making it, he weighed the E Street Band's contributions against the strength of his own demos. Photos from the time show Springsteen working by himself in his home studio. But while the tour behind the record would be their last for more than a decade, the concerts still encompassed the usual complexity for which he and the E Street Band had become known. Now, we can hear the music from mid-stride, toward the end of the American leg, as they settled in for a five-night run in Los Angeles.
Toby Scott, Springsteen's longtime audio archivist, was on hand to record the show, and he also created a new stereo DSD master from the original PCM multi-tracks for this release. He remembers the tour fondly, for elements both unique and familiar. "The tour show started like you were about to go on a carnival ride," Scott said. "The band members walked on stage and got their tickets from a ticket booth set up on stage. The show started from there and was the usual 'ride' of ups and downs over the course of the setlist."
Springsteen may have delivered a de facto solo record and juggled stage assignments, but he was as precise as he'd ever been in assembling a collection of songs that complemented the writing he'd delivered on Tunnel of Love. The record focused on relationships; the shows simply followed that track. Initially, Springsteen told Jon Landau he wasn't sure he had a setlist. As the tour left Worcester for two shows in North Carolina, he had one he felt worked so well that he didn't change it much.
The April 23 performance, night two at the Sports Arena, brings us eight of the new LP's 12 songs, a revived "Adam Raised a Cain," and two River-era rarities, including the never-would-have-guessed-it "Roulette" (which appeared officially two days after the tour began as the equally-improbable B-side to "One Step Up"). To end the first set, Springsteen paired his cover of Edwin Starr's "War" with "Born in the U.S.A." And he reached into his own deep well of music knowledge and worked up more than a half-dozen compelling covers. At this performance, "Have Love, Will Travel" premieres, a Richard Berry song made popular by the Sonics in 1965. And his take on "Gino is a Coward" (now called "I'm a Coward") is here, too. "Backstreets" appears in a slightly different arrangement than it had on previous tours, and "Sweet Soul Music," which Springsteen would tack on to the "Detroit Medley" in 1981 and 1984, takes its place for the first time as a stand-alone in an eight-song encore. And of course, this was the tour where Springsteen recast "Born to Run" as a plaintive acoustic number, which he played by himself.
We've heard bits from throughout the tour: a snappy EP released that summer collected "Tougher than the Rest," "Be True" and the new version of "Born to Run" (two of those come from another Los Angeles show, April 27). Later, from Europe, a maxi-single brought live versions of "Spare Parts" and a cover of Bob Dylan's "Chimes of Freedom." Those songs made it plain that shows along the way were finding their way to tape and in fact represented the era well, though scantly.
Although live material from 1988 has circulated unofficially, much of it is either incomplete (only the first set of a July 3 performance in Sweden was broadcast on FM radio), or has the thin sound that largely characterizes audio taken from a video feed. Obviously, Toby Scott's multi-track recording puts those issues to rest.
"We picked this show mainly from fan input, and a desire to get away from the recent releases that were shows on the east coast," Scott said. "We only recorded select cities, and this was one of them. It gives the fans a new, good mix of a show to improve on the bootleg audience tapes that circulate." That, and choosing a performance from the U.S. leg, where the Tunnel of Love material still formed an arc, should more than satisfy fans, some 27 years later.
- July 8, 2015 - Jonathan Pont reporting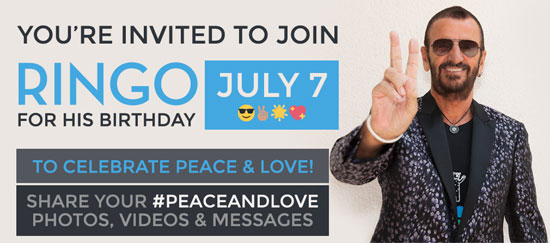 BEATLE'S 75
Happy 75th Birthday, Ringo!
Peace and love, peace and love. It's rather hard to believe, given how active he remains, but Ringo Starr turns 75 today. Visit RingoStarr.com for details on how you can join the birthday party today in a special way. And here's our own Billy Shears' Birthday video playlist, a blast from your past featuring five key moments with Ringo where E Street has met Abbey Road:
- July 7, 2015 - Shawn Poole reporting

BRUCE ON THE AMERICANS: "TO ME, IT'S DYLAN'S HIGHWAY 61"
Sunday's New York Times Magazine features an in-depth profile of photographer Robert Frank, best known for his seminal work The Americans. Among those interviewed for the profile include one Mr. B. Springsteen:
To Bruce Springsteen, who keeps copies of "The Americans" around his home for songwriting motivation, "'the photographs are still shocking. It created an entire American identity, that single book. To me, it's Dylan's 'Highway 61,' the visual equivalent of that record. It's an 83-picture book that has 27,000 pictures in it. That's why 'Highway 61' is powerful. It's nine songs with 12,000 songs in them. We're all in the business of catching things. Sometimes we catch something. He just caught all of it."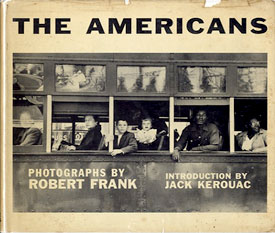 In 1995, Springsteen told Will Percy: "I've also gotten a lot out of Robert Frank's photography in The Americans. I was twenty-four when I first saw the book — I think a friend had given me a copy — and the tone of the pictures, how he gave us a look at different kinds of people, got to me in some way. I've always wished I could write songs the way he takes pictures. I think I've got half a dozen copies of that book stashed around the house, and I pull one out once in a while to get a fresh look at the photographs."
Frank has long been associated with Bruce as a non-musical influence, one mentioned to him early in his relationship with Jon Landau. Eric Meola referenced The Americans while working with Bruce on photography meant for Darkness on the Edge of Town, and the work came up again as Springsteen began to conceptualize the artwork for the Nebraska cover.
The profile is available online at nytimes.com.
- July 6, 2015 - Caryn Rose reporting


THROWBACK FOURTHDAY: JULY 4, 1985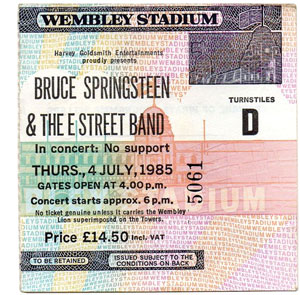 Let's go back 30 years to Independence Day 1985, with Bruce and the E Street Band's European summmer stadium tour for Born in the U.S.A. nearing its end. Thirty years ago tonight, it was 4th of July (London), as Bruce and the Band were in the middle of their first-ever stand at Wembley Stadium. Little Steven joined in all three nights (you can listen on YouTube to his July 4 guest spots on "Two Hearts" and "Ramrod"). Above (courtesy of Brucebase Wiki), some real blast-from-the-past footage from the July 4 and 6 shows, including, appropriately enough, "Independence Day."
Wishing everyone a happy Fourth!
- July 4, 2015 - thanks to Dan French for the ticket stub

TIME AND MEMORY FADE AWAY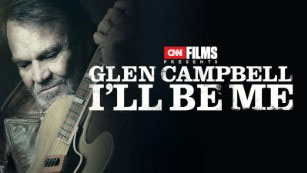 Uncut Glen Campbell: I'll Be Me doc airing on CNN/HLN
One week after making its television debut on CNN (and setting a network record for the largest audience to view a film broadcast,) the complete version of the documentary film Glen Campbell: I'll Be Me will re-air with limited commercial interruption on CNN tomorrow night at 9 pm ET and on CNN's sister network HLN tonight at 9 pm ET. Click here for details.
The moving film follows Campbell and his loved ones as they deal with his developing Alzheimer's disease in a very public and dignified way, making his final recordings and public appearances with a successful tour. Along the way, they help draw attention to the needs of all who are affected by Alzheimer's disease.
Bruce Springsteen is among the famous musicians interviewed in the film, discussing both the significance of Glen Campbell's music and Springsteen's own personal encounters with the effects of Alzheimer's disease. Click here to view a clip from the film featuring Bruce.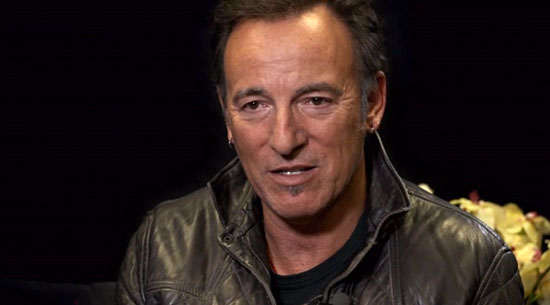 In addition to his successful solo career, Glen Campbell was a highly respected session guitarist and member of the legendary Wrecking Crew, which played on many of the Phil Spector productions that heavily influenced Born To Run. Campbell also frequently contributed to recordings by another major Springsteen influence, The Beach Boys, and even served a three-month Beach Boys concert-tour stint standing in for Brian Wilson, with whom Bruce just performed earlier this week. (Click here for a 2012 report featuring audio of Campbell discussing his work with The Beach Boys.) Finally, Glen Campbell's signature solo recordings of some of songwriter Jimmy Webb's greatest songs were a major influence on Springsteen's Working on a Dream album, and Campbell/Webb's hit "Galveston" plays like a prequel to Springsteen's "Galveston Bay" from The Ghost of Tom Joad.
Jimmy Webb recently visited his old friend and wrote a moving essay about his visit for Glen Campbell's official website. Click here to read it.
Glen Campbell: I'll Be Me will be released as an HD digital download on August 18 and as a DVD on September 1. Click here for details.
- July 3, 2015 - Shawn Poole reporting

4TH OF JULY WEEKEND, ASBURY PARK
Havin' a party with Southside, Max, E Street Radio, Darlene & Stevie
Asbury Park (aka Little Eden) is the place to be this Independence Day weekend. Southside Johnny & The Asbury Jukes return to the Stone Pony tomorrow night. They'll be rockin' the Pony's outdoor Summer Stage with opening act The Weeklings and their special guest Max Weinberg. A limited number of tickets remain available at the Stone Pony's box office or through Ticketmaster. Click here for more information.
If you can't make it to the Pony in person, E Street Radio will be broadcasting Southside's show live. Beginning at 6 pm ET, Jim Rotolo will broadcast his Wild & Innocent call-in-request show from the Pony (with his E Street Radio sidekicks Caroline Magyarits and Vinny Usuriello,) staying on the air until Southside and the Jukes take over the Pony's Summer Stage and E Street Radio''s airwaves. E Street Radio also will replay the entire live broadcast on Saturday July 4 at 8pm ET and Sunday July 5 at 10 am ET.
And while we don't much like to be thinking about the end of summer already, at least there's already something else to look forward to in Asbury Park. Tickets go on sale tomorrow at 12 noon ET for the just-announced Darlene Love CD-release event with special guest Steve Van Zandt at the Paramount Theatre on September 12. Click here to purchase tickets.
- July 2, 2015 - Shawn Poole reporting

OH BABY, IT'S ROY'S BIRTHDAY!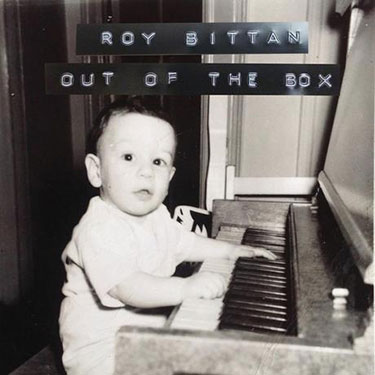 Getting his kicks today: Professor Roy Bittan, who turns 66, born July 2, 1949.
And still banging away at the same instrument he did 65-and-a-quarter years ago: as he tells us of his album cover shot, "I was nine months old in that photo!"
"The album reception has been very gratifying," Roy says of Out of the Box, which he released in late 2014. Hear it for yourself and celebrate his birthday with a copy of Roy's first solo album, available digitally from from iTunes or Amazon.com. Happy birthday, Professor!
- July 2, 2015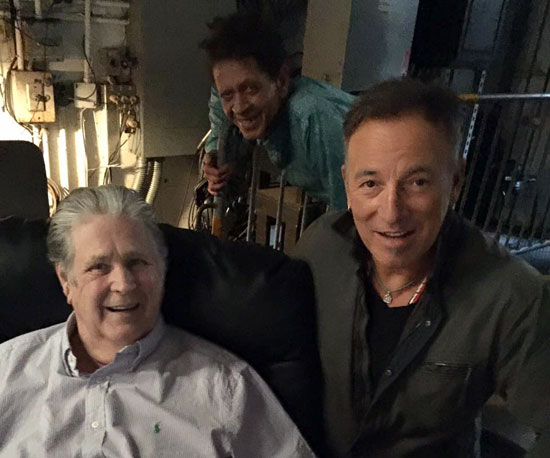 ROCKIN' AND A-REELIN' LAST NIGHT WITH BRIAN WILSON
Some good fun, fun, fun was had in Holmdel, NJ, on July 1 as Brian Wilson played the PNC Bank Arts Center, his band joined toward the end of the show by Bruce Springsteen, unannounced, for two songs. Bruce sang on "Barbara Ann" and "Surfin' USA," strapping on a guitar as well for the latter. See fan footage on YouTube.

- July 2, 2015 - thanks to Ken Feinleib - backstage photo via Brian Wilson Facebook / Twitter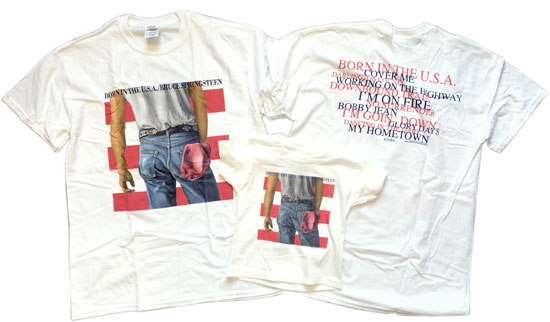 U.S.A.! U.S.A.!
Just in time for the Fourth of July — or as we tend to think of things, the 30th anniversary of Springsteen and the E Street Band's first stand at London's Wembley Stadium, July 3, 4 and 6, 1985, where they were joined by Little Steven — we've got the official Born in the U.S.A. shirts back in stock. We're now fully stocked on all adult sizes, from small to XXL. And the kids'll be alright too, as we found more toddler sizes (which we thought were long gone), the full run from 2T to 5T. Also freshly stocked, the black Backstreets cap, embroidered with our sneakers logo, which we've had trouble keeping on the shelf.
See all Latest Arrivals in the Backstreet Records shop
- July 1, 2015