SELL IT AND THEY WILL BENEFIT
Springsteen rarities up for auction, raffle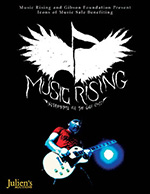 Music Rising
, the Edge's campaign to help Gulf Coast musicians affected by the destruction of Hurricane Katrina, will get quite a boost from an upcoming auction. A whole host of musical memorabilia on the "Icons of Music" auction block includes a few Springsteen items, like an early
handwritten lyric sheet
("Phantom Love") and a striking
Tunnel-
period
Leibovitz photo
. There's one of
Nils Lofgren's guitars
... instruments from all four members of U2... stuff from the Beatles, Prince, Hendrix, Dylan, Nirvana... and you surely won't want to miss
Gene Simmons' stage worn pants
! In advance of the April 21 auction at the Hard Rock in New York, exhibitions of memorabilia will be held in L.A., Dublin, London, and New York. For information, visit
www.juliensauctions.com
, and see the full auction listing
here
.
If you have fewer bucks to spare -- namely, five of 'em -- you can still have a shot at a Springsteen-signed guitar, the raffle prize for another cause, the Brookdale Community College Alumni Association Scholarship Fund. A total of 2,000 tickets are available, and they're on sale now for a June 9 drawing. Check the Asbury Park Press for details.
-March 28, 2007

BRUCE AT THE MOVIES: AIN'T IT COOL?
Chris here... and we've got a guest writer, checking in from one of our own frequent stops on the web, Ain't It Cool News. Capone is their Chicago editor and film critic, and also, as it happens, a huge Springsteen fan and longtime Backstreets reader. Over to him for the latest on Bruce on the silver screen...

In the Adam Sandler/Don Cheadle drama REIGN OVER ME, one of the focal points of Sandler's mentally fractured character (his family died in one of the planes that crashed on 9/11 and he hasn't recovered his sanity since) is the album THE RIVER. The two characters, who were college roommates years earlier, debate the album's merits and at one point actually play along to "Out in the Street." I seem to recall this song playing a big part in Sandler's last live stage show, during which he actually played this tune. Perhaps more interesting is the film's emotional focal point, during which Sandler's character pours out his memories of his last conversation with his wife. Rather than simply place a song in the background of the scene, the filmmakers actually have "Drive All Night" softly bleeding through the headphones Sandler has around his neck, so the song is actually in the scene with the characters. I dare you not to cry. It might be the best use ever of a Bruce song that wasn't written for the movie it's in.

Just the other day, I saw a film called IN THE LAND OF WOMEN (co-staring Adam Brody and Meg Ryan, opens April 20), which features the TRACKS cut "The Iceman" during one of the more emotionally tender moments. It seems like a strange choice, and I'm not even sure it works well in the movie, but I almost screamed when I realized what the song was.

Capone

For his full review of Reign Over Me at AICN, click here.
-March 26, 2007

WATCH YOUR STEP!
The Big Man honored on hometown Walk of Fame
Since 2002, Norfolk, VA has honored local music greats with its Legends of Music Walk of Fame on the Grandby Street sidewalk. Now, Norfolk native Clarence Clemons will join previous inductees like Ella Fitzgerald, Bruce Hornsby, and Pearl Bailey as he gets his own sidewalk medallion next month. On April 18, an induction ceremony will be followed by a free concert at Tidewater Community College's Roper Performing Arts Center. Clarence is scheduled to play, along with a few of his fellow inductees. Read more on the event at www.hamptonroads.com, and click here for more details on the show itself.
-March 23, 2007

BOB CHIPAK, R.I.P.
Our condolences to the family and friends of Bob "Chip" Chipak. The B Street Band drummer passed away earlier this week, after a battle with cancer. For viewing and funeral information, visit www.bstreetband.com.


LET US NOW PRAISE (OUGHT-TO-BE) FAMOUS MEN
Springsteen features in docs on Grushecky, Seeger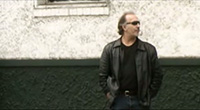 Look for Springsteen in an upcoming documentary about the guy he calls "the most handsome man in the world of Pittsburgh show business": A Good Life: The Joe Grushecky Story. Watch a trailer here. The film, from Flat Broke Productions, is in post-production now and due later this year, likely to be packaged with a Grushecky "Essentials" CD. Backstreets spoke with Flat Broke's Steve Caniff and Jim Justice about the Bruce angle:
"Joe catches a lot of flak for his relationship with Bruce, for whatever reason, and one of our goals in the film is to show the talent Joe has and what his relationship with Bruce is really like. It was really cool seeing them together behind the scenes -- to see first-hand that relationship between Bruce and Joe. Bruce has a lot of respect for Joe as a songwriter. He also gives Joe a bit of the credit for reuniting the E Street Band. That will be shown in the film, too."
Check out Flat Broke Productions for details, and read more in the Journal-News.
Another documentary, Jim Brown's Pete Seeger: The Power of Song, will have its world premiere at this year's Tribeca Film Festival. From the festival program: "Bob Dylan and Bruce Springsteen are two of many who attest to Seeger's importance in this compelling documentary that is more than a simple biography. Using new interviews, archival footage and home movies, Brown presents a social history through the life of one of this country's most compelling forces for change and, arguably, the most significant folk artist of our time." The 2007 Tribeca Film Festival runs from April 25 to May 6.
-March 21, 2007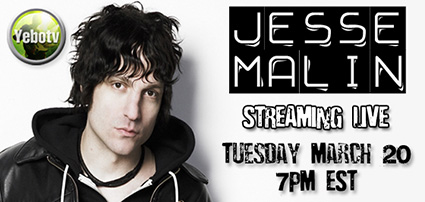 BRINGING THE HEAT
Presenting a Jesse Malin webcast, live tonight!
Jesse Malin's Glitter in the Gutter hits stores today, featuring a duet with Springsteen on "Broken Radio." "He drove up on his motorcycle and banged it out," Jesse tells the Asbury Park Press of Springsteen, "The guy just sang his heart out."
Jesse will be singing his own heart out tonight at Vintage Vinyl, celebrating the release of his third solo album with an in-store performance, and you'll be able to watch a live webcast right here on Backstreets.com. Vintage Vinyl is a great independent shop that has been carrying Backstreets Magazine for decades, so we encourage you to head on down if you can... but if you can't make it in person, check out the show right here at 7 p.m.tonight.
We've got a special sale price on Glitter in the Gutter right now in our online shop; and if you wanna keep Malin Mania going, check out an extensive interview with the man in Backstreets #79.
-Updated March 20, 2007

ONE GOOD TURN DESERVES ANOTHER
Catching up with the E Street axemen
Yesterday, CBS News Sunday Morning aired that profile of Steve Van Zandt -- if you missed it, read "A Hit Man in More Ways Than One" for a nice recap, including Steve on leaving the E Street Band: "Oh yeah, it was brilliant. When I joined the band we were making $200 a week. And we finally are about to cash in. And I leave.... You can't look back with too much regret. What little I know I've learned since I left the band. And one of the things you learn as you leave is -- you shouldn't have left!"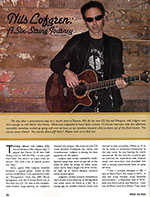 Now to turn our attention to the other side of the stage... Nils Lofgren is the subject of a lengthy interview feature in Hittin' the Note, which author Mark Squirek describes as "a quarterly that does for the Allman Brothers what you do for Bruce." Click here to order HTN #52, including the article "Nils Lofgren: A Six String Journey."
And a major development on Lofgren's own website: you can now (virtually) attend Nils Lofgren Guitar School! Yep, take lessons from one of the best, as Nils is now offering instructional videos (Lesson 1: "Keith Don't Go" and Lesson 2: Harmonics) in his online store. Lofgren's manager tells us that future lessons will focus on Nils's solos for "Youngstown" and "Countin' on a Miracle," so stay tuned to nilslofgren.com.
-March 19, 2007

SUNDAY MORNING COMING DOWN
Happy St. Patrick's Day! And a weekend update: we're told there's going to be a feature on the life and career of Steve Van Zandt on tomorrow's CBS News Sunday Morning. There's no mention of it on the CBS website, but it's worth tuning in just in case. If, y'know, you're not sleeping off the green beer.
-March 17, 2007

SIMON SAYS...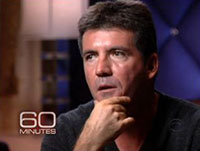 The Beatles, bigger than Jesus? We might be willing to grant you that. Simon Cowell, bigger than Springsteen? In a CBS interview, the American Idol judge tells Anderson Cooper:
"I sell more records than Bruce Springsteen. In the last five years, I've probably sold over 100 million records. If [Springsteen] got 100 [million dollars], I should have got 500."
[Click here for more and to watch a clip]
Judges?
"It started out really pitchy for me -- that whole sell-more-records-than-Bruce thing... I mean, they're not your records, right? But then you went on, and I'm like aiight, aiight, you're funny, you're doin' your thing, you're workin' it out! By the end, though, man... I don't know, I think you need to try to watch the ego. That was just a little weird for me, dawg."
The Cowell profile airs on 60 Minutes this Sunday, March 18, at 7 ET/PT.
-March 16, 2007

DANCE THE NIGHT AWAY... BAREFOOT
Because last night belonged to Hall of Famers
Another year, another induction ceremony for the Rock and Roll Hall of Fame, and it seems like you can't have a Rock Hall gathering without a few nods to Springsteen. The eclectic mix of artists honored last night included Bruce's Vote For Change tourmates (R.E.M.), his co-writer for the song "Because the Night" (Patti Smith), and his recording partner for a largely-unheard session from 1977 (Ronnie Spector). What, Bruce didn't walk out at a Van Halen concert and rip a guitar solo or throw some mad raps over Grandmaster Flash's beats back in the day, too? Springsteen connections and shout-outs were plentiful at the 22nd Annual Ceremony even though the man himself was not present. Spector, inducted as a member of The Ronettes, thanked both Bruce and Steve Van Zandt for being part of her post-Ronettes career when very few others were paying attention. Patti Smith performed "Because the Night" -- her only top 20 hit -- with her band. Even Sammy Hagar, inducted as a member of Van Halen, namedropped the Boss a couple times in a pre-ceremony interview.
While the Red Rocker is amusing in his own lovable goofball kind of way, Ms. Smith is known as punk rock's poet-laureate, and she asks in her eloquent New York Times Op-Ed, "Should an artist working within the revolutionary landscape of rock accept laurels from an institution?" Hmmm, good question, Madame. Tough to say, since many of the artists going in have become institutions themselves. But we digress. It's just too bad "Diamond" David Lee Roth wasn't there to offer a response. Now that might've been a rock 'n' roll moment to remember.
Further reading from the Associated Press here and here; AOL is streaming unedited footage.
-March 13, 2007

GUTTERMOUTH STRIKES AGAIN
Bruce duets on Malin's Glitter in the Gutter, due 3/20


Like Little Steven, we're psyched for the new solo LP from Jesse Malin, which drops a week from today -- and not just because Bruce is on it. Fine Art of Self-Destruction and The Heat, Jesse's first two, are damn fine records from this ex-D-Generation storyteller, so bring on number three. You might remember Jesse from Bruce's Holiday shows, where the man himself joined in on "Wendy"... or from the Light of Day shows... or, if the idea of a no-bullshit singer/songwriter with punk rock roots does it for you, you were probably onboard already before Bruce took a shine to this guy. Here, Springsteen duets on "Broken Radio," with other guests including Jakob Dylan, Josh Homme, and Ryan Adams.
Glitter in the Gutter will be released on March 20; pre-order the album now from Backstreet Records and save 14%.
On the day of release, Jesse will be celebrating with our friends at Vintage Vinyl with an in-store performance, as he has for his previous two records. That's March 20 at 7 p.m., 51 Lafayette Road in Fords, NJ. Here's a link to pics and a video from Jesse's last in-store there, in 2004.
-March 13, 2007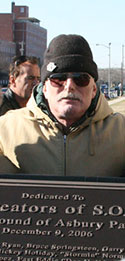 VINI LOPEZ ON BILL CHINNOCK
"The Boss before Bruce"
Before drummer Vini "Maddog" Lopez joined Springsteen in bands like Child, Steel Mill, and the E Street Band, he played in Bill Chinnock's post-Storytellers outfit, the Downtown Tangiers Band. Lopez talked to Backstreets last night after learning of Chinnock's death:
I met Bill in 1965 at a teenage dance on the boardwalk in Belmar, NJ. I auditioned for his band, the Storytellers. I didn't get the job because I wouldn't play "Wipeout." So Chip Gallagher got the gig.

Bill, truly, was one of my oldest friends. Bill was the BOSS before Bruce. You had to do it his way. He always made you a living with music. We did so many shows together all over the Northeast.


He wrote so many great songs all through his life. I hope that those songs never get forgotten. I will never forget them.

When I first met Bruce and we formed the band Child, the first song that we learned was a song by Bill Chinnock, "Crown Liquor." We still do that song in Steel Mill today. Now I want to learn "There's a Lion in the Park."

The man and his music will be sorely missed by all who knew him.
Visit BTX for more tributes to Bill.

Above: Lopez in December with the momument that honors both Chinnock and himself as Creators of the Sound of Asbury Park (Mike Black photo)
-March 9, 2007

BADLANDS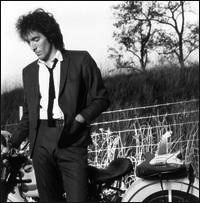 Bill Chinnock, rest in peace
Forty years ago in Asbury Park, a skinny kid with a guitar fronted a band with Danny Federici on organ, Vini Lopez on drums, and Garry Tallent on bass. That kid: Billy Chinnock.
When Chinnock left Jersey for Maine, the other guys found their way to Bruce Springsteen. But in Shore bands like the Storytellers, the Downtown Tangiers Band, and Glory Road -- which also featured future E Streeter David Sancious -- Chinnock played with them first.
Today, we've learned that he has just died at 59. As reported by Bangor, Maine's WLBZ, Chinnock has taken his own life, after suffering from Lyme disease.
A longtime Maine resident, Chinnock was rightfully honored late last year as one of the Creators of the Sound of Asbury Park, with a permanent monument on the boardwalk listing his name. But it wasn't just those early years on the Shore for which he's known. Chinnock had a lengthy solo career, with an Emmy to his name, releasing albums numbering in the double digits over the last three decades. He recorded on labels such as Epic, Rounder, and Atlantic (including 1978's Badlands , which came out before Springsteen's Darkness on the Edge of Town), and in later years he established his own label.
Backstreet Records carries Bill's last album, Livin' in the Promised Land; that and more CDs are available from Bill's own East Coast Records. His website has lots to read, including an interesting discography, and his memories of the Upstage and Stone Pony, for starters. Also see interviews with him in Backstreets #23 and Backstreets #28.
So soon after Big Danny Gallagher, another Asbury Park legend is gone. Our hearts go out to Billy's family and friends.
-March 8, 2007

GUILTY AS CHARGED?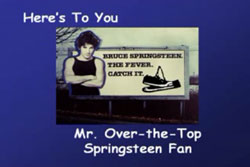 Some mandatory viewing at YouTube this week -- you might recognize someone you know. Of course, this video can't apply to me. I mean, take that setlist they focus on: I was at that concert, it was 7/29/99, and I clearly recall that "Tenth Avenue Freeze-out" was my bathroom song of the night. So I'm off the hook, right? Anyway -- here's to you... er, me... er, us!
-March 8, 2007

BEST OF THE FESTS
This month,

MelodyTrip.com is launching the Festies -- the First Annual U.S. Music Festival Awards. We don't really associate Bruce with festivals much -- he's hasn't Bonnarooed, we've never seen him Lollapaloozing. But ah, can't forget last year's New Orleans Jazz & Heritage Fest, which has Springsteen nominated for Best Music Festival Performance. A well-deserved nod, what with the grown men crying and all, for the Seeger Sessions Band's astounding official debut. Voting has begun is open to all (registration at MelodyTrip required) for the next couple weeks, with winners to be announced on March 20.
-March 8, 2007

LEGENDS OF SPRINGSTEEN: RECONSCIOUSIFIED!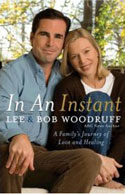 In January of 2006, ABC News anchor (and Bruce Springsteen fan) Bob Woodruff was embedded in Iraq, where he was nearly killed by an IED that left him in a coma. In their new book, In an Instant, Bob and his wife Lee write about their story, his terrible injuries, amazing recovery... and a great vignette about the Power of Bruce. As they recounted last week on Larry King Live:
Larry: You don't get a chance to talk to many people who were in a coma. Do you remember anything about a coma? Do you remember any sleep, dreams?
Bob: Zero. I don't even have any nightmares.
Lee: I have a memory...
Larry: You have a memory of his coma? [laughs]
Lee: Well, he doesn't remember this at all. But he'd gotten a letter from Bruce Springsteen, and CDs, because Bruce had found out that Bob was a fan. And so I was playing the CDs all the time. And I brought the letter over to his "good side," because he pretty much...
Larry: He was in the hospital, right?
Lee: He was in the hospital, in a coma. I read Bruce's letter, which was very sweet. And then I sort of embellished a little: I said, "Bruce says that if you wake up, you can come see the concert or come sit backstage and maybe he'll play for you."
About two days after Bob woke up, he really didn't have a lot of words -- nouns were hard. So he said, "I need to get one of those... [makes air guitar motions] you know..." -- a guitar. And he said "Yeah. I gotta play with that Boss Man when he comes." And I thought, he heard me talking about Bruce Springsteen!
Larry: And you don't remember any of that?
Bob: No, nothing.
Thanks to Dave Brett for the transcript.
-March 8, 2007

WALK WITH US OUT ON THE WIRE...
Can you say "slow news day"? We knew you could. How about "slow news month"? Feels familiar -- we recall this time last year, dwelling in the doldrums before everything ramped up with a record release in the third week of April. The year before, it was the release of Devils & Dust that same week that really got things going. Odds are against that same April payoff three years running... but we're still under the impression that we'll be seeing much more of Bruce as the year rolls along. All signs point to ongoing recording in Atlanta, Bruce being joined by at least a handful of E Streeters. For now, though, there ain't much more to say about what might come out of it -- at least, not without making it up. And we only do that one day a year. So we'll keep ears to the ground and fingers crossed that all goes well in the studio... and if/as things shape up, you'll read about it here.
In the meantime, here's a roundup of new tidbits for Bruce watchers that we might normally kick over to the Out on the Wire section... but while we've got the real estate free up here at the top of the page, might as well use it!

-February 28, 2007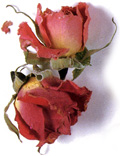 A SWEETHEART OF A DEAL!
To celebrate Valentine's Day, get 25% off ALL T-shirts from Backstreet Records! For your sweetie or yourself, all Springsteen T-shirts usually $20 are now $15, for one day only. Discount will be applied at checkout when you enter this coupon code: BIGLAZYCAR.
We don't do this very often... but hey, it's one of our favorite songs. Click here to see our selection of T-shirts (only the sweatshirt is not included in this sale), and happy Valentine's Day from Backstreets!
-February 14, 2007

EVERY LITTLE THING HE DOES IS MAGIC
The Recording Academy honored not just Bruce's latest album, but also his look back at an album 30 years old. Yep, Bruce went two for two at last night's Grammys, with the awards for Best Traditional Folk Album and Best Long Form Music Video presented off-camera before the televised ceremony. A tuxedoed Thom Zimny, Springsteen's go-to video editor (read our interview in Backstreets #85) was there to accept his well-deserved Best Long Form Music Video statue for Wings for Wheels. Congrats, Thom, and we mean it when we say: keep up the good work.
-February 12, 2007

BRING ON THE NIGHT
A reminder: tonight is Grammy night, with Springsteen nominated for Best Traditional Folk Album (We Shall Overcome: The Seeger Sessions) and Best Long Form Music Video (Wings for Wheels: The Making of Born to Run, with director/producer Thom Zimny). Watch the awards live tonight from L.A., on CBS at 8 p.m. ET/PT.
-February 11, 2007

BABY, IT'S COLD OUTSIDE!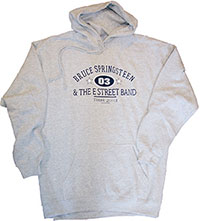 Outside the Backstreets Towers there's a "wintery mix" coming down, ice and snow and general yecch out there. It's a good time to let you know that a warm-up favorite is available once again from Backstreet Records: the E Street Band "hoodie" is back! This is an official hooded sweatshirt from the Rising tour, and it's been a hard one to keep in stock -- we sold out of our last supply a few weeks before Christmas. But more have just arrived, classic sweatshirt gray in sizes Medium through XXL, ready to keep the chill at bay. Check it out in the Latest Arrivals section of our online shop.
-February 1, 2007

LET'S TRY THAT AGAIN... TICKET SALES FOR BRUCE TRIBUTE TO RESUME ON MONDAY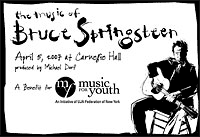 Concert producer Michael Dorf tells us that the recent onsale for the Springsteen tribute at Carnegie Hall was a "premature leak," and to look for tickets to be back on sale on Monday, February 5. (Tickets already sold, of course, will be honored -- no worries.)
Bruce Hornsby and Steve Earle are among the confirmed artists on the bill for the April 5 tribute, along with the Bacon Brothers, Kenny "Babyface" Edmonds, Kristin Hersh, Robin Holcomb, the Holmes Brothers, Jewel, Josh Ritter, and Pete Yorn. Dorf is planning on a total of 21 artists. For further details on the line-up and the ticket sale as they're available, watch the websites for Carnegie Hall and the concert's beneficiary, Music for Youth.
-February 1, 2007

BIG DANNY, R.I.P.
The Jersey Shore music scene has lost a founding father and a true character, the larger-than-life blues musician Big Danny Gallagher, who died last week at 58. An Asbury Park native and Upstage fixture, the 6'5" Danny was in the thick of the scene in the late '60s and early '70s, famously playing -- Monopoly! -- in Springsteen's post-Steel Mill band, Dr. Zoom & the Sonic Boom. Decades later, Danny was back on stage with his old friend Bruce when the Tom Joad tour hit Asbury in late 1996, singing on cuts from those early days like "Spirit in the Night" and "Sandy." Gallagher was living and performing in Ireland for a time, but he recently returned to the U.S.; he passed away in Colorado, in his sleep, on January 25. According to the Asbury Park Press, a musical memorial service is planned for February 11 at Red Fusion in Asbury. For details as they develop, and for a tribute to the man, visit www.bigdannygallagher.com.
-January 31, 2007

THIS IS NOT THE GREATEST SHOW IN THE WORLD, NO...
This is just a tribute.
But a ticket alert nonetheless: beginning January 30, tickets are on sale now for the upcoming Springsteen tribute at Carnegie Hall: "Celebrating the Music of Bruce Springsteen: A Benefit for Music for Youth." The bill has yet to be announced for the April 5 show; click here for ticket sales and further details.
Update: Tickets are currently OFF sale. According the the box office, the show has not been cancelled, but sales have been temporarily suspended. We'll keep you posted...

-Updated January 31, 2007

THE GOOD, THE BAD AND THE BOSS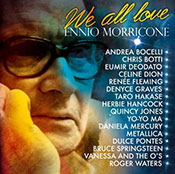 You've probably gathered over the years that Springsteen is a fan of Italian composer Ennio Morricone. Over the P.A., the "Final Theme" from Once Upon a Time in the West has added an extra dash of theatricality to his theatre shows, and before that, you may have heard Roy Bittan tickling that theme on the ivories. Now, the Boss honors the Maestro on a new tribute album. We All Love Ennio Morricone is due February 20 from Sony Masterworks, featuring Bruce's own version of "Once Upon a Time in the West." We first heard about this record from Metallica.com -- the band has used Morricone's "The Ecstacy of Gold" (from The Good, the Bad, and the Ugly) as its entrance music for nearly 25 years, according to the New York Times, and they cover it here. Read today's "The Maestro of Spagheti Westerns Takes a Bow" in the Times; also see Backstreets #56 for "Once Upon a Time in Italy," a feature on the Joad tour in Italy and the first meeting of Springsteen and Morricone.
-January 28, 2007

ACCORDION TO OUR RECORDS...
"Phantom Dan" Federici is 57 today, born January 23, 1950. Happy birthday, Danny, may you have many more!


FRIDAY AT THE CHATTERBOX: BOSS NEWS ROUNDUP
Birdies are telling us that recording has been underway at Springsteen's home studio, including Nils Lofgren in from Arizona. We'll let you know if/when the squawking gets louder. In the meantime, let's play catch-up on some other goings-on:
Save the Wonder Bar! In Asbury Park, walls continue to come tumblin' down, with the recent demolition of part of the boardwalk Casino, where portions of the "Tunnel of Love" and "Lonesome Day" videos were filmed [before and after photos by Mike Black]. And just down the street, Lance & Debbie's Wonder Bar -- a rare component of Asbury's resurgence that's actually working -- could be in danger of meeting the same fate. Along with the Baronet Theatre and the Fast Lane, the Wonder Bar was bought by Asbury Partners this week, and Gary Wien of Upstage Magazine tells us that "its future is very much in doubt." Upstage has started an online "Save the Wonder Bar" petition, to show support for keeping the club alive. Read and sign the petition here.
On the Case: If you missed last year's all-Bruce episode of Cold Case, titled "8 Years," you're in luck: it re-airs this Saturday, January 20, at 8 p.m. ET/PT on CBS. Songs used: "No Surrender," "Bobby Jean," "Brilliant Disguise," "Glory Days," "I'm on Fire," "Drive All Night," "Stolen Car" "Atlantic City," and "One Step Up."
Here comes The Sun: We're not the only magazine publishing Springsteen stories here in Chapel Hill... Our esteemed neighbor, The Sun, has a great story in their latest issue called "My Friend and Bruce Springsteen," by Jane Schapiro. You're probably familiar with the legendary story Bruce told about coming home with a fan, after a movie, to meet the fan's parents... this is a follow-up that's well worth reading. Pick up the January 2007 issue at a newsstand near you, or from their website at www.thesunmagazine.org.
Play it again, Sam: From the Bergen Record, an update on Seeger Sessions violinist Sam Bardfeld, with a series of dates of his own lined up. "I decided I'm interested in music that is about stories," Bardfeld tells the Record, "because, to me, all music, like Seeger or Springsteen or anything else, is essentially about stories." See our Concert Calendar for a list of Sam's upcoming shows.
Wouldn't bet on the movie being good, though: Two Springsteen songs -- scratch that, a pair of Springsteen songs -- will be on the soundtrack to the forthcoming poker flick Lucky You: "The Fever" and "Lucky Town." As Billboard reports, "the latter... is heard during the title sequence and the movie's trailer." Nothing unreleased from Bruce, but there is a new Dylan tune on the soundtrack, "Huck's Tune."
Practice, practice, practice: Late last year, at a Music For Youth benefit tribute to Bob Dylan, it was announced that the next benefit show would be a tribute to Bruce Springsteen, at Carnegie Hall. No specifics yet, but that show is scheduled for April 5, and here's a page to watch for the line-up and other details.
Last, and okay, probably least: another reason to think that 2007 is gonna be a good year, as the Washington Post reports that "Beatlesesque" is out, and "Springsteenesque" is in.
-January 19, 2007

TEARDROPS ON THE CITY
Tenor saxophonist Michael Brecker, after a battle with MDS and leukemia, died on Saturday at the age of 57. Brecker, along with his brother Randy, appeared on Springsteen's Born to Run, playing together on "Tenth Avenue Freeze-out." His family has asked that donations be to The Marrow Foundation's "Time is of the Essence" Fund in lieu of flowers. Read Dan DeLuca's obit for the Philly-born musician in the Philadelphia Inquirer.
-January 15, 2007

YOU WAKE UP AND IT'S A NEW YEAR
We've had our heads down since coming back from the holidays, trying to finish up another mammoth issue of Backstreets magazine, #86. But as we look up at the calendar and see it's Clarence Clemons' birthday already -- the Big Kahuna turns 65 today* -- we realize it's about damn time to check in and say Happy New Year!
Another year behind us -- ah, 2006, from the ridiculous to the sublime. In the New York Times, Jon Pareles notes Springsteen's "sympathy for the troops" in his look back at Pop Music and the War in 2006. Recent year-end lists have given props to the Seeger Sessions: the album lands at #2 on the Billboard critics' poll of the Top Albums of 2006, just behind Dylan's Modern Times; the show gets "best of the year" honors from the Star Tribune's Jon Bream, a longtime Bruce follower.
And what will 2007 bring? Well, rumors abound that Springsteen will soon be entering the studio along with members of a certain band (which we won't name, but it starts with E and ends with Street). Several good sources tell us it's true, and an album and tour would be the goal. But really, it's still too soon to say -- 12 months ago, you may remember, 2006 was poised to be a major E Street year, before Bruce decided to yank the wheel hard to the left for some Seeger Sessions offroading. (That's why we're not in the business of taking Boss gossip too seriously: even when it's true, it has a way of changing on you.)
In any case, no signs point to Springsteen slowing down this year, and here are a couple things we can already look forward to in 2007:
A CD with Bruce's involvement from Appleseed Recordings (home of the original release of his "We Shall Overcome"), tentatively titled Feels Like Home. Part of a homelessness public awareness initiative, the album is due later this year, with further details on the Appleseed website.
The forthcoming new record from Jesse Malin, Glitter in the Gutter, features Springsteen on a track called "Broken Radio." The album is due March 6 on Adeline Records.
More here as we know it... hope your 2007 is off to a great start... and happy birthday, Big Man!
*and we won't even think about making any retirement jokes
-updated January 11, 2007