News Archive
April - May 2007


HAVE WE GOT A GUITAR TEACHER FOR YOU
Happy Memorial Day! And a heads-up that a Nils Lofgren interview will be airing on "Andy Sedlak's Back Door Radio Hour" tomorrow afternoon (Tuesday, May 29) at 3:00 p.m. Andy tells us, "We talked about his new solo album, Sacred Weapon, his new live DVD, Nils Lofgren & Friends Live Acoustic, the online guitar lessons available via his website, songwriting, a few stories behind songs on the new album, his work with Neil Young, the mentality before a Bruce Springsteen show and just what it's like to play for 20,000 people on a nightly basis with Bruce, why he got kicked off his high school football team, and who he roots for now. We were busy, right?" The show airs on WWSU 106.9 in Dayton, OH; hear it online at listen.to/wssu.
Andy mentioned the guitar lessons at nilslofgren.com, something we recently spoke with Nils about in-depth as well, for an upcoming issue of Backstreets magazine (new issue coming soon, we swear!). Fifteen bucks for each hour-long lesson from one of the true guitar greats? We figure that's worth paying attention to. His latest virtual class is for the "Countin' on a Miracle" solo... here's Nils talking to Backstreets' Roderick Jones about that solo's genesis:
We were on a plane flying into Amsterdam after a great show. Bruce came up to me and said, "You know, for the show tomorrow night I'd like you to put together a little acoustic opener for 'Counting on a Miracle.'"

I was up all night working on this thing, really being kind of ruthless. Like, look, tomorrow night I'm doing a show in Amsterdam. I want to have a piece that Bruce will sign off on that I can play.

I wound up being so excited that, even though I was tired, I stayed up all night long, played all day long. I was playing in the van to the soundcheck! I'll never forget, at the end of the soundcheck... they wanted to open the doors. So, we gotta stop, and we were walking off the stage, and I stopped Bruce and I said, "Bruce, I don't know if I wanna play this 'Miracle' piece cold on you, but I got something that I think might work."

He said, "Let me hear it." So we stopped the doors from opening for another 45 seconds, and I played it quick. He said, "That might work, give it a shot tonight."

And I did, and it worked, and I was able to use it every time that we played that song for the rest of the tour. That was literally a creation that was done in, like, 18 hours.
Check out the Nils Lofgren Guitar School for Lesson 1: "Keith Don't Go"; Lesson 2: "Harmonics"; and Lesson 3: "Miracle Intro, Part One." New lessons are added monthly.
-May 28, 2007

LET'S GO TO THE MOVIES!
Here's a chance to catch Live in Dublin on the big screen, one night only. A 90-minute theatrical version will screen on June 4, the night before the official home release (and incidentally, the 23rd anniversary of Born in the U.S.A.), in 20 cities across the U.S.:
New York
Boston
Portland, ME
Washington DC
Atlanta
Nashville
Chicago
Indianapolis
Minneapolis
Detroit
Lansing, MI
Grand Rapids, MI
Columbus, OH
Denver
Seattle
San Francisco
San Diego
Austin
Los Angeles
St. Louis
In many of these cities, attendees will have a chance to win a Sony Blu-ray Disc player. Tickets are on sale now or will be on sale shortly -- visit D&E Entertainment for more details and individual city links.
-May 23, 2007

HOWARD'S SIT-DOWN WITH SILVIO
Little Steven was on The Howard Stern Show yesterday, talking Sopranos, CBGB Forever, and American Idol -- he refused to assure Artie Lange that Bruce would never go on the show. (Artie has more at stake than most of us.) Steve offered a teaser as well, saying "that he would not be surprised to see a new album from Bruce sometime in the next year." Read the full show rundown.
-May 23, 2007

FURTHER AND FURTHER ON UP THE ROAD TO DUBLIN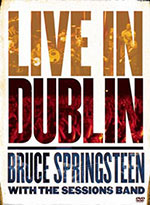 Getting you ready for release day, just two weeks away... now streaming online is a 2:30 trailer for Live in Dublin, featuring clips of "Jesse James," "Open All Night," "Mrs. McGrath," "Atlantic City," "Eyes on the Prize," "American Land," "Jacob's Ladder," and "This Little Light of Mine." You choose:
And we're now taking pre-orders for Live in Dublin in our online shop. We'll be carrying all four configurations (DVD/2CD, 2CD, DVD, Blu-ray disc -- order carefully!) and we're offering a sale price on each of 'em when you pre-order now from Backstreet Records. The release date is June 5; we'll ship to our customers in the order received just as soon as the discs are available. Thanks for your support!
-May 22, 2007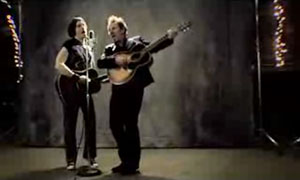 TWO SINGER-SONGWRITERS AND A MICROPHONE
Just over a month ago, on April 18, Jesse Malin and Bruce Springsteen filmed a video for their duet on "Broken Radio," from Jesse's latest, Glitter in the Gutter.
The video is online now -- check it out here.
-May 22, 2007

CRAWDADDY'S BACK!
Wolfgang's Vault revives rock mag, streams '73 show
Crawdaddy!, the magazine that gave Springsteen his earliest major, national press (in 1973 -- take that, Time & Newsweek) has been revived. Founder Paul Williams, who started the print version way back in '66, will serve as Advisory Editor for the new online weekly. And fittingly, their first outing includes a Springsteen nod with a simultaneous boost to one of one of our favorite up-and-comers, the Hold Steady. Read Bob Hill's The Wild, The Innocent, and The Craig Finn Shuffle.
Wolfgang's Vault -- which we've pointed you to before for their concert streams -- is the new parent company for the Crawdaddy! rebirth. They've just added a new Springsteen show to their repertoire, too: seven songs from '73, opening for Blood Sweat & Tears at the Berkeley Community Theatre. Listen here.
-May 18, 2007

FURTHER ON UP THE ROAD TO DUBLIN
"Atlantic City," the first of several advance online clips from Live in Dublin is streaming now -- head to rollingstone.com to check it out!
-May 14, 2007

CATCHING UP WITH WILLIE NILE
Willie Nile is readying a live album, Live at the Turning Point, recorded last year in Piermont, NY, with Rich Pagano and Jimmy Vivino. In addition to spotlighting some of the great material from his recent rave-reviewed Streets of New York, the performance also includes some choice covers: "It's All Over Now, Baby Blue," "Substitute," and "I Wanna Be Sedated." We'll have more info when the album is available, and you'll be able to order it from our online shop, too.
In the meantime, catch a new interview with Nile tomorrow (Tuesday, May 15) at 3:00 p.m., on "Andy Sedlak's Back Door Radio Hour." Sedlak, a student at Wright State University, tells Backstreets: "Willie and I talked about (among other things) his latest, Streets of New York, topical songs, American Idol, and how he had to struggle with his record company in order to tour with The Who." Sedlak's show airs on WWSU 106.9 in Dayton, OH; hear it online at listen.to/wssu.
-May 14, 2007

ROCKIN' AND A-REELIN' AT THE BASIE
Brian Wilson played Red Bank, NJ last night, for the Beach Bash at the Basie, the Count Basie Theatre's 5th annual gala fundraiser -- and a local hero joined in for some fun, fun, fun. A particular auction item earlier in the evening might have been a tip-off: a Challenger surfboard signed by both Wilson and Bruce Springsteen. The surprise guest spot came during Wilson's encore, when "The Boss!" was introduced for "Barbara Ann." Springsteen played rhythm on a white Les Paul, stepping up for a solo, too, and he shared a mic with the sax player to sing along on the chorus. For the final song, Bruce was back sans guitar to sing harmonies on "Love and Mercy" from Wilson's 1988 self-titled solo debut.
-May 13, 2007

THE ROAD TO DUBLIN
PBS premium CD includes exclusive audio tracks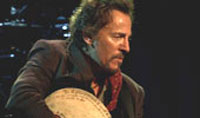 With PBS stations around the country to air a cut of Live in Dublin in June -- NJN Public Television got out of the gate early, premiering footage last week for viewers in Jersey -- they'll also be offering an exclusive five-track CD as an incentive to pledge. If you only care about the music, this'll be one of the more expensive CDs you could add to your collection... but if you want to support Public Television, it's a fine bonus. Five live tracks that didn't make the cut for Live in Dublin will be found here: "Bobby Jean," "The Ghost of Tom Joad," "Johnny 99," "For You," and "My City of Ruins." Check with your local PBS station for details on pledge drives and air dates.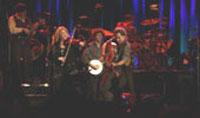 As for that NJN airing, we're reserving judgment until we see the DVD itself -- and we'll be looking for yours then, too, with a readers' poll. But we can't ignore reports we're hearing bemoaning the quick cuts that have been in vogue for far too long. Bill Kenney tells us: "Maybe it's not that bad, but the snippets I saw of Live in Dublin on the NJN fundraiser have the same claustrophobic feel the previous videos had on AOL (and right through the American Land DVD), and with that MTV-style choppy cutting to boot, that sucks the life out of what was a vibrant, buoyant, spacious stage show. Maybe it was hard to capture that feel, even with nine cameras, but I think the editing is repetitive, and the lighting seems really dark as well. But musically, there were some pretty cool versions of 'Growin' Up,' 'Further On (Up the Road),' a great 'This Little Light of Mine,' and promising clips of a bunch of others like 'Highway Patrolman,' and 'Atlantic City.'" Read more reports on BTX -- and if you've seen it, feel free to chime in.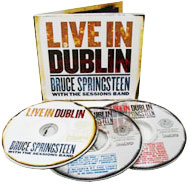 Come release day, June 5, there will be four different configurations of Live in Dublin to choose from: A 2-CD set, a standard DVD, a combination of those two as a 2-CD/DVD set, and a Blu-ray disc [a hi-res video format, click here for more info]. We'll start taking pre-orders next week at Backstreet Records, and we always appreciate your support; if you're a collector, though, you may want to jump on FYE's pre-sale, as they're throwing in an exclusive 11 x 17 poster.
We'll have more stops on the road to Dublin in the coming weeks -- watch this space for links to online clips, as well as details on a possible theatrical showing prior to the home video release.
-May 11, 2007

JACKSON COMING TO JERSEY TO PLAY FOR P.A.L.S.
The Joan Dancy and P.A.L.S. (People with A.L.S.) Support Group, founded by Terry Magovern, received a boon when Bobby Bandiera and a whole host of friends played a holiday benefit show for the charity late last year in Red Bank, NJ. Now, Jackson Browne is coming to town to help the cause as well: on June 12, he of the perfect hair will play a benefit concert for P.A.L.S. at Red Bank's Two River Theater. Tickets will be tough -- the venue, home of Springsteen's intimate VH1 Storytellers performance, only holds 350. Tickets for "An Evening with Jackson Browne" go on sale Wednesday, May 9, at 11 a.m. through the Two River Theater box office and charge by phone, (732) 345-1400. See www.trtc.org for additional details, prices, and rules.
-May 6, 2007

BRUCE AT THE MOVIES: THE NEXT COSMIC KID
Chris here... with AICN's Capone still commanding the night brigade for Silver Screen Bruce Watch 2007:

It's been a banner year (hell, it's been a banner couple of months) for those of us who love to hear Springsteen tunes in feature films. And the fun continues on June 1 with the latest film from director Davis Guggenheim (AN INCONVENIENT TRUTH), who not coincidentally is married to actress Elisabeth Shue. The film is called GRACIE, and it's about a teenage girl (played by Carly Schroeder) and her family in the 1970s. The family and the story are based on events that happened to the Shue family in that era, and without going into too much detail (I'm actually not allowed), GRACIE involves high school soccer, family tragedy, and the emerging modern feminist movement. But more importantly, the film's soundtrack is filled with one of the best collections of '70s arena rock since DAZED AND CONFUSED.

In a critical scene featuring young Gracie starting some serious training to become a better soccer player with the hopes of joining the boys varsity team, Springsteen's "Growin' Up" plays almost all the way through its three-minute running time. Just for good measure, the song is the opening track of the closing credits, as well. That's four movies in about two months, folks. It's been a good spring.

-- Steve (Capone) Prokopy
Chicago Editor, Aint It Cool News

-May 4, 2007

THE RANNEY BENEFIT RIDES AGAIN
After a lengthy soundcheck yesterday afternoon at the Stone Pony, Bruce Springsteen took the stage last night with Bobby Bandiera and his band for another private benefit for the Ranney School. The usual 1-2 song soundcheck was replaced with a 3+ hour rehearsal, beginning at 2:00. Some band members were cramming up until showtime -- last-minute setlist changes had Eddie Manion heading out to his car to retrieve sheet music from his trunk. As for the show itself, Patti Scialfa and Southside Johnny guested once again, and previous school benefits provided a good model, though this year's was weighted away from covers towards Springsteen's own material. From the former category, a major highlight was "Time is on My Side," handled largely by Patti but with Bruce taking the spoken middle part; Southside Johnny led a medley of "Can I Get a Witness" and "Everybody Needs Somebody to Love." Originals included "Man's Job" and a bluesy "Pink Cadillac" driven by "Peter Gunn"-style horns. School parents paid $3,000 per couple for this intimate rave-up, receiving a promise at the end of the night that the tradition would continue: "We'll see ya next year!"
For the full setlist from this and other recent shows, see our Setlists page.
-April 30, 2007

FIRST LOOK FRIDAY: LIVE IN DUBLIN
Here's a little something to kick off the weekend: a sneak peek of Live in Dublin. NJN Public Television has hooked us up with a 30-second promo spot for this Sessions Band performance, which the channel debuts next week.
The concert special premieres on Monday, April 30, at 8 p.m. on NJN; the DVD comes home June 5.
-April 27, 2007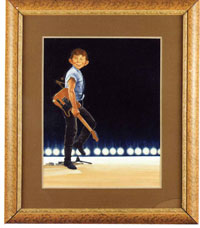 WHAT, ME BID?
If you're lookin' for somethin' pretty to hang up on your wall, we're not sure Alfred E. Neuman qualifies. But then, he's never looked so good.
Check out what's on the block from Heritage Auction Galleries: the original art, framed, for the cover of Mad #270 from 1987, "Alfred as the Boss." Painted by Richard Williams, it's been framed to 25" x 30". Abesntee bidding ends on May 3; live auction is May 4.
-April 26, 2007

THE MAGNIFICENT 36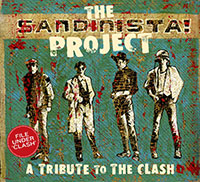 Springsteen nuts tend to be Clash nuts, too, so we're guessing you'll be interested in The Sandinista Project, a track-by-track re-do of The Clash's landmark triple album Sandinista!, all 36 songs. Due next month, the tribute features many Springsteen- and NJ-associated performers, among them Joe Grushecky and the Houserockers ("The Magnificent Seven"), Willie Nile ("Police on My Back"), and The Smithereens ("Up in Heaven"). Produced by longtime Backstreets contributor and Runaway American Dream author Jimmy Guterman, The Sandinista Project also features performers as diverse as Katrina (of the Waves) Leskanich ("Hitsville U.K."), Jon Langford ("Junco Partner"), Amy Rigby ("The Leader"), Camper Van Beethoven ("Kingston Advice"), and many more -- some of whom we've heard of. The record is coming out on May 15, we'll be carrying it in our store, and we'll keep you posted on some events that will come around the release of the record.
-April 23, 2007

BRUCE AT THE MOVIES: AIN'T IT COOL? 2
Chris here... and we've got AICN's Capone back for another trip to the movie house, this time for a flick that we've seen promo'd for months now and is finally seeing release. Not usually a good sign... but the Bruce usage sounds promising:

I just saw a screening of LUCKY YOU yesterday, the long-delayed new film from director Curtis Hanson (8 MILE, L.A. CONFIDENTIAL) and starring Eric Bana, Drew Barrymore, and Robert Duvall. This is a good time to be Bruce's licensing agent, apparently, since two more Springsteen tunes are used quite effectively in this film (on the heels of other recent uses in REIGN OVER ME and IN THE LAND OF WOMEN), as are two Bob Dylan songs, including the unreleased "Huck's Tune," (Huck is the name of the Bana's character) which plays during the end credits.

The film is about a career gambler (Bana) who lives in Las Vegas, so naturally the opening-title montage of Bana riding his motorcycle through the backroads of the city to a casino is set to "Lucky Town." Of course, the only thing better than Bruce tunes in a movie is when they are used effectively, and hearing "The Fever" as the soundtrack for the opening hands of the film's most crucial poker game made the hairs on my erect nipples stand up. You can read my full review when the film opens on May 4, but chalk this LUCKY YOU as another prime example of Bruce's music making a film just a little bit better.

-- Steve (Capone) Prokopy
Chicago Editor, Aint It Cool News

-April 20, 2007

WALK LIKE A (BIG) MAN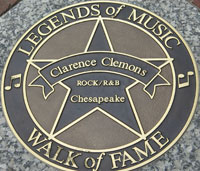 Clarence Clemons was honored yesterday with a star on the Legends of Music Walk of Fame in his birthplace of Norfolk, VA. Clarence was the final inductee of the afternoon, making his entrance in a white stretch limo... and at the concert that followed last night he played four numbers, including "Paradise By the C" and "You're a Friend of Mine." Katherine Byrd, who took these photos and reported from the event, tells us, "I would say he looks 'tour ready.'"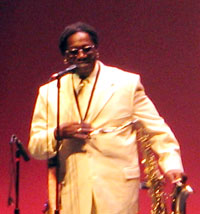 For the Big Man's final song of the night, Byrd writes, "he asked for a stool, saying that he was 65 and deserved to be able to sit down. He stopped mid-way to dedicate the song to his late parents, saying how they were really with him tonight (along with about 50 other relatives). He said that his father taught him to always follow his heart, for the truth was in your heart, not your mind -- because your mind will play tricks on you, but your heart will not. He also spoke about how his dad bought him a saxaphone when he was nine, but he wanted a train set -- that got a lot of laughs. He was so very happy, and said something to the effect that meeting Bruce was the best thing to ever happen to him."
Watch "Paradise by the C" on YouTube now, from Roper Performaning Arts Center in Norfolk, April 18.
-April 19, 2007

HEY JAZZ MAN, PLAY ME YOUR SERENADE...
Catch Max Weinberg gigging this weekend in Boston -- he's helping to kick off Jazz Week with a Saturday night performance at Berklee Performance Center. Max is the featured artist in the "All-Star Jazz Blowout" concert, a benefit for New Orleans Habitat Musician's Village. See jazzboston.org for details, and as always, check our Concert Calendar page for more shows of interest.
-April 18, 2007

VIDEO THRILLS FOR "RADIO" STARS
Springsteen is joining Jesse Malin today for a video shoot for "Broken Radio," their duet from Glitter in the Gutter. The song is planned as Jesse's next single -- and before you go thinking "single" is a quaint term, they're actually putting this thing out as a vinyl 7-inch! Stay tuned for more details -- on the video as we know it, and on the 45 (with Backstreet Records pre-order availability) shortly.
-April 18 2007

BLU-RAY, PBS AIRINGS FOR UPCOMING LIVE SET
With the release of Live in Dublin less than two months away, we've now got a look at the cover art, above. A press release today officially confirms that, in addition to a standard DVD, the video will be issued in the Blue-ray format: "The Blu-ray Disc was authored at Sony Pictures Digital Authoring Center. Documented with nine cameras, the concert was filmed in High Definition (HD). The Blu-ray Disc presents the show in full 1080 HD resolution along with uncompressed surround sound."
And not everyone will have to wait until the June 5 release date to watch -- Live in Dublin will have its world premiere at the end of this month on NJN Public Television. We're told that other PBS channels will be airing the concert special for pledge drives in June, but NJN leads the way with the world premiere on April 30 at 8 p.m.
-April 16, 2007

IN THE YEAR 2000...
...Max Weinberg will turn 49. Today, he turns 56, born April 13, 1951. Happy birthday, O Mighty One!


FROM THE GRAIN OF SALT DEPT.
But it's a good grain, of the E Street variety. Little Steven tells Spinner.com: "We gotta make a record, which could happen soon. I don't have any reason to say this other than my own instinct, but I just get a vibe it's going to be sooner than later it. Once that's done, we're very fast. [Springsteen] literally could call me today, we could have a new album out and be on the road within three months."
-April 13, 2007

"I'M STILL ALIVE!"
Springsteen shows up at Carnegie Hall to make sure this ain't no memorial tribute. Glenn Radecki reports.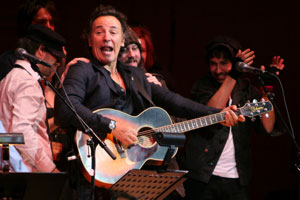 As a hard-rocking, frenetic version of "Atlantic City" performed by The Hold Steady wrapped up Thursday night's "Tribute to the Music of Bruce Springsteen," a sold-out Carnegie Hall audience was pleasantly surprised as the man to whom 20 artists had previously paid tribute appeared on stage. Benefiting the Music for Youth Initiative of the UJA-Federation of New York, the already-excellent performance was capped as Bruce walked up to the microphone, telling the crowd, "I'm still alive!"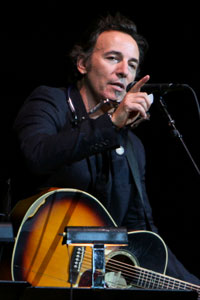 Springsteen's performance started with an acoustic guitar and harmonica version of "The Promised Land," pairing the familiar melody with the emotive vocal style used on versions on the Tom Joad and Devils & Dust tours.
Bruce remained on stage to perform a surprise version of "Rosalita," first solo acoustic, with an improvised story in the middle ("it's been a long night, and I'm running out of lyric sheets!"), and then again with all of the evening's performers on stage, in all its full-band glory (house band Elysian Fields clearly knew their Bruce). Lead vocals the second time around were shared by Craig Finn of The Hold Steady, Badly Drawn Boy, and Jesse Malin.
Earlier in the evening, Springsteen collaborators old and new were present to perform: Patti Smith sang "Because the Night," Jesse Malin was joined by Ronnie Spector on "Hungry Heart," and Marah got the crowd into the show early with an energetic performance of "The Rising."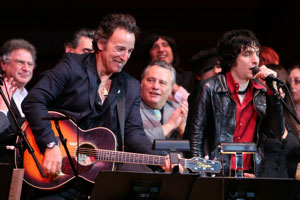 Other highlights (and there were many) included Joseph Arthur's version of "Born in the U.S.A."; Juliana Hatfield's solo electric reading of "Cover Me"; Badly Drawn Boy backed by Elysian Fields on a full-band "Thunder Road"; jazz pianist Uri Caine's "New York City Serenade" piano instrumental; Odetta performing what Bruce described as "the best version of '57 Channels' ever," and the Holmes Brothers' "My City of Ruins" with the Young People's Chorus of New York City, one of the musical groups receiving grants form the proceeds of the performance.

For the full setlist and additional photos,
visit our Setlists page
-April 6, 2007 - A.M. Saddler photos

NOT ALL POETS ARE CREATED EQUAL
A line-up change for tonight's Springsteen tribute, and a very welcome one, if you ask us: Jewel is out; Commander of the Ordre des Arts des Lettres and newly minted Rock and Roll Hall of Famer Patti Smith is in!
-April 5, 2007

NO FOOLIN': LIVE IN DUBLIN DUE JUNE 5!
Sessions tour gets official document, on CD and DVD
As Springsteen fans know all too well, just because they record a show doesn't mean it's going to be released: Bruce's Boston stop on the Devils & Dust tour, captured on film but stuck in the vault indefinitely, is a recent case in point. So when we found out last year that the Dublin stand on the Seeger Sessions tour would be filmed, we weren't counting any chickens. Now, however, we have official word that a show's worth of material from those November 2006 concerts will be coming home, on DVD (including availability on the hi-def Blu-ray format) as well as in a separate two-CD set.
Live in Dublin, from "Bruce Springsteen with the Sessions Band" (note the "Seeger" has been dropped) is just two months away, scheduled for June 5 from Columbia. The two-CD set and DVD each feature 23 songs from The Point in Dublin, captured on November 17, 18, and 19:
1. Atlantic City
2. Old Dan Tucker
3. Eyes on the Prize
4. Jesse James
5. Further on Up the Road
6. O Mary Don't You Weep
7. Erie Canal
8. If I Should Fall Behind
9. My Oklahoma Home
10. Highway Patrolman
11. Mrs. McGrath
12. How Can a Poor Man Stand Such Times and Live?
13. Jacob's Ladder
14. Long Time Comin'
15. Open All Night
16. Pay Me My Money Down
17. Growin' Up
18. When the Saints Go Marching In
19. This Little Light of Mine
20. American Land
21. Blinded By the Light

Bonus Songs:
22. Love of the Common People
23. We Shall Overcome
And a familiar team at the helm: The DVD was edited by Emmy- and Grammy-winner Thom Zimny, with audio mixed by Bob Clearmountain (including 5.1 surround) and mastered by Bob Ludwig.
While the track listing roughly represents the format of a show, this is actually an amalgam, taken from all three nights. See the actual concert setlists here. The most glaring omission on the release is "John Henry" (which was played each night at The Point), though we'll miss "You Can Look," too. Otherwise, this looks to be a fine representation, with a nice balance of originals, Seeger Sessions material, and other covers. Who'd thunk we'd ever see "This Little Light of Mine" on a Springsteen live album? For those of us who couldn't make it to the fall shows in Europe, when that one debuted, that alone should be a treat. And for those who didn't catch the tour at all -- because of scant tour stops outside of the bigger fan markets, or whatever else -- Live in Dublin should be a very welcome and maybe even surprising document of a whole 'nother side of Springsteen. Now, how'd they think up that name?
-April 3, 2007

NEW YORK CITY SERENADES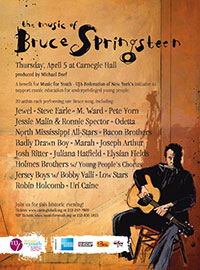 The Music for Youth benefit tribute, "The Music of Bruce Springsteen," is coming up next week -- Thursday, April 5, at Carnegie Hall. Concert producer Michael Dorf tells Timessquare.com: "This tribute series is to honor the great songwriters and performers who stand up to the test of time. From Joni Mitchell and Bob Dylan in 2006 to our first tribute this year, Bruce Springsteen, we have selected artists who have contributed songs into the great songbook of American history. These are my American idols.... The number of artists who wanted to be on the stage is too great to mention -- the outpouring of musicians who all have felt touched and inspired by the Boss." The bill includes Steve Earle, Marah, Badly Drawn Boy, Jesse Malin with Ronnie Spector, and more. A few tickets remain -- visit the Carnegie Hall website.
4/2 Update: As Pitchfork reports, The Hold Steady has been added to the bill. Charlemagne, meet Rosalita!
-Updated April 2, 2007


Main News


News Archives
- May - Sep 20033
- Oct 2003
- Nov - Dec 2003
- Jan - Mar 2004
- Apr - Jul 2004
- Aug - Dec 2004
- Jan - Apr 2005
- May - Jun 2005
- Jul - Aug 2005
- Sep - Dec 2005
- Jan - Feb 2006
- Mar - May 2006
- Jun - Jul 2006
- Aug - Oct 2006
- Nov - Dec 2006
- Jan - Feb 2007
- Apr - May 2007
- Jun - Jul 2007
- Aug 2007
- Sep - Oct 2007
- Nov - Dec 2007
- Jan - Feb 2008
- Mar - Apr 2008
- May - Jun 2008
- Jul - Aug 2008
- Sep - Oct 2008
- Nov - Dec 2008
- Jan 2009
- Feb - Mar 2009
- Apr - May 2009
- June 2009
- Jul - Aug 2009
- Sep - Oct 2009
- Nov - Dec 2009
- Jan - Feb 2010
- Mar - Apr 2010
- May - Jun 2010
- Jul - Aug 2010
- Sep 2010
- Oct 2010
- Nov 2010
- Dec 2010
- Jan - Feb 2011
- Mar - Apr 2011
- May 2011
- June 2011
- July 2011
- Aug - Oct 2011
- Nov - Dec 2011
- Jan 2012
- Feb 2012
- Mar 2012
- Apr 2012
- May - Jun 2012
- Jul - Aug 2012
- Sep - Oct 2012
- Nov - Dec 2012
- Jan 2013
- Feb - Apr 2013
- May - Jun 2013
- Jul - Aug 2013
- Sep 2013
- Oct 2013
- Nov 2013
- Dec 2013
- Jan 2014
- Feb 2014
- Mar - Apr 2014
- May 2014
- Jun 2014
- Jul - Sep 2014
- Oct 2014
- Nov - Dec 2014
- Jan - Feb 2015
- Mar - Apr 2015
- May - Jun 2015
- Jul - Aug 2015
- Sep - Oct 2015
- Nov - Dec 2015
- Jan - Feb 2016
- Mar - Apr 2016
- May - Jun 2016
- Jul - Aug 2016
- Sep 2016
- Oct 2016
- Nov - Dec 2016
- Jan - Feb 2017
- Mar - Apr 2017
- May - Jun 2017
- Jul - Aug 2017
- Sep - Oct 2017
- Nov - Dec 2017
- Jan - Feb 2018
- Mar - Apr 2018
- May - Jun 2018
- Jul - Aug 2018
- Sep - Oct 2018
- Nov - Dec 2018
- Jan - Feb 2019
- Mar - Apr 2019
- May - Jun 2019
- Jul - Aug 2019
- Sep - Oct 2019
- Nov - Dec 2019
- Jan - Feb 2020
- Mar - Apr 2020
- May - Jun 2020
- Jul - Aug 2020
- Sep - Oct 2020
- Nov - Dec 2020
- Jan - Feb 2021
- Mar - Apr 2021
- May - Jun 2021
- Jul - Aug 2021
- Sep - Oct 2021
- Nov - Dec 2021
- Jan - Feb 2022
- Mar - Apr 2022
- May - Jun 2022
- Jul - Aug 2022
- Sep - Oct 2022
- Nov - Dec 2022
- Jan - Feb 2023


Tour/Ticket Info
Setlists
Concert Calendar
Save Tillie
Library Project
Downloads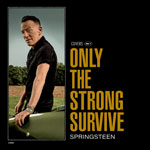 ONLY THE STRONG SURVIVE
The Backstreets Liner Notes, our own song-by-song printed booklet, comes exclusive and FREE with each CD & LP!
ORDER NOW
Backstreet Records is the mailorder division of Backstreets, delivering Springsteen merchandise to fans for more than 25 years. We carry numerous collectibles, tour shirts, books, magazines, and imported CDs and records.
The world's best selection of Springsteen collectibles, all available by mail.
See all the new arrivals in our online shop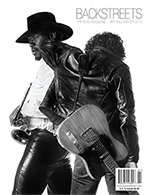 BACKSTREETS #91
Our most recent issue honors a very Big Man. More than half of the 116-page, perfect bound Backstreets #91 is a tribute to the life and music of... do we have to say his name?

Full contents list


Order a single copy


Back issues
---


Yo, Adrian, you gonna leave me wastin' away on the streets of Philadelphia?


Bobby B. talks with the Asbury Park Press


Ballet in the alley: Lonesome Day" from Empty Sky... The Rising is on YouTube


Phil Spector on Bruce: He "should have paid me royalties."


An amusing Bruce mention at the 4/25 White House press conference


Here it is, your Moment of Zen: Bruce at the Daily Show


Brush up your French: Montreal paper LaPresse reports that Springsteen's people are looking at Bell Centre for the fall...


Crawdaddy's coming back! Get a sneak preview here.


See how you can support Bob Benjamin and Light of Day for this year's Parkinson's Unity Walk, April 28.


Check out The Musician's Voice for an audio interview with Joe Grushecky.


Mary-Louise Parker separates the men from the boys in Esquire.


The Associated Press on Garry Tallent's cover band, the Long Players.


"Songs with a Secret" at Rolling Stone online


"Springsteen's Other Tracks" on popmatters.com


Bruce won "Best Music Festival Performance" at the Festies!


Springsteen's music (esp. The RIver) features in Reign Over Me


The Snuggle Ups cover Bruce on a Portland, OR charity compilation due 4/17


ATL sighting: as reported in the Journal-Constitution, local DJ Jimmy Baron had a Boss encounter
... details on Baron's myspace blog.


Tom DeLay's new book: No Retreat, No Surrender. Surely inspired by the Van Damme movie, not the song, right?

---


We also post all known concert dates for some of our favorite Jersey Shore (and Shore-adopted) musicians:

Willie Nile


Bobby Bandiera


Southside Johnny


John Eddie


JoBonanno


Joe D'Urso... and more.
For more information on upcoming shows such as these, check out our Concert Calendar.
Updated Aug 30, 2006
---


SAVE TILLIE
Many from the Springsteen community banded together to preserve this Asbury Park landmark.... and Tillie has now been saved!
Check our Save Tillie page for the latest developments.
Updated June 9, 2006
---
THE SPRINGSTEEN SPECIAL COLLECTION
Organized by Backstreets in 2001, this storehouse of Boss books and magazines is the largest such collection outside of Bruce's mother's basement. Thanks to the generosity of fans around the world, total holdings are now well over 11,000. But the collection is by no means complete.
Check out the Springsteen Special Collection page for more info.
Updated Apr. 21, 2006