AND WHEN THE SUN COMES OUT TOMORROW...
It'll be the start of a brand new decade. Happy new year!

We close out a year in which Bruce Springsteen has gone from one high to another, beginning with a Super Bowl halftime performance viewed by 95.4 million, and ending with a high honor in our nation's capitol, with an international wrecking ball of a tour in between. Oh, and he played "The Price You Pay" — twice.
It's also the close of a decade: one which began with the E Street Band newly reunited and on the road, and ended with them, despite the significant loss of Danny Federici, still making good on Springsteen's promise of Rededication ten years prior. For Springsteen himself, the decade was the busiest touring-wise since the '70s: he was on the road in nine of these ten years, whether with the E Streeters, the Sessions Band, or solo. Arguably beginning with his Rock and Roll Hall of Fame induction in '99, the oughts found Springsteen's visibility, viability, and reputation surging, cresting once again after the "lost decade" of the '90s; in terms of productivity, this period was unprecedented.
What might the next ten years bring? Well, tomorrow never knows... but let's hear it from the man himself:
I have all the tools I need: I could play by myself; I could play with the Sessions Band which I'd like to do again; and the E Street Band is in full power, and I certainly want us to go out and continue touring. As far as songwriting, I don't worry about that anymore for some reason — when I hit my fifties a lot of the insecurities fell away. I no longer have to work so hard to carve out my initial identity. That's there now, so I can drift left and right and then come back to the center with the band if I want to.... The writing has become very enjoyable and joyful and not particularly difficult — and the record-making now happens within a month.... I've got things going already. I have songs I'm writing and all different kinds of things — time off is always my struggle. I'm not great at sitting still, I have to practice doing that.
Read more from Bruce — looking back, looking forward, and "the lessons of the decade" — from Brian Hiatt's interview backstage in Buffalo, online now at Rollingstone.com.
Thanks for riding the rails with us in 2009, have a happy and safe new year!
- December 31, 2009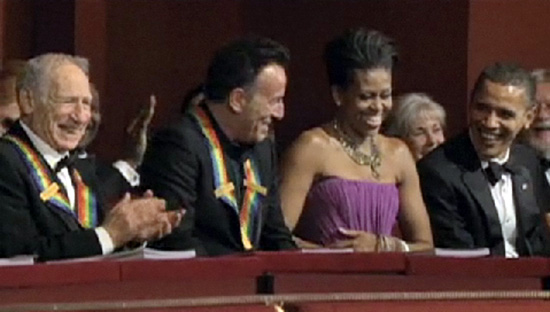 TIVO ALERT: KENNEDY CENTER HONORS TONIGHT ON CBS
Don't forget tonight's broadcast of the Kennedy Center Honors, a two-hour special on CBS from 9:00 to 11:00 Eastern. For more info and a sneak peek, including a bit of Jon Stewart's tribute, visit cbs.com.
To celebrate the occasion, Dave Marsh wrote an illuminating piece about the man, the artist and his work for the Kennedy Center program; we reprint it here with Dave's kind permission:
After Born in the U.S.A., I used to tell people who asked what it was like to know Bruce Springsteen that when he left on that tour, he was my friend who used to come over and sit on the couch and afterward, he and Clarence Clemons had become Paul Bunyan and Babe the Blue Ox.

This was a lie. After the tour, he was still my friend, and still sat on the couch. Other people may have thought he and the Big Man were characters out of an American fable but Bruce knew better. That is not to say that he didn't live out, write out, act out and play out the American dream about as well as anyone ever has, even down to writing his own second act with The Rising and the records that followed it.

I've been writing about popular culture, as boy and journalist, for 40 years. In that time I've known or at least interviewed or met most of the classic rock stars. None of them has kept his persona so close to his person and, for certain, no artist I know in any medium has worked so diligently as Bruce Springsteen to keep his work personal without sacrificing what makes it universal, to at least a large swathe of his fellow world-citizens.

Bruce pulls this off because he's blessed with a singular fearlessness about being ordinary, an unsurpassed ability to turn the everyday (I was going to say "the quotidian," but he wouldn't) into drama and romance. He also possesses a native sense of stagecraft and narrative; an abiding belief in the verities of rock 'n' roll, particularly devotion to repetition and the backbeat; a subtle understanding of the minute distance between Saturday night and Sunday morning; a concrete determination to reach the lowest and the most distant people in his universe; a genius for creating musical anthems and lyrical summations; a stock of characters so deep it seems impossible that all of them aren't as real as Madame Marie; a faith in the genius of simplicity and a refusal to apologize for his own complexity.

OK, that's the art stuff. You probably want to know about the person.

A friend of mine claims that Bruce once served him the best turkey sandwich ever made. (I was there. It was really, really, really good.) Bruce also has excellent taste in, among other things, tequila, bourbon, soul and gospel music, painting and photography, dogs and musical instruments. I know him just well enough to be unsure I know him (as opposed to his work) deeply, but when the darkest deal went down for my family, he was there with all he had. Which is to say, I am quite sure he knows me.

Now that Bruce has boogalooed down Broadway and come back home with the loot, he's probably got enough money to run for Senator from New Jersey, if not for mayor of New York. But when someone asked if I thought he'd stand for office, the answer came easily: "Why would he want a job with less power and prestige than the one he's already got?" In the history of the United States, no Senator has ever had hundreds of fans crowd into a side street, and stand all night long beneath a hotel balcony to serenade him with his own songs, which is what happens when Bruce plays Barcelona.

I don't think of Bruce as very political, despite his involvement in the last couple of Presidential campaigns. He's really a moral actor, a person of strong convictions whose basic life experiences, starting with an economically insecure childhood and then a struggle through the ranks of professional musicianship along the Jersey store (OK, it was more a rocket ride than a struggle, but he still didn't get paid much). His root allegiances, as derived from his songs because they are the most trustworthy source, are to people endangered, erased or forgotten—Vietnam vets, the homeless, the unemployed, single mothers, unwanted immigrants, the broke, the hungry, the uprooted, and those who travel the turnpike with broken radios.

Bruce Springsteen may someday be known as a first-rate photographer, a slapdash but hilarious cartoonist, one of the consummate rock 'n' roll guitar players and, for that matter, as one of the greatest blue-eyed soul singers ever. He already is all those things, it's just a matter of the world figuring it out.

He is as private as any public figure of our time. I don't mean private as in secluded or hidden. He doesn't just still own a house in central New Jersey, where he grew up. He actually lives there: Walks down the sidewalk with his kids, shops in the stores with his wife, parks on the street, hits the beach and the gym as often as time will allow, these days even does some important recording (his version of work) there. Not that nothing's changed: I bet he doesn't get as many speeding tickets as in the old days.

Let's see, what have I left out. Ah yes: Love.

Love is Bruce Springsteen's center, the one tour sponsor he's ever acknowledged, the thing he wanted to know at the beginning (and yes, he tells us, it is real).

I'm not talking about Bruce as co-crafter of a long-term marriage with a fellow artist or as the very active father of three terrific kids. Once he got going he made doing that stuff look a lot easier than it is. More to tonight's point, Bruce is the wizard of nurturing an audience toward community.

It's impossible to overestimate how much he has given the people who share his musical life, the tramps like us, the ones who had a notion, the people working on their dreams and counting on a miracle. On stage, he lets those folks get close, basks in their adoration and then he pours it right back out to them. More important, he trusts them to share it, with each other and with strangers. That's really what his nightly talk about this city's food bank or that town's shelter for battered women is about.

Bruce Springsteen is, like Woody Guthrie and damned few others, a democrat in spirit and in practice, and he challenges all of his listeners to be and to do the same.

His train that's bound for glory carries saints and sinners, losers and winners, whores and gamblers, fools and kings, the brokenhearted, thieves and souls departed. His train is not destined for a metal-flake city on a hill; it comes from down in the valley and while it doesn't intend to stay there, it doesn't mean to forget it, either.

He set out to change himself and he wound up, in a hundred little ways and a couple of big ones, changing the world or our perceptions of it, which is pretty much the same thing. In the process, he has not remained the same person—because that would be a colossal failure—but he has become something like the guy he wanted to be. He has walked tall, finding poetry in guys wearing tube socks and women at checkout stands, has truly rocked all over the world and found the rock 'n' roll heart of Ellis Island. He's made us proud of our nation when we should have been and left us ashamed of its behavior when that needed to be said.

Let me end with the way I feel about him, as a friend and as an artist, and let me say it directly: Bruce is the brother I would like to have, and more than that, he is the sort of person whose brother I would like to be worthy of being.
—Dave Marsh
- December 29, 2009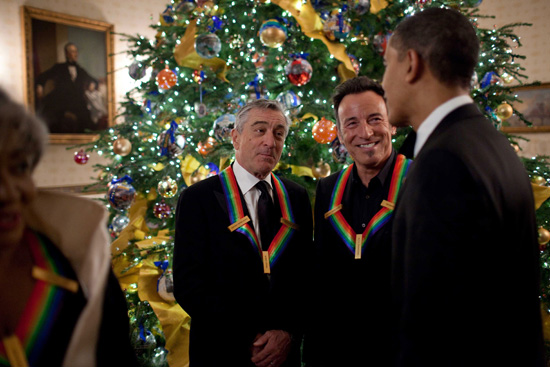 MERRY CHRISTMAS, BABY!
- December 25, 2009 - photograph by Pete Souza (Washington DC, 12/6/09)

A BLEAU CHRISTMAS
While Santa's sleigh has just been spotten over the 59th parellel north, we're also hearing intelligence from Miami Beach about another potential jolly big man appearance. Spies at the Fontainebleau are reporting that Clarence Clemons is making arrangements to come in for the debut performances of the Max Weinberg Big Band shortly after Christmas. While we know better than to swear by any such rumors, it's beginning to look a lot like Max's new Big Band will get even bigger on December 27 and 28.
- December 24, 2009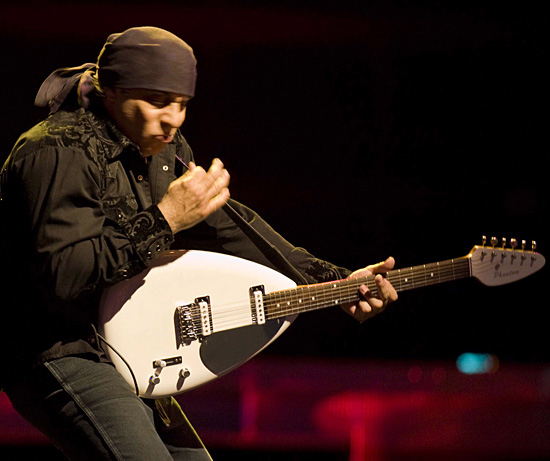 LITTLE STEVEN TAKES MANHATTAN
Never one with irons out of the fire, Steve Van Zandt's already got plenty on his plate for 2010 — in addition to constant tinkering in the Underground Garage, he'll be continuing work with his Rock and Roll Forever Foundation to develop a history of rock 'n' roll curriculum for schools, scheduled to pilot in 2011; and readying the mid-2010 launch of Fuzztopia, an international music social network, commerce and music development site. And with all that, he's also got a couple of wicked cool events on tap for the new year.
In February, it's an evening with Steve at the 92nd Street Y in Manhattan, where he'll discuss his multi-faceted career with NY1 anchor Budd Mishkin. Budd is a longtime E Street diehard and has interviewed Steve several times before, so it should be a compelling talk. That's Thursday, February 11, at 8:00 p.m. Click here for more information and to purchase tickets.
And in April, congratulations are in order as Steve and Maureen Van Zandt will be the honorees at the Kristin Ann Carr Fund's spring gala, "A Night to Remember." The annual shindig will take place once again at the Tribeca Grill, on April 24, 2010. For more information about A Night to Remember as well as the great work the KACF does, visit sarcoma.com.
- December 23, 2009 - photograph by Joseph Quever

DAVE'S HOLIDAY HURRAH
On Friday, December 25 and Friday, January 1, join host Dave Marsh and friends for two special holiday editions of "Live From E Street Nation" on Sirius/XM Radio's E Street Radio channel. The format for each is a round table discussion with different guests each week. This Friday's discussion -- which features Backstreets' own Lisa Iannucci and Flynn McLean -- will focus on the past year and decade in Bruce Land: what worked, what didn't, and highlights from the last decade. Next Friday's panel, again featuring Iannucci plus Backstreets scribe Caryn Rose and others, will attempt the impossible as they look ahead to what the future may hold for Bruce. Will there be a new record in the New Year? Another Sessions tour, or perhaps an E Street Soul Revue? Tune in at 10:30 a.m. on Christmas morning and New Years Day to hear what Dave and Co. have to say on these and other topics.
- Updated December 23, 2009

LIGHT OF DAY 10: TICKETS ON SALE TODAY AT NOON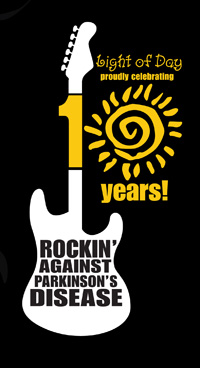 The 10th annual Light of Day concerts will be held Friday, Jan. 15 at the Stone Pony; Saturday, Jan. 16 at the Paramount Theatre and the Wonder Bar; and Sunday, Jan. 17 at the Watermark, Langosta Lounge and Tim McLoone's Supper Club, all in Asbury Park, NJ.
Hosting the weekend's events will be Sopranos star Vincent Pastore, who will serve as emcee. The Saturday night show will be Light of Day's second at the Paramount Theatre. The concert will feature performances by Ed Kowalczyk (frontman and guitarist of the band Live), Joe Grushecky & The Houserockers, Jesse Malin, Willie Nile, Joe D'Urso & Stone Caravan and others. Also performing throughout the weekend: the Bob Burger Band, The Reveling, i-drive, Jobonanno & The Godsons of Soul, Maybe Pete, Nicole Atkins, Lisa Lowell, Joe Rapolla, Madhatters and the Roxwells.
The concerts will aid the ongoing fight against Parkinson's disease by supporting research into more effective treatments and a cure, as well as supporting people who suffer from Parkinson's and related degenerative neurological disorders. The first nine years of Light of Day ventures have raised more than $1 million for the fight against Parkinson's disease and related illnesses. Grushecky, who has performed at every Light of Day concert, has been joined onstage by Bruce Springsteen at six of the previous events.
Tickets go on sale today, Tuesday, Dec. 22 at noon for all shows at livenation.com, Live Nation charge-by-phone at 1-877-598-8694 or at The Stone Pony box office, 913 Ocean Ave. in Asbury Park (closed on Tuesdays, but open Monday, Wednesday, Thursday and Friday from noon to 5 p.m. and during show hours).
Individual show tickets as well as 3-day combo ticket packages, which will allow fans the chance to attend all Light of Day shows, will be available. For more details regarding ticketing and show line-ups, go to www.lightofday.org.
- December 22, 2009

LAST-MINUTE HOLIDAY SHOPPING? WE CAN HELP!
If you're still looking for the perfect gift for your favorite Springsteen fan, be sure to visit our online shop -- and yes, there's still time! Using our Expedited Shipping service, we can deliver via UPS to any U.S. address in one or two days, and we'll be working until December 23 to make sure everyone gets what they need. Expedited orders placed by 2:00 p.m. Eastern will ship the same day!
For delivery on:
Order by:
Expedited Shipping
Tuesday, 12/22
Monday, 12/21, 2:00 p.m.
Overnight
Wednesday, 12/23
Monday, 12/21, 2:00 p.m.
Tuesday, 12/22, 2:00 p.m.
2-Day
Overnight
Thursday, 12/24
Tuesday, 12/22, 2:00 p.m.
Wednesday, 12/23, 2:00 p.m.
2-Day
Overnight
Backstreet Records is our Springsteen specialty store, where we've been doing mail-order for 25 years. Visit our Latest Additions page to see what's new, or peruse by section: Calendars, Concert Shirts, Springsteen CDs, Covers/Tribute CDs, Related Artist CDs, Vinyl, DVDs, Promo/Other, Books, Songbooks, Tourbooks, Magazines, Backstreets Back Issues, and Backstreets Merchandise (including shirts, stickers, and baseball caps).
For all U.S. customers who ordered by December 10: as promised, your items have been shipped out, scheduled for delivery prior to Christmas. As always, we appreciate you getting your Boss fix through us!
- December 18, 2009

2009 YEAR-END LIST WATCH
It's the most wonderful time of the year... in no small part due to the year-end lists that start rolling in, always an entertaining read over a glass of egg nog or three. And with the door about to close on not only a year but a whole decade — a ripsnorter of a decade for Bruce and the E Street Band — our listwatch radars are set on high. We'll start compiling here, both the Bests and (say it ain't so!) the Worsts, with surely more to come. Watch this space!
BESTS

WORSTS
The Dallas Observer's Music Blog gives the raspberry to "Queen of the Supermarket," which lands Bruce on its list of The Worst Lyrics of 2009.
Headlining Pitchfork's 20 Worst Album Covers of 2009? None other than Working on a Dream. "There are album covers that are illuminating works in their own right, covers that reveal hidden depths to the music inside, and covers that advance the state of the graphic designer's art. And then there are these 20." Youch!
- Updated December 18, 2009

SOME HOLIDAY CHEER FROM NILS
Visit Nilslofgren.com for three holiday song downloads: "O Holy Night," "Silent Night" (a duet with Margo Reed), and "Do You Hear What I Hear." These renditions originally appeared on Merry Arizona charity compilations for United Cerebral Palsy; Nils is making the mp3s available for free.
- December 14, 2009

WONDERFUL RADIO, MARVELOUS RADIO
On January 20 and 27, we'll see Bruce Springsteen and Elvis Costello in conversation on Spectacle. Tomorrow it's a monologue, as Costello plays DJ on E Street Radio. He'll be spinning some of his favorite Springsteen songs and a few extra treats on Friday, December 11 from 4 to 5 p.m. Eastern on SIRIUS channel 10 and XM channel 58. Costello's broadcast will be capped by a live recording of his own appearance with Bruce and the E Street Band, November 7 at the Garden for "Higher and Higher."
12/14 Update: Elvis' Guest DJ set included:
Bruce Springsteen, "The E Street Shuffle"
Bruce Springsteen w/ Tom Morello, "Badlands" (live 10/9/09)
Bruce Springsteen, "Wild Billy's Circus Story"
Bruce Springsteen, "Highway Patrolman" (live 11/17/06)
Elvis Costello, "Brilliant Disguise"
Patti Scialfa, "Black Ladder"
Bruce Springsteen, "I'm on Fire"
Bruce Springsteen, "Dream Baby Dream" (live)
Bruce Springsteen, "Galveston Bay"
Bruce Springsteen with Elvis Costello "(Your Love Keeps Lifting Me) Higher and Higher" (live 11/7/09))
For more information and to get a free online trial, visit www.sirius.com/estreetradio.
- December 10, 2009

THE MAX WEINBERG BIG BAND SWINGS INTO MIAMI

Now that the E Street Band has come off the road "for a little while," Max Weinberg can back to concentrating solely on his Tonight Show Band, right? You might think so... but there's just too much Mightiness to be contained by one gig. Later this month, Miami will witness the debut of the Max Weinberg Big Band.
Max unveils his 15-piece band — nearly double the size of his Tonight Show combo — for two shows at Fontainebleau Miami Beach, December 27 and 28 at 8:00 p.m. As just announced: "Weinberg has fulfilled his long held dream and vision with this new swinging 15-piece big band composed of the cream of LA's musicians including trumpeter Mark Pender and pianist Scott Healy of The Tonight Show Band.... expanding his interests to capture the essence of the classic soundtrack to the much loved 'Rat Pack' era and invoking such musical heroes as Buddy Rich, Count Basie, Duke Ellington, Maynard Ferguson, among others."
No cover charge for the two nights in the Fontainebleau's Chateau lobby, standing room only, for table seating reservations or additional information please call (305) 695-2488.
- Updated December 10, 2009 - photograph by Ian O'Connell

GET UP, STAND UP
"A Brief Statement from Bruce," posted now on www.brucespringsteen.net:
Like many of you who live in New Jersey, I've been following the progress of the marriage-equality legislation currently being considered in Trenton. I've long believed in and have always spoken out for the rights of same sex couples and fully agree with Governor Corzine when he writes that, "The marriage-equality issue should be recognized for what it truly is -- a civil rights issue that must be approved to assure that every citizen is treated equally under the law." I couldn't agree more with that statement and urge those who support equal treatment for our gay and lesbian brothers and sisters to let their voices be heard now.
- December 9, 2009

SPRINGSTEEN GETS HIS "RAINBOW RIBBON"
Congratulations to Bruce, hailed last night at the Kennedy Center Honors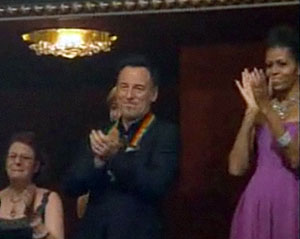 Bruce Springsteen headlined the Honors Gala last night at the Kennedy Center, even just watching from the Presidential box, as the fifth and final honoree at the 32nd annual event.
Jon Stewart began the salute to Bruce, acknowleding that Springsteen hated to have the attention squarely directed at himself, and it was surely killing him "to be up in the box seats with the rainbow ribbon with a dreamcatcher at the end of it." On this night, sitting directly to President and Michelle Obama's right, Bruce would just have to grin and bear it.
Stewart declared that "Bob Dylan and James Brown had a baby, and that baby was Bruce. However, the era was not quite ready for a same-sex, inter-racial couple, and they abandoned the child somewhere between Exit 8A and 9 on the New Jersey Turnpike. It was at this point that he was raised by feral vaudevillians and vagabond troubadors." It was not long after that he became The Boss... or as Jon put it, in Washington speak, "The Music Czar." He went on to say that no matter what Bruce does, "he empties the tank."
Stewart also spoke from the heart. "He is the Boss...But I didn't understand his music for a long time, until I began to yearn. Until I began to question the things that I was making and doing in my own life. Until I realized that it wasn't just about the joyful parade on stage and the theatrics. It was about stories of lives that could be changed. And that the only status that you could fail to achieve is the status quo. The only thing, the only failure in life was not to make the effort to change our station. And it resonated with me because, and I say this truly to him...I would not be here, God knows, not even in this business if it were not for the inspirational words and music of Bruce Springsteen."
Following a lengthy video montage, the lights came up and Ron Kovic came out. The author, Vietnam veteran, and anti-war activist described how he met Bruce in California in 1978, while Bruce was swimming. Ron told Bruce he had written Born on the Fourth of July, a book that Springsteen had just picked up while traveling through Arizona on the way to California. A few days later, outside of Ron's hotel door was a package with several of Bruce's records along with a note: "If my music touches you as much as your book has touched me, then I have done my job."
The musical tribute portion began next, with a little bit of "Tenth Avenue Freeze-out" from the Rob Mathes Band featuring Springsteen tour vets Shane Fontayne (guitar), Clark Gayton (Trombone), Curtis King Jr. (vocals) and Cindy Mizelle (vocals), along with Kenny Aronoff (drums), Michael Bearden (keys), Tabitha Fair (vocals), Zev Katz (bass), Jeff Kievit (trumpet), Brad Leali (alto/baritone Sax), and Lou Marini (tenor sax). The band provided backing for the performances to come.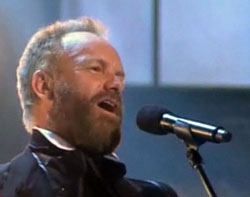 John Mellencamp took the stage next and described being a young lad in Indiana and hearing a new artist in the record store. He asked who it was and was told that it was The Wild, The Innocent & the E Street Shuffle by Bruce Springsteen. The only copy the store had was playing, and John asked to buy it. It was the best $3.99 he had ever spent. Mellencamp played "Born in the U.S.A." in a slow style and similar to Springsteen's later visitations of the song. Ben Harper played "My Father's House" on slide guitar, a particuarly lilting and beautiful rendition. Jennifer Nettles then burst on the stage to "Glory Days," a surprise choice, and Jennifer did a great job with the version. The next song up was her duet with Harper on "I'm on Fire"—she was smoky and smoldering on her portion of the vocals. Melissa Etheridge ripped into her take on "Born to Run," and she nailed it. Eddie Vedder came out for "My City of Ruins," a powerful song not only for its original Jersey Shore meaning, but also its rebirth as a post-9/11 nod. Vedder did a fantastic job and had a small choir helping out on the vocals. Sting's take on "The Rising" provided the finale, with considerable horn power as well as the Joyce Garrett Choir, and the entire Kennedy Center crowd was up on its feet [Video footage here].

Prior to the Gala, Bruce and the other honorees were received at the White House by President Obama, who congratulated and thanked each of them in turn. "Bruce has been a great friend over the last year," he said, "and when I watched him on the steps of the Lincoln Memorial when he rocked the National Mall before my inauguration, I thought it captured as well as anything the spirit of what America should be about. On a day like that, and today, I remember I'm the President, but he's the Boss.... Dave Brubeck, Mel Brooks, Grace Bumbry, Robert DeNiro, Bruce Springsteen. Their stories are their own, but the part that they play in the larger American story, that's what we honor here tonight." Watch Obama's speech here.
Read more about the night at CBSpressexpress.com; CBS will broadcast a two-hour special on Tuesday, December 29, at 9:00 p.m.
- updated December 7, 2009 - Jim Sweeney reporting

HEY MISTER PRESIDENT, I KNOW YOU GOT YOUR PLANS...
And this weekend, those include welcoming Bruce Springsteen and the other Kennnedy Center Honorees at the White House on Sunday, and joining them for the annual Honors Gala that follows. Springsteen will receive his Kennedy Center Honors medallion on Saturday night, at a State Department dinner hosted by Secretary of State Hillary Clinton.
Along with Springsteen, also being honored area Robert DeNiro, Mel Brooks, Grace Bumbry, and Dave Brubeck. Honorees traditionally do not perform themselves, but rather are seated with the First Family to watch the night's salutes. Artists rumored to be paying tribute to the Boss on the Kennedy Center Opera House stage are Eddie Vedder and Ben Harper; confirmed is Melissa Etheridge, who tells Spinner.com that she'll be playing with Kenny Aronoff on drums as well as a horn section. On December 29 at 9 p.m., CBS will air a two-hour broadcast of the event.
To mark the occasion, Springsteen spoke with the Washington Post's Joe Heim for a feature that will run in the Sunday edition. Springsteen tells Heim that he considers this weekend's honor "a recognition that you've worked to be a part of the cultural life of your country which was something that was an ambition of mine from a very young age." Bruce also addresses the question of whether the recent tour will be his last with the E Street Band: "Are you kidding me? There's still fannies in the seats out there! People want to see this [bleep].... We're musicians to the bone. It ain't easy to get us to go home.... And there's many miles to go before we sleep."
Heim also spoke about the Boss with U2's Bono, who says, "...through all of his criticism of the country where he was born and raised, you get the sense that he was the greatest ambassador for the idea that is America."
Read Heim's full story at WashingtonPost.com. Plus outtakes, too! Check out "Overtime with Bruce Springsteen" for more of the interview.
Congratulations, Bruce!

- December 4, 2009

THE PEOPLE SPEAK DOC DEBUTS ON 12/13; SOUNDTRACK OUT 12/8

Using dramatic and musical performances of the letters, diaries and speeches of everyday Americans, The People Speak gives voice to those who spoke up for social change throughout U.S. history. Bruce Springsteen performs Woody Guthrie's "This Land is Your Land" in this new documentary, which premieres on the History Channel on Sunday, December 13.
Narrated by Howard Zinn and based on his best-selling books, A People's History of the United States and Voices of a People's History, the new film weaves archival footage and interviews with performances by actors and artists such as Springsteen, Bob Dylan, John Legend, Matt Damon, Eddie Vedder, Morgan Freeman, Josh Brolin, Viggo Mortensen, Danny Glover, Marisa Tomei, and more.
The soundtrack to the film comes out this Tuesday; the CD does not include "This Land is Your Land," but Springsteen donated an exclusive re-recorded version of his own "The Ghost of Tom Joad," which according to a press release was performed "with just a guitar and harmonica in his New Jersey home recording studio."
- December 4, 2009

NO MERGER, NO "CONCESSIONS," PERIOD.
Send your e-mails and make your phone calls now!
Bruce Springsteen, his management and his touring organization have consistently and publicly opposed the proposed merger between ticket-sales agency Ticketmaster and concert-promoter/venue-owner Live Nation, creating a new company called Live Nation Entertainment. A statement posted on Springsteen's official website earlier this year noted, "[T]he one thing that would make the current ticket situation even worse for the fan than it is now would be Ticketmaster and Live Nation coming up with a single system, thereby returning us to a near monopoly situation in music ticketing." The statement also encouraged Springsteen's U.S. fans to contact their government officials and tell them to oppose the merger. We encourage the same.
Several national consumer-protection groups have continually voiced their opposition, as well. A newly posted story at TicketNews.com reveals that this week the groups simultaneously released statements reiterating their positions.
The groups' opposition comes in the wake of news that "concessions" added to the original proposal are currently being considered by the U.S. Department of Justice's Anti-Trust Division. These "concessions" apparently include a proposed deal to spin off some of TicketMaster's and Live Nation's assets to Philly-based rival Comcast-Spectacor. In her organization's statement, National Consumer League Executive Director Sally Greenberg labeled this idea as "laughable" and said it will "do nothing to ease the sting of a deal that is anti-competitive and anti-consumer on its face….We all know the saying 'if you can't beat 'em, join 'em.' That is exactly what Ticketmaster and Live Nation are attempting to do…. Were this merger to be allowed to proceed, it would kill even the modicum of competition that currently exists between the two companies. Time and time again Ticketmaster has shown it won't accept any competitive players on its turf. By bringing in Comcast, Ticketmaster is simply pulling one more competitor off the field."
If you haven't yet contacted the DOJ's Anti-Trust Division to register your opposition (or even if you have already), use the contact information below right now to help us send them one clear, simple message together: "Do not approve the proposed Ticketmaster/Live-Nation merger under any circumstances. No 'concessions,' no merger, period."
Here's how to reach the U.S. Dept. of Justice Anti-Trust Division immediately:
E-mail: antitrust.atr@usdoj.gov
(Use "Say NO to Ticketmaster/Live-Nation Merger!" as your subject line. Be sure to add your name and address to the bottom of your e-mail message.)

Phone: 1-888-647-3258 (toll-free) or 202-307-2040

- December 3, 2009 - Shawn Poole reporting

WORKING ON A GRAMMY
The 52nd Annual Grammy nominees have been announced, and Springsteen has is up for four. No album award nods for Working on a Dream, but the title track has Bruce again vying for Grammys in two familiar categories.
Best Solo Rock Vocal Performance: "Working on a Dream." Up against Bob Dylan, John Fogerty, Prince and Neil Young
Best Rock Song: "Working on a Dream." Up against Pearl Jam, U2, Green Day, and Kings of Leon
Best Pop Collaboration with Vocals: "Sea of Heartbreak" with Rosanne Cash. Up against Ciara & Justin Timberlake, Jason Mraz & Colbie Caillat, Willie Nelson & Norah Jones, and Taylor Swift & Colbie Caillat
Best Song Written For Motion Picture, Television Or Other Visual Media: "The Wrestler." Up against songs from Hannah Montana: The Movie, Twilight, Slumdog Millionaire, and Cadillac Records.
Congratulations as well to Brendan O'Brien for his Producer of the Year nomination, in part for his work on Working on a Dream. The Grammy Awards will air live on CBS on January 31.
- December 3, 2009

SPRINGSTEEN TO BILLBOARD: "THERE'S NO CEILING HERE."
Ray Waddell interviewed Springsteen in Nashville at the tail end of the tour, for an interview just published in Billboard. Among other subjects, he talks about the current state of the E Street Band. "If you're a sports figure," says Bruce, "your prime passes at such a young age. There's no ceiling here. I believe if you come and see us now, you're seeing the best E Street Band that's ever played; it just continues to improve.... the band is very, very powerful right now. And part of the reason it's powerful is that it's carrying a lot of very strong cumulative history. You come and you see 35 years of a speeding train going down the track and you're going to get to be on the front end of it. We look forward to many, many more years of touring and playing and enjoying it. "
An abridged version of the interview has gone out over the wire; read "Bruce Springsteen: The Billboard Cover Q&A" at Billboard.com.
- December 1, 2009

REUNITED
When Bruce Springsteen dedicated Buffalo's Greetings performance to his old manager, he added, "Mike is here tonight." Some fans in the crowd thought he was joking. Not at all — Appel was there as a guest of the Boss, traveling to the show in style (on the same plane as his successor Jon Landau) and rekindling some old relationships along the way. Mike himself tells the tale on his website:
Sunday (11/22/09) around 12:30pm Bruce Springsteen calls me while I'm sitting in a diner with my son James Appel. He said that Sunday's gig was the last night of their two year tour and that they would be playing Greetings From Asbury Park, an album I co-produced. He asked my son and I to be his guest. I said great, but how am I getting to Buffalo, NY? He said don't worry it'll all be arranged. True to his word, an hour later a car shows up at my house and drives me to Newark Airport. It is there that I board a large private jet with Brian Williams the anchorman at NBC television who's a big Bruce fan, as well as all the E Street Band members, Jon Landau, Barbara Carr and other members of Jon's management team. Bruce would be flying in from Boston...
Read the full story at MikeAppel.net.
- December 1, 2009

SURPRISE, SURPRISE: A CLOSER LOOK
Speaking of Buffalo...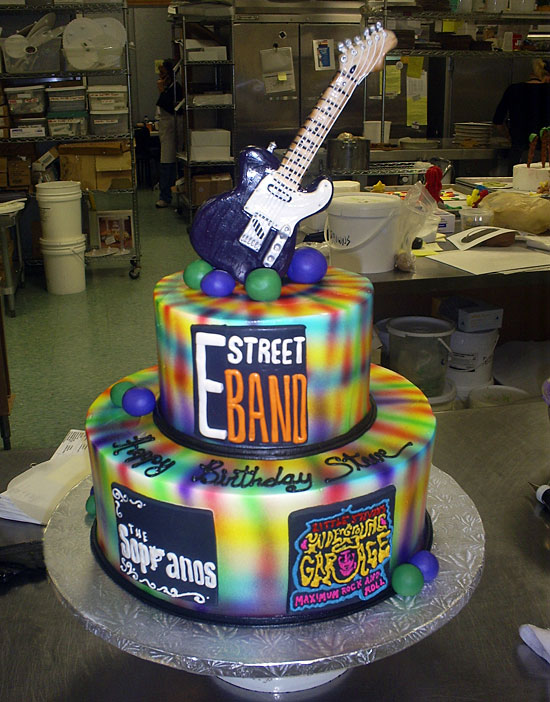 - December 1, 2009

DAVID BROOKS ON BRUCE SPRINGSTEEN
...on the night of Feb. 2, 1975, I turned on WMMR in Philadelphia and became mesmerized by a concert the radio station was broadcasting. The concert was by a group I'd never heard of — Bruce Springsteen and the E Street Band. Thus began a part of my second education.
Read "The Other Education" at nytimes.com
- November 27, 2009

HOLIDAY SHOPPING WITH BACKSTREET RECORDS
The Backstreets office is closed for this Thanksgiving weekend, but as holiday shopping season enters full swing, our online shop is open 24 hours a day, as always. For shipping addresses in the U.S., orders placed by December 10 will be guaranteed to arrive prior to Christmas. If you're looking for something for your favorite Boss fan, we hope you'll check out what Backstreet Records has to offer — everything Springsteen-related we can get our hands on. Just some of our wares:
| | |
| --- | --- |
| Calendars: Including the official Bruce Springsteen calendar for the new year, from Thrill Hill, with beautiful month-by-month photos by Danny Clinch. | |
| Shirts: Official Springsteen T-shirts for toddlers, juniors, and adults from the past decade of touring. Hooded sweatshirts and a few one-off event shirts, as well. | |
| Backstage Passes and Postcards: Perfect stocking stuffers. | |
| Vinyl: Turntable still up and running? We don't call ourselves Backstreet Records for nothin'! | |
| Springsteen CDs: Albums, guest spots, compilations, imports... if Bruce is on it, we do our best to to carry it. | |
| Other Artist CDs: Solo efforts from E Streeters like Danny Federici, Clarence Clemons, Little Steven, and Nils Lofgren; plus Southside Johnny, Willie Nile, Joe Grushecky, and other Friends of Bruce. | |
| DVDs: Video from all of the above. | |
| Books: A veritable Springsteen library, from publishers large and small (also see our Magazines section). | |
| Songbooks: We carry both sheet music and songbooks, everything in print (and some out of print) for the aspiring musician. | |
| Backstreets Back Issues: Nearly 30 years worth of our own publication, some issues are long gone and others are going fast... see what we've still got on the shelf! | |
| Backstreets Merchandise: T-shirts, baseball caps, and stickers | |
For U.S. destinations, we can guarantee delivery before Christmas for all orders placed by December 10. Domestic orders placed December 11 or later may still arrive in time (we'll be doing our best to get everything sent out quickly), but after December 10 only those orders which request Expedited Shipping can be guaranteed on-time. We also recommend using Expedited Shipping if you need your items to arrive by an earlier date (for a holiday party, Hannukah, etc.). Expedited orders placed by 2 p.m. Eastern will ship on the same day.
For orders shipping outside of the U.S., unfortunately we aren't able to guarantee delivery time (it's in the hands of the postal service, which does slow down around this time of the year), but we'd recommend ordering sooner rather than later, and we'll be working hard to get your package in the mail as quickly as we can!

- November 27, 2009

AND I THANK YOU
Just a few nights ago, on stage in Buffalo, Bruce Springsteen had a long list of thanks. We've got a list, too, starting with the same folks to whom Bruce expressed his gratitude: all those members of the tour crew and the Springsteen organization who helped make the past two years of shows possible. Thanks to Bruce and the heart-stoppin', pants-droppin', earth-shockin', hard-rockin', booty-shakin', earth-quakin', love-makin', Viagra-takin', history-makin', legendary E Street Band. Charlie, Soozie, Jay, Cindy, Curtis, and Curt, we're looking at you, too. From arenas to stadiums and back, through all kinds of weather, through deaths, multiple major joint operations, physical therapy, new jobs and coast-to-coast moves, horseriding accidents, cameraman collisions, countless Stump the Band attempts, an ever-expanding repertoire and ever-ambitious, ever-changing sets, you guys have provided us with so many truly thrilling nights.
Thanks to everyone who has helped us follow the tour. All of our intrepid photographers — particulary the repeat offenders, Guy, Tony, Michael, Bob, Alan, Joe, Rene, Harry, and Riku — who got themselves to far-flung locations with just spit and a song (and for just spit and a song) in order to bring us beautiful imagery from practically every night of the tour. All of our post-show callers and writers on assignment, whose eyes and ears we've trusted to bring us the reports from the front, whose heads had to be partially occupied during the revelry with what they were going to say about it, and who lost plenty of sleep in order to say it. Thanks to all those writers and photographers not on assignment, too — everyone who sent snapshots, who wrote in about a show, or who corrected a typo. Following Springsteen here on Backstreets.com is truly a community effort, and though we might not be able to respond to each email, we wanted to be sure to express our thanks here. Thanks to everyone who probably doesn't want to be named, or in a few cases, those whose names aren't actually known to us (if you think we're talking about you, we probably are). We're grateful as well for the setlist threads on BTX and those who made them happen — a real, positive community effort, where a good deal of the time we're watching and waiting for the next song (and groaning at the overloaded server) along with everyone else.
We want to extend huge thanks to our Backstreets Magazine subscribers, who have shown extraordinary patience while we've concentrated our efforts on the massive barrage of daily news as the tour has stretched on and on. We hope the website has been a satisfying stand-in, but we also want to assure you that reports of the magazine's death are greatly exaggerated. If there's a silver lining to the end of the tour, for us, it's that we'll at long last have the chance to fire up the presses again and get back to the magazine publishing business, and we sincerely appreciate you sticking with us. Watch this space for news and contents information about the upcoming #88. Seriously, this time it's for real. Subscribers, if you've moved recently, please make sure to update your address by sending an email to orders@backstreets.com, with both your OLD address and your NEW address, to make sure we'll be sending magazines to the right place. Please do so even if you have a forwarding order with the post office; unfortunately, they aren't actually required to forward Periodicals class mail.
And many thanks to you for being a part of this thing of ours. Happy Thanksgiving!
- November 26, 2009

OFFICIAL SPRINGSTEEN STORE OFFERING SHOW-SPECIFIC SHIRTS

With the holiday shopping season upon us, of course we hope you'll visit Backstreet Records to help with your Boss gift-giving needs. But we've also heard from a few folks who are looking for items from the latest tour that we don't carry — the show-specific shirts, in particular — and we want to point you in the right direction. The Bruce Springsteen Official Store
has shirts from each night at Giants Stadium, from the final Spectrum shows, and, perhaps most in demand, from the Wild & Innocent and River nights at Madson Square Garden. No Buffalo Greetings shirts there yet, but we've got fingers crossed!
- November 25, 2009

SPECTACLE SCHEDULE ANNOUNCED; BRUCE GETS TWO HOURS
As announced today, the second season of Spectacle: Elvis Costello with... begins December 9 with guests Bono and the Edge and will wrap in late January with a two-part spotlight on Springsteen. Last month's taping for Springsteen's appeareance on the show ran a whopping four hours, much of it gold... so it comes as a relief that the whole thing won't be chopped down to just one episode.
Network description: Elvis Costello sits down with Bruce Springsteen for a special two part episode and, with his guitar in hand, he opens up about his pre-E Street Band bands, his early and current inspirations, and the resurgence of New Jersey. E Street Band members Nils Lofgren and Roy Bittan sit in for a couple of songs.
"Spectacle: Elvis Costello with Bruce Springsteen, Part 1" will premiere January 20 at 10 p.m.; "Part 2" airs a week later, January 27 at 10 p.m. This is the only time so far that Costello's program has split an artist's appearance over two episodes. Spectacle airs on the Sundance Channel, and on CTV in Canada.
- November 24, 2009

BACKSTREET RECORDS BACK IN ACTION
If you had any technical difficulties with our online shop over the past few days, the problem was on our end, not yours... but problem now solved! The shop should be functioning normally now, sorry for any previous hassle.
- November 24, 2009



JOIN WORLD HUNGER YEAR FOR HUNGERTHON 2009
With Thanksgiving week upon us, it's Hungerthon season again, and in light of today's tough economic climate, World Hunger Year's work to fight hunger and poverty at the grassroots level is more critical than ever. Hungerthon is in full swing today, as WHY, in partnership with New York-based radio stations, is using the power of the airwaves to raise funds and awareness about the issues of hunger and poverty. During Hungerthon, listeners are encouraged to make donations and bid on auction items while learning about innovative grassroots organizations throughout the country.
Today's auction items include a guitar signed by Bruce Springsteen and the E Street Band, as well as some beautiful photographs of Springsteen from our own A.M. Saddler. He writes:
It was on Oct 14th, 1974 that I rode my bicycle to Drew University in Madison, NJ to see Harry Chapin in concert. Before the show started I noticed that Harry was hanging outside of the theater stage door and went over to say hello. He was chatting with someone and started talking about how each one of us could help the plight of the hungry in numerous ways. As he spoke, I started asking questions, and anyone who knew Harry Chapin will tell you that he could spend hours educating people about the cause that was so dear to his heart. Pretty soon it was only he and I talking and talking and talking. All of a sudden one of his band members came outside to inform Harry that he was already 30 minutes late getting on stage. He had taken the time to inform a slightly star-struck 15-year-old and forgot that he needed to get onstage.

In 1975, Harry Chapin and Bill Ayers founded World Hunger Year, which continues Harry's vision of a future without hunger. Each year before Thankgiving WHY, with the help of the NYC radio market, has their yearly Hungerthon in order to raise funds in the fight against world hunger.

As I am sure many of you know, Bruce Springsteen has supported hunger relief charities whenever he could since Harry Chapin had a similar talk with Bruce that I had. In that same spirit of Bruce's support, I have donated four custom, limited edition 11 X 14 prints of Bruce Springsteen of photos that I have taken over the past two years of Springsteen concerts to WHY that will be auctioned off in this year's Hungerthon. They will be auctioned today on WCBS-AM Newsradio 880. You will be able to participate in these auctions via the radio and internet.

If it is in your heart, please do what you can to help feed the hungry. I'm sure that some of us have been on the receiving end of a hunger relief agency before, or you might be right now. Money, food donations, or even a bit of elbow grease loading boxes and trucks could insure that someone with a dream, like Harry Chapin, will live to push that dream to reality.
These prints are limited, numbered editions signed by the photographer, and can be purchased individualy ($500 per photo, 10 of each available) or as a full set ($1750, 15 available).
For more information, please visit Hungerthon.org. Hungerthon is supported by New York City tri-state area CBS, Emmis and Clear Channel radio stations: WCBS Newsradio 880, 1010 WINS Radio, Sports Radio 66 WFAN, 101.1 WCBS FM, 102.7 FRESH-FM and 92.3 NOW FM. Participating Emmis stations are: 101.9 WRXP, HOT 97 AND 98.7 KISS FM; with support from Q104.3 FM, 101.9 WRXP, 95.5 WPLJ FM, 77 WABC Talk Radio, HOT 97 FM, 98.7 KISS FM, Sirius XM Satellite Radio, AOL Radio, and internet only stations Kweevak.com and RocklandWorldRadio.com.
- November 24, 2009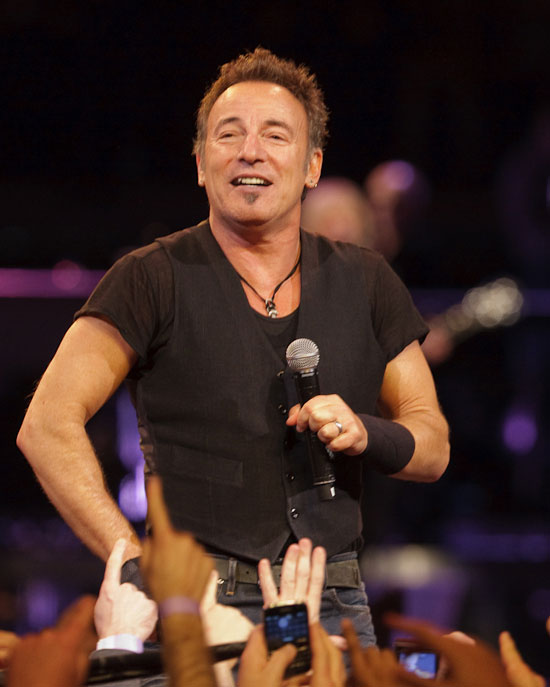 11/22, BUFFALO: GREETINGS AND GOODBYE... "FOR A LITTLE WHILE"
When Backstreets interviewed Bruce Springsteen shortly before this Magic/Dream E Street Band trek began, back in 2007, the Boss had this to say: "I envision the band carrying on for many, many, many more years. There ain't gonna be any farewell tour. That's the only thing I know for sure."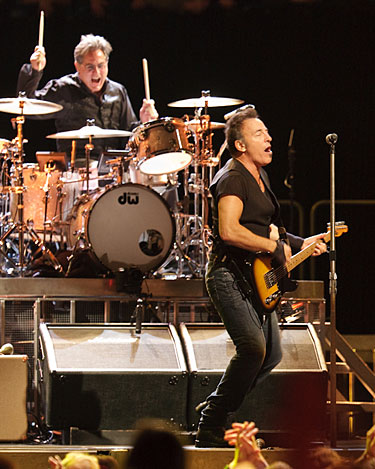 True to his word, two years later, that's exactly how he ended this tour: no time for sentimental goodbyes, mentions of a "last dance," or even a glance at the notion of retirement. There were still too many other good stories to tell. Some showgoers were expecting "Blood Brothers" or something like it here in Buffalo, and for good reason, but Springsteen seemed determined not to put any kind of real punctuation mark on the evening. Excepting, of course, the exclamation points spread throughout this 34-song, nearly three-and-a-half hour show.
Of course, everyone in the room, onstage and off, was well aware of the momentousness of the occasion. In "Working on Dream," there was considerably more weight to the usual building-a-house spiel: "The E Street Band has come thousands of miles tonight to be here one last time... for a little while... to fulfill our solemn vow to rock the house!" He soon added, "Really, it's been just about the best time in our band's work life. We want to thank you for supporting our old music, our new music, our tour."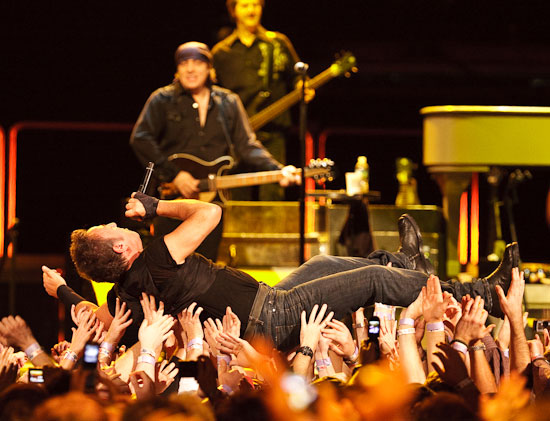 But up next, they plowed forward, doing something they'd never done before — "Tonight! One time only!" — the Greetings From Asbury Park, N.J. album, start to finish. Whatever particular significance the night's album choice might wind up having — in terms of ending where they began, if tonight was indeed any kind of ending — went unspoken. Springsteen merely put the record in context, as he has with other album performances on this fall leg. "This was the miracle," he said, "This was the record that took everything from way below zero to... one." That got a big laugh. Bruce went on to speak of John Hammond, "one of the great legends of music production," and of manager Mike Appel, whose "incredible talking" got him a crucial audition with said legend. Tonight's album performance was dedicated "to the man who got me in the door. Mike Appel is here tonight — Mike, this is for you." He added, "We've never done it... hope we can do it!"
Each of the full album performances on this tour have come loaded with their own questions. Born to Run — for starters, who would handle trumpet on "Meeting"? Curt Ramm has since elevated every show, through tonight, with the addition of his horn parts. The River — would Springsteen and the E Streeters be able to maintain the intensity required for a 20-song sequence? Absolutely, it turned out. And for Greetings, would Springsteen finally grace "Growin' Up" with a full-blown story once again? The answer came with three magical words: "There I was...."
There have been plenty of near misses in recent years, just as Springsteen almost revisited the "Sad Eyes" portion of "Backstreets," so has he come close to true storytelling in "Growin' Up." But tonight, the interlude was fully realized, and it was one of toight's most powerful moments.
"It was a dark and stormy night in Asbury Park, New Jersey," Bruce began, "Me and Steve were in a litle club on the south end of the street." He proceeded to once again tell the story of his first meeting with Clarence Clemons, starting with the door blowing off in the Big Man's hand. "King Curtis?" Bruce recalled thinking, "King Curtis has come out of my dreams and landed right here!" Here in Buffalo in 2009, Clarence joined Bruce at the center to reenact that fateful night. "He walked to the stage and said" — Clarence speaking now — "I wanna play with you." "What could I say? I said....'Sure!'" Then, step by step, Bruce and Clarence recreated the pose from the cover of the Born to Run album right there on the HSBC Arena stage. It was a wordless act, unfolding slowly, inevitably, engendering one big smile throughout the building. The full-bodied laugh would come shortly, as Bruce concluded the story: "We got into a Cadillac at the end of the nght, drove out to the outskirts of town.... we got very sleepy and we fell into this long, long, long, long, long dream. And when we woke up, we were in fuckin' Buffalo, New York." Crowd goes nuts, in no small part due to the way Springsteen just compressed 35-plus years of E Street Band history. And tonight it does feel like a dream.
A furious solo from Bruce on "Lost in the Flood" has to be another of the night's highlights — Garry, meanwhile, playing complex runs behind him, the bassist being the guy who can easily fade into the background if you let him but who, anytime you choose to pay attention, is always doing some seriously interesting shit — and Bruce's solo contines, building, as Max matches his intensity, the two facing off until the end. Roy brings it all back home, spotlight on the white baby grand.
Another question that came with the Greetings performance: could Bruce actually make "Mary Queen of Arkansas" and "The Angel" compelling? A resounding yes on both counts, particularly "The Angel." With Bruce lit up at center stage, the only other accompaniment for most of the song came from Roy Bittan, who segued right into this number from his "Lost in the Flood" coda. Roy gave the song a Born to Run-era majesty, capped by the surprise addition of a viola toward the song's end. Much of what made it work was Bruce's vocal — as a friend of mine turned to me and said, "He knows how to sing now." Coupled with Roy's piano work, it came off as a beautiful, lost '70s vignette... which I guess is exactly what it is. "Mary," too, was surprisingly successful, with Bruce on acoustic guitar in Devils & Dust mode, accompanied only by Nils on harp.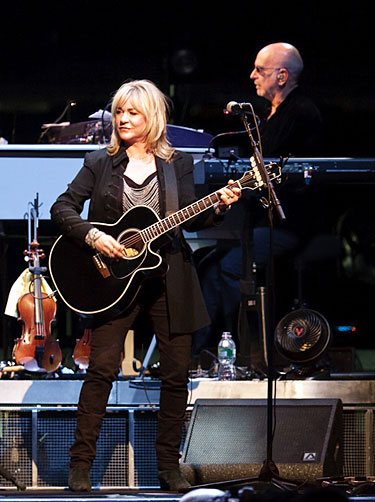 And of course Bruce and the Band brought all the right moves to the remainder of the Greetings sequence, including a rollicking "Does This Bus Stop" with a stand-out solo from Charlie; a full-band "For You," as opposed to the solo piano version Bruce has been doing lately; "It's Hard to Be a Saint in the City," ending with Bruce and Steve facing off, flashing guitars like switchblades, while Max is a perpetual drumroll machine.
And that's just one of the night's stories. After "Sunny Day" and "The Promised Land," it's on to the next: "We've got a birthday boy in the house tonight!" Yep, Steve Van Zandt's birthday just happens to coincide with the final night of the tour, and Bruce decides on an extended fete.
First up: "Restless Nights." "Stevie is... my age, and for years he's been asking to play this one song. This is Stevie's very favorite song of all time, it's very obscure, it's on the Tracks record. We're gonna do this for his birthday tonight." If The River at MSG seemed like a gift for Steve, this outtake performance was the icing on the cake. "By request!" Bruce said at song's end, pointing at his old pal, "Dammit, he might have been right all these years!"
But the party wasn't over. Speaking of cake, guitar tech Kevin Buell emerged with a guitar-topped birthday cake, covered in lit candles. With a little help from Max, the crowd sang "Happy Birthday" while Bruce and Steve blew the candles out together. "For Steve!" Bruce cried as the smoke rose, taking the band into "Surprise Surprise." And while some fans have heard this Working on a Dream song as too frivolous, it was hard not to appreciate the apropos lyrics at this moment:
Well today is your birthday, we traveled so far we two
So let's blow out the candles on your cake and we'll raise a glass or two

Bruce fed Steve a piece during the song, and by the end was still licking icing off his fingers, mouthing to Steve, "Not bad!" Darned if the song didn't serve as a fitting benediction, too:
And when the sun comes out tomorrow, it'll be the start of a brand new day...

But again, tonight there were other stories to tell. After the "Green Onions" sign collection it was a holiday double-shot, with Bruce taking "Merry Christmas Baby" right into "Santa Claus is Comin' to Town." In between, channeling Christopher Walken, he said, "I feel Santy fever coming on. You know what this night needs? More Santy. We need more jingle bells...." The second of these came with a sign so nice, "I'm gonna put it on my front door!"
A left-field request from some Italians, Chuck Willis's "(I Don't Want to) Hang Up My Rock and Roll Shoes," brought us close once again to some closing night sentiment: "This sort of captures the theme of our feelings this evening," Bruce said beforehand. But the song was a blast, blowing away any poignancy with its full-throttle rock 'n' roll. And followed by "Boom Boom," also by request? We're back in the moment. "My Love Will Not Let You Down" and "Long Walk Home" continued this forceful stretch, Steve shining as always on the latter. Following the setlisted "Born to Run" set-closer, Bruce called an audible of "Tenth Avenue Freeze-out" for another theme he wanted to hit, hollering, "I wanna tell you the story of the band!"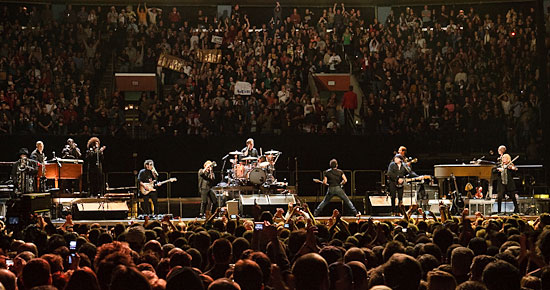 For the encore, Bruce led off with his take on what the tour has meant to him, a nice reprise from the Magic tour: "It's been a pleasure being out here working for you.... I'll work for your love any day!" By the time we got to "Higher and Higher," with special guest Willie Nile, there was no longer any escaping the inevitable. "We don't wanna go home!" said Bruce from the rear-pit platform. But at the end of the song: "We ain't going home yet!"
And amid speculation about the last this or the last that, talk elsewhere of retirement of the E Street Band, one more song kept the ending on a high note, John Fogerty's "Rocking All Over the World." It was a celebration of the tour, of the band, of rock 'n' roll... not of a band on the verge of retiring, but of a band firing on all cylinders at this very moment. Bruce's final words matched the mood: "We appreciate you coming out to see the E Street Band. So we're gonna say goodbye, but just for a little while... a very little while... because... because..." before singing again, "I like it, I like it, I like it!"
After acknowledging fans who came from all over — other states, other countries — to take part in these shows, Springsteen said, "I want to thank our crew, who work all day and all night to bring this show to you in your town." He thanked the E Street Band, the road crew, the truckers, carpenters, and everyone in every department by name, from security to sound, video, production, management... and while tonight was certainly the end of something, and no one's quite sure what he means by "a very little while," the overwhelming feeling at the end of the show was summed up by a sign that Bruce and Steve grabbed and paraded across the stage during the encore, laying it to rest below Max's drumkit, Steve every once in a while checking to make sure it was still visible:
It's only rock 'n' roll, but it feels like love.
Amen.
For the full setlist from this and other recent shows,
see our Setlists page
- Updated November 23, 2009 - Chris Phillips reporting - photographs by A.M. Saddler

RAISE YOUR HAND! "BRUCE BRUNCH" TAKING REQUESTS TOMORROW
Tomorrow, Sunday 11/22, Tom Cunningham will be assembling the 4th Annual All-Request Bruce Brunch to benefit the FoodBank of Monmouth & Ocean Counties. As always, you can hear the weekly Bruce Brunch on the Jersey Shore's 105-7 The Hawk and streaming everywhere at 1057thehawk.com from 9 to 11 a.m. For a $25 donation to the FoodBank, Tom will play any Springsteen request that you can dream up next Sunday 11/29. (Requesters be forewarned: a visit to Reno is out of the question at $250 or any cost). The 22 slots go fast every year, so plan accordingly! The number to call the FoodBank with your requests/donations is 732-918-2600.
- November 21, 2009

"ANOTHER THIN LINE" IS HERE
Joe Grushecky and the Houserocker's new CD, East Carson Street, isn't yet available in stores, but we've got it in stock now. The highlight here has gotta be the Springsteen/Grushecky composition "Another Thin Line," finally released in a studio take ten years after Bruce and the E Streeters debuted it live. Bruce duets with Joe on the record, and it smokes; Springsteen also plays guitar on two other songs. Thirteen tracks in all from the Houserockers, now including Joe's son Johnny in the band. Get it now from Backstreet Records!
- November 20, 2009

LINEUP FOR HBO SPECIAL ANNOUNCED
HBO's The 25th Anniversary Rock and Roll Hall of Fame Concert will collect highlights from the two nights at the Garden, October 29 and 30, both of which featured performances by Bruce Springsteen. According to a new HBO press release, the four-hour special will include both of Bruce's guest spots in the U2 segment...
"Because the Night" with U2 and Patti Smith
"I Still Haven't Found What I'm Looking For" with U2
...as well as a significant portion of the E Street Band's set to close out the broadcast:
"Hold On I'm Coming"/"Soul Man" with Sam Moore
"The Ghost of Tom Joad" with Tom Morello
"Fortunate Son" with John Fogerty
"Pretty Woman" with Fogerty
"Jungleland"
"A Fine, Fine Boy" with Darlene Love
"New York State of Mind" with Billy Joel
"Born to Run" with Joel
"Higher and Higher" with Fogerty, Joel, Love, Moore, Morello
That still leaves a significant portion of the E Street Band's set on the cutting room floor, though. What we won't see on the screen: "Tenth Avenue Freeze-out," "Proud Mary" with Fogerty, "Da Doo Ron Ron" with Love, "London Calling" and "Badlands" with Morello (probably the biggest heartbreaker), "You May Be Right" and "Only the Good Die Young" with Joel. As they saying goes, "You had to be there."
The four-hour special debuts Sunday of Thanksgiving weekend, November 29, at 8:00 p.m.; in addition to full encore presentations, the special will also be broken up to air in two parts of two hours apiece on HBO and HBO2.
- November 20, 2009

AFTER THE LAST DANCE... WHAT'S NEXT?
Darkness box and DVD of this year's tour, according to Landau
With Bruce and the E Street Band about to come off the road after more than two years of touring, manager Jon Landau spoke with Rolling Stone's Andy Greene for Rock & Roll Daily about what the future holds: "[Landau] says the only plans for 2010 are the release of the long-delayed Darkness on the Edge of Town box set and a DVD of the Working on a Dream tour."
The Darkness set, originally expected for the album's 30th anniversary in 2008, "will likely contain a remastered edition of the disc, a new documentary about the making of the LP, as well as live footage from the 1978 tour," writes Greene. The box is "93 percent done," according to Landau, "It's absolutely fantastic and there are just some finishing touches that we need to turn our attention to and finalize and we'll get it out there." A 170-pages-and-counting "iftheydothingsright" thread on BTX has some helpful suggestions for those finishing touches...
As for a new tour DVD, Landau says, "We're working on some different approaches to a DVD for this tour. We'll release it sometime fairly soon, post-Christmas."
Though Landau says that "the E Street Band does have an illustrious future," he also specifies that "we're going to have substantial downtime at this point." But if "downtime" includes releases like these, that suddenly doesn't seem so bad. For more, including Nils Lofgren and Steve Van Zandt on the end of the tour and the future of the E Street Band, read "What's Next for Springsteen: Darkness on the Edge of Town Box Set, 'Dream' Tour DVD."
- November 20, 2009

"BORN TO INFORM"
NBC Nightly News anchor and managing editor Brian Williams has won the 2009 Walter Cronkite Award for Excellence in Journalism. In his acceptance speech, Williams' first thanks go to "the First Family of the State of New Jersey: Bruce Sprinsgteen and Patti Scialfa." See NBC's online video tribute with Bruce and Patti's salute at the 6:17 mark: "Congratulations, Brian! We are glad that the nation's news and infomation needs are firmly in the hands of a Jersey boy. We're also glad they don't know the Brain Williams we know... or let's face it, the lid'll come off the whole thing."
- November 20, 2009

AND THEN THERE WERE TWO
By next week, the Working on a Dream tour will be nothin' but a dream... but we've got two shows left: Friday in Baltimore, and Sunday's last dance in Buffalo. Here's the scoop on both for GA ticketholders:
Baltimore: Lottery wristbands will be distributed between 1:00 and 4:00 on Friday afternoon, at the Baltimore Street doors of the 1st Mariner Arena. Full details here.

Buffalo: Lottery wristbands will be distributed between 1:30 and 4:30 on Sunday afternoon, at the east side doors of the HSBC Arena, near the Sabres Store. Full details here.
- November 19, 2009

ALL THE NEWS THAT FITS

Don't miss the new issue of Rolling Stone (#1092, November 26)... in addition to Mr. Springsteen on the cover (along with Messrs. Hewson and Jagger), there's a ton of Boss coverage in this Rock and Roll Hall of Fame special issue. Full rundowns of the 25th Anniversary Concerts, with Mark Seliger providing some striking B&W rehearsal shots; Brandon Flowers on Bruce; Landau and Van Zandt on the Rock Hall selection process; and more.
"Behind the Cover Shoot" video here.
And see RollingStone.com's Rock & Roll Daily for Stevie's take on Bruce's Michigan/Ohio mix-up: "...I'm like, 'Please, God, don't give him a chance to do it again before I get a chance to talk to him.' Sure enough, he did it a third time and I'm like, 'That's it. This crowd is about to rebel. They're going to attack us!'"
- November 18, 2009


TONIGHT: STEVE TO GUEST ON MOJO'S NASHVILLE PRE-SHOW
Little Steven's certainly no stranger to the airwaves. In addition to his syndicated "Underground Garage" show, Steve created and executive produces the Outlaw Country channel on SIRIUS XM. And with the Springsteen and the E Street Band tour rolling into Nashville today, he'll be guesting on the channel in a live broadcast leading right up to showtime.
Mojo Nixon, who hosts a daily music show on Outlaw Country, will broadcast live from SIRIUS XM's Nashville studios prior to tonight's E Street Band concert at the Sommet Center -- a four-hour pre-show. In the final hour, Steve will join Mojo in-studio for an hour-long simulcast, on both the Outlaw Country (SIRIUS 63 / XM 12) and E Street Radio (SIRIUS 10 / XM 58) channels, from 7:00 - 8:00 pm.
Mojo's E Street Band pre-show broadcast will begin at 4:00 this afternoon on Outlaw Country, with other in-studio guests including Todd Snider, Raul Malo, Dan Baird and Chuck Mead.
If you don't have satellite radio, go to siriusxm.com for a free 30-day pass to listen online.
- November 18, 2009




BRUCE WORKS THE ROOM AT CARNEGIE DELI -- ER, HALL
Last night at Carnegie Hall, Springsteen performed four songs solo acoustic at the Concert for Autism Speaks: "No Surrender," "If I Should Fall Behind," "Working on the Highway," and "Thunder Road."
The night opened promptly at 7:30 with its master of ceremonies and host of NBC's Meet the Press David Gregory on violin, solo, on a big, empty stage. No pretty sounds out of this violin: David admitted that he did it so he "could say I've played in concert at Carnegie Hall." Former NBC Chairman, Bob Wright, escorted by his wife Suzanne (the founders of Autism Speaks) were next out. Bob called for "silence... A moment of silence for David Gregory, because he thought tonight would be about him." Bob later took a moment to address Bruce and Jerry Seinfeld: "We thank you for your enormous gift tonight. We can never repay you, we thank you so so much." Also thanked were Jon Landau and Max Weinberg. After Bob and Suzanne discussed some alarming autism facts and statistics, as well as recent progress, Gregory escorted them off stage then came back to the mic: "Ladies and Gentlemen, the one, the only.... Bruce Springsteen!" Amazingly at this black tie affair, civilized people seemed to forget where they were for a moment and the entire house erupted with cheers of "Bruuuuuuce!"
"I'm sorry, ladies and gentlemen, I must apologize. Apparently I'm a little underdressed." And boy was he, appearing at Carnegie Hall in what seemed to be his backup getup for the WOAD shows — and I mean waaay back. "I thought it was Carnegie Deli. Sorry... I see some high rollers out there. Forgive me.... Ehhh, whatever."
After a beautifully deliberate version of "No Surrender" with Bruce alone on an acoustic, which is how he'd remain throughout (deliberate and solo acoustic), he said to himself, "Sounds good, Boss, this place is all it's cracked up to be." Given the sound of the opener, he was surely right. "My Mom is here," he went on, "she was talking to Jerry before the show. She was explaining about the time I opened a Shop Rite supermarket... Now I'm at Carnegie Hall!"
Next Bruce delivered an absolutely stunning "If I Should Fall Behind." The lyrics seemed to hit home with many in attendance, as there were quite a few teary eyes. After the applause, Bruce rubbed his stomach: " Send me over one of those hot corned beef and pastramis... and some damn cole slaw, too. I'm working up here — gotta work!"
"Working on the Highway" was an unusual choice given the event and the venue, and it was performed was about half the tempo of what you'd see on the road. But it brought a good dose of fun: midway through, Bruce dedided to "test the acoustics of this Carnegie Hall," abandoning the mic and relying upon the venue's famed acoustics as he walked around the enormous stage playing to the crowd. Most notably, he played to the "Lincoln Seats" and tried to get them "off their asses." "C'mon, lets get working!" Lots of clapping along, and it got this who's-who crowd up and alive, all the way down to the front of the parquet where you could see even Mr. and Mrs. Trump getting their groove on.
Finally, "Thunder Road." Bruce called on the audience to sing the usual part, and though they were a little slow to respond, it was nice to hear this full of CEOs, Wall Street execs, and celebrities singing "Show a little faith..." "Not bad," Bruce said, "We'll get it next time."
After a lengthy applause/"Bruuuuuuce" session, Seinfeld came out to join Bruce; they exchanged a hug, Bruce took several more bows, and he was on his way. "You want him to come to your house?" Seinfeld asked, "That's the best we could do. It's like he was in your living room. What a beautiful guy [laughs all around], what a beautiful thing. You know how they always do the 'world's most beautiful people.'... why not him? He's beautiful, just gorgeous."
Jerry delivered a 50-minute set, took his bow and the house lights came on at 9:20 p.m. All in all a shorter evening than most expected; nevertheless, millions of dollars were raised for a very important and worthy cause, Autism Speaks.- November 18, 2009 - Michael Zorn reporting


SHUFFLE OFF TO BUFFALO IN STYLE
The final night of the tour is Sunday, and for the occasion, Bruce Springsteen has donated 4 VIP tickets with E Street Lounge passes plus a meet & greet session for the November 22nd show at the HSBC Arena in Buffalo, NY. The package is being auctioned off to benefit Musicians On Call/The Kristen Ann Carr Fund, with bids being taken now at charitybuzz.com. Lot closes Thursday at 3:00 p.m.!
- November 17, 2009


THE BIG MAN COMETH
For everyone who ordered a signed copy of Big Man: Real Life & Tall Tales from Backstreet Records: Clarence has now completed the monumental task of signing 1,250 copies, and those books have just arrived safely at our HQ.
We appreciate your understanding regarding the timing — between hand-signing so many books, packing, transit time, etc., this isn't something that could happen overnight — but with the books in hand, we've now begun the process of shipping them all out to our customers, so yours should be on its way to you shortly.
Thanks again for your patience, and thanks again to the Big Man for his generosity.
- November 17, 2009


WAKE UP WITH NILS LOFGREN
A five-part interview with Nils Lofgren airs this week on New York's WRXP, with Matt Pinfield and Leslie Fram talking with the E Street Band guitarist. Listen to the first installment here, and tune in to 101.9 each morning this week at 7:20 a.m. to hear the remaining four parts.
- November 16, 2009


GREETINGS FROM BUFFALO, NY
A week from tonight, Bruce Springsteen and the E Street Band will perform the album Greetings from Asbury Park, N.J. during their November 22 concert in Buffalo, NY, the final date of their 2009 Working on a Dream tour. Released in January, 1973, Greetings marked Springsteen's debut as a recording artist; it is the first time this album will be performed in its entirety. With this performance, Bruce and the band will have played every E Street Band album through 1984 during their fall tour.
- November 15, 2009




THE BOSS-OF-THE-MONTH CLUB:

2010 CALENDARS ARE HERE!
Now in stock at Backstreet Records: The official Bruce Springsteen wall calendar for the new year! Striking imagery from Danny Clinch for each month of 2010, and a nice layout, too, with a Working on a Dream graphic theme.
We know a lot of people like giving these as holiday gifts; this year we can guarantee pre-Christmas arrival for all U.S. orders placed by December 10. Of course, the sooner you place your order the better, particuarly for delivery outside of the U.S., where it's harder to make such guarantees. As always, we'll be working hard to get these out the door just as quickly as possible.
Also new at Backstreet Records:
By popular demand, we have more sizes in stock now for the Born in the U.S.A. tee-shirt, everything from small to XXL. (Those are adult sizes: there's also a Toddler version and a Youth version.)
True to our name, we carry any related vinyl we can find... just in is John Fogerty's new one on LP, featuring Springsteen's duet on "When Will I Be Loved." 180 gram vinyl.

LET IT SHINE
Jon Stewart on an E Street Band concert: "It's the closest I will ever go to going to church. It's this incredible experience of just pure — after all these years of performing — unadulterated joy." Clarence Clemons replies: "For me, it is a church. It is my religion. It is my belief. To bring joy and light to the world is my purpose in life, so my spiritual teacher tells me. So when I go out on that stage, I'm bringing that spirit of joy to a lot of people, and it's just wonderful." Watch the Big Man on last night's The Daily Show with Jon Stewart.
The Associated Press also has a nice profile today: "Clarence Clemons Keeps Rockin' With Raw Willpower." As Stewart said to him on the show, "I believe that you will, in the year 2080, still be blowing... you'll just be lungs and a head. You are unstoppable."
- Updated November 12, 2009


AUTHOR! MAN OF LETTERS! DAILY SHOW GUEST!
Jon Stewart, who was spotted at Sunday night's Madison Square Garden show, hosts Clarence Clemons on his own turf tonight. The Big Man talks Big Man on The Daily Show — tune in to Comedy Central tonight at 11 pm!
- November 11, 2009


11/4, NEW YORK, NY: STAND UP FOR HEROES
Last night at the Stand Up for Heroes Benefit for the Bob Woodruff Foundation, the first three rows in New York's Town Hall harbored the injured and recovering troops. After a surprise appearance by Elvis Costello, who performed two songs, host Brian Williams introduced Bruce Springsteen, describing him as a "very good friend of the Foundation and everyone in uniform."
After saying he was "honored and humbled" by the service of the men and women in those three rows, Springsteen told a pun-filled joke about a new soda containing Viagra (this was a New York Comedy Festival Event, don't forget). He began his acoustic set with a heartfelt and jagged (but not ragged) "This Hard Land." Another joke, about the housewife who isn't Betty Crocker, preceded "Born to Run," which wasn't universally recognized until the first chorus.
Bruce told his third joke about a fiendishly trained chihuahua, punctuating a door knock with three raps on his guitar, and then started to play "The Rising." Unlike "Born to Run," it was immediately acknowledged and appreciated by this New York crowd. The lyrics seemed particularly appropriate for those who have been harshly dealt with by the "fiery light" of IEDs. I noticed Brian Williams and (I think) Bob Woodruff watching intently behind the stage.
Afterwards, Williams and legendary Sotheby auctioneer Jamie Niven (son of actor David Niven) joined Bruce onstage and together auctioned off the black guitar Bruce had just finished using "for the past 20 years." As the bidding increased, Springteen whispered in Niven's ear an offer to sweeten the pot — four tickets to one of this weekend's Madison Square Garden shows.
This increased bidding, and there was an added benefit for the winner, actress Mariska Hargitay of Law and Order: Special Victim's Unit: backstage passes. And if that weren't enough, Bruce went into the audience and personally delivered the $50,000 guitar.
Over six million dollars has been distributed by the Bob Woodruff Foundation to individual soldiers and their families, along with service organizations who assist our wounded military personnel. More than $100,000 was pledged last night to this excellent cause.
For the full setlist from this and other recent shows,
see our Setlists page
- November 5, 2009 - Diane Wilkes reporting


ON THE AUCTION BLOCK: MEET THE BOSS AT MSG
Need an "in" for Saturday or Sunday? Mere minutes left in this auction!
4 VIP Tix, E St. Lounge Passes, and a soundcheck meeting with the man
Bruce and the E Street Band return to Madison Square Garden this weekend for two never-before-seen album sets, W&I and The River. Tickets are next to impossible at this point... but not quite impossible: For a charity auction, Bruce has generously donated an incredible meet and greet opportunity, with soundcheck access, four VIP tickets and E Street Lounge Passes to one of these special NYC shows: Saturday, November 7 or Sunday, November 8 — winner's choice!
It's a once-in-a-lifetime opportunity to chat with Bruce face-to-face — not to mention being there for soundcheck and getting prime tickets to one of the most in-demand shows on the tour.
Seats are located in the Loge Section (first tier above the floor) within the first five rows, either to the left or right of the stage, OR, the auction winner may choose to be in the General Admission "Pit," rather than seats. The E Street Lounge passes will enable the auction winner to relax and have a drink before the show (the Lounge has a cash bar and is open before show only, from 6:00 p.m. to 8:00 p.m.).
Of course, this one requires deep pockets. Bidding begins at $10,000, with all proceeds proceeds to benefit The Bob Woodruff Foundation. Check out the auction at charityfolks.com.
Auction ends today at 3:00 p.m. Eastern, but extended as follows: "If a bid is placed during the last 10 minutes on a lot during the auction, the closing time will be automatically extended for an additional 10 minutes from the time of the latest bid. The lot will close once all bidding activity has stopped for a period of 10 minutes."
- Updated November 5, 2009

JUST AROUND THE CORNER...
It's Light of Day time again, the annual concerts that benefit the fight against Parkinson's Disease (as well as celebrating LOD founder Bob Benjamin's birthday). Light of Day NYC kicks off the series this Friday night, as Joe D'Urso & Stone Caravan headline a show at Bowery Electric (327 Bowery at 2nd Street). Sarah Solovay and Outside the Box are also on the bill. Tickets are $25 each.
Light of Day New Jersey, featuring Joe Grushecky & the Houserockers, D'Urso, Willie Nile, and other regulars, will take place in January. Visit our Concert Calendar, just updated, for more related concert info.
- November 4, 2009

IT'S MY LIFE
With Clarence's biography out now, Springsteen has taken to introducing the Big Man onstage as "Author!" "Man of Letters!" And "Bigger than Shakespeare!" If you believe the New York Post, Bruce may be looking to follow in those Big footsteps:
The Boss is going to find out if he was Born to Write.

Bruce Springsteen is said to be quietly working on his autobiography. Publishing insiders are already panting for the book -- even though there is no manuscript yet.

"It could be the biggest rock music autobiography of all time," said one insider at a major publisher, who did not want to be named. "He could get $9 million to $10 million for the world rights."...

[Springsteen] has kept voluminous journals throughout his career. They will serve as the basis for the book.
- November 4, 2009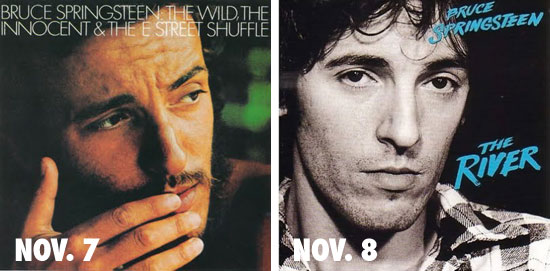 TWO FACES HAVE I
How about this for a New York City Serenade? After performing Born to Run, Darkness, and Born in the U.S.A. album sets on this leg, Bruce and the E Street Band have something extra special up their sleeve for their return to the Garden this weekend — the premiere of two more album performances, and ones that we honestly never thought we'd see. Saturday night: The Wild, the Innocent & the E Street Shuffle, live, top to bottom for the first time ever. Sunday night: The River, live, top to bottom, for the first time ever — all 20 tracks. If Steve were to have his way, there'd be even more, as he told Rolling Stone earlier this year: "If I could pick, it's gotta be The River. I'd want to include the outtakes on the Tracks collection. Then you have a hell of a show." But hey, even if it's "just" a double-album set that includes "Stolen Car," "The Price You Pay," "Drive All Night"... still sounds like a hell of a show to us.
This leaves November 22 in Buffalo as the only remaining show on the itinerary with no album announced. See our Tour/Ticket Info page for the line-up.
- November 4, 2009

HOLD ON, IT'S COMIN'!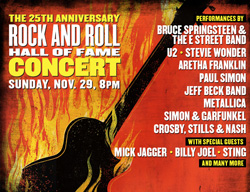 Last week's silver anniversary blowouts for the Rock and Roll Hall of Fame will be coming to the small screen later this month, debuting November 29 at 8 p.m.on HBO. At four hours, it's a condensed presentation of the two nights at Madison Square Garden, but there's sure to be plenty of Bruce. The program will have a number of repeat airings throughout December. If you don't want to wait for a taste, check out Sam Moore's guest appearance with the E Street Band on YouTube.
- November 2, 2009

MR. SPRINGSTEEN GOES TO WASHINGTON
Bruce and the E Street Band come to D.C. tonight, the first Working on a Dream show since last week's canceled Kansas City stop. For the pit lottery, sequentially numbered wristbands will be distributed between 1:00 and 4:00 this afternoon at the 6th Street Entrance, near the corner of 6th and F Streets NW. Click here for full G.A. Procedure info from the Verizon Center.
- November 2, 2009