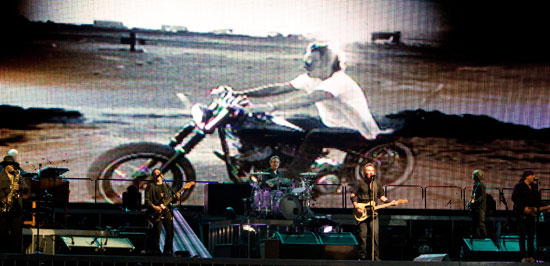 AUGUST 30: LIKE A HARLEY IN HEAT
Springsteen and the E Street Band get their motors runnin' in Milwaukee
An enormous turnout for one last Magic show, Bruce and the E Street Band's Saturday night special for Harley-Davidson's 105th Anniversary; it was one last stadium-sized performance, the outdoor set slightly tailored (and lengthened) for the occasion to be a fuel-injected, good-time rock 'n' roll blowout. Gates opened early for showgoers to get some relief from the brutally hot day -- at least the stage offered some shadow. Bruce himself arrived in Milwaukee in time to emerge before his opening acts -- looking like a biker himself, in long sleeves, denim, and sunglasses -- coming out on stage to greet the crowd, shake some hands and give some waves to the field before the sun went down. (Apparently not in time to practice with Alejandro Escovedo, though, who put in a well-received 45-minute set with no Bruce appearance.)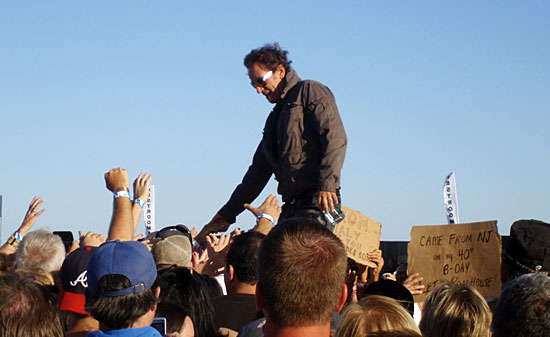 Main event showtime at 8:45, with Bruce and the E Street Band taking the stage to the vroom vroom sound of a revving Harley, Bruce shouting out, "Good evening, Harley-Davidson motorcycle enthusiasts!" Actually, there seemed to be as many Bruce fans as riders in the crowd (not that there wouldn't be crossover between the two), judging by what looked to be a one-to-one ratio of Springsteen shirts to Harley shirts. Bruce made 'em both happy with the opener, a scorching "Gypsy Biker"'s first time in that position.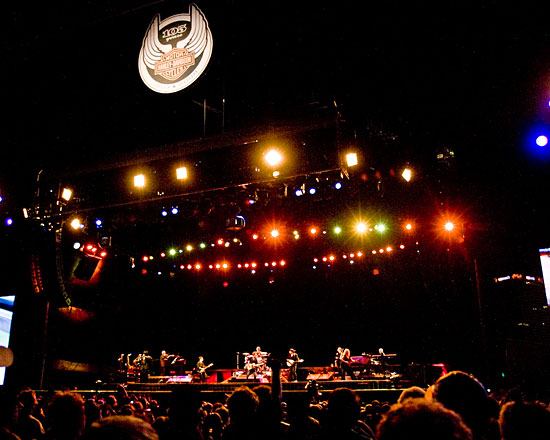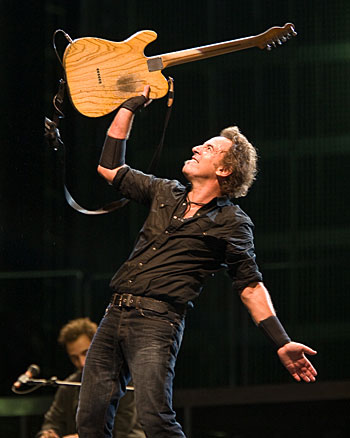 A rocking sign set commenced with "Wooly Bully," the old Sam the Sham and the Pharaohs hit, the request spelled out in cotton balls on a sign in the shape of a bull. "This is a very creative sign... any bar band worth its salt has gotta know this one," Bruce said, Charlie's sodium level mighty high on his organ solo. "Darlington County" and "You Can Look (But You Better Not Touch)" (Steve: "Not even mentally?" Bruce: "You can lust in your mind") followed by request, Bruce and the band powering through at a blistering pace more reminiscent of the early part of the Magic tour despite the sign collection. The only time they really seemed to slow down to catch their breath was on "Darkness on the Edge of Town," a beautiful performance that served to center the band before they dove back into the fray with "Youngstown."
"Racing in the Street," another sign request, was played for Willie G. -- that's Harley hero Willie G. Davidson -- and as a "good end-of-summer song." It was one for the ages, too, just a stunning, definitive live version. Just when you might have thought it was over, Bruce hollered at the band, "Come on! Let's go! Keep it going!" for an extended coda with an otherworldy performance from Roy and Charlie. An amazing "Seven Nights to Rock" kept the engines roaring after "Badlands" to close the main set, Bruce truly rocking out on guitar at the end.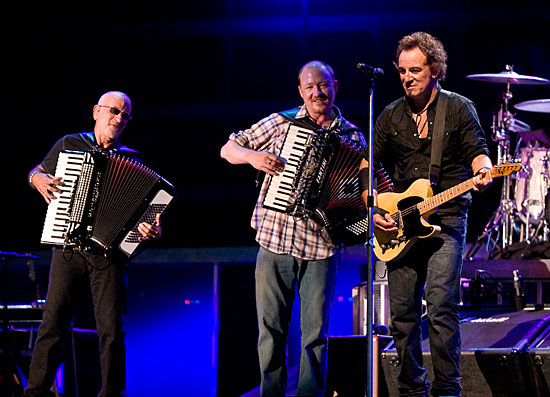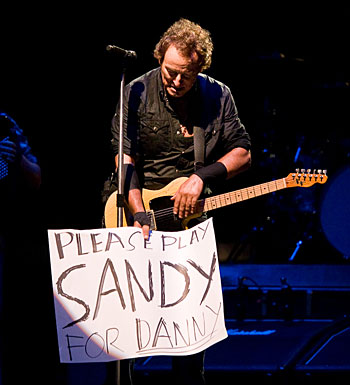 "Jason..." Bruce said as the encore began, "Jason, if you're here, come see Kevin." No it wasn't someone who had left their lights on -- Bruce was calling for Jason Federici to join in on "Sandy." "This is the my first closing of a tour, of course, without Danny... and we're lucky enough to have Danny's son with us." Jason took the stage with an accordion strapped on, joining Roy to squeezebox on his father's signature favorite. He was absolutely beaming, getting hugs from Bruce and Steve before leaving the stage.
Of course, "Sandy" also includes the line "Every summer when the weather gets hot they ride that road down from heaven on their Harleys..." and was a reminder if anyone needed it, of how long Bruce has had an eye on hog heaven. Some have expressed surprise that Springsteen would play a corporate event, but it's hard to deny his affinity with the "product." The runaway American dream of "Born to Run" was pure euphoria, with an ocean of arms in the air. For "Thunder Road," the screens displayed Bruce's motorcycle cred, showing a series of images of Bruce riding over the years -- and the crowd ate that up, too. "Happy birthday, Harley-Davidson!" Bruce repeated throughout the night.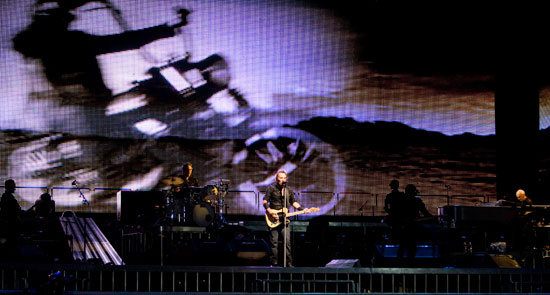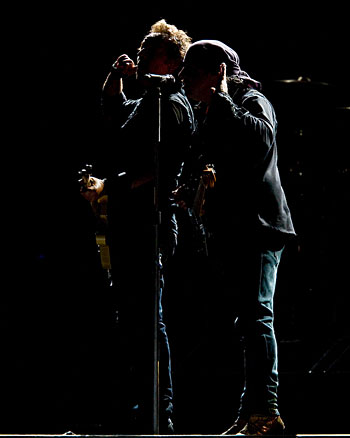 During "Glory Days," Bruce: "Don't you gotta be in church tomorrow?"
Steve: "We're in church."
Bruce: "What?"
Steve: "We're in church now."
A quick kiss for Ginny -- "That's my sis!" -- in the family & friends section at the end of "Tenth Aenue Freeze-out." A thanks to the crew before "Dancing in the Dark," Bruce reeling off a list of names at this final show on the schedule and saying, "This was the greatest tour of our lives." And then one more -- "We're all warmed up now... We can't leave without this one, I guess... I hope we know it!" -- Steppenwolf's "Born to Be Wild." The place went apeshit, and Bruce shouted, "It had to be done!" A fun set, a loose set, a rocking set, a long set, a last chance power drive, putting the final punctuation mark on the Magic tour with the longest show of the past year, at 31 songs and three-and-a-half hours. "Thank you, we'll be seeing you... We're only just getting started!"

For the full song list, and reports from other recent performances,
see our Setlists page.
- August 31, 2008 - photographs by Michael Zorn (1, 7, 9), Jose Rovalino (2), and A.M. Saddler (3, 4, 5, 6, 8)


MOTORING INTO A LONG WEEKEND
Tonight: The Ultimate Jersey Shore Jam -- The Creators of S.O.A.P., Live, Raw, and Unplugged in Concert. This benefit at the Stone Pony will feature Steel Mill, a reunited The Moment of Truth (featuring Garry Tallent and Vini Lopez), Stormin' Norman Seldin, and a great number of other Asbury legends. Read more in the Asbury Park Press.
Tomorrow night: A victory lap for Bruce Springsteen and the E Street Band, as they follow last Sunday's last dance of the Magic tour with a headlining performance at Harley-Davidson's 105th Anniversary Celebration at the Roadhouse at the Lakefront in Milwaukee.
Watch this space to what joins "Gypsy Biker" and "Born to Run" in the Harley set... and enjoy the Labor Day weekend!
- August 29, 2008

GET ON YOUR BIKE AND RIDE
With Springsteen and the E Street Band revving their engines for the Harley show on Saturday, Nils Lofgren talks with the Milwaukee Journal Sentinel in today's edition: "Bruce is a big Harley rider. He has a collection of beautiful motorcycles, and he goes out and he's ridden all over the country.... I personally got on a couple when I was younger and put them right down into the pavement, so I decided I'm a little too spaced out and there's too many notes running around in my brain for me to safely drive a Harley."
According to the Journal Sentinel, "The crowd for Saturday's Harley show could max out at 70,000 people, which would put it in contention for the largest rock concert in Milwaukee history."
- August 28, 2008


MP3 OF THE DAY
In 1978, while a young merchandising employee with Columbia Records, vocalist Michael Nold met Bruce Springsteen twice -- once in Madison, WI, and once in Chicago. He never dreamed he'd be a recording artist himself. But, as fate would have it, now in 2008, Springsteen has given permission to Michael's band Inglas (Rick Escobar, guitarist, etc.; Mark Fassett, bass, engineer, etc.; Michael Nold, vocals), to post their recently recorded version of the Bruce rarity "Lift Me Up." This track was done simply for the pleasure of re-inventing a great song and is a Backstreets.com exclusive. Inglas has just released their new disc Intelligent Design, available through iTunes and CD Baby.
[Downloads] -August 28, 2008

LET'S BE FRIENDS: INCREDIBLE RAFFLE ITEM AWAITS
Few openings, a short deadline, and a very sweet payoff. Starting today, new charter memberships in The Friends of the Bruce Springsteen Special Collection -- the fans who manage the 10,000-document archives devoted to Bruce books, magazines and other printed works -- will be automatically entered into a raffle for a limited edition of Eric Meola's Born To Run: The Unseen Photos. Here's the kicker: the book that's part of this already precious package has been signed on the cover by both Bruce Springsteen and Clarence Clemons. Deadline for becoming eligible for the drawing is September 30, and memberships are limited, so check out the Friends website for details.
- August 28, 2008

DNC-WATCH: OFFICIAL STATEMENT FROM SPRINGSTEEN CAMP
"Just to add to what the Obama Campaign stated [yesterday], while Bruce is an ardent and dedicated supporter of Senator Obama, he will not be performing, and, in fact, had never planned to perform, at Invesco Field this Thursday."
- August 28, 2008

DNC-WATCH: ANOTHER NAY
As Marc Ambinder blogs today at theatlantic.com: "An Obama aide e-mails: 'Since there have been some inaccurate reports out there, wanted to make sure you knew that Bruce Springsteen will not, in fact, be performing at the convention.' An accompanying statement from Springsteen's manager, Jon [Landau]: 'Bruce has been and continues to be an ardent supporter of Barack Obama's.'"
- August 27, 2008

DNC OR NOT DNC?
That's been the question, but it's looking like not. Following the Super Bowl buzz of a few weeks ago (outcome still undetermined), the latest Springsteen internet rumor would have The Boss playing the Democratic National Convention on Thursday night. Within the past few days, mulitple news outlets have fueled speculation of Springsteen as a surprise guest to follow Barack Obama's acceptance speech with an acoustic performance.
But though "multiple sources" had sworn to it, there's been no official confirmation, and several news sources -- some of which had originally run with the story -- are now quashing the rumor:
The Washington Post has a piece today piece titled "Sorry, Conventioneers: No Bruce For You." J. Freedom du Lac writes: "...a source in Springsteen's camp tells The Washington Post that The Boss won't be anywhere near Invesco Field on Thursday. 'He's definitely not performing nor attending and has never planned to do so,' says the source, who is privy to Springsteen's schedule."
In the Rocky Mountain News: "No Boss, just Obama. According to his people, Bruce Springsteen won't be at Barack Obama's acceptance speech Thursday night at Invesco Field in any capacity. Although highly placed city and DNC-linked sources told the Rocky that the appearance was set, in-the-know sources high in the Springsteen camp said unequivocally Monday that the singer is not scheduled to perform or attend the acceptance speech."
On "The Page," Mark Halperin writes: "1,001 hearts broken -- rumors of Springsteen Thursday night appearance at Invesco Field turn out to be definitively false."
Well, we'll be tuning in anyway.
- August 26, 2008



AUGUST 24, KANSAS CITY, MO: THE LAST DANCE
With the E Street Band headlining the Harley-Davidson anniversary festival next weekend, most of us have looked at the Magic tour as ending there in Milwaukee. But as the tour neared its close, the Harley show began to look more and more like a separate thing. Saturday night's St. Louis barnburner had the feel of one of Springsteen's penultimate night specials. Indeed, in Kansas City on Sunday, Bruce confirmed that they wouldn't be saving the last dance for Milwaukee: "This is the last official night of our Magic tour," he said from the Sprint Center stage, "so anything can happen!" And just about everything did -- from opening and closing the 3:10 show with tour premieres (the first time that's happened since, necessarily, opening night), to lead vocal turns from both Soozie and Max. Yes, Max Weinberg on the mic! The night before was the rock 'n' roll blow-out, with Kansas City more of a sprawling, celebratory, everything's-out-the-window-now romp -- the way Springsteen seems to like to wrap up a tour these days. Not with a neat bow, but with ribbons everywhere.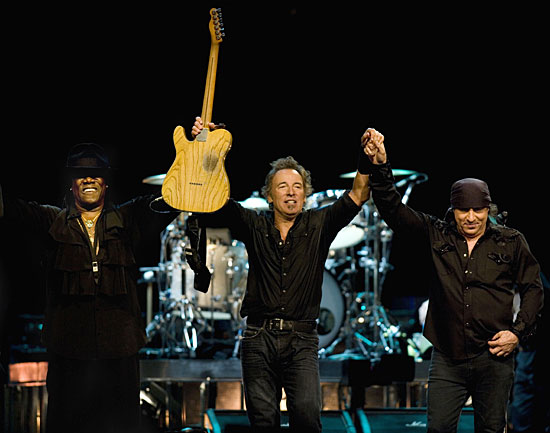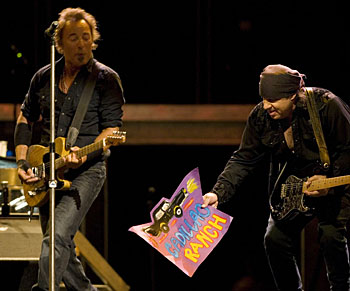 Up first was a world premiere, "Ricky Wants a Man of Her Own," a deep Tracks cut that got its first live airing ever. That led into "Cynthia," Bruce telling the crowd, "We're gonna do back-to-back Farfisa songs tonight!" Starting the show this way, with two obscurities (and"Cynthia" slower than usual), may have been a bit tough on the audience; Bruce soon brought them back in with "Hungry Heart" (an enormous cheer for this crowd-pleaser) and some more familiar sign requests, like "Cadillac Ranch" and "Working on the Highway." In between, though, was a truly unique performance, and the kind of thing that would only happen on a night like this: the vocal stylings of Mighty Max Weinberg.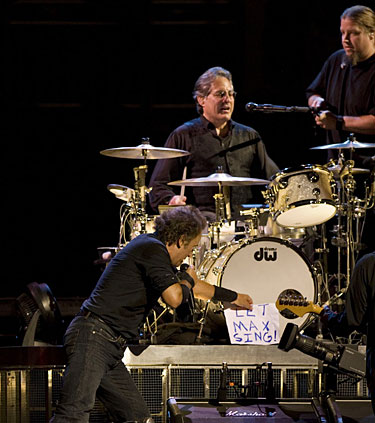 "We have multiple requests here," Bruce said, going through the signs after "Spirit." "This is a very important one -- his has never been done before..." And he revealed a sign reading, "Let Max Sing." "Get that man a microphone! Oh, we're really flying by the seat of our pants now!... A little tutoring, be right back." Bruce went back to the drum riser to confer with the Mighty One. And maybe there was really only one song this could be -- the one, perfectly fitting song to break out for a sign like that. But in any case, damn impressive that they came up with it on the fly: it was "Boys," originally a Shirelles song, but most know it as sung by Max's hero, Ringo Starr, as Ringo's first recorded vocal with the Beatles. Max made the most of it, hollering out to "Kansas City!" as the song began. Musically, it sounded fantastic. Vocally... well, there's a reason Max isn't a singer, but he acquitted himself nicely. "You asked for it!" Bruce laughed afterward. A brilliant sign moment.
Breaking out another oldie just a few songs later, Bruce put the spotlight on another E Streeter. "This is for Soozie Tyrell," Bruce said, singing her praises and giving her the lead vocal on "It's All Over Now," the Bobby Womack song made big by the Stones (and often performed by Soozie with her own band). A great performance, with Bruce taking a verse and sharing the mic with Soozie on the chorus. "Gypsy Biker" got another play, surely warming it up for the Harley show. Bruce finally squeezed one in from the Devils & Dust record, playing "Devils & Dust" solo acoustic for the "safe return of our troops." And continuing E Street Band Appreciation Night, he looked over at Clarence before "Long Walk Home" and said "This is for the Mighty C."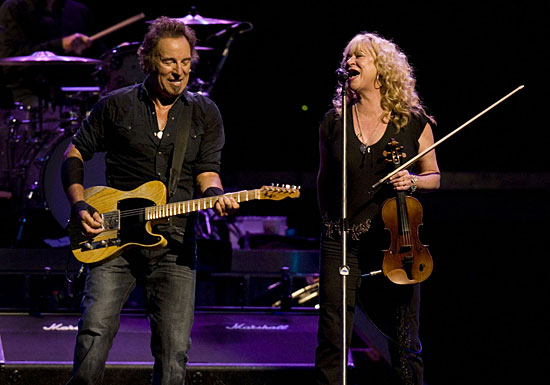 A poignant "Sandy" opened the encore "in honor of our good friend Dan," Bruce said, with Charlie moving over to piano and Roy on the accordion. Bruce mentioned a donation that Sprint made to the Danny Federici Melanoma Fund and continued, "We're closing out our first tour ever without him. Gonna send this one out to you... and to Terry."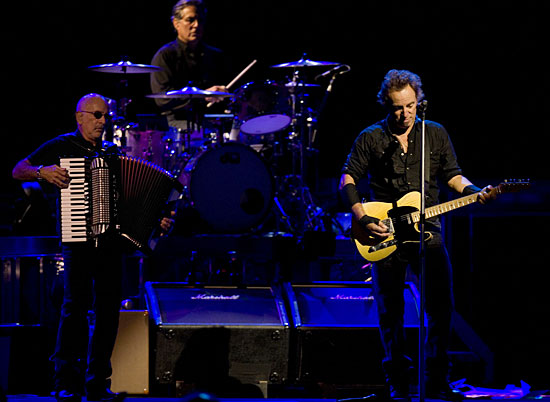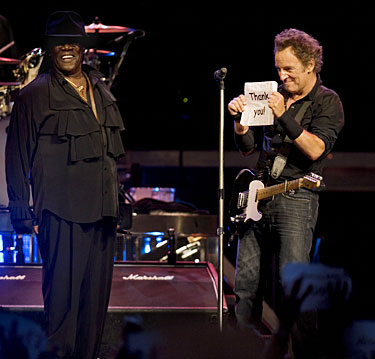 "Tenth Avenue Freeze-out" told the legend of the band one more time, lights-up standbys "Born to Run" and "Rosalita" rocked the house, and soon the last "American Land" tom beats were rolling out across the arena. "Mighty Max Weinberg -- the Singin' Fool!" Bruce hollered during the band intros at song's end. But of course that wasn't all she wrote just yet. "It ain't over til it's over!" said Springsteen, with still a couple premieres up his sleeve. "Save the Last Dance for Me" was a unique intro to "Dancing in the Dark" on this final night, Bruce starting the song solo before being joined by the keyboards, then Garry and Nils. A wonderful, soulful moment before the hopping commenced. Hannah, a little girl who had the honor a couple times before on this tour, came back for one last dance -- she upped the ante for Bruce with a cartwheel, and he responded with a somersault of his own. Finally, the E Street Band wrapped up their year-long tour with one more blast from the past, John Fogerty's "Rockin' All Over the World." "Thank you for suuporting our tour," Bruce told the crowd at the end. "Thank you for supporting the Magic album. Thank you Kansas City! Thank you E Street Nation!" After they all left the stage, cheers brought Bruce out for one last wave before disappearing again into the darkness. And it sure would be a whole lot more bittersweet if we didn't know they were going to be back on stage in less than a week!
For the full song list, and reports from other recent performances,
see our Setlists page.
- Updated August 26, 2008 - photographs by Joseph Quever


EUROPEAN BRUCE CONVENTION NEXT MONTH IN ROTTERDAM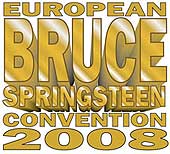 On the weekend of September 27 and 28, fans from around the world will gather in Rotterdam, Holland to celebrate the music of Bruce Springsteen at the "Land of Hope & Dreams" convention.
Making his European debut will be the first beat from E Street, Vini Lopez, who will be headlining both nights of the two-day event with his re-formed Steel Mill (featuring Tony "Boccigalupe" Amato on keyboards). As well as performing, Vini has kindly agreed to hold a Q&A session where fans will get the chance to ask him about his years as a musician and to listen to his insights into the early years of Springsteen's career.
The weekend will include non-stop entertainment featuring artists from across the world performing songs that span Springsteen's entire 35-year recording career. Also on the bill are Light of Day contributors Graziano Romani ('The Promise') and Mark Wright ('Two Hearts'). Wright, far right with Lopez, will also be moderating the Q&A.
Top Spanish Springsteen covers band Spirits in the Night will also be playing a full-on set of favorite Springsteen tracks. Other artists from across Europe will also be performing in the afternoon on the acoustic stage allowing fans the opportunity to enjoy the music in a more intimate setting. For those wishing to experience the real thing, a non-stop Bruce Cinema will be showing rare and unreleased footage. Plus: a Bruce quiz, Bruce disco (try out those "Dancing in the Dark" moves among friends!), merchandise stalls, and photograph collections for sale.
The "Land of Hope and Dreams' convention will be held at the The Van der Ree Horeca Conference Centre, Rotterdam, Holland on Saturday and Sunday, September 27 and 28, from midday to 11 p.m. both days. For ticket pricing and further information visit www.rouletteshop.nl.
- August 20, 2008

E STREET BAND BACK ON THE ROAD; BID NOW TO MEET STEVE!


The Magic tour resumes in Jacksonville tonight! And for the remaining eight shows, Steve Van Zandt is auctioning off Meet and Greet Passes to benefit his Rock and Roll Forever Foundation.
Visit eBay.com and search the username RockandRollForeverFoundation to find the auction lots, or go directly to the auctions here. Some auction lots contain GA tickets with pit passes or lower tier seating with the meet and greet (starting bid: $500), while others are just the meet and greet only, for existing ticket holders (starting bid: $300). Get your picture taken with Steven as well as an item autographed! Keep checking back as new auction lots will be added as each show gets closer.
Steven's Rock and Roll Forever Foundation is a non-profit, educational organization founded on the belief that rock and roll is among America's most lasting contributions to world culture. In accordance with this, the Foundation's mission is to study, preserve, and celebrate rock and roll's place among the arts that have defined the 20th century and continue to shape life in the 21st.
- August 15, 2008

CHEVROLET DELUXE
Bruce Springsteen's first car, a '57 Chevy Bel Air, will be on display this fall in Soho when Cleveland's Rock and Roll Hall of Fame and Museum opens a New York branch. The car was on display yesterday, too, as New York City Mayor Michael Bloomberg posed in it for a photo op whlle making the announcement. The opening of the 25,000-square foot annex at 76 Mercer Street is planned for November. Read more in the New York Times (including a photo) and Billboard.com; more images at NJ.com.
- Updated August 14, 2008

CROSS BONES STYLE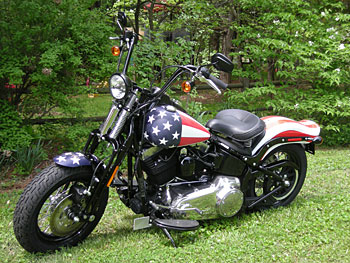 Here's something to roll into Milwaukee on at the end of the month... this 2008 Harley-Davidson Cross Bones Motorcycle has been signed by Bruce and the E Street Band, and one winner will take it home this Saturday! Log a Load for Kids is offering raffle tickets at $100 per chance, with all funds going to the University of Virginia's Children's Hospital. For additional info, see below.
Just a few days left to buy tickets... to purchase, contact by Rich Palermo at (434) 841-3472 or richpale@earthlink.net, or the University of Virginia Children's Hospital Developmenet Office at (434) 924-8432.
- August 13, 2008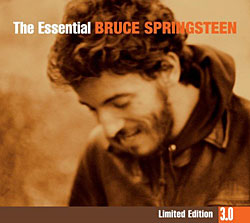 MEET THE NEW ESSENTIAL,
SAME AS THE OLD ESSENTIAL
Seeing a new edition of The Essential Bruce Springsteen on the release schedule for August 26 had us daring to dream for a sec... but no new material here. Same three-disc set as the original release, the only difference is the packaging, with the new version housed in a Digipak.
If this title isn't already on your shelf, it's a must-have for disc three alone -- but no need to rebuy.
- August 13, 2008

THAT'S REALLY SUPER, SUPER BOWL
As we reported yesterday, the New York Post's naming of Bruce and the E Street Band as the next Super Bowl halftime entertainment has set off a firestorm of internet chatter -- and lots of emails to us asking if it's for real. So just to be clear, it's not a done deal, as Variety points out with a quote from NFL spokesman Brian McCarthy: "We don't have any talent confirmed for the Super Bowl." So: Balboa may take on that Earth-Slayer yet. Bruce may be working up "(First and) Tenth Avenue Freeze-out" and "Human Touch(down)" at this very moment. But we await official confirmation.
- August 12, 2008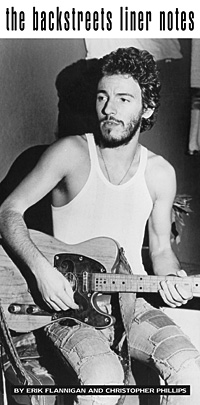 OUR SUMMER READING PROGRAM
Backstreets Liner Notes for Tracks
available now as a free download
Almost ten years ago, when Tracks was released, we published a supplemental booklet in Backstreets Magazine, to accompany the box set. Bound separately, and sized to fit inside the Tracks box, it was a twelve-page booklet of liner notes, covering each of the 66 "new" songs. It's one of the most popular things we've done, and it's been out of print for years... until now!
Doing a reprint is quite cost-prohibitive -- but now, by popular demand, we're making available a PDF of our Tracks Liner Notes, for FREE.
This is the first time we've made Backstreets Magazine content available electronically. If you missed the original in the sold-out Backstreets #61, here's a version you can print, trim, and store in your Tracks box -- or just view on your screen. For more details, and to get your free copy, just head to our Downloads page.
If you like what you see, and you're not already receiving the magazine, we hope you'll subscribe now to get on board for much more Boss goodness in our pages to come. And check out our other back issues to get 'em before they're gone!
- August 11, 2008

DANNY TRIBUTE IN NEW ISSUE OF KEYBOARD
Check out the August 2008 issue of Keyboard magazine for Ernie Rideout's "The Phantom of E Street: The Musical Legacy of Danny Federici." Utilizing the magazine's interviews with Danny and Roy from over the years -- and a new one with Charlie Giordano -- Rideout presents a compelling look at Danny's life and career, as well as more techincal aspects of his sound. Want to know Danny's favorite drawbar setings on the B-3? Pick up a hard copy, which includes photography from our own A.M. Saddler, or read the piece online at keyboardmag.com.
- August 11, 2008

RUNNIN' DOWN TO TAMPA?
The internet's abuzz with the rumor that Springsteen and the E Street Band will be playing the next Super Bowl half-time show, after the New York Post ran with the news this morning (attributed to "sources" and "a spy"). Don't be surprised if it turns out to be for real -- the NFL has been courting Springsteen for some time now, and several other, er, sources, are telling us that Mike Appel's dream gig is finally going to come true. But it ain't official yet. If/when it's solid, we'll report it right here.
As long as we're addressing speculation, we've got a spy of our own who swears he's seen the setlist Bruce has written up for the occasion:
The Line
Drive All Night
Loose Ends
Cover Me
Protection
Trapped
No Surrender
You'll Be Comin' Down
A Good Man is Hard to Find (Pittsburgh)
Medley: Super Bowl Shuffle / E Street Shuffle
and of course, Born to Run.
You heard it here first.
Two things we know for sure. One: Super Bowl XLIII is set for February 1, 2009, in Tampa. And two: if Clarence Clemons decides to have a wardrobe malfunction, nobody's going to stop him.
- August 11, 2008

SINGIN' FOR THE LONELY
As Billboard reports, Springsteen will be represented on the upcoming Roy Orbison box set: the audio includes recordings from Bruce's Black and White Night guest spot with Roy, and Springsteen has contributed a testimonial for the liner notes as well. The four-disc, 107-track The Soul of Rock and Roll is due on Bruce's birthday, September 23.
- August 11, 2008

NOW COMES THE ROUGH AND TUMBLE
Saving Tillie, one signature at a time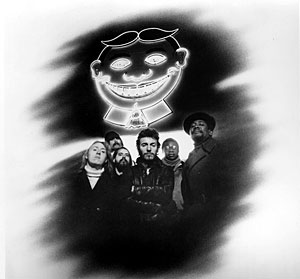 Who knew that removing 10-ton wall murals would be the easy part? Four years after Springsteen fans helped rescue three iconic murals from the Palace in Asbury Park, and two years since developers were supposed to relocate the murals into preservation sheds, neither the developers nor the City of Asbury Park have honored their promises to preserve the murals. The murals include Tillie, the Palace fun face used by Springsteen in a famous 1973 publicity photo. To help preserve the murals, before time runs out, please sign the preservation petition at www.PalacePetition.com and ask friends and family to help.
- August 7, 2008

WRECK ON THE HIGHWAY: GIANTS STADIUM TRAFFIC ALERT
A heads-up for tonight's showgoers: A tanker truck overturned on the NJ Turnpike earlier today. As a result, Exit ramp 16W, which leads directly into the Meadowlands Sports Complex, is temporarily closed. The closure will last for several hours. For alternate directions and other details, see Meadowlands.com.
- July 31, 2008

HELP WANTED
With Bruce and the band back on stage in the States, just a reminder that we want to hear from you after the shows! We count on reader reviews for the show-by-show reports in Backstreets magazine, to cover the highlights, lowlights, anything that set a show apart. If you're interested in contributing, just submit your concert report to onstage@backstreets.com.
And as work continues on Backstreets #88, we realize we've got just a few holes in our reader reports of the earlier part of the Magic tour. Being completists, we've gotta make sure we have each of the shows well-covered... so hey note-takers, or those with good memories, if you were at any of the following shows:
Asbury Park, NJ - Sept. 24 / 25, 2007
Today Show - Sept. 28, 2007
Boston, MA - Nov. 18, 2007
Hamilton, ON - March 3
Dallas, TX - April 13
Ft. Lauderdale, FL - May 2
and want to help us fill those gaps, please email show report(s) to that same address, onstage@backstreets.com. Thanks!
- July 28, 2008



BORN TO RE-RUN
Tonight, and after each of the two remaining Giants Stadium shows, tune in to WXRP for an "instant replay." The station -- "The New York Rock Experience," 101.9 in the New York area and streaming online at 1019RXP.com -- will be providing a soundtrack for the post-show drive, using previous live recordings to recreate each concert's setlist in its entirety.
- July 27, 2008

WHERE THE BAND IS
In today's Star-Ledger, Jay Lustig speaks with Clarence Clemons, Nils Lofgren, and Max Weinberg as the band gears up for the East Rutherford stand. "It's exciting to play for your family," says Clarence, "and everybody in New Jersey is our family.
The E Streeters also talk about the loss of Danny Federici, the spontaneous nature of the set ("I know that I'll get a setlist that will surprise me the first night," says Nils, "And I know that Bruce won't follow it"), and the requests-via-signs: "It's something we've never done before," Max tells Lustig, "and it seems to make the stadium experience -- as intimate as Bruce has always been able to make it -- even more intimate. 'Cause that's what you do in a club. You take requests."
Read "E Street Band anticipates New Jersey energy at Giants Stadium Stand."
- July 26, 2008



MAPPING OUT A PLAN FOR GIANTS STADIUM
U.S. leg begins this weekend -- be prepared!
Bruce and the E Street Band have been jet-propelled back home to the U.S.A., and their U.S. summer tour kicks off with a three-night homecoming stand in the swamps of Jersey on Sunday. A lot of fans have been wondering what the policies would be for these first U.S. stadium shows of the Magic tour; don't miss a whole bunch of useful information posted this week on Meadowlands.com, covering everything from parking to the G.A. pit to the drop line. We've also got that information sheet and a venue map as dowloadable PDFs.
Be sure to note this statement regarding signs, posted on Brucespringsteen.net and also on the Meadowlands info sheet: "All of us have been enjoying the signs and banners with song requests. And we appreciate that the U.S. stadium shows may loom epic in your imaginations, inspiring grand and vibrant art. Please show respect for those in the crowd whose views of the stage may be blocked by your signs by keeping them to a reasonable size and displaying them for only short periods of time."
- July 25, 2008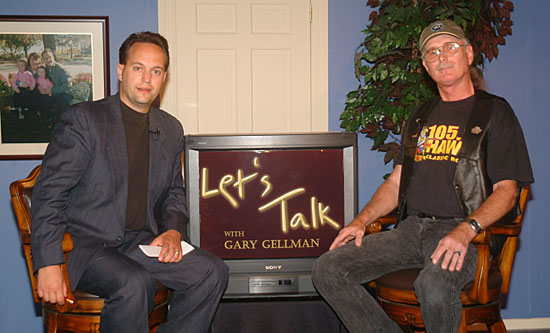 HEY MAD DOG -- LET'S TALK!
Check out Vini Lopez's appearance on Gary Gellman's "Let's Talk," a two -parter now viewable online, with Vini talking about the early days with the E Street Band. "I was working in a boatyard refinishing boats and I got a call from Bruce," Vini tells Gellman. "He said, 'The record company wants me to do a record,' and he asked if I was interested. Bruce made sure all of the guys he had worked with in the past were a part of this opportunity." Full video at gellmanimages.com.
- July 25, 2008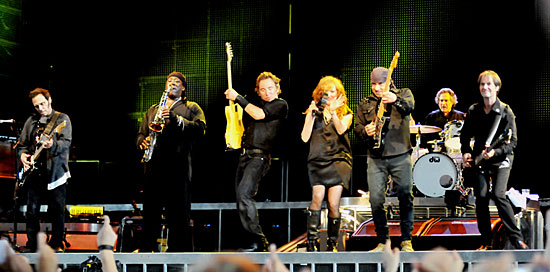 LOFGREN TALKS LONER, E STREET BAND IN "BEST SHAPE EVER"
Gary Graff chats with Nils Lofgren for Billboard, looking at his new album of Neil Young covers -- The Loner: Nils Sings Neil -- and looking ahead to the E Street Band's return to U.S. stages. "The band, musically, is in the best shape we've ever been, I think," Lofgren tells Graff. "The whole show has become one long improv/audible now; sometimes [Springsteen] changes the first song on the way to the stage, and usually by the second song he's calling audibles, so the set list is useless. It's fun to be part of something... where a band leader can do that much improv and get away with it and have a band that'll deliver and make it work. So, it's all really a pretty historic run, from my perspective." Read the full article here.
- July 25, 2008 - photograph by Harry Scott (Barcelona, July 20)

PLAY BALL!
For one night, the Lakewood BlueClaws become the BruceClaws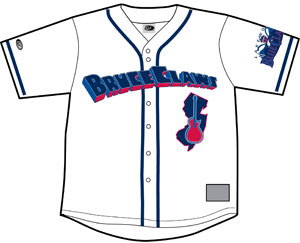 Next weekend, Bruce and the E Street Band return to New Jersey with a homecoming stand at Giants Stadium. To help gear up, this coming Friday night, July 25, the BlueClaws -- Lakewood, NJ's Minor League Baseball team -- are celebrating with Bruce Springsteen Night at FirstEnergy Park. And they're going all out, wearing these custom BruceClaws jerseys, created with special permission from Minor League Baseball. After the game, the jerseys will be auctioned to benefit the Food Bank of Monmouth and Ocean County.
Plus: nothing but Bruce playing over the PA all night, a Bruce-signed baseball raffle, Giants Stadium ticket giveaways, and more. General admission/lawn tickets are currently available at the ballpark ticket windows or by calling 732-901-7000 (option 2). For the general admission seating, fans can bring a blanket or a beach towel to spread out on the lawn overlooking the outfield, however no chairs are permitted.
And as an added perk available only to our readers, mention "backstreets" at the time of purchase (phone or in-person only) and receive a voucher for a free hot dog, bag of chips and small soda with each ticket purchased. So go enjoy an evening of The Boss and baseball... and eat for free!
For more information, enlarge the PDF below, and visit www.blueclaws.com.

AUCTIONS AND MORE FOR GIANTS STADIUM
With only three shows left in Europe, Springsteen and the E Street Band's three-night homecoming stand at Giants Stadium is just ten days away. For the July 27, July 28, and July 31 shows, tickets may still be available through Ticketmaster (300 levels popped up for the last two shows when we checked), but if you want to go a different way...
- July 17, 2008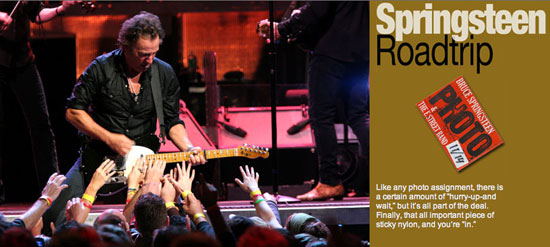 ON THE ROAD
Backstreets photographer Guy Aceto has just added a new feature to his website: "Springsteen Roadtrip" is a three-page travelogue that shows off more of his stunning work from the 2007 Magic tour. Check it out at aceartanddesign.com.
Aceto's work can also be seen in the digital booklet for the new Magic Tour Highlights, along with fellow Backstreets photographers Riku Olkkonen and A.M. Saddler.
- July 16, 2008

BRUCE, PATTI & ELVIS ON ONE DVD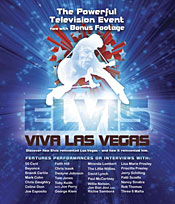 An expanded DVD version of Elvis: Viva Las Vegas, last year's ABC television special documenting the triumphs and tragedies of Elvis Presley's Las Vegas concerts, will be released on August 12. The documentary includes Bruce Springsteen's 1990 version of "Viva Las Vegas" over the opening credits and footage of Patti Scialfa performing a great version of "Looking For Elvis," filmed last year at Asbury Park's Convention Hall. This performance also features Bruce playing one mean harmonica as part of the Whack Brothers Rhythm Section.
The documentary is being released inexpensively (at $10 for DVD or $19 for Blu-Ray disc) and exclusively through Wal-Mart and Sam's Club stores -- somewhat strangely, since Springsteen has long been a vocal supporter of organized labor, which has mounted a multi-union campaign against many of Wal-Mart's policies. Fans who wish to refrain from giving Wal-Mart any more profits have several options. CMT will re-broadcast the two-hour Elvis: Viva Las Vegas special on August 11, so you can "roll your tapes" (or TiVos, DVRs etc.). CMT is also running a contest with prizes that include a free copy of the DVD. The video of Patti's Asbury Park version of "Looking For Elvis" is still available for purchase at the iTunes store.
The soundtrack to Elvis: Viva Las Vegas has been available from many outlets, including Backstreet Records, since last January, featuring audio versions of both Bruce's and Patti's performances from the special.
- July 16, 2008 - report by Shawn Poole

YOU'LL BE COMIN' DOWN

As the Philadelphia Inquirer reports today, the Spectrum -- home to many a legendary Springsteen show -- isn't long for this world: "Comcast-Spectacor officials revealed yesterday that the city's oldest major professional-sports venue will be demolished to make way for a proposed hotel, retail and entertainment complex." Demolition is tentatively planned for spring 2009; according to the story, Comcast-Spectacor president Peter Luuko "hinted that a concert by Bruce Springsteen, who has performed at the arena on numerous occasions since the early 1970s, might bring down the curtain." ["We're going to ask," Luuko is quoted as saying in the Philadelphia Daily News.]
Inquirer music critic Dan DeLuca recounts the venue's musical history ["Spectrum showcased great music"], leading with the 12/9/80 show there as the best concert he's ever seen. We'd also point to the six-night stand on the Born in the U.S.A. tour in September 1984 as a highlight for both the venue and for Springsteen's performing career. Bruce also opened for Chicago there in '73, played his first arena show there in '76, Raved On with Garry Busey on the Darkness tour, and celebrated his 50th birthday with a magical one-off show there in '99.
- July 16, 2008

BACKSTREETS MAGAZINE: "THE GOLD STANDARD"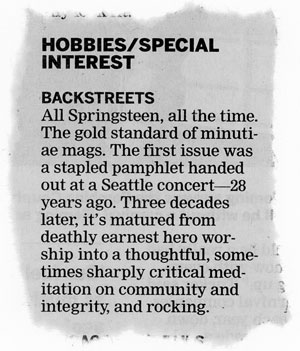 So says the Chicago Tribune. And it's got a nice ring to it, we think.
Every year the Tribune compiles a list of their Fifty Favorite Magazines. "We like magazines that instruct, entertain, and take us places we'd otherwise never know," they write. This year, for the first time, Backstreets Magazine has made the list -- and as Bruce might put it, we're honored from our ass to our heels. See what they have to say about our magazine at right, and see the full list at Chicagotribune.com.
If you haven't checked out Backstreets Magazine yet, right now happens to be a perfect time to susbcribe: the new issue, just out, is our biggest ever, and we're doing a bulk mailing this week to get it sent out to everyone who has signed up in recent weeks. (See our Subscriber Services page for mailing dates and ETA info.)
Subscribe now, and your first issue will be on its way to you in a matter of days!
- July 15, 2008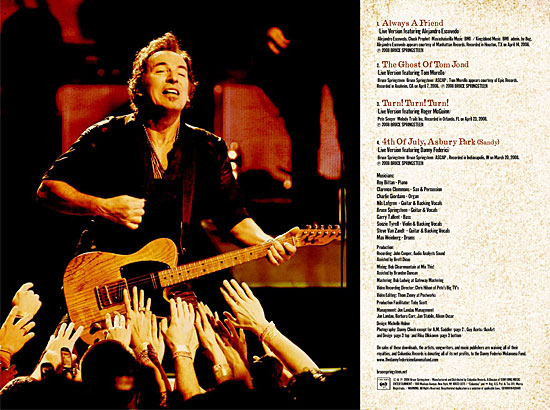 NEW RELEASE TUESDAY: MAGIC TOUR HIGHLIGHTS OUT NOW
Downloadable as of today, Springsteen and the E Street Band's Magic Tour Highlights digital EP collects spring 2008 guest spots from Alejandro Escovedo, Roger McGuinn, and Tom Morello, plus "Sandy" from Danny Federici's final performance.
The iTunes Store has the four audio tracks plus accompanying videos (99 cents per song, $1.99 per video; all eight files bundled with a digital booklet for $7.99), with all profits going to the Danny Federici Melanoma Fund; you can also download the mp3s from Amazon.com (99 cents individually, or $2.99 for all four).
- July 15, 2008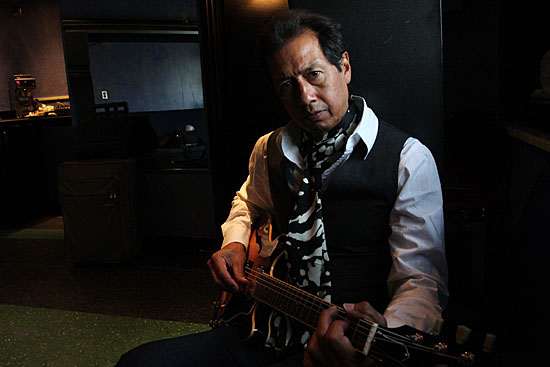 "I HAD NO IDEA WHAT WE WERE WALKING INTO..."
Escovedo talks to Backstreets about his duet with Bruce, out tomorrow
Just before killing a sold-out crowd at Washington D.C.'s 9:30 Club this past weekend, Alejandro Escovedo sat down with Backstreets Magazine to discuss playing with Springsteen in Houston on April 14 and the inclusion of his "Always a Friend" on Bruce's impending digital-only release, Magic Tour Highlights, due Tuesday, July 15.
"We were driving towards Houston," Escovedo recalled, "when I got a text message from [manager] Jan that said Bruce wants to do 'Always a Friend.' 'Are you in? Can you make soundcheck in 45 minutes?' We were two hours out!"
Despite missing out on soundcheck, Alejandro and Bruce ran through the song twice acoustically before he called the entire E Street Band into the dressing room.
"There's Soozie, and Little Steven, and Max, and Garry... I mean, they're giants," Escovedo continued, "Just giants. And so we ran through it once acoustically in the dressing room. And then I went out to see my first Bruce Springsteen show. I've seen a lot of music in my life: you know punk rock, The Stooges… everything. But this is one of the most powerful things, if not the most powerful thing I've ever seen."
And how did the experience affect him?
"Those four minutes on stage with Bruce were more important than the 33 years I've been playing music. It just changed my life. It was like being blessed by the Dali Lama. Suddenly all those years of working really hard and struggling, someone said, 'You're alright. You're good at what you do. You deserve to be up here.'"
Alejandro's Real Animal continues to be one of the best-received albums of his career. Watch for the full interview with Alejandro in an upcoming issue of Backstreets. Subscribe to the magazine now!
- July 14, 2008 - report and photograph by Bob Zimmerman

NEED A RIDE?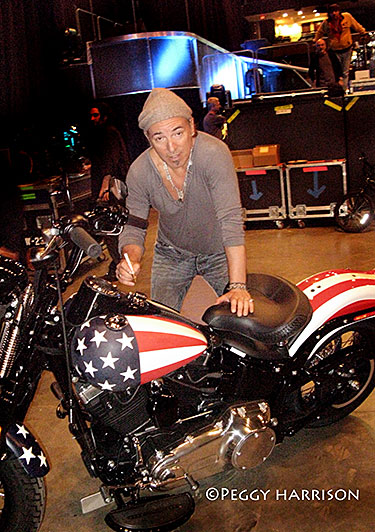 On April 30 at the John Paul Jones Arena in Charlottesville, VA, prior to their show, Bruce Springsteen and the E Street Band autographed a 2008 Harley-Davidson Cross Bones Motorcycle for the benefit of the University of Virginia's Children's Hospital. For a cool $100, you can have a chance to win it. Log a Load for Kids, a grassroots charitable organization of loggers, foresters and sawmills dedicated to raising funds for their local children's hospital, is running this benefit as a raffle at $100 per chance, with 100 percent of the ticket proceeds going to the kids at UVACH.
Only 2500 raffle tickets are available, and they are going fast. The winner will be drawn August 16 at 3:00 p.m. at Charlottesville's McIntire Park, where Log a Load for Kids will be conducting its Fourth Annual Softball Tournament for UVACH. This is the 20th Anniversary of Log a Load for Kids; during that time they have raised more than 29 million dollars nationally for the Children's Miracle Network and their local children's hospitals .
To purchase a chance on this very special motorcycle, contact by Rich Palermo at (434) 841-3472 or richpale@earthlink.net, or the University of Virginia Children's Hospital Developmenet Office at (434) 924-8432.
- July 14, 2008

TICKET AUCTION: WOMEN BUILD, ANYONE BID
Paterson Habitat for Humanity -- which Patti Scialfa partnered with as the honorary First Lady of New Jersey -- will be auctioning off a pair of tickets to the final Giants Stadium show on July 31. The tickets were donated from Patti as part of her commitment for Women Build 2008. The winning bidder will get their choice of Pit or choice lower level seats, as well as passes to the E Street Lounge. The auction begins Monday, July 14, at 11:00 a.m. at www.charityfolks.com, with all proceeds going to Women Build. Click here for more information, and watch this space for the Charity Folks link once the auction is live.
- Updated July 10, 2008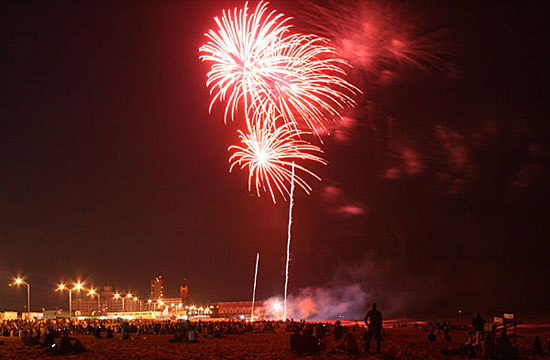 FIREWORKS ARE HAILIN'...
- photograph by Mike Black, Asbury Park, NJ, 7/4/07
Happy Fourth of July! Bruce and the E Street Band will be in Sweden for the occasion, where the Magic tour resumes in Goteborg tomorrow night. Don't forget the live broadcast from the concert, on E Street Radio, beginning Friday afternoon at 1 p.m. Eastern.
More radio action for the holiday: Vin Scelsa's fantastic "Idiot's Delight" program this weekend will be an encore broadcast of his July 2005 show with Daniel Wolff, author of Fourth of July, Asbury Park: A History of the Promised Land. It's the complete four-hour show, with a lot of Springsteen and Asbury Park content, airing from 8 p.m. to midnight on Saturday, July 5, on WFUV 90.7 FM. Listen to a stream online at wfuv.org.
Have a happy and safe holiday weekend!
- July 3, 2008

MAGIC TOUR FOUR-TRACK LIVE EP DUE JULY 15
Special guests in the spotlight on new digital release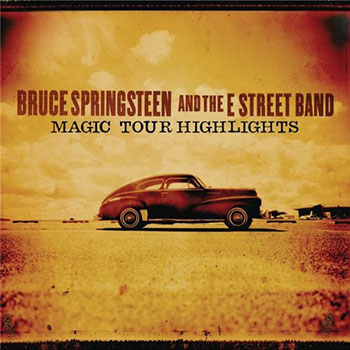 With official live Springsteen recordings few and far between (even though they've stepped up the game in recent years), we've always been fans of the Chimes of Freedom EP model -- no grand statement or tour summation, just getting great live music out fast. Twenty years later, we've got something of the same species: a four-track live EP with recordings from mere months ago, to be released even as the Magic tour continues.
Magic Tour Highlights, available in less than two weeks, embraces the digital era, delivering mp3s and videos online with no physical release currently planned. The EP will be available for download from all digital downloads stores, including the iTunes Store and Amazon.com.
Four songs from Bruce and the E Street Band's spring 2008 U.S. leg have been selected, each highlighting a special guest -- if you count Danny Federici's re-emergence for his only 2008 appearance, what turned out to be his final performance in Indianapolis. A "guest spot" or not, it was an emotional high point of the tour that's captured here, along with three other unique performance highs. The tracks:
"Always a Friend" with Alejandro Escovedo (April 14, Houston)
"The Ghost of Tom Joad" with Tom Morello (April 7, Anaheim)
"Turn! Turn! Turn!" with Roger McGuinn (April 23, Orlando)
"4th of July, Asbury Park (Sandy)" with Danny Federici (March 20, Indianapolis)
In addition to the audio tracks, each of these will be available in accompanying live videos. The recordings were mixed by Bob Clearmountain and mastered by Bob Ludwig; Thom Zimny handled re-editing on the videos.
The artists, songwriters, and music publishers are waiving all of their royalties, and Columbia Records is donating all of its net profits, for all sales to benefit The Danny Federici Melanoma Fund. The iTunes Store is donating their first year's net profits as well. Magic Tour Highlights will be available for download beginning July 15.
- updated July 3, 2008

HAPPY BIRTHDAY, PROFESSOR!
Roy Bittan turns 59 today, born July 2, 1949.

BRUCE SPRINGSTEEN REMEMBERS MADAM MARIE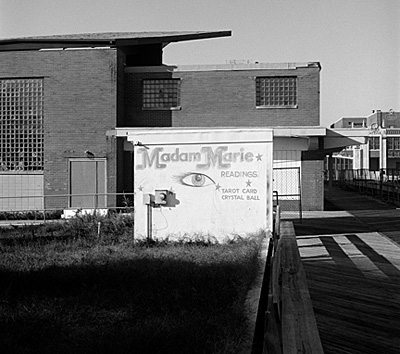 Back in the day when I was a fixture on the Asbury Park Boardwalk, I'd often stop and talk to Madam Marie as she sat on her folding chair outside the Temple of Knowledge.
I'd sit across from her on the metal guard rail bordering the beach and watch as she led the day trippers into the small back room where she would unlock a few of the mysteries of their future. She always told me mine looked pretty good -- she was right. The world has lost enough mystery as it is -- we need our fortunetellers. We send our condolences out to her family who've carried on her tradition. Over here on E Street, we will miss her.
--Bruce Springsteen
- July 2, 2008 - photograph by Lewis Bloom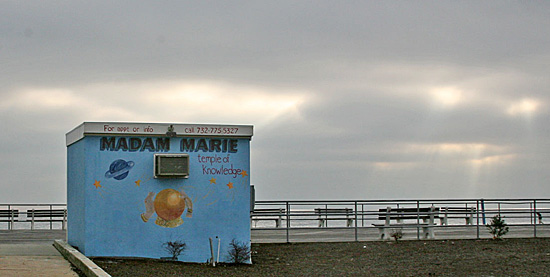 MADAM MARIE, TELLING FORTUNES SINCE THE '30s, DIES AT 93
According to the Asbury Park Press, "Madam Marie" Castello passed away on Friday. The fortune teller was, of course, immortalized in Springsteen's "4th of July, Asbury Park (Sandy):
Did you hear the cops finally busted Madam Marie for tellin' fortunes better than they do...
and her booth was a fixture of the Asbury Park boardwalk. As the Press reports: "Legend has it that she told Springsteen he was going to be a success. Springsteen later joked that she told all the musicians that. And Springsteen never forgot Madam Marie. 'He always comes by to say hello,' she told Press columnist Bill Handleman in May. 'He knows where he came from.'"
Her great-granddaughter Sally Castello continues the family tradition of readings at the "Temple of Knowledge" booth in Asbury Park. Rest in peace, Madam Marie.
- July 1, 2008 - photograph by Mike Black