THIS IS LIKE WHAT HE USED TO DO IN '78!
Ah, but no smartphones in '78. An astoundingly well-positioned fan captures the moment at Night One in Philly.
- March 29, 2012

A STRANGER PASSING THROUGH PUT UP A SIGN...
Mighty Max casts his vote at the National Constitution Center

The Wrecking Ball tour's back-to-back shows in Philadelphia begin tonight, but Max Weinberg has been gracing the town with his presence since yesterday. In addition to last night's speaking engagement at the National Museum of American Jewish History, Max also visited the NCC's exhibition of From Asbury Park to the Promised Land. One of the new features for the exhibit's Philly run is a large black wall where visitors can post a note naming their favorite Springsteen song and why. Mighty Max's pick: "If you can't dance to 'Ramrod,' check yourself!"
- March 28, 2012 - Shawn Poole reporting, photograph courtesy of the National Constitution Center


GOV. CHRISTIE: MEET ME LABOR DAY IN ATLANTIC CITY
Above, New Jersey Governor Chris Christie makes a "direct plea" to Bruce Springsteen to play the new Revel in Atlantic City, the city's first non-union casino. The Philadelphia Inquirer's Matt Katz, whose question prompted Christie's comments yesterday morning, reports in "Christie and the Boss: Singing Different Tunes?" Christie, famously a Springsteen fan despite their "different points of view on certain areas of politics," will be attending the second Philadelphia show (his 127th) on Thursday.
- March 28, 2012


WHY NOT EVERYONE SHOULD PUT THEIR PHONES DOWN
Of course we can't post every fan-based video from YouTube... but when greatness presents itself, we must take notice. "Talk to Me" in Tampa marked the much-anticipated emergence of The Promise material, here captured damn near perfectly from the pit. Blow, Eddie, blow! The best five minutes and 33 seconds you'll spend all day... unless you're going to Philly tonight, of course.
Also from Friday night in Tampa comes official video for "American Skin," as the Trayvon Martin shooting continues to dominate the national conversation, viewable on brucespringsteen.net and YouTube.
- March 28, 2012

BEHIND THE WRECKING BALL WITH RON ANIELLO
On Sunday, Ron Aniello guested on 105.7 The Hawk's "Bruce Brunch" for his first in-depth talk about
Wrecking Ball.
Thanks to host
Tom Cunningham
, we've got the audio right here — listen to Aniello talk about the development and production of the record as well some correcting of the credits (that
is
Steve you hear on "Land of Hope and Dreams" and "Wrecking Ball").
- March 27, 2012

STEVE: "IT'S ALMOST LIKE YOU'RE IN A DIFFERENT BAND
Rolling Stone's Andy Greene recently spoke with both E Street Band guitarists about 2012 so far and how the loss of Clarence Clemons has affected the band. Steve Van Zandt points out how having new players on stage does more than supplement the sound:
It's emotional for me to walk onstage without Clarence, and it always will be. I still honestly once in a while get that feeling with Danny. I look over there and say, "Oh yeah, Danny's no longer..." That's never going to change. So I think the more people onstage, the more that helps. The more the configuration is different, the more that eases your emotional pain. In other words, you're not trying to replace them, you're doing a different thing. Through the years, since we started playing in 1965, you do a lot of different things. I've been in horn bands. I've been in country bands. You go into 100 different configurations in your life. Now it feels like another one. It's almost like you're in a different band, in a sense, even though the core of the band is still there.
And then there's the Apollo show:
To do our first show as a broadcast, that's real balls.
Read: "Steven Van Zandt, Nils Lofgren Open Up About the New E Street Band"
- March 27, 2012


A WISH COMES TRUE
Carter, a five-year-old Springsteen fan born with spina bifida, had a special night in Boston last night thanks to the Make-a-Wish Foundation and Bruce himself, who spent an hour with the family before the show and treated them to "Waitin' on a Sunny Day" and "Tougher Than the Rest." Says Carter's dad, "A moment you'll never, ever forget."
- March 27, 2012

NILS ON TAP
The latest official video from Nils Lofgren's
Old School
album, "Dream Big."
Old School
is available now on iTunes and at
nilslofgren.com
.
- March 26, 2012

CONSTRUCTION ZONE
Please pardon any mess or downtime over the weekend... we're in the process of migrating Backstreets.com to a new server in order to better accomodate tour-time traffic. Thanks for your patience.
- March 23, 2012

"PHILLY, WE'RE COMIN'!"
Thus spoke "Mr. Badlands" himself, at the close of the recent Apollo show. After Tampa tonight and Boston on Monday, it's on to Springsteen's "home away from home... where they make cheesesteaks as big as aeroplanes." And as Philly prepares for the Wrecking Ball tour's two-night stand next week, there will be plenty of Boss-related things to do and see in the City of Brotherly Love both before and after the concerts.
On the night before the first Philly show, Max Weinberg will step from behind the drum kit and onto the dais as a featured speaker at the city's National Museum of American Jewish History. According to the Museum's website, Max will share personal experiences ranging from playing his first Bar Mitzvah at age seven to his nearly four decades with the E Street Band: "Playing with Bruce and the E Street Band is everything a 12-year-old drummer from the suburbs of Jersey ever dared to dream," quoth the Mighty One. The event is scheduled to run from 7:30-8:30 p.m. (with doors opening at 6:30) on Tuesday, March 27. Tickets are available to the general public at just $25 each, with $18 tickets for members of the Museum and/or the National Constitution Center. Click here for details.
If you're in town for the concerts, the National Constitution Center is a must-stop. The NCC's ongoing exhibition of From Asbury Park to the Promised Land: The Life and Music of Bruce Springsteen continues its month-long Hungry Heart Food Drive, offering discounted admissions to all who donate non-perishable food items to Philabundance, the Delaware Valley's largest hunger-relief organization.
The NCC's Daily Constitution blog also is featuring a special two-part essay on the music and politics of Wrecking Ball by Backstreets' Philly-based contributor, Shawn Poole. Part 1, "Nobody's Free Until Everybody's Free," is posted today with Part 2 (a track-by-track analysis of the album) due next week.
A few weeks after the E Street Band's Philly concerts, the first-ever Philadelphia Springsteen Memories Roadshow comes to town. This event, building on the success of the initial Memories Roadshow event in Boston last year, is co-sponsored by Backstreets and Lawrence Kirsch, publisher of For You and The Light in Darkness. Fans old and new are invited to visit the NCC's Springsteen exhibit during the day and then come and party at McFadden's Citizens Bank Park on the evening of Saturday, April 21. Bring your mementos, photos, T-shirts, posters, books, ticket stubs, albums and especially your Bruce stories and memories to share with other fans who have appreciated Springsteen's appearances in the Philadelphia area since 1973. Admission will be free, along with special incentives for all who pre-register online here. Fans who attend also will be asked to make voluntary donations in support of two charitable organizations: the Kristen Ann Carr Fund for research and treatment of sarcoma cancers and Philabundance yet again. On this special night, please donate whatever you can afford, large or small (cash only, please), to help fill our own "wrecking ball" against hunger and illness.
- March 23, 2012 - Max/Bruce photograph by A.M. Saddler [3/18/12]


NEW ROLLING STONE IN STOCK NOW AT BACKSTREET RECORDS
Bruce is back on the cover of Rolling Stone for the March 29, 2012 issue, with a lengthy interview inside by Daily Show host Jon Stewart, an 8-page feature with photos. Need one? We've got copies in stock now.
- March 21, 2012

FROM THE WOODS OF CAROLINE...
comes more pro-shot footage, from Greensboro. See
myfox8.com
for two clips, from Monday night's "Wrecking Ball" and "Badlands."
- March 21, 2012


BRING ON YOUR WRECKING BALL
A few St. Patrick's Day treats from the last warm-up
Something to tide you over as we're burnin' down the clock toward the Atlanta opener Sunday night: pro-shot clips from SXSW. No complete songs here, but some amazing glimpses of the ACL Live festivities in Austin, spotlighting guests Jimmy Cliff, Tom Morello, and more.
See our Vimeo page for one more: the SXSW performance of "We Take Care of Our Own."
And that's just a warm-up show. We'll see you back here late Sunday night for our first report from the Wrecking Ball tour proper.
- March 17, 2012

HAPPY ST. PATRICK'S DAY!
If only Bruce had some sort of Irish-type songs he could play to celebrate. Oh, well. But so listen: the opening of the Wrecking Ball tour is finally upon us, officially kicking off with back-to-back shows down south on Sunday in Atlanta and Monday in Steensboro — er, Greensboro, NC. If you've got General Admission tickets, be aware that there is once again a pit area between the front of the stage and the main floor area, and it's a good idea to look to venues for GA entry procedures and details on the pit lottery. Procedures are posted now for both Atlanta's Philips Arena and the Greensboro Coliseum. It takes a little luck of the Irish... but of coruse, it takes having the right info, too. Be forearmed!
- March 17, 2012

PHILLY-AREA FANS: C'MON AND TAKE YOUR BEST SHOT...
Concert tix auction and food drive both benefit Philabundance
Philabundance, Philadelphia's largest hunger relief organization and a favorite Springsteen charity for years, is auctioning off two concert packages for the Wrecking Ball Tour's second night in Philly. The online auction has just been extended to end at 11:59 p.m. on March 20. Each package includes two tickets to the March 29 show and a pair of E Street Lounge pre-show passes. Regardless of who wins the auction, all placed bids also will be entered automatically into a raffle for a pair of tickets to the first night in Philly, on March 28. Only fans who live in the PA/NJ counties in and around the City of Brotherly Love are eligible. Visit Philabundance's 2012 Bruce Auction page for details.
Fans visiting Philly's National Constitution Center for the ongoing From Asbury Park to the Promised Land exhibit also can support Philabundance and save a bit of money in the process. All this month, each visitor who brings in a canned food donation for the NCC's "Hungry Heart" Food Drive will receive a $2 discount on admission to the exhibit.
- March 16, 2012


"THAT'S EVERY SONG I'VE EVER WRITTEN"
Less than 12 hours before Eric Burdon joined the E Street Band last night for "We Gotta Get Out of This Place," Bruce was singing The Animals' praises in his SXSW keynote — and singing a stunning acoustic snippet of that very song. Of course, you have to hear the whole address, which CNN calls "a rousing, witty and personal history." But this part is particularly worth watching — tour-worthy, certainly — and all the more impressive for having just woken up. Good call on putting up the clip by Columbia Records and brucespringsteen.net, where you'll also find a six-minute video of the Woody Guthrie portion of Bruce's address.
- March 16, 2012


MEET ME AT THE WRECKING BALL
Jimmy Cliff, Eric Burdon, Tom Morello and more join in for SXSW blowout
By GARY GRAFF / AUSTIN, TX
As he finished the main part of his South By Southwest concert Thursday night in Austin's ACL Live at Moody Theater, Bruce Springsteen thanked the 2,700 or so who packed the place "for being part of our test run."
That was a funny way to refer to a show that immediately took on the rank of legendary in Springsteen's already storied lore of live performances.
Historic was the hyperbolic but most appropriate way to refer to the two-hour and 35-minute bash, which, coming a day after thew new Wrecking Ball topped the Billboard 200, capped an expectedly strong outing by Springsteen and the E Street Band with a dizzying array of guest star surprises. Of course, this being SXSW, there was no shortage of friends and previous collaborators to draw upon, and Springsteen clearly didn't hestitate to take advantage of their availability.
So Tom Morello was on hand to recreate his contributions to the Wrecking Ball tracks "Death to My Hometown" and "Jack of All Trades," and to pull out his bag of guitar tricks during a fierce "The Ghost of Tom Joad." Reggae legend Jimmy Cliff, clad head-to-toe in red — contrasting nicely with the E Street Band's traditional black — sang "The Harder They Come," "Time Will Tell," and "Many Rivers to Cross" (though surprisingly not "Trapped"), while The Animals' Eric Burdon — who Springsteen lauded in his SXSW keynote speech earlier in the day — came via what Springsteen called "the Twitterverse" to sing "We Gotta Get Out of This Place."
The tour de force, however, was the finale, a rendition of Woody Guthrie's "This Land is Your Land" with both of the evening's opening acts — Alejandro Escovedo and the Low Anthem — along with the members of Arcade Fire and Garland Jeffreys. All this while a feeling-no-pain Glen Hansard (the Swell Season, the Frames) and members of Mumford & Sons and Superchunk watched from the VIP mezzanine.
It was indeed, as Springsteen called it, "a crazy ride," but the second full-length concert of the Wrecking Ball campaign also established that the newly expanded E Street Band — which, at 17 strong, is more like an army than a group — is sharp and road-ready for the tour that starts in earnest on March 18 in Atlanta.
The bulk of the show was similar to the March 9 Apollo Theatre shindig, based around the sober and stock-taking songs from the new album. It also had a sense of occasion; with SXSW joining in the observance of Guthrie's 100th birthday (including a special concert held the same time as Springsteen's show) the troupe bgean Thursday's show with Guthrie's "I Ain't Got No Home." The opener started a capella and built into a full-band arrangement before the explosive trio of "We Take Care of Our Own," "Wrecking Ball," and "Badlands," with Jake Clemons getting a warm ovation after taking Uncle Big Man's solo spot. In all, Springsteen and the E Streeters performed seven songs from the new album — with Michelle Moore again on hand for "Rocky Ground" — along with complementary older material such as "The Promised Land," "The Rising," "Waiting on a Sunny Day," "My City of Ruins," and a hard-knuckled "Seeds." The five-piece horn section gave the arrangements more heft, muscle and soul — and, let's face it, Jake Clemons has replaced his uncle, even if he's not standing in the same spot — as did new percussionist Everett Bradley.
Springsteen's mood countered the sober countenance of the repertoire, however. Clearly a little punchy after waking up at 8 a.m. for his "big fucking speech" — "That fucked everything up... Why? Why?!" — he led both band and crowd through a storming "E Street Shuffle" and a moving "Thunder Road," as well as a "Tenth Avenue Freeze-out" that continues to pay tribute to Clarence Clemons. He didn't climb to the balcony as he did at the Apollo, but Springsteen did lean into the crowd a few times and worked the front of the stage like a host making sure everyone was having the time of their lives.
And that they did. Springsteen may have told the SXSW crowd that "we need the encouragement," but the most encouraging thing about Thursday's show was how ready he and E Street appear to be ready take the Wrecking Ball to the rest of the world.
For the full setlist from this and other recent shows,
see our Setlists page
- March 16, 2012 - Gary Graff reporting - photographs by Michael Buckner


THE BADDEST ASS IN TOWN: BRUCE'S SXSW KEYNOTE
By GARY GRAFF / AUSTIN, TX
There was an audible — and mass — gasp of disappointment on Thursday afternoon in Austin when SXSW managing director Roland Swenson announced that Bruce Springsteen's keynote speech would be done in an interview format. It wasn't lack of respect for Dave Marsh, the eminent Springsteen authority, who's more than up to the task. It was just that everyone was expecting... well, a speech. So there was relief when, with E Street Band members including Little Steven Van Zandt, Garry Tallent and Roy Bittan looking on, Springsteen strode onstage, in a blue shirt and dark jeans, with a sheaf of papers and a wide smile, asking why we were "up so fucking early? Every important musician in this town is asleep — or they will be by the time I finish this thing." Hardly. Springsteen enraptured the packed ballroom at the Austin Convention Center with nearly 50 minutes of advice, anecdotes, reflections, and analysis, a fascinating and carefully constructed oral memoir that considered his career in the context of an event with some 13,000 registered attendees and 2,000 bands playing around town. Springsteen — who made a guest appearance at Wednesday's Austin Music Awards and will be performing his own show Thursday night at ACL Live at the Moody Theater — also grabbed the acoustic during parts of the speech, connecting his doo-wop roots to "Backstreets" and The Animals' "Don't Let Me Be Misunderstood" to "Badlands" ("It's the same fucking riff!"). It was a speech full of genuine gems, but here are ten of our favorite moments from the keynote.
* No one really hardly agrees on anything in pop anymore. There is no keynote. There is no unified theory of everything. You can ask Einstein. You can pick any band — say, Kiss. You can go, "Early theater rock proponents expressing the true raging hormones of youth," or, "They suck!" You can go, "Phish, inheritors of the Grateful Dead's mantle, brilliant center of the true alternative community," or, "They suck!" You go, "Bruce Springsteen, natural-born poetic genius off the streets of Monmouth County, hardest-working New Jerseyan in show business, voice of the common man, future of rock 'n' roll," or... "He sucks! Get the fuck outta here!"
* So as the records that my music was initially released on give way to a cloud of ones and zeroes, and as I can carry my entire record collection since I was 13 in my breast pocket... the one thing that's been constant over the years (is) the genesis and power of creativity, the power of the songwriter or the composer or, let's say, the creator. So whether you're making dance music, Americana, rap music, electronica, it's all about how you're putting what you do together. The elements you're using don't matter. Purity of human expression and experience is not confined to guitars, to tubes, to turntables, to microchips. There is no right way, no pure way of doing it. There's just doing it.
* Remember, it wasn't just the way Elvis looked. It was the way Elvis moved that made people crazy, pissed off, driven to screaming ecstasy and profane revulsion... When they made an attempt to censor him from the waist down, it was because of what you could see happening in his pants. Elvis was the first modern, 20th century man, he was a precursor of the sexual revolution, of the civil rights revolution, drawn from the same Memphis as Martin Luther King, creating fundamental outsider art that would be embraced by a mainstream popular culture. Television and Elvis gave us full access to a new language, a new form of communication, a new way of being, a new way of thinking about sex, about race, about identity, about life. A new way of being an American, a human being and a new way of hearing music.... Once he was heard and seen in action, you could not put the genie back in the bottle... there was yesterday, there was today, and there was a red-hot hot rockabilly forging of a new tomorrow before your eyes.
* Even before there was Elvis, my world had begun to be shaped by the little radio with the six-inch mono speaker on top of our refrigerator.... Between 8 and 8:30 every morning as I snowed sugar onto my Sugar Pops, the sounds of early pop and doo-wop whispered into my young and impressionable ears. Doo-wop, the most sensual music ever made, the sound of raw sex, of silk stockings rustling on backseat upholstery. The sound of the snaps of bras popping across the USA. Of wonderful lies being whispered into taboo perfumed ears. The sound of smeared lipsticks, untucked shirts, running mascara, tears on your pillow, secrets whispered into the still of the night, the high school bleachers and the dark of the YMCA canteen. The sound of your incredibly wonderful, limp your ass, blue-balled walk back home after the dance.
* Roy Orbison was the true master of the romantic apocalypse. He knew what was coming after the first night you whispered "I love you" to your new girlfriend. You were going down.... But he also sang that he'd be risen to the heights of near unexpressable bliss by these same very things that tortured him. Oh, cruel irony.
* The other thing that was great about the Animals was there were no good-looking members. There were none. They were considered one of the ugliest groups in rock 'n' roll... That was good for me, 'cause I considered myself hideous at the time... And they weren't even nice. They didn't curry favor. They were like aggression personified: "It's my life and I'll do what I want." They were cruel, which was so freeing.
* Darkness was also informed by the punk explosion at the time. I went out and got the early punk records, "Anarchy..." and "God Save the Queen." The Sex Pistols were so frightening. Literally, they shook the earth, which is different from shocking. A lot of groups manage shocking, but... there were very few rock groups that managed frightening. They were brave and they challenged you and they made you brave, and that energy seeped its way into the subtext of Darkness. Darkness was written in 1977, and all of that music was out there and if you had ears you could not ignore it. I had peers that did, and they were mistaken. You could not ignore that challenge.
* Woody [Guthrie]'s world was a world where fatalism was tempered by a practical idealism. It was a world where speaking truth to power wasn't futile, whatever its outcome. Why do we continue to talk about Woody so many years on? He never had a hit, never went platinum, never played in an arena... But he's a big ghost in the machine. I believe it's because Woody's songs... tried to answer Hank Williams' question [about] why your bucket has a hole in it. That's a question that's eaten at me for a long time."
* So rumble, young musicians, rumble. Open your ears and open your hearts. Don't take yourself too seriously, and take yourself as seriously as death itself. Don't worry. Worry your ass off. Have unclad confidence, but doubt. It keeps you awake and alert. Believe you are the baddest ass in town — and you suck! It keeps you honest. Be able to keep two completely contradictory ideals alive and well inside of your heart and head at all times. If it doesn't drive you crazy, it will make you strong. And stay hard, stay hungry and stay alive. And when you walk on stage tonight to bring the noise, treat it like it's all we have — and then remember it's only rock 'n' roll."
Listen to the full keynote streaming now at NPR.org
- March 15, 2012 - Gary Graff reporting



SPRINGSTEEN KEYNOTE TO BEGIN SHORTLY
A few minutes after noon Central, and NPR's Ann Powers is broadcasting from the Austin Convention Center: "We hear he's a few minutes away... Austin traffic is pretty gnarly." The E Street Band is in the house, and there's also talk of an acoustic performance after Springsteen's address. (Powers says: "We are told he will have a guitar! Expect some songs.") Tune in here, exclusively on NPR and public radio. (And we're hanging out on Twitter, @backstreetsmag.)
- March 15, 2012


SXSW: BRUCE JAMS WITH ALEJANDRO & FRIENDS AT AUSTIN MUSIC HALL

In town on the eve of his SXSW keynote address, Springsteen headed out for a late night jam Wednesday night, a four-song set with old friends.
At the 30th annual Austin Music Awards, headliner Alejandro Escovedo asked, "Is there a guitar player in the house?" and out came Bruce, to play some slow and searing blues guitar on Jimmie Dale Gilmore's "Midnight Train" with Joe Ely. After Alejandro told the story about playing with the E Street Band in Houston ("The enormodome!... Those three minutes changed my life"), they went into "Always a Friend" from his Real Animal album (which they've teamed up for before).
Woody Guthrie's "Goin' Down the Road Feeling Bad" followed, Springsteen and Ely exchanging vereses, before an extended jam on "Beast of Burden." "We did this at the Pony," said Alejandro, referring to Bruce's guest spot with him in Asbury on July 23, 2010; Garland Jeffreys took the verses while Springsteen concentrated on guitar, with bluesy fills and solo after solo to close out the night.
- March 15, 2012 - Dave Gaetano reporting - photographs by Adam Baker (Escovedo, Jeffreys & Springsteen) and Stephanie Levine (Ely & Springsteen)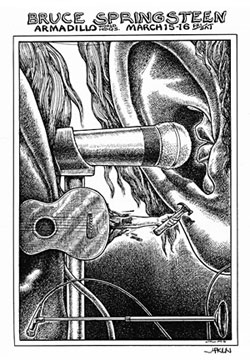 'TWAS THE NIGHT BEFORE SXSW...
Reports from the ground at South By Southwest have E Streeters spotted around town, as Austin readies for tomorrow's visit from Bruce and the band — 38 years to the day since their first performance there, and a legendary one, at Armadillo World Headquarters in 1974.
The Austin Chronicle marks the anniversary with a killer retrospective piece, an oral history of that top-flight two-night stand, March 15-16, 1974. Read: "The Wild, the Innocent, & the E Street Shuffle: The Weekend Bruce Springsteen Loaded Into the Armadillo World Headquarters."
Back to now: Our man on the scene for SXSW is Detroit-based music journalist and longtime Backstreets writer Gary Graff — follow him for live, song-by-song reporting tomorrow night at @GraffonMusic.
Another big deal at this year's SXSW is the Woody Guthrie Centennial celebration (in conjunction with the Grammy Museum) — Springsteen isn't billed, but particularly considering the concerns of Wrecking Ball, let's just say there's some potential for some synergy. Here are pertinent highlights of what's on tap for Thursday (all times listed are Central Time):
Tomorrow morning at 10 a.m., entrants in the ticket drawing for Springsteen and the E Street Band's concert showcase will be notified by email whether it's a yea or a nay.

At 11 a.m., early arrivals for the keynote at the Austin Convention Center will catch Prelude Music: Woody Guthrie Tribute featuring Jimmy LaFave (who Springsteen has played with before), Eliza Gilkyson, and Juanes.

At noon, Springsteen will deliver his keynote address, broadcast and webcast worldwide by NPR — the first time a SXSW music keynote or conference session will be streamed to everyone, everywhere. The entire event will be available online at NPR Music, and it will also air on many public radio stations across the country. NPR Music critic Ann Powers will host a blog during the keynote, taking questions from audiences around the world.

At 1:30, there's a special Woody Guthrie at 100 panel, moderated by Grammy Museum executive director (and Backstreets associate editor) Bob Santelli, featuring LaFave, Dave Marsh, Nora and Arlo Guthrie, among others.

Tomorrow evening, "Bruce Springsteen and the E Street Band will be playing a special show in an intimate venue."
And who knows what else will shake out around town, especially with pals around like Alejandro Escovedo, Tom Morello, and whatever young turks Bruce's son has him listening to lately... There are only, at last count, 7 gazillion bands on the schedule.
- March 14, 2012 - Armadillo World HQ poster by Jim Franklin

SCOOTER MEETS THE BIG MAN IN NEW ROLLING STONE INTERVIEW
Advance excerpts at RS.com and exclusively here at Backstreets.com

Rolling Stone's new Bruce Springsteen cover story hits newsstands on Friday, and you can read the beginning of Jon Stewart's interview online now at rollingstone.com.
Even just from this excerpt, it's clear that Springsteen and Stewart have some philosophical ground in common, in addition to their Jersey roots. Either one of them could have said this: "Nuanced political dialogue or creative expression seems like it's been hamstrung by the decay of political speech and it's infantilized our national discourse." Read here to find out who did.
And thanks to Rolling Stone, we've got our own exclusive excerpt here, as the conversation turned to the Big Man:
Stewart: Personally, how are you dealing with the loss of Clarence?
Springsteen: Losing Clarence was like losing the rain. You're losing something that has been so elemental in your life for such a long time. It was like losing some huge part of your own psychic construction — suddenly it's just gone,
everything feels less.Our relationship was just this immediate chemical
connection that happened that first night in Asbury, as he was walking toward the stage: "Here comes my guy."

Love at first sight.
Yeah, for me, anyway. Actually, the first time I asked him to join the band, he said he already had a job.


"Sounds great, but, no, man, I don't think I can swing that."
Yeah, he was playing with Norman Seldin and the Joyful Noyze, and I didn't have a record deal or any immediate prospects. My recollection — and Clarence's might have been different over the years — was he said, "I don't know, I have a steady gig, I'm enjoying that," then he disappeared. He came and played that first night, laid down the magic, then he disappeared and we couldn't find him for most of the first album, which is why he only appears on two cuts. We just lost track of him.

I turned the record in to Columbia Records, and Clive Davis gave it back to me and said that there was nothing that could get played on the radio. My recollection is I went to the beach and I wrote "Spirit in the Night" and "Blinded by the Light," and then we found Clarence somehow. Garry Tallent had played with him in a band called Little Melvin and the Invaders, which was an all-black band that played in the black clubs around Asbury Park — Clarence was the saxophonist and Garry was the only white member and bassist.

We were always trying to track Clarence down — he was this mysterious figure that you couldn't quite get your hands on. We found him for the last two songs on Greetings From Asbury Park. He came in and played saxophone, and I said, "Yeah, that's my sound." I said, "I'm going to go on tour," and he said, "I'm ready," and that was when we connected. So even though we got up and played together that first night and it felt like magic, he was a little hesitant at first, because he had a steady job, and that was not to be undervalued at the time, because no one else did. Also, he had a very different life already — he had two children. He might have been divorced, so he had payments. He was in the adult world in the sense that he was a social worker at the Jamesburg youth reformatory. He worked as a counselor with the boys there.
Pick up Rolling Stone #1153, on stands March 16, for the complete interview.
- March 14, 2012 - photograph by Jo Lopez


MYSTERY PERCUSSIONIST A MYSTERY NO MORE
One big question for many after Friday night's concert (after "No 'Born to Run'?") was: who's the new guy? Set up at a percussion station next to Curtis King and Cindy Mizelle, and joining them on backup vocals as well, was Everett Bradley. The Grammy-nominated percussionist moved to New Jersey in '89 to work with John Eddie; he's since backed Jon Bon Jovi and Southside Johnny and, across the river, had prominent roles on the stage in Swing and Stomp. Along with filling out the sound, Bradley brought a great deal of exuberance to the Apollo show, and we hope he's sticking around.
And aother question answered: yep, that's Bruce and Steve doing the James Brown cape routine above.
- March 14, 2012

FRANK "THE FIXER" WOULDN'T APPRECIATE THAT MONEY GOING TO SCALPERS, NOW, WOULD HE?

Need tickets? Got disposable income (or does the company you work for)? Wanna make nice with Silvio Dante? All of the above? Steven Van Zandt is offering some "Wrecking Ball Tour Charity Experience Ticket Packages," featuring meet-and-greets, "premium tickets," and more — packages/tickets for some cities are still available. It's a tax deductible contribution, and all proceeds go to benefit a righteous cause: Steve's Rock and Roll Forever Foundation. Visit www.rockandrollforever.org/tickets for more information.
- March 14, 2012


APOLLO VIDEO, FROM THE PRO TO THE NOT-SO
Over the weekend, brucespringsteen.net made available a clip of "Death to My Hometown." Above, a pro-shot video sampler from the Apollo, courtesy of SiriusXM, includes "We Take Care of Our Own" and "Wrecking Ball." If someone isn't already thinking about a full release for this sucker, they should be.
And you've already checked out clips on YouTube, right? Don't miss this smartphone multi-cam of the Smokey Robinson/Wilson Pickett harum-scarum; here's another "fan-based recording":

- March 13, 2012


THE MEMORIAL BENEFIT FOR "LITTLE VINNIE" ROSLIN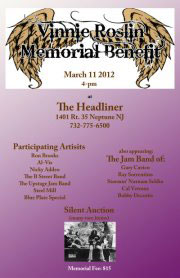 It was a bluesy evening of socializing and reminiscing, of reunions and renewed friendships over a beer or two as friends and family gathered Sunday at the Headliner in Neptune, NJ to celebrate the life of the late Vinnie Roslin. There was Jersey Shore music history right in front of you: Garry Tallent stopping to chat with former Child/Steel Mill manager Tinker West or posing for photos with Norman Seldin, Tony "Boccigalupe" Amato hanging out with longtime friend and bandmate Steve Schraeger. Photos reflecting Roslin's long musical career lined the stage, including an astonishing portrait of a smiling "Little Vinnie" surrounded by future E Streeters Danny Federici, Bruce Springsteen and Vini Lopez (it was Roslin who brought Danny to meet Bruce at the Upstage).
And there was plenty of music, too: Garry and Vini sat in with the B Street Band on "Sandy" and "Rosalita", saxophonist Tommy LaBella, Jukes guitarist Bobby Bandiera and Lopez sat in with Shore blues legend Sonny Kenn, and Soul Cruiser Screamin' Steve Barlotta and former E Street percussionist Richard Blackwell joined in for the Upstage Blues Band jam. People came and went onstage, just like they had in the Upstage days, Sonny leading everyone through George Harrison's "While My Guitar Gently Weeps" (with Bobby taking the solos) in tribute to Roslin, or Bandiera sitting in with Lopez and Co. on Steel Mill classics like "Goin' Back to Georgia."
It was the sort of boozy evening many in attendance used to spend listening to blues at Mrs. Jay's or hanging out at the back bar of the Stone Pony on a Sunday with the usual motley crew of local musicians as Cats on a Smooth Surface closed out the weekend in style. One halfway expected to see deceased Shore legends like Danny Gallagher or John Luraschi milling about, for Kevin Kavanaugh to sit in on keyboards. Though they are sadly no longer a part of the Shore scene, this night proved that there are still plenty of those who remembered those days, and surely somewhere "Little Vinnie" Roslin was celebrating right along with them.
- March 13, 2012 - Lisa Iannucci reporting

"IT'S MY (MUSICAL) LIFE" AS E STREETERS HOST UNDERGROUND GARAGE
This week is "E Street Week" on Little Steven's Underground Garage channel, SiriusXM Channel 21. Each day another member of the E Street Band fills in for regular host the Mighty Manfred. Today's noon-to-three session was led by Garry Tallent, who took listeners on a musical tour of songs that feature the best bassists in history. We found ourselves cruising in the car for three hours as Garry expounded on the brilliance of such bassists as James Jamerson ("Bernadette"), on how underrated Bill Wyman is ("19th Nervous Breakdown"), and how he was personally influenced by Tim Bogert of Vanilla Fudge ("It's My Life"). Garry recalled playing "It's My Life" with Vini Lopez at a Neptune High School talent show, how Bruce and the band covered the song to fill out the set when they didn't have enough original material, and how they once opened for Vanilla Fudge in Asbury Park and thought they had reached the pinnacle. This was only a small part of Tallent's broadcast, which surveyed rock 'n' roll's best bassists and songs featuring extraordinary bass parts. As for Bill Black, bassist with Elvis Presley, Tallent could only express wonderment at his musical inventiveness.
Roy Bittan hosts tomorrow starting at noon Eastern, when he will reveal his "holy trinity" of pianists. Roy will be followed by Nils Lofgren on Wednesday, and Max Weinberg on Friday. We're planning long drives.
- March 12, 2012 - Lou Masur reporting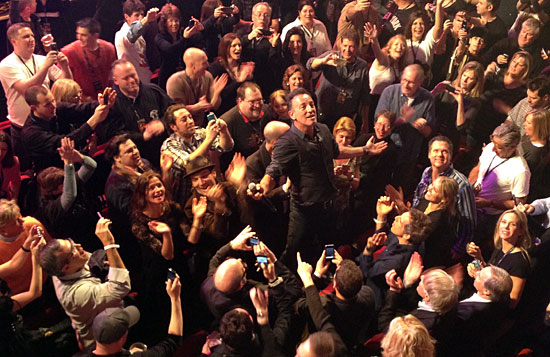 LIVE FROM "THE TRUE TEMPLE OF SOUL"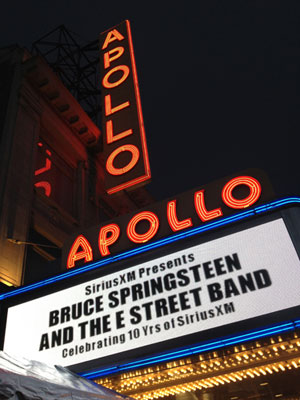 On June 5, 1992, Bruce Springsteen warmed up for his first tour without the E Street Band by sending out a "dress rehearsal" show live over the radio airwaves. While the tour itself wouldn't start for another ten days, listeners everywhere (and a handful of contest winners in-house) got a sneak peek at the upcoming tour. Twenty years later, and Bruce is doing it again: this time not on terrestrial radio but via satellite on SiriusXM; this time with the E Street Band, with an album headed up the charts instead of down, and not from a "mysterious location" but rather from the place where stars are born and legends are made, Harlem's historic Apollo Theatre.
Thing is, Friday night didn't feel like a tour warm-up. It wasn't touted as a rehearsal show, and it didn't feel like one — it felt like a special night curated for the Apollo Theater. Which, no matter what takes shape further on down the road, is exactly what it was: from the band coming out and rubbing Harlem's legendary Tree of Hope as they each took the stage, to Springsteen's delightedly over-the-top self-introduction ("A young man who was born in the U.S.A.... won an Academy Award... the hardest working white man in show business!") to the tributes to soul greats, the special appearance of vocalist Michelle Moore, and the blasting apart of the fourth wall that separates performer and audience in this 1,200-seater. By the time Springsteen began scaling the walls, climbing into opera boxes and out onto the edge of the lower mezzanine, we'd already lost track of how many times he'd ventured into the crowd. It was hardly something he'll be able to repeat at a Corporate Arena Near You.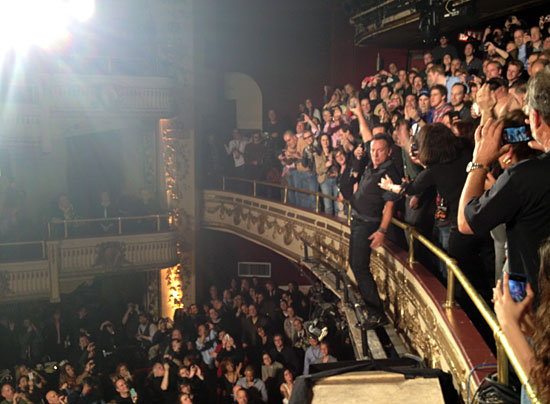 That said, the new album got a workout, giving a taste of things to come with all songs performed on Fallon returning plus the tour debuts of "Shackled and Drawn," "We Are Alive," and "Rocky Ground." "Shackled" was a Sessions Band-style tour de force, with all the vocalists down front on an a capella intro, even Garry stepping to the mic, and Cindy Mizelle bringing it home at the end: "I want everybody to stand up and be counted tonight!" "Rocky Ground" brought the album's featured vocalist Michelle Moore to the stage, with Bruce recalling fondly how long they've worked together, from Asbury Park holiday shows to The Rising and beyond.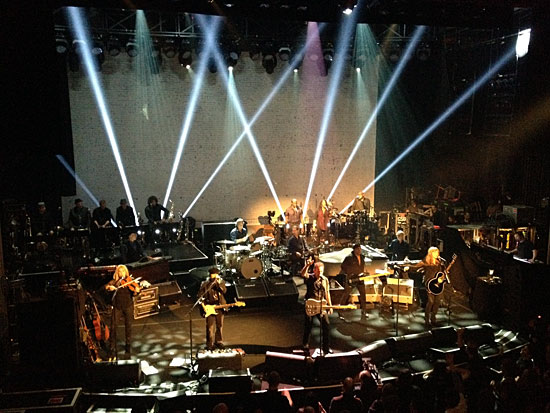 "On our new record," Bruce said, "our motto is dancing and crying." And hand-in-hand with that theme of resilience in the face of adversity and loss, the spirit of Clarence Clemons was very much with us tonight — Bruce and the E Street Band's first full show without him. There was a collective breath held as the "Badlands" solo approached in slot three... and an exhale of relief as Jake Clemons stepped out of the five-horn line-up to do his Uncle (and Bruce and the band and the song and himself) proud. It wasn't much later that Bruce addressed the loss directly, honoring the Big Man, his fans, the band, and our communal bond in the process.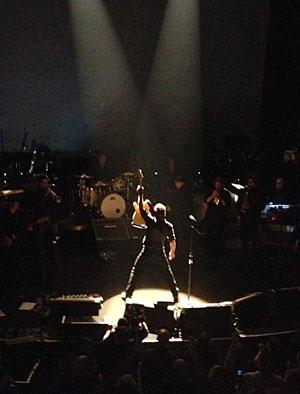 He touched on it first in a mission statement after "Death to My Hometown": "We're so glad to be here with you tonight at the legendary Apollo Theater. We're glad to be here again — we've missed you. Tonight we've got some old friends and some new friends with us... but our mission remains the same. We're here to bring the power, hour after hour... we're here to put a whoop-ass session on the recession... we're here to bring a smile to your face, an extra beat to your heart, and to raise your spirits high in these hard times."
But it was in the next song, a horn-heavy "My City of Ruins" with a newfound groove, that Springsteen met the elephant in the room head on. "Roll Call!" he shouted, introducing each member of the band, who each took a solo. And when they were done: "Are we missing anybody?" There was a tentative feeling in the crowd as a whole, and one of the most moving moments of the night was as we first wondered, is this really what he means? And the look on Bruce's face as he beckoned said it all. He was giving us permission. "Are we missing anybody?" he asked again, and this time the crowd knew to respond. Soon he was telling us, "The only thing I can guarantee tonight... if you're here and we're here, they're here."
In the encore, "Tenth Avenue Freeze-out" brought an even more moving salute to Clarence, Bruce first holding out the mic to the crowd for "kid you better get the picture," and soon bringing the song to a complete halt after "the Big Man joined the band," the crowd hollering in tribute, the moment stretching out before the entire horn section played that quick, signature solo in unison.
These were moments when we acknowledged loss, particularly of Danny and Clarence. Important moments that it felt like we needed, as an audience, and that reminded us of the courage it must take for Bruce and the band to soldier on without their longtime brothers in arms. But we didn't feel just loss all night. We celebrated, we raged, we gasped (jesus, don't let him fall off the balcony, or the tour is over before it starts!), we grooved, and we dug deep into "Soul Music! The Apollo! Home of the Gods and the True Temple of Soul!" In a lengthy and clearly heartfelt salute to the music that is inseparable from the venue and that also nurtured his own musical soul, Bruce described it as "an education." Geography: "Funky Broadway." Math: "99 and a Half Won't Do." Religion: Aretha. Sex Education: Marvin Gaye. "The Wisdom of Solomon... Burke! And of course, the poetry of Smokey Robinson." So many powerful vocalists onstage brought their talents to bear on a superbly arranged "The Way You Do the Things You Do," and Bruce kept the soul train rolling right into Wilson Pickett's "634-5789," as he gave Eddie Vedder and his wall-scaling a run for the money.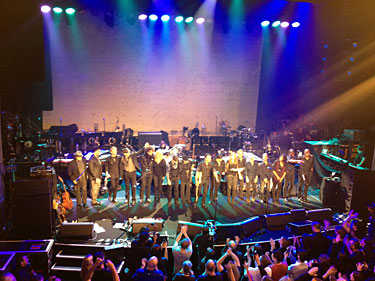 The final song of the night, after mixing in more of his own staples like "The Rising" and "Thunder Road," was both another soul classic and a promise to the thousands of fans listening in all night on SiriusXM: Atlanta, Greensboro, Tampa, Boston... "Hold on... we're comin'!"
[Through the weekend, watch "Death to My Hometown" at brucespringsteen.net; tune in to E Street Radio for encore broadcasts on SiriusXM. A longtime favorite Springsteen charity, WhyHunger was in the house as a beneficiary of the night.]
For the full setlist from this and other recent shows,
see our Setlists page
- March 10, 2012 - report and photographs by Christopher Phillips

NOT JUST A PRETTY FACE
With the recent overhaul, brucespringsteen.net is looking mighty handsome... but we expect the official site's redesign to be more than just cosmetic. With Bruce and the E Street Band rocking the Apollo tonight, watch for new content as this new tweet suggests: "Stay tuned to @springsteen and brucespringsteen.net today for exclusive behind the scenes updates from the live premiere of #WreckingBall."
Backstreets will be tweeting from 125th Street tonight, too — follow @backstreetsmag — and of course, watch for our full concert report right here in the wee hours.
- March 9, 2012

VINNIE ROSLIN MEMORIAL BENEFIT, THIS SUNDAY
The life and music of recently deceased Steel Mill bassist Vinnie Roslin will be celebrated this Sunday, March 11, at a benefit concert at The Headliner in Neptune, NJ. The event, which begins at 4 p.m., will feature many of the musicians with whom Roslin once shared the stage, including such Shore luminaries as doo-wop vocalist Nicky Addeo, Norman Seldin (who once managed Roslin in The Motifs), and longtime friend and former Steel Mill bandmate Vini Lopez.
In addition, organizers will be auctioning off a host of collectibles, including a Fender bass signed by the entire E Street Band. Proceeds of the benefit will go to the Roslin family. Tickets are $15 and will be available at the door. Visit the event's Facebook page here.
- March 8, 2012 - Lisa Iannucci reporting

GOTTA MAKE PLANS FOR THE PLANS I MAKE
As we continue to gather Wrecking Ball reviews [see below for new additions], it's also a good time for a roundup of what lies ahead. After a couple months of rehearsals in Undisclosed New Jersey Locations — and tantalizing performances of individual songs on the teevee — the E Street Band's Wrecking Ball tour is finally just around the corner. Unlike most Springsteen tours since the 1999 rededication, it's looking like no open reherasal shows this time, depite constant chatter over the weeks about plans and possibilities for Trenton and Asbury Park. Which is one reason we try not to truck in rumors — a mere 24 hours ago, a rehearsal show was everything but set in stone for next week, but the key words there are everything but. Several sources now tell us it's off. (The tour was supposed to open in Denver too, right? Or was it Phoenix? Two more key words: plans change.) What we know for sure is that Bruce and the band will be warming up with concerts in NYC and Austin before the tour officially begins. As of this minute, here's what the next week or so looks like.
Friday, March 9: Though Springsteen appeared there with Elvis Costello, the E Street Band will make their Apollo Theater debut, celebrating ten years of satellite radio with the first full show by the Wrecking Ball-era lineup. SiriusXM subscribers and non-subscribers alike can tune in for the live E Street Radio broadcast, thanks to a free 7-day online trial. We'll be tweeting from the show as well — follow @backstreetsmag on Twitter.

Thursday, March 15: Springsteen gives the keynote address at SXSW (to be webcast live on NPR Music) at noon Central; that evening, he and the E Street Band play a special SXSW showcase.
Friday, March 16: The issue of Rolling Stone that hits newsstands this day will feature Springsteen on the cover and an interview inside by The Daily Show's Jon Stewart.
Sunday, March 18: The first U.S. leg of the Wrecking Ball tour begins at Philips Arena in Atlanta, GA, with 20 shows between here and May 2. See our Tour/Ticket Info page for the full itinerary.
- March 8, 2012


RECORD STORE DAY SNEAK PEEK
Record Store Day — our new favorite holiday, falling this year on April 21 — will bring yet another Springsteen RSD exclusive to indie stores for 2012. The pic sleeve above will be gently cradling Columbia's seven-inch vinyl pressing of "Rocky Ground" backed by "The Promise" (live in Asbury Park, 12/7/10). For participating stores, visit recordstoreday.com.
- March 7, 2012


ROLLING STONE HAS YOUR MOMENT OF ZEN
Rehearsing the band and largely letting the music do the talking, Springsteen has thus far only been heard talking about Wrecking Ball with that roomful of journalists in Paris and with Jimmy Fallon, the latter mainly as a precursor to kicking out the jams on Late Night. Except Rolling Stone has had this trick up their sleeves...
Jon Stewart has interviewed Bruce Springsteen for the cover story in the next issue of Rolling Stone, on newsstands March 16th.

"It's not at all surreal," Stewart says with heavy sarcasm, referring to his friendship with the legendary rocker. "It's very hard to reconcile sitting and fishing in a little pond in New Jersey with a guy that you spent many years hitchhiking the New Jersey I-95 corridor to see in Philadelphia back in the day. The only band I think I've seen more than Bruce Springsteen is the Springsteen tribute band Backstreets. I try not to let him know how pathetic I truly am."

As host of The Daily Show, Stewart has talked to Springsteen publicly, but within the tight confines of brief segments. In this interview, the men get the space to speak at length about the Springsteen's new album, Wrecking Ball, as well as their common ground as popular entertainers with a serious interest in politics.

Over the course of the conversation, Springsteen offers his take on Occupy Wall Street and the negative influence of what he calls the "big-money Wall Street hustle," explains why his new single "We Take Care of Our Own" is not "jingoistic" and opens up about how he's coping with the death of E Street Band saxophonist Clarence Clemons. "Losing Clarence was like losing the rain," Springsteen says. "You're losing something that has been so elemental in your life for such a long time."

Jon Stewart's interview with Bruce Springsteen will be available on newsstands and through Rolling Stone All Access on March 16th, 2012.
- March 7, 2012 - thanks to Rolling Stone for the report - photograph by Sacha Lecca

STAND UP AND BE COUNTED! WRECKING BALL REVIEW ROUNDUP
On the other side of Release Day, it's time to take a look at what others are saying. And ahh, we love this ritual. Another five-star review from Rolling Stone... another chance for Sound Opinions' Jim DeRogatis to give Bruce the New Jersey State Bird... even the woefully misguided can turn a phrase that brings a smile to our face: "true musical listeners can tell that Bruce Springsteen sings like a mental hospital patient who is being raped by a sexually repressed ape from Mars." That's the sound we were trying to put our finger on! And our favorite headline so far, courtesy of Time: "Springsteen Tries Something New, Ends Up Sounding Like Springsteen." Dig in!
From Backstreets:
Media Reviews:
Blogs
Further Reading:
- updated March 8, 2012

GET READY FOR SHOWTIME AT THE APOLLO
SiriusXM free trial link and Listening Party Sweepstakes

This Friday night, March 9, brings the first full E Street Band concert performance of 2012. Celebrating 10 years of satellite radio with SiriusXM, Bruce and the band will be previewing the Wrecking Ball tour for a crowd of 1,500 at Harlem's historic Apollo Theater.
It's an incredibly tough ticket to be there in person... but the audience numbers will expand greatly thanks to E Street Radio's exclusive live broadcast of the concert, starting at 8 p.m. If you don't already subscribe to SiriusXM, you can still tune in as the wrecking ball begins to swing: click here for a free 7-day online trial, which will enable non-subscribers to listen as well.
SiriusXM is encouraging Springsteen fans to host listening parties Friday night, sweetening the pot with a Twitter sweepstakes. The first 100 people who tweet a photo of their "E Street Radio Listening Party" during the show will win a copy of the Wrecking Ball CD, and everyone who tweets a listening party photo will be entered for a chance to win a trip to see the May 2 concert in Newark, NJ with three of their friends. Click here for Sweepstakes details and rules.
Wanna advertise your party? Or decorate? Download the above poster as a PDF.
- March 6, 2012


- photograph by Danny Clinch
Wrecking Ball: the Backstreets Review by Jonathan Pont
SPIN THE BLACK CIRCLE
As hard times come again once more, Bruce Springsteen navigates the ruins and, taking his best shot, imagines a way forward.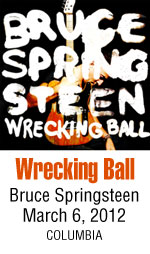 First, the ground rules. I am generally skeptical when an artist's new work gets touted as anything except what it is: new work. Everyone hears it differently. In this essay, I'll throw in my two cents, maybe raise your bet, or fold. But Wrecking Ball has to show its cards, and its hand is the only one that counts.

Second, I'll studiously avoid taking sides in what we'll generally refer to as "elements of modern American capitalism" vs. "Occupy Wall Street." I would imagine that many reviews will attempt to shoehorn Wrecking Ball into some neat little box where the two sides can go at it — may the better one win. I'll trust the art to offer a vivid assessment, the artist to be vigorous in his interpretation, and the music to sound compelling.

Third, I'm completely uninterested in arguments that Bruce Springsteen, by now a multimillionaire many times over who could have retired to a horse farm or arugula farm or funny farm or whatever farm he wanted as far back as 1981, is "out of touch." If that argument ever held water, "American Skin" dispatched it with prejudice in the spring of 2000. No artist who is "out of touch" puts work like that on the line....
Continue reading "Spin the Black Circle"
This review will appear in print in Backstreets Magazine #91.
Subscribe now!
- March 6, 2012


WRECKING BALL STREAMING IN FULL AT THE NEW BS.NET
It's Wrecking Ball eve... and after previewing the new record song-by-song across the web over the past two weeks, now you can stream the whole thing start to finish — the way it was meant to be heard — at brucespringsteen.net today and tomorrow. You'll notice a brand new redesign at Springsteen's official site as well, a complete overhaul of both form and content, just unveiled today.
Extra props to Bruce's site for recommending you buyWrecking Ball from your local mom & pop record store. If yours has been given to the dust, like so many... well, we're an indie shop, too.
- March 5, 2012


WIGGLE WIGGLE WIGGLE WIGGLE
Watch last night's "Bruce Springsteen Week" grand finale above; or go straight to individual clips for "Sexy and I Know It" - "Death to My Hometown" - "Jack of All Trades" - "The E Street Shuffle."
- March 3, 2012



PREVIEW: FRIDAY'S FALLON FINALE
Spoilers from the taping for tonight's broadcast — ya been warned
Returning to close out "Bruce Springsteen Week" on Late Night with Jimmy Fallon on Friday afternoon, Bruce and the E Street Band's appearance included the live debuts of two songs from Wrecking Ball, an interview, and another hilarious reimaging of a throwaway pop song.
With Springsteen the only guest on the program, it seemed likely that he would again be a part of one of Fallon's comedy sketches. Not surprisingly, Fallon brought out his Neil Young impersonation again, this time to perform LMFAO's "Sexy and I Know It," joined midway though by Bruce, dressed as his Born in the U.S.A.-era persona, complete with sleeveless vest and bandana.
After sitting down for a brief interview, which included a retelling of the time Steve and Bruce were asked to leave Disneyland, the E Street Band took to the Late Night stage, accompanied for the first time live by their new five-piece horn section as well as guest guitarist Tom Morello. First up was "Death to My Hometown," with the prominent opening riff given to the horn section, lending a touch more soul to the Celtic-tinged anthem.
"Jack of All Trades" followed and was an impressive performance, particularly given that it had never been done live before; clearly, the band''s rehearsal time has served them well. The expanded band was put to very good use, with Curt Ramm and the horn section's mournful accompaniment and Tom Morello on hand to recreate the solo he played on the record.
Wrapping up the show was an epic "The E Street Shuffle," with the Roots joining the E Street Band in an inspired choice of song that showed off the talents of both bands. Steve and "Captain" Kirk Douglas traded places and both bands powered through the song before eventually inviting the entire audience on to the studio floor for its finale.
- March 2, 2012 - Glenn Radecki reporting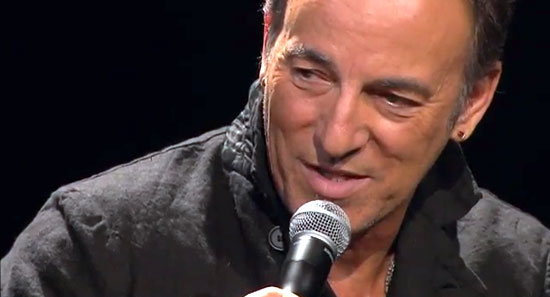 AN AMERICAN IN PARIS
In mid-February, Bruce Springsteen appeared before international journalists in Paris to talk Wrecking Ball. At this Théatre Marigny press conference, he spent an hour fielding numerous questions about the new record, the psychology of anger, the state of America, Clarence Clemons, his autobiography, his falsetto, and much more. a A brief video clip was quickly posted online to give us a taste of the conversation, and quotes have since appeared in various newspapers. Now that the entire record has streamed, we're pleased to be able present a transcript from that day.
Among the revelations here: Bruce was originally working on a gospel record before Wrecking Ball came together. "I spent on-and-off about a year on that one before I threw it out, which is something I do every once in a while," he said, later adding, "I wrote 30 or 40 songs before these songs."
This is the only published Springsteen interview about his new record to date, a great insight into Bruce's state of mind on Wrecking Ball as the March 6 release day approaches.
---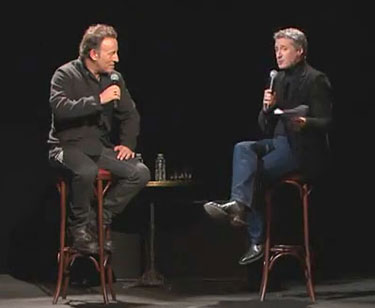 Ladies and gentlemen, it's time for me to fulfill a lifetime dream, to share a stage with Bruce Springsteen. A few introductory questions about Wrecking Ball. I'm curious to know why you've changed your producer, after working with Brendan O'Brien for so many years, and I'd like to know more about the process of recording.

The guy who produced this record is a fellow named Ron Aniello. I assisted him, and Jon [Landau] executive produced. Ron had worked on a few of Patti [Scialfa]'s records previously, and I was actually working on another record before this record. I spent on-and-off about a year on that one before I threw it out, which is something I do every once in a while. He came in to help me finish that one, and as we went along, a few of the songs started to come up for this record; he had a lot of fresh ideas about the way the music could sound, and he had a large library of sounds — alternative and hip-hop elements — and we used quite a bit of different looping techniques. It was just a very different experience, really, with the two of us in the studio when we started out.
You were in your hometown in New Jersey for these recording sessions?
Yeah, we were in our own studio, and each one of the songs started off as kind of a folk song, with just me and the acoustic guitar. And then everything else got slipped on.
And you had special guests, like Tom Morello…
Tommy Morello from Rage Against the Machine, he came in and played the guitar on "This Depression" and on "Jack of all Trades." Patti and Soozie sang; Max plays on a cut; Clarence is on "Land of Hope and Dreams."...
- March 2, 2012


BRUCE WEEK: LAST NIGHT'S MODEL
"Brilliant Disguise" from Elvis Costello, as promised, for Thursday night's broadcast installment of Bruce Week on Late Night with Jimmy Fallon. Unlike Costello's previous recording of the song, it's a sparse new arrangement driven by piano and a propulsive ?uestlove beat. But that ain't all: Elvis and The Roots also worked up a ska take on "Fire" for an online exclusive.

- March 2, 2012



For Friday, March 2, it's the final piece of the Wrecking Ball puzzle: track 11, "We Are Alive." (And though this is the last song on the album proper, the special edition CD to be released on March 6 contains two bonus tracks that haven't streamed over these last two weeks, "Swallowed Up (In the Belly of the Whale)" and "American Land.") Check your local radio station website for Friday's stream of "We Are Alive," or click here to listen around the world from midnight to midnight.


CAN'T START A FIRE WITHOUT SOME TONAL DISSONANCE
Courtesy of John Legend, as linked to on his Facebook page, a free download of last night's performance of "Dancing in the Dark" with The Roots.
"Bruce Week" continues on Late Night with Jimmy Fallon tonight with Elvis Costello, and tomorrow with Bruce and the E Street Band for the full hour.
- March 1, 2012

MONDAY IN ASBURY: PARTY AT THE PRESS ROOM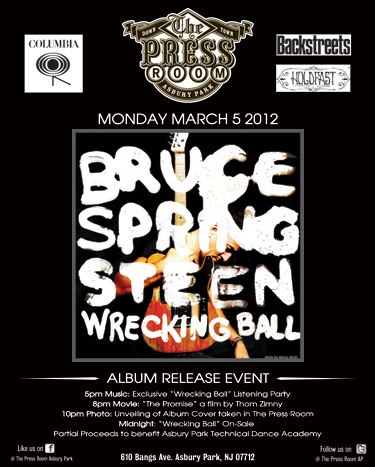 The Press Room, a new bar and performance space in downtown Asbury Park, has had a hell of a launch so far, hosting Springsteen's album cover shoot for Wrecking Ball as well as his performance there last weekend, for the Tony Strollo benefit.
Now, it's party time: we're teaming up with our pals at the Press Room for a record release event on Monday night, in conjunction with Columbia Records and Asbury-based Holdfast Records.
Head down to 610 Bangs Avenue starting at 5 p.m. on March 5 for a Wrecking Ball listening party, a screening of The Promise, and a midnight sale of the new album. No cover charge; partial proceeds of Wrecking Ball will benefit the Asbury Park Technical Dance Academy.
- March 1, 2012


JIMMY FALLON'S "BRUCE WEEK" NIGHT 3: JOHN LEGEND
Fallon gets lifted, as John Legend and The Roots come together for a jazz take on "Dancing in the Dark" Wednesday night. (And if it sounds like these guys have played together before, they have: the 2010 collaboration Wake Up!).
- March 1, 2012