A MOUNTAIN OF LOVE FROM MOJO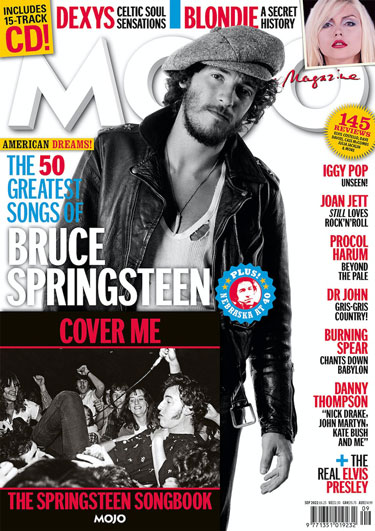 Check newsstands before it goes away for MOJO Magazine #346, the September '22 edition, for a Bruce Springsteen cover (an outtake from Eric Meola's Born to Run sessions) and a couple of Boss features inside.
The cover story counts down Springsteen's "50 Greatest Songs" — minor spoiler alert, the #1 ranked song is not "Born to Run" or "Thunder Road."
There's also a new David Fricke article on Nebraksa — "the Boss's strangest album," they say. — in time for the 40th anniversary of its release.
If you can find a copy with the free covermount CD included, Cover Me: The Springsteen songbook is a smart roundup of 15 songs Springsteen has covered, many of them concert favorites, as recorded by the original artists. The tracklist is weighted heavily toward soul/R&B selections — see below.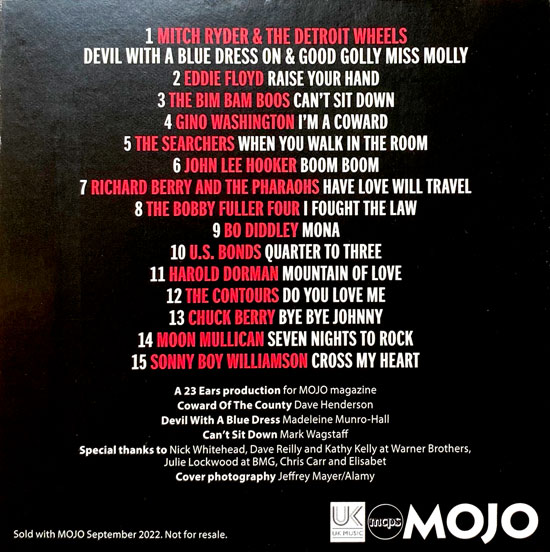 - August 24, 2022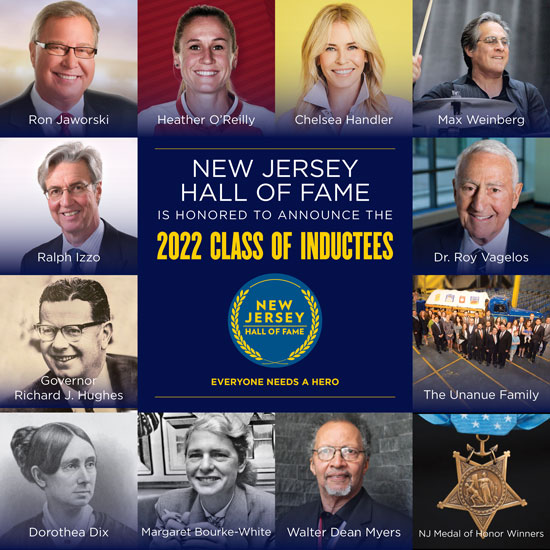 WEINBERG TO BE HONORED IN THE NJHOF'S CLASS OF 2022
Congratulations to Mighty Max Weinberg: the E Street Band drummer since 1974 will be inducted this fall into the New Jersey Hall of Fame, which highlights the "best and brightest" of the Garden State.
Since the E Street Band as a whole was welcomed into the NJHOF in 2012, Max has already enjoyed the honor of induction, but he'll be celebrated this fall as an individual. One of 12 inductees in the Class of 2022, Newark, NJ's Weinberg is described as "drummer and television personality" in the Performing Arts category, along with Livingston, NJ's Chelsea Handler.
"Max has reached the pinnacle of his music profession," says NJHOF President Steve Edwards, "not to mention his contribitions to the Conan O'Brien show and his charitable endeavors."
Max will join several of his individual bandmates and Jersey Shore musicians in the Hall of Fame, including Bruce Springsteen (Class of 2008), Steven Van Zandt (Class of 2017), and Southside Johnny Lyon (Class of 2018).
The 14th Annual Induction Ceremony will be virtual, with specific dates and times airing on multiple dates across multiple channels) to be announced after Labor Day. The New Jersey Hall of Fame has confirmed the airings will take place between late October and mid-November. Viewers will be able to watch broadcast on My9NJ and on NJ PBS, Facebook and other prominent social media platforms.
- August 8, 2022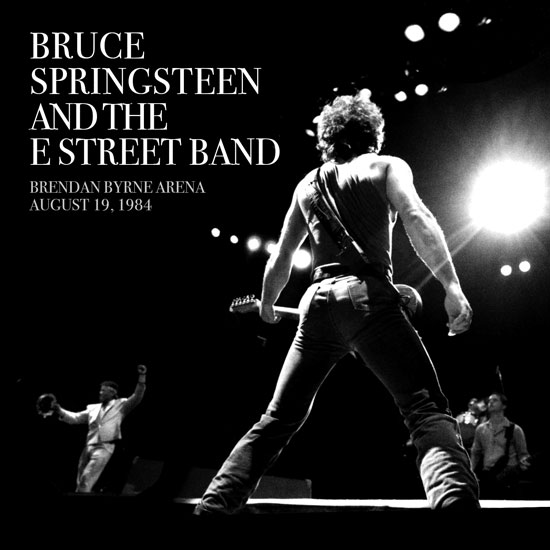 OUT WHERE THE PINES GROW
August 19 shines, as Live Archive expands coverage of Meadowlands '84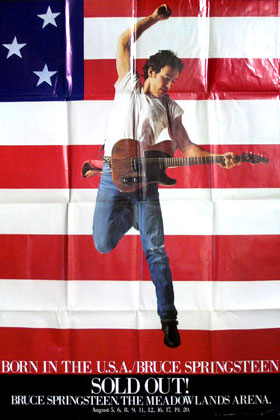 In 1984, hot on the heels of the Born in the U.S.A. album released June 4, Bruce Springsteen and the E Street Band embarked on a tour that often boasted multi-day stops in one city. For New Jersey, it was practically a residency that summer: an unprecedented ten nights at the Brendan Byrne Arena in East Rutherford.
Known throughout the years by various names — Meadowlands Arena, Continental Airlines Arena, the Izod Center — the swamps-of-Jersey venue hosted the Born in the U.S.A. juggernaut beginning August 5 and concluding on August 20.
Today's release, Brendan Byrne Arena, August 19, 1984, joins those two shows in the Live Archive series, and August 6 as well, as the fourth official live release from the Meadowlands summer stand. The concert was one of 55 the band has played there to date, more than any other venue.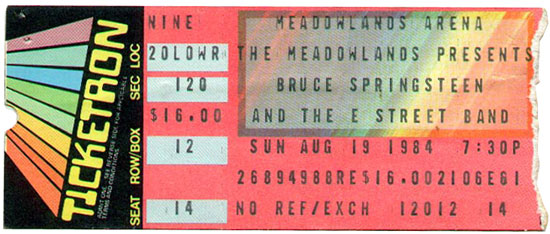 The Born in the U.S.A Tour featured a shift for the E Street Band. It was the first tour after Steven Van Zandt left the band (though he made guest appearances, including a big one on August 20) and was replaced as lead guitarist by Nils Lofgren. The tour also saw the addition of Patti Scialfa on vocals and percussion.
Like the other nights at Brendan Byrne, the show opened with "Born in the U.S.A." and included '84 staples like "Out in the Street," "Atlantic City," fan-favorite "Jungleland," and the "Detroit Medley" (tagged with Creedence Clearwater Revival's "Travelin' Band"). But given the duration of the run, Bruce and the band switched up the setlist each night, offering variety while keeping the focus on material from both albums released since their previous tour, Nebraska and Born in the U.S.A.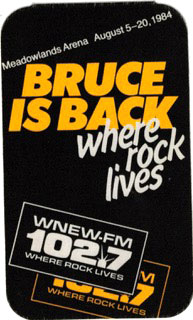 The New Jersey concerts also featured a number of collaborations, from Red Band Rockers vocalist J.T. Bowen (who joined for "A Woman's Got the Power" on August 9) and The Who's John Entwistle (who played bass on "Twist and Shout," August 11). On August 19, the special guest appearance came from the Miami Horns, beefing up "Tenth Avenue Freeze-out" as well as the onslaught of covers in the encore. This was the first of three pop-ins the horns would make that summer, followed the very next night by a memorable turn on "Drift Away" for the stand's finale.
You've heard this night's "Reason to Believe" before, as the Live/1975-85 box sourced the performance from 8/19; the most notable song selection on this Sunday night followed, as the third of a Nebraska three-pack: "My Father's House." This was one of the earliest performances of "My Father's House," a key track from the 1982 solo record that was, until Springsteen on Broadway, one of the album's lesser-performed numbers. In fact, it's one of only five plays for the entirety of the Born in the U.S.A. tour.
As the song begins, cheers dissipate and fans fall almost silent, hanging onto every word of the song's childhood dream narrative. On playback, you can take yourself into the moment as Bruce's voice and story ring throughout the hushed arena.
Continuing on, the inherent fun of an E Street Band show begins to prevail. "Glory Days" includes two bars of "Out of Limits," while "Rosalita (Come Out Tonight)" gains from bits of "Come a Little Bit Closer" as an introduction to "Hail to the Chief" in the midsection.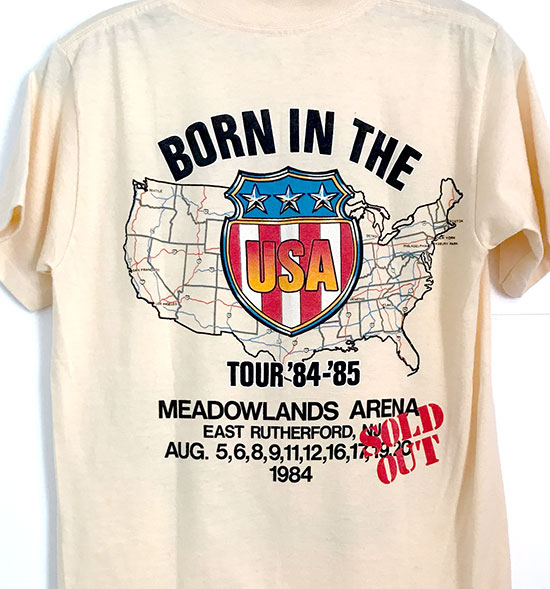 Another thing that just sets this concert aside from others: Bruce and the band sound more rehearsed after 27 shows, since starting on June 29 in St. Paul. Moreover, they're at home: a relaxed feeling comes through, as a reminder of being connected to the music and spending time with old friends.
From the stamina he displays to Bruce's notably gruff voice, a youthful, raw sound carries the music here, as if the band were still in its infancy — nearly 40 years on and some 20 years into the Reunion era, one could argue that they were. Compared with No Nukes just five years earlier, here the music is more refined as the band continued to find its groove — not to mention some newly prominent synths. Nights like this were just the start of something for Bruce, as his audience expanded (the Born in the U.S.A. tour would continue for another year), the venues and homecoming stands got even larger, as he experimented more, growing in recent years to playing "Royals" by Lorde and collaborating with everyone from U2 to Coldplay to Paul McCartney.
Also read: Erik Flannigan's latest nugs.net blog entry, "A Beacon Calling Me in the Night"
- August 5, 2022 - Katie Smolen reporting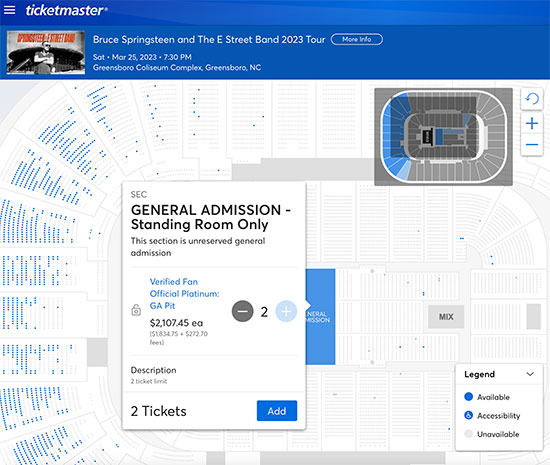 Snapshot of the July 22 offering for Greensboro, NC, 42 minutes into the Verified sale. Many seats behind the stage were selling for less than the "mid-$200 range" stated average, while "pit" tickets surpassed the $2,0000 mark.
JON LANDAU RESPONDS TO TICKETING CONTROVERSY
Despite "commentary," Springsteen manager asserts tickets are fairly priced
After onsales from Tampa to Tulsa brought unprecedented tales of woe from fans seeking tickets for the 2023 Bruce Springsteen tour, manager Jon Landau released a statement. In short, the market-based system works as intended.
Quoted in a larger piece billed as an exclusive in the New York Times, Landau addressed fans' ongoing frustration with the dynamic pricing platform, stating that the prices for the U.S. 2023 tour came after looking "carefully at what our peers have been doing," then setting them "lower than some and on par with others."
In defending the arrangement, Landau said while a "modest" number of tickets priced above $1,000 did appear for sale, the "true average ticket price has been in the mid-$200 range."
"I believe that in today's environment," Landau concluded, "that is a fair price to see someone universally regarded as among the very greatest artists of his generation.
The Times story, written by personal finance columnist Ron Lieber (who stated in the column that he's a "longtime" Springsteen fan), explored the past week's events with a mix of voices, scenarios, and the "confusion" around the pricing environment: "Dynamic pricing isn't new, though it was new to plenty of Mr. Springsteen's fans this month," Lieber wrote.
And still more will see it in action, as sales continue this week.
- By the Editors - July 27, 2022

CRYIN' OUT THE CRAZY IN NYC
Last night at Radio City Music Hall, Bruce Springsteen showed up to surprise a clearly elated Bleachers audience, joining Jack Antonoff and band for the song they recorded together in 2020, "Chinatown."
From 2020, you can also see Springsteen in the song's official video and a 2020 rooftop performance at Electric Lady studio.
- July 27, 2022

FREEZE-OUT
Lord won't you tell us, tell us what does it mean?
It's four in the morning and raining. We're feeling old, listening to the outcries of fans feeling similarly betrayed by last week's ticket sales, and remembering that things were different a decade ago.
Because we know our audience, the fans, and count ourselves among them, it feels unnecessary to recap here what transpired on Wednesday when Ticketmaster's first U.S. onsales for the 2023 Tour left many Bruce Springsteen fans in a state of shocked disbelief.
But if you need a catch-up we can point you to Variety, industry observer Bob Lefsetz, or to practically any news outlet of your choice to get the broad strokes of what happened. Call it what you like: market pricing, dynamic pricing, surge pricing, Platinum pricing. Just don't call it The New Normal.
Please.
From our point of view, this so-called premium, algorithm-driven model violates an implicit contract between Bruce Springsteen and his fans, one in which the audience side of the equation appeared to truly matter — and in fact was crucial. We believed it because he told us repeatedly it was true. We can imagine Lefsetz and others, perhaps, snickering here, but we still know our audience: we've all been made to feel we're part of an ongoing conversation, one in which we were all "in concert," a vital element of the formula: "If you're here, and we're here… they're here."
If you're not here… where does that leave them?
This past week, too many Springsteen fans got thrown to the wolves, pushed aside in a way that seems as unfathomable as it was avoidable. The artist has maintained that he understands the essential role of his audience. How, then, did we end up facing, in far too many instances, prices for tickets that exceeded normalcy, then departed from reality entirely by orders of magnitude?
One might cite inflation, market value, or any number of factors; we'd argue that it can't be "market forces" when supply is purposefully obfuscated, then manipulated by the platform of distribution. But from our point of view, it boils down to the stark difference between inside and outside. So many fans who have always gone to the shows, who have always been part of This Thing of Ours, now can't go, will not be inside, will not be part of the conversation, purely because they can't pay the cost to see the Boss.
Bruce Springsteen tickets have been historically and notoriously difficult to obtain. That's the nature of the beast, with so many wanting to witness the power and the glory of rock 'n' roll, and relatively few seats to hold them. But the issue has rarely been the money.
Over many years, there have been continuous, clear efforts made by the Springsteen camp to keep things fair and as fan-centric as possible, to foil scalpers, to give average concert-goers and fans the best shot at a reasonable price in a world where bots run rampant and scalpers rule.
For decades, Springsteen kept his ticket prices significantly lower than what the market might bear, which felt in keeping with his brand, his stated philosophies, his belief in community, and his clear view of what a concert was supposed to be, as for three hours or so — and sometimes more — he and the band gave us a glimpse of a better world.
The tent over E Street has always been big, inviting, and open, but what about the question he began to ask in 2012… are we missing anybody? After this week, it sure appears the answer has changed.
What were we to think when we made it through the queue on Wednesday morning to find that tickets — initial sales, not resales — were on offer for thousands of dollars? In the past, no matter how difficult tickets were to score, persistence paid off. Now, it seems, persistence just ratchets the algorithm up another notch. Or four.
Surely, these multi-thousand-dollar prices were not intended or anticipated, many of us thought. Some assert the algorithm got out of control — are we sure that it was ever in control? We'd never expect Ticketmaster to balk at making money, but surely, many believed, Springsteen would put a stop to it and demand adjustments to the system, if not an overhaul, before the next onsale. Friday came with a general repeat of circumstances and even more fans in disbelief.
As recently as last month's European offering, we've seen Ticketmaster cancel an onsale when conditions called for it and reschedule for the following day. So if these prices were unintentional, it's hard to imagine a good reason for the second onsale, let alone a third. For the ticketsellers, the end result of dynamic pricing must be a feature and not a bug.
And that is a foundation-breaking, worldview-shaking notion.
Wait a minute. We thought it was raining. Is it not raining? That might be a takeaway from data Ticketmaster just shared with us, suggesting that the rain is an illusion. Variety reports these Ticketmaster-provided stats, a series of figures that don't quite add up appear to tell the full story, that obscure more than clarify. [Update: Representatives for the tour production company confirm the accuracy of the figures provided.] If nothing else, the data shared say nothing about outrageously priced tickets fans declined in horror, only telling us what did sell. In the end, these numbers only leave us with more questions. The biggest one being, if it's not raining, why are we getting soaked?
At a time when we needed to feel hope and promise — when the world seems on fire, when we've suffered through escalating deception, greed, fear, isolation, racial strife, violence, "alternative facts," democracy literally under threat, and an ongoing global pandemic — we're left feeling further disillusioned, downhearted, and dispirited.
But the ideals Springsteen's music puts forward — they're still alive, aren't they? Whether in the grooves or in concert, wherever those guitars ring out? In our shared spirit? If one can't say yes — if only for a few hours every so often — then maybe the magic really is just tricks.
Springsteen has been paid a king's ransom, and we've never begrudged him that, either. Not the reported $500 million sale of his life's work, which hardly fazed us, not the Broadway prices, not the Jeep commercial. We believe in the value of his music, his work; those other transactions and the arenas in which they take place feel beyond our purview.
What happens in the actual physical arenas, where every few years Springsteen and his audience come together to create something bigger than all of us — and everybody has a decent shot to be part of it, at a reasonable price — that's something that remains worth fighting for. Because in rock 'n' roll, as we've come to believe, one plus one does equal three.
It still does, doesn't it?
- By the Editors - July 24, 2022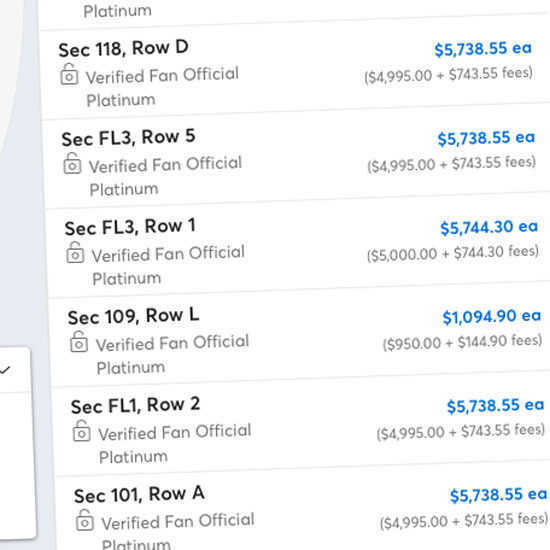 DYNAMIC PRICING: "A FUCKING SHIT-SHOW"
Dunno about you, but we're still processing the shellshock of today's U.S. onsales, the first of Springsteen's to utilize dynamic pricing via Ticketmaster's Official Platinum Seats. To wit:
Ticketmaster's Official Platinum seat program enables market-based pricing (adjusting prices according to supply and demand) for live event tickets, similar to how airline tickets and hotel rooms are sold. The goal is to give the most passionate fans fair and safe access to the best tickets, while enabling artists and other people involved in staging live events to price tickets closer to their true market value.
To answer just one question we've heard a lot today, as we saw ticket prices quickly soar well into the thousands of dollars apiece (for the initial Ticketmaster transaction, before any resales), there is no consistent "face value" for these tickets:
The price you pay is the original price of the ticket. Official Platinum Seats were not purchased initially and then posted for resale; they are being sold for the first time through Ticketmaster on behalf of the artist or Event Organizer.
If you're looking around for the license plate of the truck that hit you, wondering what the hell happened and how we got here... yesterday, prior to these first onsales, our pal and DJ Rich Russo posted a concise and enlightening history lesson (a walk down memory lane for many of us) that's well worth a listen. It may also provide some consolation, even with no satisfying answer at the moment.
We won't bury the lede — Rich's take, one we share, that dynamic pricing, "for lack of a better term, is a fucking shit-show." But the whole clip is well worth seven minutes of your time.
- July 20, 2022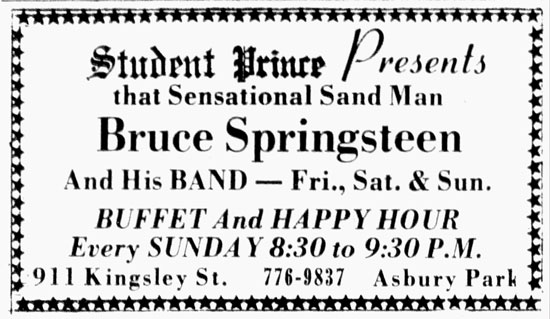 SUMMER'S HERE AND THE TIME IS RIGHT…
…to celebrate "the greatest bar band in the land" on E Street Radio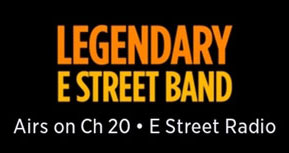 The latest episode of E Street Radio's Legendary E Street Band is perfect summertime listening, since its entire focus is on the band's roots and strengths as "the greatest bar band in the land" (to quote its leader).
As usual, eminently knowledgeable longtime fan Greg Drew hosts the proceedings; as Greg puts it, this time around there's "a little less talk from me, a little more music; bar bands play long sets with very few breaks." The end result is a solid hour-plus set packed with bar-worthy covers and originals from… put your hands together for… Bruce Springsteen & the legendary E Street Band! Don't forget your beer money or your dancing shoes, and may the truth ring out from every small-town bar. Every big-city bar, too.
Legendary E Street Band's "World's Greatest Bar Band" Edition debuts today, Monday July 18, exclusively on E Street Radio (SiriusXM channel 20) with replays scheduled as follows (all times ET):
Monday, July 18 - 3pm and 6pm
Tuesday, July 19 – 10 am
Wednesday, July 20 – 12 am and 7 am
Thursday, July 21 - 6 pm
Friday, July 22 - 2 pm
Saturday, July 23 - 12 am and 4 pm
Sunday, July 24 - 1 pm
- July 18, 2022 - Shawn Poole reporting

See the updated itinerary for the 2023 Tour
on our Tour/Ticket Info page
- July 14, 2022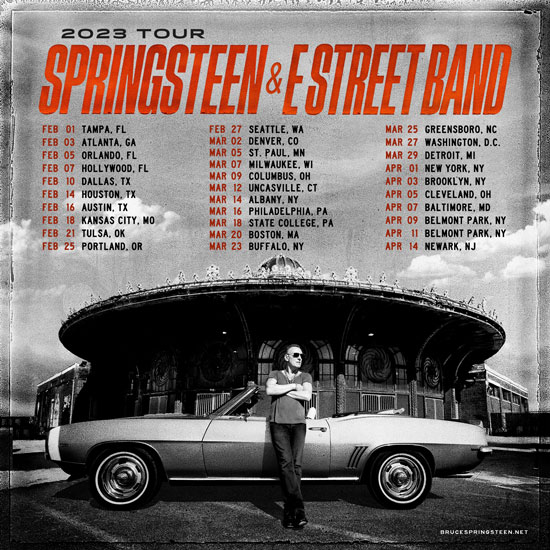 2023 TOUR: FIRST U.S. LEG ANNOUNCED!
Above, the dates and cities for the opening of Bruce Springsteen & the E Street Band's 2023 tour, with the first U.S. leg opening February 1 in Tampa and running through April 14 in Newark, NJ.
We'll be updating and populating our Tour/Ticket Info page with venues, onsale links, and more, just as quickly as we can... in the meantime, ehere's the full press release as it just went out this morning, with important information regarding onsales. Get Verified!
Bruce Springsteen and The E Street Band will kick off their 2023 international tour with 31 performances across the United States; spanning from February 1 in Tampa, Florida through an April 14 homecoming in Newark, New Jersey before heading to Europe. The shows will mark Springsteen and The E Street Band's first tour dates since February 2017, and their first in North America since September 2016.

European dates for the 2023 international tour were announced in May and over 1.2 million tickets have already been purchased across the continent, with many cities adding second or third stadium shows due to popular demand. At the conclusion of their European run, which is scheduled for April through July 2023, Springsteen and The E Street Band will begin a second to-be-announced North American tour leg in August. Tour dates in the UK will also take place next year, with cities and shows to be announced very soon.

Tickets for the 2023 U.S. arena shows will go on sale over the course of the next two weeks, with the first onsale beginning Wednesday July 20 at 10am local time (full details below).

The tour will be using Ticketmaster's Verified Fan platform for tickets sold via Ticketmaster. Fans can register for Ticketmaster Verified Fan starting now through Sunday, July 17 for the chance to buy tickets. All registrants who are verified will be equally eligible to receive a unique access code for the Verified Fan Onsale. Registering does not guarantee you will receive a code, or have the ability to purchase tickets.

For shows utilizing Verified Fan, the Verified Fan Onsale will take place between 10am and 2pm local time. If tickets remain, a general onsale for all fans begins the same day at 3pm local time with no code required.

For the performances at the Toyota Center (Houston, TX), Wells Fargo Center (Philadelphia, PA), Barclays Center (Brooklyn, NY) and Rocket Mortgage FieldHouse (Cleveland, OH), the general onsale will begin at 10am local time on their respective onsale dates with no Verified Fan code required.

To register for the Ticketmaster Verified Fan Onsale cities, visit https://verifiedfan.ticketmaster.com/springsteen
- July 12, 2022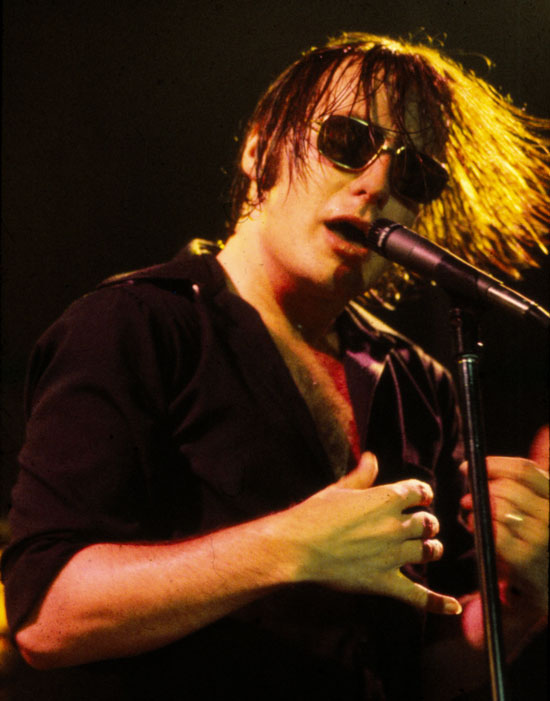 The night in question: Southside Johnny at the Agora, May 2, 1977 - photograph by Anastasia Pantsios
Live in Cleveland '77: Nevermind it was a Monday at the Agora...
"EVERY TIME THE JUKES PLAY, IT'S A WEEKEND"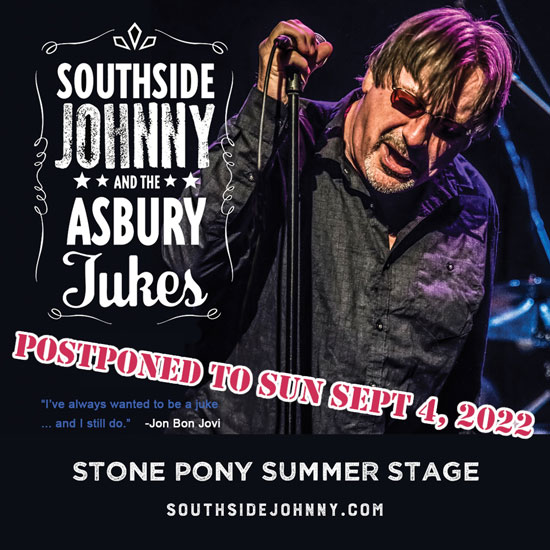 The Stone Pony had a tough call to make over the holiday weekend, postponing their annual Southside Johnny & the Asbury Jukes concert as lightning threatened the Summer Stage. The show has been rescheduled to celebrate Labor Day, rather than the Fourth of July, and tickets will be honored for the September 4 date. But that doesn't mean summer vacation for Soutshide and the Jukes — fans can catch them at other upcoming dates including Tarrytown, NY, on July 22, and the Paramount in Huntington, NY, on August 13.
And then there's their new release, Southside Johnny and the Asbury Jukes: Live in Cleveland '77, which reached #5 on the Billboard Blues chart. This Friday, July 8, Little Steven's Underground Garage (SiriusXM channel 21) will air a special dedicated to the live album.
For Backstreets, Annie Zaleski talked with Southside Johnny, as well as then-Juke Tony Pallagrosi and Cleveland International Records head Steve Popovich Jr., about the new live set, performed 45 years ago for an Agora crowd Southside describes as "ready to rock. And we wanted to oblige."

In June, Cleveland International Records issued Southside Johnny and the Asbury Jukes: Live in Cleveland '77 a concert recording that had been sitting in the vaults for 45 years. Recorded on May 2, 1977, at the legendary Cleveland Agora, the concert is one of three shows the Jukes did in the Northeast Ohio area that week.
The May 2 show was the first of two at the Agora—according to a vintage Cleveland Scene ad tickets were $3.50 advance, $4.50 day of show—and the band sounds at the top of their party-starting R&B/rock game. Despite being on a Monday night, the crowd is into it—which of course doesn't surprise Southside, when Backstreets reached him for a chat about the release.
"Forget about work or school tomorrow, we're playing," Southside says. "Every time the Jukes play, it's a weekend."
At the time of the show, Southside Johnny & the Asbury Jukes had just issued their second album, This Time It's for Real. The Agora show captures the hunger of this time, as well as how tight the band sounded on the new material, including the title track, as well as "Without Love" and "Love on the Wrong Side of Town."
"That's when we were out to prove ourselves," Southside says. "We were really out there to kick ass and prove that we were worthy to be on these stages. We were very intense and aggressive, but still having fun. We weren't going to have anybody sitting down if we could possibly convince them to get up and dance, singing along and all that stuff. We wanted to move people emotionally, but also physically. It was a very physical kind of music."…
Read the full article:
"EVERY TIME THE JUKES PLAY, IT'S A WEEKEND"
- July 6, 2022


- July 2, 2022

PARIS, 2012: TWO SHOWS ARE BETTER THAN ONE
An anniversary? Maybe. An anniversary gift? Mais oui!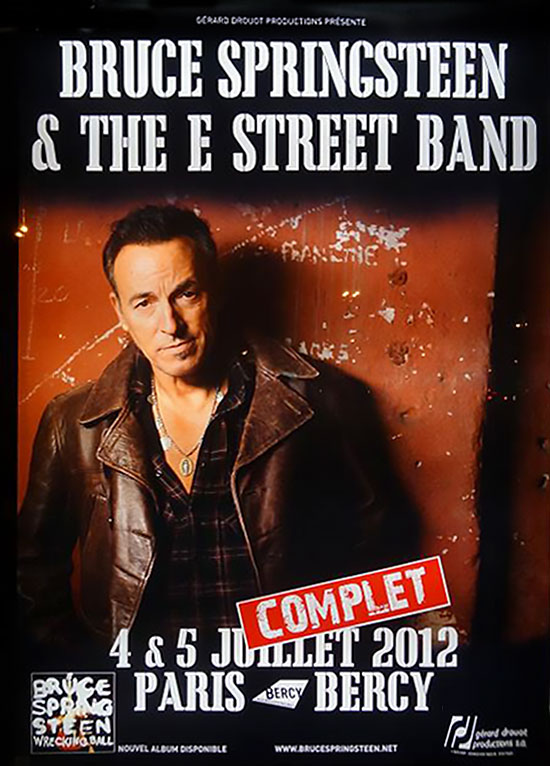 Does the Live Archive series mark significant anniversaries in the history of Bruce Springsteen's performing career? Other than the Roxy '78 —which sure felt timed to coincide with its 40th anniversary this month in 2018 — probably not.
This July brings another notable anniversary (we're talkin' 'bout the tenth), and intentionally marking it or not, today's First Friday features a surprise dual-release from the Wrecking Ball tour, July 4 and 5, 2012, in Paris.
Together, these concerts magnifique — rare indoor arena shows on a European tour that largely played to massive open-air stadiums —feature the best of what Bruce and the E Street Band had going in 2012, from the guiding themes of loss and renewal to spontaneity and the sheer joy of playing live.
We assigned contributors Kieran Lane and None But the Brave co-host Hal Schwartz to write up their impressions of how things sounded. Neither correspondent knew the other show was part of the plan; that kept the focus on the music as it happened over the course of the two nights, which Paris has in abundance: 29 songs on July 4, followed by 31 on July 5, and a truly remarkable 47 different songs altogether.
— The Editors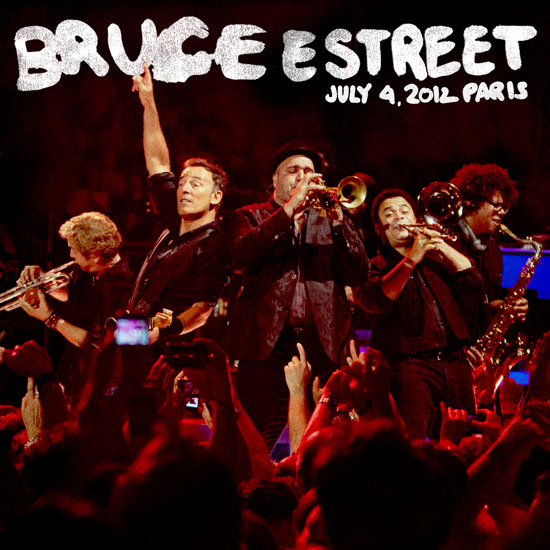 JULY 4, 2012: A HOT NIGHT IN THE CITY OF LIGHT
As Bruce Springsteen's 2012 tour behind Wrecking Ball evolved, its setlists featured anything and everything, as most E Street tours go on to do. But first, its two major themes needed conveyance. This first night in Paris is well up to the task, addressing the great recession and calling on the spirits of both Dan Federici and Clarence Clemons, while still managing to be a Fourth of July special.
The ninth Wrecking Ball tour selection in the Live Archive series, July 4, 2012 Paris saw a performance that moved seamlessly from those themes and their structures, particularly "If you're here, and we're here, then they're here," to thrilling spontaneity. Several seeds sown here would mold monumental concerts in Gothenburg, Helsinki, and, later that summer, Boston.
Those revered shows have rightfully been immortalized in the series; now, this Independence Day concert, long lauded as one of the elite, takes its place beside them on the Mount Rushmore of Summer 2012.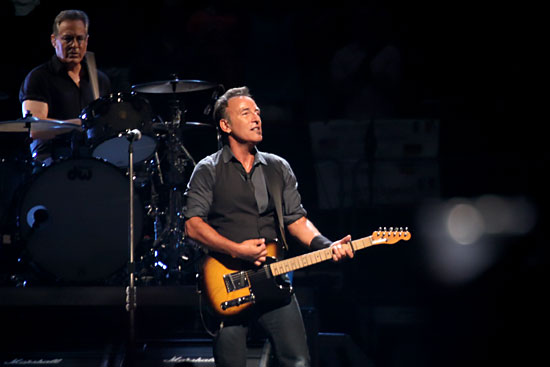 July 4 was not a guaranteed triumph. A trio of power outages that day — one occurring with fans already in the arena — had created concern that celebration could descend into chaos. Before Bruce and the E Street Band stepped on stage to continue their European leg after a ten-day break, journalist Antoine de Caunes was tasked with advising the eager Paris audience to brace for an evening that might not go according to plan. The power held firm, thankfully (unlike an evening four years later on the RiverTour), but the air conditioning did not: it was sweltering inside the Palais Omnisports de Paris-Bercy. Good thing the music was hot, too, and it brought a few changes to the set.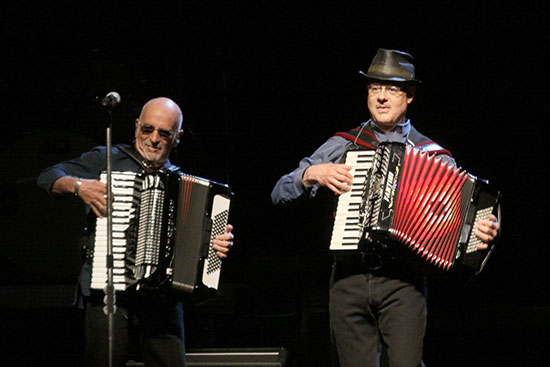 Rather than the usual walk-on music, Roy Bittan and Charlie Giordano play a beautiful, dual-accordion rendition of Edith Piaf's "La Vie En Rose," before a masterful six-pack capturing the tour's themes: the socio-political anthems "We Take Care of Our Own," "Wrecking Ball," "Badlands," and "Death to My Hometown"; and songs of loss and revival in the wake of Clarence Clemons' passing, "My City of Ruins" and "Spirit in the Night."
Together, these six numbers convey the vision for the tour, and after an intense, cathartic opening, the music scales an emotional peak with Bruce's repeated interrogative in "My City of Ruins," "Are we missing anybody?" As the first Live Archive series release with the songs played in this combination, July 4 becomes an instant essential.
With the fans warmed up and themes served, detours from the written setlist begin. "Lonesome Day" was set to follow "Spirit," but Bruce calls for "The E Street Shuffle" instead, a spontaneous, joyous exhibition of Band and audience, who revel in boisterous harmonies and keep going at its conclusion, continuing while Bruce readies to start the next song. After a minute or so, Bruce simply rides the wave, bringing the outro around again in reprise. (You may recall a similar instance during "Badlands" on the Berlin '93 release).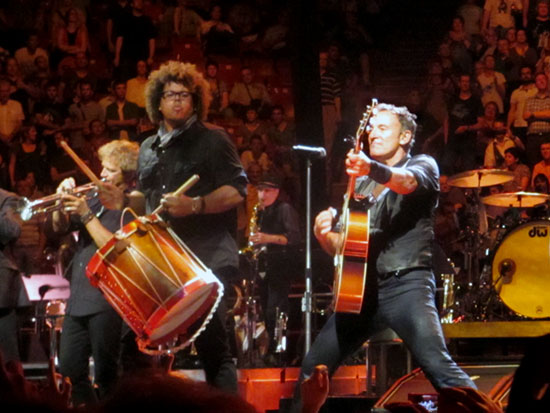 As Roy Bittan comes down front with his accordion, the early '70s linger, taking us to the other side of town for a lovely "Sandy." Three more songs specially selected for the Fourth of July follow: "Darlington County" (another audible), "Independence Day," and "American Land."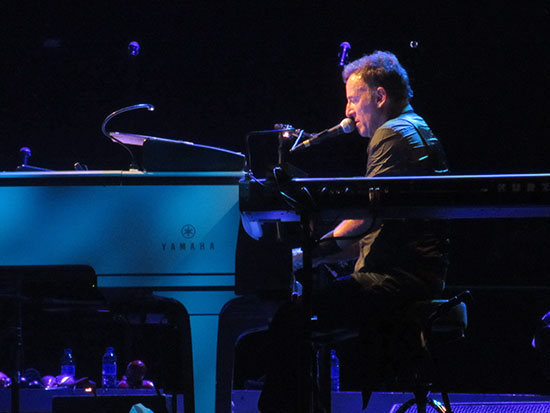 Of these, "Independence Day" stands out. While fans in Paris likely anticipated its appearance, few expected the arrangement. Giving his bandmates a break from the heat, Bruce plays a mesmerizing solo piano arrangement that is truly, as he terms it in his introductory remarks, "something special." The magnitude of the performance wasn't lost on Team Springsteen, either: 48 hours later, a pro-shot video appeared online [below, with its original audio].
In this golden age of First Fridays, one might forget how cautious Bruce used to be about releasing live material, how it took something exceptional to chip away at that resolute armor. "Independence Day" ticks that box; we also get a great impression from simply listening. In particular, it's amazing how different his voice sounds here, with a blend of despondency, urgency, and exhaustion creating a pure, emotional reading of the song.
The Fourth of July specials may grab our attention, but an array of 2012 essentials offers much enjoyment, too. "Jack of All Trades'' raised the bar for "Independence Day," its bleakness so pronounced that several audience pleasers must follow: "Because the Night," "Darkness on the Edge of Town," "Johnny 99," and notably, "Easy Money," in its European and Live Archive series debut. Opening with fiery bullet mic and more Parisian participation, this one shines. A tasty Little Steven guitar solo ensues, as does a spotlight duet for Bruce and Patti Scialfa, who makes her first tour appearance since April.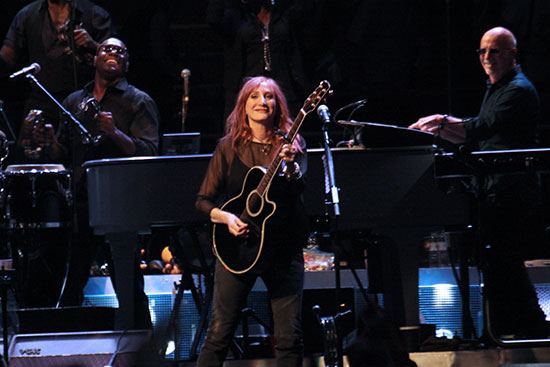 Ms. Patti cements her return in the "Apollo Medley," another highlight, and this gorgeous combination of "The Way You Do the Things You Do" and "634-5789" emphasizes the soulful roots of the E Street Band. Rock and soul shape the rest of the main set with mighty, heartfelt renditions of "The River," "The Rising," and "Land of Hope and Dreams," and the last presents more changes as Bruce tweaks the finale, replacing "thank the Lord!" with "get on board!" — a true rallying cry for the dates ahead.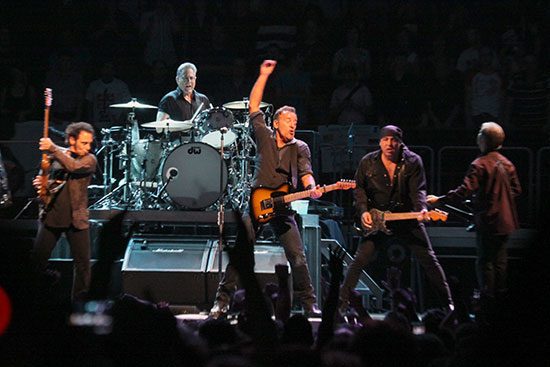 Maintaining the Wrecking Ball theme, "We Are Alive" sets us on the home stretch, a rousing tribute to those who've left us. Bruce adds another tribute afterwards, centered on France's assistance in the American Revolutionary War and the Franco-American relationship it fostered. As Springsteen concludes his dedication with a touching "This is for France,"drummer Max Weinberg launches into a towering rendition of the "soldier story," "Born in the U.S.A." Euphoria ensues.
The titanic track sets the tone for the encore, and Paris is treated to communal versions of encore regulars from "Born to Run" through "American Land." The extra vigor matches the temperature, and the intensity ensures that fans will remember this show.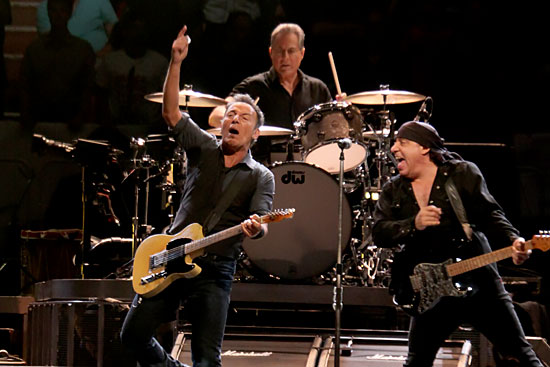 Summer 2012 remains special for fans who experienced the tour in Europe. Although big nights in London, Gothenburg, and Helsinki helped round out the leg, both shows in Paris remain amongst the tour's most fondly remembered. July 5 will surely remain sought-after, but in the meantime, we'll always have night one.
— Kieran Lane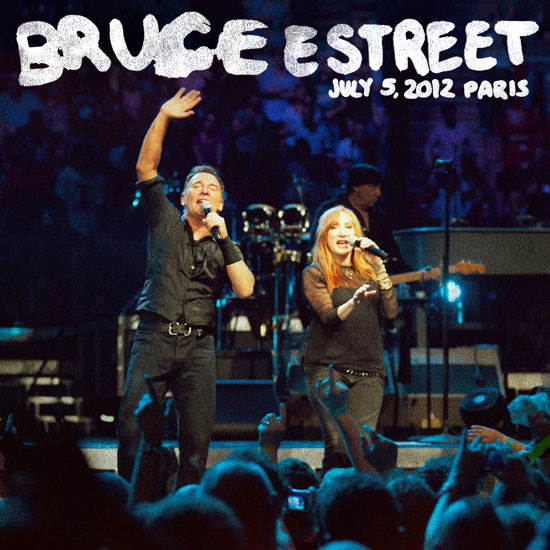 JULY 5, 2012: THE WRECKING BALL TOUR DE FORCE
Many fans consider concerts from the summer of 2012 to be the high point for Bruce Springsteen over these past ten years. Taking place only a year after Clarence Clemons passed away, the set focused on overcoming loss and honoring those who'd departed. Of Danny Federici and the Big Man, Bruce reminded his audience, "If you're here and we're here, then they're here." It was incredibly moving.
Fans who had marked the calendar for the two arena shows in Paris as "not to be missed" were right: not only did they live up to the anticipation, July 5, 2012 Paris captures the best show I've seen Bruce play since Clarence died. Moreover, it is the best show I've seen anyone play in the last 12 years. I will try to set the scene and explain why.
It was a holiday week, and the tour came indoors for two nights, resuming its European leg. Fans traveled from across the continent, of course, joining others from the United States (Bruce had much of his family with him including his mom, Adele).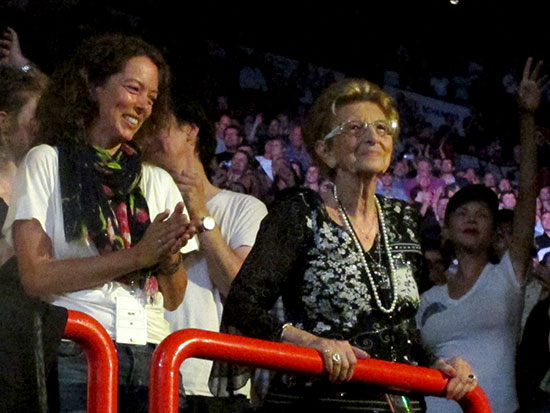 The first show, on July 4, took place at the end of an incredibly hot Parisian day, highly unusual from what we were told. Worse, the building's air conditioning failed. It was the hottest I've ever felt in an arena — perhaps dangerously so. Sweat was pouring off everyone in the crowd, not to mention Bruce himself. But the show was great, highlighted by a beautiful solo piano version of "Independence Day" and a wild crowd sing-along to the coda of "The E Street Shuffle."
Afterward, we hoped the AC would be restored by the following night. A tweet from Steve Van Zandt stated that would not be the case; fortunately, the day was cooler, and the arena itself was nowhere near as hot for the second night. The same could not be said for the performance, which was positively scorching.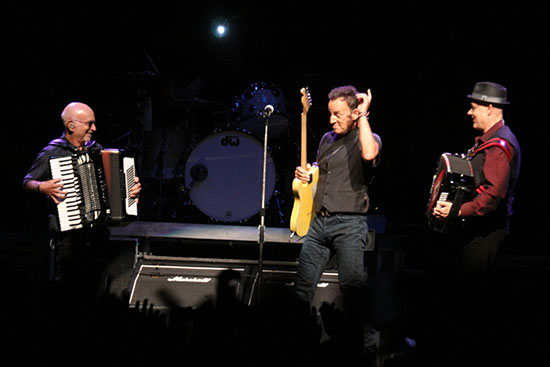 The 7/5 show started late, a little after 9 pm. First, Roy Bittan and Charlie Giordano emerged to play "Au Clair de la Lune" on accordion, making us feel like we were all taking a stroll through the Parisian night. Then the drums came crashing in, as Max Weinberg began what sounded for all the world like the lead-in to "We Take Care of Our Own." Bruce welcomed the crowd, which was already in a frenzy, and instead counted off a tight version of "The Ties That Bind," followed quickly by a pair of audibles, "No Surrender" and "Two Hearts." This was unusual: at this point in the tour, "We Take Care of Our Own" was almost always one of the first two songs. Here, Bruce was flying by the seat of his pants and feeding off the crowd.
A lip-read revealed a third audible, "Downbound Train," a personal favorite from Born in the U.S.A., highlighted on this night by an extended coda with a great solo by Little Steven. That ran right into a rampaging version of "Candy's Room," which cemented the idea that something different was happening.
Scrambling around the stage and still calling out songs, Bruce reached for an all-too-infrequent "Something in the Night." As the song faded out, Max began the drums for "We Take Care of Our Own," which finally got called up as, incredibly, the seventh song following five audibles. (For the record, the written setlist had placed it second, after a "Ties" opener.")
The segment lasted about 30 minutes, showcasing Bruce's ability to read a crowd. From there, five Wrecking Ball tour staples re-established a more familiar pattern, until "Incident on 57th Street," a first in France and only its second appearance on the tour. There was a great version of "I'm Goin' Down," yet again not on the setlist, and, with Patti Scialfa present, a performance of Wrecking Ball's "Easy Money."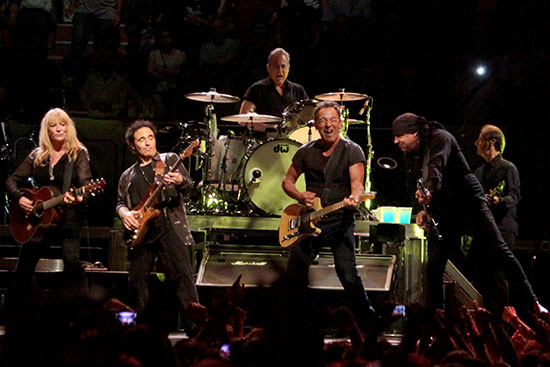 Nearing the end of the main set, Bruce sat at the piano for a gorgeous version of "For You" (another European tour premiere), the emotion of which carried over into an absolutely majestic "Racing in the Street." Running for more than 11 minutes, it remains one of my favorite versions from the Reunion era. I particularly love Max's performance during the final moments of the coda, and, needless to say, Roy Bittan stands tall, too. The main set concluded with "The Rising," a curiously placed "Out in the Street," and "Land of Hope and Dreams." As the band filed off, it was clear we had witnessed something special. And it wasn't over yet.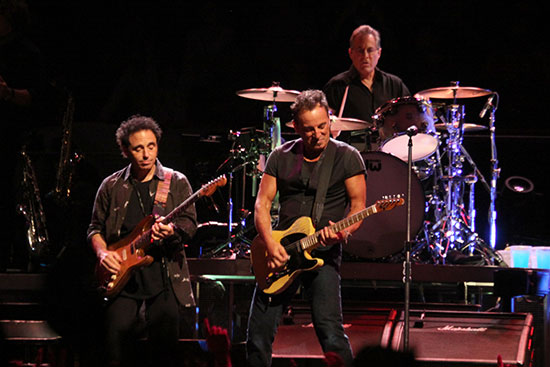 Now, it was approaching midnight. It seems relevant to point out that the trains in Paris only operate until around 1 am; texts began to fly about the arena as fans tried to figure out what we would do if, improbably, the show went on so long that we all missed our trains. Which meant, of course, that the encore would begin with a lengthy story.
Bruce had much of his family in the building: his kids, his mom, Patti's mom, and his sister, Pam. He had Adele take a bow because "there was no show without her." Strumming the opening for "We Are Alive," Bruce told the crowd it was "time for a testimonial." He described his thoughts behind Wrecking Ball, how it was tough times for a lot of people, and how he wanted a song that would point to the future and bring a little light into the record. He spoke lovingly about his mom, who had it hard but always had love to spare. Dedicating the song to her, Bruce set the scene at the Freehold cemetery, he and his sister visiting their grandmother's grave, before singing, "There's a cross up yonder up on Calvary Hill." It was a beautiful performance of the song, which, sadly, would appear less frequently as the tour went on.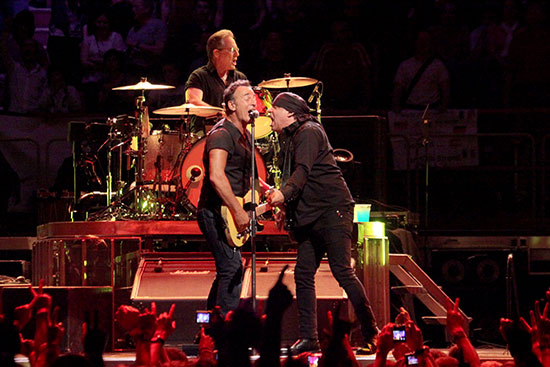 "Thunder Road" and "Born to Run" followed. By this point, the building was shaking. Again reading the crowd perfectly, Bruce launched into "Glory Days," followed by an energized "Seven Nights to Rock." Later, he'd pull his daughter Jessica up on stage for a dance at the end of "Dancing in the Dark." She had a huge smile on her face the whole time, and then Bruce picked her up into his arms. It was a sweet moment.
The show was now past the three-and-half-hour mark, but Springsteen had one more song to play: the usual closer at this point, "Tenth Avenue Freeze-out" with a break in the middle to honor The Big Man. With that, an amazing night came to a close around 12:50 am. I dashed out of the arena and made the final train with no more than 30 seconds to spare. When I got to the other end, I walked through the empty streets of the Paris night still buzzing from what I had witnessed in Bercy. And now, ten years later, as part of the wonderful Live Archive series, everyone can hear this amazing show. I hope you enjoy it.
—Hal Schwartz
Also read: Erik Flannigan's latest nugs.net blog post, "The Hype Is Real"
- July 1, 2022 - cover photographs by Jo Lopez - all other concert photographs by Riku Olkkonen