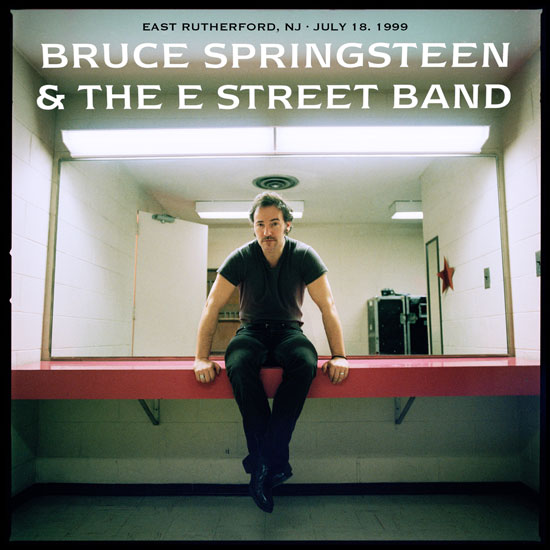 FOR CHRISTMAS EVE, I WANNA BE WITH YOU
From "Freehold" to "Loose Ends," July 18, 1999 brings the Meadowlands home for the holidays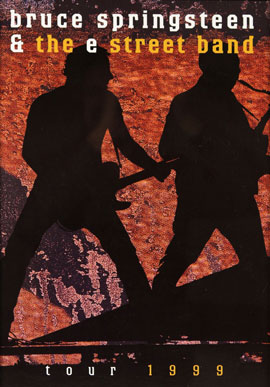 Charming and upbeat, Bruce Springsteen's July 18 performance in New Jersey typified the early dates on his 1999 Reunion tour with the E Street Band — in fact, this was only the second U.S. show of the tour. The material, with a tilt toward River-era rockers, ranges from "The Ghost of Tom Joad" performed as an ensemble piece to "Jungleland" and "Freehold," a humorous and touching tale of Springsteen's life in his hometown. As this year's Christmas Eve release, mastered from the 24-track recording, East Rutherford, NJ, July 18, 1999 becomes the earliest date from 1999 to appear in the Live Archive series' eight-year run.
The 15-month Reunion tour marked the rededication of the E Street Band. Springsteen had put his nine-year experiment with other musical styles and combinations on hold, recalling his longtime collaborators by the spring of '99. It was a time where no one seemed to know what might come next — be it the next song, or something else — including Bruce himself.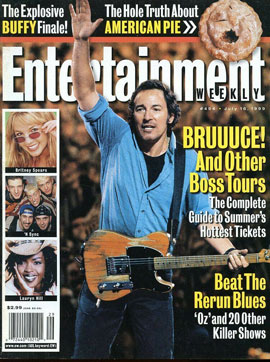 "We were somewhat estranged, we were just taking the first small steps of performing," Springsteen said in 2014, when inducting the E Street Band into the Rock and Roll Hall of Fame. "We didn't know what the future would bring, and perhaps the shadow of some of the old grudges still held some sway."
But Springsteen was ready, and so was the music he tasked the E Street Band with performing. Gone was the seemingly hesitant E Street activity in 1995, marked by middling studio recordings and television tapings meant to serve a Greatest Hits package and stoke the well-deserved success of "Streets of Philadelphia." In its place, a rehearsed and well-rounded rock 'n' roll show appeared.
You'll hear that in the set's opening number, "I Wanna Be With You," a River outtake that serves here as both mission statement and roll call, as Springsteen joyously beckons E Street musicians to join him. Though a faulty microphone led to vocal drop-outs, the song takes flight, a hint of what the evening would bring. In all, the concert featured 26 songs, many of them rock numbers: the opening rarity (one of three performances that year in the U.S.), followed quickly by a bevy of crowd-pleasers: a taut "Prove It All Night," "Two Hearts," and a pairing of "Trapped" and "Darlington County." Later, the band shines on "Sherry Darling" and a concise "Working on the Highway."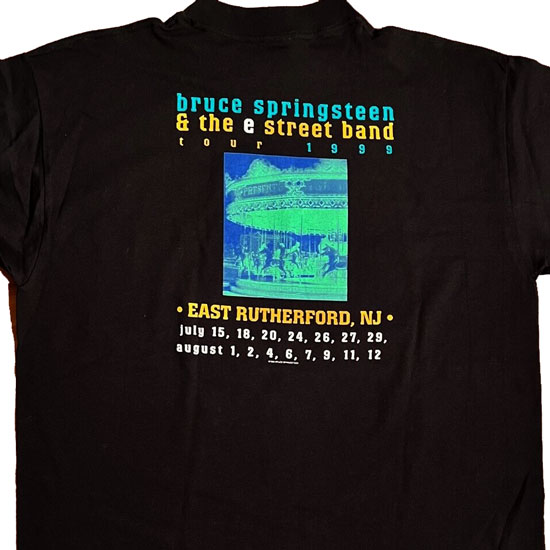 July 18 was the second of 15 nights that summer in New Jersey, the longest stand (aside from Springsteen on Broadway) he ever played. By the end of the residency, Meadowlands audiences (at what was then known as Continental Airlines Arena) heard an impressive range of songs, from one-offs ("Trouble River," "Frankie") to numbers that would appear more frequently ("New York City Serenade," its first play since 1975) and others that'd again become staples ("The Ties That Bind," "Ramrod").
That insistence on not settling kept the E Street Band sharp and repeat customers entertained. Here, "Loose Ends," another River outtake, gets its first-ever U.S. play. In the encore, "Stand on It" takes its turn — the evening's third selection from Tracks — the E Street Band flooring it as Springsteen delivers one of the more word-dense numbers in his catalog.
Though fans knew the songs they heard, between tempo, arrangements, and variety, Springsteen kept at bay any hint of nostalgia. He built the 1999 show in the present tense and kept it there, with familiar favorites like "Badlands" stitched alongside newer compositions ("Youngstown," and the 1982 outtake "Murder Incorporated").
"The River," he recast: with a lengthy instrumental introduction, it takes on a country feel, accented by saxophone, accordion, and pedal steel guitar. Fans cheer when Springsteen plays the familiar harmonica refrain after the second verse, then again in approval as the song ends. This sort of reimagining kept a songwriting milestone from being merely rehashed. It may have flummoxed some listeners at first, but its presence from the first rehearsal show in Asbury Park to its place here and on through the end of the tour a year later showed Springsteen's resolve.
As the earliest Reunion date in the Live Archive series, July 18 presents something of an unrefined quality. The band grew sharper as it carried on — by the following June, when the tour ended with ten nights at Madison Square Garden, Springsteen had introduced new music and the band sounded like a band. Still, there was little indication that E Street would be a going concern. Hearing a show like this one, which bandleader wouldn't want that?
- December 24, 2022 - Jonathan Pont reporting


MEN WITHOUT WOMEN: SUBSTANCE AND SPLENDOR
Little Steven's garage rock debut album was released 40 years ago. Mike Saunders looks back at the recording sessions, the original Disciples of Soul tours, and the Wicked Cool reissue
Between 1976 and 1978, Steven Van Zandt (aka Miami Steve) wrote, arranged, and produced a series of enduring classics for the first three albums by Southside Johnny and the Asbury Jukes: I Don't Want to Go Home, This Time It's for Real, and Hearts of Stone. But when his professional relationship with the band ended in early 1979, he lost the creative outlet that had sustained him between his commitments to Bruce Springsteen.
He considered the idea of making a solo record at the time, but the next two-and-a-half years of his life were occupied first with full-time co-production work on The River and then the 12-month international tour that followed its release.
Steven's interest in a solo recording project was rekindled in the summer of 1981 when he returned home from Springsteen and the E Street Band's extensive European tour. He was approached about making his own record by Gary Gersh, head of A&R at EMI-America, the label that had recently released Dedication by Gary U.S. Bonds (co-produced by Steven and Bruce) and had a hit with "This Little Girl." Initially hesitant, fearing that his association with Bruce might be exploited, Steven warmed to the idea when EMI president Jim Mazza repeated the offer and assured him that it was inspired by their respect for his work on the Asbury Jukes and Bonds records.
"I really felt they knew me and understood my work and were ready to make a commitment for me as an artist," said Steven, "that's why I did it. If they hadn't come to me and asked, I would've put it off forever. It's great when a record company does that, when they actually take the initiative. It can be really encouraging, and that can be important."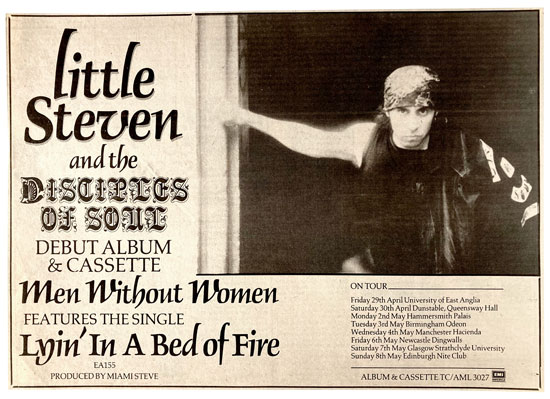 After the Springsteen tour ended in mid-September 1981, Steven began to focus on the lyrical themes that he wanted to explore. Never one to stockpile material like Bruce, he usually only wrote with specific projects in mind. "There are a lot of questions you have to ask yourself when you're about to do your first record. Such as who are you, what do you believe in, what do you want to say, is it worth saying? You need to justify your existence a bit. You hope the things you're feeling you can communicate to somebody else, and that they'll be meaningful."
The six semi-autobiographical songs Steven wrote that fall ("Inside of Me," "Save Me," "Until the Good Is Gone," "Men Without Women," "Princess of Little Italy," and "Forever") reflected different aspects of his personality and Italian heritage. They focused on the pursuit of love and dreams in an unforgiving world and the inspiration he derived from hearing music on the radio in his formative years. With the addition of "I've Been Waiting" (held over from the Hearts of Stone era) and "Angel Eyes" (which may have been even older), he had enough completed material to start recording with a bunch of friends, "just to see if I really had it. Then I got a record deal."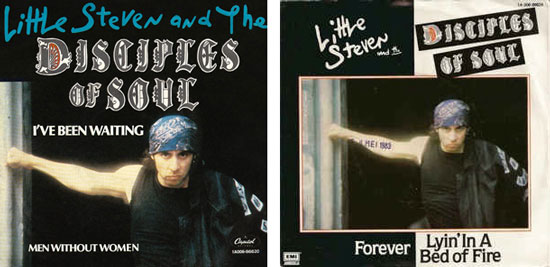 Men Without Women was recorded in two sets of sessions, approximately six months apart, with two groups of musicians.
The first and most productive sessions took place in November 1981 at The Power Station in New York, where Bruce and the E Street Band made The River. The band Steven assembled consisted of E Streeters Max Weinberg (drums), Garry Tallent (bass), and Danny Federici (organ, accordion), plus Kevin Kavanaugh from the Asbury Jukes (piano) and a five-piece horn section: Eddie Manion (baritone sax), Stan Harrison (tenor sax, flute), Mark Pender (trumpet), Mike Spengler (trumpet), and Richie "La Bamba" Rosenberg (trombone). The horn players were contracted to work with Diana Ross at the time but (without Harrison) were also fulfilling all Asbury Jukes touring commitments.
"He wanted to rehearse, get the songs ready, go in and just cut them live in the studio," remembered Max Weinberg. "It was a remarkable experience. Bruce was there. There was never any talk of three-hour sessions. We rehearsed 10 to 12 hours a day. It was just great, like being in a garage band. I hope I never lose that."
"We did four rehearsals," confirmed Kevin Kavanaugh. "The tracks were recorded over a two-day period. No headsets, just a regular monitor system, as if we were on a concert stage, with little thought to bleed. We went through the song list two or three times per day. We did some overdub repairs and extra overdubs over the next few weeks, but essentially that was a live album."
"I decided to go back to the sound I had created with the Jukes," explained Steven. "'60s R&B-based rock with a five-piece horn section. I recorded the whole album live in one day. I put the band in a semi-circle, used the studio monitors hanging from the ceiling instead of headphones, and let it happen. Horns blowing into the drums, monitors blasting the whole mix back into all the microphones, I didn't care."
"We came back the next day and did the whole album again to see if we could get better takes. We may have used one or two takes from the second day. I put acoustic guitar on a couple of songs. Did my tribute to Ry Cooder [by adding] mandolin and slide to 'Princess of Little Italy.' Added the double guitar solo to 'Angel Eyes.'"
Although his contribution remained uncredited, Bruce Springsteen sang harmony vocals on "Angel Eyes," "Until the Good Is Gone," and "Men Without Women." Steven "re-sang the vocals live with Bruce because I wanted them spontaneous and loose and not Everly Brothers-perfect."
"The fun part was that Steven had the sessions catered by an Italian food caterer," said Kevin Kavanaugh. "So in the lounge outside the studio, there was a long buffet. Basically we all gained about 10 pounds in two days."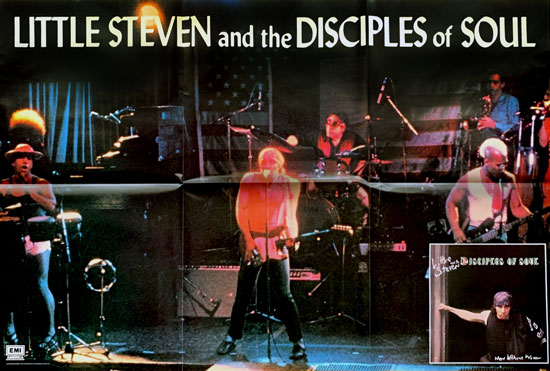 The record remained unfinished for the first few months of 1982 while Steven took care of other recording and co-producing commitments, firstly with Gary U.S. Bonds for On the Line (released in June 1982), and then with Springsteen, for his follow-up to The River. Bruce chose to put out his solo demos as Nebraska first, but the sessions that Steven worked on that spring produced eight of the songs for Born in the U.S.A., which appeared two years later.
The Men Without Women recording project rapidly developed into a solo career, which Steven intended to pursue between E Street responsibilities. In order to distance himself from his Springsteen connections, develop a separate artistic identity, let the record stand or fall on its own merits, and be perceived as a new artist with a debut album to promote, he adopted the name of Little Steven. The new sobriquet acknowledged several of his heroes: blues harmonica genius Little Walter; "androgynous, multisexual" rock 'n' roller Little Richard; and the first band he saw live, Little Anthony and the Imperials, whose doo-wop hit "Tears on My Pillow" was the first record he bought.
Steven's connection with Gary U.S. Bonds and his manager Jon Apostol proved helpful in recruiting players for his new band. Apostol also managed bass player Jean Beauvoir, best known back in the day as an ex-member of The Plasmatics, but he'd previously been in Bonds's band, and was writing solo material. Pianist Rusty Cloud had also played with Bonds and recently left to join the Asbury Jukes. And when an Apostol-organised Rascals reunion fell through, Steven jumped at the opportunity to hire Dino Danelli, drummer for one of his favorite '60s bands. The line-up was completed by percussionist Monte Louis Ellison (from the Alvin Ailey dance troupe) and the five-piece Diana Ross/Asbury Jukes horn section, now nicknamed "La Bamba's Mambomen."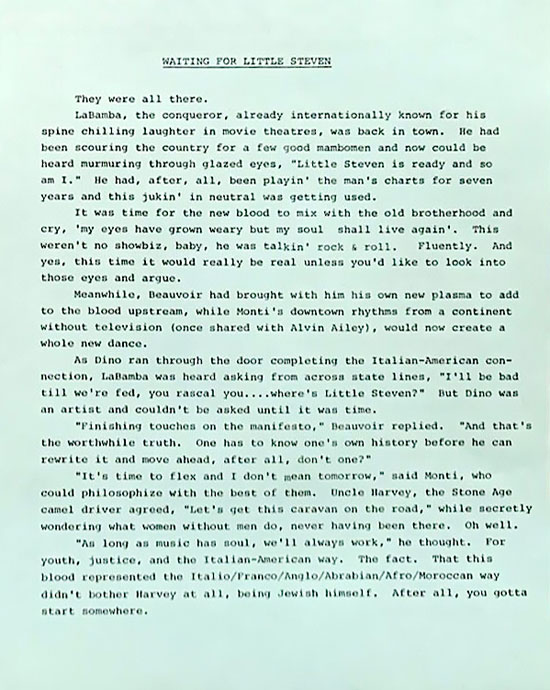 From the press kit EMI-America sent out with promo copies of the album
Enter the original Disciples of Soul, a flamboyant aggregation of like-minded, visually diverse characters that bought into the Van Zandt philosophy that "rock 'n' roll is motivation, not entertainment" and abided by a strict set of rules: "no drugs, no alcohol, no lasting diversion."
"Soul for me is taking on another definition," explained Steven at the time. "What it means now is an emotional commitment to something. That's what the band means, people who are emotionally committed to their work, more than the musical connotation… at this point in my life I'm gonna find guys who are real good, but I also wanted guys who weren't into booze, drugs or any of that stuff."
The new band then recorded the final two songs for Men Without Women. "After I'd written the first eight songs, I felt I'd satisfied what I set out to do. So I started looking at the world in general and the people in it. That's when I wrote 'Lyin' in a Bed of Fire' and 'Under the Gun,' which are more specific about the importance of taking responsibility for your own life and the imminent disaster that will follow if you don't." (Also recorded around this time was a cover of the Duke Ellington instrumental 'Caravan' that became the B-side to 'Forever').
Little Steven and the Disciples of Soul made their live debut on July 18, 1982, with an invitation-only concert for family and friends at New York's Peppermint Lounge, shortly after the horn section had played two major New Jersey concerts — with the Asbury Jukes at the Brendan Byrne Arena and with Diana Ross at Giants Stadium.
Also that summer, director Derek Burbidge shot footage for Men Without Women's celluloid soul-mate, a 90-minute movie with the same title. Scenes were filmed in the studio, Central Park, Little Italy, and Times Square and featured live performances of most of the songs on the album, a press conference, tour budget discussions, interviews with street performers, and a subtitled Italian meal at Steven's grandmother's house. Clips of several band members driving around in a convertible later formed the basis of a music video for "Forever."
The movie was part autobiography and part documentary, as Steven described it: "I wanted to take a camera, go into the street and make a film…our script, by John Varnom, was more of a fluid outline describing our situation. It was a story about a band that didn't have the money to tour and decided to make a movie instead."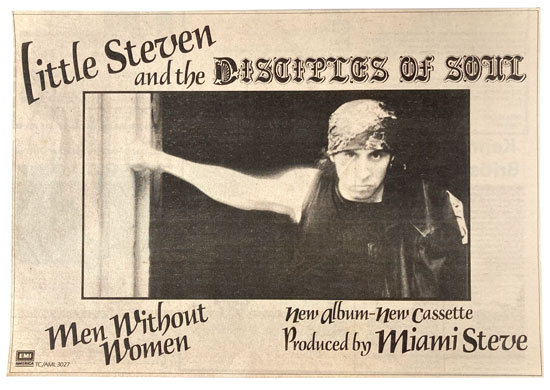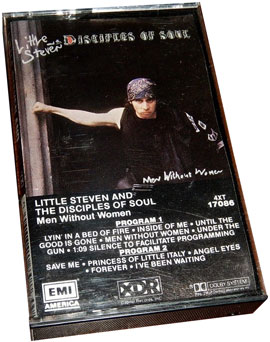 The Men Without Women album was released on October 1, 1982, in the U.S. and October 18 in the U.K. It was credited to Little Steven and the Disciples of Soul but produced and arranged by his alter ego, Miami Steve.
Apart from the Power Station, some other recording took place at the Hit Factory in New York and Clover Studios in Los Angeles. The eight songs from the 1981 sessions were recorded by Bob Clearmountain. "Lyin' in a Bed of Fire" and "Under the Gun" were recorded by Toby Scott. Scott also mixed the album, except for "Forever," which was mixed by Clearmountain. Wally Traugott mastered the record at Capitol Records in Los Angeles.
"I made Bob Clearmountain mix 'Forever' in mono, to try and achieve the perfect Motown record," Steven explained. "It's never gonna be exact and it shouldn't be, but I wanted to capture [the sound of] a Smokey Robinson Motown record. The only way I could do that, in my mind, was to make it completely mono. He was so good in those days. Bob's still the best, but in those days he was beyond the best. He was something else when it came down to that Neve board that wasn't automated, and he's feelin' those faders. I made him do something he'd never done before, which requires a different way of thinking. You're now thinking depth-wise and vertically, not horizontally."
In addition to the main players, several other singers, musicians, and guests contributed to the recording, including ex-Rascal Felix Cavaliere (piano, organ), assistant engineer Zoe Yanakis (oboe solo in "Under the Gun," which she would later play on tour), Sammy Figeroa and Manolo (percussion), Steven's guitar tech Ben Newberry (chimes), and Bob Werner (tambourine). Gary U.S. Bonds, JT Bowen, and Clarence Clemons added backing vocals.
The album title was inspired by a book of short stories of the same name by Ernest Hemingway. It featured tales "about bullfighters, soldiers and boxers and the relationship between identity and profession," Stevie noted. "I felt that if Ernie had written it in the '60s or '70s, it would have included a chapter about a rock band."
It was also a metaphor for loneliness. "For me, that's how it all started. You're lonely, trying to fit in, and it's easier to develop camaraderie with the guys at an early age. You have all this energy that doesn't know where to go, so you play rock 'n' roll. And hope that if you're successful, the reward will be a relationship that works out."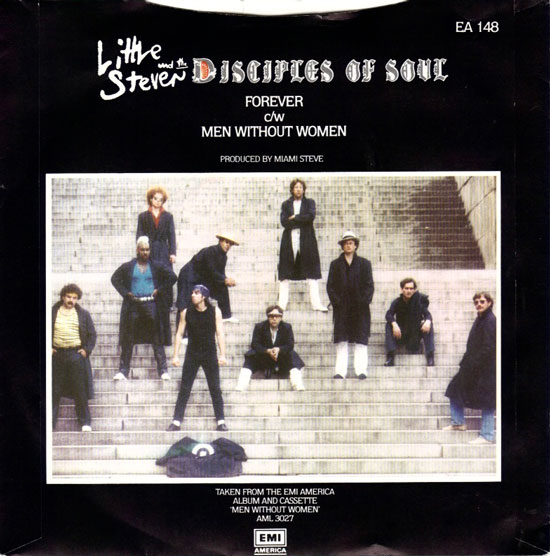 Photographer Jim Marchese (who'd accompanied the E Street Band in Europe the previous year) shot the album cover and additional photos used for inserts and singles at Bethesda Terrace in Central Park in the summer. The Disciples of Soul were featured in their long leather coats with the band's name emblazoned on the back, Hell's Angels-style. Mike Spengler recalled "the photos being shot after an all-nighter. Steven told us, 'No smiling.' Not hard to do [with] no sleep, walking around in those long Disciple coats in 90-degree weather. We certainly looked appropriately grizzled."
"What can't be denied is Van Zandt's fervent intensity as a songwriter and singer testifying to his needs," wrote Fred Schruers in his Rolling Stone review. "When he sings 'don't try to stop me til the good is gone,' he's talking about a life lived for music and the message is delivered over a crunching, lurching attack from the rhythm section in a voice that recalls the snarl of Keith Richards mated with the forlorn anger of Bob Dylan circa Highway 61 Revisited. His sizeable band is under full throttle. Men Without Women is a testament in which Van Zandt wears his heart on his sleeve as surely as he wears his Disciple of Soul insignia on his jacket."
Coinciding with the album's European release, Steven and a temporary Disciples line-up (with Benjy King on keyboards and members of the Uptown Horns) travelled to Germany to appear at the Grugahalle in Essen with Kid Creole and the Coconuts, a concert that was simulcast live to numerous countries on a Rockpalast TV special. It was their first public performance, for an audience of thousands in the venue and considerably more on the small screen. On their way home, they stopped over in London for a last-minute gig at the Marquee Club.
Little Steven and the band hit the road for their first tour in November 1982. By then, the horn players had ended their association with the Asbury Jukes and/or Diana Ross to work exclusively with Steven. (Mike Spengler decided to stay with Ross, and his place was taken by Nelson Bogart). Primarily covering the East Coast (with one night at Radio City Music Hall in New York and four at Clarence's club Big Man's West in Red Bank), the three-week roadtrip included brief diversions to Los Angeles, for two shows at The Roxy, and to Cleveland, for two appearances at the Agora and two at Richfield Coliseum, supporting The Who.
At the end of this debut tour, Rusty Cloud left to work permanently with the Asbury Jukes and was replaced by Pee Wee Weber. Stan Harrison also left, to continue with Diana Ross for a while and work with David Bowie on the Let's Dance LP and subsequent Serious Moonlight tour, permanently reducing the horn section to a four-piece.
In his role as an ordained minister, Little Richard officiated at Steven's wedding to his longtime girlfriend Maureen Santoro at Harkness House ballet school in New York on New Year's Eve, which received coverage in Rolling Stone. Bruce was best man, Percy Sledge sang "When a Man Loves a Woman" as they walked down the aisle, and the wedding band from The Godfather performed at the reception.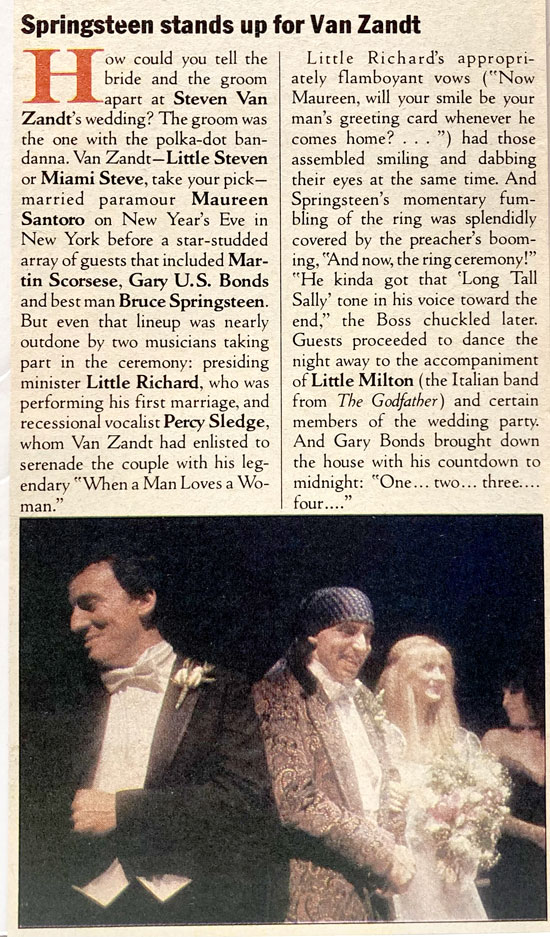 Another month-long series of North American shows followed in the first months of 1983, including two at El Mocambo in Toronto, one-nighters at Park West in Chicago and the Old Waldorf in San Francisco, and another couple at the Savoy in New York. It was followed by a month in Europe, where gigs in Belgium, The Netherlands (a memorable live broadcast from Utrecht) Switzerland, France, Germany and Sweden preceded an eight-date UK tour, which included shows at Birmingham Odeon, Manchester Hacienda and London's Hammersmith Palais.
A typical set list from this period included most of Men Without Women (though rarely "I've Been Waiting"), B-side "Caravan," four songs that Steven wrote for Southside Johnny and the Asbury Jukes ("I Played The Fool," "I Don't Want to Go Home," "This Time It's for Real," and "Take It Inside"), and two covers (Aretha Franklin's "Respect" and Marvin Gaye's "Can I Get a Witness"). Sam and Dave's "Broke Down Piece of Man" occasionally got an airing, and the European shows opened with the recently recorded, then-unreleased "Rock 'n' Roll Rebel."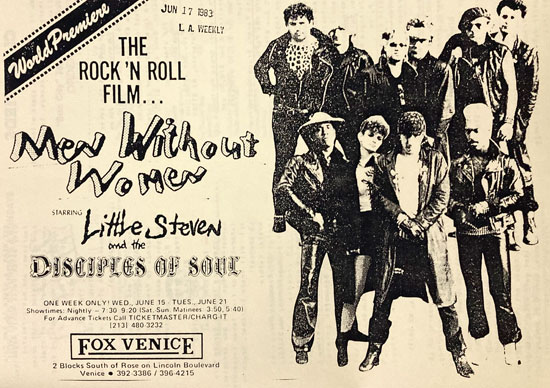 The European tour ended with a concert in Cannes, France, in mid-May, where the Men Without Women movie was premiered at the annual film festival. The next month, it ran for one week at the Fox Theatre in Venice, California. Despite being scheduled for release on videocassette (and assigned a catalogue number), it promptly disappeared without trace. After viewing a rediscovered master copy recently, Little Steven was "surprised we'd done as much as we had. It requires a bit of filling in the blanks, but it kind of makes sense."
Little Steven and the band played three more dates on the West Coast, concluding with a 9:30am slot at the US Festival in San Bernadino at the end of the month. It was the last Disciples of Soul show with a horn section for more than three decades and marked the end of the short-lived Men Without Women era.
Steven then abandoned his horn-driven, rock-meets-soul hybrid, adopted a contemporary 1980s rock sound, and became a political activist, literally and lyrically. Alternating twin careers ultimately proved unworkable, and his departure from E Street (and later EMI-America) was announced in 1984. He made more records on other labels and toured with new Disciples line-ups, but his solo career was apparently finished by the end of the decade.
Originally only available on vinyl and cassette, Men Without Women eventually appeared on CD. EMI also inexplicably released a truncated LP and cassette version in the mid-'80s (omitting "Inside of Me" and "Princess of Little Italy") before deleting it from their catalogue.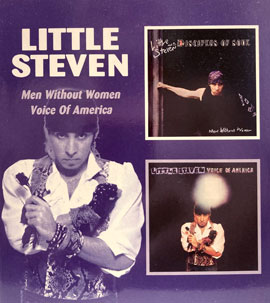 The album resurfaced in the '90s on Razor & Tie and Connoisseur (with additional liner notes by Michael Heatley). In 2005, BGO Records issued a remastered CD version as a twin-pack with Steven's second solo album, Voice of America, with the original cover artwork and inserts intact (which was not always the case with previous re-releases) and an extensive historical essay by John Tobler. Between these occasional resurrections, it spent a lot of time out of print, particularly on vinyl.
In 2008, Southside Johnny and the Asbury Jukes celebrated the 30th anniversary of Hearts of Stone by performing the album in its entirety three times, in Asbury Park, London and Amsterdam. The following year they released Hearts of Stone Live, with additional live versions of "Forever" and "Until the Good Is Gone." In the liner notes, Southside explained that they were "cut for Hearts but never released." Other sources have suggested that "Inside of Me" also dates from this period, but no hard evidence has emerged to prove this. Stan Harrison distinctly remembers "recording 'Forever' on the Disciples record. It was not part of any Hearts of Stone sessions I was on."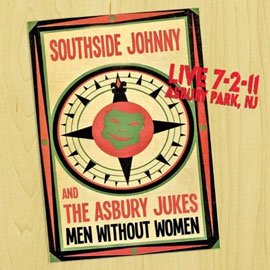 In 2011, Southside and the band played the Men Without Women album in its entirety at the Stone Pony and subsequently released Men Without Women Live 7-2-11 Asbury Park, NJ, with three bonus tracks featuring special guest Little Steven. To this day, they continue to play "Forever" and "Angel Eyes" in their shows. The Jukes effectively kept Steven's early material alive over several decades, when many had assumed that he was unlikely to play them with his own band again. But what goes around comes around.
Surprising everyone including himself, Steven reactivated his solo career in 2016, revived his original sonic blueprint, spent the next three years touring the globe with a 14-piece Disciples of Soul (with original horn players Eddie Manion and Stan Harrison), and released two studio albums and three live packages. The live sets included songs from Men Without Women, the first time the majority of audiences had heard them performed live.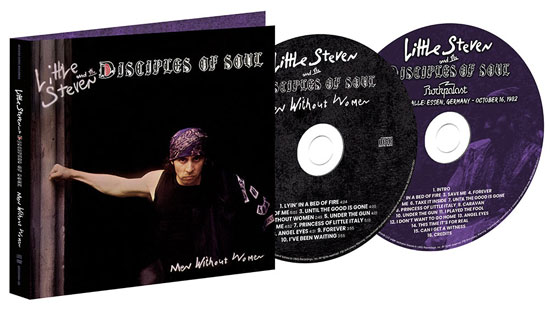 Steven re-released Men Without Women in 2019 as part of Rock 'n' Roll Rebel: The Early Work, a box set on Wicked Cool/UMe, which contained vinyl formats of his first six solo albums and four CDs of rare and previously unreleased material. An all-CD version followed in 2020. The albums were also made available individually on vinyl and CD, and as digital downloads (which included selected rarities from the box as bonus tracks, with the remainder appearing on separate EPs). The Men Without Women download came with an additional 10 tracks, and the CD format was accompanied by a DVD of the Rockpalast German TV performance.
The 1982-83 Men Without Women era was well represented on the rarities discs, with alternative versions of songs from the album (an early take of "I've Been Waiting"; live performances of "Angel Eyes," "Forever," and "Until the Good Is Gone" from Britannia Row Studios in London; "Save Me" from the Peppermint Lounge show; and a solo piano version of "Inside of Me" from French TV); a radio commercial; live recordings from the Marquee Club; studio and live versions of "Caravan"; and the previously unavailable "Rock 'n' Roll Rebel" (which referred to Steven's then recent ejection from Disneyland for flouting the dress code), "Time," and "Alive for the First Time." ("The City Weeps Tonight" from Soulfire was apparently also intended for his debut album but remained unfinished for decades.)
Back in 1982, Men Without Women failed to achieve the airplay and commercial success that it deserved, but it remains an undisputed career highlight for Van Zandt devotees. Its irresistible blend of passionate vocals and rock-meets-soul arrangements sounds as fresh today as when it was recorded four decades ago.
With hindsight, Little Steven believes that his inner producer failed to curb the whims of his inner artist, and that using an outside producer for Men Without Women might have helped him to create a more polished, and thus commercially palatable, record. Its rough-edged, spontaneous soundscape may have hindered its acceptance by the media. "I thought the less produced the album was, the more open and honest, and the more direct my route would be to discovering my own identity," he explained in retrospect. "Conventional wisdom is you never should produce yourself. The only exception was Prince, who was an extraordinary genius. Other than him, I don't know anybody who successfully produces themselves… If I had to do it over again, I would double some guitars and add some harmonies. Most of the album is one live rhythm guitar. But it holds up as an honest representation of where I was at the time."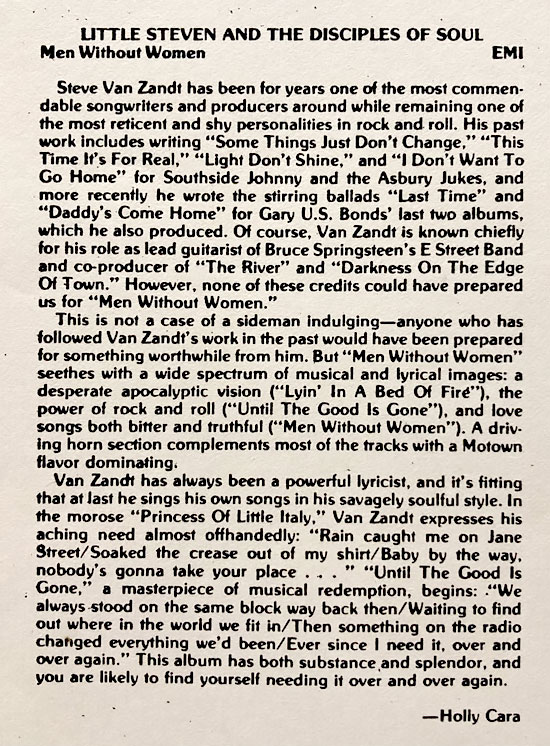 "This is not a case of a sideman indulging. Anyone who has followed Van Zandt's work would have been prepared for something worthwhile from him," wrote Holly Cara Price in Goldmine. "Men Without Women seethes with a wide spectrum of musical and lyrical images — a desperate apocalyptic vision, the power of rock and roll, and love songs bitter and truthful. A driving horn section complements most tracks, with a Motown flavor dominating. This album has both substance and splendor and you are likely to find yourself needing it over and over again."

NOTES: Little Steven quotes taken from interviews with Debby Miller for Rolling Stone (1982), Pipeline (1982), Belgian radio (1982), David McGee for The Record (1983), Mike Davies (1983), my own interview (2017) and Steven's autobiography Unrequited Infatuations (2021).
Max Weinberg quote taken from an interview in Modern Drummer (1983); Kevin Kavanaugh and Mike Spengler quotes taken from my own interviews in 2002 and 2021 respectively.
Rock in Peace: Clarence Clemons, Dino Danelli, Danny Federici, Kevin Kavanaugh, Holly Cara Price, and Mike Spengler
- December 22, 2022 - Mike Saunders reporting



TEACHROCK HOLIDAY RAFFLE FOR "NYC EXTRAVAGANZA"
TeachRock has been holding a series of Golden Ticket raffles, hooking lucky fans up with tickets while raising funds for Little Steven's education initiative.
The latest and last stop in their Golden Ticket Holiday Series is for NYC, and the package is a doozy. Not only a pair of premium tickets for Madison Square Garden, but also a second pair for another area E Street show, plus Jimmy Fallon tickets and more.
The NYC Holiday Golden Ticket Charity Package includes:
Two (2) premium seats or GA/pit tickets to see Bruce Springsteen and The E Street Band's April 1, 2023 show at Madison Square Garden
Another pair of tickets for you to gift (or keep for yourself) to EITHER the Brooklyn show at the Barclays Center, or one of the Belmont shows on Long Island.
Two (2) tickets to a live taping of a Jimmy Fallon show in 2023
A Little Steven Rock N Roll Rebel - The Early Work Exclusive Colored Vinyl Box Set. 11 LPs, only 1,000 made! Maybe Stevie will even sign it for you?!
Every $25 donation to TeachRock is a chance to win the package, and you may enter as many times as you wish until 11:59am ET, Thursday, December 22, 2022.
- December 20, 2022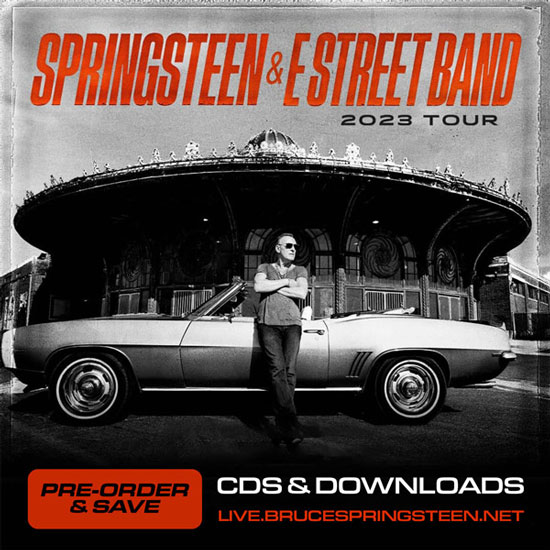 OFFICIAL CONCERT RECORDINGS RETURN FOR 2023 TOUR
Pre-ordering is open now, with a discount on full-leg bundles
With Bruce Springsteen and the E Street Band hitting the road in just a month and a half , there's good news for your earholes: like the E Street Band tour for High Hopes in 2014 and the 2016-2017 River Tour, high-quality official concert recordings will be available after each show on Tour 2023.
As announced on live.springsteen.net, "multi-track audio recordings from every concert on the upcoming Springsteen & E Street Band tour will be professionally mixed by Jon Altschiller, and made available promptly after each show!"
Altschiller, who founded 'Chiller Sound two decades ago, has been mixing Springsteen's ongoing Live Archive releases to general fan acclaim, having taken over for Toby Scott early in the series. He came on board with Springsteen in 2016, mixing all of the official River Tour recordings for nugs.net.
As usual, each concert recording will be available individually, but completists may want to get a jump on it now: for the remainder of 2022, live.springsteen.net is offering "deeply discounted" tour packages for pre-order, bundling each leg of the tour.
Single shows can also be pre-ordered now, for what we assume will be their standard prices of $14.99 on mp3, $18.99 FLAC/ALAC, and $26.99 on CD, with additional HD formats also available.
The discounts kick in when you buy in bulk:
The 31-show U.S. Tour Package can be pre-ordered for $299.99 on mp3 (versus $464.69 if purchased indiviudally), $374.99 FLAC/ALAC (versus $588.69), and $599.99 on CD (versus $836.69).
The 31-show Europe Tour Package is available for pre-order at the same price-points. Discounts end on January 1, 2023.
- December 16, 2022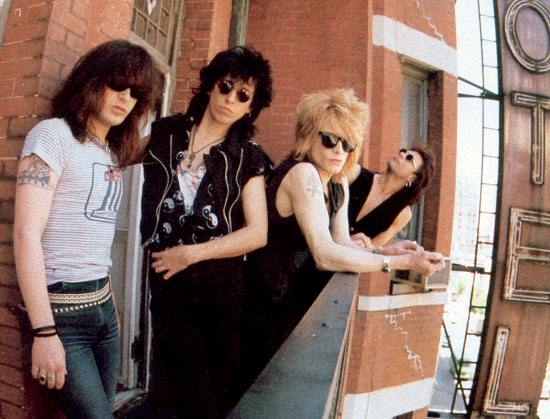 Demolition 23 in 1994, with Michael Monroe (third from left)
THE SCUM LIVES ON, THANKS TO WICKED COOL RECORDS
Stevie's label reissues his '94 project with Michael Monroe, Demolition 23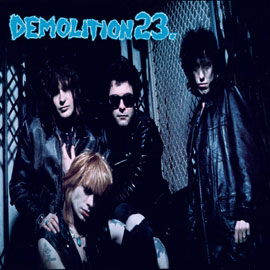 This fall, Wicked Cool Records reissued an undersung project from label head Little Steven's record-making career: the self-titled album from Demolition 23. Steven Van Zandt produced the 1994 album, which features two former members of legendary Finnish rock 'n' rollers Hanoi Rocks, and he co-wrote a number of songs for it as well.
Demolition 23, now available on CD and blue smoke vinyl as well as digitally, was originally released nearly 30 years ago, but it wasn't available in the States at that time except as a hard-to-find import. Featuring ex-Hanoi Rocks members Michael Monroe (lead vocals) and Sami Yaffa (bass) along with Jimmy Clark on drums and the late Jay Hening (previously of Star Star) on guitar, the album contains songs co-written by Van Zandt and Monroe, as well as a Monroe co-write with Stiv Bators (Dead Boys, Lords of the New Church) and some iconic punk and proto-punk covers of Johnny Thunders, the UK Subs, and the Dead Boys.
Little Steven's relationship with Michael Monroe goes back to the early days of Monroe's post-Hanoi Rocks career. The two met in 1985, when Steven came over to London to produce the latest single by punk supergroup Lords of the New Church. The A-Side, "The Lord's Prayer" (written by TV Smith of legendary British punk group the Adverts) was matched with a Creedence Clearwater Revival cover for the B-side. At the time, Monroe had moved in with Lords lead singer and ex-Dead Boy Stiv Bators, and being a fan of Steven's Voice of America LP, he was excited to meet the erstwhile E Street Band member. Bators brought Steven back to the apartment, played him a Hanoi Rocks track, and a mutual admiration society was born.
The meeting led in 1985 to both Monroe and Stiv Bators being asked by Steven to come over to New York to appear on the "Sun City" track and video for his Artists United Against Apartheid project. Steven went on to play 12-string guitar on some demos Monroe was working on in 1987, and he penned the track "While You Were Lookin' at Me" that appeared on Monroe's second solo album, 1989's Not Fakin' It. Steven also co-wrote "Dead, Jail or Rock 'N' Roll" and "Smoke Screen" with Monroe and fellow former Hanoi Rocks member Nasty Suicide for that same album.
In a new interview with Backstreets, Monroe suggests that his punk/glam roots rubbed off on Little Steven. The singer says that he gave Steven a copy of the Sex Pistols film The Great Rock 'n' Roll Swindle as a present, and that he took Steven to his first Iggy Pop concert.
"Hanoi started out on the streets — the punk edge was always there," says Monroe. "We had that vibe, us against the world. The punky edge has always been part of rock 'n' roll. Shaking up the establishment, being for real."
It made sense, then, when a few years later Michael Monroe and Little Steven embarked upon the project that became Demolition 23, a name suggested by bassist Sami Yaffa and taken from the William S. Burroughs book, Exterminator.
Monroe tells Backstreets that he had wanted Steven to be his producer when he was recording as a solo artist for Polydor, but that for various reasons the label wouldn't allow it. Parting ways with Polydor opened the door for the Michael Monroe/Little Steven recording collaboration.
Monroe had a great band together and says that it was a given that he and Steven were on the same page musically: "Little Steven and I had been writing the songs with very much a kind of authentic, punky rock 'n' roll attitude," Monroe says, and that attitude certainly shines through on the tunes they co-wrote for Demolition 23 — six of the album's ten tracks, including "Nothin's Alright" [below].
Steven himself calls Demolition 23 "one of my favorite records," and he described the project in his Unrequited Infatuations memoir: "We missed the classic punk bands, so we assembled one with Sami Yaffa, an amazing twenty-year old guitarist named Jay Hening, and a really great drummer named Jimmy Clark."
The "classic punk" sound is there in spades. The album's hooky choruses are reminiscent of the best of the '77 punk era and the rockier side of its immediate aftermath, like The Professionals (the post-Sex Pistols Paul Cook and Steve Jones outlet) or the early-'80s version of the Damned. The crunchy, souped-up Chuck Berry style of early punk guitar favored by the likes of Jones and Hanoi Rocks influence Johnny Thunders fills the album. As Monroe recalled in our conversation, "Johnny Thunders and the Heartbreakers, the LAMF album even more so than the [New York] Dolls, was influential on Hanoi."
The song titles say it all: "Deadtime Stories," "You Crucified Me," and this writer's personal favorite, "The Scum Lives On," sound like punk classics from the titles alone, before you've heard a note of the music. The track list also contains an ode to a classic London venue that no longer stands (also immortalized in song by the Clash), "Hammersmith Palais."
The Wicked Cool reissue contains three previously unreleased demos recorded at Baby Mosher studios before the album sessions commenced.
Demolition 23 clearly still holds a spot in Monroe's heart — a reunion of sorts was held at the singer's recent 60th birthday party show in Helsinki — and the singer had nothing but good things to say about Van Zandt and his role in creating the record. "The comfort of having the production in the good hands of Little Steven allowed me to relax and enjoy doing my thing," Monroe says. "Steven brought out the best in everybody, and we didn't waste any time."We would expect no less!
Demolition 23 is available digitally and physically via these outlets.
- December 15, 2022 - John Howie Jr. reporting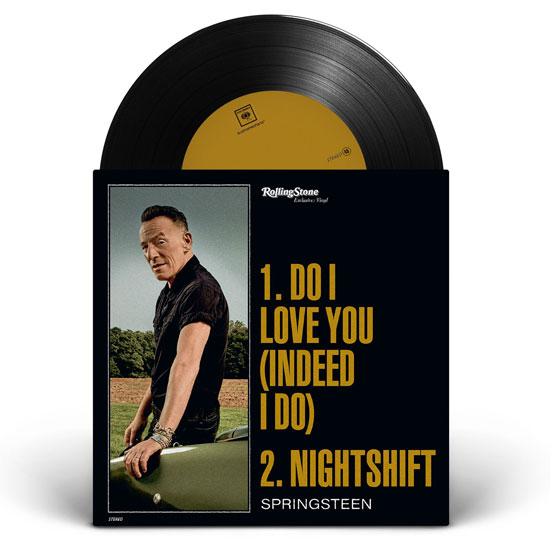 "DO I LOVE YOU" SINGLE? JAWOHL!
Attention vinyl collectors: an exclusive seven-inch spawned from Only the Strong Survive will be included as a bonus with the January 2023 issue of the German Rolling Stone. Lead track "Do I Love You (Indeed I Do)" is the A-side, with "Nightshift" on the flip, in a picture sleeve. You can pre-order direct now for the magazine + record, which will begin shipping on December 22.
- December 14, 2022


HOW CAN I KEEP FROM DANCING?
NYE in NYC with The BIG Band at Tribeca Grill
Once again this year, many players from the Sessions Band are reuniting to play New Years Eve as The BIG Band, ringing in 2023 in New York, NY.
The combo features bandleader Sam Bardfeld plus Lisa Lowell, Cindy Mizelle, Jeremy Chatzky and Larry Eagle from Bruce Springsteen's 2006 touring band, along with Gene Casey, Arno Hecht, Larry Etkin (filling in for Mark Pender), and Andy Burton from the Disciples of Soul. As past years have shown, The BIG Band makes for a rockin' New Years Eve.
The dinner-and-dancing event has become a new annual tradition at Tribeca Grill, including a four-course meal in addition to the night's entertainment.
NYE at Tribeca Grill, Saturday, December 31, begining at 9pm
Reservations taken from 9-10:30pm, grants a table for the whole evening
$175 per guest (excludes beverages, tax and gratuity)
Children under 12, half-price (3 course menu)
Backstreets readers get a $20 discount: $155 instead of $175 per person. Just use the promo code BACKSTREETS when you book your reservation here!
- December 14, 2022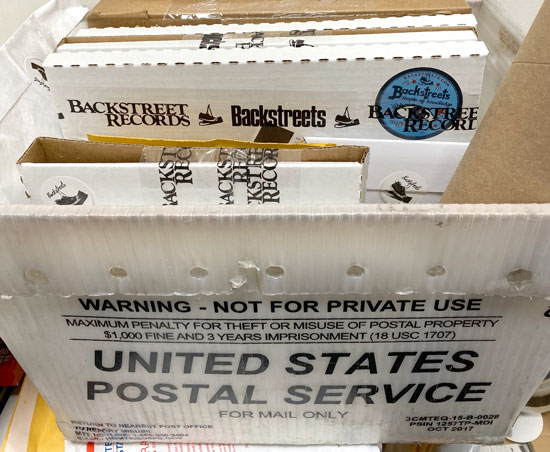 HOLIDAY REMINDERS FROM BACKSTREET RECORDS
Tuesday is last call for standard U.S. shipping to arrive by Christmas!
We've been packing and shipping like fiends to get all this Boss stuff in the hands of fans in time for the holidays... this year our "standard shipping" ordering deadline for the holidays is Tuesday, December 13, to shop with Backstreet Records and have guaranteed delivery to U.S. addresses before Christmas.
After Tuesday, you can still select Expedited for deliveries anywhere in the States, but ordering now will definitely save you on shipping!
International customers — we truly value your support, and we'll do our best to get your stuff to you as quickly as possible... it's just difficult to guarantee delivery time with international shipping.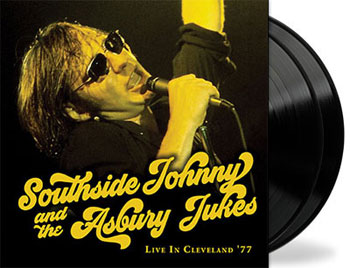 Latest addition: the vinyl edition of Live in Cleveland '77 by Southside Johnny and the Asbury Jukes, officially released by Cleveland International Records.
The killer live set from the Agora featuring Stevie Van Zandt on lead guitar (he wrote liner notes for this release too) and Ronnie Spector guesting was released on compact disc earlier this year, with this 2LP set out just in time for the holidays.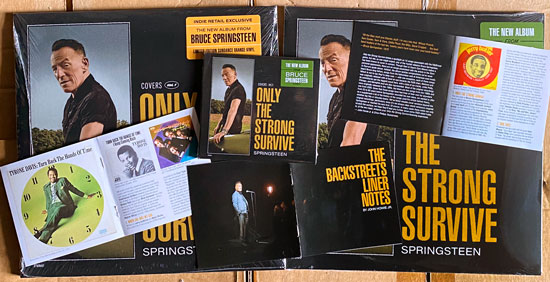 All copies of Only the Strong Survive from Backstreet Records include our exclusive supplement, The Backstreets Liner Notes: a bonus 16-page CD booklet giving you history of the 15 songs on the album. Ships FREE with every format of OTSS: black vinyl, limited orange vinyl, or compact disc.
See these and more of our Latest Addtions here!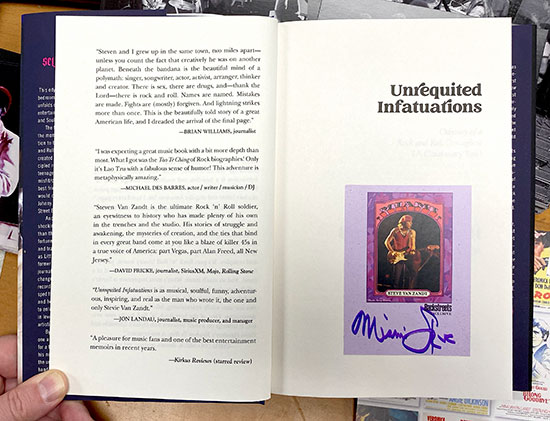 If you missed our signed copies of Unrequited Infatuations, with Stevie Van Zandt signing custom bookplates just for us, we have a limited number of these hardcovers available again from his original (and only!) signing session as Miami Steve.
You can also shop by category, for hundreds of items in stock:
Thanks for supporting Backstreets and shopping with us!
- December 12, 2022

PHOTOGRAPHS & MEMORIES
Just a reminder to tune in to our
Instagram
for a bevy of vintage Bruce/E Street Band images, with photographer Jim Shive's takeover wrapping up soon!
If you're interested in a print from the Shive Archive (where the Backstreets discount code DRIVEALLNIGHT saves you 10 percent), his holiday shipping deadline is coming right up, too — as with Backstreet Records, the last day to order from shivearchive.com for guaranteed U.S. delivery pre-Christmas is Monday, December 12.
- December 9, 2022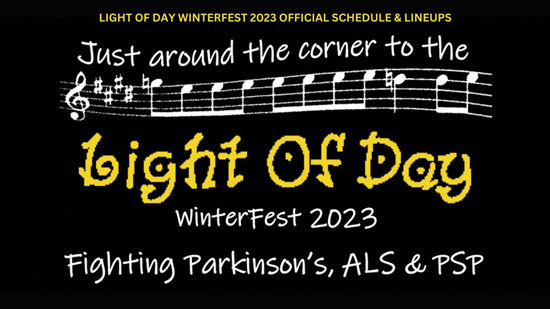 LIGHT OF DAY WINTERFEST 2023 ANNOUNCED
Tickets are on sale now for Light of Day's annual music festival, WinterFest 2023. For "The Main Event," Bob's Birthday Bash on January 14, John Waite joins a lineup of LOD regulars Joe Grushecky & the Houserockers, Willie Nile, Jeffrey Gaines, Joe D'Urso, Jesse Malin, Danny Clinch's Tangiers Blues Band, and more. The big Saturday night show will be held in Red Bank for the second time, at Count Basie Center's Hackensack Meridian Health Theatre.
Grushecky, Nile, and the Tangiers Blues Band will also play the annual Asbury Angels Induction the night before, January 13 at the Stone Pony in Asbury Park.
Many more events are scheduled for WinterFest, January 7-20 in Asbury Park, Red Bank, Montclair, New York City and Philadelphia — for more details on lineups, performances ticket packages, and shows with Free Admission, visit the Light of Day events page.
All performances and events will raise money and awareness for its continuing battle to defeat Parkinson's disease and its related illnesses ALS (Amyotrophic Lateral Sclerosis) and PSP (Progressive Supranuclear Palsy) within our lifetime.
- December 9, 2022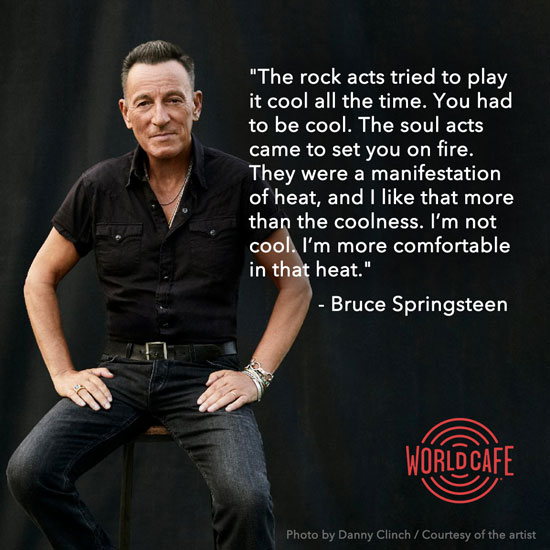 ROCKIN' ALL OVER THE WORLD CAFE, DECEMBER 9
This afternoon on World Cafe, Bruce Springsteen makes his first guest appearance on the long-running radio program, produced by WXPN in Philadelphia for NPR.
Beginning in 1991, World Cafe was hosted for more than 25 years by David Dye, an early Springsteen booster; Bruce namechecks Dye in Born to Run as a crucial supporter at Philly's WMMR. While Dye stepped down from World Cafe in 2017, we're still thrilled that "his" show landed The Boss.
Host since 2019 (and only the third in the show's history) Raina Douris conducts the interview, which centers on Only the Strong Survive with Bruce "speaking as a fan, talking about why he wanted to honor these artists."
Tune in on your local station, or stream it at 2:00 ET this afternoon (Friday, 12/9) on xpn.org. You'll also be able to stream the archive of the complete session, available npr.org and on the show's podcast.
- December 9, 2022



GREETINGS TURNS 50 — SYMPOSIUM TICKETS AVAILABLE
Believe it or not, the 50th anniversary of Bruce Springsteen's debut album is just around the corner — next month! Springsteen released his first two albums in 1973: Greetings From Asbury Park, N.J. in January, and The Wild, the Innocent & the E Street Shuffle that fall.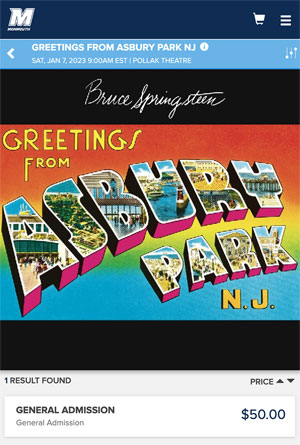 To celebrate the half-century mark for Greetings, The Bruce Springsteen Archives and Center for American Music at Monmouth University is presenting a special
day-long symposium on campus in West Long Branch, NJ, on Saturday, January 7, 2023.
After the event proved extremely popular, inital tickets selling out immediately, the Archives have moved the symposium to a larger venue — Monmouth University's Pollak Theatre — and have made more tickets available.
Click here to purchase tickets.
The 50th Anniversary: Greetings from Asbury Park, N.J. symposium will include panel discussions, interviews, a book signing, and a special performance of
the songs on the album by Jersey Shore musicians.
Among the guests participating in the symposium will be original E Street Band members Garry Tallent, David Sancious, and Vini Lopez, along with former Springsteen manager Mike Appel.
"This event kicks off a series of 50th anniversary events that will bring attention to Springsteen's earliest accomplishments in the recording studio and contextualize the historical importance of each," said Eileen Chapman, Director of the Bruce Springsteen Archives and Center for American Music. "This symposium is the first of many coming down the road."
Topics such as Springsteen's early '70s songwriting style; the Jersey Shore music scene in 1972, the year Greetings was recorded; recollections of those E Street Band members that played on the album; and the premiere of a mini-documentary on the making of Greetings that includes an exclusive interview with Bruce Springsteen will round out the day's activities.
Photographer Nicki Germaine will debut her book, Springsteen: Liberty Hall, from his 1974 concert in Houston, TX.
The symposium will be held in the Pollak Theatre, beginning at 9am on January 7. Registration is required. The cost for attending the symposium, which includes lunch, is $50. Free parking is available in Parking Lots 13, 14, 16, and 25. For further information, please visit springsteenarchives.org.
- December 6, 2022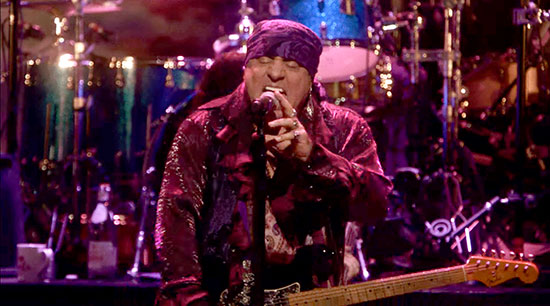 C'MON (BACK), STEVIE!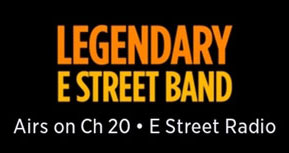 Until now, E Street Radio's Legendary E Street Band has been devoting no more than a single episode per individual band member (beyond Bruce Springsteen himself). It's fitting that the first band member to get a second episode devoted solely to him should be the one who's worn so many hats/bandanas and gone by so many different names on and off E Street: the one and only Stevie Van Zandt.
This new episode utilizes the show's usual mix of insightful commentary and entertaining musical examples to focus on Van Zandt's strength as a horn arranger as well as the important singing role that Stevie took within the E Street Band as its "second voice." His vocal-harmony (frequently near-duet) role is one that host Greg Drew believes is underrated, if not misunderstood altogether, in terms of its impact — as important as Pete Townshend's and Keith Richards' second-voice contributions to much of the classic work of The Who and The Rolling Stones.
There's also an extensive dive into the studio and live recordings of Little Steven and the Disciples of Soul, and the show concludes with a double-shot of one of Van Zandt's most offbeat recordings followed by one of his greatest songwriting/production triumphs, just in time for the holiday season.
Legendary E Street Band's "Stevie Van Zandt, Vol. 2" edition debuts this afternoon, exclusively on E Street Radio (SiriusXM channel 20) with its airplay scheduled as follows (all times ET):
Monday, December 5 - 3pm and 6pm
Wednesday, December 7 – 10am
Thursday, December 8 - 6 pm
Saturday, December 10 - 4pm
SiriusXM subscribers also can listen on-demand/online via the SiriusXM app.
- December 5, 2022 - Shawn Poole reporting - still from "Camouflage of Righteousness" (Live at the Beacon Theatre)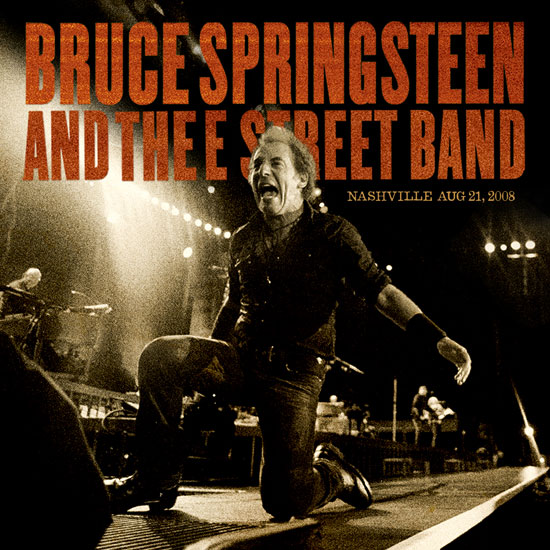 GOOD ROCKIN' IN NASHVILLE, WITH THAT "GOD-BLESSED GUITAR!"
Fighting the law, walking the line, and traveling to shows with 8/21/08 in the Archive series
On more than one occasion in recent discussions of the 2023 Tour, I've seen fans who catch multiple shows described as "entitled." The first time, it made me laugh out loud. Attending concerts and talking about them (and listening back later) are the activities that inspired Backstreets at its founding and remain the basis of what we've written about for more than 42 years. Granted, there are fans for whom one has been enough in the past, but I can't say I understood that — once you've had the heart-stopping, earth-quaking experience of a Springsteen show, why wouldn't you pursue more?
For decades, multiple shows in an area, affordable tickets, and affordable travel (whether gas or airfare) made it well within reach for us to hit numerous nights on a given tour. Fans flying overseas is what helped build this international community of ours. Though bands like U2 and Pearl Jam have diehard fans, too, I can't think of another artist outside of the jam band genre whose tours inspired so much migration.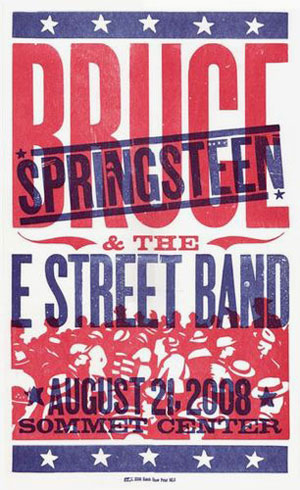 Personally, I was never able to physically follow a Springsteen tour for very long — for a lot of us, family, work, time, and money tend to get in the way of that — but I always enjoyed picking my spots. There have been few pleasures in life as inspiring as looking ahead at a tour itinerary and planning, figuring, wondering… where should I go? Where will the magic really happen?
Of course, magic happened every night. Like many of us, I traveled to the corners of the U.S. and across the oceans in successful pursuit of it. There aren't many trips people take where they're guaranteed a good time (the only trip I even came close to regretting was Kansas City '09, when the concert was outright canceled; still, we had a great steakhouse dinner). But what, looking back, will be the legendary nights? When placing my bets on the table, I'd include trips to the middle of the country, where sparks often fly.
In 2005, I missed the high-water stretch of Devils & Dust shows in the midwest, in late July and early August (Columbus and Grand Rapids are now in the Live Archive series; I wouldn't complain if Cincinnati, Milwaukee, and St. Louis '05 joined them). But I'm still thrilled to recall that, three years later, I got lucky and nailed it with a Magic trip that took me to Nashville and St. Louis in succession.
Coming near the tail end of the 2007-2008 tour, the truly, yes, legendary St. Louis '08 stop is already a Live Archive release. Today, that one is joined by its immediate predecessor, Nashville, August 21, 2008.
As happy as I recall being that night at the Sommet Center, from the unusual "Out in the Street" opener on, it was still more than 14 years ago; rather than trying to pull up some hazy memories, let's revisit the Backstreets report I wrote that very night from my hotel room in Music City, with "Good Rockin' Tonight" and "I Fought the Law" probably still ringing in my ears.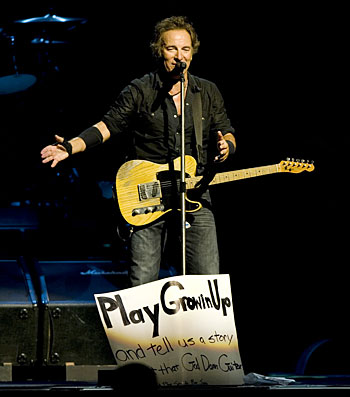 August 21
Nashville, TN
Sommet Center
Notes: Nashville was all about going the extra mile. Why just do "She's the One" when you can add the "Mona" intro? ("Mona"/"She's the One" was last performed on September 10, 1981, and even that was its only performance on the River tour.) Why just do "I'm on Fire" when you can lead into it with a bit of "I Walk the Line"? (With the Sommet Center right next door to the Country Music Hall of Fame, Springsteen paid tribute to Johnny Cash with an impromptu verse of the Man in Black's trademark tune. With Bruce on vocals and Nils on guitar, the only possible complaint about this magical moment was that it was too short.) Why just do "Growin' Up" when you can include one of those long-loved and much-missed stories in the traditional spot? (Bruce was obliging a sign that read, "Play Growin' Up... and tell us a story about that God Damn Guitar!") Joe Strummer's birthday? Let's do "I Fought the Law."
It's those kinds of moments that have long elevated Springsteen's performances to greatness, and Nashville was full of them. Between the signs and the approaching end of the tour, spontaneity has become the rule. "I'm gonna test the band," Bruce told the crowd as the request portion began, showing everyone the sign for a Tennessee special, "Good Rockin' Tonight." "We played this at the Capitol Theatre in 1978," he recalled, quickly going over the song with the band as Max vamped (now with an "I [heart] Max" sign propped against his kit, which remained for the duration of the show). That wasn't quite enough -- "Short conference?" Bruce laughed before convening the band for a refresher huddle. "Elephants never forget!" he hollered before finally launching in: "Well have you heard the news?" And it was good rockin', with Roy and Bruce each taking fine solos. And again at the end: "Elephants never forget!"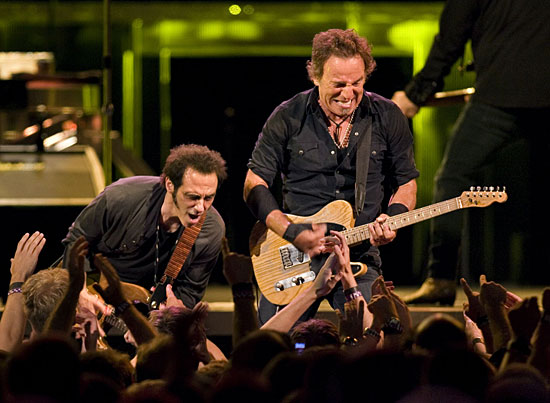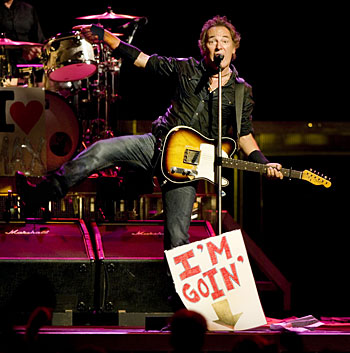 A great sign set continued with "Growin' Up," that story starting off with the classic, "Well there I was...." He went on to set the scene of getting his first guitar, standing in front of the shop window with his mom: "It was Christmas Eve, nineteen... sixty... four?" And as "that God Damn Guitar" became "that God Blessed Guitar," they kicked back into the song with Bruce proclaiming, "This is for you, Pop!"
The next sign request was "I'm Goin' Down": "This is a song that almost didn't make the Born in the U.S.A. record; it was this or 'Pink Cadillac.'... We've played this a few times, it's good for a laugh, and probably one of my most insightful songs about men and women," Bruce said with a chuckle. Next: "The price of gas is going up, up, up, up, up... Did you ever feel like you were held up without a gun?" And the River outtakes continued with "Loose Ends" — just a stunning run.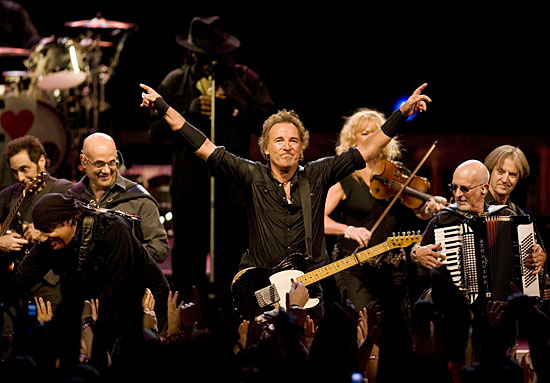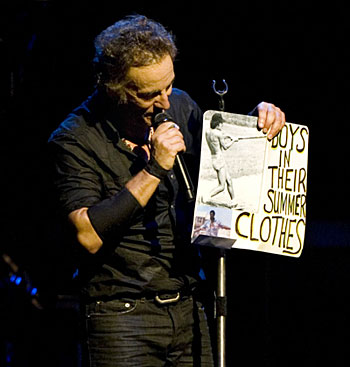 In the encore, a sign for "Boys in Their Summer Clothes" gave us "Girls" to replace the setlisted "Tenth Avenue." The sign's photo of a young Bruce playing ball in cutoff shorts prompted him to assure the crowd, "I know it's a little strange, but that's actually how men wore their shorts! I promise you!"
After a thrilling "I Fought the Law" ("Happy Birthday, Joe!"), Bruce brought out a guest for "Rosalita." And after all the speculation about who might guest in Nashville, who'da thunk it would be a guy from Philly? "Dave Bielanko from the great band Marah... check out their record!"
Follwing "American Land" with the now-standard one more, though Sam Cooke's "Good Times" was on the setlist(!), Bruce sent the "incredible crowd" home with "Dancing in the Dark." The third Born in the U.S.A. song of the night, it might have disappointed some hardcores who hoped for something more obscure, but it felt like just the right energy level. For a show that seemed to be one of the most undersold of the leg, the Nashville crowd was into it and ready to hop. "You've been a fantastic crowd," Bruce said, "We come through the South and we get some of the best crowds we've had in the United States."
- December 2, 2022 - Christopher Phillips reporting - photographs by Joseph Quever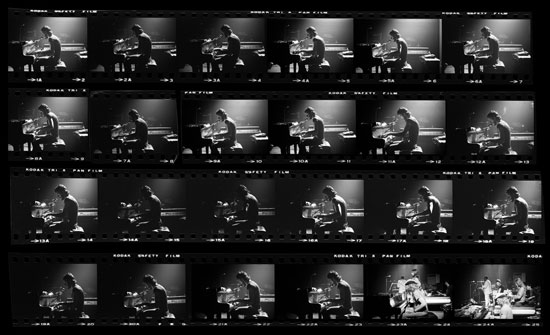 CONTACTS MADE: SCHNEIER'S NEW "FOR YOU" PRINT
You know the image, now you can see what surrounded it. This new print titled "Everything…For You," available now in a special holiday offering, is akin to a visual origin story of one of the most recognized images of Bruce Springsteen, Barry Schneier's "For You."
As Jon Landau wrote in his review of that night's "For You" performance, Springsteen "sang it with just piano accompaniment and a voice that rang out to the very last row of the Harvard Square Theatre." Fans have often wanted to know more about the moment Barry captured this iconic photo of Bruce at the piano in Cambridge in 1974, as seen in Bruce Springsteen: Rock and Roll Future. With this new print you can see this moment in music lore come into being.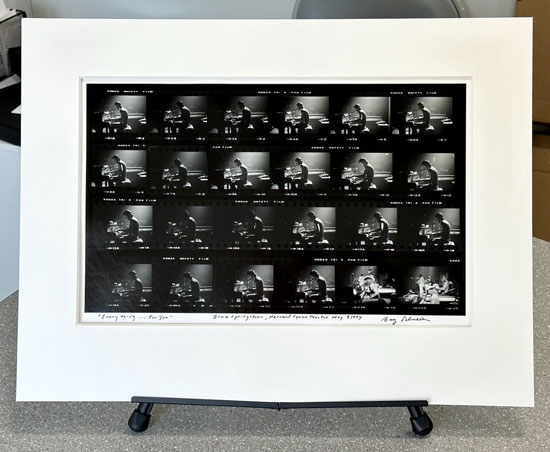 It's the complete contact sheet from that moment, beautifully enlarged to a 12" x 18" silver print in an 18" x 24" custom museum matte. Available framed or unframed, either way it's a gift that will surprise and delight any Springsteen fan on earth.
Unless, of course, it's… "for you."
Order direct here: barryschneierphotography.com/order-prints and enter "Backstreets" in the SOURCE box at checkout, so he knows we sent you there.
Place your order with Barry Schneier Photography by December 4 to guarantee Christmas delivery; orders placed by December 11 will be shipped before the holiday.
- December 1, 2022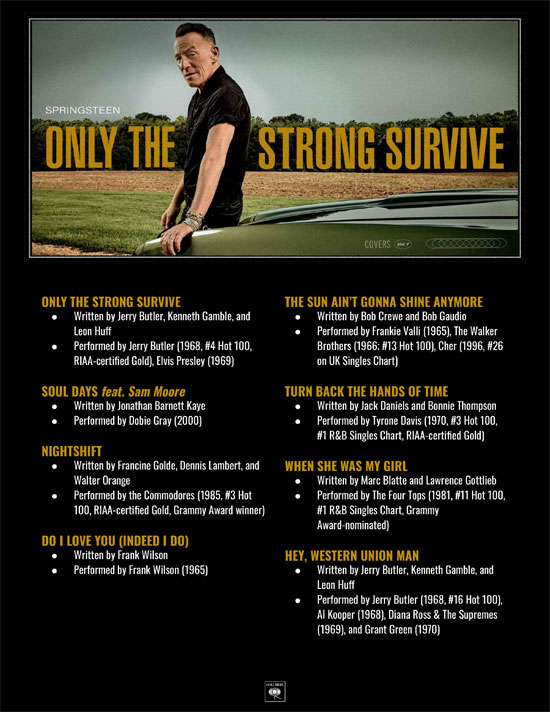 Page 1 of the Only the Strong Survive Info Sheet from Sony Sweden
ONLY THE STRONG SURVIVE REVIEW ROUNDUP
To understate it, Bruce Springsteen didn't sweat over Only the Strong Survive the way he did over albums in the '70s and '80s. The idea of creating and releasing an album for the fun of it, which is the sense Bruce gives in his recent interviews, and handing over production and arrangement duties to his producer to focus purely on singing, would have been unfathomable back then; at this stage in his career, wowing critics is surely a lower priority. Professional music reviewers — generally serious about their fun — have their say regardless. Surveying reviews of Springsteen's 21st album reminds us how subjective the exercise is: Only the Strong Survive garnered wide-ranging reviews from "a superb delight" to "pointless" [to "antiseptic," in the Backstreets Review]. Here, we boil down the more prominent takes from both sides of the Atlantic — a baker's dozen from the U.S., and ten more from the U.K./Ireland. These Reader's Digest-style condensations will give you the gist but not the critic's full view, of course — to read complete reviews, follow each link.
"Bruce Springsteen Turns Soul Oldies Into Living History"
A shame that, apart from a few longtime horn players and a brief Sam Moore cameo, none of the soul-steeped musicians from Springsteen's past are to be found on his R&B love letter. Occasionally thin arrangements recall the forgotten latterday LPs where soul greats released sterile re-recordings of their greatest hits. But even if the arrangements occasionally feel static in their mimicry, Springsteen's voice shines and sparkles. There's the moment halfway through "Don't Play That Song" when [he] strays off script. "I remember those summer nights down by the shore," he ad-libs before the chorus. It's part James Brown showmanship, part boardwalk reverie, and part camp. And if it sounds like something he might have done with one of his own songs way back when, that's his point. He's finding a different way to fold his story into American music's living history.
— Jonathan Bernstein, Rolling Stone
"Springsteen's Voice a Revelation on Covers Album"
Time isn't always on the side of a rock singer, but in Bruce Springsteen's case, older is better. The Boss delivers, and it's a revelation. Springsteen's voice here is crushed velvet powered by a heartache override. On "I Forgot to Be Your Lover," Springsteen soars on the sorrowful ballad with sustained notes and a broken-hearted stance that chills the bones. New artistic ground is not broken on Only the Strong Survive, but its 15 songs celebrate the joy of music, soul, and performance.
— Chris Jordan, Asbury Park Press
"Only the Strong Survive Isn't Strong Enough to Be the Soul Covers Record Fans Hoped For"
Springsteen's sessions with his decade-long co-producer got bogged down in an overly rich arrangement of strings and horns, sounding so much tamer than the tortured, joyful, loving, hating, sweaty soul you'd expect from a man who once played it like a wanton preacher wailing for salvation. Instead of heating up and boiling over, Only the Strong Survive is often coolly reserved and occasionally dispassionate. If too many tracks fall victim to tepid tones and overly silken arrangements, maybe lay part of the blame on co-producer Ron Aniello, who has been blunting Bruce's trusty, crusty vocals and tamping down his band's buoyant brand of stadium rock and rough R&B since Wrecking Ball. Ultimately, it could have been more lived-in and mightier, something genuinely strong, built from muscle memory. But in R&B years, he's still young. Maybe next time.
— A. D. Amorosi, Variety
"A Joyous Celebration of Timeless Soul Classics"
The older an artist gets, the more comfortable they get with themselves and care less what the world thinks. That feels like the case on Bruce Springsteen's absolutely joyous new collection of soul/R&B covers, a superb delight, with top-notch musicianship and production. What makes Only the Strong Survive such an effective collection is the diversity of the songs Springsteen selects. The most important trait for any great covers project is that you feel the artist's love for the songs, and all 15 ring out with Springsteen's enthusiastic passion.
— Steve Baltin, Forbes
"Springsteen Wants to Change the Topic with Only the Strong Survive"
Last summer, when tickets for the 2023 Springsteen/E Street Band tour went on sale, Springsteen fans who have been loyal to the Boss for decades found themselves plunged into a crisis of faith. I don't know a single hard-core Springsteen fan — and with a personal history going back to a couple of South Philly Spectrum shows in 1980, I count myself among them — who didn't find their Boss belief shaken. Landau and Springsteen have skillfully maintained a cares-about-the-little-guy artist brand since the 1970s. One on-sale concert tour has transformed Springsteen's image from a guy who tries to make it affordable for his fans to somebody who's out to make a killing. All that is context for the release of Only the Strong Survive.
— Dan DeLuca, Philadelphia Inquirer
"Springsteen's Stroll Through Soul Classics Will Make You Happy"
If Springsteen can play so many kinds of music, then why choose a covers album as the solo follow-up to Letter to You? Because it makes him happy. And any eye-rolling aside, it will make you happy too. The man has given us multitudes of his own reflective lyrics and robust anthems. He loves these classic songs and wants his fans to experience that same joy.
— Melissa Ruggieri, USA Today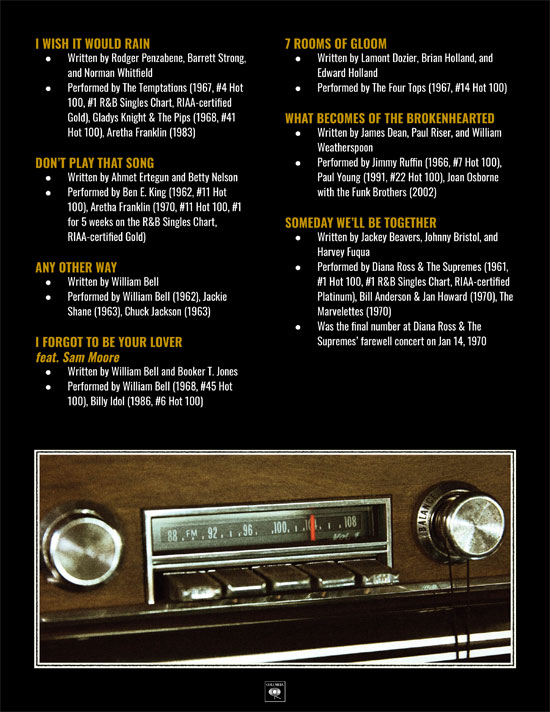 Page 2 of the Only the Strong Survive Info Sheet from Sony Sweden
"Faithful Tributes, Minimal Cringe"
The freewheeling vibrancy and admiration of other artists' work is what fuels Springsteen's 21st LP. He's shrewdly chosen tunes whose stylings would cater to his own voice's patented serration (and draw less comparisons, a losing game). This is a new challenge for Bruce, tackling songs from the vocals on down. At 73, Springsteen is daring to prove once and for all that he's an adequate singer. Only the Strong Survive succeeds in technicality, texture, and unwavering timbre. My gut reaction to hearing of this album's existence was a bit of cringe. But his renditions may spur some to seek out the original versions and educate themselves. I count myself in that bunch."
— Bobby Olivier, NJ.com
"Bruce Springsteen's Misguided Homage"
The arrangements pay tribute to the original recordings with dutiful precision, and the overdubbed one-man-band scheme of the project gives the whole thing a hermetic, tightly programmed feeling that suggests none of the fluidity, free emotionality, spontaneity, and kinetic energy of soul music. There remains something off-putting and simply off in this high-profile presentation of a successful white man singing black music, even in ardent homage. It's not pointedly wrong. It's just pointless, because it adds nothing to our understanding or appreciation of the music, or its singer. To fault Bruce Springsteen for loving soul music would be a slight to the music. He has every right to sing it. There's just not much to be gained by listening.
— David Hajdu, The Atlantic
Only the Strong Survive Pitchfork Review
Before you rush to judgement about another classic rocker taking the Rod Stewart route, it's important to remember that covers have always meant something different for Springsteen. He has a way of not only telling us his favorite songs, but also showing us how those songs make him feel. It will be obvious what draws him to this material. The arrangements share his penchant for grand catharsis and minor-to-major uplift, blues in the verse and gospel in the chorus. In the lyrics, there are Chevrolets, summer nights and lost love. The connections are so evident that he barely has to adjust them to put his own stamp on the music — and so he doesn't. Springsteen has never sounded quite so light-hearted, so unburdened, on record. (7 out of 10)
— Sam Sodomsky, Pitchfork
Only the Strong Survive AllMusic Review
The basic tracks are all studio creations of Ron Aniello, who expertly re-creates the sounds of Motown, Philadelphia International, Stax, and Chicago's uptown soul. His mastery in crafting the tracks inadvertently illustrates the distance between the originals and the covers; those oldies crackled with the magic created by a bunch of musicians in a small room but these digital wonders feel studied and airless, even if they do sound good. It's enjoyable enough that it takes a minute to realize that Springsteen and Aniello aren't exactly re-interpreting these 15 songs: they're merely playing them for a lark. That's enough for a good time, but once Only the Strong Survive fades out, there's not much that lingers behind in the memory.
— Stephen Thomas Erlewine, Allmusic.com
"Leafing Through the Soul Songbook"
Much about this set is puzzling. Given the lack of imagination with the production — all songs have a similar palette, from thumping drums to charged backing vocals to the orchestrations, and are taken at a uniformly peppy tempo — this album lives or dies on Mr. Springsteen's vocal performances. And these performances are often quite good, especially in the record's first half. But a few songs don't quite land…. By the LP's final third, the album wears out its welcome. Only the Strong Survive mostly succeeds by its own narrow terms—it highlights some overlooked songs from years gone by, and it affords Mr. Springsteen an opportunity to try his hand at soul singing. But it also feels like a missed opportunity.
— Mark Richardson, Wall Street Journal
"Bruce Springsteen Delves Into Soul"
It's easy to be skeptical: Here comes the rock 'n' roll avatar of the working class, wrapping himself in nostalgia for his glory days. Yet the 15 songs on Only the Strong Survive are akin to getting a glimpse inside Springsteen's process. In many cases, these sound like songs he studied, took apart and examined closely to see what made them work. There are echoes of many of them in his own music, which often contains a soul-like fervor that he has always delivered with the conviction of a true believer. Maybe that's why he totally owns the songs. This is no mawkish tribute album, nor some milquetoast paean to the past. Springsteen sings here with self-assured power. Freed of the weight of, well, being Bruce Springsteen, he can just let loose. (7.8 out of 10)
— Eric R. Danton, Paste Magazine
"Only the Strong Survive: Play It, Steve"
Springsteen's new album should have been incredible. He has the chops, he has the knowledge and the genuine emotion and affection. There are a million ways this record could have been the coolest fucking thing. It could have also been an incredibly well executed soul covers record, with great musicians and performances. Instead this is a record I cannot listen to either as a Springsteen fan or a soul music fan and historian. Worst of all, it feels completely inauthentic. Somehow Springsteen thought this overly bright, dynamically insubstantial, and emotionally unfulfilling selection of soul music was something that needed to be released and presented as part of his legacy. It sounds like Bruce is singing over a karaoke backing track because there is no depth. Everything is colored the same bright and inoffensive hue no matter what. We will be hearing this in grocery stores and elevators for the rest of our lives.
— Caryn Rose, Jukebox Graduate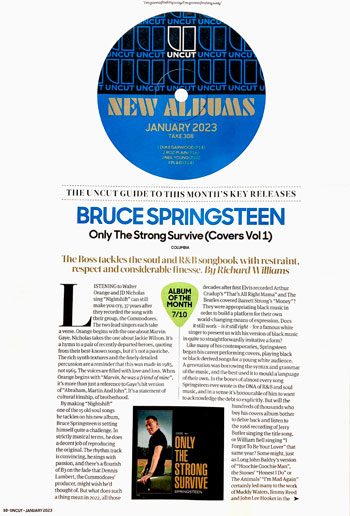 "The Boss Tackles the Soul and R&B Songbook with Restraint, Respect and Considerable Finesse"
The album is a sustained exercise in interpretation, a test for himself and his audience, who are invited to enjoy the sound of him stepping outside his own myth. There are times you wish he'd taken more chances, but that was not his intention. [It's] hard to carp when he brings off something as triumphantly as the note-perfect version of Frank Wilson's "Do I Love You (Indeed I Do)," singing as if he knows how it felt to be among the dancers at Wigan Casino. (7 out of 10)
— Richard Williams, Uncut
"Soul Asylum"
Named after and opening with Jerry Butler's silken 1968 battle hymn, Only the Strong Survive is 15 covers, mostly drawn from the Motown, Stax and Atlantic libraries, but curated with a connoisseur's twist and, in a few instances, a long reach into the '80s and beyond. He and Aniello adhere to the original sermons and love letters with rigor. The singer leaves his mark in distinctive inflections and the pure pilgrim's rapture of a voice that, in wear and range, has travelled far in its own right. (4 out of 5)
— David Fricke, MOJO
"A Joyful Ode to the Greatest Soul Songs"
Creating a covers album can be a daunting prospect, as people tend to favor the original over the remake. But Springsteen resurrects these classics as a means of celebration, pointing to some of the strongest songwriters and vocalists of all time with 15 huge and heartfelt tributes, as opposed to just churning out shallow reimaginings. Not only does it shine a light on what inspires one of the greatest living American songwriters, it also works to preserve the greats of the past and ensures that the best music and stories continue to survive. (4 out of 5)
— Erica Campbell, NME
"The Boss Plays It Safe"
Springsteen's new record of old soul covers deals in yearning and hurt. Its true theme is vulnerability. These are tender moments delivered with the effusive, upbeat vigor of the soul revue segments of Springsteen's live shows and The Boss's lived-in, barrel-chested growl, a very feelgood record about feeling bad… If there is a criticism to be made of this big-hearted wallow, it's that Springsteen is lovingly loyal to his sepia-tinted sources, rather than more artistically brave. There is no attempt to update or reinterpret this material. You don't want to mention karaoke. It would demean the skill and ardor of this persuasive set. But there could be a wider range of moods here. (3 out of 5)
— Kitty Empire, The Guardian
"Springsteen Bares His Soul and Has the Time of His Life"
It is clear from the opening snare crack of the title track that Springsteen is enjoying himself, launching into some feisty back-and-forth with a lush squadron of backing singers. To use one of those automotive analogies he is so fond of, it's like a vintage racing car has been stripped down and reassembled with 21st century turbo-charged power. In the driving seat, Springsteen handles this old beast like he was born to it. He has a gruff, manly voice with a lot of lung power. He doesn't have the delicate flexibility of the soul singers he admires, but has charisma and conviction to match anyone who has ever picked up a microphone, allied to a dynamic grasp of when to ramp up and when to hold back. He delivers these songs like they mean the world to him. (4 out of 5)
— Neil McCormick, Daily Telegraph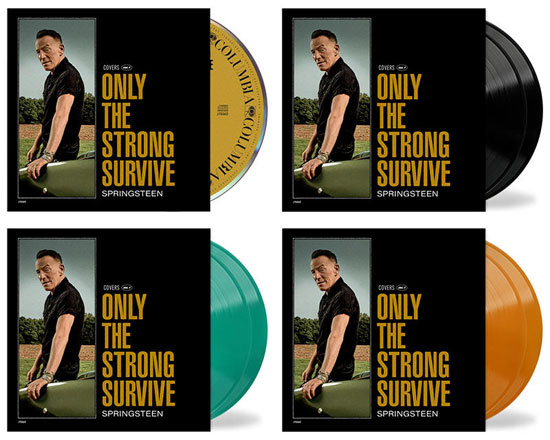 "Good-humoured Performance Toes the Line"
Bruce Springsteen names his covers albums as though they were wrestling matches. We Shall Overcome sought to reinvigorate source material, but Only the Strong Survive takes a nostalgic approach. Arrangements are beefed or tidied up but not reimagined. A rare high note is reached on the Temptations' "I Wish It Would Rain," which also features him hollering "I'm a man and I've got my pride," with manly force, a more typical register. He does not try to imprint himself on this genial set. To really fly, they need more of the wrestler's character and less of the admirer. (3 out of 5)
— Ludovic Hunter-Tilney, Financial Times
"Soul Food for Hungry Hearts"
Liberated from the pressure of writing and performing his own numbers, the Boss sounds energized and awash with confidence. He is in his element and pushing his vocals to new heights. The title track's heartfelt interpretation comes loaded with enough warmth to defrost a fridge freezer. This album opens a treasure chest of old-school gold for new audiences. And as "Covers Volume One" hints, there is more to come.
— Garry Bushell, Daily Express
"Bless his Soul"
These soul standards suit his lion-hearted delivery. In putting the onus on his voice rather than songwriting, he's clearly having a blast, and the mood is infectious. The presence on two tracks of soul man Sam Moore adds a note of authenticity. Springsteen communicates joy rather better than he conveys pain, but it's impossible to not to be swept away by the overriding sense of fun. That mood is best captured on his cover of Dobie Gray's "Soul Days," a song from 2001 that contains some quintessential Springsteen vignettes. (4 out of 5)
— Adrian Thrills, Daily Mail
"The Boss in Soulful Mood"
This was a more casual project recorded late at night during lockdown restrictions. The style is sweeter. Less of a mighty wall of sound than Springsteen's most familiar work, but his gruff, weathered voice is a fine fit for soul. The track selection makes it clear that this is material collected with love rather than an easy shot at a chart topper. Nothing here will be unwelcome when he returns to Hyde Park for two giant shows next summer. (4 out of 5)
— David Smyth, London Evening Standard
"Selection of Soul Standards Unlocks Key to Springsteen's Past"
Perhaps after the intensity of the Letter to You sessions, with references to death and the passing of time, these songs brought back a sense of the innocence and joy in the 1960s/1970s when the world was a simpler place for working-class kids with high hopes. Whatever, the Nightshift pulled together 15 shades of soul, embellishing them with arrangements that borrow heavily in homage to the lean originals while sparing no expense. And the singing? Powerful as you'd expect, but his voice has lost nuance through years of playing stadia. Still, this is a joyful blast. (4 out of 5)
— Joe Breen, Irish Times
- December 1, 2022 - Mike Saunders reporting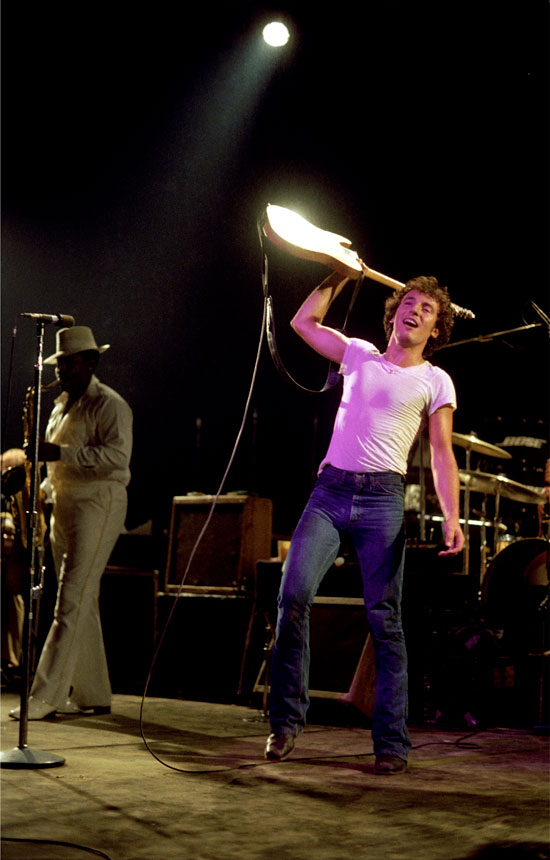 October 13, 1976, Kean College, Union, NJ - photograph by Jim Shive
SHIVE ARCHIVE RETURNS WITH IG TAKEOVER AND NEW BOX SET
He's back behind the wheel… With December upon us, photographer and longtime Backstreets contributor Jim Shive is driving the Backstreets Instagram again, with more historical Boss images this Holiday season, many unseen, and a special Backstreets discount, too.
For the second year running, the Shive Archive is offering a new box set of prints for Springsteen fans and collectors — and this time they're all in color. Shot in a time when color rock 'n' roll photography was challenging due to low light and fast action, some of these photos have never seen the light of day.
If you like Jim's work, check out the new Box Set Volume 2 he's just put together this year, making it easier for those who can't decide which single image to purchase. Last year's box contained ten images; for the very first time, the Shive Archive is offering the opportunity to purchase 12 original, color giclee prints collected together as a limited edition in a clamshell box.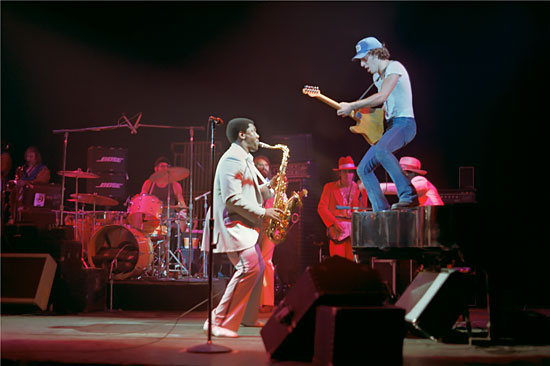 November 4, 1976, Palladium, New York, NY - photograph by Jim Shive
Each photograph comes as a full-frame, uncropped 9"x12" image, just as they were shot 40-or-so years ago. Included in Shive Archive Box Set Volume 2 as Jim tells it, are "many of my most loved and collected images of Bruce Springsteen and the E Street Band, and some I haven't offered for sale. Only 50 sets of Volume 2 will be made available." See all 12 images included at the link above.
Plus, there's a special discount for Backstreets readers ordering the box set: use code DRIVEALLNIGHT to save 10 percent!
And with more 50 images in contention for the new box set, Jim tells us "those that didn't make the cut are still worth sharing on Instagram."
View the new box set and more at shivearchive.com, and stay tuned to our Instagram to see what else Jim has dug up to share.
- December 1, 2022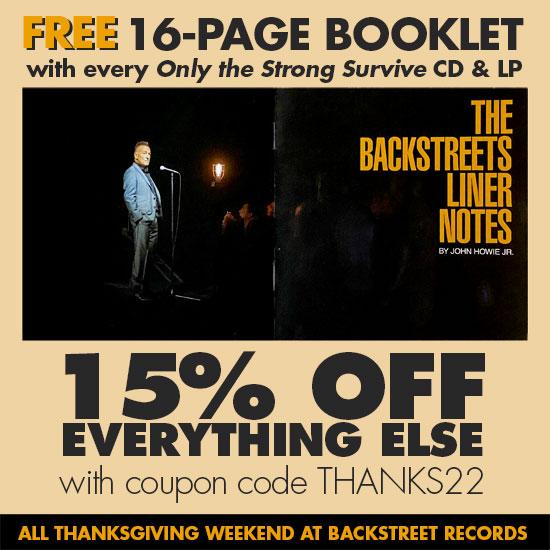 STOREWIDE SALE! BLACK FRIDAY AND ALL WEEKEND LONG
As folks get serious about holiday shopping this weekend, we're doing something we haven't done in a few years... offering a sale on everything*. We have hundreds of Boss items in stock, and from now through Sunday you can take 15% off your entire order from the Backstreet Records shop!
Use the coupon code THANKS22 at checkout to see the 15% discount applied.
*Just one exception: Only the Strong Survive. That's because Springsteen's new album already comes with a special bonus from Backstreet Records, an exclusive 16-page booklet FREE when you order Only the Strong Survive from us.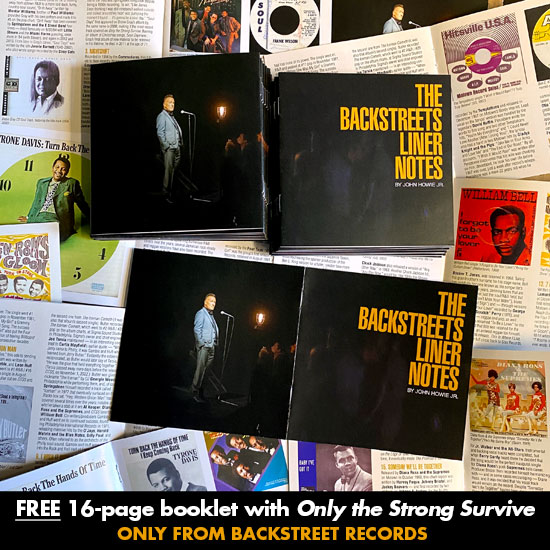 Remembering the liner notes booklet we printed for Tracks (long out of print, but a PDF is here) we were inspired to make another insert, thinking that some background on these 15 soul songs would make a perfect supplement for the new covers collection.
So we created a CD booklet that goes track-by-track, providing history and details about Bruce's selections and their original creators. Sized 4.75" square (standard CD insert size), our liner notes booklet is printed in full-color, picturing original single sleeves, and fits right inside one of the CD digipak's pockets — and of course can be stored inside the LP jacket, too.
Not available anywhere else, THE BACKSTREETS LINER NOTES is automatically included with every format of OTSS we ship out: black vinyl, limited orange vinyl, or compact disc.
Start shopping Backstreet Records here
and don't forget the THANKS22 coupon code
We appreciate your support!
- November 25, 2022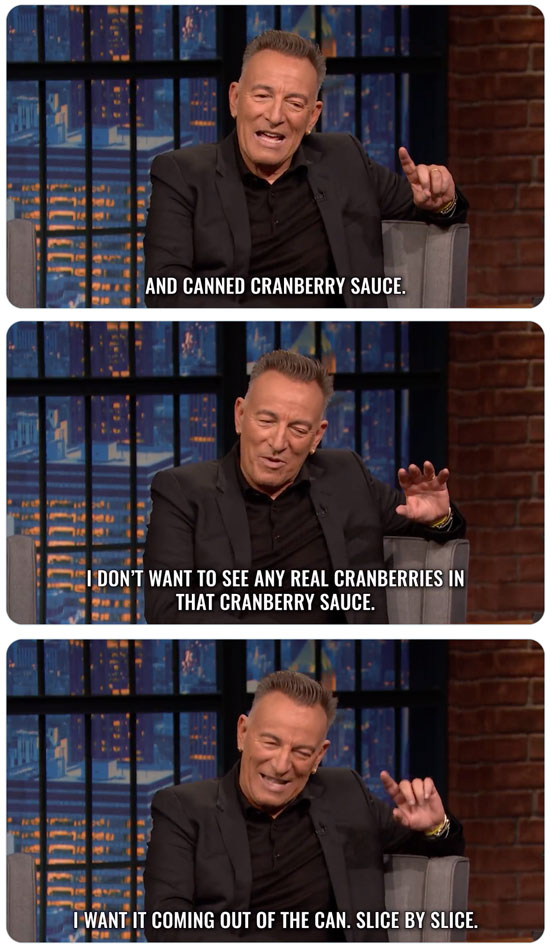 MARSHMALLOWS ON THE SWEET POTATOES & CRANBERRY SAUCE FROM THE CAN
Bruce Springsteen ran down his Thanksgiving dinner faves last night on Late Night with Seth Meyers, along with a closer look at various subjects: Springsteen on Broadway, Only the Strong Survive, Sam & Dave, getting in "tour shape," grandfatherhood, his "deeply involved and committed" European audience, and more. No performance, but fun "Tenth Avenue Freeze-out" and "For You" stories — watch the full interview in two segments below.
- November 24, 2022 - Happy Thanksgiving!



HOME FOR THE HOLIDAY
New Bruce interview on E Street Radio for Thanksgiving Weekend
After his whirlwind media blitz in support of Only the Strong Survive, from his London jaunt to the Fallon takeover, Bruce Springsteen returns to his satellite-radio home, E Street Radio, just in time for the long Thanksgiving Weekend.
The 24/7 Springsteen channel will begin airing Jim Rotolo's new interview with Springsteen tomorrow, Wednesday, November 23, with airtimes scheduled as follows (all times ET):
Wednesday, 11/23: 10am & 6pm
Thursday, 11/24: 9am & 5pm
Friday, 11/25: 4pm & 7pm
Saturday, 11/26: 11am & 3pm
Sunday, 11/27: 12pm & 8pm
Springsteen and Rotolo discuss how Only the Strong Survive came together, the album's original title, Bruce's work with Hall of Famer Sam Moore, and everything else Springsteen's working on as he prepares to go back on the road in 2023.
SiriusXM subscribers also will be able to stream the new Springsteen/Rotolo interview on-demand and online via the SXM App.
And a reminder that Springsteen's other recent SiriusXM sitdown, last month's interview with Howard Stern, will become available for viewing by all HBO/HBOMax subscribers beginning this Sunday, 11/27. Click here for details.
- November 22, 2022 - Shawn Poole reporting


SPRINGSTEEN IN THE GREAT WHITE NORTH
Last week we offered a roundup of Springsteen's promotional appearances across the Atlantic; Bruce was also interviewed for Canadian CBC Radio, speaking from his home with the host of Q with Tom Power. Springsteen talks about Only the Strong Survive, of course, and about soul music as "an incredibly important American art form."
Power also gets Springsteen talking about his own music, and the typical subject matter of his work in the '70s and early '80s: the lives of everyday American and women. "I didn't want to be a fantasist," Bruce responds. "If somebody would want to know what America was like in the second half of the 20th century, during post-industrial times, if you went to my music, you would get a sense of what people were living through at that time."
Power notes that the subject matter grew more expansive with time, and Springsteen recalls the response to 1987's Tunnel of Love: "I had some people come up to me and say, 'I used to like you when you wrote about the cars and the girls… but the love, the wedding… you lost me there.'
"So you have to be ready for conversations with your fans where they go, 'You lost me there,' because they may find you again when they get older. You've got to remain true to yourself and true to the music that's in your heart and that you want to write. That way, you've got to believe that you're keeping faith with your audience, and that audience is going to keep faith with you. That's the deal. Whether it works out or not, that's the operational process."
You can watch the entire interview, via YouTube, above.
- November 21, 2022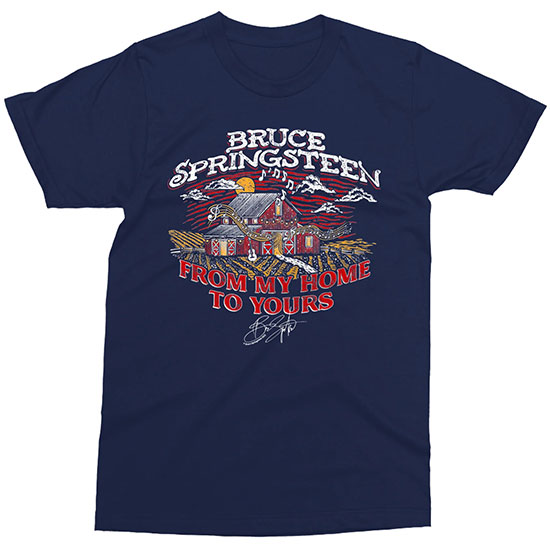 HUNGERTHON 2022
Join Bruce Springsteen to help end hunger in America
Since the 1980s, Bruce Springsteen has been working with WhyHunger — previously World Hunger Year, co-founded by Harry Chapin and Bill Ayres — to help feed the hungry. Their work together has taken many forms, most prominently raising funds for local foodbanks across the country, enlisting the help of fans at each show each time Springsteen tours, and, at Thanksgiving time, his regular participation in the annual Hungerthon.
Hunger in America continues to be an all-too-common reality for millions who are struggling to make ends meet, making impossible choices between food, transportation, housing and medicine. In 2021, more than 33.8 million Americans — including over 9 million children — were struggling to get enough food to eat. And we know that the reality of hunger today is even higher. To help strike at the root causes of hunger and fuel long-term solutions that create social, racial and economic justice, WhyHunger — a leader in the movement to end hunger and advance the human right to nutritious food in the U.S. and around the world — has kicked off its 37th annual Hungerthon fundraiser and awareness drive.
Once again, Bruce Springsteen is teaming up with WhyHunger to offer exclusive Hungerthon gifts with your donation and an autographed 1952 Reissue Fender Telecaster Guitar up for auction, all to help nourish people across the U.S. in immediate need and build a future free from hunger.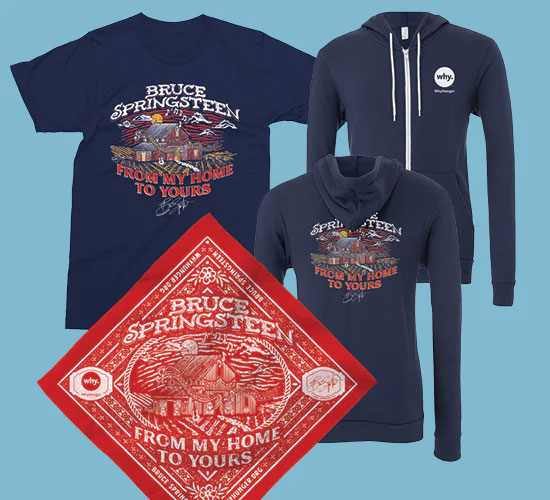 You can join Bruce and take action:
Donate to receive an exclusive, limited-edition Bruce Springsteen From My Home to Yours bandana, T-shirt, or zip hoodie

Bid to win a 1952 Reissue Fender Telecaster Guitar autographed by Bruce at Hungerthon.org/springsteen. Auction closes December 5.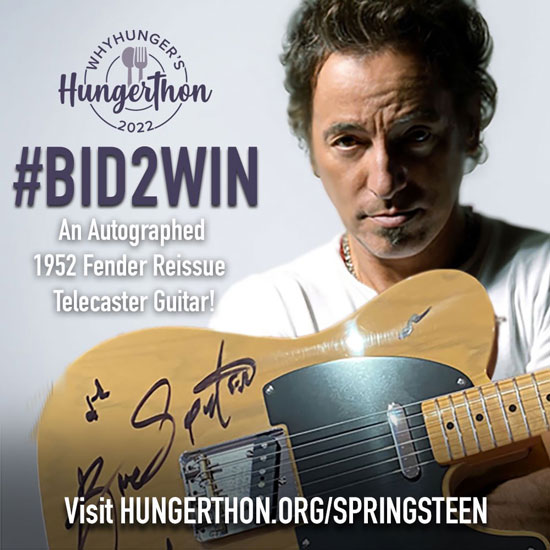 Since launching over three decades ago, WhyHunger's Hungerthon has raised millions of dollars in the fight to end hunger and invest in community-driven solutions to build social justice for all. The multi-faceted campaign that runs through the holiday season. Hungerthon can be heard on the air on SiriusXM, Audacy New York, and iHeartMedia New York now through Dec 8, and you can follow online with #Hungerthon. Learn more and take action at Hungerthon.org.
- November 21, 2022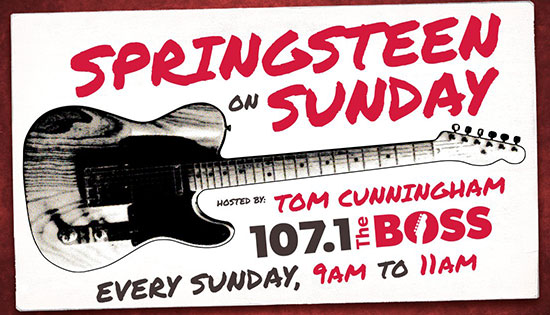 SPRINGSTEEN ON SUNDAY THANKSGIVING TRADITION CONTINUES
Annual all-request benefit show airs 11/27; request lines open 11/20
For the 17th year running, Springsteen on Sunday host Tom Cunningham will be helping to feed the hungry this Thanksgiving season with his annual fundraiser, a special, extended edition of the weekly radio show featuring the music of Bruce Springsteen and other Jersey Shore legends.
As usual, all proceeds from the all-request edition of Springsteen on Sunday, hosted by TC on 107.1 The Boss (WWZY-FM), will go directly to Fulfill and its efforts to help the hungry in Monmouth and Ocean Counties for more than 30 years.
Here's how the request show works:
This Sunday, November 20, Springsteen on Sunday will broadcast live from Bar Anticipation in Lake Como, NJ — all are invited! — for two hours of always-great radio: Springsteen selections with a pro at the wheel, and on 11/20 a live performance by Jersey Shore favorite, Joe D'Urso. Doors for the Bar A event will open at 8am. As usual, the broadcast itself runs from 9am to 11am.
During that time, beginning at 9am, a total of 20 song requests — with accompanying donations for Fulfill starting at $25 — will be accepted on site or by calling (732) 643-5831. (Donations over the phone will be accepted via credit card, and in-person donations may be made using cash, check, credit card or Venmo.) Listeners are invited to request the Springsteen song of their choice (unless somebody beats you to your pick) and may include a personal dedication.
One week later, a special three-hour edition of Springsteen on Sunday will play back the requests on 107.1 The Boss, from 8am to 11am on Sunday, November 27.
We applaud Tom's longtime regular support of Fulfill, dating back to when it was called The Foodbank of Monmouth and Ocean Counties. And while we generally like to encourage readers to support foodbanks in their own backyards, we should also remind you that these Springsteen shirts benefit Fulfill, too.
If you don't live near the Shore: you may not be able to make it to Bar A this weekend, but you can always listen to Springsteen on Sunday, since 107.1 The Boss streams live via its website (just click Listen Now), through its dedicated app, and more.
- November 18, 2022


WIN A "GOLDEN TICKET" PACKAGE FOR NYC, 4/1/23
TeachRock raffle will send winner +1 to MSG and more
Steven Van Zandt's TeachRock has begun a Golden Ticket Holiday Series of raffles for charity prize packages including E Street concert tickets for 2023.
First stop for this series: Madison Square Garden, NYC.
Donate to TeachRock.org today, and you could win:
Two (2) premium seats or GA/pit tickets to see Bruce Springsteen and the E Street Band's April 1, 2023 show
Four (4) pre-show drink passes
Two (2) night stay at the Hard Rock Hotel NYC
Two (2) Hard Rock Hotel breakfast
Each $25 donation is one chance to receive the MSG Package Package valued at $6,000!
Enter this "Holiday Golden Ticket Charity Package #1" TeachRock raffle HERE.
Each $25 donation is one chance to receive the MSG Package valued at $6,000 — and is also a tax-deductible contribution that puts the arts center-stage in students' lives!
Raffle ends Wednesday, November 23 at 11:59am ET, and charity prize package recipient will be randomly selected after noon that day..
- November 18, 2022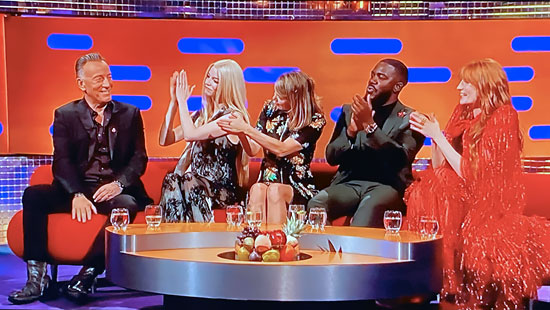 SPRINGSTEEN IN LONDON
Bruce Springsteen talks about Only the Strong Survive, the upcoming E Street tour with "a big horn section and singers," becoming a grandfather, more DJ shows, retiring from crowdsurfing, inspiring new generations, and more
Between his Stand Up for Heroes performance last week and the first of his Late Night Starring Jimmy Fallon appearances, Bruce Springsteen made a 36-hour visit to London for the U.K. leg of his Only the Strong Survive promo schedule.
On November 10, he spoke to Zoe Ball for BBC Radio Two's Zoe Ball Breakfast Show (aired on November 14), to music writer and podcaster Edith Bowman, and to Graham Norton for BBC1 TV's Graham Norton Show, which was broadcast the following night.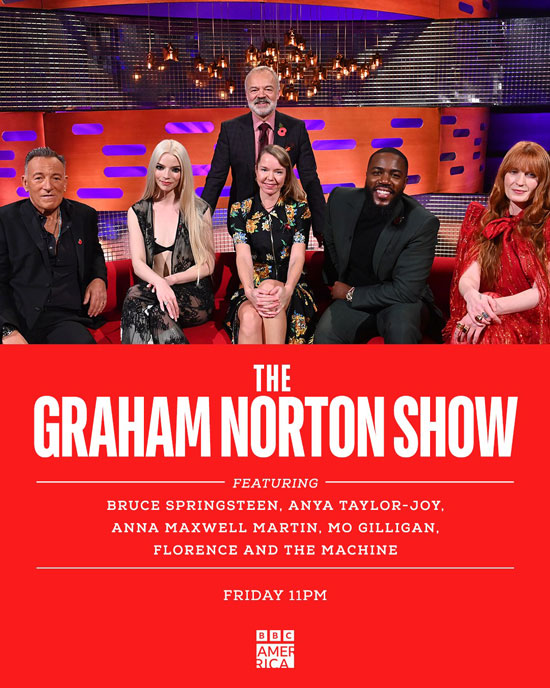 The Graham Norton Show
This was Springsteen's third appearance on the U.K.'s premier chat show, following his 2019 in-person debut and a lockdown interview from his home studio in 2020. He appeared simultaneously with actors Anya Taylor-Joy and Anna Maxwell Martin and comedian/presenter Mo Gilligan. Florence and the Machine were the musical guests. In a light entertainment show that rarely rises above the superficial, Bruce told the most informative stories.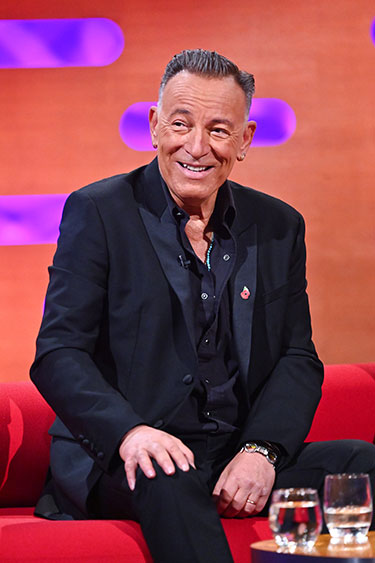 When asked how the new album was created, Bruce explained that it was "during Covid lockup. I'd recorded with the E Street Band, and I felt I was done writing for a while. You're at home, you have nothing to do, maybe I'll sing somebody else's songs. I had all these songs I loved from when I was a kid. I was brought up on soul music. My mentors were James Brown, Sam Moore from Sam and Dave, Jerry Butler and Levi Stubbs. All these people are my masters.
"Then I started to record a song by an artist named Frank Wilson, who was very popular in the U.K. Northern Soul scene," Bruce continued. "It was called 'Do I Love You,' which is completely unknown in the United States. I cut that, it felt great, and [I made] a record of soul music, drawing on some of the influences I've had since I was a kid playing in the bars. I'm a bar singer. I have a really good voice for five sets a night. I can go on for hours and hours, as I usually do. I've got a great voice for that. It's strong. It doesn't go. But I lack a little finesse. I lack a little of the precision and some of the tone of my greatest heroes. So on this record I really focused on just singing. My producer put together the tracks. It was fun to do, and I took my singing up a notch or two, I think."
Norton then prompted Bruce to talk about the neck surgery he endured a decade ago that might have damaged that voice: "I had trouble with C4 and C5 [vertebrae] in my neck," Bruce explained. "It was going down my arm, and for about five years my arm and my hand slowly got number and number, until I noticed when I was playing the guitar it would fatigue very quickly. I said I gotta do something about it. The problem is, they cut your throat, and they go in and tie your vocal cords off to one side. If you're a singer, that makes you anxious! They tell you that you can't sing a note for three months. You have the operation done, and they put the titanium in there. Woke up, and it was quite successful. I didn't sing a note for three months, and then one morning I went into my garage, had an acoustic guitar, and I started to sing 'Darkness on the Edge of Town.' Seemed to be okay. Couple of weeks later I was in South Africa being crowdsurfed across the stadium. I've been lucky that as I've got older, my voice has gotten better. A lot of people have trouble with their voices as they get older, but for some reason I've been lucky."
Bruce's third main story concerned the time he went home with a fan in St. Louis in the early stage of the original River tour in 1980. "I was in a cinema on an off-night, watching Woody Allen's Stardust Memories, during which [his character] is not necessarily so kind to his fans. I had met a kid in the lobby; he was with his girlfriend and said, 'Do you wanna sit with us?' We watched the movie, and he says, 'Is that how you feel about your fans?' I said, 'Not so much.' He says, 'I'm gonna go home now, will you come and meet my parents?' So I went with this kid, we walked in the door about 11 o'clock at night, and he says, 'Ma, I have Bruce Springsteen with me!' And she goes, 'Who?' He runs in his bedroom and comes out with the album. 'Oh my God, let me make him some eggs!' So around midnight I was having some eggs with this kid and his mom. I saw them for decades after that, every time we came to town."
Other subjects covered in less detail included the time when a plague of locusts invaded the stage at a concert in Texas, and one crawled down Bruce's back while he was singing 'My Hometown'; performing professionally for 50 years, but playing the guitar for more than 60; audience sign requests, including one from a fan who said he'd give his left testicle for Bruce to play 'Drift Away'; going to "the best restaurant in Paris" with Jon Landau, feeling short-changed by the small portions and being relieved to find Terry Magovern waiting outside afterwards with a McDonalds bag; the fact that his kids had little interest in the musical part of his life growing up (he explained to them that it was like "Barney for adults" and noted that kids "don't need a hero, they need a father").
The focus then turned to next summer's U.K. dates in Birmingham, Edinburgh, and London with the E Street Band. With no small degree of exaggeration, Bruce asked the audience to imagine "working with the same people you went to high school with every day, for the rest of your life, and no one can be replaced or changed."
Norton asked if it would be a "greatest hits tour," and Bruce replied, "No, it's just a tour tour."
After Florence Welch had spoken about her love of crowdsurfing, Bruce responded, "I've had a lot of fun doing it, but I'm retiring that!"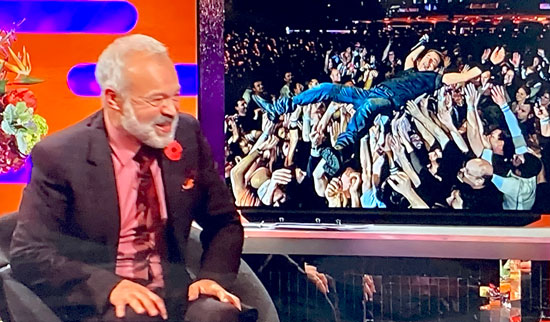 At the end of the show, audience volunteers usually tell a personal story sitting in Norton's Big Red Chair, which will tip backwards if they're not sufficiently entertaining or risqué. Springsteen fan Roger Chinn took the plunge and spoke about going to see Springsteen on Broadway and having his ticket rejected at the door. He was flipped.
Those who scored free lottery tickets for the Norton filming in West London (including this writer) saw Bruce tell a joke during a break about Jesus, the Resurrection, and Groundhog Day that the U.K. audience didn't grasp, causing him to crack up at his total failure to raise a laugh. He also appeared unfazed (and didn't respond) when someone in the crowd called out, asking for some free tickets because they couldn't afford the prices. That was the only known person brave enough to address this still-controversial issue during Bruce's short visit to the capital.
In the U.S., this episode of The Graham Norton Show will air on BBC America this Friday, November 18, at 11pm.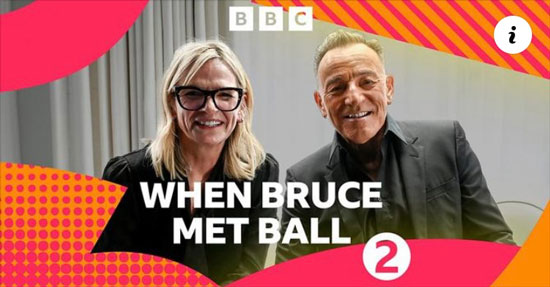 Zoe Ball Breakfast Show
Zoe Ball is a Springsteen fan and asked pertinent questions. Bruce was relaxed and engaged for Norton, but he sounded much more comfortable (there was considerable laughter) during this Radio Two recording for The Zoe Ball Breakfast Show. The full running time — with studio recordings by Bruce, Jerry Lee Lewis, and Sam Fender included — was 40 minutes. The interview began with further discussion about the making of Only the Strong Survive and covered numerous topics.
On Sam Moore: "I've known Sam for about 30 years. He sang on a record I made in the early '90s. Sam is probably the greatest living soul singer of that era that we still have with us. He's an incredible singer. I'm lucky to have him sing with me on a few cuts. He's 86, and his voice is still great. Eighty-six is not that far away! Hopefully I'll still be doing it then."
Northern soul: "I knew it was this subculture over in Britain. I found that song ['Do I Love You'] on a northern soul compilation on iTunes. I said, 'This is one of the greatest undiscovered Motown songs I've ever heard. If I can get up near Frank Wilson's range, I'm gonna try and cover this.' It's one of my favorite things on the record. Frank was a backline guy at Motown, a producer and songwriter, and wasn't a fronting artist except for that single."
A possible follow-up album: "I've been looking for material that's slightly different than the material on this record. We were having such a good time that we just kept cutting things. There's so much great material. If I was writing, I'd put out a record of my own songs. Letter to You was really summational as a piece of work for the E Street Band; I knew I wouldn't be writing for a while. Instead of not doing something for three years, no records coming out, I'm gonna start making records that I'm having fun, taking enjoyment in making, so I may do a little bit more."
His singing voice: "When you're a writer and a bandleader and an arranger, those things are forefront in your mind. Your vocal is something you usually do last or give the least thought to. The nice thing about this record is that I have a great producer, Ron Aniello, who takes care of that. I always give my voice short shrift. I've had a durable journeyman's voice all these years, so I [tried to] push it a little more on this record."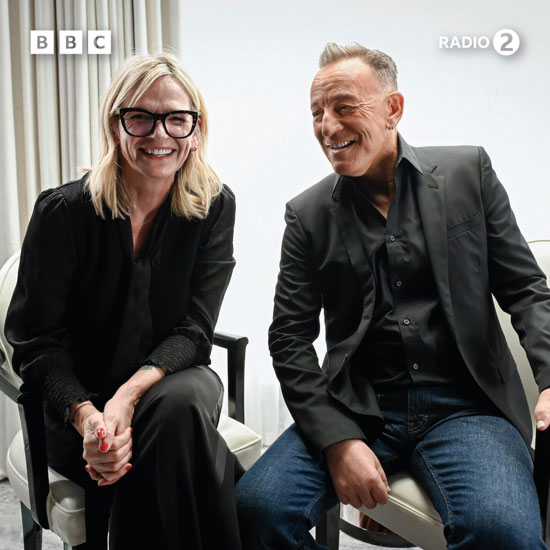 Becoming a grandfather: "Patti and I, our kids were young, nobody was talking about having babies. Then my son [Sam], who is a fireman in Jersey City, met this fabulous woman [Alex], and they have this wonderful little girl, Lily Harper Springsteen. A baby in the house is a magical thing. I have a sister 13 years younger than me; I was a teenager when she was born. My memories of having a baby in the house were always really good. It was the best period in my house growing up. It smoothed over all the rough spots. It was a wonderful thing to focus on."
Stand Up for Heroes: "I have very bad jokes that I tell every year. I get up and do a song and tell a stupid joke, but it's for a great cause. The focus is on all the soldiers that have fought in Iraq and Afghanistan. I've been doing it for 16 years. It's a beautiful night and a real tribute to the guys who do the fighting for us."
Honoring Jerry Lee Lewis at the Rock and Roll Hall of Fame: "I met Jerry Lee on a variety of occasions. This is like Da Vinci. These are the creators of the form that I've made my life in. He was a lot of fun. I played with him a couple of times, in Dublin and Cleveland. John Mellencamp and I, who's a very close friend of mine, sang 'Great Balls of Fire,' and it came out pretty good."
Inspiring Sam Fender: "I've heard some of his records. It's great to see young kids coming up. That's basically what I wanted to do. I'm a small link in a big chain. My job is to come out, carry the flag for a little while, and hand it off to somebody else. And when I see somebody that's that talented, and your music has meant something to, that was the idea. I wanted to inspire people the way that I was inspired by pop music. It's always a treat."
Doing more DJ shows: "I gotta get back to doing that. I did about 30 [episodes of From My Home to Yours]. Radio is a mystical presence for me. I love the idea of the DJ, who was your conduit to all the artists that you loved, particularly when I was young. You had a record player, and you had the radio. You couldn't call up music and play it whenever you wanted. You had close relationships with the radio stations and the DJs. It was intimate, like they were speaking to you. I got a chance to play that part myself. I'm gonna start doing it again shortly, I hope. I still get a kick out of hearing myself on the radio."
Springsteen covers: "I love everybody that covers any of my songs. It's always fun to hear somebody else do your music. That's always a treat for me. As a writer, it's always flattering."
Drinking with Barack Obama: "I'm not much of a wine person. So I'll drink vodka or tequila. He's fun when he has a few!"
His recent work-life balance: "I'm excited about working again. I've been home for six years. We've loved that. Patti and I live on a great farm. We have our horses. My daughter's retired horses are there. I've had a good balance recently. And then of course having the grandchild. It's a really good part of life, knock on wood."
Next year's U.K. tour: "I love coming over here. We have incredible fans in the U.K. And I'm excited about this record because I know that U.K. fans are such big soul fanatics. Our biggest audiences are here and throughout Europe. For the E Street Band, we're much bigger than we are in America. It's deeply appreciated after all the years we've been coming over here and playing. There's a dedication we find here that is unique — not just for us, but for many American jazz and R&B artists of the past. They came over here and found a second home."
The format of the band: "We're coming with a big horn section and singers. This is the expanded E Street Band we're gonna tour with next year, so I'll have all the instrumentation that I need to do some of this soul music."
Changing the setlist: "On the last tour, [we] played 200 songs. Most bands stick to a relatively limited amount of material. I'm proud of the fact that my guys can turn on a dime and play something they haven't played in years or haven't heard in a long time. At the beginning of a tour, it stays a certain way until we loosen up, then we switch things up. It's good for fans that come to more than one show, or if we play two or three nights in a venue."
Looking after himself on the road: "I was never much for playing a show and then going out to a party. People burn their voices out — not on stage, but talking. My voice has been so good to me, so I know what I need to do. When I'm on the road, I'm pretty much a monk. I focus my life around being on stage. I do the show; I go back to the hotel. I'll work on music, write a little bit. I'm careful. The fans pay for those three hours of you at your best."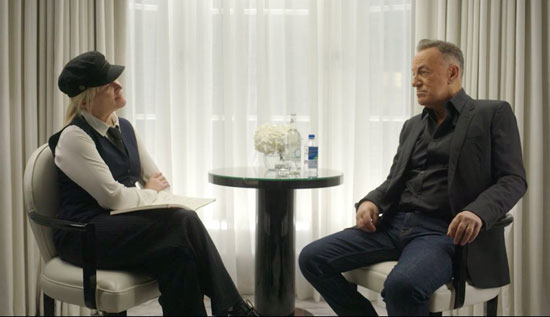 Bowman and Springsteen - photograph via Twitter/@edibow
Soundtracking with Edith Bowman
Edith Bowman hosts the weekly Soundtracking podcast, on which she talks music with a different artist each episode, typically within the film industry (directors, actors, producers, composers). In early 2020, for Soundtracking episode 177, Bowman had Springsteen and Thom Zimny on the podcast to talk about the Western Stars film. Excerpts released from her new interview reveal that Bruce had trouble selecting material for the new record in the beginning: "Initially it was really hard. Trial and error. What can I sing well? It's hard to sing somebody else's songs and sound authentic. I made an entire record that I threw out. It'll show up in different places. There were some good things on it, but it didn't feel right. The main thing is that the record is joyful, a lot of fun, tips my hat, and is a tribute to my mentors and masters and those great records and great productions."
A Springsteen Soundtracking episode has yet to drop as of this writing, but a 20-minute video of their interview posted to YouTube today, on the Soundtracking Extra channel:
The only other known interview for countries on this side of the Atlantic was with Massimo Cotto for Virgin Radio in Italy, which Bruce recorded at home earlier this month. The 14-minute conversation primarily focused on the new album, its inspiration, and the power of music in general ("like dynamite") to change lives. Bruce noted the important cultural influence of Motown; named Jackie Wilson as one of the smoothest movers, most athletic and under-rated performers of all time; debunked the myth that men don't cry ("I cry all the time"); revealed that he recorded Jimmy Webb's 'All I Know' during his lockdown sessions; planned to include 'Only the Strong Survive' on his next record until persuaded otherwise by Jon Landau; said that he released 15 songs and "left 40 on the floor"; and described the Four Tops' 'Seven Rooms of Gloom' as "wildly psychological, insanely intense, pounding, relentless, and desperate, one of the darkest Motown songs ever released." You can watch the interview at virginradio.it.
- November 17, 2022 - Mike Saunders reporting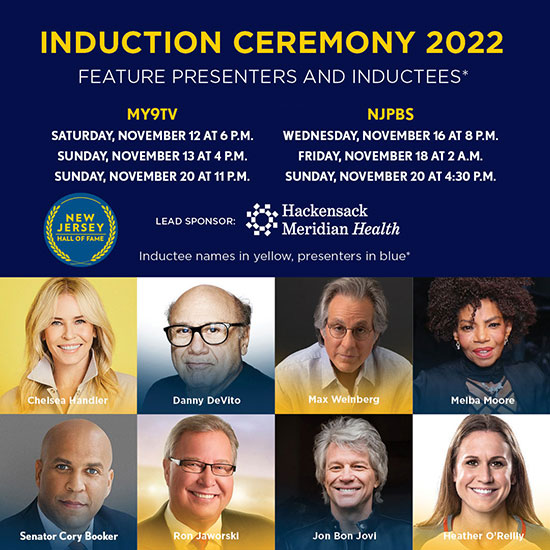 ALL LIVING BEATLES HONOR MIGHTY MAX FOR NJHOF
Wider broadcasts of the 2022 New Jersey Hall of Fame Induction Ceremony begin tonight, and since the cat is out of the bag, we feel okay revealing the "surprises" inductee Max Weinberg has alluded to: he received congratulations on the occasion from both Paul McCartney and Ringo Starr.
For the virtual ceremony hosted by Danny DeVito, which premiered regionally over the weekend, both Beatles sent in video clips to salute Weinberg: Ringo offered his trademarked "peace and love," and Paul actually sat behind a kit — a rare instance to see him display his drumming chops — as he sent his congratulations. We have to imagine these messages meaning as much to the Mighty One as his new Hall of Famer status.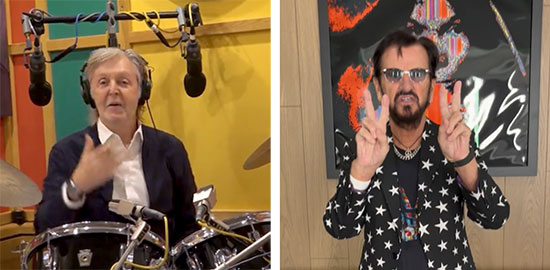 via Facebook/New Jersey Hall of Fame
None other than Jay Weinberg — Max's son (and fill-in on E Street, prior to his current 8-year run as drummer for Slipknot) — delivered the speech, saying "it his my honor to induct into the New Jersey Hall of Fame a man to whom I quite literally owe my very life: my best friend, mentor, biggest inspiration, sometimes bandmate, and forever my dad, the inimitable Max Weinberg." A montage of career higlights followed, and Max himself — "the Big Beat on E Street, the mightiest of them all," as Jay introduced him — had many familiar names to thank.
Starting tonight, the 14th Annual New Jersey Hall of Fame Induction Ceremony will be airing on NJ PBS (and possibly other PBS channels as well, check your local listings).The one-hour ceremony will livestream and air on NJ PBS at 8pm on November 16; 2am on November 18; and 4:30pm on November 20.The PBS broadcast appears to be the only way to see Paul and Ringo's congratulatory messages, which have been removed from the presentations on YouTube (below) and Facebook, which otherwise have the full program.
Max's induction is the final one, beginning at 43:15 above; don't stop watching after DeVito signs off, as two other video submissions from friends follow: tributes from Tom Morello (with "a little tune called 'An Ode to Max Weinberg'") and The Weeklings.
Congratulations, Max!
- November 16, 2022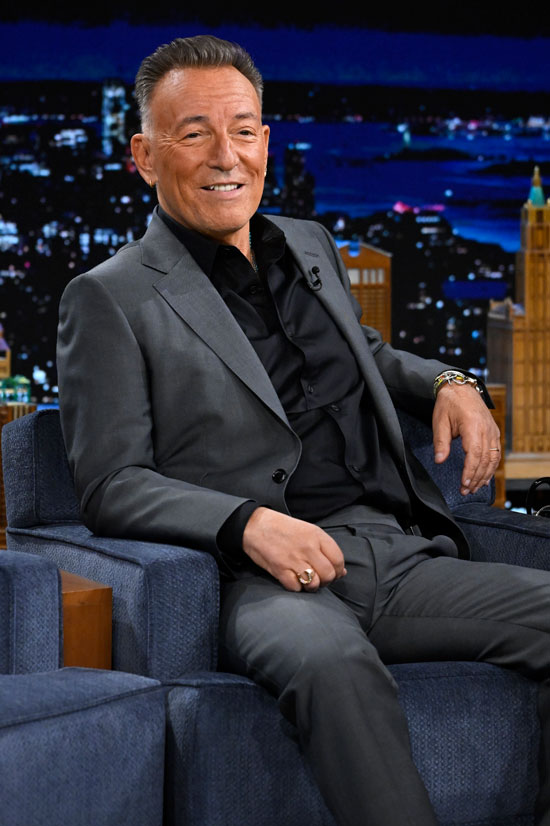 GOING ON TONIGHT, I'M GONNA ROCK THAT JOINT
Praise for the soul singers (and the return of "swaves") as Springsteen's Tonight Show takeover begins
For the first night of the Bruce Springsteen "takeover" on The Tonight Show Starring Jimmy Fallon, a sharply coiffed and besuited Boss sat on the couch to chat with the host and then performed Frank Wilson's "Do I Love You (Indeed I Do)" with a large ensemble of musicians.
Jimmy Fallon has absolutely not improved with time behind the desk as an interviewer, and talking to Bruce was not going to improve that tendency — there was of plenty of over-the-top gushing and making statements at his subject instead of asking questions and responding to the answers. The interview was all over the place, including random setlists that looked like they'd been printed out by someone on staff from setlist.fm. One showed nine songs performed 9/28/68 at a Red Bank, NJ, coffeeshop (Brucebase terms the setlist "incomplete and inaccurate"); Jimmy weirdly calls it Bruce's "first recorded setlist." The point, presumably, was the contrast with Springsteen's July 31, 2012, setlist from Helsinki, at 38 songs.
But there was fun to be had nonetheless in this lengthy sit-down before Springsteen's first live performance of Only the Strong Survive material. During the setlist talk, he looked surprised himself when he said he'd already come up with one for the upcoming 2023 tour — or at least "the one we're going to do on the first day of rehearsal. It changes on the second day of rehearsal."
As Springsteen talked about his new granddaughter ("they come home, they're like a little loaf of bread… except they don't say as much"), we learned that Patti doesn't want to be called "grandma," and Bruce is fine with anything as long as it's not "Boss."
Discussing how long his concerts are, Bruce said, "I'm stuck at about three hours," but "three hours goes by pretty fast." Notably he observed that in the early days of rock 'n' roll, most artists were doing 20-minute sets. "Now, they'd play 20 minutes, five shows a day," but point being, "you can get what someone has to deliver in a short period of time." By contrast, "we came up playing in bars where you played five hours a night."

The interview delivered substance when Bruce took the reins to talk about Only the Strong Survive, after Jimmy Fallon announced, "You got some jams on here!" Springsteen again led with the fact that he wanted to make a record that was centered around singing, and went on: "I finally came to the realization that the greatest vocal music is, of course, gospel music and then soul music. For pure singing, there really is no greater music than gospel music. All of our great R&B singers — Sam Moore, Sam Cooke — these guys all came through the church. So I realized, the great singers have sung soul music. All my heroes who I cover on this record — not as good, but I give it a shot — Jerry Butler, David Ruffin, Levi Stubbs, William Bell, all of these guys were incredible singers. And great songwriters, too." Springsteen also noted a thread of beach music on the album.
Fallon played a portion of Bob Dylan singing "Dancing in the Dark" live from 1990, which Bruce said he knew about but had never heard, adding that he loved it — "that's like a dream come true." He was also made to confront the influence of his "Dancing in the Dark" moves ("my New Jersey Shuffle") on The Carlton Dance: "My dancing is… pretty embarrassing, and my kids kill me on that. 'Dad, you look ridiculous!'"
Perhaps the most rewarding segment of the interview was when Jimmy asked him the age old question: is it waves or sways? In the summer of 2021, manager Jon Landau appeared to rule on the "Thunder Road' lyric debate when he declared "sways" to The New Yorker; at the time, David Remnick noted that "short of Springsteen himself, no one could answer the question more definitively than Landau."
Well, here was Springsteen himself.
Bruce reached behind the chair and pulled out a copy of the Born to Run LP (and a stylish pair of reading glasses) to finally provide his own answer. "This record is almost 50 years old," he began. "Fifty years ago, I was a sociopath." He explained that in his youth, he was "insane about every single detail that had anything to do with my album, my album cover, my lyrics… I went through everything with a fine-toothed comb, so everything would be perfect and completely accurate. The lyrics to 'Thunder Road' are in this album. The correct lyrics." Whatever was written inside the album would be the definitive answer.
Springsteen opened the jacket, and after some laughter stated, "I've been singing 'sways' for almost 50 years," before reading from the gatefold: "The screen door slams, Mary's dress… waves." (#TeamWaves, take your victory lap here!)
Bruce then declared, "This is wrong, I'm telling you, this is wrong — how did that happen?" as he put the record aside.

Producing a small electronic keyboard, Fallon asked Bruce about writing most of Born to Run on piano; Bruce plinked out a little bit of "Thunder Road" to prove it. "The screen door… swaves!"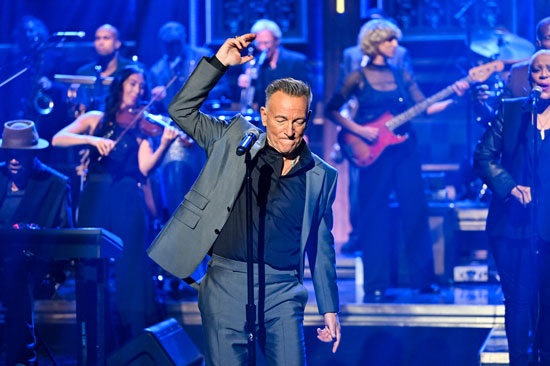 Many of us assumed, given the fact that there was no actual band on Only the Strong Survive, that Bruce would be utilizing the legendary Roots crew as his backing band. Instead, he performed with a large ensemble that looked very much like the group who backed him in the lip-synced promotional videos. A prominent addition to the packed stage: original E Streeter David Sancious on keyboards, joining seven backing vocalists (with Michelle Holme, Lisa Lowell, and Curtis King, Jr.), a five-man horn section (featuring frequent cohorts LaBamba, Ed Manion, and Curt Ramm), two string players, a percussionist, bassist, drummer Zoë Brecher, and main OTSS instrumentalist/co-producer Ron Aniello on guitar, tucked away behind the singers.
The performance of Frank Wilson's "Do I Love You (Indeed I Do)," the album's lead single, was bright and energetic, echoing the showmanship of the legendary soul revues these songs were originally performed at and that Bruce has admired and aspired to. Television is a tough gig for a rock 'n' roll act, but Bruce has pulled off epic, enormous, and highly memorable performances in this medium time and time again. This was a very strong outing by any objective measure, but it maintained the curious airlessness of the album. It's befuddling in the extreme that he wouldn't appear with the Roots — who Bruce admires and deeply respects, and who absolutely know this material cold — or just, you know, called E Street, for whom rehearsals are on the near horizon. He's even got the setlist ready.

The Tonight Show "takeover" continues Tuesday and Wednesday, with a bonus performance on Thanksgiving.
- November 15, 2022 - Caryn Rose reporting - photographs via Twitter/@FallonTonight

ONLY THE STRONG SURVIVE
The Backstreets Review by Lauren Onkey
WHEN A MAN LOVES A GENRE
Springsteen's vocals and affection for the music drive his soul covers only so far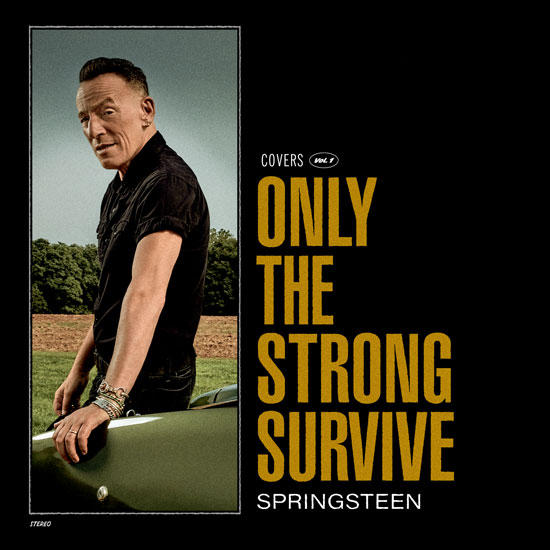 Bruce Springsteen releasing an album of soul covers is no surprise. Soul music has been a throughline in his career, even back to his mid-'60s band The Castiles. No matter when you became a Springsteen fan, you heard soul music in his concerts: the Contours' "Do You Love Me?" in the Born in the U.S.A. megastardom days, Curtis Mayfield's "People Get Ready" in the reunion era, Arthur Conley's "Sweet Soul Music" on the Tunnel tour. Back in the early 1970s, he'd pull out Chris Kenner's "Something You Got." He's created medleys of his songs and soul covers that work as thematic centerpieces of his shows, like "The E Street Shuffle/Havin' a Party" (1975), "Two Hearts/It Takes Two" (1999), and "Mary's Place/The Monkey Time/Turn on Your Lovelight" on the Risingtour. Wilson Pickett guested in the set at Bruce's Rock and Roll Hall of Fame induction. Soul has obviously influenced his own songwriting and singing on songs like "Fade Away," "If I Should Fall Behind," "I Wish I Were Blind," and of course "Back in Your Arms," just to name a handful.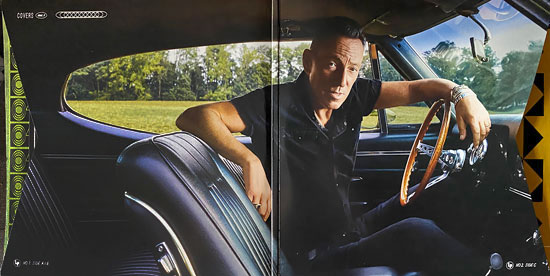 Only the Strong Survive gatefold - photograph by Danny Clinch - art direction & design by Michelle Holme and Meghan Foley

He's also paid homage to soul musicians throughout his career, acknowledging the debt he owes to soul bands. As far back as a 1975 interview ("Local Boys, Trailer Parks, and the Godfather of Soul," printed in Backstreets #57), when asked about his influences, Springsteen said: "All the Stax stuff and Atlantic stuff, I'm very into that. Wilson Pickett, Sam Cooke, Sam and Dave, Eddie Floyd, the MGs, Steve Cropper... most of your better band leaders have been your soul band leaders. Because the white guys always tend to be a little too sloppy, too lazy; they think it's part of the act to be not together or something.... The best band leaders of the last ten, 20 years, from what I've listened to, have been your soul band leaders. They whip them bands into shape. I tend to use my band that way. I'm doing different things, but in that tradition. Ain't nobody does it better than them soul artists."
Springsteen's clarity here is remarkable. In many ways, he's laid a foundation for a project like this over his entire career. And yet, I can't quite make sense out of Only the Strong Survive. The only statement we've gotten from Bruce so far is that he wanted to make an album that showcased his singing. Only the Strong Survive does that. His vocals are wonderful throughout — full throated, hitting all the notes, urgent or tender as the song requires. It's a superb set of songs: lots of Motown, double doses of songs sung by titans Jerry Butler, Levi Stubbs, and William Bell, and even a couple of hits from the 1980s. The song selection is surprising — Springsteen has never played any of these songs before in concert — and reflects the breadth of the soul landscape. The tracks also feature wonderful backing vocals from Bruce regulars Curtis King, Soozie Tyrell, Lisa Lowell, and Michelle Moore, and also Fonzi Thornton and Dennis Collins — incredible singers who have worked with the likes of Chic, Aretha Franklin, and Luther Vandross.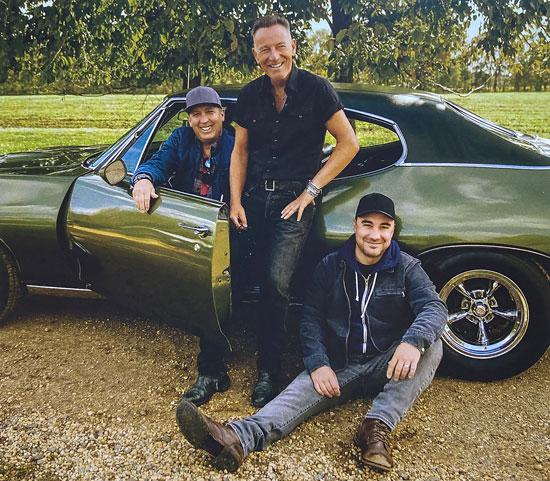 "Three guys in a room": Ron Aniello (musician/producer/engineer/mixer), Springsteen, and Rob Lebret (producer/engineer/mixer) - photograph by Rob DeMartin

But the quality of the vocals are often undercut by the lack of ambition in the music. These recordings, with virtually all instruments played by Ron Aniello, replicate the original arrangements — two songs, "Do I Love You (Indeed I Do)" and "Turn Back the Hands of Time," even include samples from the original record. (As Bruce told Questlove in an interview on the podcast Questlove Supreme this week, "it was basically three guys in a room," and he didn't see any need to reinvent songs that had such great arrangements in the first place). As a result the record often feels antiseptic, which is especially jarring after Bruce was so enthusiastic about recording Letter to You live, as well as the way his 16-piece band in 2012-13 took on so many great covers.…
Continue reading
ONLY THE STRONG SURVIVE
The Backstreets Review By Lauren Onkey
- November 12, 2022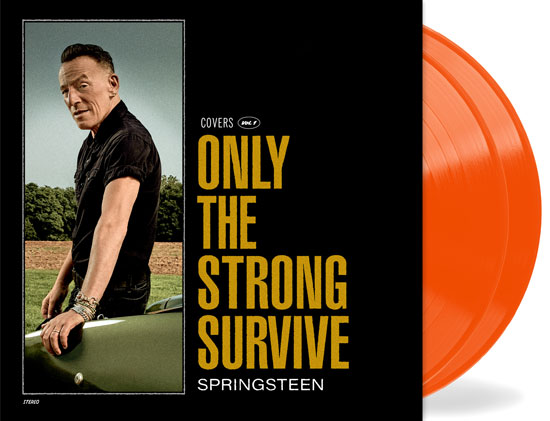 ORANGE YOU GLAD?
Only the Strong Survive update from Backstreet Records
First of all, many who have been asking will be glad to hear: we're now offering the limited orange vinyl edition in the Backstreet Records shop for pre-order. We'll be stocking the Indie Exclusive edition, which they're calling Sundance Orange. (A Nightshade Green editon is available only from Bruce's official store.)
We didn't want to offer the limited colored vinyl until were positive we could guarantee it — and now we can. While our allotment lasts, at least, but we'll be staying on top of available inventory.
Like the standard black vinyl edition, the colored vinyl 2LP comes in a gatefold jacket, with printed inner sleeves and a 12" x 24" poster.
First look: FREE Backstreets Liner Notes insert
All formats of Only the Strong Survive ordered from Backstreet Records will be coming with something you can't get anywhere else: our own bonus booklet, The Backstreets Liner Notes, that we created to provide some history for Bruce's 15 soul selections and their original artists. It's 16 pages, full-color, and sized as a CD booklet, so it will fit right in the pocket of the digipak, or of course slipped inside the album jacket. And it's FREE with every CD and vinyl set we ship out.
Here's a sneak peek: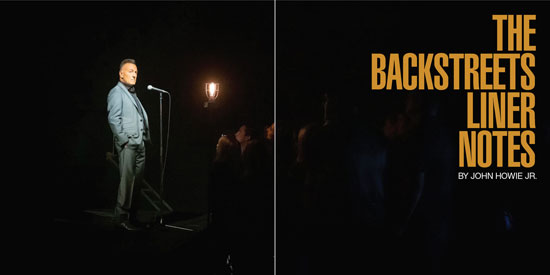 Opened up, the cover bears a striking Rob DeMartin photograph from the second OTSS video shoot; a couple sample spreads from the booklet interior are below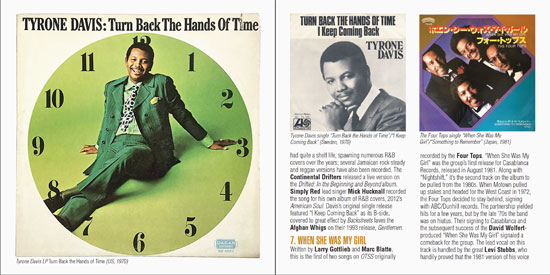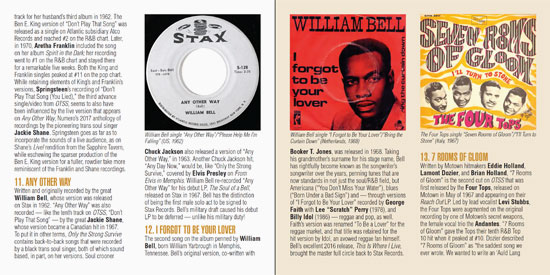 A note on timing: as often happens these days, printing is taking longer than expected. Our printer cites a volatile paper market and industry-wide supply chain issues. The wait shouldn't be long, but rather than have the booklets in hand this week, we're now expecting them next week instead. For those who ordered Expedited shipping, we'll ship you Only the Strong Survive immediately and send the booklet separately next week; for Standard shipping, we'll be shipping Only the Strong Survive together with our liners just as soon as everything's in stock, just as fast as the two of us can get them out the door. We apologize for the slight delay, appreciate your support of what we do, and hope you'll find it worth the wait!
Pre-order the album from Backstreet Records for our exclusive bonus:
THE BACKSTREETS LINER NOTES
detailing each of Only the Strong Survive's 15 songs
16-page booklet FREE with the orange 2LP, black 2LP, or CD
- November 9, 2022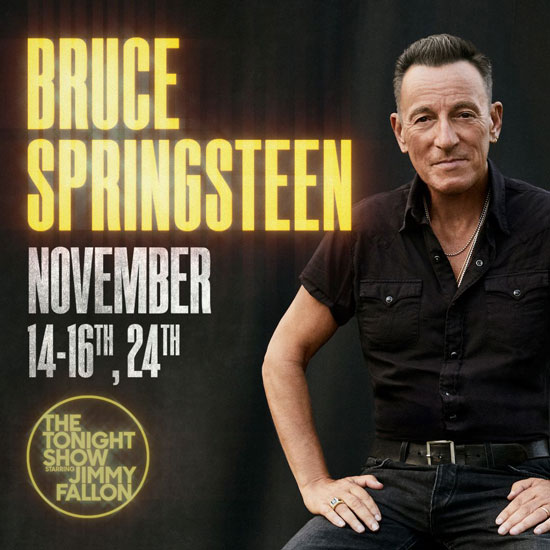 TAKEOVER: MULTIPLE TONIGHT SHOW APPEARANCES START MON.
Next week, following this Friday's release of Only the Strong Survive, Bruce Springsteen will return to 30 Rock for a "Tonight Show takeover," with musical performances of OTSS material over several nights.
Starting Monday, November 14, Springsteen will appear as lead guest joining host Jimmy Fallon, and perform several times. From November 14-16, the Boss will debut four of the soul covers from his 21st studio album. His final performance will air during The Tonight Show Starring Jimmy Fallon's Thanksgiving special on Thursday, Nov. 24.
While this marks Springsteen's third appearance on Fallon's Tonight Show, it's his first takeover and first musical performance. It remains to be seen whether costumes and wigs will play a part.
Taped in front of a live studio audience from Studio 6B at 30 Rockefeller Center in New York City, The Tonight Show Starring Jimmy Fallon airs Mondays through Fridays from 11:35 p.m.-12:35 a.m. ET/PT on NBC and is available on demand on Peacock.
- November 9, 2022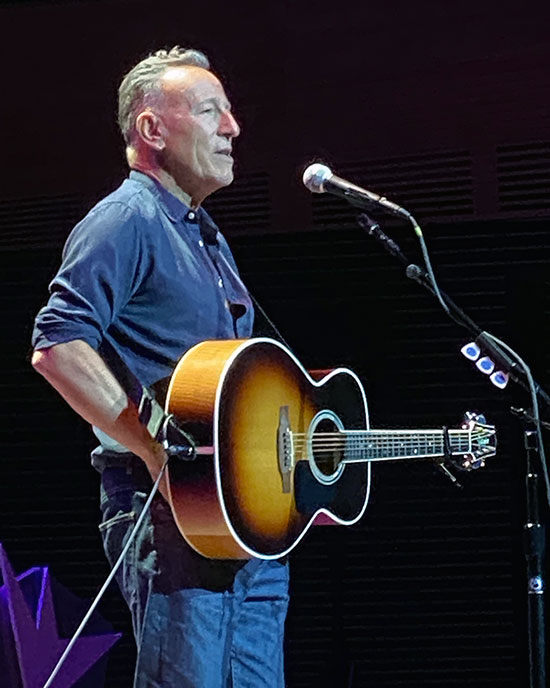 16th ANNUAL STAND UP FOR HEROES
David Geffen Hall, NYC
November 7, 2022
"During sex, you burn off as many calories as if you ran eight miles… but who can run eight miles in thirty seconds?"
Ladies and gentlemen, the comedic stylings of Bruce Springsteen.
Bruce was in impish form for his usual appearance at the Bob Woodruff Foundation's 16th annual Stand Up For Heroes event to benefit wounded warriors and their families.
As an official event of the New York Comedy Festival, the night revolved as much around humor as it did on heartfelt tribute to service of the many veterans, active duty military personnel, friends, family, and volunteers present.
Springsteen is the event's traditional headliner, which means he follows comedy giants like last night's lineup of Hasan Minhaj, Jeff Ross, Iliza Shlesinger and Jon Stewart. Bruce learned to thread the needle by leaning into a vein of raunchy shaggy dog stories; in recent years, though, he'd begun recycling some of his "greatest" hits. Monday night, he showed up with a fresh crop of terse, deadpan one-liners, risqué riddles, and dirty dad jokes.
"What do you call an Italian hooker?" he asked, pausing for barely a beat before answering with a twinkle: "A pasta-tute!"
Bruce credited "The Internet" as the source of his material, and he seemed immensely pleased with the ratio of groans to laughs generated by his curation and delivery.
But if his jokes made us groan, his songs made us swoon.
Bruce kicked off his mini-set of four songs with the public debut of "House of a Thousand Guitars," which he introduced as "my state of the union." (See my April 23, 2021 essay for why that's a fitting description.) While technically debuted at the event two years prior, in the heart of the pandemic, the 2020 Stand Up For Heroes was virtual, making this year's performance the first time Bruce has performed the Letter to You deep cut in public.
"House of a Thousand Guitars" wasn't the only debut of the evening, though. Monday night's SUFH was the first public event at the brand new David Geffen Hall in New York City. The acoustics were possibly the best this reviewer has ever enjoyed, and Bruce took full advantage of them, bringing his voice and guitar to room-filling life with a clarity and fullness that surpassed both of his theater runs on Broadway.
Next up was a Stand Up For Heroes tradition: "I'll Work For Your Love," dedicated to Eddie and Jill Vedder, reportedly in the room.
Performance-wise, "I'll See You in My Dreams" was the standout of the evening —every bit as powerful as when it served as the closing number for Springsteen on Broadway but benefitting immensely from the hall's acoustics.
After three tender and contemplative songs, Bruce sent the audience home on a high and joyful note: a sing-along "Dancing in the Dark." The audience accepted his invitation only tentatively and softly, a sign of respect and appreciation for the strength and warmth of Bruce's soaring vocals in that gorgeous auditorium.
Thanks to Bruce's marquee power and the generosity of paddle-raising donors throughout the hall, the event raised well over $700K for the Bob Woodruff Foundation's ever-expanding initiatives and deepening impact, making Stand Up For Heroes the surest annual bet for Springsteen's ever-powerful performance and eye-rolling humor.
Setlist:
House of a Thousand Guitars (solo acoustic)
I'll Work For Your Love (solo acoustic)
I'll See You in My Dreams (solo acoustic)
Dancing in the Dark (solo acoustic)
Watch the full performance:

- November 8, 2022 - Ken Rosen reporting - photographs by Bill Borner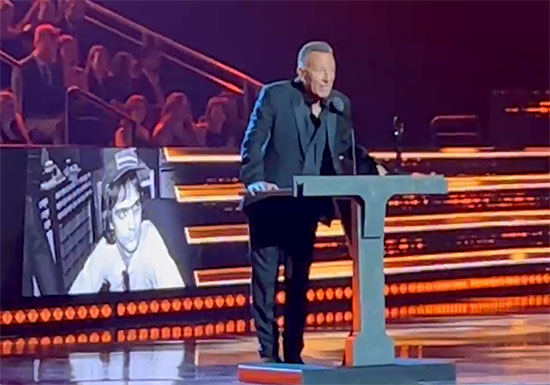 Microsoft Theater, Los Angeles, November 5, 2022 - photograph by Robyn Sherer
HITTING COOL JUST LIKE JIMMY IOVINE
Springsteen inducts the producer/entrepreneur into the Rock and Roll Hall of Fame, pays tribute to Jerry Lee Lewis
Like any insane person, I had dreams that Bruce Springsteen would show up to induct Jimmy Iovine at the Rock and Roll Hall of Fame Saturday evening in Los Angeles with a song that he recorded in 1978, in the heat of the sessions for Darkness on the Edge of Town (which young Iovine engineered). An outtake released officially on The Promise in 2010, "Ain­­­­'t Good Enough for You" offers a time capsule of the era these two future superstars' paths crossed, as Bruce sings in the last verse:
I tried to change, I got a job in sales
I bought a shirt uptown in Bloomingdales
And babe I tried to make the latest scene
Hitting cool just like Jimmy Iovine
Springsteen took to the podium for one of his patented (alas, non-musical) induction speeches instead: 90 minutes into the evening (before it's cut down for TV, the annual event can run as long as six hours; this year's was just shy of that mark), looking tan and rested in a black suit and black dress shirt, Springsteen started with an anecdote.
"It's 1978. Jimmy Iovine has graduated from being the skinny Italian kid who changes the tape and hits the start and stop buttons on the recording machine to the skinny Italian kid at the console, engineering Born to Run and Darkness on the Edge of Town.… I walked into the studio, and Jon [Landau] just says to me, 'He told me he could do it!'" The story seems to sum up the ethos of Jimmy Iovine — take a shot, dare to risk it all, it may just work out.
In another anecdote, Iovine picks up Springsteen in his orange Mercedes-Benz for a drive to Coney Island. "And on the way, he casually drops: 'Bruce. What are you doing with that song "Because the Night"?… It's unfinished! If you're not going to finish it, can I have it?'"
"What are you gonna do with it?"
"I want to give Patti Smith a song."
Of course, Iovine would serve as the connective glue between the two New Jerseyan musicians, and Smith's version would go on to become her most well-known hit (in a markedly different version from Bruce's original).

"Jimmy knows great songs," Bruce continued, "and he knows who can sing 'em. He has one of the greatest guts for talent, and he's one of the greatest sponges for learning I've ever met."
Springsteen paused for effect when listing off each of Iovine's many talents and accomplishments — "Jimmy is brave and smart… he recognized the power of hip-hop and its ability to conquer the culture" — up to and including the formation of Beats by Dre and, ultimately, Apple Music.

"Of course as an entrepreneur… Beats! He tells me he told Dre, 'We shouldn't make sneakers, we should make speakers.' So they did! They made millions of 'em."

Speaking of the power of collaboration in music, Bruce cited Iovine's longtime relationship with Dr. Dre, suggesting it mirrored the one he'd seen between Bruce and Landau. "Jimmy knew and recognized that the chemistry in Jon's and my relationship was the secret formula not just for rock 'n' roll magic, but for rock 'n' roll success," Bruce concluded; he then allowed himself one dig at Gerardo's "Rico Suave," an early success for Interscope Records, before formally welcoming Iovine into the Rock Hall.


Iovine took the podium next with full New York laughter and a quick punch line: "Bruce is that annoying older brother who does everything better than you — including making a speech."

"When you come out of a neighborhood like so many of us do, you don't believe you have anything to bring to the table," Iovine said with a smile that lit up the Microsoft Theater. He listed off the many people he had to thank, including himself: of his studio gig with Springsteen in the mid-'70s, Iovine recalled, "Jon [Landau] looked at me, and he said, 'Can you do this?' I'd like to thank myself for having the balls to think I could!"
When the laughter in the theater died down, Iovine added: "Bruce Springsteen taught me a work ethic that I can't keep up with. Together, Jon and Bruce demonstrated the importance of serving something bigger than yourself, and they also showed me a devotion to excellence. Bruce, you are the touchstone to the truth, and it guides me every day."

Speaking with Variety earlier in the week, and further discussing what he learned from Landau, Iovine was direct: "Two words: big picture. You take your bullshit out of it. So when you're working with Springsteen, and a lot of the songs on Born to Run go through, what, seven, eight, 12 radically different versions, it's like, okay, there's a goal that he's going toward. The whole album was like that. There are ballad versions of 'Thunder Road,' different versions of 'Backstreets,' there are different lyrics — 'Thunder Road' had tons of lyrics. Tons! He would sit at the piano and write a line, go up and sing it, write another line — for days! I remember a day where he sat out in the studio, working on 'Thunder Road' with a guitar, for 13 hours and only said the word 'again.' I fell asleep for five hours in the middle of it. 'Again, again, again, again!' But one of the things that I got from that album was to learn how to believe in something as much as the person that's doing it."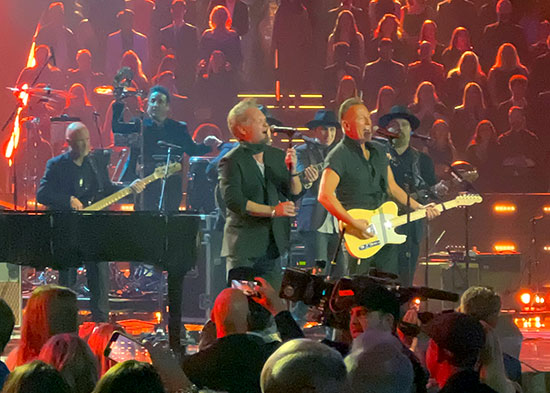 Mellencamp and Springsteen do "one last one for The Killer" - photograph by Robyn Sherer

Toward the end of Saturday's induction ceremony, Springsteen returned to the stage to perform. He joined John Mellencamp (who gave the induction speech for power lawyer Allen Grubman earlier in the night) for a double shot-salute to Jerry Lee Lewis, backed by E Street pianist Roy Bittan and the Zac Brown Band. Springsteen and Mellencamp traded vocals on "High School Confidential" into "Great Balls of Fire." The show-ending tribute to The Killer, even just five minutes at an induction ceremony, once again proved that this man is ready to tour and underscored how this fan feels about seeing him back on an arena stage: "My heart's beatin' rhythm," because, indeed, "all the cats are at the high school rockin'."
The 37th Annual Rock and Roll Hall of Fame Induction Ceremony will air Saturday, November 19, at 8pm on HBO.
- November 7, 2022 - Brandon Shaw reporting


THE TOM JOAD ALL-STAR REVUE AT THE PARAMOUNT THEATRE
New from the Live Archive series: for its last night in Asbury, 11/26/96, Bruce's solo tour embraces old friends and local heroes
When Bruce Springsteen announced three shows at Asbury Park's Paramount Theater in 1996, fans were curious: when did Bruce last "officially" perform as a billed act in his adopted hometown?
Sure, Springsteen dropped in to jam dozens of times at the Stone Pony or the Fast Lane over the years, but the last time he was booked to play Asbury was nearly 23 years prior, in 1973, when he and the still unnamed E Street Band played three shows at the Student Prince on Kingsley Street that December. So there was great excitement to have Bruce scheduled in Asbury Park again, even though these would presumably be solo performances — as typical for the Ghost of Tom Joad tour, then entering its second year.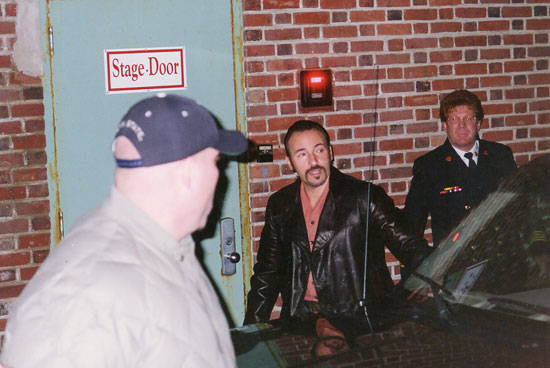 Photograph by Salvador Trepat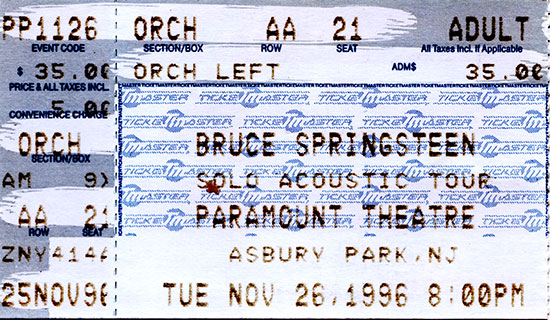 The first night of this trio of Paramount Theatre concerts appeared in Springsteen's Live Archive series three years ago; today's entry is the relatively star-studded final night, Asbury Park, November 26, 1996.
Weeks prior, on November 8, Bruce played his old grammar school, St. Rose of Lima, in his Freehold hometown — another previous release from the Live Archive. Tickets to that benefit show had been limited to Freehold residents only. Each Asbury Park show, conversely, gave 1,500 or so lucky fans a chance to snag tickets, benefitting local charities including the Asbury Park Fire Department and the Women's Center of Monmouth County.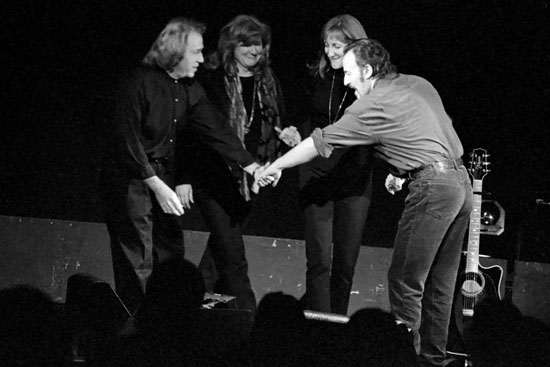 Photograph by Rene van Diemen
The first date, Sunday, November 24, established that the Asbury performances would be special beyond just the location. That night, Patti Scialfa, Soozie Tyrell, and Danny Federici all joined for a 25-song set that included tour premieres "Independence Day," "Wild Billy's Circus Story," "Rosalita (Come Out Tonight)," and "4th of July, Asbury Park (Sandy)." The next night, original E Street Band drummer Vini "Maddog" Lopez joined the fun, and four more songs made tour premieres.
That led to great anticipation for the final performance, November 26. Just two days before Thanksgiving, Bruce and a stage full of special guests delivered a 24-song show that, for many fans in attendance, managed to top the first two nights.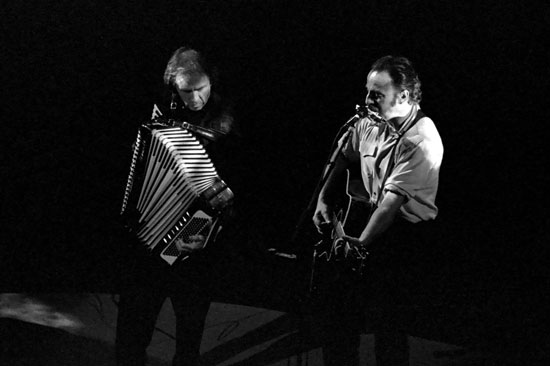 Photograph by Rene van Diemen
"For You" was an appropriate kick-off for a magical night. With Danny on the accordion, Bruce took the stage and said, "Greetings, from Asbury Park!" before heading into the beloved song from his debut album.
Another from Greetings, "It's Hard to Be a Saint in the City," led to "Atlantic City." Then, for the second straight night, Scialfa and Tyrell sang backup on "Tougher Than the Rest."
The first tour premiere this night was "All that Heaven Will Allow," played for the first time since August 3, 1988, on the Tunnel of Love tour. Richard Blackwell, who appeared on The Wild, the Innocent & the E Street Shuffle, came out to play the congas.
"This is a friend of mine, Richard Blackwell. We grew up in the same neighborhood," Bruce said. He regaled the audience with a "weird experience," recalling the first time he left New Jersey and happened to run into Blackwell at the Esalen Institute in California — after a 72-hour, cross-country drive.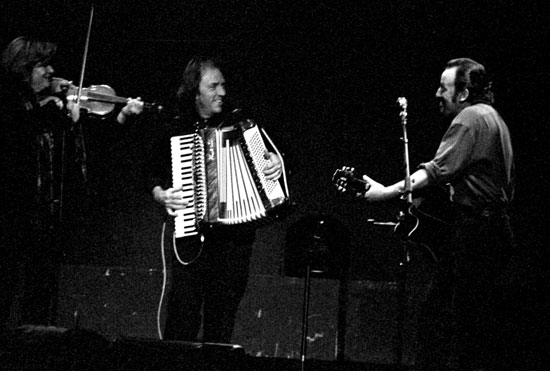 Photograph by Rene van Diemen
Federici and Tyrell joined in for a rare "Wild Billy's Circus Story," then Bruce reprised a Joad tour story prior to "Red Headed Woman": joking how he was "traveling around the country promoting cunnilingus," presidential candidates from 1996 made the gag, too. It's a good laugh, and a reminder of how much light had entered the Joad show since its stark beginnings.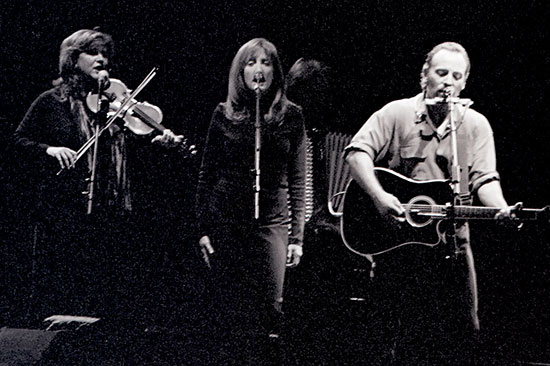 Photograph by Rene van Diemen
Scialfa and Tyrell (on violin) performed on the next three songs: "Two Hearts," "When You're Alone," and the powerful "Shut Out the Light" which also featured Federici.
After several Joad tour staples — "Born in the U.S.A.," "The Ghost of Tom Joad," Sinaloa Cowboys," and "The Line" — Bruce played "Racing in the Street," backed by Tyrell on the violin. At the time, "Racing" was a New Jersey-only staple, having only appeared the previous two nights and at the Freehold show. (It made the set only four more times on the tour.)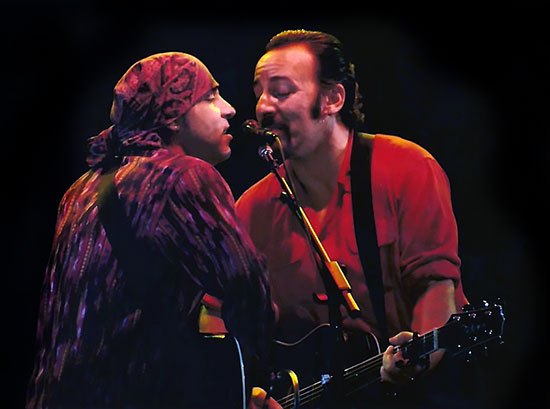 Photograph by Ken Lesnik
The encores began with the perfect song for Asbury Park, "I Don't Want to Go Home," and another guest joined Bruce and company to sing the second verse: its songwriter, Steven Van Zandt. Three years prior to the E Street reunion, Stevie's appearance with Springsteen took the night into the stratosphere.
The cavalcade of guests continued as Bruce said, "All right, Vincent Lopez is in the house! Come on out! We got a fella that I slept on his floor when I wrote most of the songs for Greetings from Asbury Park, my old good friend, all the way from Ireland tonight, Big Danny Gallagher!"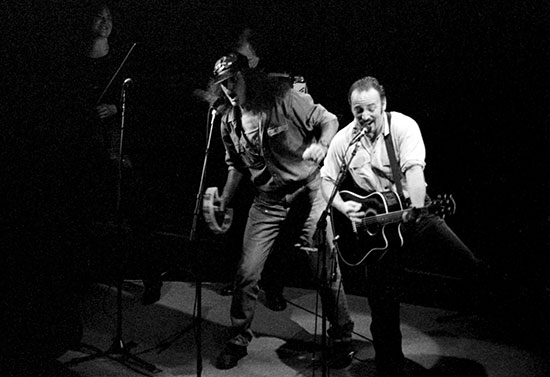 Photograph by Rene van Diemen
All joined in for a joyous "Spirit in the Night." At this moment, longtime Springsteen fan Billy Smith (the co-owner of the Asbury Park Rock and Roll Museum in the 1980s), turned to me and pointed out that four members of Steel Mill were on stage: Springsteen, Van Zandt, Lopez, and Federici, standing together again. How fitting that it was in Asbury Park.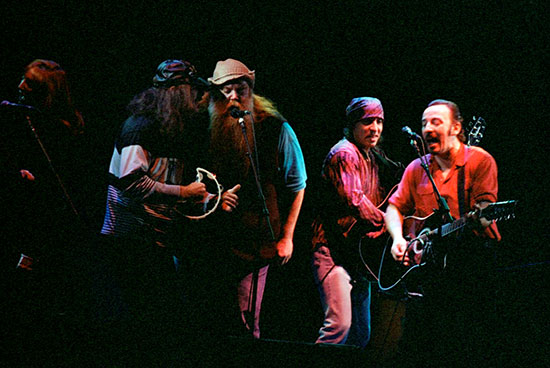 Photograph by Rene van Diemen
The encore fun continued as all joined in for a rousing "Rosalita" followed by "This Hard Land" with just Bruce and Phantom Dan.
Before closing with the appropriate "4th of July, Asbury Park (Sandy)," Bruce paid tribute to his adopted hometown and the joy of this Paramount stand.
"This has been a hell of three days, we had so much fun," Bruce said. "It's really great that this theater is here now in town. It's lovely to be able to come back into the town and play. I always say that Asbury was — when I first came here, I was 18 — it was a little more open than the towns surrounding it. People sort of left you alone a little bit more, and we were here, making our music. There were so many musicians here.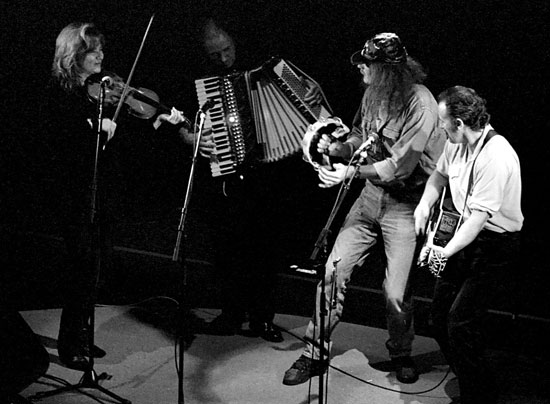 Photograph by Rene van Diemen
"It was a place where you could have time to find yourself and the kind of music you wanted to play," Bruce continued. "I met so many good people here — Maddog Vini Lopez, Big Danny Gallagher, Garry Tallent, Southside ... I wrote a lot of my early work here: on the beach, or on Big Danny's living room floor, or on Cookman and Main. We planted the seeds of the band that took us all around the world and friendships that have really lasted me a lifetime. It's pretty amazing."
Bruce talked about his children coming to the Paramount Theatre with him.
"I got a chance the other night to just watch my kids running around the theater, bringing the whole thing sort of full circle," he said. "I guess all I'm really saying is I'm a pretty lucky guy, and I'm just glad to be here in town tonight and able to play for you."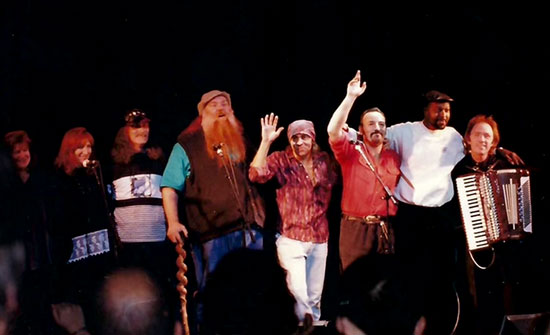 Photograph by Ken Lesnik
Before starting the "Sandy" finale with all the guests joining in, Bruce said, "This song was written as a goodbye song. I wrote it at the time when my life was changing, and I didn't know what was up ahead or what to expect. But it was a little more than a goodbye song; it was a love note, too. So this is for Asbury, wishing that the best may be yet to come."
While it took another ten-plus years for Asbury Park to start to bounce back to the hip and exciting place it is today, the night of November 26, 1996, at the Paramount Theatre not only celebrated the past but also gave hope for the future.
- November 4, 2022 - Stan Goldstein reporting - cover photograph by Rene van Diemen

ICYMI: STERN SHOW CLIP CAVALCADE
With Monday afternoon's report on Howard Stern's interview with Bruce Springsteen, we included the three available videos at the time; since then, eight more have appeared on The Howard Stern Show's YouTube channel. We embed them here for your convenience, including moving, intimate performances of "Thunder Road," "The Rising," "Land of Hope and Dreams," and "Born to Run."
- November 4, 2022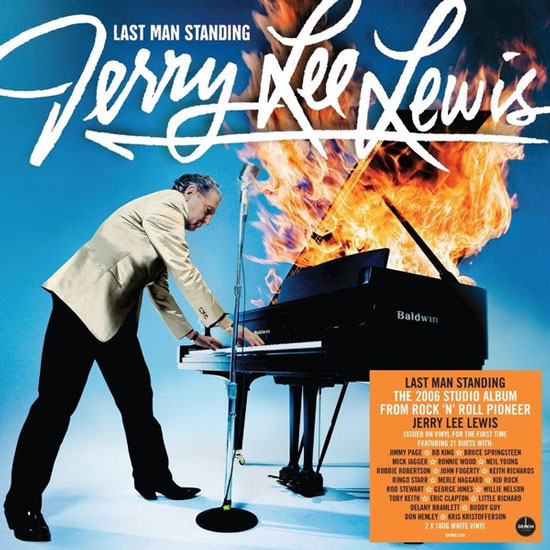 LAST MAN STANDING
Jerry Lee Lewis, "The Killer," 1935-2022
On May 20, 1993 in Dublin, Ireland, Rock and Roll Hall of Famer Jerry Lee Lewis, who died on Friday, made his first onstage appearance with Bruce Springsteen. Two decades earlier, they had been part of a triple-bill with Chuck Berry at the University of Maryland, but Lewis and Springsteen never performed together onstage that night. In Dublin, along with Springsteen's 1992-93 band, they performed two of Lewis's greatest hits: "Great Balls of Fire" and "Whole Lotta Shakin' Goin' On." Bruce introduced Lewis to the audience as "one of my great heroes and inspirations," and indeed he was.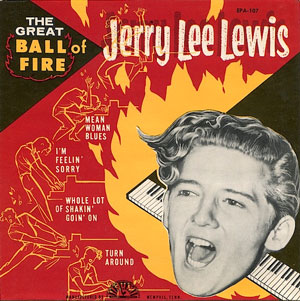 Lewis was a key member of the first-generation, pioneering group of rock 'n' rollers that included his peers Chuck Berry, Fats Domino, Buddy Holly, Little Richard, and Elvis Presley. He was one of the genre's greatest live performers, blazing the stage with his immense musical talents and athletic piano-pounding, keys- and bench-kicking showmanship that would feel right at home onstage in an E Street Band performance.
"Great Balls of Fire" also combined religious imagery with… uh, much more earthly concerns, helping to pave the way for how Springsteen would later infuse elements from his own Roman Catholic upbringing into some of his greatest songs.
In addition to creating the music that gave him his Rock and Roll Hall of Famer status, Lewis became known as a stellar country-music singer and honky-tonk pianist, which finally earned him a long-overdue induction into the Country Music Hall of Fame just last month. In his 2012 SXSW Keynote Address, Bruce Springsteen described Jerry Lee Lewis as "the living, breathing personification of both rock and country."
On that '93 night, Lewis in turn spoke enthusiastically onstage about how impressed he was with Springsteen's work. "He's got one of the greatest bands and he's got one of the most God-given talents I've ever heard in my life," Jerry Lee told the Dublin audience. "And if it wasn't true, I wouldn't be here, believe me… Bruce, you really knocked me out tonight; you were fantastic. And your backup singers, your band, your drummer, your guitar player… superb! And the soundman he's got is… the equipment he's got is… rock 'n' roll!"
Just over two years later, Lewis again performed "Great Balls of Fire" and "Whole Lotta Shakin' Goin' On" with Springsteen onstage, this time backed by the E Street Band [above[, in Cleveland's long-gone Municipal Stadium during the September 2, 1995 concert celebrating the opening of the Rock and Roll Hall of Fame. On that night Bruce introduced Lewis as "one of my all-time heroes, the one and only, the man who doesn't play rock 'n' roll; he IS rock 'n' roll."
Covers of these two Lewis classics occasionally appeared in other Springsteen concerts through the decades, along with another one of The Killer's greatest hits: "High School Confidential," which was performed both on its own and as an occasional addition to "The Detroit Medley" back in 1981. Click here to hear Springsteen opening his September 21, 1978 concert at Passaic, NJ's also-long-gone Capitol Theatre with "High School Confidential." (Another memorable show where Springsteen opened with "High School Confidential:" Halloween Night 1984.)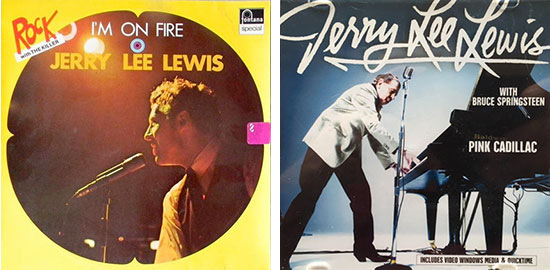 "I'm On Fire" was NOT a Springsteen cover, but "Pink Cadillac" definitely was!
Eventually Lewis returned the favor by recording a cover of one of Springsteen's songs, "Pink Cadillac," featuring backing vocals from the songwriter himself. Back in the 1980s, Dave Marsh worked behind the scenes to try making a Jerry Lee Lewis version of "I'm a Rocker" happen, but unfortunately it never came to be. Apparently The Killer thought the song had "too many words" (a complaint about the difficulties of singing Springsteen lyrics later echoed by another Rock and Roll Hall of Famer, Sam Moore).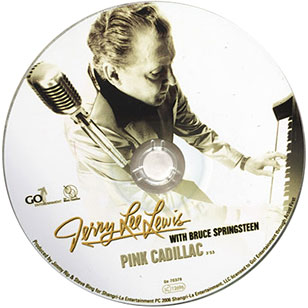 Bruce and Jerry Lee's studio work on "Pink Cadillac" took place in 2003, and the recording was released on Lewis' 2006 album Last Man Standing: The Duets.
Last Man Standing was an appropriate title for the album, since by that point Jerry Lee Lewis truly was the last living member of the initial group of Rock and Roll Hall of Fame inductees (the "Class of '86") as well as the pioneering Sun Records "Million Dollar Quartet" stable of stars consisting of Lewis, Johnny Cash, Carl Perkins, and Elvis Presley. As the Hall of Fame noted upon Lewis' passing:
The Rock and Roll Hall of Fame has lost its last inaugural inductee. Jerry Lee Lewis sang and played the piano with wild abandon, setting the world on fire with his electrifying performances and rebellious persona. His hits 'Whole Lotta Shakin' Goin' On' and 'Great Balls of Fire' served as a foundation of the sound and spirit of youth culture. Jerry Lee was a genuine pioneer, and his music and rock and roll swagger live on forever.
- November 1, 2022 - Shawn Poole reporting