FOR FURTHER READING -- OVERTIME EDITION
But wait, there's more!
Similarity? What similarity? Those two songs aren't even in the same key! Alternately, we present the first two seconds of "Working on a Dream" and the first two seconds of Death Cab for Cutie's "Soul Meets Body":
Now we're talkin'. Somebody better lawyer up!
- January 31, 2009

SPRINGSTEEN INTERVIEW IN SUNDAY'S NEW YORK TIMES
Bruce calls Wal-Mart move "a mistake"; lots more Super Bowl chatter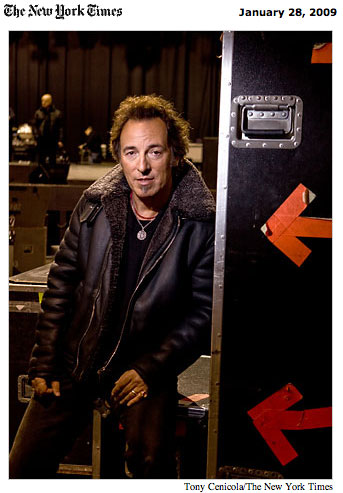 A new Springsteen interview will appear in the Arts & Leisure section of Sunday's New York Times, and it's online now. Speaking with Jon Pareles, Springsteen reveals a bit of his thought process re the Super Bowl:
"Fundamentally, it's a 12-minute party... It was very challenging to try and get that exact 12 minutes. I found that in a funny way it was very freeing. O.K., these are your boundaries, so put everything that you have into just this box... If you do it right, you should feel the tension of it wanting to spread beyond that time frame. But it can't."
In addition to Super Bowl talk and of course a bit about Working on a Dream, Springsteen also speaks very frankly about the recent exclusive deal with Wal-Mart. After noting that Jon Landau defended the Wal-Mart-only Greatest Hits release in a recent interview, Pareles writes:
"But Mr. Springsteen said the decision was made too hastily. 'We were in the middle of doing a lot of things, it kind of came down and, really, we didn't vet it the way we usually do,' he said. 'We just dropped the ball on it.' Instead of offering the exclusive collection to Wal-Mart, 'given its labor history, it was something that if we'd thought about it a little longer, we'd have done something different.' He added, 'It was a mistake. Our batting average is usually very good, but we missed that one. Fans will call you on that stuff, as it should be.'"
Read "The Rock Laureate" at nytimes.com.
Plenty more reading to stay on top of: the New York Times also has a piece on halftime by Joe LaPointe, quoting NBC Sports honcho Dick Ebersol, speaking with players about the Boss, and revealing Bruce and the E Street Band's appearance fee (zilch).
Don't miss Joe Posnanski's extensive piece at SI.com, a thoughtful take on "Coming to Terms with Bruce Springsteen Playing the Super Bowl," featuring quotes from Nils Lofgren and our own Caryn Rose. Here's Nils:
"I know all the things Bruce doesn't like about it... There's the corporate thing, and you only get 12 minutes, you have to chop up the songs, it's made for TV and all that. But, hey, if you're good at what you do, you want to do it. And God bless Bruce, we have a new album coming out, so at this point, why don't we just go and do that, turn on some existing fans and find a few new ones?"
Read more on Bruce and Nils from Posnanski here.
Lots of crystal ball gazing out there -- see the Charlotte Examiner, "Why Springsteen's Super Bowl Show Will Rock" in SPIN , and FoxSports (with an assist from yours truly) on prop bets. Then there's Rolling Stone, which apparently wiped Bruce bets off the table. Still, any odds for this perfect cover opportunity?
And more: Kurt Warner's level of fandom, a timeline spread in New York Magazine, and proof that Bruce has actually attended a football game before at TheQuietus.com.
For further reading: If your eyeballs aren't fried yet, we've added more links to our review roundup below, including NoDepression.com, Jay Lustig in the Star-Legder, some UK notables, and more.
- January 30, 2009

COSTAS/SPRINGSTEEN SITDOWN TO AIR SUNDAY
So we get 12 minutes at halftime... but for more Super Bruce, don't miss the pre-game. According to an NBC press release, "Bruce Springsteen, who will be performing at halftime of Super Bowl XLIII, will be the subject of an exclusive sit-down during pregame with Bob Costas. Nightly News anchor Brian Williams, a native of the Jersey shore, is contributing an essay on his idol Springsteen in the pregame show."
NBC's Super Sunday coverage begins at 9 in the morning, with Bob Costas hosting the "Road to the Super Bowl" pre-game show beginning at noon Eastern.
- January 30, 2009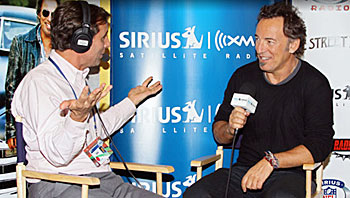 12 MINUTES TO
SAVE THE WORLD
E Street Radio is on location for the Super Bowl, and there's content now to check out on the website -- visit sirius.com/superbowl for an audio of Springsteen on yesterday's Mad Dog Radio, giving as much of a preview as he can of what's in store for those 12 minutes on Sunday:
"It's sort of like you're going to be stumbling into the last 12 minutes of the show. If you got out on the turnpike and you got lost, and you missed your exit, and you got stopped at the bar, and you had a flat tire, and the bar got held up, and you made it in at 2:48 on the clock... that's what we got goin' on Sunday."
And what's he gonna play? "I can't tell! I'm contractually obligated not to tell!"
In addition to broadcasting the halftime show, SIRIUS XM will have a special hour of Super Bowl XLIII coverage with a unique look at this year's halftime performers. In addition to Chris "Mad Dog" Russo interview's with Springsteen, SIRIUS NFL Radio's John Riggins and Adam Schein interview E Street Band members, and Dave Marsh will get the intimate details from the E Streeters as they prepare for the performance. Tune in (SIRIUS channel 10 and XM channel 58) to "Super Bowl with the E Street Band" on Saturday, January 31 at 3 pm ET and Sunday, February 1 at 12 Midnight, 8 am, and right before kick-off at Super Bowl at 6 pm ET.
- January 30, 2009

THE KIDS ARE ALRIGHT: "HANGIN' OUT ON E STREET"
In the midst of the current Springsteen deluge, look to Pitchfork for a reminder of Bruce's appeal to the Next Generation: "It's become clear in the second half of this decade that Springsteen's influence has extended beyond the stadium rock mainstream, and that songwriters of all kinds have drawn inspiration from his music."
To illustrate, they're premiering clips from Ted Leo and Gaslight Anthem, the first two artists in a Columbia promotional video series called "Hangin' Out on E Street," which will feature younger artists talking about Springsteen and covering his songs. These first clips have Ted Leo covering "Dancing in the Dark," and Brian Fallon covering "Backstreets."
Visit pitchforkmedia.com for the interview clips. And stay tuned for more installments to come -- a Columbia rep tells us, "We currently have 15 videos and may be shooting some more."
- January 30, 2009

SECOND DUBLIN DATE ADDED
We're now looking at back-to-back shows in Dublin this summer, with a second night added this morning after a fast sell-out of the original July 11 concert -- according to Aiken Promotions, 40,000 tickets for that one went in less than 15 minutes. Bruce and the E Street Band will return to RDS Arena on Sunday, July 12 -- also apparently sold out. Check Ticketmaster.ie for availability.
- January 30, 2009



BRUCE TALKS FOOTBALL?
Actually, not really -- he'd rather confirm more tour dates on the horizon. Works for us.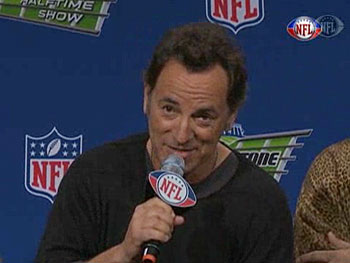 Bruce Springsteen and the E Street Band were on hand for the NFL's Super Bowl press conference in Tampa this afternoon. Sitting in a row of stools with Garry, Nils, Max, Steve, Patti, Roy, and Clarence, Springsteen greeted the crowd: "If there's gonna be a lot of questions about football," he said, "This is gonna be the shortest press conference you ever did-- because I don't know anything about it!" He went on to say, "I'll date myself -- when I hear 'Steelers,' I think Terry Bradshaw."
But he needn't have worried -- the first question out of the gate had Bruce talking about his own upcoming tour instead, easing the minds of fans in Detroit and Cleveland, and essentially confirming a second U.S. leg of the Working on a Dream tour:
"Yeah, we will get to Detroit and Cleveland, because those have been incredible cities for us.... Usually we'll play longer in the States before we go to Europe, but this time..."
...clearly suggesting they had to save more U.S. cities for the back end. Springsteen also talks about the decision to finally play the Super Bowl, the new "golden age" of the E Street Band, and who picked the songs they'll play, laughing: "I'm the Boss! The Boss decides what we play! Nobody else decides! People suggest... hint... beg... cajole... but I decide." He does share the mic, though -- a fun, fairly laid-back 20 minutes of questions, with the band all chiming in. Watch it here.
- January 29, 2009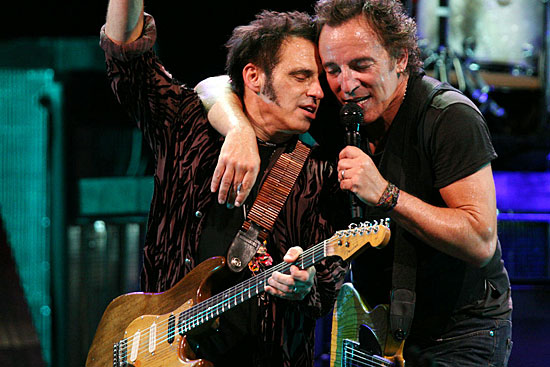 LOFGREN LOOKS TOWARD SUPER SUNDAY
So how sweet is Super Bowl week for Nils Lofgren? In the midst of his 25th year with the E Street Band, he's in Tampa to play at the Super Bowl XLIII halftime show -- and to root for the Arizona Cardinals, his current home town team (though the Washington Redskins are still No. 1 in the Maryland-raised guitarist's heart). He's also just brought out a new album, Tuff Stuff! The Best of the All-Madden Team, a collection of the "roaring rock instrumentals" he wrote and recorded for TV commentator John Madden's annual all-star teams. And that's all on top of the release of Working on a Dream and the looming tour. He may have had double hip replacement surgery during the fall, but, he tells Detroit music journo and Backstreets contributor Gary Graff (who, we must note, is a born-and-bred Pittsburgh Steelers fan), it'll take much more than that to keep him down...
What do you anticipate for the Super Bowl halftime show?
Lofgren: Well, it goes way beyond just a gig. First of all, TV's never your favorite thing to do in a great band because it removes the three-hour sweatfest. That being said, after 40 years on the road, it's without a doubt going to be the best and greatest TV opportunity any of us will ever have. I'll speak for myself on that one; Bruce did a great job on the steps of the Lincoln Memorial (at the "We Are One" pre-inauguration concert). I won't compare those kinds of gigs, but for me, playing the Super Bowl... It's going to be incredible. And, listen, Bruce has been turning down that gig since '75. We're all thrilled he accepted it this time.
You also have some rooting interest in the game.
Yeah. Of course, the Redskins, which was my team, is out. Then I had the Giants 'cause of my wife, Amy, she's from New Jersey, and then they went out. But I've been an Arizona fan for 13 years, and inexplicably and shockingly and wonderfully I wound up at the (NFC Championship) game, and it was insane to be part of that. It was fabulous. It's funny, because three weeks ago Amy said, "Looks like I'm not going to the Super Bowl"; all the traveling and the hoopla, it gets old if you're not working, and I understood. She said, "Unless the Giants make it, I'm not going." And, honestly, a month ago nobody was really thinking about the Cardinals going to the Super Bowl... and all of a sudden we're at the NFC Championship here in Phoenix, and I think Amy realized she was going to the Super Bowl. I'm excited because I get her to come and hang out with. We've got Bruce playing, and I've got John Madden calling the game. So there's a lot of meetings of important chapters of my life from the sports arena and music. I've had a lot of great Super Bowl memories.
Care to share one?
Back on the Born in the U.S.A. tour, my beloved Washington Redskins were playing Denver, and Bruce happened to throw a Super Bowl party. There were like 15 guys, and I think Elway put (Denver) up 10-0 early in the first quarter and it looked like a rout. The Redskins didn't look good, and I was bummed. Everyone in the room was for Denver, and they started egging me on and trying to shame me. So Bruce, who was really on the fence, just enjoying the game, he decided he'd bet on the Redskins with me -- the only two guys in the room of 15, and everyone else put their money on Denver. And the second quarter started, and (Redskins quarterback) Doug Williams changed the history books with a 35-point quarter. So, needless to say, from then on it was a different afternoon for me as a Redskin fan. It was a great Super Bowl party. Actually, the only other Super Bowl I ever went to was in New Orleans, when Kurt Warner (the Cardinals quarterback, then with the St. Louis Rams) lost to the (New England) Patriots. We got to take the Madden Cruiser ride to the game... and it was just a great experience. U2 was just stunning at halftime.
How did you get so chummy with Madden?
For 10 years I did music for the All-Madden Team. They used to send me raw footage of these great, dirty, nasty, funky, cool players and I got to plug in my guitar and just jam away to this raw, great football footage until I came up with licks that turned into this (Tuff Stuff) CD. And (Madden) was kind enough to put some of his great Maddenisms inside the music, which is very cool if you're a football fan.
You obviously have an affinity for the game.
I played football when I was a kid and just really loved the game. I played in junior high and city leagues for a couple of years, full tackle with the coaches and the whole bit. I was a halfback and punt return specialist and defensive back or safety. I was just so little and quick. I was a great open-field runner, and I'm sure a lot of that had to do with just the terror of everyone twice your size trying to kill you. But I played a lot, and then as you get older you go into the touch or flag (football), whatever. As I got older it turned into more basketball, because you can only play tackle or any kind of football for so long -- after all, I was a professional musician on the road. I banged up my hands and my body enough playing basketball; at some point football got too tough to continue to do. But I did it a lot when I was younger and just loved the game -- and still do.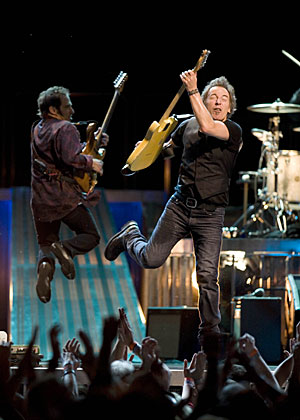 So that's what happened to your hips.
Well, y'know, I'm also very aggressive on stage. I've been jumping off drum risers and, even worse, I've been doing a backflip off a little mini-tramp onto a hard floor, which is... bad. The doctors figured thousands of hours of playing basketball on city courts probably hurt me even more than what I do on stage. But sadly, 'cause I'm just kind of a jock and I played through the pain -- or I drank through the pain [laughs] -- all of a sudden I wound up 57 years old with 90-year-old hips. They're both bone on bone for the last three years. I just kept going to different people; they said, "Look, man, you have no cartilage in either hip. They're just bone on bone. There's no way to help you except full replacements."
You apparently found a way to adjust to that on the Magic tour.
I broke out a couple dive-rolls at Giants Stadium. I figured jumping in the air and landing on your back and neck was going to hurt your hips less than a flip, and I was right. But I had to bite the bullet and get 'em both replaced three months ago. I had this fabulous surgeon, Paul Pellicci. He's a giant Bruce fan, too. We had a lot of long talks about what I do on stage. I showed him some video of the dive roll I did at Giants Stadium two nights in a row during the "Because the Night" solo, and he said, "Look, man, you can't do that four months (after surgery). You can't think about it for 10-12 months," and even then he didn't say I could do it safely. He said, "Look, 10-12 months, you do your rehab right, then let's revisit that." So right now I'm just trying to be a good rehab patient, 'cause it's kind of freaky major carpentry inside your body, which is a new chapter for me. At least now I'm less restricted; I'm swimming in a pool, I'm walking around with no cane, no limp, stiff and sore but no pain, really. So I'm on the mend. My physical therapist says he's never seen bilateral hip surgery this far along at three months as I am, so I've just got to stay with it.
Did the band have much to say about all this?
Well, I walk around with the friggin' X-ray picture of these things in my body, which kind of horrifies and amazes most people. When I was in the hospital Bruce called and joked and said the thought they used the dive-roll on the Super Bowl promo and I better get on with the rehab. I didn't know if he was joking and, knowing Bruce, it was probably a little joking and a little exploratory seriousness.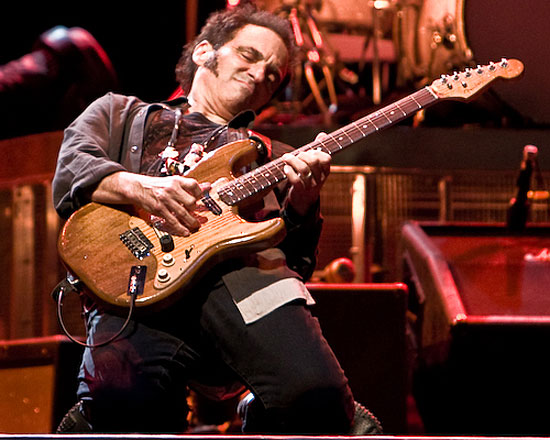 So bionic hips and all, you're now a 25-year veteran of the E Street Band. Do you get a plaque or anything?
No. [laughs] I think I've always been the new kid in the band. We've got Charlie now, who literally had to jump on board. It was horrible losing Danny during the tour. That was just awful. We really thought he was gonna make it back. But I think Patti and I will always be the new kids in the band. That's okay. I stopped being a rookie by Tunnel of Love, and that was in '88.

And a lot's changed since then.
Oh, yeah. This last tour, Bruce kind of... I don't think it was pre-meditated, but the last two months of the tour became complete improv shows where he'd run out in the audience and get, like, 30 signs. Every time he did it I kept thinking, "Here's a college kid rummaging through a pile of clothes looking for a shirt that's clean enough to wear" -- Bruce is just throwing signs around, looking for something to play. By the last few months the setlist almost became useless. He never followed it. There have always been audibles, but there was a theme to it that you could kind of read (the set list) and guess at it pretty well, and that all went out the window. That's what I love about Bruce. He did an all-improv show, but not at the expense of building and having the same kind of emotional peak and energy we always do -- which is very challenging as a bandleader. He really rose to the occasion.
What kind of adjustment was that for the rest of you?
Someone told me, "Yeah, you played over 160 songs." I don't even keep track. I'm so busy trying to keep my head above water day by day. And it was fun! It was challenging and you learn a lot of tracks, how to make that work in a 10-piece band like that because at some pint you just can't be prepared for audibles. When he calls a song you haven't done in 13 years and you're trying to... Forget how it goes, it's "What instrument do I play?" It makes for a very challenging night for us, in addition to the audience.
Do any specific song memories stand out?
Well, one thing that comes to mind... Charlie Giordano is an amazing player and a great bandmate. He knows how to be in a band. For a while Bruce tried to stay true to 60 or 70 rotating (songs) out of respect to Charlie, who got thrown into this at the last minute and was completely overwhelmed but managed to totally do the job. But one night after Charlie had been playing a few weeks, you could tell Bruce was like, "Okay, Charlie's got this down" and stopped worrying about it. So it wasn't like he was trying to throw Charlie or anything, but one night he called "My Hometown." We hadn't played it yet (on the tour), and it wasn't on the list for Charlie to learn, and Bruce is counting it off and Charlie's looking at me 'cause I'm standing in front of him. So I got, "Yeah, we're in A," and he goes, "I've heard the song. What's that bridge?" And I realized I don't have to play the acoustic (guitar) rhythm 'til the second verse, so I rushed over and yelled at my tech to throw me a sharpie. I ripped off my set list from under my pedal steel and wrote the bridge chords out and was able to slap it down on the organ just before I jumped off the riser and started my acoustic guitar part. So Charlie at least had a road map for the bridge. It's just that kind of teamwork that makes it so great. There's just too many times where I'll look at Steve, like, "What the hell's coming up?" and he'll give me the sign or something. It's like the kind of great sports team that you don't see that much anymore because of free agency. You don't see guys that have played together for five, 10, 15 years, let alone 40. We've all brought that together now for a long, long time as the E Stret Band, and Bruce uses it well, and it makes for extraordinary shows bands simply can't do without that history.
So did you rehearse "Born to Be Wild" for the Milwaukee show?
No, we never rehearsed "Born to Be Wild." Most of those songs the last few months we didn't rehearse. Sometimes you'd see us on stage talking to each other, just to pick a key, maybe go over a lick. "Double Shot of My Baby's Love," "Boom Boom"... all of those audibles were things we knew. We all grew up in the '60s listening to the Top 20 -- which at that point was maybe the greatest Top 20 in radio history with the Kinks, the Stones, the Animals, Motown, Stax-Volt, all those songs. We all have them in our psyche, and once we know a starting place you just kind of trust each other and go for it. It's fun. You keep growing and you keep learning.
So given the nature of football and the way the game is played, would it be appropriate for Bruce to call an audible when you guys are at the "line of scrimmage?"
My opinion would be yes -- but that's Bruce's call. Obviously after 12 minutes you're gonna get cut off and go to a commercial. Would it be appropriate? Well, sure -- but only if Bruce wanted to do it. If he just said, "We're gonna do these four songs together" and then after the second song it's like, "Man, this third one's not feeling right" and he just gave us a hand signal that we follow or vamp on a chord while he runs around and shouts at all of us or makes sure we read his lips and counts it off, then, yeah, of course. It would be appropriate, and there's no one better to do it than Bruce and the E Street Band -- not that I'm predicting it! [laughs]
You'll find more of Gary Graff's interview with Nils in the upcoming issue of Backstreets Magazine, talking about the making of Working on a Dream. Keep up with Nils at his website, www.nilslofgren.com.
- January 28, 2009 - photographs by Guy Aceto (1), Joseph Quever (2), and A.M. Saddler (3)

WORKING ON A DREAM REVIEW ROUNDUP
Critical opinion is wildly mixed on this one so far -- from Brian Hiatt's five-star Rolling Stone review and an "A" from Entertainment Weekly's Simon Vozick-Levinson to scathing reviews from Ann Powers in the Los Angeles Times ("The best thing that can be said about Working on a Dream is that it's boisterously scatterbrained, exhilaratingly bad"), Greg Kot in the Chicago Tribune ("...on about half the new songs, he trots out the kind of facile imagery that would've gotten him tossed out of a Nickelback songwriting seminar"), and, perhaps more predictably, Kot's counterpart Jim DeRogatis at the Chicago Sun-Times (one-and-a-half stars). There's been enough negativity out there that David Wild was moved to write "Back Off the Boss, Bitches" on the Huffington Post. One thing many seem to agree on: it's hard not to hear Kiss' "I Was Made for Loving You" in "Outlaw Pete."
We also point you to thoughtful pieces from Eric Schumacher-Rasmussen in Blurt ("Working on a Dream is the most confounding album Bruce Springsteen's ever release -- a lush, orchestrated, collection of pop and rock songs whose profound statements swirl beneath the music rather than float on its surface") and Josh duLac in the Washington Post ("Working on a Dream is unlike any of the previous 15 studio sets in Springsteen's remarkably rich catalogue, inasmuch as it's the Jersey boy's first album in which style clearly trumps substance").
For further reading:
And now, over to you. Is it all you desire and everything you've longed for at your fingertips? Or has the love you've given turned to ashes and dust? Or somewhere in between? We want to know what you think. Take your time, spin it more than once, let it sink in... then send your review to canyouhearme@backstreets.com. We'll edit for length and print as many as space allows in a future issue of Backstreets Magazine.
- Updated January 31, 2009

THE EAGLES HAVE LANDED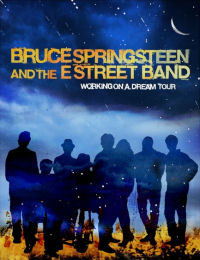 Not only does Working on a Dream hit stores today, but our daily planner just filled in, in a big way. After a few scattered spottings yesterday, today we've got a bigger picture: Springsteen and the E Street Band's official Working on a Dream Tour intinerary from the beginning of April to the beginning of August, consisiting of a two-month North American leg and a two-month European leg.
The first arena leg begins on the West coast of the U.S. on April Fools Day and hits a few markets bypassed by the Magic tour -- howdy, Colorado! -- as well as regular strongholds (two in Boston, two in Philly) before wrapping up with two shows at the Meadowlands. No Garden dates, alas, but a third NYC-area show is at Nassau Coliseum. A small stadium sneaks in there, too, with a return to Hershey, PA. The vast majority of these go on sale the morning after the Super Bowl, February 2.
The European stadium leg begins with Hollan's Pinkpop festival on May 30, wrapping up with five Spanish shows in five different cities. We do expect additional dates to fill in, the U.K. being a conspicuous ommision at the moment, but here's the initial official itinerary. Onsale date/status in parentheses. We'll fill in the Tour/Ticket Info page with links, etc., as the day goes along.

Apr 1 - San Jose, CA - HP Pavilion at San Jose (Feb 2)
Apr 3 - Glendale, AZ - Jobing.com Center (Feb 2)
Apr 5 - Austin, TX - Frank Erwin Center (Feb 7)
Apr 7 - Tulsa, OK - BOK Center (Feb 7)
Apr 8 - Houston, TX - Toyota Center (Feb 7)
Apr 10 - Denver, CO - Pepsi Arena (Feb 2)
Apr 15 - Los Angeles, CA - LA Memorial Sports Arena (Feb 2)
Apr 21 - Boston, MA - TD Banknorth Garden (Feb 2)
Apr 22 - Boston, MA - TD Banknorth Garden (Feb 2)
Apr 24 - Hartford, CT - XL Center (Feb 2)
Apr 26 - Atlanta, GA - Philips Arena (Feb 2)
Apr 28 - Philadelphia, PA - Wachovia Spectrum (Feb 2)
Apr 29 - Philadelphia, PA - Wachovia Spectrum (Feb 2)
May 2 - Greensboro, NC - Greensboro Coliseum (Feb 6)
May 4 - Hempstead, NY - Nassau Veterans Mem. Col. (Feb 2)
May 5 - Charlottesville, VA - John Paul Jones Arena (Feb 2)
May 7 - Toronto, ONT - Air Canada Centre (Feb 6)
May 8 - University Park, PA - Bryce Jordan Center (Feb 2)
May 11 - St. Paul, MN - Xcel Energy Center (Feb 2)
May 12 - Chicago, IL - United Center (Feb 2)
May 14 - Albany, NY - Times Union Center (Feb 2)
May 15 - Hershey, PA - Hersheypark Stadium (Feb 2)
May 18 - Washington, DC - Verizon Center (Feb 2)
May 19 - Pittsburgh, PA - Mellon Arena (Feb 2)
May 21 - E. Rutherford, NJ - Izod Center (Feb 2)
May 23 - E. Rutherford, NJ - Izod Center (Feb 2)

May 30 - Landgraaf, Holland - Pink Pop Festival (March 7)
June 2 - Tampere, Finland - Ratinan Stadion (ON SALE)
June 4 - Stockholm, Sweden - Stockholm Stadium (SOLD OUT)
June 5 - Stockholm, Sweden - Stockholm Stadium (SOLD OUT)
June 7 - Stockholm, Sweden - Stockholm Stadium (SOLD OUT)
June 9 - Bergen, Norway - Koengen (SOLD OUT)
June 10 - Bergen, Norway - Koengen (SOLD OUT)
July 2 - Munich, Germany - Olympiastadion (ON SALE NOW)
July 3 - Frankfurt, Germany - Commerzbank Arena (ON SALE NOW)
July 5 - Vienna, Austria - Ernst Happel Stadion (ON SALE NOW)
July 8 - Herning, Denmark - Herning MCH (ON SALE NOW)
July 11 - Dublin, Ireland - RDS (Jan 30)
July 16 - Carhaix, France - Festival des Vielles Charrues (Jan 30)
July 19 - Rome, Italy - Stadio Olimpico (ON SALE SOON)
July 21 - Turino, Italy - Olimpico di Torino (ON SALE SOON)
July 23 - Udine, Italy - Stadio Friuli (ON SALE SOON)
July 26 - Bilbao, Spain - San Mames Stadium (ON SALE SOON)
July 28 - Benidorm, Spain - Estadio Municipal de Foietes (ON SALE SOON)
July 30 - Sevilla, Spain - La Cartuja Olympic Stadium (ON SALE SOON)
Aug 1 - Valladolid, Spain - Estadio Jose Zorrilla (ON SALE SOON)
Aug 2 - Santiago, Spain - Monte Del Gozo (ON SALE SOON)
- January 27, 2009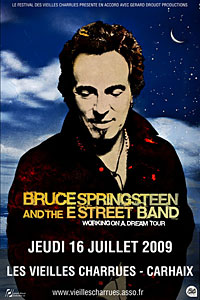 NEW DATES FOR EUROPE AND U.S.
Ticket sales have gotten underway in Europe this morning, moving briskly. The two Norway shows sold out in under an hour. In Stockholm, an extra show was added during the course of the sale -- in addition to June 4 and 5, there's now a June 7 concert at Stockholm Stadion. All three sold out quickly. Another new date on the schedule: Gérard Drouot Productions has announced that Bruce and the band will play Festival des Vieilles Charues, in Carhaix, France on July 16, with tickets on sale this Friday.
No foolin': The wait is close to over for U.S. dates, too -- there's plenty of chatter today suggesting the news is imminent, for a U.S. tour beginning April 1 in San Jose. So far, dates are trickling in: the Pittsburgh Post-Gazette reports a May 19 show at Mellon Arena, and Ticketmaster.com has the show listed with a February 2 onsale; also on sale February 2 (the day after the Super Bowl, of course) is a May 5 show in Charlottesville, VA at John Paul Jones Arena. More U.S. arena dates to come -- watch 'em fill in on our Tour/Ticket Info page!
Announced on the radio: Washington D.C.'s Verizon Center on May 18, two Boston shows at TD Banknorth Garden on April 21 and 22, and the L.A. Sports Arena on April 15.
- Updated January 26, 2009

LISTEN UP, STUD
Don't forget to tune in to BBC Radio 2 today for "Bruce Springsteen on Songwriting," airing from 7:00 to 8:00 p.m. GMT: "...discussing the ins and outs of his songwriting techniques... [his] hopes for the Obama era in America, his thoughts on the recent death of long time band member Danny Federici, the influence that his childhood still has on his work today and why he thinks American supermarkets are hotbeds of lust."
If you miss the show, watch Radio 2's podcast page for a portable version (sans music). Available now as a podcast is the latest episode of Radio 2's "Arts Show," which features both Bruce and Mickey Rourke.
More upcoming multimedia:
This weekend, an interview special called "Bruce Springsteen: An Inside Look at Working on a Dream" begins airing on stations around the U.S.
Update: A new 30-minute Springsteen documentary is coming to VH1, focusing on the making of the new album and featuring interview footage (this will not be the same content as the WOAD DVD). The Rock Doc premieres on VH1 on Saturday night, January 31 -- that's Super Bowl Eve -- at 11 p.m. VH1 Classic will rebroadcast the program throughout the following week -- on Sunday, February 1 at 11:00 p.m., 2/2 at 1:30 p.m., 2/3 at 4:00 p.m. and 10:30 p.m., 2/4 at 12:30 a.m., 2/5 at 11:00 a.m., 2/6 at 12:30 p.m., and 2/7 at 1:30 p.m.
Watch for a Springsteen special next week on BBC Two's "The Culture Show" -- more info as it comes in.
- Updated January 26, 2009

ON THE COVER OF A MAGAZINE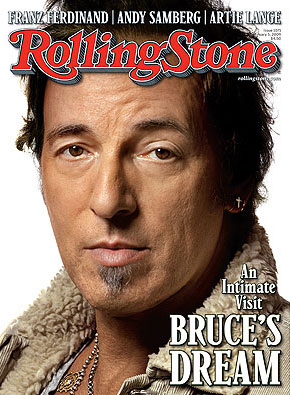 The new issue of Rolling Stone (February 5, #1071) is their 14th with Bruce Springsteen on the cover. Inside, David Fricke's cover story, "Bringing It All Back Home," features an interview with the man himself conducted at Springsteen's Thrill Hill, as well as chat with other E Street Band members. In addition to plenty of talk about Working on a Dream -- what Fricke calls "Springsteen's most ornate album since 1975's Born to Run -- the pair touch on the Castiles, Danny Federici, E Street Band history, and E Street Band future: "Springsteen shrugs when asked if he is worried about booking E Street gigs around Weinberg's new cross-country commute and shooting schedule. 'All I know is this -- it's all gonna work out, one way or another," Springsteen says. "If people wanna come out and see the E Street Band, they'll be able to come out and see the E Street Band."
Leading off the Reviews section of the issue, Working on a Dream gets five stars, with a review by Brian Hiatt.
RS #1071 is on newstands now, also featuring stunning photos by Albert Watson. And when you're studying that beautiful spread of Bruce's "writing room" on pages 42-43, here's a little game to play: can you find Backstreets #79?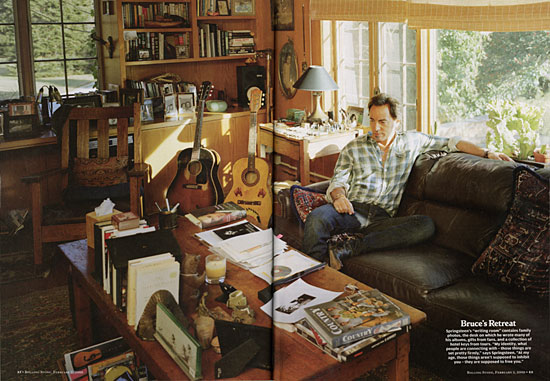 Online at RollingStone.com, find bonus features including: "The Band on Bruce: Their Springsteen" and "Inside Bruce Springsteen's Rolling Stone Cover Shoot."
- January 24, 2009

LAY DOWN YOUR BETS AND I'LL RAISE 'EM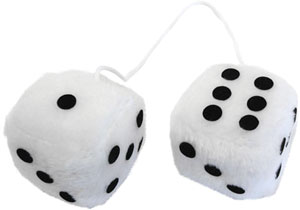 Well, it wouldn't be a sporting event if someone weren't betting on it, and with the Super Bowl, you can lay down your hard-earned money on pretty much any aspect of the day. That includes the halftime show, so sportsbook oddsmakers have turned their attention to the Boss as well. Yes, there are actual stakes to the typical "what do you think he'll open with?" chatter. As a BetUs.com spokesman tell's Esquire.com's Peter Schrager, "While (our guys) may not be E Street Band experts before the numbers are set, they sure will be by the time the odds are set."
Check out Schrager's "The Six Strangest Super Bowl Prop Bets," which runs down Vegas odds on everything from the setlist to the individual bandmembers' wardrobe malfunctions (from 2/1 for Patti Scialfa, to 12/1 for Garry Tallent... come on, Garry, lose a button!).
Bodog.com has odds on Bruce's set opener, from 2/1 for "Born in the U.S.A." to 12/1 for "I'm on Fire." (And by the way, we're offering 50/1 for "The New Timer.")
It's only a 10/1 shot that Bruce will pull Courteney Cox up on stage to dance, at BetUs.com. But where does the smart money go? How about 5/1 on a Clarence Clemons sax solo? Blow, Big Man, blow!
- January 23, 2009

BORN IN THE U.S.A. (AND CANADA)
Just as Bruce was there to open the Inaugural festivities, he was also there in spirit for the final official inaugural event, the Obama Staff Ball. Jay-Z and Arcade Fire played for about 4,000 people at the DC Armory for this private event on Wednesday night, January 21, and Arcade Fire offered up a cover of "Born in the U.S.A."
As BrooklynVegan.com reports, Win Butler -- the band's frontman and Springsteen's Spin magazine cover co-star -- told the crowd, "This is the funnest party I've been to for people who have all just lost their jobs."
- January 23, 2009

BILLBOARD.COM: DARKNESS BOX STILL "IN THE WORKS"


For those of us with an eye on anniversary reissues, Darkness on the Edge of Town's 30th was on our minds throughout 2008. Similar to 2005's Born to Run box set reissue, a Darkness box [half-assed artist's rendering above] was moving forward by all accounts as of late '07 and the first half of '08, documentary interviews with a few of the era's players in the can. But when last year came and went without a release, conventional wisdom had it that the project was shelved indefinitely. Not so, according to a Billboard.com article today, which reports that "a deluxe reissue" of Springsteen's 1978 classic is still "in the works" and, as Jon Landau says, "not that far from completion."
Landau tells Billboard's Ray Waddell that the Darkness set "would involve remastering that record, doing the kind of super-creative reconstruction and documentary of how it all came about and finding usable live footage from that point in time... That's a big one, and not that far from completion, and when we can find six weeks to sit down and finish it I'm sure we will."
In the article Landau also briefly addresses the controversy-stirring Wal-Mart-only Greatest Hits album. Read "Bruce Springsteen Prepping Darkness Reissue."
- January 23, 2009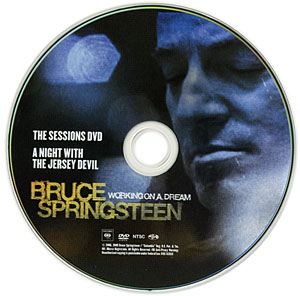 RETURN OF THE JERSEY DEVIL!
While "A Night With the Jersey Devil," originally announced as a Working on a Dream bonus track, was indeed exorcised from the CD ("The Wrestler" bonus track remains), the Devil's got a new playground. Look to the Working on a Dream DVD, which in addition to Thom Zimny's sessions footage, also includes his "Jersey Devil" video as a bonus. The DVD is only available with the Deluxe Edition of Working on a Dream.
And don't forget, when you order Working on a Dream on disc from Backstreet Records -- either the Deluxe CD/DVD edition or the standard CD edition -- we're including a free bonus lyric booklet. A limited promotional item from Sony, it's a 6" x 8", 32-page, glossy, full-color booklet that reproduces the album's lyric pages in a larger format, with exclusive photos (like the spread below) interspersed throughout.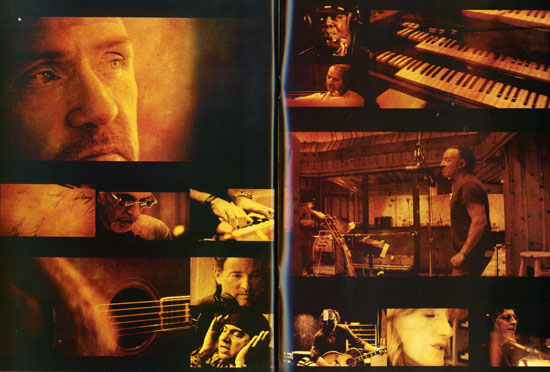 - January 23, 2009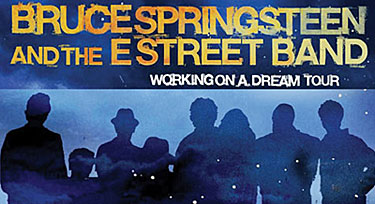 IRISH EYES ARE SMILING
Another addition to the European schedule: Bruce and the band will return to Dublin's RDS Arena on July 11, the same venue where they opened the stadium portion of the Magic tour with three shows last May. Tickets go on sale Friday, January 30. See our Tour/Ticket Info page for the current itinerary, onsale details and links.
- January 23, 2009

SPRINGSTEEN SNUBBED?
Yep, it was a snub. After some headscratching and parsing of the Oscar rules below, looks like we've got our answer, and thanks to the reader who brought this to our attention. As the Associated Press reports [bold ours]:
In 16 years, Miley Cyrus has enjoyed one success after another. Now, she knows what it's like to be snubbed. Cyrus' song from Bolt didn't get nominated for an Oscar. Cyrus can cry on Bruce Springsteen's shoulder. His title track from The Wrestler was snubbed, too. Beyonce's song from Cadillac Records didn't make the cut, either. An academy spokeswoman says songs need to earn a score of at least 8 and a-quarter out of ten to be nominated and the songs by Cyrus and Springsteen scored less than that. Voters instead chose Peter Gabriel's song from "Wall-E," and two songs from Slumdog Millionaire.
According to the voting rules, "Nominations will be determined by an averaged point system of voting using 10, 9.5, 9, 8.5, 8, 7.5, 7, 6.5 or 6. Only those songs receiving an average score of 8.25 or more shall be eligible for nomination. There may not be more than five nor fewer than three nominations."
So "The Wrestler" didn't rate, it's as simple -- and as baffling -- as that. As my dad just said, "must be the same voters that do the Grammys."
- January 22, 2009

BOUNCING OFF A SATELLITE: SUPER BOWL EDITION
In case you're not in front of a TV for the Super Bowl, E Street Radio will be broacasting the halftime show live on February 1. E Street Radio also will broadcast the live Super Bowl Week press conference featuring Bruce and other E Street Band members, a week from today on Thursday, January 29 at 2:30 pm ET [added to the schedule below]. Finally, SIRIUS XM Radio host and Springsteen biographer Dave Marsh will be in Tampa Thursday through Super Bowl Sunday offering listeners reports from around the area. See the press release here.
On the air this week: in addition to the Exclusive First Listen on NPR, the Italian radio station Radio Deejay has been making Working on a Dream available for listening in its entirety
And starting this weekend, a one-hour radio special called "Bruce Springsteen: An Inside Look at Working on a Dream" will air on stations around the country, including 101.9 RXP in New York. According to the cue sheet, the special is "hosted by Pierre Robert as Bruce takes the listeners on an inside look behind the making of the new release... available to run from the weekend before in-store date through Super Bowl Sunday." Presented by FMBQ Productions and Columbia Records, the special will feature eight songs from the record: "Working on a Dream," "What Love Can Do," "My Lucky Day," "The Wrestler," "This Life," "Kingdom of Days," "The Last Carnival," and "Outlaw Pete."
- Updated January 22, 2009

NO OSCAR NOD FOR "THE WRESTLER" [updated x 2]
"I always leave with less than I had before..."
Oscar nominations were announced this morning for the 81st Annual Academy Awards, and on the list of nominees for "Original Song," Springsteen's "The Wrestler" was nowhere to be found. Huh? "The Wrestler" won the Golden Globe earlier this month, often an indicator of Oscar glory -- but not even a nomination, as it turns out, nevermind an Oscar win. It's a particularly strange snub since only three songs made the cut this year (Peter Gabriel's "Down to Earth," from WALL-E, and two songs from Slumdog Millionaire) as opposed to five nominated songs in 2008 and 2007. So Clint Eastwood isn't in the competition, either. What gives?
Maybe here's what gives
A reader writes in to shed some light:
"I'm a member of the Academy, and they haven't even made this very clear to us, but there's been a change in rules, and now the only songs that are eligible for consideration are songs that appear in the body of the film, and not over the end credits. So 'The Wrestler' (and Clint's song) weren't eligible this year. Which is, I think, ridiculous, as 'The Wrestler' is so very much a part of the movie, and punctuates it beautifully. The idea, though, is to stop producers from just tossing in a Celine Dion song at the end. I suspect it'll change back eventually."
Okay, that'd explain things. A look at the official rules, however, remuddies the water. As stated in the Original Song criteria [italics ours]: "There must be a clearly audible, intelligible, substantive rendition (not necessarily visually presented) of both lyric and melody, used in the body of the motion picture or as the first music cue in the end credits." We'd have to re-watch... did another music cue slip in there?
Another reader writes:
"You'll have to doublecheck, but apparently Academy rules deemed 'The Wrestler' ineligible, as the song will be included on his album [Working on a Dream]. Apparently Academy rules don't allow that for some stupid reason. I was shocked, too, until I heard of this."
Doublechecking, that doesn't appear to be true. The rules do stipulate that the song must be "written specifically for the motion picture." Check. And that the "work must be recorded for use in the motion picture prior to any other usage, including public performance or exploitation through any media whatsoever." Check. Right?
Okay, here's what gives
Yep, it was a snub. As the Associated Press reports [bold ours]:
In 16 years, Miley Cyrus has enjoyed one success after another. Now, she knows what it's like to be snubbed. Cyrus' song from Bolt didn't get nominated for an Oscar. Cyrus can cry on Bruce Springsteen's shoulder. His title track from The Wrestler was snubbed, too. Beyonce's song from Cadillac Records didn't make the cut, either. An academy spokeswoman says songs need to earn a score of at least 8 and a-quarter out of ten to be nominated and the songs by Cyrus and Springsteen scored less than that. Voters instead chose Peter Gabriel's song from "Wall-E," and two songs from Slumdog Millionaire.
According to the voting rules, "Nominations will be determined by an averaged point system of voting using 10, 9.5, 9, 8.5, 8, 7.5, 7, 6.5 or 6. Only those songs receiving an average score of 8.25 or more shall be eligible for nomination. There may not be more than five nor fewer than three nominations."
So "The Wrestler" didn't rate, it's as simple -- and as baffling -- as that.
- updated January 22, 2009

FANTASTICO BRUCE!
Add three Italian stadiums to the itinerary -- July 19 in Rome, July 21 in Turin, and July 23 in Udine. And according to the Italian promoter, this two-month European leg will wrap up with a show in Benidorm, Spain, on Juy 31. More to come...
- January 21, 2009

THINK PINK
More Euro dates added, including Pinkpop's 40th; Germany on sale now!


In addition to the Scandinavian shows announced yesterday, we've got more late Spring/Summer dates coming in. Bruce and the E Street Band will play Holland's Pinkpop for the first time, celebrating the festival's 40th anniversary, headlining the show on May 30. This is the first day of the festival, reportedly the opening of Bruce and the band's European tour, and they've been given a three-hour time slot.
Plus, two shows in Germany -- July 2 in Munich, and July 3 in Frankfurt, tickets for both available now -- and Vienna, Austria on July 5. See our Tour/Ticket Info page for onsale details and links!
- January 21, 2009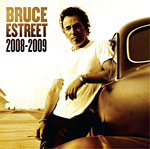 2009 CALENDARS:
BACK IN STOCK!
We thought these were gone for good, but we've just restocked an additional 100 copies of the 2009 Springsteen calendar. Featuring photography by Danny Clinch -- including what is now the cover shot from the Bruce Springsteen & the E Street Band Greatest Hits album. These will likely go fast -- if you missed it before, jump on it now!
Update: Sold out again! We'll try to get more -- keep your eye on the shop, and we'll also update here on the news page when they're back in.
- Updated January 22, 2009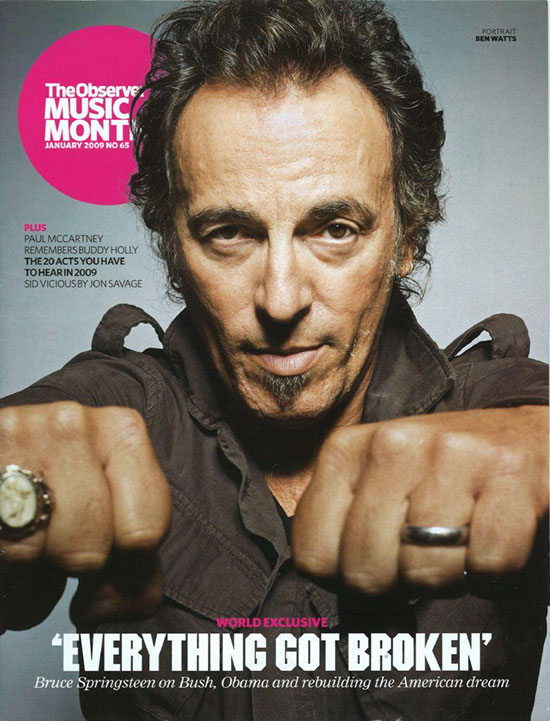 HARD COPY
Mark Hagen's new Observer interview with Springsteen -- maybe you already read it online... but as evidenced by the above, there's still something to be said for print. Click here for full article PDF.
- January 21, 2009



WOAD TOUR: EUROPEAN STADIUM DATES SET FOR SUMMER
Six shows in four Scandinavian cities on sale Monday
While here in America we've spent the day celebrating a new Presidency, many of our friends in Europe today found something new to look forward to as well: the first announced dates of Springsteen and the E Street Band's Working on a Dream tour. Much discussed, assumed, and reported, a post-Super Bowl touring itinerary began to fill in today with June and July stadium dates in Scandinavia. This inaugural tour date announcement includes one in Tampere, Finland; two in Stockholm, Sweden; two in Bergen, Norway; and one in Herning, Denmark (his first concert in the country outside of Copenhagen). Tickets for all of these go on sale Monday, January 26; see our Tour/Ticket Info page for details and links. And of course, watch this space for additional dates.
- January 20, 2009

NEW SPRINGSTEEN INTERVIEW, IN PRINT AND ON THE AIR
For Sunday's Observer, the BBC's Mark Hagen spoke at length with Bruce Springsteen -- about Workin' on a Dream, its songs and themes ("A sense of time and the passage of time, the passage of innocence. It cuts through all popular music but in this record, it comes more to the surface"), the sexuality of supermarkets, "The Wrestler," and the state of our Union: "Well, it was an exhilaration I've never seen after an election. And it was rooted, I think, in a recognition that this country, that so often seems buried beneath missteps and mistakes, had suddenly shown its real face." Read "Meet the New Boss."
On Saturday, January 24, you can listen to portions of Hagen's interview with Bruce in an hour-long special, "Springsteen on Songwriting," on BBC Radio 2, also streaming online. We've added this in red to the schedule below.

And for those outside the U.S. who weren't able to get the free Amazon.com download, "Life Itself" is now available from guardian.co.uk.
- January 19, 2009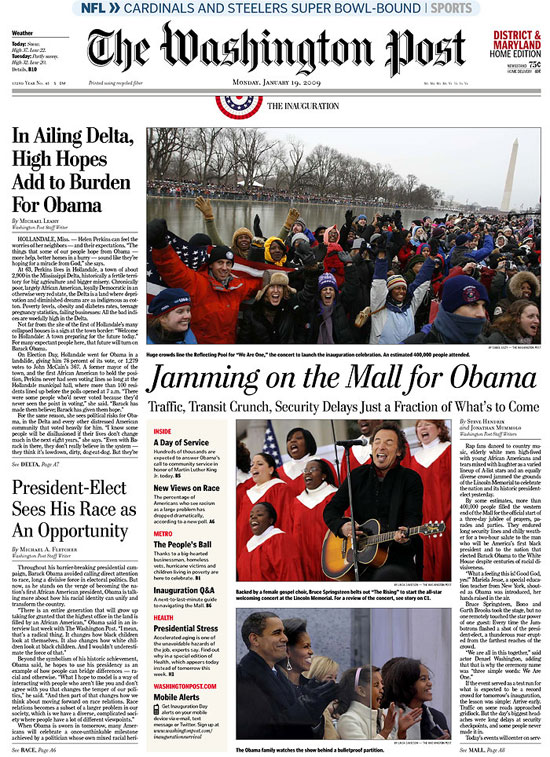 COME ON UP FOR THE INAUGURATION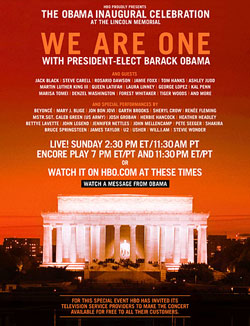 Bruce makes the front page of today's Washington Post for his performance yesterday at the Inaugural kick-off. More than 400,000 people showed up to the Mall for the "We Are One" celebration at the Lincoln Memorial, two hours of performances featuring a speech from President-Elect Obama and bookended by Bruce. The first performer of the event, Springsteen offered up an acoustic reading of "The Rising," backed by the Inaugural Celebration Chorus. And who else could follow Obama but Bruce, back again, this time with Pete Seeger, for a stirring "This Land is Your Land." Despite Bruce's extensive delving into the Seeger songbook in 2006, this was his first time performing with the folk legend since 1996, looking out across a sea of faces between the Lincoln Memorial and Washington Monument.
Reader John Corrigan was moved to write in soon after: "Bruce and Pete sing Woody's most radical lyric: 'the sign said private property / and on the other side, it didn't say nothing / That side was made for you and me.' The blacklisted artist is front and center as we get ready to inaugurate a black man as president. Is this a great country, or what?"
Following the "This Land is Your Land," Bruce was up there once more, as Beyonce closed the show with "America the Beautiful" and all the participants came out to sing along. Catch an encore presentation tonight at 9:30 p.m. ET/PT on HBO, or watch it now on HBO.com.
For the full setlist from this and other recent performances,
see our Setlists page.
- January 19, 2009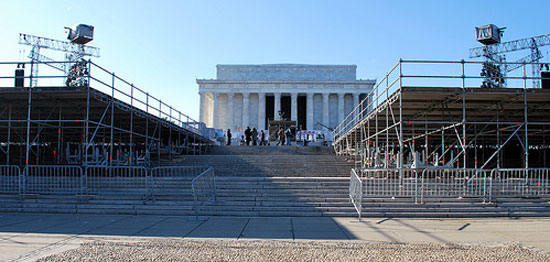 DOWN TO THE MALL
Setup is underway at the Lincoln Memorial, where in just about 24 hours, Springsteen will be part of "We Are One," the Obama Inaugural Celebration kickoff. USA Today calls it a "test run for inauguration," noting that 500,000 are expected for tomorrow's free and open-to-the-public event. Temperatures are expected to be in the 30s; gates open at 8 a.m., for a 2:30 p.m. start.
For a spoiler update, here's something from the Backstreets mailbag [highlight to reveal hidden text]: "I am singing with the Inaugural Celebration Chorus, and we have not been rehearsing "This Land Is Your Land" to sing with Bruce. I don't know if he's doing that as well, but....we've been rehearsing 'The Rising'."
We'll just have to tune in to be sure. See more information at HBO.com, which now lists a live broadcast at 2:30p.m. ET/11:30 a.m. PT, and an encore play at 7 p.m. ET/PT and 11:3- ET/PT.
- January 17, 2009 - photograph by Mike Sturman

TOUR PREP: PIANO EDITION
Snyder's Piano Service of Robesonia, PA has spent the last month refurbishing Roy Bittan's 10-year-old Yamaha piano, in preparation for the Super Bowl and beyond. And as their first rock 'n' roll piano job, it's surely the first one they've seen with "nonskid strips that run along its top."
Mike Urban reports in the Reading Eagle: "David [Snyder] put more than 100 hours into the job, replacing worn-out parts and altering it so Springsteen's pianist Roy Bittan doesn't have to press on the keys as forcefully to produce notes." Urban goes on to note that the "piano shows the scars of being on the road and being played for hours at a time during The Boss' lengthy shows. 'In 10 years it probably has about 40 to 50 years worth of wear and tear,' David [Snyder] said. He offered to remove some of its nicks, but the band declined, saying they add character."
- January 17, 2009

COMING TO E STREET RADIO: DJ BRUCE!
Over on E Street Radio (SIRIUS channel 10, XM channel 58), they've had dozens of interesting guest DJs -- every Monday afternoon, listeners have been able to catch a "celebrity fan" (like Mojo Nixon or Steve Earle) or even an E Street Band member (Clarence, Steve, Max, Nils), spinning their favorite Springsteen tunes. Now, they've landed the big one. Bruce himself will play guest DJ, in a two-part edition, this Monday, January 19, and next Monday, January 26 -- playing not his own music, but some of his favorite songs.
According to today's press release, "Bruce Springsteen sat down with Dave Marsh, SIRIUS XM host and music journalist, to play music hand-picked by Bruce from his personal record collection. Bruce will share how he discovered each song and what he likes about the music in his commentary. SIRIUS XM listeners will hear Bruce playing a variety of music ranging from folk songs to contemporary music including hip hop and progressive rock."
Click here for more information and to see a complete list of broadcast dates and times. Debut dates have been added in red to the schedule below.
- January 16, 2009

MAX WATCH '09: A TALE OF TWO BOSSES
At a panel for the Television Critics Association in L.A. yesterday, Conan O'Brien was on hand (along with executive producer Jeff Ross) to talk about the transition from from Late Night to The Tonight Show, and moving his staff from New York to L.A. With many fans speculating on what the move might mean for Conan's band leader, and his E Street availability, TCA member and Variety critic Stuart Levine had the chance to ask:
LEVINE: Conan, to follow up, before, you said the band you weren't sure about. Is Max Weinberg coming with you?

O'BRIEN: Like I say, these things are all being worked out, but yeah...

ROSS: We hope so.

O'BRIEN: Yeah, we hope so.

LEVINE: And you have been very generous in letting him go on Bruce tours. Will that continue, or do you have to be a little stricter now that you're a bigger show?

O'BRIEN: It's Bruce Springsteen. You know, when he calls, it's very hard not to say, "Whatever you want." It's never really interfered too much with... You know, it's always felt like kind of a cool thing for us that we've managed to figure out a way for Max to be our band leader but also tour with Bruce. And it's worked, and so we'd like to continue to make that possible.
Conan takes over The Tonight Show on June 1.
- January 16, 2009

MARSH TO PREMIERE NEW TRACKS, INCLUDING "THE BEST ONE"
Dave Marsh ended last week's edition of "Kick Out the Jams," his weekly Sirius/XM satellite radio show on music and politics, with a promise to premiere one or more tracks from Working on a Dream on this Sunday's show: "... I think I've got a couple of tracks... that we may be able to squeeze in that day, about a week early. I'm negotiating... I know I've got one, and I think it's the best one on the whole record, actually." Fans who want to know what he'll play (and what's "the best") will just have to tune in this Sunday, January 18 from 10 a.m. to 12 noon EST on Sirius 29/XM 50 ("The Loft" channel).
- January 16, 2009

NO DOBERMAN, NO BRUCE LEE, JUST SPRINGSTEEN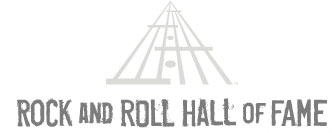 Years in the making, a major Bruce Springsteen exhibition is set to open in just a few months at the Rock and Roll Hall of Fame and Museum in Cleveland. "From Asbury Park to the Promised Land: The Life and Music of Bruce Springsteen" opens Wednesday, April 1, as part of a weeklong celebration leading up to the 24th annual Rock Hall induction ceremony on Saturday, April 4.
- January 15, 2009

A SUNDAY SPOILER
I'm not sure if anyone is trying to stay spoiler-free for the "We Are One" Inaugural Celebration, but just in case, we'll whisper this one [highlight the text to read it]. According to the Woody Guthrie Foundation, Springsteen will be performing "This Land is Your Land" with The Inaugural Celebration Chorus on Sunday. Don't forget to set your DVR for 7:00 - 9:00 p.m. Eastern on HBO.
- January 15, 2009

WORKING ON A DREAM SAMPLER PLATTER
The full album stream doesn't start until next week, on NPR's "Exclsuive First Listen," but to get a taste of all the tracks on Working on a Dream, check out samples online now at brucespringsteen.net.
- January 15, 2009

THE WIT AND WISDOM OF STEVEN VAN ZANDT
Steve on the Super Bowl: "They ask us every year, literally for twenty-five years. Since Born in the U.S.A. You can only do it once, I guess. You want to save some things." Read more in "Steven Van Zandt: What I've Learned" at Esquire.com.
- January 15, 2009

BUT WAIT, THERE'S MORE!
As expected, we've got a few additional bits and pieces for the schedule below. These surely won't be the last. Updates in red.
- January 13, 2009

WRXP WAKES UP NEW YORK WITH "THE TIES THAT BIND"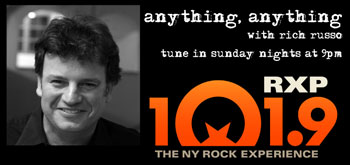 Beginning this week, 101.9 RXP "The New York Rock Experience" has begun airing "The Ties That Bind," a new morning show feature leading up to the new album release on January 27. Airing every day at 7 a.m. during "Matt Pinfield in the Morning," the segment is produced and hosted by our pal Rich Russo, who's got his facts learned real good and will be featuring a rarely played Springsteen song each day. Russo is also the host of "Anything Anything," RXP's Sunday night free-form show. Stream it all online at 1019rxp.com.
- January 13, 2009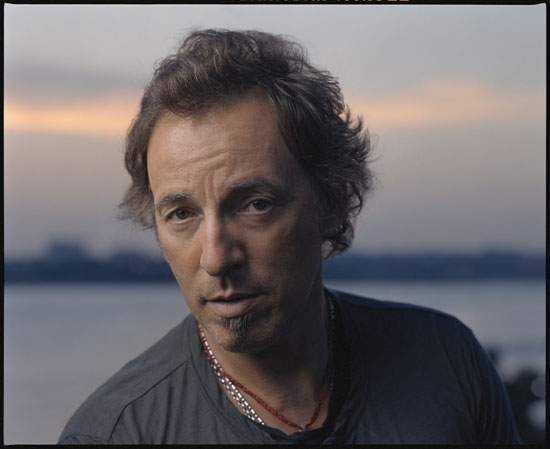 LET'S TAKE A LOOK AT OUR SCHEDULE...
Inauguration is a go! And what else is in store in the coming weeks
A shiny new award for Bruce's mantle, and January ain't even half over -- not a bad beginning for the year. But it's just the beginning. We're looking at very full dance card, including breaking inauguration news today, so perhaps now is a good time to put together a rundown of what lies ahead:
Tuesday, January 13: Today's a release day -- not the one on our minds, necessarily, but out now is the Wal-Mart exclusive album, Bruce Springsteen & the E Street Band's Greatest Hits. In today's Boston Herald, Jed Gottlieb takes a look at this head-scratcher of a release: read "Non-union label: Bruce Springsteen silent on his Wal-Mart exclusive."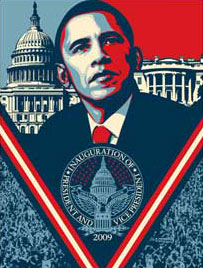 Sunday, January 18: Just announced today, Springsteen is officially part of the line-up for We Are One: The Obama Inaugural Celebration at the Lincoln Memorial. Bruce will join a slew of other artists -- including Beyonce, Bono, John Legend, John Mellencamp, Stevie Wonder, and Springsteen's '92-93 tour guitarist Shane Fontayne! -- for this "Opening Celebration" for the 56th Presidential Inaugural. The event, which begins at 2:00 p.m., is free and open to the public; a portion will be televised courtesy of HBO from 7:00 to 9:00 p.m. Eastern. Don't expect the E Street Band; according to the press release, "Rob Mathes will be the music director and arranger for the backing band, which will support all of the artists." Producer/director Don Mischer: "This is a great opportunity to capture an historic event in a very meaningful setting. We will have the statue of Abraham Lincoln looking down on our stage and a crowd of hundreds of thousands of people lining the mall -- a tableau any director would relish."

Monday, January 19: Starting at 11:59 p.m. this day -- also MLK Day and a national day of service -- you'll be able to listen to Working on a Dream in its entirety, streaming online at NPR.org as part of their Exclusive First Listen preview series. Listen here.
At 4 p.m., part one of Springsteen's Guest Deejay special premieres on SIRIUS XM Radio (SIRUS channel 10 and XM channel 58), to be rebroadcast throughout the week (dates and times here).
Tuesday, January 20: Inauguration Day.
Thursday, January 22: Academy Award nominations will be announced at 5:30 a.m. Pacific Time. Particularly after the Golden Globe honor, "The Wrestler" is a shoo-in for an Oscar nod.
Saturday, January 24: Tune in to BBC Radio 2 for an hour-long special, "Springsteen on Songwriting," based around Mark Hagen's new interview with Bruce. Airs and streams from 7:00 to 8:00 p.m. GMT.
Monday, January 26: Tickets on sale this morning for numerous European shows; see our Tour/Ticket Info page for details.
At 4 p.m., part two of Springsteen's Guest Deejay special premieres on SIRIUS XM Radio (SIRUS channel 10 and XM channel 58), to be rebroadcast throughout the week (dates and times here).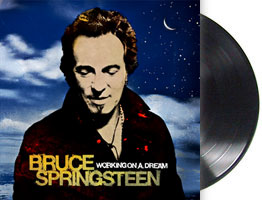 Tuesday, January 27: The release of Working on a Dream. Here at Backstreet Records, we're taking pre-orders now, with a special bonus: pre-order either the standard CD or Deluxe CD/DVD edition of the album, and we'll include a free limited-edition lyric booklet! Due out the same day is the vinyl version of the album, and we're accepting pre-orders for that double-LP set now, too. All pre-orders will be fulfilled in the order received, so place yours now! Click here to see all the latest additons to our online catalog.
Also released on this day is what's being called the "Bruce Springsteen Track Pack" from Activision, for Guitar Hero World Tour, bringing "Born to Run" and "My Lucky Day" to the videogame screen. From January 27 to February 4, the songs will be available for free for the PlayStation Network, Xbox Live and Wii platforms. Springsteen manager Jon Landau comments, "Activision has been a leader in getting music to the public in new ways and we are very happy to have them making these two songs available to their audience." Read more at GameDaily.com.
Thursday, January 29: Down in Tampa, it's dress rehearsal for the Halftime show.
E Street Radio will broadcast the live Super Bowl Week press conference featuring Bruce and other E Street Band members 2:30 pm ET.
Friday, January 30: Tickets on sale this morning for Dublin; see our Tour/Ticket Info page for details.
Saturday, January 31: A new making-of-WOAD Springsteen documentary premieres on VH1 at 11 p.m. Repeat broadcasts on Vh1 Classic throughout the following week.
Sunday, February 1: Bruce and the E Street Band play Super Bowl XLIII Halftime. Visit NFL.com to watch the Halftime commercial, and to have a look at and discuss seven "tentative playlists" just posted today. For another (hilarious) take on how halftime might go, don't miss The Sports Guy's column -- this is Bill Simmons at ESPN.com:
As a lifelong Bruce Springsteen fan, the Super Bowl ads for his performance next month never stop flooring me. Don't they know how the man is wired? He can't bang out three songs without sprinkling one autobiographical story in there, and he certainly can't just go away without returning for an encore, right? (Note to the NFL: After Bruce finishes his set, hog-tie him to one of the uprights or else he's coming back out for three more songs. Just trust me. You don't want Bruce wandering back onto the field with his guitar like Shooter in "Hoosiers" and getting bowled over by a safety.) Look, Bruce might be telling the NFL, "Don't worry, I won't tell a story. I'll just sing my three songs and get out of there." But he won't be able to do it. You watch. We're gonna get a moment like this after the second song.

"Tampa Baaaaaaaay! (Crowd cheers.) Is anyone alive tonight??? (Crowd goes crazy.) Super Bowl Forty-Threeeeeee!!! (Crowd goes crazy as Bruce turns somber.) You know, when I was growing up, the only thing my dad hated more than me was my guitar. (Crowd hushes.) He was always saying, 'Bruce, I wish you never got that danged guitar.' So one day I was playing it in my room, my dad was watching Super Bowl Three between the Jets and … uh … uh … I think it was the Colts. Big man, was it the Colts? (Clarence says, 'Yeah, boss. The Colts.') Well, turns out my dad had a ton of money on the Colts … and they lost. But I didn't care. I was just up in my room strummin' my guitar. Then Dad came upstairs, and I remember asking, "Hey, Pop, who won the game? And Dad got mad and broke my guitar over my head. He busted me up pretty bad, I needed 589 stitches to close the wound. From then on, I knew I needed to start watching football. And so I did. (Dramatic pause.) This is 'Darlington County.'"
So that takes us up to Super Sunday. And what's to follow? Well, even money (if not 1:2 odds) on a tour announcement shortly after the Super Bowl... but hey, we've got plenty to keep us busy until then.
- Updated January 23, 2009 - photograph by Danny Clinch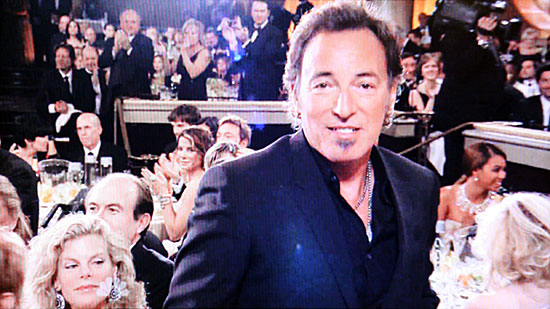 THEY'RE GOLDEN: SPRINGSTEEN & ROURKE WIN FOR THE WRESTLER
Last night at the Golden Globes, Bruce Springsteen and Patti Scialfa shared a table with fellow Wrestler players such as Darren Aronfsky, Evan Rachel Wood, and Mickey Rourke, and it was a big night for the film. Springsteen didn't have to wait long for his moment, as "Best Original Song" was the second award of the night, and "The Wrestler" took the honor. Springsteen made his way to the stage to receive the statue from his old pal Sting and give his thanks.
This is the only time I'm gonna be in competition with Clint Eastwood [laughs]. Felt pretty good, too!

Anyway, Mickey called me in Ireland and he asked me for some music.He told me a little bit about the character; he said some people invest themselves in their pain, and they turn away from love and the things that strengthen and nurture their lives. He said this was a guy that hadn't figured that out. So I said, "Well, I know a couple of those guys...." And so, the song.

First and foremost, I'd like to thank Mickey -- without the call I wouldn't have written the song, without his inspiration -- thank you, brother, for a beautiful performance, thank you for thinking of me!

I'd like to thank Darren and all the folks involved with the film, for letting me be a small part of their picture -- thank you.

Love to my strong and lovely wife Patti; hello to Evan, Jess and Sam at home; happy birthday, Big Man Clarence Clemons!

Springsteen appeared rightfully pleased with his own award, but not quite as happy as at the end of the night, when the announcement of Rourke as Best Actor was clearly the big thrill. Talking about the long road back to this moment, Mickey saved his final thanks -- right after a moving thanks to his dogs -- for the Boss: "I wanna thank Bruce Springsteen... for everything, brother -- love you! Thank you so much."
Congratulations Mickey, congratulations Bruce!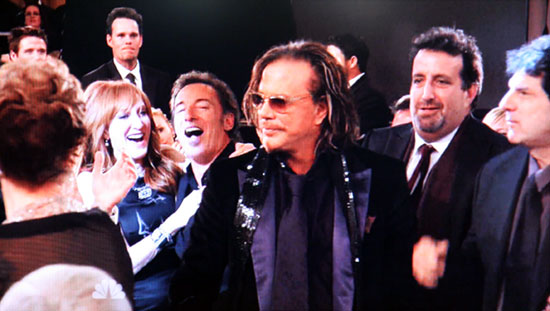 - January 12, 2009

GOLDEN GLOBES TONIGHT!
Don't forget: the Hollywood Foreign Press Association holds their annual Golden Globe Awards tonight, and Bruce Springsteen is a serious contender for "Best Original Song - Motion Picture" for "The Wrestler."
Check out this clip of Wrestler star Mickey Rourke and director Darren Aronofsky discussing Bruce's contribution to the film, and tune in tonight from 8:00 to 11:00 Eastern, when the Golden Globes air live from Beverly Hills on NBC.
- January 11, 2009

FORGIVE MY MATH, BIG MAN...
Okay, kid, I got the picture: forget what we previously reported, Clarence Clemons is 67, born January 11, 1942. Happy Birthday, C!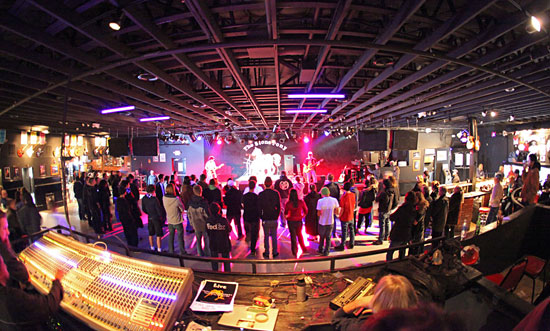 THE STONE PONY RIDES AGAIN
After recent months of closed doors -- with some speculating they would never re-open, despite the renovations underway -- Asbury Park's legendary club The Stone Pony is back in business as of last night. With a new roof! Photographer Mike Black got a first look, telling us, "Three feet added to the height of the main room. Seems like it's twice as big! And the two dance floor support poles are gone -- those got in the way of every shot I ever took from the previous DJ booth." Yes, even The House That Bruce Built needs some home improvement once in a while.
- January 9, 2009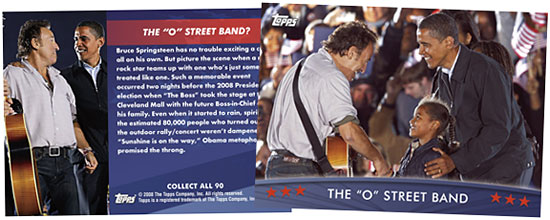 BRUCE, YOU'RE THE TOPPS
For collecting, trading, or bicycle spokes, Topps is issuing "President Obama" commemorative trading cards, a series of 90 cards paying "special tribute to President-Elect Barack Obama and his historic achievements." Bruce Springsteen makes an appearance, on card #59: "The 'O' Street Band." Copy on the back reads:
Bruce Springsteen has no trouble exciting a crowd all on his own. But picture the scene when a real rock star teams up with one who's just sometimes treated like one. Such a memorable event occurred two nights before the 2008 Presidential election when "The Boss" tool the stage at the Cleveland Mall with the future Boss-in-Chief and his family. Even when it started to rain, spirits of the estimated 80,000 people who turned out for the outdoor rally/concert weren't dampened. "Sunshine is on the way," Obama metaphorically promised the throng.
Collect 'em all! Or the one! Six random cards and a sticker in each pack. They're available now only in hobby shops and comic stores, before hitting the shelves at larger retail stores next week.
- January 9, 2009

"ORCHESTRAL" NEW RECORD GETS ADVANCE LOOK IN ROLLING STONE
For the January 22 issue of Rolling Stone, David Fricke spoke with Brendan O'Brien for a compelling Working on a Dream sneak peek. "Bruce was into this material being more orchestral, not just capturing a live feel," says the producer, "and that takes different sounds, orchestrations and vocal presentations." Fricke describes the new album as "intricately arranged... combining the dense whirl of E Street stage shows with orchestral and vocal flourishes that recall classic recordings by Roy Orbison and the Byrds." Fricke offers some recording chronology, individual song descriptions, and intimations of what may await us after Super Bowl Sunday:
Springsteen and the E Street Band will tour behind the new album, following their Super Bowl halftime set on February 1st. A source says the tour will not be "a total marathon," probably 50 to 60 shows divided between the U.S. and Europe. One idea under consideration is a miniset each night devoted to a full performance of one of Springsteen's classic albums — "a way of addressing the past," the source says.
Read "The E Street Band Keep Rolling in '09: Inside the making of Springsteen's new Working on a Dream" at rollingstone.com.
- January 8, 2009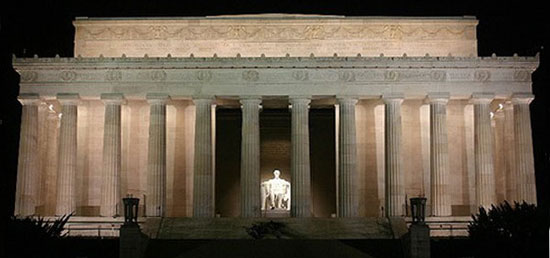 INAUGURATION WATCH: BRUCE TO KICK IT ALL OFF?
Nothing official yet, but here's what's blowin' in the wind. On Monday, Fox News' Roger Friedman wrote of potential musicians "in the mix" for Inaugural events: "Obama stalwarts Stevie Wonder, Barbra Streisand, and Bruce Springsteen, I am told, were each asked to play at specific events around Washington on January 20th."
Now, WashingtonPost.com's Inauguration Watch blog points to specifics: "The Presidential Inaugural Committee has been mum, but sources tell the Post's Lena Sun that Bruce Springsteen will perform at Barack Obama's inauguration week welcome event Jan. 18 on the National Mall. The event will be on the steps of the Lincoln Memorial and open to the public for free." WTOP concurs.
According to the Presdential Inaugural Committee website, the Lincoln Memorial event is the Inaugration's Sunday afternoon "Opening Celebration" and will be broadcast live: HBO will exclusively televise the Opening Celebration for the 56th Presidential Inaugural, a celebration of America to be held on the steps of the Lincoln Memorial on Sunday, January 18th. HBO will televise the event that evening on an open signal, working with all of its distributors to allow Americans across the country with access to cable or satellite television to join in the Opening Celebration for free.... The Opening Celebration will be a marquis event, featuring some of the biggest acts in the world of entertainment to celebrate our common heritage and our new direction. President-elect Obama and Vice President-elect Biden will both attend the event, which will be free and open to the public."
Ears to the ground for official word.
- January 7, 2009

WELL NOW I'M A GUITAR HERO, THAT'S UNDERSTOOD
Two Springsteen songs become video game content -- for free!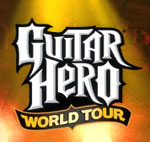 Springsteen fans who received Activision's best-selling videogame Guitar Hero: World Tour under their trees will soon receive a post-holiday gift from Bruce: the songs "Born To Run" and "My Lucky Day" will be available as free downloads for the Xbox 360, PS3 and Wii versions of the game from January 27 through February 4. After that time, the songs presumably will remain available for download at the standard cost of $2 per song. (Here's hoping these songs will also be made available for Rock Band, also by Guitar Hero creators Harmonix, so that fans can play Let's-break-up-the-band-so-I-can-be-free-to-record-solo-and-with-other-musicians-but-later-reunite-for-a-stunning-second-phase.) Check out Steven Van Zandt's May 2008 Time Magazine essay on the significance of GUITAR HERO and ROCK BAND here.
- January 5, 2009 - Shawn Poole reporting

HAPPY NEW YEAR!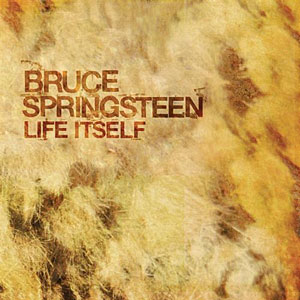 Welcome back to this thing of ours, hope you had a great holiday, and happy 2009: ten years since the reunion tour rededicated the E Street Band; 15 years since "Streets of Philadelphia"; and the silver anniversary -- can you believe it's been 25 years? -- of Born in the U.S.A.
And looking ahead: we're four weeks out from Super Bowl Sunday's halftime show with Springsteen and the E Street Band, and just three weeks out from their new album, Working on a Dream.
While we were out, a third single from the new album dropped: "Life Itself" is available now as a free download exclusively from Amazon.com, and you can watch the accompanying video here.
- January 5, 2009