Our online shop is loaded with Springsteen stuff for the holidays, including official 2014 calendars and a whole bunch of new Boss books. New out this fall, Talk About a Dream: The Essential Interviews of Bruce Springsteen was just selected by New Jersey Monthly for their "Holiday Reading List"; all of our copies are signed by editor Christopher Phillips. Debra Rothenberg's Bruce Springsteen in Focus: 1980-2012 is on that list, too. The all-Bruce Rolling Stone Collectors Edition is definitely one to get before it's gone, and there are many more new arrivals.
To kick off the holiday shopping season, we're offering a couple of FREEBIES to help stuff those stockings. From now through the end of Thanksgiving weekend:

With any order from Backstreet Records through Sunday, get this "69 Chevy with a 396" bumpersticker FREE!
A full-color redesign of our classic "My other car is a '69 Chevy with a 396" bumpersticker, measures 9" x 3", on 3.4 pt. thick vinyl with a high-gloss UV coating. Don't go racing in the street without it.

Order $50 or more and get the bumpersticker plus an original 1982 issue of the Thunder Road fanzine FREE!
This double issue of the seminal Springsteen magazine Thunder Road was their last, and a mighty swan song at 64 pages. This original 1982 'zine (not a reprint or replica) is a great read more than 30 years later, and a rare gift.
No coupon necessary, no need to add these items to your shopping cart. Simply place your order between now and Sunday night, December 1, and we'll send the freebies out with all qualifying orders.
Click here for Latest Additions
Thank you for supporting Backstreets, we wish you and yours a happy, hope-filled Thanksgiving— and Hanukkah too!
- November 27, 2013

BTX MAINTENANCE SCHEDULED FOR FRIDAY NIGHT
BTX will be down on Friday, November 29, from 11pm to 1am (Eastern) for maintenance.
- November 27, 2013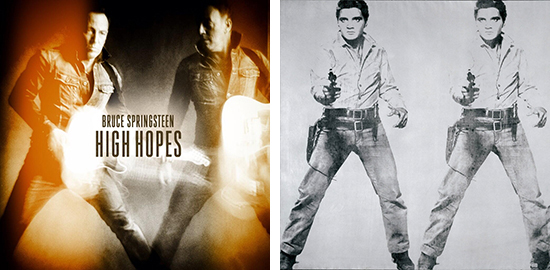 IN THE BLESSED NAME OF ELVIS
Fifty years later... [Right: Andy Warhol's Elvis, 1963.]
- November 26, 2013

FEED YOUR HUNGRY HEART… AND HELP OTHERS, TOO.
E Street Radio's got a feast planned for Thanksgiving weekend
No matter where you'll be spending this Thanksgiving, thanks to E Street Radio, you can enjoy some of those mashed potatoes in the Land of Hope and Dreams, or maybe over at Mary's Place (but definitely not Harry's Place — still a bit too soon for that.) Sirius/XM's all-Springsteen satellite-radio channel (channel 20) has quite a feast of special programming lined up for Thanksgiving and the surrounding days.
For the holiday itself, Program Director Vinny Usuriello has developed a special Thanksgiving Day playlist of holiday-appropriate Springsteen songs that will air in rotation throughout the day. In addition, the Springsteen covers show Cover Me will air a special Thanksgiving-themed edition featuring other artists covering Bruce and Bruce covering other artists, beginning at 3 pm. At 5pm, WhyHunger Executive Director Bill Ayres hosts a newly recorded Guest DJ session on Springsteen and social justice issues, during which he also will be informing listeners about the 2013 Hungerthon and how to get involved. (You're hip to the Hungerthon auction, right? Images from Backstreets photographers A.M. Saddler and Michael Zorn, below, are up for bids, as is a Springsteen-signed guitar and more.) Repeat broadcasts of Ayres' Guest DJ session will air on Friday November 29 at 9am and 4pm and Saturday November 30 at 12am and 8am. (All times ET.)

Finally, E Street Radio has joined forces with The Pink Floyd Channel (available online and through select radios & vehicles only) to provide multiple airings of the November 6 Stand Up For Heroes benefit concert for The Bob Woodruff Foundation, featuring performances by Bruce, Roger Waters and others. The broadcasts will include Dave Marsh's newly recorded interview with Bob Woodruff, along with information on how to support Woodruff's organization. E Street Radio will broadcast Stand Up For Heroes on Wednesday November 27 at 12pm, Thanksgiving Day at 8pm, Friday November 29 at 10:30am, and Sunday December 1 at 8pm. The Pink Floyd Channel will air Stand Up For Heroes on Thanksgiving Day at 12am and Sunday December 1 at 6pm.
- November 25, 2013 - Shawn Poole reporting

LOOK WHO'S WHIPPING THEIR HAIR NOW
It's a fun week for us E Street fans on Late Night with Jimmy Fallon, as Bruce isn't the only one with something new on the horizon. Jake Clemons, whose new EP drops next week, will be sitting in tonight with The Roots; Steve Van Zandt guests on Wednesday night to promote the new season of Lilyhammer. And okay, Steve will likely not be whipping much hair, but Jake's got enough for them both. Tune in at 12:35am Eastern.
- November 25, 2013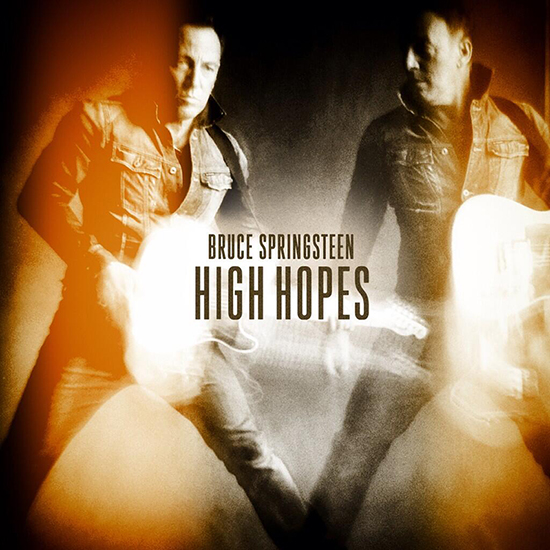 NEW ALBUM OFFICIAL: MAN, THE DOPE'S THAT THERE'S HIGH HOPES
They couldn't go back to Australia without a new album, right? Right. On January 14, less than two weeks before Bruce Springsteen and the E Street Band set out for South Africa, Australia, and New Zealand, Springsteen will release his 18th studio album, High Hopes.
The title track is one with a history in Springsteen's repertoire, a Tim Scott/Havalinas cut that Bruce first tackled with the E Street Band in '95, then revisited live in Australia early this year. In the album's liner notes, Springsteen describes the cover — resurrected at Tom Morello's suggestion — as a catalyst for this new album. Bruce states that he was already "working on a record of some of our best unreleased material from the past decade," but then "Tom and his guitar became my muse, pushing the rest of this project to another level."
So this is not Tracks 2. Still, "High Hopes" isn't the only song fans have heard before; as Springsteen writes, "Some of these songs... you'll be familiar with from our live versions. I felt they were among the best of my writing and deserved a proper studio recording." A full half of the album's 12 songs have been performed live, also including "American Skin (41 Shots)," "The Wall," "The Ghost of Tom Joad," Saints cover "Just Like Fire Would," and Suicide cover "Dream Baby Dream." Only one of them, however, "The Ghost of Tom Joad," had been released in a studio version already, and that, of course, in a dramatically different form.
Enter Tom Morello. As the High Hopes "muse," Morello is all over this record, dueting on "Joad" and playing on "High Hopes," "Harry's Place" (a title known from Springsteen's Rising-era notebook), "American Skin," "Just Like Fire Would," "Heaven's Wall," "Hunter of Invisible Game," and "Dream Baby Dream."
The remaining tracks on the record are all Springsteen originals: "Down in the Hole," "Frankie Fell in Love," and "This Is Your Sword."
In addition to the Sydney studio sessions Springsteen had previously spoke about, the album was recorded in New Jersey, Los Angeles, Atlanta, and New York City, with production credit going to Brendan O'Brien, Ron Aniello, and Springsteen. The various locales and production credits reflect material dating back to sessions for The Rising. As the press release states, "Clarence Clemons, who passed away in 2011, and Danny Federici, who passed away in 2008, also appear on several songs."
Songwriter
Producer
Played live
Previous availability
1. High Hopes
Tim Scott McConnell
RA, BS
yes
studio, 1995
2. Harry's Place
Bruce Springsteen
B'OB
no, only title known
none
3. American Skin (41 Shots)
Bruce Springsteen
RA, BS
yes
live, 2000
4. Just Like Fire Would
Chris J. Bailey
(The Saints)
RA, BS
yes
none
5. Down in the Hole
Bruce Springsteen
BO'B
no
none
6. Heaven's Wall


Bruce Springsteen
B'OB, RA, BS
no
none
7. Frankie Fell in Love
Bruce Springsteen
RA, BS
no
none
8. This Is Your Sword
Bruce Springsteen
RA, BS
no
none
9. Hunter of Invisible Game
Bruce Springsteen
B'OB
no
none
10. The Ghost of Tom Joad
Bruce Springsteen
RA, BS
yes
studio, 1995; live, 2008
11. The Wall
Bruce Springsteen (inspired by Joe Grushecky)
RA, BS
yes
none
12. Dream Baby Dream
Martin Rev and Alan Vega (Suicide)
RA, BS
yes
live, 2005
High Hopes can be pre-ordered now. The album will be available digitally from iTunes, with tracks "High Hopes" and "Dream Baby Dream" available now as mp3s.
In the U.S., Amazon.com will carry an exclusive, limited version with a bonus live DVD: Springsteen and the E Street Band performing Born in the U.S.A. in its entirety at the 2013 Hard Rock Calling show, June 30 at London's Queen Elizabeth Olympic Park. The Amazon Bonus Limited Edition is available now for pre-order.
The video for the title track, directed by Thom Zimny, is a collage featuring photos from Danny Clinch, Australian tour footage shot by Chris Hilson and featuring Tom Morello.
Bruce Springsteen's High Hopes Liner Notes
I was working on a record of some of our best unreleased material from the past decade when Tom Morello (sitting in for Steve during the Australian leg of our tour) suggested we ought to add "High Hopes" to our live set. I had cut "High Hopes," a song by Tim Scott McConnell of the LA based Havalinas, in the '90s. We worked it up in our Aussie rehearsals and Tom then proceeded to burn the house down with it. We re-cut it mid tour at Studios 301 in Sydney along with "Just Like Fire Would," a song from one of my favorite early Australian punk bands, The Saints (check out "I'm Stranded"). Tom and his guitar became my muse, pushing the rest of this project to another level. Thanks for the inspiration Tom.

Some of these songs, "American Skin" and "Ghost of Tom Joad," you'll be familiar with from our live versions. I felt they were among the best of my writing and deserved a proper studio recording. "The Wall" is something I'd played on stage a few times and remains very close to my heart. The title and idea were Joe Grushecky's, then the song appeared after Patti and I made a visit to the Vietnam Veterans Memorial in Washington. It was inspired by my memories of Walter Cichon. Walter was one of the great early Jersey Shore rockers, who along with his brother Ray (one of my early guitar mentors) led the "Motifs". The Motifs were a local rock band who were always a head above everybody else. Raw, sexy and rebellious, they were the heroes you aspired to be. But these were heroes you could touch, speak to, and go to with your musical inquiries. Cool, but always accessible, they were an inspiration to me, and many young working musicians in 1960's central New Jersey. Though my character in "The Wall" is a Marine, Walter was actually in the Army, A Company, 3rd Battalion, 8th Infantry. He was the first person I ever stood in the presence of who was filled with the mystique of the true rock star. Walter went missing in action in Vietnam in March 1968. He still performs somewhat regularly in my mind, the way he stood, dressed, held the tambourine, the casual cool, the freeness. The man who by his attitude, his walk said "you can defy all this, all of what's here, all of what you've been taught, taught to fear, to love and you'll still be alright." His was a terrible loss to us, his loved ones and the local music scene. I still miss him.

This is music I always felt needed to be released. From the gangsters of "Harry's Place," the ill-prepared roomies on "Frankie Fell In Love" (shades of Steve and I bumming together in our Asbury Park apartment) the travelers in the wasteland of "Hunter Of Invisible Game," to the soldier and his visiting friend in "The Wall", I felt they all deserved a home and a hearing. Hope you enjoy it.
—Bruce Springsteen
This morning's official press release from Shore Fire Media announced details regarding the album only; there has yet to be any indication of further touring after New Zealand in March.
- November 25, 2013 - photograph by Danny Clinch

THIS SUNDAY ON THE BRUCE BRUNCH: REQUEST LINES WILL BE OPEN
Thanksgiving time means the all-request Bruce Brunch on 105.7 The Hawk. It's the 8th annual, and over the years Springsteen fans from all around the world have raised thousands of dollars for the Food Bank of Monmouth & Ocean Counties. Tomorrow morning beginning at 9am Eastern, call the FoodBank with your requests and dedications at (732) 918-2600, and Tom Cunningham will play them back next Sunday (12/1) on a special three-hour edition of the show. There are only 22 slots, and for a minimum $25 donation you'll get your song of choice, destination "Reno" excepted.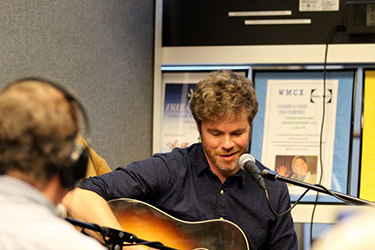 Plus, this week, acclaimed singer/songwriter Josh Ritter will be on the show. In addition to performing his classic "Joy to You Baby," Ritter laid down a devastating version of "The River." He says, "So many of Bruce's songs are so great and so true, with words that come back to me throughout my day. I always think songs are the most portable kinds of wisdom. When there's a really great line in a song, you put it away and carry it around with you." He also talks about having Bruce in his band's "huddle" at The Saint in Asbury Park in 2010 and his experiences opening for Bruce and The Band in Kilkenny this past July. The interview and performances were recorded at Monmouth University's student station WMCX prior to Ritter's Friday night performance at Pollack Theater.
The Bruce Brunch is on every Sunday morning at 9:00 Eastern on 105.7 The Hawk at the Jersey Shore and streams live at 1057thehawk.com.
- November 23, 2013 - photograph by Eileen Chapman

VIVA GEORGE TRAVIS: TOUR MANAGER HONORED TONIGHT IN VEGAS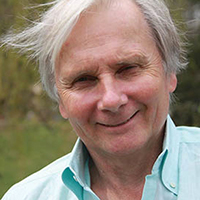 Three years ago this month, I was lucky enough to be one of 20 Springsteen fans who got to attend an E Street Radio event in New York. It was the eve of the release of the Darkness on the Edge of Town box set, and we were there to ask Bruce a question related to it. As I nervously walked in a daze through the lobby of a building at Rockefeller Center, searching for the elevator to take me to the right floor, a silver-haired gentleman asked me if I was here for the Springsteen event. I said yes, and he pointed me in the right direction. The gesture may not sound like much now, but at the time it made me feel more at home, more comfortable about what was to come that evening.
I learned later that the man who helped me that night was George Travis. And in some ways, Travis has been making all Springsteen fans feel at home whenever they attend a Bruce Springsteen concert. As the longtime production/tour manager, Travis has led a group of people whose work behind the scenes has allowed Springsteen and his band to create a transformative experience for every paying customer in the arena or stadium. It's been an undertaking that gets more impressive with each tour. Travis and his crew have managed to make the entire concertgoing experience better each time, with production values always the best in the business.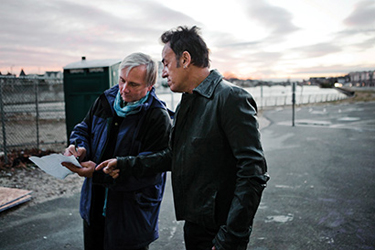 And it's not only inside the venue. Things like ticket scalping, exclusive presales and rigged pit lines have long been anathema to the Springsteen camp, and Travis has often been the point man in trying to eliminate those kinds of roadblocks for average fans trying to get the best seats in the house they can.
Tonight, Travis will be recognized for Lifetime Achievement at the Parnelli Awards, the live event industry's highest honor, at a ceremony in Las Vegas. It's much-deserved and long overdue — unless you think of such awards as coming at the end of a career, in which case we have to figure it's premature. For more information on the award and Travis's work with Springsteen and others, check plsn.com and, for a longer read, fohonline.com. Congratulations, George.
- November 23, 2013 - Randy Heaster reporting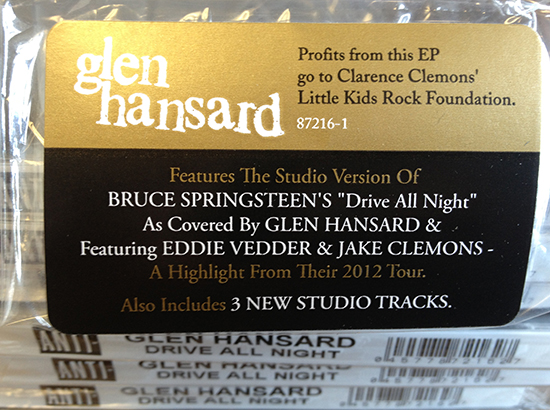 DON'T CRY NOW
Don't worry, darlin'... Glen Hansard's "Drive All Night" EP is out in just a few days, Jake'll be there too, and we've got it on CD and 12-inch vinyl. Release date is Tuesday, order yours now.
- November 22, 2013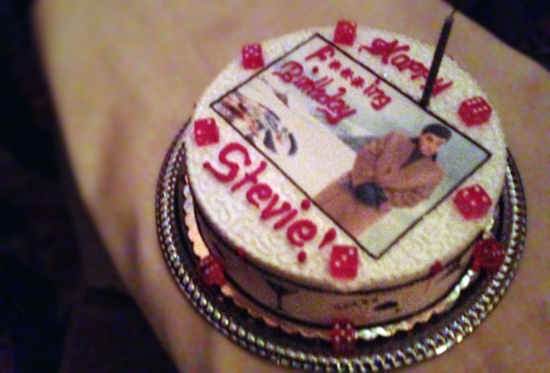 HAPPY FREAKIN' BIRTHDAY, STEVIE!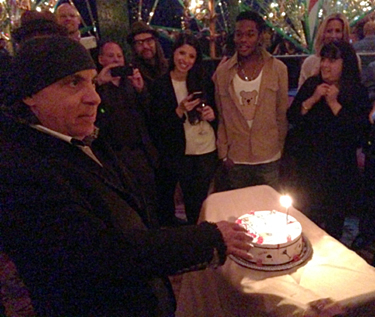 Little Steven Van Zandt turns 63 today, and he's hardly slowing down with age. With more E Street Band activity looming, including dates in South Africa, Australia and New Zealand and the rumored new album for January, Van Zandt is also overseeing his Rascals reunion musical Once Upon a Dream, which is on the road now and returns to Broadway in December. Plus, he's enjoying the runaway success of series Lilyhammer, with new episodes hitting Netflix on December 13. These photos were taken earlier this week at the Lilyhammer season two premiere party in New York; attendee Rich Russo tells us, "The cake was a birthday surprise orchestrated by Maureen [Van Zandt] — Steve had no idea it was coming." Steven spoke to Backstreets contributor Gary Graff about being a busy kind of guy.
It's nice of you to come up for air long enough to chat.
I just really... I wish I was ten different people. I honestly do. I would have so much fun doing different things. But you're limited by the time and who's financing your life — unfortunately I usually end up financing my life, which is why I'm always broke! [laughs]. The bulk of next year will be Lilyhammer [season] three, unless something goes very wrong, and then I've got a whole list of things I'm trying to get to that I'd like to do.
Obviously there's some E Street Band shows [in South Africa, Australia, and New Zealand] coming in the new year. Are we looking at the start of a new tour here?
No, no, it looks like we're just doing February. That will sort of be the end, if you will, of the last tour, which will be two years exactly. I'll be in Norway starting in January. I will then take February off and go to Australia with Bruce and then come back to the [Lilyhammer] set in March and probably work through June for season three.
There's a lot of chatter about a new album from Bruce, including some of the Australian recording sessions. What do you know?
Oh, he's always doing that. You can't really predict what's going to happen with things like that because Bruce is always recording. He's always writing. He always has an album or two in his pocket, so that's not an unusual thing. We'll all find out what he has in mind about five minutes before he does it. But he's always writing and recording.
It feels like the E Street Band has really grown into something new during the Wrecking Ball Tour.
Yes, very much so. It was a challenge that we really had to rise to the occasion, and it felt exactly like that. Once we realized you don't replace Clarence Clemons — and, y'know, losing Danny [Federici] was quite substantial. He's quite unique himself. But Clarence being in the front like that, we realized very early on we're not gonna replace this guy. You can't do it. So we had to transform ourselves into something different, and it was a whole sort of rebirth — a different way while retaining the essence of that music, of course.
How did the transition come about?
There was a lot of discussion. I think that was the most me and Bruce talked about anything since we were kids. We must've had six months of discussion about it, and I think we made a lot of good decisions, beginning with, "Let's turn the tour into just sort of 'anything goes.' Let's include everything you've been doing," everything Bruce had been doing for not even the last ten years but his whole career, really. Let's include all 40 years of what he's been doing, including the E Street Band, of course, and have a band big enough to handle anything we feel like doing, anything he felt like doing, be it standing there by himself with an acoustic guitar all the way to the biggest possible production and everything in between. Having two sax players come from the horn section and then go back into the horn section was a major move to take the pressure off what turned out to be Clarence's nephew [Jake Clemons], which was a nice little bonus. But it took the pressure off him and people accepted him immediately and accepted the whole new concept immediately.
Were you really apprehensive about how people would react?
That's the wonderful thing about our audience. We get the praise, but the truth is the audience deserves half the praise because without them being so flexible and musical and open to these new things we never could do it, y'know? So it's wonderful. It's the greatest audience in the world. It really is.
And there's a whole movie [Springsteen & I] about it now.
That's right! [Laughs] I haven't seen it yet, but I betcha it's interesting and probably could be a ten-hour movie because there's been so many fun things going on with our audience lately. The audience really is part of the show now; that's a wonderful sort of new evolution these last few tours. They jsut become a bigger and bigger part of the show.
On to another show; what's up with Lilyhammer?
Well, season two opened in Norway to a 51 share, which I must say — half the country watched the show. It's quite amazing. The eight episodes will run in Norway, then Netflix will get it here in December. I'm quite proud of season two because I did the whole score this time as well as the music supervision, so I'm really happy with this season. And then we've got season three to film, so that will take up the bulk of next year unless something goes seriously wrong.
They're not bumping off The Fixer, then?
[Laughs] No — I guess that does sort of give it away, doesn't it? But I'm proud of the fact we are one of the very few TV shows you can watch that you really cannot predict. You can't predict where it's going. It's not formulaic in the least, and certainly not procedural. But, yeah, we're not quite ready to knock off the star of the show yet. That's a little bit radical. We'll probably keep him alive for another year or two.
The fish out of water concept is a real kick, isn't it?
Oh, yeah, this is definitely about that clash of the cultures between America and Norway, the fact that they make their own rules and they actually follow the rules the make, which is a very strange concept for most New Yorkers [laughs]. They're not a materialistic country, which is very hard to relate to for us Americans. They don't think that way. It's a wonderful idea. It's very different — obviously it's lighter than The Sopranos, although I didn't want to do a straight-ahead comedy, either. We call it a dramedy, where you have dramatic moments and serious moments. But it's a bit lighter and has a bit more humor than The Sopranos, although The Sopranos could be quite funny itself.
You've also got the Rascals show going, which has been quite a success.
Yes, that's been great. It's been a real miracle. I was first called in to reunite them in 1982 and have been more or less trying ever since, every few years. It was a challenge, and it took awhile to get them back in the room together. And I think it took an artistic reason to come back together for them, this hybrid show we've created. It's a concert, but it's a lot more than a concert. It really is halfway to a Broadway show in the sense that we are truly transporting people back to the '60s for two hours, creating this environment and giving these song a context and telling their story. There's a lot going on, and everybody recognized quite early on that we were doing something new — it's like Jersey Boys but with the Four Seasons in it — and I think that's what attracted them in the end. They're very idealistic guys. They did not want to dilute their legacy and did not want to do an oldies show or go out on the oldies circuit — no disrespect to that world. People were throwing money at them for 40 years to get back together and they turned it down. It took an artistic reason for them to come back together, and I happened to come up with the right thing.
Do you think we'll get some new Rascals music out of this reunion?
Well, that's a hope. We'll have to see. But that's one of my hopes. One step at a time. We only stared a year ago; the script took three years, and the actual concept, but we've only been doing this now for less than a year. But [new music] is a possibility. It really is.
And a movie version of Once Upon a Dream?
[Laughs] One miracle at a time, please. I don't know about that one. We gotta see. It might have to morph into the next phase, y'know, before it gets to that phase, the next phase being a couple years down the road and turning it into acting and making it more of the Jersey Boys type of show, which I think will happen.
Having a show on Broadway must be a hoot, though.
I gotta tell you something; I never really quite understood that world. I always respected it. I always enjoyed it when I went there, and my wife's a real theater person. I had written half a Broadway show back in the mid-'90s, a version of The Hunchback of Notre Dame, but I never finished it. Now I'm considering going back and finishing it — if I ever have five fucking minutes. But it was a revelation to me just how rewarding it is to do a show like this and have people responding to something you wrote like that. It was really quite a new experience. [Laughs] As if I needed another new experience, right?
- November 22, 2013 - interview by Gary Graff - photographs by Rich Russo


"SECRET GARDEN" LIVE AT LEEDS
This weekend's installment of the Wrecking Ball tour flashbacks. (Keep stayin' up all night Thom Zimny!) Bruce says: "Here's another one shot from the tour. At Leeds by special request."
- November 22, 2013

THE SPRINGSTEEN SESSIONS
Martyn Joseph delivers a stunning folk-based tribute
Bruce Springsteen's We Shall Overcome: The Seeger Sessions was an unusual move: an entire album's worth of songs he didn't write. Nevertheless, Bruce's musical persona felt very much present in the songs he chose, the ways in which they were performed and sequenced, and their thematic connections to his own compositions. While it was clear that We Shall Overcome was a tribute to the work of Pete Seeger, it was equally apparent that it was a Bruce Springsteen record.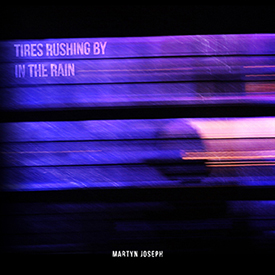 Welsh singer-songwriter Martyn Joseph takes a similar approach to Bruce's work with the stunning Tires Rushing By in the Rain, his new collection of Springsteen covers on Pipe Records in the U.K. Joseph, who's written, performed and recorded many wonderful songs of his own for over three decades, notes in the Tires liner notes that Bruce's songs have long provided for him "a reference point... that I was able to engage and connect with and make my own."
Joseph performed, recorded and produced every note on this album, occasionally overdubbing his own harmony vocals or an additional instrument a la Nebraska. The folk-based instrumentation is mainly solo acoustic guitar with some harmonica and/or second guitar worked in where appropriate. Dave Marsh, writing in the Tires liner notes, muses on how much this album might have appealed to the late, legendary John Hammond, who signed Bruce to Columbia Records back in '72 originally expecting a folk-based solo act.
Listen to "Walk Like a Man" at martynjoseph.net.
It helps immensely, of course, that Joseph is an adept musician gifted with a powerful folk voice. In several important ways, he reminds me much of the great Richie Havens, whom we lost earlier this year. Havens, like Joseph, could perform his own material and interpret the songs of others (including Bruce Springsteen) with equal grace and beauty. Joseph's voice is distinct from Havens', for sure, but it shares that mix of deeply textured and soothing qualities ("sandpaper and honey," to quote J. Poet) that was so appealing in Havens' singing.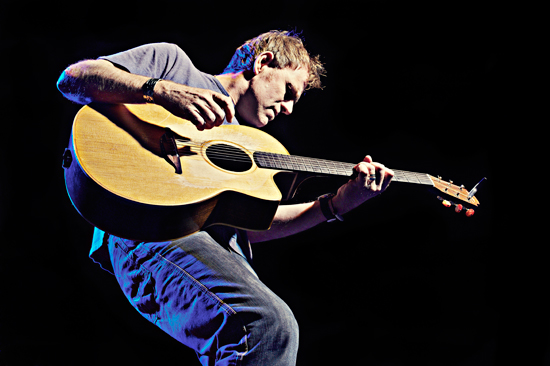 Joseph is also a serious Springsteen fan with real insight into the music. Therefore, the selection of songs in Tires Rushing By in the Rain digs deeply into Bruce's catalog — not quite as off the beaten path as Graziano Romani's Soul Crusader, another highly recommended single-artist Springsteen tribute album, but choosing cuts like "Happy" and "Cautious Man," Joseph clearly isn't skimming the hits.
With 17 songs from many different periods of Springsteen's career, the sequencing is remarkable, too, working like the best segments of Springsteen's own shows, revealing new connections between songs written years apart. The first three songs in the set — "Growin' Up," "Walk Like a Man," and "Land of Hope and Dreams," in sequence — let you know right away the kind of thought that has been given and how broad a range can be found here. (Though with the exception of "Growin' Up," the humorous aspects of Bruce's songwriting are left pretty much unexplored.)
Finally, just as Springsteen wasn't afraid to put his own unique musical stamps on the Seeger material, Martyn Joseph never attempts to reverentially mimic Springsteen's singing or musical styles in his interpretations. There's nothing here recast as radically as, say, Bruce's take on Elvis Presley's "Follow That Dream," but it never sounds like you're listening to a Springsteen impersonator. Instead, you consistently get what is this album's implicit subtitle: Martyn Joseph Sings Bruce Springsteen. As a result, listeners are offered new insights into what both artists have to offer.
Martyn Joseph's Tires Rushing By In The Rain
is available now through Backstreet Records.
To check out more of Martyn Joseph's work, one good place to start is 2008's Evolved, in which he re-recorded some of his best earlier material including "Arizona Dreams," a song that namechecks Springsteen himself. (An image of a wrecking ball coincidentally appears on Evolved's cover, too.) There's also Run to Cover, his 2010 collection of interpretations of various artists' songs, including earlier versions of "The Ghost of Tom Joad" and "Thunder Road." More recently, Martyn released two wonderful albums of mostly his own new compositions, Under Lemonade Skies (also featuring an earlier version of "One Step Up") and Songs For the Coming Home, where he is backed very effectively by additional instrumentation. Visit martynjoseph.net for more information.
- November 21, 2013 - Shawn Poole reporting


A RETURN TO "HOMESTEAD"
Check this out: Bruce's version of the Grushecky/Springsteen-penned
"Homestead," a song which Joe Grushecky sang for the 1995 Houserockers album American Babylon. No rough demo, this is fully fleshed out with mandolin, fiddle, and backing vocals. Unlike the '70s and '80s, circulating Springsteen outtakes from the '90s are a rare breed, so it's worth taking a moment to savor it.
As an E Street Radio Guest DJ this past Friday, Grushecky offered up the world premiere of this recording as a treat for SiriusXM listeners. It's since been making the digital rounds. Here as a YouTube clip, it's a 1995 recording with a 2007 photo surfacing in 2013. But don't let that confuse things — or fuel rumors of Tracks 2, or speculate that this'll be on the new record with "High Hopes." Best we can tell, this is nothing more or less than a little gift for fans from our pal in Pittsburgh. Thanks Joe!
- November 20, 2013

A LITTLE BIT OF HEAVEN HERE ON EARTH
"Bruce Springsteen's Theology" course offered at Rutgers University
Over four decades, Bruce's songs have famously dealt with common themes such as cars, girls, and working class woes. But don't forget Eve tempting Adam with an apple: Biblical references have popped up in Bruce's work throughout his career as well, from his earliest songs such as "Resurrection" and "If I Was the Priest" through "Rocky Ground" from 2012's Wrecking Ball. And onstage, of course, Springsteen often evokes the exuberance found at spiritual revivals, engaging his flock in the standard gospel device of call-and-response while working himself into an ecstatic frenzy.
First-year students are Rutgers University in New Jersey will experience the preaching and teaching of Bruce for themselves in a new Byrne Seminar entitled "Bruce Springsteen's Theology." Azzan Yadin-Israel, an Associate Professor of Jewish Studies and Classics, developed and will teach the seminar; as Rolling Stone reports, Yadin-Israel "usually teaches on early rabbinic literature, but has been a Springsteen fan since he was in middle school."
In a Rutgers Today interview with Yadin-Israel, he offers a glimpse at the syllabus: "In some songs, Springsteen engages biblical motifs explicitly, as the titles indicate. For example, 'Adam Raised a Cain,' 'Jesus was an Only Son,' 'In the Belly of the Whale' (referring to Jonah). But concepts with biblical resonance appear throughout his works (the Promised Land, redemption, faith), and it's just a matter of taking the theological overtones seriously."
This follows Rutgers Professor Louis Masur's American Studies course, offered spring 2012 and to be offered again next spring, which is titled "Springsteen's American Dream" and examines the meaning of Bruce's work in the context of what he has called "the distance between American reality and the American dream."
- November 19, 2013 - Marianne Murawski reporting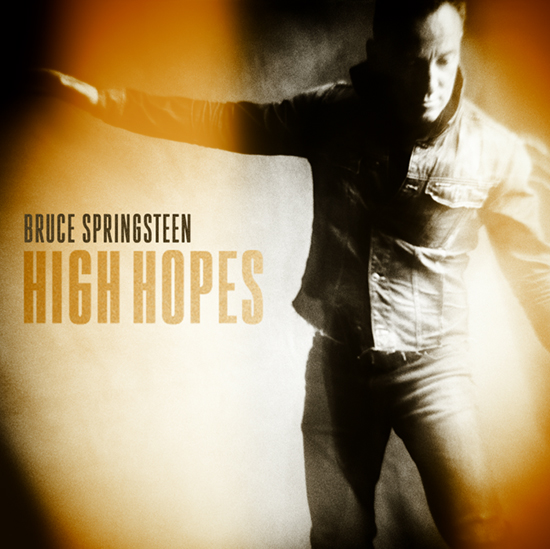 "HIGH HOPES" SINGLE COMING NEXT WEEK... LET'S PREP
Just a date and an image posted on the official site lets us know that a new Bruce Springsteen single is due to drop a week from today: "High Hopes" is coming November 25 as a digital download.
A song that's already been a part of the Springsteen catalog for the better part of 20 years, "High Hopes" was written by Tim Scott McConnell. McConnell — also known as just Tim Scott, and these days going by Ledfoot — first recorded it in 1987 on his album The High Lonesome Sound, and then cut it again with his band The Havalinas in 1990:
Springsteen first tackled the song in 1995 with the E Street Band, releasing a studio recording in conjunction with the Blood Brothers documentary in 1996. An outtake from the Greatest Hits album, you only got this CD EP if you bought the special edition VHS:
Fast forward some 17 years... and Bruce unearthed the song again with Tom Morello, performing it live numerous times on the Wrecking Ball tour in Australia.
Given that Springsteen, Morello, and the E Street Band did some recording while Down Under, it seems a good bet that this single is a new studio recording from March 2013 (though that's yet to be confirmed). Stay tuned for more about the "High Hopes" single, and the forthcoming album from which it's taken, as soon as we know it.
- November 18, 2013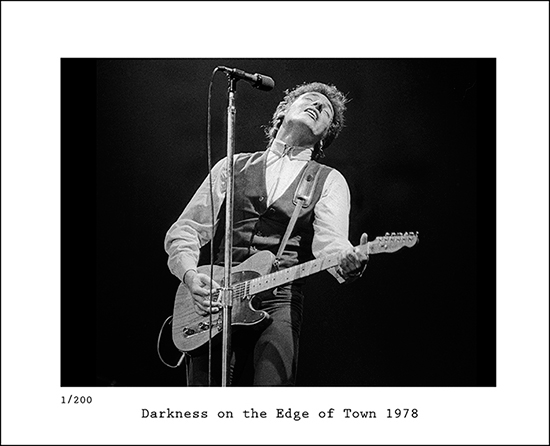 SHIVE ARCHIVE SAYS "HELLO CLEVELAND"
Congratulations to longtime Backstreets contributing photographer James Shive (ShiveArchive.com): The Rock and Roll Hall of Fame will now house more than 500 of his rock concert photographs indefinitely in the Museum's Library and Archives. Shive captured "portrait-style" live images of dozens of major artists in the 1970s and 80s, including Bob Dylan, The Who, Tom Petty, Southside Johnny, and especially Bruce Springsteen and the E Street Band before and during their meteoric rise to fame. The Rock Hall's collection now includes almost 100 of his images of Bruce and the band.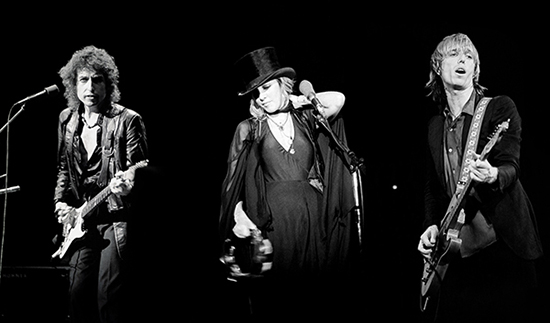 "There isn't a higher honor," Jim says, "than to know my images will not only be a part of the Rock and Roll Hall of Fame but that fans of rock 'n' roll will be able to enjoy them for years and years to come — long after I'm gone. That's simply humbling, especially when I did it because I loved it."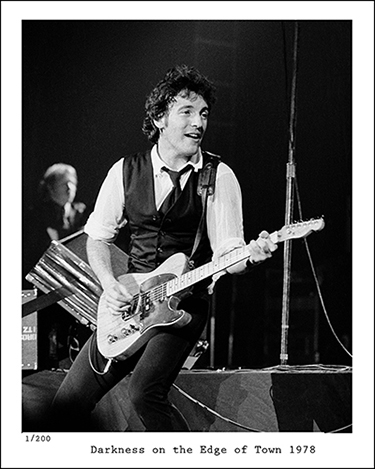 James Shive is a native of New Jersey and the entire archive is represented by Tandem Stock Stills & Motion, based in Los Angeles. In recent years he has generously donated images to the Friends of the Bruce Springsteen Special Collection, and he was instrumental in our "Photographers for Sandy Relief" effort last year. Shive's image of Bruce and Clarence Clemons also appeared in Rolling Stone following the Big Man's passing.
To celebrate his images being accepted into the Museum — and in honor of the 35th anniversary of the release of the Darkness on the Edge of Town album, having photographed the tour in 1978 — Jim is releasing some new limited edition signed prints, including two from Springsteen's Darkness tour and three other artists, with all of the images being among those to be archived at the Rock and Roll Hall of Fame and Museum." Visit the Shive Archive store for details.
- November 15, 2013 - photographs by James Shive


E! STREET! HORNS!
Another official clip brings us Springsteen and the E Street Orchestra taking on Chuck Berry in Leipzig, July 7, 2013. Jack Rabbit Slim's never had brass like that. Bruce says, "Chuck Berry, the Mark Twain of pop, and the E Street Band putting it together on the spot. This was fun."
- Updated November 15, 2013


GET HAPPY!! MARK WRIGHT'S SPRINGSTEEN RADIO SPECIAL
If you've been around these parts for a while (or attended some Badlands parties in the UK), you might have heard our pal Mark Wright performing the music of Bruce Springsteen — or with tongue more in cheek, Mark as Elvis, doing The King Sings the Boss. Mark now also presents a radio show in Cardiff, Wales called The Happy Hour, and for this week's show it's a Bruce Springsteen Special.
Guest of the Day was Allan Fisher, a lifelong fan who came in to the studio to talk about the E Street Fan community, his son Benjamin singing on stage with Bruce earlier this year onstage in Cardiff, and the "E Street Fan" t-shirts that have helped Daniel Harrison so much in his ongoing challenges with autism.
Along with Springsteen recordings, over the course of the 2.5-hour program there's a nice mix of music from Joe Ely, Elliott Murphy, Johnny Cash, Nils Lofgren, Gary US Bonds and Vini Lopez & Steel Mill to name but a few. There's also an entertaining mix of English eccentricity as Mark delves into the "Top Ten Springsteen Facts," revealing how fast a Pink Flamingo can fly and discovering why Sadlers' Wells will be the place to be come 2018. Listen on Soundcloud.
- November 13, 2013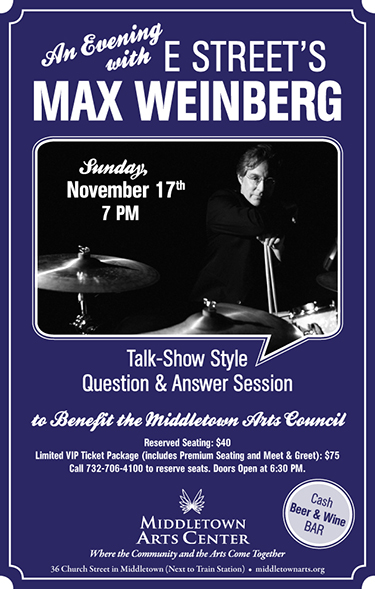 TALK TO ME: MAX IN MIDDLETOWN THIS SUNDAY
Got any questions for the Mighty One? You ask, he answers, as the Middletown Arts Center hosts a night with legendary E Street drummer Max Weinberg this coming weeekend. Bruce Brunch host Tom Cunningham will moderate this question-and-answer event, giving guests the opportunity to engage in conversation with Max and watch rare video footage from his career.
"An Evening with E Street's Max Weinberg" will benefit the non-profit Middletown Arts Council this Sunday, November 17, at 7:00 p.m. Doors open at 6:30 p.m.
A limited sale VIP ticket package includes premium seating and meet & greet reception for $75; general reserved seating is $40. Call 732-706-4100 for tickets. The Middletown Arts Center is at 36 Church Street in Middletown, NJ. For more information visit www.middletownarts.org.
- November 12, 2013


"THIS BLACK STONE AND THESE HARD TEARS"
This Veterans Day, we look back at a "lost" Springsteen track, "The Wall," which debuted live ten years ago. Inspired by a visit to the Vietnam Veterans Memorial, Bruce played the song twice in 2003, in Somerville, MA, and twice again in 2005 on the Devils & Dust tour (above, video from the Meadowlands). And that's it.
"The Wall" honors Motifs singer Walter Cichon, a local hero for Bruce in Freehold in the '60s, as well as Castiles drummer Bart Haynes, both of whom were killed in Vietnam. Bruce described the song's inspiration at its Somerville Theatre premiere:
I was down in Washington, at an event at the White House that was honoring Bob Dylan. And I had an unusual experience. I took my wife to the Vietnam War Memorial, she'd never seen it. We went there, and... I had a few friends when I was a kid, the drummer of my first band and another close friend in town. And we were looking for their names, and we found their names. That night we had this event, we end up at this dinner and, and there was Robert McNamara [Secretary of Defense, 1961-1968]. Joe Grushecky sent me, for some reason, a week or so later, sent me an article out of a newspaper. So we kinda wrote this song together, in some fashion. This is called "The Wall."
Bruce debuted the song on acoustic guitar in 2003, listen here.
Thank you to all our men and women in uniform, past and present.
- November 11, 2013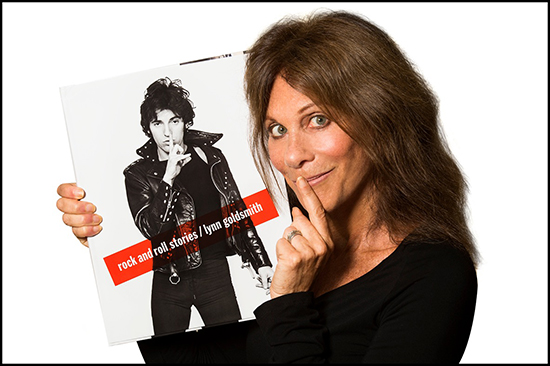 HAIL HAIL ROCK AND ROLL STORIES
Photographer Lynn Goldsmith, who captured a great number of intimate, indelible images of Bruce Springsteen in the late 1970s, has a new book out this week. "Bruce Springsteen was my boyfriend," she writes in Rock and Roll Stories of that time. "I didn't want anyone in the business to know about him because I wanted to be known for my work rather than who I was dating." All these years later that's less of a concern, however; a leather jacket-clad Springsteen stares out from the cover of this beast of a book — a 400-page, six-pound hardcover. But unlike her previous Bruce-centric books Springsteen and Springsteen: Access All Areas (both out of print), this one is filled with an astonishing variety of musicians that Goldsmith has photographed over the course of her career.
If Rock and Roll Stories is reminiscent of her 1995 book PhotoDiary, which is also now out of print, it's also bigger and better; as Lynn writes in an extensive introduction: "...because of my resistance to that dreaded label — rock photographer — I never felt I completely fulfilled the intention of [PhotoDiary]. Not many of us get the chance in life for 'do-overs,' to reexplore a subject in the fullness of time with deeper insight and perspective. I am gratfeul for the chance to do that here with additional photos and text. I can now proudly proclaim, 'Yes, I am a rock and roll photographer, and this is my rock and roll story.'"
Among the images of countless other music icons (Bob Dylan, Prince, Bob Marley, Debbie Harry, Bo Diddley, the Stones, Frank Zappa, Patti Smith, Rick Nielsen, Tom Waits, the list goes on) you'll find shots of Springsteen here and there throughout, too. At the MUSE concert (complete with Goldsmith's side of that story), backstage, with Jimmy Iovine... even Randy Newman wearing one of Bruce's jackets. But just when it seems like she's skimped on Springsteen shots, maybe a remnant of her reluctance to have that relationship out in the open, there's a Bruce portion at the very end of the book, saving it for last, in a section titled "Good People, Friends and Lovers." Her photos there include a bearded Bruce in 1972 when they first met, on- and off-stage in the Darkness era, along with a significant chunk of text recalling their story to close the book.
Rock and Roll Stories is available now from Abrams Books; tomorrow in NYC, Lynn will be signing copies at Morrison Hotel Gallery, Saturday, November 9 from 1 to 4pm.
- November 8, 2013 - photograph courtesy of Lynn Goldsmith


AND THE CLIPS KEEP A-COMING: THIS WEEK'S IS A HOLY GRAIL
The pro-shot Wrecking Ball tour highlights continue. This week Bruce writes, "Finally, after being pursued from city to city (to city to city) by a man with a sign and a one track mind we hooked it up with the Roma Sinfonietta in Rome for the tour's only performance of 'NYC Serenade.'"
Not only the tour's only performance, but Europe's first. Ever. At the Ippodromo delle Capannelle in Rome, strings directed by Leandro Piccioni.
- November 7, 2013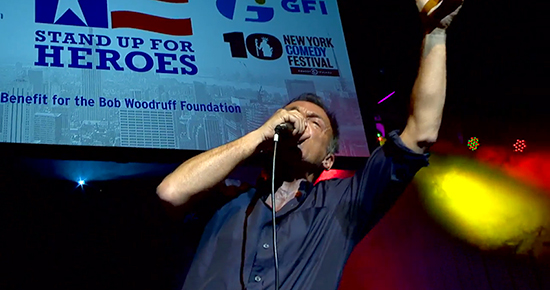 COME ON AND OPEN UP YOUR HEART: STAND UP FOR HEROES 2013
In 2013, Stand Up For Heroes moved to the 5,700-capacity Theater At Madison Square Garden (formerly known as the Felt Forum, and interestingly a venue Bruce has never played) for their seventh annual benefit evening. The amphitheater configuration of the venue provided a warmth and intimacy which was a highly congruent environment for this charity event, only Springsteen's second performance in the U.S. this year.
The near-capacity crowd was enthusiastic, attentive, respectful. Given that the night began with an introduction to the Bob Woodruff Foundation and short interviews with some of the veterans who they have been able to assist, it would require either a whole lot of alcohol or a total lack of conscience to behave in any other fashion.
Given that the event is, technically, part of the New York Comedy Festival, the entertainment portion of the evening opened with a roster of comedy greats: Jon Stewart, Bill Cosby, Jim Gaffigan and Jerry Seinfeld. Roger Waters led the MusicCorps Wounded Warrior Band, and if you thought you had a bad day, the veteran playing drums with one arm, one prosthetic arm, and no legs quickly provided a huge dose of perspective.
The stage was cleared during a fund-raising interlude and then prepared with a small pump organ and a single mic stand. A rousing introduction came from favorite fanboy Jon Stewart: "I believe you are familiar with this next performer," he began, as the crowd responded with the obligatory Bruuuce-ing. Stewart reminded us, "I am from a humble state," and that while New Jersey had been through some hard times recently, it was coming back. "Here's how much we love this next performer: he has written a song about the state of New Jersey, and the lyrics go something like, 'It is a death trap, it is a suicide rap, you gotta get out while we're young,' and New Jerseyans heard that and said, 'We should make that our state song.' Ladies and gentlemen, the great Bruce Springsteen!"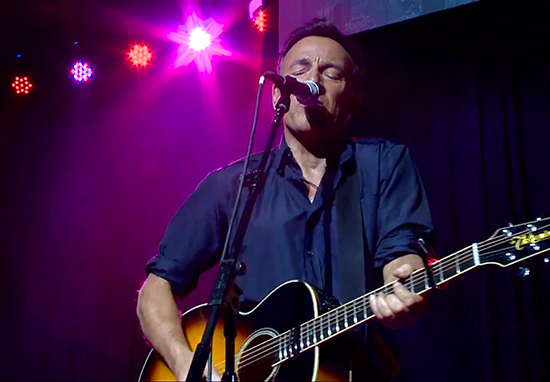 Walking onstage wearing navy blue and carrying an acoustic guitar, a healthy and rested-looking Bruce acknowledged the Wounded Warrior Band — "they can play, man! Gonna put me out of business!" — before moving on to what has become a now-traditional part of his appearances at the event.
"A night of comedy, for a soldiers' audience, where the entire night went by without anyone telling any dirty jokes. I don't get it! I can't let that happen...

[Pause]

"An older man's having a hard time getting an erection..."
After a joke that referenced a magical countdown and the Washington Monument, Bruuce moving quickly into "Dancing in the Dark." Rather than a straight-ahead rendition, this acoustic version was surprisingly tinged with a '50s crooner-meets-soul singer feel.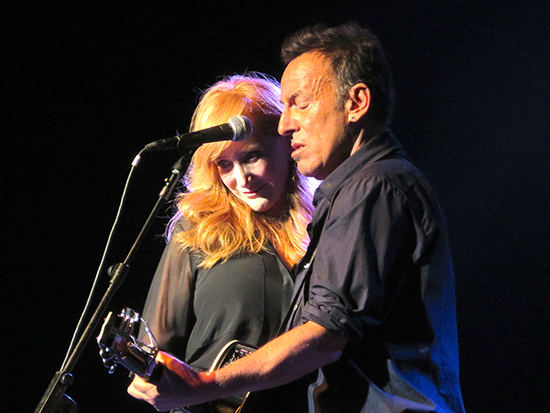 Joke number two, referencing a Nevada brothel and "Hurricane Tessie," was completed before Bruce beckoned into the wings and Patti Scialfa emerged to great applause. The two then dueted on "If I Should Fall Behind," which was lovely if slightly tentative in spots — understandable given that this was her first appearance onstage in 14 months — but the performance had the same affection and warmth that it always does. In the last refrain, Bruce murmured at her to take one of the lines solo, smiling to encourage her. The two embraced before Patti headed off stage, and Bruce headed for the harmonium and his last dirty joke.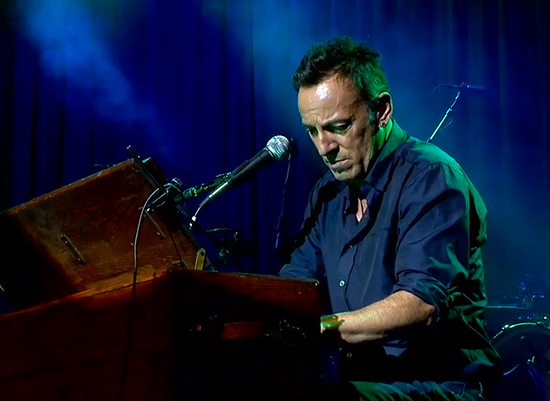 This time, it was a fairly funny story about a piano player with some ribald song titles before Bruce engaged with the organ bellows and hit the opening chords of "Dream Baby Dream." Given the appearance of the instrument onstage and the song's recent prominence in the end-of-tour-thank you video, the choice was not all that surprising, but along with the studio track's appearance on Spotify, it's another sign that as Bruce revisits the song we're getting a glimpse of the future, not the past. This was his first live performance of the Suicide song since the 2005 tour-closer in Trenton. The rendition tonight felt more open and less intense than the Devils & Dust performances, but that could have been simply due to the context of the audience.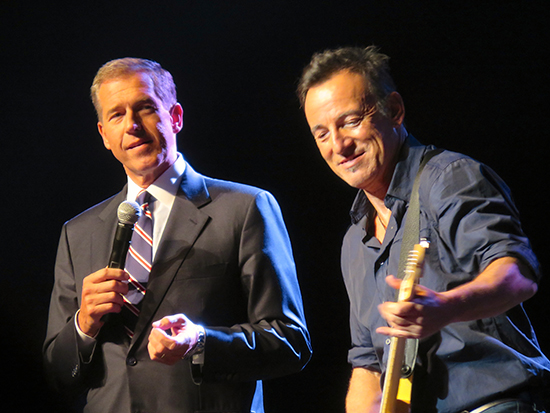 The house lights came up just as Bruce reached for the telecaster, and Brian Williams and another gentleman came onstage to run the now-traditional guitar auction. Bruce strummed a rockabilly riff in the background as the bidding began at $10,000 and quickly escalated. Potential bidders shouted out requests: will he sign the guitar? Yes. How about a lasagna? No. Brian Williams threw in his necktie. Around $140k, the bidding stalled out, and Bruce upped the ante by coming to the microphone and announcing, "Comes with a free one-hour guitar lesson from me." The lasagna from Adele got added around $180k, with the ultimate enticement — "You can attend a recording session at my home studio" — reinvigorating the bidding (and garnering an approving murmur from the crowd) to end at a final $250,000. Bruce then played and sang the first two lines of "Mystery Train" before ending the auction and bringing the seventh year of Stand Up For Heroes to another successful close.
Watch Springsteen's set on YouTube.
Donate to support the cause: http://bobwoodrufffoundation.org/donate/
For the full setlist from this and other recent shows,
visit our Setlists page
- November 7, 2013 - Caryn Rose reporting - Brian Williams & Patti Scialfa photographs by Eason Jordan


LIVE, FROM NEW YORK...
Tonight, tune in online to Bruce Springsteen's second U.S. performance of 2013, after his Musicares Person of the Year honor in February. The annual Stand Up for Heroes benefit will livestream via YouTube or Google+. According to the Google+ event description, the livestream begins at 8:30pm Eastern: "Be part of Stand Up for Heroes 2013 by joining the concert and the conversation. Watch the performances, get exclusive backstage access and take a stand for our injured heroes with the Bob Woodruff Foundation."
Click here to donate to support the Bob Woodruff Foundation, to help post-9/11 service members and their families thrive long after they return home.
Setlist update: Armed with some new comedy material this year, Springsteen told three dirty jokes and performed three songs: "Dancing in the Dark" on acoustic guitar, "If I Should Fall Behind" as a duet with Patti Scialfa, and "Dream Baby Dream" on pump organ (with backing track as in the new studio recording). Full report to come.
- Updated November 6, 2013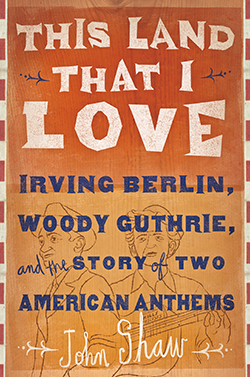 TOO MUCH OF THE SAME KIND?
New book details complex connections between "God Bless America" and "This Land Is Your Land"
As recorded for posterity on Bruce Springsteen & The E Street Band Live/1975-85, Bruce introduced one of his earliest performances of Woody Guthrie's "This Land Is Your Land" as follows: "This song originally was written as an angry song. It was an answer to Irving Berlin, who just wrote 'God Bless America'... and it's just about one of the most beautiful songs ever written."
The 75th anniversary of the public debut of Irving Berlin's "God Bless America" will occur next week on November 10 (coincidentally the same date that Live/1975-85 was released in 1986.) Berlin's song indeed provoked Woody Guthrie to write his famous 1940 reply, originally entitled "God Blessed America" and containing the chorus "God blessed America for you and me." In important ways, each of these well-known songs and their respective authors couldn't be more different than the other, yet there also are some very striking and important commonalities. For one, the poverty and homelessness of Berlin's immigrant youth forever shatters the simple, mythical image of him as urbane, wealthy Tin Pan Alley nationalist.
John Shaw's new book This Land That I Love: Irving Berlin, Woody Guthrie and the Story of Two American Anthems, out this week, explores in great detail this complex relationship between Berlin's and Guthrie's songs. In the process, Shaw also explores the larger history behind U.S. musical traditions and our country's other national anthems, both official and unofficial. Of particular interest to Guthrie fans is the first-ever publication of an additional verse to "This Land Is Your Land" that Woody added in a 1951 demo.
While This Land That I Love certainly can stand on its own, it also serves as a wonderful supplement to 2012's This Land Is Your Land: Woody Guthrie and the Journey of an American Folksong by Backstreets associate editor (and Grammy Museum executive director) Robert Santelli. Both books are essential reading for anyone interested in the history and traditions that greatly influenced the work of both Irving Berlin and Woody Guthrie, as well as modern songwriters like Bruce Springsteen.
- November 6, 2013 - Shawn Poole reporting

SOMEDAY WE'LL LOOK BACK ON THIS...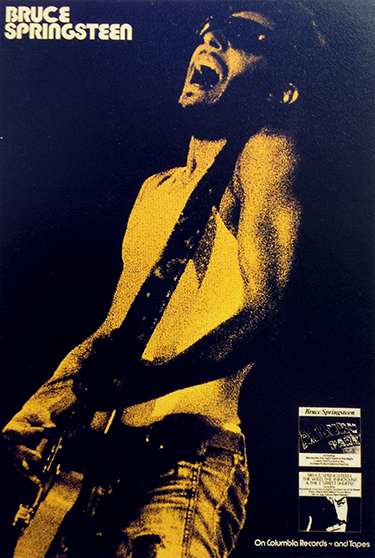 Today marks 40 years of The Wild, the Innocent & the E Street Shuffle, officially released on November 5, 1973.
Celebrating that milestone, the Friends of the Bruce Springsteen Special Collection have sifted through the vast archives (now at Monmouth University) to survey what's been said about Bruce's sophomore album — by critics, and by Bruce himself.
One of our favorite quotes comes from Bruce Pollack in the New York Times:
"In an era of diminishing returns, false prophets and false bottoms, where the best of our instant pop-up superstars are either choked off, laid back, lame or laid out flat.... it is with a great sense of relief that I announce to disbelievers that Bruce Springsteen has delivered another stone, howling, joyous monster of a record.... Can you imagine what his third album will be like?"
And of course, as Bruce predicted back then, some of it seems funny when you look back on it — like Nick Kent writing: "I really like the track '4th of July, Asbury Park (Sandy)' simply because it had an accordion featured on it — until Springsteen goes and ruins it all by growling a self-conscious 'Sandy, that waitress I was seeing lost her desire for me.' No two ways about it, the boy just cannot step back to avoid that kind of roccoco overkill."
Read: "The Wild, the Innocent & the E Street Shuffle at 40" on the Friends website for lots more, even a song-by-song rundown — a magnificent effort from Melanie Paggioli, Kevin Farrell and Jane Murphy.
And happy 40th to Sandy, Rosie, Cat & Kitty, Spanish Johnny & Puerto Rican Jane, Billy & Diamond Jackie, Little Dynamite, Weak Knees Willie, Wild Billy, the Flying Zambinis, Power Thirteen, Little Angel and the rest!
- November 5, 2013

THIRD CAPE TOWN DATE ADDED TO SOUTH AFRICA LEG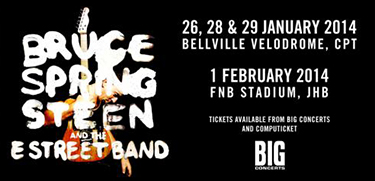 The beginning of the 2014 tour has just been bumped up a couple days, with a third Cape Town show added to the beginning of the leg, due to "exceptional" and "overwhelming" demand. The 1/28 show is sold out, and the 1/29 show is everything but. The newly added 1/26 show goes on sale tomorrow, November 5, at 9am through bigconcerts.co.za and computicket.com.
For the full itinerary with onsale info and links,
see our Tour/Ticket Info page
- November 4, 2013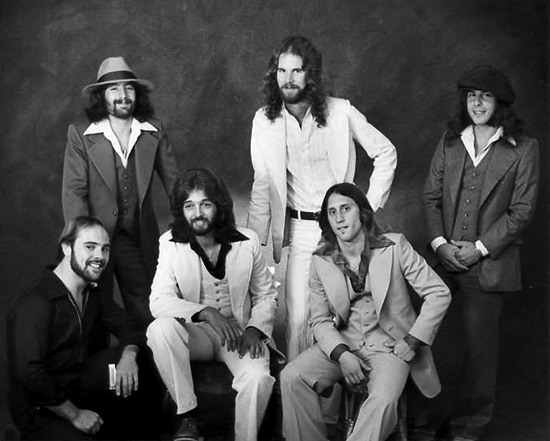 JOHN OESER BYE-BYE
John Oeser, lead vocalist and frontman in several notable Asbury Park bands and a fixture on the scene for over 40 years, has died. Oeser, whose soulful vocals led key Stone Pony bands Cahoots and Cold Blast and Steel, had fallen ill with cancer earlier this year.
Bands like Cahoots and Cold Blast and Steel grew out of the old Upstage jam days; Oeser and bandmates John Luraschi, Steve Schraeger, Mike Scialfa and George Theiss were just a few of the many who hung out at the Stone Pony and joined the weekly jams, which also included various Asbury Jukes and E Streeters when those bands were off the road. [Above: Oeser (seated at far left) with Cahoots bandmates Schraeger, Theiss, Scialfa, Tommy LaBella and Luraschi. Also in Cahoots but not pictured, Tony "Boccigalupe" Amato.] More recently, Oeser had fronted both Boccigalupe & the Bad Boys and Timepiece; Bruce Springsteen joined him onstage with the latter band three years ago to trade vocals on "Mustang Sally."
The Stone Pony will be hosting a benefit concert celebrating Oeser on Friday, December 6, with Timepiece and Boccigalupe among the acts scheduled to appear.
- November 3, 2013 - Lisa Iannucci reporting - photograph courtesy of Billy Smith - video by Rose A. Montana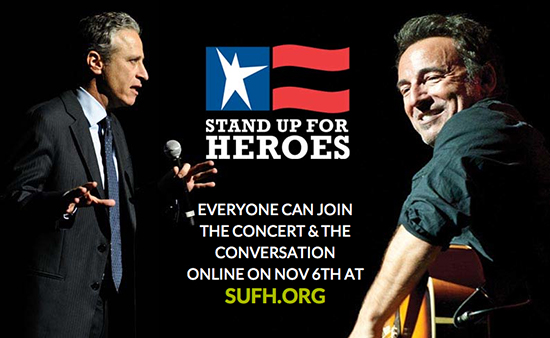 STAND UP (OR SIT DOWN AT YOUR COMPUTER) FOR HEROES
Good news for anyone who can't be at the Theater at Madison Square Garden next week: Bruce Springsteen's performance at Stand Up For Heroes on Wednesday will be part of a livestream. Tune in to the event on November 6, via YouTube or Google+.
For more on this annual New York Comedy Festival event, which raises funds for wounded warriors, visit bobwoodrufffoundation.org/sufh. Springsteen, a consistent suppporter, is sure to tell a lousy joke or two. He'll also, despite appearances, be playing the guitar right-handed.
- November 2, 2013


TGIF: DRINK THIS
Another Friday, another new official video clip from brucespringsteen.net: "Local Hero" with "Horns!" The man himself writes: "Another highlight from the Wrecking Ball tour here, live from Leeds, is 'Local Hero' in its first tour appearance. This song is one of my favorites off Lucky Town. A real 'sleeper,' this ought-a be played more often!" We agree, and it ain't the only sleeper from '92, either — keep the ought-a-bes coming!
- November 1, 2013