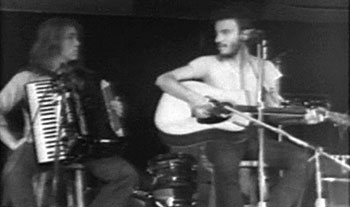 BRUCE ON DANNY:
"MY BROTHER, MY FRIEND, MY MYSTERY, MY THORN, MY ROSE..."
If you haven't already, be sure to check out Brucespringsteen.net for a special tribute to Danny Federici. The video montage that has opened each Magic show since Danny left us is now viewable there, and Springsteen's eulogy has been posted, too. As delivered at Danny's funeral on April 21, Bruce's words about Danny are as moving, honest, and revealing as you'd expect, as funny or maybe even funnier than you'd expect, and in all paint a touching portrait of, as Bruce says, "the only band member ever to drive me into a violent rage." Read and watch here.
- April 26, 2008

BITTER? CLINGING? JOBS GOING AND AIN'T COMING BACK?
In advance of tomorrow's Pennsylvania primary, here's an attack ad (wink wink) just for you.
- April 21, 2008

REMEMBERING DANNY AT THE PONY, WEDNESDAY NIGHT
The Stone Pony is opening their doors on Wednesday night for an Asbury Park "memorial gathering," for friends and fans to pay their respects and pay tribute to the life of Danny Federici. Join them at the Pony, Wednesday night April 23, from 6:00 to 10:00 p.m. "for some warm thoughts, with good friends and music" in Danny's honor.
- April 20, 2008

NEW DATES FOR ALL THREE FLORIDA SHOWS
The E Street Band concerts in Ft. Lauderdale, Orlando, and Tampa -- originally scheduled for tonight, tomorrow, and Monday but postponed due to the death in the E Street family -- now have new dates: Tampa is now April 22; Orlando is April 23; and Ft. Lauderdale is the new leg-closer on May 2. So the remainder of the North American leg looks like this:
Tuesday, April 22 - Tampa, FL
Wednesday, April 23 - Orlando, FL
Friday, April 25 - Atlanta, GA
Sunday, April 27 - Charlotte, NC
Monday, April 28 - Greensboro, NC
Wednesday, April 30 - Charlottesville, VA
Friday, May 2 - Ft. Lauderdale, FL
Existing tickets will be honored, and more specific information will be available on Ticketmaster.com and venue sites. See our Tour/Ticket Info page for the full itinerary and links.
- April 18, 2008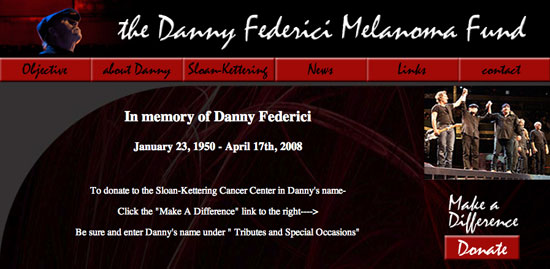 DANNY FEDERICI MELANOMA FUND IS ONLINE NOW
The Federici family and the E Street family have requested that, in lieu of flowers, donations be made to the Danny Federici Melanoma Fund -- The fund's website is now up and running, where it is described as "dedicated to the research and development of new and effective treatments for melanoma through funding for additional clinical trials based upon Danny's melanoma treatments and other methods headed by Dr. Paul Chapman [at Memorial Sloan-Kettering Cancer Center]. Our other objective is to raise awareness for this aggressive disease."
You'll find a statement from Danny there, too:
"What people take for granted on a daily basis, among so many other things, is their skin. I spent my life, like many others, catching some rays, surfing, hanging out in the sun and it never bothered me until now. Who knew that something as simple as a proper sunscreen or keeping yourself covered up on a sunny day could one day save your life? Our culture looks at a nice tan as a sign of luxury. We spend time in tanning booths when we can't go to the beach or lay by the pool. It's time to think again. Especially if you're fair skined, have freckles, or light eyes. Be aware of the dangers, take precaution, and have yourself checked out regularly by a dermatologist from head to toe. It could absolutely make the difference in your life." --Danny Federici
We encourage you to visit, explore, and donate as generously as you're able. One fan wrote me this morning with an idea: "If every Tramp sent a dollar for each and every show they've seen, we could all do something good for the Danny Federici Melanoma Fund! My check will be $33, just let me know where to send it."
You'll find a donation button and contact info at www.thedannyfedericimelanomafund.com.
- April 18, 2008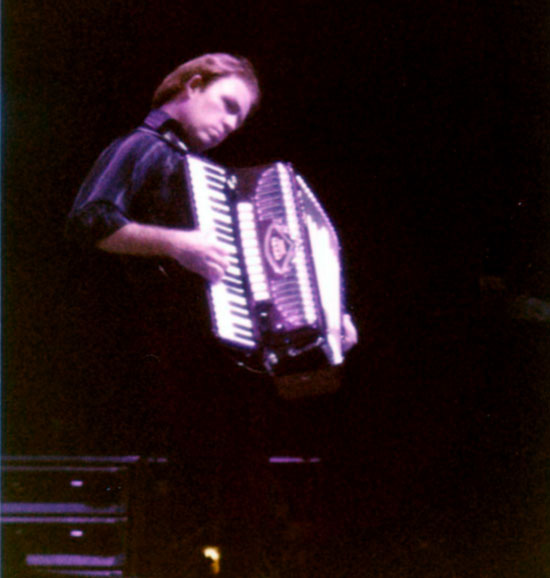 A SAD DAY ON E STREET

Bruce Springsteen on Danny Federici, posted at www.brucespringsteen.net:
"Danny and I worked together for 40 years - he was the most wonderfully fluid keyboard player and a pure natural musician. I loved him very much... we grew up together."

You can also watch video there of Danny's final performance with the E Street Band, less than a month ago in Indianapolis.
Southside says, "Good on ya, Danny" at southsidejohnny.com.
Read the Associated Press story here.
Any other media looking to celebrate Danny Federici and mark his passing, we'd like to help: please go to our Downloads page for a high-res photo of Danny and Bruce together, which can be used free on a non-exclusive basis.
And a Backstreets Magazine update: the new issue, #87, is at the printers, but today we've stopped the presses momentarily in order to at least add the news of Danny's passing. Apologies for the additional delay, but it had to be done. A full tribute to Phantom Dan will be in the issue that follows, #88.
- updated April 18, 2008 - photograph by Robert Bader - Hampton, VA, 3/2/81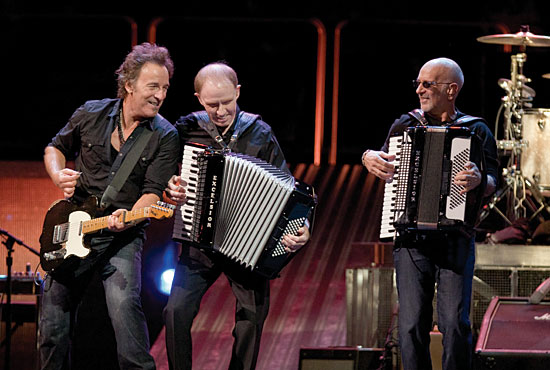 DANNY FEDERICI, 1950 - 2008
Danny Federici, the E Street Band's organist and keyboard player since its inception, died this afternoon, April 17, 2008 at Memorial Sloan-Kettering Cancer Center in New York City after a three-year battle with melanoma.
The Federici family and the E Street family request that, in lieu of flowers, donations be made to the Danny Federici Melanoma Fund; more details on the Fund will be forthcoming.
The Bruce Springsteen and the E Street Band concerts scheduled for Friday in Ft. Lauderdale and Saturday in Orlando are being postponed. Replacement dates will be announced shortly.
We extend our deepest sympathies to Danny's family, friends, bandmates, and blood brothers; we here at Backstreets, and surely all those fans touched by his spirit, mourn with you.
- April 17, 2008 - photograph by A.M. Saddler

TERRY'S SONG -- AND WARD'S SONG, TOO
The Houston debut of "Terry's Song" wasn't just in honor of Terry Magovern's birthday. Read "One Song Touches the Heart" in the Houston Chronicle.
- April 17, 2008

THE COUNTRY THEY CARRY IN THEIR HEARTS
Springsteen endorses Obama
On his website today, Bruce Springsteen addresses friends and fans to speak out on the presidential campaign: "Like most of you, I've been following the campaign and I have now seen and heard enough to know where I stand. Senator Obama, in my view, is head and shoulders above the rest."
Springsteen finds an affinity between his own work and the Obama campaign, as he continues, "He speaks to the America I've envisioned in my music for the past 35 years, a generous nation with a citizenry willing to tackle nuanced and complex problems, a country that's interested in its collective destiny and in the potential of its gathered spirit."
Read Bruce's full statement at www.brucespringsteen.net.
- April 16, 2008

BLOOD BROTHERS, WORLDS APART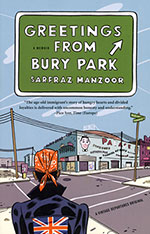 Just published in the U.S. is Greetings From Bury Park from U.K. journalist Sarfraz Manzoor, his memoir about growing up a Pakistani Muslim in Britain, with Bruce Springsteen his personal muse. It's a story of coming of age and cultural reconciliation, but if the cover isn't enough of a tip-off that Bruce plays a significant role here, check out the chapter titles: "My Father's House," "The Ties That Bind," "Blood Brothers," "The Promised Land," "Factory," "Better Days," "Reason to Believe," and "Land of Hope and Dreams."
In today's Star-Ledger, Jay Lustig has an interview with the author. "I didn't want to write a conventional bio/memoir, because I just thought that would be kind of boring," Manzoor tells Lustig, "So I thought I'd try to marry a story of childhood with the story of how music can change your life. It was a way of doing something very serious, but in a slightly surprising way."
Greetings From Bury Park is in stock now at Backstreet Records.
-April 14, 2008

MILWAUKEE ON SALE MONDAY MORNING
Don't forget, the rescheduled onsale for the August 30 Milwaukee show is Monday morning at 8 a.m. Central. This time, they'll be using Ticketmaster.com to facilitate the sale and meet demand. You'll still need to have already purchased a ticket to the Harley-Davidson 105th Anniversary Celebration; a confirmation number from that sale will be required to purchase a Springsteen ticket. For additional details, see Harley-Davidson.com.
-April 13, 2008

A LOOK AT THE LOCAL SCENE -- A QUARTER CENTURY LATER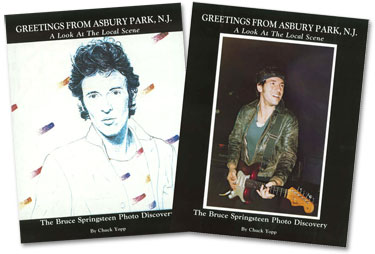 Back in the day, before professional photographers even dreamed of Bruce Springsteen coffee table books, there were fan photographers hanging out in Asbury Park who knew what they were seeing through their viewfinders was the stuff of history. One was Chuck Yopp, whose instincts led him to publish Greetings From Asbury Park, N.J., A Look At The Local Scene in 1983. Subtitled The Bruce Springsteen Photo Discovery, Yopp's no-frills scrapbook featured the work of 24 photographers whose shots, including his own, made up an indispensable record of Bruce on the Shore from 1973 through early 1983.
Now, after a 25 year hiatus -- during which time the out-of-print book has commanded collectors' prices nearing four figures -- Yopp is back with a new and revised edition for 2008. He's offering a choice of covers: one drawn by super fan Art Masciocchi, from the book's first edition; the other, from the second '80s edition, featuring a Billy Smith photograph. Every shot in Greetings was taken, of course, before 5,600 d.p.i scanners made possible some of the most beautiful photography books imaginable, so the black-and-white photos have to them the feel of a long lost and much welcomed documentary. The book also contains one of our favorite Springsteen photos of all time -- taken in 1958 as Bruce's extended family gathered around the Thanksgiving table.
Check it out in our online shop for more details and to order now.
-April 11, 2008

DALLAS CONCERT INFO
Event details posted now at Americanairlinescenter.com for Sunday night's show.
-April 11, 2008

TICKET ALERT: ANOTHER SHOT AT THE BASIE'S "EVENING WITH BRUCE"
The ticket auction has ended for Springsteen's May 7 benefit show in Red Bank, and the Count Basie Theatre reports: "Due to the overwhelming generosity of our sponsors and the success of the Make Your Best Offer Auction, we have met our financial goal for the concert."
But some balcony seats still remain, and they're now available for the set sale price of $1000 per pair -- that's half-off the auction's minimum bid.
Tickets will be sold only in pairs; 200 pairs are now available, with a two-pair limit (four tickets) per person. No internet sales -- these special offer tickets are only available through the Box Office by phone (732-842-9000) or in person.
-April 9, 2008

NEW DATE FOR HARLEY 105th ONSALE: APRIL 14
After demand overwhelmed the ticketing system this morning, practically shutting down the onsale before it started, the sale has now been postponed until mid-month. Luckily, since it's an open air festival, there won't be any of the issues there might have been with reserved seats. Here's the latest:
On-Sale Date for Bruce Springsteen and the E Street Band Concert Postponed to April 14 at 8:00 a.m. CDT
Due to volume-related technical issues on the ticketing website for the August 30, 2008 Bruce Springsteen and the E Street Band concert at the Harley-Davidson 105th Anniversary Celebration, Harley-Davidson has postponed the on-sale date for tickets to Monday, April 14 at 8:00 a.m. central time.

Harley-Davidson deeply regrets the inconvenience to customers and greatly appreciates their patience during the delay.

Harley-Davidson's ticketing contractor is working diligently to resolve the problem and re-test the ticketing fulfillment system after the ticketing website experienced unusually high volume when the site went live on April 5. Only a small number of tickets had been processed before the problem occurred and those customers received a confirmation of their ticket order via their e-mail.

All tickets to the Bruce Springsteen and the E Street Band concert are general admission.

The confirmation number required to complete ticket orders will remain valid until the ticket sale is finalized for the Bruce Springsteen and the E Street Band concert.
See Harley-Davidson.com for further information.
-April 5, 2008

TODAY'S HARLEY SALE A WRECK ON THE HIGHWAY
Milwaukee ticket sale postponed due to system crash
After some tickets for Bruce and the E Street Band's August 30 show were inexplicably sold early, before this morning's official sale time of 8 a.m., the ticketing site went into a major skid. Fewer than 1,000 of 60,000 tickets were sold before the system crashed. The upside: with all tickets general admission, no one's screwed on location. The downside: a very frustrating Saturday. Posted on the site now:
Earlier today, the ticketing site for the Bruce Springsteen and the E Street Band concert on August 30 in Milwaukee at the Harley-Davidson 105th Anniversary Celebration experienced unanticipated technical problems that prevented visitors from accessing the ticketing site.

Harley-Davidson and its ticketing contractor are working diligently to resolve the problem and get the ticketing site back to normal operation as quickly as possible.

Due to these difficulties, today's on-sale date for ticketing has been postponed. We will post an update on the situation at 5 p.m. (CDT) on Saturday, April 5.

Harley-Davidson regrets the inconvenience and thanks you for your patience.

Please be assured that the confirmation code required to complete some ticket orders will remain valid until the ticket sale is finalized for the Bruce Springsteen and the E Street Band concert.

As a reminder, all tickets to the concert are general admission.
See Harley-Davidson.com for further information.
-April 5, 2008

TICKET ALERT: "HARLEY 105th" SHOW ON SALE TOMORROW MORNING
Don't forget, Springsteen and the E Street Band's August 30 Milwaukee show -- part of the Harley-Davidson 105th Anniversary celebration -- goes on sale Saturday, April 5, at 8 a.m. Central. Tickets for this concert will only be available to those who have already purchased 105th Anniversary tickets separately; 105th Anniversary ticket holders will be required to enter their 105th ticket package confirmation code to purchase a Bruce Springsteen and the E Street Band ticket when tickets go on sale. See Harley-Davidson.com for more details.
-April 4, 2008

WEINBERG: "WE'RE STILL PLAYING ON THE EDGE"
And today Max talks with the Orange County Register: "We're still playing on the edge. We go out there and play hard -- like it's the last time we're ever gonna play. Every single night is extremely meaningful for all of us, and the audience -- that's why they keep coming back for more, I believe."
-April 4, 2008

VAN ZANDT: "I'M HOPING WE TOUR FOREVER"
With Bruce and the E Streeters goin' Cali -- Friday night in Sacramento is the first of four -- the San Jose Mercury News has a new Little Steven interview today. Steve talks about Danny, Charlie, and the speculation that we could be nearing the end of E Street: "I think we've never had more fun than right now. I think [Springsteen's] writing is still evolving. I think he's just found a wonderful way to speak personally, politically, socially, spiritually, all in the same song. . . . Touring-wise, it's been complicated certainly with me and Max [also bandleader for Late Night With Conan O'Brien], and that will continue to be complicated, but I'm hoping we tour forever. I think we're still getting better. We've never been better than right now."
-April 3, 2008

COUNT BASIE TICKET AUCTION ENDS TODAY
A reminder, if you're interested in "An Evening With Bruce Springsteen," the Count Basie Theatre benefit show on May 7, the Make Your Best Offer online auction ends today (Tuesday, April 2) at noon Eastern. Click here for full auction details and to place bids before noon. As of this writing, a minimum bid of $1,000 is still a winner, but who knows how that may change as last call approaches. Keep track of the current lowest winning bid at countbasietheatre.org.
If the auction doesn't work out for you, the Basie's "Rockin' Raffle" has just begun, offering a chance to win a pair of front row tickets to the show. There will be 1,000 raffle tickets available, costing $100 each. The winner will be drawn May 1 at 4:00 p.m. A downloadable raffle ticket order form is here.
-April 2, 2008

SACRAMENTO PIT LOTTERY UPDATE
Next stop for Bruce and the E Street Band is Friday night at Sacramento's Arco Arena. Note that the G.A. entry process will be the same as other stops on this tour, despite a worrisome email some fans received from Arco stating that parking lots wouldn't open until 5:30... we've been informed that the arena will be accomodating Springsteen fans by opening the parking lots early, at 2:00 p.m., for the sake of making lottery wristbands available from 2 to 5 as usual.
-April 2, 2008

WAIT, THIS ISN'T AN APRIL FOOLS JOKE?
Aparrrently not: Nelly has been hoping to team up with Springsteen, and he says Bruce is into it, too. For his new album, the St. Louis rapper tells the Associated Press, "I was really trying to get The Boss, but The Boss is all over the world... It didn't really work out. I know he's interested in doing it. And I'm interested in doing it....We still might get a chance to get it off. We're saving it. We might repackage it for the holidays." Forr real.
-April 2, 2008


MP3s OF THE DAY
Spring's in the air today, feels like a good time for a doubleshot from our friends & neighbors at Merge Records. Superchunk has been known to break out "Born to Run" live; on record, Superchunk/Portastatic/Merge honcho Mac McCaughan offered up two Springsteen covers on Portastatic's 2003 EP, Autumn Was a Lark. "Growin' Up" is a full-band studio take (as Mac writes in the liner notes, the band was "undeterred by one punter's description of our cover of 'Growin' Up' as 'hilarious'"), and "Bobby Jean" is a solo acoustic version performed live on WPRB in Princeton, NJ. These make us feel good. Enjoy the weekend.
[Downloads] -March 28, 2008

SWEET CHARITY
Here's a pirate's treasure of auctions and raffles -- great Springsteen booty, and all to benefit great causes: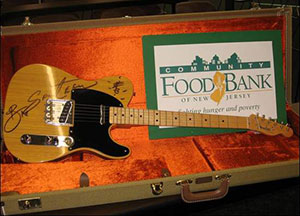 The Community FoodBank of New Jersey is raffling off a Springsteen-autographed guitar, a 1952 reissue Fender Telcaster -- and Bruce will be signing it personally for the winner. Raffle tickets are available now for $25 each or $100 for five, and the winning ticket will be drawn at their 2008 Blue Jean Ball (you don't need to be present to win). Purchase tickets by April 9 by calling (908) 355-3663, or emailing raffle@njfoodbank.org.
For $100 a pop, you can buy a raffle ticket to win a motorcycle -- a Harley Davidson Cross Bones -- signed by Bruce and the E Street Band. This one's to benefit the University of Virginia Children's Hospital, coinciding with the Magic tour's leg-closing stop in Charlottesville. Tickets can be purchased at the UVA Children's Hospital Development Office and the Shenandoah Harley-Davidson store in Staunton, VA. For more information, call the Development Office at (434) 924-8432, or Rich Palermo at (434) 841-3472. The winning ticket will be drawn on Saturday, August 16, in Charlottesville's McIntire Park.
Finally, keep watching charityfolks.com for numerous Magic tour packages on the auction block while Bruce and the band are on the road. Right now they've got lots combining VIP tickets and E Street Lounge passes for shows in Sacramento, Dallas, San Jose, and Anaheim, all up for bids now. These auctions benefit the work of Food Banks in each region.
- March 28, 2008


NILS BY NORTHWEST
Gearing up for the E Street Band's first visit to the Pacific Northwest on the Magic tour, the Oregonian has an interview with Nils Lofgren in advance of tonight's Portland show. Some fun perspectives from Nils, including this on audibles: "I learned to read Bruce: When he's talking to Steve after a song and they're laughing, I know they're just laughing. If he's talking to Steve and he's not laughing, I know that he's changing something."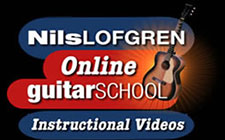 Speaking of Nils, any aspiring guitar player would be well-advised to check out his Online Guitar School, where you can get invaluable video instruction from one of rock's greatest guitarists. In addition to the intermediate lessons (four of which are now online), Nils has begun a series of lessons for beginners. Lesson One is a "Beginner's Crash Course": "Learn first chords; G major, E minor, C major, D major. Playing all 6 strings will be a work in progress, so we learn simpler 3-string versions to start jamming with immediately. Also, first blues scales to solo against these chords with and starter finger exercises. Also, brief tuning information and initial pick advice. Play along with me live." Up close and personal with Nils looks like a great way to start -- check out a preview on TouTube -- and after downloading you can watch the lessons over and over as you practice. Head to Lofgren's site to purchase lessons and sign up for Guitar School email updates.
- March 28, 2008


BOSTON TICKET ALERT
Tomorrow morning (Saturday, March 29) is the public ticket sale for the August 2 show at Gillette Stadium in Foxborough, MA. See Ticketmaster.com for more information. including ticket limits. The onsale starts at 10 a.m. Eastern.
- March 28, 2008


COME ON IN AND COVER ME
The June 23 concert in Belgium is moving to a more intimate venue: from the open-air Koning Boudewijnstadion in Brussels (with a capacity of 50,000), to the Sportpalies arena in Antwerp (18,000 cpacity). An email to ticketholders reports that "the concert market for open air stadium shows is experiencing difficulties this year." Click here for more information.
- March 28, 2008




20th OF MARCH, INDIANAPOLIS (DANNY)
We assume you're keeping up with the videos posted on Brucespringsteen.net, but just in case, here's one to make sure not to miss: Danny Federici's return in Indianapolis, with a spotlight on his accordion work in "Sandy." As dot-net reports: "Danny has been working on his medical recovery full time, and this was the first of what everyone hopes will be many future appearances on the tour."
- March 25, 2008


CINCINNATI WKRP? OR CINCINNATI W... ummm... GRT?
Rock is in the eye of the beholder
Posting a rare negative review of Saturday night's show in Cincy, we asked for fans who were also there to email us their take. As of this afternoon, 114 show-goers responded, and I've grouped them into three categories for this very unscientific survey. The results are below, with plenty of representative samples. Overkill? Maybe, but I figure this is unusual enough, we oughtta kick it around a bit... and I've been fascinated by the wildly differing perspectives on the same show.
"I disagree" - 39 emails (34.21%)
I had a completely different experience and absolutely loved it. To me, the show felt intense and fun. I was thinking fireworks a few times because the energy level was so high. By the time "Gypsy Biker" started, Bruce was soaked with sweat. I am wondering now if they tried to increase the intensity/pace but to some people the performance came across as rushed for this reason. When I left the arena, I looked up to the sky and thought, "Ah, it was a full-moon show again." -Brigitte T.

If this performance was the worst of the tour to date, then I definitely need to make plans to catch the band at another stop. Not being a huge fan of the new album but knowing I was going to be hearing a lot of it, I went to the show fully expecting to see a show with what I considered a very weak set list. Yes, the songs came at me at a blistering pace, but what I saw and heard was a band and its leader attacking the set and its songs, not one trying to rush through it. A band rushing to the next note so it could wring everything out of it, show it who was boss, and then move on to the next one to kick it' butt. I agree there wasn't as much talking in between songs, or as much audience interaction, but that is not what I am there for. What I am there for is to hear the world's greatest band present the songs given it to play which as much life as they can possibly wring from it. Overall I was very pleased with what I saw and heard, and I have a new appreciation for the new album. -Tom T.


I was really suprised by the review. I have been to nine shows on this tour, and more than 40 total. I did not think there was much of a pacing problem. Bruce did less talking and did take a shorter break after "Badlands." He jumped right into the music instead of the food bank message. While the show was a little more tight in terms of time, I did notnotice a shortening of any songs. After only four songs in the encore, I just figured it as an off night, but not anything negative. It was a great show to me -- this is nothing compared to Jerry Garcia missing whole parts of a song -- and the "Boss Sneak" made it all worthwhile. -Bob F.

Two tour premieres and an extremely rare second encore.... hardly perfunctory. And I think he knew what he was doing with the "very little talk." It's Cincinnati. We're there for the music and to see a great band in person. In fact, this town's style is just what Bruce gave us: a solid show with little BS and a focus on the good stuff he is famous for. -Brendan C.

I also attended Giants Stadium show #8 in 2003, which has widely been considered one of his weakest shows. That show was the only time I have ever left even a tad bit disappointed from a Springsteen show. Saturday night's performance was not even in that same realm. It may have been my place in the pit, the people I was with, whatever, but it was a fantastic show. I'm still amazed that he came out to do "Kitty's Back" -- that was a show unto itself! -Bill H.

Quite a few of us thought it was a very fun show, high energy. I did not think he was mailing it in. As for the songs being rushed, I actually thought for the first time this tour that they weren't a bit sluggish.... Sure, somewhere along the way the setlist was fucked up, with songs skipped and played out of order... It wasn't until the encores that I thought "what the...?" They did seem quite short -- until they came back out for "Kitty's Back." It was a very different show than Indy, but one I enjoyed just as much (in a totally different way). -Chris P.

I was shocked to see the review of the Cincy show. Having seen several shows this tour as well as at least five to eight of previous shows for each tour, I can say this definitely stood out. Bruce seemed to treat this one as a club gig, hitting one incredible combination of songs after another with very little pause. Yet it was this absence of pauses that made it such a phenomenal night. Not one minute was spent trying to arouse the crowd: we were already with him, and Bruce seemed to know it. I think where people got lost was in the difference -- comparing this evening to others indeed was like the old apples and oranges. We got an orange. It was juicy, fresh and wonderful. But it was definitely not an apple. -Blake H.

I believe your review of last night's Cincinnati show was way off base and overly harsh. I was there and in the pit. The show was extremely intense, both from Bruce and the crowd. I have only seen Bruce seven times, and this was by far the best I have ever seen him. How anyone could even think that Bruce didn't want to be there is beyond me. I think in your review you are putting way too much emphasis on the length of the show. Intensity, sincerity, song selection, and musicianship all are what make a great show for me. Last night's show had all of these, especially from Nils and Steve along with Bruce. -Jeff C.

I completely disagree with the review of the Cincy show. What do people expect?! We got 23 songs, two tour premieres, and the sound and energy (in this fan's opinion) was excellent! Stevie especially looked like he was having a great time. So what if they moved through the set a little faster than normal? I'd actually prefer less downtime between songs in most cases. If Bruce has something to say, that's a different story. However if it's the same rehearsed lines about "Patti watching the kids at home," I'd rather them just go on to the next song. No disrespect intended here, just stating my opinion. I love a little humorous banter, but when it comes off as spitting out rehearsed lines, I can do without it. -Jeff E.

After seeing well over 100 shows myself, and eight on this tour, the initial report seems overblown to me. The band played hard and fast but didn't seem overly rushed. The biggest difference was the lack of talk to the audience -- which I'd attribute to the fact that Cincinnati is highly conservative and in the past very unreceptive to his political messages. He seemed intent on just playing and playing hard. There were a few technical glitches (mandolin was pulled out/disconnected, Bruce brought Steve in to sing a stanza too early), which could be interpreted as his mind being on other things. He also skipped over "Something in the Night" in the setlist. But the guitar playing by all three was tight. Clarence seemed very involved. Check out the Enquirer review. Too many people counting songs and not focusing on what was being played. -Jim L.

I would describe the performance much differently. What I saw was a man bursting with energy and ready to blow the roof of the place. He did transition quickly from one song to the next, therefore leading to a quicker than anticipated finishing point. But this was not a man who "had a plane to catch." The Boss just got carried away by his own tidal wave of energy and couldn't help himself. Give him some more credit. After "American Land," as they were leaving the stage, he did realize: "Hey wait a minute, the night is young; let's give the people more of what they came for." And so they returned to the stage and delivered a blistering rendition of "Kitty's Back." He didn't have to do that; he did it because he felt like the show wasn't over yet, and didn't want anybody to leave feeling shortchanged. Throughout the show he was enthusiastic, interacted with the crowd, and seemed to me to be having fun. The bottom line: The Boss does not "phone it in." Anybody who has been to 400 shows should know by now there is not a disengenuous bone in the man's body. -Vince

Were you people at the same show??? -Kate H.
"Yeah, I know what you mean, but..." - 16 emails (14.04%)
All in all, I had a great time. I did feel a couple of things that I didn't really process until the ride back up to Dayton after the concert... I thought the crowd was there all night long, on our feet for the duration, but I never got the feeling that Bruce connected -- or, for that matter, I didn't get the feeling he was connected to the rest of the band, either. -T.D.

Springsteen was a bit off his game at the Cincinnati show. But just a bit. Even off just a bit, a Springsteen Show is far better than most other concerts. -Chris B.

I was at the Cincy show, show number ten on the Magic tour for me. A lot of what has been said already holds true for me as well (it was short, poorly paced, etc). I did not get the impression, though, that Bruce did not want to be onstage on Saturday. I was fairly close to the stage, and it seemed like he and the band were having a good enough time. I got the impression that perhaps he lost track of where he was in the show a couple of times. When he came back on stage for "Kitty's Back," he did seem generally surprised as to how short the show had been up to that point. -Darrell W.

I have to agree with most of the report, but I have to disagree with the comment on the crowd. If the Indy crowd had little energy, the Cincy crowd was even less. Bruce stopped playing to the crowd after "Gypsy," and never really returned. He may have been "out the door," but I think it had more to do with the low energy of the crowd than anything else. -Scott R.

As for the speed of the concert, I agree. It seemed to go really fast. As far as being the most disappointing show I've ever seen, I don't think it was that bad. It could have been better, but could have been a lot worse. I would place it at the bottom of my list of Bruce concerts... but no matter how bad last night was, a Bruce concert is like sex or pizza. Even if it is bad, it is still sex, pizza, or a Bruce concert. -Harvey G.

There is a lot of truth to your post and the comments of the concert-goers you talked to. There was a rushed feel to the Cincy show, and at several points, songs didn't resonate as they usually do. That said... Good lord, I'm tellin' ya, the performance of "Lost in the Flood" made the hair stand up straight and tall on the back of my neck. It was transcendent. Stunning. Haunting. Riveting. Worth the price of admission alone. -Mark F.
"I agree" - 59 emails (51.75%)
Tonight was like no other show I have ever seen. I was a little confused. It was performed at an extremely frantic pace. Bruce, usually the master at connecting with his audience, did not do so tonight. For example, last time i saw him in Columbus, OH, he audibled "Hang on Sloopy," an unofficial Ohio State pep song which brought the house down. No such personal connection with Cincinnati. He performed the main set as if he wanted to get it over with. Don't get me wrong -- he worked hard, and the crowd was great and showed him love. There just wasn't a rhythm to the show. While "Kitty's Back" was great, I think most were hoping for more. We didn't expect to be out of there at 10:45 p.m. for a Saturday night show. It may be unfair to judge Bruce by his past, as he set the bar so high. We hosted a couple tonight who had never seen Bruce before, and they were blown away with how great the show was. By their standards, it was one of the best concerts they had ever seen. Those who had seen him multiple times did not feel the same way. After reading your initial review of the show, I felt better that I was not the only one who felt this way. -M.I.

Yes, "perfunctory" is right on. And I'm not sure if I'm relieved or disappointed to hear that others felt the same way -- relieved in knowing that I wasn't the only one experiencing that, or disappointed that the show was a bummer for so many people. It did seem quite phoned-in. Total absence of humor, quick run-throughs... The show felt long in that it felt tedious, and yet I wasn't surprised one bit when the show ended two hours after it started. "Kitty's Back" (clearly an afterthought, come on) coming after the one truly exuberant performance of the night in "American Land," was a huge yawn. Where my husband thoroughly enjoyed himself at the '05 D&D solo show, he looked miserable at this one. I feel terrible writing this about a band I truly love... -Eve L.

Unfortunately, I agree with the review on Backstreets. It seemed like he was trying to play catch-up the entire night. Perhaps he does not particularly care for Cincy, given its Republican ways and cool reception at his political commentary. Still, the place was nearly sold out and the crowd was juiced. The band sounded great, but the set was definitely rushed and he really did not seem to connect with the audience. -Mike M.

As we left the concert last night (unknowingly before "Kitty's Back"), we joked about whether the limo passing us through downtown Cincinnati was speeding Bruce off to the airport to make it home in time for Easter brunch. While we would not describe the show as flat, it was obvious that Bruce's heart was not into it, especially when compared to his unbelievable performance inIindy. The enthusiastic crowd in Cincinnati deserved better. If you weren't a die-hard fan you would describe it as a great show. But for those of us who know the subtleties of Bruce, your review was spot on. -M. Snyder

Indy was simply amazing. His energy was so unbelievable. He seemed so into the show. It was one of the most amazing nights of my life. Bruce touched me as never before. I will remember it forever. Tonight was not nearly as good. And I'm glad to realize others feel the same way, and it was not just me thinking that because my seats werent as good. Of the seven shows I have seen, this was by far the most disappointing. I have never felt like Bruce was ever just cashing a check or punching a clock. But tonight, I felt he did. His set list was killer, but he seemed to rush through everything. He just wasn't there. Like he was thinking of something else. And while any time I see Bruce I feel like I am seeing an old friend, tonight it just didn't seem like he was much interested in seeing me (the audience). -Robby K.

I just read your review about the concert in Cincinnati, and I have to agree with it completely. I have always told my friends, the reason I got into Bruce and the E Street band was their energetic live performances. After seeing them many times, I have to say this was the first time I felt disappointed. There was very little interaction with the crowd, and the show seemed rushed. "Kitty's Back" -- possibly an attempt to say I'm sorry? Like I read in your review, it was too late. The highlight for me was "Darlington County," a great way to open the show. Too bad the highlight stopped there. Thankfully, I was with my other Bruce fan friends, and not "auditioning" new fans to the live Bruce Springsteen & the E Street Band experience. -George M.

Your summary of the Cincinnati show got it right. My wife and I were celebrating our 32nd anniversary of seeing Bruce and the band in March 1976 on the Born to Run tour. On every tour since, I've shouted out "Kitty's Back" as an encore request. I didn't have my hopes up here, given they performed that gem in Indy. So, with the house lights up and people filing out, I was ecstatic when the band came back out to bring "Kitty" back. And even that number seemed fatigued. -Greg L.

I just got back from the Cincy show. I live in Indianapolis. I went to both shows. I think your write-up was on point. It just seemed that things were a bit out of synch. In fact, when the band came back out for "Kitty's Back" it seemed like the speed of the song was off. That being said, I would still rather see the band on an off night than anyone else on their best night. It is a shame we could not have had the crowd from tonight (which was a more knowledgeable Bruce crowd) at the Indy show, because the Indy show was truly special with the guys showing such joy having Danny back. I said to my friend as we were driving down that the Indy show was like a fine meal. In such a meal you appreciate each bite, much like I was appreciating each song. Each aspect of the Indy show made for a remarkable evening. It is not something you can have all the time, but when you do it is very special. -Gregory C.

Couldn't agree more about the review of the show. We were at Indy, where the crowd was very pedestrian but the show was great -- one of the best I've seen. Then we get to Cincy, and the crowd was revved up and into the Boss, but the show was pedestrian. - Bill S.

Wow -- what happened in Cincinnati last night? He was rushing like I had never witnessed, the degree of which really hit me during the intro to "Reason to Believe." The crowd had some of the best energy I have seen this tour, and Bruce did not tap it. Unspirited, disappointing, and totally against the things that Bruce talks about -- because the crowd connection was there. -Patrick Q.

It was refreshing (although it confirmed my disappointment) to read your comments on the Cincinnati show. Refreshing in the sense that I was not, in fact, crazy in my reaction. As my 15th Boss show (I know, I'm an amateur) and the fifth of this tour, I agree with it being disappointing. Fortunately, I was able to attend the two previous smoking shows, Milwaukee and Indianapolis, so at least I got my money's worth. The comment about Bruce seeming to rush through the set matches my impression. I remember specifically after "Gypsy Biker" and "Devil's Arcade," wondering where the searing guitar solos were. "Candy's Room" seemed to end before it began. I will say, for the sake of future shows, "Darlington County" was a rocking opening. Also, maybe it was specific to the Cincinnati crowd, but I could not believe the power and energy of "Glory Days." Although I truly believe it would be nearly impossible for Bruce and the E Street Band to put on a "bad" show, this one was certainly substandard. And of course judged independently of what they are capable of, it still blows away most other artists out there. -Sean M.


I could not agree more with your review. Had you never seen a Springsteen show you would have no doubt walked away impressed, but to Bruce junkies it was sorely lacking. Having been to over a dozen shows, this one was far and away the worst -- it almost seemed like the band was trying to catch up all night. Bruce unfortunately went through the motions most of the night. Granted, Bruce going through the motions is still better than most acts, but the crowd deserved more. Nils tried to boost the fun level a little during the encore, donning bunny ears, but instead of joining in, the Boss removed them and tossed them aside -- a telling metaphor for the night as a whole. Extremely disappointing! -Terry S.

It was a very disappointing show, and with the wonderful crowd I thought for sure we'd hear something off-the-wall during the encores. "Lost in the Flood" was amazing, "Kitty's Back" helped, but it wasn't enough. The Indy show was off the charts. Those few of us in the know were blown away not only by Danny's appearance, but also with the way the rest of the band responded to it. Their energy level just took off, and it looked like they were just having a blast -- they all laughed when Danny "stole" Roy's solo time during "Kitty"! It just felt really good in that building. Put the Cincy crowd at the Indy show, and it would have really been magic. The good thing is that Cincy was still a Springsteen show. He speaks to us like no other, and by coming back after the house lights came up he only cemented that again. Bruce knew that he didn't give a true "Bruce" show, and that's enough for me. Hell, I'm going to make sure to keep those Cincy tickets in pristine condition. "I was in Cincy 2008" might have a certain cache one of these days! -Joe T.
Thanks to everyone who let us know what you thought. Again, sorry if I've gone overboard here, but I thoroughly enjoyed the reads. Nothing like a good post-show debate. (And one more worth quoting: "I loved the pacing -- then again, I'm a Ramones fan, too!") Remember, if you want to give us your take on any show you see (for the pages of Backstreets magazine, usually), just email to onstage@backstreets.com.
And a final note from Mark D., whose thoughts were echoed in a lot of emails: "Bruce and his music has been there for me for nearly 30 years now... He had an off-day for whatever reason. One day, out of countless how many? All that I can say is: 'Bruce, for all the times that you've picked me up -- this one's on me!'"
- March 24, 2008


TICKET ALERT: AUGUST 2 GILLETTE STADIUM SHOW IS OFFICIAL
Following Bruce and the E Street Band's three nights at Giants Stadium in July, they'll be playing Foxborough, MA on August 2 -- it's on Ticketmaster.com now. Tickets go on sale to the general public on Saturday, March 29; a private pre-sale for members of "the Gillette Stadium extended family" runs now through March 28, a password is required.
- March 24, 2008


MEN AT WORK
BTX is currently undergoing maintenace to fix some techincal problems; we're doing our best to get it back up and running ASAP. Thanks for your patience!
Update: Done!
- updated March 24, 2008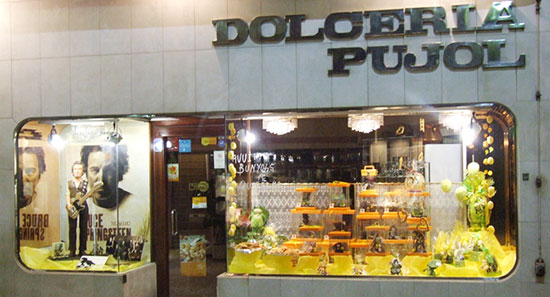 IT'S NOT ABOUT MAGIC, OR TRICKS... IT'S ABOUT CHOCOLATE!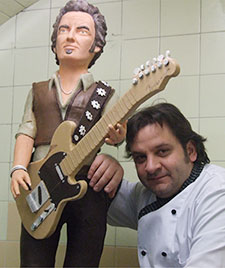 Albert Dorna Pujol, from Berga (Bareclona-Catalunya) Spain, writes:
"I have a chocolate factory. For Easter here in Catalonia, it is a tradition to give the youngers, instead of a chocolate egg, a figure made of chocolate and cake. It's a very beautiful and delicious tradition in our country. This year I've made a big Bruce Springsteen chocolate, weighing 40 kg. It took me two months of hard work, but now it's finished! And I want to share it with you. This is my present to the Springsteen fans and to the Boss himself. I hope you'll like this, even though you can not taste it!"
Happy Easter, everybody.
- March 23, 2008


SUMMERTIME BRUCE: BEANTOWN EDITION
After some speculation in the Boston Globe last week, WXRV is now announcing an E Street Band show at Gillette Stadium on Saturday, August 2. We'll be watching for official confirmation; according to the station, tickets will go on sale next Saturday, March 29.
- March 21, 2008


MEETING IN MILWAUKEE
Bassist extraordinaire Richard Davis talked with The Capital Times after his Milwaukee cameo with Springsteen, where he reprised his bass-playing on "Meeting Across the River": "It was fun to be up there with Bruce after all those years. I like the man. I like what he does. I like his messages and his songs.... He cares for the poor person and he does benefits for people in need. And that excites me. I'm very happy about that."
Read "Springsteen 'in awe' of UW's Davis" at www.madison.com.
- March 20, 2008


BRUCE SPRINGSTEEN, IRAQ AND ME
A guest column by Greg Mitchell
The Boss and I go way back. Way, way back. But now we have ended up in the same place -- on Iraq and on the page.
Bruce wrote the brief preface for my new book on Iraq and the media. He writes of living "in a time when it's never been more difficult to tell the truth from lies and lies from the truth" and denounces "the obstructions that have kept the media from fully doing their job." So all of us must "be more questioning, skeptical, and savvy than ever in assessing information that's presented to us," he writes. "And we need to teach our children to do the same."
More than 35 years ago (ouch), in January 1973, Peter Knobler and I wrote the first magazine article about Springsteen, even before his first record came out.
It was a 10,000 word opus for the legendary Crawdaddy (we were the top editors there) titled "Who is Bruce Springsteen and Why Are We Saying These Wonderful Things About Him?" He has never forgotten that, or the other cheerleading we did for him before he finally broke through. Maybe I'll go into that another time.
Bruce turns up in my book, So Wrong for So Long: How the Press, the Pundits -- and the President -- Failed on Iraq a couple of times. Here is an excerpt from one chapter, from June 2006:
Appearing on CNN today to promote his current tour and album of Pete Seeger songs, Springsteen -- who was about as apolitical as they come when I knew him back in the 1970s -- took note of the new Ann Coulter controversy in responding to a question about whether musicians should speak out on politics.

Springsteen was asked by Soledad O'Brien if getting flak about his political views, such as backing John Kerry in 2004, made him wonder if musicians should try so hard to be taken seriously on topical issues.

"They should let Ann Coulter do it instead?" he mused, with a chuckle. Then he said, "You can turn on the idiots rambling on, on cable television, every night of the week -- and they say musicians shouldn't speak up? It's insane, it's funny," he said, with that inimitable booming laugh. He called politics "an organic part of what I'm doing. . . . It's called common sense. I don't even see it as politics at this point."

As for the Iraq war, he commented, "You don't take your country into a major war on circumstantial evidence -- you lose your job for that. That's my opinion, and I don't have a problem voicing that. Some people have a problem with that, others don't."

He revealed that some former fans have even mailed records back to him. Records? What are they?
Greg Mitchell is editor of Editor & Publisher. His new book, So Wrong for So Long, is his ninth on media, history and politics. His 1973 Crawdaddy piece on Springsteen, referenced above, has been collected in Racing in the Street: The Bruce Springsteen Reader.

- March 20, 2008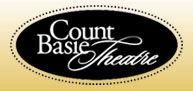 WE BID YOU A GOOD MORROW
"An Evening with Bruce Springsteen" ticket auction starts Thursday
On May 7, the Count Basie Theatre will host "An Evening with Bruce Springsteen," to benefit its upcoming renovation.
Tomorrow -- Thursday, March 20 -- the Make Your Best Offer online ticket auction begins at 6 p.m. Eastern, at https://countbasietheatrefoundation.org/. Bidding ends on Wednesday, April 2, at noon Eastern. Here's the skinny:
The minimum bid is $1,000 per ticket. All bids must be in dollar increments.
Each person participating in the Make Your Best Offer online auction can bid on a maximum of 6 tickets.
Approximately 1,000 tickets will be available through the Make Your Best Offer online auction. These seats will be located in the Right and Left Orchestra, Rear Center Orchestra, Right and Left Loge, Balcony and Upper Balcony. Click here for the Count Basie Theatre Seating Chart.
You are not bidding on specific tickets or tickets located in a determined row, section, etc. Your bid is for tickets to the show in the 1,543 seat Count Basie Theatre.
To obtain ADA seats, please contact Rachel O. Warnick at rwarnick@countbasietheatre.org.
The Make Your Best Offer online auction bid form submitted must contain all required fields including credit card information. Your card will not be charged until the Make Your Best Offer ends and your offer is accepted.
By selecting the "Submit" button, you agree that if you have a winning bid on Wednesday, April 2, 2008 at 12 Noon EDT, you will pay the per ticket price you indicated as your bid amount for the number of tickets indicated on the bid form.
You cannot cancel a bid once it has been submitted.
There is no way to automatically increase your bid, you must monitor the website and re-bid using the link provided for the Make Your Best Offer online auction.
You can monitor your bid while the Make Your Best Offer online auction is going on. Updates on countbasietheatre.org will indicate which best offer minimums are currently successful in winning tickets. It will also indicate the time of the winning bids.
You will know that your bid is no longer a winner based on the information provided at countbasietheatre.org.
You can re-bid to remain eligible, but be sure to enter the same email address as your previous bid. Doing so will ensure your previous bids will no longer be valid.
Your bid will be ranked based on the amount bid per seat, not the total amount of your bid. When the Best Offer auction ends, those who have placed the highest bids for the number of available seats will be contacted via email. The email will indicate that you won in the auction. Please note that your bid/tickets are subject to verification and payment authorization.
The Make Your Best Offer online auction seats will be assigned after the auction ends.
Should multiple bids come in at the same amount, they will be handled on a first bid, first served basis. Each entry is date and time stamped to ensure accuracy and those bids placed earlier will receive priority. The theatre has pre-determined the seating in a manner of most desirable to least.
If you have a winning bid on Wednesday, April 2, 2008 at 12 Noon EDT, your credit card will be charged. It will only be charged the actual amount you bid per the number of tickets you indicated.
Once your payment is successfully processed, you will receive a final email with your receipt and seat assignment.
Please print your receipt, as it is required to enter the show. No exceptions.
All purchased tickets will be available for pick up in the outer lobby the night of the show ONLY starting at 5:30pm. Ticket buyers will receive a receipt, which they will have to show at the door with photo ID on show night to claim their tickets.
The tax deductible portion of your purchase for this show is equal to the ticket price you pay less $45.
Questions surrounding the Make Your Best Offer online auction should be directed to Rachel O. Warnick at the Count Basie Theatre Foundation via email at rwarnick@countbasietheatre.org.
All sales are final. No refunds or exchanges. No exceptions.
For the online auction form, head to https://countbasietheatrefoundation.org/.
If four figures is too steep, a hundred dollar bill will buy you a chance in the Rockin' Raffle to win a pair of tickets to the show. Raffle tickets ($100 each) will be available on Tuesday, April 1, 2008, and the winner will be drawn on Thursday, May 1, 2008 at 4pm EDT at 99 Monmouth Street, Red Bank (winner need not be present). 1,000 Rockin' Raffle tickets will be available live through the Count Basie Theatre website (plus a $4 service charge), a downloadable order form at countbasietheatre.org and by calling the Box Office at 732-842-9000 beginning April 1, 2008.
- March 19, 2008


REQUEST LINES ARE OPEN!
California knows how to party
Wish you could hear the E Street Band do "Open All Night"? "Trapped"? "Blood Brothers"? Well, if you're goin' Cali, you might just have the chance. Check out KFOG's "Tell Springsteen What to Sing!" contest, where you can vote for one of 20 rarities, and the winning request will be performed at the April 5 San Jose show. Yes, this is for real. A random participant will win a pair of tickets to the show and a copy of Tracks. Voting ends March 24.
Here's the list of "nominees," any of which have a chance to get played:
This Hard Land
Trapped
It's Hard to Be a Saint in the City
New York City Serenade
My Love Will Not Let You Down
Spirit in the Night
Factory
Something in the Night
Sherry Darling
Meeting Across the River
Open All Night
Murder, Inc.
Blood Brothers
Be True
Rendezvous
Souls of the Departed
Man at the Top
Code of Silence
Fire
Because the Night
Previously, KLOS had a similar contest for Anaheim, in which "Because the Night" got the nod. Will they keep this up outside of California? We'll keep you posted... and if you hear of contests elsewhere, please let us know. Now, rock the vote!

Update: A third one in the mix, Sacramento's KSEG (96.9 The Eagle) is hosting the pick-a-song for the April 4 Arco Arena show.
- updated March 19, 2008


IF ONLY THEY WERE THE ONLY COMPETITION...
A reminder: the Make Your Best Offer auction begins tomorrow for the May 7 "An Evening with Bruce Springsteen" to benefit the Count Basie Theatre in Red Bank, NJ. We'll post full auction details shortly -- but some pertinent info up front for anyone hoping to squeak in there with a lowball: the minium bid will be $1,000 per ticket. That more than counts out the folks below -- no, not a poll from The Onion, but a sampling of real New Jerseyans by gmnews.com. Local hero, indeed.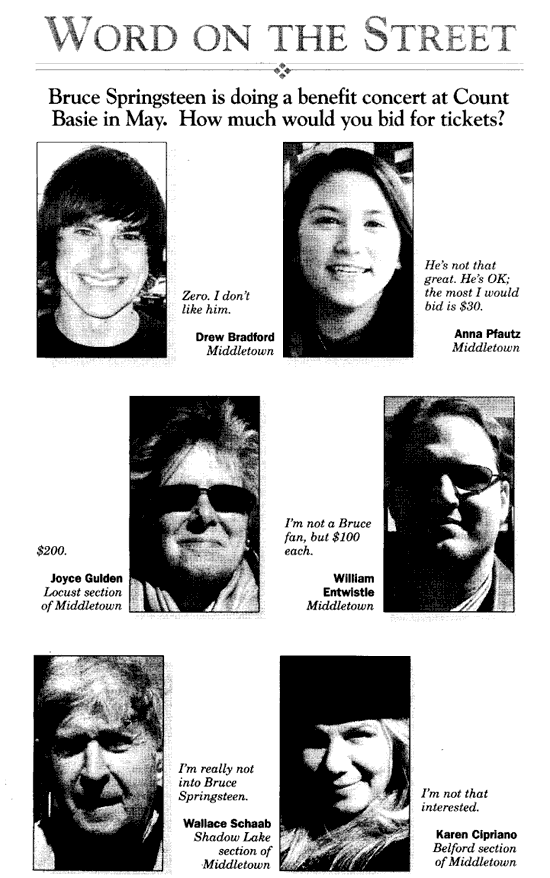 - March 19, 2008


ASK THE BIG MAN
Sean Daly, Pop Music critic for the St. Petersburg Times, will be interviewing Clarence Clemons next week, and he's put the call out for questions... submit yours here.
- March 19, 2008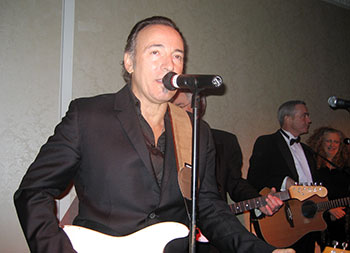 SATURDAY, I'M AT THE PANTHER BALL
On Saturday, March 8 -- in between Buffalo and Uniondale stops on the Magic tour -- Springsteen turned up for a surprise performance at a benefit for the Ranney School, the 21st Annual RSPA Panther Ball at the Eagle Oaks Country Club in Farmingdale, NJ. Hair slicked back, Springsteen strapped on a guitar to play "Glory Days" with Tim McLoone and the Shirleys.
- March 19, 2008


STEVE VAN ZANDT TALKS TOUR WITH ROLLING STONE
Two favorites Steve would like to play: "Fade Away" and "Held Up Without a Gun."
Steve on his new contributions to "Long Walk Home": "It just spontaneously happened one night. It was one of those songs I thought we weren't quite getting the most out of it somehow. Songs are funny. You record them one way and then sometimes live they need to be adjusted or expanded or changed slightly to capture the essence of it. Sometimes it doesn't quite translate literally when you do it precisely the same way. And that just struck me as we were playing it, you know. I thought, you know, it's not quite going to that place it needs to go to, which the lyrics in it suggest."
Steve on Danny Federici: "He's doing great at the moment. It's a bit miraculous. I talked to him last week and he sounds great. I just hope it lasts. In a month or two we'll hopefully see him back."
Steve on where the tour's going to end: "I have no idea. No idea. Really, I mean, I don't even know where we are this week."
And lots more in a great Rolling Stone Q&A, online now.
- March 17, 2008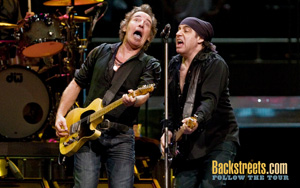 WHAT TIME IS IT, STEVE?
It's desktop wallpaper time!
Okay, maybe "sexy tme" has more of a ring to it. But we've just added a third to our series of desktop wallpaper from the Magic tour -- this one a classic Bruce 'n' Steve "Ramrod" shot from Monday night's show at Nassau Coliseum. Available in multiple monitor resolutions, on our Downloads page now.
-March 14, 2008

WEEKEND CONCERT INFORMATION
For general admission procedure for tonight in Omaha and Sunday night in St. Paul, visit qwestcenter.com. and xcelenergycenter.com, respectively. No variation in what we've already seen in black-and-white for this leg, but it's always comforting to see it on the venue's website, and you'll also find specific location info for St. Paul.
-updated March 14, 2008

D.J. BRUCE?
Dave Marsh revealed on last Sunday's edition of his "Kick Out The Jams" radio show (now airing on Sirius Disorder Channel 70) that Bruce himself is actually working on "some type of program" for E Street Radio. If it comes to fruition, it'll mark the first time that Bruce has appeared on-air as a "Guest DJ" since the '70s. He spun stacks of wax with other E Streeters and Philly DJ Ed Sciaky on WMMR on 12/30/75; on 11/6/76, he was making selections with Richard Neer on WNEW. We'll keep you posted.
-updated March 14, 2008 - thanks to Shawn Poole for the report

A MEANNESS IN THIS WORLD
A Backstreets P.S.A.: Don't let this happen to you!
Here's a headline for you: "Lover killed for saying no to 'The Boss'." Yes, today's news brings a cautionary tale from Australia, where Karen Lee Cooper was sentenced to eight years in jail today for the manslaughter of Kevin Lee Watson -- she stabbed him in the chest with a kitchen knife after he took her Springsteen CD off the stereo.
Cooper to the police: "I couldn't even play Bruce Springsteen on my stereo -- can you believe that? Can you believe that?... I mean, who the hell doesn't like Bruce Springsteen, for God's sake? I just picked up a knife and I went 'boom'.''... I'm 49 years old and I want to play my own music." Read more reports from CNN, the Courier Mail, the Associated Press...
Honestly, it sounds like something Bruce should write a song about. Maybe a "Freehold"-type ditty for Nebraska tomorrow night, for the full snake-eats-its-tail experience. But wait -- can we joke about this? Judging by today's email, the answer is a resounding yes. From my inbox:
"Seems a bit extreme -- but then again, maybe not?"
"If there was ever a reason for an acquittal..."
"I think Bruce should tour Australia soon... sounds like there's some pent up frustration!"
"She's got a point."
"So maybe Sweden, Italy, and Philly don't have the most diehard fans after all?"

-March 13, 2008

THE STATE OF BACKSTREETS
Tryin' to make a connection to you since 1980
Firstly, ladies and gentlemen, the state of our Backstreets is strong. Not even two weeks into an E Street Band tour that looks like it'll take us to at least October [see below], so much of 2008 is lying out there like a killer in the sun. Between concert reports, the BTX message boards, our new and ever-expanding Downloads section, the email newsletters, and just staying on top of all the various and sundry Bruce news, Backstreets.com has been using more and more bandwidth -- actual bandwidth, and that of my own time and energy. I ain't complaining -- this stuff's fun, to say the least, and it's a great time to be a Springsteen fan.
But to answer the rhetorical question I was about to ask -- "What would I rather be doing?" -- for too long I've been putting off the call of my number one love, Backstreets Magazine. It's been way too long since I've gotten an issue out, and I know that subscribers are rightly getting itchy. I'm itching myself: to get back on a regular publishing schedule, to keep my graphic design muscles stretched, to continue the hold-it-in-your-hands, in-depth documentation of Bruce Springsteen's career that we've been carrying on with for nearly 28 years.
Right now, to give you an update, I've finally got this new issue (#87) far enough along that I can say it'll be going to press by the end of the month, come Hell or high water. (Subscribers, don't forget, each "year" of your subscription gets you four issues, no matter how long it takes me to get them out; SuperSubs, we're thinking about you, too, with the 2008 Staff shirt in the final stages of design tweaking, to go to the printers soon. It's a goodie.)
Backstreets will always be a combination of print and web, and I'll be continuing to work hard in the coming months to get the long-awaited issues into your hot little hands. To try and help keep this whole thing sustainable, right now I'm working on lining up advertising on Backstreets.com. So, yep, you'll start seeing some banners on the top and side -- but the same Boss content where you expect it. Backstreets as an entity has never been opposed to ads; they're the lifeblood of most magazines, and though Backstreets is unusual in that we've been largely supported by subscriptions instead, we've had ads in our pages since the very first radio station-sponsored issue (thanks, KZOK!). So we'll try it online as an experiment, in the hopes that it might allow me to bring on some new help for the website, and free me up a bit to concentrate more on cranking out more issues.
Thanks to everyone who's been supporting what we do, whether it's subscribing to the magazine, ordering from our online shop, sending us show reports and other information, making a PayPal donation, or just generally spreading the good word. We couldn't do this without you. Now, onward to Nebraska!
On the Backstreets until the end,
Chris
-March 12, 2008

MORE RABBITS IN THE HAT
For a while now, we've been looking at just four U.S. concerts on Bruce's summer itinerary: three Giants Stadium shows in July, and a festival one month later. Wisdom, conventional and otherwise, suggested that more dates would surely fill in the second half of 2008, but now we've got more to point to.
The Boston Globe reports: "Don't be surprised if Bruce Springsteen announces plans to play Gillette Stadium this summer. The Boss, who kicked off the Fenway concert series a few years back, is hitting the road with the E Street Band but so far hasn't scheduled any Boston dates. Word is Bruce will play Gillette on Aug. 1 and 2..."
And from the mouth of Silvio... asked by the Kansas City Star if the tour would be continuing past July, Steve says: "As far as I've heard, we'll be out through October. We'll probably hit Europe and then come back (to the U.S.). I haven't seen the schedule, but we're going to be out quite a bit for the rest of the year."
No new dates are official yet, but stay tuned.
-March 12, 2008

THE HANNAH MONTANA BILL
Yes, some Miley Cyrus news is worth reporting in this space, considering how many of us Springsteen fans have a dog in this fight. As the New York Times reports, "In the end, it wasn't the hard-to-get World Series, Super Bowl or Bruce Springsteen tickets that unleashed government wrath against ticket brokers (read scalpers?), but rather those for an imaginary Disney Channel persona."
Hey, whatever it takes. Read about the proposed NYC legislation (actually called the Ticket Resale Consumer Fairness Bill) here.
-March 12, 2008

PATTI SCIALFA, FIRST LADY OF NEW JERSEY
Mrs. S. volunteers to spearhead NJ Habitat project
Patti Scialfa has been absent from the Magic tour so far this year, apparently tending the home fires... now, she's gonna build a house. Habitat for Humanity's "National First Families Building Homes Program" is usually hosted by the spouse of a state governor, who partners with a local Habitat affiliate for a home-building project. Where to turn in the great state of New Jersey, where Gov. Jon Corzine is single? Naturally, to Patti, who has agreed to serve as the official "first lady" for Paterson, NJ's First Families project, known as Women Build.
With Patti joined by her mother Pat and her daughter Jessica, this will be the first three-generational Women Build team for Paterson Habitat For Humanity. "I have lived in New Jersey for my entire life and I am well aware of the critical need for affordable housing for low-income families," she says. "I am grateful for the chance to help Paterson Habitat and proud to be working with my family on this effort." The target date for the build is May 12.
-March 11, 2008

CLARENCE MOONLIGHTS WITH LEVON
Last night, between Buffalo and Uniondale stops on the Magic tour, Clarence Clemons took Manhattan for a cameo appearance at Levon Helm's show at the Beacon Theater. (As one reader points out, they toured together back in '89 -- with Nils Lofgren, too -- in Ringo Starr's first All-Starr Band.) Jeff Marino reports:
The show was fantastic, and Levon sounds wonderful and is playing as funky and classy as ever. Larry Campbell and Jimmy Vivino were on guitars, and they had a six piece horn section as well. Really something to see -- they played all the classics, "I Don't Want to Hang Up My Rock 'n' Roll Shoes," "The Shape I'm In," "Ophelia," "Rag Mama Rag," "The Weight," Ray Charles' "I Want to Know," 'It Takes a Lot to Laugh, It Takes a Train to Cry," and some beautiful songs from Levon's new record. They even did a version of "Atlantic City" similar to the one that The Band recorded, with Levon on mandolin.
It was about mid-set when Vivino stepped the mic and said, "I don't think Jersey is being represented enough for this show, let's bring out the Big Man!" -- and out struts Clarence in leather pants. The crowd went wild. He sat on a stool in the front of the stage as Vivino added, "No introduction is necessary." They played a slow, bluesy version of Bobby Lewis' hit "Tossin' and Turnin'," with Pheobe Snow out to sing the lead vocals, and Clarence ripped his sax solos the entire song. Obviously there was some "Bruuuucing" going on after that one.
Clarence must have left soon after, because they called for him again at the encore and he was gone. Vivino: "I guess he needs sleep, he's got a job with that other guy!"
-March 9, 2008

BRUCE TO BENEFIT THE BASIE
"An Evening with Bruce Springsteen" on May 7
The Count Basie Theatre in Red Bank, NJ, has been home to numerous special Springsteen performances over the years: the 1993 warm-up show ("Achy Breaky Heart," anyone?), benefits in 1998 for the Sgt. Patrick King Memorial Fund, in 2001 for the Alliance of Neighbors, in 2003 for Robert Bandiera Jr., in 2006 for the PALS support group, and more.
Now, Bruce Springsteen will perform a concert there to benefit the theatre itself, on Wednesday, May 7, in the three-week break between North American and European legs of the Magic tour.
Proceeds from "An Evening with Bruce Springsteen" will benefit the historic Count Basie Theatre and help offset the cost of the renovation and restoration of the theatre that will begin this summer. A portion of the concert proceeds will also support other programs and operations at the Theatre, such as the Cool School. Patti Scialfa serves on the Board of the Basie Foundation and as Honorary Chair of the Capital Campaign.
In two weeks, tickets will be made available to the public through an online "Make Your Best Offer" Auction beginning March 20 at www.countbasietheatre.org. Instructions on how the auction will work will be provided both there and here on that date.
Rusty Young, CEO of the Count Basie Theatre Foundation, said, "We are excited that Bruce Springsteen will be performing a benefit concert and deeply appreciate his willingness to help preserve and restore the Basie."
-March 6, 2008


MP3 OF THE DAY
In April of 2007, Josh Ritter was invited to participate in the Bruce Springsteen Tribute at Carnegie Hall in New York City. That night, before Bruce himself took the stage, Josh performed a chilling, solo acoustic version of "The River." Not captured in a recording, it has remained one of the most talked-about performances from that night. But while performing an encore in concert on September 12, 2007, Ritter broke out his rendition of "The River" again for the audience in Berlin -- there's a pristine recording thanks to German radio, and you can download it here. For more on Josh, currently on tour, visit his MySpace page and his official site at www.joshritter.com.
[Downloads] -March 5, 2008

BACK IT UP!
Nils Lofgren's got a '72 Chevy with a 350...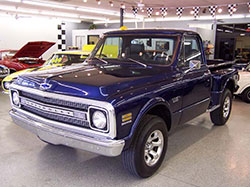 Truck lovers, check out Nils Lofgren's "bombing around town" vintage truck. A rust-free 1972 Blue Chevy C-10 Stepside 4X4 truck fully customized with 1997 drive line upgrades and conversions. Also included is a beautiful, new Takamine acoustic guitar with hardshell case autographed by Nils.
Check it out (with more great color pics and info) thru the link at www.nilslofgren.com or on eBay (item #120205610101). The truck is being handled by Bromm Auto in Scottsdale, AZ, (480) 949-8227.


THIS IS RADIO NPR
Listen to National Public Radio's Morning Edition for a new Springsteen interview tomorrow (Wednesday, March 5). "As presidential candidates deliver their messages across the nation," NPR reports, "Bruce Springsteen is traveling the country delivering his." Backstage in Hartford, he spoke with Morning Edition host Steve Inskeep "about mixing music and politics." Programming can vary from station to station, but try listening up at 6:20 and 8:20 a.m
3/5 update: The full segment (7:46), plus "audio extras," streaming online now at npr.org.
-updated March 5, 2008

AN EXTENSION FOR E STREET RADIO; BRUCE TALKS DARKNESS 30
New Marsh interview with Springsteen on SIRIUS this week
First, some excellent news: SIRIUS Satellite Radio has just announced that it will continue its all-Springsteen E Street Radio channel through the end of May. And to help celebrate, Dave Marsh conducted a follow-up interview with Bruce during Asbury Park second-leg rehearsals last week, updating things since their last SIRIUS chat at the beginning of the Magic tour. This time, Bruce discusses the next leg of the tour, the songs on the album, and his thoughts on the presidential primaries. Fans can hear the interview Thursday, March 6, at 4 p.m., with encores Thursday at midnight; Friday, March 7, at 8 a.m., 4 p.m., and midnight; and Saturday, March 8, at 8 a.m. and 6 p.m. (all times Eastern), on E Street Radio, SIRIUS channel 10.
Marsh premiered the complete, unedited recording of the interview, conducted in an echo-filled dressing room, this past weekend on his own "Kick Out the Jams" radio show, which airs on SIRIUS' Sirius Disorder channel 70 on Sundays from 10 a.m. to noon. Of particular interest is Bruce's confirmation that he is exploring the Darkness on the Edge Of Town-era archives with an eye towards releasing a commemorative 30th anniversary set a la 2005's Born to Run set. Bruce only committed to the term "if," not "when"... but if all goes well, fans could be in for a real treat later this year.
SIRIUS is also giving away a pair of tickets to every date on the 2008 US tour, along with passes to the E Street Lounge where you can relax before the show. One lucky winner will also receive a Magic CD autographed by The Boss himself. To enter for your chance to win, go to sirius.com/estreetradio.
-March 3, 2007

HAMILTON CONCERT INFO
You'll find general admission/pit lottery info for Monday night's Hamilton show online now at the Copps Coliseum website. Note that his information isn't venue-specific -- this policy applies to any arena show on this leg, including Sunday night in Montreal, unless a venue specifies otherwise.
-March 1, 2007