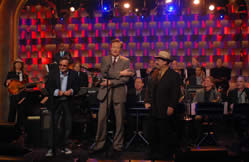 TANGO 'TIL YOU'RE SORE
On April 24, while Bruce and the E Street Band play Hartford, CT, the Two River Theater in Red Bank will host some other New Jersey greats: Southside Johnny and LaBamba's Big Band. They'll be performing songs from their long-awaited CD, Grapefruit Moon: The Songs of Tom Waits. Don't miss a rare chance to see this fantastic collaboration live, in what's likely the perfect venue (where Springsteen taped his VH1 Storytellers special) for intimacy and acoustics. Tickets on sale now!
- March 29, 2009

GENERAL ADMISSION/PIT INFO: THE OFFICIAL WORD
With San Jose coming up this week, many are wondering how the General Admission procedure will work this time around. Wonder no more. A PDF (which we highly encourage you to read) has the full lottery procedure; here's the basic timeline:
Sequentially numbered wristbands will be distributed from four hours prior to doors until one hour prior to doors.
A starting number will be randomly picked 45 minutes prior to doors; patrons line up in order behind that number.
The line begins moving in 10 minutes prior to other patrons entering the venue, to begin filling the pit.
Of course, G.A. ticketholders may arrive at the venue at any time after the doors open for a spot on the floor; only those interested in "the pit" directly in front of the stage need to be concerned with this procedure.
View/download PDF for full details.
- March 28, 2009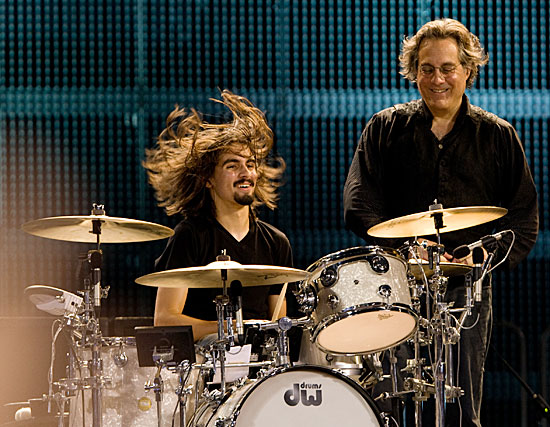 GIVE THE DRUMMER'S SON SOME
Here's how the change was made uptown and Jay Weinberg joined the band -- at least for "six or seven shows of the European tour," according to Andy Greene at Rollingstone.com:
Last December E Street Band drummer Max Weinberg was driving his 18-year-old son Jay to school in Hoboken, New Jersey, when Bruce Springsteen called. "He wanted to talk to Jay," says Max. "He said to him, 'Jay, this is Bruce. You may have heard I have a band. In that band I have the world's greatest drummer, who has a scheduling conflict. He gave me your name and number and suggested that I call you to see if you'd be interested in playing with me and the E Street Band.' " Jay accepted.
Jay, Max, and Jon Landau talk with Greene for "Springsteen's 'Secret Weapon': How Jay Weinberg Scored a Spot in the E Street Band."
- March 28, 2009 - photograph by Michael Zorn (7/28/08)

GET RHYTHM
Max and Garry to speechify at next week's Rock Hall induction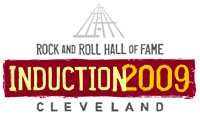 The Rock and Roll Hall of Fame's 2009 Induction Week begins tomorrow, and the culmination will bring a very busy weekend for the E Street Band's rhythm section. In between Friday's show in Glendale, AZ and Sunday's show in Austin, TX, they'll travel to Cleveland, OH to honor another famous rhythm section: Elvis Presley's.
At the annual ceremony on Saturday, April 4, Max Weinberg and Garry Tallent will be inducting drummer DJ Fontana and the late bassist Bill Black, respectively, in the Sidemen category. The ceremony will be broadcast live on Fuse.
Also during the course of the week, the Rock Hall will unveil its new exhibit -- "From Asbury Park to the Promised Land: The Life and Music of Bruce Sprinsteen" -- on the same day the new Springsteen tour kicks off, Wednesday, April 1.
- March 27, 2009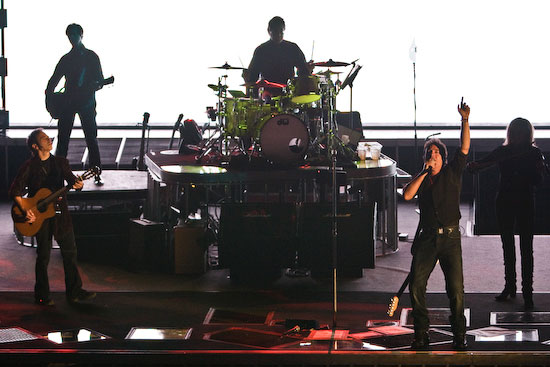 MARCH 24, ASBURY PARK: SEEDS OF A NEW TOUR
"What a difference a day makes!" Bruce said with a smile as the encore began. And in many ways he was right: the set was tight, the energy in Convention Hall was through the roof, and the E Street Band was truly a well-oiled machine for this second of two rehearsal shows. Springsteen put the emphasis on "show" rather than "rehearsal," dropping the relaxed chatter and bringing the pace back to Magic tour levels (so much so that he cut a full 25 minutes off the running time of the night before), and exhorting the high school gym-sized venue as if it were an arena. The effect was often exhilarating -- I mean, that was a Springsteen show.
But it doesn't yet feel like a new show. Of the nine songs not played the night before, the majority were straight from the past decade's comfort zone: very familiar versions of "Darlington County," "Waitin' on a Sunny Day," "The Promised Land," "Dancing in the Dark," and "Tenth Avenue Freeze-out." It's hard to deny the power of the perfomance -- but at this point that's generally a known quantity. In this equation, we're still solving for the Working on a Dream show. "We come to these shows and we find our current selves," Springsteen said as he thanked the crowd for being part of the tour prep, significantly adding, "We try to do something different each tour." So it's on his mind -- what's still unclear is whether he thinks he's got it, or whether he's letting us know that he's working toward it.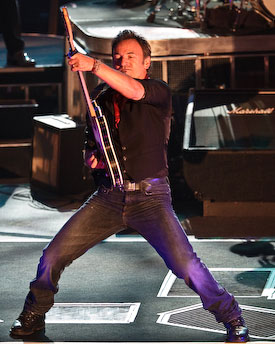 Working toward it tonight were some successful setlist tweaks: moving "Badlands" to the opening slot seemed to wipe the dust off that one. It was a powerful standing start that got fists pumping (and Bruce windmilling) immediately, and it effectively set up "Outlaw Pete." Also seeing a significant placement shift was "Born to Run," getting an unusual main-set appearance to close. "Mary's Place" was out. Shake-ups good. Add a new one to Jay Weinberg's repertoire, as he nailed "Lonesome Day," then helped closed out the set on "Radio Nowhere" and "Born to Run." The crowd loves Jay, for good reason, and it was again a moving moment as his dad joined him for the bows, sharing a hug and lifting the grinning kid's hand into the air.
"Seeds" was a huge moment for those of us who have been waiting for its full-band return since the Tunnel tour in '88. A great dirty groove, and the line "The banker man said, 'Sorry, son, it's all gone'." That was followed tonight by "Johnny 99" and the fiery, electric "The Ghost of Tom Joad" in the most potent arc of the show. "Land of Hope and Dreams" turned up in the encore, its first E Street outing since 2004, and it felt good: a message more immediate and relevant at this moment than, say, "American Land" (which closed the show), and an effective bridge between the "hard times" theme and the hopefulness of the new material.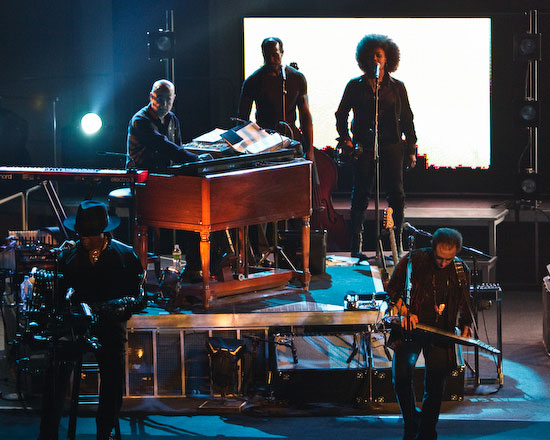 "Working on a Dream" keeps getting better, and what better way to have a whistle solo go over than to have Clarence to be the one to do it? Cheers for the Big Man. The premiere of "Kingdom of Days" was beautfiully played, displaying once again how well the new material translates live. Too bad it couldn't have joined "This Life" instead of taking its place; dropping "This Life" as well as "I Ain't Got No Home" drastically reduced the Curtis & Cindy quotient, and the set is still surprisingly light on WOAD tunes. Historically speaking, the beginning of a tour is when the new stuff gets a real workout.
Ah, but it's not even the beginning of a tour yet. While the "something different" Bruce is looking for may still be indistinct, tonight surely served as a confidence booster for him and the band at the very least, considering the form they displayed and the response it generated, and a chance to feel the connection with the audience, that crackle in the air. Now it's a matter of taking us somewhere we haven't been before.
- March 24, 2009 - report by Chris Phillips; photographs by A. M. Saddler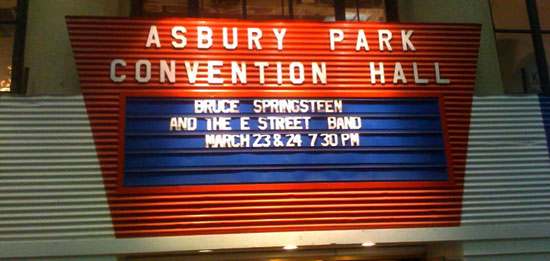 GREETINGS FROM ASBURY PARK, NJ
Back to it tonight! First, more reviews of the first rehearsal show from our friends Jay Lustig for the Star-Ledger, Kelly-Jane Cotter for the Asbury Park Press, and Anthony D'Amato for Rollingstone.com. And courtesy of NJ.com, clips of "Outlaw Pete" (giving a good sense of last night's easygoing vibe) and "My Lucky Day":
- updated March 24, 2009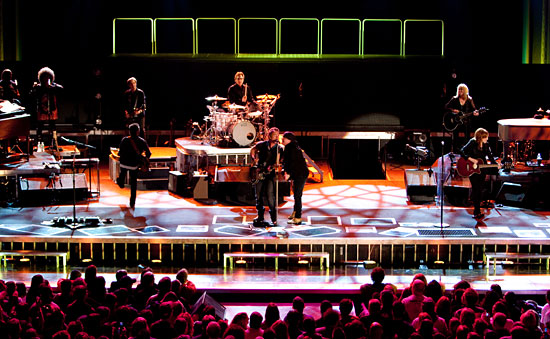 MARCH 23, ASBURY PARK: WORKING ON A SHOW
"Tonight is the night you get to be the guinea pigs..." Bruce told the Convention Hall crowd, "the guinea pigs for the rest of the world!" This first rehearsal show for the Working on a Dream tour, and the first live airing of a decent portion of the new album, was a mixed bag -- and Springsteen seemed to know it going in. "I don't know if we got a show yet," he qualified at the outset, "but we'll do a bunch of songs and see how we do." You can't say he isn't self-aware: that's what we guinea pigs got, the Boss throwing stuff at the wall to see what sticks, and that was pretty much the point. It's not a show yet; it's on its way, and this is the way. Sure, we had full lighting and the semblance of a show, but tonight felt less like a dress rehearsal and more like just the next incremental step in the rehearsal process, a first stab at playing this new batch for faces looking back.
As Springsteen said later in the night, "These shows are really important to us. They allow us to get our wheels underneath us and touch base here at home... it does help us a lot. You can practice a lot in isolation... I tell myself everything sounds great! But when we come out and play [for you], we hear it through your ears, hear what works and what doesn't. So as we construct the show, it's very helpful to us."
So what worked? 12 players on stage, that worked. In addition to the full E Street Band (with Patti Scialfa present and accounted for, Soozie Tyrell and Charlie Giordano also returning), we've got two more faces up there. In between Garry Tallent (now positioned on Max's right -- shades of '88!) and Charlie are two backup singers, "the fabulous Curtis King and Cindy Mizelle from the Sessions Band." And if you thought the E Street Band had a full sound before, wait til you hear this. It's an expansion of their sonic palette on the level of Soozie's addition to the band on the Rising tour. Any question of how the pop sound of Working on a Dream might translate to the stage is answered by the presence of Curtis and Cindy. (Makes me wish they'd been there for "Girls in Their Summer Clothes" last time around.) They're still learning the E Street ropes, but especially with a full Springsteen tour under their belts already, look for them to make this tour shine in short order.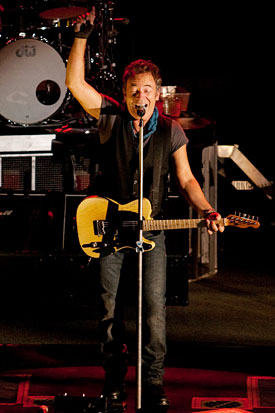 The message worked. The most clearly thematic song choices made for the most compelling performances of the night. And it wouldn't take a genius to guess what might be on Bruce's mind this time around. "A lot of folks struggling out there, a lot of hard times," he said, introducing a muscular, guitar-heavy "Johnny 99" with the Big Man on baritone sax, melding the late-'03 and Sessions Band arrangements. Another inspired song choice was "I Ain't Got No Home," originally released on Folkways: A Vision Shared. In this live version, the vocalists came down front for an a cappella intro, simply massive harmonies that recurred on the chorus throughout. (And a nice twist of the lyric at the end: "The banking man is rich, and the working man is poor.") Kicking off the encore was a reinvention of Stephen Foster's "Hard Times Come Again No More," akin to what he and the Sessions Band did with "How Can a Poor Man Stand Such Times and Live?"
The pacing worked, in a sense. Not that Bruce has yet figured out the structure or the flow; clearly that's still to come. But the relentless drive of the Magic tour is gone, and right now that feels like a good thing, letting these songs breathe a bit.
Jay Weinberg worked -- and worked hard. In the middle of the set, Bruce brought him out for a five-song stretch: "Just a little magic -- I can actually make Max 40 years younger!" Jay's big beat powered "Good Eye" first, Bruce with the bullet mic, of course, and the backup vox getting wild, callling out "Ride that train!" This was cooool. From there into "Radio Nowhere" they really put Jay through his paces, with the huge drum breakdown at the end of that song leading right into the stamina-fest of "Candy's Room." His hair flying, even breaking a freakin' drumstick, Jay came through the gauntlet with a big grin, Bruce going back for a high five. "Jay is 18!" Bruce laughed, and the implication was clear -- he's that good already?
Nils' new hips -- they worked! "Because the Night," with Jay still behind the kit, featured Lofgren's signature solo, complete with lunges and spins. Looks like the PT paid off.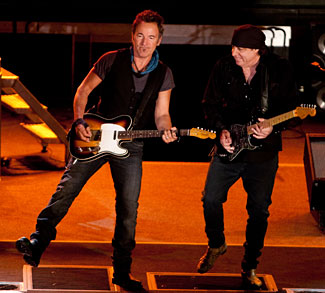 Working on a Dream songs are getting up on their feet pretty nicely, though there weren't as many in the set as we might have expected. ("Kingdom of Days," for one, was on the setlist but not played.) "My Lucky Day" in particular had a good, classic E Street feel; stripped of some of the busy-ness of the album version, it was a straightahead, high-energy rocker that brought Bruce and Steve face to face at the mic and really got things going. After Charlie's swirling keyboard intro, a beautiful airing of "The Wrestler" was driven largely by Bruce and his acoustic, but it gradually built with subtle accompaniment from Charlie and Roy, Soozie's fiddle, and finally Max coming in to give it a climactic beat. "This Life" was a complexly arranged vocal showcase, with majestic, sunny harmonies -- unabashed pop, and while some hearts of stone may not dig it, it was glorious to these ears.
What didn't work? Well, teaching some of those "This Life" parts to the crowd was awkward. This half do this... now this half do that. ("Two-sevenths, five-sevenths," Steve Martin would add.) The transition from "Surprise, Surprise" into "Badlands." Structure? What structure? "Mustang Sally," played by request with guest John Eddie, was a bit of a mess, though Bruce and the band held it together, and getting a classic cover in the encore is always a good direction.
But the real issue was the retread factor. The Magic tour may have ended not very long ago at all, but the feeling among fans seems to be that we're ready and hoping for something new, not simply picking up where we left off. Maybe Bruce felt he and the band needed a few safe places to land, but while the night was surprisingly light on Magic material, too many moments felt like holdovers. A lengthy "Mary's Place," complete with "Are you ready?" intro and mid-song rap, feels more tired than ever. At this point the song feels like an AC/DC stage prop: built for touring, why leave it in storage when you can keep taking it on the road? And shouldn't that house down by the river be built by now? We can only hope Springsteen finds a new centerpiece for the show, and soon. Compulsory takes of songs like "Badlands" and "No Surrender" as the night wore on, and "American Land" at the end, just served as a reminder of the vast swaths of Springsteen's songbook he has visited all too rarely -- or in the case of Devils & Dust and a good deal of his '90s material, not at all with the E Street Band.
But all things in good time. Here in the preparation phase, getting to watch Springsteen develop a show is compelling in and of itself -- as long as you're not looking for one fully grown at birth. And with surprisingly few miscues tonight, even the goofs were fun. Like when Bruce stopped "Johnny 99" dead for a moment: "Waitaminute! We almost... We almost had it! A one-two-three!..."
"This is a run-through," he reminded us at the encore break. "We'll see what flies. Next time you see us we'll be a well-oiled machine. We're sort of a well-oiled machine tonight." At that, Steve shook his head. But "sort of well-oiled" feels about right for night one.

- March 23, 2009 - report by Chris Phillips; photographs by Michael Zorn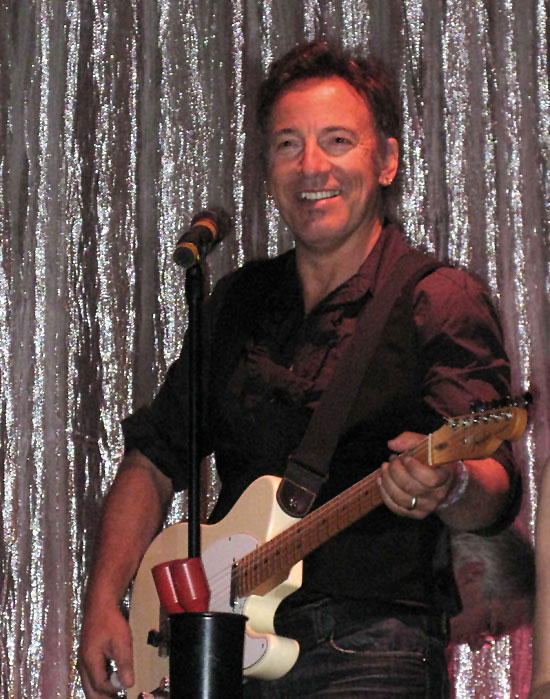 SATURDAY, I'M AT THE PANTHER CLUB
Last night, Springsteen warmed up for his warm-up, taking the stage in Long Branch, NJ, at a benefit for the Ranney School. He joined The Panther Club band for a three-song jam including "Mustang Sally" by request, on which he called a few fans up to sing along.
- March 22, 2009 - photograph by Jeremy Zelkowitz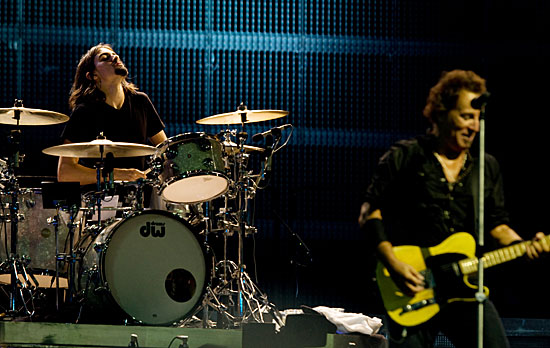 MY FATHER'S HOUSE
Jay Weinberg to fill in for his dad on drums at a "small number of shows"
After Jay Weinberg was spotted at recent rehearsals, there's been plenty of speculation that, if and when Max needed someone to fill in for him, the E Street Band would be keeping it in the family. Just announced:
In response to the many questions concerning the upcoming tour, the drummer on the small number of shows that Max Weinberg won't be able to appear at will be a brilliant young drummer from New Jersey named Jay Weinberg. Commenting on the situation, Bruce said: "Once again, I want to express my appreciation to Conan O'Brian, and everyone on his team, for making it possible for Max to continue to do double duty for both us and for him. We promise to return him in one piece."
Jay has already played on stage with the E Street Band onstage, getting behind the kit for "Born to Run" at Giants Stadium last summer. Max himself recently described his son to Backstreets as "a hell of a drummer," and many fans at that July 28, 2008 show felt the same way. See for yourself here.
- March 20, 2009 - photograph by Michael Zorn (7/28/08)

"YOU HAVE DONE WELL, GRASSHOPPER"
Springsteen on the March 19 Daily Show with Jon Stewart
- March 20, 2009

TICKET ALERT: REHEARSAL SHOWS SET FOR MONDAY & TUESDAY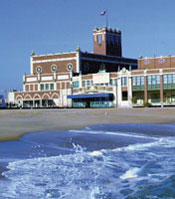 Ten years after they played their first shows there, Bruce Springsteen and the E Street Band have confirmed two more rehearsal shows at Asbury Park's Convention Hall: Monday, March 23 and Tuesday, March 24. These will be fans' first taste of the upcoming Working on a Dream tour.
Tickets for both performances will go on sale tomorrow: Friday, March 20 at 12:00 noon through Ticketmaster Charge-By-Phone only.
The nitty-gritty, please read carefully:
All tickets are $100.00
Two (2) ticket limit per person.
No double orders. Customers may only buy tickets for one show.
Orders will be taken by phone only. Ticketmaster's toll-free number is 800-745-3000. For deaf patrons, Ticketmaster's automated, toll-free TDD number is 866-448-7849.
Tickets will not be mailed out. Tickets can be picked up the night of the show only. Two (2) forms of ID necessary to pick up all tickets.
No cameras / recorders / laser pointers.
No re-entry.
Show time on both nights is 7:30pm. Good luck with tickets!
- March 19, 2009

UPDATE ON MEADOWLANDS TICKETMASTER DEBACLE
Random drawing for eligible consumers slated for March 31
Many of those who filed complaints regarding the Ticketmaster/TicketsNow snafu in New Jersey will have the opportunity to purchase tickets for face value (with no Ticketmaster fees). According to a statement from New Jersey's Office of the Attorney General:
...a random drawing for tickets to see one of two Bruce Springsteen and the E Street Band concerts in the Meadowlands in May will be held March 31 for consumers who filed complaints with the consumer affairs division in February about Ticketmaster's on-line sale of tickets to the concerts.

The random ticket drawing is part of a settlement with Ticketmaster to resolve more than two thousand complaints filed by consumers seeking to purchase tickets to the Springsteen concerts.

The settlement created a random drawing for consumers who filed complaints against Ticketmaster with the Division of Consumer Affairs as of Tuesday, February 17, to purchase two tickets each to one of the two concerts scheduled for May 21 and May 23 at the Izod Center. A total of 2,000 tickets -- 1,000 for each concert -- are available for the two concerts....

Those consumers who filed complaints but are not chosen in the March 31 random drawing for the opportunity to purchase tickets to the May concerts will be given a $100 Ticketmaster gift certificate and will be given the opportunity to purchase two tickets to a future Springsteen concert in New Jersey prior to a general ticket sale.

The New Jersey Sports and Exposition Authority will conduct the random ticket selection with a representative from the accounting firm Deloitte & Touche on hand to observe the selection process.

The Division of Consumer Affairs submitted 1,861 names to the sports authority for the random ticket selection process after carefully sorting through all its more than 2,200 complaints and removing from the drawing consumers who already had obtained tickets. Consumers will be randomly selected and randomly matched with a pair of tickets to either the May 21 or May 23 concert. Consumers may not pre-select a concert date.

Once the random ticket selection is completed, the selected consumers will be notified by mail and sent a credit card authorization form for the tickets. The forms will be mailed on or about April 3. Forms must be received back by the Sports Authority no later than 5 p.m. April 16. Tickets will be either $98 or $68 per ticket, with no Ticketmaster fee charged. Tickets may only be picked up the night of the concert at the Izod Center box office. Consumers will have to submit a photo ID and the credit card used to purchase the tickets....
Click here for the full press release.
- March 19, 2009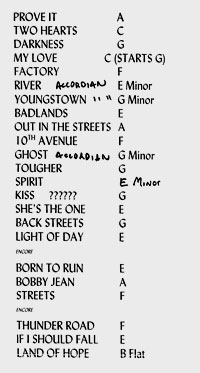 A DECADE BACK ON E STREET
Ten years since "a night of rebirth"
We don't mark just any anniversary that comes along, there are countless shows with a golden glow... but this is a big, big one. As Bruce and the E Street Band warm up on the Asbury Park boardwalk for yet another tour together, we have to recall that it was exactly a decade ago that they played Convention Hall for the very first time.
Yes, the rededication of the E Street Band is ten years old tonight -- ten years since fans got our first full taste of what the reunion tour would bring, when Bruce and the band opened Convention Hall doors for rehearsal shows on March 18 and March 19, 1999. [Right: the planned setlist for 3/18/99; performance varied slightly]
"I've never played here," Bruce told the crowd that first night -- this before the numerous holiday shows and morning show broadcasts yet to come. "It's nice to be able to play here tonight. This is a special night for us, because it's kind of a rededication -- it is, it's a rededication of our band, and the job that we do, and our committment to serve. So it's a big, big night."

It remains big in our memory, too -- a mere three days after Springsteen's induction into the Rock and Roll Hall of Fame, the stunning sight of the E Street Band back together for a full tour, the band's first in a decade, Steve's first in 18 years. The world premiere of "Land of Hope and Dreams" and an E Streetified "If I Should Fall Behind" signified that nostalgia would be taking a back seat, Bruce telling the crowd, "We're going to leave you with something new, because it's a night of rebirth."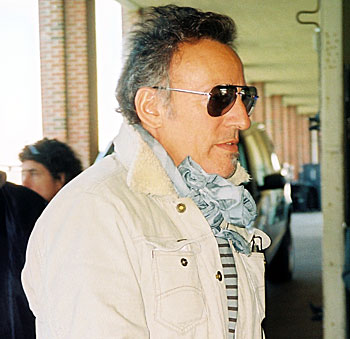 Ten years on, it's clear that Springsteen took that concept of rebirth seriously, meaning what he he said about commitment. The Working on a Dream tour -- the band's fourth outing since the reunion tour wrapped in 2000 -- kicks off two weeks from tonight. [Left: Bruce at Convention Hall for WOAD rehearsals, 3/17/09.]
Will we be lucky enough to have those Convention Hall doors open up once again for another tour sneak peek? Still firmly in the rumor category, but sources say it looks promising. We'll keep you posted, and in the meantime you can continue to keep up with what's going on behind closed doors by reading Stan's reports on BTX (Monday, Tuesday, Wednesday).
- March 18, 2009 - Convention Hall photographs by John Cavanaugh ('99) and Ross Pantone ('09)

DAILY SHOW UPDATE: I GOT A SONG TO SING
Scratch what we said below; change of plans: Bruce's appearance on tomorrow's Daily Show with Jon Stewart will include a solo performance of "Working on a Dream," making Springsteen only the fourth musical act to perform on the show (after The White Stripes, Tom Waits, and Coldplay). Don't forget to tune in Thursday night, 11:00 pm Eastern.
- March 18, 2009

PETE SEEGER BIRTHDAY BASH IS ON
It's official: On Sunday, May 3 -- the "night off" between the E Street Band's Greensboro and Nassau Coliseum shows, and Pete Seeger's 90th birthday -- the folk legend will be joined by Bruce Springsteen and numerous others for a benefit show at Madison Square Garden. The concert will "celebrate Pete Seeger's life and legacy"; see www.seeger90.com for full details. Dylan isn't on the bill as previously reported (he'll be on tour across the pond), but Earle, Harris, Mellencamp and Vedder will be there, along with Dave Matthews, Ani DiFranco, Arlo Guthrie, Billy Bragg, Bruce Cockburn, Michael Franti, Tom Chapin, and many more.
An American Express pre-sale starts this Monday, March 23; the general onsale is week later, on Monday, March 30, through Ticketmaster.
- March 18, 2009

FROM COMEDY CENTRAL'S WORLD NEWS HEADQUARTERS IN NEW YORK...
An update on Bruce's Daily Show appearance Thursday night: we're hearing it'll be a deskside chat with Jon Stewart, a standard guest thing rather than a performance. But maybe Jon can get him to do the Paul Rudd dance.
- March 17, 2009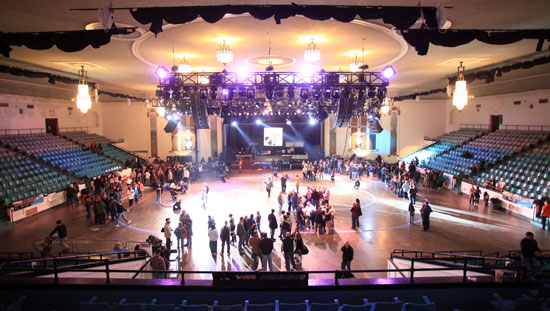 INSIDE CONVENTION HALL
Hey, what's a rig like you doing in a place like this? Over the weekend, the Jersey Shore Roller Girls had quite a light and sound system at their disposal for a Saturday night bout on the boardwalk...
- March 17, 2009 - photograph by Mike Black

SEEGER'S 90th BIRTHDAY TO BRING BRUCE TO NYC
Pete Seeger will turn 90 on May 3, and to celebrate, a massive tribute concert is being planned for that night at Madison Square Garden. And while the WOAD tour won't be bringing Bruce to The World's Most Famous Arena, it looks like this birthday bash will. The beneficiary will be Hudson River Sloop Clearwater, an organization founded by Seeger in the '60s, which now reports that Bruce Springsteen is confirmed as a performer at the May 3 event. Also on the bill: Bob Dylan, Steve Earle, Emmylou Harris, John Mellencamp, Eddie Vedder and more. No official announcement yet, but we expect one shortly, with tickets likely on sale this weekend. Stay tuned.
- March 16, 2009

24 HOURS FROM TULSA
Tomorrow brings a second shot at Tulsa tickets. According to local station KOTV, "BOK Center officials say overwhelming demand has prompted the release of the seats located behind the stage" for the April 7 show, and approximately 1,000 such tickets will go on sale Tuesday morning, March 17, at 10 a.m.
"All of the tickets to be released will be priced at $57.00 and will be available for sale at Arby's Box Office, BOKCenter.com or by phone at 866-7-BOK-CTR."
- March 16, 2009

HERE IT IS, YOUR MOMENT OF ZEN
Are you a fan of joy? Well, joy comes to Jersey boy Jon Stewart this week -- and to us, too: Thursday will bring Bruce Springsteen's first non-green screen appearance on The Daily Show. Prepare to bask in the righteousness.
The show debuts March 19 at 11:00 pm Eastern on Comedy Central. Put down your pancake-wrapped-sausage-on-a-stick and turn that tellyvision all the way up!
- March 16, 2009

DOWN ON THE BOARDWALK THEY'RE GETTIN' READY
The E Street Band began convening for rehearsals on the Jersey Shore this week, gearing up for the Working on a Dream tour, now less than three weeks away. No word about possible rehearsal shows yet, though of course plenty of hopeful buzz... right now these are closed rehearsals as the band gets up to speed with the new material. No spoilers here, but if you'd like to follow along, check out Stan's reports on BTX (Wednesday, Thursday) with surely more to come.
- March 13, 2009



SPANISH REISSUES: JUST WHEN YOU THOUGHT YOU WERE OUT...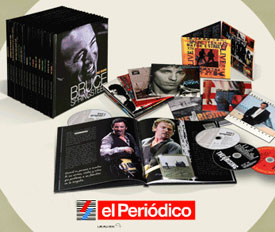 An update on the Spanish reissue series, the CDs and accompanying hardback books being released by El Periodico: the second batch of eight titles have finally arrived! Thanks for your patience while these traveled from Spain. They're in stock now at Backstreet Records and shipping out to everyone who ordered from us, completing the subscription to the set of 16. If you're not sure what I'm talking about, click here for details -- we've got just a few sets left, if you're interested.
But wait, there's more. Apparently the series was so successful, El Periodico is going back to the well for eight more! This "extension" brings us eight more Springsteen titles with matching books, which will join the original set of 16 to bring the count up to 24. This time they're doing DVDs, or albums with DVD content, like Devils & Dust and Live in Dublin. See the Spanish reissues BONUS SET in our online shop for more information, and pre-order now to guarantee availability. This bonus set will ship later in the spring.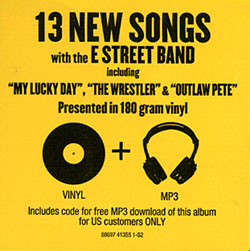 Also in our shop:
We just got a fresh shipment of the Working on a Dream 2LP vinyl. This release continues a trend we love, including a coupon for a free mp3 download of the album when you buy the vinyl. This is how it should be done. (U.S. customers only, though.) Plus, we're now able to offer the companion lyric booklet as a bonus when you order the vinyl. It's a 5" x 8", 28-page promotional item from Sony -- sort of an oversized version of the CD booklet, with additional photographs. It's yours free with the WOAD album in any format, CD or vinyl.
Plus: the last batch of 2009 calendars is here, grab 'em while they last. And we've also found a stash of Lynn Goldsmith's book Springsteen: Access All Areas, long out of print. See our Latest Additions page for more new items in stock, including sheet music for "Working on a Dream" and "The Wrestler."
- March 13, 2009

BIG MAN, BIG PLANS
Clarence Clemons did an interview with the Petros & Money Show on L.A.'s KLAC AM 570 yesterday, noting that the Working on a Dream tour isn't the only thing on his plate this year: "I'm just finishing a book called Big Man, it'll be out in September... that's my big thing. So this tour will be a music and book tour for me." C also talked about his background in football, his work on The Wire, "peaceful violence," and what he thinks about Working on a Dream -- "I'm kind of partial to 'Oulaw Pete'." Stream the interview from the KLAC website, where you'll find a link for the 3/9 interview under On Demand.
- March 10, 2009

ONE FOR THE LITTLE GUYS
New Bruce 7-inch coming exclusively for Record Store Day

Our favorite new holiday is Record Store Day, which started in 2007 and is held this year on April 18. As described at recordstoreday.com, it's:
...a celebration of the unique culture surrounding over 700 independently owned record stores in the USA, and hundreds of similar stores internationally.... This is the one day that all of the independently owned record stores come together with artists to celebrate the art of music. Special vinyl and CD releases and various promotional products are made exclusively for the day and hundreds of artists in the United States and in various countries across the globe make special appearances and performances.
Maybe it's because we are an independent record store. Or because everyone who works here has haunted places like these since we were old enough to buy our first 45. Or because we know that angels in heaven cry another tear when another "mom & pop" shop closes. But this year it's our particular favorite because Bruce is joining in the festivities.
A new Springsteen seven-inch is being pressed for Record Store Day, featuring "What Love Can Do" as the A-side and "A Night With the Jersey Devil" as the B-side. It'll be available exclusively not from Wal-Mart, not from Amazon, but from indie stores. Click here to find a participating store near you, and we'll post more information on availability is it comes in.
- March 9, 2009

THREE SPANISH SHOWS ON SALE THURSDAY
Here are the missing pieces of the puzzle: the three remaining shows in Spain -- Sevilla, Valladolid, and Santiago -- all go on sale this Thursday morning at 10 a.m., through www.ticketmaster.es. See our Tour/Ticket Info page for the full itinerary and links.
- March 9, 2009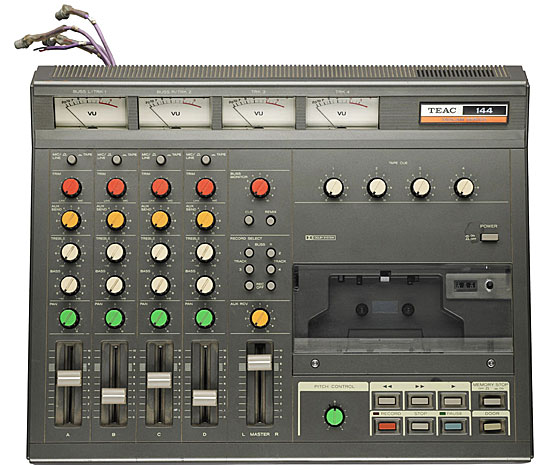 FIRST LOOK: ROCK HALL'S SPRINGSTEEN EXHIBIT OPENING APRIL 1
The TEAC 4-track recorder Bruce used to record Nebraska -- that's it above, the very one. And you'll be able to see it up close and personal at Cleveland's Rock and Roll Hall of Fame in Museum in less than a month. On April, 1, during the Rock Hall's 2009 Induction Week, they'll unveil their latest exhibit, "From Asbury Park to the Promised Land: The Life and Music of Bruce Springsteen." Here's a sneak peek.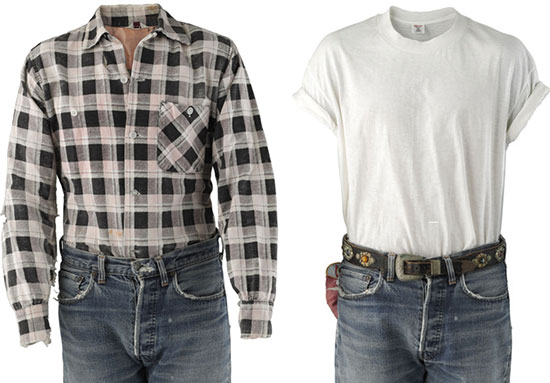 The exhibit will be a comprehensive look at Springsteen's music, from early bands like Child, the Castiles and Steel Mill through his work with the E Street Band and as a solo artist. Several of Springsteen's guitars will be there, including his legendary Fender Esquire and a custom decorated guitar from the Seeger Sessions tour. Outfits will be on display, too, including those he wore on the covers of Born in the U.S.A., Human Touch, and The River, as well as numerous handwritten lyric manuscripts, posters and handbills from all phases of his career, and various awards and honors. Danny's accordion will be there; the sax Clarence used to record the "Jungeland" solo; even Springsteen's 1960 Chevrolet Corvette, which he purchased after the success of Born to Run.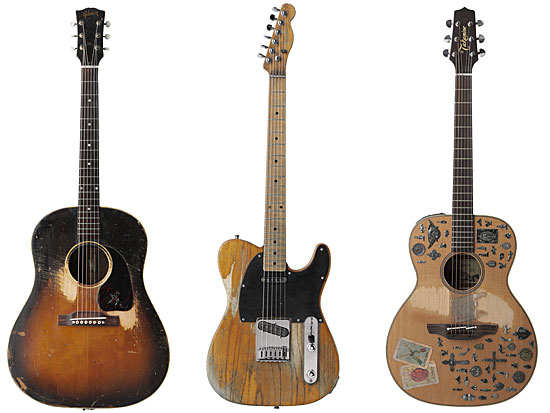 The exhibit is slated to run through the spring of 2010. Visit rockhall.com for more information.
- March 6, 2009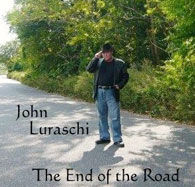 SPRINGSTEEN JOINS LURASCHI
AT THE END OF THE ROAD
John Luraschi, one of the Creators of the Sounds of Asbury Park, started performing on the Jersey Shore when he was 14, in the mid-'60s. A much-respected stalwart of the scene ever since, and a good friend to Backstreets, Luraschi has held it down for bands like Cold Blast and Steel, Cahoots, Maddog & the Disco Rejects, Boccigalupe & the Bad Boys, and Steel Mill Retro. Now, more than 40 years later, he's completed his own record.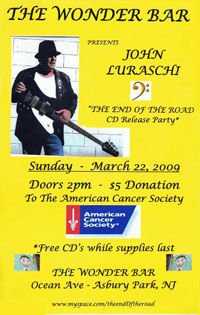 On March 22, John celebrates the release of The End of the Road with a CD release party at the Wonder Bar at 2:00 p.m. As the album title suggests, confronting his own mortality is what inspired the recording -- John recorded the album last year in between chemotherapy treatments, while battling Stage IV cancer, in order to leave behind music he created for future generations to enjoy. Helping him fulfill that wish were people like Joseph DeMaio of Shorefire Recording Studios (who stepped up to produce, mix, and master), project manager Rose Montana, Toby Scott, and Bruce Springsteen.
While The End of the Road is a showcase for Luraschi's songwriting, it also includes two Springsteen covers: "Seeds" and "Savin' Up." Bruce himself joined his old friend for duet vocals on the latter. The CD is a limited edition and not for sale; some will be available at the March 22 release party in Asbury Park, with a $5 donation requested for the American Cancer Society. For more on John, the CD, and the release party, see www.myspace.com/theend0ftheroad.
- March 6, 2009

STEVE TALKS TOUR WITH ROLLING STONE; TO TALK MORE AT SXSW
Shooting the bull with Rolling Stone's Rock & Roll Daily about a number of his irons in the fire, Steve Van Zandt looks toward the upcoming Working on a Dream tour: "Rehearsals start a week or two before. We'll do our usual three days just to learn the new album, then off we go." Speculating about what'll be on the setlist, he says, "we usually play most of the new album right away. I'm sure that will be the case here. What the other half of the show is, we'll see."
He also addresses the previously reported possibility of playing complete albums live, start-to-finish: "It could be something like that.... If I could pick, it's gotta be The River. I'd want to include the outtakes on the Tracks collection. Then you have a hell of a show. You don't have to do anything else." Read "Van Zandt on Springsteen Tour, Super Bowl Rumors and How Garage Bands Can Blow Up."
Before hitting the road for the tour, Steve will be a Featured Speaker at SXSW in Austin later this month, Friday March 20 at 11 a.m. Details here. He'll also be hosting two showcases featuring artists from his Wicked Cool label and other Underground Garage-approved acts the same day, 1 p.m. at Antone's and 8 p.m. at Red Eyed Fly.
- Updated March 4, 2009

AND I'LL BE IN SCOTLAND AFORE YE!
Scottish fans and their true love meet again this summer
It was a long road -- 28 years since playing Edinburgh on The River tour -- but this summer, the E Street Band finally returns to Scotland (Bruce himself last played Scotland solo in 1996). They'll play Glasgow's Hampden Park stadium on July 14, between already scheduled shows in Ireland and France. Tickets go on sale this Friday, March 6. More information at gigsinscotland.com.
March 3 Update: The pre-sale reported we yesterday has been cancelled --Glasgow tickets will go on sale to everyone at the same time: Friday, March 6 at 9 a.m.
- Updated March 3, 2009

LIVE IN BARCELONA RAISING FUNDS FOR PBS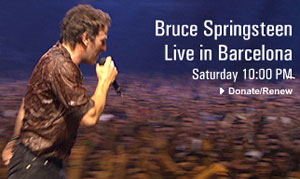 Bruce Springsteen: Live in Barcelona airs this weeekend on Los Angeles PBS station KCET as part of their pledge drive, with the Working on a Dream CD and Barcelona DVD offered as pledge premiums. Showtimes are tonight at 10 p.m., tomorrow at 9:30 p.m., and March 8 at 12 a.m.
Pledge breaks tonight will be hosted by actor Kevin Kilner and Cynthia Fox of 95.5 KLOS-FM, L.A.'s Classic Rock Station and home to Little Steven's Underground Garage Show. Fox tells Backstreets, "PBS needs everyone's support more than ever -- and I know Bruce Springsteen fans have generous hearts and believe in supporting the community. Thank you so much for your support!" For more information, visit www.kcet.org.
- February 28, 2009

BIZARRO BRUCE

Me think you am watch.
- February 28, 2009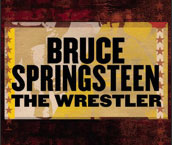 GOING ANOTHER ROUND WITH
"THE WRESTLER" VIDEO
Got four minutes and a pocket full of lint? Watch the video for "The Wrestler" on Bruce's MySpace page. Hungry for more? Got a buck-ninety-nine? Super-size your video experience at the iTunes store, with "The Wrestler" Video Single, which includes a "Long Version" (5:20) of the Thom Zimny-directed clip and a "Behind the Scenes" (4:49) clip, too.
- February 27, 2009

SPANISH EYES
Eyes on the last five shows of the European leg, in five Spanish cities, also the last ones to go on sale. Bilbao's up first, nearly selling out San Mames Stadium today with 34,000 tickets (out of 36,000) sold in six hours. Still no ticket info for Sevilla, Valladolid, or Santiago, but we now have an onsale date for Benidorm: a week from today, Friday, March 6, through www.ticketmaster.es. See our Tour/Ticket Info page for the current itinerary and links.
- February 27, 2009

DRUMMERWATCH '09: AND THE BEAT GOES ON
How, exactly? "Well see," says Steve
May 30: Bruce Springsteen and the E Street Band kick off their 2009 European tour at Holland's Pinkpop festival, with shows currently scheduled through early August.
June 1: Conan O'Brien takes over The Tonight Show, bringing the Max Weinberg 7 with him as the house band. In Los Angeles.
Something's gotta give, right? On Late Night with Conan O'Brien, Max was able to get some serious leaves of absences from his other "boss" in order to go on tour. But as Conan and the MW7 move to the 11:30 hour, things are clearly getting trickier. Speaking with Rolling Stone's Andy Greene, Steve Van Zandt broaches the subject: "We're still figuring that out... We'll see. I think Max will be there for most of [the European tour]."
So -- a fill-in drummer for at least part of Europe? It's looking that way. Steve says that "No names have come up yet," but goes on to add, "If there's a few shows where [Max is] not there, I'm sure it will be fine. Most of the time he's gotta be there though. There's no drummer that could replace Max. There might be someone temporary that comes in and we'll have to adjust the show accordingly."
In the February 5 issue of Rolling Stone, Springsteen addressed the issue this way: "All I know is this -- it's all gonna work out, one way of another. If people wanna come out and see the E Street Band, they'll be able to come out and see the E Street Band."
Steve reiterates, "I'm sure Max will be there for most, if not all of the tour. He's as dedicated as it gets." But if someone might need to sit in for the drummer who, as Steve says, "reads Bruce's mind"... you can bet they're practicing their ass off right about now. Just ask Nils and Charlie.
Read "E Street's Steven Van Zandt on Max Weinberg's Busy Dance Card."
- February 27, 2009

TICKETMASTER SETTLES AND THEN SQUIRMS
As we reported after the U.S. tour went on sale three weeks ago, Ticketmaster found itself in hot water with the New Jersey state Attorney General as a result of its redirecting potential ticket buyers to its affiliate/scalping arm, TicketsNow, while tickets for the shows at the Izod Center were still available. On Monday, Attorney General Anne Milgram held a press conference at the Izod Center to announce that her office had reached a settlement with Ticketmaster, after the state Department of Consumer Affairs received over 2,000 complaints from fans who had problems with Ticketmaster's business practices. The official announcement can be found at the AG's website; the most important points for Springsteen fans are:
Fans who complained directly to the NJ Department of Consumer Affairs before 5pm on Tuesday, February 17, will automatically be entered into a lottery to be conducted by the New Jersey Sports and Exposition Authority. One thousand fans, almost half of those who filed a grievance, will be given the opportunity to purchase two tickets to one of the shows at the Izod Center, May 21 and 23. These tickets were held back from the original onsale by the promoter for VIPs, ticket drops, and the like.
Fans who don't get selected in the lottery will receive a $100 Ticketmaster gift certificate and the chance to purchase tickets to a future (unspecified) Springsteen show in New Jersey.
Fans who purchased tickets through TicketsNow within 5 hours of the original onsale (i.e., by 2pm on February 2) and who linked to TicketsNow directly from Ticketmaster will have the amount they paid over face value refunded by Ticketmaster.
No love for those who didn't file a complaint. And it should be noted, New Jersey was far from the only market in which Ticketmaster redirected fans to TicketsNow.
The New Jersey AG's office imposed a number of other restraints on Ticketmaster's business practices going forward, some of which may help concertgoers in the future. But how much it will actually help may depend upon another battleground. A week after the TicketsNow fiasco, Ticketmaster announced that it was merging with Live Nation, the concert promoter. This didn't sit too well with many people -- including Bruce Springsteen, who warned: "the one thing that would make the current ticket situation even worse for the fan than it is now would be Ticketmaster and Live Nation coming up with a single system, thereby returning us to a near monopoly situation in music ticketing." It didn't sit too well with members of Congress either. Yesterday, the Senate Judiciary Committee's Subcommittee on Antitrust, Competition Policy and Consumer Rights held hearings on the proposed merger.
The written statements of the various witnesses can be found on the Senate website. Suffice it to say that the subcommittee members, including New York Senator Chuck Schumer, were very skeptical about the merger's supposed benefits to consumers. Schumer blasted Ticketmaster CEO Irving Azoff about the Springsteen onsale, saying that there is no reason that Ticketmaster should be in the secondary market to begin with. (Hear, hear!) Schumer got Azoff to admit that Ticketmaster could make "way more" money through TicketsNow than it does through regular sales. Read a press release from Schumer's office here. Sen. Russ Feingold asked Chicago-area promoter Jerry Mickelson if a major artist like Springsteen could do a tour without Live Nation or Ticketmaster. Mickelson, testifying against the merger, said it could not be done and that there would be no way to get around working with the combined company.
A similar committee in the House of Representatives will hold hearings on Thursday. After that, it will be up to the Department of Justice to weigh in on the proposed merger.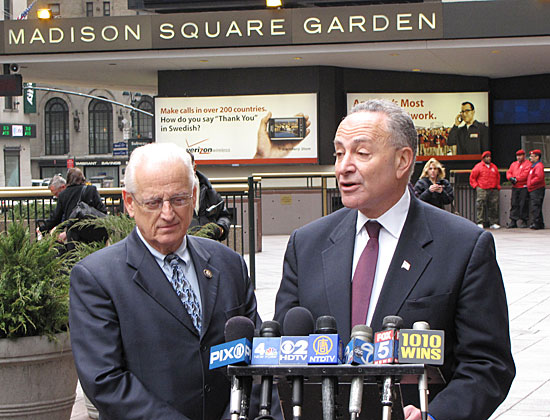 Above: U.S. Senator Charles Schumer (D-NY), right, and Congressman Bill Pascrell (D-NJ) at a February 8 press conference [photograph by Anthony Citara]. Schumer: "Fans who thought they were going to 'The Promised Land' of Springsteen tickets instead found themselves in the 'Badlands' of ticket scalpers." Pascrell: "This recent flap with TicketsNow exposed how a corporation with too much influence over the entertainment industry can hurt the average American music fan."
For further reading:
- February 25, 2009 - reporting by Lowell D. Kern

BRUCE & THE E STREET BAND TO HEADLINE GLASTO 2009


It's official. After much speculation -- in years previous, too -- it's been confirmed that Springsteen and the E Street Band will be headlining the annual Glastonbury Festival in late June. The festival has been around since 1970 and is now one of the largest in the world, covering 900 acres at Worthy Farm in Southwest England's Vale of Avalon.
The festival runs from Wednesday, June 24 to Sunday, June 28 (note that Springsteen and the band are booked for Hard Rock Calling on the 28th). Tickets were sold out even before Springsteen was confirmed (the full bill has yet to be announced). However, a limited number of cancelled tickets will go on sale April 5 at 9 a.m. Visit seetickets.com for details.
Glastonbury founder Michael Eavis says, "I'm so pleased that Bruce Springsteen has agreed to come to Worthy Farm for the first time. He's one of the all-time rock legends and I'm confident that this will be one of our best shows ever." His daughter Emily Eavis adds: "I'm knocked out that we've managed to get Bruce to play. It's the icing on the cake of this year's bill, which I'm sure will take everyone's breath away when we announce the full details." Read the Guardian story here; find plenty more info at glastonburyfestivals.co.uk.
- February 23, 2009

HAVE YOU EVER SEEN BRUCE IN THE RING?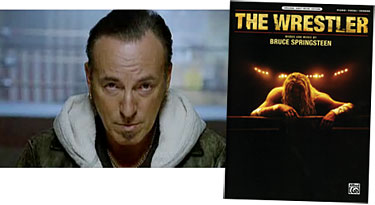 If you've never seen Bruce in the ring, then you ain't seen this
Check out the new video for "The Wrestler" at Springsteen's official MySpace page.
Plus: play the home edition! Official sheet music for "The Wrestler" is in stock now at Backstreet Records, along with more new arrivals. Visit our online shop here.
- February 19, 2009



KIDS FLASH GUITARS
More cool content on Springsteen's official site today. A few weeks back, Pitchfork debuted a series of Boss tributes called "Hangin' Out on E Street," videos from younger artists who have been inspired by Springsteen. Columbia describes the series: "In recent years, it has become evident that Bruce Springsteen's influence has broadened outside of the mainstream rock community. Musicians of all genres have and will continue to draw inspiration from his music. We sat down with a number of up-and-coming artists to get their take on Bruce and how he has influenced them."
As the series expands it's now hosted on brucespringsteen.net, where you'll find interviews and performance clips featuring:
The Gaslight Anthem ("Backstreets")
Ted Leo ("Dancing in the Dark")
Against Me! ("Reason to Believe")
Mat Kearney ("Atlantic City")
Juliana Hatfield ("Cover Me")
Wyclef Jean
Bouncing Souls ("Growin' Up")
The plan from here forward is to debut a new video each week. Coming soon: Calexico, Tegan and Sara, Pete Yorn, Josh Ritter, Nicole Atkins, Valencia, Birdmonster, and the Avett Brothers.
- February 18, 2009

ENGLAND'S DREAMING
At the moment, Hyde Park's "Hard Rock Calling" festival is the only UK date on the books. However: a recent Harvey Goldsmith press release tells us to "Watch out for news on other UK dates," and in the Guardian today, a profile of Steve Van Zandt makes mention of a Manchester gig for the E Street Band in June. We'll keep our eyes peeled... in the meantime, catch up with Steve in "Twice in a Lifetime."
- February 17, 2009



SECOND "GLORY DAYS" SYMPOSIUM SET FOR SEPTEMBER
Presentation proposals now being accepted, deadline is April 30
"Glory Days: A Bruce Springsteen Symposium," which was a great success in September 2005, will see a second go-round this fall, September 25 - 27, 2009. Organized by Virginia Tech in conjunction with Penn State Altoona, the three-day event will take place on the campus of Monmouth University with evening musical performances (bands TBA) to be held at The Stone Pony in Asbury Park. The 2005 event attracted 330 participants from all across the U.S. and around the world. Proposals are now being accepted for presentations, and information regarding proposing a presentation can be accessed at the conference web site. For more information, you can contact symposium organizer Mark Bernhard at mcb7@vt.edu
- February 12, 2009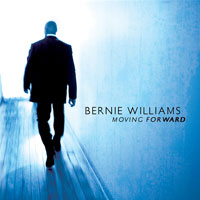 BRUCE & BERNIE'S "GLORY DAYS"
COMING TO CD
Can't let this speedball get by us.... When Springsteen played a benefit for Joe Torre's Safe at Home Foundation in November 2007, the night's honoree -- former New York Yankee Bernie Williams -- joined in on "Glory Days." Williams, a classically trained guitarist with the chops to play a solo next to the Boss, is now readying his second CD, Moving Forward, which will include that live cut with Bruce and Patti Scialfa as a bonus track. Release date is April 14. See BernieWilliams.com for more.
- February 17, 2009

JUST A PLACE TO HYDE
The O2 pre-sale for Hard Rock Calling: look here.
- February 11, 2009

CAMPAIGN IN SPAIN IS PLAINLY REARRANGED
A change to the Spanish itinerary, toward the end of the European leg: the dates for the shows in Sevilla and Benidorm have switched. Venues for each city remain unchanged. The new dates:
Tuesday, July 28: Estadio Olímpico de La Cartuja, Sevilla, Spain
Thursday, July 30: Estadio Les Foietes, Benidorm, Spain
We're still awaiting on-sale details. See our Tour/Ticket Info page for the current itinerary and links.
- February 11, 2009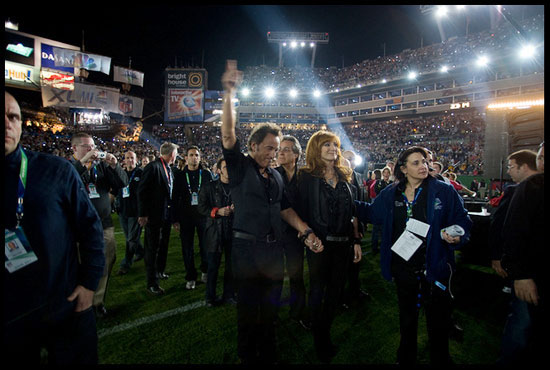 "A SYRINGE OF ADRENALIN STRAIGHT TO THE HEART"
Bruce blogs! Read his "Super Bowl Journal" online now
Man, what a treat to come in to the office this morning and find Springsteen's "Super Bowl Journal" posted on his official site. It's "a little glimpse from center stage," as he describes it; it's also a glimpse backstage, at rehearsals, into the sky, and most compelling of all, into the mind of the Boss as he takes us through the show moment by moment. "On stage your exhilaration is in direct proportion to the void you're dancing over," he writes. And more insight, beyond those action-packed 12 minutes -- into the struggle for "presentness," and into the band's "ambition to play for everyone. We've achieved a lot but we haven't achieved that. Our audience remains tribal… that is, predominantly white." Plus a striking behind-the-scenes photo gallery from Danny Clinch. If you haven't seen it yet, do yourself a favor: take a few minutes, grab a cup of coffee, take the phone off the hook -- hell, get some guacamole dip... pick UP some chicken fingers -- and head to brucespringsteen.net for a good read.
MTV News got the abridged version: "It was like being shot out of a cannon... I didn't know 12 minutes could take that much out of you!" In this quick post-nap exchange, Bruce also addressed Sunday night's trophy win: "I didn't even know I was up for a Grammy!... I opened the newspaper on Monday and saw that I had won, and thought, 'Well, that's great!'"
- February 11, 2009 - photograph by Danny Clinch

ENGLISH SONS
Pre-sales begin Wednesday for Hyde Park show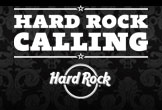 At last, we've got a UK date for Bruce Springsteen and the E Street Band: they'll be playing to an outdoor crowd of 45,000 at London's Hyde Park this summer, headlining Hard Rock Calling. Bruce and the band will be closing the festival, Sunday night, June 28. Also on the bill: The Dave Matthews Band, and New Jersey's The Gaslight Anthem.
Pre-sale update: Tickets officially go on sale this Friday -- but if you'd rather not try your luck on Friday the 13th, Ticketmaster lists two pre-sales in advance:
Tomorrow morning -- that's Wednesday, 2/11 -- an O2 members' presale starts at 9 a.m.
On Thursday morning, 2/12, at 9 a.m., there's a "Hard Rock Calling/Live Nation fanclub presale," register here.
There's still plenty of buzz that Bruce and the band will be playing another U.K. festival as well -- Glastonbury. According to today's BBC story, "the Glastonbury line-up... will be officially revealed on 1 June."
- Updated February 10, 2009

NEW EURO DATE ADDED: JUNE 30 IN SWITZERLAND
Well, we figured there had to be more to come for the European tour schedule, considering gaps that appear to need filling in, as well as the current lack of any U.K. shows (which surely will fill in). Today, we've got a new one: Bruce and the Band will play Bern, Switzerland on June 30, at Stade de Suisse. Tickets on sale Friday, February 13, through ticketcorner.com. See our Tour/Ticket Info page for the current itinerary and links.
- February 9, 2009

"GIRLS" WINS GRAMMY FOR BEST ROCK SONG
Congratulations to Springsteen on his Grammy win last night, with "Girls in Their Summer Clothes" taking the statue for one out of two nominations. John Mayer won in the Best Solo Rock Vocal Performance category, but "Girls" beat out tracks from Radiohead, Death Cab for Cutie, Kings of Leon, and Coldplay for the Best Rock Song award. Despite his high profile at the moment, 2008 clearly wasn't set to be a big Boss year Grammy-wise. Still, Song of the Year and Best Rock Album winners Coldplay made a nice Bruce reference in their performance last night -- check out Chris Martin dropping some "Working on a Dream" lyrics at the 4:45 mark.
See a list of all Grammy winners here.
- February 9, 2009

CATCH E STREET RADIO'S SUPER BOWL WRAP-UP THIS WEEKEND
SIRIUS XM's E Street Radio was all over the scene in Tampa during the days leading up to (and after) Super Bowl XLIII. A special wrap-up show airs this weekend, featuring interviews with Bruce and band, and a replay of their historic halftime show. Tune in on Saturday, February 7 from 3 pm to 5 pm Eastern, and again on Sunday, February 8 from 8 pm - 10 pm Eastern, on SIRIUS channel 10 and XM channel 58.
- February 6, 2009

TICKET ALERT
More fun to be had, Friday and Saturday
With all the Ticketmaster hullaballoo these last couple of days, let's not forget, not all the ticket sales are behind us. Here's what's coming up: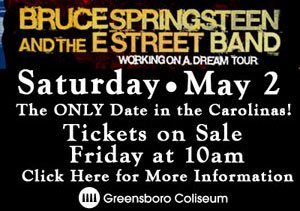 Friday, February 6
Greensboro, NC
Toronto, ON
Saturday, February 7
Austin, TX
Tulsa, OK
Houston, TX
Los Angeles, CA
Manchester, TN (Bonnaroo)
- February 5, 2009

CHART ACTION: WOAD STRAIGHT TO #1, BRUCE'S NINTH
Working on a Dream hit the album charts this week, and it hit 'em in a big way -- debuting at #1 not only in the U.S. (The Billboard 200), but also in at least 14 other countries: Austria, Belgium, Denmark, Finland, Germany, Holland, Ireland, Italy, New Zealand, Norway, Spain, Sweden, Switzerland, and the U.K. In the States alone, WOAD sold more than 200K copies in its first week -- 212,000 according to Hits Daily Double, 223,700 according to Rolling Stone -- before any Super Bowl bump. Read more at the New York Daily News.
And don't forget the new VH1 Rock Doc airing this week -- you've got two more chances to catch Bruce Springsteen: The Making of Working on a Dream, Friday at 12:30 p.m. and Saturday at 1:30 p.m. on VH1 Classic.
- February 5, 2009

TODAY'S CHAPTER OF THE CONTINUING TICKET SAGA
In which: A state Attorney General investigates; a wrongdoer apologizes, states a policy change, and attempts to make amends

1. New Jersey Attorney General Investigating Ticket Sales for Springsteen Concert
NEWARK - The Office of the Attorney General and the Division of Consumer Affairs are investigating Monday's sale of Bruce Springsteen concerts tickets after consumers complained about problems they encountered during attempted online purchases.

"Consumers are questioning what transpired and if they had an equal opportunity to purchase these concert tickets. We share these concerns and are investigating this matter," Attorney General Anne Milgram said.

More than 250 consumer complaints have been received as of midday today. The Division of Consumer Affairs has placed an icon labeled "Bruce Springsteen/Ticketmaster Complaints" on its main web page for consumers to link to an online complaint form. The Division's web page is located at http://www.njConsumerAffairs.gov

Consumer Affairs investigators will review submitted complaints to determine how the online sales process was conducted and whether any violations of the state's Consumer Fraud Act or ticket resale law occurred.
2. An Open Letter of Apology to Bruce Springsteen, Jon Landau, and the Entire Springsteen Tour Team, received from Ticketmaster CEO Irving Azoff and reprinted in its entirety:
While we were genuinely trying to do the right thing for fans in providing more choices when the tickets they requested from the primary on-sale were not available, we clearly missed the mark. Fans are confused and angry, which is the opposite of what we hoped to accomplish. We sincerely apologize to Bruce, his organization and, above all, his fans.

We recognize that we need to change our course. We have committed to Bruce and state publicly here that we have taken down all links for Bruce's shows directing fans from Ticketmaster to TicketsNow. This redirection only occurred as a choice when we could not satisfy fans' specific search request for primary ticket inventory, but to make sure there is no misunderstanding in the future, we also publicly state that we will never again link to TicketsNow in a manner that can possibly create any confusion during a high-demand on-sale. Specifically, we will not present an option to go to TicketsNow from Ticketmaster without the consent of the artist and the venue, both of whom work together to bring the joy of live entertainment to millions of fans.

If any fans inadvertently purchased tickets in the resale marketplace believing in error they were purchasing from the initial on-sale, we will refund the difference between the actual purchase price and the face price of the ticket. (Please don't abuse this good faith gesture – we did not give brokers any preferential access to tickets.)

We are committed to helping deliver the most transparent and best live entertainment experience to fans. We will do better going forward.

Sincerely,
Irving Azoff, CEO, Ticketmaster Entertainment
That's our bold above. If you feel you were suckered by a bait-and-switch, we urge you to take up Mr. Azoff on his offer.
- February 5, 2009

"WE PERCEIVE THIS AS A PURE CONFLICT OF INTEREST"
Springsteen organization "furious" at "the abuse of our fans and our trust"
We are not alone. In a letter to fans issued this afternoon, Bruce Springsteen, Jon Landau and the entire Tour Team condemn ticket up-selling, call Ticketmaster's TicketsNow redirection "a pure conflict of interest," describe actions they've taken, and warn of a potential Live Nation/Ticketmaster monopoly.
A Letter to Our Fans:

We know there was much confusion regarding Ticketmaster and TicketsNow during last Monday's on-sale dates. We were as confused as you were, as we were given no advance notice of the major changes in the Ticketmaster-TicketsNow world. (Bear in mind that we are not clients of any ticketing company, and that all those arrangements are between venues and ticketing companies.)

Last Monday, we were informed that Ticketmaster was redirecting your log-in requests for tickets at face value, to their secondary site TicketsNow, which specializes in up-selling tickets at above face value. They did this even when other seats remained available at face value. We condemn this practice.

We perceive this as a pure conflict of interest. Ticketmaster is there to ensure that we have a good, fair sale of our tickets at their face value plus normal ticketing charges. TicketsNow is supposed to be a secondary site where people who already have tickets may exchange, trade, and, unfortunately, speculate with them. We have asked this redirection from Ticketmaster to TicketsNow cease and desist immediately and Ticketmaster has agreed to do so in the future and has removed its unwanted material from their and our site.

We know the many cynical arguments some make in favor of the Ticketmaster system: There are rumors that some artists or managers participate in Ticketmaster charges--we do not. There are rumors that some artists or managers are receiving a percentage of the amount above face value at secondary outlets like TicketsNow--we do not. Some artists or managers may not perceive there to be a conflict between having the distributor of their tickets in effect "scalping" those same tickets through a secondary company like TicketsNow--we do.

While many of you have sent notes to us and your local promoters, you may also send accurate informational letters to Albert Lopez of Ticketmaster [Albert.Lopez@ticketmaster.com] and he will try to address your questions.

A final point for now: the one thing that would make the current ticket situation even worse for the fan than it is now would be Ticketmaster and Live Nation coming up with a single system, thereby returning us to a near monopoly situation in music ticketing. Several newspapers are reporting on this story right now. If you, like us, oppose that idea, you should make it known to your representatives.

The abuse of our fans and our trust by Ticketmaster has made us as furious as it has made many of you. We will continue to do our utmost now and in the future to make sure that these practices are permanently curtailed on our tours.

Bruce Springsteen, Jon Landau and the entire Springsteen Tour Team
- February 4, 2009

FAILING THE SMELL TEST: TICKET WOES WORSEN
Congressman calls for Ticketmaster/TicketsNow investigation
Springsteen's been a tough ticket for decades. Onsale days can be frustrating for a lot of fans -- the shut-outs, the glitches, the mad scrambles. On Monday morning, fans trying for NJ tickets were told that the "ticketing system is currently unavailable due to routine maintenace." (Ticketmaster claims "only a very small percentage of our fans" were affected.) Such is the way. But this time around, a new development added insult to injury -- upon notification of a sell-out, fans were directed to TicketsNow, a Ticketmaster-owned company that handles the secondary market, where tickets were already available at inflated prices. Now that's synergy!
According to the Ticketmaster's TicketsNow FAQ list, "The partnership between Ticketmaster and TicketsNow allows fans the greatest choice and access to live entertainment while ensuring reliability of service, convenience, and security." Funny, most fans we've heard from just felt extra-screwed. Let's go the the Backstreets e-mailbag:
Having purchased tickets for Bruce shows since 1978, I was struck by what happened yesterday when trying to buy seats for the Chicago show. I was in the Ticketmaster site right at the start of the sale. After typing in the security words, my link was rebooted multiple times until I was finally shuttled after two or three minutes to the Ticketmaster-owned TicketsNow site. They had tons of seats, but of course at scalper prices. I never had the opportunity to buy tickets at face value. I've have never had this happen in the years since on line buying has become the modus operandi. It seems as if the sale was rigged upfront. - B.K.
I've experienced it before -- being at the ready at 10 a.m. to buy tickets, only to be shut out. This year, though, I had a slightly different experience. Within minutes of my search, I was redirected from Ticketmaster to Ticketsnow.com. At 10:10 a.m .or sooner I was suddenly in Ticketsnow. I never touched a button on my computer, it just went there. The tickets offered were already marked up 100% or more. How can this be? Is Ticketmaster running a scam with Ticketsnow? Were there ever any tickets offered at the regular price? Should Bruce blow a gasket? Should there be an investigation? I think so. I am really fed up with supporting brokers instead of my favorite artists, and this was off the charts. -C.A.
I don't understand how the Ticketmaster-Ticketsnow relationship can pass any sort of smell test. By 10:05, I was consistently getting told by Ticketmaster that the Verizon Center was sold out (except for crappy nosebleeds) but that I could go to TicketsNow for tix in most of the lower sections, at scalpers prices. How is that ethical? With all the shows that went on sale at 10 a.m. Eastern, how can Ticketmaster already be offering huge blocks of tickets unless those tickets were shifted by Ticketmaster to Ticketsnow right at the get-go? I gotta believe that someone with subpoena authority would find that Ticketmaster is selling directly to Ticketsnow, and sticking it to the consumers. Really an outrage. -B.C.
I am over 50 and my son, 15, who has Asperger's Syndrome (a form of autism) saw Bruce on the Super Bowl and was very excited about the opportunity of seeing him in Denver if possible. This is the first time he had expressed such interest, and I hoped to have an opportunity for both of us to share this a wonderful experience. I watched the clock and at 10:00am I logged in and was put into a loop for 15 minutes only to be kicked out. Numerous attempts over the next 12 hours have proved unsuccessful in getting two tickets together (which with my son's issues is critical).
I would be a uncomplaining individual who just was unlucky, except for Ticketmaster's prompt every time I cannot find two tickets together to log into TicketsNow for the opportunity to pay at least 40% more per ticket with a selection of over 750 tickets they have available. Isn't there some type of conflict of interest here?
I feel confident that this issue has nothing to do with Bruce or his core team but I felt it was necessary to let someone know who may be able to get feedback to someone in his organization about this very unfair process. I explained to my son that we probably would be unable to see the group in Denver in April but told him I will be going out to buy the NYC and Barcelona DVDs so he could enjoy this great experience with me at home. - D.B.
When I tried to get tickets this morning the Meadowlands web site said it was down for routine maintenance. When I finally got through they were listing plenty of scalped tickets at TicketsNow. I tried Charlottesville, and Ticketmaster automatically relocated my request to their "partners" at TicketsNow -- scalpers. By then, the only thing available at Verizon Center was in the top of the house for face value. I tried again. Sold out, but here's an ad for, yes, the scalpers. It appears that Ticketmaster gave their "partners" the scalpers first choice at every venue. I've got my memories from about a hundred shows. But, I got no tickets. I guess the memories will have to do. In this economy, I will not tolerate the greed. Deal me out for this tour. - C.G.
My husband went online this morning to scramble for tickets right at 9 a.m. (we are in New Jersey. so the Izod Center is where we were looking for tickets). My husband had to leave for work, so I took over. I am not as computer oriented as he is and just knew to order quick. I received a message that my order could not be processed but that other tickets were available thru a Ticketmaster company called TicketsNow. I ordered quickly, and before I knew it I was confirmed for 6 tickets at $263 per ticket -- plus fees! I called to cancel, because that is just flat out too much money, and they said (after leaving me on hold for 25 minutes) it was too late. I think it is completely misleading, outrageous and a conflict for Ticketmaster. I don't know where to turn. - J.H.
I could go on -- my inbox sure does. We've been frustrated for years by what is essentially legalized scalping -- it's why we created the Backstreets Ticket Exchange in the first place, to provide an opportunity for fans to help each other out at face value only. But it felt a little different when we could at least imagine that the primary sellers were as frustrated by the secondary sellers as we were. This new partnership really sticks in the craw.
And we're not the only ones who feel that way: New Jersey Representative Bill Pascrell Jr. has asked the FTC and the Justice Department to investigate. He writes:
I am troubled by how quickly tickets priced exponentially higher became available on the secondary market to thousands of rejected fans, many who also endured unfortunate technical problems on Ticketmaster.com.

I am concerned that the business affiliation between Ticketmaster and TicketsNow may represent a conflict of interest that is detrimental to the average fan. There is a significant potential for abuse when one company is able to monopolize the primary market for a product and also directly manipulate, and profit from, the secondary market.

Additionally, the speed with which tickets were made available on Ticketmaster's official resale affiliate site raises questions about whether TicketsNow brokers were given preferential treatment instead of competing on a level playing field with average consumers to purchase the tickets.
Read the press release with Rep Pascrell's letter here.
Read more in the Star-Ledger.
And one more from the Backstreets e-mail bag:
I work over in Congress, and we're all delighted (we being congressional staffers-cum-Springsteen obsessives, a small group) by Rep. Bill Pascrell's (D-NJ) letter to the Dept. of Justice about TicketMaster's potentially collusive relationship with TicketsNow. - J.Y.
We are too. We'll keep you posted on any developments. In the meantime, if you care about this issue, we encourage you to write Rep. Pascrell to express your support and appreciation, and to call on your own congressperson to join Pascrell's efforts.
- February 4, 2009

BONNA-WHAT NOW?
Bruce and the band are slated to make a rare U.S. festival appearance this summer, with a decidedly different vibe than Harley Fest or Jazz Fest. Do we have to bring a hacky sack? Will the E Street Band be required to do a 20-minute "Dark Star"? Nah -- as Wikipedia says right up front, Bonnaroo "began with a primary focus on jam bands, but has diversified greatly in recent years." We asked Backstreets scribe Tim Donnelly to put this one in perspective for us. A long time Bonnaroo Music and Arts Festival Guide contributor, Donnelly has covered the festival from the outside for Relix Magazine and from the inside for Bonnaroo Beacon, Radio Bonnaroo and B-Roo concert films, like Danny Clinch's 270 Miles from Graceland.
Some of you may know what Bonnaroo means. (Cajun for a "real good time," thank you, Dr. John). Some of you know of the Bonnaroo Music and Arts Festival. Some of your kids may have gone, maybe even you (yeah, you) have been one of the hundreds of thousands that have descended on an old farm in Manchester, TN, every Father's Day weekend since 2002.

The three-day festival which takes place on June 11-14 is an epic marathon (noon til 5 a.m.-ish) of music that matters in front of an open-minded and collective tribe of fellow music lovers of all ages that hail from all corners of the world, who come to together for a diverse, shared experience. Wheteher you camp, roll with the RV, or get a hotel, every experience is measured in the tales that live on long after the music stops.

You have Springsteen. You have Phish. You have NIN. You have Elvis Costello. You have the "Queen of Bonnaroo," Lucinda Williams. But you also have Snoop Dogg, Erykah Badu and The Beastie Boys. Legends from Paul Oakenfold to Merle Haggard from King Sunny Ade to Gov't Mule, and everything in between from David Byrne to Al Green. The only criteria for Bonnaroo is that you have to bring it live like other past performers -- like Neil Young, Bob Dylan, James Brown, Tom Petty and the Heartbreakers, Pearl Jam, Jack Johnson, Metallica, Widespread Panic, The Dead, The Allman Brothers Band, The Roots and My Morning Jacket to name a few.

So having Bruce and the E Street Band at Bonnaroo 2009 isn't a stretch, it's a natural fit.

"It's a life-long dream to have Bruce Springsteen and The E Street Band play at Bonnaroo," Bonnaroo's Jonathan Mayers of Superfly Presents told me this morning. Man, if 2009 ain't the year for dreamin' or what?"
- February 4, 2009

L.A. GETS A DOUBLE SHOT OF BRUCE'S LOVE
Bonnaroo isn't the only new addition to the U.S. itinerary today -- with the first Los Angeles show sold out, Bruce and the Band have added a second L.A. Sports Arena show for the following night, April 16. Tickets on sale this Saturday, February 7, at 10 a.m.
For the current itinerary, onsale details and links,
see our Tour/Ticket Info page
- February 3, 2009



THEY'RE NOT SAYING "BOOO," THEY'RE SAYING "BONNAROOOO"
Just announced: Bruce and the E Street Band are playing Bonnaroo this year, the music & arts festival in Tennessee. The gig will have them returning to the States in the midst of the European leg, after the Bergen, Norway shows on June 9 and 10. Bonnaroo runs from June 11 to June 14 in Manchester, TN, with other artists including Phish, the Beastie Boys, Wilco, Elvis Costello, TV on the Radio, Merle Haggard, Lucinda Williams, Alejandro Escovendo, and lots more. Tickets go on sale this Saturday, February 7, at noon. More details soon!
- February 3, 2009

NO TALKING FROGS, NO 3D GLASSES REQUIRED
Springsteen's Super Bowl commercial: a PSA for the Danny Fund
In a 30-second television spot, which aired during yesterday's pre-game broadcast, Springsteen asks for your support of the Danny Fund, in honor of the late, great Danny Federici, which exists to fund research that will provide treatment and cures for melanoma. Bruce passes along a message from his old friend: "Be aware of the dangers of the sun. Take precautions and have yourself checked out regularly by a dermatologist." Watch Bruce's PSA here, and visit www.dannyfund.org. for more information and to make a donation.
- February 2, 2009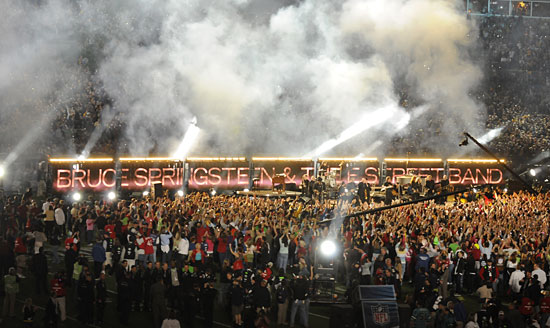 KABOOM!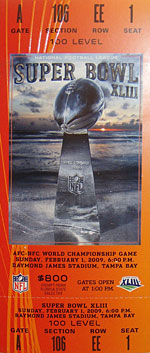 "The (boom!) highway's (booom!) jammed (ba-boooom!) with broken heroes..." So that was one thing you don't see every day -- or any day -- at a Springsteen concert: pyrotechnics.
And then there were the horns, seen rarely (unless it's 1988, 2006, or a holiday show), and a choir, seen even more rarely (unless it's the Lincoln Memorial... or a holiday show). But other than these bells and whistles (and fireworks), maybe the most remarkable thing about Bruce Springsteen and the E Street Band's remarkable Super Bowl halftime show was how much it felt like a Bruce Springsteen and the E Street Band show -- compressed into twelve minutes.
You had exhortations ("Put the chicken fingers down!"), knee-slides (and a surprised camera operator, we'll bet), Bruce and Steve at the mic, a Big Man sax solo (5-1 odds, are you crazy?!), a corny costume moment (not a bear, a ghoul, or a Republican, but a ref), the return of the Esquire, and "Boss Time." A few lyric changes reminded us where we were -- "Scooter and the Big Man bust the Super Bowl in half"... "I had a friend, was a big football player" -- but really, this was a Bruce show in microcosm, and successfully so. For regular fans, of course, it felt like a great show intro -- right outta the gate, bam bam bam (boom!), and we're ready for Bruce to address the crowd -- "Hello Tampa!"-- before bringing on the rest of the 2:48.
But really, a lot of the fun was trying to watch through the eyes of those unfamiliar with the drill, as this was Bruce and the band's biggest world stage by far. And we've gotta think those uninitiated were left wanting more, as the old showbiz saying suggests, just as we were -- a good thing, except for the impact it may be having on ticket sales this morning. (Not to mention BTX traffic -- we're working on that one.)
For a show that had to be micro, necessitating cut verses and a bit of a rush, Bruce succeeded in packing in the fun and the feel of "the real thing," and the transitions were as smooth as Charlie's pate. A non-stop house party from beginning (the iconic silhouette of Bruce and Clarence, recalling the Born to Run cover) to end (for the record, Bruce did work up a sweat in just 12 minutes -- there were beads on his forehead by the end). The breakdown:
Tenth Avenue Freeze-out - 4 minutes
Born to Run - 3 minutes, 40 seconds
Working on a Dream - 1 minute, 40 seconds
Glory Days - 3 minutes, 20 seconds
20 seconds of outro/applause and out at 13:05
Says Steve, "Yeah, baby!" Says Bruce: "I'm going to Disneyland!" Says Costas after the commercial break: "We're still buzzing about Bruce Springsteen at halftime." And for all the reasons cited why Springsteen decided to do the Super Bowl, "mercenary" and otherwise, there was clearly one more: to show 'em how it's done.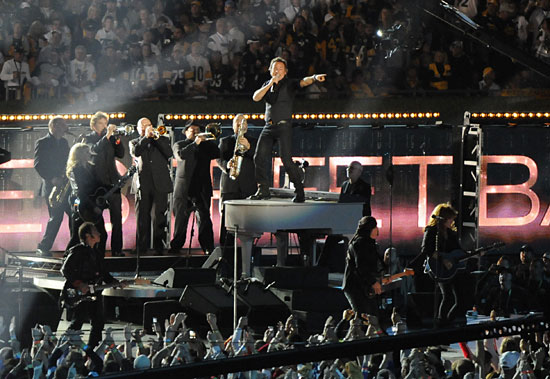 - February 2, 2009 - photographs by Alan Chitlik