YOU WILL GET A SENTIMENTAL FEELING WHEN YOU HEAR…
Pro audio of The E Street Revue: Clarence, Danny, Garry, and Max, backing Darlene Love and Ronnie Spector on "Rockin' Around the Christmas Tree"
Merry Christmas from Backstreets! Here's a special audio find to place under your Christmas tree… or better yet, to play loudly while you rock around said tree. Nearly 30 years ago, future Rock and Roll Hall of Famers Darlene Love and Ronnie Spector delivered the live debut of the song they recorded together for 1992's A Very Special Christmas 2 benefit album: "Rockin' Around the Christmas Tree."
Unlike their studio recording, Love and Spector's premiere live performance of the song had them backed by a band featuring Clarence Clemons, Danny Federici, Garry Tallent, and Max Weinberg.
The occasion was a one-night-only event held at Red Bank, NJ's Count Basie Theatre on November 21, 1992 called "The E Street Revue." While Bruce Springsteen toured for Human Touch and Lucky Town, these E Street Band members came together to anchor a house band for a stellar lineup of rock and soul legends, each act performing no more than a few songs in the grand tradition of the rock 'n' roll and soul revue shows of the 1950s and '60s.
This special show was a benefit for WhyHunger, then known as World Hunger Year, and was part of New York FM rock station KROQ's annual "Hungerthon" lineup of events. KROQ recorded the show professionally and later aired highlights from the concert in a special program introduced by Max Weinberg, the source of this high-quality recording.
While Love and Spector apparently had a bit of trouble at the outset with a music stand, not surprisingly they got through it like the pros they remain. And the E Streeters and their bandmates joined these legendary voices to provide a level of energy and power that's off the charts. Enjoy, have a happy holiday in the new old-fashioned way, and in the spirit of this performance, please consider giving whatever you can to WhyHunger.
- December 24, 2021 - Shawn Poole reporting

YOU GUYS KNOW WHAT TIME OF YEAR IT IS?
It's C.W. Post College 1975 time, a bonus holiday surprise from Springsteen's Live Archive!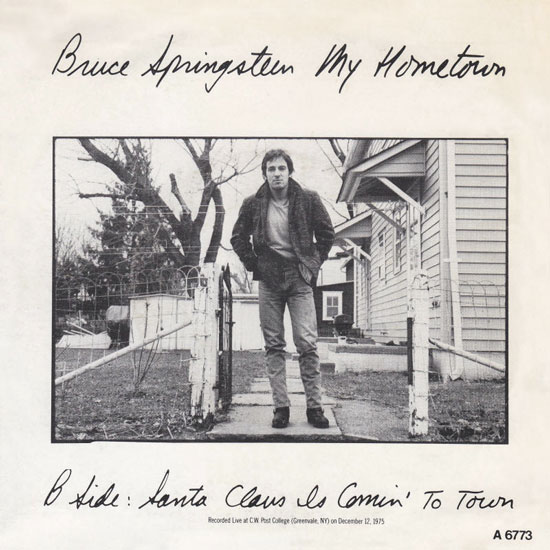 It must be the most-heard live recording by Bruce Springsteen and the E Street Band — what else would even come close? Not anything off the 13-times Platinum Live/1975-'85 box set, but a B-side from 1985, recorded a decade prior… of course, we're talking about "Santa Claus is Comin' to Town," their modern and enduring holiday classic. The track that everyone and their grandmother is well familiar with — including its spoken intro, "It's all cold down along the beach… the wind's whipping down the boardwalk… Hey Band!!" — was recorded 46 years ago this month, on December 12, 1975.
"Santa Claus" wasn't the only song recorded that night at C.W. Post College, now Long Island University Post. The entirety, recorded on multi-track tapes at the Post Dome, has been sitting in boxes for nearly a half-century, waiting for its moment to be heard in full. And you guys must've been good this year… because today's the day we get to hear the rest of the show, which also featured Manfred Mann's "Sha-La-La" and the first-ever E Street Band performance of The Animals' "It's My Life," mixed in with the late-'75 Born to Run set. Polished to a high shine — transferred from those tapes via the Plangent Process, freshly remixed by Jon Altschiller — Greenvale, NY 1975 arrives today as the Christmas Gift For Us from the Live Archive series.

Springsteen and the E Street Band had returned from their first shows in Europe just a few weeks before, and C.W. Post fits right in the pocket between two prior Live Archive releases — Hammersmith (11/24), and Tower Theater (12/31). Those two shows, along with the Roxy (10/18), feature similar sets — six songs from Born to Run, selections from the first two LPs, different covers and different vibes as Springsteen began to take the measure of the reception Born to Run would get. But as the source for one of his earliest-released live tracks, if not his most familiar, this gig seemed like a real missing piece.
When it comes to "all cold down along the beach," Springsteen wasn't kidding. According to Newsday's 45th anniversary look back at the show, a "massive" snowstorm hit that day, with the temperature dropping down to 12 degrees — and, in fact, the weather caused a traffic backup that delayed the show by an hour. After a gorgeous and stately "Backstreets," Springsteen apologized to the crowd "for being late and everything, but there was this big roadblock down the road… like 50 police cars, and the sirens going and everything. And we drove in, you know, and they wouldn't let us in!" In detailing his conversation with a police officer, it's anyone's guess where the truth stops and the setup for "Kitty's Back" begins.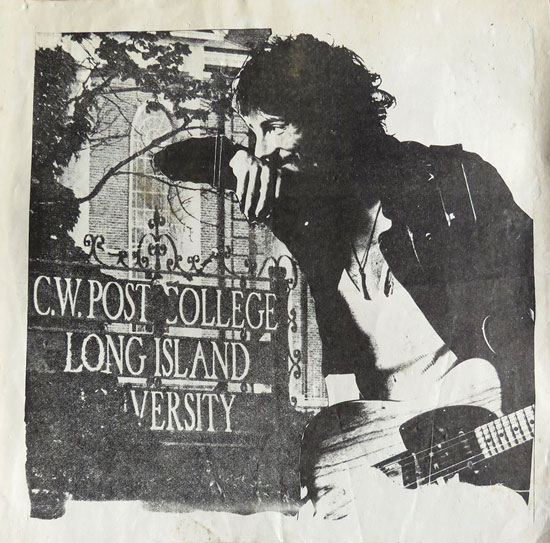 Original concert poster courtesy of Joe Kivak
David Rocke, a senior at Bayside High in Queens at the time, recalls the cold as he waited in line for the general admission show. "Our crew cut school and got to C.W. Post early in the afternoon," he tells Backstreets, "and were the first crew there. We were armed with a frisbee, fried chicken, beer, and other unmentionables, and the frisbee actually cracked against the wall of a building — it was chilly out!" Following the weather delay, Rocke and his pals got right up front: "It was special to have been in the first row for the 'Santa' recording."
"I had a bit of a deja vu when I saw the video of the Hammersmith Odeon London show," Rocke adds. "Bruce was rolling around the stage during 'Spirit in the Night,' and the same thing happened at C.W. Post. One of my friends was grabbing at his jacket!"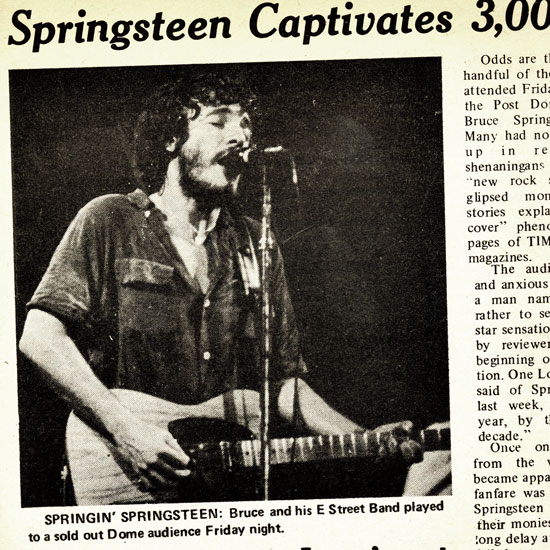 From the Pioneer, December 17, 1975
According to a December 17 review in the Post College student newspaper, the Pioneer, this was a sold-out show, as Springsteen filled the Post Dome to its 3,000 person capacity. The review is a reminder that despite the breakthrough of the Born to Run album, the August broadcast from the Bottom Line, and the perceived "hype" of the Time and Newsweek covers in late October, Springsteen was still proving himself to many rock fans, even in the New York area.
"The audience, mostly young and anxious, did not come to hear a man named Springsteen," the Pioneer stated, "but rather to see and hear the rock star sensation that has been hailed by reviewers nationwide as the beginning of a new rock generation. One Long Island disc jockey said of Springsteen's appearance last week, 'the concert of the year, by the performer of the decade.'
"Once one separated oneself from the words of others," the Pioneer concluded, "it became apparent that much of the fanfare was indeed true."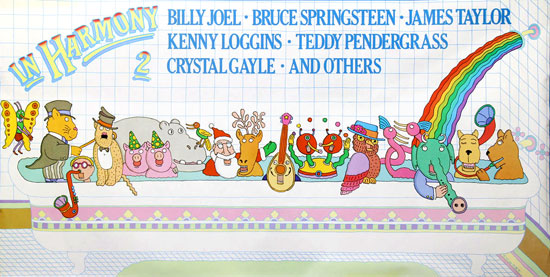 Promo poster for the In Harmony 2 album, which marked the first commerical release of the live "Santa Claus is Comin' to Town"
Bruce and E Street's version of "Santa Claus is Comin' to Town" has become a holiday season radio airplay staple, and I've long been interested in its backstory. In the late '70s and early '80s, pickings were slim as far as contemporary artists releasing holiday songs (oh, how times have changed). It was a no-brainer that "Santa" would become an immediate smash, and remain one for many years.
More recently, "holiday music" programming has become its own beast, with the majority of the Adult Contemporary format in the U.S. going "all-Christmas" earlier each year; in 2021, some stations made the shift right after Halloween, and others jumped in by mid-November. As crazy as it may seem, it's a proven ratings winner.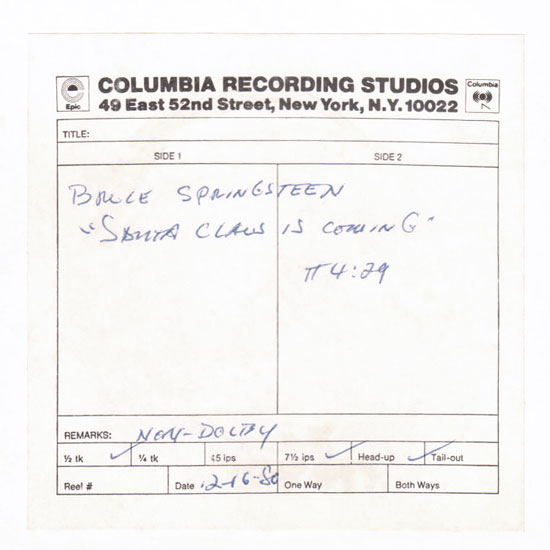 I first played this recording of "Santa Claus Is Comin' to Town" on the radio during the bicentennial holiday season of 1976 on WVUD-FM in Dayton, Ohio — 50,000 watts of free-form rock at 99.9 on your FM dial. I was 20, and it was as cool as it sounds. We'd received a reel-to-reel tape from Columbia Records that fall, and that was that.
Today's Live Archive release got me wondering: how did the song originally "get out there," and when did that happen? I had an inkling, and I reached out to Bruce's then-manager Mike Appel to confirm. My instincts were accurate, not surprisingly: Appel first sent the tape out in mid-December 1975, mere days after the concert itself.
The song had been in the setlist in the seven shows prior to 12/12, and I asked Mike why the C.W. Post show had been recorded. Forty-six years later, his logic is pretty simple: it was all about "Santa Claus is Comin' to Town."


Just three of the gazilion Columbia holiday compilations to feature the C.W. Post '75 "Santa Claus" over the years
Appel remembers, "I wanted it recorded, because I was hoping I could get it on the air during the Christmas holidays, as the response to it in Boston [on December 2, the song's first known play in two years] had been great.
"I knew the owner of a radio chain with stations throughout New England," Appel continues. "I told him about the recording, and he wanted to hear it in the worst way. So I sent it to him, and when he heard it, he asked me if he could 'go' on it. He would do so on all his stations. I told him, 'Be my guest!' and I thanked him for all his support. I obviously had done the same thing with 'Born to Run' nine months earlier. Can you imagine doing that today?"
Production credits on the song have long gone to Bruce, Appel, and Jimmy Iovine, with Iovine and Thom Panunzio being the on-site engineers that night. The song was finally available to purchase in November 1981 when Columbia Records included it on the children's music release In Harmony 2. That fall, Columbia sent the song to radio, a promotional release on both seven- and 12-inch vinyl formats. Those records have become quite collectable over the years.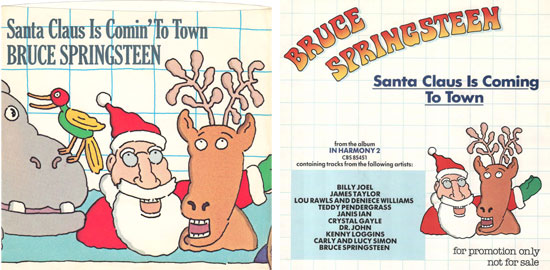 Prior to the "My Hometown" single, "Santa Claus" was issued on promotional singles from In Harmony 2
In November 1985, "Santa Claus" returned to town, this time as the commercial B-side to the "My Hometown" single on both vinyl and, eventually, compact disc. The song has also appeared on numerous compilation releases, and it was even made the B-side (along with "Two For the Road") of the "Tunnel of Love" 12-inch in the UK in 1987. Santa sure does get around.
According to Mediabase, a company that has monitored radio airplay since 1998, spins for Springsteen's "Santa Claus Is Comin' to Town" peaked in 2006, but it remains a robust #36 on their Holiday Gold chart and is still played on over 450 monitored stations — with far more airplay when you factor in all of the other smaller, non-monitored markets. To say nothing of every time some fan spins a record, inserts a CD, or streams it over the Internet.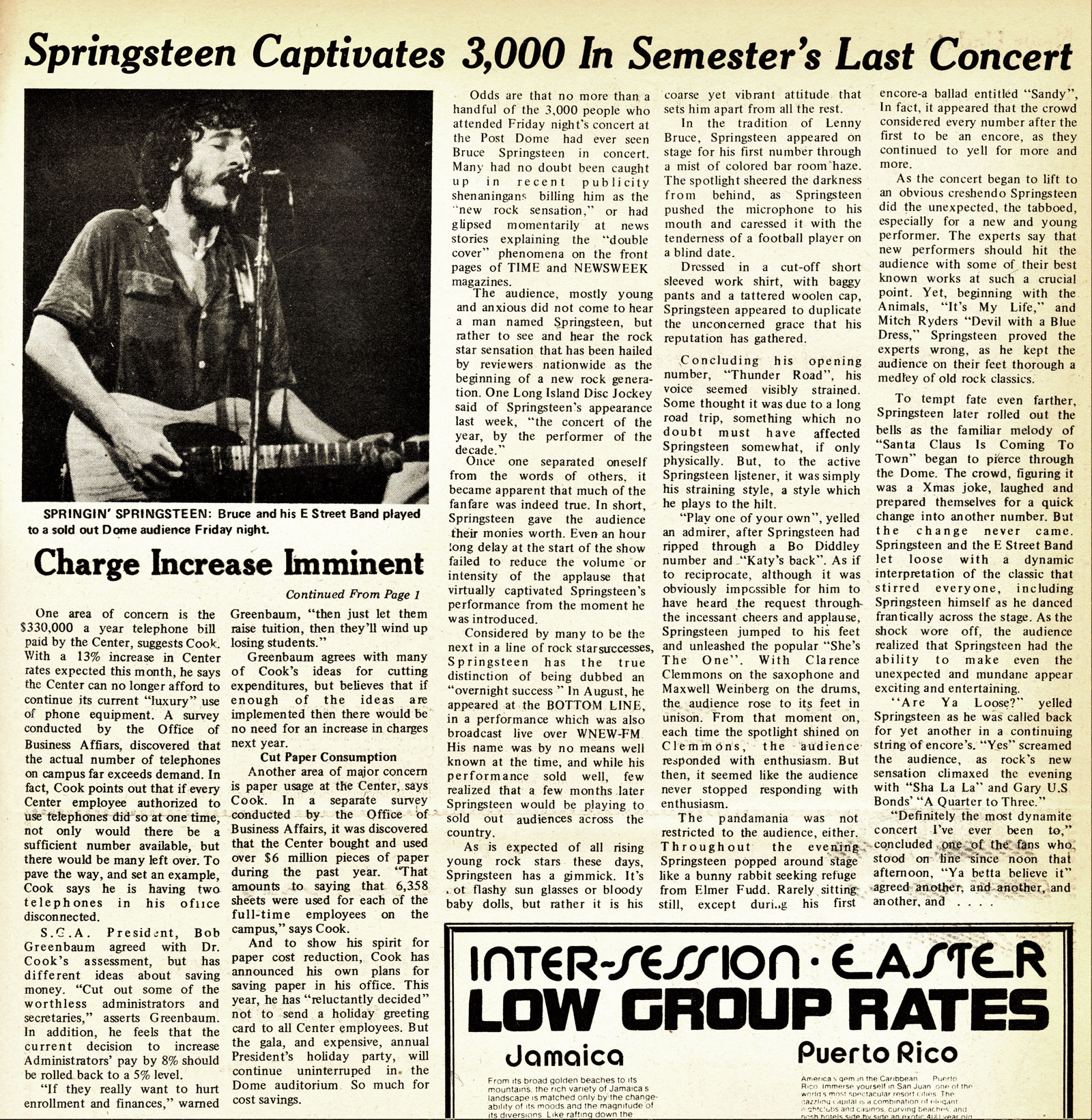 The C.W. Post College Pioneer's December 17 review of 12/12/75
As the Pioneer noted, the audience didn't quite know what to make of this Christmas classic-to-be at first. As bells jingled and the song began, "the crowd, figuring it was a Christmas joke, laughed and prepared themselves for a quick change into another number. But the change never came. Springsteen and the E Street Band let loose with a dynamic interpretation of the classic that stirred everyone, including Springsteen himself as he danced frantically across the stage. As the shock wore off, the audience realized that Springsteen had the ability to make even the unexpected and mundane appear exciting and entertaining."
"Santa Claus is Comin' to Town" may no longer be unexpected. But to hear it in situ, sandwiched between "Sandy" and the "Detroit Medley" as Bruce and the E Street Band converted yet another batch of believers, in a vintage and largely unheard performance… well, that's not only exciting and entertaining, it's a gift on par with a brand new saxophone.
Also read: Erik Flannigan's latest nugs.net blog entry, "Taking All I Can Get, No Regrets"
- December 23, 2021 - Tom Cunningham with the Editors of Backstreets - special thanks to Mike Appel, Mediafire, Brucebase, and springsteenlyrics.com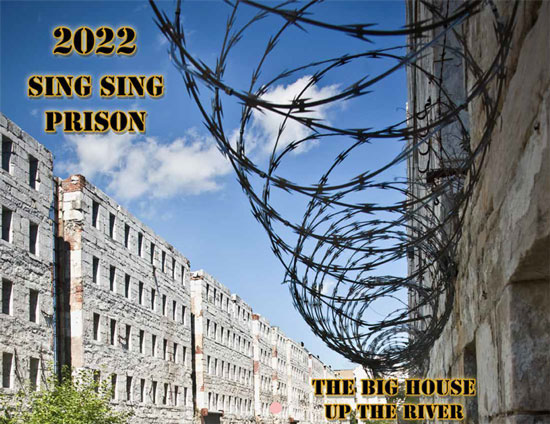 FORTY-NINE AND A YEAR, WE'LL CALL IT EVEN
49 years after Springsteen's Sing Sing gig, calendar marks 50th anniversary
Each year, Sing Sing Prison — "The Big House Up the River" — prints a calendar for employees and associates. For 2022, the calendar will mark the 50th anniversary of a special moment in prison history, when Bruce Springsteen and the E Street Band performed inside its walls in 1972 — and we now have these official calendars available through Backstreet Records.
Springsteen has often listed the wild variety of gigs he played in his early days, as in a 1975 interview when he recalled playing... "Everywhere. High school dances, bars, weddings... a trailer camp out in the country... the Fireman's Ball, played for the Boy Scouts once, did every kind of gig. High school dances, clubs, anything, we did it. Played in the mental institutions for the patients, everything."
And that included December 7, 1972, 49 years ago this month, for the inmates of Sing Sing Prison in Ossining, NY.
Photographer Eric Meola had been particularly interested in this show after coming across several reviews of the early Springsteen gig, and in 2011 for Backstreets magazine he got then-manager Mike Appel talking about the gig, which took place just a month before the release of Greetings From Asbury Park, N.J.
We knew that we had to start promoting, and so I said to myself, "How can we promote?" Somewhere in my day I ran across something about doing a concert in an unusual place... and it struck me: prison. Why don't we do a concert in a prison? Maybe I thought of Johnny Cash and Folsom Prison... but I wasn't thinking of doing a recording there, just a concert. Sing Sing was something I knew from the movies and the news. I finally got in touch with the warden's office, and they liked the idea.... We had to go through all this security, but we went!
In addition to speaking with Appel, as Meola continued to be fascinated with the Sing Sing story he also contacted the prison's historian, Arthur Wolpinsky, to get more details — which would lead to the use of his photos in the new calendar to mark the concert's 50th anniversary.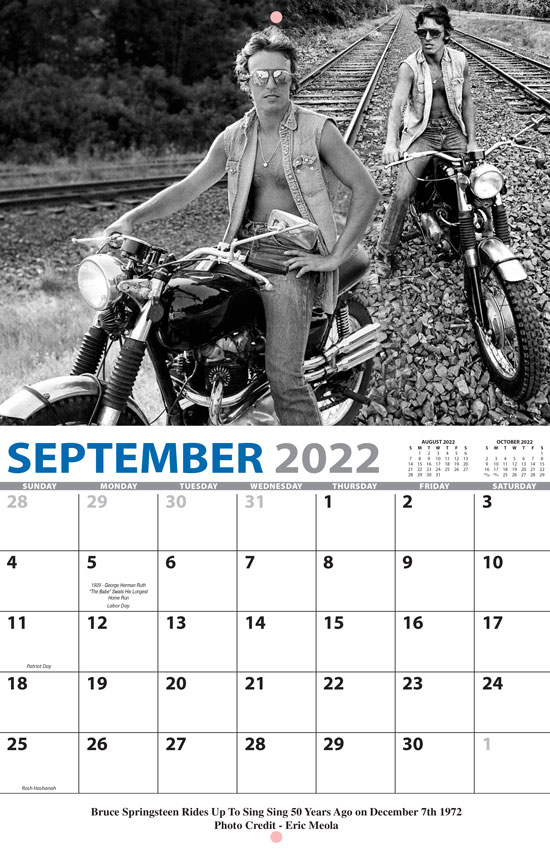 Wolpinsky, who has been employed at Sing Sing since 1971, worked with Meola to select two of his Springsteen photographs to be part of the 2022 calendar as a unique composite (appearing for September, to coincide with Springsteen's birthday).
The shots of Bruce on the railroad tracks resonate, as Wolpinsky's son Adam explains, "since Sing Sing is nestled in between the Metro North Hudson line. If you are riding the train up from Grand Central Terminal, right before you reach the station at Ossining, look out the window and you can see a couple hundred yards of barbed wire lining the tracks."
There's more of the Sing Sing story to tell… and we look forward to putting Meola's research to use next year to celebrate the 50th. But for now, at the 49-year mark, we're weirdly excited to be able to offer the official 2022 calendar from The Big House Up the River that will mark the Semicentennial.
The wall calendar measures 11 x 8-1/2, opening up to 11x17. Calendar runs from January 2022 through January 2023, with a History of Sing Sing Prison on the back. On the music front, November commemorates another 1972 performance at the prison, by B.B. King and Joan Baez; other months, as usual, depict different historical views of the prison, its employees, and visitors.
Guarantee your own copy when you
pre-order the calendar now from Backstreet Records
This item will not be in stock in time for Christmas, but Sing Sing Prison will be shipping us calendars shortly after New Years to fulfill all Backstreets pre-orders.
- December 21, 2021


IN NYC, TRIBECA GRILL'S ROCKIN' NEW YEAR'S EVE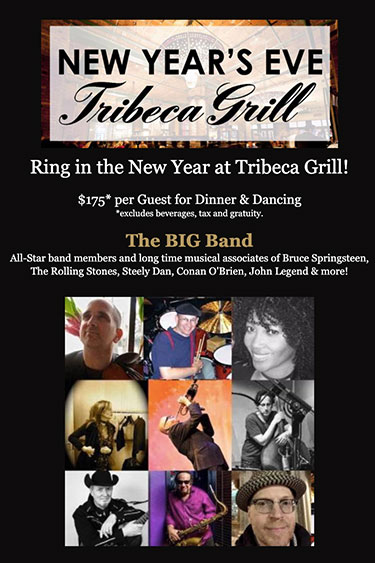 Say so long to 2021 with Cindy Mizelle, Sam Bardfeld, Jeremy Chatzky, Larry Eagle, Lisa Lowell, Mark Pender and more!
Backstreets discount code saves you $25 per head
A new annual tradition has been the NYC reunion of many Sessions Band players for New Year's Eve, as The Big Band led by vionlist Sam Bardfeld.
After a one-year hiatus, The Big Band is coming back to the Tribeca Grill, where reservations are being taken for the fourth New Year's Eve of dancing, dining, and amazing music from this group packed with Springsteen associates.
"For me, just getting to hear Cindy Mizelle front a band — and sing '60s Tina Turner — is worth the price of admission," Bardfeld tells Backstreets.
In addition to Sam and Cindy, the Big Band line-up for December 31 also includes Sessions Band players Jeremy Chatzky, Larry Eagle, Lisa Lowell, and Mark Pender. Only Charlie Giordano is unable to return this year; on keys and accordion instead will be Andy Burton, of Little Steven and the Disciples of Soul. Add Gene Casey on guitar and Arno Hecht on saxophone, and you've got an outfit that can really get the room moving.
As Bardfeld has described it to us before, "It's a New Year's party, so we're there for maximum grooviness and merriment. Musically, it's a slightly more rocked-out extension of the Sessions Band — a lot of soul and R&B that came out of places like Memphis and New Orleans, where there were a lot of different American roots musics colliding."
Now, with the Big Band's first performance since the pandemic (and related worries ramping up again), his thoughts are as much about seizing the chance for a party and a reunion like this, especially given that someone like Pender is usually out in Los Angeles. "We're all old friends, and of course it's been a crazy time… so we love having a chance to get together and play. As performers, we don't take anything for granted."
The evening of dinner and dancing includes a four-course prix fixe menu (and this being a Drew Nieporent joint, you know you'll be well-fed). Standard price for the evening is $175 (excluding beverages, tax and gratuity) — but using our promo code BACKSTREETS when you make your reservation will knock that down to $150.
Use promo code BACKSTREETS and
reserve your table here
"It's such an intimate setting, we always have a great time," Sam says, adding, "Everyone has a great time."
- December 18, 2021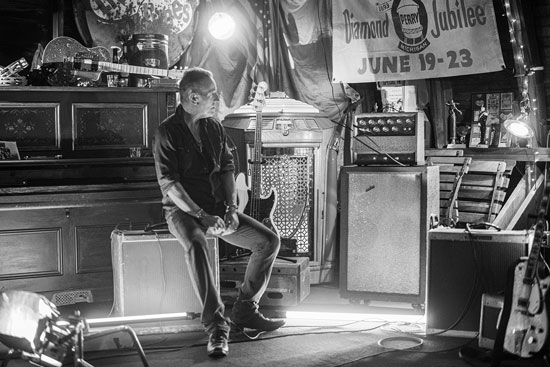 SPRINGSTEEN: "I'M THRILLED THAT MY LEGACY WILL CONTINUE TO BE CARED FOR BY THE COMPANY AND PEOPLE I KNOW AND TRUST"
There have been plenty of takes online in the hours following the initial Billboard report that Sony Music Group and Bruce Springsteen had worked out a deal for the artist's music rights — in our Twitter thread alone.
The Wall Street Journal considered the financials, tax considerations and other incentives for the deal, reporting that Sony apparently had financing from an outfit called Eldridge Partners. "The approximately $500 million valuation," wrote Anne Steel and Neil Shah, "represents more than 30 times the annual royalties on the combined recorded music and songwriting catalog — an aggressive bid that kept Mr. Springsteen's camp in exclusive talks with Sony instead of looking for a buyer on the open market…."
The Onion took a diffferent tack.
Now, we have a statement from the artist himself.
In an official press release from Sony Music Group, issued last night, Bruce Springsteen gives a ringing endorsement of the label that his been his home since he was signed to Columbia by John Hammond (attracted in no small part by the red label he knew well from Bob Dylan records), and he sounds more than comfortable with the future caretaking of his life's work.
"I am one artist who can truly say that when I signed with Columbia Records in 1972, I came to the right place," Springsteen says. "During the last 50 years, the men and women of Sony Music have treated me with the greatest respect as an artist and as a person. I'm thrilled that my legacy will continue to be cared for by the Company and people I know and trust."
Sony's press release confirms the acquisition of Springsteen's "entire recorded music and songwriting catalogs through separate agreements," specifying that Eldridge partnered on the latter.
The press release in full:
SONY MUSIC GROUP ANNOUNCES ACQUISITION OF BRUCE SPRINGSTEEN'S MUSIC CATALOGS

Expands 40-plus Year Partnership Between Springsteen and Sony Music

Agreement Covers Entirety of Springsteen's Legendary Recorded Music and Songwriting

NEW YORK – December 16, 2021 – Sony Music Group today announced it has acquired Bruce Springsteen's entire recorded music and songwriting catalogs through separate agreements.

The two agreements cover the recorded music and music publishing rights to all of Springsteen's songs, including "Born to Run," "Born in the U.S.A.," "Dancing in the Dark," "Glory Days," "The River," "Hungry Heart," "Brilliant Disguise," and "I'm on Fire," among many others. Sony Music Publishing partnered with Eldridge on the songwriting catalog purchase.

Springsteen's recording career with Columbia Records spans nearly 50 years and continues to this day, beginning with his signing in 1972 and his 1973 debut album Greetings from Asbury Park, N.J. Last year, he released Letter to You, his 20th studio album on Columbia.

Said Springsteen: "I am one artist who can truly say that when I signed with Columbia Records in 1972, I came to the right place. During the last 50 years, the men and women of Sony Music have treated me with the greatest respect as an artist and as a person. I'm thrilled that my legacy will continue to be cared for by the Company and people I know and trust."

A member of the Rock and Roll Hall of Fame and the Songwriters Hall of Fame, Bruce Springsteen has garnered 20 Grammys, won an Oscar and a Tony, been named MusiCares Person of the Year, received a Kennedy Center Honor and awarded the Presidential Medal of Freedom. He is the author of the 2016 best-selling memoir Born to Run (Simon & Schuster) and creator of Springsteen on Broadway, which debuted in 2017 with a historic 236-show run at Jujamcyn's Walter Kerr Theatre. Springsteen's most recent studio album, 2020's Letter to You, marked his first time recording live with the E Street Band in decades and debuted at #1 in eleven countries. His most recent tour with the E Street Band in 2016 was named that year's top global tour by both Billboard and Pollstar. In 2021, Springsteen collaborated with President Barack Obama on the book and podcast Renegades: Born in the USA, reopened New York theaters with a reprisal of Springsteen on Broadway, and shared his never-released The Legendary 1979 No Nukes Concerts film, distributed by Sony Music Entertainment's Premium Content Division.

###
- December 17, 2021 - photograph by Rob DeMartin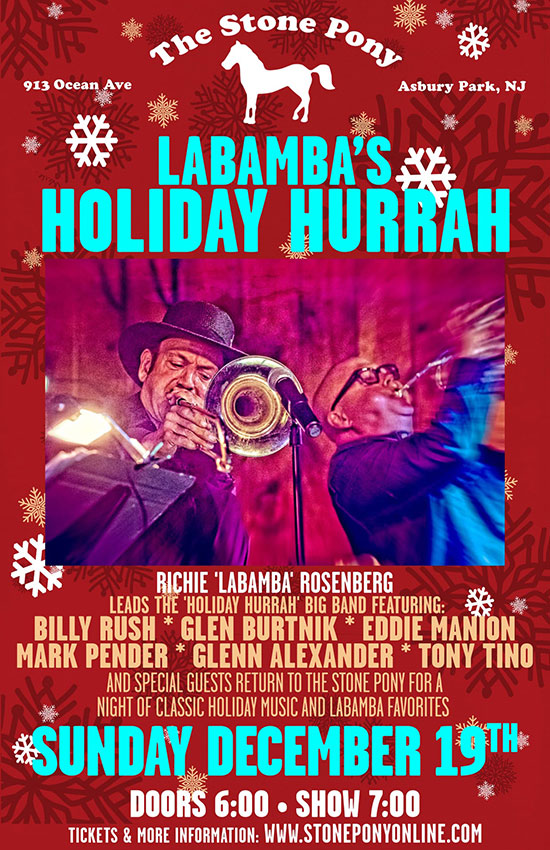 HURRAH FOR CHRISTMAS AT THE PONY
LaBamba and friends to return home for the holidays
Lots of holiday fun brewing at the Shore, with a full weekend ahead: after the Max Weinberg's Jukebox shows on Friday and Saturday, what to do on Sunday? LaBamba — plus lotsa friends — has got you covered.

An Asbury Park tradition spanning almost 40 years, LaBamba's Holiday Hurrah is returning to The Stone Pony on December 19. This will be the first Holiday Hurrah to take place after the COVID-19 pandemic began; click here to read Jean Mikle's excellent history of the Hurrah tradition through 2019 in The Asbury Park Press.

Richie "LaBamba" Rosenberg himself checked in with us to preview the 2021 edition of the Hurrah.

"This year's Hurrah will include my very special guests and friends Glen Burtnik and Steve Forbert," LaBamba tells Backstreets, "and a literally triumphant return of the original guitarist/singer/songwriter for the Jukes, Billy Rush. He's flying in from Portland to take part in this — we're very excited to see our old comrade." Saturday Night Live drummer Shawn Pelton, "who was once a Hubcap" — a member of LaBamba and the Hubcaps — "will be joining in. As usual, we'll have 13 horns in all, with past and present Jukes on hand."

Confirmed Jukes as of this writing include Mark "Loveman" Pender, Glenn Alexander, and Tony Tino. UPDATE: The Jukes' leader, Southside Johnny Lyon, aka "Mr. Grinch," also will be joining in on the fun.

And of course, there'll be plenty of Holiday in the Hurrah: "Eddie Manion will be live-debuting his new Christmas song," LaBamba reminds us, and the bandleader himself will be debuting two of his own Christmas songs. "One of which," he tells us, "is entitled 'Christmas at the Pony.'

"And then… sometimes you never know who's gonna walk in at the Pony. We're ready for anything. Just a lotta fun to be had either way."

Click here to purchase tickets online, and note that proof of COVID-19 vaccination or a negative COVID-19 test within 72 hours prior to the show will be required for entry.
- Updated December 17, 2021 - Shawn Poole & Chris Phillips reporting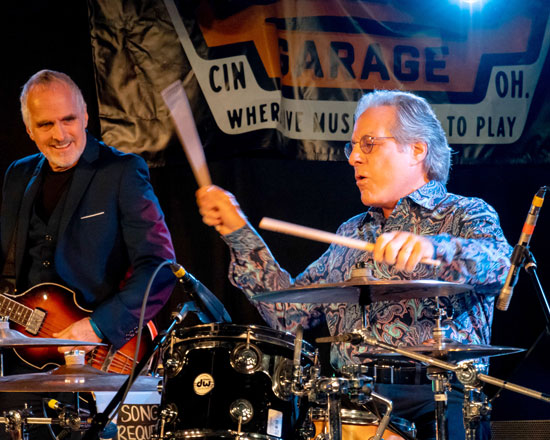 Max Weinberg with Glen Burtnick at the recent Max Weinberg's Jukebox show in Cincinnati, at the Ludlow Garage, December 3, 2021 - photograph by Ron Valle
JERSEY SHORE HOLIDAY SHOWS WITH MAX WEINBERG'S JUKEBOX
The Big Beat returns to Red Bank this weekend, as Mighty Max and his Jukebox band will play two holiday shows there on Friday and Saturday nights. Max Weinberg's Jukebox will be taking requests on the fly, as usual, as they help celebrate the season both nights at The Vogel, the newly opened performance space at the Count Basie Center for the Arts.
"I always enjoy returning home to play shows at the Basie," Max tells Backstreets, "particularly holiday shows. The crowds are enthusuastic at the Shore, and shows at this time of the year are always very pleasantly unpredictable!"
Doors open at 7pm, showtime at 8pm. Tickets are available through Ticketmaster, for Friday, December 17 and Saturday, December 18.
Note that after selecting tickets, you can also add a meet-and-greet upgrade under "Event Extras" at checkout.
The Count Basie Center for the Arts requires patrons to present one of the following: Proof of full vaccination, or a negative COVID-19 test taken within 72 hours of door time. Patrons aged 12 and under are not required to present test results, but must remain masked during all events. Once inside, masks will be strongly encouraged.
See more of Max's tour dates at maxweinberg.com, including a December 27 show at the Birchmere in Alexandria, VA, and additional concerts planned through June 2022. Of course, we can hope that Max will have to invoke his now-famous Bruce Springsteen Clause before some of those later dates... but either way, he'll be keeping busy in the new year!
- December 16, 2021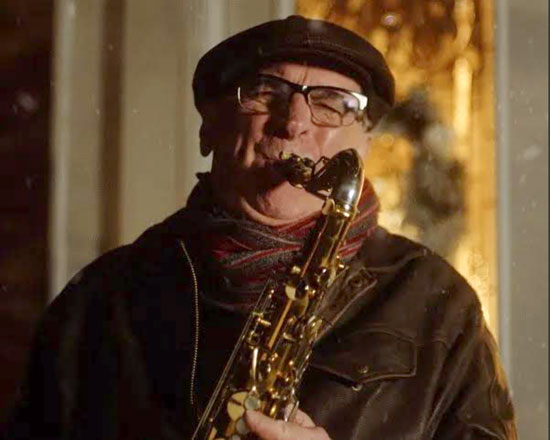 Saxophonist and solo artist Eddie "Kingfish" Manion in his new "The Lights Are on at Old Saint John's" video
COASTIN IN' WITH THE KINGFISH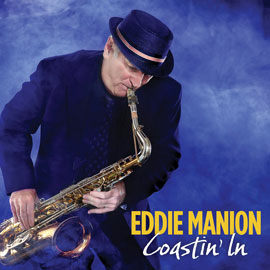 Eddie Manion announces new album and Christmas single
With a first-class resume that includes extensive work with Bruce Springsteen and the E Street Band, Southside Johnny and the Asbury Jukes, Little Steven and the Disciples of Soul, Robert Cray, Diana Ross, and many others, not to mention countless studio sessions, Eddie Manion has spent much of his eventful career as a sideman to the stars — but he's also a solo recording artist.
Eddie began this phase of his musical journey in 2004 with the release of Follow Through. Next was Nightlife in 2015. Now Eddie has completed his mostly-instrumental third record, Coastin' In, due for release on Kingfish Mars Records LLC on February 28, 2022 — his 70th birthday.
A collection of favorite covers plus two original compositions, Coastin' In took Eddie "two years and a pandemic" to record, he explains in a new press bio by Scott Schinder (Rolling Stone, Creem, Billboard). "I started this project at the beginning of the pandemic in March 2020," Eddie continues. "When the lockdown began, I was lost as to what to do to keep me focused. I decided that the best thing I could do was make a new album, and make it the best album I could. As a sideman, I have a lot of experience helping other artists to realise their musical visions, but this project is about what moves me, and about the sounds and emotions in my head and heart. When I listen to it, it sounds like me."
"The most important things for me in recording an album of my own are getting my tone right and picking the right songs," says Eddie. "I'd hear a favorite song in a Starbucks or somewhere on tour, and I'd think 'Wow, that would make a great sax instrumental.' I'd write titles down on little pieces of paper and stick them in my wallet. Then when it was time to record, I pulled out all these pieces of paper and sorted through them to figure out what to record."
An annotated tracklist of Coastin' In:
"Smile" - the '30s standard written by Charlie Chaplin
"Spooky" - the '60s sax instrumental, later recorded, with lyrics, by Classics IV and Dusty Springfield
"If" - the '70s David Gates/Bread song
"God Only Knows" - the '60s Brian Wilson/Beach Boys song
"When Sunny Gets Blue" - the '50s standard originally recorded by Johnny Mathis
"Coastin' In" - an Eddie Manion original
"He Ain't Heavy, He's My Brother" - the '60s Hollies ballad
"Georgia on My Mind" - the '30s Hoagy Carmichael song later recorded by Ray Charles and others
"Roll With It" / "(I'm a) Road Runner" - a combination of the '80s Stevie Winwood song with the '60s Junior Walker and the All Stars classic
"Deep Purple" - the '30s instrumental standard, recorded with lyrics by Screamin' Jay Hawkins, Bing Crosby, and others
"Yeh Yeh" - the '60s Latin soul instrumental covered, with lyrics, by Georgie Fame and the Blue Flames
"The Lights Are on at Old Saint John's" - bonus track, an Eddie Manion original
The album was produced and arranged by Eddie Manion, mixed by Jack Daley and Marc Ribler at Dug Deep Studios in Asbury Park, and mastered by Wes Garland at Nashville Record Productions. Eddie plays tenor and baritone sax, sings the lead vocal on "The Lights Are on at Old Saint John's" and a bridge vocal on "God Only Knows." He also composed the string arrangement for "Georgia on My Mind."
Eight of the album's basic tracks were recorded by Joe DeMaio at Shorefire Studios in Long Branch, NJ, and feature a core band comprising Eddie's fellow Disciples of Soul Marc Ribler (guitar, background vocal, percussion, string arrangement on "If"), Jack Daley (bass), Rich Mercurio (drums), and Andy Burton (keyboards, piano, organ). Disciple Lowell "Banana" Levinger plays mandolin on "The Lights Are on at Old Saint John's."
The remaining four basic tracks (plus all tenor and baritone sax, lead vocals, strings and some background vocals) were recorded by Jimmy Hoyson at The Vault Recording Studio, Pittsburgh, PA, with Mark Strickland (guitar), Paul Thompson (acoustic bass), Thomas Wendt (drums), Clifford Barnes (B3 organ), and Rick Gallagher (piano).
The list of credits also features backing vocalists — including Springsteen and Little Steven alumni Cindy Mizelle, Jessie Wagner, and Lisa Lowell — string players (violin, cello, viola, harp), and entries for French horn and bagpipes.
Signed or unsigned CD copies of Coastin' In can be pre-ordered now from eddiemanion.com for shipping on February 28, 2022. There is no vinyl option at present.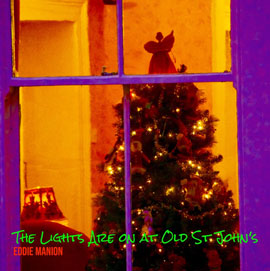 "The Lights Are on at Old Saint John's" is Eddie's new Christmas song, an advance holiday single which will be included as a bonus track when the album comes out next year. The title refers to Old Saint John's Church and Cemetery in Lakehurst, NJ; the church was built by Eddie's great-grandfather Patrick Manion and other Irish immigrant railroad workers employed by the Central Railroad of New Jersey.
Eddie was born in the house next door to the cemetery, where many of his ancestors are buried. As a child he played on the front lawn a few feet away from Patrick Manion's gravestone, and he enjoyed many a Christmas Mass in the church, where he was an altar boy. Eddie recalls accidentally dropping the giant bible in its wooden cradle and being yelled at by Father Donovan, as well as seeing "my family all dressed up, sitting together looking at all the stained glass windows in amazement and hearing that small funny pump organ."
Eddie's mother passed away in 2018. "Smile," "If," and "God Only Knows" appear on Coastin' In as a tribute to her; she also partly inspired the new Christmas song, which is an homage "to where I grew up and my grandfather and great-grandfather and other Manion relatives I never met, but saw their names every day growing up. I feel I know them well.
"I also wanted to bring an awareness to Old Saint John's Church and Cemetery," Eddie adds, " to possibly make it an historic landmark and do what I can to help with protecting this sacred and special place to me."
"The Lights Are on at Old Saint John's" is on Apple Music and available for download from iTunes now. It's accompanied by a Ryan Celli video (below), which features scenes shot at the church and outside Eddie's childhood home.
On December 19, Eddie will be playing "The Lights Are on at Old Saint John's" on Tom Cunningham's Springsteen on Sunday show on 107.1 The Boss, live from Bar A in Belmar, NJ. That evening, he'll perform the song again and be part of the band for La Bamba's Holiday Hurrah at the Stone Pony.
"The sound of the saxophone is something I have loved my entire life, and the quest for that sound is what keeps me going," said Eddie. "That big 'Texas Tenor' sound spoke to me. My early saxophone heroes were honkers and screamers like Sam 'The Man' Taylor, Red Prysock, Arnett Cobb, King Curtis, Junior Walker, Stanley Turrentine. When I was learning to play, I would listen to versions of the same song by different sax players to see how all my heroes would approach a particular song.
"Playing and recording music is as exciting to me now as it was when my mom bought me my first sax at the age of ten. I'm so happy to still have the joy of music in my heart after a 50-year career. This album was a joy to record. I didn't want to stop, and I can't wait to start recording another one."
- December 15, 2021 - Mike Saunders reporting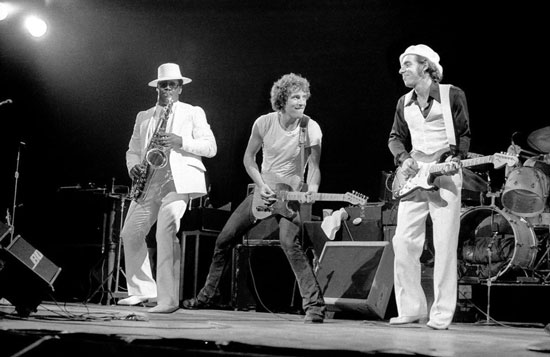 Maybe YOU can't wear white after Labor Day… October 1976 photograph by James Shive
DON'T MISS SHIVE ARCHIVE x BACKSTREETS ON INSTAGRAM
If you haven't checked our Instagram in a while, you may have missed the slew of Springsteen/E Street Band photos there from '74 to '84… with more to come, as photographer James Shive continues his Instagram Takeover.
For how much longer, we're not sure — Jim swiped the keys from us about a week ago, and the chase is on to get them back by the end of the week — but check it out while he's still at the wheel for some beautfiul Shive Archive shots of the E Street Band's first decade, including rare color images from 1976 and '78. Like this moment in concert in '76, a literal depiction of the support that the late, great "superfan" Obie Dziedzic gave to Bruce and the band:
And in case you missed it, you can use the discount code jungleland to save $100 on Shive's new limited edition box set containing ten prints of his greatest images of Bruce and the band.
Visit ShiveArchive.com to see these and many more prints for sale, including The Darkness Editions, the 1976 Collection, the 1977 Collection, the River Collection, and more. Jim is a longtime contributor to Backstreets, and we can say from experience his images class up the wall real nice.
- December 15, 2021

December 13, 2021 - photograph by Ken Rosen
THAT BLOOD IT STILL BURNS IN HIS VEINS
December 13 / Town Hall / New York, NY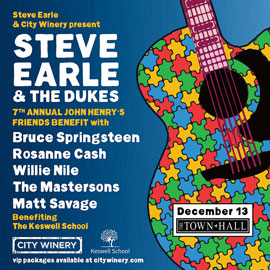 For the Springsteen fans in the house, it had all been building to this — even if no one knew it was coming.
Last night Steve Earle hosted his annual John Henry's Friends benefit concert, the seventh year of his fundraiser for the Keswell School for autistic children, and it was once again an in-person event after going virtual last year due to the pandemic.
As is his custom, Earle invited a few guests to join his party, and this year's roster made it feel more like Bruce Springsteen's Friends. The evening's featured players — Earle, Rosanne Cash, and Willie Nile — all have a connection with Bruce, which led to much speculation leading up to the event about what special team-ups the evening might hold in store.
There wasn't much speculation about the format, though. Fans could be forgiven for expecting another in the string of acoustic mini-set appearances that Bruce has been making this year.
But this was no acoustic performance.
After Cash finished her own acoustic set (quipping that she was about to hit Twitter to brag that she'd just opened for Bruce Springsteen), the members of Earle's band The Dukes took to the stage, and the audience knew something was up.
Then Bruce entered… beat-up Telecaster in hand. And as a roar shook the house, we realized we were about to see Bruce's return to electrified, full-band, in-public rock 'n' roll for the first time since the pandemic began.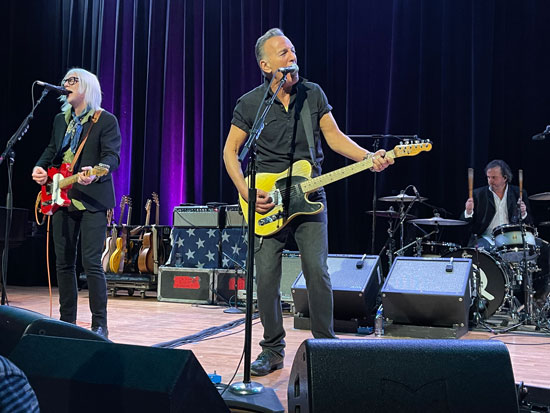 Photograph by Ken Rosen
The crowd went absolutely nuts. I have been to many Springsteen shows all over the world, but reporting on this particular event from the second row on the center aisle, I was completely unprepared for the reception and reaction that greeted Bruce on this night — and it seemed he was, too.
The Bruce Springsteen and the Dukes performance that followed was half-celebration, half-catharsis for both artist and audience, and both made the most of every moment of it.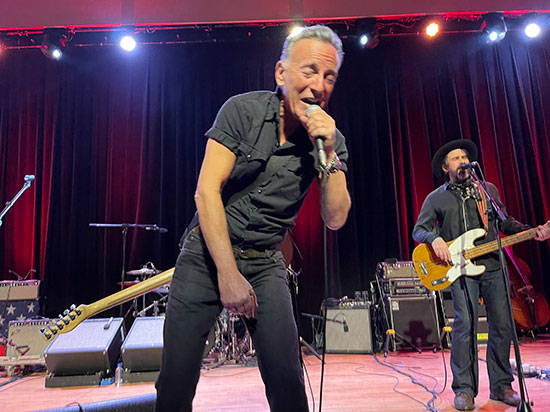 Photograph by Ken Rosen
First out of the gate was "Darkness on the Edge of Town," performed with a ferocity we haven't seen from Bruce in years. The Dukes were more than up to the task of serving as Bruce's backing band in an intense performance. And if anyone was wondering if Bruce's voice is still up for the demands of a rock 'n' roll tour, his final "towwwwwwwwwnnnnnnnnn!" should put all concerns to rest, just as it knocked those present to their seats (momentarily).
Next up: a celebratory "The Promised Land." This one, of course, we heard nightly on Broadway, but it's easy to forget how powerful it is in its original arrangement. Once again, The Dukes impressed, although their lack of sax player meant a noticeable hole where our ears are trained to expect a Clemons solo.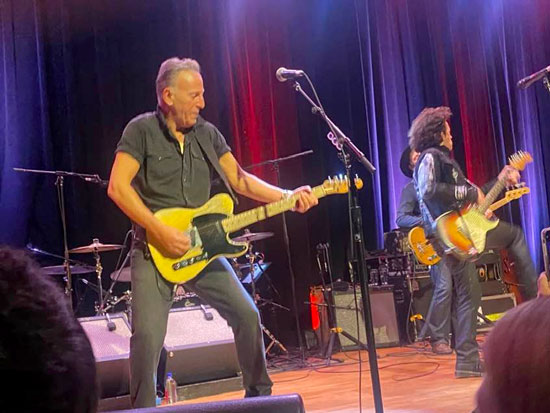 Photograph by Doc Rich Weiss
By this point security had lost control of the floor, the orchestra crowd had rushed the stage, and Bruce seemed to be relishing the energy up in the room. He launched into "Glory Days," with Willie Nile returning to the stage to join him, but unexpectedly the audience decided to take matters into their own hands and sang the first verse to him, "Hungry Heart"-style. That was a spontaneous moment — I watched the musicians work out the arrangement at soundcheck, with no indication of a sing-along coming — and for a moment it felt like the next tour had already begun.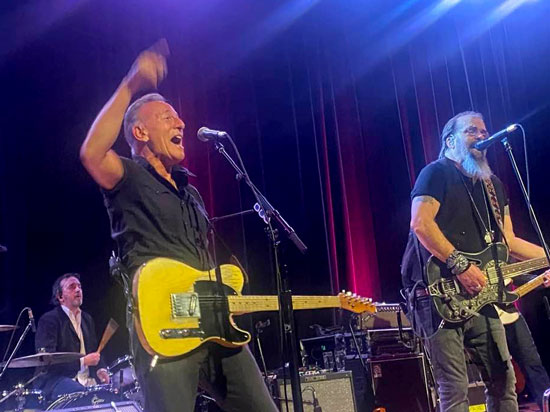 Photograph by Doc Rich Weiss
Bruce capped his set with "Pink Cadillac," performed as a duet with Earle, in a down-and-dirty arrangement that featured some terrific solos from The Dukes.
Interestingly, three of Bruce's four song choices were part of his final pre-pandemic setlist (at Light of Day almost two years ago), so for anyone who pays attention to such things, there was a bit of a "picking up where we left off" feel to set, and it contributed to the overall sense that a tour must be… needs to be… imminent.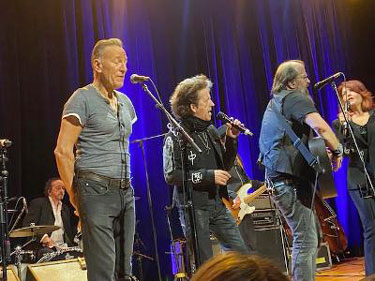 Photograph by Doc Rich Weiss
After "Pink Cadillac," Steve took the driver's seat for the remainder of the evening, ripping through a short but solid setlist of his own classics and some new music, too. Bruce returned for the all-artists finale: a rousing rendition of Graham Nash's "Teach Your Children," which Bruce has only performed on once before — at another fellow singer/songwriter's school benefit — in 1986. Springsteen knew the song better this time, taking lead vocals on a verse himself.
As the artists took their bows and Bruce and Steve Earle exchanged hugs, it sure looked from our lip-reading angle that Springsteen was urging the night's host to come join him at one of his own shows — an exciting prospect we have every hope of seeing come true in the new year.
- Ken Rosen reporting
Setlist:
Bruce Springsteen & The Dukes
Darkness on the Edge of Town
The Promised Land
Glory Days (with Willie Nile)
Pink Cadillac (with Steve Earle)
Ensemble, including Willie Nile, Roseanne Cash, and Steve Earle
Teach Your Children
Video:
- December 14, 2021 - with big thanks to Ken Rosen, along with Doc Rich Weiss, William Borner, and a hat-tip to Spring-Nuts for capturing the full appearance



The Legendary Steven Van Zandt at the 1979 No Nukes Concerts
THIS WEEK ON E STREET RADIO: THE LEGENDARY E STREET BAND SPOTLIGHTS THE ARTIST FORMERLY KNOWN AS MIAMI STEVE
Hey, baby. The next edition of E Street Radio's The Legendary E Street Band will focus on the band member introduced by Bruce Springsteen on their latest release The Legendary 1979 No Nukes Concerts as, "auteur, writer, producer, man of many talents…" The one, the only Stevie Van Zandt, of course.
As usual, you can expect host Greg Drew (a longtime fan and music-industry pro) to dig deep, play as many awesome records as he can within an hour or so, and provide insights into Van Zandt's rocking, soulful greatness on and off E Street, through numerous periods and projects (and nicknames and head-coverings).
Greg tells us that this particular edition of The Legendary E Street Band was "very hard to put together, in terms of Stevie's prolific catalog, and I think I found a couple off-the-beaten-path selections." Should be a wicked cool show, for sure.
The Legendary E Street Band's Stevie Van Zandt edition will premiere on E Street Radio (SiriusXM channel 20) tomorrow, December 13, at 3pm ET. Replays will air throughout the week (all times Eastern):
Monday, December 13 - 6pm
Tuesday, December 14 - 10am
Wednesday, December 15 - 12am and 7am
Thursday, December 16 - 6pm
Friday, December 17 - 2pm
Saturday, December 18 - 12am and 4pm
Sunday, December 19 – 1pm
- December 12, 2021 - Shawn Poole reporting


NOTE FROM NILS: NEW SHIRT TO BENEFIT MUSICARES & MORE
The great Nils Lofgren is feeling the giving spirit this holiday season with a new T-shirt for charity (he's wearing it above), and sharing the spirit, too, with a new Christmas EP. We just got a nice note from Nils to share with Backstreets readers, catching us all up on his goings-on:
To all the Bruce, E Street, Backstreets fans and readers, blessings 'n' thanks this holiday season.

Amy and I have released a download of Christmas songs we're proud of, with some unusual takes we hope you'll enjoy.

We've got a cool new T-shirt, "Music is our Planet's Sacred Weapon." (Ain't that the truth!!) For every shirt sold, we're making a donation to MusiCares, a great charity that safeguards the well-being of all music people through direct financial grant programs, networks of support resources, and tailored crisis relief efforts. The T-shirt is available at nilslofgren.com.

And I'm proud to say the new Neil Young & Crazy Horse album, Barn, is out December 10. It was a joy making new music with Neil, Ralph, and Billy after over a half-century of friendship and playing together! It's raw, rough and cool!

And finally, I've begun work on my next solo album and it's feeling good so far!

Stay safe, everyone. High hopes to see you all on tour next year. What a dream come true that would be!

Peace and Believe, from me and Amy.
Nils
The five-track Season's Greetings From Nils & Amy, with lovely versions of some Christmas chestnuts, is available now on all digital platforms. In addition to Nils, Amy, and guest vocals from the late Margo Reed, the holiday EP includes extended family on "a couple Lofgren family sing-alongs featuring our beloved Mom and Dad and brothers."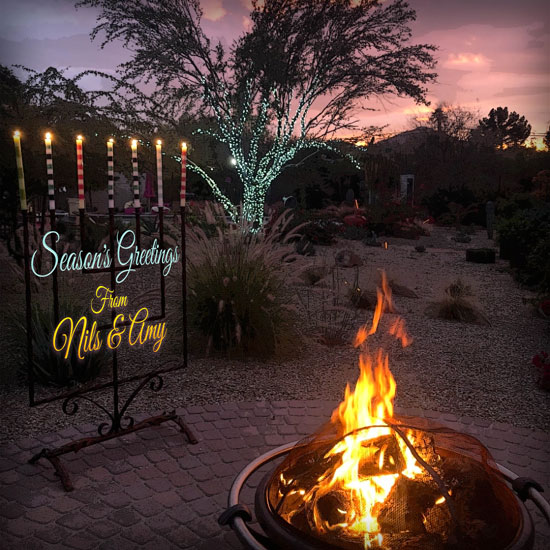 As Crazy Horse rides again — with Nils, Billy Talbot, and Ralph Molina on ten new songs with Neil — the new album Barn is due this Friday in various formats including vinyl, CD, and even cassette, with a Blu-ray that captures the recording sessions in the Colorado Rockies. Neil went track-by-track through the album on today's World Café.
For more from Nils, see a new SPIN interview out today: "Between Neil Young and Bruce Springsteen, Nils Lofgren Has Seen It All."
- December 8, 2021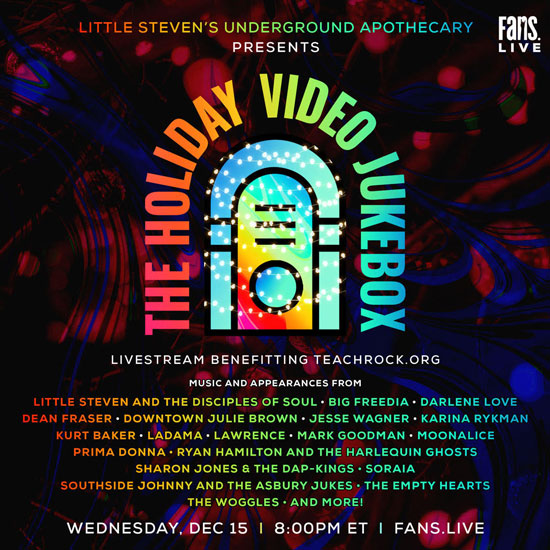 LITTLE STEVEN'S 'HOLIDAY VIDEO JUKEBOX,' FREE ON 12/15
Coming next week to help you feel the spirit of the season, courtesy of Stevie Van Zandt, is The Holiday Video Jukebox. Streaming for free, the Holiday Jukebox will feature new and archival performances of holiday classics, seasonal chestnuts, and original bangers from artists including Little Steven and the Disciples of Soul, Darlene Love, Southside Johnny and the Asbury Jukes, Sharon Jones and the Dap-Kings, and many more. Veejays making an appearance include Mark Goodman and Downtown Julie Brown.
Presented by Little Steven's Underground Apothecary, the free stream of the Holiday Video Jukebox begins on Wednesday, December 15 at 8pm ET via Fans.live to support Teachrock.org, which provides free arts integration curriculum and teacher training to nearly 50,000 teachers nationwide. The stream will be available for 72 hours following its original broadcast.

Launched by Little Steven and the Founders Board of Bono, Jackson Browne, Martin Scorsese, and Bruce Springsteen, TeachRock.org provides free, standards-aligned resources that use the arts to help kids succeed in core disciplines like Science, Math, Technology, and Engineering. Nearly 50,000 teachers nationwide use TeachRock curriculum, and TeachRock staff works directly with more than 100 school districts in 5 states.

"We're keeping the Arts in the DNA of the public education system," Steven says. "We're empowering teachers with a methodology to teach a generation that is smarter, faster, and has absolutely no patience; and we're eventually going to affect the dropout rate."

"The videos in this Jukebox are as diverse as our curriculum and the teachers and students we serve," says TeachRock executive director Bill Carbone. "We're spinning an evening of music that touches a plethora of genres and celebrates the season broadly."
Current Video Jukebox lineup:
Little Steven and the Disciples of Soul
Big Freedia
Darlene Love
Dean Fraser
Downtown Julie Brown
Jesse Wagner
Karina Rykman with Marlo Shankweiler
Kris Rodgers and The Dirty Gems
Kurt Baker
Ladama
Lawrence
Mark Goodman
Michael Des Barres
Moonalice
Prima Donna
Ryan Hamilton and the Harlequin Ghosts
Sharon Jones & The Dap-Kings
Soraia
Southside Johnny and the Asbury Jukes
The Cocktail Slippers
The Dolly Rots
The Empty Hearts
The Woggles
and more to be announced!
Register to receive access for this free fundraising event and be entered to win a gift collection from event sponsor Wicked Cool Wellness (Van Zandt partnered with Wakaya to create Wicked Cool Wellness and Little Steven's Underground Apothecary) by visiting teachrock.org/jukebox.
- December 7, 2021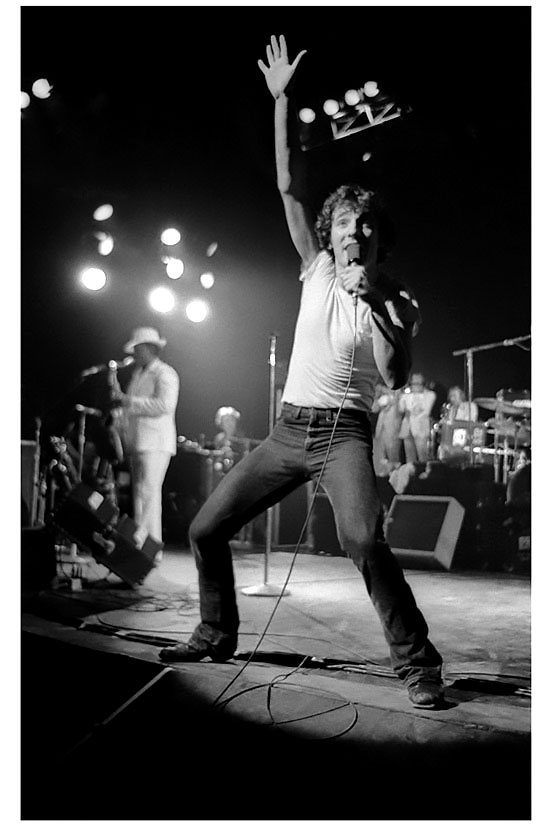 October 13, 1976, Springsteen and the E Street Band with the Miami Horns at New Jersey's Kean College - photograph by James Shive, one of ten 9x12 prints in his limited edition Box Set Volume 1
LET SHIVE DRIVE
Instagram takeover by Jim Shive + discount on his new box set
We're handing over the keys to the pink Cadillac for a little while: photographer Jim Shive is going to be driving the Backstreets Instagram again, this time for some fun during this Holiday season. We know he's got more shots from Nassau Coliseum 1980 to share… after that? Well, he's behind the wheel — we'll see where he goes.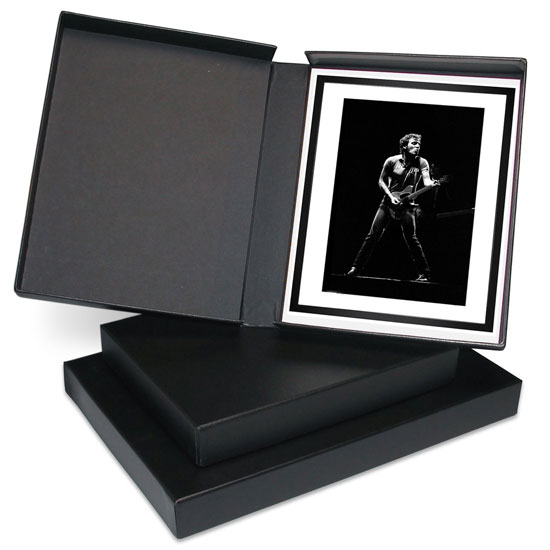 If you like Jim's work, check out the new box set he's just put together this year, making it easier for those who can't decide which image to purchase. For the very first time, the Shive Archive is offering the opportunity to purchase 10 original giclee prints collected together as a limited edition in a clamshell box.
Each photograph comes as a full-frame, uncropped 9"x12" image, just as they were shot 40-or-so years ago. Included in Shive Archive Box Set, Volume I, as Jim tells it, are "many of my most loved and collected images of Bruce Springsteen and the E Street Band, with some of these images already sold out as limited-edition individual prints. Only 50 sets of Volume I will be made available." See all ten images included at the link above.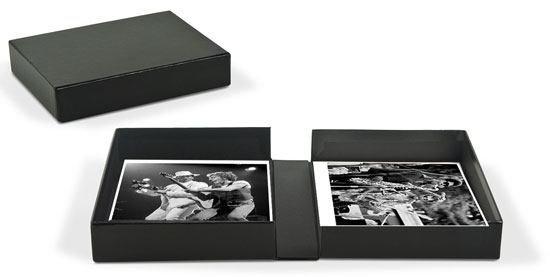 Plus, he's offering a special discount for Backstreets readers ordering the box set: use code jungleland to save 100 bucks!
View the new box set and more at shivearchive.com, and stay tuned to our Instagram to see what else Jim digs up to share.
- December 7, 2021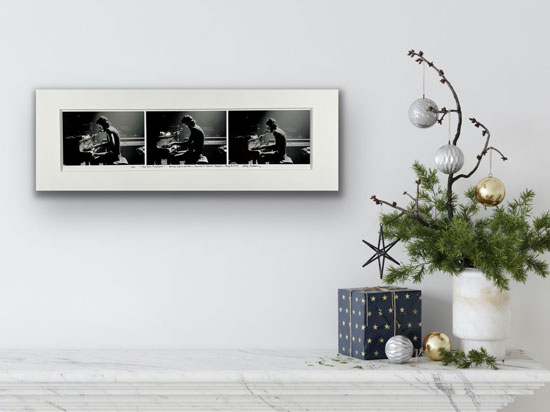 LAST CALL! GUARANTEED XMAS DELIVERY FOR BOSS TRYPTICHS
Looking for that one-of-a-kind gift tp grace the walls of friends, family, or your own home this holiday season? Look no further! Backstreets and photographer Barry Schneier have teamed up to offer unique prints for any Bruce fan you may know.
Three limited-edition triptychs are now available in special sizes for the 2021 holiday season, signed and numbered in editions of just 21. At $500 each, all of these museum-quality archival prints measure 7" x 25" and are mounted ready for framing in a custom 10" x 28" 8-ply matte.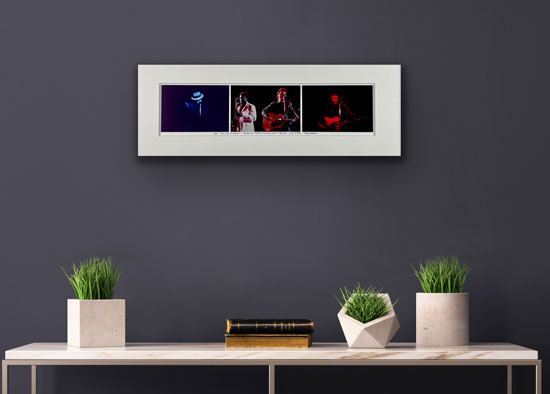 Two of the triptychs feature Barry's work with Bruce Springsteen in 1974, when he captured Bruce in performance with the E Street Band at the Harvard Square Theatre in Cambridge, MA, the night Jon Landau hailed him as "rock and roll future." These are images that are featured in Barry's book Bruce Springsteen: Rock and Roll Futurefrom Backstreets Publishing.
And for the first time, Barry has collected his work capturing Patti Smith in 1975, when she was premiering work from her first album release Horses at the Boarding House in San Francisco. Only "For You" has been previously available, and only in a much larger (and more expensive) format.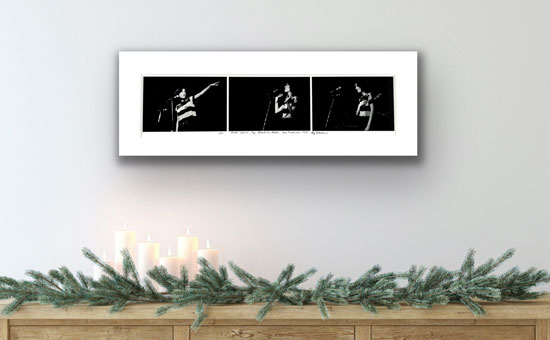 Order directly from Barry Schneier Photography, and please enter "Backstreets" in the source field when checking out, so he'll know we sent you.
For orders received by the end of today, Monday, December 6, Barry will guarantee Christmas delivery; orders received by December 12 will be shipped before Christmas, but due to distance and service at that time may not arrive by the holiday.
Order via
barryschneierphotography.com/triptychs-limited-editions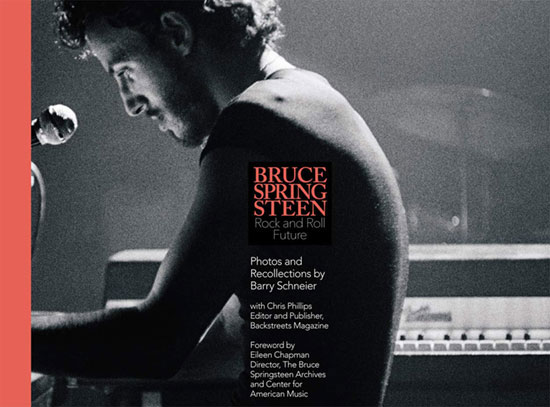 And don't forget, Barry's book Bruce Springsteen: Rock and Roll Future is also available directly from Backstreet Records, signed by both Barry Schneier (Photographs & Recollections) and Backstreets' Chris Phillips (Introduction).
- December 6, 2021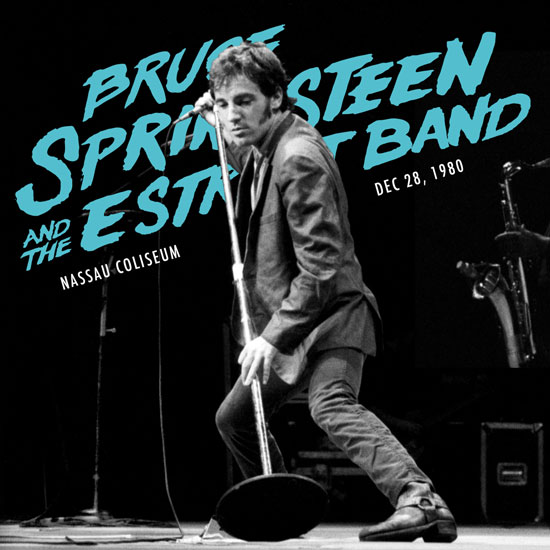 FROM CALIFORNIA TO THE NEW YORK ISLANDS
New covers and themes emerge in 33-song Nassau 1980 Night 1
After a month off to clear the runway for The Legendary 1979 No Nukes Concerts, Bruce Springsteen's Live Archive series is back in action today. Presenting a first-leg River tour performance, roughly a year after those MUSE (Musicians United for Safe Energy) concerts in '79, today's release tells the next part of the story.

In Springsteen's Born to Run memoir, he points to three things that "shaped the River tour" in 1980 and 1981, all of which have to do with his place in the world as an American — and one with a voice that could make a difference.

First, there were his initial efforts on behalf of social causes (he mentions MUSE specifically), which showed that "a practical social use for our talents was waiting"; a European leg that "awakened" their "political perspectives"; combined with his newfound sense of history, after reading books by Henry Steele Commager, Howard Zinn, and Joe Klein (more on the last of these below). These influences, he writes, provided him with "a new view of myself as an actor in this moment in time.… This was my place, my moment, my opportunity for my voice, no matter how faint, to be heard."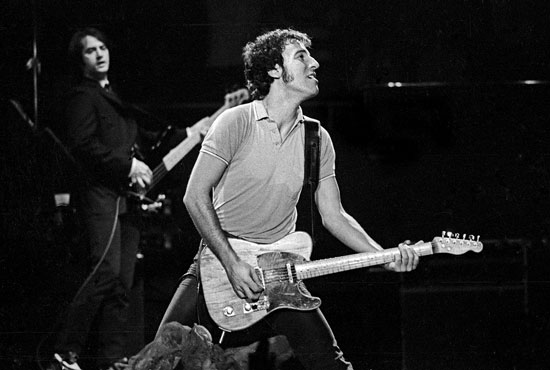 Photograph by James Shive/shivearchive.com

The first time audiences heard that voice speaking out was when Springsteen added a Woody Guthrie song to the set in late 1980. It may be just an inkling of a growing consciousness, but Bruce's first performance of "This Land Is Your Land" is a real inflection point on his way to becoming the socially and politically conscious artist that we've known for decades. That premiere — which would become a staple of the River set in 1981 — is a key track on today's new entry in the Live Archive series, Nassau Coliseum, December 28, 1980.

Again looking back at this period in Born to Run, Springsteen recalls, "In concert we began to cover 'This Land is Your Land' nightly and we worked to give voice to stories that in Reagan's 1980s America rock 'n' roll wasn't often telling." Before "Born in the U.S.A.," before Nebraska, before "Johnny Bye-Bye" and A Night for the Vietnam Veteran… it starts here.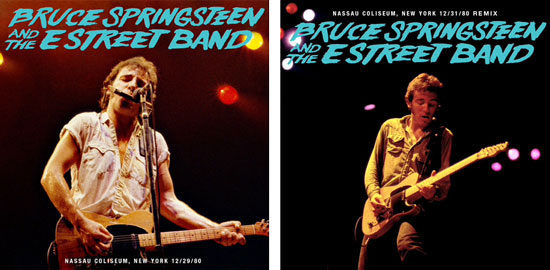 The new drop completes a trifecta, with each night of the E Street Band's stand at Nassau Veterans Memorial Coliseum — the final shows of 1980 — professionally recorded and now officially released through the Live Archive series. (The fan-favorite New Years Eve show came early, in 2015; in 2019, a reissue of December 31, following a Plangent transfer and new mix by Jon Altschiller, accompanied the Archive debut of December 29.)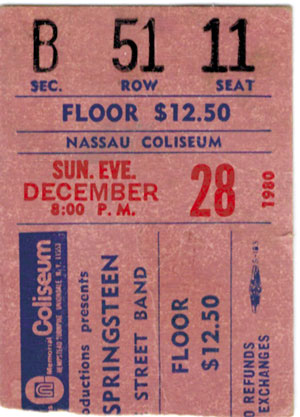 Ticket stub courtesy of Robert Bader
Musically, this River stretch is the next chapter of Springsteen's concert history, too, coming just a year after No Nukes. In fact, the 12/28 concert features all of Springsteen's songs from his No Nukes set, including "Sherry Darling," a refined "The River," and even the "Detroit Medley" (lacking only the covers "Stay," "Quarter to Three," and "Rave On"), and it adds a whopping 23 songs besides, now that the performance has stretched out again to well over three hours.

More songs from The River feature prominently, of course. As Bruce sings during "Rosalita" this night: "Because my brand new record, Rosie, went all the way to number one, one, one, one!"New material includes a potent, this-is-a-dark-ride trio of "Stolen Car," "Wreck on the Highway," and "Point Blank," followed immediately by another River trio of antidotes: "The Ties That Bind," "Ramrod," and a breakneck-speed "You Can Look (But You Better Not Touch)." Stevie Van Zandt, in his element, particularly shines here (we'd be remiss if we didn't applaud his background vocals throughout).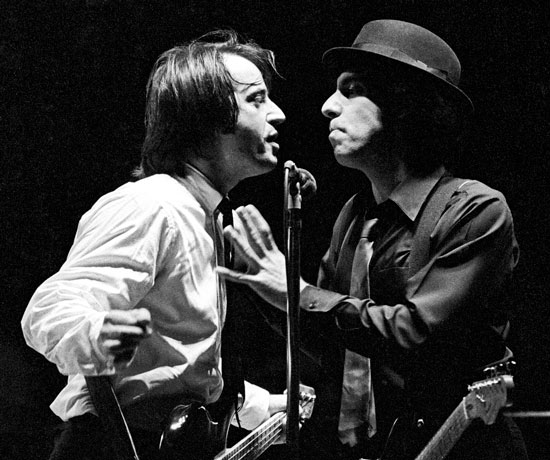 Photograph by James Shive/shivearchive.com

But it's not just new songs that stand out. Bruce does some two-to-ten math to get him from "Two Hearts" to a very spirited "Tenth Avenue Freeze-out" and the band serves up a particularly impassioned "The Promised Land," with extended soloing from Stevie and Clarence Clemons. "Thunder Road" is four-on-the-floor. Returning from the '78 tour, "Fire" receives a very enthusiastic response from the crowd and "Because the Night" stretches out with a lengthy guitar solo and some fine dueling with Roy Bittan and Danny Federici ("From the same town that brings you those Flemington Furs commercials on television," Bruce tells the crowd during the band introductions).

Those to whom song selection is of prime importance may wish that more differences from 12/29 and 12/31 popped up here — the only song exclusive to this Nassau night is "Backstreets." But it's a passionate one, and as far as setlists, the shape of each of these three concerts feels quite different.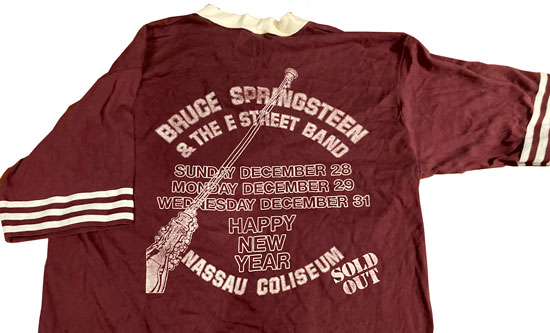 Courtesy of Robert Bader

In terms of chronology, the Nassau stand came more than two months into the tour, which began in the Midwest, veering West and South before Bruce and the E Street Band zeroed in on their traditional home territory in the Northeast. There, the performances kept getting hotter and longer. The last two shows before Christmas were miracles on 32nd Street, bringing "Santa Claus" to Madison Square Garden. One might have thought that would be a peak before the dawn of '81, but Christmas didn't take any wind out of the E Street sails. As Robert Bader, a regular attendee on this stretch, tells us, "What I remember is being floored that these shows actually topped the shows from Philly, Boston, and Madison Square Garden that immediately preceded them." Not faint praise.

Of these nights in Uniondale, Bader also tells us that "it was a thrill to get shows so close to where I lived at the time."
Beyond being most convenient for Long Islanders, the Nassau stand is known in large part because the third night was considered for decades to be the longest show Bruce and the E Street Band ever performed, as "In the Midnight Hour," "Auld Lang Syne," and even "Held Up Without a Gun" helped usher in 1981. Soon after, soundboard recordings of all three concerts began to circulate; fans even gave a best-of compilation the working title of The World Tour Complete.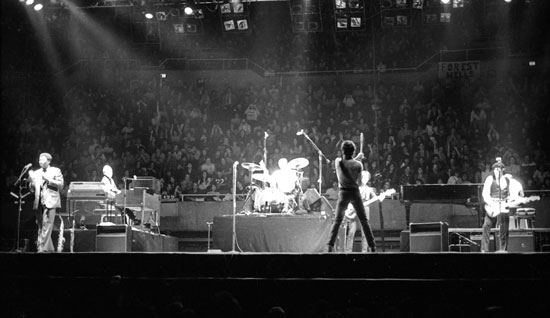 Photograph by James Shive/shivearchive.com
But even those not in trading circles would be familiar with some of these performances, since the stand (as recorded nightly by Toby Scott in the mobile Record Plant truck) was a major source for Live/1975-85.
December 31 yielded "4th of July, Asbury Park (Sandy)" for the Live box set (later, the live "Held Up Without a Gun" appeared in 2003 as an Essential bonus). December 29 gave us "Darkness on the Edge of Town" and "You Can Look (But You Better Not Touch"); "Incident on 57th Street," of course, emerged as a B-side. From this show, December 28, the Live box set included "Hungry Heart" and "Because the Night."

The Live/1975-85 "This Land Is Your Land" comes from this stand, too. Judging by the box set's liner notes, you might think that you'd already heard this world premiere of "This Land Is Your Land," but there's a good chance we've been hearing 12/29 all this time — the 12/28 intro is certainly different. To introduce Woody's song for the first time, Springsteen says,
There's a book out right now, it's called Woody Guthrie: A Life. It's by a fella named Joe Klein. I didn't know much about Woody Guthrie until I read this book, I'd not heard a whole lot of his music. It's just a beautiful book. And this is a song that was originally wrote as an answer, as an angry answer to "God Bless America." Since then, it's been used for a lot of things…. But if you get a chance, you oughtta pick up this book and read it, because it just tells you a lot about the country you're living in, I think.
The crowd's response at the end of the premiere is surprisingly rapturous, and the E Street Band goes right into one of Bruce's own songs that tells them more about the country they're living in: a standout performance of "The River," with a beautiful piano intro from Roy. Together, it's a powerful pairing.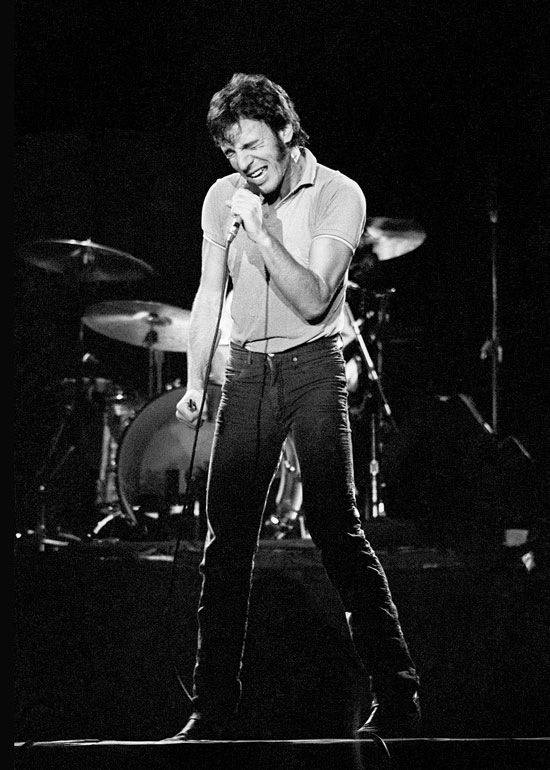 Photograph by James Shive/shivearchive.com

There's a very good reason this particular "Hungry Heart" was selected for Live — lauded vocalists Flo & Eddie guested to fill out the sound, for a uniquely faithful live recreation of Springsteen's first huge pop hit. Also known as Mark Volman and Howard Kaylan, Flo & Eddie were founding members of The Turtles and go-to session vocalists for acts including T. Rex and Alice Cooper. If you're not a liner-notes reader and ever wondered why this performance sounds so damn good, there you go — Bruce's shout-out to his guests was edited out of the Live/1975-85 recording.


All this, and it's a Christmas special, too — particularly appropriate as the Archive series nears the end of 2021, with the debut performance of "Merry Christmas Baby" to start this show (a warm-up for the 12/31 rendition that would later be released as the "War" B-side) and "Santa Claus is Comin' to Town" in the encore. "I guess he already came," Springsteen jokes, "but we're going to play this song anyway."

A mythology often builds around a show or series of shows like Nassau, an instance when high-quality recordings circulate. Given that 12/29 and 12/31 have garnered the most attention as performances that went supernova, today's a fine chance to revisit and reconsider the last but hard-to-say-least of the bunch. Listen for the staccato playing in "Prove It All Night," or the intricate interplay between Stevie's fingerpicking and the keys in "Sandy," or the faint, lonesome wail near the top of "Stolen Car": those are but three opportunities to get inside the music.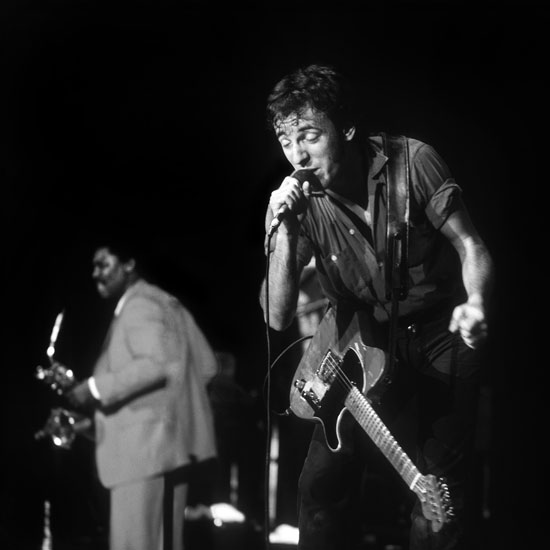 Photograph by James Shive/shivearchive.com
The band had some trouble with feedback, and the winter weather affected in particular the tuning of Roy Bittan's piano, which sounds here a bit like an old-time, barrelhouse upright. But hey… live music! Whether you still find 12/28 a little paler in comparison to the two knockouts that followed, on its own it's a terrific representation of the late-1980 River tour. In the new year, Europe would call, and more than ever, Bruce had a wide-open country in his eyes.
Also read: Erik Flannigan's latest nugs.net blog entry, "In This Darkness I Will Disappear"
- December 3, 2021 - Christopher Phillips reporting - extra thanks to Flynn McLean and Jonathan Pont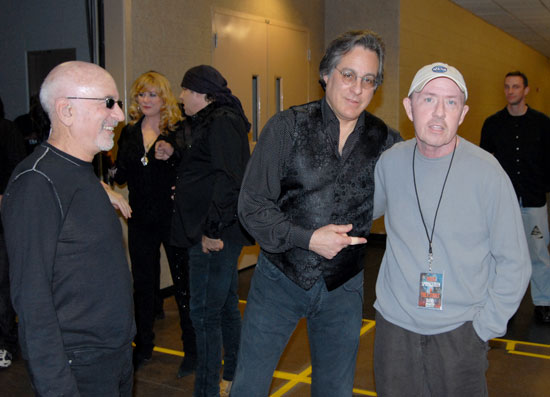 Phantom Dan Federici, backstage with longtime bandmates in Indianapolis, for one more ride down E Street on March 20, 2008 — the latest release in the Live Archive series... until tomorrow. Photograph by Jason Federici
THIS JUST IN: FIRST FRIDAY IS ON FOR DECEMBER
Bruce Springsteen's Live Archive series will return for First Friday tomorrow. The previous Archive release was Indianapolis 2008, released in October, before the series ceded November's live-album bandwidth to The Legendary 1979 No Nukes Concerts. But the series is back in business for December, and with No Nukes still ringing thrillingly in our ears, tomorrow we linger in the era when music was on the radio, not an algorithmic playlist. Watch this space.
- December 2, 2021



JUST AROUND THE CORNER AND DOWN THE SHORE...
Light of Day Winterfest returns, live and in person, on sale Friday 12/3
The Light of Day Foundation's battle against Parkinson's Disease, ALS, and PSP has become a year-round affair, with benefit concerts held far and wide, but it all started with a single benefit show 21 years ago at the Stone Pony, put together by LOD founder Bob Benjamin — partly to celebrate his birthday — headlined by Joe Grushecky and the Houserockers, with surprise guest Bruce Springsteen.
The Jersey Shore still hosts the annual "main event" for Light of Day, and as the festival has expanded to multiple days in multiple locations in the surrounding area, it's become known as WinterFest. As announced this morning, LOD WinterFest will held once again in January — and this time, the 22nd annual event will once again be live and in person. LOD did a fine job rolling with the Covid punches as the festival went in 2021, but WinterFest 2022 is being plannned for muic venues, not computer screens.
WinterFest 2022 will take place January 7-17 in Asbury Park, Red Bank, Montclair, New York City and Rockland County. Venues include Asbury Park's Stone Pony, Wonder Bar, House of Independents, The Saint, McLoone's Supper Club, Langosta Lounge, Watermark, AP Yacht Club; The Vogel at The Count Basie Center; Montclair's Outpost in the Burbs; Manhattan's City Winery and Stony Point's Penguin Rep Theatre.
The headliner night, "Bob's Birthday Bash," is scheduled for Friday, January 14. With its traditional venue (Asbury Park's Paramount Theatre) now closed, the Bash will move to Red Bank, to be held at the Count Basie Center's Hackensack Meridian Health Theatre. While we still await an artist lineup, it should come as no surprise that LOD mainstay Joe Grushecky is lacing up his boots.
"We are back to let you know we can really shake 'em down," says Grushecky, also a Board Member of the Light of Day Foundation. "There will be live music once again at the WinterFest. We are excited to be able to continue our mission to use music to raise money and awareness in the continuing battle to defeat Parkinson's, PSP and ALS while having a damn good time doing it."
Tickets for "Bob's Birthday Bash" and various All-Access combo packages go on sale this Friday, December 3, at 10am and will be available via theBasie.org, the Basie Center box office at 99 Monmouth Street in Red Bank, and through Ticketmaster.com.
Covid-19 precautions and policies are laid out on the Light of Day website. Currently, entry to ticketed events will require either proof of full vaccination or a negative Covid-19 test within 72 hours of door time. However, the site also states: "This is an open-ended policy, subject to change based on recommendations from the state of New Jersey, the CDC, local boards of health and other regulations, as well as the individual venues," so it's advisable to keep an eye on lightofday.org/covid19.
All performances and events will raise money and awareness for the Foundation's continuing battle to defeat Parkinson's disease and its related illnesses ALS (Amyotrophic Lateral Sclerosis) and PSP (Progressive Supranuclear Palsy) within our lifetime.
For more information, including further details about the different ticket packages and artist lineups when available, visit lightofday.org.
- November 29, 2021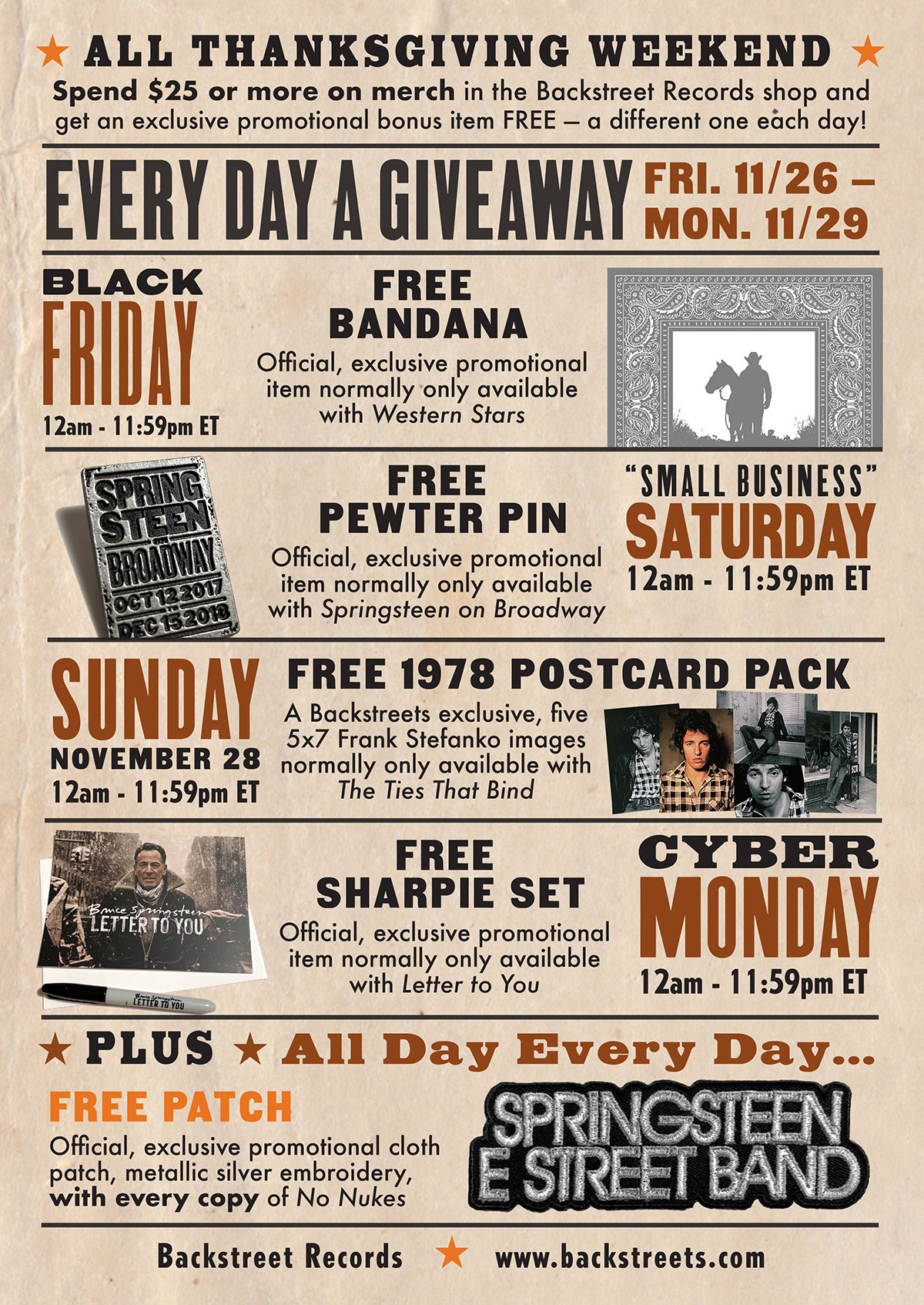 A DIFFERENT FREEBIE EVERY DAY, NOW THROUGH MONDAY
A rare opportunity for Boss swag with our post-Thanksgiving offers
Each day of this long holiday weekend, from today's Black Friday through Cyber Monday, Backstreet Records will be hooking up customers with something extra, something different each day, to thank you for holiday shopping with us.
We've been able to offer a lot of cool, exclusive promo items in recent years, and a question we often get is: "Can you just sell me one of those?" The answer is, and remains, nope. We can't. Think of that classic message any record collector is familiar with: Promotional Only — Not For Sale. The next question is often, "Is there any other way to get one?" Usually that's another nope... but for a very limited time we're offering another way.
This weekend, and this long weekend only, we're making these freebies easier to get your hands on. Order least $25 in merchandise from Backstreet Records, and we'll hook you up with a FREE promotional item that we normally reserve to accompany a particular release. All of them are exclusive to our shop — you can only get them here.
The specific giveaway depends on the day you order, from midnight to midnight... and that's Eastern Time... so keep your eye on the clock — we will be! Any order in which the pre-shipping total is at least $25 will qualify for that day's freebie.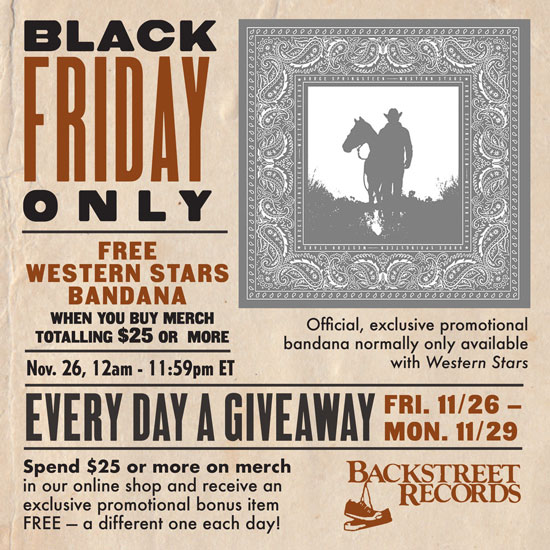 For orders placed on…
Friday: Customers will receive a FREE Springsteen bandana, an official Sony/Columbia promo item created in 2019 for the Western Stars album and film soundtrack, designed by Springsteen's cover designer Michelle Holme. After we blew through an initial run of navy bandanas, Michelle created a new design for this second edition in gray.

Saturday: Customers will receive a FREE Springsteen on Broadway pin, which shows the range of the show's lengthy first run (before a 2021 return was a glimmer in anyone's eye). It's another official promo item, created in 2018 for the release of the Springsteen on Broadway soundtrack, high-quality engraved pewter (measuring 1"x1½") designed again by Michelle Holme.

Sunday: The FREE pack of five 5x7 postcards features outtakes from photographer Frank Stefanko's shoots that gave us the Darkness and River album covers, four in B&W and one in color. This is not an official Sony/Columbia item; when The Ties That Bind box was released in late 2015, we worked directly with Frank to select the images and create the set.

Monday: We thought that bandana was as on-theme as it would get, but a FREE letter-writing set was a perfect promo item for Letter to You. It was designer Michelle Holmes' idea, pairing a Sharpie (Bruce's writing implement of choice) with a blank greeting card featuring a wider crop of Danny Clinch's cover photo. Another official item, exclusive to Backstreets like all the rest.
No coupon code required — just make sure you're ordering within the timeframe when we're offering the giveaway you want, and we'll take care of the rest.
And of course there's no reason to watch the clock if you want our latest exclusive promo piece, the metallic silver embroidered patch that reads SPRINGSTEEN / E STREET BAND — it's yet another official Michelle Holme design, and one comes FREE with any and every format of No Nukes: 2CD + DVD or 2CD + Blu-Ray or 2LP vinyl... and only from us.

We'll also be adding just-in items to the shop as the weekend goes along (as soon as time allows), so keep your eye on the Latest Additions section, too!
This being a time for giving thanks, we can't say thank you enough — to Michelle, and Frank… to the Powers That Be at the label, and the Springsteen organization… all of whom have made it possible for us to make unique swag available to hardcore fans. And thanks to you — all of our readers, correspondents, supporters, and customers. When you choose to spend your dollar at Backstreet Records, you're supporting everything we do, and it literally wouldn't be possible without you. As a very small, independent venture that no one (including any of us) thought would last more than 40 years and counting... that support means everything.
- November 26, 2021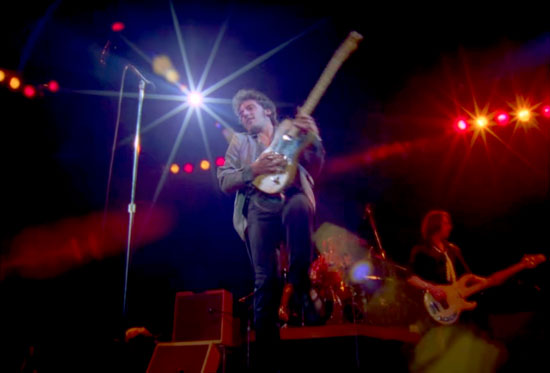 "CAPTURED BEAUTY": TEEING UP OUR NO NUKES TZ INTERVIEW
And more ahead from Backstreets HQ as we head into the holidays
Coming up after the holiday break: a new Backstreets Interview with filmmaker Thom Zimny, our first since last year's Letter to You deep dive ("Inside the House of a Thousand Guitars"). In our new conversation Thom shared some new background on his videos for Springsteen's recent work with The Killers and John Mellancamp, but we spent the majority of our time on the creation of The Legendary 1979 No Nukes Concerts.
Things have so busy Backstreets HQ in the last couple weeks, with shipments flying in and out, that I've only had a chance to transcribe our conversation, not yet edit or proof it, but you'll get a surprisingly good overview of our talk from the transcription's auto-generated keywords: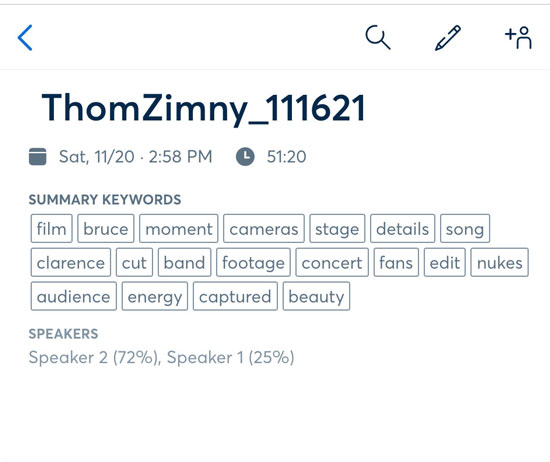 That pretty much tells the story, but we look forward to sharing the full Q&A.
Between now and then, we've got some special deals up our sleeves for the long holiday weekend, as we're planning rare giveaway offers from Backstreet Records — different ones each day from Black Friday through Cyber Monday. We couldn't do any of this without your support, and we appreciate you doing your holiday shopping (or your personal No Nukes shopping, or whatever it may be) with us.
Unlike every year in recent memory, this year we're not going to be able to provide an order-by date for Christmas delivery. We've all heard enough about supply chain issues and post office slowdowns — and we've seen enough of our No Nukes packages, shipped early, get slowed down in transit once they entered the system — that we're hesitant to make explicit delivery-time promises (other than Expedited shipping). But we CAN promise that we'll be working as hard and as fast as we always do around this time of year to get your stuff on its way to you quickly, and we simply recommend placing your order as early as you can, for the best shot at receiving it in plenty of time.
So, watch this space heading into the weekend… and in the meantime we wish you and yours a very happy, warm, and safe Thanksgiving!
- November 24, 2021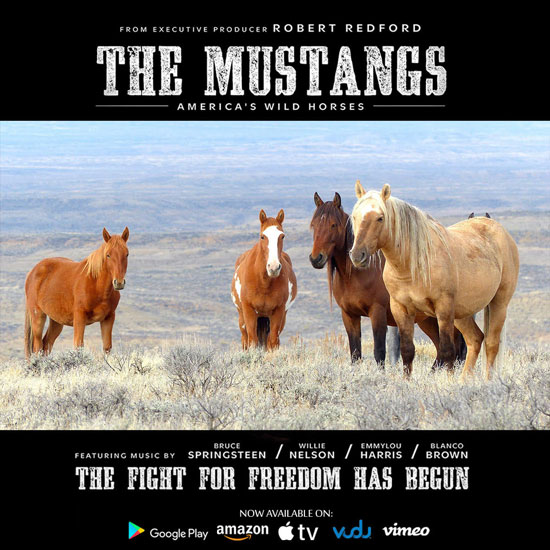 NO NEED TO KEEP CHASIN' THESE WILD HORSES
The Mustangs doc, a Springsteen family affair, comes home
Last month, we reported on the limited theatrical release of The Mustangs: America's Wild Horses, a beautiful and moving documentary released by Virgil Films (headed by our friend and occasional Backstreets contributor Joe Amodei) and Steven Latham Productions.
Patti Scialfa Springsteen and Jessica Springsteen served as executive producers of the film (along with Robert Redford), and Bruce Springsteen contributed the Western Stars track "Chasin' Wild Horses" to the soundtrack.
Now The Mustangs: America's Wild Horses is available for streaming at home. Click here for the latest links to all available streaming options. Paired with another new documentary, The Legendary 1979 No Nukes Concerts, it would make for a grand and galloping Springsteen-themed double-feature at home this Thanksgiving weekend.
- November 23, 2021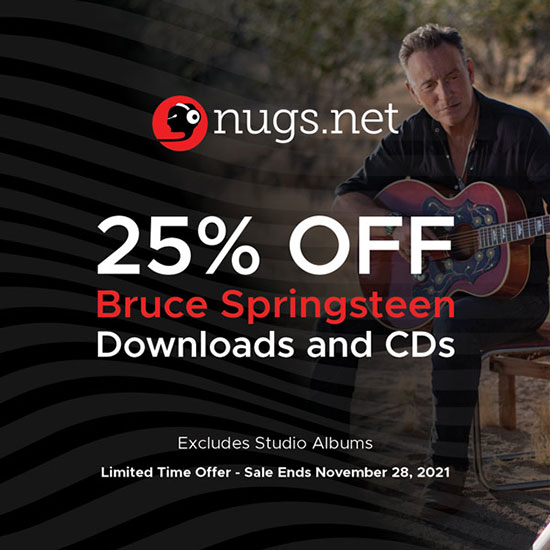 PUBLIC SERVICE ANNOUNCEMENT: ARCHIVE SERIES SALE!
With all the holiday deals flying at you this week, we don't want you to miss this one: Nugs.net is offering 25% off all downloads and CDs in Bruce Springsteen's Live Archive series. This being a rare month without a new release in the series (all eyes being on Legendary No Nukes), it could be an especially good time to catch up on any shows you've missed — 25% ain't no small potatoes.
Note for anyone used to purchasing these via live.springsteen.net, like us — the holiday sale pricing is only available via nugs.net. Sale ends November 28, 2021 at 11:59pm PT
- November 22, 2021


ONE PLUS ONE... PLUS ONE... EQUALS THREE
The math is standard; these new Barry Schneier prints are anything but
Today being the birthday of photographer Barry Schneier — a fella (and a portfolio) we like so much we published his book and emerged, friendship unscathed, from that year in the trenches — what better day to announce his 2021 holiday offerings? Barry has created three beautiful new triptychs from his mid-'70s work, limited, signed, matted, and available now from barryschneierphotography.com.
Last year, Barry offered a special edition of some of the most popular images from our aforementioned book, Bruce Springsteen: Rock and Roll Future, in a smaller size more affordable for gift-giving. That 33-1/3 limited edition series proved to be popular enough that, this year, he created another unique set of new limited editions, in a striking new format.
Three limited-edition triptychs are now available in special sizes for the 2021 holiday season, signed and numbered in editions of just 21. These are smaller than the triptych Barry has previously offered, and priced accordingly at $500 each — compare to the larger "For You" Triptych, at $3,000 — but plenty big enough to be eyecatching on the wall. All of these museum-quality, silver gelatin prints measure 7" x 25" and are mounted ready for framing in a custom 10" x 28" 8-ply matte.
Two of the triptychs feature Barry's work with Bruce Springsteen in 1974, when he captured Bruce in performance with the E Street Band at the Harvard Square Theatre in Cambridge, MA, the night Jon Landau hailed him as "rock and roll future." And for the first time, Barry has collected his work capturing Patti Smith in 1975, when she was premiering work from her first album release Horses at the Boarding House in San Francisco. Designed to capture the beauty and energy of the moment, each triptych features three unique images assembled in a panorama, evoking the magic of the night. Only "For You" has been previously available and only in the larger format.
Order directly from Barry Schneier Photography, and please enter "Backstreets" in the source field when checking out, so he'll know we sent you. And don't wait, as last year's 33 1/3 edition of "For You" sold out! For orders received by December 5 Barry will guarantee Christmas delivery; orders received by December 12 will be shipped before Christmas, but due to distance and service at that time may not arrive by the holiday.
Order via
barryschneierphotography.com/triptychs-limited-editions
Bruce Springsteen "For You Triptych"


Bruce Springsteen "The Color Triptych"


Patti Smith Triptych "The Boarding House, San Francisco 1975"

Bruce Springsteen: Rock and Roll Future, the hardcover coffee-table book focused squarely on the May 9, 1974 concert, remains available exclusively from Backstreet Records, signed by both Barry Schneier (Photographs & Recollections) and Backstreets' Chris Phillips (Introduction).
- November 21, 2021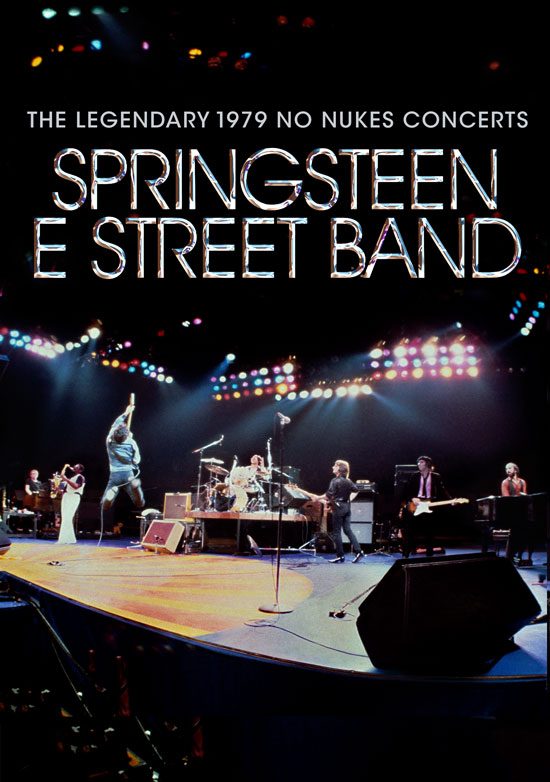 KINGS OF THE KNOWN WORLD
The Backstreets Review of The Legendary 1979 No Nukes Concerts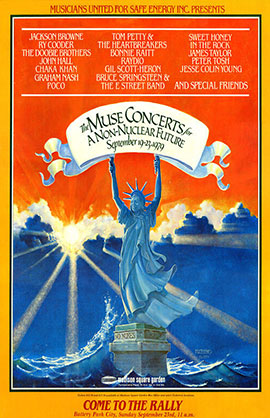 By Joyce Millman
In their new film The Legendary 1979 No Nukes Concerts, executive producer Bruce Springsteen and editor Thom Zimny rescue long-buried footage of Springsteen and the E Street Band's two headlining sets from the all-star benefit concerts staged by Musicians United for Safe Energy (MUSE). Stitching together one complete concert out of the September 21 and 22 Madison Square Garden shows, The Legendary 1979 No Nukes Concerts decisively earns the adjective in its title. It's a 90-minute distillation of what made Springsteen and the E Street Band the most thrilling live rock 'n' roll band of the day.
These were their only public performances while otherwise ensconced in the studio that year, recording what would become The River at New York's Power Station. Springsteen's sets on both nights were capped at an hour and a half, which means the No Nukes concerts were only approximately half as long as what his fans were accustomed to from the preceding tour for Darkness on the Edge of Town. Yet, somehow, all the touchstones — "Born to Run," "Badlands," "Thunder Road," "Rosalita," "Jungleland," the "Detroit Medley" — are still there, all performed at full throttle. The Legendary 1979 No Nukes Concerts works as a representative document of the moment in Springsteen's career when he had solidified his reputation as an electrifying live performer with a smoking-hot band. You could show this film to anybody — old fans, non-fans, your grandkids, an extraterrestrial from Mars — and tell them "THIS was Bruce Springsteen and the E Street Band," and they'd understand.…
Continue reading
KINGS OF THE KNOWN WORLD
The Backstreets Review of The Legendary 1979 No Nukes Concerts
- November 19, 2021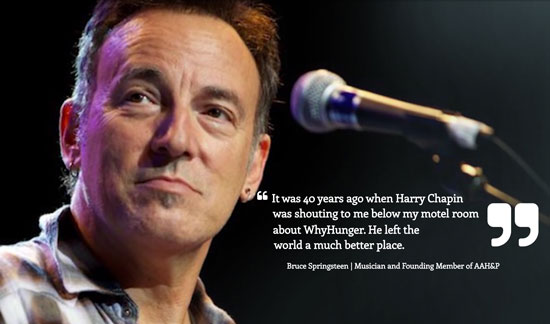 'TWAS THE WEEK BEFORE THANKSGIVING
It's that time of year again… and while too many people with not enough food is a year-round problem, we have a few friends who really step up their efforts around the holidays. It's no surprise that this is of particular concern to folks in our circle, given Bruce Springsteen's long-standing efforts to fight hunger — for decades, he's enlightened and enlisted fans at his concerts to help him support their town's foodbanks and related organizations. We encourage you to think local, too. But if you're also able to pitch in for these efforts, it all makes a difference.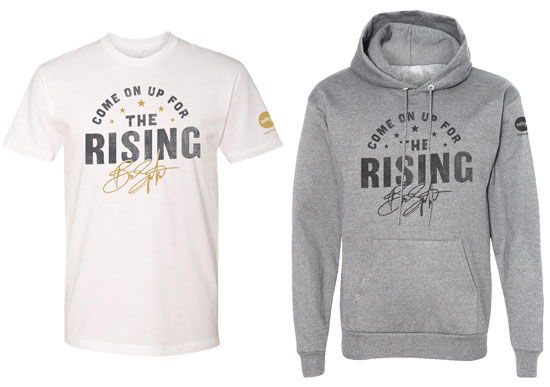 WhyHunger's annual Hungerthon is now underway. Springsteen's alliance with the Harry Chapin-founded organization goes all the way back to the begining of his hunger-fighting efforts, and he's a founding member of their Artists Against Hunger and Poverty.
For Hungerthon 2021, you'll find new official Springsteen wear (pictured above) among the gifts you can receive for donating, with a Rising theme: there's a Rising T-shirt, a pullover hoodie, and a combo pack of both that saves you $25. Click here to see all available gifts, or simply to donate and help the cause.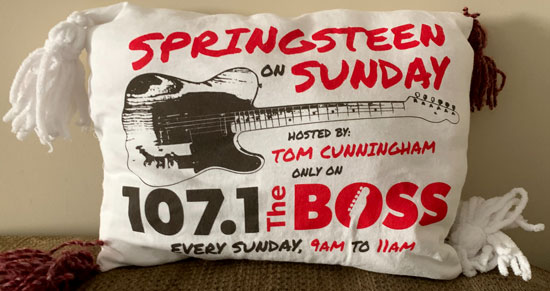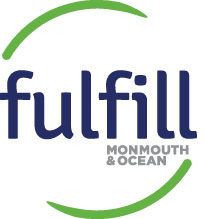 And then there's our pal Tom Cunningham, DJ and Springsteen on Sunday host with the most, who singlehandedly raises money each year for FULFILL — no, not by selling pillows, but by taking requests. His fundraising effort counts on generous listeners, who get a song request granted in return for their donation. On Tom's weekly all-Bruce radio program, airing on 107.1 The Boss (and streaming too), the annual all-request edition is returning for its 16th year, with all proceeds benefiting FULFILL (formerly, The Foodbank of Monmouth and Ocean Counties).
This Sunday, November 21 beginning at 9am ET, song requests will be taken on-site at Bar Anticipation in Lake Como, NJ or by calling (732) 643-5831. Springsteen on Sunday will be broadcasting live from Bar A, with a live performance from Low Cut Connie's Adam Weiner. Donations will be accepted via credit card payment.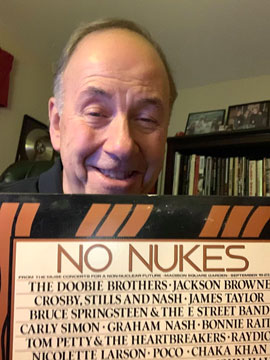 The following Sunday, November 28, Tom (right, getting psyched for tomorrow's new release) plays those requets on a special three-hour edition of Springsteen on Sunday.
There's space for 20 songs, with a $25 (minimum) donation for each song. Listeners are welcome to pick the Bruce Springsteen song of their choice and include a personal dedication as well.
"The All-Request show is one of the highlights of my year," Tom says. "To be able to play such great requests and dedications and help FULFILL make the holiday season better for folks in our communities is a blessing. And fun! I can't remember the last time that I've walked out of one of Bruce Springsteen's shows without donations being collected for a local food concern. 'We take care of our own' is more than just a song — it's a mission statement."
- November 18, 2021



- November 16, 2021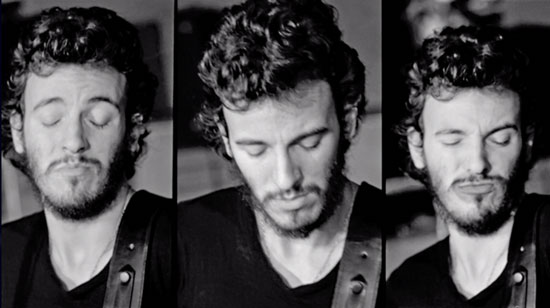 From the extended trailer for WBCN and the American Revolution
THE REVOLUTION WAS BROADCAST ON BOSTON'S WBCN
…and now it's televised, this weekend on PBS
"This is my very first time on the radio, and I wanna say hi to my mother, who lives in California — hi Ma!"
That's a young Bruce Springsteen, as captured in WBCN and the American Revolution. Airing this weekend on PBS stations across the country, the documentary film is described as an "amazing untold story of the radical underground radio station WBCN-FM, set against the dazzling and profound social, political, and cultural changes that took place in Boston and nationally during the late-1960s and early-1970s."
Pioneering freeform radio, WBCN defied normalcy and challenged all conventions of the broadcast industry of the day. And it gave a platform to new and up-and-coming artists, who could be heard and discovered through on-air interviews and performances. Like the time a new artist from Asbury Park, New Jersey, gave his first on-air interview, his bandmates joining him in a small, cluttered studio to perform songs from their new album.
Photographer (and Friend of Backstreets) Barry Schneier is also featured in the film, having seen Springsteen as he was building his reputation in local clubs in the Boston and Cambridge area in the early '70s — performances that eventually led to the landmark 1974 show at the Harvard Square Theatre in Cambridge. Barry's book on the subject from Backstreets Publishing, Bruce Springsteen: Rock and Roll Future, is available for purchase, signed, in our shop.
View the extended trailer below and hear Bruce Springsteen's first moment live on air:
Visit this link to find air dates and times in your area for WBCN and The American Revolution.
Also, if you live in the metro west Boston area, Barry is back on the road! He'll be speaking at Holliston's independent bookstore, Aesop's Fable, this Thursday, November 18 from 6-8pm. Advance registration is recommended.
- November 15, 2021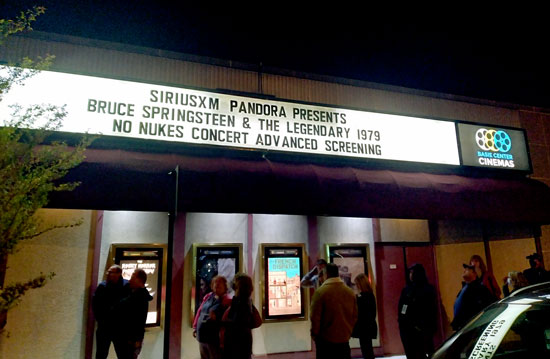 IN CONCERT, ONSCREEN, AND IN PERSON!
Bruce Springsteen joins Zimny, Rotolo, and fans for the special E Street Radio advance screening of the new No Nukes concert film
Your typical Friday night at the movies doesn't usually involve the flick's star and its editor showing up to talk about the film, and then settling in to watch their work with you. Yet that's exactly what happened Friday night at Basie Center Cinemas in Red Bank, NJ.
The occasion was E Street Radio's advance screening of Bruce Springsteen & the E Street Band: The Legendary 1979 No Nukes Concerts. One of the Cinemas' two small, state-of-the-art theaters was filled to capacity (using mandatory proof-of-COVID-19-vaccination procedures) with approximately 100 lucky E Street Radio contest winners and their guests (along with a few friends/supporters of E Street Radio, this writer included.) The evening was hosted by E Street Radio's Jim Rotolo, whose weekly live call-in-request show, The Wild and the Innocent with Jim Rotolo, was broadcasting from inside the theater, Rotolo's desk and equipment set up directly next to the screen as the audience filed in and took their seats.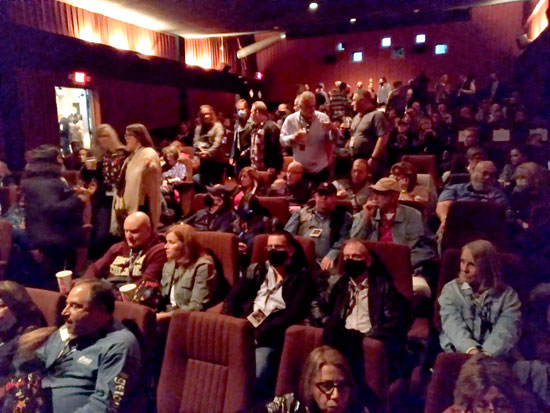 About midway through Rotolo's broadcast, he invited longtime Springsteen film/video collaborator and archivist Thom Zimny — already on-hand to introduce the new film to the audience — to join Rotolo for a pre-screening conversation on the air.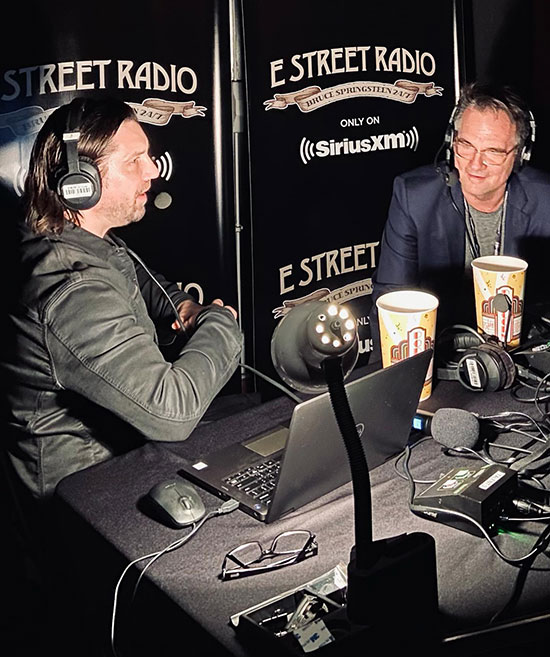 November 12, 2021 - photograph via Jim Rotolo/Facebook
Zimny spoke of how and why he persistently "chased" the restoration and re-editing of this complete footage, knowing it was shot by one of the 1970s' most respected and legendary documentary film crews — led by the late, great Haskell Wexler — trying their best to "keep up" with a rarely filmed version of Bruce Springsteen & the E Street Band firing on all cylinders. Zimny also mentioned in passing that there's a moment in the film where E Street Radio's Dave Marsh can be spotted in the audience. (While watching the film later that night, I'm pretty sure I spied a young Marsh, dancing and singing away to "Quarter to Three" alongside a young Barbara Carr.)
After The Wild and the Innocent signed off for the evening, the house lights in the theater went up, and Rotolo stood in front of the screen to address the audience. He informed us that what we were about to see was the only public theatrical screening of The Legendary 1979 No Nukes Concerts scheduled to take place in North America.
Then it was time for the film to be introduced officially by Thom Zimny, but Zimny emerged from the wings with someone else to help him with that job: Bruce Springsteen.
Rotolo invited Springsteen to share any of his own significant memories from those two 1979 nights at Madison Square Garden, to which Bruce wittily replied, "I turned thirty during the show, so that was memorable." On a more serious note, Springsteen recalled, "The shows were kind of a big deal because we had never played on a bill with a lot of our peers, so that was exciting. It was a rare show that we would play on a break [from touring]… Once we were recording and in the studio, we rarely took gigs.
"I think what is lovely about the film that Thom sent me," Springsteen added, "is you get to see Clarence at his absolute peak, and Danny, so it's nice to have that on film... I have to salute Thom for digging it up and putting it all together."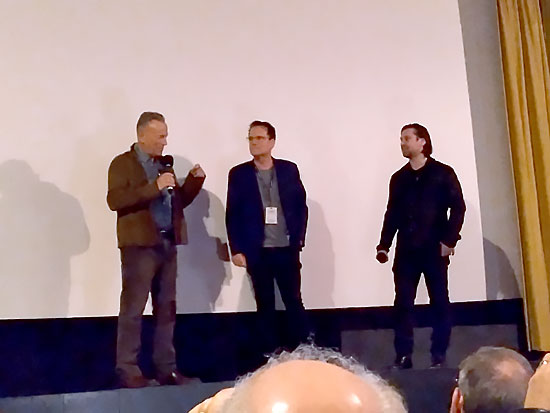 Zimny recalled, "As a fan, it was amazing. The first time I glanced at it, as I mentioned before [during the on-air conversation with Rotolo], it was silent. I was looking at silent footage, and I knew that these guys were on fire. I knew right away that this was special... It's a great document of Clarence and the band in this chapter."
Rotolo thanked both Springsteen and Zimny for the film and for being on-hand to introduce it. The trio then made their way off the stage and into the audience, sat down, and watched the film with the rest of us.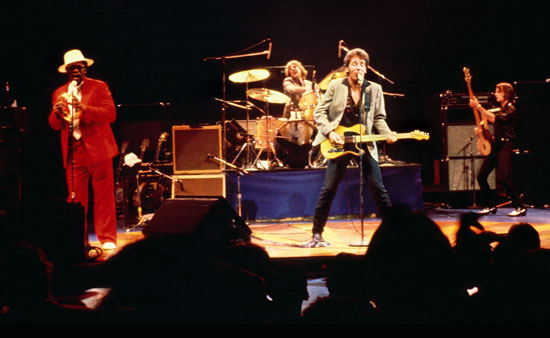 September 1979 No Nukes performance at Madison Square Garden - photograph by Lawrence Kirsch
So how was the movie, you ask? Well, we'll have much more on that later this week, with the official Backstreets Review and our own conversation with Thom Zimny, as the film becomes available for viewing worldwide. But I'll say this much for now: watching this beautifully restored time-capsule, with its awesome new Bob Clearmountain audio mix, in a theater filled with fellow rabid Springsteen fans (not to mention Bruce and Thom in the house), was the next best thing to that next live concert by Bruce Springsteen & the E Street Band that we're all hoping to witness as soon as possible.
Seeing this footage of Bruce and his band taking their first step towards integrating social activism with their music — as well as proving that, yes, there can be rock 'n' roll life after 30 — is especially moving and powerful to see right now. Finally, getting to witness Clarence and Danny, along with special guest Tom Petty, so alive and rockin' at such full power again, is truly life-affirming. If you're a fan watching it at home, try to watch with the biggest and best audio-visuals you can get, gathering as many fellow fans as you can (safely, of course). But even if you have to watch it all by yourself, you will be by no means disappointed.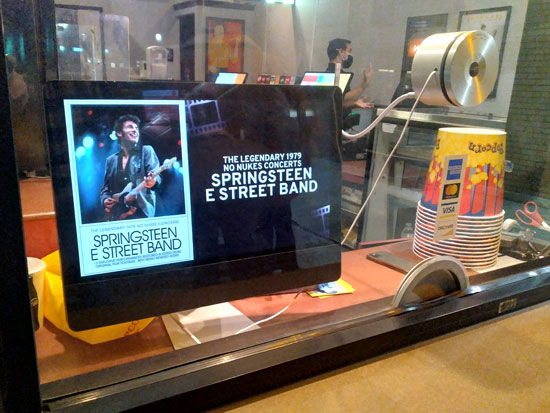 Many thanks to Jim Rotolo and E Street Radio/SiriusXM for making this special evening for the fans happen, along with Jon Landau Management and Sony Music Entertainment. The folks at Basie Center Cinemas were excellent hosts, as well, even treating us all to free, freshly popped popcorn. On E Street Radio almost a year ago, on New Year's Eve 2020, we heard Bruce tell Rotolo that he had "some projects coming up [in 2021] that I won't tell, 'cause it's gonna be a secret, and then a big surprise." Clearly, he and his collaborators saved the best for last.
- November 14, 2021 - Shawn Poole reporting - photographs by Shawn Poole except where noted



- November 11, 2021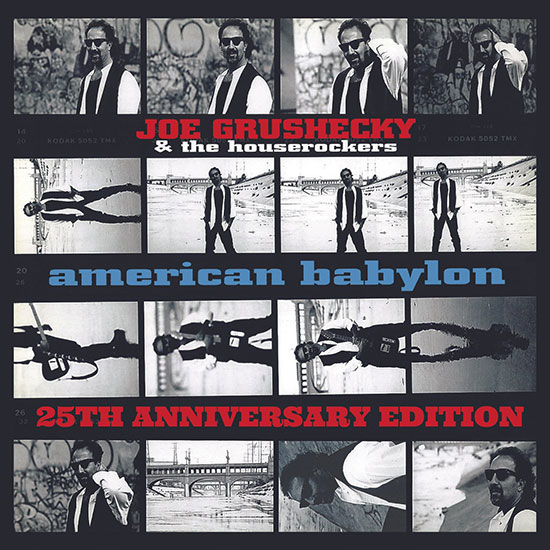 CELEBRATING AMERICAN BABYLON, A QUARTER-CENTURY ON
Along with a bulked-up reissue, Grushecky revisits his '95 album with a concert livestream and new joint interview with producer Springsteen
What's a year between friends? Especially when those friends are as busy as Joe Grushecky and Bruce Springsteen, and there's a small matter of a global pandemic to distract.
Finally, the world is ready for the 25th Anniversary Edition of American Babylon, Grushecky's milestone album from 1995 that Springsteen produced. American Babylon was a true musical collaboration, with Bruce making vocal and/or musical appearances on almost every single track (even when he's uncredited, as Joe revealed in an interview with me last year) and featuring two songs Joe and Bruce wrote together.
The 2CD reissue is out now from Cleveland International Records. Okay, so maybe it's a year late.… but Joe more than makes up for it, expanding the 12-track album to a 27-track release. Three bonus tracks follow the album on the first CD: demos of "Chain Smokin'," "Never Be Enough Time," and "Only Lovers Left Alive," the last of which includes a searing Springsteen guitar solo that didn't make the finished track:
A full bonus disc presents scorching live performances from 1995's October Assault tour, when Springsteen (in guitar-gunslinger mode) hit the road with Joe and the band, all recorded at Nick's Fat City in Pittsburgh. Unlike some padded-out reissues, the bonus live disc is truly a keeper here, featuring 12 songs with Joe's band in peak form. A full ten of those capture Bruce's turn as an honorary Houserocker, including one of the best live performances of his own "Light of Day" you'll ever hear.
For those of us who tend to think of the mid-'90s as Bruce's "Joad period," it may come as a jaw-dropping surprise to hear just how hard he rocks on these tracks. Check out these two new lyric videos to hear for yourself:
It may not count as an official Archive series entry, but this an essential addition to the library of any collector of Springsteen's live shows.
And if that major expansion of an already stellar album isn't enough reason to celebrate, here are two more: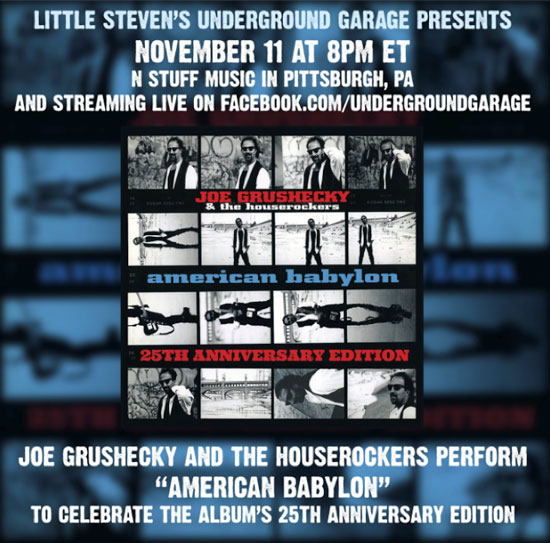 At 8pm ET tonight, November 11, Joe Grushecky and the Houserockers mark the occasion with a special live hometown performance presented by Little Steven's Underground Garage, performed live at N Stuff Music in Joe's native Pittsburgh. Watch it live for free at facebook.com/undergroundgarage.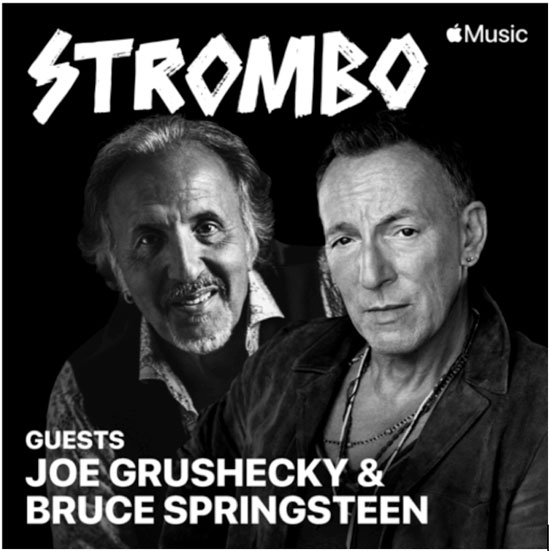 Friday November 12, at 5pm ET, Bruce and Joe appear together in conversation with Apple Music's George "Strombo" Stroumboulopoulos. Catch the show at apple.co/strombo. This is a rare joint interview appearance by the two longtime friends and collaborators, and it's sure to be both entertaining and enlightening.
The 25th anniversary edition of American Babylon is available now. You can pick up the 2CD set here in our store, with a deluxe vinyl set coming in early 2022 and streaming available now from all major digital music services.
- November 11, 2021 - Ken Rosen reporting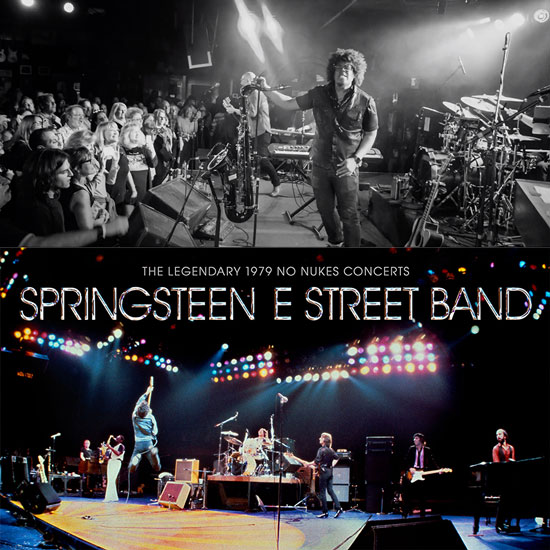 THIS WEEK ON LIVE FROM E STREET NATION:
Jake Clemons calling in, plus one more ticket giveaway — of five pairs — for E Street Radio's advance NJ screening of the No Nukes film
Tomorrow's new episode of Live From E Street Nation on SiriusXM ch. 20 has plenty to tune in for. On the hotline Thursday morning will be the E Street Band's Jake Clemons, who is playing a pair of live East Coast gigs with his Jake Clemons Band this week.
Plus, a No Nukes ticket giveaway: the Live From E Street Nation crew of Jim Rotolo, Dave Marsh, and Greg Drew will be offering up the last five available pairs of tickets for E Street Radio's special event this Friday: an advance, big-screen presentation of Thom Zimny's film Bruce Springsteen & the E Street Band: The Legendary 1979 No Nukes Concerts.
Friday night, 11/12, five more lucky SiriusXM subscribers/listeners and their guests will get to join all previous winners at Basie Center Cinemas in Red Bank, NJ, where Zimny himself will be on hand to present the complete film in state-of-the-art sound and vision.
Prior to the screening, Rotolo will also be broadcasting live from the Red Bank venue — his Friday night E Street Radio all-request show The Wild and the Innocent with Jim Rotolo begins at 6pm ET — two hours before Zimny introduces the film to a full house.
Tune in for your chance to win that last pair of tix beginning this Thursday morning, 10am ET, exclusively on SiriusXM channel 20. And if you don't get in to see the movie in Red Bank, remember that not too far away, The Jake Clemons Band (with special guest Rachel Ana Dobken) will be rockin' down the shore at Asbury Lanes.
- November 10, 2021 - Shawn Poole reporting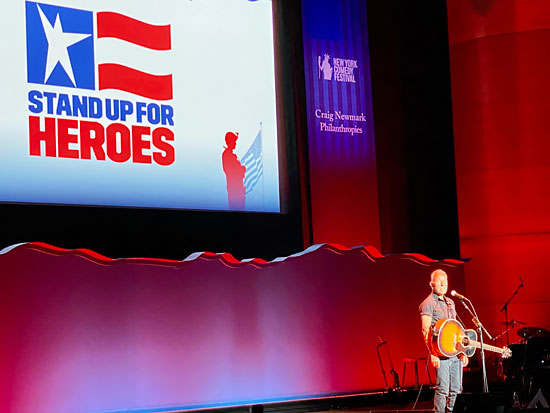 November 8, 2021 - photograph by William Borner
STAND UP FOR HEROES 2021
The 15th annual benefit for the Bob Woodruff Foundation
Alice Tully Hall, New York, NY
November 8, 2021
Okay, I'll admit it: I had low expectations for Bruce Springsteen's appearance last night, returning to Stand Up For Heroes at Alice Tully Hall in New York City's Lincoln Center.
And by "low expectations"… I mean, I knew that it would be a great performance by all measures. Bruce never phones it in, especially at the annual benefit for the Bob Woodruff Foundation and their support for veterans and their families. Bruce has been a strong supporter of the cause since the event's inception in 2007, showing up to perform for nearly every one of its 15 years.
I just thought I knew what was coming: the typical benefit acoustic mini-set. You know what I mean: "Thunder Road," "Dancing in the Dark," "Land of Hope and Dreams." Familiar and guaranteed crowd-pleasers, the perfect set for an appreciative but not necessarily hardcore fan audience.
As it turned out, though, Bruce had a few surprises up his sleeve after all.
None of them were comedic — the dirty jokes he stitched his set with (an annual tradition, this being a New York Comedy Festival show) were all ones we've heard him tell before. "Oh, I play guitar, too," Bruce interjected during his opening knee-slapper, "but I tell some bad jokes before I do." His delivery was perfect, though — he was in fine and funny spirits.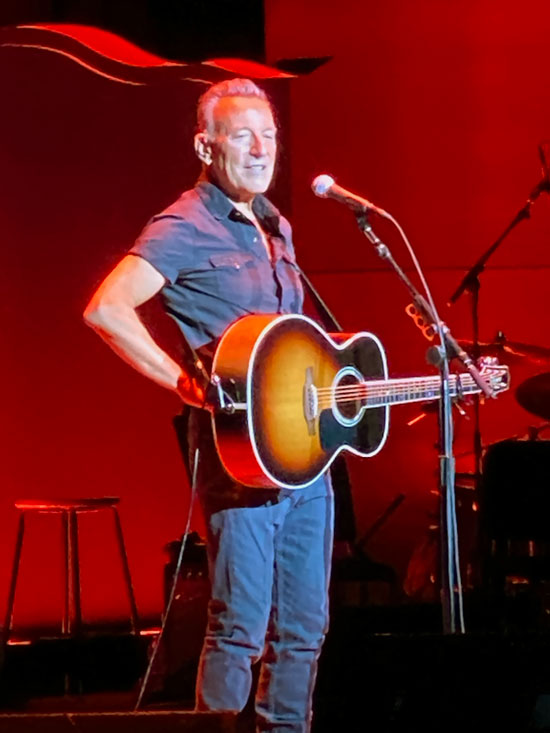 November 8, 2021 - photograph by William Borner
The surprises were musical. Eyebrows raised from the very first song, a tender reading of "I'll Work For Your Love" — no stranger to Stand Up For Heroes (he played it in 2019 and 2016), but still a rarely played song making a welcome return to the stage.
Next up: the public debut of "Letter to You," Springsteen's latest title track. He performed it acoustically last year for a TeachRock virtual event, but this was its first outing in front of an audience. Despite its provenance as an E Street Band track, to me this song works far, far better acoustically. For me, this was the highlight of the night.
But the biggest surprise followed: a delightful acoustic "Hungry Heart" that came darn close to becoming an audience sing-along. I'm not completely certain, but I think we might have to go back to 2005's Devils & Dust tour to find the song's last acoustic performance.
Bruce stuck the landing with the evening's only predictable number, the reliably crowd-pleasing "Dancing in the Dark." This wasn't the restrained performance from Broadway, though. While he might have been playing an acoustic guitar by himself, it seemed like he really wanted to be fronting a band in that moment, from his opening rock star stance through his final "heeeeeyyyy baby!"
In all, it was a great set, capping off an evening of great comedic and musical performances in top form, raising a tidy sum for a worthy cause and whetting our appetites for a tour to come.
VIDEO CLIPS (NSFW, unless you skip the jokes)
Jon Stewart intro / Joke 1 (Lunchtime at the Sex Shop) / "I'll Work for Your Love"
Joke 2 (Hurricane Hannah) / "Letter to You"
Joke 3 (Voodoo Penis) / "Hungry Heart"
Joke 4 (Wedding Pianist) / "Dancing in the Dark"
- November 9, 2021 - report and videography by Ken Rosen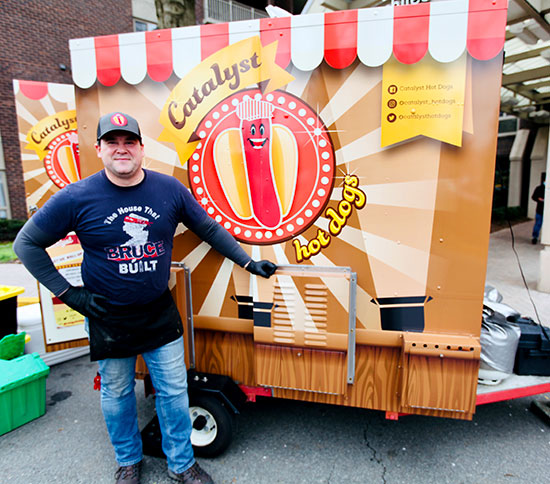 New Jersey native Chris Van Jura with his Catalyst Hot Dogs truck - photograph by Bob Zimmerman
BACKSTREETS RESTAURANT REVIEW: CATALYST NJ HOT DOGS
For hungry hearts in the Metro DC area, far better than caviar & dirt
"What do you miss?" Springsteen asked on his From My Home to Yours radio show in April 2020, at the beginning of the pandemic. "Everybody really misses something. What do you miss? I miss going to Max's, and the Windmill, and getting a hot dog. I miss walking along the promenade and beach boardwalk in Asbury Park. I miss sitting at the bar and having some beers and drinks with some friends."
What's more American than Bruce Springsteen, hot dogs, and baseball? When we first met the owner of the Catalyst Hot Dogs truck, Chris Van Jura, the Washington Nationals were in first place in the National League East. Granted, it was opening day, hope was springing eternal, and Van Jura was parked out in front of a huge apartment building in Falls Church, right across the street from the busiest Trader Joe's in Northern Virginia, slinging some of the tastiest NJ hot dogs this DC/Maryland/Virginia resident has ever had.
Since that day in April, the Nationals finished the baseball season in last place, the World Series ended between arguably the nation's two most despised teams, and Catalyst Hot Dogs has grown from a Jersey Guy with a dream to one of the most respected hot dog operations in DC/MD/VA, according to Tim Carman of the Washington Post.
Born and raised in the shadow of Giants Stadium, Chris Van Jura has spent more than 20 years in the hospitality industry. Growing up in New Jersey, hot dogs were a regular routine, much like cheesesteaks in Philadelphia and Delco. "I grew up going to The Hot Grill in Clifton, Hank's Franks in Lodi, The Doghouse in Carlstadt… those were the big ones for us, growing up. When I first got my license, I took my high school girlfriend to The Hot Grill in Clifton all the time!"
Another regular routine was hearing Springsteen everywhere he went. It started at home. "In the house I grew up in, there was always music playing. My mother was the Bruce fan. I remember The River tape being in the minivan when I was a kid. But I didn't go to my first show until the Magic tour."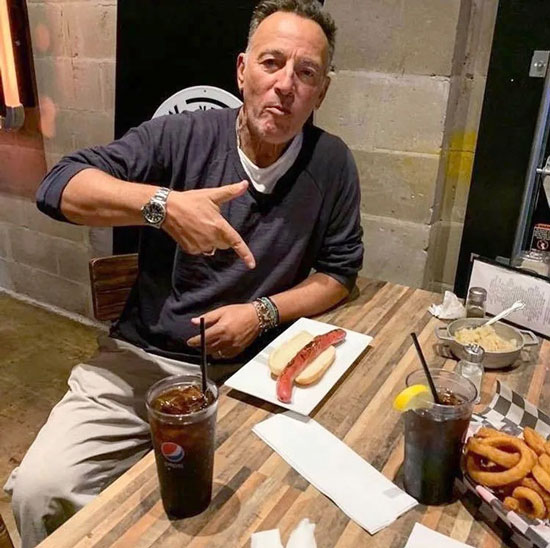 Springsteen enjoying a dog at Max's - photograph via Max's Bar and Grill IG
Going to college in Connecticut, ostensibly to play football, Van Jura auditioned for a play, got a lead role, and became immersed in his school's theater scene. All of his theater friends had jobs in the restaurant industry, and he followed suit. Following school he stayed in the restaurant industry.
After college it was in Lodi, New Jersey, working for Visentini Brothers for four years, when he really started listening to Springsteen. His actual boss was a huge Springsteen fan, and The Rising was always in the CD carousel.
One of Van Jura's first Springsteen concerts turned out to be a family affair. "I think it was October 2010. We went as a family: my mom, my dad, my brother, and the woman he was seeing. We tailgate outside. We do the whole thing, it was a lot of fun. We get in early, we've all had some "pops," but we were up in the nosebleeds. We're waiting, waiting, waiting. My brother comes up and casually says, 'Anyone want to go down in the pit?'
"We were like, what? Turned out the woman he was dating at the time, her brother oversaw the catering for the VIPs and flashed us the badges. It was close to showtime, and we started booking it to get down to the floor. You have to go through like four rings [of security] to get to the pit. We couldn't get through the last ring — but as it turned out, one of the security guards was one of my customers at Visentini Brothers, and he plowed us through: 'Let 'em in, let 'em in, let 'em in!' he told them. From that night on, it was the Church of Springsteen for me."
If you're a music fan and the last name Van Jura sounds familiar, Mike Van Jura — known to Hold Steady fans as "Jersey Mike" — was Chris's brother. In 2012 at the age of 36, Jersey Mike passed away from a heart attack after battling cancer for several years. Jersey Mike was a moderator on Hold Steady message boards, and after his passing The Hold Steady started a fan club, played shows, and had auctions with proceeds going to Mike Van Jura's children as part of the K+L Guradian Foundation.
Moving to Philadelphia in 2014, Chris Van Jura spent a year as a server before making the move to restaurant management. Later he moved to Washington DC, where he worked management in some of the top restaurants in the city. The entire time he thought about what he would do if he had his own place.
"Most anyone who's worked their way up through the [restaurant] industry," Chris says, "they have a dream of what their place would be. My dream was pretty simple. I don't know if this is derived from working in Michelin starred restaurants — you know, big, beautiful, opulent steak houses, or $45-a-plate pasta dishes — but I just wanted a simple joint. Give me a dive bar. Give me a shot and a beer. That's my speed. That's what I enjoy."
Van Jura knew it was going to be a Jersey hot dog truck. No other concepts were even considered. Once the pandemic hit, and he was furloughed twice (right after closing on a townhouse with his partner), it was time.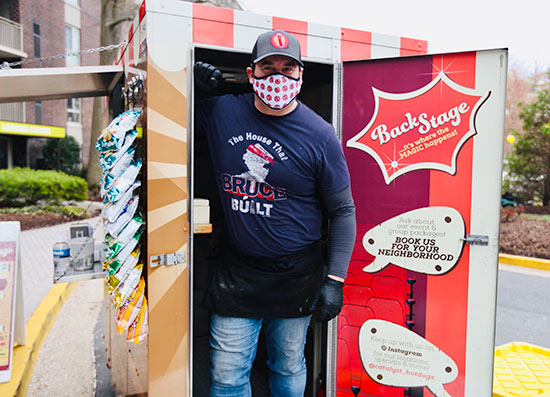 Photograph by Bob Zimmerman
Why a hot dog truck? Did he see a void in the area? "Here in DC, it's not that there's a void. Ben's Chili Bowl is the authority. I love 'em. Ben's is outstanding. I'm fortunate enough I've taken my family there. But… there's something different about a Jersey dog. There's something different about a Texas Chili sauce, which in my eyes is definitively New Jersey. The big question in DC is, 'What's a Jersey dog?' For me, the All The Way — chili, mustard, onions… — that's a New Jersey hot dog."
Walking up to his hot dog trailer at one of Van Jura's rare Virginia visits, the first thing I heard was "Soul Driver" coming from the speakers. The day before had been the 29th anniversary of the release of Human Touch/Lucky Town, and Van Jura was celebrating in his own way. I ordered an All The Way and an A La Rutt, which featured an amazing similarity to Rutt's Hutt in Clifton, NJ.
"My relish is 'inspired' by the Rutt's Hutt recipe," Van Jura says. "It's pretty darn close."
And the hot dogs themselves — probably some of the finest hot dogs you'll find yourself eating. Van Jura says he "went through about a half-dozen different types of hot dogs my vendor presented to us. I wanted all-beef. We tried a bunch. There was nothing that could compare to the Roseda Beef Hot Dogs we chose. Roseda Farms in Monkton, Maryland. They are dry-aged, black Angus, all-beef hot dogs. You would be hard pressed to find a better quality hot dog out there. We also use Roseda beef to make our ground chili as well."
"We've always wanted this to be food that everyone can enjoy, so we also offer vegan hot dogs," he adds.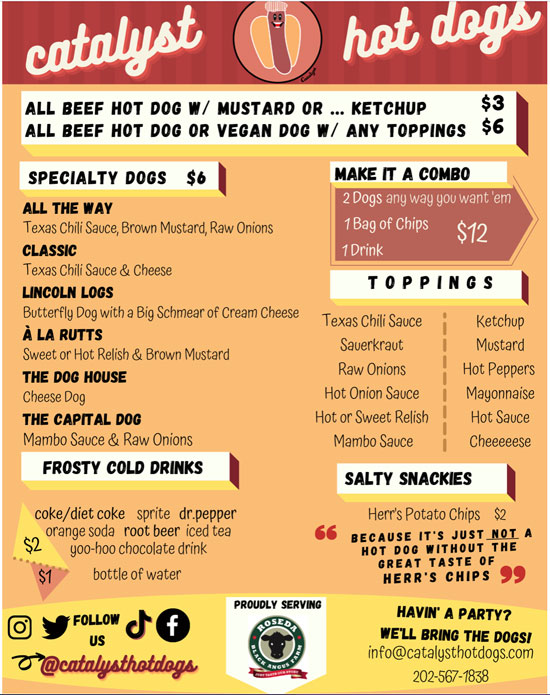 Before we're done talking, Van Jura is giggling about a story he wanted to pass along from his days working front of house in Washington DC's finest restaurants: "Jon Landau has family that lives in DC. I've been fortunate to meet him a couple of times, at the DC restaurants I worked at. The first time I met him, it was towards the end of my time at that particular restaurant, so I broke protocol. You're not supposed to fawn over celebrities — this was a restaurant where we took care of Presidents and other important people, but I wasn't going to let this opportunity go.
"He has his dinner," Van Jura goes on, "I'm not going to bother him. But I made sure I was near the door when he was exiting. Sure enough, he comes by, and I stop him: 'Mr. Landau, I hope you enjoyed dinner. Thank you very much for coming through. I would be remiss and my mother would be so upset if I did not thank you for Bruce Springsteen.'
"To which he perfectly deadpanned, 'Naw, that's funny. My mother thanks me for Bruce Springsteen, too." He was a very, very nice man.'"
Here's hoping he gets Bruce to stop by the Catalyst cart next time he's in town.
For information on where the Catalyst Hot Dogs truck will be each day, or for catering for special occasions, visit them at catalysthotdogs.com, and on social media (IG: catalyst_hotdogs FB: CatalystHotDogs Twitter: @CatalystHotdogs).
- November 4, 2021 - Bob Zimmerman reporting


SPRINGSTEEN IN NEGOTIATIONS TO SELL CATALOG, PUBLISHING RIGHTS
Billboard report suggests Sony Music could be home for years to come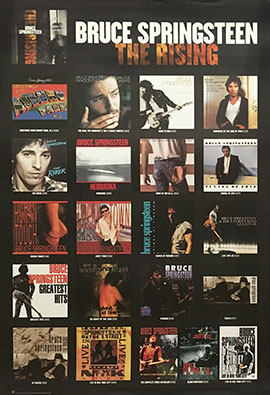 It seemed not a question of if but when Bruce Springsteen would join fellow recording artists like Bob Dylan and Neil Young in relinquishing the rights to his music. Still, the idea of Springsteen selling his life's work — which spans nearly a half-century — might come as a surprise, especially considering the musician exercised maximum control for decades.
In Springsteen's case, a likely buyer is Sony Music, which would keep the music at Columbia Records, the label Springsteen signed with in 1972. That could indicate continuity, the company simply acting as a good steward, with Springsteen's stated or written intentions guiding it. Or it could mean that Bruce's music gets licensed for commercials. Or that Darkness on the Edge of Town gets remixed, Magic gets remastered, and a box set of scores of alternate takes of familiar songs materializes. Anything is negotiable.
For the moment, there is no change in control, and Springsteen retains ownership of both his recorded masters and his publishing. But this year's ad for Jeep during the Super Bowl seemed timed to test the waters for precisely something along these lines. We'll likely learn more when any deal gets announced.
Read the Billboard story via MSN here.
By the Editors - November 3, 2021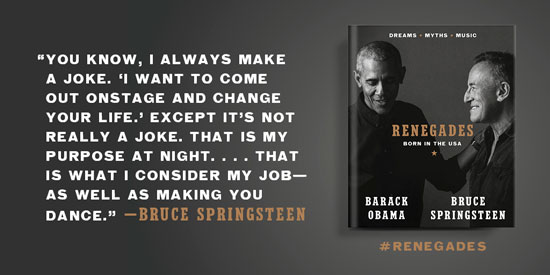 TWO DAYS LEFT TO GET IN ON THE RENEGADES VINYL DRAWING
50 of our customers will get the limited LP FREE with their book
Why are we still taking "pre-orders" for the Renegades: Born in the USA book that came out last week? Because there's a special, very limited, promotional vinyl LP for Renegades that comes out next week… and we're going to have 50 of those to give away FREE to customers who order the book from us before this Friday.
With a total pressing of just 500, this will be a hard record to find, and we're grateful to Penguin Random House for hooking us up with so many to give away!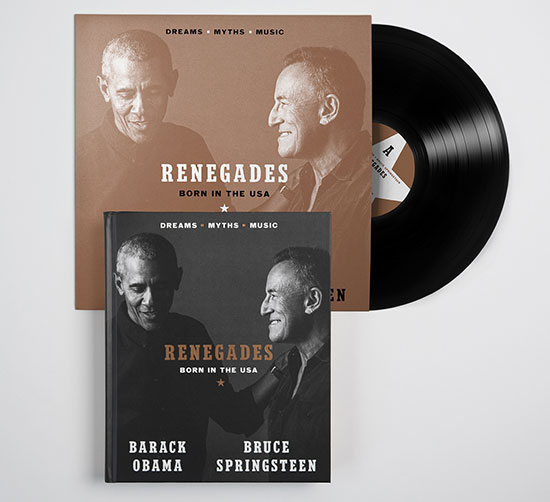 Our Renegades pre-order offer closes this Thursday, November 4 — anyone who orderes the new coffee table book from us before 11/5 will have a chance to win one of those 50 records, as a bonus and a thank you for supporting Backsreets and Backstreet Records. A random drawing from all pre-orders received in time will determine the 50 customers that get an extra vinyl LP as a "golden ticket" slipped into their package.
Pre-order the Renegades book before Friday
to enter our drawing for one of 50 LPs!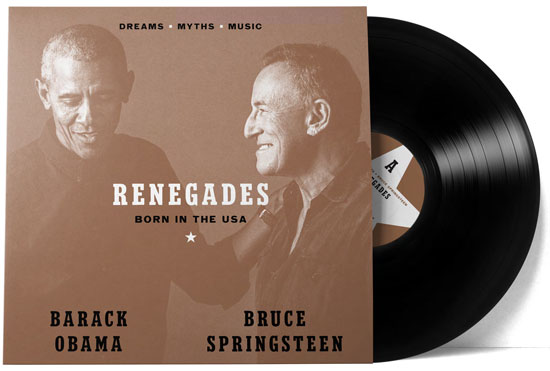 Let's take a closer look at the LP, which presses highlights from Obama and Springsteen's Renegades podcast conversations on vinyl. These are mockups of the package design; final may vary (once we get physical copies in stock, we'll put some images on our socials), but this'll give you a good idea of what's in store.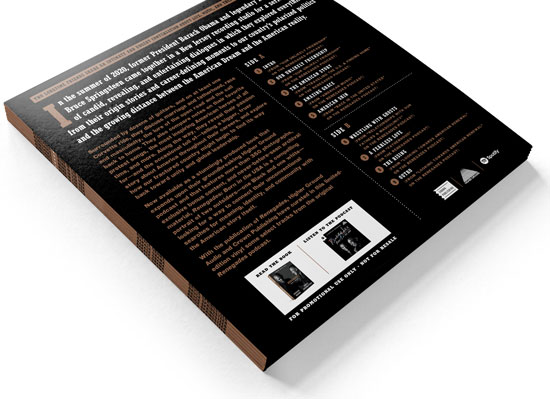 Back cover: (click the picture above for a larger look) Based on the mockup, the jacket will have a brief history of the Renegades podcast and book plus the track listing:
Side A
1. Intro
2. Our Unlikely Friendship
3. The American Story
4. Amazing Grace
5. American Skin
Side B
1. Wrestling With Ghosts
2. A Fearless Love
3. The Rising
4. Outro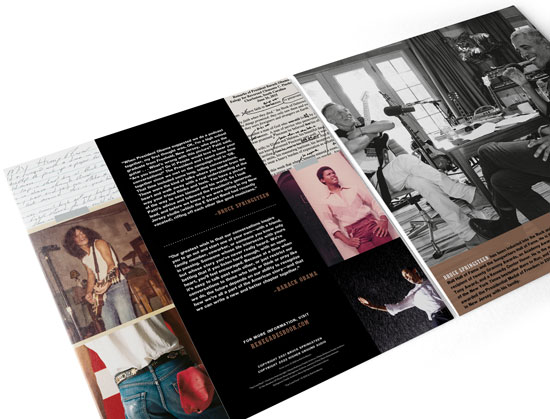 Inner artwork: (click the picture above for a larger look) Not gonna lie, we don't know if the mockup is depicting a gatefold or two sides of an inner sleeve. Probably the latter, on closer inspection? In any case, what's planned is a graphic-heavy design, with liner notes taken from Obama and Springsteen's introductions, historical photos and documents, and a nice large Rob DeMartin shot from the podcast sessions.
To be clear, not everyone who orders the book will receive the LP; we wish we could hook everyone up. But there will be 50 Backstreet Records customers, selected at random, who'll get an extra surprise when their Renegades package arrives. And the odds will be nowhere near unimaginable: to give you an idea, with two days remaining, we have around 250 pre-orders, which means the chances are currently 1 in 5.
For more about Renegades: Born in the USA, read our book review by Lily Burana, published last week, and take a look at additional images in our online shop listing. And thank you, as always, for supporting what we do!
- November 2, 2021