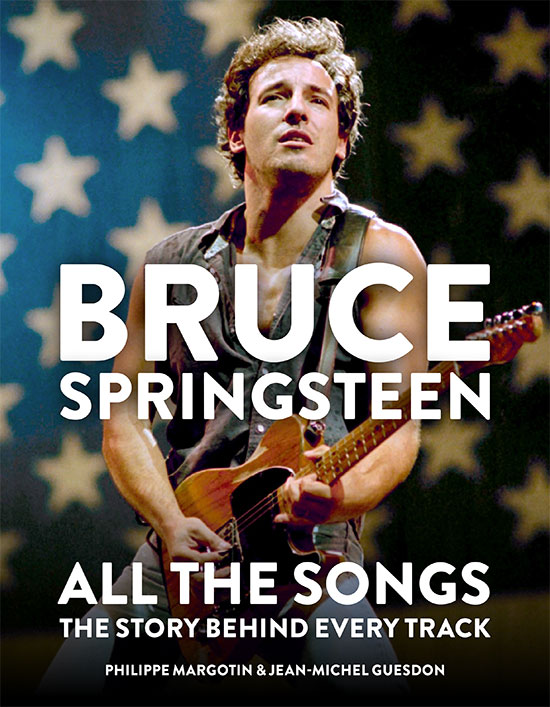 LOOK INSIDE THIS FALL'S BRUCE SPRINGSTEEN: ALL THE SONGS
Coming this fall from Octopus/Hachette is the next installment in their All the Songs series, focused squarely on our man with Bruce Springsteen: All the Songs - The Story Behind Every Track. It's a weighty addition to the Boss bookshelf, at 672 pages and more than six pounds, a chronological song-by-song resource co-written by Philippe Margotin and Jean-Michel Guesdon.
For a sneak peek, the publisher has provided us with a blad as a PDF — a 16-page sampler, previewing the content and layout — and we can share it with you here to give you a better sense what to expect.
View the blad online, or right-click that link to save the PDF to your computer.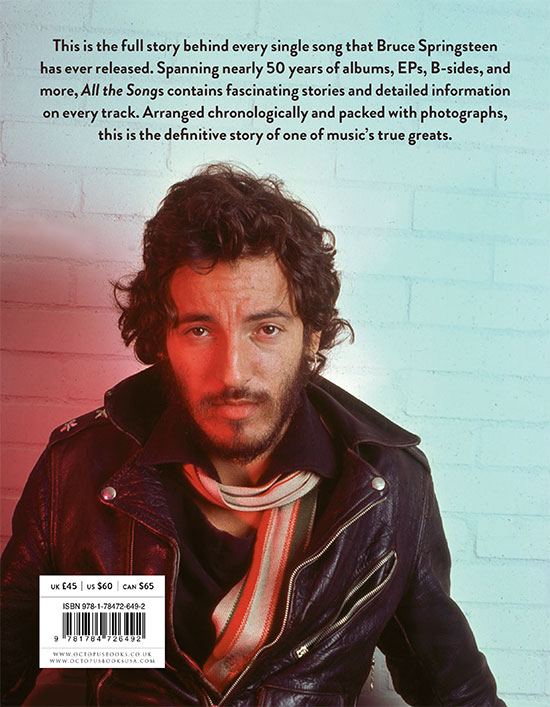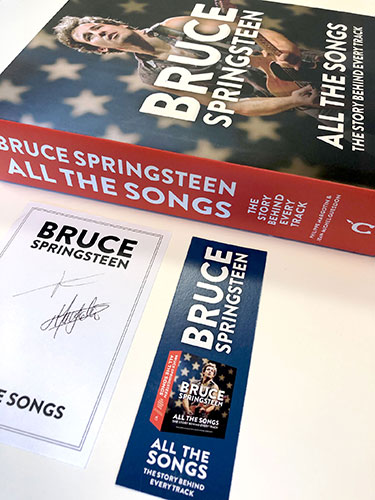 The new book invites comparison with Brian Hiatt's similarly titled Bruce Springsteen: The Stories Behind the Songs, released last year — Hiatt's is a must-have, particularly for its wealth of new historical information based on numerous new interviews.
As you'll see in the blad, All the Songs is amalgamating secondary sources instead, offering a different perspective with more of a focus on musical structure (co-author Guesdon is himself a musician, composer, and sound engineer); it also works in material that was beyond the scope of Hiatt's book, including cover songs (the entirety of the We Shall Overcome album, for instance).
We're compelled to put asterisks by the All and the Every in the new title, since any Springsteen diehard will be able to identify songs that got away from Margotin and Guesdon. But if you can handle such omissions, there looks to be plenty to enjoy in their song-by-song analysis of the vast majority of Bruce Springsteen's output from Greetings through Western Stars.
Pre-order Bruce Springsteen: All the Songs in our online shop now, to guarantee bonus Backstreets exclusives: a custom bookplate signed by both authors, as well as a promotional bookmark. We'll ship upon the book's publication in October, in plenty of time for holiday gift-giving.
- August 31, 2020


TOMRROW (8/30), BAR A WELCOMES BACK SPRINGSTEEN ON SUNDAY
Springsteen on Sunday will be broadcasting on location this weekend, the weekly radio program on 107.1 The Boss (WWZY-FM) returning to Lake Como's Bar Anticipation with listeners once again invited. Join DJ Tom Cunningham outside for two hours of socially distanced, socially responsible fun.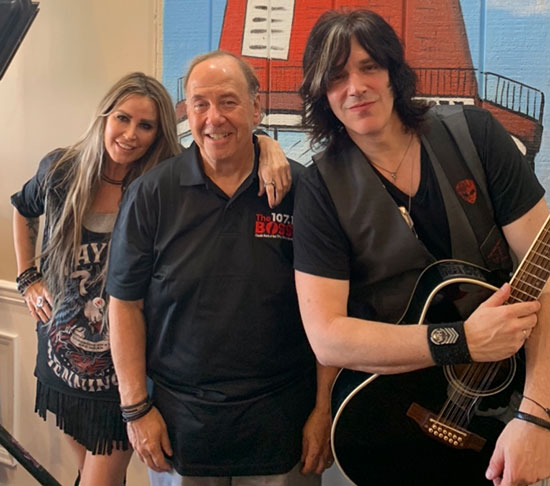 Guests this week will be the Jersey Shore's country music renegades Williams Honor (Gordon Brown & Reagan Richards, above with TC), and they're bringing a brand new song from their forthcoming album to debut. Plus after the broadcast is over, they're going to stick around and play a couple of songs.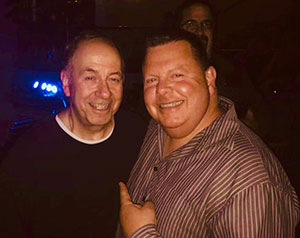 Also on the show will be leader/saxophonist of the Sensational Soul Cruisers, Screamin' Steve Barlotta (right, with TC), who is working his way back from an arduous recovery from COVID. Ain't so sin to be glad you're alive, live and in-person!
The station has joined forces with the International Brotherhood of Electrical Workers Local 400 to help our friends at Fulfill. (formerly the FoodBank of Monmouth & Ocean Counties). We encourage you to raid your cabinets for some non-perishable food items to help feed neighbors, as Sunday's event will include a "Stuff-A-Truck" for Fulfill. Food insecurity is at an unprecedented level, and you can help make sure hunger won't win here.
No cover charge. Doors open at 8am, brodcast starts at 9am, bar opens at 10am. Grab a bite to eat from the brunch menu or full menu. With every breakfast platter you receive a complimentary Bloody Mary or Mimosa!
For the safety of all present the following will be implemented:
Patrons must wear masks while entering the venue or leaving their table to use the restroom.
Tables will be positioned 6' apart, with the front row of tables 12' from the broadcast.
Seating "Table For Two," "Table For Four" and "Table For Six" configurations only.
Admittance includes a dining and drinks service, with service and seating beginning at 9am.
Fans must remain seated at their table.
Dancing will not be permitted.
Lawn chairs, blankets, pets, food or beverages are strictly prohibited.
Bar Anticipation reserves the right to change any policy without notice.
Venue security will enforce ground rules, which will follow current CDC and State of New Jersey guidelines for outdoor events and dining.
In the event of inclement weather, an alternate plan will be announced.
Please refer to Bar Anticipation for any other questions.
If you can't make it in person, tune in at 9am ET on 107.1 FM at the Jersey Shore (and in Southern Ocean County at 99.7), and go here for all ways and shapes and forms of listening options: 1071theboss.com/apps-streaming/
- August 29, 2020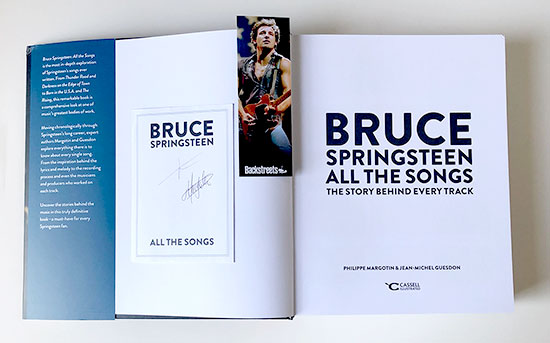 BIG BOSS BOOK COMING THIS FALL
Pre-order All the Songs now for Backstreets exclusives!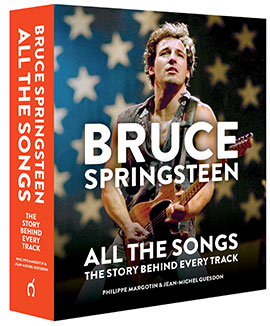 Due in October, the latest entry in the All the Songs series is a massive hardcover spanning five decades, Bruce Springsteen: All the Songs - The Story Behind Every Track.
Co-authors Philippe Margotin and Jean-Michel Guesdon — who collaborated on earlier books in this series for The Beatles, The Rolling Stones, Pink Floyd, and Led Zeppelin — take on the Springsteen catalog from Greetings through Western Stars.
They've also kindly done some autographing for us, so that the first 500 pre-orders will ship from Backstreet Records with a signed bookplate. A free, exclusive bookmark, too!
Now, we wouldn't be the trainspotters we are without noting: All the songs? No, not all the songs. Studio album and EP tracks, yes, along with B-sides — and Tracks and 18 Tracks, even The Promise and Chapter and Verse are covered. But you'll discover omissions, too. "The Man Who Got Away" isn't the only one that got away.
But any more songs and it might get too heavy to lift — this is a hefty one for your coffee table (don't drop it on your foot), 670 pages packed with song-by-song notes on genesis, lyrics, production, crew, and more, well-illustrated with color and B&W photos throughout.
Pre-order now to guarantee signed bookplate and bookmark, until further notice, to ship in October!
- August 27, 2020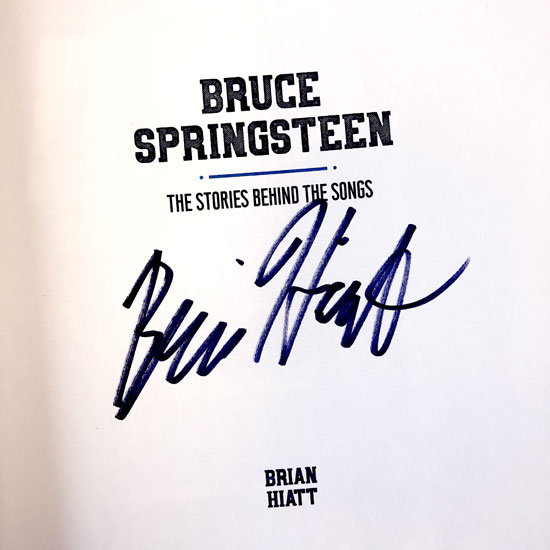 AUTHOR BRIAN HIATT GUESTS FOR NBTB SEASON 1 FINALE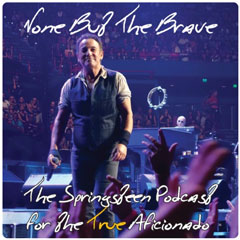 Today, the None But the Brave podcast wraps up its inaugural season with an extensive and informative interview with Brian Hiatt, Senior Writer at Rolling Stone magazine and author of the authoritative book Bruce Springsteen: The Stories Behind the Songs.
Podcast co-hosts Backstreets contributor Flynn McLean and film producer Hal Schwartz talk to Brian about the origins of the book and how he got access to the many key Springsteen associates quoted, including all of the producers Bruce has worked with over the past three decades. The interview also includes such juicy details as the story behind the still-unreleased 1995 Western swing album that Bruce simultaneously recorded with The Ghost of Tom Joad, as well as the tale about how Hiatt discussed Bruce's performance of "Achy Breaky Heart" from the legendary Basie '93 show with Billy Ray Cyrus himself.
"We were very excited to talk to Brian about his book," McLean says. "He's a long-time fan who knew what to ask the involved personnel to get a deeper read on Bruce's catalog."
Schwartz adds,"We really had a blast talking with Brian. His book is absolutely essential reading for every Springsteen fan."
Listen now via Apple Podcast | Spotify | Google Podcasts | Stitcher | Tune In
Hiatt signed for us when his book came out, and autographed copies of Bruce Springsteen: The Stories Behind the Songs are still available from Backstreet Records. You can also read our 2019 interview with the author. Which won't spoil the podcast episode for you — he's got lots of stories to tell.
Congratulations to Flynn and Hal on an entertaining, enlightening, and educational first season, 22 episodes in all. Previous guests on the None But the Brave podcast include Backstreets Associate Editor Jonathan Pont, photographer Debra Rothenberg, and Stan Goldstein, co-author of the book Rock and Roll Tour of the Jersey Shore.
We'll look forward to welcoming None But the Brave back for Season 2!
- August 25, 2020

DREAMS AND VISIONS OF BORN TO RUN AT 45
As we mark the anniversary of Bruce Springsteen's 1975 masterpiece Born to Run, don't miss this giveaway from Sony Music: enter for a chance to win a BTR prize package including a nifty set of headphones and Eric Meola's stunning book documenting the cover sessions, the long-out-of-print Born to Run: The Unseen Photos.
- August 25, 2020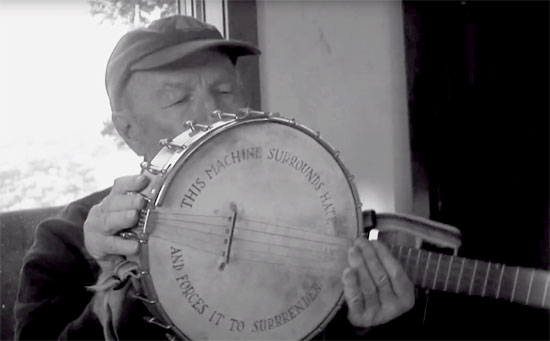 PETE SEEGER, MUSICAL GREAT-GRANDFATHER
An exclusive clip from director Nick Mead
With Bruce Springsteen's live Archive Series putting the Seeger Sessions Band back in the spotlight, we have some previously unseen footage with its late namesake.
Pete Seeger, who died in 2014, wasn't entirely comfortable with having his name on Springsteen's high-profile 2006 project (hence a respectful change along the way to simply the "Sessions Band"), but his life's work of collecting, performing, amplifying, and preserving traditional folk songs remains a prime inspiration no matter the name.
His ambivalence is clear in this never-before-seen footage shot by director Nick Mead (Clarence Clemons: Who Do I Think I Am?). Seeger ruminates on "too much publicity," but he also grants, "I'm a lucky old musician, to know that I've got musical grandchildren and great-grandchildren all over the country."
In under four minutes, we get a closer look at his banjo's legend ("THIS MACHINE SURROUNDS HATE AND FORCES IT TO SURRENDER"), some choice words for uncertain times, and even a magical, impromptu take on Irving Berlin's "Blue Skies."
"In the long run," Pete says in the interview with Mead, "I think guitars and banjos will be more important than guns… Some music just helps you to forget your troubles; some music helps you understand your troubles. And, occasionally, music comes along which helps you do something about your troubles."
Nick also gives us the backstory behind the interview:
Many, many years ago I was having dinner with Jeff Lynne, and I asked him, "So how'd you get into this guitar business, then?"

Without missing a beat he said, "I was in bed at 11 one morning, and my mum came upstairs with a cup of tea and said, 'Only musicians stay in bed until 11,' so I went out and got a guitar."

This inspired me to embark on a very personal journey around the world talking to — and filming — the greatest guitar players and songwriters.

I really wanted to talk to Pete Seeger but couldn't find a manager or a record company who'd respond. So I went to Beacon, New York, and asked a mailman for his address. I was all ready to bung the postie $20 but he said, "Pete? Oh, he lives up that trail" — so off I went. Pete wasn't in, but his dog was wandering around, so — and this as close to being a stalker as I've ever been — I got his phone number off his dog's collar.

He was ever so nice when he called the next day: he never asked how I got his number, just apologized for not being in. Said that the price of an interview was some help laying a new concrete floor for his sloop club…. he took children out on the Hudson on a sloop called The Woody Guthrie.

Anyway, after a day slinging concrete, he was as good as his word. This is part of the interview I shot with him.

It's for an ongoing bigger project about guitars and the inspiration, aspiration, motivation, and dedication it takes to pick one up and do something with it. To "make it talk," so to speak.

I hope this is a little inspirational in these troubled times.
- August 24, 2020 - Christopher Phillips reporting - thanks to Nick Mead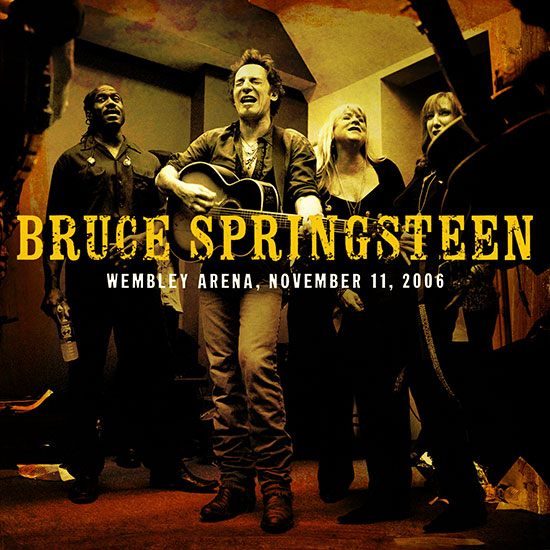 SAINTS, DEVILS, AND RANK STRANGERS IN LONDON
New Archive release, the second from 2006, shows how the Sessions tour grew up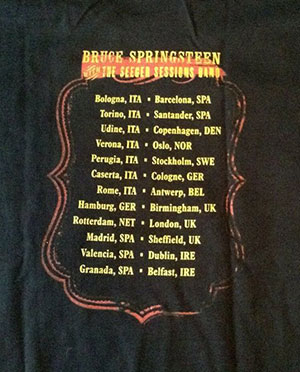 After a short delay, the August entry in Bruce Springsteen's Archive Series has cleared the bar: one of the last Seeger Sessions dates, November 11, 2006 at Wembley Arena in London.
This is the second Sessions show to emerge in the Archive Series — the tour's powerful opening gig, recorded at the New Orleans Jazz & Heritage Festival less than a year after Hurricane Katrina, was released in 2018 (a subsequent YouTube video presentation became a companion piece).
The entire 2006 endeavor remains a unique chapter in Bruce's musical history; today's set, from the tour's final month, captures this versatile, creative, and audacious band at the top of their game, after more than 50 shows under their belts across Europe and the U.S.
Although the Live in Dublin album was recorded just a few nights later at the Point in Dublin, it is a very different listening experience than the Wembley show. While that 2007 live release captures some great performances over three shows, it doesn't provide the energy and flow of a complete concert.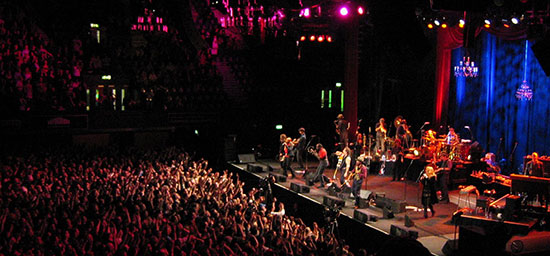 The Wembley set includes four songs that don't appear in either the Dublin or New Orleans shows: "Devils & Dust," "Jesus Was an Only Son," "Froggie Went a Courtin'" (which goes over very big with an English audience), and the debut of "Long Walk Home," which would be released the following year on Magic. The events that inspired "Long Walk Home" (and that continued in its wake) likely inspired the release of the show now, the week that Springsteen tacitly endorsed Joe Biden for President, appearing in a campaign video set to "The Rising" for the opening of the Democratic convention.
Wembley is a typically boisterous Sessions tour set that you can't help but dance to, but its political messages make it especially powerful.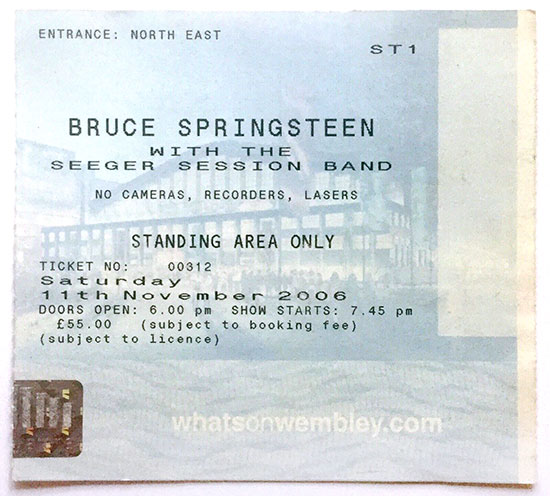 The 2006 U.S. midterm elections were held on November 7, four days before this performance at Wembley. Democrats won control of both houses of Congress for the first time since 1994, handing President George W. Bush a major defeat and revealing the public's dissatisfaction over the Iraq War.
The election news appeared very much on Springsteen's mind at Wembley. Introducing "Devils & Dust" he said, "Some semblance of sanity has returned to the United States. But damn, it was close, it was more than close…. That great Abraham Lincoln quote — 'You can fool some of the people all the time, fool all the people some of the time, but you can't fool all the people all the time' — the problem is, you fool enough of the people enough of the time, you make a big, tragic, fucking mess."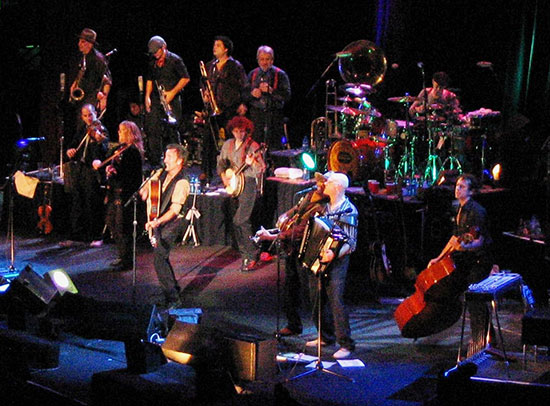 The Sessions Band arrangement of "Devils & Dust" is one of the highlights of the set; the instruments slowly build behind Bruce's vocal, the singers join for the chorus, and the song reaches heights it had never quite hit live, culminating in a majestic trumpet solo from Curt Ramm, an elegy for those lost in war. They follow it with a fierce version of the anti-war "Mrs. McGrath" and a blistering, swinging "How Can a Poor Man Stand Such Times and Live," the 1929 Blind Alfred Reed composition that Bruce reworked as a response to the government's devastating handling of Hurricane Katrina.
"Gonna Be a Long Walk Home," as Bruce introduces the new song later in the set, raises another question: how we start fixing the mess that happens when you fool enough of the people enough of the time.
A centerpiece of the Magic album and the 2007-08 tour, the new song is fully formed here, with the vocal chorus adding a sense of wistful sadness around the words "long walk home" that's missing from the E Street Band version. On E Street, it feels like "everybody has a neighbor, everybody has a friend, everybody has a reason to begin again." But here, the Sessions music, which carries in it so many stories of racial injustice and the abuse of power, conjures up a town of rank strangers.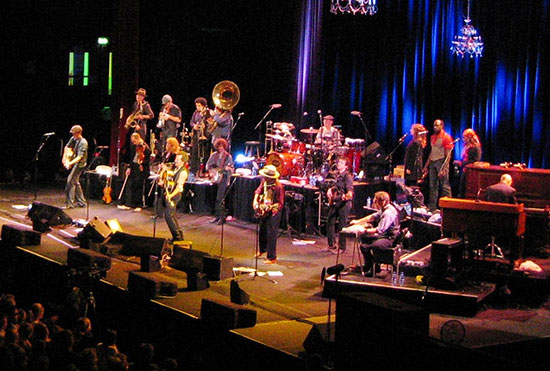 As I write this, we are gearing up for what will be the most bizarre and divisive election season I've ever seen. We can't agree on facts. We've lost more than 160,000 people to the coronavirus. People have lost their jobs and businesses. The president is encouraging division. We're physically separated from those we love. The last verse of this version of "Long Walk Home," which didn't make the final cut on Magic, presciently captures the feeling of danger we're experiencing:
Now the water's rising 'round the corner, there's a fire burning out of control
There's a hurricane on Main Street and I've got murder in my soul
When the party's over, when the cheering is all gone
Will you know me? Will I know you? Will I know you?
"Long Walk Home" asks whether we're too divided, too fractured to rebuild principles of democracy. This set answers it with the gospel/civil rights anthems of "When the Saints Go Marching In" and "This Little Light," featuring Cindy Mizelle's house-wrecking performance, and the hard-won patriotism of "American Land." This show is a reminder that the Sessions tour offered an inspiring vision of America where truths can be told, where history matters.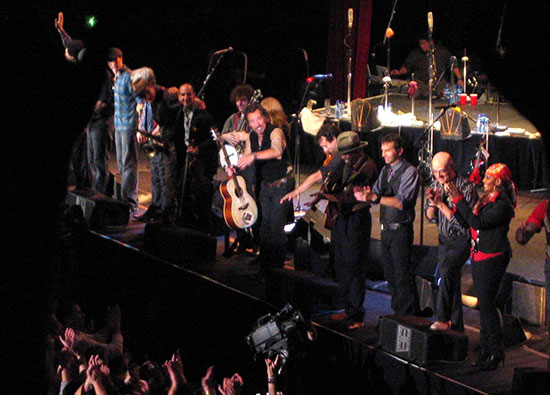 At a time when it's dangerous to even sing together, let alone gather in arenas to see Bruce in concert, the full-throated singing on these songs is exhilarating. Turn it up loud and let your voice loose.
Keep your eyes on the prize. Hold on.
Also read: Erik Flannigan's latest nugs.net blog entry, "Gonna Be a Long Walk Home"
- August 21, 2020 - Lauren Onkey reporting - photographs by Geoffrey Robinson, 11/11/06

TAKE THE WEATHERED WITH YOU
Soundstage spotlights Nils Lofgren and his new live album
This Friday, August 21, brings a new live album from the Nils Lofgren Band, the 2CD Weathered. A day prior to the release, a preview will come via Soundstage, the monthly online series presented by the Springsteen Archives and hosted by music historian Bob Santelli.
Soundstage, a sister series to What's Up on E Street?, showcases "new music, ideas, and trends in American popular music, starting with projects from members of the E Street Band," Santelli says. "In this period of COVID, it's re-assuring that exciting new music is still being made by artists like Nils Lofgren and David Sancious."
The 16-track Weathered was recorded on the road in 2019, as Lofgren toured with a full band for the first time in more than 15 years in support of his latest studio LP, Blue with Lou. Produced by Nils and his wife Amy, the live album comes via his own label Cattle Track Road Records (and Nils has kindly autographed copies for Backstreet Records customers).
As a Soundstage press release states:
Improvisation has always been a key element in live performances for Lofgren, a veteran member of some of the greatest rock bands in history, as well as an accomplished and successful solo artist.

"All the band members are old friends used to being encouraged to stretch out and improvise with me," Lofgren explains. That freedom shows throughout Weathered. "Our crew did a fabulous job getting everything right for us to do our best every night." He continues, "Regularly hearing inspired, improvisational surprises from your fellow bandmates elevated our interaction and made for one of a kind, unique shows every night. We all thrive in a live setting and at every show, the audience kicked the music up to a special level we only reach with their contagious, inspired energy."
For a closer look at Weathered, tune in to the second episode of Soundstage, available Thursday, August 20 at 10am — the series can be accessed via the Bruce Springsteen Archives & Center for American Music website or via the Springsteen Archives' Facebook page.
- August 19, 2020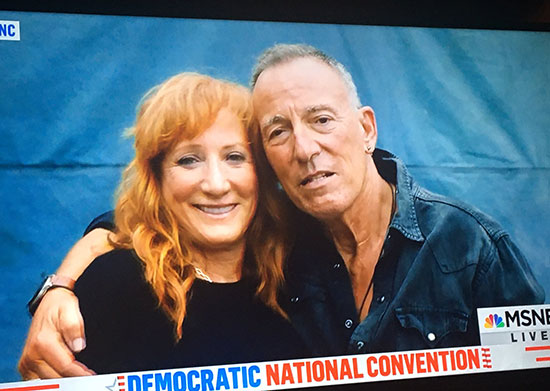 via Twitter/@RosieCT50

#THERISING RISES AGAIN
With the Democratic National Convention getting underway last night, August 17, Bruce Springsteen's endorsement of the Biden/Harris ticket came in the form of a campaign video. Shown early in convention coverage — and messaged out by both the Biden and Springsteen Twitter accounts — "The Rising" becomes Springsteen's first foray into the 2020 presidential race.

The stirring clip demonstrates once again the flexibility and durability of a Springsteen song, particularly ones dealing with healing or redemption; much the way "My City of Ruins" served after 9/11, now this 9/11 song speaks to our times two decades later, in the midst of another national crisis (or a confluence of them). In the new clip, emergency responders saluted in the song are most likely to work in a hospital, and "the rising" is a call to a diverse citizenry to unify behind what Springsteen has called "the country we carry in our hearts."

Springsteen and Patti Scialfa appear briefly in the video themselves, at the 2:30 mark. More keen viewers heard "My City of Ruins" on night one of the virtual DNC, and it's unlikely that the Bossness will end there. The convention runs nightly this week, leading up to the presidential nominee's speech Thursday night at 10pm.

Earlier this summer Springsteen said in an Atlantic interview, "I believe that our current president is a threat to our democracy. He simply makes any kind of reform that much harder. I don't know if our democracy could stand another four years of his custodianship. These are all existential threats to our democracy and our American way of life."

Nothing virtual about that.


- August 18, 2020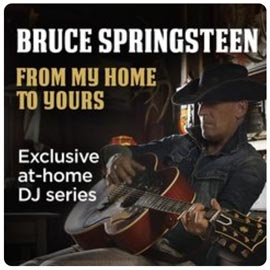 RECAP: HISTORY IS MADE AT NIGHT
So is good radio: From My Home to Yours beckons the darkness with Vol. 10: In Dreams
While a scheduling change for the bi-weekly From My Home to Yours radio program on SiriusXM triggered speculation, the explanation was straightforward: the tenth installment would air at midnight. No news, no unreleased music, no special announcement. Rather, Bruce Springsteen was taking the night shift.
The surprise, after previous volumes aired at 10 a.m., is that it took ten episodes to flip the script.
"For most of my life, I had no great fondness for the day," Springsteen said, pronouncing himself "a born night crawler, up till 3 a.m. as a young child." The sunrise yielded only impediments: "waking too early, schoolwork, and somebody else running my life."
"But at night," he continued, "I found my mind came to life. I felt a stimulation, and a creative excitement, a freedom, that eluded me in the day. At night, I felt most like myself."
At times, the 81-minute segment titled "In Dreams" played out like a dream segment might, its twists and turns replete with moments you'll not remember. And ones perhaps you won't forget. Mostly, it was a chance for Springsteen to do what he's done over the course of the program these past five months — tell stories, play music, and make some noise — but with an "after dark" twist.
Elegant in places and occasionally choppy, Volume 10 featured instrumental interludes (like "Ágætis byrjun" by Sigur Rós, and others by Moby, Brian Eno, and Norwegian composer Ola Gjeilo). Leonard Cohen evoked side two of Tunnel of Love, and Mark Isham guaranteed himself a future recording date for "With Every Wish" on an amazing duet with Marianne Faithfull on "The Hawk (El Gavilan)." Springsteen got namechecked in "American," by Lana Del Rey (a favorite of his, and with good reason).
At the top, he paid tribute to Ennio Morricone, whose "Man With a Harmonica" helped dim the lights and strike a cinematic vibe. As Lee Hazelwood and Nancy Sinatra traded vocals and time signatures on the "fabulously creepy" "Some Velvet Morning," Volume 10 began to take shape. Only the song's title implies the dawn: the sun set hours ago, and the sequence begins.
"We are meeting at midnight tonight," Springsteen said, "for a special evening of music for which the night time is the right time." Darkness is more than a simple motif for Springsteen, who perhaps has logged more waking hours after sundown than before — and has the output to show for it. It's where he came up with his music: away from people, their rhythms, their norms. He recalled his work life in the late 1970s this way:
All that night was just something that came naturally to me. There was just something I loved about being awake as the straight world slept. It excited me. It sparked my creativity. And it gave me the uninterrupted peace and quiet I needed to work.

Occasionally, I'd break curfew, just to get out of the house. I'd take a 2 or 3 a.m. night drive in my '60 'Vette, over the local roads of Monmouth County; the darkness and shadows of the highway at night was where I lived. I was a wandering spirit, barely there, looking briefly into the dimly lit homes where I could be living any one of a thousand other lives, filled with family and friends. But I wasn't. For now, the life I chose was here: the life of words, the life of song, the life of these roads, of these evenings. This life — and all it gave, and all it withheld — was my life.
That was how he set up "Stolen Car," and the chaser was equally compelling: The War on Drugs' "Strangest Thing." Both songs' characters exist in a sort of self-imposed exile: one waiting to get caught and another trying to "find another way" than living in "the space between beauty and pain." (Springsteen praised Adam Granduciel as leader of "one of the last of the great rock bands"; Granduciel is just as familiar with Springsteen's work.)
Whatever the intersection between personal and creative forces (here, we refer you to Springsteen's "magic trick," explored in his autobiography, Broadway show, and most if not all his LPs), the night time will exact its punishment. In this episode, Springsteen was explicit about that. At least the isolation of his late 20s yielded some of his best music; the defeats he suffered in earlier years seemed to harbor no such reward.
That was a plausible conclusion from a 1965 flashback, in which Springsteen recounts a rebellious but nevertheless "solidly middle class" girlfriend — do you see where this is going? — whose mother threatened to take out a restraining order to keep Bruce away.
I was persona non grata at my first real girlfriend's house. It was 1965. Maybe it was the hair, my cultivated look of dishevelment, but whatever it was, I was marked as an undesirable by my perfect girlfriend's mother.

Now, I was 15, and my gal was a year younger than me, 14. But though a year younger, she had a surprising, burgeoning sexuality that showed me up for being as inexperienced as I was at that age. But, I had one thing going for me: I was forbidden. I was not to be had. I was not to be touched. And she had a bit of a closeted rebellious streak of her own. So when mom was away, we ventured to mom's bedroom, where she introduced me, for the first time, to what I think was full-on sex — though due to the fog of war, 55 years later, I can't be completely sure. All I remember was she was beautiful, with a softness and a kindness cut by a streak of cruelty I should have took more notice of.

Now, in the shadows always lurked a major problem to our paradise. You see, she was solidly middle class: perfect plaid skirt, blouse with the Peter Pan collar, white socks, long blond tresses. I was a denizen from the far side of nowhere, where blacks intermingled with whites, where a man never left his house in a suit unless he was going to church or in trouble. Where the firemen, and the truck drivers, and the auto workers gathered around each other's porches on summer nights and passed beers and stories of the week around.

Well, her mother could not help but be disappointed in and disapprove of who she thought I was. So the word came down, and she theatrically threatened to get a restraining order that would forbid me from seeing her perfect daughter.

Now, her perfect daughter had plenty of "Fuck you, Mom" in her, so we began to meet at night, at the Broad Street schoolyard. And there, amongst the empty monkey bars and sliding boards and swings and seesaws, stood an oak tree that became our rendezvous and redemption point. We worked and leaned hard against that oak's trunk on many a summer and fall night, trying to find whatever pleasure and satisfaction we could there. She stole time from Mama, girlfriends, and homework to meet me there. It was always too short, and a little painful. But at least she'd come, and we were there together.

Then one night she didn't come. Or the next night, either. So I sat on the swings with the rest of the ghosts, dragging my feet through stones and dirt, until 2 a.m. Then I went home. The revolution was over. Whatever use I had been, I was needed no longer. I had engaged the enemy on the field of the battle of love, and I had been defeated. Or maybe she just got tired of it all — became too much of a hassle.

Well, I finally caught her at her locker in school, one morning, and she tried to be kind, but I wouldn't let her. I wanted to hear her say it was all over. So she said it. I went home, and I decided to rid myself of her, to relieve my heart of her, to release my mind of the burden of thinking of her. It didn't work. I'd see her in my dreams.
More than a half-century on, the letdown comes across as palpable; about the only thing that could last longer is the soaring voice of Roy Orbison — "simply the darkest and most emotionally exquisite voice in all of pop music" — whose "In Dreams" both captivates and helps Springsteen compartmentalize in this instance.
Springsteen experiments in other ways throughout the episode: he recites "The Land of Nod," a favorite childhood poem by Robert Louis Stevenson, to set up his wandering, nocturnal ways; later, over the course of several songs, he recites what we presume is fiction, sketching barroom scenes not unlike the one that plays out over "Tougher Than The Rest." And there's simple after-dark noir, too: his own works "Breakaway" and "Meeting Across the River" combine for a "gangland doubleheader."
By the end, there's redemption, and maybe daylight. Even a happy ending, as "the inimitable and gorgeous voice of Marianne Faithfull" soundtracks "many a midnight ride" with Patti Scialfa — a fine coda to Volume 9 as well. But questions remain: "How do we live beneath the beauty of God's hand? How do we become worthy of the love that he's made possible for us on Earth? And how do we light and carry our own lamp through the darkness? How do we be brave in His name and in our love?"
That's a whole other episode for sure.
Playlist:

Instrumental intro: Ennio Morricone - "Man With a Harmonica"
Lee Hazelwood and Nancy Sinatra - "Some Velvet Morning"
Instrumental interlude: Ludovico Einaudi - "Night"
Lana Del Rey - "American"
Instrumental interlude: Moby - "Fireworks"
Bruce Springsteen - "Stolen Car"
The War on Drugs: "Strangest Thing"
Instrumental interlude: Brian Eno - "Always Returning"
Leonard Cohen - "In My Secret Life"
Bruce Springsteen - "Breakaway"
Bruce Springsteen - "Meeting Across the River"
Instrumental interlude: Ry Cooder - "Cancion Mixteca"
Bruce Springsteen - "Sad Eyes"
Instrumental interlude: Ola Gjeilo - "Before Dawn"
Bruce Springsteen - "Something in the Night"
Instrumental interlude: Sigur Rós - "Ágaetis byrjun"
Roy Orbison - "In Dreams"
Mark Isham and Marianne Faithfull - "The Hawk (El Gavilan)"
Instrumental outro: Robert Shaw - "Beautiful Dreamer"
Reverend Horton Heat - "In Your Wildest Dreams"
- August 16, 2020 - Jonathan Pont reporting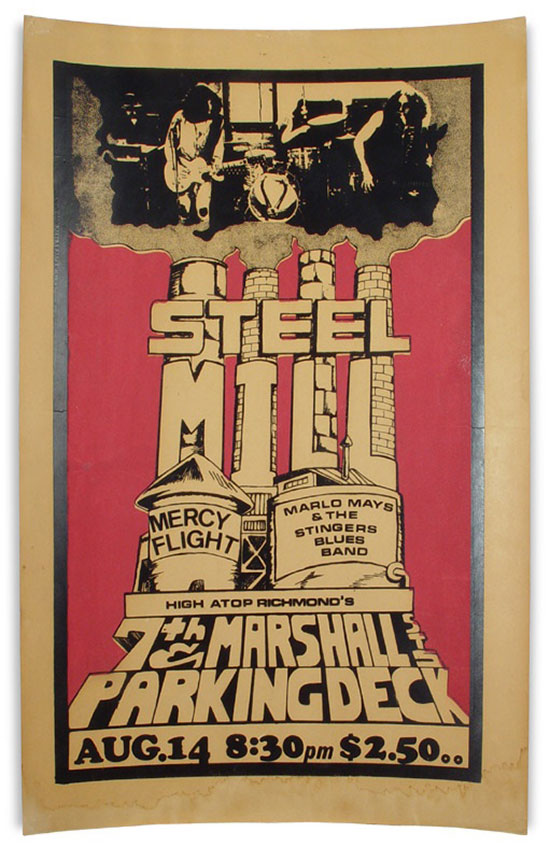 "HIGH ATOP" 7TH AND MARSHALL, 50 YEARS GONE BY NOW
Yep, hold on to your hats, we're marking 50th anniversaries now. A half-century ago tonight, in Steel Mill's home away from home of Richmond, VA, Bruce Springsteen's pre-E Street band headlined a show that has gone down in history — partly for its handsome silkscreened poster, partly as documented by a circulating recording, largely for its location: on the top floor of a seven-story parking garage.
For Richmond.com, Bill Lohmann tells the story of August 14, 1970, interviewing promoter Russell Clem, who also managed the Robbin Thompson-fronted Mercy Flight. Mercy Flight supported the headliners on this rooftop triple bill, and Thompson would go on to join Springsteen, Steven Van Zandt (on bass), Danny Federici, Vini Lopez in Steel Mill within days of this show.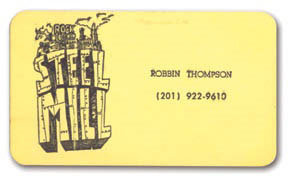 Springsteen would later write in Born to Run:
Steel Mill with Steve and me continued to be great fun. Besides the enjoyment of having my pal by my side, Steve had an aggressive, bold style as a bassist, and he added some nice vocal harmonies. I'd always doubted myself as a singer. I felt I didn't have enough tone and range.... I thought we couple improve our band in the area of our lead vocals and I was willing to step back as full-time singer to do so. There was a fellow named Robbin Thompson in a great group out of Richmond called Mercy Flight. I thought he had one of the best undiscovered rock voices I'd ever heard. He was a cross between John Fogerty and Rod Stewart and fronted his band with a lot of power and style. Raiding another group for their best guy, particularly a group you know, is not a very neighborly thing to do. I didn't lose too much sleep over it. I wanted the best group I could imagine. I told the rest of the band my idea; they didn't think it was necessary, but they deferred.

Robbin Thompson came north, and for a while we were the Sam and Dave of hard rock.
For more on the show, read Lohmann's "50 years ago, Springsteen's band Steel Mill headlined a concert atop a Richmond parking deck"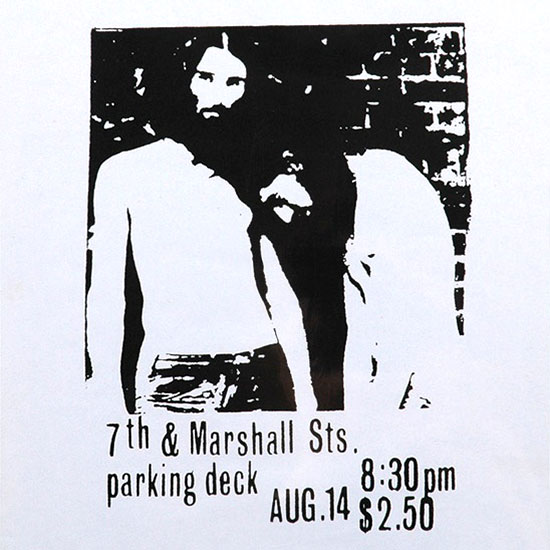 - August 14, 2020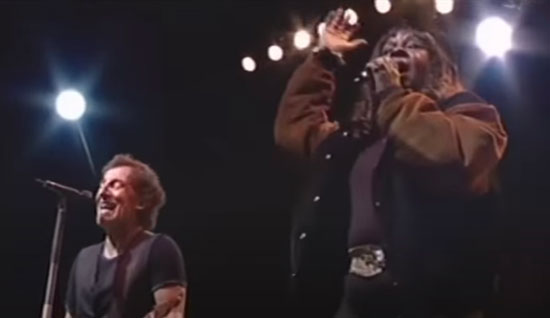 COME AND GET THIS MEMORY
Little Steven's Roadshow premieres pro-shot archival 2003 video of "Heat Wave," featuring Martha Reeves with Springsteen and the E Street Band
Summer's here and the time is right for a professionally recorded and filmed performance from the archives of Thrill Hill Productions, especially as we continue to wait patiently for tomorrow's slightly delayed August release from live.brucespringsteen.net's ongoing archival series. So here's one for ya, courtesy of Jon Landau Management and Little Steven's Roadshow.
The Roadshow, a recently launched TeachRock project, is an online talk show like no other. Each edition of Little Steven's Roadshow, co-hosted by Steve Van Zandt and Drew Carey, focuses on the musical history of a different U.S. city. Guests include famous musicians and music-industry figures with connections to the city, along with locally based historians and TeachRock educators. It's an entertaining and informative look at a local music scene's cultural importance, while also publicizing and garnering support for TeachRock's ongoing educational efforts.
Last week's Detroit-themed Roadshow featured the MC5's Wayne Kramer, Alice Cooper (who made it a point to note what a fan he is of Little Steven's Underground Garage as well as "Superfly Terraplane" from Steve's Summer of Sorcery album), Nick Speed, and Martha Reeves.
The episode closed with some previously unreleased pro-shot Detroit muscle from the Thrill Hill archives: a ragged-but-definitely-righteous version of "Heat Wave," Bruce Springsteen & the E Street Band's first-ever performance of the Motown classic. It was filmed during their September 21, 2003 concert at the Motor City's Comerica Park (home of the Detroit Tigers) with Martha Reeves herself joining the band on lead vocals (accompanied by Martha Reeves Motown Revue backup singer Kim Farinacci singing alongside Patti Scialfa.) You can catch it here or below, beginning at the 2:28:37 mark.
And then check out the rest of the Detroit-themed Roadshow episode, which is well worth your time, as is the preceding Cleveland stop that launched the series.
Next up in the virtual itinerary for Little Steven's Roadshow: Los Angeles on August 27. Click here for more information, and to register for viewing online.
- August 13, 2020 - Shawn Poole reporting

WAIT 'TIL THE MIDNIGHT HOUR
Because the night is when you should experience Volume 10
Normally, we'd be tuning in to a new episode of From My Home to Yours this morning, based on its typical biweekly schedule... but from what we gather, Bruce's latest show just isn't meant for the sunshine.
According to Sirius XM, Springsteen "has special plans this week on his radio show.… you'll have to tune in Friday night at midnight eastern for a special evening of music fit for night time," with "songs by Roy Orbison, Leonard Cohen, Nancy Sinatra, Moby, Lana Del Rey, Ennio Morricone, Brian Eno, The War on Drugs, and more."
So hurry up sundown, bring on the night, and tune in Friday, August 14 at midnight ET/9pm PT, for Volume 10: In Dreams (1hr, 21m) on E Street Radio, Sirius XM Channel 20.
If you just can't handle the midnight hour, Volume 10 will also be available on demand as well as at these rebroadcast times over the following week:
SATURDAY August 15 - 8am & 5pm ET
SUNDAY August 16 - 9am & 6pm ET
MONDAY August 17 - 7am & 4pm
TUESDAY August 18 - 12am & 8am
WEDNESDAY August 19 - 10am & 6pm
THURSDAY August 20 - 6am & 3pm ET
FRIDAY August 21 - 10am & 4pm ET
- August 12, 2020



JOHN. EDDIE.
Podcast host Mitch Slater on his recent gets, John Scher & Ed Manion
In recent weeks, lining up guests for my Financially Speaking with Mitch Slater podcast (don't let the name fool you!), I've been thrilled to pull off a double shot of music legends — in my book, at least — having conversations with one of the great rock promoters of our generation, John Scher (no Capitol Theatre Springsteen shows without him, folks), and the greatest utility infield of saxophone players in our world, Eddie Manion.
These two episodes were such a treat for me; during this "summer of our discontent" I've been trying to book guests that would lift all of us up, and these guys were the embodiment of what I was looking for. I appreciate Backstreets — which I cherish every day and continue to have as my home page — allowing me to share these two special shows with their audience.


- courtesy of John Cavanaugh/Where Music Lives gallery
John Scher — who for a reason I will never understand was not selected for this year's New Jersey Hall of Fame induction — is one of the inventors of the modern rock concert business. Besides being one hell of a nice guy, he combines great passion and love of music with a terrific business sense — starting at age 16, when he booked the Chiffons for his junior prom (that story is something else).
Speaking with John was like sitting down with the history of rock 'n' roll. Generations of music fans like me (and I am sure many Backstreets readers) have attended his shows at the Capitol Theatre in Passaic, or Springsteen's amazing opening run the newly finished Brendan Byrne Arena on the original River Tour, or his early shows at Giants Stadium.
John will also always be known for the amazing Clash concerts at Convention Hall and other Asbury Park shows, as well as having the largest crowd ever for a concert in Englishtown, to this day, for the Grateful Dead, whom he represented for decades. We talked about all of these shows, the Stones and The Who at the Capitol, as well as the Bruce stuff — and an amazing Springsteen/John Sebastian story that I had never heard before.
We concluded the conversation with a frank talk about the music industry issues of the last two decades, including all the ticket scalping and Ticketmaster debacles, as well as the current halt to the industry brought by COVID-19. John had very strong opinions about the advent of drive-in concerts and how he hopes to bounce back from a disastrous 2020, like all of us. I hope everyone enjoys listening as much as I enjoyed doing the interview.
"Rock Promoter Legend John Scher": website / Spotify / mp3 download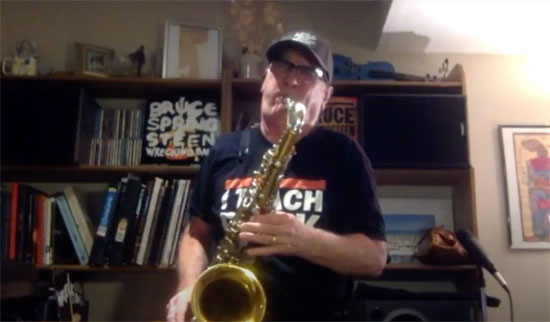 The second game of the doubleheader, my "Night Cap with Mr. Night Life" Eddie Manion, was just pure joy. Not only does Eddie play live on the show, but he teases some new music coming on an album he is recording as I write this, at a studio in Pittsburgh with some very special guests.
Eddie tells the story of his own rise to fame in Jersey. His mom got him his first instrument, too. And when many musicians went to music schools, he truly learned more from "three-minute records" as well as three wise men: the holy trinity of the Jersey bar scene realized his talent early, as Bruce, Steven and Southside all grabbed him by the horns (pun intended) and the magic began.
From his early days as an original Asbury Juke (Southside called him "Kingfish") to performing the songs written mostly by Steven (who called him "Clams" — Eddie explains why) to playing on numerous Springsteen tours (where Bruce dubbed him "The Thin Man"), the stories are magical.
I won't give much else away, but Eddie's description of what went on before the E Street Band's Super Bowl performance and the Sessions Band's Jazz Fest show are amazing. We talked about his relationship with the Big Man and how well they worked together. We also talked about the music business in general, his ups and downs, and his love of photography — as quite the world traveler on tour with Bruce and more recently the Disciple of Soul, Eddie used his camera to make us all feel like we were with him every step of the way.
Towards the end of the podcast, Eddie played a beautiful rendition of "Amazing Grace" to close out the show with hope for a better future, adding some inspiring words himself. His first album Nightlife was wonderful, and his new album has the working title of Have Sax, Will Travel — you can support that effort now by getting the T-shirt. Eddie hopes to be able to get back on the road with the E Street Band again soon; he also reflects on the brilliance of Steven Van Zandt and describes what it was like playing with the Disciples of Soul at the Cavern Club and the amazing finale at the Beacon, which is coming out on DVD later this year.
"Have Sax, Will Travel with Eddie Manion": website / Spotify / mp3 download / YouTube
- August 11, 2020 - Mitch Slater reporting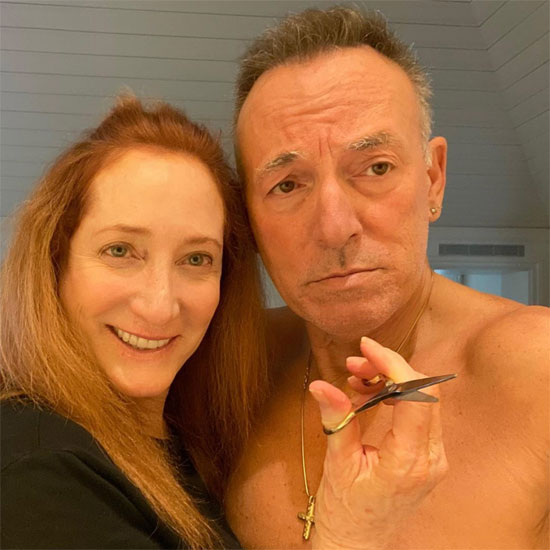 photograph via Instagram/@officialrumbledoll
THE BARBER OF THRILL HILL
Patti Scialfa discusses new work, life in lockdown, with Rolling Stone
When Patti Scialfa appeared on the most recent episode of Bruce Springsteen's From His Home to Yours [Volume 9: Rumble Doll], she talked about her upcoming fourth solo album, which she's been working on with producer Ron Aniello. Rolling Stone follows up, with a new Q&A conducted by Andy Greene.
In addition to the new album (which she says is at the "halfway" mark), Scialfa has contributed music to Bobby Roth's new film Pearl (including two new songs, "Motherless Child" and "Plastic Horses.")
I'm always really honored to hear my music in some other form than me putting it out. I love making albums. I write all the time. But I have a pretty big other life with the [E Street] Band and having children, so I don't really push my own work. I just release it. So when I hear someone else [cover it] or hear it in a TV show, it's a validation in a way: "Oh, somebody has heard this. I'm not making it in a vacuum." It's very pleasing, really nice. It does not grow old for me.
Patti talks about the producer she's been sharing with her husband for some years now, after Aniello first produced 2007's Play It As It Lays: "Ron is basically living here. You just walk in the studio and everyone is there. You can make music every day, which we do."
We get some more background on that home studio, too, which Bruce gave Patti "full rein" to create and which has since been further "rigged" for safer operation during the pandemic. Even if they have to sometimes fight over it:
We've been sharing a studio, and Bruce has just been so prolific lately that it's hard for me to get in there. He's always like, "I have to go do this thing and that thing." Getting some traction is the hardest thing for me.
Much of the interview focuses on life in quarantine: at home and with family, the haircuts she gives her husband every six weeks, and the future of live music — including hopes for another solo tour of her own.
Oh, God, I so want to do that. I was all ready. Danny Clinch holds this festival in the summer, Sea. Hear. Now. It's in Asbury Park. He asked me to play, and it was going to be big, something like 10 or 20,000 people on the beach. I was going to come out and play a 45-minute set. I went, "What a great way to get going!" It was booked, and I was on the list. Then it was just done. But I'd love to go out with my music. I really would.
Read: "Patti Scialfa on Quarantine Life in New Jersey, Writing Music for Teen Drama Pearl"
- August 11, 2020

MISFIT MAX
Back in June, Jay Weinberg presented his dad — and the rest of us — with a unique Father's Day present: a metal cover of "Candy's Room." Recorded during social distancing lockdown, with Jay on the skins, of course, and the blowtorch vocals of Royal Thunder's Mlny Parsonz, it's a beast and a blast — in fact, let's pause here a sec so you can soak that one in.
So what's a proud dad to do? "I returned the favor," the elder Weinberg tells Backstreets.
If there were any lingering doubts as to whether Max can play anything, he reteamed with Two Minutes to Late Night and its host Gwarsenio Hall to pummel a Misfits song for their series of bedroom covers. Check out "Earth A.D.," also featuring Jamey Jasta (Hatebreed), Ben Weinman (Dillinger Escape Plan), and Frank Iero (My Chemical Romance).
As Two Minutes to Late Night puts it: "This is Max Weinberg, as in Bruce Springsteen and The E Street Band/Late Night with Conan O'Brien-fame Max Weinberg playing a goddamn Misfits cover. What an absolute dream."
"I remember Jay saying, years and years ago, when he happened to hear 'Held Up Without a Gun' that E Street at that time sounded like 'a punk band,'" Max tells us. "So, I guess with these great players on this Misfits song, I've returned to my roots!"
Max does know whereof he drums, and not just because the Misfits are a Jersey band: "When Jay was younger, we went to so many different shows together of bands he loved — those were great dad/son bonding times. So I heard and saw bands I wouldn't have normally seen, being of my generation, including the Misfits, Social D, Neurosis, and many more. And of course Slipknot."
Slipknot's drummer since 2014, Jay also produced and filmed his dad's part on "Earth AD."
"Two days out the video got 75,000 views and incredibly surprising comments on YouTube, like, 'Wait — Jay Weinberg's dad is a drummer?'" Max laughs. "Spreading my wings…"
- August 10, 2020 - Christopher Phillips reporting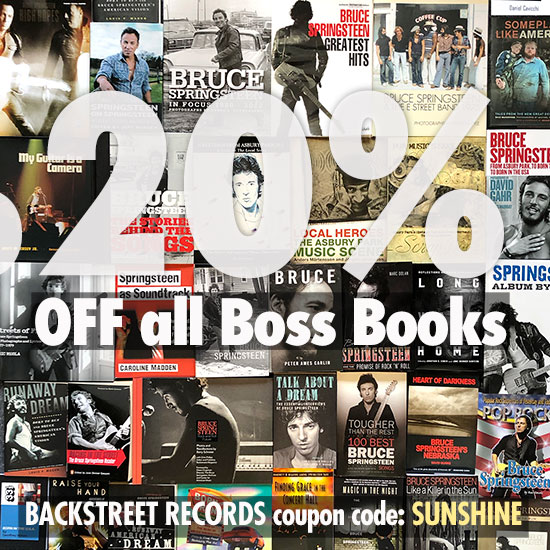 LAST CHANCE: BIG BOSS BOOK SALE ENDS TONIGHT!
Backstreet Records has remained open throughout the pandemic, since our mail-order-only shop is in a safe and isolated location, and we're following all CDC guidelines. Our 20% OFF sale on all Books runs through tonight, Friday, August 7 — to have that discount applied at checkout, use the coupon code SUNSHINE. We appreciate your support!
- August 7, 2020

SEVEN NIGHTS TO WAIT TO ROCK
August's First Friday shifted to Second Friday
Due to a minor production issue, the Archive Series release for this month is delayed by one week, now scheduled for Friday, August 14. Let us all find solace in our collective, speculative grousing.
- August 6, 2020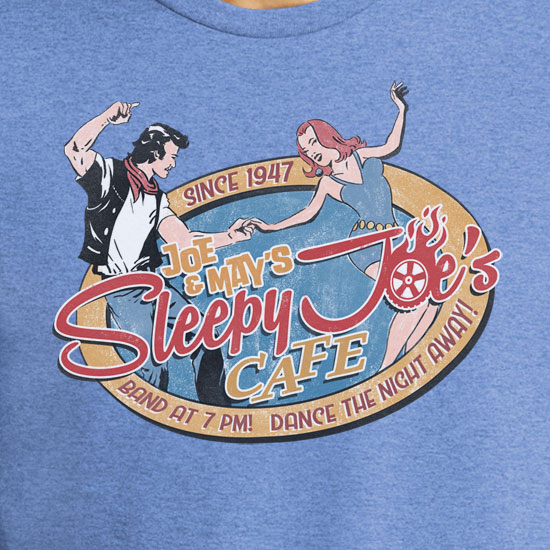 FROM A PLACE OUT ON THE HIGHWAY…
New limited-run Backstreets shirt celebrates the spirit of live music
Ah, summer nights at Sleepy Joe's... remember they had this shirt thumbtacked to the wall, back behind the bar next to all the tequila? And if the place hadn't filled up yet, Joe or May might go in the back and see if they still had your size?
(Or maybe we just made it up, with design help from our friends at OYEME! in Spain?)
In any case, you can snag one for yourself by pre-ordering now — we'll be doing a limited run of these T-shirts, based on the number of pre-orders we receive. On a tri-blend shirt, in a wide range of sizes from XS to 3XL.
Check it out and gaurantee your size now in our online shop
- August 5, 2020



WHAT'S UP WITH LITTLE STEVEN? IT TAKES TWO
A Stevie doubleshot, on Springsteen on Sunday and What's Up on E Street?
"Checking in at home with X" is the order of the day, given ongoing life in self-quarantine.… and when it comes to Little Steven Van Zandt, two check-ins are better than one.
Over the weekend, Stevie was Tom Cunningham's very special guest on Springsteen on Sunday, discussing many facets of his just-released Rock 'n' Roll Rebel: The Early Work CD box set, plus numerous projects including a forthcoming Summer of Sorcery live album, another album he's producing for his musical director Marc Ribler, Renegade Theatre, his radio channels, TeachRock distance learning... despite the pandemic, Stevie says, "Most things didn't miss a beat."
He also tells TC more about Volume 7 of From My Home to Yours, in which he and Southside joined Bruce Springsteen for a Jersey Summit — in person, it turns out. "We actually did it in real time," Stevie says of the recording, "[Bruce] told me he didn't even edit it at all."
The wide-ranging conversation goes on to touch on Dion, his new "Tucson Train" video (above), Western Stars, and more, and we're happy to have the 35-minute segment archived here. Listen below to Stevie's August 2 guest appearance; thanks to TC and Marc de Bruin, who recorded and edited the clip.
The Springsteen on Sunday radio show airs weekly on 107.1 The Boss at the Jersey Shore, also streaming online, every Sunday from 9 to 11am ET.
Stevie is also the subject of the new episode of What's Up on E Street?, which went live this morning. After checking in with Nils Lofgren, Roy Bittan, and Garry Tallent, this week the Springsteen Archives online series visits Van Zandt at home in Greenwich Village.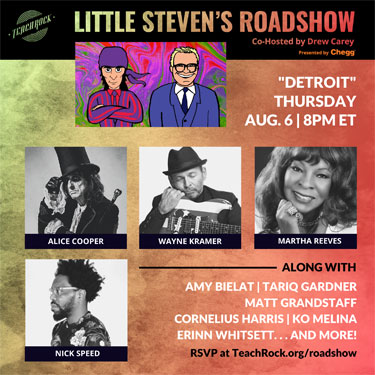 SVZ takes us through what he's listening to, producing, executive producing, and more, including his new Little Steven's Roadshow. — which returns this Thursday night with a virtual stop in Detroit (click here to RSVP).
Though he keeps busy as ever, What's Up also reveals how much of his day-to-day is colored by the state of the nation. "I'm always trying to find some usefulness in the world, to justify my existence," Stevie says. "My usefulness these past three years was to try to bring people together. We couldn't be more divided.... it's becoming increasing harder and harder to do."
In particular, the pandemic response in the U.S. has him rightfully distressed: "We have dumbed down to the point where I don't think any of our leaders can grasp this thing… Everybody's been predicting this, and prediciting it, and it's happening... and yet people still don't believe it!"
"We all want to be optimistic about this," he says, referring to the future of the music and concert industry, predicting it might well be 2022 before things are in full swing again. "Is it possible that it will never be the same? It is — that's a real possibility. I mean, I'm never shaking anybody's hand again. Never. That's out!"
Despite the "horror" of the pandemic, as he described it to Cunningham on Springsteen on Sunday, there has been a silver lining: "I must admit, it's the first time I've been home — since I came back into the business in the late '90s, I've been kinda running for 20 years — and it's been kind of nice to be home, and spend time with my wife and dog!"
- August 4, 2020 - Christopher Phillips reporting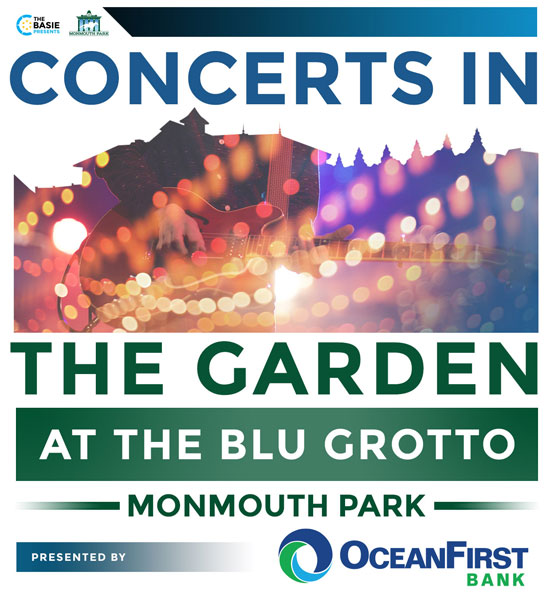 'CONCERTS IN THE GARDEN' BY MIGHTY MAX, WILLIE NILE & MORE
Following the success of Drive-In Live, which brought Southside Johnny and the Asbury Jukes live to the masses last month, the Count Basie Center for the Arts has a new live series planned at Monmouth Park that's giving a live venue to more Shore favorites, including Mighty Max Weinberg for two nights in September.
Max Weinberg's Jukebox will play the Basie's "Concerts in the Garden" at the Blue Grotto, Monmouth Park, Oceanport, NJ, on September 24 and 25. General onsale is this Wednesday at 10am ET (a presale is Tuesday at 10am) via Ticketmaster with more info here.
With temperatures taken at the door, tables six feet apart, and masks required when leaving your table, the dinner/concert series is set up in accordance with all local and state executive orders and gives us continued hope for the future of live music.
Visit thebasie.org/garden for further details and the full concert schedule — also lined up are Willie Nile (8/15), Grace Potter (8/16 & 17), The Weeklings (8/22), and Remember Jones (9/6).
- August 3, 2020

STAY SMART… AND STAY IN LOVE… WITH DARLENE LOVE
Backstreets contributor Shawn Poole writes: As reported below, in the latest volume of his E Street Radio series From My Home to Yours, Bruce Springsteen gave his wife Patti Scialfa's solo work a spotlight it so richly deserves. With Scialfa right by his side as his special in-home-studio guest, on her birthday no less, they also contextualized her music's influences.
While playing and discussing Ike & Tina Turner's version of "River Deep – Mountain High," Springsteen pronounced it "one of the greatest rock records probably ever made" and called Turner "the greatest woman rock singer of all time." Scialfa added, "Oh, yeah… I feel that no one else can do right by that song."
With all due respect to Mr. and Ms. S. — as well as to Ms. Turner, of course — I strongly disagree. Ladies and gentlemen of the jury, please allow me to present Exhibit A: Ms. Darlene Love's 2015 version of "River Deep, Mountain High," arranged and produced by one Steven Van Zandt. As great as Phil Spector and Tina Turner may be (and they both are great artists,) I believe that this version blows the 1966 Spector/Turner collaboration completely out of the water:
At the time, comparing his production style to Phil Spector's, Stevie said: "I liked [Spector's] style, but he owns it. My recording style is different. I have a wall, but it's a Wall of Clarity. I want everyone to hear everything in a record." Serving as Exhibit B, a portion of my 2015 Backstreets review of the album that gave us this recording, the Van Zandt-arranged/produced Introducing Darlene Love.
Darlene Love has long suspected that 'River Deep, Mountain High' was written originally for her to record, but Phil Spector eventually decided to record it with Tina Turner singing the lead vocals. Love sang backing vocals on that version, and wrote in her autobiography [My Name Is Love: The Darlene Love Story] that she found the sessions to be nightmarish and thought the final product was one of Spector's worst records. (Incidentally, Love remains among the few who stood up to the worst aspects of Phil Spector's bullying behavior and even cleaned his clock in court over royalties, all while maintaining her own dignity and respect for Spector as an artist.) In 1985, as a member of the original Broadway cast of the musical Leader of the Pack, Love got to revisit 'River Deep,' but that recording, too, was less than stellar. On Introducing Darlene Love, she finally gets to tackle it as lead singer with a producer who loves the work of both Spector and Love. The result is arguably the best-ever version of 'River Deep, Mountain High' (though Love's own 2007 version from The Late Show with David Letterman certainly gives it a run for its money).
And unlike Tina Turner, Darlene Love has yet to retire. She turned 79 on July 26, just a few days before Patti Scialfa's birthday, and still performs when she can while also staying connected to her fans via her Facebook page during the COVID-19 pandemic. Defense rests.
- August 3, 2020

RECAP: BRUCE & PATTI, FROM OUR HOME TO YOURS
Volume 9: Rumble Doll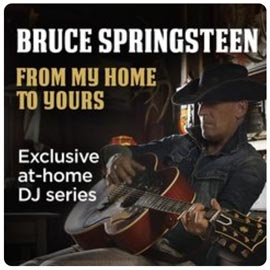 On the occasion of the 67th birthday of the First Lady of Love, the theme of this continuation of Bruce's pandemic-prompted radio shows on E Street Radio revolved around the influences and career of special guest Ms. Patti Scialfa. Over the course of the show's hour and 53 minutes, Bruce played the role of disc jockey, affectionate interrogator, and cozy co-conspirator, cueing up songs to prompt thoughtful discussion and delightful recollections.
With "Tell Her" by the Exciters as the intro music — a song particularly meaningful to the two of them, as he mentioned during Springsteen on Broadway — Bruce opens the show with the usual fanfare, noting that this particular episode was titled Rumble Doll. "Today we will be featuring the music of my red-headed Jersey girl, and her great albums — Rumble Doll, 23rd Street Lullaby, Play It As It Lays, and whaddya say we get started?"

As the final notes of "Rumble Doll" fade out, Bruce begins the investigation: "Let's start by you telling me where this song came from, where were you when you wrote it, and where did that title come from? One of my favorite titles on that record; it's just a great image."
Patti relays her recollections of recording her debut album at Mike Campbell's studio: "We recorded on analog in his garage, and I felt we had a really organic approach to the record — which I think was really fitting for the material," Patti says. "It is the only record of your three that I would call a pure rock record," Bruce adds.
This goes into a Mike Campbell Admiration Society Meeting:
"Mike... was very sensitive to how I wrote the songs — I would always play him the song on the instrument I wrote it on, and he basically copied that muted triplet on the guitar."

"The guitar sound is his ace in the hole, it's always incredible."
Following "Lucky Girl," on which Campbell has a co-writing credit, Patti explains that he basically brought her the song's music completely finished, and then she wrote the lyrics. "That's what he did with Don Henley," Bruce enthuses, "with—" "Boys of Summer," they both say in unison. "And that worked out pretty well!"
The fan club meeting ends with Patti commenting that Campbell had a very "emotionally direct" playing style, and Bruce agreeing, "He's one of the few guys who has a distinctive identity and manages to get a spiritual and emotional richness out of his guitar sound."
Just in case you thought things were getting serious, our DJ breaks away to note:
"I'm pouring myself some champagne!"

"Pour away, my friend," Patti giggles.

"Because I'm interviewing mi amore" [a laugh better suited to a 16 year old boy]
Patti tells another story about the Rumble Doll recording sessions: Campbell inquired one day if she was happy with the work he was doing, because she'd been very quiet, and it was then she shared with him that she was pregnant with her first child. Bruce continues: "So Patti made this album while pregnant, while rushing home to cook some asshole musician dinner — [Patti: "I will never do that again!"] while he sat his fat ass on the couch and watched television all night."
"And you don't eat leftovers, you are pretty particular," Patti notes.

"Hey, woman!"

"Don't even go there, Bruce, it's not a good thing."

"No, it is not — but you ended up with a great record."
The truly beautiful element of this particular DJ session is not just the pair's clear affection for each other, or even Bruce's deep acquaintance with his wife's entire catalog, but rather the shared understanding they hold of music history, and how it influenced them.
Bruce cues up two Laura Nyro songs, chosen specifically for not just her overall influence on Patti's songwriting, but for particular elements that she shaped into her own. "I can hear her voice in your beautiful song, 'Young in the City'.... That is just some incredible lyric-writing and a beautiful classic New York City urban arrangement," Bruce affirms at the track's conclusion. "Those city songs of yours remind me of who you were when we first met.... You were a stone cold city girl, nineteen years living in the city!"
"I loved New York City, I had a massive love affair with the city."

"I used to steal up there and sit on a park bench, waiting for my gal to meet me with a six-pack of beer."

"This is true. We got engaged on that park bench."

"Yes we did."
Still steering the conversation, Bruce continues: "I got a quiz for you. Coming up next. Here's a hint: Old Asbury Lanes. Here's another hint: rockabilly. Here's your third hint: the female Elvis. I know you got this."
Patti did: "'Fujiyama Mama', Wanda Jackson!"
This leads to an insightful discussion about Jackson's work and influence, Patti noting that, "At the time, white women weren't singing like that." "There are a few, but not many, and not as good as she is," Bruce agreed. "She allowed herself to be sexual," Patti continued, "She allowed herself to be tough, she allowed herself to growl — that really wasn't happening that much." And in case you thought they were going to get too cerebral about it all, Bruce finished the thought with the righteous declaration, "Wanda Jackson was balls-to-the-wall. She is immortal because of that fact."
"City Boys" and "As Long as I Can Be With You" follow, with Bruce coming in at the end of the latter to say, "I picked that one particularly because…"
"Because it's written about you?"
"Well, besides that… because I heard that the oh-oh's —" and with that, he cues up the thunder and the lightning that can only be the introduction to the Ronettes' "Walking in the Rain."
Bruce asks Patti about her girl group influences — if she was influenced by Ronnie Spector — which led to a story about Patti going to audition for Mike Appel in his office in 1974, where he asked her to sing "Da Doo Ron Ron" with no accompaniment. She thought Appel was rude, but she still got sent on to audition with the band.
Bruce picks up the story: "In 1974, on Route 35 in Neptune, NJ. You wandered in…"
"Well, I didn't wander in, Bruce. I drove my Firebird; I had the address; they had sent me there!" (As a friend noted on Twitter while this was all going down, "She's a Leo, she won't let him get away with jack shit!")
Bruce continues: "We rehearsed a little bit of maybe 'Thunder Road,' and maybe something else. And then you sat down at the piano and you played me your own songs that you were working on already back then, and, I remember they were good."
She remembered what he was wearing. (He still has those clothes. "I'm a pack rat!") Members of the band remembered what she was wearing. ("White hippie-ish top. Coral beads.")
At the conclusion of "Talk to Me Like the Rain," Bruce declares:
"Absolutely one of my top three favorite Patti Scialfa songs!"

"I think that's because you play every instrument on it."

"I think I do, but I still think it is a great song — sexy as hell, lonely as hell, and yes, I had a small part in it."
The two of them proceed to use the word "sensually" to describe various songs six times in about two minutes, before talking about the great New Orleans legend Irma Thomas (who just reissued her great album After the Rain) and her song "Ruler of My Heart."
"From my house to yours —" Bruce announces at the conclusion of the Irma Thomas track.
"Our house!" the Missus reminds him.
"You're a Big Girl Now" by Ms. Patti Scialfa, debut of her soon-to-be-coming next album. I hear those Irma Thomas oooh's in there, and they sound great!" Patti went on to describe working on the record with producer Ron Aniello, and how they called Jack Antonoff to sweeten the track a bit.
"We've been concentrating mostly on Rumble Doll; for your next two records you took a bit of a turn. You embraced more southern soul and R&B influences, even some blues. You had a new producer…"
"23rd St Lullaby was Steve Jordan."
The two share how much they love Steve Jordan (and deservedly so). "He will create one of the most musical sounding rhythm sections you have ever heard in your life," Bruce correctly insists. "He makes music come out of a drum," agrees Patti, before also noting that Bruce was on the record too.
"Yeah, I was the utility player: if they needed something, I'd sit down or stand up and play it," Bruce remembers.
"You actually wrote the bass line on the demo, and then when Willie Weeks came in…"
"I got cut! I was still proud that Willie Weeks had to play my exact part, so I was flattered there."
As "Like Any Woman Would" fades out, Bruce comments, "Love that breakdown! Love it!" "I was listening to a lot of Al Green," Patti says. "Let's go to Al and see where that groove came from. Hold on, here it comes!" he announces, cueing up the Reverend's "So Tired of Being Alone." You can just imagine the two of them slow dancing in the studio.
"Let's go to the greatest woman rock singer of all time," the DJ says, cueing up Ike & Tina Turner's "River Deep, Mountain High." "One of the greatest rock records probably ever made," Bruce affirms at the end, "And she's simply one of the greatest rock singers." "I feel that no one else can do right with that song, so direct and powerful. She just ate that song up," says Patti. "Let's hear 'Town Called Heartbreak,'" Bruce continues, commenting on the spooky intro and the song's overall groove.
The next segment of the broadcast turned, perhaps (or perhaps not!) surprisingly intimate and personal, both retelling tales with added color and detail not previously revealed.
"Let's move to 'Valerie,'" Bruce begins.
"This is a very heavy song in our history, because my recollection was, I was visiting you in your apartment in New York, probably when I shouldn't have been visiting you in your apartment in New York."

"We were actually rehearsing…"

"Under the guise of rehearsing for Tunnel of Love, and teaching you the guitar parts. But anyway, somehow you got around to playing me this next song, and I remember thinking, this woman can write, and it totally made me twice as scared as I was anyway."

"That's so sweet!"

"It was like, whoa. I think I saw your talent for the first time outside of your voice."

"I remember that very… explicitly."
"Let's go to Play It As It Lays," Bruce continues, asking Patti to explain her third album title's Joan Didion origins, and her memories of the recording sessions. He cues up "Looking For Elvis": a "great spooky track with an incredible harmonica!" Mr. S notes, suppressing a laugh. "Yeah, who played that?" Patti asks, as the two giggle like teenagers.
"It was actually one of my angriest songs," Patti shared at the conclusion. "Yeah, I can hear that in it. That whole record was — I used to compare it to a Dusty in Memphis, because the grooves were all so low-down and funky," Bruce says, offering a colossal compliment. "It just had a southern soul to it that was just fabulous, I just loved it. 23rd St. Lullaby reminds me of New York City; Rumble Doll will always remind me of California —"
"It was a love letter to you, a complete love letter to you, you know that, that's not new information!"
"Aww, thank you, baby. And this one, reminds me of the South for some reason."
"Now I'm going to play something that was a major song for the two of us when we first got together, so I'm going to send this one out to Patti Scialfa on her birthday." A muted, haunting trumpet line plays.
"Oh! I know what this is!"
"This" turns out to be "Trouble In Mind (The Return)" by Marianne Faithfull, from the 1986 film of the same name; the song combines the blues standard "Trouble In Mind" with new lyrics and music.
Bruce takes a deep breath as the song ends:
"I used to drive you back to New York City after you visited me, and we would play that all the way back,"

"That makes me think of your blue Camaro — and also, you had an old Corvette, which was also blue. We just used to play that, and never talk —"

"Nope!"

"Just, like, in a daze of love…"

"Just play that song all the way back to New York City, and I'd drop you off… Marianne Faithfull was our guardian angel in those days"

"No kidding!"
If you thought we'd reached the end of the confessional, you would be wrong.
"Now we're coming up on, I think this is your masterpiece, and —I don't know what to say about it, except…"

"Is this the last song on Rumble Doll?"

"Yeah."

"It's a very… struggling love song."

"Very true."

"And these were all written for you at the time when love feels very dangerous."

"Yes it did. Yes, it did. So — let's play it. When I pass away, just take these ['Spanish Dancer'] lyrics and slap 'em up on my headstone! That's all they need to know about me."
"That's it for this week," Bruce says, wrapping up, thanking his wife for joining him and offering a version of his usual closing benediction: "Stay smart, stay safe, stay healthy, stay strong — and stay in love!" "Rose," from 23rd Street Lullaby, ushers us out.
Playlist:

The Exciters - "Tell Him"
Patti Scialfa - "Rumble Doll"
Patti Scialfa - "Lucky Girl
Laura Nyro - "I Met Him on a Sunday"
Laura Nyro - "The Bells
Patti Scialfa - "Young In The City"
Wanda Jackson - "Fujiyama Mama"
Patti Scialfa - "City Boys"
Patti Scialfa - "As Long as I Can Be With You"
The Ronettes - "Walking in the Rain"
Patti Scialfa - "Talk to Me Like the Rain"
Irma Thomas - "Ruler of My Heart"
Patti Scialfa - "You're a Big Girl Now" (previously unreleased)
Patti Scialfa - "Like Any Woman Would"
Al Green - "So Tired of Being Alone"
Ike & Tina Turner - "River Deep Mountain High"
Patti Scialfa - "Town Called Heartbreak"
Patti Scialfa - "Valerie"
Patti Scialfa - "Looking for Elvis"
Marianne Faithfull - "Trouble in Mind (The Return)"
Patti Scialfa - "Spanish Dancer"
Patti Scialfa - "Rose"
- July 30, 2020 - Caryn Rose reporting

A RADIO SURPRISE PARTY FOR PATTI SCIALFA
Happy birthday to the E Street Band's First Lady of Love!
From My Home to Yours has been, among other things, a series of snapshots from Bruce Springsteen's life in COVID quarantine... so it makes perfect sense that today, on Patti Scialfa's birthday, the new episode would celebrate his partner in lockdown.
Bruce Springsteen is joined by his beautiful and talented wife, Patti Scialfa, on her birthday, for a new episode of his radio show, From My Home to Yours, Volume 9 titled: Rumble Doll. Featuring songs, stories and inspiration for Patti's music on E Street Radio, Sirius XM Channel 20.
If you missed the surprise broadcast this morning, the 1h 53m Volume 9 will be available on demand as usual with the Sirius XM app and at the following rebroadcast times on E Street Radio:
WEDNESDAY 5PM July 29
THURSDAY 6AM July 30
THURSDAY 3PM July 30
FRIDAY 10AM July 31
FRIDAY 4PM July 31
SATURDAY 12AM August 1
SATURDAY 8AM August 1
SATURDAY 5PM August 1
SUNDAY 9AM August 2
SUNDAY 6PM August 2
MONDAY 7AM August 3
MONDAY 4PM August 3
TUESDAY 12AM August 4
TUESDAY 8AM August 4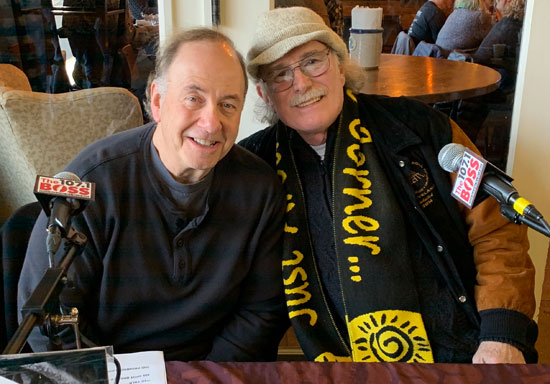 SPRINGSTEEN ON SUNDAY LIVE ON LOCATION
Vini Lopez and Danny Clinch to guest on 7/26 — you're invited too
This weekend, Springsteen on Sunday host DJ Tom Cunningham is finally taking his show back on the road — not an easy feat these days, but then once you've taken part in a drive-in rock 'n' roll concert, you realize what's possible.
Sunday's live broadcast, which is weekly appointment listening for many fans, will bring Springsteen on Sunday back to Lake Como, NJ's Bar A — outdoors — for the 9am to 11am broadcast on 107.1 The Boss (WWZY), and listeners are invited.
Cunningham tells Backstreets: "A couple of weeks ago at the Southside Johnny Drive-In show at Monmouth Park we realized that people are really ready to have some socially responsible fun. When we did the show from Bar A in January and February, we looked at their great outside set-up and couldn't wait for the warmer weather. Needless to say, we waited longer than we'd imagined… but we can't wait to get rolling again."
So mask up and come if you can, for two hours of Springsteen tunes and socially distanced fun! Guests will be Rock & Roll Hall of Famer and original E Street band drummer Vini Lopez (with TC above) and photographer Danny Clinch (with TC below).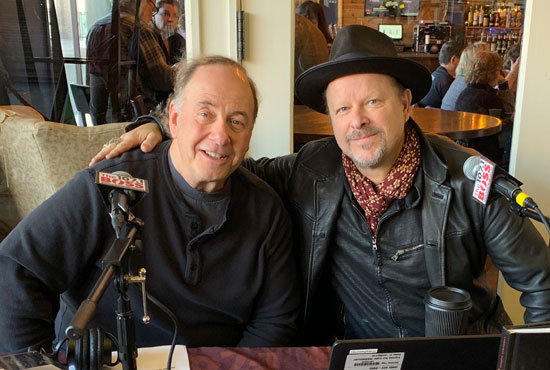 Clinch is generously giving away one of his famous Bruce Springsteen prints (which you can also find at the Danny Clinch Transparent Gallery in Asbury Park), and there will be chances to win 107.1 The Boss swag as well, including the limited edition Springsteen on Sunday T-shirt. You can also grab a bite to eat from the brunch menu or full menu — a complimentary Bloody Mary or Mimosa with every breakfast platter! No cover, doors open at 8am.
For everyone's safety the following will be implemented:
Patrons must wear masks while entering the venue or leaving their table to use the restroom.
Tables will be positioned 6 feet apart, with the front row of tables 12 feet from the broadcast.
Seating configurations: "Table For Two," "Table For Four" and "Table For Six" only.
Admittance includes a dining and drinks service.
Attendees must remain seated at their table; dancing will not be permitted.
Lawn chairs, blankets, pets, food or beverages are strictly prohibited.
Bar Anticipation reserves the right to change any policy without notice
Venue security will enforce ground rules, which will follow current CDC and State of New Jersey guidelines for outdoor events and dining.
In the event of inclement weather, an alternate plan will be announced.
Please refer to Bar Anticipation for any other questions. And if you can't be there in person, you can listen online worldwide, streaming live at 1071theboss.com.
- July 24, 2020

SUNDAY NIGHT: 2016 SPRINGSTEEN INTERVIEW REVISITED
Tune into PBS this Sunday night for Beyond the Canvas, as the premiere episode of the new series includes an encore of PBS NewsHour's 2016 interview with Bruce Springsteen.
Beyond the Canvas is a four-part arts and culture series, collecting the "best of" previously aired NewsHour interviews with a range of inspirational artists and creators. The program's subjects are described as "Oscar winners and nominees, musicians, performers, storytellers and those who are breaking boundaries"… and of course, Springsteen is all of these.
Jeffrey Brown conducted the original interview in 2016 (it originally aired in two parts that December), following the release of Springsteen's autobiography Born to Run.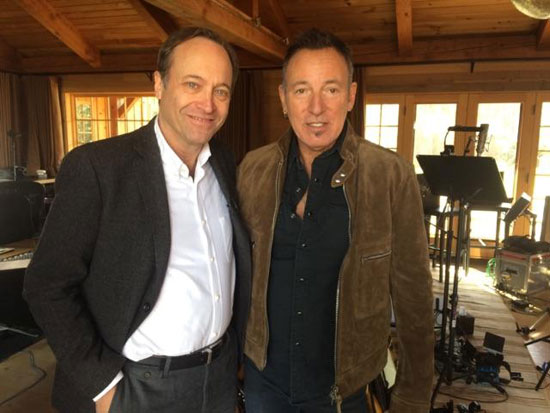 "It was a different type of writing from songwriting," Springsteen told Brown of the memoir form. "A pop song is a condensed version of a life in three minutes. Whereas when you go to write your prose, you have to find the rhythm in your words, and you have to find your rhythm in the voice that you've found."
Executive Producer Sara Just tells Backstreets, "Even though I have heard that interview many times, at the time we shot and edited it, upon listening to it again in this context I was struck by what a thoughtful and compelling interview it was."
Tune in to the premiere episode of Beyond the Canvas for the Springsteen interview this Sunday night, July 26, at 10:30pm Eastern, and streaming online. The additional episodes of the four-part series will air on the following consecutive Sunday nights, August 2, 9, and 16.
- July 24, 2020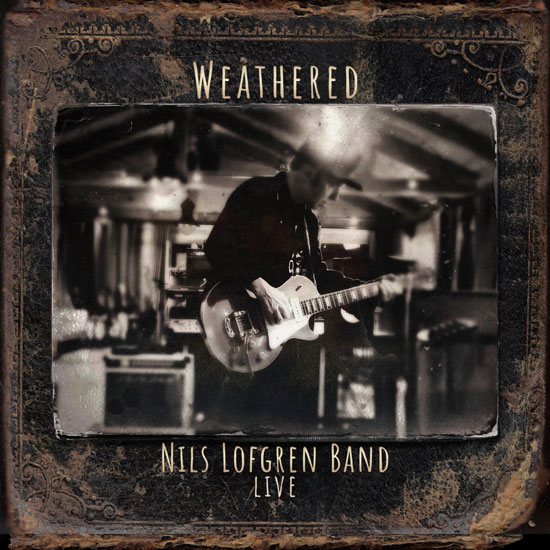 WEATHERED CAPTURES NILS LOFGREN BAND LIVE IN 2019
Pre-order autographed copy of new 2CD set, coming in August
In 2019, in support of his new album Blue With Lou, Nils Lofgren took a full band on the road for the first time in 15 years. This summer, while we're all sorely missing live music, a document of that tour arrives: Weathered, a 2CD live set from the Nils Lofgren Band, is coming on August 21.
Pre-order now to have your copy signed by Nils Lofgren! Nils will be autographing Weathered especially for Backstreet Records customers, based on the number of pre-orders we receive — check out Weathered in our online shop, where you'll find details and full track listing, and order yours now to guarantee.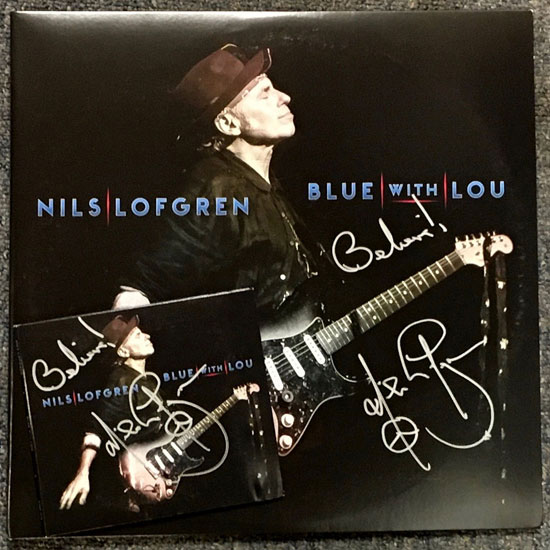 We've also just restocked autographed copies of Blue With Lou on both vinyl and compact disc — big thanks to Nils as ever, for making sure his fans can continue to get his albums signed even when touring is on pause.
See all Latest Addditions in our online shop
- July 21, 2020

KEEPING UP WITH WHAT'S UP ON E STREET?
In the latest episode of What's Up on E Street? from the Bruce Springsteen Archives and Center for American Music, keyboardist Roy Bittan was the second E Streeter to speak from home with music historian Bob Santelli.
Though he does consider himself "one of the lucky ones… compared to what so many people who have been experiencing," during the pandemic, the Professor shared his concern for his children and their generation during these troubled times, and he finds himself "expressing darker feelings" on the piano.
Always, always, external factors affect one's creative inner life. Certainly when I sit home and play — because that's really what I'm doing these days — I feel it.... I wouldn't say I've been creating a body of work like Bruce did when he recorded The Rising, but the last piece or music or two that I've recorded, they've been a little bit on the dark side, on the restless side. As musicians we can't help but be affected by things that are happening in the world.
Watch the full Episode 2, with Roy Bittan, here:
What's Up on E Street? highlights the individual members of the E Street Band and how they are impacted by the global COVID-19 pandemic.
In the first episode of the series, Nils Lofgren looked forward to resuming his original plan to tour "with the fabulous E Street Band" behind "what I consider to be the greatest record in the works that I have ever heard Bruce Sspringsteen make — and that's saying a lot."
The next installment in the series, Episode 3, will be online tomorrow and feature Max Weinerg.
"Despite the manner by which COVID has attacked our lives, I get great satisfaction from hearing how Max uses the time he now has at home," says Santelli, who created the series. "You'll be surprised by my conversation with Max. Among other things, it was like taking a crash course American history."
Tune in on Tuesday, July 21 at 10am, when Episode 3 goes live via the Archives website and Facebook page.
7/21 Update:
- Updated July 21, 2020

"YOU ARE INCREDIBLE FOR THE PAST 60 YEARS!"
A happy 81st birthday to Rock and Roll Hall of Famer Dion DiMucci, with a socially distanced serenade from Bruce and Patti below, starting at the 2:09 mark.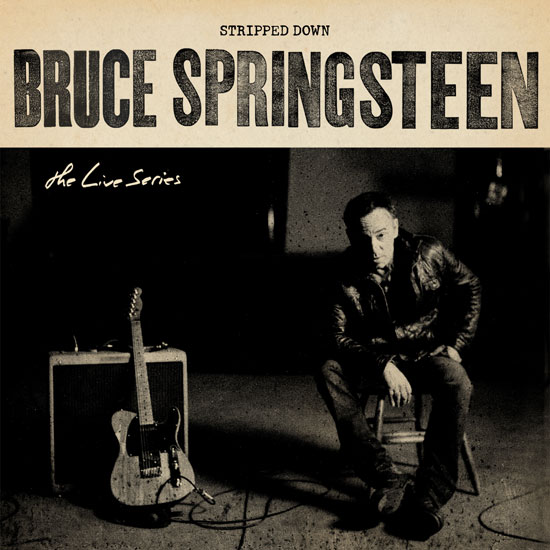 ALL STRIPPED, ALL STRIPPED
Acoustic performances from Springsteen have made for some unforgettable, intimate moments on stage — whether full solo tours like the 1995-'97s outing for Tom Joad and 2005's for Devils & Dust, or special nights like the Bridge School and Christic benefits, or even a quieter turn on the E Street stage, like the acoustic "Born to Run" from the Tunnel tour. Today, the Live Series gathers a healthy chunk of these for a new playlist, "Stripped Down."
"Stripped Down" brings 15 acoustic live rarities — "Seeds" and "Dancing in the Dark" from Bridge '86 (also featuring Nils Lofgren and Danny Federici), "Soul Driver" from Christic '90, and more from Bruce's solo tours — to streaming services for the first time, including Apple, Spotify, YouTube, Amazon, Tidal, and more. Click here for all links.
- July 17, 2020

THROWBACK THURSDAY: PHILLY 9/25/99, BACKSTAGE AND BEHIND THE SCENES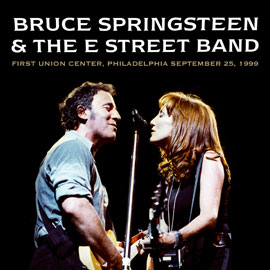 As we continue to enjoy the official release of First Union Center, Philadelphia September 25, 1999 — the new Nugs release at live.springsteen.net, which we reported on below — let's dive into some behind-the-scenes stories surrounding the concert, as well as the run of 1999 Philly shows leading up to it.
The September 25 show closed the band's first series of performances in what was then Philadelphia's newest indoor sports/entertainment arena, which had opened for business just three years earlier. (The venue, known today as Wells Fargo Center, still hosts major concert tours and serves as the home of Philadelphia's 76ers basketball and Flyers hockey teams.)
For old time's sake, however, a special one-night-only return to Philly's older, smaller (and since demolished) Spectrum Arena (site of many previous legendary Philly nights with Springsteen and the E Street Band) also was planned as part of the six-show 1999 stand. Hurricane Floyd forced the rescheduling of the Spectrum show from September 16 to September 24, making it the penultimate show of the run and the first concert that Springsteen would perform after having turned 50 on September 23 (a status originally intended to be bestowed upon the September 25 show).
Ike Richman, former Vice President of Public Relations for both arenas' owning company Comcast Spectacor, recently recalled for us arranging for a birthday cake to be presented to Bruce in his Spectrum dressing room on September 24.
When Richman and one of his interns, George Scott, arrived at Bruce's dressing room door with the cake on a wheeled cart, Springsteen's personal assistant — the late, great Terry Magovern — asked them to wait briefly while Magovern rounded up all of the E Street Band members to join them in presenting the cake. Richman and Scott ended up singing "Happy Birthday" to Bruce, along with the entire E Street Band.
"I can actually say that I am one of the few people on the planet who's gotten to sing with the E Street Band," Richman told us. "Afterwards, George and I were walking back from the dressing room with the empty cart, a bit overwhelmed — in a good way — by the experience. It took about 30 seconds or so before we turned to each other like, did that just happen? And then we just smiled, laughed, and high-fived each other."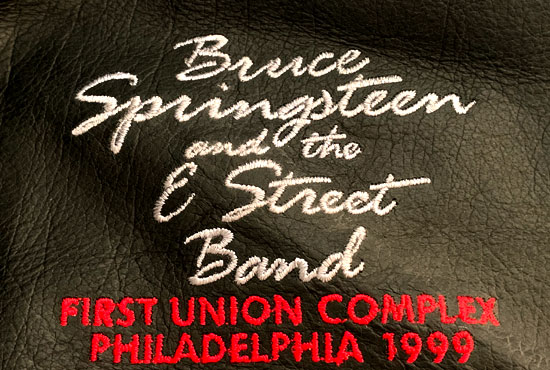 Detail of the duffel bags given to each musician in September 1999 - courtesy of Ike Richman
Richman also believes that moving the tour's stage and equipment from the First Union Center to the nearby Spectrum for the September 24 show, and then back to the First Union Center for the September 25 show, must have set a record for the shortest distance any major tour has ever traveled from one venue to the next: exactly 758 feet and 9.5 inches between each venue, as measured by agents of Philadelphia's Department of Licenses and Inspections at Richman's request.
Richman submitted the measurement data to Guinness World Records for official recognition, but the record has never been established or recognized officially by Guinness for Springsteen or any other act. The short-distance move did, however, garner some attention in Rolling Stone's "Random Notes" section. (See clipping from the November 25, 1999 issue of RS below, courtesy of Eileen Chapman at The Bruce Springsteen Archives & Center for American Music.)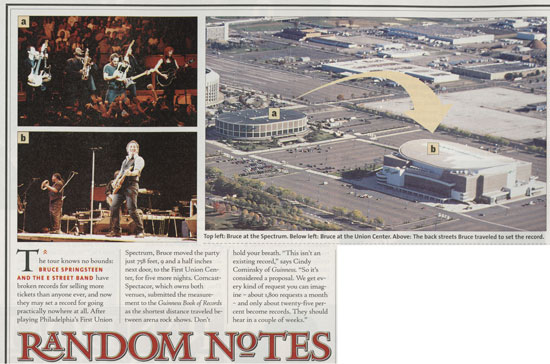 Here's something that happened right before the concert captured on the new Nugs release: during the soundcheck for the September 25 show, dearly departed filmmaker Jonathan Demme directed what became the official music video for the E Street Band version of "If I Should Fall Behind," included on The Complete Video Anthology, 1978-2000.
Demme and his cinematographer, Kyle Rudolph, filmed it on 16mm film as a single, unedited take focused tightly on band members as they took turns singing their individual parts.
"I lit it as a pool of light anchored by the microphone that the vocalists would be drawn to for their turn," Rudolph told us recently. "There was a large white card just below the frame which lifted the shadows to see the subtlety of expression — and boy, was there expression! JD told me to feel it, so I vamped on Clarence's sax solo, and crept out on the zoom as all members joined the finish. I think it worked out quite well."
Indeed it did, becoming one of Springsteen's best, most moving music videos, despite the fact that, as Rudolph explained, "Bruce was somewhat conflicted that the non-singing members of the band were not represented." (No worries, Boss. We still can hear Garry's bass and Max's percussion even if we can't see them, and we know that everyone on camera also represents in spirit all members of the legendary E Street Band, both seen and unseen.)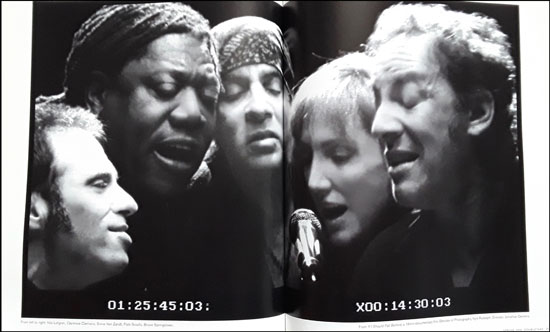 September 25, 1999 - two-page spread from now-defunct DoubleTake Magazine's Spring 2000 issue
And finally, when the September 25 show actually began with its jaw-dropping opening of "Incident on 57th Street," performed for the first time in almost two decades, there was one very special audience-member who was especially moved by that moment: legendary Philly DJ and longtime Springsteen supporter Ed Sciaky.
"It was no secret that 'Incident' was Ed's favorite and that he had been bugging Bruce to perform it," his widow Judy Sciaky recently informed us. "I couldn't swear that that was the reason, but I think it's a very good bet that Bruce played 'Incident' for Ed. I do remember Ed crying when he heard the first notes of 'Incident' that night." At Judy Sciaky's request, "Incident on 57th Street" also was played at Ed Sciaky's 2004 funeral.
- July 16, 2020 - Shawn Poole reporting – special thanks to Scott Bluebond, Eileen Chapman at The Bruce Springsteen Archives & Center for American Music, Ike Richman, Kyle Rudolph, and Judy Sciaky

RECAP: FROM MY HOME TO YOURS, VOLUME 8
"Summertime, Summertime"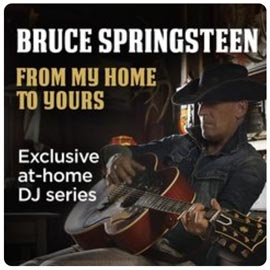 It's been tempting to liken Bruce Springsteen's From My Home to Yours to Bob Dylan's Theme Time Radio Hour, but only eight episodes in, with "Summertime, Summertime," is the comparison really apt.
Over 100 episodes broadcast from 2006-2009, Dylan delved into a different subject each week, collecting and presenting music arranged and inspired by a particular topic, from Weather to Fruit.
Despite some parallels, each of the first six episodes of Bruce's radio show were doing something else — responding directly to facets of the moment, to the times we're living through; Episode 7, with a special gathering of friends, explored a hyperspecific genre of music they made together. Only with Episode 8 do we get a wall-to-wall Theme Time hour (and three-quarters) of radio from Springsteen, with a deep dive into the subject of Summertime. It's a look back at hot nights and cool water, boardwalks and summer romances and catching rides to the outskirts — and a very personal one.
Our host doesn't pretend shit isn't what it is right now —
And how is your summer going, this summer unlike any other? The beaches are open here at the Shore, may God save us all, so let's carry on into the breach.…
— and later cues up H.E.R.'s "I Can't Breathe"
because this is the summer of 2020, the summer of Black Lives Matter, the summer of bringing down that bastard in the White House…
— but rather than exploring Corona Summer, Episode 8 is mainly inspired by a lifetime of summers, as Springsteen takes us back to his childhood with descriptive memories and aching nostalgia. Along the way you'll find seeds of songs like "Working on the Highway" and "No Surrender" and more.
I loved and love summer. As a child I became summer. I melted into the hot tarmac, I rolled myself into a sand ball at the beach. I slid beneath the murky water, ducking summer dragonflies at the Freehold pond. I sat in the tops of trees, feeling the summer breeze prickle over my freshly cut Saturday-afternoon flat-top.

I'd stand with my bike 'neath the August sun by the roadside, watching the locals on the road crew lay down the steaming blacktop, that beneath their rakes and shovels and heavy equipment curled and flattened like hot licorice. And when the big men and the machinery moved away, I waited, and I wanted my wheels to be the first to touch that steaming, virgin roadway.

In the evening twilight, I sat glued to the curb with a Pinky rubber ball in my hand, waiting for my best friend Bobby Duncan to finish his dinner so we could engage in epic gutterball tournaments into the night. And then later with scissors we'd poke holes into the lids of glass mason jars and invade the vacant lot across from my grandmother's front porch to capture our nightly quota of the evening's fireflies, just to leave them twinkling til dawn on our night tables. May they rest in peace.

We'd play Home Free, running from pool of light to pool of light from our neighborhood street lamps, until we were called in, as the neighborhood's porch lights went dark, by my grandmother's voice. And there, my sister and I would sleep on opposite sides of the bed, wrapped between hot, sticky sheets, on pre-air-conditioning, humid, Jersey summer nights.

There were evenings that, if it got hot enough, my Dad showed mercy on us, and he'd pack us into the Olds and set off in the darkness on Route 33 for the 20-mile ride to Manasquan, where on those nights the heat and the humidity of inland Freehold became too much to bear. We'd sleep in our pajamas, our bed blankets stretched out on the cool sand, enjoying the ocean air of the Manasquan Inlet.

Then at early light, like magic, we'd be carried back into the house, into our bedrooms, sandy-haired from our beach sleep, and I'd watch the sun splash its morning gold over the western wall of my room. And soon I'd smell my mother's coffee drifting up through the floor grate that opened to my room. I'd lie awake and listen to my parents leave for work.

Then I'd dress, skip breakfast, walk out onto our side porch where the bare bones of the sun's rays cut through the green latticework and warmed the wooden steps of our porch. There I'd sit, barely human, a creature of the earth, and the rain, and the sun, and summer.
Already, it's some of his loveliest writing.
A couple of novelty songs up top evoke the era, a reflection of the pop sounds his ears were soaking in as a kid, and the sounds of particular summers for young Bruce. The Jamies record that gives this episode its name, "Summertime Summertime," as Springsteen recalls, "was a hit twice: in 1958, when I was eight years old, and again in 1962 when I was 12. It was a basic novelty song, but it always signaled the beginning of summer for me in its baroque joy. And I always loved hearing it for the first time each summer — it meant summer was on."
As Episode 8 goes along, we gather that the theme is less Summertime in general than Bruce's own Summer memories and associations, a highly personal recollection of the season. Following the War on Drugs song "Up All Night," he riffed on its title:
As a teenager, I would stay up all night — as a crucible to pass for three or four nights of the summer, as the house sank into a midsummer-evening silence. I'd be camping out in my room. I'd have my flashlight, I'd have my Japanese transistor AM radio that I was listening to. I would take 2:00 or 3:00 a.m. walks around the town of Freehold, when the streets were mine!

At night and only at night was I king of the streets of Freehold, New Jersey, unhassled by the day's rednecks. Any time they'd see some longhair pass the barbershop they'd come running out, shaving cream half on their face: "Hey! Are you a girl?"

That was bullshit I didn't need in those days.

So in the middle of the evening, I'd return home — 3:30 a.m., I'd arrive into the kitchen, I would build myself an almighty peanut butter-and-jelly sandwich, pouring it on. I would then retire to my room to wait for my favorite song to be broadcast by the WMCA Good Guys. One summer, my favorite song was Lonnie Donegan's "Does Your Chewing Gum Lose Its Flavour (on the Bedpost Overnight?)"!
The writing continues to be so evocative, you can easily imagine these passages as outtakes from his Born to Run memoir — is there an extended Director's Cut we might read someday? — the whole episode a summertime supplement to the autobiography and the Springsteen on Broadway show.
After injecting his own summer song into the mix, the "hot sun beating on the blacktop" in "Sherry Darling," Bruce gets back to his youth.
In my bed, in the summer I'd be reading all my old copies of Surfer magazine. Did I surf? No. But the magazine held two very essential elements, surf or not. I was deeply interested in the perfectly tanned surfer girls in bikinis, and in the advertisements for Fender guitars.

There they were, in the fresh ads, the true objects of my desire: three white Fenders — a bass, a Stratocaster, and a Jaguar, each as white as the Hawaiian sand, lined up next to one another, each more desirable than the next… but taken as a group? My god. The perfect trifecta.

Now, I spent relatively short quality time with the pictures of the surfer girls. But I spent hours in my bunk, in my room, salivating over those guitars. I'd drift off to sleep with the magazine open on my chest, and then riding the summer breeze from the west came slipping through my open bedroom window, a sound I swear that was coming from some perfect beach thousands of miles away…
Those sounds, of course, the strains of the Beach Boys' "California Girls."
Calling it "a song is so beautiful it kills me," Springsteen places Ren Harvieu's "Summer Romance" in a lineage of "heartbreak summer songs: 'Sealed With a Kiss,' "See You in September'… ouch!"
It lets you know just how long a summer can feel if you've ever spent one in Heartbreak City.… It was the longing, the longing… from the spring, late-school-year breakup. I'd cheated on a fabulous girlfriend I'd had, with one of my exes. One of the dumbest things I'd ever done, and I immediately had buyer's remorse.

That summer — the summer of '67, the summer of Sgt. Pepper — I chased my girl from beach town to beach town to beach town. Thank god I was aided by a big ol' '60s ragtop black Cadillac, and a car of good friends. My running pack, Jay, Sunrise, Bird — you guys saved my life that summer. I don't know where you are now, but I've never forgotten you and the solid that you did me in the summer of '67.
"I am a Lana Del Rey fan," Bruce says as he cues up "Video Games," her 2011 summer single, and his striking introduction is pure poetry in a very real sense:
This is a singer and a song
That reminds me of the hot, humid, sultry summer nights
And the girls that went with them.
Nights so hot and still
Fields of fireflies
Leaves so still on neighborhood trees
That they did not whisper
No rumor of a breeze
In sight.

You'd sit on your porch
You were dressed
Waiting either for her
Or the end of the world.
An R&B section brings into the mix James Brown with the apropos "The Boss" — "regardless of my sobriquet, nobody knows better than he does about paying the cost to be the boss" — and Sly Stone, with 1969's "Hot Fun in the Summertime": "I remember this song from a dead midsummer day coming out of a car radio as we were on our way to the beach, and all I remember thinking is, I'm gonna find out where those guys are... and I'm going there."
Soon enough Bruce was taking us there too, putting together a killer suite of his own tales of hot summertime fun, the musical heart of Episode 8: "4th of July, Asbury Park (Sandy)," "County Fair," and "Backstreets."
He sets it up with Kenny Young and Arthur Resnick's "Under the Boardwalk." Calling the song "just about perfect," Springsteen introduces the 1964 classic by pointing out that it's an answer song, as he sings the first line:
"When the sun beats down and melts the tar up on the roof..." referred to The Drifters' great "Up on the Roof," which made this kind of an answer record, and it presented itself as the perfect alternative paradise to "Up on the Roof" once the weather turns to steam — you go under the boardwalk.

Now, I can testify to this firsthand, because I spent a summer tarring — in 95 degree heat — Mrs. Ladd's, my neighbor's, roof for 50 cents an hour! As a young teenager. And it was hell on Earth. It sent me running to the beach, and under the boardwalk to wash the sticky tar off me and take a break, underneath Convention Hall and the Casino.

This song was a real perfectly drawn beauty. Every line is beautifully crafted, and the change to minor in the chorus was something musically unique. Now this was made a hit in the definitive version by The Drifters, but today I chose the Stones' somewhat punkier version.
Of Springsteen's brilliant pairings and juxtapositions in his From His Home to Yours series, few have been so perfect as segueing from "Under the Boardwalk" right into "Sandy," his own tale of boardwalk life. But rather than the start of a one-two punch, "Under the Boardwalk" would really prove to be a prologue for this majestic trio of Bruce's own summertime songs that followed.
With those oh-so-sweet accordion strains from Danny Federici, the tilt-a-whirl and carnival life of "Sandy" gives way to the roller coaster and merry-go-round of "County Fair." Springsteen recalls the time in his life that inspired the long-lost fan favorite (eventually released on 2003's Essential), and also drops a tantalizing suggestion of more in this vein to come:
A studio outtake from 1983 — of which there are many more, and one of these days all of this work I did between Nebraska and The River [sic] will show up magically.

I lived up on Telegraph Hill, on an old 165-acre farm that I rented for $700 a month. I had my '60 Vette, from the cover of Born to Run, and I would take my girl to the Monmouth County Fair — which was a lot of fun, but a funkier proposition in those days. A lot of 4H farm animals… and there was a car you could bust up with a sledgehammer, for two bucks… oh, the simple joys… a dunk tank.

After the fair, we'd ride back to the farm, the roof down, we'd sit out in front of the big ol' white farmhouse, lean back, listen to the music down below, just talk and look up at the stars.
And then it's "Backstreets" for the trifecta, illuminated by more visions of his youth as he vividly describes a summer day in worn-out Converses, towel in tow, hitchhiking to Manasaquan and dodging beach cops. Backgrounding Western Stars' "Hitch Hikin'" too, this magnificent "Backstreets" prelude paints a picture of what a "soft infested summer" might have looked like:
As a teenager, my bedroom window faced south when we lived on 68 South Street. So I got light but not much sun in the morning. I'd wake, I'd put on my uniform for a '60s midsummer's day — it was a white T-shirt, a pair of washed-out cut-off blue jeans slightly stiff with the salt of daily ocean swimming, bare legs shredded at the thighs with grains and grains of sand in each pocket, and a pair of faded Converse sneakers.

I had just finished — and barely survived — summer school. Had Mr. De Tomaso, along with my Italian cousin Alfonse, Mr. De Tomaso's assistant. And he was a Spanish whiz. Together, we had all striven to understand the nuances of español— a musical language as it is; and as musical as I am, unfortunately we remained a hopeless match. With Alfonse's sly assistance, I passed.

Well now all I know is, the rest of this summer is mine: my mornings, my afternoons, my evenings belong to me. So I make my way down to the silent morning kitchen, last night's dinner plates shiny in their drying holders compliments of no one, of course, but my mom. There's a five-dollar bill on the table, next to a box of Corn Chex and a bowl. It's her daily summer greeting to me. But the five is gonna have to last me all week. And the house is mine for a moment: my pop at work (or, having bailed, still in bed sleeping), my sister's still in bed, the house is mine. And I love the quiet. I love the quiet of the house in the morning.

So I have a quick bowl of cereal, and I scoop up the five, and I'm out the door, striding down South Street towards Route 33. I carry nothing but a folded beach towel under my arm. I make sure not to stick my thumb out until I reach 33, as that would bad-voodoo and jinx my chance of a quick ride east. At the stoplight, I settle into formation at the intersection. Highway 33 and Shore Points. Where they meet, I take my hitchhiker's stance: one hip slung low, the knees slightly bent, thumb out, an air of nonchalance, like I could give a shit if you gave me a ride or not. I take the occasional few steps backward toward my destination — the beaches and bikinis of Manasquan, New Jersey — and I wait for the magic to begin.

Now, I'm confident that shortly a bored trucker, nascent hot-rodder, traveling businessman, or a concerned mom will pick me up. I'll hear car wheels squeal on gravel, and the passenger side door will open and soon make that beautiful slamming sound of victory in the morning.

Small talk will ensue, which you must be good at, and then an hour and three or four rides later, I will be deposited at Manasquan main beach. I will dodge the badge-counters, though it is un-American — in New Jersey we must pay to go to the beach! I do not, however, plan to have my arcade or lunch money eaten up by stinkin' beach badges. So I head for a plot of sand, I scan thoroughly for the beach cops and the nearest crowd of pretty girls, and I settle in.

After a few moments in the sun, I head for my morning baptismal in the wonderful, God-given Atlantic Ocean. Summer's on.
And it's hard to think of a better prelude to Roy Bittan's opening notes of "Backstreets."
Though Bruce himself has notoriously steered clear of recreational drugs, he cues up Victoria Williams' "Summer of Drugs" to recall how they led to the end of his first band:
In 1965 Freehold, there were no visible drugs to be seen. The high school principal was still concerned with you hiding out behind the gym swigging beer. But that started in to change around 1967, and one evening there was the first drug bust that had ever occurred, in history, as far as we knew, in Freehold, NJ.

And: bass player for The Castiles? Goodbye. Organ player for The Castiles? Goodbye. Drummer for The Castiles? Goodbye. All ripped out of mamas' and daddies' arms at 3am.

I was standing on the corner of Throckmorton and Main, standing guard at my phone booth, waiting for a late-night call from my girlfriend — this was one of my permanent positions throughout the years of my high school because we had no phone at home, and I was there at all hours of the evening and morning — standing with a friend of mine, Bruce Nelson.

Bruce Nelson says, "I just saw Mrs. Bots go by in the cop car with baby Bots!"

"Mrs. Bots" was [Castiles drummer] Vinnie "Skeebots" Manniello's better half.

I said, "Get outta here!"

He said, "She was in the cop car with the baby Bots, on the way to the police station!"

I said, "Nobody gets arrested with their baby!"

But sure enough, the Bots family went down to the police station, victim of the new Freehold Borough war on drugs. So that spelled the final chapter in my first band, the fabulous Castiles.
As the episode nears its close, Springsteen looks back at the summertime pleasures of drive-in movies and skinny dipping, offering a recollection and endorsement of "nightswimming" that's just as lovely as the R.E.M. song he's introducing — a very high bar.
There is nothing like the sea at night. When the water is slightly warmer than the air, even though the air is humid after a 95-degree day. God, I love swimming at night. It is all darkness and mystery. It is the void.

And it must be done naked. Clothes at the waterline, please. Do this, and my pilgrim, you will become cleansed. Never will the evening air, or a kiss on the beach, or a dry towel ever feel so good again. The walk to the car will be filled with starlit grace, and you will never forget it.

And once you hit the water, you will be covered in the blossoming beauty of your youth, no matter how old you are. And whoever you're with, you will always remember them.
Springsteen wraps with a modern masterstroke from an old friend, the title track from Little Steven's latest Summer of Sorcery evoking Van Morrison's "And the Healing Has Begun" and capturing up the romance, transformative power, and "unlimited possibility" of summer as well as you could ask of a record.
And from there it's "Until we meet again, stay strong, stay smart, stay safe, stay healthy, mask up… and go in peace" as the DJ drifts away beyond the sea until next time.
Visit the SiriusXM blog for the schedule of repeat broadcasts for the coming week on E Street Radio, beginning today at 5pm Eastern.
Playlist:

Instrumental Intro: Noveller - "Canyons" / "Pre-fabled"
The Jamies - "Summertime Summertime"
War on Drugs - "Up All Night"
Lonnie Donegan - "Does Your Chewing Gum Lose Its Flavour (on the Bedpost Overnight?)"
Bruce Springsteen - "Sherry Darling"
Beach Boys - "California Girls"
Ren Harvieu - "Summer Romance"
Lana Del Rey - "Video Games"
H.E.R. - "I Can't Breathe"
James Brown - "The Boss"
Sly & The Family Stone - "Hot Fun in the Summertime"
The Rolling Stones - "Under the Boardwalk"
Bruce Springsteen - "4th of July, Asbury Park (Sandy)"
Bruce Springsteen - "County Fair"
Instrumental interlude: Brian Wilson and Van Dyke Parks - "Lullaby"
Bruce Springsteen - "Backstreets"
Kendrick Lamar (ft. Zacari) - "LOVE."
Victoria Williams - "Summer of Drugs"
Instrumental interlude: Noble Oak - "Hypersleep"
R.E.M. - "Nightswimming"
Little Steven & the Disciples of Soul - "Summer of Sorcery"
Bobby Darin - "Beyond the Sea"
- July 15, 2020 - Christopher Phillips reporting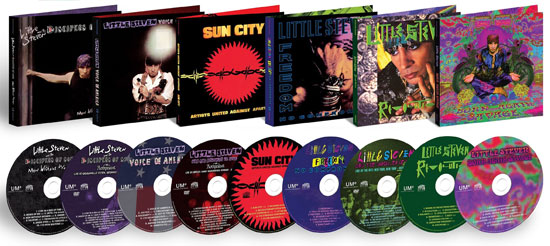 LITTLE STEVEN RELEASES REMASTERED "EARLY WORK" WITH DELUXE CD/DVD REISSUES; LAUNCHES TEACHROCK ROADSHOW SERIES
Last December, Little Steven released Rock 'N' Roll Rebel - The Early Work (Wicked Cool/UMe), a 1000-copy, limited-edition vinyl box set containing remastered LPs of his first five solo albums: Men Without Women (1982), Voice of America (1984), Freedom No Compromise (1987), Revolution (1989) and Born Again Savage (1999). Also included was Steven's awareness-raising 1985 Sun City protest album (by Artists United Against Apartheid) on vinyl, and four bonus CDs (51 tracks in all) of rare or previously unreleased material, including demos, outtakes and rehearsals.
The six albums were also made available at the time as digital downloads, with the rarities divided up as bonus tracks with each album and on several stand-alone EPs. In February and March this year, the six vinyl albums were released individually on 180-gram standard black or limited-edition color swirl vinyl, matching those in the box.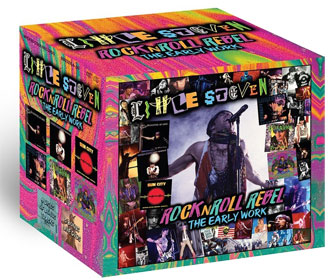 Now, a CD version of Rock 'N' Roll Rebel - The Early Work is due for release on July 31. The CD box set will contain all of the material from last year's vinyl version, plus some additional exclusive DVD content. As with the vinyl box, the CD version is available exclusively through udiscovermusic.com.
Each Little Steven album is also being broken out of the box to be available individually on compact disc. Digitally remastered by Bob Ludwig, the six albums (three on CD only and three as CD/DVD sets) are being reissued separately throughout July, in advance of the boxed set at the end of the month.

Available now: Born Again Savage (CD), Revolution (CD), and Freedom No Compromise(CD/DVD). Freedom No Compromise adds a concert performance DVD, Live at the Ritz 1987, as well as an 8-panel fold-out poster.
Still to come this month: Voice of America (CD/DVD) on July 17; Sun City (CD) on July 24; and Men Without Women (CD/DVD) on July 31.
Men Without Women adds the Live at Rockpalast 1982 DVD and 16-panel fold-out poster; Voice of America adds the Live at Rockpalast 1984 DVD and poster.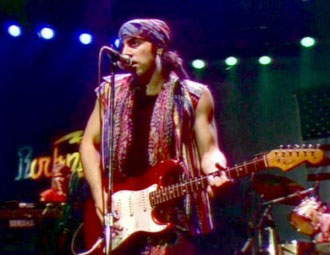 In the '70s and '80s, German music TV show Rockpalast ("Rock Palace") held annual or biannual Rock Nights, which were broadcast to an audience of millions via the Eurovision network. Little Steven's appearances took place at the Grugahalle in Essen on October 16, 1982 — only his second gig with the original Disciples of Soul — and at the open-air Loreley Festival on August 25, 1984.
"We were much bigger in Europe due to the political nature of our music," says Little Steven. "I credit performing on the Rockpalast TV show in '82 and again in '84, that went live to 17 countries, with helping to get our music to a massive audience. It was a blast revisiting these shows, and I'm thrilled they are now being released for all to enjoy."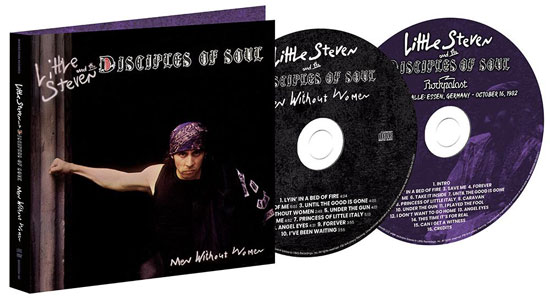 The soul- and R&B-flavored 1982 performance (with a temporary horn section) focuses on the Men Without Women material, but it also includes four songs that Steven gave to Southside Johnny and the Asbury Jukes ("Take It Inside," "I Played the Fool," "This Time It's for Real," "I Don't Want to Go Home") and a cover of Marvin Gaye's "Can I Get a Witness."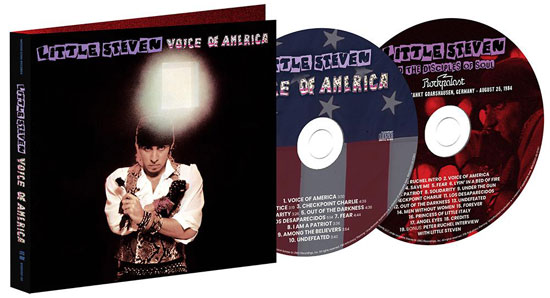 The 1984 concert features the subsequent stripped-down band blending those early songs with the more direct political rock material from Voice of America ("Los Desaparecidos," "Solidarity," "I Am a Patriot").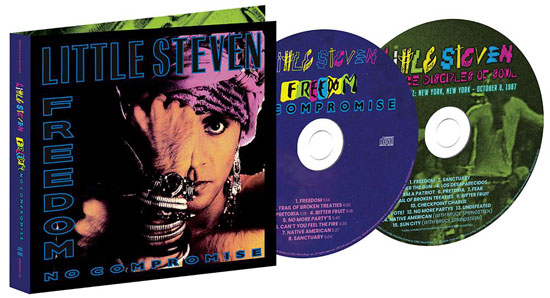 The concert at the Ritz in New York City dates from October 8, 1987 and features a completely different Disciples line-up playing the musically adventurous Freedom No Compromise material ("Bitter Fruit," "Freedom," "Sanctuary"). There's also a guest appearance from Bruce Springsteen on "Native American" and "Sun City."
"This was the only show that was filmed of that tour because it was live on Japanese TV," says Steven. "We're lucky somebody caught it and now all these years later we can share this high-quality version. We happened to have a particularly good show that night. That show with that band was my rock peak."
The three live DVDs provide a fascinating document of Little Steven and the Disciples of Soul's many changes, both of line-up and musical direction, in the '80s.
Little Steven will be making selected performances from the three DVDs available on his own YouTube channel. The first to be released was "Trail of Broken Treaties" from the Ritz concert, a song that "refers specifically to the 'Trail of Tears' forced relocation of thousands of Native Americans, and symbolically to the hundreds of broken treaties with Native America." The latest was posted today: "Los Desaparecidos" from the '84 Rockpalast.
Currently there are no plans for standalone releases of the DVDs, or of the four rarities CDs from the box set.
Other releases expected at some point in the future include a companion book to the Early Work box set; a live DVD of Little Steven's final Summer of Sorcery tour performance at New York's Beacon Theatre last November; a possible release of his '90s album by The Lost Boys; and solo records by Disciples of Soul musical director Marc Ribler, horn section leader Eddie Manion, and vocalist Jesse Wagner.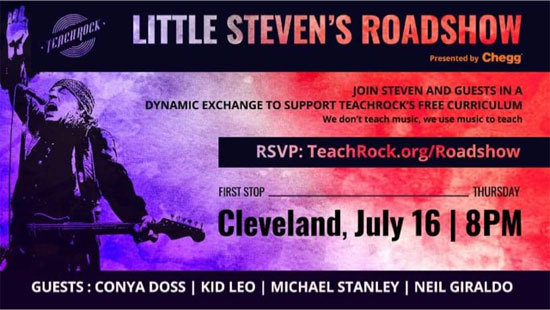 This week, Little Steven also launches his TeachRock Roadshow, a "living room style" talk show and virtual tour that "explores issues in education and the world through music." Roadshow will benefit his Rock 'N' Roll Forever Foundation's TeachRock initiative ("we don't teach music, we use music to teach") via proceeds and donations and explore many of its concerns along the way.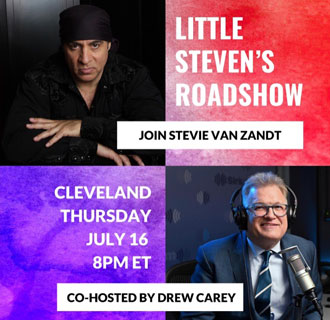 Each episode will virtually visit a different city, featuring "special musical and celebrity guests and education heroes" from each location. The first "stop" of the series is Cleveland, Ohio.
The series premiere will stream live from 8-9pm ET this Thursday, July 16. Steven's Cleveland-associated guests will include songwriter Neil Giraldo, legendary DJ Kid Leo, musicians Michael Stanley and Conya Doss, and literacy advocate Rhonda Crowder, founder of Hough Reads. Further Roadshow stops will be announced soon.
For information on how to register and support the cause (donations are appreciated but not required for viewing) visit: /teachrock.org/roadshow.
- July 14, 2020 - Mike Saunders reporting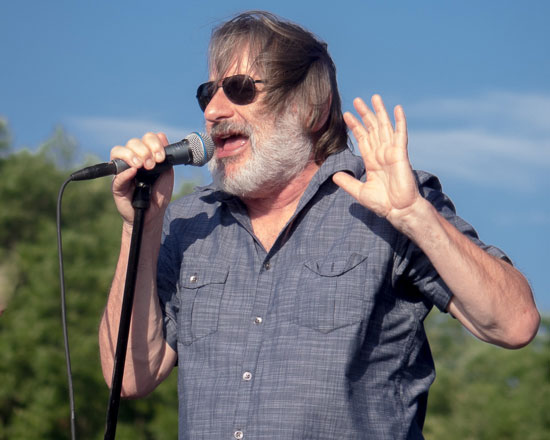 BETTER DAYS ARE COMIN'
"We're gonna wake up and break this curse…" Photographer A.M. Saddler reports from 7/11 Drive-In Live
Summer's here, but up until Saturday the traditional Jersey Shore summertime party with Southside Johnny and the Asbury Jukes had been missing in action. Normally the band visits their ancestral home, The Stone Pony in Asbury Park, but in these days of social distancing they had to trade sand between the toes for the staggered parking spaces of nearby Monmouth Park in Oceanport.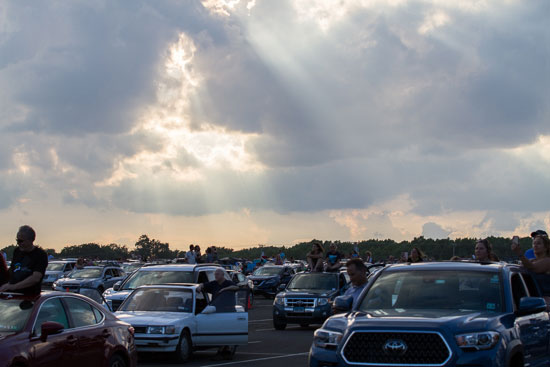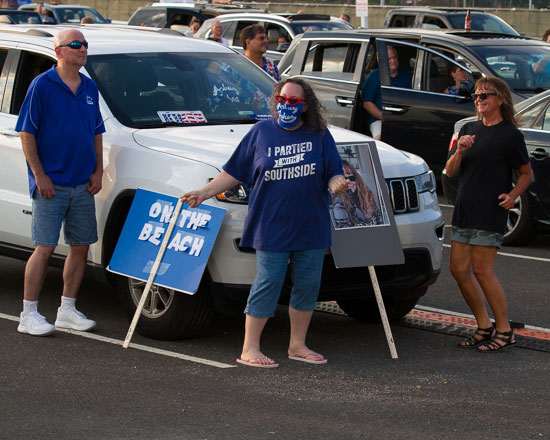 Music at the Jersey Shore had to wake up, in some fashion, and break the curse of silence, and The Basie Presents: Drive-In Live was a great way to do it — as well as provide much needed funds for the beloved Count Basie Center for the Arts in Red Bank and the New Jersey Pandemic Relief Fund.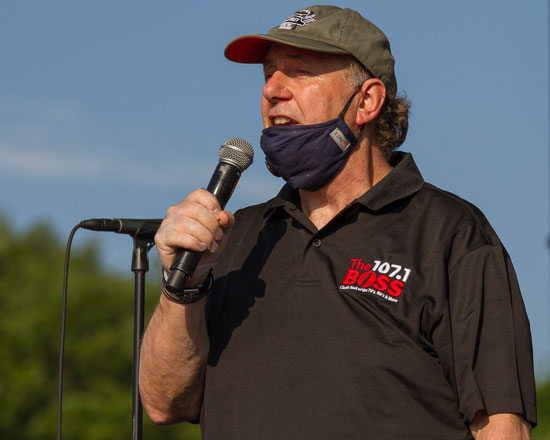 Springsteen on Sunday host Tom Cunningham with the 107.1 The Boss contingent, making introductions and broadcasting live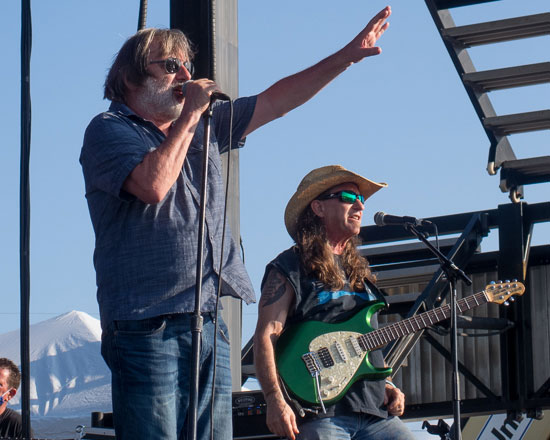 When the band took the stage to "Better Days," those above lyrics rang loud and true. Always a band to be reckoned with, Southside and the Jukes showed that they still had something to prove at this drive-in "concert experience," billed as the "first of its kind" in New Jersey. They quickly shook off any cobwebs that may have gathered in their pandemic-forced performance hiatus, and the crowd showed their appreciation right back — fans dancing in cars and on cars.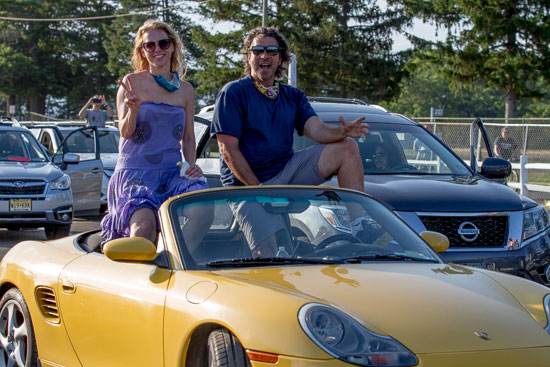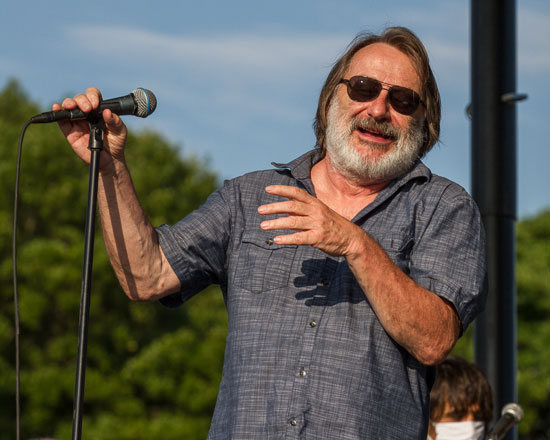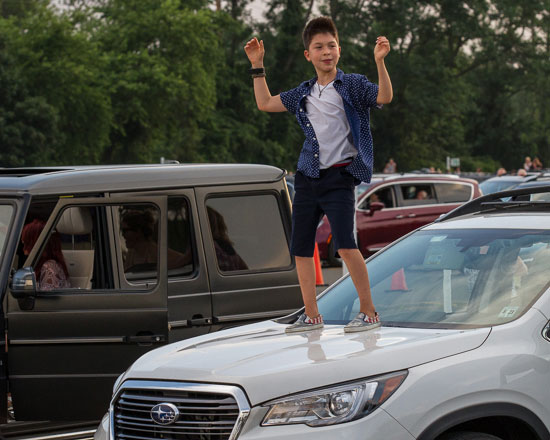 This the first time that the Jukes had a 1,003 piece horn section: three on stage, and the rest in vehicles packed in for the show. Those horns honked for sure — not always in key or on the beat, but with an exuberance that we've all come to expect from a Southside show. Johnny assumed his usual conductor stance with this expanded horn section, and the results were… um, mixed… proving that liking good music does't necessarily guarantee you have rhythm.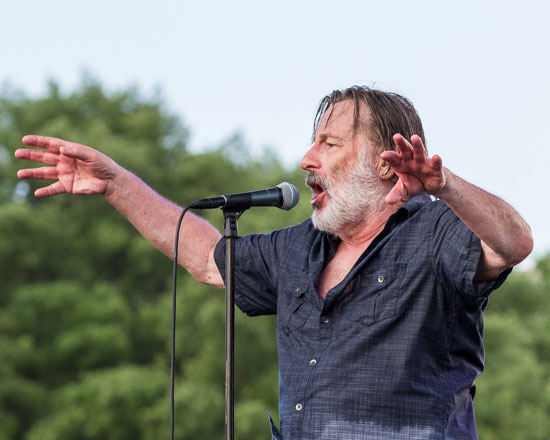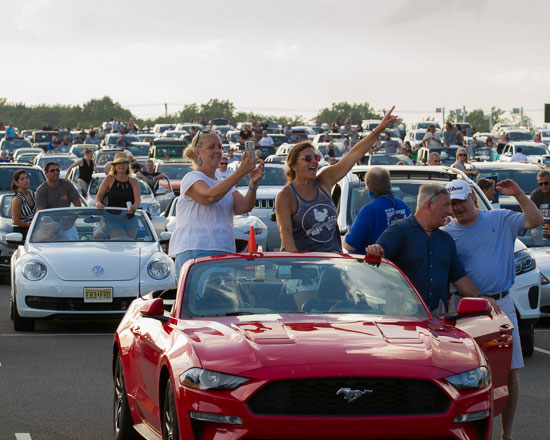 But the band delivered the goods: there were Jukes classics like "I Played the Fool," "Love on the Wrong Side of Town," and "Talk to Me," and favorite covers like Sam and Dave's "Broke Down Piece of Man" and Stevie Van Zandt's "Forever." The Left Banke's "Walk Away Renee" included a surprise interlude of recently departed John Prine's "Lake Marie" ("we gotta go now…"), and a stellar version of Blind Faith's "Can't Find My Way Home" had Juke keyboardist Jeff Kazee taking the lead vocals, showing that he can hold his own in a sing-off with Steve Winwood any day.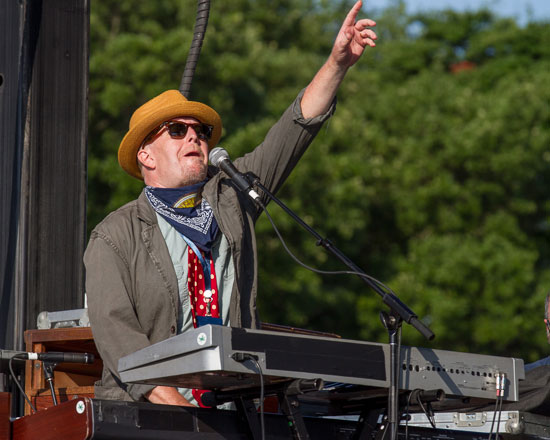 Already behind the wheel or not, I still don't think anyone in attendance would disagree with the sentiment of "I Don't Want to Go Home" as the end of the show came around. Live concerts are such a vital part of life to so many, and we all have had a hole where that live show vibe used to be. My hat's off to Basie Presents, Southside Johnny and the Asbury Jukes, all the production and security staff, and the audience for following the social distancing rules, so shows like this can still happen until things get back to normal… whenever that is.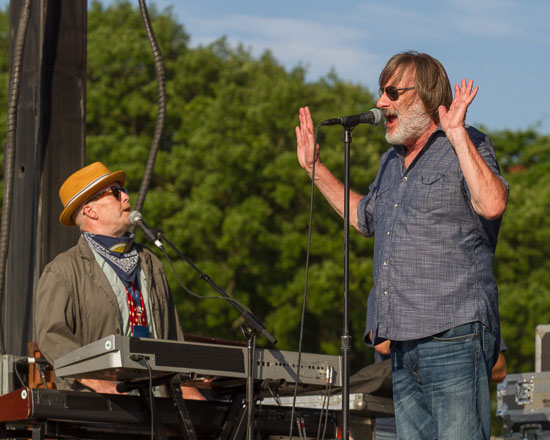 At the end of the evening it was a Jukes party at the Jersey Shore with most of the usual happenings that go with it — including that couple in the back doing the Dirty Jersey in their car. Yep, it was an official Jersey Shore Jukes party!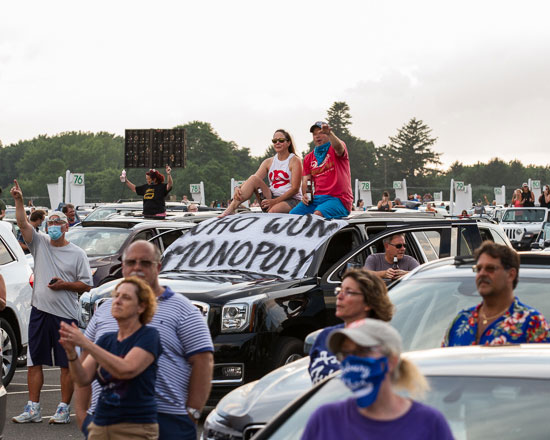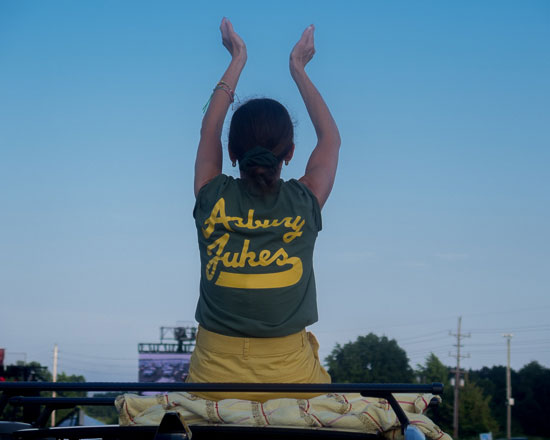 - July 13, 2020 - report and photographs by A.M. Saddler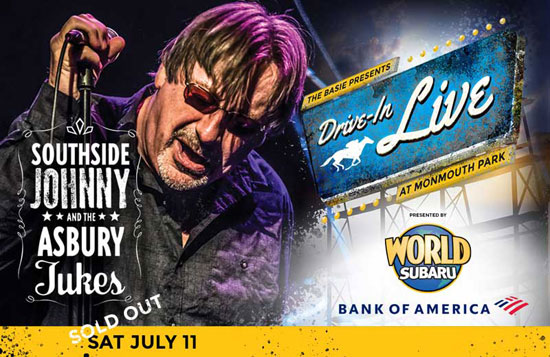 DRIVE IN OR TUNE IN, JUKES ARE LIVE ON SATURDAY NIGHT
There's no more room for cars at the Drive-In, but you can still get your Jukes fix on Saturday night: Southside Johnny and the Asbury Jukes' sold-out show on July 11 will be heard live around the world, thanks to 107.1 The Boss (WWZY-FM) at the Jersey Shore.
In addition to broadcasting the concert live, the station will also be hosting an on-air "pregame" show from the concert site beginning at 4 pm. Morning show hosts Bill Fox and Dianne De Oliveira will be joined by Springsteen on Sunday host Tom Cunningham, and they'll be spinning some Jersey Shore classics prepping for the historic concert.
107.1 The Boss VP/Programming & Program Director Jeff Rafter says, "The arts have been especially hard hit by the lockdown. This show benefits the Count Basie Theatre and the New Jersey Pandemic Relief Fund. Also, it's not summer at the Shore until Southside and the Jukes play! In a summer of few concerts and limited access, we're bringing the show to our listeners."
Listen live from anywhere in the world on all sorts of devices. Listening options are listed here: https://1071theboss.com/apps-streaming/
- July 10, 2020

ASBURY PARK DOC STREAMING FREE FOR LIMITED TIME
"Troubled times had come… to my hometown," as the song goes, and it was 50 years ago this month that tensions came to a head in Asbury Park.
The civil unrest of July 1970 — before, during, and after — is at the heart of the 2019 documentary feature, Asbury Park: Riot, Redemption, Rock n' Roll, which also explores music's ongoing importance to the community and its recovery.
In recognition of this 50th anniversary, the film is now streaming for FREE on YouTube through August 31:
Directed by Tom Jones, with participation from Bruce Springsteen, Little Steven, and many other musicians from the Jersey Shore scene, Riot, Redemption, Rock n' Roll tells the story of the long troubled town of Asbury Park, and how the power of music can unite a divided community:
A once storied seaside resort, Asbury Park erupted in flames during a summer of civil unrest, crippling the town and reducing it to a state of urban blight. A town literally divided by a set of railroad tracks, the riot destroyed the fabled Westside jazz and blues scene, but from the flames of the burning city emerged the iconic Jersey sound.

The film returns Asbury sons Steven Van Zandt, Southside Johnny Lyon, and Bruce Springsteen to the legendary Upstage, the psychedelic after hours club where they got their start, featuring never before seen interviews and performances. Shuttered for four and a half decades, the Upstage remains a perfect time capsule of the Club, which united both sides of the tracks in Asbury and acted as a crucible for young talent. Now, as Asbury Park enjoys its long awaited renaissance, it is music, which has helped its return.
As Stevie tweeted today, "It's a great film. It provides a fascinating context for both the history that happened before us, and what was going on in real time as we worked around the clock learning our craft and finding our identities."
The documentary premiered in its final form at the 2019 Asbury Park Music + Film Festival at the historic Paramount Theatre. Also new to YouTube is the post-screening Q&A from that APMFF event, with director Jones and Backstreets' Chris Phillips.
As Jones and Phillips discussed, a primary goal of the director has been to raise funds for music education programs, in Asbury Park and farther afield. If you enjoy the free stream, we encourage you to check out and support such organizations as the Asbury Park Music Foundation and the Lakehouse Music Academy.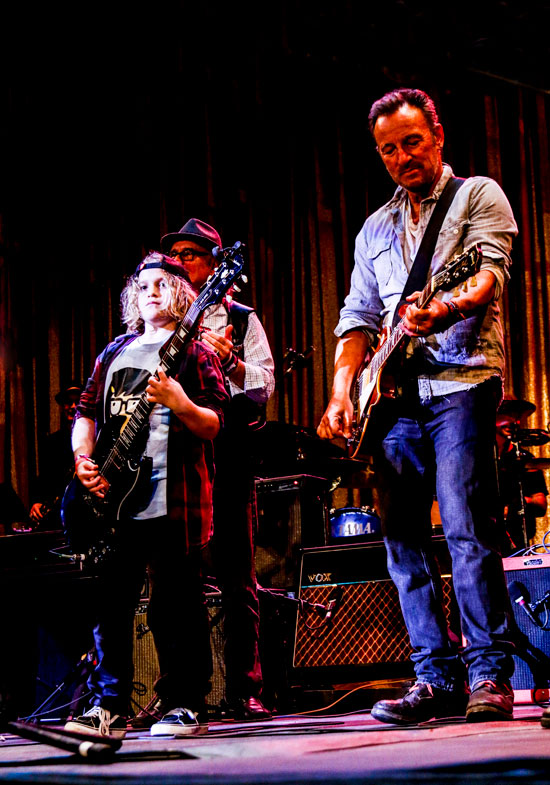 Lakehouse Music Academy student Oliver Van Nostrand — one of three new scholarship recipients, thanks to the documentary and the POP Music Foundation — with Bruce Springsteen at the 2017 Asbury Park Music + Film Festival - photograph by Mark Krajnak
"We have always thought that the idea of music as the best connector of people is more of a movement than a movie," says Jones. "As it turns out, even though the inciting incident of our film happened 50 years ago, we find that it is still, tragically, completely relevant. Asbury Park has something to say about social justice and we hope this film serves as a unique educational piece in helping to push our way forward."
- July 9, 2020

GREETINGS FROM ASBURY PARK, N.J.
The Turf Club... someday comes back?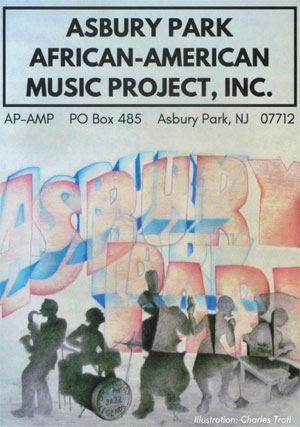 The Asbury Park African-American Music Project is doing a cool thing. It's working to restore the Turf Club, the last standing music venue on Springwood Avenue.
The idea is to bring it back as a "community music and cultural venue." But it's more than that. The cinderblock Turf Club, empty since 2000, is a symbol of the "other" Asbury Park. People tend to talk about the city's Methodist heritage and its "shore" music: Springsteen, Southside, Little Steven. But in a recent SiriusXM radio broadcast (From My Home to Yours, Volume 7), those musicians were eagerly proclaiming their debts to R&B, soul, funk. To restore the Turf Club is to honor a history that's too often neglected, to expand and correct the very definition of Asbury Park.
That history's complicated. Springwood Avenue's "Little Harlem" included tough characters, black and white, as well as fine music. Here's a brief, nowhere-near-complete look at the Turf Club.
On June 15, 1940, Robert Brown of Sylvan Avenue and Carroll Brown of Springwood Avenue applied for a liquor license as partners in "Turf Club Bar," 1125 Springwood Avenue. That September, they transferred the license to John W. Moore, who effectively took over. While there may have been live music at the bar during this early period, there doesn't appear to be any record of it.
Seven years later, in early 1947, Moore tried to transfer his license to an entity called Turf Club Bar, Inc. That corporation was owned by Sol and Fannie Konvitz of Belmar and Leo Karp of Asbury. City council twice denied the transfer, and their ruling was upheld by the State Commissioner of Alcoholic Beverage Control.
The grounds for the denial were that the proposed new owners "had some connection with operators of other taverns in the city and that these places were operated in an objectionable manner." Representatives of the West Side Women's Club and a Methodist pastor testified that the Turf Club was a "focal point for undesirables who 'loiter thereabouts and indulge in loud, vulgar and boisterous language.'" They complained that Springwood Avenue was home to 13 saloons and five package stores, leading to "misery, depression, and [an] increasing crime rate…."
In response, Moore argued that in the eight years he'd owned the bar, there had been no complaints or violations against him.
A 1948 article in Beverage Retail Weekly criticized the denial, claiming that the council "consistently approves transfers" and in blocking this one was "playing politics." Sol Konvitz managed the Hampton Inn several blocks west of the Turf Club in Neptune. It was owned by his brother, Phillip Konvitz, who also had an interest in the Palace bar on Springwood. Phil Konvitz has been described as a man who "influenced most of the things that took place in Asbury Park…." Famous for his no-interest loans, "Uncle Phil" ended up owning — and not developing — some 75 lots on Asbury's West Side. After an FBI probe in 2002, the influencer was indicted on federal bribery and extortion charges.
The Konvitzs and partner Leo Karp eventually prevailed, and the Turf Club ran at 1125 Springwood till the mid-1950s. Then Karp proposed moving the operation down the street to 1200 Springwood. He'd tear down the old Victory Hotel that stood there and create a new venue.
A petition signed by about a hundred Springwood residents objected. They claimed the move would result in three bars and three package stores within about 200 feet of one and other, which school children would have to pass by on their way to school. Karp countered that the proposed move was only a block away, and school children already passed by the current Turf Club. In 1956, the city council approved the transfer, contingent on the new building being completed.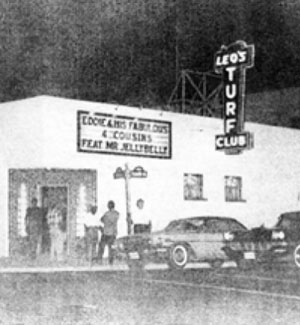 With the new structure came a new emphasis on music. Karp, described as "an irascible man… a tough businessman and competitor," booked rhythm & blues, soul, and harmony acts.
In the spring of 1961, Leo's Turf Club featured the smooth B3 Hammond organist Stan "The Man" Hunter, who had performed with John Coltrane and Sarah Vaughan. Eddie and his Four Cousins, an R&B band, played the room, and in the summer of 1963, so did the organ great Jimmy McGriff. McGriff was nationally known, as was the saxophonist Jean-Baptiste "Illinois" Jacquet, who played Leo's Turf Club in the summer of 1965. Jacquet was famous for his work with the Lionel Hampton band, including his sax solo on "Flying Home." In Asbury, he contrasted the wildness of that, his trademark tune, with a smooth cover of Cole Porter's "So in Love."
The Turf Club was becoming a stop for major jazz artists, competing with the former Hampton Inn, now Big Bill's. Who made up the audience? Big Bill's, anyway, "had about 85 percent white clientele."
Leo's Turf Club drew listeners from as far away as Philadelphia and Newark. It also drew its share of trouble. There was the stabbing of a police officer in the fall of 1965, a throat slashing in 1967. One patron, refused entrance, punctured the tires on Leo Karp's car. Still, through the late 60's, the club continued to book musical acts like Brenda & the Tabulations, whose smooth vocals created soul hits like "Dry Your Eyes" and "Who's Loving You." When Lloyd Sims' Fabulous Untouchables appeared, they included a young saxophonist called Clarence Clemons.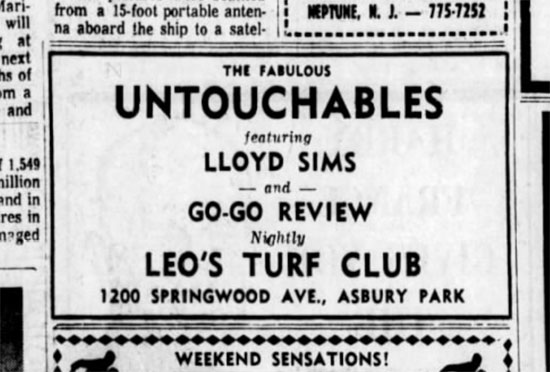 Through 1968, Karp booked acts like organist Wild Bill Davis and the Soul Brothers Six, but the Turf Club's run was coming to an end. In January, 1970, Karp and the Konvitzs sold their liquor license to Wayland Goldstone, an African-American, who re-named the bar Wakie's Show Place.
Wakie's continued to bring in music — singer Irene Reid, who'd been a vocalist with Count Basie, and a local band called King Solomon and the What Five — but six months after Wakie's opened, Asbury's West Side burned in an act of frustration and rebellion. The "misery [and] depression" had become too much.
In the July 7, 1970 edition of the Asbury Park Press, there's a photo of a man directing firefighters from the roof of Wakie's Show Place. It was one of the few structures that didn't burn to the ground. By the end of the month, it was open again, featuring music by Bobbie Tucker and the Me Three Souls. Goldstone was appointed chairman of the business development committee of Asbury's West Side Coalition, but business didn't come back. "Springwood Avenue is dying," said one community leader. "People are afraid to come there."
"Wakie" Goldstone submitted a letter to the City Council in December 1970. It complained that Asbury's police had stopped patrolling the West Side altogether. All around the former Turf Club, Springwood Avenue was in ruins — and would mostly remain so for the next 50 years.
As the condominiums on Asbury's beachfront capitalize on the city's musical heritage, the Turf Club sits vacant. You can help change that. For more info, go to www.asburyamp.org. You'll find a place to donate there, too.
- July 9, 2020 - Daniel Wolff reporting - Wolff is the author of, among other books, 4th of July, Asbury Park: A History of the Promised Land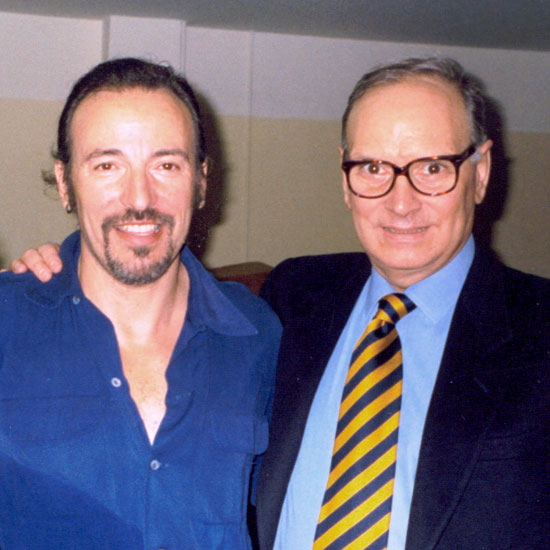 The Boss and the Maestro in Rome, April 10, 1996 - photograph by Ermanno Labianca
WE ALL LOVE ENNIO MORRICONE, 1928-2020
When Bruce Springsteen and the great film composer Ennio Morricone, who has died at 91, finally got around to meeting in person, more than 15 years had passed since Springsteen and the E Street Band first began preceding certain live performances of "Badlands" with a nod to one of Morricone's greatest compositions.
As initially performed in Portland, Oregon on October 25, 1980 and continuing through many shows on the 1980-81 River Tour, Roy Bittan would play a brief solo-piano portion of Morricone's beautiful, haunting main-title theme, aka "Jill's Theme," from Sergio Leone's classic film Once Upon a Time in the West.
Whenever and wherever it would happen, it always served as the perfect lead-in for what would follow: a heart-quickening, full-band performance of one of Springsteen's own greatest compositions. Just in terms of how they sounded, "Jill's Theme" and "Badlands" couldn't be more different from one another, but emotionally — where it really mattered — you could feel in your very soul just how perfectly these two compositions connected.
There were many great "Jill's Theme"/"Badlands" performances on the 1980-81 River Tour. So far two of them (both from the Nassau Coliseum stand in late 1980) have been released officially through Springsteen's ongoing live Archive Series at live.brucespringsteen.net.
Probably the most storied performance of "Jill's Theme"/"Badlands" occurred on April 24, 1981 in Lyon, France, involving the audience as much as the band. As described by Dave Marsh in his book Glory Days: Bruce Springsteen in the 1980s, "The crowd sang along to [Morricone's] spectral melody, making a beautiful, haunting sound that no one could have predicted, upsetting and enriching the spectacle of the show. (It turned out that the Once Upon a Time in the West theme had been a jukebox hit in northern Italy, where about a third of the crowd came from.)"
Unfortunately when the 1980-81 River Tour ended, so did Bittan's "Jill's Theme" preludes. (In the ensuing quarter-century or so, Springsteen's only other interpolation of Morricone's music occurred on Halloween night 1984, oddly enough.)
Meanwhile, Morricone and Springsteen first met on April 10, 1996, at Springsteen's solo-acoustic gig in Rome on the Tom Joad tour. Morricone was in the audience that night, as reported by Massimo Benvegnu in Backstreets issue # 53: "He was visibly having a good time, clapping along to 'This Hard Land,' which was introduced as a song about, among other things, 'every Western movie I ever saw.'"
Another longtime Backstreets contributor, Ermanno Labianca, was backstage with Morricone and his wife Maria when they met with Springsteen after the show, and he reported on it in Backstreets issue # 56: "Bruce said how delighted he was by that visit. He stopped and opened a little door so the music from the hall could come in. 'That's my personal tape, that's the music I want to be played after these shows,' Bruce told Morricone. 'It's your music playing right now, Maestro,' he said, smiling. While the notes of 'Finale' (a reprise of 'Jill's Theme' from Once Upon a Time in the West) vanished under the roaring of the audience asking for more 'Broooce,' Bruce and Morricone posed for a couple of pictures."
Beginning with their June 28, 2003 show in Milan, Italy, Bruce Springsteen & the E Street Band began a new and moving tradition, using a recorded version of "Jill's Theme" as their walk-on music for many of their Italian concerts. Eventually this included some shows that featured "Badlands" as the set-opener, effectively reuniting "Jill's Theme" with "Badlands." This even occurred once in a country other than Italy, at the June 17, 2012 Madrid, Spain show [above].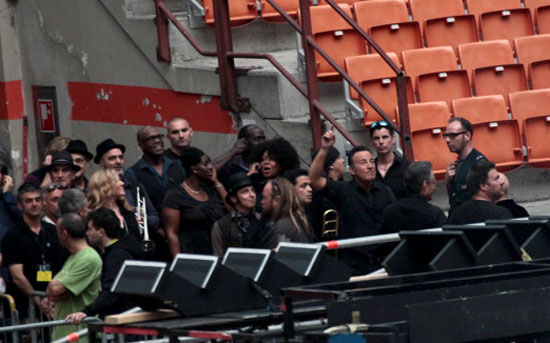 Before taking the stage, Springsteen and the E Street Band take in the San Siro spectacle as Morricone plays, June 3, 2013 - photograph by Mauro Regis
And of course, "Jill's Theme" served as the perfect aural backdrop for that powerful "Our love is real" moment on June 3, 2013 at Stadio San Siro in Milan, Italy [below].
Another special night in Italy: Bruce walked on to "Jill's Theme" at his June 6, 2005 Rome concert on his Devils & Dust solo-acoustic tour, and then proceeded to perform his Morricone-fied version of "I'm on Fire," incorporating various elements from Morricone's many Spaghetti Western scores, with Il Maestro himself sitting in the front row [below].
In the summer of 2006, Springsteen recorded an electric-guitar-driven version of "Jill's Theme" for the tribute album We All Love Ennio Morricone, with orchestral backing from Unione Musicisti di Roma, Morricone's longtime collaborators. Released on We All Love Ennio Morricone in 2007 as "Once Upon a Time in the West," the track provided Springsteen with a Best Rock Instrumental Performance win at the 50th Annual Grammy Awards in early 2008.
One year later, Springsteen would again be paying tribute to Morricone, but this time by recording and releasing an original composition, "Outlaw Pete" on Springsteen's album Working on a Dream. In many ways, this was Bruce's fullest personal salute to the essential element that made Morricone's film music such a breakthrough: his successful fusion of rock-band dynamics and instrumentation with epic orchestral and choral landscapes. In Springsteen's own epic composition, "Outlaw Pete" achieved a similarly successful fusion that included along the way a specific nod to Morricone's "Man With a Harmonica" from Once Upon a Time in the West. Live performances of the song often featured Bruce adding a bit of Morricone's "The Good, the Bad, and the Ugly (Main Title)" on electric guitar, too, as he did in his June 27, 2009 Glastonbury Festival performance [below].
(One day later, in the Hard Rock Calling Festival performance of "Outlaw Pete" officially released on London Calling – Live In Hyde Park, the "The Good, the Bad, and the Ugly" nod was more subtle, but the full-daylight performance also made much clearer just how well Clarence Clemons played his "Big Man With a Harmonica" role.)
Bruce Springsteen isn't the only person on E Street with such a strong understanding and appreciation of Ennio Morricone, either. Upon learning of the sad news, Stevie Van Zandt tweeted that Morricone was "one of the greatest composers of all time. You can hear our tributes to him in 'African Dawn' on the Lilyhammer Score, and the new arrangement of 'Standing In The Line of Fire' on Soulfire & Soulfire Live."
Finally, Ennio Morricone also had a keen understanding and appreciation of Bruce Springsteen. In 2007, Italian author/scholar Leonardo Colombati invited Morricone to write the original foreword for Colombati's book Bruce Springsteen – Come un killer sotto il sole: Il grande romanzo americano (1972-2007) (republished internationally a decade later as Bruce Springsteen – Like a Killer in the Sun: Selected Lyrics, 1972-2017.)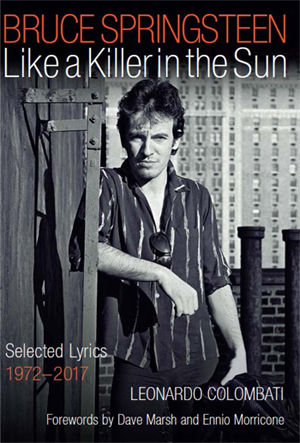 Morricone jumped at the chance, writing:
In his songs, Springsteen creates a strong sense of pietas — of the pain and humanity inherent in the characters he recounts. He does this not only through his music, where he uses different timbres and sounds to endow characters with a unique personality, but also through his lyrics, which are where his real power lies…

Although they are very different, a certain part of my work and his shares a common basis in the simple chords we use to create structured and original melodies. The composer of instrumental music must redeem this simplicity with elaborate orchestration; the author-singer/storyteller can do so by using both voice and words, as long as the voice communicates an emotion and the words are true. I like Springsteen precisely because he places this need for Truth in the forefront. This is how he manages to elude passing fads and why his music runs no risk of being lost over the course of time.
Those last two sentences, of course, also could form the basis of an explanation as to why so many of us on E Street love Ennio Morricone. Rest in peace, Maestro Morricone, after such a long and fruitful life. Your music lives on.
- July 8, 2020 - Shawn Poole reporting - special thanks to Joe Amodei and Leo Colombati

GOODBYE, IL MAESTRO
Some personal thoughts on the passing of Ennio Morricone from Joe Amodei
I love movies. They have been a part of my very fabric for as long as I can remember. They have been my constant companion through life and have been there for the good, the bad, the sadness, and the gladness of life. They are my first memories as a child. And they never go away.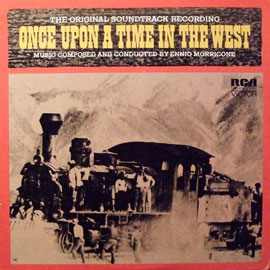 As a young teenager my world was opened to a vast array of films and filmmakers from all over the world. I cherished each film and new discovery. And then one day I found myself in a darkened movie theater while the Sergio Leone masterpiece Once Upon a Time in the West came across the screen in all of its majestic Spaghetti Western glory. There was Henry Fonda, Charles Bronson, Jason Robards, and the exhilarating beauty Claudia Cardinale creating characters that would forever be etched in my movie subconscious: Fonda's evil Frank, Bronson's Harmonica, Robards' Cheyenne, and Cardinale's enchanting Jill. Legendary roles in a legendary film. And all acting to the backdrop of the Maestro's amazingly beautiful score. We all know that the Maestro himself is Ennio Morricone.
We just lost Morricone at the good old young age of 91. He leaves behind the love of his life Maria, his children including composer Andrea Morricone, and a host of grandchildren with whom he had a close and loving relationship. He also left behind many fans, famous and not-so-famous, who have been tweeting and testifying to his greatness. And they should, because Morricone was, well, great. I am in tune with all of them.
But for me, Morricone also was personal. His music filtered in and out of my life on so many occasions. Many years ago on a memorable trip out west with my wife and two daughters, we were about to enter the full majesty of Monument Valley when I pulled over to the side of the road and inserted into the car's CD player the soundtrack to Once Upon a Time in the West. While the landscape in front of us turned into something right out of heaven, the music became a part of that trip, a memory that for reasons unsaid here will never, ever go away. That memory is seared into my mind, and Morricone's music played a major part in it.
I am so thankful to Maestro for so many more movie-music memories. Seeing — and hearing — The Mission, A Fistful of Dollars, For a Few Dollars More, The Good, the Bad, and the Ugly, Malena, The Legend of 1900, and of course the elegant, romantic, and haunting Cinema Paradiso gave me even more memories, the kind that can be relived over and over again.
When I heard that Bruce Springsteen was going to record the theme to Once Upon a Time in the West on a tribute album to Morricone, my excitement was through the roof. I was not disappointed, and neither were Grammy voters who gave Bruce the award for Best Rock Instrumental Performance that year.
I've been lucky. Very lucky. I met Morricone once in Cannes, before a screening of Once Upon a Time In America. He was sitting mid-row, and I stood in the aisle when our eyes met. Not knowing what to do, my instinct just took over and I moved my hands to my lips, blew him a kiss, and mouthed the words "Thank you." He blew a kiss back to me and nodded his head, saying "Thank you" back to me. He smiled, and so did I.
I also am lucky to have seen Maestro in concert not once, but twice. The first was during his 2007 visit to the U.S. to receive his honorary Oscar. (Morricone also received six Best Original Music Score Oscar nominations during his career, and won the 2016 Best Original Music Score Oscar for The Hateful Eight.) He stopped in New York on his way and performed a night of music at Radio City Music Hall. Then on August 31, 2017, my wife and I were honored to be in the audience when, at the age of 88, Morricone took to the stage of the Arena in Verona, Italy. In the heart of the ancient Italian city where Juliet professed her love for Romeo, with a full moon looking over the Coliseum-like, age-old structure, Maestro led what seemed like a 100-member choir of angels and orchestra as they performed a set of the greatest, most memorable Morricone moments. I literally sat in the audience on that hot summer night and wept. That is how much his music has meant to me. I am weeping as I write this right now.
Thank you, Il Maestro. Thank you so much. Make some music up in Heaven. The angels have been waiting. The chorus is about to begin.
- July 8, 2020 - Joe Amodei is the Founder and President of Virgil Films & Entertainment. One of Virgil's recent releases is Elliott Murphy's and Emilio J. Ruiz's film Broken Poet, currently available as a Backstreets exclusive and featuring special appearances by Bruce Springsteen and Patti Scialfa

SPOTLIGHT ON NILS, IN SERIES PREMIERE FROM BRUCE ARCHIVES
During what Bruce Springsteen calls "these troubled times," it's not so crazy that many of us are concerned for not only our own familes and loved ones, but also our friends in the E Street Band. It's part of why we've enjoyed Springsteen's From My Home to Yours radio show so much, and Max Weinberg's Mighty Max's Monday Memories — keeping up with these artists that mean so much to us, hearing that they're okay. A new online series from the Bruce Springsteen Archives and Center for American Music is a similar balm: What's Up on E Street? debuts today, and it will "highlight the individual members of the band and how they are dealing with the global COVID-19 pandemic."
In the premiere episode, series creator Bob Santelli catches up with Nils Lofgren — you can watch it here:
Santelli explains, "What's Up on E Street? is an attempt to capture a bit of contemporary history, namely how E Street Band members have been coping with the COVID pandemic. All of our lives have been affected by this terrible disease. To document its impact on Springsteen and the E Street Band is just one of the Archives' many responsibilities."
Next in the series: Professor Roy Bittan. Visit the Springsteen Archives website and Facebook page to keep up with what they're doing at Monmouth U.
- July 7, 2020

PREMIERE: "THE RISING," STRAIGHT FROM THE HEART
With new side project The Lab, Nancy Wilson salutes "true heroes among us"
Nancy Wilson of Heart has always been a Bruce Springsteen fan, but holed up in quarantine, one of his songs kept coming up again and again for her. When she began working on new music, writing new material remotely with some of the members of Heart, and other players in a side project, there was a Springsteen song that just wouldn't let go of her.
That song was "The Rising." The tune had always moved Nancy, but in the past few months it kept resonating even more. "It's a response to all the souls departing, and the bravery of the first responders and medical crews," she said this week. "There are true heroes among us."
When I was working on Nancy and Ann's bestselling memoir (Kicking & Dreaming) a few years back, Nancy and I would talk about Springsteen a lot. When she first met him in the '90s, backstage at a show, she said she felt like "he was the coolest person on the planet."
Springsteen immediately stuck Nancy as someone special: "The kind of hope he brought to casual banter, even, was something. He was inclusive, disarming, and in the world of entertainment it also felt like he understood surviving 'the shadow.'"
To Nancy, "The Rising" had much of that same appeal — a song of hope, and about surviving the shadow — which is why it was one of the first things she decided to record during quarantine. Her current side venture is called "The Lab," and they are working on an EP. The line-up includes three players from Heart — Ben Smith, Andy Stoller, and Ryan Waters — along with two other acclaimed musicians: Austin's Eric Tessmer and Seattle's Jeff Fielder (who usually plays with Mark Lanegan).
Here's a world exclusive premiere, of Nancy Wilson and The Lab performing "The Rising."
- July 6, 2020 - Charles R. Cross reporting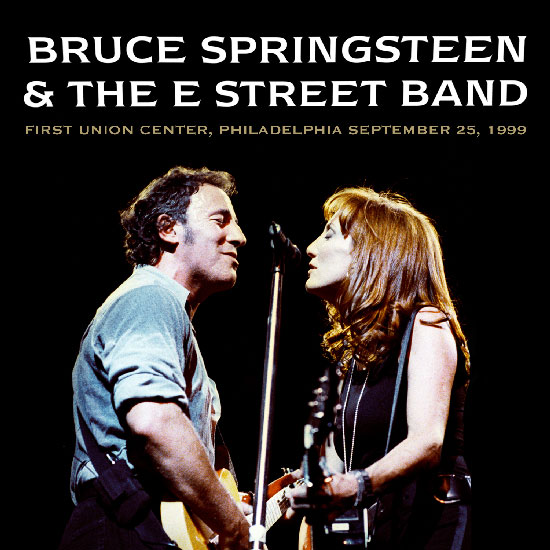 INCIDENT ON SOUTH BROAD STREET
Newly 50, Springsteen serenades Philly in new Archive Series release, 9/25/99
At 22 tracks, the final date in Philadelphia on Bruce Springsteen's 1999 Reunion Tour with the E Street Band might appear short; previous Archive Series selections from that year (Chicago and Los Angeles) featured 25 songs. But this show is stocked with lengthy ones, rarities, and a good deal of complexity. "Incident on 57th Street" and "New York City Serenade," after all, take some time to unspool.
Performed in a city known for its long-standing support — in 1974, Springsteen first played "Born to Run" in Swarthmore, a Philadelphia suburb, then debuted the studio recording a few months later on the city's FM rock station, WMMR — September 25 ranks among the tour's more celebrated concerts, and with good reason.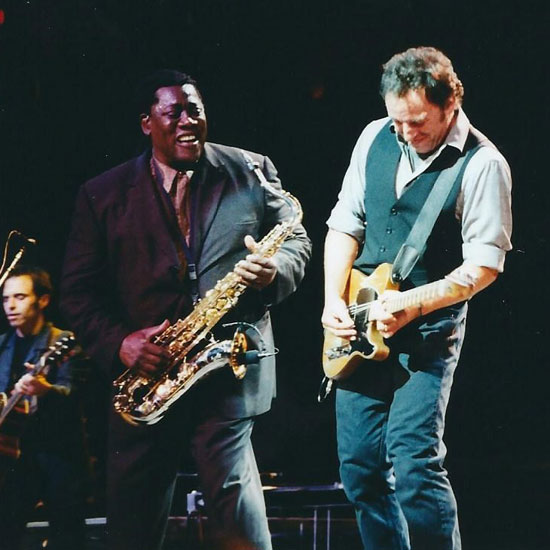 Philadelphia, September 24, 1999 - photograph by Ken Lesnik

After celebrating his 50th birthday on September 23, Springsteen played back-to-back Philly dates: the 24th, at the Spectrum (after a weather-related postponement), and this one: First Union Center, Philadelphia September 25, 1999. Both saw an infusion of infrequently-played numbers from his first two records; here, "Incident on 57th Street" gets a breakout turn to open the show.
Unplayed since its lone nod on the River tour in 1980, its top billing revealed Springsteen reinhabiting the song, from its narrative to the guitar work to an impressive lead vocal. By comparison, the 1980 airing at Nassau Coliseum sounds like Springsteen, whose new music sprang from different vantage points and typically played out in three minutes rather than eight, was sending it gently into the good night, simply because it was time.
That makes its 1999 rediscovery an exciting prospect today. From the opening notes on the piano (which hadn't been turned up full in the house, leading to a few seconds before it really sank in) to the sustained F chord that rang at the end, this is one deliberate performance. It took years before "Frankie" found its way back to the right place; one might argue that "The Fever," another song tried once that year, never has. But after this, the first of four Reunion tour plays, Springsteen would revisit "Incident" more frequently in later years, in both solo piano and full-band arrangements.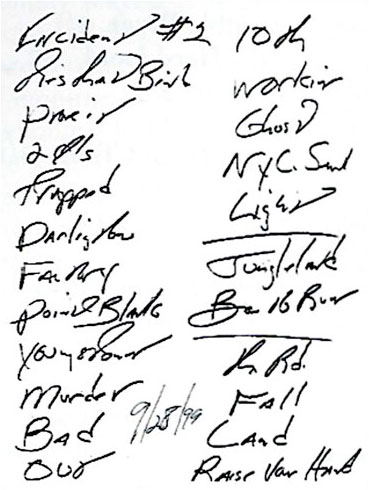 9/25/99 audibles: "Atlantic City" replaced the originally setlisted "Trapped"/"Darlington County"; "Sherry Darling" and "Streets of Philadelphia" replaced the setlisted "Working on the Highway" and "Ghost of Tom Joad"
Philadelphia September 25 brings plenty more new material from 1999: "Point Blank," "Sherry Darling," "Streets of Philadelphia," "Jungleland," and "Raise Your Hand" ("Light of Day" tags a good bit of "You Can't Sit Down," and "My Girl" gets a few bars during the band introductions segment of "Tenth Avenue Freeze-out"). "New York City Serenade" made the set, too (its first '99 entry is an honor bestowed by Chicago, released in 2018).
While the reworking of older songs is the kind of experimentation an attentive fan would gladly hear anytime, in the Reunion era the E Street Band came to play anew. Driven by Max Weinberg's six years of chopping wood on late-night television, they coalesced around a hard-rock trio of "Youngstown," "Murder Incorporated," and "Badlands" — a song from the solo LP The Ghost of Tom Joad, then a Born in the U.S.A. outtake, and finally a classic — then again in the encore, around "If I Should Fall Behind" and "Land of Hope and Dreams." Those songs feature here, each in a way that captivated listeners night in and night out.
Those agreed-upon places and arrangements — each more or less new to the band and audience alike, save for "Badlands" — served as the foundations that year, which saw Springsteen and the E Street Band restore the relationships — and some of the mythology, perhaps — left hanging by their dissolution a decade before.
"We were somewhat estranged, we were just taking the first small steps of performing," Springsteen said in 2014, when inducting the E Street Band into the Rock and Roll Hall of Fame. "We didn't know what the future would bring, and perhaps the shadow of some of the old grudges still held some sway."
Watching as Scooter and The Big Man tried to shimmy to some new, yet-to-be-determined place, one got the sense that they would get there, and that it might take some time. But never did the music sound tentative, even at the rehearsal shows in Asbury Park. Whatever disappointment lingered, be it over money or not being inducted with Springsteen in that year's Hall of Fame class, it never threw the E Street Band off their sound. Not that I could hear, anyway, and certainly not at this point in the tour, after nearly 80 performances.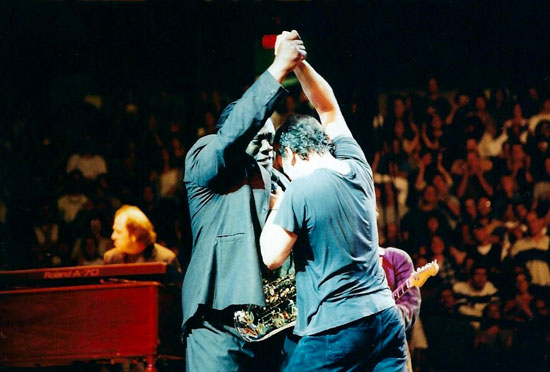 Philadelphia, September 24, 1999 - photograph by Ken Lesnik
Sometimes, focusing on a single player brings out another dimension in the recording. In this case, it's Clarence Clemons. Fifteen of these 22 tracks feature a sax solo: The Big Man makes a strong impression throughout, accenting the introduction to "Point Blank" and making the "last taste of summer" on "Sherry Darling" sound especially delightful. "Jungleland" simply elevated the place. Maybe it was a belated 50th birthday gift; more likely, it was all in a night's work. Godspeed, Clarence.
The Reunion tour's biggest payoff was its authenticity. The wariness that Springsteen alluded to at the outset gave way to a sense of refinement and possibility, making room for meaningful celebrations like this, where a song like "Incident on 57th Street" could get reimagined all over again. Later, it brought the modern era's highest in-the-moment number, "American Skin (41 Shots)," and finally, "Blood Brothers," proving Springsteen right once again: you can't get there by yourself.
Also read: Erik Flannigan's latest nugs.net blog entry, "I Heard Voices of Friends Vanished and Gone"
- July 3, 2020 - Jonathan Pont reporting


RECAP: FROM MY HOME TO YOURS, VOLUME 7
"Fourth of July, Asbury Park, featuring Southside Johnny and Little Steven Van Zandt"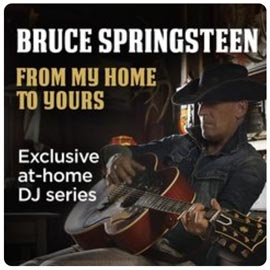 The E Street Band isn't the only weapon in Bruce Springsteen's arsenal that can turn on a dime. Part of the power of Bruce's art has been its flexibility, to give us what we need at different times — across the years, or in a single show.
From My Home to Yours, too, has proved sturdy enough to do the same, shifiting tones, repsonding to the times, and giving us very different fixes from one episode to the next.
After the scorched earth of Vol. 5 ("American Skin") and the rock 'n' roll requiem of Vol. 6 ("Down to the River to Pray"), Volume 7 of Bruce's radio show is a summer special, a gathering of old friends, and the story of the Asbury Park sound, in a two-hour blowout.
Hello, hello, fellow Americans and summer revellers! I'm glad to be here with you on this Fourth of July weekend to help you celebrate our Independence Day. We have a three-DJ spectacular for you today — I will be spinning the discs with Southside Johnny and Little Steven Van Zandt! And we will be concentrating on the soul stylings of Asbury Park, circa 1977 to '88, when Southside and Steve and I had all gotten together down at the Stone Pony. Steve and South had their fantastic house band there, and I spent many nights there high as a fuckin' kite.
This set might make you feel that high, too. Focusing exclusively on this "horn-centric" Asbury Park sound, it's the narrowest band of music Springsteen has yet cued up — but where he doesn't go broad, he gets to go deep. Discussing this music with his fellow architects and curators of the sound, it's also the first time Springsteen has played host on From His Home to Yours, and he does it with the ease and warmth you'd expect — at times it's the roundtable of old pals chatting like they're all at a bar, but our host also makes a point of asking questions and showing his appreciation for the accomplishments of his friends.
Bruce on "It's Been a Long Time": "In my opinion, Steve, a perfect song."
Yes, it's quite a set of accomplishments, as this history lesson of a playlist attests. For this sound, this particular strain of songwriting by Van Zandt and Springsteen, it's a perfect primer. There are exceptions, like Box Tops cover "Soul Deep," but this is largely a sampler of the horn-soaked soul sounds conceived and penned by Bruce and Stevie, which they brought to life with friends and compatriots Southside Johnny (vocally, its premier interpreter), the Asbury Jukes, Gary U.S. Bonds ("one of the greatest soul singers of all time," says Stevie), E Streeters, and more.
It's interesting to note, this is a sound that was often left off of Springsteen's own albums — most of his own recordings here are from outtake collections: "Gotta Get That Feeling" ("lost in the sauce of the Darkness on the Edge of Town sessions"), "So Young and in Love" ( "The E Street Band back in its wild and wooly days, trying to write something that was gonna tear the roof off the place"), "Lion's Den."
So there's a thread running through Volume 7 that offers a Secret History of Bruce Springtsteen — running parallel to his carefully crafted LPs, there was this string of collaborations, songwriting, production, uncredited performances. In some cases it had to be secret, since his label wouldn't grant him permission! The trio delves into some of those moments, recalling recording with "Bondsy" so fondly you wish they'd do it all over again tomorrow.
Bruce does stretch his self-imposed boundaries a bit on either side of the 1977-'88 timeframe, playing more recent material from Little Steven ("from his Summer of Sorcery record, the man's return to soul!" and even his live take on "Tucson Train") and going back to "Tenth Avenue Freeze-out," with a recounting of Stevie's crucial on-the-fly horn arrangements ("second song we ever put horns on with the E Street Band," after "Kitty's Back"). In between, so many classic cuts highlighting collaborations — with Bonds, the outstanding "Club Soul City," with Clarence and the Red Bank Rockers, "Savin' Up" — and Jukes treasures from the first record up through the Better Days "comeback" and two of its finest moments.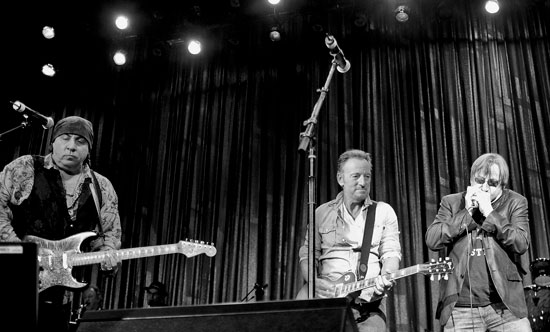 photograph by Mark Krajnak/@jerseystyle_photography
So with Springsteen having created and cued up such a stellar a playlist, it becomes a privilege for the rest of us to hear this "Jersey Summit" react to it along the way. Sometimes it's just "mmmm!" But the history shared by Springsteen, Steven Van Zandt, and Southside Johnny Lyon goes back 50 years — "just one coat between us, and we never felt cold," as the song goes — and it's a blast to hear them reflecting on that shared history, relistening and responding to the music they've made together.
"This Little Girl"? "We had a hit!" "I Don't Want to Go Home"? "Steve almost drove into Sunset Lake," Southside says, when they heard the song come on WNEW. And don't forget the cut-throat games of Monopoly.
Other memories along the way are of the great influences on the music that we're hearing, like seeing Sam Moore at the Satellite Lounge ("We got to watch... from six feet away... One of the greatest musical nights of my life," says Bruce), and their habit of drawing on and paying tribute to their own heroes from the "oldies circuit," like Bonds, Lee Dorsey, Chuck Jackson, and Ben E. King, and reuniting the Coasters, the Five Satins, and the Drifters to play with the Jukes.
Stevie: "We always had one foot in tradition."

Southside: "Twist and doo-wop… we were really trying to be with the modern cats!"
Sometimes Volume 7 is a fascinating listen as much for what they don't remember as what they do. "Stevie, you're gonna have to remind me if I had anything to do with this one," Bruce says as "Love on the Wrong Side of Town" begins. Stevie responds, "You did, that's your riff!" We get some insight into how their co-writing worked, and glimpses of studio sessions and production, too — "those tympanies were just lying around!"
You'll have your own favorite stories here. Bruce recounts "The Fever" leaking on WMMR; they all bemoan the sterile studio sound of the '70s, as "the engineers had taken over": "We're trying to go for the wall of sound, but the wall was covered with a fuckin' carpet!" You'll have your own favorite one-liners, too. "Steve Van Zandt — all in, or not in at all!"
Some "Soul Power Twist" from Stevie?
Southside: "Let it never be said that Little Steven is not au courant!"

Bruce: "I'm twistin! I'm twistin' right the fuck now!"
So maybe it's less au courant, but Volume 7 is, more than any previous episode, a timeless set of music and commentary begging for repeat listening. And also perhaps a chance for this music to reach new ears — it's entirely possible to be a big Springsteen fan without being well-versed in this particular rock 'n' soul sound of Asbury Park. While many of Bruce's performances revel in these stylings — certainly on club stages or when he brought a horn section on the road — on record it's a different story. As the playlist illustrates, many of the songs Springsteen himself wrote in this vein are ones that he gave away — "all the records that we should have made in between the records," as he says — which makes this two-hour sepcial all the more of a treat, spotlighting and tying together his own work in this soul-deep vein with his Asbury Park comrades in arms.
Happy 4th of July, Bondsy! Happy 4th of July, everybody! Play it loud!
Visit the SiriusXM blog for the schedule of repeat broadcasts for Independence Day Weekend and beyond on E Street Radio.
Playlist:

Instrumental intro - "4th of July, Asbury Park (Sandy)"
Southside Johnny and the Asbury Jukes - "Some Things Just Don't Change"
Bruce Springsteen - "Gotta Get That Feeling" (live 12/7/10)
Little Steven & the Disciples of Soul - "Love Again"
Southside Johnny and the Asbury Jukes - "Love on the Wrong Side of Town"
Bruce Springsteen - "So Young and in Love"
Gary U.S. Bonds - "Soul Deep"
Southside Johnny and the Asbury Jukes - "Coming Back"
Little Steven & the Disciples of Soul - "Until the Good is Gone"
Gary U.S. Bonds - "Club Soul City"
Bruce Springsteen - "Lion's Den"
Little Steven & the Disciples of Soul - "Soul Power Twistin'"
Southside Johnny and the Asbury Jukes - "The Fever"
Clarence Clemons and the Red Bank Rockers - "Savin' Up"
Gary U.S. Bonds - "This Little Girl"
Little Steven & the Disciples of Soul - "Tucson Train" (live)
Southside Johnny and the Asbury Jukes - "First Night"
Southside Johnny and the Asbury Jukes - "I Don't Want to Go Home"
Bruce Springsteen and the E Street Band - "Tenth Avenue Freeze-out" (live)
Southside Johnny and the Asbury Jukes (with Bruce Springsteen and Steven Van Zandt) - "It's Been a Long Time"
Bruce Springsteen and the E Street Band - "Jersey Girl" (live)
- July 2, 2020 - Christopher Phillips reporting


REBIRTH AND REDEDICATION: HE REALLY MEANT IT
An ending and a beginning, 20 years ago tonight in NYC
It's a good night for a ride
Cross that river to the other side
My blood brothers
Today marks the 20th anniversary of the first time Bruce Springsteen sang those lyrics as part of an entirely new verse of "Blood Brothers," a unique performance that brought the curtain down on the 1999-2000 "Reunion" tour with the E Street Band. "Blood Brothers" was originally recorded as part of an earlier, briefer reassembly in 1995. Though we know with hindsight how it all turned out, both reunions were tinged by uncertainty at best regarding the future of the legendary E Street Band.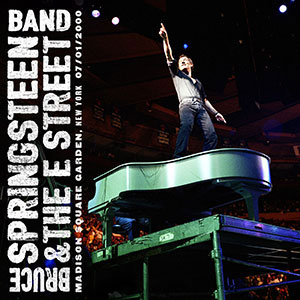 July 1, 2000 was the final night of a ten-night stand at New York City's Madison Square Garden as well as the final night of the Reunion tour that lasted nearly 16 months. As Bruce later revealed in his autobiography Born to Run, he began the pre-tour rehearsals with a sense of "ambivalence" and "anxiety." To his relief, both feelings faded as soon as they played in front of actual fans.
On many nights of the Reunion tour, Bruce introduced the newly written "Land of Hope and Dreams" by saying the tour represented "a rebirth and rededication of the band." But while he seemed sincere and earnest, there was always a bit of doubt regarding whether that rebirth was meant to last beyond the closing notes of July 1, 2000, or if he would continue to follow muses that led him away from E Street.
Introducing "Land of Hope and Dreams" on the final night, Bruce thanked the crew and management, and, after thanking the E Street Band, he called them "the best band in the land." Within seconds, the entire crowd erupted into an "E Street Band! E Street Band!" chant, an outpouring that visibly moved everyone on stage. And since the spotlight was still only on Springsteen for the introduction, he prompted further cheers as he urged the lighting crew to: "Get some damn lights on 'em, will ya?!"
A powerful "Land of Hope and Dreams" followed, and its images of tickets, suitcases, unknown destinations, and traveling companions inspired thoughts of the previous 15 months and the amazing tour that was coming to a close.
There were times when such a reunion seemed improbable, or fears that such a reunion wouldn't have the same power as the original iteration. But faith was indeed rewarded as Bruce Springsteen and the E Street Band had come roaring back to reclaim their title as one of the greatest live rock acts on the planet.
As "Land of Hope and Dreams" ended and Bruce implored the audience to "Let me see your hands," his howls had a bit more emotion than most nights — not unexpected. What was unexpected was that no one left their spots on the stage when the song ended (all previous nine shows at the Garden ended with the band exiting after "Land of Hope and Dreams"). The emotion in the building wasn't trending in the direction of a "Raise Your Hand" or "Blinded by the Light" performance. Bruce approached the mic and gave a short shout-out to Food for Survival, a community-based organization that helps New York City hungry and homeless, a PSA he normally gave prior to "Land of Hope and Dreams."
"We've talked a lot about faith on this tour. Faith don't mean nothing unless you put it into action," he said. "We got one more for you, but we're going to need a little bit of quiet. C'mon, my friends."
A single keyboard chord began, joined shortly by Max's high hat keeping a slow but steady beat. The crowd started clapping along but was quickly quieted with a hand gesture from Bruce. The keyboard chord changed, and the progression made the song obvious: "Blood Brothers." As the music settled after the "houses of the dead" verse, Springsteen paused and motioned for everyone not behind a drum kit or keyboard to come to the front of the stage, where they joined hands to form a line, facing the crowd. With a slight twinge of uncertainty and more than a hint of emotion, he sang an entirely new closing verse:
Now I'm out here on this road
Alone on this road tonight
I close my eyes and feel so many friends around me
In the early evening light
And the miles we have come
And the battles won and lost
Are just so many roads traveled
So many rivers crossed
And I ask God for the strength
And faith in one another
'Cause it's a good night for a ride
'Cross this river to the other side
My blood brothers
The music built back up and the band soared, led by Bruce's harmonica and Clarence's saxophone, before gently ending.
As the E Street Band left the stage, Bruce stayed at the top of the stairs, seemingly thanking each band member individually. After Clarence — the last one to descend the stairs — Springsteen took an extra moment to look at the audience. We don't know what was going through his mind, but fans were certainly hoping it wasn't the last we'd see of them.
Time has told: Bruce was intent on keeping that pledge of rebirth and rededication. Over the course of the next two decades, Springsteen would go on to record and release seven albums, five of which were followed by a tour with the E Street Band, plus two box sets based on earlier E Street projects. There were off-ramps — Devils & Dust, Seeger Sessions, Broadway — but Bruce lived up to the most optimistic interpretation a fan might have for the band's "rededication."
The ongoing vitality of the E Street Band since that night — its ability to address hard times, its flexibility through nearly unthinkable losses and lineup changes — has been undeniable. Thank you, Bruce — and the heart-stopping E Street Band — for the miles we have come together in the last 20 years.
- July 1, 2020 - Flynn McLean reporting - McLean is co-host of the podcast None But the Brave