continued from Disciples of Soul Part One: Marc Ribler
"A loving, caring family of like-minded, hard-working, talented, supportive, simpatico people with no drama or bullshit."
Mike Saunders talks to Horn Director Eddie Manion (baritone sax), Stan Harrison (tenor sax), Clark Gayton (trombone), Anthony Almonte (percussion), Rich Mercurio (drums), Jack Daley (bass), Lowell "Banana" Levinger (piano), Tania Jones and Jessie Wagner (backing vocals).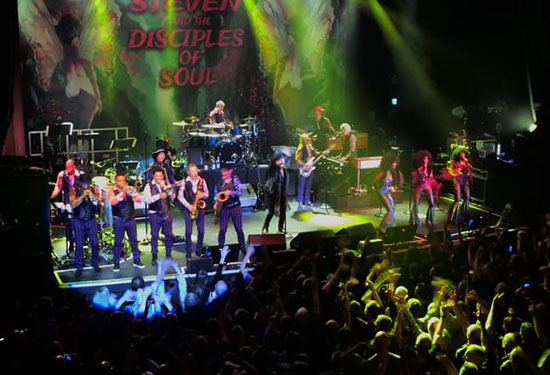 Name some other artists you've worked with in the past and describe a memorable musical experience.
Eddie: Bruce Springsteen, Southside Johnny, Robert Cray, Willy DeVille, Diana Ross, Dave Edmunds. Twice in my life I got the chance to play with Sir Paul McCartney. The first was with Bruce and the E Street Band on July 15, 2012 at Hyde Park in London. I was lucky to buy my mom an airline ticket from New Jersey. It resulted in her being onstage to watch us play. She also got to meet and talk with Paul McCartney after the show. My mom was my greatest fan, and this was a very special moment in my life. Thank you, Paul! Thank you, Bruce!
Stan: I've worked with a number of artists in the past. A few of the most well known are David Bowie, Radiohead, Duran Duran, Serge Gainsbourg, and They Might Be Giants among others. I was called to play baritone sax on the Radiohead song, "The National Anthem," on their album, Kid A. I was part of a large horn section, and while there was a chart, we ultimately were instructed to improvise. The goal was to end up like "the Charlie Mingus Big Band having a breakdown" or something like that. After a few unsuccessful takes, I suggested to Thom Yorke and Jonny Greenwood that they conduct us. They hesitated, saying they'd never conducted before. Seconds later they were standing in front of us, jumping up and down with arms flailing, and after one or two takes, they got exactly what they wanted. As a longtime fan, it was memorable for me to be recording, and eventually performing, with them.
Clark: Lionel Hampton, McCoy Tyner, Steel Pulse, Nancy Wilson, Stevie Wonder, Sting, Prince, Bruno Mars, Bruce Springsteen, Queen Latifah, The Skatalites, Usher. It was amazing to play with so many great talents and hard to single out one experience, but playing with The Skatalites gave me the most direction and focus on what I wanted to accomplish for myself. The energy they were able to generate in a room was incredible. The audience would be in a trance, and it was my first experience feeling the stage "levitate" and being a part of casting that spell. It's hard to not want to go for that every night I play. It's such a high! They truly were masters of music.
Anthony: In my young career, I've had the great honor of performing with Kid Creole and the Coconuts, Wynton Marsalis, and the JALC Orchestra and Eddie Palmieri among many others. One memorable experience was my first gig with Kid Creole in Australia, my first time in the country. The tour came during a difficult period in my life, and it was the experience I so badly needed. Fantastic persons in the band, many of whom I'm still extremely close with.
Rich: Some artists I've played with in the past are Ben E. King, Idina Menzel, Sara Bareilles, Jonatha Brooke, and Chris Whitley. I will say that travelling with Ben E. King over 15 years and hearing his stories and experiences was always a thrill: first-hand accounts of his life, the business, and how he ended up writing certain songs… brilliant.
Jack: I have been fortunate in my career to work with a wide range of artists, both as a session musician and a touring musician. A short list would include Lenny Kravitz, Joss Stone, Beyonce, Sara Bareilles, Rob Thomas, Jason Mraz, Daryl Hall, and Naughty By Nature. So many memories, but one that sticks with me was tracking on Beyoncé's record 4. She was very easy to work with. We had a great vibe. We had done Saturday Night Live previously and even had dinner once with Lenny Kravitz and Denzel Washington, so we knew each other a bit. I think people would be surprised and impressed to know how involved in the process she was.
Banana: Norton Buffalo, Dan Hicks, Mimi Farina, Steve Kimock and Friends, Zero, David Grisman, David Nelson, The Youngbloods. So many to choose from, but the Sky River Rock Festival in Washington, where it rained and the audience covered themselves in mud and we kept going, was a good one… Playing the Boston Commons for free in the afternoon and having the club owner where we were playing that night threaten to sue us if we played for free, so I invited 5000 people to be on the guest list… Driving to Chicago from New York City to play a gig at a club, getting snowed in and the gig cancelled, and the manager refusing to send money to pay for the hotel bill.
Jessie: I've worked with Nile Rodgers and Chic, Kid Rock, Duran Duran, and Lenny Kravitz, but one of my favorite experiences occurred when I was doing a residency in Antwerp, Belgium, with Chic. We were part of a show called Night of Proms, where they take pop acts and combine them with an orchestra. Nile mentions that it's my birthday. The host brings out the largest bouquet I've ever seen, and 20,000 people sing "Happy Birthday." It was thrilling.
The Disciples appeared to be a family more than just a band. What was the camaraderie like?
Eddie: No egos, just great musicians working and travelling together and eating a lot of food late at night. All you need to do is watch the video of us practicing "All You Need Is Love" on our U.K. tour bus in preparation for our Liverpool Cavern Club show, and you'll see how much we loved touring and performing together.
Stan: We were with each other almost every waking hour of the day, and we enjoyed every minute. There was a mutual respect. It was a very special combination of people, and one that I doubt will occur again.
Clark: It was very much a family. Everyone got along and spent their downtime with each other. Steven made an effort to make sure we had great accommodations and food and travel, so it was always fun.
Anthony: I have been blessed with touring with bands that have great camaraderie, but this was a totally different experience. Steven is all about creating an environment where everyone shares and can contribute. So once that first song was counted off, everyone was locked in, emotionally invested in their performance. Offstage we shared countless meals, went sightseeing, checked out other bands. And all that for a group of this size — it's fascinating.
Rich: This question sums up exactly what it was like. The band grew and became a very tight-knit family unit in every way. A very large entourage, yet it somehow felt very small. Steven created this with an unspoken necessity that permeated every facet of our time together. It became what it was because of that. Playing and travelling with this band is the greatest. Incredible musicians, and even more importantly, incredible people. Inspiring all the time.
Jack: This is completely true. Steven liked to eat together after the show and rap down how it went. We would talk about special moments or areas we could improve. It was a blast, and Steven was always the most generous host.
Banana: Every band is a family, but 99.9 percent of them are dysfunctional. Not the Disciples! We are a loving, caring family of like-minded, hard-working, talented, supportive, simpatico people with no drama or bullshit. Stevie is the padrone. He likes to have family meals after the gig, which brings us closer together even if it costs us some sleep.
Jessie: I got along with everyone in the band, but my connection to the background singers became a particularly strong bond. I found a sisterhood of loving women, encouraging and supportive. I can always depend on them, to this day. We worked out together, shopped together, ate too much cake together, and kept each other lifted up.
Little Steven's work ethic and attention to detail is well known and highly respected. What impressions have you formed of him as bandleader, musician and friend?
Eddie: Stevie is a great songwriter, singer, producer, guitarist and musician. As a person, the best there is. A very close and personal friend throughout my life and career.
Stan: His reputation is well deserved. The main impressions I have of him were formed when I joined Southside Johnny's band in 1977. He was meticulous back then and has lost nothing in that regard. As a friend, there is no one who looks out for others to the degree that Steven does. There is no one more loyal, and as a result, people treat him in the same manner. Everyone who works with Steven gives the best that they have. Everyone wants to reach the level of perfection that he demands and which, most importantly, he demands from himself at all times.
Clark: He doesn't take time off, comes into work everyday. Very hands-on with every aspect of the show. Doesn't leave a lot to chance, but I don't think any two performances were the same. A level of trust has developed. We want the horn passages to be the best they can be, so there's an open dialogue about making that happen.
Anthony: Coming from a Latin American background, I didn't know much of Steven's music, much less of him as a bandleader/performer. Taking this journey with him showed me how great he is at his craft. When I joined, it was apparent I was working for someone who has a keen ear for detail. As we toured and recorded, he began to branch out the stage-presence aspect of his performance – his banter between songs, the incorporation of the band members through stage blockings and vocal features. On a personal level, I am so honored to have the relationship we've built. There is a mutual respect and appreciation that blossoms and continues to grow. It's a beautiful thing, baby.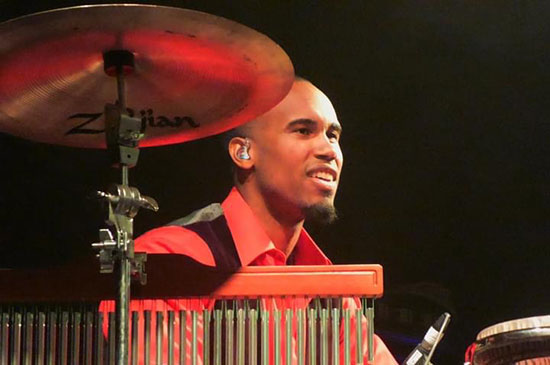 Percussionist Anthony Almonte
Rich: Steven demands a certain work ethic at the highest level at all times. He hears it all. From a song's inception to the 100th time we play it, details matter. We would rehearse a song to play at one show with the same amount of detail and heart as if we were going into the studio that night. It's why everything recorded by that band sounds so good. His friendship is on the same level. Loyalty means everything. I've never seen a group of this many people so tight with the artist/leader. He has become a great friend. I cherish it. He's a special cat.
Jack: Steven expects 110 percent from everyone in the band. He is extremely focused and expects the same back from us. You need to be prepared and prove yourself to him or you won't last. You can't bullshit your way through this gig. However, once you've earned his trust, he is simply the best bandleader and friend in the world.
Banana: Best I've ever worked with, in every respect. At soundcheck, the band will work out a new tune that Steven has given us and settle on an arrangement and practice it and nail it. Then Steven shows up, changes everything, and always makes it better. It's a wonderful challenge working with him. The arrangements are meticulous and fun to play, and he is constantly improving them. We started out as friends, having met at the Notodden Blues Festival and hit it off like two crumbs in a toaster. I put in an application to be a Disciple and he accepted me.

Tania: The thing I respect the most about Steven is his ability to imagine a fully fleshed-out vision, top to bottom, with all the bells and whistles, and be able to see that vision through to its final execution. I don't think very many people possess that skill set. Most will imagine an idea, but the details and particulars are hazy, making it hard for them to turn their dream into a reality. Steven is great about knowing exactly how he wants something to turn out, and his attention to those details are what enables him to produce such a great show. He makes it clear where he wants you to go with it. That makes it easy for us to all get into the groove together and give a great performance.
Jessie: As with everyone I've worked with that have reached that level of stardom, attention to detail and knowing exactly what you want to do with your music is paramount to having a successful show. Steven definitely knows what he wants and will work on it until it is achieved. The days can be long and gruelling, but he also knows when to let the new ideas resonate and breathe. He's very playful and tries to keep the atmosphere light. He made us feel like, although there will be changes made and many things to learn, he knew we'd get there — and there was comfort in that assurance. He's determined and hard working, the qualities you want and need for any role model.
Soulfire featured a variety of styles and material written over several decades, while Summer of Sorcery was primarily new material. Which song or sequence of songs did you most enjoy playing and why?
Eddie: It had to be the James Brown song, "Down and Out in New York City," showcasing the improvisational skills of the horn section and all the Disciples. Watching Steven watching us perform was so much fun.
Stan: My favorite song from recent times is "Summer of Sorcery." It is one of the most personal songs in Steven's catalogue and has one of my most intense sax solos ever. I looked forward to it. As for older songs, my favorite is "Forever." I loved playing it on tour as much as I did when I recorded it with the Disciples of Soul many years ago.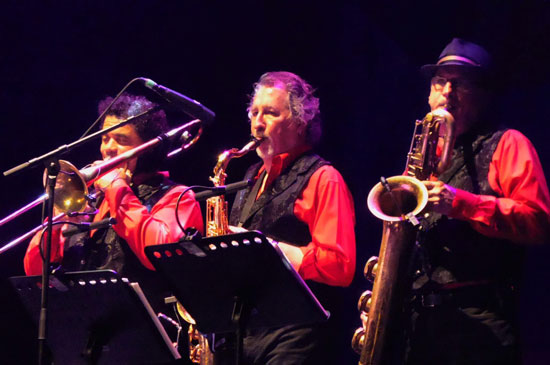 L-R: Trombonist Clark Gayton, tenor saxophonist Stan Harrison, Horn Director and baritone saxophonist Eddie Manion
Clark: Of course I like it when the horns come out front to play a few licks. The solo section of "Down and Out in New York City" was a highlight. I wish I had another crack at that. There are so many directions to take with that section, but the challenge was to have your say and pass the baton smoothly to the next soloist. Great memories!
Anthony: There was a moment in rehearsals for our Summer of Sorcery Tour when we were piecing ideas and transitions together, and I thought, "What we did last tour was amazing, but this is next-level shit right here." I voiced it to Steven and some of the guys. The show gave me so much life. The setlist was laid out masterfully, weaving some classic heavy hitters, such as "Camouflage of Righteousness" and " Los Desaparecidos," into the variety of tunes that is the album. If I had to pick a specific tune, the title track always hit me differently. And "Bitter Fruit," obviously.
Rich: To say I enjoyed playing one more than another would be an injustice to that music. I have played, listened to, and loved many styles of music throughout my career, and this band allowed for all of that to come out. Every few shows, there was something that made a different song or sequence pop out as my fave for the moment, then it would change again. That is mad testimony to the layers of depth in those songs and arrangements.
Jack: I enjoyed all of it! And I really enjoyed the challenge of covering all the different musical styles.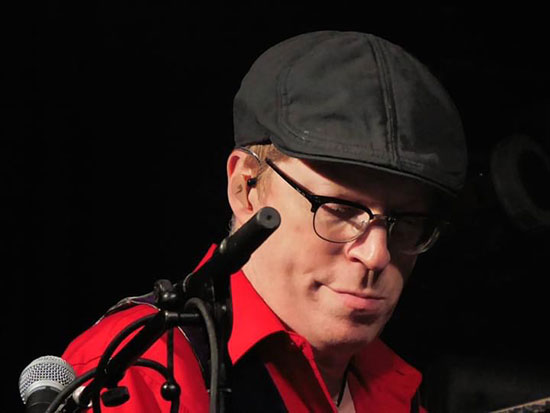 Banana: We know a ton of songs. That's one of the fun things about the band: a large, constantly growing repertoire. "Gravity" is a fun one. "Solidarity," too.
Right: Keyboardist Andy Burton
Tania: I'd have to go with "Down and Out in New York City." I absolutely love hearing the horns take their solos. It's a funky song on its own anyway — it's really fun to sing and dance to. But something about hearing a legend like Ron Tooley do his thing on the trumpet made my night every time. Listening to Clark, Eddie, Stan, Ron, and Ravi each lay it down on the horns every night reminded me how blessed I was to be a part of it all.
Jessie: Oddly enough, my favorite songs were the ballads, "Princess of Little Italy" and "Suddenly You." Maybe because we got to take a breather backstage! They are both very beautiful songs with haunting melodies. I liked listening each night. But I really enjoyed performing all the songs. Each had its own character. "Salvation" was this energetic, raw, rock song. I loved headbanging to it. Then we got to fill people's soul with longing and bittersweet memories with "Until the Good Is Gone." But the moment we got to "Out of the Darkness" was always sweet because we knew we'd made it through another show, giving everything we got and leaving it all on that stage.
The recording sessions were brief but highly productive. What's Steven's modus operandi in the studio?
Eddie: I remember following Stevie around the recording studio with my computer in hand, making a few thousand changes to my Sibelius music notation files. The recording process for Summer of Sorcery started with Stevie and I sitting in his apartment for 12 days. We worked on a song a day, armed with just my iPhone voice recorder. Stevie would sing and play his guitar, giving me the basic chord structure and horn parts for each song, with some string parts. I would then take my notes and iPhone recordings back to my hotel room to write detailed chord charts for the rhythm section and horn charts for the horns. For 12 days, I averaged about two hours of sleep a night. There was a point when we joked that if my phone got lost or damaged, there would not be a Summer of Sorcery album.

Stan: The work was intense. There was no settling for second best. Steven listened to every part everyone played and since nothing got by him, everyone performed at their highest level. It must always be remembered that Steven hired professional musicians whose code was always to do their absolute best in all situations. Steven managed to bring out even more. He searched for the best parts and the most convincing, honest, uncontrived performances and inspired us to do our best. However, this occurred in a stress-free environment. We all loved the recording process.
Clark: If you screw up a take, it won't get past him. It will be right by the time you leave the studio.
Anthony: I remember thinking how I've never recorded quite like that. Steven would come in with voice notes on his phone, but he could hear the whole production in his head. We would have to channel him and bring it to life. It was amazing coming in and laying basic tracks, then seeing how it would come together so beautifully. We were cramming in the recording. I had to lay down some hand percussion the morning we had to leave for the tour!
Rich: For both, the process was similar. One song a day. Rhythm gets a voice memo the night before of Steven going through it, playing it, explaining things about it. We go through the song and have some working recording of it until he shows up, then we change everything and get down to business with his vision. That's when you see his mind at work. Fast, musical as hell. It's crazy watching it happen. We're writing things down and erasing things at warp speed. Total blast. We rehearsed songs that became the Soulfire record for a show in London. No thought that there would be anything to follow. The detail work was so deep that when the idea happened to make a record, we knew that music so well. By the time we got to the Summer of Sorcery recording, we had been playing as a unit for quite a while, probably 100-plus shows, so we were cutting rhythm tracks in a couple hours per song. We had such a knowledge and command of Steven's process and musical vocabulary. It was a true "band" recording.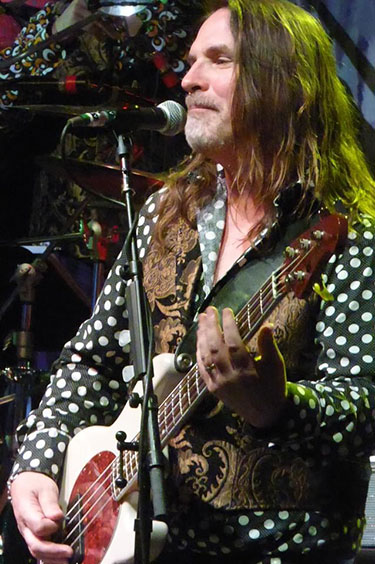 Jack: After tracking a few songs with Steven, he started calling the rhythm section the "One Takers." I enjoyed the challenge and thrill of trying to get it perfect on the first take — but also always being ready for the Steven Van Zandt curveball that could happen at any point. In general, we moved very quickly while never sacrificing quality.
Right: Bassist Jack Daley
Banana: Steven has a lot of faith and trust in the band to be on the ball, creative. The rhythm section will spend a few hours getting the basic track together, then Steven comes in and makes changes; and then the horns, then the girls, scratch vocals, and lead guitar. It comes together amazingly quickly. For Summer of Sorcery, we basically did one song a day. I spent a half-day replacing most of my acoustic piano parts with the Wurlitzer. Steven loves that Wurly! Bob Clearmountain does a zillion mixes until Steven approves of every little nuance, and bingo!
Tania: When you have a 15-piece band, there's not a lot of wriggle room for ambiguity in the studio. We had a ton of material to cover and not a lot of time in which to do it. Steven more or less knew what he wanted, down to the syllable, and he knew how to get that out of each of us, so it made the process go rather smoothly. Even when he was on the fence about an idea, he never lost sight of the overall vision. Steven values your input. He's looking for the best performance he can give, so anything in service of that, he's pretty open to listen to different ideas. So far as recording those tunes, even though it was a lot of work in a short time, it didn't feel stressful or taxing at all.
Jessie: He likes it old-school, every take authentic and individual. He wanted a certain intonation, pronunciation, and style. That's the only way to get through that many songs in a short time. You have to have a game plan.

Disciples of Soul PART ONE: MARC RIBLER
"A new family of friends, loved one,s and people you could count on till the end of time have been etched into our lives."
Disciples of Soul PART THREE
"No egos, just great musicians working, travelling and performing together and eating a lot of food late at night."