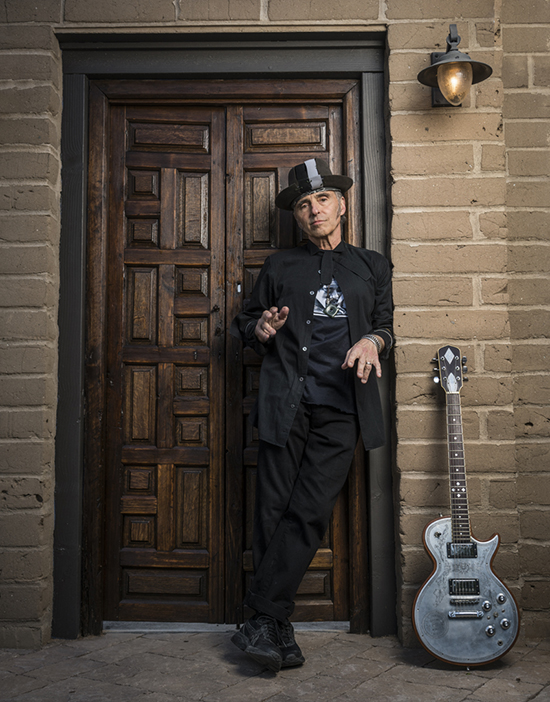 CITY BY CITY, NIGHT AFTER NIGHT...
Catch the Nils Lofgren Band on tour beginning in May
This spring, the great Nils Lofgren will hit the road in support of a forthcoming new album, and U.S. dates have been announced for May into June. After a stretch in the midwest beginning May 10, Nils will hit Boston and NYC before heading south to Virginia, Tennessee, Georgia, and Texas. Most of these shows go on sale to the general public this Friday, March 1, with a few pre-sales happening sooner; see below for links to tickets and further info.
Nils Lofgren Band 2019 Tour Dates:
May 10 - Dakota - Minneapolis, MN (onsale 3/1)
May 11 - Potawatomi Casino - Milwaukee, WI (onsale 3/1)
May 12 - City Winery - Chicago, IL (onsale 2/28)
May 13 - City Winery - Chicago, IL (onsale 2/28)
May 15 - Memorial Hall - Cincinnati, OH (onsale 3/1)
May 16 - Kent Stage - Kent, OH (onsale 3/1)
May 18 - City Winery - Boston, MA (onsale 3/1)
May 19 - City Winery - New York, NY (onsale 2/28)
May 20 - City Winery - New York, NY (onsale 2/28)
May 21 - The Birchmere - Alexandria, VA (onsale 3/1)
May 22 - The Birchmere - Alexandria, VA (onsale 3/1)
May 24 - City Winery - Nashville, TN (onsale 3/1)
May 25 - City Winery - Nashville, TN (onsale 3/1)
May 26 - City Winery - Atlanta, GA (onsale 3/1)
May 27 - City Winery - Atlanta, GA (onsale 3/1)
May 30 - The 04 Center - Austin, TX (onsale 3/1)
May 31 - The Heights - Houston, TX (onsale 3/1)
June 1 - Jefferson Theater - Beaumont, TX (onsale TBA)
June 2 - Kessler Theater - Dallas, TX (onsale 3/1)
While Lofgren's recent performances have largely been solo or as an acoustic duo, this new outing is with a full band — Nils writes that it's the first time in more than 15 years. Joining Nils in the five-piece will be his brother Tom (guitar, keys, vocals), bassist Kevin McCormick, Sessions Band/E Street Band backing vocalist Cindy Mizelle, and drummer Andy Newmark.
Nils is "excited to feature my new album, out before the tour, along with the best of 50 years on the road. Amy and I worked together in our home with great musicians and we look forward to sharing this new music soon." We'll have more on that new album soon, as well.
- February 27, 2019 - photograph by Carl Schultz


ME AND PAUL: "THE THRILL OF MY LIFE"
Yesterday, Little Steven returned to Q104.3's Breakfast with the Beatles, to co-host with Ken Dashow. Along the way they taked about performing with Sir Paul McCartney — not only has Stevie done so onstage with the E Street Band, but also with his own Disciples of Soul, as captured on the recently released Soulfire Live! Blu-ray and 7LP vinyl set.
"It was the thrill of my life, honestly," said Steven. "I mean, it was great having him join us with Bruce — that was fantastic, that alone. But you know, him coming on my stage, with the Disciples of Soul, to endorse what I'm doing, was literally the thrill of my life."
Check out yesterday's discussion above (thanks to Sammy Steinlight for the clip), and watch "I Saw Her Standing There" (live in London, 2017) below.

- February 25, 2019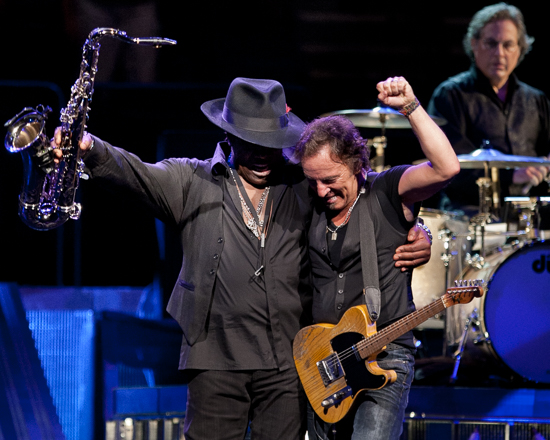 FLASHBACK FRIDAY: TAMPA, APRIL 22, 2008
Courtesy of photographer A.M. Saddler, here are more sights to go with the sounds of St. Pete Times Forum, Tampa, FL, February's installment in Springsteen's live archives series.
All images here are from April 22, 2008, the E Street Band's powerful first performance following the funeral of Danny Federici. For more on the show, and more of Saddler's photos from the concert, see our feature on this latest archive release below as well as our original concert report.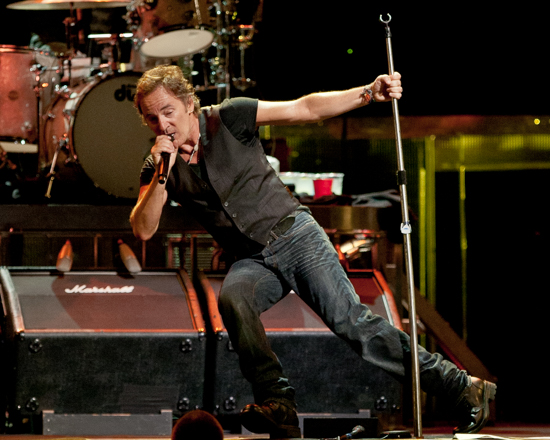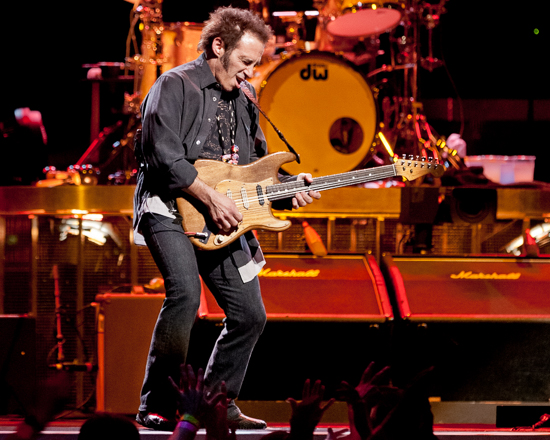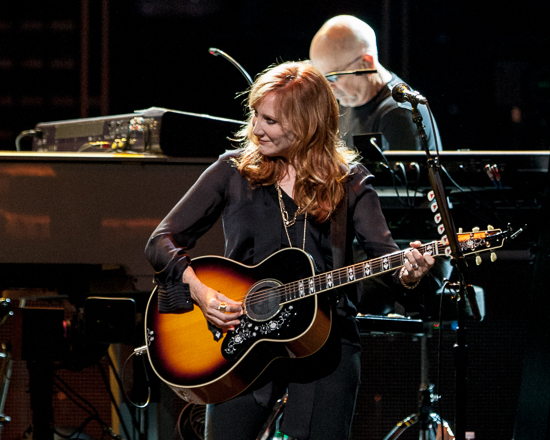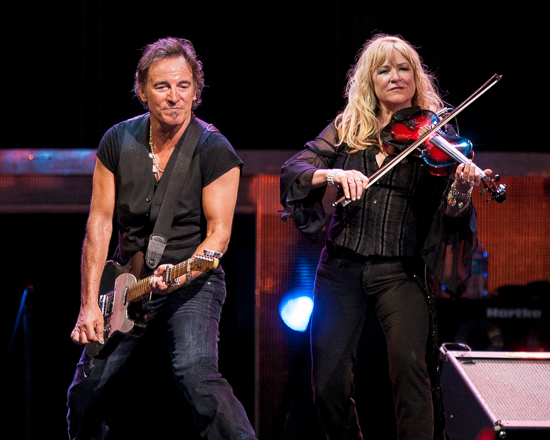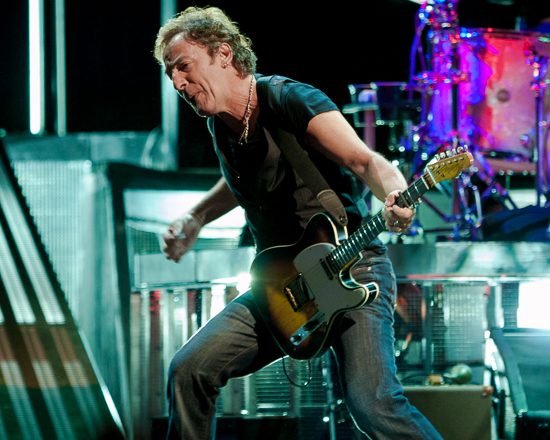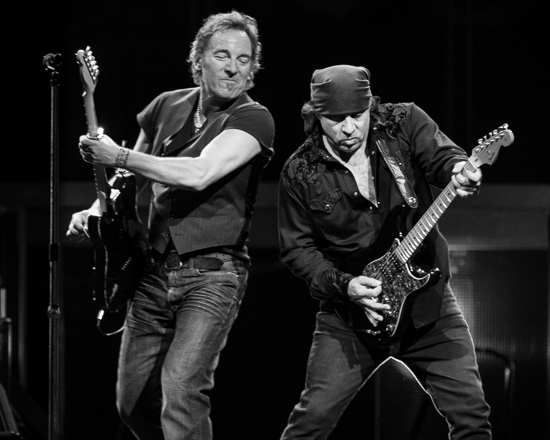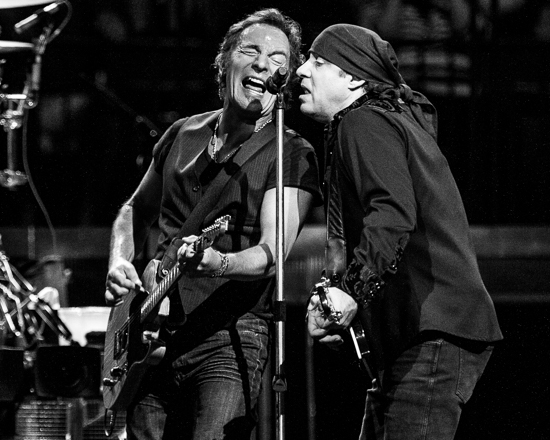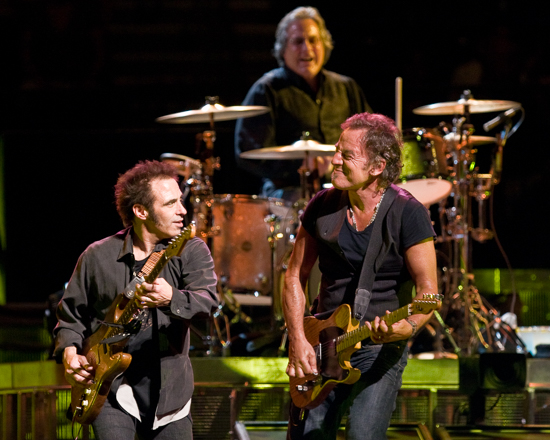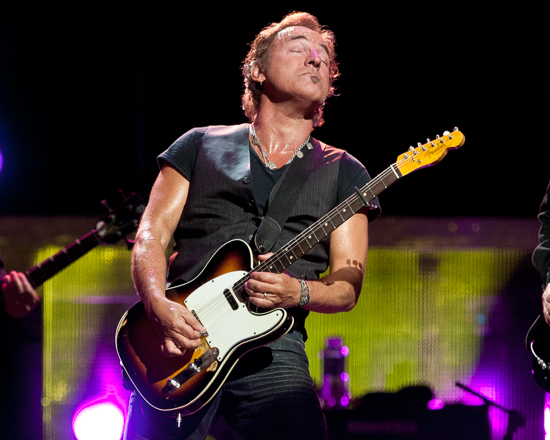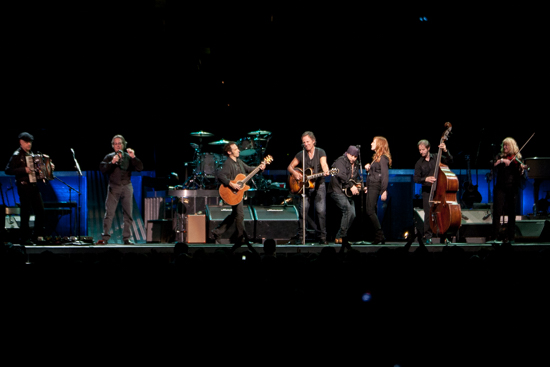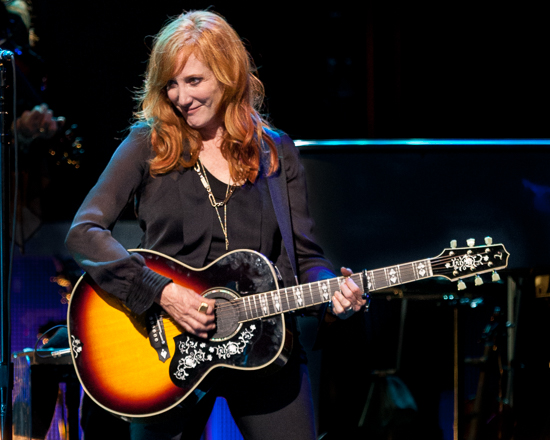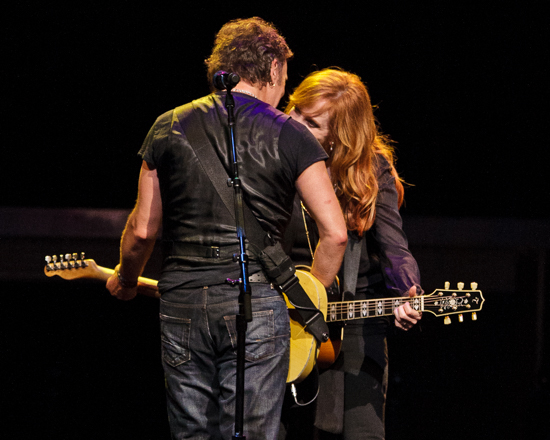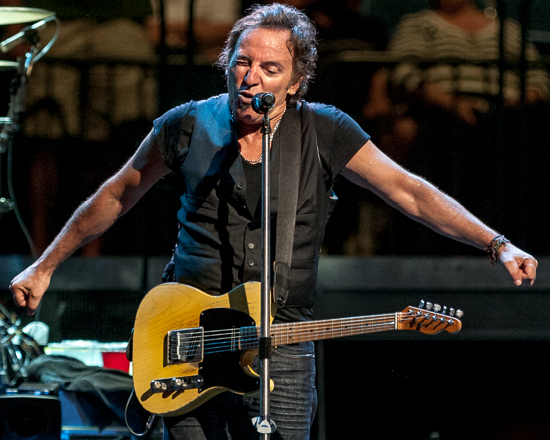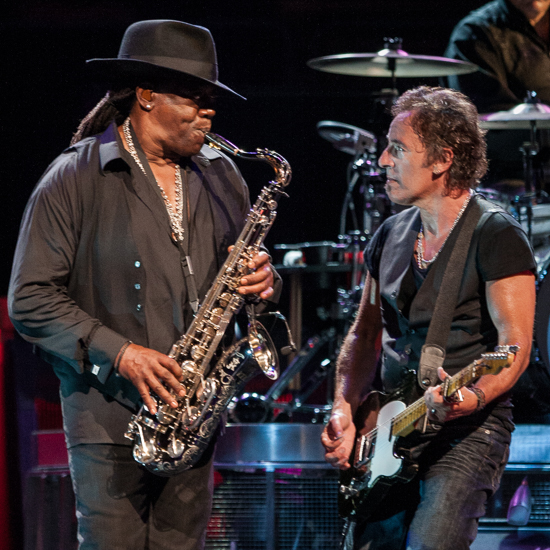 - February 22, 2019 - photographs by A.M. Saddler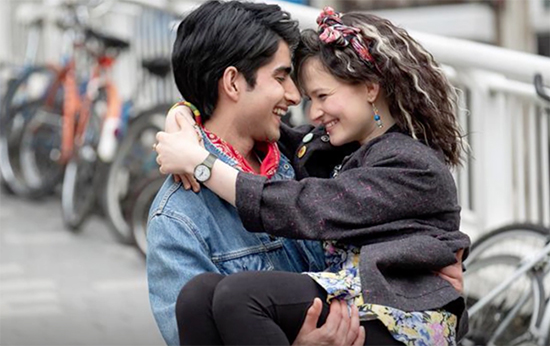 IN THE SUMMER WITH A TEENAGE DIPLOMAT
Blinded by the Light coming to theaters August 14
After last month's auspicious premiere at the Sundance Film Festival, Blinded by the Light now has an official release date: the film, featuring Bruce Springsteen's music, will open in the U.S. on August 14.
Directed by Gurinda Chadha and based on Sarfraz Manzoor's Greetings From Bury Park memoir, Blinded by the Light was, The Wrap reports, "one of the biggest acquisitions out of the festival. Warner Bros.'s New Line banner acquired the film in a $15 million-plus deal." According to IMDB, it's "the second biggest payday Sundance has ever seen."
In an interview at Sundance, Chadha described the film to Women and Hollywood:
Blinded by the Light chronicles the experiences of a British Muslim teenager growing up in 1980s Luton and the impact Bruce Springsteen's lyrics had on him. It's about a young man's dreams, and how he is inspired by someone from a totally different cultural background writing about their own life thousands of miles away in New Jersey...

With all of my films, I want to show how similar we are to people that we thought were different to us. I want audiences to feel a human connection to my characters and to leave feeling that the world is not only an unequal place full of problems, but also a joyous world where there is always the possibility of transcendence. And I want audiences to fully appreciate what an incredible man, writer, and musician Bruce Springsteen is — he deserves it!
- February 20, 2019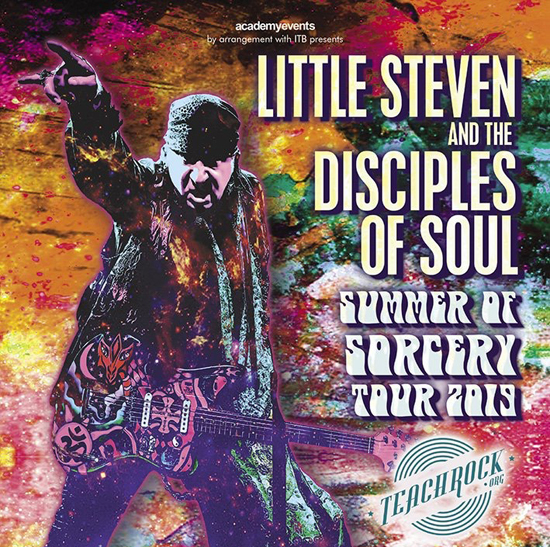 LITTLE STEVEN WRAPS TOUR, MEETS SANTA, READIES NEW ALBUM, PLANS SUMMER OF SORCERY
What, Stevie busy? Let's round it up, baby
On December 16, Little Steven and the Disciples of Soul ended their two-month, coast-to-coast Soulfire Teacher Appreciation Tour of North America. They began the 28-date trek on October 18 in Wilkes-Barre, PA, and gradually made their way to the west coast via Atlantic City (their only New Jersey date this time around), Detroit, Milwaukee, Oklahoma City, Las Vegas, and lesser-known locations such as Green Bay, Snoqualmie, and Wabash, Indiana, where they opened the show with "The Wabash Cannonball." Shortly before they set off, they played The Electric Flag's "Groovin' Is Easy" live on Facebook and John Lennon's "Working Class Hero" live on Instagram.
Special guests on the tour included Jim Sohns, lead singer of local heroes The Shadows of Knight, for a version of the Van Morrison/Them classic "Gloria" in Chicago; Nick Gravenites, former lead singer of The Electric Flag, for a performance of "Groovin' Is Easy" in San Francisco; and fellow E Streeter Nils Lofgren, who sang the Grin favorite "Moon Tears" and took part in a guitar duel with Little Steven and Disciples music director Marc Ribler at the final show in Phoenix, which also included The Ramones' "Merry Christmas (I Don't Want to Fight Tonight)."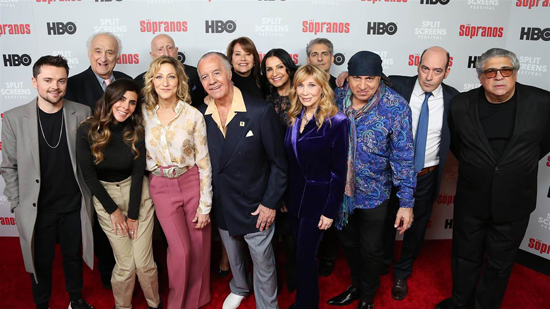 In the new year, Little Steven attended an event at the SVA Theater in Manhattan on January 9 that celebrated the 20th anniversary of HBO's The Sopranos, in which he played Silvio Dante, consigliere to the late James Gandolfini's mob boss Tony Soprano. The reunion included interviews (including TODAY) and a 90-minute panel discussion with members of the cast and crew.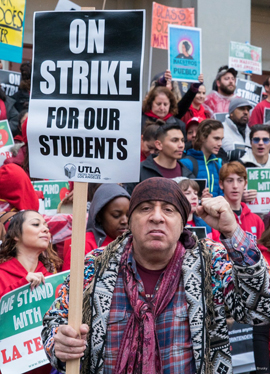 On January 17, Little Steven declared his support for the teachers strike in Los Angeles by joining a picket line and speaking at a rally organised by the UTLA (United Teachers Los Angeles) union.
"I consider teachers in the same category as our military, our police, our firemen," Van Zandt said. "I'm calling on all of our brothers and sisters in the music world, from pop, rock, hip-hop, country and jazz, come out and march with the teachers." He was also interviewed on CNN's Quest Means Business and spoke to Rolling Stone: "We've been engaged with teachers for a couple of years, trying to raise awareness. Teachers are an under-funded and under-appreciated part of our working class. We just finished a tour, and everywhere we went, there were teachers on strike — West Virginia, Kentucky, Arizona, Oklahoma. Teachers are on the front line fighting against ignorance, and boy, do we need that right now."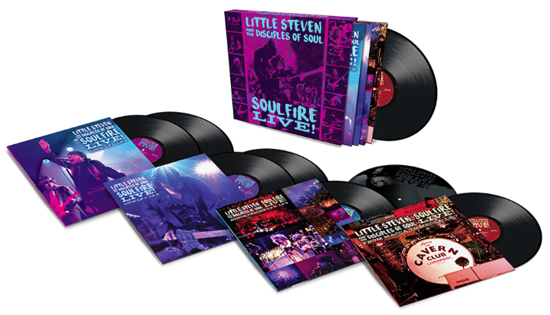 New releases
After a 3CD release of Soulfire Live! last year, the much-delayed 7-LP vinyl boxed set (available from udiscovermusic.com) and 2-disc Blu-ray video formats finally see the light of day today.
The vinyl format includes all of the material from the 3CD set on six LPs (with one blank side), while a seventh Beatles-themed LP (titled "From Macca to Mecca") adds Little Steven's Liverpool Cavern Club concert of 14 November 14, 2017, and covers of "I Saw Her Standing There" (with Sir Paul McCartney) and "Birthday" from other shows. The Blu-ray features video of every song on the vinyl edition, plus exclusive interviews, behind-the-scenes footage, and a documentary featurette about the Cavern gig.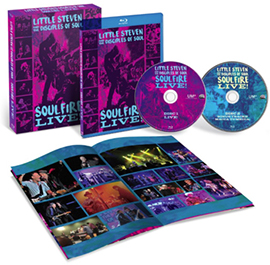 The various formats of Soulfire Live! have appeared months apart, and each successive release has included additional material. A 24-song digital download debuted in April last year. The 3CD version arrived in August, with a further 12 songs, ten of which were covers. The vinyl format now adds another ten covers to the overall total, while the Blu-Ray includes video of all 46 songs and more besides.
Anyone considering a purchase should note that the Blu-Ray features absolutely everything; the vinyl includes every song; the CD leaves out the Beatles covers, and the download omits all 24 bonus songs from the CD and vinyl formats. Little Steven recently said that the bonus content on the vinyl set will eventually "be added to the CD box and digital download."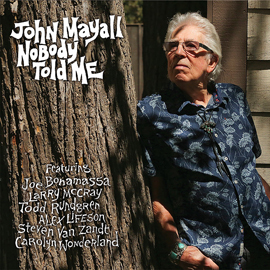 Scheduled for release on February 22 is Nobody Told Me, a new album from 85-year-old UK blues legend John Mayall. Among several special guests are Joe Bonamassa, Todd Rundgren and Little Steven, who plays incendiary guitar on "It's So Tough."
Mayall describes it as "a song I wrote about the troubles going on in the world right now. Steven Van Zandt did a powerful job capturing the mood of the song with his dynamic guest guitar contribution."
Co-producer Eric Corne added, "Little Steven absolutely nailed the feeling in this track. His vibrato is sick!"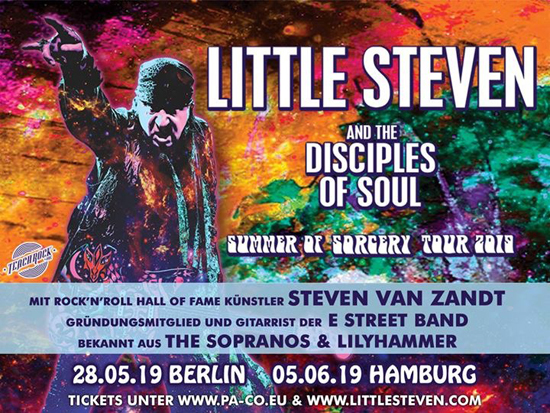 Back on the road

The Disciples of Soul took a break after their final show in Phoenix in December, but they'll be back on the road in the spring. Following Bruce Springsteen's formal confirmation that no E Street Band activity was planned in 2019, Stevie is putting an extensive new international tour together, which begins in Australia and New Zealand in April. There may be some West Coast U.S. shows in early May, before appearances in Europe (May, June and August) and North America (July, September and October). This will be the band's third consecutive year on tour. The practice of allowing free admission to teachers who register for a pre-show TeachRock workshop is likely to be continued.
The dates in Australia and New Zealand have yet to be confirmed but look set to include two appearances at the annual Byron Bay Bluesfest (April 18 and 20) and regular gigs in Melbourne (23), Sydney (25), and Auckland (27). Little Steven has said that he's also hoping to play in Perth (14) and Adelaide (16).
Tickets for the European Summer of Sorcery Tour, which includes three festival appearances, are on sale now:
May 18 - Leeds, England - O2 Academy
May 20 - Glasgow, Scotland - O2 Academy
May 22 - Bristol, England - O2 Academy
May 24 - London, England - O2 Forum
May 26 - Catton Hall, Derbyshire, England (Bearded Theory's Spring Gathering)
May 28 - Berlin, Germany - Huxley's Neue Welt
May 30 - Jelling, Denmark - Jelling Musikfestival
June 1 - Stockholm, Sweden - Circus
June 3 - Oslo, Norway - Rockefeller
June 5 - Hamburg, Germany - Fabrik
June 7 - Brussels, Belgium - Ancienne Belgique
June 9 - Emmen, Netherlands - Hello Festival
June 11 - Zurich, Switzerland - Kaufleuten
June 13 - Milan, Italy - Alcatraz
Further European dates are expected in August, including more U.K. shows and possible gigs in Ireland, France and Spain. It's also likely that Little Steven will return to Norway to teach at his annual Blues School in Notodden.
One North American appearance has been advertised so far: Little Steven and the band will make an appearance during the Big Blues Bender at the Hard Rock Hotel and Casino in Las Vegas, which runs from September 5 to 8.
Next album
As Little Steven confirmed last year, the 2019 shows will have "very different" setlists, which will include material from a new 12-track studio album that's scheduled for release on May 3. While Soulfire featured Little Steven's own recordings of older material that he wrote for other artists, this will be his first collection of new original songs since Born Again Savage two decades ago.
"The great news is it's the same band that we've had together for two years," Steven said. "The longer a band is together, the better it gets." He compared the sound of the album to putting the 90 songs of the Soulfire tour into a blender and adding a little spice. "The new one won't be out until May, so we'll probably do the Soulfire show for the last time in Australia, but we'll throw in a new song or two."
Four months ago, as the recording sessions ended, horn section leader Eddie Manion announced on social media that "this new album will surprise you. It is off the charts but will probably be No. 1 on the charts. It is amazing and will be worth the wait when you finally hear it." In January, he continued, "you have been warned! This year's new album with the Disciples of Soul will be the greatest addition to your music collection. It was an honor to record this album and I'm proud of it. I'm telling you now. I've done a lot of recording. Nothing like it."
Reissues
The new album will be followed in September by the long-awaited re-release of Little Steven's solo back catalogue in a lavish boxed set. This will include Men Without Women (1982), Voice of America (1984), Freedom, No Compromise (1987), Revolution (1989), and Born Again Savage (1999), plus the all-star anti-Apartheid album Sun City (1985). The remastered collection will also feature "outtakes, extended 12-inch mixes, DVDs of key representative shows and interviews from each album." It's not known whether the individual albums will be made available separately.

Wolfie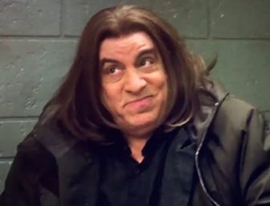 In addition to touring far and wide last year, Little Steven and the Disciples of Soul made their incognito movie debut playing various drunks, miscreants and "party girls" in The Christmas Chronicles, which premiered on Netflix on November 22 (Thanksgiving Day and Little Steven's 68th birthday).
Starring Kurt Russell as a cool, modern-day Santa Claus, it was directed by Clay Kaytis and produced by occasional Van Zandt collaborator Chris Columbus. Little Steven (wearing a long-haired wig and playing "Wolfie"), Marc Ribler ("Dusty"), Ravi Best, and Jaquita May had brief lines of dialogue, while Maureen Van Zandt got in on the act as "party girl with tambourine."
Having been thrown in jail, Santa magically turns his cellmates into backing musicians and sings the lead vocal on a cover of Leiber and Stoller's "Santa Claus Is Back in Town" (first recorded by Elvis Presley on Elvis' Christmas Album in 1957). "The scene is so much fun," said Columbus. "I decided to feature the entire song in the film. It's Jailhouse Rock Part 2!"
"Not bad for our first gig," says Santa, who turns to the band and pleads, "Try to be good." "We can keep these, right?" asks Wolfie, clutching the shiny new guitar that Santa produced for him.
The scene was filmed over four days in Toronto (doubling for Chicago) in March 2018. Kurt and the band mimed to a studio version of the song they recorded at Little Steven's Renegade Studios in New York two weeks previously.
"Kurt laid down the track in three takes and that was it," said Columbus. "That was his natural voice. [Steven] didn't have to change anything. It took Kurt probably 45-50 minutes to record the lead vocal." The studio recording also played over the end credits of the movie, which reportedly clocked up 20 million streams in its first week on Netflix.
- February 15, 2019 - Mike Saunders reporting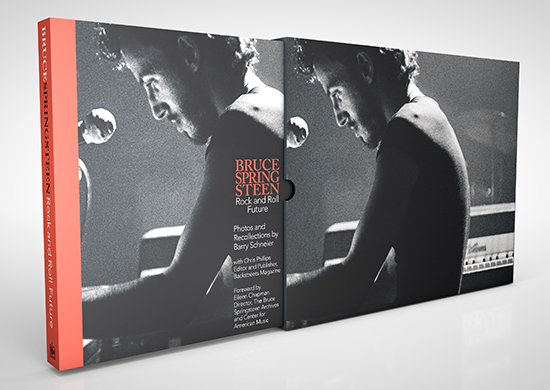 I SAW BRUCE SPRINGSTEEN: ROCK AND ROLL FUTURE...
And you can too — reserve your copy now!
Pre-ordering is open for Bruce Springsteen: Rock and Roll Future, Barry Schneier's beautiful new coffee table book. This forthcoming hardcover from Backstreets Publishing features Barry's photographs and recollections from the E Street Band's legendary May 9, 1974 concert at Harvard Square Theatre, which inspired Jon Landau's "quote heard 'round the world."
Also in these pages: a Foreword by Eileen Chapman, Director of the Bruce Springsteen Archives and Center for American Music; Introduction by Backstreets' Christopher Phillips; and reminiscences from all of the era's living E Streeters: Ernest Carter, David Sancious, and Garry Tallent.
Made possible by a 2018 Kickstarter campaign, Rock and Roll Future will be available to all this spring and can be pre-ordered now from Backstreet Records, including options to bundle additional limited items: a custom slipcase (pictured above) and/or exclusive 8x10 prints signed by the photographer.
Read more about the book and pre-order now
See all Latest Addtions at Backstreets Records
- February 14, 2019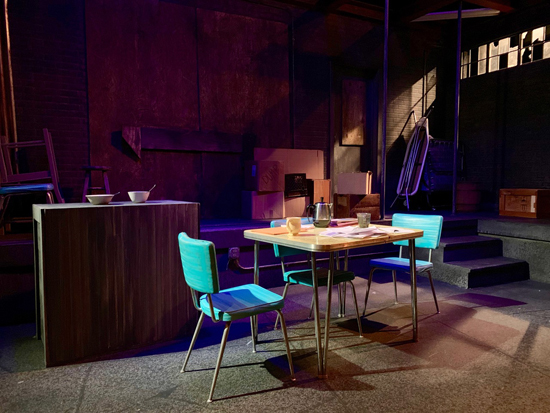 SPANISH HARLEM REVISITED
The spirit of Bruce Springsteen returns to Union College
Nearly 45 years ago, Bruce Springsteen played Union College in Schenectady, NY, and his spirit came back to town last night in a new form. Union College Department of Theatre and Dance presented When The Promise Was Broken, short plays inspired by the songs of Bruce Springsteen, running through the weekend. The original collection features 13 short plays written by various playwrights, each taking an individual Springsteen song as inspiration.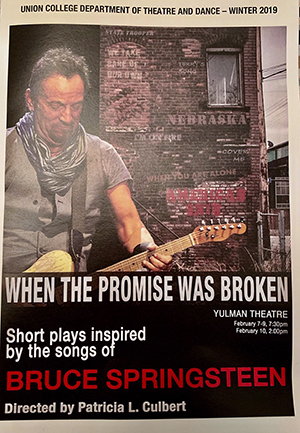 For last night's official premiere, nine of these plays were performed, included Valhalla Correctional, inspired by "We Take Care of Our Own"; Bloody River, inspired by "American Skin (41 Shots)"; Object Permanence, inspired by "Terry's Song"; Drive All Night, inspired by "Drive All Night"; A Semi-Autobiographical Response…, inspired by "I'm on Fire"; Gospel Hour, inspired by "State Trooper"; Merry-Go-Round, inspired by "Cover Me"; Pick Up Beds, inspired by "When You're Alone," and Glad For the Company, inspired by "Nebraska."
Yulman Theatre is an intimate venue, seating fewer than than 100 patrons. Pre-show music featured music by Springsteen and included "Your Own Worst Enemy," "Sugarland," and "This Hard Land." As the performances began, each play either began or ended with the song it was inspired by. The acting was excellent, and the rapid-fire pace of each act kept the evening moving along.
The theme of each play did vary, with some representing a song fairly literally, and others that required a bit more thought to discover the connection. None of these short performances recreated the lyrics word-for-word in live action — the key phrase is "inspired by." The Magic Rat driving his sleek machine was not to be seen.
In fact, some of the characters may not exist at all: while a protagonist in Drive All Night seemed real enough at first, two women in the play wind up debating whether he was just an image they had created, one they wanted to be true. In "Object Permanence" ("Terry's Song"), the character is talking to the ghost of her brother, whom she has to eulogize, but she's having difficulty because his death was not supposed to happen. And yes, he broke the mold.
What made the evening particularly impressive is that the actors are all of college age, 18-22 years old, born around the time the reunion tour was underway. To see these undergraduates not only embrace Bruce's music but create and embody new characters that take his lyrics one step further is a real joy. And hearing the words and themes put forward in a different light brings a new appreciation to these songs.
If you are within driving distance of the Capitol Region, this performance is well worth checking out and will continue through Sunday, February 10 — see union.edu for details.
- February 8, 2019 - reporting and photographs by Howard Kibrick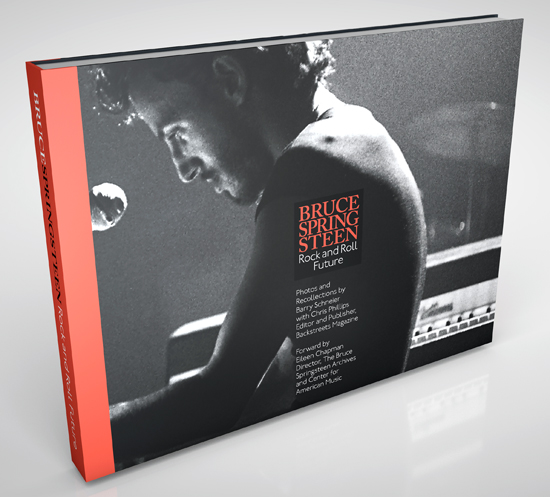 COME SEE ROCK AND ROLL FUTURE THIS WEEKEND IN NEW JERSEY
Coming this spring from Backstreets Publishing is Barry Schneier's Bruce Springsteen: Rock and Roll Future, a handsome book of Schneier's photography and memories from a historical night in the career of Bruce Springsteen and the E Street Band.
Not only was Barry was in the house on May 9, 1974 at the Harvard Square Theatre when Jon Landau famously "saw rock and roll future," he was a professional photographer with camera in hand — the only one on the scene for the occasion. Barry's new book presents his photography from that very night, in both black & white and color, along with his stories of how the show came to be and what it was like to witness. Also included are reminiscences from all three living members of that era's E Street Band depicted in the book: Ernest Carter, David Sancious, and Garry Tallent. Backstreets editor Christopher Phillips wrote the Introduction, and Eileen Chapman, director the The Bruce Springsteen Archives and Center for American Music, contributed a Foreword.
This 152-page hardcover, made possible by a Kickstarter campaign, will be available from Backstreets in the spring — watch this space, as we'll be taking pre-orders soon.
In the meantime, if you're in the New Jersey area, you can help Barry celebrate his impending release this weekend, including talks and signings of an early shipment of books, which have arrived just in time for these events.
On Saturday, February 9 at 3pm, Danny Clinch's Transparent Gallery in Asbury Park will host an event with Barry Schneier and Chris Phillips, a conversation moderated by Bruce Brunch DJ Tom Cunningham, followed by a book signing. The 3pm event is FREE, admission is first-come first-served, with limited seating. See the event page on Facebook.
On Sunday, February 10 at 3pm, the Princeton Public Library will host, featuring Barry and Chris in conversation with Princeton University professor Sean Wilentz, author of Bob Dylan in America. Another book signing will follow. The 3pm event is FREE, admission is first-come first-served, with limited seating. See the event page on Facebook.
We hope to see you there!
For further reading, check out Gary Wien's interview with Barry for New Jersey Stage: "Photographer Barry Schneier Talks About His New Book Featuring Springsteen Photos From a Legendary Night."
- February 5, 2019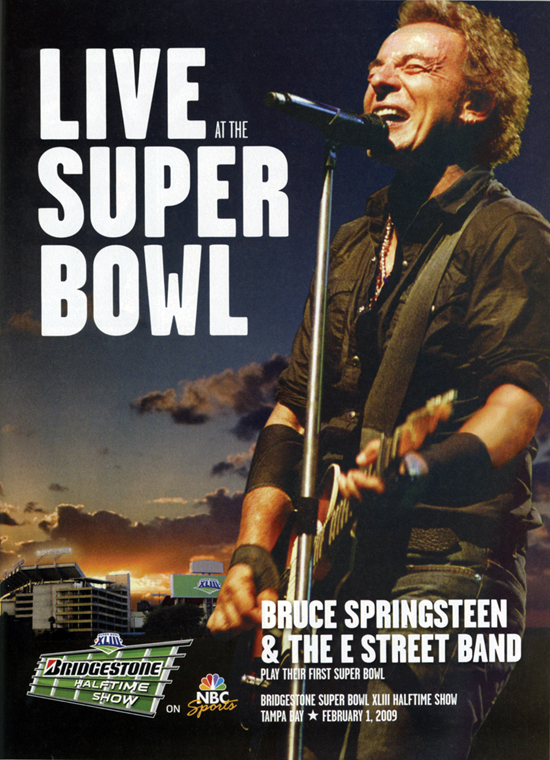 TEN YEARS BURNING DOWN THE FIELD
Hard to believe it's been a full decade since Bruce Springsteen's 12 righteous and mighty minutes at Super Bowl XLIII. (You can probably pick those chicken fingers back up now.) ICYMI, here's NFL's behind-the-scenes film from halftime on E Street:

- February 3, 2019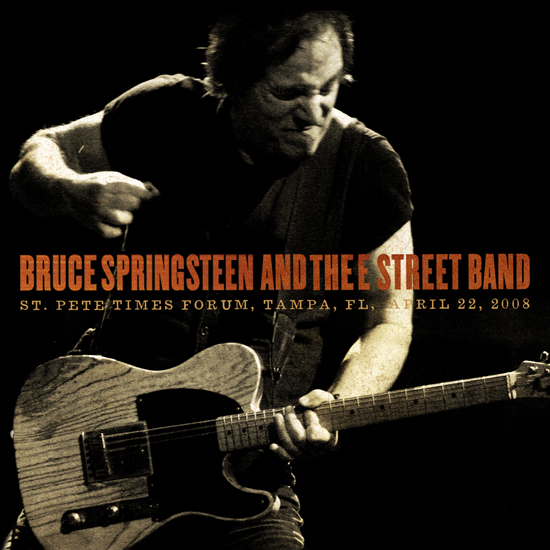 THE FIRST SHOW BACK: "SOMEBODY'S WATCHING"
To mourn Dan Federici, the E Street Band rocks Tampa, 4/22/08
Few shows in the career of Bruce Springsteen and the E Street Band have held such gravitas as the one in Tampa, Florida, performed April 22, 2008. As the February archive series release from live.brucespringsteen.net and nugs.net, it's available today.
Less than a week after the passing of Danny Federici — who played alongside Bruce in various band incarnations since 1969 — and just one day after his funeral [read Springsteen's eulogy here], the Magic tour resumed. To remember and honor the E Street Band's founding keyboardist was the night's major theme.
Dressed in black, Springsteen and the band took the stage as usual, but instead of counting into the opening song, Bruce said, "We want to start with something for Danny." That set up a short film with live footage and still photos of "Phantom Dan" playing with the E Street Band over the years, set to the Greatest Hits version of "Blood Brothers."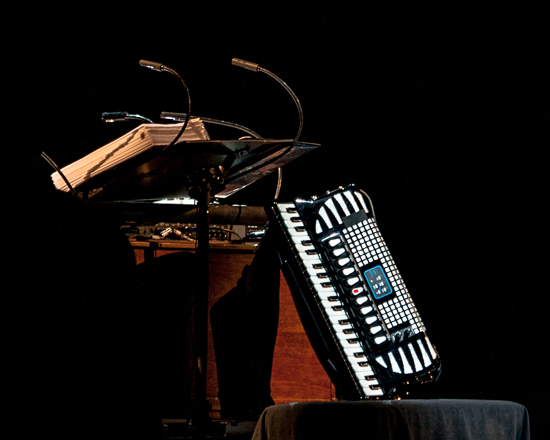 When the pre-recorded song ended, the stage went black for a few seconds before Danny's riser — including his accordion — was hit with a spotlight, and Roy Bittan began playing the opening notes to "Backstreets." Charlie Giordano, who had been filling in for Danny since the European leg in the autumn, did not play on the opener, which underscored Danny's absence and heightened the song's emotion. Bruce brought something extra to the vocals that end the song and pointed to Danny's spot on the stage in tribute.
After that extraordinary start, the E Street Band (complete with Patti Scialfa on this night) did what they ordinarily do: they rocked. Springsteen let the crowd know that even as we acknowledge death, life still needs to be celebrated — he asked the crowd if "anyone was alive out there" before launching into "Radio Nowhere." In a solemn time, it was a night to make noise.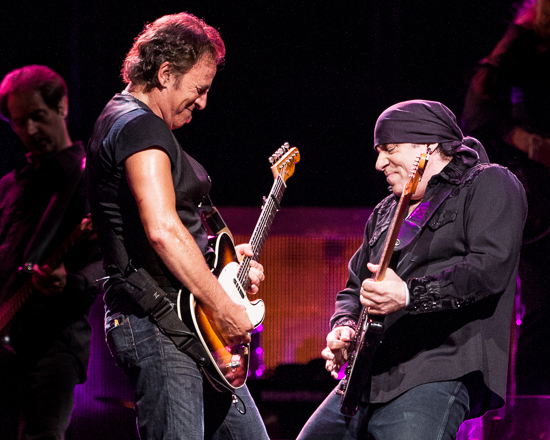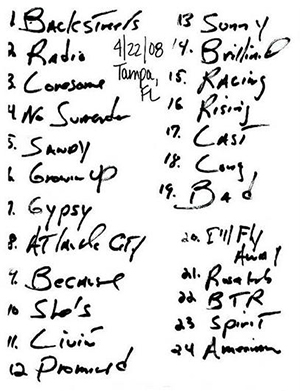 With tours of the U.S. and Europe now under their belts, the E Street Band had been on a roll: that spring, they had opened 18 consecutive shows with a different song. With a few exceptions, the setlist in Tampa was typical for that stretch; several songs, however, carried extra meaning on this night, especially "Lonesome Day," "No Surrender," "Gypsy Biker," and "Darkness on the Edge of Town." Bruce even altered a key lyric in the last of these.
Danny's accordion is perhaps most famous in creating the sound and atmosphere of "4th of July Asbury Park (Sandy)," which appears here in his honor. Prior to the song, Springsteen thanked fans for their prayers and condolences and related a bit about Danny playing in Indianapolis, his final appearance on stage with the band, calling it "a lovely night." Roy strapped on the accordion for "Sandy," and Bruce told him, "You better get this one right, man. Somebody's watching." The Professor played it just right, and so did the rest of the band. (Madam Marie, who was living in Florida at the time, got a shout-out, too.) "Growin' Up," which Bruce introduced as "one more fairy tale," this time set in Flemington, NJ, made it a two-fer.
The balance of the set included a variety of songs from the catalog. Before singing "Brilliant Disguise" with Patti, Bruce speculated about what their children — teenagers at the time — were doing back home without adult supervision. "Racing in the Street" segued perfectly out of "Brilliant Disguise," another testament to the sound Danny helped build. Performed only twice on that leg, "Racing" just gets better and better as it goes on, settling beautifully into the instrumental segment that ends the number.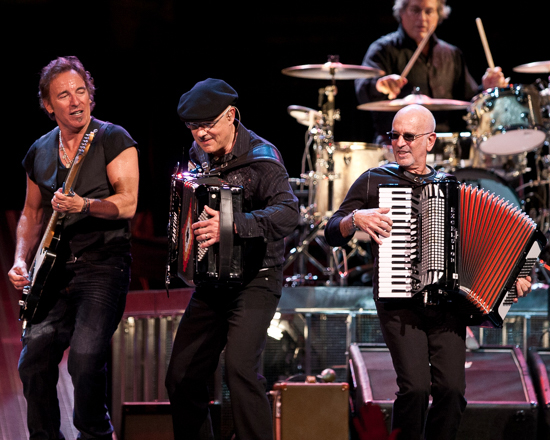 When "Badlands" powered to its end, Springsteen counted off "Out in the Street," thus not only ending the set with a different song but also touching on every record he'd released during the first E Street era, including Nebraska and Tunnel of Love. It was an appropriate way to mark the evening.
Springsteen began the encore with another tribute to Danny, a one-off of "I'll Fly Away." For the Depression-era gospel song, both mournful and celebratory, Bruce had the entire band, including Max Weinberg, stand with him for the performance. The song evoked the Seeger Sessions, complete with fiddle and mandolin solos by Soozie Tyrell and Little Steven, respectively ("New Jersey bluegrass," Bruce quipped).
Following the release of the legendary St. Louis '08 concert and Boston '07, Tampa marks the third archive series installment from the Magic tour. It provides a snapshot from the spring leg and serves as a poignant coda to Boston, which was Danny's last complete show.
Also read: "One More Fairy Tale," Erik Flannigan's latest entry at blog.nugs.net.
- February 1, 2019 - Flynn McLean reporting - photographs by A.M. Saddler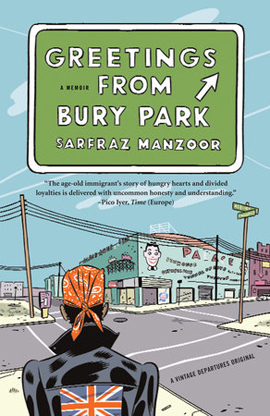 GREETINGS FROM PARK CITY
Sundance Film Festival hosts premiere of Blinded by the Light
Bruce Springsteen didn't have to come to Sundance for Bruce Springsteen to come to Sundance. The world premiere of Blinded by the Light took care of that. The film, from director Gurinder Chadha (Bend It Like Beckham) and screenwriter/author Sarfraz Manzoor (based on his 2007 memoir Greetings From Bury Park), features 17 Springsteen songs, and as credits rolled to "Born to Run," the fans began to show themselves.
"1-2-3-4!" one film festival attendee quietly intoned on his way out the door, seconds before Springsteen, in song, did the same. Soon after that, three women who were gathered at the back of the Eccles Theater "whoa-oh-oh-ed" in unison, something that also happened at the typically more staid press and industry screening.
But that's what Blinded by the Light is all about: the power of Bruce Springsteen's music to transform and save you, in situations both big and small, regardless of who you are or where you come from. In Sarfraz Manzoor's case, that was Luton, an industrial town 30 miles northwest of London that was voted Britain's "worst place to live" in 2016.
In the movie, Sarfraz becomes the fictionalized Javed (played by Viveik Kalra), a teenager and aspiring writer struggling to find himself (and a girlfriend) while fighting with his laid-off autoworker father. "In my house, no one's allowed opinions except for my Dad," he tells his English teacher (played by Hayley Atwell). Javed's life changes when his Sikh friend Roops (who wears a red bandana under his black turban) gives him cassettes of Born in the U.S.A. and Darkness on the Edge of Town. It's 1987, so the Walkman also plays a major role.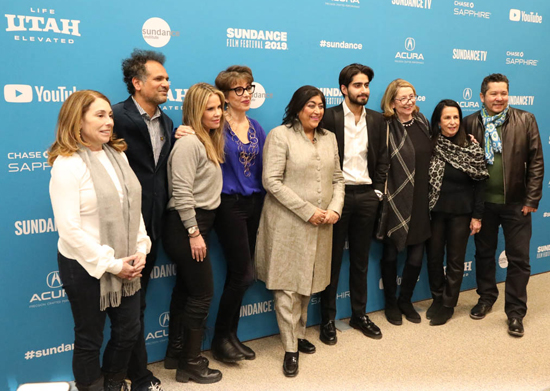 The Blinded film team at the January 27 premiere, including director Chadha (center), writer Manzoor (second from left), Tracy Nurse (third from right) and Barbara Carr (second from right) - photograph by Weston Bury, courtesy of Sundance Institute
"Music can actually transcend borders," Manzoor said before the Sundance Film Festival world premiere on Sunday. "I come from a really pretty crappy town in England, and Springsteen completely connected with me. I knew more about Asbury Park than I know about my own town. His words were like the ammunition, or like a map, to take me to a better place. It speaks to the genius of Springsteen: that this music that seems like it is very specific is actually completely universal."
In a remarkable coincidence, Bury Park is the name of the then-increasingly Muslim neighborhood in Luton where Manzoor grew up, alongside English kids and teenagers in thrall to Britain's racist National Front. The new title for the movie was his own suggestion.
"Greetings From Bury Park is a cool title, but you need to know about Greetings From Asbury Park to make the title work," he said. "Blinded by the Light's quite good, and when you see the film, there's a reason why it's called that. And Gurinder's had great luck with film titles that start with a 'B'" (Bend It Like Beckham, Bride and Prejudice, Bhaji on the Beach).
This was not the only time the filmmakers had to make concessions to a general audience. "I'm going to tell you something outrageous now," Chadha said at the post-screening Q&A, after one Sundance questioner noted that some of the music usages, including the title song, seemed truncated. "Can you believe that there were people who said, 'What about people watching this movie who aren't Bruce fans?' Isn't that horrific?"
Right: Blinded by the Light director Gurinder Chadha - photograph by Graham Barclay, courtesy of Sundance Institute
"I feel it the same as you," she continued. "The film is one hour, 46, 47 minutes. And that's long. But boy, do I need an extra verse of 'The River'… Boy, do I need an extra verse of every goddamn song. They all cut off too soon. I'm just getting into singing them, and then they're gone. But if we had put as much of his music in as I would have liked, we'd still be here three hours later."
Or maybe even four! Needless to say, Chadha is as big a Bruce fan as Manzoor. The two are also friends. When Greetings From Bury Park came out, the director told him, "Yeah, I know how to make this into a film. But we can only make it with Bruce's permission. Otherwise, it will never work."
Their opportunity came at the 2010 UK premiere of The Promise documentary: Chadha scored an invite, and she took Manzoor as her plus-one. As Bruce made his way down the red carpet they both had their cameras out, hoping for a moment, but the truth is, Manzoor was already known to Springsteen. After all, he's been to — spoiler alert — 150 shows.
"And he's like, the only Pakistani with Afro hair," Chadha joked. "Bruce has often said: 'Hey, man! What are you doing in Pittsburgh?' (or whatever far-flung city the British journalist appears in).... So he walked over to Safraz and said, 'I read your book, it's beautiful,' and Safraz started hyperventilating. 'Omigod, omigod you read my book.'"
"You weren't that relaxed yourself," Manzoor interjected.
"No, I wasn't," Chadha said. "I was also high-pitched. But I grabbed that moment and said, 'We want to make a film of the book, will you help us? I made Bend It Like Beckham, and I know your kids liked it!' Really cool [of me], y'know?... And he kind of looked away from us, like, with that amazing mouth, and the bite. And then he looked at us and said: 'Sounds good. Talk to Jon.'"
By the next day, Jon Landau had a picked up a copy of the book, and Chadha was in touch with Barbara Carr and Tracy Nurse.
"When we started working on the script, we knew that we didn't have to please financiers, or anybody, for this," Chadha said. "The only person we had to please was Bruce. So we sat down and wrote a screenplay for Bruce Springsteen. What I had to do was find a way of using the songs as if he'd written the songs for our movie."
Indeed, the songs are so integral to the narrative that Springsteen could have easily been given story credit (his actual credit is "inspired by the words and music of..."). In the movie, "Independence Day" and "The River" feel like they are almost explicitly about Javed, while "Dancing in the Dark," "The Promised Land" and "Prove It All Night" are integral to both plot and character. The film is basically a musical, both literally (one scene is pure Bollywood) and in the same way that a film like Trainspotting relied on Iggy Pop and Underworld. And if it sometimes feels a bit packed with perfect plot twists and overly grand gestures, well... have you seen Bruce Springsteen?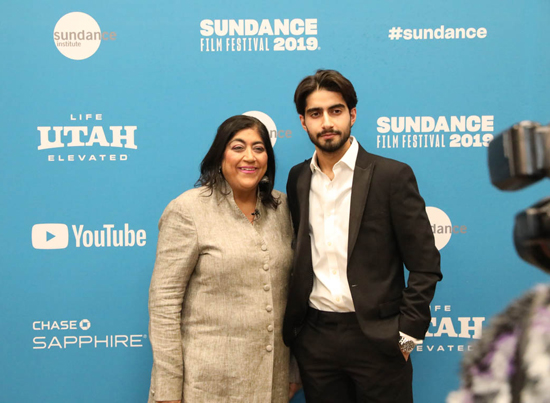 Chadha with lead actor Viveik Kalra, at the January 27 premiere - photograph by Weston Bury, courtesy of Sundance Institute
The Boss approved the script and, eventually, the finished film, which he watched in New York City on a Springsteen on Broadway off-day. Springsteen sat in the front row of the screening room, and Chadha, unable to help herself, moved from the back to sit behind him.
"I had to see what he was thinking," she said. "I could just see the sides of his eyes, his sort of wrinkles there. So I could see when he was smiling. And there were certain places where he really laughed a lot. He liked when the main character quotes the lyrics to 'Born to Run,' and his friend says those lyrics are shit. And then at the end, it finished, and everyone was waiting for his reaction. He gave me a big hug and a kiss, and he said, 'Thank you for looking after me so beautifully.'"
Springsteen didn't come to Utah, Chadha said, because he didn't want his presence to distract from the movie. But it is easy to imagine him watching the film and thinking, 'Wow, these people get me.' The heart of Blinded by the Light is its uncanny parallels between the story of Javed and his father and the story of Bruce Springsteen and his father — all the more so for the fact that Greetings From Bury Park was published long before Springsteen's own memoir. The film has a lot of empathy for the father character, and Javed even comes to a deeper understanding of Springsteen's music once he moves beyond his teenage self-absorption.

Talking about his own late father at Sundance, Manzoor once again returned to Springsteen's lyrics. "There's a line in 'The Promise' where he says, 'I hit it big once, but I paid a big cost. Inside I carried the broken spirits of all the other ones who lost.' The reason I wrote the book, and the reason I wanted to make the film, was to try and have a conversation with my dad in his absence, and to try and honor him in a way that I wasn't able to do when he was alive."
After the screening, one woman said the movie made her cry tears of joy like she hadn't since before November 7, 2016. That left Manzoor wondering if 16 year-old him — "a Pakistani living in Britain, absolutely loving America and in love with the most American icon there is" — could feel that way in 2019.
"One of the things I love about Springsteen is, I think he kind of embodies the best of American values," Manzoor said. "If more people could live by the words of Bruce Springsteen, that really would be a way of making America great again."
Blinded by the Light received a rapturous reception from reviewers and on social media, and the film is reportedly being purchased by New Line for $15 million, so expect it in theaters later this year.
- January 31, 2019 - Jason Cohen reporting


LEANN RIMES LETS YOU KNOW SHE'S REALLY THERE
Recorded last month at SiriusXM's "fishbowl" studio, here's LeAnn Rimes delivering a beautiful, heartfelt performance of "Secret Garden" — so heartfelt, in fact, that Rimes broke down ever so briefly at the line "so you know she's really there." According to both E Street Radio's Jim Rotolo and Rimes herself, though it may appear to be just a bit of laughter at a small flub, it actually was a moment when Rimes truly was overcome by the emotional power of Springsteen's lyrics.
- January 31, 2019 - Shawn Poole reporting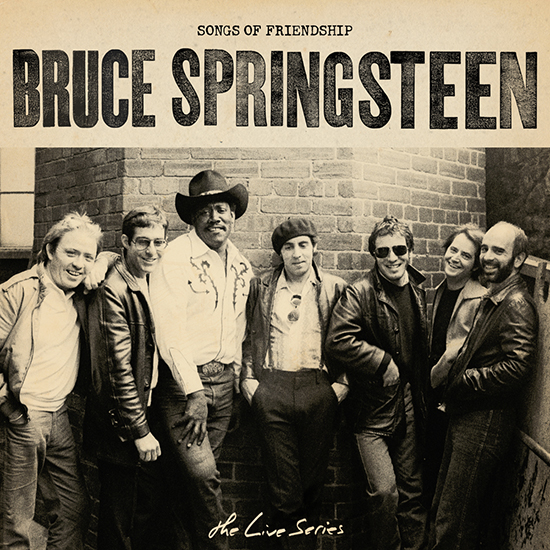 NEW LIVE SAMPLER: SONGS OF FRIENDSHIP
Second archival playlist brings more live tracks to streaming services
In November, a new series of curated Bruce Springsteen playlists began with Songs of the Road, cherrypicking tracks from Springsteen's releases at live.brucespringsteen.net for a thematic digital sampler. Today, "The Live Series" continues with a second installment, Songs of Friendship, another 15 live tracks just added to streaming services.
| | | |
| --- | --- | --- |
| 1 | Two Hearts | Madison Square Garden, New York, NY - 07/01/00 |
| 2 | No Surrender | Wachovia Spectrum, Philadelphia, PA - 10/20/09 |
| 3 | If I Should Fall Behind | Mohegan Sun Arena, Uncasville, CT - 05/17/14 |
| 4 | Growin' Up | Brendan Byrne Arena, East Rutherford, NJ - 08/20/84 |
| 5 | Bobby Jean | Gillette Stadium, Foxboro, MA - 9/14/16 |
| 6 | Spirit in the Night | Tower Theater, Upper Darby, PA - 12/31/75 |
| 7 | Better Days | Brendan Byme Arena, East Rutherford, NJ - 06/24/93 |
| 8 | Darlington County | Olympiastadion, Helsinki, Finland - 07/31/12 |
| 9 | Dancing in the Dark | Brendan Byrne Arena, East Rutherford, NJ - 08/05/84 |
| 10 | Blood Brothers | Madison Square Garden, New York, NY - 07/01/00 |
| 11 | The Ties That Bind | The Summit, Houston, TX - 12/08/78 |
| 12 | Glory Days | Brendan Byrne Arena, East Rutherford, NJ |
| 13 | Backstreets | Palace Theatre, Albany, NY - 02/07/77 |
| 14 | Further On (Up the Road) | Madison Square Garden, New York, NY - 07/01/00 |
| 15 | Janey, Don't You Lose Heart | Brisbane Entertainment Centre, Brisbane, Australia - 02/14/17 |
While Songs of the Road was a mix of solo and band performances, Songs of Friendship is, fittingly, culled from full-band shows. Covering more than 40 years, show dates range from 1975 to 2016. A great sampler for toe-dipping if you haven't taken a full plunge into the archive, or just a solid mix to play on a ride, ride, ride. Listen now via Apple Music or Spotify.
- January 25, 2019 - playlist cover photograph by Jim Marchese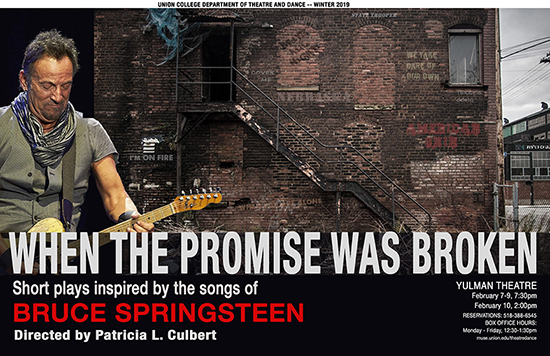 UNION COLLEGE TO STAGE WHEN THE PROMISE WAS BROKEN IN FEB
At Union College in Schenectady, NY, the Theatre Department has put together When the Promise Was Broken, a collection of short plays inspired by the work of Bruce Springsteen. Titles include "Bloody River" (inspired by "American Skin (41 Shots)"), "Gospel Hour" (inspired by "State Trooper"), and "A Semi-Autobiographical Response to Feelings of Sexual Inadequacy Prompted by Repeatedly Listening to Bruce Springsteen's 'I'm On Fire' for Four Hours Straight" (inspired by, you guessed it, "I'm on Fire").
Each by different playwrights, additonal plays have their roots in "We Take Care of Our Own," "Terry's Song," "Drive All Night," "Cover Me," "When You're Alone," and "Nebraska." Performances run from February 7-10 at the college's Yulman Theater; visit union.edu for further detals.
- January 25, 2019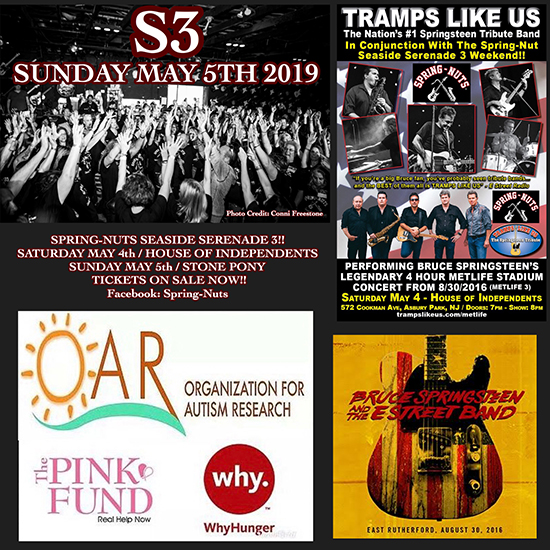 LET'S GET NUTS!
Spring-Nuts Seaside Serenade 3 coming to Asbury May 4-5
The Spring-Nuts, as you might already know, are like a lot of us: nuts for Springsteen. Check 'em out on Twitter, Facebook, and their website, springnutsworldwide.com. In addition to their "daily POSITIVE worldwide fan interaction," they've starting holding a yearly gathering on the Jersey Shore, called the Spring-Nut Seaside Serenade. This year's event, the third annual, will be held over the first weekend of May, in Asbury Park, and tickets are available now.
Spring-Nut Seaside Serenade 3 will be spread across two days for the first time, with the main event at the Stone Pony on Sunday, May 5, precededed by a Saturday night special: tribute band Tramps Like Us at downtown Asbury's House of Independents, performing Bruce Springsteen's entire 8/30/16 MetLife concert from start to finish.
"We are really excited for this year's event," Spring-Nuts creator Howie Chaz tells Backstreets. "To have Tramps Like Us join up with us and play the Saturday night gig, recreating not only my favorite Springsteen show, but arguably the best River show of the 2016 tour, is just tremendous. I'm expecting a lot of Spring-Nuts to call out Monday morning to recover from Serenade 3 Weekend!"
Chaz describes the Serenade as "not just a Springsteen-music-filled weekend" but a time when "Springsteen fans from literally around the world make the pilgrimage to Asbury Park and make those connections that Bruce always talks about, with other Springsteen fans who 'get it.'"
The event has seen a lot of growth since the first Serenade in 2017. "The first year we hoped to get maybe 80 or 100 people," Howie says. "We ended up selling out the Wonder Bar at 320 attendees. The second event we needed to move to a bigger venue because we surpassed the Wonder Bar capacity. We held Serenade 2 at the Stone Pony, with over 400 Spring-Nuts busting down the doors. We expect our Spring-Nut Seaside Serenade 3 to be our biggest and best event yet — we hope to surpass last year's numbers and blow the roof off of the Pony."
As those numbers climb, it also means additional funds raised for three charities the Serenade benefits: the Pink Fund, the Organization for Autism Research, and WhyHunger.
For further details, the weekend's schedule, and tickets, visit eventbrite.com.
- January 24, 2019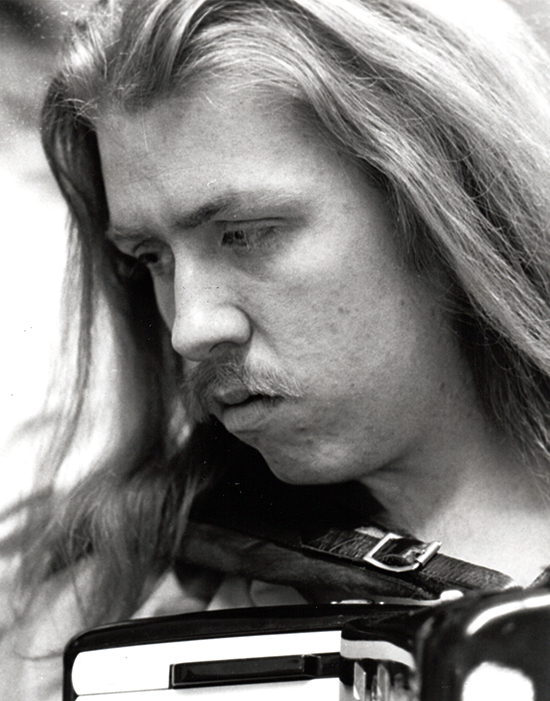 HAPPY BIRTHDAY TO PHANTOM DAN
We're thinking of Danny Federici on his birthday today, born January 23, 1950. Courtesy of our friends at Point Blank come these historical shots of Danny from the very early days of the E Street Band, on organ and accordion in 1973. For more, visit springsteenphotos on Instagram.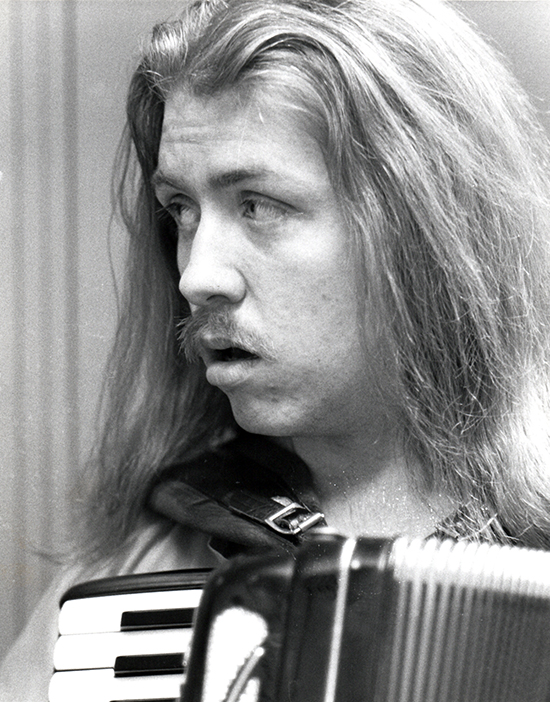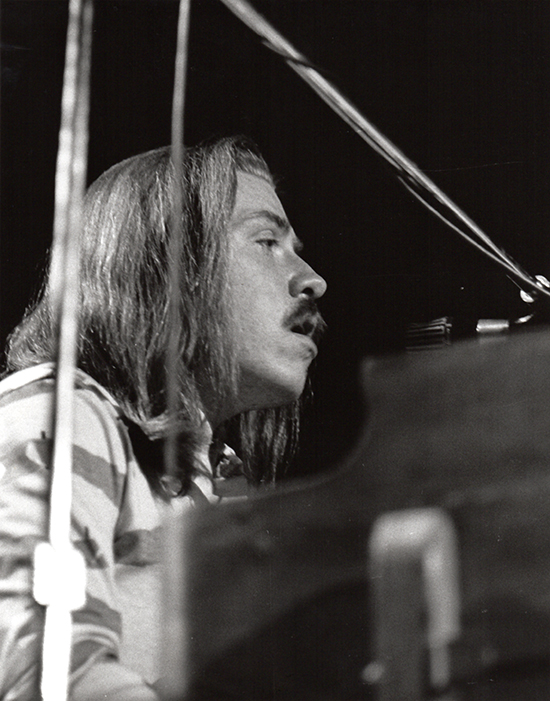 - January 23, 2019 - special thanks to Salvador Trepat/Point Blank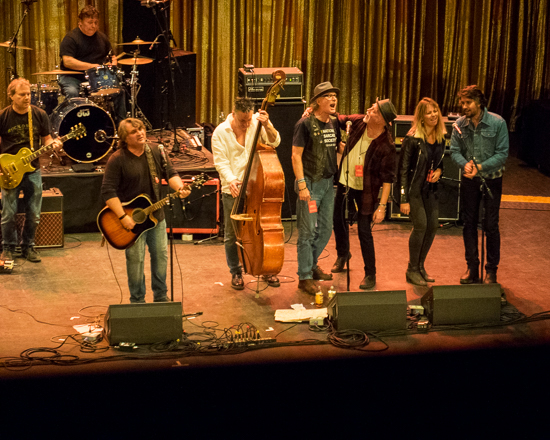 GREETINGS FROM ASBURY PARK: LIGHT OF DAY WINTERFEST 2019
Originating as a birthday celebration for artist manager Bob Benjamin nearly 20 years ago, Light of Day (LOD) has grown from a single event to a positive, dynamic force for change, both personal and political. The movement has raised millions for Parkinson's research while raising awareness and promoting activism across continents. And as LOD's focus has grown and shifted, so has Benjamin's own focus, as Parkinson's has again and againover the years asserted its dominion over his fragile body, invisibly exacting its daily toll. Each year, despite inevitable health setbacks from the dread, relentless disease, Benjamin has remained a staunchly positive and powerful presence during the Winterfest events. He now uses a wheelchair for mobility and is able to speak only a few words at a time, but Benjamin wasn't going to miss the Saturday night "Birthday Bash" in his honor that has long been the centerpiece of the LOD movement, on January 19.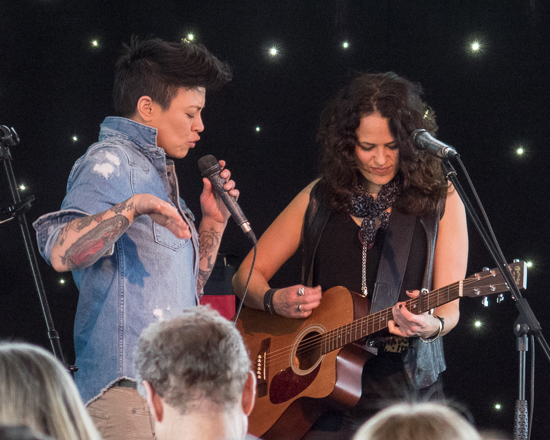 Kiyomi M and Lisa Bianco - photograph by A.M. Saddler
As the outside world continued apace on its chaotic and distressing trajectory, LOD Winterfest 2019 in Asbury Park seemed once again to serve both as welcome respite from and triumph over the daily chaos. Bruce Springsteen, also a part of the LOD movement since its origins, was not present for this year's festivities; happily, as his absence becomes more the rule than the exception for Winterfest, attendance has remained strong, with patrons from around the world gathering to celebrate at venues large and small throughout the fortnight of scheduled events.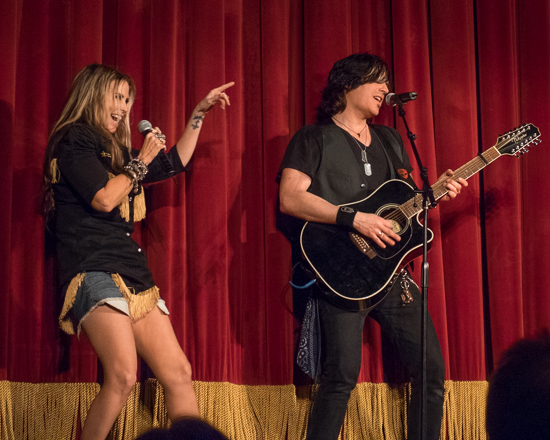 Williams Honor - photograph by A.M. Saddler
This year's Asbury Park kickoff show featured guitar wizard Albert Lee at McLoone's Supper Club last Saturday, while Thursday night began the main weekend's festivities with a set by the ever-popular Sensational Soul Cruisers at McLoone's and a truly stellar lineup at Cookman Avenue's House of Independents. The latter featured standout duo Williams Honor, bassist extraordinaire Johnny Pisano's Punk Rock Pizzeria, guitar wizard Marc Ribler's Who tribute, and finally dynamic headliner Remember Jones, commanding the stage as always with his massive soul revue.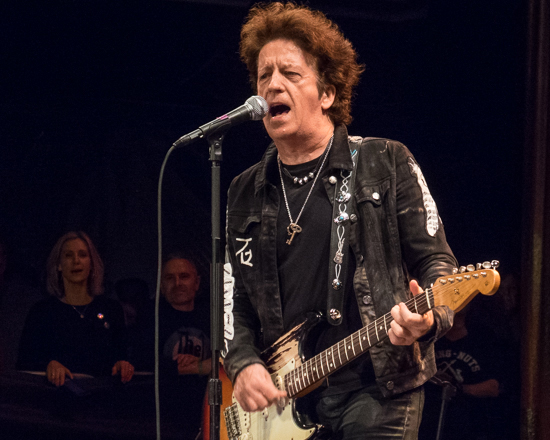 Willie Nile - photograph by A.M. Saddler
Friday night saw the induction of a new group of Asbury Angels at the Stone Pony, accompanied by instrumental legends The Ventures and local power pop favorites The Weeklings, while LOD veteran Willie Nile and garage rockers The Grip Weeds led another great lineup at the House of Independents.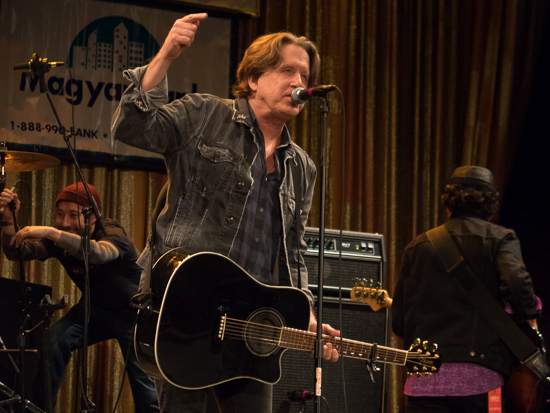 John Eddie - photograph by A.M. Saddler
Saturday afternoon's festivities included the return of the ever-popular Asbury Blues showcase at the Wonder Bar (which once again featured a standout performance from local veteran JoBonanno), the always inventive Asbury Underground music series, showcasing local artists like The Sunday Blues in pop-up-style performance spaces in downtown Asbury Park, and an engaging set by singer/songwriter Jeffrey Gaines at McLoone's.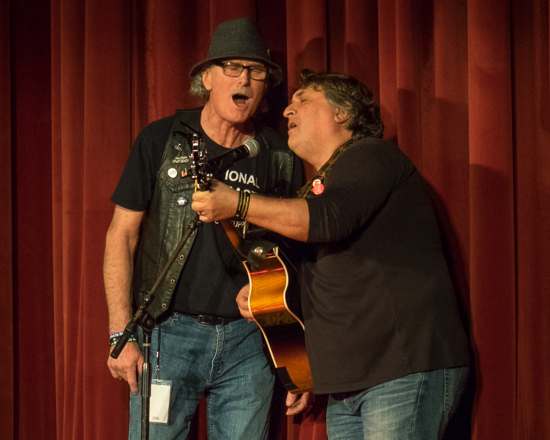 Vini "Mad Dog" Lopez with Joe D'Urso - photograph by A.M. Saddler
But it's the Saturday night event billed as "Bob's Birthday Bash" that has always been the centerpiece of the Light of Day efforts, and many of the usual cast of characters, led off by Joe D'Urso & Stone Caravan, kept the festivities going till nearly midnight. Highlights included a powerful, understated performance by Steve Forbert and the Renditions, a raucous, rabble-rousing set by Philadelphia rockers Low Cut Connie (enjoying their first foray onto the main stage).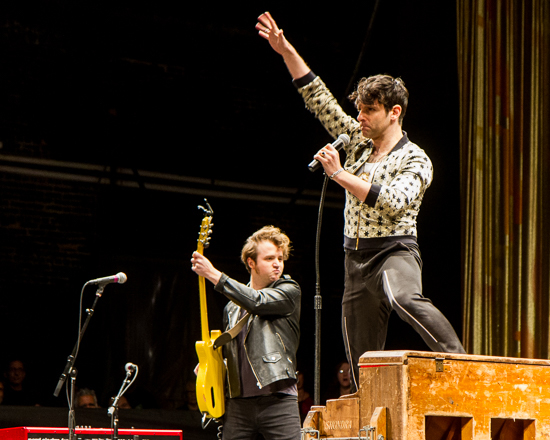 Low Cut Connie - photograph by A.M. Saddler
A brief but powerful set from Jesse Malin, whose unique blend of driving, punk-infused rock 'n' roll and snarky stage banter was a focal point of the evening (look for a new record/tour from him this year). Joe Grushecky and band followed up with a handful of crowd-pleasing Stones, Who and Dylan covers, leaving the peripatetic Willie Nile to bring down the house with sing-alongs on favorites like "One Guitar" and "Heaven Help the Lonely."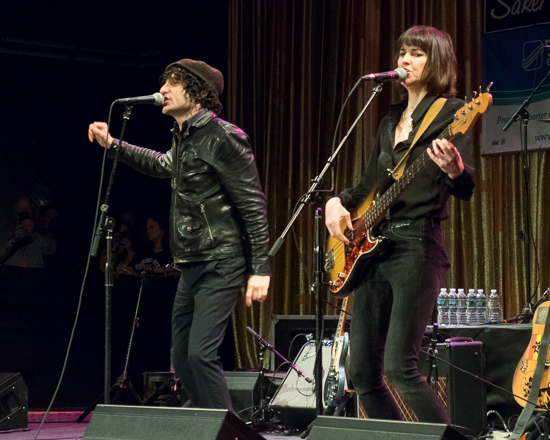 Jesse Malin and Catherine Popper - photograph by A.M. Saddler
The night ended as these Birthday Bashes always end — with a brief, emotional speech by Bob Benjamin, the presentation of his birthday cake, and a sing-along jam on Springsteen's "Light of Day" to close out the evening. Benjamin, seated at center stage, was joined by original E Streeter Vini "Mad Dog" Lopez, who seated himself to Bob's right, placing an arm around his shoulder as he sang along with the others. "We're all still here," he seemed to be saying, "and just for tonight, it's all going to be all right."
- January 22, 2019 - Lisa Iannucci reporting - all photographs by A.M. Saddler

ICYMI: DAN RATHER ON SPRINGSTEEN ON BROADWAY

- January 21, 2019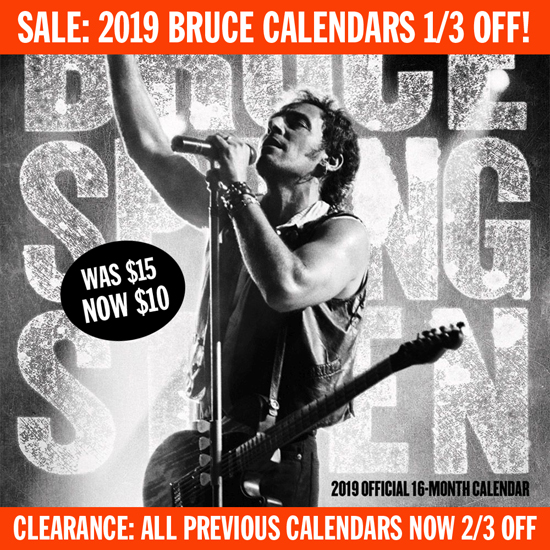 ALL SPRINGSTEEN CALENDARS ON SALE AT BACKSTREET RECORDS
A couple weeks into the new year, we still have a small stack of the 2019 Bruce Springsteen calendars in stock, so we're putting them on sale: Save 33% and get the new official Bruce calendar for just 10 bucks.
These are the official calendars from Thrill Hill — and we have a few leftovers from years past as well, which are all now 66% off! The utility may be low, but so is the price: just 5 bucks each. Keep 'em sealed and add 'em to your collection... wallpaper your bathroom... help us clear 'em out!
See all Thrill Hill calendars here, all on sale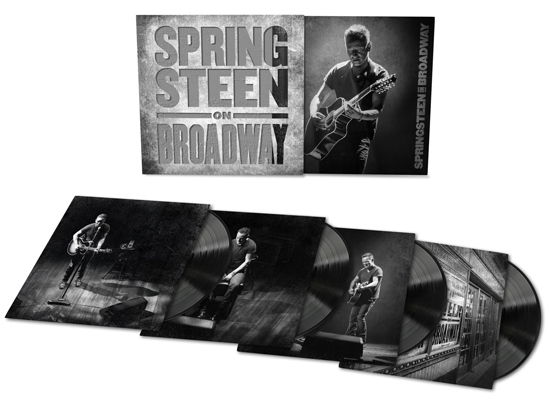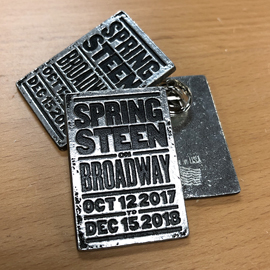 Also at Backstreet Records: we're getting ready for Springsteen on Broadway on vinyl, due out a week from today. The label had to delay the vinyl release, but January 25 is almost upon us.
If you've already pre-ordered the 4LP set, we'll be shipping yours out next week.
If you'd like to make sure you get a copy, pre-order ASAP so we can make sure to have enough stock on hand!
All copies of Springsteen on Broadway ordered from Backstreet Records, on either vinyl or compact disc, will come with an exclusive pewter/enamel pin, pictured here: an official, limited edition piece of memorabilia, listing the dates of Springsteen's historic, 236-show run. Available only from Backstreet Records.
- January 18, 2019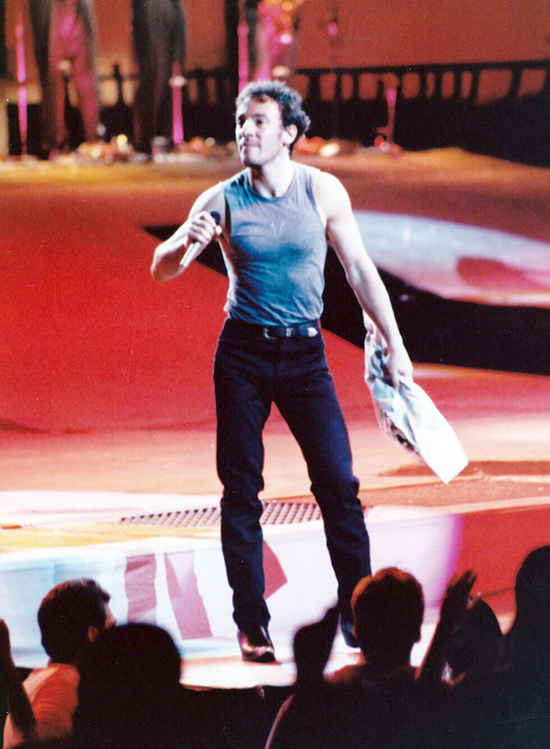 THROWBACK THURSDAY: SOUND & VISION, 5/23/88
Earlier in January, Nugs released Madison Square Garden 1988 as the new entry in Bruce Springsteen's live archive, capturing the E Street Band performance from May 23, 1988 (see our report below). Ken Lesnik was at the Garden that night with camera in hand, and thanks to him we have some images from that last show of the stand to supplement your listening pleasure.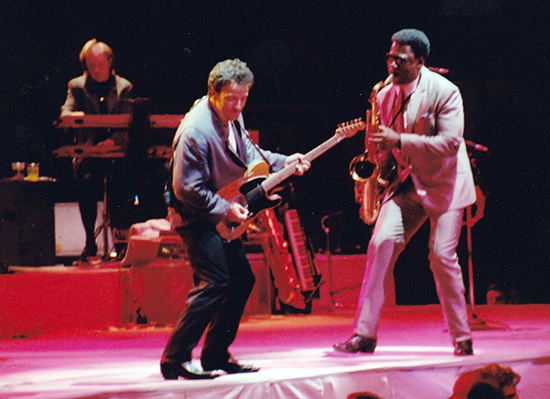 "I worked for the promoter," Ken tells Backstreets, "and back then, there were no issues bringing in a big lens to shoot. This was a great show, and a great five-night run. My memory for detail isn't what it used to be, but I do remember how cool it was when they broke into 'Born to Be Wild' in the middle of 'Light of Day' — that rocked!"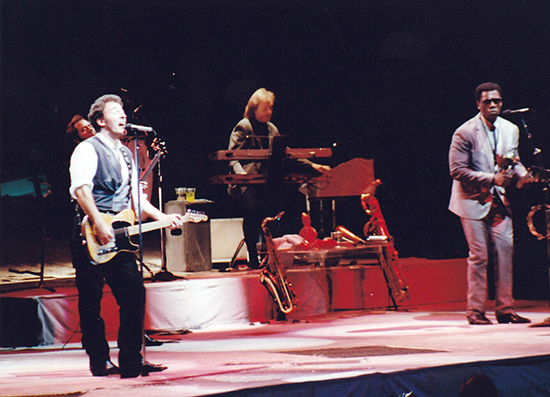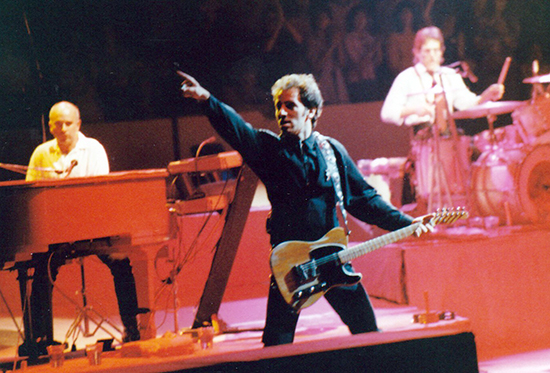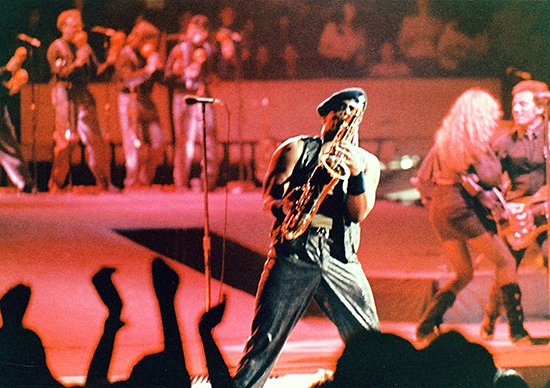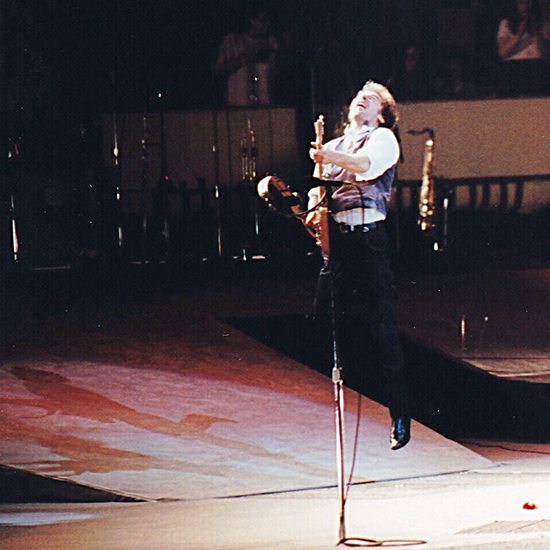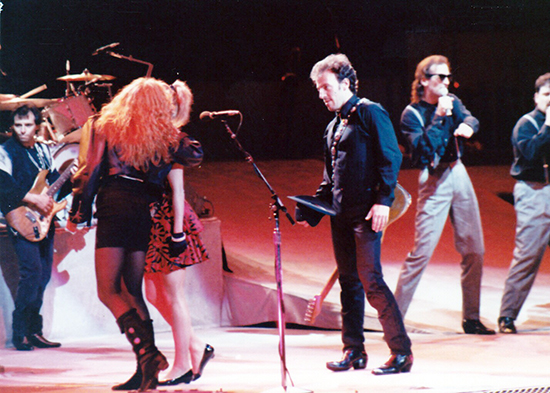 - January 17, 2019 - photographs by Ken Lesnik


ITALY'S MARDI GRAS RELEASE BENEFIT SINGLE FOR LIGHT OF DAY
While all eyes will be on Asbury Park for this weekend's Light of Day Winterfest, here's a reminder that the Parkinson's-fighting Light of Day is not just a Jersey Shore effort but an international one.
Rome-based Mardi Gras has gotten aboard the Light of Day caravan in Europe, including a 2015 acoustic show in Rome for LOD10, when they opened for Jake Clemons, Joe D'Urso, Eddie Manion, Vini Lopez, and more. After the success of their 2018 singles "Shoes" and "Tried," Mardi Gras are back with a benefit single for the Light of Day Foundation, a cover of Willie Nile's "One Guitar."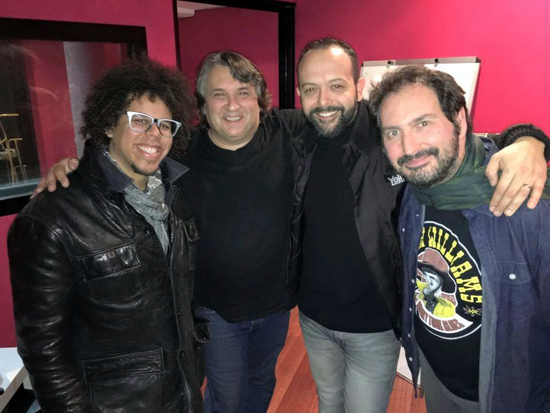 L-R: Clemons, D'Urso, Mardi Gras bassist Carlo di Tore Tosti and guitarist Fabrizio Fontanelli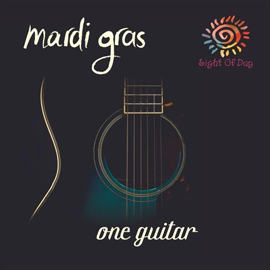 "One Guitar," written by Nile and Frank Joseph Lee, has become "sort of a hymn for the Light of Day Foundation," says Mardi Gras guitarist Fabrizio Fontanelli. "Along the years it has been closing the Light of Day Concerts all across Europe and the U.S.A, with even Bruce Springsteen featuring as a special guest."
Mardi Gras' version of "One Guitar" is available now on Spotify and other digital stores and streaming services — visit mardigrasoneguitar.hearnow.com for links. The band will be will donating all the proceeds of this single to the Light of Day Foundation, which utilizes the power of music to raise money and awareness in its continuing battle to defeat Parkinson's disease and related illnesses such as PSP and ALS within our lifetime.
You can also hear Mardi Gras cover "Land of Hope and Dreams" on For You 2, Ermanno Labianca's 2010 compilation of Italian artists covering Bruce Springsteen.
Visit lightofday.org for more on this weekend's Winterfest, and to keep up with other LOD events around the world throughout the year.
- January 16, 2019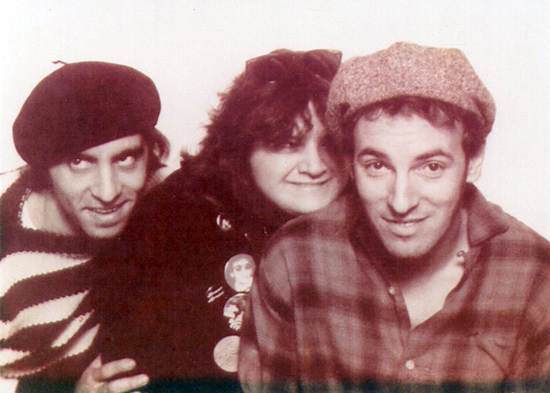 ASBURY ANGELS TO INDUCT OBIE DZIEDZIC AND MORE ON FRIDAY
Angels concert part of the weekend's annual Light of Day Winterfest
On Friday January 18 at 7pm, the Stone Pony will host the 2019 Asbury Angels concert, which as always will include a celebration of this year's group of inductees. The Asbury Angels distinction, which memorializes local figures who have made significant contributions to Asbury Park's music scene, will be part of what has become a featured event of the annual Light of Day Winterfest. This year's group of inductees includes Springsteen superfan Obie Dziedzic, Pat DiNizio of the Smithereens, Asbury Park musician Gladstone Trott, and journalist "Uncle Mike" Lisa.
Dziedzic, who was designated "#1 Fan" by Bruce himself, was a longtime friend and supporter whose lively presence was a hallmark of Springsteen's live shows for many years. She is credited with making big changes to Bruce's life, persuading the notorious junk food junkie to eat a more healthy diet, and helping him purchase both his first car and first home. Always a passionate fan, she was also a strong supporter of the Asbury Jukes and advocated for artists like John Eddie and John Cafferty & his band Beaver Brown, both of whom she personally introduced to Bruce. No matter what show she was attending, Obie could always be found front and center in the audience, dancing like a maniac and grinning from ear to ear, and she was always gracious to fellow fans.
Obie passed away in 2017; you can read our Stan Goldstein-penned obituary here.
Featured artists in this year's Asbury Angels show include The Ventures, The Weeklings and the Billy Walton Band. Tickets are available via Ticketmaster. For more upcoming Light of Day Winterfest events, visit lightofday.org.
- January 15, 2019 - Lisa Iannucci reporting - photograph courtesy of Billy Smith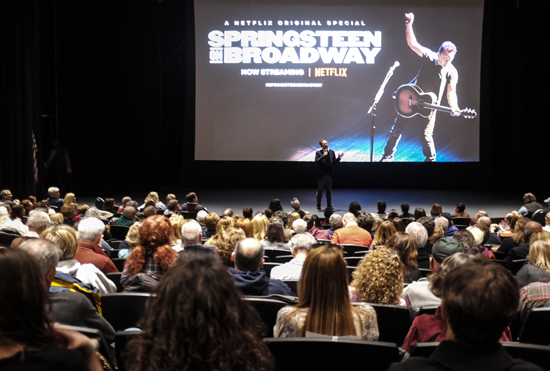 PLAYING IT LOUD AT MONMOUTH UNIVERSITY, 1/13/19
On a chilly Sunday afternoon, a capacity crowd filled the 700-seat Pollak Theatre on the campus of Monmouth University to watch the big-screen presentation of Netflix's Springsteen on Broadway. Little did most of them know that the man they were watching on screen was also sitting in the audience.
Monmouth University president Grey Dimenna and long-time Springsteen videographer and director of the Netflix film, Thom Zimny [on stage above], hosted the free event that was open to the public, though tickets had to be reserved in advance.
They both said a few words before the film rolled, expressing how thrilled they were that the screening was happening at the Pollak, the very place where Bruce did a dry-run of the show that would run for 236 sold-out performances at the 960-seat Walter Kerr Theater.
Before leaving the stage to let the film roll, Thom had two pieces of advice: Enjoy the film since it was special to him, and play it loud.
The star of the film, baseball cap pulled low, slipped in to his middle seat, rear center, after the lights went down. He sat with Zimny and his longtime manager Barbara Carr.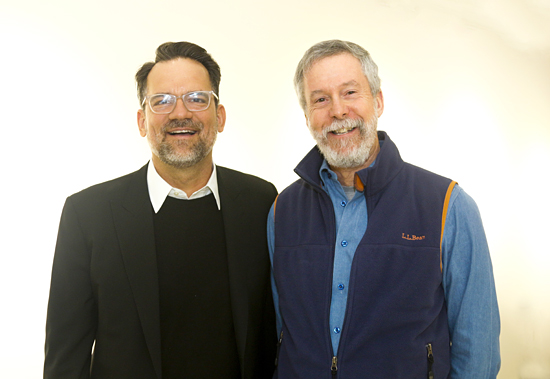 At a private reception before the film, President Dimenna [above right, with Zimny] also noted how Monmouth University is the home to the newly established Bruce Springsteen Archives and Center for American Music. As such, it's the official repository of Springsteen's written works, photographs, periodicals and artifacts. The collaboration broadens the existing relationship between Springsteen and Monmouth, which has been the home of the Bruce Springsteen Special Collection since 2011.
After the film ended and the house lights came up, Bruce shook hands with a few fans on the way out, many of whom were surprised to see the star in their midst. Then he was gone, like a spirit in the night.
- January 14, 2019 - report and photographs by Mark Krajnak

LET IT ROCKFORD!
As The Sopranos turns 20, seeds of Silvio were planted 40 years ago
In the midst of celebrating The Sopranos @20, it's also worth remembering just how many embryonic elements of the groundbreaking show can be found in another great TV program for which Sopranos creator David Chase wrote: The Rockford Files. You'll find a glimmer in Chase's eye of Silvio Dante there, as well as a nod to Bruce Springsteen himself, all back in 1979.

The penultimate Rockford Files episode, entitled "Just a Coupla Guys," was written by Chase 20 years before The Sopranos debuted on HBO. When Rockford star James Garner died in 2014, writer Will McKinley detailed the show's Sopranos connections thoroughly on his "cinematically insane" blog, noting that the two Jersey-based mobsters in Chase's "Just a Coupla Guys" "can be seen as younger prototypes of Paulie (Tony Sircio) and Silvio (Steven Van Zandt), two of The Sopranos' more memorable characters."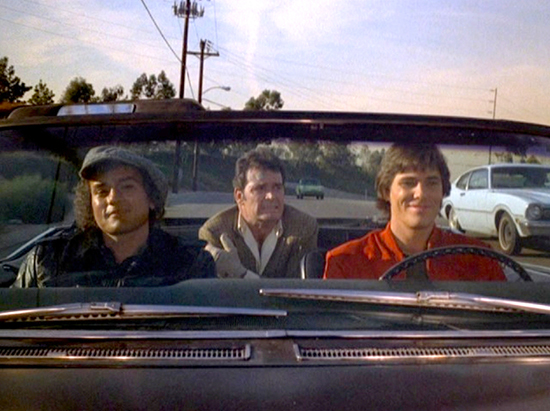 McKinley's article remains a fun, well-researched read, despite a few minor errors and misses. One notable miss that may amuse Backstreets readers especially: At the end of the episode, young mobster Mickey informs his fellow mobster Eugene (who incidentally looks like he's wearing a Born to Run-era Bruce Halloween costume) that he'll soon be "goin' up to the Springsteen concert in Boston."
Chase himself gave a nod to the Rockford Files connection in The Sopranos pilot he wrote and directed, with the beginning of an episode of Rockford playing on the television at the Green Grove nursing home.
Read: "The 1979 Rockford Files Episode that Inspired The Sopranos"
- January 14, 2019 - Shawn Poole reporting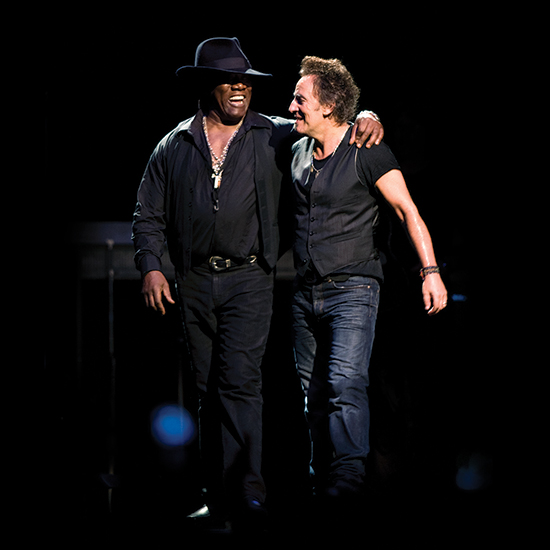 HAPPY BIRTHDAY, BIG MAN
Weighing in at heavier than you, Clarence Clemons was born 77 years ago today, January 11, 1942. Photograph by Joseph Quever.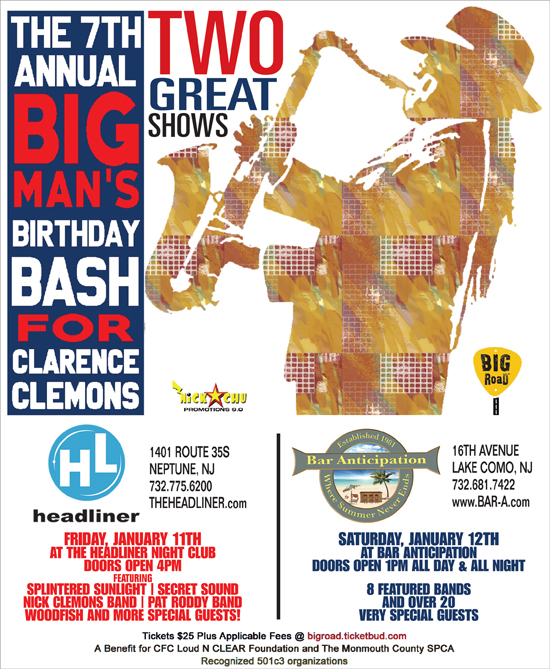 THE 7th ANNUAL BIRTHDAY BASH FOR THE BIG MAN'S 77th
Tomorrow will mark the anniversary of a seismic event: 77 years since Clarence Clemons's birth, on January 11, 1942. In honor of the Big day, there'll be a Big Man's Birthday Bash this weekend on the Jersey Shore. The seventh annual celebration will be spread over two nights for the first time: Friday, January 11 at the Headliner in Neptune, and Saturday, January 12 at Bar Anticipation in Lake Como.
Bash co-producer Terry Camp says, "When Clarence passed, Wonder Bar in Asbury Park hosted the Sensational Soul Cruisers and The Nick Clemons Band for a memorial show in July 2011. Bruce was kind enough to join us that epic night, and we've been building on it since.... The show gets bigger and bigger every year, and now it's two big days with two incredible line-ups."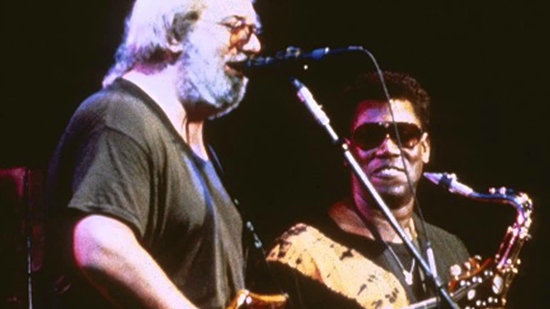 Friday's focus will be on the Big Man's "jam years" — off E Street, of course, Clarence was known to sit in with many other artists, and that included Jerry Garcia and The Grateful Dead. This night will featuring a recreation of a set by Clemons, Garcia, and John Fogerty from Memorial Day weekend 1989. Bands include Splintered Sunlight, Pat Roddy Band, Nick Clemons Band, Secret Sound, Waiting on Mongo, and Woodfish. For more information, see the event's Facebook page.
On Saturday, more of the Jersey Shore sound you'd expect, at an all-day affair with both a main stage and an acoustic stage. The bill includes another set from the Nick Clemons Band as well as Clarence's son Jarod, plus the headlining Big Man Bash All-Star Band featuring J.T. Bowen, Eddie Testa, Jobonanno, Lisa Sherman, "Philly Elvis" Nick Ferraro, Bob Polding, Tommy LaBella, and many more. For more information, see the event's Facebook page.
Produced by BIG RoaD, the Birthday Bash benefits CFC Loud N Clear and the Monmouth County SPCA. Tickets are $25 per show or $40 for both nights, available online at bigroad.ticketbud.com.
Over at NJArts.net, Jay Lustig was inspired by the event's "Jam" focus to compile a bevy of clips featuring Clarence with other bands — including not only The Grateful Dead, Garcia, and Fogerty, but also Ringo Starr, Liza Minelli, and, of course, the Red Bank Rockers. Dive in to "When the Big Man joined other bands" here.
- January 10, 2019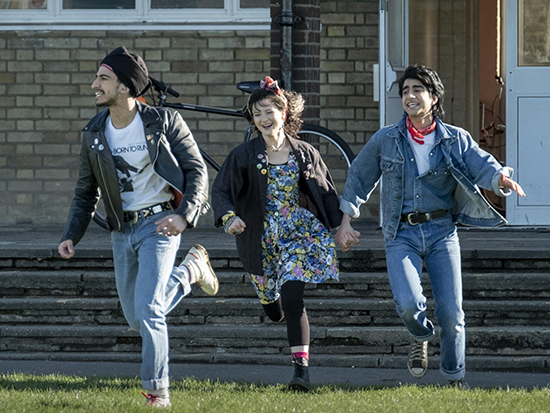 BLINDED BY THE LIGHT TO PREMIERE AT SUNDANCE, JAN 28
As we've reported before, Sarfraz Manzoor has adapted his Greetings From Bury Park memoir for the big screen, for a film directed by Gurinder Chadha (Bend It Like Beckham) — with approval from Bruce Springsteen to use his music. Described as a "hybrid musical" and planned for wide release later in 2019, the movie will have its world premiere this month at the Sundance Film Festival.
In Blinded By the Light, according to IMDB, "during the austere days of Thatcher's Britain, a teenager learns to live life, understand his family and find his own voice through the music of Bruce Springsteen." The film will premiere on Sunday, January 27, with three more screenings in the following days at the festival in Park City, UT. See dates and times at sundance.org, and read more at inews.co.uk.
- January 8, 2019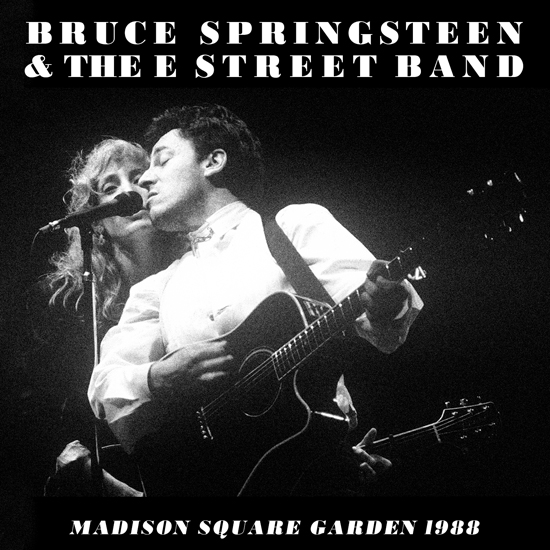 END OF THE LINE FOR THE U.S. TUNNEL OF LOVE EXPRESS
All aboard for the final Tunnel performance at MSG, 5/23/88
When Bruce Springsteen decided to go on the road with the E Street Band to tour for Tunnel of Love, he knew that he didn't want to ride in on the coattails of Born in the U.S.A., and he knew he didn't want to be a nostalgia act. Springsteen knew more about what he didn't want out of the next tour than what he did, as he described to Rolling Stone: "I said, 'I don't know if I have a set.' Jon said, 'Well, you know, that's your job, you've been doing it a long time, you do it good, so it'll happen. So I took his word for it."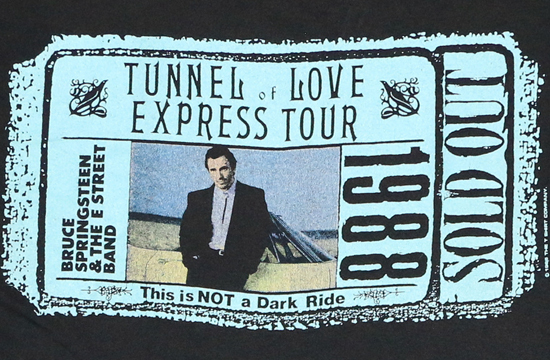 Mr. Landau was right. It's hard to imagine Bruce's trepidation, given that the set he rolled out on the first night of the tour (Worcester, MA, in February 1988) would remain essentially the same for most of the 40-something nights of the entire U.S. tour. Of course, he would tinker with the show here and there — this is Bruce Springsteen, after all — but the core setlist, and the stories he wanted to tell, remained in place.
This might sound like a terrible proposition, except, again, this is Bruce Springsteen, and within those constraints, he found liberation. The Tunnel tour setlist would be constructed from: songs from the new album; songs from previous albums that meshed with the themes of the show; outtakes that should have been on previous albums (his words, not mine); rock 'n' roll classics that drew from the E Street members' early origins; rewritten oldies that both fit and let Bruce have fun; and finally, true to form, a carefully curated selection of oldies but goodies, smash hits, and (in the case of "Born to Run") deconstructed favorites.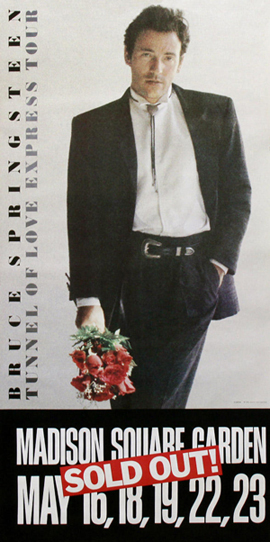 By the time the Tunnel of Love Express Tour came coasting back home for five sold-out nights in New York City, the band — and especially, the Boss — were in peak form. Exceptionally so on May 23, 1988, the final night of the stand (and of the U.S. leg of the tour) and today's release from the live archives. While Madison Square Garden 1988 is the third officially released show from that year, they are so different in emotion and intention that the listener will take something very different, and very special, from each one. This isn't a repeat.
The most notable element in this particular night is the quality of Bruce's vocal performance. Obviously, Springsteen is a tremendous rock 'n' roll singer, who draws from the great traditions of gospel, soul, and rhythm & blues. But it's rare that we get to hear him using all of that to its full power and, even more rarely, throughout the duration of the entire set.
You hear it out of the gate with that "Tunnel of Love" into "Boom Boom" one-two punch, which is, well, raw sex, plain and simple. The delivery on "Adam Raised a Cain" is absolutely goosebump-inducing, Bruce testifying to that father-son conflict with ferocious intensity. "Adam raised a Cain... gotta break that chain," he sings towards the end, before pulling out a reference to Muddy Waters' "Mannish Boy": "I'm a MAN — I SPELL M-A-N." He is not singing so much as testifying at this point. There's a reason it took until this run of shows for Bruce to put "Lonely Teardrops" into the set as the closing number no less, instead of just playing around with it at soundchecks. You don't toy around with Jackie Wilson, and you don't try to approximate the delivery of a man known in his day as "Mr. Excitement" unless you plan to come correct. Bruce does, nailing Wilson's lilt, warmth, and utter hot-buttered-soul smoothness.
The rest of the E Street Band shows up in fine form as well — listen for the guitar stylings of Mr. Nils Lofgren on "Seeds" and "Vigilante Man," the latter in the set due to the taping of the video for the Folkways release the day before. (There's a hilarious moment after "Seeds" when Max drives straight into the opening drum roll for "Roulette," clearly forgetting that "Vigilante Man" was taking its place.) The minimalist blues riffs are perfect, and the segue from "Seeds" is fitting. The Guitar Slinger of Central Jersey also represents, particularly at the end of an absolutely bonkers "Born in the U.S.A.," which has the crowd extending the song, singing the chorus over and over again.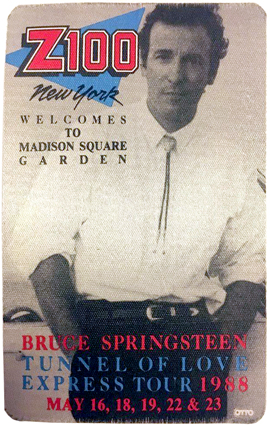 On that note, let's hear it for a Tri-State Area audience, whether it's the screaming women during "I'm on Fire," or the sounds of people losing their goddamn minds all the way up to the blue seats when the intro chords for "Backstreets" sneak up on them. At the end of "Part Man, Part Monkey" (complete with a "Love Is Strange" tag which sounds more sinewy than it has for most of the tour, but that could just be hindsight talking), there's this meandering, Morricone-esque riff on the guitar and some vague piano noodling, and then: "This is for all our old fans out there." That gets a cheer of recognition, but nothing like the the reaction when those "Backstreets" chords roll out. It is genuine and warm and sustained and, combined with the intensity in Bruce's voice, will give you goosebumps for the duration of the song.
And, of course, any discussion of a Tunnel show would be remiss without mentioning the Horns of Love: Richie "La Bamba" Rosenberg, Eddie Manion, Mark Pender, Mario Cruz, and Mike Spengler. The anticipation of that moment in "Tunnel of Love" when the horns come in on the refrain is sheer, soaring liftoff for your heart. The horns change whatever song they are on: they make "Adam" both sharper and brighter; they make "Cover Me" darker, soaking up the synth over-sweetness. The horn players are also important because of the doo-wop styled harmonies that they offered. There's glee in Bruce's voice when he shouts "C'mon, Richie!" in the pre-song business before "All That Heaven Will Allow," and further contributions on "I'm a Coward" and "You Can Look (But You Better Not Touch)" — that bit of choreography is hard to forget once you've seen it.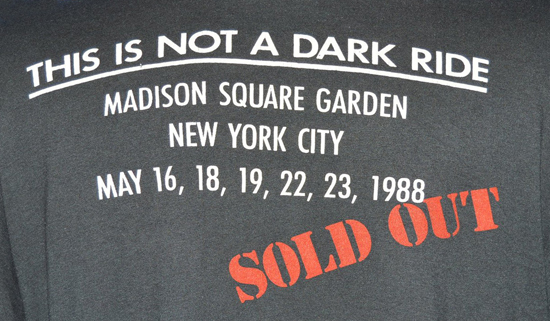 The encore is, quite frankly, insane. "Light of Day" is just an excuse to show off how hot they are, every single member of the band: Bruce and Nils are tossing off hot licks; Danny is riffing gorgeously, just bubbling out of stage left; Max is both technical and muscular; Garry is throwing down a bass line that is the only thing anchoring them all to the stage; and the horns — it's one of the best Horns of Love arrangements, on a par with something straight out of Memphis. You're going to listen to it and think, "Hey, this sounds like 'Born to Be Wild'," and, you know, clearly that's what the band thought too, because then they take us on a full-fledged Steppenwolf detour including horn arrangements. By the time Bruce decides to take a mid-song break and introduce the band, you are grateful for the chance to catch your breath.
This is, as the T-shirts advertised, Not a Dark Ride. Buon viaggio!
P.S. Also included, for the first time on any of Springsteen's archive releases, is a song from the night's soundcheck: a cover of the '50s oldie "For Your Love," originally recorded back in 1958 and unavailable anywhere by Springsteen until now.
Also read: Erik Flannigan's entry at blog.nugs.net, "I'm Gonna Fight My Way Through All This Goddamn Darkness"
- January 4, 2019 - Caryn Rose reporting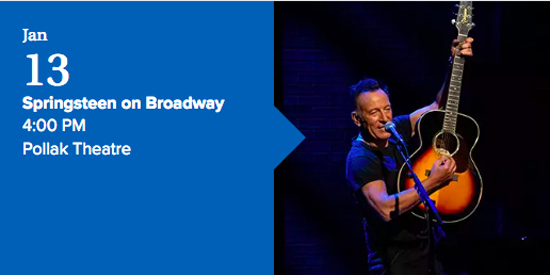 BROADWAY HITS THE BIG SCREEN
Free screening to be introduced by Thom Zimny at Monmouth U.
Monmouth University, along with the Bruce Springsteen Archives and Center for American Music housed at the university, in partnership with Netflix, will hold a free public screening of the film Springsteen on Broadway on Sunday, January 13 at 4pm in Pollak Theatre. The film screening will feature an extended introduction by Emmy Award-winner Thom Zimny, director and producer of the film.
Ticket reservations for the screening are now available online and are required for entry. There is a limit of two reservations per guest. Admission of registered guests will begin on Sunday, January 13 at 3pm on a first-come, first-served basis. Seats are not guaranteed. Non-perishable food items will be accepted in support of The Nest, Monmouth University's food pantry for students in need, and Fulfill (formerly the FoodBank of Monmouth and Ocean Counties) will also be accepting monetary donations.
- January 3, 2019