BYE-BYE CHET FLIPPO, CHET FLIPPO BYE-BYE
Influential music journalist Chet Flippo passed away peacefully at his home in Nashville last Wednesday, June 19. Though he was primarily known for his often pioneering work in the field of country music journalism — particularly for Rolling Stone in the 1970s — Flippo was quite the rock 'n' roll writer as well. Aside from being tapped to write the liner notes for the platinum-selling country compilation Wanted: The Outlaws, his profiles of rock legends like Janis Joplin, John Lennon and Bob Dylan were considered among the best of the period, and his books On the Road with the Rolling Stones and Your Cheatin' Heart: A Biography of Hank Williams are still regarded today as classics.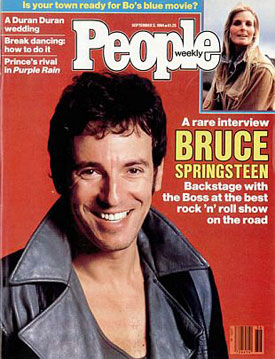 Coming off of his tenure as Rolling Stone's senior editor in the early 1980s, Flippo moved to Nashville, taught journalism, and freelanced for several major publications. His profile on Bruce Springsteen for the September 3, 1984 issue of People magazine, titled "Blue Collar Troubadour," was a well-rounded, complimentary portrait of an artist in his commercial prime, and it's a testament to Flippo's reputation that he was given a backstage audience with the Boss. Indeed, Flippo's admiration for Springsteen continued over the years, with glowing write-ups showing up for Bruce's SXSW 2012 speech and for the Wrecking Ball album.
Never one to shy away from controversy or confrontation, Flippo wrote on "Nashville Skyline" (his column for CMT, where Flippo served as editorial director) that Springsteen was saying "things that someone needs to say," and that Bruce was "writing and recording what some country music artists should be writing and recording these days." His voice was consistent, never flinching in its criticism of what he saw as the missteps of an industry, or in its support when he felt it was deserved.
Nor was Flippo without a sense of humor, as I personally found out in 2002 when my former band The Two Dollar Pistols was playing the AMA festival in Nashville. Flippo had said very nice things about my band's 1998 live album on Yep Roc Records, Step Right Up, but he had, according to a member of the audience who was at this show with him, found our latest release, You Ruined Everything, to be a disappointment. As I was packing up after our performance, I jokingly told the man to let Flippo know that I appreciated his opinion, and to please pass along one of my own: that Colin Escott had written a better Hank Williams bio than Chet had. Right as I was walking outside to get some air, the man came back to hand me a beer. I looked at the bar, and there stood Flippo, raising a glass to me. "This is from Chet," the man said. "He told me to tell you, 'Touche.'"
- June 26, 2013 - John Howie, Jr. reporting


IN THE WINK OF A YOUNG GIRL'S EYE
Twenty years ago tonight, June 25, 1993, David Letterman landed his dream guest for his final Late Night show on NBC: "I believe, honestly, in about eleven-and-a-half years that we've been on this program, there is, I think, really only one person who has not been on this show who I always really, really wanted as a guest. One person, in eleven-and-a-half years. And happily, all that changes here tonight, ladies and gentlemen.... So better late than never, please welcome Bruce Springsteen."
- June 25, 2013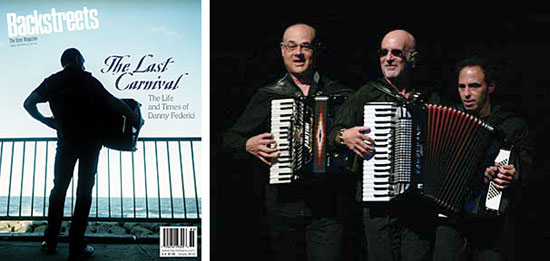 SQUEEZE ME TIGHT… IT'S ACCORDION AWARENESS MONTH!
Roll out the barrel, you ladies of Spain... June is National Accordion Awareness Month! And any jocularity aside, the accordion has played a very important role in Springsteen's music throughout his career, from "4th of July, Asbury Park (Sandy)" and "Wild Billy's Circus Story" to the title track of Wrecking Ball. Two years ago, "Sandy" topped BuzzFeed's National Accordion Month listing of rock 'n' rollers' work featuring the squeezebox. When Bruce was inducted into the Rock and Roll Hall of Fame, he made sure to note in his acceptance speech that Danny Federici's work on the accordion "brought the boardwalks of Central and South Jersey alive in my music." The accordion also was the first musical instrument that young Nils Lofgren ever learned to play, starting at the ripe old age of five. Just last summer, Bruce and the band brought it all back home to those boardwalks in a unique version of "Jersey Girl," with Charlie Giordano demonstrating just how romantic and wistful the sound of an accordion can be.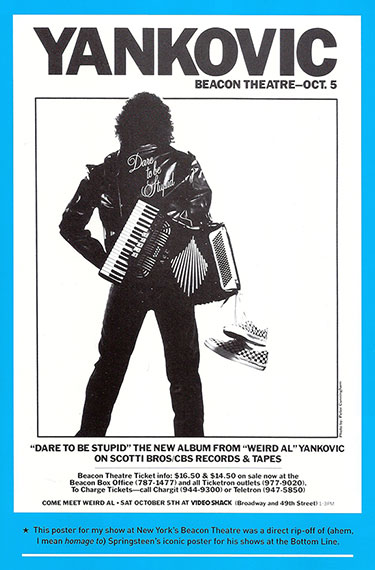 Back in 2011, we explored many of accordionist extraordinaire Weird Al Yancovic's intersections with E Street; here's another one we discovered just in time for National Accordion Awareness Month, courtesy of the more recently published Weird Al: The Book. It's a wonderful 1985 visual parody of Springsteen's legendary Bottom Line '75 concert poster, with Eric Meola's original iconic photo parodied by Yankovic and noted Springsteen photographer Peter Cunningham.
And while we're talkin' E Street, accordions and Weird Al, there's this, too: Yankovic rockin' his squeezebox with the late, great Clarence "Big Man" Clemons and some other famous friends. The group sang "a song about cheese" on the 1997 "Mining Accident" episode of The Weird Al Show. The episode's DVD commentary track contains some hilarious asides about C's involvement, including the "revelation" that Clarence appeared on the show to make up for mispronouncing Yankovic's last name at an awards show.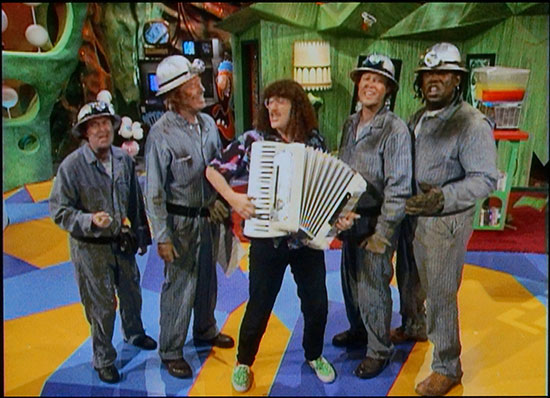 So, Happy National Accordion Awareness Month — you've got just a few days left; go celebrate!
- June 25, 2013 - Shawn Poole reporting - photograph of Charlie Giordano, Roy Bittan and Nils Lofgren by Mauro Regis [Udine, Italy, 7/23/09]

BRING ON YOUR WRECKING BALL FOLLOW-UP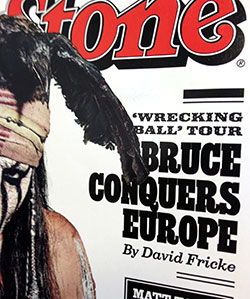 Bruce tells RS he has "a lot of material" for a next record, including new recordings with the E Street Band and Tom Morello
In the new double issue of Rolling Stone (#1186/1187), David Fricke has a new profile of Springsteen, "Bruce Conquers Europe," for which he spoke with Steve Van Zandt, Jake Clemons and others, supplementing a rare interview with the Boss himself. It's a great report from the front lines of the Wrecking Ball tour, also going back to trace how the 2012-2013 E Street Band proceeded in the wake of Clarence's death. What it doesn't do is look forward; instead, Fricke and rollingstone.com do that today, with exclusive outtakes from the interview online that constitute big news.
Talking with Fricke in Milan on June 3, Springsteen revealed plans for a potential follow-up to Wrecking Ball: "I have stuff I'm working on that I'm very happy about... I hate to say, because I don't like to be wrong. But I have a lot of material. I still feel like I'm in the middle of the well." Specifically, Bruce talked about recording in a Sydney studio earlier this year, mid-tour, with the E Street Band and Tom Morello. "We did a couple of things that I wanted to put down. So that was very exciting. And being with Tommy was exciting."
Read: "Bruce Springsteen Working on Wrecking Ball Follow-Up"
- June 24, 2013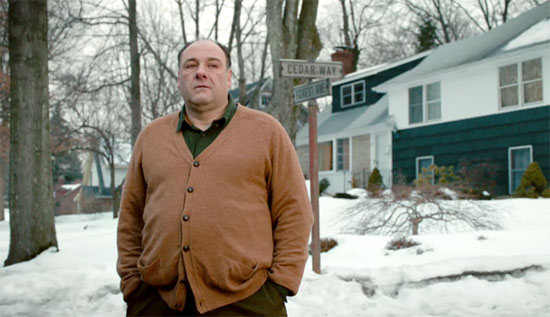 NOT FADE AWAY
Little Steven's Underground Garage to remember Gandolfini tonight
Steve Van Zandt's Underground Garage satellite radio channel on SiriusXM will remember actor James Gandolfini in a special way tonight, with a focus on one of his best final roles. In a statement on Gandolfini's passing, the channel noted, "He was a friend and a member of our family. In remembrance, we will re-broadcast the SiriusXM Town Hall that originally aired last December featuring James Gandolfini along with David Chase and Little Steven. They sat together discussing the film Not Fade Away, one of the last projects James worked on." Sopranos creator Chase was the film's writer/director (basing it partially on his own youth) while Van Zandt served as music supervisor and an executive producer.
Not Fade Away follows a group of fictional New Jersey teenagers struggling to start a band as the British Invasion, the Civil Rights Movement and the Vietnam War transform 1960s America. Gandolfini played Pasquale "Pat" Damiano, another fictional Jersey Italian-American patriarch à la Tony Soprano, though ultimately far less monstrous than Tony. The volatile but loving relationship between Pat and the film's main character, his son Douglas, covers territory very familiar to fans of Bruce Springsteen. Van Zandt told USA Today that Gandolfini played "all of our fathers" in the film. "When I think of what we put those poor guys through. It was the first true generation gap. The generations were as far apart as they'd ever been in history, and that was tough to live with." (Click here for one of the film's trailers that highlights Gandolfini's role and the father-son relationship.)
The Town Hall rebroadcast with Chase, Gandolfini and Van Zandt will air tonight, June 24, at 7 pm ET on SiriusXM channel 21. Not Fade Away is available now on Blu-Ray, DVD, Digital Download, and On Demand. For more information, visit the film's official website.
- June 24, 2013 - Shawn Poole reporting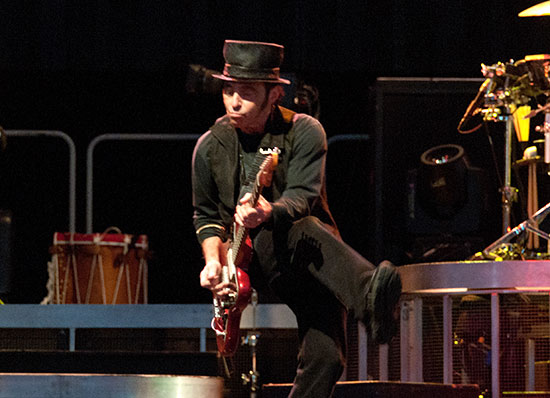 HAPPY BIRTHDAY, NILS!
The great Nils Lofgren turns 62 today, born June 21, 1951. Follow Nils online: on Twitter he's @nilslofgren, and his website is www.nilslofgren.com.
- June 21, 2013 - photograph by Jan Lundahl [Copenhagen, 5/14/13]

FRICKE TALKS WITH SPRINGSTEEN FOR NEW RS INTERVIEW
Backstage in Padua and Milan, Springsteen spoke with David Fricke for a Q&A to be published in the next issue of Rolling Stone. Bruce talks about doing this thing that he does for 50 years (next year!), and about the current model E Street Band: "The Seeger Sessions band — I incorporated some of the things from that. Then when Clarence passed away, we were fortunate that Jake was there. And I have not toured with a horn section since the late Eighties. So it was, 'Let's give that a try.' There is a range of expression over the course of a night that divides, very specifically, this band from previous E Street Bands. It's a real re-thinking of what the band is."
Read: Q&A: Bruce Springsteen on Touring Europe, the E Street Band and a Half-Century of Rock
- June 20, 2013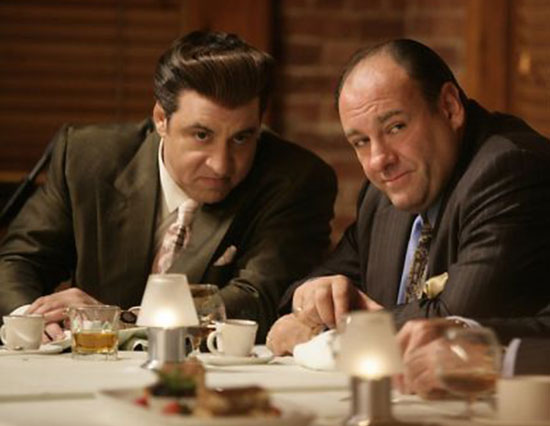 JAMES GANDOLFINI, R.I.P.
"I have lost a brother and a best friend. The world has lost one of the greatest actors of all time." —Steven Van Zandt, via Twitter
About ten years ago I was up in Asbury Park, having a great time playing consigliere to Backstreets editor Chris Phillips while we attended an amazingly intimate Springsteen holiday show at Convention Hall. The place only holds about 2,000 people and feels more like a high school gym. We were on the floor just before showtime, milling about and chit-chattin' away, so excited for the show. Just then James Gandolfini strolled right past us, gave a quick head nod as our recognition became apparent, and headed up the bleachers to his seat. Well, as he climbed those stairs the murmurs began quickly, and by the time he was halfway up the chanting began. "Tony, Tony, Tony!" The Sopranos was still pretty new, and his iconic status was not quite in full bloom, but in this room, well... He looked only a bit uneasy as he made his way down the row to his seat, apologizing to those he passed, all while the crescendo grew, the entire joint now yelling his fictional name. Gandolfini gave a quick wave and smile before sitting; everyone cheered and then some laughs as we realized what just happened. Tony Soprano was in the house!
The show began and Bruce was now center stage. Folks kinda forgot about Gandolfini, which I assume was exactly what he wanted. About a minute into the show, I turned from my own seat — about ten rows down from the TV mob boss — to see a very excited Jimmy Gandolfini remove his button-down shirt to reveal a tight concert tee and pull out a bandana, which he quickly tied around his head Little Steven-style. A tribute to Silvio, perhaps. I nudged Chris to turn and take a look, and we both watched for a few seconds while the new star was back to being Jimmy from the block, pumping his fist in the air, rockin' out like the rest of us, lost in his joy. Rave on, brother.
- June 20, 2013 - Andrew Massimino reporting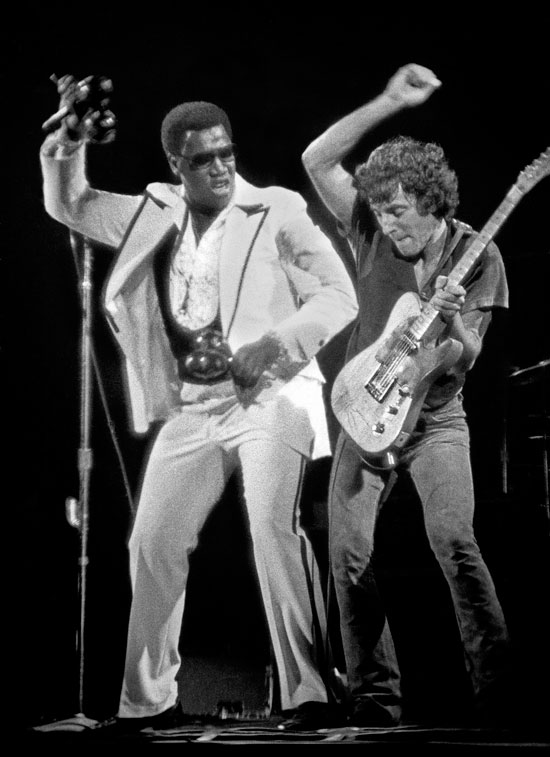 WE MISS YOU, C... #2BIG2DIE
Tuesday, June 18, marks the second anniversary of the day we lost Clarence Clemons. As we cross the t's and dot the i's of the new issue of Backstreets Magazine, our long-in-the-works-tribute to the Big Man, we're also happy to report that January 11, Clarence's birthday, has officially been declared Clarence Clemons Day in New Jersey, in a resolution just signed by Governor Chris Christie.
We've also heard from Lani Richmond, Clarence's longtime assistant currently working with C's estate: "On the eve of Clarence Clemons' passing, two years ago tomorrow," she tells us, "we are celebrating Clarence's life and rejoicing in his memory by inviting all friends and fans to post a memorable experience or their favorite photo on Twitter, Facebook and Instagram. Please help us spread the LOVE! We have created one main hashtag: #2big2die."
Connect and share the love on Twitter (@clarenceclemons), Instagram (@clarenceclemons), and Facebook.
- June 17, 2013 - photograph by James Shive

THE PIED PIPER, OLD JAZZ CATS, AND EMERGENCY GUITARS
Neil McCormick recently spoke with the E Street Band's Max Weinberg, Nils Lofgren, and Roy Bittan for The Telegraph, for a piece that ran on Saturday, the day of the Wembley show. Says Mighty Max: "It's a term of affection, but [Springsteen] is certainly 'The Boss,' both in a figurative and literal sense... We are all parts of a 40-year-old, well-oiled machine directed in every aspect by Bruce. I have never seen any other aggregation of singer and band that's like this." And of the current touring line-up: "It's kind of like Bruce is the Pied Piper and these are people he's picked up on his journey."
Read: "What it's really like to work for The Boss."
- June 17, 2013


I BELIEVE
Bruce at Camden Lock in North London on Monday, performing "The Promised Land" for ONE's agit8 campaign.
- June 14, 2013



PRE-SALE TICKETS FOR SPRINGSTEEN & I AVAILABLE NOW
The Ridley Scott-produced documentary film Springsteen & I is coming to theaters in July, with screenings on 7/22 and 7/30. For U.S. cities, tickets go on sale to the general public tomorrow morning, Friday June 14, at 8:00 am ET. Thanks to the Springsteen & I folks, we have special pre-sale links to share with Backstreets readers.
Pre-sale: click on either or both of the links below, and you'll be able to purchase tickets prior to the general consumer sale, starting now and running through Friday morning at 7:59 ET.
Once ticketing has been pushed live to the public at 8:00 am Friday, anyone will be able to purchase tickets either via these links or by visiting springsteenandi.com or FathomEvents.com.
- June 13, 2013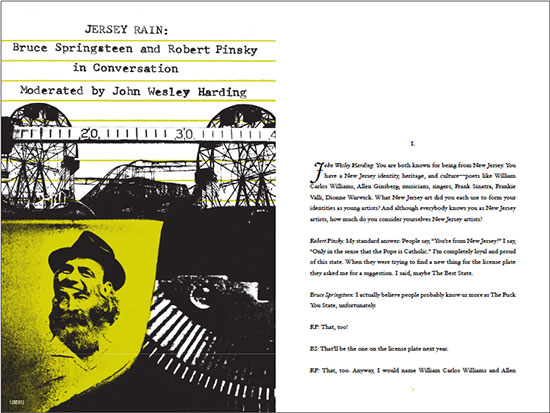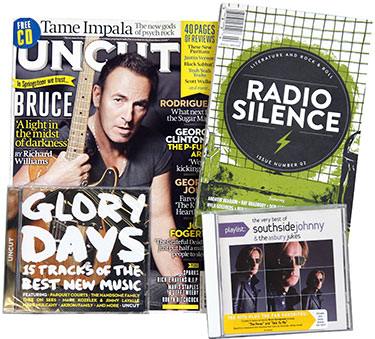 NEW IN STOCK AT BACKSTREET RECORDS
Remember a few years back when WAMFEST hosted "Jersey Rain," a conversation with Bruce Springsteen and New Jersey poet Robert Pinksy, moderated by John Wesley Harding? We gathered some reports at the time, but the 400 in that auditorium (mostly students) were the only ones actually privy to the discussion... until now. Radio Silence, a new journal focusing on literature and rock 'n' roll, has an exclusive transcript from the "Jersey Rain" event in their second issue. We've got this new issue of Radio Silence in stock now.
Also new to our shelves:
Free 2013 calendar with any order of $30 or more! The year's not half over yet... and if you've got a bare spot on your wall, here's an offer you can't refuse. Simply add the 2013 to your cart, along with at least another $30 of Boss merch, and use the coupon code FREECAL to zero out the cost of the calendar.
See all the Latest Additions to the Backstreet Records shop
- June 12, 2013


SPRINGSTEEN AGIT8S TO END POVERTY
In advance of the G8 summit, Bono's ONE organization has launched a new campaign whose goal is to end extreme poverty by 2030. And Bono called on a number of friends — including Bruce Springsteen — to assist.
A follow-up to 2005's Live 8, agit8 is a music-based campaign intended to build pressure for action against extreme poverty at this year's G8 summit and beyond.
As part of the campaign, agit8 is focusing on the greatest protest songs of all time, including Springsteen's recordings of "Born in the U.S.A." and "Streets of Philadelphia," along with a cover of "The Ghost of Tom Joad" by Elvis Costello and Mumford & Sons. Also included on agit8's list of greatest protest songs is Artists United Against Apartheid's "Sun City," which featured, among many others, Springsteen, Little Steven and Clarence Clemons.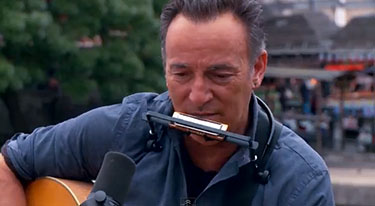 Springsteen, having arrived in London in advance of his June 15 show at Wembley Stadium, was spotted near Camden Lock in London on June 10 at a video shoot for an acoustic performance of "The Promised Land" [see a tweet from UK MTV news reporter Ben Lowe]. Brief shots from that performance are included in an agit8 video released this week [top].
- June 12, 2013


STEVE: "I'M THERE TO HELP BRUCE REALIZE HIS CREATIVE VISION"
With The Rascals: Once Upon a Dream on the boards in Philly last week — and the band on Sunday night's Tony Awards, along with Steven Van Zandt [clip above] — the Inquirer's Dan DeLuca caught up with Steve for a lengthy conversation. They cover not only The Rascals and the musical culture of the '60s, but also the Disciples of Soul, Lilyhammer, Stevie's "Scandinavian Connection," and the current E Street Band tour, which resumes Saturday in London. "I hope the E Street Band goes out every single summer," Steve says, "It's a wonderful way to spend the summer, as far as I'm concerned."
One of our favorite topics of conversation:
What segment of Springsteen's career do you wish the band paid more attention to live?
Right now, and we were just talking about this last week, the only album that has been totally ignored is what I think is one of the best albums he's ever done, which is The Promise. It's right there for me with that disc two of the Tracks box. Those two are my favorite records we've ever done....

The entire Promise album is absolutely remarkable. I'm hoping we start playing it. But I don't know, that might be another lost argument. And the fact that we're going around a second time lends itself to giving it another consideration, adding another dimension...
This is great, too:
Do you ever get annoyed at Nils Lofgren or Tom Morello when he's sitting in, for hogging all the guitar solos?
I'm not in the band to express myself. I have plenty of other places to do that. I'm there to be strictly what Bruce needs me to be at any given moment. I don't care. I'll go five shows without a solo. It doesn't bother me in the least. Tom can play. Nils can play. Because that's how they express themselves. They really need to do that. That's fine. I really don't.

You want me to do a solo? I'll do a solo. Whatever's necessary and is needed or wanted at any given moment, that's my job. I'm there to help Bruce realize his creative vision.
Read: "Rock and Roll Forever: Little Steven on The Rascals, Bruce Springsteen & the E Street Band, 'Lillyhammer' and The Underground Garage"
- June 11, 2013


SATELLITE OF LOVE
Satellite last week in Portland, OR.
- June 11, 2013

SPRINGSTEEN & I TICKET SALES BEGIN, MORE NEXT WEEK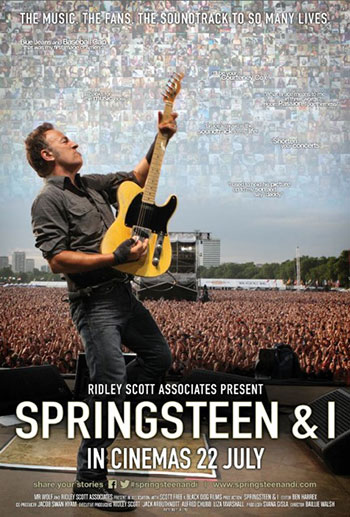 The Ridley Scott-procuded Springsteen & I fan documentary [view the official trailer] is coming to theaters on July 22, to screen in more than 50 countries worldwide. For some showings in countries outside the U.S. — including Australia, Canada, Denmark, Germany, Ireland, the Netherlands, and the United Kingdom — tickets are on sale now.
Check springsteenandi.com for the latest listing of cities, theaters, and ticket sale links; new countries and screenings will be added over the course of the next week.
For the U.S., general onsales will begin on Friday, June 14, with a Backstreets pre-sale the day prior, Thursday June 13. We'll have more information about that next week — watch this space.
The official poster has also just been unveiled, including images of more than 350 fans with their first Springsteen LPs. Click here for an interactive, searchable version of the poster.
- June 7, 2013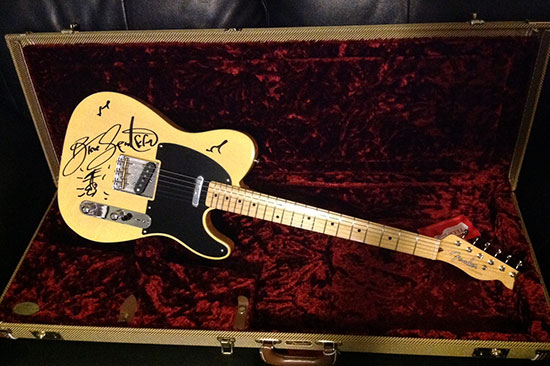 SIGNED GUITAR AND MORE IN WHYHUNGER AUCTION, ON NOW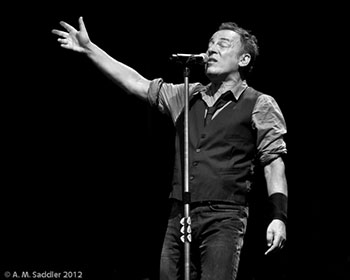 A bunch of cool Bruce-related stuff is up on the auction block now to raise funds for WhyHunger (formerly World Hunger Year), a longtime favorite Springsteen charity that works to fight hunger and poverty. The big ticket item, pictured above, a Bruce-signed Fender Telecaster. Also pictured here, a 16" x 20" matted and framed limited edition photograph from Backstreets photographer A.M. Saddler of Springsteen at Fenway Park in 2012.
Plus: VIP tickets for Hard Rock Calling, a chance to Guest Host on E Street Radio, tickets for The Rascals: Once Upon a Dream at Jones Beach, and more. See the entire WhyHunger auction lisitng at charitybuzz.com.
- June 7, 2013



JUNE 3, MILAN, ITALY: OUR LOVE IS REAL
Italia! Milano! San Siro! You hardy need to say anything else to describe the perfect rock show at a big stadium. Bruce Springsteen and the E Street Band's latest visit, their fifth, was no exception. In fact, I've been to a lot of shows in Milan, and this was probably the most intense reaction between Springsteen and the audience that I have ever experienced.
Beginning as these shows often have with the strains of Ennio Morricone over the PA, the first emotional highlight appeared before the band played a single note: a wonderful display of the Italian colors in the pit and on the big stand opposite the stage formed the words "Our Love Is Real" and "NYCS." After that, the first two songs — "Land of Hope and Dreams" and "My Love Will Not Let You Down" — took on even deeper meaning for the occasion.
So after such a powerful start, how do you build it from there? First a crowd-pleaser to engage the notoriously vocal audience in more singing: "Out in the Street." Then some sign collection, with two songs that made it feel like the encores already: "American Land" and the E Street Band premiere of "Long Tall Sally" (originally reported as "Good Golly Miss Molly," a sign Bruce collected and showed to the band before they went into "Sally" instead). The third sign request granted was "Loose Ends," a favorite of Steven's, as Bruce said, and an always welcome choice in Italy.
After two Wrecking Ball songs came "Atlantic Ciy" and a beautiful version of "The River" on which Bruce let the audience sing along after the song's initial ending, picking up the harmonica again and letting the band build it back up to finish.
After that Bruce gave a short but heartfelt and poignant speech in Italian about their five appearances at this famous stadium, particularly remembering their first performance here in 1985. To honor that occasion he announced that they would play the entire Born in the U.S.A. album in sequence, which was greeted by rapturous applause from the audience.
The album performance was highlighted by some extended intros (particularly notable on "I'm Goin' Down") and codas, a great solo by Nils on "Cover Me" (spinning and playing with his teeth), full stadium lights up for "Bobby Jean" and "Dancing in the Dark." Quite a few dancers joined in on stage: a woman who wanted to dance with Roy, a man with Cindy, and a partner for Garry, too. The woman who won the lottery and was the first allowed in the pit shortly after midday got to play guitar. Bruce himself danced with a grandmother and her granddaughter. A slight gash drawing blood from Bruce's right forearm during "Darlington County" didn't slow him down at all.
As usual, the Milan audience was extremely vocal and passionate; whether because of the complete album performance or the way Bruce structured the whole show, the intensity and passion was even greater than at recent San Siro concerts. They fed each up to a point where it was impossible to imagine a stronger bond between artist and audience.
The main set ended with very strong versions of "Badlands" and "Hungry Heart." A very welcome return of "We Are Alive" was preceded by a short solo version of "This Land is Your Land" which seemed a bit tenative but was a nice touch.
Houselights up again for "Born to Run," which sent the audience from complete frenzy to beyond oblivion. "Tenth Avenue Freeze-out" featured a band introduction in the intro and was followed immediately by "Twist and Shout."
Typically, things might stop there. Of course, San Siro isn't typical. The band went into "Shout," with amazing participation from the crowd — as Bruce sang "a little bit softer now," people in the pit actually actually went down on their knees.
After that the band left the stage, but Bruce still wasn't done. He picked up an acoustic guitar and told the audience that since he was a little boy he had played many different places, and that he would keep this place and the people here in his heart forever. What was ostensibly a solo version of "Thunder Road" turned out to be the last mass sing-along of a night that was filled with everything that makes Bruce Springsteen concerts in Italy and especially at San Siro so special.
Bruce left the stage after 34 songs and almost 210 minutes, and on a big screen under the main stand appeared a short video with memories of all five appearences at this stadium, a poignant end to a concert experience filled with all the joys of playing for such a engaged and vocal audience. It was such an incredibly intense show, it's hard for mere words to do it any justice. Perhaps these are best: Italia! Milano! San Siro! Bruce Springsteen and the E Street Band!
For the full setlist from this and other recent performances,
see our Setlists page
- Updated June 4, 2013 - Ralf Dissmann reporting - photographs by Rene van Diemen

WHEN DALE AND MICHAEL MET BRUCE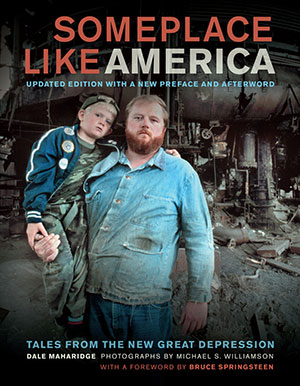 You may know them as the guys who inspired "Youngstown" and "The New Timer," journalist Dale Maharidge and photojournalist Michael Williamson. When Springsteen sat down with their book Journey to Nowhere in 1995, he found those missing pieces of the puzzle for his album The Ghost of Tom Joad. Maharide and Williamson's Pulitzer Prize-winning work together continues to this day, documenting America's "new underclass," and Springsteen continues to follow it, too, writing the foreword for their latest book, Someplace Like America: Tales From the New Great Depression.

George Packer recently wrote in the New Yorker, "Someplace Like America is unrelenting prose... There's something doggedly heroic in this commitment to one of journalism's least glamorous, least remunerative subjects."
When Someplace Like America came out in 2011, we hosted Dale and Michael's video blog, "The Road to Someplace Like America," showing in words and images the backstory behind their work together, riding the rails, picking up where James Agee and Walker Evans left off.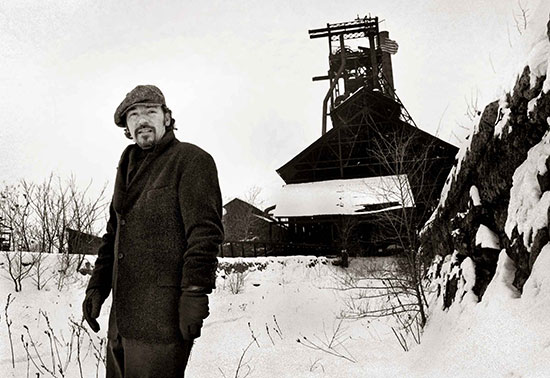 At the time, we promised one more piece: to bring their story up to the present, tracing how their mid-'90s meetings with Springsteen put their "asses back on the story," and the impact of Bruce's influence, both before and after the Joad era. [Plus, sneaking inside Youngstown's Jeanette Blast Furnace with Bruce, above]. We're proud to present that story now from Dale and Michael, as Someplace Like America has just been published in paperback. This updated edition, also with the Foreword by Bruce Springsteen, has a new Preface and Afterword, "Letter From the Apocalypse," reported in Detroit. Both the 2011 hardcover and 2013 softcover editions are available from Backstreet Records.
READ ON for the rest of the story of Dale, Michael, and Bruce... and don't forget Sweet Jenny.
- June 2, 2013 - photograph by Michael S. Williamson

BLACK & WHITE NIGHTS: AUGUST'S BRUCE NOIR FILM SERIES IN ASBURY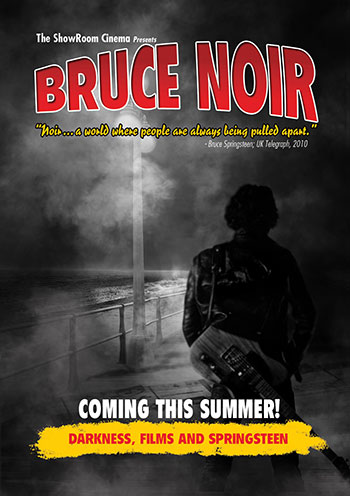 As only the second arthouse theater in Monmouth County, New Jersey and the only movie house in Asbury Park, The ShowRoom Cinema has filled a real void in the local arts community. From their small storefront on Cookman Avenue, owner/operators Mike and Nancy Sodano have hosted indie film and related events — including Q&A sessions with critics and directors, music and improv comedy shows — since April 2009. Last year they moved their growing business across the street, expanding to three screens.
This August, The ShowRoom will host Bruce Noir, a film series focusing on the film noir genre and its influence on Bruce Springsteen's life and work. Backstreets recently spoke to Mike about what he has planned.
Backstreets: What's the idea behind the film series?
Mike Sodano: Springsteen has been quoted as saying that the film noir genre was an influence on his music, and as we all know Bruce's music has always evoked a particular sense of place. As the only movie theater in his adopted city of Asbury Park, it places us in a unique position to pay homage to this genre that had such an impact on his creative process. August 23-24 will be a very special time at The ShowRoom Cinema.
Will you be doing any forums or discussions?
Absolutely. One of our hosts/participants will be author Wallace Stroby, a renowned specialist in the noir genre. We will also have a Skype interview with Peter Ames Carlin, author of Bruce. Other guests and musicians are still being lined up.

What are some of the films you'll be showing?
Films being considered are Rolling Thunder, Gun Crazy, Badlands, Out of the Past,
and Jackson County Jail.

How did you choose the films?
Most of them have been mentioned by Bruce in various interviews and comments over the years. So, he's helping us "program" the event. Since they were important to him, we thought audiences would like to see them on the big screen and have discussions after the films.

Any other upcoming events you'd like to tell us about?
We are programming our summer calendar at the moment. We will have a live standup at The ShowRoom comedy show every first Saturday of the summer. Also, we'll have a summer Music Movie Series throughout June, July and August.
Stay tuned to the
ShowRoom website
for the finalized
Bruce Noir
lineup.
- May 30, 2013 - Lisa Iannucci reporting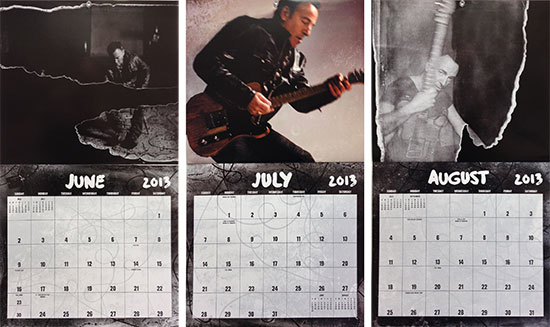 MEMORIAL DAY WEEKEND SPECIAL: 2013 CALENDAR FREE WITH ORDER!
As we head into summer, here's a special deal to get Bruce up on your wall for the summer months and beyond: order $30 or more of Boss merch from the Backstreet Records shop, and we'll send you the official 2013 Bruce Springsteen calendar for FREE! Here's how:
1. Place at least $30 worth of stuff in your shopping cart
2. Add the 2013 calendar to your cart
3. Use the coupon code FREECAL at checkout to wipe out the cost of the calendar
Free calendars available while supplies last. Have a happy and safe holiday weekend!
- May 24, 2013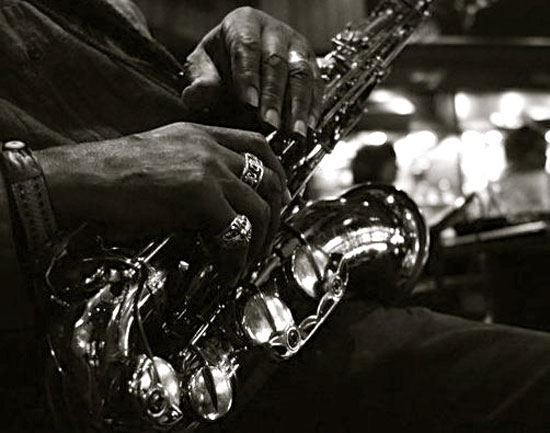 WHERE DO YOU THINK THE FILM IS?
Catching up with Nick Mead, director of Clarence Clemons doc
As we move ever closer to finally getting Backstreets #91 off to print and into your hands, we checked back in with filmmaker Nick Mead, close friend of Clarence Clemons and director of his documentary, Who Do I Think I Am? Our Clarence tribute issue is now due in time for the anniversary of his death in June, and we thank all our readers for your patience as this effort has come together. Among many of Clarence's friends and cohorts over the years, this print issue will include a remembrance from Nick Mead of his time with the Big Man; we reconnected with the director this week to find out the latest status of Who Do I Think I Am?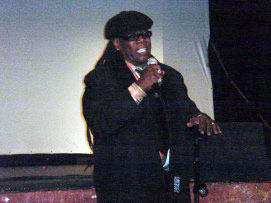 "The last screening was at the [Glory Days] Bruce Symposium in New Jersey," Nick tells Backstreets, which was in September 2012. "Before that was the National Constitution Center, and before that the Garden State Film Festival in Asbury," the film's premiere [right]. "On the way to the Paramount Theatre we got a text saying that the fire marshal was turning people away. Clarence loved that." Additionally, an auction of a private screening raised money for Little Kids Rock, but so far that's it — no other showings, no home video — despite Clarence having secured a distribution deal for the film before he died.
"It's been two years since Clarence had done the deal with distributor Virgil Films for its release," Nick explains. "Obviously, tragedy got in the way. But Joe from Virgil and I had a great meeting with the family and estate representatives in Arizona in December, finally ironing out the agreement which would make Clarence's vision for this film complete." He sounds hopeful that this means things will be moving forward soon, and that more fans will get to see the film. "We're also all thrilled that the proceeds of Clarence's film will be going to charity. It's absolutely right that his legacy lives on in the continuing support of people less fortunate than ourselves."
Their meeting ended with the E Street Band show in Glendale (December 6, 2012). "It's cool to see Jake up there making it his own, which is awesome, and it was moving indeed to watch Jarod up on stage with Bruce at the end."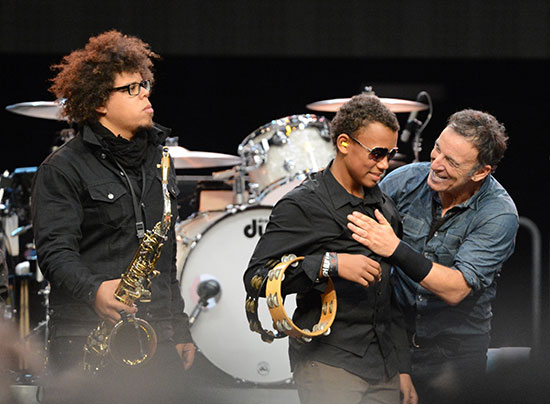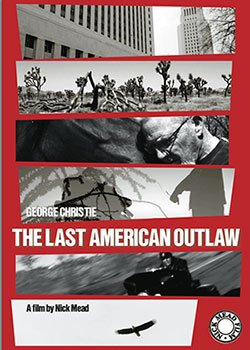 Nick is anxious for this project that Clarence loved so much to reach a wider audience, but he hasn't been twiddling his thumbs in the meantime. "My latest, The Last American Outlaw, is now completed," he says. "It's about George Christie, then one of the leaders of the Hells Angels, going on an Easy Rider-inspired journey across America when he gets arrested for the 75th time by the FBI. So our film about freedom became a film about his fight for freedom. Glen Matlock of the Sex Pistols gave us some music! It premieres in Ventura on June 8, tickets sold out in less than a day.
"I'm also just about to start a film with Leonard Peltier. It's a documentary about how you can chain a man down, isolate him, destroy his material sense of being, but you can never restrain him: his outlet is the freedom of his imagination which is expressed through his art."
One more thing Nick shares with us, a letter to treasure. "The letter is one Clarence wrote to me during filming, except I didn't know it. I lent him a notebook of mine during one sequence about 'Chinese express mail,' where you write a letter and burn it and the smoke takes the message to your ancestors. He wrote this in my notebook, but I didn't discover it until later. It says it all, his feelings about the film we were making."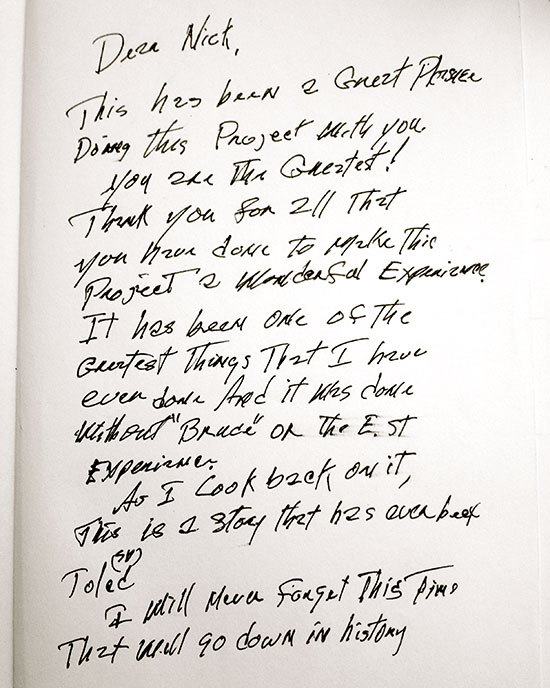 You'll be able to read more from Nick in Backstreets #91 about what Clarence calls "one of the greatest things I have ever done," their trip to China, the making of Who Do I Think I Am? and of a friendship.
- May 23, 2013 - Christopher Phillips reporting - Glendale photograph by Alan Chitlik - all other images courtesy of Nick Mead


SPRINGSTEEN & I COMING TO THEATERS JULY 22, TIX ON SALE JUNE 4
We now have a release date — and an official trailer — for Springsteen & I, the Ridley Scott-produced documentary about Bruce fans around the world: on July 22, the film will be shown simultaneously in theaters worldwide. Locations and ticket pre-sales will be available beginning on June 4. Visit springsteenandi.com and brucespringsteen.net for additional information, including a chance to appear on the movie poster. And click here for a longer version of the trailer.
- May 23, 2013



"THE GREATEST SHOW SPRINGSTEEN NEVER PLAYED"
They've re-created eight historic Bruce shows, including the legendary Capitol Theatre and Winterland shows — concerts most Springsteen fans are well familiar with. Now, the acclaimed Springsteen tribute band Tramps Like Us has consulted with a panel of Bruce experts to create what they would consider to be the greatest Springsteen concert never played. The 35-song / 4-hour show's setlist (which can be seen here) was put together by Tramps frontman Mark Salore along with the input of Mike Appel, NJ.com blogger Stan Goldstein, The Light in Darkness author Lawrence Kirsch, and former E Street Radio program director Tom Wilkinson.
The first "fantasy concert" performance will be this Friday at the Stone Pony, as E Street Radio broadcasts from the boardwalk across the street (see below), with two additional performances to follow in July:
• Friday, May 24 at THE STONE PONY - Asbury Park, NJ - Tickets
• Friday, July 12 SHOWCASE LIVE - Foxboro, MA - Tickets
• Wednesday, July 17 at BB KINGS - Times Square, NYC - Tickets
Advance tickets are recommended for all of these shows. More information can be found at trampslikeus.com.
- May 22, 2013

E STREET RADIO'S DAY AT THE BEACH
Marsh to launch Memorial Day Weekend live from Asbury Park
Along the Jersey Shore, as in so many other places, Memorial Day Weekend is the unofficial start of summer. Since this summer at the shore will be the first after Hurricane Sandy left so much damage in its wake, it's also shaping up to be, as Springsteen biographer and E Street Radio personality Dave Marsh recently noted, "one of the most important Jersey Shore summers ever."
Marsh and his E Street Radio associates have planned a special day of live broadcasting from Asbury Park, NJ for this Friday, May 24. Their goal is to kick off Memorial Day Weekend in true Springsteenian style: having fun, of course, but also helping to sustain awareness and support of the Garden State's ongoing post-Sandy relief and recovery efforts.
All of the live broadcasting will emanate, rain or shine, from the E Street Radio tent set up right on the Asbury Park boardwalk, directly in front of McLoone's Asbury Grille, 1200 Ocean Avenue. Fans are invited to come up to the boardwalk, see the live broadcast in person and perhaps be on the air themselves to talk Bruce, the Jersey Shore, etc. If you can't make it to McLoone's in person, there will be plenty of opportunities to listen and participate by telephone/internet, too.
The day will begin at 10:30 am ET with a special extended version of the weekly call-in show Live from E Street Nation with Dave Marsh. By the time Marsh's show concludes, he hopes that "we'll know a lot more" about what post-Sandy problems still exist and how all of us can get involved in helping to solve them. Special guests will include Southside Johnny Lyon, Backstreets Shore correspondent Lisa Iannucci, NJ.com's Stan Goldstein and Kathleen DiChiara, President & CEO of the Community Food Bank of New Jersey. Marsh is seeking to talk to a variety of "people who know what's going on at the shore... I don't just mean who's playing what venue, but who's still having trouble with housing, who's still having trouble with eating, who is still having trouble with getting to where they used to live."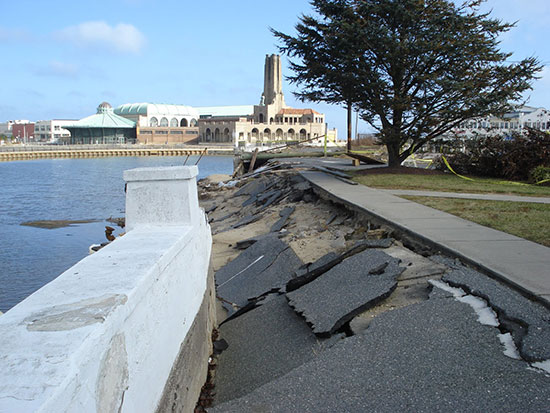 Other special Jersey-Shore/summer-themed programming airing Friday and throughout the weekend will include two complete recordings of classic Springsteen concerts from the Jersey Shore: the March 18, 1999 Asbury Park Convention Hall show and the March 7, 2003 Atlantic City Boardwalk Hall show, along with extra helpings of summer-themed Springsteen tracks mixed into the regular playlists through Monday. On Friday afternoon, Jersey boy Brian Fallon of The Gaslight Anthem will conduct a special Guest-DJ session live from the Asbury Park boardwalk, playing some of his favorite Springsteen tracks. Nick Masi's Springsteen-covers show Cover Me also will focus on summer-themed music, and the live Friday-night call-in-request show The Wild and the Innocent with Jim Rotolo will focus on "your favorite Springsteen summertime memories." Rotolo will broadcast live from the boardwalk, too, allowing him to take requests on the air not just via the phone and internet (as usual) but also directly from fans hanging out at McLoone's Asbury Grille.
All of E Street Radio's Memorial Day Weekend 2013 programming is part of the "Sirius/XM Sounds of Summer" series. For further information, broadcast times, etc., check out the E Street Radio and Sirius/XM websites.
- May 22, 2013 - Shawn Poole reporting - photograph by Lisa Iannucci

THERE'LL BE SHOUTIN' FROM THE HARD ROCK ON OUT TO SEA…
Little Steven's The Rascals: Once Upon A Dream Hits The Road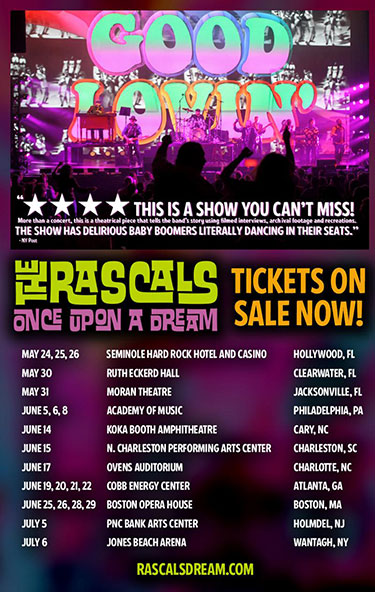 Having now conquered Broadway with a sold-out run, The Rascals: Once Upon A Dream, the unique "BioConcert" musical production co-directed by Steve Van Zandt and Marc Brickman, is taking the show on the road. A series of performances along the East Coast begins this coming Memorial Day Weekend with three shows in Hollywood, Florida at the Seminole Hard Rock Hotel and Casino. More Florida shows follow at the end of May in Clearwater and Jacksonville.
After leaving the Sunshine State, The Rascals have June and July dates scheduled for Philadelphia, the Carolinas, Atlanta, Boston, Holmdel, NJ and Wantagh, NY (Jones Beach).
Stevie already has expressed his desire to take this production to as many different locations as possible. To that end, one additional late-August Connecticut date also has been announced and is on sale, though it's not even listed yet on the official website. (You can buy Connecticut tix right now, however, by clicking here.) If this fantastic musical experience hits your neck of the woods, by all means don't miss it. Visit RascalsDream.com for updated news/links regarding dates, tickets, etc.
- May 21, 2013 - Shawn Poole reporting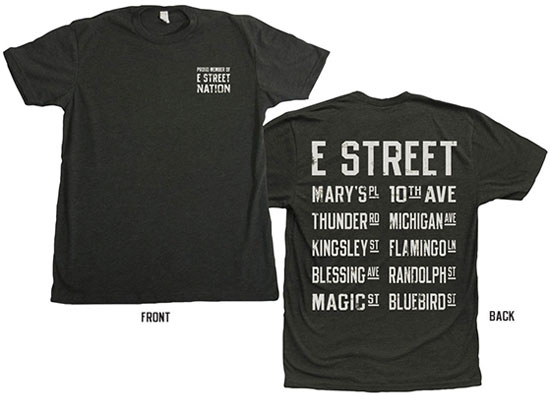 WHEN I'M OUT IN THE STREET...
I wear what I wanna wear — and we've got the brand new E Street Nation shirt courtesy of our friends at Protect, the National Association to Protect Children. Their line of T-shirts from fictional locales benefits the great work that they do, and once again they're letting us make this one available to our readers through Backstreet Records, with proceeds benefitting Protect.org.
This soft, two-sided tee reads "Proud Member of E Street Nation" on the front chest, and on the back lists a number of the Nation's important highways and byways — including, of course, Thunder Road, Tenth Avenue, and Flamingo Lane. In stock now, in all sizes from Small to Triple-X.

More Boss T-shirts from Protect still available:
- May 18, 2013

BRUCE AND DKM'S "ROSE TATTOO" OUT NOW, TO BENEFIT BOSTON INJURED
As we reported earlier this month, Springsteen's latest recording is another collaboration with Dropkick Murphys, contributing vocals to their "Rose Tattoo" to benefit victims of the Boston Marathon bombings.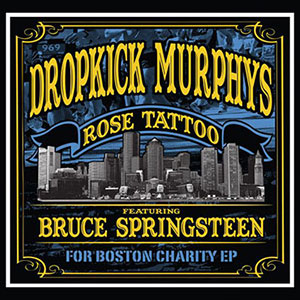 The digital, three-track For Boston charity EP is out now, as announced on dropkickmurphys.com, with their Bruce collaboration followed by "two live acoustic tracks recorded at the Gibson Showroom in Las Vegas just four days after those tragic events. It's available exclusively through iTunes for the special price of $1.29. Everyone involved has agreed to donate 100% of the money raised through this release."
The funds will be distributed through the Dropkicks' own charity, The Claddagh Fund, "a nationally-recognized official 501(c)3 charity whose mission is to serve the most vulnerable in our communities."
Click here to view and download from iTunes.
- May 17, 2013

A THANK YOU NOTE TO SWEDEN
Over the weekend, Springsteen and the E Street Band wrapped up their three-night, sold-out stand at Stockholm's Friends Arena; today, Sweden woke up to a special thank you note.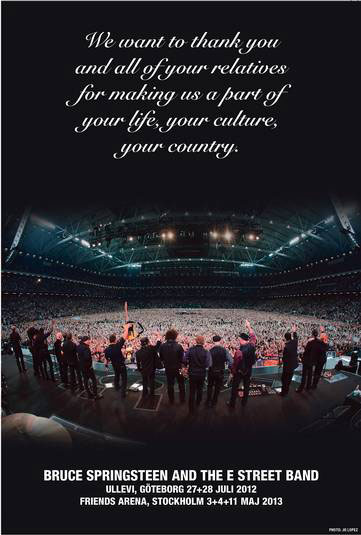 As reported in Aftonbladet (translated from the Swedish), the newspaper in which Springsteen placed a full-page advertisement:
Bruce Springsteen, 63, has left Sweden. But not without a salute to the Swedish people. In today's Aftonbladet, the Boss surprised [everyone] by buying a full-page ad to thank Sweden.
"We want to thank you and all of your relatives for making us a part of your life, your culture, your country," he says in the ad.
The idea came from Bruce Springsteen himself. On Saturday night, the artist moved by the reception he has received in Sweden over the years.
"The idea came after these three concerts. He wanted to show his gratitude to the Swedish people. It has just been extraordinary, the reception and the number of tickets sold," says Kristofer Akesson on Live Nation.
Springsteen's ad notes the 2012 concerts in Gothenburg, as well as this recent Stockholm run.
- May 13, 2013

CIAO FROM LANDAU
More talk with Jon Landau as the Italian dates approach: Gianni Sibilla talked with Springsteen's manager — in his own words, "the executor of Bruce's vision" — for Rockol.com. In addition to discussing the Wrecking Ball tour, its crew, its success, and his own role in Bruce's work, Landau was also asked about reissues and plans for the future:
A part of Bruce's work has been devoted to important reissues, such as the Born to Run and the Darkness on the Edge of Town/The Promise one. Do you see something like that coming for The River and Nebraska?
Bruce was totally into those projects, especially The Promise. We were very proud of the product, thanks to the collaboration with such great guys as director Thom Zimny. I think each one has to have a different approach and we work on these things when we have time. I think eventually, yes, there will be something, but we don't have a timetable. We're not close to ready to put out anything like that out. We'll do it when we'll do it and when they're ready to go we put them out.
Read: "Bruce Springsteen's evangelist: Jon Ladau, the Rockol interview"
- May 10, 2013


TWENTY FEET FROM STARDOM: "IT'S A BIT OF A WALK"
An audience favorite at the Sundance and SXSW Film Festivals, Twenty Feet From Stardom is finally coming to theaters soon. Director Morgan Neville shines a spotlight on some of the greatest — and often unsung — backup singers in rock and soul music, including Darlene Love, Merry Clayton, Lisa Fischer, Tata Vega, Judith Hill, Claudia Lennear, Gloria Jones and Dr. Mable John. Along with Mick Jagger, Stevie Wonder, and Sting, Bruce Springsteen features prominently in the film, as you can see in the new trailer above. Twenty Feet From Stardom opens June 14 in New York and Los Angeles, and the top 50 markets will open by Mid-July.
- May 9, 2013

IL MINISTRO DELLA CONGREGAZIONE ROCK!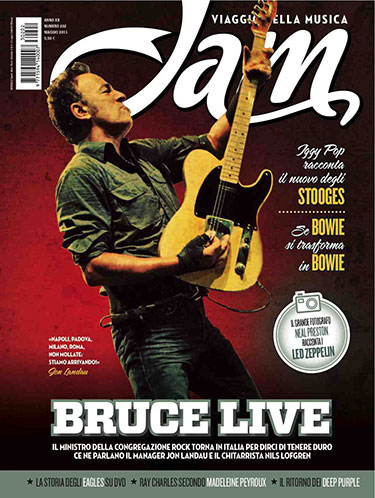 Bruce Springsteen appears on the handsome new cover of Italy's monthly rock magazine, JAM, with a nine-page story on his upcoming Italian dates. "Rock Against the Economic Crisis: an Interview with Jon Landau and Nils Lofgren. 'Hold on, we're coming!' says Landau to the Italian fans."
Landau tells JAM, "Bruce is well aware of the economic and social condition in Europe and Italy. So, the show is intense... But it has all of the joy, the positivity, and the spiritual uplift that Bruce always brings with him.
Nils adds, "I'm like anyone else in the audience: these songs make me sad and make me laugh, make me ecstatic to be alive and make me feel goofy. We want to inspire people and send them home with some hope."
Sample more of the cover story online in both English and Italian. Bruce and the E Street Band move on to Italy following their remaining dates in Scandinavia; they'll play Naples, Padua, Milan and Rome, spread out from May to July.
- May 8, 2013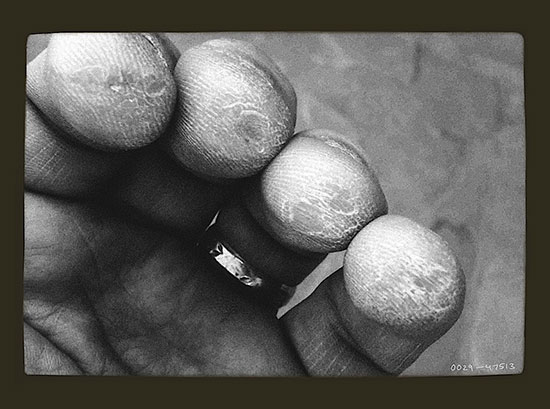 DOING HEAVEN'S WORK WELL: THE LATEST LESSON FROM NILS
So... do you need callouses like Nils to play the "Youngstown" solo? Or do you get callouses like Nils by playing the "Youngstown" solo? Find out for yourself, as Nils Lofgren has posted the latest installments of his Online Guitar School instructional videos, with Intermediate Lessons 8, 9, and 10 comprising more three-and-a-half hours of tutoring — "note by note, lick by lick" — on his signature guitar lead from "Youngstown" live. "After years of promising," the guitarist tells Backstreets, "I finally got this one done, probably the most frequent request I've gotten for the Guitar School."
You can get a taste of it with this YouTube sample and see Nils knock out the solo in real time at home, bare bones and up close; to break it down and work through it one-on-one, download the videos from nilslofgren.com. The latest Note From Nils has more on the solo, the song, and the lessons.
- May 6, 2013 - photograph by Nils Lofgren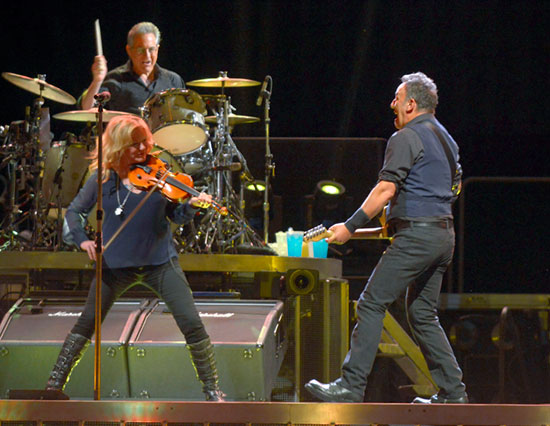 ADELE AND SOOZIE, TWO BIRTHDAYS ARE BETTER THAN ONE!
We're sending out warm wishes today to two great women in the Springsteen family/"family" who happen share a May 4 birthday: Bruce's mom Adele Springsteen, who turns 88 today, and "Sister" Soozie Tyrell, who'll be spending hers as she did her birthday eve [above], onstage with the E Street Band in Stockholm, Sweden. Happy birthday to you both!
- May 4, 2013 - photograph by Rene van Diemen

BASIA BULAT'S HOME RUN
With baseball season now in full swing, Canadian singer/songwriter Basia Bulat, using just her pianoette (hammered harp) and beautiful voice, belts one out of the park this week with her unique version of "Glory Days," courtesy of The Onion's A.V. Club.
- May 3, 2013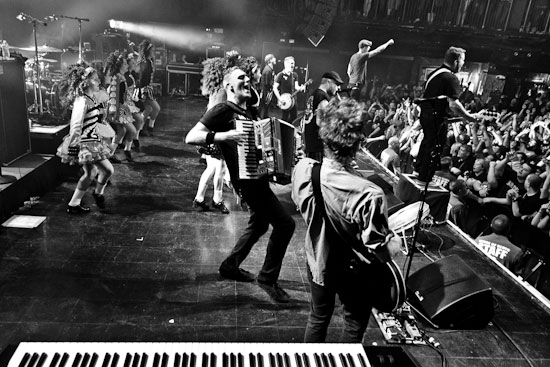 MR. SPRINGSTEEN CALLING FOR MR. CASEY...
Bruce and DKM team back up, helping Boston victims with "Rose Tattoo"
While Bruce Springsteen's body was in Olso on Sunday, his heart must have been with with his pals the Dropkick Murphys during the band's "For Boston" benefit concert [above] to raise funds for the Boston Marathon bombing victims.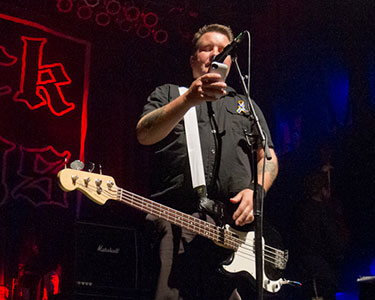 From the stage at the House of Blues, DKM frontman Ken Casey explained that the band had a three-pronged plan to raise funds for the victims. The first part was the release of a For Boston T-shirt with 100% of the proceeds going directly to the victims and their families. The second was the concert, put together in less than three days, that included Bar Room Heroes, The Old Brigade, The Parkington Sisters, Big D and The Kids Table, State Radio before finishing up with the Dropkicks.
The third way to raise funds: a re-release of the Dropkick Murphys' "Rose Tattoo," with some additional help from Bruce Springsteen. The band announced this third prong live on stage, and originally Springsteen's voice was to be part of the announcement [above, Casey attempts to connect with Bruce's call]. As everyone knows, cell phones have been known to misbehave at the most inopportune moments... in the middle of a benefit, this was one of those times.
But the collaboration itself is in the can. Guitarist James Lynch told Backstreets, "Bruce actually called us up the day of the bombing and asked what he could do to help. We didn't have to reach out. He was there for us." Ken Casey added, "As soon as we figured out what we were going to do, Bruce went into the studio, recorded his parts and nailed them right away."
The Dropkick Murphys / Bruce Springsteen recording of "Rose Tattoo" is expected to be available next week on iTunes, with proceeds directly benefitting the victims of this tragedy; stay tuned for further details.
- May 3, 2013 - reporting and photographs by A.M. Saddler



THE DANNY FUND TEXTING CAMPAIGN BEGINS
May is Melanoma Awareness Month; text DANNY to 50555 now to donate $10 for the Danny Federici Young Investigator Award
After original E Street Band member Danny Federici passed away five years ago, the Danny Fund was started in his name as the Melanoma Research Alliance (MRA) and the Federici family joined together to help fulfill his dying wish — to raise melanoma awareness and fund the most promising scientific research in the quest to cure this disease. Our readers and E Street Band fans around the world were generous in responding to the Danny Fund's initial call; now, they need our help for a special campaign.
The Danny Fund Texting Campaign: Today, the MRA is launching a texting campaign in collaboration with the Danny Fund, along with Bruce Springsteen, AT&T, and mGive. Proceeds from the campaign will raise funding for an MRA Young Investigator Award in Danny's name. MRA is dedicated to supporting promising research to advance the pace of scientific discovery toward a day when no one suffers or dies from melanoma. Its Young Investigator Award Program funds researchers whose innovative and ambitious projects often spearhead groundbreaking scientific developments. A simple text will donate $10 for the Danny Federici Young Investigator Award.
Text DANNY to 50555*
Reply with YES to confirm your $10 donation to MRA and the Danny Federici Young Investigator Award
You can also:
Visit http://mgv.cc/danny and make a donation.
Visit Facebook to donate and share with your friends.
*$10.00 donation to the Melanoma Research Alliance. Charges will appear on your wireless bill, or be deducted from your prepaid balance. All purchases must be authorized by account holder. Must be 18 years of age or have parental permission to participate. Message and Data Rates May Apply. Text STOP to 50555 to STOP. Text HELP to 50555 for HELP. Full Terms: mGive.org/T. Privacy Policy.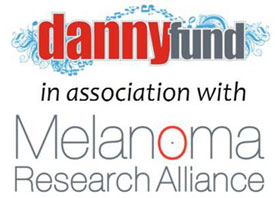 A letter from Jason Federici:
Just a few days ago, on April 17th, my family remembered the fifth anniversary of my father Danny Federici's loss in his battle against melanoma, the deadliest form of skin cancer. To honor my father and his hope to raise melanoma awareness and funding for scientific research, I am asking for your participation in the DANNY Campaign. Today, you can help us reach our goal by texting DANNY to 50555 to donate $10 to The Danny Fund and Melanoma Research Alliance. 100% of you contribution will go to support a $225,000 Young Investigator Award in honor of my father and his fight with this deadly disease.
For those of you who didn't know my dad, he was a talented and passionate man who — when he wasn't recording or touring with Bruce Springsteen and the E Street Band — devoted his time to his family and friends. He reveled in all that life had to offer, always with a smile on his face. His vivacity and "carpe diem" attitude never diminished, even after he was diagnosed with Stage II melanoma in 2006. His fight was an inspirational one. He sustained hope and continued to play with the band until he was physically unable to perform. In his last few weeks alive, he adopted a mission to awaken the public to the dangers of the sun and advance outcomes for patients plagued by what is now the fastest growing cancer in the U.S.
Since my father's death, my family and I created a foundation dedicated to raising funds for melanoma research, The Danny Fund (www.dannyfund.org). Today, we are honored for the foundation we built to be a program of the Melanoma Research Alliance (www.curemelanoma.org.) Together, we are working to fund the most promising melanoma research worldwide that is hastening the discovery of better treatments and hopefully, a cure. Your participation today will directly support a young investigator whose ambitious and innovative research often spearheads groundbreaking scientific developments.

To take part in this meaningful movement, please consider donating $10 today by texting DANNY to 50555. Our family, as well as all individuals and their loved ones touched by this disease, are truly grateful and thank you for your support.
- May 1, 2013