News Archive
March - May 2006


5/28: YOU GOTTA SIN TO BE SAVED
"Good evening, sinners!" Springsteen hollered at the DC-area stop of his traveling sin & salvation roadshow. Like the previous opening night in Boston, the Seeger Sessions tour was blessed with a beautiful night for this outdoor amphitheatre concert, as Bruce noted: "It's nice to play outside! I always played inside, just so the wind wouldn't mess up my hair.... It's a good, still night -- a good hair night." Not that he seemed very concerned with mussing it up, as the night was once again all about making noise and having fun. "You have exactly 20 seconds to rise from those seats," he shouted as the intro to "John Henry" built up steam, adding, "I warned you!" as the crowd leapt to its feet and the song exploded into the verse. "This is a night for dancin' and some singin'," he said before "Old Dan Tucker," chuckling, "amongst many other things." One of those other things was a timely reminder of our soldiers overseas (who we were already thinking of during "Mrs. McGrath"), as he said "We'll send this one out special for Memorial Day" before an encore of "Bring Them Home." Here on the outskirts of Washington there were no jabs at the White House, no partisan politics, just lyrics that rang clear and true -- If you love this land of the free / Bring 'em home, bring 'em home / Bring them back from overseas -- a first verse which raised such a cheer from the crowd that Bruce had to pause and take a step back to let it die down before continuing. On the lighter side, he offered some marriage advice before that beautiful new waltz arrangement of "If I Should Fall Behind." "It took me 20 years and many mistakes" to figure it out, he said, noting, "I'm getting dirty looks [from Patti] already... I'm speaking extemporaneously here -- always very dangerous on this subject." The advice was this: "When Mama ain't happy, nobody's happy. When Mama happy... everybody's happy. That's all you need to know! You can put all those books away." "Ramrod" was sent out to guitarist Frank Bruno's dad -- the original "Cousin Frankie" -- and to sis Christine on her birthday, too. And my favorite line of the night came in "You Can Look (But You Better Not Touch)," just scratching at the way this tour distills and compresses more than a century of music and history: "What can a poor boy do but play in a ragtime band?"
Not having made it over to Europe, last night was my first show since the Asbury rehearsals. And it's come a long way, baby. Without losing an ounce of the fun that was the hallmark of those nights at Convention Hall, the show has been refined, arrangements nailed down, transitions smoothed out, backup singers given more chance to shine. What we like to call "Mystery Cadillac," that mash-up of "Cadillac Ranch" and "Mystery Train," is finally running smoothly on its rails. The power of the group vocals -- whether blasting out on "Jesse James" or swelling on "We Shall Overcome" -- is stunning. But none of it's so polished as to lose the charm of rough edges that's part of making music on the fly -- the continuing revelatory aspect of the show. And on the bigger stage with a bigger crowd, there's more a sense of the familiar, too, with Springsteen swaggering across the rim and working the people into a frenzy. Yeah, folks were into it last night: swing dancing in the pit to that "Chicken Shack Boogie" arrangement of "Open All Night" (another one that has come into its own, now a real showstopper); continuing to sing "Pay Me My Money Down" unaccompanied until Bruce had to come back and conduct it to a close to start the encore. Is that what it feels like in a European crowd? I'm sure you Europeans would laugh and beg to differ, but to these eyes and ears it was a great surprise to be surrounded by such a fired-up crowd in Northern Virgina on this tour.
On this tour -- let's talk about that for a sec. I've heard so much chatter about how some shows aren't selling out, and what that might mean.... Well, for one thing, it means that fans who should be there, who would have a blast, may not know what they're missing. For anyone who has traveled to more than one show on previous tours in hopes of catching something fresh and new, here's an entire show of fresh and new -- and as one buddy of mine said, half of it gives you chills. On the upside and flipside, as a couple people told me last night with a big grin, it means that tickets are that much easier for the rest of us. True. But I can't help feeling that, for every unsold seat or every unclaimed spot on the lawn, there's someone waiting for a moment that just don't come, while missing the chance to see a liberated Springteen, clearly having the time of his life (hell, find someone on stage who isn't!) doing a 180 from the Devils & Dust tour with a raucous, shout-along, musically overpowering hootenanny. But what it doesn't mean -- as I found myself thinking and fearing between shows -- is that people who are there aren't having a blast. Man, what a feeling to turn around in the pit -- as you might look around in an arena during an E Street Band houselights-up version of "Born to Run" -- and see what looks like an endless sea of people stretching to high on the hill, Virginia asses out of their Virginia seats, all with their hands in the air, all singing along, just like a... well, like a Springsteen show. What'dja expect?

TIVO ALERT: LATE NITE TELLYVISION, COAST TO COAST
The Seeger Sessions Band is about to hit U.S. shores, and while they're touring around for the next month, Springsteen will work some late night TV appearances into the schedule. First up will be The Tonight Show with Jay Leno on Monday June 5, to be taped in the afternoon before the show at the Greek and to air that night. Then toward the end of the leg, he'll hit Late Night with Conan O'Brien while in NYC for the Madison Square Garden show, to air Friday night June 23 (actually, early morning June 24). Will Max and Larry have a drum-off? Tune in to find out...
-May 25, 2006

BRUCE HITS THE STUDIO IN OSLO
With a few days extra days in Norway, Springsteen put in some studio time, overdubbing some vocals at Oslo's Disclab, according to an article in Dagbladet. Lars Flugsrud tells us, "I know you probably don't read Norwegian, but the essence is that Bruce and Toby Scott visited a small recording studio while in town last week. The studio is run by Hans Olav Grottheim (Norway's answer to Simon Cowell on the Norwegian Idol). His technician Richard Low assisted Bruce and Toby. Producer Jorn Dahl was also present. Apparently Toby Scott had started to make enquiries about studios in Oslo weeks before coming. Bruce spent a few hours there on Thursday. Other than to confirm that Bruce was in the studio, the studio is keeping quiet."
-May 22, 2006

HALF-HOUR AMSTERDAM INTERVIEW ONLINE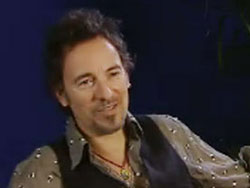 Head over to novatv.nl to watch an exclusive interview with Bruce, filmed after the Amsterdam show on Tuesday night. Springsteen talks about recording the new album, about New Orleans, the state of the nation, Pete Seeger, and more. The lengthy clip, which runs just over 30 minutes, also includes partial Amsterdam concert footage of "John Henry," "O Mary Don't You Weep," and "Pay Me My Money Down."
-May 19, 2006

WHO'S FOOLIN' WHO?
On tonight's American Idol, this time it's for real
In light of our April Fool's Day gag, you might be skeptical about the following news item. But it's true. Taylor Hicks, one of the three finalists on this season's American Idol, will indeed be singing a Springsteen song on tonight's show. Obviously, Bruce himself will not be there for pointers or criticism (he'll be drinking Heinekens in Amsterdam tonight). But thanks to Clive Davis, former president of Columbia Records who picked songs for tonight's show, Hicks will be twitching and boogalooing his way through "Dancing in the Dark." (Not "Soul Driver," as we picked.) We thought our April Fool's joke was too far-fetched to ever cross over with reality, but according to an ET report, "Clive reached out to Bruce Springsteen, an artist he had signed, to get permission for the first time ever for American Idol to use a song by the Boss." Soul Patrol! Soul Patrol!
June update: As a couple people have pointed out, Becky O'Donohue performed a Springsteen song on Idol prior to the above, "Because the Night" on February 21. Why did Clive not have to make a special phone call for that one? Because of the Patti Smith co-write? Because people think it's a Natalie Merchant song now? Your guess is as good as ours...
-May 16, 2006

THREE-SONG VIDEO CLIP FROM BBC SHOW ONLINE NOW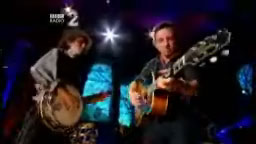 In advance of the TV broadcasts this week (BBC 4, May 19, 10 p.m.; BBC 2, May 20, 11:30 p.m), you can get a significant sneak peek of the Sold on Song concert with a 20-minute video clip online now at bbc.co.uk. It's got "John Henry," "Mrs. McGrath," and "Jacob's Ladder," filmed at London's St. Lukes on May 9. And now that the concert has aired on BBC Radio 2, the full audio is also available for streaming, online for the next week.
And on Sunday, May 21, listen for a Springsteen interview on BBC Radio 2, on Johnny Walker's show from 5 p.m. to 7 p.m. GMT.
-Updated May 15, 2006

CHARITY AUCTIONS ON NOW FOR EACH TOUR STOP
Pay them their money down, get great tickets!
As the tour heats up, here's a way to score great seats and support great causes at the same time. Once again, Musicians On Call and The Kristen Ann Carr Fund are auctioning off a pair of primo tickets for each show on Springsteen's U.S. and European Tour. In Europe the tickets will be General Admission in the Pit. In the U.S. tickets are directly in front of the stage -- either GA Pit where applicable, or first- or second-row seats. The bidding starts at $500 per pair and will increase in increments of $50. Tickets will be at the Will Call window the evening of the concert. All winning bids will be tax deductible above the face value of the tickets. Bidding is open now for all shows -- click here for auction info and links.
-May 14, 2006

TICKET ALERT: LAST TWO ONSALES, FRI & SAT
Only two more onsales to go for this U.S. leg, and they're happening in the next two days: Boston's Tweeter Center goes on sale Friday at 10 a.m., and New York's Madison Square Garden on Saturday at 9 a.m..
-May 11, 2006
LOOKING FOR SOMETHING PRETTY YOU CAN HANG UP ON YOUR WALL?
Up for auction on eBay beginning on Thursday is this beautiful Annie Leibovitz photograph of Springsteen in 1999, previously seen in her book, American Music. It's a large (20" x 24"), limited edition print (5 of 20), signed by the photographer, and valued at $5,500. The auction benefits the National Priorities Project, a Massachusetts non-profit that "provides citizens and community groups with tools to make federal policis more understandable and just." The auction will run from 5 p.m. Thursday, May 11 to 5 p.m. Sunday May 21. Click here to view the eBay auction.
The photograph was taken on September 20, 1999, backstage at the First Union Center in Philadelphia (show #3 of the 6 nights in Philly). Clearly visible is the previous night's setlist, to ensure the requisite setlist changes from night to night. At the moment captured, Bruce had only written that night's list up to "Tenth Avenue Freeze-out." The guitar he's holding and book of songs he's looking at suggest that he's deciding -- at that very moment -- what to play in the famous "post-Tenth" slot in the setlist, often the biggest setlist surprise on any given night... Philly got "Back in Your Arms" that night.
-Updated May 14, 2006

"STILL SPRINGSTEEN... BY WAY OF TOWN AND PRESERVATION HALLS"
Backstreets' own Erik Flannigan has the We Shall Overcome: The Seeger Sessions review in the new issue of No Depression. An excerpt:
...Proudly unrehearsed, the ramshackle but highly capable outfit assembled here rollicks through 13 songs with Bruce literally shouting out chord changes and cues in real time. The result is immediate and infectious, with a loose, likable spirit Springsteen hasn't captured in the studio since his very first album....

We Shall Overcome also re-contextualizes some of Springsteen's past; you can hear strains of "Youngstown," "Seeds" and "This Hard Land" in this material, exposing their folk roots. Conversely, an organ flourish here, a piano run there echo the classic E Street soundscape, reminding us that it is still Springsteen, albeit by way of Town and Preservation Halls.

Spirits of the latter are thrillingly captured (with a touch of Tom Waits juju) in "O, Mary, Don't You Weep" and the album's solemn highlight "Eyes on the Prize." Springsteen gives the African-American spiritual and civil-rights anthem a hushed and heartfelt reading. Post-Katrina, the verse "the only thing I did was wrong/ was staying in the wilderness too long/ the one thing we did was right/ was the day we started to fight" holds renewed meaning....

We Shall Overcome won't likely stand out as a classic next to Born to Run, Nebraska and Tunnel of Love in the Springsteen catalog. But credit him for vivifying a collection of music without resorting to nostalgia, and for finding a deep personal connection to some of the most quintessentially American songs ever written.
Pick up the March/April 2006 issue of No Depression on newsstands now (with Alejandro Escevedo on the cover), or online at www.nodepression.net.
-May 3, 2006

IRISH EYES ARE SMILING: EURO TOUR OPENS IN DUBLIN
A spirited European tour opener on Friday, May 5 has the well-rehearsed Seeger Sessions Band firing on all cylinders. As one showgoer tells us, "This really rocks, flows, smacks... and the horns and the beautiful fiddle from Soozie, pure magic... lovely, just lovely!" In the home of "Mrs. McGrath," an Irish folksong "known from a Dublin broadside of 1815," according to Dave Marsh's liner notes (and a song which, coincidentally enough, happens to mention today's date), Bruce offers the correct Irish pronunciation of "McGraw." Setlist-wise, he re-expanded the trimmed-down set from New Orleans for a two-and-a-quarter-hour show at The Point, slipping "Adam Raised a Cain" and "Erie Canal" back into an otherwise identical line-up. Hey, if it ain't broke...
Speaking to David McCullagh in Dublin for RTE, Springsteen talked about the Irish influence on this music: "That's where it came from! So we're excited about coming and starting in Dublin for that very reason -- those influences are all through the whole night. Watch interview and performance footage here. Of the show, McCullagh tells Backstreets: "More fun than I've had with my clothes on. I had my doubts about the whole Seeger thing, but those doubts have been taken out, stomped on a good few times, and told never to come back to Buffalo."
CANNONBAAAAAALL!
"A cannonball on the fifth of May," sings Bruce in "Mrs. McGrath"... and here it is, May 5, and Springsteen is onstage in Dublin at this very moment, beginning his blast through Europe.
European show-goers: Don't forget, we're counting on you for setlists and tour reports! If you want to help out with our coverage, please e-mail setlists and comments after the show to onstage@backstreets.com.
To send photos, ticket stubs, concert ads, handwritten setlists, etc., email scans to images@backstreets.com, or mail to Backstreets, 1818 MLK Jr. Blvd. #300, Chapel Hill, NC 27514 USA. Thanks for helping out!

TICKET ALERT: U.S. ON-SALES RESUME FRIDAY, 5/5
Over in Dublin tomorrow, Springsteen and his Seeger Sessions band will be gearing up for a Friday night show to kick off the European leg. Here in the States, tomorrow through the weekend brings the majority of U.S. onsales. On Friday: DC, Columbus, Chicago, Cleveland, Saratoga, and Holmdel, NJ. On Saturday: Phoenix, Des Moines, St. Paul, and Philly (Camden, NJ). And on Monday: San Francisco. After that, only Boston and NYC will remain. See our Tour/Ticket Info page for details, times, and links... and don't forget, all times are local!
-May 4, 2006

SOLD ON SONG BROADCAST SCHEDULE -- RADIO AND TV!
On Tuesday night, May 9, Springsteen and the Seeger Sessions Band will be taping an intimate show for BBC Radio 2's Sold on Song program. The sights and sounds from that night will be coming to the airwaves, as the Radio 2 broadcast (May 13, 9 p.m.) will be followed by TV broadcasts on BBC 4 (May 19, 10 p.m.) and BBC 2 (May 20, 11:30 p.m). Roll your DVRs!
And while we're doing VCR/Tivo alerts, don't forget that CMT's one-hour Bruce Springsteen: The Seeger Sessions special debuts tomorrow (Friday) night at 9 p.m.
-Updated May 5, 2006

BOSTON SHOW MOVES TO THE GREAT OUTDOORS
A venue change for Boston: As the Globe reports, the May 27 show has been relocated from TD Banknorth Garden to the Tweeter Center (formerly Great Woods). The show's onsale date of Friday May 12 remains the same.
For the full schedule, with onsale dates and links,
see our Tour/Ticket Info page
-May 3, 2006

THIS COULD BE THE LAST TIME...
May 2 brought the fifth -- and final? -- RCDS benefit
How's this for a gear shifter: just a couple days after he played to 70,000, providing a spiritual lift to New Orleans, Springsteen was back in Asbury Park, playing to a crowd a fraction (of a fraction) of the size and providing a financial lift for his kids' school. Completely different set with a completely different band. Yes, it was Rumson Country Day School Benefit time again tonight, Springsteen's fifth annual shindig for RCDS parents and teachers at the Stone Pony. Now there's a teaching job with fringe benefits -- though with Bruce's kids just about gradumacated, this will likely be the last, as he mentioned a few times during the show. Backed again by Bobby Bandiera's band, who played a couple numbers before Bruce took the stage for the dear departed Wilson Pickett's "634-5789," Springsteen played a mix of originals and covers very similar to last year's set. Patti Scialfa's absence tonight necessitated some changes: Bruce added "From Small Things," brought back the wonderful "Sugar Sugar" from 2003, and broke out a full "Detroit Medley." But Southside Johnny was on hand for "The Fever" and "This Time It's For Real" -- and to yell "I hated school!" -- and once again the show closed with a stagefull of attendees for "Twist and Shout."
-May 2, 2006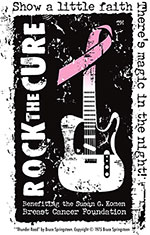 WHAT ELSE CAN WE DO NOW?
It's Rock the Cure time again -- this Saturday night, May 6, the fourth annual Rock the Cure concert at O'Gara's Garage in St. Paul will feature the Bruce tribute band Lucky Town, with proceeds benefiting local breast cancer charities. Tickets are $10 in advance, $12 at the door, and there will also be a raffle and a live auction.
Once again, the organization has been given permission to use lines from "Thunder Road": "Show a little faith / There's magic in the night"; visit their rockshop to get some cool garb featuring the lyric and the Esquire/ribbon logo --including a black T-shirt, new this year.
While Springsteen takes his tour overseas for the next few weeks, you can find more shows like this, as always, on our concert calendar.
-May 2, 2006

DEAD MAN'S SUITE
"Further On" among final Cash recordings for July release
Johnny Cash was no stranger to Springsteen's music -- back in 1983, he was already covering Nebraska songs (his Johnny 99 album included both the title track and "Highway Patrolman"). With the posthumous fifth installment of the American Recordings series, we'll get the Man in Black's take on a latter-day Bruce song, "Further On (Up the Road)," recorded in the months before his death in September 2003. Producer Rick Rubin says: "I think that American V may be my favorite of all of the albums in the American series. It's different from the others, it has a much different character. I think that this is as strong an album as Johnny ever made." American V: A Hundred Highways is scheduled for release on July 4, 2006.
-May 2, 2006
FIRST WE TAKE NEW ORLEANS
Fresh out of the gate and in the birthplace of their sonic gumbo, Bruce and his new band let the good times roll
Quite an important night for Springsteen -- when's the last time he really had to prove himself to an audience? Closing out the first weekend of JazzFest, following Elvis Costello and Allen Toussaint, it was to a decidedly non-partisan crowd; Bruce wasn't preaching to the choir for the first time in a long time, he had a brand new band to boot, and this their first non-rehearsal show. The Seeger Sessions Band was a 20-piece crew again tonight, with all six horns, and as one longtime fan told us -- fascinated to watch them win over the non-Bruce crowd -- "they sold some records tonight!" Yes, on this humid New Orleans evening, Bruce and his band more than met the challenge, playing the sun into the ground for a two-hour set that had the slow-to-come-along crowd eventually eating out of the palm of his hand. Springsteen was up against the Meters, perhaps the quintessential JazzFest band -- so it's a good thing he turned in a quintessential performance, one which demonstrated exactly why he's got that legendary live rep. Calls of "blow'd away!" came from the audience during "My Oklahoma Home," but it was "Jacob's Ladder" that was probably the turning point when he took control of the crowd. By the encore, he was egging them on as if it were the second false ending of "Badlands." "I ain't feeling the love!" Bruce cried, and the untrained audience poured it on. Earlier in the show, in a quip before show highlight "How Can a Poor Man Stand Such Times and Live?," he dedicated the song to "President Bystander." Springsteen also talked about getting to town the previous day and heading down to the lower 9th: "I saw some things I never thought I'd see in an American city." The emotional "My City of Ruins" that began the encore might as well have been written on that visit; during the song, the whole packed fairgrounds field had hands in the air. Bruce was clearly touched by the spontaneous reaction from this particular crowd; you could see it on his face, and he stepped to the mic and said, "Yes, yes, yes... Yes, yes, yes." "You Can Look (But You Better Not Touch)," the last of only four originals of the night and an obscure one at that, had 'em all going nuts and singing along. And closing the show, naturally, was "When the Saints Go Marching In." Bruce talked about going through an old songbook and finding some verses he hadn't known existed, said they'd play the song "even though there are 100 bands in the city that can do it better than we can," and dedicated the performance to the city of New Orleans. A night to be proud you're a fan. Yes, yes, yes. Next stop: The European tour begins in Dublin on Friday.
-April 30, 2006 - Joseph Kubon photo

GOIN' DOWN, DOWN, DOWN, DOWN...
An old Asbury structure we're glad to see gone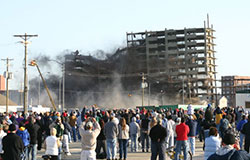 On Saturday, April 29, the abandoned steel high-rise skeleton in Asbury Park known as C-8 bit the dust. The demolition -- besides just being cool to see -- is some fine visual evidence of an Asbury turnaround. Read more here, and watch full video of the implosion at Asbury Park's official website -- shot from the top of Convention Hall (note the Wonder Bar on the right and the boardwalk Howard Johnson's on the left).
-April 30, 2006 - Mike Black photo

SON OF A GUN, BIG FUN AHEAD AT JAZZ FEST
Webcast on Sunday, "Poor Man" audio online now!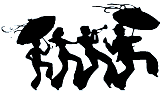 The New Orleans Jazz & Heritage Festival kicked off today, with the set from Springsteen & the Seeger Session Band to close out the weekend in high style on Sunday night. Don't forget, you can watch some of this weekend's music online on Sunday, courtesy of MSN music -- the plan is for at least two songs from Springsteen's set to be webcast between 6:30 and 8:00 p.m.
And Bruce's official site has something to get you in the mood: you can hear the most Crescent City-centric song of the set (say that three times fast!) online now, straight from the Asbury Park soundboard. Not included on the We Shall Overcome album, "How Can a Poor Man Stand Such Times and Live?" is a highlight of the new show, reworked with newly written verses. The bitrate is low, but if you didn't get a chance to see any rehearsal shows, it's a great sneak peek of what's in store. Take a listen -- as well as a read of the complete lyric and a note from Bruce -- at www.brucespringsteen.net.
-April 28, 2006


NEW LONDON DATE ADDED FOR SOLD ON SONG
UK residents, enter contest for a chance to be there
A second performance has been added in London for May 9, the night after the Hammersmith Apollo Theatre show, but this one's a bit different: at a yet-to-be-named "intimate" venue, this show will be filmed and recorded for BBC Radio 2's Sold on Song program. You won't be able to buy a ticket, but if you're a UK resident -- and you can answer the question, "Bruce Springsteen is currently touring the songs of which legendary folk artist?" -- you can enter an online contest for the chance to attend. Winners will be notified by May 3; the Mark Hagen-produced program will air on Radio 2 on Saturday, May 13, at 9 p.m. We're told that the show is being produced for the telly as well -- more info as we have it!
And speaking of the UK, if you're thinking about a trip to Europe, check out concert packages from our friends at Badlands, organizing trips to Manchester and Paris.
-April 28, 2006

A LITTLE BIT COUNTRY: BRUCE DOC COMING TO CMT
VCR/Tivo alert! Next week, Country Music Television will be airing Bruce Springsteen: The Seeger Sessions, a one-hour documentary on the making of the new album. Including the DualDisc video content in its entirety, this TV special will also incorporate extra clips that have floated around elsewhere -- film of "Jacob's Ladder" and a complete "Erie Canal" (only a partial version of which is on the DualDisc) -- plus "never-before-seen footage" from Thom Zimny. The CMT premiere is May 5 at 9 p.m., with repeat airings through the following week.
-Updated April 28, 2006

TICKET ALERT: U.S. ON-SALES BEGIN FRIDAY, 4/28
While we're still awaiting on-sale information for more than half of the U.S. leg, tickets for some U.S. dates will be available shortly, beginning with Indianapolis and Detroit tomorrow morning. Los Angeles tickets go on sale Saturday 4/29, with Milwaukee on Monday 5/1. See our Tour/Ticket Info page for specifics; keep an eye there and on Ticketmaster.com as more on-sale dates roll in.
-April 27, 2006

RADIO RADIO
Not that you don't already have something good to listen to this week... but here's some more fun for your earhole, on the air and online:
We Shall Overcome: The Seeger Sessions has been all over NPR in recent days -- follow these links for stories and reviews on Fresh Air, Day to Day, and World Cafe, and an interview with the man himself on All Things Considered.
This Saturday, April 29th, at 9 p.m. GMT, Patti Scialfa hosts The Emmylou Harris Story on BBC Radio 2, a 60-minute documentary about the country music legend. As well as Emmylou herself, the programme features contributions from Keith Richards, Linda Ronstadt, Elvis Costello, Steve Earle, John Prine, Rodney Crowell and many more. The program marks Patti's radio presenting debut, and was produced by Mark Hagen. Listen online at www.bbc.co.uk/radio2 and for seven days after the broadcast via the BBC's Listen Again service at the same address.
-April 27, 2006

NEW INTERVIEWS IN NY DAILY NEWS, ROLLING STONE
"I have no rules left," Springsteen tells David Hinckley in today's New York Daily News. "I don't have to get on the radio. It's wide open for me. The singer-songwriters I admire -- Dylan, Neil Young, Woody Guthrie -- move forward all the time." Bruce also talks about this music's "raunchiness," and, while mentioning the "bookful of new songs sitting there to play with E Street," addresses those rock fans who might think this one isn't for them.

Like Hinckley, Neil Strauss also spent time with the Boss at rehearsals for latest issue of Rolling Stone. In addition to talking folk songs, gospel, kids, and politics with Bruce, Strauss's game includes expanding on what we'd heard about Tracks II: "Initially, Springsteen had no intention of putting out an album of centuries-old folk songs. After touring behind Devils & Dust, he'd planned to take a year off, then get back together with the E Street Band to record some new songs he'd written for them. But idleness is not something that sits well with Springsteen. First, he thought he'd use the time to dig through the vaults for a second volume of Tracks, his 1998 collection of rarities and outtakes. That, however, led him to consider revisiting a record he made but never released in the mid-Nineties: a solo album of songs over tape loops, extending the terrain he explored in 'Streets of Philadelphia.'..."
-April 23, 2006

SIRIUS LISTENERS, THE BOSS IS BACK!
No, it's not the return of E Street Radio... but you'll get a new, exclusive interview with Springsteen this weekend, courtesy of Dave Marsh on his Kick Out the Jams program. Dave talks The Seeger Sessions with Bruce, and he'll done kick it out on Sunday, April 23, starting at 10 am ET on SIRIUS Stars channel 102. Listen for encore broadcasts on Monday, April 24 at 1 pm and 7 pm ET, and on Tuesday, April 25 at 1 pm ET, on channel 18, The Spectrum.
-April 21, 2006

CHARITY BEGINS AT HOME
For those wondering where the Convention Hall concerts' $100-per-ticket will go, rehearsal show proceeds benefit a slew of local charities. According to the Absury Park Press: "The four-night engagement benefits the following organizations in Asbury Park: Hope Academy Charter School, Sister's Academy, Interfaith Neighbors, Asbury Park Boot Camp, 22nd U.S. Colored Troops, Asbury Park Seniors, Boys & Girls Club of Monmouth County, Epiphany House, The Center, Hispanic Affairs & Resource Center and Asbury Park Public Library. Beneficiaries also include Family & Children's Service, Long Branch; Prevention First, Ocean; Save Tillie Inc., Silver Spring, Md.; The Stephen Crane House, Keyport; 180 Turning Lives Around,Inc., Hazlet; and Monmouth County Arts Council, Red Bank, for the proposed Asbury Park Arts Center."
-April 21, 2006



TICKET ALERT: GMA TICKETS "ON SALE" FRIDAY
Be there for the live TV debut of the Seeger Sessions Band
Springsteen will be appearing on ABC's Good Morning America on 4/24 and 4/25 -- an interview on Monday, and on Tuesday a live performance with the Seeger Sessions Band from Asbury Park's Convention Hall. Two songs will be broadcast live on GMA.
Tickets for Tuesday morning's live performance are FREE, with a two-ticket limit per person, and will be available beginning Friday morning 4/21 at 9 a.m. through Ticketmaster. These free tickets will be sent by e-mail, for at-home printing. Convention Hall doors will open at 6:30 a.m. on Tuesday morning for all who have tickets, for camera blocking. Not a bad way to celebrate release day!
Oh, and: SonyBMG has provided a limited edition T-shirt for the first 1,500 people who arrive on Tuesday morning.
-Updated April 20, 2006

BRUCE TALKS SEEGER SESSIONS WITH A.P.
"After a long time, you get a lot more secure about what you're doing," Springsteen tells Larry McShane in a new Associated Press interview, talking about getting new music out more quickly these days. "I spend much less time making decisions. Incredibly less." Read the full AP article.
-April 19, 2006

STOP, LOOK, & LISTEN: MONDAY NEWS ROUNDUP
In addition to the newly announced U.S. itinerary (see below), a few more significant news items today:
Not only are tickets for the Asbury Park rehearsal shows (which went on sale Saturday morning by phone only) still gettable... they're now available for online purchase at Ticketmaster.com.
With Clear Channel's "Sneak Peak," you can listen to the whole We Shall Overcome album online, between now and April 20.
According to PRNewswire, MSN Video will be streaming performances -- including Springsteen's -- from the New Orleans Jazz & Heritage Festival. You'll be able to tune in to the webcast at http://msnvideo.com/jazzfest.
-April 17, 2006

U.S. TOUR DATES JUST ANNOUNCED
Springsteen's hootenanny coming to the great outdoors
Less than a week after returning from Europe, Springsteen will begin a month of stateside dates, from May 27 in Boston to June 25 in Jersey. For this May-June leg, 18 shows were announced in 17 U.S. cities, including a closing two-nighter at the PNC Amphiteatre in Holmdel, NJ.

Venues are a mix of outdoor amphitheatres (also including the Greek in L.A.) and arenas (like NYC's Madison Square Garden). Springsteen will be touring with his 17-piece Seeger Sessions Band, similar to the ensemble's Europe line-up, but with Mark Pender and La Bamba back in the fold.

See our Tour/Ticket Info page for full itinerary, and on-sale dates as we know them.
-April 17, 2006

NY TIMES GOES TO ASBURY
Yesterday's New York Times featured "Born to Strum" by Will Hermes: a report from Asbury Park, where Springsteen is rehearsing with the Seeger Sessions Band. Points of interest include Bruce's assurance that "I write all the time"; "Johnny 99" and "Open All Night" being rehearsed along with the new material; and most interestingly, the revelation that Springsteen was looking at doing Tracks Volume 2 when the Seeger bug hit. Read it online now, and track down a hard copy of the paper for an amazing widescreen shot of the full band in full swing.
-Updated April 17, 2006
BRUCETUBE
In the "Multimedia" section of the New York Times piece online, you'll find the video for "Pay Me My Money Down." You can also find the "Pay Me" video at AOL.com; Uncut is hosting videos for "Shenandoah" and "Jacob's Ladder"; Amazon still has "John Henry."

TICKET ALERT - "GOOD FRIDAY" EDITION
Oh, hoppy day: four rehearsal shows on sale Saturday!
That's right, it's ambush time: just announced at 5:00 this afternoon, tickets go on sale tomorrow morning for four rehearsal shows in Asbury Park. Bruce Springsteen will be opening the Convention Hall doors for one show next week (April 20) and three the following week, sandwiching the release date (with rehearsal shows on April 24, 25 and 26).
These four charity shows will be Springsteen with his unprecedentedly large Seeger Sessions band -- will they have time for more than just the band intros? Score a ticket to find out. (Or, of course, just check here after each show.) All tickets are $100 each and will go on sale Saturday, April 15, at 9:00 a.m., through Ticketmaster phone only. And you thought your taxes were frustrating enough. See our Tour/Ticket Info page and/or www.concertseast.com for more details and rules, and best of luck!
-April 14, 2006

BRUSH UP YOUR SEEGER
With the album less than two weeks out, some prepwork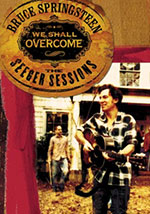 Check out Brucespringsteen.net, which has been been given a Seeger Sessions overhaul, and click on "Liner Notes" for a mighty fine read. Dave Marsh's exhaustive liners run down the history of each song on the upcoming album, including the two bonus tracks. Great to see this album is getting the kind of notes it should -- and it saves us a lot of work! Bruce's introductory essay for the album is posted here as well, and you can even listen to a clip of "Pay Me My Money Down" while you read.

And speaking of exhaustive, don't miss Matt Orel's Songs of the Seeer Sessions, which presents an ultra-detailed listing of prior recordings of these songs -- more than 1,560 of them, by nearly as many artists, with some full-length audio clips included.

Still need something to read over the holiday weekend? Anticipating the impending We Shall Overcome release, The New Yorker has published a ten-page profile of Pete Seeger. Springsteen features in the article as well, describing his motivation for the new album: "I felt the connection [to Seeger's music] almost intuitively, and that certain things needed to be carried on; I wanted to continue doing things that Pete had passed down and put his hand on." Bruce also talks about this fun side: "He played a lot for kids. When I set the musicians up in my house to make this record,

and we started playing Pete's songs, my daughter said, 'That sounds like fun -- what is that?'" Look for "The Protest Singer" by Alec Wilkinson in the April 17 issue, pictured above, on newsstands now.
Happy Easter, happy Passover!
-April 14, 2006


THE COSMIC KID LANDS IN HIS HIGH SCHOOL HALL OF FAME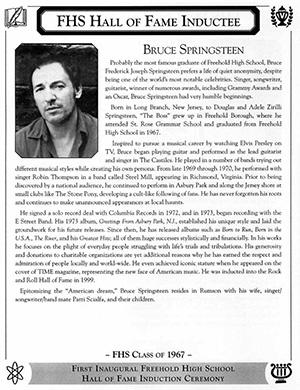 Last night, April 6, was the first annual Freehold High School Hall of Fame Induction Ceremony, with Bruce Springsteen (Class of '67) among the eight inaugural inductees. Bruce himself couldn't make it, but several members of his family were there for the honor, including his mother Adele, who accepted the award on his behalf. She said that he couldn't attend because "he was working on a new record." She talked a bit, then read some words from her son:
"I'd like to thank everyone for the honor. It's especially nice coming from my hometown and my old alma mater. It's kind of funny, really. I spent my years at Freehold Regional pretty much as an outcast and at best a very mediocre student. I would probably have been voted 'Least Likely to Succeed.'

"My only advice to teachers and the administrators would be to keep your eyes on the ones that don't fit in. They're the ones thinking out of the box and reimagining this place we live in... our hometown. You never know where they're going.

"So, thank you once again and please show my mother a good time. Without her I may not have survived Freehold Regional High School.

"Go Colonials!"
Thanks to Carl Beams for the report.
-April 7, 2006

TICKET ALERT: EURO SALES START THURSDAY
Ticket sales for the European leg start happening tomorrow, April 6... unless you count Frankfurt, which "officially" goes on sale April 8, but they've begun taking "reservations" already! Oslo and Stockholm go on sale Thursday April 6; Dublin, Manchester, London, and Milan go on sale Friday, April 7; with more to follow. See our Tour/Ticket Info page for further details and links as we know them.
4/7 Update: No surprises, these tickets go fast: Stockholm and Oslo sold out in about a half-hour, London, Manchester and Dublin in ten minutes or less.
-Updated April 7, 2006

MORE IDOL CHATTER...
Okay, okay, the jig is up, the cat's out of the bag, we've been caught red-handed playin' the April fool. Again! Quite a few quizzical calls and emails, though, suggest that some folks never made it past the American Idol item to see the light as Saturday's news page got more and more absurd. For anyone who is still baffled, bothered and bewildered by where the heck that American Idol news went -- or just wants to subject themselves to more juvenile April Foolery -- simply follow the jester at right.
We do wish we could see Taylor Hicks doing "Soul Driver," no f-f-f-foolin'. For the record, though, the guest on Idol this week is actually Kenny Rogers -- and we hear there's a good chance Bruce will show up for an "Islands in the Stream" duet. Seriously. No, seriously. Tell your friends!
-April 4, 2006

TOUR UPDATE: EUROPEAN LEG OFFICIAL!
Ten dates in May with a whopping 17-piece band
Billed as "an all new evening of gospel, folk and blues," Springsteen is set to follow his April 30 New Orleans performance with a ten-show tour of Europe. The leg begins on May 5 in Dublin and ends May 21 in Stockholm, hitting Manchester, London, Paris, Milan, Barcelona, Amsterdam, Frankfurt, and Oslo in between.
The European leg will expand the Seeger Sessions Band to 17 players, his largest touring ensemble to date, including seven who were not part of the album sessions: Clark Gayton, in for Richie "La Bamba" Rosenberg (Trombone); Curt Ramm, in for Mark Pender (Trumpet); Greg Liszt, in for Mark Clifford (Banjo), Marty Rifkin (Pedal Steel Guitar), and on vocals, Mark Thompson, Cindy Mizell, and Curtis King. Making the jump from album to the European stage are: Sam Bardfeld (Violin), Art Baron (Tuba), Frank Bruno (Guitar), Jeremy Chatzky (Upright Bass), Larry Eagle (Drums), Charles Giordano (Accordion, Keyboards), Lisa Lowell (Vocals), Eddie Manion (Sax), Patti Scialfa (Vocals), and Soozie Tyrell (Violin).
See our Tour/Ticket Info page for full schedule details (and on-sale info, when it's available), and stay tuned: according to today's Shore Fire Media press release, "U.S. tour dates will be announced soon."
Update: The Barcelona show has been changed from May 13 to May 14.
-April 3, 2006

WATCH "JOHN HENRY" IN-STUDIO CLIP ON AMAZON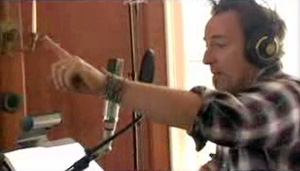 Get an advance listen to a track from the new album along with a gander at Springsteen directing his Seeger Sessions band live in the studio, with this video for "John Henry" viewable now at Amazon.com.
-April 3, 2006

MORE LISTENING PARTIES TO BEGIN APRIL 3
Following the Austin event earlier this month, Columbia will be offering more advance listening parties in April for We Shall Overcome: The Seeger Sessions, beginning with Chicago on April 3. As in Austin, look for these listening parties to be audio/visual, with material presented from both sides of the DualDisc.
For a shot at attending the Chicago event, at the Twisted Spoke Lakeview, visit www.brucespringsteen.net and follow the instructions there for sending your RSVP. And keep your eye on that page in the days to come, as additional events will be added for a total of ten U.S. cities; they'll be filling each guest list on a first-come-first-served basis by RSVP after each event is announced.
-March 28, 2006

"THE SOUND OF SURPRISE AND THE PURE JOY OF PLAYING"
We Shall Overcome: The Seeger Sessions liner notes
A Note From Bruce Springsteen

In 1997 I recorded "We Shall Overcome" for Where Have All the Flowers Gone: The Songs of Pete Seeger. Growing up a rock n' roll kid I didn't know a lot about Pete's music or the depth of his influence. So I headed to the record store and came back with an armful of Pete Seeger records. Over the next few days of listening, the wealth of songs, their richness and power changed what I thought I knew about "folk music." Hearing this music and our initial '97 session for Pete's record sent me off, casually at first, on a quest.

Through Soozie Tyrell, violinist with the E Street Band, I met a group of musicians out of New York City who played at a fiesta in the field at our farm. Accordion, fiddle, banjo, upright bass, washboard, this was the sound I was looking for, for the project for Pete. I wanted the sound of a bunch of people just sitting around playing. After a few phone calls we set up next to one another in the living room of our farm house (horns in the hall). 'Till that moment we'd never played a note together. I counted off the opening chords to "Jesse James" and away we went. It was a carnival ride, the sound of surprise and the pure joy of playing. Street corner music, parlor music, tavern music, wilderness music, circus music, church music, gutter music, it was all there waiting in those songs, some more than one hundred years old. It rocked, it swung, it rolled. It was a way back and forward to the informality, the freeness and the eclecticism of my earliest music and then some.

This is a LIVE recording, everything cut in three one-day sessions ('97, '05, '06) with no rehearsals. All arrangements were conducted as we played, you can hear me shouting out the names and instruments of the players as we roll. This approach takes the listener along for the whole ride, as you hear the music not just being played but being made. So, turn it up, put on your dancin' and singin' shoes, and have fun. We did. Here's the Seeger Sessions. Pete thanks for the inspiration!
Bruce Springsteen
March 6, 2006
-March 27, 2006

BRUCE & SAM MOORE IN THE DAWG POUND
The Boss duets with the Soul Man on Overnight Sensational
While Bruce will be taking us down to Folkytown on his forthcoming We Shall Overcome, he also took a recent detour to Soulsville USA: recording a duet with Sam Moore to be released this spring. Back in the early '90s, Moore lent his vocals to Human Touch, and after a few recent performances together (Asbury Park holiday shows and the recent Grammy Awards), Bruce returns the favor for Sam's forthcoming solo album. Overnight Sensational also reunites Bruce with his old dawg Randy Jackson, who played bass on Human Touch and "Better Days" and served as producer here. Moore's album, also featuring duets with Sting and Travis Tritt, is due out on May 16 from Rhino Records.
Of Springsteen, Moore told the Austin Chronicle: "We go way back. But when we hung with him at the Grammys, we don't want to bother him about being on my record. Then, right after the show, his management told my wife, 'You know he's going to do your record?' We were high-fiving anyone we could find. Then he comes in to cut the record and at the end of the song he does this preaching thing like C.L. Franklin. He does a squall at the end that'll blow your mind."
-March 25, 2006

SHINE SACREDLY: NEW ALBUM FROM NILS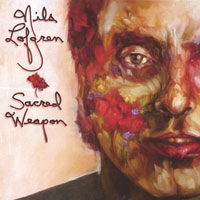 Four years after Breakaway Angel, Nils Lofgren is back with a new solo album, Sacred Weapon. Featuring 12 new Nils-penned songs, the album includes a duet with Willie Nelson on "In Your Hands," as well as David Crosby and Graham Nash pitching in on "Frankie Hang On." Sacred Weapon is due in stores in mid-April, available now from nilslofgren.com.
Nils will begin touring in early April to promote the release, with a handful of in-store appearances including Jack's Music Shoppe in Red Bank on Saturday, April 22. See our concert calendar for his current schedule.
-March 25, 2006

KEEPING IT OLD SCHOOL: 2LP VINYL PRESSING PLANNED FOR SEEGER SESSIONS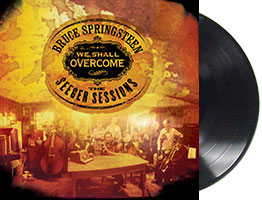 Vinyl fetishists rejoice, and get those turntables in shape... We Shall Overcome: The Seeger Sessions is getting the LP treatment, scheduled for release at the same time as the DualDisc, on April 25. It'll be a two-record set, with the 13 album tracks spread out over four sides.
LP releases can be hard to find these days, and typically only available for a limited time, but of course you can count on Backstreet Records for such releases -- heck, it's right there in our name! We're taking pre-orders now, and we'll make sure we get enough copies in stock for every fan who needs one. Check out our online shop for this and many more Boss items by mail.
-March 20, 2006

SS AT SXSW: A REPORT FROM AUSTIN
We Shall Overcome: The Seeger Sessions may be a folk album -- but the folks are rowdy, boozy and lots of fun. In other words, they would feel very comfortable in Austin.
On the evening of March 17, for the second time in a year, Austin's Waterloo Records hosted local fans and those in town for SXSW for a preview of Bruce's upcoming release. As opposed to 2005's Devils & Dust preview, the DVD side of the DualDisc took center stage this year, shown to the 75 to 100 fans in attendance on a large screen.
After Bruce scolded fans for going hootenanny on him during the Rising rehearsals, the video begins with him talking about the "hootenanny craze" of the 1960s. He mentions that he has been working on these songs for eight years, and there is a brief clip of rehearsal/recording footage from 1998.
The video gives an inside look of the making of the album, with everyone in a circle in what appears to be Bruce's recording barn (the horn section is separated and in a hallway near the stairs). Electric guitars and organs are replaced with banjos and accordian. At one point, Bruce demonstrated the kind of wailing sound he wanted Soozie to play, then he listened to each horn player to hear how they sounded on a song's intro. The video's first song heard was "John Henry." Bruce is seen directing Soozie Tyrell as she plays, and the song simply rocks, in a folky-country kind of way. It's foot-stomping music. "John Henry" has a traditional feel to it, but the horn section adds an Asbury Park twist.
Then we see Bruce telling everyone to drink up. He wants a "wild sound" for "Pay Me My Money Down," commanding that beer and whiskey be drunk. During the song we see several shots with Bruce drinking, making toasts, playing air accordian and eventually shaking his booty. Fun stuff. This song's Tex-Mex/Cajun sound got the fans in attendance dancing as well -- it seemed to be a fan favorite.

A fedora-clad Bruce then talked about folk music and how true folk music did not have to be plugged in, and that it could be played anywhere. That theory was proven as the Seeger Sessions Band played "Buffalo Gals" in Bruce's yard. Next up was "Erie Canal" and while it slowed things down a bit, it had a nice, easy shuffle.
"O, Mary, Don't You Weep" owes more to the black gospel music of groups such as the Swan Silvertones than Pete Seeger. It's a rousing number, with the kind of vibe that will fit right in when Bruce plays in New Orleans on April 30. The video showed a couple of sweet moments with Bruce and Patti, including the two of them dancing together.
"Shenandoah" was next. It has a deliberate and haunting sound. Fans may also be interested to know that Patti plays 12-string guitar on the song. The DVD ended with a country romp of "My Oklahoma Home" over the credits.
After the video, fans heard selected songs from the DualDisc audio. "Old Dan Tucker" is a old-timey shout, driven by the accordian and banjo. "Jesse James" is a lot of fun filled with banjo, horns and fiddle, with a wood block almost sounding like Brisco Darling blowing in his jug on The Andy Griffith Show.
"Mrs. McGrath" fits right in with Bruce's political views and is a strong anti-war statement. The song builds with crashing symbols, and Bruce's voice seems to become more Irish as the song progresses. "We Shall Overcome" sounds similar to Bruce's previously released recording, but is more fleshed out with the band. "Froggie Went a Courtin'" is not as corny as you might expect. When the song begins, it brings to mind the blues standard "My Babe."
The album is not what I expected -- Bruce seemed to have fun with these songs, and it was infectious: the crowd reacted to this much more strongly than with Devils & Dust last year. There was more of a buzz from what I heard, and during the songs, people were dancing. - Report by Jeff Calaway
-March 18, 2006

WORTH A THOUSAND WORDS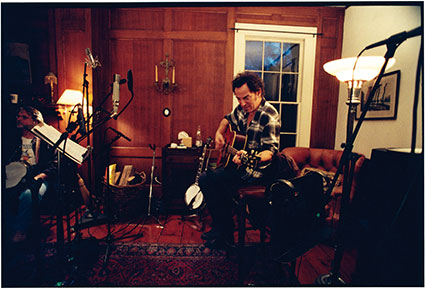 -March 17, 2006

TIMES HAVE COME TODAY
Here's a look at track times for the Seeger Sessions album -- and from the looks of it, those 13 players do get plenty of room to do their thing. Only the opening cut is of the "short & sweet" variety, with "O, Mary, Don't You Weep" and "My Oklahoma Home" passing the six-minute mark. We're looking at a solid hour of new material on the album proper, and even more when you add in the flipside bonus tracks.
1. Old Dan Tucker - 2:31
2. Jesse James - 3:46
3. Mrs. McGrath - 4:20
4. O, Mary, Don't You Weep - 6:05
5. John Henry - 5:04
6. Erie Canal - 4:03
7. Jacob's Ladder - 4:25
8. My Oklahoma Home - 6:02
9. Eyes on the Prize - 5:14
10. Shenandoah - 4:53
11. Pay Me My Money Down - 4:30
12. We Shall Overcome - 4:51
13. Froggie Went a Courtin' - 4:33
Total Running Time - 60:17
DualDisc Bonus Tracks
Buffalo Gals - 3:11
How Can I Keep From Singing - 2:20
-March 15, 2006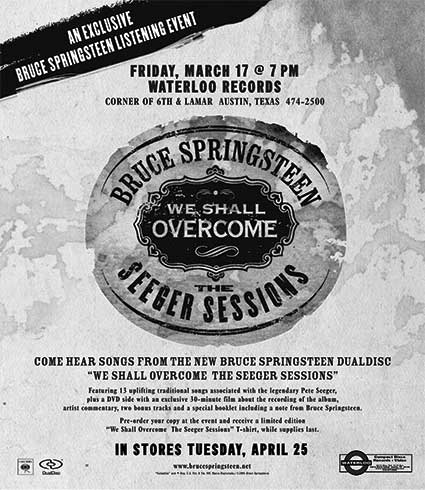 LUCK OF THE IRISH FOR SXSW ATTENDEES
Seeger Sessions album to debut Friday in Austin
Just as they did last year for Devils & Dust, Waterloo Records in Austin, TX will be hosting a Springsteen listening party to coincide with SXSW. If you're in town for the festivities, stop by Waterloo this Friday, St. Patrick's Day, at 7 p.m. and hear We Shall Overcome: The Seeger Sessions in its entirety. This is the first public listening party for the new album; chances are that there will be more to come in April, so if you're not within range of Austin, stay tuned to see if you'll get lucky with additional events.
-March 14, 2006

THE BOSS HITS THE BIG EASY
Springsteen & the Seeger Sessions Band to play the New Orleans Jazz Festival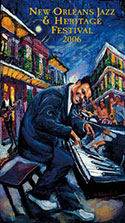 After showing the world their heart and resiliency at Mardi Gras, New Orleans prepares for another big bash at this year's New Orleans Jazz & Heritage Festival. Bruce Springsteen has just been announced as part of the lineup, to play on Sunday, April 30 along with what has been billed as "The Seeger Sessions Band." Also performing on April 30 are The Meters, and Allen Toussaint with Elvis Costello; other heavy hitters in this year's Jazz Fest lineup include Bob Dylan and Paul Simon.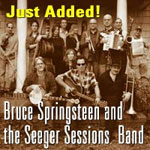 This is the first date that has been announced for Springsteen's spring tour, expected to run from April through June; while we're still awaiting additional info, look for a few initial U.S. shows to be followed by a trip to Europe in early May. For now, Jazz Fest is the only official date, with tickets on sale now -- and when's the last time you could get a Springsteen ticket for 30 bucks? Laissez les bon temps rouler!
Update: Jazzfest producer/director Quint Davis tells USA Today: "People were afraid to come to New Orleans, and we needed a beacon.... It has to be divine coincidence. Bruce's inspiration and what's going to feed our souls are meeting at an incredible moment. You have this work of music called 'We Shall Overcome' that's about the triumph of the human spirit and persevering against all odds, and it's real traditional American music. Jazzfest would have been the perfect home for his expression of this music at any time, but talk to us now about We Shall Overcome? We're living it."
-Updated March 9, 2006

THE SEEGER SESSIONS: A FIRST LISTEN & LOOK
Bruce on hand for March 7 preview at BB King's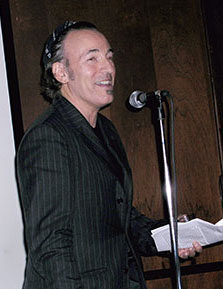 It's a party, folks. Played with traditional instruments like banjo and fiddle, the sounds on Bruce Springsteen's upcoming Columbia Records release, We Shall Overcome: The Seeger Sessions, conjur images of an old-fashioned hootenanny. Sound-wise, think more along the lines of The Band and the collaboration between Wilco and Billy Bragg for the two volumes of Woody Guthrie compositions rather than Springsteen's contribution for the covers of Seeger songs in 1998. At a March 7 advance listening party for the album, Springsteen said the songs are equal parts "street corner, parlor, church, and gutter."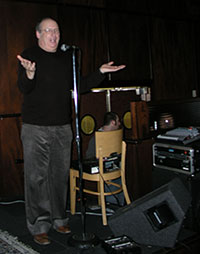 Along with Patti Scialfa, Jon Landau (right) and Sony chief Don Ienner, Springsteen was on hand in New York City to preview the record on Tuesday night. Following five songs from the album and several from the DualDisc, Springsteen remarked that folk music was a way for people to "look forward." At the same time, he said the raucous sessions -- recorded live in his New Jersey farmhouse -- reminded him of the eclectic sounds of his early career. Springsteen said he initially met members of the ensemble when he hired them to play at a party at his home; the DualDisc footage, directed by Thom Zimny, suggests that the sessions carried that vibe nicely.
The songs played on Tuesday night, including "Jacob's Ladder," "Pay Me My Money Down," "Old Dan Tucker," and "Mary Don't You Weep," sounded upbeat and energetic; even "We Shall Overcome" seemed to have a little more kick to it than his downcast version included on 1998's Where Have All the Flowers Gone?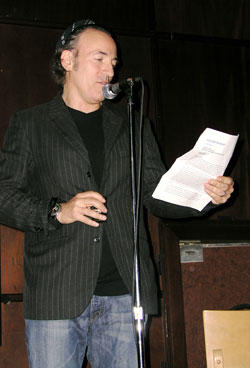 The kickoff for the April 25 release, held at Lucille's Grille inside B.B. King's in midtown Manhattan, had an equally loose feel. When the audio failed during the first song, Springsteen moved through the crowd to the stage, then joked that it was worth the trip from New Jersey to see Don Ienner trying to fix the audio -- "Do I record for one of the biggest record companies in the world or what?" -- and invited his guests to make themselves at home at the bar.
The audio for the second half was much better, and in stereo, and gave a glimpse of what his upcoming tour might look and sound like. Some may be expecting a sparse record of four-minute songs, but the mood conveyed by the DualDisc is that of a regular house party, with Bruce really letting the band stretch out and play. One attendee asked Springsteen afterward, "I would never bring my 2 year old to a D&D show. Can I bring her to this?" Bruce replied, "Oh yeah, bring the whole family for this. It's going to be a good time!"
-March 7, 2006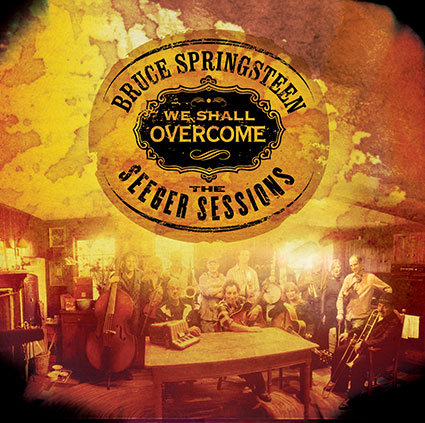 SPRINGSTEEN'S SEEGER SESSIONS NOW OFFICIAL
We Shall Overcome: The Seeger Sessions due on 4/25; "short tour" to coincide
Mere days after the release of Springsteen's latest live CD, Hammersmith Odeon London '75, we have official word of his next studio album, less than two months away. Like Devils & Dust, it's another DualDisc. Unlike Devils & Dust -- or any other album in his catalog -- it does indeed consist entirely of covers. From today's press release:
Columbia Records will release Bruce Springsteen's twenty-first album, We Shall Overcome: The Seeger Sessions, on April 25. The album features Bruce's personal interpretations of thirteen traditional songs, all of them associated with the legendary guiding light of American folk music, Pete Seeger, for whom the album is named. Speaking of the origins of the new music, Springsteen said, "So much of my writing, particularly when I write acoustically, comes straight out of the folk tradition. Making this album was creatively liberating because I have a love of all those different roots sounds... they can conjure up a world with just a few notes and a few words."

Springsteen recorded the album with a large ensemble. The musicians on the record are Springsteen (guitar, harmonica, B3 organ and percussion), Sam Bardfeld (violin), Art Baron (tuba) Frank Bruno (guitar), Jeremy Chatzy (upright bass), Mark Clifford (banjo), Larry Eagle (drums and percussion), Charles Giordano (B3 organ, piano and accordion), Ed Manion (saxophone), Mark Pender (trumpet), Richie "La Bamba" Rosenberg (trombone) and Soozie Tyrell (violin). Lisa Lowell, Patti Scialfa, Springsteen, Pender, Tyrell, and Rosenberg contribute backing vocals.

We Shall Overcome: The Seeger Sessions will be released in DualDisc format, with the full album on one side of the disc and DVD content on the other side. The 30 minute video side of the DualDisc contains extensive behind the scenes footage of the recording of the album. In addition, the DualDisc package will contain two bonus tracks and a special booklet including a note from Springsteen.

Springsteen is planning a short tour in the U.S. and Europe to accompany the release of the album. He will be appearing with most of the musicians who appeared on the CD. Details will be announced separately.

According to Springsteen's longtime manager Jon Landau, "We Shall Overcome: The Seeger Sessions has a lightness and ease to it, a sheer joyfulness, that makes it very special from top to bottom. Bruce has taken a core group of classic American songs and transformed them into a high energy, modern and very personal statement."
Tracks
1. Old Dan Tucker
2. Jessie James
3. Mrs. McGrath
4. Oh, Mary, Don't You Weep
5. John Henry
6. Erie Canal
7. Jacob's Ladder
8. My Oklahoma Home
9. Eyes on the Prize
10. Shenandoah
11. Pay Me My Money Down
12. We Shall Overcome
13. Froggie Went A-Courtin'

Bonus Tracks
Buffalo Gals
How Can I Keep From Singing
The Band
Back row L-R: Sam Bardfeld, Jeremy Chatzky, Lisa Lowell, Frank Bruno, Soozie Tyrell, Mark Pender, Charles Giordano, Ed Manion, Larry Eagle
Front row L-R: Mark Clifford, Patti Scialfa, Bruce Springsteen, Richie "LaBamba" Rosenberg
(Photo by Danny Clinch; click to see a larger image).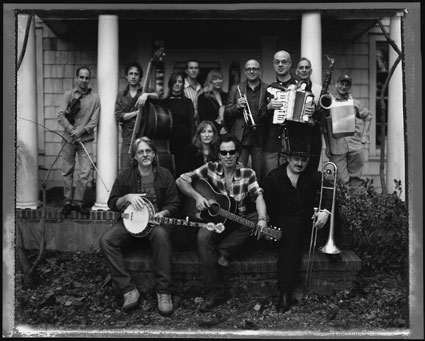 -March 2, 2006

Main News


News Archives
- May - Sep 20033
- Oct 2003
- Nov - Dec 2003
- Jan - Mar 2004
- Apr - Jul 2004
- Aug - Dec 2004
- Jan - Apr 2005
- May - Jun 2005
- Jul - Aug 2005
- Sep - Dec 2005
- Jan - Feb 2006
- Mar - May 2006
- Jun - Jul 2006
- Aug - Oct 2006
- Dec - Nov 2006
- Jan - Mar 2007
- Apr - May 2007
- Jun - Jul 2007
- Aug 2007
- Sep - Oct 2007
- Nov - Dec 2007
- Jan - Feb 2008
- Mar - Apr 2008
- May - Jun 2008
- Jul - Aug 2008
- Sep - Oct 2008
- Nov - Dec 2008
- Jan 2009
- Feb - Mar 2009
- Apr - May 2009
- June 2009
- Jul - Aug 2009
- Sep - Oct 2009
- Nov - Dec 2009
- Jan - Feb 2010
- Mar - Apr 2010
- May - Jun 2010
- Jul - Aug 2010
- Sep 2010
- Oct 2010
- Nov 2010
- Dec 2010
- Jan - Feb 2011
- Mar - Apr 2011
- May 2011
- June 2011
- July 2011
- Aug - Oct 2011
- Nov - Dec 2011
- Jan 2012
- Feb 2012
- Mar 2012
- Apr 2012
- May - Jun 2012
- Jul - Aug 2012
- Sep - Oct 2012
- Nov - Dec 2012
- Jan 2013
- Feb - Apr 2013
- May - Jun 2013
- Jul - Aug 2013
- Sep 2013
- Oct 2013
- Nov 2013
- Dec 2013
- Jan 2014
- Feb 2014
- Mar - Apr 2014
- May 2014
- Jun 2014
- Jul - Sep 2014
- Oct 2014
- Nov - Dec 2014
- Jan - Feb 2015
- Mar - Apr 2015
- May - Jun 2015
- Jul - Aug 2015
- Sep - Oct 2015
- Nov - Dec 2015
- Jan - Feb 2016
- Mar - Apr 2016
- May - Jun 2016
- Jul - Aug 2016
- Sep 2016
- Oct 2016
- Nov - Dec 2016
- Jan - Feb 2017
- Mar - Apr 2017
- May - Jun 2017
- Jul - Aug 2017
- Sep - Oct 2017
- Nov - Dec 2017
- Jan - Feb 2018
- Mar - Apr 2018
- May - Jun 2018
- Jul - Aug 2018
- Sep - Oct 2018
- Nov - Dec 2018
- Jan - Feb 2019
- Mar - Apr 2019
- May - Jun 2019
- Jul - Aug 2019
- Sep - Oct 2019
- Nov - Dec 2019
- Jan - Feb 2020
- Mar - Apr 2020
- May - Jun 2020
- Jul - Aug 2020
- Sep - Oct 2020
- Nov - Dec 2020
- Jan - Feb 2021
- Mar - Apr 2021
- May - Jun 2021
- Jul - Aug 2021
- Sep - Oct 2021
- Nov - Dec 2021
- Jan - Feb 2022
- Mar - Apr 2022
- May - Jun 2022
- Jul - Aug 2022
- Sep - Oct 2022
- Nov - Dec 2022
- Jan - Feb 2023



Tour/Ticket Info
Setlists
Concert Calendar
Save Tillie
Library Project
Downloads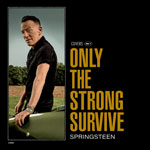 ONLY THE STRONG SURVIVE
The Backstreets Liner Notes, our own song-by-song printed booklet, comes exclusive and FREE with each CD & LP!
ORDER NOW
Backstreet Records is the mailorder division of Backstreets, delivering Springsteen merchandise to fans for more than 25 years. We carry numerous collectibles, tour shirts, books, magazines, and imported CDs and records.
The world's best selection of Springsteen collectibles, all available by mail.
See all the new arrivals in our online shop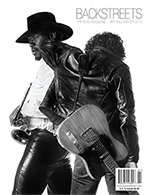 BACKSTREETS #91
Our most recent issue honors a very Big Man. More than half of the 116-page, perfect bound Backstreets #91 is a tribute to the life and music of... do we have to say his name?

Full contents list


Order a single copy


Back issues
---


On the May 19 edition of NPR's Fresh Air, a Pete Seeger interview segment that originally aired in 1984.


Pat Riley, his hair slicked sweet, in a Boss-focused Star-Ledger piece.


Listen to NPR's Jazzfest coverage, including Bruce content at the 4:30 mark.


The Associated Press catches up with Nils Lofgren, on the road now.


Somebody Told Me you like Bruce Springsteen


Bruce gets #1 and #3 spots in WFUV's "Essential Songs" listeners' poll.


On May 12 at the Apple Store SoHo: "The Legendary Masters of Music Photography: Neal Preston," with the photographer on hand to present a slideshow of his images, including Bruce.


We Shall Overcome enters the Billboard 200 chart at #3, with 149,455 copies sold.


Watch the GMA performance of "O Mary" at ABC.com


The Times-Picayune reviews Bruce at Jazzfest


For Marc Anthony Thompson's take on his latest gig, and his new Boss, visit the Chocolate Genius website and click on "The Word."


Billboard reports that Jerry Lee Lewis's long-awaited new record, featuring a duet with Springsteen on "Pink Cadillac," is now due in September on Columbia


Canada's Exclaim! magazine presents a Bruce timeline, sort of a Brief History of the Boss


Check out a Keith Urban performance from the CMT Music Awards; click on the video for "Better Life." Why are we linking this here? Wait until the 3:14 mark...


American Idol, no... Norwegian Idol, yes!!


Dig the tater gun!


Steve Morse looks back at 30 years of rockage, with "Confessions of a Rock Critic" in the Boston Globe


Backstreets faves The Hold Steady talk Bruce


Long-awaited "Pink Cadillac" duet with Jerry Lee Lewis to be released this summer?


USA Today on Asbury Park resurgence


Got an extra hundred grand? Bruce's '57 Chevy is up on eBay...


From the Star-Ledger: Jay Lustig interviews Pete Seeger; Paul Mulshine sez: "If I had a hammer, I'd take it to Springsteen's new record"


The Nation's David Corn on The Seeger Sessions: "by nobly nodding to Seeger in this way, Springsteen not only closes a circle, he advances it."


"Bruce has let me film some stuff at sound check," says Jonathan Demme... more in the Sun-Times.


Little Steven on Garage Rock tour, Sopranos, and more at CNN.com


This New York Times article on Sony BMG exec Andrew Lack has some scoop on Springsteen's recent resigning deal


Check out Scotty Moore's website for a special page on "Scotty in Backstreets"!


Springsteen to be featured in Pat Dinizio's ESPN special, "7th Inning Stretch," in May. Read more at Pat's website.


Scroll down this foxnews.com story to the part about "Amazon Fishbowl with Bill Maher," to see how one Springsteen fan apparently got a hell of a surprise. It wasn't our house; was it yours? Let us know!


See this WFUV blog for a report -- and video -- from the Nebraska Project


Devils & Dust tops WFUV's Best of 2005 Listener Poll


Tim Donnelly writes about "The Year in Bruce" for Relix


Garry Tallent, On the Record, in the Asbury Park Press


---


We also post all known concert dates for some of our favorite Jersey Shore (and Shore-adopted) musicians:

Willie Nile


Bobby Bandiera


Southside Johnny


John Eddie


JoBonanno


Joe D'Urso... and more.
For more information on upcoming shows such as these, check out our Concert Calendar.
Updated June 9, 2006
---


SAVE TILLIE
Many from the Springsteen community banded together to preserve this Asbury Park landmark.... and Tillie has now been saved!
Check our Save Tillie page for the latest developments.
Updated June 9, 2006
---
THE SPRINGSTEEN SPECIAL COLLECTION
Organized by Backstreets in 2001, this storehouse of Boss books and magazines is the largest such collection outside of Bruce's mother's basement. Thanks to the generosity of fans around the world, total holdings are now well over 11,000. But the collection is by no means complete.
Check out the Springsteen Special Collection page for more info.
Updated Apr. 21, 2006