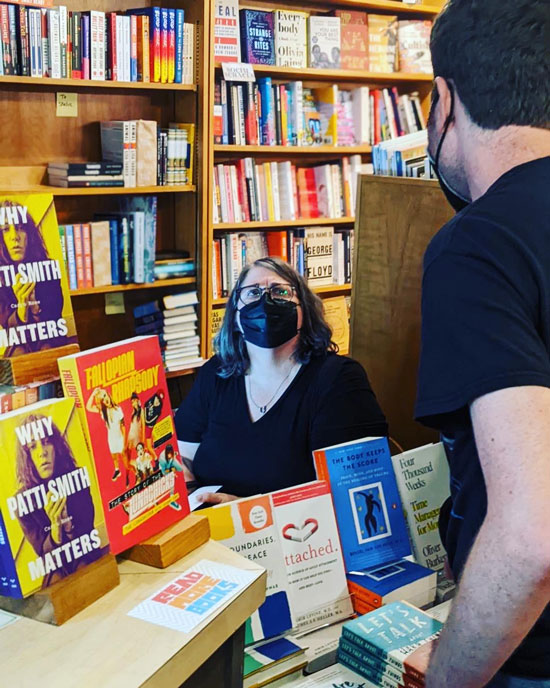 Caryn Rose at an author event for her new book Why Patti Smith Matters
LOVE IS A RING… THE TELEPHONE
"Genius mumbling" and the shared history of Bruce Springsteen and Patti Smith
As part of the research for her new book Why Patti Smith Matters (University of Texas Press), Caryn Rose spoke with another of her favorite artists, Bruce Springsteen. The telephone call came as a cherry-on-top interview and a last piece of the puzzle, just as Rose was finalizing her manuscript, and she was able to get Springsteen's take on an artistic affinity that spans decades. They specifically discussed a small but crucial element of Patti Smith's career: "Because the Night," co-credited to both songwriters, was a Top 20 hit for Smith well before Springsteen had one of his own. In a Backstreets exclusive, Caryn Rose shares more from the phone call and traces the shadow history of Springsteen's "Because the Night" as it evolved in live performance in '78 (and remained unreleased) while Patti Smith's version was on the airwaves.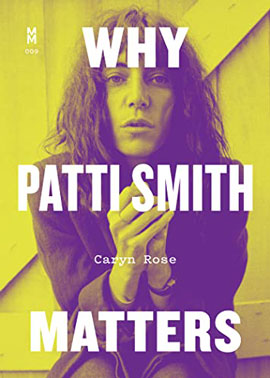 In January of 2021, an email arrived with the subject line:
Can you talk to Bruce tomorrow? Is 2pm okay?
Yes, tomorrow was okay, 2pm was okay — 2am would have been okay. I had been working on the research and writing of the manuscript for Why Patti Smith Matters since early 2018, and the deadline was just a month or two away.
I already knew every version of the story about how Jimmy Iovine took the tape of "Because the Night" from one studio at the Record Plant to another. I knew why Patti Smith was initially resistant to even listen to it, and I could recite chapter and verse how she finally picked up the tape, listened to it, and wrote the lyrics (her recording was released on The Patti Smith Group's Easter in early 1978).
But still, I had questions, and I had been trying for a year to get the answers.
I lined up two audio recorders on my desk (with a third available on my computer if necessary) and awaited the call. And then, the phone rang.
In my research, I had tracked the '78 timeline covering the release of Easter, the completion of Darkness on the Edge of Town, the ascendance of "Because the Night" on the Billboard Hot 100 charts, and the start of Springsteen's Darkness tour. In my mind the song is so closely associated with that tour, heard so often via the magic of tapes that captured the plethora of FM broadcasts from '78. Even if you came to the party decades later, chances are that one of those ubiquitous recordings would be your entrée into live Springsteen collecting. Bruce and the band played "Because the Night" on every single one of them.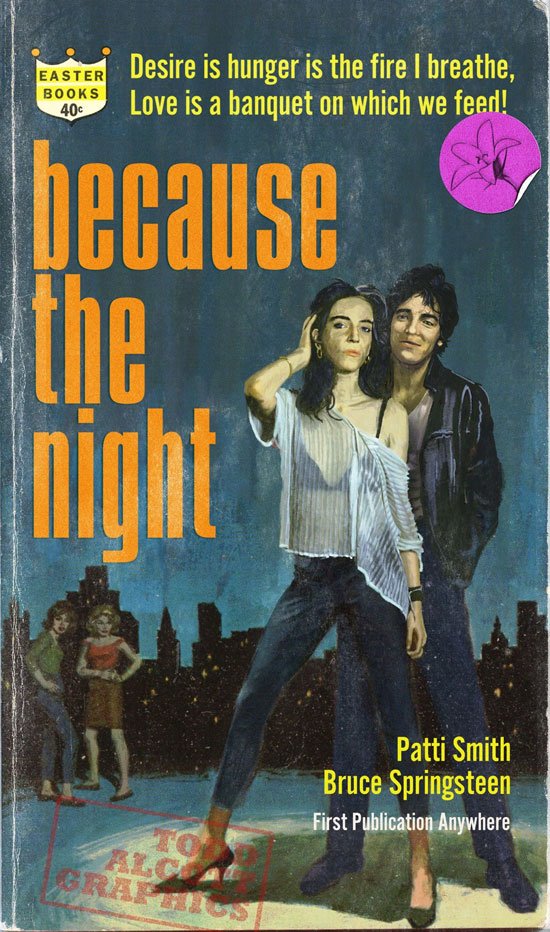 Right: Illustration by graphic designer Todd Alcott - Prints of this and many more of his cultural mashups can be purchased from his Etsy shop
"Because the Night" had its live debut for both Patti Smith and Bruce Springsteen as the year dawned, on 12/31/77, at a Patti Smith concert that took place at the CBGB's Theater. It did not happen at CBGB's — which was the listing in Brucebase until I sent documentation to the fine folks who maintain that valuable resource — but rather an old vaudeville theater in the East Village not far from the club.
After some back-and-forth about how Patti first showed up on Springsteen's radar, and his early impressions of her — "Piss Factory" was not getting commercial airplay in 1975, let's remember! — I brought up this early performance. I was hoping that Bruce might recall something from that night, but he did not even remember that it had happened at all. This was slightly disappointing but not entirely surprising. ("There are photographs and one small article — I'll send them to your publicist.")
The other thing I hoped he remembered was the first time he heard Patti's version of "Because the Night" on the radio — and whether he thought, "Oh no, I shouldn't have given that away."
This question was interesting to me because, as a teenage Springsteen fan who was also a teenage Patti Smith fan, I had often heard various mumbling within Springsteen fan circles that Bruce was not happy about Patti's success with the song. Rumor had it that he didn't want the song to have been given to her. I was dubious as to the authenticity of this claim even 40-something years ago (because I am always dubious), especially given that it came from random dudes at record stores or concerts whose connection to the inner thoughts of Mr. Bruce Springsteen seemed questionable at best.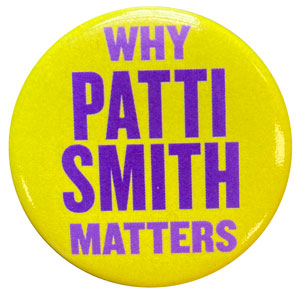 I also knew that a lot of men didn't like Patti Smith simply because she… existed. (If you'd like to know more about that, I would recommend my book.)
So I asked Bruce if he remembered. You can read the excerpt in Variety if you want the whole story, but what may be of most interest to the kind of diehard Springsteen fan that reads Backstreets is the glee I felt when I heard that familiar tone of gently mocking self-deprecation in his response. Describing his reaction to "Because the Night" climbing the Billboard Hot 100 chart, he said, "As far as I knew, none of us were doing that."
I also asked Bruce whether he recalled his decision to add "Because the Night" to the set on the Darkness tour. I pointed out that it wasn't in the set for the first month of the tour and wondered if he remembered the moment when he knew he had to start playing it.
He said he didn't have any specific memories beyond, "If it's charting, I need to play it" (that's a paraphrase). We spoke about some other Smith/Springsteen intersections: Vote for Change and "People Have the Power" (which made its way into the book), his appearance with Patti at her 1976 Bottom Line shows (it was spontaneous, and nothing had been rehearsed), and some other related minutiae that regretfully he had no extant memories of. I thanked him for his time and got back to work.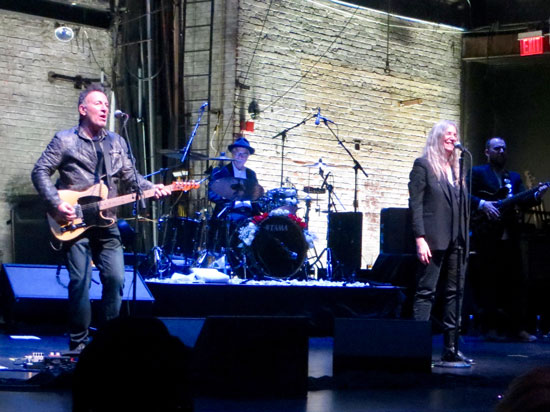 Springsteen and Smith at the Beacon Theatre on 4/23/18, playing "Because the Night" together for only the third time in their shared history - photograph by Ruth Barohn
Cut to June 2021 and the Live Archive release of the July 1, 1978 Berkeley Community Theater show. I am driving somewhere with the show loaded on my phone. BCT looms large in our legends, so it's a delightful official release. I hear the now-familiar intro notes from Roy Bittan chime in, and after a soulful, pointed guitar interlude, Springsteen steps to the mic.
GRSZZZIGNMEH NOWWW BABY HEREZAIII
PULL ME CLOSE TRY TO UNDERSTAND
I WORK ALL DAYYY IN THE HOT SUN
[UNINTELLIGIBLE] TIL THE MORNIN COME
I had to pull over into a gas station because I was laughing so hard. I did not remember this, nor did any of the bootlegs I'd previously heard capture this moment in such clarity.
When I got home, I looked at my notes: "Because the Night" wasn't one of the songs Bruce rehearsed at the Paramount Theater rehearsal shows prior to the Darkness tour. It didn't get added to the setlist until May 30 at the Boston Music Hall, about a month in. Patti's single entered the Billboard Hot 100 chart on April 8, down towards the bottom at #82. It creeped up the chart week by week, and by the end of May (right before the Boston shows) it was at #27. But the song went away from the Darkness tour following its debut, and it didn't return until the West Coast a month later — specifically, the Berkeley show on July 1.
On that very day, "Because the Night" had reached #13, its peak on the chart. At the time, of course, no one knew where it would go from there, and given that no one involved expected it to ever get that high (which equaled radio airplay and record sales for both the album and the single — Easter reached #20 on the Billboard album charts) there was likely a lot of scrambling.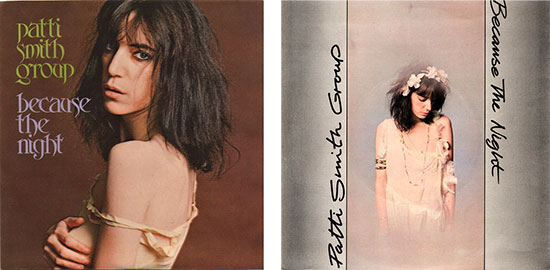 Picture sleeves for Patti Smith's 1978 "Because the Night" 7-inch single in [L-R] the U.S. and U.K.
On July 4, 1978, Bruce joined DJ Mary Turner on LA's KMET. Turner asks him about the song, at first confusing it with "Prove It All Night" ("Luckily, I wrote that one myself," Bruce corrects her, giggling). She asks him about when he heard it, and he replies: "I was real excited because we were riding through the Midwest and it came on the radio. I said, 'Is that AM radio?' and they said, 'Yeah!' and I said, 'Turn it up!' That was real exciting."
From Berkeley on, "Because the Night" was a regular in the Darkness set, and the song evolved as the band played it live. At the Boston Music Hall on 5/30, Bruce performed it without the lengthy guitar intro we all now know and love — he went right into it, and based on the crowd reaction, they already knew it. Boston was both a Springsteen and a Patti Smith stronghold (and still is), so it's not surprising that the audience knew it, and it was a smart addition, even if the lyrics are, shall we say, conceptual at best. Patti once described the lyrics on the tape Jimmy Iovine brought her as "genius mumbling."
As noted above, this hadn't really improved much by 7/1. At the next show, the LA Forum gig on 7/5, he's at least… enunciating the mumbling a little more distinctly? The crowd claps in response to the intro, and Bruce dedicates it to a fan: "This is for my man, right down here."
And then we get to the Roxy on 7/7. This was one of my first Springsteen bootlegs, so this is the Springsteen version of "Because the Night" that was seared into my brain forever. There is no mumbling; he has the lyrics, and he has transformed the song into the kind of smoldering 1978-era intensity anyone with a pulse knows and loves (albeit for a variety of different reasons — Happy Pride!).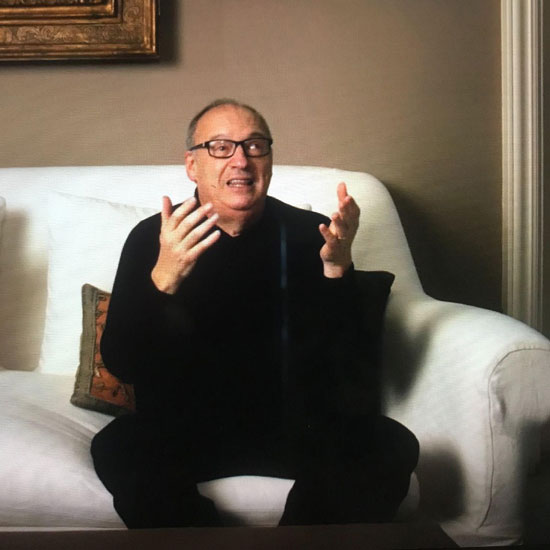 Jon Landau in The Defiant Ones (2017)
There's a scene in The Defiant Ones, the great documentary about Jimmy Iovine and Dr. Dre, where they cut to Landau throwing up his arms in frustration as the song plays in the background, as once again his client gives away yet another big hit to someone else.
On the Darkness tour, Bruce had reclaimed "Because the Night" for himself. The song was known mostly to Boss purists until it came out officially on Live/1975-'85. I fully appreciate the searing machismo of the Springsteen rendition, and the fact that you can listen to any live version from any tour and admire the way Bruce can temper the flame level of each performance.
But I always annoyed my friends because I insisted on singing Patti's lyrics when it was performed at Springsteen shows, and I still do. I favor Patti's version because her lyrics have a less direct and more seductive mystery, and think that "love is a ring/the telephone" is one of the best rock 'n' roll couplets ever written.
The lock screen on my phone is an image I took at the Beacon Theater in 2018 — Bruce and Patti walking hand-in-hand offstage after performing "Because the Night" together for only the third time — and I'm delighted when either of them perform it at their own shows. It's a pretty great shared piece of history to be able to appreciate on a regular basis, and I'm grateful for the opportunity both as a fan and as a historian of both artists.

Why Patti Smith Matters is available now
with a custom bookplate signed by the author
from Backstreet Records
- June 30, 2022 - Caryn Rose has been writing for Backstreets for more than 20 years, and Why Patti Smith Matters has been reviewed by Lauren Onkey below. Visit carynrose.com for more about her new book and additional writings, as well as her schedule of author events, coming up in Columbus (tonight!), Chicago, St. Paul, Madison, Cleveland, and Los Angeles.

From the documentary film All Things Must Pass: The Rise and Fall of Tower Records, courtesy of Company Name Productions
WHEN THE TOWER BELLS PEAL
New podcast explores the history of the late, great Tower Records chain

In 2012 Jon Landau told Billboard magazine, "For many years Tower Records was the home of Bruce Springsteen. There is no Tower Records now. That was a significant percentage of our sales."
In 2015 actor/director Colin Hanks told the story of his hometown record store (and worldwide chain) Tower Records in his critically acclaimed documentary film All Things Must Pass. Among those interviewed for the documentary was Bruce Springsteen.
"We just drove down Sunset Boulevard, and we were just eyeballing everything we could see, and there was a huge record store," Springsteen recalls of Tower Records in L.A. "It's that place where your dreams meet the listener. That's where the final connection was made. That audience you dreamt of is walking through the door, right now. And you could stand there and watch that happen. There are your listeners. And the place also served as a kind of 'lost boys club.' So if you were a young musician and you came into town and you didn't know what to do, the first thing you'd do is go into Tower Records."
All Things Must Pass is available to view for free on YouTube with limited commercials.
One reason All Things Must Pass works so well is because it is fast, tight, and to the point. But a pop culture business that lasted approximately 40 years surely has many more stories to tell, right?
A new podcast about Tower Records, 2500 DelMonte Street: The Oral History of Tower Records was launched just a few weeks ago by longtime Backstreets contributor — and Tower Records employee of 19 years — Bob Zimmerman. Zimmerman started at the Tower in Washington DC (along with former co-worker Dave Grohl) before managing stores in Seattle, Toronto, Boston, Philadelphia, and NYC.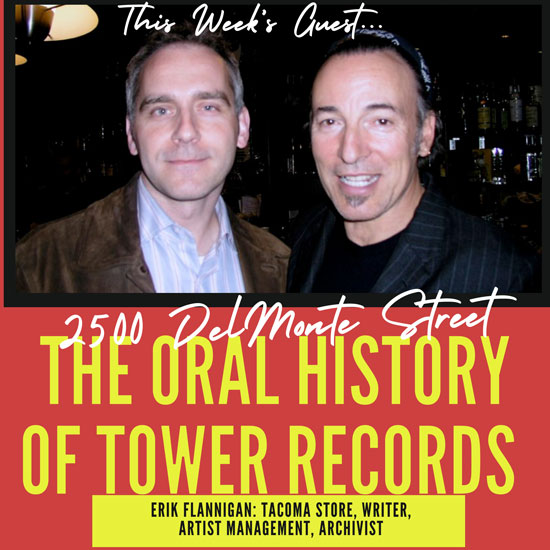 This week on his podcast, Zimmerman interviews former Tower Records employee and Backstreets Associate Editor Erik Flannigan. The new episode is a one-hour discussion about working at Tower, Erik's greatest concerts attended (any guess which Springsteen show he cites?), and how in his mind, Tower Records was actually the original "third place" (sorry, Starbucks).
Zimmerman tells Flannigan how the idea for his podcast came about while listening to the Springsteen podcast None But the Brave, and Flannigan shares the impetus for Juicy Sonic Magic (his concert taping experiment, short film, and Record Store Day project for The National) in honor of concert taper Mike Millard.
Besides being a music fanatic's dream, Tower Records was the workplace for a lot of major Bruce Springsteen fans. Long before the email and the internet, managers at Tower who were Springsteen fans would make long-distance phone calls to one another when Bruce would drop in to shop, sometimes with famous friends. In the biography Petty, by Warren Zanes, a shopping trip taken by Springsteen and Tom Petty to the Sunset Strip Tower Records was described in some detail:
Around the time he drove the car off the lot, he got a call from Bruce Springsteen. Petty had seen Springsteen at the Roxy, in the months before Born to Run was released, and liked what he saw, recognized a fellow traveler. Petty didn't know the man, but Springsteen wasn't shy in the way Petty was. The guy from New Jersey put in the call, just to hang out, one rock and roller to another.…

Petty picked him up at the Sunset Marquis. They went down Sunset Boulevard to the water, stopping at Tower Records on the way, picking up half a dozen eight-tracks. They drove until they'd listened to every song on every one of them. The Stones' 12 x 5 was among the tapes. When "Congratulations" came on, Springsteen raised his arms to the heavens and said, "You can take me now!" Petty loved that. He liked knowing another man out there who went to the same church.
Zimmerman remembers one Tower Records conference in Sacramento, CA, that all Tower managers attended: "My roommate, Tim Devin, who is one of the biggest Springsteen fans I know, came back after being on a phone call with his store (the famous 4th & Broadway location in NYC). We had been hanging out and talking each evening with Dwight Yoakam, Los Lobos, and many other very cool performers who performed at the convention. Tim walks up shaking his head back and forth. 'The staff of my store just called me,' he says. 'Springsteen and Joe Ely were shopping in the store today. The one day I'm not working.'" Devin is scheduled to be a guest on a future episode of 2500 DelMonte Street: The Oral History of Tower Records.
In another soon-to-be-aired episode, Zimmerman and Tower Records Vice President of Retail Operations (and Philly-born, Ed Sciaky/David Dye disciple) Kevin Cassidy talk about his visit to the Lincoln Center store that Zimmerman was running on the day the Born to Run 30th Anniversary box set was released.
"We were walking on the main floor, the rock floor, reviewing the merchandising and condition of the store," Zimmerman recalls. "We had a huge window display for the Born to Run box as well as a huge endcap full of the box set at the front of the store. As we're talking, I look over at the Springsteen display and there's a gentleman in his 50s with a woman standing back watching the customers grabbing copies of the CD for purchase. 'Hey, look over there!' I said to Cassidy. We went over and introduced ourselves to Jon Landau and his wife Barbara. That morning the New York Times had carried the story of Barry Rebo selling his collection of Springsteen video footage from 1970-1980 to Thrill Hill. I remember saying to Jon, "I saw the article about all the video footage you bought for future [Springsteen] projects." Landau responded, "We paid a lot for that footage. A lot!"
While 2500 DelMonte Street: The Oral History of Tower Records podcast is very much an "inside baseball" affair, it wistfully recalls the days when people could walk into a temple dedicated to music, movies, books, and all things pop culture, able to pick up the hits along with deep, deep catalogue unavailable almost anywhere else. The days when you could walk into a store and hear something incredibly melodic or savage playing on the sound system that radio wouldn't touch, or flip though thousands of LPs or CDs and pick out an album based solely on what the cover looked like — or Springsteen's latest import single. Those were the days.…
Listen to 2500 DelMonte Street: An Oral History of Tower Records wherever you listen to podcasts.
- June 29, 2022

GLASTO 2022: SIR PAUL WITH A LITTLE HELP FROM HIS FRIENDS
Turns out, their team-up in the Meadowlands was a dress rehearsal: on Saturday night, June 25, Bruce Springsteen reprised his guest spot with Sir Paul McCartney, this time on the other side of the pond and for a live broadcast. Macca topped the bill at the high-profile Glastonbury 2022, the oldest headliner in the festival's history, and he brought a few friends to help carry that weight. First up was Dave Grohl (his first performance since the death of Foo Fighters drummer Taylor Hawkins) on "I Saw Her Standing There" and "Band on the Run." To cap the night, just as on June 16 in the Meadowlands, Bruce came out for "Glory Days" and "I Wanna Be Your Man," followed by a jam on "The End" which brought Grohl back into the mix, too.
- June 27, 2022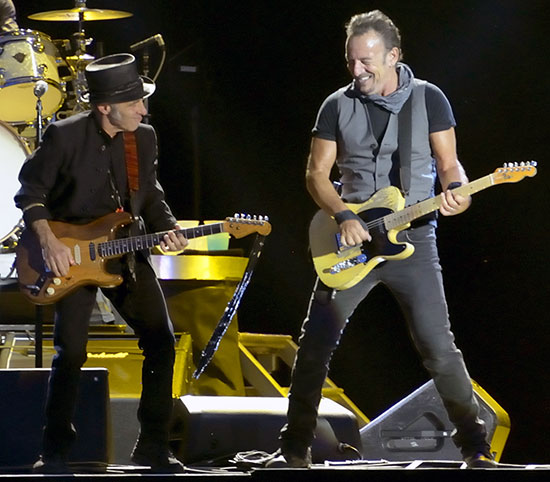 Springsteen and the E Street Band headlined Belgium's TW Classic festival on their last tour six years ago, July 9, 2016 - photograph by Rene van Diemen
ONE MORE FOR THE EURO TOUR: BACK TO BELGIUM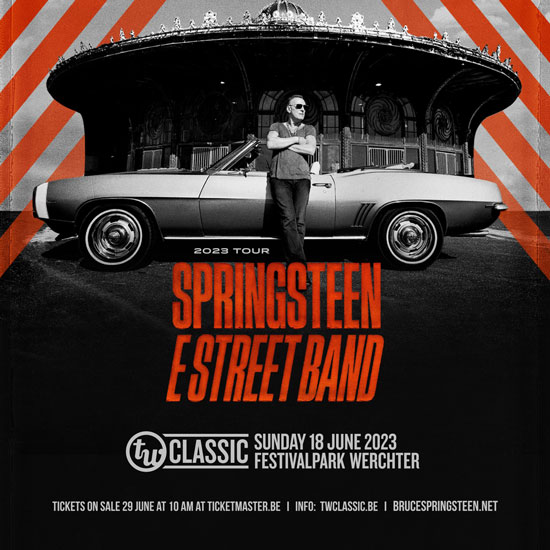 Over the weekend, another date was added to Bruce Springsteen's 2023 tour schedule: the E Street Band will be returning to the TW Classic in Werchter, Belgium (where they stopped on the River Tour in the summer of 2016), to headline the festival once again.
Other artists have yet to be announced for this year's TW Classic line-up, but Springsteen and the E Street Band are confirmed for Sunday, June 18, 2023.
Tickets go on sale this Wednesday, June 29 at 10am via ticketmaster.be. Note: for approximately 50 percent more than a regular ticket, a Golden Circle ticket "guarantees access to the golden circle area right in front of the stage" for Springsteen's set.
See the current itinerary for the 2023 Tour
on our Tour/Ticket Info page
- June 27, 2022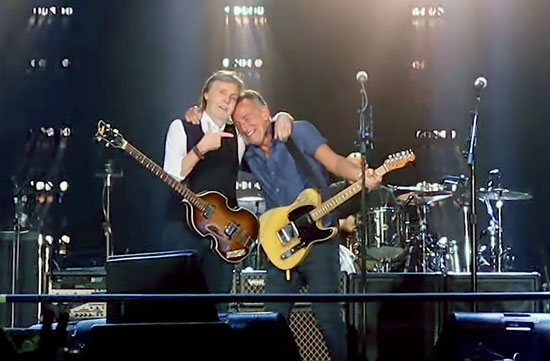 LOCAL BOY JOINS PAUL McCARTNEY IN NEW JERSEY
For the second time in two weeks, Bruce Springsteen turned in a surprise appearance in the swamps of Jersey last night, back at MetLife Stadium with a living legend this time: Sir Paul McCartney. Introducing his guest as "a friend of mine… a local boy" ("I think you've guessed him!" he added, as the stadium resounded with calls for Broooce), McCartney brought Springsteen on stage to the audible thrill of the crowd.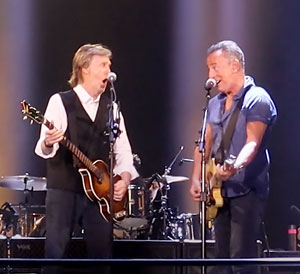 Springsteen wished his host a happy birthday first thing — McCartney will turn 80 on Saturday — and introduced their first song together: "Here's to 80 more years of Glory Days!" Bruce sang lead on all the verses, while McCartney joined in for chorus harmonies and the woo-hoo! call-and-response toward the end.
"Bruce, one more!" McCartney called, adding a Broooce of his own before the next number: Springsteen taking Ringo's lead vocal on "I Wanna Be Your Man." Bruce played some mean lead guitar, too, and continued to appear thrilled to be sharing center stage with a Beatle, their mics tight together, even offering some "We're not worthy" bows at the end of his guest slot.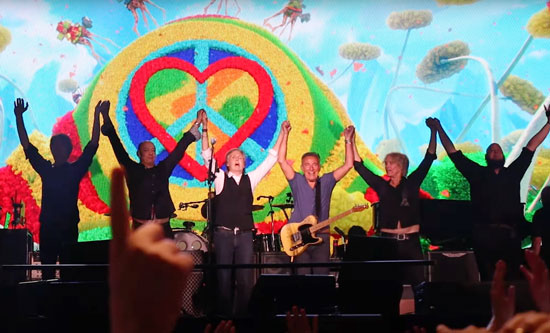 Bruce returned to the stage for the concert's finale, an extended jam on Abbey Road's "The End," and he acquitted himself well in a four-way guitar duel. When the band's final bows came, Springsteen was still there, hands in the air and clasped with Sir Paul's — and beaming. This wasn't his first time (or even second or third), but you have to imagine that playing with a Beatle never gets old. Between the excitement in the crowd and on stage, MetLife might have been able to generate its own electricity (not that it was necessary — the power stayed on all night). And for those with an eye on the future, Springsteen demonstrated once again that he's in fighting shape for his own stadium tour. Here's to more Glory Days!
Full 4K video:


- June 17, 2022

WHY PATTI SMITH MATTERS
By Caryn Rose
(University of Texas Press, 248pp., $18.95)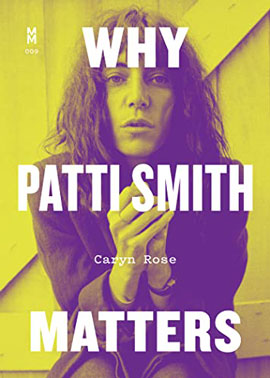 The University of Texas Press Music Matters series, launched in 2018 and edited by music writers Evelyn McDonnell and Oliver Wang, has been a wonderful addition to music bookshelves. These short, engaging books are characterized by great writing and compelling arguments that will inspire you to listen to your favorite artists in new ways and spark your interest in artists you missed.
Caryn Rose's Why Patti Smith Matters is the latest volume in the series, and it's a winner. Patti Smith is lauded as a significant and groundbreaking artist, but recognition of her musical significance has receded a bit in light of her literary success. Reading Why Patti Smith Matters is like listening to Smith's rich catalogue with a good friend as your guide.
Rose is an engaging, knowledgeable, and compelling writer. Of course, she's known to Backstreets readers for her reviews and reporting as a Contributing Writer, and for her book-length travelogue of the 2012 tour, Raise Your Hand: Adventures of an American Springsteen Fan in Europe. She is a careful researcher, one who writes with passion and always pays close attention to detail, all while balancing fandom and critique.
The book sent me back to records I hadn't listened to in a very long time, like Radio Ethiopia (1977) or The Patti Smith Group's debut single, "My Generation/Piss Factory," and helped me hear things I'd long missed in those records. Rose weaves her personal story of discovering Smith's music as a teenager through the chapters as well, describing what appealed to her about Smith's music and how unusual the sound was for its time. Rose is especially incisive about the gender politics of rock criticism and rock history, and how sexism has played a role in how Smith was characterized throughout her career. Throughout the book, she does a great job in drawing from interviews, album and concert reviews that situate Smith in historical context.
A special treat for Springsteen fans is that Rose conducted a new interview with Bruce about how "Because the Night" came about. His comments about Smith's impact on the song's development are fascinating, a new twist on the story.
A recurring theme of the book is that Patti Smith sees herself as a "worker." Her art is not magic—it's the result of commitment and practice and getting up and working at it every day. In this carefully researched, wise book Caryn Rose showcases her own "worker" cred. It makes for a useful and fun read.
—Lauren Onkey
Why Patti Smith Matters is available now
with a custom bookplate signed by the author
from Backstreet Records
- June 16, 2022 - Lauren Onkey is Director of the Corcoran School of the Arts & Design, George Washington University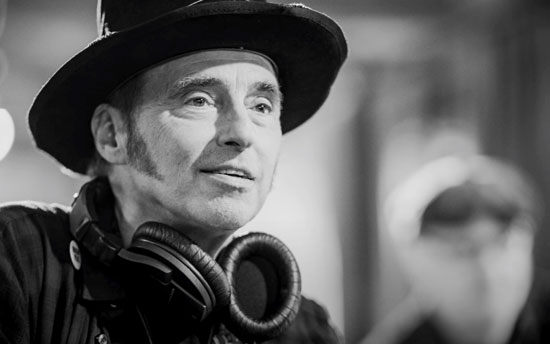 The great Nils Lofgren in a still from Thom Zimny's Letter to You film
OVERQUALIFIED AND LEGENDARY
Nils Lofgren takes center stage in new episode of E Street Radio series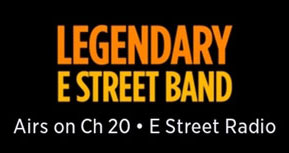 In this month's edition of E Street Radio's Legendary E Street Band,hosted by Greg Drew, the aural spotlight is focused squarely on the great, great Nils Lofgren, whom Bruce Springsteen, in his 1999 Rock and Roll Hall of Fame acceptance speech, called "the most overqualified second guitarist in show business. He plays ten times better than me, and he still wanders over to hear my solos when I play. I guess he's checkin' to see if I'm getting' any better."
Greg's playlist-with-commentary includes not just examples of Nils the guitar god, but also highlights of Lofgren's prowess as a keyboardist and multi-instrumentalist extraordinaire, as well as his beautiful vocals. You'll get to hear Nils performing off E Street, too, with Neil Young's Crazy Horse, Lofgren's own early band Grin, and his equally impressive solo career.
This celebration of all things Lofgren couldn't have come along at a better time, either, as we're wishing Nils the speediest of full recoveries following his recent tussle with COVID-19.
The Nils Lofgren edition of Legendary E Street Band debuted earlier this week and will be replayed again exclusively on E Street Radio (SiriusXM channel 20) today (Thursday, June 16) at 6 pm, with further replays scheduled through the weekend as follows (all times ET):
Friday, June 17: 2pm
Saturday, June 18: 12am and 4pm
Sunday, June 19: 1pm
- June 16, 2022 - Shawn Poole reporting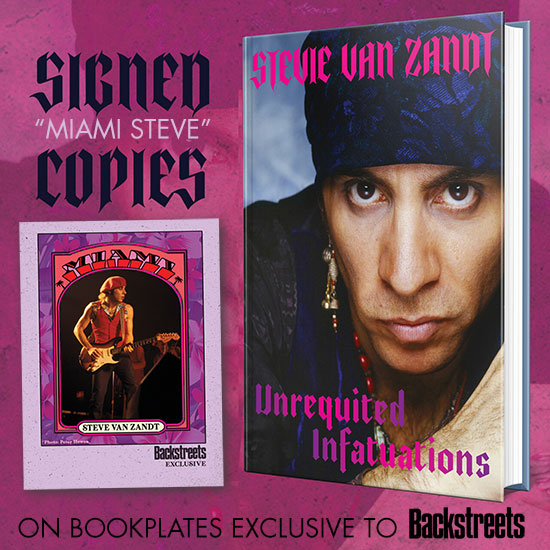 UNTIL THE GOOD IS GONE!
One last shot at Stevie's memoir, and at the return of Miami Steve
When Stevie Van Zandt signed bookplates for us as last fall — signing as "Miami Steve," just for us — he signed an extra stack to ensure we'd be able to take care of any and all damaged or lost orders. Now that all of those orders have been accounted for and issues resolved, we can offer these remaining Miami Steve-signed copies of his New York Times Best Seller Unrequited Infatuations. In stock and shipping directly from Backstreet Records — available now... and for the last time ever.
Van Zandt's hand-signed "Miami Steve" autograph is on a full-color, custom bookplate (based on the beloved 1972 series of Topps baseball cards) featuring Miami-era SVZ in all his flowered shirt splendor. The bookplate comes adhered to the half-title page of his memoir, the hardcover edition. While this final batch lasts!
Order the Backstreets exclusive
Unrequited Infatiations
- June 15, 2022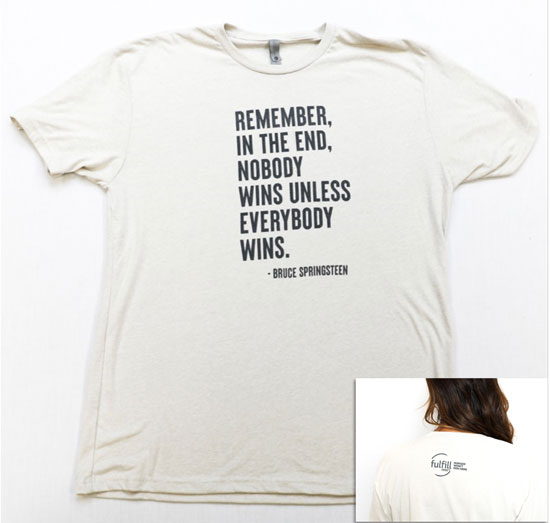 EVERYBODY WINS: NEW SPRINGSTEEN SHIRTS FROM FULFILL
"Remember, in the end, nobody wins unless everybody wins": now more than ever, it's one of our favorite Springsteen quotes (and philosophies). Just unveiled today, these new shirts are exclusively available from Fulfill (formerly the Foodbank of Monmouth and Ocean Counties), and net proceeds will directly fund their work to help the hungry.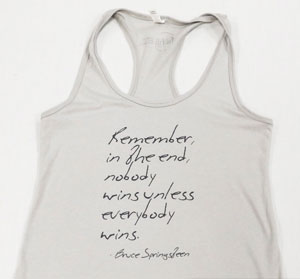 The unisex T-shirt features the quote in a typeface you may recognize from the Rising era; on the racerback tank top it's even more recognizable: Springsteen's handwriting. Check them both out and order now at fulfillnj.org/springsteen-shirts.
For every shirt sold, more than 50 meals will be made available to those in need.
"The phrase 'Remember, in the end, nobody wins unless everybody wins' reflects our determination at Fulfill to end hunger for all our neighbors in Monmouth and Ocean Counties," says Triada Stampas, President and CEO of Fulfill. "We need to come together so we can win the fight against hunger. It's a challenge we can overcome, if we do it all together."
- June 15, 2022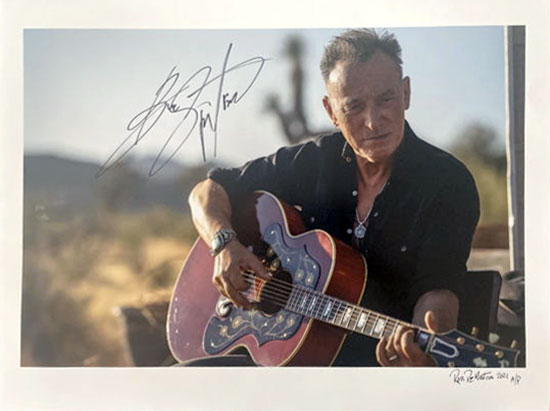 "SUNSET JAM" AUCTION ONLINE NOW THROUGH WEDNESDAY
Springsteen tickets, autographs, and more, benefitting KACF
On Wednesday night, an auction to benefit the Kristen Ann Carr Fund will be part of their Sunset Jam event in Asbury Park, NJ. As usual, they've got some very cool Springsteen-related items on the block, and the auction is being run online, so anyone can take part.
The most popular item up for bids — because what's more exciting right now than thoughts of the 2023 Tour? — is a package of Four tickets to see Bruce Springsteen and the E Street Band, at the European show of your choice. Bidding is hot already.
Other experiences: the chance to sit in with Jim Rotolo for his The Wild and The Innocent show on E Street Radio, concert tickets for Jackson Browne, Jason Isbell, and the Sea Hear Now festival.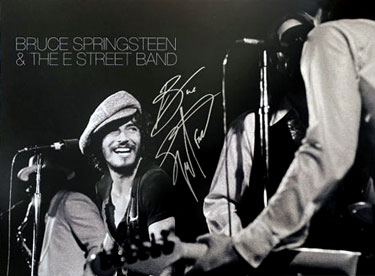 Plenty of physical items on the block, too: Springsteen has added his signature to prints and lithographs by Rob DeMartin [above], Peter Cunningham [right], Danny Clinch, Steve Szynal, and Jim Marchese.
See all the auction items here. Bidding is open now, to close on June 15 at 9:30pm ET.
The 2022 Sunset Jam takes place on June 15 at Danny Clinch's Transparent Gallery in Asbury Park. From 6:30-9:30 pm, the event features live music, an open bar, and light bites, in addition to the auction. Tickets are still available to the public, and all proceeds benefit the KACF.
- June 13, 2022

CELEBRATING 50 YEARS WITH COLUMBIA RECORDS
Last month, we marked the 50th anniversary of Bruce Springsteen's audition for John Hammond and Columbia Records, a giant leap for the trajectory of Bruce's career on May 2, 1972. Though Hammond was an immediate believer, and demos providing proof-of-concept to label president Clive Davis were recorded at Columbia the very next day, it was still more than a month before Springsteen would officially sign to the label. His record contract with Columbia was finalized on June 9, 1972 — 50 years ago today.
Columbia celebrates the milestone with a wonderful "explainer video" above that packs a whole lot of Boss history into three-and-a-half minutes. As you'll hear: "It's probably not hyperbole to say that what happened 50 years ago changed popular music.… happy 50th anniversary, Bruce Springsteen!"
- June 9, 2022

GIVE ME HELP, GIVE ME STRENGTH
The spirit of Springsteen in the latest play by Claudia Rankine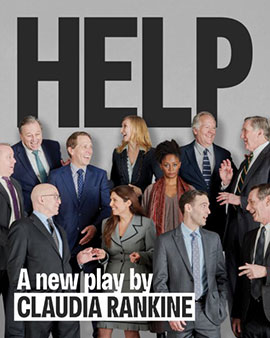 A few months ago at The Shed in New York City, I was watching Claudia Rankine's new play, Help, a hard-hitting show centering on whiteness and racism in America, when I heard some unexpected music.
Help is based on a series of interviews that Black poet, playwright, and professor Rankine and her colleagues conducted with white people. These conversations are bolstered by verbatim quotes about race from politicians, celebrities, and other public figures, from Abraham Lincoln to Eddie Murphy (as well as W. E. B. Du Bois, Donald Trump, Bill Gates, Ted Cruz, James Baldwin, and Audre Lorde). As Rankine herself says, "Help is a play that engages questions and attitudes around the state of our democracy, given its commitment to anti-Black racism." The production pulls no punches when it comes to such provocative, triggering terms as "fragility" and "privilege."
Bruce Springsteen is not necessarily the expected soundtrack of a show like this; so, I was rather surprised at one point to hear an instrumental version of "My Hometown" playing in the background. Bruce's song could be heard as a white character discussed with the Black narrator (April Matthis) — pointedly the only person of color in the cast — how he thought his childhood town wasn't racist until he remembered the fighting that went on between the Black and white kids.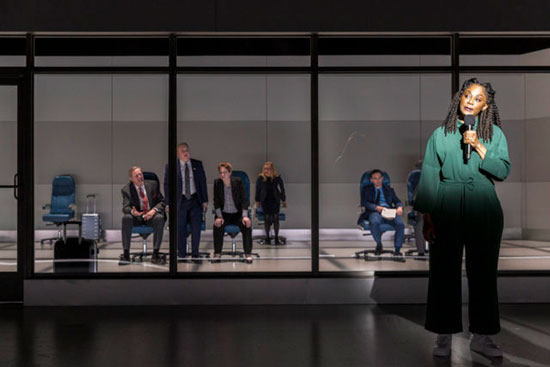 April Matthis in Claudia Rankine's Help - photograph by Kate Glicksberg for The Shed
Later in the play, after the narrator says that the Commodores are her favorite group, a white man responds, "I love Springsteen." In an aside, the narrator says to the audience, "When he asked if I knew Springsteen's 'Hungry Heart,' I could only think of 'American Skin (41 Shots)': 'No secret, my friend, you can get killed just for living in your American skin.' Why was that song in my head? Is this a problem? Had I made the problem or was I given the problem?"
Help is concerned with systemic problems in society that have garnered broader attention in recent years. That Bruce's music was used as a kind of measurement of issues of race and popular culture was quite remarkable in this context, as the only other (unidentified) music-related quote came from Toshi Reagon and BigLovely. I was also reminded of seeing the E Street Band perform "American Skin" at Shea Stadium on October 1, 2003, when many fans, including police officers, stood up and turned their backs to Bruce because the song condemned police brutality. Had they not been listening to what he's been saying since the 1970s?
Rankine, who has written such previous plays as The White Card and Provenance of Beauty and such bestselling books as Just Us: An American Conversation and Citizen: An American Lyric, has been listening. In her July 2017 New York Times article ("I Wanted to Know What White Men Thought About Their Privilege. So I Asked.") she described the real-life encounter that brought to mind "American Skin," as later depicted in her play; she added, "I knew those lyrics, but I didn't start singing them. I made a mental note to check out the Springsteen song [the white man] loved."
I had to wonder what the playwright thought when she first heard the reference to Baltimore at the beginning of "Hungry Heart." Rankine has been to the city numerous times to participate in literary festivals and to meet with college students to continue her ongoing discussion about racism in everyday American society. In 2015, on the day of the Baltimore funeral for Freddie Gray, Rankine delivered a lecture at Harvard that began with a poem she had written for the 25-year-old Gray, who was killed in police custody in the city. Bruce's inspiration for "American Skin," the unarmed Amadou Diallo, was 23 in 1999 when he died in that hail of police bullets at the hands of four New York City police officers in the Bronx.
There are not many direct connections between the 58-year-old, Jamaica-born Rankine and the 72-year-old Jersey native Springsteen, although, in Literary Hub's 2016 list of "The Biggest Literary Stories of the Year," Bruce's Born to Run memoir came in at #36, just behind the announcement of Rankine's plans to start the Racial Imaginary Institute, which came in at #35.
Help had a four-week run this spring, closing at The Shed on April 10, with no performances currently scheduled elsewhere, but keep an eye out for it; it would be a shame if it doesn't move on to other theaters. It's an uncomfortable, unforgiving, but necessary work written specifically for white audiences, set in an airport terminal where people take off and arrive but don't necessarily reshape their views as they travel around the country and the world. Meanwhile, Springsteen has just announced an international tour with the E Street Band; the U.S. dates have not been made public yet, but it will be fascinating to see whether he incorporates "American Skin" or a different protest song into the setlist, especially if he performs in such cities as Baltimore, Minneapolis — where Floyd was murdered by a white police officer on May 25, 2020 — or Buffalo, where an 18-year-old white supremacist killed ten people at a supermarket on May 14, 2022.
In her program essay "Can We Just Get Down to the Conversation About Whiteness?," educator, activist, and public theologian Ruby Nells Sales explains: "We must ask, is it a privilege to inherit a death-driven system that predicates itself on the decimation of the potential and possibility of white men to reach the fullness of their humanities? Contrary to calling out the worst in them as the system does, we must see the good in them that they do not see in themselves. Our work must enable them to find new meaning in their lives and provide relief from their brokenness and fragmentation."
Help is not an attack on whiteness; it is a declaration that the status quo must change, something Springsteen has been well aware of throughout his career. As he told President Barack Obama about Clarence Clemons in the second episode of their Renegades podcast, "American Skin: Race in the United States":
There was an idealism in our partnership; I always felt our audience looked at us and saw the America that they wanted to see and wanted to believe in. And this became the biggest story I ever told. I've never written a song that told a bigger story than Clarence and I standing next to each other on any of the 1,001 nights that we played. He lent his power to my story, to the story that we told together, which was about the distance between the American Dream and the American reality.… I think one of the reasons why people were moved by my partnership with Clarence was the idea, "Oh, this is the world as it could possibly be." But we also told a lot of stories about the world as it was.
As he has been telling those stories, somewhere along the way, he seems to have found a fan in Claudia Rankine. I hope, in return, he has read some of her writings — as we all should.
- June 8, 2022 - Mark Rifkin reporting - Rifkin is an arts and culture writer who has run This Week in New York since 2001. You can read his full review of Help here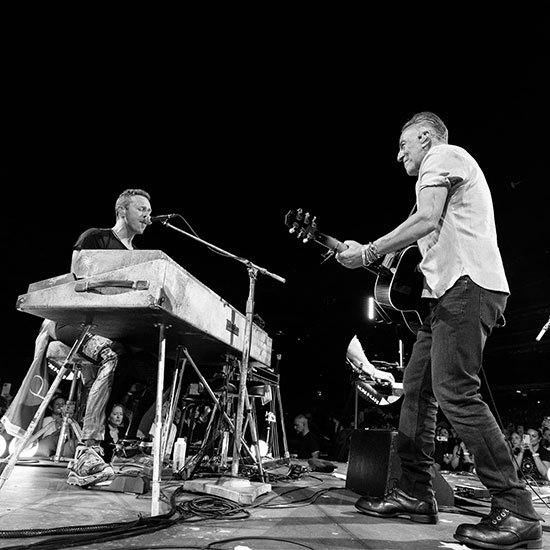 via Twitter/@coldplay
SPRINGSTEEN x COLDPLAY: TATTOOS ARE THE NEW REQUEST SIGNS
A small taste of things to come, as Bruce greets NJ at MetLife Stadium
My boyfriend, Mackenzie, and I went to see Coldplay at MetLife Stadium on June 5. Despite it being a Sunday night and the band's second performance at the venue, the energy in the stadium was was high.
From the moment I found my seats in the nosebleeds, there were rumblings of Bruce Springsteen showing up. I scoffed at this, remembering the Taylor Swift concert at the same venue seven years ago where my dad, Phil (a lifelong Bruce fan and Jersey boy), promised me Bruce would show up for a surprise performance. Bruce didn't take the stage that night, leaving my chagrined dad to listen to Taylor Swift and Nick Jonas with no respite.
As my boyfriend and I worked our way to the floor to be closer to the action, the crowd started shouting "Broooce," the telltale sign that The Boss was in the house. I looked around in disbelief, but we moved closer to the C-stage anyway — a smaller stage located in the middle of the floor, separate from their A and B stages — on the off-chance that Bruce had actually showed up.
A few moments later, the chanting reached a fever pitch as Chris Martin actually introduced the night's guest with a grin: "I have a tattoo on my arm, because this person is my hero.… I can't believe we get to say it, but please welcome Mr. Bruce Springsteen!"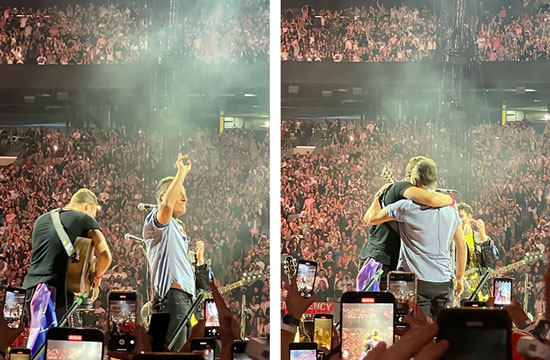 To go and hug the "Yellow" man: Martin and Springsteen, 6/5/22 - photographs by Helen Wajda
As Bruce greeted the crowd ("Hello, New Jersey!"), I screamed, "My dad's going to be so mad he isn't here!" A father standing near me with his kids laughed. "I would be, too," he said.
Bruce remarked on Martin's ink as he introduced their first song together: "Chris has had this song tattooed on his arm for a while, so I guess I gotta sing it!" On acoustic guitar, he launched right into "Working on a Dream," and the rest of the band joined in; in addition to singing on the chorus, Martin took a verse of his own.
After the song, the rest of the band stepped down from the C-stage, leaving just the Coldplayer singer on keyboards and Bruce on guitar for a beautiful, slowed down version of "Dancing in the Dark." After singing the first nearly a cappella, drawing it out and enticing the crowd to join in, Springsteen encouraged Martin as the pair traded verses, yelling "Go ahead, kid! C'mon, Chris!"
Growing up listening to my dad's music constantly, I had an appreciation for Bruce but didn't quite grasp his immense talent. Seeing Bruce perform live for the first time only confirmed that what my dad had been telling me for years was true: Bruce is truly an icon with the ability to engage and unite any crowd. As he left, people around me kept repeating, "Broooce!" and "I can't believe that just happened!" I turned my attention back to the stage, but in my mind I was ten years old again and sitting in the backseat of my dad's car, blaring "Dancing in the Dark" as we drove to the Jersey shore.
- June 7, 2022 - Helen Wajda reporting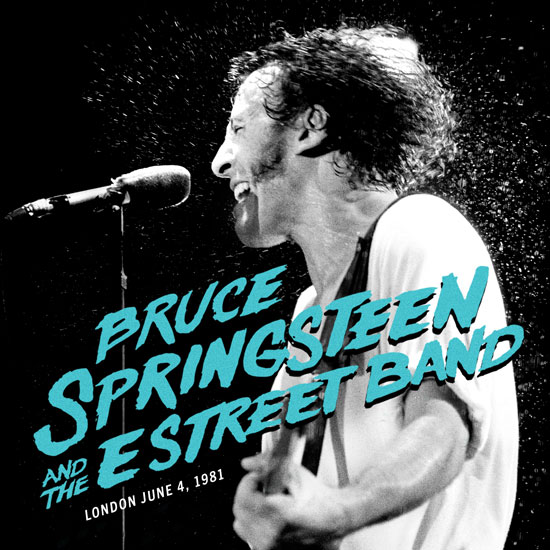 LONDON, 6/4/81: OTHER VOICES, OTHER ROOMS
At Wembley Arena, covers help Springsteen navigate an American Dream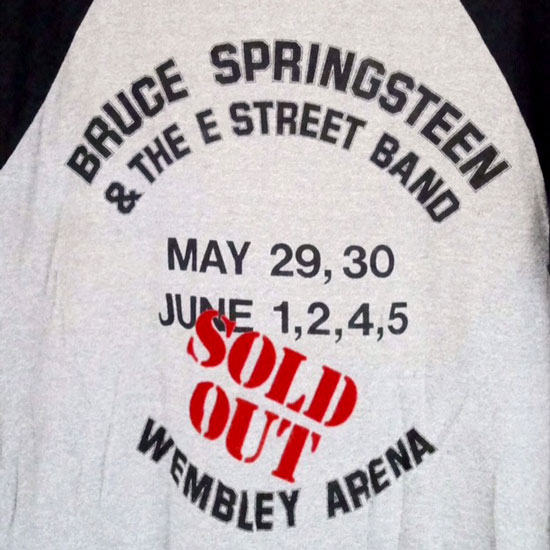 The River tour, which began in 1980 and went on for nearly a year, took Bruce Springsteen to new places, from sports arenas in North America to his first conventional tour of Europe and Great Britain.
By the spring of 1981, he and the E Street Band played a markedly different show than eight months prior, its length shorter, its contents refined. Even the tempos at which they played individual songs shifted.
London was a place of change unto itself. Springsteen had made his U.K. debut there in 1975, playing twice at Hammersmith Odeon, inexperienced and facing allegations of being a mere product of record company-sponsored hype. (Let the music have the final word on both counts.)
Here, less than six years later, he had eluded those ghosts. Nearing the end of a six-night run at Wembley Arena, with The River buoyed by a small armada of singles and a 12" EP pressed especially for this U.K. tour [above], Springsteen was instead measuring the cost of success. He sounds assured in each element of this 27-song concert, exemplary of the high-intensity, relatively compact performances he had crafted that year, which helped mint loyal audiences from Barcelona to Stockholm.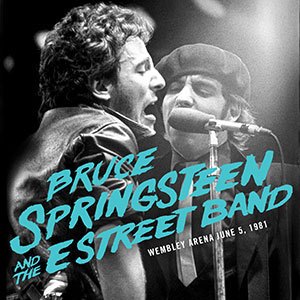 With a tilt toward the rockers, London June 4, 1981 presents ten River tracks, from "The Ties That Bind" to "Ramrod," and "Jackson Cage," too, played in response to a perfectly-timed request shouted from the audience. In the back half of the set, Springsteen hums along to "Racing in the Street," filling a space as if charmed (like anyone else hearing it), then pairs it with a typically impassioned version of "Backstreets."
Overall, five different song selections complement the following night's performance, itself a previous Live Archive release [right] in 2018.
Springsteen's muse had wandered well beyond the confines of his expansive double album — itself a response to precisely the same creative restlessness that caused him to mothball its single-disc predecessor. For his first formal tour outside North America, Springsteen became an ambassador of sorts, bringing plenty of his own music and a bevy of covers, too, from traditional folk and Cajun numbers to Stax, Elvis Presley, and John Fogerty.
The show in Europe was celebratory, but Springsteen picked up on the openness of his new audiences and experimented broadly as the tour continued, going so far as to add a new verse to Creedence Clearwater Revival's "Run Through the Jungle" (though even he may have been surprised by its punch — he performed it only three times on the tour, in The Netherlands and Sweden). Whether tried out or brought in for the long haul, never had his choices in covers sounded more deliberate.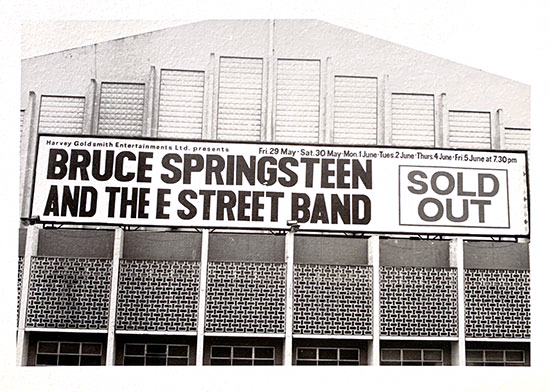 Wembley Arena in 1981, photographed by Gary Desmond
Landing in the U.K, with Pete Townshend watching admiringly — and no doubt eager to pass the torch — Springsteen laid out his own State of the Union, articulating a vision and honoring his forebears as he continued crafting covers like a caretaker.
He already had "This Land is Your Land" and "Who'll Stop the Rain," which served major thematic briefs. The former ditched its initial 'round-the-campfire pleasantries; in London, it stood as a stark reminder of inclusiveness. "Who'll Stop the Rain" tracked Springsteen's engagement with the legacy of the Vietnam war, and it picked up steam each time the E Street Band thundered away. (It sits out this night, but resumes its duties the next.)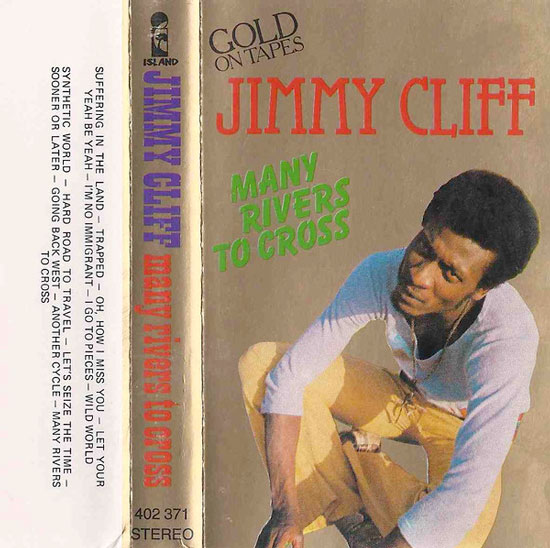 Those cover songs evolved organically. But "Trapped," heard here shortly after its May 29 debut at Wembley, came in as if it had been stage-ready and waiting all along: in topic and arrangement, the reinvention of the Jimmy Cliff original is perhaps the single number that sounds like a Bruce Springsteen song he never wrote. (As biographer Dave Marsh recounts in Glory Days, Springsteen discovered "Trapped" on a Jimmy Cliff cassette he bought in the Amsterdam airport.)
Moreover, like "War" at the end of the Born in the U.S.A. tour, "Trapped" encapsulated in five minutes much of what Springsteen was trying to say. Framed by a brooding keyboard that countered a ticking-of-the-clock guitar part, and set off, finally, by the biggest saxophone solo of the 1980s, it was transcendent in the first person and made the most of E Street muscle. (Springsteen later contributed a 1984 recording of "Trapped" to We Are the World, which FM radio picked up; it spent three weeks at #1 on the Mainstream Rock Airplay Chart in the spring of '85.)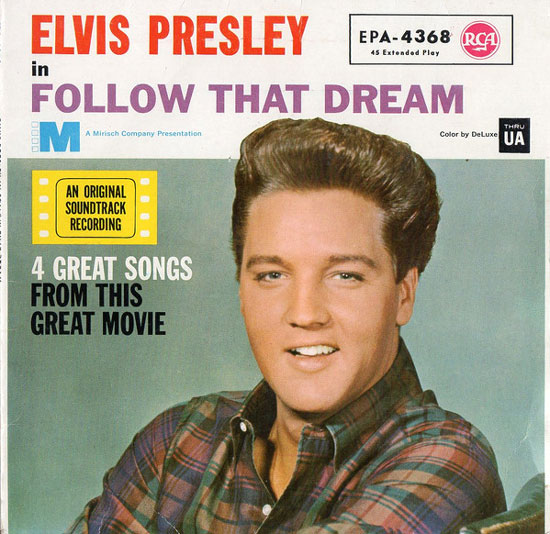 "Follow That Dream" was another imaginative adaptation, this time via Elvis Presley. Its ethereal, monochrome arrangement featured a motif that recalled The Beatles' "Mr. Moonlight," which carries the tension and effectively recasts the lyrical optimism as a cautionary tale — not the excited sprint up the driveway at Graceland, but the chastened, dead-of-night walk back down.
In "Johnny Bye-Bye," the sole original composition (despite a knowing nod to Chuck Berry) unveiled during The River tour, Springsteen reconciled with Elvis much as he had with his father Douglas in "Independence Day." Though the lament is unsparing in its assessment of the end — they found him slumped up against the drain, with a whole lot of nothing running through his veins — Springsteen's fondness for Presley is undiminished; a casual look at the Albert Wertheimer photos he cites demonstrates as much.
Later in the tour, Springsteen would connect the dots about forces that shaped his father's life. Here, he merely wonders how a young Elvis who "seemed so sure of himself" could have gone astray. "After he died," Bruce said, "it was hard to understand how somebody who'd been so rich inside could have ended up so poor."
"He deserved a lot better than he got," Springsteen concluded.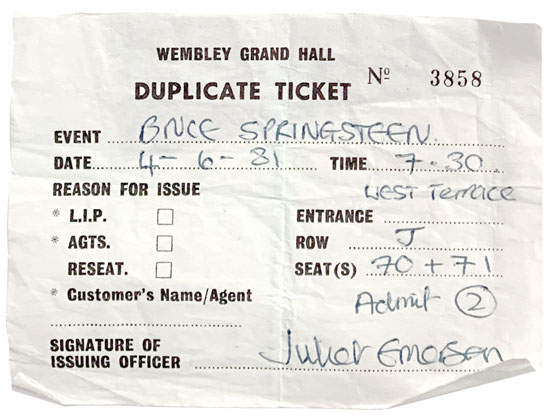 When Springsteen took the stage at Hammersmith Odeon, relatively few had seen "rock and roll future." Before he played a note that night in November '75, he ripped down the offending posters that proclaimed London was ready; afterward, he left the film footage to the elements, its canisters soon to rust.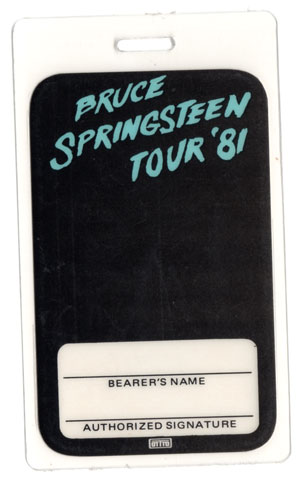 By 1981, however, Springsteen stood in a different place, appearing, as Greil Marcus wrote in New West that February, "at once as the anointed successor to Elvis Presley and as an impostor who expects to be asked for his stage pass; his show is, among other things, an argument about the nature of rock 'n' roll after twenty-five years."
"The argument," Marcus goes on, "is that rock 'n' roll is a means to fun that can acknowledge the most bitter defeats, that it has a coherent tradition which, when performed, will reveal possibilities of rock 'n' roll the tradition did not previously contain."
A tradition that made its way to Tupelo, then on to Freehold, and finally, to Wembley. The stuff, in other words, of dreams.
Also Read: Erik Flannigan's latest nugs.net blog entry, "It Takes One to Dream, But It Takes Two to Make a Dream Come True"
- June 3, 2022 - Jonathan Pont reporting - cover photograph by Jim Marchese - thanks to Dan French and Gary Desmond for additional images

IN THE SHADOW OF THE EVENING TREES
Springsteen's conversation about mental health turns another page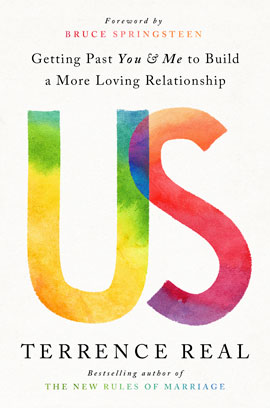 Bruce Springsteen has talked openly about mental health and psychotherapy for decades — long before he made headlines for discussing his struggles with depression in the Born to Run memoir. He had been candid about the darkness and isolation he experienced following the 1980-'81 River Tour (part of the recipe for Nebraska), and in 1990, at the pair of Christic Institute concerts, Bruce talked openly (before "My Father's House" on the first night, and before "The Wish" on the second) about seeing a psychiatrist. Both disclosures got laughs — and of course there's plenty of humor in the telling — but both nights emphasized that those stories were true.
It was a bold admission at the time; well before Metallica's Some Kind of Monster (2004), therapy just wasn't a subject many rock musicians tended to chat about, certainly not on stage — "it's against all that macho posturing you have to do," as Bruce said about the lack of "mother songs" in rock 'n' roll. But to many Springsteen fans, it was compelling and clear that "doing the work" was helping him better understand himself and his art.
For a wider audience, James Henke's 1992 Rolling Stone Interview was particularly notable for Springsteen's discussion of therapy, and what Bruce called "a real intense period of self-examination" circa '88-'89:
The best thing I did was I got into therapy. That was really valuable. I crashed into myself and saw a lot of myself as I really was. And I questioned all my motivations. Why am I writing what I'm writing? Why am I saying what I'm saying? Do I mean it? Am I bullshitting? Am I just trying to be the most popular guy in town? Do I need to be liked that much? I questioned everything I'd ever done, and it was good. You should do that. And then you realize there is no single motivation to anything. You're doing it for all of those reasons.
Bruce also noted Patti Scialfa's helpful role in the process: "She had a very sure eye for all of my bullshit. She recognized it. She was able to call me on it.… when I got back to New York after the Amnesty tour in '88, I was kind of wandering and lost, and it was Patti's patience and her understanding that got me through."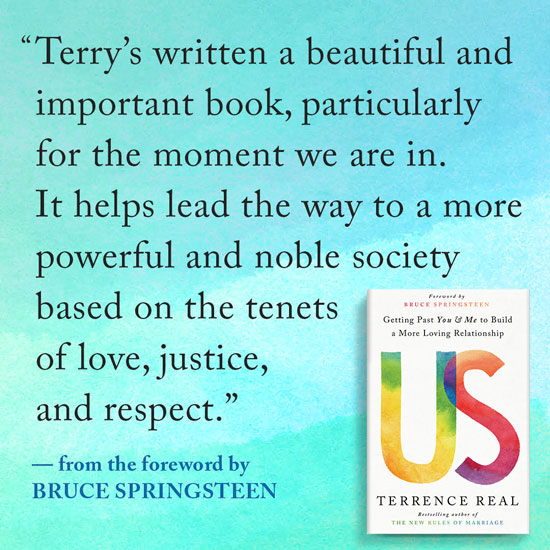 So given that history, it's less surprising that Springsteen has now written the foreword for a Goop self-help book. That's a reductive description, of course; based on Bruce's high praise, however, Terrence Real's Us: Getting Past You & Me to Build a More Loving Relationship is one to take seriously.
Springsteen calls it "a beautiful and important book, particularly for the moment we are in. It helps lead the way to a more powerful and noble society based on the tenets of love, justice, and respect.… Over the years I've found some very good guides through that dark forest and down to that river of life. For my wife, Patti, and me, Terrence Real has been one of those guides, and this book is a map through those trees."
If the dark forest and river of life sound familiar, you'll surely recognize additional metaphors, ideas, and kernels from his songs in Bruce's writing here. The more personal element of his Foreword looks back at his own struggles, viewed now from the perspective of a man with "forty years of trying to find my way through the shadowed trees, down to the river of a sustaining life":
With help I realized, in early middle age, that I was subject to a legacy that had been passed down from generations in my Italian-Irish family. A long and stubborn stream of mental illness and dysfunction manifested itself in my life as a deep, recurring depression and an emotional paralysis. I had a fear of exposing my inner life to anyone besides twenty thousand complete strangers at your nearest arena.…

So how do you transform that legacy? How do you break the chain of trauma and illness whose price is compounded with each successive generation?

As Terry says, "Family pathology is like a fire in the woods taking down all in front of it until someone turns to face the flames." Slowly I began to face those flames, mainly because I couldn't stand the idea of failing my own children, my family, in the manner that I felt I'd been failed. And at the end of the day, the way we honor our parents and their efforts is by carrying on their blessings and doing our best to not pass forward their troubles, their faults, to our own children. Our children's sins should be their own. It's only through the hard work of transformation do those of ours who have come before cease to be the ghosts that haunt us and transform into the ancestors we need and love to walk beside us. Working even a small piece of this into my life took a long time, and I'm still a daily work in progress.
Springsteen's entire foreword appears online courtesy of oprahdaily.com. Terrence Real's Us will be published June 7 and can be pre-ordered now from Backstreet Records.
- June 2, 2022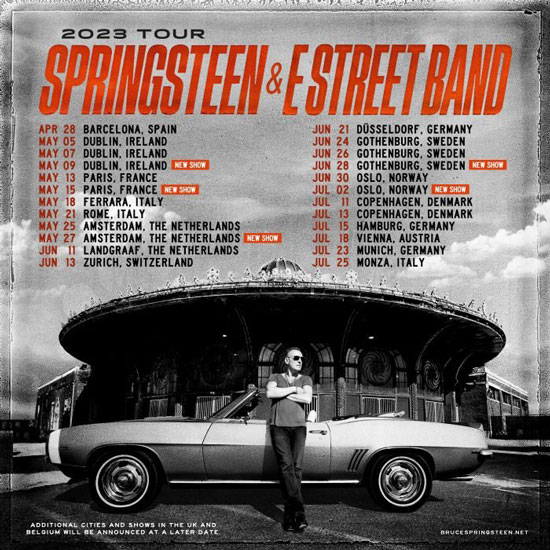 EURO TOUR UPDATE: 2nd NIGHTS ADDED IN PARIS & AMSTERDAM
Paris and Amsterdam are the latest cities with added dates as European onsales progress, joning Dublin, Oslo, and Gothenburg in getting additional shows "by popular demand." As reflected in the updated itinerary above, Springsteen and the E Street Band will now play May 13 and 15 in Paris, May 25 and 27 in Amsterdam. As always, it's a good idea stay alert as onsales continue for other cities — next on the docket are stops in Germany and Austria.
See the updated itinerary for the 2023 Tour
on our Tour/Ticket Info page
- June 2, 2022

THERE'S A NEW DAY COMING
Ticketmaster hits rocky ground in Europe; Copenhagen, Amsterdam, and Landgraaf onsales postponed to June 2
We've always said Backstreets is a community effort, and as ever, we count on fans around the world to help us stay on top of the latest developments, especially when they're far from home. So today, special thanks to Tommy Beck Kobberøe, who dropped us an email following Ticketmaster postponements this morning in Copenhagen:
The sale for the two concerts in Copenhagen, July 11 and 13, 2023, had to be cancelled today just after it opened, due to "unforeseen technical issues" as Ticketmaster.dk writes in an email. The sale will open again tomorrow (June 2) at 9:00am CEST. The sale for the two shows in the Netherlands, in Amsterdam and Landgraaf, was also cancelled and will open tomorrow at 11:00am.

What a terrible day for Ticketmaster — and for those fans that may not have the time off from work to try once again tomorrow. I can't remember ever having experienced this. The website may have been busy and unstable during previous big sales, but having to cancel it all and start over isn't everyday stuff.

So, in case someone should doubt it, the demand for tickets to a Bruce show appears to be at the same level — at least — as before Covid-19. Another example: the almost 200,000 tickets for the three shows in Gothenburg sold out in less than an hour on Monday. I got tickets for June 26 and 28, so already I'm really looking forward to next summer!
We've updated our Tour/Ticket Info page to reflect the new sale times for Amsterdam, Landgraaf, and Copenhagen, with high hopes the system is better prepared to handle things Thursday morning.
- June 1, 2022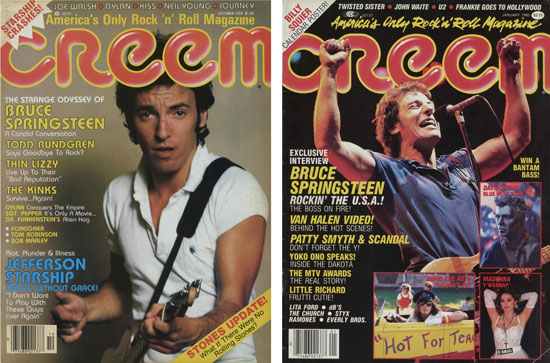 BOY HOWDY! ENTIRE CREEM ARCHIVE DIGITIZED ONLINE
If you grew up in the '70s and/or '80s and loved rock 'n' roll, you knew about CREEM Magazine. CREEM's Bob Wilson-designed logo and R. Crumb's "Boy Howdy!" icons were seemingly omnipresent in the rock fan's world. The legendary, Detroit-based rock mag was home to some of the most exciting music journalism of its era. One of the many hallmarks of the magazine was the way it consistently championed rock artists — including Bruce Springsteen — before the mainstream media caught on, and CREEM always managed to be cutting edge and extremely entertaining all at the same time.
CREEM began in the winter of 1969, founded by Detroit record store owner Barry Kramer. One of Kramer's employees, Tony Reay, was hired as the first editor and named the magazine after his favorite band, just changing the spelling to avoid confusion. Shortly thereafter, 19-year old future Springsteen biographer Dave Marsh was hired. Legendary rock writer Lester Bangs was recruited soon after that, having been fired from his gig at Rolling Stone for "disrespecting musicians." Bangs would find his attitude largely welcome at CREEM, which was never afraid to make fun of the music it was covering — or of itself.
CREEM's irreverent brand of rock journalism lasted in its initial run from 1969 to 1989. Now CREEM is making its 20 years of archives available online — and for free, with a 30-day trial. The archives are open to the general public on June 1, but the fine folks at CREEM have been kind enough to give Backstreets readers an early start on this classic material, available for perusing now using this Backstreets link. The entire digital archive is FREE with a 30-day trial.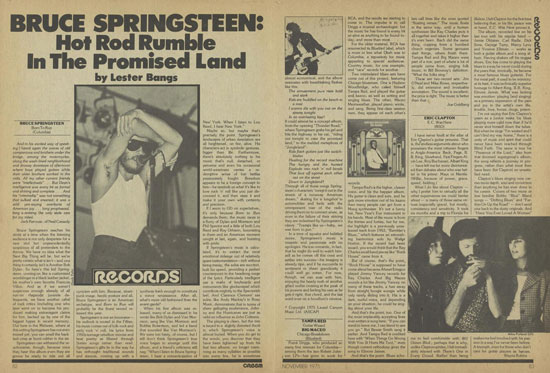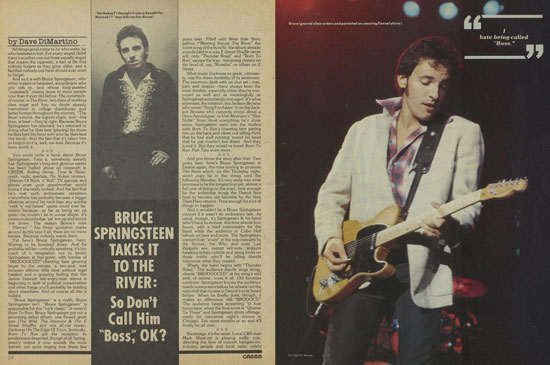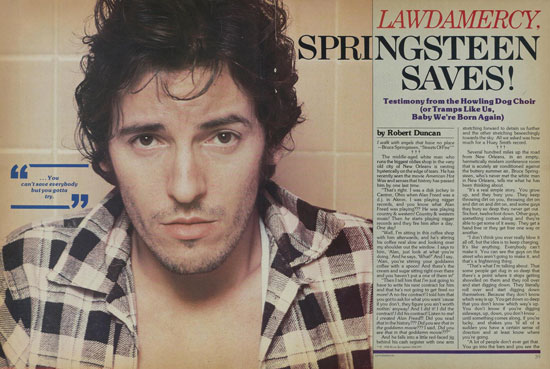 It's only fitting that Springsteen fans get first crack, because the magazine covered the Boss with some frequency in its 224-issue run. Among the highlights: Lester Bangs' review of Born to Run, titled "Hot Rod Rumble in the Promised Land"; Dave DiMartino's River-era profile; and Robert Duncan's October 1978 piece, "Lawdamercy, Springsteen Saves!" The list goes on and on. Tons of great photos are here, too, and even fold-out Bruce calendar pages!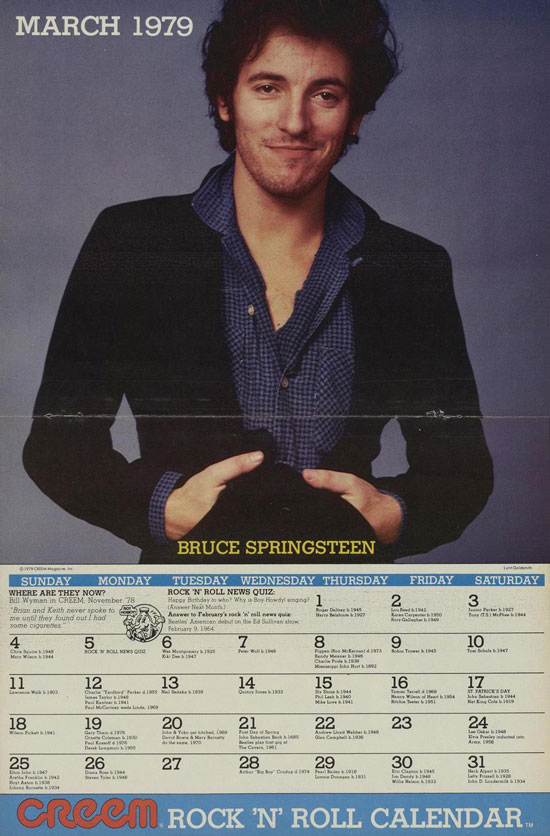 Those wanting to dig deeper into the CREEM story are urged to check out the 2019 documentary CREEM: America's Only Rock 'n' Roll Magazine. Make your way to archive.creem.com and let the hot rod rumble begin.
- May 31, 2022 - John Howie Jr. reporting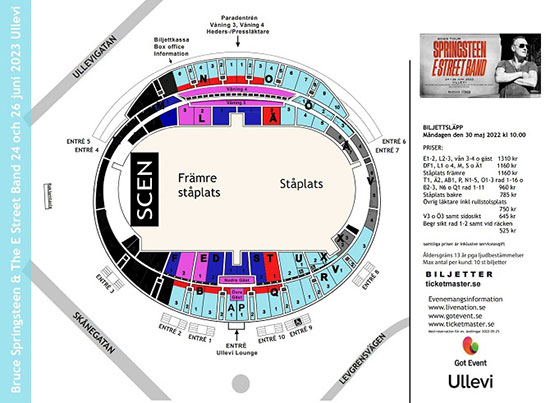 GOTHENBURG: LET'S PLAY THREE!
2023 schedule keeps filling in, as a third Ullevi show pops today
As European ticket sales continue for the 2023 Tour, a third date has been added to Springsteen's previously announced stop in Gothenburg, Sweden — in addition to June 24 and 26, Bruce and the band will return for Night 3 at the famous Ullevi stadium on June 28.
The extra show went on sale immediately as it announced, approximately 15 minutes into today's scheduled onsale — that's standard operating procedure for additional dates that weren't in the original press release. To date, extra shows have also been added for Dublin (May 9) and Oslo (July 2); it's a good idea stay alert as onsales continue for other cities.
See the updated itinerary for the 2023 Tour
on our Tour/Ticket Info page
- May 30, 2022



FROM THE JUKES LIVE ARCHIVE, AGORA '77 — PRE-ORDER NOW!
A week from today brings the official release of this classic Asbury Jukes show at the Agora Ballroom in Cleveland in 1977. If you're a fan of Southside Johnny... or Stevie Van Zandt, who wrote so much of the music, played lead guitar at this show, AND has written new liner notes for the live album... or Ronnie Spector, who graced the stage this very night... run don't walk!
And good gawd, listen to those horns — that's Eddie Manion, Bob Muckin, Richie "La Bamba" Rosenberg, Rick Gazda and Stan Harrison.
Live in Cleveland '77 comes out on June 3, and you can pre-order the CD from Backstreet Records.
See all Latest Additions in the Backstreet Records shop
- May 27, 2022

See the current itinerary for the 2023 Tour
on our Tour/Ticket Info page
- May 27, 2022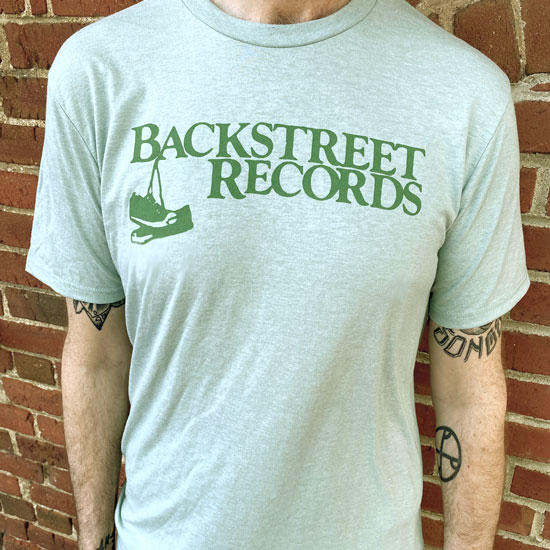 THE SAME DEEP GREEN OF SUMMER
New Backstreet Records T-shirts in stock now!
With Memorial Day just around the corner, we've just gotten in a brand new run of our Backstreet Records T-shirt with the classic logo from the '80s — this time it's green on green. (Green on "heathered dusty sage," to be exact.)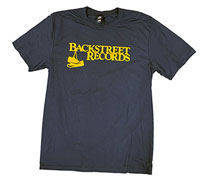 Quantities are limited — if you like the look, grab yours now, in sizes from Medium to 3X, and show off your support of our Springsteen-focused indie record shop.
We still have a few sizes left of the prior colorway, gold on dark navy… but just a few. And as usual, when the new one runs low, we'll whip up another fresh batch in new colors.
See all Latest Additions in the Backstreet Records shop
- May 26, 2022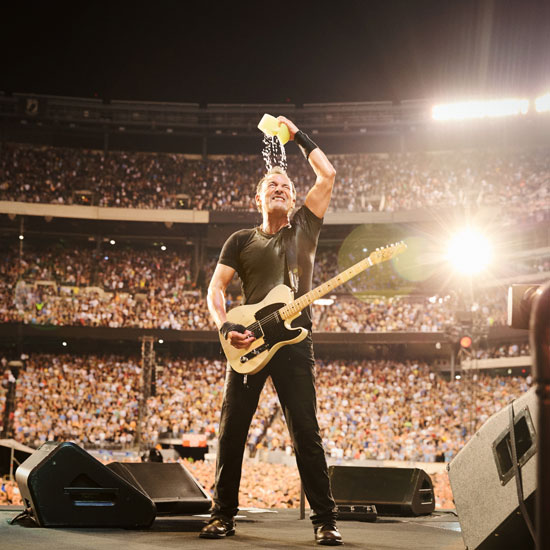 photograph by Danny Clinch
"PEOPLE CAN EXPECT A FULL-TILT ROCK 'N' ROLL SHOW"
Springsteen looks ahead, talking Tour 2023 on E Street Radio this morning
With the E Street Band's Tour 2023 announced just as May 24 dawned — and as official channels teased yesterday — Bruce Springsteen, too, was up early and excited about the news. "Very great news, as far as I'm concerned," he said on a call in to SiriusXM this morning.
"I'm just aching to play," Springsteen told E Street Radio host Jim Rotolo. "Actually, not just to play, but to travel, and see our fans and all the different cities and feel that life again, and see their faces again."
In the five-minute conversation, Bruce went on to share some tantalizing, initial thoughts about what to expect next year: "a full-tilt rock 'n' roll show," featuring a "significant amount of recent material." Further highlights below.
On the new tour schedule, and plans to extend it:
"We've got an old-school tour planned, where we'll be out there for quite a while to give everybody a chance to see us if they'd like to.

"We're going to rehearse in January, start in the States in arenas at the beginning of February, run that through April. Then head over to Europe through the beginning of August, and come back to the States play a few stadium shows outside.

"We're eventually going to get to Australia and New Zealand, and back around again.

"So it's an old-school E Street Band lengthy tour that we're going to be involved in, and everybody's very excited about it."
On plans for the show itself:
"I already wrote out a setlist — just to have something to do, and an idea, like, 'Well, we could start from here, and see where it's going to go…'

"You don't know until you get out there and test it in front of the audience. And then because of the way we are, after a short period of time we start switching it up anyway, just to keep it interesting for us, and because we've got such a big body of work this time.

"So it will have a significant amount of some recent material, and then of course we'll play a lot of the music that fans have become familiar with and love to hear. It should be a balance… the show should feel contemporary, and it should also make you feel at home at the same time."
Re new material — on Letter to You, a tour for which was a casualty of Covid:
"There will be plenty of that when we get out on the road."
Re new material — on the pre-Covid Western Stars:
"No… I'd like to keep it a rock show. Once you're out in an arena or stadium, people have come to see a rock 'n' roll show… But you never know, something may squeak in there from that record. It's not impossible. That one, I'm gonna have to wait and see.
On not touring with the E Street Band since 2017:
"It's kind of mind-boggling, to be honest with you. I mean, it doesn't feel that long. We stayed busy over that time, but still… I've got the jones to play live very badly at this point, so I'm deeply looking forward to getting out there in front of our fans.
- May 24, 2022 - with thanks to SiriusXM/E Street Radio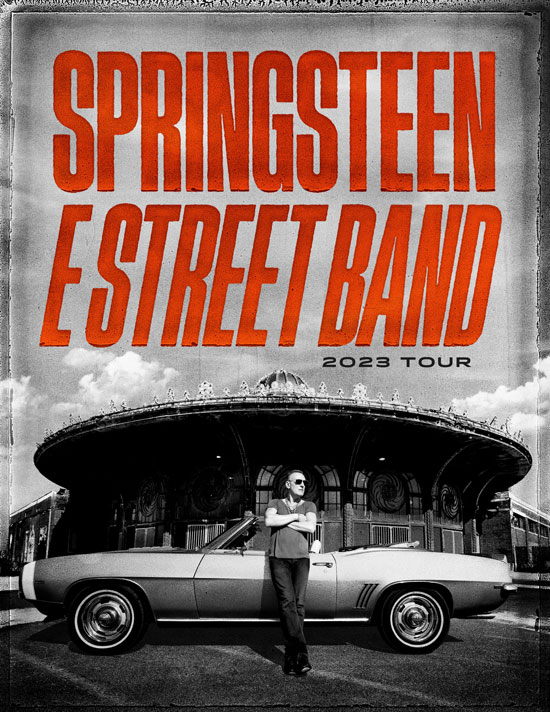 2023 IS LOOKING LEGENDARY
U.S./Europe tour plans announced for Springsteen and the E! Street! Band!
You'd be forgiven for thinking it might never happen... but faith will be rewarded: for the first time since their 2016-'17 tour in celebration of The River, Bruce Springsteen and the E Street Band will be back together in 2023, officially set to hit the road less than nine months from now for an international tour.
The 2023 Tour is scheduled to begin on these shores in early February, when Bruce and the E Street Band will play a series of U.S. arena dates (specific cities and dates have not yet been announced).
Those initial U.S. concerts will be followed by three months in Europe, where Bruce and the band will move on up to stadiums. The European leg is scheduled to kick off in Barcelona on April 28 and continue well into summer, with planned European stops in Dublin, Paris, Ferrara, Rome, Amsterdam, Landgraaf, Zurich, Düsseldorf, Gothenburg, Oslo, Copenhagen, Hamburg, Vienna, Munich and Monza. Additional cities and shows in the U.K. and Belgium will be announced at a later date.
A second North American tour leg will start in August.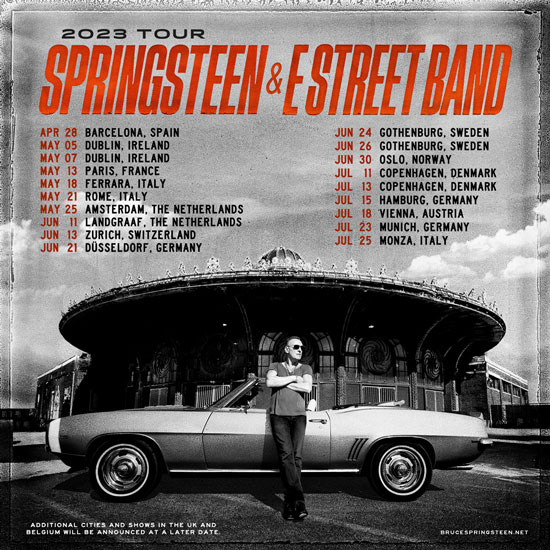 It's been more than five years since Bruce's last performance with the E Street Band (2/25/17, Auckland NZ) — the longest gap since the band reunited in 1999. By the time the 2023 tour begins, nearly six years will have gone by.
"After six years, I'm looking forward to seeing our great and loyal fans next year," says Springsteen. "And I'm looking forward to once again sharing the stage with the legendary E Street Band. See you out there, next year — and beyond."
Through the long Covid-19 pandemic, we witnessed the E Street Band during the 2019 Letter to You sessions, clearly ready to hit the road... we heard Bruce, while hosting From My Home to Yours, dream of a future where we'd all be together again at "the biggest party you've ever seen." The dream was defferred, more than once, but today's announcement finally gives us some rock and roll future to plan for.
Just keep clear of monkeypox. Stay safe. And of course, watch this space for additional details on cities, dates, and on-sales as soon as we know them.
See our Tour/Ticket Info page for Tour 2023
itinerary, links, and details as they come in
- May 24, 2022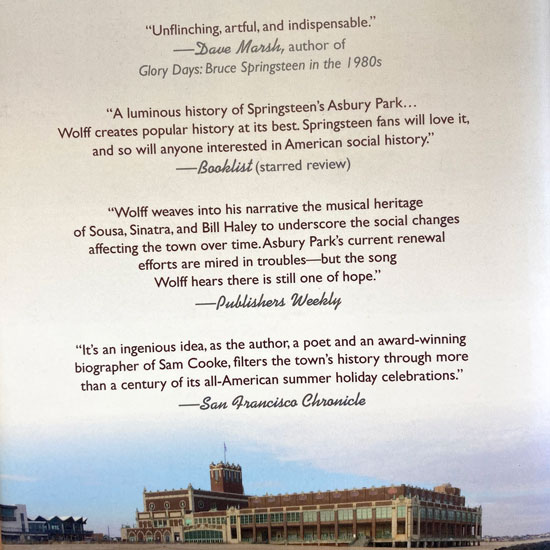 MEETING ACROSS THE RIVER
Asbury Park author & historian Daniel Wolff in Brooklyn on Sunday
Daniel Wolff literally wrote the book on Asbury Park. Originally published in 2005, Fourth of July, Asbury Park: A History of the Promised Land tells the fascinating story of the seaside town from which Bruce Springsteen sent out Greetings in 1973.
A new, hardcover Revised and Expanded edition is out now from Rutgers University Press, with an extra chapter ("Fourth of July, 2020") examining how Asbury Park has changed in the 21st century, experiencing both gentrification and new forms of segregation.
This Sunday afternoon, May 22, Daniel Wolff will be at The BookMark Shoppe in Brooklyn (8415 3rd Ave.) from 4 to 5pm. He'll be signing and speaking about Asbury Park — "which is to say," he adds, speaking "about gentrification and urban renewal, Bruce Springsteen and racism, condominiums and oom-pah bands." This is Wolfe's only planned NYC appearance in conjunction with the new edition of his book. Admission is free.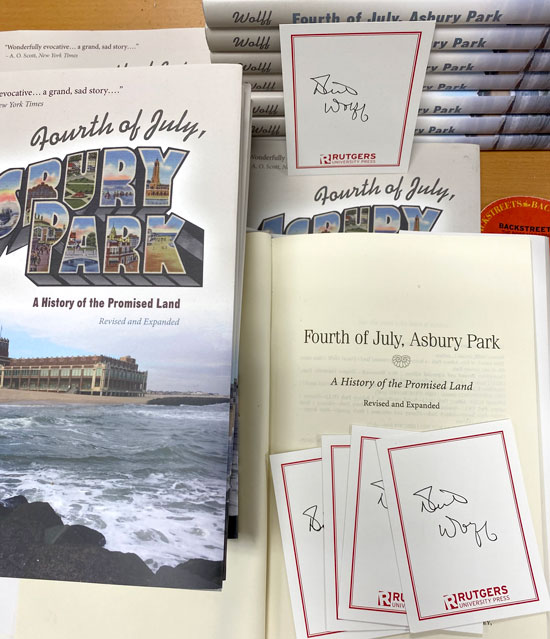 If you won't be in Brooklyn on Sunday, Daniel has kindly signed bookplates for us, so you can still get his signature with your copy of the new edition when you order from Backstreet Records — in stock now!
- May 20, 2022


FOR UKE: JIM BOGGIA'S BRUCE OFF BROADWAY REVIVAL
For one night this week, Bruce Off Broadway is back on the boards. If you have any doubts that a one-man show on ukelele could do justice to the music, watch Jim Boggia's new "Growin' Up" clip above. And if you dig that, check out "Born to Run," too — shot on location.
This Thursday night, May 19, Jim will perform his Bruce Off Broadway show at Philadelphia's City Winery Philadelphia; in a few weeks, he'll bring it to City Winery NYC on June 2, with opener (and Asbury Jukes musical director) Jeff Kazee.
- May 16, 2022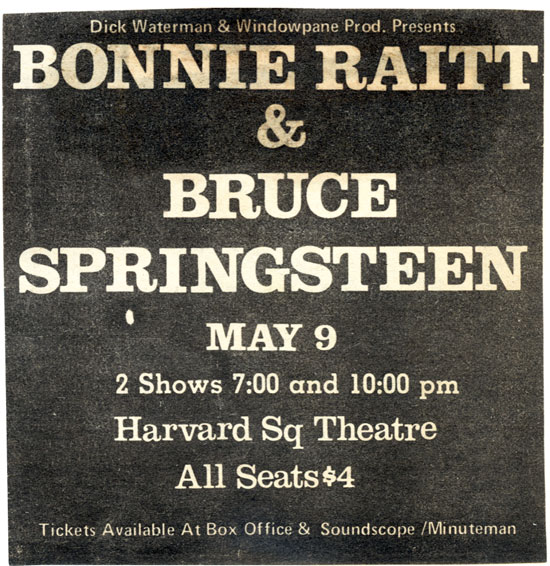 NEW ROCK AND ROLL FUTURE OFFER FOR TODAY'S ANNIVERSARY
This night in 1974 brought a pivotal event in Bruce Springsteen's career: playing the Harvard Square Theatre on 5/9/74 might have felt like just another show to Bruce and the E Street Band at the time, but in retrospect it changed… everything. It's the night when rock critic Jon Landau was in the crowd, about which he famously went on to write, "I saw rock and roll future and its name is Bruce Springsteen."
It's such a key moment in Springsteen's rise that we published a book about it — about that one night in Cambridge, MA, now 48 years ago.
Bruce Springsteen: Rock and Roll Future is a visual record of the performance, with exclusive images from Boston photographer Barry Schneier (the only photographer in the house that night), as well as a meditation on the power of rock 'n' roll, the drive of the pre-fame E Street Band, the magnitude of the Landau/Springsteen connection, and the providental convergence of individuals — rock fans who loved the music, and couldn't wait to share what they loved with whoever would listen — helping propel an artist to the worldwide audience he deserved.
For the story of the night as it's been told nowhere else, we hope you'll check out Rock and Roll Future if you haven't already.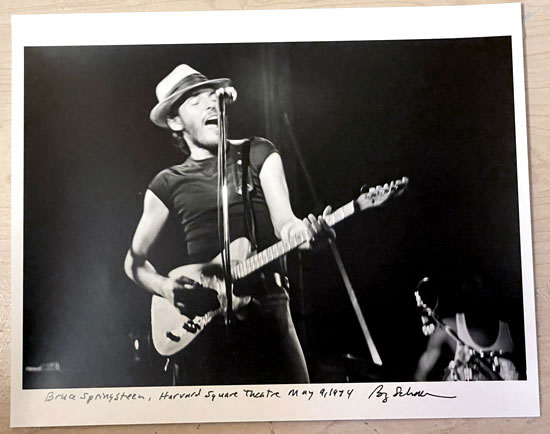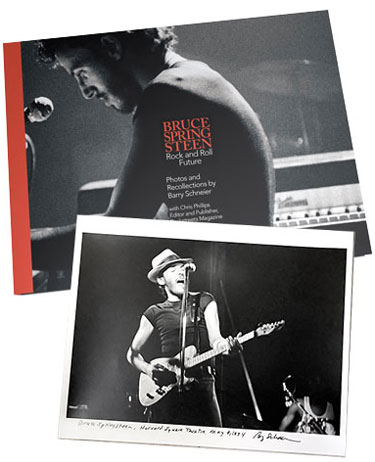 And to celebrate this 48th anniversary, we're pleased to have a new offering from Barry Schneier — an 8x10 of his 5/9/74 image titled "Rosalita" (which also appears in the book) in a limited edition print just for Backstreets readers.
This exclusive, signed, silver gelatin RC print, in an edition of 200, is now available bundled together with the book for just $95.
Barry has offered these at a special price just for us, and it's one hell of a value, we can say "without reservations of any kind." Not only do you get a substantial hardcover for your coffee table, but also a fine art rock photography print for your wall — capturing a landmark moment in Springsteen history, signed by the photographer and crying out to be matted, framed, and displayed.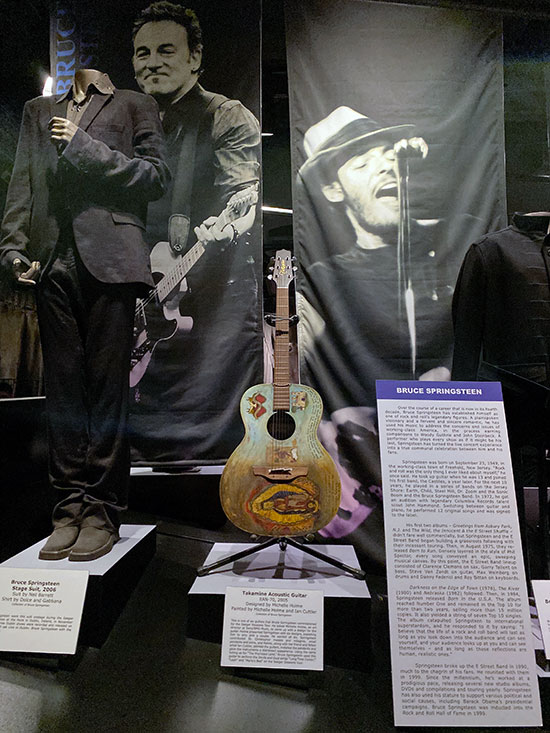 Selecting his "Rosalita" shot for this new limited edition print offer, Barry was inspired by its display at the Rock and Roll Hall of Fame (above) AND in the Bruce Springsteen Live! exhibit now at Tulsa, OK.
Sample spreads from the 152-page Bruce Springsteen: Rock and Roll Future:










Purchase just the Rock and Roll Future book ($50)
Purchase the bundle: the book + ltd. ed. 8x10 print ($95)
- May 9, 2022 - all photographs by Barry Schneier, 5/9/74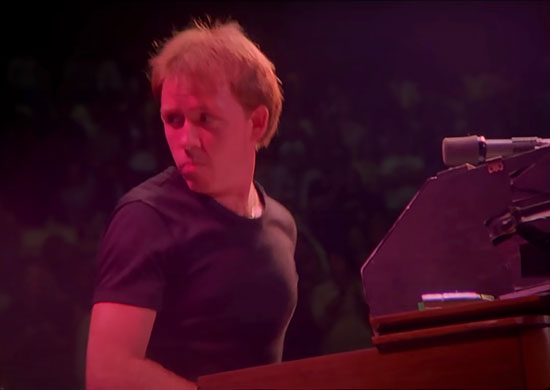 Danny Federici in action in '79, a still from The Legendary 1979 No Nukes Concerts
THE PHANTOM IN FULL STAR STREAM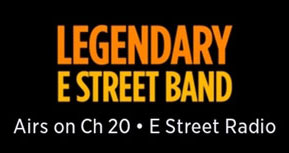 This month, E Street Radio's Legendary E Street Band series puts the spotlight on a founding band member… Bruce Springsteen's keyboardist going back to Child and Steel Mill… now you see him, now you don't… Phantom Dan Federici.
"The most instinctive and natural musician I ever met": that's how Springsteen, upon induction into the Rock and Roll Hall of Fame in 1999, described Danny. "Your organ and accordion playing," Bruce went on, "brought the boardwalks of Central and South Jersey alive in my music."
Host Greg Drew has assembled another great hour-plus mix of tracks to focus on Danny's greatness. Greg's mix spans more than three decades of Federici's professional career, taking us into the studio and live onstage, on and off E Street, even to the solo projects where Danny played all of the keyboard parts, thanks to the magic of multi-tracking. As usual, along the way we're also accompanied by the host's insightful commentary.
Legendary E Street Band's Danny Federici Edition debuts today, Monday May 9, exclusively on E Street Radio (SiriusXM channel 20,) with replays to follow over the coming week (all times ET):
Monday, May 9: 3pm and 6pm
Tuesday, May 10: 10am
Wednesday, May 11: 12am and 7am
Thursday, May 12: 6pm
Friday, May 13: 2pm
Saturday, May 14: 12am and 4pm
Sunday, May 15: 1pm
- May 9, 2022 - Shawn Poole reporting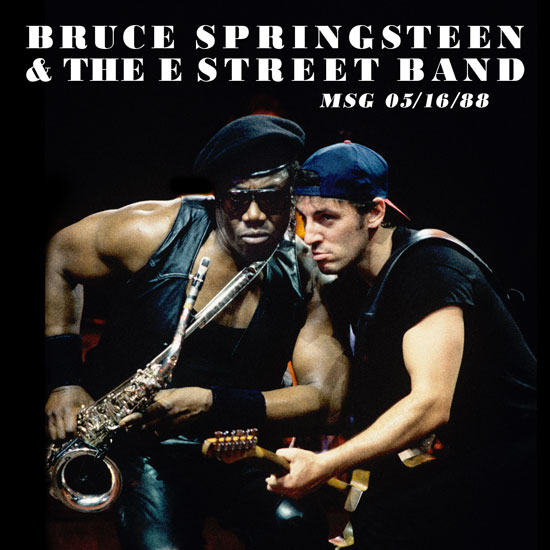 NEW LIVE ARCHIVE SET: TUNNEL EXPRESS PULLS IN TO NYC
Charles R. Cross aboard for Night 1 at the Garden, 5/16/88
I was recently in a debate with a friend about this thought exercise: if you can see only one performance in a multi-show stand, should you pick the first, the second, or the last? This challenge was often a real one for me when I was young, as I could barely afford tickets or bus fare to the venue. Bob Marley came to Seattle with two shows on one night, and I could only afford one ticket, but I managed to see both by hiding on the gross auditorium floor between shows until the second one started.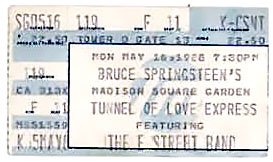 My standard answer to this quandary is that, no matter how special those finales might be, you never want to miss the first show an artist plays in a city. On any opening night, the musicians are nervous, you are nervous, and all those nerves make the whole thing come alive.
So while some may argue that the end of Bruce Springsteen's 1988 NYC stand (also the end of the Tunnel of Love Express Tour's U.S. leg) on 5/23/88 is the superior night at the Garden (and it's already been released in the Archive series), I would instead pick the first show of the stand — which, conveniently, has just been added to the Live Archive: Madison Square Garden, May 16, 1988.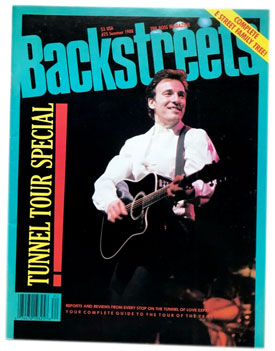 I had seen the Tunnel tour opener in Worcester, MA, that February and caught the entire West Coast stand that followed. But when I walked into the hall on 5/16, it was the first time I'd ever been in Madison Square Garden. Bruce was born on the Jersey Shore and became famous in Richmond and Philly, but his entire early life he dreamed of "making it" in New York. That was the true measure of success for a kid growing up in New Jersey — or anywhere, for that matter. NYC really meant something.
Myself, I had missed the No Nukes show because in 1979 I was just a young, poor college kid in Seattle who couldn't afford a plane ticket. So a decade later, finally walking into MSG felt special in so many ways (if only to see the Knicks banners on the ceiling). This was only the fifth Bruce and E Street show in this building since that No Nukes performance. Furthermore, Bruce had seen Elvis Presley play the Garden, so in that way this was a palace of dreams to Bruce, and to many, and to me. But once the show started with "Tunnel of Love," I returned to 1988 and stopped my historical daydreaming.
I was nervous, Bruce was likely nervous… but after three months on the road playing more than 40 shows, this was a well-oiled machine. Since the Tunnel tour was really a conceptual show, and Bruce's first attempt at that, the basic set list didn't vary tremendously. But MSG was still different, and dare I say better, than my hometown shows at the Tacoma Dome near Seattle just ten days before. "Boom Boom" had turned up in two shows at this point, but it was new to my ears, and it was a complete power drive. Max and Garry's role in the band is often under-celebrated, but just listen to the first ten seconds of "Boom Boom" and you'll sense what's under the hood of the E Street Band. This band has a Hurst on the floor.
I thought "Be True" might be dropped, as when "Boom Boom" took its place in Indiana and Minnesota, so it felt extra special when it stayed in and they played both. I was already over "Seeds" by this point, because to this ballad-loving boy, most of the rockers lose a level of emotional resonance to me — but I make an exception for "Roulette." Legend had it that Bruce considered the song for No Nukes, in the end passed, and put it away. Hearing an outtake tape a couple years later, I fell in love with "Roulette" and took on a lobbying effort to get Bruce to play it. Readers of Backstreets probably got sick of hearing me advocate for it; I have to think Bruce got sick of me bringing it up every time I ran into him (it is likely the words "Jesus Christ, there's that freaking kid from Seattle who is going to ask to me play 'Roulette' again" were uttered). But when Bruce played it in Worcester, it was sweet vindication. Hearing it in MSG… well, that was winning a championship.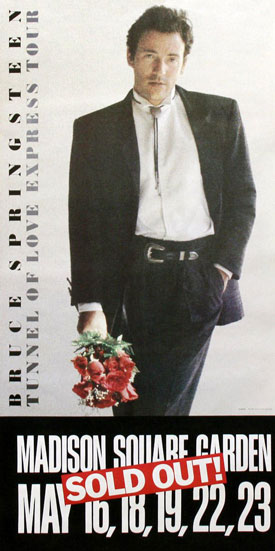 Many of the highlights of the Tunnel shows, including this Garden stand, were the non-album tracks, which were to us long-timers like a new vein of gold discovered. "Light of Day," "I'm a Coward," and "Boom Boom" delivered a freshness (I never cared for "Part Man, Part Monkey" but that's just me). But some of the band's longtime standard-bearers were also special moments at MSG. Thirty-four years later now I can still remember the way the New York crowd greeted the searing solos in "Adam Raised a Cain" (they went crazy). Bruce did not need to play like that to win over an audience like this, but maybe it was revenge in his psyche for all those bus rides into the city in the pre-fame days.
I didn't know it at the time, but this would be the last performance of "Walk Like a Man" for 17 years. "Walk" has only been played 30 times ever, and if you didn't catch it by this first MSG show, you missed it as part of a thematic "set" (it was reprised twice in 2005, but as more of a one-off). It was my favorite song on Tunnel, and even though my father hadn't walked me down the aisle on my wedding day, I still felt like this song was written about me. That's the power of great art to transcend from the creator to the listener. It's a magic act for every single song, maybe an illusion like a tunnel of love, but this song made me cry every time I heard it in concert. It brought up so much grief about my own relationship with my dad. I cried that night at the Garden hearing "Walk Like a Man" — but I probably would have wept even more if I knew the song would go away for almost two decades.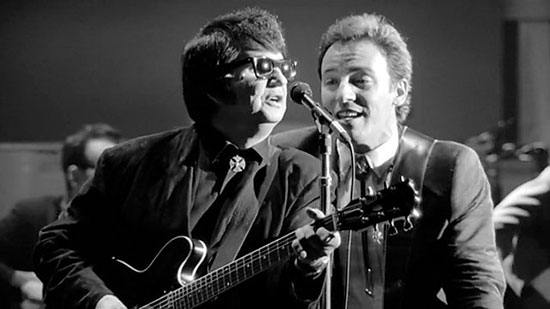 The Big O and The Boss together in 1987's Roy Orbison and Friends: Black and White Night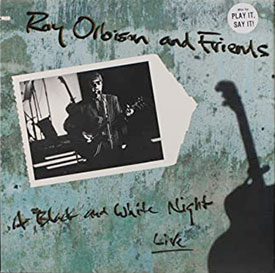 Which is a perfect segue into the cover of Roy Orbison's "Crying," as 5/16 had the first-ever performance of this song by the E Street Band outside of soundchecks. It remains unique to this Garden stand, and as it wasn't played on 5/23, this is its Live Archive debut. On 5/16, "Crying" appeared as the 27th song of the night, but it was the moment in a night of moments.
This was only eight months after the Black and White Night show, but I've always felt that Roy Orbison was ultimately the model that Springsteen most emulated: aloof, mysterious, haunting, but also haunted himself. If MSG was haunted on 5/16, the most eerie sounds were my yelps when I realized they were doing this song. Did it reappear at the second show? Yes. Was it as good as watching the live premiere? No, it was not. Did Bruce sing this as well as Roy? No, no one sings like Roy. But Bruce is clearly really into this performance, and the final time he sings "cry-aaaah-ing" is as poignant a moment as any on the Tunnel tour.
Five more songs followed "Crying," including the live E Street premiere of the cover of "New York, New York." But what was more remarkable is what we didn't hear on 5/16: "Rosalita." "Rosalita" had not come out, for the first time in a long, long time. This was pre-computer setlist databases, and trying to figure out in my head the last time Bruce didn't play "Rosalita" took up all the head space I had left. Had I ever seen an E Street Band show without "Rosie"? What the heck? And then the thought: "Maybe… this is better, dare I say?"
Would I always trade "Rosie" for this space in the set, and Roy Orbison and "Sweet Soul Music"? I'm still thinking that over years later, but at the time, it felt like the show was a bit naked, and in that nakedness, it felt fresh. It felt raw. It felt like suddenly something different was happening. I felt like crying all over again realizing I had seen a Bruce show without "Rosalita."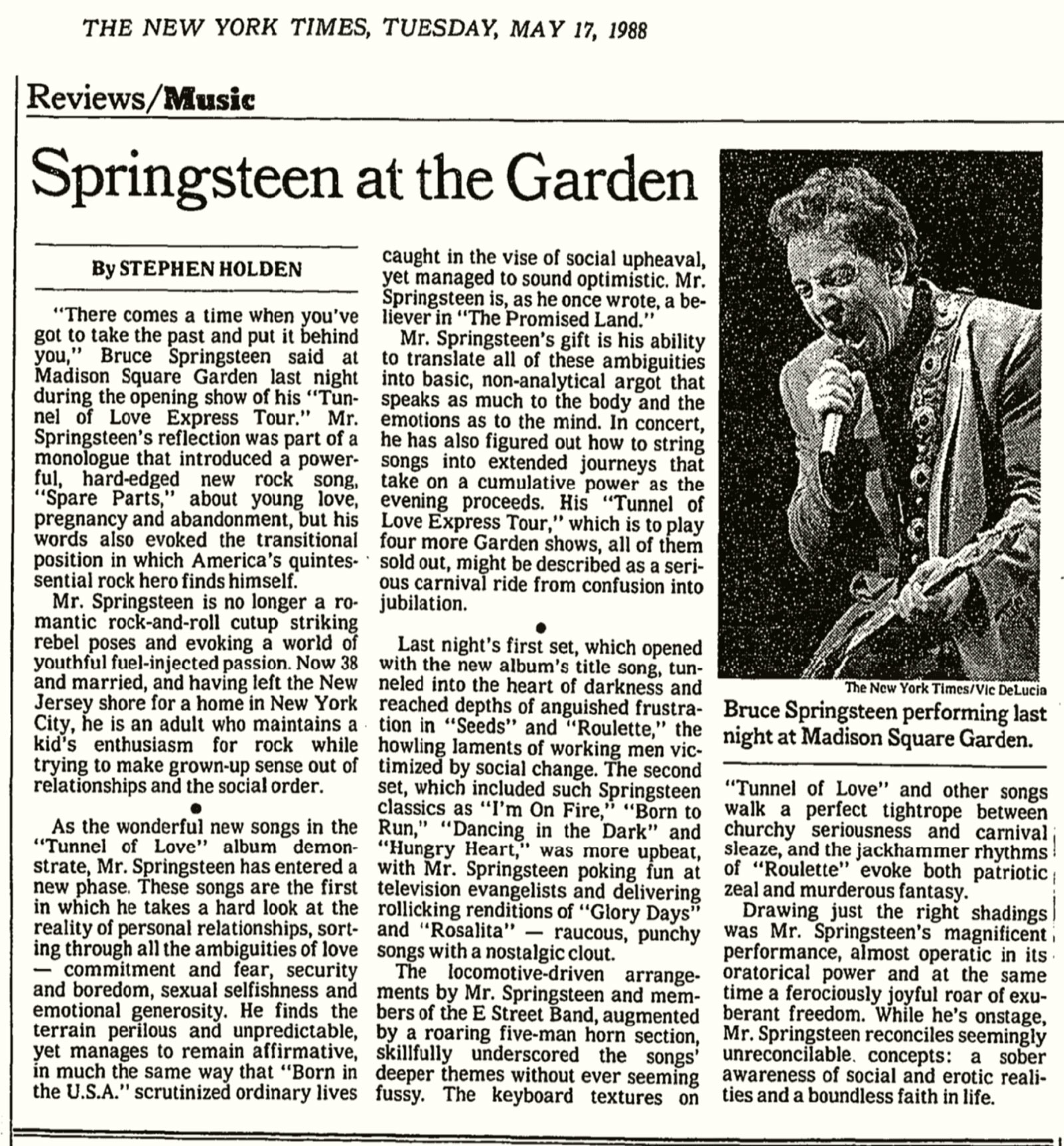 Today's release brings a rare bonus track, as have only a couple of Live Archive releases so far. Appended to the full show recording is a highlight from that day's soundcheck: "In Dreams," another Orbison classic, also lovely, and one more piece of evidence that Bruce had Roy on his mind that night (and on many nights).
When the show was over, for the first time in my life I walked out of Madison Square Garden. Walking in was one thing; but walking out of this concert hall, and immediately being right in the middle of NYC — that was something. As was the whole 5/16 show. The New York Times called Bruce's performance "magnificent." Times critic Stephen Holden said that the concert found "Mr. Springsteen" reconciling "a sober awareness of social and erotic realities and a boundless faith in life."
NYC is the capital of culture, but rarely does a visitor come away with a boundless faith in anything, much less in life. That night, I did.
Also read: Erik Flannigan's latest essay for the nugs.net blog, "In Dreams You're Mine All of the Tme"
- May 6, 2022 - Charles R. Cross reporting


STREAMING EVENT: BRUCE INTERVIEWS LITTLE STEVIE IN ASBURY PARK
First look! The full 70-minute conversation will be available on demand May 12-15, for a $25 donation to Teachrock.org
In October 2021, Bruce Springsteen interviewed Stevie Van Zandt on stage at the Asbury Lanes in Asbury Park, NJ. It was a one-time-only live event: for more than an hour in this intimate setting, the conversation between these two longtime blood brothers traced their lives and music, guided by Stevie's New York Times bestselling memoir, Unrequited Infatuations.
Their warm and lively dialog was buoyed by the energy of the small, in-person audience, who were the only witnesses.
Until now!
A multi-camera shoot of the Between the Lines interview, directed and produced by Ryan Celli (who also produced Little Steven and the Disciples of Soul: Live from the Beacon Theatre), captures the spirit of the event and will make you feel like you're right there in the room, as you can see in this sneak peek:
For a $25 donation to Teachrock.org, you'll get access to an on-demand stream of Stevie and Bruce's conversation, available for viewing at your convenience from May 12 at noon until May 15 at 11:59pm Eastern.
Every donation also enters you to win an amazing Florida vacation package from event sponsor Hard Rock, with a total value of $7,000. Donate to view the stream, and as a bonus you'll be entered into Hard Rock's "Party Like a RockStar" vacation package, which includes:
Deluxe Accommodations for a 3 Day, 2 Night stay in the iconic Guitar Hotel
Dinner for 2 at either Council Oak Steaks and Seafood, Cipresso, or Kuro Restaurant
1 Day Bora Bora Cabana Experience for up to 10 Guests at the Guitar Hotel pool area, including a $1,000 Food & Beverage Credit
$200 Spa Gift Card
An electric guitar
And several mystery items!
Enter the raffle — and secure your chance to stream Between the Lines at the same time, for a $25 donation — at teachrock.org/betweenthelines*
*This event is available internationally, though some people outside the US have had trouble registering. If you have any issues, contact Michael-Ann Haders at michael@teachrock.org
- May 4, 2022

"OFF THE STREET AND INTO THE INNER SANCTUM"
Marking 50 years since Springsteen's Hammond audition and demo session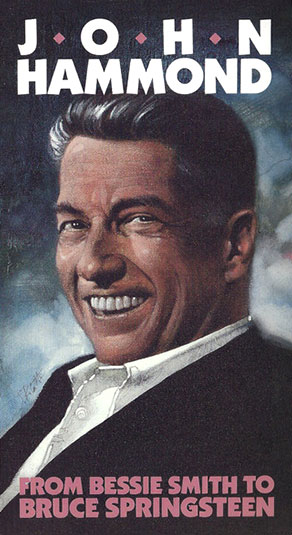 It won't be the first 50th anniversary we've celebrated in Bruce Springsteen's career (with the Castiles, for instance, Bruce made his first record on May 18, 1966), but this week marks a big one: the beginning of the Columbia era. Fifty years ago, Springsteen's trajectory took a turn towards the stratosphere when he auditioned for Columbia A&R legend John Hammond.
The May 2, 1972 meeting in Hammond's office soon led to the offer of a recording contract, of course — and eventually, a half-century (and counting) of his music on the Columbia label, as well as the parent comany's recent purchase of Springsteen's body of work for an estimated $550 million.
In a statement from Sony Music announcing the acquisition late last year, Springsteen noted the 50-year milestone:
I am one artist who can truly say that when I signed with Columbia Records in 1972, I came to the right place. During the last 50 years, the men and women of Sony Music have treated me with the greatest respect as an artist and as a person. I'm thrilled that my legacy will continue to be cared for by the Company and people I know and trust.
In his Born to Run memoir, Springsteen wrote that he "couldn't believe it" at the time, astounded by how manager Mike Appel "finagled" the face-to-face at Hammond's office: "John Hammond! The legendary producer who signed Dylan, Aretha, Billie Holiday — a giant in the recording business.... The motor mouth of Mike Appel was a fierce and surgucal instrument when put to proper use.… He talked us off the street and into the iner sanctum of John Hammond's office."

Above: 15 years after they met, Springsteen performed at the memorial service for John Hammond on 10/23/87, playing Dylan's "Forver Young" in the solo acoustic style Hammond had ears for
Springsteen played a handful of songs with just Hammond and Appel in the room that morning, on a loaned guitar Bruce brought with him (sans case): "I had no acoustic guitar of my own so I borrowed a cheap one with a cracked neck from Vinnie 'Skeebots' Maniello, my old Castiles drummer."
After runthroughs of "It's Hard to Be a Saint in the City," "Mary Queen of Arkansas," "Growin' Up," and "If I Was the Priest," Hammond was convinced — despite having been "poised and ready to hate us," according to Born to Run, due to Appel's bluster and "personal tendency for unnecessary confrontation." As Bruce describes it in the book, "before I'd played a note, [Appel] told John Hammond of Columbia Records I was perhaps the second coming of Jesus, Muhammad and Buddha and he'd brought me there to see if Hammond's discovery of Dylan was a fluke or if he really had ears."
The songs were strong enough to overcome the aggresive setup. "Hammond loved him," Appel told Backstreets in 1990. "I remember after that audition we went out of there and Bruce literally skipped down the street off the curb. We were a storybook scene then. I turned to him and I said, 'I think we're on Columbia.'"
Interviewed for Backstreets again in 2011, Appel described the scene from his perspective:
I said to [Hammond], "If you are the guy that discovered Bob Dylan, then you won't miss this." That's what I told him. And he hated that. He had dark sunglasses on the top of his head, on his gray crew cut, and he put them down over his eyes. I thought, "Oh god, now he hates my guts." But I had already said it, and he waved to me to sit down, and then he asked Bruce to just play.…

[After the first song] Hammond puts the glasses back up on his head again, and he turns to me and he says, "You're right. Play me another song, Bruce."

He did not miss a thing. He was as excited as we all were. He was just like a big kid. So it didn't matter that he might have been in his 60s or whatever, that didn't mean a damn thing. That guy saw it right away.
As Springsteen told MOJO in 1998, Hammond said, "'You've got to be on Columbia Records. But I need to see you play. And I need to hear how you sound on tape.'
"Me and Mike Appel walked all around the Village," Bruce continued the story, "trying to find some place that would let somebody just get up on stage and play. We went to the Bitter End, it didn't work out. We went to another club. And finally we went to the old Gaslight on McDougal Street and the guy says, 'Yeah, we have an open night where you can come down and play for half an hour.' There were about ten people in the place and I played for about half an hour. John Hammond said, 'Gee, that was great. I want you to come to the Columbia Recording Studio and make a demo tape.'"
Historical accounts (including Bruce's own) vary, but as we understand it, that recording session took place the very next day. Springsteen, Appel, and Hammond got back together at Columbia and got 12 songs on tape — typically referred to since as the Hammond Demos — for the ears of Columbia president Clive Davis.
Four recordings from that May 3, 1972 demo session were officially released on Tracks: "Mary Queen of Arkansas," "It's Hard to Be a Saint in the City," "Growin' Up." and "Does This Bus Stop at 82nd Street?" This version of "Growin' Up" appeared again on Chapter & Verse (which also included that 1966 A-side, "Baby I").
As those four demos became canon in '98, Bruce recalled to MOJO how he felt on the day of their recording — now a half-century ago: "I was excited. I felt I'd written some good songs and this was my shot. I had nothing to lose and it was like the beginning of something. I knew a lot about John Hammond, the work he'd done, the people he'd discovered, his importance in music, and it was very exciting to feel you were worth his time. No matter what happened afterwards, even if it was just for this one night, you were worth his time. That meant a lot to me. He was very encouraging — simply being in that room with him at the board was one of my greatest recording experiences."
- May 3, 2022