"A new family of friends, loved ones, and people you could count on till the end of time has been etched into our lives."
Mike Saunders talks to Disciples of Soul Musical Director and guitarist Marc Ribler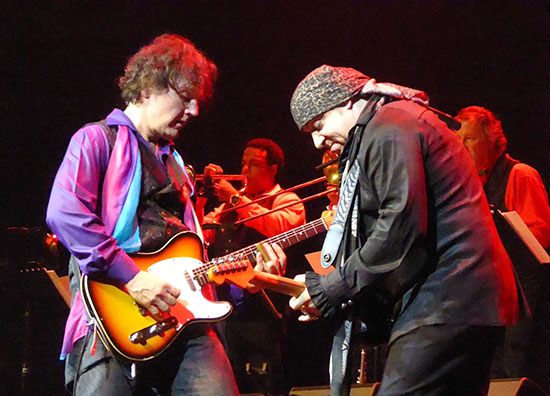 It's hard to believe that four years have elapsed since we wrapped your first Backstreets interview, and that so much has happened since. Back then the new Disciples of Soul had played four shows several weeks apart, the line-up had only just been finalized, and Soulfire had been out for a month. Can you remember how everyone felt in June 2017, with your first European tour about to begin and the future unknown?
We were all ecstatic about getting out on the road with Stevie. It felt as though the future was wide open, and we were ready to take on the world.
There was much talk of how well Steven looks after everyone and how the band felt like a family. It was obvious that you were having a great time together on and off the stage.
Stevie Van Zandt is one of the most generous, compassionate, caring, and concerned people I've ever met. On tour he made sure that we were all comfortable and feeling as appreciated as humanly possible. He is the champion of creating a great time and making you feel at home even when you're on the other side of the planet.
In Amsterdam, Southside Johnny guested during the encores, providing a rare opportunity for European fans to see him and Steven onstage together. What do you remember of that night?
I remember being conscious of Southside and my dear friend Jeff Kazee being in the audience all night, hearing songs they've been playing for years, and wondering what their impression would be when they came backstage at the end of the night. They said they were truly blown away by the band and the show. I've played with Southside several times in the past, but seeing him and Steven together was very special. After all, that's where it began.
For three consecutive years you toured Europe in the summer, playing club and theatre gigs and festival sets. Was it hard to transition from indoor to outdoor gigs? What challenges did you face?
Fortunately, the Disciples of Soul have one of the best technical crews in the business. They are all seasoned veterans and have overcome many obstacles in their careers. Almost all shows went without a hitch. The biggest challenge was usually fitting a 15-piece band plus monitor mixers, front of house lights, and sound mixers in venues designed for four- and five-piece bands. Somehow the crew made it happen. Necessity is the mother of invention.
Occasionally, other musicians subbed for regular band members when they had prior commitments or a family or health emergency. One example would be when original Disciple of Soul Rusty Cloud stood in for Andy Burton for two weeks. Did everyone have stand-ins ready to roll at a moment's notice?
Quite the opposite. On the rare occasion that band members had to sub out a show or leg of a tour, I would meticulously evaluate who the right substitute would be. All Disciples of Soul band members are the crème de la crème of touring musicians, so it presented a challenge when someone had to leave the tour for any length of time.
There was a strong Beatles influence on your fall 2017 European tour. Was Sir Paul McCartney's guest appearance in London preplanned or did it come together on the day?
We had known for a couple of weeks that Sir Paul was likely going to attend our Roundhouse performance. We had a couple of songs ready just in case: "Got to Get You Into My Life" and "I Saw Her Standing There," which, in an inspired, brilliant moment, Stevie arranged like a Little Richard song. Of course, Little Richard is one of McCartney's idols. When Paul arrived, he indicated to Stevie that he just wanted to relax and enjoy the show. Apparently at some point in the middle, he was so blown away by the band that he asked Maureen if it would be possible to sit in with us. The rest, as far as Stevie and myself are concerned, was an unpredictable moment of magic and our transcendent history.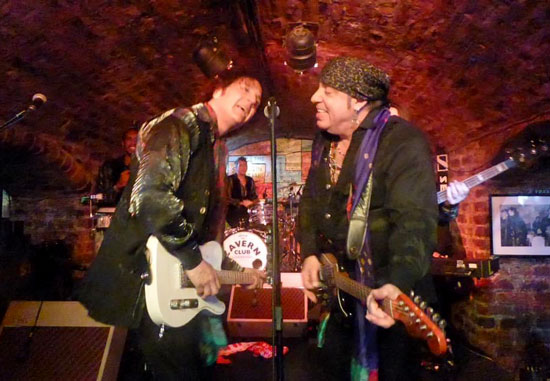 The Liverpool Cavern Club gig, now released separately as Macca to Mecca, was announced three days before it happened, and you rehearsed on the road. There's a video of you learning "All You Need Is Love" on the tour bus. Tell me how the show came about and how the songs were chosen.
Most of us were raised on The Beatles, or at least the rock 'n' roll aftermath. The performance with McCartney totally inspired Steven to want to do a show at The Cavern, when he saw that Liverpool was on the schedule in only a few days. Tour manager Gary Trew was able to procure that happening. Steven put that setlist together, and in the next few days, we rehearsed at soundchecks in different U.K. cities — and literally on the tour bus, as you've seen.
What difficulties did playing The Cavern present, and how did you all fit into such a cramped space?
The only way the performance was made possible was through the expertise of the crew. After travelling all night, they loaded in our gear at approximately 6am. The band arrived at 9am, did a soundcheck and a noon performance. On the main stage was the rhythm section with Steven; the girls and horns were in the adjacent room. This made it difficult for everyone to see cues. It's amazing to us that the performance was perfect without a note out of place.
You had a very busy schedule. How often were you able to go sightseeing or just chill out while on tour?
I prefer to walk or jog in most cities. I use this time to clear my head and re-energize. Usually we would have a show day, then leave the next morning for the city we were to perform in the following evening. There was never much time to chill on tour, but we made it a point to grab whatever precious time we could to walk in a city or enjoy a meal together. Banana was the master of ceremonies and would usually have a restaurant picked out the day before we would arrive. Whether we were in Norway or New Zealand, nine times out of ten it was Italian!
When you're joined onstage by the likes of Bruce Springsteen or McCartney, is any hero worship involved? Or are you too focused on playing?
Every night onstage with Steven is battle conditions. When a special guest of their stature joins us, it creates an even higher state of awareness. There is no hero worship I am aware of, only that we want to serve the music as best we can, as always. That being said, when Sir Paul threw me the second half of the "I Saw Her Standing There" guitar solo, that felt quite surreal. An extremely high moment, I would say.
In Barcelona, Steven and the band filmed a video on the beach to accompany your recording of "Merry Christmas (I Don't Want to Fight Tonight)." You dressed in Christmas-themed costumes, and the whole thing looked spontaneous and fun. What's the story behind that and how long did it take to film?
We filmed the entire beach scene in one day, before our show that evening. The rest of the video was filmed after a show on the streets of Milan. It was freezing, yet we were all crazily joyful in our leotards and Christmas stockings.
You paid tribute to several musicians who passed away while on tour: Chuck Berry, Malcolm Young, Tom Petty. You usually played one of their songs once, but "Even the Losers" became the opening number on the day Tom Petty died and remained in place for two months. Was it a particular favourite of Steven's?
I believe he had a great friendship and a lot of love for Tom and was devastated by his passing. The song had a profound emotional connection the first time we performed it, and it made total sense that it became our opener.
I saw the soundcheck at the Count Basie in Red Bank in December 2017 and watched while you worked up "All Alone on Christmas" to open the show that night. It was fascinating to watch you and Eddie teaching the various parts to the band, directed by Steven. Was it frustrating to learn new covers, only to play them once? Were there any you would have liked to keep in the set?
We always enjoyed and did our best to rise to every creative challenge presented to us by Steven. Working by his example can only make you stronger as a musician and leader. At times in the mayhem and exhaustion of being on tour, it could be challenging, but it was never frustrating. We live to make music. This is only a small part of the task at hand. When a song was removed from the set, it made sense. Just like when a song was added. There was always so much going on musically that I rarely had time to think about what song I might have missed playing, although I must say that Beatles set that we did at The Cavern was fantastic and only got to be played once.
The sets remained comparatively identical from night to night. Steven would explain that the songs he'd chosen told a particular story. But within that structure, the arrangements developed as tours progressed. How often did you apply minor tweaks and changes?
Steven was constantly reflecting on his arrangements. It was part of the evolution of how the songs found a higher state of being. Nine times out of ten, we were tweaking and making changes at soundcheck to fulfil his vision. In most cases, it would be fine-tuning horn parts or background vocal parts. The essence of the rhythm section remained the same. It was very rare that there was a major overhaul once a song was in regular rotation.
In March 2018, the band recorded a cover of "Santa Claus Is Back in Town" at Steven's studio in New York, with Kurt Russell on vocals, for the first Christmas Chronicles movie. Was that as much fun as it sounds?
It was a blast and a half. You never know what to expect when the phone rings and it's Stevie on the other end.
Two weeks later you flew to Toronto to film a jailhouse scene for the movie, presumably miming to that recording. What was that experience like and how long did the process take?
We spent about a week in Toronto filming. It was a full day of filming that particular scene. We would entertain the film crew with our favorite songs in between takes. [Director] Chris Columbus is a mensch! He treated us all like family. Acting alongside Stevie Van Zandt and Kurt Russell was a major highlight.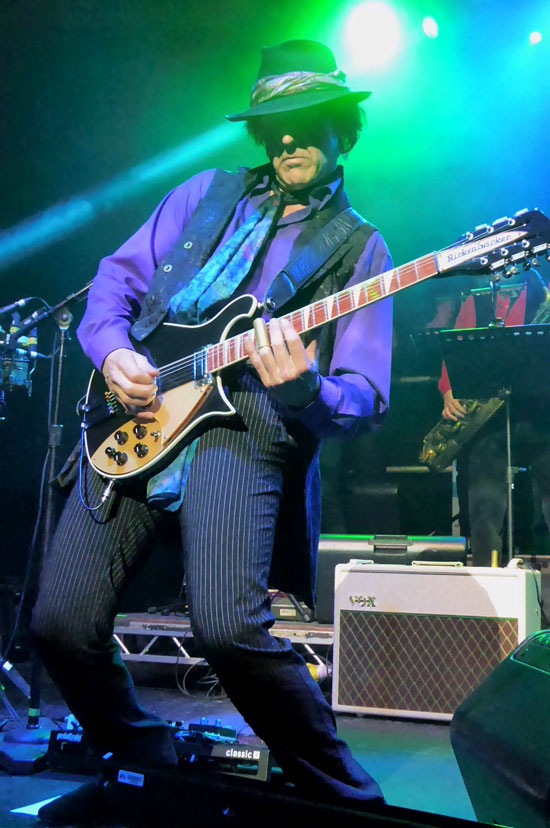 The Summer of Sorcery sessions took place in fall 2018. This time, Steven presented you with a batch of brand-new songs. What was your collective reaction to hearing the new material for the first time?
The "demos" were Stevie Van Zandt voice memos that he would send to me and Eddie Manion to decipher and translate to the other band members. We knew we were onto something special as it unravelled and began to sound like the culmination of the prior two years of touring. It encapsulated the "history of rock 'n' roll" arc that the shows portrayed, only in brand new album/song form — in retrospect, a very natural progression. My favorite song on the record is "Summer of Sorcery." That song evolved greatly from the time we recorded it compared to the last time we played it at the Beacon Theatre. It seems the tempo was nearly cut in half by that time. The arrangement blossomed into this emotional rollercoaster ride. I like the album recording, but I must say, it evolved into an epic.
The sessions were as fast and efficient as those for Soulfire two years earlier. What was the atmosphere like in the studio and how long did it take to complete the record? Were there any outtakes?
The recording process was very swift and purposeful. Stevie's vision was strong and the band was a very well-oiled machine, ready to take on the task. There were no outtakes. The vibe amongst the band in the studio was joyous. If memory serves, the entire record was recorded, mixed and mastered within four or five weeks.
In April 2019, the Disciples of Soul went to Australia and New Zealand for three weeks, where you played the famous Byron Bay Music Festival among other gigs. Those shows marked the end of the Soulfire tour. A week later, the band unveiled their brand-new Summer of Sorcery show in Los Angeles, which retained only a handful of songs. What was it like making the transition to a virtually brand-new production?
The crazy thing was that we rehearsed the Summer of Sorcery tour for two weeks prior to going to Australia. [The album] had not yet been released. We had Summer of Sorcery fresh in our heads, with all the new choreography. When we got to Australia, it was a major shifting of gears. We now had to perform the show that we hadn't done since December of the previous year. After Australia, we went straight to Los Angeles to do a couple of rehearsals at SIR Studios to refresh our memory of the Summer of Sorcery show, before doing the album release show at the Saban Theatre. These are the challenges Steven often presents. It tends to make things much more interesting.
How did the extended band monologue during "Love Again" come about?
In the last ten minutes of our soundcheck at the Saban Theatre, Steven decided that the band needed to participate in this monologue. He wrote the dialogue for each band member in that moment, and we proceeded to perform it that evening and make it a staple of the tour. And I remind you that Bruce was in the audience that very first night of monologue and sat in with us, for a little added pressure. You might say Stevie Van Zandt is a magician…
One of the highlights of the new set for many was the "Asbury Jukes" trilogy featuring "Little Girl So Fine," "Trapped Again," and "Love on the Wrong Side of Town," which must have been a lot of fun to play.
To me that was the palate cleanser of each and every show. I love performing those tunes. "Little Girl So Fine" for the background vocals, and "Trapped Again" is one of my favorite songs to play guitar on.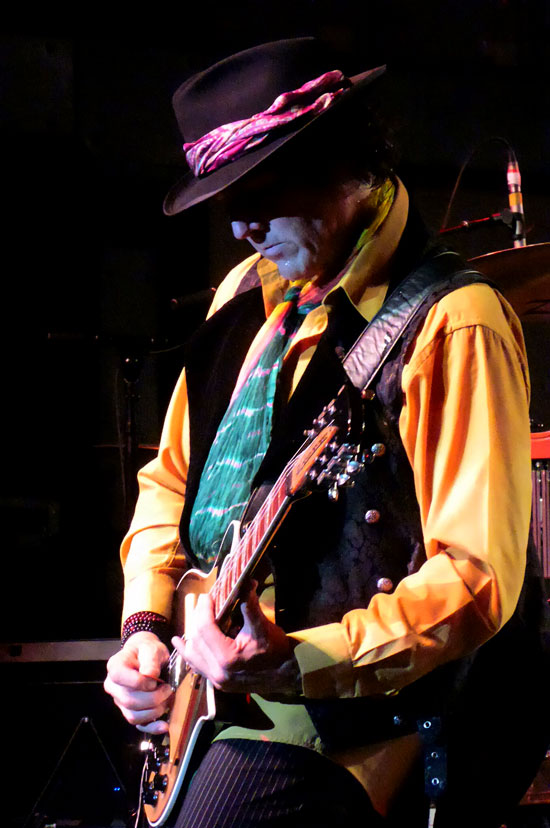 Since the first show of the new era in London, when the entire band dressed in black, a transformation took place. The band adopted a multicolored dress code, and your collective wardrobe became a riot of color. Feathered hats were worn. Did Steven insist that you all booked an appointment with his tailor?
Ha! Maureen's sister Lori Santoro, along with her husband Darryl and our wardrobe aficionado Andrew Veneto, with Steven's vision, designed and kept our touring wardrobe fresh and colorfully exciting throughout the tours.
The Little Steven and the Disciples of Soul private jet was equally well decorated.
Steven treated the band like kings and queens of rock 'n' roll. We flew everywhere on Steven's private jet, unless the cities were close together, as on our U.K. tours. In that case, we would fly into London and bus it from city to city.
I'm sure the various tours of Europe and America and beyond have blurred together in your memory, but do you have any favorite concerts, cities, countries, or particular events that stand out?
There were so many memorable shows, the first being our maiden voyage at the London Bluesfest at The O2. That was supposed to be a one-off that ended up lasting three years. The show at The Roundhouse with Sir Paul. The Cavern show was very special. When Bruce or Peter Wolf would join us. That was always a hoot of a time.
The final U.S. leg of the Summer of Sorcery tour was cut short because Steven was suffering with sinusitis. A total of 20 shows had to be cancelled. That must have been very disappointing for everyone.
There was a period at the end of August and early September 2019 that almost everyone in the band had gotten ill. Sinusitis, sore throats, fever, flu-like symptoms. It got to Steven in the middle of September and unfortunately made it impossible for him to sing. The last thing he would want is to cancel one show, let alone several weeks of shows. Fortunately he made a full recovery, and we were able to do the final two shows, Boston and then New York City.
After the last show at the Beacon Theatre, featured in full on the new release, the band members went their separate ways, and this time there was an air of finality about it. They posted their thoughts on social media, and the tone was generally bittersweet. What was the atmosphere like at that show, onstage and off?
It was every emotion under the sun: joy, sadness, despair, separation anxiety. An incredibly blessed evening and, without a doubt, the most emotional night I've ever had onstage, not knowing if it would be our last show of the tour or forever. I recall being brought to tears in several of the songs throughout the evening.
Bearing in mind the fact that Steven's next priority is working with the E Street Band, the Disciples of Soul may not tour again for a year or two and may even have reached the end of the road. What's your view on that, and if that's the case, what will you take away from those years in terms of memories, experience, and friendship?
An entirely new family of friends, loved ones, and people you could count on til the end of time has been etched into our lives. I have nothing but love and gratitude in my heart for Steven and each and every one of the Disciples of Soul band and crew, and of course all of our loving fans. I remain hopeful that we will be out there together again in the not too distant future. Like Steven says at the end of every show, "We'll be back, we always come back."

Disciples of Soul PART TWO
"A loving, caring family of like-minded, hard-working, talented, supportive, simpatico people with no drama or bullshit."
Disciples of Soul PART THREE
"No egos, just great musicians working, travelling and performing together and eating a lot of food late at night."