RON ANIELLO TALKS HIGH HOPES WITH ROLLING STONE
A revealing interview with producer Ron Aniello appeared online today, courtesy of Andy Greene at rollingstone.com. The Q&A goes in-depth on High Hopes, from how the project got started to how and when songs were recorded. Whether you've got the mp3s already (after Amazon let the cat out of the bag over the weekend, or as Vulture put it, "Bruce Springsteen Accidentally Pulled a Beyoncé") or are still eagerly anticipating January 14, there's some interesting background here that ought to enhance the High Hopes listening experience.
Just a few of the tidbits here (besides the fact that Aniello visits "Backstreets occasionally just to see what the fans are saying"): they considered 20 songs for High Hopes, including tracks called "Cold Spot," "Mary Mary," "Hey Blue Eyes," and "American Beauty"; "Just Like Fire Would" and "The Wall" feature the band playing together, live in the studio; Bruce has Dr. Dre Beats headphones on the road; there are "30 or 40" songs that Bruce wrote for a pre-Wrecking Ball project, none of them on High Hopes or otherwise released, that Aniello compares to Aaron Copeland ("a very open landscape feel"). Not that we feel the need to look beyond High Hopes just yet... but it's enticing to read Aniellio say, "I'm actually working on some of the songs now and going through them. He's looking for a way to approach that album." Of course, you're gonna wanna read the whole thing.
Read: "Bruce Springsteen Producer Breaks Down High Hopes: Exclusive"
- December 30, 2013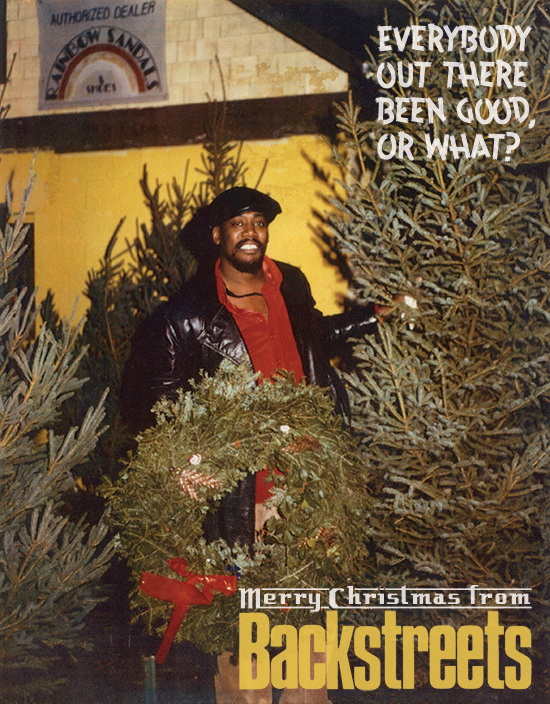 The Kahuna of Surf, Soul and Yule: in the early '70s, Clarence Clemons lived behind The Islanders Surf Shop in North Long Branch, NJ, with roommates Vini Lopez and Danny Federici. Islanders main man Vince Troniec tells us, "I also sold Christmas trees at the shop, so here's a shot of some holiday happiness, when Clarence came by to sell some trees." We'll take the biggest one you've got. And we wish everybody out there plenty of holiday happiness of your own. Merry Christmas!
- December 24, 2013 - photograph courtesy of Vince Troniec


"EVERYBODY READY FOR A JERSEY CHRISTMAS?"
Before Bruce Springsteen had official Asbury Park holiday shows, there was Holiday Express. In this newly uncovered video, from nearly 20 years ago, Bruce joined Tim McLoone and a host of other Jersey Shore musicians at the Tradewinds in Sea Bright for "Santa Claus is Comin' to Town," "Run Run Rudolph," and "Merry Christmas, Baby." Merry Christmas Eve!
- December 24, 2013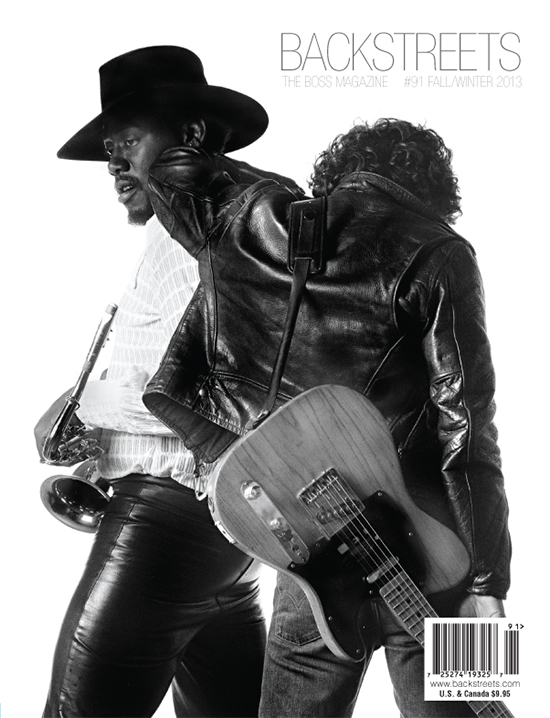 BACKSTREETS #91: IT'S A WRAP
At long last, work is complete on the new edition of Backstreets magazine, our 91st issue. The magazine is at the printer now, presses will be rolling this week in Wisconsin, and copies mailed directly to subscribers from there. This one clocks in at 116 pages, one of our biggest ever, with more than half of them (65, to be exact) dedicated to the Big Man; we've got the Backstreets interview with Tom Morello here, too. We'll post further details and images from the new magazine soon... But for now, we wanted to let you know it's out the door and say a heartfelt thanks to everyone who's been bearing with us through the long wait. Merry Christmas and happy holidays!
- December 22, 2013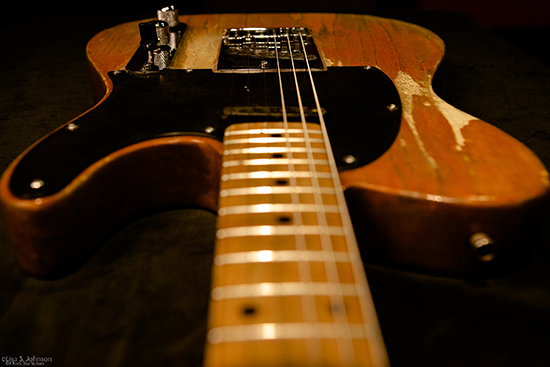 WHILE VISIONS OF THE ESQUIRE DANCE IN OUR HEADS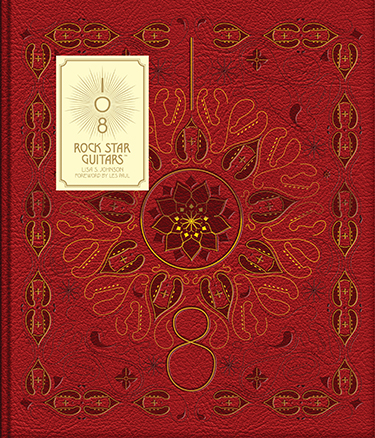 If you're still looking for the perfect gift for a music fan in your life, we've got some last-minute eye candy for you. Photographer Lisa S. Johnson has put together a thing of beauty with her new book, 108 Rock Star Guitars. Armed with a macro lens, an incredible eye for detail (and the glory of wear-and-tear), and the cooperation of the greatest guitarists in rock 'n' roll, Johnson documents her close-up encounters with singular instruments in this book that will appeal to photography and guitar buffs alike. Bruce Springsteen's iconic Esquire is here, and the guitars of Nils Lofgren and Tom Morello too — along with visions of more than 100 other guitar heroes' chosen instruments including Eric Clapton, Jack White, Jimmy Page, Keith Richards, Lou Reed, Richard Thompson, Robbie Robertson, Ronnie Wood, Steve Earle, Wayne Kramer... the list goes on.
Here, Lisa has shared with us a few distinctive images of Springsteen's Esquire, front to back — even if you've been lucky enough to be in the front of the pit strumming its strings on "Born to Run," there are still likely some views here you've never seen.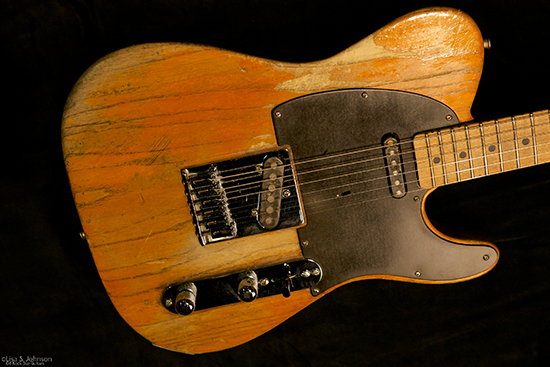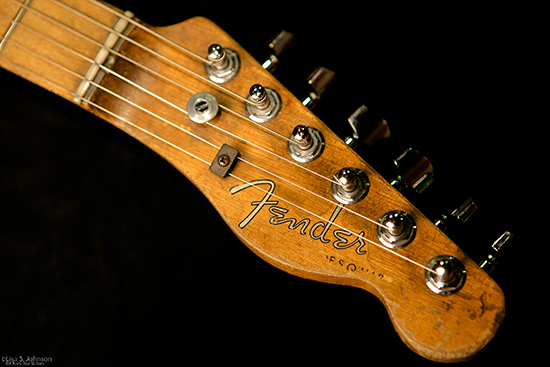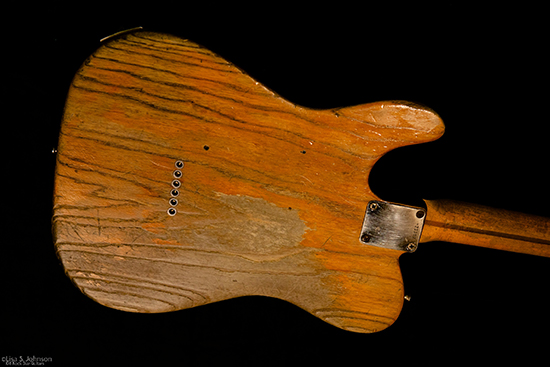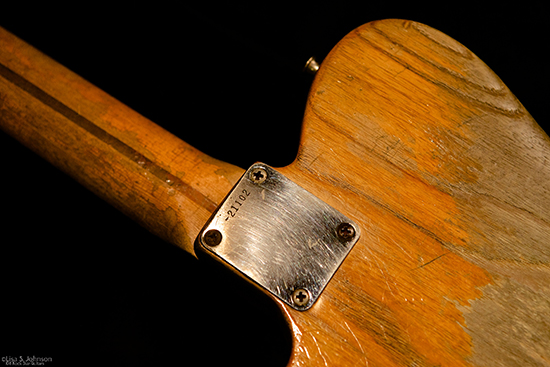 As you can imagine, it all looks even better on paper. Fifteen years in the making, with an introduction by Les Paul, 108 Rock Star Guitars is dubbed "The Most Wonderful Guitar Book of the Season!" by Guitar Player Magazine. See more at 108rockstarguitars.com.
- December 21, 2013

'TWAS THE NIGHT BEFORE THE FUNK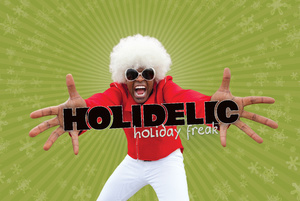 For fans of Everett Bradley, this truly is the most wonderful time of the year... or at least the funkiest. In what has become an annual holiday tradition, Everett transforms himself into Papadelic, the bandleader and spiritual leader of Holidelic, his own annual holiday funk-filled live extravaganza. Each year, Papadelic invites all to "the most exclusive all inclusive holiday party in the universe. Now when I say inclusive, I do mean we do not discriminate, we celebrate all shapes, sizes, colors, and beliefs. Your only requirement is to bring an open mind, an open heart, and a promise to shake yo rump!" Quite simply, Holidelic is like a George Clinton Christmas record come to life. (And yes, Virginia, there's also a CD available at Holidelic.com.)
The final Holidelic show of 2013 takes place tomorrow night, Sunday December 22, at Philadelphia's World Café Live. Click here for tix. It's an all-ages event with dining options, so families and friends, old and young, are invited to feast and shake yo rumps together.
Bradley''s newly recorded Holidelic-themed Guest DJ session also airs several times this coming week on E Street Radio. He spins some tracks from the Holidelic CD and some seminal funk from George Clinton and Sly Stone, along with some of his favorite Springsteen tracks. He also relates the moving, bittersweet origins of Holidelic. You can catch it at 4pm on Monday 12/23, 12 am & 8 am on Christmas Eve, and 5 pm on Christmas Day (all times ET) on Sirius/XM channel 20.
- December 21, 2013 - Shawn Poole reporting

'TWAS THE WEEK BEFORE CHRISTMAS...
Still holiday shopping? We've got you covered!
If you're still looking for the perfect gift for your favorite Springsteen fan, be sure to visit our online shop -- and yes, there's still time! Using our Expedited Shipping service, Backstreet Records can deliver via UPS to any U.S. address in one or two days, and we'll be working into next week to make sure everyone gets what they need.
Overnight shipping adds $35 to standard shipping charges; 2-Day adds $15. Expedited orders placed by 2:00 p.m. Eastern will ship the same day. Just make sure to specify a street address, as UPS can't deliver to PO boxes.
For delivery on:
Order by:
Expedited Shipping
Friday, 12/20
Thursday, 12/19, 2:00 p.m.
Overnight
Monday, 12/23
Thursday, 12/19, 2:00 p.m.
Friday, 12/20, 2:00 p.m.
2-Day
Overnight
Tuesday, 12/24
Friday, 12/20, 2:00 p.m.
Monday, 12/23, 2:00 p.m.
2-Day
Overnight
A little help for last-minute shoppers
For two days only, from now through Friday at 2:00 p.m Eastern, take 15% off any order of $50 or more. Simply enter the coupon code XMASBABY at checkout, where your discount will be applied across the board.
View our Latest Additions page to see what's new,
including the ever-popular official Springsteen calendar for the new year
For all U.S. customers who ordered by December 10: as promised, your items have been shipped out, scheduled for delivery prior to Christmas. As always, we appreciate you getting your Boss fix through us!
- December 18, 2013



LIGHT OF DAY NORWAY BRINGS OUT "HIGH HOPES"
On Sunday December 15, the annual Light of Day benefit show returned to Oslo, Norway. As this year's lineup included The Cocktail Slippers (on Little Steven's Wicked Cool Records label), there were some anticipation that the E Street guitarist could make a cameo. Although "Giovanni Henriksen" turned out to be a no-show, the audience at the Oslo show was treated with more than three hours of great music at Buckleys. In addition to The Cocktail Slippers, this year's line-up included the usual Parkinsons fighters—Joe D'Urso, Jesse Malin and Rob Dye—bringing their usual best live act. Another Springsteen-related artist, Tim Scott McConnell, was also among the artists performing. The former Havalinas lead singer has been living in Oslo for many years, now performing under the name Ledfoot. Of course, with Tim on stage the audience got a classic Ledfoot take [above] on his own title composition from Springsteen's upcoming album, High Hopes.

During the warm-up set, local artist Trond Svendsen treated the audience to his own take on a couple of Springsteen classics. Performing acoustically, he intrigued the 100+ crowd with a beautiful country take on "Bobby Jean," as well as the "Child Bride" version of "Working on the Highway" [VIDEO].

The finale included Ledfoot, D'Urso, Malin and all the artists on stage for a version of "Walk on the Wild Side" in honor of Lou Reed, as well as a rousing take on Springsteen's" Light of Day" [VIDEO].
The annual Light of Day benefit series returns to Asbury Park in mid-January; visit lightofday.org for details.
- December 18, 2013 - reporting and video courtesy of Dan C Fosse


ROCK'S NEW SUPERSTAR, 38 YEARS AGO
Can you spare $6.50?
- December 17, 2013

SPRINGSTEEN TALKS HIGH HOPES, U.S TOUR POSSIBILITIES AND MORE WITH ROLLING STONE
Jon Landau notes other archival Bruce projects in the works
Rolling Stone associate editor Andy Greene spoke with Bruce Springsteen for an hour on Friday. In a content-rich rollingstone.com article today, Springsteen talks High Hopes ("The best way to describe this record is that's its a bit of an anomaly"), working with Tom Morello ("He jolted those songs into the now"), and the current outlook for U.S. shows:
"We're looking around now to see what we might do. I don't want to say 'yes' because I don't want to disappoint people, but I certainly don't want to rule it out either. We're looking closely out at since there's places we missed on the last tour. We didn't get to Texas, where I love to play. We didn't get to Florida either. It might be fun to get back to some of those places."
Greene tweeted this morning, "Much more from that interview coming soon." He also spoke with Tom Morello, Ron Aniello, and Jon Landau for this piece, with some significant reveals coming from Springsteen's manager: "There's ongoing work on a River box set. Maybe we'll do that first. And we're doing some remastering work on his first two albums as we speak. Those will be forthcoming."
In addition to the remasters, let's cross our fingers that the occasion to revisit Greetings and Wild & Innocent will also encourage the release, on YouTube or elsewhere, of the incredible early footage circa 1972-74 shot by Barry Rebo and glimpsed in the Wings for Wheels documentary and other videos created in recent years by Thom Zimny.
Read: "Bruce Springsteen on 'Anomaly' of a New Album 'High Hopes': Exclusive"
- December 17, 2013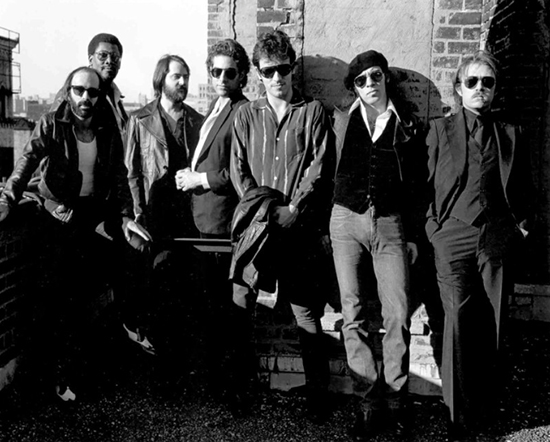 SPARKS FLY ON E STREET AT LAST
E Street Band finally gets Rock Hall Recognition with 2014 Induction
Fifteen years after Bruce Springsteen's own induction, 28 years after their official billing on Live/1975-85, the legendary E Street Band will be welcomed into the Rock and Roll Hall of Fame in 2014. The band has been announced as among the Class of 2014 Inductees, not in the Performer category, but with the Award for Musical Excellence. (There are four categories for Rock Hall induction, also including the Ahmet Ertegun Award and Early Influences.) Formerly known as the Sidemen category, which was introduced in 2000 and renamed in 2011, the Award for Musical Excellence "honors those musicians, producers and others who have spent their careers out of the spotlight working with major artists on various parts of their recording and live careers."
The category description also notes, "Though they often play a key role in the creation of memorable music, the public rarely knows them by name." Not in this case, not to us. Do we have to say their names? Well, we will: Professor Roy Bittan, Clarence "Big Man" Clemons, Phantom Dan Federici, Nils Lofgren, Vini "Mad Dog" Lopez, David Sancious, Patti Scialfa, Garry Tallent, Sugar Miami Steve Van Zandt, Mighty Max Weinberg — congratulations to all the members of the E Street Band, past and present, on the long-deserved honor.
As stated in the Hall of Fame's E Street Band bio: "Through various incarnations, the 'mighty men and women' of the E Street Band, as Springsteen calls them, have provided a unique and powerful sonic template for Springsteen's music, combining British invasion guitar-driven rock, the joy of 1950s rock and roll and the drama and dynamics of soul music. They are showmen of the first order, and have more stamina than any rock band in the history of the music."

According to Rolling Stone, "the induction ceremony will be held at Brooklyn's Barclays Center on April 10th, 2014. It's the first time the general public will be able to attend the event in New York City. Tickets go on sale in January; HBO will air the event in May."
So for all those longing for the E Street Band to play again on these shores, you can start with putting 4/10/14 on the books.
The Rock Hall's press release states: "A pre-sale for Rock and Roll Hall of Fame members will take place in advance of the public on-sale date. To be eligible for the member pre-sale, you must be an active Rock and Roll Hall of Fame and Museum member by December 31, 2013 at 11:59 PM EST. Exact sale dates will be announced in January."
- December 17, 2013 - photograph by Frank Stefanko

E STREET ON THE AIR
Last Sunday, a couple of our DJ pals had E Streeters on their respective shows: Rich Russo hosted Jake Clemons on Anything, Anything, and Tom Cunningham had a certain Mighty One on to help celebrate ten years of the Bruce Brunch. For your listening pleasure, they're both now available online — click to listen: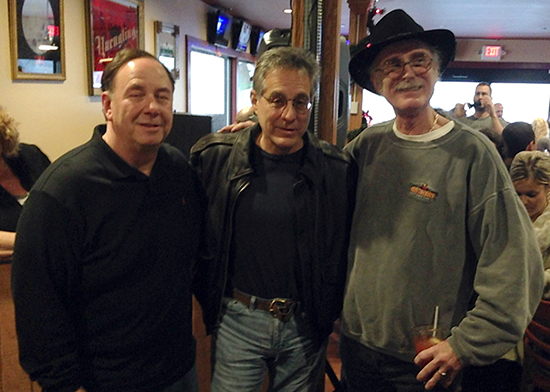 "Quite the gala anniversary show this past Sunday," says Cunningham, pictured above with a double-shot of E Street beat at a packed River Rock Marina Bar in Brick, NJ for the celebration. "The special surprise guest was Max Weinberg, and it was a great surprise. We doubled up on E Street drummers with Vini Lopez on the show as well (my first ever guest in early 2004), the great Pat DiNizio of the Smithereens performed 'Downbound Train' and his 'Blood & Roses' live, and Shore music scene historian Stan Goldstein touted the fourth edition of his and Jean Mikle's Rock & Roll Tour of the Jersey Shore book." Happy tenth to Tom and the ever-entertaining Bruce Brunch, long may you airwave.
- December 13, 2013 - photograph courtesy of Tom Cunningham

CLARENCE CLEMONS STAMP PETITION UPDATE
As expected, the response to our online petition to honor Clarence Clemons with his own U.S. postage stamp has been very strong. Since formally launching the drive, we've managed to gather over 2,400 signatures in just six days.
More good news: the petition is actually much closer to its target than we thought. The initial goal was set high, at 50,000 signatures. We've since learned, however, that several stamp proposal petitions with far fewer signatures have been considered and even approved by the Citizens' Stamp Advisory Committee. A prime example is this year's Johnny Cash stamp, part of the Music Icons series: an online petition submitted to the Committee for Cash's stamp had fewer signatures than we have already.
With that in mind, we've reset our signature goal to just 15,000 signatures by January 10, the day before New Jersey's first-ever official Clarence Clemons Day. So now we're just under 30 days out with an even better shot. If everybody who's signed already would get just six others to sign, we'd not only reach our goal, we'd exceed it. Raise your hand!
- December 13, 2013 - Shawn Poole reporting

GET YOUR FIX OF "THE FIXER"
Lilyhammer Season 2 US debut tomorrow; Season 1 on DVD/Blu-Ray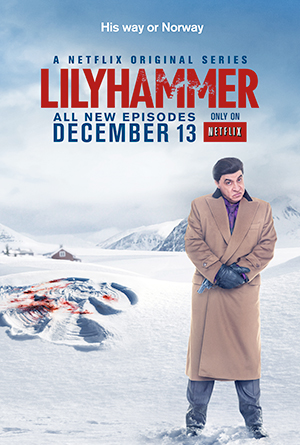 Tomorrow's Friday the 13th, but it'll be a lucky day indeed for us fans of fish-out-of-water character Frank "The Fixer" Tagliano, played (and co-written) by Steven Van Zandt in the television series Lilyhammer. All eight episodes from Season 2 of the groundbreaking Norway-set series will become available in the U.S. tomorrow, exclusively through Netflix streaming-video.
Among other things, the second season will find Frank facing English mobsters who are looking to take over his fledgling organized-crime operation, with a slew of guest-stars including Alan Ford (Snatch), Amy Beth Hayes (Doctor Who), Paul Kaye (Game of Thrones), Tony Pitts (Sherlock) and Amit Shah (The Infidel). Stevie also returns as an executive producer and has composed the score for every episode in Season 2. Click here to view the official Season 2 trailer, assuredly NSFW.
In addition to remaining available via Netflix, Lilyhammer Season 1 is now a 2-disc set in DVD and Blu-Ray formats. That includes all eight Season 1 episodes plus bonus material on the series' concept art, outtakes and a featurette on the creation of the Lilyhammer theme, also composed by Steve Van Zandt. It's available through many outlets, including series distributor New Video and Amazon.com.
Steve recently had a sit-down (well, via telephone) with the San Jose Mercury News, in which he discussed Season 2, the late great James Gandolfini, and which Springsteen song would go on his iPod if he could choose only one.
Below, the many faces of Frank the Fixer: a few sneak peaks from Season 2 to tide you over until tomorrow.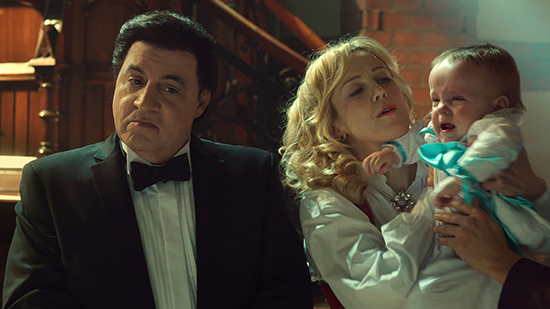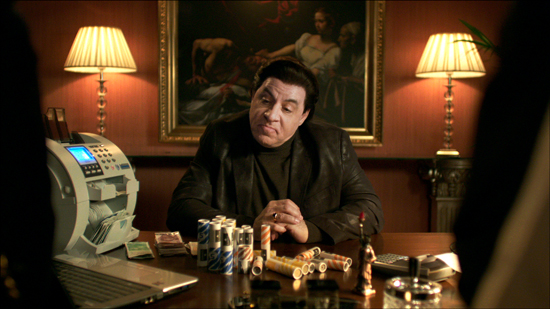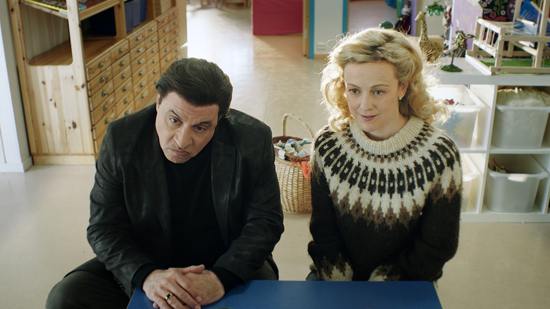 - December 12, 2013 - Shawn Poole reporting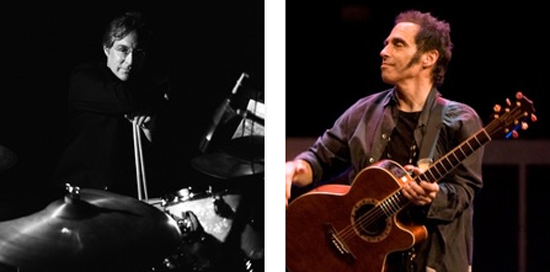 LEARN FROM THE BEST... AND OTHER HUNGERTHON AUCTIONS ENDING SOON
Support the fight against hunger and bid on exclusive Springsteen/E Street Band-related auction items, including a two-hour guitar lesson with Nils Lofgren and a personal drum lesson with Max Weinberg! All proceeds benefit WhyHunger's annual Hungerthon. Less than a week to go on the Max auction (ends 12/17), and the Nils auction ends tomorrow (12/12)!
More Springsteen-related items on the Hungerthon block include some beautiful photographs by A.M. Saddler and Michael Zorn, and a guest-host slot on Dave Marsh's E Street Radio show, "Live From E Street Nation." All of these end tomorrow, 12/12.
Support WhyHunger and bid now. If these auction items aren't up your alley, you can also contribute to the Hungerthon effort with a donation.
- December 11, 2013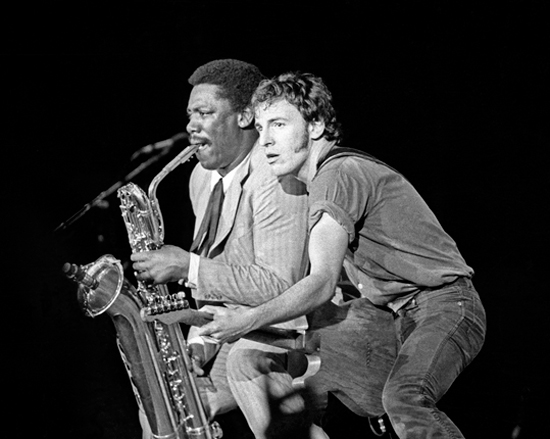 SPECIAL HOLIDAY OFFER FROM SHIVE ARCHIVE
Rock photographer Jim Shive, a longtime contributor to Backstreets, is making a special offer for the holiday season to fans here with one of his choicest images of Bruce and Clarence. Long one of our favorites of his, this has been one of the most popular of Shive's among fans around the globe, too, with only 20 prints now left available to the public. The image was made by Shive on New Year's Eve 1980/81 at Nassau Coliseum, Long Island, on The River tour. All 20 prints offered are Limited Edition, numbered and signed by Jim Shive, 16x20 in size. A Certificate of Authenticity accompanies each order. When this edition is sold out, it will not be available again.
Order from ShiveArchive.com, and just for Backstreets readers, use the code BACK to save $50. Quite the gift, if you're still looking for something big for a fellow fan.
All of Shive's photographs can be seen at ShiveArchive.com, spanning 15 years of classic pictorial rock history (1974-87). See all his 2012 Limited Edition Springsteen Photographs here. Find him on Facebook under Shive Archive.
- December 11, 2013

REMINDER FROM BACKSTREET RECORDS:
ORDER BY MIDNIGHT TOMORROW FOR PRE-CHRISTMAS DELIVERY!
As we do every year, we're guaranteeing pre-Christmas arrival for all orders placed by December 10 that are shipping to U.S. destinations. So if you're still in need of some Boss holiday goodies from Backstreet Records, Tuesday is the "Standard Shipping" deadline. (We can't guarantee arrival times outside of the U.S., due to customs, but we'll be working hard to ship orders out to everyone as quickly as possible.)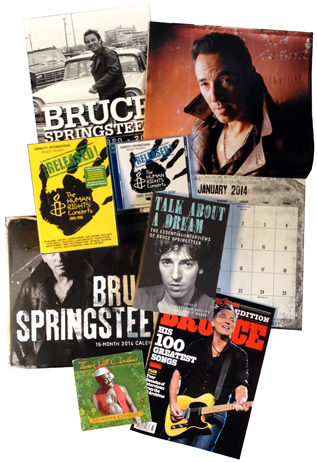 If you wind up ordering after tomorrow and need something prior to Christmas, you can always select "Expedited Shipping" to have it in one or two days within the U.S... but ordering by midnight Tuesday will save you some serious dough on postage.
You'll find new Springsteen books, calendars and more in our Latest Additions section, and here are some more categories to peruse:
Thanks for shopping with us!
- December 9, 2013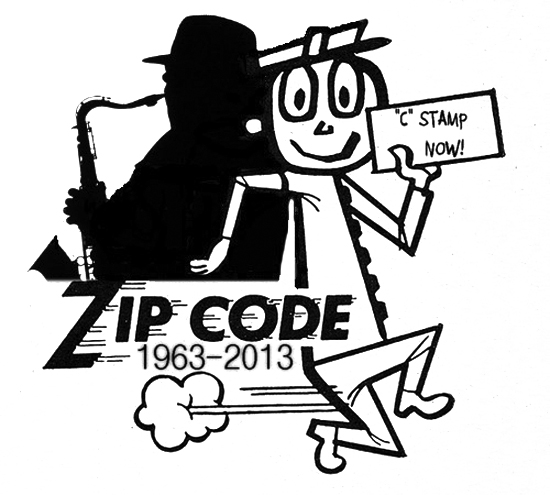 YOU'RE GONNA NEED BIGGER ENVELOPES
Announcing the Clarence Clemons Stamp Petition Drive
Today, December 7, marks the anniversary of Clarence Clemons' final public appearance with Bruce Springsteen & The E Street Band, at The Carousel House in Asbury Park, NJ, filmed for Songs from The Promise. As performed that night, it may be a "Blue Christmas" without him — and Clarence remains the E Street Band member most closely tied to Christmas in our minds — but we want to celebrate the immense appreciation for all of the joy, soulfulness and inspiration that Clarence's work has provided and will still provide for as long as there are Springsteen fans on this planet.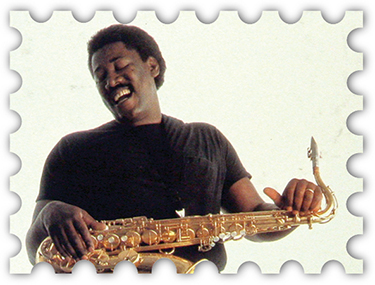 In that spirit, Backstreets.com and contributing writer Shawn Poole are co-sponsoring a petition to have Big Man's enduring legacy honored with a U.S. postage stamp. The U.S. Postal Service has recently honored Ray Charles, Johnny Cash, and Lydia Mendoza in their Music Icons stamp series. With Clarence's January 11 birthday and New Jersey's first official "Clarence Clemons Day" also right around the corner, our goal is to get as many signatures as we can over the next month or so. When Clarence Clemons Day arrives, we'll present the signed petitions to the U.S. Postal Service's Citizens' Stamp Advisory Committee.
Please click here to sign the petition. We welcome signatures from Clarence's fans and friends all over the globe, but since we're petitioning the U.S. Postal Service to create a stamp, the more U.S. citizens who sign, the better. After you sign, help spread the word via Facebook, Twitter, etc. If even a fraction of Clarence's many fans support this drive, it's got a shot. The Socrates of the Saxophone, the Kahuna of Surf and Soul, the Prince of Postage... let's make it happen.
- December 7, 2013

NEW JOBONANNO XMAS SINGLE BENEFITS LITTLE KIDS ROCK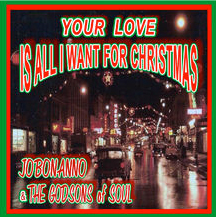 The Jersey Shore's Jobonanno & the Godsons of Soul have released their first Christmas song, "Your Love is All I Want for Christmas," available for download now from cdbaby.com and iTunes.
"I always wanted to write and record a Christmas tune," Jobonanno tells us, "but I usually started to think about it too late in the season. This year I said to myself the world needs a new upbeat, festive Christmas tune and set my goal." With production by Rob Lebret, one of Springsteen's recent engineers, "the Christmas magic started to happen."
All net proceeds from the single go to Little Kids Rock. Jobonanno will be playing the song with Gary U.S. Bonds at the Count Basie Theatre on December 22, when Bonds and Darlene Love and others team up for A Souled Out Christmas, also benefitting Little Kids Rock.
- December 6, 2013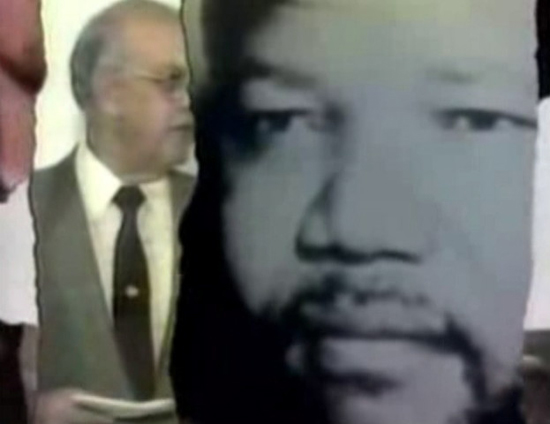 NELSON MANDELA, 1918-2013
Nelson Mandela, as quoted in the book Sun City…The Making of the Record:
"During my lifetime I have dedicated myself to this struggle of the African people. I have fought against white domination, and I have fought against black domination. I have cherished the ideal of a democratic and free society in which all persons live together in harmony and with equal opportunities. It is an ideal which I hope to live for and to achieve. But if needs be, it is an ideal for which I am prepared to die."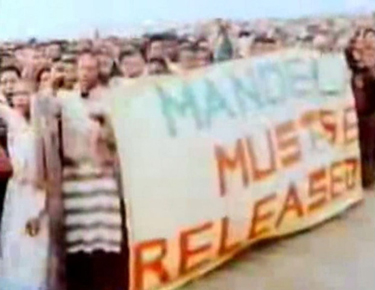 Steve Van Zandt, speaking at the 1985 special United Nations reception for Artists United Against Apartheid: "...though the black South Africans' needs are great, they do not ask for our charity; though the black South Africans' suffering is horrifying, they do not ask for our pity. All they ask is that we look at them and see them, because by seeing them we see ourselves. Their struggle is our struggle. Because their struggle is not against men — that is a temporary condition — their struggle is against a disease, a disease called racism and bigotry. And that is a disease that we are all confronted with every day of our lives, in every country of the world.... We must reach inside and find the strength to work together to stop it once and for all. Because only together can we overcome this disease."
Bruce Springsteen and the E Street Band's July 3rd performance of "Land of Hope and Dreams" was dedicated to Mandela. Last time they performed in Africa, in October 1988, Mandela was still a political prisoner in Cape Town. In nearby Zimbabwe, Springsteen spoke to the crowd: "I know they processed 15,000 South African visas for the show tonight, and I want to say welcome, I'm glad you came... There's a lot of young guys out there that are conscription age for the South African army. I guess there can´t be much worse than living in a society that's at war with itself, and being required to support that government.... My prayers are with the young men here that you can use your hearts and voices in the struggle of the dignity and freedom of all the African people... because whether it's the systematic apartheid of South Africa or the economic apartheid of my own country, where we segregate our underclass in ghettos of all the major cities... there can't be no peace without justice; and where there is apartheid, systematic or economic, there is no justice; and where there is no justice, there is only WAR!"
Less than two months from now, Springsteen and the E Street Band will play their first-ever shows in South Africa, where apartheid was officially abolished in 1990 and Mandela democratically elected as the first black South African President in 1994.
- December 5, 2013 - stills from the video for Artists United Against Apartheid's "Sun City" - thanks to Brucebase and Johanna Pirttijärvi for the Zimbabwe transcription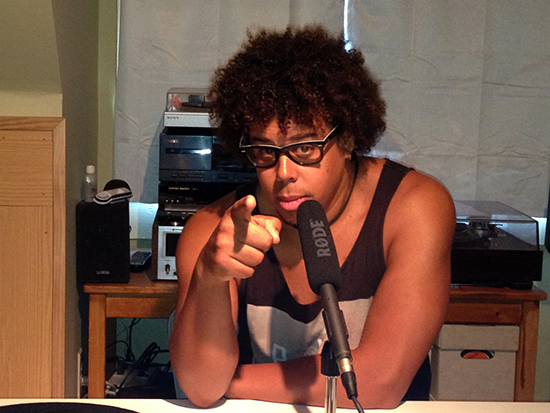 THIS IS RADIO JAKE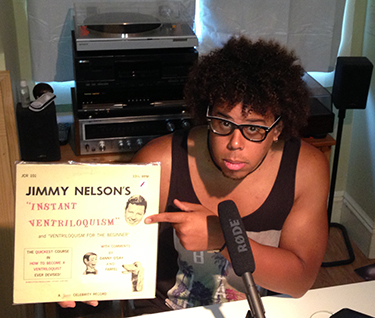 Celebrating the release of his Embracing Light EP, you'll find Jake Clemons not only on tour in Ireland this weekend, but also taking to the airwaves, both terrestrial and satellite. On Sunday night, December 8, Jake will be the guest host on Anything, Anything, Rich Russo's killer freeform program. Rich tells us, "There will be in depth interview segments, songs he picked — including what may be the worst song ever — as well as songs from his new EP."
Anything, Anything airs at the following times on the following stations: 107.1 The Peak, Sunday 9pm-11pm Eastern; 95.9 The Rat, Sunday 10pm-12am; 105.5 WDHA, Sunday 11pm-1am. All of those stations are available to stream online, as well as on phones via the TUNE IN app.
Jake has also recorded a Guest DJ spot for E Street Radio, which debuts tomorrow, Friday, December 6, at 4pm Eastern. He's spinning some of his favorite songs to play live with the Boss, as well as some of his own songs from his new EP. Probably nothing from Jimmy Nelson's Instant Ventriloquism, but tune in to find out. Encore broadcasts will be Saturday 12/7 at 12am and 8am, Monday 12/9 at 4pm, Tuesday 12/10 at 12am and 8am.
- December 5, 2013 - photographs courtesy of Rich Russo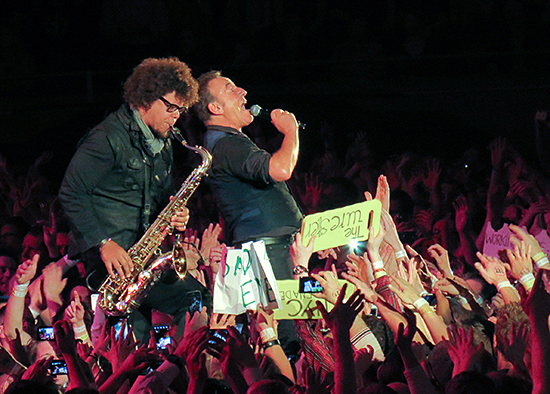 JAKE CLEMONS EMBRACES LIGHT
And along the way to his new EP, he embraces lessons from the greatness of Bruce Springsteen and the E Street Band
"It's sort of a kind of a bizarre scenario to be in when people are familiar with you, but not necessarily familiar with your work," Jake Clemons says of being back on the road with his own band — playing his own music in clubs, rather than E Street classics in stadiums. "We don't do a lot of covers, so you're hoping that people can catch it and believe it on the first delivery. But everyone's just been so generous and open at the shows."
Jake is touring Ireland as we speak, playing Dublin last night and Kilkenny tonight, with more stops throughout the country this week and next. He also has a new release out this week, Embracing Light, and he spoke with Backstreets just as he wrapped it up in mid-November.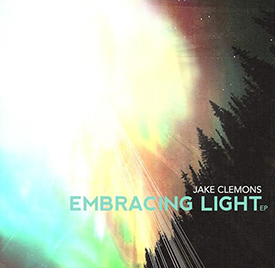 "We just finished tracking, and it's exciting — it's been a hard, long process because I was gone for a couple of years," he laughs, referring to the massive Wrecking Ball excursion that kicked off in early 2012. "I was having my guitar and a microphone and interface in my hotel rooms over the last two years, just tracking songs and sending them over for demos and getting the band to work on them while I was gone. And it's such a different process when the band's together, so we finally put the finishing touches on it, and it feels great."
After streaming the lead single "You Must Be Crazy" at the end of the summer, Jake officially released his new, five-track EP Embracing Light yesterday. The mp3 download is available now from Amazon, and a CD version (shipping December 12, with immediate download) can be pre-ordered via jakeclemons.com. Of course Jake breaks out the saxophone, but he's in frontman mode on the EP, singing and songwriting, playing guitar and keyboards, along with his band (Jason Crowgey, Ryan Gleason, Jake Hull, Brett Mayer, Matt Musty, and Michael Westbrook).
While two years on the road with Bruce may have delayed his recording plans, the experience can only be a good thing for Jake's own work: "I have to tell you that when [my band] got back together for rehearsals after such a long tour, there were certain parts of my role that they were unrecognizable to those guys. It was like, 'Whoa.' Like, 'What happened?' In a good way."
You mean there was a thing or two to learn on the road with the legendary E Street Band? "I feel like my brain has not gotten any bigger, and maybe a lot of things that I knew before have been displaced," Jake laughs. "But again, only in the best ways. From the experience as a horn player to studying Bruce every night as a frontman, and understanding how he weaves shows together... what are the elements that are important? And where is the value of the bandleader? How to rely on certain members of the band for certain things... just a huge, huge learning experience."
The lessons didn't just come from Bruce. "Everyone on stage is so brilliant, and it's like being able to stand in the... I don't know, the chamber of greatness," Jake laughs. "I feel sometimes like I'm standing in the court on Mount Olympus, you know? Amongst all these statues of gods... and it's kind of like, 'Wow, I can't believe I'm able to be here.' And what I'm able to garnish from those experiences. The horn section alone: Those guys are all masters of that element. They're experienced. There's not a better horn section, I don't believe, in the world. These guys were picked from the greatest, and they're phenomenal.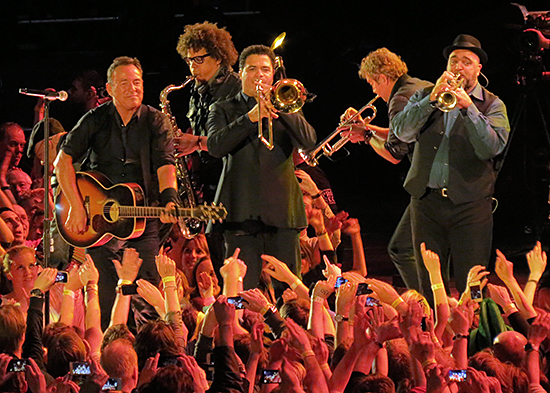 "So for me it was a very humbling experience," Jake continues, "and they're all really good, kind, and gracious... basically welcoming me as a novice in terms of horn section experience, for that role. I mean, I was used to being a featured player, but that dynamic was different, and I'm so grateful for it. The learning experience in that sense has made me a much sharper player."
After the Wrecking Ball tour's summer European leg, Jake played a few of his own shows in the northeast before reconvening with the E Street Band to play South America. "That was so great to be able to apply so many lessons I've learned and then go back and brush up again. I often refer to it as the Rock 'n' roll University, and Bruce is the dean. And to be able go out and apply that experience myself is huge."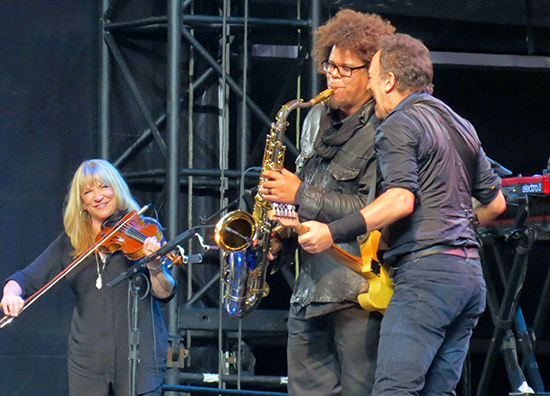 Those pearls of wisdom haven't just been restricted to the stage. Talking about his new release, Jake says, "It's a five song EP. It's a little bit brief in that sense. But for right now, it's the statement that we wanted to make. We recorded a lot of songs for this record."
Ah, plenty of outtakes — another page from the Springsteen playbook.
"Like I say, I've learned a lot! The thing is, in January 2012, I was ready to record my next record. And that obviously went on hold. Thank goodness it did, because I was able to spend a lot of time with Bruce talking about the process of putting a record together. And he shared so much with me about his own process, things that I could apply to my own experience: what a record should be about, having a theme, and finding the depth of your statement. Before that, I thought you put a bunch of good songs and you put them on a record and put 'em out. This is a whole different level. And I'm learning that. I'm applying that very much to my process now. I've taken so many notes on it. There's pages in notebooks that are like lessons. 'Today's lesson....'
"And whether Bruce shared something directly or not, a lot of stuff is stuff that I, just from watching, I'm learning... how to be great. If you want to be great, you have to know what greatness looks like. Or what it sounds like. And I've been entrenched in the midst of that for the last couple years."
Download Embracing Light from Amazon, or pre-order the CD here
- December 4, 2013 - Christopher Phillips reporting - photographs by Geoff Robinson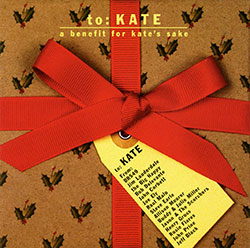 24-HOUR SALE: GET IN THE HOLIDAY SPIRIT WITH GARRY'S XMAS CD
Nashville-based Garry Tallent gathered a host of Americana music's most noted singers, songwriters, and musicians, for the To Kate: A Benefit For Kate's Sake CD. Fourteen holiday tracks from artists inclding Buddy & Julie Miller, Joe Ely, Jason & the Scorchers, Raul Malo, Steve Earle & Allison Moorer, and John Prine. It's a mix of new, original Christmas songs along with some different takes on well-known favorites — great stuff. And Garry himself produced and played bass on half of the tracks. Today only, get the CD for 25% off: usually priced at $17, on sale today at Backstreet Records for $12.75. No coupon necessary.
- December 4, 2013


CHIMES OF FREEDOM FLASHIN' FOR 65 YEARS
Commemorating Human Rights Day and Springsteen's work with Amnesty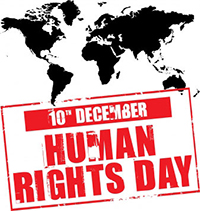 A week from today — next Tuesday, December 10 — will mark the 65th anniversary of the United Nations' Universal Declaration of Human Rights. On that date, Human Rights Day will once again be recognized around the world. It's also been 25 years since Bruce Springsteen began working with Amnesty International, the venerable organization that investigates and campaigns peacefully against governmental human rights violations and political imprisonment all over the planet. Springsteen's public support of Amnesty's work began with the 1988 Human Rights Now! concerts, when he and the E Street Band joined Tracy Chapman, Peter Gabriel, Youssou N'Dour and Sting in a globe-hopping tour to promote awareness and activism on behalf of the organization. Bruce's ties to Amnesty International continue to this day; just this past July, Springsteen and Patti Scialfa were among more than 100 well-known musicians who signed an open letter of support coordinated by Amnesty for the imprisoned members of Russian feminist punk-rock group Pussy Riot.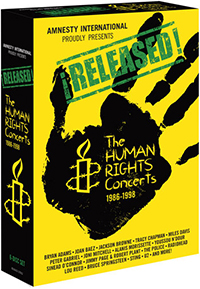 Amnesty International has commemorated the Declaration of Human Rights' anniversary with ¡Released!, a series anchored by a multi-artist 6-DVD box set along with several companion CD sets and digital-audio downloads, including many performances by Bruce Springsteen. Almost all of this material is seeing its first official release in any home video and/or audio format. Net proceeds from all sales will benefit Amnesty International.
On Tuesday, December 10, ¡Released! series producer Martin Lewis will be at the Museum of Modern Art in New York to present a special screening of Amnesty concert highlights from 1986 through 1998. Lewis also co-created and produced the Secret Policeman's Ball comedy and music galas in support of Amnesty in 1970s/'80s London. [Below, he and Bruce check out those DVDs in Munich earlier this year.]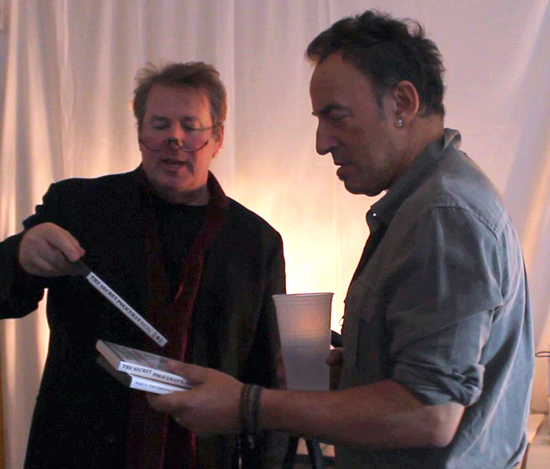 The MoMA presentation will include several Springsteen performances, both with and without the E Street Band, beautifully restored on the big screen. Also shown at the event will be Light a Candle! The Story Behind "The Human Rights Concerts," the new 40-minute documentary featuring excerpts from an interview with Bruce conducted last May. Starting today, tickets to this special Human Rights Day screening in New York can be purchased online here. (Non-MoMA-Members can simply click "Bypass Login" to purchase tickets. A small number of tickets will be set aside for day-of-event sales even if advance tickets sell out.)
Sirius/XM's SXM Comes Alive channel (available online and on select SiriusXM radios only) will observe Human Rights Day, too. Recorded performances from the 1986 A Conspiracy of Hope Giants Stadium concert, the 1988 Human Right Now! Tour finale, the 1990 An Embrace of Hope concert in Chile, and the 1998 The Struggle Continues... Paris concert will be broadcast throughout the day on December 10, including performances from Bruce Springsteen & the E Street Band as well as Little Steven & The Disciples of Soul.
A special YouTube page of official video clips from and related to the ¡Released! DVD box is now posted. Here are direct links to more of our favorite Springsteen-related clips:
Shout Factory, the North American distributor of the ¡Released! DVD box, also has posted this clip of Little Steven accompanying Bob Geldof on a version of Bob Marley's "Redemption Song" from the 1986 A Conspiracy of Hope concert broadcast from old Giants Stadium.
Finally (and now for something not-quite-completely different), here's a great clip that coincidentally and hilariously links Bruce's involvement with Amnesty back to those Secret Policeman's Ball galas: Monty Python's Michael Palin (with a little help from fellow Python member John Cleese) relates the ripping yarn "Biggles Goes to See Bruce Springsteen." (Click here for more on Biggles.)
A convenient listing of full details for all audio and video items in the ¡Released! series in all available formats can be found online at CryBabyCry.biz. More details and the history behind the Amnesty concerts also can be found at HumanRightsConcerts.com.
- December 3, 2013 - Shawn Poole reporting - photograph by Len Wramisti


Today only, everything at Backstreet Records is on sale. Use the coupon codes below to save... or save more!
Order $30 or more and save 10%: coupon code BADORGOOD10
Order $60 or more and save 15%: coupon code BADORGOOD15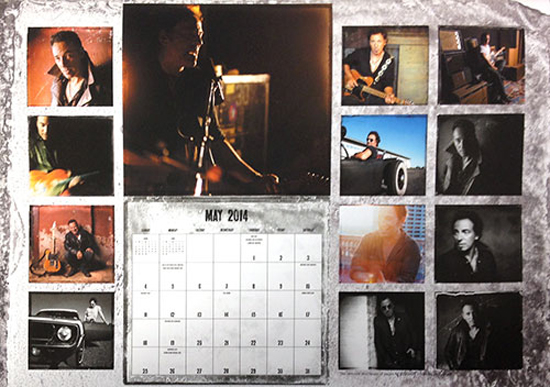 As usual, the official Springsteen wall calendar for the new year is one of our most popular items, the 2014 edition once again a Thrill Hill production with photography from Danny Clinch.
And there's whole lot more Boss goodness on our shelves: check our Latest Additions page to see what's new, or peruse by section, including: Concert Shirts, Springsteen CDs, Covers/Tribute CDs, Related Artist CDs, Vinyl, DVDs, Books, Songbooks & Sheet Music, Magazines, Backstreets Back Issues, and Backstreets Merchandise (including shirts, stickers, and baseball caps).
Order $30 or more and save 10%: coupon code BADORGOOD10
Order $60 or more and save 15%: coupon code BADORGOOD15
You'll be prompted for a coupon code at checkout, when the discount will be applied across your entire order. Sale ends Monday night, December 2, at midnight.
As always, we thank you for getting your goods through us, your independent one-stop Boss shop for 33 years.
- December 2, 2013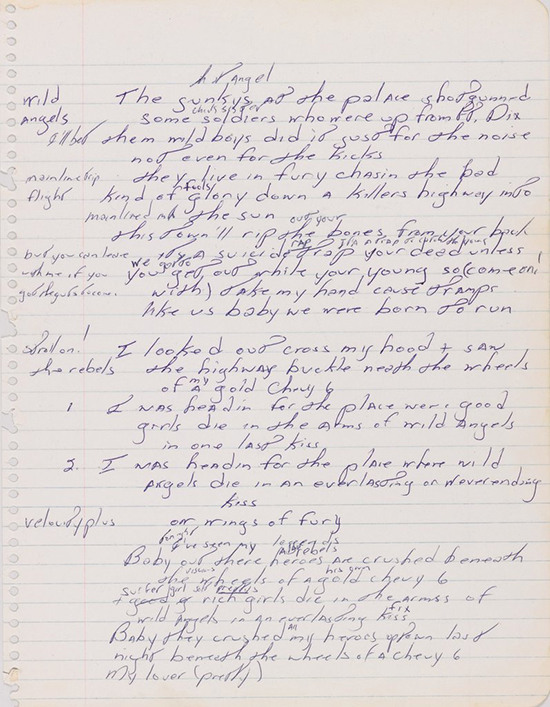 "WHERE WILD ANGELS DIE IN AN EVERLASTING KISS"
Even if you don't have the $70K - $100K that Sotheby's estimates it'll sell for at auction this week, you can still take a peek at this 1974 handwritten lyric sheet that presages "Born to Run." On the road to Springsteen's classic LP title track from 1975, you'll find some interesting test-driving: "This town'll rip the bones from your back... but you can leave with me if you got the guts to come."
Richard Austin, head of the auction house's books and manuscripts department, tells the New York Times: "Bruce Springsteen manuscripts don't come up often... There have been a few fragments over the last five to 10 years, but nothing of this importance. There are verses here that will be unfamiliar even to hardcore fans." "I looked out cross my hood and saw the highway buckle neath the wheels of my gold Chevy 6," anyone? Click the image above for an even closer look.
Sotheby's puts the manuscript up for auction this Thursday, December 5, at 10am in New York.
- December 1, 2013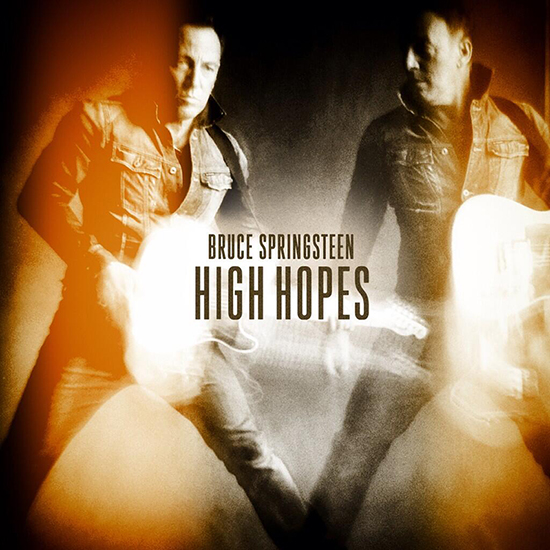 NEW ALBUM OFFICIAL: MAN, THE DOPE'S THAT THERE'S HIGH HOPES
They couldn't go back to Australia without a new album, right? Right. On January 14, less than two weeks before Bruce Springsteen and the E Street Band set out for South Africa, Australia, and New Zealand, Springsteen will release his 18th studio album, High Hopes.
The title track is one with a history in Springsteen's repertoire, a Tim Scott/Havalinas cut that Bruce first tackled with the E Street Band in '95, then revisited live in Australia early this year. In the album's liner notes, Springsteen describes the cover — resurrected at Tom Morello's suggestion — as a catalyst for this new album. Bruce states that he was already "working on a record of some of our best unreleased material from the past decade," but then "Tom and his guitar became my muse, pushing the rest of this project to another level."
So this is not Tracks 2. Still, "High Hopes" isn't the only song fans have heard before; as Springsteen writes, "Some of these songs... you'll be familiar with from our live versions. I felt they were among the best of my writing and deserved a proper studio recording." A full half of the album's 12 songs have been performed live, also including "American Skin (41 Shots)," "The Wall," "The Ghost of Tom Joad," Saints cover "Just Like Fire Would," and Suicide cover "Dream Baby Dream." Only one of them, however, "The Ghost of Tom Joad," had been released in a studio version already, and that, of course, in a dramatically different form.
Enter Tom Morello. As the High Hopes "muse," Morello is all over this record, dueting on "Joad" and playing on "High Hopes," "Harry's Place" (a title known from Springsteen's Rising-era notebook), "American Skin," "Just Like Fire Would," "Heaven's Wall," "Hunter of Invisible Game," and "Dream Baby Dream."
The remaining tracks on the record are all Springsteen originals: "Down in the Hole," "Frankie Fell in Love," and "This Is Your Sword."
In addition to the Sydney studio sessions Springsteen had previously spoke about, the album was recorded in New Jersey, Los Angeles, Atlanta, and New York City, with production credit going to Brendan O'Brien, Ron Aniello, and Springsteen. The various locales and production credits reflect material dating back to sessions for The Rising. As the press release states, "Clarence Clemons, who passed away in 2011, and Danny Federici, who passed away in 2008, also appear on several songs."
Songwriter
Producer
Played live
Previous availability
1. High Hopes
Tim Scott McConnell
RA, BS
yes
studio, 1995
2. Harry's Place
Bruce Springsteen
B'OB
no, only title known
none
3. American Skin (41 Shots)
Bruce Springsteen
RA, BS
yes
live, 2000
4. Just Like Fire Would
Chris J. Bailey
(The Saints)
RA, BS
yes
none
5. Down in the Hole
Bruce Springsteen
BO'B
no
none
6. Heaven's Wall


Bruce Springsteen
B'OB, RA, BS
no
none
7. Frankie Fell in Love
Bruce Springsteen
RA, BS
no
none
8. This Is Your Sword
Bruce Springsteen
RA, BS
no
none
9. Hunter of Invisible Game
Bruce Springsteen
B'OB
no
none
10. The Ghost of Tom Joad
Bruce Springsteen
RA, BS
yes
studio, 1995; live, 2008
11. The Wall
Bruce Springsteen (inspired by Joe Grushecky)
RA, BS
yes
none
12. Dream Baby Dream
Martin Rev and Alan Vega (Suicide)
RA, BS
yes
live, 2005
High Hopes can be pre-ordered now. The album will be available digitally from iTunes, with tracks "High Hopes" and "Dream Baby Dream" available now as mp3s.
In the U.S., Amazon.com will carry an exclusive, limited version with a bonus live DVD: Springsteen and the E Street Band performing Born in the U.S.A. in its entirety at the 2013 Hard Rock Calling show, June 30 at London's Queen Elizabeth Olympic Park. The Amazon Bonus Limited Edition is available now for pre-order.
The video for the title track, directed by Thom Zimny, is a collage featuring photos from Danny Clinch, Australian tour footage shot by Chris Hilson and featuring Tom Morello.
Bruce Springsteen's High Hopes Liner Notes
I was working on a record of some of our best unreleased material from the past decade when Tom Morello (sitting in for Steve during the Australian leg of our tour) suggested we ought to add "High Hopes" to our live set. I had cut "High Hopes," a song by Tim Scott McConnell of the LA based Havalinas, in the '90s. We worked it up in our Aussie rehearsals and Tom then proceeded to burn the house down with it. We re-cut it mid tour at Studios 301 in Sydney along with "Just Like Fire Would," a song from one of my favorite early Australian punk bands, The Saints (check out "I'm Stranded"). Tom and his guitar became my muse, pushing the rest of this project to another level. Thanks for the inspiration Tom.

Some of these songs, "American Skin" and "Ghost of Tom Joad," you'll be familiar with from our live versions. I felt they were among the best of my writing and deserved a proper studio recording. "The Wall" is something I'd played on stage a few times and remains very close to my heart. The title and idea were Joe Grushecky's, then the song appeared after Patti and I made a visit to the Vietnam Veterans Memorial in Washington. It was inspired by my memories of Walter Cichon. Walter was one of the great early Jersey Shore rockers, who along with his brother Ray (one of my early guitar mentors) led the "Motifs". The Motifs were a local rock band who were always a head above everybody else. Raw, sexy and rebellious, they were the heroes you aspired to be. But these were heroes you could touch, speak to, and go to with your musical inquiries. Cool, but always accessible, they were an inspiration to me, and many young working musicians in 1960's central New Jersey. Though my character in "The Wall" is a Marine, Walter was actually in the Army, A Company, 3rd Battalion, 8th Infantry. He was the first person I ever stood in the presence of who was filled with the mystique of the true rock star. Walter went missing in action in Vietnam in March 1968. He still performs somewhat regularly in my mind, the way he stood, dressed, held the tambourine, the casual cool, the freeness. The man who by his attitude, his walk said "you can defy all this, all of what's here, all of what you've been taught, taught to fear, to love and you'll still be alright." His was a terrible loss to us, his loved ones and the local music scene. I still miss him.

This is music I always felt needed to be released. From the gangsters of "Harry's Place," the ill-prepared roomies on "Frankie Fell In Love" (shades of Steve and I bumming together in our Asbury Park apartment) the travelers in the wasteland of "Hunter Of Invisible Game," to the soldier and his visiting friend in "The Wall", I felt they all deserved a home and a hearing. Hope you enjoy it.
—Bruce Springsteen
This morning's official press release from Shore Fire Media announced details regarding the album only; there has yet to be any indication of further touring after New Zealand in March.
- photograph by Danny Clinch