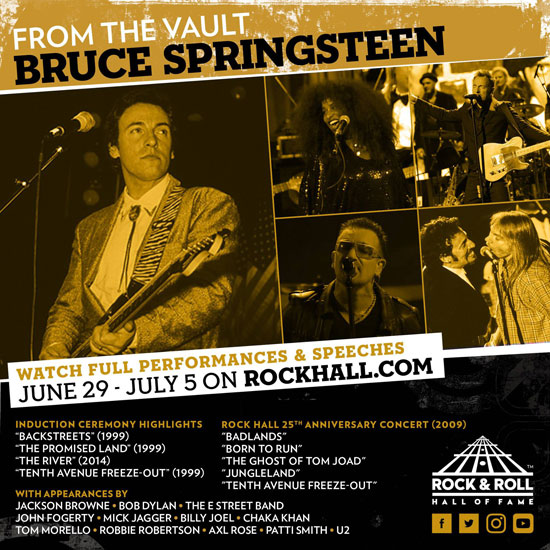 ROCK HALL VAULT SPOTLIGHTS SPRINGSTEEN
This week, from now through July 5, Bruce Springsteen is the focus of the Rock and Roll Hall of Fame's "From the Vault" series. Visit rockhall.com to explore Springsteen's induction in the Class of 1999, with newly added streaming video of his many appearances (both speeches and performances) from Rock Hall ceremonies and concert events over the years.
- June 30, 2020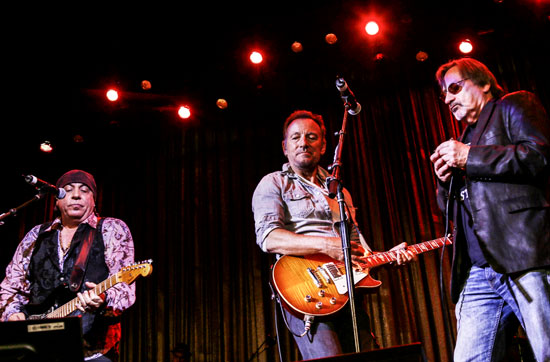 "JERSEY SUMMIT" THIS WEEK ON FROM MY HOME TO YOURS
A hallmark of Bruce Springsteen's radio show, six episodes in, has been its intimacy. But while we love having just Bruce's voice in our ear, we're excited for a Very Special Episode of From My Home to Yours as it returns this week with Volume 7 — with special guests Little Steven and Southside Johnny Lyon.
Yes, it's been a long time.... but we're getting the trifecta on Wednesday, July 1, for what Little Steven calls "The Jersey Summit!"
Tune in to From My Home to Yours, Volume 7 on Wednesday, July 1 at 10am ET and again at 5pm ET, on E Street Radio, SiriusXM channel 20
- June 29, 2020 - photograph by Mark Krajnak/@jerseystyle_photography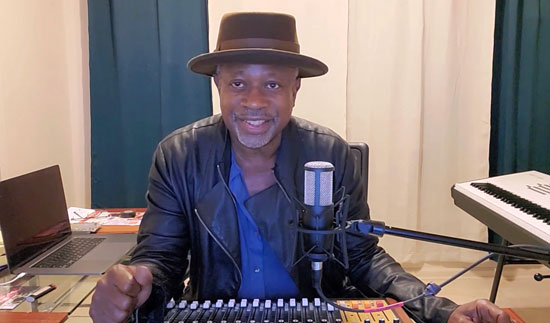 "RESOLUTELY FUNKY AND MUSICALLY DEEP"
Springsteen Archives launches Soundstage with new Sancious interview
Eileen Chapman, Director of The Bruce Springsteen Archives and Center for American Music at Monmouth University, has announced that the first episode of Soundstage, hosted by music historian Bob Santelli, will feature former E Street Band member David Sancious, and will debut this Thursday, July 2 at 10am ET.
Soundstage, a new monthly online series presented by the Springsteen Archives, will explore new works, trends, and contemporary issues in American music. Episodes of the series will be accessible to all via the Archives' website and Facebook page.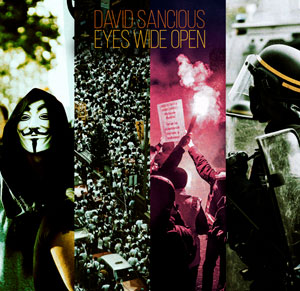 Santelli's conversation with Sancious will focus on the multi-instrumentalist's latest album, Eyes Wide Open, which is now available digitally on Amazon, Apple Music, Google Play, Spotify, Tidal, and other platforms, with the CD version available exclusively via Headstrong Media Group. The album includes some of the most potent — and relevant — songs Sancious has ever written, given the recent international protests that erupted after the murder of George Floyd.
Santelli, who interviewed Sancious earlier this month at his home on the Hawaiian island of Kauai, said of the album, "Eyes Wide Open is an album made for these times. On it, David Sancious explores the tyranny of racism in America, while remaining resolutely funky and musically deep. And as always, the playing is first-rate. It's an honor to have David launch our Soundstage series."
"This may be the most expansive collection of music I've done so far," explains Sancious, "in that it contains all the elements of my musical make-up." Songs on the new release include "Eyes Wide Open," "In the Middle of the Night," "Urban Psalm #3," "If," "Flip It," "The Tree House," "December," and "War in Heaven."
E Street Band keyboardist Sancious and drummer Ernest Carter left the group in 1974 and teamed with Gerald Carboy, a Jersey Shore bass player, to form the jazz-fusion band Tone. Acclaimed by critics, Tone's music expanded the parameters of fusion and featured the extraordinary keyboard work of Sancious. The group's album, Transformation: The Speed of Love, is an acknowledged fusion classic. Tone went on to successfully release several albums to critical acclaim before disbanding with the artists going in different directions musically.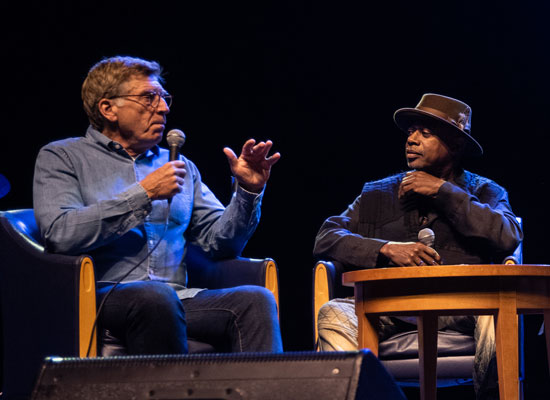 Santelli and Sancious at Monmouth University, October 6, 2019 - photograph by Barry Schneier
Last fall, the Springsteen Archives had the rare opportunity to bring together the three members of Tone at Monmouth University for a live interview with Santelli, followed by a performance, marking the first time in more than 40 years that they performed together.
As a "warm-up" for Santelli's new interview with Sancious, Backstreets is pleased to present contributor Shawn Poole's previously unpublished report on that October 6, 2019 Tone reunion, with photographs by Barry Schneier.
Read: "The Play and Display of the Heart: After more than four decades, Tone reunites onstage"
- June 28, 2020

SPRINGSTEEN IN THE ATLANTIC: THE AMERICAN STORY GOES ON
Signs of progress, '68 flashbacks, and spiritual songwriting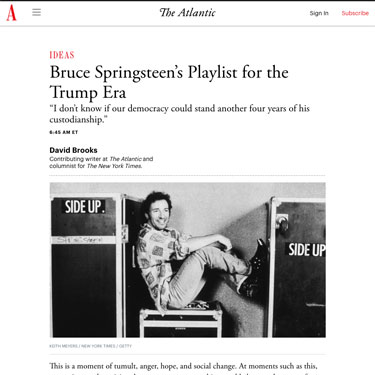 Now six episodes in, Bruce Springsteen's From My Home to Yours has provided shelter-in-place music and commentary — part balm, part antiseptic, and bittersweet. But Sirius XM isn't mainstream: fans overseas, where some of his biggest audiences reside, have trouble logging in to hear the biweekly installments.
A new interview with New York Times opinion writer David Brooks amplifies the message Springsteen has been crafting these past couple months.
Published today in The Atlantic, the June 9 Q&A touches on the themes that have shaped his deepening foray into radio, and Brooks, no stranger to Springsteen's work (see "The Other Education," 2009; and "The Power of the Particular," 2012), tees up a discussion that's steeped in the times we're living through.
While acknowledging factors that would lead "working people" he's written about to support Donald Trump, Springsteen pulls no punches regarding his leadership:
I believe that our current president is a threat to our democracy. He simply makes any kind of reform that much harder. I don't know if our democracy could stand another four years of his custodianship. These are all existential threats to our democracy and our American way of life.
With the American discourse twisted by pandemic and the aftermath of George Floyd's murder, Springsteen nevertheless explains his optimism, inspired by the protest movement, one led by a new generation: "white people and black people and brown people gathering together in the enraged name of love. That's a good sign."
Tracing the political grain of his songwriting, Springsteen adds another dimension to "American Skin (41 Shots)," his response to Amadou Diallo's death. "It's one of the songs I am most proud of," Springsteen tells Brooks. Just don't call it a protest song (something we did, incidentally, in the Backstreets coverage of its 20th anniversary on June 4th). Rather, it's another in the long line of what Springsteen refers to as "character studies that had social implications… you have to create complex characters that you breathe creative, three-dimensional life into. And that's how you find the truth in something."
If you've been unable to hear From My Home to Yours, the songs Springsteen includes here are among the heavy hitters — though they offer a mere glimpse of the tapestry he's woven over the six episodes thus far. Chief among them: Billie Holiday's "Strange Fruit," which Springsteen says Columbia Records declined to release at the time; and his own "American Skin." Paul Robeson's "The House I Live In" is here; like Bob Dylan, Robeson is a musician whose works have appeared in more than one episode. Patti Smith's "People Have the Power," Springsteen says, is "one of those songs I wish I'd written…. I don't think there's a better song for this moment than this song."
Springsteen's last major Q&A came around the time of the Western Stars film, seemingly a lifetime ago. Just as the music we love changes, so does the world, sometimes for the better, sometimes not. Springsteen, however, continues to speak to concerns foremost in our minds, which is why today's piece resonates.
Read: "Bruce Springsteen's Playlist for the Trump Era" by David Brooks
- June 23, 2020 - Jonathan Pont reporting

WATCH THE SEASON FINALE OF MAX'S MEMORIES
Episode 5 of Mighty Max's Monday Memories, posted last night, closes out the first season of Max's limited series. Clear an hour when you can, and watch it here.
The Q&A show was Max's idea, for a fun way to stay connected during the lockdown, and it's been a blast to help host something different like this. We're grateful to him for really putting his heart into the series, for the work and care he put in to make it outstanding (check the quality jump from e2 to e3). And we're grateful, too, for all of the interesting and informed questions from our readers that sparked Max's memories, giving him such a wide array of subjects to take on.
Wrapping this episode, and the first season, the Mighty One says:
We're going to take a hiatus, I'm going to be spending a few weeks actually organizing and scanning a lot of the memorabilia that I've alluded to — it fills a warehouse! So this will be the last episode for a little while.

But I've enjoyed it, I hope you've enjoyed it. I hope it's given you a laugh and given you some information through these distressing times we've had to live through most recently. Your questions have been great, your comments have been fantastic, your interest has really warmed my heart — to hear from me, because I'm usually at the back of the stage not saying much.

I will be seeing you! For sure. I'll be playing for you again, and talking with you again. Check in with Backstreets, and I'll let them know when we're going to pick this back up, we'll see how we go with it. For now I want to thank you deeply, from the bottom of my E Street heart… thank you very much for tuning in, I will be seeing you on the road somewhere.
You can watch the entire five-episode first season of Mighty Max's Monday Memories on both YouTube and InstagramTV, where all episodes are archived and available to stream.
The askmax(at)backstreets.com mailbox will stay open — if you have a burning question for Mighty Max, send it in! — as we keep fingers crossed for Season 2.
- June 23, 2020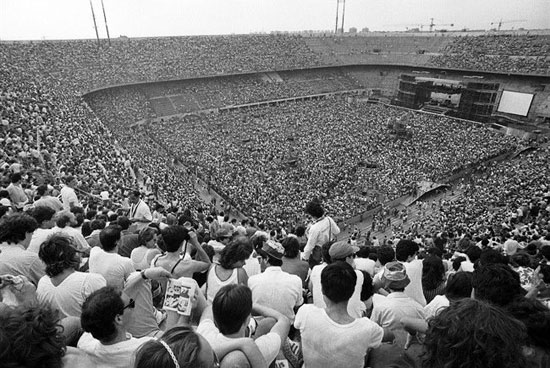 THE LEGEND OF SAN SIRO: HOW ITALY CAME TO LOVE THE BOSS
Guglielmo Latini on the 35th anniversary of Springsteen's first show in "the homeland"
Thirty-five years ago tonight, Bruce Springsteen and the E Street Band performed in Italy for the very first time, to a stadium full of fans packed to the top row. Can you describe in detail an event you did not attend? And can you do it for a rock concert, which usually makes sense only if it's lived, rather than inherited as a historical event, or a memory? An event for which the typical phrase, to be waved like a pennant, is "I was there"?
Regardless, the concert that Bruce Springsteen and the E Street Band performed on June 21, 1985 at the Giuseppe Meazza stadium in Milan — also known as San Siro — deserves celebration even by people like me who couldn't attend (I must admit, I wasn't yet born in 1985). That's because it represented the beginning of the love affair between Bruce and Italy — his first in what he'll call "the homeland," the first in a long series of memorable concerts at the San Siro stadium, and the official founding of the Italian fan community.
If you ask an Italian rock fan for a Top 5 list of concerts by international artists ever held in Italy, they'll probably mention Pink Floyd in Venice in 1989; Bob Marley in Milan in 1980; the last concert by Patti Smith before she retired, in Florence, 1979; the Rolling Stones in Turin in 1982, on the evening of the World Cup victory. And then, you can be sure, there will be Springsteen in '85 at San Siro.
One must remember that during the 1970s, most international artists had avoided Italy because of its political turmoil, with self-appointed revolutionaries violently protesting against ticket prices and police using smoke bombs on arena floors.
That shifted in 1980, as the famous San Siro stadium, which primarily hosted soccer games, held the first concert in its long history: one of the last by Bob Marley before his death, and likely the most well-attended of his performance career.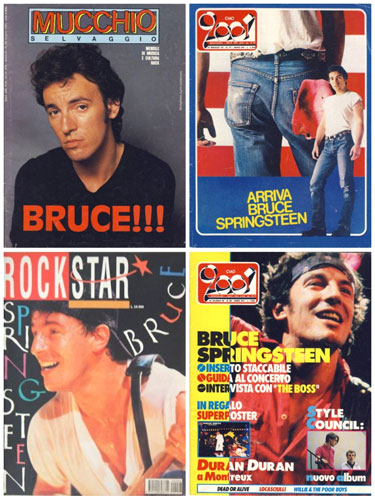 By 1985, it was time for full Bossmania — Springsteen was everywhere, a global superstar. But before he'd played a note in Italy, Bruce had been the darling of a few Italian connoisseurs, a tribe who gathered around do-it-yourself magazines such as Il Mucchio Selvaggio.
In April 1981, these die-hards went to Hallenstadion in Zurich, Switzerland, the concert closest to Italy, geographically, on The River Tour. They traveled by bus, by car, by hitchhiking, in order to see with their own eyes whether what they had read in the magazines was true.
For those waiting for Springsteen to play Italy, rumors began to fly at the beginning of 1985, and on May 7 it was official: Bruce would be coming to perform in Milan, for one date, on June 21. Tickets would go on sale less than a month prior, on May 24, and by May 31 the newspapers announced the enormous stadium was sold out.
At this point the Italian newspapers began to feel "Springsteen fever," sensing that the event would be big; articles by music critics appeared everywhere, to "explain" who this American rocker is.
The opinions were generally supportive and admiring, even from unsuspecting voices such as L'Unità, the press organ of the (very strong) Italian Communist Party, which declared: "James Dean, the Outsiders, the first Presley: all the symbols and myths of a candid and outlandish, naive and defeated America, and precisely for this reason antithetical to the glorious arrogance of the richest and most powerful country in the world, are continuously recycled and repurposed by Springsteen".
Springsteen arrived in Italy on Wednesday June 19, after a date in Munich, and was welcomed in Malpensa by none other than Donatella Versace, who together with her brother Gianni hosted him in the villa of the fashion designer on Lake Como.
Then came June 21.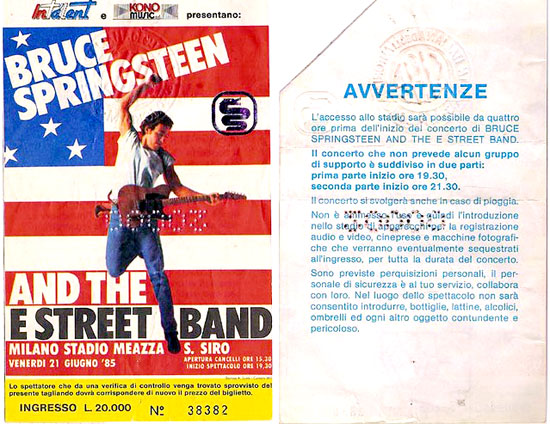 It is the summer solstice, the air in Milan is hot, and by dawn, youngsters began to gather outside the stadium. And because the tickets are not numbered or divided into sections, it is completely first-come, first-served. The audience is, officially, 65,000-strong.
Several well-known names are seen in the stands: among others, the mayor of Milan, politicians, Italian pop stars, soccer players, and such fashion designers as Versace, Valentino, and Fiorucci.
At 7:32 pm, an unthinkable time for a concert (given that the sun is still high), Bruce and the E Street Band take the stage, welcomed by the immense roar of San Siro. Bruce himself recalls this very moment in his autobiography:
We walked down its damp, dim, gladiatorial tunnels with the distant ear-shredding sound of eighty thousand Italians rising, louder and louder, until we broke onto the sunlit field. A cheer rose that sounded like we'd just returned from the Crusades with our vanquished enemies' heads held high on the necks of our guitars (or perhaps we were just about to be fed to the lions).

Walking amid the thunder toward the ramp leading to stage front, I noticed an entire section of empty seats. Our promoter at my side, I said, "I thought the show was sold out." He answered, "It is. Those seats are for the people who are going to break in!' Got it. And so they did.

We hung huge video screens on the outside of the stadium to satisfy those unable to attend, but that only held them for a little while. Gates were rushed, security was breached, and soon all "seats" were full, and then some.

I stood in front of the mind-bending hysteria I'd come to realize passes for a normal reaction from an Italian audience as women blew kisses and cried, men cried and blew kisses, and all pledged undying love and beat their hearts with their fists. Some grew faint. We hadn't even started playing yet!

When the band crashed into "Born in the U.S.A.," world's end seemed near; the stadium shook and swayed as we played for our lives. Marone!
When the "One, two… one-two-three-four!" that precedes "Born in the U.S.A." resounded in the stadium, the spark with Italy was struck. Thirty-five years later we are lucky enough to get an idea thanks to the audio bootlegs (which are easily found on the Internet) and a video made from the field now on YouTube.
Springsteen does not immediately reveal a special kinship with the Italian public, playing "Badlands," "Out in the Street," "Johnny 99," "Atlantic City," "The River," "Working on the Highway," "Trapped," and "Prove It All Night."
By the tenth song, however, things change: it is "Glory Days," which had come out as a single 20 days before; here, Springsteen starts with an introduction based on a call-and-response with the audience that proves to be more than up to the task, such that he exclaims a very Italian "Fantastico!"
Then, again, he unexpectedly uses Italian to dedicate "My Hometown" "from my hometown to your hometown."
Now there is chemistry, and the next songs show it: during "Thunder Road," the audience is perfectly ready to sing its part, and later, the same with "Hungry Heart." Still more unexpected from the Italian audience is the fact that Bruce will pick up a girl from the front and dance with her on "Dancing in the Dark": it's not fiction, it really happens!
"Because the Night," which the Italian public already loves from the Patti Smith version, is a very welcome surprise, and even more so is "Backstreets," performed only five times that year (it even includes a spoken interlude resembling the old "Sad Eyes" segment of 1978).
Then, there is only room for sheer delirium: the drama is over, the reputation as a spotless hero is saved, and a 15-minute "Rosalita" is exactly what it takes to send the audience into rapture. Bruce yells, "Rosie, come out tonight, I'm looking for some amore!"
The most touching moment came just after, when Bruce took a moment to thank the "very faithful Italian fans" for "supporting our band in the years when we didn't come here." As he says it, he seems to regret past absences, as if he had realized that he's missed something remarkable. Then, with voice, guitar and piano, he starts "Can't Help Falling In Love," which is illuminated by thousands of lighters in a completely dark stadium.
Then, in a moment, San Siro is brightly lit as "Born to Run" starts, the eternal anthem of every aimless wanderer; as you can see from the video, the audience has not lost an ounce of energy.
A guitar riff carved in the tablets of the rock 'n' roll announces "Twist and Shout," but the masterstroke is not from Bruce: after a few minutes, it is the Italians, who spontaneously start a chorus that in an instant involves all 65,000. Here, you notice the power of the Milanese audience: they do the show themselves — it's a total communion.
After 18 minutes of sing-along, Bruce now ventures into promises in Italian: "Grazie, thank you, we love you, goodbye. We'll be back to see you." The choirs, however, do not stop, it's all "Bruce-Bruce-Bruce"; the Boss decides to reward the loyalty with a final encore, "Rockin 'All Over the World."
It is 11:20 pm, and almost four hours have passed since the beginning; 65,000 people have just lived an experience for which they will say "I was there" for the rest of their lives.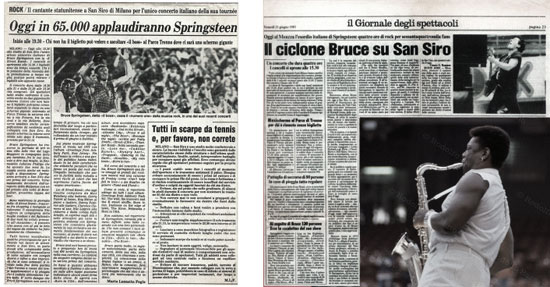 With not even time for fans to get out of the stadium, Bruce is already away, to Montpellier by private jet. Before embarking, a newspaper reported that he said: "I will never forget Milan, it was the warmest audience I have ever met."
Those words sound standard for a rock star, repeated in every city, but this time it is not like that at all. San Siro will truly remain in Bruce's heart, and he will prove it in the decades that followed. Eighteen years and 22 concerts will occur in other Italian locations. But in 2003 the complete E Street Band will return to the consecrated field of the San Siro, and one of the most exciting moments of the concert, source of infinite pride for every Italian fan, will be the one in the middle of "Growin' Up," in which Springsteen launches into an interlude spoken completely in Italian, and says:
"Here I am, in Milan, in 1985, and for the first time I played in Italy. Thousands of Italians fans: all crazy, very crazy! Shouting: 'Bruce! Bruce! Bruce!' [and he pronounces it 'Broo-che', making fun of some Italians' pronunciation]. It's nice to be back home; we grew up together. Thank you."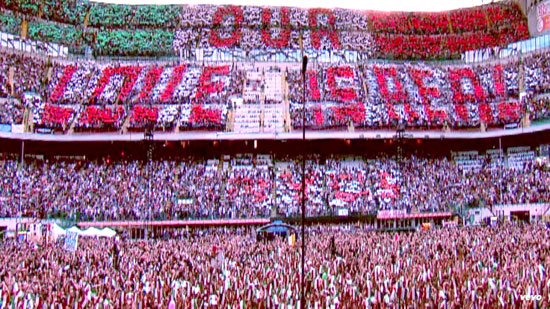 There will be San Siro 2008, and again in 2012 (for the first time without Clarence Clemons). In 2013 a spectacular entrance awaited Bruce, in which fans return the love with choreography, including an enormous sign that says "Our love is real" — it is worth enjoying the incredulous and moved look on Springsteen's face when he climbs the stairs of the stage to see an audience so invested with affection.
At the end of the concert, Bruce grew more explicit: "Ever since I was a little kid, I have played in many places. But this place here is the one I will never forget, which is always with me. And you, you are always with me."
June 21, 1985 was not only the date of a concert, but the birth of a community, a type of person, a faith: the Italian Springsteen fan, a passionate and genuine rocker, united by a visceral brotherhood with fellow fans, like scattered believers of the same creed.
For 35 years, that community born in the summer solstice will always be faithful, treating Springsteen not as a vacant pop idol but as an older brother we never had, a travel companion, a friend, one who deserves eternal dedication.
That flame has not gone out: after all, we were all in San Siro. The best gift would be a DVD of that special day, maybe to complement a Born in the U.S.A. reissue. In the meantime, YouTube is still there.
An Italian-language version of this piece can be found here.
- June 21, 2020 - Guglielmo Latini reporting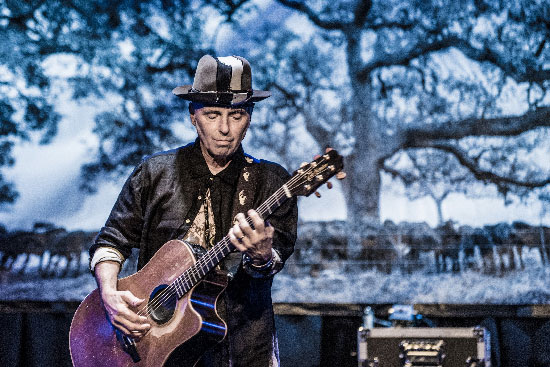 CELEBRATE HIS BIRTHDAY WITH A NEW ONE FROM NILS
Not only are we wishing a happy Fathers Day to all the cool rockin' daddies out there, but a very happy birthday to Nils Lofgren, too. Born June 21, 1951 and turning 69 today, Nils has been a professional musician for 52 years now, since the age of 17.
And as any E Street fan knows, he's still going strong. Check out this brand new release, a wonderful interpretation of Willie Nile's "All God's Children" (from his 2018 album Children of Paradise), complete with choir. It's an advance taste of a forthcoming tribute album for another guy who's been around a while.
Nils' take on "All God's Children" kicks off Willie Nile Uncovered: Celebrating 40 Years of Music, which will also include contributions from Graham Parker, Elliott Murphy, Dan Bern, Jen Chapin and more, covering 26 of Willie's songs. The 2CD set is due August 21, 2020, from Parardiddle Records.
As quoted by American Songwriter, Nils writes of his contribution:
I've been listening to Willie's edgy, soulful rock 'n' roll for decades. Willie's always delivered. When asked to sing a track for this wonderful compilation I was sure my first song choice had to have been taken. I was thrilled the brilliant, "All God's Children" was still available for me to record. A song of hope for the ages, more poignant now then ever as our entire human race strives for equality and peace, through a startling and collective insanity of hellish greed and moral corruption. I'm joined by a joyous choir to revel in this universal cry of hope for all. So raise your voices! We're All God's Children! Believe, Nils
We believe. And we're sending out best wishes to Nils and Amy for a good day in the midst of the insanity. Same to all the fathers, too!
- June 21, 2020 - photograph by Jerry Frishman

RECAP: FROM MY HOME TO YOURS, VOLUME 6
"Down to the River to Pray"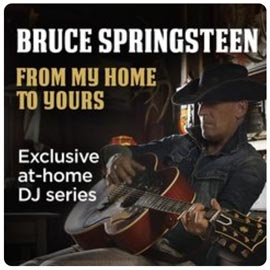 This year marks the first presidential election year in Bruce Springsteen's entire performing history in which he hasn't been on tour. Going all the way back to 1972, when he played a benefit for George McGovern, Springsteen has been on stage with something to say each time the highest national contest has rolled around. Until 2020.
But thanks to his From My Home to Yours radio show on SiriusXM, Springsteen is still able to speak to the times — perhaps more than ever — and to the Man at the Top:
I'm going to start out by sending one to the man behind the Resolute desk. With all respect, sir: show some consideration and care for your countrymen and your country. Put on a fucking mask.
The long-distance dedication that followed was Bob Dylan's "The Disease of Conceit," from 1989's Oh Mercy. After it played, Bruce highlighted and paraphrased the final lines: "If your delusions of grandeur give you the idea you're too good to die, they'll bury you from your head to your feet from the disease of conceit."
Bruce continued bemoaning the lack of leadership from the top:
It is the responsibility of those who lead us to inhabit the nexus where our national, political, and spiritual lives meet.

The United States of America is ultimately a nation of souls. In times of historic calamity, and tragedy, it is necessary for our leaders to administer not only to our social needs, but to the union of souls that is our common citizenry. To tend to our wounds, both physical and psychic, and speak to the strength and fears of our national family.
This intuitive view of what leadership should offer, combined with Bruce's ability to administer to a union of souls, may be why a kernel of seriousness has always hovered near calls for "Springsteen for President." The above could easily double as a mission statement for Volume 6, in which Bruce himself inhabits that nexus: of the national, the political, and the spiritual.
To dwell solely on the political would be to miss the main thrust of Volume 6, which leaned most on the spiritual: it was a memorial service, or as he called it, "a rock 'n' roll requiem."
"Welcome welcome welcome," Springsteen began (suggesting that he, too, watches Last Week Tonight with John Oliver) as he introduced the new set by revealing that it replaced another he had already recorded.
May you lay your personal burdens down for a moment and join us in the next hour for some music that I hope will lighten those burdens as well as administer, ever so slightly, to your good soul.

Now, I had another show prepared for broadcast this week, on this strange and eventful summer. But with 100,000-plus Americans dying over the last few months, and the empty, shamed response from our leaders, I've been simply pissed off. Those lives deserve better than just being inconvenient statistics for our president's reelection efforts. It's a national disgrace.

So instead of celebrating the joys of summer, we will be contemplating our current circumstances with the coronavirus, and the cost that it has drawn from our nation. We will be calculating what we've lost, sending prayers for the deceased and the families they've left behind.
Springsteen mourned "souls who have passed away due to the coronavirus." Throughout the show, he recited names, sharing something special about each one (being "known for friendliness" on the same level as another's professional achievement), and where they lived.
At intervals, the list went on, becoming a moving glimpse into so many lost lives as he paid tribute to departed husbands, wives, pet rescuers, bond traders, 9/11 first responders, transgender immigrant activists, police officers, stamp collectors, photographers, health care workers, Jersey Shore music fans, stock-car engineers, salsa and ballroom dance enthusiasts.
"God bless them all."
From beginning to end, Springsteen used "Down to the River to Pray," the song that gives this volume its title, as a motif to accompany these prayers (opening with a John Paul Jones version). He also segued into one of his own recordings, "Dream Baby Dream," dedicated "to the memory of the late Alan Vega, and his late band Suicide." First performed by Springsteen 15 years ago, the musical mantra sounded as bittersweet, ethereal, uplifting, and, well, heavenly as it ever has — a fitting soundtrack to this haunting roll call.
Most names were not famous in the wider world, but a few were known to many of us: "John Prine, 73, Nashville, Tennessee. American songwriter.... Adam Schlesinger, 52, of great New Jersey band Fountains of Wayne."
"May they rest in peace."
So this series of names became a ritual we all observed through the hour — which helped fill a void that Springsteen described:
One of the most heart-rending aspects of these deaths is that the virus has stolen from us our rituals. Our funerals, our wakes, our house meetings with family after the burial. Our ability to stand by our loved ones, to touch them, to kiss them as they pass, to look into their eyes and let them physically know how we loved them — this is the cruelty of this disease. To say our last goodbyes to our loved ones by phone, and then to return home, alone, to an empty house.

It is a heartbreaking and lonely death, for those afflicted and for those left behind to pick up the pieces.

Now, when my father died, my close friends and my brother-in-law, we stood in the graveyard, in the midst of our large family, and we took shovels and we buried my father ourselves. It meant a great, great, great deal to me. And it's a memory I'll cherish as long as I live. The importance of that ritual. And to stand with my loved ones on the burying ground.
That personal memory led into a wonderful gospel performance by Sensational Nightingales, "Burying Ground" being one of many fitting song selections in the gospel vein. Namechecking "incredible" lead vocalist Julian Cheeks, Springsteen added that "the greatest singing, in my opinion, is in gospel music. There is no more passionate and raw emotive singing in the world."
Springsteen returned to gospel throughout the set, raving over Sam Cooke's records with the Soul Stirrers, speaking of Ugandan writer Annie Masembe (she wrote the words for "Woyaya," which lyrically evokes his own "Rocky Ground"), digging back to 1966 for the Consolers single "Too Late."
The playlist remains diverse — plenty of "old white men" are here, too: Neil Young with "a beautiful prayer," Johnny Cash in apocalyptic mode, CCR's evergreen "Who'll Stop the Rain," and Dylan going six for six. But they share the hour with an "immortal" keystone track from Marvin Gaye, spoken word from Barack Obama, and the "stunning" baritone of New Jerseyan Paul Robeson. While the Black Lives Matter movement is of course at the forefront of national attention, never once does Bruce's inclusion of black voices feel pandering. This is simply the sonic water he swims in.
Springsteen has been a vocal fan of Tupac Shakur for decades; the earlier Volume 2 included "Dear Mama." Today Bruce reached for the late rapper again to mark this moment with "Changes," which samples Bruce Hornsby's "The Way It Is" and includes these resonant lines:
We gotta make a change
It's time for us as a people to start makin' some changes
Let's change the way we eat, let's change the way we live
And let's change the way we treat each other
You see the old way wasn't working so it's on us to do
What we gotta do, to survive
If anyone wondered about Springsteen's range as a music enthusiast, From My Home to Yours continues to tour an expansive wheelhouse. Soon after 2Pac, Bruce is jumping back a century for some history of Blind Willie McTell ("and I think Bob Dylan was right," the DJ added, connecting a dot to Volume 5, "when he says no one sings the blues quite like that").
Today's biggest jawdropper may have been a track from Fugazi, the legendary, iconoclastic, post-hardcore punk band out of DC. Not only was the selection a blast of a wake-up call after "Dream Baby Dream," it bore a perfect title: "Give Me the Cure." Springsteen introduced it like so:
Real illness is frightening, and make no mistake about it, these are frightening times. The footage from inside some of the ERs that we've seen should be enough to convince you to stay safe, behave responsibly, and heed the warning of your medical professionals. The souls intubated, struggling for each breath, are a testament to the deadliness of this virus, and to the bravery of our front-line doctors, nurses, and health care professionals.

Our health care professionals who willingly put themselves in harm's way, risking their own lives for others, deserve some special dispensation in heaven and here on Earth. We owe them our eternal thanks.
Springsteen played a portion of a 2014 speech from President Obama regarding pandemic preparedness, as delivered to the National Institutes of Health on December 2, 2014. As part of his remarks, Obama said, "There may and likely will come a time in which we have an airborne disease that is deadly. And in order for us to deal with that effectively, we have to put in place an infrastructure — not just here at home, but globally — that allows us to see it quickly, isolate it quickly, respond to it quickly." This was six years ago, Obama pushing for "emergency funding to fight Ebola and to set up some of the public health infrastructure that we need to deal with potential outbreaks in the future."
Meant to draw a contrast with current leadership? You bet. The political returned to the fore as the episode drew to a close, Springsteen's concerns coming right back down to Earth in this election year. Johnny Cash's "momentous" recording of "The Man Comes Around" led to a call for action:
He is warning us that Judgement Day is coming. The election is only months away. VOTE! God help us all — vote, before it's too late.…

American citizens, unite. Your country needs you, your countrymen need your care and compassion. And this is our moment. Until we meet again, stay safe, stay strong, mask up! And go in peace.
We do hope that summer-themed episode makes it out of the can and onto the satellite airwaves. But given the power of Volume 6, and the pandemic's increasing death toll, Bruce was right: the joys of summer can wait.
Visit the SiriusXM blog for the schedule of repeat broadcasts for the week to come on E Street Radio.
Playlist:

John Paul Jones - "Down to the River to Pray"
Bob Dylan - "Disease of Conceit"
Neil Young - "When God Made Me"
The Sensational Nightingales - "Burying Ground"
The Brazz Brothers - "Woyaya" (live)
Bruce Springsteen - "Dream Baby Dream"
Fugazi - "Give Me the Cure"
Barack Obama addresses the NIH, 12/2/14
Marvin Gaye - "What's Going On"
2Pac - "Changes"
Paul Robeson - "Deep River"
Creedence Clearwater Revival - "Who'll Stop the Rain"
Blind Willie McTell - "Lay Some Flowers on My Grave"
Johnny Cash - "The Man Comes Around"
The Consolers - "Too Late"
York College Concert Choir - "Down to the River to Pray"
- June 17, 2020 - Christopher Phillips reporting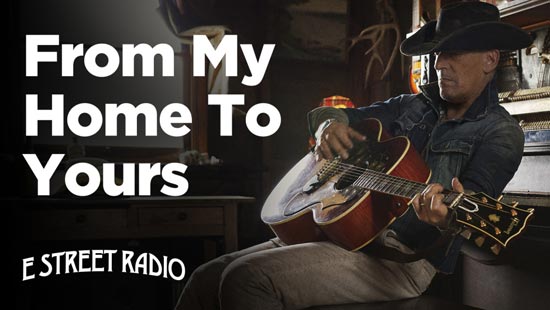 LAND OF HOPE AND STREAMS
New on Wednesday: Vol 6 of Bruce's biweekly DJ show, and Joe Grushecky with a Season Finale
After Volume 5 responded so powerfully to these times, garnering kudos from the likes of Esquire, Bruce Springsteen's biweekly DJ set returns tomorrow with Volume 6.
The new set comes with an episode title: "Down to the River to Pray" (as Volume 5 has, in places, been called "American Skin.") There's also been a slight change to the series title — now From My Home to Yours — that mirrors the personal and direct feel of show.
To hear "Volume 6: Down to the River to Pray," tune in to E Street Radio, SiriusXM channel 20, on Wednesday, June 17 at 10am ET.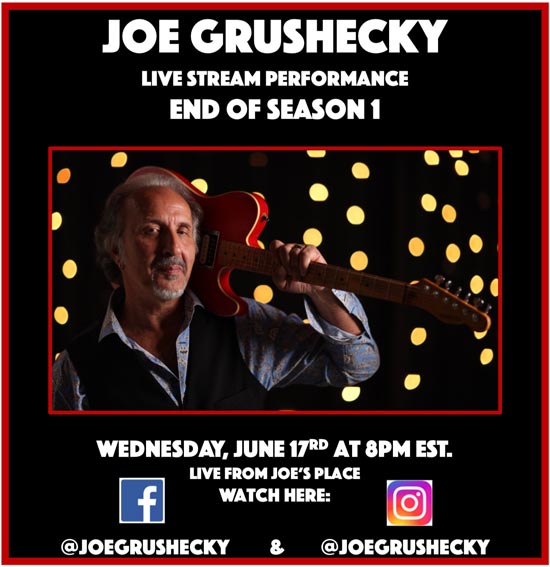 Tomorrow night, Joe Grushecky — who has been livestreaming weekly performances during the COVID-19 lockdown — brings Season 1 of his Live From Joe's Place series to a close. Watch on Wednesday, June 17 at 8pm ET, via Facebook or Instagram.
- June 16, 2020

WE ACTUALLY LOOK FORWARD TO MONDAYS NOW
It's Monday, and a new episode of Mighty Max's Monday Memories is out!
Spend another hour or so with Max Weinberg as he addresses questions from Backstreets readers, drawn at random from his River/Born in the U.S.A. floor tom-tom. Today Max talks about the E Street Band breakup, Suki Lahav, electric Nebraska, and much more; thoughtful, expansive answers to great questions — continued thanks to everybody sending them in. Here's the brand-new Episode 4:
If you've missed any previous episodes, you can catch up Mighty Max's Monday Memories on both YouTube and InstagramTV, where all episodes are archived and available to stream.
And if you've got more questions, Max has more answers — keep them coming our way, to askmax(at)backstreets.com.
- June 15, 2020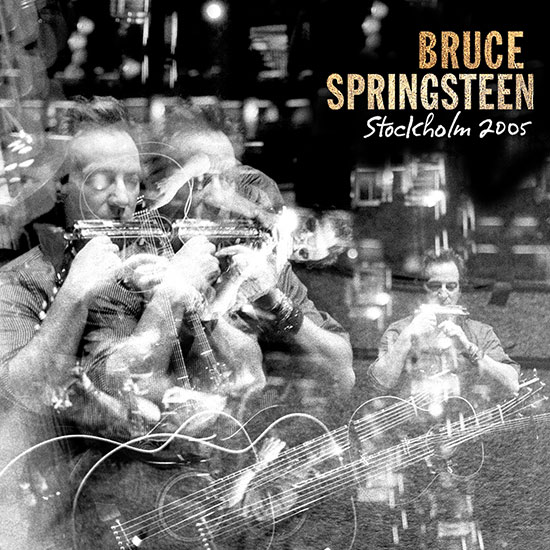 A MIDSOMMAR NIGHT'S DREAM BABY DREAM
New Live Archive release is solo in Stockholm 2005
Bruce Springsteen's 2005 stop in Stockholm, Sweden fell on June 25, or midsommardagen,which is the day after midsommarafton, the night when young people get drunk and try to find someone to love. When you are a bit older, the romance part might be harder to find, but a significant part of the audience probably had a headache earlier in the day. Since Bruce had spent midsommarafton locally, one can imagine he might have been sleeping in, too.
Either way, the date created a huge problem for many, not unlike telling your family you wouldn't visit for Thanksgiving because Springsteen was playing. Lots of people were already traveling, to see relatives or for summer vacation. Many from Stockholm who couldn't make this show traveled to see earlier stops in Copenhagen or Gothenburg instead.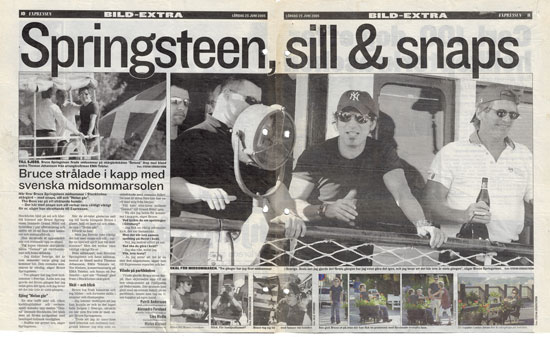 Now, whether previously off with family, getting over the previous night's merriment, or just a fan of Springsteen's acoustic performances, one can listen to Stockholm 2005. It's the fourth Live Archive series release from that year's solo tour, both its earliest one and first pick from Europe, too. The 26-song set features eight from Devils & Dust and the hopscotch between instruments that was a hallmark of the tour.
Springsteen was equally active in moving around the songbook: after about a half-dozen shows that summer, tour premieres became a nightly feature. Stockholm features four, including "Downbound Train" at the outset, "Across the Border," "Walk Like a Man," and "Blinded By the Light."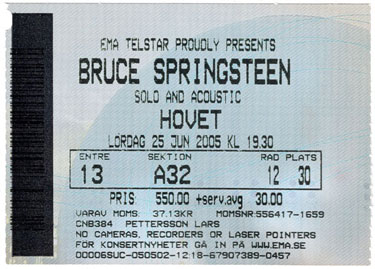 Hovet is the same venue where Springsteen played for two legendary nights in 1981 with the E Street Band (famously bootlegged as Follow That Dream and Teardrops on the City). Then named Johanneshovs Isstadion, it had since been replaced by Globen as the main indoor venue for big shows.
Hovet's smaller confines made it more fitting for this solo concert and warranted the first instance of a local two-ticket limit (each showed the buyer's name, which was confirmed upon entry).
Had two shows in Germany not been rescheduled, Stockholm would have been the last 2005 show of the European leg, another echo of 1981: those two shows here were the last on the continent before Springsteen and the E Street Band toured the U.K.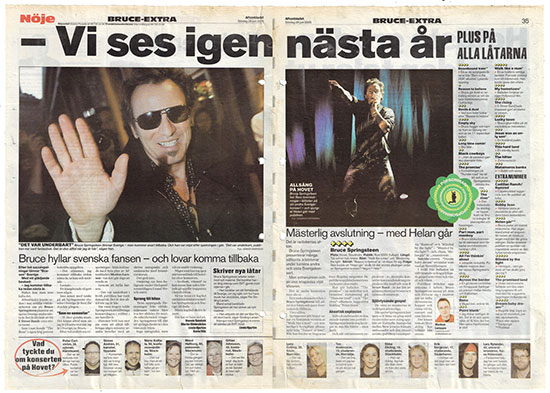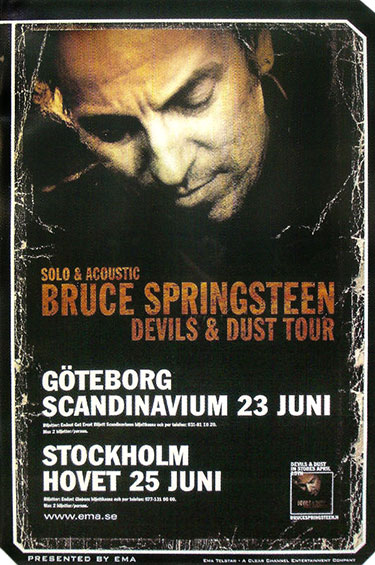 The first song of the night "Downbound Train," played on the pump organ, was a tour premiere and also likely a request. The guy shouting "thank you so much" just before the applause as the song ends sure sounds like someone grateful for such a thing.
The bullet-mic version of "Reason to Believe" follows, then the show settles in with tunes from the album, and a nice version of "Empty Sky" mixed in. The first piano song, a great version of the always welcome "The Promise," fits right in as well.
"Part Man, Part Monkey" is not nearly as well known as other frequently played non-album songs like "Because the Night," "Fire," or "Light of Day." Still, Springsteen has consistently included it on two separate tours, one full band (1988) and one solo, so it seems to be important to him. The Devils & Dust tour gave Springsteen a chance to revisit a great number of such songs that had languished in the catalog during the E Street outings of the previous six years.
Like the original River shows, the Devils & Dust era featured much oratory, too; whether due to the rock 'n' roll structure or sheer choice, the Reunion and Rising tours didn't find Spingsteen talking much to the audience. Here, he takes many opportunities to speak, whether setting up new songs ("Long Time Comin'," "Black Cowboys," "Jesus Was an Only Son"), honoring a birthday request ("Point Blank"), or making light of one for "The Promise" (from a fan in the hotel steam room). Before the tour premiere of "Blinded By the Light," Springsteen talks about his experience with the midsummer celebrations, then coaxes the crowd to sing a bit of the Swedish snapsvisa (drinking song) "Helan Går."
A personal highlight is "Point Blank." Bruce questions its suitability as a birthday request, noting that it's a "strange song to want, but hey, it's your birthday, it's not my birthday." To me, this arrangement sounds closer to the original 1978 version than any later one; the electric piano adds haunted beauty.
Stockholm features one of only two performances ever of "Walk Like a Man" beyond the Tunnel of Love tour, in its only European outing ever. "I wrote this after I was married the first time," Springsteen says. "Maybe that's why I let it go." Too bad, since it's a beautiful version.
I happened to be in Chicago when Springsteen added "Dream Baby Dream" as the final song, a position it would keep until the end of the tour. There was no hint as to what it was. Was it an original or a cover? No one in Chicago seemed to know. Before smartphones, it took until the next day to find information on the web. By Stockholm, it seemed a necessary conclusion of any Devils & Dust show.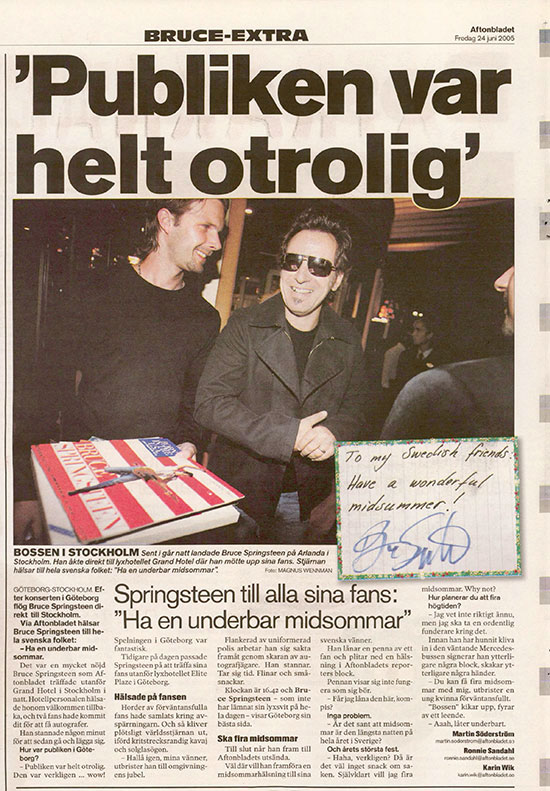 As I remember, I quite liked this show at the time. Listening to a great example of the European Devils & Dust tour, I think I enjoy it even more now. Bruce always enjoys his visits to Sweden; this is the third Swedish and fifth Nordic archive release (take that Italy and Spain :-))
Ten of the 26 songs get their first release from the Devils & Dust tour. Eight of the 26 have been included on all four releases so far. Each of the four tour premieres ("Downbound Train," "Across the Border," "Walk Like a Man," and "Blinded by the Light") appeared only a handful of times; this marks the first 2005 release for each. "Maria's Bed" and "Silver Palomino" are the last live songs from the album yet to be released.
Also read: Erik Flannigan's latest nugs.net blog entry, "He Who Doesn't Get the Whole, Doesn't Get the Half Either"
- June 12, 2020 - Johan Bjernick reporting


THROWBACK THURSDAY: "EVERYTHING I DO" AT 25
Springsteen and Elliott Murphy teamed up for duet a quarter-century ago
It was 25 years ago this month that Bruce Springsteen recorded his contribution to "Everything I Do (Leads Me Back To You)," the beautiful Elliott Murphy song that became a Springsteen-Murphy duet and a highlight of Murphy's album Selling the Gold, released in early 1996. "Everything I Do" and Selling the Gold remain available for purchase as digital downloads via iTunes and Amazon.
To commemorate the 25th anniversary, Elliott Murphy was kind enough to film exclusively for Backstreets a new solo acoustic performance of "Everything I Do (Leads Me Back To You)" from his home in Paris.
Before performing the song, Murphy shares with us the history behind its creation — "still one of my proudest achievements" —and how he and Springsteen came to collaborate across an ocean on the recording. Murphy vividly recalls "the first time I heard our voices together" on stage; he also recalls Lucinda Williams' influence on the song and notes that he had to include the parenthetical in the title, to differentiate it from Bryan Adams'. We even see the original DAT demo that Elliott played for Bruce when he proposed the duet.
If you enjoy this couch clip from Elliott, another even longer video is available as a Backstreets-only bonus feature, in which Elliott talks more about his relationship with Springsteen and covers "Better Days." That clip comes free as a Backstreets exclusive with the digital purchase of their latest collaboration, the film Broken Poet.
Based on Murphy's 1985 short story "The Lion Sleeps Tonight," the fictional Broken Poet film focuses on a modern-day search for world-famous 1970s rock star Jake Lion, who may — or may not — have killed himself in Paris back in 1974. Murphy co-wrote the film's screenplay with its director, Emilio J. Ruiz, and plays a starring role in the film. The film also features Murphy's longtime friends Bruce Springsteen and Patti Scialfa in cameo roles, playing themselves, and a lot of great Elliott Murphy tunes from various phases of his four-decades-and-counting career.
Read the Backstreets interview with Elliott Murphy about Broken Poet
- June 11, 2020 - Shawn Poole reporting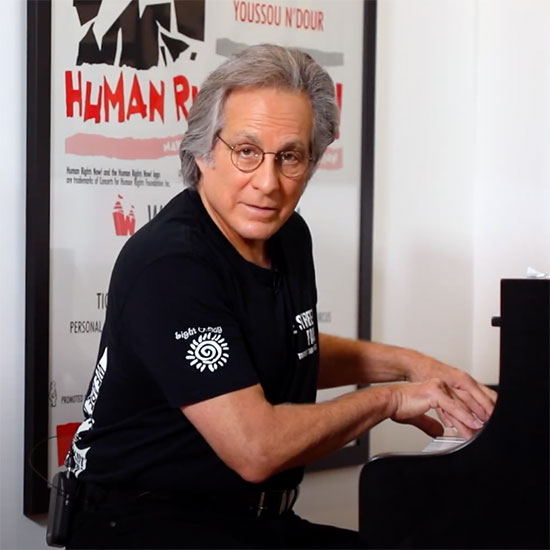 MIGHTY MAX'S MONDAY MEMORIES RETURNS!
Just released this evening: a brand new episode of Max Weinberg's Monday Memories series, in which his spends some quarantine time answering questions from Backstreets readers. Max's capacity for recall has always been impressive, and this third episode is a full hour of mightiness on as he takes on queries at random, tells stories, and provides lots of insight into his career with and without the E Street Band.
When did Max learn to play the piano?? You'll have to watch to find out...
Mighty Max's Monday Memories streams on both YouTube and InstagramTV.
Continued thanks to so many readers who are sending in compelling questions for Max's show. If there's anything you've ever wondered about, when it comes to the Big Beat on E Street, send your Q to askmax(at)backstreets.com, and we'll make sure it goes in the drum!
- June 8, 2020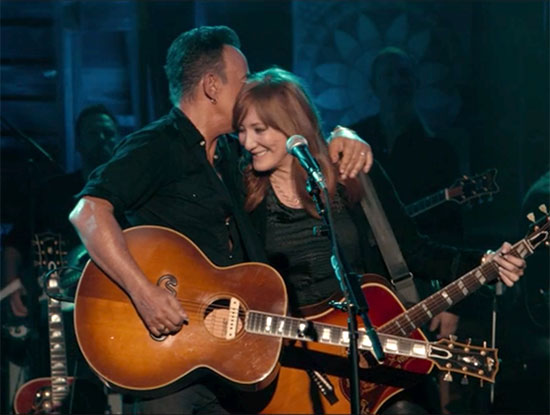 I DON'T WANNA CLIP YOUR WINGS, BUT...
Today we're wishing a happy anniversary to Patti Scialfa and Bruce Springsteen, who tied that tie that binds on June 8, 1991. Their partnership continues to impact Springsteen's creative life in countless ways (some we can know and some we can't), right up to his latest release, Western Stars.
As Bruce recently said in a post-screening interview: "Patti brings so much, and we've been together for such a long time — for 30 years — and so that's a lot of experience around that one little microphone. We bring all of that the minute we lean in. Oh my Lord, there's this whole 30 years of emotional life together between us. She's wonderful, and really her presence, even when she's not singing with me, if you dig deep down into the center of the film, she's there."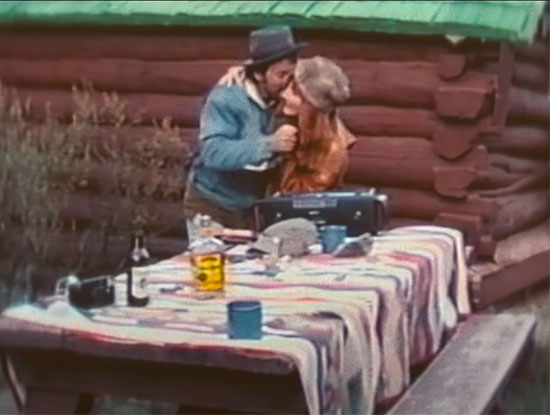 Hope you'll join us in raising a glass — tequila, if it's an option — to the happy couple.
- June 8, 2020 - stills from Western Stars, streaming now on HBO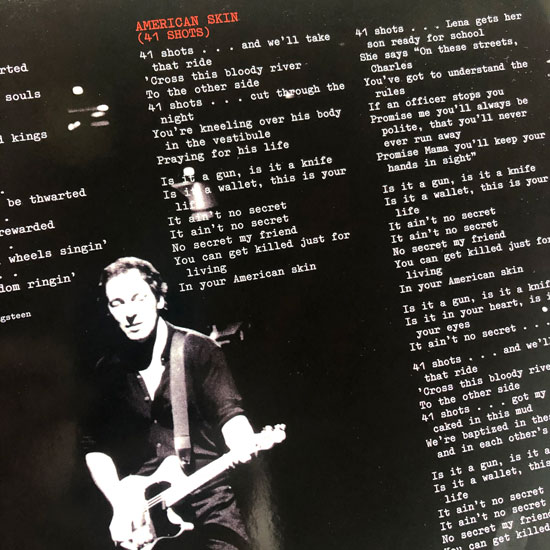 TO THE OTHER SIDE: "AMERICAN SKIN," 20 YEARS ON
A look back at Bruce Springsteen's most important song of the 2000s
A thought-provoking question recently came across our Twitter feed: which Bruce Springsteen lyric, no matter how many times you hear it, has the power to choke you up? For us, the consensus is the second verse of "American Skin (41 Shots)":
41 shots . . . Lena gets her son ready for school
She says "On these streets, Charles
You've got to understand the rules
If an officer stops you
Promise me you'll always be polite, that you'll never ever run away
Promise Mama you'll keep your hands in sight"
From a child learning "the rules" in America — different ones due to his skin color, with deadly stakes — to a black mother's deep fears for her son, the stark reality of race in this country comes together in just one verse. Whether live or on tape, it can be agonizing to hear — especially given how fiercely relevant the song remains, two decades on, which is the most agonizing thing of all.
Springsteen has succinctly described the song's intention: "Here is what systemic racial injustice, fear, and paranoia do to our children, our loved ones, ourselves. Here is the price in blood."
"American Skin (41 Shots)" debuted in concert 20 years ago tonight, June 4, 2000, in Atlanta, Georgia. Springsteen's Reunion tour with the E Street Band was on its final swing, and Atlanta was the last stop before a high-profile ten-night stand at Madison Square Garden in New York. There, they performed the new song every night.
Today, in the aftermath of the death-by-police of George Floyd, the protests we see in our streets spring by no means from a single event. The trail of police brutality, racial targeting, and unnecessary deaths has been as plain as it is tragic. You can follow it back, through Ahmaud Arbery, Breonna Taylor, Sean Reed, Sandra Bland, Eric Garner, to name only a few — it's a shockingly continuous list — and back to a young immigrant from Guinea named Amadou Diallou, the unarmed man whose death at the hands of four NYPD officers inspired "American Skin (41 Shots)." And, no doubt, the list reaches into the recesses of history, when fewer cameras could document such killings.
In the decades since "American Skin" appeared, Springsteen has continued to deploy the song in hours of crisis, dedicating a performance to Trayvon Martin, or playing it following the death of Michael Brown in Ferguson, saxophonist Jake Clemons with his hands up. In 2014, the song clearly felt relevant enough for Springsteen, with Tom Morello, to record a studio version, released on the LP High Hopes.
On the night of its very first performance in Atlanta, we vividly recall the thrill of hearing a brand-new song, slowly tempered by the dawning realization of what Springsteen was singing about. The verses — heard first in a cavernous arena setting — were a bit hard to follow that first time. But the repetition of "41 shots," over and over, absolutely cut through the night and landed with anyone who had followed the story of Amadou Diallo.
We had wondered, after "Land of Hope and Dreams" debuted at the Asbury Park rehearsal shows in 1999, whether Springsteen had any more new material up his sleeve. Why get the band together without another grand, meaningful flourish? Springsteen answered that question in Atlanta 20 years ago tonight, and it echoes to this day.
If "Land of Hope and Dreams" celebrated the E Street Band's rebirth, "American Skin" stood as its conscience. Played first in a city that is synonymous with the Civil Rights Movement, the song distinguished itself on many levels, not the least of which was being denounced by people who hadn't heard it. As a songwriter, that's when you know you're on to something.
One of its triumphs is nuance — a strange thing to state, given the repetition of "41 Shots" throughout, led by Clarence Clemons. But the lyric fully acknowledges difficulties on "both sides" when it comes to encounters between wary police officers and civilians who might pose a threat. A mind races with what is it? A bewildered officer kneels mournfully. In 20 years, have those difficulties hardened into impossibility?
Over the years, we've referred to "American Skin" as Springsteen's Public Service Announcement. It's not inherently anti-police, any more than "Born in the U.S.A." is anti-Vietnamese. It's an elegy and a wake-up call, and if the Springsteen catalog has an empathy three-pack, "American Skin" goes in with "Streets of Philadelphia" and "Matamoros Banks" — empathy is precisely what the characters in those songs need.
Not all would agree, however, that "American Skin" plays up its empathy. That was made clear by denunciating voices and statements, some derogatory and personal, well before Springsteen had counted off the song for a second time. But what on God's green Earth were those officers kneeling to do, if not to pray for the life taken in the course of a few deadly seconds of misunderstanding? From there, it's a brutal leap to Minneapolis, where the image of a kneeling officer takes on something that one can neither unsee nor redeem. Ever.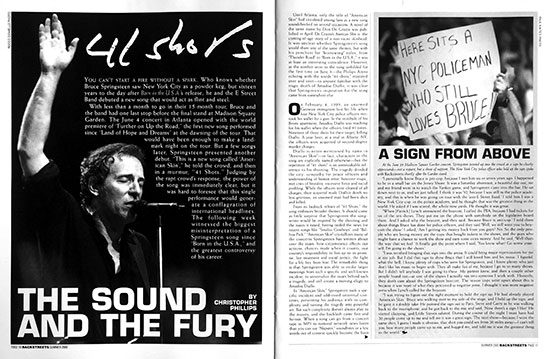 "American Skin" may not be Springsteen's most misinterpreted song — in fact, there are likely some who understand it just fine and are still outraged by it — but it's the one in his long songwriting career that has sparked the most contention. That's what protest songs do.
In a feature called "The Sound and The Fury" (issue #67, Summer 2000), Backstreets explored the song's initial impact, its bewildering reception, and the controversy that began to play out in the media after Springsteen had performed "American Skin" that first time in Atlanta. Immediately, some reaction against it seemed to smack of just leave well enough alone.
Springsteen's penchant for letting his music speak raised the stakes. He opened his ten-night run at the Garden with another brand-new song, "Code of Silence," a de facto companion track (co-written with Joe Grushecky). "American Skin" also featured that night, and in the other nine that followed as the Reunion tour came to a close. About the only thing Springsteen said? "We need some quiet," toward the end of the run, a moment left intact on Live in New York City.
But the music itself did its job then, as it does now. Episode five of Springsteen's From His Home to Yours program on SiriusXM's E Street Radio is yet another reminder of how powerful and moving that music still is, "American Skin" in particular. And as these tragedies recur, repeated over and over, anyone listening is forced to reckon not only with America's original sin, but also with its ongoing descending and attending ones. Lena shouldn't have to teach Charles those rules. America must repair itself, because Black Lives Matter. Otherwise, the Promised Land is simply a myth.
- June 4, 2020 - Christopher Phillips and Jonathan Pont reporting

FROM HIS HOME TO YOURS, S01 E05
How many rivers do we have to cross before we can talk to the boss?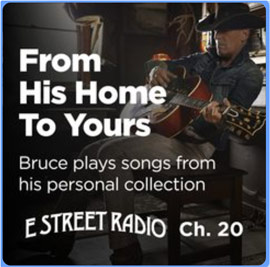 There really was no other way to begin Volume 5 of Bruce Springsteen: From His Home to Yours than with "American Skin (41 Shots)." In the midst of agonizing unrest in the U.S., Springsteen used his current platform to speak at length to what's going on in our country right now, starting with his elegiac protest song.
"American Skin" was written 20 years ago, but it's never felt as painfully urgent as today.
Eight minutes. That song is almost eight minutes long. And that's how long it took George Floyd to die, with a Minneapolis officer's knee buried into his neck. That's a long time. That's how long he begged for help and said he couldn't breathe; the arresting officer's response was nothing but silence and weight. Then, he had no pulse. And still it went on.

That goes out to Seattle, to New York, to Miami, to Atlanta, to Chicago, to Dallas, to Philadelphia, to Washington, to Los Angeles, to Asbury Park, to Minneapolis, and to the memory of George Floyd. May he rest in peace.

As we speak, 40 million people are unemployed. 100,000-plus citzens have died from COVID-19, with only the most tepid and unfeeling response from our White House. As of today, our black citizens continue to be killed unnecessarily by our police on the streets of America. And as of this broadcast, the country was on fire and in chaos.
The attendant fear and anger and outrage boil over in his own "Murder Incorporated" and Childish Gambino's "This Is America," showing the Boss more than ready to meet this moment head-on. Radio doesn't get much more powerful than this. Five songs with "America" in the title, two with "Murder," and the vast, echoing distance between American promise and American reality reverberates throughout the entire set.
When the politics of paranoia, division, prejudice, intolerance, fear — all that's anthetical to the American idea — hold court in the land, we are in deep trouble, my fellow citizens.
To borrow a line from "The House I Live In," Volume 5 (like so much of Springsteen's work) centers on this question: "What is America to me?"
While previous episodes have provided a glimpse into Springsteen's world in quarantine, there was no time today for a slice of life from the farm. It was an extended meditation on what's going on outside, where the streets are on fire and the death waltz is frighteningly real.
Now, almost 60 years [after the Civil Rights movement], we wake again to an America with burned-out buildings, torched police cars, and shattered shop windows. A cost that we're paying for another half of a century of unresolved, fundamental issues of race. We have not cared for our house very well. There can be no standing peace without the justice owed to every American, regardless of their race, color, or creed. The events of this week have once again proven that out.
This was not a show for any Shut Up and Sing (or Shut Up and Spin) proponents. As Bob Dylan says, "We live in a political world."
Five episodes in, Dylan has been represented in each and every one, this time with three songs. Bruce himself sang on five tracks in the set. Cueing up his most recent collaboration with Joe Grushecky, Springsteen noted: "There are 153 days to our next election. God help us; vote. That's what makes us great." The Grushecky/Springsteen co-write "Idiot's Delight" followed in a previously unheard version in which Bruce fronts the band alone: "a track from our vault, written by Joe and I, and debuted here for the first time" — the first time the DJ has premiered one of his own recordings on this show.
That no prior episode has relied more on Springsteen's music is a reminder that few artists speak so consistently to a moment like this. But From His Home Volume 5 also makes a lot of room for black voices: from Billie Holiday and "the magnificent baritone" of Paul Robeson, to Martin Luther King Jr., to Bob Marley, Kanye West, Childish Gambino, Frank Ocean, and more. And, lest we forget, Tom Morello and the E Street Band.
From Lady Day, "Strange Fruit":
...one of the darkest songs in the American canon. The video of the death of George Floyd is a 21st century visual lynching. And "Strange Fruit" was written on the lynchings of black Americans that took place after the Reconstruction and into the 20th century. It was recorded in 1939 by Ms. Holiday, and written by Abel Meeropol in 1937. It's just an incredible work....

We remain haunted, generation after generation, by our original sin of slavery. It remains the great unresolved issue of American society. The weight of its baggage gets heavier with each passing generation, and as of this violent, chaotic week on the streets of America, there is no end in sight.
History lessons abound, touching not only on the legacy of slavery and lynching, but McCarthyism, the '60s Civil Rights movement, and the story of 1930's "Brother Can You Spare a Dime."
From a 1963 speech delivered by Martin Luther King Jr. in Birmingham, Springsteen selected words of encouragement: "In spite of the difficulties… and we're going to have a few more difficulties... keep climbing! Keep moving — if you can't fly, run! If you can't run, walk! If you can't walk, crawl! But by all means, keep moving."
The Reverend's words remind us to "keep the movement moving." To that end, Springsteen yesterday recommended a list of "75 Things White People Can Do for Racial Justice" — "something useful if you are looking to be active during these times." And today he reflected further on the forward movement required as history repeats.
We need systemic changes in our law enforcement departments, and in the political will of our national citizenry, to once again move forward the kind of changes that will bring the ideals of the Civil Rights movement once again to life and into this moment.
A hallmark of From His Home to Yours has been a connecting of dots, as Springsteen lines up some edifying two-fers and three-fers each time. He points out that Abel Meeropol wrote the lyrics for both "Strange Fruit" and "The House I Live In." In a fascinating trio, we see a biblical story of oppression and deliverance through three different lenses, as "Go Down Moses" (Paul Robeson) and "Get Down Moses" (Joe Strummer) surround Bruce's own "Heaven's Wall."
But if gospel is where Bruce often turns for hope, this time you've really gotta wait until "People Have the Power," from "the beautiful and powerful poet and rocker, and my sweet friend" Patti Smith. "The people have the power to redeem the work of fools" is as an inspiring lyric as there is. But followed by the full 17 minutes of Dylan's "Murder Most Foul" ("timely and epic"), we get a plaintive reminder that we've always had a long walk home, and it's rarely seemed longer.
We have a choice, between chaos or community. A spiritual, moral, and democratic awakening, or becoming a nation fallen to history, with critical issues we refuse to or couldn't address. Is our American system flexible enough to make — without violence — the humane, fundamental changes necessary for a just society? The American story, our story, is in our hands. And may God bless us all.

Stay safe. Stay well, stay strong, until we meet again, stay involved. And... go in peace.
By turns harrowing and inspiring, certainly an unflinching look at our current crisis, Volume 5 again affirms From His Home to Yours as essential listening for these troubled times. Visit the SiriusXM blog for the schedule of repeat broadcasts for the week to come on E Street Radio.
Playlist:

Bruce Springsteen - "American Skin (41 Shots)" (from High Hopes)
Bruce Springsteen - "Murder Incorporated" (from Live in New York City)
Childish Gambino - "This Is America"
Joe Grushecky & Bruce Springsteen - "That's What Makes Us Great"
Joe Grushecky & Bruce Springsteen - "Idiot's Delight" (Vault Version premiere)
Bob Dylan - "Political World"
Bob Marley & the Wailers - "Burnin' and Lootin'" (live at the Roxy)
Martin Luther King Jr. - "Keep Moving," Birmingham 1963
Kanye West - "Who Will Survive in America"
Kanye West & Jay-Z (with Frank Ocean) - "Made in America"
Paul Robeson - "Go Down Moses"
Bruce Springsteen - "Heaven's Wall"
Joe Strummer & The Mescaleros - "Get Down Moses"
Thea Gilmore - "Brother Can You Spare a Dime?"
Bob Dylan - "Blind Willie McTell"
Billie Holiday - "Strange Fruit"
Nappy Roots - "Work in Progress"
Paul Robeson - "The House I Live In"
Patti Smith - "People Have the Power"
Bob Dylan - "Murder Most Foul"
United States Army Field Band Soldier's Chorus - "America, My Country Tis of Thee"
Gram Parsons - "In My Hour of Darkness"
- June 3, 2020 - Christopher Phillips reporting


VAN ZANDTS TO CORDERO: "LIVE YOUR LIFE"
Broadway star Nick Cordero has been in a coma on and off for the past two months in a Los Angeles hospital with coronavirus and related issues. He has sustained a severe lung infection and kidney damage, and has had one of his legs amputated due to this terrible disease. His loving friends at Renegade Theatre in New York City have just created a video of his beautiful song "Live Your Life" that they are sending out as a tribute to Nick.

Actor/singer Constantine Maroulis, who worked with Nick in the cast of Broadway's Rock of Ages, sings lead on the track. Actor/musician Sammy Semenza, who directed the video, contributes killer lead guitar. Renegade Theatre's Artistic Directors Maureen Van Zandt and Vinny Pastore make cameo appearances. Cordero appeared in a Renegade Theatre production of Pastore's Crazy Horse, which Maureen Van Zandt directed.

Cordero and Pastore appeared together in Bullets Over Broadway in 2014, for which he received a Tony nomination for best featured actor in a musical. Earlier this year, Cordero moved to Los Angeles to star in Rock of Ages.

Steven Van Zandt joined in on vocals and guitar and has been speaking about Cordero's situation every chance he gets. For the past several weeks, he's been playing Nick's recording of "Live Your Life" every day at 6pm EST on his SiriusXM Channel Underground Garage.
"Nicky is one of the most wonderful and talented people we know," said Van Zandt. "With this video we send all our positivity and love to him." Please join us in sharing this video far and wide as a tribute to Nick, and include him in your prayers. There is also a gofundme page to help with his ongoing medical expenses.
- June 3, 2020 - Holly Cara Price reporting


MIGHTY MAX WILL BE BACK
A different memory for today; regular programming resumes next week
Today's scheduled episode of Mighty Max's Monday Memories has been postponed "in light of the unrest in America." Today, the memory Max most wants to share is this:
…on June 11, 1963, my family and I sat around our little black and white television watching President Kennedy deliver an extraordinary message on civil rights. I hope you can take a moment to watch and reflect on his call for change. His message is so apropos of the times in which we still live. I'll see you next Monday.
If you missed any prior episodes of web series, in which he answers questions from Backstreets readers, you can watch Episode 1 and Episode 2 on YouTube, and stay tuned next week for the third installment.
- June 1, 2020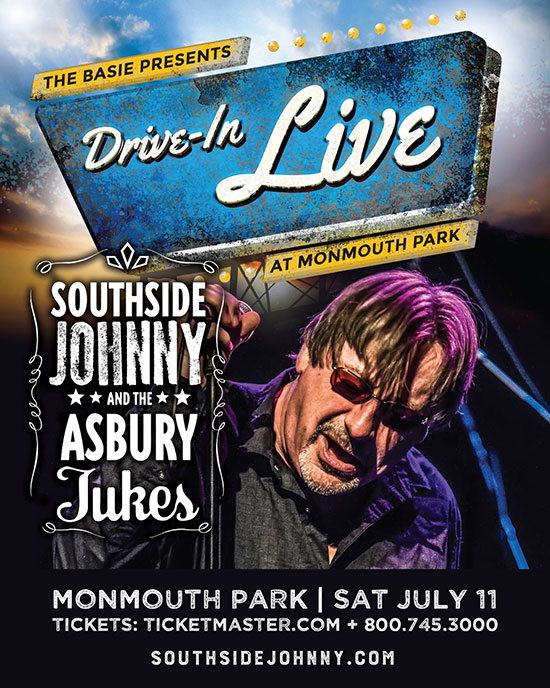 DRIVE-IN ALL NIGHT WITH THE ASBURY JUKES
Southside concert and Springsteen T-shirt both benefit The Basie
A silver lining to the COVID quarantine has been seeing people get creative, when it comes to how to entertain and how to stay connected. The Count Basie Center for the Arts stikes silver this summer, combining the drive-in movie experience with live music for a drive-in concert, at the Monmouth Park Racetrack.
While Southside Johnny & the Asbury Jukes won't be able to play their annual July 4 bash this year, they'll be rocking the drive-in one week later as the first event announced by The Basie Presents: Drive-In Live at Monmouth Park, on Saturday July 11 (4pm gates, 6pm show).
Tickets for the concert are $150 per vehicle (with a gold circle option at $250 / $225) and go on sale this coming Friday to the general public. A presale is on now. One might initially recoil at the sticker price, but bear in mind it's per vehicle. Not saying you should stash anyone in the trunk like the old days, but if you're not going solo (four concertgoers per vehicle are allowed) it gets pretty reasonable pretty fast. As The Basie points out, "$37.50- $67.50 a person. Cheapest Southside ticket in the market in years."
Southside says, "The Asbury Jukes and I are so excited that we can play this first of its kind live concert and help get New Jersey started on a quick and healthy return to normal. Why sit at home when 'We're Havin' a Party,' drive-in style? We'll safely see everyone July 11th."
General onsale is June 5 at 10am, exclusively via Ticketmaster.com and phone charge at 800-745-3000. Only touchless, mobile tickets administered through the Ticketmaster app (iOS | Android) will be valid for these performances. The concert will benefit the Count Basie Center for the Arts, with a portion of the proceeds going to the New Jersey Pandemic Relief Fund.
For further details, including social distancing measures and guidelines, visit thebasie.org/drivein/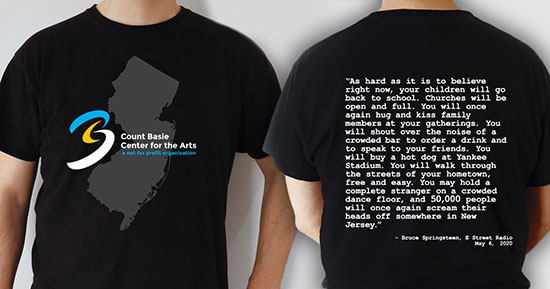 Also benefitting the Count Basie Center for the Arts — which has been shuttered since mid-March due to the pandemic — is this new, limited edition T-shirt.
The Jersey-centric shirt features the Basie Center logo and Garden State silhouette on the front. On the back, inspiring words from Bruce Springsteen that opened his May 6 Bruce Springsteen: From His Home to Yours broadcast on SiriusXM's E Street Radio, which have since resonated on social media. Springsteen has approved the usage; the T-shirts, priced at $35 + S/H, are available for a limited time at theBASIE.org/springsteen.
- June 1, 2020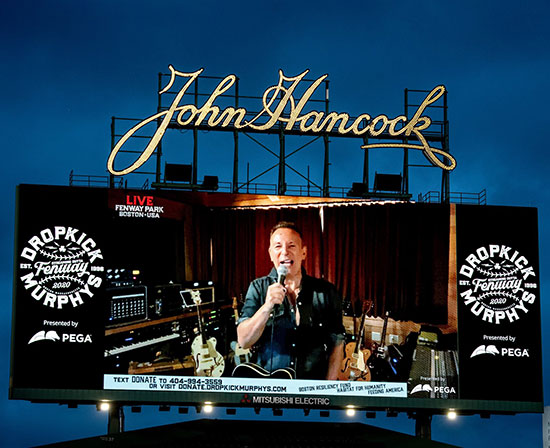 LET'S PLAY TWO!
Springsteen's virtual return to Fenway Park for a pair with DKM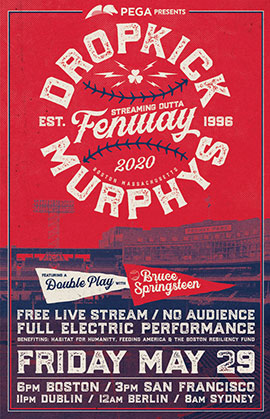 Well the Dropkicks had a homecoming at Fenway early last night, and Bruce brought a good dose of the magic.
Local favorites the Dropkick Murphys played a live and livestreamed concert for charity at Boston's old (and empty) ball yard, Streaming Outta Fenway. Our own Mr. Springsteen appeared via remote as a special guest near the end of the show for two songs in a set that lasted just under two hours, counting the videos and appearances by some of Boston's most well-known Dropkick fans.
Boston's big-hearted Celtic punk badasses were in particularly fine form in one of their favorite venues. Lead singer Ken Casey was his usual ball of fire. The band was locked in, despite the requisite social distancing that had Casey's bandmates spread throughout the infield. This is the crew that brought us a re-written "Tessie" at the request of Red Sox brass during the summer of 2004; immediately after the single's release, Casey brashly declared that the Sox would end their World Series drought that season (they did, then won three more).
The Dropkick Murphys have a long history in the Springsteen universe, so this pairing was welcome but not unusual. In 2011, Bruce joined them for "Peg O' My Heart" on record and on stage. Before that, guitarist Tim Brennan famously proposed to his girlfriend onstage during a Boss blowout at the TD Garden in April of 2009 before the band took up temporary residence on E Street for a rollicking "American Land."
"American Land" featured again last night, with Bruce joining the fun from somewhere in Jersey, beaming in on the Fenway Jumbotron for the second song in their shared set (a Double Play, as it was termed in advance: "one of ours and one of his").
Their first Jumbotron pairing was a note-perfect rendition of the Dropkicks' classic "Rose Tattoo." Bruce previously shared vocals with the group in a 2013 recording of that song, re-released on a charity EP after the Boston Marathon bombing. Predictable? Maybe, especially since Casey name-dropped the songs Bruce would play in Variety during a pre-show interview, but it worked because of great chemistry and flawless technology.
The sound was terrific despite the distance between the band members. Bruce's appearance was a true duet despite his playing in a roomful of guitars a few hundred miles away. This was a genuine concert experience, and it was clear that Casey and company had gone all-out to make it an evening to remember. The Dropkicks had memorable cuts as well, including a gorgeous cover of "Amazing Grace" and a beautiful take of their own "Shipping Up to Boston."
But Bruce threatened to steal the show, and Casey seemed to know it, shouting, "You're making us look old! What are you? 50?" after "Rose Tattoo." It evoked Bruce's memorable 1997 romp with The Wallflowers at the MTV music awards. That Springsteen performance — Bruce completely takes over "One Headlight" — left Jakob Dylan looking befuddled, perhaps wondering how he'd lost control of his best-known classic.
The Boston area has been without a Springsteen show since the memorable September, 2016 River Tour-ender at Gillette Stadium, a four-hour-plus masterpiece that the late great Obie Dziedzic pronounced the best E Street show she had ever seen. So this was a welcome, well-executed diversion in the middle of a global pandemic, and both Springsteen and the Dropkick Murphys were fully up to, and into, the moment.
The livestream has been archived, so you can watch the entire performance on YouTube (the Double Play follows "Dirty Water" at about the 1:55 mark) or dkmstream.com, where you can also pick up merch and/or donate to the cause, benefitting Boston Resiliency Fund, Habitat For Humanity and Feeding America.
Setlist:
Rose Tattoo (with Dropkick Murphys)
American Land (with Dropkick Murphys)
- May 30, 2020 - Adam Hurtubise reporting - photograph via @RedSox


HOW TO WATCH SPRINGSTEEN WITH DKM TONIGHT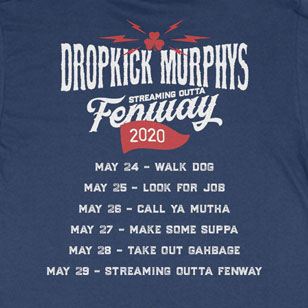 Hope you've already walked the dog, looked for a job, called ya mutha, made some suppa, and taken out the gahbage… because tonight's the night!
Dropkick Murphys are ready to stream outta Fenway in a matter of hours, with special (remote) guest Bruce Springsteen.
Springsteen will be joining the band via Jumbotron for a "Double Play" — one of their songs and one of his.
If you don't mind a spoiler, the band's Ken Casey revealed to Variety which two to expect.
Streaming Outta Fenway begins at 6pm ET — which as they helpfully point out is 3pm PT, 11pm in Dublin, midnight in Berlin, and 8am in Sydney.
Tune in to watch the simulcast worldwide via...
For just the audio, you can listen live on E Street Radio, SiriusXM Ch 20, which will also air additional DKM interview and guest DJ segments.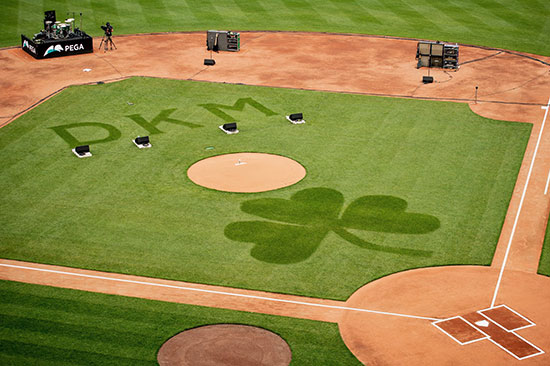 Streaming Outta Fenway will be a "full electric" performance from the infield dirt and a benefit fundraiser for three charites: Boston Resiliency Fund, Habitat For Humanity and Feeding America. You can pitch in by texting "DONATE" to 404-994-3559, or online here.
Event merch is also now on sale.
- May 29, 2020 - photograph via @FenwayPark


PARADISE IS WHERE I'LL BE: MARK BARKAN, 1934-2020
Let's take a moment to mark the passing earlier this month of an artist who had a small but significant role in Springsteen history: Legendary songwriter Mark Barkan died on May 8 at his home in NYC, at the age of 85. While Barkan was by no means a one-hit wonder, he's probably best known to Springsteen fans as the composer of a song that Bruce has returned to again and again in concert since 1975: the classic "Pretty Flamingo."
Barkan had a long, varied career in the world of popular music outside of Bruce's fave about a girl whose "hair glows like the sun." Born in Brooklyn, Barkan got his start working in the Brill Building in the early 1960's, where his songs were recorded by some of the top pop artists of the day: Connie Francis, Nat King Cole, Paul Anka, Gene Pitney, and Lesley Gore all had success with Barkan's songs. He went on to co-write several songs that appeared in Elvis films in the 1960s.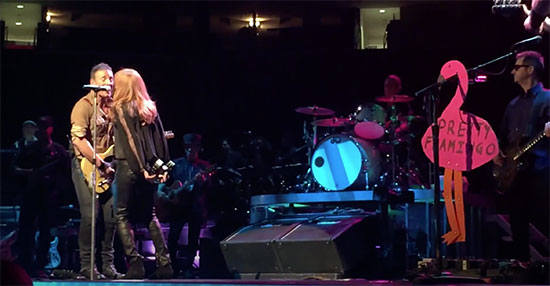 The success of "Pretty Flamingo" in 1966 ensured Barkan's place in history —versions by Manfred Mann, Rod Stewart, and, of course, Bruce make that a given — as did numerous, classic recordings of his other songs by leading lights like Dusty Springfield, Chuck Jackson, Sonny and Cher, and others. But this writer will always remember him fondly for writing (with Ritchie Adams) "The Tra-La-La Song" for The Banana Splits — a song I can still sing start to finish decades after the first time I heard it — along with other favorites from my childhood like "Melody Hill" by the Archies.
Mark's daughter, Bridget Barkan, writes on her Facebook page that the songs her father "was writing in the last year were so introspective, too. I look forward to finding ways to share them for the rest of my days." And we here at Backstreets HQ look forward to hearing them.
- May 27, 2020 - John Howie Jr. reporting


SAME MAX DAY, NEW MAX CHANNEL
Watch Episode 2 now!
Today's the day for the second episode of Max Weinberg's new show, Mighty Max's Monday Memories. For this limited series, we've been collecting questions for Max from Backstreets readers, which he then draws and answers at random from his Ludwig tom-tom.
The first episode debuted last week on Instagram; Max has now added his YouTube channel as a venue for the series, so you can choose which you prefer. Episode 1 is now viewable on both, and as of this afternoon, you can also watch the brand new Episode 2 — another entertaining and enlightening check-in with Max during lockdown and a must-watch for E Street fans:
Enjoy, keep sending your questions for the Mighty One to askmax@backstreets.com for future episodes, and happy Memorial Day!
- May 25, 2020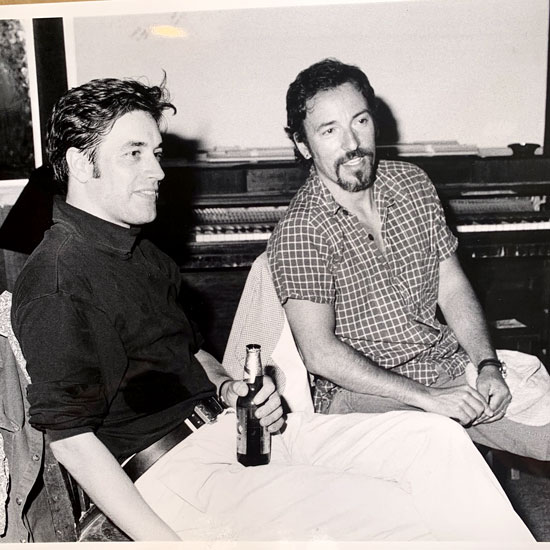 photograph by Gary Glade, courtesy of Wesley Stace
KNOW YOUR RITES
Five new Boss covers and more Springsteeniana from Wes Stace
Wesley Stace has already been on our minds, as some wonderful video footage recently surfaced from a special Springsteen event he moderated ten years ago.
This past week, the Artist Sometimes Known as John Wesley Harding took that ball and ran with it, for five days of social media postings presented as The Rites of Springsteen.
To zoom out a sec, there are several notable JWH moments in Springsteen history: the 2010 WAMFest event mentioned above, a live surprise duet of "Wreck on the Highway" at the tiny McCabe's Guitar Shop in 1994, and an extremely rare opening slot for Springsteen the following year on the Tom Joad tour. Stace also contributed an essay to the recent Long Walk Home anthology and covered "Jackson Cage" on One Step Up/Two Steps Back: The Songs of Bruce Springsteen. As part of the Rites, he posted clips, clippings, photographs and more on Facebook.
The summit at McCabe's "happened to be extremely well documented," Stace writes, "because by total coincidence we were making a video for Cupid and Psycho that night. So there was filming. McCabes photographer, Gary Glade, was also there to take a portrait of me (as I remember) and so there were photos too." [One is above, more are here.] The 1994 live duet has been officially released on several titles, including as a bonus track on his Awake album.
As part of the week's postings, Wes added to the extant McCabe's documentation, posting unearthed Super 8 footage of the "Wreck" duet (he offers additional notes about it here)
The Rites of Springsteen brought unseen performance video from WAMFest as well, when he and Bruce revisted "Wreck on the Highway" together some 16 years later:
Despite all the historical "Springsteeniana" from his collection (he's been "having a bit of a clean-up," like many of us) the Rites of Springsteen wasn't just a look back — each day of the week, Wes also offered up a brand new cover of a Bruce Springsteen song as suggested by fans.
These Rites have been concluded, now the Rites may be observed:
MONDAY: "I'm on Fire"
"I've never played 'I'm on Fire' before this morning (at least in any vaguely official capacity) but it's always been a favourite. (And if you play Born in the U.S.A. on 45RPM, it sounds just like Dolly Parton.)"
TUESDAY: "Brilliant Disguise"
"I love this song so much. This was the first and only time I've played it the whole way through in my life. Fact."
WEDNESDAY: "Racing in the Street"
"There are simply no words to say how much I love this song, despite the fact that it might as well have been written in a foreign language when I first heard it. This song spoke loud to me and I remember reading about it in Dave Marsh's book. I never tried to play it before and it was an ambitious one to do. And I present it to you here."
THURSDAY: "Bobby Jean"
"I love this song so much.... And it's kinda like a John Prine song, right? It's such a killer tune, simple great lyric, and that weird D7 is the folkiest chord ever.
"(SIDEBAR: I always loved the gentle postmodernism of the last verse. That line "If you do, you'll know I'm thinking of you" made me think: "If she did hear the song on the radio, she'd know Bruce had been thinking about her when the recording was made, but he probably wouldn't be thinking about her at the very moment she heard it on the radio. However, since he was thinking about her at the moment he sang the song, then in a way, provided the song is being broadcast or that you are in some way hearing the song, that moment is the present for the rest of time." I could have witten a friggin' dissertation on this kind of whimsy back then. And almost did.)"
FRIDAY: "The Ties That Bind"
"Performed in my magic shirt. The first song on The River, of course, which was the first Bruce Springsteen album I bought, because that's exactly how old I am. I loved every single song on it, and could in fact just sit and play the whole album through probably from top to bottom.
"I started this covers trip on Monday with zero plan, but ended up doing one from Darkness, two from Born in the U.S.A., one from The River, and one from Tunnel of Love. Among the songs I nearly did: 'Growin' Up,' 'I Wanna Marry You,' 'Hello Sunshine,' 'Stolen Car,' 'I'm Goin' Down' (one of my all time favourites, and one I always used to play when I was busking) and 'For You.' It's all about what you feel you can add to.
"I didn't mean to reimagine 'The Ties That Bind' in any way, but this is how it popped out. (No 'ay ay ay ay' if that's what those who requested it were hoping for. I even surprised myself by trying to play a bit of the sax solo note for note. Or maybe it was the sax solo from another song, too late to change it now!)"
Explore more on
Wesley Stace's Facebook Page
, where his
Community Coronation Covers
project continues.
- May 24, 2020

FROM HIS HOME TO YOURS, S01 E04
"Live every day as if you're going to live forever"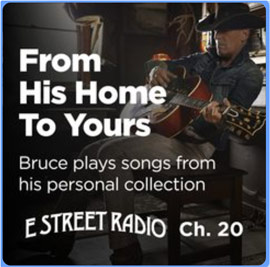 In the fourth volume of From His Home to Yours, Bruce Springsteen spared no time addressing a major loss since his last broadcast: "Let's start the day by allowing me to introduce to you Little Richard Penniman."
Little Richard's death had gone unremarked online by the Boss until today's wonderful tribute, when he stacked up three tracks at the top of the show for a salute to...
The purest rock 'n' roll voice of all time. And it belongs to the Georgia Peach, the King of Rock 'n' Roll, Little Richard, who we lost in early May. He was one of the founding fathers of rock 'n' roll and its preeminent vocal genius. And there he profoundly explained, in my opinion, why and how he does what he does.

Now Richard came out of Macon, GA, to take the nation, the world, and your body and soul by storm. His art was filled with absurdity, dead seriousness, great humor, and sex, sex, sex. He is one of a handful of men who changed the face of world culture: he crossed racial boundaries, he challenged gender norms, and he had the time of his life.... the High Priest of rock 'n' roll. A wop bop a loo bop, a wop bam boom. Rest in peace, Richard.
A nice transition from one Little to another — Richard to Steven — took us "Out of the Darkness" into another timely and moving set of songs with Springsteen at the wheels of steel.
Once again, Bruce displayed his talent for calling up music that fits the moment perfectly, whether a song — like Warren Zevon's "Don't Let Us Get Sick" — a song title, or even just one line. "The waiting is the hardest part," anyone? He also singled out "I have no use for the truth" in Tom Waits' "Lie to Me," and a "timeless line" from Courtney Barnett: "I wanna go out but I wanna stay home."
"Perfect for the times," Bruce said, "and my ambivalent life story."
He summed up the current dating scene with a Future Bible Heroes title, "Kiss Me Only With Your Eyes."
Dating. How's that going for all you singles out there? How is Love in the Time of Corona? I am old, and I simply can't imagine it. I mean, it's got to be happening... but… but how? I mean, is testing going on? I guess there's virtual dating, why wouldn't there be? I don't know how satisfying that can be — no physical contact, yikes! No sex, I would imagine...

I guess there's always sexting, naked selfies... they say naked selfies are 'the new seduction.' I read an article that said this is the golden age of naked selfies! Hell, I may take a few myself when this show is over. Why not? Desperate times call for desperate measures.
Pairing Future Bible Heroes with a "fantastic masterpiece" from Magnetic Fields, Bruce praised their common denominator Stephin Merritt — a surprise but well-deserved rave:
If you do not have in your record collection 69 Love Songs, I suggest you purchase it pronto, and get ready for one of the most enjoyable evenings of your life.... Stephin is one of our best American composers and songwriters, and if you haven't gotten into his music, you owe it to yourself to check it out.
Another two-fer: Craig Finn with "Tangletown," from his solo album We All Want the Same Things, followed later by his frontman duties in The Hold Steady. "Do you feel stuck between stations?" asked Bruce — "I do!"
Pairing Joe Ely and Shane MacGowan (with The Pogues), Springsteen connected those dots by recalling an "unforgettable" dinner out the three once shared in Dublin. (There's a picture for you — or the start of a joke.)
Shane's voice is nearly indeciperable in a loud restaurant, but I was such an admirer, and I love him, and I was happy to just sit across from him. And all I know is, with the exception of Bob Dylan and Chuck Berry... I'm not so sure about the rest of us, but I know that they'll be singing Shane MacGowan's songs 100 years from now.
With the widest-ranging selection of music yet, this fourth installment included Mozart next to Zevon, and Marlene Dietrich next to the Aqua Velvets. But the DJ still made room for Bob.
If you had any doubt that Bob Dylan is the father of Springsteen's country, an episode of From His Home to Yours still has not gone by without at least one Dylan tune. This time we had the etheral show-closing cover of "Knockin' on Heaven's Door" by Antony and the Johnsons, as well as Dylan's own 2015 recording of "Some Enchanted Evening," from Shadows in the Night.
I don't know how many of you followed Bob on his deep journey into the great American songbook, but not only was the choice of material wonderful and enlightening, he showed himself to be a superlative interpretive singer. It's a trip well, well worth taking.
Musically, Springsteen himself showed up first on the new Dion track, "Hymn to Him" which features contributions from both Bruce and Patti. "A beautiful devotional," Bruce called it, "a lovely prayer."
But the big Boss moment came next with a "This Train" trifecta. A fantastic trio of songs capped by Bruce's own "Land of Hope and Dreams" was led out of the station with two of its lyrical precursors, Big Bill Broonzy's "This Train" and Rank and File's "The Conductor Wore Black." Springsteen, like many folks in lockdown, proud to show his roots.
Of course, From His Home to Yours isn't just about Springsteen's ability as a playlist curator — that's only part of what's so compelling and uplifting about each episode. It has also become our regular check-in with Springsteen himself during lockdown, his thoughts about the times, the news, the isolation, the future.
In today's episode he referred to these "hard times" as "testing — they reveal character. They can bring out your generousness or your selfishness, your kindness or your cruelty, your love or your fear — just take a look at our 'man at the top.' Hard times do that."
So how does Bruce cope?
I take a daily drive, because driving has always relaxed me, and it gets me out of Patti's hair for a while. I drive all my old routes, through all my old towns, day after day. I see all the shops shuttered, what folks there are on the street in masks, my favorite hangouts closed — takeout only, god bless 'em. I drive out to Manasquan Inlet, my old man's stomping grounds, to sit and watch the boats for a while. But they closed all the parking places, and the boardwalk's closed. So I find a side street, and I sit, roll down the window, feel the ocean breeze and read the newspaper for a while.

Thirty million workers joining the jobless ranks over the last two months. That is... frightening, and heartbreaking. A day doesn't go by when I don't count my lucky stars, when I don't know how profoundly fortunate I am.

So after an hour, I fold my newspaper, I start the car, and I head home. And on my way, on 79, I pass the ShopRite that I opened with the Castiles! During its midnight madness opening in 1965! We played out in front of the supermarket! And it was the only time during this day that I saw a parking lot filled with cars, and it almost brought me to tears.
The stories he shares can be as optimistic as they are wistful — longing for the return of daily routines and rituals like an incantation might being it all to pass, with faith that we'll get there somehow:
When this is over — and I do have faith that it's gonna be over — I want to do the simple things again. That's what I've been missing. I want to get an ice cream cone at the Jersey Freeze! To be able to walk inside, step up to the counter, and say, "Soft vanilla dipped in chocolate, please." I want to get a pizza with my pal, the ex-mayor of Freehold, and all my old friends down at Federici's.

I want to take in the boardwalk on a quiet weekday night in Point Pleasant. Lose some of my money at all those wheels of chance. Hang at the beach until about five-thirty or six, when the evening cool just begins to drift in and that sun is low and warm on your skin. That is my favorite time of day. Then I may head in to Red Bank and stop at Jack's record store — stay strong, Jack! We're lucky to have a record store in Red Bank! That's for sure. Then maybe find a place to sit outside and have a drink, just surrounded by folks without a worry, just going about their business. Never has the mundane seemed so longingly attractive.
But appealing as all that may sound, Springsteen is circumspect — in no uncertain terms — about rushing things at the expense of lives:
Now the protestors we see in some of our state capitals trying to get the country to open up or cut back on some of the mitigation concern me. I worry for them, first of all. Up to this point, that mitigation has been our only defense against the deadly virus.

I know folks need to get back to work, need to get their bills paid, they need to feed their families… but the country should be reopened in a cautious, safe, and responsible manner. Not carelessly, in a gesture that will cost tens of thousands of lives — prodded on by a president going against his own government mandate in advising citizens to "liberate Michigan" and "liberate Virginia." Frankly, that is the wrong language right now. And it pissed me off. It's just weak and irresponsbile. It's the gesture of a man willing to roll the dice and put the lives of those who put him into office — and their children, and their elderly friends and families — at risk. For perhaps nothing more than an election year ploy. It's cowardly.
With so much uncertainty in these troubled times, and the struggle of sitting still when we want to move, Bruce shared some advice from his late Aunt Ida:
The toughest thing about the lockdown is the feeling of not knowing what the future holds. The feeling of your whole life being placed on hold. Time seeming to move quickly but slowly. Empty and unused time, I don't care for — especially at 70. I'm counting my days.

And my friends, I've got things to do that involve me and you.

My son is 25, and he's worried about the time that's ticking out of his life. I feel like Muhammed Ali, who was at is prime — well, I'm in my late prime — but who was at his prime, and the years he could have spent boxing were taken away from him.

So I try to heed my deceased Aunt Ida's advice: she always said, "Just live every day as if you're gonna live forever." I like that. "Live every day as if you're gonna live forever."

I think she meant, greet each day on its own terms. As an opportunity for life's possibilities. Breathe it in. Let the world open up before you, and prepare yourself to accept it in its entirety, on its own terms, with a vengeance. Well, I'm ready and I hope you are too. But right now, the waiting... is the hardest part.
"Things to do that involve me and you." That's the kind of thought that keeps us going, too, and we pray that this train doesn't get stuck between stations.
Playlist

Roy Acuff - "Turn Your Radio On"
Little Richard - "Born on the Bayou" (intro)
Little Richard - "Tutti Frutti"
Little Richard - "Do the Jerk (Get Down With It)"
Little Steven - "Out of the Darkness"
Glen Campbell - "Times Like These"
Future Bible Heroes - "Kiss Me Only With Your Eyes"
Magnetic Fields - "Andrew in Drag"
Courtney Barnett - "Nobody Really Cares if You Go to the Party"
Tom Waits - "Lie to Me"
The Aqua Velvets - "Return to Paia"
Marlene Dietrich - "Das Lied Ist Aus (Don't Ask Me Why)"
Bob Dylan - "Some Enchanted Evening"
Craig Finn - "Tangletown"
Joe Ely - "Tonight I Think I'm Gonna Go Downtown"
The Pogues - "A Rainy Night in Soho"
Tom Petty & the Heartbreakers - "The Waiting"
The Hold Steady - "Stuck Between Stations"
Dion (with Patti Scialfa and Bruce Springsteen) - "Hymn to Him"
Big Bill Broonzy - "This Train"
Rank and File - "The Conductor Wore Black"
Bruce Springsteen - "Land of Hope and Dreams"
Warren Zevon - "Don't Let Us Get Sick"
Pforzheim Motet Choir - Mozart's "Ave Verum Corpus, K. 618"
Antony and the Johnsons - "Knockin' on Heaven's Door"
You can listen to From His Home to Yours Volume 4 on demand and via rebroadcasts on E Street Radio — Springsteen's fourth "channel takeover" will be airing numerous times in the coming week, with all parts getting the encore treatment on Memorial Day. Free streaming for SiriusXM and E Street Radio is available through May 31.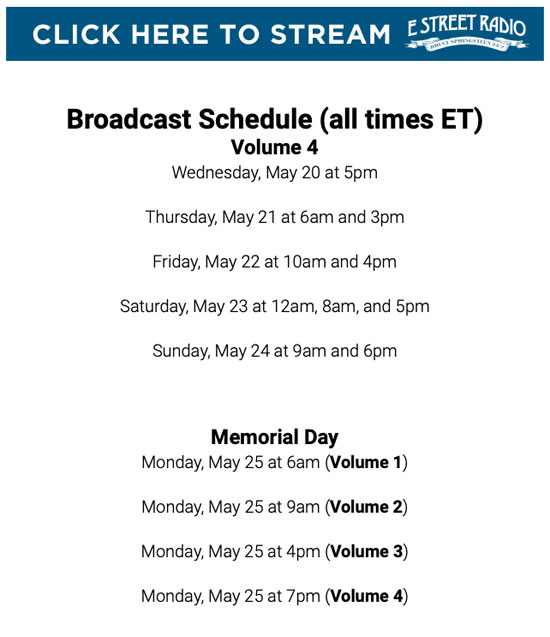 - May 20, 2020 - Christopher Phillips reporting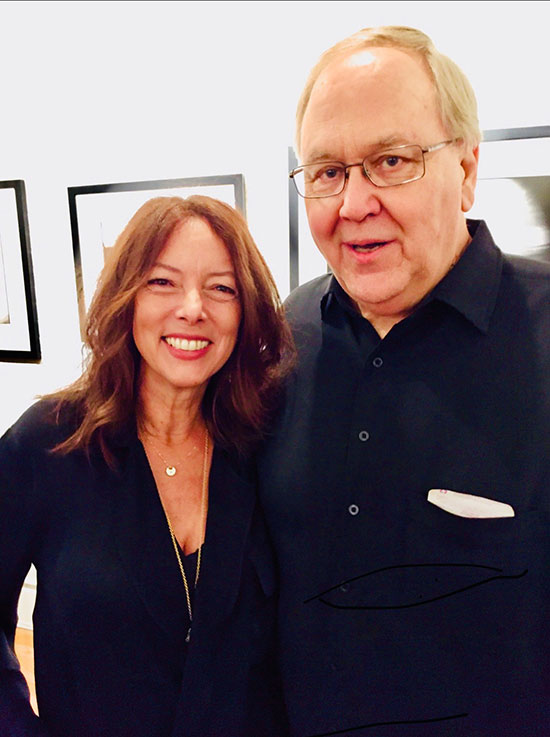 FRANKIE AND PAMMY
Podcaster Mitch Slater on his new episode with Pam Springsteen and Frank Stefanko
Last September, after Bruce Springsteen made a cameo appearance at the His Hometown exhibit opening in Freehold, an idea was born. I was sitting with the man who shot both the Darkness and The River album covers and who I am proud to call a friend, Frank Stefanko, about the recent podcast I had done with Danny Clinch, and naturally I asked Frank to join the fun and appear on my show. The plan would be to take a deeper dive into the world of rock photography — the subject fresh on my mind, as Frank was taking some wonderful photos of Bruce and Joe Grushecky jamming on that brutally hot night under the tent. Fortunately, Jersey Freeze was next on the agenda
Coming off the successful release of his masterpiece of a monograph, Further Up the Road, and a stellar Morrison Hotel Gallery Exhibit of his photography, Frank said, "Hey, I have a cool idea — let's get Pammy on this show!"
At first I was like, "Who is Pammy?…" But I quickly realized Frank was referring to the very accomplished Pam Springsteen, who has shot some of the most notable faces in music and film during her career as a brilliant photographer. Now living in New Jersey with daughter Ruby and helping to take care of her mom, Pam's unique strength in image-making lies in her ability to create an honest and intimate portrait in a comfortable, fun, and collaborative environment.
The original plan was to record this show in Asbury Park (naturally) this spring, in front of a live audience, with their photography on display; sadly, the darkness came to the edge of all of our towns, and we were forced to "zoom" our way into the conversation out today in podcast form.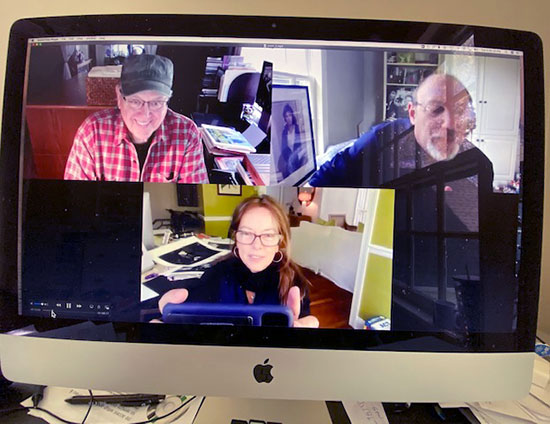 I don't want to give much away, but the opening story alone is a treasure: how Bruce called Frank to bring kid sister Pammy to the farmlands of South Jersey to see a real darkroom in 1982 — which wound up lighting a fire for photography under the young actress (who that year played cheerleader Dina Phillips Fast Times at Ridgemont High).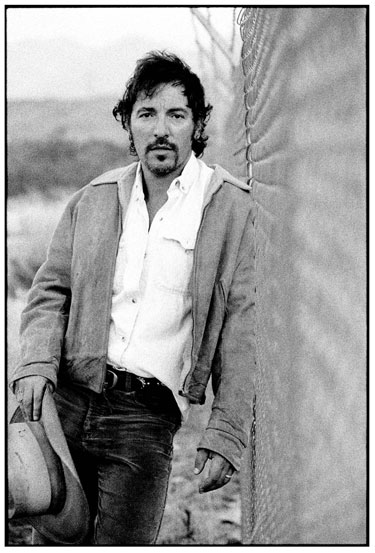 The stories that Pam shares about her leap of faith into photography are both funny and inspiring. Make sure you listen closely to her recent adventures with Willie Nelson, while shooting his recent album cover, and of course her journey with her big brother to create the Mojave Desert images for The Ghost of Tom Joad.
Right: photograph by Pam Springsteen
And of course, Frank takes us into a time machine back to his days in college with Patti Smith, with many tales to tell from then on.
Thanks to Chris and all my friends at Backstreets for offering to debut this special episode and who were kind enough to share my interviews with Maureen Van Zandt, Danny Clinch, and Thom Zimny over the last year. Backstreets.com has always been the home page I check every day — and lately I need it now more than ever to escape these difficult times. Yes, I host a show called Financially Speaking… but don't look for any personal financial advice in an episode like this — it's all about my passion for music.
Please feel free to share the podcast through either the Spotify link or my Show Page from my day job at UBS. Most of all, thank you to Pam and Frank for not only being a great interview but being so damn funny and honest. Please check out their work for sale at Morrison Hotel Gallery and their personal websites pamelaspringsteen.com and StefankoStudio.com
- May 19, 2020 - Mitch Slater reporting


KEEP THOSE CARDS AND LETTERS COMING!
Mighty Max takes questions from our readers for his new show premiere
We're psyched to be helping Max Weinberg out with his new online show, Mighty Max Monday Memories, and the first episode is out now. As posted to Max's IGTV last night, watch him here drawing questions from his "magic drum" — the floor tom he used in the studio for The River and Born in the U.S.A. sessions — all great memory prompts sent in by Backstreets readers.
In this first installment, Max answers a popular burning question, regarding Bruce calling "Stick!" over and over in The Promise documentary — and how they finally got "the elusive sound we were looking for." You'll want to go back and listen to "Darkness on the Edge of Town" again.
Plus, Max talks about his role in the E Street Band ("the worst thing in the world on stage is if you can't hear the drummer; the second-worst thing is if the drummer's too loud"), a surprise visit from James Brown, a "Bruce cam" on his drums, the power of match grip, watching the E Street Band with Jay at the kit, and how much he and the band enjoy playing: "When it's safe, I can't see any reason why we wouldn't be back out there playing for you!"
Big thanks to everybody who sent questions in already, a nice chunk of which were answered here. Of course there are more great ones waiting to be asked, and another episode of the show to come next Monday — so after you enjoy the premiere, send us yours to askmax@backstreets.com.
- May 19, 2020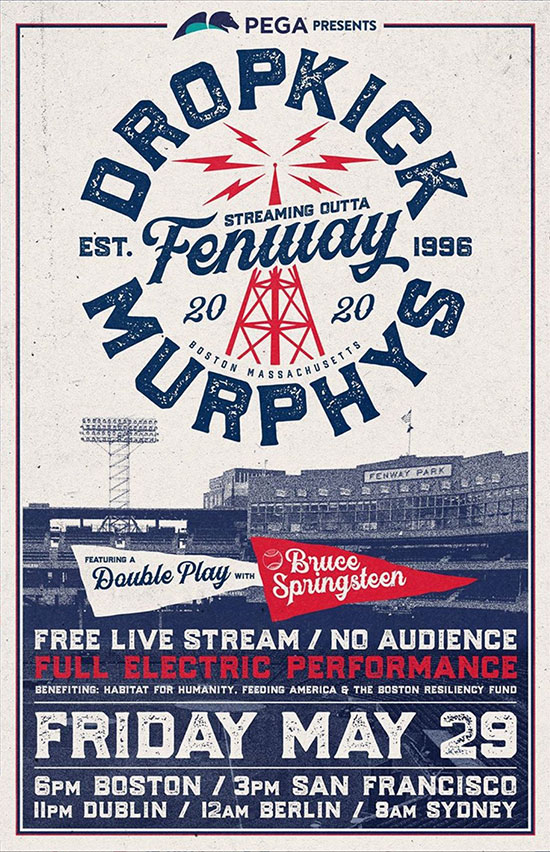 SPRINGSTEEN'S SHIPPING UP TO BOSTON
We've heard him spinning records on the radio, and seen him singing at home with Patti... but finally, at the end of this month, we'll get to see Bruce Springsteen rocking a big venue. Even if by remote with no one in the stands.
On May 29, the Dropkick Murphys will livestream from Fenway Park (also home of some amazing E Street doubleheaders from the Rising and Wrecking Ball tours), the first concert from Park's infield diamond. "To make sure this is a night to remember," the band announced this morning, "our friend Bruce Springsteen will be joining us remotely for a FENWAY DOUBLE PLAY.... We'll play together - one of ours + one of his."
Streaming Outta Fenway will be a "full electric" performance and a benefit fundraiser for three charites: Boston Resiliency Fund, Habitat For Humanity and Feeding America. According to the band's Instagram post this morning, the fundraising has already begun, and you can pitch in by texting "DONATE" to 404-994-3559.
Tune in May 29 at 6pm Beantown Time, on Facebook or YouTube, to watch.
- May 18, 2020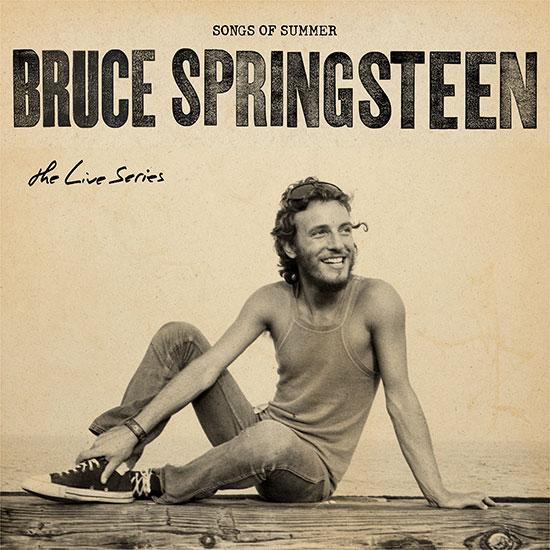 THE TIME IS RIGHT
Songs of Summer playlist brings 15 more live tracks to streaming services
Lots of us are waitin' on a sunny day... and even though summer is just around the corner, it can be hard to feel that way. But, as they say, you can go there in your mind: the seventh playlist in The Live Series has arrived today, featuring 15 Songs of Summer performed live by Springsteen with and without The E Street Band. Each new playlist adds to the officially available Springsteen performances on Apple Music, Spotify, and other streaming services.
If you're looking for "Summertime Blues," well, that was last time, and we've got enough blues. But you'll find Indians in the summer, girls in their summer clothes, soft summer rain, and sweet summer nights on the Jersey Shore — all in versions streaming for the first time.
| | | |
| --- | --- | --- |
| 1 | Born to Run | W Hollywood, CA - 10/18/75 |
| 2 | Rosalita (Come Out Tonight) | Passaic, NJ - 9/19/78 |
| 3 | The Fever | San Francisco, CA - 12/15/78 |
| 4 | 4th of July, Asbury Park (Sandy) | Uniondale, NY - 12/31/80 |
| 5 | Thunder Road | London, UK - 6/5/81 |
| 6 | Spirit in the Night | E Rutherford, NJ - 8/20/84 |
| 7 | Out in the Street | Los Angeles, CA - 9/27/85 |
| 8 | Blinded by the Light | Asbury Park, NJ - 11/24/96 |
| 9 | Waitin' on a Sunny Day | Helsinki, FI - 6/16/03 |
| 10 | Racing in the Street | Grand Rapids, MI - 8/3/05 |
| 11 | Girls in Their Summer Clothes | Boston, MA - 11/19/07 |
| 12 | Seaside Bar Song | Virginia Beach, VA - 4/12/14 |
| 13 | It's Hard to Be a Saint in the City | Dublin, IE - 5/29/16 |
| 14 | Frankie | Horsens, DK - 7/20/16 |
| 15 | Jungleland | E Rutherford, NJ - 8/30/16 |
Arranged chronologically, the first eleven tracks are taken from the live archive series, with the remaining four courtesy of the nightly tour releases from 2014 and 2016. Listen now via Apple Music, Spotify, Amazon, Pandora, Tidal, or Deezer.
Plus, check out a new sister playlist on YouTube: Bruce Springsteen - Songs of Summer Live gathers available footage of most of these songs from official concert films.
- May 15, 2020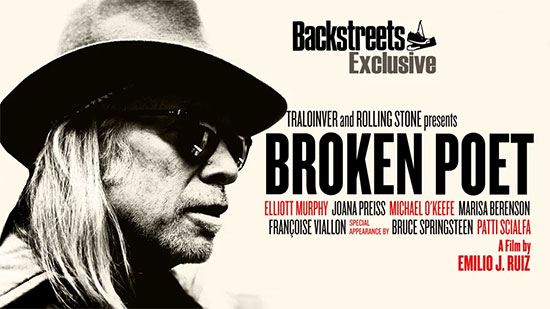 BACKSTREETS PREMIERES: BROKEN POET
Elliott Murphy film (with cameos from Mr. & Mrs. S) is available online now, with exclusive Backstreets bonus feature
Today, Backstreets is proud to present the official world premiere of singer-songwriter Elliott Murphy's film Broken Poet. The movie is now available to purchase via Vimeo for streaming at home, as a special limited-time offer for Backstreets readers.
Based on Murphy's 1985 short story "The Lion Sleeps Tonight," the fictional-narrative film focuses on a modern-day search for world-famous 1970s rock star Jake Lion, who may — or may not — have killed himself in Paris back in 1974.
Elliott Murphy co-wrote the film's screenplay with its director, Emilio J. Ruiz, and plays an intriguing, mysterious starring role in the film. The film also features Murphy's longtime friends Bruce Springsteen and Patti Scialfa in cameo roles, playing themselves, and a lot of great Elliott Murphy tunes from various phases of his four-decades-and-counting career.
In addition to permanent online access to the film, everyone who purchases Broken Poet through this Backstreets digital premiere will receive permanent access to a bonus feature created just for us: Elliott Murphy filmed a special "Couch Concert" especially for Backstreets readers, inspired by his longtime association and friendship with Springsteen.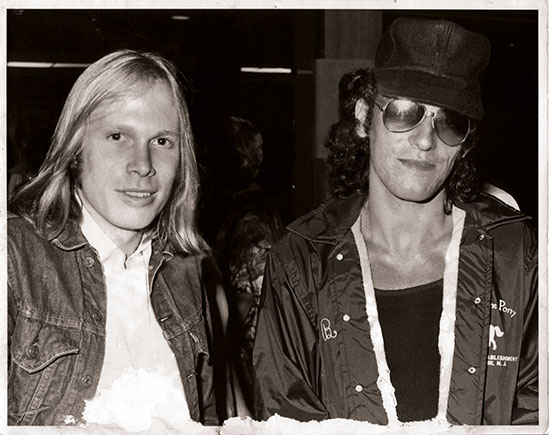 Elliott Murphy and Bruce Springsteen in 1976 - photograph courtesy of EM
In the 18:45 bonus video, Elliott tells stories and delivers three beautiful solo acoustic performances: his Broken Poet theme song, "Drive All Night" from his 1977 album Just a Story From America (which predated the official release of Springsteen's song of the same title by three years,) and a cover of Springsteen's "Better Days." An intimate experience, like all of his Corona Couch Concerts, with a Boss twist.
This special premiere of Broken Poet was, of course, brought about by the enormous impact that the coronavirus has had on the ability of artists to present their works to homebound audiences. With that in mind, Backstreets is honored to join Elliott Murphy and our friend Joe Amodei, President of Broken Poet's worldwide distributor Virgil Films, in donating a portion of the proceeds from each Broken Poet purchase to the MusiCares COVID-19 Relief Fund.
In the spirit of this unique, COVID-19-crisis-inspired way of premiering his film, Elliott Murphy also granted an extensive — but safe — interview with Backstreets, while quarantined in his Paris home.
Read Just a Story From Paris, Backstreets contributor
Shawn Poole's interview-by-email with Elliott Murphy
- May 15, 2020


WAM BAM THANK YOU DAVID DANIEL
Ten years later, Springsteen/Pinsky WAMFest footage sees release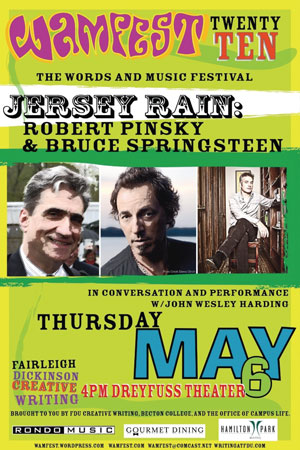 On May 6, 2010 — ten years ago this month — Fairleigh Dickinson University hosted a once-in-a-lifetime event at its Florham campus in Madison, NJ: a joint appearance by Bruce Springsteen and former U.S. Poet Laureate Robert Pinsky.
Under the banner of "Jersey Rain,
the title of a Pinksy poem, the two writers talked about their shared Jersey roots, their similar approaches to their art, Frank Sinatra, Luciano Pavarotti, and much more. They also performed, both separately and together. Wesley Stace, the writer who has also performed music under the name John Wesley Harding, served as moderator. The original Backstreets setlist report is here.

David Daniel, the FDU professor who organized the event for the university's WAMFest (Words and Music Festival), has now posted three videos containing excerpts from it to a new YouTube channel, with Springsteen's management's permission.
The event lasted about 90 minutes, and the three videos [the first one is above] are less than a half hour, together, so there's much more available, and Daniel says he will be posting more.

For further details, follow this link to NJArts.net's post on the subject, with all three embedded videos (including performances of "Darkness on the Edge of Town," "The Promised Land" and "Born to Run," plus poetry readings by Springsteen, Pinsky, and both reading together), along with transcripts of all that was said in the videos.
- May 14, 2020 - Jay Lustig reporting

DRUMMER'S DAUGHTER
Ali Rogin, née Weinberg, brings harmony to quarantine
There's no doubt that music flows in the Weinberg family veins. Jay Weinberg — #1 Rock Drummer in the 2020 Modern Drummer Readers Poll — clearly didn't fall far from the family tree (even if you may never see his Slipknot mask on the E Street stage). Then there's his sister Ali, who E Street fans have also seen sitting in with Bruce Springsteen in concert — her debut was on "Glory Days" at the age of 12.
Though Ali Rogin now makes her bones as a journalist (currently foreign affairs producer for PBS NewsHour), she's also been making music at home during these troubled times, sharing videos in which she harmonizes with herself. Check out her multi-tracked "Hard Times Come Again No More" above.
Rogin tells Backstreets, "I was inspired to start recording these when I heard a portion of 'Down to the River to Pray' in a piece my NewsHour colleagues did about finding community during quarantine. People seemed to like it, so I just kept doing them once a week. "
Many of us first heard Stephen Foster's "Hard Times" as revived by Springsteen, with both the Sessions Band and the E Street Band; the song came to Ali through a different route: "I knew [Bruce] had performed it," she says, "but actually an acquaintance of mine through Instagram suggested I sing it, based on Emmylou Harris' version. But it turns out it has such a rich history, and it's powerful how the sentiment of this song from the 1850s is particularly meaningful today."
Rogin also creates her own Trio, emulating the voices of Emmylou's supergroup with Dolly Parton and Linda Ronstadt; another recent cover brings her two-part harmony to "Angel From Montgomery," a modern classic by the late, great John Prine. "After I posted my first song, this was another request someone made, a week or so after John Prine's passing. I confess I hadn't been familiar with the song but thought it would be a nice tribute, and then I heard Bonnie Raitt sing it and regretted that I'd gone my whole life to that point not knowing it!"
Visit Ali's YouTube channel for more, and as the saying goes: "like and subscribe!"
- May 14, 2020 - Christopher Phillips reporting

YOU ASK, THE MIGHTY ONE ANSWERS
Max Weinberg's weekly Q&A to debut on Monday, May 18
We've been catching up with Max Weinberg, who is in the same boat as most of us: socially distancing and sheltered in place, putting future plans on hold. In the drummer's case, he had nearly a year's worth of gigs to cancel — Max Weinberg's Jukebox had been booked for most of 2020, through New Year's Eve.
But one the coolest aspects of his own shows over the years — as you know, if you've seen Max give a talk or lead his various bands — is the Q&A he often conducts with his audiences. And fortunately for us, that's something that we can try to recreate from home.
Enter Mighty Max's Monday Memories.
"It'll be a weekly show from my house," Max tells us, "where every Monday I'll be answering questions on Instagram. For anyone and everyone who has something they've wondered about through the years — regarding Bruce and the E Street Band, of course, but also my TV career, really anything that's on someone's mind that I might be able to address."
Max is new to Instagram — follow him here — and he'll be posting a new episode to his IGTV channel each Monday at 6pm, giving As to Qs for roughly half an hour, beginning this coming Monday, May 18.
Backstreets is now collecting questions for Max via email, and we'll pass them along in time for each Monday evening show. He'll print them out, put them in his one-headed tom tom from the Born in the U.S.A. tour, and pick them at random to answer.
To get your query in the drum for Mighty Max's Monday Memories, email askmax@backstreets.com with your question, your name and location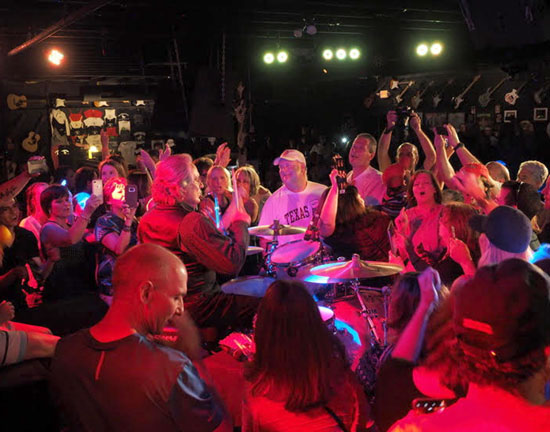 We had a few questions for Max ourselves for starters, just checking in on how he's handling life in these troubled times — consider it warm-up to the show.
Well, like everyone else, my wife Becky and I have been following the protocols for distancing, staying home, masks when we go anywhere, and working out in the garage like crazy. I've got a couple of machines out there, and weights, heavy-duty elastics — that kind of thing. Get the heart rate up like in a Bruce show!

Fortunately Becky's the best cook I know, so eating home all the time has been great. I hit the grocery store a few times a week.

We read a lot, binge on a few shows like Succession, American Experience, The Plot Against America, based on Philip Roth's great novel. Starting Seinfeld over from episode one. I find Seinfeld hilariously funny now, though I can't say I watched a lot of it when it was first run. It's a great release from all the awful news.

My favorite read right now, though I'm almost finished, is Freedom's Forge, by Arthur Herman, which is about America's industrial ramp-up to World War II — the energy and ingenuity of the private sector during the late 1930s, working together with the administration to get it done! The country was dealing with the inevitability of the war crossing the Atlantic, Lend-Lease and all that for Britain. How FDR marshaled industrial America to get prepared. And he did it against the wishes of many of those who elected him in '32.

I grew up in a solidly Democratic household — my father's hero was FDR. My dad always said, "FDR saved the country" — I never really knew what that meant when I was a kid, but my interest has been stoked the past few years. So, Man of Destiny by Alonzo Hamby about Franklin Roosevelt's rise in America is on my schedule currently.
Whether you'd like to hear Max talk about FDR or BTR, we hope you'll join us — send along a question to askmax@backstreets.com and watch the debut episode of his IGTV show on Monday night.
"I'm hoping to make lemonade out of lemons during this pandemic scourge," Max says of his new venture, "and I enjoy reminiscing, as well. After all, I think I've always had the best seat in the house!"
- May 13, 2020 - Christopher Phillips reporting


"YOU WANNA DANCE?"
Backstreets to premiere Elliott Murphy's film Broken Poet, featuring cameos from Bruce and Patti, plus exclusive bonus feature, benefitting the MusiCares COVID-19 Relief Fund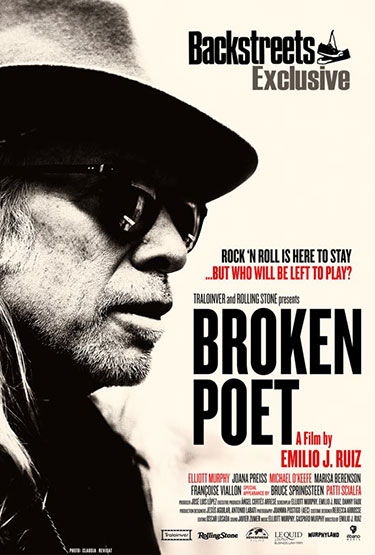 Practically everybody who regularly visits this website will have some idea who singer-songwriter Elliott Murphy is. Some are very familiar with his impressive body of work, spanning four decades and counting. Others may know him mainly as that cool guy who regularly gets invited to sing onstage with Bruce Springsteen whenever Springsteen plays Paris. But no matter what you currently know about Elliott Murphy, you're about to see him in a different light.
Backstreets is honored to serve as the exclusive venue for the digital premiere of Broken Poet, the fictional-narrative film in which Elliott stars, along with Marisa Berenson, Michael O'Keefe, Joanna Preiss, and — in special appearances playing themselves — Elliott's old friends Bruce Springsteen and Patti Scialfa.
Murphy also co-wrote (with director Emilio J. Ruiz) the film's screenplay, which is based on Elliott's 1985 short story "The Lion Sleeps Tonight," and the film's soundtrack is filled with some of Elliott Murphy's all-time best songs.
Broken Poet, distributed by our pal Joe Amodei's Virgil Films & Entertainment, originally was slated to debut in theaters worldwide, but of course the COVID-19 pandemic has forced those plans to change. As a result, the film will first become available to own and stream this coming Friday, May 15, right here through Backstreets in an exclusive, limited-time offer.
The offer includes a bonus feature, just for us: the film will come bundled with an extra clip, a solo-acoustic mini-concert that Elliott has recorded exclusively for Backstreets readers who purchase Broken Poet. A portion of every purchase will be donated to the MusiCares COVID-19 Relief Fund as well.
We'll have plenty more to share here on Friday when Broken Poet officially becomes available for purchase and streaming. In the meantime, you can check out a special message above from Elliott Murphy himself, and click here to pre-order.
- May 12, 2020 - Shawn Poole reporting

INSTAGRAM LIVE: RESUSCITATED, RELIBERATED, REPLAYED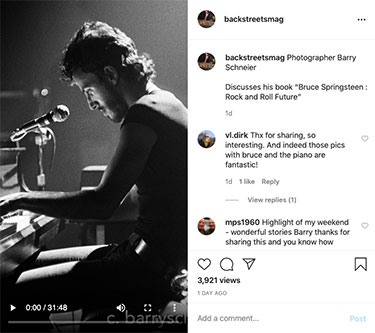 In this "new normal" of virtual gatherings, we had a great time Saturday engaged with Backstreets readers on Instagram Live. We hosted author Barry Schneier as he took us through the stories and photos in his book Bruce Springsteen: Rock and Roll Future, on the 46th anniversary of the night Bruce was hailed "rock and roll future" by then-critic, soon-to-be-manager, Jon Landau.
It was a great opportunity for Barry to dig a little deeper into that night — as a Boston local and the only photographer there at the Harvard Square Theatre on 5/9/74, he offered his unique perspective on not just the performance but also the events that led to Bruce being on the bill. And we also learned how his well-known photo of Bruce at the piano playing "For You" might never have happened if it wasn't for a last-minute change of plans that night on Barry's part.
We had a truly global audience, with viewers tuning in from Ireland, Italy, Sweden, and as far away as Australia — and we'll hope to do something like this again. Thanks to the 700-plus participants who joined us on the anniversary; if you missed it live, or had trouble getting in, you can view the replay on our Instagram or YouTube, and of course Barry's book is available in our online shop.
- May 11, 2020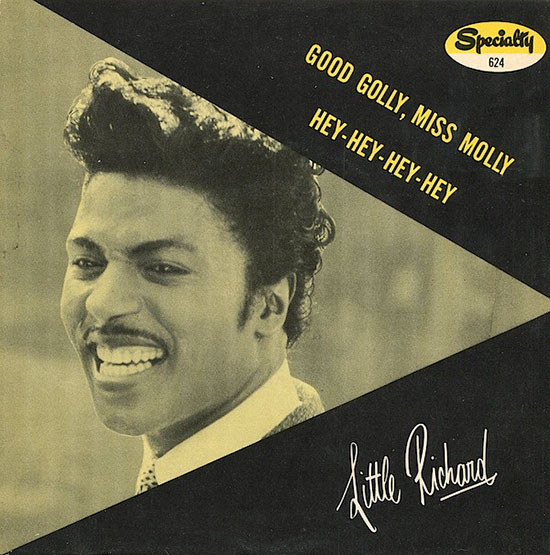 GOOD GOLLY, LITTLE RICHARD (1932-2020)
When you consider Little Richard adjacent to Bruce Springsteen and the E Street Band, it's far less about "influence" — a vague descriptor that doesn't do the connection justice — as it is about a common denominator, a shared understanding, and an agreed-upon acceptance that he was the architect (to quote Wilson Pickett), the real deal, the roots of rock 'n' roll.
Richard Penniman pulled from the blues and the church, borrowed a vocal style from Sister Rosetta Tharpe and an attitude from Esquerita, and BOOM! Little Richard was born: larger than life, loud, and utterly fabulous. He was commanding and unapologetically bold. He screamed, and you suddenly felt like you could scream along with him, and you suddenly wanted to. He was proud of the fact that he got both the white kids and the black kids to dance together.
You don't need a list of Little Richard's songs covered by Bruce and the band to see the connections — which at their core go back to the essentials of gospel music anyway — but the presence of those songs throughout Springsteen history seals the compact. There is zero doubt that Little Richard's songs were in the repertoire of every cover band the E Streeters were ever in; you could hear them on the radio in cars and on transistor radios on the beaches up and down the Shore; they were performed by the musicians who played in the clubs off Springwood Avenue.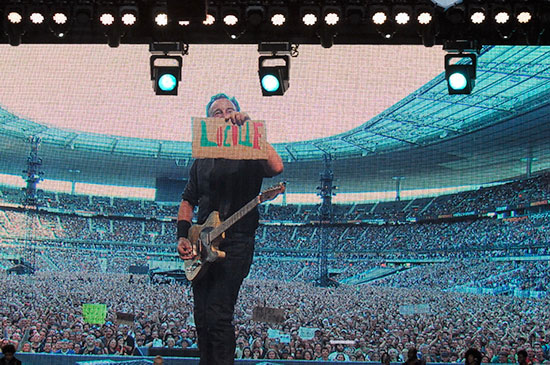 June 29, 2013, Paris, France - photograph by Rene van Diemen
So there's a good reason the E Street Band can turn on a dime when signs for "Lucille" get pulled out of a crowd, or why the "Detroit Medley" (which was Little Richard via Mitch Ryder, borrowed for the same essential reasons of defiance and freedom) became (and, frankly, still is) legendary, or you find "Good Golly, Miss Molly" when the tequila comes out or "Long Tall Sally" when Bruce grabs a guitar and comes out onstage to guest star.

I see Little Richard's influence on E Street every time Bruce jumps on a piano, shakes his ass at a camera, growls in a full-throated shout, and in every time he grabbed Clarence's hand onstage. Like the best rock and roll, Little Richard represented freedom. A wop bop a loo bop a wop bam boom!
- May 10, 2020 - Caryn Rose reporting

LAND OF HOPE AND STREAMS, for MAY 8
In addition to some of the ongoing livestreams we listed earlier, there are a couple of special one-off streaming events to put on your radar as we head into the weekend. (Yes, today is Friday, we promise.)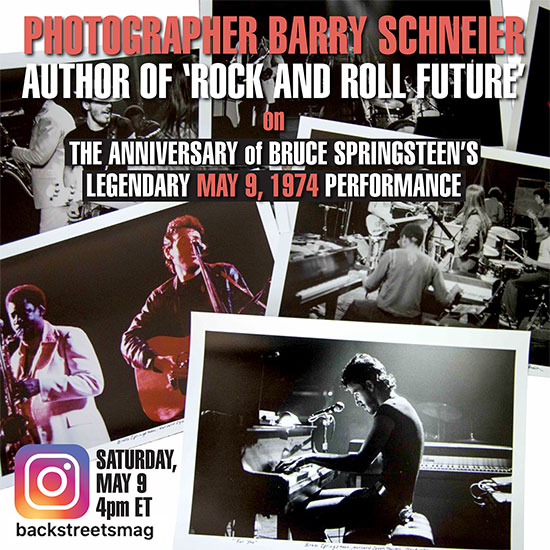 Saturday, May 9 at 4pm ET: We'll be celebrating the anniversary of Springsteen's legendary May 9, 1974, concert performace with an Instagram Live stream featuring author and photographer Barry Schneier. His book from Backstreets Publishing, Bruce Springsteen: Rock and Roll Future, was all about that very night that Jon Landau witnessed said "rock and roll future" at the Harvard Theatre in Cambridge, MA. Since we can't send Barry back on the road for another book tour right now, we figure this is a fine way to mark the occasion.
"I'll be doing my 'book talk,'" says Barry, the only photographer in the house that special night in '74, "sharing further stories and insights into that show 46 years ago." Follow backstreetsmag on Instagram, and tune in live tomorrow afternoon.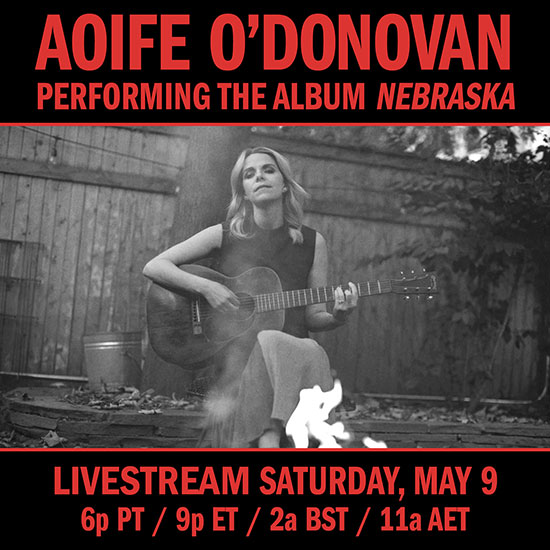 Saturday, May 9 at 9pm ET: Later tomorrow night, stay tuned for a special full-album performance from Aoife O'Donovan. The singer-songwriter (who Sessions Band aficionados may know from her time in Crooked Still with banjo player Greg Liszt) will be taking on Springsteen's Nebraska live, from start to finish. Check out an earlier performance of the title track to whet your appetite. Several ways to watch are here, and a portion of the proceeds will benefit the MusiCares Covid-19 Relief Fund.
Sunday, May 10 at 6pm ET: Jersey Shore stalwart Bobby Bandiera is holding a living room concert to benefit the Asbury Park Music Foundation and the New Jersey Pandemic Relief Fund. A preview shows him killing it on Springsteen's "The Fever," a favorite from his Jukes days; if you watch that, you'll wanna tune in for the whole thing. We recommend following @APMusicLives on Twitter for further details.
Any time, on demand: All three parts of Bruce Springsteen: From His Home, to Yours… incluing Volume 3, which first aired on E Street radio on Wednesday (scroll down for details), are now available On Demand on SiriusXM.com. (Part 3 is currently misnamed at the top of the list, but it's there!) The On Demand service is part of SiriusXM's free streaming offer that currently extends through May 31.
- May 8, 2020

ALL WOUND UP
Haruki Murakami on Bruce Springsteen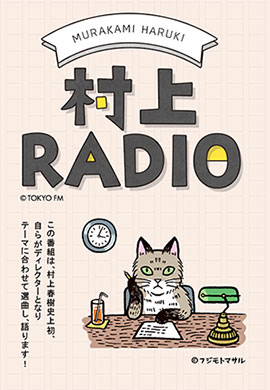 The tent over E Street Nation is enormous, stretching not only from the big white house to the parking lot, but also around the world. Often, one fan stands out. For some of us at Backstreets, we've been consistently intrigued by the work of one such fellow fan, the Japanese literary giant Haruki Murakami.
His works span a range of topics, from twin obsessions running and jazz music to the 1995 terror attack on the Tokyo subway system. But his fiction distinguishes him the most, whether A Wild Sheep Chase (1982) or Colorless Tsukuru Tazaki and His Years of Pilgrimage (2013). And of course, in the mid-'90s The Wind-Up Bird Chronicle appeared, a deeply imagined work that requires precisely one thing of the reader: the suspension of disbelief.
Like Springsteen, Murakami deploys recurring devices: where one uses the car, the other elevates the cat. And as we are reminded below, neither is afraid of heading toward the darkness, whether in a bedroom on Tunnel of Love or down a well in The Wind-Up Bird Chronicle. There are surely more parallels to uncover, whether in their respective works, or in how each of them sees the world. Both share a knack for putting ordinary characters in extraordinary situations.
Full disclosure: late in 2010, we reached out to Murakami through his New York agent, asking whether he'd write something — anything, really — about the Darkness on the Edge of Town deluxe reissue. We quickly got a polite response: Mr. Murakami appreciates this invitation to contribute, but he is unfortunately unavailable to take on new projects and requests. Thank you for your interest and understanding.
Neither has diminished. We were intrigued again to discover that Murakami, who has spun tunes for listeners over Japanese airwaves since at least 2018 — our kind of precursor to From His Home, to Yours for sure — concluded his April 26 episode of Murakami Radio on Tokyo FM this way:
Today's final quote is from Bruce Springsteen. After he became a rock star with the success of Born to Run, What did he think over? Though it's a little long, please listen:

The one thing I did feel after Born to Run was a real sense of responsibility to what I was singing and to the audience. I didn't have an audience before that, not much of one. I was concerned with living up to that responsibility. So I just dove into it. I decided to look around. I decided to move into the darkness and look around and write about what I knew and what I saw and what I was feeling. I was trying to find something to hold on to that doesn't disappear out from under you.

Though it's presumptuous to say that I'm one of his fellow artists, I can recognize his feeling very well. Actually, I was born in the same year as Bruce Springsteen. Incidentally, Japanese Minister of Internal Affairs and Communications Suga* is the same age. But it's confusing or almost bewildering to say Bruce and Suga-chan are the same age. Like it makes me wonder where I stand… well, it doesn't matter. That's all for today.
*Our friend Tadd Igarashi notes: "Suga is the current Minister of Internal Affairs and Communications for the Abe cabinet. He is well known for dodging difficult questions during the daily press briefing."
- May 8, 2020 - Jonathan Pont and Christopher Phillips reporting - special thanks to Caryn Rose, and to Tadd Igarashi for translating

BOSTON COLLEGE WELCOMES FRESHMEN WITH BORN TO RUN
Springsteen himself to address Class of 2024 on September 10
Among his titles are songwriter, singer, rock star, playwright, screenwriter, film director, and author. It is the last of these which set Bruce Springsteen up for another title he will pick up in September, when he goes to Chestnut Hill, MA as First Year Academic Convocation Speaker for the Boston College class of 2024. He may have "strafed his old high school," but the Boss is going to college to address a group of young, newly independent men and women born the year The Rising was released.
This news, first noticed on Instagram by the younger teenager under my roof, quickly created a buzz in our house. My family and friends know the two lifelong passions that overshadow the rest of my interests involve either Boston College or the ministry and majesty of rock 'n' roll according to Bruce. Putting these two things together is a powerful cocktail, made more potent because my son is now a rising freshman at BC.
Upon finding out that Bruce will kick off his college years, my son — whose first Springsteen concert was as a ten-year-old, at the memorable MetLife lightning-delayed birthday show in 2012 — expressed approval with genuine joy that has been hard to find in a high school senior this spring: "That's friggin' awesome!"
Letting his college experience be his own, and not me trying to re-live mine, just got a little bit harder.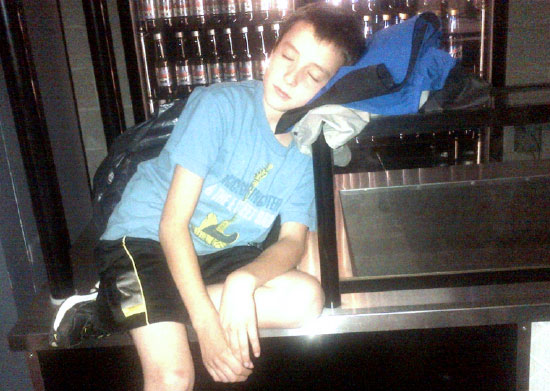 Ten years old at Giants Stadium, 9/22/12 at 9:50pm, taking a cat nap during the storm delay… now Boston College Class of 2024.
Says dad Chris Eidt: "How he feel asleep on a beer cart with that non-stop PA announcement, about clearing the field because of lightning strikes, is beyond me. The 24oz coke after midnight in a 10-year-old rallied us to the end!"
The Boston College connection for Springsteen is well established. His son Evan graduated from the Heights in 2012. There have been four private shows at the Stone Pony (in 2009, 2010, 2011, and 2019) to benefit a scholarship program at BC. The 2011 show was especially memorable for having both Max and Roy sit in all night, and for being the first real performance Bruce gave after Clarence died. I still have the "Working on a Dream since 1863" T-shirt.
But what exactly is a First Year Academic Convocation? And why Bruce? At BC it is a tradition that welcomes all first-year students to the university academic tradition. The program is designed for the students to use a common text to start both an intellectual and reflective dialog that will encourage the students, as the Jesuit motto says, "to set the world aflame." This gathering and exhortation by a distinguished speaker is to set a way of preceding for the next four years of community where they are called to engage in conversation, live together, and share their lives with one another.
Thinking of the conversation Bruce has engaged in with his community of fans — particularly the recent reflective stretch from The River box set through the Born to Run autobiography, Springsteen on Broadway, and Western Stars — makes the selection of the author and his memoir seem ideal.
Each of the 2,300+ incoming freshman will receive their own copy of Born to Run and a study guide to the book. The summary and study guides for the past 15 author speakers are online. Past guides lay out answers to "Why read a book?" and "Why read this one?", suggesting ways to approach the text by reading attentively, reflectively, and lovingly; they offer "questions to consider" and end with The Examen, the wrapper in which the Jesuit educational goal to produce men and women who make discernment a habit is found. Complicated history with Catholicism aside, I feel like Bruce knows a little something about discernment. Going through the previous ones today, I can't wait to see the new study guide for his autobiography and go back to school myself.
This is going to be a fascinating forum, and audience, for Bruce to share his message and inspire another generation. His address to the Class of 2024 is scheduled for September 10. It is also when we'll get the answer to the other question my son hopefully asked: "Do you think he'll bring his guitar?"
- May 8, 2020 - Chris Eidt reporting

CHASIN' THE CLOUDS AWAY IN ASBURY PARK
When musician Bobby Mahoney is performing in Asbury Park, NJ, he's usually backed by his three bandmates, The Seventh Son. But recently he was part of a much larger group: Bobby was one of 30 musicians from Asbury Park that gathered, Zoom-style, to record a version of Bruce Springsteen's "Waitin' on a Sunny Day."
The Boss himself liked what he saw.
Watch the video here:
How this performance came together is a story bred from quarantine, creativity, ingenuity, and a desire to help the local Asbury Park music community, specifically, the Asbury Park Music Foundation.
According to Bobby, it all started a few weeks ago, when the shelter-at-home order was first put into place. "Joe (Pomarico, founder and president of Asbury Park-based Telegraph Hill Records) reached out to me early in the lockdown, and asked if I would be interested in participating," Bobby told Backstreets via email. "He mentioned asking a bunch of other local musicians, so I was excited to be working with a lot of our Asbury friends."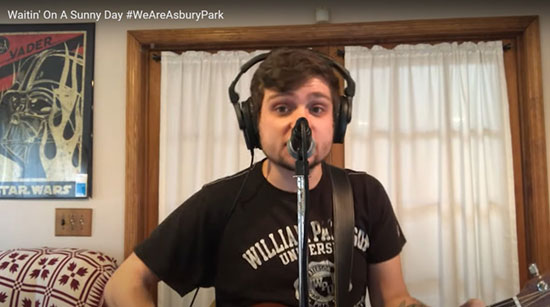 Bobby Mahoney, lead singer of Bobby Mahoney & The Seventh Son
Pomarico was able to pull together 30 talented musicians that often grace the Asbury Park stages to do a USA For Africa-style version of Springsteen's upbeat anthem from The Rising. Instead of having all the musicians in one room, they would all record the song individually at their homes, as is becoming more commonplace these days, and Joe would use his editing expertise to splice them all together into one cohesive song.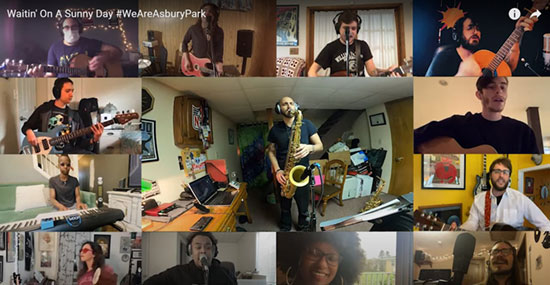 "'We Are the World' was such a powerful moment for music when it came out," Joe says, "and the impact it had on the world beyond just the industry has always been something in the back of my mind. It's something so common for these musicians to collaborate, especially when it's for a good cause like supporting music education for the local youth."
The mission of the Asbury Park Music Foundation is to keep the town's music legacy alive by providing under-served youth with life-changing music education, helping the local scene thrive, and uniting a diverse community through music.
These times are sorely testing the APMF's ability to do this, though. According to an APMF Facebook post, the volunteer-managed, non-profit organization is facing a critical juncture.
"During this unprecedented time, our focus has shifted from in-person programming on the Beat Bus (a state-of-the-art mobile recording studio that brings music education to under-served youth across New Jersey) and at schools and partner facilities, to an all-digital platform," the May 5 post states. "This virtual curriculum is crucial for at-risk students who have lost the structure of school days and after-school programs."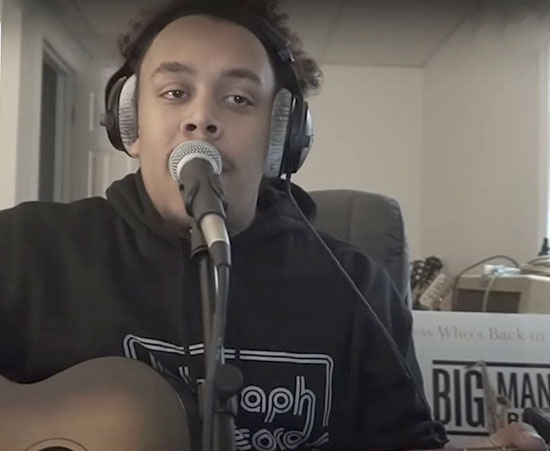 Jarod Clemons, youngest son of Clarence Clemons
Given the current challenges in fundraising these days, a team effort was required — a partnership with Telegraph Hill Records helped bring this project to life. Zack Sandler, a local musician who has ties with both the APMF and Telegraph Hill (and contributed saxophone to the song), helped connect them.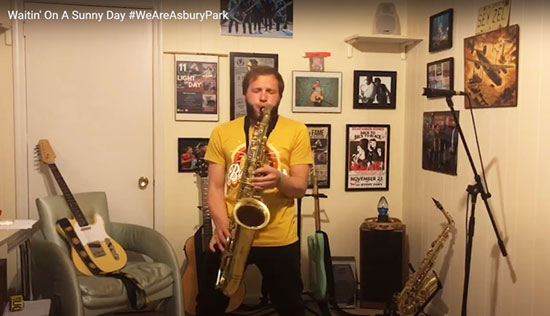 Saxophonist Zack Sandler
"I was brainstorming new projects for the APMF and different ways to encourage donations," Zack said over email. "I knew that my friend Joe Pom over at Telegraph Hill had this idea, and I introduced him to the APMF team with the hopes that we would be able to collaborate on this project together."
Happily, it all came together in a way that even Bruce himself approved. Soon after the song was released, in social media posts on Twitter and Instagram, the Boss thanked the local musicians for the rendition of his song, finishing both posts with "God bless everyone and stay safe. – Bruce"
According to Joe, this may not be the last socially distant gathering of local musicians, but for now he's concentrating on how make more records for local artists without a studio.
The musicians involved in this "Waitin' on a Sunny Day" remake include, in alphabetical order: Patty C, Jarod Clemons, Matt Cook, Tara Dente, Rachel Ana Dobken, Luke Dowler, Kevin Duggan, Brian Erickson, Natalie Farrell, Matt Fernicola, Owen Flanagan, Ryan Gregg, Zach Kornhauser, Ray Laux, Bobby Mahoney, Mark Masefield, Jessie McCormick, Ashley McKinley, Chad Morales, Lou Panico, Joe Pomarico, Avery Rose Puryear, Nick Ryan, Zack Sandler, Dillon Schindler, Deseree Spinks, Mike Squillace, Marc Tappan, Taylor Tote and Max Viner.
If you would like to donate to the Asbury Park Music Foundation, please visit their website: AsburyParkMusicLives.org/Donate.
- May 7, 2020 - Mark Krajnak reporting - Krajnak is a freelance photographer from Allentown, NJ. Follow him on Instagram at @jerseystyle_photography

FROM HIS HOME TO YOURS, S01 E03
Let the music keep our spirits high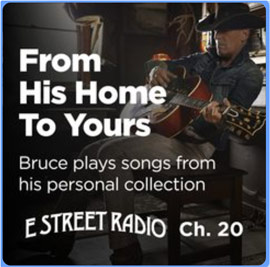 "As hard is it is to believe right now, your children will go back to school. Churches will be open and full. You will once again hug and kiss family members at your gatherings. You will shout over the noise of a crowded bar to order a drink and to speak to your friends. You will buy a hot dog at Yankee Stadium. You will walk through the streets of your hometown, free and easy. You may hold a complete stranger on a crowded dance floor. And 50,000 people will once again scream their heads off — somewhere in New Jersey."
So began episode 3 of From His Home, to Yours... Bruce Springsteen's DJ series of music for troubled times, as Bruce cued up his own "Wrecking Ball" — complete with those thousands of screaming fans, recorded live at the song's 2009 Giants Stadium debut. Again tapping a wide array of tunes in his collection, Springsteen spun meaningful music from old friends, new finds (hello, Pokey LaFarge!) and not one but two from Bob Dylan. In fact, Dylan is the one artist aside from Springsteen himself who has been represented in every episode so far.
As Little Milton's "We're Gonna Make It" led right into The Impressions' "Keep on Pushin'," there was plenty of hope in today's third installment. Whether it comes in a glass...
I can tell you one thing I'm doing every day, rain or shine: at four o'clock I am setting myself up a drink — a shot and a beer — I'm not waiting until five o'clock! — or a little vodka and soda — and I'm on my way to shortly putting a new shine on this whole experience. I take no shame in it, at this place and time, to looking into something that is gonna fuck me up.
Or, the biggest carrot of all, thoughts of the blowout we're gonna have when lockdown is done:
I was out last night about 9:30, running an errand, and let me tell you who else was out there: nobody. Nobody at all. The streets were barren. The highway was not alive. It was like, while we were waiting for the apocalypse, it had already happened. All I can tell you is: when this experience is over, I am gonna throw the wildest party you have ever seen — and you, my friends, are all invited.
At times, this DJ set felt like an extension of his memoir, as Springsteen described a scene from his current life on the farm:
The weather — it's funny how the weather this past two and a half months, since the lockdown, the weather has taken on a whole new level of importance in my life. I check the forecast three or four times a day. I pray for sun. I suffer through gray clouds and rain. I got a dog that wakes me up like clockwork every morning at sunrise, so around 6:30 every day I am standing in our front field, waiting for the sun to come up. And on those days when it rises and washes a golden light across the field into the trees I take a deep sigh of gratitude, and I am momentarily deceived into believing that things are almost normal again. Or at least that they will be. I never thought that the emotional beginning of my day could so depend on a change in the weather.
It's not the first time Bruce has introduced John Fogerty, but it might be the most expressive.
Hopes continue that Bruce might use this format to debut something new of his own; he hasn't yet, but with its inclusion of the new Stones track, "Living in a Ghost Town," Episode 3 is proof postitive of his awareness that others are doing so.
So many lovely moments along the way, from Bruce's first and only chance meeting with Joe Strummer, to his love of parades. Once again, Springsteen used his airtime to look at this thing from all angles, from "tension between you and your significant other" (can you spell D-I-V-O-R-C-E? Tammy Wynette can) to the "bravery of our front-line workers," including "the working people who keep our society running," to dancing: "When you're dancing, don't forget to practice your social distancing. We need a new dance called 'The Distance.' You have to be ten feet away from your partner to do it."
From takeout food — shout-outs to Tony's Grill and Federici's in Freehold preceeded The Miami's "We Deliver" — to death.
When Ralph Stanley's chilling, a capella "O Death" segues into Bob Dylan's "Every Grain of Sand," you know shit has gotten real. And Bruce kept it real:
Our sanitation workers, our grocery clerks, the folks who are in low-paying service jobs that require a high degree of contact with the public — they are carrying the full weight of this virus for all of us. The coronavirus has revealed once again the fissures in our society, the inequalities that put the backbone of our society — our working people — at risk.…

I'll tell you what frustrates me right now: the fact, as a country, we were so ill-prepared for this pandemic. And it's not like it hadn't been predicted. If you willfully ignore science and scientific fact in the year 2020, you end up suggesting to people that they ingest household products to clear themselves of the virus. Not a smart idea. You, and all those you're responsible for, will pay the price. The head of our government knew as early as January of the dangers the coronavirus posed to our country and failed to act. Thousands of more lives could have been saved had their warning been heeded.
The Pet Shop Boys cover of Bruce's own "Last to Die" followed.
But hope comes back around. "We have been visited by a plague." Bruce said. " Our strength resides in our ability to hope, and in our faith." He quoted Ephesians 1:18: "'I pray that the eyes of your heart may be enlightened in order that you may know the hope to which he has called you'.... 'I pray that the eyes of your heart may be enlightened.' I like that."
He included one of his favorite benedictions — Chris Whitley's "Big Sky Country" — and closed the 90-minute set with his own: "I wanna thank you for spending this time with me. I hope you've enjoyed yourself, and that we've lightened your burden just a little bit. So until we meet again, go now, and peace be with you."
Playlist:

Roy Acuff - "Turn Your Radio On"
Bruce Springsteen and the E Street Band - "Wrecking Ball" (live 9/30/09)
Little Milton - "We're Gonna Make It"
The Impressions - "Keep on Pushing"
John Fogerty - "Change in the Weather"
Pokey LaFarge - "Fuck Me Up"
Bob Dylan - "Everything is Broken"
The Rolling Stones - "Living in a Ghost Town"
Koko Taylor - "Wang Dang Doodle"
Lightnin' Hopkins - "I Hate I Got Married"
Tammy Wynette - "D-I-V-O-R-C-E"
Rank and File - "Rank and File"
The Miamis - "We Deliver"
Public Enemy - "Harder Than You Think"
Martha Reeves and the Vandellas - "Dancing in the Street"
Pet Shop Boys - "The Last to Die"
Graham Parker - "Don't Ask Me Questions"
Jackson Browne - "Before the Deluge"
Chris Whitley - "Big Sky Country"
Joe Strummer & The Mescaleros - "Ramshackle Day Parade"
Ralph Stanley - "O Death"
Bob Dylan - "Every Grain of Sand"
The X Seamen's Institute - "Shenandoah
You can listen to From His Home to Yours on demand, and to rebroadcasts on E Street Radio — Springsteen's third "channel takeover" will be airing numerous times in the coming week, starting today at 5pm ET. Free streaming for SiriusXM and E Street Radio has been extended through May 31.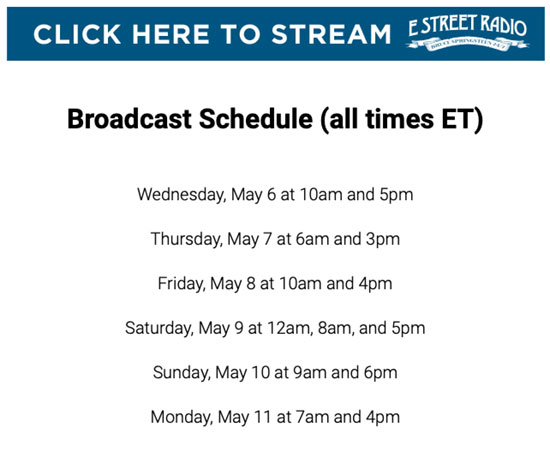 - May 6, 2020 - Christopher Phillips reporting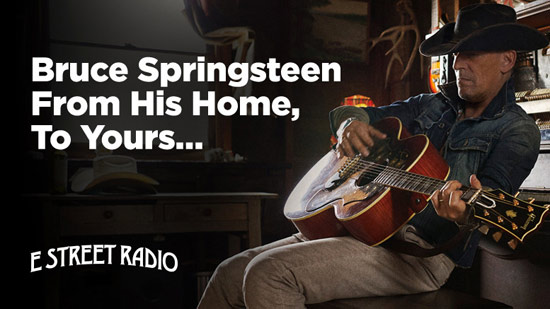 ONE PLUS ONE EQUALS THREE
Bruce Springsteen: From His Home, to Yours…, the Guest DJ series he premiered during the coronavirus lockdown, continues with Part 3 tomorrow on E Street Radio.
The SiriusXM blog offers a preview of his selections:
During Part 3 of the Bruce Springsteen From His Home, To Yours… series, Springsteen will once again select some of his favorite songs, as well as share his exclusive stories and words of encouragement during these troubled times. Tune in to the premiere on Wednesday, May 6 at 10am ET to hear songs from Bob Dylan, John Fogerty, Public Enemy, Pet Shop Boys, Jackson Browne, and more. This episode will also be available On Demand after it airs.
Tune in Wednesday, May 6, at 10am ET for the first listen; repeat broadcasts will follow starting that afternoon at 5pm. E Street Radio is streaming free on SiriusXM through May 15 for the coronavirus lockdown.
- May 5, 2020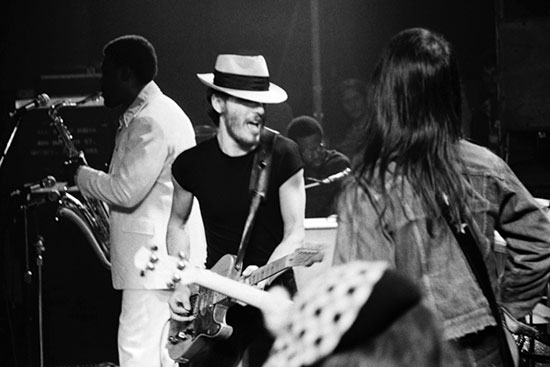 BACKSTREETS PRESENTS
Celebrating the Rock and Roll Future anniversary on Instagram Live
It was 46 years ago, this Saturday, May 9, that Bruce Springsteen and the E Street Band opened for Bonnie Raitt in Cambridge, MA, when Jon Landau, in his legendary review, declared: "I saw rock and roll future and its name is Bruce Springsteen."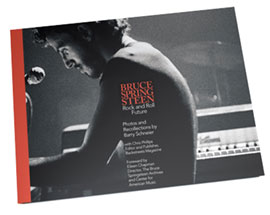 To celebrate this historic event, Backstreets will go LIVE on Instagram this Saturday at 4pm ET, 1pm PT, as we host photographer Barry Schneier, who was in the house at the Harvard Square Theatre and wrote the book on that night.
Author of Bruce Springsteen: Rock and Roll Future from Backstreets Publishing, Barry will be discussing the events that led up to the Cambridge bill, his involvement with show and its promoters, and the stories and photos of the performance from his unique vantage point that are captured in the book. He'll take questions, too — we hope you'll join us for this fun, live, and interactive event on Instagram.
- May 5, 2020 - photograph by Barry Schneier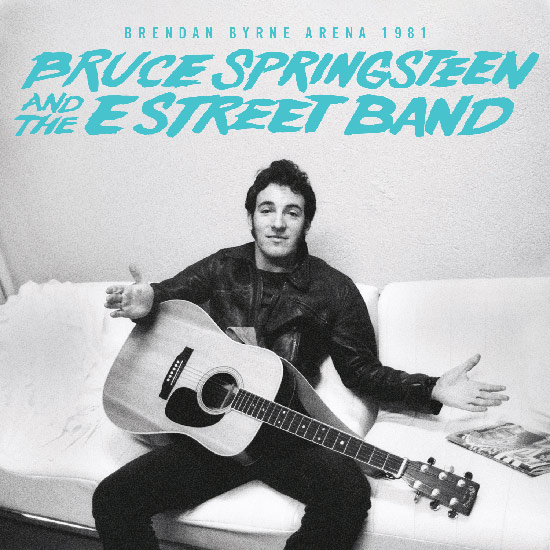 SOCK IT TO ME, BABY! THE RIVER ROLLS INTO SUMMER '81
Out today: final night of Brendan Byrne stand, July 9, 1981
I could not have anticipated how moving it would be to revisit this particular show for the first time in years, especially during such a dystopian moment. I was lucky enough to first see Bruce Springsteen and the E Street Band in 1978 (alas, only three times) but by the time the River tour rolled around, I hit the road, seeing more than 50 shows. Sometimes, I'd call in sick from work to hop into a car and drive (if the distance proved feasible); in September 1981, I actually quit my job to drive cross-country and see the last two dates in Cincinnati. No regrets!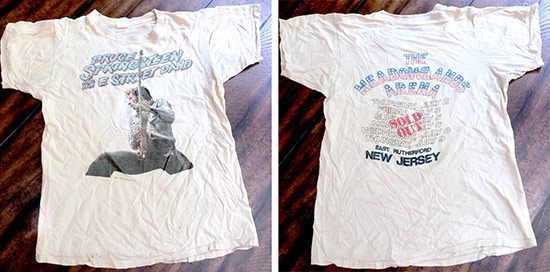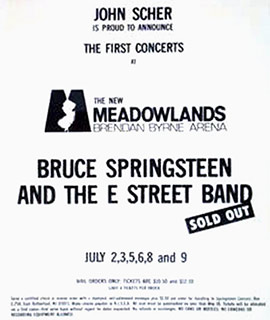 All of which is to say that I spent the summer of 1981 going to show after show. And that began with a six-night run at the Meadowlands, the last of which, July 9, 1981, is today's First Friday release as Brendan Byrne Arena 1981. As the Archive Series' fifth original River tour nod, it presents a host of songs that were new to American audiences that summer, a dazzling array of covers, and a guest spot by Gary U.S. Bonds.
These were the first-ever live shows at the newly-christened Brendan Byrne Arena, and the first dates after the European swing. The show had evolved overseas, morphing from its original model — a mix of the somber and dramatic, with moments of light (courtesy of the River rockers) — to a more cohesive, better balanced presentation.
The early River shows tried to pack in nearly every song on the double album; by this point, the show was shorter on the ballads ("Stolen Car," "The Price You Pay," "Drive All Night," et al.) and the pacing had tightened considerably. Now, over two taut sets, genres crossed effortlessly, weaving in ballads with the rockers. And new songs appeared, too.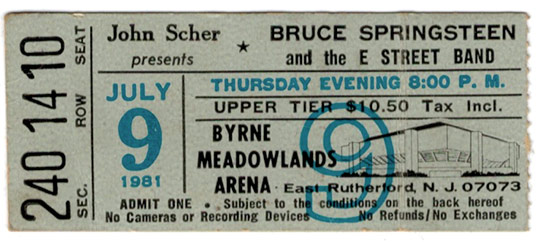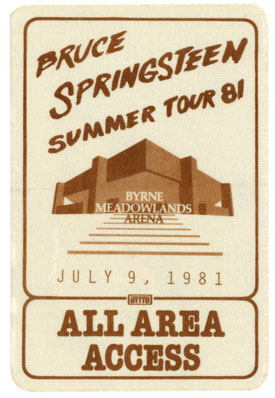 Music from July 9 leaps out of the speakers sounding as fresh as the day it happened, starting with two well-known-and-loved anthems ("Thunder Road," "Prove It All Night"), which dovetailed into "The Ties That Bind." Following the customary but majestic "Darkness on the Edge of Town," Bruce's exquisite arrangement of Elvis Presley's "Follow That Dream" appeared, the first new song of the night.
Before "Independence Day," Springsteen spoke of a recent visit to his father, who had been ill. "Family is forever," he reminded the audience, a lesson he admitted that he learned later in life — one which he was hopeful that we, the audience, would take to heart. The warmth of Clarence's sax solo lit up the cavernous room, only the sixth time it had been used since its official opening one week before. The rock followed: "Who'll Stop the Rain," framed by Max's crashing drums, careened into "Two Hearts" and then "The Promised Land."
At this point, we all breathed, and Bruce stepped to the mic stand with his guitar for "This Land is Your Land." As he strummed a few chords before starting to sing, a firecracker went off, piercing the quiet. This understandably rattled Bruce, who had been struck in the face by a firecracker in 1978 on New Years Eve in Cleveland. For the first time, if I'm not mistaken, he cursed on stage, asking those near the perpetrator to throw him out of the arena. "Whoever you are," Springsteen seethed, "you are no friend of mine."
Once Bruce collected himself, the Woody Guthrie song segued seamlessly into the poignant harp lead-in for "The River." Miami Steve's harmonies during the keening at the end were positively unearthly. Next came Jimmy Cliff's "Trapped," which had debuted in Europe. I remember viscerally how its quiet, intense beginning crashed into the chorus, lights blazing, then all went quiet and dark again, showcasing the band's expert ability to turn on a dime. "Out in the Street" and an exhilarating "Badlands" ended the first set.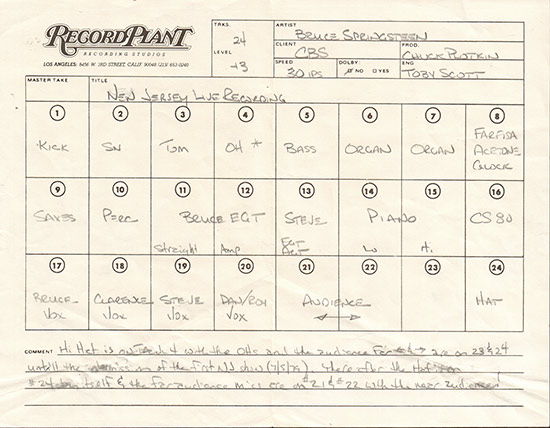 Today's release is sourced from 24-track tapes, thanks to a Record Plant mobile recording unit on the scene in '81, Plangent Processed and freshly mixed for the archive series as usual by Jon Altschiller
A quartet of River rockers led the second set, including the endearing Jersey love story "Sherry Darling" (where the tradition of Bruce dancing with an audience member began) and "Hungry Heart," preceded by the now-familiar audience singalong of the first verse (another tradition born of this tour). Special guest Gary U.S. Bonds joined in for the rollicking cajun classic "Jole Blon" and a Bruce original, "This Little Girl," both new songs from his comeback album — the spectacular Dedication, produced by Miami Steve with help from his friend Bruce, which had been released just two months prior.
Again we paused, this time for "Johnny Bye-Bye," a tender ballad about Elvis Presley by someone who loved him dearly. Now moved from its usual place in the first set, an ineffably sad and sweet "Racing in the Street" followed, its long coda punctuated by Bruce's guitar: it sounded like bells ringing as he lifted it up, seemingly an offer to the audience, acknowledging us as the song went on.
Then, the show headed for the home stretch, with barely a pause before "Ramrod" in all its raunchy, silly glory, the perfect segue for "Rosalita." It was pure magic as Clarence stepped to the mic and sang in his deep baritone: "the night was dark, and the moon was yellow, and the leaves came tumbling…." prior to Bruce hitting those classic opening notes and the arena exploding in delight.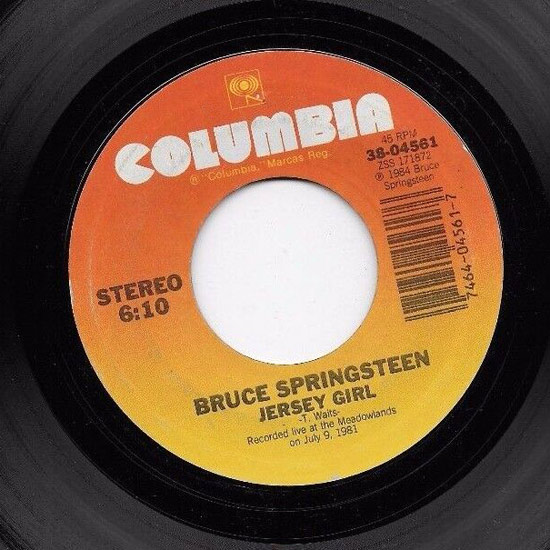 The encores kicked off with Tom Waits' stunning ballad "Jersey Girl," which Bruce had played for the first time on opening night. Originally on Waits' Heartattack and Vine, the song became something of a signature cover for Springsteen, aided in part by the version recorded this very night: it appeared officially as the B-side to "Cover Me" in 1984; and again, this time without the spoken introduction, as the closing track on the Live/1975-85 box set in 1986.
After "Jungleland" and "Born to Run," we were completely shaken and stirred by the "Detroit Medley," particularly by newly-added segments: another Mitch Ryder hit in "Sock it to Me!"; a reprise of "Sweet Soul Music" (which the band teased earlier as the "Spotlight on the Big Man" during "Rosalita"); and Sam Cooke's "Shake." By the time Bruce grabbed the microphone in the last moments on stage that night to attest that he is a prisoner of rock 'n' roll, we knew that we were too, and we always will be.
All net proceeds from the sale of the Brendan Byrne 1981 set will be donated to the New Jersey Pandemic Relief Fund.
Also read: Erik Flannigan's latest Nugs blog entry, "Thank You Guys For Making This Really Seem Like Home"
- May 1, 2020 - Holly Cara Price reporting - cover photograph by Jim Marchese