GREETINGS FROM ASBURY PARK: A HALF-FULL CUP OF MORNING JOE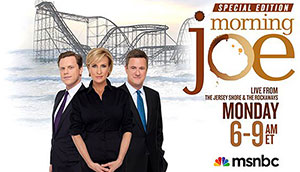 Yesterday, in acknowledgement of the six-month anniversary of "superstorm" Sandy, NBC News ran a series of reports from the Jersey Shore, anchoring their live Morning Joe (MSNBC) broadcast on the Asbury Park boardwalk. Against the backdrop of Convention Hall, hosts Joe Scarborough and Mika Brzezinski, along with Boston-based journalist Mike Barnicle and historian/author Jon Meacham, hosted New Jersey governor Chris Christie, who talked about his response to Sandy and its aftermath.
There were also live and taped reports on Today and NBC Nightly News, the latter featuring anchor (and Springsteen fan) Brian Williams, who revealed new satellite images illustrating the extent of the damage from Cape May to Keansburg and Union Beach.
What was missing, however, was any coverage of the impact of the storm on Asbury Park. The historic (and endangered) landmarks that have figured so prominently in the work of Jersey Shore artists like Bruce Springsteen and Southside Johnny and in the history not just of the Shore music scene, but of the city itself, served as mere window dressing, as no mention was made of any damage Sandy inflicted on Asbury Park's infrastructure. There were shots of the rebuilt boardwalk but, surprisingly, no mention of the months of reconstruction work that had only recently been completed.
NBC correspondent Brian Schactman reported live from Seaside Heights (home of Jersey Shore), and Morning Joe co-host Willie Geist reported from the heavily damaged Rockaways. Both journalists presented detailed reports of Sandy's impact on those areas and interviewed local residents, who emphasized that there is still much suffering, with film footage showing shoreline areas that appeared much as they had in the days following the storm.
The Morning Joe broadcast featured Springsteen music throughout (as it often does; Scarborough is an unabashed fan) and concluded with the introduction of a group of school children from Asbury Park's Hope Academy school, who obliged by cheering enthusiastically on a cue from Brzezinski. But the presence of smiling kids belied the real and ongoing struggle taking place in Asbury Park, as it recovers from the storm and from decades of economic blight and neglect.
As morning fog lifted off the Atlantic Ocean, Scarborough commented, "This looks just like a Springsteen song." He wasn't talking about "My City of Ruins."
- April 30, 2013 - Lisa Iannucci reporting


REMEMBER ALL THE MOVIES…
Two worthwhile films with E Street connections, celebrating some of Springsteen's lesser-known influences
"Springsteen has been so often celebrated as the new Dylan or Elvis or something that his role in resuscitating the sound and feel of early-'60s New York studio pop — the sound of Leiber and Stoller, Gene Pitney, Luther Dixon and Doc Pomus and Mort Schuman, not to mention Phil Spector — has been virtually overlooked. Which figures, since according to orthodox rock history, that stuff either didn't happen or didn't matter."
– Dave Marsh, The Heart of Rock & Soul: The 1001 Greatest Singles Ever Made
In the quarter-century since Springsteen biographer/critic Dave Marsh wrote those words, at least some music historians and fans have finally gotten it. In certain circles there's now a significantly better appreciation for the role of the often overlooked or underappreciated creators of some of the greatest, most influential music ever made, from '60s NY pop to garage rock. Nevertheless, there's still much work to be done on this front: just ask Steve Van Zandt, whose various projects, from The Underground Garage to the Rock and Roll Forever Foundation and more in between, are very much about ensuring that musical forms often dismissed as trite or trashy get the attention and respect they so richly deserve.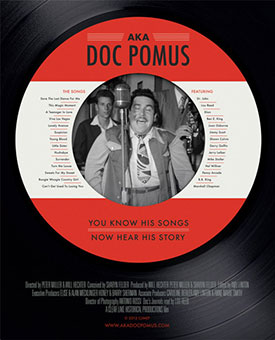 In that spirit, it's worth checking out two recent films with E Street connections that explore some of these other major influences on the work of Bruce Springsteen and so many others. Peter Miller's AKA Doc Pomus details the fascinating, inspiring, and bittersweet life of one of our greatest songwriters. Springsteen and Southside Johnny Lyon both make brief appearances in the film, while Dave Marsh is in several longer, moving segments discussing the work of Pomus, whom Marsh knew well as both friend and mentor. At last Sunday's screening of the film, which closed the New Jersey Jewish Film Festival, director Miller announced in a post-screening discussion that the film is now slated for a national theatrical run later this year, followed by a home-video release and television broadcasts. In the meantime, several more festival screenings of the film will take place this spring and summer throughout the U.S. and Canada. Visit akadocpomus.com for details.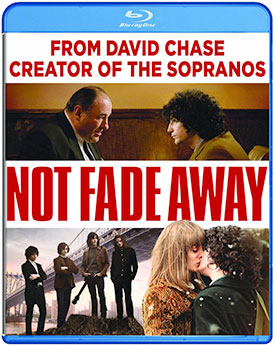 Also, today sees the Blu-ray/DVD release of Not Fade Away, the first film by Sopranos creator David Chase. It's a wonderfully detailed, insightful look at the lives of some fictional (but very fact-based) New Jersey teens and their struggle to start a band, The Twylight Zones, in the mid-1960s.
As one of the film's executive producers, Steve Van Zandt also worked closely behind-the-scenes with Chase, serving as musical advisor and soundtrack album producer, too. Whenever The Twylight Zones appear to perform in the film, all of their instrumental work is done offscreen by Van Zandt, Bob Bandiera, Garry Tallent and Max Weinberg.
- April 30, 2013 - Shawn Poole reporting


STEVIE'S BACK AS THE EUROPEAN TOUR BEGINS IN OSLO
Opening night of the second European leg of the Wrecking Ball World Tour saw Bruce making his fifth appearance in Norway in nine months. The Norwegians can't seem to get enough of Bruce, and the most dedicated fans had this time camped out for six nights in order to secure the best spot possible in the pit. After arena doors opened at 6:00 pm for the 400 pit fans, the night opened a lot sooner than we all had anticipated. At 6:15, Bruce came out in his offstage clothes (dressed in loose jeans and a grey shirt), which caught everyone by surprise. He was clearly glad to see many familiar faces and asked us how we'd all been since last time. Noting that he'd heard that some fans had camped out the previous night, Bruce said that he really appreciated our support. When fans corrected him that it actually was six nights, he said, "You're crazy! Get a life! I must do something special for you."
Bruce strapped on an acoustic guitar and we got a bright and clear "This Hard Land" as more people entered the arena. Next up was "All That Heaven Will Allow," not played since the Devils & Dust Tour (then on electric piano). It was a really sweet version, with Bruce in fine voice. Spotting a sign reading "The Fever," Bruce laughed and said, "I used to play that one on the piano." After thinking it through, he went up to the piano and said, "Yeah, I think I got it." Too bad the piano wasn't ready yet, so Bruce ended doing it on guitar after all. He delivered a tight, soulful version of this Bruce-penned Southside Johnny staple, which almost seemed rehearsed as all the song's twists and turns were played note-perfect. The pre-concert acoustic set ended with "Growin' Up," complete with a whistling solo (in the usual sax spot) before Bruce said, "See you all later!" Even though a surprise pre-concert set has happened previously (see Helsinki 2012), we all felt that this was one for the history books.
One hour later, the proper show began — but again Bruce caught us by surprise. With all band members having entered the stage, Bruce asked, "Where's Steve?" Anticipation had been high to see Little Steven's return to the stage (having been absent in Australia), and with his star turn in the Norwegian TV series Lilyhammer, he is a hot celebrity in Norway. Noting that the E Street Band had come all the way to Norway, the country which had "kidnapped Steve," the show kicked off with Little Steven taking the mic at center stage. Drink in hand, wearing a black jacket and a black hat, he resembled his gangster role in Lilyhammer; indeed, Bruce introduced "Little Steven, and the song stylings of Frankie 'The Fixer' Tagliano!" Steve crooned a jazzy, horn-led "My Kind of Town," made famous by Frank Sinatra as a tribute to Chicago but now sung as a tribute to Norway and the town Lillehammer in particular. [See the full performance at top, followed by several more pro-shot clips from the night.] Clearly, this was something that never had happened before on the E Street stage and probably never will happen again (unless there's a reprise tomorrow night).
Steve's welcome back continued with "Two Hearts," complete with the two old friends' "It Takes Two" coda. "No Surrender" and "Badlands" followed quickly, making this a particularly strong, high-energy opening run. Up next was a very welcome "Better Days" among the few Human Touch/Lucky Town-era songs to be revisited by the E Street Band. With Roy adding some nice piano textures (replacing the synth layers from the '92 version), iit sounded much like a song that always has belonged in the E Street stratosphere. The E Street Choir contributed shimmering backing vocals, too. Following the usual three Wrecking Ball songs, we got "Hungry Heart" and "Spirit In the Night," the latter seeing Bruce taking a beer break, downing some good Norwegian beer donated from an audience member. With "The E Street Shuffle" we got one more from the early '70s, with the horns getting the main spotlight.
Up next was the tour premiere of "Follow That Dream": a masterful performance, and for my money the highlight of the night, featuring Soozie's fiddle, Charlie's accordion, and a moving trumpet solo by Curt Ramm. Let's hope this stays in the set during the nights to come. With lights up in the arena following a thunderous "She's the One," Bruce seemed surprised that most people were still in their seats. He seemed a bit disappointed by this fact, but knowing that the Seeger Sessions album was a bigger hit in Norway than anywhere else, he said, "In 96 seconds you'll be up on your ass"; he added that people could tell their friends the next day that "my ass talked to my brain during the Bruce Springsteen concert." No doubt he was right, as "Pay Me My Money Down" got probably the loudest response of the night, and after this the somewhat sedate Norwegian audience seemed to loosen up a bit. The girl who was picked to sing on "Waitin' on a Sunny Day" had trouble singing at all, as the amusement of hearing her own voice from the arena PA got her giggling through most of the chorus. The last part of the main set followed quite familiar territory, with both "The Rising" and "Lonesome Day" not quite creating the energy level needed to bring the show to a higher level.
The encores kicked off with a solo piano "For You" dedicated to the hardcore fans, noting that since he played "The Promise" last time in Oslo, he had to do something different now. After the usual blasts of "Born in the U.S.A.," "Born to Run" and "Dancing in the Dark" (with no less than three dancing girls on stage), the show ended with "Tenth Avenue Freeze-out," now with a slightly altered video tribute, adding — and rightfully so — an extended portion of footage of Danny Federici. Clocking in at 2:53, this show was about one hour shorter than the Oslo show last summer. While this show was not about length or deep catalog tracks, it clearly had some unforgettable, sweet, and funny moments that made it special. As an opening concert for the European leg, it was a strong run-through, but I'm sure we will see a quite different show tomorrow, and hopefully with an audience with the same energy level as the main man on stage.
For the full setlist from this and other recent shows,
see our Setlists page
- April 29, 2013 - Ivar Noer reporting - photographs by Riku Olkkonen


MY KIND OF TOWN, LILLEHAMMER IS...
More video from Norgwegian newspaper Dagbladet — this time, proshot at tonight's Oslo opener. "Where's Steven?" Bruce asks... "Steven has been missing for many shows now. He was kidnapped by Norway! This is a special night, he's back with us tonight: Little Steven, and the song stylings of Frankie 'The Fixer' Tagliano!" Watch it here.
Update: Another Dagbladet clip from Oslo 1, "Better Days" sounds fantastic with the E Street Orchestra.
Five minutes of soundcheck and pre-show press interview footage is here.
- Updated April 29, 2013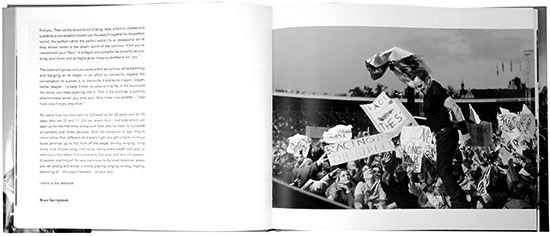 LAST CALL FOR SIGNED DIEHARDS BOOK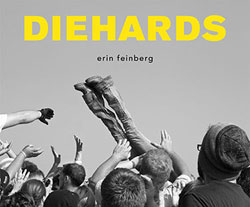 This week, we'll be sending our final quantity to photographer Erin Feinberg, who'll be signing copies of her beautiful new book DIEHARDS especially for Backstreets readers. So if you've been considering picking up a copy of this limited edition art book, now's the time. Pre-order now, and we'll ship in May. While not a "Springsteen book" per se, he's the musician who initially inspired Feinberg's photography, his audiences are among her stunning black-and-white images of hardcore music fans, and Bruce Springsteen himself wrote the foreword.
"Every night at eight o' clock, it's those faces jammed up to the front of the stage, smiling, singing, living every note of your song, their song, taking every breath with you, or dancing in the rafters that continue to fuel your rock and roll passion."
— from Bruce Springsteen's essay in DIEHARDS
Pre-order now to guarantee a copy of DIEHARDS
signed by the photographer
- April 29, 2013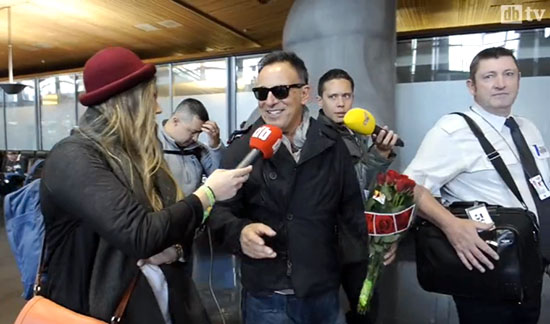 BRUCE ARRIVES IN OSLO, CARRYING A BIG STICK
Dagbladet caught up with Springsteen as he arrived in Norway for tonight's Euro leg kick-off in Oslo— in great spirits, despite being pounced upon at the airport: "We love it here. The audiences we have here are super-dedicated." Asked if he'd be practicing with Steven to get him back up to speed before the shows, Bruce laughed, "Oh, yes, I'm going to take a stick to him today! This is the first time that a member of the E Street Band has abandoned the E Street Band to come to Norway... so the pressure is on him!" Watch the two-minute clip at dbtv.no.
- April 29, 2013

FINALLY, THE AMERICAN ACADEMY OF ARTS & SCIENCES IS READY FOR BRUCE SPRINGSTEEN
After more than 230 years, the American Academy of Arts & Sciences has elected Bruce Springsteen as a member of the class of 2013 — he'll join the ranks with the likes of George Washington, Benjamin Franklin, Daniel Webster, Ralph Waldo Emerson and Albert Einstein. Founded during the American Revolution by John Adams, John Hancock and others, the Academy's 1780 charter states that "the end and design of the institution is... to cultivate every art and science which may tend to advance the interest, honour, dignity, and happiness of a free, independent, and virtuous people." Also among the members elected this year in the arts are Martin Amis, Annie Dillard, Paul Theroux, Robert DeNiro, Pete Seeger, Sally Field, Herbie Hancock, and Albert Maysles. The new class will be inducted at a ceremony on October 12 at the Academy's headquarters in Cambridge, MA. Click here for a list of all members, new and old.
- April 29, 2013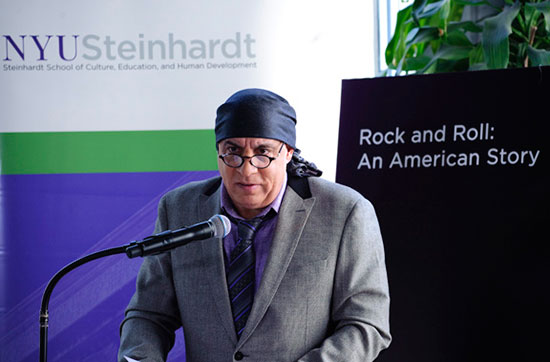 HOT FOR TEACHING: STEVE'S ROCK 'N' ROLL CLASS READY FOR FALL
Teaming up with the GRAMMY Museum, he's got it bad, got it bad, got it bad
As Steve Van Zandt prepares to rejoin the E Street Band for the European leg, which begins Monday in Oslo, he's had a last couple of things to take care of here in the States.
Steven appeared at NYU to talk eductaion, as Radio.com reports "the guitarist announced that his Rock and Roll Forever Foundation has teamed up with the GRAMMY Museum for a unique curriculum designed to bring rock and roll (and its roots) into high school and middle school classrooms." Steve has said, "Statistics show that if a kid likes one class, or one subject, or one teacher, that's enough to get them to school. And we want to be that class." At this week's news conference, discussing the goal of student engagement, he gave an example from his own life:
In my case, it was a librarian in my school, who saw my interest in Bob Dylan and encouraged me to make the connection between Dylan's songs and the world of literature. She helped me make the connection between "Subterranean Homesick Blues" and the Beat poets, like Allen Ginsberg. That was foreign to me in New Jersey! Through this simple gesture, the classroom came alive to me, and all of a sudden it seemed relevant to me. I wouldn't be the same person if she, as an educator, hadn't empowered me to understand life through the music that she knew I loved. I realized at that point that music was more than just teenage entertainment. I want to do for young people what she did for me.
The interdisciplanary curriculum, called "Rock and Roll: An American Story," will be made available at no cost to every interested middle and high school in the fall of this year. Here's a look:
GRAMMY Museum executive director Robert Santelli, who previously headed up Education initiatives at the Rock and Roll Hall of Fame and Museum, also spoke at the news conference: "I've worked on a number of music-based education programs. But 'Rock and Roll: An American Story' is a special one. I think it is positioned to do something very significant in broadening the base of how music is approached in schools."
Read more in the L.A. Times: "Steve Van Zandt, Grammy Museum team to put rock in classrooms."
Steven also spoke with Spinner this week, discussing the Once Upon a Dream show and his history with the Rascals, as well as what he calls the "E Street Orchestra," the current incarnation of the E Street Band that's about to take Europe by storm. Read the Q&A by Dan Reilly at spinner.com.
- April 26, 2013 - photograph by Debra L. Rothenberg

R.I.P. RICHIE HAVENS, 1941-2013
We were saddened to learn of the passing of folk-rock legend Richie Havens, who died at his home in New Jersey on Monday. Havens sprang from the same early-'60s Greenwich Village coffeehouse scene that developed other greats like Bob Dylan and Odetta. A skilled, creative guitarist with a soulfully rough baritone voice, Richie Havens gained many fans with a mix of his own compositions combined with unique covers of folk/traditional material and songs by contemporaries like Dylan and The Beatles. Richie played Monterey Pop in 1967, generally considered the first rock festival; in 1969, a series of fortunate circumstances led to his becoming the first act onstage for the legendary Woodstock festival, energizing the crowd with his memorable performance of "Freedom." It solidified his status as a powerful singer with a passion for protest and social justice.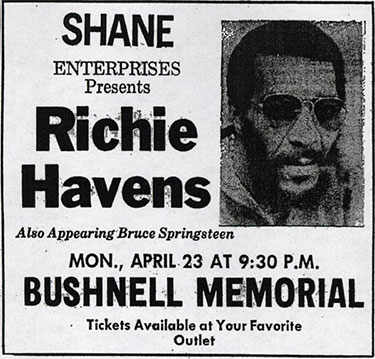 The news of Havens' death comes in the same week as the 40th anniversary of the night (April 23, 1973) that Bruce Springsteen and the E Street Band opened for him in Hartford, CT. About two years later, Havens and Springsteen were billed together again in Pittsburgh, PA (February 20, 1975.) Once more, Havens was top-billed on the marquee and in the ads, but this time Richie played before Bruce did. Also of note, Springsteen's pre-E Street band Steel Mill occasionally performed a version of the traditional song "Run, Shaker Life" built around Richie Havens' arrangement/adaptation.
Havens also recorded a beautiful version of Springsteen's "Streets of Philadelphia" as the closing track for the 1995 Rhino Records box set The Envelope Please... Academy Award Winning Songs (1934-1993.) In 1997 it was re-released, once again as a closing track, for the benefit album One Step Up/Two Steps Back: The Songs of Bruce Springsteen. In the liner notes for One Step Up, Havens wrote, "I have always loved the depth of Bruce's writing. He has a special ability few writers have. He's a 'Great Writer' — having the ability to chronicle our life and times, in an incredibly clear and accessible way — I call him the Carl Sandburg of our generation... each song an entire novel." Indeed, hearing Richie Havens sing material like this was akin to hearing great literature read aloud by a narrator as stirring as Morgan Freeman. It could truly deepen your understanding and appreciation of a song, as it still can to this day. For many gifts like that, we remember and thank you, Richie Havens. Rest in peace.
For more on Havens, check out his New York Times obituary, Andy Gill's Richie Havens: The singer who set the Woodstock festival on fire , J. Poet's How Richie Havens' Soothing Voice Rescued the Beginning of Woodstock, and the very moving Richie Havens, my musical hero by Groove Armada's Tom Findlay.
- April 24, 2013 - Shawn Poole reporting - additional reporting by Marianne Murawski - vintage newspaper ad from Brucebase


DREAM BABY DREAM
After praise for new Rock Hall inductees Public Enemy and Rush, Tom Morello also touches on another little something that's been happening in his life lately: "To be able to stand on stage with the band that played 'Born to Run' and the guy who wrote it, on a nightly basis, is pretty amazing. I'm a huge fan of Bruce Springsteen and the E Street Band, and to be welcomed into the fold for an Australian tour.... People have asked me — they know I'm a Bruce fan — 'Was it a dream come true?' No — because it was something that I had never dared to dream."
- April 22, 2013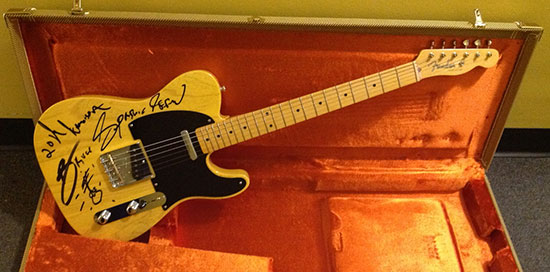 KRISTEN ANN CARR FUND BENEFIT AUCTION IS ON NOW
As part of their annual A Night to Remember fundraiser, which is this Saturday night in NYC, the Kristen Ann Carr Fund has a number of rockin' auction items on the block. Open for bidding now are lots including a Springsteen-signed Telecaster [above]... a Rascals meet-and-greet... a Guest Host slot on E Street Radio... original "Wrecking Ball" art by Tom James... Springsteen-signed photographs by Eric Meola and Michael Zorn... and an autographed The Promise box set, signed by Bruce, Clarence, Steve, Garry, Roy, and Max.
All bidding ends Saturday night, April 20; click here for the full listing of the Kristen Ann Carr Fund 2013 Silent Auction.
- April 19, 2013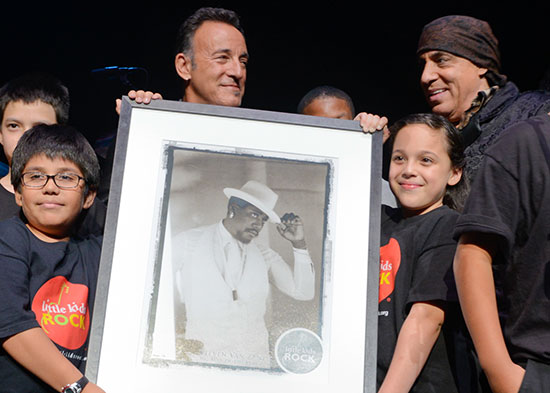 HELP NOMINATE THE 2013 "BIG MAN OF THE YEAR"
Back in October, Little Steven was honored as the 2012 recipient of the Big Man of the Year award from Little Kids Rock. Before his death in 2011, Clarence Clemons helped raise hundreds of thousands of dollars for the nonprofit, a leading provider of free musical instruments and lessons to more than 100,000 underprivileged public school students across the United States. Since the Big Man himself received the inaugural award from Little Kids Rock in 2009, the honor has been given annually to artists also including Lady Gaga and Bernie Williams, who have embodied Clemons' spirit of generosity and service. "This was something that was very close to Clarence's heart," Bruce Springsteen said at last year's annual Right to Rock Celebration before presenting the award to Steve.
In an effort to honor his legacy and continue supporting music education in public schools, Little Kids Rock is asking fans to nominate the next "Big Man of the Year." The nomination process is open from now through May 1 on Facebook.
"More than 50 percent of kids who play an instrument go on to college, yet music education programs at the inner city public schools who need them most continue to be hit hard with budget cuts," Clarence once noted. "Little Kids Rock has responded to this problem in a really big way and made a positive impact on the lives of literally thousands of low-income students who wouldn't have otherwise had the opportunity. I strongly encourage those who are in a position to do so to support their cause and spread the word about this inspirational program."
Nominate the 2013 Big Man of the Year at
www.facebook.com/littlekidsrock
- April 18, 2013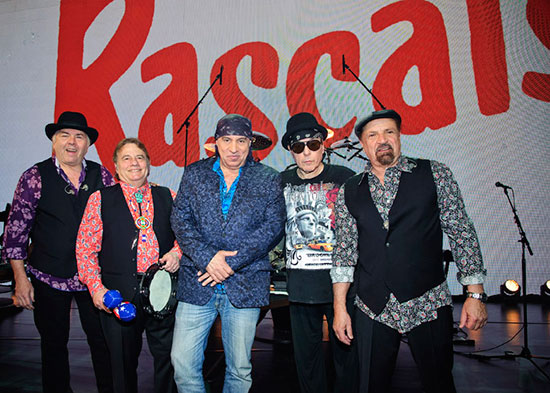 "A MAGICAL, SURREAL FEELING: WE'RE ON BROADWAY!"
Steve Van Zandt appeared on this morning's edition of CBS New York's The Couch to discuss last night's Broadway premiere of The Rascals: Once Upon A Dream. (At the beginning and again at the end of his appearance, Steve also addressed yesterday's horrifying events in Boston, the city where he was born.)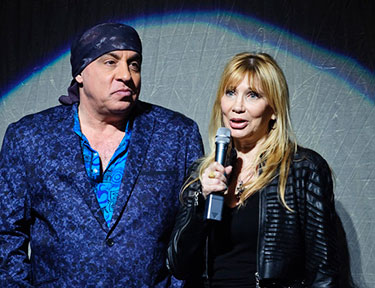 Photographer Debra Rothenberg captured these images at the Richard Rogers Theatre last night, where Steve and Maureen Van Zandt hosted the premiere. "Growing up in New Jersey in a family that loved music and the arts," Rothenberg tells us, "the Rascals was one of the first bands I remember my brothers playing on their stereos. At the time, I didn't even know that this band was from just a few miles down the road from where I lived." Shooting the performance, she continues, "My feet were tapping and my head was bobbing the entire time — something that makes it challenging while shooting images at the same time... but it surely means I am having a great time when I do this. It will be difficult for anyone to remain seated while the Rascals perform."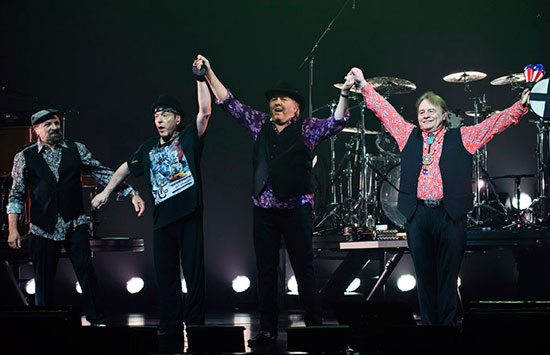 Find tickets here for this 15-night run, what Rothenberg calls "not only a great part of musical history, but a great show."
- April 16, 2013 - photographs by Debra L. Rothenberg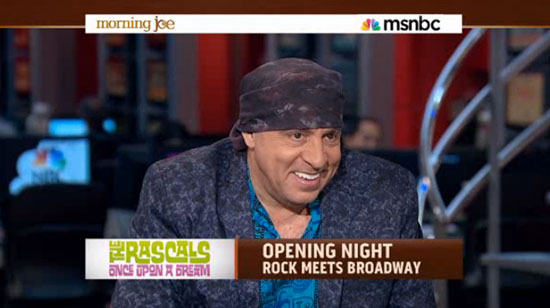 MOVE WITH ME DOWN BROADWAY
Stevie's Rascals reunion project hits the Great White Way tonight
It's opening night on Broadway for The Rascals: Once Upon a Dream, the next step in Steve Van Zandt's reunion project for the musical heroes of his youth who also remain major inspirations for the entire E Street universe. The 15-night Broadway run is part of Steve's announced plan to take The Rascals' story and their songs on a nationwide tour. Gearing up for tonight, Steve appeared on Morning Joe in the a.m., previewing Once Upon a Dream and touching on other topics including Tom Morello ("Great guy and a good friend of ours, so I was very happy he went down there and helped out while I was finishing my TV show").
E Street Radio is celebrating the Broadway premiere in a major way today, with both another re-airing of Little Steven's new two-hour, soul-music Guest DJ session at 4 pm ET, followed at 8 pm ET by a remastered rebroadcast of the very first time that Steve reunited The Rascals for the April 24, 2010 Kristen Ann Carr Fund "A Night to Remember" benefit. That show, which brought all four original members of The Rascals back on stage together for the first time in 40 years, also featured Steve and Bruce Springsteen as guest performers. (Both programs will get multiple replays throughout the week. Click here for detailed dates/times.)
Some tickets still remain to see The Rascals on Broadway, though all 15 nights are almost sold out.
- April 15, 2013 - Shawn Poole reporting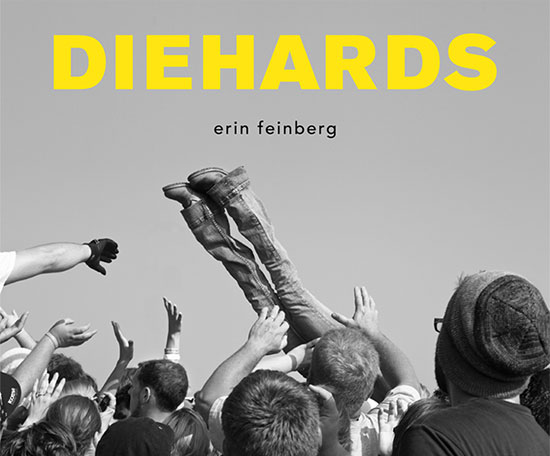 PHOTOGRAPHER FEINBERG SIGNS DIEHARDS FOR BACKSTREETS
Signed book includes foreword from Bruce; pre-order now!
"And every night at eight o clock, it's those faces jammed up to the front of the stage, smiling, singing, living every note of your song, their song, taking every breath with you, or dancing in the rafters that continue to fuel your rock and roll passion."
-- Bruce Springsteen, from his essay in DIEHARDS

Photographer Erin Feinberg, a longtime Springsteen fan, has just had her decade-long labor of love published, a beautiful coffee table book called DIEHARDS. It's a book of concert photography, but not as you'd normally think of it: these are photographs of the fans, rather than the artists; more often the view from the stage rather than the view of the stage. As she tells Backstreets, "Looking out into the crowd, it's what they see -- that's the perspective I took. There's a whole 'nother show going on!"

DIEHARDS "is an art book, but it's also a fan book," Erin tells us. "I know diehards, because I am one!" Inspired at a 1993 Springsteen show that she attended instead of her own prom, Erin has been capturing striking images of concert crowds ever since. For her first collection, she says, "I asked Bruce to write because it's his fanbase that opened this world up to me, a long time ago."

The fans pictured here aren't all Springsteen audiences by any stretch. "That was something I made a conscious decision about early on -- I didn't want it to be too specific to any one genre or artist," Erin says. "There are photographs taken at Springsteen shows, but it's not obvious." But the passion among the fans captured here is obvious and even universal -- whether it's a Bruce crowd, punk rockers, Deadheads or metal heads -- very recognizable to all of us regular show-goers.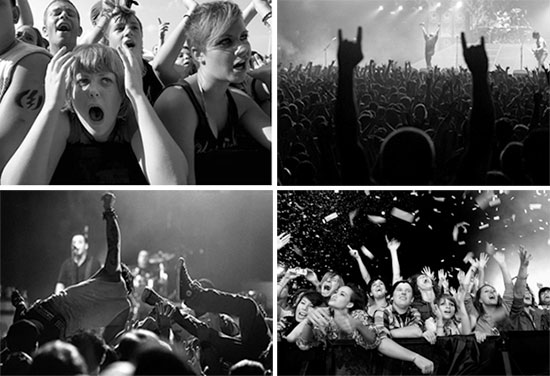 DIEHARDS is being published this month by Anthropy Arts, an oversized hardcover with more than 100 black and white photographs, and essays by Feinberg, Springsteen and Neil Peart.

As a longtime Backstreets reader, Erin has kindly offered to sign DIEHARDS for our customers. If you pre-order now, you'll guarantee yourself a signed copy. This will be a limited item, based primarily upon how many pre-orders we receive.
Click here for more about this signed edition
and to place your pre-order now
See all Latest Additions to the Backstreet Records shop
- April 15, 2013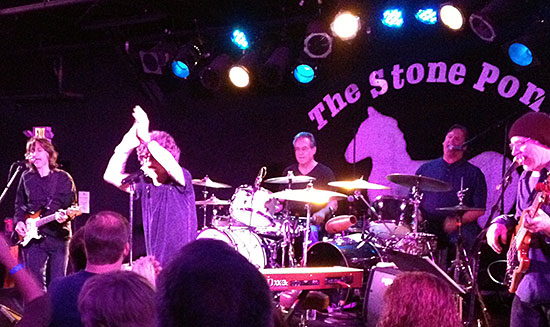 HAVE A KILLER BIRTHDAY, MIGHTY MAX!
Sending out birthday wishes to Max Weinberg, who turns 62 today, born April 13, 1951. He spent his Birthday Eve last night onstage at the Stone Pony in Asbury Park [above], playing drums with Killer Joe Delia & Thieves for their whole first set.
- April 13, 2013 - photograph by Eric McConnell

ROY TALKS E STREET AS WELL AS HIS OWN MUSIC IN THE WORKS
Gearing up for the Wrecking Ball tour's return to Europe, Italian music website Rockol has a new interview with Profesor Roy Bittan online today. While in Australia, Roy spoke with Rockol deputy editor Gianni Sibilla about the current state of E Street, his favorite songs to play live (including the less obvious "My Love Will Not Let You Down"), and his own solo album:
Just before the tour started, I was finishing an instrumental album that I wrote, pieces of music that I did just to explore. I've written things here and there over the years, but it's always hard for me to focus on my own music, I was always involved in other people's music, playing and producing. And of course the band is always busy. But I decided I was gonna write my own music, and I'm hoping at the end of the tour I wall get that music the music out.
Read the English version at Rockol.com.
- April 12, 2013


MY LOVE WILL NOT LET YOU DOWN (UNDER)
An intrepid Backstreets reporter returns from Oz
From the stage during the second Sydney, show Bruce raved to the crowd: "I was telling a friend last night that Australia, wow, it's a long way to go... but when you get here, it's a long way away, but it's wonderful!" Amen, Bossman.
When the Australian tour dates were announced in December, it immediately caused me conflict as I wrestled with whether to take the journey to the other side of the globe. I sat down and weighed the pros (besides, of course, the obvious) and cons. Arena shows — what looked to be the last block of them — a pro. Another pro: G.A. Pit tickets were a guaranteed admission to the land of the crowd surf (the lottery line-ups were just for order of entry). Cons: expensive plane tickets and arse-numbing travel times. But my biggest dilemma had to do with just how good the E Street Band would be without the presence of Steven Van Zandt. Steven's production commitments for the Lilyhammer TV series in Norway made it impossible for him to be in the southern hemisphere for the shows. Tom Morello, his temporary replacement, had guested with the Band numerous times this tour alone, joining them in Austin, Los Angeles, Chicago, and Anaheim. While I attended the majority of those performances and witnessed Tom recreating his Wrecking Ball parts in true guitar-shredding fashion, not to mention the familiar rip-snorting take on on "Tom Joad," I was unsure how well Tom would be integrated into the regular set of 25+ songs. Would he have enough knowledge of the catalog to be able to deal with audibles and sign requests? Eventually, I had to just go and see for myself.
So now I feel like a fool for doubting, and not only Morello... how could I doubt Bruce? The core of the E Street Band sound is interplay: the sonic accumulation of the driving rhythm section of Garry and Max, the nuances of Roy on keys, the smooth-as-ice organ parts by Danny and Charlie, the depth and textures of the horns, the singers, and the guitars. Well, there were always two or three guys plenty capable of playing guitar. Now they had Tom Morello with the big S on his chest and flowing cape. Bruce knew what he was doing by asking him to sit in. Night after night, Morello kicked royal ass. It was like LeBron in a schoolyard pick-up game — despite having to learn 50 songs in three months, as he told Rolling Stone, and another batch before each show as dictated by Bruce, and nightly surprise selections on the fly. Tom just played. He played it straight, he played rhythm, he played leads, he shredded, and he created pops and skronks never heard, seen, or performed before by modern man. That thing he did on "Youngstown" opening night in Brisbane, where he unplugged his lead and created a clapping loop, is honestly one of the greatest guitar moves I have ever seen. Thankfully he re-created it a few more times during the run. I loved the look of terror in his eyes as Bruce picked a sign for a song he had no idea how to play. Bruce coaxing him through "My Love Will Not Let You" down in Melbourne 3 is classic:
I almost hate to say, it but the edge created by the new guy was just what the doctor ordered. The band sounded fantastic as Bruce moved them through 76 different songs in ten nights. He was even reminded that he released albums in 1987, 1992, 2005, and 2007. They touched on most of the mileposts of a more than impressive catalog and made sure to bring along recent revelations, like the return of "Prove It All Night" with the '78 intro. Bruce's guitar outro to "Incident" in Brisbane 2 was sublime; they also performed "Racing in the Street" and "The River" that night. "Bus Stop" and "Backstreets" came out in Sydney, "Lost in the Flood" in Melbourne... throw in a couple of "Junglelands," and the epics were covered.
Bruce started us off in Brisbane with "Just Like Fire Would," a cover from local heroes The Saints that sounded as if Bruce could have written it on the plane ride over. Another cover, a never-performed song pulled out of the E Street Band's recorded catalog, "High Hopes" was a resounding shout to different cultures in bringing love and hope to the world. Nightly he showed us Bruce the cultural minister pleading with the crowds to rise up — or more specifically, to get their arses up, after working his way through as many American terms for ass as he could think of, from bums to backsides to fannies ("you can't say that one!"). Arses were out of the seats as the Aussie crowds outdid themselves each night, singing and dancing along and having the time of their lives.
It appeared to me that Bruce had a great time himself. The weather? Summertime. He spent time at the beach, played the tourist, relaxed, had nice meals, then worked his backside off. It took him and the E Street Band 10 years to return to Australia; he assured the crowds he'd like to go back sooner... and after what I just experienced, it's very likely I will follow.
[View additional YouTube clips from TheAussieMusicMan]
- April 9, 2013 - Bob Mason reporting - photographs by Rene van Diemen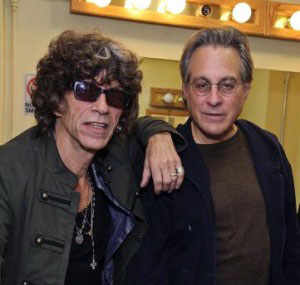 IN ADVANCE OF STONE PONY SHOW, MIGHTY MAX AND KILLER JOE VISIT BRUCE BRUNCH
Yesterday on 105.7 The Hawk's Bruce Brunch, host Tom Cunningham had Max Weinberg as a special guest, fresh from Australia. "Unbelievable, it was a blast," says Max of the trip Down Under. "It certainly was a long time coming — we hadn't been there in ten years — but I'm pretty certain that it won't be ten years again."
Max was on to talk about his upcoming gig at the Stone Pony (this Friday night, April 12) with Joe Delia, who guested on the Brunch as well. For this one night only, Joe Delia & Thieves will feature Max behind the kit. Max and Joe go way back, as they discussed on the program: before Max hooked up with Springsteen in '74, he and Joe played together in local band The Great White Whale; 1991's Killer Joe album Scene of the Crime included their recordings of two Bruce songs, "Club Soul City" and "Summer on Signal Hill." It won't be a surprise if those tracks come out Friday at the Pony. Max also talked about opening for Bruce 39 years ago to the day.
Listen online to Max Weinberg and Joe Delia on the Bruce Brunch at 1057thehawk.com, and visit stoneponyonlline.com for more info on Friday night's show. Tickets are available now via Ticketmaster.
- April 8, 2013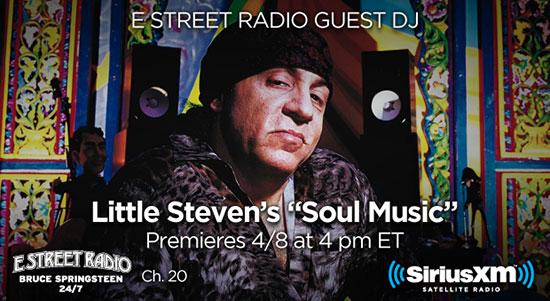 "I JUST DON'T WANT TO LIVE IN A WORLD THAT'S GOT NO SOUL."
From Disciple of Soul to DJ of Soul: SVZ returns to E Street Radio
The lyric quoted above is from "Coming Back," written by Steve Van Zandt and recorded by the great rock-and-soul band that he co-founded, Southside Johnny and the Asbury Jukes. Fortunately for all of us who like good music, that sweet soul music, Van Zandt is still doing more than his part to keep a soulless world from becoming a reality.
With the Broadway debut of his The Rascals: Once Upon A Dream project now just a week away, Little Steven has supplemented his regular radio activity at the Underground Garage and cut a brand-new Guest DJ spot for E Street Radio. Steve will share his soul expertise and play some of his favorite soul music, including wicked cool tracks from The Rascals, Smokey Robinson & The Miracles, Southside Johnny & The Asbury Jukes, The Temptations, Marvin Gaye, Sam & Dave, Stevie Wonder and, of course, Bruce Springsteen & The E Street Band.
Tune in to Sirius/XM channel 20 at 4pm ET today, or catch replays of the show tomorrow at 12am or 8am, Friday April 12 at 4pm, Saturday April 13 at 12am or 8am, Monday April 15 at 4pm, Tuesday April 16 at 12am or 8am, Friday April 19 at 4pm, and Saturday April 20 (Record Store Day!) at 12am and 8am (all times Eastern).
Some tickets still remain available for Once Upon A Dream's limited engagement on Broadway. Click here for details.
- April 8, 2013 - Shawn Poole reporting

ON THE WATERFRONT
Asbury Park has been rising up in recent years, and we've been heartened to see a vital music scene endure and the boardwalk come back to life. But despite some promising revitalization, a full-blown comeback for Springsteen's adopted hometown continues to move just out of reach — and it's not Hurricane Sandy that's the culprit, but the same old story of waterfront development deals gone south. Lisa Iannucci reported for us last month on concerns regarding the boardwalk's Convention Hall, due to developer Madison Marquette's failure to install sprinklers in the building as promised. In today's Asbury Park Press, Nicquel Terry reports the latest on "the increasingly poisonous relationship between the developer and the city."
It rode into the city like a white knight on a stallion, rescuing a distressed Jersey Shore gem. Historic buildings were revived, oceanfront businesses went up, and Asbury Park was transformed into a booming tourist destination that thrilled the masses.

Madison Marquette was viewed as the savior that would lift a downtrodden community.

But now, this story of urban renewal is looking more fairy tale than reality.

Madison Marquette is threatening to close Convention Hall, cut events and possibly terminate businesses if the city won't give up the three parking lots granted to the developer in 2008....
Nicquel Terry quotes Asbury Park City Manager Terence Reid: "Is [Madison Marquette's Gary Motolla] going to manage the assets on the boardwalk or not? That is the issue. Holding on to the assets and shutting them down is irresponsible." Daniel Wolff, author of 4th of July, Asbury Park: A History of the Promised Land, offers some it's-happened-before-and-it'll-happen-again historical perspective: "This is what happens when you put all of your eggs in one basket... You give one person power."
Read: "Asbury Park's feud between the city, developer poses threat"
- April 7, 2013



MARCH 31: THE LAST DANCE IN AUSTRALIA
On Sunday, the saga continued with Night 2 at Hanging Rock — also closing out Bruce and the band's two-week, four-city, ten-show Australia run. In 1967, Joan Lindsay published a thriller about schoolgirls who mysteriously vanished into Hanging Rock's ancient fern-shrouded formations; today, it's one of the country's greatest urban legends. This noirish allusion was not lost on Bruce, who summoned every aura of mystique and strata of unpredictability for the Australian finale, as darkness fell on the edge of Melbourne town. Rumbling into "Adam Raised a Cain" and driving deep into the night with "Candy's Room," the Boss meant business.
The initiation of young Aboriginal males was one of the most important ceremonies to take place at Hanging Rock, and during this last show, it didn''t matter if it was your first or 100th Brucification — coming up for the rising rarely felt so revitalizing, resuscitating, and renewing with the set's seismic verve that eclipsed the entire week's run in "the great state of Victoria." This soulful awakening was also conspicuously gender-unspecific: a black bra slunk onstage during "Spirit in the Night," a woman shackled herself to Bruce's right leg later on in the song, and an inordinate number of feminine screams erupted during the "Tenth Avenue Freeze-out" back bend.
Although dedications were sent out ("She's the One" for Lisa, "Jackson Cage" because "this guy's been following us for weeks waiting to hear this song — we gotta play it") and armfuls of signs collected a la the Working On A Dream tour, Bruce wasn't doing much walking nor talking. Instead of the "Hungry Heart" crowd surf, he channeled a never-ending rampage of emotional howls and anguished growls that threatened to tear the barks off surrounding eucalypts (we've gone from dogs on Main Street to dingoes in the Macedon mountains). Also left unspoken was the "across the continents, great plains and island archipelagos" distance rap, but Bruce took the wheel and steered us up and over every tectonic and crest between the wild and the innocent, with an electric "E Street Shuffle" jam into a signed "Incident on 57th Street." The sweet Spanish Johnny strains of Bruce's guitar meeting the pensive Puerto Rico Jane of Roy's tinkling in a beautiful full-band rendition might have moved constellations in the clear sky above; if you found it hard to see for the next few minutes, just say you were blinded by the moonlight and had stardust in your eyes. Because the night.
Against a backdrop of sustained "Badlands" woah-oh-oh-ohs from the crowd, Bruce declared he has "been blessed to stand between two of the greatest guitar players in the world" in Oz, then shifted gears from something in the night to a hopping house party encore. A blast of "Born in the U.S.A." instigated a rousing frenzy from those born in the AUS, "Born to Run" had a woman on crutches doing things she wouldn't want her doctor to know, "Dancing in the Dark" inspired the transformation of beer coolers into boogie platforms, and a little café down San Diego way felt right at home amid volcanic pinnacles for one of the prettiest "Rosie" signs ever presented. Bruce closed the Down Under edition of this E Street summit with a bang of "Twist and Shout" as tidal waves of jubilance flooded a nature reserve that was no longer holding back. Before the final curtain call, Bruce brandished a mea culpa, waving an "Australia says thank you and get your arse back soon" sign.
Good night, it's all right.
For the full setlist from this and other recent performances,
see our Setlists page
- Updated April 2, 2013 - Desiree Koh reporting - photographs by Rene van Diemen

PAUL WILLIAMS, ROCK JOURNALISM PIONEER, DIES AT 64
The rock writer Paul Williams died on March 27 from complications from a bicycle accident he had suffered a decade before. Paul started
Crawdaddy!
magazine
in 1966 in college, and it was the first magazine about rock music.
Crawdaddy
helped inspire a whole generation of publications and writers to follow, and, in a way,
Backstreets
. Paul eventually turned over
Crawdaddy
to Peter Knobler, but he continued to write for the magazine; his 1974 interview with Bruce Springsteen ["Lost in the Flood"] is one of the most telling from that era and was often
reprinted
, including in the
Backstreets
book.
Crawdaddy
was one of the first magazines to put Springsteen on the cover, and their attention during the early days was essential. It was press support that kept Columbia Records behind Bruce when sales hadn't yet kicked in, and
Crawdaddy
was a big part of that.
I got to know Paul and shared his love of Dylan, Philip K. Dick, and left-of-center singer songwriters (including his wife, Cindy Lee Berryhill). Paul had a sharp wit, strong opinions, and great taste in music. Reading Crawdaddy in the stacks of the WSU library as a kid helped inspire me that rock writing could rise above the crap of teen magazines and make you truly think about the artistry involved. Paul told me some hilarious stories about Jimi Hendrix, only a few of which ended up in Room Full of Mirrors. Paul was 64. He was a visionary in many ways, and always a friend to Backstreets. He'll be missed.
- Charles R. Cross - March 29, 2013

EMMYLOU HARRIS ON PATTI SCIALFA'S ARTISTRY
Appearing on today's Fresh Air from WHYY, Emmylou Harris talks with host Terry Gross about "Spanish Dancer," which she and Rodney Crowell cover on Old Yellow Moon. She has high praise for Patti Scialfa:
I became a fan of Patti Scialfa's album that this song is from — it's called Rumble Doll and I believe it might be as old as 20 years. The album just absolutely floored me. Patti's voice. Not all great harmony singers — which she is — are good solo singers, but she definitely is. She is an exquisite writer. She writes about the female heart, the poetry of being female in a way that it just — every singer-songwriter, female artist that I know loves this record. It never got the attention it should have. I suppose it will always be overshadowed because she's, you know, Bruce Springsteen's wife, but it doesn't take away from the art, her artistry.
- March 28, 2013

THE NIGHTWATCHMAN SPEAKS
Rolling Stone catches up with Tom Morello Down Under, where he's currently living a dream come true — quite literally. But that doesn't make it a walk in the park, even for a World Wide Rebel:
I learned about 50 songs in three months for the tour, and every night, 90 minutes til soundcheck, Bruce will text me with seven or eight songs we've never played before... And then during the show, he'll call up songs we've never even discussed — some I've never even heard!

Every night, there's six to eight songs I have literally about a nanosecond to prepare for. But it's fun. Now that I know that's the gig I'm like, 'Lets go!' Make it clear: I'm not asking Bruce to stump me.
Read: "Tom Morello on Bruce Springsteen Tour: 'It's Been a Really Fun Challenge'"
- March 26, 2013


COVER ME: PET SHOP BOYS AND SHOVELS & ROPE
Pet Shop Boys. Bruce Springsteen. It just had to happen, didn't it? No? Well, it happened anyway: the Pet Shop Boys have covered Springsteen's "Last to Die" for their forthcoming album Electric, due in June. Get a taste for their version here as the PSB premiered it live in Mexico last week.
Meanwhile, from Jack White's Third Man Records label comes a single from Shovels & Rope, with the duo's take on "Johnny 99" on the A-side. A cover of Tom Waits' "Bad as Me" is on the flip. Listen above, and you can order the Blue Series 7" single direct online, due April 2.
- March 26, 2013

OUR GYPSY BIKER'S COMIN' HOME
U.S.-Iraq War vet/anti-war activist Tomas Young writes
open letter on the war and announces decision to end his life
Two days after the September 11, 2001 terrorist attacks, 22-year-old Tomas Young enlisted in the U.S. Army, convinced that he would be contributing to a coordinated effort against terrorism in the U.S. and abroad. Less than two years later, the second U.S.-Iraq war commenced, and in March 2004 Young was deployed to Iraq. Only five days in, First Cavalry U.S. Army Specialist Tomas Young was shot and paralyzed from the chest down, receiving an Honorable Discharge. Young's experiences as a soldier in Iraq and a wounded veteran returning to the U.S. led him to deeply question the U.S. government's motives in Iraq and its treatment of those who served. Tomas became one of the first 21st Century U.S.-Iraq War veterans to publicly oppose the war.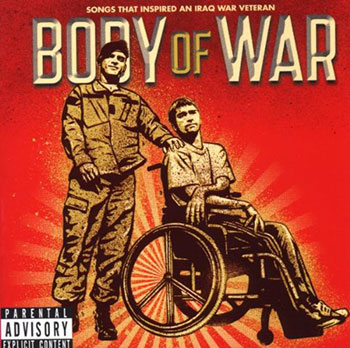 Young's odyssey became the subject of the award-winning 2007 documentary film Body of War. The film's release was accompanied by the album Body of War: Songs that Inspired an Iraq War Veteran, a 2-CD set that collected Eddie Vedder's song "No More," written specifically for the film, along with 19 other artists' tracks selected by Young himself. Among the tracks was Bruce Springsteen's recording of his song "Devils & Dust," a song with which Bruce recently opened his March 20th concert in Sydney, Australia, recognizing the tenth anniversary of the U.S. invasion of Iraq.
In the Body of War album notes, Young wrote, "The songs collected here are the sounds that have helped inspire me and keep me going... Each song you hear, you're hearing because I found a meaning in it that helped focus a number of emotions and turn them into something that I hope will ultimately be positive. No matter what the subject of any song on this record, one thing needs to be made abundantly clear: just because you don't support the war does not mean you don't support the men and women who are fighting in it." Proceeds from the album's sales supported Iraq Veterans Against The War.
On the day that Springsteen's Sydney stand began, Young released "The Last Letter: A Message to George W. Bush and Dick Cheney From a Dying Veteran." Its online publication was preceded by the sad news that Tomas Young, at only 33 years of age, has decided to end his nine-year struggle against the extremely painful, dehumanizing effects of his injuries, enter hospice care, forego feeding and "fade away" before this spring will fade into summer. Truthdig.com, the site that posted Young's open letter, also has recognized him with its highest honor: "For struggling for as long as he has, for publicly shaming a class of people who make a holiday of the deaths and suffering of the powerless, and for forcing us again to consider the terrible consequences of America's unnecessary, ongoing and disgraceful wars, we honor Tomas Young as our Truthdigger of the Week."
Tom Morello also appeared alongside Bruce on the Body of War album, twice: Tomas selected Rage Against the Machine's "Guerilla Radio" and The Nightwatchman's "Battle Hymns." Morello recently spoke with Rolling Stone about Young's letter: "I think that letter is the most effective piece of anti-war literature written in 50 years.... There's nothing more courageous than a soldier who stands up against an unjust war. And in that regard, Tomas Young is not just a war hero — he's a real peace hero." In the same article, Morello says he brought the letter to Springsteen's attention: "I sent Bruce Tomas' letter on the 10th anniversary of the Iraq War... and [that night] Bruce opened the set with 'Devils and Dust' and 'Last to Die.' It was pretty powerful."
Read more here:
- March 26, 2013 - Shawn Poole reporting

SOOZIE'S SIGNED CYCLE RAISES NEARLY $100K FOR ARTS EDUCATION
Congratulations to Marty Kaczmarek, who won Soozie Tyrell's Harley Davidson (signed by Bruce Springsteen and the E Street Band) over the weekend, raising $92,000 for the Soozie Tyrell Arts & Music Scholarship Program through the Rotary Club of Naples.
"A lot of great kids will benefit from this for a long time," Soozie says. "It's a blessing to be in the position to give back what was offered to me when I was a youngster. It's important to give kids every opportunity to expand their minds. Even if a young person doesn't pursue art or music as a profession, I feel that this kind of education is paramount in improving brain power and self esteem. We all have art in our souls... it's a huge part of being human. If we're exposed and educated in art and music, we become better human beings."
- March 26, 2013

BRING ON THAT MATZAH BALL
This week's Passover holiday marks over 5700 hundred years since Moses cried "Let my people go," and a year since a group of conflicted Jewish Springsteen fans followed their own version of that refrain: "Let my people go to the Garden."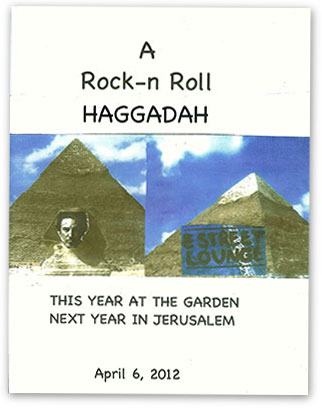 When the Rosen family hosted a Seder at Madison Square Garden last spring, pre-show, a great deal of unexpected attention followed. Coverage by The New York Times prompted hundreds of tweets, calls, and emails from rabbis and Bruce fans throughout the world. The Museum of Jewish Heritage requested a copy of their Rock and Roll Haggadah [right] for their collection, leading to a follow-up article in the Times. Topping the requests were calls for the lyrics to "Matzah Ball," a Passover rendition of "Wrecking Ball" sung at their Seder, penned by Jane Rosen.
The Rosens have shared the lyrics below with Backstreets, for any observers that might want to use at their Seder this week.
Maybe if Jewish Springsteen fans across the Diaspora sing it loud enough, The Boss himself will hear their prayer and the refrain that adorned the Rosen's Haggadah — "Next year in Jerusalem" — will come to fruition.
MATZAH BALL
New Lyrics by Jane L. Rosen
(to the tune of Bruce Springsteen's "Wrecking Ball")
We were brought out of Egypt by the mighty Moses 5770 years ago
Through the hail and the beasts, come our strength and our feasts
We've seen enemies come and go!
So if you got the chutzpah, yeah if you've got the schmaltz
If you stand with the tribe, hear the words of its scribe and bring on that matzah ball
Bring on the matzah ball
Bring on the matzah ball
Come on and drink some wine, gonna have a good time
Bring on the matzah ball
Bring on the matzah ball
Come on and drink some wine, gonna have a good time
Bring on the Matzah Ball
Now our home was there in Egypt, where locusts grew big as airplanes
There where the blood was spilled, and the pyramids built, and the Pharaohs played their games
So raise up your glasses and let me hear your voices call (Dayenu!)
Because tonight all of our past is here, so bring on your matzah ball
Bring on the matzah ball
Come on and drink some wine, gonna have a good time Bring on the Matzah Ball!
Bring on the matzah ball!
Alef, Bet, Gimmel Dalat!
Yeah we know that come tomorrow, none of this will be here
So hold tight to your memory
Hold tight to your memory
Hold tight to your memory, and don't fall to your fear
Now when all this matzah and stories, they drift away to crumbs
Repeat your youthful glories and share them with your sons
When your fate has been decided, like the parting the Red Sea
And all our little victories and glories have turned into destiny
When your best hopes and desires are scattered to the wind
And hard times come, hard times go
Hard times come, hard times go
And Hard times come, hard times go
Hard times come, hard times go
Hard times come, Hard times go
Yeah just to come again
Bring on that Matzah Ball
Come on and drink some wine, gonna have a good time
Bring on that Matzah Ball!
- March 25, 2013 - with thanks to the Rosen family

PETER K. REVIEWS PETER A.C.
Peter Knobler, editor-in-chief of Crawdaddy for most of the '70s, has weighed in on Peter Ames Carlin's Bruce in The Fortnightly Review. The review is penetrating in its criticism — not without praise, but ultimately finding that "at crucial moments, when it comes time for the writer to make sense of the man's life, Carlin absents himself."
Knobler takes specific issue with some facts — what the band played at Sing Sing in '72, the origin of the "Boss" nickname — and happens to have the benefit of being present at the moments in question. [Knobler's "Who is Bruce Springsteen and Why Are We Saying All These Wonderful Things About Him?," written with Greg Mitchell and published in Crawdaddy in '73, was prompted by that visit to Sing Sing and was Springsteen's first piece of major rock press; Knobler went on to profile Bruce again for Crawdaddy in '75 and '78.] But the thrust of his appraisal is that Bruce falls short of revealing or even positing what all the facts add up to, leaving Springsteen's character obscured. Which has us revisiting some tantalizing declarative statements in Peter K.'s lede:
More than any rock 'n' roller in history, Springsteen has touched people to the core — without their actually knowing much about him. They thought they knew, they were encouraged to think they knew, but they didn't know.
Sounds like Knobler might have his own story to tell. It's one we'd like to read.
Read: "Who is Bruce Springsteen?: A Fortnightly Review of Bruce by Peter Ames Carlin."
- March 19, 2013

ANOTHER TURN FOR THE WORSE FOR ASBURY'S CONVENTION HALL
Asbury Park's historic Convention Hall — site of dozens of Bruce Springsteen/E Street Band rehearsals and concerts (as well as high-profile Today Show broadcasts for The Rising) will close to public events on May 1 due to fire code issues, and its already uncertain future now looks even bleaker.
Backstreets recently reported about potential structural damage to the building resulting from Asbury Park master developer Madison Marquette's removal of copper panels from the building's exterior (and their subsequent theft), and about ongoing problems with the building's fire safety. Then came "Superstorm" Sandy, which further worsened the already deteriorating infrastructure of the 90-plus-year-old building (damage assessments have not been officially released).
Now the Asbury Park Sun reveals that the failure of the city of Asbury Park and property owner Madison Marquette to resolve Convention Hall's fire code issues could have dire consequences for the future of the building.
In the Sun's report, Asbury Park Fire Chief Kevin Keddy explains that a 2006 update to the New Jersey fire code requires public facilities to install sprinkler systems. To keep the building open Madison Marquette, which has been paying monthly fines as a result of fire code violations, bought some time by signing a consent order with the city that requires sprinklers to be installed by 2015 as long as consistent progress toward that goal could be demonstrated.
But despite Madison Marquette's willingness to proceed with other projects in the waterfront redevelopment zone — a recent bond issue deal its partner iStar Financial reached with the city would purportedly finance several future construction projects — the developer is pleading poverty when it comes to one of the city's most recognizable landmarks (the Convention Hall complex is on both the New Jersey and National Registers of Historic Places). Madison Marquette is declaring that unless a workable financial solution is found, the building will remain closed.
In the Sun piece, the company's senior vice president Anselm Fusco states that "The requirement to install sprinklers in nearly all of historic Convention Hall is very expensive — we've received quotes for the work in excess of $1 million. The building is costly to operate — it runs at a significant loss every year — and to invest so much additional capital in this situation is not economically feasible."
Convention Hall, a building central not just to the careers of Bruce Springsteen and other prominent Asbury Park musicians but to the musical history of the city itself, will be temporarily closed on May 1 because of the sprinkler issue. Other structural issues remain, the cost to repair them unknown and certainly steep. Every day these problems are not addressed, every day the building is not repaired, it falls further into decay. Additionally, every day it is not used, it slips further from public consciousness. And any of these might eventually be the reason Convention Hall — like Palace Amusements, the Baronet Theater and so many other historic Asbury Park landmarks — could one day be demolished.
- March 18, 2013 - Lisa Iannucci reporting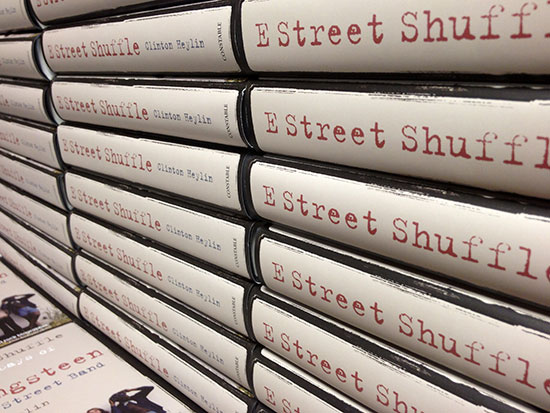 BACKSTREET RECORDS NEWS: BOOKS HAVE LANDED!
For everyone who ordered the U.K. edition of Clinton Heylin's E Street Shuffle from us (with our limited edition bonus CD, now sold out), we're happy to report that the books have arrived at the Backstreets Towers, and we're now in the process of fulfilling all orders. With 1,000 book/CD packages, turnaround won't be immediate... but we're working to get them all packed up and shipped out as quickly as possible, so yours will be on its way in short order — thanks for your patience.
Those bonus interview discs have all been spoken for, but we did get extra books: So if you're interested in the E Street Shuffle book itself, we can still get you this U.K. edition. Sure it has a different jacket, but that's not the main draw... it also has an entire 100-page section covering Bruce's studio sessions, song-by-song, that the U.S. publisher chose to omit, as well as an eight-page photo section. Order The E Street Shuffle (UK Edition) here.
See all Latest Additions at Backstreet Records
- March 15, 2013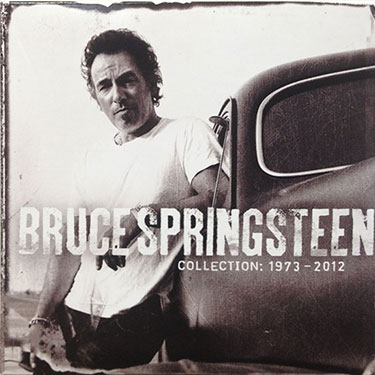 THE HITS JUST KEEP ON COMING
Though Springsteen and Columbia went 22 years without a "best of" compilation, since 1995's Greatest Hits they've been making up for lost time. In recent years we've also seen The Essential Bruce Springsteen in 2003, and a different Greatest Hits compilation in 2009, credited to Bruce Springsteen & the E Street Band. As Springsteen continued to put out worthy music, each subsequent collection has added more recent tracks. Now there's Collection: 1973-2012, which includes "Working on a Dream" from 2009 and "We Take Care of Our Own" and "Wrecking Ball" from 2012.
The new CD was first given out as a promotional item in a cardboard picture sleeve (pictured here) to MusiCares Person of the Year attendees. No commercial release is planned in the U.S. — no new or exclusive material here, so we're cool with that — but it will be issued in tour markets this year, beginning with the Australian Tour Edition out this month. See back sleeve below for full track listing.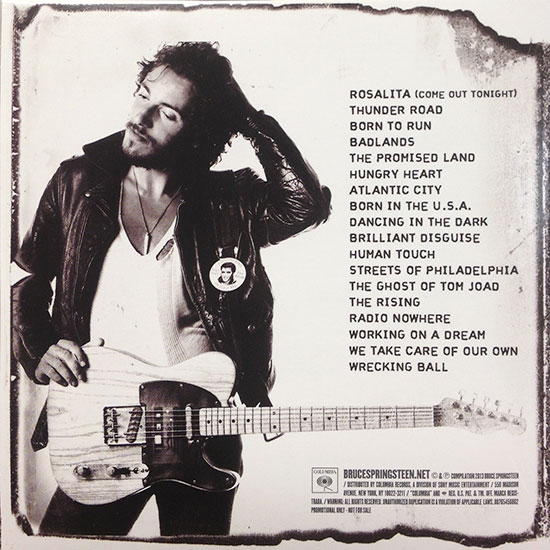 - March 15, 2013


BOSS IN BRISBANE: "HOPE YOU'VE MISSED US... WE'VE MISSED YOU"
Before yesterday's Brisbane opener, Springsteen held a rare open soundcheck for media, hunkering down at the edge of the stage to speak with press. Watch a good bit of it above, along with footage from the concert; you can also read reports from the quickie press conference online, with Bruce addressing influencing Australia's economic policies and being "this close" to playing Perth.
Asked how long he'll continue to perform, Springsteen responded: "'Til I die, I suppose. I'll be going as long as anybody wants to hear it. It's a fortunate profession: I have lots of athlete friends, and they're finished at 30. I tell my guys before we go to work, 'Don't do anything stupid. Don't hurt yourself doing something you don't have to do so you can't do what you have to do.'"
- March 15, 2013

HEADING SOUTH: OFFICIAL INFO FOR AUSTRALIA (AND RIO, TOO)
Here in the States, it's end-of-day Wednesday. In Oz, they're waking up on show day, the first of two in Brisbane. For all you show-goers Down Under, brucespringsteen.net has posted General Admission procedures for the Australian run — Brisbane, Sydney, Melbourne, and Hanging Rock — including lottery info (short answer, there isn't one!), queue start times, gate times, and more.
In other Southern Hemisphere news, Bruce and the band's Rock in Rio performance has been moved to September 21. Details here.
- March 13, 2013 - Shawn Poole reporting


THE RETURN OF "SUPERBOSS"
In a year of major comics anniversaries, our online addendum full of Bruce-themed comics-references past, present… and possibly future
"Is it a bird? Is it a plane? Is it the Boss Man?!" Thus spoke Bruce Springsteen last September at the end of MetLife Stadium Night 1, on his home planet of New Jersey. Having waited until he was 62 Earth-years old to break the four-hour-show barrier, and working alongside heads of state both past and present to help rebuild the Jersey shore, in some ways Bruce seems more like a comic book superhero now than he ever has.
2013 marks the 80th anniversary of the first modern comic book, Funnies on Parade. It also marks 80 years since the creation of Superman (the very first comic book superhero) and 75 years since Superman first appeared in a published comic book. After completing Backstreets #90's feature on Springsteen references in comics, we truly thought that everything worth finding in this area had been found. Recently, however, word of a new Springsteen-centered comics anthology crossed our paths.
With additional digging and some help from the BTX community, we were very pleased to discover yet a few more bonus Boss comics cameos in past years, ranging from 1982 through 2011. There's even a plan afoot to create the first-ever Springsteen-approved graphic novel based on one of his songs. Prepare to be amazed once again, faithful reader...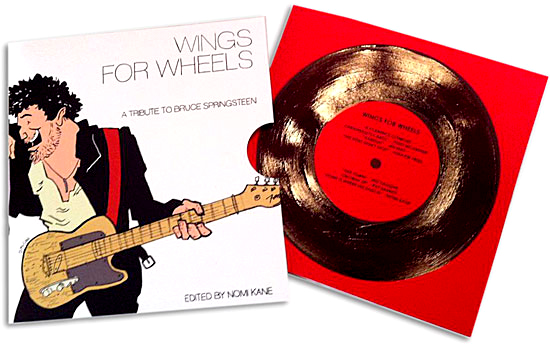 Currently available:
Wings for Wheels: A Tribute to Bruce Springsteen (September 2012, Brew For Breakfast) – The newest addition to the Springsteen comics canon is a completely original, 40-page collection of Bruce-themed comics, edited by award-winning cartoonist Nomi Kane with contributions from Kane and six other artists. Wings is filled with unique takes on the meanings found in Bruce's music and is by turns humorous, moving and insightful. The opening story, Todd McArthur's "A Clarence Clemons Christmas(?) Carol," is especially touching, as life-affirming as the Dickens classic. The packaging for Wings for Wheels is also unique and downright beautiful. The anthology's cover resembles an old Columbia red-label vinyl record, and Kane tapped artist Dan McCool to design an album cover-style slipcase referencing the iconic Born to Run cover. This comic is available for purchase directly from Kane's website, brewforbreakfast.com, at just $8 per copy, shipping included. Click here to order.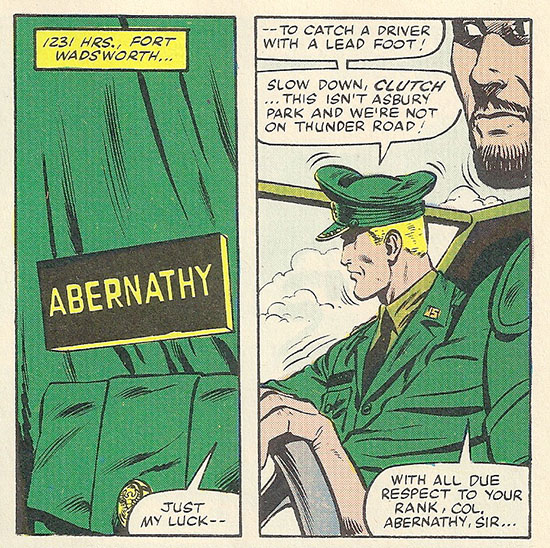 Hidin' on the back-issues:
G.I. Joe: A Real American Hero #1 (June 1982, Marvel Comics) – The debut issue of Marvel's take on the venerable G.I. Joe franchise introduced readers to G.I. Joe team member Clutch, an Asbury Park native and automotive expert whom we later learn (in issue #20, February 1984) also enjoyed street-racing in his younger days. The sequence introducing Clutch even name-checks "Thunder Road" [above].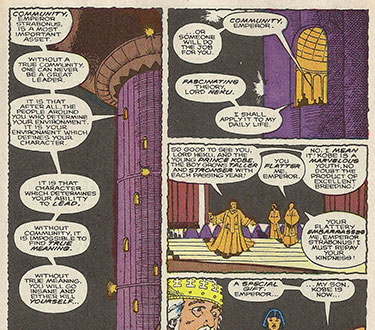 Conan the Barbarian #207 (June 1988, Marvel Comics) – A character in this issue, the second part of a three-issue story arc, makes the following observation on page 11: "Without community, it is impossible to find true meaning. Without true meaning, you will go insane and either kill yourself... or someone will do the job for you" [right]. Christopher J. Priest, then writing the Conan series under the name James Owsley, has stated that the plot for his story arc was "built on, I kid you not, a Bruce Springsteen interview in Rolling Stone." More accurately, Priest probably read the interview not in Rolling Stone, but in an excerpt from Dave Marsh's Glory Days book that ran in the July 1987 issue of Musician [pullquote above].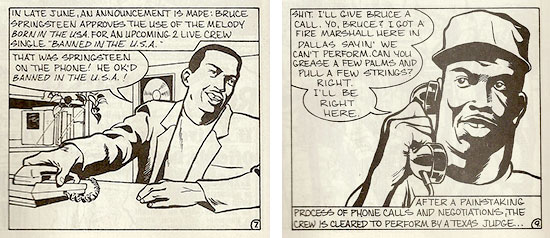 Rock N Roll Comics #19 (April 1991, Revolutionary Comics) – This issue was devoted to biographies of rap groups Public Enemy and 2 Live Crew. In the 2 Live Crew tale, while there are no visual depictions of Springsteen, two references are made to his support of the group's anti-censorship struggles. A reliable source informs us that while it's public knowledge that the incident portrayed on page 7 of the story [above left] actually happened, the one portrayed on page 9 [above right] most definitely did not.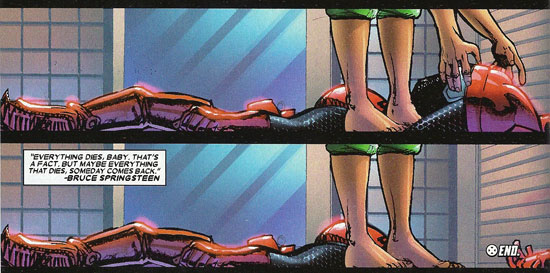 Wolverine #61 (March 2008, Marvel Comics) – This issue's story ends with a direct, credited quote from Springsteen's "Atlantic City" [above]. Special thanks to BTXer Phil Sobell for his assistance in tracking this one down.
Superman (2011 reboot) #2 (December 2011, DC Comics) – As reported previously, Grant Morrison's "Springsteen version of Superman" in Action Comics was part of DC Comics' "New 52" 2011 revamp of all its titles. In the second issue of the rebooted Superman title itself, however, observant readers also could spot The Man of Steel flying by a dead ringer for The Boss himself, named "Brian Summers" on a concert ad that bears a striking similarity to the cover of Magic [top].
…and on the horizon (we hope) somewhere out deep into the West:
Outlaw Pete, the graphic novel? - Last May, Springsteen fan, graphic artist (Heart Transplant) and Popeye animator Frank Caruso revealed information about his proposed graphic novelization of "Outlaw Pete" on E Street Radio's Live from E Street Nation with Dave Marsh. Caruso and Marsh reported that drafted sketches and paintings already have been submitted to Bruce for his anticipated approval/collaboration. [Listen here] Keep your fingers crossed and stay tuned...
- March 13, 2013 - Shawn Poole reporting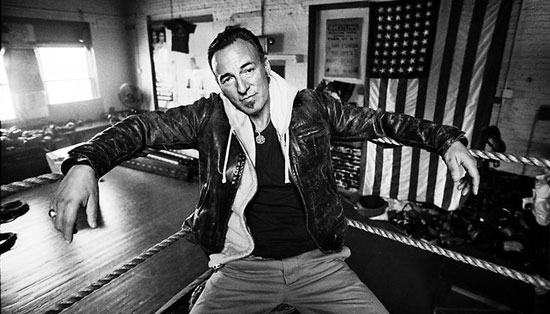 FROM DARKNESS TO A DREAM TO DOWN UNDER
After ten long years of waiting, Australia finally gets a return visit from Bruce Springsteen, starting this week in Brisbane with concerts on Thursday and Saturday. With Tom Morello in tow, the E Street Band has arrived; via Twitter, Jake Clemons provides visual proof.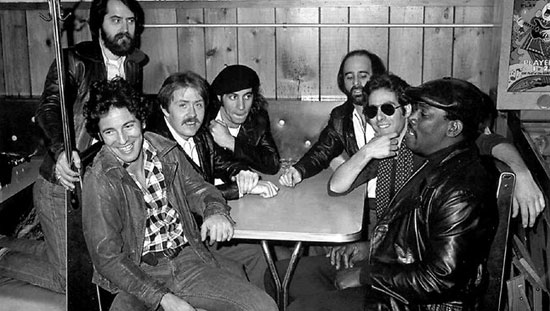 For all the Aussies celebrating this once-a-decade occasion (and all the fans from elsewhere making the trip), Blender Gallery in the Paddington section of Sydney is hosting "From Darkness to a Dream," the stunning collection of photographs by Danny Clinch and Frank Stefanko, now with work from Lynn Goldsmith as well. The exhibit runs from March 14 to April 20; read more here, and find gallery information online at Facebook and blender.com.au.
- March 12, 2013 - photographs by Danny Clinch (1) and Frank Stefanko (2)

HEAD SOUTH
An influx of Southside, and more news from Backstreet Records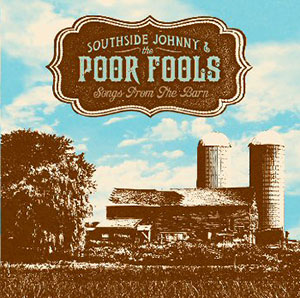 Just in at Backstreet Records is the new CD from Southside Johnny, his first with his band the Poor Fools. Southside and Jeff Kazee's home away from their Jukes home is a rootsier deal — not without horns, but also think fiddle (courtesy of Soozie Tyrell), mandolin, banjo, and even washboard. Johnny and Jeff co-wrote six of the songs on Songs From the Barn, along with covers of Bob Dylan, Randy Newman, and more. In stock now.
We've also added quite a few Southside/Jukes titles that have been unavailable or hard to find: Hearts of Stone Live... Love is a Sacrifice... their first Best Of... and a classic live set from 1976, Jukes Live at the Bottom Line.
See these new arrivals in our Latest Additions section, or see our complete Southside CD holdings in our CDs - Other Artists section.
Hey customers who pre-ordered the E Street Shuffle book!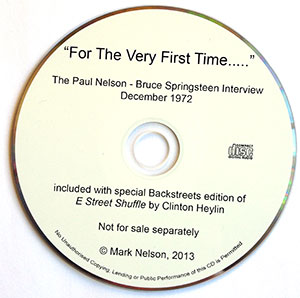 It's been a while, but the UK edition that we'll be carrying of Clinton Heylin's new book — with extra material not included here in the U.S. — has finally arrived on these shores and is clearing customs as we speak. We're currently preparing to ship, as we expect to have the book in stock next week. Our supply of exclusive bonus CDs has already arrived [pictured right], and we'll be pairing one of those with each book when we ship. Thanks for your patience on this one, yours will be on its way shortly.
If you're interested in this UK E Street Shuffle book with bonus CD, we still have a few unspoken for — we recommend you pre-order now, as we've sold well over 900 of the 1,000 limited run.
FINAL SALE: The official 2013 Springsteen calendar is now half-off! You've still got ten months left to enjoy this Wrecking Ball-themed calendar from Thrill Hill Productions, with photographs by Danny Clinch... Save 50% as we've now marked it down from $15 to just $7.50, no coupon necessary, while they last.
See all of our Latest Additions here
- March 8, 2013

LEFTY AND THE BANSHEE: SOME PREMIUM CABLE LOVE FOR NILS
Nils Lofgren's song "Why Me" from his 2011 release Old School will play under the end credits on Cinemax's original series Banshee this Friday March 8, at 10pm. From the creator of True Blood, Banshee stars Antony Starr as Lucas Hood, an ex-con and master thief who assumes the identity of the sheriff of Banshee, Pennsylvania, where he continues his criminal activities, even as he's hunted by the shadowy gangsters he betrayed years earlier. Nils's song closes out the second-to-last episode of season one [Episode 9: "Always the Cowboy"]; it will repeat at 11pm on Friday and at 9pm and 11 PM on Saturday on Cinemax. Old School is available from Backstreet Records on both CD and vinyl.
- March 6, 2013

R.I.P. STANLEY SNADOWSKY, FOUNDER OF THE BOTTOM LINE
The
New York Times reports
that Stanley Snadowsky, a co-founder of the legendary Bottom Line club in Greenwich Village, died on February 25 at age 70. Along with his partner Allan Pepper, Snadowsky opened the Bottom Line in 1974, and over the next 30 years, the club featured a who's-who of rock, folk and country, including a more than famous five-night, ten-show stand by Bruce Springsteen and the E Street Band in August, 1975. Springsteen returned to the Bottom Line in May, 1992, premiering his new band at an invitation-only showcase gig before their
Saturday Night Live
appearance later that week. The Bottom Line closed in 2004, despite
reports
that Springsteen had "pledged big money" to help save the club.
- March 6, 2013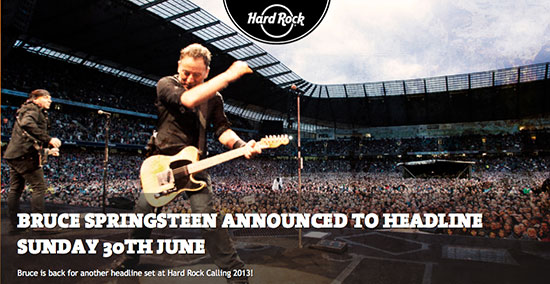 ONCE MORE UNTO THE BREACH, DEAR FRIENDS
Bruce is back as London's Hard Rock Calling moves to Olympic Park
For the third time, Springsteen and the E Street Band will be headlining London's Hard Rock Calling Festival. Their first Hard Rock Calling performance in 2009, was preserved on the London Calling: Live in Hyde Park concert film. Their second, last year — on Woody Guthrie's 100th birthday, with guest spots from Tom Morello, John Fogerty, and Sir Paul McCartney — is primarly remembered not for the remarkable show that it was, but for the plug-pulling that brought it to an abrupt end. It's a fact not lost on concert organizers, as NME reports:
"Last year, Bruce Springsteen and the E Street Band made international news and history when their Hard Rock Calling encore with Sir Paul McCartney was unceremoniously cut short due to a noise curfew at Hyde Park," said CEO of Hard Rock International, Hamish Dodds. "This summer we are giving Bruce and the band the opportunity to finish what they started and make history again with a celebrated performance at Hard Rock Calling."
This year the festivities move from Hyde Park to Queen Elizabeth Olympic Park in Stratford, London. Bruce and the band will close the Sunday night show, June 30, when you can bet curfew will not be an issue. Also on the bill for that day are the Black Crowes and Alabama Shakes. Tickets go on sale to the general public this Friday, March 8, at 9am local time. For pre-sale details and more, see ticket information here.
- March 5, 2013

KEEP PUSHIN' TIL IT'S UNDERSTOOD
Help Ryan Chalmers pick the Springsteen "theme song" for his cross-country trek

Ryan Chalmers was born with spina bifida, preventing him from having complete use of his legs. He started playing sports when he was eight, eventually focusing on basketball and track. In 2012 he realized his dream of becoming a world-class athlete as a member of Team USA at the Paralympic Games in London.
Ryan has now joined forces with Stay-Focused founder Roger Muller, the brother of Vietnam Veterans of America founder Bobby Muller (who delivered the stirring introduction of Bruce Springsteen and the E Street Band at their legendary 1981 "A Night for the Vietnam Veteran" concert). This spring, Ryan, Roger and their team will launch Ryan's effort to Push Across America. Leaving Los Angeles on April 6 and arriving in New York City on June 15, Ryan will push his racing chair through fourteen states and the District of Columbia. He'll be pushing the equivalent of two to three marathons per day for a 71-day period, in an unprecedented cross-country effort to set many new records and demonstrate to the world "the incontestable ability of the disabled."
Tomorrow morning on E Street Radio, Ryan and Roger will guest-host Live from E Street Nation with Dave Marsh. Tune in to learn more about Push Across America, and call in with your suggestions for the Springsteen song that Ryan should choose as his historic journey's "theme song." Live From E Street Nation will air tomorrow, Friday March 1, 10:30 am-12:30 pm ET on Sirius/XM channel 20, with a repeat broadcast airing Sunday March 3, 8-10 pm.
- February 28, 2013 - Shawn Poole reporting



LISTEN UP, STUD
Several new tracks coming across our desks at the Backstreets Towers this week with an E Street pedigree:
- February 28, 2013

FROM THE ROLLERDROME TO THE GREAT WHITE WAY…
Little Steven's Rascals reunion project is Broadway-bound!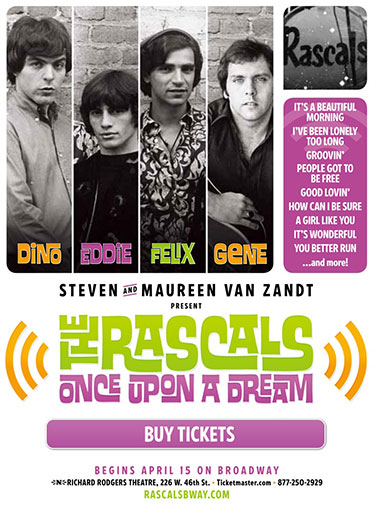 In 1965, a teenaged Steven Van Zandt saw his very first live performance by a rock band, held at New Jersey's long-gone Matawan-Keyport Rollerdrome. That band was The Rascals, and their impact and influence have been lasting and profound. (The Rollerdrome show also was the first live rock-band experience for at least one other teenager in the audience: Bruce Springsteen, whom Steve had yet to meet.)
Almost five decades later, Stevie's long-held dream of reuniting the musical heroes of his youth has now taken off in a really big way. Following a successful run last December at Port Chester, NY's Capitol Theatre, The Rascals: Once Upon a Dream will be presented on Broadway by Steven and Maureen Van Zandt. Fifteen performances from April 15 through May 5 will take place at Richard Rodgers Theatre. Tickets are now on sale here. RascalsBway.com has more details, too.
For more on just how wonderful, relevant and important this unique show is, check out Backstreets contributor Shawn Poole's archived essay on the December 14 performance.
- February 27, 2013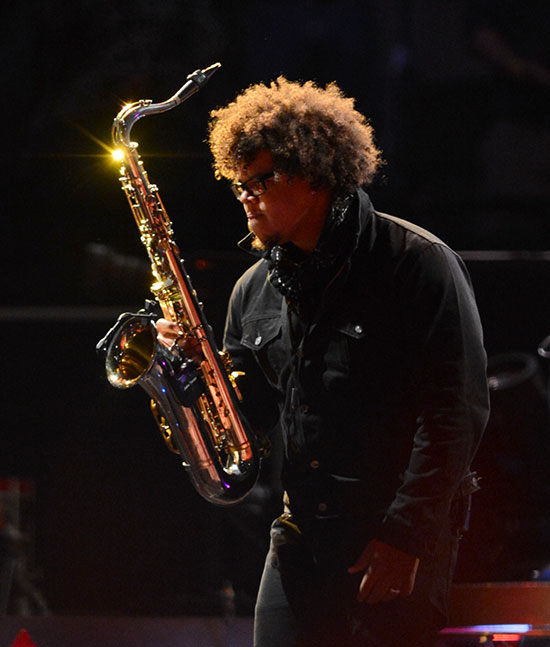 HAPPY BIRTHDAY, JAKE!
- February 27, 2013 - photograph by Alan Chitlik [Denver, 11/19/12]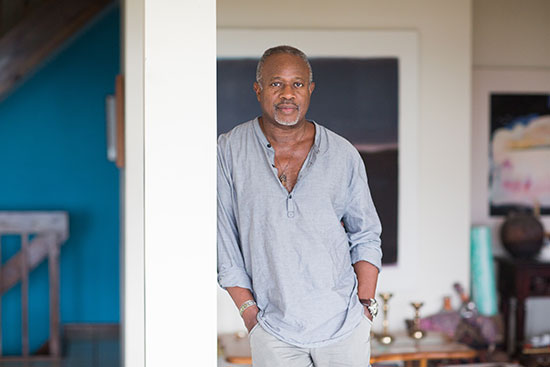 Q&A: DAVID SANCIOUS
For Rock's Back Pages, Rod Tootell recently put together an article on the making of Springsteen's second album, "E Street Serenade: Bruce Springsteen, David Sancious and the E Street Shuffle." For the piece, Tootell interviewed Sancious, the E Street Band's genius first pianist who left for a solo career in 1974 and later brought his talents to Peter Gabriel and Sting. Thanks to Rod, for further reading we present their unedited conversation here, conducted in June 2012. Sancious speaks about meeting Bruce, writing the string arrangements for "New York Serenade," and reconnecting over the years with his old Boss.
Can I ask you a bit about what you did before you joined Bruce's band?
Before Bruce, I quit school — I left high school when I was 15 years old, which in the state of New Jersey at that time you could do without your parents' consent. I had already been playing in clubs since I was about 13, lied about my age for a lot of years. I was 19 years old for about six years — at least five or six years I was 19 years old. I don't think anyone believed me, because I had a really young face and a young voice, but I got away with it a lot. When I was in school, I was just playing on the weekends. I had worked a few jobs, got a job in the Danelectro guitar factory. I worked as a landscaper for a while, you know, stuff like that. Then I was playing on the weekends — I was pretty much restricted to that.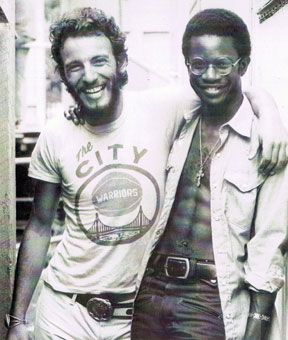 Being out of school, all I did was music, full-time. I was practicing at home, by myself everyday, and at night I would just play, wherever I could play, as much as possible. So that went on a lot, and then I met Bruce and the whole club scene in New Jersey. I met him at Upstage through Garry Tallent. Garry and I had met and worked together before. I think we did a recording session for someone at a studio session, and we hit it off right away. One night we were going to the Upstage, and Bruce was putting a jam session together for the second half of the night, which used to be from 1:00 until 5:00 in the morning. I was walking up the stairs and Garry introduced me to Bruce. Bruce asked, "Are you interested in playing in our jams?" And I said "sure" — we were used to playing for hours at a time — and that was the start of it.
He had a band called Steel Mill that he was going to end. He was going to start this new band, which became eventually the E Street Band. It wasn't called that for a long time, it was just Bruce Springsteen. Then we had a band called Dr. Zoom and the Sonic Boom, which was a Mad Dogs and Englishmen kind of thing: music and theater at the same time, it was pretty wild.
But before meeting Bruce I was just like everybody else in that club scene. I was more concerned about getting really good on the instrument, and I'd also secretly started playing guitar around that time (which I kept to myself for a while), and then I broke it out one night. But that was it, just the club scene around Asbury Park, a lot of practicing and jam sessions.
When did he formally say "come and join the band"?
I think after that night, the end of that first night. We closed the place, it was 5:00 in the morning, and we were walking out — at that hour, the last thing you can do is go right home and go to bed and go to sleep, so we all used to walk down to the ocean and hang out. If you live nearby, you're walking home or catching a ride back to Belmar or wherever you came from. We were walking out of the club and he asked me, I think that morning, he said, "I'm going to be breaking up Steel Mill and starting a new band, would you be interested?" I said, "Yeah, absolutely."
Would you say that band was very improvisational?
I think at the time, for the talent that was around the Shore... we weren't the only good musicians, but I think it was a collection of pretty much the best players who were around that area at that time. Bruce was absolutely the guitar hero of the whole area. The band was always really interesting. Vini Lopez had a really unique style; Garry's a fantastic bass player; Danny was great on the organ and accordion; and Clarence, of course.
Can we talk about the way the band progressed? Listening to live concerts from My Father's Place in Roslyn, compared to a concert in Nashville about six months later, to me the band has just completely changed. There's so much going on, there's a lot of jazz in the mix, and it's just very different to the sort of stuff they were doing before you joined. [Though Sancious played on Greetings from Asbury Park, NJ, he didn't officially join the touring unit until June 1973.]
It also depends on who was playing drums at the time. Once Ernest [Carter, drums] was in the band — it's really a shame that there's not more of him recorded, officially recorded — it really took off, I think. The change of drummer, it wasn't comfortable, but Bruce calculated that it was necessary musically, and I think he was right.
That band, when [Carter] got in, it was really, really something. And also the amount of shows we used to do, you know, we were playing a lot. And playing long shows — Bruce likes to play a long time, as you know — and there's nothing like getting a band in shape with a lot of live playing, night after night after night, whether you are sick or well, whatever. There's nothing like it. Not just whipping a band into shape, but having its own nature evolve. Getting the best out of every player because it just comes out naturally at some point, and, yeah.... I bet it does sound dramatically different from, say, the sound of Greetings from Asbury Park, really, really different.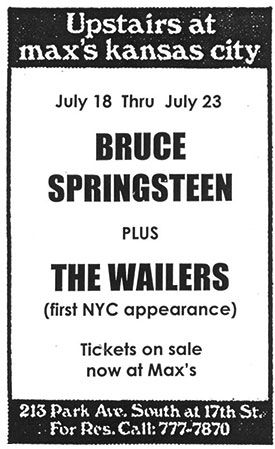 Liberty Hall is a great, great show, and Max's Kansas City...
Wow, Max's Kansas City — boy, I remember that place. The Wailers opened for us, and it was the first time The Wailers had played in New York, I believe.
Did you get to spend time with them?
We did, briefly — like hello, nice to meet you, not really in depth or anything.
And you watched them play, I presume?
Yeah, watched them play. I remember Clarence was hanging out in the dressing room.
I bet he was.
Yeah, yeah [laughs]... but I was amazed by them. Wow... it was really different. because that whole scene was pretty much brand new. I wish I would've seen [Bob Marley] more live when he was alive. I've seen so much concert footage of him, and man, what a presence. He was truly amazing, and you see and hear the influence he had on all kinds of people to this day — singers, other bands — it's incredible.
In the documentaries that Bruce has done about the recording of Darkness on the Edge of Town and Born to Run, it's pretty intense, high-pressure stuff. I get the impression that the recording of The Wild & the Innocent, on the other hand was actually very relaxed.
The atmosphere, it was more relaxed. I've seen some of that stuff — the film of them in the studio working on Born to Run, and Darkness as well — and I just think that is where he was then in his head: he needed to be that intense about what he was intense about. But I remember that when we started the recording for that album, everybody was a little run-down physically. Clarence had tonsillitis, I had a kind of cold or something... it was a bunch of people who were just working because you had to do that, and then everybody got better, of course, and carried on. But I do remember the atmosphere in the sessions as being fairly relaxed, not too uptight, not too tense. But it was a lot of work. We worked a lot of hours. We started in the morning. We used to drive up to 914 Studios from New Jersey, and then I think they put us in a hotel across the road from it or something. We put in a seriously full day and night.
Somebody said that some of you slept in the back in a tent.
I don't remember the tent, but I remember there was a place where you could go in the back of the studio and crash out for a while if you were tired. I definitely remember everybody taking advantage of that at some point. I don't remember a tent — it doesn't mean it wasn't there.
Well, I think Bruce has said there's a lot of stuff that everybody knows about him that he doesn't know anything about. I've heard that when you originally did "New York City Serenade," you did a lot of the basic tracks first and then added a lot of stuff afterwards?
No, I think "Born to Run" was like that. But "New York City Serenade" I remember, we just did it live in the studio — but without strings, of course. We recorded the guitar, piano, bass, drums, and organ, probably. And then I think the producer or the engineer found these three guys, these three violinists, who were music school teachers. They were from the local area. So the whole "string section" actually, was three people who got overdubbed. It wasn't a string section of people. The engineer, Louis Lahav, was the first one to turn me on to the technique of doing that with strings. I knew about overdubs, but if you don't have access to a whole bunch of string players you can tape three or four, preferably, if you really want to sound big. You can do it with three as well and you get them to play the entire arrangement about three times. So they play it once, it sounds like three guys playing. They go in, they rewind the song, they play it again, now it sounds larger and you just keep doing that.
It's almost a Phil Spector sort of thing.
It is, it's the same sort of concept. So these guys were lovely, and that was my first string arrangement I had ever written. I've written a few more since then for different people, but that was my first opportunity, and I was so excited about it. I worked really hard on it, and I stayed up all night for several days. Then came the day, and I stayed up all of that night before we were being picked up to drive up to the studio to do the session with the string fellows. I triple-checked everything, checked the harmony, and I did it on the piano of course, wrote out the parts by hand, and I was just...
Leaving nothing to chance.
Yeah, leaving nothing to chance. And it really worked beautifully, and the guys playing it were really complimentary about how it sounded. It had some interesting movement in it. And I also got to conduct them — I wouldn't call it conducting now, these guys didn't need me to keep time, but they needed a little bit of direction, I guess, as to where sections were. So I'm standing there conducting these three guys who were the age of the teachers I had in high school, music teachers, and I thought, this is crazy, and it was all working so beautifully. It worked out well. I just remember everyone being really, really happy with it. I was, of course, and Bruce was thrilled.
It's like the last song you want to hear on any evening.
I mean [laughs]... you know, one fan got in touch with me just to say how much they appreciated the song and my contribution to it. He was saying he was kind of in a state of... almost hypnotised by it. He just keep listening to it over and over again, listening to it every day!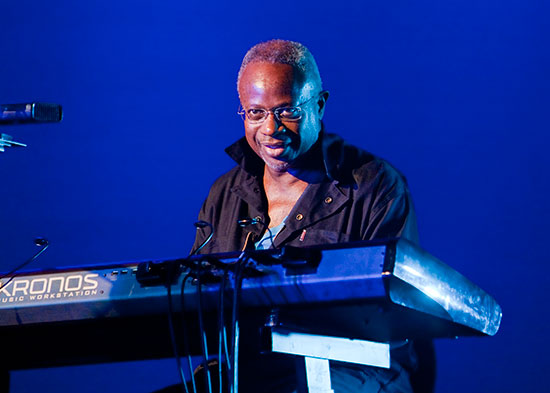 You left the band, you got on with your own career. I was just wondering, after you left his band, did you follow Bruce's career? If a new album comes out, do you put it on the turntable?
Oh yeah, to this day. What's been nice is that since I left the band and went off and did a whole lot of other stuff with other artists, and some stuff with my small band, we have been able to stay in touch — not on a continuous personal basis, but over the years we would do the same show. We did a Rainforest benefit together some years ago. I remember at rehearsals for a Grammy thing, or some event in New York City, I was working with Sting and Bruce was there. He came into the room and said, "Hey how're you doing, haven't seen you for a while." And he was looking so excited, I said "What's going on?" And he said, "I just met the Queen of Soul." He'd just met Aretha Franklin, and he was really jazzed, really excited.
And you've also worked with her.
I did one album, yeah — actually it was the one that Andy Warhol did the cover for, before he died [1986's Aretha] — but that was it.
And then years later, Bruce called me to do some stuff on Human Touch, and then we're back in the studio together again — that was great fun. We did, I think, two songs, maybe three. "Soul Driver"...
"Soul Driver" is a very good song.
You know, a lot of people criticize that stuff, that period, because he was working with other musicians outside the whole E Street Band context. I think some people just have an automatic prejudice against that, you know, which I don't share. I think those are fine records, both of them. That was a nice period.
And then some time went by where I might see him but not work with him, and then in 2011 he performed at Sting's 60th birthday party at the Beacon Theatre, he did two songs. He did his own version of "Fields of Gold" acoustically, just him on guitar. It's brilliant, you should check it out — it's on an app actually, that you can get from the app stores [Sting 25]. It's got all the performances. Bruce did a great version of "Fields of Gold," and then we did "I Hung My Head" with him.
That's a wonderful song.
Yeah, we did it in 4/4 — I think that song's in 9/8, but we did it in 4/4 in a kind of Johnny Cash version. It was a Bruce version, which is fantastic, and then we did "Can't Stand Losing You," the Police song. It was so much fun, first of all, just to play with him again, on the same stage; he was killing it on the guitar, and it was great. We got to talk a little bit at rehearsals. So, you know, we're not working together on a daily basis, but things come up occasionally and we get to see each other for a second. I have a strong feeling that — probably on a project of my own which might be coming up in the next, I don't know, year or year-and-a-half — that we'll do some more work together. Studio stuff, you know.
It would be great to hear that.
He's a dream to work with. He's really nice, he's a great guy.
You're working with Peter Gabriel as well?
He's doing a 25th anniversary of the So tour. He's put the original band back together
Were you on that?
Yeah — well, I'm not on the album, but I did all the touring: it was myself and Manu Katche, Tony Levin, and David Rhodes. He called me and asked me if I'd be interested — he said he'd been able to put everyone else back together — so, absolutely.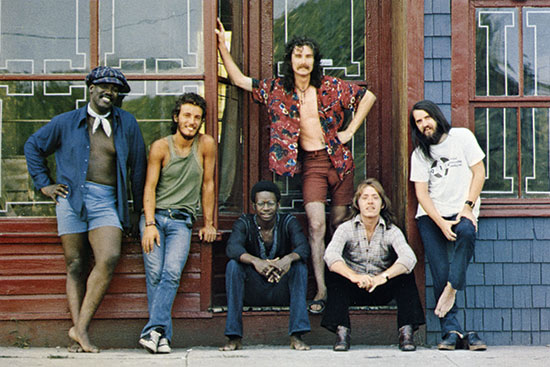 I wanted to show you this photo on the back of The Wild, the Innocent & the E Street Shuffle and just talk about what you felt when you saw it — it's such a wonderful picture.
Well, first of all, I'm barefoot! I remember I used to go around barefoot in summertime... and look at Clarence, we're both barefoot.
That's the beach life.
Yeah, that was a summer thing. Garry's got clogs on, and he's kind of barefoot. Danny's got boots on. He's the nicest dressed one in this picture. He looks like he's going to have his photo taken for a record album. The rest of us look like somebody just stopped us and said, "Listen, just stand still...."
Dave Marsh calls you guys a "visual hodgepodge."
Really [laughs] — totally right, a visual hodgepodge. I remember that day. And look how dark Bruce is! He really got so dark in the summer. We used to tease him, like he was becoming Puerto Rican. I mean, he got really dark, he used to tan really well. He used to surf back then, too. He was really into surfing. I wonder if he still does that. But yeah, I sure remember this picture, man... wow.
And it definitely gives the impression that the album is... well, it had a very relaxed feel to it. Everybody looks like they're having a good time.
Yeah, absolutely. And the other thing I think of when I see this picture is, two of the six are gone. Danny is gone. Clarence is gone. Vini is still with us.
Did you keep in touch with Clarence and those guys?
A little bit. Not so much because our paths... we're in different parts of the world, and all kinds of stuff. But I've seen Vini a few times — he actually came to Woodstock a couple of summers ago and rang me up, and we went and had a nice long lunch together and hung out.
How's your back? You said you went to the chiropractor.
It's my shoulder, an injury in the garden before I left.
Do you like gardening?
I love gardening. It's my passion after music, there's nothing like it. It's one of the only other things that I've ever done, apart from music and a little bit of abstract painting, where I've been able to lose myself in time, and you have no idea how many hours have gone by and you have been engaged in this thing.
Thank you so much for giving me your time.
- February 25, 2013 - interview by Rod Tootell - images (1,2,4) courtesy of David Sancious/davidsancious.com; (5) by David Gahr, back cover of The Wild, the Innocent & the E Street Shuffle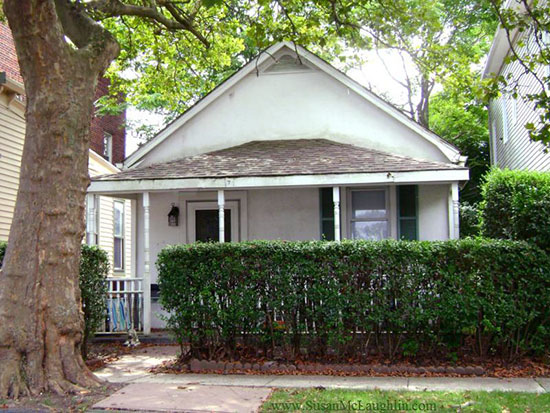 MY BOSS'S HOUSE
As Chris Jordan reports for the Asbury Park Press, the Long Branch, New Jersey house where Bruce Springsteen lived in 1974-'75 is on the market. Listed at $349,900, the two-bedroom cottage at 7-1/2 West End Court is where Springsteen wrote some particularly classic material. Peter Ames Carlin writes in Bruce:
...Bruce reclined on the bed in the small house he'd rented in the West End region of Long Branch, New Jersey. Notebook folded open, guitar in hand, he strummed idly, his line cast into the depths of consciousness, waiting for an idea to present itself. A chord progression, a snatch of melody, some kind of visual image, whatever. Then three words fell onto his tongue: born to run....'
Real Estate agent Susan McLaughlin tells Backstreets, "The current owners purchased it in 2009 and have loved their time there, but one of the owners is getting married and moving, necessitating the sale. We would also consider a partner in ownership." She adds, "I lived across the street at the same time Bruce lived there, so I'm very fond of the cottage. We are hoping it transfers to the right hands and is preserved for the important piece of local rock history that it is."
- February 21, 2013 - photograph courtesy of Susan McLaughlin

SUMMERTIME BLUES ANYONE? SPRINGSTEEN LIVE AT LEEDS
Newly added toward the end of the summer European leg, just prior to the Wrecking Ball Weekender, Bruce and the E Street Band will play July 24 at the under-construction Leeds Arena. The venue isn't set to open officially until September; as the BBC reports, this "road test" is the result of Bruce's "'special request' to try out the 13,500-seat arena in a one-off show as part of his Wrecking Ball world tour, the [Leeds City Council] said."
Tickets go on sale to the general public on Friday, February 22 (with advance pre-sales), through Ticketmaster.
- February 20, 2013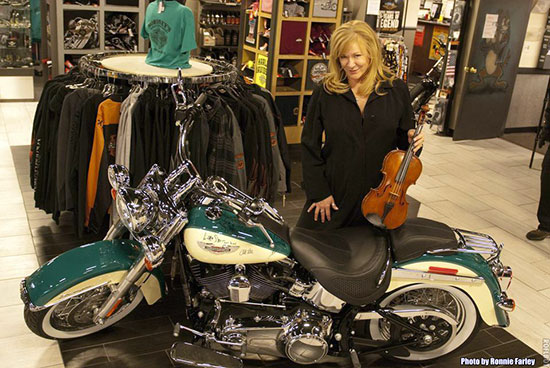 A CHANCE TO WIN SOOZIE'S HARLEY, SIGNED BY BRUCE & THE BAND
Remember when Bruce and the E Street Band played the Harley-Davidson Festival in Milwaukee at the end of the Magic tour? How's this for a perk: they were all presented with Harleys as souvenirs. Now, Soozie Tyrell is putting hers to righteous use: as she writes in a letter to "Harley-Davidson Collectors, Enthusiasts, and E Street Band Supporters," "I have kept this Harley in storage looking for the right organization and event that would raise money for high school students through scholarships in Arts or Music."
Her plan is coming together through the The Rotary Club of Naples, which is now holding a raffle for Soozie's never-ridden 2009 Harley-Davidson FLSTN Softail Deluxe — signed by Soozie, Bruce, and all their bandmates — with the proceeds to establish Arts & Music scholarships for high school students. Click here for further details, more pictures, and to purchase a raffle ticket: $50 each, with only 2,000 tickets available.
- February 20, 2013 - photograph by Ronnie Farley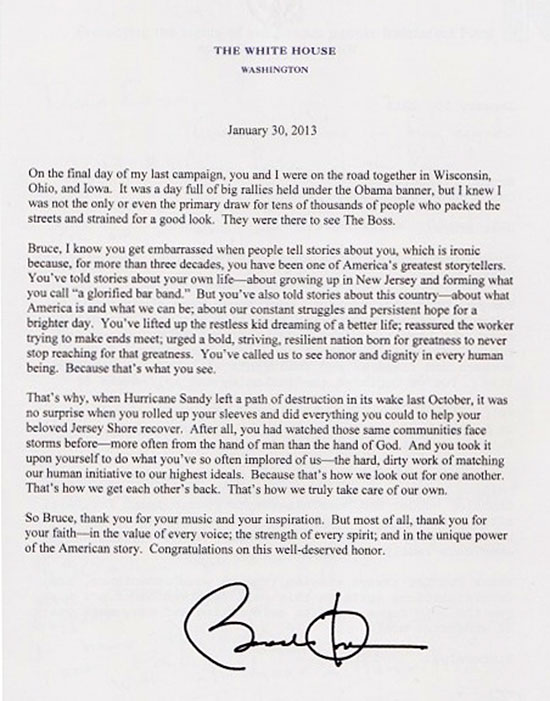 BARACK TO BRUCE: "THANK YOU FOR YOUR FAITH... IN THE UNIQUE POWER OF THE AMERICAN STORY"
No better day than today, Presidents' Day, to share the moving and incisive congratulatory statement from President Obama to Bruce Springsteen included in the MusiCares tribute program.
- February 18, 2013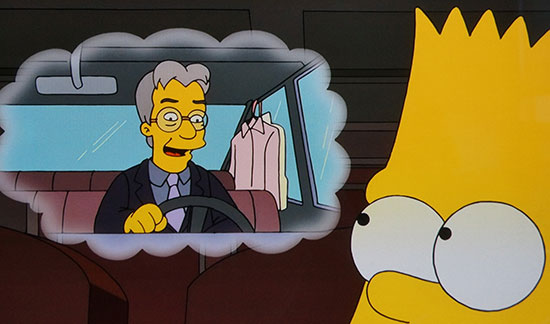 WEINBERG MEETS WOLVERINE (AND BART SIMPSON)
In a very High-Fidelity-like moment, Bart Simpson ponders what his heroes Wolverine and Max Weinberg might do if faced with his romantic predicament. In case you missed its original February 10 airdate (or just want to watch it again,) The Simpsons episode "Love is a Many-Splintered Thing," featuring guest voice Max Weinberg, can now be viewed online at no charge here, through March 16. (After which the episode, #12 in Season 24, will remain available for online purchase/viewing at Amazon Instant Video and iTunes.) The scene with Bart, Max and Wolverine starts in segment 2 at 8:34.
- February 18, 2013 - Shawn Poole reporting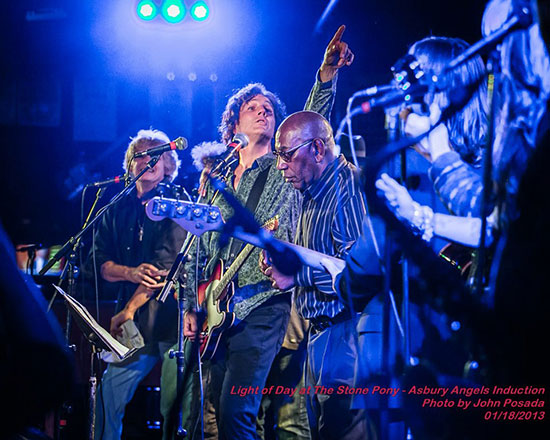 GREETINGS FROM ASBURY PARK: MARC RIBLER
Ribler puts his talents (and friends) to use for Sandy relief & Asbury Angels
The Stone Pony. The Saint. Asbury Lanes. The Wonder Bar. For many who come to Asbury Park to partake of its music scene, these are the places to go. But just as the Jersey Shore itself encompasses more than the bright lights and boardwalk attractions of Seaside Heights, its music scene is in actuality a network of musicians and venues stretching from Keyport to Long Beach Island.
One of the longstanding but perhaps lesser-known fixtures of that scene is singer/songwriter Marc Ribler, who has quietly established himself as one of its key players. Born in a Brooklyn housing project in the 1960s, Marc grew up in Central New Jersey, where, like so many others, he taught himself guitar by listening to the radio and formed a high school garage band. After years of playing in cover bands up and down the Jersey Shore, Marc assembled a recording studio and began writing his own material; he later moved to New York and was able to make a living as a songwriter until an illness sidelined him in the late '90s. He moved back to New Jersey to recuperate, releasing his solo debut Life is But a Dream in 2002, and re-established his Shore ties in 2006 after joining popular cover band Holme. These days, Ribler can often be found playing several nights a week both with Holme and with a floating cast of characters at venues like Tim McLoone's Supper Club in Asbury Park.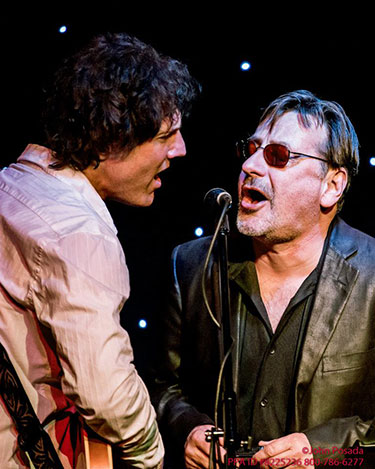 So when a backing band was needed for Ribler's "50 Licks" concert at the Stone Pony last year, it was members of an illustrious group, culled from his circle of New York–based musicians and Asbury Park regulars, who were called to participate. Asbury Juke Jeff Kazee, bassist Graham Maby [Joe Jackson] and drummer Shawn Pelton of Saturday Night Live fame are just a few of the two-dozen-odd musicians in Ribler's impressive assemblage of musical talent. "The reason I chose these extraordinary musicians is because when you work with the best, it is a natural occurrence that the music will transcend all expectations," says Ribler.
The event, originally conceived by Ribler with local promoter (and former Asbury Juke) Tony Pallagrosi as a tribute to the Rolling Stones' 50th anniversary, became not only a fundraiser for the newly-formed Asbury Angels Foundation, but the type of all-star musicians' jam for a good cause that has been as much a part of Asbury Park music history as concerts at Convention Hall. The second of what Ribler and Pallagrosi hope will be annual "50 Licks" fundraisers was held January 25 at the Stone Pony and benefitted victims of "Superstorm" Sandy.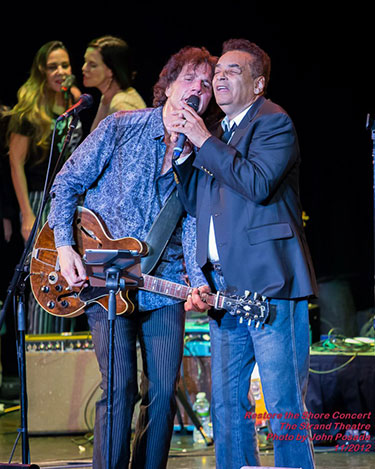 After the destruction wreaked upon the New York/New Jersey area by the storm, Ribler was inspired to write, and he called upon his musician friends to help record a pair of songs later released as downloads (proceeds benefit New Jersey's relief efforts). He has since organized dozens of Sandy relief concerts featuring the likes of Southside Johnny [with Ribler, above], Steve Forbert, and Gary U.S. Bonds [with Ribler, right].
There is also the Asbury Angels theme song, which Ribler was inspired to write after the first "50 Licks" show, and which has since been recorded with J.T. Bowen and Lance Larson on lead vocals backed by a sold-out Stone Pony crowd during this year's Light of Day festivities.
The "Asbury Angels" song, which references local hot spots like the West Side, Mrs. Jay's and the Sunshine In, is a horn-drenched R&B number in the Asbury Park tradition. "When I started writing the lyric, deep, sentimental emotions came flooding in of my memories of the Asbury music scene," says Ribler. He is mixing the recording now, and hopes to have it available for online purchase in a couple weeks.
All Ribler material (including Sandy benefit songs "Our Spirit is Strong" and "Garden State") is available on his site, marcribler.com; the "Asbury Angels" song will also be available at asburyangels.com
- February 16, 2013 - Lisa Iannucci reporting - video by Rose A. Montana - photographs by John Posada

TO ALL THE LOVERS STILL STANDING ON ST. VALENTINE'S DAY…
Steve Van Zandt, as executive producer and music supervisor for David Chase's wonderful film Not Fade Away, contributed his wicked-cool song "The St. Valentine's Day Massacre" to the soundtrack. In the film, the fictional band The Twylight Zones performs the song for their big-break recording session. In reality, the song was recorded for the film by a Jersey Shore supergroup featuring Steve, Bobby Bandiera, Garry Tallent, and Max Weinberg, along with actors John Magaro (who plays Douglas, The Twylight Zones' lead singer and the film''s central character) on lead vocals and Jack Huston (who plays coulda-been-NJ-rock-legend Gene Gaunt) on backing vocals. The same group recorded The Twylight Zones' other material that appears in both the film and on its soundtrack album.
When the film was released in December, CBS Radio reported that "The St. Valentine's Day Massacre" was written originally as the title track for the Norwegian band The Cocktail Slippers' 2009 album. In the same report, Rocket Queen, the band's guitarist, said, "Steven told me about working with David Chase on this film a long time ago — probably when they agreed to do the movie together. About a year ago he told me they were going to use 'St. Valentine's Day Massacre.' I think that's great. The song deserves to be played all over the universe again and again and again!"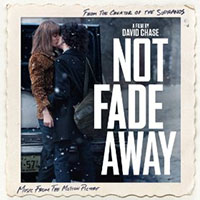 The Twylight Zones' version of "The St. Valentine's Day Massacre" is available online only as an individual track or as part of the Not Fade Away soundtrack album. Visit Amazon.com or iTunes for details. Not Fade Away, incidentally, will soon be released on DVD and Blu-Ray and deserves far more attention than it received in its brief, limited theatrical run.
The Cocktail Slippers' version of "St. Valentine's Day Massacre" [video here] remains available in a variety of formats from Little Steven's very own Wicked Cool Records label.
- February 14, 2013 - Shawn Poole reporting


"THIS IS THE ITALIAN WEDDING PATTI AND I NEVER HAD"
Bruce's full speech from the 2013 MusiCares Person of the Year gala.
- February 14, 2013

FREE DOWNLOAD: NEW STEWART FRANCKE TRACK, "DRIVE NORTH"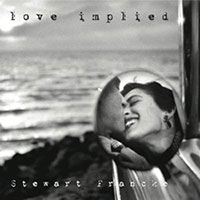 On Stewart Francke's 2011 album Heartless World, his pal Bruce Springsteen joined him on "Summer Soldier (Holler If Ya Hear Me)," which Stewart kindly offered us as a free download. Now, the Detroit singer/songwriter has released the follow-up to Heartless World, and he once again wanted to offer up a track to Backstreets readers.
"No Bruce on anything this time," Stewart tells us of the new Love Implied, "but his involvement with 'Summer Soldier' brought me a lot of new fans worldwide. I've got a song on this new cd called "Drive North" that I think your readership would dig." Agreed — imagine if Springsteen had taken "In Michigan" seriously. So we're offering a FREE download of "Drive North," track three from the new album — check it out on our Downloads page now.
A passage on from Matt Orel's review of Love Implied:
"Drive North"... may be the most perfect expression I've yet heard in my 20 years in Michigan of the ethos of this state's natives. "Around here we drive North." It should be a state song. It's who we are. I've only been to St. Ignace a couple times, but when Francke sums up the connection of place, life and song with an exquisite final line, "By midday tomorrow I'll be in St. Ignace singing some new song," the resonance is perfect. In this song I also noticed how much Stew's voice reminds me of another of my favorite rock tenors, Nils Lofgren.
Funded by fans through Kickstarter, Love Implied is available now on CD and vinyl LP, as well as mp3 through iTunes and Amazon.
Download "Drive North" now
and find more online at stewartfrancke.com
- February 13, 2013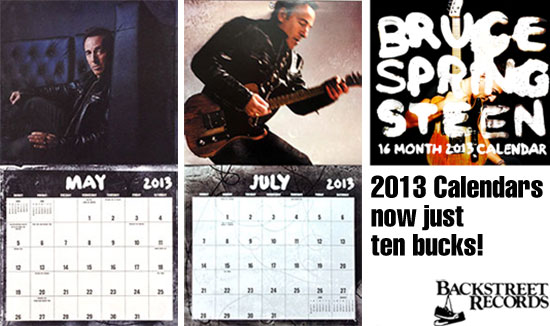 TAKE 33% OFF THE OFFICIAL 2013 BRUCE SPRINGSTEEN CALENDAR
List price was $15, now get the new Bruce calendar now for 1/3 off, just ten bucks! No coupon necessary; sale price reflected now in the Backstreet Records online shop.
- February 12, 2013


THE NEVERENDING NOW: ZIMNY'S MUSICARES TRIBUTE FILM
Thom Zimny, Springsteen's longtime film/video collaborator, is no stranger to the "tribute" form — he's the filmmaker behind the montages you've seen in concert honoring the late, great Clarence Clemons and Danny Federici. It's good to see him put one together for a musician who is very much alive: this beautiful, six-minute film showed Friday night at the 2013 MusiCares gala, celebrating Person of the Year Bruce Springsteen.
- February 12, 2013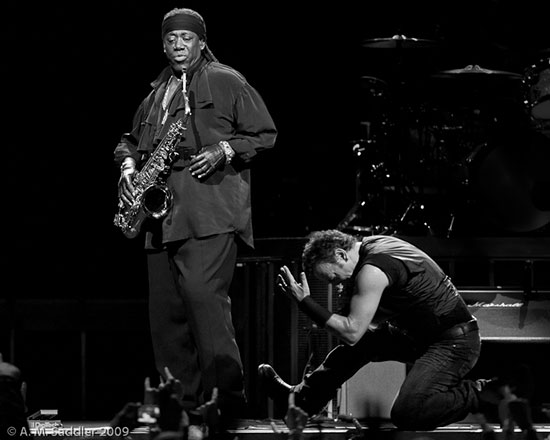 GIVE THE STRUMMER SOME: PHOTOGRAPHS AND MORE FOR AUCTION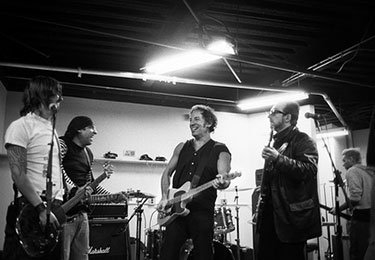 Check out charitybuzz.com's Strummerville auction now for a number of Bruce-related and all-around cool items on the auction block. Backstreets photographer A.M. Saddler has donated some killer live prints of Bruce & Clarence [above] and Steve Van Zandt... beautiful portraits of Bruce ("Out Back") and Patti Smith ("Day Dream") come from Frank Stefanko... and Danny Clnch has donated as well, including [right] a shot of Springsteen rehearsing "London Calling" for the 2003 Grammys along with Van Zandt, Dave Grohl, and Elvis Costello. Plus a Telecaster signed by Brian Fallon, Jesse Malin, Willie Nile, and more.
The auction ends in less than a week, with all lots closing on Monday, February 18. Check out the full listing — prices are currently quite reasonable.
All proceeds benefit The Joe Strummer Foundation for New Music, a music charity set up by the friends and family of Joe Strummer in the year after his death. The Foundation, with a home on the web at Strummervile.com, seeks to reflect Joe's unique contribution to the music world by offering support, resources and performance opportunities to artists who would not normally have access to them.
- February 12, 2013 - photographs by A.M. Saddler (1) and Danny Clinch (2)

"YOU MADE ME FEEL LIKE... PERSON OF THE YEAR"
Springsteen takes it all in and gives it back, too, at 2013 MusiCares gala
The annual MusiCares gala honoring the Person of the Year has grown to be one of the biggest events tied to Grammy Week, pairing superstar honorees with a once-in-a-lifetime performance of their songs by their peers. Past honorees include the likes of Stevie Wonder, Neil Young, Bono, and Paul McCartney, and if the Grammy folks are to be believed, they've been trying to land Springsteen for at least a decade and probably more.
During his acceptance speech, Springsteen said he was up on stage under "false pretenses"; he went on to tell a funny story that took place in late 2011-early 2012, when Jon Landau approached Grammy telecast producer Ken Ehrlich and asked if Springsteen could open last year's show with his new single, "We Take Care of Our Own." Ehrlich agreed, but when Landau relayed the good news, he said the Grammys wanted Bruce to open, and he would be next year's Person of the Year honoree.
"Now, I'm pretty sure he said 'and,'" Springsteen told the crowd, "though he might have said 'if.' He might have said 'if you will be MusiCares Person of the Year.' Or he might have said 'and... and then he left a really long pause so that the 'and' became 'if' while it was hanging out there. And [Jon] said, 'We're gonna be out there anyway for you to pick up your Best Album award' — because we are optimists. So even though I have gathered all of these people, some of my great heroes, all these new youngsters, here tonight as fabulous musicians, the evening actually had its origins in a mercenary promotional opportunity!"
While the anecdote suggests Springsteen may have been a slightly reluctant get, later in the speech he also called the evening "one of the loveliest nights of my life.... I'll never forget it." Surrounded by Patti Scialfa, his mother Adele, his daughter Jessica (accompanied by her boyfriend), most of the core members of the E Street Band (save for Steve), plus a Who's Who of music luminaries, past winners and other musicians, Bruce watched 16 of his songs performed by a collection of superstar artists.
Bruce's involvement in the night actually started before the proper show even began, taking over an embarrassingly amateurish auction of a guitar he autographed by grabbing the microphone and imploring the crowd to step up. "Come on, you one-percenters!" With the bidding stuck around $50,000, Bruce started sweetening the pot, first adding in eight tickets, backstage passes, and a tour of the backstage area he would conduct himself. Then came a one-hour guitar lesson, a ride in the sidecar of Bruce's Harley, and finally, a pan of lasagna made by his mother.
Needless to say, bidding took off. When it was all said and done, the package went for $250,000 to a New Jersey woman who took advantage of the moment to kiss Bruce on the lips in thanks.
Host Jon Stewart took to the stage a bit late, but as he did at the Kennedy Center honors in 2009, he delivered a passionate and often hilarious speech about Springsteen's influence on him and others, perhaps best summed up by the line that when listening to Springsteen's music, he "realized I wasn't a loser. I am a character in an epic poem about losers."
Springsteen gave another poignant, highly amusing and very personal speech as he did recently at SXSW, talking about everything from his family to the unreliability of musicians in general to the Taliban. To hear it is the only way to do it justice.
As for the performances themselves, where one might have expected a real mixed bag, for the most part everyone rose to the occasion nicely.
In the Quite Good bucket: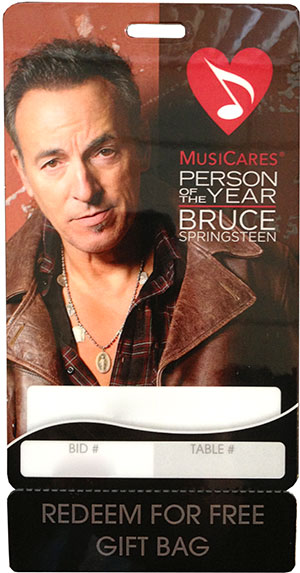 Alabama Shakes opened the set with a deep, hard-rocking, true-to-the-original "Adam Raised a Cain" that served as a showcase for what most have fallen in love with about the band, lead singer Brittany Howard's mighty and soulful vocals.
Patti Smith spoke adoringly about Bruce and the gift he gave her in the form of "Because the Night," telling the audience that every night she performs it, she thinks not only of her late husband, Fred "Sonic" Smith, but the composer, too. Patti's vocals have stood up very well over the years, and she delivered a fine performance on which the house band (which featured 1992-93-era guitarist Shane Fontayne as well as Curtis King and Cindy Mizelle) acquitted itself nicely.
The Dixie Chicks' Natalie Maines, Ben Harper and harmonica player Charlie Musselwhite (who Bruce mentioned as an example of the circle of life in his speech, noting he had opened for Musselwhite in San Francisco in the early '70s) tackled "Atlantic City" from the rotating center stage. The acoustic arrangement was fitting and well received.
"American Land" was a surprise inclusion of sorts, but not given who was singing it, as Ken Casey from the Dropkick Murphys showed that his band has had a big influence on Springsteen of late. He sang the song like it was his, and again the house band was spot on.
They loaded in a gospel choir (natch) for Zac Brown's and Mavis Staples' version of "My City of Ruins." Both singers were more than capable of making the song soar when it should.
Tom Morello made two appearances on the night, first joining Jackson Browne on "American Skin (41 Shots)." Here was a case where the song perfectly suited the singer, and when Jackson's voice rose slightly on the second line, "Across this bloody river, to the other side," you realized the song could just as easily be his as Bruce's. A great fit, with a passionate and controlled solo at the end from Morello.
Telling the audience, "I love this song," Emmylou Harris gave "My Hometown" its due, strumming it out on acoustic to start and settling into it like it was her own. The song was a fine fit for her voice.
The Not-So-Good Bucket:
It's a bit unfair to throw Juanes in here, as he gamely attempted "Hungry Heart." He deserves points for starting the song in Spanish on his own before the band kicked in and they took the first verse from the top. But if there was a karaoke moment in the night, this was it. If English isn't your first language, having to sing a colloquial line like "I gotta wife and kids in Baltimore Jack" just isn't fair.
All the performers deserve credit for choosing so many relatively recent tunes from the Bruce canon, but Sting's unwieldy "Lonesome Day" was a poor choice. The house band was attempting the full E Street Band arrangement, and Sting's performance suggested he was too unfamiliar with the song to sing it effectively. His vocals never got in sync with the music and the whole thing just felt forced.
But the night's worst performance came from the person one might have expected would deliver the best. Neil Young and Crazy Horse (joined by Nils Lofgren on synthesizer) absolutely butchered "Born in the U.S.A." Instead of "Keep on Rockin' in the Free World"-izing it, the arrangement seemed to be a kind of misguided attempt to turn it into Nirvana's "Smells Like Teen Spirit," right down to the addition of two cheerleaders who were "cheering along" on stage in matching uniforms. That terrible creative choice (the poor women didn't know what to do with themselves 30 seconds into the song) coupled with Young's unfamiliarity with the lyrics (all performers save for Kenny Chesney used prompters) created a shambolic mess, with Neil shouting lines with apparent passion but missing the plot both literally and figuratively. That signature Crazy Horse fuzz guitar always appeals, but not this time. Don't let anyone tell you otherwise (Bruce included, who later said Neil had made him sound "like the Sex Pistols"), it was awful.
The Pretty Great Bucket:
While the shtick may be wearing thin for some, there was no getting around the beauty of the hushed acoustic performance of "I'm on Fire" that Mumford & Sons performed around a single microphone. The harmonies were gorgeous, and they understood, as Bruce's original version does, that pulling back is what makes the song so passionate and unsettling.
Elton John nailed "Streets of Philadelphia," sticking close to the original arrangement and singing every line with a knowing that suggested this song had hit him hard. He also ended it with a lovely piano solo.
Tom Morello drafted My Morning Jacket's Jim James to play the Springsteen role in the now-familiar electric arrangement the duo perform of "The Ghost of Tom Joad." James handled both his vocal and guitar parts admirably, and Morello did what Morello does. If you closed your eyes, you might have thought you were seeing the recent shows at the Honda Center or Sports Arena, the versions were that close and powerful.
The layup of the night and the one performance we knew was coming from press reports didn't disappoint: Tim McGraw and Faith Hill singing "Tougher Than the Rest." The song lends itself perfectly to a couple and to a gentle Nashville lilt, which Tim and Faith supplied.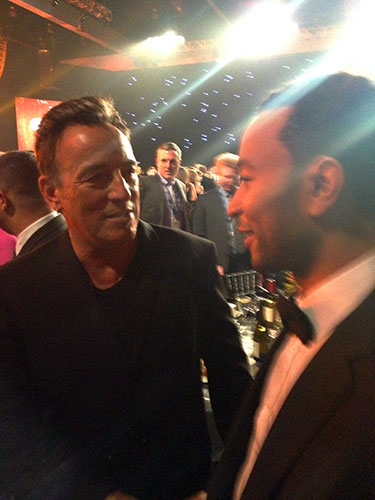 The night's most radical rearrangement belonged to John Legend, who reprised his Late Night With Jimmy Fallon Springsteen Week performance of "Dancing in the Dark." Legend is probably the only artist on the night that had been performing his cover song regularly (since Fallon, "Dancing" often pops up in Legend sets), and it showed. Springsteen himself later said of Legend, "he made me sound Gershwin," and it was an inventive and compelling arrangement that played with and stretched the familiar melody, wringing new passion out of Springsteen's lyrics when played at a much slower tempo, solo piano.
But the performance of the night belonged to Kenny Chesney. As they say on American Idol, it was the perfect song choice for him. Playing acoustic guitar at center stage, joined by a keyboard player, Chesney sang "One Step Up" from the heart, revealing not only a deep familiarity with material but the sentiment of the song itself. The goregous performance was also arguably the only one of the night to perhaps reveal to some in the audience the greatness of a song they might not have recognized before. A stunner.
After imploring, "now give me that damn guitar" and inviting the audience to come up front, Bruce Springsteen led the house band (joined by Jake Clemons, Nils Lofgren and Patti Scialfa) through very credible versions of "We Take Care of Our Own" and "Death To My Hometown" (with Morello). Why the rest of the E Streeters didn't join at that moment too is anybody's guess (though one might think it was a sort of gracious thank you to the house band that they, too, got to play with Bruce), but Max Weinberg, Garry Tallent and Roy Bittan did leave their seats for the night's last three songs, "Thunder Road," "Born to Run" and "Glory Days," played just like you might expect on a non-show-but-still-a-show kind of night.
"Glory Days" became the requisite all-star jam moment, with many of the night's performers rejoining the stage. Poor Tim McGraw was the only one who came out scathed, as he volunteered to take the second verse, only to wilt at the microphone even with the prompter feeding him the words. Bruce laughed it off and covered for him. In fairness, McGraw had already made his contribution, and who among us would not tremble at the knees when we are actually standing next to Springsteen singing one of his songs? We can all blame the AWOL Eddie Vedder, who was supposed to perform and surely would have handled what McGraw couldn't.
For the full run-down of who played what when,
see our Setlists page
- February 10, 2013

A SIX-LITER VALLEY THROUGH THE MIDDLE OF MY SKULL
Mighty Max's first "appearance" in a Matt Groening cartoon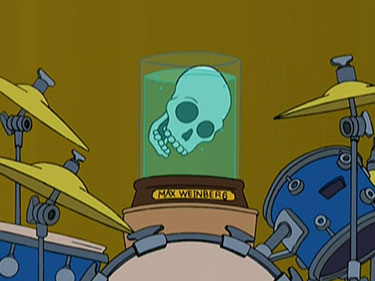 As we reported previously, Max Weinberg will voice his Mighty animated self in tonight's Valentine's-Day-themed episode of The Simpsons. It's technically not the first time, however, that Max has "appeared" in a holiday-themed, animated television program created by Matt Groening. The 1999 Christmas episode of Futurama opened with the crew of The Planet Express enjoying a 31st-century trip to a ski lodge. The lodge's entertainment is some live "stand-up" comedy provided by the preserved head of (former Simpsons writer) Conan O'Brien. Conan thanks his audience for their applause and yells,"Max, play me over!" There's then a quick pan to a skull floating in a jar labeled "Max Weinberg," resting on a stool behind a drum kit. "Agghhhh!" screams Conan. "Looks like someone forgot to feed Max!" Since there obviously was no need for Weinberg's voice in this sequence, his "appearance" went uncredited.
Futurama Season 2, Episode 8 "Xmas Story" featuring the unpreserved head of Max Weinberg is available on Amazon Instant Video, iTunes and Netflix.
The Simpsons Season 24 Episode 12, "Love is a Many-Splintered Thing" featuring guest voice Max Weinberg, airs tonight, February 10 at 8:00 p.m. ET on Fox.
- February 10, 2013 - Shawn Poole reporting - Max Weinberg's, erm, "head shot" acquired from The Infosphere.


A SPOON-FUL OF SPRINGSTEEN
In advance of all those tributes lined up for tonight in L.A., here's Divine Fits doing a Springsteen cover of their own. Divine Fits includes vocalist Britt Daniel from Spoon, Wolf Parade's Dan Boeckner, and the New Bomb Turks' Sam Brown.
- February 8, 2013

MUSICARES TONIGHT: LIVE FROM THE RED CARPET
Still no indication that there will be any streaming/broadcast of the MusiCares Person of the Year event itself, but CBS.com will stream Red Carpet coverage tonight from 10pm to midnight Eastern: "A cluster of stars will be on hand to help pay tribute to 20-time GRAMMY® winner Bruce Springsteen. Don't miss the exclusive red-carpet coverage from the MusiCares Person of the Year gala."
- February 8, 2013

MUST READ: NEW SANTELLI INTERVIEW WITH SPRINGSTEEN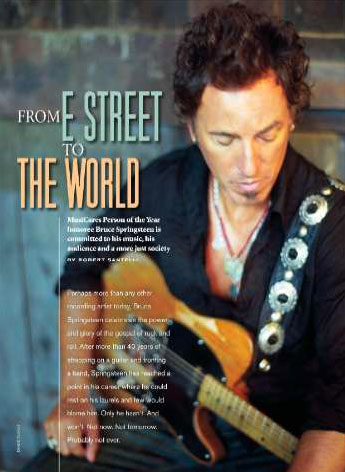 To mark Bruce Springsteen's MusiCares Person of the Year honor, grammy.com has posted a new Q&A with Bruce by Robert Santelli, Executive Director of the Grammy Museum (as well as longtime Jersey Shore music journalist, Backstreets Associate Editor, and author of Greetings From E Street). The article also runs in the 55th Annual Grammy Awards program.
Conducted at the end of November, when the Wrecking Ball tour brought Springsteen to Portland, OR, the interview bears the subtitle, "MusiCares Person of the Year Honoree is committed to his music, his audience, and a more just society." Yep, sounds like our guy. Along the way, Bruce and Bob touch on a number of compelling subjects: Woody Guthrie (Santelli also authored This Land is Your Land), political campaigns, books Bruce has been reading, and his own attempts at a memoir — which elicits mention of a "country record" in the can:
Speaking of books, this seems to be the era of the music memoir. Everyone from Neil Young and Gregg Allman to Pete Townshend and Clive Davis has written one. I read that you, too, were working on one, and then I read that you've given up on it.
I don't ever give up on anything, really. I do something for a while and then I put it aside, you know. I'm always returning to what I have, the raw material. A while back, I recorded a country record and put it aside. I returned to it a couple of months ago and thought, "What am I going to do next?" As for the memoirs, I got some stuff I've worked on, but I don't have anything fixed. I worked on it for a while, then the music came along and the tour came along. There doesn't seem to be an urgency to return to it at the moment. It'll present itself and I'll see what happens. Like you said, there's plenty of others to read at the moment.
Read: "Bruce Springsteen: From E Street to the World"
- February 8, 2013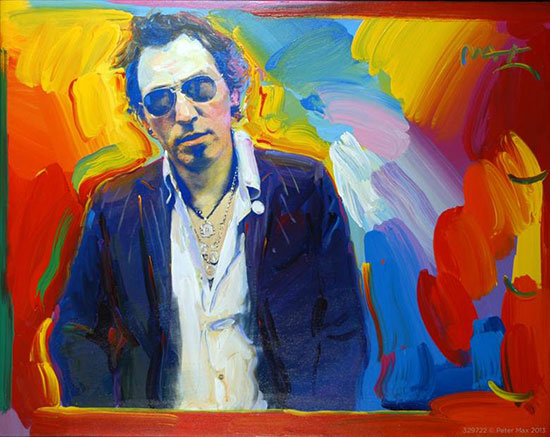 CONGRATULATIONS TO BRUCE, MUSICARES PERSON OF THE YEAR
Tonight, Bruce Springsteen will be the toast of the town in Los Angeles, honored as MusiCares Person of the Year. The gala event, a dinner and tribute concert that's an annual part of Grammy Week, "provides essential support for MusiCares, which ensures that music people have a place to turn in times of financial, medical and personal need." Springsteen is being celebrated for his "exceptional artistic achievements and philanthropic work."
Held at the Los Angeles Convention Center tonight and hosted by Jon Stewart, the 2013 MusicCares Person of the Year gala will celebrate Bruce's music with performances from a ridiculous number of friends and fellow musicians. A late addition to the bill is Ken Casey (who with his band Dropkick Murphys covers "Badlands" on the upcoming compilation album, Respect Your Roots). The full lineup: Alabama Shakes, Zac Brown, Jackson Browne, Ken Casey, Kenny Chesney, Ben Harper, Emmylou Harris, Faith Hill, Jim James, Elton John, Juanes, John Legend, Natalie Maines, Tim McGraw, Tom Morello, Mumford & Sons, Patti Smith, Mavis Staples, Sting, Eddie Vedder, and Neil Young.
Each year, artist Peter Max creates and donates a piece for the event; above is this year's, a 30" x 38" painting based on a Danny Clinch photograph. Click here to preview other items from tonight's auction, also including a portrait of Springsteen by Zhenya Gershman and a signed concert photograph from Frank Stefanko. At grammy.com, check out a Springsteen photo gallery Clinch put together for the occassion, including this one with two of tonight's performers (Vedder and Browne, from the 2004 Vote for Change tour).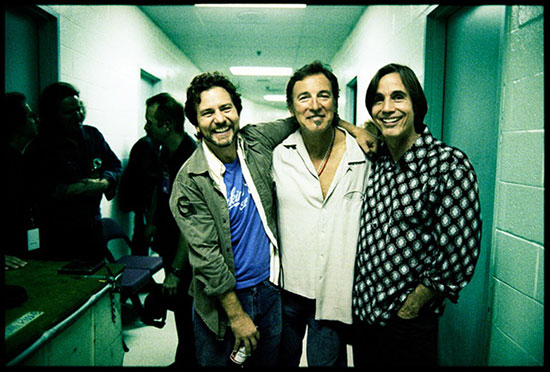 Springsteen along with other E Street Band members are expected to attend, though whether any of them will perform remains to be seen. Watch this space for our MusiCares report tomorrow.
Tonight on E Street Radio's weekly call-in-request show, The Wild and the Innocent with Jim Rotolo, Dave Marsh will be calling in from Los Angeles with a special pre-show report from MusiCares. The Wild and the Innocent airs Friday nights from 6-8 pm ET, with a repeat broadcast on Sunday morning from 8-10 am ET.
Update: due to the winter weather, The Wild and the Innocent will not be airing live tonight; Marsh called in this morning instead, reporting from rehearsals that Springsteen ran through a set to perform tonight. Among his selections were "Born to Run" and "Glory Days"; Marsh says there will be some suprises, too. 1992-'93 guitarist Shane Fontayne will be playing in the house band.
Despite rumors to the contrary, no broadcast is planned for the MusiCares Person of the Year event. Sunday night's Grammy Awards (Springsteen has been nominated in three categories: Best Rock Performance and Best Rock Song, both for "We Take Care of Our Own," and Best Rock Album for Wrecking Ball) will be broadcast live on CBS, February 10 from 8–11:30 p.m. ET/PT.
- updated February 8, 2013 - painting by Peter Max - photograph by Danny Clinch

FOR SPAIN, IT'S ONE AND DONE
Finally, a date for the Spanish fans: Bruce and the E Street Band will play Gijon's El Molinón Stadium on June 26, with tickets on sale February 28. According to the promoter, "This is the only concert planned for 2013, and there is no possibility of further Spanish concerts being added." See our Tour/Ticket Info page for the latest schedule with links.
- February 8, 2013


"YOU GUYS NEED BACKUP?"
In case you missed it, here's Mighty Max as Mighty Gun Shop Owner Norm, from Monday night's Hawaii Five-0.
- February 6, 2013


R.I.P. REG PRESLEY
Reg Presley, lead singer of the Troggs — an Underground Garage staple — passed away from cancer yesterday. From their garage rock classic "Wild Thing" to hits that Presley himself wrote, "With a Girl Like You" and "Love is All Around"... he moved us.
- February 5, 2013

MIGHTY MAX'S "FIVE-O" VENTURES, THEN AND NOW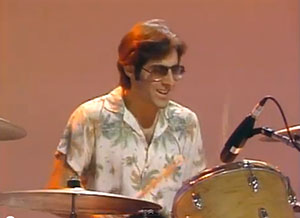 A nice appetizer for tonight's episode of Hawaii Five-0 featuring guest-star Max Weinberg: here's video of Max (sartorially appropriate, of course) performing the show's classic theme with Rock and Roll Hall of Famers The Ventures, who scored big with their surf-rock version of the theme back in 1969. Weinberg also talks a bit about The Ventures' importance to him as a young musician. This 1985 performance was recorded in New York City for The Ventures 30th Anniversary Super Sessions.
Hawaii Five-0 Season 3 Episode 15, "Hookman" guest-starring Max Weinberg, airs tonight at 10:00 p.m. ET on CBS.
- February 4, 2013 - Shawn Poole reporting


THE SUPEREST SUNDAY
Kaboom! Four years on, even better than we remembered.
- February 3, 2013