THE SHOW MUST GO ON
Mighty Max takes it back on the road and salutes the Big Man
For Max Weinberg, as Jon Bream reported in the Star Tribune, "It had been a tough, tough week — attending the funeral for longtime bandmate Clarence Clemons in Florida, then flying that night to Los Angeles to begin work on another new side project that would make its debut three nights later." Max is on the road again with a touring unit slimmed-down from his 15-piece Big Band, in a new collaboration with singer Bill Champlin. "Someone made a joke and called it the Max Weinberg Experience," the Mighty One told Bream. "It's really me presenting people I've always wanted to play with. Let's go with 'Max Weinberg Presents Bill Champlin.'"
The new combo played Newport Beach on Friday night, and as George A. Paul writes in the Orange County Register, "...many in the audience probably wondered whether any tribute to the saxophonist known as the Big Man would be part of the set. There was one, but not until the very end." That's when Max broke out "Ramrod":
This song has a stupid beat. Anyone can play it, but it's one of my favorites to do live.... It is for a beloved friend of ours, Clarence Clemons. When we recorded it and he first came up with the solo in the middle, all of our mouths dropped open. Bruce said, "Sax players are going to be auditioning with that solo for years to come." Clarence had the biggest heart and will always be remembered for his comradeship and love he spread all over the world.
In Minneapolis last night, Weinberg and Champlin reprised "Ramrod" in their set at the Dakota Jazz Club — "This one that speaks to the grace, presence and majesty of the Big Man," said Max — and added another Springsteen tune to the mix: "a jazzy reading of 'The Fever'," as Bream reports.
The Max Weinberg Experience performs again at the Dakota tonight, followed by upcoming gigs at Milwaukee's Summerfest, Bluesfest London, and the Imatra Big Band Festival in Finland. See Pollstar.com for dates and details.
- June 28, 2011


TEARDROPS ON THE CITY
And all over the world, as the Big Man passed away this evening.
Posted on BruceSpringsteen.net tonight:
It is with overwhelming sadness that we inform our friends and fans that at 7:00 tonight, Saturday, June 18, our beloved friend and bandmate, Clarence Clemons passed away. The cause was complications from his stroke of last Sunday, June 12th.

Bruce Springsteen said of Clarence: Clarence lived a wonderful life. He carried within him a love of people that made them love him. He created a wondrous and extended family. He loved the saxophone, loved our fans and gave everything he had every night he stepped on stage. His loss is immeasurable and we are honored and thankful to have known him and had the opportunity to stand beside him for nearly forty years. He was my great friend, my partner, and with Clarence at my side, my band and I were able to tell a story far deeper than those simply contained in our music. His life, his memory, and his love will live on in that story and in our band.
Please visit backstreets.com/clarence for more.
- June 18, 2011 - photograph by A.M. Saddler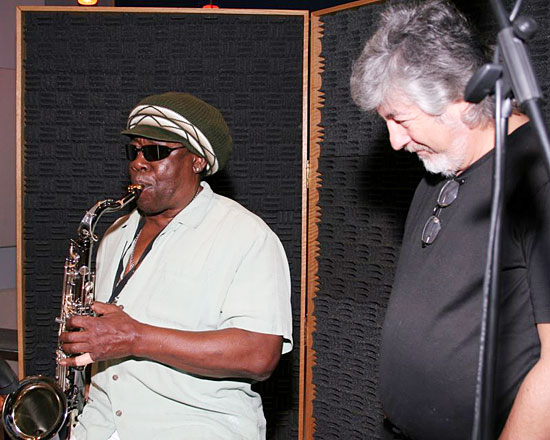 FREE DOWNLOAD: CLARENCE'S "HEALING PRAYER"
Bruce Benson, a nationally known cantor and major fan of all things Springsteen-related, underwent emergency heart surgery in 2000. The experience inspired him to write and record the song "The Healing Prayer," which since has been embraced by various synagogues and churches whenever members of the congregation face periods of pain and suffering.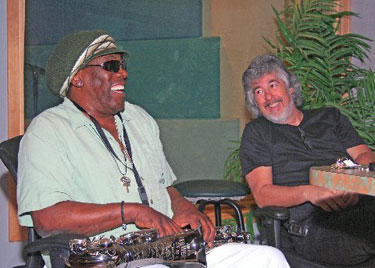 Benson re-recorded the song in 2007 while serving at his Florida synagogue. Clarence Clemons, facing his own bouts with pain and surgery at that time, heard an early mix of that re-recording through a mutual friend and immediately expressed great interest in adding his saxophone to the track. In short order, Clemons was invited by Benson to contribute to the recording. Coincidentally, Benson called into last Friday's edition of E Street Radio's Live From the E Street Nation with Dave Marsh to discuss his 2007 recording session with Clemons. According to Benson, Clarence "spent about an hour and a half getting this thing down just right in spite of the fact that everybody in the studio knew he was in pain." The result is a beautiful recording that highlights the sweet, soothing side of the Big Man's sax, providing some sorely needed comfort, calmness, and hope to anyone who needs it for any reason, regardless of her or his personal beliefs.
"The Healing Prayer" featuring Clarence Clemons was released on Bruce Benson's CD The Rock Service, a collection of original compositions and new melodies set to traditional Jewish prayers. In light of this past week's news regarding Clarence, Benson now is offering "The Healing Prayer" as a FREE mp3 on our Downloads page to add to the many prayers and wishes for Clarence and his family. In lieu of receiving any money for the download, Bruce simply requests that each downloader make whatever donation he or she can to WhyHunger. Under the "Type of Donation" section, donors are asked to complete the section to read, "In Honor of Clarence Clemons and The Healing Prayer."
- June 17, 2011 - Shawn Poole reporting - images courtesy of Liz Denmark Photography




SESAME STREET AFTER DARK
Watch Clarence in "The Edge of Glory" video
From the Haus of Gaga comes her freshly debuted video for "The Edge of Glory," with no other but the Big Man to keep her company. It warms our hearts to see him doing his thing. Does it remind you of Clarence and Daryl Hannah in the "You're a Friend of Mine" video? Us neither!
We also like this mention in Jim Souhan's latest Star-Tribune column:
My prayers go out to E Street Band saxophonist Clarence Clemons, who is recovering from a stroke. I listened to a bunch of hair bands with my high school buddies until one day we were driving around, and this sax break played over the radio, interrupting a song featuring lyrics about life, and death, and redemption, and I could never listen to Styx again.

Clarence played that sax, and as much as I love Springsteen, the best moments of his glorious concerts always feature Clemons, as soloist or foil. I stopped listening to "Jungleland'' years ago... except for Clemons' amazing, emotive, expressive solo, during which, in concert, Springsteen always walks around the stage, pumping his fist, leading cheers for the Big Man. As it should be, and I hope someday will be again.
- June 17, 2011

FREE DOWNLOAD: STEWART FRANCKE & BRUCE SPRINGSTEEN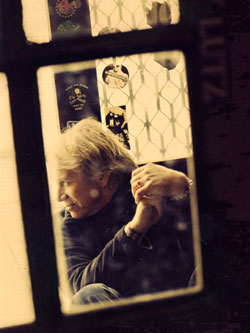 Detroit's Stewart Francke has just released his eleventh album, Heartless World, which features a vocal collaboration with Springsteen on "Summer Soldier (Holler If Ya Hear Me"). In the liner notes, Francke writes, "it was always [Bruce's] voice I heard in the call & response of the chorus but I figured it would remain just a dream. So I asked, he said yeah, and sang it as he sings everything — with great passion and emotional clarity. A dream come true."
Thanks to Stewart, we're now able to offer this track as a free mp3 download.
In fact, we've just added two FREE mp3s from Heartless World to our Downloads page: the album's lead single featuring Springsteen, as well as a hidden bonus track, Francke's cover of Death Cab for Cutie's "I'll Follow You Into the Dark" that he also wanted to share with Backstreets readers.
For more on the album, and to order the full CD, visit stewartfrancke.com
- June 16, 2011

ANIELLO IN THE MIX
"Forthcoming album"... that has a nice ring to it
Back in March, after word circulated that Springsteen had brought drummer Matt Chamberlain into the studio, we posted our hunch that Springsteen was working with producer Ron Aniello. Ron co-produced Patti Scialfa's Play It As It Lays and her "Children's Song" duet with Springsteen on the Every Mother Counts comp; he also jammed with Bruce at the most recent school benefit at the Stone Pony.
Further evidence has now shown up on the website for the Nettwork Music Group, where Aniello's profile lists him as producer of a "forthcoming album" from Bruce Springsteen. (Nice detective work, Sue McDonald and Blogness on the Edge of Town!) Just how forthcoming... that remains to be seen.
- June 16, 2011

OUTLAW PETE AND THE SPRINGSTEEN KID RIDE AGAIN
Appleseed Recordings, the label that... well, planted the seed for the Seeger Sessions by wrangling Bruce for their 1998 Where Have All the Flowers Gone tribute, is plucking some more sweet fruit for us. Billboard.com reports:
Bruce Springsteen has recorded a new Pete Seeger song for a Seeger album that is penciled in for release this holiday season.

Springsteen sings two verses and a chorus on "God is Counting on Us," a song Seeger wrote in response to the oil spill in the Gulf Coast. Appleseed Recordings will release the Seeger album.

The song will be the sixth exclusive Springsteen song that Appleseed has released in conjunction with its various Seeger projects, label owner Jim Musselman told Billboard.com.
Those projects also include Sowing the Seeds: The 10th Anniversary, Give US Your Poor, and John Wesley Harding's Awake. Read more about Springsteen's work on Appleseed here.
- June 16, 2011

AND IF CLARENCE THOUGHT THAT SHARK WAS BIG...
You better believe it was a big shark.
More from Peter Ames Carlin today, who spoke with the Big Man earlier this year, "sitting on his oceanfront balcony on Singer Island, Fla., tracking the mud sharks slipping through the breakers."
- June 15, 2011

FRANK'S BARBERSHOP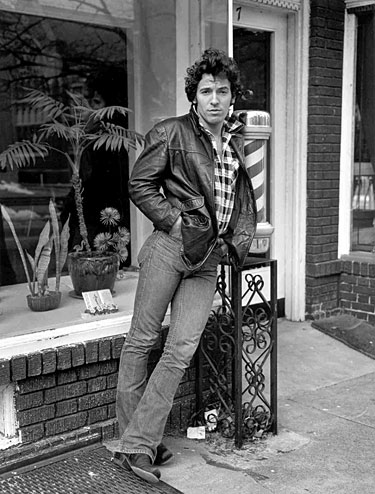 From 1978 to 1988, I lived in Haddonfield, New Jersey. While I was there, I was fortunate to have my hair cut by Frank Montemurro, owner of Frank's Hair Styling... or as I have always called it, "Frank's Barbershop."
Frank was a congenial, outgoing, guy who made you feel like family. It was a small-town shop with a big-hearted proprietor.
In 1978, while working on the photography for Darkness on the Edge of Town, Bruce Springsteen and I strolled up and down the streets of Haddonfield, looking for photo ops. I asked Bruce to lean against the barber pole out in front of Frank's barbershop. I felt the shot tied many elements of who I thought Bruce's character for Darkness should look like: Bruce, with his leather jacket, unruly wild hair, leaning against a barber pole. Was he rebelling against short hair or was he considering a trim? The lucky number 7 over the door of the shop... the Catholic artifacts in the window along with the snake plant... the reflections of Bruce's face in the barber pole and in the window signifying a multifaceted artist... and the hint of a surfboard in the window next door... nothing contrived, yet all so right.
The photograph was never used for the Darkness cover; however, many years later, I used that shot for the cover of my book Days of Hope and Dreams: An Intimate Portrait of Bruce Springsteen.
I recall bringing a copy of that book, as well as the poster that was made for the book, over to Frank Montemurro. Frank was ecstatic! He was so proud that Bruce posed in front of his shop. He put that poster up in a predominant spot on his shop wall and made sure to tell the story to uninformed clients of the day Bruce Springsteen visited his shop.
Frank Montemurro passed away last Saturday at 56 years of age. Those of us that knew him, his kindness, and his big heart were saddened, for just to be in his presence was a gift.
A few years ago, filmmaker Thom Zimny, Dave Bett of Sony Records, and I went to visit Frank's barbershop, while we were working on The Promise for the deluxe Darkness box set. We had gotten there too late. The shop was closed, and Frank was not there. I would have liked to have seen him again, but it wasn't in the cards.

Although Frank is gone, for me, he and his big smile will always be there each time I look at "Frank's Barbershop."
- Frank Stefanko, photographer - June 15, 2011

LOVE TO CLARENCE FROM LITTLE MONSTERS EVERYWHERE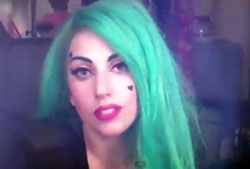 Following Lady Gaga's professed love of Springsteen's music, and her friendship and collboration with Clarence Clemons on Born This Way, she stepped right up on Monday with a request of her fans on Twitter: "Little monsters, my very close friend + musician on The Edge of Glory, Clarence Clemons is very sick. Can we all make some get well videos?"
So "little monsters" around the world have joined us in sending their positive energy Clarence's way, and today Gaga introduces a lengthy "Get Well Clarence" video montage. Watch it here. We particularly like this one, which shows that Gaga and E Street Band fans aren't mutually exclusive.
Also on the web: USA Today reports, "Web lights up with well-wishes for Clarence Clemons."
- June 15, 2011

STATEMENT FROM BRUCE
This just in from brucespringsteen.net:
By now, many of you have heard that our beloved comrade and sax player Clarence Clemons has sufferred a serious stroke. While all initial signs are encouraging, Clarence will need much care and support to achieve his potential once again. He has his wonderfully supportive wife, Victoria, excellent doctors and health care professionals, and is surrounded by friends and family.


I thank you all for your prayers and positive energy and concern. This is a time for us all to share in a hopeful spirit that can ultimately inspire Clarence to greater heights.


-- Bruce Springsteen

From Clarence's family
Dot-net also brings welcome news for all those wondering how to send well-wishes to the Big Man: "Clarence's family appreciates your concern and wants to let you know that you can send him your wishes via e-mail to notestoclarence@clarenceclemons.com"
- June 14, 2011

MAY YOUR HOPE GIVE US HOPE
The mood at the hospital today is "upbeat," a close friend of Clarence Clemons tells Backstreets. "It's sort of status quo right now, but the status quo is good. We're amazed — the doctors are amazed at the advances he's made. Bear in mind, he's still machine-assisted. But his vital signs continue to improve, and the goal is to wean him off each machine as he gets stronger."
No matter what, despite Clarence doing better than anyone expected, "It's going to be a long haul. There's a lot he'll have to relearn. But we're hopeful for a full recovery. We don't yet know if it's possible, but the movement and responsiveness on his left side is a good sign. More than anything, we want people to know how much we appreciate their prayers, all the fans keeping Clarence in their thoughts. It's coming in from all ends of the earth. And right now, those prayers are coming true."
- June 14, 2011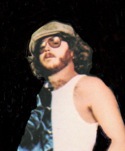 YOU MEAN SO MUCH TO ME
In the midst of current concern for Clarence Clemons, the recent death of founding Asbury Juke Kevin Kavanaugh has not been forgotten. Several fans have written asking where they might send flowers or memorial donations. If you're interested in helping the family with their significant medical and cremation expenses, please make a donation in any amount via PayPal to Kevin's wife, Denise, using her email address: deniseday22@gmail.com.
- June 13, 2011 - "This Time It's For Real" image courtesy of Billy Smith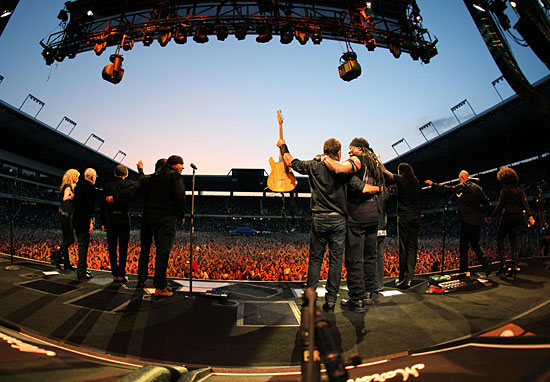 THE HEALING FLOOR
Peter Ames Carlin (who, as we've previously reported, is at work on a new Springsteen biography), has just posted a few quotes from his recent conversations with Clarence. We particularly like this one:
"With all that pain and agony I went through on the last tour — I'd do it again. There's something about being on stage. I call it the Healing Floor. I do all this shit up there and then I think back later and say, 'How the hell did I do that?' But it's what I'm supposed to do. It revives me."
The Healing Floor awaits, Clarence. We're hoping and praying you'll be there again soon. Read more at peteramescarlin.com.
- June 13, 2011 - photograph by Joe Lopez

"MIRACLES ARE HAPPENING"
The latest out of Florida has Clarence Clemons in better condition than anyone expected, a close friend tells Backstreets: "Yesterday, it did not look good at all. Today... miracles are happening. His vital signs are improving. He's responsive. His eyes are welling up when we're talking to him. He was paralyzed on his left side, but now he's squeezing with his left hand. This is the best news we've heard since [the stroke] happened — it's nothing short of miraculous. The next five days will still be critical. But he's a fighter."
Please join us in continuing to send prayers, love, and light to the Big Man.
- June 13, 2011


CLARENCE CLEMONS FIGHTS BACK
We didn't want to believe it when we heard the news yesterday, but Backstreets has confirmed through independent sources that Clarence Clemons has suffered a massive stroke. After two subsequent brain surgeries at a Florida hospital, the good news is that Clarence is currently responsive and in stable condition, though still in a fight for his life. "If anyone can pull off the miracle, it's him," says a close friend. "He's fought back from so much before."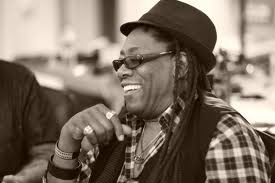 As we're praying for the Big Man's recovery, we heard from his sax tech, photographer Joe Lopez, who wanted to share these photos with fans. The off-stage photo is from "our last shoot a couple of weeks ago in the studio here in West Palm Beach — all smiles and laughs, the Clarence we all know and love."
Clarence told Backstreets in 2003, "What I bring to people is pure honesty, and pure love, and hopefully it brings some light and joy to the world." It does. And right now we're sending it right back to you, Big Man.
- June 13, 2011 - photographs by Joe Lopez

FEAR SO REAL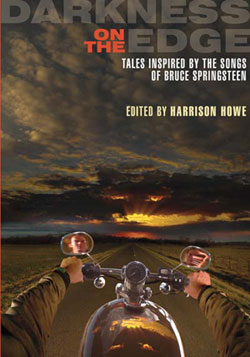 With "A Night With the Jersey Devil" one notable exception, horror is not a genre in which Bruce Springsteen traffics much as a songwriter. Same goes for science fiction, unless you're going to count the scant passing references to an "alien, distant shore" or "vacations in the stratosphere."
That's one reason why Darkness on the Edge: Tales Inspired by the Songs of Bruce Springsteen, newly released in eBook form after its original 2010 hardcover publication, is such a wonderfully surprising and unique anthology. The other, better reason is the quality of the storytelling, which even non-devotees of horror and science fiction should find appealing. Some of the best writers in these genres — including Bram Stoker Award-winners Michael A. Arnzen, Gary A. Braunbeck, Sarah Langan, Tom Piccirilli and Lee Thomas — each contributed a short story based on a Springsteen song.
By no means are any of these stories simple literary takes on the original songs. More accurately, each story uses one (or sometimes two) of Springsteen's songs as a take-off point for the author's imagination, providing readers with new ways of considering familiar scenarios. As Harrison Howe, who conceived and edited the anthology, notes in his introduction, each author "took a step — and in most cases, many steps — beyond the lyrics. What might the narrator of 'Something in the Night' have found there in the darkness? What sins might need to be faced in 'My Father's House'? Who, or what, might really be vying for Mary's soul out there on 'Thunder Road'?"
Howe's idea led to a collection of stories good enough to garner an "official stamp of approval" of sorts from the original inspiration. Springsteen's lawyers gave Howe official permission to include Bruce's name in the subtitle, reportedly after consulting with the man himself, a fact that Howe — a major fan — considers "way cool." Ten percent of Howe's book royalties also will be donated to the Community FoodBank of New Jersey.
The eBook version can be purchased and downloaded here. It features an alternate version of Lee Thomas' story ("Nothing Forgiven," inspired by "Something in the Night") and a newly included story by Howe himself ("Wreckage," inspired by "Wreck on the Highway") that has been added "hidden track"-style. The EBook is downloadable in either ePub or MOBI (Kindle) format.
For traditionalists, Backstreet Records now has the original hardcover edition, signed by Harrison Howe just for Backstreets readers. Also in stock is a deluxe limited edition, only 100 made, featuring the hardback signed by Howe and all authors in the collection, housed in a custom traycase.
- June 10, 2011 - Shawn Poole reporting



STEVE POPOVICH, R.I.P.
Steve Popovich, Sr., who was instrumental in promoting Bruce Springsteen's first few albums, died on Wednesday June 8. Popovich served as Columbia's Vice President of Promotion between 1972 and 1974. As such he worked trying to get airplay for Bruce's first records, in an era when that was a difficult task. "Without Philadelphia," Popovich once told this writer, "there would be no Bruce Springsteen in the record industry today." With a hard-talking style that seemed typical of radio promo men at the time, but with a softer spot inside, Popovich was one of those within Columbia who pushed for the label to keep Springsteen even when his albums weren't selling.
Popovich eventually moved to a job in the label's Epic division, where he helped promote Ronnie Spector, and Southside Johnny and the Asbury Jukes. As for the Jukes, Popovich found their biggest audience in his own hometown — Cleveland.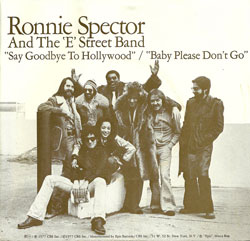 Eventually, Popovich turned his love for Cleveland into a label, with Cleveland International Records. If the name sounded bigger than the upstart should have billed itself, Popovich made good on his boast: The label released the Meatloaf album Bat Out of Hell, distributed by Columbia, and saw it sell more than 30 million copies. Cleveland Internatonal also released important records by Ian Hunter, Ronnie Spector, and the Iron City Houserockers, all with Springsteen connections.
In later years Popovich remained involved in the industry putting out many polka albums, but he was soured by a long and protracted lawsuit with Sony over Meatloaf royalties. He won two judgements against the label, and a multi-million-dollar award, but the case was still on appeal, and Popovich was still waiting to collect at the time of his death at 68.
- June 10, 2011 - Charles R. Cross reporting

TRAMPS LIKE US TO RE-CREATE CLEVELAND 8/9/78 AGORA CONCERT For the annual Jersey Shore Summer Kick-Off Party at the Stone Pony in Asbury Park, the well-known Springsteen tribute band Tramps Like Us is continuing their series of historic concert re-creations with the legendary Cleveland Agora show from the summer of 1978.
Max Weinberg once called the Agora concert from Cleveland on 8/9/78 the best show the E Street Band ever did, and thanks to the magic of bootlegging (and a WMMS broadcast), it's a show beloved by Springsteen fans around the world as well. The radio audience was estimated at over three million, and the concert was one of Springsteen's most-recorded, most-bootlegged, and most downloaded.
"I have the duty and the pleasure of welcoming, ladies and gentlemen, the main event. Round for round, pound for pound, there ain't no finer band around – Bruce Springsteen and the E Street Band!"
- Kid Leo, DJ WMMS Cleveland.
The show went on for 21 songs in two sets, and an encore ending in "Raise Your Hand." "I'd like to thank Cleveland for supporting us," Springsteen said. "When we came here, we got some respect." The broadcast ended past midnight, after more than four hours. Leo read the credits but fully expected Bruce would do one more encore; Springsteen, nearly spent, returned one more time for a surprise encore of "Twist and Shout" for the Agora crowd. It wasn't carried live on the radio, though it was broadcast at a later date.
Tramps Like Us will tackle it all at the Stone Pony on June 24. Click here for more details; discounted advance tickets are available through Ticketmaster or can be purchased at the door (though Tramps' last concert re-creation at the Pony, of Bruce's New Year's Eve 1980 show, was a compete sell-out).
- June 8, 2011

THE E STREET RADIO SHUFFLE
More new E Street Radio programming on tap this week: First up, this month's "Springsteen Community Conference" covers the covers. Today at 4 p.m. ET, host Jim Rotolo convenes a panel (Ben Lazar, Jesse Malin and Nick Masi) to play some records and discuss Springsteen as both coveree and coverer: "the best covers, the worst covers, the weirdest covers and some of their favorite songs that Bruce will cover live in concert!" Masi also hosts E Street Radio's new weekly one-hour showcase of Springsteen covers, entitled (of course) "Cover Me", airing every Tuesday at 6 p.m.
On Friday, Stewart Francke joins the illustrious ranks of E Street Radio Guest DJs. Stewart will play and discuss his new collaboration with Bruce Springsteen, "Summer Soldier (Holler If Ya Hear Me)," along with some of his other favorite Springsteen songs. Catch Stewart's set this Friday, June 10, from 4-5 p.m., rebroadcasting June 11 at 12 a.m. and 8 a.m.
- June 8, 2011 - Shawn Poole reporting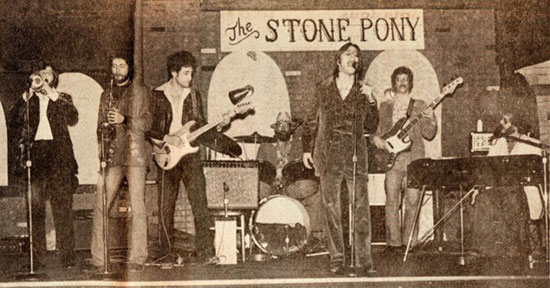 FOUNDING JUKE KEVIN KAVANAUGH, R.I.P.
Backstreets was saddened to learn of the passing of keyboardist Kevin Kavanaugh late Saturday, and our sympathies go out to his friends and family. Kavanaugh, who had been in intensive care for several months, was a founding member of the Asbury Jukes and a cornerstone of the Shore music scene.
In addition to his stellar work on the now-classic I Don't Want to Go Home, This Time It's for Real and Hearts of Stone records, Kavanaugh appeared on Little Steven & the Disciples of Soul's seminal Men Without Women.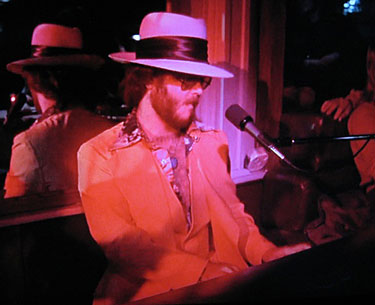 Kavanaugh was an early fan of Bruce Springsteen's band The Castiles, and he once commented that he needed to find a band to join after witnessing the adulation lavished upon them by female fans. He was also a member of Bruce's storied Dr. Zoom & the Sonic Boom ensemble.
After leaving the Jukes in 1990, Kavanaugh continued to be a local fixture in Shore clubs, appearing with Stone Pony house band Cats on a Smooth Sruface in the mid-'80s, with Bobby Bandiera and Bob Burger, and more recently with founding Cats member Joel Krauss's band the High Voltage Brothers. He sat in countless times with just about every Shore band at one time or another and could always be relied upon to turn in a rock-solid performance.
Kevin was "part Floyd Cramer, part Dr. John, part Nicky Hopkins," says original Jukes trumpet player Tony Pallagrossi. "His sound was percussive yet very melodic, and he never got in the way of what other people were playing. In my mind, besides the horn section, his playing defined the sound of the early Jukes."
- June 7, 2011 - Lisa Iannucci reporting - photos courtesy of Billy Smith


"I ONLY KNOW ONE VERSE!"
Just-surfaced complete footage of "Stand By Me" from April 2 at the Wonder Bar in Asbury Park, with Springsteen, Nicky Addeo, Billy Brown and Southside Johnny on vocals, Vini Lopez on drums, Eddie Manion on sax, and more.
- June 7, 2011 - video by Rose A. Montana

In celebration of Jackson's enduring impact, the Smithsonian Channel recently began re-airing the 2008 documentary The Sweet Lady with the Nasty Voice, featuring Bruce Springsteen and Patti Scialfa's wonderful account of the night in 2006 when Wanda Jackson performed in Asbury Park (along with some great footage from the show itself). Upcoming airdates along with more clips can be found at smithsonianchannel.com.
Jackson's groundbreaking career is a major focus of the Rock and Roll Hall of Fame & Museum's new special exhibit Women Who Rock: Vision, Passion, Power. Taking over the fifth- and sixth-floor spaces from the long-running Springsteen exhibit, Women Who Rock contains items related to more than 70 artists, highlighting "the flashpoints, the firsts, the best, the celebrated -- and sometimes lesser-known women -- who moved rock and roll music and American culture forward." Women Who Rock is currently scheduled to run at the museum in Cleveland through February 2012.
"The Queen" herself also shows no signs of relinquishing her crown anytime soon. Now 73, Wanda Jackson continues her current tour (including an upcoming appearance at Bonnaroo) after releasing a new Jack White-produced album earlier this year. The Party Ain't Over features Jackson's version of "Thunder on the Mountain," written by fellow active septuagenarian Bob Dylan, who once called Jackson "an atomic bomb in lipstick." Visit wandajackson.com for details.
- June 6, 2011 - Shawn Poole reporting



SPRINGSTEEN SPOKE IN...
This fall, Pearl Jam's 20th anniversary will be celebrated with a Cameron Crowe documentary film and a new book by Jonathan Cohen with Mark Wilkerson, both titled Pearl Jam Twenty. As NME.com reports, the book's chronicle of PJ's two decades will include an original interview with Bruce Springsteen, along with others such as Neil Young and Dave Grohl. The hardback is scheduled for release on September 13; see simonandschuster.com for more info.
- June 2, 2011

RECOMMENDED READING: "VIVA VIETNAM"
The week of Born in the U.S.A.'s June 4 anniversary, Perfect Sound Forever hosts Ben Schwartz's in-depth essay on the title track, the song Springsteen has called "The most misunderstood song since 'Louie, Louie.":
For 27 years, the song has been a political monkey on Bruce Springsteen's back. Today, he makes his left-leaning politics clear, devotes concert time to explaining them, endorses and supports candidates, and politely asks Republicans not to use his music. Understanding the pop-political collision of 1984 means looking deep into the musical history, and developing political life, of Springsteen. It's the story of the path he chose to pop stardom, and how it continually draws to him the people he likes least politically, from 1980s Republican Presidents to interrogators at Guantanamo Bay today.
Read: "Viva Vietnam: The History of the Political Battleground Otherwise Knows as Bruce Springsteen's 'Born in the U.S.A.'"
- June 2, 2011


ANOTHER VIRTUAL VISIT TO BOSTON
Remember that pro-shot, HD "I'm Shipping Up to Boston" posted a few weeks back? Now, dig Bruce and Dropkick Murphys on "Peg 'O My Heart. " Gotta think "Badlands" from that night will get the same treatment soon...
- June 2, 2011

MAKE SURE YOU GET BACKSTREETS #90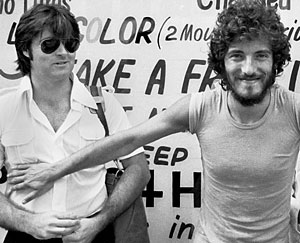 We're close to wrapping up the spring issue of Backstreets magazine and wanted to keep you posted now that we're dotting i's and crossing t's.
Issue #90, to hit in June, is anchored by major interviews with two major figures in Springsteen's career: from the early days, MIKE APPEL (interviewed by photographer Eric Meola, who shot this image in 1975), our first official check-in with Bruce's former manager in two decades... and from the new millennium, film collaborator THOM ZIMNY, the man behind The Promise's video components and so much more in recent years.
Let's make sure you've got yours coming to you!
If you've recently moved, please change your address with us: send your name, your old address, and your new address to orders@backstreets.com so that we can make sure your issue is going to the right place.
If you've been meaning to subscribe, now's a great time to get on board -- you can sign up for 4 issues ($28 US/Canada, $36 Overseas), 8 issues ($48 US/Canada, $64 Overseas), or 12 issues ($66 US/Canada, $90 Overseas) in our online shop. You can renew there, too. Or feel free to call us at 1-800-326-BOSS or (919) 968-9466, or FAX to (919) 968-9622.
And if you'd like to place a classified ad in this issue, the deadline is tomorrow — our Classifieds section closes end of business day on Wednesday, June 1. Contact orders@backstreets.com to do so. SuperSubs, don't forget, you've got a free classified ad in each issue to take advantage of as part of your subscription.
Continued thanks for your support of Backstreets magazine -- we're now in our fourth decade of publishing, and we couldn't do it without you. Watch this space for further issue info once the presses are rolling!
- June 1, 2011