WHAT ARE YOU DOING FOR THE NEXT HOUR AND A HALF?
The magical transition from "Incident" into "Rosie" [above] was just one of many brain-rattling highlights of last night's record-breaking show at the Meadowlands. Hats off to TheMagikRat for capturing so many of them for all of us who were eating our hearts out at home: check out his hefty MetLife#3 YouTube playlist with 12 clips and 14 songs, including "Blinded" into "Bus Stop," "Saint in the City," "Sandy," "Pretty Flamingo," "Secret Garden," and more.
- August 31, 2016


AUGUST 30, METLIFE 3: THE SPIRIT OF '73
The third night in the Meadowlands was a night of epics, of grandeur, of the E Street Band occupying the cavernous expanse of MetLife Stadium with the full range of their talent. It was also a night of hits, of the big songs you remember singing on the radio, the ones everyone remembers the best. And it would be another one for the record books, with Bruce breaking his own U.S. record yet again, with a show that clocked in at 4:01.
Night three kicked off the same as before, with the spectacle of "New York City Serenade" to open the show. It might seem like a curious choice for the opening song for a rock show held in a football stadium, but surprisingly, it just works. "Serenade" lived up to the promise of the recorded version: the performance was soaring and operatic, executed with intricate emotion and the kind of depth you wouldn't expect to experience in such a large venue. Roy Bittan was absolutely outstanding here (and for the entirety of the evening, for that matter) playing that rolling intro with his usual verve and brio. The rowdiest of bros fell silent quickly, wowed by the power in the performance — and this is why it works as the opener. It takes advantage of the generosity of the audience in those initial excited moments. Bruce's voice was strong and clear, impassioned and poignant, and he appeared happy and satisfied by the end of the song.
"We're going to play a bunch of things we didn't play the other two nights," Bruce announced, taking the band into "Blinded by the Light," which would be followed by a surprising string of favorites from the first two records. "Does This Bus Stop at 82nd Street?" would feature yet more sharp, incisive playing from Roy, while "It's Hard to Be a Saint in the City" — dedicated to "you New Yorkers" — was near-perfect, Bruce squaring off and facing Steve before peeling off an almost visible guitar line, tossing it to Steve for the next one, then back to Bruce again, then back to Steve, until the two blended together to drive the song to its conclusion.
"Spirit in the Night" led to a sign collection effort (most of which, like "Incident," had been soundchecked), out of which came "Summertime Blues." "4th of July, Asbury Park" was pretty much a perfect companion to that, Roy coming to the front of the stage, accordion in hand. "Who's from down the shore?" Bruce asked before launching into a warm, wistful recollection that felt immediate, like it wasn't something written more than 40 years ago. "Love me tonight, and I promise I'll love you forever," he sang, lingering on that last "forever," and it felt like a promise.
"Kitty's Back" was tight and swinging, Bruce conducting the individual solos with energy and enjoyment, swaying back and forth, gesturing with the beat. And just when we'd recovered from that, once again, Roy Bittan's hands fly across the keyboard, and here's Spanish Johnny and Puerto Rican Jane: "Incident On 57th Street." "Good night, it's alright, Jane," the audience sang, seemingly all the way up to the top of the stadium. It was beautiful, and ethereal, and at the end, the very end, the audience was singing along with Bruce, and then, of course, Roy came back in, a coda echoing that intro passage — we all know how it goes, that magic segue from "Incident" to "Rosalita." Usually, when "Incident" shows up in the set, Roy just wraps things up nicely, and the song ends. But tonight, he kept going, and going, and the song wasn't ending, and you could feel the collective anticipation of the diehards in the audience, everyone thinking, "Do it!" everyone thinking, "Oh, god, please, please, please...." And with this small grin, that "Yep, I know exactly what I'm doing" kind of smile, Bruce's hands hit the guitar strings and the audience's heads exploded as the band segued neatly into "Rosie." It's a lovely thing, having "Rosalita" in the middle of the set sometimes; it recharges the song's energy, it makes the band approach it differently, it makes you as an audience member interact with it in a new way.
When "Pretty Flamingo" is the thing that acts as the chaser for the first half of the show, well, it's been quite a show. Bruce grabbed the maracas and got the band to ease down a couple of gears, Charlie Giordano vibing some organ underneath while Bruce rapped to the crowd.
"This is a story: sad but happy! Bright but dark! I used to live over a luncheonette, and I had a routine. Because I am a creature of habit. I don't like change!" Patti shoots him one of those eye rolls. "Don't change on me, baby! I don't like too much change! So I am a creature of habit, and I used to wake up in the morning, I would roll over, I would throw on my jeans and a t-shirt, and I would go down to the luncheonette.
"Now, morning for me was about one o'clock in the afternoon, way back when. And so I used to go into the luncheonette, and I used to order a ham sandwich, with cheese, and lettuce, and a lot of mayonnaise — but no mustard! Don't give me no fucking Grey Poupon! I don't like any mustard. I don't like it on my hot dog, I don't like it on my sandwiches, no. So I would have ham, cheese, lettuce and a lot of mayonnaise, on white bread. And I'd sit there.
"And every day around 1:20, there'd be this... lovely woman that would come walking down the street. And I would sit in a seat by the window, and I'd just watch her come on. And watch her pass. And I would do this regularly, five days a week. [Laughs] No, her name is not Cynthia. And she had something about her that was so... transcendent... that when she would come by, I would want to walk out onto the street and tell everybody to stop shopping! Stop driving! Stop doing whatever you're doing! And just... stop for a minute."
The band stops.
"Out of respect. And then she'd pass on by, cross the street, go up that way. And then..."
The band starts again.
"Life would go on. Like it has to. Five days a week. And I'll tell you what we used to call her. Remember, when I say 'stop,' we're gonna stop."
The band stops.
"Out of respect."
After "Flamingo," "Atlantic City" would kick off a string of later hits, your Born in the U.S.A. stadium specials, five in a row, the crowd bouncing from "I'm Goin' Down" through "I'm on Fire." The River Tour 2016 would be briefly acknowledged with "Hungry Heart" and "Out in the Street," only for Bruce to return from his traditional round-the-pit sojourn and dedicate the next song to his son Evan. Astute observers would get their hopes up and would be rewarded with the tour debut of none other than a full-band "Living Proof." Sadly, the crowd's energy wasn't with Bruce for this one, and the band seemed to struggle with finding the song's groove, despite a full soundcheck rendition earlier in the day.
The set then went back into familiar territory for a handful of usual songs before concluding with "Badlands." As the the band took the short onstage pause that nowadays acts as the encore break, the crowd kept singing the refrain back, over and over, patiently waiting for Bruce to hydrate and band members to finish conferring. It was a lovely show of energy and tribute.
"Do we have any lovers in the audience? No? That's sad — I'll ask it again. Do we have any lovers in the audience? That's better! When we start this next song, I want you to turn and kiss your baby," Bruce instructed before, improbably, launching into "Secret Garden" for only its third lifetime public concert appearance. This was also run through at soundcheck, but it had some issues with rhythmic cohesion at the start before the band came together about one-third of the way through.
Next, Bruce stands center stage, lights out, arms outstretched — something big is coming, but we're not quite sure what yet — and then Soozie's violin comes in and the crowd roars in approval to the intro of "Jungleland." This is a song that's had its challenges since we lost Clarence; it's always good to hear, but it hasn't always reached its potential every time it's been played. Tonight, however, "Jungleland" was absolutely massive. It lived up to every single legend behind it. And Jake Clemons performed a stunning version of the solo that was as much his own as his uncle's; when he finished, he stood there, motionless, until Bruce came up and embraced him fiercely. It was phenomenal.
And then, of course, the houselights fire up with that familar "One! Two!" intro before "Born to Run" comes to life, and the parade of hits comes marching through, the James Brown cape routine and all, "Glory Days" being added for good measure, and then the fireworks and "Jersey Girl" bringing the Jersey summer stand to a close. The enormous, warm, content smile on Bruce's face as he effusively thanked the crowd would be the final reward of the evening.
For the full setlist and reports from this and other recent shows,
see our Setlists page
- August 31, 2016 - Caryn Rose reporting - photographs by A.M. Saddler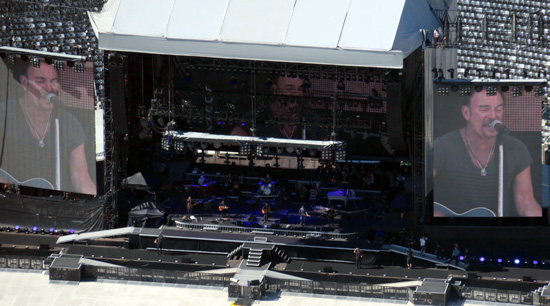 CHOPPER 880 COMIN' UP OVER THE RIDGE...
After Sunday's detour to Chicago, Bruce and the E Street Band will be back in the Meadowlands tonight for their third of three shows at MetLife Stadium. Thanks to our eye in the sky at WCBS, Tom Kaminski, here's an aerial view of the MetLife stage as it was set for soundcheck a week ago — with Springsteen and the E Street Band gearing up for opening night — to which they'll return in a matter of hours to close out the Jersey stand.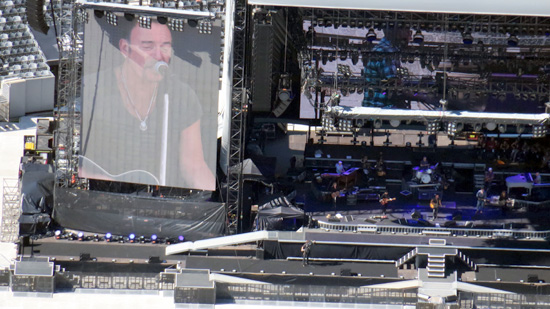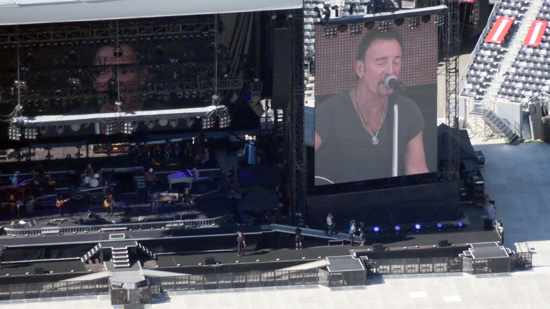 - August 30, 2016 - photographs by Tom Kaminski / WCBS Chopper 880

JAKE AND JOAD SHOW UP FOR PROPHETS OF RAGE

Prophets of Rage (Tim, Tom & Brad from Rage Against the Machine, Chuck D & DJ Lord from Public Enemy, and B-Real from Cypress Hill) played at Barclays Center Saturday night. Towards the end of their version of PE's "Miuzi Weighs a Ton," Mr. Morello gestured stage left a couple of times, and on ran a familiar figure carrying a saxophone: none other than Jake Clemons, who added some saxophone stylings to the last third of the song. "Jake Clemons, from the mighty E Street Band," Tom introduced him at the song's end, before the two exchanged a hug and Jake left the stage.
Later, as Morello had the previous night at the PNC Bank Arts Center, he performed the Rage Against the Machine version of "The Ghost of Tom Joad," introduced as "by the only Boss worth listening to," along with Brad Wilks and Aaron Bruno from AWOLNATION, who opened the show.
- August 30, 2016 - report and photograph by Caryn Rose


AUGUST 28: PROMOTING THE GENERAL WELFARE IN CHICAGO
With two super-sized MetLife Stadium shows in the books last week and a third happening this Tuesday, Bruce and the band made a quick trip out to Chicago for a rare indoor show on this final leg of the 2016 River tour. Giving a nod to the subtropical weather of last week at the Meadowlands, Bruce said, "Hello Chicago! You look good. It's so nice to be inside where there's air conditioning!" A local string section was seated behind Roy, and with Bruce as maestro they and the band launched into this tour's sweet, jazzy telling of "New York City Serenade." The guy next to me burst into tears when he realized what it was.
"Prove it All Night" was next, serving as the hard open of the show, and as it has throughout this tour, Steve Van Zandt's blistering solo sent the crowd into its first of many a frenzy. That was followed by a stretch of four often-played tunes which no doubt had setlist watchers' eyes rolling back in their bored heads at home. But the crowd itself was so energetic and appreciative, you could see Bruce kick the intensity of the operation up several notches during his solo in "My Love Will Not Let You Down."
Bruce was clearly making a deliberate effort to connect with people in the audience as he took his time reading and reacting to numerous signs. That said, the first granted sign request was "The Promised Land," an odd choice considering he's played it often on this tour and maybe shoulda coulda used that slot for a rarity. But "Mary's Place," which followed, was inspired by a sign that he walked out more than 200 feet just to grab. The absolute highlight of the first half of the show was "Racing in the Street," off a big placard on which Bruce was pictured as the Dos Equis beer commercial's Most Interesting Man in the World. The sign read:
I don't often play Racing in the Street
But when I do it's because I see a unique sign
That politely requests that I do.
The song began with Roy's beautiful piano and Bruce standing with a backlight only, his guitar slung over his shoulder with both arms at his side. Roy's double and triple notes added a luster to the extended outro, which just built and built to a gorgeous crescendo, as Bruce nodded his head to keep time until his guitar came back in at the end.
The fourth sign request was "None But the Brave," held up by a young guy named Scotty from Youngstown, Ohio. Bruce spotted it at the back of the pit. He took a moment to work out the key, strumming his guitar and half-singing while Roy helped. Bruce said, "This is an outtake from Born in the U.S.A. I always have to check the beginning — if we get that, the rest of the song is cake." Nils and Bruce doubled up for the guitar solo, with Bruce pointing to Nils' guitar and giving the "turn it way up" sign to the sound guy.
During the "Hungry Heart" crowd surf, somebody shoved what looked like a brochure into Bruce's hand. He's apparently comfortable being held aloft, because he took a moment to look at it as he was being delivered to the waiting arms of Nils and Jake at center stage. "Somebody just passed me a copy of the Constitution," Bruce said back at center mic. "That's the kind of crowd I get these days!" My friends and I took this to mean people like Mr. Khizr Khan, who suggested in his speech at the Democratic National Convention that Donald Trump should read and learn from the Constitution.
Surprisingly, Bruce went around gathering another bunch of signs at the end of "Out in the Street," although the only two subsequent requests in the main set were "Waitin' on a Sunny Day" and "American Skin (41 Shots)," both already regularly played in this stretch of the tour. (Earlier he had grabbed a sign for "Streets of Fire," which unfortunately went unplayed.) "American Skin" and "Murder Incorporated" were played back to back, a thematic pairing that was not lost on this Chicago crowd (as is regularly reported in the news, this city is in the midst of a prolonged epidemic of gun violence). "Murder Incorporated" featured a guitar face-off, with Steve in a low crouch as Bruce banged out those power chords just inches from his face.
Other highlights to round out the main set: As he reached the platform at the back of the pit during "I'm a Rocker," Bruce grabbed a guy's beer, taking four or five huge gulps before handing it back and saying, "Thanks, that was good!" A girl about 10 years old who was seated off to the side of the pit was chosen to sing "Sunny Day." Bruce brought her up, and she proceeded to take over the place much to his bemusement, marching to center stage then down the peninsula while singing on key and showing some very rehearsed choreography. "Sign her up! The future of rock n' roll!" he exhorted. Max missed a cue before "Candy's Room," instead pounding out what sounded like the "Light of Day" intro before Bruce gave him the "cut!" signal.
Finally, the encore set began with "Backstreets" (yet another sign request) and ended a full hour later with "Bobby Jean." In a delightful bit of shtick at the end of "Shout," Bruce clung to the microphone stand, seemingly too tired to play anymore, as Steve draped a black and white sequined cape over his shoulders. Bruce exaggeratedly shuffled down the ramp off the stage as the band vamped. Bruce then popped his head back out from under the stage not once, not twice, but three times like a little prairie dog before hustling to the microphone for one last reprise. "Thanks for a great night, Chicago!" Bruce hollered at show's end, and off they went back to the swampiness of Jersey.
For the full setlist and reports from this and other recent shows,
see our Setlists page
- August 29, 2016 - Marya Morris reporting - photographs by Alan Chitlik


AUGUST 25, METLIFE 2: LET'S PLAY TWO
Yet another for the record books. Clocking in at almost exactly four hours, Thursday's mammoth set at MetLife Stadium eclipsed Tuesday's homestand opener as Bruce Springsteen and the E Street Band's longest-ever stateside show. Doubtful any who attended aren't still feeling it today. (Rolling Stone's Rob Sheffield on Twitter last night: "After 8 hours of Springsteen in 3 days I am now officially the graduation gown in rags at Mary's feet.") Me, I'm as bone-weary and wobbly-legged as I was staggering out just after midnight. And I wasn't even playing a real guitar—think how the 60-somethings onstage must feel. Not that anyone could tell.
So does a longer show mean a better one? Not always. But an intense, locked-in performance does, as well as a setlist that veers from heartfelt soul to howling rage to raucous abandon and back again, hitting nearly all the notes between.
It starts, like night #1 on Tuesday, with a setpiece of shimmering beauty. With a misty rain falling, the air swamp-thick and sultry, an octet of violinists (led by Seeger Sessions vet Sam Bardfeld) emerges just before 8pm to assume their positions on the riser. The rest of the band takes the stage, followed by Bruce with his telltale Takamine acoustic. "Let's do it again," he says with a grin, in his best Ernie Banks "Let's play two" impression. He circles the air twice, points to Roy's piano, and for the second straight show — in only its twelfth appearance since the Ford Administration — we're treated to a magnificent rendition of "New York City Serenade." When it rains, it pours.
The confident performance improves on Tuesday's, as will many of tonight's repeated songs: with the band in a jazzier groove, it's funked up a bit, Garry's syncopated basslines accented by the strings' pizzicato stabs. Bruce, eyes closed, channels his beatnik poet of yore with a fully committed vocal: "Listen to your junkman," he urges, in a whisper so insistent it could carry clear to the Pine Barrens. Leisurely building to a crescendo, "Serenade" takes its sweet time, unfolding over nearly 13 minutes — which still feels too quick for a song many of us waited a lifetime to hear.
Then we fast-forward to the stripped-down, late-'70s E Street sound, with "Prove It All Night" bulked up by Steve's muscular solo. And speaking of proving it: Tonight marks 41 years to the day Bruce's third album hit stores (August 25, 1975). "It's Born to Run birthday day!" he shouts, and off we scream into "Night." The rest of the show ends up being as much a tribute to that record as to this tour's namesake, with five songs from Born to Run (including fully half the album in the encores) and five from The River. It's also the first show this tour that The River's title track has gone unplayed.
"Wrecking Ball" gets the home team bellowing at the local namechecks, which for any other artist (or crowd) might be enough in itself. But for all the red-meat Jersey-bait, the lyric also echoes the key themes of The River, in its balance of dread and delight, of joy in the face of fear — raising up our glasses as hard times come and go.
"Sherry Darling" marks our first foray back to 1980, during which a three-year-old girl sings along exuberantly from her dad's shoulders: "Hey hey hey / Whattaya say!" she shouts, to Bruce's grinning approval. "She knows the words!" he marvels. (The three-year-old will return for another cameo a few songs later.)
A round of sign-collecting follows the rousing "Spirit in the Night," with Bruce settling on a request from an Italian fan for "My City of Ruins," in tribute to the victims of the devastating earthquake in Italy. "I originally wrote this song for my adopted hometown of Asbury Park, which has suffered so long, but is finally having a nice little renaissance," he says. "It's good! People on the beach, people on the boardwalk, people in the street!" Along with "our friends in Italy," he dedicates the song to anyone who's "ever been knocked down, and had to build yourself up again." An efficient yet powerful rendition was sweetened by a gorgeous organ solo from Charlie Giordano.
Eight songs, eight different albums — an encouraging start. The ninth breaks the streak, and perhaps some of the mood: "Waitin' on a Sunny Day" is played at the behest of the aforementioned three-year-old, who clambers onstage to chime in (quite impressively). "You got guts, kid!" says Bruce.
And then, as if to say "enough with sunny days," Bruce steers us straight into the ink-black night, with a passionate "Darkness on the Edge of Town." (Goosebumps ensue at his final howl of "toooowwwwn!!") Next, by request for a fan who's chased it across 150 shows, a rare and glorious "Lost in the Flood," with some torrential guitar wailing from the man himself. We're back in the land of trouble and darkness, which, apparently, is right where this crowd wants to be — the bleaker, angrier songs are among the night's best-received. Hot fun in the summertime? Sure, says the Boss, but you're gonna have to work for it.
Roy's haunting outro to "Flood" still hangs in the air when — oh, right, we're at a River show! — Max rolls into an exuberant "Hungry Heart," which sees Bruce venturing waaaaaayyy out to the 50-yard-line and onto the catwalk with Jake. (Someone needs to address the wireless-mic delay when Bruce is out on the field, though; the lag between vocals and band made for a sloppy-sounding performance.) "Out in the Street" keeps the mood festive and light, and then out comes special guest Tom Morello, to an appreciative roar. His guitar and spirited shouts set the tone for a defiant march through "Death to My Hometown."
"Death" kicks off a mid-set pack of hard-edged political songs, a standout of Tuesday's show as well. But while Bruce was content that night to let his lyrics do the talking, tonight we get his first direct comments on this election season, which he calls "the ugliest I've ever seen." So many people, he reminds us, "have been hurt so hard by American de-industrialization, by globalism, by NAFTA — and that can get lost in all the noise." The stagelights go red as a blast furnace, and we're lost in the raging noise of "Youngstown." It features the first of two knockout solo turns from Nils Lofgren ("Because the Night" will come later), clearly invigorated by Morello's A-game.
The violins are back onstage for a reprise of "Jack of All Trades" from Tuesday, greatly enhanced by the string arrangement, though it still loses a portion of the crowd. (Some were hopeful the strings might be better deployed on "Hunter of Invisible Game," from 2014's High Hopes — but, Wrecking Ball aside, Bruce seems disinclined to revisit his last decade of work.)
"American Skin," capped off by another elegiac Morello solo, reveals itself as one of Bruce's finest latter-day compositions, both lyrically and musically; alas, 16 years on, its stories remain all too relevant during this long, hot summer. As the band builds to that final refrain, Jake Clemons raises both hands above his head, and many in the crowd follow suit. One imagines the song will keep its pivotal place in the set for these final American shows.
"The Promised Land" delivers us out of that darkened stretch, and then we're party-bound in a hemi-powered "Cadillac"— giving a rest to its more familiar half-brother, "Darlington County" — and then roaring up to a loose-and-rowdy "I'm a Rocker." Another high point follows, as Patti steps to the mic for the slow-burning "Tougher Than the Rest." It's an ongoing mystery why Tunnel of Love songs have been so underplayed this tour; as Bruce himself has said, Tunnel picks up where The River's relationship stories left off, revisiting their characters and advancing their plots. But hey, we only have four hours.
"Because the Night" whirls us back to the River era with a searing-hot rendition of that '80-'81 tour staple. Morello returns for a seething "The Ghost of Tom Joad" that segues into "Badlands," and by now the stadium is positively vibrating. At the start of the next tune, the 20-year-old beside me drops to his knees and kisses the beer-soaked floor, howling with glee at his first-ever "Backstreets." Arguably Bruce's most emotional song — for him and his audience alike — it's sung with all the intensity of 41 summers ago. The guy beside me goes misty-eyed, and Bruce himself seems to well up during the "til the end" interlude. I think of what a friend once said of "Backstreets": it's the one song off Born to Run with not a single half-baked phrase or overheated or dated detail — nothing Bruce would be embarrassed to sing four decades later. The lyric is just pure, undiluted feeling, which only gets stronger and more distilled with the passing of time. It's a towering performance, as has been consistently the case this year.
Any other band would have quit after that — and the floor-kissing guy was decidedly spent. But by now you know the rest: bandleader and band kept going, and going, and going some more, hitting the four-hour mark at midnight. At which point my companion turned to me and said, "It's as if Bruce wants to make these shows last as long as youth itself. Or at least his youth."
So, again: a better show? No doubt some elements were missing. There were no tour premieres (though "Cynthia" was reportedly soundchecked), and perhaps some missed opportunities (signs for "Incident," "Racing," and "None But the Brave" were collected but passed over). Bruce's storytelling, a high point of Tuesday's show, took a backseat to the music tonight. The River itself ran fairly dry, with only a quarter of the album played. And yes, the encore selections were mostly tried-and-true, as they've been throughout the tour.
But leave the griping to the setlist-watchers. That encore culminated in a moment you simply had to witness to appreciate. Halfway through a lovely, plaintive reading of "Jersey Girl," Bruce broke off mid-verse, distracted by some front-row commotion. "What's goin' on down there?" he asked. The camera zeroed in on a beaming young woman in the pit, holding up her brand-new engagement ring. "Well, don't do it down there," Bruce chided. "Come on up here and do it!" The couple took the stage, a mic was obtained, and the proposal re-enacted for 55,000 fans.
"This is my girlfriend, Jill," said the groom-to-be, wearing a T-shirt that read The House That Bruce Built. "We've been together eight years, have been to a ton of shows together, and this is by far the highlight of them all. Jill, you're my best friend — I love you more than anything else in the world. I love you more than music itself. Hell, I love you more than Bruce! (Sorry, Bruce.) I'm so happy you said yes, and I can't wait to spend the rest of my life with you."
If you've ever wondered what 55,000 people saying "Awwwww" in unison sounds like, you got your wish. "Give her a little dance, man!" Bruce urged the groom-to-be, then he restarted the third verse, tweaking the final line:
I know a place where the dancing's free
Oh baby, won't you marry me?
Cue the fireworks, both literal and figurative, as soaring flares and thunderbursts filled the sky to that sha-la-la refrain. And indeed, down the shore—or at least here in the sultry, sticky swamps of Jersey — everything was inarguably, irrefutably alright.
For the full setlist and reports from this and other recent shows,
see our Setlists page
- Updated August 26, 2016 - Peter Jon Lindberg reporting - photographs by Cristina Arrigoni

VICTORIES AND GLORIES IN THE PARKING LOT
Our pal Mark Krajnak, of JerseyStyle Photography, went to Tuesday night's East Rutherford opener with camera in hand to document the scene, and he shared with us some of his "Parking Lot Portraits" from this magical summer evening.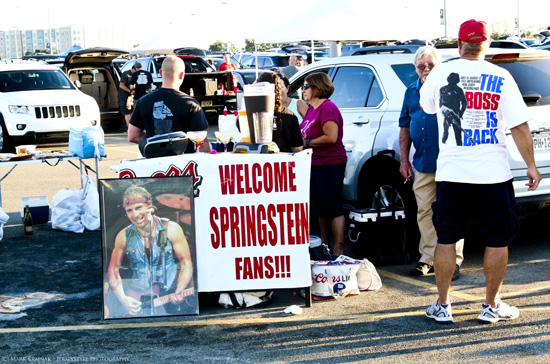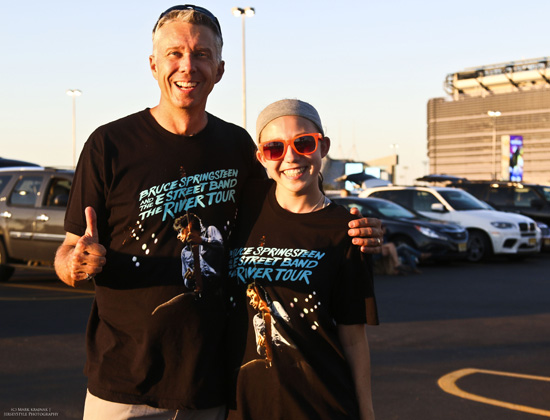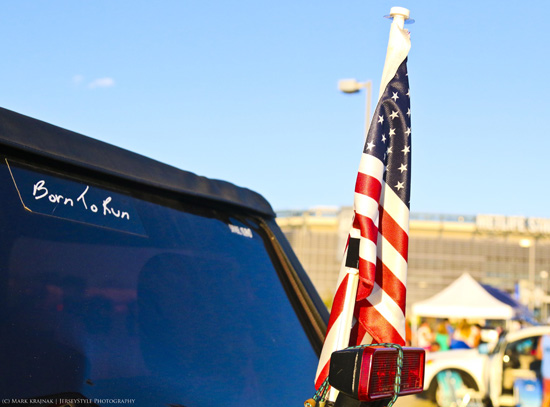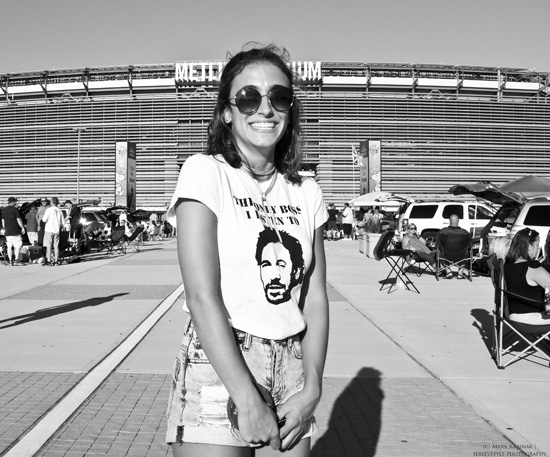 See more on Mark's JSP blog: "Spirits in the Summer Night."
- August 25, 2016 - photographs by Mark Krajnak

IT'S ALIVE!
Springsteen's autobiography now exists in the real world, as a pair of tweets announces today: Hot off the press... the first copy of Bruce's autobiography #BornToRun! ...just in time to celebrate the 41st anniversary of the #BornToRun album!
A quick flip through the memoir, thanks to an acompanying official clip, reveals some major Springsteen fundamentals represented in its pages:
Chapter Three: The Church
Chapter Six: My Mother
Chapter Twenty-six: Road Work
Chapter Twenty-nine: Born to Run
Chapter Thirty-Four: Clarence Clemons
See more below, and break out your magnifying glass.
Pre-order
Born to Run
from
Backstreet Records
, by itself or in bundles with
Chapter and Verse,
to receive a FREE bonus
Born to Run
promo poster.
- August 25, 2016


HERE'S WHERE THE STRINGS CAME IN
On Tuesday night, an eight-piece string section accompanied Springsteen and the E Street Band at the MetLife Stadium opener, on "New York City Serenade" and "Jack of All Trades." As Jay Lustig reports at NJArts.net, the group of violinists was put together and led by Sessions Band fiddler Sam Bardfeld. Lustig spoke with another of its members, Joe Deninzon, who described getting the call:
...anytime Bruce comes to New York and needs strings, he calls Sam and Sam puts a group together — friends and colleagues. We did this once before at Madison Square Garden in 2009, when he played "New York City Serenade." Since then (Springsteen) played it twice in Europe — most recently, I think it was in June, with local players there. And he wanted to do it here as a surprise.

So Sam called me up. This time, he wanted to get a group that wasn't just typical classical string players who could only read what's written in the music, and are able to improvise and do something spontaneous. He wanted people who were versatile and could do all those different things.
That ability to improvise came in handy when, two hours before showtime as Joe tells it, Springsteen called the eight violinists "into his dressing room and had this last minute idea of having us play 'Jack of All Trades.' And we put together the parts right there."
Lustig notes, "I did ask if the strings would be used again at the second and third MetLife shows, Aug. 25 and 30, but Deninzon declined to answer that question."
Read: "Jersey violinist Joe Deninzon spends a night with Bruce Springsteen."
- August 25, 2016



AUGUST 23, METLIFE 1: BACK IN THE U.S.A.
Asking five different Bruce Springsteen fans "where's the best place to see him in concert?" would probably yield five different answers — most likely because there is no definitive choice. The answer to "where's a good place to see a very long show?" is quite a bit clearer: the opening night of a Meadowlands stand is a pretty good bet. Like the marathons that opened the 2009 run at Giants Stadium and Bruce's first ever show at MetLife stadium in 2012, Tuesday's was a lengthy affair — and then some! At 3:52:01, it was the longest Springsteen show ever played in the U.S.A. (It ranks third all-time in total show length).
Fittingly, the night began with Bruce's longest song, "New York City Serenade," which tops many diehard fans' wishlists of performances they've never seen. A string section accompanied the band (that's been the case each time the song has been performed since 2009), taking their places on the back riser before the lights went down, building anticipation of what was to come.
The performance was excellent, having been rehearsed during soundcheck, even sublime — though still a strange choice to open a stadium homecoming show. It was almost akin to the acoustic pre-sets that Bruce has occasionally done as a treat for the early arrivals at shows in recent years: a bonus for the big fans that isn't part of the "main event."
Although The River was still the most-represented album (with seven songs performed), the show the band played on Tuesday had little resemblance to the River Tour that was last on American shores in April. Instead, Bruce was more focused on providing a soundtrack to a New Jersey summer. "Wrecking Ball" has become a crowd favorite in New Jersey, with its numerous local references, and two songs later Bruce was telling a story over the piano introduction to "Something in the Night": "Back when I was in my twenties, the bars along the shore used to stay open until 3 a.m. — 3 a.m.! Then you used to go out to the diner and get something to eat. Around 4 or 4:30, you come stumbling out of the diner, into a night like we were having last week. Where the air is so thick, it feels like nothing can move — and everything becomes so quiet — it feels like the apocalypse is just around the corner."
The stories about summer in New Jersey continued with Bruce's introduction to "Mansion on the Hill," referencing his trips to Jersey Freeze as a child, and his preference for ice cream cones rather than the chocolate or vanilla options they had "back in the day." Bruce preceded "Independence Day" with some of the same details he used earlier in the tour, about how it was set on a late summer night at a kitchen table. But he also included a much longer version of anecdote about his father that he revealed during his Rock and Roll Hall of Fame induction speech from 1999. For a moment, it seemed as if the crowd might have been getting a small preview of Bruce's upcoming autobiography:
"I come from a small town. It's kind of your classic middle American town, not far from here. All those Victorian houses down main street, tall shade trees. It could feel pretty welcoming. I love it now. I felt different about it at the time — it just felt very, very small. And particularly if you didn't fit so well. So of course all you could think about was, I want to get away. 'Born to Run!' So, this was a song — one of the first songs I wrote about my father. And, he was non-communicative. So I figured when I started songwriting, the way I could have a conversation with him was through my music.
"So I would make my records, I'd bring them over to the house. And I know that my mother was forcing him to listen to them all, so I knew he was hearing them. But years went by. I'd write another song, and another song, and nothing. No response. Nothing at all. About 40 years went by. And my father was close to his death, finally I said, 'Dad, what are your favorite songs that I've written?' He said, 'Oh, the ones about me.' Okay! So, you've got to take your satisfactions where you can get them."
Setlist staples "Spirit in the Night" and "Rosalita," complete with their New Jersey references, kept the crowd engaged and contributed to the evening's theme, which was bookended with a moving version of "Jungleland." Bruce dedicated "Jungleland" to his home state, and he tapped his hand to his heart in reaction to the crowd's participation on the song.
With Tuesday, the first show in the United States after two-and-a-half months in Europe, one might also have asked if Bruce was going to have anything to say about the upcoming presidential election. In 2003, Bruce had a new "public service announcement" that he first delivered at the start of a run at Giants Stadium. Additionally, while sometimes coincidental and sometimes deliberate, Springsteen has toured in the United States in every presidential election year since he signed his first recording contract. There were no specific comments made from the stage this time, but the political nature of a seven-song sequence in the middle of the set, including "Death to My Hometown," "My Hometown," "The River," "American Skin (41 Shots)," and "The Promised Land" was unmistakable.
Included therein was the tour premiere of "Jack of All Trades," in a new arrangement welcoming the eight-piece string section back to the stage. Bruce started on acoustic guitar before Roy joined in on piano, and the strings came in for the first solo, accompanied by Bruce on harmonica. The performance was particularly rewarding because of Springsteeen's willingness to challenge his audience. "Jack of All Trades" was not a hit or a staple of classic rock radio, but he was able to successfully execute it in a giant stadium through the power of its performance.
The first show of a multi-night Springsteen stand often gets a "standard" setlist, and with a run of usual live favorites at the end of the set in the encore, this show largely fit that mold (although any setlist with "New York City Serenade" is not exactly "standard"). Bruce did have a few surprises via sign requests, with an energetic version of "Growin' Up," and also "Santa Claus is Coming to Town." When showing the "Santa" sign to the crowd, Bruce's facial expression could probably be best described as, "I've got a catalog of over 300 songs, and this is what you really want to hear?" But the crowd ate it up, and Bruce exclaimed "Happy Summer!" at its end. Plus, with Patti Scialfa back on stage, the set included treats from the underrepresented Nebraska and Tunnel of Love albums. (Here's hoping he remembers the Magic album for Thursday).
As the show headed toward record-breaking status, Bruce eschewed his common acoustic ending to the show. Instead, to roaring approval, he led the band into his beloved cover of "Jersey Girl." Fireworks from behind the stage were set off during the final chorus as this lengthy Jersey summer night came to an end.
For the full setlist and reports from this and other recent shows,
see our Setlists page
- Updated August 24, 2016 - Glenn Radecki reporting - photographs by A.M. Saddler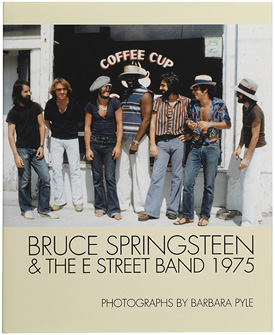 The cover of Barbara Pyle's recent book of photography, Bruce Springsteen & the E Street Band 1975 (Reel Art Press), shows Springsteen and the band in September of that year, in front of the Coffee Cup Cafe in Pauls Valley, Oklahoma. Pyle describes the locale as "Americana squared." And she ought to know: Pauls Valley is the "postcard-perfect town" where she grew up. In traveling with the band on tour that fall, Pyle was able to corral them into posing for this shot in her hometown, in front of the very coffee shop where she ate with her grandfather as a child.
A captivating record of the Born to Run era, Barbara Pyle's images of Springsteen and the band in the mid-'70s are as indelible as her friend Eric Meola's cover shot for the classic 1975 album. So it made perfect sense to sit the two down together. Meola and Pyle met in 1974 as fellow photographers in New York City, but soon they were bonding over the music of Bruce Springsteen, taking in shows together on the Jersey side, and visiting the Record Plant where labor continued on Springsteen's third album.
Four decades later, to mark the arrival of Bruce Springsteen and the E Street Band 1975, we asked Eric to interview Barbara and reminisce. Out of their conversation comes a portrait of a woman "driven," as she puts it, to pull out of Pauls Valley and follow her dreams. While in college at Tulane she met Allen Toussaint and immersed herself in the New Orleans music scene. She worked as an undercover photographer for NBC News, a marine photographer shooting the America's Cup, and a documentary filmmaker at Turner Broadcasting. She was there for the founding of CNN and went on to co-create Captain Planet, a defining achievement in her ongoing environmentalism.
In the grand scheme of her fascinating life and career, Pyle's time shooting Springsteen and the E Street Band — what might be the pinnacle of another life — is just one of many stops along the way. But the work itself stands tall, and the impact Springsteen's music had on her in the mid-'70s is still apparent today. As she tells Meola: "I was born to run, and I'm still running."
With the anniversary of Born to Run upon us this week — as well as Springsteen's autobiography by the same name due next month, and the historical marker just erected at the site of 914 Sound Studios — we take you back to the Born to Run era with...
The Meola/Pyle Backstreets Interview
Click here to read
If you're in town this week for Springsteen and the E Street Band's New Jersey shows at MetLife Stadium, come meet Barbara Pyle on the day in between the two concerts, at Carmine Galleries in NYC. Barbara will be there for a special "Hump Day" print and book signing on Wednesday, August 24, from 7-9pm. Carmine Galleries is at 59 Carmine Street in the West Village.
If you can't meet her in person, Barbara has signed custom bookplates especially for our readers, affixed to the title page of each copy we send out. Order this signed edition of the Bruce Springsteen & the E Street Band 1975 hardcover, in stock now, from Backstreet Records.
- August 22, 2016


YOUR GUIDE TO THE SWAMPS OF JERSEY: G.A. ENTRY AND MORE
Next week, Bruce Springsteen and the E Street Band bring the 2016 River Tour back home, with the first of three shows in East Rutherford, NJ and the first of ten shows in the U.S. For anyone attending the opening concerts at MetLife Stadium, the venue has today posted a lengthy Event Advisory, with full details on parking, General Admission wristband distribution and entry, and other show policies. This final leg begins Tuesday, August 23.
- August 19, 2016

ON THIS SPOT: THE HISTORY-MAKIN' 914 SOUND STUDIOS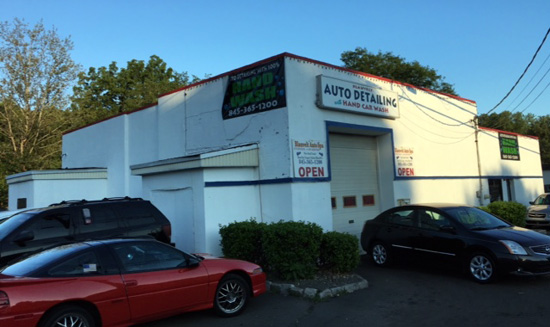 Just across the Jersey state line, in the little town of Blauvelt, NY, there is a nondescript auto detailing shop that hides a secret. The building is the former home of 914 Sound Studios, where Bruce Springsteen and other famous musicians recorded under the direction of the studio's founder, Brooks Arthur. Not that the secret is very well kept — certainly not after today's ceremony marking it as a spot "where rock 'n' roll bands gave voice to a generation yearning for change."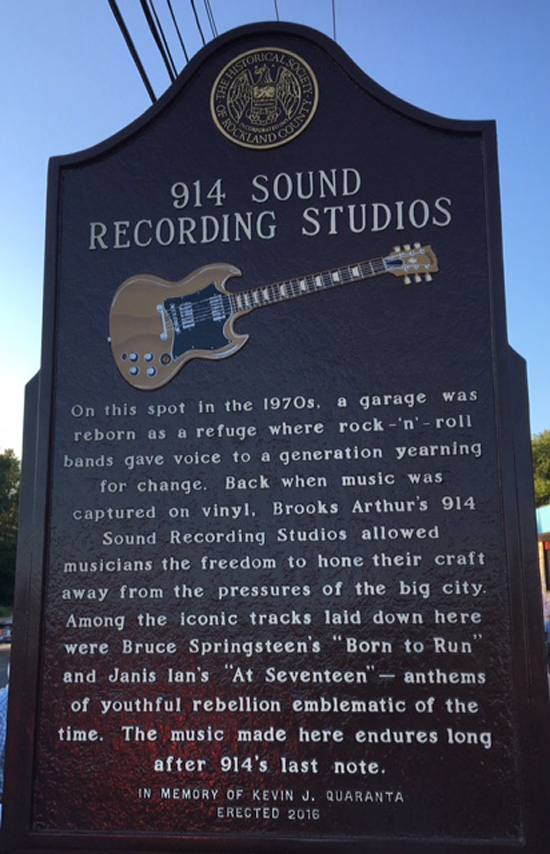 Hundreds of music fans gathered on a small patch of land between that auto shop and the Blauvelt Diner to witness the unveiling of a marker commemorating the site of the studio. Springsteen's first two albums, Greetings From Asbury Park, NJ and The Wild, the Innocent & The E Street Shuffle, were recorded at 914. And as the plaque erected by the Historical Society Rockland County notes, it's also the studio where Bruce and the E Street Band recorded "Born to Run" in 1974.
Above, listen to Brooks Arthur describe his experience for E Street Radio's 2015 special on the 40th anniversary of Born to Run.


Attendees at the August 18 ceremony included [above, L-R] 914 engineer Larry Alexander, Jay Siegel from The Tokens ("The Lion Sleeps Tonight"), Brooks Arthur, songwriter Artie Resnick ("Under the Boardwalk," "Good Lovin'), and original E Street drummer Vini "Mad Dog" Lopez.
- August 18, 2016 - report and photographs by Kevin Farrell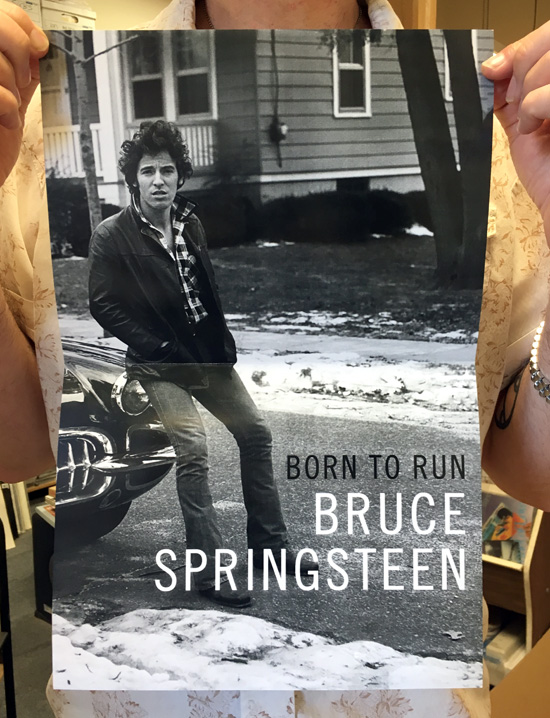 FOREWORD! OUR FIRST SNEAK PEEK AT SPRINGSTEEN'S BORN TO RUN
"I come from a boardwalk town where almost everything is tinged with a bit of fraud. So am I." So begins Bruce Springsteen's autobiograhy, Born to Run.
"By twenty, no race-car-driving rebel," Springsteen continues in his foreword, "I was a guitar player on the streets of Asbury Park and already a member in good standing amongst those who 'lie' in service of the truth... artists, with a small 'a.' But I held four clean aces. I had youth, almost a decade of hard-core bar band experience, a good group of homegrown musicians who were attuned to my performance style and a story to tell. This book is both a continuation of that story and a search into its origins."
Read the complete foreword — our first real glimpse at the memoir that's been seven years in the making — just posted today at brucespringsteen.net.
Our exclusive promo posters [pictured above] just arrived today as well. Now we're just waiting for the books! Born to Run will be published on September 27 by Simon & Schuster, and we'll be including this bonus poster for free with every copy we ship out. Pre-order the hardcover + poster here, or save more when you pre-order the book + poster bundled with Chapter & Verse (on vinyl, CD, or both). See all pre-ordering options here.
- August 16, 2016


BORN TO FLY OFF THE SHELVES... BUT NOW RESTOCKED
Now back in stock at Backstreet Records, in all sizes from Small to Extra-Extra-Large: the official Born to Run and Born in the U.S.A. shirts, officially licensed from Thrill Hill.
- August 14, 2016


JULIEN BAKER AND THE HEALING POWER OF "BADLANDS"
Memphis singer-songwriter Julien Baker, who released her acclaimed solo debut Sprained Ankle last year, covers Bruce Springsteen's "unashamedly triumphant" "Badlands" in this exclusive video.
Filmed backstage at last month's Newport Folk Festival, Baker's performance comes to us from MyMusicRx, the flagship program of the Children's Cancer Association. It's part of a curated "music medicine" program from MyMusicRx, which travels to concerts and music festivals capturing exclusive content and delivering the healing power of music to children and teens facing cancer and other serious illnesses.
Backstage at the festival, where Julien's set was a highlight last month, she says of Springsteen's 1978 classic, "It's a song that always makes me feel better.... It's about not being ashamed to be glad you're alive, and being proud to do your best in an unforgiving world... being content with the things you can do, not waiting for opportunities to visit you but creating them in small ways and celebrating small victories."
- August 12, 2016

THROWBACK THURSDAY: SUMMERTIME BRUCE
We're not going to throw back too far. At all. But during this break in the River Tour we've been reliving some of the glories of the European leg, which ended on July 31, and maybe you could use a fix to hold you over, too. There were powerful performances and magical moments throughout the Euro tour, despite any compaints about predictable setlists, but beginning with San Siro in Milan, it didn't get hotter than July. Via the magic of YouTube, let's focus on the last couple weeks of the leg, when Springsteen was noticeably digging deeper and deeper for rarities — as he so often does, when an ending is in sight.
It's still surprising to us — mystifying, even — that Bruce has largely steered clear of the lost River tracks presented for the first time on The Ties That Bind (though he did bring "Meet Me in the City" back for a few shows in June and July). But that didn't preclude outtakes altogether by any means. The beloved Darkness cast-off "Iceman," eventually released on Tracks, opened the second night in Paris on July 13:
Also bringing the full River album sequence to Europe for the very first time, Paris 2 felt like the final turn that shot Bruce and the E Street Band into the European tour's closing stretch.
The very next show, at Rome's Circus Maximus, opened with "New York City Serenade" complete with a string section. Hearts are clearly a-flutter in this multicam:
In Horsens, "Dream Baby Dream" opened the show in honor of the recently departed Alan Vega. But our favorite performances to replay have been two other songs unique to this night: perennial outtake "Frankie," and a flashback to the original River Tour with Springsteen's reworking of Elvis Presley's "Follow That Dream."
"Are you ready to test this stadium?!" The classic stadium breaker "Twist and Shout" finally came back to Gothenburg for the grand finale after three nights there, and it's a spectacle:
On a wet night in Trondheim, an actual River outtake! "Loose End" (yes, singular, as it's now been renamed on the River box) was, our reporter wrote, "a masterful performance and a real highlight." We're still seeking a clip, though the official live downloads series, now up to late June, will allow us to hear it soon enough. Otherwise, a view of that night that bears repeating is the fitting 2016 debut of CCR's "Who'll Stop the Rain," a 1980/81 River Tour favorite:
The song itself is far from a rarity, but this was still something special: a pre-show acoustic "Working on the Highway" under the Frognerparken trees:
And from the final night in Zurich, a pair of tour debuts showing — and with luck, foretelling — that Bruce isn't done digging deep or gambling with the E Street Band on this tour: the 1992 Roy Bittan co-write "Roll of the Dice," and one of our favorite outtakes of all, finally released on 2003's Essential, "None But the Brave."
Thanks to all the videographers who make viewing and sharing these moments possible. The 2016 River Tour resumes in 12 days with homecoming shows in New Jersey beginning August 23 and a total of ten shows back on these shores. See the full August/September itinerary on our Tour/Ticket Info page.
- August 11, 2016

PRE-ORDER BORN TO RUN AND COMPANION LP CHAPTER AND VERSE
FREE poster with every copy of Born to Run from Backstreet Records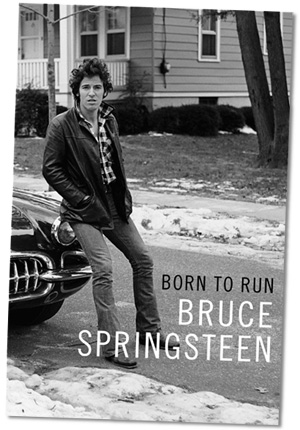 Bruce Springsteen's seven-year-in-the-making autobiography, Born to Run, will be published in hardcover by Simon & Schuster on September 27.
Concurrently, on Bruce's birthday, Columbia will release Chapter and Verse, a companion album with 18 tracks selected by Springsteen that mirror the arc of the book. Five of those tracks are previously unreleased, early recordings including the Castiles, Steel Mill, and the Bruce Springsteen Band. Chapter and Verse will be available on CD or as a two-LP set on vinyl.
We're taking pre-orders now for all of these at Backstreet Records. And, thanks to Simon & Schuster, every copy of Born to Run we ship will include an exclusive bonus poster, an 11x17 promotional poster of the book's cover, featuring Frank Stefanko's classic "Corvette Winter" image of Springsteen.
Follow these links to pre-order, individual items or in dollar-saving bundles:
Born to Run hardcover
10% off list price + bonus poster
Chapter and Verse 2LP vinyl
List price: $36; Our price: $34
Chapter and Verse CD
List price: $14; Our price: $13
Born to Run Book Bundle #1
Book + Vinyl + bonus poster
Born to Run Book Bundle #2
Book + CD + bonus poster
Born to Run Book Bundle #3
Book + Vinyl + CD + bonus poster
See all Latest Additions here, and as always, we thank you for supporting Backstreets and Backstreet Records.
- August 6, 2016

FRONTIER WORKING TO FINALIZE BRUCE DOWN UNDER IN 2017
Michael Gudinski, head of Australia/New Zealand's Frontier Touring, appeared this morning on 105.1 Triple M Melbourne to talk about their upcoming "huge summer of rock" in late 2016 and early 2017. Gudinski and Frontier brought Bruce Springsteen's tours to Australia and New Zealand in 2013 and 2014 — and according to the promoter, they're on track to do it again in February.
"He loves Australia," Gudinski said of Springsteen, whom he caught in concert at Rome's Circus Maximus last month. While telling the Triple M's The Hot Breakfast that he couldn't actually break the news this morning, Gudinski got 99-1/2 percent of the way there as he referenced a rumored Hanging Rock show: "Pretty hard to come to Hanging Rock in early February without doing the rest of Australia," he said to the delight and applause of the hosts, "so we'll see what happens in the next few days." The promoter was clear that it's not a done deal: "You don't tell Bruce anything, he's the Boss... we hope to finalize something over the next couple weeks."
- August 3, 2016


ALL DRESSED UP IN BLUE (AND BLACK)
Since 1999, our pal Mary-Ellen Breton has been designing and selling great Springsteen-themed shirts to benefit The Kristen Ann Carr Fund. This year's "CommuniTEE" is a River Tour 2016-style black and blue beauty, the perfect thing to wear at any of the upcoming U.S. shows. The black 5.4 oz. 100% cotton v-neck is available in sizes M, L, XL, 2XL and 3XL for only $27 in the U.S. and $37 outside the U.S., with all shipping costs included. To get yours, just e-mail meb@metrocast.net with "CommuniTEE" in your subject line, and Mary-Ellen will get back to you ASAP with instructions on how to place your order.
- August 2, 2016 - Shawn Poole reporting



JULY 31, ZURICH: "IT'S BEEN A GREAT ADVENTURE!"
Much like the North American leg, Bruce Springsteen saved the best for last in Europe. Just as Brooklyn 2 was filled with a bevy of rarities, Zurich had Bruce once again straying from his familiar setlist structure for the final stop of the European tour. In the beautiful Stadion Letzigrund, he largely deviated from The River to construct a fresh, special setlist that would appeal to this night's very specific intended audience: the hordes of familiar faces of all nationalities who had travelled across thousands of miles to follow the band from country to country this summer, meeting here for one more triumphant, celebratory, and wholly memorable hurrah.
The nightlong message was clear from the get-go with a rip-roaring two-pack of declarations, "Prove It All Night" and "My Love Will Not Let You Down." Based on the stadium-wide clapping during the former and an extended coda in the latter due to the relentless chanting and jumping, this was a signature European crowd that would be participating nonstop in the E Street proceedings from beginning to end.
Springsteen turned in a fast and loose performance, allowing the crowd to help dictate the flow of the night by calling upon no less than five quality signs. First was a rousing "Trapped," a creative request written on top of a cardboard jail with little cutout figures of Bruce and Stevie trapped behind bars. After we all went down to Greasy Lake together for "Spirit in the Night," Bruce took a few minutes to collect a plethora of "explosive requests," ultimately choosing two true rarities that he joked the band may have forgotten. For only its second ever performance in Europe — and fourth ever during a proper E Street Band concert — the tour premiere of "None But the Brave" was a real shocker. Jake in particular showed his mettle on this beloved, sax-heavy outtake — he always seems to come through for such big, unexpected moments. Though he joked with Bruce during the introduction that he might not be ready, the whole thing was a beautiful, near-flawless performance.
And then it was time for the highlight of the night. Many European fans long to hear tracks from the Human Touch/Lucky Town era given the full E Street Band treatment — for one thing, to allow others who dismiss these gems to realize that their initial negative opinion may have had more to do with the band's dissolution than with the songs themselves. Bruce answered their prayers with the tour premiere of "Roll of the Dice," only its second performance in Europe since the 1992-'93 tour. The song began with a long buildup that had Bruce repeatedly bellowing, "Are you ready to gamble with the E Street Band?! Are you ready to put it all on the line with the E Street Band?! Am I just stalling because I'm afraid to start the song?!" He shouldn't have been scared; the crowd was clearly ready, greeting the song with the same level of jumping and chanting as his more familiar stadium anthems. With Bruce partaking in some "I Wanna Marry You"-esque dance moves with his maracas, and the performance ending with Bruce and Stevie going back and forth a la "Two Hearts" and "You Can Look," it was the type of rambunctious moment that can only occur when the Band and the crowd are so in sync.
Impassioned versions of "Jole Blon" — which featured Soozie and Charlie taking long violin and accordion solos — and "Atlantic City" closed out the sign request portion. Another transcendent rendition of "American Skin" demonstrated that palpable connection between Bruce and his European audiences. Performances of this song have only increased in power over the course of the tour, fueled by tragic real-world events sadly confirming the relevance of this nearly 20-year-old track and culminating here with the entire crowd emulating Jake's "hands up" stance. It was a soul-stirring symbol of the power of music to cross all borders, with thousands of hands of different nationalities and genders and races showing their solidarity with this American problem thanks to Bruce's deft musical insight. Let's hope this song makes the trip back to the U.S. with the band.
Thanks to the increased time that the European G.A. system allows fans to spend with each other, the European contingent of E Street Nation feels like a real united community. Those who travel from show to show — as many in the Zurich pit did — have formed profound friendships with one another, facilitating a true exchange of cultures. No one will question the best concerts are those shared with friends, and that's exactly what happens at almost every stop in Europe. A majority of the most passionate fans-turned-friends end up in the front of the pit, and both they and Bruce feed off each other's communally enhanced energy all night long. This was perhaps never truer than in Zurich.
A pre-show torrential downpour had failed to dampen the mood; after it started to rain again toward the end of the main set, Bruce's decision to play "Mary's Place" felt like an ode to these dedicated fans — who must be "familiar faces" to him at this point — standing in the pit. Sharing in the rain, Bruce sang the second verse on the center platform, quite literally surrounded by people that the song depicts: "Familiar faces around me/Laughter fills the air/Your loving grace surrounds me/Everybody's here/… I lose myself in the crowd/Let it rain..."
Though Springsteen's music helps many of us through dark days as portrayed in "American Skin," this tour has been more about the type of partying through the rain as presented in "Mary's Place." Crowds have turned up to revel in the continued opportunity to party with the unparalleled magnitude of the E Street Band. As such, this night felt less like an emotional farewell and more like a triumphant celebration — of not only the last few months, but also the enduring love between Bruce, the band, and their fans over the last 40 years.
After an audibled "Jungleland," the remaining encores were predictable yet, as always, effective. If Bruce intends to work up the crowd into a climactic frenzy with the show's final stretch, he has no real reason to mix it up; the encores have become a perfectly-tuned machine of kinetic energy. But there was still a surprise ahead, as the night ended with an impromptu post-ovation closer of "Twist and Shout." Instead of saying goodbye with a small, resonant solo performance, Bruce and the E Street Band rocked out with everyone for as long as possible.
Before leaving, he made sure to thank what seemed to be the focus of the night: all of his traveling fans who allow him to "always get an incredible welcome over here. It's been a great adventure!" And perhaps this didn't feel like a farewell because it's not; before the final buildup in "Twist and Shout," Bruce riled the crowd up by specifying this would be the last one for 2016. But before hopes of Springsteen returning to Europe in the near future, he first needs to finish up The River Tour 2016 back in his home country. And if Zurich turns out to be a taste of what Bruce and the Band will be treating Americans to, the upcoming stadium leg will be ten more nights of truly great adventures when this train picks back up in three weeks.
For the full setlist and reports from this and other recent shows,
see our Setlists page
- August 1, 2016 - Steven Strauss reporting - photographs by Florian Spintler [1,3,5] and Rene van Diemen [2,4,6,7] - video courtesy of @vfeneboss


JULY 28, OSLO: LIKE A GHOST AMONG THE TREES
If you were to pick a place in Oslo to stage a Springsteen show, chances are that you would not immediately think of Frognerparken. There is no seating, for one thing, the wide open space usually needed is split by rows of oak trees, and the ground slopes away from the stage rather than rising from it. However, it was a beautiful evening, with temperatures in the mid-70s and a real-end-of-term, holiday feel about the show.
People were out to have a good time in what is arguably Norway's prettiest park; indeed, it was here after his two-night Oslo stand in July 2008 that Bruce sat down for a beer with fans as he wandered around the park to take in the sculptures and enjoy the atmosphere. It's the perfect place to relax, he said then, and it seemed he had not forgotten that as we got underway, preceding the full E Street Band show with a casual and fun acoustic number, "Working on the Highway."
With the full band, the opening "Meet me in the City" was delivered perfectly, and those of us hoping for a full River performance to follow were not to be disappointed. Sure enough: "This is our second visit to Oslo this summer, so we're going to do something special…." The sun-drenched crowd was clearly happy with this turn of events, and as we launched into "The Ties That Bind," the mood was fantastic.
As the intro to "Independence Day got underway it was again obvious how much Bruce was enjoying the "picnic in the park" feel. He waved to us under the trees, and during his introduction he mentioned growing up in a small town with beautiful trees like these. It was a very personal speech and poignant with regard to the difficulties fathers and sons have communicating with each other. A cooling breeze blew up out of nowhere, and the song was played to perfection.
Other highlights of the album were, of course, "Point Blank" and "Drive All Night," but the crowd was in more of a party mood, and the rockers really blew the leaves off the trees. As we finished the album portion, Bruce again underscored that he was enjoying himself, complimenting Oslo on the beautiful park and the crowd on looking great. "Wreck on the Highway" floored me — what a song, what a delivery, what a venue.
For the "afterparty," the crowd went wild. What better way to make that happen than lead off with "Badlands" into "The Promised Land"? Lots of by-now fairly standard rockers and party songs were just what we needed after such an emotional rollercoaster: "Tenth Avenue Freeze-out," "Shout," "Bobby Jean," all designed to leave us in an upbeat mood. But The River is about both fun and seriousness, and an acoustic "This Hard Land" brought us back to reality, drifting like a ghost among the trees.
For the full setlist and reports from this and other recent shows,
see our Setlists page
- July 29, 2016 - Graeme Johannessen reporting - photographs by Martin Höger [1,3,4,5,6 ] and Graeme Johannessen [2,7]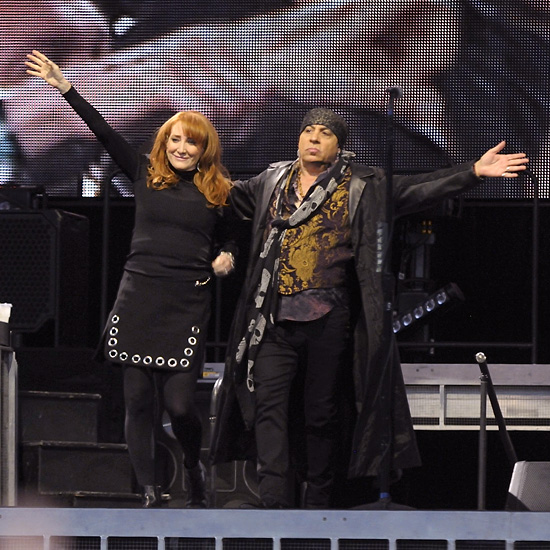 TOUGHER THAN THE REST
Happy birthday to the First Lady of Love, the Queen of E Street, the official Rumble Doll, Ms. Patti Scialfa!
- July 29, 2016 - photograph by Rene van Diemen


BORN TO RUN MEMOIR'S COMPANION ALBUM DUE SEPTEMBER 23
CD & 2LP Chapter and Verse starts with five unreleased early tracks

Following recent talk about a solo album being readied for likely release next year comes today's announcement of a new Bruce Springsteen album due in less than two months.
Chapter and Verse, set for September 23 release, is not the solo album Jon Landau discussed with Billboard, but rather a career retrospective that will be an "audio companion" to Bruce's forthcoming autobiography (Born to Run will be published by Simon & Schuster on September 27). The compilation album also functions as a celebration of the half-century mark of Springsteen's career as a performer and recording artist. Track listing follows below.
Of the 18 career-spanning tracks, five early ones have never been released, expanding Springsteen's official recorded output back to 1966: "Baby I," his first-ever recording, was laid down 50 years ago with the Castiles and kicks off the collection. Steel Mill and the Bruce Springsteen Band are also captured officially here for the first time.
Later tracks collected on Chapter and Verse — including "Living Proof" and "Long Time Comin'" — also thankfully indicate that Springsteen's autobiography will not gloss over or give short shrift to his later years.
From today's Shore Fire Media press release:
Springsteen selected the songs on Chapter and Verse to reflect the themes and sections of 'Born to Run.' The compilation begins with two tracks from The Castiles, featuring a teenaged Springsteen on guitar and vocals, and ends with the title track from 2012's 'Wrecking Ball.' The collected songs trace Springsteen's musical history from its earliest days, telling a story that parallels the one in the book.

Recordings from Steel Mill and The Bruce Springsteen Band feature musicians who would go on to play in The E Street Band. Solo demos of "Henry Boy" and "Growin' Up" were cut in 1972 shortly before Springsteen began recording his debut album, 'Greetings From Asbury Park, N.J.'

1. Baby I — The Castiles (recorded May 2, 1966, at Mr. Music, Bricktown, NJ; written by Bruce Springsteen and George Theiss; previously unreleased)

2. You Can't Judge a Book by the Cover — The Castiles (recorded Sept. 16, 1967, at The Left Foot, Freehold, NJ; written by Willie Dixon; previously unreleased)

3. He's Guilty (The Judge Song) — Steel Mill (recorded Feb. 22, 1970, at Pacific Recording Studio, San Mateo, CA; previously unreleased)

4. Ballad of Jesse James — The Bruce Springsteen Band (recorded March 14, 1972, at Challenger Eastern Surfboards, Highland, NJ; previously unreleased)

5. Henry Boy (recorded June 1972, at Mediasound Studios, New York, NY; previously unreleased)

6. Growin' Up (recorded May 3, 1972, at Columbia Records Recordings Studios, New York, NY; previously appeared on 'Tracks')

7. 4th of July, Asbury Park (Sandy) (1973, 'The Wild, The Innocent & the E Street Shuffle')

8. Born to Run (1975, 'Born to Run')

9. Badlands (1977, 'Darkness on the Edge of Town')

10. The River (1980, 'The River')

11. My Father's House (1982, 'Nebraska')

12. Born in the U.S.A. (1984, 'Born in the U.S.A.')

13. Brilliant Disguise (1987, 'Tunnel of Love')

14. Living Proof (1992, 'Lucky Town')

15. The Ghost of Tom Joad (1995, 'The Ghost of Tom Joad')

16. The Rising (2002, 'The Rising')

17. Long Time Comin' (2005, 'Devils & Dust')

18. Wrecking Ball (2012, 'Wrecking Ball')

Chapter and Verse will be available as a single CD and double LP, as well as via digital download and streaming. The package will include lyrics and rare photos.
Here at Backstreet Records we'll begin taking pre-orders for Chapter and Verse CD and vinyl — as well as for the Born to Run autobiography, with a bonus poster provided for us by Simon & Schuster — within the next week.
- July 28, 2016


HERE COMES A REGULAR
Tonight at the DNC, Senator Tim Kaine will accept the nomination of Vice President for the Democratic ticket. In Virginia he has a reputation as a pretty accomplished harmonica player, known to jam in local roadhouses and with members of the Charlottesville, VA-based Dave Matthews Band. On the internet last week there was excitement to hear Bob Mehr, author of the wonderful Trouble Boys: The True Story of The Replacements, call out the fact that Kaine has referenced the Mats' Let It Be as one of his favorite albums. But we already knew he had some musical taste, based on his introduction of Bruce Springsteen four years ago.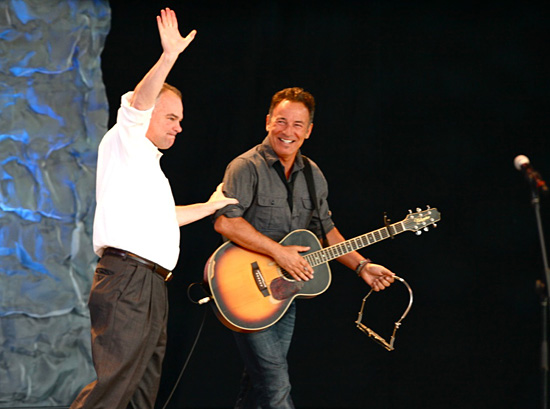 On October 23, 2012, Kaine and Springsteen shared the stage at a Charlottesville "Get Out The Vote" rally for President Obama, where Backstreets' Bob Zimmerman was also on hand to report and take these photographs. Zimmerman wrote:
...But it was when former Virginia Governor and current Democratic Senate candidate Tim Kaine began speaking of being 17 and hearing the Born to Run album for the first time that the crowd truly got fired up and ready to go. Kaine mentioned that when he heard "Thunder Road" for the first time he couldn't believe what a beautiful song it was. He went on to describe Bruce Springsteen as that rare musician, in the mold of Woody Guthrie, who sings the songs of the everyman, his dreams and disappointments. And with that, the former Governor introduced the main attraction.
Granted, a 50-something politician citing "Thunder Road" as a personal favorite might seem rote in 2016. In recent days Senator Kaine has been described in the press as "a Democrat Wall Street can like." One can only hope he's also listening to Wrecking Ball while out on the campaign trail this fall.
- July 27, 2016 - photographs by Bob Zimmerman



JULY 26, TRONDHEIM: IS IT SKI-JUMPING TIME?

Following the "homecoming show" at Ullevi on Saturday, it was time for a very different setting at Granasen Arena in Trondheim, Norway. Whereas Ullevi has enjoyed 11 Springsteen shows through the years, this was the first time that Bruce and the band have played Trondheim. The town, located in the middle of Norway, is the tour's northernmost stop, and this was clearly their biggest rock concert ever. The venue itself is quite special, situated in the woods on a field next to two ski jumps (ski jumping being a very popular sport in Norway in general, and in Trondheim in particular), with a relatively small crowd capacity of 37,000. With heavy rain and temperatures around 15 degrees Celsius, it was a far cry from the nearly 30 degrees we had in Gothenburg on Saturday. Working conditions do change in the business of rock 'n' roll, and that's not only due to the weather. With its "off Broadway" location, it appeared that there were many in the audience who were experiencing Springsteen live for the first time, which created a very different atmosphere and show than what we saw just three days ago.
Considering the weather, it wasn't a shock to get the tour premiere of "Who'll Stop the Rain" as an opener, but it was a fine River Tour moment: an arrangement harkening right back to 1980/'81, with Bruce alone on the guitar during the first verse before the band kicking in. During an otherwise standard batch of opening songs, the audience appeared quite sedate, which seemed to make Bruce even more determined than usual. "Spirit in the Night" felt inspired and worked very well as the first sign that things were about to get interesting. The first request of the evening came next: "Loose End," introduced by Bruce as a song "from Darkness" (!). Rather than picking it as a sign request from the audience, Bruce referred to a sign he had seen hanging from a bridge on his way from the airport. In any case, "Loose End" was a masterful performance and a real highlight.
As always, "Independence Day" was an emotional peak, and it's great to see this song played quite regularly now. Bruce's instant reaction after the first verse of the "Hungry Heart" sing-along was "That's terrible!" — and he was right. The few who joined in sang the lyrics to the chorus instead. But after one round of the chorus itself, we finally got "That's good!" By request came the tour premiere of "Radio Nowhere." Despite its long absence, the Magic single was intense and note-perfect; Max Weinberg showed not only during his incredible drum break but throughout the whole song that he really is at the top of his game. The coupling of "The River" into "Racing in the Street" is a magical one, with the latter again being a showcase for Professor Roy Bittan.
After being set aside for a few shows now, the "Darlington County" / "Working on the Highway" / "Waitin' on a Sunny Day" segment returned, but this time it felt absolutely right and necessary — this was what could get the Trondheim audience moving. During his vocal solo spot on "Darlington" Nils sang the wrong verse, which got Bruce shouting out, "What in the world were you singing?" After much laughter, Nils got it right the second time. During the intro of "Sunny Day," where people usually shout/sing/scream out the chorus melody, the audience was totally quiet, much to Bruce's surprise. He had to pull out all of his tricks (complete with a little boy being brought on stage to sing the chorus, of course) to get this audience into gear. Happily, by the end of the song, hands were waving from side to side, and from this moment on, finally there was no hesitation for people to dance, sing and really get into the show.
The coupling of "Candy's Room" and "She's the One" remains among this tour's highlights, propelled by Mighty Max, who was simply fantastic this evening. Again with no pause between "Land of Hope and Dreams" and "Born in the U.S.A.," the latter was a Max tour de force, to an extent this writer has never experienced before (and I've seen more than a few shows): powerful, intense, precise and exploding. For the first time on this tour as far as I have observed, Max was not wearing his signature tie. Well, if that's the reason for his exceptional performance tonight, let's keep that tie in the closet, Max! Bruce, too, must have noted that the drummer was simply was on fire, screaming out "The Mighty Max Weinberg!" after the song ended.
During "Ramrod," Bruce brought a girl on stage to join in during the "ass shaking" moment, before Steve added the very fitting "Is it ski jumping time?" during the regular "Boss time" break. For "Dancing in the Dark" no fewer than six dancers were brought on stage, along with a young boy with a sign asking, "Can I watch Max play the drums?" Not only did he watch Max play, he got to punch the snare drum on "Dancing" and remain at his spot on the drum raiser during all of "Tenth Avenue Freeze-out." A special moment not only for this lucky boy, it seemed, but for the E Street Band as well.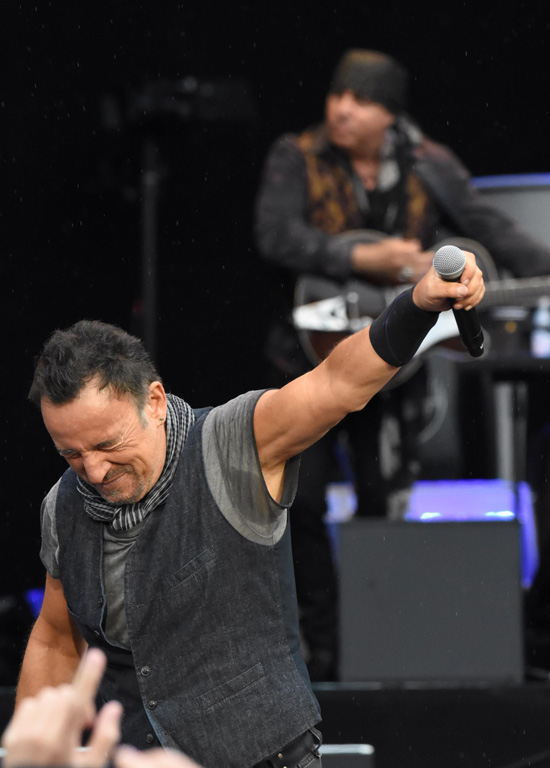 At the end of "Shout," which had the whole arena going wild, the "Boss has left the building" segment seems to reach new highs every night, complete with a glittering "The Boss" cape and Bruce's sudden return from below the stage, raising the cape and throwing it away in his best Elvis-in-Vegas imitation. A hilarious moment, and at this stage of the evening it felt just right. After this, "Bobby Jean" felt almost like an afterthought before Bruce closed the evening with "one more for Trondheim," a passionate, crystal-clear "Thunder Road." Having kicked off the concert three hours and ten minutes earlier to an audience that must have been among the quietest on this European tour, the show ended on a happy note, Bruce having demonstrated that 40-plus years on the road has given him the ability to turn things around 180 degrees, delivering a fun, heartfelt, and exciting show deep in the Norwegian woods.
For the full setlist and reports from this and other recent shows,
see our Setlists page
- July 27, 2016 - Ivar Noer reporting - photographs by Jan Lundahl

- July 26, 2016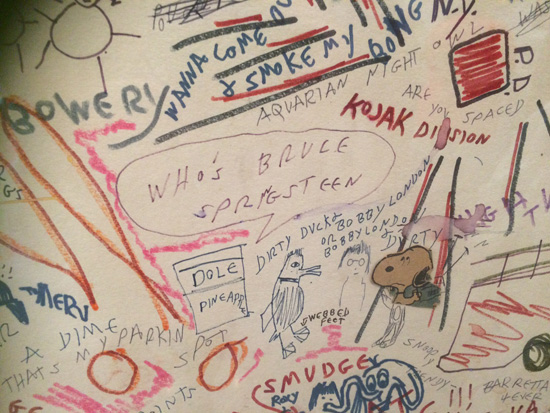 I WANNA BE LOCATED
Find Bruce Springsteen's name in Joey Ramone's art
Above is but a small section of a much larger 1978 work of art by the late, great Joey Ramone entitled Let's Go, Playmates. Of course, not too long after he (or a pineapple can?) playfully wondered who Bruce Springsteen is, Joey famously asked Bruce to write a song for the Ramones, resulting in the creation of "Hungry Heart" in March of '79. The Ramones never got their song from Springsteen, but Bruce got his first top-ten hit. Let's Go, Playmates is currently on display as part of Hey! Ho! Let's Go: Ramones and the Birth of Punk, a major exhibition jointly curated and presented in two distinct parts by New York City's Queens Museum and Los Angeles' GRAMMY Museum. The Queens Museum version opened in April and can be seen through the end of this month. The GRAMMY Museum version will open on September 16 and run through Winter 2017.
- July 26, 2016 - report and photograph by Shawn Poole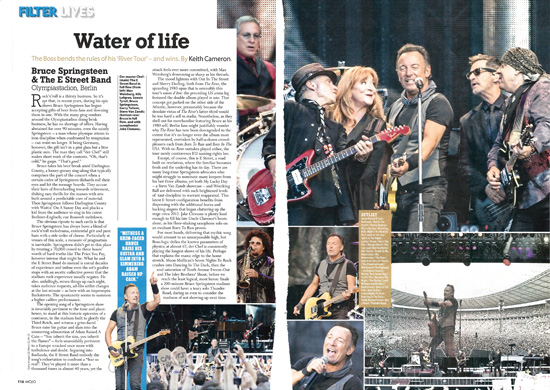 MOJO ON "DER CHEF" IN BERLIN
In the new issue of MOJO Magazine, Keith Cameron reviews the June 19 Berlin concert, from the "unavoidably pertinent" "Adam Raised a Cain" to "the least logical, most heroic finale a 200-minute Bruce Springsteen stadium show could have." Along the way, some fine observations about the River Tour, its stadium leg, and what some consider "easy thrills for the masses" that come with the territory: "Particularly at venues of this scale, a measure of pragmatism is inevitable: Springsteen didn't get to this place by treating a 70,000 crowd to three hours' worth of hard truths like The Price You Pay, however intense that might be."
Read: "Water of Life: The Boss bends the rules of his 'River Tour' — and wins"
- July 26, 2016

BRUCE SPRINGSTEEN & THE SUNDANCE KID
In January, the 2016 Sundance Film Festival's Short Film Grand Jury Prize was awarded to Thunder Road, written, directed by, and starring 29-year-old independent filmmaker Jim Cummings. Last week the film, in which Bruce Springsteen's music is a crucial element, was made available for viewing on Vimeo after Cummings' successful open-letter-to-Springsteen campaign secured permission to use Bruce's music for the film's wider release.
Thanks to the agreement that Cummings brokered, his beautifully constructed, 12-minute film now can be seen by a much larger audience — in fact, you can watch it right here:
Set at a funeral where a young police officer eulogizes his mother, Thunder Road is at turns moving, disturbing, and darkly comic. It also explores some extremely relevant territory, given recent news headlines.
After watching, check out Shawn Poole's conversation with Jim Cummings for Backstreets about the making of the film and the importance of Springsteen's music in it:
- July 25, 2016



JULY 23, GOTHENBURG 3: A SORT OF HOMECOMING
Following two fantastic concerts in June — one which has proved to be the longest on this tour so far, and one which arguably had among the best setlists — Bruce and the E Street Band (minus Patti Scialfa) were back at Ullevi Stadium for a third Gothenburg appearance in in less than a month. The announcement of this third concert truly felt like a treat from Bruce and the band to the Swedish fans for making Ullevi such special place for them. Responding in kind, and likely inspired by the fans at San Siro, Gothenburg greeted the returning heroes with a stadium-wide choreographed display in yellow (from the Swedish flag), reading, "Welcome Home, Bruce and the E Street Band." Bruce responded instantly — "I'm impressed, it's beautiful!" — as he took a moment to enjoy this heartfelt dedication from the fans.
Being the only European city to be granted three shows, hopes were high for a special night; after the full River album performance in Paris, many fans hoped that this could be repeated here at Ullevi. If it were, it would be the first time that this concept would be tested in an outdoor stadium setting. Well, did we get the full album sequence of The River? Yes. And did it work in a stadium with a crowd of 63,000? Absolutely, yes.
Following the regular routine from the U.S. album performances, the show kicked off with "Meet Me in the City," only its second outing in Europe, and a very welcome opener — particularly as a clear sign that our prayers for a full River performance were about to pay off. Bruce followed the outtake with a quick announcement simply stating that they would play The River start to finish. This received an absolutely deafening ovation from the crowd.
With only complete River sequence in Europe to this point, it seemed that this had some positive effects on the performance itself, which felt inspired and fresh while still benefitting from having been played many times earlier this year: they delivered a flawless performance of the album's 20 songs. As has been the case during the latter part of the European tour, the first record really rocked; highlights for European fans were clearly "I Wanna Marry You," complete with the "Here She Comes" intro, as well as a rather wild "Crush on You." At the end of "The River," Bruce waited for the crowd to return to the humming of the title track's chorus; it creating a lovely transition into the second record and "Point Blank," with Roy Bittan providing the intro first introduced during the original River Tour.
Following the crowd-pleasers "Cadillac Ranch" and "I'm a Rocker," two of the night's biggest highlights came with a beautiful "Fade Away" and an intense "Stolen Car," complete with fireflies filling the stadium as the evening darkness replaced the sunny Northern skies. After a rocking "Ramrod" we got a truly amazing performance of "The Price You Pay" with the crowd shouting out the opening and closing chants, suggesting that this song was made for a stadium setting. The fireflies were back in full during "Drive All Night," which really feels like a defining song for Ullevi, including Bruce's riff on "Dream Baby Dream" during the "don't cry now" segment. Again, a truly fantastic performance. "Wreck on the Highway" closed the full album performance on a somber note, including Bruce's speech saying The River was about "the passage of time."
With no time to really bask in the excellent full album performance, Bruce and the band fired on all cylinders straight away for the next portion of the show, launching right into "Badlands." Particularly hot versions of "Candy's Room" and "She's the One" followed before Nils once again took the spotlight on "Because the Night".
Following what would normally be a main-set closer, "Land of Hope and Dreams," there was no pause at all as this transitioned directly into "Born in the U.S.A." to kick off a rather standard set of encores until the very end, with the only sign request of the night. A big banner read, "It's time for the stadium breaker." Bruce clearly agreed, as we got "Twist and Shout" as a bonus, and it appeared that this time Bruce and the band clearly tried very hard to break the stadium just as they literally did 31 years ago. A fitting finale to a tremendous show that delivered all we hoped for and a little bit more. Referencing the stadium display at the start of the concert, Bruce left us with not only "We'll be seeing you," but also "Thanks for welcoming us home."
For the full setlist and reports from this and other recent shows,
see our Setlists page
- July 24, 2016 - Ivar Noer reporting - photographs by Jan Lundahl

NEW MIKE APPEL INTERVIEW IN THE TIMES OF ISRAEL
David Horovitz, founding editor of The Times of Israel, recently spoke at length with former Bruce Springsteen manager Mike Appel, a conversation published online this week. They cover numerous subjects, including the evolution of Springsteen's music, his aspirations, the shift from David Sancious to Roy Bittan, and Appel's successor as manager, Jon Landau:
Jon had a lot of success. But I think he deserved it. It's not easy working with Bruce. [Landau] soldiered through an awful lot of difficult times and all sorts of problems that arose that are not publicly known. He managed to get through all that and come out on top. My hat's off to him. The guy's not some wussy guy. The guy's a hard-working guy. He's in it for the long run. He didn't give up.

He told me some stories which I knew Bruce was certainly capable of. Oh boy. Oh boy, Jon, you had your hands full. My hat's off to you. I really have good feelings about Jon. He put in all the time. Look at how long he's been there, for God's sake.
Appel and Horovitz also discuss Judaism (Appel is a quarter Jewish) and the fact that Springsteen has never played Israel: "Well, the thing is this, he should've. And I don't know why he hasn't. I'm absolutely baffled by it."
Read: Why Springsteen never made another album like 'Born to Run,' and other questions only Mike Appel can answer
- July 22, 2016

LANDAU TALKS RIVER TOUR, SOLO ALBUM, WITH BILLBOARD
When the River Tour was announced, it also came with the news that Bruce Springsteen would be putting a solo effort on hold in order to tour behind the Ties That Bind box. As Springsteen told Backstreets in December, this E Street Band tour "was a surprise to us, too... We were kind of heading on a slightly different path — I had some new music, which was a little more of a solo record. I thought that I'd be out on that next."
But even as the River Tour rolls on, the solo album has not been forgotten: talking with Billboard for an article published today, Springsteen manager Jon Landau indicates that the postponed album — "a very different kind of record" — is something we can look forward to in the new year. Though he qualifies that "it's premature to say much about it," Landau does go on to whet some appetites:
It's a wonderful record, and we'll see how the next year unfolds.... All I can say is that there is a solo record — and when I say solo record, I'm not talking about an acoustic record. It is, in fact, a very expansive record, a very rich record. It's one of Bruce's very creative efforts. Stay tuned, and we'll see exactly how that shapes up next year.
Landau also discusses the ongoing River Tour, which tops Billboard's mid-year touring report with 1.1 million tickets sold and box office revenue of more than $135 million. In addition to touching on notable elements of the tour so far — the full album sequence, the stripped-down band, the Greensboro cancellation — Landau also offers this big-picture analysis in the era of "live" performance:
…One thing that occurs to me as I watch the shows — and I'm out here most of the time — is Bruce remains a 100 percent live presentation. There are no pre-records: zero. That's how we work, that's his idiom, that's what he grew up with, that's how he likes it. He's one of the last artists who doesn't use ear buds: he wants to hear the music blasting in monitors, coming right at him.

I know we're certainly not alone in their doing this, but I think if you want to see live live music, the choices are gradually narrowing. But if that's what you want to see, we're the place to come hear it, because that's what we're doing.
Read: Bruce Springsteen Manager Jon Landau Talks 'The River' Tour, Forthcoming 'Expansive' Solo Album
- July 21, 2016


JULY 20, HORSENS, DENMARK: FOLLOW THAT DREAM BABY DREAM
Horsens was the odd Danish city on the tour itinerary, in between Paris, Rome and Gothenburg, cities known for their intense shows. As the E Street Band takes the stage on this hot summer night I wonder what we'll get. Will this be as grand and crazy as the nights before? Will he mention the passing of Alan Vega?
We didn't have to wait long for an answer: Bruce and the band started off with a heartfelt version of Vega's "Dream Baby Dream," intense and haunting. You could feel his pain through every word. It was a lovely tribute, but I couldn't help but wonder if more than 10 percent of the crowd knew the song or knew about the Suicide singer's passing. It just felt a bit too quiet.
But those who thought we'd get a sad and dark show after that opener were wrong. The band was really having fun, laughing and goofing around on stage. It felt like Bruce wanted to celebrate life, walking around on the small stages, shouting "Let's hear some party noises!" before "Sherry Darling." They were having a great time. The odd thing was, it almost seemed like they were the only ones — the crowd was flat, hardly reacting. Somehow the energy you normally get from the band and crowd interacting wasn't there at all.
It didn't seem to bother the band, but it did make the show feel a bit odd and sometimes a bit unbalanced. After all the uptempo songs it was nice to slow down a bit with a lovely "Independence Day," which got a great intro about the relationship between parents and their kids, but after that it was back to another party song with "Hungry Heart."
While Max was still drumming after "Out in the Street," it was time to collect some signs. Bruce held off on "American Skin (41 Shots)" (he left the sign on the small stage and would play the song later in the show), and he showed us "Cover Me," too, but he decided to collect another one first. Probably because he'd seen a sign he loved, but also to go easy on Max: "I gotta give him a break. You see, Max doesn't only play songs, he plays in between songs as well. Which he doesn't get paid extra for…."
So the "Cover Me" sign had to wait; first it was time for a fun version of Chuck Berry's "You Never Can Tell." He practiced some vocals first ("It goes like this every time we cover this") and was thankful for the crowd clapping along ("We need some help with this one!") before they went into a great version, with solid solos by Roy, Soozie and Nils.
Another highlight was another tour premiere, the lovely summer song "Frankie," for a sign made by Danish fan Bodil who was there with her daughter. Not sure what key to play it in, the band had to restart the intro. Bruce smiled — "So far the band isn't doing that good. What key? F? Let's try again!" — before going into a wonderful version of the perfect song for this summer evening.
It wasn't the last time the E Street Band was challenged in Horsens. Nils had some trouble coming up with the lines for "Darlington County" after the Boss decided to drink some beer and handed him the mic. We got some extra "sha la laas" before Bruce spat out some beer and rescued Nils by taking the mic again. And later on Bruce decided to test the band after he took a sign for "Follow That Dream." Helping the band out by showing them the bridge ("and you have to play that twice"), Bruce started the song on his own, bringing the band in after the first verse, making it an intense but quiet highlight.
Almost all the lights on stage went out after the regular set, showing Bruce with his guitar in the air, staring quietly at the audience for what seemed like minutes before going into a roaring "Backstreets." Most of the Danes seemed to prefer "Born in the U.S.A.," though, which came after that. The audience went wild (which didn't happen very often), and Max gave us all he had and a little more during his solo. As one of the signs in the audience read, Max is definitely born to drum.
After Bruce and Steve messed up the lines during "Ramrod" (they where laughing so hard they couldn't sing), it was time for "Dancing in the Dark." The E Street Band got twice as big with dancing partners for Steve, Soozie, Max, and Jake, as well as a guy giving all he had on a guitar Bruce was more then happy to lend him. Then, after a fun "Shout," the band waved goodbye, leaving Bruce on stage for a heartwarming "Thunder Road." The audience went crazy, singing along with every word. You could see him smile after they roared "and that's all right with me," and you could softly hear him say, "That's good." And it was.
For the full setlist and reports from this and other recent shows,
see our Setlists page
- July 21, 2016 - Hannet Johannes reporting - photographs by Steven Strauss

- July 18, 2016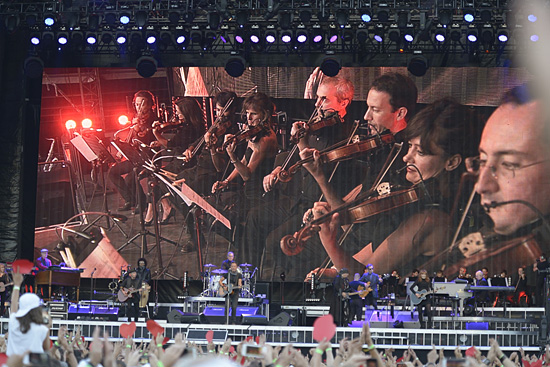 JULY 16, ROMA: SPRINGSTEENUS MAXIMUS
Don't bother Googling Rome's Circus Maximus — I've done that for you. The dusty, sun-scorched field is an ancient chariot racing arena (damn, 400 years older than the Colosseum!) which, according to Wikipedia, has marked the site of thousands of years' worth of religious, sports and spiritual experiences.
Some things never change. As a group of smartly clad Italians stride out on stage we have our first inkling that something extra special — extra spiritual — is going to happen tonight. It's a string section. Then the goosebumps come. I feel mine first, then see the rest; an old fella in front of me shivers, his bronzed skin coated in teeny tiny bumps and raised hairs as Roy plays those first few bars.
"Por Roma!" Bruce calls out to a 70,000-strong gathering of passionate Italians and holidaying Brits, Americans and more, before leading us into a near 15-minute long rendition of "New York City Serenade." Close-up camera shots of his face are broken up with big-screen snippets of a beaming Rome Symphony orchestra. The crowd? Shocked. Silent. Then "singing, singing, singing," before Bruce blows the string group three kisses, shakes the conductor's hand to say thank you/farewell and…
And we're off. "Badlands" rips out over the all-standing audience, which is crammed into a seemingly never-ending valley sandwiched between crumbling Roman ruins and towering pine trees. It's the perfect setting, Bruce realizes, grabbing an early sign, to wing a sketchy yet infectious tour premiere cover of Eddie Cochran's "Summertime Blues." A strong run from The River album follows. The crowd, unlike Milan this year (frenzied, manic, amazing) and Rome 2013 (pushy pushy, eager, amazing) strikes the balance between crazy-energetic, chilled, and, well… amazing. As the likes of "Sherry Darling" and "Jackson Cage" are belted out underneath the pinky moonlit sky, it's clear we're all in for a big old sing song.
And what's better than "Boom Boom"? Bruce grants the sign request (props to the cut-out, Telecaster-shaped cardboard that he opts for a little jam on), and the crowd shakes its ass to the track, which has us, and the entire E Street line-up, grinning. Bruce is in the mood for sign requests, and better yet, there's some good ones. Up next is a Motor City skyline and the hastily scrawled words "Detroit Medley." "Work that tambourine, Jake," Bruce whoops, and a raucous party ensues on a rare mid-set Mitch Ryder blowout. A particularly furious "Death to My Hometown" has the crowd going wild with jabbing hands and full-pelt singing. (Okay, shouting. It was definitely shouting.)
Then the E Street Band leaves the stage, and the lights dim to an eerie green. Can we handle another "Serenade"-level surprise? "This is a request… for the Italian social workers on the front line," Bruce tells us, all eyes on his acoustic guitar and harmonica. The crowd holds its breath for "The Ghost of Tom Joad," arguably the most captivating performance of the night. Haunting, spellbinding. Relevant. It's followed up with a gorgeous version of "The River," the audience relishing the chance to sing the falsetto back at Bruce as the track ends — he's clearly struck by the effort — before he signals for that "Point Blank" intro. And we're silenced — again — by a chilling, intense, poetic take on another River favorite. The men and women around me shake their heads at the effect of this power trio, "Mio Dio" (my god) whispered around me as we try to take it all in.
"Light 'em up," Bruce hollers at the start of "The Promised Land," soon leading into some classic staples including "Working on the Highway," "Darlington County," and "Bobby Jean." The camera pans the grinning, sweat-slicked faces along the barrier. "I risked a divorce to be here," one sign reads. Hell, we all know that feeling.
Another sign soon grabs him: "My mom's favorite song," it reads, before Patti slow dances over to Bruce at the center mic for a smoldering rendition of "Tougher Than the Rest." Ciao Roma! A spectacular "Drive All Night" has the crowd hypnotized and hushed — yet again — for the entire track. It's rounded off with a run of barely audible, husky whispers from Bruce. "Don't cry now," he comforts us, over and over. Cue tears.
Sure, avid set list watchers will have come to expect it by now, but "Because the Night" was remarkable, the lights flashing black and white and heads furiously nodding as Nils delivered his blistering guitar solo, working the crowd into an absolute no-holding-back cheering frenzy. Nils steps up again for an extended intro on "Land of Hope and Dreams." "For Nice, for our French brothers and sisters," Bruce tells us. The change is subtle, the tempo ever so slightly slowed, but this version feels raw and even more emotion-packed than usual. "Let me see your hands," he commands. Circus Maximus obliges.
Surely we're in for the obligatory heavy-hitting closers now? Not before the encore starts with a blinding "Jungleland," which is delivered to a — you guessed it — silent, appreciative crowd. Noise comes, in cheers and applause, following Jake's sax solo, when Bruce turns his back to the audience and gives his bandmate a hug.
Another dancing frenzy's next: a solid "Born in the U.S.A." (the Italian crowd always responds well to this track), a chant-heavy "Born to Run," a flirty, hip-dipping "Ramrod" before "Dancing in the Dark," which prompts at least 30 on-the-shoulder Italian signoras to try their luck with various signs. They're humored with points and smiles, but the main dancers this evening are with the E Street Band — one for Garry, a 13-year-old boy for Max, another for Stevie. Bruce opts for a 64-year-old woman whose cardboard reads, "65 soon, dance with me before it's too late!" next to a dodgy passport pic. Shortly after, "Shout" works the crowd into a mental Dad-dancing-style party.
"Graze mille," Bruce tells us, repeating the words before and after a sublime acoustic closing "Thunder Road." Around me the crowd shouts, whispers and cries their own grazie milles back. As for those spiritual experiences that have taken place in Rome's Circus Maximus? Add Bruce Springsteen and the E Street Band to that list.
For the full setlist and reports from this and other recent shows,
see our Setlists page
- Updated July 18, 2016 - Hannah Summers reporting (Hanna writes a burger- and Springsteen-inspired blog over at burgersandbruce.com) - photographs by Rene van Diemen

BTX: PLEASE STAND BY...
We apologize for the technical difficulties on our BTX message boards this weekend, and for any inconvenience; our ISP is working to fix the issue and have us back up and running ASAP. We'll keep you posted and appreciate your patience in the meantime.
- July 17, 2016


TEARDROPS ON THE CITY: ALAN VEGA, 1938-2016
"You know, Alan, if Elvis was alive today, he'd be you… you know, Alan, you're 20 years ahead of your time." —Bruce Springsteen on Alan Vega


Punk rock pioneer, New York's own Alan Vega, part of the groundbreaking duo Suicide, passed Saturday night at the age of 78. The connections between Vega and Bruce Springsteen might seem improbable, but critics saw the similarities between "State Trooper" and Suicide's "Frankie Teardrop" around the release of Nebraska. In 2005, Bruce began performing Vega's "Dream Baby Dream" during the Devils & Dust tour, leading to Springsteen and Vega reconnecting as a result.
Springsteen and Vega met back in the late '70s, when they were both recording at the Power Station. Bruce was working on The River, and Vega was working on the second Suicide record. They were introduced by Ric Ocasek of the Cars, who was producing Vega. "...I said, 'Bruce, let's go and get a drink,'" Vega told Backstreets in 2005. "And he said, 'No, my manager doesn't want me to,' and I said, 'Come on in the men's room, Bruce,' I had a little bottle of vodka with me... and here we are, two guys in the bathroom, like in high school, smoking cigarettes or something.'" And when asked how he felt about the comparisons between Suicide and Nebraska, Vega said, "Good for him, that he listened to me and managed to make it commercial!"
When asked what his favorite Springsteen song was, Vega replied: "Dream Baby Dream." On my death bed, that's the last thing I'm going to listen to. I'll play it at my funeral.
Click here for our Devils & Dust-era interview with Alan Vega,
from Backstreets #83/84
- July 17, 2016 - Caryn Rose reporting - photograph by A.M. Saddler [4/30/12]


EDDIE MANION: A TALE OF TWO OCEAN GROVES
Eddie Manion is about to bring the Light of Day to Australia. "I'm leaving for Ocean Grove, Victoria on Monday," the Kingfish tells us, to be a featured artist for two Light of Day Australia shows. Above, he's created a video sending love from Ocean Grove, NJ to its sister city Down Under (with speeches from church and town officials, LOD founder Bob Benjamin, and LOD president Jean Mikle), set to "Amazing Grace" and "A Change is Gonna Come" from his recent Nightlife release.
Eddie writes, "My mission to Australia is twofold. To raise money and awareness for Parkinson's disease and its related illnesses, and to rekindle a spirit of goodwill, love and peace between two sister cities Ocean Grove, Victoria and Ocean Grove, New Jersey who share so much history together." He'll be playing two Light of Day Australia shows, Friday July 22 and Saturday July 23, as well as participating in a special church service at the Ocean Grove Uniting Church, Victoria. Visit lightofdayaustralia.com for details. And bon voyage, Ed!
- July 16, 2016 - video filmed by Ryan Celli - photograph by John Cavanaugh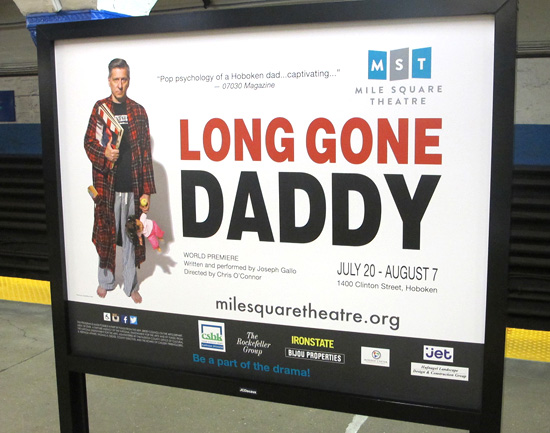 LONG GONE DADDY OPENS NEXT WEEK
Does the title of this NJ/NY subway platform ad seem familiar? You only need to look at the LPs tucked under playwright/performer Joseph Gallo's arm to confirm the reference. (Also note the Maxwell's rock club T-shirt — the location for the "Glory Days" video, directed by another Hoboken native, John Sayles.) Gallo's one-person play will have its world premiere on Wednesday, July 20 and run through August 7 at Hoboken, NJ's Mile Square Theatre.
Bookended by Bruce Springsteen concert stories that Gallo developed while performing at The Moth storytelling series in New York, Long Gone Daddy is the follow-up to his critically acclaimed Off-Broadway solo play My Italy Story. Checking-in with his alter-ego, Thomas DaGato, Long Gone Daddy chronicles the comic misadventures of being a stay-at-home father. Gallo's semi-autobiographical play also wrestles with the memory of his own Dad, a former fireman, and the existential question, "When does a father earn the right to be called Dad?" For tickets and more information, visit milesquaretheatre.org.
- July 15, 2016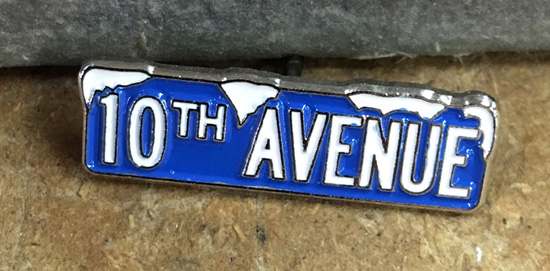 PRINT MAFIA HITS YOU WITH A...
Earlier this year, our friends at Print Mafia created an E Street enamel pin, which still available from from printmafia.net. Now they're offering another cool one — freezing, even. Walk pretty with their new 10th Avenue enamel pin.
- July 15, 2016


JULY 13, PARIS 2: INTO THE RIVER WE DIVE
European prayers have finally been answered. If Monday's fuse-blowing Paris concert demonstrated for the first time on this tour the magnetic energy generated from combining the intimacy of a typical American arena with the the signature passion of a European crowd, the second AccorHotels Arena show tested what would happen when these fans were finally treated to the first-ever full album performance of The River in Europe. After much begging, cajoling, pleading, screaming, and yes, even praying on the part of the European fan contingent, it was well worth the wait.
The concert opened with an equally rare occurrence: the first performance in Europe (the third ever in the world, and only the second with the E Street Band) of "Iceman." The Darkness outtake was given a tight, focused, and intense full band treatment (sans Patti) with Bruce's voice fittingly gruff to match the song's subject. They kept the rarities coming with "Lucky Town," which was once again capped with a fiery Boss guitar solo.
And then, it was time for the main event. When Springsteen revealed in a little speech — in French, no less —that The River would be played in its entirety for Paris, the crowd erupted with a deafening ovation of sheer joy. As many fans have made clear since this European leg began, they've been waiting years for the opportunity to see one of Bruce's greatest albums performed in full. It felt like all of the anticipation and hoping and dreaming was released in a rush of excitement to the opening chords of "The Ties That Bind," and this ceaseless enthusiasm was sustained through the final notes of "Wreck on the Highway."
Their starved desire for these tracks makes even more sense considering how rarely a lot of them have been played in Europe since the original River Tour 35 years ago: "Stolen Car," never since 1981; "Wreck on the Highway," one time (solo); "Fade Away," three times. Ignoring performances on this tour, "I Wanna Marry You" (never performed since 1981), "The Price You Pay," (performed once) and "Independence Day" (performed four times) are almost as rare. The entire crowd responded in a way that made it feel like they understood the special significance of this evening.
Everyone from the pit to the upper deck looked and sounded engaged from beginning to end, rarely allowing the energy to wane enough even to sit down — the first two sides of the record were basically a non-stop sing-along, jump-along, and chant-along party — while always remaining deadly silent for the ballads. Many fans clearly bought tickets for this River Tour 2016 to hear The River, and not only its greatest hits: the whole place bellowed the lyrics to "Jackson Cage"; applause greeted the opening chords of "Stolen Car"; "The Price You Pay" elicited a decibel-busting level of crowd participation that rivaled "Badlands"; and the entire arena respectfully applauded through the final coda of "Wreck on the Highway."
Bruce brought back a lot of the same stage blocking from the American leg, including a "Hungry Heart" crowd surf that was way slower than normal — it seemed the handlers in the pit wanted to pass Bruce back and forth to give everyone a chance to touch the Boss. As he did in Baltimore, Bruce once again oversaw a wedding proposal during "I Wanna Marry You," pronouncing them "Mr. and Mrs. Rock 'n' Roll… in the name of rock 'n' roll!" Two songs later, the crowd continued Bruce's soul-stirring humming at the end of "The River" all the way through the silence while Bruce and the Band cued up "Point Blank." Bruce waited until this humming had organically reached the melody's end before having Roy seamlessly begin the song — a hauntingly beautiful transition between the two records.
All together the evening felt like one long ecstatic catharsis. Tears, hugs, kissing, jumping, clapping, singing, chanting, smiles, all plentiful throughout. More than any other show on this tour, the concert actually felt the most like the first time The River was played in its entirety way back in 2009 at Madison Square Garden. Since the crowd knew this wasn't a nightly occurrence, a special vibe of overwhelming elation was in the air. Judging from the rousing standing ovation that greeted the album's conclusion, their lofty expectations were exceeded, and then some.
With the exception of a story-less performance of "Growin' Up" — the only sign request of the night — the rest of the night felt predictable and a little rushed; the set-ending "The Rising" literally went directly into the encore-opening "Born in the U.S.A.," with not even a second of a pause between them. But after The River, any other song was just gravy for this crowd. These fans had finally gotten what they had been waiting so long to hear — what more could they ask for?
Paris will only enhance the legendary status of the "grass-mowing, fuse-blowing, legendary E Street Band's" full album River performances ("Ramrod" also included a bevy of references to fuse-blowing by Bruce and Stevie), and I'm sure all of the European fans not in Paris will be chasing it for the remainder of the tour. Gothenburg 3? Zurich for the final European stop? They can only pray…
For the full setlist and reports from this and other recent shows,
see our Setlists page
- July 14, 2016 - Steven Strauss reporting - photographs by Rene van Diemen


JULY 11, PARIS 1: WHEN THE LIGHTS GO OUT
It was a wild night in Paris. Bruce arrived to a city that was stuck in between the heartbreak of a national soccer team loss and the celebration of a historical revolution. Before the three hour and forty-seven minute* show concluded, the crowd would witness three tour premieres, Bruce making his own sign requests, and the long-awaited fulfillment of a Bruce Springsteen and the E Street Band unplugged show.… in some fashion, at least.
Bruce took the stage alone and greeted the crowd. "Bonjuor Paris! Comment allez-vous? Tres bien," he said, before taking a seat at the piano. In soft purple and turquoise lighting he fumbled around for a few chords before settling into a nearly ten-minute "Incident on 57th Street." A hush fell over the crowd, and I saw at least one person reaching for their eyes as Bruce lent his powerful voice to an incredibly personal rendition. The applause in AccorHotels Arena was overwhelming as Bruce played the gentle outro and the band took the stage.
Bruce's solo "Incident" was the first of several in the set that leaned towards the intimate and the emotional. Springsteen reached for some unusual selections that could be heard to address the troubling news back home in the U.S. — "American Skin" isn't the only song in his back pocket for mean times like these. For the first song with the band, he brought back the distorted bullet microphone effect from the Devils & Dust and Magic tours for a 2016 premiere of "Reason to Believe."The full-band arrangement featured a blues rhythm and Little Steven at the front on the teardrop-style guitar. The instrumental bridge had the floor jumping and Bruce dancing in the center cutout, silhouetted against a dark stage.
Workhorse "Badlands" kept the crowd's blood pumping, with Bruce shuffling to the back of the stage to point at some familiar faces dancing wildly on the first row. And the songs about faith and hope in dark times continued: "Fella outside the hotel today lost his wife recently," Bruce said. "This was one of her favorite songs." In dim lightning Soozie opened with a few long and mournful notes on the violin before Bruce and the band joined in the tour premiere of "Into the Fire." Springsteen would later take the stage alone with a 12-string for another tour premiere from his 1982 solo album. With the shrill sound of his harmonica, standing in a single spotlight on an otherwise dark stage, Bruce played "Nebraska" — performed at only one other E Street Band show since 1985, at Belfast '13.
Despite the rare dips into Nebraska, this was most certainly a River show: the set featured 15 songs in total from the tour's eponymous album, and for a stretch it seemed like they might play the whole thing. The band had a little trouble finding all the right instruments for "Jackson Cage." "We'll be right there," Bruce said. He stopped during "Hungry Heart" to shake the hand of a young girl on her father's shoulders, and he pulled another fan up onto the walkway for a lengthy hug during "I'm a Rocker" while the band continued to play.
The intimacy would continue with the River album standouts "Point Blank" — with Roy bathed in hard purple and red light and the silhouette of Bruce whispering tenderly to the audience — and "Drive All Night,"featuring a booming Jake Clemons saxophone solo. Bruce turned his affection towards Patti Scialfa for a duet on "Tougher Than the Rest," serenading his wife on the harmonica to close the song. The Queen of E Street's vocals also featured heavily on "Darlington County" and "Because the Night."
After the main set, which brought us out of the valley with "The Rising" and "Land of Hope and Dreams," Bruce came to the mic and hushed the crowd. He turned his back and held his guitar over his head while Roy and Soozie started "Jungleland." Elliott Murphy and his son Gaspard joined Bruce on stage for "Born to Run," with Bruce falling to his knees to plead to the crowd, "Lemme see your hands!"
"Steve, look over yonder, see the Eiffel Tower lights," Bruce said, beginning Ramrod. Little did he know, his words would prove inauspicious. For the second time in just over four years, the E Street Band was too much for the Parisian power grid, and the lights and sound failed mid-song. The crowd went wild as the band kept right on playing, with lighting equipment crackling and sputtering overhead. Bruce, with a bewildered look on his face, led everyone to the front of stage to dance and play. The only sound that could be heard from the band were the drums and the occasional faint hint of saxophone.
The crowd filled the void with chanting and wild cheering as Bruce and the band marched their way onto the floor. Charlie and Nils picked up accordions to join the procession and try to be heard by the nearby crowd at least. Overhead speaker loops were calling for evacuation, but the fans refused to leave. By the time the band had made its slow circuit of the pit, the stage was crawling with techs trying to figure out what was going on.


The band circled around for an impromptu meeting on stage, Bruce and Patti laughing and gesturing at one another. Bruce asked to borrow a fan's sign and wrote his own request on the back — for five more minutes — and held it up for the crowd. Bruce, Patti, and Jake sat down on the front of stage and started signing autographs while Garry tossed water bottles to fans in the crowd. Annie Leibovitz even took to the stage and started snapping candid photos of the mayhem.
When the lights finally returned, the band performed a quick, 30-second sound check. Bruce took the microphone after what had been about a 20-minute intermission. "Stevie," he said, "Is it quitting time? Is it fuse-blowing time?" The crowd went crazy, the show returned to something like normalcy, and the band jumped right back in to the end of "Ramrod"like this was any other hijinks.
Bruce wasn't finished having fun with the band's misadventure. "Can you hear me?" he asked to start "Shout." "Are you sure?!" Bruce drenched himself in water, once for the front of stage and again for the back, and Steve cloaked Bruce in a shining coronation mantle embroidered with a "Boss" insignia. "You've just seen the heart-stopping, pants-dropping... rock out till the lights are out, legendary E Street Band," Bruce hollered before one last verse of "Shout."
Bruce took a moment to reflect on the evening before a solo acoustic "Thunder Road." "What a surprising night. What a great night," he said, "Electricity is on. It's off again. It's on. It's off. Nothing stops the mighty E Street Band. Thanks for sticking in with us." Rolling with the punches, Bruce and the band took full advantage of the smaller venue and stage to provide a uniquely intimate performance, with three solo arrangements, three tour premiers, and enough E Street Band power to shut out the lights.

*with intermission
For the full setlist and reports from this and other recent shows,
see our Setlists page
- July 12, 2016 - Andrew Telesca reporting - photographs by Rene van Diemen (1-5), Lucas Girard (6,9) and Geoffrey Robinson (7,8)


JULY 9, WERCHTER, BELGIUM
Arriving at 9am in Werchter, we heard "The Ties That Bind" being soundchecked as we walked from our carpark to the venue. My heart stopped and took a leap toward what was going to be a good night! At noon the doors opened. A little struggle and a mad dash, but we — my husband, my "Bruce hubbie," and myself — found a good clear spot in the right pit next to the center barrier. We had to wait ten hours before Springsteen was going to put a foot on stage — as Werchter's TW Classic is a festival, we had other bands like Simply Red and Lionel Richie first — but faith will be rewarded.
The Werchter Classic has a tight schedule, but Bruce proved who's the Boss: he and the E Street Band took the stage ten minutes before their scheduled 10pm showtime, to maximize the length of their set. They opened with a strong "Prove It All Night," and the crowd went crazy! Even my husband went crazy — this was his first Springsteen show. After "Prove It," it looked like Springsteen was in a hurry to give 65,000 attendees as many songs as possible in their alloted time. (Though scheduled for a two-and-a-half hour slot, Bruce and the band not only started ten minutes early but went 15 minutes long, bringing it closer to three hours). "Darkness on the Edge of Town" went quickly into "No Surrender," "The Ties That Bind," and the always funny "Sherry Darling."
After a drink of cool water, it was "Spirit in the Night." Bruce interacted with the fans as usual, going to the left side of the stage, to the right, and walking through the center. Fans held out their hands, and Bruce took it like a big, warm hug. Jake's sax was like a warm blanket. Bruce always has a lot of interaction with the crowd, but this felt particularly special. Someone handed him a drink —like fuel for a great night — and he even managed to get 65,000 people absolutely pin-drop quiet. It was magical.
There were multiple sign-selection moments, and after "Spirit" Bruce picked out "Thunder Road" for a rare mid-set performance. Whether it's on the setlist or not, when you get your sign chosen it's a special personal moment when he's singing your song. I think the lucky ones can agree on this. After "Hungry Heart" came another request, written on a T-shirt: "Cover Me."
The next request was the tour debut of "Mansion on the Hill" [video]. He didn't pick up the sign, but he read it in the crowd, pointing and saying, "This one is for you. It's from the Nebraska album." So the beautiful "Mansion on the Hill" was played solo acoustic. How lucky can you get!
We have all seen the news or read about the terrible things happening in America, so "American Skin (41 Shots)" [video] was very powerful. While Bruce was singing, Jake Clemons was standing in the back with his hands held up high. The crowed followed. It must have been a moving view from the stage to see all these people holding their hands up. "Promise Mama you'll keep your hands in sight"… and so we did.
Back on the setlist after being skipped in Milan was "Waitin' on a Sunny Day." A girl with a handwritten sign got picked out, and she sang great! Wearing a cap that read "Amazing" — and this must have been the most amazing night for this girl —she waved to the audience from Bruce's shoulders. The crowd went wild during "Because the Night," and we all pointed out with our little fingers to the band — our expression to show the love we feel for them. On a beautiful "The Rising," fingers became hands in the air; after our hands, our feet didn't touch ground during the set-closing "Badlands."
To start the encore, two "Born" songs in a row, first "Born in the U.S.A." and then the national anthem of Springsteen fans, "Born to Run." The crowd went wild, and during "tramps like us" our Springsteen "family" grew with 65,000 new members. With the first notes of "Dancing in the Dark," all the signs asking for a dance went up: a dance with Bruce, a dance with Soozie, or with the whole band. There were two guys for Soozie, one woman got a dance with Bruce, but then, just when you thought luck didn't come your way, Bruce looked back into the crowd…. He left the stage and ran to a family of two young boys and their mother. Their sign featured a big guitar, and it said the boys were promised a guitar if they could get on stage to dance. They all went on stage — and hopefully mama keeps her promise!
By the time a beautiful "Bobby Jean," finished, it was curfew time. But Bruce still wanted to play one more, an acoustic closer. He had already played "Thunder Road," so I guessed we'd get "This Hard Land" — but no, one more surprise for Belgium. "If I Should Fall Behind" [video] was another solo acoustic tour debut.
As I mentioned, it was my husband's first Springsteen show (please forgive him, he's not a bad guy!). While waiting I asked him, "What sign do you want me to make for you?" He said, "If I Should Fall Behind," and so I did. While Springsteen ran past us, my husband showed him his sign. I saw Bruce read it, but he didn't pick it. But you can imagine what I was wondering… did that sign make him sing "If I Should Fall Behind"? My husband said that Springsteen looked at him when he finished the song, so he decided to stay on Cloud Nine — Bruce sang this song for him. Best first Springsteen show ever!
For the full setlist and reports from this and other recent shows,
see our Setlists page
- July 10, 2016 - Shui Fan reporting - photographs by Rene van Diemen

"THE COUNTRY WE CARRY IN OUR HEARTS IS WAITING." AND STILL WAITS.


—Bruce Springsteen, 2004
- July 8, 2016 - from Springsteen's 8/5/04 op-ed in the New York Times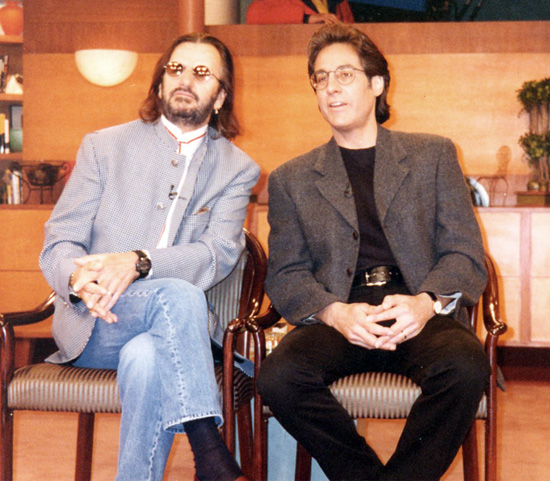 PEACE & LOVE & BIRTHDAY WISHES
Happy birthday to Ringo Starr, 76 today, and pictured here in the mid-'90s with fellow drumming great Max Weinberg — one of countless musicians influenced and inspired by Mr. Starkey. #peaceandlove
- July 7, 2016 - photograph by Billy Smith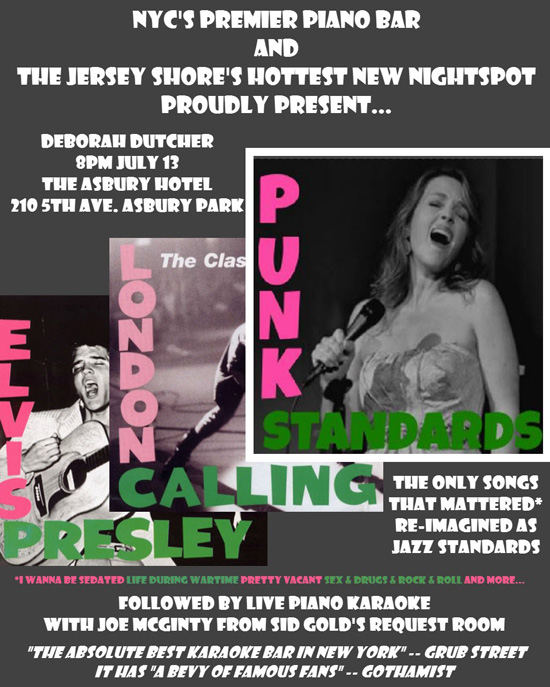 DOWN THE SHORE EVERYTHING'S SO PRETTY, OH SO PRETTY
If you've been interested in checking out The Asbury — a boutique hotel that's putting a spotlight back on Asbury Park, in the New York Times among others — that's just one reason to catch Punk Standards, a free show at the new hotel next week. Conceived and produced by our pal Phil Kuntz, Punk Standards comes to the Jersey Shore after two successful NYC stints and features Rumson vocalist Deborah Dutcher's jazz stylings on songs by The Ramones, the Clash, Sex Pistols, New York Dolls, and more. The Sessions Band's Jeremy Chatzky holds it down on bass. Check it out Wednesday, July 13, at 8pm.
- July 7, 2016

UNA LETTERA D'AMORE A MILANO
On Springsteen's official site today, Bruce and the E Street Band have a message for the faithful in Milan, "to thank the fans for two wonderful nights at San Siro and to send out a special thanks to the amazing 'audience art' team..." Read it at
brucespringsteen.net
.
- July 6, 2016


JULY 5, MILAN 2: SEVENTH NIGHT TO ROCK!
The second River Tour stop at Milano's famous San Siro Stadium was the seventh Bruce Springsteen concert ever held here. After Sunday's show and Springsteen's remark about San Siro having the best audience in the world, expectations were very high for Tuesday — especially with the first night's setlist looking like a set for a one-night stand.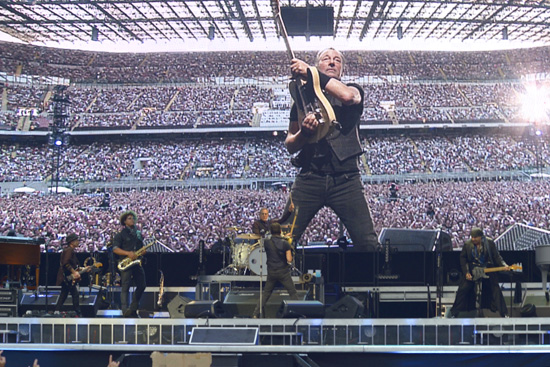 The weather was again hot and humid. But if you thought that the long roll call procedure in the heat and the long wait inside the stadium (more than five hours between doors and show time) might take its toll on the spirit of the audience… you'd be proven wrong. The show started with the usual Ennio Morricone music over the PA — no message displayed from audience members in the stands, no massive signs like the first night's "Dreams Are Alive Tonight." At least, not yet. The first song was the long-overdue European premiere of "Meet Me in the City," which opened the show for the first time since Brooklyn. The River outtake sounded fresh and crisp, not like a song that had been put aside for more than two months now.
"Prove It All Night" followed, with Steve doing a great guitar solo at the end. With "Roulette" as the third track we already had two River outtakes. To be fair, as great as it was to hear "Roulette," it was far from getting the greatest response of the night. But we were very much in River territory, as "The Ties That Bind" and "Sherry Darling" followed. Bruce came down from the stage for the first time during "Sherry Darling" and collected a few signs. There were lots of them, some very large, some pretty obscure — "Life Itself," anyone?
"Spirit in the Night" was the first granted request. Tonight's version was a bit looser than Sunday —Bruce himself seemed a bit looser than on Sunday overall, and he let Jake play a short and very quiet solo. Another warhorse from the '70's followed: "Rosalita" came out for a 15-year-old who requested the song, (only its second performance on this European leg after being a regular encore in the U.S.), and the audience ate it up, using almost every opportunity to sing along and join the fun. The most impressive request sign was a cardboard replica of the stadium itself, picturing that "Our Love is Real" banner from the last visit and asking for "Fire," yet another classic from the '70s. "Something in the Night" seemed to be an audible and gave the audience a good opportunity to sing along with the intro of the song. And after another dip into The River it was back to request signs, as "Mary's Place" got its second airing in 2016.
With "The River," always a favorite here, another display in the stands opposite the stage suddenly appeared. Lights from cellphones created a heart and three letters: ESB, for E Street Band. It was a very moving and beautiful thing that the fans did again here in Milan, with the help of the promoters. Bruce was clearly moved by it, and a beautiful rendition of "The River" was one of the emotional highlights of the evening.
The next came right after, with "Racing in the Street." It was a perfectly played version (with a slightly shorter coda than in Gothenburg a week earlier) that almost brought silence to the whole stadium. "Cadillac Ranch" was a perfect fit as a follow-up. Much too rarely played on this European tour, it got the whole crowd back on its feet to sing and clap along and feel the power of the E Street Band.
The setlist for the first night was obviously centered around a lot of songs that gave the San Siro audience opportunities to do what they are famous for. With the setlist for tonight's show, Bruce seemed to be trying three things at the same time. First, to play many songs not played on Sunday (which he achieved with 51 different songs over both shows, the highest number after the two Gothenburg shows in June). Second, to play an impressive number of deep cuts or rare tracks for the critical "hardcore" fans; and third, to keep the brilliant atmosphere from Sunday's show going strong and not lose the momentum. Therefore, the setlist might look a bit uneven on paper, but it worked very well.
Especially noteworthy is that "Waitin' on a Sunny Day" wasn't played at either show, even here in the city that probably invented singing along to a tune like that. But the Italian crowd had plenty of opportunities to do what they do. After "The Price You Pay" was played at Ullevi in Gothenburg, it was pretty clear that the song is not wasted in a stadium. Here in San Siro, the vocal audience took over the melody, and Bruce encouraged them to do so. It was the next highlight of the show and proof that sometimes songs hidden in the shadows for far too long can come out and shine brightly.
The highest energy of the night was reached during Nils' guitar solo for "Because the Night." Somehow the band and audience drove themselves into a frenzy during that song that was unparalleled over both nights. And maybe Bruce was thinking afterwards that he would like to do a guitar solo himself — at least he had a grin on his face as he told the rest of the band that "Streets of Fire" was next. On paper the tour premiere was a very unusual choice, but it worked to control the ebb of flow of the show and play something rare (which was also requested). Bruce guitar solo was mean, dirty, and really great, even though it didn't get the same response as Nils's.
"Badlands" ended the main set with the double reprise at the end, and the audience and atmosphere was back to maximum power. The only point during the show Bruce had some slight trouble with the control of the show was during the interlude of an otherwise beautiful and strongly sung "Backstreets." He could not calm down parts of the stands in the stadium.
After that it was full blast until the E Street Band left the stage. A mass sing-along for "Born to Run," a rocking and rolling "Seven Nights to Rock," "Dancing in the Dark" with a partner for Jake (same hairstyle!), a drumming aide for Max, a bachelorette to dance in style with Bruce and a young boy to strum guitar with him. Instead of the "James Brown"-like cape routine at the end of "Shout" on the first night, it was the stretcher routine: two men (one of them apparently local promoter Claudio Trotta) dressed as paramedics tried to carry an exhausted Bruce off stage. Of course he was soon back to life to finish another wild version of the song, with "Bobby Jean" added on top of it, creating an impressive sea of waving hands and arms in the stadium.
After a short speech in Italian in which Bruce thanked the crowd for the two nights here in Milan, he played a beautiful solo version of "This Hard Land." He took his time to finally leave the stage of this famous place after three and a half hours and to leave behind the fans of San Siro — the best in the world, as he said before. And judging by all seven shows he has played here since 1985, he might have a point.
For the full setlist and reports from this and other recent shows,
see our Setlists page
- July 6, 2016 - Ralf Dissman reporting - photographs by Rene van Diemen


WITH THIS DRUMHEAD AND THIS GUITAR
Max & Nils sign items for auction to benefit Friends of the Bruce Springsteen Special Collection
Looking to cut someplace of your own? Got some bucks to bid in support of a worthy organization? Click here for your shot at winning a Fender Stratocaster signed by Nils Lofgren and an Evans drumhead signed by Max Weinberg. The online auction closes at 3 pm ET this Thursday, July 7, so place your bids now. Auction proceeds benefit The Friends of the Bruce Springsteen Special Collection.
- July 5, 2016

HAPPY BIRTHDAY RON KOVIC —
HAPPY 4th OF JULY!
Bruce Springsteen discovered Vietnam veteran Ron Kovic's memoir Born on the Fourth of July just a couple years after its 1976 publication. His reading of Kovic's book, followed by a chance meeting with the author, would have a great effect on not only Bruce's own writing and worklife in the coming years, but on the vets movement as a whole, as it led to his crucial, River-era "A Night For the Vietnam Veteran" concert.
Today, after years of mass-market paperbacks and movie tie-ins and even some time out of print, Born on the Fourth of July is being published in a handsome 40th Anniversary edition. Springsteen has written a new foreword for the book, published by Akashic, celebrating its "unrelenting power." At rollingstone.com you can listen to Springsteen himself reading his foreword for the 40th anniversary's audio edition.
This new edition of Born on the Fourth of July is available now from Backstreet Records in both hardcover and softcover.
And another fitting treat for today: last night's performance of "Independence Day," from San Siro Stadium in Milano. Happy Fourth!
- July 4, 2016


JULY 3, MILAN: DREAMS ARE ALIVE TONITE
The early concertgoers at the storied San Siro Stadium were treated to a pre-show acoustic version of "Growin' Up." I wasn't there for that. Mental note: get there earlier on Tuesday. This is Springsteen in Italy, after all.
There was a sign hanging high in the rafters across from the stage that read "Welcome Home Blood Brother," but that wasn't the one that everyone noticed. That latter, made possible by thousands of fans working together, was an amazing, stadium-wide choreographed display in River teal and white, proclaiming: "Dreams are Alive Tonight." It wasn't just Bruce's jaw that dropped at this effort, a follow-up to a similar message reading "Our Love is Real" here in 2013 — Milan once again set the bar high.
Then with a shout of "Andiamo!" — let's go! — the band kicked in with the only song that Bruce introduces each and every time he plays it: "This is 'Land and Hope and Dreams'!" I looked at my friend who had traveled from the U.S. to meet me here, and with tears in our eyes we hugged each other at those words. Leave behind your sorrows – indeed. Okay, it's going to be one of those kinds of nights. I braced myself for the emotional roller coaster that was to come.
That Bruce enjoys playing Europe, especially Italy, is apparent; he looks tan and fit and happy as he blasts through the first few opening numbers including "My Love Will Not Let You Down." It was clear to all of us that it never has. His love for us is shown in the music he writes; it is the river that flows through our lives. The mighty Max Weinberg hammered that point home with a blistering drum solo that drove the crowd wild. Bruce may love us, but he sure wasn't being easy on us as he delivered the first seven songs with no break in intensity, almost daring us to keep up. More than half of them were from The River, in a concert that would continue the tour's trajectory of putting the emphasis back on the 1980 album — tonight we got 14 of its 20 songs.


It was only after "Two Hearts," delivered fast and as hard-rocking as all those that came before, that the show slowed down a bit, for "Independence Day." Bruce introduced it in Italian as a song about a father and son. The audience adores his use of their language and listened intently to his heartfelt delivery of the song about the tension between loving and leaving family. In the end with his emotions playing all over his face, Springsteen pleaded, "Can't you say goodbye?" The words now hold so much more nuance, the passing of time clearly felt with the visual of young Jake Clemons standing by Bruce's side, blowing out the solo.
Jake has really come into his own on this leg of the tour; during "Hungry Heart" he ran to join Bruce on the back pit riser, blowing his saxophone the whole way. Bruce grasped the hand of a young boy of about 11 years old on his run through the pit. Afterward, as Bruce blew kisses to the Italians from the stage, I glanced back to see the lad brushing away the tears that were streaming down his face. Yes, it is that kind of night. Love flows freely from the stage to the audience.
The first request of the evening was delivered by a card-carrying creature from another world, "Lucille" held in the hands of a what looked like a space alien stuffed animal. Garry Tallent, cool rockabilly hero in black shades, nodded his approval at this Little Richard cover from the '50s, and when Roy Bittan joined in with the piano riff, his playing was out of this world. Don't try to stump the E Street Band — they had the whole crowd twisting.
Judging by the audience response to the opening notes of "The River," this was what they came to hear. The haunting and plaintive melody set the stage for the next group of songs, and there was quiet in the crowd as they listened to the heartbreak of dreams that don't come true. "Point Blank" was delivered in what can only be described as performance theater, Bruce pacing inside the cage of a spotlight, glaring out at some unknown enemy, at some memory of love that was a lie, the song delivered in hopeless anger at the injustice of the world, the bitterness of the memory, his words echoing through the stadium challenging us, "Did you forget how to love, did you forget how to fight?" And then into "Trapped" and a collective howl of understanding from everyone in the audience. This three-song trilogy of the ways love can go wrong was followed up by a personal favorite for setting your life right, "The Promised Land." Jake was especially effective at blowing away all that anger and heartbreak not only with his sax, but by putting his whole heart and soul into singing the back-up chorus with arms outstretched.
The next sign request, "Lucky Town," showed off Bruce's guitar chops. Any doubt that this show is a show about love was dispelled by the intensity of "I'm on Fire" leading right into "Drive all Night."
At the beginning of "The Rising," I glanced up at the night sky to see the first star had appeared. The sky of memory and shadow took me back to 13 years ago, hearing this song in this same stadium. Our country and I personally were reeling from loss then. I remembered how hearing those words helped our country to heal, how hearing the Italians sing them that night all those years ago helped me to heal. Hearing them now, when this song has taken its place next to all the great classics in Bruce's catalog, it is clear that the music is the river, flowing through our lives, delivering the love that unites us and ties us together. Yes, it was that kind of night.
In the end, Bruce stayed behind with his vest off and his harmonica on, and he sang to us a lullaby of "Thunder Road." The audience listened, only singing along when he asked them to. As the notes faded away, he said San Siro is the best audience in the world. I couldn't help but agree.
For the full setlist and reports from this and other recent shows,
see our Setlists page
- Updated July 4, 2016 - Brenda VanHorn reporting - photographs by Florian Spintler (1) and Rene van Diemen (2-7)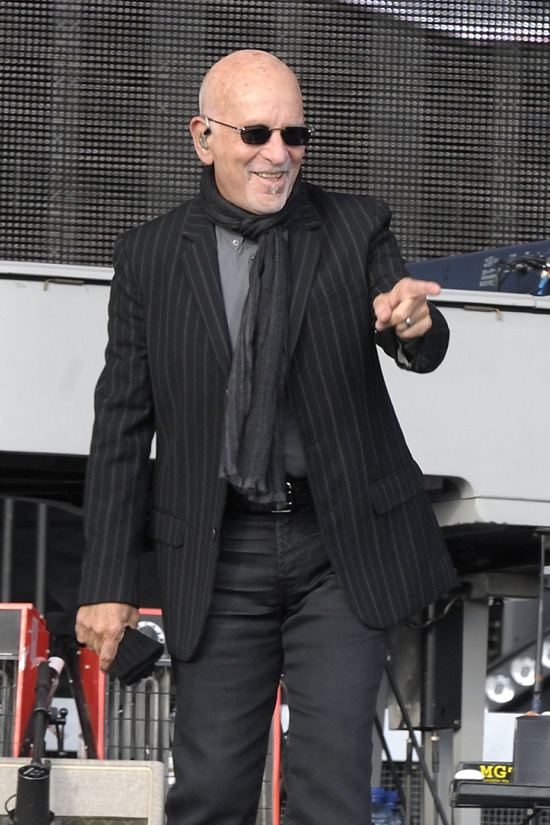 HAPPY BIRTHDAY, PROFESSOR!
Roy Bittan came out of the box 67 years ago today, July 2, 1949. We're sending a big buon compleanno over to Milano!
- July 2, 2016 - photograph by Rene van Diemen [6/14/16, Den Haag]