BRUCE ON THE BLOCK
Charity auction offers chance to meet Springsteen
Next week, Springsteen will be playing two different benefits in New York (see our Tour/Ticket Info page for details). On Wednesday, November 7, the cause is the Bob Woodruff Family Fund, which supports injured service members and their families. It's a cause Springsteen is really getting behind: in addition to playing that show, he has also donated quite a package to a benefit auction. Online now at charityfolks.com, the auction includes four VIP tickets to the Magic show of your choice, plus soundcheck, backstage access, and the big draw, a meet-and-greet with Bruce himself. Bidding is currently at $11,000, with all proceeds going to the Bob Woodruff Family Fund; the auction ends November 9.
-October 29, 2007

L.A. CONCERT INFO
General Admission entry policy and details now online for Monday and Tuesday nights in Los Angeles.
-October 27, 2007

HAPPY BIRTHDAY, GARRY!
The Foundation of the E Street Nation is 58 years old today -- Garry Tallent is just a month younger than Bruce, born October 27, 1949.

OAKLAND CONCERT INFO
See the Oracle Arena for General Admission entry policy and details for Thursday and Friday nights.
-October 24, 2007

KID ROCK STOLE THIS SLOT FROM BRUCE SPRINGSTEEN...
He's stealin' it back
Magic is back on top. After debuting at #1 on The Billboard 200, its second week on the charts had the album knocked out of the top slot by Kid Rock's Rock N Roll Jesus. This week Magic fights back, reclaiming #1 and bumping the Kid to #2 (according to Variety, only 240 copies made the difference).
-October 24, 2007

NOW LISTEN...
Check out rollingstone.com's Rock & Roll Daily section for audio outtakes from Joe Levy's interview: Bruce talks about his earlier material, new favorite bands, and Bush.
-October 24, 2007

CHICAGO CONCERT INFO
See unitedcenter.com for General Admission entry policy and details for the upcoming pair of Chi-town concerts.
-October 19, 2007

THE GREATEST NIGHT OF JON STEWART'S LIFE
Here it is, your Moment of Zen:
-October 19, 2007

PICTURES OF OUR HEROES ON YOUR WALLPAPER
A little something for your desktop... just choose your monitor resolution below. [Not sure what to do with these files? Click here for an easy tutorial on installing wallpaper/background images.] Thanks to our intrepid photographer A.M. Saddler for the images.
-October 18, 2007

OH, SO THAT'S WHOSE FOREARM IT WAS!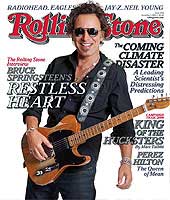 Yep, that's our guy on the cover of the latest issue of Rolling Stone, featuring "Bruce Springsteen: The Rolling Stone Interview." Subtitled "The E Street Band chief talks about making his most romantic record since Born to Run," the interview was conducted pre-tour in Asbury Park by Joe Levy. In the preview on the magazine's website, Bruce talks with Levy about the continuing dialogue he's having with his audience: "What are the things that bring you ecstasy and bliss, what are the things that bring on the darkness, and what can we do together to combat those things? That's the dialogue I have in my imagination when I'm writing. I have it in front of me when I'm performing." Get more of a taste at rollingstone.com.
-October 17, 2007

ARCADE FIRE, WALK WITH ME
Wanna see Bruce and the Arcade Fire's Win Butler together again? Just wait for the December issue of Spin, which will feature the pair on the cover. According to Spin.com, "Springsteen and Butler hooked up last week in New Jersey at a shoot for the December cover, and they sat down for a joint interview with deputy editor Steve Kandell. 'Bruce invited them to play in Jersey, but Win and Regine had to get back to Montreal,' says Kandell. 'They were hoping Ottawa would work out, and it clearly did.'"
-October 16, 2007

IT'S TIME TO PLAY "NAME THAT FOREARM"!
At rollingstone.com.
-October 16, 2007

NYC CONCERT INFO
See thegarden.com for General Admission entry policy and details for the upcoming pair of shows at Madison Square Garden.
-October 16, 2007

THE MAGICIAN'S ASSISTANTS
For their Fall Music special, Entertainment Weekly spoke with a pair of behind-the-scenes players integral to Springsteen's magic: manager Jon Landau and producer Brendan O'Brien. Recalling Bruce's leap of faith in working with a new producer, Landau said, "The second or third night he was recording with Brendan, Bruce called me. He's kidding around and he says 'Jon, this is fantastic. This is just better than I could have expected.' So I said, 'Well, what's his method?' He said, ''His technique is very simple. Let me explain to you how he does it. First you go in and play, right? Then you come in and listen to the playback, and it sounds phenomenal. That's his method.' [Laughs]..." Read Chris Willman's Q&As with both Landau and O'Brien at EW.com. Willman also wrote the magazine's Magic review, giving the album an "A."
-October 16, 2007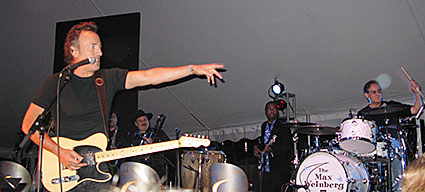 BRUCE & MAX'S NIGHT OFF
At "Kick Up Your Paws," Max and Becky Weinberg's benefit for the Monmouth County SPCA on Saturday night, Springsteen joined the Max Weinberg 7 at the end of their set for six songs: "Seven Nights to Rock," "634-5789," "From Small Things," "Kansas City," "Tenth Avenue Freeze-out," and "Twist and Shout." About 500 people were in attendance for the fundraiser, at the Weinberg's farm. "Terry Magovern was involved in this event, too, and he was looking forward to it," Max told the Asbury Park Press, "so it's dedicated to him."
-October 14, 2007

LIGHT OF DAY RETURNS TO STARLAND BALLROOM FOR EIGHTH YEAR FIGHTING PARKINSON'S
The 8th annual Light of Day benefit shows are scheduled for the Starland Ballroom in Sayreville, NJ: a Writers in the Raw show on Friday, November 2, and the usual Saturday night blowout on November 3. Saturday night's line-up:
Band Stage: Gary "U.S." Bonds, Joe Grushecky & The Houserockers, Willie Nile, Nicole Atkins & The Sea, Joe D'Urso & Stone Caravan, Boccigalupe & The Badboys, Joe Bonanno and The Godsons of Soul, Jennifer Glass, Exit 105, Maybe Pete
Acoustic Stage: Dawne Allynne, Danny White, Bobby Strange, Bruce Tunkel, Johnny Grushecky, Melissa Chill, Rob Dye, Joy Bodnar, April Smith, Joe Rappolla, Jon Caspi, Mike Rocket, Anthony D'Amato, Tom Brieding, Ken Shane.
Springsteen does have that Saturday night off, in between 11/2 in St. Paul show and 11/4 in Cleveland. Of course, there's absolutely no guarantee he'll show -- on one hand, he's only missed one LOD in the last seven years, but on the other, he did miss one LOD in the last seven years. Our take, as always, is that you should go for the bands on the bill, and if there's a special guest, well, that's just icing on the pie.
As always, the concerts will support the ongoing fight against Parkinson's disease by supporting research into more effective treatments and a cure, as well as by supporting people who suffer from the degenerative neurological disorder. This year's concerts are dedicated to the memory of Light of Day friend and supporter Terry Magovern, who passed away on July 30, 2007. Click here for more information.
Tickets are on sale as of today, available through Ticketmaster outlets, charge-by-phone, and Ticketmaster.com, as well as through the Starland Ballroom box office.
Plus: LOD benefit shows continue throughout November and into December, with Light of Day Europe (Willie Nile, Joe D'Urso, Marah, Graziano Romani) and Light of Day Canada (Joe Grushecky & the Houserockers, Nile, D'Urso, and more). See the Light of Day calendar for details.
-October 12, 2007

OTTAWA CONCERT INFO
See the Scotiabank Place website for General Admission entry policy and details for Sunday night's show.
-October 12, 2007

SPEAKING TRUTHINESS TO POWER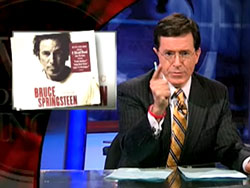 Not to be outdone by "Papa Bear" Bill O'Reilly, who recently issued a challenge for Springsteen to enter his "No Spin Zone," Stephen Colbert has given the Boss his dreaded Wag of the Finger. On last night's Colbert Report [watch the clip at colbertnation.com], the host admitted that he's a big fan of the anti-immigrant song "Born in the U.S.A." ("I think there were some verses... but I'm more of a chorus guy"), but he draws the line at Magic, which is "packed with anti-war, Bush-hating propaganda. Not that I've listened to it yet."
"There's only one way for you to redeem yourself, sir," Colbert addressed Springsteen through the magic of television, "come on my show and apologize!"
"You know what?" he continued, "I'll be big about it, you don't even have to apologize -- just come on my show. I'll tell you what, I'll apologize. Come on my show. Please."
Mr. Springsteen, the gauntlet has been thrown.
-October 11, 2007

TICKET ALERT: OAKLAND SHOW ADDED, ONSALE 10/15
As the Oracle Arena website now reports, a second Springsteen concert there is being added for October 25, the night before the already-sold-out October 26 show. Tickets for 10/25 will go on sale ths coming Monday, October 15, at 10 a.m.
Visit our Tour/Ticket Info page for the full itinerary , related info and links.
-October 10, 2007

MEADOWLANDS CONCERT INFO
Click here for General Admission details and more.
-October 9, 2007

VCR ALERT: LIVE FROM THE SWAMPS OF JERSEY


Beginning Tuesday evening with Inside Track (Dave Marsh's recent interview with Springsteen), VH1 Classic presents 24 hours of Bruce. All night and all day Wednesday they'll be airing concert specials like Storytellers, Hammersmith, Live in Barcelona and more... and the whole thing culminates in a live broadcast from the beginning of Wednesday night's show at the Meadowlands. Two songs, we're told -- tune in at 8:30 p.m. Eastern on October 10.
-October 8, 2007

DOT-NET GOES MULTIMEDIA!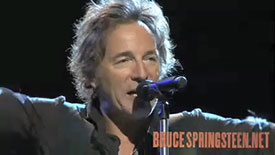 Last year, AOL brought us "18 Nights of Bruce," performance clips from each night of the U.S. Seeger Sessions tour. This time out, videos are available right on Bruce's site. Check out brucespringsteen.net to watch clips of "The Ties That Bind" from Hartford, "No Surrender" from Philly1, and "Radio Nowhere" from Philly2, with more to come...
-October 8, 2007

"I MEAN, AM I GOING TO GARDEN?"
Read the interview from last night's 60 Minutes at CBSnews.com.
-October 8, 2007

STRAIGHT TO THE TOP
Magic debuted at the top of the U.K. album charts yesterday, making it Springsteen's seventh number-one album there. As Billboard.com also reports, Magic is a lock for another number one album here in the States as well.
-October 8, 2007

FOR ANYONE TIRED OF MAGIC ALREADY...
Check out today's story on Billboard.com, "Another Springsteen Album Already Done?" We'll add emphasis to that question mark, but there's a big ring of truth to the story: "'There's another group of songs that exist that I think are great songs and should end up somewhere, but they just didn't quite fit with this group,' says producer Brendan O'Brien.... O'Brien declined to comment on murmurs that the new album could be out as soon as next spring, saying only, 'I'll defer to others on that one.'" This would be far from the first time Springsteen has wound up with a slew of great outtakes and holdovers from an album session. One source tells us that a few songs were cut from Magic at the eleventh hour -- not for lack of quality, but to tighten up the set and to hold as a foundation for the next record. As for an actual release on the soon-side, we can only hope his recent follow-through on his long-stated desire to get more music out faster continues. (I mean, it's already been three days since his last one -- come on, Bruce!)
-October 5, 2007

TICKTICKTICKTICKTICKTICKTICKTICKTICKTICK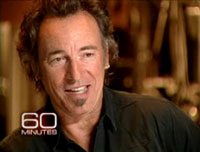 We alerted you the other day that Bruce would be featured on the next edition of 60 Minutes, and there's now preview text and video online at cbsnews.com: "Rocker Bruce Springsteen answers critics who call his anti-war sentiments unpatriotic by saying the real sin against patriotism is saying nothing while your country is being harmed. Springsteen discusses this and other topics, including why he's still writing songs and performing, in an interview with 60 Minutes correspondent Scott Pelley this Sunday, Oct. 7, at 7:30 p.m. ET, 7 p.m. PT."
-October 5, 2007

MEN AT WORK - UPDATE, 10/5, 11:30 a.m.
Well, the new server is up and running, but we're still troubleshooting and working out the kinks in order to get the site performance where it needs to be.
To fix a memory bottleneck, the Backstreets.com server will be taken off line sometime today for a short while. We are not aware of the exact time and probably won't be notified in time to let you know. We are also aware that the Philadelphia starts tonight, so we're trying to make this happen ASAP. The downtime should be minimal, the improvement permanent. Thank you for your patience with our upgrade pains.

G.A. PROCEDURE: PHILADELPHIA
From official sources:
Wristbands will be given out between 2pm and 5pm at the doors to the right of the Box Office (NCAA and Lexus doors).
All G.A. ticket holders must use those doors for entry.

Entry order will be as follows:
Lottery winner picked at 5:15pm. Line will be formed in numerical order based on the winning number.
Pit winners will be let in first.
Wristbanded patrons not in the pit will be let in next.
Un-wristbanded patrons will then be let in.
All entry for GA patrons will be via the above doors only.
-October 5, 2007

MARSH VS. SPRINGSTEEN:
THE MELEE AT THE MEADOWLANDS
Not to suggest that they were anything but friendly... but it is a rematch we've been waiting for. Dave Marsh and Bruce Springsteen sat down for a SIRIUS Satellite Radio interview this past Friday before the concert at CAA, just as they did before a Seeger Sessions rehearsal show in 2006 [read the full transcript in Backstreets #85]. Their Magic talk debuts tomorrow on E Street Radio [SIRIUS Channel 10], that's Thursday at 4 p.m. Eastern. If you miss it, catch rebroadcasts Friday October 5 at 12 a.m. and 8 a.m., and Saturday October 6 at 6 p.m.
-October 3, 2007

TICKTICKTICKTICKTICK
Tivo Alert: Cameras from 60 Minutes were filming in Hartford last night, and while there's no official word yet from CBS, a source at the network has confirmed that there will be a Springsteen feature on the program this Sunday night, October 7. Expect concert footage as well as a sit-down with the man himself.
-October 3, 2007

GENERAL ADMISSION, TAKE ONE
Well, the system is in place... in practice, though, at last night's opening show, we can't say it went off without a hitch. Things went fine until it was time to line up according to number, and that's when things went off the rails. On the organizers' side, a megaphone would help matters -- some way of being able to address and instruct a large group of people. But fans can help too, which is one reason we've tried to stay on top of how this is going to work, so that those in line will have an idea of what's going on and help make it happen. It's in everyone's best interest to line up numerically, and everybody plays a part... so if you're in that G.A. line and you see folks around you who don't know what's happening, do your best to fill 'em in. That, hopefully coupled with a better means of address from Bruce's people and venue security, will make the whole entry process easier and less chaotic.
Also a word about the pit last night: fewer than 200 people were allowed in, and some frustrated fans on the outside were rightfully wondering why it was so damn spacious in there. There's a good answer, though: the fire code. Since the Great White tragedy in Providence in 2003, fire marshalls have been more vigilant and restrictive about how much space should be allowed per person in a general admission situation. Look for similarly sparsely populated G.A. areas at other Northeast shows, particularly Boston and Albany.
-October 3, 2007

DO YOU BELIEVE IN MAGIC?
Yes or no, let us know how it hits you
Now that Magic is officially out, we wanna know what you think. Take your time, give it a few spins... and once you've got a handle on it, send your review to magic@backstreets.com. We'll print as many as space allows in an upcoming issue of Backstreets Magazine.
-October 2, 2007

FOR YOU, FOR YOU, THIS BOOK'S FOR YOU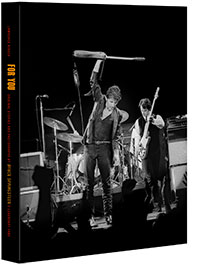 Two years ago, photographer Lawrence Kirsch put the call out for fan stories and photographs for a book he'd be calling For You. What came back, he said, was overwhelming. "Being a life-long Springsteen fan myself, I recognized there was a pent-up desire for fans to come together and share," he says. "I was simply amazed by the response. Over 1,500 fans from across the globe submitted stories and anecdotes to the website. It was difficult to make the final selection." But that final selection has been made, and the book -- with more than 400 photos accompanying more than 200 tales from Springsteen fans -- is on the presses now, for a late October release.
For You: Original Stories and Photographs By Bruce Springsteen's Legendary Fans is being printed in a very limited, hardback edition of just 2000 copies, with great care given to image reproduction. You won't find this one in stores, but we're taking pre-orders now at Backstreet Records.
Plus, we're giving five customers a chance to win a free print of that beautiful cover image. Pre-order the book from us by October 22, and you'll be entered into a raffle to win an 8 x 10 print of Bruce in all his triumphant glory and exhaustion at the end of a 1978 show, matte finished and signed by the photographer. Of a total edition of 25, we'll have five of these photos to give away. Each of our five winners will have the print sent along with their copy of the book.
For more on the book, visit foryoubruce.com, or head straight to the Backstreet Records online shop to pre-order and reserve your copy. Act fast to make sure you get a copy and are entered into the raffle. We'll begin shipping as soon as the book is available, in late October/early November.
-October 2, 2007

HAPPY BRUCE SPRINGSTEEN DAY!
With the release of Magic today and the kick-off of the E Street Band tour tonight, it's already a big day for Springsteen fans. But Connecticut Governor Jodi Rell went ahead and made it official, declaring October 2 "Bruce Springsteen Day in Connecticut." I say we all take the day off.
-October 2, 2007

GENERAL ADMISSION: HOW IT'LL WORK
With opening night just 24 hours away, we've gotten official word from the Springsteen organization regarding G.A. entry for the North American leg. Before we get to the nitty-gritty details, let's do an overview. The entire floor for each show will be general admission, with no reserved seating (actually, no seating at all). The G.A. floor is divided up into two sections by a rail: a smaller area directly in front of the stage (commonly known as "the pit"), and a larger open area behind it. A special wristband, distributed to a few hundred people as determined by lottery, will be required for access to the pit. Here's how it happens.
Numbered G.A. wristbands (not pit wristbands) will be given out at the venue between 2:00 and 5:00 p.m. All G.A. ticketholders who show up between those times will get one.
At 5:15, the lottery occurs: a random number will be drawn, and the person with that number on their wristband will be at the front of the line for entry onto the floor.
Line-up starts at 5:30, in order by wristband number. If there were 600 wristbands given out and the random number drawn was 536, then people with wristbands numbered 536-600 will be at the front of the line, with 1-535 behind them.
The line will enter the venue whenever they're ready to open the doors. The first x number of people in this line (x being a few hundred, will likely vary by venue) will get a second wristband for pit entry. Everyone else, including those G.A. ticketholders who can't get there until after 5:00, can stake out a spot on the main floor.
For opening night in Hartford: Wristbands will be distributed in the atrium. To get to the atrium, use the main entrance off Trumbull Street. Click here for maps. And watch this space for any changes or clarifications if we get them.
-October 1, 2007

THE TIMES, THEY ARE A-INTERVIEWIN'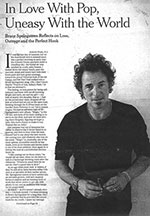 Today's New York Times features a major feature on Springsteen, with A.O. Scott taking a visit to Asbury Park to speak with the man. Bruce talks about the underlying theme on the new record -- "a tallying of cost and loss... That's the burden of adulthood, period. But that's the burden of adulthood in these times, squared" -- as well as about its pop sensibility. The article's title sums it up nicely; read "In Love With Pop, Uneasy With the World."

The Times on the other side of the pond has an interview as well -- read Dan Cairns' "We Need to Talk About America" from The Sunday Times.
-September 30, 2007

MORE TODAY TOMORROW!
Tune into Today, Weekend Edition on Sunday morning to catch additional E Street Band footage from Friday morning's performance. The Today website also has lots of streaming video, well worth checking out.
-September 29, 2007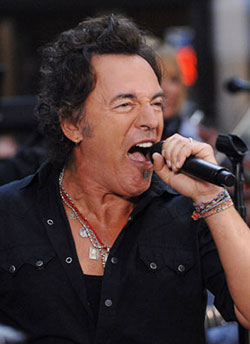 E STREET BOOT CAMP IS COMPLETE!
Yesterday started early and ended late for the E Street Band, wrapping up what Bruce called "E Street Boot Camp" with two performances in New York and New Jersey.
In NYC, they were on stage well before the crack of dawn, doing a full-half hour set for the Today show soundcheck starting at 6 a.m. Pretty surreal to see those lights and sounds streaming out of Rockefeller Plaza while much of the city that never sleeps was still sleeping. A good number of die-hards didn't sleep at all, like Ralph and Joan Trecaso, who came from Cleveland (go Tribe!) and spent all night on 48th Street in order to get in. "See you in daylight," Bruce said as the band left the outdoor stage at 6:30, "thanks for being so lively this morning!"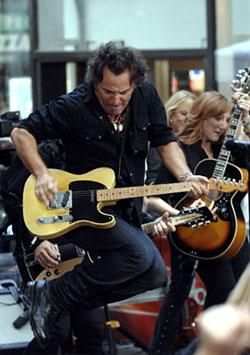 With cameras rolling, the band was back on at 8 a.m. for "The Promised Land," and then again for the main course between 8:30 and 9, another full half-hour that opened with the day's third "Promised Land" and closed with a surprise audible of "Night." There in the crowd we could hardly hear a word of the interview segments, only partly because of all the Brooocing, but the music spoke volumes. Of the several morning shows Bruce has done in recent years, I'd say that's the most awake and not-in-need-of-coffee we've seen him. And it still wasn't over -- they were back on at 9:30 for two more songs. Considering most Today concerts are a handful of songs at best, it was quite a lot of bang for no bucks, for both teevee viewers and those who stayed up all night.

Across the river to the Jersey side that night, after a late start at Continental Airlines Arena, Bruce told the crowd, "I still got my pajamas on under my clothes! It was too early!" He welcomed the crowd to "the last night of E Street Boot Camp," a 22-song rehearsal show that started a little past 9.

And make no mistake: it was a rehearsal, visible not only in the eeriness of the draped-off, mostly-empty confines of the building that's usually full for such an occasion, but also in the occasional cue to one band member or another for more this or that, or in a transition from one song to the next that still needs work. Loving that "Candy's Room"/"She's the One" pairing, which was back last night -- they just gotta figure out how one gets to the other.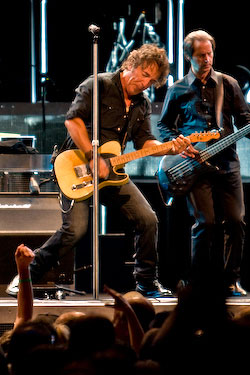 Overall, though, Springsteen appears to have a show that's ready for its formal debut on Tuesday in Hartford. Though ready-mades like "Badlands" "Born in the U.S.A.," and "The Promised Land" (its fourth performance on this day) are returning to duty, this is a new show. The big surprise: a completely new, full-band arrangement of "Reason to Believe," that borrows equally from the Devils & Dust tour and Z.Z. Top. We'll call it the "La Grange" arrangement, and even if you didn't like the bullet mic on the D&D tour, we bet you'll like it here -- less distortion, just a great effect for down-and-dirty rock. Also great to get "The Ties That Bind" in the second slot. Superb guitar work in spots: Steve Van Zandt emerges to take "Gypsy Biker" to a level it may not have reached otherwise; and on "Thundercrack," Bruce and Nils reach great heights on those extended instrumental passages. More teamwork: Bruce and Patti again performed "Town Called Heartbreak," and here, Ms. Scialfa gets a bona fide moment of her own while not breaking the flow of the show.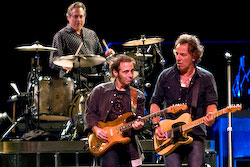 Sessions Band players Lisa Lowell and Larry Eagle joined in on maracas for the show-closing "American Land," after which Bruce hollered, "Boot Camp is complete!" Steven took that to heart, offering a military-style salute to anyone looking his way. Bruce had one more thing to say before leaving the stage, as if just remembering himself that this whole thing hasn't even begun yet: "And we'll be back! Just a couple of weeks!"
-September 29, 2007
Today show photographs: Debra L. Rothenberg
CAA photographs: A.M. Saddler

L.A.ST TO DROP
The Los Angeles show, which goes on sale this Saturday, September 29 at 10 a.m. Pacific, is on Ticketmaster now. For thems who've been itchy.
-September 27, 2007

TODAY IS TOMORROW
Don't forget, Today is tomorrow! Or if you're reading this tomorrow, Today is today. That's Friday morning, September 28, on NBC -- Bruce and the E Street Band play Rockefeller Plaza.
-September 27, 2007

MEN AT WORK - UPDATE, 9/27, 11 p.m.
The server upgrade effort continues... we'd hoped to complete the move today, but along the way we identified a few issues with the software. We're working on them overnight so that we can switch over in the morning tomorrow. All the issues are minor and can be fixed easily. If you encounter any glitches or error messages in the meantime, it's just because we're in the middle of the renovation.
Thank you for your patience. We are almost there...

MOLASSES, ANYONE?
Damn, this site is slow to load... we know, we know, it's driving us nuts, too! And we're working on it, upgrading our server as we speak to handle all the traffic that's coming in lately. For all those trying to move tickets (and get tickets moved to them) or chatting on BTX, checking the news and setlists, ordering from our shop -- the upgrade should do the trick, so that we're all cruising along at a faster clip as the tour gets going. We appreciate your patience in the meantime.
The whole slow-to-load thing is surely the cause of some glitches if you're trying to log on to BTX right now. But there are some common non-server-related troubles, too. Here are a few tips:
Can't see the code on BTX when trying to register? Try using a different web browser, that's usually the culprit.

Told your email address has been banned? It's likely nothing personal. Unfortunately, we've had to block all .org addresses from registering on BTX, to prevent a massive wave of spam. Sorry for the hassle, but it's for a good cause... and if you've got another email address you can use to sign up (yahoo, gmail, etc.), that's an easy workaround.

Once you've registered, are you still waiting for an email that says you've been activated? Lately we've activating BTX accounts manually, which circumvents that whole automatic email thing... so instead of staring at your inbox, just try logging in with your username and password. If it doesn't work, try again a little later. Activation can be anywhere from near-immediate to 24 hours. If it still doesn't work... then drop me an email, and I'll check it out. We'll change the language in the initial welcome email soon, so people aren't waiting for a second email that doesn't come... but right now we're trying to put out the big fire.
Fire, cars, molasses... next time we'll try to mix more metaphors. But you get the idea. We'll let you know once the upgrade has taken effect, and hopefully at that point you'll already have figured it out for yourself. Thanks again for bearing with us.
-September 26, 2007

HEY PRETTY DARLING!
Yeah, you. Just a reminder, the "Long Walk Home" video debuted this week -- view it online, along with "Radio Nowhere" and others, at Amazon.com's new Springsteen boutique.
-September 26, 2007

OKAY, NOW WE CAN SAY IT'S ONLINE
With the release of the LP yesterday, and the CD coming next Tuesday, Magic is in the air... and it's online, too, all kosher and legit-like! Check it out, streaming in full, at Q1043.com and Sympatico/MSN.
-September 26, 2007

FRIDAY'S REHEARSAL: BID YOUR WAY IN, FOR A CAUSE
If you're looking for a way in to the third warm-up show, Friday night at Continental Airlines Arena, here's an option: Musicians on Call and The Kristen Ann Carr Fund, which are auctioning off a pair of tickets for each show on the U.S. tour [see below] also have a pair for the CAA rehearsal up on the block. Bidding started at $200, at charitybuzz.com.
-September 26, 2007

9/25: A HOT TIME IN THE HOMETOWN TONIGHT
A hot show in Asbury tonight, literally and figuratively. While the sweltering temperature inside Convention Hall remained brutal for this second of two rehearsal benefits, everything else was much improved over night one. There's still work to be done, but transitions, pacing, energy level (Bruce's and the Big Man's in particular), all were noticeably improved -- even the sound was a good deal better, with speakers hung and a much clearer mix.
"We've got our feet under us," Bruce told the crowd at the beginning, "we've got our wheels turning a little bit, we didn't fuck up too much... and tonight we're going to change everything." Which they pretty much did -- still opening with "Radio Nowhere," but now closing the main set with "Badlands" after "Long Walk Home" and shuffling much in between. An effective move of "Lonesome Day" to the third slot was key to tightening the set-closing run of songs, from "Born in the U.S.A." on, revealing there heart of the show. It was an inspired rearrangement of the set that brought the show to a real climax, capped by a streamlined-for-maximum-efficiency "Badlands." Along the way they worked in five songs not played on night one: in addition to "Born in the U.S.A." and "Badlands," there was "Prove It All Night," "Magic," and Patti Scialfa's "Town Called Heartbreak," featuring Bruce and Patti sharing vocals.
Bruce talked much more tonight as well, with a much more developed rap in "Livin' in the Future" and more to say about the new material in general. Despite word that Magic is not a political record, he made it quite clear that his new songs are of course very much inspired by current events: "Devil's Arcade" was dedicated to Iraq war veterans; the "Livin' in the Future" rap enumerated "things that we look at as American" like "hot dogs, hamburgers (from the Windmill!)" and added to the list "illegal wiretapping, torture, voter suppression." "Magic," he explained, got its title from "the times we're living in: when we can make a lie seem true, and the truth seem a lie -- so watch out for that magic."
"Girls in Their Summer Clothes," moved to kick off the encore, was dedicated to those listening on the beach (and doors were opened tonight for their benefit). "American Land," still the final song of the night, got some help from two Sessions Band members, bassist Jeremy Chatzky and trumpeter Curt Ramm. Thanking everyone for coming out and helping spread some money to local charities, Bruce also encouraged folks to check out the shops on Cookman Avenue, and to visit the Wonder Bar, closing soon.
In all, a great deal of rust has been shaken off over the course of these two shows -- having "guniea pigs," as Bruce put it tonight, clearly goes a long way. May the trend continue Friday night.
-September 25, 2007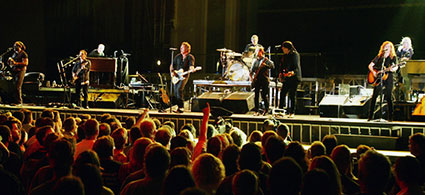 9/24: THE BOYS ARE BACK IN TOWN
E Street Band returns to the stage as Magic warm-ups kick off in Asbury
And so it begins! Well, it officially begins next week in Hartford, but tonight on the Asbury Park boardwalk, fans got a first taste of the E Street Band's Magic show with the first of three warm-up concerts. [See below for details on #3, just announced today.] After spending the last couple weeks working behind closed doors, Bruce and the band welcomed their first audience to a 21-song performance that was still rough, as expected, but clearly holds a whole lot of promise.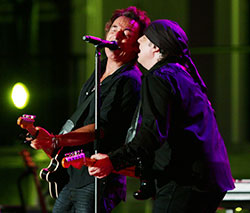 The opening was particularly strong, Bruce coming out to ask the crowd, "Is anybody alive out there?" and slamming into "Radio Nowhere," which worked exactly as it should. That went straight into "No Surrender" and "Gypsy Biker," the latter featuring well-developed head-to-head solos from Bruce and Steve. A blistering opening three-pack, and a strong first half-hour all around. If the show never quite hung together after that -- sometimes flowing, sometimes sputtering, still in search of an arc -- it was just a reminder that they're still working out kinks. Transitions, pacing, lighting, even video, it's all being rehearsed and all a work in progress at this point. (They've got the full arena stage set up inside Convention Hall, taking up a good deal of the floor and making an already intimate space even smaller. No wonder tickets were so hard to score!)
But some inspired song choices have us loving where this thing is headed: "Something in the Night," "Night," the pairing of "Candy's Room" and "She's the One," and the retention of our favorite two Rising songs from the band's last big outing, "Lonesome Day" and "The Rising." The oldie-but-goofy "Thundercrack" (written while Bruce was "still in the womb," he said) kicked off the encore. As much as Bruce has broken out this rollicking showstopper in recent years (on the Devils & Dust tour and at holiday shows), he rightly pointed out that's it's been a long time for the E Street Band, and even the first time for some of its members. "American Land" was the final number, with the E Streeters tackling a Seeger Sessions arrangement. Not hard, necessarily, with Soozie on fiddle (yep, she's present and accounted for, as Bruce promised, also playing a good deal of acoustic guitar tonight)... plus double accordion, and Clarence on pennywhistle(!)... but still a somewhat strange carryover as a show finale.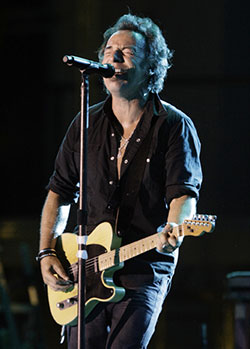 Lessee, what else do we know... The show ran two hours on the nose, from 8:35 to 10:35. Everyone looks good, Little Steven is noticeably trim with his Silvio Dante days behind him, and Clarence is in great form, taking a seat when he feels like it (are you gonna tell him not to?) but nailing his parts. Notable omissions: "Badlands"; band intros (or any lengthy "Tenth Avenue"- or "Mary's Place"-style production number); anything from Devils & Dust. Here's the song breakdown: 7 from Magic, 3 from Born in the U.S.A., 3 from The Rising, 3 from Darkness, 3 from Born to Run, 1 from Tracks, 1 from American Land. At the beginning of the show, Bruce said they'd be offering up "a few new ones, a few old ones, maybe a few mistakes, but I doubt it." By the encore, he amended that: "Well... maybe there were a few mistakes!" There will surely be more tomorrow night. And it's pretty righteous that, as is now a well-established tradition, a couple thousand fans get to be there to see 'em.
-September 24, 2007 - Mark R. Sullivan photos

TICKET ALERT: THIRD REHEARSAL SHOW ANNOUNCED!
Tickets on sale by phone, Tuesday at noon
After two public rehearsal shows in Asbury Park, tonight and tomorrow night, Bruce and the E Street Band pack it up and head to the Meadowlands for one more dress rehearsal before next week's world tour opener in Hartford.
Tickets go on sale tomorrow (Tuesday, Sept 25), at noon, for a rehearsal show to be held Friday night at Continental Airlines Arena in East Rutherford.
From this evening's press release:
Tickets, priced at $100, go on sale at noon tomorrow, Sept. 25 through Ticketmaster charge-by-phone only (201-507-8900, 212-307-7171, 866-448-7849). Tickets will not be sold online at Ticketmaster.com, Ticketmaster outlets or at the Continental Arena Box Office. There is a two ticket limit.

A limited number of general admission and reserved tickets will be sold. Tickets must be picked up the night of the concert at the Arena Box Office will call. The credit card used to purchase the tickets and a photo ID will be required.
See our Tour/Ticket Info page for the current itinerary as it stands, including the L.A. venue/onsale, now confirmed.
-September 24, 2007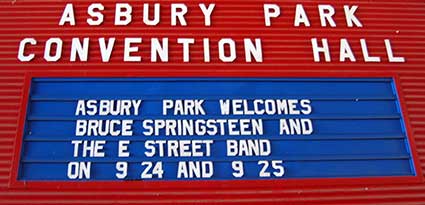 TO-DO LIST
Busy few days, gotta write this stuff down.
Sunday: celebrate 58th birthday. Check.
Monday: Play Convention Hall, test out new set, debut new songs.
Tuesday: Do it again.
-September 23, 2007

GET UP, STAND UP: BRUCE TO PLAY NOV. 7 BENEFIT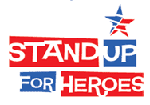 In the midst of the Magic tour, between the Detroit and DC stops and less than a month after his two nights at Madison Square Garden, Springsteen will be playing an additional date in New York City. The occasion is "Stand Up for Heroes: A Benefit for the Bob Woodruff Family Fund." Conan O'Brien will MC this New York Comedy Festival event at Town Hall, with Lewis Black and Robin Williams also on the bill. The Bob Woodruff Family Fund assists service members injured while serving in the United States Armed Forces. Special emphasis is placed on the "hidden signature injuries" of the wars in Iraq and Afghanistan -- traumatic brain injury and combat stress injuries including post-traumatic stress disorder. Read more about the show here; no ticket info yet, but we'll post it as soon as we find out.
-September 21, 2007

E STREET RADIO RIDES AGAIN!
24/7 Boss channel returns September 27


Back in 2005, coinciding with the Born to Run 30th anniversary celebration, SIRIUS Satellite Radio offered a channel dedicated to Springsteen's music, 24/7 -- but sadly, not 365. After a few months of this remarkable mix of released material, rare outtakes, and "fan-based" live recordings -- which even had an impact on Springsteen's sets at the end of the Devils & Dust tour -- E Street Radio rode off into the sunset as planned, despite an outpouring of listeners hoping for an extension.
With the impending release of Magic, E Street Radio is back. It returns to SIRIUS Channel 10 at 6 p.m on September 27, for roughly a five-month run, through late-March 2008. In an announcement today, SIRIUS President of Entertainment and Sports Scott Greenstein says: "Thanks to Bruce Springsteen, it is with great pleasure that we are able to bring the channel back to the many Springsteen fans who eagerly wanted the return of E Street Radio.... The E Street Radio channel will benefit from Bruce and the E Street Band's unique contributions, but also will include even more fan participation in shaping the sound of the channel." For more details, read the full press release here.
-September 21, 2007

EXTRA-HIGH TICKET ALERT:
Rehearsal shows announced, on sale Thursday!
Fans will get a preview of the new E Street Band tour on Monday and Tuesday nights, September 24 and 25, when Springsteen and the band open the Convention Hall doors for two rehearsal shows on the Asbury Park boardwalk.
Tickets go on sale tomorrow, Thursday September 20, at 9 a.m. for both shows. According to Concerts East, ticket sales will be by Ticketmaster charge-by-phone only, will-call only. See our Tour/Ticket Info page for additional info and rules.
-September 19, 2007

TICKET ALERT: THE BOSS GETS RELIGION
Day of Atonement and Boston onsale no longer same day
Rather than going on sale on Yom Kippur, the Boston ticket sale has been moved to Monday, September 24. Not only that, but there are two Boston shows now listed on Ticketmaster.com, Nov. 18 and Nov. 19, both on sale Monday at 10 a.m.
In other ticket news: Washington DC is finally listed, just a few days before the sale (Friday, 10 a.m.). Still no word on the Los Angeles venue or onsale date (we're currently hearing conflicting rumors), but rest assured, we'll post that news as soon as we have it.
-September 19, 2007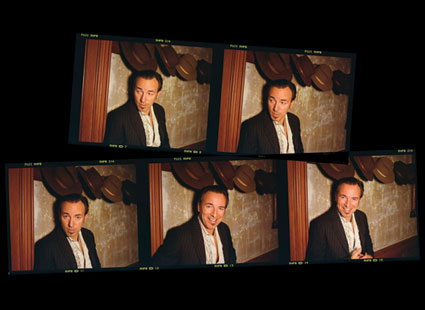 STEFANKO'S "SWAMPS OF JERSEY" COMING TO UK
We're big fans of Frank Stefanko's work here at Backstreets -- and you probably are too, if you dig the Darkness and River album covers,
just two of the many stunning photographs Frank has taken of Bruce Springsteen. Frank has had a number of gallery shows in recent years, coinciding with the publication of his magnificent book, Days of Hope and Dreams. The latest showing of his work, "The Swamps of Jersey," will be Frank's first-ever UK exhibition, opening at Birmingham's Snap Galleries on September 29 and running through December 8.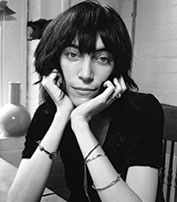 Displayed as part of "The Swamps of Jersey" will be not only a large collection of his Springsteen photographs, but also shots of Southside Johnny and Stefanko's old friend Patti Smith. "It's going to be a little different from exhibitions he has done before, for a few reasons," Snap Galleries director Guy White tells Backstreets, "so it is likely to be of interest to Bruce fans everywhere. Particularly those with big walls." Big walls? We have big walls. Do tell. "We have the luxury of a large gallery space," White continues, "and we are taking advantage of it by showing some of the work in what we are affectionately callling the 'Big Ass' series -- which are a staggering seven feet tall."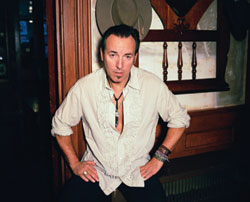 All photographs, big-ass or otherwise, will be available for purchase. Other new highlights of the show are special multi-image pieces and outtakes, plus, for the first time, Frank is releasing photographs from his 2004 Devils & Dust shoot at Bruce's horse farm in Colt's Neck. It's rich, beautiful stuff.
Stefanko is flying in to be on hand and sign at the Saturday, Setember 29 opening, beginning at 11 a.m. Our friends at Badlands are hosting an event at the gallery that afternoon starting at 3, including a talk from Stefanko and Q&A session. (Click here to purchase tickets; proceeds will be donated to the Light of Day 2007 UK event fund.) The limited edition, signed photographs are for sale now, with print prices increasing as the editions sell through. For additional information, visit snapgalleries.com; you can also download a PDF of the 12-page exhibition catalog here.
-September 15, 2007

GOOD TICKETS, GOOD CAUSES
Once again, Musicians on Call and The Kristen Ann Carr Fund are auctioning off a pair of tickets for each show on the U.S. tour. If you're in need of tickets and have some disposable income, it's a far better cause than a scalper, that's for sure. According to the charities, "All seats are general admission tickets in the pit or in the first tier. All winning bids will be tax deductible above the face value of the tickets." Click here for more details, or go straight to charitybuzz.com for bidding.
-September 15, 2007

PATTI'S DISORDERLY CONDUCT
Sorry, no tabloid news here... just a heads-up for satellite radio listeners that Patti Scialfa appeared on the SIRIUS Disorder channel today (channel 70), with DJ Meg Griffin. Catch a rebroadcast tomorrow, 9/15, at 1 p.m. EST; Monday, 9/17 at noon; or Wednesday, 9/19 at 2 p.m.
-September 14, 2007

THE RETURN OF STEEL MILL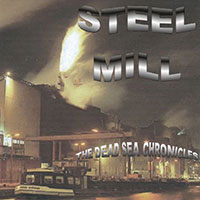 Shortly after Springsten plays Jersey with the E Street Band, Steel Mill is having a record release party. No time warp involved. A few years back, Bruce gave his old friend (and original E Street Band/Steel Mill drummer) Vini "Mad Dog" Lopez carte blanche to run with with the Steel Mill name and material. After some time as Steel Mill Retro, Vini's band has dropped the "Retro" for their remastered reissue of The Dead Sea Chronicles.
The album, which features songs Springsteen wrote back in 1969 but never recorded, drops on October 14 from Mega International Records. On October 12, Steel Mill plays their CD release party at Mr. C's Beach Bistro in Allenhurst, NJ, from 6 to 10 p.m. The shindig, "Steel Mill Rocks on the Edge of a Continent," will feature a special appearance by original Steel Mill manager Tinker West. Click here for more information and to purchase advance tickets.
-September 14, 2007

WE DIDN'T EVEN HAVE TO MOVE THE FLOWERPOT
We suggested an unanswered question about the G.A. policy below ("what happens if I'm number 32 and my partner is number 33 and she is first in line....") mainly to acknowledge that many questions wouldn't necessarily be covered in a G.A. overview. Still, this morning, we were pleased to get an answer: that those handling the lottery will have discretion to prevent the system from having unintended consequences. "We've got to assume the people actually doing this like our fans and have family or friends in the same boat.... This is not a military operation. It's a system to do the right thing."
-September 14, 2007

JUST AN OLD SWEET SONG KEEPS G.A. ON MY MIND
We promised we'd provide you with more information on the General Admission system for the upcoming tour when we received it. Well, page 20 of our morning paper was circled in red, meaning we were about to get more information from our source. As last time, this is not an "official" announcement, but it pretty well sets forth what we can expect out on the road.
Taking both their own experience and the perspective of fans into account, the powers-that-be have reached a consensus that "handling the G.A. with a numbered wristband control of some sort" -- that is, a lottery system to determine entry order -- "is the fairest."
In this plan, numbered wristbands will be given out starting at a pre-announced time at a designated spot at each venue, and will be distributed until about 5:00 pm. A lottery will then determine who is the first into the pit. The line will be let in, in order from the number selected, until pit capacity is reached.
Starting times, cut-off times, pit capacity, and the location where wristbanding will occur will be determined by the venue in conjunction with tour management. Our source promises they will be making a concerted effort to get this information out as far in advance of each show as possible,"so people can feel they know what's going on."
"I think this will be our plan for the majority of our venues, and our goal is that, whatever the plan, we will have the information out ahead of time for the fans." Of course, we'll post the info here when we get it.
Tour management realizes "this still leaves a dilemma for fans who have to work and can't get there before 5:00, but we have to have some standard, and while not perfect for all, this seems the fairest."
Our source was adamant about one other point -- they have no intention of dealing with any fan-based lists, anywhere, of any kind. Period.
Finally, we were reminded of an issue the venues face: what to do with fans who want to hang out all day, G.A. policy aside. "Fans come early not only for the chance to get their G.A. positions," the source acknowledges, "but just as as importantly, for many, to spend some time with other friends." Staffing and insurance liabilities can prevent venues from be able to safely provide hang-out space too early in the day. So, tour management has a request for all of us: after you get your wristband, "if there is a place near the venue where people could safely get together, we would appreciate it."
We know this doesn't answer every question – such as, "what happens if I'm number 32 and my partner is number 33 and she is first in line...." But we know more today than we knew yesterday. And if we learn more tomorrow (or the day after, or the day after that), we'll be sure to let you know.
-September 13, 2007

NOW THAT'S CUSTOMER SERVICE
Hearing reports of hard-to-believe phone calls from ComcastTIX to shut-out fans, offering them another shot at Philly tickets.... that seemed like something to doublecheck. I spoke with Dave Homan, COO of New Era Tickets (which handles ticketing for Comcast), who confirmed that's exactly what they're doing.
"It's not a scam," Homan told Backstreets this afternoon. "We know that we have some people who tried but failed to get tickets, for whatever reason, either it sold out or they couldn't get through. We have their names and addresses because they pre-registered. So, going through the ticket limits now -- all the people that went in eight times and got eight different sets of four, we're killing those tickets and trying to call the people back who didn't get tickets, to be proactive and give them a shot at buying them."
There's a heads-up as well: any customer who purchased a number of tickets over the stated limit of four for the Philadelphia shows will have their order knocked back to four; additional transactions after the first four tickets will be cancelled.
So that leaves a bunch of newly available tickets. "I know if I just threw them on the internet," Homan continues, "the scalpers would just pick them up the second I put them on there. So we're trying to take care of the real fans."
We have no information on how fans themselves can be proactive in this instance; but if you pre-registered for the Philly sale and didn't score tickets, you might want to stay close to the phone.
-September 13, 2007

MAGIC VIDEO #2: "LONG WALK HOME"
The next video from Magic, scheduled to premiere before the album's release, will be for "Long Walk Home." The video will bow on Amazon.com, which also debuted the "Radio Nowhere" video earlier this month. Look for it on September 24.
-September 13, 2007

TICKET SALE ROUNDUP
With another round of U.S. onsales starting tomorrow (Pittsburgh), let's catch up on the story so far.
Last round: Put simply, it wa a bitch. Hartford, New York, and New Jersey went in minutes. (Me, I received a "no tickets matched your search" at 10:01 for Hartford.) Philly went fast, too, though it might not have seemed like it, with the ComcastTIX system and its limited number of portals keeping hopeful buyers in long queues. Chi-town was a bit easier. During the course of the onsales, second shows were added for Chicago (added about 20 minutes into the sale) and Philly (about 30 minutes in). Looking down the road, keep your eyes on Washington DC and Boston in particular for more potential second shows.
Where/how do all the tickets go so fast? Conspiracy theories abound, but first of all, you can't discount demand. After the last two Springsteen tours, demand is particularly high, with people anxious to see him with the E Street Band again. Add more Europeans and other non-U.S. fans to the buying pool, thanks to increased internet accesibility. Meeting that demand, ticket sales through in-person outlets speeded up distribution (last time, a majority of sales were phone and internet only.) And then on the dark side, in our view, there's the increase in amateur ticket scalping, with sites like eBay and StubHub, not to mention the professional ticket brokers that resell tickets with a considerable markup.
That sucks. Yeah, it really does. If you're frustrated by the inventory held by "ticket brokers" (not to mention the prices they're asking), you are not alone. Backstreets has always been anti-scalping, no matter what form it takes or what the current legalities are. It's why we set up BTX (The Backstreets Ticket Exchange) in the first place, to do what we can to circumvent the gougers. (You can imagine my reaction as two different ticket broker agencies so far have called to ask about partnering with Backstreets or advertising on this website.) Not everyone feels it's as black-and-white as we do; check this BTX thread for discussion.
I got shut out... is there hope? Absolutely. Based simply on anecdotal evidence, not to mention past experience, we have a strong sense that a good number of tickets didn't go anywhere yet -- that they were held back from the public onsale, and will be released ("dropped") between now and showtime. Not a bad thing, necessarily, since those tickets have a better chance of winding up in the hands of on-the-ball fans. Keep checking the official ticket seller, try BTX, and if all else fails, head to the venue the night of the show. We've been astounded in this new millenium at how many tickets tend to be floating around outside. Bruce hotspots like New York and Philly are always tough, granted, but no matter how quickly tickets "sell out" initally, it's a rare show that a persistent fan can't find his or her way into.
Next round: Here are the cities going on sale in the next week, beginning tomorrow.
Friday, Sept. 14: Pittsburgh
Saturday, Sept. 15: Cleveland
Monday, Sept. 17: Ottawa, Toronto, Oakland
Be sure to keep an eye on our Tour/Ticket Info page, which we're keeping current with links and onsale date changes (there have been a few since the initial announcement). You'll also see the news there as soon as the L.A. venue/onsale is confirmed. And may the ticket gods smile upon you.
-September 13, 2007

BUT ALL I HEARD WAS A DRONE...
Tour prep is underway, as Springsteen and the E Street Band convened at the beginning of this week to begin rehearsals in Asbury Park. These are closed rehearsals -- and to underscore that fact, there's a new diversionary tactic: speakers blasting a local radio station to drown out what's happening inside. Even so, it's hard to completely foil the old ear-to-the-door trick.... Stan Goldstein has been keeping up with what's happening on his Bruce Blog at NJ.com.
No solid word yet on if or when they'll open the doors for public rehearsal shows, as has been the tradition for some time now. The latest buzz -- still just in the rumor stage -- has it that the Asbury rehearsals will remain closed, with the possibility of actual rehearsal shows at the Meadowlands Arena. We'll keep you posted.
-September 13, 2007

ADMISSION, GENERALLY SPEAKING
This update sponsored by the letters G, A, and Queue
This morning, Belfast tickets sold out in 8 minutes, breaking Oasis' record at the venue. In the past week, London was also a frenzy; Oslo reportedly sold out in six minutes; Copenhagen in 15. European sales continue, and the first U.S. onsales begin this Saturday. We'll continue to keep our Tour/Ticket Info page current with the latest information and links; that page now also includes a Tour FAQ list -- just the very basics at the moment, but we're asked these questions frequently, and we'll update the list with pertinent info as the tour goes along.
The most Frequently Asked Question we're hearing this week is, "What's the deal with general admission?" Most of us, understandably, would love to know what we're getting ourselves into before we buy a ticket. So we reached out to the tour powers-that-be, and while they're not ready to make an official statement just yet -- "our intent here is to have info from all the venues before we announce anything" -- we've got some informal comments to pass along that offer more insight into what to expect.
On the Rising tour, Springsteen concerts began regularly featuring a general admission floor (meaning the floor was standing-only, and unreserved), usually partitioned into a smaller G.A. section by the stage ("the pit") with a larger G.A. section behind it. Look for the same basic setup on this tour; seating charts from the individual venues typically show G.A. floors, with reserved seating in the rest of the arena.
Over the course of the Rising tour, the "rules" for the G.A. line (and specifically for entry into the pit) lacked consistency and organization, causing plenty of frustration. This time out, a tour source tells us that they are working to standardize the system as much as possible.
By the time the Rising tour reached the 2003 stadium leg, where the G.A. section was the pit, a lottery system was in place to randomize entry, offering G.A. ticketholders a fair shot at the front without the need to stand in line all day; it worked. While there's no guarantee that the Magic system will be indentical, we're told:
"Yes, in most cases the wristband lottery mode later in the day worked best, as it gave more people an equal chance. The other thing we're asking the venues is if we can give information out earlier where people can congregrate, as we know also a part of coming early is meeting other common friends you'd only see at these shows. We're hoping to arrange this so it at least seems a little more organized (and more importantly, safer) for the fans who come early to just hang with each other. But ultimately, the goal is not to have a situation where people think they're ahead of the game by coming way early or camping out."
If and when there's an official G.A. entry policy announced, we'll spread the news right away. In the meantime, hopefully this will help you figure out what to go for as you gear up for the ticket rush.
-September 6, 2007

BRUCE SENT THEM WALKING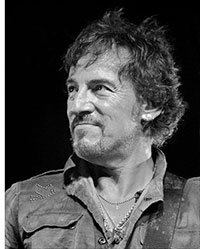 For the fourth straight year, the "Bruce Sent Us" team consisting of members of the Backstreets Ticket Exchange (BTX) is raising funds for the Susan G. Komen Breast Cancer Foundation and the National Philanthropic Trust to help fund the search for a cure for breast cancer.
Currently two pieces of Bruce/E Street Band memorabilia are being auctioned on eBay to help in their goal: a pair of autographed drum sticks signed by original E Street Band member Vini "Mad Dog" Lopez; and an original photograph, to be printed one time only, of Springsteen performing at last year's Light of Day benefit concert (pictured here). Check out the auctions here.
-September 6, 2007

VIDEO DEBUT TODAY
This is Radio Nowhere...
-September 4, 2007

PATTIWATCH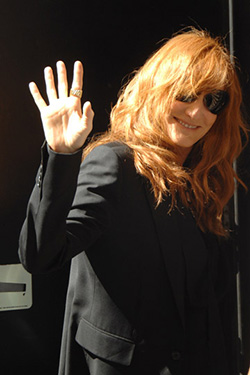 With Patti Scialfa's new album hitting stores on Tuesday, she'll be making a number of media appearances beginning this Labor Day weekend. Here's where to catch her supporting Play It as It Lays:
Sunday, 9/2: The Johnnie Walker show (BBC Radio 2)
Tuesday, 9/4: The Today Show (NBC)
Tuesday, 9/4: The Late Show with David Letterman (CBS) photo at right by Debra L. Rothenberg
Thursday, 9/6: The View (ABC)
Thursday, 9/6: Late Night with Conan O'Brien (NBC)
Monday, 9/10: Radio 2 Music Club with Simon Mayo (BBC Radio 2)
Visit the Radio 2 Music Club for online goodies, including the "Looking for Elvis" video now and "Town Called Heartbreak" coming next week.
-September 1, 2007

"REMEMBERING TERRY MAGOVERN"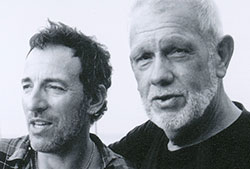 As reported previously, Springsteen's longtime friend and "faithful working companion" Terry Magovern passed away on July 30. There's now a tribute page to the man at brucespringsteen.net. "Terry stood as a strange New Jersey version of 'the catcher in the rye,' out on the edge of some windswept cliff keeping children from rushing over the edge," Springsteen writes. "He was always busy saving something or somebody. It was his blessing and his tragedy." Along with Springsteen's eulogy, also posted there are photos from throughout Terry's life (including one from the Tunnel of Love tour, as he manned the carnival ticket booth), the Asbury Park Press obituary, and a stirring remembrance from Marah's Serge Bielanko. Visit "Remembering Terry Magovern."
Springsteen wrote "Terry's Song" for his old friend and performed it at the memorial service in early August; several sources indicate that a recording of the song may be added to Magic as a hidden bonus track.
-September 1, 2007